By Roma Rajpal and Rachel Yasmin Baig
25 June, 2013
Earlier this month, hundreds of extremely religious Muslims in Bangladesh took to the streets, calling for a new law that would include the death penalty for blasphemy. By Roma Rajpal und Rachel Yasmin Baig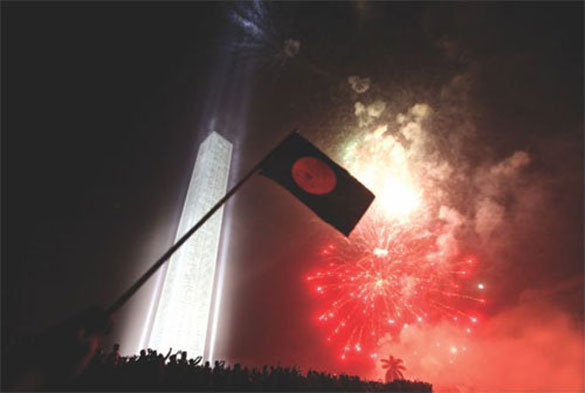 "He is not safe anywhere," says Juela Zebunnessa Khan, sister of 29-year-old Asif Mohiuddin, one of the bloggers who has been imprisoned for the content of his blog. In 2012, Mohiuddin received the Deutsche Welle Blogger Award ("BOB") in the category "Best Social Activism Campaign". A self-proclaimed atheist, he is known for his criticism of religious fundamentalism. In January of this year, he was brutally attacked and stabbed, receiving life-threatening injuries in the process. Luckily, he underwent an operation that saved his life.
Mohiuddin is not alone in his battle for freedom of expression in Bangladesh. In April, he was one of many bloggers to be arrested on charges of "posting derogatory remarks on Islam". His sister Zebunnessa Khan told Qantara.de: "We are worried that he might not get bail. He is in a critical condition and needs proper treatment and care, which he is definitely not going to get in prison."
Pressure On The Government
In the wake of the recent protests by Islamists in Dhaka, the government was pushed to take a stand. Many online writers have been arrested on charges of hurting religious sentiments in their anti-Islam blogs. Most of these bloggers were deemed anti-religious for claiming to be atheists and for their criticism of religious fundamentalism.
Experts believe that the arrests were intended to appease the country's Islamists. Bangladesh's Home Minister, Mohiuddin Khan Alamgir, said the government had identified bloggers who had hurt the religious sentiments of the nation's majority Muslim population. So far, the government has blocked about a dozen websites and blogs to stem the unrest. It has also set up a panel, which includes intelligence chiefs, to monitor blasphemy on social media.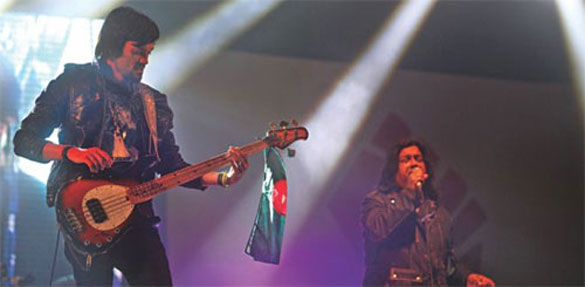 Battle for freedom of expression in Bangladesh: bloggers in Dhaka protest against the attack on fellow blogger Asif Mohiuddin, who was seriously injured in an attack earlier this year. Although many bloggers have been arrested on charges of "posting derogatory remarks on Islam" in recent months, Bangladeshi Prime Minister Sheikh Hasina denies that her government has yielded to pressure from Islamists, who are calling for the introduction of a strict blasphemy law
---------
Journalists believe that the protests are more a reaction to the trials of political Islamic party leaders who are being tried for war crimes than about an anti-blasphemy law. Nevertheless, the protests are a way of putting pressure on the government. Every protest has a negative impact on the economy. So far, the government has tried to maintain a rather neutral approach to the situation in the hope that things will not escalate.
Deepening Tensions
Since February, hundreds of thousands of Bangladeshis – especially men – have held protests demanding that the government introduce an anti-blasphemy law. The so called "long marches", as the protest organisers call them, took place in the country's capital, Dhaka, and in various other parts of the country. According to news reports, many people came from remote villages to join the demonstrations. It is said that supporters of Hefazat-e-Islam, an Islamist group which draws support from tens of thousands of religious seminaries, are the driving force behind these protests. The protesters say that their main goal is to punish atheist bloggers for their blasphemous writings by any means – even hanging.
Hefazat-e-Islam has the backing of the country's largest Islamic party, Jamaat-e-Islami. According to police forces in Dhaka, around 200,000 people attended the most recent rally in early May. Protest organisers, on the other hand, put the number at over half a million.
Media sources say that the country is divided on the issue. The idea of an anti-blasphemy law has a lot of support in rural areas, where Hefazat-e-Islam is good at mobilising people. In recent months, tension has increased between secularists and Jamaat-e-Islami, whose leaders are currently on trial for crimes committed during the country's 1971 war of independence. The Jamaat-e-Islami group is known for being pro-Pakistan and opposed the foundation of Bangladesh, a secular state.
Bloggers have sought capital punishment for those found guilty of war crimes during the nation's liberation war. In February, a prominent Jamaat leader was sentenced to death. Since then, more than 70 people have been killed in violent protests. Human rights groups have accused the security forces of using excessive force to control the riots.
Sheikh Hasina, the country's incumbent prime minister and leader of the Awami League, initiated the war crimes trials in 2010. Bangladesh says that as many as three million people were killed and thousands of women raped by Pakistani troops and local collaborators during the war. Ten of the defendants convicted or on trial are members of Jamaat-e-Islami, while two others belong to the main opposition Bangladesh Nationalist Party (BNP).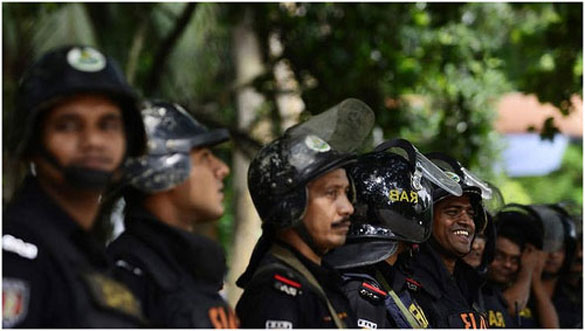 At least one person was killed, more than one hundred were injured and 13 vehicles were torched when activists from Hefazat-e-Islam and Islami Chhatra Shibir, who were demanding the introduction of a blasphemy law, clashed with police in Dhaka
----------
Calls For An Interim Caretaker Government
With increasing political violence and instability, there is concern that the government might declare a state of emergency to bring the situation under control. But the prime minister has firmly dismissed such notions, saying that the government had no plans to impose emergency rule.
The BNP has called for the establishment of a neutral interim caretaker administration to oversee the upcoming parliamentary election. Prime Minister Sheikh Hasina has rejected this demand. The BNP has stated that it will not take part in any election organised by the incumbent government as it says the polls would be neither free nor fair. Hasina's response has been to say that it would be the party's loss if it did not participate.
Introduction Of Blasphemy Law Unlikely
Hasina has firmly rejected the Islamists' demands for a new anti-blasphemy law to punish those who defame Islam and the Prophet Muhammad, saying that existing laws are sufficient to punish those who attempt to insult religion. Under the country's cyber laws, a blogger or Internet writer can face up to ten years in prison for defaming a religion.
"This country is a secular democracy. So everyone has the right to practice their religion freely and fairly. But it is not fair to hurt anybody's religious feeling," said Hasina by way of explanation. The Islamists have given the government a three-week ultimatum to meet their demands, including tough punishment for those accused of making blasphemous comments against Islam. Hasina has said the government will fulfil only those demands that are reasonable.
She has also defended her government's decision to arrest bloggers on suspicion of harming religious sentiment in their work (the arrests prompted eight blog operators to black out their websites) and dismissed accusations that her government has yielded to pressure.
Source: http://en.qantara.de/wcsite.php?wc_c=21207&wc_id=23723
URL: https://newageislam.com/radical-islamism-and-jihad/roma-rajpal-and-rachel-yasmin-baig/bangladeshi-islamists-demand-blasphemy-law/d/12314