By Praveen Swami
February 21, 2017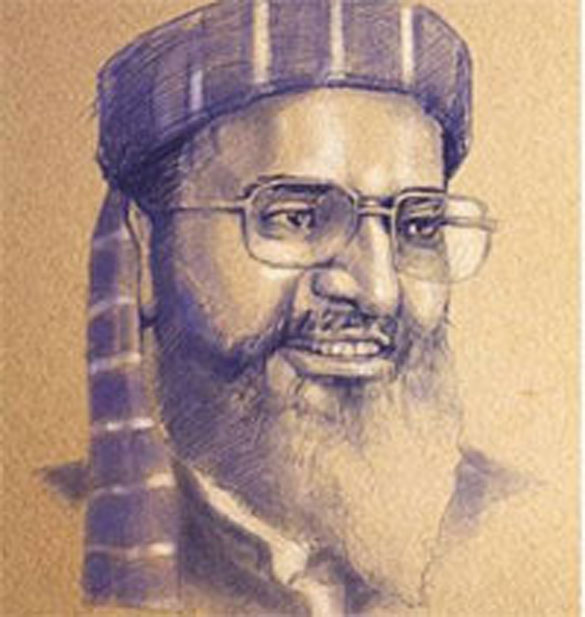 Born in Khyber-Pakhtunkhwa in 1958, Akhtar studied religion at the Jamia Uloom-e-Islamia in Karachi's Banori Town, the ideological powerhouse of the jihadist movement. (Illustration: Subrata Dhar) Born in Khyber-Pakhtunkhwa in 1958, Akhtar studied religion at the Jamia Uloom-e-Islamia in Karachi's Banori Town, the ideological powerhouse of the jihadist movement. (Illustration: Subrata Dhar)
------------
Imagination is our only guide to what the two men did the time we know they met, in the town of Kohat in Pakistan's Khyber-Pakhtunkhwa: perhaps they took a walk along its British-era fort's ramparts or the lake; strolled along the disused narrow-gauge railway line, built in 1902, or through the bazaar; they may have visited the ruins of the ancient Hindu temple at Isa Khel, or sat alone in a darkened room. There was just one newspaper report of their meeting, published without a byline: Osama bin Laden and the patriarch of Pakistan's jihadist movement met one day in 2009, and discussed how to take forward their war.
That report, with its reference to an Inter-Services Intelligence briefing on the meeting, has been sharply debated by historians and experts: if true, it means the ISI was aware Bin Laden was living in Pakistan, yet did nothing to find him.
Saifullah Akhtar, the man with Bin Laden's that day, the founder of the Harkat-ul-Jihad-e-Islami and, many suspect, long-serving asset of Pakistan's intelligence services, was killed this weekend in an Afghan special forces raid, at the end of a jihadist career that spanned almost four decades. Only the faintest shafts of light have so far fallen on Bin Laden's relationship with the ISI — Akhtar's story shows where the dark corners are, and where the truth may lurk.
***
Born in Khyber-Pakhtunkhwa in 1958, Akhtar studied religion at the Jamia Uloom-e-Islamia in Karachi's Banori Town, the ideological powerhouse of the jihadist movement, whose alumni include Harkat-ul-Mujahideen leader Fazl-ur-Rehman Khalil, Jaish-e-Mohammad chief Maulana Masood Azhar, Taliban emir Mullah Mohammad Omar, and the Indian-born chief of al-Qaeda's South Asia wing, Asim Umar.
The Harkat-ul-Jihad-e-Islami was founded in 1980, the first jihadist group to be set up in Pakistan, then ruled by General Muhammad Zia-ul-Haq.
Inspiration for the group, according to several accounts, came from the Afghan Harkat-e-Inquilab-e-Islami, an old Islamist organisation with ties to the Jamia Uloom-e-Islamia as well as to the ISI.
In 1985, Maulana Irshad Ahmad, another graduate of the Karachi seminary, and the man who co-founded the Harkat with Akhtar, was killed fighting Soviet forces in Afghanistan's Kunar province, leaving Akhtar in charge of the organisation. Another co-founder, Fazl-ul-Rehman Khalil, broke away to form the Harkat-ul-Mujahideen — which merged back with the Harkat-ul-Jihad-e-Islami in 1993 to form the Harkat-ul-Ansar. In 1998, the Harkat-ul-Ansar re-invented itself as the Harkat-ul-Mujahideen — which went on to play an active role in the Kashmir insurgency, where over 600 of its cadre were killed fighting Indian troops and police, and established new wings in Bangladesh and Myanmar.
Even as the war in Afghanistan ended in 1989, leaving the Islamist movement triumphant, the Harkat-ul-Jihad-e-Islami began to demonstrate the true scope of its ambitions within Pakistan. In 1999, Akhtar was accused of plotting to eliminate the entire top leadership of Prime Minister Benazir Bhutto's government in a coup led by Major General Zaheer-ul-Islam Abbasi and Brigadier Mustansir Billah, in a bid to transform the country into an Islamist-led military dictatorship. He was arrested and charged — but was let off after he became a state witness.
Interestingly, Abbasi had served as the ISI's station chief in New Delhi in 1988, and was expelled on espionage charges related to terrorism. In her autobiography, Bhutto claimed the plotters had the backing of former ISI chief Gen Hamid Gul.
***
Following the attempted coup, Akhtar resurfaced in Kandahar, serving as military adviser to Taliban chief Mullah Mohammad Omar, an appointment believed by many experts to have been secured by the ISI. Hundreds of Harkat personnel served with him, known collectively as the "Punjabi Taliban". Three hundred Harkat fighters were reported to have been killed fighting the Northern Alliance alongside the Taliban, from bases in Kandahar, Kabul and Khost. Taliban troops and police were also provided training at these facilities.
These blood sacrifices bought influence: Maulana Nizamuddin Shamzai, the head of the Jamia Uloom-e-Islamia, worked through Akhtar to bring together Osama bin Laden and Mullah Omar. The effort paved the way for the al-Qaeda chief to shift base to Afghanistan at the end of 1996. The Harkat itself wielded significant influence in Afghanistan, reportedly holding three ministerial positions in the Taliban government, along with 22 sharia court judges.
In September 2001, the fallout from that alliance transformed the world. Hundreds of defeated Harkat and al-Qaeda fighters were evacuated at the request of Gen Pervez Musharraf from Kunduz airport, even as frustrated Northern Alliance and United States Special Forces watched from the mountains around it.
***
The war that followed was fought with bullets, but also with deceit. Pressured by the United States, Gen Musharraf sent some foreign jihadists to jail or to their deaths; the ISI, meanwhile, used men like Akhtar in a continuing effort to keep the Taliban, and its satellites, alive in the hope of planting a client regime in Kabul. Meanwhile, the Harkat's assets were handed over to Masood Azhar, who had formed the Jaish-e-Mohammad after being freed by India in December 1999 in return for the passengers of the hijacked IC 814.
Feeling betrayed by Musharraf's regime, the jihadists who had fled Afghanistan turned on Pakistan's ruler. Akhtar was implicated in two attempts to assassinate Musharraf, after which he fled the country. Then, in 2004, he was arrested in the United Arab Emirates, and deported.
In August that year, then Information Minister Sheikh Rashid announced Akhtar's arrest — but he was never charged or prosecuted. Later, on May 5, 2007, Pakistan's Supreme Court was told "he is engaged in jihadi activities somewhere in Punjab" — only to be informed 24 days later that he had been released. Akhtar returned home to Mandi Bahauddin, after being thrown out of an ISI car near the town of Chakwal.
Following the 2007 suicide attack on Benazir Bhutto — the first of two; the second would claim her life — Akhtar's name surfaced again, with the former Prime Minister naming him as the perpetrator in her posthumously-released book. He was arrested in February 2008, and let off again in May for want of evidence.
In August 2010, he was put in protective custody after being injured in a drone strike — even though he had been named as one of the perpetrators of the September 2008 suicide attack on the Marriott Hotel in Islamabad, and for recruiting five US nationals into al-Qaeda. He was released before the year was out.
No account exists of precisely what Akhtar was doing in Afghanistan in the years after he was last released, but Kabul-based intelligence sources say he played a key role in organising al-Qaeda and Pakistani jihadists who have form the hard core of the anti-government insurgency. According to Afghan sources, he reported to al-Qaeda chief Ayman al-Zawahiri, and had set up bases in Bagram and Reshkhor to train jihadists to fight in Central Asia and beyond.
The questions emerging from Akhtar's bizarre life have long hung in the air, in plain sight. Like so many who live in the shadows, Akhtar's last service to his masters may have been to not live to tell his tale.
Source: indianexpress.com/article/explained/importance-of-saifullah-akhtar-the-isis-pet-jihadist-for-30-years-pakistan-terrorism-4535233/
URL: https://www.newageislam.com/radical-islamism-and-jihad/praveen-swami/importance-of-saifullah-akhtar,-the-isi's-pet-jihadist-for-30-years/d/110147