By Praveen Swami
May 24, 2016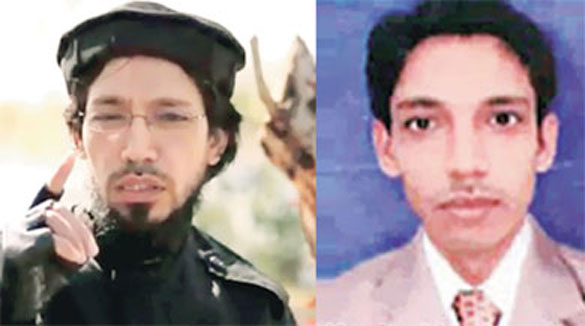 Abu Rashid warns of revenge for communal violence: 'Will wage war upon you until polytheism is destroyed in India'. The left image is from the video while the right image is from NIA files
----------
Two of the men featured in an Islamic State (IS) documentary released last week are suspected to be Indian Mujahideen (IM) fugitives sought for prosecution in the country, sources in the National Investigation Agency (NIA) and intelligence services have told The Indian Express.
Abu Rashid Ahmad and Mohammad 'Bada' Sajid were said to have been identified on the basis of interviews conducted with their families by police in Uttar Pradesh, sources said.
The documentary, the first on South Asian jihadists in IS, also featured an interview with one-time Thane engineering student Aman Tandel, and included images of his friends Shaheem Tanki and Fahad Sheikh.
In the video, the suspected IM fugitives — wanted for their role in various bomb blasts — speak out on their past terrorist operations, escape from India, and plans.
Former Mumbai eye-hospital worker Abu Rashid warns of revenge for the anti-Muslim communal violence in India. "I want to tell the government of India that we will avenge every crime that has been committed against Muslims there," says Rashid.
"Do you not remember the serial blasts on the trains in Bombay? Have you forgotten the serial blasts in Gujarat? Have you forgotten the destruction in Delhi and in Jaipur?" he asks.
"We will deliver unto you a reckoning far more terrible than these, and will wage war upon you until polytheism is destroyed in India, and Allah's rule is established," says Rashid.
The NIA and several state police forces have named Rashid — a former resident of Azamgarh — as an alleged suspect in several blasts carried out by IM between 2005 and 2008.
Mohammad Sajid is also from Azamgarh and said to be one of the suspects behind the serial bombings in Ahmedabad and Jaipur, sources said.
In the documentary, Sajid says: "Allah told us war is an obligation upon believers until the world is rid of disbelief, apostasy and infidel regimes… For us to live a life of honour and dignity, we must adopt the path of war in the way of Allah."
The Ansar-ul-Tauhid fil'Bilad-ul-Hind, an organisation of former IM jihadists fighting with the IS, had last year issued an obituary for Sajid, saying he had been killed in combat. The statement mourned "the martyrdom of our brother Abu Turab al-Hindi on the forefront of the war for Islam in Kobani".
Intelligence sources said the interview with Sajid is one of several clues, which suggest that the IS documentary was assembled from video footage shot over several months — among them, images of the jihadists training in boats were first released online last summer.
The documentary, however, provides the only first-person accounts to have surfaced of the IM's journey after 2008. "Following the Batla House encounter, the land of India became hostile to us. The intelligence agencies and the ATS (Maharashtra Police Anti-Terrorism Squad) pursued us. It became difficult for us to carry out armed actions," Rashid says of his journey to the IS.
Rashid claims the group made "Hijrat" — or exile — to Khorasan in the Afghanistan-Pakistan borderlands. There, he says, "we had many opportunities to participate in actions with the Mujahideen".
Following this, the group made a "second Hijrat", to the IS, claims Rashid.
However, the interview with Sajid suggests a broader discontent. "Hindustan is the citadel of shirk [polytheism]", he says.
"We see that, cows, trees, the sun, the moon, all these are worshipped. Even though Allah has us from these practices, we see that the Muslims of India maintain social relations and business with these unbelievers," says Rashid.
Source: indianexpress.com/article/india/india-news-india/indian-mujahideen-fugitives-islamic-state-video-nia-intelligence-services-
----
The Recruitment Plot: Wanted For Al-Qaeda Links, a Bengaluru Doctor Once Deported From UK
By Johnson T A
May 24, 2016
Sabeel Ahmed
-------
Deported from the UK in 2007 after his elder brother had carried out a suicide attack, now based in Saudia Arabia, a doctor once based in Bengaluru is among a dozen "missing" Indians accused of being part of a plot to establish the al-Qaeda in the subcontinent.
The Delhi police special cell, which is investigating attempts to establish AQIS, the al-Qaeda's Indian subcontinent wing, in India has named Dr Sabeel Ahmed and 11 others as missing accused. A fast-track court in Delhi had issued a proclamation seeking the presence of the missing men in the court by May 16. Delhi police released a media advertisement earlier this month.
This is the second terrorism case against Sabeel, 33, in India since he was deported as a 25-year-old by British authorities for a suicide attack by his elder brother Kafeel Ahmed at Glasgow Airport on June 29, 2007.
Last February, the National Investigation Agency had named Sabeel as an accused in an alleged 2012 plot by the Lashkar-e-Toiba to recruit Indian youths for terrorism. A non-bailable warrant has been issued against Dr Sabeel Ahmed in the NIA case and a look-out circular issued at airports in India.
Sabeel, known to be working at King Fahd Hospital in Saudi Arabia, has in the past denied allegations on the 2012 LeT recruitment plot. "I am given to understand that the allegation against me is that I have been part of some meetings in Riyadh and Dammam, where these plots were hatched. I categorically deny having attended any such meetings," Sabeel had stated in a communiqué from Saudi Arabia in 2013. "I am also given to understand that I am accused of financing and giving logistical support to the plot. It is ridiculous… I have never had any excess finances to distribute… without having knowledge of what is done with the money."
His suspected links to the current AQIS recruitment plot emerged in statements reportedly given to police by a key accused in the case, Abdul Rehman Khan, 38, from Cuttack. Khan was arrested last December for allegedly being at the centre of efforts by AQIS-India and its local chief Mohammed Asif, 41, a resident of Deepa Sarai in Sambhal region of Uttar Pradesh, on the directions of suspected AQIS chief Maulana Asim Umar.
Umar has now been identified as being the same person as Sambhal resident Sannaul Haq, who fled India for Pakistan in 1995. He was named AQIS chief by al-Qaeda leader Ayman al-Zawahiri in a video broadcast in September 2015. Umar is among the persons named as wanted alongside Sabeel.
According to Khan's statements to the police, he met Sabeel in Bengaluru in 2009 when the doctor was living in the city after being deported for his failure to disclose his brother's plans to attack Glasgow Airport.
After Sabeel took up a job in Saudi Arabia in 2010-11, Khan reportedly went there in October 2012 and met him. Sabeel allegedly sought Khan's services for the recruitment of Indian youths for jihad. Khan is alleged to have sent a Hyderabad youth, Mohd Umar alias Umar Hyderabadi, to Pakistan via Saudi Arabia. Umar Hyderabadi too is among the 12 missing persons named in the AQIS case.
According to statements attributed to Khan, he travelled to Saudi Arabia in January 2015 en route to Pakistan and was informed by Sabeel that a few Indian recruits had been sent to Pakistan. In Pakistan in 2015, Khan is alleged to have undergone arms training at the instance of LeT military operative Sajid Mir and other LeT leaders accused in the 26/11attack on Mumbai.
Sabeel is being linked to the AQIS plot also through fiery preacher Maulana Anzar Shah Qasmi, 50, arrested by the Delhi special cell this year. Sabeel and an associate, Mohd Shaheed Faisal alias Ustad, 32, and several others who were named or arrested in 2012 in an LeT recruitment conspiracy case are said to have been deeply influenced by the religious Bayans given by Maulana Qasmi in mosques in south Bengaluru.
Qasmi, Khan and AQIS-India chief Mohammed Asif are among the persons arrested so far in the alleged AQIS recruitment plot. The three had apparently met in Bengaluru last year in August-September to chalk plans for the AQIS.
Apart from Sabeel, two other absconders from the 2012 Lashkar-e-Toiba recruitment plot — a case in which 25 persons are accused and 17 have been arrested — figure in the new AQIS plot: Shaheed Faisal and Farhatullah Ghori, a veteran LeT-linked operative. Among the other accused declared as missing in the AQIS case by the Delhi special cell are Mohammed Sarjeel, Syed Akhtar alias Qasim, Usman alias Asad, all hailing from Deepa Sarai and alleged to have taken training in Pakistan.
Source: indianexpress.com/article/india/india-news-india/the-recruitment-plot-wanted-for-al-qaeda-links-a-bengaluru-doctor-once-deported-from-uk-
---
Malvani Youth Ayaz Sultan Has Reached Syria: Security Agencies
By Rashmi Rajput
May 24, 2016
Nearly six months after he fled from India, security agencies believe Malvani youth Ayaz Sultan, 24, has reached Syria to fight for the Islamic State.
Sultan's last coordinates were tracked to Syria in March this year, after which his trail went cold, leaving security agencies worried about his present location and activities, officials said.
"Sultan had got in touch with his foreign handler, Shafi Armar alias Yusuf, through various encrypted chat forums. We were monitoring his activities through these forums. Their analysis reveals that Sultan has reached Syria. But his last coordinates were in March and since then we have no information on his present movements," an official told The Indian Express.
Four youths had gone missing between October and December last year from suburban Malvani in Maharashtra. While Wajid Sheikh and Noor Mohammed returned within a month, Mohsin Sheikh was arrested by the Special Cell in Delhi on February 4.
The fourth youth, Sultan, who used to be a call centre employee, fled to Kabul via Delhi and allegedly joined the Ansar ul Tawhid (AuT), which is now headed by former Indian Mujahideen member Shafi Armar. AuT has pledged its allegiance to the Islamic State and helps recruit Indians into the outfit.
Officials involved in counter-terrorism operations suspect Sultan, who left the city on October 30 last year, may have changed his encrypted messenger services or may have been advised by his handlers to go underground so he falls off the radar of Indian intelligence agencies.
If the analysis of the security agencies is correct, Sultan would be the fifth youth from Maharashtra to have reached Syria to join the Islamic State. The other four are youths from Kalyan, who left their homes to join the outfit in May 2014. Last week, a video purportedly showing two of the four Kalyan youths was released by the Islamic State.
"Sultan was in continuous contact with the three other youths from Malvani. In December last year, he told Noor that he had managed to reach Syria by crossing the porous borders between Afghanistan and Iran and that he had undergone arms training called the Daura-e-Aam (general training) imparted by his Islamic State handlers. He said he was soon going to be assigned a task by his Syrian handlers," the official said.
"Sultan also asked Noor and the other Malvani youth to leave India and join him in Syria. It was after this conversation that the three youths fled the city on December 15 last year. But since security agencies were keeping a close tab on their movements, a crackdown on alleged Islamic State sympathisers was launched, forcing Noor and Wajid to return to Mumbai and surrender before the Maharashtra Anti-Terrorism Squad. Mohsin was subsequently arrested by the Delhi Special Cell and subsequently handed over to the National Investigation Agency, which is probing cases related to the Islamic State across the country," the official said.
In January this year, the NIA along with six state counter-terrorism agencies launched a crackdown on alleged Islamic State sympathisers across the country and arrested 23 people, including three "self-styled leaders" of a home-grown pro-Islamic State outfit, the Janood-ul-Khalifa-e- Hind.
Related Article:
Will Indian Ulema Respond To The Latest ISIS Outrage? Is Islam Not A Religion Of Peace? Is Offensive Jihad An Individual Religious Duty (Farz-e-Ain)?
https://www.newageislam.com/radical-islamism-and-jihad/sultan-shahin,-founding-editor,-new-age-islam/will-indian-ulema-respond-to-the-latest-isis-outrage?-is-islam-not-a-religion-of-peace?-is-offensive-jihad-an-individual-religious-duty-(farz-e-ain)?/d/107368
Source: indianexpress.com/article/india/india-news-india/malvani-ayaz-sultan-syria-islamic-state-2816147/#sthash.yUA4omtS.dpuf
URL: https://www.newageislam.com/radical-islamism-and-jihad/praveen-swami,-johnson-t-a-and-rashmi-rajput/uttar-pradesh-police-confirm,-2-suspected-indian-mujahideen-fugitives-in-islamic-state-video/d/107395