Turkey, Pakistan and Uzbekistan Have Sealed Their Borders
Main Points:
1. US, Canada and UK have allowed Afghan refugees to enter
2. US government has sanctioned $500 million for Afghan refugees
3. European NGOs have asked European nationals to come to the help of Afghan refugees
4. Muslim nations have not offered financial help to the Afghan refugees or internally displaced persons.
5. Taliban have not showed any sympathy or concern for the displaced Afghans
------
By New Age Islam Staff Writer
19 August 2021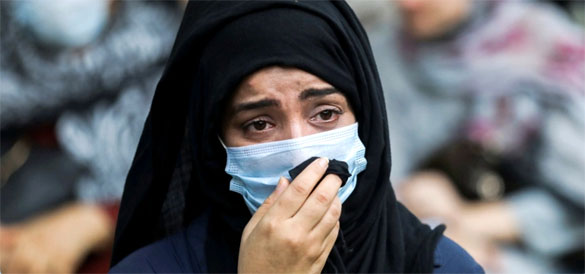 An Afghan national at a gathering to urge the international community to help Afghan refugees, in New Delhi on August 18 [Anushree Fadnavis/Reuters]
------
With the Taliban's ascent to power in Afghanistan, the major fallout of the political instability was a large scale displacement of Afghans. Approximately 400, 000 have been displaced internally and hundreds of thousands of Afghans are fleeing Afghanistan for the fear of a tyrannical rule of Taliban as they have witnessed during their previous rule. The large scale migration of Afghan has resulted in a humanitarian crisis. Women and children are the most vulnerable section during this crisis and they are suffering the most. Many Afghans have tried to flee to Turkey while many other entered Pakistan through Friendship Gate in Chaman in Pakistan. They have also fled to bordering Iran where already hundreds of thousands of Afghans live as refugees. Many Afghans enter the bordering countries through forests and mountainous regions because the governments do not allow them to enter.
The unfortunate aspect of this humanitarian crisis is that most of the Muslim countries have prevented hapless Afghans from entering their territory citing refugee overload. This has put the migrants at greater risk of exploitation and hardship. For example, Turkey, the self-styled leader of the Muslim countries has announced that it will not allow migrants from Afghanistan as it already has given shelter to 4 million refugees mostly from Syria and 1,20,000 refugees from Afghanistan. It has sealed its borders and built a wall to avert any refugee influx. However, this has given opportunity to smugglers who take $ 1000 per person from Afghan migrants to lead them into Turkey illegally. Turkey has detained about 1500 illegal entrant into the country.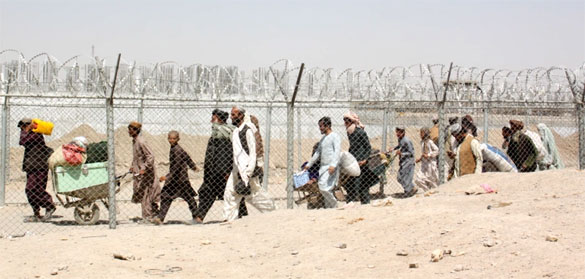 People arriving from Afghanistan cross the fence at the Friendship Gate crossing point, in the Pakistan-Afghanistan border town of Chaman, Pakistan [Abdul Khaliq Achakzai/Reuters]
-----
Pakistan which shares its borders with Afghanistan and has a lot of political interference in the political affairs of Afghanistan has also made it clear that it will not allow more refugees from Afghanistan. Prime Minister of Pakistan, Imran Khan has said that Pakistan already hosts 1.4 million registered refugees from Afghanistan apart from hundreds of thousands of unregistered refugees. Another influx of refugees will create economic, social and political problems for the country.
Another Muslims country Uzbekistan which shares its borders with Afghanistan has sealed its borders and made it clear that it will take stern action against those who illegally enter the country. At least 158 Afghans were detained for illegally entering the country. Apart from that, 446 Afghan military warplanes and helicopters and 585 soldiers illegally entered Uzbekistan and were forced to land in Termez.
Only Iran, a Shia majority country has kept its borders open though it already hosts one million registered Afghan refugees. The UNHCR has lauded Iran's inclusive and humanitarian approach towards Afghan refugees. It should be noted that Iran has included Afghan nationals in its national health and education system. UNHCR has hoped that Iran will continue to extend its hospitality and protection to Afghan refugees.
On the other hand, the European countries have shown the greatest concern and sympathy for the Afghan refugees as they had shown their concern and sympathy for the Muslim refugees of Syria. As no Muslim country has taken any sincere step, financial or diplomatic, to solve the refugee crisis arising out of the ascent of Taliban in Afghanistan, European countries and NGOs have shown real concern for them. The US President Joe Biden granted an extra $500 million for "unexpected urgent refugee and migration needs of refugees, victims of conflict, and other persons at risk as a result of the situation in Afghanistan, including applicants for Special Immigration Visas."
Moreover, 46 Senators have called for "humanitarian parole category" to allow Afghan human rights activists and public personalities to swiftly relocate to the US.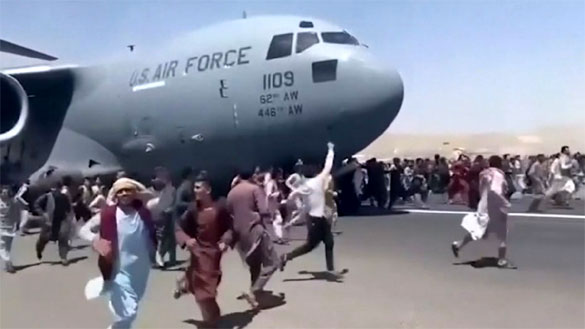 As thousands of people attempt to flee Afghanistan with the Taliban in control, some people here in the Valley are looking to help. (WHSV)
------
The US will help 30,000 Afghans to relocate to its territory and some of them will be temporarily housed at Fort Bliss at El Paso in Texas.
NGOs like Save the Children and Pro Asyl have demanded that the European nations should admit displaced Afghans and built more resettlement places for them in Europe.
At a time when the Afghan nationals need help from the Islamic countries, they have closed doors on them and on the other hand, the Western countries have opened their doors for them and have assured of help to them. In a press statement yesterday, the Prime Minister of UK, Boris Johnson said that UK will take in 20,000 Afghans, particularly women, girls and religious minorities, in coming years. The UK had a similar programme for the victims of the Syrian crisis.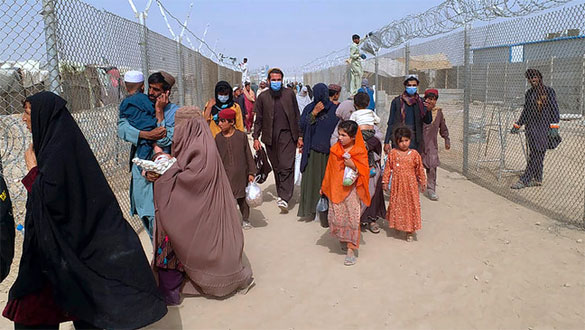 Travelers enter in Pakistan through a border crossing point in Chaman, Pakistan, Monday, Aug. 16, 2021. A special flight of Pakistan's national airline PIA has arrived in Islamabad carrying 329 passengers from Kabul, and another carrying 170 people will arrive later today. A spokesman for the airline said Saturday that the airline will operate three flights tomorrow to transport Pakistanis and other nationalities looking to leave Kabul. (AP Photo/Jafar Khan)
-----
Canada has also agreed to accept 20,000 refugees while Muslim country Tajikistan has said it will give shelter to 100,000 Afghans.
The Islamic nations have no schemes for Afghans suffering due to the current crisis. They have no financial plans to help the displaced and impoverished Afghans as a result of the crisis. The US is trying to persuade Qatar to take in 2000 Afghan refugees.
Currently, the Afghans are going through very tough and testing times. They need food and medical facility. The Taliban who claim to follow Islamic Shariah and vow to establish a government based on Shariah have not expressed their concern for the displaced Afghans. They have not yet issued any appeal to the Afghans not to leave their country. Though they have said that they will not commit violence against any group but it has not created any confidence among the people particularly the minority communities like Hazaras and Uzbeks. No major statement of Taliban appealing the people not to leave the country has come yet. Therefore, there is still no clarity on what policy the Taliban will adopt towards minorities, women and on education. That's why, people are fleeing to Europeans countries in the hope of a safe and peaceful life. Meanwhile, and Muslim countries are a silent spectator to the hardships and miseries of the common Afghan people.
URL: https://www.newageislam.com/radical-islamism-jihad/refugee-asylum-afghan-muslim/d/125241