Taliban Say Their Ulema Will Decide on Women's Rights
Main Points:
1. A woman was killed for not wearing veil
2. The statue of a Shia leader was demolished
3. General Afghan are skeptical about their declaration of amnesty
4. Taliban cannot go far from their own theological interpretations of Islam
-----
New Age Islam Staff Writer
20 August 2021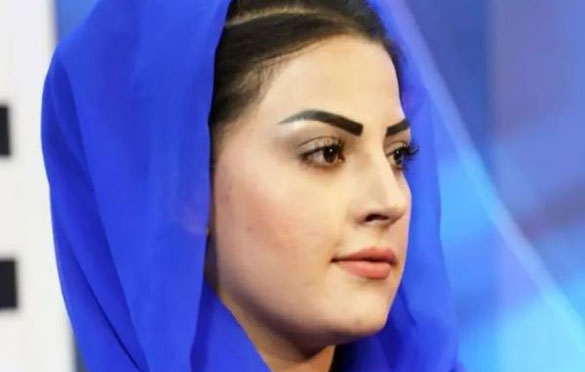 Shabnam Dawran (Photo courtesy ShethePeople)
-----
The Taliban have captured power in Afghanistan and have announced to have formed their government in Kabul. Their government will be known as Imarat-e-Islami Afghanistan. Hundreds of thousands of Afghans have fled to Pakistan, Iran, Turkey and European countries fearing a return of a repressive government which ruled from 1996 to 2001. During their first rule, they banned women education and barred women from public life, girls were barred from going to school and minorities including Shia Hazaras faced worst persecution. They destroyed Bamiyan Buddha and places of worship of minorities and killed Shia religious and political leaders.
Fearing another round of persecution under Taliban, many Afghan people have fled to neighbouring countries. Women and minorities are specifically worried about their future.
However, this time the Taliban have tried to don a pragmatic approach towards women and minorities. They announced general amnesty and have said that they will respect the rights of women and women will be allowed their place within the framework of Islamic shariah. In a statement made a day ago, Taliban spokesman Zabihullah Mujahid said on Sunday that their government would be free to work within the framework of Islam but did not elaborate on what he meant by 'the framework of Islam.'
Two days later, Taliban leader Waheedullah Hashmi said that Muslim women's right to work and education will be decided by 'Islamic scholars'. He said that the ulema will decide whether girls can go to schools or not.
On the other hand, a woman anchor of state-owned TV RTA was barred from joining work on the basis that the 'system' had changed. Shabnam Dawran, an anchor said she was barred from joining her duty after the Taliban's takeover. This is in contradiction to what the Taliban leaders have been saying.
Another incident that contradicts Taliban's stance is the killing of an Afghan woman by the Taliban for not wearing veil in public in Kabul. The killing came just after Zabihullah Mujahid's statement pledging honouring women's rights.
It seems that the Taliban have not been able to chalk out a clear cut policy on women's rights and on whether they should be allowed to work and go to schools.
That women will be allowed their rights within the framework of Islam and that Islamic scholars will decide on the issue is an ambiguous statement. There are many interpretations of Shariah and there are also many opinions of Islamic scholars or ulema on they veil and education and jobs for women. And Taliban have been following the interpretations of their own ulema since the inception of Taliban. So it seems a little confusing when they say that their Islamic scholars will decide on the issue of education and the extent of veil for women and their participation in jobs. They already have their own theology and so they do not have to take the opinion of their ulema on particular issues. If they say that minorities or women will have their rights within the framework of Islam, weren't they following the framework of Islam when they killed Hazaras or will they now admit that when they had barred girls from going to school during the previous rule, they had violated the framework of Islam?
During the 1990s, the Taliban massacred thousands of Hazara Shias. During the period, a Taliban commander Maulvi Mohammad Haneef is believed to have said that Hazaras were not Muslims and so they could be killed. In 1998, thousands of Hazaras were killed in Mazar-e-Sharif. Recently, after coming to power, the Taliban demolished the statue of a Hazara leader whom they had killed in 1999.
It is known to all that Taliban have their own theology and their own Islamic scholars who present a violent and extremist Islamic ideology. According to their theology, women should not be allowed to lead public life and girls should not be allowed to acquire education. If they allow all this they will violate their own theology and even if they show some pragmatic approach they cannot go far in that direction. Their own conservative interpretation will come in their way. From what they have been saying for the last week and what they have been practicing it is evident that they are trying to present before the world a liberal and reformed picture of their organization but their ideological commitments are pulling them back.
This is the confusion within the Taliban rank and file which is at the root of the mistrust and scepticism among the Afghan people, particularly among women and minorities. They are not convinced with the words of Taliban assuring them of safety and security. The policy of Taliban towards women and Shias will become more clear in the days to come. But it can be said without the fear of repudiation that the Taliban cannot go too far from their decade old stance on women's rights to education, job and social freedom and on their fatwa on Hazaras and other minorities living in Afghanistan.
URL: https://www.newageislam.com/radical-islamism-jihad/afghan-taliban-journalist/d/125244
New Age Islam
,
Islam Online
,
Islamic Website
,
African Muslim News
,
Arab World News
,
South Asia News
,
Indian Muslim News
,
World Muslim News
,
Women in Islam
,
Islamic Feminism
,
Arab Women
,
Women In Arab
,
Islamophobia in America
,
Muslim Women in West
,
Islam Women and Feminism