By New Age Islam Special Correspondent
09 February 2016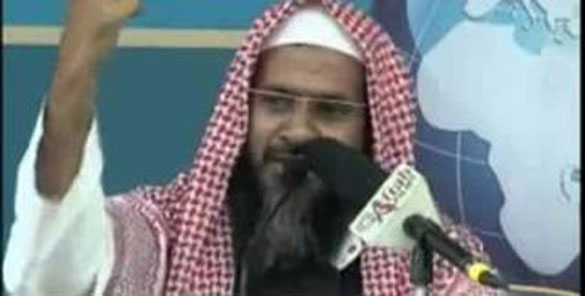 Mufti Abdus Sami Qasmi
----------
Mufti Abdus Sami Qasmi a Deobandi cleric was recently arrested presumably for backing ISIS and instigating Muslim youth in his various speeches. After his arrest, his supporters have claimed that he has not supported ISIS. It is important for the Muslim community and the nation at large to settle the question if he really supported ISIS and provoked Muslims in his speeches, or is it just a police conspiracy, as claimed by his supporters. To settle the issue, NewAgeIslam.com is producing some of his statements taken from the speeches available at youtube.com with their English translation.
In his speech titled "Mufti Abdus Sami Qasmi Bayan: Maujuda Halat mai Musalman Kya karen" available at the link youtube.com/watch?v=uLGFHxtc5Vw, Mufti Abdus Sami says:
"Ye Kahne Walon Ke Ye Shakhs (So-Called Khalifa Al-Baghdadi) Kaltak Jail Me Tha Aaj Khalifa Kaise Ban Gaya? To Ye To Humari Thareekh Batati Hai, Hazrat Yusuf Alaihis Salam Misr (Egypt) Ki Jail Me The, Jail Se Nikle To Takhte Shahi Par The, Ami Rul Muslameen Aur Khalifat ul Muslameen The. To Aaj Agar Abu Ghareeb Jail Se Nikal Kar Ibrahim Bin Awwad, Husaini Khun, Agar Jail Se Nikla Aurtakht-E-Shahi Par Baith Gaya To Wo Tumhara Nahi Balke Rab Ka Elan Hai "Jise Chahta Hai Badshaahat Deta Hai Aur Jisse Chahta Hai Badshahat Cheen Leta Hai" (Surah Ale Imran 26)
Translation:
"To those who say how the person who was in the prison has become Khalifa today? Our history tells us that Hazrat Yusuf (peace be upon him) was in a prison in Egypt. But after coming out of prison, he sat on the throne of kingdom and became 'Amir ul Muslemeen (leader of Muslims) and Khalifat ul Muslemeen (Caliph of Muslims). Similarly, having come out of the prison called "Abu Gharaib", Ibrahim bin Awwad (i.e. Abu Bakar Al-Baghdadi, the leader of ISIS), who is from the progeny of Hussain, has sat on the throne of the King. This position is not from you. It is the declaration from Allah Almighty who says: "Say, "O Allah, Owner of Sovereignty, You give sovereignty to whom You will and You take sovereignty away from whom You will". (3:26)
…………………….
In another speech titled "Mufti Abdus Sami Qasmi Bayan: Ummat Ka ek Giroh Hamesha Haq Par Rahega" available at the link https://www.youtube.com/watch?v=fGjly4a4PMY, Mufti Qasmi says,
"Ye Baaten Chhor Den Musalman Jo Apne Aapko Kah Rahe Hain Ki America Hi Duniya Me Jo Kuch Karta Hai Wo Hota Hai, Usi Ne Usama Ko Paida Kiya Aur Usi Ne Maar Diya, Yahi To Kahte Hain(Urdu) Akhbarat, Yahi To Kahti Hai(Muslim) Media, Usi Ne Paida Kya Aur Usi Ne Maar Diya! Haan, Bataaeiye, Zindagi Aur Maut Bhi Inke Haathon Me Aane Lagi! Hargiz Nahi, Kisi Ke Haath Me Koi Ikhtiyar Nahi, Ye To Allah Tabarak Wa Taala Ki Zaat Hai Ki Usnejise Chaha Jis Haal Me Chaha Wo Bache Rahe, Unki Maut 2002, 2011, 2 May, 2011 Abbotabad Me Likhi Thi, Shahadat Milni Thi Wahan Mili, Lehaza 1931 Me Sayyad Ahmed Shaheed Aur Shah Ismael Dehlaviki Shahadat Bala Kot Ki Pahadiyon Par Likhi Thi Unhe Wahan Mili, 1857 Me Maulana Qasim Nanautvi Ki Shahadat Shaamli Ke Maidan Me Nahi Likhi Thi, Unse Dar Ul Ulum Deoband Ki Buniyadli Khwani Thi To Wo Zinda Rahe........."
Translation:
"Those who call themselves Muslims must stop saying that everything in the world is in the hands of America, and that it created Osama bin Laden and then killed him. This is what the (Urdu) newspapers say, don't they? This is what the (Muslim) Media says that America created Osama and then killed him. Tell me, if death is in the hands of America! Not at all! No person has any authority over it. Everything is up to Allah Almighty. Their death was destined to take place in 2002, 2011 and 2 May 2011 in Abbotabad, so they died as martyrs. Similarly, in 1931, Sayyid Ahmed Shaheed and Shah Ismael Dehlavi were destined to get the rank of martyrdom in Balakot. In 1857 Maulana Qasim Nanautvi did not suffer martyrdom, because Dar ul Ulum Deoband was destined to be founded by Mualana Nanautvi, so he was kept alive for that purpose…."
In the same speech (55:45 to 1:49:26), Mufti Abdus Sami openly supports and praises the four founding leaders of ISIS—Abu Hamza Muhajir, Abu Mus'ab Zarqawi and Abu Umar Al-Baghdadi, and Abu Bakr Al-baghdadi. He also instigates Muslims to weep for and sympathize with 'the martyrs' of ISIS, Boko Haram in Nigeria and Taliban in Afghanistan.
……………………..
In a speech titled "MufitAbdus Sami Qasmi Bayan: JumhuriyatkeParastaar, Islam keNumaindeynahi ban sakte" (from 1:20:42 to 1:57:30) available at youtube.com/watch?v=FEQX71-sfTg, Mufti Qasmi says,
"Afghanistan Ke WO Governor, WO Ulema, Jinki Qadro Manzilat Ka Ye Aalam Tha Ki Allah Tabarak Wa Taala Ne Unhe Aisa Muqaam Ata Kiya Hai Ki, Jo Afghanistan Ka Daura Karke Aaye Hain, Usne Aakar Bataya Ki Unhone Sahaba Ki Yaad Ko Taaza Kardiya Hai, Inhone Khilafat E Rashida Ko Zinda Kardiya Hai, Magar Jab Wo Pakregaye To Guantánamo Jail Me Aisa Aisa Aalim Gaya K Ijiski Daadhi Munch Aur Jiske Baal Khatm Kardiye Gaye The, Wo Lohon Ke Pinjaro Me Jakar Liye Gaye The. Phir Allah Tabarak Wa Taala Ne Tera Saal Ke Baad Ya Gyara Saal Ke Baad Halaat Ke Rukh Ko Palta, Kia Aj Iraq Aur Shaam Ki Sarzameen Par Wo Manzar Duhraya Ja Raha Hai, Ab Libiya Ki Sarzameen Par Allah Tabarak Wa Taala Ne Wo Manzar Ko Duhra Diyaki Jo Hath Ka Diya Lagane Wale The Aaj Unke Haathon Me Hathkadiyan Hain Jo Pinjaron Me Band Karne Wale The Wo Ab Pinjaron Me Band Hain, Jo Narangi Kapre Pahnane Wale The, Unk Ejism Par Narangi Kapre Hain.....Jo Ghutno Ke Bal Bhitate The Wo Aaj Ghutno Ke Balbaithe Hain............."
Translation:
"Those people who have come back after visiting Afghanistan have told us that they have revived the memory of the Sahaba (the companions of the prophet peace be upon him) and restored Khilafat-e-Rashida (the rightly guided caliphate). When they were arrested, the clerics were imprisoned in Guantanamo, their beard and moustache had been shaved. After thirteen or eleven years, Allah Almighty changed the situation so much so that the same scene is being repeated in the lands of Iraq, Syria, and Libya. Those who used to handcuff others have been shackled now. Those who would imprison [others, Muslims] have been imprisoned now. Those who used to put orange clothes on [Muslim prisoners] have been dressed up in orange now. Those who used to kneel [others] have been made to kneel on the ground now."
Mufti Qasimi further says,
"Shias Kaa Khbar Padhkar Islam Samajh Me Nahi Aa Sakta. Inquilab Urdu Akhbar Shias Ka Akhbar Hai. Apko Malum Hona Chahiye Ki Iska Editor Kaun Hai? Iska Editor Shakil Shamsi Hai. Shakil Shamshi Ek Bahut Hi Badbudaar Shia Hai…."
Translation:
"You cannot understand Islam by reading the newspapers of Shiites. The Urdu newspaper 'Inquilab' is issued by a Shia editor, Shakil Shamsi. You must know that Shakil Shamsi is an extremely foul-smelling Shia…."
……………………….
In the speech titled "Mufti Abdus Sami Qasmi Bayan: Duniya Bhar me Musalmano ke Saath hi Zulm o Sitam kyon (from 56:26 to 1:35:30)" available at youtube.com/watch?v=LKTuW4lpHGk, Mufti Qasmi says,
"Aaj Sham Ke Haalat Koi Maamuli Baat Hai, Sham Ke Halat Se Musalamno Ki Ghaflat Kya Ye Mujrimana Khaamoshi Nahi Hai, Sham Me Hone Wali Tabdiliyan Aaj Kis Baat Ki Dawat Deti Hain, Aap Sallallahu Alaihi Wasallam Ne Farmaya Ke Jang Ke Din Musalmano Ka Khema Alg Hutha Me Hoga Aaj Hum Apne Talaba Ko Bataen aaj ghutha kahan hai, Unhe Duniya Ka Naqsha Dikhaen , Geographia Padhate Hue Bataenke Ye Ghutakahanhai, Ye Shahar Aaj Kiske Control Me Hai, Aap Sallallahu Alaihi Wasallam Ne Bataya, Qayamat Qayam Nahi Hogi Jab Tak Banu Asfar Se Tumhara Muqabala Nahi Hota Aap Ne Sham Ke Shahr Dabiq Ka Naam Batadiya Ke Dabiq Me Unki Faujen Utrengi Assi Unke Jhande Honge, Har Jhande Ke Neeche Barah Hazar Ka Lashka Rhoga Wo Dabiq Shaharkahan Hai Ummat Ko Batana Chahiye Are Dusren Log Jane Yana Jane Lekin Kam Se Kam Hame Pata Ho Ke Dabiq Shahar Kahan Hai, Aur Aaj Current Position Me Iski Situation Kyahai, Agar Main Ye Kahunke To Shayad Aa Pko Yaqin Na Hog A Ke Aaj Allah Taala Ke Deewane Al-Dabiq Shahar Me Ikaththa Ho Chuke Hain. Unhone Elan Kardiya Hai, Hum Us Din Ka Intezaar Ka Rrahe Hain Jis Din Hamare Nabi Ne Ye Kaha Ha Ike O Banu Asfar Tum Dabiq Shahar Me Utroge, Wo Waqt Bhi Aana Hai, Jab Madine Ka Paakeza Lashkar Tumhari Taraf Niklega Wo Waqt Aana Hai Jab Sufyan Ka Lashkar Maqame Baida Par Fansa Diya Jaega. Aap Rasulullah Sallallahu Alaihi Wasallam Ne Jo Kuch Bataya Aaj Batane Kizarura Thai, Aap Sham Ko Kyon Nahi Samjhte Ke Sham Kis Ilaqe Ko Kahte Hain…."
Translation:
"The matter of Sham (Syria) is not trifling. Is the ignorance of Muslims about the situation of Sham not a criminal silence? What do the changes occurring in Sham call us for? The Prophet (peace be upon him) said that the during the war days, Muslims will stay in Al-Ghutha. We must teach our students through geography where al-Ghutha is. We must show them the map of the world today, telling them about those who are controlling this city. The prophet (peace be upon him) said the Hour will not come until you fight with Banu Asfar. He told us that their army will arrive at Dabiq with eighty flags; with each having an army of twelve thousand soldiers. Where is the city of Dabiq? We should tell Ummah about it. Others must know it or not, but at least we must be aware of this city and its ongoing situation. If I tell you, perhaps you will not believe that, the pious slaves of Allah Almighty have gathered together in the city of Dabiq. They have even declared it. So, we are waiting for that day about which the prophet (peace be upon him) predicted that Banu Asfar will come to the city of Dabiq. We are waiting for that day when the pious army from Madina will move towards you. We are waiting for the moment when the army of Sufyani will be defeated at the desert of Baidaa. We must tell the people whatever the prophet (peace be upon him) predicted. Why do you not understand Sham and its location…?"
……………………
"Mufti Abdus Sami Qasmi Bayan, Aalami Halaat se baa khabar ho jaao (1:05:08 to 1:13:26)" available at youtube.com/watch?v=j5wMcLyYlpI, Mufti Qasmi says,
"Duniyaaa Jise (Jordan) Koabu Musab Zarqawi Ke Naam Se Janti Hai. Zarqa Ek Chota Sa Gaon Hai Jordan Kalekinaajzarqapuriduniyakinagahonkamarkaz Ban Chukka Hai. Aaj Zarqa Tareekhe Islam Me Sunahre Alfaz Se Likha Jar Aha Hai. Aaj Zarqa Yahudiyat Ke Liye Shula E Zawala Ban Chukka Hai. Aaj Zarqa Ka Bachcha Bachcha Abu Musab Zarqawi Par Naaz Kar Raha Hai. Pichle Hafte Abu Musab Zarqawi Ka Video Tape Aaya Us Me Usne Ye Baat Kahi Ke Hum Apne Khun Se Aur Apne Jism Ke Tukron Se Ek Nai Salebi Tareekh Likhne Ja Rahe Hain. Ae Dushmano Suno Hamara Khun, Hamara Iman Aur Hamare Lahu Ki Bunde Tumhe Wo Sabaq Sikhaengi Aur Ek Khaufnak Taareekh Likhenge. Is Baat Par Zarqa Ki Galiyon Me Khushiyon Ke Shadyane Bajnelage, Bachche Ghar Ghar Se Nikal Kar Baha Rchale Aaye Aur Abu Musab Ke Naam Ke Naare Laganelage, Uske Khandan Ke Phool Barsaae Jane Lage Aye Maa Tujhe Salam Tune Kaisa Beta Diya Hai, Itni Bari Taaqat Ke Jisse Japan Dar Raha Ho, Jis Ke Samne Russia Ghutne Teke Hue Ho, China Jis Ke Samne Karahr Aha Hai, Aye Maa Tujhe Salam Jisne Abu Musab Ko Paida Kya…"
Translation:
"Today, the world knows Jordan by the name of Abu Musab Zarqawi. Zarqa is a small village located in Jordan but today it has become the centre of the entire world's sight. Now Zarqa is being written in the history of Islam by the excellent words. Zarqa has become dangerous fire for Jews. The children of Zarqa feel proud of having Zarqawi. Last week a video tape from Abu Musab Zarqawi came, in which he said that by our blood and parts of bodies we were going to write a new history of Crusades. O enemies, listen to me, our blood and our faith would teach you a lesson and make it a dreadful history. Hearing that the people of Zarqa got ecstatic, the children came out of their houses; all raised slogans with the name of Abu Musab Zarqawi. They threw flowers at Zarqawi's family. Peace be upon the mother who produced Abu Musab Zarqawi, the brave and powerful son! Japan, Russia, China all have feared this powerful Zarqawi. O mother, peace be upon you for producing such a brave son!"
……………

Besides, various speeches of Mufti Qasmi are available at youtube.com, in which he has openly praised the late leaders of ISIS and provoked Muslims. Some of them are as follows:
"Mufti Abdus Sami Qasmi Bayan, Teesri Jange Azeem Ka Aaghaz Ho Chuka Hai"
Link: youtube.com/watch?v=en35qo3prwg
"Mufti Abdus Sami Qasmi Bayan, "Ab Hindi mai Sirf Jaan ko Hi Nahi, Imaan ko bhi khatra"
Link: youtube.com/watch?v=QBoLW_m9G8Y
"Mufti Abdus Sami Qasmi Bayan, Qayamat Tak Haqq par rahne wali jamat ki Pehchan"
Link:youtube.com/watch?v=7bF8MUTf-l0
URL: https://www.newageislam.com/radical-islamism-and-jihad/new-age-islam-special-correspondent/in-his-own-words--recently-detained-delhi-cleric-mufti-abdus-sami-qasmi-did-indeed-support-isis-and-incite-muslim-youth;-excerpts-from-his-speeches-available-on-youtube/d/106290