By Matthew Dalton and Margaret Coker
04 Oct, 2014
Nabil Kasmi left for Syria's battlefields in May 2012, the first jihadist an extremist Islamic group named Sharia4Belgium dispatched from this city, Belgian authorities allege.
On Monday, the 23-year-old Mr. Kasmi and 45 other Sharia4Belgium members will go on trial, in Europe's most high-profile legal effort yet to address a dangerous new reality of the bloody war in Syria and Iraq: Europe is increasingly becoming a recruiting ground for jihadists heading there to join terrorist groups like Islamic State.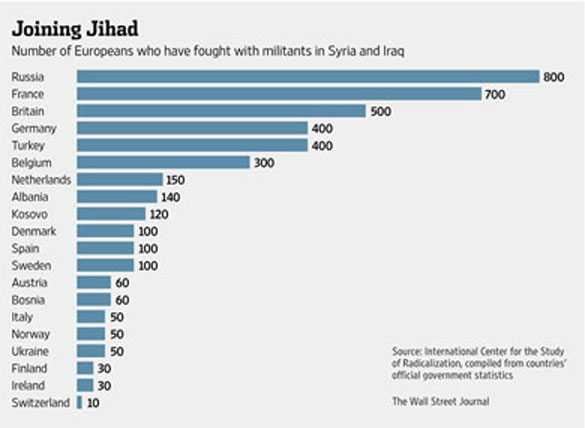 In the months after Mr. Kasmi left, dozens of Sharia4Belgium members allegedly joined him to fight to create a puritanical Islamic nation, Belgian authorities say, helping turn Belgium into a hub for jihadists going to Syria. Prosecutors will try those members, including 37 who are still believed to be in Syria, before Antwerp's criminal court on charges ranging from terrorism to kidnapping and murder.
The trial is part of get-tough strategy Belgian officials say is stemming the flow of people leaving for groups like Islamic State in Syria and Iraq. It is clear that potential jihadists "don't want to go to jail, which helps us a lot," a senior Antwerp police official says.
With numbers of Europeans leaving for jihad on the rise since Islamic State declared its self-described caliphate this summer, many of the region's nations are rolling out tougher legislation, believing that broader surveillance powers and more prosecutions can reverse these flows.
European leaders say radicalized local Muslims returning from jihad in Syria and Iraq are a grave national security threat. Proponents of crackdowns on would-be jihadists and returnees gained ground after a Frenchman, who European authorities say fought with Islamic State in Syria, allegedly killed four people in May at the Jewish Museum of Belgium in Brussels.
The U.K. has given its top law-enforcement officials powers to strip passports and citizenship for terrorism suspects without any judicial oversight. France is debating a similar law. The United Nations Security Council last week voted to make it illegal to fight for Islamic State or al Qaeda.
But the Security Council also recommended that members adopt counter-radicalization programs for citizens vulnerable to those violent ideologies and help return them to mainstream society. Civil-rights groups and Muslim organizations say more aggressive policing methods could alienate the community leaders who are the best positioned to work with police to counter radical beliefs. Many of these groups say that governments instead should focus more resources on stopping radicalization from happening in the first place.
There are roughly 2,500 European Union citizens who have gone to fight in Syria, counterterrorism analysts estimate based on official data, with about 700 from France, 500 from the U.K. and 400 from Germany. Unofficial estimates run much higher.
Belgian authorities say roughly 300 Belgians—80 from Antwerp and nearby cities—have traveled to Syria, a disproportionate number for a country of 11 million. Many of them were members of Sharia4Belgium or have links to the group, the authorities say.
Sharia4Belgium, founded in Antwerp, gained members as one of its founders, Fouad Belkacem, wooed them through street preaching. Mr. Belkacem, 32, has a long criminal record including theft and assault, police say.
Mr. Belkacem drew recruits into meetings at a member's house, away from mosques where they would have been more easily monitored by Belgian security forces. Most members are of Moroccan descent, and a number had rap sheets before joining the group, Belgian authorities say.
Some "were young criminals; they dealt drugs," says Kris Luyckx, a lawyer for one of them who says he represented several of the group's older members 10 to 15 years ago when they were teenagers dabbling in criminal activities. "Then they grew beards and saw the light."
Sharia4Belgium started planning to send members to Syria in 2011, when Mr. Kasmi and Mr. Belkacem travelled to London to meet with Anjem Choudary, a radical Muslim cleric who was arrested on Thursday in London on suspicion of being a member of a banned U.K. extremist group. Mr. Choudary helped the group contact Omar Bakri Mohammed, another radical cleric formerly based in the U.K. who now lives in Lebanon, the Antwerp police official said. He was arrested by Lebanese authorities earlier this year on suspicion of supporting terrorism.
Mr. Choudary, who was released on bail on Friday, couldn't be reached for comment. He has previously told the U.K. press he supports the goals of Islamic State but doesn't condone violence or terrorism.
Mr. Kasmi travelled to Lebanon in November 2011 to meet with Mr. Bakri, Antwerp police say, who put him in touch with militant groups in Syria. Mr. Bakri couldn't be reached for comment.
Once in Syria, Sharia4Belgium's members mainly joined two groups, Nusra Front, which is al Qaeda's affiliate in Syria, and Majlis Shura al-Mujahideen, authorities say. Some members settled in a villa near Aleppo formerly owned by a senior member of Bashar al-Assad's regime, says Pieter Van Ostaeyen, an independent Belgian historian who researches foreign fighters from Belgium. They posted pictures of themselves on social media lounging by the pool.
"Those were the days when these guys were living an easy life," Mr. Van Ostaeyen says, "when they were beating Assad and all the groups in Syria were cooperating instead of fighting each other."
When it became clear in 2013 that dozens of Sharia4Belgium's members had left for Syria, Belgian police started arresting people they were tracking who tried to go to Syria, as well as any who returned.
Police this May arrested two women from Antwerp at Brussels' airport who were allegedly on their way to join Islamic State and a third believed to have helped them. They were part of a group of 40, mostly women, many with links to Sharia4Belgium, whom the police had identified as being at risk of going to Syria, the Antwerp police official says.
Police used wiretaps and interrogations, also following Sharia4Belgium activities on social media, to identify the 43 men and three women to be tried. They also relied on intelligence intercepts provided by the U.S. and other nations, the police official says.
Some are still in Syria, including two of the three women, Belgian authorities say, most joining Islamic State. They include Mr. Kasmi and Hicham Chaib, 32, a native of a town near Antwerp who has climbed the ranks of Islamic State, the Antwerp police official says. Mr. Chaib was featured in a "Greetings" video released online last month by Islamic State on Eid al-Fitr, the celebration of the end of the fasting month of Ramadan. Others are likely to be dead, authorities say.
Seven returned and were arrested soon afterward. Those who will stand trial in person include Mr. Belkacem, who never left for Syria. His lawyer declines to comment.
Another is Hakim Elouassaki, 22, from the Brussels suburb of Vilvoorde, who Belgian authorities allege fought with Nusra Front and executed a civilian prisoner in Syria. Mr. Elouassaki's lawyer doesn't deny his client fought in Syria but has denied he executed a prisoner.
Lawyers for some Sharia4Belgium members who will stand trial argue that the group's junior members were motivated by humanitarian concerns and with the aim of helping overthrow Mr. Assad—goals shared by Western governments—not the creation of a Sharia-governed nation.
A lawyer for Elias Taketloune, a 24-year-old from Vilvoorde who was imprisoned after returning, says his client went to Syria for humanitarian concerns and largely did behind-the-lines tasks such as cooking. He negotiated Mr. Taketloune's release in part on the condition that the returnee talks to a moderate imam.
The Sharia4Belgium returnees include some who purport to have reconsidered their radical views. Among them is Jejoen Bontinck, 19, who gained fame as a teenager in Belgium when he appeared on a dance-competition show named "Move Like Michael Jackson. " Fame turned to notoriety after the Belgian media reported he had converted to Islam, joined Sharia4Belgium and traveled to Syria.
Mr. Luyckx, his lawyer, says Mr. Bontinck refused to fight and was imprisoned by Nusra Front. He was later held prisoner by Islamic State along with James Foley, the U.S. journalist whom the group beheaded in August, Mr. Luyckx and Belgian authorities say. He escaped and is cooperating with Antwerp prosecutors after spending two months in jail and providing information about Mr. Foley's possible location before his murder, they say.
Belgian authorities say Sharia4Belgium's members didn't go to Syria to fight for democracy against the al-Assad regime but to establish an Islamic state, purged of non-Sunni Muslims.
Belgian prosecutors now face the thorny problem of proving that charge, using evidence for crimes that allegedly occurred thousands of miles from the Belgian courtroom.
"If you want to start an investigation or prosecution, you need to get the evidence that he joined or planned to join ISIS or al Nusra," says Gilles de Kerchove, the European Union's counterterrorism coordinator. "Unless he left electronic traces on the Internet, Facebook FB +0.47% or intercepted by National Security Agency-style services, how do you prove it?"
Source: http://online.wsj.com/articles/how-belgium-became-a-jihadist-recruiting-hub-1411958283
URL: https://www.newageislam.com/radical-islamism-and-jihad/matthew-dalton-and-margaret-coker/how-belgium-became-a-jihadist-recruiting-hub/d/99375