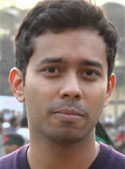 By Maher Sattar
March 25, 2016
It came as a surprise to Serajul Islam Choudhury, a retired English professor, to learn that his petition to drop Islam as Bangladesh's state religion would finally be heard in court on Sunday.
For one thing, he filed the petition 28 years ago. Of the 15 friends who had signed, 10 were dead.
Back in 1988, old-school secular elites like Mr. Choudhury and his friends warned that naming Islam the state religion would set the country on a slide toward fundamentalism. But the country's military leadership, eager for the populist boost it got from passing a constitutional amendment that year to make Islam's status official, shrugged off their worries. The petition went nowhere.
This month, Bangladesh's Supreme Court announced that the petition would at last be heard. That decision came at a delicate time: The leadership of the governing party, the Awami League, has committed to defending secular values, and anxiety prompted by a series of extremist attacks has been rising.
The petition has served as a test of public sentiment in Bangladesh, where passionate splits over the role of Islam date to the 1971 war for independence from Pakistan. Officials acknowledged nervousness as the court date approached. After prayers on Friday, Islamic groups held protests calling for the hearing to be canceled.
"This hearing will be a blow against peace, it will be a blow against law and order," said Mufti Fayezullah, the joint secretary general of Hefazat-e-Islam, a religious movement that helped organize the rallies. "The Muslims of this country will not stand for it. Their conscience would not allow it."
Mufti Fayezullah, like many older Islamic leaders in Bangladesh, rejects the notion that Bangladesh risks slipping into extremism. He said the petition had been put forward by atheists.
"I don't like this term 'moderate' Islam," he said. "Islam is Islam. It is the way it always was. It will remain this way until the day of judgment."
Article 2a of Bangladesh's Constitution, which names Islam as the "state religion," has little practical effect. About 90 percent of Bangladeshis are Muslim; 8.5 percent are Hindu, with tiny Buddhist and Christian minorities.
Since 2009, when the Awami League took power, the Supreme Court has taken steps to shore up secular values. It reinstated Article 12 of the Constitution, which lays out "the ideal of secularism" and dates to 1972. In 2011, the court recommended reviving Mr. Choudhury's petition.
The past year has brought rising fears about Sunni Muslim extremism in Bangladesh, as domestic militant networks appeared to regroup after a period of inactivity. Six writers and intellectuals who campaigned against Islam were killed in 2015, most of them hacked to death with machetes.
In the fall came signs that the militant cells were shifting their focus, targeting Hindu priests, Christian converts and Shiite mosques. Since then, a series of attacks have been claimed by the Islamic State extremist group on social media sites. Officials deny that the organization has a presence inside the country.
Alok Sen, a Hindu activist in the Faridpur District, said religious minorities felt more vulnerable than at any time in his memory.
"I've been an activist for many years now," he said. "I've taken part in a lot of campaigns to promote the rights of religious minorities, but I was never attacked. Today I no longer feel safe. Make of that what you will."
Mr. Choudhury, 79, said the rise in violence was linked to the decision to declare Islam the state religion.
"It changed the whole atmosphere of the country," he said. "It gives a kind of impunity to those who act in the name of Islam. People have over the years gotten away with a lot in the name of religion, and it has led us to last year's murders."
Nerves were raw this week as the court date approached. The country's attorney general, Mahbubey Alam, said he planned to argue on Sunday for postponing further action on the petition, saying the circumstances were too contentious. He said he saw no connection between the rise in extremist violence and Islam's status as the country's official religion.
"There will always be some people trying to create havoc," he said.
Ellen Barry contributed reporting from New Delhi.
Source: nytimes.com/2016/03/26/world/asia/a-revived-challenge-to-islam-as-bangladeshs-state-religion-goes-to-court.html?_r=0
URL: http://www.newageislam.com/radical-islamism-and-jihad/maher-sattar/a-revived-challenge-to-islam-as-bangladesh's-state-religion-goes-to-court/d/106773