By Lauren Williams
July 17, 2015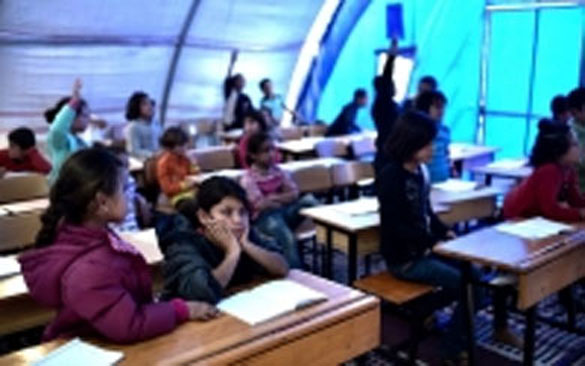 Syrian teachers in Turkey say signs of brainwashing already evident in students from Raqqa and Deir El-Zor
------------
Abdelbasset Al-Hussein battled for two years to keep his and other schools in the Syrian province of Raqqa open, despite constant upheaval caused by fighting and the loss of funding after the province fell to anti-government rebels in 2013.
But when fighters from the Islamic State of Iraq and the Levant, (ISIL, also known as ISIS) took over the city of Raqqa, implementing a new curriculum and forcing teachers to sign a document of "repentance," the math teacher at the Obai bin Kaab School for girls knew his battle was lost.
Hussein fled Raqqa, and now teaches at a school for Syrians in the southern Turkish city of Sanliurfa, where tens of thousands from the north and eastern provinces of Raqqa and Deir El-Zor — which has been under ISIL control since March — have taken refuge. Hussein said signs of highly effective brainwashing are already evident among new students arriving from those areas to his school in Turkey.
"It will take a miracle to make these kids normal again," Hussein said. "In years ahead, each student will be like a new Baghdadi," referring to the leader of ISIL, Abu Bakr Al-Baghdadi.
Hussein said one 6th grade student, recently arrived after being schooled under ISIL in Raqqa, scrawled on his Turkish examination paper: "All the 6th graders are Kuffar," meaning disbelievers.
"This is what it is like after just two years," said Hussein, "Imagine what it will be like in 10."
Since declaring Raqqa the capital of the ISIL "caliphate" on June 29, 2014, the group has implemented a new education system, aiming to shape the minds of children according to its extreme interpretation of Islam.
In the summer semester of August 2014, ISIL closed all the schools in Raqqa and Deir El-Zor. Teachers — even those who were retired — were forced to attend a meeting in which they declared their repentance for teaching a heretical curriculum. Schools were then reopened with a curriculum and Islamic State teaching materials.
"They forced all the teachers to sign a document saying they repented and then compelled them all to attend a religious teaching course," said a former teacher from Deir El-Zor, Reem Sheikh.
"Those who failed are considered blasphemous and were forbidden from teaching," she said.
Many of the new teachers have been drafted from among the foreign fighters who joined the group from countries including Tunisia, Libya, Afghanistan, Pakistan and the Caucuses.
"The schools have been turned into Shariah institutes," Sheikh said.
Hussein and Sheikh said the group has abolished music, art, science — specifically anything to do with biology and evolution — history, philosophy and sports from the curriculum, replacing them with only Islamic studies, mathematics and Arabic. Male and female students and teachers have been segregated, and girls from the age of six must wear Hijabs. Women from ISIL's all-female battalions' patrol the schools, ensuring girls meet with the strict dress code requirements. References to the state have all been changed from Syria to the Islamic State.
In November 2014, ISIL released a propaganda video of new recruits from Kazakhstan who had "responded to the crusader aggression … and raced to prepare themselves and their children." In the video, a teacher was shown supervising a class of pre-teenage boys in military uniform. "They have completed lessons in Quran, proper recitation of the Quran, and the Arabic language," he said. "They will move on to do physical and military training." The video also showed boys between the ages of about six and 11 training with assault rifles.
Many parents, faced with no alternative and fearing the schools were being used for ISIL recruitment, have opted to take their children out of school altogether. And, while ISIL has so far not made school compulsory, they say the forced attendance at mosques is also proving fertile ground for military recruitment.
Wissam, who declined to give his last name out of fear of ISIL sleeper cells, cares for his young nephew Ahmed, 12, whose parents were both killed in Deir El-Zor by Syrian regime forces. After first taking him out of school in the city, Wissam moved his nephew to a smaller school in the rural outer suburbs, before the pair fled to Raqqa. What Wissam saw once there convinced him Ahmed was better off without an education at all.
"Since ISIL came, the curriculum changed and they are giving them lessons in jihad," Wissam explained. "It was brainwashing."
"They were teaching the children to rebel and inform against their parents, telling them to put Islam first and encouraging them to disobey their parents as blasphemers."
Wissam said some children were taken from school to military training camps without their parents' permission. When a group of distraught parents went to the camps to rescue their children, he said, they were themselves arrested by the ISIL regime and tried in the group's "courts."
It's a stark contrast to the life Ahmed, who has not attended school for more than a year, remembers before ISIL. Sitting beside his uncle, his face blank, he described his previous school life: "I used to like sports and homework and waking up early."
"I remember having friends, but I can't contact them now," he said.
His sister, 15, was also been taken out of school after rumours that ISIL fighters were forcing schoolgirls into marriages.
"They were given access to the schools to choose a bride. Now most of the girls are just staying indoors," Wissam said.
"This generation has no culture, no education, no future," he added.
A recent U.N. report on war crimes in Syria warned that ISIL indoctrination of children is crafting a "cadre of fighters that will see violence as a way of life."
Although Ahmed's future is uncertain, he is holding onto his dream of becoming a surgeon.
"It's still a long time before I grow up," he said.
Source: http://america.aljazeera.com/articles/2015/7/17/syrian-refugees-describe-isil-run-schools-as-shariah-institutes.html
URL: https://www.newageislam.com/radical-islamism-and-jihad/lauren-williams/syrian-refugees-describe-isil-run-schools-as-recruitment-centres/d/103933