By Khuda Bux Abro
30 August, 2012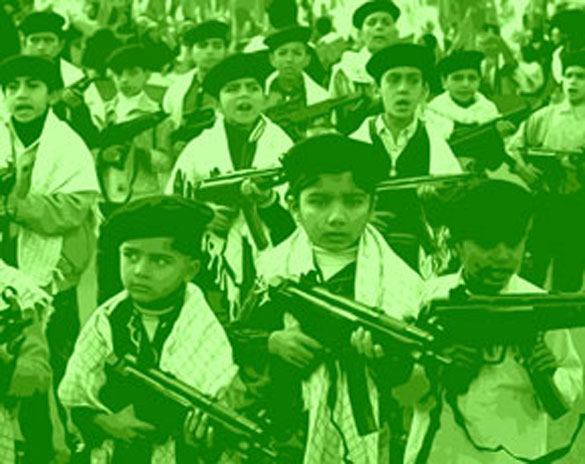 The beloved 'ladla', who used to ask for the moon to play with before, is now asking for weapons. Even if he doesn't ask for them, his parents who have recently acquainted themselves with new Islam, are handing toy weapons to their sons and daughters and taking them to rallies and processions. They then try to scare off and alarm the country which is the world's largest manufacturer and supplier of arms and has taken the responsibility of world peace. These girls and boys, holding toy weapons, chant slogans to tell the country their new generation has awoken which will one day erect a minaret with a green flag in place of the Statue of Liberty; its a separate thing that their dream of erecting a green flag on Dehli's Red Fort, is yet to come true.
Forget our children; even our elders had not seen weapons before the arrival of the Mard-e-Momin phenomena. The neighborhood's bully used to have a clip and at the very maximum, a dagger. The only place where weapons were sold or kept, were the country's mountainous areas, that too only as a sign of esteem. Across the border when the Soviet Union erected its flags, the super power with the help of Mard-e-Momins and Islamists made Pakistan a stockpile of arms and ammunition. On one side the Momineenwere having their pockets filled with dollars and on the other, the heroin business begain to flourish.
The man who created the Kalashnikov would have never thought that one day the US would be distributing it worldwide. Jihad, jihadist organisations, heroin and arms, all started prospering together. Our innocent people were introduced to the Kalashnikov and soon it found its way in our houses. The responsibility to train mujahideen from all over the world was shared by the ISI and CIA, alike. And their combined attempts made certain that our momineen were able to get rid of the Russians. When on one side the Russians fled, the Americans too went back, leaving us alone in the middle.
Those who had left us in the middle later regretted it; we had the weapons, trained militias and dollars. We looked farther and realised that it was time to materialise our dream of attaining Kashmir. On the other hand, jihadi movements started inside and outside our borders; lashkars and sipahs were created, the already divided sects were further divided. Religious parties doubled, tripled and then quadrupled; and kept on increasing by the day. Someone used the name of religion; someone else used the name of nationalism and thus, our people split.
We had never seen or heard about weapons, but they entered our lives in such a way we were scared of the person next to us. And after 9/11 our world changed altogether. Now the whole world was focused on us, and those who had left us alone realised the big mistake they had made. They were standing face-to-face with those who had been raised on their dollars. If we could get rid of the Russians, the US was no big deal.
Now this is where the story starts. You and I, who constitute the silent majority, don't wish to see with our eyes, hear with our ears or speak with our tongues. We are lost in our own worlds. Fighters who are fighting, causing destruction, and not knowing who they are fighting for or who they are fighting against. And there is no shortage of weapons, if I don't have them, my neighbor is sure to. And instances like the sighting of the moon, can instantly turn our backyards into war zones.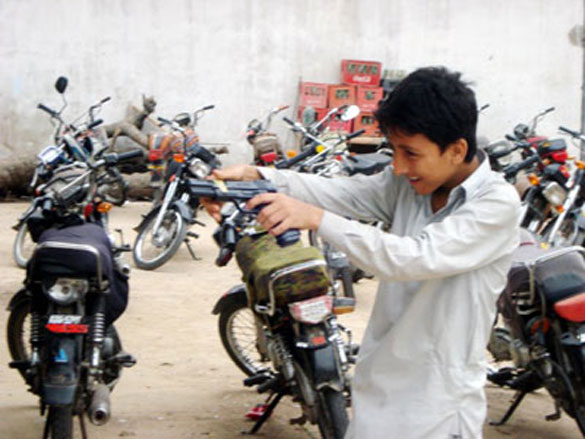 We are sitting on a stockpile of gunpowder and celebrating. Our children use their Eidi to buy weapons and spend the day fighting each other. Privileged children get their Eidi everyday but those who get Eidi once a year, go straight to the toy shop and buy weaponry. And they know exactly know what they want; Kalashnikov, Ozzie or a pistol. And they don't use these to play cops and robbers; instead they're playing a far dangerous game.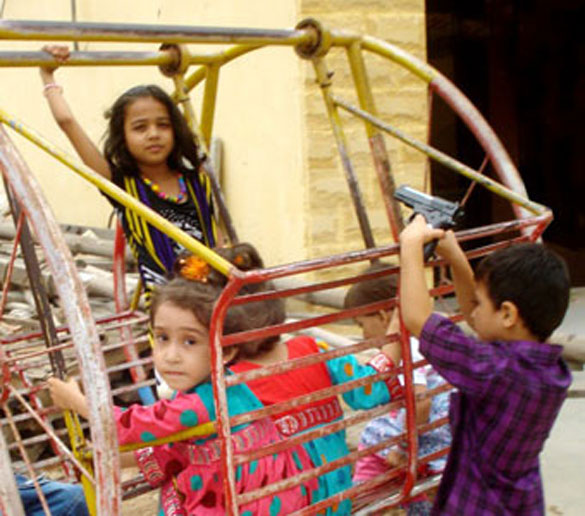 I took this picture on Eid day. The daughters are on swings and the son is standing nearby with a pistol – you may guess the child's age. This is our future – we don't give our children books, pens or instruments anymore. We have given him a toy gun, which he is aiming at his brother.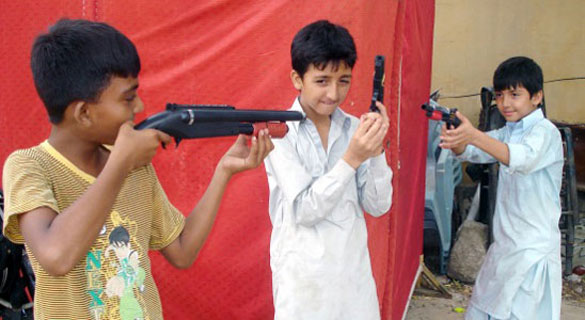 Khuda Bux Abro has dabbled in every form of the visual arts. An activist to the core, Abro's work deals with social themes and issues ranging from human rights to dictatorial regimes. He is currently working for DAWN as an illustrator.
Source: http://dawn.com/2012/08/30/the-anokha-ladla-aka-spoilt-brat/
URL: https://www.newageislam.com/radical-islamism-and-jihad/khuda-bux-abro/anokha-ladla-aka-spoilt-brat--we-are-sitting-on-a-stockpile-of-gunpowder-and-celebrating/d/8507