By Ghulam Rasool Dehlvi, New Age Islam
25 May 2018
I was in JNU at the moment of writing this piece. Something that had to come as an utter surprise to the varsity was the proposal by the current administration of JNU to introduce a course on "Islamic terrorism". As learnt through several media reports, the JNU administration has given in-principle approval to the study of 'Islamic Terrorism' by a new centre on national security, in an Academic Council.
Obviously, it was not supposed to go down well with the overwhelming number of Muslims, leftists and 'liberals' enrolled and employed at JNU. The representative views of the PhD students from different research centres and departments of the related discipline unravel it. They all acknowledged that there is, of course, 'terrorism' being perpetrated under the false grab of 'religions' and that people are increasingly falling victims to the terrorist ideologies.
But the question they pose to the academic council of the proposed Centre for National Security Studies (CNSS) at JNU is: does any particular religion exclusively preach terrorism? "If Islam was a terrorist religion, then the millions of people who believe in it must have turned into terror-mongers and creators of chaos in the world, but that has never happened", says Mohammad Shameem, a doctoral researcher in International Relations at JNU, who has also pursued classical Islamic studies at South India's largest Sunni seminary–Markaz Saqafa Sunniya (centre for Sunni culture).
The dominating view that echoes in the JNU campus—both in the theistic and even agnostic and 'liberal' circles—is that 'it is not religion that radicalizes the people, but rather it is people who radicalize the religion'. Thus, they premise that Islam, like any other established faith tradition, is not essentially a religion propagating terrorism. Then what's happening in the academic council of the university?
"A few people interpret the religion in their own way for their personal gains and thus create troubles with Islamic labels and identities. But the mainstream Muslims condemn their actions and atrocities and side with the victims", says Mohammad Imran Misbahi, who hails from Jammu & Kashmir, and is doing his second-year PhD candidate at the JNU's Centre of Arabic and African Studies (CAAS).
Mr. Misbahi adds that this case holds true for all other religions; people misuse their own religions to achieve ulterior political motives and thus cause the greater defamation to them in consequence, which sometimes results into Islamophobia. He makes his point citing the example of how the founder-ideologue of the political Islamist party—Jama'at-e-Islami—Maulana Maududi never let his children read his books or allowed them to involve in the Jama'at politics. He was reminded of an excerpt from an interview of Maulana's son Syed Haider Farooq Maududi with The Daily Star in which he was reported to have stated:
"On the creation of Jamaat-e-Islami in 1941, Farooq said his father's political ideology was a result of the era he was born in. 'In the era he [Maududi] was born, there was communism, imperialism, and he had made Islam also a system of ism, a system of life'.
'Religion is for the people and people are not for religion. Religion makes a human being a good human being.' However, religious sentiment is so deeply rooted in this region that no one is ready to listen to the right thing'.
'If he [Maulana Maududi] ever saw us in a rally or demonstration, he would later call us and ask what business we had standing there. He totally kept us away from all these.' 'This is a tragedy of all our religious politics, that we use people's children, but keep our own away from it as we all know about its negative impacts'.
Bearing this in mind, will it not be injustice to label the narrative of terrorists with Islam, Hinduism, or Buddhism per se, asked another PhD scholar of the JNU who was paying heed to our conversation for long. Then, a graduate of Darul Uloom Deoband currently enrolled at JNU also opened up: "We are not against warning people against terrorism and teaching them the mechanisms to cope with that. Instead, our concern is in labeling that terrorism with Islam, or any other religion." Following this conversation, a number of questions were raised by the JNU students who participated in my questionnaire. Beginning with the oversimplified question as to why does the JNU administration specifically open a course on 'Islamic Terrorism' and why not on 'Hindu Terrorism', 'Buddhist Terrorism' or 'Sikh Terrorism', the conversation headed towards the quest for a more nuanced understanding of the religious texts that are translated and interpreted to legitimize terror and fear in the name of God's sovereignty (al-Hakimiyyah).
I also tried hard to talk to the Academic Council and committee of the proposed Centre for National Security Studies (CNSS) at JNU, but to no avail. Inevitably, the most important question that remains unanswered is: has the JNU administration considered the implications of introducing this subject in the secular intellectual circles or on the Muslim community outside? What's noteworthy is the Islamic organisations' reactionary take on this. While the non-religious parties like the CPI (M) have lambasted it as 'an attempt to communalise the varsity's syllabus', the Jamiat Ulama-i-Hind has threatened a legal action against the JNU administration. In a letter to the JNU vice chancellor, the Jamiat has strongly condemned the decision to introduce 'Islamic Terrorism' as a subject under the newly approved 'Centre for National Security Studies' in the varsity.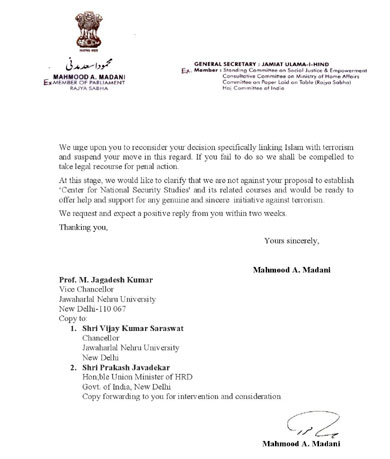 In this letter which I have got hold of, Maulana Mahmood Madani, general secretary of the JUiH says that this 'ill-conceived' decision would hurt the feelings and sentiments of not only Muslims but all those who believe in respecting all religions as the mark of a civilized society. Thus, Maulana urges upon the concerned academic authority of JNU to reconsider the decision specifically linking Islam with terrorism. "If JNU administration fails to do so Jamiat Ulama-i-Hind will be compelled to take legal recourse for penal action", he writes.



Maulana Madani further elaborated that if a leading university like JNU will launch a course on terrorism clubbing with Islam, it will hurt billions of Muslims across the world who not only pride themselves in peace, but have also played pivotal role in counter-terrorism. Maulana proclaims: "In India, alone our organization, Jamiat Ulama-i-Hind has been playing active role in the jihad against terrorism. We came up with fatwa against terrorism signed by 6000 Islamic scholars which was followed by more than 250 conferences and rallies consecutively all over the country. We raised voice universally that Islam is helpful in routing out terrorism not that it colludes in any way with its perpetrators".
However, Maulana Madani has left a scope for this course, if it is revised. He has asked the university to 'genuinely engage' in counter-terrorism in place of any slugfest to spread 'Islamophobia'. He clarifies his position in his letter: "At this stage, we are not against your proposal to establish Centre for National Security Studies and its related courses and would be ready to offer help and support for any genuine and sincere initiative against terrorism".
But what many Muslim leaders like Maulana Madani have failed to ask and contemplate is this question: Why Islam is globally a "securitisation issue" today? And if so, why is it academically unethical to introduce 'Islamic' or 'Islamist' terrorism as a course of study in a central university like JNU? They will do a great favour to the community if they conceptualise and clarify an erudite and scholarly position on this. In this context, these two pertinent questions have emerged in the intellectual Muslim circle:
Is the subject of "Islamic Terrorism" already being taught in an Indian or foreign university?
If so, what areas are being covered under this subject and what are (a) the sources, (b) methodology, (c) reference books/works/studies to be followed?
The Delhi Minorities Commission chairperson, Dr Zafarul Islam Khan has basically asked these and a few more questions to the JNU registrar in a bid to find the reason behind the varsity's proposal to start a course on "Islamic terrorism".
The commission which claims to have taken cognizance of the reports about the proposed course has, in its formal notice, asked the JNU administration to respond to a few queries as the following:
Is there any concept paper or proposal to include a course on "Islamic Terror" in the proposed "Centre for National Security Studies"? If so, please provide a copy?
Since there is report that "many members" of the Academic Council objected to the introduction of this subject, was there any voting and if so what was the result?
Nevertheless, there are Islamic intellectuals, leaders and clerics who protest, largely in the Urdu press, that the name of this proposed course be changed into 'religious extremism' or at least 'Islamist terror', rather than 'Islamic'. A Delhi-based community leader and cleric, Maulana Ansar Raza has reportedly stated to the Urdu daily Inquilab today that the best way would be to impart a course on 'religious terrorism' without dubbing it with any particular religion. "If you label terrorism with Islam, then that is to spread the impression that this particular religion is that of terrorism and all Muslims must be targeted. In other words, that's to water and sanction other forms of terrorism", he said.
But whether it is dubbed as 'religious terrorism', 'Islamic' or 'Islamist', or even couched in neutral terms—such as Counter-Radicalization or Countering Violent Extremism (CVE), the question is: why most academic exercises on this subject have eroded other faith-based acts of violence or religious persecutions? Why they are focused exclusively on the study of violence in Islam? Barring a few international research institutes, majority of world's leading universities and policy-making institutions are running various study programs under this rubric. But the problems grow exponentially when such courses are seen as 'initiatives' of an administration publicly charged with 'animosity' towards Islam and the Muslim minority.
In its official statement, the JNU Student Union has alleged that a panel was formed to finalise modalities of the course on 'Islamic terrorism', after it was decided to establish such a centre. But the report of the 145th Academic Council (AC) meeting chaired by the JNU V-C who allowed the tabling of a course on 'Islamic Terrorism' under the proposed National Security Studies has rebuffed it. It clarifies that the 'Islamic Terrorism' will be treated as a key area of work for the centre, rather than a course (as claimed by the JNUSU), along with over 20 other areas, which include 'Insurgency', 'Naxalism', and 'Military Modernisation of China and Pakistan'.
Regular Columnist with Newageislam.com, Ghulam Rasool Dehlvi is a classical Islamic scholar and English-Arabic-Urdu writer. He has graduated from a leading Islamic seminary of India, acquired Diploma in Qur'anic sciences and Certificate in Uloom ul Hadith from Al-Azhar Institute of Islamic Studies. Presently, he is pursuing his PhD in Jamia Millia Islamia, New Delhi.
URL: http://www.newageislam.com/radical-islamism-and-jihad/ghulam-rasool-dehlvi,-new-age-islam/jnu-proposes-'islamic-terror'-course--why-this-exclusivist-reference-in-the-proposed-national-security-studies?-is-islam-really-a-'securitisation-issue'-today?/d/115352
New Age Islam, Islam Online, Islamic Website, African Muslim News, Arab World News, South Asia News, Indian Muslim News, World Muslim News, Women in Islam, Islamic Feminism, Arab Women, Women In Arab, Islamophobia in America, Muslim Women in West, Islam Women and Feminism