By Ghulam Haider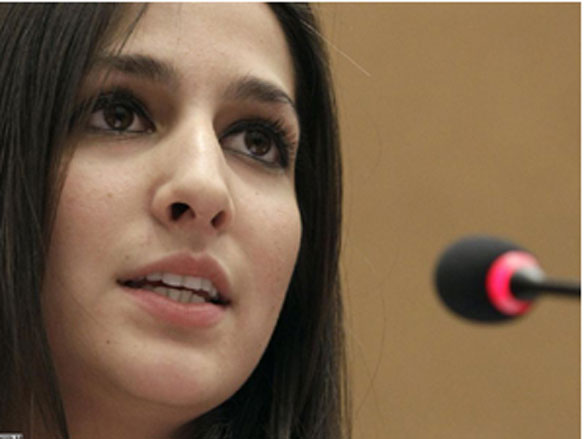 The entire Punjab assembly offered Fateha for my father except for the three legislators belonging to the Pakistan Muslim League (N)-- Sherbano Taseer
It was exactly a year ago, on January 4, 2011 when Governor Punjab Salman Taseer was gunned down in the capital city of Islamabad by a religious fanatic police cop mysteriously posted on the duty to guard him.
On Thursday (January 5), before conducting a telephonic interview, I was awe-struck to note defiant tweets by Sherbano Taseer, daughter of the assassinated Governor Punjab, Salman Taseer.
In one tweet message, she says: 'Remembering a great man ZAB on his birthday today--he once remarked, "politics is a ruthless game of mutual reciprocity"'
In another tweet, she remarks: 'The vigils all over Pk were so beautiful. Ppl of all ages, caste and creed attended- Salmaan Taseer ki soch zinda hai aur ham agey barhain ge'.
Yet another tweet says, 'My father @Salmaan Taseer told us "you come with nothing, you leave with your name & reputation. And in the interim you are custodians"'.
'Two of the three persons namely my beloved father, MNA Shahbaz Bhatti, and Sherry Rehman, who advocated to reform the blasphemy laws have been gunned down,' she told Viewpoint in an interview. Read on:
The last one year has been a traumatic experience for your family. After Governor Salman Taseer's martyrdom, your brother was kidnapped. He remains in the captivity of unknown kidnappers. Could you please tell us how has the life been for your family in view of potential threats and some real fears?
I would not comment on security threats and the kidnapping of my brother. We have received condolence messages from across the world. The thought process triggered by my father continues to inspire the hearts and minds of the enlightened people. I have a firm belief that my father would get justice in the court of the Almighty Allah.
I really miss my father whom I loved from the bottom of my heart. He stays alive in our memories. I cannot forget my father's love for his children. Life has been really tough without my father who was a caring person, not merely for his kith and kin but also for his friends and acquaintances.
Governor Taseer's assassin was convicted by the lower court. But the judge who passed the sentence, had to flee along with his family? Do your family indeed expect justice in this case?
Like elsewhere in the developing world, the judicial system is in the process of evolution in Pakistan. There is some improvement but a lot more is in the need of reform. The mighty go scot free in any eventful circumstances. The powerful can influence any court judgment. So has been the case with the judge deciding my father's martyrdom case. Again I would say individuals and courts can do injustice but there is no injustice in thecourt of the Almighty Allah.
The cause for which Governor Salman Taseer sacrificed his life, it seems, has instead suffered as a result of his martyrdom. Politicians will not dare oppose the blasphemy laws. Don't you think Salman Taseer's struggle has gone in vain?
Two of the three persons namely my beloved father, MNA Shahbaz Bhatti, and Sherry Rehman, who advocated to reform the blasphemy laws have been gunned down. The National Assembly has shied away from the legislation on the contentious issue for which my father sacrificed his life. But there is a flicker of hope in the form of an agile and vigilant civil society taking forward the message of my martyred father. The civil society has held the torch lit by my father, which is a very encouraging sign in society like ours.
Sections of media keep blaming Salman Taseer, the victim, for his own death. Your comments.
There are three dimensions to Pakistani media: right wing, left wing and the centrist media. There is a huge difference between the English-language and Urdu-language media in Pakistan. There are no media regulations followed by Urdu press to say the least in Pakistan. However, the English media are far more responsible and follow some rules and regulations. There are dozens of fake stories which make headlines in the Urdu press but hardly find any space in the English newspapers. The English press has shown maturity and responsibility and hardly attributed any such thing to my father. However, I am very disappointed with the Urdu press as far as the splashing of various point of views about the martyrdom of my father are concerned.
At least on social media, Salman Taseer's supporters are coming out more courageously while mainstream media seem to ignore his first death anniversary. Despite fears, a few vigils were held at least, to honour Salman Taseer on January 4. Do you think with the passage of time, more voices will emerge?
The power of social media has been recognized globally, particularly during the Tunisian and Egyptian revolutions in 2011. Its impact is beyond any imagination, indeed very strong. But there are only 1.2 million social media users in Pakistan and it will take time to take roots in the Pakistani society. I am sure more and more will join hands and carry forward the mission of my father.
The Punjab Assembly passed a resolution and MPA Zulfiqar Gondal made a speech in connection with the death anniversary of my father. The entire Punjab assembly offered Fateha for my father except for the three legislators belonging to the Pakistan Muslim League (N).
Ghulam Haider is Pakistani journalist and development practitioner. He has worked for ten years in Pakistan's leading newspapers (Daily The News and Daily The Nation). Currently he is associated with development sector.
URL: https://www.newageislam.com/radical-islamism-and-jihad/'my-father-continues-to-inspire-enlightened-people'--sherbano-taseer,-daughter-of-the-slain-governor-of-pakistani-punjab/d/6317