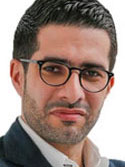 By Faisal J. Abbas
13 June 2016
It certainly felt like I was back in the Middle East when I woke up yesterday in Washington DC to the dreadful news of the Florida nightclub shooting. After all, when one arrives in America, they expect to escape awful headlines of bigotry, discrimination and hatred.
Yet, the United States bleeds sometimes… just like the rest of us! Although it is geographically far from the complexities of the Middle East, yesterday's atrocity has proven – just like 9/11 did 15 years ago – that terrorist ideologies know no boundaries.
Before I carry on, I must express my sincere condolences to all my American friends, and to members of the LGBT community who have lost loved ones and family members in this horrendous attack.
However, while Muslims in the US and around the world as well as the Saudi ambassador to Washington were quick to condemn this act of terrorism, all that one can tell Americans is that they are not alone in this fight.
I must express my sincere condolences to all my American friends, and to members of the LGBT community who lost loved ones and family members
Terror Knows No Boundaries!
Just yesterday, a bomb – linked to Iranian-backed terrorist group Hezbollah – exploded in a heavily-populated civilian area in Beirut. Upon hearing the news and just like the late Eddie Justice, who sent his mother Mina a heart-breaking text message right before he was killed in Florida, I feverishly reached out to my mom (who resides near the explosion site in the heart of the Lebanese capital) to make sure she is alright.
Luckily, no causalities were reported in Beirut but I still grieve for those who lost loved ones in Orlando, New York, Paris, London, Madrid, Riyadh, Baghdad, Amman, Cairo, Bali… to name a few cities that suffered at the hands of terrorists in recent years.
What we should certainly remember is that before the attack on the gay nightclub in Orlando, ISIS-affiliated terrorists also attacked worshipers praying in mosques in Saudi Arabia!
What this means is that the good news (in the worst sense of "good") is that no particular group is targeted individually; the bad news is that we are ALL targets of the evil and absurdity of clans such as ISIS.
Indeed, all one could say on such a sad occasion is that there can be no justification for acts of madmen. Whether he turns out to have been directed by the likes of ISIS, Hezbollah or not, Omar Mateen, the shooter identified in Florida attack - certainly displayed early signs of being unstable and had been interviewed by the US authorities (Which raises questions as to how he was able to buy a gun).
As such, Mateen is certainly no different (perhaps except in colour and religious beliefs) than other terrorists, such the 1995 Oklahoma bombing's Timothy McVeigh or the 1996 Olympic Park bombing's Eric Rudolph who was convicted for anti-gay and anti-abortion attacks in the US.
In light of the rise of Islamophobia, presidential candidates who exploit the politics of fear and recent official revelations by the CIA on the strategic importance of US-Saudi coordination in the fight against terror, let us make sure that the perpetrators of the Florida attack don't succeed in their aim of planting fear and hatred.
If anything we – as aspirers of stability, peace and prosperity – should now stand together, perhaps more united than ever!
Source: english.alarabiya.net/en/views/2016/06/13/You-are-not-alone-Florida-.html
URL: http://www.newageislam.com/radical-islamism-and-jihad/faisal-j-abbas/following-lgbt-attack,-muslims-must-unite-and-say--you-are-not-alone,-florida!/d/107631