By Ben Doherty
July 16, 2013
Ninety-one years old, and brought into court in a wheelchair, Ghulam Azam could raise no protest when a court in Dhaka Monday sentenced him to nine decades in prison for war crimes.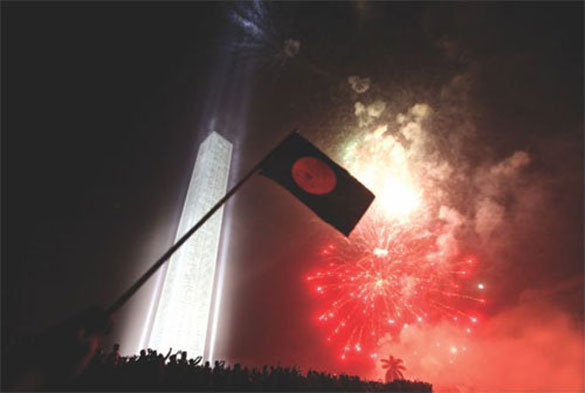 Ghulam Azam, former head of Jamaat-e-Islami party, exits a court after the verdict of his trial, in front of the International Crimes Tribunal-1 in Dhaka. Photo: Reuters
----------
The erstwhile head of Bangladesh's largest Islamist party, Jamaat-e-Islami, Azam has been found guilty of masterminding a pogrom against his secular enemies during the country's 1971 war of independence, and convicted on five charges of planning, conspiracy, incitement, complicity and murder.
The court said he was only spared the death penalty because of his age and ill health.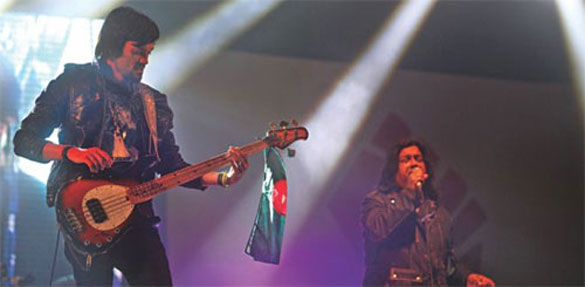 Bangladeshi activists shout slogans as they protest against the verdict of former Jamaat-e-Islami leader Ghulam Azam in Dhaka. Photo: AP
-----------
But the sentence has still brought protesters from both sides onto the streets, and highlighted again the divisions caused by the country's war crimes tribunal.
Pro-government groups say jail terms, however long, are too lenient for those convicted, while Jamaat supporters say their leaders are being pursued for political purposes.
The tribunal is charged with investigating crimes committed during the Bangladesh Liberation War of 1971, when the then East Pakistan went to war for its independence.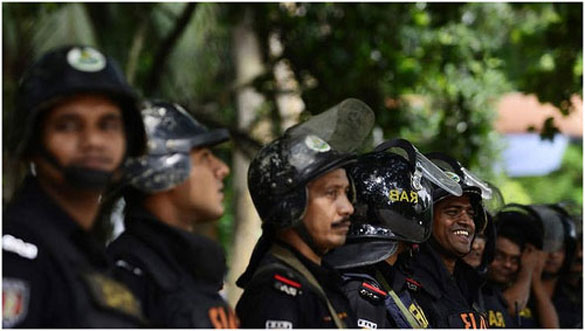 Members of Bangladeshi Rapid Action Battalion stand guard outside the International Crimes Tribunal court in Dhaka on July 15, 2013. Photo: AFP
----------
Government estimates say three million people were killed, while thousands of villages were razed and hundreds of thousands of women raped or kept as sex slaves by West Pakistani forces and their local agents.
Thirty million people were displaced and the atrocities committed remain an open sore for many Bengalis.
The tribunal was established in 2010 to try the ''collaborators'', as they are known in Bangladesh, who fought on the side of West Pakistan.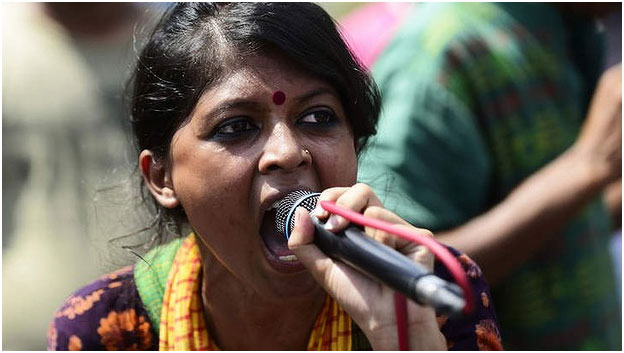 A Bangladeshi social activist shouts slogans against Ghulam Azam, whom she and other protesters wished to be sentenced to death, outside a court in Dhaka. Photo: AFP
------------
But three years and five verdicts on, the trials have become bound up in Bangladesh's highly partisan and often violent politics, and critics say those put on trial, some of whom have been sentenced to death, and have been denied a fair hearing.
The current government, which instituted the trials, is led by the Awami League.
The major focus of the trials is the leaders of the Jamaat-e-Islami, coalition partners of the main opposition Bangladesh Nationalist Party.
There is no dispute that Jamaat leaders supported Pakistan, and there is strong evidence that many were involved in war crimes.
The government says it is simply obeying the will of the people, and bringing those who committed crimes to book.
But 42 years after Bangladesh's bloody birth, separating the legal from the partisan is as difficult as ever.
Bangladesh's International War Crimes Tribunal, which began amid overwhelming public support and great hope three years ago, has foundered since.
Domestic critics say the tribunals have been politicised, that judges and prosecutors have been appointed who are partisan or unqualified, and that the defendants brought before the court have been pursued because they are political enemies of the government.
''The Awami League has corrupted the war tribunal for its own political purposes,'' Mirza Fakhr ul Islam Alamgir, acting secretary-general of the BNP, told Fairfax Media in Dhaka.
''It is using the court to attack the people who do not agree with it, the court is not being run in a fair way.''
Mr Alamgir promised the BNP would continue the trials if, as expected, it comes to power in elections late this year or early next, but many in Bangladesh believe the tribunal will be quietly abandoned, and amnesties granted to those convicted, if the BNP takes office, its willingness to pursue justice outweighed by political expediency.
Internationally, the trials have been criticised as not offering defendants a free or fair process.
Toby Cadman, a London barrister who has been advising defence counsel throughout the trials but who says he has been prevented from entering Bangladesh to see his clients, has written to the UN's special rapporteur on extrajudicial killings over the hearings' conduct.
He alleged witnesses had been abducted; defence lawyers assaulted and threatened, and judges unfairly changed.
''From the start [Bangladesh] has woefully failed to meet fundamental fair trial rights and due process standards.
''It is essential for the international community, and in particular the UN Human Rights Council, to make the issue of full compliance a priority.''
Mr Cadman says the defence has had as little as three weeks to prepare its case against serious charges such as genocide, had its number of witnesses limited to five, and has been denied access to evidence used against it.
During a visit to Bangladesh in May, the US ambassador-at-large for war crimes, Stephen Rapp, was quoted as saying he was ''not happy'' with the conduct of the trials.
''Though there have been improvements and progress, I still have concerns about the process and further improvement could help ensure that international standards are met,'' he said, adding that it was important for Bangladesh that international law be followed during the trials.
''It needs a fair process so that it will stand the test of time . . . my hope and expectation is that the cases will be decided on the facts, not on polls, politics or demonstrations.''
Certainly, the last year of the tribunals has been marred by serious controversies.
In a scandal adroitly hushed up by a government-ordered court injunction, it was discovered that the head judge and chairman of the tribunal, Mohammed Nizam ul Huq, was in regular conversation, by Skype and email, with Ahmed Ziauddin, a Brussels-based Bangladeshi lawyer.
Transcripts and recordings show the judge telling the lawyer the government was ''absolutely crazy for a judgement''. He said he had been visited by a member of the government and urged to pass a verdict ''as quick as you can''.
Judge Nizam ul Huq resigned.
But in an even more bizarre case, late last year Hindu man Sukharanjan Bali was scheduled to appear as a prosecution witness. At the last minute, his position changed and he was listed as a witness for the defence.
Before he could give evidence, he disappeared, resurfacing months later in Dum Dum jail, in Kolkata in India.
He claimed he had been abducted by Bangladeshi police — several witnesses say they saw him being snatched from outside the courthouse building — before being forced illegally over the border.
''He claims he was detained and tortured by [India's] notorious Border Security Force before being held in [prison],'' a Human Rights Watch report said.
British journalist David Bergman, who has followed the tribunal since its inception, said there was a strong argument for holding Bangladesh's alleged war criminals to account, given the seriousness of the offences, and the devastating impact of the war.
He said the tribunal began with overwhelming public support, but has faltered.
''I think it's a futile argument to say 'is this to an international standard or not'. It obviously isn't . . . at the end of the day, you have to ask 'is there a sufficiently fair trial that is going to happen?'
''When the trials started, my view was the legislation was such that the judges, if they wanted to, could carry out a fair trial.
''But watching the tribunal, I think there are serious concerns as to the fairness of the trials.''
Tribunal prosecutor Turin Afroz defended the trial's conduct, telling Fairfax cases were judged on questions of law alone.
''Whatever the political allegations have been outside, inside the court, the cases can only be, and have only been, decided by the law and the evidence presented to it.''
She said Bangladesh's war crimes tribunal was an example to other developing nations wrestling with communal division in the aftermath of civil wars.
''It is a matter of pride for Bangladeshis, that we have actually set an example for today's developing countries. We are running the show, we are doing it completely ourselves, and I think it's a great success for Bangladesh that we are doing this, even after 42 years.''
Source: http://www.smh.com.au/world/exchief-of-bangladesh-islamic-party-jailed-for-war-crimes-20130716-2q0on.html
URL: https://www.newageislam.com/radical-islamism-and-jihad/ben-doherty/ex-chief-of-bangladesh-islamic-party-jailed-for-war-crimes/d/12643