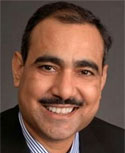 By Adnan Qaiser
March 11, 2020
In war there is no substitute for victory. Though the two failed wars in Iraq and Afghanistan turned the "war on terror" into a misnomer, it calls for Clausewitz's "selection and maintenance of aim" as the first principle of war, to purge the world from the scourge of religious terrorism….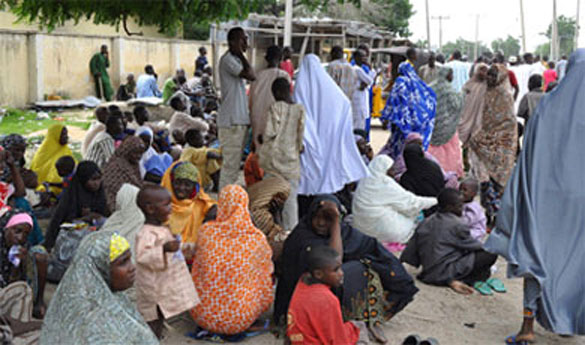 Image credit: Daily Pos
-----
Sharing the radical dogmas and objectives of al-Qaeda and Daesh (Islamic State in Iraq and Syria/ISIS), the Islamist terror organizations in the Sahel and Nigeria, comprising of the Islamic State in the Greater Sahara (ISGS), the Islamic State West Africa Province (ISWAP) and Boko Haram, aim to impose Sharia law in the region. However, to establish their writ and fear among the people and to discredit the elected governments, the militant organizations unleash a reign of terror, killing civilians indiscriminately. Two recent scholarly analyses on Islamist militants in Africa give a wake-up call to the world about the dangerous proliferation of religious terrorism on the African continent: 1) Horn, Sahel, and Rift: Fault-Lines of the African Jihad by StigJarle Hansen, and 2) Everything You Have Told Me Is True: The Many Faces of Al Shabaab, by Mary Harper. Regrettably, the international community has lost little sleep over the appalling state of hapless people of the region.
The fight against terrorism – The National Police's Densus 88 counterterrorism squad 'paralyze' suspected terrorists in a simulation exercise at the East Java Police headquarters in Surabaya, East Java, recently. (JP/Wahyoe Boediwardhana)
-----
Any counterterrorism effort must bear in mind that radical militancy and faith-based terrorism do not result from fundamental ideology only. More often than not it is driven by abject poverty, socio-economic injustice and unemployment. Moreover, the autocratic regimes and oppressive monarchies in the Islamic world remain a bane for ordinary Muslims. The West's support of these autocratic rulers in the Middle East and African countries (for its foreign policy objectives) resulted in alienation among the local population. Thus, even if a majority of the Islamic faith-followers are not extremists by nature and loathe the acts of terror, a large segment remains sympathetic to the cause of the militants, seen as religious reformists, nationalists or freedom-fighters. Since religious ideologues, radical runaways, illegal armed groups, and criminal elements are opportunistic in nature, they establish their fiefdoms in countries ruled by tyranny, or riven with ethnic strife, religious conflicts, predatory and corrupt governments.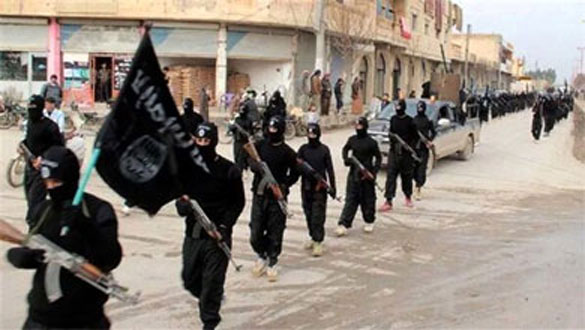 Islamic State militants march in Ar-Raqqah, Syria
----
While the international community remained transfixed on al-Qaeda and Daesh, Boko Haram has bombed schools, churches and mosques, killing and maiming civilians at will. It has kidnapped women and children as well as assassinated politicians and religious leaders with impunity.
Originating in 2002 as an offshoot of a Salafist movement in the Yobe state of Nigeria, Boko Haram's actual name is Jama'atuAhlis Sunna Lidda'Awati Wal-Jihad. In local Hausa dialect Boko Haram means "Western education is sinful."
Similar to al-Qaeda's indoctrination of Tehrik-e-Taliban (TTP) in Pakistan and Afghanistan and Daesh in Iraq and Syria, Boko Haram also gained its terror-expertise from al-Qaeda and became proficient in making IEDs and VEDs (improvised and vehicular explosive devises), was supplied with weapons and arranged transport fleet. The group arranged its funds by exploiting: (1) secret Middle Eastern and African donors providing funds both overtly (mosque/madrassa grants) and in a covert manner (Islamic cause funding) through illegitimate money-laundering and terrorist-financing channels; (2) organized criminal activities such as drugs and narcotics trade, extortion, illegal smuggling of goods, and kidnappings for ransom; and (3) acting as a mercenary/protective force for al-Qaeda and Daesh's core (leadership). Moreover, because suicide attacks require a lot of ideological motivation and spiritual indoctrination, Boko Haram also learned the craft of luring unsuspecting, poverty-ridden and unemployed youth for its ulterior motive.
Modern Nigeria remained under British administrative rule as an indirectly governed colony under tribal chiefdoms since 1914. Nigeria gained its independence in 1960 but only to see a deadly civil war between 1967 and 1970. Thereafter, Nigeria had been alternately ruled by democratically elected governments and military dictatorships until stable democracy arrived in the country in 1999.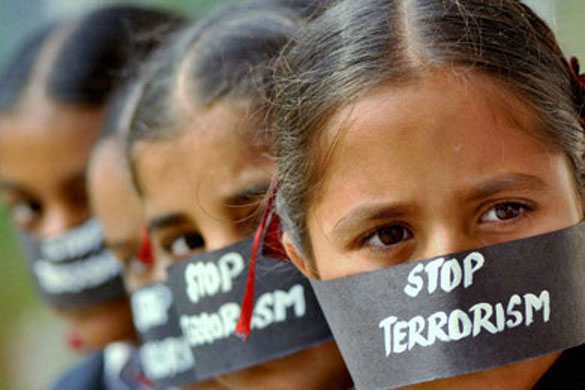 Followed by the presidential elections of 2015, in which President Muhammadu Buhari came into power, urban Nigeria became fairly progressive. The country is administratively divided into 36 states (provinces) out of which 12 are dominated by Muslims, mostly located in the northern part of the country. However, Nigeria's periphery and rural areas continue to be ruled by tribal chieftains.
In his 2017's book titled Boko Haram: The History of an African Jihadist Movement, Alexander Thurston documents Boko Haram's support for Ali Modu Sheriff's governorship in the Borno state between 2002 and 2009. Boko Haram became part of the state-governorate after Sheriff's victory in the election, when a close confidante of its chief was appointed as the governor's commissioner of religious affairs of Borno State.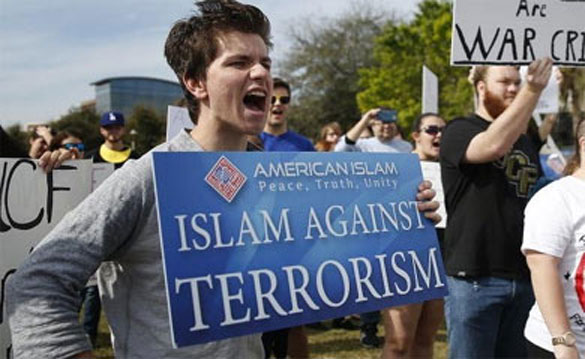 In a brutal police crack-down in July 2009, Boko Haram's founder and leader of seven years, Mohammed Yusuf, was hounded and killed along with hundreds of his members. Yusuf's death led to Boko Haram splitting into different factions. According to some estimates Boko Haram comprises up to 6,000 hardcore Islamist militants, with no dearth of new recruits due to massive unemployment and poverty in the region. Having remained dormant since 2009, a new group emerged in 2011 under the name of Yusufiya Islamic Movement. Expressing concerns over the targeting of civilians and loss of innocent lives, the group called for reconciliation with the government.
Then in 2012 another group of dissidents surfaced called Jama'at ul AnsarilMuslimina fi Biladis Sudan (meaning: Vanguard for the Protection of Muslims in Black Africa). This militant outfit, commonly known as Ansaru, parted ways on the plea that killings of locals and strict implementation of Islamic Sharia would reduce the regional appeal of Boko Haram among local population. Thus, Ansaru started targeting the foreigners. However, despite carrying out a major prison-break in Abuja in 2012 followed by the kidnapping of a French engineer, Ansaru has largely remained inactive since 2015.
Yusuf's killing, however, resulted in Boko Haram morphing into two major splinter groups – both ferocious and deadly in their terror:
1) Led by Abu Musab al-Barnawi, said to be the son of Yusuf, the first group is called The Islamic State West Africa Province (ISWAP) and
2) The original Jama'atuAhlis Sunna Lidda'Awati Wal-Jihad (meaning: People committed to the propagation of the Prophet's teachings and jihad) commanded by Yusuf's deputy Abubakar Shekau
Shekau remains largely elusive. Using the alias of Darul Tawheed, analysts describe him as a ruthless loner and master of disguise. He does not speak directly with his group members, opting to communicate through a few selected confidants.
Virginia Comolli notes in her book Boko Haram: Nigeria's Islamist Insurgency, that the radical faction of Boko Haram regrouped itself between 2009 and 2011 under Abubakar Shekau and began an insurgent campaign against the central government. Between 2011 and 2015, the scale and scope of the terrorist attacks and other criminal activities increased drastically. The training and support provided by al-Qaeda in the Islamic Maghreb (AQIM), Somalia's Al-Shabaab, and Iraq's Daesh (ISIS) granted expertise to the group in carrying-out a steady string of assassinations, suicide bombings and mass killing attacks against both civilians as well as against the security forces of Nigeria and surrounding countries.
The groups' survival was made possible by the sympathy, cooperation, and protection of the local population. This support is due to three factors: (1) Out of terror and ruthlessness of the militant outfits; (2) Public support for the enforcement of Sharia law; and (3) Being alienated from the central Nigerian government and the governorates, considered to be thoroughly corrupt and inefficient.
Although the northern Nigerian Muslims abhor violence, their abject poverty, the apathy and incompetence of the central government, and brutalities at the hands of Nigerian security forces make them look the other way, while Boko Haram let loose terror in the region. Rights groups have accused the local authorities of carrying out human rights violations in their fight against the militant group, which further fuels anti-government sentiments and resentment among the native population.
Similar to the Taliban's governance model in Afghanistan, Boko Haram's factions also provide dispute resolution services, microfinance loans to local youth and farmers, Islamic education, health care, and public services in the areas they control. Their services are prompt, impartial and just – far better than what the central government or the governorates offer to their citizens. While ruthless in nature, Boko Haram's sustainability and longevity – if not popularity – lie in the good that it provides to the public under its rule.
It must be kept in mind that the strategy and tactics of al-Qaeda and Daesh (ISIS) differed drastically. While al-Qaeda strived for winning and controlling the hearts and minds of the masses through its ideological propagation; Daesh focussed on the physical control of territory for a public display of its global caliphate in line with the jihadists' master-plan or a seven-stage strategy – may it be in Iraq and Syria or in its Khorasan province in Afghanistan. Likewise, under Daesh's influence, Boko Haram also transitioned into a mature terrorist organization, carrying out attacks for territorial gain in north-eastern Nigeria and certain parts of Chad, Niger, and Cameroon rather than its initial practice of hit and run attacks.
As mentioned earlier, because the peripheral areas of many of the African countries remain largely ungoverned by the central governments, the tribal chiefdoms of the Kanuri and Hausa-Fulani tribes in Nigeria and neighbouring Chad, Niger, and Cameroon not only granted Boko Haram a safe haven in their land – in exchange for security and funds – but also provided young militants from their tribes as foot soldiers.
Such territorial freedom allowed Boko Haram to establish its writ and fiefdom in many a states in Nigeria, such as Borno (north-east), Yobe, Gombe, Adamawa, Kano, Bauchi, Kaduna and along the Komaduga Yobe River at the border of Niger and Chad. Having established his control over almost two-thirds of Borno state, Abubaker Shekhu pledged allegiance to Daesh's former caliph, Abu Bakr al-Baghdadi and seated his own caliphate in Mubi, next to Cameroon, in 2015.
Shekau enforced Sharia law in the occupied territory and appointed emirs in the adjoining states of Dikwa, Gwoza, Damboa and Bama. Using the lawless Borno state as its statelet's capital, the militant group operates and seeks refuge in the Sambisa Forest near Maiduguri. Boko Haram rattled the world with deep concerns about proliferation of religious terrorism in the African continent when it abducted 276 schoolgirls from Chibok town in April 2014. Despite recovery of some girls in the past five years, 112 still remain untraceable. In all likelihood, the captive girls would be treated as sex-slaves in the garb of wives for the fugitive militants; similar to how Daesh enlisted the captured Yazidi women – as well as foreign volunteer women – as wives for its fighters.
The question is why the United States and the international community have not taken serious measures against Boko Haram? The answer lies in the limited scope of the terrorist activities, confined to the African region and not directly threatening the security of the international world order like al-Qaeda or Daesh. Without putting boots on the ground, the U.S. has restricted its role to putting a US$7 million bounty on Shekau's head besides designating Boko Haram as a foreign terrorist network and providing technical and financial support to the Nigerian security forces battling the insurgency.
In view of America's National Security Strategy of 2017, the Pentagon's focus has shifted towards its strategic great-power competition with Russia and China. However, causing concern among America's European allies, the reports about Washington considering a major reduction in its troops in Africa, as well as potential cuts to the United Nations mission in Mali amounts to taking the eye off the ball (of global terrorism). Olivier-Rémy Bel, a visiting fellow at The Atlantic noted in War on the Rocks on 24 January 2020: "For the people in the Sahel, a U.S. retreat would leave them even more vulnerable to future terrorist attacks. Simply put, an American withdrawal would be penny-wise, but pound-foolish."
However, Boko Haram's overreach in insurgency campaign as a guerrilla outfit (belatedly) woke up the governments of Nigeria, Cameroon, Chad, and Niger to launch a full-fledged military operation against the terror group in 2015. The killing of innocent civilians in the name of Islam further fuelled loathsome feelings among the local Muslim population turning it against the militants. Having harboured and protected the terrorists out of fear or support, people finally began cooperating with the security forces to hound and eliminate the radicals among them. Wresting land from Boko Haram's control, Nigerian president Muhammadu Buhari declared the terror-group's "technical defeat" in 2015. With independent commentators noting the group's "rapid decline," Reuters also mapped "on the run" terrorist group in 2015.
Boko Haram's total rout, however, remains a far cry. While Boko Haram may not be in a position to launch large scale conventional attacks against the security forces or population centres, the outfit still carries the wherewithal to carryout suicide bombings and IED/VED attacks. Between 2016 and 2018 the conflict consumed nearly 2,000 lives; one fifth of 2015's total, when the war was at its peak. Boko Haram insurgency's most violent years occurred in 2014 and 2015, when it targeted civilian population just to cause fear and its writ among the public. Subsequent to its factionalization and transformation in strategy and outlook, the terror-group had already started targeting the security forces, which gained impetus in response to the military campaign. Exceeding its previous total of 450 in 2014, Boko Haram killed 459 members of Nigeria's state security forces in 2018.
The Nigerian government's response, meanwhile, remains irresolute and vacillating. On the one hand, the military uses indiscriminate and disproportionate force as a reactive response, causing severe collateral damage. On the other side, the long interludes in between the military operations – on the pretext of protecting civilian population – allow the insurgents to refresh, regroup, and rearm. In order to safeguard the army's smaller installations coming under frequent insurgent attacks and to reduce the impact of this war of attrition, the Nigerian military has retreated to better protected "super-camps." However, the withdrawal displays the army's half-hearted conviction in a battle fought for the writ of the state. By ceding control of vast swathes of rural areas and forsaking the hapless population at the mercy of the militants, the military has essentially allowed the terrorists to run riot with their violence.
Moreover, causing a security vacuum, Chad's decision to withdraw its 1,200 soldiers fighting Boko Haram in Nigeria as part of the Multi-National Joint Task Force of the Lake Chad Basin Commission in January 2020 not only gave a wrong message of military's pusillanimity but also forced hundreds of residents of Gajiganna to flee to Maiduguri, thecapital of Nigeria's Borno state, under fear of heightened attacks by the radical militants.
The war against Islamist terror groups remains a long-drawn, arduous and time-consuming campaign. In order to counter the narrative of religious zealots and radical ideologues and to put an end to their acts of terror, it is imperative to understand the dynamics of Islamic radicalism. Without addressing a few fundamentals that afflict the Muslim world, religious terrorism can never be eradicated:
1) Addressing the political grievances of local population; granting them democratic rights; removing their impoverishment and privation; and instituting socio-economic justice
2) Providing a better governance model as an alternate to strict Islamic Sharia law
3) Based on Islamic tenets of Ijma' (consensus of Islamic scholars on precepts of Islamic code of conduct and law) and Ijtihad (a thorough deliberation to find a solution to an Islamic legal issue or to redefine or reinterpret an injunction's relevance according to present age by scholars of eminence in Islamic jurisprudence), offering an unbiased and legitimate counter-narrative to the jihadist ideology, and
4) Using sustained, rigorous, and uninterrupted kinetic force to crush and exterminate the criminal bands
While the African Union governments keep flying their flags of peace and security without the support of their masts, the international community must come forward to wipe-out terror from the region, as it did against al-Qaeda and Daesh elsewhere.
As Shakespeare noted in The Merchant of Venice, "The devil can cite Scripture for his purpose. An evil soul producing holy witness is like a villain with a smiling cheek. A goodly apple rotten at the heart. O, what a goodly outside falsehood hath!" The plague of religious terrorism cannot be blamed on Islamic faith.
Adnan Qaiseris a political and defence analyst with a distinguished career in the armed forces, international diplomacy and geopolitical research.
The views and opinions are author's own
Original Headline: Islamic Radicalism: The Curse of Boko Haram's Religious Terrorism
Source: The Geopolitics
URL: https://www.newageislam.com/radical-islamism-jihad/religious-terrorism-be-blamed-islamic/d/122203
New Age Islam, Islam Online, Islamic Website, African Muslim News, Arab World News, South Asia News, Indian Muslim News, World Muslim News, Women in Islam, Islamic Feminism, Arab Women, Women In Arab, Islamophobia in America, Muslim Women in West, Islam Women and Feminism