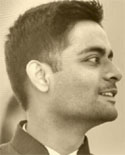 By Abhinandan Mishra
26 March, 2016
Jihadi recruiters are keeping a close eye on the developments in India and are smartly using some incidents to recruit and instigate terrorists to "carry out jihad in the country".
Many such recruiters, who are active on various social messaging forums like Telegram, are regularly sharing news related to alleged atrocities against the Muslim community in India to brainwash gullible minds. In one such forum on Telegram, the recent incident in which two Muslim youths were killed in Latehar, Jharkhand, was shared repeatedly by different users to make the point that the Muslim community was being ill-treated in India.
A recent incident in Rajasthan in which four Kashmiri students were allegedly beaten up and then arrested by the state police for allegedly cooking beef was also shared widely on multiple forums, with one user commenting that "this incident shows how pathetic the state of Muslims have become in India". The incident in which a Muslim policeman in Maharashtra's Latur district was beaten and was forced to carry a saffron flag too was highlighted repeatedly in multiple forums to show "the level of atrocities against Muslims" in India.
Similarly, the recent students' protest in Jawaharlal Nehru University is being widely discussed in these forums, with users terming it as "India's Arab Spring moment". An administrator of one such forum asked other users to travel to Delhi to "utilise this opportunity".
"Since past few days students' protest is going on in New Delhi, Kolkata, supporting Kashmir Azaadi. Will the Brothers use this opportunity or waste it? Will this be the beginning of 'Arab springs' for India? It would perhaps be worth it to travel to Delhi to see if there's an opportunity? Don't you think so?" wrote the administrator of a jihadi forum that describes itself as forum for the jihadis of the Indian subcontinent.
The administrator further asked the users to use this protest to their benefit. "Regarding the students protests in Delhi and India, remember the strategy, the Mujahideen-guide shared earlier says that turmoil is an important factor (to spread jihad) and it should be used beneficially by the Mujahideens. The riots of Delhi students are now getting national attention. So here's an apparent opportunity. O Grandsons of Khalid bin Waleed, Remember what happened in Gujarat, Assam and Kashmir... Don't let the blood of Martyrs of Ghazwa Hind go waste."
Another such forum user, after sharing the news about the recent riots in Haryana, asks other users to think of doing something in other states. "Jat agitation: Haryana suffers loss of Rs 20,000 crore, says Assocham. So if the same happens in other states, then this will be a good start to the war by making your enemy in debt."
Many users of these jihadi forums expressed their anger over the involvement of Prime Minister Narendra Modi with the recent World Sufi Forum that was held in New Delhi. The administrator of one such forum lamented that the Muslims in India had become pathetic. "The butcher of Gujarat, Modi, at the 'Sufi conference' teaching us about Islam. Look how pathetic we are as Muslims," the administrator wrote.
Government officials tracking the social media forums say that it is very difficult to monitor every forum because as soon as one is shut down, a new one comes up. "When we come across any such forum, either on Twitter, Facebook, Telegram, Tox or any other such medium, we make sure that they are closed down, but it is impossible to monitor all such forums. And that is why social media platforms have become the most secure and preferred medium for terror recruiters," an official said.
Source: sundayguardianlive.com/news/3932-jihadi-online-forums-intensify-plot-exploit-turmoil-india
URL: http://www.newageislam.com/radical-islamism-and-jihad/abhinandan-mishra/jihadi-online-forums-intensify-plot-to-exploit-'turmoil'-in-india/d/106774