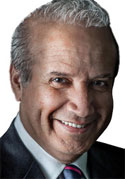 By Abdulrahman al-Rashed
21 April 2014
It is ironic that British authorities supervising charity organizations in the country have only just noticed the threats posed by so-called charity organizations which are used to espouse terrorism and engage in organized fraud. The chairman of the Charity Commission said that what an inquiry had uncovered was worrying. He said that they intend to check the activity of Islamist organizations after they discovered that some of them fund violent Islamist groups in Syria, Somalia and other countries.
Four areas have been misused and distorted: religious preaching, human rights, education and charity organizations. Ever since the 1990s, extremist and terrorist groups have infiltrated these areas in the West because they enjoy popular and public support. These groups launched new activities under the pretext of aiding orphans, widows and the poor.
Core Value of Faith
Charity itself is a core value of faith in Islam and it's a tax paid to a deprived category of people, like the poor, orphans and the needy. Extremist groups exploited alms-giving and charity to gain prominence and they have managed to collect hundreds of millions throughout the years. Money and preaching are a dangerous mixture which enabled an organization like al-Qaeda to spread and engage in acts of sabotage. Al-Qaeda used this mixture to buy explosives and suicide bombers.
In the late 1990s, many Muslim countries began taking action against such activity after it was proven as the fuel of terrorist organizations. Following the Sept. 11 attacks, the down international crackdown expanded; most fake charity offices were shut down and dozens of those found guilty of such illegal activity were jailed. Some charity organizations were shut down but they resumed their "charity" activities again when they moved to isolated communities afar from the grip of Islamic governments – for example communities of European Muslims. They also used modern means of social networking to market their ideas and collect funds. This happened a lot in Kuwait for the aim of supporting extremist groups in Syria and other countries. After two years of chaos, a delegation from the United States arrived in the region demanding an end to this and threatening sanctions.
This occurs in countries like Kuwait, but what about Britain, the Netherlands, Sweden and other countries? Unfortunately, we do not hear many cases of legal pursuit. These aberrant people do not only fund terrorist operations but also support extremist groups in European countries - groups that may not be linked to violence themselves but that incite violence. The latter groups benefit from the protection of freedom of speech and belief and civil activity in these European countries. However, they actually damage the fabric of the society where they live and pit Muslims against one another and against Europeans. What kind of charity work is this? The chairman of the Charity Commission in Britain said he requested the British prime minister to prevent those involved in terrorism from being qualified to engage in charity work. However, he's wrong to think that the problem is that simple as those convicted are a mere few while those who are sympathizers of extremist groups are the real problem.
In my opinion, the transferring of funds outside Britain to help ISIS buy weapons in Syria or to support al-Shabaab in Somalia does not pose a major threat. This could be controlled if financial and security monitoring improves. What's more dangerous is when the money collected under the guise of helping orphans and the poor is spent on funding extremist organizations in Britain, France and other countries where Muslims live as an isolated minority. Establishing extremist education and funding intellectual extremists is not punishable by law in the West, unlike in the Arab countries. However, such actions destroy future generations of Muslim youths for many decades. Muslims lived for more than 100 years in their new countries. The Moroccans lived in France, the Yemenis lived in Britain and so on. Extremism did not gain traction until a decade and a half ago, and the future looks worrisome.
Abdulrahman al-Rashed is the General Manager of Al Arabiya News Channel. A veteran and internationally acclaimed journalist, he is a former editor-in-chief of the London-based leading Arab daily Asharq al-Awsat, where he still regularly writes a political column. He has also served as the editor of Asharq al-Awsat's sister publication, al-Majalla. Throughout his career, Rashed has interviewed several world leaders, with his articles garnering worldwide recognition, and he has successfully led Al Arabiya to the highly regarded, thriving and influential position it is in today.
Source: http://english.alarabiya.net/en/views/news/middle-east/2014/04/21/Charity-work-in-Britain-a-cover-for-extremists.html
URL: http://www.newageislam.com/radical-islamism-and-jihad/abdulrahman-al-rashed/charity-work-in-britain--a-cover-for-extremists?/d/76676