40 People Are Injured In Riots Over Quran Burning In Sweden
Main Points:
1. Right Wing politician Rasmus Paludan burns Quran and triggers riots.
2. Paludan is to stand for elections in September.
3. Marine Le Pen declares she will ban Hijab if she wins French Presidential elections.
4. French elections are going to be held next week.
5. Paludan 's party Stram Kurs is based on Islamophobia.
----
By New Age Islam Staff Writer
20 April 2022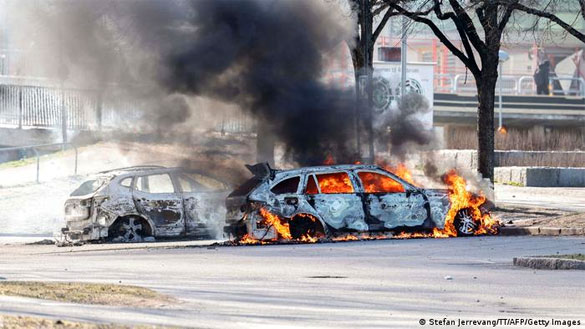 Sweden has been rocked by days of violence triggered by far-right Danish-Swedish politician Rasmus Paludan/ Photo: DW Made for Minds
----
On Friday the 16th April, an otherwise peaceful country Sweden in Northern Europe witnessed the worst communal riots that continued till Sunday. More than 40 people were injured in clashes with police in Linkoping, Norkoping and Malmo. The cause of the riots was anti-Muslim rallies by right wing politician Rasmus Paludan and his plan to burn the Quran. He posted a picture of himself with a burning Quran.
Paludan is a Danish politician who has recently been granted Swedish citizenship and plans to run for the 2022 general elections of Sweden to be held September. He founded his own party Stram Kurs which means Extremist in 2017. His party is based on Islamophobia and anti-immigrant ideology. He has been regularly organising anti-Muslim rallies spreading Islamophobia.
Paludan had represented Stram Kurs Party in the 2018 general elections but his party got only 1.8 per cent votes. Therefore, this time he has intensified his campaign against Muslims and immigrants and what better issue than Qran burning to garner votes.
Rasmus Paludan had been jailed for racism and other offences in 2020. In April 2020, he had sparked riots by burning the Quran. This shows that he has a racist mindset and does not respect other religions.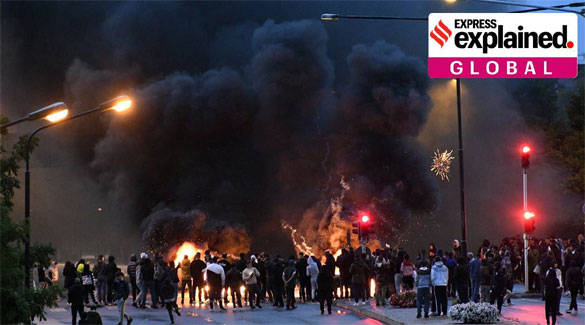 Smoke billows from burning tyres and pallets and fireworks as a few hundred protesters riot in the Rosengard neighbourhood of Malmo, Sweden, Friday. (TT news agency via AP)
-----
The Islamic world has strongly condemned Rasmus Paludan's act and has blamed him for provoking and hurting the sentiments of Muslims. Saudi Arabia, Iraq, Iran, Egypt and Jordan are some of the countries that have issued strongly worded statements against Paludan.
But the Swedish Prime Minister Magdalena Anderson defended Paludan by saying that in Sweden, people are allowed to express their opinions, whether they are good or bad in taste and termed it a part of their democracy. She said that no matter what the Muslims thought about Quran burning, they must never resort to violence as it will not be accepted.
This puts a challenge to the Muslims. The majority of the Muslims in Sweden are immigrants from South Asian or African countries where showing disrespect to religious figures or signs tantamount to blasphemy or an attempt at causing enmity or hatred between religious communities. Even in India, such acts are booked under blasphemy. Indian artist M.F. Hussain had to leave India after he committed blasphemy against the Hindu goddesses. But in the western countries, Quran burning or cartoons of the prophet are considered expression of opinion. This cultural gap is at the root of the problem.
---------------------------------------------------------------------------
Also Read: Burning the Quran in Sweden: How Should Muslims Respond?
---------------------------------------------------------------------------
The western values are insensitive to the religious sentiments of the Muslims and the Muslims do not know how to react to blasphemy in new cultural milieu. They do what they did in India, Pakistan, Egypt or Nigeria: kill and be killed for religion. More so because, the immigrant population is largely illiterate or semi literate, unemployed and frustrated lot. They dont understand that by indulging in violence, they only benefit politicians like Paludan as the Swedish Prime Minister said. Every time Paludan organises an anti -Muslim and Quran burning ceremony, the Muslims run riot, clash with police and burn and damage public property. This only vindicates Paludan's position on Muslims and more people support his ideology. It would be better if in response to Paludan's 'burn a Quran' ceremony, Muslims held 'Kiss a Bible' ceremony. The common Christians of Sweden do not support Paludan's ideology demonstrated in 1.8 per cent votes but they also don't support violence and rioting by Muslims. One priest of a local chrch rang church bell continuously during an anti-Muslim rally organised by Paludan to disrupt his speech. By doing so the priest showed his disagreement with Paludan's views.
A similar Islamophobic atmosphere is being created in France, the home to biggest Muslim population in Western Europe. There, Hijab along with immigration is also a political tool which is being used to garner votes in the forthcoming Presidential elections to be held next week. Macron had used Islamophobia last year by stirring a controversy with his 'Islam in crisis' remark and then taking a number of steps against French Muslims including closure of a number of mosques. This was done with an eye on the elections. However, he has softened his stand on Islam and Muslims, mosques and hijab and has stressed on climate change.
On the other hand, his rival candidate Marine Le Pen has made hijab an election issue and has declared that if she wins the elections, wearing hijab will be made a criminal offence. She has said that Muslim women wear hijab as an Islamist uniform and it should be banned in public space.
This evoked reaction not only from Muslim women but also from intellectuals and lawyers of France. They said that banning hijab totally is against the constitution of France. A Muslim hijab wearing lady confronted Le Pen during an election campaign in a fish market in Pertuis. Here is the conversation :
Muslim lady: What is the headscarf doing in politics ? Please leave us alone. We are French. We love our country.
Le Pen: Headscarf is a uniform imposed overtime by people who have a radical vision of Islam.
Muslim Lady: That's not true. I started to wear the veil when I was an older woman. For me, it is a sign of being a grandmother.
Similarly, a Muslim lady confronted Macron who had earlier said that hijab destabilised male-female relationship. Macron told her that the issue of hijab was not an obsession for him.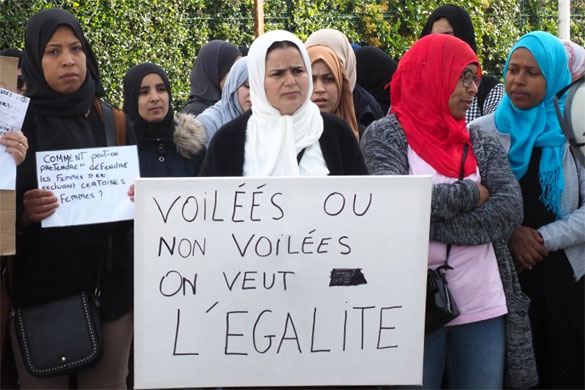 Protesters hold a placard reading 'Veiled or not veiled, we want equality' as they take part in a demonstration in Perpignan, Southwestern France [File: Raymond Roig/AFP]
-----
The entire issue of hijab or Quran burning or reacting to Quran burning, therefore, seems to be a case of cultural gap, individual perception and Islamophobia. The western people are not aware of cultural traditions and values of Muslims or Asians and look at Muslims from the prism of their own cultural values. Muslims every where have their own traditional way of reacting to religious provocation and that is violence.
The problem will persist if both the cultural entities do not find a middle path by understanding the cultural and religious sensitivities of each other and respecting each other. At the least, religious symbols and signs should not be made a political tool to win an election.
URL: https://newageislam.com/muslims-islamophobia/europe-quran-burning-hijab-ban/d/126825
New Age Islam, Islam Online, Islamic Website, African Muslim News, Arab World News, South Asia News, Indian Muslim News, World Muslim News, Women in Islam, Islamic Feminism, Arab Women, Women In Arab, Islamophobia in America, Muslim Women in West, Islam Women and Feminism