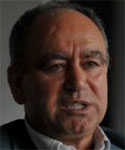 By Ali Yurttagül
May 24, 2014
Today, European elections are being held. The European Union will elect deputies for the European Parliament and the President of the Council of the EU who will serve in these positions for five years.
The left-wing candidate, German Social Democrat Martin Schulz and the Christian Democrats' candidate, Jean-Cloud Junker, are in a fierce competition to become president of the commission, but due to disagreement among European conservatives, Martin Schulz appears to be the more likely winner. However, the winner of the election is not necessarily appointed president because democracy is not fully established in the EU; the prime ministers of the 28 member states appoint the commission chair and the impact of the European Parliament in this process is fairly limited. Public surveys show that the socialists currently attract the support of 27.7 percent and the Christian Democrats have 28.9 percent.
Because it is difficult to make precise estimates of the election results, I would like to discuss two important developments for Turkish foreign policy.
A primary fact as revealed in the public polls indicates that the power balance in the European Parliament will shift to right-wing politics. The Liberals and the Greens will lose influence in this process. It appears that even if it attracts the support of the Liberals, left-wing politics will not be in the majority. The Greens and the Liberals have served as balancing actors between the right and left and they have played determinative roles in decisions. In this case, the grand coalition in power in Germany will most likely hold a special and important place in the European Parliament.
It also appears that there will be another shift to far-right politics. Marine Le Pen, who replaced her father Jean-Marie Le Pen as head of the National Front (FN) party in France, is more successful than her predecessor. Marine Le Pen's party is expected to receive the greatest number of votes in the French elections. Marine Le Pen, who successfully got rid of a Nazi image and formed a new political alliance with the Dutch Party for Freedom, started by Dutch populist Pim Fortuyn and currently represented by Geert Wilders, is threatening not only Turkey's policies, but the EU's structure and organisation,. What distinguishes Wilders and Marine Le Pen and the former European far-right is that these politicians, unlike Jean-Marie Le Pen, are Islamophobic rather than anti-Semitic. These politicians are provoking and promoting policies and actions that are anti-Islam.
The new far right, which gives great attention to the repression of women and other issues that are also important to liberals and leftist movements, is engaging in politics under a perception of Islam that the far right sees as aligned with the ideology of the al-Qaeda. It cannot be said that they have been successful in this attempt. They also have warm relations with Israel. The Israeli envoy in Brussels has not hesitated to cooperate with the deputies elected on Wilders' list, even though it has raised eyebrows among liberal European Jews. The envoy does not seem to be influenced by this.
Of course, Islamophobia is not the only item on the agenda of the new far-right in Europe in their election campaigns. Marine Le Pen, Wilders and other far-right politicians are opposed to a common currency in Europe and say that they will no longer use it as national currency if elected. Even though they are aligned with the far left in opposition to European policies, it is possible to argue that they are more convincing in this matter. And it would not be an exaggeration to argue that these movements will be determinative in Europe's policy development in the coming years. In addition, their election successes and their impact on the political stage should not be underestimated.
Public polls suggest that the far-right parties and political groups will increase their votes from 4.3 percent to 12.5, and go from 33 seats to 94 in the European Parliament. This will make them the third-largest ideological bloc in the parliament; even though they will not be able to become a group individually, these far-right groups and movements will be tempted to form an alliance in an attempt to create a political alliance and utilize the advantages associated with this status.
Junker, who is apparently not a populist politician, justifies his opposition to Turkey's EU membership with reference to anti-democratic moves and policies; however, there is no doubt that the real reason for his opposition is his eagerness to attract the support of the voters who would be inclined to vote for far-right parties. For this reason, it is no surprise to see that Schulz, who is pretty sensitive in matters of union rights and democracy, has adopted a different approach vis-à-vis Turkey.
Turkey holds a key position in a possible struggle against Islamophobia in Europe. It is also a country that may have the potential to serve as a significant column in the structure of European values. Unfortunately, currently, we lack policies and politicians who would use this potential.
Source: http://www.todayszaman.com/columnist/ali-yurttagul_348647_islamophobia-and-new-far-right-in-europe.html
URL: http://www.newageislam.com/muslims-and-islamophobia/ali-yurttagül/islamophobia-and-new-far-right-in-europe/d/87188