New Age Islam News Bureau
17 Apr 2014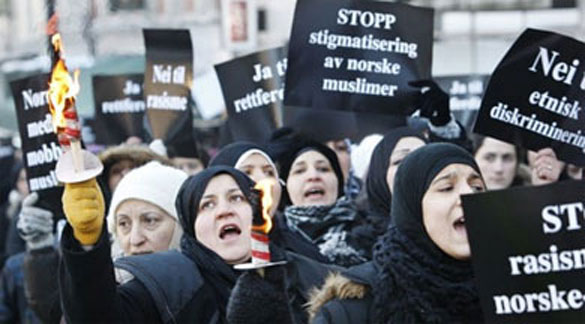 Amid cross-party opposition, Norway's education ministry has approved an application for the capital city Oslo to get its first Muslim-only school
----------
Southeast Asia
• Brunei is Gearing Up to Start Stoning People to Death
• Kelantan should rethink Hudud plan, says Dr Mahathir
• Anwar pays tribute to defender of human rights
South Asia
• Taliban execute 4 abducted policemen in Wardak province
• Laghman Residents Rise Up Against Taliban Militants, 20 Villages Cleared of Militants
• China to revive the Silk Route with Pakistan
Africa
• CAR: 22 reported killed in clashes between Muslim rebels and Christian militia
• Violence kills 20 in Nigeria, Suspected Islamic militants struck
• Several wounded in shooting outside South Sudan UN base: Mayor
Arab World
• Militants kill 12 soldiers in north Iraq: Police
• The Rich Fail to Pay Zakat, Scholars Claim
• Saudi conservatives protest against Westernisation
• Egypt court throws out Israel ban lawsuit
• Egyptian army kills suspected militants in North Sinai
• Committee denies Islamists' claims of torture in Aqrab Prison
• Muslim Brotherhood leaders complain of torture during 'espionage trial'
Pakistan
• Scholars and Leaders Backed the Fatwa: Violence In The Name Of Islam Is Haram
• PM shouldn't forget Zardari promises are not Quran, Hadith
• Negotiators will try to convince TTP to extend ceasefire: Ibrahim
• Peace talks to gradually continue despite end of TTP ceasefire: PM Nawaz Sharif
• Balochistan situation has deteriorated, says BNP-M
• Taliban resume terror war: Say truce over, talks to go on, Claim govt killed 50 TTP men
Mideast
• Iranian convict's life spared by victim's family during public execution
• Cut off from the world, Gazans consumed by poverty
• Turkey's first official atheism association founded
• Netanyahu calls Putin, takes neutral stance on Ukraine
• 'I will use all my constitutional powers if I become president': PM Erdoğan
• Hamas grateful for Egypt's allowing passage of Qatari construction material
Europe
• Norway's capital to get first Muslim only school
• UK secret service blackmails British Muslims
• UN protests as Brunei gears up to allow stoning of gays
• Bradford MP welcomes new student loan proposals for Muslims
• Three separatists killed as Ukrainian troops repel attack on base: Minister
• Syria most dangerous country for journalists: watchdog
• David Cameron urges Britons to be unashamedly "evangelical"
India
• Lok Sabha Polls: 25 years, zero Muslim MPs from Gujarat
• Lok Sabha polls: Village on Bangladesh border faces identity crisis
• M F Husain's nine last works he painted before his death to go on display at London museum
North America
• US seeks greater political inclusion in Bangladesh
• Afghan govt not yet ready to govern: US report
• End of NYPD Muslim spying program welcomed
Compiled by New Age Islam News Bureau
URL: https://www.newageislam.com/islamic-world-news/w-age-islam-news-bureau/brunei-is-gearing-up-to-start-stoning-people-to-death/d/66601
------------
Southeast Asia
Brunei is Gearing Up to Start Stoning People to Death
Apr 17, 2014
Brunei wants to stone more people to death, and it's about to bring into force a new penal code provision that would allow it to do just that.
Sultan Hassanal Bolkiah announced in October of 2013 that he would move Brunei, a predominantly Muslim country, toward adopting Islamic Sharia law within the next six months. While Sharia was previously implemented for what are essentially family court disputes, the country officially had secular laws though many of those laws gave great deference to Sharia anyway.
At the time of announcing this change, the Sultan said that Sharia law would only be applied to Muslims. However, the United Nations and international human rights bodies feel that the law change will likely affect all of Brunei's citizens, if not immediately then over time.
Making it a Crime to be Gay or to Insult Islam
The penal code change would make consensual same-sex sexual encounters a crime punishable by stoning. Homosexual "acts," and by extension homosexuality, have long been a crime in Brunei. At the moment, though, someone convicted under the penal code can only serve a maximum of 10 years in prison.
Homosexuals are not the only group to be targeted by this law change, however. The revised penal code would proscribe the death penalty for the following (not an exhaustive list but one designed to give a good overview):
Adultery
Rape
Murder
Insulting any verses of the Quran and/or the Hadith
Blasphemy
Declaring that you are not a Muslim (apostasy)
While a lot of media attention has focused on how this penal code change would impact gay people, and for good reason, the penal code also seems particularly malignant to women's rights, something that the International Commission of Jurists has already noted. Writing in commentary made back in January while the change was still being considered, the ICJ said that because of how a fundamentalist interpretation of Islam privileges men, women would therefore be "more [at] risk of receiving this penalty because they are most likely to be found guilty of adultery or having engaged in extra-marital sexual relations."
The penal code would also stand to further marginalize different faiths. Brunei has a strong Christian minority (estimates suggest about 10 percent of the country's 420,000 population). Non-Muslims and particularly Christians have faced increasing hostility in recent years, as well as disenfranchisement in the form of not being able to openly talk about or teach about their own faith, and even blatant and sometimes violent persecution. There is a fear that this kind of persecution could be exacerbated should the revised code be adopted.
While other eastern Asian countries do also use Sharia, such as Malaysia and Indonesia, they do so only for domestic matters like custody and marriage and at least claim to keep their national laws secular. Brunei will become the first country in the area then to adopt Sharia on a national, pervasive scale, and there are wider fears that this could start a trend.
The penal code changes are set to come into force on April 22. At this time it is unclear how strictly Brunei wishes to apply this death penalty provision as the country actually has a longstanding moratorium on using the death penalty where it is permissible in existing law. Yet the move toward further legalizing and indeed broadening religiously motivated capital punishment has concerned the United Nations enough that it has issued a strong rebuke and a call for Brunei to hold off on the changes:
"Application of the death penalty for such a broad range of offenses contravenes international law," Rupert Colville, spokesperson for the Office of the UN High Commissioner for Human Rights (OHCHR), is quoted as saying. "Under international law, stoning people to death constitutes torture or other cruel, inhuman or degrading treatment or punishment and is thus clearly prohibited."
The death penalty for same-sex sexual acts is also being treated as particularly egregious as it appears to draw from the same well of animus driving many African nations toward further criminalizing their LGBT populations. The UN notes that this alone contravenes a number of human rights standards, including guarantees on privacy and equality under the law.
http://www.care2.com/causes/brunei-is-gearing-up-to-start-stoning-people-to-death.html#ixzz2z5AqqQZX
------------
Kelantan should rethink hudud plan, says Dr Mahathir
Apr 17, 2014
The Kelantan government should rethink its plan to implement hudud in the state, as the basic principle that must be emphasised is justice, said former prime minister Tun Dr Mahathir Mohamad (pic).
He said this was because the Kelantan government was seen as stressing more on the forms of punishment in its attempt to implement the Islamic penal code.
"In Islam, the main principle is justice and there are 43 verses in the Quran which touch on justice in meting out punishment. If there is no justice, we cannot penalise.
"There are Muslims and non-Muslims in our country. If a Muslim steals, his hand will be chopped off but when a non-Muslim steals, he goes to jail. Is that justice or not?"
He said this after delivering the keynote address at a roundtable session on "Managing rising costs in the current business environment" in Kota Baru today.
Dr Mahathir said the implementation of hudud should be thought about thoroughly and not driven by an eagerness to punish (offenders).
"Islam is a religion that preaches justice and compassion. I don't think the fervency to punish is wanted in Islam."
The PAS-controlled state government through its parliamentarians will be tabling a motion in the Dewan Rakyat for the implementation of hudud in the state by implementing the Kelantan Syariah Criminal Code Enactment (II) 1993 by year-end.
Chairman of the Kelantan Shariah Criminal Code Enactment Technical Committee, Datuk Mohd Amar Nik Abdullah had reportedly said that the draft document was ready and only required some fine-tuning and the views of legal experts.
http://www.themalaysianinsider.com/malaysia/article/kelantan-should-rethink-hudud-plan-says-dr-mahathir-bernama
------------
Anwar pays tribute to defender of human rights
Apr 17, 2014
Malaysia has lost a selfless, courageous and noble defender of fundamental liberties, said opposition leader Datuk Seri Anwar Ibrahim in a tribute to his political comrade and lawyer Karpal Singh, who died in an accident this morning.
Anwar, who found out about Karpal's passing at 3am today, said that Malaysia had lost an illustrious hero and dedicated servant.
"It came like a lightning bolt to me because just last evening, I had had a lengthy chat with him.
"Words cannot express my profound sadness at the passing of my brother-in-arms for freedom and democracy, an inspiring symbol of the struggle against oppression and injustice and a man of unimpeachable moral integrity," Anwar said in a statement today.
Anwar, whom Karpal had defended in both Anwar's sodomy cases, said that on a personal level, he had lost a friend whom he described as "kind in words and noble in deed".
Quoting Shakespeare, Anwar said: "Cowards die many times before their deaths; the valiant never taste of death but once", adding: "And so it was with our hero Karpal Singh for there is none more valiant in life than this great mortal whose body may have perished but his spirit shall live on with us."
http://www.themalaysianinsider.com/malaysia/article/anwar-pays-tribute-to-defender-of-human-rights
---------
South Asia
Taliban execute 4 abducted policemen in Wardak province
Apr 17 2014
Taliban militants have executed at least four Afghan policemen in central Maidan Wardak province of Afghanistan.
The policemen were reportedly abducted from Asadbad district of Maidan Wardak province on Tuesday night.
Local security officials have said the policemen were member of the public order forces and were abducted from Kabul-Kandahar highway.
Wardak is among the relatively volatile provinces in central Afghanistan where anti-government armed militants are active in a number of its districts.
This was the second incident which takes place in Syedabad district in less than one week time.
At least five policemen were killed or injured after a group of militants ambushed a supply convoy in Syedabad district on Saturday.
http://www.khaama.com/taliban-execute-4-abducted-policemen-in-wardak-province-3592
---------
Laghman Residents Rise Up Against Taliban Militants, 20 Villages Cleared of Militants
Apr 17 2014
Around 300 Laghman residents launched armed campaign against the Taliban militants in Alingar district.
The provincial government media office following a statement said the around 20 villages were cleared from the Taliban militants' presence.
The statement further added that the public uprising was led by a local tribal elder Noor Pashayewal.
Dara-e-Noor Lam Sahib, Parwai, Pariana, Jabar Khel and Mandal villages were cleared from the presence of Afghan and Pakistani Taliban militants, the statement added.
Local officials said Alingar residents launched campaign against Taliban militants after they started creating problems for the implementation of public welfare projects and prevented children from attending school.
Full report at:
http://www.khaama.com/nearly-300-laghman-residents-rise-up-against-taliban-militants-6004
------------
China to revive the Silk Route with Pakistan
April 17, 2014
Islamabad- The maritime trade of Pakistan will get a boost through inter-connectivity as the Chinese government is stepping up plans to revive the Maritime Silk Road.
According to the Chinese Securities Journal, the plan is expected to focus on infrastructure construction of countries along the route, including ports of Pakistan, Sri Lanka and Bangladesh. China will coordinate in customs, quality supervision, e-commerce and other facilities to improve the scheme.
http://www.nation.com.pk/national/17-Apr-2014/china-to-revive-the-silk-route-with-pakistan
------------
Africa
CAR: 22 reported killed in clashes between Muslim rebels and Christian militia
Apr 17, 2014
At least 22 people, mainly civilians, were killed in clashes between mainly Muslim rebels and Christian militia in the Central African Republic earlier this week, the local Red Cross said on Wednesday.
The clashes took place on Monday in Grimari, about 300 km (190 miles) northeast of Bangui, and coincide with a push into the interior by French and African forces struggling to contain violence that experts warn has pushed the country to the verge of genocide.
"There are 22 dead, four of whom were women killed by stray bullets," Michel Sefionam, head of Grimari's medical centre and a member of the local Red Cross, told Reuters by telephone.
Violence between Muslims and Christian simmers despite the deployment of 2,000 French and over 5,000 African peacekeepers, and international pressure which forced Seleka rebels to abandon the capital they seized in a rebellion last year.
Full report at:
http://english.ahram.org.eg/NewsContent/2/9/99229/World/International/-reported-killed-in-clashes-over-CAfrican-Republic.aspx
------------
Violence kills 20 in Nigeria, Suspected Islamic militants struck
2014-04-17
ABUJA: Suspected Islamic militants have struck for a fourth time in three days in Nigeria, killing 20 people including a traditional ruler in attacks in the northeast, local government and security officials said on Wednesday.
The unprecedented string of attacks has many questioning the role of politicians in the insurgency and the ability of Nigeria's military to contain the 5-year-old Islamic uprising that has killed more than 1,500 people this year, compared to an estimated 3,600 between 2010 and 2012." Once again, the sophisticated methods of the bombers and insurgents, the audacity of their open attacks and the devastating stealth with which they operate ... calls into question the strategy of the Nigerian security forces and their commitment to the fight,'' The Guardian newspaper of Nigeria said in an editorial on Wednesday."
Full report at:
http://www.dawn.com/news/1100477/violence-kills-20-in-nigeria
------------
Several wounded in shooting outside South Sudan UN base: Mayor
Apr 17, 2014
At least 14 people were wounded in South Sudan Thursday after gunfire broke out during an angry demonstration outside a UN peacekeeping base in the war-ravaged town of Bor, the mayor said.
"Local youth were demonstrating... there was shooting of guns," said mayor Nhial Majok told AFP, adding that at least 14 young men were wounded near the base, where almost 5,000 civilians are sheltering. Some of the young men were armed with guns, he said, but it was not immediately clear who had fired the shots.
http://english.ahram.org.eg/NewsContent/2/8/99264/World/Region/Several-wounded-in-shooting-outside-South-Sudan-UN.aspx
------------
Arab World
Militants kill 12 soldiers in north Iraq: Police
Apr 17, 2014
Militants armed with automatic weapons attacked a military position in northern Iraq on Thursday, killing 12 soldiers, police and a morgue employee said.
The attack in the Mahallabiyah area west of the city of Mosul also wounded 15 soldiers, police said.
http://english.ahram.org.eg/NewsContent/2/8/99254/World/Region/Militants-kill--soldiers-in-north-Iraq-Police.aspx
------------
The Rich Fail to Pay Zakat, Scholars Claim
Apr 17, 2014
MAKKAH — If rich Saudi citizens had paid their Zakat (alms) regularly, there would not be a single poor family in the Kingdom, according to a number of Muslim scholars.
They told Makkah daily on Wednesday that there would be no poverty with the payment of Zakat, which is one of the pillars of Islam.
They noted that the number of the poor was increasing worldwide because of the world financial crisis and because of the greediness of businessmen who are monopolizing goods and commodities.
They said many wealthy people were not willing to reveal the size of their wealth because they were investing their money in bourses and investment companies.
Quoting statistical reports, the scholars said if Zakat was collected regularly it would lead to a turnover of more than SR60 billion a year.
Full report at:
http://www.saudigazette.com.sa/index.cfm?method=home.regcon&contentid=20140417202137
------------
Saudi conservatives protest against Westernisation
Apr 17, 2014
(Reuters) - Saudi Arabian conservatives have staged a rare protest outside the Royal Court in Riyadh against "Westernizing" reforms including moves to allow physical education for schoolgirls, local media reported on Thursday.
Photographs in the Saudi edition of pan-Arab daily al-Hayat showed dozens of men in traditional garb walking towards the court, the seat of government, and sitting on the grass outside as they demonstrated against social change.
Last week the consultative Shoura Council decided to urge the government to look into allowing sports classes for girls in state schools, something that many conservatives have long opposed. Most private schools for girls already offer physical education.
Some powerful clerics, conservatives and their supporters fear the kingdom is losing its Islamic values in favour of Western ideas.
In Saudi Arabia, women are banned from driving and must gain the approval of a male "guardian" to work, open a bank account, travel abroad or even to undergo some forms of voluntary surgery.
Full report at:
http://www.reuters.com/article/2014/04/17/us-saudi-reform-idUSBREA3G0M020140417
------------
Egypt court throws out Israel ban lawsuit
World Bulletin / News Desk
Apr 17, 2014
An Egyptian court on Wednesday said it lacked jurisdiction to rule on a lawsuit demanding that Egypt sever diplomatic ties with Israel and ban all Egyptian activities in the country, according to judicial sources.
Hamed Seddiq, a lawyer who initially filed the lawsuit, told Anadolu Agency earlier that the suit called for banning all Israeli activities in Egypt, shutting down the Israeli embassy and offices in Cairo, and designating Israel a "terrorist state."
Seddiq went on to slam Israel as "the real terrorists," accusing the self-proclaimed Jewish state of "killing Palestinians and Arabs for refusing to recognize it."
Despite a 1979 peace treaty between Egypt and Israel, the latter is still seen in an overwhelmingly negative light by broad swathes of the Egyptian public.
This is due largely to Israel's heavy-handed treatment of Palestinians and its ongoing occupation of Palestinian land.
http://www.worldbulletin.net/headlines/133928/egypt-court-throws-out-israel-ban-lawsuit
------------
Egyptian army kills suspected militants in North Sinai
Apr 17, 2014
Egyptian soldiers have raided the hideouts of suspected Islamist militants in the Sinai Peninsula, killing two and arresting 37, a military official said.
The raids on Wednesday morning were the latest in a broad military campaign to combat an Islamist insurgency that has surged in the border region following the ouster of president Mohamed Morsi last summer.
Army troops and police raided several suspected terrorist and criminal hideouts in the North Sinai towns of Al-Arish and Sheikh Zuweid, military spokesman colonel Ahmed Ali said in a statement.
Two militant fighters were killed in the attack in Al-Mahdiya village in Sheikh Zuweid while they were monitoring the movement of army and police forces, Ali said.
Full report at:
http://english.ahram.org.eg/NewsContent/1/64/99241/Egypt/Politics-/Egyptian-army-kills-suspected-militants-in-North-S.aspx
------------
Committee denies Islamists' claims of torture in Aqrab Prison
Apr 17, 2014
The fact finding committee assigned to investigate events in Egypt since the 30 June protests which led to the ouster of president Mohamed Morsi has denied recent torture allegations from Islamists detained in Cairo's Aqrab prison.
Last week, Islamist detainees including jihadist Salafists released a statement announcing a hunger strike and detailing their testimonies of torture while in the prison.
The statement said that the detainees face beatings and electrocution in addition to being given very little food to eat and denied family visits.
The committee – headed by judge Fouad Abdel-Monem Riad, who was appointed by interim President Adly Mansour – said that it visited the prison on Tuesday and spoke with the detainees, who denied the allegations of torture.
Full report at:
http://english.ahram.org.eg/NewsContent/1/64/99211/Egypt/Politics-/Committee-denies-Islamists-claims-of-torture-in-Aq.aspx
------------
Muslim Brotherhood leaders complain of torture during 'espionage trial'
Apr 17, 2014
The trial of 36 Muslim Brotherhood leaders including former president Mohamed Morsi on charges of espionage was adjourned to 22 April to look into new evidence and to allow for the defence to visit their clients.
During the session on Wednesday, former MP and Brotherhood leader Fareed Ismail complained of systematic torture practised against the defendants at the hands of the police, saying they're being subjected to "slow death".
The defence lawyers of Morsi's presidential advisor Essam El-Hadad along with chief of staff Rifaa Tahtawi, deputy chief-of-staff Asaad Sheikha and head of the presidential media office Ayman Ali filed a complaint saying their defendants were kidnapped after 3 July from the Republican Guard headquarters.
Full report at:
http://english.ahram.org.eg/NewsContent/1/64/99205/Egypt/Politics-/Muslim-Brotherhood-leaders-complain-of-torture-dur.aspx
------------
Pakistan
Scholars and Leaders Backed the Fatwa: Violence In The Name Of Islam Is Haram
Apr 17, 2014
KARACHI: Religious scholars and political leaders on Wednesday issued and backed an edict, declaring that terrorism and violence being committed in the name of Islam was in violation of Islam; and hence Haram.
The edict was part of a seven-point code of conduct unanimously approved at the Ulema-o-Mashaikh National Peace Convention held in Karachi.
Speakers said that rights of all Pakistanis living in the country were equal, whether they were Muslims or not, and that targeting anyone on the basis of religion or faction was a sheer violation of the constitution of Pakistan and Islamic teachings.
They said that denying the fundamental rights of every Pakistani – on the basis of religion or otherwise – was against the Islamic laws and the country's constitution.
They agreed on a point that anyone found involved in violation of others' rights should be dealt with according to the law.
The code of conduct says that terrorism and violence being committed in the country in the name of Islam is "a violation of Islam and the leaderships of all religions and sects announce their disassociation with such acts".
Full report at:
http://www.dailytimes.com.pk/sindh/17-Apr-2014/violence-in-the-name-of-islam-is-Haram-fatwa
------------
PM shouldn't forget Zardari promises are not Quran, Hadith
April 17, 2014
LAHORE - Prime Minister Nawaz Sharif's decision to call a meeting of the Cabinet Committee on National Security for Thursday (today) immediately after his talks with a PPP delegation led by former president Asif Ali Zardari is very significant.
The delegation met the premier at the latter's own request, and after exchanging views on a number of subjects assured Mr Sharif of the PPP's fullest support in case of any threat to the democratic system.
The direct interaction between the civil and the military leadership today and the decisions to be taken at their meeting will enable the khakis to understand if the prime minister is willing to address their reservations on various issues. And harmony, or lack of it, will widen or bridge the gulf between the two sides.
The 'threat' to system has been the subject of discussions in the media for quite some days, which belies Interior Minister Chaudhry Nisar Ali Khan's claim made only a few days ago that civil-military relations at present were better than they had ever been.
He was quoted as saying: "Yes, there was an irritant, but we shall get over it since it is the need of the hour… civil-military relations have never been as they are today… the relationship is frank and honest to a degree I've never witnessed in my 30-year political career".
Full report at:
http://www.nation.com.pk/national/17-Apr-2014/pm-shouldn-t-forget-zardari-promises-are-not-quran-hadith
------------
Negotiators will try to convince TTP to extend ceasefire: Ibrahim
2014-04-17
ISLAMABAD: Negotiator for the Tehreek-i-Taliban Pakistan (TTP) and Jamaat-i-Islami leader Professor Ibrahim on Thursday said that the TTP negotiating committee would continue to work for the cause of peace irrespective of circumstances, DawnNews reported.
Ibrahim's comments came a day after the outlawed TTP announced that while it was not extending its 'ceasefire', it would keep the dialogue option open provided the government took steps indicating 'clear progress' on its two key demands, namely the creation of a demilitarised peace zone and release of non-combatants.
Speaking to DawnNews via telephone today, Ibrahim said the committee would try to convince the Taliban to extend the ceasefire.
The JI leader said a number of complaints from the Taliban's end had come forward via the media, adding that the TTP's concerns should be addressed.
He said contact should continue between the two sides, adding that that could soon lead to a resolution.
Full report at:
http://www.dawn.com/news/1100494/negotiators-will-try-to-convince-ttp-to-extend-ceasefire-ibrahim
------------
Peace talks to gradually continue despite end of TTP ceasefire: PM Nawaz Sharif
2014-04-17
ISLAMABAD: Prime Minister Nawaz Sharif chaired a meeting of the Cabinet Committee on National Security (CCNS) at the Prime Minister House on Thursday during it was decided that the peace talks process with the Taliban would continue on a slow place based on a wait and see policy.
In his opening remarks, Prime Minister Sharif said Pakistan was facing serious security challenges which need to be tackled and overcome.
Subsequently, the interior minister briefed the committee on the dialogue process.
The meeting also reiterated the Government's resolve to improve the internal security situation which according to the committee was critical to economic and social development.
The meeting took place a day after the Tehreek-i-Taliban Pakistan announced the decision to not extend its ceasefire.
Full report at:
http://www.dawn.com/news/1100491/peace-talks-to-gradually-continue-despite-end-of-ttp-ceasefire
---------
Balochistan situation has deteriorated, says BNP-M
2014-04-17
QUETTA: The chairman of the organising committee of the Balochistan National Party-Mengal (BNP-M), Dr Jehanzeb Jamaldini, has said that Prime Minister Nawaz Sharif has failed to honour his commitment to resolve the Balochistan issue according to the wishes of Baloch people.
Addressing a press conference on Wednesday, he said that BNP-M leader Sardar Akhtar Mengal and the prime minister had discussed the Balochistan issue at a meeting and the premier had assured Mr Mengal that the issue would be resolved in a political and peaceful way.
Dr Jamaldini regretted that during the nine months of the PML-N government, no change had been witnessed in conditions prevailing in the province. Rather, he said, the situation had deteriorated.
Full report at:
http://www.dawn.com/news/1100466/balochistan-situation-has-deteriorated-says-bnp-m
------------
Taliban resume terror war: Say truce over, talks to go on, Claim govt killed 50 TTP men
April 17, 2014
PESHAWAR - Tehreek-i-Taliban Pakistan (TTP) has formally announced on Wednesday that they have decided not to extend ceasefire. However, they said they will continue with the dialogue process with complete sincerity and seriousness.
The Taliban had declared a month-long ceasefire on March 1 and later extended it for 10 days and the extension expired on April 10. Since then the TTP political shura had been meeting to decide whether or not to extend ceasefire further.
In a statement issued to media here, TTP spokesman Shahidullah Shahid said that government did not give satisfactory response to their 40-day ceasefire. He alleged that during this period their 50 detained members were killed and their dead bodies were thrown away.
He said that the decision about not extending ceasefire was taken at the Taliban shura meeting held somewhere in North Waziristan Agency. By issuing statement to media, he said that TTP wanted to tell people that who was responsible for the deadlock in the peace process.
Full report at:
http://www.nation.com.pk/national/17-Apr-2014/taliban-resume-terror-war
------------
Mideast
Iranian convict's life spared by victim's family during public execution
Apr 17, 2014
An Iranian man's life has been spared by the victim's family during a public execution, in a rare scene at a country in which at least 500 people were executed in 2013.
A man identified only as Balal, who is now in his 20s, stabbed 18-year-old Abdollah Hosseinzadeh during a street brawl in the northern province of Mazandaran in 2007. Last year he was convicted and sentenced to death, Britain's The Guardian reported.
The victim's family participated in the execution in accordance with the Islamic law of qisas (law of retribution). The mother was to push the chair on which Balal stood but instead slapped him in the face while his father removed the noose, sparing his life. Public executions in Iran are usually carried out using cranes which lift the condemned person by a noose around the neck in front of a crowd of spectators.
The rare scene was photographed by Arash Khamooshi of the semi-official Isna news agency. After the sparing, Balal's mother hugged the grieving mother of the man her son had killed. According to reports the mother of the victim also lost another son, then aged 11, in a motorbike accident.
According to U.N. figures, at least 176 people were put to death in January, February and early March. Several were executed in public. At least 500 people were executed in 2013, 57 publicly. The list includes 27 women and two children.
http://www.hurriyetdailynews.com/iranian-convicts-life-spared-by-victims-family-during-public-execution.aspx?pageID=238&nID=65175&NewsCatID=352
------------
Cut off from the world, Gazans consumed by poverty
World Bulletin/News Desk
Apr 17, 2014
Life has never seemed so grim for the Mustafas, a family of seven cramped into a shabby two-room hovel in Gaza's Jabalya refugee camp.
Seven years into an Israeli blockade and ten months into a crippling Egyptian one, Gaza's economic growth has evaporated and unemployment soared to almost 40 percent by the end of 2013.
Living on U.N. handouts of rice, flour, canned meat and sunflower oil, with limited access to proper health care or clean water, families like the Mustafas - seemingly permanent refugees from ancestral lands now part of Israel - have no money, no jobs and no hope.
"We're drowning... We feel like the whole world is on top of us. I turn on the television and I see the lifestyles on there, and I think, God help me leave this place," said Tareq, 22.
The Mustafas often must pick up and move when rain floods their low-lying home - even on a sunny day, it's lined with slick, smelly mildew. They stand in the dark, as 12-hour power cuts are now the norm throughout Gaza due to scant fuel.
Full report at:
http://www.worldbulletin.net/headlines/134009/cut-off-from-the-world-gazans-consumed-by-poverty
------------
Turkey's first official atheism association founded
Apr 17, 2014
The first Atheism Association has been officially founded in Turkey, becoming a legal address in an effort to stand up for the rights of atheists in the country, daily Radikal has reported.
"No atheists will be alone anymore, either on the streets or in courts," the association said via its official Twitter account.
It also invited "everyone who wants to meet or be a member" to its office, located in Istanbul's Kadıköy district.
In an interview with daily Agos last month, the founders of the Initiative of Atheism Association, Tolga İnci and Ahmet Balyemez, said they thought there should be a place to provide legal support to people facing problems as atheists.
Full report at:
http://www.hurriyetdailynews.com/turkeys-first-official-atheism-association-founded.aspx?pageID=238&nID=65180&NewsCatID=339
------------
Netanyahu calls Putin, takes neutral stance on Ukraine
Apr 17, 2014
Prime Minister Binyamin Netanyahu initiated a phone call with Russian President Vladimir Putin on Tuesday to discuss bilateral issues, Iran and Ukraine, the Kremlin said in a statement.
The conversation came amid escalating tensions in eastern Ukraine, and as Netanyahu was trying to maneuver carefully through the Ukraine crisis, not antagonizing or alienating neither Washington or Moscow.
According to the Kremlin statement, Putin provided an assessment of the processes occurring in Ukraine, and "pointed out that the sharp escalation of the crisis is the result of Kiev's irresponsible policy, which disregards the lawful rights and interests of the country's Russian-speaking citizens. He stressed the inadmissibility of the current regime's use of armed forces to suppress public protests in southeastern Ukraine."
Full report at:
http://www.jpost.com/Diplomacy-and-Politics/Netanyahu-Putin-discuss-Iran-Ukraine-via-telephone-348601
------------
'I will use all my constitutional powers if I become president': PM Erdoğan
Apr 17, 2014
Prime Minister Recep Tayyip Erdoğan has told his lawmakers that he is still undecided as to whether he will pursue the presidency, but he vowed to use the full powers given by the Constitution if he is elected president in the popular vote, scheduled for August.
Erdoğan convened with his lawmakers April 16 in a meeting that provided a good opportunity for the prime minister to take the pulse of his parliamentary group in his bid to shape a road map for the August presidential elections.
"If I step into the [Çankaya Presidential Palace], I will be the people's President. I will use my full constitutional competences," Erdoğan was reportedly told his lawmakers at a meeting at the Justice and Development Party (AKP) headquarters, as debates about the transition into a semi-presidential or presidential system is still ongoing.
Erdoğan argued that the President would de facto become the executive office for being elected by a popular vote. "The system has changed. There won't be any interregnum, because that would be the executive office. Meanwhile, we have many friends that could become Prime Minister," Erdoğan said, while urging his charges not to speculate on the party's candidate.
Full report at:
http://www.hurriyetdailynews.com/i-will-use-all-my-constitutional-powers-if-i-become-president-pm-erdogan.aspx?pageID=238&nID=65139&NewsCatID=338
------------
Hamas grateful for Egypt's allowing passage of Qatari construction material
Apr 17, 2014
Gaza's Hamas Prime Minister Ismail Haneya thanked the Egyptian authorities on Wednesday for facilitating the entry of a Qatari grant in the form of construction materials to rebuild the Gaza district, MENA reported.
Haneya, in a press conference following an inspection of the Qatari grant's construction work, called on Egyptian authorities to permanently reopen the Rafah border crossing, the land passage between Gaza and Egypt which the latter has maintained severely restricted access to since last July.
"The call for the opening of the crossing comes out of love for Egypt and the recognition of its historic role in supporting the Palestinian cause," Haneya added.
Following the ouster of Islamist president Mohamed Morsi, the Egyptian army destroyed hundreds of tunnels running beneath the border through which construction materials and fuel were transferred. This caused the Gaza Strip's worst ever energy crisis, with power outages lasting up to 16 hours a day.
Full report at:
http://english.ahram.org.eg/NewsContent/1/64/99187/Egypt/Politics-/Hamas-grateful-for-Egypts-allowing-passage-of-Qata.aspx
---------
Europe
Norway's capital to get first Muslim only school
17 April 2014
Norway's capital's first Muslim-only school will teach "Arabic and Islamic values as well as the standard subjects on the curriculum, replacing the subject of Religion, Philosophy and Ethics with Islam, Religion and Philosophy"
Amid cross-party opposition, Norway's education ministry has approved an application for the capital city Oslo to get its first Muslim-only school, the country's English language online media outlet, The Local reported on Tuesday.
The school, which reports said would have 200 students when it is fully operational, is to be founded at the behest of the Association of Muslim Mothers.
According to the report in The Local: "...the school would teach its pupils Arabic and Islamic values as well as the standard subjects on the curriculum, replacing the subject of Religion, Philosophy and Ethics with Islam, Religion and Philosophy."
Full report at:
http://www.thecommentator.com/article/4866/norway_s_capital_to_get_first_muslim_only_school_to_teach_arabic_and_muslim_values
--------------
UK secret service blackmails British Muslims
World Bulletin / News Desk
Apr 17, 2014
Muslims in the UK have complained that the British MI5 secret service has been blackmailing them into spying on other Muslims, threatening to put them on the list of terror suspects if they refused.
Speaking to The Independent, a group of Muslim men said that they had been harassed at airports while traveling abroad and then interrogated by MI5 on being sent back to the UK. MI5 agents were then said to have offered to remove travel restrictions on the men in return for their co-operation. When the men refused, they started receiving threatening phone calls.
Adydarus Elmi, a 25-year-old cinema worker from north London, told the newspaper that he had received a phone call by one agent who gave her name as Katherine to congratulate his on the birth of his daughter while his wife was still seven months pregnant, even though he himself did not know the sex of his unborn child.
Full report at:
http://www.worldbulletin.net/headlines/134002/uk-secret-service-blackmails-british-muslims
----------
UN protests as Brunei gears up to allow stoning of gays
Apr 17, 2014
The kingdom of Brunei is gearing up to pass a penal code reform under which gays would be stoned to death, leading the United Nations to protest against the violation of human rights.
Indulging in homosexual sex isn't the only offense that could lead to death by a hail of rocks, under the proposed Sharia legislation. Rape would also be punished by stoning, as would sodomy, insulting the Koran, declaring oneself to be a prophet – which is blasphemy, and also, while about it, robbery and murder. And a few more.
Brunei, aa Muslim nation on the north coast of Borneo whose full name is officially "Nation of Brunei, the Abode of Peace," hasn't actually executed anybody since 1957 but perhaps the small nation's rulers feel it's high time. The new code, if approved, comes into effect next week, on April 22.
The United Nations said it urged Brunei to hold up and revisit its revised penal code. Applying the death penalty for such a broad range of offenses "contravenes international law," said Rupert Colville, spokesperson for the Office of the UN High Commissioner for Human Rights. Under international law, stoning people to death is torture, he added.
In fact same-sex intercourse is already illegal in Brunei, but the worst the authorities could do is jail offenders for ten years. That seems about to change.
More than 70 countries have criminalized gay sex, many of them in Africa and many of them Muslim, including Pakistan and the Gulf nations. That doesn't mean gays are safe in all other places: Trinidad & Tobago is just one example from the Americas that also bans same-sex relations.
http://www.haaretz.com/news/world/1.586095
-----------
Bradford MP David Ward welcomes new student loan proposals for Muslims
Apr 17, 2014
David Ward, MP for Bradford East, has welcomed the Government's announcement that it is consulting on the proposals for an alternative student finance product to ensure all young Muslim students have the opportunity to go to university.
The Department of Business and Skills is consulting on the feasibility of proposals to introduce a Sharia compliant form of student financing.
Since 2011, the Government has been working with experts in Sharia-compliant finance to develop a model alternative student finance product based on the principles of Islamic finance, which would be compliant with Sharia law and has identical repayments to the conventional student loan system.
Mr Ward (Lib Dem) said: "This is not about treating people differently, but making different financial products available to suit different circumstances to enable everyone to afford to go to University.
Full report at:
http://www.thetelegraphandargus.co.uk/news/11150263.Bradford_MP_David_Ward_welcomes_new_student_loan_proposals_for_Muslims/?ref=rss
------------
Three separatists killed as Ukrainian troops repel attack on base: Minister
Apr 17, 2014
Separatists attacked a base of the Ukrainian national guard in an eastern city overnight and, in shooting that ensued, three of them were killed, the interior minister said on April 17.
The minister, Arsen Avakov, said in a post on Facebook that an armed group of about 300 attacked the base in Mariupol on the Sea of Azov with guns and petrol bombs. National guard members first fired warning shots but then opened fire as the attack continued, Avakov said
"According to preliminary data, three attackers were killed, 13 wounded and 63 detained," Avakov said.
That would make the attack, which occurred on the eve of international four-way talks in Geneva on the crisis in Ukraine , the deadliest since separatist rebellions broke out in Russian-speaking eastern areas of Ukraine over 10 days ago.
Full report at:
http://www.hurriyetdailynews.com/three-separatists-killed-as-ukrainian-troops-repel-attack-on-base-minister.aspx?pageID=238&nID=65161&NewsCatID=353
------------
Syria most dangerous country for journalists: watchdog
Apr 17, 2014
Syria is the world's most dangerous country for journalists a US-based watchdog said Wednesday as it published its annual impunity index tracking unsolved killings of reporters.
The New York-based Committee to Protect Journalists reported a "rising number of targeted killings" of reporters in Syria as a recent threat to journalists operating in the war-torn country.
"With unprecedented numbers of abductions and high rates of fatalities in combat and crossfire, Syria was already the world's most dangerous country for journalists," CPJ said.
Iraq remained on top of the rankings with the worst record for solving murders of journalists. Somalia came in second with the Philippines third, the watchdog announced.
Iraq, with 100 percent impunity in 100 cases, has topped the rankings ever since the survey began in 2008.
Full report at:
http://www.hurriyetdailynews.com/syria-most-dangerous-country-for-journalists-watchdog.aspx?pageID=238&nID=65164&NewsCatID=352
------------
David Cameron urges Britons to be unashamedly "evangelical"
Kounteya Sinha,TNN | Apr 17, 2014
LONDON: With the number of atheists rocketing in UK and the attendance in Churches nose diving, prime minister David Cameron has asked Britons to be unashamedly "evangelical" about its Christian faith as Christianity could transform the "spiritual, physical and moral" state of Britain.
In a declaration of his personal beliefs, he said he was "evangelical" and announced that he wanted to see a bigger role for religion in Britain.
He said he had experienced the "healing power" of religion in his own life.
"For people who do have a faith, that faith can be a guide or a helpful prod in the right direction," he said.
Full report at:
http://timesofindia.indiatimes.com/world/uk/David-Cameron-urges-Britons-to-be-unashamedly-evangelical/articleshow/33864408.cms
------------
India
Lok Sabha Polls: 25 years, zero Muslim MPs from Gujarat
Ankur Tewari,TNN | Apr 16, 2014
AHMEDABAD: The last time a Muslim candidate entered the Lok Sabha from Gujarat was in 1984. That candidate, the Congress's Ahmed Patel, lost from his bastion Bharuch in 1989 — the year when the BJP became a dominant force in the state. Since then, no Muslim has ever made it to the Lok Sabha from Gujarat.
In 1962, only two Muslim candidates were in the fray from Gujarat in the country's third Lok Sabha elections. In the 1967 polls, there were none. More than 40 years after Gujarat first took part in a general election as a separate state, nothing seems to have changed for Muslims here insofar as their representation in Parliament is concerned.
In the 2014 Lok Sabha elections, of the total 334 candidates in the fray in Gujarat, 67 (or 19.76%) are from the minority community. This figure, however, does not give the correct picture of Muslim representation.
Most Muslim candidates this year are independents or have been fielded by parties like the Samajwadi Party (SP) that does not count for much in Gujarat politics. The Muslim nominees are contesting from Panchamahals, Kheda, Anand, Bharuch, Navsari, Sabarkantha, Jamnagar and Junagadh seats.
Full report at:
http://timesofindia.indiatimes.com/home/lok-sabha-elections-2014/news/Lok-Sabha-Polls-25-years-zero-Muslim-MPs-from-Gujarat/articleshow/33833828.cms?
--------
Lok Sabha polls: Village on Bangladesh border faces identity crisis
Apr 17, 2014
Md. Azgar Ali is a frail man caught in the India- Bangladesh enclave exchange tangle. The 104-year-old man is waiting to get an Indian identity as he still wishes to be a valid voter before he dies.
"We cultivate crops in the same land as our Indian brothers do. We breathe in the same air. But we are left out in this alien land by administrations of both the nations,"Ali said as he looked through the window of his nondescript house at Mashaldanga, a Bangladeshi enclave located about 20 km east of Cooch Behar's Dinhata sub- division.
Mashaldanga is one of the Bangladeshi enclaves scattered inside the Indian territories with an estimated population of 3,870 as per a joint Indo-Bangladesh census in 2011.
Ali said the residents of Bangladeshi enclaves on Indian soil are stuck in the territorial problem and have been deprived of basic facilities like electricity, food and water supply. " These lands are like free zones with no administrative control," he said.
There are about 51 Bangladeshi enclaves, surrounded by Indian territory with a population of about 14,355. Of them, 35 per cent are Indian voters with questionable identity and address proofs.
Full report at:
http://indiatoday.intoday.in/story/the-chhitmahal-identity-crisis/1/356126.html
-----------
M F Husain's nine last works he painted before his death to go on display at London museum
Kounteya Sinha,TNN | Apr 17, 2014
LONDON: For the first time, the final nine paintings by celebrated Indian artist M F Husain - which were painted just days before he passed away in London, will go on public display at the Victoria and Albert museum this summer.
The Indian Civilization series, also known as Vision of India through Mohenje Daro to Mahatma Gandhi, comprises eight monumental triptych paintings, each measuring 12 feet wide by six feet high, which represent Husain's vision of the richness of Indian culture and history.
The artist's initial intention was to paint 96 panels exploring the breadth of Indian culture. Unfortunately he died before he could achieve this ambition.
Husain's handwritten notes, describing his ideas, themes and stories for each painting and explaining the scenes depicted, will be included in the exhibition guide.
Full report at:
http://timesofindia.indiatimes.com/world/uk/M-F-Husains-nine-last-works-he-painted-before-his-death-to-go-on-display-at-London-museum/articleshow/33864870.cms
------------
North America
US seeks greater political inclusion in Bangladesh
Apr 17, 2014
The US has been pressing greater political inclusion in Bangladesh without which the Asian country's stability will be at risk..
Assistant Secretary of State for South and Central Asia Nisha Desai Biswal made the statement in her address at the prestigious Harvard University.
The US State Department has said this in a statement on Wednesday.
She said: "In Bangladesh, we continue to press for greater political inclusion, without which, a more stable and prosperous future is put at risk."
Praising Bangladesh, Biswal said: "Bangladesh is the only country where the US is implementing all three of President Obama's development initiatives -on health, food security and climate change."
"With US assistance, Bangladesh is one of the few countries on track to achieve its Millennium Development Goals related to child and maternal mortality," she said.
Biswal said: "While the Rana Plaza and Tazreen factory fires focused world attention on the inadequate labour conditions, we have engaged, along with European partners, in an intense effort with labour, industry, civil society and government to have great improvements in the garment sector in Bangladesh."
Full report at:
http://www.dhakatribune.com/north-america/2014/apr/17/us-seeks-greater-political-inclusion-bangladesh#sthash.oytPO4to.dpuf
------------
Afghan govt not yet ready to govern: US report
2014-04-17
WASHINGTON: A confidential US report, prepared for the State Department, says that the Afghan government was not ready to govern Afghanistan after the US withdrawal.
The report points out that the infrastructure created during 12 years of US presence in Afghanistan is in danger of collapsing if left to its own accord.
The United States plans to withdraw most of its troops from Afghanistan by December this year and hopes that the government will be able to fill the gap created by the pullout. Washington also wants to sign a bilateral security agreement with Kabul for keeping a small residual force after the withdrawal. The force will provide security assistance to Afghan forces, particularly in dealing with the militants.
The report, obtained by The Washington Times, says that despite spending billions of dollars, the United States has not been able to create an effective system of governance in Afghanistan.
Full report at:
http://www.dawn.com/news/1100479/afghan-govt-not-yet-ready-to-govern-report
----------
End of NYPD Muslim spying program welcomed
April 17, 2014
NEW YORK — Muslim groups and civil liberties advocates applauded the decision by New York Police Department officials to disband a controversial unit that tracked the daily lives of Muslims as part of efforts to detect terror threats, but said there were concerns about whether other problematic practices remained in place.
The Demographics Unit, conceived with the help of a CIA agent working with the NYPD, assembled databases on where Muslims lived, shopped, worked and prayed. Plainclothes officers infiltrated Muslim student groups, put informants in mosques, monitored sermons and catalogued Muslims in New York who adopted new, Americanized surnames. NYPD spokesman Stephen Davis confirmed Tuesday that detectives assigned to the unit had been transferred to other duties within the department's Intelligence Division.
Full report at:
http://www.saudigazette.com.sa/index.cfm?method=home.regcon&contentid=20140417202232
------------
URL: https://www.newageislam.com/islamic-world-news/w-age-islam-news-bureau/brunei-is-gearing-up-to-start-stoning-people-to-death/d/66601