New Age Islam News Bureau
14 May 2018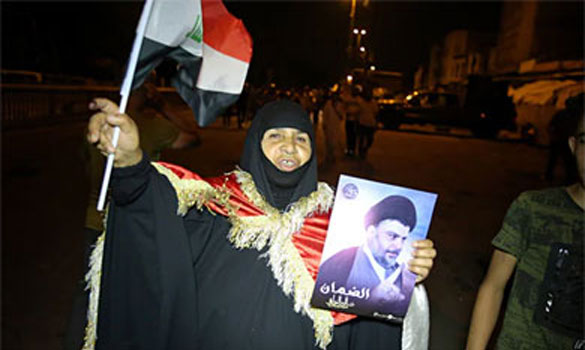 An Iraqi woman holds a picture of Muqtada al-Sadr during celebrations in Tahrir Square, Baghdad, on Monday. Photograph: Karim Kadim/AP
-----
• Zawahiri Calls for Jihad on Eve of US Embassy Move To Jerusalem
• Moqtadr Al-Sadr, the Cleric Who Fought US Takes Surprise Lead in Iraq Elections
• Watching Terror Videos, Reading Jihadist Literature Do Not Make One Terrorist: Kerala High Court
• Namaz at Public Spaces: More than What Meets the Eye
• People Want Islamic Pakistan, Not 'Naya Pakistan': Jamat-E-Islami
• Indonesia Family, With Children in Tow, Carries Out Suicide Bombings at 3 Churches
North America
• Zawahiri Calls for Jihad on Eve of US Embassy Move To Jerusalem
• Trump's Daughter, Son-In-Law in Israel to Open US Embassy amid Tensions
• US war hawk sends mixed signals about conforming EU over Iran deal
• Only US, Israel could pull off 9/11: Researcher
--------
Arab World
• Moqtadr Al-Sadr, the Cleric Who Fought US Takes Surprise Lead in Iraq Elections
• UAE, Bahraini Envoys Met Netanyahu in Washington: AP
• Syria: Thousands of Terrorists Expelled from Homs, Hama
• Ankara Seeks to Recruit Saudi-Backed Terrorists in Northern Syria
• Terrorists' Base in Northern Hama Destroyed in Russian-Syrian Airstrike
• Syrian Army Imposes Rule over Western Wing of ISIL's Main Base in Southern Damascus
• Almost 40 People Killed, Injured in Bomb Blasts, Assassination Operations in Northwestern Syria
• Saudi Arabia deploys troops to Yemen's Socotra after UAE's military build-up
--------
India
• Watching Terror Videos, Reading Jihadist Literature Do Not Make One Terrorist: Kerala High Court
• Namaz at Public Spaces: More than What Meets the Eye
• Haryana Minister Wants AMU to Be Renamed after Jat king Mahendra Pratap Singh'
• Supreme Court to Hear Wasim Rizvi's Petition on Banning Green Flags Tomorrow
• RSS Leader Indresh Kumar Visits Dargah, Seeks Muslim Support for Ram Mandir
• 26/11 Mumbai terror attack: Pakistan Army to meet, Nawaz Sharif says quote 'grossly misinterpreted'
• Faiz Ahmad Faiz's daughter Moneeza Hashmi dropped as speaker at I&B event
• India's 'stubbornness' delayed Mumbai attacks trial: Former Pakistan minister
• UPSC Results: 'Want To Tell Society Madrasas in Kerala Can Contribute Civil Servants'
--------
Pakistan
• People Want Islamic Pakistan, Not 'Naya Pakistan': Jamat-E-Islami
• Taliban Ambush Army Vehicle, Killing 7 Pakistani Soldiers
• Thousands Rally In Pakistan's Karachi for Pashtun Rights
• MMA pledges to establish welfare state, protect minorities
• 'This is not about Hazaras and non-Hazaras. It's a war between love and hate, and love will win'
--------
Southeast Asia
• Indonesia Family, With Children in Tow, Carries Out Suicide Bombings at 3 Churches
• PPSI: Surabaya Church Bombing Contradicts with Islamic Teachings
• Two militants blow themselves up at Indonesian police HQ
• Widodo ahead in the polls, but obstacles abound
• Civil Groups Condemn Church Bombings, Support Gov't to Take Stern Action
• Four Terrorists Dead After Opening Fire on Densus 88 Officers
--------
South Asia
• 15 Killed, 42 Injured As ISIS Claims Responsibility for Attack in Afghanistan
• US Drone Strike Kill ISIS Commander with 4 Militants in Nangarhar
• Abdullah slams government leadership as violence soars across Afghanistan
• Afghanistan wants Iran to rid it of terrorism scourge
--------
Mideast
• Nearly 40 Yrs Later, Iran's Clerics Are Facing a Religious Backlash
• For Palestinians, US Embassy Move Cements Occupation Status Quo
• Turkey Targets French Studies Due To Quran Row and Reciprocity
• Al Qaeda Chief Says Israel's Tel Aviv Is Also Muslim Land
• Over 1,000 Israeli settlers attack al-Aqsa Mosque in occupied al-Quds
• Iran Court Sentences Eight Men to Death over Islamic State Attack
• Ankara Attempting to Annex Occupied Lands in Northern Syria to Turkey
• Houthis appoint controversial imam as minister in coup government
--------
Africa
• El-Zakzaky: We're Very Different from Boko Haram – Shiites Reply Ex-US Envoy, Campbell
• Shiites flay, distance selves from Boko Haram
• More than 31 killed in Libya tribal clashes this month
• Algeria dismisses Morocco's new claims of backing Polisario
--------
Europe
• Video Released By ISIS Shows Paris Attacker Pledging Allegiance
• Shropshire Muslims frustrated over cemetery wait
• Turkish president hails strong relations with Britain
Compiled by New Age Islam News Bureau
URL: https://www.newageislam.com/islamic-world-news/zawahiri-calls-jihad-eve-embassy/d/115243
--------
Zawahiri calls for jihad on eve of US embassy move to Jerusalem
May 14, 2018
Al-Qaeda leader Ayman al-Zawahiri today said America's decision to shift its Israeli embassy to Jerusalem was evidence that negotiations and "appeasement" have failed Palestinians as he urged Muslims carry out jihad against the United States.
In a five-minute video entitled "Tel Aviv is Also a Land of Muslims," the Egyptian doctor who took charge of the global terror group after its founder Osama bin Laden was killed in 2011 referred to the Palestinian Authority as the "sellers of Palestine" while urging followers to take up arms.
US President Donald Trump "was clear and explicit, and he revealed the true face of the modern Crusade, where standing down and appeasement does not work with them, but only resistance through the call and jihad," Zawahiri said, according to a transcript provided by the SITE monitoring agency.
He added that Bin Laden had declared the US "the first enemy of the Muslims, and swore that it will not dream of security until it is lived in reality in Palestine, and until all the armies of disbelief leave the land of Muhammad."
He argued that Islamic countries had failed to act in Muslims' interests by entering into the United Nations, which recognises Israel, and submitting to Security Council and General Assembly resolutions instead of sharia (Islamic law).
Israelis were basking in national pride and pro-American fervour today as tens of thousands marched in Jerusalem, a day ahead of the controversial US embassy move from Tel Aviv to the disputed city.
Palestinians readied for their own protests over the embassy's inauguration, including another mass demonstration in the Gaza Strip near the border with Israel.
The embassy move will take place on the 70th anniversary of Israel's founding, while the following day Palestinians will mark the Nakba, or "catastrophe", commemorating the more than 700,000 Palestinians who fled or were expelled in the 1948 war surrounding Israel's creation.
Top US officials have meanwhile insisted they could still push forward the troubled peace process despite outrage across the Arab world.
Asked in an interview with Fox News Sunday about whether there was any life left in the peace process, Secretary of State Mike Pompeo responded by saying "the peace process is most decidedly not dead."
"We're hard at work on it. We hope we can achieve a successful outcome there as well," said Pompeo whose first two weeks in office have been largely consumed with arranging a summit between Trump and North Korean leader Kim Jong Un.
https://www.moneycontrol.com/news/world/zawahiri-calls-for-jihad-on-eve-of-us-embassy-move-to-jerusalem-2567741.html
--------
Moqtadr Al-Sadr, the Cleric Who Fought US Takes Surprise Lead in Iraq Elections
Reuters in Baghdad
Mon 14 May 2018
An Iraqi nationalist cleric who led two uprisings against US troops has taken a surprise lead in parliamentary elections, fending off Iran-backed rivals and the country's incumbent prime minister, the electoral commission has said.
With 95% of the votes counted in 10 of Iraq's 18 provinces, Moqtadr al-Sadr, a rare enemy of both the US and Iran, is ahead with Tehran-backed Shia militia chief Hadi al-Amiri's bloc in second place and the prime minister, Haider al-Abadi, trailing in third.
The preliminary results are a severe setback for Abadi, who had entered the election campaign as the frontrunner.
Sadr has a zealous following among the young, poor and dispossessed but had been sidelined by influential Iranian-backed figures.
He will not become prime minister as he did not run in the election but his apparent victory puts him in a position to pick someone for the job. Winning the largest number of seats does not automatically guarantee that, however. The other winning blocs would have to agree on the nomination.
Sadr and Amiri both came in first in four of the 10 provinces where votes were counted, but the cleric's bloc won significantly more votes in the capital, Baghdad, which has the highest number of seats.
Security and commission sources had earlier said Abadi was leading in the election, which was held on Saturday and is the first since the defeat of Islamic State in the country.
Turnout was 44.52%, the Independent High Electoral Commission said, significantly lower than in previous elections. Full results are due to be officially announced later on Monday.
The commission did not announce how many seats each bloc had gained and said it would do so after announcing the results from the remaining provinces.
A document provided to Reuters by a candidate in Baghdad that was also circulating among journalists and analysts showed results from all 18 provinces. Reuters calculations based on the document showed Sadr had won the nationwide popular vote with more than 1.3m votes and gained 54 of parliament's 329 seats. He was followed by Amiri with more than 1.2m votes, translating into 47 seats, and Abadi with more than 1m votes and 42 seats.
Sadr is one of the few Shia leaders to have distanced himself from Iran and Tehran has publicly stated it would not allow his bloc to govern. He portrays himself as an Iraqi nationalist and last year met Crown Prince Mohammed bin Salman of Saudi Arabia, who is staunchly opposed to Iran.
In a 2010 election, Vice-president Ayad Allawi's group won the largest number of seats, albeit with a narrow margin, but he was blocked from becoming prime minister, for which he blamed Tehran.
Source: https://www.theguardian.com/world/2018/may/14/cleric-moqtadr-al-sadr-who-fought-us-takes-surprise-lead-in-iraq-elections
--------
Watching Terror Videos, Reading Jihadist Literature Do Not Make One Terrorist: Kerala High Court
13th May 2018
KOCHI: Watching terror videos and reading jihadist literature do not make someone a terrorist, the Kerala High Court has ruled while granting bail to a Muslim man, who was accused of involvement in terror activities by his estranged Hindu wife, who had converted to Islam.
A division bench of justices A M Shaffique and P Somarajan made the observation recently while considering an appeal filed by Muhammed Riyas, challenging an NIA court order denying him bail.
In his appeal, Riyas had contended that he was not part of any terror organisation.
It was only on account of a matrimonial dispute or under the influence of someone else that his wife had levelled such charges against him, the appellant had submitted.
Observing that the appellant was detained on the ground that he might have been involved in terrorist activities, the bench said, "The fact that he has seen certain videos and speeches will not be a reason to implicate him as a terrorist unless there are other materials to establish the same."
Noting that many such videos, speeches etc. were in the public domain, the bench said, "Merely for the reason that one sees such matters, it may not be possible for any person to establish that the accused is involved in terrorism."
"In the absence of any such materials forthcoming, even as on date, after the expiry of 70 days of imprisonment, we are of the view that this is a fit case in which this court should exercise jurisdiction to grant bail," it added.
The National Investigation Agency (NIA) had told the court that it had come into the picture on the basis of a report submitted by the local police.
The agency had also said two laptops, containing literature on the "Jihadi" movement, videos of speeches delivered by controversial Islamic preacher Zakir Naik and some videos related to the war in Syria, were seized from Riyas.
Some nude photographs and videos of his wife were also stored in the laptops, the agency had said.
Apart from these, no link between the appellant and any terror organisation had been established, the NIA had said.
The court said the issue of the nude photographs was a separate matter, which had to be dealt with in accordance with the procedure prescribed in this regard.
Earlier, Riyas's wife had moved the high court, alleging that she was forced to change her religion and marry the appellant.
She had also alleged that Riyas had attempted to take her to Syria to join global terror outfit ISIS.
She had also alleged that Riyas had threatened her that her nude photographs would be posted on the social media.
http://www.newindianexpress.com/states/kerala/2018/may/13/watching-terror-videos-reading-jihadist-literature-do-not-make-one-terrorist-kerala-high-court-1814268.html
--------
Namaz At Public Spaces: More Than What Meets The Eye
MAY 14, 2018
While right-wing organisations in Gurugram accuse the illegal Bangladeshi immigrants of attempting to grab land in the name of Friday prayers, Muslim leaders see it as a political conspiracy and a false propaganda behind the campaign against Namaz in open spaces in the run-up to the Lok Sabha elections.
Saddened by the raging controversy over offering of Jummah Namaz at open public spaces in the Millennium City over the past few weeks, DLF Phase-III resident and freelance journalist Matloob Ahmed (68) said he never expected things to come to this when he moved to Gurugram from Delhi two decades ago.
However, he regretted that the equation between the two communities in the country had, perhaps, changed forever in the wake of BJP leader Lal Krishna Advani's Rath Yatra in the 1990s.
Pointing out how a temple on a hillock in his neighbourhood had grown in the area despite demolition orders by the district administration, Mr. Ahmed, the president of the Indian Islamic Research Centre (IIRC), said, "It is possible to build a temple in this country but not a mosque. And now it has become difficult to even offer Namaz."
Social worker Mohammad Arshaan said Muslims were not happy to sit on roads in the blistering heat to offer Namaz but there were not enough mosques to accommodate their rising population, especially in New Gurugram. "While the Muslim population in Gurugram has grown with unskilled, semi-skilled and educated Muslims thronging the city in search of livelihood, much like other religious communities, there are, however, few mosques," he explained.
While Old Gurugram has eight mosques with a combined capacity of around 3,000, the lone mosque in New Gurugram in Sector-57 is under litigation.
Aslam Khan, the chairman of Anjuman Trust Masjid in Sector-57, said the mosque accommodated nearly double its capacity each Friday. He said a plot for the mosque was allotted by the Haryana government in 2004 but some locals were opposed to a mosque in the area and moved court on flimsy grounds. "The matter is pending before the Supreme Court and construction has been stayed," said Mr. Khan.
Request turned down
Long before this controversy over Namaz erupted in the Millennium City this past month, two Muslim outfits — the IIRC and the Muslim Minority Trust — had sought allotment of land for mosques in the city in response to the Haryana government's scheme to offer plots for religious sites two years ago. The two organisations had cited severalfold increase in the community's population, and holding of prayers on roads and parks as the reason for more mosques for them.
However, the request was allegedly turned down without assigning any reason in writing.
IIRC member Arshaan told The Hindu that they had explained in a detailed presentation before the government how Friday prayers in the city were being held in the open at 70 locations.
"We also gave visual evidence of large gatherings at Leisure Valley, Shankar Chowk and Udyog Vihar for jumma namaz. We had applied for three sites — Sectors 43, 50 and 52 — as there is only one mosque in New Gurugram. The Muslim Minority Trust had also applied for two sites. But our earnest money was returned last June saying that our applications were not considered," claimed Mr. Arshaan.
He pointed out that Sector 43 was an ideal location to cater to a large number of namazis offering prayers on Golf Course Road, near Genpact office and Sector 56 in New Gurugram in the open, and would be able to accommodate around 3,000 people in a single shift.
Encroachment issue
Besides, 19 Waqf Board properties in Gurugram, mostly in villages, have either been encroached upon or locals do not allow Muslims access to these properties.
However, the district administration carried out a survey this past week claiming that a majority of these properties were free from encroachment and the authorities were ready to assist the Waqf Board to take possession of these properties. Amid claims and counterclaims, Muslim leaders maintained that it was anyway difficult to take possession of the properties in Hindu-dominated villages.
Waqf Board, Estate Officer (Gurugram), Jamaluddin said attempts to build mosques on Waqf Board plots in Jharsa, Jharsa-Fazilpur, Naurangpur and Meoka were thwarted by locals and two structures demolished.
Mahavir Bhardwaj, the convener of the Sanyukt Hindu Sangharsh Samiti which is leading the campaign against namaz in open spaces, said he was unaware of any scheme to allot plots for religious sites but it was the prerogative of the government to reject or accept applications. He, however, added that no community could be allowed to use public land for religious activities and all this was an attempt to grab land illegally.
"They can offer namaz in office or factory premises or on private land," said Mr. Bhardwaj. Mr. Ahmed saw a larger political conspiracy behind what he described was "attempt to make an issue out of nothing".
"All this talk of traffic disruption and security threat due to illegal immigrants is rubbish. Do kanwariyas and devotees at Sheetla Mata Mandir here not disrupt traffic? With the Modi government having failed on all fronts, including job creation, black money and Swachh Bharat, the only agenda left is the Hindu-Muslim divide before the next elections," said Mr. Ahmed, an author of several books on religion.
False propaganda
The Samiti, a conglomeration of various district units of right-wing organisations, has submitted a charter of nine demands to the district administration.
Besides reducing the number of open public spaces for namaz to five from the present around 90, the Samiti has also raked up the issue of illegal Bangladeshi migrants and Rohingyas, and sought their identification.
However, Muslim leaders dismissed it as yet another false propaganda to target the community.
"Bengalis from Malda, Murshidabad and Nadia districts are not Bangladeshi. Residents of districts bordering Bangladesh, these Muslims are not conversant in Urdu and speak Bengali. There are also lots of Muslims from Assam, Jharkhand, Bihar, Rajasthan, Madhya Pradesh and Uttar Pradesh. Most of them work as domestic workers, rickshaw-pullers and autorickshaw drivers and construction workers," said Ishrat Thameem, a resident of Gurugram who is involved with the community.
Contradicting him, 64-year-old Mr. Bhardwaj asserted that the sudden increase in the number of Muslims over the past two years was a matter of concern. "Their numbers have doubled over the past two years despite slowdown in real estate activities. Gurugram has a strategic location and there seems to be a deep-rooted conspiracy behind the increase in the number of Muslims. No sincere efforts have ever been made by the administration to identify illegal Bangladeshi migrants and Rohingyas. It seems the police carry out their drives only on papers and not on ground," Mr. Bhardwaj alleged in response to a question on the Gurugram police having identified only one Bangladeshi immigrant so far this year.
With Haryana Chief Minister Manohar Lal Khattar having advocating last week that namaz should be offered only in mosques and eidgahs, the district administration seems to be doing a fine balancing act on the politically sensitive matter.
On the one hand, the police appeared to have given in to pressure from right-wing organisations to reduce the number of open public spaces for namaz to almost one-fourth this past Friday, on the other the civil administration deployed duty magistrates at all existing 76 open spaces to give an impression that it had maintained status quo.
Far from over
However, the controversy seems to be far from over, with the right-wing organisations demanding that their demands be met in a time-bound manner and the Muslims demanding legitimate spaces for prayers for the increasing numbers.
http://www.thehindu.com/news/cities/Delhi/more-than-what-meets-the-eye/article23875915.ece
--------
People Want Islamic Pakistan, Not 'Naya Pakistan': Jamat-E-Islami
May 13 2018
LAHORE: Jamat-e-Islami leader Sirajul Haq, speaking at the Muttahida Majlis-e-Amal's (MMA) first public gathering in Punjab on Sunday, said that the rally was a clear message that the nation wanted an "Islamic Pakistan" instead of "Naya Pakistan".
Addressing the rally held at the Greater Iqbal Park, Siraj said that it was unfortunate that an Islamic political system was not implemented in last 70 years, adding that the party was fighting for the imposition of Islamic system in the country.
"US agents are worried to see the unity of religious parties," he claimed.
The JI emir lamented that the corrupt rulers were storing looted wealth abroad, and that the corrupt elite had bought properties worth billions of rupees.
"I curse politics which aims for increasing funds in bank accounts," he said. "I want to open avenues of power to the common Pakistanis. We have to end the tradition of giving votes to the oppressors."
Siraj said that corrupt people should not be allowed in any party.
"We will bring a direct tax system. A gatekeeper is giving the same amount of tax as a billionaire here. Fair distribution of resources will bring prosperity to the nation."
Will defeat secularists in next polls: Fazlur Rehman
Speaking on the occasion, Jamiat Ulema-e-Islam-Fazl (JUI-F) leader Maulana Fazlur Rehman said that the MMA will win the next elections by defeating the secularists of the country.
Rehman said that law and order is the biggest challenge of the country today, adding that from last ten years Muslim word is facing attack from the West.
"You have destroyed Afghanistan and Iraq, and now bloodshed is happening in Syria. Its all US' conspiracy," he said. "We know what is freedom. Our economy is being conquered by IMF and World Bank."
He alleged that the Pakistani budget is approved by IMF's Pakistan desk.
"Our leaders give budget speech after approval from IMF. Our civilization is under attack from the West."
The MMA leaders are expected to announce the political alliance's manifesto for the coming polls.
Religious-political parties announced the revival of the defunct MMA in March this year. The newly resurrected alliance will contest the elections under one symbol.
https://www.geo.tv/latest/195308-people-want-islamic-pakistan-not-naya-pakistan-siraj
--------
Indonesia Family, With Children in Tow, Carries Out Suicide Bombings at 3 Churches
By Muktita Suhartono and Rukmini Callimachi
May 13, 2018
BANDUNG, Indonesia — One suicide bomber appeared to have been disguised as a churchgoer. Another drove a Toyota minivan with a bomb to one attack site. Still another was seen in footage speeding on a scooter toward a church before an explosion.
After the back-to-back bombings that targeted three churches in Surabaya, Indonesia's second-largest city, as worshipers gathered between services on Sunday morning, the police said they had been the work of one family: a couple who had led their four children on a terror spree that took their own lives and those of at least seven other people.
The Islamic State claimed responsibility for the attacks, according to the group's news agency, Amaq. In an initial bulletin, the group described each of the bombings as a "martyrdom" operation. In a subsequent, longer media release, the Islamic State identified three modes of attack: a car bomb, a suicide vest and a motorcycle-borne bomb.
The police now say that there have been at least two more bomb blasts beyond the assaults on the churches.
In the suburb of Sidoarjo, south of Surabaya in East Java, a man detonated an explosive in his apartment as the police closed in on Sunday night, killing himself, his wife and one of his children, and injuring another three children, said a spokesman for the provincial police, Frans Barung Mangera. He identified the killed suspect as Anton Ferdiantono, 46.
And in a new attack, on Monday morning, a team of bombers on a motorcycle detonated explosives at a checkpoint outside the city police headquarters in Surabaya.
Mr. Frans, the police spokesman, said in a live television briefing that there were 10 "victims" of that bombing, without detailing the number of dead or injured. A video released by an Indonesian news outlet showed what appeared to be a motorcycle with two people on it at the center of the blast, flattening police officers and another nearby motorcycle with two people on it, and damaging a car beside it.
The police said they had raided another housing complex in the area and recovered at least six complete bombs.
Sunday's church bombings occurred one day after a man in Paris who shouted, "God is great" in Arabic killed one person with a knife and wounded four others. The Islamic State claimed responsibility for that attack. A day later, the group's news agency released a cellphone video of the attacker pledging allegiance to the Islamic State and calling on fellow Islamic State supporters in France, Germany, the United Kingdom and elsewhere too carry out attacks.
At least 43 other people were wounded in the church bombings, Mr. Frans said. He added that the bombs had been detonated in different parts of the city within minutes of one another. The victims included two police officers and worshipers who were entering and leaving the churches between services, he added.
At a news conference later on Sunday, Indonesia's police chief, Tito Karnavian, said the family suspected in the attacks had recently returned from Syria: "Five hundred people were deported from Syria; among them is this family."
He identified the attackers as Dita Oepriarto and his wife, Puji Kuswati. The police chief said that two of their sons, ages 18 and 16, had also been involved. Two younger children were also seen in the company of the woman at one bombing site, the police said.
Footage posted on YouTube shows what appears to be one of the attackers on a scooter suddenly turning off a street and heading toward a church before a bomb goes off.
The police said the father, driving a Toyota minivan, had dropped off the mother and two children, ages 12 and 9, at the Indonesia Christian Church. There, according to Kumparan News, an online news site that quoted the deputy police chief of Surabaya, the woman tried to force her way into the church after being stopped by a security guard.
She then detonated the bomb in the yard outside the entrance, killing herself and the two children, the deputy police chief said.
At another target, Santa Maria Church, the sons detonated the explosives, the police chief said. Photos from the site showed several people lying on the ground outside the church gate. Other images showed scattered debris and the police cordoning off the site.
The father was behind the wheel of the vehicle that crashed into Surabaya Center Pentecostal Church, detonating a bomb believed to have been in the vehicle, the police said. The couple, along with all four children, died in the explosions, the police said.
The police later disabled three bombs at the home of the suspects, officials in Surabaya said.
Surabaya, located on the eastern side of the island of Java, has a significant Christian minority that is about 11 percent of the city's population of almost three million. The bombings occurred as professed followers of the Islamic State have begun to make their presence felt in Indonesia, a Muslim-majority nation that is proud of its diversity and tolerance.
In 2016, the Islamic State, also known as ISIS, claimed its first attack in Southeast Asia, when militants attacked a police post and shopping center in central Jakarta, the Indonesian capital, with homemade guns and bombs.
This month, inmates who said they were followers of the Islamic State rioted in a high-security detention center outside Jakarta. Five guards were killed before counterterrorism officers stormed the compound.
Churches have also been targeted by other extremists. On Christmas Eve in 2000, nearly simultaneous attacks on churches in Jakarta and several other cities killed about 20 people. A local group with links to Al Qaeda claimed credit.
The suicide bombings here and the knife attack in France came days before the start of the holy month of Ramadan, a time of prayer for the majority of the world's Muslims and a period when groups like ISIS typically intensify and multiply attacks.
Analysts have been waiting for the start of Ramadan, which begins on Tuesday, to assess the Islamic State's capabilities. They argue that if the group is able to carry out significant attacks, as it did during Ramadan over the previous three years, it would indicate that the group remained a potent threat, despite its territorial losses.
On Sunday evening, hundreds of people gathered at the Heroes Monument in Surabaya to mourn the bombing victims, and officials announced that public schools in the city would be closed on Monday.
Muktita Suhartono reported from Bandung, and Rukmini Callimachi from New York. Amir Tejo contributed reporting from Surabaya, Indonesia.
https://www.nytimes.com/2018/05/13/world/asia/indonesia-church-suicide-bomber.html
--------
North America
Trump's daughter, son-in-law in Israel to open US embassy amid tensions
May 13, 2018
US President Donald Trump's daughter, Ivanka, has arrived in Jerusalem al-Quds to open the new US embassy in Israel, a controversial move that is guaranteed to stir violence in the occupied Palestinian lands.
Ivanka Trump landed in Tel Aviv's Ben Gurion International airport on Sunday, where she was welcomed by US ambassador to Israel David Friedman.
Speaking to reporters, the US president's daughter said she had "great joy" in going back to Jerusalem al-Quds, which Trump recognized as Israel's new capital last September amid international uproar.
"We look forward to celebrating Israel's 70th anniversary and the bright future ahead," Ivanka wrote online, as she prepared to attend the opening ceremony on Monday, exactly seven decades after the Tel Aviv regime forced out Palestinians from their land and declared existence.
"We will pray for the boundless potential of the future of the US-Israel alliance, and we will pray for peace," Trump's daughter said.
European cold shoulders
Ivanka was slated to attend a gala dinner later on with her husband, Jared Kushner, who has been tasked by Trump to negotiate an end to the Israeli-Palestinian conflict.
Only 32 of the 86 foreign ambassadors in Israel have accepted an invitation to attend the dinner. Interestingly, only four of those are European countries, namely Hungary, the Czech Republic, Austria and Romania.
The Trump administration has invited no foreign envoys to the main ceremony, which will be held on 4 p.m. local time.
Palestinian protests
Trump's decision to move the US diplomatic mission to the ancient city has been met with outrage among Palestinians, who deem Jerusalem al-Quds as the future capital of a Palestinian state.
Only in Gaza, a coastal strip of land that has been under Israeli siege for a decade, thousands of people have pledged to partake in protests along border with Israel.
Protests in Gaza started on March 30 and have been regularly held over the past seven Fridays under the title of the "Great March of Return."
Israel has shown a violent reaction to peaceful protests by Palestinians in Gaza Strip, killing close to 50 of them and injuring thousands over the past seven weeks.
The Gaza rallies will culminate on the 70th anniversary of the Nakba Day (Day of Catastrophe), which marks the creation of Israel on May 15, 1948.
Wary of inevitable clashes, the Israeli military has said it would double the number of forces around Gaza and in the West Bank before the opening ceremony.
Earlier on Sunday, thousands of protesters in Jordan, Turkey and Indonesia staged rallies to condemn the US decision.
Israeli and Palestinian residents of al-Quds held a separate rally on Saturday night, taking to the streets to voice their outrage.
Washington's major European allies are also likely to skip the event and only send low-level representatives.
http://www.presstv.com/Detail/2018/05/13/561620/US-Israel-Ivanka-embassy-Jerusalem-alQuds-Kushner-Trump
--------
US war hawk sends mixed signals about conforming EU over Iran deal
May 13, 2018
US President Donald Trump's national security advisor refuses to say whether the United States would take on European companies t
"It's possible," John Bolton said in an interview with CNN on Sunday.
Bolton and Secretary of State Mike Pompeo, another anti-Iran figure in the Trump administration, are trying to promote the reasons for the recent withdrawal from the Iran nuclear agreement, known as the Joint Comprehensive Plan of Action (JCPOA).
Declaring that he would re-impose sanctions on Tehran, Trump warned Tuesday that he would take on those violating it.
"Any nation that helps Iran in its quest for nuclear weapons could also be strongly sanctioned by the United States," the president claimed.
This is while Tehran's commitment has constantly been corroborated by the International Atomic Energy Agency (IAEA) ever since the deal was clinched in 2015.
Britain, Germany and France have also thrown their support behind the multi-national agreement in the wake of Trump's exit.
Full report at:
http://www.presstv.com/Detail/2018/05/13/561626/Will-US-confront-EU-over-Iran-deal
--------
Only US, Israel could pull off 9/11: Researcher
May 13, 2018
Only the United States and Israel had the means to pull off an attack like the one that hit New York City on September 11, 2001, says an American scholar.
James Fetzer, a leading 9/11 researcher, told Press TV on Saturday that the growing cases of post-traumatic disorders reported among 9/11 survivors and first-responders give away the underlying secret.
On Thursday, the 9/11 Victims Compensation Fund released new data that showed the organization has awarded $3.6 billion to date to Americans who have filed claims since the 9/11 attacks.
Those exposed to toxins and debris in Lower Manhattan are reporting "increasing numbers and types of illnesses," the special master for the 9/11 Victims Compensation Fund said.
Since its inception, the compensation fund has received 35,477 eligibility claims and awarded nearly $4 billion to some 14,000 responders and 5,000 more claims are under investigation. The fund will stop accepting submissions by December 2020.
"The latest report confirms research conducted by experts associated with scholars… that 9/11 carried out using a sophisticated arrangement of mini or micro nukes," Fetzer suggested.
Citing his own research among the findings of other similar works on 9/11, Fetzer said "the medical anomalies are characteristics of those associated with exposure to ionizing radiation, including leukemia, multiple myeloma" and other diseases.
Talking about the possible perpetrators of the attack, the scholar said only the US and Israel had the ability to pull off an operation of this magnitude.
"Israel has a vast stockpile of undeclared weapons of mass destruction and where they have appeared to have refined hundreds of Davey Crockett tactical nuclear warheads in Israel and brought them back to the United States" to use on the Twin Towers, Fetzer argued.
Full report at:
http://www.presstv.com/Detail/2018/05/13/561569/US-911-attacks-Israel-mini-nukes-Fetzer
--------
Arab World
UAE, Bahraini envoys met Netanyahu in Washington: AP
May 13, 2018
Israeli PM Benjamin Netanyahu met with the UAE and Bahraini ambassadors to the US in March, the Associated Press has revealed, shedding further light on quiet ties between Tel Aviv and certain Arab states.
Netanyahu was in Washington to attend an annual pro-Israel policy conference, where he met the UAE's Yousef al Otaiba, and Bahrain's Sheikh Abdullah bin Rashed bin Abdullah Al Khalifah, the report said.
According to the report, Otaiba and Sheikh Abdullah were having dinner with a US State Department official and others at a restaurant where they were made aware of Netanyahu's presence.
The Emirati ambassador then invited the Israeli prime minister and his wife, Sara, to join their table. "It wasn't long before Netanyahu and his wife came over to say hello on their way out," the AP reported.
"They lingered, answering a few questions from the group about Iran and other issues. There were smiles, a few laughs about the oddity of the situation, and Netanyahu shook hands with the two ambassadors before leaving the restaurant," it said.
The meeting, the AP said, "sheds light on one of the worst kept secrets in the Arab world: the quiet ties between Israel and some of its Arab neighbors" which have been trying to sideline the Palestinian issue.
The interaction also casts light on how friendly cooperation between Israel and the Arab Persian Gulf nations, until recently kept behind the scenes, "are creeping into public view," it added.
The news agency, however, touched on the risks for the Arab leaders in pushing for an alliance with Israel.
"After all, Arab leaders have spent much of the past 70 years teaching their populations that Israel must not be allowed to exist and championing the cause of the Palestinians," it said.
The AP said while Israel and the US have sidelined the Palestinian issue, "these behind-the-scenes ties are likely to continue, and may be enough for Israel's own strategic needs."
Last year, Israeli paper Ha'aretz revealed that Netanyahu had met with Otaiba and Emirati Foreign Minister Sheikh Abdullah bin Zayed Al Nahyan in New York back in 2012.
Similar reports have pointed to numerous contacts between Tel Aviv and Riyadh and its allies over the past decade.
Netanyahu frequently boasts of growing, discreet cooperation with some Arab countries. Though he doesn't identify them by name, they've long been believed to be Persian Gulf states such as the UAE and Saudi Arabia.
The Saudis recently broke a decades-old practice and agreed to allow Indian flights to Israel to pass through their airspace, cutting the trip by several hours.
The Saudi crown prince, Mohammad Bin Salman, even met with pro-Israel Jewish American leaders in his recent high-profile trip to the US, during which he was quoted as criticizing Palestinians.
Israeli businessmen quietly operate in the UAE and the Emirati Embassy in Washington is planning an interfaith Iftar — the meal eaten by Muslims to break the Ramadan fast — that will include a US rabbi.
Full report at:
http://www.presstv.com/Detail/2018/05/13/561534/Israel-UAE-Otaiba-Washington-Netanyahu-Iran-United-States-Trump
--------
Syria: Thousands of Terrorists Expelled from Homs, Hama
May 13, 2018
Military sources said that a sum of 13,730 terrorists and their family members left Northern Homs and Southern Hama for militant-held regions in Northern Syria in four convoys and after the militants turned down government's offer for peace.
In the meantime, Anadolu news agency reported that the fourth convoy of buses carrying militants and their family members from Northern Homs arrived Sunday in Western Aleppo and Idlib province.
The sources in Northern Homs further said that the army has set up a new passageway in the town of al-Sama'alil to accelerated exit of terrorists and their family members from the villages of al-Houleh region towards Northern Syria.
The sources also said that hundreds of militants and family members have left Northern Homs and Southern Hama in the fifth evacuating group for Northern Homs via al-Rastan passageway on 18 buses.
In a relevant development on Saturday, the third group of terrorists and their family members whose total number stood at 3,000 left Northern Homs and Southern Hama for Northern Syria via al-Rastan Bridge on 71 buses.
Full report at:
http://en.farsnews.com/newstext.aspx?nn=13970223000980
--------
Ankara Seeks to Recruit Saudi-Backed Terrorists in Northern Syria
May 13, 2018
The Arabic-language al-Watan newspaper reported on Sunday that the 'Interim Government', affiliated to the terrorists whose headquarters is in Turkey and acts in the territories occupied by the al-Nusra Front (also known as Fatah al-Sham Front or the Levant Liberation Board) announced that it has played a mediatory role along with a representative of Liwa al-Mo'tasem so that Jeish al-Islam militants reach an agreement with Faylaq al-Rahman.
The agreement was made as hundreds of terrorists and civilians were killed in clashes between Jeish al-Islam and Faylaq al-Rahman and al-Nusra front in 2016-2017 on the occupied territories in Eastern Ghouta of Damascus.
Analysts believe that the Ankara-backed 'Interim Governmen' and Liwa al-Mo'tasem's supervision over the agreement means that the Saudi-backed militants are now supported by Turkey.
They also referred to the current differences between Ankara and Riyadh, and said that if Jeish al-Islam didn't accept Turkey's support, Ankara would never accept their deployment in the Syrian territories occupied by Turkey.
The Turkish army dispatched a new military delegation, accompanied by terrorist groups, to Western Idlib in Northwestern Syria on Saturday.
The Turkish convoy, including a military delegation, that was accompanied by terrorists entered Jisr al-Shughour region in Western Idlib.
There were several vehicles and a large volume of military equipment in the Turkish convoy.
Also, field sources reported that the Turkish delegation embarked on visiting Bedama and al-Najiyeh settlements in Western Idlib, adding that the army plans to set up a new truce monitoring point in the region.
In the meantime, local sources reported that the Russian and Syrian fighter jets pounded the positions of al-Turkistani terrorist group in Jisr al-Shughour region, inflicting major losses on the militants.
Full report at:
http://en.farsnews.com/newstext.aspx?nn=13970223001034
--------
Terrorists' Base in Northern Hama Destroyed in Russian-Syrian Airstrike
May 13, 2018
The warplanes carried out heavy raids against terrorists in Northern Hama and Southern Idlib, destroying a main base of the FSA-affiliated Jeish al-Izzah in the town of al-Latamina in Northern Hama.
A number of militants were killed or wounded and their military vehicles were damaged in the raids.
In a similar development last week the Syrian Air Force carried out a fresh round of combat flights over the terrorists' strongholds in Northern Hama, damaging one of their key bases.
The fighter jets pounded the terrorists' positions near the small towns of Kafr Zita, al-Latamina, al-Hamamiyat and al-Zakah in Northern Hama.
One of the main bases of Jeish al-Izzah terrorist group was destroyed in the air raid near the al-Latamina near al-Assi river that left a number of terrorists dead.
Full report at:
http://en.farsnews.com/newstext.aspx?nn=13970223000613
--------
Syrian Army Imposes Rule over Western Wing of ISIL's Main Base in Southern Damascus
May 13, 2018
The army men stormed ISIL's positions Southwest of the Yarmouk Camp and seized control of the Yarmouk street from the start of the vehicles bazaar to an area between Yarmouk Camp and the Northern part of Hajar al-Aswad region.
The army soldiers further managed to impose full control over the Western part of the Yarmouk Camp from al-Batikheh square up to the South of vehicles bazaar and East of the main street in Yarmouk and West of the 30th street in the camp.
In the meantime, other units of the army continued to advance against ISIL North of Hajar al-Aswad and captured several building.
Also, other army men struck ISIL's positions and managed to drive terrorists out of al-Jazeera neighborhood Northwest of Hajar al-Aswad.
In a similar development on Saturday, the army men engaged again in fierce clashes with the ISIL North of Hajar al-Aswad in Southern Damascus, taking control over several buildings, including Education Development Centers.
Also, other units of the army managed to advance against ISIL in several flanks in a region North of Hajar al-Aswad that is connected to Yarmouk Camp and captured several buildings Southeast of the 30th streets.
Full report at:
http://en.farsnews.com/newstext.aspx?nn=13970223000528
--------
Almost 40 People Killed, Injured in Bomb Blasts, Assassination Operations in Northwestern Syria
May 13, 2018
A bomb, planted by unknown people in a vehicle, went off in front of Governorship Hospital in Idlib city, killing nine people and wounding over 28 others.
In the meantime, a number of gunmen of Soqour al-Sham terrorists were killed or wounded in an explosion in the town of Ariha.
Also, a bomb went off in the town of Dana in Northern Idlib.
Meanwhile, one of the terrorists of Tahrir al-Sham Hay'at (the Levant Liberation Board or the Al-Nusra Front) was gunned down and several more were wounded after unknown raiders opened fire at them on a road to the town of Kafr Nabl Hazarin.
In similar developments on Saturday, one militant was killed and several more were wounded after unknown assailants opened fire at a base of a terrorist group in the town of Ariha in Southern Idlib.
Also, a booby-trap bomb, planted by unknown parties in a vehicle of Faylaq al-Rahman, went off near the town of Mahmabal in Southwestern Idlib, killing and wounding a number of Faylaq al-Rahman.
In the meantime, an unnamed militant group, stormed a base of Tahrir al-Sham Hay'at in the Central part of Idlib city followed by fierce clashes between the raiders and Tahrir al-Sham gunmen, inflicting a number of casualties on both warring sides.
Infighting and assassinations still continue in Idlib province in spite of a ceasefire declared among terrorist groups.
Full report at:
http://en.farsnews.com/newstext.aspx?nn=13970223000478
--------
Saudi Arabia deploys troops to Yemen's Socotra after UAE's military build-up
May 14, 2018
Saudi Arabia has deployed troops to Yemen's Socotra amid anger over the UAE's military build-up on the island as rivalry grows between the two allies.
Turki al-Malki, spokesman for the Saudi operations in Yemen, said on Sunday that Saudi forces had landed on Socotra on a mission to train and support loyalists to ex-president Abd Rabbuh Mansour Hadi.
He said that Saudis, Emiratis and Yemenis would carry out joint training exercises. This comes as these forces have squared up against each other in the past and clashed in Aden.
The Saudi deployment comes after the UAE sent some 300 soldiers, along with tanks and artillery, to Socotra earlier this month in a move that drew the ire of Yemenis.
Saudi Arabia and the UAE have been waging a deadly war on Yemen since March 2015 in a bid to shore up Hadi against the Houthi Ansarullah movement.
The war has killed and injured over 600,000 civilians, according to the Yemeni Ministry of Human Rights. The Saudi-led aggression has triggered what the United Nations calls the world's worst humanitarian crisis.
The UAE deployment came amid widening divisions between forces loyal to the UAE and those supporting the former Yemeni president. Both camps are based in southern Yemen and mostly in Aden as the capital Sana'a still remains under the control of the Houthi Ansarullah movement.
Hadi's loyalists have accused the UAE of abandoning an initial cause of fighting the Houthis, saying Emirati forces are instead providing support to those seeking separation of Yemen's southern territories from the north.
Reports have suggested that the UAE has been actively cementing its presence in Socotra since the very beginning of the Saudi-led military campaign in March 2015.
Socotra, located near Somalia in the Gulf of Aden, is protected by the United Nations cultural agency UNESCO as a world heritage site, meaning that even the Yemeni government is not allowed to interfere in the natural habitats and places of natural beauty in the area.
The occupation of Socotra comes against the backdrop of previous reports showing the UAE was seeking to illegally exploit the natural resources of the island and turn the place into a permanent military outpost-cum-holiday resort.
The UAE deployment sparked angry reactions among the residents of Socotra where residents took to the streets to protest the increasing presence of the Emirati forces.
Full report at:
http://www.presstv.com/Detail/2018/05/14/561645/Saudi-troops-Yemen-Socotra-UAE
--------
India
Haryana Minister Wants AMU to Be Renamed after Jat king Mahendra Pratap Singh'
MAY 14, 2018
Amid a row over Pakistan founder Muhammad Ali Jinnah's portrait on Aligarh Muslim University (AMU) campus, Haryana Finance Minister Captain Abhimanyu on Sunday demanded the university be named after 'Jat king Mahendra Pratap Singh'.
"I demand AMU should be named after Raja Mahendra Pratap Singh," the Minister said while addressing a gathering at the ground-breaking ceremony of a Jat dharamsala in Rewari.
He claimed the king had "donated" the land for the university. "His contribution in the field of education cannot be forgotten," the Minister said.
Slams Jinnah
"Jinnah was responsible for destroying the integrity of the nation. His portrait is displayed in the varsity but till today no picture of Raja Mahendra Pratap has been installed there," Capt. Abhimanyu added.
http://www.thehindu.com/news/national/other-states/rename-amu-after-jat-king-haryana-minister/article23878140.ece
--------
Supreme Court to hear Wasim Rizvi's petition on banning green flags tomorrow
May 14, 2018
The Supreme Court on Monday will hear the petition filed by the Uttar Pradesh Shia Waqf Board Chairman Waseem Rizvi seeking ban on the green flags with crescent and star, resembling the national flag of Pakistan.
Rizvi had filed the petition in the apex court on April 17, demanding a ban on the flag in India, terming it "un-Islamic."
In his petition, Rizvi had claimed that the flag which is identical to the flag of Pakistan creates communal strife when hoisted in Muslim areas.
"I am seeking a direction from the Supreme Court for an immediate ban on green flags with star and crescent on it, as this flag resembles the flag of Pakistan and Muslim League," Rizvi told ANI.
Rizvi in his petition stated that the green flag with half-moon and star owes its origins to the erstwhile political party, All-India Muslim League, which was founded by Nawaz Waqar Ul-Malik and Mohammad Ali Jinnah in 1906 in Dhaka.
He added that in the present day, it is being used by Indian Muslims as an Islamic flag.
The All-India Muslim League flag is also green in colour with half moon and a star at the center of the flag.
Full report at:
http://www.dnaindia.com/india/report-supreme-court-to-hear-wasim-rizvi-s-petition-on-banning-green-flags-tomorrow-2614662
--------
RSS Leader Indresh Kumar Visits Dargah, Seeks Muslim Support for Ram Mandir
Mohd Dilshad
May 13, 2018
Bijnor: Mobilisation in support of Ram Mandir in Ayodhya was on the agenda as senior Rashtriya Swayamsevak Sangh (RSS) leader Indresh Kumar showed up on Saturday at Jogirampuri Dargah in Bijnor's Najibabad, where he offered a 'chadar' at the famous shrine for Shia Muslims. He was seen garnering support for Ram Mandir claiming that a temple at the birthplace of Lord Ram could not come up anywhere else. Kumar has been spearheading the efforts to garner support of Muslims on Ram Mandir and attempts at reaching a consensus.
Ahmedpur Sadat, also known as Jogirampura is situated 8 km from Najibabad city. The shrine is visited by people of other religions, apart from Shia Muslims. There is an annual gathering or 'majlis' to commemorate the martyrs of Karbala. This year, the majlis was from May 10 to 13. Several Shia intellectuals and scholars visited the shrine and addressed the gathering.
On Saturday evening, Indresh Kumar offered a 'chadar' at the shrine. Addressing a press conference, Kumar said, "It is not a question of the temple alone. There are lakhs of churches in the world but there is just one Vatican. There are lakhs of mosques and dargahs in the world but there is just one mosque of Mecca. Similarly, there are a number of Ram temples in India but Ram's birthplace is only in Ayodhya. It can never be changed."
Kumar added, "God (Ishwar) or Allah is one and everywhere. People who believe in god are human beings and those who do not are 'shaitan'." He claimed that Shia Waqf Board and other bodies have organised several programmes at Ayodhya and have said that the temple of Ram should be built there, by sending a message of love and humanity in the country.
Full report at:
https://timesofindia.indiatimes.com/city/meerut/rss-leader-indresh-kumar-visits-dargah-seeks-muslim-support-for-ram-mandir/articleshow/64151047.cms
--------
26/11 Mumbai terror attack: Pakistan Army to meet, Nawaz Sharif says quote 'grossly misinterpreted'
May 14, 2018
Former Pakistan prime minister Nawaz Sharif, who is facing criticism from all quarters following his admission on the 2008 Mumbai terror attack, has claimed his remarks were "grossly misinterpreted" by the media.
In a rare admission from a top Pakistani leader, Sharif, in an interview to Dawn, said that militant organisations were active in the country and questioned Islamabad's policy to allow "non-state actors" to cross the border and "kill" people in Mumbai. Without naming Mumbai attack mastermind Hafiz Saeed and Maulana Masood Azhar's militant organisations — Jamaat-ud-Dawah and Jaish-e-Mohammad — operating in the country with impunity, Sharif said: "Militant organisations are active in Pakistan… Call them non-state actors, should we allow them to cross the border and kill over 150 people in Mumbai? Explain it to me. Why can't we complete the trial."
However, a spokesman for Sharif, in a statement said, "At the outset, statement of Nawaz Sharif has been grossly misinterpreted by the Indian media. Unfortunately, a section of Pakistani electronic and social media has intentionally or unintentionally not only validated but has lent credence to the malicious propaganda of Indian media without going through the full facts of the statement".
"The PML-N would like to set the record straight on the interview of PML-N supreme leader Nawaz Sharif carried yesterday by Dawn," Sharif's spokesperson added.
Meanwhile, the Pakistan Army will today hold a high-level meeting to discuss the "recent misleading media statement" about Mumbai terror attack made by the ousted prime minister. Army spokesman Major General Asif Ghafoor said on Twitter that Prime Minister Shahid Khaqan Abbasi was suggested to call a meeting of the high-powered National Security Committee (NSC), a platform of top civil and military leadership to discuss key national issues. "The NSC meeting suggested to Prime Minister to discuss recent misleading media statement regarding Bombay incident. Being held tomorrow morning," said Ghafoor.
Following his admission, Sharif is under attack from opponents as well as some of the estranged leaders from his Pakistan Muslims League-Nawaz (PML-N) party for allegedly supporting the Indian narrative on the Mumbai attack case and harming national interests.
Pakistan Tehreek-e-Insaf chairperson Imran Khan on Sunday called the PML-N member "a modern-day Mir Jafar" and assailed him for speaking "PM Narendra Modi's language" to protect his wealth allegedly stashed in his son's offshore companies.
"Nawaz Sharif is the modern-day Mir Jafar, who collaborated with the British to enslave his nation for personal gains. Nawaz speaking Modi's language against Pakistan state simply to protect his ill-gotten Rs 300 billion stashed in his sons companies abroad," Khan tweeted.
Sharif's younger brother Shahbaz Sharif also said that media misrepresented views of the former prime minister. "Can anybody think that Nawaz Sharif will say such things," he said.
Ten Lashkar-e-Taiba (LeT) terrorists had sailed to Mumbai from Karachi and carried out coordinated attacks, killing 166 people and injuring over 300 in November 2008. Jamaat-ud-Dawa (JuD) chief Hafeez Saeed is the mastermind of the 2008 Mumbai terror attacks. The outfit was declared as a foreign terrorist organisation by the US in June 2014.
Full report at:
http://indianexpress.com/article/pakistan/26-11-mumbai-terror-attacks-nawaz-sharif-pakistan-army-india-5175787/
--------
Faiz Ahmad Faiz's daughter Moneeza Hashmi dropped as speaker at I&B event
May 14, 2018
Daughter of celebrated Pakistani poet Faiz Ahmad Faiz, Moneeza Hashmi, who was supposed to speak at Asia Media Summit in Delhi on May 10, was dropped as a speaker at the last minute.
The 15th Asia Media Summit, held in India for the first time, was hosted by two autonomous bodies of the I&B Ministry. The three-day summit ended on Saturday.
As per the programme of the event available on its website, Hashmi was one of the speakers on the panel to discuss, 'Should all good stories be commercially successful'. She had been invited in her capacity as creative and media head of Pakistan-based KASHF foundation. However, the final programme shared by I&B Ministry on May 9 did not have Hashmi's name as a speaker.
Read | Time for laws, rules to regulate digital media: I&B Minister Smriti Irani
According to sources at the ministry, very few people were involved in the decisions regarding the speakers and the change in agenda was made at the last minute. K G Suresh, Director General of Indian Institute of Mass Communication (IIMC), one of the hosts of the event, said he or his institution were not consulted about panelists. He told The Indian Express that Asia Pacific Institute for Broadcasting Development (AIBD) — an inter-governmental body based in Kuala Lampur — and I&B Ministry had decided who the speakers would be.
Sitanshu Kar, Principal Director General of Press Information Bureau, said he was not informed about the speakers. He said he was not consulted about the agenda of the summit and thus was "not aware of any such thing".
The other autonomous body that co-hosted the summit was Broadcast Engineering Consultants India Limited (BECIL). Chairman and Managing Director of BECIL George Kuruvilla did not respond to messages and calls made to his mobile phone.
Sources said Hashmi had been granted a "six-month, multiple-entry" visa to India in February to attend a conference on Faiz, and did not have permission to attend another conference.
Full report at:
http://indianexpress.com/article/india/faiz-ahmad-faizs-daughter-moneeza-hashmi-dropped-as-speaker-at-ib-event-smriti-irani-5175631/
--------
India's 'stubbornness' delayed Mumbai attacks trial: Former Pakistan minister
May 13, 2018
Pakistan's former interior minister Chaudhry Nisar Ali Khan said on Sunday the "uncooperative attitude" and "stubbornness" of the Indian government has been the biggest obstacle in the Mumbai terror attacks trial reaching a conclusion, according to a media report.
Nisar's comments came in the wake of a statement by ousted prime minister Nawaz Sharif who questioned Pakistan's policy to allow the "non-state actors" to cross the border and "kill" people in 26/11 Mumbai terror attacks.
In an interview with the Dawn, Sharif who has been disqualified to hold public office for life by the Supreme Court in the Panama Papers case, criticised the delay in the conclusion of the Mumbai attacks trial.
Without naming Mumbai attack mastermind Hafiz Saeed and Maulana Masood Azhar's militant organisations, Jamaat-ud-Dawah and Jaish-e-Mohammad, Sharif said: "Militant organisations are active in Pakistan. Call them non-state actors, should we allow them to cross the border and kill over 150 people in Mumbai? Explain it to me. Why can't we complete the trial."
Reacting to Sharif's remarks, Nisar, under whose watch the Federal Investigation Agency (FIA) was investigating the Mumbai attacks, said the Indian government was to blame for the hold-up in the Mumbai attacks trial, the Dawn reported.
"I say with full responsibility that the delay and slow pace of the Mumbai attacks-related case in Pakistan was not Pakistan's doing but was a result of non-cooperation and stubbornness by India," said the disgruntled PML-N member.
He said since the attack took place in the Indian financial capital, it was the Indian government which possessed "90% of the evidence and facts" of the incident.
"Despite repeated efforts, India refused to share those facts and evidence with FIA and the investigative committee formed by Pakistani courts," he claimed.
He said, "There was no bigger evidence of the Indian government's lack of interest in taking the case to its end than its refusal to allow FIA to question the only living proof of the attacks: Ajmal Kasab."
"Kasab was hanged in such haste, so that the Mumbai attacks could be used as a tool for Pakistan bashing across the world on political basis," he said.
He claimed that although Pakistan had cooperated with the Indian government for information-sharing regarding every terrorist incident, India had not reciprocated for incidents taking place inside Pakistan.
The Mumbai attack case has entered into the 10th year but none of its suspects in Pakistan has been punished yet, showing that the case had never been in the priority list of Islamabad that appears to be keen to put it under the carpet.
A number of Pakistani witnesses both official and private testified and provided evidence against the seven accused, but the Pakistani authorities have been insisting on sending Indian witnesses for reaching a verdict in the case.
Full report at:
https://www.hindustantimes.com/india-news/india-s-stubbornness-delayed-mumbai-attacks-trial-former-pakistan-minister/story-SAvgESgdJbr6WCQZ3R8xtK.html
--------
UPSC results: 'Want to tell society madrasas in Kerala can contribute civil servants'
May 1, 2018
By Shaju Philip
Having never had the opportunity to attend a mainstream school, let alone college, after primary school education, T Shahid, a former madrasa teacher from Kerala, has proved that tenacity eventually triumphs. The 28-year-old native of Thiruvallur village, in Kozhikode district, has cracked the UPSC examination in his sixth attempt, ranked 693.
Son of madrasa teacher Abdul Rahman Musaliyar and homemaker Sulekha, Shahid said he was forced to opt for a Muslim religious educational institution, run by an orphanage at Kappad in Kozhikode, at age 10 given financial crisis at home.
After 12 years of religious education and leading a secluded life at the Islamic seminary, Shahid bagged the religious 'hasni' degree, a course which equipped him to become a madrasa teacher. While studying for hasni, he completed Class X and Class XII, and finally got a degree in English — all through distance courses.
"From 2010 to 2012, I worked as a madrassa teacher in Kannur for Rs 6,000," Shahid said.
After the degree in English in 2012, for a brief he worked at the Malayalam daily Chandrika, managed by the Indian Union Muslim League (IUML). And that's when, Shahid said, his perspective towards life changed — "I started reading about general issues. The 12-year life at the Islamic institute had made my perspective narrow. But working as a journalist made me look at the world outside."
This was also the time he felt he should try to have a career other than becoming a religious scholar.
Shahid, who had Malayalam literature as optional subject in UPSC, said the coaching classes in Delhi, sponsored by IUML's students' wing MSF, helped broaden his mind further. "Those coaching days gave me a lot of exposure, which the madrasa teacher in me never got,'' he said.
Full report at:
http://indianexpress.com/article/education/want-to-tell-society-madrasas-in-kerala-can-contribute-civil-servants-5157889/
--------
Pakistan
Taliban ambush army vehicle, killing 7 Pakistani soldiers
May 14, 2018
DERA ISMAIL KHAN: Pakistani security officials say militants have ambushed an army vehicle on patrol in a northwestern tribal region, killing seven soldiers before fleeing back to neighbouring Afghanistan.
The two officials say the attack took place on Sunday in North Waziristan.
The officials spoke on condition of anonymity on Monday because they were not authorized to speak to reporters.
Hours after the attack, Mohammad Khurasani, a spokesman for the Pakistani Taliban, issued a statement claiming responsibility.
While Pakistan's military has cleared over 90 per cent of the North and South Waziristan tribal regions from insurgents, violence has continued there.
The army has been constructing a series of fences along the border with Afghanistan to check the movement of militants.
https://timesofindia.indiatimes.com/world/pakistan/taliban-ambush-army-vehicle-killing-7-pakistani-soldiers/articleshow/64154818.cms
--------
Thousands rally in Pakistan's Karachi for Pashtun rights
by Asad Hashim
May 14, 2018
Islamabad, Pakistan - Thousands of protesters have called for an end to alleged rights abuses by Pakistan's military at the latest rally by a grassroots rights group, defying restrictions and a string of detentions of the movement's organisers.
The Pashtun Tahaffuz Movement (PTM), a human rights group formed earlier this year, held the rally in the southern Pakistani city of Karachi, the country's largest city, on Sunday.
The PTM calls for greater rights for Pakistan's ethnic Pashtun population, which forms roughly 15 percent of the 207 million population and resides mainly in the country's northwest, where the fight against the Pakistani Taliban has remained focused.
Unusually for Pakistan, the group has often directly called out the country's powerful military, which has ruled for roughly half its 70-year history since independence, for alleged rights abuses committed against citizens in the war against the Tehreek-e-Taliban Pakistan (TTP) and its allies.
In the lead-up to the rally, a number of PTM leaders were detained for varying lengths of time, and its leader Manzoor Pashteen was twice prevented from boarding flights to the southern city, PTM's Mohsin Dawar told Al Jazeera.
Pashteen eventually made the 1,400km trip from the capital Islamabad by road, arriving at the protest to a raucous welcome.
"This country has one constitution, the state must run according to the constitution. You cannot just rule as you please," said Pashteen.
"The courts, the parliament, they have all been captured [by the military] ... and we must end this."
The PTM leader reiterated his demand that a truth and reconciliation commission be formed to investigate and deal with rights abuses allegedly committed by the Pakistani state, rejecting an abortive jirga (tribal council) process the government had offered.
"Jirgas are held between enemies ... between the state and its citizens, there is only the constitution. So make a truth and reconciliation commission, and we will come before it. We are earnest in our desire to solve these problems, whether you are or not."
State suppression
Earlier, video footage released by PTM showed Pashteen being questioned by police in several cities during his journey, which he undertook after being denied the right to fly to Karachi.
Several leaders were also briefly detained in Karachi and charged by police with "sedition", police documents show.
The Human Rights Commission of Pakistan (HRCP) expressed "grave concern" in a statement released on Saturday, saying "the authorities' disproportionate response is unwarranted".
Among PTM's primary demands are an end to extrajudicial killings by security forces, transparency around a campaign of disappearances allegedly perpetrated by security forces that have accompanied the war against the Taliban, and the treating of citizens with greater dignity at security checkpoints.
At the rally in Karachi, the stage from which speakers addressed the boisterous crowd was covered with posters of those who had been allegedly detained, arrested or abducted by security forces.
A government-run inquiry commission says it has investigated at least 4,929 cases of Pakistan's missing people, a number that rights groups say is vastly understated.
In April, an Al Jazeera investigation into Pakistan's missing persons reviewed 22 cases of those who have disappeared since the launch of military operations against armed groups.
At the rally, participants openly questioned the military's rights record, a rare move in a country where the army still exercises close control over security and foreign policy, as well as the news media.
"There were … women here carrying posters with details of their missing fathers, brothers and sons," said Rahma Mian, an academic who was at the rally. "I have never attended any public event, let alone a political rally, where the army and its excesses has been called out so openly."
The group has faced a virtual media blackout, with news organisations ordered not to run stories or footage of their demonstrations.
Full report at:
https://www.aljazeera.com/news/2018/05/thousands-rally-pakistan-karachi-pashtun-rights-180513193931420.html
--------
MMA pledges to establish welfare state, protect minorities
May 14, 2018
LAHORE: The Muttahida Majlis-i-Amal (MMA) — the recently revived alliance of religio-political parties — held its first election-related activity by holding a public meeting at the Minar-i-Pakistan lawns here on Sunday.
It was an all-male show as women activists were not invited to the event. Activists of each of the five constituents carried flags of their political parties and not of the alliance, giving an impression that the unity being showed by the alliance leadership is yet to trickle down to its rank and file.
The MMA leaders, representing all major religio-political parties, were unanimous in condemning interest-based economy, blaming the United States and its "local agents" for all ills facing the country and Ummah and promising to introduce an economic system based on equal distribution of national resources.
Maulana Fazlur Rehman, president of the MMA and the Jamiat Ulema-i-Islam-Fazl, described disorder as the biggest world problem and said Muslims all over the world, particularly in Afghanistan, Iraq and Syria, were being bombed by the US, though it claimed to be a champion of human rights.
Pledging to establish an independent Islamic welfare state with a transparent government, he said Pakistan could not be considered a free country when the International Monetary Fund gripped the national economy and foreign powers were pushing their agenda into the local politics and politicians were bowing before their foreign masters.
He promised to introduce the best economic system in the country, ensuring rights of minorities, jobs for unemployed youth and education and health facilities for the people.
MMA leader and Jamaat-i-Islami emir Sirajul Haq said the coalition would first eliminate usury from the country as the economy could not flourish under the interest-based system.
He said their fight was against injustice, poverty and unemployment, and not against any individual.
He also spoke of Kashmir freedom movement and atrocities being faced by the Kashmiris in their struggle.
He promised employment for the jobless, elimination of poverty, protection of rights of women and minorities and promotion of sports.
Islami Tehreek chief and MMA vice president Allama Sajid Naqvi said that since the law and order situation in the country was poor, improving it would be the first priority if the MMA was voted to power.
He asked the MMA workers to take the alliance's message to the doorstep of voters by launching a full-throttled campaign after Ramazan.
He said the religious forces would continue their support for the Kashmiris and Palestinians.
Promising equality in the distribution of national resources, JI's Liaquat Baloch urged the masses to support the MMA for economic development and prosperity. He said that plundered national wealth would be brought back to eliminate poverty. He announced holding of MMA's power shows in all major towns of the country and predicted that the alliance would give better election results than in 2002.
JUI-F general secretary Maulana Abdul Ghafoor Haideri claimed that public mandate had been stolen in the 2013 elections, but such an attempt would be foiled in the 2018 polls.
He lamented that 15 million children in the country were out of school while seminaries which were providing education to hundreds of thousands of students free of cost were being labelled as centres of ignorance.
Jamiat Ulema-i-Pakistan president Pir Ijaz Hashmi said through the alliance the religious forces rejected takfeeri slogans and presented a concept of collective leadership.
He said Saudi Arabia and Iran could also learn a lesson from the MMA and resolve their differences.
Full report at:
https://www.dawn.com/news/1407552/mma-pledges-to-establish-welfare-state-protect-minorities
--------
'This is not about Hazaras and non-Hazaras. It's a war between love and hate, and love will win'
Abdullah Malik
MAY 14, 2018
Islamabad: Jalila Haider went on hunger strike till death towards the end of April following the death of two Hazaras in a targeted attack in Quetta. Her protest against the persecution of Pakistani Hazara community continued for four days, ending with an assurance given in person by Chief of the Army Staff Qamar Javed Bajwa that those responsible for the plight of the community would face repercussions.
During her recent visit to Islamabad where she was to attend a meeting at the National Counter Terrorism Authority (NACTA) headquarters, Daily Times sat with her to hear her account for Hazara genocide in Pakistan. She also shared details of her personal journey, beginning with her birth in a family of Marxists, early lessons on the significance for sacrifice for higher values and ideas, and her initiation into activism for the causes of the marginalised.
DT: Tell us about your family back ground.
JH: I belong to a Marxist family of the Hazara community. My father, Haider Ali Karmel, was a socialist. With his dream of an ideal society shattered, he committed suicide after the collapse of the Union of Socialist Soviet Republics (USSR). I was an infant back then. His legacy has since enlightened my vision to work for the humanity and to promote peace. It is due to this legacy that I've been able to speak for all the marginalized individuals and groups.
DT: What are the roots causes of the Hazara genocide in your opinion?
JH: State has to guarantee the security of all citizen in accordance with the constitution of the country, but our institutions have failed in this task, particularly when it comes to the Hazara people. The emergence of sectarian and militants groups and their expansion following the 9/11 attacks has hit the Hazara community hard. On the one hand, all of us are on the hitlist and our life chances are shrinking every day. On the other hand, those responsible for crimes against us move openly and arrange rallies without any action from authorities.
DT: How many Hazaras have migrated out of Pakistan in search of safety, and what is the estimate of the existing population?
JH: Hazara community resides on both sides of the Pakistan-Afghanistan border. In Afghanistan, they are resisting attempts at their lives by militant groups, and on this side, too, they live under the shadow of constant threats. There are around 70,000 Hazaras left in Pakistan at the moment. Our estimates suggest that around 90,000 have fled over the years in search of safety.
DT: Where have Hazaras migrated to and what are their life prospects there?
JH: Hazara people are living in refugee camps in Indonesia and Turkey but their life is no better as they are treated as third-class citizens. They left Pakistan in worst conditions and migration hasn't brought much hope either. Many lost their lives while traveling illegally to European destinations.
My two brothers have also left Pakistan and are now settled abroad. They warn me that living in Pakistan is like standing on a land mine that may blast any moment, but I say to them that I'll stay and keep struggling for all the basic human rights here.
DT: How many Pakistani Hazaras have been martyred overtime?
JH: The figure of deceased is more than 3,000. These include prominent activists, sports players, doctors, intellectuals and other brave faces.
Syed Ibrar Hussain, an Olympic player, got killed in a targeted attack. Irfan Ali Khudi, a vibrant young activist, was also killed. A minister from the Hazara community, Sardar Ali Hazara, faced a failed assassination attempt. Hazara face a lot of discrimination due to their appearance both at the societal level and in government offices.
We don't have the right to move freely and we are limited to our neighbourhoods and houses. When we visit passport or CNIC offices, we face harassment and persecution.
Many of us have been told to convert to the other sect to be safe but Hazara is our identity and we are proud on it.
DT: What motivated you to go on the hunger strike in Quetta?
JH: After the last attack on Hazara community on Jamaluddin Afghani Road, I went to the hospital to express solidarity with the aggrieved family. There, I encountered a kid from the family hugging his father and crying. That image broke my down and also gave me strength of purpose. I went on a hunger strike and demand that the army chief should come to Quetta and tell the Hazara people who was responsible for their genocide. Since 20 years, we have been picking up bodies of our martyred relatives who are killed in in broad daylight and in spite of the many check posts.
DT: What demands did you present to the COAS and what was his response?
JH: My first demand was about the state's responsibility to provide for the families of the 3,000 Hazara people who lost their lives in this sectarian conflict. Secondly, I demanded that we don't want security for individuals. We know that's not possible for the state. We want the state to work on policy reforms to end this bloodshed. I also raised the issue of the failed writ of the state as Hazaras get killed not too far away from security check posts, and the assailants manage to escape easily.
The discrimination faced by the community in public offices and in society in general was also discussed. I shared my reservations over the lack of sensitisation of security personnel manning check posts. More often than not, these personnel have a soft corner for the assailants.
The last demand was for jobs for Hazara youth and better security for community members to do their businesses.
The COAS assured us about measures to improve security and said that the tree of extremism we seeded years ago was haunting us now. He said we will fight this war collectively.
He also assured us that very soon a rehabilitation programme will be launched for the effected families and promised that personnel manning check posts will be replaced.
The COAS said that those involved in the targeted killings of Hazaras would be made to pay double the cost.
DT: Will installation of more check posts and deployment of troops be enough to ensure security?
JH: Not at all. The mindset behind the killings is the problem. Without reforming policies and ending the distinction between good and bad militants, it is not possible to secure the lives of the citizens. Pakistan's population is in millions, no state can deploy enough police to secure each and every citizen individually. Good policies are needed to promote security and co-existence.
DT: If the promises aren't fulfilled what will be your response?
JH: I told the army chief that if Hazara are targeted again, we will register an FIR against the provincial interior minister and the entire community will go on a hunger strike till death.
DT: Tell us about your engagement with other marginalised communities in the country.
JH: I have been to the gatherings of the Pashtoon Tahaffuz Movement (PTM) as well as those held by relatives of Baluch missing persons. Our pain is similar. All of us demand the right to life guaranteed in the Constitution.
DT: What are your plans for the future?
JH: I will stay here and continue my struggle for a peaceful and progressive Pakistan, even if I have to pay for it with my life. Leaving the country has never been, and will never be, an option, because this country does not belong only to those who want to impose their extremist agendas on us.
Full report at:
https://dailytimes.com.pk/239823/this-is-not-about-hazaras-and-non-hazaras-its-a-war-between-love-and-hate-and-love-will-win/
--------
Southeast Asia
PPSI: Surabaya Church Bombing Contradicts with Islamic Teachings
13 MAY, 2018
TEMPO.CO, Jakarta - The Islamic Sharia Central Board (PPSI) strongly condemns the Surabaya church bombing. PPSI stated that the terror attack contradicts with the teachings of Islam.
"The terror act contradicts with the teachings of Islam." Chairman of PPSI Hamdan Zoelva delivered it in a press statement on Sunday, May 13.
According to Hamdan, the bombing in three locations in Surabaya, East Java today is very inhuman and cannot be justified for any reason.
"It also threatens Indonesian unity and against Pancasila."
PPSI asks the police to find and arrest the perpetrator and bring to court for punishment.
"We condemn the terror act, we also grieved over the casualties and injured in the incident."
Frans Barung Mangera said the number of victims of Surabaya church bombing would continue to change.
https://en.tempo.co/read/news/2018/05/13/055918397/PPSI-Surabaya-Church-Bombing-Contradicts-with-Islamic-Teachings
--------
Two militants blow themselves up at Indonesian police HQ
May 14, 2018
Two militants on a motorcycle blew themselves up at a police headquarters in Indonesia's second city Surabaya on Monday, wounding at least 10 people including officers, authorities said, a day after a deadly wave of suicide bombings hit churches.
Citing CCTV footage from the scene, East Java Police spokesman Frans Barung Mangera said a man and a woman on the bike stopped at the security checkpoint.
"That's where the explosion happened," he added.
"Two people were riding (on the motorcycle) and a woman was sitting at the back."
The authorities said the wounded included six civilians and four police.
Ambulances and the bomb squad descended on the chaotic scene with the CCTV images showed the mangled wreckage of a motorbike at the security gate at the headquarters in the heart of the city.
There was no immediate claim of responsibility after the latest suicide bombing.
"This is a cowardly act, undignified and inhumane," Indonesian President Joko Widodo told reporters in Jakarta.
"There will be no compromise in taking action on the ground to stop terrorism."
The lethal explosion comes just a day after a family of six including two young daughters staged suicide bombings at three churches in Surabaya during Sunday services.
At least 14 civilians have died as a result of that attack, which was claimed by the Islamic State group, and the toll could climb with more than 40 injured in hospital.
Multiple bombings
The archipelago nation of some 17,000 islands has long struggled with Islamic militancy, including the 2002 Bali bombings that killed 202 people -- mostly foreign tourists -- in the country's worst-ever terror attack.
Sunday's church bombings was Indonesia's deadliest attack in years. The attackers -- a mother and father, two daughters aged nine and 12, and two sons aged 16 and 18 -- were linked to local extremist network Jamaah Ansharut Daulah (JAD) which supports IS, police have said.
Authorities said they believed some of the family members had recently returned from Syria, where hundreds of Indonesians have flocked in recent years to fight alongside IS in its bid to carve out a caliphate ruled by strict Islamic law.
A further three people in another family were killed and two wounded when another bomb exploded at an apartment complex about 30 kilometres (20 miles) from Surabaya, just hours later, police said.
The mother and one child died from the explosion while police said they shot dead the father who was carrying a bomb detonator.
Two other children were injured in the blast and were taken to hospital.
There was no immediate claim of responsibility for the apartment bomb.
In the church attacks, the mother, identified as Puji Kuswati, and her two daughters were wearing niqab face veils and had bombs strapped to their waists as they entered the grounds of the Kristen Indonesia Diponegoro Church and blew themselves up, police have said.
The father, JAD cell leader Dita Priyanto, drove a bomb-laden car into the Surabaya Centre Pentecostal Church while his sons rode motorcycles into Santa Maria church, where they detonated explosives they were carrying, according to authorities.
JAD, led by jailed radical Aman Abdurrahman, has been linked to several deadly incidents, including a 2016 gun and suicide attack in the capital Jakarta that left four attackers and four civilians dead.
That was the first assault claimed by IS in Southeast Asia.
Police on Sunday said four suspected JAD members were killed in a shootout during raids linked to a deadly prison riot this week.
Five members of Indonesia's elite anti-terrorism squad and a prisoner were killed in clashes that saw Islamist inmates take a guard hostage at a high-security jail on the outskirts of Jakarta. IS claimed responsibility.
Full report at:
https://nation.com.pk/14-May-2018/two-militants-blow-themselves-up-at-indonesian-police-hq
--------
Widodo ahead in the polls, but obstacles abound
May 14, 2018
Just six months ago, there were fears that President Joko Widodo could face an avalanche of black propaganda as he sought a second term, just as his former colleague in the Jakarta administration, Basuki Tjahaja Purnama, had been attacked over a statement deemed blasphemous.
A tide of Islamist outrage saw crowds of up to 200,000 turn out against Purnama, who lost his bid for re-election as governor of Jakarta and ended up serving a two-year jail term for blasphemy.
Widodo, however, has been cautious not to side too closely with his former deputy and close associate, and has gone out of his way to demonstrate that he is a good Muslim.
The man who started out as a furniture maker and then became mayor of the Central Java city of Solo vaulted into the Jakarta governorship in 2012 and just two years later into the presidency, after wowing the public with his common touch.
To the critics who said he was out of his depth — a view at first confirmed by wooden performances at international forums — he has transformed himself into a wily political operator, with some even saying he has the same touch for politics as a Central Javanese predecessor: the dictator Suharto.
Widodo has hounded the bureaucracy, demanding it cut red tape and boost efficiency, taking the country from 114th rank in the World Bank's Ease of Doing Business (EODB) index when he took office in 2014 to 72nd position last year. He has poured money into infrastructure projects and now, demonstrating his flexibility as a politician ahead of an election in April next year, is switching spending to programs to help the poor.
He has forged close relationships with the police and the armed forces and largely forgotten his promises on human rights. To establish his credentials as a good Muslim, he dons traditional sarong and peci — the flat black hat of the archipelago — and regularly turns up at religious celebrations. On a recent trip to Afghanistan he led prayers twice in just seven hours.
He has closely aligned himself with Nahdlatul Ulama, the traditional Muslim group which boasts at least 30 million members and is acknowledged as the primary representative of traditional Indonesian Islam. Together with Muhammadiyah, a more modernist group with another 20 million adherents, it recognizes the state ideology of Pancasila and the unitary state of the republic, which Widodo champions as a counter to more austere forms of Islam favored by hardliners.
He has retained his talent for identifying with the people, whether on his 'chopper' motorcycle on trips to the provinces or befriending a cute toddler during a visit to Papua's Asmat.
Opinion polls show Widodo leading his most likely contender for the 2019 presidential poll, controversial former general Prabowo Subianto, by as much as 20 points, with Subianto — who lost to Widodo in 2014 — reported to be wondering whether it's even worth mounting a challenge. Opposition political parties have until August to decide on a candidate, although few are apparent at the moment.
Widodo's opponent at the moment is not another politician, but the ill winds of economic fortune. The rising price of oil is a major problem for the government. Feted by international organizations after his election for scrapping the country's expensive subsidies of fuel and electricity, they are back again. Widodo knows that the inflationary spiral that would follow rises in basic utilities would sour the electorate for a second term.
The cost of the new subsidies is being left for state-owned energy giant Pertamina and power utility PLN to cover, under what the government likes to call a "public service obligation." Pertamina lost nearly Rp19 trillion ($1.4 billion) on fuel subsidies in just nine months last year. The government has even suggested that private fuel retailers like Shell and Total should accept government direction about any fuel price rise for what are supposed to be unsubsidized fuels.
Finance Minister Sri Mulyani Indrawati was on the defensive at a recent lunch hosted by the Jakarta Foreign Correspondents Club (JFCC), denying that the aim was to keep the electorate happy and insisting this wasn't a return to a subsidy regime. What mattered, she said, was maintaining consumer purchasing power so that the economy would keep growing.
"What I'm saying today, this is not a setback. This is just to show that the government is really concerned and cares because these are commodities that are important for households," she said. "We are not going back to what you call the practice of subsidizing everything or in this case, curtailing market mechanisms."
More recently, Indonesia's stock market has gone into reverse and the rupiah currency has lost ground as foreign investors have pulled their cash out in favor of U.S. Treasuries, creating new headaches for the government.
Worst of all, questions are being asked about the number of Chinese workers in the country, amid accusations that Widodo would be happy to sell the country to the East Asian giant. With relations with the communist giant a traditional source of sensitivity, the government is on the back foot over accusations that unskilled Chinese laborers are flooding into the country.
Presidential chief of staff and retired former armed forces commander Moeldoko initially dismissed the charges as disinformation, but on April 27 the Ombudsman came out with the results of its own study which found that many unskilled Chinese workers were active at a number of centers across the country.
Ombudsman commissioner Laode Ida told reporters that several major infrastructure projects being carried out in partnership with Chinese firms not only employed Chinese experts but were employing them as drivers of heavy vehicles and in other tasks that Indonesians could easily handle.
The report cited the example of a project in Morowali regency, Central Sulawesi, where around 200 foreigners were employed as drivers and claimed they were being paid a third more than locals in similar semi-skilled jobs.
Full report at:
https://www.ucanews.com/news/widodo-ahead-in-the-polls-but-obstacles-abound/82250
--------
Civil Groups Condemn Church Bombings, Support Gov't to Take Stern Action
May 13, 2018
Jakarta. Indonesian civil groups condemned the church bombings in Surabaya, East Java, on Sunday (13/05), and called for a unified rally behind the government to fight all form of terrorism.
"Islam condemns all forms of violence. There is not one religion in this world that justifies the use of violence," Indonesia's biggest Muslim organization, Nahdlatul Ulama, said in a statement on Sunday.
"All forms of violence are a contradiction to Islamic teachings, and all other religious teachings," NU said.
Three suicide bombings rocked Surabaya churches earlier on Sunday, killing at least 11 people and wounding 40 other members of Christian congregations and security forces.
"Whoever did it, the bombings have inflicted damage to the people, nation and humanity," said M. Saad Ibrahim, chairman of East Java chapter of Muhammadiyah, the second largest Islamic organization in the country.
"We strongly disagree with the suicide bombing. Especially aimed at the symbols of religion," Saad said.
Usman Hamid, the executive director of Amnesty International Indonesia, called for the government to take swift action and to bring whoever was responsible to justice.
"Although no group has yet claimed responsibility for the attack against civilians, these attacks constitute a clear violation of international and national laws. The Indonesian authorities must immediately carry out an impartial and exhaustive investigation in order to bring those responsible to justice," Usman said.
Jakarta-based human rights group Setara Institute also condemned the deadly bombings but warned the public that they could inadvertently help the terrorists' cause by circulating violent images or videos from the bombing scene.
"Condolences do not need to be demonstrated by spreading images, videos and other materials that spread fear even more widely, as every violent action desires," Setara said in a statement.
Indonesia's biggest political party, the Indonesian Democratic Party of Struggle (PDI-P), condemned Sunday's church bombings in Surabaya, seeing it as direct threat to national unity.
"Anyone who undermines the state's dignity must be dealt with using all legal, political, economic, social and cultural approaches, as well as mobilizing the power of people to be actively involved in resisting radicalism. The state is also entitled to use all state instruments, both law enforcement, Polri [National Police] and TNI [Indonesian Military], and state bureaucracies to counter terrorism," Hasto Kristiyanto, the party's secretary general, said in a press release.
Escalated Conflict
The bombings marked an escalated clash between Islamist militants and local security forces in the past week.
Jamaah Ansharut Daulah (JAD), a local umbrella terrorist organization that has stated allegiance to the Islamic State, is suspected to be behind the attacks, said Wawan Purwanto, communications director at Indonesia's State Intelligence Agency (BIN).
"This is connected to the attack at Mako Brimob earlier this week," Purwanto said, referring to the riot at a high security jail outside of Jakarta.
"Their main target is the law and security enforcement, but they also have alternatives in case that does not pan out," he said.
Four days ago, 156 terrorist inmates, some of whom were JAD members, instigated a riot at Brimob headquarters, killing five anti-terror police officers and one inmate.
The riot ended on Friday morning after the remaining inmates surrendered following a 36-hour standoff.
Shortly after, a policeman was stabbed to death outside the prison compound by a suspected militant, who was also put down by other officers.
Later the police apprehended two females, who were allegedly carrying poisoned scissors and were planning on attacking the compound.
The police later shot two suspected terrorists and arrested two others in Bekasi, West Java.
Full report at:
http://jakartaglobe.id/news/civil-groups-condemn-church-bombings-support-govt-take-stern-action/
--------
Four Terrorists Dead After Opening Fire on Densus 88 Officers
May 13, 2018
Jakarta. The National Police's counterterrorism unit, Densus 88, shot four suspected terrorists believed to be affiliated with the Islamic-State inspired group, Jamaah Ansharut Daulah, or JAD, and planned to attack police facilities, a spokesman confirmed on Sunday (13/05).
At a press conference in Jakarta, National Police spokesman Setyo Wasisto said suspects opened fire when they realized they were being pursued by the police on the way from Sukabumi to Cianjur, West Java. Densus 88 members returned fire and killed the suspects in the shootout.
"They were planning an attack on police posts in Jakarta, Bandung, and also at Mako Brimob [the Police Mobile Brigade headquarters] in Kelapa Dua [near Jakarta]," Setyo said.
The suspects have been identified as BBN (21) from South Jakarta, DCN (23) from Central Java, AR (33) from Central Java and HS (23) from Lampung. The deceased have been transported to the Kramat Jati Police Hospital.
The police also seized several items belonging to the suspects, including two revolvers and an explosive tied to a bow.
"They were conducting semi-military training in preparation for an attack, and they belong to JAD … They are part of the group's sleeper cells, and they have been mobilized as we are approaching Ramadhan," Setyo said.
Densus 88 is still pursuing other suspected terrorists at the moment, Setyo added, as the authorities anticipate more sleeper cell attacks in the coming weeks.
The incident in Cianjur took place just hours before bombs exploded in three churches in Surabaya, East Java, on Sunday morning, which killed at least 10 and wounded more than 40 others.
On Tuesday, terrorist detainees incited a deadly riot at Mako Brimob, which claimed the lives of five police officers and one convict.
According to Setyo, the terrorist detainees at Mako Brimob are also affiliated with JAD, with police as their main target.
On Thursday night, a terrorist attacked a police officer with a poisoned-tip knife in front of Brimob headquarters before being shot to death.
Setyo said the attacker was from the some group as the four suspected terrorists from Cianjur.
Two suspected female terrorists were caught in front of Brimob headquarters. They carried suspected poisoned scissors.
Full report at:
http://jakartaglobe.id/news/four-terrorists-dead-opening-fire-densus-88-officers/
--------
South Asia
15 killed, 42 injured as ISIS claims responsibility for attack in Afghanistan
13 May 2018
ISIS has claimed responsibility for an attack on a government building in Afghanistan on Sunday, the group's Amaq news agency said without providing any evidence.
Afghan security forces battled for five hours against a group of attackers who stormed a government building in the eastern city of Jalalabad after a coordinated assault that killed at least 15 people and wounded 42, local officials said.
Attahullah Khogyani, the spokesman for the governor of Nangarhar province, said a suicide car bomb exploded outside the building, which belongs to the provincial finance directorate. The attackers then stormed the building, trading fire with security officials.
"There were eight terrorists who carried out a coordinated attack in Jalalabad city," Khogyani said.
He said security forces killed six of the attackers after two of them carried out suicide attacks near the building's entrance.
Security forces were able to rescue around 50 employees stuck in the building during the attack, he added.
Afghan security forces have struggled to combat the Taliban and ISIS since the US and NATO formally concluded their combat role in the country in 2014, shifting to a support and counterterrorism mission.
The Taliban have seized control of districts across the country, and the two groups have carried out attacks in the Afghan capital, Kabul, in recent months that killed scores of people.
https://english.alarabiya.net/en/News/world/2018/05/13/15-killed-42-injured-as-ISIS-claims-responsibility-for-attack-in-Afghanistan-.html
--------
US Drone Strike Kill ISIS Commander with 4 Militants in Nangarhar
May 13 2018
At least five militants affiliated with the Islamic State of Iraq and Syria (ISIS) terrorist group were killed in a US drone strike in eastern Nangarhar province.
According to the local authorities, the latest airstrike was carried out using unmanned aerial vehicles, in the vicinity of Haska Mina district.
The authorities are saying that a commander of the terror is also among those killed in the airstrike.
The provincial government media office in a statement confirmed that an airstrike in Nari Oba area of Haska Mina left at least five ISIS militants dead.
The statement further added that a similar airstrike in Ali Khel area of Pacher Agam also left a ISIS militant dead.
This come as counter-terrorism operations are underway in some restive parts of Nangarhar province against ISIS, Taliban, and other militants.
Full report at:
https://www.khaama.com/us-drone-strike-kill-isis-commander-with-4-militants-in-nangahrar-05147/
--------
Abdullah slams government leadership as violence soars across Afghanistan
May 14 2018
The Chief Executive of the Unity Government Abdullah Abdullah criticized the government leadership after a wave of deadly attacks and soaring violence claimed the lives of scores of people across the country.
In his speech at the Council of Ministers Meeting in Kabul, Abdullah said the ordinary people and security forces have been massacred in the past few days.
He slammed the government's political and security leadership for their silence and lack of action and said even a single meeting of the National Security Council has not been organized as violence soars across the country.
This comes as the security situation has sharply deteriorated across the country in the past few weeks as the militants have stepped up attacks in the key provinces and cities.
A coordinated attack in Jalalabad city left at least ten people dead including security personnel while 42 others were wounded.
The militants had earlier carried out a coordinated attack in two different of Kabul city that left several people dead including security personnel while numerous others were wounded.
Full report at:
https://www.khaama.com/abdullah-slams-government-leadership-as-violence-soars-across-afghanistan-05151/
--------
Afghanistan wants Iran to rid it of terrorism scourge
May 13, 2018
Afghanistan's Defense Minister Tariq Shah Bahrami has discussed stepped-up military and defense cooperation with Iran which is wary of Daesh's presence near its borders.
Bahrami is currently on an official visit to Tehran where he met Chief of Staff of the Iranian Armed Forces Major General Mohammad Baqeri on Sunday after holding talks with his counterpart Brigadier General Amir Hatami.
Bahrami said his trip is aimed at expanding cordial relations between the two nations and their armed forces and securing Iran's help to rid Afghanistan of the terrorism scourge.
Iran was key to the defeat of Daesh in the region and Iraqi and Syrian leaders have repeatedly thanked the Islamic Republic for its military advisory assistance to the countries.
After losing its bases in Iraq and Syria, Daesh has established a foothold in eastern and northern Afghanistan despite the presence of foreign troops and stepped up its terror attacks in recent months.
Last month, the terrorist group claimed an attack among a large crowd outside a voter registration center in Kabul that killed 57 people and wounded more than 100 others.
The Taliban have also escalated their attacks as part of their spring offensive and on Friday, they killed more than 30 policemen in separate assaults in the western Farah Province.
Senior Iranian officials have warned that the US was relocating Daesh to Afghanistan. In January, Leader of the Islamic Revolution Ayatollah Seyyed Ali Khamenei said the relocation was meant to justify US military presence in Afghanistan.
Since the US invasion in 2001, Afghanistan has become less stable due to increased warlord and Taliban activity, growing illegal drug production, and a fragile government undercut by foreign military operations.
Some 17 years on, the Taliban rule supreme and the US which invaded Afghanistan with the express aim of toppling the group is interested in negotiating with the militants more than ever before.
On Sunday, Baqeri reiterated Iran's readiness to help Afghanistan, saying the Islamic Republic's affinity is rooted in the two neighbors' common culture and civilization.
"After the victory of the Islamic Revolution and the military invasion of Afghanistan, Iran has always tried to stand by the Afghan nation and help it push ahead with the battle against the occupiers," Baqeri said.
Bahrami thanked Iran for its assistance to the Afghan poeple, saying his country seeks to expand relations in a way that would serve the interests of both nations.
The Afghan minister traveled to Iran on Saturday at the head of a high-ranking defense and military delegation.
Full report at:
http://www.presstv.com/Detail/2018/05/13/561551/Iran-Afghanistan-Mohammad-Baqeri
--------
Mideast
Nearly 40 yrs later, Iran's clerics are facing a religious backlash
May 13, 2018
This article is part of the Revolutions and Counter-Revolutions series, curated by Democracy Futures as a joint global initiative between the Sydney Democracy Network and The Conversation. The project aims to stimulate fresh thinking about the many challenges facing democracies in the 21st century.
With Iran's ruling clergy already preparing to celebrate the 40th anniversary of the 1979 Islamic Revolution, it may be too late to question whether or not the revolution was in fact Islamic. What we can do, at least, is explore the revolution's degree of Islamicness.
In Iran, like elsewhere in the world, often competing utopian political visions shaped the political landscape of the previous century. Marxism, nationalism and liberalism all played important roles in the 1979 revolution. Yet it was later branded "Islamic" with such insistence that this eventually became its sole adjective.
Most Iranians were religious, which positioned the clergy far ahead of any other political group in being able to mobilise the masses. The clergy benefited enormously from their highly effective religious network, which was both far reaching and fully under their control. By that time, the Pahlavi regime had severely weakened the organising capacities of Iran's other political groups.
The consolidation of power
After claiming a dominant post-revolution position, the clergy under then-Supreme Leader Ayatollah Khomeini exploited their irreproachable reputation and religious bond with the masses to eliminate their rivals and consolidate their power. They converted Iran's religious networks into permanent political platforms.
Mosques and other religious spaces and occasions were at the forefront of their propaganda machinery. Mosques were also – and still are – used as polling stations during elections.
The ruling clergy coupled the term "Islamic" with the revolution, calling it a "regime of truth", to use Foucault's terminology. More importantly, they impeded the emergence of a non-religious alternative to their peculiar political system. Over the past 39 years, no secular political group has been able to mount a formidable challenge to the Islamic Republic.
Instead, other religious forces have challenged the ruling clergy. They have done so both on the level of practical politics and by way of introducing viable alternatives to the ideal of the Islamic state.
The impetus for Iran's most significant periods of political unrest in recent decades can be traced to the Islamic reformists. Examples include the reformist movement from 1997 until 2005, and the Green Movement, which emerged after the disputed 2009 elections.
The Green Movement brought the regime to the brink of collapse, and its religious ties were undeniable. Its leaders, Mir Hussin Mousavi and Mehdi Karubi – who are still under house arrest – are both religious figures who have always aligned with the Islamists. The colour green is a religious symbol, hence the name of the movement. A new politico-religious discourse is emerging that offers a viable alternative to the Islamic Republic. The Green Movement must still be understood within the broader "Islamist" school of thought, as it promotes a political role for religion. It is, however, unique in that it envisions this role as part of a democratic polity.
Islam lacks a blueprint for government
The reformist movement amounts to a direct backlash against the ideal of the Islamic state. It targets the foundational pillars of the Shiʿi model of the state, which is based upon Khomeini's doctrine of wilāyat-i faqīh.
The reformists intend to strip away the ruling clergy's proclaimed religious legitimacy. They maintain that Islam does not specify a blueprint for political matters and explicitly avoids providing economic, political, or policy prescriptions. The Qurʾān and many Ḥadīths support the notion that humans have the capacity to determine appropriate solutions for their worldly problems. Thus, reformists argue that Islam should be actualised in politics through the political contributions of believers rather than the political leadership of the clergy.
Islam does not stipulate a model political system.
This makes it impossible to extract the notion of democratic government from Islamic teachings.
However, one could argue that democracy is an appropriate political system for the Muslim world, based on human reasoning. For example, Mohsen Kadivar asserts:
Democracy is the least erroneous approach to the politics of the world. (Please note that least erroneous does not mean perfect, or even error free.) Democracy is a product of reason, and the fact that it has first been put to use in the West does not preclude its utility in other cultures – reason extends beyond the geographical boundaries. One must adopt a correct approach, regardless of who came up with the idea.
Divine sovereignty and Sharia
The religious backlash has been particularly focused on refuting two interconnected claims that form the existential grounding of the Islamic state. These are the claims of divine sovereignty and the necessity of implementing Sharia, or Islamic law.
Iran's ruling clergy argue that the divine right to political leadership rests not only with the Prophet Mohammad and Shiʿi's Infallible Imāms, but also with Islamic jurists in today's world. According to Khomeini:
God has conferred upon government in the present age the same powers and authority that were held by the Most Noble Messenger and the Imāms, with respect to equipping and mobilising armies, appointing governors and officials, and levying taxes and expending them for the welfare of the Muslims. Now, however, it is no longer a question of a particular person; government devolves instead upon one who possesses the qualities of knowledge and justice.
This assertion could be questioned on various levels. First and foremost, it offers a problematic reading of Islamic history. It ignores the reality that the Prophet Mohammad's governance was a historical occurrence as opposed to a part of his divine mission.
In the same vein, many Iranian religious reformists repudiate the divine source of political authority, not only in the present, but also for the Prophet and Infallible Imāms. These interpretations of the revolution reject the possibility of claiming any sort of divinity in the political realm. This empowers believers to manage their political lives based on their collective rational reasoning.
The second major claim is that Islam is a political religion because Sharia law encompasses important socio-political dimensions. Its proponents maintain that Sharia ought to be implemented to its full extent, thus requiring political leadership by the clergy. This was a founding maxim of Khomeini's doctrine of wilāyat-i faqīh. But he revised this when he began running a modern state.
Soon after the revolution, Khomeini realised that implementing the many components of Sharia would interfere with the basic tasks of government. In other words, he concluded that full compliance with Sharia law would make it impossible for a state to effectively carry out its core functions and responsibilities.
His response to this predicament was to prioritise political interests over religious considerations. He went so far as to declare Sharia as secondary to governing:
A government in the form of the God-given, absolute mandate was the most important of the divine commandments and has priority over all derivative divine commandments … [it is] one of the primary commandments of Islam and has priority over all derivative commandments, even over prayer, fasting and pilgrimage to Mecca.
This was conceptualised as a Shiʿi jurisprudential principle called Fiqh al-maṣlaḥa (expediency-based jurisprudence). It establishes that a state is regarded as Islamic if the head of state is a jurist, a walī-yi faqīh, regardless of whether the state enforces Sharia and Islamic precepts.
Open to the charge of exploiting Islam
Expediency-based jurisprudence leaves the fate of Sharia ordinances, and by extension the entire religion of Islam, to the "personal" understanding of the ruling jurist. Unsurprisingly, it has been challenged for exploiting religion.
Critics say that decisions based on a rational assessment of the circumstances should not be tagged as "Islamic". Attaching a religious tag to decisions made by the absolute authority of one person, who is not immune to mistakes and failures, will render religion responsible for policy mistakes and failures.
Ultimately, the lived experience of the government born out of the 1979 revolution proved detrimental to Islam. It led to the disillusionment of some Islamists who wished to emancipate religion from the state. As such, reformist discourse failed to propose a tangible alternative to the model of the Islamic state. This, in turn, could partially explain the resilience of the Islamic state in Iran.
Nevertheless, we should not overlook the powerful role of religious backlash in disarming the ruling clergy and delegitimising the theological foundation of the Islamic state. It remains the most formidable challenge to Iran's ruling clergy to date.
The ConversationStill, the possibility of a major shift in the country's political landscape is more complicated and depends on factors far beyond religion-state relations.
http://www.business-standard.com/article/international/nearly-40-yrs-later-iran-s-clerics-are-facing-a-religious-backlash-118051300320_1.html
--------
For Palestinians, US embassy move cements occupation status quo
by Linah Alsaafin
May 14, 2018
Occupied East Jerusalem - Tens of thousands of Jewish settlers, surrounded by police protection, have marched around the Old City, celebrating Jerusalem Day on the eve of the US embassy move from Tel Aviv.
The annual event, which commemorates the Israeli annexation of occupied East Jerusalem in 1967, is regarded by the city's Palestinian population as a deliberate provocation.
Past events have seen Palestinian-owned stores smashed up and Palestinian counter-protests being viciously suppressed by Israeli police.
Like in previous years, road closures and barricades were set up on Sunday to heavily restrict Palestinians from accessing the road leading to Damascus Gate, one of the entrances to the Old City.
"The Palestinian Jerusalemite today lives with a hundred sticks raining down his head," Osama Barham, an activist in the city, told Al Jazeera.
"That is to say, he is oppressed from all directions."
Barham was standing off to one side nearby Damascus Gate, where a small group of Palestinian and Arab media outlets had gathered.
Below them, a large congregation of white and blue had amassed on the stone steps. Some danced in rings in a frenetic way. Others shouted slogans in fervor.
"The US embassy move is not the most important issue here," Barham said, explaining that for Palestinian residents such a development was merely the expected outcome after decades of occupation.
"We were not shocked or surprised to hear the news when US President Donald Trump announced [in December 2017] his recognition of Jerusalem as Israel's capital," he added.
"What is much more dangerous to us than an embassy move is our reality: the onslaught of the Judaisation of the city, the Israelification of our society, the exile of Palestinian residents, the demolishment of Palestinian homes and the raiding of the al-Aqsa compound by settlers."
"Jerusalem is under occupation so we do not feel like we are suddenly in trouble because of the embassy's new location in west Jerusalem," Barham added.
The singing and chanting of the settlers' drowned the drums and trumpets of a marching band in their midst. A huge roar went up as Israeli police removed a barricade and allowed the settlers to stream into the Old City.
'The heart of the Palestinian cause'
Earlier, hundreds of settlers raided the al-Aqsa Mosque compound, the third-holiest site in Islam. They raised the Israeli flag and prayed there.
Confrontations with Palestinians ensued, resulting in at least one arrest, before the settlers left the compound.
Inside the Old City, in the neighbourhood of Sheikh Lulu, Umm Jihad stood outside her house, keeping an eye out on her children and giving directions to men finding difficulty reaching their own homes due to the Israeli-imposed closures.
"I hope that many people will be out protesting tomorrow because we need as much support as possible," she told Al Jazeera, referring to the planned demonstrations on Monday against the embassy relocation.
"Today, we cannot move around the city because the Israeli forces have practically barricaded us in our own homes."
She said the US embassy move would not change the "will of the Palestinians".
"No one will remain silent in the face of what the US and Israel are doing," she said.
"Jerusalem is the heart of the Palestinian cause, and every Palestinian who lives here feels its significance in their very bones."
Arab world 'silent'
The official opening of the US embassy, which will take place at 1pm local time (10:00 GMT) will be attended by an American delegation, which includes Trump's daughter Ivanka and her husband Jared Kushner, who is also an adviser to the president.
Israeli Prime Minister Benjamin Netanyahu hosted a gala reception on Sunday afternoon for the US delegation.
The reception extended an open invitation to all of the Knesset members. Foreign dignitaries were also invited, but most of the European ambassadors said they would boycott the event.
Standing on the road opposite of Damascus Gate, Afaf al-Dajani, head of an orphanage association in the Old City, cut a lone figure in the early evening light as she looked at the thinning crowds of Jewish settlers.
"Of course we will suffer with this new embassy location," she told Al Jazeera.
"We already suffer from the presence of all these settlers, and I imagine the US embassy's new site will encourage more of this."
She took in a wavering breath as Israeli police mounted on soldiers clopped by.
"I don't understand why the Arab world is silent about all of this and are watching these events as if it is a movie in a cinema," she said. "Where are their consciences?"
But for Barham, the fate of the Palestinian residents of the city was clear since the Israeli occupation more than 50 years ago.
Full report at:
ttps://www.aljazeera.com/news/2018/05/palestinians-embassy-move-cements-occupation-status-quo-180513192601854.html
--------
Turkey targets French studies due to Quran row and reciprocity
by Umut Uras
Turkish universities will no longer admit new students to French language departments, Turkey's Higher Education Board has ruled, the latest development in the strained ties between Turkey and France.
The decision came in response to a manifesto signed by prominent French figures, calling for the removal of certain passages from the Quran, and as a reciprocal measure over the "lack of Turkish studies departments in the European country," a Turkish official told Al Jazeera.
"We have condemned the controversial statements on the Quran coming from France. And the Higher Education Board, which is an autonomous institution, made this move as a response to those statements," said Emrullah Isler, chairman of the Committee on National Education, Culture, Youth and Sport in the Turkish parliament.
Isler added that universities in France do not have enough departments teaching Turkish, that there is an imbalance between the two countries in that area.
"Lack of university departments in France that teach in Turkish is another factor behind the decision. They need to form decent Turkology departments there.
"Plus, there have been too many departments teaching in the French language in Turkish universities," he told Al Jazeera from the capital, Ankara.
He added that the Higher Education Board took the decision in such a manner that currently enrolled students would not suffer from the measure.
"The existing departments with active students are going to continue teaching in French as usual, but will not admit new ones," Isler said.
The Board had cited "reciprocity" and "graduate-employment links" on Thursday as the reasons for its decision.
Quran row
Turkish officials reacted with anger to a French manifesto calling on Islamic authorities to strike certain parts of the Quran. Turkish President Recep Tayyip Erdogan even likened the signatories of the text to members of the Islamic State of Iraq and the Levant (ISIL, also known as ISIS) group.
The open letter, published on April 22 in French newspaper Le Parisien, and signed by nearly 300 prominent French figures, said that verses of the Quran calling for the "murder and punishment of Jews, Christians and disbelievers" should be removed from the book, arguing they were "obsolete".
The Turkish government's first reaction came in early May, ahead of June parliamentary and presidential polls, despite the letter being published last month.
Signatories included former French President Nicolas Sarkozy and former Prime Minister Manuel Valls, as well as former ministers, deputies from the National Assembly and other public figures.
"Who are you to attack our scriptures? We know how vile you are … You are no different than ISIL," Erdogan retorted on Tuesday in a speech in the capital, Ankara.
"Have they ever read their books, the Bible? Or the Torah?" Erdogan asked, referring to the Christian and Jewish holy books, adding: "If they had read them, they probably would want to ban the Bible."
French-Turkish relations have been tense for a number of reasons.
Turkey slammed a recent proposal by French President Emmanuel Macron to mediate between Ankara and outlawed Kurdish fighters in Turkey.
Paris has been highly critical of Ankara's military incursions in northern Syria against the Kurdish fighters, which Turkey considers "terrorists".
In late January, Turkish forces and Free Syrian Army fighters started a military operation into Syria's Afrin to remove a US-backed Kurdish militia - known as the YPG, or the People's Protection Units.
Full report at:
https://www.aljazeera.com/news/2018/05/turkey-targets-french-studies-due-quran-row-reciprocity-180513084619016.html
--------
Al Qaeda chief says Israel's Tel Aviv is also Muslim land
May 14, 2018
CAIRO (Reuters) - Al-Qaeda leader Ayman al-Zawahri, speaking in a recording released on Sunday (May 13), the eve of plans by the United States to move its embassy to Jerusalem, said that Tel Aviv was also Muslim land.
The United States has finalised preparations to move its embassy from Tel Aviv to Jerusalem in a ceremony scheduled for Monday (May 14).
President Donald Trump, who in December reversed decades of US policy by recognising Jerusalem as the capital of Israel, has sent his daughter Ivanka and son-in-law Jared Kushner - both White House advisers - as part of a delegation to the ceremony.
Trump's decision on the embassy has enraged Palestinians, who want Arab East Jerusalem, captured in the 1967 Middle East war, to be the capital of their own future state.
The status of the city - home to sites holy to the Muslim, Jewish and Christian religions - is one of the biggest obstacles to reaching a peace agreement between Israel and the Palestinians.
Trump says he is making good on US legislation and presidential pledges dating back decades.
In his four-minute and 43 second message, Zawahri said all Muslim countries have effectively recognised Israel by signing the United Nations charter which calls for respecting the territorial integrity of every member state, including Israel.
"Many have even established public or secret relations with Israel and accepted that Tel Aviv or West Jerusalem be the capital of Israel, even though it is also Muslim land that cannot be ceded to Jews," Zawahri said in the recording posted on a social media channel used by the Islamist militant group.
The authenticity of the recording could not immediately be verified.
Full report at:
https://www.straitstimes.com/world/middle-east/al-qaeda-chief-says-israels-tel-aviv-is-also-muslim-land
--------
Over 1,000 Israeli settlers attack al-Aqsa Mosque in occupied al-Quds
May 13, 2018
More than a thousand of Israeli settlers have stormed the al-Aqsa Mosque compound in the Israeli-occupied Old City of East Jerusalem al-Quds amid frequent acts of violence committed by Israeli forces and settlers against the Palestinian people.
Palestinian sources, speaking on condition of anonymity, said a total of 1,042 settlers and dozens of intelligence agents forced their way into the holy site through the Bab al-Magharibah under the tight protection of several groups of Israeli soldiers and special police forces, Arabic-language Safa news agency reported.
The settlers performed acts deemed provocative by Palestinians in the mosque courtyard, and were given explanations about Solomon's Temple – also known as the First Temple.
The Israeli settlers then read Talmud verses out loud.
Israeli forces arrested al-Aqsa Mosque guard, Muhammad al-Salhi, after he was assaulted while approaching the settlers.
The Israeli settler finally left the sacred site through the Chain Gate (Bab al-Silsileh).
The occupied Palestinian territories have witnessed new tensions ever since US President Donald Trump announced his decision on December 6 last year to recognize Jerusalem al-Quds as Israel's capital and relocate the US embassy in Israel from Tel Aviv to the occupied city.
The dramatic shift in Washington's policy vis-à-vis the city triggered demonstrations in the occupied Palestinian territories, Iran, Turkey, Egypt, Jordan, Tunisia, Algeria, Iraq, Morocco and other Muslim countries.
On December 21, the United Nations General Assembly overwhelmingly voted in favor of a resolution that calls on the US to withdraw its controversial recognition of Jerusalem al-Quds as Israeli "capital."
In an attempt to avert the resolution, Trump had warned that "we're watching," threatening reprisals against countries that backed the measure, which had earlier faced a US veto at the UN Security Council.
Israel, however, rejected the world body's resolution while thanking Trump for his decision to move the US embassy from Tel Aviv to Jerusalem al-Quds.
On January 18, the United States reneged on a pledge to contribute $45 million to the United Nations Relief and Works Agency for Palestine Refugees in the Near East (UNRWA), which supports more than 5 million registered Palestinian refugees and their descendants.
The announcement to cut aid to Palestinian refugees came after the US president made a threat to cut off aid to the UN's Palestinian refugee agency.
In a series of tweets on January 2, Trump said that the US paid "the Palestinians hundreds of millions of dollars a year" and yet gets "no appreciation or respect."
Full report at:
http://www.presstv.com/Detail/2018/05/13/561577/Over-1000-Israeli-settlers-attack-alAqsa-Mosque-in-occupied-alQuds
--------
Iran Court Sentences Eight Men to Death Over Islamic State Attack
May 13, 2018
DUBAI (REUTERS) - AN Iranian court on Sunday sentenced eight men to death over attacks that killed 18 people at the parliament and Ayatollah Ruhollah Khomeini's mausoleum last year, in the first deadly operation by Islamic State in the country.
The sentence, issued by a Revolutionary Court after a seven-session hearing, can be appealed in Iran's Supreme Court, Musa Ghazanfarabadi, head of Tehran's Revolutionary Court, told state television.
Ghazanfarabadi said courts will hear claims later filed by families of the victims against the United States and Saudi Arabia, which mainly Shi'ite Muslim Iran accuses of supporting Sunni Muslim militant group Islamic State. Both countries deny that accusation.
Islamic State claimed responsibility for the unprecedented attacks in Iran, in which suicide bombers and gunmen attacked the parliament and Khomeini's mausoleum in Tehran.
Eighteen other suspects still face charges over the attacks, according to state media.
Full report at:
https://www.usnews.com/news/world/articles/2018-05-13/iran-court-sentences-eight-men-to-death-over-islamic-state-attack-tv
--------
Ankara Attempting to Annex Occupied Lands in Northern Syria to Turkey
May 13, 2018
The Kurdish-language Hawar news reported on Sunday that the Turkish army has forced the terrorist groups affiliated to Ankara to put on military uniforms with Turkish flag patches to represent Turkey in their regions.
It added that the Turkish army has also replaced all flags in the occupied territories with the Turkish flag, noting that the Ankara-backed terrorist groups take order from the Turkish army.
According to the report, the Turkish army has hoisted the country's flags over all military and administrative centers since the very first days of occupation of Afrin.
The report also said that identity cards have been issued for people who arrive in Afrin, adding that the Turkish army intends to allow the people living in these regions to participate in the future elections in Turkey.
The Turkish army on Saturday dispatched a new military delegation, accompanied by terrorist groups, to Western Idlib in Northwestern Syria on Saturday.
The Turkish convoy, including a military delegation, that was accompanied by terrorists entered Jisr al-Shughour region in Western Idlib.
There were several vehicles and a large volume of military equipment in the Turkish convoy.
Also, field sources reported that the Turkish delegation embarked on visiting Bedama and al-Najiyeh settlements in Western Idlib, adding that the army plans to set up a new truce monitoring point in the region.
In the meantime, local sources reported that the Russian and Syrian fighter jets pounded the positions of al-Turkistani terrorist group in Jisr al-Shughour region, inflicting major losses on the militants.
Full report at:
http://en.farsnews.com/newstext.aspx?nn=13970223000988
--------
Houthis appoint controversial imam as minister in coup government
13 May 2018
Yemen's Houthi militias appointed Saturday Taha Mohammed Ahmed al-Motawakil, a controversial Imam, as minister for Public Health and Population in the Houthi coup government.
The decision which attracted wide criticism, was taken by the Mahdi al-Mashat, son-in-law of the Houthis' militia leader and head of the so-called Supreme Political Council of Houthis.
According to sources close to the Houthis, the Imam is married to the sister of Houthi leader Abdul Malik al-Houthi, and is considered a spiritual leader among the Houthis and an Imam at Housh Mosque in the capital Sanaa for a long time and has been preaching at other mosques after the Houthi coup.
He is also considered one of Houthis' extremists, issuing controversial statements among them, calling for "a state of economic emergency", confiscating money from business men and nationalizing the private sector under Houthi control.
Full report at:
https://english.alarabiya.net/en/News/gulf/2018/05/13/Houthi-appoints-a-controversial-Imam-as-Minister.html
--------
Africa
El-Zakzaky: We're very different from Boko Haram – Shiites reply ex-US envoy, Campbell
May 13, 2018
By Maina Maina
President of the media forum of the Islamic Movement of Nigeria, IMN, better known as Shiites, Ibrahim Musa has faulted the comparison made by former America's Ambassador to Nigeria, John Campbell on the Shia Islamic movement and the dreaded Boko Haram sect.
A statement issued on Sunday evening with regards to the assertion made by the former US Ambassador reads: "The attention of the Islamic Movement in Nigeria has been drawn to a piece titled, "Nigeria's Treatment of Shia Minority Recalls That of Boko Haram," written by a former American Ambassador to Nigeria, John Campbell, posted on the website of the American think-tank organisation, the Council on Foreign Relations, which gained wide coverage in Nigeria's media.
"The former Ambassador drew similarities between the dreaded Boko Haram and the Islamic Movement, under the able leadership of our illegally detained Leader, Sheikh Ibraheem Zakzaky.
"The need to issue this press statement becomes imperative in view of the deliberate blackmail, witch-hunt and mischief inherently contained in the write up.
"His assertion that, 'advocacy of violence aside, there are striking ideological similarities between IMN and Boko Haram, at least for outside observers" is most unfortunate. His claim that, "both see the secular state as evil, both want an Islamic state based on Islamic law, and both want the end to Western influence, including in education', is grossly misleading. Equally mischievous was his summation that, "both also seek the end of northern Nigeria's traditional political and religious elite. For IMN, the model appears to be the aspirations of the post-revolutionary Iranian Islamic state. Boko Haram's vision appears more nebulous and less developed, but both try to function as a state-within-state.'
"For the records, we and Boko Haram are clearly poles apart. As Sheikh Zakzaky himself repeatedly pointed out, Boko Haram is the creation of the oil hungry West; a claim Ambassador Campbell erroneously claimed is implausible. However, it is on record that the equally dreaded ISIS organization wreaking havoc in the middle east, to which Boko Haram gives its allegiance, is the creation of the US.
"Hence to claim that Boko Haram wants, 'an Islamic state based on Islamic law,' and the end to Western influence, including in education and also seek the end of northern Nigeria's traditional political and religious elite, is superfluous to say the least. It is however clear to all that Islam as a state religion was not established by the holy Prophet Muhammad through terroristic activities to which all these western created groups are known today.
"Boko Haram simply sprang up, hitherto unknown to anybody as to its teachings, schools and media and started terrorizing people. On the contrary, the Islamic Movement is a mass movement and its leader, Sheikh Zakzaky has been calling for inter and intra-faith unity, tolerance and peace for decades. He is reputed to have sheltered and protected Christians in Gyallesu, Zaria during post 2011 election violence. He always adds his voice for the oppressed irrespective of their religion or region or any other geographical or social divisions whatsoever!
"We therefore view any attempt to compare the Islamic Movement, which has been in existence for the past four decades, with Boko Haram as a subtle but malicious attempt to tarnish our image and pave way for further violent suppression against us.
"The former Ambassador should have stated the whole truth. The naked truth is that the federal government decided to suppress the Islamic Movement on the behest of Saudi Arabia, an agent and ally of the West, killing over a thousand civilian souls and destroying properties worth billions of Naira in its wreak.
"The Islamic Movement is rightly demanding for justice to the victims of these state sponsored terrorism, starting with the unconditional release of Sheikh Zakzaky, his wife and all the others under detention since the Zaria pogrom of December 2015.
"On these we will not blink, nor falter. The general public and the international community should particularly note that we have been unduly oppressed by this Buhari regime like none before it, and must be made to take responsibility for its actions. It is now 882 days that our leader has been languishing in detention despite a valid court order to free him, and everybody knows justice delayed is justice denied," the statement said.
http://dailypost.ng/2018/05/13/el-zakzaky-different-boko-haram-shiites-reply-ex-us-envoy-campbell/
--------
Shiites flay, distance selves from Boko Haram
14 May 2018
The Islamic Movement of Nigeria (IMN), also known as Shiites, has flayed and distanced itself from the activities of the Boko Haram sect, insisting that they share nothing in common.The group was refuting an insinuation by former United States Ambassador to Nigeria, John Campbell, that the movement had a linkage with the terrorist group.
In a statement by its spokesman, Ibrahim Musa, the movement noted: "The attention of the Islamic Movement in Nigeria has been drawn to a piece titled, "Nigeria's Treatment of Shia Minority Recalls That of Boko Haram," written by a former American Ambassador to Nigeria, John Campbell, posted on the website of the American think-tank organisation, Council on Foreign Relations, which gained wide coverage in Nigeria's media."
According to him, the erstwhile envoy drew "similarities between the dreaded Boko Haram and the Islamic Movement, under the able leadership of our illegally detained leader, Sheikh Ibraheem Zakzaky."
Musa said that the remark was a "deliberate blackmail, witch-hunt and mischief inherently being pursued by the government of President Muhammadu Buhari against the IMN."He described Campbell's assertion that there were striking ideological similarities between IMN and Boko Haram as "most unfortunate".
Musa went on: "His claim that both see the secular state as evil, both want an Islamic state based on Islamic law, and both want the end to Western influence, including in education, is grossly misleading.
"Equally mischievous was his summation that both also seek the end of northern Nigeria's traditional political and religious elite. For IMN, the model appears to be the aspirations of the post-revolutionary Iranian Islamic state. Boko Haram's vision appears more nebulous and less developed, but both try to function as a state-within-state."
"For the records, we and Boko Haram are clearly poles apart. As Sheikh Zakzaky himself repeatedly pointed out, Boko Haram is the creation of the oil-hungry West, a claim, Ambassador Campbell erroneously said is implausible. However, it is on record that the equally dreaded ISIS organisation wreaking havoc in the Middle East, to which Boko Haram gives its allegiance, is the creation of the United States."
Full report at:
https://guardian.ng/news/shiites-flay-distance-selves-from-boko-haram/
--------
More than 31 killed in Libya tribal clashes this month
May 14, 2018
TRIPOLI - Fighting between rival tribes that has rocked a southern Libya town for weeks has killed more than 31 people since the beginning of May, a medical source said on Sunday.
Eight of them were killed on the weekend when the violence flared in Sebha, some 600 kilometres (370 miles) south of Tripoli, the source said, adding that 18 others were wounded in the clashes. Sebha, where tribal rivalries have frequently spilt over into bloodshed, has been rocked by violence since February.
On Saturday, the rival tribes fought for the control of an ancient hilltop citadel that overlooks Sebha, a region known for its smuggling routes. The fighting is pitting the Arab Alwad Suleiman tribe against the Tubus, who are repeatedly accused by their detractors of including foreign fighters, namely from Chad, in their ranks. Since the beginning of May more than 31 people have been killed and 121 wounded in the tribal clashes, the medical source said speaking on condition of anonymity.
The UN mission in Libya UNSMIL has repeatedly expressed concern for the escalation in fighting.
A statement posted on its Twitter account late Saturday said UNSMIL is "deeply disturbed at the most recent escalation in Sebha". It said it deplored the death of "some civilians" in the clashes and called on both sides to observe restraints.
Prime Minister Fayez al-Sarraj has also called for a ceasefire in Sebha. Libya has been gripped by chaos since a NATO-backed uprising toppled and killed longtime dictator Moamer Kadhafi in 2011, with rival administrations and multiple militias vying for control of the oil-rich country.
Full report at:
https://nation.com.pk/14-May-2018/more-than-31-killed-in-libya-tribal-clashes-this-month
--------
Algeria dismisses Morocco's new claims of backing Polisario
May 14, 2018
Algeria has roundly rejected and denounced fresh claims by the Moroccan foreign minister that it played an "operational" role in alleged Iranian support for a pro-independence Western Sahara movement.
Nasser Bourita, Morocco's top diplomat, had told the French-language Jeune Afrique weekly news magazine that Algiers offered more than a meeting venue for members of the separatist Polisario Front and Lebanon's Hezbollah resistance movement.
He had claimed that "Algeria has given more than its blessing. It has given an opening, backing and operational support."
Rabat has accused Iran of using Hezbollah to support Polisario, a claim Tehran has sharply dismissed.
"Algeria strongly condemns and deplores the statements made by the Moroccan foreign minister in an interview, released yesterday in a Paris magazine," the Foreign Ministry in Algiers said in a statement late on Sunday.
Algiers has criticized Rabat for not providing any evidence to support its claims, adding it continuously makes up "stories."
Earlier this month, Morocco severed its diplomatic relations with Iran, with Bourita accusing Tehran and Hezbollah of training and arming Polisario members via the Iranian Embassy in Algeria.
Algeria, Iran and Hezbollah were all quick to reject the claims as baseless back then.
Iranian Foreign Ministry spokesman Bahram Qassemi said there was no cooperation between Tehran's diplomatic mission in Algiers and the Algeria-backed movement.
Hezbollah also blamed the US, Israel and Saudi Arabia for the diplomatic tensions, saying Rabat cut ties with Tehran under pressure from the trio.
In turn, Algeria summoned Morocco's ambassador to protest the "unfounded" claims.
Rabat annexed Western Sahara, a former Spanish colony, in 1975, and has since then been in conflict with Polisario, which demands a referendum on self-determination and independence.
Full report at:
http://www.presstv.com/Detail/2018/05/14/561649/Algeria-Morocco-Iran-Hezbollah-Polisario
--------
Europe
Video released by ISIS shows Paris attacker pledging allegiance
14 May 2018
A private organization in the United States that monitors extremists online says ISIS's news agency has released a video of a man who appears to be the Paris knifing suspect urging French citizens to pressure their government if they want attacks to end.
The alleged suspect in Saturday night's rampage was shot and killed by police after he stabbed five people, one of them fatally.
French officials have said the assailant was a 20-year-old French citizen born in the Russian republic of Chechnya. They have not verified if he is the person featured in the 2 ½-minute-long video presumably released posthumously by the Amaq news agency Sunday.
Chechnya's president identified him on Sunday as Khamzat Azimov.
The man in the video speaks in French and his face is covered except for his eyes.
He blames France for its role in the US-led coalition against ISIS and says: "If you want it (attacks) to end, pressure your government."
The SITE Intelligence Group, a Maryland organization that monitors online extremist postings, highlighted and shared the video on Sunday.
https://english.alarabiya.net/en/News/middle-east/2018/05/14/Video-released-by-ISIS-shows-follower-advising-French-on-attacks.html
--------
Shropshire Muslims frustrated over cemetery wait
13 May 2018
Members of a Muslim community said they are becoming increasingly frustrated by delays in their request for a dedicated burial space in a cemetery.
People living in south Shropshire say they first asked Ludlow Town Council for an area in Henley Road cemetery back in October 2015.
Craven Arms imam, Sohayb Peerbhai, said they felt the request for a plot for 20 burials had been "shoved aside".
The council said it did not intend to cause any distress to the community.
Mr Peerbhai said the initial request was made to the council's services committee. Since then, there have been three funerals, each of them in different locations, because there are no available burial areas in south Shropshire.
He said families have also had to pay increased fees because burials are taking place outside their area, as well as facing a greater distance to visit relatives.
He said Craven Arms did have two dedicated areas, but they were full.
"In Islamic religion and scriptures we are told to regularly go to a graveyard and pray for the deceased and there is a certain Islamic prayer we would pray," he said.
"So we would need to identify where we are going - that doesn't mean in any way to say that we are separating ourselves from the wider community."
He added: "This would just be a small section were Muslims are buried.
"Ludlow Cemetery already has a Catholic section, they also have a baby section.
"We can't see why we can't have a Muslim section."
The town council said it wanted to apologise to the imam and the local community if they felt "misled" over the timescale for the development.
Full report at:
http://www.bbc.com/news/uk-england-shropshire-44099594
--------
Turkish president hails strong relations with Britain
13.05.2018
LONDON
Cooperation between Turkey and the U.K. in the fight against terrorism is at a much more advanced stage than mechanisms we have with other partners, Turkish President Recep Tayyip Erdogan said on Sunday.
Speaking on the closing day of the 7th Tatli Dil Forum, Erdogan addressed the forum – a mechanism aiming to boost relations between Turkey and the U.K.
Erdogan told how the foundations of the forum were laid back in 2011 when he was serving as prime minister, along with then-British Premier David Cameron.
He said since its establishment, the forum has developed into a think tank.
Reviewing the "nearly 500 years" of history between Turkey and Britain, Erdogan cited such landmarks as Napoleon's invasion of Egypt (1789-1801) and the Crimean War (1853-1856) are promoting rapprochement between the two.
Erdogan said a replica of an Ottoman nishan (decoration) awarded by Sultan Selim III to Britain's legendary Admiral Lord Nelson for his service during the French campaign in Egypt in 1798 was placed at the entrance of the hall where the Tatli Dil Forum was held today, showing the deep ties between the two countries.
UK solidarity
Underlining the U.K.'s "sincere solidarity" after the July 2016 defeated coup attempt by FETO, Erdogan said "we will never forget the solidarity shown with our country."
"I especially thank Alan [Duncan] very much for this," Erdogan said, adding that British officials showed a pro-democracy stance by firmly rejecting the vile coup attempt, while many other Western countries even failed to condemn it.
Minister for Europe and the Americas Alan Duncan, who visited Turkey only three days after the defeated coup, was the first European official to show support with Turkey following the attempted putsch.
Strong trade
On trade between the two countries, Erdogan said the U.K. is Turkey's second-biggest export market and the two countries hope to increase the commerce volume from $16 billion to $20 billion.
On defense cooperation, Erdogan called for the joint marketing of commonly developed and manufactured products to third countries.
"The synergy which will occur when Turkey's operational opportunities and the U.K.'s financial power come together will bring very big benefits to both sides," he said.
Erdogan also said Turkish tourism is on the rise, leaving behind a period of stagnation, with 40 million tourists expected to visit this year.
Erdogan said: "Turkey places importance on the security of the Euro-Atlantic region.
"We are working to build a sustainable peace in the Middle East.
"We are aiming for stability in countries like Syria, Iraq, Afghanistan, and Somalia. We would like to see a common fight against all types of terrorism."
Daesh and Islam
Erdogan said calling the Daesh terrorist group the "Islamic State" is a grave mistake, as it does the greatest damage to Muslims. He said the roots of the word "Islam" mean peace.
"Our religion is a religion of peace," Erdogan added.
He said "the U.K. with its many Muslim citizens and with its multicultural and pluralist structure" would understand this issue much better than many other friends and allies.
Valued partner
Erdogan said he will meet Queen Elizabeth II and Prime Minister Theresa May during his three-day visit to the U.K., which began Sunday.
"The U.K. is a valued and trusted strategic partner for us. As Turkey, we are ready for more cooperation in every field of the post-Brexit era as well," he said.
Full report at:
https://www.aa.com.tr/en/europe/turkish-president-hails-strong-relations-with-britain/1144052
--------
URL: https://www.newageislam.com/islamic-world-news/zawahiri-calls-jihad-eve-embassy/d/115243
New Age Islam, Islam Online, Islamic Website, African Muslim News, Arab World News, South Asia News, Indian Muslim News, World Muslim News, Women in Islam, Islamic Feminism, Arab Women, Women In Arab, Islamophobia in America, Muslim Women in West, Islam Women and Feminism