New Age Islam News Bureau
4 Nov 2016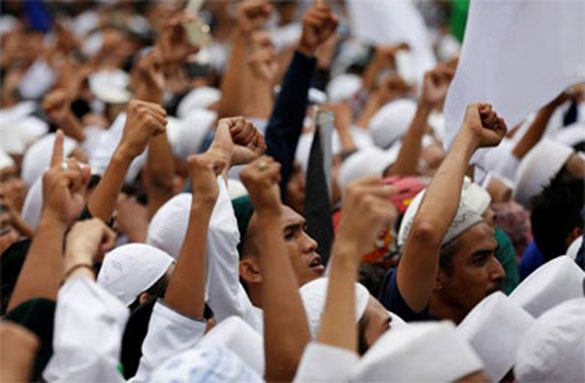 Members of hardline Muslim groups protest against Jakarta's incumbent governor Basuki Tjahaja Purnama, an ethnic Chinese Christian running in the upcoming election, outside his office in Jakarta, Indonesia, October 14, 2016. REUTERS/Darren Whiteside
----------
• 'Zakir Naik's NGO Used Foreign Education Funds for Religious Work'
• Al-Baghdadi's Call to Attack Saudi Arabia Is a Joke: Arab Coalition Spokesman
• Terrorism Including ISIS Major Threat to Region, Abdullah Tells SCO Summit
• Religious Leaders Condemn Halloween Celebrations in Punjab Schools
India
• 'Zakir Naik's NGO Used Foreign Education Funds for Religious Work'
• Probe 'Bhopal Encounter' As Per SC Rules, Demand Muslims
• KPCC Flays Efforts to Repudiate Muslim Law
• Uniform Civil Code: Muslim Outfit to Organise Seminar on November 5
• Pakistan's polity doesn't have capacity to sustain normal ties with India: Shivshankar Menon
• Chennai: Muslim outfit holds protest against SIMI encounter
• Bhopal Encounter: Villager Who Saw SIMI Men Did Not See Any Weapon
--------
Arab World
• Al-Baghdadi's Call to Attack Saudi Arabia Is a Joke: Arab Coalition Spokesman
• Terrorists Use Chemical Weapons against Civilians in Aleppo Again
• Syrian Army Forces Capture More Regions near Khan al-Sheih
• Army Seizes Chemical Weapons from Terrorists in Southern Hama
• Fight to the end, IS boss Baghdadi urges Mosul jihadists
• Pentagon claims Baghdadi losing control of troops
• Tough Infighting Reported among US-Supported Terrorists in Aleppo
• Jeish Al-Fatah Sends More Forces to Western Aleppo
• Saudi man gets 15 years for Shiite cleric support
• Lebanon's Hariri named Prime Minister, wins speaker's support
• Belgian minister prefers to pay fine than granting visas to Syrian family
• Syria rebels renew Aleppo attack
• Election body in Kuwait disqualifies 46 parliamentary candidates
• Saudi forces eliminate Houthi snipers on border
• Saad Hariri named Lebanon's new prime minister
--------
South Asia
• Terrorism Including ISIS Major Threat to Region, Abdullah Tells SCO Summit
• NATO Airstrike Kills 30 Afghan Civilians, Officials Say
• Two US Military Personnel, 16 Afghans Killed In Clash, Police Say
• Islamists deny involvement in attack on Bangladesh Hindus, blame administration
• Bangladesh police arrest militants who supplied arms for cafe attack
• PM warns of tougher action against any mayhem like 2015
• Protest against B'baria attack continues
• Myanmar arms non-Muslim civilians in Rakhine
• TV reporter killed in an explosion in Helmand province of Afghanistan
• Russia to support Afghanistan in all sectors: Abdullah
--------
Pakistan
• Religious Leaders Condemn Halloween Celebrations in Punjab Schools
• Sindh to Monitor People Returning From Afghanistan, Iran and Syria
• Unlike PTI, PPP won't surrender in fight for accountability: Bilawal
• Nawaz blamed for delay in appointing new army chief
• At UN, Pakistan reiterates call for Kashmir plebiscite
• Qadri sees massive contradictions in PM's statements
• Indian diplomats accused of damaging Pak-China ties
• PTI, JI want Panama inquiry start from Sharifs
--------
Mideast
• Erdogan Accuses Germany Of ´Harbouring Terrorists´
• Yemenis Protest UN Peace Plan 'That Legitimizes Coup'
• Israel jails Palestinian minor for life for murder
• Turkey says Iraqi border deployment a precaution, urges calm from Baghdad
• Syria's U.S.-backed SDF says no to Turkish role in Raqqa operation
• Turkish army chief holds 'constructive' talks with Russia on Syria: statement
• Palestinian tries to stab soldier in West Bank, shot dead: army
• Turkish Helicopter Alights Officers, Unloads Suspicious Boxes in Idlib
• Mosul may be scene for Turkish-Iranian dispute
• Turkish army chief's Moscow visit signals cooperation on regional issues
--------
Africa
• At Least 110 Feared Dead In Migrant Shipwreck off Libya: UNHCR
• Nigeria Frees Muslims Accused Of Murder Over Blasphemy
• Africa Should Brace for Influx of Islamic State Jihadists
--------
North America
• Muslim Hate In America: Islamic Centre Vandalized In Florida Amid Divisive 2016 Campaign
• Muslim-Americans rise to attention during the US election
• Fighting from above: the air war on IS
• Killing of Saudi Student Shakes Wisconsin College Town
• Arab News poll shows Middle East citizens hungry for US policy change
--------
Europe
• Islam in France: Four Mosques Closed For 'Promoting Radical Ideology,' French Interior Minister Says
• Germany arrests 7 Afghans over Iranian teen rape
• "Dangerous Games": Russia-U.S. Tensions Escalate
'I'd rather see us united rather than divided': Interfaith cooperation in action at Mount Isa's Good Shepherd Parish
--------
Southeast Asia
• Tens of Thousands of Muslims March In Indonesia against City Governor
• Ahmadiyah leaders demand government protection
• Philippine Muslim rebel leader Nur Misuari meets President Rodrigo Duterte
• Two Syria-bound Malaysians arrested in Turkey: police
Compiled by New Age Islam News Bureau
URL: https://www.newageislam.com/islamic-world-news/new-age-islam-news-bureau/'zakir-naik's-ngo-used-foreign-education-funds-for-religious-work'/d/109010
--------
'Zakir Naik's NGO Used Foreign Education Funds for Religious Work'
Nov 4, 2016
The Union home ministry's move to debar Zakir Naik's Islamic Research Foundation from receiving foreign funding follows the detection of multiple violations of the Foreign Contributions Regulation Act (FCRA) by the NGO, including failure to declare nearly Rs 4.6 crore out of total receipts of Rs 12.65 crore between 2009-10 and 2014-15. Also, IRF, though registered for educational and social purposes and having received foreign contributions for the same, utilized them for religious purposes in violation of Section 8 of the FCRA.
Among the violations mentioned in a home ministry report based on an inspection of its accounts in June 2014 are use of International Islamic Conferences organised in Mumbai from 2007 to 2011 as a platform to announce conversion of people to Islam to garner funds from abroad. The report also refers to objectionable and pro-jihad speeches of Naik and the denial of visa to him by UK and Canada in 2010 after he supported Al Qaeda on Peace TV and stated that "if he, Osama Bin Laden, is fighting the enemies of Islam, I am for him...Every Muslim should be a terrorist".
Also, in a programme at Chennai on January 17, 2009, Naik proclaimed he was proud to be a fundamentalist and that Muslims were terrorists as they were terrorising "anti-social elements" as "ordered" by the Quran. At a meet in 2011 in Mumbai, he said if Islam had been spread by sword, there would not have been 80% Hindus in Hindustan.
As per the home ministry's findings, IRF paid Rs 43.75 lakh to its employee Arshi Asif Qureshi, who was arrested recently by Kerala Police for his alleged role in conversion of 19 persons who left the country to join Islamic State in Afghanistan.
Stay updated on the go with Times of India News App. Click here to download it for your device.
http://timesofindia.indiatimes.com/city/mumbai/Naiks-NGO-used-foreign-edu-funds-for-religious-work/articleshow/55233543.cms
--------
Al-Baghdadi's Call to Attack Saudi Arabia Is a Joke: Arab Coalition Spokesman
4 November 2016
JEDDAH: Daesh's leader Abu Bakr Al Baghdadi's call to his followers to attack Saudi Arabia is a joke, said Arab coalition's spokesman Maj. Gen. Ahmed Al-Assiri on Thursday.
Speaking to CNN, he said: "This terrorist (Al-Baghdadi) tries to push the Islamic world toward a sectarian war, while his group is kidnapping, torturing and beheading Muslims."
Al-Assiri said it is of paramount importance for all Muslims, Sunnis and Shiites, to unite in the fight against Daesh and other terror groups that pose a threat to the future of Muslims around the world.
"Saudi Arabia is regarded as a leader of the Islamic world by millions of Muslims. As such, it completely rejects Iran's attempts to fan sectarianism, which contradicts our goals to see a unified Islamic world," said Al-Assiri.
"We are victims of terrorism and have had our share of their atrocious crimes, not least from Iranian criminals committing terrorist acts against the country and innocent civilians in the Eastern Province" he explained.
These terrorist groups, added Al-Assiri, target the Kingdom, because they want to attack the heart of the Islamic world, represented by the Kingdom, which hosts the Muslims' holiest sites. "The terrorists think that if Saudi Arabia collapses, the entire Islamic world will collapse, and then they can further their agendas, which would be extremely dangerous for the world's security and stability," he said.
Addressing the Syrian issue, he said: "From the beginning of the crisis, we called on the international community to help create a no-fly zone to end the misery of the displaced people in Syria."
If you want to talk about the Syrian crisis "you have to also talk about the Syrian regime and its forces' brutality, the Iranian militias who have been battering the Syrian people and the Russian intervention as well," Al-Assiri pointed out, adding that the Kingdom has been working closely with the international community.
"It is for sure a very difficult and complicated situation because we are late and have missed so many opportunities to defeat the Syrian regime and the Iran-back militias. Now we have to find a solution (in which) the Syrian people will eventually have an upper hand even if the regime remains in power. The final word will be (that of) the people who have already said no to the regime's brutality," Al-Assiri said.
Moving closer to home, Yemen, Al-Assiri rejected claims that the Saudi-led coalition is indiscriminately bombing civilians there.
"Whenever there is a campaign, there are objectives, and our campaign's objective is to avoid civilian causalities. We have initiated the campaign for the protection of the Yemeni people from the Houthi militias who are implementing Iran's agenda. Yet mistakes do happen and we have the courage to admit when they happen," he said, referring to the bombing of the Great Hall in Sanaa, an incident into which Saudi Arabia ordered an investigation.
The outcome of the inquiry, made public, was that a pilot conducted an airstrike based on a tipoff from the Yemeni Army, without informing the coalition's headquarters.
"There was a breach of engagement by someone in the field. The investigating team issued three recommendations. First that the Yemeni Army should investigate who tipped off the pilot with the coordinates of the target. Second, the coalition should review and tighten rules of engagement in order to avoid future similar incidents. And third, the victims of the airstrike must be compensated," he said.
Al-Assiri said the coalition is still waiting for the results of the investigation conducted by the Yemeni Army, and once the results are received, it will take the appropriate measures.
"We will not hide our mistakes. But we also want the world to know that more than 26 million Yemenis have been hijacked against their will by the Houthi militias."
http://www.arabnews.com/node/1006356/saudi-arabia
--------
Terrorism including ISIS major threat to region, Abdullah tells SCO summit
Nov 03 2016
The Chief Executive Abdullah Abdullah said terrorism including the Islamic State of Iraq and Syria (ISIS) terrorist group poses major threat to the region.
Speaking during the Shanghai Cooperation Organization (SCO) summit in Bishkek, Abdulllah said "We are all fully aware that terrorism and extremism, which involves ISIL or Daish, are major threats to our shared peace and stability. Terrorism is the enemy of all humanity, and terrorists belong to no particular ethnicity, region or religion, as they do not recognize borders."
Emphasizing on joint fight to eliminate the menace of terrorism, Abdullah said "There is no good and bad terrorist. We need to fight them together, to assure their defeat."
In other parts of his speech, Abdullah said Afghanistan stands at a new and critical juncture as security and stability continue to be major concerns for our people and the Afghan Government.
In regards to the government's efforts to end the ongoing violence through reconciliation process, Abdullah said "Our sincere endeavors to engage the Taliban and nudge Pakistan to assist the peace process have thus far yielded almost no concrete results.
He said different terrorist and militant groups, with roots beyond Afghan borders, are engaged in a low-intensity conflict across several provinces.
These groups have attempted to disrupt peace and security by committing suicide attacks and killing innocent civilians, Abdullah said, adding that their efforts have failed and they are facing stiff resistance by our brave Afghan National Defence and Security Forces.
In other parts of his speech, Abdullah pointed towards the major Brussels conference on Afghanistan, "The recently held Brussels Conference on Afghanistan was a great success. It was in fact a strong reaffirmation of mutual commitments between the Afghan Government and the international community."
http://www.khaama.com/terrorism-including-isis-major-threat-to-region-abdullah-tells-sco-summit-02208
--------
Religious leaders condemn Halloween celebrations in Punjab schools
November 04, 2016
LAHORE: Religious leaders strongly condemned the celebrations of medieval Christian festival of Halloween in majority of private schools in the provincial metropolis, terming it a grave conspiracy to lead astray the younger generations from the very objectives for which the country was created through millions of sacrifices, and lamented that the rulers had turned a blind eye to poisoning of the country's values.
JI's Secretary General Liaqat Baloch while talking to The News said ignoring the Islamic values and celebrating Pagan and Christian festivals in schools was an enemy conspiracy to poison the raw minds of young children, so that they could be left unable to defend the country against systematic secularisation.
Baloch held the 18th Constitutional Amendment as the key tools of implementing this conspiracy which relegated the education from being a federal subject to the provincial subject, thus breaking the schools away from government's policy control and monitoring, and allowing them to become an easy prey to the Western-funded NGOs pumping in money and incentives for them.
Baloch said JI's education committee was already monitoring the organised moves to spread secularism in the country through poisoning the minds of little schoolchildren by the chains of private schools known for teaching foreign syllabi and would soon call a meeting to chalk out a strategy to make the prime minister and Punjab chief minister realise their constitutional duty towards this vital issue. He said history would never spare the rulers for violating the Constitution, which bound them to promote Islamic ideology and values in the country in every sphere of life.
JUP's Vice-President Zawwar Bahadur said the country's education system was already broken down by the multi-tier education systems for different social classes, while the organised conspiracies to secularise the minds of schoolchildren amounted to adding insult to the injuries of the hapless nation.
He warned the rulers that they would have to be answerable for 'their criminal negligence' towards the vital duty of bringing up the generations in accordance with the Islamic ideology, which was their constitutional obligation towards the nation. He lamented that the 18th Constitutional Amendment paved the way for unbridled implementation of the conspiracies to secularise the society by targeting even the minor schoolchildren in order to digress them from their Islamic values of decency and justice.
JUI-F leader Maulana Amjad Khan said people needed to raise strong voice against targeting the raw minds of schoolchildren to subject them to systematic degeneration of their ideological values. He warned the rulers that future would not spare them from being accountable for leaving the country at the mercy of western funded NGOs.
https://www.thenews.com.pk/print/162283-Religious-leaders-condemn-Halloween-celebrations-in-Punjab-schools
--------
India
Probe 'Bhopal encounter' as per SC rules, demand Muslims
Neeraj Santoshi
Nov 04, 2016
Alleging that there were gaps in different versions about how eight fugitive SIMI operatives were gunned down, a Muslim organisation in Madhya Pradesh on Thursday demanded an independent probe into the incident according to the Supreme Court guidelines for investigating police encounters.
Masood Ahmed Khan, secretary the Madhya Pradesh Coordination Committee for Indian Muslims, said the top court's guidelines states that investigating of police encounters by should be conducted independently following prescribed procedures.
"Agencies investigating an encounter should take into account the guidelines listed by the Supreme Court," he said.
"Until now, it appears that there are many unconnected dots in the whole incident and to ensure a fair and transparent probe into the alleged shootout, we have decided to file a petition in the Supreme Court and want a sitting judge of the top court to investigate the incident."
Pervez Alam, lawyer of the gunned down SIMI operatives, said he was going through the Supreme Court guidelines to see if they were not been followed. "I will file a petition in the high court soon demanding a fair probe by a sitting judge of the high court," he said.
"We will look into the aspects of the case and come up with a detailed argument, which we will put before the court."
In the 6-point guidelines for investigating encounters by police, the top court states that an independent investigation has to be conducted by the criminal investigation department or a police team from another police station other than where the incident occurred and under the supervision of a senior officer.
The guidelines also say that a magisterial inquiry must be held in cases of death in police firing.
http://www.hindustantimes.com/bhopal/probe-bhopal-encounter-as-per-sc-rules-demand-muslims/story-4tN1siCUzm6oEUgJ7CjZaM.html
--------
KPCC flays efforts to repudiate Muslim law
November 4, 2016
The Kerala Pradesh Congress Committee (KPCC) on Thursday said it would resist any move to repudiate the Muslim Personal Law.
Briefing journalists here on Thursday on the deliberations of the party's political affairs committee, KPCC president V.M. Sudheeran said the Sangh Parivar was using its virulent opposition to the ancient law of "triple talaq", the customary practice of divorce in traditional Islam, as a "front" to infringe on the belief and tradition of Indian Muslims.
Full report at:
http://www.thehindu.com/todays-paper/tp-national/kpcc-flays-efforts-to-repudiate-muslim-law/article9303181.ece
--------
Uniform Civil Code: Muslim outfit to organise seminar on November 5
November 3, 2016
With a raging debate going on over the implementation of Uniform Civil Code (UCC) in the country, a national-level Muslim outfit on Thursday said it would organise a seminar here on November 5 on why UCC was against pluralism. The Popular Front of India said it would organise the seminar, 'Common Civil Code is against Pluralism', on November 5 in Chennai.
PFI leaders, including Mohammed Sheikh Ansari, besides the top functionaries of the SDPI, a pro-Tamil outfit, and a women's forum would participate in the seminar, the outfit said in a release. The meet, scheduled to be held at the Reporters' Guild, comes in the backdrop of staunch opposition from several parties, including the main opposition in Tamil Nadu Assembly, the DMK, and Muslim outfits, to UCC.
Full report at:
http://indianexpress.com/article/india/india-news-india/uniform-civil-code-muslim-outfit-to-organise-seminar-on-november-5-3735778/
--------
Pakistan's polity doesn't have capacity to sustain normal ties with India: Shivshankar Menon
Nov 4, 2016
NEW YORK: Pakistan's polity does not have the capacity to sustain a normal relationship with India, former foreign secretary and national security advisor Shivshankar Menon has said as he characterized relations between the two nuclear-armed neighbors as "managed hostility".
"I would characterize (India-Pakistan relations) today as managed hostility, which I hope it stays managed," Menon said in response to a question on relations between the two nations at a panel discussion organised by the 'South Asia centre at New York University' here on Thursday.
On whether he sees any prospect for resolution of the Kashmir issue, Menon, who has been India's high commissioner to Pakistan, replied in the negative.
He said many of the issues relating to Kashmir have been around for a long time and "we know the solutions" to many of them but they seem to be "politically difficult" to serve.
"Today I don't think Pakistan's polity has the capacity to sustain a normal relationship with India. I think there is a very strong institutional interest there," he said.
Menon, who has authored the book 'Choices: Inside the Making of Indian Foreign Policy', however added that his "fear" is that if "it becomes a party political issue in India, which it has not always been, then you have the same dynamic operating."
He emphasized that expectations in India on any improved relations with Pakistan are "very very low" particularly after the 26/11 Mumbai attacks.
Full report at:
http://timesofindia.indiatimes.com/india/Pakistans-polity-doesnt-have-capacity-to-sustain-normal-ties-with-India-Shivshankar-Menon/articleshow/55238761.cms
--------
Bhopal encounter: Villager who saw SIMI men did not see any weapon
by Dipankar Ghose , Milind Ghatwai
November 4, 2016
ON MONDAY, the day after Diwali, when Naresh Pal stepped out of his house in Chandpur village at around 7 am, he saw eight men navigating their way through the fields on the bank of a river about 500 metres away. Pal, 24, who owns farmland and a store in Chandpur village, thought they were fishermen, or villagers from the surrounding area. In the hours that followed, his first instinct proved to be wrong. For Pal, unwittingly, became the first witness in Khejradev panchayat to have spotted the eight SIMI activists who were gunned down, barely three kilometres from Chandpur, hours after they escaped from the Bhopal Central Jail on Monday.
Speaking to The Indian Express, Pal said after the first sighting, he saw three of the men again, about half-an-hour later, at much closer range. "Electricity supply here is intermittent… Since there was electricity in the morning, I went to my fields, near the river, to water the crop. I saw three of the men, on the opposite bank of the river that they had waded through… All three had taken off their trousers and shoes, and were carrying them in their hands… One of them had a bag… I did not see them carrying any weapons. The other five men must have been in the river because I didn't see them… I raised my hand and said 'Jai Shri Ram', but nobody responded," said Pal.
It was only when he returned home at around 8 am, and turned on the television, that Pal came to know about the jailbreak. "I got suspicious… My phone was not working, so I borrowed a phone from another farmer, Gyan Singh. He dialled 100 and got a policeman to speak to me. The policeman asked if I saw the men changing clothes. He asked me to come to Etkhedi, but I said I couldn't," said Pal.
Full report at:
http://indianexpress.com/article/india/india-news-india/simi-bhopal-encounter-jailbreak-simi-men-encounter-3736138/
--------
Arab World
Terrorists Use Chemical Weapons against Civilians in Aleppo Again
Nov 03, 2016
Syrian state news agency, SANA, cited a medical source in Aleppo's General Hospital saying that since the attacks by terrorists on Menyan district in Western Aleppo early Thursday at least eight chemically wounded people with suffocation symptoms have been brought to the hospital.
Five people were killed on Thursday and scores were injured in attacks by terrorists with chemically-armed shells and mortar rounds on government-held neighborhoods in Western Aleppo.
According to local reports, terrorists targeted the neighborhoods of Halab al-Jadida, al-Moukambou, al-Masharqa and the surrounding streets of the Literature Faculty in al-Furqan neighborhood with shells and explosive bullets, killing five people and injuring 46 others including an Al-Alam TV cameraman.
This is not the first time that terrorists in Aleppo used toxic gases against the civilians as a senior Syrian army commander, earlier this week, reported that the terrorists have launched chemical attacks on the civilians in Aleppo.
The commander, Mohannad Haaj, of al-Mahavir Battalion in the Syrian army said on Tuesday that the deployment of toxic gas in Aleppo has the US green light adding that After the terrorists failed "in the Great Epic Operation (Aleppo battle), the US allowed them to use toxic gases against the civilians".
Noting that the terrorists have failed in all their attempts, he said, "The so-called Great Epic Operation of terrorists has scandalously failed since the Syrian army's strategy is to allow the terrorists to enter a region first and then surround and annihilate them all."
Meantime, military sources revealed earlier on Thursday that the Syrian army forces had captured a number of terrorists during operations in a farm in Southern Hama, and seized weapons and ammunition containing toxic gases from them.
The source disclosed that the toxic gas containers seized from the terrorists included also a supply of aluminium, but declined to reveal any further details, including the affiliation of the terrorists.
Northern Hama is the scene of heavy clashes between the Syrian army and terrorists from nearly a dozen groups that mostly operate under Jeish al-Fatah coalition. The umbrella group is mainly comprised of al-Nusra Front (Fatah Al-Sham) terrorists as its backbone.
Back in September, Syria's Envoy to the UN Bashar Al-Jafari warned that the terrorist groups were planning to launch a chemical attack on the civilian population in Aleppo under a false-flag operation in near future.
Full report at:
http://en.farsnews.com/newstext.aspx?nn=13950813001004
--------
Syrian Army Forces Capture More Regions Near Khan al-Sheih
Nov 03, 2016
"The army and its allies started special operations in the Western Ghouta of Damascus on Thursday morning and targeted the terrorists' positions in the Northern farms of Khan al-Sheih region until noon," a field source said.
"The army troops managed to liberate most of the farms located in the Northern parts of Khan al-Sheih and inflicted heavy tolls and damage on the militants," the source added.
According to the source, al-Taqi mosque and the nearby districts in the Northern parts of Khan al-Sheih farms were among the regions freed by the army and popular forces on Thursday.
Earlier today, the Syrian army troops continued operations to reestablish security in regions near the capital city of Damascus and seized back new regions in Western Ghouta.
"After heavy clashes with the terrorists which killed and wounded dozens of them, the Syrian pro-government forces seized control of more regions near Khan al-Sheih," a military source said on Thursday.
"The army and its allies continued their operations to liberate Khan al-Sheih and regained control over 3 sq/km of nearby farms in al-Buwaizeh in the Southeastern parts of Damascus and tightened the noose on the terrorists," he added.
Noting that the final stage of operations to free Khan al-Sheih will start soon, the source said that the army soldiers could also defuse the militants' attempts to break the siege, and destroyed a tank and several military vehicles of the terrorists at the gates of Khan al-Sheih town.
Full report at:
http://en.farsnews.com/newstext.aspx?nn=13950813000889
--------
Army Seizes Chemical Weapons from Terrorists in Southern Hama
Nov 03, 2016
The source disclosed that the toxic gas containers seized from the terrorists included also a supply of aluminium, but declined to reveal any further details, including the affiliation of the terrorists.
Northern Hama is the scene of heavy clashes between the Syrian army and terrorists from nearly a dozen groups that mostly operate under Jeish al-Fatah coalition. The umbrella group is mainly comprised of al-Nusra Front (Fatah Al-Sham) terrorists as its backbone.
Other reports from Southern Hama also said that the Syrian fighter jets pounded Ahrar al-Sham terrorist group's positions in Hor Benafseh town which killed and wounded dozens of terrorists and smashed their military equipment and weapons.
Meantime, a military source in Northern Hama said that the army units, backed by the air force, attacked Jeish al-Fatah terrorists' positions in Taybat al-Imam, al-Buwaizeh, Tabarat al-Dabieh, Tal Huwair, al-Masaseneh, al-Zalaqiyat, Hasraya, Tal al-Mantar and Mourek which killed a large number of militants and destroyed their weapons and ammunition.
A senior Syrian army commander disclosed on Tuesday that the terrorists have launched chemical attacks on the civilians in Aleppo with the US permission.
"After the terrorists failed in the Great Epic Operation (Aleppo battle), the US allowed them to use toxic gases against the civilians," Mohannad Haaj, a member of the Syrian parliament and commander of al-Mahavir Battalion of the Syrian army, said.
Jeish al-Fatah coalition of terrorist groups launched chemical attack on residential areas under the control of the government troops in Aleppo city on Saturday, inflicting casualties on the civilian population in the region.
According to medical sources, Jeish al-Fatah fired chemically armed shells at government positions and residential areas in the Assad Military-Engineering Academy and 3,000-unit Housing Complex near the academy in Southwestern Aleppo city three times in the last several hours, leaving at least a civilian dead and 36 more vitally wounded.
"Heavy attacks of the militants have blocked ways to transfer the poisoned and injured civilians to medical centers," the medics said.
"Based on evidence and the symptoms reported about the affected population, Jeish al-Fatah has used Chlorine in its chemical attacks this morning," the medical sources underlined.
Late in September, the Russian Defense Ministry said that it had received information that terrorists were planning chemical attacks against the Syrian army and residential areas in Aleppo.
Full report at:
http://en.farsnews.com/newstext.aspx?nn=13950813000919
--------
Fight to the end, IS boss Baghdadi urges Mosul jihadists
November 03, 2016,
The reclusive leader of the Islamic State group broke a nearly year-long silence as Iraqi forces closed in on Mosul Thursday, urging his jihadists to hold their ground.
It was Abu Bakr al-Baghdadi's first statement since Iraqi forces launched a massive offensive on October 17 to retake Mosul, where the IS chief declared the group's "caliphate" two years ago.
"Do not retreat," Baghdadi said in a purported message released by an IS-affiliated outlet. "Holding your ground with honour is a thousand times easier than retreating in shame."In June 2014, days after jihadist fighters swept across swathes of Iraq, he made a rare public appearance in Mosul and announced the creation of an Islamic "state" straddling Iraq and Syria.
The "caliphate" has been shrinking steadily since last year and Iraqi forces earlier this week reached the outskirts of Mosul, the jihadists' last major stronghold in Iraq.
If authentic, the recording entitled "This is what God and his messenger have promised us", would be Baghdadi's first since December 2015 and a rare sign of life.
Rumours have swirled about the Iraqi jihadist leader's health and movements but his whereabouts are unclear.
IS has fallen back when massively outnumbered in recent battles, giving up some of its emblematic bastions -- such as Fallujah in Iraq and Dabiq in Syria -- without following its own apocalyptic ideology of fighting to the bitter end.
Eastern edge of Mosul
In his latest message, which is undated but makes reference to events that are at most a few weeks old, Baghdadi also calls for attacks against Saudi Arabia -- a favourite target -- and Turkey.
Ankara has troops stationed at a base just outside Mosul and Turkish President Recep Tayyip Erdogan's escalating rhetoric has raised fears of an expanded Turkish military intervention in Iraq.
Baghdadi also said that his followers who could not travel to Syria or Iraq should aim for Libya and urged all IS fighters to remain united in adversity.
He attempted to stir up sectarian resentment by referring to religious flags and slogans of Shiite fighters among Iraqi forces and by accusing other Sunni groups and politicians of treason.
Full report at:
http://nation.com.pk/international/03-Nov-2016/fight-to-the-end-is-boss-baghdadi-urges-mosul-jihadists
--------
Pentagon claims Baghdadi losing control of troops
4 November 2016
ISIS leader Abu Bakr al-Baghdadi is losing the ability to control his troops as the battle for Mosul rages on, a US military official said Thursday. The group earlier released an audio message purportedly of Baghdadi urging his followers not to retreat as Iraqi security forces continue their push toward the northern Iraqi city.
Colonel John Dorrian, a spokesman for the US-led coalition attacking the ISIS in Iraq and Syria, said although the military had not officially verified the recording's authenticity, it was "clearly" an effort for ISIS leaders to communicate with fighters. "One of the interesting things that we have seen in the English translation of this is that Baghdadi is saying, 'Don't fight amongst yourselves,'" he told reporters. "This is the type of thing that a leader who is losing command and control and ability to keep everybody on the same page says. We don't believe it is going to work."
Rumors have abounded about the ISIS leader's health and movements but his whereabouts are unclear. The coalition still doesn't know where Baghdadi is, Dorrian said. "If we knew where he was, he would be killed at once. So we don't know where he is." The coalition has also seen a shrinking of ISIS propaganda, the colonel added, with the group's publications dwindling from 700 in August 2015 to 200 this year.
Full report at:
https://english.alarabiya.net/en/News/middle-east/2016/11/04/Pentagon-Baghdadi-losing-control-of-his-troops.html
--------
Tough Infighting Reported among US-Supported Terrorists in Aleppo
Nov 03, 2016
Local sources reported clashes between Nour al-Din Zanki and Fastaqam Kama Omert terrorist groups in militant-held regions of Aleppo city, saying that the infighting killed and wounded 26 terrorists, among them Ahmad Sabra, a Nour al-Din Zanki ringleader. Based on reports, the clashes started last night after a field official of Nour al-Din Zanki named Abu Bashir Ma'arah was arrested by a group affiliated to Fastaqam Kama Omert and intensified with Nour al-Din Zanki's attacks. Also Ahmad Bashmarka, another leader of Nour al-Din Zanki was captured by rival militants during the clashes.
Other reports from the region said that Nour al-Din Zanki has sent a large cache of military equipment to its forces deployed near the bases of Fastaqam Kama Omert in Babasqa village in the Northern parts of Idlib. The terrorist group also arrested Ala Saqar, a ringleader of Fastaqam Kama Omert, and imprisoned him.
Certain media activists affiliated to the Syrian dissidents also said that Nour al-Din Zanki, Fatah al-Sham (formerly known as al-Nusra) Front and Kata'eb Abu Amareh forced members of Jibhat al-Shamiyeh terrorist group who had gathered to settle the differences to leave the region.
Full report at:
http://en.farsnews.com/newstext.aspx?nn=13950813000784
--------
Jeish Al-Fatah Sends More Forces to Western Aleppo
Nov 03, 2016
A Syrian military source was quoted by al-Masdar News as saying that a large number of Jeish al-Fatah fighters have reached al-Menyan and al-Assad regions in Western Aleppo.
Reports said that Jeish al-Fatah is preparing for a heavy attack in Western Aleppo in coming days.
Meantime, the sources said that the Desert Hawks and Tiger Force have also stationed several convoys of their forces in Western Aleppo in recent days.
Also, a large convoy of the Palestinian Liwa al-Quds force arrived in Aleppo on Thursday to help the Syrian army in its anti-terrorism operations in the Western parts of the Northern province.
Media reports said that hundreds of Liwa al-Quds forces have been deployed in Western Aleppo to participate in operations to establish security in al-Menyan, Jam'iyat al-Zahra, Dhahiyeh al-Assad and Assad Military-Engineering Academy regions.
The precise number of Liwa al-Quds forces stationed in Western Aleppo has not been declared but certain media activists have estimated the number to stand between 1,500 to 5,500.
Other field sources also said that almost 4,000 logistical forces have been sent to the Northern fronts of Aleppo.
Based on Thursday reports, fierce clashes erupted between the Syrian army forces and the terrorist groups in Jam'iyat al-Zahra and Assad Military-Engineering Academy regions.
The Syrian army also repelled the terrorists' offensives in New Aleppo, Menyan and Dhahiyeh al-Assad, killing and wounding tens of militants and destroying a number of tanks and military vehicles.
The army forces also blew up the terrorists' suicide cars in the aforementioned regions before approaching their positions.
Also, severe clashes were reported near Housing Project 1070 and 3,000-Unit Housing Complex between the militants and the army but the terrorists failed to make a tangible advance in the region.
Also, a field source dismissed reports claiming that the terrorists have occupied New Aleppo region.
Army sources said earlier this week that the Syrian army troops and popular forces repelled over a dozen massive offensives of over 16,000 militants on their positions in Western and Southwestern parts of Aleppo city in the last few days.
"Jeish al-Fatah has launched several rounds of attacks, codenamed the Great Epic Operation, with over 16,000 militants to break the army's siege of their comrades in the Eastern districts of Aleppo city but failed to do so," the sources said on Monday.
"The Syrian government forces have fended off the entire attacks of Jeish al-Fatah carried out from three flanks of Ramouseh, Assad Military-Engineering Academy and Artillery Academy Building," the sources added.
Full report at:
http://en.farsnews.com/newstext.aspx?nn=13950813000977
--------
Saudi man gets 15 years for Shiite cleric support
November 04, 2016
RIYADH : A court in Riyadh has sentenced a Saudi national to 15 years in prison for supporting executed Shiite cleric Nimr al-Nimr, local media reported on Thursday.
Nimr and three other members of the kingdom's minority Shiite community were among 47 people convicted of terrorism and executed on a single day in January.
The executions provoked anger among Shiites and concern in the West, and raised tensions between Sunni-dominated Saudi Arabia and Shiite Iran.
Nimr was a driving force behind protests among Shiites that began in 2011.
Those protests later developed into a call for equality in the kingdom where Shiites, most of whom live in the kingdom's east, complain of marginalisation.
Al-Riyadh newspaper did not name the convicted man, who it said took part "in rallies and marches" in the Shiite-dominated Gulf coast district of Qatif.
He was also convicted of "chanting anti-state slogans and sympathising with the deceased Nimr", as well as helping to block roads and burn tyres, it said.
Full report at:
http://nation.com.pk/international/04-Nov-2016/saudi-man-gets-15-years-for-shiite-cleric-support
--------
Lebanon's Hariri named Prime Minister, wins speaker's support
November 04, 2016
BEIRUT - Lebanon's president asked Sunni Muslim leader Saad al-Hariri to form a new government on Thursday after he won the support of a majority of MPs and the endorsement of the influential parliament speaker.
Hariri's nomination is part of a political deal that resulted in the election of Christian leader Michel Aoun, a close ally of the Iran-backed group Hezbollah, as head of state on Monday, ending a 2-1/2 year long presidential vacuum.
A big concession on the part of Hariri, the deal has underscored Shi'ite Muslim Hezbollah's dominant position in Lebanon and the diminished role of Hariri's main regional backer, Saudi Arabia, which appears more focused on confronting Iranian influence elsewhere in the region.
The quick formation of a new administration with cross-party support will help revive government in a country where political conflict has paralysed decision-making, economic development and basic services, and raised fears for its stability.
The central bank governor said Aoun's election and the formation of a government would boost confidence in the economy and attract foreign aid: Lebanon is hosting some 1.
5 million refugees from the war in neighbouring Syria.
Hariri, 46, said he aimed for the quick formation of a government of "national accord".
Speaking at the presidency, he said "we owe it to the Lebanese to start working as soon as possible to protect our country from the flames burning around it, to reinforce its immunity in the face of terrorism".
Lebanon has been buffeted by instability from the war in neighbouring Syria, where Hezbollah is fighting in support of President Bashar al-Assad.
Jihadists have mounted attacks in Lebanon targeting Shi'ite areas and the army.
Underscoring Hezbollah's continued mistrust of Hariri, who remains critical of its role in Syria, the group did not name him as prime minister, though it is expected to take part in his cabinet.
Full report at:
http://nation.com.pk/international/04-Nov-2016/lebanon-s-hariri-named-prime-minister-wins-speaker-s-support
--------
Belgian minister prefers to pay fine than granting visas to Syrian family
November 04, 2016
BRUSSELS - Belgium's immigration minister has said he is ready to sell off his office furniture to pay daily fines rather than honour a court order to issue tourist visas to a Syrian family from war-battered Aleppo.
Theo Francken's antics on Facebook, where he posted a photo of himself pretending to work in a bare attic after bailiffs delivered the court order, have angered lawyers for the family, which wants to escape Aleppo where fighting has grown intense.
"He is placing himself above the law," counsel Thomas Mitevoy told DH newspaper on Thursday after the Flemish nationalist politician joked he would let bailiffs empty his office rather than pay the 4,000 euros ($4,440) a day which his ministry was ordered to pay until it issues the four visas.
Full report at:
http://nation.com.pk/international/04-Nov-2016/belgian-minister-prefers-to-pay-fine-than-granting-visas-to-syrian-family
--------
Syria rebels renew Aleppo attack
November 04, 2016
ALEPPO - Syrian rebels renewed their bid to break a government siege of eastern Aleppo on Thursday, shelling regime-held parts of the city hours before a brief Russian-declared ceasefire was due to begin.
State media said at least 12 people had been killed in rebel rocket and gunfire on regime-controlled neighbourhoods, after an assault that began with a double car bomb attack.
Rebels have been battling for nearly a week in a desperate bid to break the three-month siege but have so far been unable to push through government lines in western Aleppo.
The opposition forces on Thursday announced a new phase in their assault on government forces in the city's western outskirts.
"We have started the second phase in our fight to break the siege with heavy artillery fire" on several neighbourhoods, rebel fighter Abu Hamza told AFP on the edges of Aleppo.
Thick black smoke billowed out of the Dahiyet al-Assad district, where rebels had lit tyres to try to shield themselves from warplanes circling above.
The Syrian Observatory for Human Rights monitor said the "most intense fighting" was on the edges of Halab al-Jadida neighbourhood.
The clashes on Aleppo's western outskirts could be heard in the city's eastern districts, an AFP correspondent there said.
No aid has reached eastern Aleppo city's more than 250,000 residents since early July, and there are reports of shortages and price hikes.
The Observatory said government forces were carrying out air strikes in areas where clashes were underway, but that the rebel-held neighbourhoods in the east of the city were largely quiet.
State news agency SANA said rebel fire on Thursday killed at least 12 people and wounded more than 200.
The Observatory put the toll at 15 dead, saying four children were among them, bringing to 69 the total number of civilians killed in rebel fire since Friday, including 23 children.
State media also said eight people were being treated for suffocation after "terrorists fired poisonous gases" at the village of Minyan west of Aleppo.
Once Syria's economic powerhouse, Aleppo has been divided since mid-2012 between government control in the west and rebels in the east.
A Russian-backed army offensive in September to recapture the whole city killed hundreds of civilians and hit infrastructure including the east's few remaining health facilities.
It provoked international recriminations, particularly against Russia, with the EU accusing it of actions that "may amount to war crimes".
Full report at:
http://nation.com.pk/international/04-Nov-2016/syria-rebels-renew-aleppo-attack
--------
Election body in Kuwait disqualifies 46 parliamentary candidates
4 November 2016
The Electoral Commission for National Assembly Elections in Kuwait has disqualified 46 parliamentary candidates, sources in Kuwait have revealed. Reports carried in the local media said the decision was taken on Tuesday.
According to Kuwait's Al-Jarida newspaper, the reasons behind the disqualification include criminal cases, health condition, failure to correct their status and loss of integrity.
Full report at:
https://english.alarabiya.net/en/News/middle-east/2016/11/04/Election-body-in-Kuwait-disqualifies-46-parliamentary-candidates.html
--------
Saudi forces eliminate Houthi snipers on border
4 November 2016
Saudi Arabian forces have targeted and killed several Houthi snipers who were positioned inside the Yemeni borders facing al-Doud Mountain.
The Al-Mwasim region remained relatively calm since last night as the Apache helicopters and Saudi artillery were able to repulse in the afternoon an attack led by Houthi militias and Republican Guards as they were trying to reach Saudi borders. They were targeted and dozens were killed in the operation.
The Coalition aircraft also destroyed two boats belonging to the Houthis. The boats had set off from the Mocha port in Yemen toward international waters, threatening marine navigation.
According to the Coalition, verification was done on the information regarding the existence of two Houthi surveillance boats equipped with radars and a 12.7 caliber machine gun in front of the Mocha coast. The two boats were spotted and targeted on Wednesday by the Apache helicopter; a thermal missile was launched from the boats.
Meanwhile, it has also been revealed that the Houthi militias on Wednesday performed the funeral of one of their important leaders, Brigadier General Mohammed Abdul Rahman al-Khalid, commander of the Second Brigade of the border guards affiliated to the rebels.
Khalid was meeting with a number of field and military leaders of the Houthi and Saleh militias in the Zaidiyyah security department building when the Coalition aircraft targeted the building.
Full report at:
https://english.alarabiya.net/en/News/middle-east/2016/11/04/Saudi-Forces-target-Houthi-snipers-on-Yemen-border.html
--------
Saad Hariri named Lebanon's new prime minister
3 November 2016
Leading Sunni political figure Saad Hariri was named as Lebanon's new prime minister on Thursday, the office of President Michel Aoun announced.
"After the necessary parliamentary consultations... the president has entrusted Saad Hariri with the formation of a government," said a statement read by the president's chief of staff Antoine Choukeir.
The nomination comes days after Aoun was elected, with Hariri's surprise support, ending a vacuum of more than two years.
Hariri was endorsed by 110 members of the 127-seat parliament, with only the Shiite Hezbollah movement, the Syrian Social National Party and the Lebanese Baath party -- all supporters of Syria's government -- declining to back him as prime minister.
But his return was assured as part of the deal he struck to throw his support behind former general Michel Aoun, a Hezbollah ally.
Full report at:
https://english.alarabiya.net/en/News/middle-east/2016/11/03/Saad-Hariri-named-Lebanon-s-new-prime-minister-.html
--------
South Asia
NATO airstrike kills 30 Afghan civilians, officials say
November 03, 2016
A NATO airstrike killed at least 30 Afghan civilians, including women and children, on Thursday in the volatile northern province of Kunduz, officials said, after a Taliban assault there left two American soldiers dead.
The airstrike, which occurred early Thursday, triggered emotionally-charged protests in the provincial capital, with the victims' relatives rallying outside the governor's office while carrying the bodies of dead children.
The carnage underscores worsening insecurity after the Taliban last month overran Kunduz city for the second time in a year, as NATO-backed Afghan forces struggle to beat back the insurgents."Afghan forces and coalition troops conducted a joint operation against the Taliban insurgents," provincial spokesman Mahmood Danish told AFP. "In the bombardment 30 Afghan civilians were martyred and 25 others were wounded."
Police spokesman Mahmoodullah Akbari gave the same toll to AFP, adding that the dead included infants aged as young as three months and other children.
"They were asleep when their house came under attack by coalition troops," Akbari said.
In a brief statement on Twitter, NATO conceded it was behind the airstrike.
"Airstrikes were conducted in to defend friendly forces under fire. All civilian casualty claims will be investigated," it said.
The strike occurred on the outskirts of the city after a firefight killed two US soldiers and three Afghan special forces during an anti-Taliban operation in Kunduz.
It was not immediately clear if the two incidents were related.
The firefight occurred as American soldiers were assisting Afghan troops to clear a Taliban position and disrupt the group's operations in Kunduz, US forces said in a separate statement.
"On behalf of all of US Forces - Afghanistan, today's loss is heartbreaking and we offer our deepest condolences to the families and friends of our service members who lost their lives today," said John Nicholson, the top US and NATO commander in Afghanistan.
"Despite today's tragic event, we are steadfast in our commitment to help our Afghan partners defend their nation," he added, without disclosing the names of the dead soldiers.
Forgotten Conflict
The killings come just days before the US presidential election.
During three lengthy debates between presidential candidates Hillary Clinton and Donald Trump, Afghanistan got scarcely a passing mention -- even though the situation there will be an urgent matter for the new president.
Either one of them will inherit America's longest war with no end in sight.
The US military, which leads a NATO mission to train and assist local forces after their combat mission ended in 2014, often gives upbeat assessments about Afghan military performance.
But as Afghan military forces near the end of a second year leading security operations without full NATO assistance, they are sustaining heavy casualties.
The Taliban's apparent strategic goal in 2016 is to seize another provincial capital like they briefly did in Kunduz last year, in a stinging blow to Afghan forces.
They have launched multiple assaults in recent months including in Kunduz, Lashkar Gar in poppy-growing Helmand province and Tarinkot, the capital of Uruzgan province.
The worsening conflict has prompted US forces to step up airstrikes to support their struggling Afghan counterparts, fuelling the perception they are increasingly being drawn back into the conflict.
http://nation.com.pk/international/03-Nov-2016/nato-airstrike-kills-30-afghan-civilians-officials-say
--------
Two US military personnel, 16 Afghans killed in clash, police say
November 03, 2016,
KUNDUZ: Two US service members were killed on Thursday while helping Afghan security forces fighting the Taliban around the northern city of Kunduz, the US military said, while Afghan officials reported at least 16 civilians were killed.
Although the US military gave no details, Afghan officials said there had been heavy fighting about 5 km (3 miles) from the city centre overnight.
The Taliban said in a statement a US air strike had destroyed many houses and killed women and children.
There were angry protests by civilians who brought the bodies of at least 16 dead into Kunduz, Mafuzullah Akbari, a police spokesman said.
The deaths underline the precarious security situation around Kunduz, which Taliban fighters managed to enter last month, a year after they briefly captured the city in their biggest success in the 15-year long war.
The US military gave no details on the identity of the two personnel who were killed or what units they served with and there was no immediate detailed comment on the circumstances of their deaths.
Full report at:
http://nation.com.pk/international/03-Nov-2016/two-us-military-personnel-16-afghans-killed-in-clash-police-say
--------
Islamists deny involvement in attack on Bangladesh Hindus, blame administration
2016-11-03
The 'Ahle Sunnat Wal Jamaat', the Islamist organisation whose Brahmanbarhia chapter organised a rally protesting an alleged social media post insulting Islam, has denied being involved in the hate attacks on the Hindus.
Hundreds of people ransacked 15 temples and looted and vandalised more than a hundred houses of the religious minority group in Nasirnagar Upazila on Sunday over a purported Facebook post by a 30-year-old Hindu man.
In a media briefing on Thursday, its coordinating body's Member Secretary Mosaheb Uddin Bakhtiar claimed they had held a 'peaceful rally' and no-one from that rally took part in the attacks.
"Local Awami League leaders, additional superintendent of police, Upazila executive officer, Upazila chairman attended the rally. The administration even thanked Ahle Sunnat Wal Jamaat for holding a peaceful rally," he told the press conference in Chittagong, known to be a strong-hold of the outfit.
Bakhtiar claimed another rally was held under the banner 'Khanti (original) Ahle Sunnat Wal Jamaat' in the area on that day, whose organisers are loyal to Qawmi madrasa-based group Hifazat-e Islam.
This outfit had unleashed large-scale violence from its 2013 rally in Dhaka's Motijheel.
"A peaceful rally was being held while a group of people attacked Hindus," Bakhtiar added.
He blamed the administration's negligence for the attack. "In spite of the tension, the administration did not take security measures. They attended the rally. Why were they not there (where the attacks took place)? "
Full report at:
http://bdnews24.com/bangladesh/2016/11/03/islamists-deny-involvement-in-attack-on-bangladesh-hindus-blame-administration
--------
Bangladesh police arrest militants who supplied arms for cafe attack
Dhaka
November 3, 2016
Bangladesh police on Thursday claimed to have arrested four persons belonging to banned militant outfit Jamaatul Mujahideen Bangladesh (JMB), who allegedly supplied arms for the Gulshan terror attack, media reports said.
Police spokesperson Masudur Rahman said the arrests were made from the capital's Darus Salam area late on Wednesday and identified them as Abu Taher, 37, Mizanur Rahman, 34, Selim Mia, 45 and Toufiqul Islam, 32.
Full report at:
http://www.business-standard.com/article/news-ians/bangladesh-police-arrest-militants-who-supplied-arms-for-cafe-attack-116110301387_1.html
--------
PM warns of tougher action against any mayhem like 2015
November 03, 2016
Prime Minister Sheikh Hasina today warned of tougher actions against any attempt to create disorder in the name of politics under orchestrated plots like that of the 2015 one, staged by BNP.
"It was the wrong decision on the part of Khaleda Zia to boycott the general election in 2014. A political party must pay itself for any wrong decision of its own," she said while addressing a discussion organised by Bangladesh Awami League marking the jail killing day at Krishibid Institute here.
Sheikh Hasina, also the president of Awami League, said people of the country resisted them in 2015 when they tried to take revenge of their wrong decision on people and "in future people will resist any such attempt (as well)".
The premier said BNP and anti-liberation forces thought of sending Awami League to oblivion through killing Bangabandhu, the four national leaders and thousands of party leaders and workers in 1975 and afterwards.
"But, they failed to do it as the root of Awami League is in deep of the people of the country," she said.
"In the past many quarters tried to destroy Awami League, but failed. They will not be successful in doing so in future as well," she said.
On this day in 1975, four national leaders - Bangladesh's first Prime Minister Tajuddin Ahmed, Syed Nazrul Islam, AHM Kamruzzaman and Captain Monsur Ali, who led the War of Liberation in 1971, were brutally killed in captivity inside the Dhaka Central Jail.
The meeting, chaired by Sheikh Hasina herself, observed one-minute silence in memory of Father of the Nation Bangabandhu Sheikh Mujibur Rahman, his wife Begum Fazilatunnesa Mujib, martyrs of August 15 and the four national leaders.
Full report at:
http://www.thedailystar.net/country/pm-warns-tougher-action-against-any-mayhem-2015-1308928
--------
Protest against B'baria attack continues
November 04, 2016
Sammilito Samajik Andolon (SSA) and Bangladesh National Hindu Grand Alliance yesterday condemned the recent attack on the Hindus in Brahmanbaria and demanded exemplary punishment of the attackers.
At separate human chains in the capital, they also demanded an impartial probe into the incident.
At the human chain of SSA in the capital's Shahbagh, Pankaj Bhattacharya, president of Oikya Nap, urged the government to stand beside the victims for the sake of the spirit of the Liberation War.
Ziauddin Tariq Ali, SSA acting president, urged all to come forward to resist such kind of attack.
Full report at:
http://www.thedailystar.net/city/protest-against-bbaria-attack-continues-1309300
--------
Myanmar arms non-Muslim civilians in Rakhine
November 04, 2016
Authorities in Myanmar say security forces have begun arming and training non-Muslim residents in the north of Rakhine state to counter an allegedly growing threat from fighters belonging to the ethnic Rohingya minority group.
Human rights advocates say the move could lead to more conflict and abuses against civilians in Rakhine.
Colonel Sein Lwin, Rakhine police chief, told Reuters news agency on Wednesday that his force had started recruiting new "regional police" from among Buddhist Rakhine and other non-Muslim ethnic minorities in the border town of Maungdaw.
Candidates who did not meet the educational attainment standards, or criteria such as minimum height, required for recruitment by the regular police would be accepted for the scheme, he said.
"But they have to be the residents," said Sein Lwin. "They will have to serve at their own places."
Min Aung, a minister in Rakhine parliament and a member of Aung San Suu Kyi's National League for Democracy party, said only citizens would be eligible to sign up for the police training, ruling out the 1.1 million Rohingya living in Rakhine, who are denied citizenship by the government.
Police will also start recruiting civilians in Sittwe, Rakhine state's capital, next week.
Lin Lin Oo, a police official, said that initially 100 recruits aged between 18 and 35 would undergo an accelerated 16-week training programme in Sittwe on November 7.
Authorities said the auxiliary recruits would not form a new "people's militia", like those that fight in ethnic conflicts elsewhere in Myanmar.
Such militias - which are often accused of abuses against civilians - raise their own funds and are overseen by the army. The new recruits in Rakhine will be paid and come under the control of the border police.
Communal tensions
Human rights organisations and a leader of the stateless Rohingya told Reuters that the move risked sharpening intercommunal tensions in a region that has just seen its deadliest month since 2012, when hundreds of people were killed in clashes between Muslims and ethnic Rakhine Buddhists.
Soldiers have poured into the northern region along Myanmar's frontier with Bangladesh following attacks on three border posts on October 9 in which nine police officers were killed.
Security forces have locked down the area - shutting out aid workers and independent observers - and conducted sweeps of villages in Maungdaw, where the vast majority are Rohingya.
Official reports say five soldiers and 33 alleged fighters have been killed.
READ MORE: UN: Food aid for 80,000 Rohingya blocked by Myanmar
The UN has called for an investigation into allegations that security forces have killed, raped and arbitrarily detained thousands of Rohingya civilians and razed their homes to the ground in a crackdown following the October 9 attacks.
Full report at:
http://www.aljazeera.com/news/2016/11/myanmar-arms-muslim-civilians-rakhine-state-161103071811045.html
--------
TV reporter killed in an explosion in Helmand province of Afghanistan
By GHANIZADA - Fri Nov 04 2016
A television reporter was killed in an explosion triggered by an Improvised Explosive Device (IED) in southern Helmand province of Afghanistan.
According to the local security officials, the incident took place earlier today in Lashkargah city, the provincial capital of Helmand province.
The officials further added that the reporter was killed after his vehicle struck the IED in the area where intense fighting erupted last night.
The Ariana Television confirmed that one of its reporter, Nematullah Zaheer, was killed in the line of duty, confirming that the reporter was killed in a roadside bomb explosion.
"We lost a brave reporter, Nematullah Zaheer, in line of duty. Zaheer was targeted by a roadside bomb in Helmand," Ariana News said in a Twitter post.
The Chief Executive Abdullah Abdullah condemned the killing of Zaheer, saying the death of Zahir is a major loss for the southern provinces of the country.
The anti-governmetn armed militant groups have not commented regarding the incident so far.
Full report at:
http://www.khaama.com/tv-reporter-killed-in-an-explosion-in-helmand-province-of-afghanistan-02211
--------
Russia to support Afghanistan in all sectors: Abdullah
Nov 04 2016,
Russia has reaffirmed commitment to support Afghanistan in all sectors as the the Chief Executive Abdullah Abdullah and the Russian Prime Minister Dmitry Medvedev met on the sidelines of the Shanghai Cooperation Organization (SCO) summit to discuss the bilateral cooperation between Kabul and Moscow.
The Office of the Chief Executive said the two sides discussed regarding the SCO summit and bilateral cooperation between the two nations.
Hailing Moscow's efforts for maintaining peace and stability, Abdullah said the SCO plays a key role for the regional peace and fight agianst terrorism.
Pointing towards the improved relations between Kabul and Moscow, Abdullah said Moscow has supported Afghanistan in fight agaisnt Al Qaeda and terrorism before the Taliban regime was toppled but emphasized that the relations have further improved in the past 15 years.
Abdullah further added that Afghanistan witnesses developments in different sectors despite grappling with the fight against terrorism.
Full report at:
http://www.khaama.com/russia-to-support-afghanistan-in-all-sectors-abdullah-02210
--------
Pakistan
Sindh to monitor people returning from Afghanistan, Iran and Syria
HABIB KHAN GHORI
November 04, 2016
KARACHI: The apex committee has decided to launch a crackdown on drug dealers and criminals involved in street crime besides compiling a list of people, particularly seminary students, who have been to Afghanistan, Iran and Syria in recent years.
In its 17th meeting held at CM House on Thursday, the apex committee also decided that the names which had been put on fourth schedule and those of 3,023 proclaimed offenders would be shared with federal and provincial agencies to monitor their activities and arrest them.
The meeting, which was chaired by Chief Minister Syed Murad Ali Shah, was attended by Sindh Governor Dr Ishratul Ibad, Corps Commander Lt Gen Naveed Mukhtar, advisers to CM Maula Bakhsh Chandio, Murtaza Wahab, Chief Secretary Siddque Memon, Home Secretary Shakeel Mangnijo, DG Rangers Maj Gen Bilal Akbar, Sindh IG A.D. Khawaja, Additional IG Mushtaq Maher, CTD chief Sanaullah Abbasi, provincial heads of intelligence agencies and Prosecutor General Shahadat Awan and others.
The chief minister gave a go-ahead for the upgrade of 1,000 closed-circuit television (CCTV) cameras to 12 mega pixel and assured the law enforcement agencies of his support to make Karachi one of the most peaceful cities in the world.
Earlier, the chief minister said that the ongoing operation against terrorists, hitmen, extortionists, and kidnappers for ransom produced encouraging results. But it did not mean that the target had been achieved for which "we have to formulate a strategy with collective wisdom."
The committee was of the opinion that criminals involved in street crime did not enjoy any group's backing but they became nursery for major criminal activities with the passage of time if they were not crushed.
It was said 1,400 criminals, who had been granted bail in cases of heinous crimes due to lack of evidence, were found involved in street crimes along with the drug mafia and traffickers and financing terrorists gangs in the city.
Taking up the issue of the people whose names have been put on the fourth schedule, the meeting decided that their security, if given, would be withdrawn and their activities would also be monitored and if some of them were in government service would be issued show-cause notices before any action. It was also decided to share the lists of persons on fourth schedule with other agencies, provinces and also with the federal government.
In the meeting it was also pointed out that there were some 3,023 proclaimed offenders and Prosecutor General Shahadat Awan was asked to share their list with the Rangers, police, intelligence agencies, federal agencies and other provincial governments for their arrest.
The meeting also deliberated the serious issue of illegal immigrants living in Sindh. It was decided that the federal government would be requested to give powers to the police for registering an FIR against illegal immigrants as at present only the FIA could proceed in this regard.
On the occasion, police IG A.D. Khowaja informed the committee that selection of 8,000 policemen had been finalised through an exam conducted by the NTS in which army officials were also inducted and being sent to Risalpur for training.
The corps commander said he had made necessary arrangements for proper training of newly recruited policemen. He added that he was handing over six armoured personnel carriers and 500 weapons to the police.
The police chief said he needed 400-square-yard land in the city to establish a forensic lab. The corps commander said he would talk to the DHA and would try his best to arrange land for the purpose.
The apex body decided that the 93 seminaries, which were reportedly supporting terrorists, would be put on alert to monitor their activities, visitors and funding and the sub-national groups involved in criminal activities and working for terrorists would also be taken to task by launching a joint operation of the Rangers and police.
Maj Gen Bilal Akbar briefed the meeting on the Rangers' performance and targeted operations. He said the Rangers had established well-equipped checkpoints at the Sassui Bridge on near Ghaggar and on the Sindh-Punjab border at Kot Sabzal while a checkpoint at Hub was under construction.
Governor Dr Ibad said the CCTV cameras installed all over the city must be upgraded as that was the only way to monitor the entire city.
http://www.dawn.com/news/1294172/sindh-to-monitor-people-returning-from-afghanistan-iran-and-syria
--------
Unlike PTI, PPP won't surrender in fight for accountability: Bilawal
November 04, 2016
Pakistan People's Party (PPP) Chairman Bilawal Bhutto Zardari on Thursday said Pakistan Tehreek-e-Insaf (PTI) chief Imran Khan may have surrendered on the issue of Panama Papers but his party will keep fighting for accountability of Prime Minister Nawaz Sharif.
Addressing party workers at a gathering in Rahim Yar Khan, Bilawal said that Panama Papers were the world's biggest corruption scandal and Nawaz Sharif would be held accountable for it.
"Takht-e-Lahore (Lahore throne) does not care about the poor but BB's (Benazir Bhutto's) son is here," he said, referring to the ruling party's political bastion.
Bilawal again repeated his demand for the resignation of Interior Minister Chaudhry Nisar Ali Khan over non-implementation of the National Action Plan (NAP). He deplored that the NAP was being implemented arbitrarily in the country, saying it seemed as if it was being implemented in Karachi alone.
He also claimed that the China-Pakistan Economic Corridor (CPEC) was a "gift" from former president Asif Ali Zardari to Prime Minister Nawaz Sharif.
http://www.pakistantoday.com.pk/2016/11/04/national/unlike-pti-ppp-wont-surrender-in-fight-for-accountability-bilawal/
--------
Nawaz blamed for delay in appointing new army chief
04-Nov-16
WASHINGTON: Delay on part of Prime Minister Nawaz Sharif to announce the successor of Chief of Army Staff General Raheel Sharif does not bode well for the institution, said Shuja Nawaz, distinguished fellow at Atlantic Council.
Talking to Daily Times, he said the announcement should have been made by now giving ample time to the outgoing chief to start the process of transfer of power to his successor.
"Very few people understand the importance of farewell calls by the outgoing chief. This has been an old tradition in the army. The outgoing chief visits different units. And the institution hosts a big farewell for the chief," he explained.
He referred to the example of his late brother, General Asif Nawaz, who had succeeded General Aslam Beg after rumours circulated that Gen Beg would continue for another term.
Shuja Nawaz, a Pakistani-American scholar who travels to his native country quite frequently and has access to top military command, said the civil-military relations remains cold to the core despite apparent thaw.
"When they say both civil and military leaderships are on the same page I tend to agree, only if the page exists in two different books. The implementation of NAP (National Action Plan) in Punjab has been a source of discontent between the two," he observed.
In his book "Crossed Swords: Pakistan, Its Army, and the Wars Within," the scholar narrated history of the army and its relations with the civilian governments. The book was one of the authentic reads to understand the nature of civil-military relationship in Pakistan.
In the same book, Shuja Nawaz narrated an incident that how the Sharifs tried to woo the top military command in the past. He asserted when Gen Asif Nawaz went to see Nawaz Sharif in Nathia Gali, he was offered a new BMW car by the prime minister's father Mian Sharif. The general refused to accept the gift. Pakistan Tehreek-e-Insaf (PTI) Chairman Imran Khan extensively quoted that incident in his speeches.
Shuja Nawaz claimed the pattern of recruitment has remarkably changed in the army. The past decades witnessed most of recruitments within the army done from Northern Punjab.
"Now most of the recruits hail from the interior and Southern Punjab. The cities like Jhang have many of their natives in the army. Secondly, the recruitments from the urban areas multiplied over the years. This may not be a good sign if army launches operation in those areas," he elaborated.
Full report at:
http://dailytimes.com.pk/pakistan/04-Nov-16/nawaz-blamed-for-delay-in-appointing-new-army-chief
--------
At UN, Pakistan reiterates call for Kashmir plebiscite
04-Nov-16
UNITED NATIONS: A top Pakistani diplomat has fervently called for settlement of the decades-old Kashmir dispute between India and Pakistan for establishing lasting peace in the region, while denouncing attempts by occupiers to conflate freedom struggles with terrorism.
Speaking at the General Assembly's committee, Ambassador Maleeha Lodhi, permanent representative of Pakistan to the UN, said the Kashmiri people's struggle for liberation from illegal occupation was legitimate and they have the right to receive moral and political support from the international community.
"Under international law and according to declarations of the United Nations on Self-Determination, the Kashmiris have the right to struggle for their right to self-determination 'by all means at their disposal'," Maleeha told the 193-member assembly's Third Committee, which deals with social, humanitarian and cultural questions.
Pakistan, she said, remained committed to a just solution of the Jammu Kashmir issue, in accordance with the aspirations of the Kashmiri people, and relevant Security Council resolutions that call for the exercise of right to self-determination by the Kashmiri people through the UN-supervised plebiscite.
"Peace in South Asia cannot be achieved without a just resolution of the Kashmir dispute," the Pakistani envoy said while participating in a debate on the 'Right to Self-Determination'. "Fulfilment of the long-held promise of self-determination to the Kashmiri people is thus urgent as well as vital to establishing lasting peace in our region."
At the outset, Ambassador Lodhi recalled that the right to self-determination was sanctified in foundations of the UN. Yet, for countless people, the promise of freedom remained elusive. Every occupier used the same narrative and means to justify oppression: equating freedom struggles with terrorism, using brute force and blaming others.
However, she said, the spirit of a people could not be broken by brutal repression. "Might does not make right," she said. "It never did and never will." She expressed concern over the situation of the people of Jammu Kashmir, who were waiting for their rights to be realised despite numerous Security Council resolutions.
"Today, a new generation of Kashmiris has risen to demand freedom from India's illegal occupation," Ambassador Lodhi said. "This uprising is led mainly by Kashmiri youth, armed with nothing more than a hunger of freedom in their hearts and a belief in the righteousness of their cause," she said.
Full report at:
http://dailytimes.com.pk/pakistan/04-Nov-16/at-un-pakistan-reiterates-call-for-kashmir-plebiscite
--------
Qadri sees massive contradictions in PM's statements
04-Nov-16
LAHORE: Pakistan Awami Tehreek (PAT) Chairman Dr Tahirul Qadri has said that massive contradictions between Prime Minister Nawaz Sharif's statement in the Supreme Court, his speech to the nation and proclamation on the floor of the parliament have now been exposed before the world.
The PAT chief was commenting on the Panama leaks issue after consulting with senior party leaders via telephone on Thursday. The party heads noted every point discussed in the SC hearing on the matter.
Full report at:
http://dailytimes.com.pk/punjab/04-Nov-16/qadri-sees-massive-contradictions-in-pms-statements
--------
Indian diplomats accused of damaging Pak-China ties
November 04, 2016
ISLAMABAD - Pakistan on Thursday officially announced names of eight Indian diplomatic officials, who were earlier accused of espionage and terrorism charges, pushing the already strained ties between the two nuclear-armed neighbours to a new height.
Addressing a weekly news briefing here, Foreign Office Spokesman Nafees Zakaria said that the Indian diplomatic officials – who were working undercover for the Research and Analysis Wing¬ and the Indian Intelligence Bureau - included Commercial Counsellor Rajesh Kumar Agnihotri , first Commercial Secretary Anurag Singh, Visa Attache Amerdeep Singh Bhatti, Dharmendra Sodhi, Staff Members Vijay Kumar Verma, Madhavan Nanda Kumar, 1st Press and Information Secretary Balbir Singh and Assistant Personnel Welfare Officer Jayabalan Senthil.
The spokesman said Surjeet Singh who was declared persona non-grata a few days back was also an IB operative working under the cover of Balbir Singh.
Zakaria said that the India diplomats were involved in "subversive activities" in Pakistan under the garb of diplomatic assignments. He said that their activities include "espionage, subversion and supporting terrorist activities in Balochistan and Sindh especially Karachi, sabotaging the China-Pakistan Economic Corridor and fuel instability in the two provinces and create unrest in Gilgit-Baltistan".
He said the India diplomats were trying to spoil Pak-China ties through their network.
He said that they were also involved in "damaging Pakistan-Afghanistan relations with a variety of activities by infiltrating Indian agents into social media and political circles for propaganda purposes and activities detrimental to Pakistan's interest". The spokesman alleged that they were also involved in handling factions of Tehreek-e-Taliban Pakistan, instigating religious minorities, fuelling sectarianism and maligning Pakistan with propaganda on human rights issues.
He said Pakistan was disappointed that India had not only been found involved in promoting terrorist activities and terror financing as was disclosed by Kulbhushan Yadav but "India has also been using its diplomatic mission for its nefarious designs".
It was not immediately clear if the diplomatic staff would be expelled by Pakistan or they will be withdrawn by India, which condemned the disclosure of their names and images and urged Pakistan to ensure their safety. India said it "completely rejected the unsubstantiated allegations" against officials at its High Commission in Islamabad.
Last week, Pakistan and India expelled one diplomat each, accusing them of spying for their respective countries. Zakaria also said that Pakistan had withdrawn six diplomatic staff from its mission in India after Indian media reported they had been involved in spying. The spokesman said Pakistan had called back six members working in Indian High Commission because they are unable to perform their duties after India levelled baseless allegations on them.
He said that the case of Kulboshan Yadav was under investigation. He said a dossier in this regard will be presented to the international community and the UN Secretary General at an appropriate time.
Answering a question, he said that Indian forces continue to kill defenceless Kashmiris with impunity. "They are desperate to hide their crimes against humanity from the international community's scrutiny," he said adding, "in desperation" they had turned their guns on "innocent civilians" on this side of the Line of Control in Azad Jammu Kashmir and along the Working Boundary.
Full report at:
http://nation.com.pk/national/04-Nov-2016/indian-diplomats-accused-of-damaging-pak-china-ties
--------
PTI, JI want Panama inquiry start from Sharifs
November 04, 2016
ISLAMABAD - The Pakistan Tehreek-e-Insaf (PTI) and the Jamaat-e-Islami (JI) in their terms of reference (ToRs) have demanded a detailed inquiry into the funding trail and the transfer of money to offshore companies first from Prime Minister Nawaz Sharif and his family before expanding the scope of inquiry against other individuals.
A five-member Supreme Court bench headed by Chief Justice Anwar Zaheer Jamali while hearing petitions in the Panama Leaks case had asked the parties (PTI,JI and others) and the federal government to file the ToRs on Thursday.
The PTI and the JI submitted their ToRs, which were earlier agreed by the joint opposition parties. ToRs of both the parties stress that the judicial commission first investigates the prime minister and his family members in the scam before it proceeded to inquire from other individuals for having offshore companies and properties.
The ToRs said that the commission should also look whether any law has been infringed, and if so, then the court determined the responsibility for such infringement.
Both the parties have also demanded to appoint a committee of experts in the international forensic audit to carry out an exhaustive investigation and audit the offshore companies and their accounts owned by the PM and his family.
It said that whether any Pakistani staying abroad under agreements between the government of Pakistan and another sovereign state is not a state guest in the country on behalf of Pakistan. Whether any property, gifts or amounts received by him during that period did not belong to the state of Pakistan?
"The PM and his family members shall execute mandatory authorizations by an irrevocable general power of attorney empowering the experts' committee to life all corporate veils, access all bank accounts, offshore companies and their accounts," the ToRs said.
"In case the PM and his family members omit to extend the fullest cooperation to the committee or if they are unable to rebut the presumption that the assets were not acquired through legitimate income then the commission shall direct them to forthwith liquidate and bring those assets and funds to Pakistan where the state shall forfeit them."
The JI chief has also demanded that the proceedings of the commission should be open and shall have the power to seek the assistance of any federal and provincial governments' agencies and other organisation like NAB, FIA, IB, SBP and SECP.
"The commission may constitute an international joint investigation team or teams and seek international cooperation from foreign countries /agencies to provide information, documents, evidence and record from abroad," the JI ToRs further said.
Tariq Asad advocate said that the purpose of petitions was not only to resolve the political dilemma between the political parties but also to recover all the wealth from the alleged defaulters.
According to his ToRs, a comprehensive inquiry should be carried out on the funding trail of how the money was transferred to the offshore companies and its source of income through which the huge money was deposited in the foreign banks and properties were purchased thereby.
"The inquiry should be made simultaneously about all the persons whose names have been identified in Panama Papers for4 having offshore companies, while the priority may be given chronologically complete inquiries of matters pertaining to the prime minister and his family members."
Full report at:
http://nation.com.pk/national/04-Nov-2016/pti-ji-want-panama-inquiry-start-from-sharifs
--------
Mideast
Erdogan accuses Germany of ´harbouring terrorists´
November 03, 2016
ISTANBUL: Turkish President Recep Tayyip Erdogan on Thursday accused Germany of being one of the world´s worst countries for harbouring "terrorists", saying Berlin had not responded to requests to hand over suspects from the July 15 failed coup.
Erdogan said that he had handed German Chancellor Angela Merkel around 4,000 dossiers about suspects in Germany but had received no response.
With Merkel on Wednesday calling a media crackdown in Turkey "highly alarming", Erdogan said Germany was more interested in voicing concern for newspapers, which he said "support terror groups".
Ankara accuses the US-based preacher Fethullah Gulen of being behind the coup, saying he leads a group called the Fethullah Terror Group (FETO). Gulen denies the charges.
"You (Germany) are going to be remembered in history for playing host to terror," Erdogan said in a speech at his presidential palace in Ankara.
"We are worried that Germany is turning into FETO´s back garden," he said, also accusing Germany of playing host to members of the outlawed Kurdistan Workers Party (PKK) and the ultra-leftist Revolutionary People´s Liberation Party-Front (DHKP-C).
"Germany has become one of the most important countries for hosting terrorists", he said, noting also that the country had seen racist attacks against Turks living there.
Erdogan did not mention which suspects Ankara wanted to see extradited from Germany over the coup but several figures, in particular from the legal sector, are believed to have fled to Germany.
German Foreign Minister Frank-Walter Steinmeier rejected the charge, saying he could "in no way follow Erdogan´s comments on the security situation in Germany".
He said Germany wished for "close and constructive relations" with Turkey but added that "this must not lead us to stay silent on threats to freedom of the press and speech".
Relations between Ankara and Berlin have been strained in the wake of the failed coup, with Germany repeatedly expressing concern over the scope of the crackdown on suspects.
Merkel on Wednesday said it was "highly alarming that freedom of the press and speech are being restricted again and again" after the authorities on Monday detained 13 journalists from the opposition Cumhuriyet newspaper.
They included the paper´s editor-in-chief Murat Sabuncu and its prominent editorial advisor and columnist Kadri Gursel. The paper´s former editor-in-chief Can Dundar, who was given a jail sentence in a previous case and also hit with an arrest warrant, is currently in Germany.
The official Anadolu news agency said Wednesday that Berlin had issued Dundar with a document allowing him to travel after his Turkish passport was cancelled.
http://nation.com.pk/international/03-Nov-2016/erdogan-accuses-germany-of-harbouring-terrorists
--------
Yemenis protest UN peace plan 'that legitimizes coup'
3 November 2016
ADEN: Thousands of Yemenis protested Thursday against a new UN plan to end the devastating conflict between Iran-backed Houthi rebels and the internationally recognized government, saying it would legitimize the insurgents' power grab.
The demonstrations in the southern city of Aden and other locations took place shortly before UN envoy Ismail Ould Cheikh Ahmed arrived in Sanaa for peace talks with the Houthis.
"We reject the plan of Ould Cheikh (Ahmed)," read one of the banners carried by protesters in Aden — the government's temporary base — who responded to a call by authorities in the city to rally.
"No to an initiative that legitimizes the coup," said another.
President Abed Rabbo Mansour Hadi on Saturday rejected the envoy's peace plan, saying it would reward the Houthis for seizing the capital and "opens a door toward more suffering and war."
Hadi has described the new proposal as an "explicit departure" from the UN Security Council's resolution 2216, which calls on rebels to withdraw from territory they have captured since 2014.
Full report at:
http://www.arabnews.com/node/1006026/middle-east
--------
Israel jails Palestinian minor for life for murder
November 04, 2016
JERUSALEM: - An Israeli military court on Wednesday sentenced a Palestinian minor to life in prison for killing an Israeli woman, the army said.
"The Judea military court sentenced the assassin of Dafna Meir, who was killed by stabbing on January 17, 2016, to life in jail and to fines of 750,000 shekels" (about $196,000/178,00 euros), the army said in a statement.
Full report at:
http://nation.com.pk/international/04-Nov-2016/israel-jails-palestinian-minor-for-life-for-murder
--------
Turkey says Iraqi border deployment a precaution, urges calm from Baghdad
November 03, 2016
ISTANBUL, TURKEY : Turkey's deputy prime minister said on Wednesday a military build-up on the border with Iraq was a precaution, not a threat, and urged the government in Baghdad to lower tensions after it warned Turkey would pay for any incursion.
A convoy of Turkish tanks and other armored vehicles are advancing toward the town of Silopi, near the Iraqi border, their deployment coinciding with an Iraqi operation to drive Islamic State from the northern city of Mosul.
Largely Sunni Muslim Turkey fears that Iraqi Shi'ite militias involved in a related offensive west of Mosul could trigger sectarian unrest, and is also concerned that Kurdish PKK militants are trying to establish a foothold nearby.
Iraqi Prime Minister Haider al-Abadi warned on Tuesday that Baghdad would respond to any violation of its territory.
Turkish Deputy Prime Minister Numan Kurtulmus told the broadcaster NTV: "I regard Abadi's words as overstepping the mark. Abadi must make statements lowering the tension ...
"We are obliged to take measures to guard against threats from across Turkey's border," he added. "It is more of a precaution than a threat."
Abadi said his country did not want war or confrontation and that the "door of diplomacy" was open, but added:
"If they enter, we are ready to face them ... Any invasion of Iraq would lead to the dismantling of Turkey."
Turkish Defence Minister Fikri Isik said on Tuesday that the deployment was part of the fight against terrorism and that Turkey had "no obligation" to wait behind its borders if PKK militants gained a foothold in Iraq's Sinjar region, around 115 km (70 miles) south of Silopi.
Silopi is part of Sirnak province, one of the main areas of conflict between Turkey and the PKK, whose main bases are in the mountains of northeast Iraq. The PKK has been fighting for autonomy in Turkey's mostly Kurdish southeast for three decades, and is designated a terrorist group by the United States and European Union.
Full report at:
http://nation.com.pk/international/03-Nov-2016/turkey-says-iraqi-border-deployment-a-precaution-urges-calm-from-baghdad
--------
Syria's U.S.-backed SDF says no to Turkish role in Raqqa operation
November 03, 2016
AR-RAQQA, SYRIA : The U.S.-backed Syrian Democratic Forces (SDF) alliance of Kurdish and Arab armed groups said on Thursday it would reject Turkish involvement in the operation to drive Islamic State from its Syrian capital Raqqa.
U.S. officials have said they hope to start an offensive against Islamic State in Raqqa within weeks, and have said that the SDF will play a big role, but Washington's ally Turkey has also insisted that it take part in the operation.
"The Syrian Democratic Forces are the only force that will take part in the operation to liberate Raqqa and we informed the (international U.S.-led) coalition forces that we reject any Turkish role in the Raqqa liberation operation," SDF spokesman Talal Silo told Reuters.
Turkey's military and allied Syrian rebel groups last week fought against Kurdish forces allied to the SDF in northwest Syria, where both sides are seeking to take territory from their mutual enemy Islamic State.
Ankara is dismayed at the prominent role in the SDF played by the Kurdish YPG militia, which it sees as a front for the Kurdistan Workers Party that has waged a three-decade insurgency inside Turkey.
Full report at:
http://nation.com.pk/international/03-Nov-2016/syria-s-u-s-backed-sdf-says-no-to-turkish-role-in-raqqa-operation
--------
Turkish army chief holds 'constructive' talks with Russia on Syria: statement
November 03, 2016
ISTANBUL / MOSCOW : The head of the Turkish armed forces, General Hulusi Akar, held "constructive" talks with his Russian counterparts on the situation in Syria's Aleppo and the fight against Islamic State, the Turkish military said in a statement on Wednesday.
Russia and Turkey, a NATO member, back opposing sides in the Syrian conflict. In recent months they have been normalizing ties that broke down a year ago when Turkey shot down a Russian warplane along its border with Syria.
Akar visited Russia on Tuesday with Turkey's intelligence chief to discuss military cooperation and regional developments.
"The subjects taken up in the talks were a settlement to the clashes in Syria and normalization of the situation in Aleppo as well as continuing to develop coordination between the two countries with the aim of ... ending the threat from Daesh (Islamic State)," the Turkish statement said.
"The talks were held in a constructive atmosphere," it said, without giving further details.
Reuters reports Syria's U.S.-backed SDF says no to Turkish role in Raqqa operation,
AR-RAQQA, SYRIA : The U.S.-backed Syrian Democratic Forces (SDF) alliance of Kurdish and Arab armed groups said on Thursday it would reject Turkish involvement in the operation to drive Islamic State from its Syrian capital Raqqa.
U.S. officials have said they hope to start an offensive against Islamic State in Raqqa within weeks, and have said that the SDF will play a big role, but Washington's ally Turkey has also insisted that it take part in the operation.
"The Syrian Democratic Forces are the only force that will take part in the operation to liberate Raqqa and we informed the (international U.S.-led) coalition forces that we reject any Turkish role in the Raqqa liberation operation," SDF spokesman Talal Silo told Reuters.
Turkey's military and allied Syrian rebel groups last week fought against Kurdish forces allied to the SDF in northwest Syria, where both sides are seeking to take territory from their mutual enemy Islamic State.
Ankara is dismayed at the prominent role in the SDF played by the Kurdish YPG militia, which it sees as a front for the Kurdistan Workers Party that has waged a three-decade insurgency inside Turkey.
Since it was formed in early 2015, the SDF has seized large swathes of territory along the Syria-Turkey border from Islamic State and pushed the jihadist group back to within 30km (18 miles) of Raqqa.
An offensive by the Iraqi army and Kurdish forces, backed by the U.S., started last month to reclaim Mosul, the largest city under the control of the jihadist group, and one whose capture would leave Raqqa as Islamic State's most important possession.
Reuters reports Turkey says Iraqi border deployment a precaution, urges calm from Baghdad,
ISTANBUL, TURKEY : Turkey's deputy prime minister said on Wednesday a military build-up on the border with Iraq was a precaution, not a threat, and urged the government in Baghdad to lower tensions after it warned Turkey would pay for any incursion.
A convoy of Turkish tanks and other armored vehicles are advancing toward the town of Silopi, near the Iraqi border, their deployment coinciding with an Iraqi operation to drive Islamic State from the northern city of Mosul.
Largely Sunni Muslim Turkey fears that Iraqi Shi'ite militias involved in a related offensive west of Mosul could trigger sectarian unrest, and is also concerned that Kurdish PKK militants are trying to establish a foothold nearby.
Iraqi Prime Minister Haider al-Abadi warned on Tuesday that Baghdad would respond to any violation of its territory.
Turkish Deputy Prime Minister Numan Kurtulmus told the broadcaster NTV: "I regard Abadi's words as overstepping the mark. Abadi must make statements lowering the tension ...
"We are obliged to take measures to guard against threats from across Turkey's border," he added. "It is more of a precaution than a threat."
Abadi said his country did not want war or confrontation and that the "door of diplomacy" was open, but added:
"If they enter, we are ready to face them ... Any invasion of Iraq would lead to the dismantling of Turkey."
Full report at:
http://nation.com.pk/international/03-Nov-2016/turkish-army-chief-holds-constructive-talks-with-russia-on-syria-statement
--------
Palestinian tries to stab soldier in West Bank, shot dead: army
November 03, 2016
Israeli troops shot dead a Palestinian who tried to stab a soldier near a settlement in the occupied West Bank on Thursday, the military said.
The soldier was attacked as he guarded a bus stop near Ofra, the force said. "Responding to threat, forces at the scene shot the assailant, resulting in his death," it added.
Over the past year, Palestinians, many acting alone and often using rudimentary weapons and cars, have killed at least 35 Israelis and two visiting Americans in similar attacks.
During the same period, at least 226 Palestinians have died in violent incidents in the West Bank, East Jerusalem and the Gaza Strip. Of those, Israel has identified 154 as assailants, while others were killed during clashes and protests.
Full report at:
http://nation.com.pk/international/03-Nov-2016/palestinian-tries-to-stab-soldier-in-west-bank-shot-dead-army
--------
Turkish Helicopter Alights Officers, Unloads Suspicious Boxes in Idlib
Nov 03, 2016
"The helicopter was carrying a number of Turkish officers and several boxes whose contents are not known, but sources said that they were full of advanced weapons which were unloaded," Hado said.
Also, Kurdish sources reported that the Turkish army fighter jets are now flying over the villages near al-Qahtaniyeh town in the Northeastern parts of Hasaka and are firing flares over the entire region.
This is while the Turkish army forces on board military vehicles have been deployed at Syria-Turkey bordering areas.
Reports said late last month that Ankara had sent several trucks of ammunition to the Fatah al-Sham (formerly known as al-Nusra) Front and Ahrar al-Sham terrorists stationed at a base near Atme border region.
The Turkish army sent 20 trucks loaded with ammunition for the terrorist groups in Northern Syria.
Full report at:
http://en.farsnews.com/newstext.aspx?nn=13950813000827
--------
Mosul may be scene for Turkish-Iranian dispute
November 04, 2016
Turkish-Iranian political relations have deteriorated after the two countries pledged their support to rival groups in the Middle East, especially after the Arab Spring led to deadly conflicts and wars in Syria, Libya and Yemen. While Turkey has been staunchly rejecting the presidency of Bashar Assad and backing the Free Syrian Army (FSA), Iran has been sending thousands of militants to Syria to fight against Turkish-backed opposition groups. The two countries have also disagreed on the conflict in Yemen as Iran has pledged its support for the Shiite Houthi rebels whereas Turkey said Saudi Arabia's military operation was legitimate.
Although the two countries do not have verbal clashes like Saudi Arabia does with Iran, the battle in Mosul has risen the question of whether Turkey and Iran will get into a proxy war in Iraq's north, since Turkey has been giving military training to Kurdish peshmerga forces loyal to Kurdistan Regional Government (KRG) President Massoud Barzani and certain Sunni Arab tribes, called Hashd al-Nineveh. Iran has been backing Jalal Talabani, Barzani's main opponent, and explicitly supporting Hashd al-Shaabi or Popular Mobilization Forces (PMF), which is famous for its brutality against Sunni civilians. While in Syria Turkey's priority is to clear its border from the PKK's Syrian branch, the Democratic Union Party (PYD), and Daesh, in the post-battle time period in Mosul Ankara is aware of the fact that it will face the threat posed by the PMF, since the militant groups' attacks on Sunni Arabs and Turkmens will create a new refugee wave and help the PKK to be easily located in the area. The PMF has committed several atrocities against civilians after Amerli, Tikrit and several other Iraqi cities have been liberated from Daesh.
Full report at:
http://www.dailysabah.com/mideast/2016/11/04/mosul-may-be-scene-for-turkish-iranian-dispute
--------
Turkish army chief's Moscow visit signals cooperation on regional issues
November 04, 2016
Turkish Chief of Staff Gen. Hulusi Akar's return visit to Russia to discuss regional issues with his counterpart Gen. Valery Gerasimov and Turkey's expectation to receive an offer from Russia for long-range defense missile systems has signaled more collaboration between the two countries in terms of regional issues and military cooperation.
On Wednesday, the Turkish Armed Forces (TSK) published in a statement about the top military chiefs' meeting, stating the two discussed solutions for the Syrian crisis, the normalization of the situation in Aleppo, increasing military coordination against terrorism and eliminating the Daesh threat in the region.
"Increasing military cooperation between Turkey and Russia is in an important phase towards forming a strategic alliance between the two countries," Eşref Yalınkılıçlı said to Daily Sabah, a freelance Eurasian analyst and journalist for TRT World. He went on to say Russia has started to understand sensitiveness, and the halting of airstrikes on Aleppo could be evaluated in this extent. Also, as Turkey knows that Russia is the most important actor in Syria, it carries out intense diplomacy with Russia regarding the Syrian crisis.
"Real politics is forcing the countries to cooperate," he said.
On Sept. 15, Akar and Gerasimov also met in Turkey, the highest-level military contact between the countries since the crisis in relations last year. Gerasimov's presence in Ankara was seen as an important sign in healing the ties between the two countries.
On the other hand, according to Sabah newspaper, a high-level source said Turkey is expecting an offer from Moscow regarding the purchase of a Russian S-400 missile system in what could be the culmination of Ankara's long-awaited procurement process for the purchasing of a long-range missile defense system.
Yalınkılıçlı said a lack of defense missile systems has been one of Turkey's major weaknesses and the country should close this gap as soon as possible.
"Turkey-China talks on the defense missile system did not positively end up; on the other hand, Turkey also could not reach a deal with the western countries, as they took no prisoners on transferring technology. The country is open to threats from several countries including Syria and Iraq. That is making possible a missile deal with Russia," he said.
Turkey's long-known desire to purchase a long-range air missile defense system has been a hot topic since 2013 and speculations that began to swirl among the defense industry followers when Turkey held talks with the French-Italian consortium Eurosam regarding the SAMP/T Aster 30 missile defense system. This was mixed with surprise following a statement by Kremlin spokesman Dmitry Peskov, indicating that Russian President Vladimir Putin and his Turkish counterpart President Recep Tayyip Erdoğan recently discussed the possible supplying of a Russian air defense system to Ankara on Oct. 14.
Meanwhile, in an interview with Russian Rossiya 24 TV, Turkish Foreign Minister Mevlüt Çavuşoğlu said on Tuesday Turkey will never forget Russian support during the failed July 15 coup attempt.
Full report at:
http://www.dailysabah.com/war-on-terror/2016/11/04/turkish-army-chiefs-moscow-visit-signals-cooperation-on-regional-issues
--------
Africa
At least 110 feared dead in migrant shipwreck off Libya: UNHCR
November 03, 2016
At least 110 people are feared drowned off Libya after a migrant shipwreck and more may have died in another stricken vessel, the UN's refugee agency said Thursday citing survivor testimony.
"A vessel with around 140 people on board overturned Wednesday just a few hours after setting off from Libya, throwing everyone into the water. Only 29 people survived," UNHCR spokesperson Carlotta Sami told AFP.
The Norwegian Siem Pilot was first on the scene, some 20 nautical miles off Libya, and rescued the survivors -- all of whom were in poor health after spending hours in the water -- as well as recovering 12 bodies from the water.
Those pulled to safety were transferred to the island of Lampedusa by the Italian coast guard. They included two women who told the UN agency they believed they were the only survivors from a shipwreck in which some 125 people drowned.
"They told us they were on a faulty dinghy which began to sank as soon as they set sail. They were the only survivors," Sami said.
But the Italian coast guard said it had no information on a second reported rescue on Wednesday or the saving of two women.
At least two rescue operations were underway in the Mediterranean on Thursday, with close to 180 people pulled to safety according to an AFP photographer aboard the Topaz Responder, run by the Malta-based MOAS (Migrant Offshore Aid Station).
The rescue situation is often chaotic, with people confused, sick or exhausted after periods in crisis-hit Libya unable to specify how many people were on board their dinghies at the outset or what vessel pulled them from the water.
Over 4,000 migrants have died or are missing feared drowned after attempting the perilous Mediterranean crossing this year.
http://nation.com.pk/international/03-Nov-2016/at-least-110-feared-dead-in-migrant-shipwreck-off-libya-unhcr
--------
Nigeria frees Muslims accused of murder over blasphemy
4 November 2016
A court in northern Nigeria has freed five Muslim men accused of killing an elderly Christian woman for allegedly blaspheming the Prophet Mohammed.
The court in the city of Kano discharged the five men on Thursday on the legal advise of the prosecution.
"The legal advice presented to the court, dated June 24, states that there is no case to answer as the suspects are all innocent and orders the court to discharge all the suspects," the judge said in his ruling.
The five men were accused, along with six others who are on the run, of killing 74-year-old Bridget Abahime on June 2 after she allegedly insulted the Prophet Mohammed.
The suspects had pleaded not guilty of the charge.
Full report at:
http://www.dailymail.co.uk/wires/afp/article-3904478/Nigeria-frees-Muslims-accused-murder-blasphemy.html
--------
Africa Should Brace for Influx of Islamic State Jihadists
4 NOVEMBER 2016
By Ivan Bantu
African countries should be prepared for an influx of jihadists if the so-called Islamic State (IS) is driven out of its prized cities of Mosul in Iraq and Raqqa in Syria.
Already, a line has been drawn in the sand. A coalition of some 35,000 Iraqi armed forces, including about 5,000 paid Peshmerga warriors, Sunni Arab tribesmen and Shia paramilitary forces backed by the US and other forces, are taking on the war-hardened Islamic state fighters in Mosul. Iron is mixing with blood in the sand.
IS burst onto the international scene in 2014 when it seized large swathes of territory in Syria and Iraq. In June 2014, the group formally declared the establishment of a "caliphate" - a state governed in accordance with Islamic law, or Sharia, by God's deputy on Earth, or caliph, to which Abu Bakr al-Baghdadi declared himself one and urged all Muslim from all four winds of the earth to pledge allegiance to him.
The group has become notorious for its cold and clinical nature, including mass killings, abductions and beheadings. IS, though, has attracted support elsewhere in the Muslim world. It is estimated that about 8,000 Africans are amongst the ranks of IS fighters in Iraq and Syria.
Now under pressure, IS may lose its territorial holdings in the Middle East, but like the proverbial Phoenix, it will rise from the ashes, mutate and survive as they did after the Anbar awakening of 2007.
NEXT PHASE
That is when IS's war machine was virtually decimated but managed to reincarnate under Al-Baghdadi to become the most vociferous and lethal jihadist group ever seen, with the ability to strike and instil fear in any country around the world.
This is where Africa comes in. We learnt the caliphate's plans for their next phase from a long-time IS operative speaking through Internet-based audio services. In one interview, he is quoted as saying:
"While we see our structures in Iraq and Syria under attack, we have been able to expand and have shifted some of our command, media and wealth structure to Africa.
"As we speak now, Sirte in Libya is the third most important command post for IS after Raqqa in Syria and Mosul in Iraq..."
IS has managed to knit together a network that stretches from Aleppo in Syria to Abuja, with Libyan borders as the perfect launch pads for regional attacks. That IS is seeking sanctuary in Africa is not a dream, it is a reality.
My crystal ball tells me that Africa will face no more complex challenge in the near future and test its moral fibre and resilience than when this Jihadist group starts building its African chapter on the body parts of its African victims.
And soon we will start experiencing their cynical carnage inside our countries as we used to see being done in their occupied territories in the Arab world and some European countries like France and Belgium.
DOOMSDAY SCENARIO
This is not a Mayan prophesy and neither am I reading a horoscope. It is a real doomsday scenario that is approaching us.
If we Africans have been thinking that we have progressed beyond the old dangers of armed conflict, disease and hunger, we haven't seen nothing yet.
Full report at:
http://allafrica.com/stories/201611040115.html
--------
North America
Muslim Hate In America: Islamic Center Vandalized In Florida Amid Divisive 2016 Campaign
11/03/16
Amid a national climate of tension and fear surrounding Islam in the United States, vandals reportedly spray painted signs outside of a Florida Islamic center Wednesday early morning with anti-Muslim messages.
"F*** Islam," the vandals wrote in all caps on the Alamin Center in Palm Beach. "F*** ISIS."
Officials told local news outlets that they were investigating the incident and the Council on American-Islamic Relations noted that there was a car that drove up to the signs shortly before 1 a.m. with individuals who exited and spray painted the words.
"The hate speech and rhetoric that has come along this presidential campaign is fueling this type of crime that endangers not only the Muslim community but the Florida community in general," Wilfred Amr Ruiz, the communications manager for the Florida branch of CAIR, said. "It is not an isolated incident. It needs to be taken very seriously. It is happening in the northern part of the state and the southern part of the state. The Gulf coast and Atlantic coast and the Orlando area. Unfortunately, our community is being held captive of (anti-Islamic) rhetoric."
Anti-Islamic sentiment has been on the rise recently in the United States after devastating terrorist attacks in Orlando, San Bernardino, California, and elsewhere have shaken the country and as Republican presidential nominee Donald Trump has sought to villainize Muslim immigrants.
The U.S. has experienced the highest rates of hate crimes recently going back to the immediate aftermath of the Sept. 11, 2001 attacks. The elevated levels of hate crime have alarmed hate crime scholars and law enforcement officials who have noted hundreds of instances of the attacks. Attackers have lit mosques on fire, assaulted Muslims, shot Muslims and threatened them. Experts say that the divisive language on the campaign trail, including a call for a moratorium on Muslims entering the United States, has played a big role in those crimes.
http://www.ibtimes.com/muslim-hate-america-islamic-center-vandalized-florida-amid-divisive-2016-campaign-2441327
--------
Muslim-Americans rise to attention during the US election
November 3, 2016
Muslim American activists are working hard to have an impact on the next U.S. election.
Just over three million Muslims live in the United States, only about one percent of the population. But activists say they can make a difference in closely contested states like Virginia, Florida, Pennsylvania and Ohio.
Terror attacks by radical Islamists around the world have contributed to an increase in anti-Muslim sentiment in the United States. Those who share this sentiment will point to last year's San Bernardino shootings carried out by a radicalized Muslim couple, or the Orlando nightclub shooting in June.
Donald Trump's call for a ban on all Muslim immigration spurred many Muslim Americans into action to combat Islamophobia and get voters registered,though Trump has since refined his position to say he favors what he calls "extreme vetting" from nations, "compromised by terrorism." Trump's attacks on the parents of a fallen Muslim American soldier are also frequently cited as reason to get involved.
Full report at:
http://www.cctv-america.com/2016/11/03/muslim-americans-rise-to-attention-during-the-us-election
--------
Fighting from above: the air war on IS
November 04, 2016
WASHINGTON - By Thomas WATKINS - The Iraqi security forces' seemingly inexorable push toward Mosul saw fighting begin in the city itself this week, but it is work taking place in the skies above that has enabled such dramatic advances.
A relentless air operation using planes and drones from a dozen or so members of a US-led coalition against the Islamic State group has over more than two years conducted some 16,000 air strikes against the jihadists in Iraq and Syria -- two-thirds of them in Iraq.
Mostly, coalition planes conducted "deliberate" strikes, where they destroyed targets acquired through intelligence or surveillance.
"Now, it's almost entirely dynamic strikes," a US military official told reporters during a recent visit to the Combined Air Operations Center (CAOC), from where flights over Mosul and elsewhere are coordinated.
Dynamic strikes occur when ground units need air support on an unexpected target, such as an enemy fighting position or a car bomb being driven across the desert.
"The operation in Mosul is the number one priority right now," another US military official said.
Consider air activities in and around Mosul for just one day.
On Wednesday, coalition planes destroyed an IS headquarters building, five storage containers, two mortar systems, two fighting positions, a bomb-making factory, a supply cache, a sniper position, an observation post and a culvert.
The strikes also engaged two tactical units and damaged two tunnels, a bridge and a supply route, according to the coalition.
Air support is given to Iraqi security forces and Kurdish fighters, but not Shiite militiamen, and the Iraqi military has its own planes.
Three bullet holes
The coalition has enjoyed total air superiority in its anti-IS campaign.
While planes have come under sporadic small-arms fire, the most significant damage was when a C-130 cargo plane took three bullets to its tail.
Officials worry jihadists might seize "prestige" weapons such as surface-to-air missiles in the chaos that is neighboring Syria, but so far this threat has not materialized.
Lacking military means, IS fighters use civilians trapped in Mosul as human shields to prevent strikes.
IS has also experimented with rudimentary air attacks, using hobby planes and toy drones to carry explosives.
A military official said the jihadists had experimented with a drone carrying a bottle containing some sort of chemical.
Thanks to this air domination, coalition planes constantly scout Iraqi and Syrian skies.
The cost of the operation to date is almost $10 billion.
At any given time, 15-20 coalition aircraft -- mostly drones -- circle Mosul, creating a green "donut" on radar screens that pinpoint each plane's location with a small icon.
Russian planes, which operate in the same air space over Syria, are yellow.
AFP was among a small group of journalists allowed into the CAOC, whose location can only be described as a "military base in Southwest Asia.
The center is the primary hub for anti-IS air operations and coalition intel, and a never-ending stream of video from drones is beamed across eight huge monitors covering most wall space in the cavernous operations room.
One feed shows a small white pickup truck somewhere in Iraq.
The drone's eye follows the vehicle into a compound, where a man loads something into the back.
Full report at:
http://nation.com.pk/international/04-Nov-2016/fighting-from-above-the-air-war-on-is
--------
Killing of Saudi Student Shakes Wisconsin College Town
By CHRISTINE HAUSER
NOV. 3, 2016
For nearly a week, the police in Menomonie, Wis., have been at a loss to identify a suspect or a motive in the fatal beating of a Saudi Arabian college student outside a pizza restaurant. Now, the city is trying to change that by raising money for a reward. The tally so far? $20,000.
The student, Hussain Saeed Alnahdi, 24, who enrolled at the University of Wisconsin-Stout in 2015 and studied English and then business administration, was attacked around 2 a.m. Sunday on Main Street East, a stretch of road between the campus and the edge of Lake Menomin, the Menomonie Police Department said.
He was taken to the hospital in Eau Claire, where he died on Monday, the police said.
After his death, the Police Department said it did not believe there was an "ongoing threat" to the community, though it said it had no information about a possible motive. By Thursday, that apparently had not changed.
However, a department commander, Todd W. Swartz, said in an email that witnesses had described a possible suspect: a six-foot-tall white man.
In the absence of information about whether there had been a racial motive, the death of Mr. Alnahdi has shaken the small city in the western part of the state and has shocked the university campus, where the 9,600 students include a tight-knit group of 142 from Saudi Arabia.
"There is more fear, especially because we don't know who the assailant is," Michael Lee, an international student adviser, said in a telephone interview on Thursday from the campus. "It was an extremely rare, almost-unheard-of event."
Mr. Lee said that the number of Saudi students had grown in the past four years, attracted to the university's engineering and business curriculum. The Saudi kingdom sponsors about 80,000 to 100,000 students in the United States as a way to diversify its economy and future work force, he said.
But that could change as a drop in oil prices hits state coffers, and if the sponsorship program evolves under King Salman, who ascended to the throne in January 2015.
Arab News, a Saudi newspaper, reported that the university had extended condolences to Mr. Alnahdi's family in Buraida, north of Riyadh. The university chancellor, Bob Meyer, and the Menomonie police chief, Eric Atkinson, also announced a $15,000 reward for information leading to the arrest of a suspect. The money was raised through private donations and a foundation affiliated with the university, they said.
"Many people are looking for ways to help the police find the assailant, and we hope this fund will generate the information needed to lead to an arrest and conviction," Mr. Meyer said.
The Council of American-Islamic Relations, a national civil rights organization, said it would add $5,000 to the fund, and sent its Minnesota chapter executive director, Jaylani Hussein, to meet with students and staff members at the university on Wednesday.
Full report at:
http://www.nytimes.com/2016/11/04/us/killing-of-saudi-university-student-shakes-wisconsin-city.html?_r=0
--------
Arab News poll shows Middle East citizens hungry for US policy change
4 November 2016
WASHINGTON: Following this week's Arab News/YouGov poll on how the average citizen in the Middle East and North Africa (MENA) region views the US presidential race, leading experts weigh in on what the numbers mean and say about American politics and policy.
The Arab News/YouGov US election MENA poll of 3,017 people, published on Thursday, found that most believe Hillary Clinton to be the best choice for US president — but are aligned with Donald Trump on some of his most controversial stances.
Clinton emerged as the most popular of the two candidates, with 44 percent of Arab respondents saying they would vote for her, and 78 percent saying she would be the best for the Arab world. But a surprising 47 percent said they would snub both candidates — suggesting widespread dissatisfaction with the election frontrunners.
Arab News discussed the results of the poll with key scholars of US politics and the Middle East. Here is their take:
Arabs more anti-Trump than pro-Clinton
Randa Slim is a Director of the Track two Dialogue initiative, at the Middle East Institute in Washington, DC. She tweets at @rmslim.
I would argue that the support for Hillary Clinton is more driven by the anti-Trump attitude than by any thorough knowledge of where the former secretary of state stands on the issues. In that context, Trump's anti-Muslim stance is the main driver of the negative attitudes toward him. What I found to be the most intriguing part of the poll is this 73 percent support level for Clinton on US-Israel ties. My assumption is that this reflects the respondents' incorrect belief that Clinton will continue Obama's approach on this issue — Obama's being tough on Israel pleased Arabs. The focus on climate change is interesting and a welcome finding about the preoccupation of the Arab youth (given the) sample is mostly young, with 50 percent in the 20-29 age category.
Immigration comments have sunk in
Malcolm Nance is a career counterterrorism and intelligence officer. Author of five books on the Middle East. He tweets at @MalcolmNance.
The most fascinating aspect I found out about the poll was the fact that only 7 percent of respondents in the Middle East were above the age of 50. This (age group) is perhaps the most savvy and well educated group of respondents when it comes to the history of US involvement in the Middle East. This may also explain the dynamics of why 48 percent of the respondents never follow US elections or politics. In my 35 years in the Middle East I find that almost unheard of. But it is believable for much younger people. That support for Hillary Clinton is at 44 percent is a reflection of the status quo and that they don't believe US policy will change dramatically. The 9 percent support for Donald Trump, and 71 percent dissatisfied or are upset about his candidacy ... means that his comments on immigration have sunk in, with extremely high negatives. I think that's almost universal. Also fascinating is that the region perceived Russia as America's biggest problem despite the fact we've been fighting wars there for over 15 years. It's interesting that they believe this is our chief concern. Fascinating in the sense that they appear to be reflecting opinions based on priorities seen in repeated viewings of the Western TV news media. Putin's propaganda war and ratcheting up of operations against the West as well as the DNC hackers are accurately reflected in their media consumption.
Reagan Republicanism looms large
Noah Rothman is an assistant online editor at Commentary Magazine, a 71-year-old journal based in New York. He tweets at @NoahCRothman.
Full report at:
http://www.arabnews.com/node/1006391/world
--------
Europe
Islam In France: Four Mosques Closed For 'Promoting Radical Ideology,' French Interior Minister Says
11/03/16
Four mosques in France have been closed after many people who attended them reportedly joined extremist movements. The places of worship, French officials said Wednesday, promoted violence and ideologies that ran contrary to French values.
The closures were made via a national state of emergency that was initiated following terrorist attacks, including one in November of last year in Paris that killed 130 people plus the seven terrorist attackers.
"Under the guise of ritual ceremonies, these places [harbored] meetings aimed at promoting radical ideology, [which is] contrary to the values of the [French] Republic and may constitute a serious risk to security and public order," French Interior Minister Bernard Cazeneuve said. He said that the mosques had spread "hatred and violence."
The interior minister also reaffirmed the country's commitment to "allow the peaceful coexistence of all [places of] worship in compliance with the laws of the Republic," the Express Tribune reported.
France has been at the front of anti-Islamic sentiment in the Western world following the attacks in Paris and elsewhere in the country. Following those attacks, the country has seen fear and anger rise between Muslims and members of a far-right political party that has called for bans on immigrants and asylum seekers coming from Syria and war torn parts of the Middle East.
The crackdown on the four mosques comes after a July announcement that the government was considering a temporary ban on foreign financing for mosques.
France has taken several measures recently that encroach on the private lives of Muslims. This year, the country has made headlines for an aggressive push back on so-called burkinis, which are a form of swimming suit with a headscarf that covers most of the body. Women using public transportation, walking the streets or using hospitals have also been banned from wearing headscarves, a prominent part of Muslim women's religious outfits.
http://www.ibtimes.com/islam-france-four-mosques-closed-promoting-radical-ideology-french-interior-minister-2441237
--------
Germany arrests 7 Afghans over Iranian teen rape
November 04, 2016
BERLIN : German police arrested seven Afghan asylum seekers in raids on refugee shelters Thursday on suspicion the men repeatedly raped an Iranian teenager and filmed the sexual assault.
More than 30 police joined the raids on 10 rooms in several accommodation facilities in the towns of Nagold and Wildberg in the southwestern state of Baden-Wurttemberg, said police.
"The Afghan asylum seekers are suspected of having raped a 17-year-old Iranian asylum seeker several times and of having filmed the acts," police and prosecutors said in a brief joint statement.
Germany took in almost 900,000 asylum seekers last year -- about half from conflict-torn Syria, Iraq and Afghanistan -- and put them up in shelters countrywide, including hostels, shops, sports gyms and army barracks.
Tensions have at times flared in the often overcrowded facilities, where refugees typically have little space or privacy and face the frustration of months-long waits to have their cases heard.
Full report at:
http://nation.com.pk/international/04-Nov-2016/germany-arrests-7-afghans-over-iranian-teen-rape
--------
"Dangerous Games": Russia-U.S. Tensions Escalate
Denis Petrov
NOVEMBER 03, 2016
In October, Yevgeny Kiselyov, Moscow's TV propaganda hitman in chief, attacked U.S. policy over Syria, warning his audience that American "impudence" could take on what he called "nuclear dimensions." Russian warships were on their way to the Syrian coast, Kiselyov noted, to counter potential U.S. air strikes against the Syrian military. He pointedly reminded his audience that the warships' missiles came in "a nuclear version" as well as with conventional warheads. Kiselyov's broadcast followed a warning from the Russian Defense Ministry regarding any plans by Washington to launch strikes against Syrian forces: Russian personnel were stationed on Syrian bases, and Russian air-defense systems would defend them. Meanwhile, civil-defense exercises were held across Russia, and Moscow unveiled a contingency plan that would put local government and regional branches of federal ministries under the military in the event of war. Russian parliamentarians raised the question of reopening Soviet-era military bases in Vietnam and Cuba, while the Kremlin reportedly "recommended" that state officials bring home their children studying abroad and other relatives living outside Russia. Western news media asked, "Is Russia preparing for war?"
By mid-October, tensions between Moscow and Washington, which had been escalating for some time over Syria, seemed to reach a breaking point. Washington wants to remove Syrian President Bashar al-Assad, while Moscow hopes to maintain an ally in the Middle East. Russian forces are helping the Syrian army against its armed opposition, while the U.S. supports that opposition. Both sides claim to be fighting terrorism. Russian-U.S. military cooperation and a Syrian ceasefire broke down as Syrian forces, with help from Russian air power, fought to seize the strategically important city of Aleppo and break the back of Syrian opposition forces. The United States, her Western allies, and U.N. officials charged Russia and her Syrian client with creating an "humanitarian catastrophe" in the city by indiscriminately killing civilians, including children, a charge Russian media redirected to Syrian opposition forces.
Against this backdrop, Russian President Vladimir Putin canceled a scheduled trip to Paris. French President François Hollande had accused Russian and Syrian forces of war crimes, while his foreign minister announced that French prosecutors would ask the International Criminal Court at The Hague to investigate those alleged war crimes. According to French sources, Putin, who had scheduled the Paris trip for October 19, ostensibly to be at the opening of a Russian cultural center and to attend a Russian art exhibition, pulled out when Hollande refused to discuss anything but Syria at a proposed meeting with his Russian counterpart. ("I asked myself the question . . . Is it useful? Is it necessary? Can it be a way of exerting pressure? Can we get him to stop what he is doing with the Syrian regime?" M. Hollande said in a televised interview.)
Putin claimed it was the French who had canceled, and Russian analysts began to wonder whether Putin and Russia were now being treated as "rogues" by the West. Even at the height of the Ukraine crisis, following a street revolution that overthrew a pro-Russian government—a revolution, publicly supported by Western politicians, against a government that those politicians' governments had recognized as legitimate—and Russia's annexation of Crimea, Putin had frequently spoken by phone to Western leaders in Paris, Berlin, London, and Washington. Now it appeared that Russia was being treated as a "non grata" country, as political analyst Tatyana Stanovaya put it. Russian Foreign Secretary Sergey Lavrov was blunt in his assessment of the situation. He told Russian Channel 1 TV that the basis for U.S. policy was an "aggressive Russophobia," and that the U.S. was taking steps that threaten Russian security. Lavrov added that anti-Russian economic sanctions were a manifestation of this hostility. Regarding Syria, Lavrov said that there are people in Washington who want to move beyond diplomacy to the use of force. Lavrov also issued his own warning about any possible U.S. bombing of Syrian forces: Cruise-missile strikes against the Syrian air force would be very risky. The Russian General Staff had already let it be known that the U.S. should expect a reaction. Lavrov described Washington's moves as "dangerous games."
Regarding the desire of some in Washington to move beyond diplomacy, Secretary of State John Kerry inadvertently let the cat out of the bag in a leaked recording of a conversation he had at the United Nations with a group that included anti-Assad Syrians. Kerry said that "three or four" people in the Obama administration favored using force, but there was a diplomatic problem that would be difficult to finesse: The U.S. had no legal justification for attacking the Assad regime, while Russian forces had been invited in by Damascus. Kerry lamented to his Syrian friends that there was also an American domestic political problem to consider: "A lot of Americans don't believe we should be fighting and sending young Americans over to die in another country." But Kerry offered some hope for the hawks: "there's a different conversation taking place," he said, since the bombing of Aleppo had intensified and talks with Russia had broken down. On Friday, October 7, the week of the U.N. meeting during which Kerry had his conversation with Syrian oppositionists, he called for an investigation of alleged war crimes committed by Russian and Syrian forces. It's not too hard to imagine Secretary Kerry and others using the "war crimes" accusation in justifying U.S. military action in Syria. And it's also not difficult to imagine why, with the Aleppo/war-crimes issue being raised by the French president, John Kerry, and Hillary Clinton, Moscow has reacted as sharply as it has. Clinton has also called for a "no-fly zone" in Syria, potentially setting up a direct clash between U.S. and Russian warplanes.
A head-on U.S. military confrontation with a nuclear power that already sees itself boxed in by the West is a real possibility.
Full report at:
http://www.chroniclesmagazine.org/2016/December/40/12/magazine/article/10838002/
--------
'I'd rather see us united rather than divided': Interfaith cooperation in action at Mount Isa's Good Shepherd Parish
By Hailey Renault and Harriet Tatham
November 04, 2016
A single beige demountable fitted with not much more than an air conditioner, a few chairs, and a patchwork of woven mats turned to face Mecca has become an outback symbol of religious hope.
The Good Shepherd Catholic church in the remote Queensland mining town of Mount Isa has offered space in its parish building to the local Islamic community for use as a prayer room.
Muslims and Catholics pray just metres apart.
"Over the years a number of people have asked 'Is there a place or a space in Mount Isa for a prayer room?'" Father Mick Lowcock said.
"A couple of the people who I know fairly well approached me and sort of said 'Is it possible for us to use one of the rooms?'"
Father Lowcock said his decision to allow the Islamic community to use the space did not come without contention.
"I suppose one for the issues was, do you make it public?" he said.
"You don't want any backlash against them or against us, and there have been some concerns raised by people — even someone from out of town has rung me about it."
According to Father Lowcock, the questions stem from misunderstanding and a fear of Islamic extremism and terrorism.
"The question in the back of everyone's mind [is] 'What's ISIS all about?'" he said.
"I think every time people mention the word 'Muslim' or 'Islam', they immediately think of ISIS.
Jahed Chowdhury is a local Muslim. He grew up in Bangladesh but has been in Australia for the past 14 years.
Mr Chowdhury said, before the church opened its doors, the Mount Isa Islamic community improvised locations for prayer.
"Before we got a room over here we used to go to some other friend's place or any other place — we used to pray there," he said.
"So since we got this one, we come here all the time so that's very fortunate for us.
"As Muslims we have to pray five times a day and that's what we do — we gather here and pray to Allah, and we are all happy because now we openly come any time, whenever we want to."
Mr Chowdhury was aware of negative stereotypes often attached to his faith, and believed positive examples of religious harmony helped dispel the myth that Islam was dangerous.
"We invite other people in [from] different faiths, so … if they want they can come and join with us and they can see what we do and how we practise, and what the real Muslims are."
"That's what we want to spread — across the world — that Islam means peace," he said.
Father Lowcock said the relationship also spoke of the true multiculturalism of outback Queensland.
Full report at:
http://www.abc.net.au/news/2016-11-04/interfaith-cooperation-in-mount-isa/7996520
--------
Southeast Asia
Tens of thousands of Muslims march in Indonesia against city governor
Nov 4, 2016
Tens of thousands of hardline Muslim protesters in Indonesia marched on Friday to the presidential palace to demand the resignation of the governor of the capital, Jakarta, who they said had insulted the Koran.
Indonesia is the world's most populous Muslim country, where many people follow a moderate form of Islam. While hardliners have launched occasional agitation in the past, protests on such a large scale have been rare.
The atmosphere in Jakarta was tense and some companies asked employees to work from home, access to business districts was restricted and embassies urged caution.
Truck loads of soldiers and police, some equipped with rifles, were on patrol and others secured shopping malls. A total of about 18,000 security personnel are expected to be deployed in the sprawling city of 10 million, police said.
The protesters, led by a group called the Islamic Defenders Front, are calling for Jakarta governor Basuki Tjahja Purnama, a Christian and the first ethnic Chinese in the job, to be jailed for blasphemy.
They say he insulted the Koran by dismissing a political attack by an opponent who urged opposition to Purnama by citing a verse from the Koran.
"He is not Muslim but he humiliated the Koran," protester Muhammad Said told Reuters.
"Don't refer to anything in the Koran, especially interpreting it incorrectly ... I call on God to jail him."
Purnama served as deputy to President Joko Widodo when Widodo was city governor from 2012 to 2014, and has long been seen as an ally of the president.
Widodo would work as usual on Friday, with plans to visit a rail construction project at the capital's airport, presidential spokesman Johan Budi told reporters.
Budi said Wiranto, the coordinating minister for political, legal and security affairs, and state secretary Pratikno were expected to meet representatives of the protesters.
Widodo and Vice President Jusuf Kalla called for a peaceful protest in a joint statement on Thursday, saying "everything and everyone should continue to work as normal".
Police are investigating the case against Purnama, who has apologized for the remarks. Widodo, a Muslim, has vowed not to interfere in any legal proceedings against Purnama, according to the Indonesian Clerical Council.
CITY ELECTION
Many of the protesters wore white robes and Muslim caps and gathered at the central Istiqlal Mosque, the biggest mosque in the country, before they began moving towards the presidential palace, with their numbers expected to swell.
Critics say Widodo's government has not done enough to contain the religious and ethnic tension that is mounting ahead of a city governor election in February.
Purnama, popularly known as "Ahok", has a reputation as a tough reformer. He will compete for re-election against two Muslims - Agus Harimurti Yudhoyono, a son of former president Susilo Bambang Yudhoyono, and a former education minister, Anies Baswedan.
Ethnic Chinese make up just over one percent of Indonesia's 250 million people, and they typically do not enter politics.
There has been opposition to the hardliners on social media and some banners draped from an overpass called for respect of diversity.
"Your religion or ethnicity doesn't matter, as long as you can do something good for everybody," said one banner.
Indonesia suffered a series of Islamist militant attacks early in the last decade. In the most serious incident, 202 people were killed in bombings of a nightclub on the island of Bali in 2002.
An attack in Jakarta early this year by supporters of Islamic State raised fears of a new wave of violent militancy.
(Reporting by Gayatri Suroyo and Johan Purnomo; Additional reporting by Angie Teo and Wilda Asmarini; Writing by Eveline Danubrata; Editing by Michael Perry, Robert Birsel)
http://www.reuters.com/article/us-indonesia-protests-idUSKBN12Z07W?feedType=RSS&feedName=worldNews
--------
Ahmadiyah leaders demand government protection
October 31, 2016
Leaders of Ahmadiyah Muslim communities from Indonesia and Malaysia are complaining about the absence of state protection for their followers in the two countries.
Speaking at the 2016 International Peace Symposium organized by the School of Social Sciences and Humanities of the State Islamic University (UIN) Sunan Kalijaga in Yogyakarta on Saturday, the leaders revealed how their followers were being oppressed in the two neighboring countries.
Jamaah Ahmadiyah Indonesia's (JAI) ulema Mirajuddin Sahid asked the government to obey the Constitution and protect the rights of the Ahmadis in the country to worship according to their faith.
"Up to the present time the government has not been serious about protecting Ahmadis," Mirajuddin told The Jakarta Post after speaking in the seminar, which ran smoothly despite recent bans and disruptions by groups intolerant of seminars discussing sensitive political and religious issues.
He said intolerant acts against the Ahmadis, who are considered heretics, were still being committed in 12 different locations across Indonesia, mostly in West Java.
He added the practices ranged from the closing of the mosques to subdistrict officers who refused to issue ID cards for Ahmadis.
The worst, he said, was what happened to 119 Ahmadi families in West Nusa Tenggara who years ago had been evicted from their homes and are still forced to take shelter in the Wisma Transito building in Mataram.
"They have been staying there for the last 10 years and the government still does nothing about it," he said.
Another speaker at the symposium, the Malaysian Ahmadiyah Muslim community's leader, Maulana Ainul Yaqeen, said oppression also prevailed against Ahmadis in Malaysia.
He said the Malaysian Ahmadis, also known as the Qadiani community, have been labelled infidels. "In 1953 there was an edict from the king saying that Ahmadiyah was outside of Islam," said Maulana who was once sent to prison for preaching his faith.
Wahid Institute senior researcher Ahmad Suaedy said that historically oppression in Indonesia against minority groups like Ahmadiyah had not been as serious as what has been happening in the last 15 years.
Full report at:
http://www.thejakartapost.com/news/2016/10/31/ahmadiyah-leaders-demand-government-protection.html
--------
Philippine Muslim rebel leader Nur Misuari meets President Rodrigo Duterte
November 3, 2016
An influential leader of the Philippines' decades-long Muslim separatist insurgency voiced support today for peace efforts after rebellion charges against him were suspended and he held a surprise meeting with President Rodrigo Duterte.
Moro National Liberation Front founder Nur Misuari was flown on a government-commissioned plane more than 900 kilometres from his southern jungle stronghold to Manila for the meeting with Duterte at the presidential palace.
"I came here to thank him for restoring my freedom, if only partially," Misuari said."Should he need our cooperation in his campaign for peace, you can count on us."
Misuari, 77, had been in hiding since his forces allegedly launched attacks on civilians in the southern city of Zamboanga in 2013, leading to a three-week battle against the military that claimed about 200 lives.
The government of Duterte's predecessor, Benigno Aquino, filed rebellion charges against Misuari, but he was able to remain on his southern island stronghold of Jolo under the protection of his armed followers.
Misuari, a charismatic scholar, founded the MNLF in 1972 to wage a guerrilla war for a separate Islamic
state in the south of mainly Catholic Philippines. Most of the nation's Muslim minority live in the southern region of Mindanao.
The conflict, which also involved other rebel groups, is believed to have claimed more than 120,000 lives and contributed to Mindanao remaining the nation's poorest region.
Misuari signed a peace agreement with the government in 1996 in return for the creation of a Muslim autonomous area of which he became governor.
However the conflict persisted as the Moro Islamic Liberation Front, a splinter organisation with more than 10,000 armed followers, continued the rebellion. The MILF in recent years also began negotiating for peace.
Full report at:
http://indianexpress.com/article/world/world-news/philippine-muslim-rebel-leader-nur-misuari-meets-president-rodrigo-duterte-3735760/
--------
Two Syria-bound Malaysians arrested in Turkey: police
Nov 4, 2016
Two Malaysians were arrested by Turkish authorities on their way to Syria, where they were planning to join up with the Islamic State militant group, Malaysian police said on Friday.
Inspector-General of Police Khalid Abu Bakar said in a statement the two suspects, a factory technician and a welder, had been recruited by Muhammad Wanndy Muhammad Jedi, a known Malaysian Islamic State member in Syria.
"Muhammad Wanndy coordinated plans for the two suspects to travel to Syria and contributed funds for their flight," Khalid said.
Muhammad Wanndy had claimed responsibility for a grenade attack on the outskirts of Kuala Lumpur in June and issued death threats against top Malaysian police and government officials.
Full report at:
http://www.reuters.com/article/us-malaysia-security-arrests-idUSKBN12Z0BP?feedType=RSS&feedName=worldNews
--------
URL: https://www.newageislam.com/islamic-world-news/new-age-islam-news-bureau/'zakir-naik's-ngo-used-foreign-education-funds-for-religious-work'/d/109010
New Age Islam, Islam Online, Islamic Website, African Muslim News, Arab World News, South Asia News, Indian Muslim News, World Muslim News, Womens in Islam, Islamic Feminism, Arab Women, Womens In Arab, Islamphobia in America, Muslim Women in West, Islam Women and Feminism, Moderate Islam, Moderate Muslims, Progressive Islam, Progressive Muslims, Liberal Islam, Liberal Muslims,Islamic World News, Attack in Munich, Munich Attack, Terror in Munich