New Age Islam News Bureau
23 Nov 2016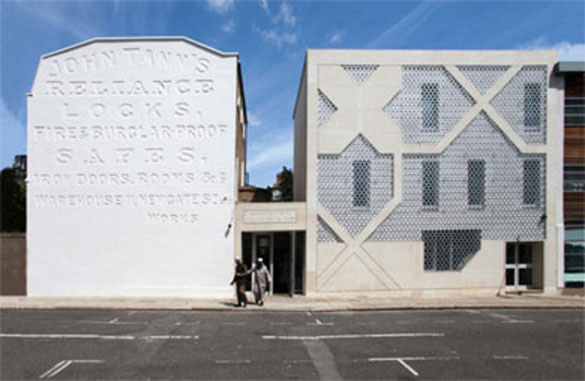 Shahporan Masjid and Islamic Centre Trust on Hackney Road, designed by Shahed Saleem and nominated for the Aga Khan Award 2016. Shahed Saleem - Buzzfeed
----------
• Zakir Naik's NGO Gave 'Scholarship' To ISIS Man
• British Architect Designs Mosques without Minaret, Dome
• Iraq: ISIS Using Human Shields Slowing Process of Recapturing Mosul
• Minister of Women's Affairs Mulls Introduction of 10 Women to Afghan Ulema Council
• Trump Keen to Broker Palestine-Israel Peace Deal
India
• Zakir Naik's NGO Gave 'Scholarship' To ISIS Man
• Keep Away From Sharia, Various Muslim Organizations Tell Centre
• 68 ISIS Supporters Arrested In India, So Far
• India Speeds Up Rebuilding Activity in Afghanistan
• LoC mutilation could hit chances of Indo-Pak bilateral talks
• J&K: Three soldiers killed on LoC, one of them mutilated, Army promises 'heavy retribution'
--------
Europe
• British Architect Designs Mosques without Minaret, Dome
• 'Sharia Police' Didn't Break Law by Trying To Impose Muslim Rules in German Town – Court
• European lawmakers call for end to Turkey EU membership talks
• Opposition groups agree Syria's Assad must go: Germany's Steinmeier
• U.S. Identifies ISIS Planner in Attacks on Europe
--------
Arab World
• Iraq: ISIS Using Human Shields Slowing Process of Recapturing Mosul
• Syria: Militants in Six More Towns End Battle against Gov't Forces
• Pentagon says air strike killed 'senior al Qaeda leader' in Syria
• Syria army forms new volunteer unit to join anti-terror fight
• Senior Terrorist Commander Killed in Clashes with Syrian Soldiers South of Aleppo City
• ISIL Desperately Looking for New Financial Resources
• Lebanon builds wall near Palestine camp
• Death toll among Iran's forces in Syria passes 1,000
• US strike destroys bridge, restricts Islamic State in Mosul
• Egypt court quashes Morsi life sentence
• Four charged with plotting to assassinate late Saudi king: media
• Syrian army soldiers advance further in eastern Aleppo
• Fatah Al-Sham's Centers Hit Hard in Syrian Army Attacks in Dara'a, Quneitra
• People Infuriated by White Helmets' Fake Video in Syria
• Syria: Army Underlines Intelligence Superiority over Terrorists in Eastern Aleppo
--------
South Asia
• Minister of Women's Affairs Mulls Introduction of 10 Women to Afghan Ulema Council
• More Rohingya Muslims Flee From Myanmar to Bangladesh
• Bangladeshi arrested in Libya over trafficking
• Bangladesh asks Iraq to ensure security of its expats
• HC questions acquittal of SQ Chy's wife, son
• Three JMB members arrested with explosives in Dhaka
• Abu Afghan al-Masri killed in Syria airstrike: US
--------
Mideast
• Trump Keen to Broker Palestine-Israel Peace Deal
• Turkey-Backed Forces Besiege Syria's Al-Bab, Eyes on Manbij: Erdogan
• At least 12 civilians killed in Saudi airstrike in Yemen
• Turkey Forces Syrian Refugees to Fight in Euphrates Shield Operation
• Turkey's pro-Kurdish opposition to return to parliament, ending boycott: officials
• More than 40 killed in renewed Yemen clashes
• Israel accuses Iran of sending Hezbollah arms on commercial flights
• US-Iranian citizen convicted in US for trying to buy missiles for Iran
• US-led coalition unsuccessful against Daesh: Ayatollah Khamenei
--------
Pakistan
• Baloch Rejected Foreign-Sponsored Terrorists, Says COAS
• SC Sets Aside SHC Decision to Revoke Licences of Wine Shops
• Taliban bomb kills 3 FC men in Peshawar
• Three terrorists killed in Mohmand
• 'Most wanted' terror suspect nabbed in Peshawar: CTD
• Man killed, three hurt in Chaman blast
• COAS confirms death sentence of 10 terrorists
• PM condemns terror attack on FC in Peshawar
• Terror suspect held, explosives seized
--------
Southeast Asia
• ISMA: Empower Jawi Script, Not Just For Muslim Name Registration
• Hadi Asked To Put Cap on Shariah Punishments, PAS MP Says
• Ahok grilled, as clerics call on Muslims not to rally
• Rights Group Says Anti-Ahok Demonstration Is 'Trial by Mob'
• Fil-Muslim youth leaders undergo leadership seminar in Malaysia
• PSM: Respect Muslims' Wish to Empower Shariah Courts
• Fake Bersih claims on Islam spreading online
--------
Africa
• Six Soldiers Killed In Boko Haram Attack in Cameroon
• Daesh 'desperately' resisting in Sirte as Libya forces advance
• Sudan official denies rumors of Bashir's death
--------
North America
• Rights Groups to Obama: Rescind Muslim 'Registry' Before Trump Takes Office
• Muslim Man Shocked At Cop's Response to Hate Speech
• Senior German Lawmaker Worried By Trump's Lack of Middle East Policy
• US adds Islamic State leader, external operations planners to global terrorist list
Compiled by New Age Islam News Bureau
URL: https://www.newageislam.com/islamic-world-news/new-age-islam-news-bureau/zakir-naik's-ngo-gave-'scholarship'-to-isis-man/d/109178
--------
Zakir Naik's NGO Gave 'Scholarship' To ISIS Man
Nov 23, 2016
NEW DELHI: In what could be the first evidence of a direct link between controversial Islamic preacher Zakir Naik and his NGO Islamic Research Foundation (IRF) with the Islamic State's Indian recruits, the National Investigation Agency (NIA) has found that IS operative Abu Anas received Rs 80,000 as scholarship from the IRF.
The funds were transferred around the time Anas was planning to travel to Syria to join the IS, sources said. He had applied for the IRF scholarship on its website and he was called for an interview in Mumbai. Anas was arrested in Rajasthan in January. The link will add teeth to the government's investigation of Naik+ under anti-terror laws while the IRF has already been banned and is being probed.
The payment emerges as an alleged link between the IRF and the IS, with sources suspecting that Naik's aides could not have been unaware of Anas's plans and extended him financial assistance by disguising it as a "scholarship". Anas, 24, was in regular touch with IRF office bearers and the money was transferred to his ICICI Bank account in Tonk in Rajasthan, sources said.
The IRF and Naik have been under the scanner of Indian agencies since the preacher's name surfaced as a "motivator" in the Dhaka Gulshan terror attack case. Several Indian recruits of the IS have since acknowledged to have been inspired by Naik' preachings to join the organisation and travel to West Asia to fight for the so-called caliphate.
Naik has denied that he is "terrorist influencer"+ and said his preachings reached 150 countries.
Anas, a former information security analyst with TWG International at Abids at Hyderabad, was arrested by NIA as part of a multi-city IS module in January-February.
In the ongoing crackdown on Naik+ and his NGOs, fresh raids on Tuesday saw agencies claiming recovery of video tapes and DVDs of Naik's public speeches, documents related to property and investment, financial transactions and foreign and domestic funding of IRF and associated companies.
http://timesofindia.indiatimes.com/india/Zakir-Naiks-NGO-gave-scholarship-to-IS-man/articleshow/55571226.cms
--------
British Architect Designs Mosques without Minaret, Dome
Nov 23, 2016
London – Mosques are not just public places to practice religious rituals in Britain and they are often built on the expenses of the Muslim community – based on the initiative of the residents; these mosques have been used as centers for gatherings and celebrations; funds for food aid; and even as gyms. In 1990, mosques in Britain were around 400 but now they reached 1800. Thus, concerns might rise regarding the type of services which could be provided by these mosques and would they develop be in future.
Architect Shahed Saleem has worked on renewing the figure of British mosques; the architect nominated for the Aga Khan Award 2016 has been tasked by communities with designing Muslim places of worship up and down the country and has done away with traditional minarets and domes.
Saleem, a researcher at the Barlett UCL is currently finishing a book, an ambitious project on Muslim architecture in Britain – charting the evolution from the earliest buildings in the late 19th century to mosques being designed today.
The typology of the British mosque and what "English Islam" looks like is being discussed more and more in the wake of the Brexit vote.
For Saleem, architecture is a powerful marker of current exploration of what British Islam is; he considered that if migrants can use our architecture to explore the new identity in this country, which can be useful and futher represents more accurately their conditions and current circumstances. He added that he's like all the Muslims of Diaspora who came from other countries to settle in Britain and recreate their culture.
It's little wonder his designs are inspiring people to talk about what a mosque should or shouldn't look like. He use material in bold ways and the unapologetic yet modern way he applies Islamic geometric design to his architecture is refreshing.
So far, his designs for mosques in U.K. cities don't feature traditional onion-shaped arches but are sharper with clean outlines. They could even be seen as Cubist.
He says meshing new forms with the past is significant in his work, to maintain the connection with Islamic history, architecture, and culture, but by using it in a way that is contemporary. It's about using it in a new way for its own purposes and situation.
Saleem, whose parents are from India, says he's part of the first generation of British-born Muslims of migrant parents in postwar Britain, which puts him in a unique situation as someone designing places of worship now.
To date, he has seen the completion of the mosque he designed on Hackney Road in east London, has a mosque in Aberdeen underway, has received planning permission for a mosque design in Camberwell in south London, and has designs for a mosque in South Woodford in northeast London.
Saleem doesn't hold back from critiquing mosque designs that add features such as minarets, traditionally used to deliver the call to prayer, when they are not functional in the U.K. He revealed that he faces difficulties when people want to just add minarets on – just because they think a mosque is a mosque, therefore it should have a minaret; he thought that this leads to slightly dishonest architecture.
Saleem talks about a mosque he is proud of, the Shahporan Masjid and Islamic Centre Trust on Hackney Road. At first, he says, the community wasn't really sure about it, but they came to like it when they saw the designs.
http://english.aawsat.com/2016/11/article55362671/british-architect-designs-mosques-without-minaret-dome
--------
Iraq: ISIS using human shields slowing process of recapturing Mosul
22 November 2016
Iraq's foreign minister said on Tuesday that progress in liberating the northern city of Mosul has been slowed by ISIS's use of civilians as human shields.
Ibrahim al-Jaafari said during a visit to Hungary on Tuesday that 1,700 ISIS fighters have been killed and 120 captured in the battle for Mosul so far.
He says one third of the Ninevah province, where Mosul is the capital, has been freed from ISIS.
Al-Jaafari says 62,000 refugees have left the city - much fewer than was expected by authorities - and that Iraq is "prepared to receive many more."
Al-Jaafari, who signed a double taxation agreement with his Hungarian counterpart, Peter Szijjarto, also said Iraq needed to increase its crude oil output, which he said provided 90 percent of state budget revenues, and be exempt from OPEC output quotas because of its "extraordinary situation."
https://english.alarabiya.net/en/News/middle-east/2016/11/22/Iraq-ISIS-using-human-shields-slowing-process-of-recapturing-Mosul-.html
--------
Minister of Women's Affairs Mulls Introduction of 10 Women to Afghan Ulema Council
Nov 23 2016
The Minister of Women's Affairs Dilbar Nazari said Wednesday that the ministry is intending to introduce 10 women to Afghan Ulema Council.
Speaking during a ceremony to mark the International Day for the elimination of violence against women, Minister Nazari said the Afghan women continue to face issues despite numerous projects have been implemented to improve the condition of the women.
Calling on the government leaders to support the law on elimination of violence against women, Nazari said the government must step up efforts to ascertain the main motives leading to violence against women.
She also urged for the censorship of the identities of the victims of violence against women, specifically those facing sexual violence and are raped.
In the meantime, Chief Executive Abdullah said the persistent violence against women will bar them from providing care to their family and children.
Admitting that the women face difficulties to pursue justice for the violence they face, Abdullah said the current situation being faced by the women is not acceptable as he insisted on a national mobilization to resolve the issue.
President Mohammad Ashraf Ghani in his turn said the issue of violence against women is serious and called on the Afghan people to start a campaign in elimination of violence against women, emphasizing that the issue is against the Islamic teachings and law.
He said the Afghan women are also the first class citizens of the country, similar as men and called on Ulemas to include the campaign in eliminating violence against women in their agenda and start awareness regarding the issue via mosques and other religious gatherings.
http://www.khaama.com/nazari-mulls-introduction-of-10-women-to-afghan-ulema-council-02343
--------
Trump keen to broker Palestine-Israel peace deal
23 November 2016
President-elect Donald Trump said Tuesday he would "love" to clinch a deal to end the intractable conflict between Israel and the Palestinians despite the checkered history of US attempts to broker a Middle East peace.
"I would love to be the one who made peace with Israel and the Palestinians, that would be such a great achievement," Trump said in an interview with The New York Times.
A New York Times reporter tweeted that Trump also suggested that his son-in-law Jared Kushner could help broker the deal.
Kushner, who is married to Trump's daughter Ivanka, is from an Orthodox Jewish family. The businessman and investor was a close adviser to Trump during the election campaign.
After Trump's November 8 win, Kushner reportedly asked for access to the daily White House security briefings given to his father-in-law.
Kushner and his wife were present when Trump visited with Japanese Prime Minister Shinzo Abe on November 17, the president-elect's first meeting with a foreign leader.
Trump has raised Palestinian ire by proposing that Jerusalem should be recognized as Israel's capital, an idea contrary to traditional US policy.
The Israeli right has expressed particular satisfaction with Trump's election win, viewing it as a sign to resume or accelerate settlement building in the Israel-occupied Palestinian territories, and even the end of the idea of an independent Palestinian state.
Israeli Defense Minister Avigdor Lieberman last week said Trump's aides were urging right-wing Israeli politicians to curb their public jubilation at his election, according to Israeli media.
The US secretary of state, John Kerry, has been trying for months, unsuccessfully, to bring Israelis and Palestinians together for peace talks. Direct talks between the two sides ended two and a half years ago.
https://english.alarabiya.net/en/News/middle-east/2016/11/23/Trump-would-love-to-broker-peace-between-palestinians-israel-.html
--------
India
Keep Away From Sharia, Various Muslim Organizations Tell Centre
Nov 23, 2016
MANGALURU: Various Muslim organizations that united under the banner of Dakshina Kannada and Udupi Districts Muslim Central Committee warned the central government not to interfere in sharia laws.
At Shariat Protection Convention held on Tuesday, Muslim leaders opposed the Centre's plans of introducing uniform civil code (UCC) and declared it an impractical move. "The Muslim community strongly opposed when the idea of UCC was mooted 30 years ago. It is anti-Islamic and impractical in India, where people of various faiths and religions coexist. Moreover, it will escalate problems in the country," said B K Abdul Khader Musliyar Khasimi, chief of Bambrana Jama Masjid after inaugurating the convention.
"It is an irony that Prime Minister Narendra Modi is keen on protection of rights of Muslim women, but has failed to protect his wife. Koran gives equal rights to women in their ancestral property. It is unacceptable to agree to the decisions taken by those who do not have knowledge on Islam, Koran and sharia. We have clergies to discuss sharia laws and talaaq. Let the government concentrate on administration," Khasimi said.
"Triple talaaq is explained very clearly in sharia and it is not uttered on a single day. There are several steps to be followed before triple talaaq is completed. There are opportunities for the couple to reunite even after first and second talaq. Divorce as per triple talaaq becomes valid only when all the steps fail to reunite the couple," he explained.
Karnataka Samastha Mushavara member Abdul Azeez Darimi said Muslims are united to protect sharia law in India. "Sharia is not against the Indian Constitution. Hence, it is not possible for the government to introduce UCC in India, where over 6,000 castes and sub-castes exist," he added.
Jamat-e-Islami Hind president Muhammed Kunhi said debate on triple talaaq and UCC is irrelevant when the nation has several other major issues to be sorted out. He pointed out that Ram Jethmalani, who was the law minister in Atal Bihari Vajpayee government, had rejected UCC as a non-practical move. "Conduct a survey to ascertain the actual number of Muslim women who suffered due to triple talaaq. In fact triple talaaq is a blessing when divorce becomes necessary for couple," he added.
Muslim Central Committee president KS Mohammed Masood presided and vice-president Ibrahim Kodijal was present.
Stay updated on the go with Times of India News App. Click here to download it for your device.
http://timesofindia.indiatimes.com/city/mangaluru/Keep-away-from-sharia-Muslims-tell-Centre/articleshow/55568754.cms
--------
68 ISIS Supporters Arrested In India, So Far
Nov 23, 2016
NEW DELHI: As many as 68 persons have been arrested so far across the country for being sympathisers or supporters of banned terrorist outfit Islamic State (IS), the government in formed the Lok Sabha on Tuesday. Of the 68, 50 were taken into custody by the National Investigation Agency (NIA) and different state law enforcement agencies this year.
Giving a state-wise breakup of arrests of 50 IS-inspired suspects this year, minister of state for home Hansraj Ahir said Maharashtra and Telangana accounted for the highest number of arrests at 11 each, followed by Karnataka with seven, Kerala with six, Uttarakhand with four, West Bengal, UP, and Tamil Nadu with two each and Ra jasthan, Delhi, Madhya Pradesh, J&K and Bihar accounting for one arrest each.
Full report at:
http://timesofindia.indiatimes.com/india/68-IS-supporters-arrested-in-India/articleshow/55572461.cms
--------
India speeds up rebuilding activity in Afghanistan
Nov 23, 2016
NEW DELHI: India has stepped up rebuilding activity in Afghanistan in line with its commitment to propel the wartorn nation back on the development track. The move comes just days ahead of a mega multilateral meet that the Narendra Modi government is hosting in Amritsar to contribute to Afghan stability.
Ahead of the December 4 Heart of Asia Conference on Afghanistan, India has come forward to restart a factory in Mazar-e-Sharif, build a runway at Balkh airport and assist the Afghan government in harnessing the economic potential of Salma Dam, which was built with India's assistance. A tiles factory in Afghanistan's northern Mazar-e-Sharif city will resume production soon with India's support, said people familiar with the development.
India's Ambassador to Afghanistan Manpreet Vohra recently met Balkh province governor Atta Mohammad Noor to finalise the project.
Noor, who had helped thwart a terror attack on the Indian consulate in Mazar earlier this year, is a strong proponent of Afghanistan-India ties.
India is also constructing the main approach way to the Balkh or Mazar-e-Sharif international airport. The airport has facilities for up to 1,000 passengers, making it one of the largest airports in Afghanistan. Originally built by the Soviets in 1950s, the new international terminal was inaugurated in 2013.
Full report at:
http://timesofindia.indiatimes.com/india/India-speeds-up-rebuilding-activity-in-Afghanistan/articleshow/55574204.cms
--------
LoC mutilation could hit chances of Indo-Pak bilateral talks
Nov 23, 2016
NEW DELHI: India has not yet proposed any bilateral engagement with Pakistan's Sartaj Aziz, the de facto foreign minister, despite having received an official confirmation+ of his visit to Amritsar next week for the Heart of Asia conference on Afghanistan.
Since Aziz confirmed his visit earlier this month, Pakistan officials have insisted that, as the host nation, it was India's responsibility to propose a bilateral meeting. However, the killing of three Indian soldiers at the LoC, one of whose body was found mutilated+ , is likely to hurt the prospects of any substantive bilateral talk on the sidelines of the conference. Official sources said there was no decision yet on whether or not India would have a bilateral engagement with Pakistan in Amritsar.
It was at the Heart of Asia+ ministerial last year in December in Islamabad where a thaw in ties, beginning with PM Narendra Modi's meeting with his counterpart+ Nawaz Sharif in Paris, was formalised with the announcement of a comprehensive bilateral dialogue between the two countries. This was followed by Modi's famous "drop by" in Lahore+ on December 25 but the thaw didn't last long as terrorists from across the border attacked the Pathankot airbase barely a week after Modi's visit to Pakistan.
Ties have since then steadily deteriorated, as made manifest by the terrorist killings in J&K and spurt in ceasefire violations+ .
Full report at:
http://timesofindia.indiatimes.com/india/LoC-mutilation-could-hit-chances-of-Indo-Pak-bilateral-talks/articleshow/55571366.cms
--------
J&K: Three soldiers killed on LoC, one of them mutilated, Army promises 'heavy retribution'
by Mir Ehsan , Praveen Swami
November 23, 2016
Sharply escalating the situation on the Line of Control (LoC), three Indian soldiers were killed and the body of one of them was mutilated Tuesday in the Machil sector of Kupwara district in north Kashmir, an incident that infuriated the Army Northern Command which promised "retribution will be heavy for this cowardly act".
The soldiers from the 57 Rashtriya Rifles, Army sources said, were ambushed while staging a counter-infiltration patrol along the Lashdat nullah, a small mountain stream which heads up from a village north of the town of Kupwara, through the dense Kalaroos forests towards the Sonapindi pass.
Precisely how the three soldiers were killed remains unclear, the sources said, but added that the men lost contact with the main body of their section-strength patrol after it walked into a carefully-planned ambush, which military sources said, likely involved both Pakistani special forces personnel and jihadists. Pakistan Border Action Teams have carried out such attacks in the past.
The Sonapindi Gali, in the Machil sector, leads on to the LoC, and is a major axis of jihadist infiltration from the Pakistan-occupied Kashmir town of Keran.
The infiltrators congregate in the Kalaroos forests before heading out, in small groups, into north Kashmir towns around Kupwara.
The killings raise the prospect of an escalation of retaliatory strikes against Pakistani forward positions. In New Delhi, Defence Minister Manohar Parrikar was briefed on the incident by Vice Chief of Army Staff Lt General Bipin Rawat. Army chief General Dalbir Singh is on a four-day official visit to China.
Ever since India announced on September 29 that it had carried out surgical strikes on terror launch pads along the LoC, troops on either side have been trading fire daily. Thirteen Indian soldiers have died so far.
This is the second attack on the Army in less than a month in the same sector. On October 29, Mandeep Singh, a soldier serving with the 17 Sikh Regiment, was killed and then beheaded while out on patrol ahead of Kala Post, one of several Indian forward positions in the Machil sector, in the midst of small arms and mortar fire.
Singh's patrol was sent to foil an infiltration bid which was being aided by Pakistani troops who had directed fire on Dana, Khan Basti and Tantray Basti, an arc of villages near the mouth of a mountain stream that leads up from the Neelum river on to the forests of Kalaroos.
Full report at:
http://indianexpress.com/article/india/india-news-india/jk-three-soldiers-killed-on-loc-one-of-them-mutilated-army-promises-heavy-retribution-4390212/
--------
Europe
'Sharia police' didn't break law by trying to impose Muslim rules in German town – court
22 Nov, 2016
A German court has ruled that a group of Islamists did not break the law when forming a 'Sharia police force' in 2014. The group caused public outrage after patrolling a western city in orange vests, instructing residents to abide by the strict Muslim code.
The group's vests had 'Sharia Police' printed on them in large block letters, but this did not breach the countrywide ban on political uniforms, the judges ruled. Under German law, a uniform has to be "suggestively militant" or have an "intimidating effect" to constitute a violation.
The judges specifically cited one eyewitness who believed the vests were themed costumes for a bachelor party. They went on to state that there was no proof to suggest that the men were wearing the vests to break the law intentionally.
The court also noted that police in Wuppertal did not find anything criminal about the men wearing the vests, which were not seized by officers at the time.
The ruling has not yet come into effect and can still be appealed by the state prosecutor.
The men, all aged between 25 and 34, sparked anger by patrolling the streets of Wuppertal in 2014, telling nightclub goers to refrain from drinking alcohol and listening to music, and arcade customers not to play games for money, so as not to contradict the strict Muslim religious code of conduct known as Sharia law.
The group was headed by Sven Lau, a controversial Salafist leader who is currently on trial for supporting a terrorist group fighting in Syria.
In a debate on RT, Maximilian Krah of the Alternative for Germany (AfD) party said that the verdict showed that Germany's courts are unprepared for the culture clash with its Muslim minority.
"The German society and the legal system have no weapons to protect the liberty of the citizens," he said. "If the country decides that it wants to follow the liberal rules, then the state has the duty to enforce those liberties against the attempts of people in the other way. And this is not what happens in Germany."
"It's very easy. If you come to Rome, live like the Romans," he added.
But Remzi Aru of the German Democratic Alliance countered by pointing out the double standards towards Muslims when compared to other religious groups.
"I am against those things, but for everybody, not just Muslims," he said.
"If you look at the rules and the laws the Jehovah's Witnesses tell you, it is very similar: you should not drink, you should not gamble, you should not drink alcohol, you should not do this, you should not do that. They are ringing your door and the people are not loving it, but they accept it so long as it's within the frame of law. There is freedom of religion in Europe, as long as these people do not harm you and don't force you to do something."
Wuppertal is one of Germany's most popular cities for Salafists, who follow a very conservative interpretation of Islam and reject any form of democracy.
The Monday ruling comes as Germany continues to struggle with the biggest refugee crisis since World War II, which resulted in more than 1 million mainly Muslim asylum seekers entering the country in 2015. Many residents across Germany have been vocal in opposing the arrival of the refugees, condemning Chancellor Angela Merkel's open-door policy for those fleeing war and persecution.
https://www.rt.com/news/367803-sharia-police-german-court/
--------
European lawmakers call for end to Turkey EU membership talks
November 23, 2016
BRUSSELS, BELGIUM : The leaders of the European Parliament's two largest groups called on Tuesday for the European Union to halt membership talks with Turkey because of its post-coup purges.
"Our message to Turkey is very clear: accession negotiations should be frozen immediately," said Manfred Weber, the head of the largest faction in the European Parliament, the center-right European People's Party.
He was echoed by Gianni Pitella, the leader of the socialist group, the parliament's second biggest: "We want to freeze the accession talks."
More than 110,000 people in Turkey - including soldiers, academics, judges, journalists and Kurdish leaders - have been suspended from their positions or dismissed over their alleged backing for the plotters of a failed military coup in July.
Some 36,000 have been arrested and media outlets have been shut.
"Turkey under Mr Erdogan is more and more drifting towards an authoritarian regime," Pitella said, referring to Turkish President Tayyip Erdogan.
"Our political message towards Turkey is that human rights, civil rights, democracy are non negotiable if you want to be part of the EU.
Erdogan, exasperated with the EU's intensified criticism of his rights record, has said the bloc would have to "live with the consequences" should it stop the talks and that Ankara could instead join an security alliance run by Russia and China.
Full report at:
http://nation.com.pk/international/23-Nov-2016/european-lawmakers-call-for-end-to-turkey-eu-membership-talks
--------
Opposition groups agree Syria's Assad must go: Germany's Steinmeier
November 23, 2016
BERLIN, GERMANY : Despite all their differences, opposition groups in Syria agree that there cannot be a future with Syrian President Bashar al-Assad, German Foreign Minister Frank-Walter Steinmeier told a conference hosted by his Social Democrat party on Tuesday.
Steinmeier repeated his call for an end to the bombardment of civilians in the Syrian city of Aleppo and other parts of the country, and said a transition plan was needed to get to a political solution for ending the civil war there.
Full report at:
http://nation.com.pk/international/23-Nov-2016/opposition-groups-agree-syria-s-assad-must-go-germany-s-steinmeier
--------
U.S. Identifies ISIS Planner in Attacks on Europe
Nov. 22, 2016
U.S. and European counterterror officials are zeroing in on Islamic State masterminds of a terror campaign against Europe that continues despite military setbacks for ISIS in the Middle East.
On Tuesday, the U.S. State Department announced that it had put a suspected plotter of last November's attacks in Paris on a list of specially designated global terrorists. The announcement came the day after French authorities said they had arrested seven suspects and foiled a plot directed by senior ISIS figures in Syria to carry out major coordinated attacks in Paris and Marseilles during the Christmas holidays.
Separately, French and Belgian counter-terror officials said this week they have identified a second ISIS figure involved in directing operations against both countries.
The State Department sanction targeted a Moroccan-born suspect named Abdelilah Himich, who grew up in France and fought in the French Foreign Legion in Afghanistan before traveling to Syria and joining the Islamic State, according to court files and counterterror officials.
Last month, ProPublica and the PBS program Frontline reported that U.S. intelligence officials believe Himich, 27, was part of an ISIS unit in Syria that directed the terror attacks against Paris and Brussels. Composed largely of youthful European fighters, the external operations unit oversaw a campaign in which up to 200 operatives were deployed to Europe using forged documents, encrypted communications techniques and support networks supplying arms, transport and safe houses, Western intelligence officials say.
"Abdelilah Himich, also known as Abu Sulayman al-Faransi, is a senior foreign terrorist fighter and external operations figure," the State Department said in a statement today. "Himich created the Tariq Ibn Ziyad Battalion in 2015, a European foreign terrorist fighter cell that has provided suicide operatives for ISIL attacks in Iraq, Syria, and abroad; at one time the battalion numbered as many as 300 members. Himich was also reportedly involved in the planning of ISIL's November 2015 Paris attacks and March 2016 Brussels attacks."
U.S. intelligence believes Himich was a "conceiver" of the Paris attacks, according to U.S. counterterror officials. But details of his activities remain unclear, especially because several ISIS fighters use the same nickname as he does. While French and U.S. intelligence agencies agree that Himich is a senior foreign fighter, they differ about his degree of involvement in the Paris and Brussels attacks. Such discrepancies are not uncommon in intelligence circles, especially when it comes to murky underworld of the Islamic State.
"It's possible he was involved, but we don't have evidence that he played an important role in the Paris plot," said a senior French counterterror official who requested anonymity. "We do know he led a battalion of foreign fighters in Syria. If the Americans have specific intelligence of his role in the Paris attacks, they haven't shared it with us."
The U.S. government uses terrorist designations to put international pressure on top suspects, block their assets and bar U.S. persons from doing business with them.
In recent weeks, U.S.-backed Iraqi military forces have hammered the Islamic State in its bastion of Mosul and elsewhere, damaging the group's ability to deploy fighters to Europe and direct attacks in the West.
Nonetheless, the threat persists. French authorities are on heightened alert as the Christmas holidays approach. Over the weekend, French police arrested seven suspects in Strasbourg and Marseilles who had been under surveillance for months. French Interior Minister Bernard Cazeneuve said authorities dismantled a network directed by ISIS from Syria that was about to unleash attacks.
Full report at:
https://www.propublica.org/article/us-identifies-isis-planner-in-attacks-on-europe
--------
Arab World
Syria: Militants in Six More Towns End Battle against Gov't Forces
Nov 22, 2016
"Militants in three towns in Hama and three more towns in Lattakia gave up fight with the Syrian army and joined the national peace plan with the government in last 24 hours," the center said in a statement.
"With these six towns, the total number of the cities, towns and villages that have thus far joined the reconciliation plan now stands at 967," the center added.
The Russian center informed yesterday that three other towns in Hama and two towns in Lattakia had signed peace agreement with the government and joined the peace process.
http://en.farsnews.com/newstext.aspx?nn=13950902001183
--------
Pentagon says air strike killed 'senior al Qaeda leader' in Syria
November 23, 2016
SARMADA, SYRIA : An air strike carried out by the United States last week killed Abu Afghan Al-Masri, a "senior al Qaeda leader," near Sarmada, Syria, on Nov. 18, Pentagon spokesman Peter Cook said on Tuesday.
Cook, speaking during a press briefing, told reporters that Al-Masri, an Egyptian, originally joined al Qaeda in Afghanistan and later moved to it's Syrian affiliate.
Full report at:
http://nation.com.pk/international/23-Nov-2016/pentagon-says-air-strike-killed-senior-al-qaeda-leader-in-syria
--------
Syria army forms new volunteer unit to join anti-terror fight
Nov 22, 2016
The Syrian military says it has set up a new commando force, comprising volunteer fighters, to join the army soldiers and their allies in their campaign to rid the Arab country of terrorist groups.
In a statement released on Tuesday, the General Command of the Armed Forces announced the formation of a "Fifth Attack Troop Corps of volunteers" tasked with "eliminating terrorism" alongside other Syrian forces fighting to "return security and stability to the entire territory."
The unit was established "in response to the rapid development of events, to support the successes of armed forces and to meet people's wishes to put an end to terrorist acts in the Syrian Arab Republic," the statement added.
The Syrian army urged citizens interested in "achieving the final victory against terrorism" to sign up for the volunteer unit at recruitment centers across the country.
It further noted that those eligible to volunteer must be aged over 18 and not already eligible for military service or deserters.
State employees under one-year renewable contracts and the citizens who have finished their military service would also be accepted at the newly formed corps, the army pointed out.
Last year, the Syrian army announced the formation of its Fourth Corps, also an anti-terrorism force, soon after Russia began its aerial campaign against Daesh and other terror outfits in the Middle Eastern country at the Damascus government's request.
'Terrorists in possession of food while people starving'
Separately on Tuesday, the Syrian army said in a statement that foreign-backed terrorists in the militant-held eastern Aleppo own food stores while people were starving.
"The General Command of the Armed Forces calls upon militants in the neighborhoods of east Aleppo to open ration warehouses and distribute food to those that need it," the statement read.
Full report at:
http://www.presstv.ir/Detail/2016/11/22/494728/Syria-Aleppo
--------
Senior Terrorist Commander Killed in Clashes with Syrian Soldiers South of Aleppo City
Nov 23, 2016
Field Commander of Ahrar al-Sham Abu Hareth al-Halabi along with tens of militants from this and other terrorists groups affiliated to Jeish al-Fatah coalition were killed in Sheikh Saeed battlefield.
A field source disclosed that the Syrian army's advance against militants has slowed down as hundreds of militants are now fighting against the government troops in Sheikh Saeed.
The army soldiers, the Lebanese Hezbollah and Iraqi al-Nujaba fighters have started a fresh phase of offensives in Sheikh Saeed and already managed to advanced to Sheikh Saeed bridge.
Fierce clashes are still underway in Sheikh Saeed.
Before the start of the fresh phase of the operation by army men, the Syrian fighter jets pounded Jeish al-Fatah's positions in the Southern parts of Aleppo over 25 times.
On Monday, the Syrian Army and Hezbollah troops repelled a major offensive conducted by Jeish al-Fatah to take back a power plant that the terrorist group lost to the government forces two months ago.
Full report at:
http://en.farsnews.com/newstext.aspx?nn=13950903000236
--------
ISIL Desperately Looking for New Financial Resources
Nov 22, 2016
"The intel indicates that the ISIL is presently looking for new financial resources and (ISIL leader) Abu Bakr al-Baghdadi has sent envoys to several foreign countries to collect financial aids for the terrorist group," terrorism expert Omar Badreddin said.
He reiterated that the ISIL is doing its best to attract financial support in order to avoid collapse in tough battles in Iraq and Syria, and said, "By speaking in favor of other terrorist groups who are supported by some Persian Gulf Arab countries, the ISIL is trying to persuade them to take part in its military operations against the government forces."
Badreddin underlined that the Syrian and Iraqi armies' victories against the ISIL in Aleppo and Mosul, respectively, have resulted in the cut-off of financial supports from a number of foreign backers of ISIL who are now inclined to render more backup to other rival terrorism groups.
He also pointed out that the operations in Mosul and Aleppo have made it almost impossible for the ISIL to send direct financial and logistical backup for its militants in several regions.
He noted that after the cut-off of some financial aids, many ISIL terrorists have withdrawn from areas under their control, while the terrorist cult has also stopped aids to the families of its militants killed in the battles with the government forces.
Badreddin reiterated that after the ISIL was forced to reduce salaries of its foreign militants, it had to expel some of them and also sent some others on leave in order to compensate for its expenses.
In relevant remarks in early September, Badreddin disclosed that the ISIL had sent its envoys to Egypt, Saudi Arabia, Kuwait, Qatar and Algeria to collect cash in order to help the terrorist group to keep on with its terrorist activities.
He noted that the ISIL "is in a very bad financial shape as the terrorist group has to pay salaries of its militants, and buy weapons and ammunition in order to fight the government forces in Syria.
"The ISIL commanders in Syria have come to know that their financial resources are quickly coming to an end and the relentless attacks by the Syrian army and Russian air force as well as the Turkish army's attacks on their military positions will soon result in cutting all their logistical and supply routes," Badreddin added.
He reiterated that the ISIL has announced that it will execute those militants who flee the battlefields and this has resulted in the discontent of the terrorists.
"The ISIL's five envoys are commissioned to meet the terrorist group's supporters in Egypt's Sina region and receive financial aid from them," Badreddin said.
Full report at:
http://en.farsnews.com/newstext.aspx?nn=13950902001219
--------
Lebanon builds wall near Palestine camp
Nov 23, 2016
Sidon (Lebanon): Lebanon is building wall near the country's largest Palestinian refugee camp to prevent jihadists from infiltrating, a military source has said.
The overcrowded and impoverished Ain al-Hilweh camp near the southern coastal city of Sidon has gained notoriety in recent years as a refuge for Muslim extremists and fugitives. It also saw deadly fighting last year between the Jund al-Sham Islamist group and members of Palestinian president Mahmud Abbas's Fatah movement.
And in September the army said security forces had arrested a Palestinian refugee suspected of links to the Islamic State group who was in the camp.
"The construction of the wall began some time ago and the aim is to stop the infiltration of terrorists inside Ain al-Hilweh from nearby orchards," the military source told AFP.
Social media users compared the wall to a controversial separation barrier which Israel has been building in the occupied West Bank since 2002.
Full report at:
http://www.asianage.com/world/americas/231116/donald-trump-calls-journalists-deceitful-liars.html
--------
Death toll among Iran's forces in Syria passes 1,000
November 23, 2016
BEIRUT - More than 1,000 soldiers deployed by Iran to Syria to back the government side in its civil war have been killed, an Iranian official said, underlining Tehran's increasing presence on front lines of the conflict. It was a major increase in the reported death toll from just four months ago, when the Islamic Republic announced that 400 of its soldiers had died on Syria's battlefields. Iran has been sending fighters to Syria since the early stages of the more than five-year-old war to support its ally, President Bashar al-Assad, against rebels and Islamist militants including Islamic State trying to topple him. Although many of the soldiers the Shi'ite Muslim Iran sends are its own nationals, it is casting its recruitment net wide, training and deploying Shi'ites from neighbouring Afghanistan and Pakistan as well. Half of the death toll reported in August were Afghan citizens. "Now the number of Iran's martyrs as defenders of shrine has exceeded 1,000," Mohammadali Shahidi Mahallati, head of Iran's Foundation of Martyrs, said.
Full report at:
http://nation.com.pk/international/23-Nov-2016/death-toll-among-iran-s-forces-in-syria-passes-1-000
--------
US strike destroys bridge, restricts Islamic State in Mosul
November 23, 2016
BAGHDAD/GENEVA - US forces backing an Iraqi army campaign against Islamic State in Mosul carried out an air strike on a bridge spanning the Tigris river, restricting militant movements between western and eastern parts of the city, a U.S. official said on Tuesday.
US-trained Iraqi Counter-Terrorism Service forces are pushing deeper into east Mosul, the last major city controlled by the Sunni hard-line group in Iraq, while army and police units, Shi'ite militias and Kurdish fighters surround it to the west, south and north.
Militants have steadily retreated into Mosul from outlying areas. The army's early advances have slowed as militants dig in, using the more than 1 million civilians inside the city as a shield, moving through tunnels, and hitting troops with suicide bombers, snipers and mortar fire. Five bridges span the Tigris that runs through Mosul. They have all been mined and boobytrapped by militants who took over the city two years ago as they swept through northern Iraq and declared a caliphate in parts of Iraq and neighboring Syria.
Despite planting the mines, Islamic State fighters have so far been able to continue using those bridges which have not yet been destroyed by air strikes. Air Force Colonel John Dorrian, a Baghdad-based spokesman for the U.S.-led coalition, said on Tuesday an air strike hit the number four bridge, the southernmost, in the past 48 hours. "This effort impedes Daesh's freedom of movement in Mosul. It inhibits their ability to resupply or reinforce their fighters throughout the city," he said using an Arabic acronym for the militant group. A month ago, a U.S. air strike destroyed the No. 2 bridge in the center of the city and two weeks later another strike took out the No. 5 bridge to the north. The United Nations' International Organisation for Migration expressed concern that the destruction of the bridges could obstruct the evacuation of civilians. "That is a concern of IOM because this is going to leave hundreds of thousands without a quick way out of the combat," spokesman Joel Millman told reporters in Geneva.
The battle for Mosul, launched five weeks ago, is turning into the largest military campaign in more than a decade of conflict in Iraq since the 2003 U.S.-led invasion that toppled Saddam Hussein. The Iraqi military estimates around 5,000 Islamic State fighters are in Mosul. A 100,000-strong coalition of Iraqi government forces, Kurdish fighters and Shi'ite paramilitary units is surrounding the city.
Mosul's capture would be a major step towards dismantling the caliphate, and Islamic State leader Abu Bakr al-Baghdadi, believed to have withdrawn to a remote area near the Syrian border, has told his fighters to stay and fight to the end. Counter terrorism units and an army armored division are the only forces to have breached the city limits from the eastern side. Other army and federal police units have yet to enter the northern and the southern sides. A Kurdish security source said on Tuesday four Islamic State commanders were captured in a U.S. special operation near Baaj, a town close to the Syrian border. Baghdadi was not among them. The coalition did not confirm the operation. Islamic State said it launched an attack on the north-western front of Mosul, seizing a duty free zone and oil depots located a dozen kilometers from the city limits. The army did not confirm the claim.
Iranian-backed militias have captured the Tal Afar air base, west of Mosul, part of their campaign to choke off the route between the Syrian and Iraqi parts of the caliphate Islamic State declared in 2014. The number of people displaced by the fighting in and around Mosul has slightly decreased, an indication that some people have began returning home in places retaken by government forces, according to the IOM. "68,112 displaced is actually a downtick from couple of days ago," said Millman.
Full report at:
http://nation.com.pk/international/23-Nov-2016/us-strike-destroys-bridge-restricts-islamic-state-in-mosul
--------
Egypt court quashes Morsi life sentence
November 23, 2016
CAIRO - An Egyptian appeals court Tuesday quashed one of two life sentences handed down to Mohamed Morsi since his 2013 overthrow, in the Islamist ex-president's second appeals victory in a week.
The Court of Cassation, Egypt's highest appeals court, issued the verdict, Morsi's lawyer and a judicial official told AFP. The court ordered a retrial in the case, Morsi's lawyer Abdel Moneim Abdel Maqsoud told AFP, adding: "The verdict was full of legal flaws."
The ruling also quashed sentences against 22 others, including three death sentences against Muslim Brotherhood's deputy head Khairat al-Shater and other senior officials from the now banned group. A court had sentenced Morsi to life in June 2015 on charges of spying for Iran, Lebanese militant group Hezbollah and the Palestinian Islamist movement Hamas. The decision was the latest legal victory for the 65-year-old, who has been convicted and sentenced in all cases against him since being removed from office in 2013. "Most of the trials in which the former president has been convicted are not built on sufficient evidence: the prosecutor relies on security services reports," University of Cairo political sciences Professor Mustafa Kamel al-Sayyed told AFP on Tuesday.
Morsi was Egypt's first freely elected leader, taking power after the 2011 uprising that toppled longtime strongman Hosni Mubarak. But his year in office proved deeply divisive and he was overthrown by then-army chief and now President Abdel Fattah al-Sisi following mass street protests. A crackdown on Morsi's Muslim Brotherhood followed, with the movement blacklisted, hundreds of its supporters killed and thousands jailed or sentenced to death.
The courts' handling of the cases against Morsi and his supporters, many of whom have been convicted after mass trials lasting just days, has drawn criticism from Western governments, human rights groups and the United Nations, which described the trials as "unprecedented" in recent history.
Last week, the Court of Cassation also overturned a death sentence handed down against Morsi on charges of taking part in prison breaks and violence against policemen during the 2011 uprising against Mubarak. That decision enabled Morsi to stop wearing the red uniform reserved for death row prisoners.
Five co-defendants, including Brotherhood supreme guide Mohamed Badie, who also received death sentences, are to be retried too in that case.
"These decisions tell us that the initial verdicts were political," said lawyer and human rights activist Gamal Eid. From next Monday, the court is to start reviewing a second life sentence handed down against Morsi in a separate trial on charges of stealing documents relating to national security and handing them over to Qatar, a longstanding supporter of the Brotherhood.
Full report at:
http://nation.com.pk/international/23-Nov-2016/egypt-court-quashes-morsi-life-sentence
--------
Four charged with plotting to assassinate late Saudi king: media
November 22, 2016
Four suspected al Qaeda members have gone on trial accused of plotting to assassinate the late King Abdullah of Saudi Arabia, newspapers in the kingdom reported on Tuesday.
The reports provided no details on the alleged assassination plot or when it may have occurred, but said the defendants were also charged with belonging to an extremist group, communicating with an al Qaeda leader and attempting to recruit Saudi youth.
"The trial of four al Qaeda terrorists accused of plotting to assassinate the late King Abdullah opened at the Special Criminal Court," the Arab News daily said, adding that the accused had been convicted earlier on other militancy charges.
Full report at:
http://nation.com.pk/international/22-Nov-2016/four-charged-with-plotting-to-assassinate-late-saudi-king-media
--------
Syrian army soldiers advance further in eastern Aleppo
Nov 23, 2016
The Syrian army has pushed deeper into eastern Aleppo in its effort to retake the area from militants who are preventing residents from leaving it, a London-based monitor says.
Troops advanced in the key district of Masaken Hanano under the Syrian army's air cover, the so-called Syrian Observatory for Human Rights said.
Masaken Hanano was the first Aleppo district to fall to foreign-backed terrorists in 2012 and is strategically vital.
According to the observatory, if government forces manage to take the district they will be able to cut off the northern parts of militant-held Aleppo from the rest of the terrorist-held districts.
Military aircraft dropped flyers, calling on the militants there to distribute foodstuff among the civilian population, leave the area and allow local residents to move to government-held areas.
The observatory said militants are preventing dozens of families from leaving eastern Aleppo, just like what did during a "humanitarian pause" established by Syria and Russia earlier this month.
Government troops are battling terrorists on several fronts inside militant-held districts.
The Associated Press quoted a resident of Aleppo's frontline Sheikh Maqsoud neighborhood, who corroborated the report by the observatory.
The man, identified as Hajj Mohammed al-Jasim, said his uncles' families were trying to cross from the Bustan al-Basha neighborhood in the east to the Sheikh Maqsoud enclave.
His relatives told him they were prepared to cross during the day but were advised by three militant groups to wait until dark.
"Then in the evening, (the terrorists) began to fire at the crossing" to prevent passage, al-Jasim said. The observatory reported 100 families are waiting to cross. Others said 250 civilians were prepared to go.
Elsewhere in the southwestern province of Quneitra, army troops pounded the positions of Jabhat Fateh al-Sham, formerly known as the Al-Nusra Front, killing an unspecified number of them.
The Syrian military command also announced plans for the formation of a new anti-terrorism commando force, dubbed the Fifth Corps. The announcement comes as the pace of the army's push to recapture eastern Aleppo rises.
An announcement Tuesday urged terrorist groups to allow civilians to exit the besieged enclave through government-designated corridors. Another called on residents to stay clear of areas where armed groups operate.
Full report at:
http://www.presstv.ir/Detail/2016/11/23/494784/Syrian-army-forces-advances-east-Aleppo-Masaken-Hanano-Takfiri-militants-OPCW-militant-chemical-attack
--------
Fatah Al-Sham's Centers Hit Hard in Syrian Army Attacks in Dara'a, Quneitra
Nov 23, 2016
The army's artillery units shelled the positions of Fatah al-Sham near Tal (hill) al-Hamriyeh and in the villages of Zorat al-Kasreh and Karoum al-Kashat South of Hadhar village in Northern Quneitra, killing and wounding a number of terrorists and destroying their vehicles, arms and ammunition.
The army soldiers also targeted Fatah al-Sham's positions on the Western side of the refugee camp in Dara'a al-Balad district in Dara'a city, inflicting a number of casualties on them and destroying one of their main positions, weapons and munitions.
In relevant developments in Dara'a on Sunday, Fatah al-Sham Front (previously known as the al-Nusra Front) suffered a heavy death toll and its bases in Dara'a and other regions across the province sustained major damage in the Syrian Army troops' attacks and ambush operations.
The army soldiers targeted movements of a group of terrorists near the town of al-Yadoudeh in Northern Dara'a, leaving most of the militants dead and their weapons destroyed.
Full report at:
http://en.farsnews.com/newstext.aspx?nn=13950903000379
--------
People Infuriated by White Helmets' Fake Video in Syria
Nov 22, 2016
The video showed that two members of the so-called White Helmets trying to help a man stuck in rubble, all still for a while, then suddenly coming to life, the man being pulled out of the rubble and carried away.
The video of the rescue operation was first posted online by the Revolutionary Forces of Syria Media Office (RFS) that is an anti-Assad media outlet.
After jittery reactions, the RFS pulled out the video from YouTube, but it was too late. The video has created deep doubt and suspicion among viewers about authenticity of other videos released by the White Helmets.
Many have shown their anger in their Facebook and Twitter posts, while other point to the cooperation between the White Helmets and the terrorist groups backed by a number of western states.
Now web operators and analysts have started questioning the veracity and creditability of the reports given out by the international bodies based on such videos and documents.
There was an uproar when the group did not receive the Nobel Peace Prize for their efforts. It was claimed that the group has saved the lives of more than 40,000 people affected by Syria's civil war. Responding to missing out on the Nobel Prize, members of the group said "it is not the Nobel we long for most, but peace itself."
Earlier this month, a Syrian journalist proved via release of several images of a Syrian child that the US-linked White Helmet Humanitarian Organization's claims of saving civilians in the war-hit country are mere lies.
Abbas Jom'eh released three images of a little girl that had been allegedly rescued by members of the White Helmet Organization in three different locations, disclosing the organization's lies about rescuing civilians in Syria.
In his twitter page, the Syrian journalist placed three images form the girl that was rescued by the White Helmet's agents in different places.
"Actors in the White Helmet rescue one girl in three different places! Can't they play their role any better on this stage?" Abbas Jom'eh asked.
Full report at:
http://en.farsnews.com/newstext.aspx?nn=13950902000956
--------
Syria: Army Underlines Intelligence Superiority over Terrorists in Eastern Aleppo
Nov 22, 2016
"Army's General Command has all the needed intel about the terrorists' concentrations, warehouses and their fortifications in the Eastern districts of Aleppo city," it said.
The Syrian army is fully monitoring all the movements of the terrorists in Eastern Aleppo," the statement added.
The General Command of the Syrian Army, meantime, called on the terrorists to stop using civilians as human shields and allow them to leave the city's Eastern districts.
It also asked the terrorists to clear the regions from the mines and IEDs that they have planted to block the civilians' escape from Eastern Aleppo through the 6 corridors that have been established by the army.
It also urged the terrorists to open up the warehouses to the people and distribute the foodstuff among the people.
The Syrian Army troops and Hezbollah continued their advances against the Jeish al-Fatah coalition of terrorist groups in Hananou Housing Project on Tuesday and seized control of more areas and positions in the Eastern parts of the city.
After wining control over terrorists' operations room in Hananou Housing Project and capturing five bases of militants on Monday, the Syrian government forces, including soldiers and Hezbollah fighters, continued their advances and took back al-Sha'abi Bazaar and al-Atfa'eh square.
The army units also seized control over a highway parallel with this flank.
The army's artillery units also shelled terrorists' centers and positions in Hananou.
The army men also managed to advance against militants' positions from the direction of al-Jandoul square towards al-Ba'eidin.
The government forces increased their control over the positions along the street connecting al-Jandoul to al-Ba'eidin.
Full report at:
http://en.farsnews.com/newstext.aspx?nn=13950902001440
--------
South Asia
More Rohingya Muslims Flee From Myanmar to Bangladesh
BY MOHAMMAD NURUL ISLAM AND WA LONE
22/11/2016
Cox's Bazar, Bangladesh/Yangon: Hundreds of Rohingya Muslims from Myanmar crossed the border to Bangladesh over the weekend and on Monday, aid workers said, seeking shelter from escalating violence in the northwest that has killed at least 86 people and displaced some 30,000.
An official from the International Organisation for Migration (IOM), the UN's migration agency, who did not want to be identified, said he had witnessed more than 500 people enter its camps in the hills near the border on Monday.
Aid workers from other UN agencies and Reuters reporters in the IOM camps also reported seeing Rohingyas who said they had recently fled the fighting in Myanmar. The UN workers did not give specific numbers, but expressed concern about a sudden influx of people.
The bloodshed is the most serious since hundreds were killed in communal clashes in the western Myanmar state of Rakhine in 2012, and is posing the biggest test yet for the eight-month-old administration of Nobel Peace Prize winner Aung San Suu Kyi.
Soldiers have poured into the area along Myanmar's frontier with Bangladesh, responding to coordinated attacks on three border posts on October 9 that killed nine police officers.
Moulavi Aziz Khan, 60, from a village in northern Rakhine, said he left Myanmar last week, after the military surrounded his home and set fire to it.
"At that time, I fled with my four daughters and three grandsons to a nearby hill… later, we managed to cross the border," he said.
Myanmar's military and the government have rejected allegations by residents and rights groups that soldiers have raped Rohingya women, burnt houses and killed civilians during the military operation in Rakhine.
New York-based Human Rights Watch said that the weekend satellite images taken on November 10, 17 and 18 showed 820 destroyed buildings in five villages in northern Rakhine, bringing the total number it says it has documented to 1,250.
Checking reports
Myanmar's government has also rejected previous reports of Rohingya civilians trying to escape to Bangladesh.
Zaw Htay, presidential spokesman and member of the newly-formed information task force on Rakhine, said the government continued to investigate such reports, but had not so far been able to substantiate any of them.
"We checked with the military and police about people fleeing to Bangladesh since October 9. Some people fled from their villages, but we put them back to their villages," he said.
"If something like that happened, we are concerned and we will continue to investigate. We are not rejecting all allegations… our government always checks all the allegations, and some were found to be untrue."
Myanmar's army has declared an "operations zone" in mainly Muslim northern Rakhine, where it says it is battling Islamist-inspired Rohingya insurgents, and it is not possible for international reporters to enter the area to verify claims.
Myanmar's 1.1 million Rohingya, viewed as illegal immigrants from Bangladesh by many of the country's majority Buddhists, are denied citizenship and face severe restrictions on their travel.
p to 30,000 people are now estimated to be displaced and thousands more affected by the recent fighting, the UN has said.
Humanitarian operations that had been providing food, cash, and nutrition to more than 150,000 people have been suspended for more than 40 days.
The UN refugee agency called on the Myanmar government for access to allow it to distribute aid.
"The idea is to help them where they are, so that they wouldn't be forced to cross over into Bangladesh," Vivian Tan, regional public information officer for the UNHCR, told Reuters Television.
"If they can't get the assistance where they are then, if they are forced to cross into another country like Bangladesh, we're really appealing to the Bangladeshi government to honour its long tradition of hospitality and open its borders to these refugees."
http://thewire.in/81842/rohingya-muslims-flee-myanmar-bangladesh-aid-workers/
--------
Bangladeshi arrested in Libya over trafficking
November 20, 2016
Libyan police on Thursday arrested a Bangladeshi national for his alleged involvement in trafficking 37 fellow countrymen promising them lucrative jobs in the North African country.
The trafficker has been identified as Sujan, 28, a resident of Noakhali, confirmed the Bangladesh Embassy in Tripoli.
The Libyan police arrested at least 10 Bangladeshi human traffickers, including Sujan, in the last three weeks.
On November 8, the 37 Bangladeshi fortune seekers, who tried to reach Italy through the Mediterranean Sea, were detained in Libya's Gharyan town for illegally entry.
Last month, the Libyan police also rescued at least 65 Bangladeshis from the traffickers' den at Tajoura suburb of the war-torn nation's capital.
The Bangladesh government in June last year officially banned sending its nationals to Libya on security grounds. Libya has also suspended recruitment of workers against the backdrop of its troubling situation.
Full report at:
http://www.thedailystar.net/backpage/bangladeshi-arrested-libya-over-trafficking-1317388
--------
Bangladesh asks Iraq to ensure security of its expats
November 22, 2016
Bangladesh has urged the Iraqi government to ensure security of Bangladeshi workers employed in the war torn country.
The appeal came when Charge de Affairs of Iraq embassy in Dhaka Salman Al Janabi made a courtesy call on Expatriates' Welfare and Overseas Employment Minister Nurul Islam at his office in Dhaka's Probashi Kalyan Bhaban today.
The minister also requested the Iraq embassy official to hire skilled and semi-skilled workers from Bangladesh.
Charge de Affairs Salman informed the minister that his government has taken many development projects in the country's safest regions.
Full report at:
http://www.thedailystar.net/country/bangladesh-asks-iraq-ensure-security-its-expats-1318807
--------
HC questions acquittal of SQ Chy's wife, son
November 22, 2016
Irked by the acquittals of the wife and son of executed war criminal Salauddin Quader Chowdhury in the sensational verdict leak case, the High Court has ordered them to surrender before a lower court within six weeks.
In a suo-moto rule, the bench of Justice M Enayetur Rahim and Justice JBM Hassan asked the government on Tuesday to respond in four weeks as to why the duo would not be awarded appropriate punishment in the case. It also sought all the documents related to the trial.
The duo – Salauddin's wife Farhat Quader Chowdhury and son Hummam Quader Chowdhury – have been given six weeks to surrender before the trial court after getting a copy of the High Court order.
The bench also asked the trial court to
grant them bail after surrender, Assistant Attorney General Shahidul Islam Khan told the Dhaka Tribune.
The court noticed some anomalies in sentencing the accused in the verdict leak case while hearing a petition on acceptance of an appeal filed by one of the convicts, Mahbubul Ahsan, Salauddin's manager.
Full report at:
http://www.dhakatribune.com/bangladesh/2016/11/22/hc-questions-acquittal-sq-chys-wife-son/
--------
Three JMB members arrested with explosives in Dhaka
November 22, 2016
The Counter Terrorism and Transnational Crime unit has reportedly arrested three active members of the militant outfit Jama'atul Mujahideen Bangladesh (JMB).
Masudur Rahman, deputy commissioner of Dhaka Metropolitan Police said: "The arrest was made during a drive from Jatrabari's Kazla late night on Monday."
Police identified the detainees as Rashdur Rahman alias Sumon, 24, Shahidul Islam alias Shipan, 23, and Md Babul Howladher alias Hossain, 28.
CTTC officials said during the primary interrogation the detainees confessed that they were JMB militants and they had also been involved in several robberies in Dhaka.
Besides, they skilfully escaped the premises by utilising the explosives to cause public terror during the robberies.
Full report at:
http://www.dhakatribune.com/bangladesh/2016/11/22/three-jmb-members-arrested-explosives-dhaka/
--------
Abu Afghan al-Masri killed in Syria airstrike: US
Nov 23 2016
A prominent al-Qaeda terrorist network leader was killed in airstrike conducted by US forces in Syria, the US Department of Defense has confirmed.
Pentagon spokesman Peter Cook told reporters on Tuesday that the killing of Egyptian Abu Afghan al-Masri took place near Sarmada, located in Syria's Idlib province, on November 18.
Cook further added that that Masri had originally joined al-Qaeda in Afghanistan and later moved to its Syrian affiliate.
"He had ties to terrorist groups operating throughout southwest Asia including groups responsible for attacking US and coalition forces in Afghanistan and those plotting to attack the West," Cook said.
Full report at:
http://www.khaama.com/abu-afghan-al-masri-killed-in-syria-airstrike-us-02342
--------
Mideast
Turkey-backed forces besiege Syria's al-Bab, eyes on Manbij: Erdogan
November 23, 2016,
AR-RAQQA, SYRIA : Turkey-backed forces have besieged the Islamic State-held Syrian town of al-Bab from the west and have set their sites on Manbij for their next offensive, Turkish President Tayyip Erdogan said on Tuesday.
In a speech in the capital Ankara, Erdogan said YPG Kurdish militia forces must completely leave Manbij. Erdogan, who views the Syrian Kurdish fighters as hostile forces, also accused Kurdish militants of trying to turn Iraq's Sinjar into a base. He said Turkey will not allow Sinar to become a "terror centre".
http://nation.com.pk/international/23-Nov-2016/turkey-backed-forces-besiege-syria-s-al-bab-eyes-on-manbij-erdogan
--------
At least 12 civilians killed in Saudi airstrike in Yemen
Nov 23, 2016
At least 12 civilians have been killed after Saudi warplanes attacked a pick-up truck in the northwestern Yemeni province of Hajjah on Wednesday, residents say.
Locals said the passengers were shoppers heading to a local market in the Hiran area, which is controlled by the Houthi movement, adding six others were injured.
Separately, Saudi aircraft carried out bombings in the Nihm district in Sana'a province and Dhubab district in Ta'izz province, but there was no immediate word on possible casualties or damage.
Meanwhile, Yemen's army snipers killed four Saudi troops in Rabou'ah in Saudi Arabia's southwestern region of Asir, media reports said.
Thousands of Saudi airstrikes have failed to dislodge the Houthis from the capital, Sana'a, but have hit schools, markets, hospitals and homes, killing many civilians which rights groups say may amount to war crimes.
More than 11,000 people have been killed in the 20-month Saudi war which has unleashed a humanitarian crisis in one of the Arab world's poorest countries.
'Campaign of harassment'
On Wednesday, Amnesty International said Saudi-backed militants fighting in Yemen are leading a "campaign of harassment and intimidation" against hospital staff and using civilians as human shields.
Advocacy Director for the Middle East and North Africa at Amnesty International Philip Luther said the Saudi mercenaries are stationing fighters and military positions near medical facilities.
"By positioning fighters and military positions near medical facilities they have compromised the safety of hospitals and flouted their obligation to protect civilians under international law," he said.
Luther said the Saudi-backed militants are also harassing medical staff and preventing doctors from carrying their work.
"Attacks targeting health professionals or medical facilities are prohibited by international humanitarian law and can constitute war crimes," he said.
Saudi Arabia is waging a destructive war in Yemen in order to restore Abd Rabbuh Mansur Hadi to power. Hadi has been living in Riyadh since he resigned as president and fled the capital Sana'a in March last year.
Saudi Arabia and its mercenaries have already been accused of gross human rights violations in Yemen, including repeatedly attacking hospitals and civilians.
In its Wednesday report, Amnesty cited cases in which hospitals were shut down because of threats against staff by Saudi-backed forces.
Full report at:
http://www.presstv.ir/Detail/2016/11/23/494780/Amnesty-Yemen-Hadi-Houthi-Saudi-Arabia
--------
Turkey Forces Syrian Refugees to Fight in Euphrates Shield Operation
Nov 22, 2016
"The Turkish security forces attacked Zohrat al-Forat hotel in Urfa city (in Southeastern Turkey) close to the border with Syria and kidnapped 20 young men after arresting 50 others who live in the city camps," the sources said.
They added that the Turkish police officers also attacked many houses which shelter the Syrians in the Central part of Urfa and near the municipality building and abducted tens of other young Syrian refugees.
The sources said the Turkish army has stated no charge or accusation for these arrests.
According to the sources, Turkey plans to send the young Syrian men to help the country's forces in the Euphrates Shield operation in Northern Syria.
Turkey declared in August that its Army had started the 'Euphrates Shield' military operation in Syria, allegedly to cleanse the ISIL terrorists from its border with Syria.
Full report at:
http://en.farsnews.com/newstext.aspx?nn=13950902001288
--------
Turkey's pro-Kurdish opposition to return to parliament, ending boycott: officials
November 23, 2016
ANKARA, TURKEY : Turkey's pro-Kurdish Peoples' Democratic Party (HDP) will resume participation in parliamentary sessions from Tuesday, party officials said, ending a boycott it launched this month after the arrest of its two co-leaders.
The party would resume taking part in sessions in the general assembly from Tuesday, three HDP officials told Reuters, without giving further details.
Full report at:
http://nation.com.pk/international/23-Nov-2016/turkey-s-pro-kurdish-opposition-to-return-to-parliament-ending-boycott-officials
--------
More than 40 killed in renewed Yemen clashes
November 23, 2016
ADEN - Renewed clashes between Yemeni government forces and rebels killed more than 40 people Tuesday, military officials said, a day after a fragile 48-hour ceasefire expired without halting the violence. Forces loyal to President Abedrabbo Mansour Hadi repelled an attack by Shiite Huthi rebels and their allies on the western outskirts of Taez city, the officials said.
The attack that began late Monday targeted the Al-Dhabab area, which provides pro-Hadi forces with their only access to the flashpoint city of 300,000 people that is surrounded by insurgents. Warplanes from the Saudi-led Arab coalition took part in operations to repel the attack, officials said.
Military officials also reported heavy artillery fire in an eastern suburb of Taez as pro-Hadi forces pressed a campaign to wrest back control of a presidential palace, police headquarters and an air defence base from the Huthis. Eleven rebel fighters and five pro-government soldiers were killed in the clashes around the southwestern city, they said.
In northwest Yemen, fighting around the coastal town of Midi cost the lives of 18 rebels and four soldiers, a loyalist commander on the ground, Abdel Ghani Chebli, told AFP. Rebel sniper fire on Monday night killed three soldiers as the Huthis tried to advance on Midi's harbour, which is controlled by pro-Hadi forces.
Full report at:
http://nation.com.pk/international/23-Nov-2016/more-than-40-killed-in-renewed-yemen-clashes
--------
Israel accuses Iran of sending Hezbollah arms on commercial flights
November 23, 2016
BEIRUT, LEBANON : Israel has accused Iran's Islamic Revolutionary Guard Corps (IRGC) of using commercial airline flights to ship weapons to the Lebanese Shi'ite Muslim group Hezbollah.
In a letter to the United Nations Security Council on Tuesday, Israeli U.N. Ambassador Danny Danon accused Iran of using airlines such as Mahan Air. The United States has sanctioned the Iranian carrier for providing services to the Quds Force, a special forces unit of the IRGC, as well as Hezbollah.
Iran's mission to the United Nations and Mahar Air were not immediately available to comment on the accusations.
Danon wrote that Quds Force officers pack arms and materiel into suitcases that are transferred to Hezbollah either by commercial flights to Beirut or commercial flights to Damascus in Syria, and then transferred by land to Lebanon.
"It is clear that Iran is still the primary supplier of arms and related materiel to Hezbollah, in blatant violation of numerous Security Council resolutions," Danon wrote. "The Security Council must condemn Iran and Hezbollah for the violation of its resolutions."
Danon's letter to the 15-member Security Council, seen by Reuters, did not offer any evidence to support his accusations.
The charge may add fuel to the debate about the agreement among Iran, the United States and five other nations to remove some of the economic sanctions on Tehran in exchange for restraints on the country's alleged nuclear weapons program.
U.N. Security Council missile restrictions and an arms embargo on Iran are not technically part of the nuclear agreement.
Full report at:
http://nation.com.pk/international/23-Nov-2016/israel-accuses-iran-of-sending-hezbollah-arms-on-commercial-flights
--------
US-Iranian citizen convicted in US for trying to buy missiles for Iran
23 November 2016
A dual citizen of Iran and the United States was found guilty on Tuesday on charges that he tried to help acquire surface-to-air missiles and aircraft components for the government of Iran in violation of US sanctions.
Reza Olangian, 56, was convicted by a federal jury in Manhattan on all four counts he faced, including conspiring to acquire and transfer anti-aircraft missiles, prosecutors said.
Olangian faces a mandatory minimum prison sentence of 25 years and a maximum of life. He is scheduled to be sentenced on March 13.
Lee Ginsberg, Olangian's lawyer, said the verdict "was very disappointing and we do plan to appeal."
Olangian, who became a US citizen in 1999, was arrested in Estonia in October 2012 and subsequently extradited to the United States following a sting operation orchestrated by the US Drug Enforcement Administration.
Prosecutors said that in 2012, Olangian met in Ukraine with a DEA informant posing as a Russian weapons broker to arrange for the purchase of surface-to-air missiles and various military aircraft components.
In recorded conversations and emails, Olangian described his plans to acquire the missiles and parts and smuggle them into Iran, for whose government he was purchasing them, from Afghanistan or from another neighboring country, prosecutors said.
Prosecutors said Olangian negotiated a deal involving 10 missiles and dozens of aircraft parts, and during a video conference with the informant, stated that he ultimately wanted to acquire at least 200 missiles.
The deal followed a failed effort by Olangian in 2007 to obtain about 100 missiles for Iran, prosecutors said. His goal throughout, they said, was to make a substantial profit selling the weapons.
Full report at:
https://english.alarabiya.net/en/News/middle-east/2016/11/23/US-Iranian-citizen-convicted-in-US-for-trying-to-buy-missiles-for-Iran.html
--------
US-led coalition unsuccessful against Daesh: Ayatollah Khamenei
Nov 22, 2016
Leader of the Islamic Revolution Ayatollah Seyyed Ali Khamenei says the so-called international coalition led by the United States and formed allegedly to fight the Daesh terrorist group has not been successful.
"Based on one standpoint, the Americans have no plan to uproot Daesh… and seek to act in such a way vis-à-vis Daesh that this problem would remain unresolved in Iraq or Syria," Ayatollah Khamenei said in a meeting with Slovenia's President Borut Pahor in Tehran on Tuesday. Iranian President Hassan Rouhani was also present in the meeting.
"Based on the second standpoint, the Americans are keen on the settlement of the issue of Daesh but the mechanisms [used to achieve this goal] are not such that they would be able to carry out this task," the Leader added.
Ayatollah Khamenei emphasized that the outcome in both scenarios is the same and "Iraq and Syria, in particular, are in a very difficult and bitter situation."
The Leader stated that violent clashes in West Asia and the creation of terrorist groups such as Daesh have been the result of acts of interference and imposition of the will by certain powers, adding that all countries are duty-bound to make efforts to settle such conflicts.
"The Islamic Republic, despite the propaganda by the hegemonic current, is active and effective with [the purpose of achieving] such a goal, but does not interfere in the affairs of other countries," Ayatollah Khamenei said.
The Leader pointed to painful events in the region and the role of certain powers in stirring instability and imposing war on nations and stated, "The Islamic Republic has always called on independent countries to play an active role in countering pressure on nations and has asked them not to remain silent and an observer."
Ayatollah Khamenei further referred to the bombardment of Yemen and destruction of the country's infrastructure by Saudi Arabia over the past 20 months as one of the existing "bitter events" in the region.
Full report at:
http://www.presstv.ir/Detail/2016/11/22/494703/Iran-Slovenia-Leader-Ayatollah-Khamenei-Borut-Pahor
--------
Pakistan
Baloch rejected foreign-sponsored terrorists, says COAS
November 23, 2016
QUETTA - Chief of Army Staff (COAS) General Raheel Sharif yesterday said Balochistan people had absolutely rejected foreign-sponsored terrorists
He was addressing the officers and troops of Southern Command and Frontier Corps on his arrival here as part of his valedictory visits. The COAS said Balochistan people had clearly rejected foreign-sponsored terrorists and backed the state in busting their networks. He also paid glowing tribute to the forces over unrivalled services for Balochistan due to which the tide in the province had turned against terrorists and their sympathisers. He added a large number of Ferraris were surrendering, adding the security forces would continue to work with the provincial and federal governments towards greater security and stability.
Earlier, Southern Command Commander Lt-Gen Aamer Riaz and Balochistan Frontier Corps Inspector General Maj-Gen Sher Afgan received the chief of army staff on his arrival at the venue,.
Raheel Sharif maintained Gwadar Port and China-Pakistan Economic Corridor (CPEC) would usher in new era of hope and prosperity for the area with dividends reaching the common man.
He also lauded Southern Command for reintegrating youth by their mass induction into Frontier Corps and Army, rehabilitation of earthquake-hit Awaran and training 6,000 policemen and levies.
General Raheel Sharif added security and assistance to the civil government in institution-building and development work in remote areas had been his priority which brought him to Balochistan almost every month.
He also appreciated improvement in management of long and treacherous border with Afghanistan and Iran, which had helped improve overall security situation in Balochistan.
The COAS also commended Southern Command for managing an arduous task of construction of over 1,000-km-long road network in the rugged and hostile terrain by FWO and NLC, which helped in operationalisation of CPEC in a stipulated time frame.
Balochistan Chief Minister Nawab Sanaullah Khan Zehri also called on Chief of Army Staff Gen Rahil Sharif in the provincial capital.
http://nation.com.pk/national/23-Nov-2016/baloch-rejected-foreign-sponsored-terrorists-says-coas
--------
SC sets aside SHC decision to revoke licences of wine shops
NAVEED SIDDIQUI
Nov 23, 2016
The Supreme Court on Wednesday annulled the Oct 27 Sindh High Court (SHC) order about cancellation of licences of about 124 wine shops in the province.
A three-member bench presided by Justice Mian Saqib Nisar was hearing the case on a petition against the SHC order.
Accepting the appeals of the petitioners and returning the case to the SHC, the apex court ordered hearings on the case to take place on a daily basis starting next week.
"This order should not be taken to mean that the Supreme Court has granted permission for the sale of alcohol," Justice Nisar said during the hearing.
He added: "We are not concerned with whether wine retail is permitted or not, we are concerned with how lawful the matter is."
Dr Ramesh Kumar Vankwani, the patron of Pakistan Hindu Council and PML-N MNA, who was present during the hearing said, it was not right to "sell alcohol in the name of religion".
"In Hinduism, selling and drinking alcohol is prohibited," he said.
In response, Justice Nisar reminded Dr Ramesh that he is not a party in the case and asked him to sit.
"The Supreme Court has used it's suo moto jurisdiction in this case. The Supreme Court is an institution for the explanation of the law."
The petition was moved on behalf of the Kohistan Wine Shop, Karachi; Azad Wine Shop, Karachi; Mehran Wine Shop, Hyderabad; Arjun Wine Agency, Mirpurkhas; Mazda Trading, Karachi; Master Wine Shop, Sukkur; Sindh Wine Shop, Nawabshah; and Lucky and Company, Karachi.
The petitioners pleaded before the SC that they were law-abiding citizens of the country and had paid Rs3 billion in duties to the government last year.
They said that on Oct 18, the SHC had ordered the Sindh government and its departments concerned to initiate the process of cancelling the licences of the liquor shops.
The order came with an observation that no provision under Article 17 of the Constitution allowed the legal authority to grant general licences to liquor shops to operate throughout the year as non-Muslims could only be provided liquor for consumption at their religious ceremonies for which the request could be made in advance.
Full report at:
http://www.dawn.com/news/1298136/sc-sets-aside-shc-decision-to-revoke-licences-of-wine-shops
--------
Taliban bomb kills 3 FC men in Peshawar
November 23, 2016
PESHAWAR - At least three personnel of Frontier Constabulary embraced martyrdom and five others were injured on Tuesday in a roadside bomb blast in Bashirabad area of Peshawar, where levels of militant violence had recently dropped.
Rescue sources said that a FC vehicle was on the way back to the headquarters when a planted device hit the vehicle in Bashirabad area.
Muhammad Sajjad Khan, a senior police official, told The Nation the improvised explosive device, which was planted along the roadside, exploded when the FC vehicle was passing by. "Three FC men have been killed and five wounded," Khan said.
Rescue-1122 and locals immediately reached the site and shifted the bodies and the injured persons to Lady Reading Hospital, Peshawar.
The deceased personnel were identified as Hanif Jamal, a resident of Dargai; Yasirullah, a resident of Karak; Khalid, a resident of Malakand; while the injured were identified as Aizaz Ali, Zahoor, Said Wakeel, Bakhti Rawan and Asif.
Zulfiqar Babakhel, a spokesman for the city's main hospital, confirmed the death toll and said two of the wounded were critically injured.
A faction of the Pakistani Taliban later claimed the attack. Overall levels of militant-linked violence have fallen since the army launched an operation in 2014 to wipe out militant bases in the tribal districts and end an insurgency that has cost thousands of civilian lives since 2004.
Full report at:
http://nation.com.pk/national/23-Nov-2016/taliban-bomb-kills-3-fc-men-in-peshawar
--------
Three terrorists killed in Mohmand
November 23, 2016
Mohmand Agency - Three terrorists were killed during search operation by the security forces in Mohmand agency. Sources said that on Tuesday, security forces conducted a search operation in Tehsil Safi, at Gharri Kandharoo and 3 terrorists were killed during the operation. Arms and ammunition have, however, been recovered from their possession. Security forces also destroyed the hideouts of these terrorists.
http://nation.com.pk/national/23-Nov-2016/three-terrorists-killed-in-mohmand
--------
'Most wanted' terror suspect nabbed in Peshawar: CTD
Nov 23, 2016
The Counter-Terrorism Department (CTD) Khyber Pakhtunkhwa claimed to have arrested a suspected militant with a Rs0.5 million bounty on his head in Peshawar's Hayatabad area on Wednesday.
The "most wanted" suspect was allegedly involved in a 2009 deadly car bombing in Peshawar's Khyber Bazaar in which 60 people were killed, according to a CTD official.
A CTD team carried out a raid on an intelligence tip-off and arrested the suspect, who has been identified as Feroz Khan, he said.
The 'militant' was also allegedly involved in the murder of Superintendent of Police (Rural) Khurshid Khan.
Full report at:
http://www.dawn.com/news/1298146/most-wanted-terror-suspect-nabbed-in-peshawar-ctd
--------
Man killed, three hurt in Chaman blast
Nov 23, 2016
QUETTA: A person was killed and three others, including two security personnel, were injured in a remote-controlled bomb attack on Monday in the Boghara Road area of Chaman, a town near the Pak-Afghan border.
Official sources said the intended target had been an army vehicle that was passing through the area when the bomb exploded. The improvised explosive device had been planted under a causeway near Boghara Road.
It went off as an army truck carrying security personnel was crossing the causeway.
A 25-year-old man died on the spot and three others were injured. "The man killed in the blast was passing through the area on a motorcycle," a senior police officer said, adding that the injured include two security personnel and a passerby. The security personnel travelling in the army vehicle received minor injuries.
Full report at:
http://www.dawn.com/news/1297854/man-killed-three-hurt-in-chaman-blast
--------
COAS confirms death sentence of 10 terrorists
November 23, 2016
ISLAMABAD - Chief of Army Staff General Raheel Sharif yesterday confirmed death sentences of another ten hardcore terrorists convicted by the military courts for offences relating to attacks on security forces and destruction of educational institutions.
According to ISPR statement, the terrorists were involved in heinous offences related to terrorism, including killing of innocent civilians, slaughtering of Captain Jonaid Khan, Captain Najam Riaz Raja, Naik Shahid Rasool and Lance Naik Shakeel Ahmed of SSG.
The statement said all the convicted terrorists were active members of the banned Tehreek-e-Taliban Pakistan (TTP) and Lashkar-e-Islam and were involved in creating unrest in the country through various subverting activities.
They had planned and executed attacks on armed forces and law enforcement agencies of Pakistan which resulted in deaths and injuries to several soldiers.
They were also involved in destruction of educational institutions and communication infrastructure. Fire-arms and explosives were also recovered from their possession.
According to details shared by the ISPR, convict Hanifa son of Umar Zareen was an active member of Tehreek-e-Taliban Pakistan. He was involved in kidnapping and slaughtering of Captain Jonaid Khan, Captain Najam Riaz Raja, Naik Shahid Rasool and Lance Naik Shakeel Ahmed. He was also found possessing explosives. The convict admitted his offences before the magistrate and the trial court and was awarded death sentence.
Two convicts Tirah Gul son of Khan and Muhammad Wali son of Faulad Khan were active members of Lashkar-e-Islam. They were involved in attacking personnel of law enforcement agencies and armed forces of Pakistan which resulted in death of Havildar Noor Mast, Naik Farman Ali, Naik Shabbir Akhtar, Sepoy Humayun, Sepoy Fakhar Alam, Sepoy Ismail and injuries to many other soldiers. These convicts admitted their offences before the magistrate and the trial court and they were awarded death sentences.
The convict Khaista Muhammad son Abdul Jalil was an active member of Tehreek-e-Taliban Pakistan. He was involved in attacking armed forces of Pakistan which resulted in death of Havildar Muhammad Maqsood, Sepoy Rashid Ali, Sepoy Muhammad Waseem and injuries to a soldier. He was also involved in destruction of the Government Girls Primary School Zangi and a PTCL Tower. The convict was found in possession of explosives. He admitted his offences before the magistrate and the trial court and was awarded death sentence.
Full report at:
http://nation.com.pk/national/23-Nov-2016/coas-confirms-death-sentence-of-10-terrorists
--------
PM condemns terror attack on FC in Peshawar
November 22, 2016
ISLAMABAD: Prime Minister Nawaz Sharif on Tuesday strongly condemned the terrorist attack on Frontier Constabulary (FC) personnel in Peshawar.
The Prime Minister expressed deep grief and sorrow over the loss of valuable lives of FC personnel in the attack.
"These cowardly attacks cannot shatter our unflinching resolve to eliminate terrorism and extremism from our motherland," the PM said.
The Prime Minister prayed to Almighty Allah to bless the departed souls with eternal peace and grant of courage to the bereaved families to bear this irreparable loss with fortitude.
The Prime Minister prayed for swift recovery of those injured during the attack.
At least three officials of the FC were killed and three others injured in an explosion that hit their vehicle in Peshawar.
Full report at:
http://nation.com.pk/national/22-Nov-2016/pm-condemns-terror-attack-on-fc-in-peshawar
--------
Terror suspect held, explosives seized
November 23, 2016
LAHORE - The counter terrorism department of Punjab police yesterday claimed to have arrested a terror suspect during a special operation in Bahawalpur district.
The suspect was named by CTD officials as Muhammad Yaseen, said to be a member of the banned outfit Lashkar-e-Jhangvi. According to a spokesman, the raided was conducted on a tip-off.
Full report at:
http://nation.com.pk/lahore/23-Nov-2016/terror-suspect-held-explosives-seized
--------
Southeast Asia
ISMA: Empower Jawi script, not just for Muslim name registration
BY MELATI A. JALIL
November 22, 2016
KUALA LUMPUR, Nov 22 — Ikatan Muslimin Malaysia (ISMA) has downplayed the use of Jawi script for Muslim names as suggested by the Federal Territories Mufti, saying that it was not a critical issue that should be discussed.
The group's deputy president Aminuddin Yahaya told Malay Mail Online that the confusion over the meaning of Arabic names was only a case of misunderstanding and there were bigger things that should be looked at.
"This is not critical (to have Jawi names). Jawi should be empowered more than just names," he said.
He said the empowerment of Jawi script should be done in a bigger context through teaching in schools, book writings, newspaper and billboards like in Kelantan and Terengganu.
"This is what we are fighting for, it's not like there is a specific meaning of name in Jawi,' he said.
Federal Territories Mufti Datuk Dr Zulkifli Mohamad proposed for the National Registration Department to provide a special column for Muslim parents to write their child's name in Jawi script, to prevent usage of names that have unpleasant meanings in Arabic.
He said Jawi spelling of the name will be considered the conclusive spelling to ascertain the meaning of certain names that have different meanings when spelt in the Roman script.
The Jawi script is used to spell Malay words using the Arabic alphabet. For example, the mufti pointed out that two distinct Arabic letters — alif and 'ain — are both spelt with the Roman letter "A"
Pertubuhan Tarekat Muktabar Malaysia (Pertama) meanwhile held a different view, saying the suggestion had a lot of positive implications to Muslim families.
"Jawi is an intermediary script to Arabic. If you can read Jawi, then it would be easier for you to read Arabic, and it is part of the Malay identity. It shouldn't have any confusion as Jawi can clear things up, it has positive implications," secretary-general Sheikh Abdul Kareem Said Khadaied told Malay Mail Online.
He said it was important for children to have a good names, as it would be a reflection to their behaviour and help preserve the Jawi script.
"We are not talking about racial or Malay issues, we are talking about whether or not it is good for character building.
"There is a study done by an American university that relates names with characters, and in the UK, they did a research on the number of babies who are named after Muhammad, there are lots of them," he said, referring to Prophet Muhammad.
"And the percentage of people with 'Muhammad' names, who have criminal records, is the lowest than other names," he said.
Perkasa Islamic affairs bureau chairman Dr Amini Amir Abdullah also welcomed the suggestion, adding that Muslim parents should refer to the 'ulama' (Muslim scholars) when giving names to their children.
"It is a good move as it will avoid confusions in the meaning of a name.
"It can also empower Jawi script, if Muslim parents do not know Jawi, they can refer to those who have knowledge in Jawi script, I welcome the decision as it gives a lot of advantages to parents and children," he said.
Zulkifli also suggested that religious teachers or officials from the federal religious authority provide advisory services to parents when choosing their children's names.
Recently, Penang Mufti Datuk Dr Wan Salim Wan Mohd Noor had been publicly criticised after warning Muslim parents against naming their children with words that purportedly have unpleasant meanings in Arabic.
Among the names Wan Salim had warned against was "Damia", which he claimed means "source of blood flow", but Perlis Mufti Datuk Dr Mohd Asri Zainul Abidin was among those who suggested that the name might not even be Arabic.
Mohd Asri said the name "Damia" has many meanings in different cultures, and may refer to a place-name in Jordan, including a Greek word meaning "to tame" that becomes the root for other names such as Damian.
Despite that, the FT mufti suggested for parents to spell the name with an apostrophe as Damia', to ensure that it has no negative meanings in Arabic.
He also warned parents against giving long names to their children, since people tend to use a shortened version of given names.
He suggested that parents consult religious teachers before choosing a name, and to not just pick a name from books.
http://www.themalaymailonline.com/malaysia/article/isma-empower-jawi-script-not-just-for-muslim-name-registration
--------
Hadi asked to put cap on Shariah punishments, PAS MP says
BY KAMLES KUMAR
November 23, 2016
KUALA LUMPUR, Nov 23 — PAS president Datuk Seri Abdul Hadi Awang was asked to include limits on punishments that the Shariah courts may impose in his private member's Bill to enhance their powers, said a lawmaker from his party.
Hadi's Bill in its current form seeks to empower the Shariah courts to mete out any punishment short of the death penalty.
According to Kuala Nerus MP Datuk Khairuddin Aman Razali, this was among the changes that will be in the amended version of the Bill that could be tabled tomorrow.
"Everyone in the meeting agreed that there should be a need to empower the Shariah courts and they agreed that there should be a limitation to the maximum punishments," he said, referring to the special briefing for Muslim MPs yesterday.
The suggestion now was to raise the maximum sentences that Shariah courts may impose to 30 years' prison, fines of up to RM100,000 and no more than 100 strokes of the cane.
The current limit for Shariah punishments are a fine of RM5,000, a jail term of three years and six strokes of rotan.
Full report at:
http://www.themalaymailonline.com/malaysia/article/hadi-asked-to-put-cap-on-shariah-punishments-pas-mp-says
--------
Ahok grilled, as clerics call on Muslims not to rally
November 23, 2016
Jakarta Governor Basuki "Ahok" Tjahaja Purnama came to the National Police headquarters on Tuesday for his first questioning session as a suspect in a blasphemy case, as Muslim leaders called on the public to respect the ongoing legal process against the incumbent gubernatorial candidate.
Accompanied by a number of lawyers, Ahok, who seeks to extend his term in the February election, entered the police headquarters in South Jakarta at about 9 a.m., declining to comment.
He was questioned for around eight hours, in which police investigators asked him similar questions to what he was previously asked before being named a suspect, his lawyer Sirra Prayuna said.
"Pak Ahok was calm and relaxed. He answered the questions clearly," Sirra told reporters.
Sirra said Ahok's legal team was planning to invite 14 experts and seven witnesses to testify in the case, including eye witnesses who were present when Ahok delivered his comments on a Quranic verse during a working visit to Thousand Islands regency in Sep. 27.
Police spokesperson Sr. Comr. Martinus Sitompul said Islam Defenders Front (FPI) leader Rizieq Shihab was set to be questioned on Wednesday as a witness. Previously, Rizieq was also questioned as an expert during the preliminary investigation of the case. Ahok was named a suspect on Nov. 16, in a decision the police claimed to be "objective".
Muslim groups, grouped under the National Movement to the Save Indonesia Ulema Council's Fatwa (GNPF-MUI), previously staged a mass demonstration in Jakarta on Nov. 4, demanding the government prosecute the tough-talking governor. They plan to hold another rally on Dec. 2, of which the National Police and the Indonesian Military have said they are against.
With firebrand groups purportedly preparing for Dec. 2, Muhammadiyah and Nadhlatul Ulama (NU), the country's two biggest Muslim organizations, have called on the former to refrain from holding another demonstration, saying the move would disrupt the ongoing legal process.
"If [the GNPF-MUI] hold the rally, it means that they are trying to take the law into their own hands. This is a country that is ruled by law, thus any conflict has to be addressed through legal mechanisms," NU executive Masdar Farid Mas'udi told The Jakarta Post via telephone on Tuesday.
Muhammadiyah chairman for library and information Dadang Kahmad, meanwhile, said "just wait and let the process take its course and hope that there will be a fair and open trial to follow.
Full report at:
http://www.thejakartapost.com/news/2016/11/23/ahok-grilled-as-clerics-call-on-muslims-not-to-rally.html
--------
Rights Group Says Anti-Ahok Demonstration Is 'Trial by Mob'
Nov 23, 2016
Jakarta. A human rights group says next week's planned mass protest rally by hardline Muslim groups against inactive Jakarta Governor Basuki "Ahok" Tjahaja Purnama is a "trial by mob" and therefore unlawful and undemocratic.
The Jakarta-based Setara Institute has urged police to take firm action to prevent the rally, expected to take place in Central Jakarta on Dec. 2, from proceeding.
Police have warned demonstrators against occupying the main roads over concerns that it may disturb the public order.
"A demonstration must take place in a way that does not break the law. Rolling out prayer rugs on Jakarta's main streets is a form of protest that constitutes a violation of the law," Setara Institute chairman Hendardi said in a statement on Tuesday (22/11).
"Police must prepare measures to enforce the law against vigilante groups that break the law, pose threats and promote hatred," he added.
Full report at:
http://jakartaglobe.id/news/rights-group-says-anti-ahok-demonstration-trial-mob/
--------
Fil-Muslim youth leaders undergo leadership seminar in Malaysia
November 23, 2016
Filipino-Muslim youth leaders began a leadership seminar in Malaysia's capital on Tuesday to strengthen Philippine-Malaysian ties and expand their knowledge on different cultures and beliefs.
Aged 15 to 18, the youth ambassadors in the first-ever Muslim Filipino Youth Leaders' Educational Tour will interact with representatives from Malaysia's multicultural communities from November 22 to 25.
Philippine Ambassador to Malaysia J. Eduardo Malaya said on Wednesday that the program aims to "promote understanding and goodwill with their Malaysian counterparts" and teach the youth of the "values of moderation and tolerance of other cultures and beliefs."
"We hope that the participants would have a good experience and would share this to their fellow youth back home," Malaya said.
The delegation will visit the Dewan Rakyat or the Malaysian Parliament, the Malaysian Digital Economy Corporation (MDEC), Global Movement of Moderates, and the International Islamic University of Malaysia.
Meetings between the youth leaders and their peers from various cultural and religious backgrounds will also take place between each location.
Full report at:
http://www.gmanetwork.com/news/story/589930/news/pinoyabroad/fil-muslim-youth-leaders-undergo-leadership-seminar-in-malaysia
--------
PSM: Respect Muslims' wish to empower shariah courts
Tarrence Tan
November 23, 2016
KUALA LUMPUR: Malaysians should respect Abdul Hadi Awang's Private Member's Bill to empower shariah courts if Malaysian Muslims believe it is part of their responsibility, says PSM's Dr Jeyakumar Devaraj.
Speaking to reporters at the Parliament lobby, the Sungai Siput MP said it was the right of every community in Malaysia to decide on how it wants to practise its religion.
"Based on this principle, if the Muslim community in Malaysia believes that empowering shariah courts in the country is part of their responsibilities as a Muslim, then other communities should not stop them from doing so.
"However, non-Muslims in the country should be briefed on the bill to ensure their rights will not be violated."
Yesterday, Deputy Prime Minister Ahmad Zahid Hamidi chaired a special briefing session on Act 355, where every Muslim MP was invited.
This prompted a response from Amanah communications director and Shah Alam MP Khalid Samad, who said non-Muslims should have been invited to the briefing session to clear the confusion surrounding that bill.
Jeyakumar also shared similar sentiments as Khalid, saying non-Muslims should be notified on the implications of the bill and ensure that there will be separation of powers between the shariah and civil courts.
He also emphasised that there must be more discussion on Act 355 as there are several lawmakers who are concerned about the bill's potential implications on Muslims and non-Muslims in the country.
Full report at:
http://www.freemalaysiatoday.com/category/nation/2016/11/23/psm-respect-muslims-wish-to-empower-shariah-courts/
--------
Fake Bersih claims on Islam spreading online
November 23, 2016
KUALA LUMPUR, Nov 23 — A list of 14 claims purporting to be Bersih 2.0's demands regarding Islam are being distributed online.
Titled "Ambiga's Demands", possibly in reference to Datuk Ambiga Sreenevasan's previous chairmanship of the group, the list centres entirely on supposed demands over Islam and Muslims, rather than calls for electoral reforms.
Among these include supposed demands for children born of Muslim parents to not automatically be made Muslims, for Muslims to have the right to renounce Islam, for apostasy cases to be heard in the civil rather than Shariah courts, and more.
Bersih 2.0's formal demands are for free and fair elections, a clean government, the right to dissent, the empowerment of the country's parliamentary democracy, and the strengthening of Sabah and Sarawak's rights.
Full report at:
http://www.themalaymailonline.com/malaysia/article/fake-bersih-claims-on-islam-spreading-online
--------
Africa
Six soldiers killed in Boko Haram attack in Cameroon
22 November 2016
An attack by Nigeria's Boko Haram extremists against a Lake Chad army base manned by an anti-insurgent regional force has left six Cameroonian soldiers dead, a military source said Tuesday.
"Boko Haram attacked a base of the Mixed Multinational Force on the island of Darak (on Lake Chad) at around 2200 (2100 GMT)" on Monday, said the source, who asked not to be named. He said six soldiers had been killed.
A civilian from a vigilante group working with security forces to combat Boko Haram incursions was also killed, another security source said.
The extremist group, which is seeking to impose strict sharia law in Nigeria's mainly-Muslim north, has killed at least 20,000 people and left more than 2.6 million homeless in its six-year insurgency.
Cameroon has battled the extremist group since 2014 and has joined Chad, Nigeria, Niger and Benin in setting up a joint force against Boko Haram.
The regional counter-offensive has helped the Nigerian military retake swathes of territory from the insurgents, but the extremist group still poses a security threat to civilians.
Also on Monday evening, a would-be suicide bomber was shot dead before detonating her device as she sped on a motorbike towards a military roadblock near the Cameroonian border town of Kolofata.
http://www.worldbulletin.net/africa/180544/six-soldiers-killed-in-boko-haram-attack-in-cameroon
--------
Daesh 'desperately' resisting in Sirte as Libya forces advance
Nov 22, 2016
A spokesman for the Libyan forces says Daesh is desperately resisting amid the advances of the country's troops in the terrorist group's ex-North African stronghold of Sirte.
Daesh members "are trying desperately to resist up until their last breath," said Rida Issa on Tuesday.
Meanwhile, the Libyan forces, mostly from the city of Misrata, announced that they had pushed forward into the last Daesh-held sliver of territory in Sirte and recaptured a number of barricaded houses.
They published footage showing one of their members shouting out through a loudhailer demanding that locals to quit the area.
"All women and children leave now if you want to live, don't miss this chance," he cried, adding, "Let them (militants) go now, there is safe passage, the battle is over."
The Libyan forces further reported that over 30 militants and three Libyan troops have been killed in renewed clashes since Monday.
Full report at:
http://www.presstv.ir/Detail/2016/11/22/494742/Libya-Daesh-Sirte
--------
Sudan official denies rumors of Bashir's death
22 November 2016
The office of Sudanese President Omar al-Bashir denied rumors that the president has passed away of a heart attack.
Taha Othman, the director of Bashir's office, told Al-Arabiya.net that the president is in good health and is resuming his presidential tasks.
"I am sitting next to President Bashir in Morocco and enjoying the rain. We are getting ready to leave in a while to Guinea to participate in the Arab-African Summit," Othman said.
A rumor had circulated on social media platforms claiming that the Sudanese president has died of a heart attack.
Full report at:
https://english.alarabiya.net/en/News/middle-east/2016/11/22/Sudanese-official-denies-rumors-about-Omar-al-Bashir-s-death.html
--------
North America
Rights Groups to Obama: Rescind Muslim 'Registry' Before Trump Takes Office
November 22, 2016
Hundreds of civil rights advocacy groups have asked President Barack Obama to dismantle a program once used to register foreigners from a list of predominantly Muslim countries, in a bid to stave off efforts by Donald Trump's incoming administration to revive the system.
In a letter addressed to Obama and posted online Tuesday, 198 local and national organizations around the U.S. called for executive action to immediately rescind the National Security Entry-Exit Registration System, known by its acronym, NSEERS.
"NSEERS was a discriminatory policy that ran counter to the fundamental American values of fairness and equal protection," the groups wrote, adding that it was "ineffective as a counterterrorism tool, has resulted in tremendous harm for individuals who were directly affected, and has disrupted relationships with immigrant communities."
The post-9/11 George W. Bush-era policy, created by the Department of Justice, was gutted in 2011 during Obama's first term, but the framework remains in place. President-elect Trump and several advisers have publicly expressed interest in focusing registration and surveillance efforts broadly on Muslims, and in reviving NSEERS.
The American Civil Liberties Union, which advocated for the suspension of NSEERS, notes there were no terrorism-related convictions among the more than 90,000 entries in the database. The list included foreign visitors arriving from certain countries where there was thought to be a terrorist threat. Mostly students, the people on the list were required to register and then check in occasionally.
Framework for new registry?
A member of Trump's transition team, Kris Kobach, played a role in crafting the registry. Kobach's name has surfaced as a contender to lead the Department of Homeland Security (DHS), which oversaw the NSEERS program.
Kobach was seen leaving a meeting with the president-elect Sunday in New York, and carrying a paper that included a top line item of "update and reintroduce" NSEERS as part of a "Strategic Plan for first 365 days."
The Topeka Capital-Journal in Kansas, where Kobach is secretary of state, captured the picture of Kobach leaving Trump Tower and reported on the document's contents, much of which had been addressed publicly by Kobach in recent weeks. Kobach told Reuters last week that Trump's policy advisers were discussing reinstatement of NSEERS.
DHS effectively ended the program in 2011 by removing the countries on the list, declaring it "redundant" given immigration procedures, and adding that it "no longer provides any increase in security." The action gutted NSEERS, but didn't strike the program from the books, leaving the option open for a revival.
"Unless this program is rescinded, the Trump administration will come into office with a framework already in place to quickly implement a so-called Muslim registry," National Iranian American Council Executive Director Jamal Abdi said. NIAC was one of the groups that signed the letter. "This discriminatory framework must be removed before it can be exploited and innocent people are targeted."
Increased opposition
Trump campaigned heavily on rhetoric about Muslims, immigrants and refugees beginning in 2015 — comments that were widely seen as disparaging of those groups. That talk resonated with his base of supporters, who also rallied around his declarations to build a wall along the southern U.S. border.
Trump sometimes conflated the groups, including one exchange with a reporter in which he answered questions about a "Muslim registry" last November with a response about illegal immigration.
Then, in December 2015, Trump called for a "total and complete shutdown of Muslims entering the U.S. until our country's representatives can figure out what is going on." He erroneously cited a Pew Research Center study to support his claim that hundreds of millions of Muslims around the world have "great hatred towards Americans by large segments of the Muslim population." Pew says no such study exists.
Abed Ayoub, policy director at the Washington, D.C.-based American-Arab Anti-Discrimination Committee, which spearheaded Tuesday's request to the president, calls Trump's interest in surveilling mosques and targeting Muslims for additional surveillance "problematic."
"We'll fight against whatever the next administration seeks to implement," Ayoub said. "We'll make sure our voice is heard."
He's confident the work to organize the communities that would be affected by such policies are stronger now than when NSEERS was first implemented.
"We do have strong organizations — who will fight for your rights, fight for your liberties. A lot of the things he's suggesting will be struck down in court," Ayoub said.
http://www.voanews.com/a/rights-groups-obama-counter-mulsim-registry-donald-trump-nseers/3608045.html
--------
Muslim man shocked at cop's response to hate speech
Nov 22, 2016
New York: Donald Trump's surprised victory in the US Presidential Elections left people across the world stunned and raised concerns due to the new President elect's views reflecting Islamophobia and racism.
As FBI addressed a rise in hate crimes against minorities after the elections, several people shared their encounters with racism and Islamophobic behaviour on the social media, just days after Trump were elected President. Similarly, a Muslim photojournalist shared an incident involving hate speech and also a shocking response from authorities.
Mohammad Elshamy wrote about his experience at a local Starbucks in New York, where him and his friend were abused by an American woman and his friend was subjected to derogatory terms for wearing veil.
Full report at:
http://www.asianage.com/life/more-features/221116/muslim-man-shocked-at-cops-response-to-hate-speech.html
--------
Senior German lawmaker worried by Trump's lack of Middle East policy
November 22, 2016
A contender to be the next German foreign minister urged US President-elect Donald Trump on Tuesday not to cancel the Iran nuclear deal or move too close to Moscow, saying such policy shifts could cause more instability in the Middle East.
Rolf Muetzenich, a potential successor to Foreign Minister Frank-Walter Steinmeier if the latter is elected German president in February, said Trump had not articulated a clear agenda for the Middle East, creating a "conceptual vacuum".
"We have to prepare for difficult situations, particularly if Trump and the Republicans try to cancel the Iran nuclear deal," Muetzenich, foreign policy speaker for Germany's Social Democrats, told broadcaster Suedwestrundfunk.
During the campaign, Trump was critical of the nuclear deal struck under President Barack Obama in which Iran agreed to restrict its nuclear program in exchange for sanctions relief.
Muetzenich also expressed concern that the incoming US administration may not fully understand the complexity of the Syrian war and that it went well beyond US and Russian interests.
The failure of Trump to articulate clear policy ideas for the Middle East "makes me fear further instability and even possible additional proxy wars," Muetzenich said ahead of a meeting with the UN Special Envoy for Syria, Staffan de Mistura.
Muetzenich said Syria and Russia were taking advantage of the time before Trump's inauguration on Jan. 20 to "create facts" in Syria through a resumption of bombing and air strikes, but only a political solution would be possible in the end.
He said it was important for other parties, including Saudi Arabia, Turkey and Iran, to be involved in a political solution to prevent the crisis escalating further.
Full report at:
http://nation.com.pk/international/22-Nov-2016/senior-german-lawmaker-worried-by-trump-s-lack-of-middle-east-policy
--------
US adds Islamic State leader, external operations planners to global terrorist list
November 22, 2016
The US State Department added a senior Islamic State leader and two external operations planners to its list of specially designated global terrorists today. The US government has identified the Islamic State's external operations network, which is assigned to conduct attacks against the West and its interests abroad, as a significant threat and has targeted its leadership in Iraq and Syria.
The US government identified the three Islamic State commanders as Abdullah Ahmed al Meshedani, Abdelilah Himich, and Basil Hassan.
Meshedani, who is also known as Abu Qassim, is a "leader who manages arriving foreign terrorist fighters, handles guesthouses for them, and transports suicide bombers on behalf of ISIL," or the Islamic State, according to the designation. State also noted that Meshedani is an "an advisor who reports to" Abu Bakr al Baghdadi, the emir of the Islamic State.
Himich, who is also known as Abu Sulayman al Faransi, is a "senior foreign terrorist fighter and external operations figure" who is thought to have planned both the coordinated terrorist attacks in Paris, France in November 2015 and Brussels, Belgium in March 2016. One hundred and thirty people were killed and more than 360 were wounded in the Paris attacks, which included suicide bombers and a suicide assault team. Thirty two civilians were killed and more than 300 were wounded in bombings at the airport and train station in Brussels.
Additionally, Himich formed the Tariq Ibn Ziyad Battalion, "a European foreign terrorist fighter cell that has provided operatives for ISIL attacks in Iraq, Syria, and abroad; at one time the battalion numbered as many as 300 members," according to State. Himich, a Moroccan national, is thought to have served in Afghanistan with the French Foreign Legion before joining the Islamic State in Syria in 2014, according to Frontline.
Hassan is described as "an external operations plotter" who "was accused of shooting Lars Hedegaard, a 70-year old Danish author and journalist" in 2013. Hedegaard, a vocal critic of Islam, was shot at his home in Copenhagen, Denmark, but survived. Hassan presumably fled Denmark undetected and wound up in Turkey, where he was arrested by Turkish police in 2014. According to State, he was freed as part of a prisoner exchange with the Islamic State and went to Syria.
Full report at:
http://www.longwarjournal.org/archives/2016/11/us-adds-islamic-state-leader-external-operations-planners-to-global-terrorist-list.php
--------
URL: https://www.newageislam.com/islamic-world-news/new-age-islam-news-bureau/zakir-naik's-ngo-gave-'scholarship'-to-isis-man/d/109178
New Age Islam, Islam Online, Islamic Website, African Muslim News, Arab World News, South Asia News, Indian Muslim News, World Muslim News, Womens in Islam, Islamic Feminism, Arab Women, Womens In Arab, Islamphobia in America, Muslim Women in West, Islam Women and Feminism, Moderate Islam, Moderate Muslims, Progressive Islam, Progressive Muslims, Liberal Islam