New Age Islam News Bureau
13 March 2012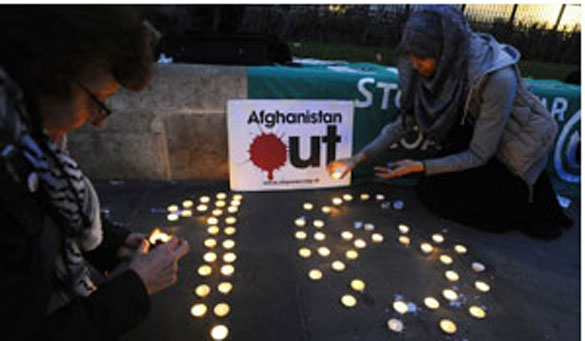 • Taliban threatens to behead US soldiers over Kandahar shootings
• Two Pakistani UN soldiers jailed for raping Haitian boy
• Three policemen, local Qaeda chief killed in Yemen onslaught
• Pak govt. makes no effort to halt the persecution and killings of Ahmadis
• Ahle-Sunnat Wal Jamaat to protest against 'curriculum change' in Gilgit-Baltistan
• Bangladesh ferry accident: Nearly 250 feared dead
• Pak P M assures full support to Kashmiris
• Belgian mosque attacked, imam dies
• Former Chief of Jamat-e-Islami Pakistan, slams UN human rights report on Iran
• Afghan killings tragic but no rush for exits: Obama
• ISI has political wing, admits minister
• Afghanistan militants 'attack Kandahar killings site'
• 'US needs Islamabad on table as it discusses region's future': White House official
• Pakistan Hindu girl sent to protective custody amid conversion row
• Rushdie to return to India after death threats
• Eight militants killed in Upper Orakzai Agency
• Two killed, 17 injured in bomb attack on passenger bus in Kurram Agency
• Dozens of Syrian civilians killed in Homs
• Gaza toll hits 25 as bloodshed rages for fourth day
• Iraq: Gunmen Kill at Least 11 in Separate Attacks
• Afghan massacre suspect could face death penalty: Panetta
• Massacre makes Obama 'more determined' to leave Afghanistan
• UK govt. sued for helping US drone strikes
• Attacks thwart heightened security in Iraq
• Israel and Gaza militants agree truce after clashes
• Obama promises full probe, accountability in shooting massacre
• Report: Israel and Gaza militants reach ceasefire
• Israeli plans for Iran go back years
• Cross-border violence between Israel, Gaza ebbs
• Syria laying landmines along border: Human Rights Watch
• Saudi Arabia, Qatar backing terrorists: Syria
• OIC to dispatch humanitarian aid to Syria
• Iran ready to share its experiences with Iraq in all spheres: VP
• Iran will stop U.S. from manipulating Syria crisis
• Ex-Mossad chief: Iran's response to Israeli attack would be devastating
• U.S. Supporters of Iranian Group Face Scrutiny
• Taliban fire at delegates visiting Afghan massacre site
• Riyadh: Terror suspects told to appoint lawyers
• Health care infrastructure in GCC set to grow
• Remote area allowance for Saudi doctors
• Many Saudis send children to international schools
• Saudis to go on hunger strike against activist detention
Complied by New Age Islam News Bureau
Photo: Taliban threatens to behead U.S. soldiers over Kandahar shootings
URL: https://www.newageislam.com/islamic-world-news/new-age-islam-news-bureau/yet-another-christian-woman-in-pakistan-charged-with-blasphemy/d/6839
--------
Yet Another Christian Woman in Pakistan Charged with Blasphemy
13/03/2012
LAHORE - Police in Khichiwala, Bahawalnagar district have charged a young Christian woman under the country's blasphemy laws allegedly for speaking against the Holy Prophet (PBUH), while her family claims that she has been framed for refusing to renounce her faith on the insistence of some relatives who had recently converted to Islam, Pakistan Today has learnt.
Twenty-six-year-old Shamim, mother of a five-month-old girl and resident of Chak No. 170/7R Colony, Fort Abbas tehsil, was taken into custody on February 28, by the Khichiwala Police and charged under Section 295-C of the Pakistan Penal Code after her neighbours accused her of uttering blasphemous remarks against Prophet Muhammad (PBUH).
However, Shamim's brother Ilyas Masih and brother-in-law Shahbaz Masih told Pakistan Today that the young woman had been wrongly accused as she had turned down an invitation to convert to Islam just a day before she was accused of uttering blasphemous remarks.
"Nazeeran, sister of Shamim's husband Bashir Masih, nephew Nadeem and niece Bella converted to Islam on February 24, and called on her to do the same … she refused, telling them that she was satisfied with Christianity and did not want to convert," Ilyas said.
"Shamim told us on the telephone that Nazeeran and others were forcing her to convert, and asked us to visit her. We [Shamim's father and two brothers] went to meet her on February 27, and left just before evening. At night we were informed that Shamim's neighbours had accused her of blaspheming," said Ilyas.
According to the First Information Report (FIR No. 30/12) registered by the Khichiwala Police Station, Ansar Ali Shah, a local prayer leader of Chak 170 /7R Colony, alleged that Shamim's neighbours Hamad Ahmed Hashmi and Abdul Qayyum had told him and other Muslims that they had heard the Christian woman blaspheming while standing in her courtyard.
As the allegation against Shamim spread, a large number of villagers besieged her house and demanded "severe punishment" for her as she had hurt their religious sentiments.
http://www.pakistantoday.com.pk/2012/03/13/news/national/yet-another-christian-woman-charged-with-blasphemy/
--------
Taliban threatens to behead US soldiers over Kandahar shootings
March 13, 2012
The Afghan Taliban threatened on Tuesday to behead US soldiers in revenge for a shooting spree by a lone American in volatile Kandahar province in which 16 Afghan civilians died.
"The Islamic Emirate once again warns the American animals that the mujahideen will avenge them, and with the help of Allah will kill and behead your sadistic murderous soldiers," Taliban spokesman Zabihullah Mujahid said in an emailed statement, using the term the Taliban use to describe themselves.
http://www.thedailystar.net/newDesign/latest_news.php?nid=36422
---------
Two Pakistani UN soldiers jailed for raping Haitian boy
March 13, 2012 PTI
Two UN peacekeepers from Pakistan have been sentenced to a year in prison and sacked from the army for raping a 14-year-old boy in Haiti, a media report on Tuesday said.
The soldiers were found guilty by a Pakistani military tribunal in Haiti and will serve their terms back home, BBC reported.
The attack in Gonaives in January was not the first time UN peacekeepers have been accused of assault.
Last year, five Uruguayan soldiers were accused of sexually assaulting a teenage boy at a UN base, it said. In that case a video which purported to show the attack was posted on the internet, leading to protests in the Haitian capital, Port-au-Prince, and calls for the UN to leave the country.
There have also been demands that UN soldiers should be stripped of their immunity and be tried by Haitian courts, the news network said.
Monday's ruling was the first time that UN personnel have been tried and sentenced while still in the country.
Haitian Justice Minister Michel Brunache said the verdict was a small step in the right direction but that 'we expected more from the UN and the Pakistani government'.
The UN peacekeeping mission has been deployed in Haiti since 2004.
http://www.deccanchronicle.com/channels/world/europe/two-pakistani-un-soldiers-jailed-raping-haitian-boy-892
--------
Three policemen, local Qaeda chief killed in Yemen onslaught
13/03/2012
Make DAWN Your Homepage
HomeLatest NewsPakistanWorldBusinessSportSci-TechEntertainmentOpinionNewspaper
MultimediaBlogForumIn-depthPakistan ProfilesArchives
Headlines: SC moved to place Pasha on ECLThree policemen, local Qaeda chief killed in Yemen onslaughtAFP 1 hour ago
Yemeni soldiers inspect a car at a checkpoint in the capital Sanaa.—AFP Photo
SANAA: Three policemen were killed in a suicide attack in Yemen's Bayda province Tuesday that sparked clashes in which a local al-Qaeda chief also died, a security official said.
"Three policemen were killed and six others were wounded in a suicide attack on a checkpoint in Suwadeya," the official said, referring to a village in Bayda province, south of Sanaa.
The attack was followed by clashes between extremists and security forces in which "al-Qaeda chief in Bayda Naser al-Dhafri was killed," said the source.
http://www.dawn.com/2012/03/13/three-policemen-local-qaeda-chief-killed-in-yemen-onslaught.html
--------
Pak govt. makes no effort to halt the persecution and killings of Ahmadis
March 12, 2012
More Sharing ServicesShare | Share on facebook Share on myspace Share on google Share on twitter
The situation in Pakistan grows worse for the religious minority groups on a daily basis. The security and law and order situation has become so chaotic that the authorities seem to have no control over providing protection to these minorities. The fundamentalist Muslim leaders (Mullahs) have a free rein and relentlessly exploit the blasphemy laws for their personal interests and these laws were legislated to debilitate and undermine universal human rights. Members of all faiths have been victims of these merciless violations of human rights including Christians, Hindus and even Shiites. However, the main focus of this brutality is the Ahmadi and the killing of Ahmadis is not considered a crime by the state and the law of the land.
The persecution of the Ahmadis since they were declared non-Muslim by the Government of Pakistan in 1974 is overt and blatant. For Ahmadis, to profess Islam as their religion and practice it in any form is a crime in Pakistan punishable by imprisonment, fines, penalties and even death. Killing them is considered a great honour for Muslim fundamentalists which allows them direct entry into paradise.
Hundreds of Ahmadis have been murdered. In two separate instances alone, almost a hundred were killed when the two Ahmadi mosques were blown up by accomplices of the Mullahs in May 2010.
For Full Report At:
http://www.humanrights.asia/news/ahrc-news/AHRC-STM-055-2012/
--------
Ahle-Sunnat Wal Jamaat to protest against 'curriculum change' in Gilgit-Baltistan
March 13, 2012
LAHORE: Ahle-Sunnat Wal Jamaat (ASWJ), while making a pledge to ensure that "Gilgit-Baltistan remains a Sunni province", called for a protest on Tuesday against a change in curriculum which will have the names of the Holy Prophet's (pbuh) companions removed from textbooks.
The reaction came after the arrangement of changing the curriculum entered its final stage, as claimed by ASWJ. The curriculum will be implemented in all public-sector schools and colleges.
According to ASWJ's Media Coordinator Ubaidullah Usmani, Interior Minister Rehman Malik during his visit to the province after the Kohistan tragedy took place, gave his assurances that the Shia community's demand of the removal of names of the Holy Prophet's (pbuh) companions and other demands will be fulfilled.
Usmani said that after the names of the companions of the Holy Prophet (pbuh) are removed, G-B will "formally" become a Shia state.
He said that Malik told the Shia community that directives to implement this change were given to the Chief Secretary of G-B.
For Full Report At:
http://tribune.com.pk/story/349396/aswj-calls-for-protest-against-curriculum-change-in-gilgit-baltistan/
---------
Bangladesh ferry accident: Nearly 250 feared dead
Mar 13, 2012:
Nearly 250 persons are feared dead after a passenger ferry carrying nearly 300 people capsized in the early morning hours of Tuesday in Meghna river of Bangladesh.
The ferry was heading towards capital Dhaka from Shariyatpur of Barishal division located in the southern part of the country.
The official spokesperson of Bangladesh Inland Water Transport Authority(BIWTA) told the media that the ill-fated vessel MV Shariyatpur capsized in the middle of the river around 2.30am near Gozaria of Munsigunge district of Bangladesh.
The initial probe hinted that the boat started sinking after an oil tanker hit the passenger ferry. Most of the passengers were asleep when the accident happened.
The district administration initiated rescue operations with the help of country's coast guards and fire brigade personnel.
Till afternoon, the BIWTA authority claimed to have rescued 50 persons alive and recovered 19 dead bodies.
For Full Report At:
http://timesofindia.indiatimes.com/world/south-asia/Bangladesh-ferry-accident-Nearly-250-feared-dead/articleshow/12246293.cms
----------
Pak P M assures full support to Kashmiris
By: Altaf Rao
MIRPUR (AJK), March 13, 2012 - Prime Minister Yousuf Raza Gilani Monday said Pakistan would continue extending ideological, political, moral and diplomatic support to Kashmiris in their just and principled struggle.
"The government is taking keen interest in speedy progress and prosperity in all sectors of life in Azad Jammu and Kashmir," Gilani added while addressing a mammoth public meeting at Islamgarh, a town located 23 kilometres from Mirpur.
Underlining the priorities of the PPP government, the prime minister promised to resolve all problems, including power load-shedding, of the country, saying the recently-inaugurated Mangla Dam Raising Project would help bringing about an economic revolution in the country.
For Full Report At:
http://www.nation.com.pk/pakistan-news-newspaper-daily-english-online/national/13-Mar-2012/gilani-assures-full-support-to-kashmiris
--------
Belgian mosque attacked, imam dies
Mar 13, 2012
BRUSSELS: A mosque near Brussels was the target Monday evening of an arson attack in which the imam died, Belgian authorities said late Monday.
One man was arrested — a Muslim who said he was born in 1978 — in the attack on the mosque in Anderlecht, a suburb of Brussels, the Belgian capital, said Jean-Marc Meilleur, a spokesman for the Brussels Prosecutor's Office.
"It seemed that this person showed up and pulled out a knife and an ax, and that he spread flammable products — petrol we assume — in order to start a fire and threaten the mosque occupants," Meilleur said.
He said the man's name and age could not be verified, as he had no identification papers. He said the man had been locked in a room by worshippers at the mosque before authorities apprehended him.
For Full Report At:
http://arabnews.com/world/article587069.ece
--------
Former Chief of Jamat-e-Islami Pakistan, slams UN human rights report on Iran
13/03/2012
Former Chief of Jamat-e-Islami (JI) Qazi Hussain Ahmad denounced the report of the United Nation's special human rights rapporteur on Iran. Talking to IRNA, Iranian State Run News Agency, Qazi Hussain Ahmad said that the west is trying to defame the Muslim countries by issuing false reports. Ahmad Shaheed released his latest report on the situation of human rights in Iran on March 6, in time for the 19th session of the UN Human Rights Council in Geneva. Shaheed claimed in his report that rights violations have increased in Iran.
http://www.nation.com.pk/pakistan-news-newspaper-daily-english-online/national/13-Mar-2012/qazi-hussain-slams-un-human-rights-report-on-iran
--------
Afghan killings tragic but no rush for exits: Obama
March 13, 2012
In the aftermath of killing of 16 Afghans by an American soldier, US President Barack Obama has said that international forces will not "rush for the exits" in Afghanistan.
Denouncing the killings as "heartbreaking" and "tragic", Obama underscored the need of a "responsible way
out."
"Obviously, what happened this weekend is absolutely heartbreaking and tragic, and I expressed directly to (Afghan) President (Hamid) Karzai how the American people feel any time innocent civilians, especially children, are killed and for it to happen in this kind of terrible way I think we all are concerned about," Obama told a KDKA, a local Pittsburgh news channel, in an interview on Monday.
"It's important for us to make sure that we get out in a responsible way, so that we don't end up having to go back in but what we don't want to do is to do it in a way that is just a rush for the exits," Obama said.
For Full Report At:
http://www.hindustantimes.com/world-news/NorthAmerica/Afghan-killings-tragic-but-no-rush-for-exits-Obama/Article1-824501.aspx
--------
ISI has political wing, admits minister
Mar 13, 2012
Pakistan's powerful spy agency Inter-Services Intelligence (ISI) has always had a political wing, admitted Defence Minister Ahmed Mukhtar.
There has always been a political wing in the ISI and the prime minister and the president will be informed about the agency's policies and requirements by newly-appointed ISI chief Lt. Gen. Zahirul Islam, Mukhtar told reporters in Gujrat city in Punjab province.
For Full Report At:
http://www.asianage.com/international/isi-has-political-wing-admits-minister-480
--------
Afghanistan militants 'attack Kandahar killings site'
13 March 2012
Militants in Afghanistan have launched an attack on a government delegation visiting the site where a US soldier killed 16 civilians.
Two of Afghan President Hamid Karzai's brothers and several top security officials were in the delegation in Panjwai in Kandahar province.
One Afghan soldier was killed and three other people injured but the delegation is heading back to Kandahar city.
The US soldier said to have carried out Sunday's attacks is under arrest.
The unnamed 38-year-old staff sergeant is being held at an undisclosed location.
'No rush to exits'
A senior Afghan official confirmed to the BBC that an attack "from several directions" had taken place on the delegation, which was there to meet villagers and tribal elders. Afghan forces returned fire.
For Full Report At:
http://www.bbc.co.uk/news/world-asia-17349736?print=true
--------
'US needs Islamabad on table as it discusses region's future': White House official
13/03/2012
WASHINGTON - A top White House official has said despite the tough phase, Washington has been able to "sustain" its relationship with Islamabad. He said the US "needs" Islamabad on the table as it discusses the future of the region. The official told a group of journalists on condition of anonymity that India and Pakistan have taken "constructive" steps to improve bilateral ties and the US, though not directly involved in brokering the process, is "incredibly" supportive of any efforts by them to expand their relations.
For Full Report At:
http://www.pakistantoday.com.pk/2012/03/13/news/national/%E2%80%98us-needs-islamabad-on-table-as-it-discusses-region%E2%80%99s-future%E2%80%99/
--------
Pakistan Hindu girl sent to protective custody amid conversion row
Mar 12, 2012,
ISLAMABAD: A Pakistani court today directed police to take into protective custody a 19-year-old Hindu girl and her Muslim husband, amid allegations that she was abducted and forcibly converted to Islam. Justice Shahid Anwar Bajwa of the Sindh high court, who was hearing the case of Rinkle Kumari, ordered police to take the couple into protective custody till March 26.
Rinkle's relatives have said that she was kidnapped and forcibly converted before being married off to Naveed Shah. They have asked authorities to allow the girl to go back to her family.
However, Rinkle told the media in Karachi yesterday that she converted of her own free will and adopted the name Syeda Faryal Bibi before marrying Shah. The high court had summoned the couple along with their lawyer.
For Full Report At:
http://timesofindia.indiatimes.com/world/pakistan/Pakistan-Hindu-girl-sent-to-protective-custody-amid-conversion-row/articleshow/12234634.cms
--------
Rushdie to return to India after death threats
March 13, 2012
NEW DELHI: British author Salman Rushdie is to speak at a conference in India on Friday, organisers have announced, two months after death threats forced him to pull out of a literature festival in the country.
Rushdie, whose 1988 novel "The Satanic Verses" is still banned in India for allegedly blaspheming Muslims, is due to address the India Today Conclave in New Delhi on Friday afternoon, event officials said.
The author withdrew from the Jaipur Literature Festival in January after some Muslims threatened to disrupt the gathering and police told him assassins from the Mumbai underworld were plotting to kill him.
For Full Report At:
http://tribune.com.pk/story/349403/rushdie-to-return-to-india-after-death-threats/
--------
Eight militants killed in Upper Orakzai Agency
13/03/2012
PESHAWAR - Security forces in their operations in different areas of Upper Orakzai Agency on Monday killed eight militants and destroyed their three hideouts. Security sources said that troops pounded militants' hideouts by using heavy guns resulting in killing of eight militants and injury to many others. They also confirmed the destruction of three hideouts. Security forces were advancing in areas under control of militants by launching attacks and cordoning the area.
http://www.pakistantoday.com.pk/2012/03/13/news/national/eight-militants-killed-in-upper-orakzai-agency/
--------
Two killed, 17 injured in bomb attack on passenger bus in Kurram Agency
March 12, 2012,
At least two persons were killed and 17 others injured when militants targeted a passenger bus with bomb here in Kurram Agency on Monday.
According to security sources, a Parachinar-bound passenger bus coming from Peshawar was hit by a bomb planted at road in Pir Qayyum area of Sadda, the headquarters of Kurram Agency.
The bus was destroyed in the blast and two passengers were killed on the spot and 17 others including nine women and four children sustained injuries.
The security forces and volunteers shifted the injured to Parachinar Hospital where according to hospital sources condition of many injured people was serious.
Security in the area was beefed up after the blast and search operation was launched to nab the culprits but no arrest was made.
http://www.nation.com.pk/pakistan-news-newspaper-daily-english-online/national/12-Mar-2012/two-killed-17-injured-in-bomb-attack-on-passenger-bus-in-kurram-agency
--------
Dozens of Syrian civilians killed in Homs
Mar 13, 2012
BEIRUT: Dozens of civilians were killed in cold blood in the Syrian city of Homs, opposition activists and Syrian state media said on Monday, although they disputed responsibility for what both sides called a massacre.
The carnage in Homs, as well as a military assault on the northwestern city of Idlib, coincided with a weekend peace mission by UN-Arab League envoy Kofi Annan, who left Damascus on Sunday without agreement on a truce or humanitarian access.
"The terrorist armed groups have kidnapped scores of civilians in the city of Homs, central Syria, killed, and mutilated their corpses and filmed them to be shown by media outlets," state news agency SANA said on its website.
Footage posted by opposition activists on YouTube showed men, women and children lying dead in a blood-drenched room.
The Local Coordination Committees of Syria, a grassroots opposition network, said at least 45 women and children had been stabbed and burned in the Homs district of Karm Al-Zeitoun.
For Full Report At:
http://arabnews.com/middleeast/article586552.ece
--------
Gaza toll hits 25 as bloodshed rages for fourth day
Mar 13 2012,
Israeli warplanes pounded Gaza for a fourth day, killing six more Palestinians, as a teenager died in a mystery blast, raising the death toll so far to 25.
Hamas officials said yesterday that efforts mediated by Egypt to restore a ceasefire were continuing, but denied any breakthrough.
Israeli and Palestinian sources reported four air strikes on yesterday evening, which Palestinian medics said left two people dead.
Islamic Jihad named Bassam al-Ajla and Mohammed Dahir as its members, and the Israeli military confirmed the raid, saying it targeted a "terrorist cell that was preparing to fire rockets".
The army also reported two more evening raids, one targeting "two rocket-launching sites" in northern Gaza and another against a "tunnel used by terrorists" under the border with Egypt.
For Full Report At:
http://www.indianexpress.com/news/gaza-toll-hits-25-as-bloodshed-rages-for-fourth-day/923212/
--------
Iraq: Gunmen Kill at Least 11 in Separate Attacks
13 MARCH 2012
At least six people were killed Monday by gunmen who robbed jewelry stores in the eastern Baghdad neighborhood of Shaab, security officials said. Militant groups frequently rob the stores to finance their operations. Two store owners were killed in the assaults, as well as two police officers and two soldiers, Iraqi security officials said. One attacker was killed, one was wounded and the rest escaped with gold and cash, the police said. Also on Monday, in Tarmiya, north of Baghdad, five bodyguards for a local council were assassinated, the Iraqi police said.
http://www.nytimes.com/2012/03/13/world/middleeast/iraq-gunmen-kill-at-least-11-in-separate-attacks.html?_r=1&ref=middleeast&gwh=B87B15A5F2C7211C58AA5585A08DA94E
--------
Afghan massacre suspect could face death penalty: Panetta
13 MARCH 2012 11:30
The US soldier, who killed 16 civilians in Afghanistan could face a death penalty if convicted, Defence Secretary Leon Panetta has said, while asserting that the tragic incident was but an "isolated" one.
The suspect, who has been arrested, went on a killing spree over the weekend, shooting down civilians, most of them women and children, in an act that has taken anti-America sentiment to a new high in Afghanistan.
According to Fox news, Panetta told reporters travelling with him to Kyrgyzstan that the suspect may face "capital charges", but the US must resist pressure to change course in Afghanistan because of anti-America outrage over the shooting.
The suspect, whose name has not been released by the Pentagon so far, is from a military base in Washington State -- some soldiers from where have had similar violent histories in the past, reports said.
For Full Report At:
http://www.dailypioneer.com/home/online-channel/top-story/49362-afghan-massacre-suspect-could-face-death-penalty-panetta.html
--------
Massacre makes Obama 'more determined' to leave Afghanistan
13/03/2012
WASHINTON: President Barack Obama said on Monday the massacre of 16 villagers by a US soldier increases his determination to get American troops out of Afghanistan, while a US official said the accused staff sergeant previously had suffered traumatic brain injury.
Sunday's shootings triggered angry calls from Afghans for an immediate American exit.
Obama said there should not be a "rush to the exits" for US forces who have been fighting in Afghanistan since 2001 and that the drawdown must be carried out in a responsible way.
The accused US Army staff sergeant walked off his base in the southern province of Kandahar in the middle of night and gunned down at least 16 villagers, mostly women and children.
Defense Secretary Leon Panetta said the death penalty could be sought in the US military justice system against the soldier, whose name has not been publicly disclosed.
For Full Report At:
http://www.dawn.com/2012/03/13/massacre-makes-obama-more-determined-to-leave-afghanistan.html
--------
UK govt. sued for helping US drone strikes
March 13, 2012
LONDON: In a new claim of British complicity in rights violations overseas, a human rights group took legal action Monday against the British government, accusing it of passing on intelligence to help deadly US covert drone attacks in Pakistan. The challenge was the latest in a string of lawsuits against UK spy agencies for sharing intelligence with foreign governments - including the late Muammar Gaddafi's regime in Libya - in ways that might have put victims in lethal danger. The London-based charity, Repriee, and the law firm, Leigh Day & Co, filed papers to the High Court claiming that civilian staff at Britain's electronic listening agency, GCHQ, could be "secondary parties to murder" for providing "locational intelligence" to the CIA in directing its drone attack programme. Reprieve was acting on behalf of Noor Khan, 27, a Pakistani whose father was killed by a drone strike in northwest Pakistan in March 2011 while attending a gathering of elders.
For Full Report At:
http://www.dailytimes.com.pk/default.asp?page=2012\03\13\story_13-3-2012_pg7_2
--------
Attacks thwart heightened security in Iraq
Mar 13, 2012
BAGHDAD: Iraq is deploying an unprecedented number of security forces to protect the capital for an upcoming meeting of the Arab world's top leaders, a top official said yesterday even as insurgents proved their continued threat by killing 14 people in a handful of attacks.
Citizens and lawmakers questioned whether Baghdad would be safe during the annual Arab League summit that is scheduled for the end of the month. Iraq's Shiite-led government hopes the meeting will show the world that the nation has achieved stability after years of sectarian fighting that nearly plunged into civil war.
Iraqi Army Maj. Gen. Hassan Al-Baydhani, the No. 2 official at Baghdad's military command, said thousands of soldiers and policemen from across the country have been pulled to Baghdad to gird against what he described as militants' goal of thwarting the summit. He also raised the possibility of putting parts of Baghdad on lockdown during the final day of the three-day summit, when heads of state are expected to fly in.
For Full Report At:
http://arabnews.com/middleeast/article586716.ece
--------
Israel and Gaza militants agree truce after clashes
13 March 2012
The Egyptian-mediated truce took effect at 01:00 local time (23:00 GMT Monday), and there have been no new attacks.
The recent violence "appears to be behind us," said Israeli Cabinet Minister Matan Vilnai.
At least 25 Palestinians have died in Israeli air strikes since Friday, reports say. Israel says 35 people were injured in Palestinian rocket attacks.
Officials from Hamas, which runs Gaza, told the BBC that Israel had agreed to stop targeting leaders of militant groups in Gaza, if rocket attacks on its southern cities ceased.
The deal was brokered by the Egyptian authorities, who reportedly negotiated with each side separately.
Four days of cross-border violence was triggered by an Israeli air strike on Friday that killed a senior leader of the militant group, the Popular Resistance Committees (PRC), who Israel said had been planning an attack.
For Full Report At:
http://www.bbc.co.uk/news/world-middle-east-17348403
--------
Obama promises full probe, accountability in shooting massacre
12 MARCH 2012
S RAJAGOPALAN
Amid mounting worries of an anti-American backlash following the killing of 16 Afghans by a rogue US soldier, President Barack Obama has promised the Afghan people a speedy investigation and full accountability for the Sunday massacre in Kandahar province.
Obama called Afghan President Hamid Karzai to express his shock and grief over the incident and assure him of his "commitment to establish the facts as quickly as possible and to hold fully accountable anyone responsible".
"This incident is tragic and shocking," Obama said in a statement released by the White House, but stressed that it "does not represent the exceptional character of our military and the respect that the United States has for the people of Afghanistan". "I offer my condolences to the families and loved ones of those who lost their lives, and to the people of Afghanistan, who have endured too much violence and suffering," Obama said.
For Full Report At:
http://www.dailypioneer.com/world/49277-obama-promises-full-probe-accountability-in-shooting-massacre.html
--------
Report: Israel and Gaza militants reach ceasefire
March 13, 2012
Israel and Palestinian militants in the Gaza Strip reached a ceasefire that was scheduled to take effect early Tuesday, Egypt's state television reported, quoting an unnamed security official, but there was no immediate confirmation from Israel.
The Palestinians agreed to stop launching rockets at southern Israeli cities and Israel agreed to stop carrying out airstrikes against militants in Gaza, the report said.
The Jerusalem Post earlier reported Israeli officials as saying that peace on the Palestinian side would get the same response from the Israeli side.
For Full Report At:
http://www.thehindu.com/news/international/article2990352.ece
--------
Israeli plans for Iran go back years
March 13, 2012
For more than a decade, Israel has systematically built up its military specifically for a possible strike on Iranian nuclear facilities. It has sent its air force on long-distance training missions, procured American-made "bunker-busting" bombs and bolstered its missile
defenses.
Israel Prime Minister Benjamin Netanyahu's threats to strike Iran, voiced last week during a high-profile visit to the White House, were not empty bluster. Although a unilateral Israeli attack would probably not destroy Iran's nuclear program, it appears capable, at least for now, of inflicting a serious blow.
"If Israel attacks, the intention is more to send a message of determination, a political message instead of a tactical move," said Yiftah Shapir, a former Israeli air force officer who is now a military analyst at the INSS think tank in Tel Aviv.
Israel, along with the United States and other Western countries, believes Iran has taken key steps toward developing nuclear weapons. The U.N.'s nuclear watchdog agency has cited this concern in reports, but notes its inspectors have found no direct evidence that Iran is moving toward an atomic weapon.
For Full Report At:
http://www.hindustantimes.com/WorldSectionpage/World/Israeli-plans-for-Iran-go-back-years/Article1-824587.aspx
--------
Cross-border violence between Israel, Gaza ebbs
March 13, 2012
The Israeli military says it has ordered no airstrikes against Gaza militants and rocket fire at southern Israel from Gaza has ebbed - signs that a truce is taking effect.
The calm comes after Egypt said early on Tuesday that it had brokered a cease-fire ending four days of
clashes.
Israeli cabinet minister Matan Vilnai told Israel Radio the latest outbreak of violence "appears to be behind us."
The military says Israel carried out no airstrikes after 1 a.m. Tuesday, when the cease-fire was to take effect. It says two rockets were fired at Israel, causing no injuries.
Twenty-four Palestinians died in the violence that erupted on Friday. The lives of 1 million Israelis in rocket range were disrupted by frequent sirens warning them to take cover.
http://www.hindustantimes.com/world-news/RestOfAsia/Cross-border-violence-between-Israel-Gaza-ebbs/Article1-824552.aspx
--------
Syria laying landmines along border: Human Rights Watch
13 March 2012
Syria is laying landmines near its borders with Lebanon and Turkey, along routes used by refugees to escape the violence, Human Rights Watch reports.
The New-York based group said it had accounts from witnesses and deminers, amid reported casualties.
UN-Arab League envoy Kofi Annan has met the Syrian opposition in Turkey on the latest leg of his peace mission.
He said he is expecting a response from Damascus later to proposals he made during his visit there at the weekend.
The UN says more than 8,000 people - many of them women and children - have been killed since anti-government protests erupted in Syria a year ago.
'Unconscionable'
Human Rights Watch called on Syria to immediately cease laying landmines, calling them "military ineffective" weapons that will mostly kill and injure civilians for years to come.
For Full Report At:
http://www.bbc.co.uk/news/world-middle-east-17349593?print=true
--------
Saudi Arabia, Qatar backing terrorists: Syria
Mar 12, 2012,
AMASCUS: Saudi Arabia and Qatar are backing "armed terrorist gangs" operating in Syria and so are responsible for the bloodshed in the country, information minister Adnan Mahmoud told AFP on Monday.
"Some of the countries backing armed terrorist gangs, such as Saudi Arabia and Qatar, are accomplices to the terrorism targeting the Syrian people... and bear responsibility for the bloodletting," he said.
Mahmoud accused the "terrorist gangs" of massacring women and children in the restive central city of Homs at the weekend to stoke an international outcry against the Damascus regime.
For Full Report At:
http://timesofindia.indiatimes.com/world/middle-east/Saudi-Arabia-Qatar-backing-terrorists-Syria/articleshow/12236121.cms
--------
OIC to dispatch humanitarian aid to Syria
By JEDDAH: GALAL FAKKAR
Mar 13, 2012
The 57-member Organization of Islamic Cooperation (OIC) will send humanitarian assistance to Syria after Damascus gave its consent to the move, the Jeddah-based organization announced yesterday.
"The OIC secretariat received a written letter from the Syrian government allowing it to send humanitarian aid to the country," OIC's official spokesman Tariq Ali Bakheet Salah told a press conference at the organization's headquarters in Jeddah.
He said the organization would send a delegation to Syria in the coming days to assess the basic needs of the people there.
"The OIC will continue its humanitarian aid to Syrian people. It has no intention of politicizing its humanitarian work," the spokesman said.
Salah, who is director of OIC's department for international organizations and European affairs, also said Secretary-General Ekmeleddin Ihsanoglu will meet in Washington today with US Secretary of State Hillary Clinton to discuss the Syrian crisis and the current situation in Palestine.
For Full Report At:
http://arabnews.com/saudiarabia/article586752.ece
--------
Iran ready to share its experiences with Iraq in all spheres: VP
13 March 2012
TEHRAN – Iranian First Vice President Mohammad Reza Rahimi met with Iraqi Communications Minister Mohammed Tawfiq Allawi in Tehran on Monday.
Rahimi said that Iran is ready to share its experiences with the Iraqi government in all spheres, and the Iraqi communications minister hailed the achievements that Iran has made in various areas.
http://www.tehrantimes.com/politics/96346-iran-ready-to-share-its-experiences-with-iraq-in-all-spheres-vp-
--------
Iran will stop U.S. from manipulating Syria crisis
13 March 2012
TEHRAN – An Iranian deputy foreign minister has said that Iran will not allow the United States to take advantage of the crisis engulfing Syria to upset the balance of power in the region.
Hossein Amir-Abdollahian, who is the deputy foreign minister for Arab and African affairs, made the remarks in an interview with RT, which was published on its website on March 8.
Asked about his opinion about the situation in Syria and the claims that Iran is sending weaponry to Syria to help suppress the protests, Amir-Abdollahian said, "We have strategic relations with Syria, which we see as an important state in the resistance axis. Our historical ties with the people and government of Syria give us a good insight into the nature of the Syrian people, who, because of their resistance (against) U.S.-Israeli domination, possess a deep sense of national unity. Contrary to what some parties say, we do not need to send weapons to Syria. We are simply articulating our support for the Syrian people and the reforms of President Bashar al-Assad.
For Full Report At:
http://tehrantimes.com/politics/96330-iran-will-stop-us-from-manipulating-syria-crisis-
--------
Ex-Mossad chief: Iran's response to Israeli attack would be devastating
13 March 2012
Former Mossad chief Meir Dagan said that an Israeli strike on Iran would lead to a missile attack on Israel that would have a "devastating impact" on the country, the Haaretz reported on its website.
According to Dagan, an attack will start a regional war.
"And wars, you know how they start. You never know how you are ending it," Dagan said in an interview that aired Sunday on CBS's 60 minutes.
"I think that Israel will be in a very serious situation for quite a time," Dagan said when asked about Iran's response to an Israeli attack on Iran's nuclear facilities.
Dagan also expressed skepticism over the effectiveness of an Israeli attack on Iran's nuclear sites.
For Full Report At:
http://tehrantimes.com/politics/96333-ex-mossad-chief-irans-response-to-israeli-attack-would-be-devastating
--------
U.S. Supporters of Iranian Group Face Scrutiny
By SCOTT SHANE
March 13, 2012
WASHINGTON — For more than a year, prominent former American officials have been giving well-paid speeches in support of an Iranian opposition group that is fighting to reverse its 15-year-old designation by the State Department as a terrorist organization.
Now the Treasury Department appears to have begun an inquiry to see whether the speaking fees were being paid by the group, the Mujahedeen Khalq, or People's Mujahedeen, known as the M.E.K. Americans are prohibited by law from doing business with designated terrorist groups.
Edward G. Rendell, the former Democratic governor of Pennsylvania and an outspoken supporter of the M.E.K., said on Monday that William Morris Endeavor, which handles his speaking engagements, received a subpoena last week seeking information on fees he had received for M.E.K.-related speeches.
For Full Report At:
http://www.nytimes.com/2012/03/13/us/us-supporters-of-iranian-group-mek-face-scrutiny.html?ref=middleeast
--------
Taliban fire at delegates visiting Afghan massacre site
Emma Graham-Harrison in Kabul
13 March 2012
Taliban militants opened fire on senior officials from the Afghan government and military at a memorial service for 16 civilians thought to have been shot dead in their homes by a US soldier.
The service, held in one of the villages where the father-of-two went on his alleged rampage, was packed with senior officials, including two brothers of President Hamid Karzai, the army's chief of staff Sher Mohammad Karimi and the provincial governor and police chief of Kandahar.
"Everyone was in the mosque when it happened, and suddenly the police and other security people went to return fire," said Abdul Rahim Ayoubi, the MP for Kandahar, who was part of the group.
For Full Report At:
http://www.guardian.co.uk/world/2012/mar/13/taliban-fire-delegates-visiting-massacre-site
--------
Riyadh: Terror suspects told to appoint lawyers
Mar 13, 2012
A special summary court yesterday heard the defenses of six alleged members of the Turki Al-Dandani terrorist cell that bombed three residential complexes in Riyadh in 2004 that killed and injured 239 people including women and children.
The judge repeated to defendants the answers they gave during investigations and asked them to appoint lawyers to defend them during the next sessions.
The court began trying 85 alleged members of Al-Dandani's cell on June 27, 2011. Al-Dandani, the leader of the cell, was killed in a confrontation with security forces on July 3, 2004.
Under the charges compiled by the general attorney, Defendant No. 1 was accused of joining Al-Qaeda, breaching an oath of allegiance to the ruler, traveling to Afghanistan, meeting Al-Qaeda leader Osama Bin Laden and participating in the attacks against the Aramco compounds.
Other charges include harboring terrorists, collecting donations in the name of charity to finance terrorist operations, forging official documents, acquiring 20 Kalashnikovs and four pistols with their ammunition, transporting explosives and weapons from Riyadh to the Eastern Province, selling arms and facilitating the entry of some terrorists to the Kingdom.
For Full Report At:
http://arabnews.com/saudiarabia/article586770.ece
--------
Health care infrastructure in GCC set to grow
By MD RASOOLDEEN
13/03/2012
Health care infrastructure in the Gulf Cooperation Council (GCC) is expected to expand further with the regional governments' plans to develop existing facilities, the vice president and managing director of Cerner Middle East and Africa said yesterday in Riyadh.
Greg White was speaking to Arab News on the sidelines of the Saudi e-health conference 2012, which was opened by Intelligence chief Prince Muqrin on Sunday.
White, whose company demonstrated the leading-edge technologies for surgery and anesthesia, electronic medical record, laboratory and pharmacy, delivered a talk on latest technologies of health care, Cerner's expansion in the region, and the plan for 2012 and beyond at one of the sessions.
"Saudi Arabia, which leads health care expenditure in GCC, has the largest health infrastructure with 408 hospitals and an estimated 55,932 beds, given its highest population. It is also expected that the health care market in the Kingdom will expand at a compound annual growth rate of 12 percent to $25.7 billion in 2015," he said.
For Full Report At:
http://arabnews.com/saudiarabia/article586767.ece
--------
Remote area allowance for Saudi doctors
Mar 13, 2012
Saudi doctors working in remote areas will receive an additional allowance of 10 percent of their salaries.
Health Minister Dr. Abdullah Al-Rabeeah, who is also chairman of the Health Services Council, said beneficiaries under this program would include Saudi resident doctors whose specialties are in demand in those areas.
They should work in small towns with less than 500,000 people and the area's general hospital should not have more than 500 beds.
Saad Al-Hujeiry, general director of finance and management at the Ministry of Health, said the decision was made by the minister to encourage cadres to work in areas where their skills are needed.
http://arabnews.com/saudiarabia/article586763.ece
---------
Many Saudis send children to international schools
Mar 13, 2012
There is an increasing trend among Saudis to send their children to international schools especially to learn English and excel in education, said a delegate attending a conference of the owners of international and private schools in the Kingdom in Jeddah yesterday.
"Parents want to send their children abroad for higher education. So they seek for their children to have a strong educational basis," M.K. Al-Atawi, owner of Tabuk International School, told Arab News.
The trend has gathered momentum after the Higher Education Ministry started sending thousands of students abroad under the King Abdullah Foreign Scholarship Program.
"Saudi parents are now thinking in advance and want to enroll their children in international schools to benefit from the scholarship program," Al-Atawi pointed out.
For Full Report At:
http://arabnews.com/saudiarabia/article586750.ece
--------
Saudis to go on hunger strike against activist detention
13 March 2012
JEDDAH, Saudi Arabia (Reuters) - Dozens of Saudis have signed up to join a two-day hunger strike this week to protest against the detention of a prominent rights activist, a rights group said.
Mohamad al-Bajadi was detained in March 2011, activists said, for supporting families demonstrating outside the Interior Ministry in Riyadh to demand the release of detained relatives. His trial, on charges including tarnishing the reputation of the state, has been suspended as he refused to recognize the court.
The Saudi Civil and Political Rights Association (ACPRA), which is promoting the hunger strike on Thursday and Friday, said 38 activists had signed up on its website so far to participate in the action.
"This weekend we will meet in a public place and strike in public, in a farmhouse in Riyadh, the Qurtuba district," activist Mohammad al-Qahtani told Reuters on Monday.
For Full Report At:
http://www.tehrantimes.com/component/content/article/96349
URL: https://www.newageislam.com/islamic-world-news/new-age-islam-news-bureau/yet-another-christian-woman-in-pakistan-charged-with-blasphemy/d/6839