New Age Islam News Bureau
28 Feb 2012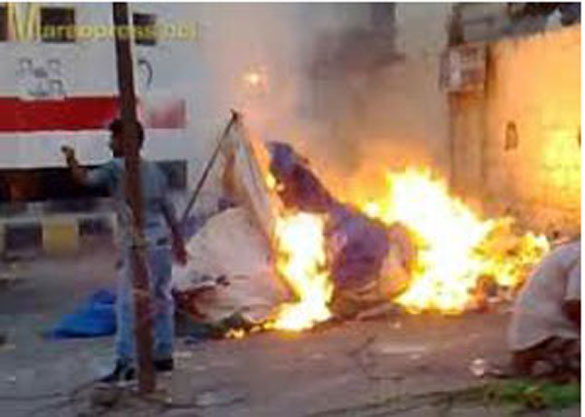 • 68 civilians killed in Homs region 'massacre'
• Iran's 'Separation:' Oscar glow and slap at Israel
• Balochistan CM: Secession to compound problem
• Malaysia bans concert over Allah body art
• 10 years after Godhra communal violence, Gujarat still shielding government staff
• Iran: Execution fears grow for Iranian Kurds
• Pakistan school strives to beat the Taliban trap
• Pakistan Oscar winner launches anti-acid campaign
• Hindu girl kidnapped, forced to convert in Pak
• India: 'RDX was used in Samjhauta blasts'
• Pakistan may junk Kashmir issue temporarily
• US says can`t secure every inch in Afghanistan
• Riyadh: Alwaleed Foundation supports program for Muslim women lawyers
• Bali closed for Hindu New Year
• Israeli ultra-Orthodox say they won't be drafted
• Iran: 10 prisoners on hunger strike in Evin prison
• Pakistan: Blast near ANP meeting venue; at least 5 dead
• 18 dead in Pakistan bus ambush by Gunmen
• Four soldiers, 10 militants killed in S. Waziristan
• Iranian journalist sentenced to 5 years jail
• US ties with Afghans face crisis after violence
• Pak SC adjourns the PM's contempt of court hearing till March 7
• UN says south Libya tense after tribal warfare
• Syrian referendum a farce: Canada
• Saudi Kingdom warns parties blocking Syria solution
• Riyadh: Illegal Hafiz recipients warned of penal action
• US network dropping Muslim lifestyles TV station
• FBI: Iraqi in US terror case bragged about past
• NYPD head not sorry about US Muslim surveillance
• Saleh formally steps down; may seek refuge in Ethiopia
• Moderate quake jolts east Iran, 6 hurt: Report
• Israel won't warn US before strike on Iran nuclear facilities: Source
• 13/2: Finger points to Iran
• Pakistani airspace never closed for NATO: Gilani
• 20 Indonesian workers evacuated from Syria
• Jakarta: Judge Syarifuddin gets 4 years for bribery
• Hizb-ut-Tahrir man arrested
• Dhaka's friendly ties with neighbours good for stability in S Asia: US envoy
• Syria: UK photographer Paul Conroy out of Homs
• Jeddah: Trial procedure explained to kin of terror accused
Lakes to make Riyadh more attractive
Complied by New Age Islam News Bureau
Photo: Yemen: The Sunni-Shia divide, sectarian violence on the Rise
URL: https://newageislam.com/islamic-world-news/yemen-sunni-shia-divide,-sectarian/d/6743
--------
Yemen: The Sunni-Shia divide, sectarian violence on the Rise
Chiara Onassis
27 February 2012
Sectarianism violence across Yemen increasing.
SANA'A: As the Youth Movement exploded on Yemen's political scene last year, giving birth to yet another popular uprising in the region, old religious feuds were re-ignited, creating severe sectarian tension in Yemen's northern provinces.
With its many tribes and political factions Yemen is already a difficult beast to tackle when it comes to understanding its complex make-up, but added to that religious sensibilities and ones end up with a severe case of political apoplexy.
With the majority of its population being Muslim, Yemenis Zaidi, from the Shia school of thought, accounts for 40 percent and Sunnis 60 percent. Although for centuries both communities managed to live peacefully side by side, political affiliations and regional game plans threw off balance the tacit ideological truce, spurring hatred and violence.
Essentially Zaidi do not bear much difference from the Sunni except in their belief of the Imamah, as such, the sect has often been referred to by scholars as the "fifth school of Sunni Islam."
It is al-Houthis, a Zaidi tribal group from the Northern Province of Sa'ada, which is now threatening Yemen's integrity as its leaders are using religious dogma to divide a once harmonious community.
The Kingdom of Saudi Arabia, which has a long history of repression when it comes to the Shia movement, has accused the al-Houthis of being Iran's armed arm in the Arabian Peninsula, cautiously keeping an eye on its southern borders as it fears that violence will spill over onto its territories.
History of violence
Al-Houthi movement first emerged in Yemen in the 1990s when Sheikh Hussein Badr al-Din al-Houthi founded a political and paramilitary group called the Believing Youth. Essentially, the Sheikh sought to revive the Shia faith in Yemen, advocating a return to the ancestral rule of the Imams.
At the time al-Houthis did not openly called for the overthrow of President Ali Abdullah Saleh, himself a Zaidi, but rather sought a partnership in their calls for change, Saleh's alignment in 2001 with America's "war on terror" changed everything. The group, which sees the United States as a direct enemy of Islam, violently opposed the government's policies from that point on, calling for Saleh's ouster.
In 2004, as the government tried to crush the growing rebellion by seeking the arrest of Sheikh Hussein al-Houthi, the later was killed by Security Forces in an ambush, prompting a widespread insurrection in the province, known as the Sa'ada War. For the next five years, the Yemeni armed forces battled the al-Houthis, deepening residents' resentment towards the state and its amicable foreign policies towards the West.
After a unilaterally declared truce in 2009, al-Houthis and Saleh's regime continued to intermittently clash.
Yemen's 2011 popular uprising and a breakdown in the state institutions allowed al-Houthi movement to resume its political and territorial ambitions in the region, as it set off to conquer neighboring provinces.
As the central government was scrambling for control in Sana'a and fighting off al-Qaeda militants in its southern territories, the Shia rebel group was left free to roam the land, gaining control over al-Jawf and Hajjah, with only a few pockets left of resistance.
And if the state preferred to concentrate its effort on quelling the raging uprising, caring little for al-Houthis, Salafists, Sunni radical Muslims, rose against the rebel group, determined to force back the "Shia threat."
What began as a quest for power and political control then turned into an opposition of two sects, with the arrival of the Salafists, creating a divide between Yemeni Shia and Sunni.
Iran versus Saudi Arabia
Ever since al-Houthis started off their attacks against Salafists in Sa'ada besieging their schools and assaulting their followers, Saudi Arabia voiced its concern, saying that it feared Iran was manufacturing a sectarian conflict in the country to destabilize the region, stressing that Tehran was sponsoring chaos to assert its rule over the Middle East.
Riyadh has long accused Iran of financing and arming al-Houthis in a bid to engineer a war by proxy with the Kingdom, directly attacking the heart of the Sunni faith.
Only last month, a ship loaded with Iran made weapons bound for Sa'ada was seized in the Yemeni seaport of Hodeidah, confirming the state's belief that Iran was actively participating in al-Houthi insurgency.
Even US ambassador to Yemen Gerard Feierstein admitted in an interview that he knew of Iran's plan for the region, warning that the US would stand with the Yemeni government.
Very much like its political and religious nemesis, Iran, Saudi Arabia is also fighting its war by proxy in Yemen, by financially and militarily supporting Salafists, with high ranking royals, throwing their political weight behind the religious movement.
Crown Prince Nayyef, the most conservative figure within the al-Saud monarchy made no secret of his support for Salafists, a long standing ally of the al-Islah party, Yemen's Islamist faction.
As Yemen is operating a transfer of power, trying to transition into a civil state, sectarianism is spreading a dark shadow over its future, since none of the concerned factions are said to be willing to negotiate a truce.
Well beyond a simple religious disagreement al-Houthis and the Salafists have fundamental political divergence of opinions since once is hoping for a return of the rule of the Imam and the other a theocratic system based on a rigid interpretation of Islam.
But rather than a real clash of religions, political factions are using the ancestral Sunni-Shia divide to promote their agendas, seeking to gain popular legitimacy as they draw their faith's flag.
http://webcache.googleusercontent.com/search?q=cache:http://bikyamasr.com/58961/yemen-the-sunni-shia-divide-sectarian-violence-on-the-rise/
--------
68 civilians killed in Homs region 'massacre'
AFP FEBRUARY 27, 2012
BEIRUT: Armed men killed 68 people on Monday in a 'massacre' in the rebel central province of Homs, the Syrian Observatory for Human Rights head said.
"Sixty-eight civilians were killed today in the western countryside of Homs, in a rural area between the villages of Ram al-Enz and Ghajariyeh, and were taken to the state hospital in the city of Homs," said Rami Abdel Rahman.
"The bodies bore signs of gunfire and knife wounds," the head of the Britain-based monitoring group added.
According to Abdel Rahman, "the Observatory received information indicating that the victims were residents displaced from the city of Homs" which has been bombarded by regime forces for 24 straight days.
"They were killed by 'shabiha' (pro-regime gunmen)," according to the reports received by the Observatory, Abdel Rahman said. "But we cannot confirm or deny this information."
The Observatory called for an independent investigation into the killings which the group labelled a "massacre."
The Local Coordination Committees, a network of activists, also reported a massacre in the Homs region.
A statement from the group said that "64 people who were trying to flee the bombardment in Baba Amr (district of the city of Homs) were killed at a security checkpoint in the Abel region of Homs."
It was not immediately clear if the Observatory and LCC were referring to the same incident. (AFP)
http://www.thenews.com.pk/article-37339-68-killed-in-Homs-region-massacre
--------
Iran's 'Separation:' Oscar glow and slap at Israel
By BRIAN MURPHY
Published: Feb 28, 2012
TEHRAN, Iran: Iran hailed the country's first Oscar-winning film as a triumph over arch-foe Israel on Monday after an Academy Award race with its own subplots: Iranian officials giving a grudging nod to cinema and Israeli audiences flocking to see a made-in-Tehran drama.
Iran's state-spun praise for "A Separation," which beat out an Israeli film and three others in the foreign language category, was mostly wrapped in patriotic boasting as a conquest for Iranian culture and a blow for Israel's perceived outsized influence in America.
Yet the high-profile attention by the Islamic leadership also represented a rare stamp of approval for Iran's movie industry.
Iranian filmmakers have collected awards and accolades worldwide for decades, but Iranian hard-liners often denounce domestic cinema as dominated by Western-tainted liberals and political dissenters. Some directors and actors have faced arrest or fled the country. In January, a well-known independent film group in Tehran, the House of Cinema, was ordered closed.
Iranian hard-liners had already taken pot shots at director Asghar Farhadi's film even as it racked up international prizes and pre-Oscar buzz. The film explores troubles in Iranian society through the story of a collapsing marriage. Iranian conservatives were upset with the themes of domestic turmoil, gender inequality and the desire by many Iranians to leave the country.
The divide touches on much deeper fissures in Iran.
Iran's young and highly educated population — nearly half born after the 1979 Islamic Revolution — feel increasingly estranged from a theocracy that allows no room for political opposition, has tried to muzzle the Internet and is growing more isolated by its defiant nuclear policies.
Farhadi, in his acceptance speech Sunday in Los Angeles, said he hoped the Oscar would raise awareness of Iran's sizable artistic achievements and rich culture that has been "hidden under the heavy dust of politics."
That has been the case in of all places, Israel, which feels its very existence threatened by Iran.
The Iranian film has drawn tens of thousands of Israeli movie-goers since it opened in mid-February. Some came to see the Oscar competition for Israeli director Joseph Cedar's "Footnote," the saga of a Talmudic scholar. But many were drawn by a chance to glimpse inside Iranian society.
"It's very well acted, exceptionally well written and very moving," said Israeli film critic Yair Raveh. "Ultimately you don't think about nuclear bombs or dictators threatening world peace. You see them driving cars and going to movies and they look exactly like us."
After a Sunday screening in Jerusalem, 70-year-old Rina Brick said she was surprised by the humanity of the Iranian bureaucrats portrayed in the film.
"Our image of how Iran works is less democratic than we see here," she said. "The judge, the police, everyone behaves as if they are in a Western country."
Still, Iran's nuclear program was on the minds of some. Israel has not ruled out military strikes against Iran's nuclear facilities, which the West fears could be used to develop weapons. Tehran insists they are for peaceful purposes like energy production.
Moshe Amirav, a political science professor at Hebrew University in Jerusalem, said he "didn't stop thinking about the bomb the whole time" he was watching "A Separation."
"I said, what a contrast that we see this Iranian film with such admiration, and then when we leave we think about how they want to kill us," Amirav said.
Iranian cinema has reaped praise and prizes at top festivals for decades. But while the government often highlights sporting achievements and technological leaps as a source of national pride, it is typically dismissive of international cultural and entertainment awards.
However, taking the Oscar over an Israeli rival was too powerful for state image builders to ignore.
A state TV broadcast said the award succeeded in "leaving behind" a film from Israel. Javad Shamaghdari, head of the state Cinematic Agency, portrayed the Oscar win as the "beginning of the collapse" of Israeli influence that "beats the drum of war" in the US and elsewhere.
Still, Iranian artists and many fans did not try to score any propaganda points and were simply delighted by the country's first Oscar.
Tahmineh Milani, director of the acclaimed 2005 film "Unwanted Woman," said the Oscar was a source of "national pride" that "revived hope in the hearts of all Iranians."
"I feel fresh air in my lungs," said Erfan Khazaei, an art student at Azad University, who watched the Oscar ceremony on satellite TV with four friends. "Now we are more hopeful about the future."
The Academy Awards were not broadcast live on Iranian TV, and many Iranians watched via satellite dishes, which are illegal but widely used. Clips of Farhadi's acceptance speech were later aired on state TV.
"A Separation," tells the story of a couple heading for divorce and dealing with domestic troubles, including a young child and an aging parent. It portrays a husband who is protective of his father, who is suffering from Alzheimer's. He is in conflict with his wife, who wishes to emigrate. Their daughter is torn between them.
While its themes are not overtly political, ultra-conservatives denigrated the film as an indirect slap at the country.
Prominent hard-line sociologist Ebrahim Fayyaz called it a "black realistic film" that portrays the country as an old man, a symbol of tradition and the past who is afflicted with a mind-crippling disease.
He said the movie suggests emigrating to the West as a solution. "The West awards movies that are in the direction of their policies," he told the Nasim news agency.
Iranian authorities have long had an uneasy relationship with the country's filmmakers. The leadership gives latitude to explore many social topics, but draws a sharp line on works with clearly anti-establishment overtones.
In January, the regime ordered the closure of the House of Cinema, an independent film group that had operated for 20 years and counted Iran's top filmmakers, including Farhadi, among its members.
Officials said it lacked the proper permits, but artists and others contend it was a political decision because the group often took liberal stands contrary to the government's cultural policies. Last month, Farhadi proposed that Iranian authorities allow a vote among artists about its fate.
Iranian cinema has for years been one of the nation's main cultural exports, but also the target of political crackdowns.
Last year, film director Jafar Panahi, who won awards at Cannes, Venice and other major film festivals, was sentenced to a six-year house arrest and a 20-year ban on filmmaking after being convicted of "making propaganda" against Iran's ruling system.
In 2007, the Cannes jury prize went to the animated film "Persepolis" based on Marjane Satrapi's graphic novels about growing up during the 1979 Islamic Revolution. She now lives in self-exile in Paris, fearing possible arrest if she returns to Iran.
http://arabnews.com/lifestyle/offbeat/article580711.ece
--------
Balochistan CM: Secession to compound problem
Saleem Shahid
QUETTA: Balochistan Chief Minister Nawab Aslam Raisani has said he believes in dialogue for resolving the issues being faced by the province, but Baloch nationalists are not ready for talks because they only want independence.
Talking to EU Ambassador to Pakistan Lars-Gunner Wigemark who had called on him at the Chief Minister`s House on Monday, Mr Raisani said there was possibility of a civil war breaking out in the province if efforts were made for Balochistan`s secession.
The chief minister said there were confirmed reports of involvement of a foreign hand in the unrest in Balochistan.
He told the EU envoy that every Baloch Sardar and Nawab had his own area and nobody was under control of the other.
Therefore, maintaining law and order and normal life would be impossible and there would be a big disaster if Balochistan was separated from the country.
Mr Raisani said the decision to initiate talks with Baloch leaders had been taken by the federal government and Balochistan Governor Nawab Magsi and he himself, as the chief minister and the chief of Sarawan tribe, and some other tribal elders would play an important role in talks with Baloch nationalists.
The chief minister said he had always maintained that the issue of missing people and dumping of bullet-riddled bodies had worsened the situation and fanned hatred.
He said he believed that if someone was accused he should be produced before the court.
The chief minister said the list of missing people contained names of some people who were now living in Afghanistan or running their businesses in Dubai.
The chief minister said the name of Ms Zarina Marri was included in the list, although there was no lady teacher of this name in the government record in Kohlu district.
He said the prime minister had accepted a proposal of the provincial government that more jobs should be given for educated youths of Balochistan.
http://www.dawn.com/2012/02/28/secession-to-compound-problem-says-raisani.html
--------
Malaysia bans concert over Allah body art
Sean Yoong
Tue, 02/28/2012
Muslim-majority Malaysia on Tuesday banned a planned concert by Erykah Badu after a photograph appeared showing the Grammy-winning singer with the Arabic word for Allah written on her body.
The American R&B singer was scheduled to perform Wednesday in Kuala Lumpur, but some Muslim groups said Badu was an unsuitable role model for young Malaysians after seeing a publicity photo of her with what appeared to be temporary tattoos of the word Allah on her bare shoulders.
A government committee that includes police and Islamic policy officials decided to forbid Badu's show because the body art was "an insult to Islam and a very serious offense," Information Minister Rais Yatim said in a statement.
The photo of Badu had "triggered public criticism that could jeopardize national secrity and cause a negative impact to the government's image," the statement added.
The 41-year-old, Dallas-born singer had already arrived in Malaysia. She can stay as a tourist but will not be allowed to perform, an Information Ministry official said on condition of anonymity because he was not authorized toake public statements.
Razman Razali, managing director of the show's Malaysian organizer, Pineapple Concerts, said his company hopes the ban will be reversed.
Badu is "worried and dismayed," Razman told The Associated Press. She was slated to perform in an auditorium that can hold about 3,000 spectators.
It was the first concert by a Western performer to be banned in Malaysia in recent years. Several other stars, including Gwen Stefani and Avril Lavigne, were told to dress modestly while performing.
The photograph of Badu, which also appears on her official fan website, attracted attention after Malaysa's most widely read English-language daily, The Star, published it Monday.
On Tuesday, the newspaper apologized to Muslims for what it called an "oversight," saying it deeply regretted any offense sparked by the photo, which was "inadvertently published." The Home Ministry summoned The Star's editors to eplain the photograph, which caused some Muslim activists to demand the newspaper's suspension.
http://www.thejakartapost.com/news/2012/02/28/malaysia-bans-erykah-badu-show-over-allah-body-art.html
--------
10 years after Godhra communal violence, Gujarat still shielding government staff
Radha Sharma
TNN Feb 28, 2012
AHMEDABAD: A Right to Information (RTI) application by activist Usman Sheikh in Sabarkantha has revealed that 24 teachers working in government primary schools, grant-in-aid high schools and one even in a college were accused of rioting in 2002. Sabarkantha had seen violence in Prantij, Idar, Himmatnagar and other parts. All these teachers were charge-sheeted. Ten had got anticipatory bail while the rest spent time in police and judicial custody. Some cases are pending but all of them are back on the jobs, teaching the children.
Sheikh had sought details from the district police of people working with government and semi-government organizations who were accused of rioting in 2002 and if their departments or seniors were informed when they spent over 48 hours in police custody which forms the basis of suspension. Of the details of 45 people given by the police, 24 were teachers. Four of them teach in primary schools, one is a school principal, one head teacher. Two are retired teachers. The rest are all teachers in high school teaching students of impressionable age.
"Police officials have on record admitted that they did not inform the departments concerned or the senior officials of those charge-sheeted in rioting," says Sheikh.
When he took the matter forward himself and sent RTI applications to schools whose teachers were charge-sheeted, all of them responded that none of their teachers was involved in post-Godhra communal carnage. "These teachers are teaching innocent minds. Whether they are being consciously protected or their seniors are really ignorant is a matter to be probed," says Sheikh.
Director of Nyaygruh and eminent activist Harsh Mandar says information of a big number of teachers accused of communal rioting is deeply disturbing. "We have always believed that real battle against communalism will not be fought by police, it will be fought by hearts and mind of ordinary people. But if the minds of the teachers are communally biased, there is a high risk of them poisoning innocent minds in classrooms".
Mandar said that no action against these teachers who continue to teach amounts to normalization of communal prejudice in classrooms which is more dangerous. "The government needs to take action against such teachers and cleanse the classrooms", he said.
Nyaygruh state co-ordinator Preeta Jha says that involvement of teachers in rioting underlines communalization of education in Gujarat. It also debunks the myth that uneducated, poor people spontaneously went on a communal rampage to loot and kill. "These people were educated but some also in charge of educating the future of the state", says Preeta.
http://timesofindia.indiatimes.com/india/10-years-after-Godhra-communal-violence-Gujarat-still-shielding-government-staff/articleshow/12063601.cms
--------
URGENT ACTION
Iran: Execution fears grow for Iranian Kurds
23 February 2012
Two members of Iran's Kurdish minority, Zaniar Moradi and Loghman Moradi, could be executed at any time. Their death sentences have been sent to the Office for the Implementation of Sentences, a body within the Judiciary, which is the final step before being called for execution.
Zaniar (or Zanyar) Moradi and Loghman (or Loqman) Moradi were sentenced to public hanging on 22 December 2010 by Branch 15 of the Tehran Revolutionary Court after a trial reportedly lasting 20 minutes. They were convicted of "enmity against God" (moharebeh) and "corruption on earth" for allegedly murdering the son of a senior cleric in Marivan, Kordestan province, north-eastern Iran, on 4 July 2009. They were also convicted of participating in armed activities with Komala, a Kurdish opposition group. Their sentences were upheld by the Supreme Court and have reportedly been sent to the enforcement office of the Judiciary.
Zaniar Moradi and Loghman Moradi were arrested respectively on 1 August 2009 and 17 October 2009 in Marivan. They were held without charge by the Ministry of Intelligence for the first nine months of their detention during which they were moved several times between detention facilities. Around the beginning of December 2010 they were transferred to Raja'i Shahr Prison northwest of Tehran. The two men then wrote a letter stating that during their interrogation by the Ministry of Intelligence they were forced to "confess" to the allegations of murder after being tortured and threatened with rape. Amnesty International has so far been unable to confirm reports that Zaniar Moradi was 17 at the time of his arrest.
Please write immediately in Persian, English or your own language:
Urging the Iranian authorities not to carry out the executions of Loghman Moradi and Zaniar Moradi;
Calling on them to commute the death sentences of Loghman Moradi and Zaniar Moradi and anyone else on death row, including other Kurdish political prisoners;
Calling on them to ensure that Loghman Moradi and Zaniar Moradi are protected from torture or other ill-treatment, and are granted immediate and regular access to their families, their lawyers and adequate medical care.
Expressing concern that neither Loghman Moradi nor Zaniar Moradi had a fair trial, and urging the Iranian authorities to investigate the allegations that they were tortured and to bring to justice anyone found responsible for abuses and to disregard as evidence in courts "confessions" which may have been coerced.
Additional Information
Loghman Moradi and Zaniar Moradi's letter from prison also stated that during interrogations by the Ministry of Intelligence, Zaniar Moradi was repeatedly asked about his father, Eghbal Moradi, a member of the Komala Party of Kurdistan - a banned Iranian Kurdish opposition group - who lives in northern Iraq. The letter further describes that Zaniar Moradi was tied to a bed, lashed and subsequently threatened with rape prior to his "confession".
Kurds, who are one of Iran's many minorities, live mainly in the west and north-west of the country, in the province of Kordestan and neighbouring provinces bordering Kurdish areas of Turkey and Iraq. They experience discrimination in the enjoyment of their religious, economic and cultural rights (see: Iran: Human rights abuses against the Kurdish minority, (Index: MDE 13/088/2008, 30 July 2008 available at: http://www.amnesty.org/en/library/info/MDE13/088/2008/en). For many years, Kurdish organizations such as the Kurdistan Democratic Party of Iran (KDPI) and the Marxist group Komala conducted armed struggle against the Islamic Republic of Iran, although neither currently does so. The Party For Free Life of Kurdistan (PJAK), was formed in 2004, and carried out armed attacks against Iranian security forces, but declared a unilateral ceasefire in 2009, although it still engages in armed clashes with security forces in what it terms "self-defence. In 2011, the Iranian and Turkish governments shelled border areas where armed Kurdistan Workers' Party (PKK) and PJAK bases were thought to be located (see Amnesty International, Turkey/Iraq: Investigation needed into killing of civilians in the Kurdistan region of Iraq, Index: REG 01/003/2011, 26 August 2011
Amnesty International condemns without reservation attacks on civilians, which includes judges, clerics, and locally or nationally-elected officials, as attacking civilians violates fundamental principles of international humanitarian law. These principles prohibit absolutely attacks on civilians as well as indiscriminate and disproportionate attacks. Such attacks cannot be justified under any circumstances.
At least 17 other
men are believed to be on death row in connection with their alleged membership of and activities for proscribed Kurdish organizations. Some have had initial prison sentences increased to death sentences. At least 10 Kurds have reportedly been executed for political offences in recent years.
http://www.amnesty.org/en/library/asset/MDE13/010/2012/en/ef544c1f-9aee-469e-8314-900a9e5623a4/mde130102012en.html
--------
Pakistan school strives to beat the Taliban trap
PESHAWAR: The boy was two when his mother dumped him on the streets, four when he spent his first night in a tiny prison cell, being sexually assaulted by an older inmate. Prostitution for money and shelter followed then hashish, and glue-sniffing.
Now 10 and gangly, he fidgets and stares at the ground, speaking in a near-whisper. "I'm ashamed," he says.
Yet in this rugged frontier city in northwest Pakistan, where people carry guns as casually as they would a daily newspaper, this boy has hope. He has found refuge in what for Pakistan is relatively rare: a charity-run boarding school for homeless, drug-addicted children.
Around Peshawar, heroin sells for less than $0.20 a high. "It's the cheapest place in the world to get heroin," says Mazahar Ali, the school's manager. He gestures beyond the school's high walls. Heroin and just about every other vice are just a short walk away, he says.
The drugs all come from nearby Afghanistan which, according to a 2011 UN report, provides 90 per cent of the world's opium, from which heroin is made.
For Pakistan, the result is more than four million addicts. Some of the youngest end up in mud-walled rooms being drilled in extreme Muslim doctrine by the Taliban who roam relatively freely in Peshawar.
"Sometimes the militants take these children to North Waziristan and teach them to be suicide bombers and sometimes they give the children drugs and the child might not even know that he is going to be blown up," says Ali.
At the school, a boy named Osama told of memorizing the Quran while the Taliban hovered over him. He said he was tortured. He escaped, and a month ago was found sleeping on the floor of a ramshackle hotel, said Umaima Zia, the school psychologist.
On the lawn in front of the four-story school, Osama sat cross-legged on a chair in the afternoon sun, his small body swaying as he recited Quranic verses to his fellow students in a lilting voice.
A single working woman aged 25, Zia is unusual in this conservative region where girls are often married off soon after puberty.
Quick to smile, she gently draws out the kids' accounts of what they have endured. She brings stuffed animals to the school, and even the older boys cling to them. She gave the sexually assaulted boy a furry lion-shaped hat which he rarely takes off except for prayers.
A while ago that child's mother was found, but she would not take him back. "She didn't want me," he muttered, almost inaudibly "She said I was garbage."
The Associated Press does not identify, in text or through images, persons who say they have been sexually assaulted.
Children generally stay three months at the boarding school, long enough to detox. Run by the Dost Foundation, a family-owned charity, it has 32 boarders, all boys. A separate facility for girls is planned, because mixing of the sexes in Pakistan is shunned. Zia told of finding one little girl knocking on car windows asking 50 rupees to bare her chest to the occupants. She was six.
"It's sad, so sad that there is nothing for girls here," she said. "Most of the girls are homeless. Not so many are drug users. Many are scavengers but they are very vulnerable to abuse."
Eleven of the boys in the school are intravenous drug users and two have Aids.
Dr Sikander Khan, whose family started the charity 20 years ago, says the Aids problem is getting worse. Pakistan is a poor country, and 70 per cent of its 180 million people are under 30 years old, with more children using drugs intravenously and Aids rates rising, Khan said.
Khan, a physician who interned in New York, estimated roughly 7,000 children were living homeless on the streets of Peshawar.
He said roughly half of Pakistan's heroin addicts are believed to be intravenous users, a dramatic change. Discussion of sex is taboo, and although the UN estimates there are 97,400 HIV patients, only 4,112 are registered.
Khan's charity also supports community-based schools and provides rehabilitation facilities for adult addicts as well as vocational training for young boys and girls. It gets money from the European Union, US and UN, but Khan says it is short of funds and has had to close some of the schools.
"There is a lot of (international) funding for infrastructure like roads, but when it comes to drugs, when it comes to street children and shelter homes, the funding is not there or it is very small," said Khan.
But he said the trend might be changing, if only because of the fear that the neglected children will become Taliban fodder.
He said there is evidence this recruiting is happening. There's no certainty the children are being turned into terrorists, but he sees a growing recognition that they are exploitable and need help.
Inam, 15, has been through detox at the boarding school several times. Short and squat, he is notorious as Peshawar's most accomplished pickpocket — so notorious that he was the subject of a documentary. He has his own gang, has been in prison on attempted-murder charges, keeps police officers on his payroll and has scars on his leg from acid thrown by rivals who tried to steal his gun.
A month ago he discovered he has HIV, and his tough-guy image crumbled. He believes he got the virus from sharing needles with other drug users. As he spoke his eyes grew wet, but he quickly wiped them with his sleeve and composed himself.
On the wall of the children's dormitory, a poster tries to offer hope with words in English written against a backdrop of hellish red flames: "I am in hell but that doesn't mean I will stay forever."
http://www.dawn.com/2012/02/27/pakistan-school-strives-to-beat-the-taliban-trap.html
--------
Pakistan Oscar winner launches anti-acid campaign
KARACHI: Pakistan's first Oscar winner launched a campaign on Tuesday, hoping that her documentary about survivors of acid attacks can help eliminate a crime that disfigures hundreds of women each year.
"Saving Face" by Sharmeen Obaid-Chinoy won the short documentary category at the Academy Awards on Sunday.
The film follows survivors in their fight to bring their attackers to justice and focuses on the work of British Pakistani plastic surgeon Mohammad Jawad, who helped restore their faces and lives.
The team behind the documentary are using their website to launch a campaign designed to raise awareness about acid attacks, which can disfigure around 200 women a year in Pakistan, and to strengthen legislation against the violence.
"The film must be more than an expose of horrendous crimes, it must be a recipe for addressing the problem and a hope for the future," co-director Daniel Junge says on www.savingfacefilm.com.
Pakistan's parliament last year adopted tougher penalties for acid attacks, increasing the punishment to between 14 years and life, and a minimum fine of one million rupees ($11,000).
Obaid-Chinoy's mother, Saba, told AFP that the campaign was launched formally after her daughter won the Oscar, which had "provided her with a unique opportunity and strength to strive for her goal more effectively".
"The campaign is mainly aimed at making our society more humane and better to live. It is to help and remedy those who are victims of such brutality and injustice," she told AFP.
"Saving Face is uniquely positioned to advance awareness, education and prevention efforts," the website says.
The chairwoman of Acid Survivors Pakistan, which is a partner in the campaign, told AFP that the fight to eliminate the crime had only just started and that the outreach programme was designed to generate "systemic change". (AFP)
http://www.thenews.com.pk/article-37397-Oscar-winner-launches-anti-acid-campaign
--------
Hindu girl kidnapped, forced to convert in Pak
Feb 27, 2012 | PTI | Islamabad
A Hindu girl was kidnapped and allegedly forced to convert in Pakistan's southern Sindh province on Monday, prompting President Asif Ali Zardari to direct authorities to investigate the incident.
Reports said the Hindu girl was kidnapped from Mirpur Mathelo in Ghotki district.
Officials said President Zardari had taken 'serious note' of reports of the girl being kidnapped and allegedly forced to convert by some influential persons of the area.
The President had called for a report on the incident from the Sindh government, officials said.
Zardari also called for 'transparent and expeditious investigations' in the matter and for action in accordance with the law, regardless of the influence and status of anyone involved in the criminal activity, the officials said.
Sindh has a sizeable population of Hindus, who are the largest minority community in Pakistan. Hindus account for less than five per cent of Pakistan's total population of about 180 million.
http://www.asianage.com/international/hindu-girl-kidnapped-forced-convert-pak-884
--------
India: 'RDX was used in Samjhauta blasts'
Feb 28, 2012
Rajnish Sharma
In a startling revelation that has added a new twist to investigations into the Samjhauta train blast case, one of the main accused, Kamal Chauhan, who is also said to have planted one of the bombs, has disclosed to the investigators that RDX had been used in the twin explosions.
This is the first time that the National Investigation Agency, which is probing the incident, has got conclusive leads that the deadly explosive had been used in the Improvised Explosive Devices (IEDs) that triggered the blast.
Till date, the exact configuration of the explosive is not known, since detailed forensic examinations failed to decode the lethal mix of explosives used to configure the IEDs. Chauhan was picked up by the NIA team on February 12 from Indore. During sustained interrogation, Chauhan disclosed that he had heard the other accused in the case Sandeep Dange and Sunil Joshi that they have used RDX to cause maximum damage in the blasts. While Dange is still on the run, Joshi was murdered under mysterious circumstances.
Highly-placed NIA sources said that if what Chauhan is saying was right, then it is a huge cause for concern as one needs to ascertain where the RDX was sourced from. Further, official claim, if RDX has indeed been used then the so called "saffron terror module'' must have used the lethal explosive in other blasts also like in Malegaon, Ajmer and Mecca Masjid.
Earlier, the Maharashtra ATS had claimed that former Army officer Col. Purohit had supplied the RDX to saffron terror module. But this claim was later retracted by former chief of the ATS Hemant Karkare. Thus it has now become imperative for the investigating agency to identify where the explosive came from.
"This disclosure by Chauhan needs to be viewed in a larger perspective since RDX is only used by ISI supported terror outfits. So if Purohit did not provide the RDX then where did it come from? Since if the supply chain is still active it can be used in future incidents also. So this needs to be checked immediately,'' a top NA official said.
Meanwhile, in a related development that reveals a clear link between the Malegaon and the Samjhauta explosions the NIA has taken Lokesh Sharma, an accused already arrested in the train blast case, on remand till March 9.
NIA says Sharma is one of the masterminds of the Malegaon blasts as well.
http://www.asianage.com/india/rdx-was-used-samjhauta-blasts-043
--------
Pakistan may junk Kashmir issue temporarily
M Saleem Pandit,
TNN Feb 27, 2012
SRINAGAR: The Pakistani establishment, in a bid to carry forward its peace plan on Kashmir in the wake of internal crisis in that country, has invited leaders of both the factions of All-Party Hurriyat Conference to Islamabad for talks to explain its "changed position" on Kashmir. A source close to the Hurriyat said there is a move to shelve the Kashmir issue "for the time being" in the wake of internal political crisis in Pakistan.
Pakistan's high commissioner in New Delhi, Shahid Malik, accompanied by a few other diplomatic staff, drove to hardline Hurriyat leader Syed Ali Shah Geelani's winter address in Delhi on Saturday and handed him an invitation letter from foreign minister Hina Rabbani Khar. Malik has already invited the chairman of the moderate wing of the Hurriyat, Mirwaiz Umar Farooq, along with Shabir Shah and Nayeem Khan, to Pakistan, for talks on its change perception on Kashmir.
Geelani's spokesman Ayaz Akbar said the Pakistani diplomats visited the Hurriyat leader in Delhi and Geelani told Malik that he will speak to his colleagues and let the Pakistan government know about his decision. Incidentally, Geelani has never visited any foreign country accept Saudi Arabia where he went for Haj.
Foreign ministry sources in New Delhi said Geelani will be issued a passport if he applies for it in view of the invitation by the Pakistani government. Mirwaiz Umar Farooq, who arrived here on Sunday, said he would leave for New Delhi again in a week for another round of talks with Pakistani diplomats at the Pakistani embassy.
Earlier on Saturday, second level Hurriyat leaders including Shabir Shah, Nayeem Khan, Molvi Agha Hassan and Shahid-ul-Islam held a round of talks with high commissioner Malik. This was their second meeting in less than a week, Nayeem Khan told TOI. "We had a healthy discussion on the Kashmir issue and our proposed Pakistan visit,'' Khan added.
Shabir Shah, while expressing satisfaction over the outcome of the meeting, said, "The Pakistani leaders reiterated their moral, political and logistical support to the Kashmir cause.'' He said that Pakistani diplomats and politicians said they are eagerly awaiting them in Islamabad for further talks.
http://timesofindia.indiatimes.com/india/Pakistan-may-junk-Kashmir-issue-temporarily/articleshow/12048444.cms
--------
US says can`t secure every inch in Afghanistan
Anwar Iqbal
WASHINGTON: The White House said on Monday that the US was not in Afghanistan to secure every inch of its territory and the next Nato summit in Chicago would focus on turning over the country`s security to Afghan forces by the end of 2014.
At a White House briefing, Press Secretary Jay Carney also stressed the need for US soldiers to operate in a way that enhanced US cooperation with the Afghans and not in a way that detracted them from this objective.
Scores of people — including four US soldiers — have been killed in Afghanistan in the past few days in violent protests that followed the burning of the Holy Quran by American troops.
"How much is the killing four US service members is linked to the burning incident and how much of it is just the tipping point for an overall exhaustion and anger due to the American presence?" asked a journalist.
"We are keenly aware of concerns expressed in the past by (Afghan) President Karzai and others about the way that we operate there and the need to be sure that we operate in a way that enhances our cooperation and doesn`t detract from it," Mr Carney said. "And we work very carefully to try to do that."
The US objective, he said, was to defeat those who attacked America on Sept 11, 2001. "And part of how we do that is working with the Afghan government to help stabilise that situation in that country, to allow them to have the security infrastructure that they need so that they can prevent Al Qaeda from returning and plotting again against the United States and its allies," he said.
"This is an issue that obviously predates this most recent (burning) incident. And we work with President Karzai and the Afghan government to try to mitigate some of the tensions that understandably exist in a situation as this, but only insofar as they don`t compromise our national security interests."
Responding to another question, Mr Carney said the United States had a specific mission in Afghanistan, "which is not to secure every inch of territory but to achieve an objective, which is to disrupt, dismantle, defeat Al Qaeda".And while working on that objective, the US wanted to stabilise the Afghan government and help build up Afghan security forces so that they could take over the security of their own country, the White House official said.
"Can you just explain what elements of our objectives have not been completed in February of 2012 the president is anticipating would be completed by 2014?" asked another journalist.
Mr Carney noted that while Al Qaeda`s ranks had been diminished, it remained a very serious threat to the United States and to its allies and they should not let up in the effort to fully defeat that group.
Besides working on this "very important" objective, the US also wanted to "create the time and space" the Afghan government and security forces needed to take full security lead in their country.
"And that process, as outlined in Lisbon by Nato and made clear by the president of the United States, will be completed by the end of 2014," he said.
"The (summit) meeting in Chicago in May of Nato will be focused a great deal on the implementation of that policy, of making sure that we can turn over security lead by the end of 2014," he added.
http://www.dawn.com/2012/02/28/focus-on-handing-over-responsibility-us-says-can-t-secure-every-inch-in-afghanistan.html
--------
Riyadh: Alwaleed Foundation supports program for Muslim women lawyers
Feb 28, 2012
The Alwaleed Bin Talal Foundation chaired by Prince Alwaleed bin Talal and vice chaired by Princess Ameerah Al–Taweel, supported Karamah's Muslim Women Lawyers for Human Rights Law and Leadership summer program with a donation of $90,000.
Muslim Women Lawyers for Human Rights is an international human rights organization dedicated to promoting dignity, liberty, and justice for all through educational outreach and legal scholarship.
Their focus is to empower Muslim women by expanding and enriching their knowledge of Islamic law while simultaneously developing their leadership, advocacy, conflict resolution, and communication skills.
Karamah has established itself as a leading Muslim women's rights organization in Washington, DC, with plans for increasing international participation.
In 2007, Alwaleed Foundation also supported Karamah's summer program with $90,000 to help them attract outreach and efficacy and additional core funding from the Bill and Melinda Gates Foundation.
http://arabnews.com/saudiarabia/article580614.ece
--------
Bali closed for Hindu New Year
Tue, 02/28/2012
All entrances to Bali will be closed on Hindu New Year, locally known as Nyepi (Day of Silence), which falls on March 23.
The Balinese will observe the New Year in silence for 24 hours, starting from 6 a.m. local time.
"All domestic and international flights to and from Ngurah Rai Airport will be unavailable on Nyepi. Seaports and terminals all over Bali will be closed as well on that day," said Bali administration spokesman I Ketut Teneng in Denpasar on Tuesday.
He added that all flight crews and passengers would have to remain at the airport on Nyepi. Exceptions will be made in an emergency only.
Teneng also calls on travel agencies to explain the meaning of Nyepi to tourists to avoid misunderstandings.
Komang Suarsana, the head of Bali Provincial Broadcast Agency (KPI), said the agency had officially handed letters to all television and radio companies, asking them not to broadcast on Nyepi.
"So far, they have given positive feedback," Suarsana said as quoted by Antara. (tas)
http://www.thejakartapost.com/news/2012/02/28/bali-closed-hindu-new-year.html
--------
Israeli ultra-Orthodox say they won't be drafted
By AMY TEIBEL
Published: Feb 27, 2012
JERUSALEM: Ultra-Orthodox parties inside Israel's government say they will oppose any new law that would apply Israel's compulsory military draft to ultra-Orthodox men — a stance that bodes ill for the stability of Prime Minister Benjamin Netanyahu's ruling coalition.
Last week, Israel's Supreme Court overturned a law that has helped tens of thousands of religious men avoid military service and pursue state-sponsored religious studies instead. The privilege has created widespread resentment among Israel's secular majority and encouraged ultra-Orthodox men to become lifelong students, reducing their large families to living off state handouts.
With a July deadline looming, Netanyahu is now racing to find a new formula acceptable to the court and his coalition.
Netanyahu has promised to replace the so-called Tal Law with legislation that would allow "a much more equal sharing of the burden." If no new law is on the books by the time the old one expires on July 31, universal conscription will presumably go into effect.
Depending on both ultra-Orthodox and fiercely secular parties in his government, Netanyahu faces a difficult task drawing up a new system.
In a rare show of unity, rival ultra-Orthodox parties met Sunday night to join ranks against any modifications that would expose their constituents to the draft. Israeli males perform three years of compulsory military service beginning at age 18.
Ultra-Orthodox religious leaders believe their followers must spend their days studying holy texts.
"We have no existence without Torah," the Haaretz newspaper quoted United Torah Judaism party lawmaker Moshe Gafni as saying, referring to the first five books of the Jewish bible. "We will give our lives for it."
Although Netanyahu's coalition partners have stopped short of threatening to bolt, the court decision has threatened to shake up the prime minister's government by forcing him to choose sides in this enormously divisive issue.
His foreign minister, Avigdor Lieberman of the secular Yisrael Beitenu Party, said Tuesday he would not agree to extend the old law. "Not by a day, and not even an hour," said Lieberman, a critic of the religious exemptions.
While Israel's secular public has welcomed the prospect of ending the draft exemptions for the religious, actually conscripting them will be a difficult task.
The exemption, drawn up six decades ago to allow 400 exemplary seminary students to continue their studies, has ballooned to the point that tens of thousands of young men are now able to avoid the draft. Absorbing such a large number of conscripts, most of whom have few skills in the secular world, will be a challenge for the military.
Yohanan Plesner, a lawmaker who has chaired a subcommittee studying the matter, said Tuesday that the old law expires on July 31 and without new legislation, universal conscription would go into effect.
"That's not realistic or practical," he said. "The military is not prepared for it ... A different agreement must be made," said Plesner, a member of the opposition Kadima Party.
He vowed to prevent a new formula to allow mass draft dodging. "There should be no Tal Law Part 2," he said.
http://arabnews.com/middleeast/article580563.ece
--------
Iran: 10 prisoners on hunger strike in Evin prison
20 February, 2012
10 of the citizens who were arrested on 25 Bahman (February 14) during anti-government gatherings have embarked on a hunger strike in protest of their circumstances behind bars.
Gholam Hossein Ghasemi, Hamid Abedini, Ali Azad, Toofan Hatefi, Massoud Kermi, Hamed Aslani, Mohsen Moradi, Mohammad Ali Abdali, Gholam Hossein Azari Najfabadi and Ali Shekarji are 10 prisoners who were detained during anti-government protests on 25 Bahman (February 14), and are still being held behind bars in Evin prison.
Human Rights House of Iran reports that these 10 citizens are being held in Ward 7 of Evin prison, which houses violent offenders. They have embarked on a hunger strike in protest of being kept in this ward among criminals.
Among these prisoners, Ali Shekarji started his hunger strike 3 days ago and was transferred to solitary confinement after objecting to the behavior of the violent felons. As a result, the 9 other detainees also embarked on a hunger strike in a show of support.
Massoud Kermi is a Norwegian-Iranian citizen who had returned to Iran after 20 years of living abroad. He returned to the country to protest the illegal detention and house arrest of the leaders of the Green movement; Mir-Hossein Mousavi, Zahra Rahnavard, and Mehdi Karroubi.
Supporters of the Green Movement whose leaders are under house arres, had called people to the streets to commemorate 25 Bahman (February 14) and protest the illegal detainment of their leaders. But as crowds attempted to gather in cities across the country, they were met by a heavy presence of security forces blocking their movement and making scores of arrests.
Article in Persian: www.rahana.org/archives/48125
http://www.rahana.org/en/?p=12383
--------
Pakistan: Blast near ANP meeting venue; at least 5 dead
NOWSHERA: Five people were killed and 26 others suffered injuries in a bomb blast near the venue of a public meeting organised by Awami National Party (ANP) here on Monday. Eleven of the injured are police personnel. (Foreign news agencies put the death toll at seven)
The remote-control bomb strapped to the fuel tank of a motorcycle exploded immediately after Khyber Pakhtunkhwa Chief Minister Amir Haider Khan Hoti had left the meeting in a helicopter, accompanied by a number of ministers and party leaders.
According to police, three people died on the spot and two others at the Lady Reading Hospital.
The injured were taken to district headquarter hospital in Nowshera and 12 of them were referred to Peshawar hospitals.
The ANP meeting was the obvious target of terrorists, but they failed to achieve it because of tight security, district police chief said.
Bomb disposal personnel collecting evidence from the site of the blast told journalists that three to four kilograms of explosives had been used in the blast.
The dead were identified as Muhammad Hussain, Tariq, Muhammad Israr and Sabz Ali. Their bodies were brought to the DHQ hospital in Nowshera for autopsy and later handed over to relatives.
Some of the injured were identified as Noor Muhammad, Javid, Haider Afridi, Laiqat Ali, Muhammad Ajmal, Gul Muhammad, Nazeer, Janis, Badam, Laiqat, Tariq, and Muhmmad Hussain.
Funeral prayers of the deceased were offered in their respective towns.
Awami National Party`s provincial president Senator Afrasiab Khattak expressed deep shock and grief over the loss of lives and termed the blast a cowardly act. He offered condolences to the bereaved families.
He said the determination of the ANP leadership to restore peace in the Pakhtun soil could not be deterred by such cowardly acts.
http://www.dawn.com/2012/02/28/blast-near-anp-meeting-venue-at-least-5-dead.html
--------
18 dead in Pakistan bus ambush by Gunmen
PESHAWAR: At least 18 people were killed on Tuesday when gunmen opened fire on a bus in Pakistan's mountainous northern district of Kohistan, police said.
The bus was carrying passengers from Rawalpindi, the city where the Pakistani army is headquartered, to the northern city of Gilgit. The motive was unclear as militants are not active in the area, police said.
"Armed men hiding on both sides of the road attacked the bus," local police chief Mohammad Ilyas said.
"Initial reports said 18 people have died and eight wounded," he added.
The ambush happened near the town of Harban, 130 miles (208 kilometres) north of the capital Islamabad.
http://www.dawn.com/2012/02/28/atleast-18-dead-in-pakistan-bus-ambush-police.html
--------
Four soldiers, 10 militants killed in S. Waziristan
SEPLATOI: Four soldiers and 10 militants were killed in a skirmish between Pakistani forces and a group of militants in the Seplatoi area of the South Waziristan tribal region late on Monday, security officials said on Tuesday.
The Pakistani Taliban has strongholds in South Waziristan, near the Afghanistan border, where several Pakistani military offensives have failed to eliminate the group.
http://www.dawn.com/2012/02/28/four-soldiers-10-militants-killed-in-s-waziristan.html
--------
Iranian journalist sentenced to 5 years jail
Tue, February 21, 2012
Iranian journalist Mahsa Amrabadi has been sentenced to a prison term for the second time in the past two years.
The Kaleme opposition website reports that Mahsa Amrabadi has been sentenced to five years in jail for "assembly and collusion against national security." Four years of her sentence is suspended; however, one year of it must be served immediately.
Amrabadi is charged with refusal to denounce opposition leaders MirHosein Mousavi and Mehdi Karroubi, attending the Quran-reading gatherings of political prisoners, giving interviews and writing reports for newspapers, visiting independent members of the clergy and defending the rights of her husband, detained journalist Massoud Bastani.
Amrabadi was arrested for the second time last March by intelligence officers of the Revolutionary Guards and was released on bail.
She was first arrested in June of 2009 during the widespread crackdown on election protesters who claimed the presidential elections were rigged. She was sentenced to one year in prison.
Amrabadi has collaborated with several reformist newspapers.
Her husband, Massoud Bastani, was arrested in the post-election crackdown of 2009 as he was inquiring about the arrest of his wife. Bastani was later sentenced to six years in prison for his journalistic activities.
Journalists became one of the chief targets of post-election crackdown in 2009, and according to the journalists' rights group Reporters Without Borders, more than 30 journalists and 24 netizens are currently behind bars in Iran.
http://www.radiozamaneh.com/english/content/iranian-journalist-sentenced-jail
--------
US ties with Afghans face crisis after violence
WASHINGTON: Deadly unrest in Afghanistan has thrown a spotlight on the uneasy partnership between NATO and Afghan forces, exposing a potential Achilles heel for a war effort that depends on building trust with Kabul's soldiers and police.
The White House and the Pentagon insisted Monday that attacks on US troops, including the killing of two military advisers over the weekend, were "isolated" incidents and predicted turmoil over the burning of the Koran at an American base would soon blow over.
But US commanders are increasingly concerned about a rising trend of "fratricide" in the past two years, with Afghan troops turning their weapons on their American and NATO counterparts, often out of resentment and not due to an insurgent plot.
The violence that has erupted over the past week after US troops sent copies of the Koran to an incinerator at the Bagram Air Base seemed to underline a vast cultural gap between NATO troops and their purported Afghan allies, contradicting a more upbeat picture painted by the Pentagon. (AFP)
http://www.thenews.com.pk/article-37369-US-ties-with-Afghans-face-crisis
--------
Pak SC adjourns the PM's contempt of court hearing till March 7
ISLAMABAD: Supreme Court adjourned the contempt of court hearing against Prime Minister Yousuf Raza Gilani till March 7 on Tuesday, DawnNews reported.
A seven-judge SC bench, headed by Justice Nasirul Mulk was hearing the case.
The head of the bench, Justice Nasirul Mulk said that the notice was sent to PM on the official basis but not on the individual terms.
The counsel of prime minister, Barrister Aitzaz Ahsan said referring to the various arguments on appeal that he wanted to present evidences and witnesses and that a chance should be granted to him to examine them.
Aitzaz Ahsan argued that the notices were sent to the Federal government instead of sending it to prime minister.
He said that his client has done the same which should have been done according to the terms and regulations.
Barrister Aitzaz Ahsan requested the court to summon law and defence secretaries and former law minister Babar Awan to record their statements as court witnesses.
The court gave the permission to present Cabinet and Defence Secretary Nargis Sethi as a witness in the court.
Earlier, on Feb 16, Attorney General Maulvi Anwarul Haq had submitted evidence relating to the contempt of court against the prime minister.
It contained 43 documents (469 pages in four volumes) mainly consisting of different court orders — Dec 16, 2010, NRO verdict, Nov 25, 2011, SC judgments in the NRO review petition and NRO implementation case from May 24, 2010, to Feb 16, 2012, in Ahmed Riaz Sheikh and Adnan A. Khawaja cases.
Also, on Feb 27, Barrister Ahsan, in his three-page miscellaneous application requested the court to direct the law secretary to produce May 21, 2010, and Sept 21, 2010, summaries on the basis of which the prime minister had decided not to write a letter to the Swiss authorities for reopening $60 million money laundering cases.
He also sought a court direction for the law secretary to produce the orders issued by the accused prime minister on these summaries.
http://www.dawn.com/2012/02/28/sc-adjourns-the-pms-contempt-of-court-hearing-till-march-7.html
--------
UN says south Libya tense after tribal warfare
By RAMI AL-SHAHEIBI
Feb 28, 2012
BENGHAZI, Libya: The United Nations said Monday that the situation in a remote southern part of Libya where more than 100 people were killed in tribal warfare this month remains tense although a cease-fire brokered by local officials is still holding.
A statement by the UN Support Mission in Libya said that as much as half of the population of Kufra has fled and that around 200 foreign migrants are still waiting to be moved out of the area.
The clashes that broke out Feb. 11 underscore the struggle facing Libya's new leaders to enforce security, disarm people and unify multiple militias that took part in an eight-month civil war that ended with the capture and killing of longtime ruler Muammar Qaddafi in October.
Dozens were killed this month by rockets, mortars and gunfire that rocked residential areas in the desert town, which is some 500 miles (800 kilometers) away from the more populated coastal city of Derna.
The UN said it provided people there with food, medicine, mattresses, blankets and hygiene kits to vulnerable communities whose basic services have been interrupted by fighting.
The injured packed the city's three-room hospital for days during the clashes. Many had no beds to sleep on. There was one doctor and 15 nurses using empty bottles of water as blood bags. Patients had to share one ventilator.
For days, rescuers were unable to get to the bodies of victims who were left on the street.
An Associated Press reporter who was in Kufra during the clashes saw at least 160 houses demolished by rockets in one neighborhood. Families gathered inside a school seeking shelter, but even that came under shelling.
Shops were closed for days, and no one could walk in the street. If one tribe took over one square, the other tribe opened fire and drove it out.
During that time the powerful Arab tribe of Al-Zwia clashed with the African Tabu tribe near Kufra, a border area where Libya, Chad and Sudan meet. The region is a hub for the smuggling of African migrants, goods and drugs.
The two groups are old rivals and speak different languages. The Tabu have long complained of discrimination under Qaddafi.
Abdel-Majed, once an opposition leader who founded a group calling for an autonomous state for the Tabu people, said Qaddafi's regime would expel Tabu students from schools, take their passports and deprive families of bank loans.
Qaddafi also tried to change the demography of the city by offering incentives to Al-Zwia tribe members to move to Kufra in order to outnumber the Tabu.
The clashes, erupted after an Al-Zwia smuggler shot and killed six Tabu tribesmen guarding a border crossing, lifting the lid on a long suppressed ethnic conflict.
In another sign that the government is struggling to reign in the country's numerous armed factions, the US-based Human Rights Watch called on a Mistrata-based militia Monday to immediately release two British journalists and three Libyans traveling with them.
The rights group said that the Saraya Swehli militia detained the British citizens nearly a week ago. They work as freelance journalists for Iran's Press TV.
The Middle East director at Human Rights Watch, Sarah Leah Whitson, said in a statement that militias must stop detaining people and called on the Libyan government to take charge of militia detention facilities. The rights group says the militia has denied them access to the journalists.
http://arabnews.com/middleeast/article580707.ece
--------
Syrian referendum a farce: Canada
MONTREAL: Canada on Sunday slammed as a farce Syria's controversial vote on a new constitution.
"This is a dubious ploy by the (Bashar al-) Assad regime to delay the inevitable while continuing its slaughter of Syrian civilians. Assad's 'referendum' is a farce. It is also too little, too late," Foreign Affairs Minister John Baird said in a statement.
"Assad must go. A new day must dawn for the Syrian people," Baird added.
"Canada will continue working with our international partners to pave the way for a peaceful transition to a society that respects the fundamental rights of all its people," he said.
As polling took place Sunday, a Britain-based watchdog reported new violence across the country that killed at least 34 civilians, mostly in the flashpoint central region of Homs, and 23 regime forces. (AFP)
http://www.thenews.com.pk/article-37233-Syrian-referendum-a-farce:-Canada
--------
Saudi Kingdom warns parties blocking Syria solution
Feb 28, 2012
Saudi Arabia yesterday emphasized the need to find an immediate and effective solution to the worsening political crisis in Syria and warned parties obstructing international peace efforts that they should take moral responsibility for the carnage in the country.
The Council of Ministers, chaired by Custodian of the Two Holy Mosques King Abdullah, was reviewing the outcome of the international conference of the Friends of Syria held in Tunis.
"Saudi Arabia will be at the forefront of any international effort aimed at finding an immediate, comprehensive and effective solution to protect the Syrian people," Culture and Information Minister Abdul Aziz Khoja said quoting a Cabinet statement.
The Cabinet added: "The Kingdom will hold international parties that obstruct the global (peace) move for the worsening situation in Syria morally responsible, especially if they continue their stand that ignores the interests of the Syrian people."
The Cabinet congratulated Yemen's Abd-Rabbu Mansour Hadi on taking the oath of office as the country's new president, wishing greater progress and prosperity for the people of the country.
During the Cabinet meeting, King Abdullah briefed the ministers on the outcome of his talks with Tunisian Prime Minister Hamadi Jebali and his telephone conversations with Russian President Dmitry Medvedev and Sudan's President Omar Bashir.
The Cabinet commended the resolutions taken by the London conference to establish peace and stability in Somalia and hoped its implementation would put an end to the protracted crisis in the East African country.
Referring to the first meeting of a GCC committee to study King Abdullah's proposal to upgrade the council from a cooperation to a union, the Cabinet thanked leaders of the member states for setting up the committee, saying it reflected their unity of vision and desire to realize the hopes and aspirations of the GCC people.
The Cabinet noted the valuable content of a speech made by King Abdullah recently while receiving participants of a national dialogue forum on Saudi media. It also underscored the importance of the Third G20 Speakers' Consultation Meeting in Riyadh to find solutions to global economic and financial problems.
The meeting praised the Justice Ministry for attaining first position worldwide in expediting procedures related to the transfer of real estate ownership. "This is one of the achievements of King Abdullah project to develop judicial facilities," it added.
Khoja said the Cabinet approved a law for executing the agreement for a ban on the development, production and accumulation of bacteriological (biological) weapons.
The Cabinet authorized the president of the General Authority of Civil Aviation to hold talks with Kuwait to reach an agreement on air transport services. It endorsed an accord with France on the avoidance of double taxation, which was signed in Paris on Feb. 18, 2011. The meeting approved a GCC law on seeds and seedlings as well as the punishments for those who violate the law.
The Cabinet appointed Abdul Aziz bin Abdul Rahman Al-Drees ambassador, Abdul Kareem bin Mahmoud Hilal minister plenipotentiary at the Foreign Ministry, Zuhair bin Hassan Zahid assistant undersecretary for town planning at the Ministry of Municipal and Rural Affairs and Ahmed bin Muhammad Al-Abdul Qader financial adviser at the General Auditing Bureau.
http://arabnews.com/saudiarabia/article580624.ece
--------
Riyadh: Illegal Hafiz recipients warned of penal action
By RIYADH
Feb 28, 2012
The Ministry of Labor and the Human Resources Development Fund (HRDF) have warned punitive measures will be taken against those who are receiving Hafiz unemployment assistance illegally.
Cases against those who have become Hafiz beneficiaries by entering false information when registering for the allowance online will be referred to the local courts, Al-Eqtisadiah business daily reported yesterday.
The warning, posted on the websites of the ministry and HRDF, comes at a time when the HRDF is set to distribute more than SR1.6 billion among some 816,000 Hafiz beneficiaries for the third month in a row. About 251,000 new jobseekers were added to the list of Hafiz beneficiaries. The benefits will be deposited in the beneficiaries' bank accounts.
The ministry and the fund warned that if any information supplied by the beneficiaries were found incorrect, penal action would be taken against them.
The ministry is currently studying a proposal to penalize beneficiaries of the Hafiz program who turn down suitable job offers. Those who find good jobs will no longer be eligible for Hafiz assistance and the ministry will stop paying them. They may need to pay back some of the allowance.
It is mandatory for jobless youths to meet 12 conditions to entitle them for the allowance. The ministry or HRDF will not be responsible for finding jobs for Hafiz beneficiaries.
In the meantime, HRDF has added three new fields in the application forms for the allowance. These relate to the electronic training program and e-employment program.
HRDF has already chosen a limited number of beneficiaries for the e-training program on an experimental basis. All the beneficiaries would come under the purview of e-training in a phased manner. The beneficiaries would get their entry code to obtain access to the webpage of the program.
HRDF will also introduce e-employment services. Under this program, jobseekers can have access to job opportunities available in various companies and firms and will be free to choose any job they like. This program will be carried out in cooperation and coordination with private firms and companies.
According to HRDF sources, the monthly unemployment allowance of SR2,000 for the Hijri month of Rabiul Awwal (Jan. 24-Feb. 22) will be deposited in the beneficiaries' bank accounts effective today. During the last two months, a total of 665,000 jobless young men and women had benefited from the assistance.
Meanwhile, Talat Hafiz, secretary-general of the Media and Banking Awareness Committee of Saudi Banks, told Al-Madinah newspaper that the third installment of Hafiz assistance would be distributed through 1,600 branches of local banks and 11,000 ATMs across the Kingdom. "All the preparations are in place to distribute the allowance from Tuesday morning onwards," he said.
http://arabnews.com/saudiarabia/article580625.ece
--------
US network dropping Muslim lifestyles TV station
By CAROLYN THOMPSON
Feb 28, 2012
BUFFALO, New York: The future of a Muslim lifestyles television station that survived its founder's murder conviction is again in question after a US network decided to drop it from the lineup.
Bridges TV General Manager Hunaid Baliwala said Monday that Verizon FiOS has told him the station's viewership is too low and that it will no longer be carried as of March 15. Verizon confirmed that it's dropping the station.
The English-language station is meant to foster understanding between the West and Middle Eastern and South Asian religions and cultures, and it is carried in more than two dozen markets, including Los Angeles, Washington, Boston, Detroit and Dallas.
Verizon FiOS, a fiber-optic network that provides Internet, phone and TV service, is the carrier in all but a handful of cities.
"If we had known something like this was happening, we could have done things to improve," said Baliwala, who said Verizon gave the station one month's notice and has not responded to his request for viewership numbers.
Bridges TV was founded in 2004 by Muzzammil Hassan and his wife, Aasiya, as a platform to dispel negative stereotypes about Muslims. It managed to stay on the air after Hassan was convicted last year of beheading his wife in 2009. Hassan, who is in prison, has not been involved with the station since his arrest.
The station moved its headquarters to New York last year for better access to programming and personnel, Baliwala said.
"We sometimes need to make changes to our FiOS TV channel lineup in order to continue offering our customers the best service possible," a statement from Verizon said. "The good news is that Bridges TV makes some of its programming available on its website."
But without Verizon as a major platform, Baliwala said the station's advertising revenue and reach will be drastically diminished.
"We try constantly to dispel negative stereotypes and hatred that's going out there, and this effectively limits that. And so the Muslim community especially, the Middle Eastern, South Asia community, lose a voice in the mainstream media," he said.
In a letter to viewers last week, Bridges asked the community to support the station by contacting Verizon.
"Without a major platform," the letter said, "Bridges TV may have to shut down."
http://arabnews.com/middleeast/article580563.ece
--------
FBI: Iraqi in US terror case bragged about past
By BRETT BARROUQUERE
Published: Feb 28, 2012
LOUISVILLE, Kentucky: An Iraqi man who settled in the US state of Kentucky as a refugee boasted about having been an insurgent in Baghdad as he plotted with a confidential informant to ship weapons and money to Al-Qaeda in his home country, the FBI said in a search warrant application obtained Monday.
FBI Special Agent Chris Faber quoted 24-year-old Mohanad Shareef Hammadi as saying he didn't know how many explosives he had placed in Iraq because "By God I didn't count them."
"I mean, I used to do two or three operations a day in Baghdad and I used to do every day in my neighborhood," Hammadi said.
Hammadi faces 12 charges, including perjury and attempting to send material support to a known terrorist organization. His trial is scheduled for July 30. Alwan pleaded guilty to 23 terrorism-related charges in December and is to be sentenced April 3.
The search warrant, approved Jan. 25 and obtained by The Associated Press as a public record, gives details of recorded conversations between Hammadi, 30-year-old Waad Ramadan Alwan and the confidential source from late 2009 through early summer 2011.
The warrant also detailed how Hammadi and Alwan acquired what they thought were working weapons, including rocket propelled grenade launchers, C4 explosives and Russian-made surface-to-air missiles, and allegedly plotted to ship those and financial aid to Al-Qaeda in Iraq. The FBI said all the weapons were rendered inoperable.
Prosecutors sought the warrant to seize and search four cell phones from Hammadi because records show that he made international phone calls on them. The warrant does not reveal what agents found on the phones.
Prosecutors say Hammadi lied to gain refugee status and enter the United States. Prosecutors said Alwan took part in insurgent activities in Iraq, including planting improvised explosive devices targeting US troops.
The US Attorney's Office, which is prosecuting the case, declined to comment on the details of the warrant.
An FBI informant, whose identity remains secret, met with Alwan for nearly 18 months and Hammadi for about five months. Faber wrote in the warrant application that agents first placed an informant with Alwan in August 2010, about 11 months after the investigation started.
Alwan recruited Hammadi from Las Vegas in January 2011 to assist in shipping money and weapons to Al-Qaeda, Faber wrote.
During multiple meetings, Faber wrote, the three men discussed sending cash to insurgents in amounts ranging from $200,000 to $600,000 at a time, without triggering the suspicion of federal officials.
Faber said Hammadi and Alwan were recorded at an FBI-rented storage facility in February preparing two rocket propelled grenade launchers, two machine guns, two sniper rifles and two cases of C4 plastic explosives for shipment to Iraq.
On Feb. 16, the informant met with Alwan and Hammadi and talked about "Haji," a fictitious person the informant said was heading the operation. The informant told Hammadi that if he ever got into trouble, Haji would help.
"No no, thank God all is normal," Hammadi replied.
The two men then discussed the Russian-made surface-to-air missiles, called Strelas. Hammadi questioned why the weapons weren't sent sooner. The informant cited the size of the weapon, but said arrangements had been made to send them now, Faber wrote.
"They're long, very long," said Hammadi, who noted insurgents he worked with in Iraq "had 11 of them," Faber wrote.
Over the next three months, Hammadi and Alwan delivered more inert weapons, including hand grenades and explosives, from an FBI-run storage facility to the tractor-trailer, Faber wrote. The FBI arrested the pair as they delivered three machine guns, three rocket-propelled grenade launchers and two cases of C4 plastic explosives to the tractor-trailer on May 25, Faber wrote.
Faber said after being arrested, Hammadi admitted to taking part in the plot and to participating in an insurgent cell in Iraq that attacked coalition troops.
http://arabnews.com/world/article580719.ece
--------
NYPD head not sorry about US Muslim surveillance
By ASSOCIATED PRESS
Published: Feb 27, 2012
NEW YORK: New York City Police Commissioner Raymond Kelly has no plans to apologize for an intelligence program that has been keeping tabs on Muslims.
He said Monday that the NYPD won't let up, despite criticism by some lawmakers in the neighboring state of New Jersey who are upset that the department monitored communities in their state. He says Gov. Christ Christie, Sen. Robert Menendez and Newark Mayor Cory Booker were wrong to question the NYPD.
They were responding to the disclosure that NYPD officers devoted several months in 2007 to surveillance of Muslim communities in Newark, New Jersey's largest city.
Kelly says he and Mayor Michael Bloomberg are committed to doing what is necessary to protect the city, as long as it's lawful.
http://arabnews.com/world/article580587.ece
--------
Saleh formally steps down; may seek refuge in Ethiopia
Feb 27, 2012
SANAA: Aides to Ali Abdullah Saleh said that the ousted Yemeni president plans to go into exile in Ethiopia, as pressures mounted on him to depart the country for fear of sparking a new cycle of violence. Saleh stepped down yesterday after 33 years at the helm.
Saleh's presence in Yemen is a major source of discontent, and undermines confidence that his departure from office will lead to lasting political change. Thousands marched against him in the capital Sanaa yesterday. Many Yemenis will not be satisfied until he actually leaves the country, if then. Saleh has frequently indicated over the past year that he is about to take a step away from power, then backed down at the last moment.
In the latest report, the aides said that the former president will leave Yemen within two days along with some of his family members. A diplomat in Sanaa confirmed that arrangements had been made for Saleh's departure for Ethiopia.
On Saturday, newly inaugurated President Abed Rabbo Mansour Hadi was sworn in as president as part of a power-transfer deal that gave Saleh immunity from prosecution in exchange for stepping down. The deal aims to end a year of turmoil that left hundreds of protesters dead.
Saleh's erratic behavior has been a major source of uncertainty throughout Yemen's last year of turmoil. Even now, with a president in place, his opponents fear that if he remains in the country he will be able to exert control through his powerful network of well-placed family members and allies. Saleh left Yemen in June after being injured in a rocket attack on his palace. He received medical treatment in Saudi Arabia for three months. The United States, which has pushed for stability in Yemen for fear that Al-Qaeda will extend its influence there, had hoped he would remain in the Gulf. But the Yemeni leader returned home and violence worsened anew.
Three weeks ago Saleh went to the United States for more medical treatment, and again it was hoped that he would remain abroad. But he returned Saturday for Hadi's inauguration. Saleh's aides said that he was waiting for an answer from Oman on whether he can live there but the sultanate has not responded to his request.
Saleh stayed in Muscat in January for some days before he left to the US for treatment, and Yemeni officials raised the possibility at the time that he would eventually seek exile in Oman, which borders Yemen to the east. The aides said that Saleh came under heavy pressures from Western and Arab countries to leave the country. They said that unnamed members of the UN Security Council threatened to freeze his and his family's assets if he did not leave.
"After days of maneuvering, he accepted," one said. Earlier on Monday, standing before a crowd of parliamentarians, tribal leaders and foreign dignitaries at the presidential palace in Sanaa, Saleh formally ceded power to his deputy Hadi, pledging to support his efforts to "rebuild" a country still reeling from months of violence.
http://arabnews.com/middleeast/article580547.ece
--------
Moderate quake jolts east Iran, 6 hurt: Report
AP | Feb 28, 2012
TEHRAN: Iran's state TV says a moderate earthquake has injured six people and caused damages in a small town in the country's east.
Tuesday's report says the magnitude 5.4 quake hit the sparsely populated area at 10 p.m. on Monday. It damaged buildings, roads, water canals as well as the nearby dam in the town of Ravar, some 460 miles (750 kilometers) southeast of the capital Tehran.
The TV says the quake also damaged homes in some surrounding rural areas.
Iran is located on seismic fault lines and is prone to earthquakes, experiencing at least one slight quake a day on average.
In 2003, some 26,000 people were killed by a magnitude 6.6 quake that flattened the historic southeastern city of Bam.
http://timesofindia.indiatimes.com/world/middle-east/Moderate-quake-jolts-east-Iran-6-hurt-Report/articleshow/12068367.cms
--------
Israel won't warn US before strike on Iran nuclear facilities: Source
AP | Feb 28, 2012
WASHINGTON: Israeli officials say they won't warn the US if they decide to launch a pre-emptive strike against Iranian nuclear facilities, according to one US intelligence official familiar with the discussions. The pronouncement, delivered in a series of private, top-level conversations, sets a tense tone ahead of meetings in the coming days at the White House and Capitol Hill.
Israeli officials said that if they eventually decide a strike is necessary, they would keep the Americans in the dark to decrease the likelihood that the US would be held responsible for failing to stop Israel's potential attack. The US has been working with the Israelis for months to persuade them that an attack would be only a temporary setback to Iran's nuclear program.
Israeli Prime Minister Benjamin Netanyahu and defense minister Ehud Barak delivered the message to a series of top-level US visitors to the country, including the chairman of the Joint Chiefs of Staff, the White House national security adviser and the director of national intelligence, and top US lawmakers, all trying to close the trust gap between Israel and the U.S. over how to deal with Iran's nuclear ambitions.
Netanyahu delivered the same message to all the Americans who have traveled to Israel for talks, the US official said.
The official spoke on condition of anonymity to discuss sensitive strategic negotiations.
The White House did not respond to requests for comment, and the Pentagon and Office of Director of National Intelligence declined to comment, as did the Israeli Embassy.
Iran claims its nuclear program is for peaceful purposes, but the International Atomic Energy Agency has raised alarms that its uranium enrichment program might be a precursor to building nuclear weapons. The US has said it does not know whether Tehran has decided to weaponize its nuclear material and put it on a missile or other delivery device.
The secret warning is likely to worry US officials and begin the high level meetings with Israel and the US far apart on how to handle Iran.
But the apparent decision to keep the US in the dark also stems from Israel's frustration with the White House. After a visit by National Security Adviser Tom Donilon in particular, they became convinced the Americans would neither take military action, nor go along with unilateral action by Israel against Iran. The Israelis concluded they would have to conduct a strike unilaterally - a point they are likely to hammer home in a series of meetings over the next two weeks in Washington, the official said.
Barak will meet with top administration and congressional officials during his visit. Netanyahu arrives in Washington for meetings with President Barack Obama next week.
The behind-the-scenes warning belies the publicly united front the two sides have attempted to craft with the shuttle diplomacy to each other's capitals.
"It's unprecedented outreach to Israel to make sure we are working together to develop the plan to deter Iran from developing a nuclear weapon," and to keep them from exporting terrorism, said Maryland Rep. Dutch Ruppersberger, the top Democrat on the House Intelligence Committee.
He traveled there with the Intelligence Committee chairman, Rep. Mike Rogers, a Michigan Republican, to meet Israel's prime minister and defense minister, along with other officials.
"We talked about the fact that sanctions are working and they are going to get a lot more aggressive," Ruppersberger added.
They also talked about presenting a unified front to Iran, to counter the media reports that the two countries are at odds over how and when to attack Iran.
"We have to learn from North Korea. All those (peace) talks and stalling and they developed a nuclear weapon," he said. "We are going to send a message, enough is enough, the stalling is over. ... All options are on the table."
"I got the sense that Israel is incredibly serious about a strike on their nuclear weapons program," Rogers told CNN on Monday. "It's their calculus that the administration ... is not serious about a real military consequence to Iran moving forward.
"They believe they're going to have to make a decision on their own, given the current posture of the United States," he added.
US intelligence and special operations officials have tried to keep a dialogue going with Israel, despite the high-level impasse, sharing with them options such as allowing Israel to use US bases in the region from which to launch such a strike, as a way to make sure the Israelis give the Americans a heads-up, according to the US official, and a former U.S. official with knowledge of the communications
Cooperation has improved on sharing of intelligence in the region, according to one current and one former US official. Israel is providing key information on Syria for instance, now that the US has closed its embassy and pulled out both its diplomats and intelligence officials stationed there, the US official said.
http://timesofindia.indiatimes.com/world/middle-east/Israel-wont-warn-US-before-strike-on-Iran-nuclear-facilities-Source/articleshow/12068131.cms
--------
13/2: Finger points to Iran
Feb 28, 2012
Rajnish Sharma And Namrata Biji Ahuja
Top intelligence and security officials involved in investigating the 13/2 magnetic bomb attack on Israeli diplomat Tal Yehoshua indicated Monday that the needle of suspicion was pointing toward a Iranian-back terrorist outfit. New Delhi is, however, waiting for further evidence before conveying this to Tehran.
The Indian investigating agencies rubbished claims in the Israeli media that though the case was cracked, clearly highlighting Iranian involvement, they were deliberately keeping it under wraps due to India's good diplomatic relations with Iran. Sources said categorically the case was far from solved.
Government sources said New Delhi was in no hurry to put the blame at Iran's doorstep till the investigation was over and foolproof evidence obtained. The investigations were reviewed in the highest quarters of the government Monday, with even the national security adviser kept informed given the strong diplomatic backlash the case might invite.
A senior official said: "There is no denying that we have made significant progress, with some indications pointing towards an Iranian-backed outfit with support from a local module. But there is no concrete evidence to support this. In any investigation, specially in such
a sensitive case, things keep changing ... What if this theory turns on its head once the probe is over. Look at what happened in the Malegaon blast case."
Sources said there were some leads pointing to the actual bomber, which were being aggressively pursued.
http://www.asianage.com/india/132-finger-points-iran-058
--------
Pakistani airspace never closed for NATO: Gilani
Feb 27, 2012
Pakistan never closed its airspace for NATO supplies in Afghanistan and had only suspended the land route, Prime Minister Yousuf Raza Gilani has said.
"The Defence Committee of the Cabinet had taken a decision to suspend supplies for NATO through land route and get the Shamsi airbase vacated. We are bound by that," he said.
Islamabad had closed the land route to Afghanistan after the Nov 26 NATO air raids on two border posts that killed 24 Pakistani soldiers.
US Ambassador to Pakistan Cameron Munter had recently said that NATO supplies continue to fly into Afghanistan despite closure of the border.
Defence Minister Chaudhry Ahmad Mukhtar had subsequently said the air route had been opened for food items on humanitarian grounds and that it was a temporary arrangement.
Legislators wanted to know who passed the orders bypassing parliament, Dawn reported Monday.
Gilani told reporters the parliamentary committee prepared the recommendations on new terms of engagement with the US and will be put before a joint session of parliament.
He justified the delay in summoning of the joint session, saying he wanted to put it before a new Senate.
http://www.asianage.com/international/pakistani-airspace-never-closed-nato-gilani-887
--------
20 Indonesian workers evacuated from Syria
Tue, 02/28/2012
Courtesy of Antaranews.com
A group of 20 Indonesian workers were evacuated from Syria on Tuesday and are slated to arrive in Jakarta at 2:15 p.m. on Wednesday.
"They are fine and safe. Nine of them were evacuated from conflict areas, including Homs, Hama and Damascus," The Foreign Ministry's information and media director P.L.E. Priatna said in a press statement received by The Jakarta Post on Tuesday.
The Indonesian Consul in Damascus confirmed that it had completed the exit permits for the twenty Indonesians.
The Foreign Ministry will hand them over to the National Agency for the Placement and Protection of Indonesian Migrant Workers (BNP2TKI) at Soekarno-Hatta International Airport's Indonesian Migrant Workers (TKI) lounge upon arrival. (swd)
http://www.thejakartapost.com/news/2012/02/28/20-indonesian-workers-evacuated-syria.html
--------
Jakarta: Judge Syarifuddin gets 4 years for bribery
Ina Parlina
Tue, 02/28/2012
A panel of graft court judges have given suspended Central Jakarta district court judge Syarifuddin Umar four years in prison and fined him Rp 150 million (US$16,416) after he was proven guilty of receiving bribes while handling a case.
Presiding judge Gusrizal said all evidence presented before the court convincingly proved that Syarifuddin had received Rp 250 million in bribes from a curator of a garment maker PT Skycamping Indonesia (PT. SCI) Puguh Wirawan to change the status of two plots of land so that SCI could sell them.
"The defendant has been convincingly proven guilty of corruption," Gusrizal said as he read the ruling on Tuesday at the Corruption Court.
The sentence was much lower than the 20 years imprisonment and Rp 500 million fine demanded by prosecutors.
Syarifuddin was arrested accepting the bribe in June in his house in Sunter, North Jakarta by Corruption Eradication Commission officials.(iwa/dic)
http://www.thejakartapost.com/news/2012/02/28/judge-syarifuddin-gets-4-years-bribery.html
--------
Dhaka's friendly ties with neighbours good for stability in S Asia: US envoy
Tuesday, February 28, 2012
The way Bangladesh is reaching out to strengthen relations with its neighbouring countries, despite the barriers, is good for its development and South Asia's stability and peace, said US Ambassador to Bangladesh Dan W Mozena yesterday.
"The 350 to 400 trucks crossing a day from India, this trade between Bangladesh and India, this is good for Bangladesh and India and good for the regional South Asia," he added.
Mozena was talking to newsmen on the Sonamasjid border yesterday on returning from a meeting with Border Guard Bangladesh and Indian Border Security Force officials at Mohodipur land port of Maldah district in Paschimbanga.
With increasing trade flow, commerce and investment among the nations of South Asia and Central Asia, Bangladesh has become a symbol of regional cooperation for its neighbours, said the ambassador.
"I have the vision of the golden Bangladesh, the new Bangladesh that is an important player in the region of South Asia," he said.
Mozena said the US and Bangladesh are closely working in fighting terrorism and extremism and developing Bangladesh's capacity in protecting its border.
The ambassador, his wife Grace Mozena and some US embassy officials visited different archaeological sites including Sonamasjid, Tohakhana and the shrine of Shahneyamotullah and the community Radio Mohananda 98.8 FM station at Palsha of sadar upazila in Chapainawabganj.
He witnessed the traditional Gombhira, a stage performance of dialogues and songs, at Ranhati High School premises of Shibganj upazila and presented the headmaster with a laptop, a donation from a group of Americans of Bangladeshi descent in Oregon, US.
Another 100 laptops would be presented to other Bangladeshi schools as donation from the same group, he added.
http://www.thedailystar.net/newDesign/news-details.php?nid=224163
--------
Syria: UK photographer Paul Conroy out of Homs
28 February 2012
British Sunday Times photographer Paul Conroy is no longer in Syria, having been smuggled out of the besieged city of Homs.
He was evacuated from the Baba Amr district on Monday with help from the Syrian opposition and Free Syria Army fighters, diplomats told the BBC.
The whereabouts of French journalist Edith Bouvier remain unclear.
Meanwhile, the UN Human Rights Council meeting in Geneva has called for an immediate humanitarian ceasefire.
UN human rights Chief Navi Pillay said she had received reports that "massive campaigns of arrests" by Syrian troops against rebels had deprived many civilians of food, water and medical supplies.
The Syrian representative reportedly walked out of the session after saying Damascus does not recognise its legitimacy.
The Western journalists were wounded in an attack on a makeshift media centre last Wednesday during a three-week offensive on rebel areas by Syrian government forces.
American Sunday Times journalist Marie Colvin and French photojournalist Remi Ochlik were killed.
The Syrian Red Crescent said earlier that it had reached Baba Amr on Monday, bringing out three Syrians, including a pregnant woman, her husband and an elderly female patient, but that it had been unable to bring out the Western journalists or the bodies of their colleagues.
Reports on Tuesday said Homs had come under some of its heaviest bombardment yet, with the government sending in units of an elite armoured division into rebel-held districts.
'Warning shot'
Mr Conroy's father, Les, confirmed reports that his 47-year-old photographer son was safely out of Syria.
"We've just had word from Beirut. I've got it on the other phone in my other hand," he was quoted by the Press Association as saying.
Edith Bouvier, speaking on 23 February: "I need an urgent operation"
The movements of Devon-based Paul Conroy had been shrouded in discretion because of fears for his safety, the BBC's Jim Muir reports from Beirut.
Syrian opposition sources said he was smuggled out of Baba Amr on Monday and taken through the Syrian countryside before crossing the border into Lebanon during the night.
In a video posting a few days ago, Mr Conroy said he had received "three large wounds" to his leg and was being treated by Free Syria Army medical staff.
Ms Bouvier was more seriously wounded, suffering multiple leg fractures.
The French embassy in Beirut said it was unable to confirm reports that she too had been smuggled into Lebanon. Other reports suggest she may not have been evacuated from Baba Amr.
There has been no word either on what has happened to the bodies of Marie Colvin and Remi Ochlik.
Ms Colvin's mother Rosemarie told the BBC's Today programme of her hope that her daughter's body could be brought home. "I want my daughter back and I can't rest myself, I can't have peace in my life, with my daughter's remains in that country," she said.
The Syrian government appears to have stepped up its offensive against rebels across the country - sending forces into several towns in northern Syria for the first time.
As many as 125 people died across Syria on Monday, many of them in a single incident at a checkpoint in Homs, the Local Co-ordination Committees (LCC), an activists' group said.
However, it is difficult to independently verify the death tolls and individual incidents as media access across the country is tightly restricted.
The emergency session of the United Nations Human Rights Council (UNHRC) is to discuss a confidential report delivered by a UN panel of experts that lists Syrian army officers and government officials who could be investigated for crimes against humanity.
French Foreign Minister Alain Juppe has urged the 47 nations in the council to be prepared to submit a complaint against Syria to the International Criminal Court (ICC) in The Hague.
"The task of the council is to express the disgust of the entire world at the odious crimes that the Syrian state is committing against its people," he said.
The meeting is unlikely to bring about any change from the government in Damascus which is currently fighting for its survival, the BBC's Jim Muir reports from neighbouring Lebanon. It is more likely to put pressure on countries such as Russia and China, which have opposed any international action against Syria, he adds.
http://www.bbc.co.uk/news/world-middle-east-17188791
--------
Jeddah: Trial procedure explained to kin of terror accused
By JEDDAH: MD AL-SULAMI
Feb 28, 2012
A special court in Riyadh spent most of its hearing yesterday explaining to relatives of three terror suspects on trial the court regulations on defending against any particular charge.
The judge was dealing with the case involving the murder of four French tourists at a desert location 90 km north of Madinah in 2007. The tourists were attacked while returning from the historical site of Madain Saleh.
There are 14 suspects in the case. The first three defendants are accused of being directly involved in the murder while the remaining 11 are accused of setting up a terror cell and providing support to the murderers.
The first three defendants and their relatives were present in the court yesterday. At the beginning of the session the father and brother of Defendant No. 2 said they were defending their relative and demanded the judge produce proof against the suspect. The relatives, apparently, did not know that it is the responsibility of the public prosecutor and not the judge to prove that a defendant is guilty.
However, the judge told the relatives that only a licensed lawyer, not relatives, is eligible to defend a suspect in court.
The judge also told them that according to regulations a defendant has to deny the charges against him before he can demand to see documented evidence.
The major charges against Defendant No. 2 included stealing a car to provide logistical support to Waleed Al-Radadi, the alleged mastermind of the attack. Al-Radadi was one of 36 men wanted for terror crimes in the past. The defendant was also accused of direct involvement in the murder and threatening women members of the tourist group, as well as joining a group who are hostile to the country.
The judge warned the lawyer of Defendant No. 1 for wasting the court's time and attempting to prolong the prosecution by not submitting a formal reply to the charges against his client.
The judge threatened to disqualify the lawyer. The judge was referring to the lawyer's insistence that he would not submit the reply unless he was given access to the laboratory and fingerprint reports related to the case.
The court started hearing the case in December.
http://arabnews.com/saudiarabia/article580629.ece
--------
Lakes to make Riyadh more attractive
Published: Feb 28, 2012
RIYADH: The High Commission for the Development of Riyadh (HCDR) recently awarded a contract for the development of lakes in southern Riyadh, which are to be the latest investment to attract tourists to the city.
The project includes clearance of floodwater into the lakes, setting up of waste disposal, organization of irrigation channels and completion of local roads for farmers and visitors.
It also includes coordination service and utility lines, environmental processing of lakes and erection of a dam base and rehabilitation of the whole area in line with the Wadi Hanifa development program.
The lakes are to be the final repository of the Wadi Hanifa waters, which, in turn, has witnessed the largest development and rehabilitation process undertaken by the HCDR and it runs 80 km southward. The program will restore Wadi Hanifa area to its former position ecologically with its unique fauna and flora revived by rains.
The valley, thanks to these ongoing developmental efforts, has been transferred into one of the key visiting parks for city dwellers.
http://arabnews.com/saudiarabia/article580627.ece
URL: https://newageislam.com/islamic-world-news/yemen-sunni-shia-divide,-sectarian/d/6743