New Age Islam News Bureau
10 Aug 2013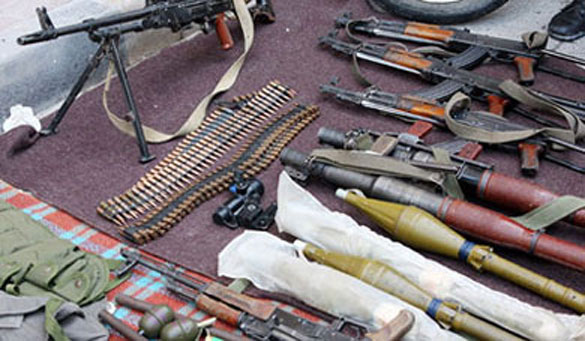 Al-Qaeda buys US supplied weapons from Syrian Free Army
-------------
Arab World
• Al-Qaeda Buys US Supplied Weapons from Syrian Free Army
• 20 dead in air raids in Syria's Latakia province: NGO
• Nour leader: Monopolising govt was Brotherhood's biggest mistake
• Saudi terror arrests suggest U.S. not alone in war against al-Qaeda
• Sinai jihadist group claims it was target of Israeli drone strike
I• srael bombs Jihadists' rocket base, 5 killed
• Hamas 'to publicly execute two men in Gaza'
• In rural Homs, Sunni Syrians fear army offensive
Pakistan
• Pakistan on High Alert after Intercepting Threats to Military Sites
• Security operation in Machh kills 6 terrorists
• Roadside bomb kills Balochistan's tribal leader in Dera Bugti
• Dawood was in Pak, admits Sharif's envoy
South Asia
• 3 Chinese citizens killed, 2 missing in Kabul
• Bangladeshi man sentenced to 30 years for New York Fed bomb plot
• No movement if non-party government ensured: Khaleda
• Amendment proposed to limit parliament seats to 77 in Maldives
• Maldivians to get UK visas from Male
• Karzai's brother in Taliban 'informal' talks
Southeast Asia
• Home ministry denies forced conversion of Sampang Shiites
• 30 Muslim Rohingya Escape Jail in Thailand's South
• No more Indonesian maids from 2017
India
• Despite Sachar, Muslims missing in central govt
• US drawdown from Afghanistan could intensify infiltration from Pak
• Pak troops violate ceasefire again, fire over 7000 rounds of ammunition in 7 hours
• Delhi, Palam Vihar Eidgah land row: Official says Waqf Board demand not valid
• PMO seeks views on private firm's move on gas grid connectivity with Bangladesh
• Bengal to introduce quota for Muslims in higher education
• In FIR after LoC attack, army blamed it on 'terrorists'
• Pak kids celebrate Eid in Delhi
North America
• Israeli-Palestinian talks 14 August in Jerusalem: US
• US to reopen Mideast embassies except Pakistan and Yemen
• US, Russia agree to prepare for Syria peace talks
• Obama laments 'backward' Russian thinking
• Great opportunity to solve Cyprus: Obama
• Third man sentenced in New Jersey hate-crime beating
Europe
• Danish Muslim leader regrets role in rage over Muhammad cartoons
• Ban Ki-moon calls on Egyptians to 'prevent further loss of life'
• France deports Tunisian Islamist for threatening reporters
Mideast
• Yemen Al-Qaeda Emir, Nasser Al-Wahishi, Left Blueprint for Waging Jihad
• Yemen: 7 Saudis among militants killed by drones
• Turkish PM condemns Nobel Foundation over Peace Prize laureate ElBaradei
• Israel refuses comment on cause of Sinai explosion
• Guantanamo inmates fear Yemen scare will delay release
• Turkish deputy PM rejects song for lyrics mentioning national alcoholic drink 'rakı'
• Turkish main opposition leader says specially authorized courts 'illegitimate'
Australia
• Australian charged over 'bigger than Boston' bomb plot
• Islam gaffe candidate Banister quits Australia election
Africa
• Libyan TV presenter murdered in Benghazi: security
• Al-Qaeda's widening North African jihad confounds foes
• Deadly fairground shootout erupts overnight in Libya's Tripoli
Compiled by New Age Islam News Bureau
URL: https://www.newageislam.com/islamic-world-news/new-age-islam-news-bureau/yemen-al-qaeda-emir,-nasser-al-wahishi,-left-blueprint-for-waging-jihad/d/12975
----------
Yemen Al-Qaeda Emir, Nasser Al-Wahishi, Left Blueprint for Waging Jihad
Aug 10, 2013
A year before he was caught on an intercept discussing the terror plot that prompted this week's sweeping closure of U.S. embassies abroad, al-Qaeda's top operative in Yemen laid out his blueprint for how to wage jihad in letters sent to a fellow extremist.
In what reads like a lesson plan for the less-experienced jihadist, Nasser al-Wahishi, who spent years as Osama bin Laden's personal secretary, provides a step-by-step assessment of what worked and what didn't in Yemen.
Yet in the never-before-seen correspondence discovered by The Associated Press, the man at the centre of the latest terror threat barely mentions the extremist methods that have transformed his organization into al-Qaeda's most dangerous branch.
Instead, he urges his jihadist colleague whose fighters had just seized northern Mali to make sure the people living in the areas they have just conquered have electricity and running water. And he offers tips for making garbage collection more efficient.
"Try to win them over through the conveniences of life," he writes. "It will make them sympathize with us and make them feel that their fate is tied to ours."
The perhaps surprising hearts-and-minds approach advocated by the 30-something Wahishi is a sign of a broader shift within al-Qaeda, according to experts shown the two letters and an accompanying report. After its failure in Iraq, the terror network realized that it is not enough to win territory —They must also learn to govern it if they hope to hold it.
"People in the West view al-Qaeda as only a terrorist organization, and it certainly is that... but the group itself is much broader, and it is doing much more," says Gregory Johnsen, a scholar at Princeton University whose book, The Last Refuge, charts the rise of al-Qaeda in Yemen. "The group sees itself as an organization that can be a government."
The correspondence from al-Wahishi to Algerian national Abdelmalek Droukdel is part of a cache of documents found earlier this year by the AP in buildings in Timbuktu, which until January served as the headquarters of al-Qaeda's North African branch. The letters are dated May 21 and Aug. 6, 2012, soon after al-Wahishi's army in Yemen was forced to retreat from the territory it had seized amid an uprising against long-time Yemeni ruler Ali Abdullah Saleh.
Al-Wahishi's advice is drawn from his own experience trying to hold and govern a slice of southern Yemen for 16 months. At the time, the terror network as a whole was trying to come to grips with its losses in Iraq, where people rose up against brutal punishments including executions for watching the soccer World Cup on television.
The failure of Iraq was front and centre in how al-Qaeda in the Arabian Peninsula went about governing its provinces in Yemen, including the region where al-Wahishi was born, says Robin Simcox, research fellow at the Henry Jackson Society, whose recently published study chronicles the group's occupation of southern Yemen.
In the May letter, al-Wahishi warns his counterpart not to crack down too quickly or too harshly.
"You have to be kind," he writes. "You can't beat people for drinking alcohol when they don't even know the basics of how to pray. ...Try to avoid enforcing Islamic punishments as much as possible, unless you are forced to do so. ... We used this approach with the people and came away with good results."
Al-Qaeda's foray into governance in southern Yemen began on the morning of Feb. 28, 2011, when residents of the locality of Jaar woke up to find an ominous black flag flying over their town. Fearing the worst, the population was mystified to discover that their occupiers appeared more interested in public works projects, than in waging war.
"There were around 200 of them. They were wearing Afghan clothes, black robes that go to the knees, with a belt," said Nabil Al—Amoudi, a lawyer from Jaar. "They started extending water mains. ... They installed their own pipes. They succeeded in bringing electricity to areas that had not had power before."
Al-Qaeda in the Arabian Peninsula chronicled their achievements in 22 issues of a newsletter and in propaganda films showing glowing light bulbs and whirring fans inside the homes of villagers who had never had power before. In one video, al-Qaeda fighters are seen leaning ladders against power poles and triumphantly yelling "Allah Akbar," or "God is great," each time they connect a downed wire.
Al-Wahishi's group was forced to retreat from southern Yemen in June of 2012, just as al-Qaeda's affiliate in North Africa succeeded in grabbing control of an Afghanistan-sized chunk of northern Mali, giving the terror network another chance to try their hand at governing.
Adopting an avuncular, almost professorial tone, al-Wahishi advises Droukdel to not only pay special attention to the minutiae of running a mini-state, but to also publicize his efforts. He advises them to appoint a spokesman and court the media to change people's perception of the terror brand.
"The world is waiting to see what you do next and how you go about managing the affairs of your state," he writes. "Your enemies want to see you fail and they're throwing up obstacles to prove to people that the mujahedeen are people that are only good for fighting and war, and have nothing to do with running countries."
This preoccupation with al-Qaeda's image is clear throughout the letters. The former U.S. ambassador to Yemen, Stephen Seche, says the letters from al-Wahishi are in large part about the group's perception of itself.
"These guys are no longer in the business of just trying to take out Western targets. They are in the business of establishing themselves as legit alternatives to governments that are not present in areas on a daily business," says Seche, who was posted to Yemen between 2007 and 2010. "I don't think we should be fooled by this. ...This is a velvet glove approach. It will come off."
For many in Yemen, the glove came off on Feb. 11, 2012, when a man accused of spying was arrested and sentenced to death by crucifixion. No amount of time or gradual application of Shariah could have prepared the population for what came next.
Al-Wahishi does not acknowledge losing the support of the population, though he concedes his men were forced to retreat, as Yemen's army, backed by the U.S. military, regained control of the south. He explains that they pulled out after concluding that resisting would have both drained their resources, and caused high civilian casualties.
Al-Wahishi is blunt in laying out the cost of al-Qaeda's foray and how it was financed.
"The control of these areas during one year cost us 500 martyrs, 700 wounded, 10 cases of hand or leg amputation and nearly $20 million," he writes. "Most of the battle costs, if not all, were paid for through the spoils. Almost half the spoils came from hostages. Kidnapping hostages is an easy spoil, which I may describe as a profitable trade and a precious treasure."
In conclusion, al-Wahishi warns Droukdel not to be drawn into a prolonged war. He effectively recommends the strategy al-Qaeda used in both Yemen and Mali — Melt into the background while preparing to strike again — "Hold on to your previous bases in the mountains, forests and deserts and prepare other refuges for the worst-case scenario," he says. "This is what we came to realize after our withdrawal."
Al-Wahishi, a tiny man with a pointy beard, spent years serving as Osama bin Laden's personal assistant, before returning to his native Yemen, where he was named the emir of al-Qaeda in the Arabian Peninsula in 2002.
In 2009, the Yemeni branch of al-Qaeda attempted to send a suicide bomber with explosives sown into his underwear onto a Detroit-bound flight.
U.S. officials recently intercepted a communication between al-Wahishi and al-Qaeda supreme chief Ayman al-Zawahri, causing the U.S. to shutter 19 embassies and consulates.
Although al-Qaeda has been on a learning curve since Iraq, it still does not seem to understand how to govern populations used to a far more moderate form of Islam. Al-Qaeda experts say this extremism is a permanent Achilles' heel for the terror franchise their final destination jars, regardless of how slowly they drive to get there.
"The question is, are these groups always fated to overplay their hand?" asks Simcox. "They are so ideological, that they will always veer in this direction."
http://www.thehindu.com/news/international/world/yemen-alqaeda-emir-left-blueprint-for-waging-jihad/article5008192.ece
-----------
Arab World
Al-Qaeda buys US supplied weapons from Syrian Free Army
The Voice of Russia
10 Aug 2013
Bill Roggio, the editor of the Long War Journal told the Voice of Russia that rebel groups in Syria had used chemical weapons against the Syrian army.
Mr. Roggio stated that he thought it was a mistake that the United States had decided to arm the Syrian rebel groups. He said that the Al Nusra Front was fighting alongside groups armed by the United States and that AL-Qaeda has stated that it buys U.S. supplied weapons from the Free Syria Army.
http://voiceofrussia.com/news/2013_08_10/Al-Qaeda-buys-U-S-supplied-weapons-from-Syrian-Free-Army-2459/
--------
20 dead in air raids in Syria's Latakia province: NGO
AFP | Aug 10, 2013
BEIRUT: Air strikes by the Syrian military killed at least 20 people in the northwestern province of Latakia overnight, the Syrian Observatory for Human Rights group said on Saturday.
"The toll in several air strikes on the town of Salma in Jabal Akrad rose to at least 20 people," Observatory director Rami Abdel Rahman told AFP.
Abdel Rahman said 10 of those killed were believed to be civilians, although many of the bodies were so badly disfigured that it was not immediately possible to identify them.
At least six of those killed were Syrian rebel fighters, while four were foreign volunteers, he added.
"The number of deaths is expected to rise because of the number of wounded and those in serious condition among them," he said.
Latakia province is a stronghold of the Alawite minority of President Bashar al-Assad.
In recent days, rebel forces have captured a number of villages in the Jabal Akrad, a mountainous district in the north of the province.
The army has hit back, sparking fierce fighting that has left dozens dead on both sides, according to the Observatory.
In Aleppo province, further east, government troops stormed a village overnight, killing 12 people, the Observatory said.
Fierce fighting also erupted during the night between government troops and rebels in the Barzeh neighbourhood of Damascus, the Britain-based watchdog said.
The army shelled both Barzeh and the Jubar district of the capital, it added.
http://timesofindia.indiatimes.com/world/middle-east/20-dead-in-air-raids-in-Syrias-Latakia-province-NGO/articleshow/21742634.cms
-------
Nour leader: Monopolising govt was Brotherhood's biggest mistake
10 August 2013
Salafist Nour Party leading figure Sherif Taha called the Muslim Brotherhood's decision to monopolise the political scene in Egypt "their biggest mistake."
Taha, a member of the Nour Party's supreme committee, said his Islamist party consistently advised the Brotherhood not to field a candidate for presidency at all – but in the case they do enter executive office that they form a national unity Cabinet.
In an exclusive interview for Al-Arabiya news channel, Taha indicated that his party isn't even considering fielding a candidate for the next presidential elections. The biggest mistake Islamists can make would be to overtake politics from the beginning without gradual steps, he indicated.
The Nour Party, Egypt's largest Salafist party, has come under strong attack from other Islamists for accepting the army-sponsored new roadmap which removed the Brotherhood's Mohamed Morsi.
"We want to be part of the political scene and reject any calls to exclude the Islamist current, but at the same time refuse to let the Islamist current lead the scene and bear the heavy burden all alone," Taha continued, adding that they joined the roadmap after realising Morsi is no longer capable of ruling.
On 3 July military Commander-in-Chief Abdel-Fattah El-Sisi unveiled a new roadmap for Egypt's political future, which included the removal of president Mohamed Morsi to make way for prompt presidential elections.
The new roadmap was announced in the presence and with the approval of several political figures, including the Nour Party. The Grand Sheikh of Al-Azhar Ahmed El-Tayeb and Egypt's Christian Coptic Orthodox Pope Tawadros II were also present.
"We didn't let the Brotherhood down; they failed to see the reality of what's happening and the reality of the anger and tension on the streets," Taha said.
Taha explained that his party realised that the Brotherhood and some supporters from the Islamist current are on one side - but on the other side there's the army, intelligence, judiciary, businessmen, media, as well as the public, making it impossible for Morsi to rule without all this support.
"We said 'legitimacy is a red line' as long as it protected the country and the people, and as long as it fulfilled its role, which is to preserve the people's interests. Legitimacy and the role of the presidency, however, turned into a means to destroy the country and the people, creating tensions in the nation and [the possibility of] killing people. In the end, presidency isn't an aim in itself," Taha said combating the Brotherhood's argument for Morsi as the only legitimate ruler.
The Nour Party leader claimed, contrary to popular belief, that they had not cooperated with the Brotherhood in the earlier elections and, therefore, would unlikely cooperate in the next ones - discarding the idea.
"We represent a different current and vision from the Brotherhood and any coalition with them won't benefit either of us."
"The Egyptian people rejected a specific political current due to their behaviour, but it didn't reject Islam or the Islamist identity," Taha concluded.
http://english.ahram.org.eg/NewsContent/1/64/78669/Egypt/Politics-/Nour-leader-Monopolising-govt-was-Brotherhoods-big.aspx
----------
Saudi terror arrests suggest U.S. not alone in war against al-Qaeda
10 August 2013
In the United States, the general perception is that the war against al-Qaeda is an American war against a specific anti-American organization. This perception has been stretched at times, by apologist academia, to a point where the public has been made to believe that the United States is alone in this confrontation and all it would take to bring about a cease to hostilities is for Washington to withdraw from the region. Parallel to this oversimplification is the other common assertion that no one else is fighting this battle, and if they are, Arab and Middle Eastern efforts are meaningless. These approaches have been proven wrong as events in the region and worldwide are demonstrating.
Two men have recently been arrested in Saudi Arabia on suspicion of planning terrorist strikes, part of the uncovered information which prompted the closure of several Western embassies in the region last week. Saudi officials said the two suspects, from Yemen and Chad, were planning suicide attacks connected to recent al-Qaeda threats on American and British diplomatic interests. According to Saudi media reports, the two jihadists were arrested towards the end of July after having exchanged information on social media about attacks. Officials in Riyadh said the two men investigated used mobile phones and encrypted electronic communications to discuss the terrorist plot.
The Saudi official statement explained, "The two recruited themselves for the service of deviant thought (al Qaeda's ideology), as evidenced by their seized items which included computer hardware, electronic media and mobile phones and which indicated their communication with the deviant group abroad either by electronic encrypted messages or through identities via the social networks (such as Abu Alfidaa, Hspouy, Muawiya Almadani, Rasasah fi Qusasah, and Abu El Feda Aldokulai) so as to exchange information about impending suicide operations in the region." The timing of this arrest parallels U.S. drone attacks in neighboring Yemen as well as Egyptian military operations in Sinai and Tunisian troop movements against the Jihadists in the south of their country.
Operating in 'national clusters?'
The arrest by the Saudis of two suspected jihadists operating inside the Kingdom and planning attacks via sophisticated communications suggests several conclusions. One is regarding their nationalities. One culprit is from Yemen, and the other is from Chad but residing in Saudi Arabia. This fact shows that al-Qaeda personnel, volunteers or supporters do not necessarily operate in "national clusters." As much previous evidence has shown for years, if not for decades by now, there is an international network of followers of a radical doctrine whose members hail from as many countries as the indoctrination machine can reach. After the attacks of September 11, the most popularized slogan in U.S. counterterrorism commentary was that 14 of the 19 perpetrators were "Saudis." But years later, it was clear that the Jihadists have no specific "nationality" or "ethnicity." They operate where they can with what they have. As I argued in my book The War of Ideas in 2007, the ideology of al-Qaeda does not recognize countries and national boundaries. A Chadian was recruited to prepare an attack against the United States out of Saudi Arabia. A Nigerian was indoctrinated by a Yemeni to strike in Detroit. U.S. citizens were mobilized to strike in Somalia, and an Egyptian leads the world's terrorist network. There are no local agendas in Yemen or in Mauritania that are producing the international brand of Jihadi terrorists. Rather, it is a radical, systemic, totalitarian doctrine that is using – and often abusing – causes, grievances and historical conflicts. A victory for this ideology and its supporters and promoters will not solve the problems of the peoples oppressed under their regimes. In fact, a victory for the Jihadists will exacerbate such problems. The developments in Afghanistan, Tunisia, Libya and now Egypt are striking examples. Living under the other type of Terror, Khomeinism in Iran or Hezbollah in Lebanon is another example of the failure of these violent doctrines. The al-Qaeda threat is global, and Washington learned about it one more time last week as a result of intercepted messages between Zawahiri and Wuhaishi, possibly during a conference call of Terror leaders. The U.S. decided to shut down many embassies showing that the threat is up and running across large swaths of land, not on "its way to decline" as the Obama Administration affirmed so adamantly during the electoral year of 2012.
Back to the arrests in Arabia: The networks planning on massive strikes against American interests are also at war with several Arab countries. The latter's armies and peoples are also resisting them. In Arabia, there are arrests of al-Qaeda; in Yemen, the armed forces are battling terrorist invasions of entire villages; in Tunisia, soldiers and officers are machine-gunned down on the highways; in Libya, the Jihadists target the country's defense officials; in Lebanon, army commanders are killed; and in Egypt, the Army is leading a massive campaign against al-Qaeda linked brigades in Sinai. There is an all-out Arab war against Terror, with casualties at present higher than NATO's confrontation with the Taliban. More Arabs were killed in each one of these countries by al-Qaeda terrorists than all the U.S. citizens massacred by homegrown jihadists in the United States since 9/11.
The United States is not alone
The rational conclusion for Washington to reach at this point is that the United States is not alone in this fight against al-Qaeda and it is not the only victim of terror in the world. Another consequence of this reality should be for the U.S. government to set its priorities in accordance with strategic logic. When millions in Egypt, Tunisia and Libya march against the extremists, it should stand with them; when Egyptian, Tunisian, and Arabian and other armed forces battle al Qaeda, there should be a concerted global effort to defeat the Terror network. In short, the U.S. must support the Arab fight against al-Qaeda as part of international efforts to reduce the threat. At the same time, however, those Arab countries battling the Jihadists within their borders must also act as part of a global alliance and participate in the War of Ideas. All partners in the campaign to defend the international community against violent extremists must learn to put local and historical grievances aside and fight Terror as one body – the suicide bombers of Zawahiri and his henchmen strike both Arabs and Westerners alike.
http://english.alarabiya.net/en/perspective/analysis/2013/08/10/Saudi-terror-arrests-suggest-U-S-not-alone-at-war-against-al-Qaeda.html
-------
Sinai jihadist group claims it was target of Israeli drone strike
10 August 2013
An al-Qaeda-linked jihadist group active in the Sinai Peninsula says its fighters were the target of a rare Israeli drone strike into Egyptian territory on Friday, according to the Associated Press.
Ansar Beit al-Maqdis, in a statement posted on a militant website Saturday, said that four of its members were killed in the Friday attack as they were preparing a cross-border rocket strike into Israel. It said the dead were from Egyptian Sinai tribes. The group said the rocket squad's leader escaped.
Egyptian security officials speaking anonymously had initially said on Friday that a drone firing from the Israeli side of the border had killed five suspected militants. The conflicting death tolls could not be reconciled.
Later, an Egyptian military source denied that the Israeli air force had carried out any raids inside Egypt. The Egyptian military official said the Egyptian borders are a "red line."
The Palestinian news agency Maan had quoted an Egyptian army source as saying that an Israeli plane targeted rocket launchers in an area in the Egyptian Rafah. The launchers were reportedly deployed on Thursday by Islamist militants.
Israel maintained official silence about the strike.
http://english.alarabiya.net/en/News/middle-east/2013/08/10/Sinai-group-claims-it-was-target-of-Israeli-drone.html
--------
Israel bombs Jihadists' rocket base, 5 killed
10 August 2013
An Israeli drone strike killed five suspected Islamic militants and destroyed a rocket launcher in Egypt's largely lawless Sinai Peninsula on Friday, two senior Egyptian security officials said, describing a rare Israeli operation carried out in its Arab neighbour's territory.
The attack came a day after Israel briefly closed its airport in the Red Sea resort of Eilat, close to the Sinai, in response to unspecified security warnings. Eilat was previously targeted by rocket fire from the Sinai.
Full report at:
http://www.theguardian.com/world/2013/aug/09/israeli-drone-strike-suspected-militants-egypt
----------
Hamas 'to publicly execute two men in Gaza'
10 August 2013
Hamas plans to publicly execute two prisoners in Gaza next week as a "lesson" to others, according to Amnesty International, which has described the move as "deeply disturbing".
The human rights organisation said a 23-year-old man had been sentenced to death for "collaboration with an enemy entity". He told his lawyer he had been beaten during interrogation, Amnesty reported.
An appeal at a military court is scheduled for Wednesday but he will be at risk of imminent execution if it is unsuccessful.
Full report at:
http://www.theguardian.com/world/2013/aug/09/hamas-public-executions-gaza-amnesty
----------
In rural Homs, Sunni Syrians fear army offensive
10 August 2013
HOULA, Syria – The dark, murky waters of Houla Lake erupt daily when struck by the bombs of Syrian fighter jets and shells fired from the surrounding hills.
Besieged by the forces of President Bashar Al-Assad for more than a year, residents of central Syria's Houla region smuggle food, fuel and medicine across the lake from government-held territory in Hama province, evading checkpoints on the roads which make ground transport impossible for men from rebel areas.
Full report at:
http://www.saudigazette.com.sa/index.cfm?method=home.regcon&contentid=20130810176409
----------
Pakistan
Pakistan on High Alert After Intercepting Threats to Military Sites
By SALMAN MASOOD and DECLAN WALSH
10 August 2013
ISLAMABAD, Pakistan — Security forces in Islamabad were on high alert for a possible militant attack on Friday after intercepting threats against major military installations, the police said. The heightened security alert came hours after American officials evacuated the consulate in Lahore, Pakistan, also on security fears.
The police said 2,500 officers had been deployed across Islamabad, the Pakistani capital, after intelligence intercepts indicated that militants were planning to attack the headquarters of the Pakistan Air Force and Navy.
Private security guards killed a suicide bomber as he tried to force his way into a Shiite mosque on the edge of the capital, thwarting what appeared to be another in a series of sectarian attacks across Pakistan.
Full report at:
http://www.nytimes.com/2013/08/10/world/asia/us-pulls-staff-from-pakistan-consulate-as-violence-continues.html
----------
Security operation in Machh kills 6 terrorists
August 10, 2013
MACHH: An operation conducted by the Balochistan Levies and security forces killed 6 terrorist militants and recovered heavy ammunition from the area, Express News reported on Saturday.
The bodies of 14 out of a total of 30 kidnapped passengers were found from the mountains near Machh in Bolan district on Aug 6.
Full report at:
http://tribune.com.pk/story/588667/operation-in-machh-kills-6-terrorists/
----------
Roadside bomb kills Balochistan's tribal leader in Dera Bugti
10 August 2013
QUETTA: A roadside bomb blast killed Balochistan's tribal leader, Zra Khan and injured his two guards in Balochistan province's Dera Bugti district on Saturday, DawnNews reported.
According to Levies sources, tribal leader was going towards Sawai from Patokh when a roadside bomb was exploded which killed him and injured his two guards.
It was a remote-controlled bomb blast which also destroyed the car completely.
Security officials cordoned off the area and started the investigation.
http://dawn.com/news/1035185/roadside-bomb-kills-balochistans-tribal-leader-in-dera-bugti
----------
Dawood was in Pak, admits Sharif's envoy
Kounteya Sinha, TNN | Aug 9, 2013
LONDON: A senior Pakistani diplomat has finally acknowledged what India has long alleged -- India's most wanted, Dawood Ibrahim, has been living in Pakistan. However, he claimed that Dawood is no longer in the country.
Shahryar Khan, Nawaz Sharif's special envoy to India, told TOI, "I don't know where Dawood is now. He was in Pakistan. I believe he was chased out. My feeling is he is in UAE right now".
Khan, a former foreign secretary of Pakistan, added, "He should be hounded out. We can't allow gangsters like him to target both Pakistan and operate against other countries. Mr Sharif is very much in favour of strong action against criminals who have settled in Pakistan".
India has failed to get Pakistan to admit to hosting Dawood so far.
Full report at:
http://timesofindia.indiatimes.com/india/Dawood-was-in-Pak-admits-Sharifs-envoy/articleshow/21734513.cms
---------
South Asia
3 Chinese citizens killed, 2 missing in Kabul
Reuters | Aug 10, 2013
KABUL: Three Chinese citizens were found murdered in an apartment in Afghanistan's capital and another two are missing, according to a statement issued by China's embassy in Kabul carried on a Chinese state-run news agency.
The report said the three were killed on Thursday but did not say the whether the victims were men or women. It said the statement was issued by the embassy late on Friday.
The identity of the victims and motive for the killings were also unclear.
Afghan officials did not respond to calls on Saturday, the last day of the three-day Eid-ul-Fitr public holiday. The Chinese embassy also did not respond to repeated calls or email.
Full report at:
http://timesofindia.indiatimes.com/world/china/3-Chinese-citizens-killed-2-missing-in-Kabul/articleshow/21740544.cms
---------
Bangladeshi man sentenced to 30 years for New York Fed bomb plot
By Jonathan Allen
10 August 2013
NEW YORK (Reuters) - A judge sentenced a Bangladeshi man to 30 years in prison on Friday after he admitted that he intended to use a bomb in what U.S. authorities called a plot to blow up the New York Federal Reserve Bank.
Quazi Mohammad Rezwanul Ahsan Nafis, 22, who had pleaded guilty to the government's charge of "attempting to use a weapon of mass destruction" and faced life in prison, told the judge he now rejects radical Islam and apologized to the people of New York and the United States. Prosecutors had said Nafis had claimed on social media sites to have contacts with al Qaeda.
Full report at:
http://news.yahoo.com/man-sentenced-30-years-plot-bomb-york-fed-153303653.html
----------
No movement if non-party government ensured: Khaleda
10 August 2013
Opposition BNP Chairperson Khaleda Zia on Friday reiterated her demand for a non-party interim government to oversee the next general elections.
She said if the demand was met, her party would not stage a movement after Eid, as planned earlier.
Addressing the Eid greetings programme at Bangabandhu International Conference Centre, the former prime minister also asked the ruling party not to waste any public money for its campaigns.
Full report at:
http://www.dhakatribune.com/politics/2013/aug/10/no-movement-if-non-party-government-ensured-khaleda
----------
Amendment proposed to limit parliament seats to 77 in Maldives
Ahmed Naif, Haveeru Online
Aug 10, 2013
An amendment has been submitted to the constitution in a bid to limit the number of parliamentarians elected to the current number of 77.
Elections commission had said that eight new lawmakers needed to be elected during next year's parliamentary elections. With the additional eight MPs, the total will go up to 85 from the present 77 legislators.
Full report at:
http://www.haveeru.com.mv/news/50464
----------
Maldivians to get UK visas from Male
Aug 09, 2013
The British government has made arrangements for Maldivians to apply for UK student visas and other eligible categories of visas from Male.
Earlier Maldivians were required to travel to neighbouring Sri Lanka to obtain UK visas.
In a statement, the British High Commission in Sri Lanka said a temporary enrolment location is being set up on August 28 at the Nasandhura Palace Hotel in Male to enable Maldivian nationals to lodge their UK visa applications.
Full report at:
http://www.haveeru.com.mv/news/50454
----------
Karzai's brother in Taliban 'informal' talks
10 August 2013
ISLAMABAD: Just a week after the Taliban closed their political office in Qatar, Abdul Qayyum Karzai, elder brother of President Hamid Karzai, joined an Afghan government team in a meeting with some Taliban negotiators in Dubai for how to revive the dialogue process, a Taliban official says.
Masoom Stanekzai, head of the secretariat of the Afghan High Peace Council, led a government delegation in talks with the Taliban team led by Sher Abbas Stanekzai, a senior member of the Taliban negotiators in Qatar, the Taliban official, who was also in Qatar, told The Express Tribune on Thursday.
Full report at:
http://tribune.com.pk/story/588581/post-qatar-deadlock-karzais-brother-in-taliban-informal-talks/
---------
Southeast Asia
Home ministry denies forced conversion of Sampang Shiites
Margareth Aritonang
August 08 2013
Home Minister Gamawan Fauzi rejected accusations centering on the government's alleged ultimatum to the displaced Sampang Shiites — convert to the "true" version of Islam and be able to return to their village.
"It was not meant to be a conversion. We used this method to make the transition smooth so they could return to their home village safe and sound," Gamawan said on the sidelines of Idul Fitri prayers at the Istiqlal Mosque on Thursday.
According to Gamawan, seven families have left the relocation neighborhood in Sidoarjo, East Java, and returned to Sampang.
Full report at:
http://www.thejakartapost.com/news/2013/08/08/home-ministry-denies-forced-conversion-sampang-shiites.html
----------
30 Muslim Rohingya Escape Jail in Thailand's South
By THE ASSOCIATED PRESS
10 August 2013
BANGKOK — Thirty Muslim Rohingya asylum seekers from Myanmar detained in southern Thailand for illegally entering the country escaped from a police jail cell on Friday, 10 days after they were moved from a crowded detention center, police said.
More than 1,700 asylum seekers from Myanmar's beleaguered Rohingya minority who arrived in Thailand by boat early this year are being held in crowded prisons. The 30 who escaped are among hundreds who protested last month against the cramped conditions.
The men used blades to cut the cell's bars and used ropes made of clothes to escape from the Sadao district police station in Songkhla province early Friday, Police Maj. Gen. Suwit Choensiri said.
Full report at:
http://www.nytimes.com/aponline/2013/08/09/world/asia/ap-as-thailand-rohingya.html?partner=rss&emc=rss
----------
No more Indonesian maids from 2017
AUGUST 10, 2013
Indonesia will stop sending its people abroad to work as maids by 2017, said Indonesian consul-general in Kuching Djoko Harjanto.
"The Manpower Ministry had made a statement about this. Not only no more export of domestic helpers to Malaysia – to everywhere," he was reported as saying in The Borneo Post at his Hari Raya open house in Kuching on Thursday.
He pointed out that there was a decrease in Indonesian workers in Kuching compared to previous years. There are now about 100,000 to 200,000 Indonesia workers in Sarawak, with most in oil pal estates.
Full report at:
http://www.themalaysianinsider.com/malaysia/article/no-more-indonesian-maids-from-2017
---------
India
Despite Sachar, Muslims missing in central govt
Aug 10, 2013
New Delhi : Seven years after the Sachar Committee report drew attention to the under-representation of Muslims in employment and education, figures tabled in the Lok Sabha show that minority groups are still under-represented in government jobs. More worrying still, their numbers are falling.
In 2011-12, the five minority communities — Muslims, Christians, Sikhs, Buddhists and Zoroastrians — accounted for only 6.24 per cent of the new recruits in government jobs, including ministries, public sector banks, Railways, paramilitary forces and public sector units, down from 10.18 per cent in 2010-11 and 7.28 per cent in 2009-10.
Full report at:
http://www.indianexpress.com/news/despite-sachar-muslims-missing-in-central-govt/1153256/
---------
US drawdown from Afghanistan could intensify infiltration from Pak
Indrani Bagchi, TNN | Aug 10, 2013
NEW DELHI: The spurt in terrorist infiltration from Pakistan has been at a five-year high. India's security establishment expects this to grow exponentially after the US withdrawal of troops from Afghanistan next year. The security environment will be significantly altered as well, prompting India to put in place a number of plans for the different scenarios that could play out. For many in the security establishment, it's a menu of bad options.
India's threat perception of being a major terror target from Pakistan-sponsored groups have sharpened in the recent past, as it has become clear that supposedly India-centric groups like Lashkar-e-Taiba (LeT) and Jaish-e-Mohammed (JeM) are much closer to al-Qaida than ever before.
Full report at:
http://timesofindia.indiatimes.com/india/US-drawdown-from-Afghanistan-could-intensify-infiltration-from-Pak/articleshow/21738455.cms
---------
Pak troops violate ceasefire again, fire over 7000 rounds of ammunition in 7 hours
PTI | Aug 10, 2013
JAMMU: Pakistani troops again violated the ceasefire by firing on Indian posts along the LoC in Poonch district of Jammu and Kashmir, four days after five Indian soldiers were killed by specialist troops of the Pakistan Army.
"Pakistani troops resorted to unprovoked firing along LoC in Durga Battalion area in Poonch district around 2220 hours late last night", defence Spokesman SN Acharya said on Saturday.
"Pakistan fired over 7000 rounds of heavy ammunition besides mortar shells on Indian posts during the seven-and-a-half-hour firing in Poonch," defence spokesperson said.
They fired with small arms and automatic weapons on the posts till 2250 hours, he said, adding it was a ceasefire violation.
Full report at:
http://timesofindia.indiatimes.com/india/Pak-troops-violate-ceasefire-again-fire-over-7000-rounds-of-ammunition-in-7-hours/articleshow/21739333.cms
------
Delhi, Palam Vihar Eidgah land row: Official says Waqf Board demand not valid
Aug 10, 2013
Even as some members of the minority community are hopeful of resolving the Eidgah land dispute in Palam Vihar, the land acquisition officer has submitted to the Huda administrator that the request for releasing the land to the Wakf Board is not valid.
The letter written by the officer on Aug 6, a copy of which is with HT, states that the land was acquired by the Haryana Urban Development Authority (Huda) in 2007 and no objections were made till then regarding the process. The letter also states that the land was vacant at the time of acquisition and no construction was made on it.
Full report at:
http://www.hindustantimes.com/India-news/gurgaon/Eidgah-land-row-Official-says-Wakf-Board-demand-not-valid/Article1-1105989.aspx
---------
PMO seeks views on private firm's move on gas grid connectivity with Bangladesh
Aug 10, 2013
The Prime Minister's Office has sought the views of the External Affairs and Petroleum Ministries on a private sector player's proposal for putting in place strategic gas grid connectivity between India and Bangladesh and also for building a floating LNG terminal near Chittagong.
In a note to both Ministries, the PMO has forwarded the proposal by H-Energy East Coast Pvt Ltd (HEECPL) to transport gas from its proposed LNG import terminal facility in Digha in West Bengal to Jessore in energy-deficient Bangladesh.
Full report at:
http://www.thehindu.com/news/national/pmo-seeks-views-on-private-firms-move-on-gas-grid-connectivity-with-bangladesh/article5008120.ece
---------
Bengal to introduce quota for Muslims in higher education
Aug 10, 2013
The West Bengal government will introduce reservation for Muslims in higher education, Chief Minister Mamata Banerjee told a large audience gathered here on Friday on Red Road to offer prayers on Eid-ul-Fitr.
"We want your children to become doctors and engineers. We want Muslim children and youth to advance in studies. Reservation of seats in higher education will be introduced from 2014," she said.
Referring to her government's decision to include a majority of Muslims under the Other Backward Classes (OBC) category, she said more than 90 per cent Muslims were now eligible for reservation in government jobs.
Full report at:
http://www.thehindu.com/news/national/other-states/bengal-to-introduce-quota-for-muslims-in-higher-education/article5008039.ece
----------
In FIR after LoC attack, army blamed it on 'terrorists'
Sanjay Khajuria, TNN | Aug 10, 2013
JAMMU: The killing of Indian jawans at LoC led to a ruckus in the Lok Sabha earlier this week with defence minister AK Antony having to issue a revised statement holding Pakistani army regulars responsible for the attack in which five soldiers were killed.
However, it comes to light that in its formal complaint on the killings to the police, the Army had said "unidentified terrorists" were responsible for the cross-border raid. The FIR was lodged by 21 Bihar regiment which lost its men with the Jammu & Kashmir police in Poonch and contained no mention of the Pakistan army.
Full report at:
http://timesofindia.indiatimes.com/india/In-FIR-after-LoC-attack-army-blamed-it-on-terrorists/articleshow/21735385.cms
---------
Pak kids celebrate Eid in Delhi
August 10, 2013
Zara Khalid, Zainab Tayyab, Syed Mansoor Qutab and Salman Ahmed had never got as many Eid wishes. The students of The City School in Lahore were a happy lot as they celebrated Eid with fellow students from across India.
The four were in New Delhi to participate in Indian Model United Nations (Inmun), conducted by Ryan International Group of Schools. Accompanied by two teachers, Aniqa Shafique and Farkhanda Saleem, the students are celebrating the festival across the borders, miles away from home.
Full report at:
http://www.hindustantimes.com/India-news/newdelhi/Pak-kids-celebrate-Eid-in-Delhi/Article1-1106005.aspx
---------
North America
Israeli-Palestinian talks 14 August in Jerusalem: US
10 August 2013
Palestinian and Israeli negotiators will resume talks on ending their long-standing conflict on 14 August in Jerusalem, the US State Department said Thursday.
The talks restarted last month in Washington under US mediation, and both sides agreed to try to resolve their differences within nine months.
State Department spokeswoman Jen Psaki told reporters that US mediator Martin Indyk would attend the next round of talks, which will be followed by a meeting in Jericho.
She added that US Secretary of State John Kerry, who hosted July's resumption of the talks "does not expect to make any announcement in the aftermath of this round of talks."
After three years of stalemate in the peace process and six decades of hot and cold conflict between Israel and the Palestinians, last month's meeting was hailed as a breakthrough.
Full report at:
http://english.ahram.org.eg/NewsContent/2/8/78664/World/Region/IsraeliPalestinian-talks--August-in-Jerusalem-US.aspx
----------
US to reopen Mideast embassies except Pakistan and Yemen
10 August 2013
WASHINGTON: The US State Department spokeswoman Jen Psaki said Washington would keep its consulate in the Pakistani city of Lahore closed, after pulling out staff on Thursday due to a credible threat to the facility
The United States said that it would reopen all of the embassies it shut this week except the one in Yemen and Lahore, after re-assessing the Al-Qaeda threat.
The United States had closed some two dozen embassies and consulates since August 4 after reported intelligence intercepts from Al Qaeda suggested an attack was imminent.
The closures affected virtually the entire Arab world and were eventually extended to include parts of sub-Saharan Africa.
Full report at:
http://dawn.com/news/1035182/us-to-reopen-mideast-embassies-except-pakistan-and-yemen
---------
US, Russia agree to prepare for Syria peace talks
10 August 2013
Washington: US and Russian officials agreed on Friday on the need to convene a long-delayed Syrian peace conference in Geneva as soon as possible, but they offered no concrete plan to bring the warring government and rebels to the table.
Russian Foreign Minister Sergei Lavrov told reporters after five hours of political and security meetings in Washington that officials from the two countries will meet again by the end of the month to prepare for the Syria talks.
Full report at:
http://www.ndtv.com/article/world/us-russia-agree-to-prepare-for-syria-peace-talks-403766
----------
Obama laments 'backward' Russian thinking
10 August 2013
President Barack Obama said Friday he was reassessing the relationship with Russia because of a growing number of issues on which the two countries differ, and he lamented what he called his mixed success in trying to convince Russian leader Vladimir Putin to abandon a Cold War mentality.
At a news conference while senior officials from the U.S. and Russia put a brave face on badly strained relations between Washington and Moscow, Obama said Putin's return to the Kremlin last year had brought about "more rhetoric on the Russian side that was anti-American, that played into some of the old stereotypes about the Cold War contest between the United States and Russia."
Full report at:
http://english.alarabiya.net/en/News/world/2013/08/10/Obama-laments-backward-Russian-thinking.html
----------
Great opportunity to solve Cyprus: Obama
10 August 2013
U.S. President Barack Obama and Greek Prime Minister Antonis Samaras have given optimistic outlook over the stalled talks in the divided island of Cyprus.
"There's a great opportunity as we speak for the decades-long conflict and tensions that exist in Cyprus to be resolved, and I think we're both encouraged by the messages that have been coming out of the Greek and Turkish Cypriot communities. And we're going to be I think working very closely together to see if we can make progress on those fronts," Obama said after meeting with Samaras at the White House on Aug. 8.
Full report at:
http://www.hurriyetdailynews.com/great-opportunity-to-solve-cyprus-obama.aspx?pageID=238&nID=52297&NewsCatID=359
----------
Third man sentenced in New Jersey hate-crime beating
10 August 2013
(Reuters) - A third white supremacist was sentenced to nearly three years in prison on Friday for a 2011 attack on two New Jersey men of Egyptian descent.
Christopher Ising, 31, a member of the largest skinhead group in New Jersey, the Atlantic City Skins, pleaded guilty in February to committing a hate-crime assault and conspiracy to do so.
Ising hosted two members of another white supremacist group, the Aryan Terror Brigade, at his home in Wareton on December 31, 2011, where they drank alcohol, listened to white supremacist music and plotted attacks on random non-white victims, prosecutors said.
Full report at:
http://www.reuters.com/article/2013/08/10/us-usa-hatecrime-newjersey-idUSBRE97900620130810
----------
Europe
Danish Muslim leader regrets role in rage over Muhammad cartoons
10 August 2013
COPENHAGEN, Denmark – A former Danish Islamist who seven years ago travelled the Muslim world fuelling the uproar over newspaper caricatures of the Prophet Muhammad is back in the headlines in Denmark after doing an about-face on the issue.
Once a leading critic of the Danish cartoons, which sparked fiery protests in Muslim countries, Lebanese-born Ahmad Akkari now says the Jyllands-Posten newspaper had the right to print them.
His unexpected change of heart has received praise from pundits and politicians in recent weeks, though some question his sincerity. It has also disappointed some in the country's Muslim minority who were deeply offended by the cartoons.
Full report at:
http://www.foxnews.com/world/2013/08/09/in-surprise-reversal-danish-muslim-leader-regrets-role-in-rage-over-muhammad/#ixzz2bagmSTZ8
----------
Ban Ki-moon calls on Egyptians to 'prevent further loss of life'
10 August 2013
U.N. Secretary General Ban Ki-moon on Friday called on Egyptians to prevent the further loss of life amid heightened tensions between supporters of ousted President Mohammad Mursi and the interim government.
Ban's "immediate concern is for the leaders of Egypt, on all sides, to exercise their leadership and their responsibility to do whatever can be done to prevent further loss of life among the Egyptian people," a statement from his spokesman read, according to AFP news agency.
The statement came on the occasion of Eid al-Fitr, the holiday marking the end of the holy Muslim fasting month of Ramadan.
Full report at:
http://english.alarabiya.net/en/News/middle-east/2013/08/10/Ban-Ki-moon-calls-on-Egyptians-to-prevent-further-loss-of-life-.html
---------
France deports Tunisian Islamist for threatening reporters
10 August 2013
France on Friday arrested and deported a Tunisian Islamist suspected of wanting to harm two reporters, the interior ministry said.
The 36-year-old from a Paris suburb was known as being "close" to radical Islam and had "several times shown willingness to take part in the jihad in Syria" with a group linked to Al-Qaeda named Jabhat al Nusra, said the ministry in a statement.
The man was allegedly "implicated in several plans of violence notably relating to two journalists".
Full report at:
http://english.alarabiya.net/en/News/world/2013/08/09/France-deports-Tunisian-Islamist-for-threatening-reporters-.html
----------
Mideast
Yemen: 7 Saudis among militants killed by drones
10 August 2013
SANAA, Yemen (AP) — At least seven suspected militants from Saudi Arabia were among the alleged al-Qaida members killed in Yemen in a recent wave of U.S. drone strikes, senior Yemeni officials said Friday, suggesting that Saudis are increasingly crossing the border to carry funds or seek terrorist training.
With several U.S. diplomatic posts closed temporarily in Africa and the Middle East this week amid a global alert about terrorism, Washington evacuated most of its personnel from Lahore, Pakistan's second-largest city. The U.S., along with Britain, also flew diplomatic staff out of Yemen's capital of Sanaa this week.
Full report at:
http://news.yahoo.com/yemen-7-saudis-among-militants-killed-drones-181058321.html
----------
Turkish PM condemns Nobel Foundation over Peace Prize laureate ElBaradei
10 August 2013
Turkish Prime Minister Recep Tayyip Erdoğan condemned the Nobel Foundation yesterday, asking how a Nobel Peace Prize was given to Egyptian Vice President Mohamed ElBaradei, someone he said sided with a military coup.
"ElBaradei, who was given Nobel Peace Prize, is now vice president of a government that conducted a military coup," Erdoğan said during his speech at the Justice and Development Party's (AKP) Eid al-Fitr celebration. "I am addressing the Nobel [Foundation]. Hey Nobel, how do you distribute peace awards to those who side with people who conducted military coups?"
Full report at:
http://www.hurriyetdailynews.com/turkish-pm-condemns-nobel-foundation-over-peace-prize-laureate-elbaradei.aspx?pageID=238&nID=52251&NewsCatID=338
----------
Israel refuses comment on cause of Sinai explosion
10 August 2013
Israeli army spokeswoman declined to comment on the explosion that took place Friday afternoon in Northern Sinai near the Egyptian-Israeli border.
A loud explosion coming from the area of Ajraa in Egypt's North Sinai was heard at 4.15pm by residents of south Rafah, Egypt's military spokesperson Ahmed Ali confirmed Friday.
Egypt's official MENA news agency said an explosion destroyed a rocket launcher set up near the border to launch attacks against Israel, and at least five Islamic militants were killed. But it did not elaborate.
Full report at:
http://english.ahram.org.eg/NewsContent/1/64/78696/Egypt/Politics-/Israel-refuses-comment-on-cause-of-Sinai-explosion.aspx
---------
Guantanamo inmates fear Yemen scare will delay release
10 Aug 2013
Shock waves from the threat of new attacks by Al-Qaeda's Yemen wing have reached the cells of Guantanamo Bay, where dozens of Yemeni detainees are waiting to be sent home. Of the 166 detainees remaining at the US naval base at Guantanamo, where a prison camp holds detainees from the "war on terror", 84 are from Yemen, and 56 of these have been cleared for release.
Despite this decision, they remain locked away because of a moratorium imposed after an Al-Qaeda affiliate with former detainees in its ranks launched a failed attack in 2009.
Last week, Yemen's al-Qaeda affiliate, Al-Qaeda in the Arabian Peninsula (AQAP), was once again in the news, when Washington issued a worldwide terror alert.
Full report at:
http://voiceofrussia.com/news/2013_08_09/Guantanamo-inmates-fear-Yemen-scare-will-delay-release-1733/
-----------
Turkish deputy PM rejects song for lyrics mentioning national alcoholic drink 'rakı'
10 August 2013
Turkey's Deputy Prime Minister Bülent Arınç asked a local singer not to sing the folk song "Vardar Ovası" because the song contained the word "rakı" in the lyrics in a meeting with the Bursa-based Balkan Immigrant's Culture and Support Association, or Bal-Göç, on Aug. 9.
A local folk singer, Fahriye Güney, asked Arınç for support to attend cultural events abroad, during the deputy prime minister's visit to Bal-Göç for Eid-el-Fitr. Arınç asked Güney to sing and evaluated her performance.
Full report at:
http://www.hurriyetdailynews.com/turkish-deputy-pm-rejects-song-for-lyrics-mentioning-national-alcoholic-drink-raki.aspx?pageID=238&nID=52261&NewsCatID=338
----------
Turkish main opposition leader says specially authorized courts 'illegitimate'
10 August 2013
Specially authorized courts do not have any legitimacy, main opposition Republican People's Party (CHP) leader Kemal Kılıçdaroğlu said, adding that he did not recognize rulings by them.
He was apparently referring to a recent controversial ruling by a specially authorized court that convicted a former top commander and more than 250 other people on charges of attempting to overthrow the government of Turkey.
Full report at:
http://www.hurriyetdailynews.com/turkish-main-opposition-leader-says-specially-authorized-courts-illegitimate.aspx?pageID=238&nID=52298&NewsCatID=338
----------
Australia
Australian charged over 'bigger than Boston' bomb plot
AFP | Aug 10, 2013
SYDNEY, New South Wales: An Australian man charged over a bomb plot was seeking revenge against a doctor using devices larger than those used in the Boston Marathon blast, reports said on Saturday.
The 42-year-old was arrested at Sydney airport on Thursday and charged with manufacturing an explosive device with intent to injure in connection with the plot, uncovered in April, police said in a statement.
"A man has been charged after an improvised explosive device was allegedly found at a home in Albion Park earlier in the year," police said.
Full report at:
http://timesofindia.indiatimes.com/world/rest-of-world/Australian-charged-over-bigger-than-Boston-bomb-plot/articleshow/21741912.cms
--------
Islam gaffe candidate Banister quits Australia election
10 August 2013
An Australian election candidate who was widely mocked after she mistook Islam for a country in a TV interview has withdrawn her candidacy.
Stephanie Banister, 27, was contesting a seat in Queensland for the anti-immigration One Nation Party. She had only been in politics for 48 hours.
Ms Banister also confused the term "haram" (forbidden) with the Koran and suggested Jews worshipped Jesus Christ.
The interview, which aired early this week, went viral on social media.
''I don't oppose Islam as a country, umm, but I do feel that their laws should not be welcome here in Australia,'' Ms Banister told Seven News reporter Erin Edwards.
Full report at:
http://www.bbc.co.uk/news/world-asia-23644422
--------
Africa
Libyan TV presenter murdered in Benghazi: security
10 August 2013
A Libyan doctor who hosted a television program on human development was shot dead by unknown gunmen in the restive eastern city of Benghazi on Friday, a security official said.
Azzedine Qossad, a presenter for Libya al-Hurra television, was hit by several rounds as he sat in his parked car near a blood bank in Benghazi's Sidi Hussein district after weekly Muslim prayers, the source said.
Qossad had worked for Radio al-Manara FM before joining al-Hurra, the country's leading private TV channel, created after the 2011 revolution that overthrew long-time dictator Muammar Qaddafi.
Full report at:
http://english.alarabiya.net/en/News/2013/08/09/Libyan-TV-anchor-shot-dead-in-Benghazi.html
----------
Al-Qaeda's widening North African jihad confounds foes
10 August 2013
Inquiries into the bloody assault on an Algerian gas plant are uncovering increasing evidence of contacts between the assailants and the jihad is involved in killing the U.S. ambassador to Libya nearly a year ago.
The extent of the contacts between the militants is still unclear and nobody is sure there was a direct link between the attack on the U.S. consulate in Benghazi and the carnage at In Amenas, where 39 foreign hostages were killed in January.
But the findings, according to three sources with separate knowledge of U.S. investigations, shed some light on the connections between Al Qaeda affiliates stretching ever further across North and West Africa.
Full report at:
http://english.alarabiya.net/en/News/middle-east/2013/08/09/Al-Qaeda-s-widening-North-African-jihad-confounds-foes.html
----------
Deadly fairground shootout erupts overnight in Libya's Tripoli
10 August 2013
Armed men fatally wounded one person and left several others injured at a Tripoli fairground on Friday night, security officials and police said.
"A group of criminals savagely opened fire at a fairground at Omar Mokhtar Street in Tripoli wounding three people but a seriously hurt woman died from her wounds when she arrived at the hospital," said Tripoli security headquarters on Facebook.
The attack came as Libya's army deployed reinforcements in the capital and its suburbs to bolster security after weeks of deadly violence.
Full report at:
http://english.alarabiya.net/en/News/middle-east/2013/08/10/Deadly-fairground-shootout-erupts-in-Libya-s-Tripoli.html
----------
URL: https://www.newageislam.com/islamic-world-news/new-age-islam-news-bureau/yemen-al-qaeda-emir,-nasser-al-wahishi,-left-blueprint-for-waging-jihad/d/12975