New Age Islam News Bureau
6 Aug 2014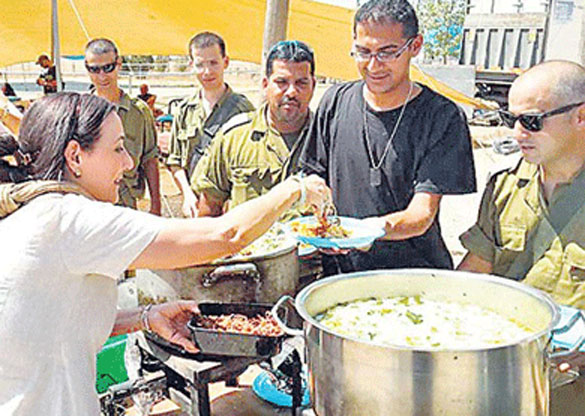 Reena Pushkarna serves Biryani to Israeli soldiers near Gaza. (HT Photo)
----------------
Arab World
• Yazidis Dying of Thirst at Refuge; 415 Killed Across Iraq
• Syria Pounds Rebel-Held Damascus Suburbs: 64 Killed
• Iraq crisis: Mosul air strike 'kills dozens'
• Restaurant Offering Sex-Themed Juices Irks Saudis
• 16 killed in Damascus shelling: NGO
• Kurds from Turkey, Syria enter Iraq to battle Islamic State
• Politician begs world to help Iraq's Yazidis: Senior Kurdish official
• Iraqi politician breaks down in parliament, urges solidarity
• Saudi gives $1 billion as Lebanon seeks arms to battle jihadists
• Grand mufti laments: Saudis kill each other in wars abroad
• Egyptians press Gaza truce talks between Israel, Palestinians
• Fresh Sinai raids kill or injure three militants
• Iraqi army and militias take control of Saddam's hometown and burn his tomb
Pakistan
• Taliban Declare War on Media
• Drone strike kills 6 in North Waziristan
• Three killed in clash between militant outfits in Tirah
• Muslim countries asked to adopt joint strategy on Gaza: Pakistan Ulema Council
• Gunmen shoot at Sikh men in Peshawar market, one dead
• 300 Tehreek-i-Insaf leaders, activists may be detained before rally
India
• Twist in Meerut Tale: Woman Had Surgery for Ectopic Pregnancy, Says State DGP
• Young Indians joining ISIS call for jihad in West Asia
• In The Shadow of War: An Indian Offers Biryani Comfort to Israeli Troops
• No waiver for Hajis as Rubaat row hangs fire
• Dalits, Muslims clash as tension builds in Azamgarh village
South Asia
• China Bans Beards, Veils from Xinjiang City's Buses in Security Bid
• US Ambassador against trial of Bangladesh Jamaat-e-Islami
• Afghan policeman shoots dead 7 comrades in Uruzgan province
• 'US has no objection to death penalty for war crimes': Ban Law Minister
• Maldives media initiates 'Help Gaza' telethon
Europe
• Brit Muslims 'duped into terrorism' by warlords
• Uzbek Muslims Denounce Islamic Movement of Uzbekistan Extremists
• UN Condemns Jihadists over Attacks on Iraq's Yazidi Minority
• WUC condemns the killing of Uyghurs by Chinese police and military forces
• Human Rights Watch warns expat women about the UAE
• Boko Haram Forced 650,000 from Homes: UN
• British MPs say Israeli restrictions unjustifiable
Southeast Asia
• Despite Ban, Police Have Few Options in Dealing with ISIS Sympathizers
• Philippine peace deal in jeopardy as Muslim rebel cry foul
• Rafizi reveals why Pakatan is split over potential PM
Mideast
• Report: Nearly 10% of ISIS Fighters Are Turkish
• Zionists caused $4-6bn damage to besieged strip
• Israel 'initially accepts' 4 terms, rejects 3 others in Palestinian paper: Report
• Iranian Deputy FM: Palestinian Resistance More Powerful Now
• Israel to severely restrict weapons traffic to Palestinian factions: Palestinian Source
• Ankara and Arbil discuss jihadist threat
• Gaza truce pushes into second day ahead of Cairo talks
• Gazans facing violent deaths as a result of Israel brutality
• War widens gulf between Israeli Jews and Arabs
• Iran seeking successor to Maliki: Official
North America
• Obama invites India to 'underwrite' global order
• U.S. to sell Tunisia 12 Black Hawks to aid militant fight
• US terror database has a million people, 47,000 on no-fly list
• Jimmy Carter: Hamas is a legitimate political actor
• US monitoring 280,000 people unconnected to terror groups
Africa
• Eighteen Sudanese reportedly killed in Libya unrest
• Tunisia Fears Attacks by Citizens Flocking to Jihad
• African states accept move to bar pilgrims over Ebola 'with grace'
• Kenya arrest suspect from Somalia's al-Shabab group
Compiled by New Age Islam News Bureau
URL: https://www.newageislam.com/islamic-world-news/new-age-islam-news-bureau/yazidis-dying-of-thirst-at-refuge;-415-killed-across-iraq/d/98448
-------------
Arab World
Yazidis Dying of Thirst at Refuge; 415 Killed Across Iraq
August 06, 2014
Battles and airstrikes killed most of the 415 dead today. Few civilians were killed in fighting; however, at least 40 people from Sinjar have died from thirst or starvation while awaiting help. At least 178 were wounded.
In Sinjar, 50 militants were killed as Peshmerga forces continued their operation to retake the city. Yazidis have formed their own militia groups to protect refugees in the Sinjar Mountains. Qassim Shashou, a Kurdistan Democratic Party (KDP) senior official claimed they have killed scores of militants. Iraqi military forces claimed to have killed 200 militants and wounded 150 more in air strikes.
Also, 40 children and elderly people have died due to conditions in the refugee camps, where there is little food and water.
Mortars in Tal Kief (Tel Keppe) killed one civilian and wounded six more as militants tried to take the predominantly Christian town. At least one more person was killed. More than 2,000 people have fled their homes. Peshmerga are already on the scene. Three small villages near the city are under Peshmerga control.
n operation in Halabsa left 23 militants dead.
In Mosul, airstrikes killed six militants, including a prominent leader. Ten civilians were wounded in an airstrike.
Peshmerga forces retook Rabeaa.
Airstrikes on Zumer killed militants.
Fifteen militants were killed in Dhuluiya. One more was killed east in the cemetery.
In Kirkuk, a civilian was shot dead. Five people were wounded in a bombing.
Security forces repulsed a surprise attack on Hawija, killing 20 militants in the process.
Nineteen militants were killed and seven were wounded during a failed attack on Alam.
An unidentified gunman killed four militants in Shirqat.
Saddam's tomb was damaged during battles in Ouja. His remains had already been moved to a safer location.
In Abu Ghraib, gunmen killed a lieutenant colonel and his driver.
A suicide bomber detonated his car bomb on a bridge linking Ramadi and Falluja. No word on the total number of casualties. An airstrike killed a militant official.
Air forces bombed a large convoy of vehicles near Qaim.
Thirty militants were killed in the Lakes region of northern Babel province.
Islamic State militants now control Albu Aitha after security forces fled.
Violent clashes took place in Barwana.
http://original.antiwar.com/updates/2014/08/05/yazidis-dying-of-thirst-at-refuge-415-killed-across-iraq/
-------------
Syria Pounds Rebel-Held Damascus Suburbs: 64 Killed
August 06, 2014
Syrian warplanes launched a new round of bombings against rebel-held suburbs of the capital city of Damascus, killing at least 64 people, including both rebels and civilians.
Such attacks have become less common in recent weeks, as the focus of military operations against the rebels has moved northward, and the rebels themselves have turned on one another in fighting over territory the Assad government is unlikely to ever recover.
The reports from rebel mouthpiece the Syrian Observatory for Human Rights say that the attack used vacuum (fuel-air) bombs, which create a blast wave and cause large numbers of casualties.
The use of such advanced bombs is not unprecedented, though it is a shift for the Syrian military, which has increasingly relied on makeshift weapons in the civil war, particularly in the north.
http://news.antiwar.com/2014/08/05/syria-pounds-rebel-held-damascus-suburbs-64-killed/
-------------
Iraq crisis: Mosul air strike 'kills dozens'
6 August 2014
Dozens of people have been killed in an air strike in the rebel-held northern Iraqi city of Mosul, reports say.
At least 30 died when a drone attacked a prison used by the Islamic State (IS) as a base, sources told the BBC.
Iraqi state TV said 60 suspected militants had been killed, while al-Jazeera put the toll at about 70.
IS captured Mosul in June, at the start of an offensive that saw the jihadist group and allied Sunni rebels seize parts of northern and western Iraq.
Kurdish Peshmerga forces were also reportedly shelling eastern parts of Mosul on Wednesday.
Earlier, a Peshmerga commander warned that 50,000 members of the Yazidi religious minority trapped in mountains to the west faced death if they were not rescued soon.
The Yazidis fled to the mountains with little food or water after fighters from IS - previously known as the Islamic State in Iraq and the Levant (Isis) - overran the town of Sinjar at the weekend.
The Peshmerga commander, Jabbar Yawar, said many had already died, but did not give further details.
On Tuesday, the UN said it had received credible reports that 40 Yazidi children had died "as a direct consequence of violence, displacement and dehydration" since Sunday.
http://www.bbc.co.uk/news/world-middle-east-28677283
-------------
Restaurant Offering Sex-Themed Juices Irks Saudis
6 August 2014
A restaurant offering drinks "exclusively for married couples" has reportedly raised eyebrows in Saudi Arabia over its sex-themed drink names, a local newspaper reported Monday.
Restaurant goers can choose from an array of drinks which bear such racy names as "Viagra," "Super Viagra," "Arabian Nights," or simply "Lovers' Panche," Makkah Newspaper reported, attaching a picture of the restaurant's menu.
Restaurant goer Khaled al-Mahawish visited the restaurant in the western city of Taif, according to the newspaper.
"When you are at such restaurant, you are shocked when one of your children ask you a question about the drinks, what would you [tell] them?" al-Mahawish said.
The newspaper, which described the restaurant as "famous," did not disclose its name.
Another reported visitor, Fahad al-Otaibi, told the newspaper that names of the drinks are riddled with sexual innuendo, urging managers of the restaurant to be more tactful.
A spokesman of Taif's city council, Ismail Ibrahim, told the daily that the local government cares first and foremost about the ingredients in the beverages.
Ismail said the ingredients of the drinks would be looked into, meanwhile he said the issue of the "strange names" would also be looked into.
http://english.alarabiya.net/en/variety/2014/08/06/Restaurant-offering-sex-themed-juices-irks-Saudis-.html
----------
16 killed in Damascus shelling: NGO
August 06, 2014
BEIRUT: At least 16 people, including two children, were killed when rebels shelled many districts of the Syrian capital overnight, a monitoring group said on Wednesday.
The Syrian Observatory for Human Rights said another 79 people were wounded in the bombardment by an Islamist rebel brigade. Several of the wounded were in serious condition, and the death toll was expected to rise, the Observatory said.
Observatory director Rami Abdel Rahman said more than a dozen areas of Damascus had been targeted, including in the upscale western Mazzeh district and central Abu Rummaneh.
Opposition fighters on the outskirts of the city have regularly fired mortar rounds and rockets into Damascus, targeting various neighbourhoods and often causing casualties.
Syrian regime warplanes also regularly launch raids against rebel areas around the city. On Full report at:
http://www.thenews.com.pk/article-156026-16-killed-in--Damascus-shelling:-NGO
-------------
Kurds from Turkey, Syria enter Iraq to battle Islamic State
August 06, 2014
IRBIL, IRAQ — Kurdish forces pushed Tuesday to retake territory they lost over the weekend to the Islamic State in a major counteroffensive that will test the ability of the best-trained military force in Iraq to confront the radical Islamist group.
Kurdish forces made up of thousands of insurgents from Turkey and Syria attacked Islamic State positions at Sinjar, one of three Iraqi cities that fell to the Islamic State over the weekend, while peshmerga militias loyal to Iraq's autonomous Kurdistan Regional Government pressed to lift the Islamic State's siege of the Mosul Dam, Iraq's largest and an important source of electricity. The Islamists nearly overran the dam over the weekend.
U.S. officials said they were working with the Kurdistan Regional Government in Irbil and Iraq's central government in Baghdad to counter the Islamic State's advance. But it was unclear what material assistance, if any, the United States was lending to the fight.
The Kurdistan Regional Government's representative in Washington said requested U.S. equipment intended to counter the sophisticated American weaponry that the Islamic State had captured in its June sweep of three Iraqi provinces had yet to arrive.
Full report at:
http://www.fresnobee.com/2014/08/05/4056326/kurds-from-turkey-syria-enter.html#storylink=cpy
-------------
Politician begs world to help Iraq's Yazidis: Senior Kurdish official
August 06, 2014
Kurdish forces and Islamic State fighters were clashing in a town only 40 kilometres southwest of the Kurdish regional capital of Erbil in northern Iraq, a senior Kurdish official said on Wednesday.
Jabbar Yawar, secretary-general of the ministry of the Kurdish peshmerga fighters, told the Reuters news agency military cooperation had been re-established with Baghdad in a bid to hit back against the Sunni fighters who staged another dramatic push through the north over the weekend.
Yawar said 50,000 members of Iraq's Yazidi ethnic minority who fled the offensive and are hiding on a mountain near the town of Sinjar risked starving to death if they are not rescued in 24 hours.
The UN Security Council on Tuesday condemned attacks by self-declared jihadists in northern Iraq, saying that those responsible could face trial for crimes against humanity, amid fears the region's Yazidi minority could be wiped out.
Iraqi helicopters dropped supplies to thousands of desperate people hiding in mountains from Islamic State fighters, as officials on Tuesday warned that the Yazidi in the town of Sinjar, near the Syrian border, risked being massacred or starved into extinction in the face of the group's takeover of the region.
Full report at:
http://www.aljazeera.com/news/middleeast/2014/08/politician-begs-world-help-iraq-yazidis-20148681139201392.html
-----------
Iraqi politician breaks down in parliament, urges solidarity
6 August 2014
An Iraqi MP broke down during a parliament session after speaking on the violence plaguing the country, Al Arabiya News Channel reported Wednesday.
The member of the Kurdistan Alliance, Vian Dakhil, burst into tears after recounting the reported deaths of 500 members of the ethnic Yazidi minority during the recent onslaught by the extremist Islamic State of Iraq and Syria.
http://english.alarabiya.net/en/webtv/reports/2014/08/06/Iraqi-politician-breaks-down-in-parliament-urges-solidarity.html
----------
Saudi gives $1 billion as Lebanon seeks arms to battle jihadists
August 06, 2014
Saudi Arabia has given Lebanon's military $1 billion to help its fight against jihadists on the Syrian border, as the army's chief urged France to speed up promised weapons supplies.
After fighting in the eastern area Tuesday, where troops have been clashing with militants since Saturday, ambulances entered the town of Arsal amid reports of a truce.
Earlier, three policemen being held by jihadists were released, and there was a brief lull in the fighting, but shelling and artillery fire resumed on Tuesday evening, an AFP correspondent said.
Tensions also rose in northern Lebanon, where clashes killed a child and wounded 11 other people, including seven soldiers.
France said it would respond "quickly" to Lebanon's request to expedite weaponry.
Saudi Arabia has gone further and handed Lebanon's army $1 billion to strengthen security, former Lebanese premier Saad Hariri told reporters in Jeddah on Wednesday.
King Abdullah "has informed me of his generous decision to provide the Lebanese army... with $1 billion to strengthen its capabilities to preserve Lebanon's security," Hariri told reporters in Jeddah.
Full report at:
http://www.hurriyetdailynews.com/saudi-gives-1-billion-as-lebanon-seeks-arms-to-battle-jihadists.aspx?pageID=238&nID=70031&NewsCatID=352
-------------
Grand mufti laments: Saudis kill each other in wars abroad
August 06, 2014
Young Saudis who leave to fight in conflict zones end up killing each other thanks to the deviance and civil strife their groups propagate, said the Kingdom's Grand Mufti, Abdul Aziz Al-Alsheikh.
"These men are taken to market places and sold to these groups like slaves," he said.
Al-Asheikh's comments come in the wake of several young Saudis below 30 joining such groups in Syria and Iraq after expressing outrage at the state of the Muslim world.
"We are all upset about the plight of Muslims around the world, but this should never lead us to joining the wrong forces," he said.
Full report at:
http://www.arabnews.com/news/featured/612381
-------------
Egyptians press Gaza truce talks between Israel, Palestinians
August 06, 2014
Egyptian officials mediating talks for a durable truce in Gaza met an Israel delegation during the night and were to relay their demands to Palestinian representatives, Palestinian sources said Wednesday.
The shuttle diplomacy comes as a fragile ceasefire in the Gaza Strip after a month of fighting between Hamas and Israeli forces entered a second day on Wednesday.
Palestinian officials in Cairo said they would respond to the Israeli terms through the Egyptian intelligence officials, although a senior Hamas official has already rejected an Israeli demand that Palestinian factions in Gaza disarm.
Meanwhile international Middle East peace envoy Tony Blair and UN Middle East peace process coordinator Robert Serry were scheduled to hold talks with Egyptian officials later on Wednesday.
Full report at:
http://english.ahram.org.eg/NewsContent/2/8/107828/World/Region/Egyptians-press-Gaza-truce-talks-between-Israel,-P.aspx
-------------
Fresh Sinai raids kill or injure three militants
August 06, 2014
Egyptian troops have killed and injured three alleged militant fighters in fresh raids in the border Sinai Peninsula, where the military is waging a campaign to root out Islamist insurgents, state news agency MENA reported.
Six suspects were also arrested during the raids in the North Sinai towns of Al-Arish and Sheikh Zuweid, security sources said, adding that 32 shacks and buildings used as bases for terrorist attacks and 16 motorbikes belonging to the insurgents were destroyed in the offensives.
Egypt has been hit by an upsurge in Islamist militancy led by Sinai-based fighters that has mainly targeted security forces since the ouster of Islamist president Mohamed Morsi last summer and an ensuing crackdown on his supporters.
Full report at:
http://english.ahram.org.eg/NewsContent/1/64/107827/Egypt/Politics-/Fresh-Sinai-raids-kill-or-injure-three-militants.aspx
-------------
Iraqi army and militias take control of Saddam's hometown and burn his tomb
August 06, 2014
Armed militias backed by the Iraqi Army have taken control of the area south of former Iraqi President Saddam Huseein's birth city Tikrit, in the province of Salahuddin, after fierce battles raged with the Islamic State (ISIS), security sources said yesterday.
In a statement to the Anatolia news agency Falah Al-Neda, son of the Albejat tribal leader Hassan Al-Neda, said the Shia militias and Iraqi army forces took control of the town of Ouja, south of the city of Tikrit. The shrine which housed the tomb of Saddam was burnt, though the remains in question are still inside the mausoleum, which was owned by the government.
Al-Neda said ISIS fighters and Sunni insurgents allied with them attacked the militia and army forces at dawn today in order to regain control of the town and fought fierce battles between the two sides.
Full report at:
https://www.middleeastmonitor.com/news/middle-east/13269-iraqi-army-and-militias-take-control-of-saddams-hometown-and-burn-his-tomb
-------------
Pakistan
Taliban Declare War on Media
August 06, 2014
WASHINGTON: The Taliban have warned the Pakistani media that if they did not stop criticising the Mujahedeen, they will be attacked and "no crying and sobbing" will prevent the holy warriors from punishing journalists.
In a message sent to media advocacy groups across the world, Tehreek-i-Taliban Pakistan also warned that the journalists would not get the chance to repent their mistakes if they did not stop the criticism now.
The message, signed TTP media commission, Mohmand Agency, reminded the journalists that the Taliban had tolerated this "unbearable behaviour" from 2000 to 2014 but the time had come to put an end to this practice.
The message — "The global war of ideologies and the behaviour of media" — was sent to "heads and members of organisations working for the rights of media members around the world," including the Reporters with­out Borders, and the US-based Committee to Protect Journalists. The CPJ posted the message on its site.
http://www.dawn.com/news/1123549/taliban-declare-war-on-media
-------------
Drone strike kills 6 in North Waziristan
August 6, 2014
NORTH WAZIRISTAN: A drone strike in the Datta Khel area of North Waziristan left six people dead and two others injured, Express News reported on Wednesday.
Two missiles slammed into a house in a village in the Datta Khel area in the border region of North Waziristan, security officials said, injuring two militants, beside the deaths.
The bodies of the deceased were charred beyond recognition, one of the villagers told Reuters.
Drone strikes in the country resumed in June after a gap of six months.
More than 2,000 people have been killed in drone attacks since August 2008, according to an AFP tally, with critics charging that the strikes cause many civilian casualties.
Previous strikes
Full report at:
http://tribune.com.pk/story/745020/drone-strike-in-north-waziristan-kills-6-2/
-------------
Three killed in clash between militant outfits in Tirah
August 06, 2014
PESHAWAR: Three militants were killed and three others arrested on Wednesday as the rival extremist groups clashed in the Tirah Valley of the Khyber Agency.
Official sources said the militants belonging to the outlawed Lashkar-i-Islam and Tauheedul Islam clashed in Zakakhel area of Tirah Valley resulting in the death of two LI commanders and an activist of TI.
Three LI fighters were also arrested by the other Tauheedul Islam militants.
Khyber is one of Pakistan's seven semi-autonomous regions governed by tribal laws and the belt lies near the Afghan border. The Taliban and other Al Qaeda-linked groups, who stage attacks in both countries, are known to have strongholds in the zone.
http://www.dawn.com/news/1123649/three-killed-in-clash-between-militant-outfits-in-tirah
-------------
Muslim countries asked to adopt joint strategy on Gaza: Pakistan Ulema Council
August 06, 2014
ISLAMABAD: Speakers at an all parties' 'Palestine peace conference' on Tuesday hailed British Minister Baroness Saeeda Warsi's decision to resign from her ministry in protest against the policies of the British government regarding the Israeli aggression.
The conference demanded the government of Pakistan use its influence and ask the Egyptian government to allow Pakistani humanitarian aid to Gaza.
The conference was held under the aegis of the Pakistan Ulema Council (PUC). Reading out a joint declaration, chairman PUC Hafiz Mohammad Tahir Ashrafi said key Muslim nations, including Saudi Arabia, Pakistan, Turkey and Iran, should come up with a clear strategy regarding the Gaza issue during the Islamic Summit on August 12.
"We strongly condemn the Israeli aggression on Gaza and believe that the issue of Palestine is a humanitarian issue and hence the whole humanity should come forward to resolve it," he added. The declaration said for a long-term solution to the Palestine issue, the Islamic nations should also seek support from China and Russia and file a case of war crimes against Israel with the UN.
Full report at:
http://www.dawn.com/news/1123592/muslim-countries-asked-to-adopt-joint-strategy-on-gaza
----------
Gunmen shoot at Sikh men in Peshawar market, one dead
August 06, 2014
PESHAWAR: Members of the Sikh community in Peshawar came under attack on Wednesday, with one killed and two injured in a firing incident. Following the attack, protestors took to the streets and burnt tyres blocking roads including the grand Trunk (GT) road in Peshawar.
The demonstrators chanted slogans against what they said was the government's failure to protect members of minority communities and demanded the immediate arrest of those involved in the attack.
The protestors tried to approach the Chief Minister's House but were stopped by security. Later the demonstrators headed towards the Governor's House.
Police officials said unidentified armed men opened fire at members of the Sikh community when they were at Shabab market in the Hashtnagri area.
Full report at:
http://www.dawn.com/news/1123648/gunmen-shoot-at-sikh-men-in-peshawar-market-one-dead
-------------
300 Tehreek-i-Insaf leaders, activists may be detained before rally
August 06, 2014
RAWALPINDI: The Special Branch has provided a list of 300 leaders and active workers of Pakistan Tehreek-i-Insaf (PTI) to the Punjab government to detain them to thwart the August 14 rally on Islamabad.
A senior official of the city district government Rawalpindi (CDGR) told Dawn that the list was prepared after the Punjab government sought the details of the active leaders and workers of the PTI. However, the government has so far not issued any instructions to detain them, said the official.
On the other hand, the PTI workers claimed that the police had started harassing their leaders. "I and our MPAs, including Arif Abbasi, Rashid Hafeez, Asif Mehmood, Col Amjad, Wasiq Qayyum and Chaudhry Zubair, have received threatening calls from the Punjab police and there are reports that we would be arrested soon," said PTI north Punjab president Sadaqat Abbasi while talking to Dawn.
He said some police officials visited the residences of Qaisar Abbas and Chaudhry Zubair on Monday night. He said the party had decided that all the leaders would remain at an unknown place to avoid arrest.
Full report at:
http://www.dawn.com/news/1123601/300-tehreek-i-insaf-leaders-activists-may-be-detained-before-rally
-------------
India
Twist in Meerut Tale: Woman Had Surgery for Ectopic Pregnancy, Says State DGP
Written by Ramendra Singh | Lucknow | August 6, 2014
The medical examination of the 20-year-old former madrasa teacher, who has alleged that she was abducted, gang raped and forcibly converted to Islam, has found that she had been operated for ectopic pregnancy — a complication arising out of the foetus growing outside the uterus — last month, according to the police.
The woman, who was a part-time teacher at a madrasa in Sarawa village of Meerut's Kharkhoda police station area, had alleged that she was operated in a Muzaffarnagar hospital on July 23. She had marks of stitches on her stomach.
DGP A L Banerjee said the medical examination found that a surgery was performed on the girl for ectopic pregnancy. "The girl's statement under CrPC 164 has been recorded before a magistrate and police will probe the case on the basis of that statement," Banerjee told The Indian Express.
In Lucknow, secretary (home) Kamal Saksena and IG (Law and Order) Amrendra Sengar, said the medical examination has not stated anything about sexual assault.
DIG, Meerut Range, K Satyanarayan also confirmed the medical examination's finding but said that no organs of her body have been found missing.
The DIG also said that police have found an affidavit about the woman's religious conversion, which was performed by a Maulvi from Hapur. The woman has alleged that she was forced to sign the affidavit, dated July 30. "We have taken the Maulvi, who performed the conversion, into custody. He says the woman got converted voluntarily," Satyanarayan said, adding that they were further probing the allegation.
Full report at:
http://indianexpress.com/article/india/uttar-pradesh/twist-in-meerut-tale-woman-had-surgery-for-ectopic-pregnancy-says-state-dgp/
-------------
Young Indians joining ISIS call for jihad in West Asia
August 06, 2014
For this business family of four in Srinagar's upscale Jawahar Nagar, life was smooth. For them, their eldest son, 26-year-old Adil Fayaz, was an achiever — an MBA from Australia's Queensland University ostensibly working with an NGO in Turkey.
But the story, according to Indian security agencies, is very different. Senior home ministry officials say Adil was radicalised by Islamic fundamentalists in Australia. He then, they say, left for Turkey and entered Syria via Jordan to join jihadists in the civil war in June 2013. Although his family claims Adil is working for an NGO in Turkey to help Syrian refugees, they don't have the name of the NGO or its phone number. Their son talks to them on voice over internet protocol (VoIP).
Adil is perhaps the first Indian from Kashmir to join the Syrian jihad against the Bashar al-Assad regime.
The police in the Valley said they don't have any such information. "We don't have any information about any Kashmiri boy having joined the fight in Syria," said AG Mir, IG Police, Kashmir.
But Omar Abdullah, J&K chief minister, told HT, "No one from Kashmir has gone to fight in Syria. However, there is reportedly one boy who had gone to Australia and has been recruited from there."
Full report at:
http://www.hindustantimes.com/india-news/kashmiri-youth-joins-jihad-in-syria-says-intel/article1-1248672.aspx
-------------
In The Shadow Of War: An Indian Offers Biryani Comfort To Israeli Troops
Rahul Singh, Hindustan Times New Delhi, August 06, 2014
An Indian woman known as the curry queen of Israel won over the hearts — and stomachs — of Israeli soldiers fighting in Gaza with a plate of aromatic chicken Biryani last week.
Reena Pushkarna, who runs a chain of Tandoori restaurants in Israel, set up a make-shift kitchen and rustled up 400 kg of Biryani near the Gaza border where Israel and Hamas have been fighting for almost a month.
Pushkarna, who made Tel Aviv her home 30 years ago, and her crew of four chefs served the Biryani to more than 2,000 Israeli soldiers, including Indian-origin Jews.
"My team and I had to dive into trenches twice to keep from getting killed last Thursday. But the initiative surely brought smiles to the faces of our soldiers," Pushkarna told HT from Tel Aviv.
Israel said on Tuesday it had withdrawn its troops from Gaza for a 72-hour truce, but it is uncertain if the latest ceasefire will hold or collapse like past attempts to suspend hostilities.
Pushkarna, a retired colonel's daughter, said she would love to cook for children in Gaza, who are caught in the crossfire.
Full report at:
http://www.hindustantimes.com/india-news/in-the-shadow-of-war-indian-offers-biryani-comfort-to-israeli-troops/article1-1248694.aspx
-------------
No waiver for Hajis as Rubaat row hangs fire
TNN | Aug 6, 2014
HYDERABAD: There seems to be no end to the tussle between the Nizam's Auqaf Committee (NAC) and Hussain Mohammed al Shareef, the Nazir of Nizam's Rubaat (inn) in Mecca, Saudi Arabia, for the control of the inn where Haj pilgrims selected through a draw of lots are accommodated for free. With the issue still locked in stalemate, the Haj Committee of India (HCI) told TOI on Tuesday that it would not be issuing letters to pilgrims waiving off accommodation charges.
The Nizam's Rubaat with a capacity of around 450 persons, offers free accommodation to Hajis belonging to the Nizam's erstwhile dominions which, apart from Telangana and AP, include Gulbarga and Bidar in Karnataka, Latur and Osmanabad in Maharashtra. Pilgrims selected through Qurrah (draw of lots) can save Rs 41,300 per person, a substantial sum for the poor.
Full report at:
http://timesofindia.indiatimes.com/india/No-waiver-for-Hajis-as-rubaat-row-hangs-fire/articleshow/39713029.cms
-------------
Dalits, Muslims clash as tension builds in Azamgarh viilage
Express News Service | Allahabad | August 6, 2014
Tension gripped a village in Azamgarh's Deogaon police station area when a minor issue led to a violent fight between Dalits and Muslims Monday. Around a dozen persons were injured, three of whom had to be referred to Varanasi.
The police have registered cross FIRs on the basis of complaints from both sides. No arrest has been made so far. PAC has been deployed in the village. This is at least the third incident in a week in the eastern region of the state in which arguments over minor issues have led to law and order situations threatening to take communal overtones. The police, however, said all these incidents were isolated and localised.
According to the Azamgarh police, the incident occurred Monday morning at Katauli Kala village under Deogaon police station area.
"The fight began over increasing the width of a chak road going through the fields of the two groups belonging to Dalit and Muslim communities. There is no history of previous fights over the issue. PAC has been deployed. The situation is calm now. The condition of three of the persons, who were referred to Varanasi, is also reported to be stable," said Superintendent of Police (City) Vinod Kumar.
http://indianexpress.com/article/india/india-others/dalits-muslims-clash-as-tension-builds-in-azamgarh-viilage/
-------------
South Asia
China bans beards, veils from Xinjiang city's buses in security bid
August 6, 2014
BEIJING: A city in China's restive western region of Xinjiang has banned people with head scarves, veils and long beards from boarding buses, as the government battles unrest with a policy that critics said discriminates against Muslims.
Xinjiang, home to the Muslim Uighur people who speak a Turkic language, has been beset for years by violence that the government blames on militants or separatists.
Authorities will prohibit five types of passengers – those who wear veils, head scarves, a loose-fitting garment called a jilbab, clothing with the crescent moon and star, and those with long beards – from boarding buses in the northwestern city of Karamay, state media said.
The crescent moon and star symbol of Islam features on many national flags, besides being used by groups China says want to set up an independent state called East Turkestan.
The rules were intended to help strengthen security through August 20 during an athletics event and would be enforced by security teams, the ruling Communist Party-run Karamay Daily said on Monday.
"Those who do not comply, especially those five types of passengers, will be reported to the police," the paper said.
In July, authorities in Xinjiang's capital Urumqi banned bus passengers from carrying items ranging from cigarette lighters to yogurt and water, in a bid to prevent violent attacks.
Full report at:
http://tribune.com.pk/story/744992/china-bans-beards-veils-from-xinjiang-citys-buses-in-security-bid/
-------------
US Ambassador against trial of Bangladesh Jamaat-e-Islami
August 06, 2014
US Ambassador-at-Large Stephen J Rapp yesterday said no political party should be tried for crime against humanity, and the focus should be given on individuals who committed the crime.
"Do not take the step of moving forward to use the criminal process to prosecute a political party or a large group," he said at a press conference at the American Center in the capital.
He arrived in the city on Sunday, his fifth visit since 2011, and met foreign and law ministers, prosecutors, defence attorneys and members of civil society.
Without mentioning the name of Bangladesh Jamaat-e-Islami, Rapp said the crimes in 1971 were committed by individuals and not everybody in a political party.
He was of the view that it is essential to resort to the process of reconciliation in the society as convicting a political party would not help the people.
"That is not something that will help peace and reconciliation. What helps peace and reconciliation is focusing on individuals that made the decisions, and then separating those individuals from parties and groups," he said.
Full report at:
http://www.dhakatribune.com/bangladesh/2014/aug/06/rapp-against-trial-jamaat-e-islami#sthash.YgH1rxeP.dpuf
----------
Afghan policeman shoots dead 7 comrades in Uruzgan province
August 06, 2014
An Afghan policeman shot dead seven of his fellow unit members in central Uruzgan province of Afghanistan, local officials said.
A local security official, said the incident took place early Wednesday in a check point in Tarinkot city, leaving seven policemen dead and another policeman injured.
The official speaking on the condition of anonymity said preliminary reports suggest that the assailant policeman had initially poisoned his comrades and then opened fire on them.
He said the assailant policeman had links with the militant groups and managed to flee the area following the attack.
No group including the Taliban militants has so far claimed responsibility behind the incident.
Uruzgan is among the volatile provinces in central Afghanistan where anti-government armed militant groups are actively operating in a number of its districts and frequently carry out insurgency activities.
http://www.khaama.com/afghan-policeman-shoots-dead-7-comrades-in-uruzgan-province-8393
-------------
'US has no objection to death penalty for war crimes': Ban Law Minister
August 06, 2014
Law Minister Anisul Haq has said although there is a debate on the death penalty across the world, the US has no objection to capital punishment for war criminals if it is deserved.
The minister made the statement while talking to reporters after a meeting with the visiting US Ambassador-at-Large for War Crimes Issues Stephen J Rapp at his secretariat office yesterday.
"I told him [Rapp] that they [war criminals] had killed our people brutally in 1971. Though there is a debate on the death penalty globally, we think that no punishment other than death penalty would be sufficient for them," he said.
Quoting Rapp, the minister said: "The US has proposed finding an alternative to death penalty for war criminals, but they have no objection to it if the war crime deserves this punishment. He is not against the verdicts or decisions of courts."
Anisul added: "Remarkable change has been noticed in the US' opinion on the war crimes trial. They have softened their stance on the trial of war criminals. Now they are satisfied with the trial."
Full report at:
http://www.dhakatribune.com/bangladesh/2014/aug/06/%E2%80%98us-has-no-objection-death-penalty-war-crimes%E2%80%99#sthash.vGKg0dyR.dpuf
-------------
Maldives media initiates 'Help Gaza' telethon
August 06, 2014
Media outlets in the Maldives have initiated a telethon to raise funds for the 'Help Gaza' fund.
The telethon will start on Friday at 2:30pm and continue until midnight on Saturday.
The 'I will also help' telethon has called on state employees and private companies to donate a day's wages to the fund.
The Maldives Customs Services, Maldives Ports Limited and Faafu Atoll Hospital have pledged to donate a day's wages from all employees to the fund.
Over MVR5 million (US$ 323,624) has now been collected from private donations since the fund was established on July 17.
Raa Atoll Kinolhas Island with a population of 360 people alone has donated MVR 52,623 to the fund in four days.
Meanwhile, the Help Gaza collection fund on Alif Atoll Maalhos Island was stolen on Sunday. According to the island council, approximately MVR10,000 had been collected when the box was stolen.
http://minivannews.com/category/news-in-brief
-------------
Europe
Brit Muslims 'duped into terrorism' by warlords
August 06, 2014
Young people are being "duped" by politically ambitious warlords into travelling to the country to join terror group Isis.
That was the message to more than 50,000 revellers who descended on Lincoln last weekend for the "Muslim Glastonbury".
At least 500 British Muslims have flown to Syria.
But the warlords' bloody campaign goes against the peaceful doctrine of Islam, according to religious chiefs.
The peace call comes after 16-year-old British twins Salma and Zahra Halane fled their Manchester home last month to become jihadi brides.
Islamic Society of Britain spokesman Dilwar Hussain, who founded moderate Muslim think tank New Horizons, said Syrian warlords have exploited the girls' naivety.
He said: "I just don't see how it helps anybody. I don't see how it helps them or anybody in Syria.
Full report at:
http://www.dailystar.co.uk/news/latest-news/392713/British-Muslims-duped-into-terrorism-by-Isis
-------------
Uzbek Muslims Denounce Islamic Movement Of Uzbekistan Extremists
August 06, 2014
TASHKENT – Uzbekistan continues to fight efforts by the Islamic Movement of Uzbekistan (IMU) to spread its message of extremism in the Central Asian country.
A court in Qashqadaryo Oblast July 7 sentenced three male and three female IMU extremists to various prison terms.
"During the past three years, the terrorists underwent training in undisclosed locations, learning skills with weapons and the theory of Islamic 'jihad,'" Uzbek Public Prosecutor's Office spokesman Arif Atajanov said. "The criminals planned to join their peers in Pakistan, collected funds for them and spread their own ideas among Uzbeks."
The terrorists aimed to overthrow the government and to establish the extremist idea of a caliphate, the court found. They went to prison for breaking laws on terrorism and extremism, and for participating in anti-government plots.
Full report at:
http://centralasiaonline.com/en_GB/articles/caii/features/main/2014/08/05/feature-01
----------
UN condemns jihadists over attacks on Iraq's Yazidi minority
August 06, 2014
Dohuk (Iraq) (AFP) - The UN Security Council on Tuesday condemned attacks by jihadists in northern Iraq, warning those responsible could face trial for crimes against humanity, amid fears the besieged Yazidi minority could be wiped out.
Iraqi helicopters dropped supplies to thousands of desperate people hiding in mountains from Islamic State (IS) fighters, as officials warned that the Yazidi in the town of Sinjar, near the Syrian border, risked being massacred or starved into extinction.
A Yazidi lawmaker broke down in tears during a parliament session as she urged the government and the international community to save her community from Islamic militants who have overrun the region.
Full report at:
http://news.yahoo.com/appeals-mount-save-iraqs-yazidis-extinction-203850518.html
-------------
WUC condemns the killing of Uyghurs by Chinese police and military forces
August 06, 2014
The World Uyghur Congress (WUC) unequivocally condemns the recent spate of violence and killing of Uyghurs by Chinese police and military forces on Monday, July 28, 2014 in Elishku Township, Yarkand County. The extra-judicial killings and arrests that have taken place in the region of late are unacceptable and must be addressed immediately. The WUC calls for an immediate and impartial investigation into the incident to determine responsibility and hold the state accountable for the actions of police.
Chinese state media reported the day after the incident, on July 29, that a knife-wielding mob attacked a police station and government offices, and promptly labelled it a 'terrorist incident'. Initial figures cited the death toll at just 13 Han citizens, but Chinese state media on Sunday, August 3, put the number at an astounding 96. Of these 96, 37 were said to be 'civilians' and the remaining 59 labelled 'suspected terrorists'. The Chinese figure remains unverified with tight restrictions on reporting in the region, but there are unconfirmed reports that Chinese security forces killed hundreds, possibly thousands, of Uyghurs during the incident.
Full report at:
---------
Human Rights Watch warns expat women about the UAE
August 06, 2014
The campaigning organisation Human Rights Watch has highlighted the problems women in the United Arab Emirates can face if they become embroiled in a legal dispute with their husband.
HRW accused the authorities in the UAE – home to large numbers of British expats – of "failing to respond adequately to reports of domestic violence".
It also highlighted the use of Islamic law, which discriminates against women.
HRW said it is aware of complaints from a number of expatriate women who say their reports of domestic violence to police in the UAE were not taken seriously.
It also highlighted cases where woman have seen custody of their children given to their former partners, who have prevented them from seeing the children.
"The UAE has sharia courts but its civil and criminal courts also apply elements of sharia, codified into its criminal code and family law, in a way which discriminates against women," said a spokesman.
Full report at:
http://www.telegraph.co.uk/expat/expatnews/11012631/Human-Rights-Watch-warns-expat-women-about-the-UAE.html
-------------
Boko Haram Forced 650,000 From Homes: UN
August 06, 2014
Attacks by Boko Haram Islamists in Nigeria's crisis-hit northeast have forced nearly 650,000 people from their homes, the United Nations humanitarian office (OCHA) said Tuesday, an increase of nearly 200,000 since May.
The UN refugee agency (UNHCR) for its part reported that about 1,000 people trying to escape the fighting had fled to an uninhabited island on Lake Chad across Nigeria's northeastern border.
"The group, mainly women and children, is in urgent need of food, water, shelter and medical care," the UNHCR said.
They reached the remote island of Choua on Thursday after fleeing a Boko Haram attack in their hometown of Kolikolia, according to the refugee agency.
Chad has pledged to send two helicopters to the island to help evacuate the Nigerian refugees to a nearby area where they can be temporarily settled with host communities, the UNHCR added.
The refugee agency said it was sending staff to the area to coordinate the relief effort.
Thousands have fled over Nigeria's borders into Cameroon, Chad and Niger seeking refuge from Boko Haram's relentless violence, which has killed more than 2,000 civilians this year and left scores of villages destroyed.
Full report at:
http://www.dailytimes.com.ng/article/boko-haram-forced-650000-homes-un
-------------
British MPs say Israeli restrictions unjustifiable
6 August 2014
A British parliamentary committee declared excessive Israeli restrictions on Palestinian territories cannot be justified on the grounds they protect the Jewish state, Agence-France Presse reported.
"We challenge the assertion that restrictions which curtail economic development in the OPTs [Occupied Palestinian Territories] are based on Israel's security needs and can be justified on security grounds," the report by the International Development Committee said.
The paper expressed particular concern about the situation in Hebron, the Palestinian city in the southern West Bank.
Full report at:
http://english.alarabiya.net/en/News/middle-east/2014/08/06/British-MPs-Israeli-restrictions-not-justifiable-.html
-------------
Southeast Asia
Despite Ban, Police Have Few Options in Dealing With ISIS Sympathizers
August 06, 2014
Jakarta. Despite a growing number of Indonesians airing their support for the Islamic State of Iraq and Syria, and the militant outfit having been officially labeled a terrorist organization, the National Police say that under current laws they are limited to keeping a close eye on the activities of sympathizers.
Comr. Gen. Suhardi Alius, chief of the National Police's criminal investigation division (Bareskrim), said there are no legal charges that can be leveled against those who pledge their support (bai'at) to ISIS.
"There is a loophole in the law. Under the criminal law, we can't charge those who [merely] pledge their support. They really understand that and take advantage of it," Suhardi told the Jakarta Globe.
The three-star general confirmed that the only option for charging the followers of the group would the 2006 Law on Citizenship, which stipulates that Indonesians will lose their citizenship if they willingly take an oath of allegiance to a foreign country or a part of a particular country.
Full report at:
http://www.thejakartaglobe.com/news/despite-ban-police-options-dealing-isis-sympathizers/
-------------
Philippine peace deal in jeopardy as Muslim rebel cry foul
August 06, 2014
MANILA, Aug 6 (Reuters) - An historic peace settlement in the southern Philippines is at risk of breaking down as Muslim rebels accuse the government of going back on its word over a proposed law to create self-rule for the war-torn region.
The two sides, who signed the deal in March to end nearly five decades of conflict, are holding urgent talks this week to try to iron out the unexpected obstacles to what had been seen as one of President Benigno Aquino's landmark successes.
A breakdown would risk a return to violence and a blow to hopes for an economic revival for resource-rich Mindanao island as potential investors in sectors such as agriculture and mining wait on the sidelines for the peace deal to be implemented.
Large companies such as food processor Del Monte Pacific Limited, which has a pineapple plantation in Mindanao, had said they were considering expanding operations after the deal. But most major foreign companies have held back pending evidence of a lasting settlement.
Under the pact the main rebel group - the Moro Islamic Liberation Front (MILF) - agreed to disband its guerrilla force and rebuild communities in exchange for wider powers to control the region's economy and society. A joint government-MILF panel agreed details of the region's powers and relations with the central government this year, submitting a draft law for approval by Congress.
Full report at:
http://www.trust.org/item/20140806061912-was5g/?source=jtOtherNews1
-------------
Rafizi reveals why Pakatan is split over potential PM
August 06, 2014
For all its ambition of taking over Putrajaya, Pakatan Rakyat has still not agreed on who should be made prime minister, PKR strategy chief Rafizil Ramli told a forum last night.
He said that even a month before the 13th general election, PAS had rejected opposition leader Datuk Seri Anwar Ibrahim as the coalition's candidate.
"One month before the general election, PAS leaders Datuk Abdul Hadi Awang, Mohamad Sabu, Datuk Dr Harun Din, Datuk Tuan Ibrahim Tuan Man and Datuk Mustafa Ali all met with Anwar.
"They told him they would nominate Umno's Tengku Razaleigh Hamzah as prime minister should we win Putrajaya," he said during the forum on the Selangor crisis at the Kuala Lumpur Selangor Chinese Assembly Hall.
Full report at:
http://www.themalaysianinsider.com/malaysia/article/rafizi-reveals-why-pakatan-is-undecided-over-potential-pm#sthash.ZNXDIyZf.dpuf
---------
Mideast
Report: Nearly 10% of ISIS Fighters Are Turkish
August 06, 2014
As ISIS continues to expand its control over Iraq and Syria, the nature of the group and its membership are coming under increasing scrutiny, as is the Turkish factor, particularly important as ISIS now spans much of Turkey's southern border.
According to Germany's Die Welt, of the estimated 10,000 to 15,000 ISIS members, some 1,000 of them are known to be Turkish citizens. The group has recruited worldwide, but such a broad Turkish contingent could be significant given their proximity to southern Turkey.
ISIS, along with other rebel factions, have used Turkey as a staging area as well as a source of fighters. In addition to the Turkish citizens, some 1,200 people from EU member nations have joined ISIS as well, also traveling through Turkey.
Turkey's problem with ISIS is only going to grow, and the Erdogan government is trying to keep the media from covering it too broadly, imposing a gag order on stories about the 49 Turkish citizens captured by ISIS in early June. The situation remains unresolved, but essentially uncoverable inside Turkey.
http://news.antiwar.com/2014/08/05/report-nearly-10-of-isis-fighters-are-turkish/
-------------
Zionists caused $4-6bn damage to besieged strip
August 06, 2014
RAMALLAH: A month of fighting between Israel and Hamas in the Gaza Strip will cost the Palestinian territory at least $4-6 billion in damages, deputy economy minister Taysir Amro said Tuesday.
Amro told AFP the figure included only "direct damages" to the Gaza economy and warned it could climb further once additional impacts on the 1.8 million population are taken into account.
A more precise assessment would be carried out once calm returns permanently to the overpopulated sliver of territory.
Amro said international donors were expected to meet in Norway in September, but gave no further details.
Full report at:
http://www.arabnews.com/news/middle-east/612251
-------------
Israel 'initially accepts' 4 terms, rejects 3 others in Palestinian paper: Report
August 06, 2014
Diplomatic sources told Al-Mayadeen TV on Tuesday that Israel had "initially accepted" four demands- while rejecting three others- of the joint Palestinian paper of demands for a ceasefire in Gaza Strip.
Tel Aviv rejected the Palestinian demands of re-opening of the Gaza airport, establishment of a seaport and guaranteeing the existence of a connection between the West Bank and the war-torn enclave.
On the other hand, the Israeli delegation approved ending the offensive on Gaza, lifting the blockade, granting fishing rights up to 12 nautical miles off Gaza's coast and releasing Palestinian prisoners.
Full report at:
http://english.ahram.org.eg/NewsContent/2/8/107790/World/Region/Israel-initially-accepts--terms,-rejects--others-i.aspx
-------------
Iranian Deputy FM: Palestinian Resistance More Powerful Now
August 06, 2014
Iranian Deputy Foreign Minister Hossein Amir Abdollahian underlined that after Israel and its allies failed in their plots against Syria and Palestine, the resistance front has grown more powerful.
"With the victory of Syria and Palestine against the plots and aggressions of the Zionist regime, the resistance has been strengthened more than ever," Amir Abdollahian said in a meeting with his Syrian counterpart Feisal Mekdad on the sidelines of the emergency meeting of the Non-Aligned Movement (NAM) foreign ministers to discuss the aggravating conditions of the people in the Gaza Strip.
He also stressed that Iran's support for Palestine and Syria as two pivots of resistance is based on Islamic principles.
Full report at:
http://english.farsnews.com/newstext.aspx?nn=13930515000552
-------------
Israel to severely restrict weapons traffic to Palestinian factions: Palestinian Source
August 06, 2014
A Palestinian source told Ahram Online on Tuesday that Israel will likely impose "unprecedented security restrictions" to limit the entrance of weapons to Palestinian factions.
Based in Jerusalem, the source also said that Israel has agreed to send a delegation to attend ongoing ceasefire talks in Cairo, adding that most of the Israeli representatives are military generals.
Egypt mediated a 72-hour truce on Tuesday between Israel and Hamas-led Palestinian factions that officials hope will lead to further talks and a more lasting end to the Gaza war.
Israeli ground forces withdrew from the Gaza Strip ahead of the truce, with a military spokesman saying the main goal of destroying cross-border infiltration tunnels had been achieved, Reuters reported.
Full report at:
http://english.ahram.org.eg/NewsContent/2/8/107782/World/Region/Israel-to-severely-restrict-weapons-traffic-to-Pal.aspx
---------
Ankara and Arbil discuss jihadist threat
August 06, 2014
Turkish officials and Iraqi Kurds have discussed the escalating threat posed by the Islamic State in Syria and the Levant (ISIL) in the neighboring country, as the jihadist group has been extending control in northwestern Iraq, forcing thousands of Iraqi citizens to leave their homes.
The political and security repercussions of an attack on the Sinjar region and clashes between jihadists and the peshmarga, accompanied by Kurdish People's Protection Units (YPG) fighters from northern Syria (Rojava), were on the agenda of a phone conversation between Foreign Minister Ahmet Davutoglu and Iraqi Kurdistan Regional Government (KRG) President Masoud Barzani late Aug. 4.
Turkey is maintaining discussions with all parties to ensure the stability of Iraq, Davutoglu said.
Full report at:
http://www.hurriyetdailynews.com/ankara-and-arbil-discuss-jihadist-threat.aspx?pageID=238&nID=70023&NewsCatID=359
-------------
Gaza truce pushes into second day ahead of Cairo talks
August 06, 2014
A fragile ceasefire in Gaza pushed into a second day Aug. 6 as Israeli and Palestinian delegations prepared for crunch talks in Cairo to try to extend the 72-hour truce.
The ceasefire, which came into effect Aug. 5 and carried past midnight into Wednesday, has brought relief to millions on both sides after one month of fighting killed 1,875 Palestinians and 67 people in Israel.
Israeli and Palestinian delegations are now set for what are expected to be tough talks aimed at securing a permanent ceasefire after the three-day window closes.
Officials on both sides confirmed sending small teams to the Egyptian capital, but they bring conflicting demands and face an uphill diplomatic battle ahead.
The Palestinians insist Israel end its eight-year blockade of Gaza and open border crossings, while Israel wants Gaza fully demilitarised.
Full report at:
http://www.hurriyetdailynews.com/gaza-truce-pushes-into-second-day-ahead-of-cairo-talks.aspx?pageID=238&nID=70028&NewsCatID=352
-------------
Gazans facing violent deaths as a result of Israel brutality
August 06, 2014
JEBALIYA CAMP, Gaza Strip: The airstrike that crushed the Najam family home in this refugee camp set in motion a grim but increasingly familiar process as the Gaza war claims victim after victim.
A search through the rubble for bodies and body parts. Relatives claiming the dead from the morgue. Then a swift burial in a hastily dug grave with a cardboard name tag instead of a tombstone.
With such tragedies becoming routine, most Palestinians are responding with a measure of sobriety to the violent deaths that are now part of daily life in Gaza. Some suppress their grief behind a faith that the dead are martyrs in the fight against Israel and destined to go to heaven. Others are just too preoccupied with their own survival to mourn.
"What happened to them could happen to us," Youssef Al-Doqs, a 22-year-old neighbor of the Najams, said Monday as he watched six stone-faced men silently searching through a mound of debris that was their two-story home in the Jebaliya refugee camp. "As for me, Youssef, I am not afraid of death," he said, sucking on a cigarette.
Full report at:
http://www.arabnews.com/news/middle-east/612241
-------------
War widens gulf between Israeli Jews and Arabs
August 06, 2014
JERUSALEM: In Abu Ghosh, a village in the hills between Jerusalem and Tel Aviv, Jewish customers typically pack the Arab-run restaurants. Since war broke out in Gaza last month, they've stopped coming.
It's one example of how the conflict is straining the already fragile coexistence of Israel's 20 percent Arab minority and the majority Jewish population, spreading mistrust and violence. A bus was attacked in Jerusalem Monday by a Palestinian man, while Arab Israelis have complained of increasing harassment sometimes including physical attacks.
Abu Ghosh, 80 km from the Gaza Strip, is usually "an example of how Arabs and Israelis can live together," said Ibrahim, who works in a restaurant overlooking the village's terraced hills and a four-turret mosque. "This particular war has hit us the worst," with business down 90 percent, he said.
Full report at:
http://www.arabnews.com/news/middle-east/612246
-------------
Iran seeking successor to Maliki: Official
August 06, 2014
DUBAI — Iran is trying to work with Iraqi factions for a replacement for Iraqi Prime Minister Nouri Al-Maliki to form a new government in Baghdad but there are few suitable candidates, a senior Iranian official said on Tuesday.
Iran has become the main power broker in its neighbor to the west since US forces withdrew from Iraq in 2011, leaving the country in the hands of a Shiite-led government headed by Maliki, a key ally of Tehran.
Maliki's critics accuse him of fueling the Sunni insurgency that has overrun parts of northern Iraq, saying his anti-Sunni bias has inflamed sectarian tensions and allowed Islamic State rebels to cultivate support among Iraqi Sunnis.
"We have reached the conclusion that Maliki cannot preserve the unity of Iraq anymore, but Ayatollah (Ali) Sistani still has hopes," said the Iranian official, speaking to Reuters on condition of anonymity, referring to Iraq's top Shiite cleric.
Full report at:
http://www.saudigazette.com.sa/index.cfm?method=home.regcon&contentid=20140806213703
-------------
North America
Obama invites India to 'underwrite' global order
NARAYAN LAKSHMAN
August 06, 2014
'Young Indians have ambitions of the sort that their parents never had'
U.S. President Barack Obama said this week that India was dragged "kicking and screaming into the world marketplace," a necessary step for it to succeed in absorbing its young workforce and realising their ambitions as the country moved towards "underwriting" the global order.
Commenting on the recent emergence of the BRICS Bank of emerging world powers, Mr. Obama said in an interview with The Economist magazine some generational shifts needed to take place, of the type that happened in India where "much of the leadership in [its government] came of age when [the country] had very different attitudes towards the global economic system."
Full report at:
http://www.thehindu.com/news/international/world/obama-invites-india-to-underwrite-global-order/article6284896.ece
-------------
Jimmy Carter: Hamas is a legitimate political actor
Aug 6, 2014
Former US President Jimmy Carter, in an analysis he wrote for Foreign Policy (FP), stated that "Hamas cannot be wished away, nor will it cooperate in its own demise. Only by recognizing its legitimacy as a political actor - one that represents a substantial portion of the Palestinian people - can the West begin to provide the right incentives for Hamas to lay down its weapons."
In the article, Carter praised Hamas for making a "major concession" in April when it entered into a reconciliation agreement with the Palestinian Authority's President Mahmoud Abbas. In the reconciliation agreement, Hamas gave up all of the top government positions to technocratic Fatah appointees pending elections.
Carter also credits Hamas with adopting de facto the unity government's pledge to nonviolence, recognition of Israel and adherence to past agreements.
Without mentioning Hamas aggression and continued libel against Israel leading up to the outbreak of recent events, Carter squarely points at Israel as the only culprit in the outbreak of violence and the dissolution of a Palestinian unity government, writing, "Tragically, Israel rejected this opportunity for peace and has succeeded in preventing the new [Palestinian unity] government's deployment in Gaza."
Full report at:
http://www.jpost.com/Operation-Protective-Edge/Jimmy-Carter-Hamas-is-a-legitimate-political-actor-370205
-------------
US terror database has a million people, 47,000 on no-fly list
TNN | Aug 6, 2014
WASHINGTON: "If everything is terrorism, then nothing is terrorism." This eloquent quote by former senior FBI special agent David Gomez speaks to what is now emerging as an "out of control" surveillance program initiated by the Obama administration in its overarching effort to monitor terrorist links.
That the US government is engaged in unprecedented snooping worldwide matchless in its scale is known for some time now thanks to whistleblower Edward Snowden. But fresh disclosures from a new source, based on classified government documents leaked to the website Intercept, suggests that Washington may be running amuck, putting under surveillance hundreds of thousands of people merely on suspicion, and possibly on account of their religious or ethnic affiliation.
Full report at:
http://timesofindia.indiatimes.com/world/us/US-terror-database-has-a-million-people-47000-on-no-fly-list/articleshow/39740794.cms
-------------
US monitoring 280,000 people unconnected to terror groups
NARAYAN LAKSHMAN
August 06, 2014
Reports outlining the excesses of the U.S.' surveillance programmes this week noted that the country's terrorist tracking system, called the Terrorist Screening Database, was monitoring 280,000 people, nearly 40 per cent of all those included, despite them being categorised as "no recognised terrorist group affiliation."
This group was closely tracked by U.S. law enforcement as part of the enormous database of 680,000 people on a watch-list of "known or suspected terrorists," many suspected of ties to al Qaida, Hamas, and Hezbollah.
To a significant extent the database was built up with "clandestinely acquired foreign government information" – a revelation of concern to countries such as India, which prior reports have indicated were spied upon extensively by the U.S. National Security Agency.
In the case of the TSD the Central Intelligence Agency was said to have used a previously unknown programme code-named "Hydra," to covertly access databases maintained by foreign countries and extract data to add to the watch-lists.
Full report at:
http://www.thehindu.com/news/international/world/us-monitoring-280000-people-unconnected-to-terror-groups/article6285097.ece
-------------
U.S. to sell Tunisia 12 Black Hawks to aid militant fight
6 August 2014
The United States is planning to sell Tunisia a dozen advanced attack helicopters as Washington seeks to help the North African state stamp out a mounting threat from Islamist militants.
"We asked the United States to give us about 12 Black Hawks," Tunisian President Moncef Marzouki said during a speech on Tuesday at the Atlantic Council, a Washington think tank.
"We badly need them now," he said.
The Obama administration is planning to sell Tunisia 12 UH-60M Black Hawks for a total estimated cost of $700 million, according to a notice posted late last month by the Defense Security Cooperation Agency, a U.S government agency that manages arms sales.
The aircraft would be equipped with Hellfire missiles, machine guns and other sophisticated military technology, according to the agency. The sale requires consent of Congress.
The Black Hawk is built by Sikorsky Aircraft, a unit of United Technologies Corp.
Tunisia, where the revolutions that have transformed the Arab world in recent years began, is in many ways more stable and secure than other Arab Spring countries such as Libya and Syria.
Full report at:
http://english.alarabiya.net/en/News/middle-east/2014/08/06/U-S-to-sell-Tunisia-12-Black-Hawks-to-aid-militant-fight.html
-------------
Africa
Eighteen Sudanese reportedly killed in Libya unrest
6 August 2014
Eighteen Sudanese have been killed by a rocket strike in the Libyan capital, but Khartoum says the situation does not yet warrant an evacuation of its nationals, official media reported.
A briefing to cabinet on Tuesday said "18 Sudanese nationals were killed in one incident due to fall of a random rocket on the area of their residence on the outskirts of Tripoli", the state SUNA news agency said late Tuesday, quoting cabinet spokesman Omer Mohammed Salih.
SUNA did not say when the deaths occurred.
Since mid-July, Libya has seen clashes between rival militias in Tripoli, where fighting broke out again on Monday, and in the eastern city of Benghazi.
Violence in those cities has killed more than 220 people, wounded around 1,000, and prompted an exodus of foreign nationals from the oil-rich North African nation.
Tripoli airport has been closed since gunmen, mostly Islamists, attacked it on July 13 in a bid to wrest control from the Zintan brigade of former rebels who have held it since 2011.
The foreigners' exodus gathered pace at the weekend when Britain and Greece sent ships to evacuate nationals.
Full report at:
http://english.alarabiya.net/en/News/middle-east/2014/08/06/18-Sudanese-killed-in-Libya-unrest-official-media.html
---------
Tunisia Fears Attacks by Citizens Flocking to Jihad
By CARLOTTA GALL
August 06, 2014
TUNIS — The jihadi video out of Syria shows a line of prisoners bound and kneeling in a courtyard surrounded by dozens of civilians and armed men in a noisy hubbub. One man in fatigues paces around, jabbing his arms as he issues orders. Eventually, a burly fighter in loose, dark clothes shoots each of the half-dozen prisoners in the back of the head.
Though a black balaclava obscured the face of the man giving orders, investigators were able to identify him by the neck brace he was wearing and passed his name to the police in his home country: Tunisia.
While Western governments have been keeping a close eye on the possible radicalization of their own citizens, the greater threat by far, analysts warn, is for Arab countries like Tunisia, in transition from autocracy and struggling to deal with incipient terrorism.
For a country of only 11 million people, Tunisia has supplied a disproportionate number of fighters to the Islamist cause in Iraq and Syria. At least 12,000 foreigners have joined Islamist groups in Syria to fight against the government of President Bashar al-Assad, and as many as 3,000 of them are Tunisians, the Soufan Group, a New York-based organization that conducts security analysis, said in a report released in June.
Full report at:
http://www.nytimes.com/2014/08/06/world/africa/tunisia-in-political-transition-fears-attacks-by-citizens-radicalized-abroad.html?_r=0
-------------
African states accept move to bar pilgrims over Ebola 'with grace'
August 06, 2014
JEDDAH — The decision to suspend 7,200 Haj visas for pilgrims from Guinea, Sierra Leone and Liberia because of the Ebola virus was taken about three months ago, according to the Saudi charge d'affaires in the Guinean capital.
"This was a precautionary measure the Saudi Embassy in Conakry has taken to prevent the possible spread of the deadly virus among other pilgrims," Mohammed Al-Hamoud said.
He said the governments of the three West African countries have accepted the decision "with grace".
Hamoud said the decision would remain in place despite the measures taken by the Guinean government over the two past weeks to ensure its pilgrims were free of the infection.
"The present condition regarding the spread of the virus necessitates the cessation of Haj visa issuance for the citizens of the three African countries," he said.
The charge d'affaires said the embassy started its negotiations with the three countries on the possible suspension of the Haj visas because of the Ebola virus outbreak about four months ago.
Full report at:
http://www.saudigazette.com.sa/index.cfm?method=home.regcon&contentid=20140806213716
-------------
Kenya arrest suspect from Somalia's al-Shabab group
August 06, 2014
Kenyan police have arrested an official from Somalia's militant Islamist group al-Shabab, security sources have told the BBC.
Police believe the suspect is former journalist Hassan Hanafi, who is accused of killing journalists in Somalia, other sources said.
However, the man has denied under interrogation that he is Mr Hanafi, the sources added.
Al-Shabab has carried out a spate of attacks in Somalia and Kenya.
Last September, 67 people were killed when the group's fighters laid siege to the upmarket Westgate shopping centre in Kenya's capital, Nairobi.
Somali security sources said Mr Hanafi was arrested a few days ago in Nairobi following co-operation between the intelligence services of the neighbouring states, reports the BBC's Abdullahi Abdi from Nairobi.
Full report at:
http://www.bbc.co.uk/news/world-africa-28673852
-------------
URL: https://www.newageislam.com/islamic-world-news/new-age-islam-news-bureau/yazidis-dying-of-thirst-at-refuge;-415-killed-across-iraq/d/98448