New Age Islam News Bureau
2 Apr 2018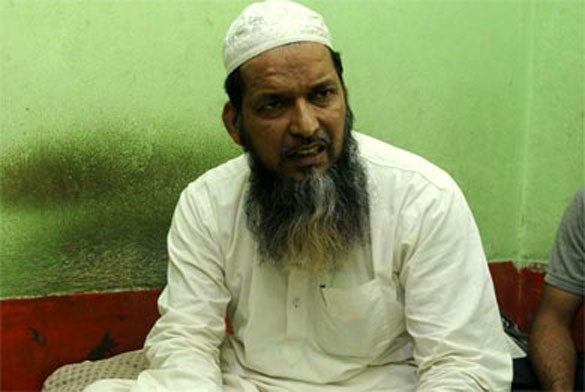 Moulana Imdadul Rashidi, Imam of Noorani Masjid, has made headlines by emerging as a messenger of peace in Asansol. His 16-year-old son, Sibtullah, died in riots. (Samir Jana/HT Photo)
------
• Won't Name Anyone as Suspect, Says Imam Whose Son Was Killed In Asansol Clashes
• Pakistan's Educated Youth Echoes Radicalised Views of Militant Groups
• US Blocks UN Security Council Statement on Israel Violence in Gaza
• EU Calls for Transparent Probe into Gaza Massacre
• 178 Muslim Personalities in Europe to Perform Umrah as King's Guests
• Malaysian Prime Minister Raises Rohingya Crisis While On ASEAN Stage with Suu Kyi
India
• Won't Name Anyone as Suspect, Says Imam Whose Son Was Killed In Asansol Clashes
• Now, Deoband Seminary Says It Will Not Conduct Weddings That Incorporate 'Un-Islamic' Dance, Music
• Ram Navami Violence in West Bengal: Near Clash Zone, Blind Muslim Couple Made To Chant 'Jai Shri Ram'
• Mortal remains of 39 Indians killed by IS in Iraq to be brought back to India today
• Militants killed in J&K mostly new recruits
--------
Pakistan
• Pakistan's Educated Youth Echoes Radicalised Views of Militant Groups
• 'Pakhtun Tahaffuz Movement has no anti-state agenda'
• Clerics Urge Jihadists to Spare Polio Vaccine Teams
• Pakistan Army Chief Visits Maldives, Underlines Need for Strengthening Ties Between 'Brotherly Muslim Nations'
• Ahmedis concerned over NADRA's data sharing: report
• Only Pakistanis can change Pakistan's destiny: Haqqani
• Hazara man killed, another injured in Quetta firing
• Christians celebrate Easter across Pakistan
--------
North America
• US Blocks UN Security Council Statement on Israel Violence In Gaza
• Resurgent Taliban Gets Hands on High-Tech Gear, Putting US in Bind
• US-based IS plotter funded by Welsh firms gets 20 years
• Jewish US senator calls Israeli Gaza killings 'tragic'
• Worried by rise of far-right groups, Canada puts millions into anti-racism effort
--------
Europe
• EU Calls for Transparent Probe into Gaza Massacre
• Germany Should Clear Cases of Mosque Attacks'
• Nazis Destroyed This Berlin Synagogue. A Muslim Politician and A Jewish Leader Want To Rebuild It
• Gunman shot dead in French supermarket 'terror attack'
--------
Arab World
• 178 Muslim Personalities in Europe to Perform Umrah as King's Guests
• Pope Urges End to 'Carnage' In Syria in Easter Message
• 'Daesh Butcher,' 9 Aides Killed in Counter-Terrorism Operation in Iraq's Anbar
• Egypt says 6 jihadists, 2 soldiers killed in Sinai op
• Jaysh al-Islam militants start evacuating from E. Ghouta – Russian military
• Syrian Army Frees Several Abductees Held by Terrorists in Eastern Ghouta
• Baby boy who lost an eye, becoming new symbol of conflict, leaves Syria
• Egypt's FM: Qatar's counterterrorism policies inconsistent with Arab consensus
• Egypt says six militants, two soldiers killed in Sinai operation
--------
Southeast Asia
• Malaysian Prime Minister Raises Rohingya Crisis While On ASEAN Stage with Suu Kyi
• Zakir Naik Ready to Challenge Extradition Bid, Says Lawyer
• Painful homecoming in Philippines' battle-torn Marawi
• BN report card highlights Islamic programmes, Palestinian aid
--------
Mideast
• Pope, After Gaza Violence, Says 'Defenceless' Being Killed In Holy Land
• Imams Lose Jobs in Turkey for Violating Anti-Crypto Fatwa
• Erdogan calls Netanyahu 'terrorist' as insults fly after Gaza deaths
• Houthi commander of female armed brigade killed in Yemeni capital
• Storm brewing in Iran over nuclear deal, terror ties and domestic unrest
• Iran's IRGC says will spare no effort to support Palestinians
• Yemeni forces, allies hit Saudi military base with ballistic missile
• Israel snubs calls for independent investigation into Gaza deaths
• Erdogan: Who told Kosovo's PM to protect terrorists?
--------
Africa
• Mali: Alleged Timbuktu Destroyer to Appear At International Criminal Court
• Nigeria: Four Teenage Suicide Bombers Launch Multiple Attacks, Kills Two People
• Al-Shabaab attack kills 4 Ugandan troops in Somalia
• Tunisians demonstrate in solidarity with Palestine
• Nigeria: Quality Child Upbringing, Key to a Better Nigeria, Says Islamic Group
--------
South Asia
• Elections Pressure To Bring Taliban to Reconciliation: Gen. Nicholson
• Thais help boat with presumed Rohingya refugees back to sea
• Scores of artillery shells land in two districts of Kunar province
• Taliban should positively respond to govt, nation's call for peace: Abdullah
Compiled by New Age Islam News Bureau
URL: https://www.newageislam.com/islamic-world-news/wont-name-anyone-suspect-says/d/114796
--------
Won't name anyone as suspect, says imam whose son was killed in Asansol clashes
Apr 02, 2018
Fearing that innocent people might be booked, the imam, who lost his 16-year-old son in the Asansol riots three days ago and stopped local Muslims from retaliating, has decided not to name any suspect before the police.
The imam of Nurani Mosque, Moulana Imdadul Rashidi, has made headlines by emerging as a messenger of peace in Asansol. The body of his son, Sibtullah, was recovered on Wednesday.
"I did not witness my son's murder. He disappeared after the riots broke out in Asansol and I filed a missing complaint with the police. Police started a case of homicide after his body was identified four days ago," the Imam told HT on Sunday.
"I have decided not to name anyone as suspect in my son's murder since I was not a witness. I cannot let any innocent person land in trouble. Let the police investigate and find out who is guilty," Rashidi said.
Speaking to HT in the mosque premises after the zohar (afternoon) namaz on Sunday, Rashidi said some of his people are misinterpreting his views as his reluctance to cooperate in the investigation. "Let them speculate. My stand is justified," he said.
After Sibtullah's body was recovered, Rashidi displayed great courage and resilience by calming down an agitated Muslim mob that was baying for blood. He even announced that he would leave Asansol for good if his followers resorted to violence. He even offered sermons after last Friday's prayer and told people to maintain peace in Asansol.
"I have lost my son. But that cannot be the reason for peace being disturbed and people of two communities killing each other. Anyone who fears Allah and loves Allah cannot call for revenge. Forgiving is a lesson of Islam," said the imam.
He had no regrets that the team of BJP MPs that visited Asansol on Sunday did not come to his neighbourhood. "If they do not want to come here it is their wish. If anyone comes to meet me I will meet him. But I will not allow anyone to gain political mileage through such meetings," he said.
Rashidi said none from Trinamool Congress, except Asansol's deputy mayor, called him after the tragic incident.
Meanwhile, inspired by Rashidi's sermon, local Muslim youths have started guarding shops and property belonging to the handful of Hindu families that reside at Shitla Dangal area where Nurani mosque is located.
"After Sibtullah's body was found some youths got furious. But we calmed them down. Not a single house, shop or the lone Shiva temple was attacked," said Mehtab Alam, a local resident and an avid follower of Rashidi.
Another local resident, Md Kalam, said Muslims are keeping a close watch on properties owned by Hindus so that no outsider can create fresh trouble. "We will stop a riot- like situation from recurring," he said.
R K Verma, a local jeweller, thanked his Muslim neighbours for protecting his shop. "I was not in town when the riots took place. I got very scared because there was valuable jewellery inside. When I called up my neighbours assured me that everything would be safe," said Verma.
https://www.hindustantimes.com/india-news/won-t-name-anyone-as-suspect-says-imam-whose-son-was-killed-in-asansol-clashes/story-OCxGUgVrgDLWZjg9v932tJ.html
--------
Pakistan's educated youth echoes radicalised views of militant groups
April 2, 2018
ISLAMABAD: When Pakistani Nobel Peace Prize laureate Malala Yousafzai returned to her home country after six years, she received a hero's welcome: she met Pakistan's prime minister and delivered a nationally televised speech, according to Voice of America.
But not everyone was happy with her return to Pakistan, the first time since a Taliban gunman shot her in the head in 2012.
Posts on Facebook, Twitter and WhatsApp seemed to reflect the Taliban's view of Yousafzai.
She was accused of being a CIA agent and of maligning Islam. Her opponents flooded social media with pictures and visuals showing students and teachers at a private school in Lahore chanting slogans, "I am not Malala" with anti-Malala placards in their hands. The protest was organised by a little-known organisation called All Punjab Private Schools Association.
RADICALISED VIEWS:
According to experts, it is worrying that the country's educated youth seem to be echoing the radicalised views of the militant groups.
The killing of student Mashal Khan at Abdul Wali Khan University Mardan in April 2017 is further evidence of such radicalisation, experts say. Khan had been accused of blasphemy over his social media posts. An investigation, however, found him to be innocent.
Muhammad Ismail Khan is a senior project manager at the Islamabad-based think tank Pak Institute for Peace Studies (PIPS). He told VOA that youth radicalisation in Pakistan appears to cross all social structures.
"Extremists have attracted young people from rural areas and urban centres, madrassas and even universities, poor and well-off backgrounds, not only men but women, too," Khan said, quoting the findings from PIPS, which were prepared with leading experts on the subject.
PIPS' recent study also found "this universal radicalisation is evident in the diverse way in which the Islamic State (IS) has been trying to recruit from Pakistan. The group has attracted former Pakistani Taliban militants from the underdeveloped Federally Administered Tribal Areas (FATA) that border Afghanistan and where internet penetration is nearly zero, as well as motivated well-off individuals, including women from urban areas like Karachi in Sindh, and Lahore, Sialkot, and Faisalabad in Punjab."
Historians note that Pakistani youth experienced a dramatic shift in their outlook in the early 1980s when the Soviet forces occupied neighbouring Afghanistan.
College and university students were encouraged to join the resistance against the Soviet occupation of a "brother Muslim country".
In the 1990s, the state's narrative promoted armed resistance against the forces in Indian Kashmir.
Experts say that a whole generation of college and university students witnessed the glorification of jihad and it's not easy to unlearn that.
'ALL SEGMENTS OF SOCIETY':
"There needs to be serious dialogue with youth," said educator Qamar Cheema of the National University of Modern Languages (NUML). The "state needs to have structural approach with strong national narrative on issues which are crucial for national harmony, deradicalisation plans for all segments of society are needed through national educational curriculum, and media debates".
Recent statistics show that Pakistanis younger than 25 make up more than 60 per cent of the country's total population.
"Challenge of youth radicalisation is there, we have to teach our youth in schools, colleges and need to consonantly tell them about the right path," Lt Gen (r) Abdul Qayyum, who is a senator and a member of the ruling Pakistan Muslim League Nawaz (PML-N), told VOA.
Realising the breadth of the problem, the military in May 2017 joined forces with the higher education commission at a seminar titled "The Role of Youth in Rejecting Extremism". They sought to devise an outline to protect youth from falling to extremist ideologies.
Pakistan's Interior Minister Ahsan Iqbal also said educational institutions would be monitored through National Counter Terrorism Authority (NACTA) to ensure that extremist elements did not misguide the youth. NACTA was formed in 2009 and tasked to formulate a counterterrorism strategy.
But a series of recent incidents point to extremist behaviours in Pakistan.
In January 2018, a private college student killed a principal under suspicion of blasphemy in the Shabqadar area of North West Pakistan.
Student Faheem Shah has attended a rally of religious political party Tehreek-e-Labaik in Islamabad in December 2017 and skipped many classes. But when Shah was confronted by principal Sareer Ahmad over his absences, the student shot Ahmad.
BLASPHEMY LAW CRITICISED:
"This killing was yet another shameful reminder of how easy it still is to manipulate the existing blasphemy laws to avenge personal grievances," Dr Mehdhi Hassan, chairman of the Human Rights Commission of Pakistan, told VOA.
Hassan added that the killing of university student Khan by a mob led to countrywide outrage and calls for the blasphemy law to be modified.
He said it seems no lessons are being learned from these incidents and that no apparent actions are being taken by authorities to prevent other incidents from happening.
"These incidents are further confirmation of the slide toward extreme intolerance in societies on the one hand and, on the other hand, the apathy and inability of the authorities to meet the challenges of extremism," Hassan said, expressing his concerns.
Yousafzai, who was shot by Taliban for her efforts to promote girls education, was greeted with some positive messages as well. Her supporters see her as a symbol of defiance against radicalisation and extremism in the country.
https://www.pakistantoday.com.pk/2018/04/01/pakistans-educated-youth-echoing-radicalised-views-of-militant-groups/
--------
US blocks UN Security Council statement on Israel violence in Gaza
Apr 1, 2018
The US has blocked a UN Security Council statement on Israel's use of deadly force against Palestinians commemorating Land Day in Gaza.
The statement was issued on Friday when at least 17 Palestinians lost their lives and more than 1,400 others sustained injuries when Israeli military forces opened fire on thousands of protesters who had flocked to a sit-in near the Gaza border.
On Saturday, the US objected to the adoption of the statement, which was proposed by Kuwait that represents Arab countries on the council, a Security Council diplomat told AFP.
The draft reaffirmed "the right to peaceful protest" and called for an "independent and transparent investigation" into the violence.
It also expressed "grave concern at the situation at the border" and shared the council's "sorrow at the loss of innocent Palestinian lives."
The statement also called "for respect for international human rights law and international humanitarian law, including protection of civilians," according to the draft seen by AFP.
Council members urged "all sides to exercise restraint and prevent a further escalation," said the draft.
On Saturday, Israeli Prime Minister Benjamin Netanyahu praised Israeli troops for killing the Palestinians and claimed their actions were aimed at guarding Israel.
Meanwhile, human rights organization Amnesty International has condemned the Tel Aviv regime's policies of land confiscation and dispossession, calling on Israeli authorities to stop them.
The Britain-based organization, in a post published on its official Twitter page on Friday, stated Israel's policies of land theft exacerbate the sufferings of the Palestinian nation, and deprive them of their basic rights.
http://www.presstv.com/Detail/2018/04/01/557058/US-Israel-Gaza-Palestinians-
--------
EU calls for transparent probe into Gaza massacre
Mar 31, 2018
The European Union has called for an independent and transparent probe into Israel's deadly use of force against protesters in the Gaza Strip.
EU's diplomatic chief Federica Mogherini on Saturday called for an investigation that could shed light on how the Palestinians were killed during demonstrations at the border between Gaza and the occupied Palestinian territories a day earlier.
"The use of live ammunition should, in particular, be part of an independent and transparent investigation," said Mogherini in reference to the use of live ammunition by Israel's military during Friday clashes at Gaza's border.
At least 17 Palestinians lost their lives and more than 1,400 others sustained injuries when Israeli military forces opened fire on thousands of protesters who had flocked to a sit-in near the border fence between the Gaza Strip and the occupied Palestinian territories.
Mogherini, who speaks on behalf of the European Union's 28 member states, expressed her sympathy for the victims of the clashes while calling on Israel to at least respect the rights of the Palestinians to freely voice their criticism of the regime's conduct toward them.
"The EU mourns the loss of life. Our thoughts are with the families of the victims," said the former Italian foreign minister, adding, "Freedom of expression and freedom of assembly are fundamental rights that must be respected."
Dubbed "The Great March of Return," Friday's rallies in Gaza coincided with the 42nd anniversary of Land Day, which commemorates the murder of six Palestinians by Israeli forces in 1976.
The Return rallies will culminate on May 15 that marks Nakba Day (Day of Catastrophe) when Israel was created.
http://www.presstv.com/Detail/2018/03/31/557034/EU-Gaza-Israel-clashes-probe
--------
178 Muslim personalities in Europe to perform Umrah as King's guests
April 2, 2018
RIYADH — The first batch of pilgrims who will perform Umrah and visit the Prophet's Mosque under this year's guest pilgrimage program of Custodian of the Two Holy Mosques King Salman will arrive in the Kingdom on Wednesday, according to Minister of Islamic Affairs Sheikh Saleh Al-Asheikh, who is the supervisor of the program.
He said 178 prominent Islamic figures will arrive from 15 European countries in response to an invitation from the King to perform Umrah at his personal expense.
Al-Asheikh said the guest pilgrims are from the United Kingdom, Spain, Germany, France, Holland, Hungary, Austria, Belgium, Norway, Switzerland, Italy, Portugal, Finland, Denmark and Greece.
"Through the invitation of this group, King Salman is expressing his keenness to take care of the interests of the Muslims around the world," he added.
The minister said, "The leadership of this blessed country is giving utmost care to Islam and Muslims and is determined to strengthen ties with the Muslim peoples and governments around the world."
Every year, the King invites about 1,000 prominent Muslim figures who serve Islam and Muslims in their countries and communities to come to the Kingdom to perform the Umrah and visit the Prophet's Mosque in Madinah.
The King also invites a similar number of people to perform Haj as guest pilgrims. In addition, about 1,000 relatives of the Palestinian martyrs perform the pilgrimage as the King's guests every year.
Al-Asheikh said the program is a welfare initiative, which reflects King Salman's vision in bringing Muslims together and deepening cooperation between the Islamic organizations.
"The program is also aimed at building constructive communication between influential Muslim personalities and to resolve the issues facing the Ummah," he said.
Al-Asheikh said it the 12th batch of pilgrims since the inception of the Umrah guest program.
http://saudigazette.com.sa/article/531703/SAUDI-ARABIA/178-Muslim-personalities-in-Europe-to-perform-Umrah-as-Kings-guests
--------
Malaysian Prime Minister raises Rohingya crisis while on ASEAN stage with Suu Kyi
March 17, 2018
Malaysian Prime Minister Najib Razak, who is in the middle of his own major corruption scandal, has subtly rebuked Myanmar by raising the Rohingya crisis standing on stage with Aung San Suu Kyi.
Mr Najib also said the displacement of the minority was also making them vulnerable to terrorist group recruiters.
Mr Najib and Ms Suu Kyi are in Sydney for the ASEAN Australia Special Summit and the Malaysian leader was delivering an address after Australia and ASEAN nations signed a counter-terrorism agreement.
Mr Najib highlighted the "suffering of the Rohingya" when Ms Suu Kyi has urged the international community not to use the term and instead refer to the "Muslim community in a Rakhine state" saying the word was too inflammatory.
"Not only are we at risk at cross-border crimes, but many other issues including terrorism and irregular movement of people are no respecters of borders," he said.
"On that note the cause of the suffering of the Rohingya people and their displacement around the region."
He said the Rohingya crisis could become a terror threat.
"The situation in the Rakhine state in Myanmar can no longer be considered to be purely domestic matter in addition the problem should not be looked through the humanitarian prism only because it has the potential of developing into a serious security threat to the region."
"Rankine where thousands of people [in despair], who see no hope in the future will be a fertile ground for radicalisation and recruitment by Daesh and Daesh affiliated groups. Malaysia therefore stands ready to assist in finding a just and durable solution."
Mr Turnbull said the memorandum of understanding, the details of which were first revealed by The Australian, was a sign of solidarity in the region in the face of terror which was highlighted in the recent Marawi siege in the Philippines.
"We'll work together to develop and implement counter-terrorism legislation consistent with international standards and best practice and we'll deliver an ASEAN Australia workshop on using electronic evidence in terrorism and transnational crime related investigations and prosecutions."
"We'll establish a series of ASEAN-Australia multilateral analyst exchange programs for financial intelligence analysts and we'll create a series of regional dialogues and forums with ASEAN and Australian law enforcement partners aimed at combating the threat of terrorist groups."
However, in Myanmar some legislators were justifying the signing of the MOU by suggesting it could be used to crackdown on terror groups in Rakhine state.
The Irrawaddy reported that Daw Htoot May of Rakhine Constituency said: "Foreign extremist organisations are funding and supporting the perpetuation of violence in Rakhine State. There is a need for Myanmar to co-operate with the international community to address this as well as the potential threat of terrorism in the future."
While according to the Myanmar Times Upper House MP U Khin Maung Latt said: "We need to sign such a contract as we are faced with terrorist attacks in Shan, Rakhine and other places."
Myanmar has used attacks claimed by groups such as the Arakan Rohingya Salvation Army for a wide crackdown on the Rohingya, which the UN has said is "ethnic cleansing".
Addressing the summit on Saturday, Mr Turnbull said with the defeat of ISIS in Syria and Iraq, the spread of terrorism to Southeast Asia and the return of foreign fighters was casting a dark cloud over the region.
"The horrific acts of a small minority of terrorists who defame and blaspheme the Islamic faith have cast a dark shadow across our world."
"They have sought to sew discord by their perverted and nihilistic interpretation of Islam to provoke hatred between Sunni and Shia Muslims and to drive a wedge between Muslims and non-Muslims."
There are allegations that Mr Najib, who is facing an election, directions hundreds of millions the government-run 1MDB fund to a personal account.
https://www.theaustralian.com.au/national-affairs/malaysian-prime-minister-raises-rohingya-crisis-while-on-asean-stage-with-suu-kyi/news-story/919b80e2d80d5563badf52d255dae545
--------
India
Now, Deoband seminary says it will not conduct weddings that incorporate 'un-Islamic' dance, music
Apr 2, 2018
NEW DELHI: The country's influential Islamic seminary, Darul Uloom Deoband, said today it won't conduct Muslim weddings where dance and music are part of the ceremonies, because such practices go against the religion, reported ANI.
If a wedding-related event with dance and music was held before the marriage - called 'Nikah' - and if the cleric in charge of solemnising the union was unaware of it, then it is a different matter said the Uttar Pradesh-based Deoband.
"We won't conduct 'Nikah' in weddings where music and dance are happening and where there is a DJ. This is against Islam, (we) will boycott such weddings. If the music and dance happened before the 'nikah' ceremony and qazi (cleric) didn't know then it's different," said Mufti Azhar Hussain, identified as a 'City Qazi', to ANI.
Several fatwas have been issued by Deoband clerics since the beginning of the year.
The same seminary in February issued a 'fatwa' - a ruling given by an Islamic authority - against buying life insurance policies or getting property insured saying these practices are un-Islamic.
"Life and death are in the hands of Allah and no insurance company can guarantee a man's longevity. On the contrary, these insurance companies invest the premium paid by the purchaser of the policy and earn interest on the same, later distributing some of it among their clients. And any income earned through interest is haram (forbidden)," said a clutch of Deoband clerics.
Recently, another fatwa issued by them stated that women wearing designer or body-hugging 'burqas' - a long, loose garment covering the entire body - is not allowed in Islam.
"Veil and burqa are supposed to protect a woman from prying eyes. So, a woman wearing designer burqa or body-hugging outfit is strictly not allowed in Islam," said Deoband.
Also recently, Deoband clerics criticised a 15-year-old Muslim girl from Meerut for reciting verses from the Hindu book, the Bhagwat Gita, at a contest.
https://timesofindia.indiatimes.com/india/now-deoband-seminary-says-it-will-not-conduct-weddings-that-incorporate-dance-music/articleshow/63574814.cms
--------
Ram Navami Violence in West Bengal: Near Clash Zone, Blind Muslim Couple Made To Chant 'Jai Shri Ram'
By Santanu Chowdhury
April 2, 2018
"My only fault was that I am a Muslim and I entered a Hindu-dominated area," Abul Bashar, 67, who is blind and begs for a living, told The Indian Express Sunday. Bashar and his wife Bedana Bibi, 61, also blind, were forced to chant "Jai Shri Ram" and "Jai Maa Tara" — and allegedly assaulted — by a group at Chitadanga area of Andal in West Bengal's West Burdwan district. A video of Bashar being forced to chant the words has gone viral. It was not immediately clear whether anyone in the group belonged to any Hindu outfit.
Bashar said this happened Tuesday. The day before, communal clashes broke out in Raniganj and Asansol, in the same district. Andal is 32 km from Asansol and 18 km from Raniganj. Bashar says he did not know of the clashes when he went out to beg.
"We go to various places in Birbhum and Burdwan. In Andal, some people came and snatched my cap. They said they will kill us because we are Muslims and had entered a Hindu-dominated area. Then they started beating me and my wife. My wife begged for my life and pleaded that we will never come to this area if they let us go. But they did not listen," Bashar said.
He added: "I told them that we are blind and we had gone there to beg and not to cause any trouble. Rather than let us go, they asked us to chant 'Jai Shri Ram' and 'Jai Maa Tara'. I told them that Bhagwan and Allah are the same and people have the right to freedom of religion. I asked them why they were forcing us to chant Jai Shri Ram. As we feared for our lives, I agreed to do what they wanted," Bashar told The Indian Express over the phone.
In the video, voices are heard asking Bashar to chant the words. He is seen holding a saffron flag with "Om" written on it as he chants. "I had no idea of the previous day's communal violence. Had I known, I would have avoided that area. I have earned my living through begging all my life but never faced such a situation before," he said.
Full report at:
http://indianexpress.com/article/india/ram-navami-violence-near-clash-zone-blind-muslim-couple-made-to-chant-jai-shri-ram-west-bengal-mamata-banerjee-5119937/
--------
Mortal remains of 39 Indians killed by IS in Iraq to be brought back to India today
Apr 02, 2018
Minister of state for external affairs VK Singh left for Iraq on Sunday afternoon to bring back the remains of the 39 Indians killed in the strife-torn country, officials said.
Singh is scheduled to return on Monday. "The minister left at around 1pm from the Hindon airbase and is expected to return with the bodies tomorrow," an official said.
He flew in a C-17 plane — the largest cargo aircraft of the Indian Air Force. The government has decided that Singh will also travel to Amritsar, Patna and Kolkata to personally hand over the mortal remains to the families of the deceased.
Forty Indians were kidnapped by Islamic State (IS) terrorists near Mosul in Iraq in June 2014. One of them managed to escape captivity by posing as a Muslim from Bangladesh.
Last month, external affairs minister Sushma Swaraj informed Parliament about the abduction of Indians and the 39 deaths.
The statement, however, led to a political row as critics questioned her decision to inform the House before breaking the news to the victims' kin.
Sidhu to receive bodies of Punjab men
The mortal remains of the 39 Indian workers, including 27 from Punjab and four from Himachal Pradesh, will arrive at the Sri Guru Ram Das Jee International Airport on Monday.
Full report at:
https://www.hindustantimes.com/india-news/remains-of-indians-killed-by-islamic-state-in-iraq-to-arrive-in-india-on-monday/story-E1ty6mZUrnAExDsvBYKYQN.html
--------
Militants killed in J&K mostly new recruits
by Mir Ehsan
April 2, 2018
A former Hurriyat activist who escaped police custody and joined militancy, and a Class XII student who joined militants three months ago, were among the 12 militants killed in encounters in Jammu & Kashmir Sunday. At least eight of the 12, and possibly three more, were locals; one is yet to be identified.
Sources said most of the youths joined militancy after the killing of Hizb-ul Mujahideen commander Burhan Wani in 2016 and trained in arms in the forests of Shopian.
Seven were killed in Dragad in Shopian: Zubair Ahmad Turray, Yawar Itoo, Aadil Thoker, Ubaid Shafi Malla, Ishfaq Ahmad Malik, Rayees Thokar and Nazim Nazir, all of Shopian. Of the four killed in Kachidora in Shopian, locals said at least three were locals — Ishfaq Ahmad Thokar, Aeitmad Ahmad and Waseem. Ishfaq was blamed by police for killing Lt Umar Fayaz and carried a reward on his head.
In Daligam of Anantnag, the militant killed was Rouf Bashir, 21, who was from Anantnag and joined militancy last year. Last month, pictures of Rouf carrying Ak47 rifle had appeared on Facebook. His aide Imran was captured.
Except Nazir, who was with Lashkar-e-Toiba, all the militants killed are believed to have been affiliated to Hizbul Mujahideen, "This is a big operation in Shopian. It will have a big impact,'' a senior police officer said.
Zubair Ahmad Turray, 29, a Hurriyat activist, had escaped from police custody last May. Days later, he joined militant ranks and released a video, in which he said he spent four years in jail with case after case slapped on him under the Public Safety Act on the charge of stone-pelting. "In these four years, PSA was slapped against me eight times. Whenever I approached the high court… and a PSA case was quashed, they would slap another PSA case against me," he alleged in the video.
Full report at:
http://indianexpress.com/article/india/militants-killed-in-jk-mostly-new-recruits-5119948/
--------
Pakistan
'Pakhtun Tahaffuz Movement has no anti-state agenda'
Ibrahim Shinwari
April 02, 2018
LANDI KOTAL: The leaders of Pakhtun Tahaffuz Movement have said that they have no anti-state agenda as all their demands are in accordance with the Constitution of the country.
Addressing a well attended public meeting at Bacha Khan Chowk here on Sunday, they took serious exception to what they called a venomous campaign against them on media, branding them traitors and agents of the enemies of the country.
"This movement is neither anti-state nor against any state institution," the PTM leaders said. They added that their struggle was meant to secure all the legal and constitutional rights for the terrorism-affected Pakhtuns.
The rally was addressed by PTI central leaders Dr Said Alam Mehsud, Eng Tor Gul, Ali Wazir, Advocate Rahim Shah Afridi, Nazeef Lala and a local trader leader Zarqeef Khan Shinwari. None of the local leaders of any political party participated in the PTM gathering.
The speakers said that PTM had no grudges against any political party, religious sect or any important individual. "All our demands and activities are in accordance with the philosophy on non-violence. We have so far not disturbed the lives and occupations of ordinary citizens during all our previous rallies," they said.
The PTM leaders said that Frontier Corps should be replaced with Khasadar and Levies forces at all the checkposts in Fata. They said that law-enforcement agencies shall refrain from disrespecting tribesmen at security checkposts and stop misbehaving with people in the name of cleanup and search operations.
They also demanded immediate release of all the innocent missing persons. They said that the people facing charges of anti-state activities should be produced before the court of law.
The relatives of a number of missing persons from different parts of Khyber Agency participated in the PTM rally. They were holding photos of their missing relatives and placards inscribed with demands for their recovery.
The PTM leaders and their supporters had earlier short stopovers at Bab-i-Khyber in Jamrud and Sultankhel where they were greeted by local tribesmen. They reached the Hospital Chowk in a vehicular procession from where they marched up to Bacha Khan Chowk at Landi Kotal Bazaar.
SENATOR: The newly elected senator of Jamaat-i-Islami, Mushtaq Ahmad Khan, has said that Frontier Crimes Regulation would be abolished if his party came into power.
Addressing a youth convention in Bara on Sunday, he said that FCR was the root cause of the backwardness of tribal areas. He said that more than six million tribal youth became drug addicts owing to lack of job opportunities and healthy activities.
"The political administration is interested in making money for itself instead of solving problems of the tribesmen or spending funds on the development of the region," said the senator.
JI Khyber chapter chief Shah Faisal said on the occasion that his party would hold local bodies' elections in Fata after coming into power along with merging the tribal region with Khyber Pakhtunkhwa.
He, however, said that local tribal jirga would also be strengthened to expedite the process of conflict resolution in collaboration with government institutions.
https://www.dawn.com/news/1399013/pakhtun-tahaffuz-movement-has-no-anti-state-agenda
--------
Clerics urge jihadists to spare polio vaccine teams
April 2 2018
Muslim leaders are trying to persuade the Taliban and Islamic State in Afghanistan to allow polio vaccination teams into areas that they control after a new outbreak of the disease.
Clerics have been brought in with the approval of the government to try to broker a deal to allow medics into regions where they have previously been threatened or attacked. Only three countries — Pakistan, Afghanistan and Nigeria — have failed to eradicate polio and six cases have been officially confirmed this year.
Islamist militants have traditionally been hostile towards vaccination campaigns, suspecting that they were a conspiracy to sterilise Muslim children or a cover for spies. Clerics involved in the mediation efforts have said that there were no religious reasons to oppose the programme.
https://www.thetimes.co.uk/article/clerics-urge-jihadists-to-spare-polio-vaccine-teams-znp7scv0s
--------
Pakistan army chief visits Maldives, underlines need for strengthening ties between 'brotherly Muslim nations'
April 1, 2018
Pakistan Army chief General Qamar Javed Bajwa on Sunday became the first foreign dignitary to visit the Maldives after the 45-day emergency was lifted last month. Bajwa paid a "courtesy call" on President Abdulla Yameen Abdul Gayoom today morning at the latter's office.
Noting that Pakistan and the Maldives are two "brotherly Muslim nations", Bajwa underlined the need for further cultivating existing ties of friendship and deepening cooperation in all fields.
President Gayoom welcomed Bajwa to the Maldives and conveyed his greetings and good wishes to Pakistan President Mamnoon Hussain and Prime Minister Shahid Khaqan Abbasi.
A press release by the President's Office read that Gayoom expressed hope and confidence that the Maldives and Pakistan will continue working together on bilateral and international issues of common concern, to further strengthen the close ties of friendship and cooperation that exist between the two countries.
Maldives Chief of Defence Force, Major General Ahmed Shiyam and the Minister of State for Foreign Relations at the President's Office, H.E. Mohamed Naseer were also present during the meeting.
Full report at:
http://indianexpress.com/article/world/pakistan-army-chief-visits-maldives-underlines-need-for-strengthening-ties-between-brotherly-muslim-nations-5119423/
--------
Ahmedis concerned over NADRA's data sharing: report
April 2, 2018
ISLAMABAD: The religious community of Ahmedis has expressed serious apprehension over the release of data of its 10,205 citizens who changed their religion from Muslim to non-Muslim during the last 16 years, reported a local English newspaper.
The National Database and Registration Authority (NADRA) recently submitted the identity details of Ahmedis including names, areas of residence and national identity card numbers of around ten thousand persons to a court of law.
The report submitted by NADRA claims that in last 16 years, around 10, 081 citizens changed their religion in their national identity cards, but after the demanded "religious modification", these persons were given new CNICs identifying them as Ahmedi.
Full report at:
https://www.pakistantoday.com.pk/2018/04/02/ahmedis-concerned-over-nadras-data-sharing-report/
--------
Only Pakistanis can change Pakistan's destiny: Haqqani
April 2, 2018
Ideological states have not fared well over the last one hundred years and for Pakistan to achieve stability, security, and prosperity, the country should reconceptualise itself as a territorial, not ideological state, argues Husain Haqqani in his new book 'Reimagining Pakistan'.
Haqqani unveiled his book at an event organised by the Center for International Security Studies at the prestigious Princeton University.
"The gap between how Pakistanis want Pakistan to be viewed and how the rest of the world views the country is widening and Pakistan's intelligentsia must seriously consider why the country is deemed dangerous or on the brink of failure by others," the former Pakistani ambassador to the United States said.
Haqqani, who is currently the Director of South and Central Asia at the Washington-based think tank Hudson Institute, said it was not enough to reject others' perceptions as unfounded and biased.
He noted that Pakistan had the world's sixth largest population and army but lagged behind in most international rankings that measured a nation's success, including education, economic productivity, and opportunities for citizens.
He predicted that unless Pakistan drastically altered its course, the country would come under a greater pressure from the rest of the world while also having to deal with internal pressures from a growing population divided by sectarianism and ethnicity, and without economic prospects for most people.
"It is true that Pakistan's direction can best be changed by Pakistanis," he told the audience, including a large number of Pakistani students and guests, at the Ivy League University while introducing his new book 'Reimagining Pakistan – Transforming a dysfunctional nuclear state'.
"But genuine debate inside Pakistan remains impossible as long as the nation is mired in a national narrative of hyper-nationalism, grievance and conspiracy theories," he warned.
Full report at:
https://www.pakistantoday.com.pk/2018/04/01/only-pakistanis-can-change-pakistans-destiny-haqqani/
--------
Hazara man killed, another injured in Quetta firing
April 2, 2018
QUETTA: Unidentified gunmen on Sunday killed one member of the Shia Hazara community and injured another, in a suspected targeted killing incident.
According to reports, a man riding a vehicle died on the spot as miscreants opened fire at the vehicle, while a second sustained bullet wounds.
The injured was rushed to nearby Civil Hospital Quetta. The deceased was identified as Nazar Hussain
Police and personnel of other law enforcement agencies reached the site as an investigation into the incident went underway.
The police also told a local media outlet that the incident could be of targeted killing, however, no group has so far claimed responsibility for the attack.
Full report at:
https://www.pakistantoday.com.pk/2018/04/01/hazara-man-killed-another-injured-in-quetta-firing/
--------
Christians celebrate Easter across Pakistan
April 2, 2018
LAHORE: The Christian community celebrated Easter on Sunday across Pakistan with special prayers of peace and prosperity for the country.
In Lahore, the community held services at different churches.
Guarded heavily, the services were conducted in various part of the country. Easter masses included special prayers, the lighting of candles and hymns.
Punjab Chief Minister Shehbaz Sharif congratulated the Christian community on Easter and wrote on his Twitter account: "Heartiest congratulations to the Christian community on Easter. Wishing you peace, love, and prosperity & we deeply acknowledge the contributions of the Christian community for Pakistan!"
The government of Pakistan, on its Twitter handle, also wished the Christians on Easter: "Government of Pakistan is pleased to wish a joyous and happy Easter to the Christian community within Pakistan and all around the world."
Full report at:
https://www.pakistantoday.com.pk/2018/04/01/christians-celebrate-easter-across-pakistan/
--------
North America
Resurgent Taliban gets hands on high-tech gear, putting US in bind
Apr 1, 2018
WASHINGTON: Once described as an ill-equipped band of insurgents, the Taliban are increasingly attacking security forces across Afghanistan using night-vision goggles and lasers that United States military officials said were either stolen from Afghan and international troops or bought on the black market.
The devices allow the Taliban to maneuver on forces under the cover of darkness as they track the whirling blades of coalition helicopters, the infrared lasers on American rifles, or even the bedtime movements of local police officers.
With this new battlefield visibility, the Taliban more than doubled nighttime attacks from 2014 to 2017, according to one US military official who described internal Pentagon data on the condition of anonymity. The number of Afghans who were wounded or killed during nighttime attacks during that period nearly tripled.
That has forced American commanders to rethink the limited access they give Afghan security forces to the night-vision devices. Commanders now worry that denying the expensive equipment to those forces puts them at a technological disadvantage, with potentially lethal consequences.
For years, American commanders have been reluctant to give night-vision equipment to rank-and-file Afghan soldiers and police officers out of concern of widespread corruption among those forces. The devices — headsets and infrared lasers — are usually given only to elite Afghan commandos and police special mission units, according to US military officials.
As some of this equipment falls into Taliban hands, the militants are joining a larger trend, said David W. Barno, a retired lieutenant general who led the war effort in Afghanistan from 2003 to 2005. Advanced equipment, such as drones and precision weapons, is being seized by other extremist groups in other global conflict zones, he said.
"It's going to be a problem," Barno said, "and it's going to change how we operate."
With the spread of the devices, infantry units on patrols have been told not to use certain marking devices that can be seen only by night-vision equipment. Helicopter crews have been made distinctly aware that their aircraft are no longer cloaked by darkness.
In one case last November, Taliban fighters wearing night-vision goggles attacked a police outpost in Farah province, in western Afghanistan. By the time the predawn assault was over, eight Afghan officers lay dead in their beds, Haji Abdul Rahman Aka, the elder of the province's Pule Regi area, said at the time. Only one Afghan officer survived.
The frequency and ferocity of the nighttime Taliban attacks are linked to attempts by Afghan forces, based in small checkpoints across the country, to hold territory that has been wrested away from the militants. Previously unreported documents, obtained by The New York Times, underline concerns about the Taliban's growing sophistication on the battlefield after 16 years of war — and American commanders' efforts to stunt it.
The documents show that the US military has begun to send older models of night-vision hardware to regular Afghan army units. Those headsets cost an estimated $3,000 each, officials said. One of the first batches of night-vision equipment for conventional units in southern Afghanistan, part of a monthslong pilot program, was sent to the embattled 215th Corps in Helmand province in the spring of 2016.
Only 161 of the 210 devices were returned, according to the military documents obtained by The Times, and the equipment was not effectively used, in part because the forces were not properly trained to use it. Afghan troops said the missing devices were reported as "battle losses," but could not support that claim with any proof or records to explain where or when they were left behind, according to the documents.
At the time, the commander of the 215th Corps was Maj. Gen. M. Moein Faqir. He was later arrested on sweeping corruption charges that included misuse of food money meant for his troops.
Last year, and with better results, night-vision equipment was sent to the 205th Corps, located around Kandahar, the military documents showed. Five devices were lost between July and December, when the program ended, according to the documents. Over the summer and fall, the Afghan National Army suffered 15 percent fewer casualties around Kandahar than it had during the same period in 2016.
The documents credited the night-vision equipment for the marked reduction, concluding that the devices are "becoming an integral part of base defense plans." The US military is now planning to equip the unit with roughly 2,500 night-vision goggles as part of what the documents described as a concept for a "permanent program."
Despite those measured successes, it remains unclear if the US military will give the devices to the rest of the Afghan army. The US military headquarters in Kabul has said it equips only special operations units in the Afghan army and police forces with night-vision technology.
Capt. Tom Gresback, a spokesman for US forces in Afghanistan, declined to comment on the plans to distribute the devices to the Afghan National Army, as outlined in the military documents. He said American commanders would provide Afghan national defense and security forces "with the resources necessary to promote security throughout Afghanistan."
But some American advisers closer to the ground fight are already trying to get the technology for their Afghan counterparts, according to a US official. He said that would require a decision made through the leadership in Kabul and the Pentagon to allow American commanders to distribute the devices to even more Afghan security forces.
With the night-vision devices, Taliban fighters have been able to approach Afghan bases nearly undetected before attacking.
Initially, such ambushes were attributed to Taliban forces known as "Red Units" located in Afghanistan's southern provinces. But over the last year, the night-vision devices have frequently turned up in the country's north and east, according to two US military officials, signaling a widespread distribution into other groups of Taliban fighters.
Those officials said the Taliban were using both tightly controlled US-made devices and gear that is widely available for purchase. In some cases, US officials said, the equipment was left on the battlefield by American or Afghan troops, including those who were killed in action. In others, Afghan soldiers are believed to have sold the devices to the extremists.
That was disputed by Gen. Dawlat Waziri, who until recently served as spokesman for the Afghan Ministry of Defense. He said all night-vision equipment provided to Afghan troops by the US military had been "accounted for."
"No case of night vision sold by our soldiers to the Taliban has been reported," General Waziri said.
Zabihullah Mujahid, a spokesman for the Taliban, said fighters obtained night-vision devices after attacking Afghan bases or capturing members of the Afghan security forces.
Rank-and-file Afghan police officers are particularly under threat by increasing numbers of deadly nighttime attacks, said one of the US military officials. Those units are spread farther into sparsely populated areas across Afghanistan than are army soldiers.
Officers with the Afghan National Police, especially in the south, have been making desperate requests for the equipment for months, the official said. The police are part of the Ministry of Interior, which is suspected of rampant corruption.
In Helmand province, Marine Corps advisers are helping a request by the 505th Zone of the Afghan National Police to receive night-vision devices, Col. C.J. Douglas, the head of the Marines' police advising component there, said in an email.
It is unclear if the Afghan police unit will get them.
https://timesofindia.indiatimes.com/world/us/resurgent-taliban-gets-hands-on-high-tech-gear-putting-us-in-bind/articleshow/63567810.cms
--------
US-based IS plotter funded by Welsh firms gets 20 years
1 April 2018
A businessman who accepted payments from Cardiff firms to fund a terrorist attack in the US has been sentenced to 20 years in prison.
Mohammed Elshinawy, 33, admitted accepting overseas payments to plan and help carry out a so-called Islamic State attack, at a court in Maryland.
FBI documents revealed Pontypridd businessman Siful Sujan financed IS plots across the Atlantic.
He died in a US-led air strike near Raqqah in December 2015.
Bangladesh-born Sujan, 31, left Wales in July 2014 for Syria, where he became a computer hacker for IS.
Following his death, a Pentagon spokesman was quoted as saying "ISIL [another name for IS] has lost a key link between networks".
Sujan allegedly used some of his south Wales companies to send military-grade surveillance equipment to Spain and to an address in Turkey close to the Syrian border, and to transfer funding to an IS supporter in the US.
FBI documents revealing the links were released following a court case in Baltimore, Maryland, in August 2017.
Elshinawy, 33, previously pleaded guilty to accepting payments from overseas to plan and help carry out a terrorist attack in the US, as well as three other terrorism-related charges.
Information published on the Maryland Attorney's website on 30 March, states that between February and December 2015, he conspired with others to provide material and resources to IS, including personnel, communication and financial services.
Full report at:
http://www.bbc.com/news/uk-wales-43613255
--------
Jewish US senator calls Israeli Gaza killings 'tragic'
Apr 2, 2018
US independent Senator and former Democratic presidential candidate Bernie Sanders has called the recent killings of Palestinians by Israeli forces "tragic."
Vermont Senator Sanders — himself a Jew — said in two Twitter posts on Saturday that Palestinian people had a right to protest without being exposed to violence.
On Friday, March 30, thousands of Palestinians in the Israeli-besieged Gaza Strip started a protest action to mark Land Day, the day in 1976 when Israeli troopers killed six Arab "citizens" of Israel who were protesting the confiscation of land by the Tel Aviv regime.
The protest action is planned to continue for six weeks, during which the participants will be staying in tents to also demand the return to their homeland of Palestinians displaced by Israeli aggression and occupation.
Israel has deployed hundreds of forces to the buffer zone with Gaza, including 100 snipers who have been given authorization to use live ammunition.
At least 17 Palestinians were killed and over 1,400 others were injured by Israeli forces inside Gaza on Friday alone. The Israeli fire was unprovoked, as the regime has militarized Gaza's border, and the Palestinians were protesting peacefully.
"The killing of Palestinian demonstrators by Israeli forces in Gaza is tragic," Senator Sanders wrote on one of his official Twitter accounts. "It is the right of all people to protest for a better future without a violent response."
In a next tweet, he called the situation in the Israeli-blockaded Gaza "a humanitarian disaster."
Sanders said the United States had to play "a more positive role" to end the Israeli siege on Gaza.
But the US has, under President Donald Trump, unilaterally declared Jerusalem al-Quds the "capital" of Israel, a highly controversial move condemned by Palestinians and most world countries alike. The city comprises territory internationally recognized as occupied, and is also home to the al-Aqsa Mosque, one of the most revered Muslim holy sites.
Full report at:
http://www.presstv.com/Detail/2018/04/02/557153/Gaza-Israel-massacre-Sanders-Jewish-senator-tragic
--------
Worried by rise of far-right groups, Canada puts millions into anti-racism effort
By Clothilde Goujard
April 1, 2018
MONTREAL — Concerned that the tide of far-right ideology could become mainstream in Canada, Prime Minister Justin Trudeau's Liberal government has for the first time earmarked millions of dollars in the national budget to counter racism.
As far-right movements have gained ground among many of Canada's allies, the Liberal government has committed to providing $23 million Canadian over two years for multicultural programs and cross-country consultations on racism.
The budget, approved in February, stated that diversity was a cornerstone of Canadian identity threatened by the rise of "ultranationalist movements and protests against immigration, visible minorities and religious minorities." The new funding will bolster the existing Multiculturalism Program.
Canada is worried that such ultranationalist movements could also harbor violent elements. In its annual public report on the terrorist threat to Canada in December, Public Safety Canada listed right-wing extremism as a "growing concern" for the first time. While much of the far-right activity was concentrated online, the report said, there were risks for physical violence.
In the past year, media have reported less than a dozen physical assaults motivated by hate. But the memory of the 2017 shooting at a Quebec City mosque that killed six and injured dozens lingers in Canada. In his trial this week, Alexandre Bissonnette pleaded guilty to six counts of first-degree murders and six counts of attempted murder.
Police-reported hate crimes have been on the rise since 2015, according to Statistics Canada. In the latest data available, in 2016, police-reported hate crimes against Muslim population increased 40 percent compared to 2014. South Asian, Arab and West Asian communities have also been also increasingly targeted.
"The majority, 61 percent of hate crimes targeting Muslim populations, were nonviolent," said Warren Silver, an analyst at Statistics Canada. "The most common offense was mischief such as vandalism and graffiti."
But events abroad, including the rallies in Charlottesville and the subsequent car attack that killed one and injured 19 others, contributed to a sense that far-right movements needed to be better understood to prevent potential future violence.
"We've known about the presence of the extreme right for decades, but suddenly, with the international and national context, we've seen a fast growth that needs to be addressed now," said Michel Juneau-Katsuya, a former intelligence officer specialized in far-right movement with Canada's spy agency, CSIS.
The country's far right ranges from small neo-Nazi groups to much bigger nationalist groups that promote anti-Islam and anti-migrant rhetoric online, in demonstrations and at conferences.
Barbara Perry, a far-right specialist at the University of Ontario Institute of Technology, said far-right groups in Canada have been growing online and offline. She estimates there are about 125 such groups active in Canada.
"We've seen quite a dramatic shift in the past year and a half or so," she said.
Rising nationalist groups have specifically targeted Muslims and migrants who, they say, threaten Quebec's and Canada's Christian and white identity. Interest in these groups has grown alongside the rise of far-right political parties in Europe such as the National Front in France and the political rhetoric coming from the United-States.
"We had some of those fears and then, they were enabled and emboldened by what came up from the U.S. during Trump's campaign and his subsequent election," Perry said.
In the year after President Trump's election, more than 20,000 asylum seekers crossed the Canada-U.S. border. Some feared for their safety in the U.S. while others, such as Haitians, began arriving in June 2017 after the Trump administration announced that their temporary protected status would end in January.
The surge in asylum seekers spurred fears of massive unregulated immigration. The Albertan chapter of the paramilitary group the Three Percenters, an offshoot of the American group, warned it would patrol the border while some groups in Quebec organized protests attended by several hundred people in Quebec City and at the border.
In Quebec, far-right groups are having an outsize effect in places where polls regularly show higher anti-Muslim and anti-migrant sentiment than in the rest of the country. According to Maxime Fiset, who works at Quebec's anti-radicalization center, one of the rising groups, La Meute (The Wolf Pack) has toned down its hateful messages to appeal to a wider audience and become a more legitimate voice.
"La Meute was at first exclusively devoted to fighting Islam," he said. "Progressively, there's been a shift in their public communications. The group is now opposing what they call radical Islam."
The group claims to have 55,000 followers. While experts argue there are more likely 5,000 active members, the growing reach of this far-right group still worries some politicians, including Prime Minister Trudeau.
He addressed them several times including at the commemorations of the first anniversary of the Quebec City mosque shooting, where he referred to them in French as "racists" and "dumdums who walk around with dog paws on a T-shirt" who contributed to inflaming tensions. La Meute was not involved in the mosque shooting.
But Trudeau's Liberal Party has warned the government to tread carefully in its efforts to address racism and nationalism. A previous motion by the party to condemn Islamophobia last year sparked a major backlash and outrage in the opposition Conservative party.
Full report at:
https://www.washingtonpost.com/news/worldviews/wp/2018/04/01/worried-by-rise-of-far-right-groups-canada-puts-millions-into-anti-racism-effort/?utm_term=.e99c2350bbd6
--------
Europe
Germany should clear cases of mosque attacks'
01 April 2018
The cases of attacks targeting mosques in Germany should be solved as soon as possible, said the head of Turkey's religious affairs authority on Saturday.
Speaking to journalists ahead of a conference in Cologne, Ali Erbas, head of the Religious Affairs Directorate, said that Germany should take necessary measures to prevent such attacks on mosques.
"The sanctity of holy places is very important for us. Not only mosques, but also churches, synagogues, and the holy places of whatever religion have inviolability," he added, calling on people to take care to protect such places.
At least 40 mosque attacks have been recorded since the beginning of this year in Germany.
The PYD/PKK terrorist group and far-left groups have claimed responsibility for more than two dozen attacks since the Jan. 20 launch of the Turkish-led Operation Olive Branch in Afrin, northwestern Syria against YPG/PKK-Daesh terrorists.
The attacks have targeted Turkish mosques, associations, and shops in various cities, including Berlin, Frankfurt, Hamburg, and Aachen.
In most of the incidents, German police have failed to arrest the perpetrators.
The PKK has been banned in Germany since 1993, but it remains active, with nearly 14,000 followers in the country.
Ankara has long criticized Berlin for not taking serious measures against the PKK, which uses the country as a platform for their fund-raising, recruitment, and propaganda activities.
Germany has a 3 million-strong Turkish community, many of whom are second- and third-generation German-born citizens whose Turkish grandparents moved to the country as "guest workers" during the 1960s.
http://www.worldbulletin.net/europe/200549/germany-should-clear-cases-of-mosque-attacks
--------
Nazis destroyed this Berlin synagogue. A Muslim politician and a Jewish leader want to rebuild it.
By Luisa Beck
April 1, 2018
BERLIN — Along a narrow canal in one of Berlin's largest Turkish and Muslim neighborhoods sits a synagogue's ghost — the site of a worship hall that was largely destroyed by the Nazis on the November night in 1938 known as Kristallnacht.
Eighty years later, a Palestinian-born German politician and the leader of Berlin's Jewish community stood together on a recent morning outside the vanished building's single remaining wing and outlined a plan to give the ghost new life.
If they can raise the funds, the two hope to completely rebuild the Fraenkelufer synagogue as a house of worship and neighborhood meeting place for people of all faiths and none. The aim, they said, is to send a message of comity and reassurance at a time when rising Islamophobia and fears of a new wave of ­anti-Semitism in Germany are deepening social mistrust.
"Everywhere, people are trying to split our society," said Raed Saleh, a 40-year-old Social Democratic leader in Berlin's state parliament.
Saleh, who came to Germany from the West Bank with his family when he was 5, sees the plan to rebuild the synagogue in Kreuzberg, home to many mosques, as a gesture of inclusion.
"I wouldn't be a good Muslim if I didn't champion Jewish life in my home city, Berlin," he said. "And a Christian wouldn't be a good Christian, either, if he didn't intervene when a woman's hijab is being torn from her head."
For Gideon Joffe, 45, chairman of the Jewish community in Berlin, reassurance is long overdue. The synagogue's old side wing is still used for services, but with the street closed off and guarded by police since unidentified assailants attacked it in 2000 and 2002. News reports of recent anti-Semitic incidents in Berlin's schools and abroad have intensified the community's unease.
"Our members are afraid to show their Jewishness," Joffe said. "They don't wear the kippah," or yarmulke. "They don't wear the Star of David. They hide it. That's why we think it's really important to revive a building like this one."
The fracturing of trust between the Jewish and Muslim communities is real, some experts say, but based in part on misperceptions.
In Berlin, allegations of a new surge of anti-Semitism flared last month when German media outlets reported an increase in anti-Semitic attacks in the city. At the same time, far-right groups and the Alternative for Germany party have used such reports to fuel anti-refugee rhetoric, blaming the attacks on Muslims, said Juliane Wetzel, of the Center for Research on Anti-Semitism at the Technical University in Berlin.
According to Wetzel, there is no quantitative evidence for either an upward trend in ­anti-Semitic attacks or Muslim culpability for them.
In Berlin, although more attacks were reported last year, Wetzel said, it was largely because people are now able to report their experiences anonymously to the Department for Research and Information on Anti-Semitism, or RIAS, which began collecting data three years ago. "People are just starting to be aware of them," she said of RIAS.
Nationally, the number of anti-Semitic attacks, which include violent offenses and hate speech propaganda, has remained fairly steady for a decade at about 1,500 a year, according to an Interior Ministry report. Ninety percent of those attacks are carried out by right-wing groups or individuals, the report says.
Some studies suggest that anti-Semitic attitudes are widespread among Muslims who subscribe to authoritarian or fundamentalist interpretations of Islam. One pilot study, by Günther Jikeli of Indiana University, found that anti-Semitism often accompanies opposition to Israel in Arab countries.
Wetzel said that does not mean Muslims would necessarily act on such sentiments when they come to Germany. "Refugees we've spoken to show interest in learning about the Holocaust because they know that in Germany, where they want to live, the topic is of great importance and that German policy is based on it," she said.
Jikeli, however, noted that German authorities categorize anti-Semitic incidents only as the work of the extremist right, the extremist left or criminal foreigners, ignoring religious affiliation.
"There is no reliable data on the percentage of Muslim perpetrators in Germany," he said.
For Saleh, the Fraenkelufer project is a way to build on signs of openness.
"We want to send a signal that Jewish life is part of German dominant culture," he said at the plan's presentation. "You can only meet hate and discrimination by opening doors and reaching out."
Joffe and Saleh, along with members of Saleh's party, came up with the idea of rebuilding the synagogue about five months ago, on the 80th anniversary of Kristallnacht, or the Night of Broken Glass — the Germany-wide pogrom of Nov. 9, 1938, when the Nazis and their supporters set fire to the building's interior, burned Torah scrolls and destroyed ritual objects. During the war, the shell of the structure housed military vehicles. In 1944, the Nazis demolished it with a bomb.
Now, Joffe and Saleh told the crowd, the old side wing is getting too small for a growing Jewish community, and the neighborhood's diverse residents need a place to meet.
After the Holocaust, when Berlin's Jewish population shrank from 160,000 in 1933 to 7,000 in 1945, new synagogues were not required. But in recent decades, immigrants from the former Soviet Union and Israel have revived the community and created a need for more space. The city — which has about 80 mosques and Muslim prayer rooms — has 11 synagogues in addition to Fraenkelufer.
The Fraenkelufer synagogue was designed in 1916 by the German Jewish architect Alexander Beer, who died in the Theresienstadt concentration camp in 1944. Beer built several synagogues in Berlin, but Fraenkelufer, which seated 2,000 people, was one of the largest — and his most important work.
"I wanted to honor Beer's original intention, so I kept many elements of his design," said Kilian Enders, the 43-year-old architect of the proposed new building.
"This model is supposed to recall the old synagogue but show a clear break with the past," he said, pointing to a depiction of his plan for a grand hall with a crisp, white classical facade contrasting sharply with the weathered side wing, which would be preserved.
"The scars and wounds of the past should be visible. You cannot, and should not, cover those up," he said.
Mario Marcus, a 67-year-old retired surgeon who has attended services in the side wing — originally home to a youth synagogue — for almost 50 years, said more and more Jews are moving into Kreuzberg.
"We don't have enough room here anymore," said Marcus, who married in the side wing and whose sons had their bar mitzvahs there.
Marcus acknowledged that he notices tensions between Muslims and Jews. "Arabs who come to Berlin have heard their entire lives that they should hate the Jews and the Israelis," he said.
Although he has never been attacked or harassed about his faith, he said, he also does not display it in public.
"The problem is that we live in a reality that has nothing to do with the propaganda that Arabs grew up with," he said. "So we have to create opportunities for them to meet us and for us to reach out to them."
The project, which will cost an estimated $31 million, is still unfunded, but Saleh and Joffe are seeking support from the city, foundations and private donors. Enders, the architect, estimates that if funding comes through, it will take at least five years to complete.
But already, Marcus and his son Jonathan Marcus say, the effort carries profound symbolic meaning.
Full report at:
https://www.washingtonpost.com/world/europe/nazis-destroyed-this-berlin-synagogue-a-muslim-politician-and-a-jewish-leader-want-to-rebuild-it/2018/04/01/a8e89b94-3114-11e8-9759-56e51591e250_story.html?utm_term=.69c5d6da1820
--------
Gunman shot dead in French supermarket 'terror attack'
April 2, 2018
FRENCH Interior Minister Gerard Collomb has confirmed three people were killed and up to 16 injured in a terror-inspired hostage situation at a supermarket in southern France.
The hostages were taken Friday morning local time, by a gunman named as Redouane Lakdim, a small time drug dealer.
It is reported 26-year-old Lakdim, a French citizen born in Morocco, hijacked a car, injuring the driver and shooting the passenger in the head, near the popular tourist location of Carcassonne.
He is then thought to have fired on four police officers who were out jogging, wounding one in the shoulder, before driving to the nearby town of Trebes where he took up to 50 people hostage in a supermarket.
Le Parisian reports Lakdim was known to authorities and carried out the deadly attack after dropping his little sister at school.
Neighbours said the young man who lived with his parents and three sisters seemed "calm" and "nice".
Two people were killed in the supermarket, local media reports. Some of the hostages had escaped while Lakdim was inside and the majority of others were later released with one military officer trading himself for a female hostage.
"He saved lives and did honour to his corps and his country," French President Emmanuel Macron said of the officer after a meeting with Prime Minister Edouard Philippe and security officials.
"Now he is fighting against death and all our thoughts are with him and his family."
Portugal's government said Friday that a Portuguese citizen was one of the three people killed.
"The death of a Portuguese citizen has been confirmed ... by French authorities to our consular services," Miguel Silva, a spokesman for the department concerned with Portuguese living abroad, told AFP.
Portuguese President Marcelo Rebelo de Sousa expressed his condolences to the family and friends of the victim in a statement published late Friday on the presidency website.
The 26-year-old attacker is said to have demanded the release of Paris attacker, Salah Abdesalam, according to BFM TV. Moroccan-Belgian national Abdeslam is the prime surviving suspect in the attacks in Paris that killed 130 people.
Trebes mayor, Eric Menassi, also told French television that the man entered the shop yelling: "Allahu Akbar, I'll kill you all".
President Macron said: "Everything leads us to believe it is a terror attack" and French prosecutors say they are treating the hostage-taking as a terror incident.
EU leaders also expressed solidarity with France, with European Commission chief Jean-Claude Juncker saying: "France has again been hit by a cowardly and bloody act, after having previously been hit hard by terrorism.
"I express in my own name and that of the entire Commission all our feelings and our full support to the French authorities and French people," he said.
The Islamic State has claimed responsibility for the act on a jihadist website, in a common pattern following lone-wolf attacks.
Secretary-general of SGP Police-FO police union Yves Lefebvre said the man first fired six shots at police on their way back from a morning run near Carcassonne.
The suspect then went to a Super U supermarket in the nearby small town of Trebes, Lefebvre said.
If the link to Islamic State is confirmed, the attack would be the first major incident since the election of centrist President Emmanuel Macron in May last year.
More than 240 people have been killed in French attacks since 2015, by people who claim allegiance to Islamic State or are inspired by the group.
The shootings come with France still on high alert after a string of jihadist attacks since 2015, starting in January that year with the assault on satirical magazine Charlie Hebdo that left 12 people dead.
France also suffered major attacks in Paris in November 2015 when IS jihadists killed 130 people at bars, restaurants, the Bataclan concert venue and the national stadium.
In July 2016, in another attack claimed by IS, a man drove a truck through revellers celebrating Bastille Day, killing 84 people.
Full report at:
http://www.news.com.au/world/europe/policeman-shot-hostages-taken-in-france-media-reports/news-story/a7c187af43530a92306548a68cc3ea27
--------
Arab World
Pope urges end to 'carnage' in Syria in Easter message
April 02, 2018
VATICAN CITY - Pope Francis on Sunday called for an end to "carnage" in Syria and "reconciliation" in the Middle East in his traditional Easter message.
"Today we implore fruits of peace upon the entire world, beginning with the beloved and long-suffering land of Syria," the pontiff said in the "Urbi et Orbi" (To the City and the World) address.
Appealing to the "consciences of all political and military leaders," Francis urged "that a swift end may be brought to the carnage" in Syria as 80,000 pilgrims listened in St Peter's Square and millions watched the speech broadcast live around the world. The head of the world's 1.2 billion Catholics asked that "provisions be made to facilitate access to the aid so urgently needed by our brothers and sisters, while also ensuring fitting conditions for the return of the displaced" to Syria.
As he spoke, a final deal was reportedly reached for fighters and civilians to leave the last opposition-held pocket of Eastern Ghouta.
That would mark a major milestone in Syrian President Bashar al-Assad's efforts to regain control of territory seized by rebel factions during the seven-year civil war which has left some 350,000 dead and displaced millions.
The 81-year-old Francis said the Holy Land was "also experiencing... the wounds of ongoing conflict that do not spare the defenceless", singling out the conflict in Yemen where some 10,000 people have died since March 2015.Francis then prayed for the "fruits of dialogue for the Korean peninsula" and that the "discussions under way may advance peace and harmony within the region".
"May those who are directly responsible act with wisdom and discernment to promote the good of the Korean people and to build relationships of trust within the international community," the Argentine pope said. February's Winter Olympics triggered a fast-moving rapprochement that will see the North's Kim Jong Un sit down with the South's President Moon Jae-in in late April, with a US summit with President Donald Trump planned for May.
Francis also spoke of "hunger, endemic conflict and terrorism" in Africa, calling for dialogue and mutual understanding in strife-torn DR Congo and South Sudan.
Earlier Sunday, the pontiff celebrated Easter mass in the flower-bedecked square, which was under tight security.
Tourists and clergy alike formed long queues to have their belongings checked and pass through metal detectors to access the mass on the holiest day in the Christian calendar, marking Jesus's resurrection.
"Rome is the centre of the Catholic faith," anti-terror prosecutor Federico Cafiero de Raho said Saturday.
"For those who believe in the radical form of holy war, Rome represents so many things put together -- there's the pope, the Vatican..."
Italian authorities are concerned that some of the estimated 120 radicalised Italians who left for Syria or Iraq to fight with jihadist groups could be returning to the country posing as migrants.
Last week saw a wave of anti-terror arrests, with Interior Minister Marco Minniti warning of a high risk of an attack.
https://nation.com.pk/02-Apr-2018/pope-urges-end-to-carnage-in-syria-in-easter-message
--------
'Daesh butcher,' 9 aides killed in counter-terrorism operation in Iraq's Anbar
Apr 1, 2018
Iraqi security forces have launched a counter-terrorism in the desert region of the western province of Anbar, and killed a high-ranking member of Daesh Takfiri militant group as government troops and allied fighters from Popular Mobilization Unions are purging the country of the last remnants of the terror outfit.
Intelligence sources, speaking on condition of anonymity, told Arabic-language al-Sumaria television network the top-brass militants, identified by the nom de guerre Abu Taha al-Tunisi, was killed along with nine companions during an offensive.
Al-Tunisi was notorious for carrying out acts of beheading and mass killings, and therefore known as "Daesh butcher."
The development came a day after Iraqi Interior Ministry spokesman, Brigadier General Saad Maan, announced in a statement that police forces had arrested nearly a dozen Daesh remnants during an operation in the eastern flank of the strategic northern city of Mosul, located some 400 kilometers (250 miles) north of the capital Baghdad.
Maan said the operation was launched in Tal Roman district, and 11 Takfiris, whom arrest warrants had previously been issued for, were detained as a result.
On December 9, 2017, Iraq's Prime Minister Haider al-Abadi declared the end of military operations against the Daesh terrorist group in the Arab country.
"Our forces are in complete control of the Iraqi-Syrian border and I therefore announce the end of the war against Daesh," Abadi told a conference in Baghdad then.
On October 5, Abadi said Iraqi armed forces had liberated Hawijah, driving Daesh Takfiris out of their last bastion in the oil-rich northern province of Kirkuk.
On July 10, Abadi formally declared victory over Daesh extremists in Mosul, which served as the terrorists' main urban stronghold in the conflict-ridden Arab country.
In the run-up to Mosul's liberation, Iraqi army soldiers and volunteer Hashd al-Sha'abi fighters had made sweeping gains against Daesh.
The Iraqi forces took control of eastern Mosul in January 2017 after 100 days of fighting, and launched the battle in the west on February 19 last year.
Full report at:
http://www.presstv.com/Detail/2018/04/01/557128/Daesh-slayer-9-aides-killed-in-counterterrorism-operation-in-Iraqs-Anbar
--------
Egypt says 6 jihadists, 2 soldiers killed in Sinai op
April 1, 2018
Six jihadists and two Egyptian soldiers were killed last week during a sweeping operation against Islamic State group militants in the Sinai Peninsula, the army said today.
The army launched the campaign on February 9 after Egyptian President Abdel Fattah al-Sisi, who this week won a second term, gave it a three-month deadline to crush IS in the Sinai.
Army spokesman Tamer Rifai in a statement said the six jihadists were killed in an exchange of fire in the north of the Sinai, as the army launched a raid against a "very dangerous terrorist cell".
An officer and a soldier were also killed last week and two other troops wounded, he said.
During the same period the army arrested more than 500 "wanted criminals" and prevented 169 people of various nationalities from infiltrating across the western border with Libya, the military said.
Since the campaign was launched, more than 100 jihadists and at least 22 soldiers have been killed, according to official figures.
Sisi won a second term with 96.9 percent of valid votes during this week's presidential election, in which he faced only one candidate, state media reported on Friday.
The National Election Authority is scheduled to announce the full official result on Monday.
In November Sisi, a former army chief, issued an ultimatum to the army to crush the jihadists after suspected IS gunmen massacred more than 300 worshippers at a Sinai mosque associated with Sufi Muslim mystics.
Security forces have sought to quell attacks by an Egyptian jihadist group that later declared allegiance to IS since the military ousted Islamist president Mohamed Morsi in 2013, following mass protests against him.
The group has killed hundreds of soldiers, policemen and civilians, mainly in its North Sinai stronghold but also elsewhere in Egypt.
Full report at:
http://www.business-standard.com/article/pti-stories/egypt-says-6-jihadists-2-soldiers-killed-in-sinai-op-118040100277_1.html
--------
Jaysh al-Islam militants start evacuating from E. Ghouta – Russian military
2 Apr, 2018
Militants from Jaysh al-Islam have agreed to leave the enclave of eastern Ghouta near Damascus, Syria. They will have to clear barricades and provide maps of minefields they had laid in the area.
The Reconciliation Center in Syria, tasked by the Russian Defense Ministry with restoring stability in the war-torn country, says "a preliminary agreement has been reached for extremists from the Jaysh al-Islam group to leave eastern Ghouta."
Jaysh al-Islam is one of the last major militant groups holding out in Douma, a major city in the eastern Ghouta area. The group has been accused of using terrorist tactics by Russia and Syria, including the use of civilians as human shields.
"Upon leaving Douma, the militants must provide maps of minefields, voluntarily de-mine buildings, clear barricades and main transport routes," a press statement by the Reconciliation Center says.
Listing the progress of the operation in eastern Ghouta, the center says that a total of 153,240 people have left the area through humanitarian corridors, including almost 30,000 from Douma, where a corridor is now open not only for civilians but for militants and their families as well. On Sunday, 112 militants and 1,034 family members left Douma for the rebel-controlled Idlib province, the Reconciliation Center reports.
Full report at:
https://www.rt.com/news/422926-jaysh-islam-deal-ghouta/
--------
Syrian Army Frees Several Abductees Held by Terrorists in Eastern Ghouta
Apr 01, 2018
The sources deployed in Arbin safe corridor said that the army units freed 8 of the abductees who were held by the terrorist groups in Eastern Ghouta, adding that the abductees have been taken a hospital in the region for a general health check-up.
The freed individuals have been named as Jamal Lattouf, Mohammed al-Mahmoud, Nader al-Siteh, Fahed al-Raffeh, Mohammad Fatahi, Ali Zain–Eddin, Yazan Mehrez and Ammar al-Rakan.
"We were confident that the army will come to free us from the hands of the Takfiri organizations," the abductees said.
Over the past few days, the army men have liberated 47 abducted individuals.
Military sources said on Saturday that the seventh batch of militants and their family members comprised of 3,614 people from the Eastern Ghouta towns of Zmelka, Harasta, 'Ein Terma and Arbin departed on a total number of 75 buses for the Northern Aleppo town of 'Afrin.
Full report at:
http://en.farsnews.com/newstext.aspx?nn=13970112000390
--------
Baby boy who lost an eye, becoming new symbol of conflict, leaves Syria
2 April 2018
A baby boy who lost an eye in a Syrian regime air raid has arrived in Turkey, after his plight was highlighted by social media, the Turkish Red Crescent said.
"Alhamdulillah (Praise be to God... baby Kerim is safe now," Kerem Kinik, head of the Turkish Red Crescent tweeted.
The child, who was just five weeks old when he was injured, will "survive on behalf of all innocent children of Syria" and "remind us that we have a conscience as humanity," he added.
Karim lost his left eye in an air raid last October, in the opposition-held area of Eastern Ghouta, which also killed his mother.
The damage to his frontal lobe and left eye will likely leave him suffering long-term effects, said the brain surgeon who treated him and who identified himself as Abu Jamil.
"The frontal lobe plays an essential role in a human being's comprehension, intelligence, and memory," said the 50-year-old doctor who added that it could be "treatable with behavioral and cognitive therapy and cosmetic surgery, but not in Ghouta".
A final deal appeared to have been reached Sunday for fighters and civilians to leave the last opposition-held area of Eastern Ghouta, paving the way for Syria's regime to retake all of the one-time rebel enclave near Damascus.
Full report at:
https://english.alarabiya.net/en/News/middle-east/2018/04/02/Baby-boy-who-lost-an-eye-becaming-new-symbol-of-conflict-leaves-Syria-.html
--------
Egypt's FM: Qatar's counterterrorism policies inconsistent with Arab consensus
1 April 2018
Egypt's Foreign Minister Sameh Shoukry said on Sunday that Qatar's counterterrorism policies are inconsistent with Arab nations' consensus.
In a press conference held with his Jordanian counterpart, Ayman Safadi, Shoukry said that they discussed the unfortunate developments in Gaza, saying "we are defending the Palestinian's to receive their full legal rights."
"The International Human Rights Council should revise its policies towards the Palestinian people," he said.
Safadi also called for the international community to protect Palestinian rights.
"We reject the violence that Palestinians are being subjected to, and we look forward to an important meeting on the matter by the Arab League in Saudi Arabia soon," he said.
The Jordanian minister added that a two-state solution is the only option to fix the Israeli-Palestinian conflict, saying that Jordan rejects the announcement of Jerusalem as Israel's capital.
He added that Jordan supports Egypt's efforts in fighting terrorism in Sinai.
Full report at:
https://english.alarabiya.net/en/News/middle-east/2018/04/01/Egypt-s-FM-Qatar-s-counterterrorism-policies-inconsistent-with-Arab-consensus.html
--------
Egypt says six militants, two soldiers killed in Sinai operation
1 April 2018
Six militants and two Egyptian soldiers were killed last week during a sweeping operation against ISIS militants in the Sinai Peninsula, the army said on Sunday.
The army launched the campaign on February 9 after Egyptian President Abdel Fattah al-Sisi, who this week won a second term, gave it a three-month deadline to crush ISIS in the Sinai.
Army spokesman Tamer Rifai in a statement said the six jihadists were killed in an exchange of fire in the north of the Sinai, as the army launched a raid against a "very dangerous terrorist cell".
An officer and a soldier were also killed last week and two other troops wounded, he said.
During the same period the army arrested more than 500 "wanted criminals" and prevented 169 people of various nationalities from infiltrating across the western border with Libya, the military said.
Since the campaign was launched, more than 100 militants and at least 22 soldiers have been killed, according to official figures.
Sisi won a second term with 96.9 percent of valid votes during this week's presidential election, in which he faced only one candidate, state media reported on Friday.
The National Election Authority is scheduled to announce the full official result on Monday.
Full report at:
https://english.alarabiya.net/en/News/middle-east/2018/04/01/Egypt-says-six-militants-two-soldiers-killed-in-Sinai-operation.html
--------
Southeast Asia
Zakir Naik ready to challenge extradition bid, says lawyer
Robin Augustin
April 1, 2018
PETALING JAYA: The Malaysian lawyer for Zakir Naik has questioned a news report that Indian authorities have submitted documents to extradite the controversial preacher, dismissing it as part of the media's "Islamophobic" campaign.
"If there is a proper charge sheet filed against Dr Zakir Naik, we would want to have a copy of it. It is only the media in India which is speaking without proof against him," Shaharudin Ali who represents Naik told FMT.
Yesterday, the Times of India reported that India's foreign affairs ministry had submitted relevant documents, completing a legal process to demand Naik's extradition from Malaysia, where he has been granted permanent residence status.
The report said a court in Kuala Lumpur could hear India's request.
Shaharudin said his client would challenge any charge sheet against him in the event Malaysia decided to deport him, adding that Naik has not been convicted in India or anywhere.
"The media is Islamophobic against him because of his popularity," he said, and referred to Naik's 17.5 million followers on Facebook.
Authorities in India have been seeking Naik's return to question him on charges of money laundering and spreading extremism.
Naik's missionary outfit Islamic Research Foundation (IRF) and his satellite television channel PeaceTV are banned in India and Bangladesh.
Last November, Deputy Prime Minister Ahmad Zahid Hamidi said Putrajaya was prepared to deport Naik if there was a request from New Delhi.
Naik fled India on July 1, 2016, amid reports that he had inspired a group of youths who carried out a terror attack in Bangladesh.
The preacher currently lives in the administrative capital Putrajaya.
http://www.freemalaysiatoday.com/category/nation/2018/04/01/zakir-naik-ready-to-challenge-extradition-bid-says-lawyer/
--------
Painful homecoming in Philippines' battle-torn Marawi
April 1, 2018
MARAWI: After fleeing for their lives nearly a year ago, some residents of the battle-scarred Philippine city of Marawi were allowed back Sunday for the first time — to dig through the rubble that was once their homes.
Swathes of the southern city were destroyed in five months of house-to-house fighting between troops and jihadists loyal to the Islamic State group that killed nearly 1,200.
The stunned and tearful residents, who once lived in what became the main battle zone, had not been allowed home until now due to fears of unexploded bombs still buried in the ruins.
Authorities finally relented as rebuilding plans are moving forward, which will likely result in many of the worst-hit areas being razed.
On Sunday some 7,000 residents returned, digging charred furniture and broken toys from the rubble left by the battles that broke out in May 2017.
"I cried in anger, pain," Samsida Mangcol, 44, told AFP of the moment she saw what was left of her bridal boutique, which now has "I love Isis" spray-painted across one its walls.
"I used to rent out clothes but now I have become a beggar, asking my relatives for things to eat and wear," the mother-of-three said as she caressed a ruined wedding gown.
Marawi on Mindanao island, the principal Islamic city in the mainly Catholic Philippines, was besieged by hundreds of local and foreign gunmen waving black Isis flags who attacked it in what authorities said was an attempt to establish a Southeast Asian base.
'We crawled in fear'
Over the course of the next month other groups of residents will be allowed to return for up to three days each, to view their old homes and salvage what they can before rebuilding starts.
Sunday's group walked forlornly through streets littered with rubble, twisted metal and the skeletons of bullet-riddled cars.
"Our house was still new when we left it. We had prepared everything for Ramadan (the Islamic fasting month)," said Maimona Ambola, a 44-year-old mother of seven.
"A bomb has destroyed it all. Our bed has turned into ashes."
The battle, which ended in October, was the biggest security crisis under firebrand President Rodrigo Duterte. The destruction was similar to that inflicted on Aleppo or Mosul, military and local officials say.
Many of the city's 200,000 residents fled their homes in a rush for safety, including more than 10,000 people from the so-called "ground zero". They have since been living in evacuation centres or with relatives in other towns.
Months after the fighting ended, residents still visited at their own risk.
The conflict zone has 53 unexploded bombs from military airstrikes weighing as much as 226 kilogrammes as well as explosives left behind by the militants, according to Colonel Romeo Brawner, deputy commander of the military task force in Marawi.
"We lack the equipment to excavate the bombs. One bomb we recovered, for example, took us five days because we had to dig 10 metres deep and 10 metres wide," Brawner told AFP, adding the military aimed to finish the effort by June.
The threat posed by those bombs as well as memories of their flight, were uppermost in the minds of Sunday's visitors.
Full report at:
http://www.freemalaysiatoday.com/category/world/2018/04/01/painful-homecoming-in-philippines-battle-torn-marawi/
--------
BN report card highlights Islamic programmes, Palestinian aid
April 1, 2018
KUALA LUMPUR, April 1 — Barisan Nasional (BN) touted its funds for religious schools and mosque staff, as well as humanitarian aid for the Palestinians as it tracked its performance since 2013 as federal government.
In a report card on BN's progress in fulfilling its manifesto for the 13th general election (GE13), the ruling coalition highlighted Malaysia's very own Shariah index based on Maqasid Shariah (goals of Shariah) that was launched on February 10, 2015.
BN said Malaysia under its administration achieved 75.42 per cent in 2015 under the Shariah index — previously described as "very good", before improving by 0.64 percentage points to 76.06 per cent in 2016.
Out of the 17 initiatives promised by BN in its GE13 manifesto, the ruling coalition said it achieved 91.7 per cent of its goal to promote Islam and religious freedom and harmony. BN claimed it completely implemented all its 16 other pledges in various areas like affordable housing, healthcare, women's participation, and public transport.
Citing the Department of Islamic Development Malaysia (Jakim), the report card said the BN federal government had, from 2013 to 2017, given out RM73.56 million in financial aid to Islamic religious schools, namely 133 registered pondok schools and 101 registered Sekolah Menengah Agama Rakyat.
A total of RM1.05 million was spent during the 2014-2017 period on programmes to "establish Islam" and to provide for the welfare of the Orang Asli community with 34,775 people involved, the report card said. In citing Jakim for this data, it also included a photograph of an event to officiate a surau or Muslim prayer place in Lipis, Pahang.
Jakim's data also showed the federal government's bid to improve the welfare of Islamic officials through the provision of wages and increments, annually covering 32,000 KAFA teachers who teach the al-Quran and "fardhu ain", or the personal obligations of a Muslim; 11,400 "imam" or mosque leaders; and 3,950 mosque officers, the report card said.
In a continuation of government policy of land allocation for places of worship, the report card said 2,175 plots of land had been allocated by state governments for such purposes.
The report card also referred to the 2010 formation of the Cabinet's Special Committee to Promote Understanding and Harmony Among Religious Adherents (JKMPKA), which facilitates dialogue between non-Muslim and Muslim leaders, as well as the Wasatiyyah Institute of Malaysia that started operating on December 3, 2012 to promote moderation.
In referring to its promise to place non-Islamic affairs under a minister in the Prime Minister's Department, the report card featured a photograph of minister Tan Sri Joseph Kurup, who holds the national unity and integration portfolio.
All these touted achievements fall under the BN government's promises to promote Islam and religious freedom and harmony.
As for its pledged initiative for a global movement of moderates, the BN government said it had successfully secured a non-permanent seat on the United Nations Security Council for a two-year period stretching from January 1, 2015 to December 31, 2016, with 187 out of 192 votes in its favour.
It also said it had allocated 16 hectares of land in the federal administrative capital Putrajaya for the construction of a permanent building for the Saudi Arabia-Malaysia collaboration King Salman Centre for International Peace (KSCIP).
The KSCIP, which began operating in Kuala Lumpur on May 30, 2017, is aimed at combating terrorist threats, curbing the spread of extremist ideologies, correcting the perception towards Islam, and also promoting universal peace.
The report card highlighted Malaysia's involvement in humanitarian aid for Palestinians, including four humanitarian projects at the cost of US$6.5 million (RM25.1 million). The federal government footed the bill for US$5.7 million for three of these; the remaining project was funded with US$800,000 from Akaun Amanah Kemanusiaan Rakyat Palestin.
According to the report card, Malaysia also contributed US$25,000 to the United Nations Relief and Works Agency for Palestinian Refugees (UNRWA), gave scholarships to two Palestinian students, and also joined the "Women's Boat to Gaza" mission to provide humanitarian aid.
Full report at:
http://www.themalaymailonline.com/malaysia/article/bn-report-card-highlights-islamic-programmes-palestinian-aid
--------
Mideast
Pope, After Gaza Violence, Says 'Defenceless' Being Killed In Holy Land
April 01, 2018
VATICAN CITY: Pope Francis, in his Easter address on Sunday, called for peace in the Holy Land two days after 15 Palestinians were killed on the Israeli-Gaza border, saying the conflict there "does not spare the defenseless".
The pope made his appeal in his "Urbi et Orbi" (to the city and the world) message from the central balcony of St. Peter's Basilica to tens of thousands of people in the flower-bedecked square below where he earlier celebrated a Mass.
He also appealed for an end to the "carnage" in Syria, calling for humanitarian aid to be allowed to enter, and for peace in South Sudan and the Democratic Republic of Congo.
Francis appeared to refer directly to the Gaza violence last Friday, calling for "reconciliation for the Holy Land, also experiencing in these days the wounds of ongoing conflict that do not spare the defenseless."
Israel's defense minister has rejected calls for an inquiry into the killings by the military during a Palestinian demonstration that turned violent at the Gaza-Israel border.
UN Secretary-General Antonio Guterres, Federica Mogherini, the European Union's foreign policy chief, and other leaders have called for an independent investigation into the bloodshed.
The Pope also begged for peace for "the entire world, beginning with the beloved and long-suffering land of Syria, whose people are worn down by an apparently endless war."
"This Easter, may the light of the risen Christ illumine the consciences of all political and military leaders, so that a swift end may be brought to the carnage in course ... " he said.
He spoke a day after the Syrian army command said it had regained most of the towns and villages in eastern Ghouta. Tens of thousands of people have now evacuated once-bustling towns in the suburbs east of the capital, which had nearly 2 million people before the start of the conflict and were major commercial and industrial hubs.
Francis called for international assistance for Venezuela, so that more people would not have to abandon their homeland because of the economic and political crisis.
He hoped the "fruits of dialogue" would advance peace and harmony on the Korean peninsula, where the two sides are set to hold their first summit in more than a decade on April 27, after North Korean leader Kim Jong Un pledged his commitment to denuclearisation.
Francis, celebrating his sixth Easter as Roman Catholic leader since his election in 2013, urged his listeners to work for an end to the "so many acts of injustice" in the world.
He prayed the power of Jesus' message "bears fruits of hope and dignity where there are deprivation and exclusion, hunger and unemployment, where there are migrants and refugees - so often rejected by today's culture of waste - and victims of the drug trade, human trafficking and contemporary forms of slavery".
https://nation.com.pk/01-Apr-2018/pope-after-gaza-violence-says-defenseless-being-killed-in-holy-land
--------
Imams Lose Jobs in Turkey for Violating Anti-Crypto Fatwa
April 2, 2018
A fatwa against the use of digital currencies by Muslim has reportedly led to two Islamic imams losing their jobs in Turkey, according to a report from Ahval News. The two men were apparently caught engaging in Bitcoin trading on the internet during an investigation by that country's Directorate of Religious Affairs, or Diyanet.
The imams were from the Zonguldak province in Turkey, and both worked at mosques in the area. The men had reportedly been swept up in a broader Diyanet investigation of digital currency use, which resulted in them becoming persons of interest.
The news is a reminder that governments and financial entities are not the only ones struggling to come to terms with the digital currency revolution. The phenomenon has raised questions for some religious officials as well, most notably in the Islamic world. In the last year alone, Muslim leaders have issued several fatwas declaring Bitcoin and other cryptocurrencies incompatible with the Islamic faith.
The Diyanet had issued its declaration against digital currency use late last year, offering several reasons why cryptocurrency is not compatible with Islam:
"Buying and selling virtual currencies is not compatible with religion at this time because of the fact that their valuation is open to speculation, they can be easily used in illegal activities like money laundering and they are not under the state's audit and surveillance."
Full report at:
https://dcebrief.com/imams-lose-jobs-in-turkey-for-violating-anti-crypto-fatwa/
--------
Erdogan calls Netanyahu 'terrorist' as insults fly after Gaza deaths
April 01, 2018
ISTANBUL: Turkish President Tayyip Erdogan called his Israeli counterpart Benjamin Netanyahu a "terrorist" on Sunday, escalating an exchange of insults that started after he criticised Israel's lethal military response to a demonstration on the Gazan border.
Israel has defended the killing of 15 Palestinians during Friday's demonstration and Netanyahu tweeted that the Israeli army "will not be lectured by those who have indiscriminately bombed civilian populations for years", referring to Turkey.
Erdogan told supporters on Sunday: "We don't have the shame of invading on us, Netanyahu. You are an invader and right now are present in those lands as an invader. At the same time, you are a terrorist."
In another speech he said: "You are a terrorist state. It is known what you have done in Gaza and what you have done in Jerusalem. You have no one that likes you in the world.
"Israel's defence minister has rejected calls for an inquiry into Friday´s events.
Hamas, the dominant Palestinian group in Gaza, said five of the dead were members of its armed wing.
Full report at:
https://nation.com.pk/01-Apr-2018/erdogan-calls-netanyahu-terrorist-as-insults-fly-after-gaza-deaths
--------
Houthi commander of female armed brigade killed in Yemeni capital
2 April 2018
A prominent Houthi commander was killed in Sanaa, the Yemeni capital under the militia's control, as a result of rising disputes between their ranks.
According to sources in Sanaa, Hussein al-Bakli, a Houthi military commander who is in charge of the "Descendants of Zainab," an all-female armed brigade tasked with raiding houses and suppressing female protests, was killed along with one of his companions on Saturday in Bayt Baws in South Sanaa.
Bakli was shot in an ambush, sources said, adding that assassins escaped the scene after confirming Bakli was dead.
Full report at:
https://english.alarabiya.net/en/News/gulf/2018/04/02/Commander-of-all-female-armed-Houthi-brigade-killed-in-Sanaa.html
--------
Storm brewing in Iran over nuclear deal, terror ties and domestic unrest
2 April 2018
Recent developments are indicating a tough road ahead for Iran in what is promising to be a tumultuous summer.
U.S. President Donald Trump sacked his top diplomat, Rex Tillerson, on March 13, citing specifically differences regarding the Iran nuclear deal.
CIA Director Mike Pompeo, nominated to lead the State Department, favors a firm approach confronting Tehran's regional policy and is a major critic of the Joint Comprehensive Plan of Action (JCPOA), as the Iran accord is formally known.
Former US ambassador to the United Nations John Bolton, a strong critic of Tehran, is now Trump's National Security Advisor.
Prior to this, French Foreign Minister Jean-Yves Le Drian visited Iran on March 5, expressing concerns over Tehran's ballistic missile program and Middle East belligerence. This portrayed the JCPOA's fragile nature and Tehran's failure to use Europe as a shield against the Trump administration.
Couple all this with escalating Iranian protests across the country, and the regime's recent intention of filtering Telegram, a popular messaging app used by over 40 million people, and you have a recipe for disaster from Tehran's perspective.
Prelude
Paving the path for Iran's miseries, the Financial Action Task Force issued its latest report in February placing a June ultimatum for Tehran to input significant changes in its banking system and end financial relations with terrorist groups through nine specific procedures.
As Iran remains blacklisted in the financial market, investors are very hesitant over launching any meaningful project with the clerical regime.
Iran's economic bankruptcy, parallel to widespread protests by people from all walks of life that continue as we speak, provide a very clear understanding about Tehran's chief crises.
Double impact
The groundworks of such circumstances are vivid in two very specific JCPOA weak points, from Iran's perspective. While Europe lifted many sanctions, similar steps imposed by the U.S. remained considering how Congress disagreed with the Obama administration's engagement with Tehran.
Obama used his executive authority to suspend nuclear sanctions, while non-nuclear sanctions imposed by the U.S., blocking America's financial system to Iran. As a result, European banks are unable to get involved in dollar transactions with Iran.
This, again, leaves the JCPOA very fragile and allows Trump to annul the entire accord while financial & non-nuclear sanctions remain intact.
Underestimation
Failing to comprehend the impact, Iran was boasting about Western companies lining up for business. This honeymoon ended quickly as Tehran came to understand its grave underestimation.
Former U.S. secretary of state John Kerry began receiving calls from his Iranian counterpart Mohammad Javad Zarif, seeking measures to set aside banking sanctions.
In March 2016, Mohammad Nahavandian, then chief of staff of Iranian President Hassan Rouhani, travelled to London warning of unaccountable results if the JCPOA fails to resolve Tehran's economic dilemmas. Maybe he was referring to the Iranian uprising where the poor flooded the streets and raised demands for regime change.
Sweeping changes
Iran's economic predicaments continue as we speak, especially with the Obama years ending and the Trump administration executing sweeping changes in U.S. policy vis-à-vis Iran. Banks and companies across the globe, especially Europe, are showing cold feet in engaging with this regime.
Speaking at London's Chatham House back in February, Iranian Deputy Foreign Minister Abbas Araghchi vividly voiced his regime's concerns, complaining how Tehran is not fully benefiting from the JCPOA and describing the atmosphere as "destructive" resulting from Washington's "confusion" regarding the nuclear pact's future.
Iran also miscalculated the JCPOA as a green light by the international community to deploy the Lebanese Hezbollah and dozens of other Revolutionary Guards (IRGC) Quds Force-linked militia to not only massacre the Syrian people, but enjoy military presence in Iraq, Yemen and Lebanon.
From 2015 onward Tehran is significantly developing its ballistic missile arsenal, providing such an inventory to the Houthis in Yemen to target Saudi Arabia. All the while, Iranian officials continue boasting about Hezbollah's missile capabilities.
In response, the U.S. Congress is continuously adopting sanctions targeting the Iranian regime's belligerence, especially blacklisting the IRGC.
Another expressively sweeping change that proved Iran's calculations completely came as Europe began distancing from Tehran. Iran's JCPOA dream story is culminating, realizing Europe will never choose business with this regime over its strategic economic relations with the U.S.
European officials went to great lengths to have Iran curb its ballistic missile program and regional meddling in the face of Trump's threat to exit the JCPOA.
This resulted in Iranian Supreme Leader Ali Khamenei and other senior officials adopting strong positions against France, expressing their discontent of Europe siding with the U.S.
"If we have maintained our missile range to 2,000 kilometers, it is not due to technological limitations… we will increase our missile reach to the extent which we feel threatened," said IRGC deputy Hossein Salami in a state TV interview on November 26.
Ultimate concern
While international isolation creates mounting quandaries for Iran, domestic unrest has forever been Tehran's ultimate concern. To add insult to injury, Iran's ongoing protests and uprising is under the navigation of the opposition People's Mojahedin Organization of Iran (PMOI/MEK). This coalition has for four decades been the main target of the Iranian regime's onslaught.
Professor Ivan Sascha Sheehan in his recent article in The Hill says:
"Tehran's violent reaction to peaceful protests demonstrates that the language of strength is the only language the regime understands. Even under current president Hassan Rouhani's so-called 'moderate' leadership, the Islamic Republic continues its illicit activities to every extent it is permitted to do so."
This is not a call to war. Quite the contrary. The world should acknowledge Iran's current wars in Syria and Yemen, conveniently gone neglected by mainstream media and appeasement supporters.
The international community can best support the Iranian people's uprising by crippling the regime's entities, such as the Central Bank and IRGC. This goes analogous to recognizing the Iranian people's organized resistance for regime change, symbolized in the PMOI/MEK.
An Iranian expression translate into "April showers bring May flowers."
Full report at:
https://english.alarabiya.net/en/features/2018/04/02/ANALYSIS-Storm-brewing-in-Iran-over-nuke-deal-terror-ties-domestic-unrest.html
--------
Iran's IRGC says will spare no effort to support Palestinians
Mar 31, 2018
Iran's Islamic Revolution Guards Corps (IRGC) has strongly condemned the latest Israeli crime in killing more than a dozen Palestinians during a mass demonstration against the Tel Aviv regime's occupation of their homeland, vowing full support for the Palestinians to help them restore their rights.
In a statement issued on Saturday, the IRGC described as "invalid and impossible" the fantasy of providing stability and security for the Israeli regime.
Undoubtedly, Muslim countries regard the collapse of the Daesh terrorist group in the region as a prelude to greater attention to the Palestinian cause while the Palestinians, in their recent move, conveyed the message to the world that they stood at the forefront of this path, it added.
"The Islamic Revolution Guards Corps, as the Iranian nation's powerful arm, will spare no effort to help the Muslim people of Palestine and will further activate its available capacities to restore Palestinians' rights," the statement pointed out.
At least 17 Palestinians lost their lives and more than 1,400 others sustained injuries when Israeli military forces opened fire on thousands of protesters who had flocked to a sit-in near the border fence between the Gaza Strip and the occupied Palestinian territories on Friday.
Palestinian President Mahmoud Abbas held the Israeli regime accountable for the deaths of the Palestinian protesters, and called on the international community to urgently intervene to "protect" the Palestinian people against Israel's "escalating daily aggression."
Dubbed "The Great March of Return," Friday's rallies in Gaza coincided with the 42nd anniversary of Land Day, which commemorates the murder of six Palestinians by Israeli forces in 1976.
The Return rallies will culminate on May 15 that marks Nakba Day (Day of Catastrophe) on which Israel was created.
The IRGC statement also said attempts by the United States and its allies to protect the "child-killing and fake" Israeli regime were doomed to failure.
It added that the new Israeli regime's crime, backed by the US and its European allies, once again revealed that Zionists were very afraid of the outbreak of a new Intifada (uprising) and the capacities of the Palestinian Islamic resistance movement, Hamas.
It emphasized that the recent Tel Aviv regime's brutal crimes against the Palestinians in the Gaza Strip showed that despite "overt, covert and constant support" of the US, all efforts by some reactionary Arab countries would fail and only boost the Palestinians' resistance and accelerate the removal of the "cancerous tumor of Israel."
The IRGC called for adopting an immediate measure to condemn the Israeli regime's crimes and taking practical steps to restore the Palestinians' rights.
Palestinians will succeed in reclaiming occupied lands: Velayati
Meanwhile, a senior advisor to Leader of the Islamic Revolution Ayatollah Seyyed Ali Khamenei on international affairs also on Saturday denounced the latest Israeli regime's crimes against the oppressed Palestinian people.
Ali Akbar Velayati expressed confidence that the "defenseless and oppressed" Palestinians would succeed in regaining their occupied homeland.
The senior Iranian official said the US and some European countries are hatching ominous plots in the Middle East with the support of their regional allies.
These plots are aimed at waging proxy wars, turning the Muslim world's fight against the Israeli regime into a war among Muslim states and encouraging some countries to normalize ties with the Tel Aviv regime in order to dominate the region, he added.
Velayati emphasized that the brutal crime against the Palestinians indicates that the US, the Israeli regime and their allies are afraid of the Palestinian resistance movement's achievements.
He said Iran has always supported and would continue to back the oppressed Palestinian people.
Iran's Foreign Minister Mohammad Javad Zarif also on Saturday denounced the murder of more than a dozen Palestinians at the hands of "Zionist tyrants."
Having stolen their land, the Israeli regime now murders the peaceful Palestinian protesters during their march against the regime's brutalities, Zarif said on his Twitter page.
The Israeli military threatened to step up its "response" if tensions continued on the Gaza fence shortly after the UN held an emergency meeting over the regime's massacre of more than a dozen Palestinians.
Israel's chief military spokesman Brig. Gen. Ronen Manelis said Saturday that the regime had thus far restricted its response to those he claimed to be trying to breach Gaza's border with the occupied territories.
Ahead of the protest, the Israeli military had deployed tanks and 100 snipers with the authority to use live rounds on the Gaza border.
Full report at:
http://www.presstv.com/Detail/2018/03/31/557016/IRGC-Palestine-Israel-statement
--------
Yemeni forces, allies hit Saudi military base with ballistic missile
Apr 1, 2018
Yemeni army forces, supported by allied fighters from Popular Committees, have fired a domestically-manufactured ballistic missile at a military base in Saudi Arabia's southwestern border region of Jizan in retaliation for the Saudi regime's military campaign against the crisis-hit country, Yemeni media report.
A military source, speaking on condition of anonymity, told Yemen's Arabic-language al-Masirah television network that the Qaher M-2 (Subduer M-2) missile struck the base in the far-off areas of the region, located 966 kilometers (600 miles) south of the Saudi capital, Riyadh, on Sunday afternoon.
There were no immediate reports of casualties or the extent of damage caused.
Separately, scores of Saudi troops and Saudi-sponsored militiamen loyal to Yemen's former president, Abd Rabbuh Mansur Hadi, were killed or injured when Yemeni troops and their allies stormed their positions in Nahouqah area of the same Saudi border region.
Also on Sunday, Yemeni sharpshooters fatally shot a Saudi trooper at Raqabah al-Halq base in the kingdom's Najran region, located 844 kilometers (524 miles) south of Riyadh.
The developments came a day after Yemeni army forces and their allies targeted seven Saudi soldiers in Jizan and Najran regions.
Six Saudi troops were fatally shot at al-Haskoul base in Jizan, while the seventh was killed in Najran's al-Shabakah base.
The Yemeni Ministry of Human Rights announced in a statement on March 25 that the Saudi-led war had left 600,000 civilians dead and injured since March 2015.
The United Nations says a record 22.2 million Yemenis are in need of food aid, including 8.4 million threatened by severe hunger.
A high-ranking UN aid official recently warned against the "catastrophic" living conditions in Yemen, stating that there was a growing risk of famine and cholera there.
"After three years of conflict, conditions in Yemen are catastrophic," John Ging, UN director of aid operations, told the UN Security Council on February 27.
He added, "People's lives have continued unraveling. Conflict has escalated since November driving an estimated 100,000 people from their homes."
Full report at:
http://www.presstv.com/Detail/2018/04/01/557120/Yemeni-forces-allies-hit-Saudi-military-base-with-ballistic-missile
--------
Israel snubs calls for independent investigation into Gaza deaths
Apr 1, 2018
Israel has rejected calls for an independent investigation after the Tel Aviv regime's acts of aggression along the border fence with the Gaza Strip claimed the lives of at least 17 Palestinians and injured more than 1,400 others.
On Sunday, Israeli Prime Minister Benjamin Netanyahu praised soldiers' actions, while Minister for Military Affairs Avigdor Lieberman said the anti-occupation mass rallies in Gaza were not a "Woodstock festival."
Lieberman said calls for an independent investigation were hypocritical, rejecting such a probe.
"Israeli soldiers did what was necessary. I think all our soldiers deserve a medal," the hawkish Israeli official told Israel's public radio network.
"There will be no commission of inquiry. There will be no such thing here. We shall not cooperate with any commission of inquiry," he stated.
Netanyahu also hit back at Turkish President Recep Tayyip Erdogan after the latter sharply criticized Israel over "inhumane attack" in Gaza and deadly clashes in the besieged Palestinian coastal sliver.
"Hey Netanyahu! You are occupier. And it is as an occupier that are you are on those lands. At the same time, you are a terrorist," Erdogan later said in a televised speech in the southern Turkish city of Adana on Sunday.
UN Secretary-General Antonio Guterres has called for an independent investigation into bloodshed during the Palestinian demonstration at the Gaza-Israel border.
His appeal was echoed by Federica Mogherini, the European Union's foreign policy chief, Amnesty International, and Israel's left-wing opposition Meretz party Tamar Zandberg.
"The use of live ammunition should, in particular, be part of an independent and transparent investigation," Mogherini said in a statement on Saturday.
She added, "While Israel has the right to protect its borders, the use of force must be proportionate at all times."
The Palestinian rally, dubbed the "Great March of Return," will last until May 15, which coincides with the 70th anniversary of Nakba Day (Day of Catastrophe) on which Israel was created.
Every year on May 15, Palestinians all over the world hold demonstrations to commemorate Nakba Day, which marks the anniversary of the forcible eviction of hundreds of thousands of Palestinians from their homeland by Israelis in 1948.
More than 760,000 Palestinians - now estimated to number nearly five million with their descendants - were driven out of their homes on May 14, 1948.
Since 1948, the Israeli regime has denied Palestinian refugees the right to return, despite UN resolutions and international law that upholds people's right to return to their homelands.
This year's Land Day demonstrations appear especially combustible as Palestinian anger is already high over US President Donald Trump's decision in December 2017 to recognize Jerusalem al-Quds as Israel's "capital."
Israel occupied the West Bank, East Jerusalem al-Quds and parts of Syria's Golan Heights during the Six-Day War in 1967. It later annexed East Jerusalem al-Quds in a move not recognized by the international community.
Full report at:
http://www.presstv.com/Detail/2018/04/01/557113/Israel-snubs-calls-for-independent-investigation-into-Gaza-deaths
--------
Erdogan: Who told Kosovo's PM to protect terrorists?
01 April 2018
Turkey's president on Saturday slammed Kosovo's premier for firing top officials after Turkey secured the deportation of six alleged members of FETO, the terrorist group behind a defeated 2016 coup.
Speaking at a ruling Justice and Development (AK) Party congress in Pendik, Istanbul, Recep Tayyip Erdogan criticized Ramush Haradinaj, Kosovo's prime minister, for firing Kosovo's interior minister and intelligence agency.
"Whose instructions made you take this step?" Erdogan asked.
Mentioning that Turkey was the second country to recognize Kosovo's independence in 2008, after the U.S., he added: "When did you start to protect those who plotted a coup in the Republic of Turkey?"
He said that these actions would be held accountable.
In cooperation with Kosovo intelligence, Turkey's National Intelligence Organization (MIT) on Thursday arrested six men said to be in charge of FETO activities in the Balkans as well as smuggling FETO terrorist members out of Turkey to go to Europe or the U.S.
Once in Turkey, the alleged Fetullah Terrorist Organization (FETO) members -- all wanted under Turkish law as fugitives -- were handed over to the judiciary.
FETO and its U.S.-based leader Fetullah Gulen orchestrated the defeated coup attempt on July 15, 2016 that martyred 250 people and left nearly 2,200 injured.
Ankara also accuses the group of a long-running campaign to overthrow the state through the infiltration of Turkish institutions, particularly the military, police, and judiciary.
During his speech, Erdogan also updated the number of terrorists "neutralized" in Syria's northwestern Afrin to 3,281.
Turkish authorities often use the word "neutralized" in their statements to imply the terrorists in question either surrendered or were killed or captured.
Full report at:
http://www.worldbulletin.net/news/200557/erdogan-who-told-kosovos-pm-to-protect-terrorists
--------
Africa
Mali: Alleged Timbuktu Destroyer to Appear At International Criminal Court
1 APRIL 2018
A Malian jihadi has been sent to The Hague to face war crimes charges related to the destruction of Timbuktu and sex slavery. He is the second man to be tried for the crime and prosecutors hope to send a message.
The International Criminal Court has detained a Malian jihadi on charges of sex slavery and destruction of Timbuktu's UNESCO World Heritage site.
Al Hassan Ag Abdoul Aziz Ag Mohamed Ag Mahmoud, 40, was allegedly the de facto chief of Islamic police in Timbuktu from 2012 to 2013. He is accused of destroying cultural monuments and enforcing policies that led to sexual enslavement of women and girls.
On Saturday, the court in The Hague alleged that Hassan "participated in the policy of forced marriages which victimized the female inhabitants of Timbuktu and led to repeated rapes and the sexual enslavement of women and girls."
His detention "sends a strong message to all those, wherever they are, who commit crimes which shock the conscience of humanity that my office remains steadfast in the pursuit of its mandate," chief prosecutor Fatou Bensouda said.
Second case
Al Hassan is the second person to be arrested for the destruction of a series of ancient mausoleums for supposed idolatry as part of an Islamist takeover of the city.
The other man, Ahmad Al Faqi Al Mahdi, was sentenced in 2017 to nine years imprisonment for his participation in the destruction. The landmark case was criticized for failing to encompass other crimes.
However, prosecutors in the new case have enough evidence to issue an arrest warrant for crimes against humanity including "torture, rape and sexual slavery; persecution of the inhabitants of Timbuktu on religious and gender grounds; and other inhumane acts."
Al Hassan was allegedly a member of the al-Qaida linked Ansar Dine group.
Center of Islamic learning
The city of Timbuktu, in Mali's north, was founded between the fifth and 12th centuries by Tuareg tribes. It has been called "the city of 333 saints" for the number of Muslim sages buried there.
The city was revered as a center of Islamic learning during its golden age in the 15th and 16th centuries.
Several jihadi insurgent groups swept across Mali's remote north in early 2012. Over three days, rebels overran northern Mali's three largest cities.
French-backed Malian troops seized Timbuktu in January 2013, but fleeing rebels burnt down the Ahmed Baba Institute, destroying ancient manuscripts.
http://allafrica.com/stories/201804020033.html
--------
Nigeria: Four teenage suicide bombers launch multiple attacks, kills two people
April 1, 2018
Nigeria: Four teenage girl suicide bombers have killed two people in multiple attacks in northeast Nigeria, residents said Saturday, in the latest assault since the government announced it was in ceasefire talks with Boko Haram.
The suspected Boko Haram attack took place late Friday in the northeast Borno state capital of Maiduguri, the epicenter of the group's Islamist insurgency.
The girls, estimated to be between the ages of 13 and 18, attacked the Zawuya settlement on the outskirts of Maiduguri, killing two people, residents told AFP.
"We lost two people, a woman and a boy, in two of the four suicide explosions," Zawuya resident Musa Haruna Isa said.
One of the bombers blew up while trying to scale a low mud wall outside a house that starting crumbling and detonated her explosive belt, killing the boy, Isa said.
"One of them exploded near an open-air mosque, injuring one person," he said, adding that another bomber "panicked from the explosions from her colleagues and squeezed the trigger in the open, killing only herself."
However, police said that just one person died in the attack.
"They (bombers) detonated the explosives killing themselves and one other person… 13 persons were injured and were taken to a hospital where they are responding to treatment," Maiduguri police said in a statement.
The attack highlighted the challenge the government faces in reaching a ceasefire agreement with the fractionalised Boko Haram.
Last week, when more than 100 schoolgirls were returned to Dapchi after being kidnapped by the jihadist group, Nigerian President Muhammadu Buhari said his government was offering amnesty to "repentant" jihadists.
But senior security officials cautioned that reaching any agreement with the group will be difficult, as it is split into competing factions with different goals.
The Islamic State-affiliated faction reportedly in talks with the government is led by Abu Mus'ab al-Barnawi and is known for attacks on military targets, while another faction led by Abubakar Shekau is notorious for suicide bombings killing civilians.
Full report at:
https://www.siasat.com/news/nigeria-four-teenage-suicide-bombers-launch-multiple-attacks-kills-two-people-1336555/
--------
Al-Shabaab attack kills 4 Ugandan troops in Somalia
02 April 2018
Four Ugandan African Union peacekeeping soldiers in Somalia were killed in a terrorist al-Shabaab attack on Sunday, officials said.
Brig. Richard Karemire, Uganda People's Defense Force (UPDF) spokesman, told Anadolu Agency that in addition, six African Union Mission in Somalia (AMISOM) troops were injured in the attack on troops based in the town of Bula Marer in Somalia's lower Shabelle region.
The AMISOM mission also killed 30 al-Shabaab terrorists who attempted to attack AMISOM Forward Operating Bases at Qoryoley, Buulo Mareer, and Golwen in Lower Shabelle, he said.
Troops also destroyed eight al-Shabaab vehicles that included two improvised explosives and seized four PK rifles, two rocket-propelled guns, two recoil-less guns, one walkie-talkie, and 18 submachine gun rifles, he added.
The attack began with a two-car bombing followed by an almost four-hour battle between peacekeepers and al-Shabaab, according to Sgt. Omar Abdi of the Somali National Army, who spoke to Anadolu Agency by phone.
Somali insurgent group al-Shabaab claimed that it had killed 59 Ugandan troops, but a Somali Security Ministry spokesman denied the claim.
Full report at:
http://www.worldbulletin.net/africa/200582/al-shabaab-attack-kills-4-ugandan-troops-in-somalia
--------
Tunisians demonstrate in solidarity with Palestine
01 April 2018
Tunisian cities on Saturday demonstrated in solidarity with Palestine as part of that country's Land Day commemorations.
Protests were held in Tunisia's capital of Tunis and Sfax, southeast of Tunis.
Hundreds of demonstrators gathered at the Avenue Habib Bourguiba in Tunis coloring the streets in the colors of the Palestinian flag.
Banners such as "The people want the independence of Palestine " and "normalizing relations with Israel, should be a crime" were carried by demonstrators.
In Sfax, the Tunisian Student Association organized the Land Day program in the city's main square.
Hundreds carried Palestinian flags and keffiyehs, a symbol of Palestinian independence.
Demonstrations that began Friday in the Gaza Strip are part of an annual Palestinian commemoration of the deaths of six Arab Israeli citizens killed by Israeli forces in 1976, during protests against government land confiscations in northern Israel.
At least 15 Gazans were martyred and hundreds injured when Israeli forces opened fire on protesters.
The rallies were the start of a six-week protest that culminates May 15, the day the Palestinians call Nakba, or Catastrophe, when Israel was founded.
Full report at:
http://www.worldbulletin.net/africa/200545/tunisians-demonstrate-in-solidarity-with-palestine
--------
Nigeria: Quality Child Upbringing, Key to a Better Nigeria, Says Islamic Group
2 APRIL 2018
By Abdulganiu Alabi
Kaduna — The Islamic Education Trust (IET) has described quality child upbringing as key to having a better Nigeria.It said poor leadership and corrupt practices are the menace ravaging the country on bad child-raising.
A top member of the organisation, Hajia Maryam Lemu, described women as mothers of the nation, the first institution and role model for their children.
Lemu, who spoke at a three-day biennial women conference organised by the Nasrul Lahi-l Fatih Society in Kaduna with the theme: "Preparing Muslimah (Muslim Women) For the Challenges of Our Time," tasked women more on personal, intellectual, financial development and skills acquisition, urging them not to allow anyone to crush their dreams of excelling in life.
"Women with good character and quality education have the capability to influence their society, and can change the mindset of their children by motivating and inspiring them.
So, our women need to develop themselves. They are the first role models, who children will grow up to want to emulate. Once a woman has educated herself, build herself, she's able to use those values to raise her children properly, and this will translate to our children having a sense of direction and meaning in life, unlike what we are facing today."
Lemu, who stated that child's upbringing is a joint effort, said: "You cannot see a society breaking down and say it's one person's problem. It is a collective responsibility.
"For me, I have a problem with our society where we get married and have children. Why are you having children? Are you ready to be a parent? Do you know what is involved in raising children with good moral values?
"We just get married and nine months later, there's a child, but are we responsible for instilling those values? Because that child didn't ask to be born, but once you give birth to that child, your responsibility is to instill good behaviour in them. So, you will be held accountable for that by God.
Full report at:
http://allafrica.com/stories/201804020022.html
--------
South Asia
Elections pressure to bring Taliban to reconciliation: Gen. Nicholson
Apr 02 2018
The commander of the NATO-led Resolute Support Mission and the US forces in Afghanistan Gen. John Nicholson welcomed the announcement of the date for the parliamentary and district councils elections.
"We commend the Independent Election Commission on their announcement on their announcement of this years elections," Gen. Nicholson said in a statement.
He said the elections represent part of three pressures that will bring the Taliban to reconciliation.
According to Gen. Nicholson, in addition to military pressure, and the diplomatic pressure being appied to external enablers, the elections apply social pressure by deepening the legitimacy of the Islamic Republic of Afghanistan and offering a way for the Taliban to join in the political process
"The entire elections are Afghan-led, and the RS mission will continue to provide effective train, advise and assist support to ANDSF to that they can provide greater security," he said.
The Independent Election Commission (IEC) Chief Gul Jan Badi Sayad confirmed October date for the Parliamentary and Districts Councils Elections.
Sayad confirmed the date for the Parliamentary and Districts Councils Elections as he was speaking during a press conference in Kabul.
He said the elections will be held on 20th October as he emphasized that the participation of all political parties and institutions will help the commission to organize transparent and fair elections.
https://www.khaama.com/elections-pressure-to-bring-taliban-to-reconciliation-gen-nicholson-04775/
--------
Thais help boat with presumed Rohingya refugees back to sea
April 2, 2018
BANGKOK (AP) — A boat with 56 people claiming to be Muslim Rohingya refugees from Myanmar was helped back to sea by Thai fishermen and navy craft after being damaged in a storm and stopping temporarily Sunday in southern Thailand.
Adisorn Chormai, a local official in Thailand's Krabi province, told The Associated Press that those aboard, who moored at an island there, said they were seeking to go to Malaysia when their boat was damaged Sunday morning.
"We found that they have been traveling for about 23 days from Rakhine to escape their situation in Myanmar," he said.
About 700,000 Rohingya have fled western Myanmar's Rakhine state to neighboring Bangladesh since a brutal counterinsurgency campaign by Myanmar's army launched after Rohingya militants staged attacks on security forces last August.
Rohingya, treated as undesirables in predominantly Buddhist Myanmar, used to flee by sea by the thousands each year. The numbers peaked in 2015, sparking a crackdown on their escape route. The boats also leave from Bangladesh, and their passengers are not always all Rohingya.
"I can't remember the last time we saw such boats. It has been a while," said Adisorn.
"Their boat is a small fishing boat with partial cover," he said. "There must have been around 20 children on board. They are tired but no one had medical issues or emergencies that needed the hospital treatment. They seem to want to keep on going."
Adisorn said Thai villagers supplied them with food and fuel before sending them on their way.
Thailand has an official policy of pushing back boat people from its shores.
Full report at:
http://www.stltoday.com/news/world/thais-help-boat-with-presumed-rohingya-refugees-back-to-sea/article_bfb17b12-b737-5876-a7ea-03e303e3468d.html
--------
Scores of artillery shells land in two districts of Kunar province
Apr 02 2018
The local officials in eastern Kunar province are saying that shelling from the other side of Durand Line as scores of artillery shells landed in two districts of the province in the past 24 hours.
Provincial police spokesman Faridullah Dehqan confirmed that more than 150 rounds of artillery shells landed in Shiltan and Dangam districts during the latest wave of the shelling.
He also confirmed that the shelling has not inflicted any casualty on the local residents but the has caused property damages.
The local officials said last week that more than 100 artillery shells have landed in various parts of Dangam district in the past 24 hours.
The provincial police spokesman Faridullah Dehqan confirmed the latest shelling but added that no one was hurt in the shelling.
According to Dehqan, a number of houses and other properties of the local residents have sustained damages in the latest shelling.
The Ministry of Defense and the central government officials have not commented in this regard so far.
This comes as the Chief Executive of the Government of National Unity Abdullah Abdullah on Saturday shared the issue of cross-border artillery shelling on eastern provinces of Afghanistan during his meeting with Pakistan's National Security Advisor Nasser Khan Janjua.
Full report at:
https://www.khaama.com/scores-of-artillery-shells-land-in-two-districts-of-kunar-province-04776/
--------
Taliban should positively respond to govt, nation's call for peace: Abdullah
Apr 01 2018
Chief Executive Abdullah Abdullah has said the Taliban group should positively respond to the calls of the government and nation for peace.
In a statement released in support of the Helmand sit-in, Abdullah said the government supports the initiative by the Helmand youths for peace process.
Abdullah further added that the government has announced a comprehensive offer regarding peace process to Taliban and it is necessary that group should respond positively to government and nation's call for peace and end the conflict.
He also added that the Afghans suffer the most in the ongoing war in Afghanistan but the foreign receive the most benefit of it.
This comes as the youths in southern Helmand province launched a sit-in in response to the growing violence in Afghanistan.
The participants of the sit-in have called on the government and the Taliban group to reach to an agreement for a ceasefire and start negotiations for peace process.
Full report at:
https://www.khaama.com/taliban-should-positively-respond-to-govt-nations-call-for-peace-abdullah-04774/
--------
URL: https://www.newageislam.com/islamic-world-news/wont-name-anyone-suspect-says/d/114796
New Age Islam, Islam Online, Islamic Website, African Muslim News, Arab World News, South Asia News, Indian Muslim News, World Muslim News, Women in Islam, Islamic Feminism, Arab Women, Women In Arab, Islamophobia in America, Muslim Women in West, Islam Women and Feminism