New Age Islam News Bureau
29 Jan 2013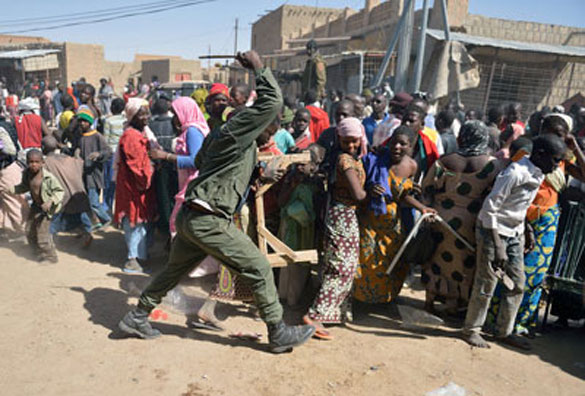 Europe
• With Timbuktu Retaken, France Signals It Plans to Pull Back in Mali
• Putin sacks leader of Dagestan region raging with Islamist insurgency
• Parish priest accused of forging church documents
• France Says Syrian Rebels Need Aid to Fend Off 'Chaos'
• Plane Crash Kills 22 in Kazakhstan
• British embassy in Tripoli aware of potential threat
• Mali crisis: UK military experts set for Mali
• British government issues travel warnings on some parts of Libya
Mideast Asia
• World 'must respect' Palestinian reconciliation, says Hamas chief
• Iran unveils new finger-amputating machine for severe punishment of thieves
• Yemen Seizes Sailboat Filled With Weapons, and U.S. Points to Iran
• Human Rights Group Criticizes Israel Army's Crowd-Control Methods
• Israel Set to Boycott U.N. Rights Review
• Iranian Journalists Are Arrested and Accused of Links with Foreign News Media
• Israeli Secularists Appear to Find Their Voice
• Israel Angered Over Argentina-Iran Bombing Probe
• Iran denies reports of explosion at Fordo nuclear site
Southeast Asia
• No-Show for 'Bible Burning Fest' in Malaysia
• Nearly nine in 10 Indonesian students have suffered abuse in schools
• Greater Equality Key to Democracy's Future, Indonesian Forum Told
• Jobless man jailed four years for robbing maid
Arab World
• Bodies of 68 executed young men, boys found in Syria
• Egyptian rioters defy state of emergency in fifth day of violent protests
• Chaos and Lawlessness Grow After Days of Unrest in Egypt
• UN says cannot help war-hit Syrians without more money
• Al-Qaeda-linked group claims deadly Syrian blast
• Syrian refugees top 700,000 as exodus swells: UN
• IHC orders defence ministry to produce Syrian student
• Egypt Army Chief Warns State Could Collapse
• New Iraq abuse cases by British forces go to High Court
• Jordan's last PM appointed by king resigns
India
• India reacts angrily, tells Pak's Rehman Malik to save its own Muslims
• See our country as 'work in progress', Pak civil society delegates urge India
• Syrian crisis: India to pledge Rs 14 crore for humanitarian needs
• Indian High Commissioner to Pakistan: 'Dialogue process has not been derailed'
• Indian stuck for 30 years in Oman, dies before getting exit-pass
• India seeks Nigeria's help for release of 17 sailors
• 2006 Malegaon blasts: Cycle store attendants identify bomb planters Rajender and Manohar
• 'Appalled by Dhule riots, errant cops should be punished'
• From a tent in Mumbai's Azad Maidan, Adeeb, a cricket star rises
South Asia
• School Support in Afghanistan Grows Even Under Spectre of a Taliban Return
• Chinese University Expands Into Malaysia
• Sri Lanka raises minimum age of maids for KSA employment
• Rohingyas flee into an unwelcoming Bangladesh
• Karzai: Afghan government should lead peace talks
• Afghanistan's security prospects after NATO withdrawal
• Bangladesh Jamaat-e-Islami Nayeb-e-Ameer verdict on the war crimes case any day
• Govt to probe 'intelligence failure' in Jamaat-Shibir mayhem: Inu
• Commonwealth-backed report a "whitewash": former Maldives president
• Queues return to Indian High Commission as Maldivians seek Indian visas
Africa
• French-led troops seize the 'City of 333 Saints'
• Libya Denies Plans of Quick Trial and Execution for Qaddafi Spy Chief
• French, Malian forces patrol Timbuktu after hero's welcome
• In liberated Timbuktu, new rains begin to wash away harsh rule of rebels
• Suicide Bomber Kills Six near Somali Presidential Palace
• Two killed in 'militant attack' on Algeria pipeline
• Tuareg separatists claim control of northern Mali towns
Pakistan
• Outlawed Tahrik-e-Taliban Pakistan's commander tops US drone targets list
• Policeman Escorting Pakistani Polio vaccination Team Killed by Gunmen
• Kargil, a 'four-man show'; Sharif 'not' kept totally in dark, retired Pak general says
• Pakistan Army likely to begin training Afghan forces
• Asma Jahangir not an option for caretaker PM: Imran
• NAB takes exception to SC action in Faisal death case
• Policeman Escorting Pakistani Polio vaccination Team Killed by Gunmen
• Blast in Peshawar outskirts kills one, injures three
• Democratic process should continue: CJ
North America
• My Jihad Ad Campaign Launches in Washington, D.C
• Doctors at the Anniston Islam Centre give back to community 'regardless of faith'
• International Monetary Fund grants Mali $18 million emergency loan
• US back French operation in Mali, calls for political efforts
• Eviction order places pressure on New Jersey Masjid Aqusa mosque
• Texas Public Schools Teaching 'End Times' Theology, Creationism: Study
• Who's silencing Guantanamo court audio feed, judge asks
Compiled by New Age Islam News Bureau
Photo: A Malian soldier tried to disperse looters in the streets of Timbuktu on Tuesday
URL: https://newageislam.com/islamic-world-news/with-timbuktu-retaken,-france-signals/d/10191
-----------
Europe
With Timbuktu Retaken, France Signals It Plans to Pull Back in Mali
By LYDIA POLGREEN and SCOTT
Jan 29 2013
SEGOU, Mali — French paratroopers arrived in the ancient desert oasis of Timbuktu on Monday, securing its airport and main roads as thousands of residents poured out of its narrow, mud-walled streets to greet French and Malian troops, waving the two countries' flags, with whoops, cheers and shouts.
"Timbuktu has fallen," said the city's mayor, Halle Ousmane Cissé, in a telephone interview from the capital, Bamako, where he has been in exile since the Islamist militants took over the city 10 months ago. He said he planned to return to his city on Tuesday.
The rapid advance to Timbuktu, a day after French and African troops took firm control of the former rebel stronghold of Gao, may spell the beginning of the end of France's major involvement in the conflict here.
The French defence minister, Jean-Yves Le Drian, was a little more cautious than the mayor in his assessment of the situation in Timbuktu on Monday evening, saying on television station TF1: "French and Malian forces are liberating the city. It's not completely finished, but it's well on its way."
The French president, François Hollande, suggested on Monday that French troops might soon stop their northward advance, leaving it to African soldiers to pursue the militants into their redoubts in the desert north. "We are winning this battle," Mr. Hollande said in televised remarks. "When I say, 'We,' this is the Malian army, this is the Africans, supported by the French."
He continued, "Now, the Africans can take over."
Mr. Hollande said that the difficult task of flushing militants from the vast empty stretches of Mali's arid northern countryside was the job of African troops. "They're the ones who will go into the area of the north, which we know is the most difficult because the terrorists are hidden there and can still lead operations that are extremely dangerous for neighbouring countries and for Mali," he said.
Finding these fighters, who have long been accustomed to hiding out in remote areas, has been tough for French troops, who have sophisticated tracking equipment and surveillance drones, said Col. Thierry Burkhard, a French military spokesman, noting that the fighters often travel in civilian vehicles.
African troops have been trickling into Mali over the last few days from neighbouring states, part of what is expected to be a 5,000-member force intended to restore the northern half of the country to government control.
A European Union mission to train several thousand Malian soldiers has yet to begin, however, and any extensive combat operations led by African troops are not expected until August or September, after the brief rainy season.
Television footage from Timbuktu captured scenes of jubilation as thousands of people drove cars, trucks and motorbikes through the streets, honking their horns.
But there were concerns about the fate of Timbuktu's trove of historical treasures. Mr. Cissé said someone had burned books at one of the most important libraries in a city famous for its thousands of well-preserved handwritten manuscripts dating as far back as the 13th century.
The city's libraries, along with its mud architecture and the tombs of hundreds of Sufi saints, have made it one of the most important historical sites in Africa. Islamists were said to have smashed many of the city's tombs, saying that the ancient practice of venerating saints was un-Islamic.
Mr. Cissé said he was told about the fire, which took place three days ago, by a city employee who left Timbuktu on Sunday and was able to call him. The phone lines to the city have been down for more than a week.
Other scars of the Islamist occupation were readily visible.
"Timbuktu was built on Islam and Islamic law will prevail here," read a slogan scrawled on city walls, according to Agence France-Presse.
French airstrikes had preceded the ground operation and French troops met no resistance, said Colonel Burkhard. The militants who had been controlling the city appeared to have fled northward.
French and Malian forces have begun to take control of the city, he said, but there are concerns that fighters remain hidden among the civilian population.
"I will indeed refrain from saying, today, that there's no one left in Timbuktu," Colonel Burkhard said.
To the east, the city of Gao is now under the full control of French and African troops, he said, with a contingent of 450 Malian soldiers joined by 40 soldiers from Niger and 40 from Chad. French Special Forces killed about 15 fighters in what were described as brief but intense firefights when they arrived just south of the city late Friday night and perhaps 10 more militants on Sunday night on the city's outskirts.
French aircraft were not responsible for aerial strikes reported in recent days in the northern city of Kidal, Colonel Burkhard said. In a statement, the secular Tuareg nationalist rebel group that started the conflict in January 2012, the National Movement for the Liberation of Azawad, claimed that it was in control of Kidal. The group was quickly overtaken in its fight to control northern Mali by Islamist groups linked to Al Qaeda.
At least one American refuelling aircraft was involved in a mission with French forces on Sunday night, Colonel Burkhard said.
France has two objectives in Mali, Mr. Le Drian said — to halt a militant advance toward the south and to seize control of population centres in the north — and both have been achieved. "The mission has been fulfilled," he said.
French officials speak regularly of an additional objective: restoring Mali's "territorial integrity," but no one has concluded that the goal has been reached.
Lydia Polgreen reported from Segou, Mali, and Scott Sayare from Paris. Steven Erlanger contributed reporting from Paris, Elisabeth Bumiller from Washington, and Alan Cowell from London.
http://www.nytimes.com/2013/01/29/world/africa/timbuktu-mali-france-conflict.html?ref=world
-----------
Putin sacks leader of Dagestan region raging with Islamist insurgency
Jan 29 2013
President Vladimir Putin has dismissed the leader of Russia's most troubled region, Dagestan, where an Islamist insurgency is raging.
Magomedsalam Magomedov was named president of the republic in 2010 but has been unable to rein in the unrest.
He has been moved to a job in the Kremlin. Ramzan Abdulatipov, an MP from the ruling United Russia party, takes over as acting president of Dagestan.
Political assassinations, bombings and gunfights are regular events there.
The region has taken over from neighbouring Chechnya as Russia's most volatile province.
Islamist groups have vowed to make Dagestan part of an Islamic caliphate stretching across the North Caucasus.
However, analysts say criminal gangs are also behind much of the violence.
http://www.bbc.co.uk/news/world-europe-21234028
-----------
Parish priest accused of forging church documents
Manoj R Nair, Hindustan Times
MJanuary 29, 2013
A former parish priest of Our Lady of Egypt Church in Kalina, Santacruz, was among the three people named in an FIR filed at Vakola police station about an illegal sale of church property to a family in 2005.
The complaint says Rumao, Elphege Pereira and Bonfilio Pereira forged legal documents to sell a church trust-owned residential chawl to private parties.
The priest Fr John Rumao who now serves in a different church said he had nothing to do with the property deal as he had left the Kalina church in 1996.
The lawyer who represents the three accused said that while the church trust had leased the property to the Pereira family as far back as 1950, the property's ownership was finally transferred to the family in 2005.
The complainants, including one Valerian Fernandes, who are tenants of the chawl have said that they were given eviction notices after a deed of conveyance was signed in October 2005 between Fr Rumao (as the church's sole trustee) on the basis of a Power of Attorney document. Their complaint says that the Power of Attorney was not valid as Fr Rumao was no longer the parish priest when the deal was signed.
The complainants also say that an RTI application showed that property documents were forged to undervalue the property. Fr Rumao said he was unaware of the property deal.
"I ceased to be the parish priest in 1996. I do not know whether my Power of Attorney was misused," said Fr Rumao.
http://www.hindustantimes.com/India-news/mumbai/Parish-priest-accused-of-forging-church-documents/Article1-1003191.aspx
-----------
France Says Syrian Rebels Need Aid to Fend Off 'Chaos'
By STEVEN ERLANGER
Jan 29 2013
PARIS — France's foreign minister warned countries supporting the Syrian opposition on Monday that unless they honored their pledges of aid, the control of Syria could fall to militant Islamist groups.
"Facing the collapse of a state and society, it is Islamist groups that risk gaining ground if we do not act as we should," said the minister, Laurent Fabius. "We cannot let a revolution that started as a peaceful and democratic protest degenerate into a conflict of militias."
His comments seemed as much an analysis of the current bloody chaos in Syria as a warning about the future.
Full report at:
http://www.nytimes.com/01/29/world/middleeast/france-asks-nations-to-honor-aid-
-----------
Plane Crash Kills 22 in Kazakhstan
Jan 29 2013
KYZYL TU, Kazakhstan (Reuters) - A passenger plane crashed in thick fog near Kazakhstan's commercial capital of Almaty on Tuesday, killing all 22 people on board, an emergency services official said.
The Canadian-built Bombardier Challenger CRJ-200 was en route from the city of Kokshetau in northern Kazakhstan to Almaty in the southeast when it crashed near the village of Kyzyl Tu, Deputy Almaty Mayor Maulen Mukashev said.
Full report at:
http://www.nytimes.com/reuters/2013/01/29/world/asia/29reuters-kazakhstan-
-----------
British embassy in Tripoli aware of potential threat
Jan 29 2013
The British embassy in Libyan capital, Tripoli, has said it was aware of "a potential threat" against it.
It comes days after Britons were urged to leave the Libyan city of Benghazi because of a threat to Westerners.
The UK Foreign Office said: "We are aware of reports of a potential threat against the British embassy in Tripoli and we are liaising closely with the Libyan government."
Full report at:
http://www.bbc.co.uk/news/uk-21232640
-----------
Mali crisis: UK military experts set for Mali
Jan 29 2013
A British team of about 40 military advisors are to be sent to Mali, government sources have told the BBC.
The decision is likely to be confirmed at a meeting in Brussels on Tuesday.
The BBC also understands ministers are considering deploying British troops as "force protection" for the advisors.
Separately, officials are meeting in Ethiopia where they are expected to approve plans to send about 170 British troops to neighbouring states to train African forces for use in Mali.
French-led troops have taken Timbuktu in their operation against Islamists.
Full report at:
http://www.bbc.co.uk/news/uk-21240676
-----------
British government issues travel warnings on some parts of Libya
JANUARY 24, 2013
BY BONAVENTURE MELAH
British government today issued travel warnings to its citizens over some part of Libya including Benghazi. Daily Times produces here, the full details of the travel advice to British citizens.
We are aware of a specific, imminent threat to Westerners in Benghazi. We advise against all travel to Benghazi and urge any British nationals who are there against our advice to leave immediately.
Full report at:
http://dailytimes.com.ng/article/british-government-issues-travel-warnings-some-parts-libya
-----------
Mideast Asia
World 'must respect' Palestinian reconciliation, says Hamas chief
29 January 2013
AMMAN: Exiled Hamas chief Khaled Meshaal said yesterday the world "must respect" Palestinian reconciliation talks, after meeting King Abdullah in Jordan, a palace statement said.
"I am optimistic about the Palestinian reconciliation. The international community must respect Palestinian need to end division," Meshaal was quoted as saying after meeting the king in Amman.
Full report at:
http://www.arabnews.com/world-%E2%80%98must-respect%E2%80%99-palestinian-reconciliation-says-hamas-chief
-------------
Iran unveils new finger-amputating machine for severe punishment of thieves
Photographs published by Iran's official press agency show a blindfolded man having his fingers severed by what appears to be a crude amputation device
JOHN HALL
28 JANUARY 2013
Iran has unveiled a brand new finger-amputating machine that it will use in its increasingly strict punishment of thieves.
Photographs published by Iran's official press agency show a blindfolded man having his fingers severed by what appears to be a crude amputation device.
Full report at:
http://www.independent.co.uk/news/world/asia/iran-unveils-new-fingeramputating-
-----------
Yemen Seizes Sailboat Filled With Weapons, and U.S. Points to Iran
By THOM SHANKER and ROBERT F. WORTH
Jan 29 2013
WASHINGTON — The authorities in Yemen have seized a boat in their territorial waters filled with a large quantity of explosives, weapons and money, according to American officials briefed on the interdiction. The officials said Monday that there were indications that Iran was smuggling the military contraband to insurgents inside Yemen, although they declined to provide details.
Full report at:
http://www.nytimes.com/2013/01/29/world/middleeast/29military.html?ref=world&gwh=D21DD14DBB3A4C9CEE92DE9D19AD8CA5
-----------
Human Rights Group Criticizes Army's Crowd-Control Methods
Jan 29 2013
An Israeli human rights group on Monday accused the military of "extensively and systematically" violating its own rules of engagement in suppressing Palestinian demonstrators in the West Bank, contributing to dozens of deaths in recent years. According to a report by the group B'Tselem, 56 Palestinians have been killed in clashes with the Israeli military since 2005, most of them when live ammunition was fired at stone throwers. The Israeli military dismissed the report as biased, and said it focused on events that were old or still under investigation. It called specific episodes in the report exceptions to military policy, not the rule.
http://www.nytimes.com/2013/01/29/world/middleeast/group-criticizes-israeli-armys-
-----------
Israel Set to Boycott U.N. Rights Review
By NICK CUMMING-BRUCE
Jan 29 2013
GENEVA — Israel appeared likely on Tuesday to become the first country to boycott a United Nations review of its human rights practices, rejecting attempts by the United States and others to persuade it to participate. Israel's mission to the United Nations informally notified the U.N. Human Rights Council earlier this month that it did not intend to take part in a hearing under the Council's Universal Periodic Review, a process in which all 193 member states have previously participated. Israel has not clarified formally whether it will attend but its action triggered intense behind-the-scenes discussions to persuade it to reconsider and to determine the council's response to the unprecedented situation that will arise if it does not.
Full report at:
http://www.nytimes.com/2013/01/30/world/europe/israel-to-boycott-un-human-rights-
-----------
Iranian Journalists Are Arrested and Accused of Links With Foreign News Media
By RICK GLADSTONE
Jan 29 2013
Security forces in Iran have arrested journalists from at least four Iranian newspapers and one news agency over the past few days and accused them of consorting with hostile foreign news media, the state-run press reported Monday. Iranian rights advocates called the arrests part of a broader campaign of intimidation to forestall political unrest before the presidential election in June.
Full report at:
http://www.nytimes.com/2013/01/29/world/middleeast/iranian-journalists-arrested-
-----------
Israeli Secularists Appear to Find Their Voice
By JODI RUDOREN
Jan 29 2013
JERUSALEM — Speaking to a group of ultra-Orthodox men shortly before he officially entered politics, Yair Lapid, a proudly secular talk-show host, declared that in a century-long competition to define Israel's character, "we lost and you won."
"Not only in terms of numbers," Mr. Lapid said in late 2011 at a college for religious students, but also in politics "and as a consumer force and in the streets and in the culture and in the educational system — you won in all these places."
Full report at:
http://www.nytimes.com/2013/01/29/world/middleeast/israeli-secularists-find-their-voice-
-----------
Israel Angered Over Argentina-Iran Bombing Probe
Jan 29 2013
JERUSALEM (AP) — Israel summoned the Argentinian ambassador on Tuesday in protest over an agreement between Iran and Argentina to jointly investigate the bombing 19 years ago of a Jewish center that killed 85 people in Buenos Aires and that was widely blamed on Tehran.
The terror attack was the deadliest on Argentinian soil, coming just two years after a bomb flattened the Israeli embassy in Buenos Aires, killing 29 people.
Full report at:
http://www.nytimes.com/aponline/2013/01/29/world/middleeast/ap-ml-israel-
-----------
Iran denies reports of explosion at Fordo nuclear site
Jan 29 2013
Iran has denied foreign media reports of a major explosion at one of its underground uranium enrichment sites.
The deputy head of Atomic Energy Organisation of Iran (AEOI) called the reports "Western propaganda" designed to influence forthcoming nuclear talks.
Reports in Israeli and Western media said a blast at the Fordo facility near Qom had caused significant damage.
Meanwhile, Russia has criticised the West and Iran for a fresh delay to the talks, six months after the last round.
Full report at:
http://www.bbc.co.uk/news/world-middle-east-21230686
----------
Southeast Asia
No-Show for 'Bible Burning Fest' in Malaysia
Teo Cheng Wee - Straits Times | January 29, 2013
Kuala Lumpur. A "Bible-burning festival" organized through anonymous fliers fizzled out last Sunday when nobody turned up for the event at the proposed location in Penang.
Fifty police and local council enforcement officers were stationed from early morning at a field in Butterworth where the 10 a.m. "festival" was supposed to be taking place.
Penang police had warned the public a few days earlier not to take part in the activity.
"Nothing happened, thank God," said Seberang Perai municipal councillor Francis Ong, who is in charge of the area and was at the scene. About a dozen journalists were there as well.
Full report at:
http://www.thejakartaglobe.com/international/no-show-for-bible-burning-fest-in-malaysia/568324
-----------
Nearly nine in 10 Indonesian students have suffered abuse in schools
Deadly Indonesian Student Brawls May Begin With Abusive Classrooms
Dessy Sagita &Lenny Tristia Tambun | January 28, 2013
Nearly nine in 10 Indonesian students have suffered some form of abuse in schools, according to a recent survey, and the schools themselves are being blamed for the violent behaviour of students because they permit such an abusive environment.
The Indonesian Commission on Child Protection (KPAI) surveyed 1,000 students from elementary to high schools in nine provinces. The survey found that 87 percent of students reported having experienced some kind of physical or psychological abuse at school.
Full report at:
http://www.thejakartaglobe.com/education/deadly-student-brawls-may-begin-with-abusive-classrooms/568047
-----------
Greater Equality Key to Democracy's Future, Indonesian Forum Told
Suara Pembaruan | January 29, 2013
A lack of equality in Indonesia is putting the country's nascent democracy at risk, as increasing numbers of poor people lose faith in the political institutions established after the fall of President Suharto in 1998, a forum in Jakarta has heard.
Yudi Latief, an analyst at Central Jakarta's Freedom Institute, argued that the emergence of democracy gave Indonesian citizens greater freedom, but in doing so has allowed the wealthy to entrench their position while giving few opportunities for advancement to poorer people.
Full report at:
http://www.thejakartaglobe.com/news/greater-equality-key-to-democracys-future-forum-told/568233
-----------
Jobless man jailed four years for robbing maid
January 29, 2013
KUALA LUMPUR, Jan 29 – An unemployed man was sentenced to four years in jail and one stroke of the whip by the Ampang Sessions Court here today after he pleaded guilty to robbing an Indonesian house maid three months ago.
Judge Chan Jit Li ordered Md Nurulazman Saliholdin, 39, to serve the sentence from the date of his arrest on Nov 13 last year.
Full report at:
http://www.themalaysianinsider.com/malaysia/article/jobless-man-jailed-four-years-for-robbing-maid/
----------
Arab World
Bodies of 68 executed young men, boys found in Syria
January 29, 2013
ALEPPO: The bodies of at least 68 young men and boys, all executed with a single gunshot to the head or neck, were found on Tuesday in a river in the Syrian city of Aleppo, a watchdog and rebels said.
A Free Syrian Army (FSA) captain at the scene said at least 68 bodies had been found and that many more were still being dragged from the water, in a rebel-held area.
The bodies were found in the Quweiq River, which separates the Bustan al-Qasr district from Ansari in the southwest of the city, the Syrian Observatory for Human Rights said.
Full report at:
http://dawn.com/2013/01/29/bodies-of-68-executed-young-men-boys-found-in-syria/
-----------
Egyptian rioters defy state of emergency in fifth day of violent protests
ALASTAIR BEACH
28 JANUARY 2013
Bursts of machinegun fire continued to rattle around the rubble-strewn streets of Port Said tonight as groups of locals fiercely rejected the 30 day state of emergency announced by Mohamed Morsi in response to the unfolding chaos across Egypt.
With onlookers cowering between parked ambulances to shield themselves from the fighting, gunmen exchanged fire with security forces still positioned inside a police station which has become the focus of much of the fighting.
Full report at:
http://www.independent.co.uk/news/world/africa/egyptian-rioters-defy-state-of-emergency-in-fifth-day-of-violent-protests-8470547.html
-----------
Chaos and Lawlessness Grow After Days of Unrest in Egypt
By DAVID D. KIRKPATRICK and MAYY EL SHEIKH
Jan 29 2013
PORT SAID, Egypt — The police fired indiscriminately into the streets outside their besieged station, a group of protesters arrived with a crate of gasoline bombs, and others cheered a masked man on a motorcycle who arrived with a Kalashnikov.
The growing chaos along the vital canal zone showed little sign of abating on Monday as President Mohamed Morsi called out the army to try to regain control of three cities along the Suez Canal whose growing lawlessness is testing the integrity of the Egyptian state.
In Port Said, street battles reached a bloody new peak with a death toll over three days of at least 45, with at least five more protesters killed by bullet wounds, hospital officials said.
Full report at:
http://www.nytimes.com/2013/01/29/world/middleeast/egypt-protests-cairo-port-said.html?ref=world&gwh=40CEA43449CEE475431FCA0799BB1D06
-----------
UN says cannot help war-hit Syrians without more money
29 January 2013
BEIRUT: The United Nations warned on Monday that it will not be able to help millions of war-hit Syrians without more money and appealed for donations at an aid conference this week in Kuwait to meet its $1.5 billion target.
It has raised just 3 percent of that so far.
Some 4 million Syrians need food, shelter and other aid inside the country and nearly 700,000 more have fled to neighbouring countries since the 22-month-old conflict began, UN humanitarian Chief Valerie Amos told reporters in Beirut.
Full report at:
http://www.arabnews.com/middle-east/un-says-cannot-help-war-hit-syrians-without-more-money
----------
Al-Qaeda-linked group claims deadly Syrian blast
29 January 2013
BEIRUT: An Al-Qaeda-linked group fighting alongside Syrian rebels claimed responsibility yesterday for a suicide car bombing that reportedly killed dozens of President Bashar Assad's loyalists last week.
In Paris, French Foreign Minister Laurent Fabius pleaded for countries to honor their pledges of funding and other aid to the Syrian opposition to keep the country out of the hands of militant groups.
Full report at:
http://www.arabnews.com/al-qaeda-linked-group-claims-deadly-syrian-blast
-------------
Syrian refugees top 700,000 as exodus swells: UN
29 January 2013
GENEVA: More than 700,000 Syrian refugees have registered in neighboring countries or await processing there, and aid workers are struggling to keep up with the exodus, the United Nations said on Tuesday.
"We have seen an unrelenting flow of refugees across all borders. We are running double shifts to register people," Sybella Wilkes, spokeswoman for the UN High Commissioner for Refugees (UNHCR), told Reuters in Geneva.
Full report at:
http://www.arabnews.com/syrian-refugees-top-700000-exodus-swells-un
------------
IHC orders defence ministry to produce Syrian student
Faisal Kamal Pasha
January 29, 2013
Justice Shaukat Aziz Siddiqui of the Islamabad High Court (IHC) here on Monday directed the Ministry of Defence to produce the Syrian student, Yoman Ismail, before the court by Wednesday.
The Syrian student had gone missing in 2010 and later found in the custody of security agencies. At present, he is confined at an internment centre in Khyber-Pakhtunkhwa.The chief justice of the Islamabad High Court (IHC), Justice Iqbal Hameed ur Rehman, on December 17, had issued a stay order restraining Pakistani authorities from deporting the Syrian student.
Full report at:
http://www.thenews.com.pk/Todays-News-6-156860-IHC-orders-defence-ministry-to-produce-Syrian-student
-----------
Egypt Army Chief Warns State Could Collapse
Jan 29 2013
CAIRO (AP) — Egypt's army chief warned Tuesday of the "the collapse of the state" if the political crisis roiling the nation for nearly a week continues.
The warning by Abdel-Fattah el-Sissi, who is also defense minister, were the first comments by the powerful military since the country's latest crisis began last week around the second anniversary of Egypt's uprising. They came days after President Mohammed Morsi ordered the army to restore order in the Suez Canal cities of Port Said and Suez — two of three cities now under a 30-day state of emergency and night curfew.
Full report at:
http://www.nytimes.com/aponline/2013/01/28/world/middleeast/ap-ml-
-----------
New Iraq abuse cases by British forces go to High Court
Jan 29 2013
New allegations of abuse by British troops in Iraq will be heard by the High Court later.
Lawyers for 192 Iraqis will push for a public inquiry into British detention practices between 2003 and 2008.
The court will decide whether mistreatment was systemic and whether an inquiry set up by the Ministry of Defence is sufficiently independent to investigate the allegations.
The hearing before two judges is expected to last three days.
Full report at:
http://www.bbc.co.uk/news/uk-21241088
-----------
Jordan's last PM appointed by king resigns
Jan 29, 2013
AMMAN, Jordan" Jordan's last prime minister appointed by the king has resigned, making way for a successor who will be elected by the country's new parliament.
The palace says King Abdullah II on Tuesday asked outgoing Prime Minister Abdullah Ensour to stay on as caretaker until the 150-member legislature elected last Wednesday picks the next premier.
Full report at:
http://timesofindia.indiatimes.com/world/middle-east/Jordans-last-PM-appointed-by-king-resigns/articleshow/18239002.cms
----------
India
India reacts angrily, tells Pak's Rehman Malik to save its own Muslims
Jan 29 2013
New Delhi: Union Home Secretary R.K Singh on Tuesday gave a stern message to Pakistan Interior Minister Rehman Malik, saying that India is quite capable of providing security to its own citizens.
Malik had created yet another controversy when he requested the Indian government to provide security to Bollywood star Shah Rukh Khan.
Singh further asked Malik to look after the security of Pakistani citizens and not to worry about Shah Rukh Khan.
Full report at:
http://www.indianexpress.com/news/shah-rukh-khan-security-india-reacts-angrily-tells--paks-rehman-malik-to-save-its-own-muslims/1066260/
-----------
See our country as 'work in progress', Pak civil society delegates urge India
PRASHANT JHA
Jan 29 2013
Arguing that multiple constituencies have come together seeking normalisation of ties with India, Pakistani civil society leaders have urged India to see their country as 'work in progress', and take the 'long-term view' on contentious issues. This was their key message at an unofficial India-Pakistan meeting organised by the New America Foundation, a Washington DC think-tank headed by author and journalist Steve Coll, in Dubai last week. Participants included journalists, academics, entrepreneurs and business executives from both sides.
Full report at:
http://www.thehindu.com/news/international/see-our-country-as-work-in-progress-pak-delegates-urge-india/article4354532.ece
-----------
Syrian crisis: India to pledge Rs 14 crore for humanitarian needs
Jan 29, 2013
NEW DELHI: Deeply concerned about the hardships and sufferings of the people of Syria as a result of unabated violence there, India will be pledging about Rs 14 crore towards humanitarian assistance in a UN conference which will be held in Kuwait on Wednesday.
This assistance will be in the form of life saving drugs, food and other essential items required by the people of Syria, ministry of external affairs said here.
Full report at:
http://timesofindia.indiatimes.com/india/Syrian-crisis-India-to-pledge-Rs-14-crore-for-humanitarian-needs/articleshow/18238736.cms
-----------
Indian High Commissioner to Pakistan: 'Dialogue process has not been derailed'
January 29, 2013
ISLAMABAD: Indian High Commissioner Sharat Sabharwal insisted on Monday that despite recent clashes on the Line of Control (LoC), the process of dialogue between India and Pakistan has not been affected.
"Peace between India and Pakistan is in favour of both the countries," he said, while addressing the media on the occasion of India's Republic Day.
Sabharwal said India wants good relations with Pakistan and vowed that a peaceful, democratic and stable Pakistan was in the interest of his country.
Full report at:
http://tribune.com.pk/story/500098/pakistan-india-ties-dialogue-process-has-not-been-derailed/
-----------
Indian stuck for 30 years in Oman, dies before getting exit-pass
Jan 29, 2013
DUBAI: A 56-year-old Indian, who had been stuck in Oman for 30 years while awaiting an exit pass from the Gulf nation, died hours before he got signed documents proving his Indian nationality.
Madhusudhan, who first came to Muscat in 1977 from Kerala, had been living on the roof of a building in Muscat after his bag containing his passport and other documents were stolen.
Earlier, he had tried in vain to prove his nationality to Indian embassy officials in Muscat and government officials in Kerala, media reports said.
Full report at:
http://timesofindia.indiatimes.com/world/middle-east/Indian-stuck-for-30-years-in-Oman-dies-before-getting-exit-pass/articleshow/18238381.cms
-----------
India seeks Nigeria's help for release of 17 sailors
Jan 29 2013
India has sought the help of Nigeria for early release of its 17 sailors held hostage by Somali pirates on board MT Royal Grace, owned by a Nigerian, for the past 10 months.
This has been communicated by Prime Minister Manmohan Singh to Rajya Sabha member K.N. Balagopal, who pressed for his intervention on the issue.
In his letter to the CPI (M) MP, Mr. Singh termed piracy a "menace" and said the government was deeply concerned over the "continuing incarceration" of Indian sailors by Somali pirates.
Full report at:
http://www.thehindu.com/news/national/india-seeks-nigerias-help-for-release-of-17-sailors/article4357289.ece
-----------
2006 Malegaon blasts: Cycle store attendants identify bomb planters Rajender and Manohar
Jan 29 2013
Mumbai: Rajender Choudhary and Manohar Kumar, who allegedly planted bombs in Malegaon in 2006, were identified Monday by two cycle store attendants.
Sources said the first identification parade in the case took place at Arthur Road Jail after a tehsildar office sent notices to the attendants.
NIA probing the case had arrested Kumar at Hathod in Indore, Madhya Pradesh, on December 29, 2012, after Choudhary, arrested in Ujjain district of Madhya Pradesh on December 15, revealed his involvement. The two have now been identified as purchasers of the cycles used to carry out the blasts.
Full report at:
http://www.indianexpress.com/news/2006-malegaon-blasts-cycle-store-attendants-identify-bomb-planters/1066037/
----------
'Appalled by Dhule riots, errant cops should be punished'
Zia Haq, Hindustan Times
NJanuary 29, 2013
The head of the National Commission for Minorities, Wajahat Habibullah, has asked the Maharashtra government to hold errant policemen to account for allegedly acting with bias against Muslims during recent sectarian clashes in Dhule.
Habibullah said he was appalled at what had happened. "I have gone through DVDs and heard the victims. We expect both rehabilitation and accountability (of guilty policemen)," Habibullah told HT.
Full report at:
http://www.hindustantimes.com/India-news/newdelhi/Appalled-by-Dhule-riots-errant-cops-should-be-punished/Article1-1003124.aspx
----------
From a tent in Mumbai's Azad Maidan, Adeeb, a cricket star rises
Jan 29 2013
New Delhi: Two years ago, when Adeeb Usmani's family left Mumbai for their village near Azamgarh, the 13-year-old stayed back; he wanted to be a cricketer. He was alone in the big city, and his father could give him no money, so Adeeb made a tent in Azad Maidan his home, and his coach Naushad Khan his life's anchor.
Full report at:
http://www.indianexpress.com/news/from-a-tent-in-mumbais-azad-maidan-a-cricket-star-rises/1066131/
----------
South Asia
School Support in Afghanistan Grows Even Under Spectre of a Taliban Return
By ALISSA J. RUBIN
2013/01/29
The headmaster of the boys' school in this corner of southern Afghanistan has savoured the past three years, a rare run of uninterrupted school terms that filled his classrooms and drew students from miles away.
But experience has taught him not to count on the good times lasting long.
Over just 12 years, Abdul Aziz, 50, has seen at least two anti-education governments come and go. He opens his school's doors when the local politics allow it, but with all the volatility he cannot attract good teachers or even wheedle the provincial education department to send him enough books. His school is cold in winter, scorching in summer and ill-supplied year round, but at least it is open.
Full report at:
http://www.nytimes.com/2013/01/29/world/asia/growing-support-for-education-in-a-volatile-afghan-province.html
-----------
Chinese University Expands Into Malaysia
Jan 29 2013
Xiamen University in Fujian Province announced last week that it would open its first overseas campus in the Malaysian state of Selangor in September 2015.
Prime Minister Najib Razak of Malaysia said that the Selangor branch would initially take in 10,000 students, reported Bernama, the Malaysian state news agency. The student body would be divided into thirds, consisting of Chinese nationals, Malaysians and others.
Full report at:
http://www.nytimes.com/2013/01/29/world/asia/29iht-
-----------
Sri Lanka raises minimum age of maids for KSA employment
29 January 2013
Sri Lanka has raised the age limit of housemaids coming to Saudi Arabia to 25 years, Mass Media and Information Minister and Cabinet spokesman Keheliya Rambukwella told newsmen in Colombo following a meeting of ministers.
Confirming the statement, Deputy General Manager (Foreign Relations) of the Sri Lanka Bureau of Foreign Employment (SLBFE) D.B. Senanayake told Arab News yesterday from Colombo that it was an announcement made by Foreign Employment Promotion and Welfare Minister Dilan Perera in Parliament on Thursday.
Full report at:
http://www.arabnews.com/sri-lanka-raises-minimum-age-maids-ksa-employment
-----------
Rohingyas flee into an unwelcoming Bangladesh
January 29, 2013
BANGLADESH / TEKNAF: Six months ago, 89-year-old Abdul Matin fled the sectarian riots in the state of Rakhine, in Myanmar, to a refugee camp in Bangladesh. His house was burnt down during the unrest, along with all his belongings. With nothing but cruel memories of a bleeding homeland, he and his family salvaged what they could and crossed over the River Naf.
Full report at:
http://tribune.com.pk/story/500127/exclusive-report-rohingyas-flee-into-an-unwelcoming-bangladesh/
---------
Karzai: Afghan government should lead peace talks
29 January 2013
KABUL, Afghanistan: Afghanistan's president warned on Tuesday that all efforts at peace talks with the Taleban should go through the government, and appealed on the country's powerbrokers not to engage in such negotiations if the authorities are sidelines.
Hamid Karzai insisted the government — and not foreign powers — must lead the talks if the country is to have any hope of emerging from a decade of fighting as a strong and unified nation.
Full report at:
http://www.arabnews.com/karzai-afghan-government-should-lead-peace-talks
-------------
Afghanistan's security prospects after Nato withdrawal
By Frank Gardner
28 January 2013
Nato-led forces have been in Afghanistan for so long now that it is almost hard to remember why they went in.
Governments often repeat that it was in direct response to Al-Qaeda's attacks of 9/11, planned from Osama Bin Laden's Afghan base.
But that does not explain why now, more than 11 years later, there are still more than 100,000 troops from 51 countries stationed in this country and yet they have failed to defeat the insurgency that kills and maims on a daily basis.
Full report at:
http://www.bbc.co.uk/news/world-asia-21225926
-----------
Bangladesh Jamaat-e-Islami Nayeb-e-Ameer verdict on the war crimes case any day
Jan 29 2013
The International Crimes Tribunal-1 will deliver verdict on the war crimes case against Jamaat-e-Islami Nayeb-e-Ameer Delawar Hossain Sayedee any day, the tribunal said after ending closing argument again on Tuesday.
The date will be informed to the defence and prosecution before delivering the judgement, said ICT-1 Chief ATM Fazle Kabir after Prosecutor Syed Haider Ali ended placing his argument before him around 1:00pm.
Full report at:
http://www.thedailystar.net/newDesign/latest_news.php?nid=44390
-----------
Govt to probe 'intelligence failure' in Jamaat-Shibir mayhem: Inu
Jan 29 2013
Information Minister Hasanul Haq Inu on Tuesday said the government will investigate whether there was any intelligence failure circling the Jamaat-Shibir violence across the country.
"Administrative action would be taken if any lapses are detected after the investigation," the minister said at a press conference at the conference room of the Press Institute of Bangladesh.
Full report at:
http://www.thedailystar.net/newDesign/latest_news.php?nid=44391
-----------
Commonwealth-backed report a "whitewash": former Maldives president
By Neil Merrett | January 28th, 2013
Former President Mohamed Nasheed has branded the Commonwealth-backed Commission of National Inquiry (CNI) report a "whitewash", claiming it purposefully excluded testimonies from key police and military figures concerning last year's transfer of power.
The CNI report, which was published back in August last year, concluded there had been no coup, no duress and no mutiny during the controversial transfer of power that saw President Dr Mohamed Waheed Hassan Manik sworn into office. The findings were also welcomed at the time by the US State Department and the United Nations.
Full report at:
http://minivannews.com/politics/commonwealth-backed-report-a-%E2%80%9Cwhitewash%E2%80%9D-maldives-former-president-claims-51922
-----------
Queues return to Indian High Commission as Maldivians seek Indian visas
By Luke Powell | January 28th, 2013
Queues have started to form outside the Indian High Commission in Male' as people seek to obtain Indian visas.
Earlier this month the Foreign Ministry decided to hand back all Indian visa application operations to the Indian High Commission following a "decline" in visa requests.
However, local media reported that Maldivians began to queue outside the High Commission building at 11:00pm on January 26 after having their visa applications rejected for various reasons.
Full report at:
http://minivannews.com/politics/queues-return-to-indian-high-commission-as-maldivians-seek-indian-visas-51874
-----------
Africa
French-led troops seize the 'City of 333 Saints'
29 January 2013
BAMAKO: French-led troops ringed Mali's fabled desert city of Timbuktu yesterday, after seizing its airport in a lightning advance as fleeing militants torched a building housing priceless ancient manuscripts.
French paratroopers swooped in to try to block fleeing hard-liners as ground troops coming from the south seized the airport in the ancient city which has been one of the bastions of the extremists controlling the north for 10 months.
Full report at:
http://www.arabnews.com/french-led-troops-seize-%E2%80%98city-333-saints%E2%80%99
-------------
Libya Denies Plans of Quick Trial and Execution for Qaddafi Spy Chief
By MARLISE SIMONS
Jan 29 2013
PARIS — Lawyers for the Libyan government on Monday said that Libya's former intelligence chief, Abdullah al-Senussi, is expected to be tried by a civilian court in Libya in May at the earliest and will not face a summary trial and execution in the coming days as claimed by his defense lawyer.
In a filing to the International Criminal Court, where Mr. Senussi is wanted on charges of crimes against humanity, the lawyers said that the government was planning to put him on trial together with other senior officials of the former government of Col. Muammar el-Qaddafi, including the colonel's son Seif al-Islam el-Qaddafi.
Full report at:
http://www.nytimes.com/2013/01/29/world/africa/libya-denies-execution-plans-for-
-----------
French, Malian forces patrol Timbuktu after hero's welcome
29 January, 2013
French and Malian forces were patrolling Mali's fabled desert city of Timbuktu, after a hero's welcome following their lightning advance north.
But the city's mayor denounced what he called a crime against culture as fleeing Islamists torched a building housing priceless ancient manuscripts.
Financial aid meanwhile was beginning to flow into the troubled region.
On Tuesday, Japan announced it would give an extra $120 million to help stabilise Africa's Sahel region, days after 10 Japanese nationals were killed in the Algerian hostage siege.
Full report at:
http://www.timeslive.co.za/africa/2013/01/29/french-malian-forces-patrol-timbuktu-after-hero-s-welcome
-----------
In liberated Timbuktu, new rains begin to wash away harsh rule of rebels
After months of blasphemy laws, destruction of precious monuments, and brutal punishments, locals dance at arrival of French and nature's cloudbursts.
By John Thorne, Correspondent / January 28, 2013
In Timbuktu, rains out of season are a portent of hope. Rain fell unexpectedly here today in a gentle spatter on streets and houses, and on the French and Malian soldiers who drove through town and the crowds who turned out to applaud them.
Full report at:
http://www.csmonitor.com/World/Africa/2013/0128/In-liberated-Timbuktu-new-rains-begin-to-wash-away-harsh-rule-of-rebels-video
-----------
Suicide Bomber Kills Six near Somali Presidential Palace
Jan 29 2013
MOGADISHU (Reuters) - A suicide bomber blew himself up near the Somali presidential palace on Tuesday, killing at least six soldiers in a strike apparently aimed at the country's leaders, a palace guard at the scene said.
Officials working in the palace and guards said Somali President Hassan Sheikh Mohamud was abroad at the time of the blast and Prime Minister Abdi Farah Shirdon Saaid, whose house was near the site of the explosion, was safe.
Full report at:
http://www.nytimes.com/reuters/2013/01/29/world/europe/29reuters-somalia-
-----------
Two killed in 'militant attack' on Algeria pipeline
Jan 29 2013
Two guards have been killed in an attack by militants on a gas pipeline in northern Algeria, officials say.
Seven others were wounded when the Ain Chikh pipeline in the Djebahia region, some 120km (75 miles) east of the capital, Algiers, was blown up.
The area is a stronghold of al-Qaeda in the Maghreb (AQIM), but militants rarely carry out attacks there.
Full report at:
http://www.bbc.co.uk/news/world-africa-21235628
------------
Tuareg separatists claim control of northern Mali towns
Jan 29, 2013
As French and Malian soldiers held control of the fabled desert city of Timbuktu following the retreat of Islamist extremists, Tuareg fighters claimed on Tuesday that they seized the strategic city of Kidal and other northern towns.
The National Movement for the Liberation of Azawad, the Tuareg group's name for northern Mali, appears to have taken advantage of a French-led bombing and ground campaign to dislodge al-Qaeda-linked Islamist fighters from the towns in northern Mali.
Full report at:
http://www.thehindu.com/news/international/tuareg-separatists-claim-control-of-northern-mali-towns/article4357487.ece
----------
Pakistan
Outlawed Tahrik-e-Taliban Pakistan's commander tops US drone targets list
January 29, 2013
KARACHI: Outlawed Tahrik-e-Taliban Pakistan (TTP)'s commander Mulla Fazlullah is on top of the list for US drone target, while some unconfirmed reports about his being killed in recent drone attack also appeared, according to US media reports.
Mulla Fazlullah is on top of the hit list of US drone, which is all focused to target him, quoting high US special operation sources, US newspaper Washington Post reported. Sources said that he was under surveillance, while some unconfirmed reports claimed he was killed in recent drone attack in Afghan province of Nuristan.
However no confirmation of his being killed available from any US or Pakistani official sources, while his associates claim that he was still alive and kicking.
http://www.thenews.com.pk/article-85780-Fazlullah-tops-US-drone-targets-list
----------
Policeman Escorting Pakistani Polio vaccination Team Killed by Gunmen
Jan 29 2013
PESHAWAR, Pakistan (AP) — Gunmen riding on a motorcycle shot and killed a police officer escorting polio workers during a U.N.-backed vaccination campaign in north-western Pakistan on Tuesday, the police said.
The attack took place as dozens of polio workers — including several women — was going door-to-door to vaccinate children in Gullu Dheri village of Swabi district in the Khyber Pakhtunkhwa province, said senior police officer Izhar Shah.
Full report at:
http://www.nytimes.com/aponline/2013/01/29/world/asia/ap-as-
----------
Kargil, a 'four-man show'; Sharif 'not' kept totally in dark, retired Pak general says
Jan 29, 2013
ISLAMABAD: The operation by Pakistani soldiers to capture strategic heights in Kargil sector in 1999 was a "four-man show" orchestrated by former army chief Gen Pervez Musharraf though then premier Nawaz Sharif was "not" kept totally in the dark, a retired general has said.
Lt Gen (retired) Shahid Aziz, who recently created ripples by acknowledging in an article that regular troops were involved in the Kargil operation, said the "misadventure" was a "four-man show" and details were initially hidden from the rest of the military commanders.
Full report at:
http://timesofindia.indiatimes.com/world/pakistan/Kargil-a-four-man-show-Sharif-not-kept-totally-in-dark-retired-Pak-general-says/articleshow/18238212.cms
-----------
Pakistan Army likely to begin training Afghan forces
Jan 29 2013
ISLAMABAD: Islamabad and Kabul are close to signing a deal that will allow the Pakistan Army to train Afghan national security forces, in the latest sign of improving ties between the neighbouring nations.
The progress was made during talks between visiting Afghan Defence Minister Bismillah Khan Mohammadi and army chief General Ashfaq Parvez Kayani at the General Headquarters in Rawalpindi on Monday.
Full report at:
http://tribune.com.pk/story/500094/deal-in-the-making-pakistan-army-likely-to-begin-training-afghan-forces/
-----------
Asma Jahangir not an option for caretaker PM: Imran
Jan 29 2013
LAHORE: Pakistan Tehreek-e-Insaf (PTI) Chairman Imran Khan has said that his party will not accept Asma Jahangir as the caretaker prime minister.
Addressing a news conference on Monday, the PTI chief said that the caretaker prime minister should not have any political affiliation. An impartial person enjoying a national consensus should be appointed as head of caretaker administration, he said.
Full report at:
http://www.dailytimes.com.pk/default.asp?page=2013\01\29\story_29-1-2013_pg13_5
-----------
NAB takes exception to SC action in Faisal death case
By Hasnaat Malik
Jan 29 2013
ISLAMABAD: The National Accountability Bureau (NAB) has objected to the Supreme Court's suo motu proceedings in the mysterious death of its investigator, Kamran Faisal, who was the part of team that is investigating the rental power plants (RPPs) scandal.
Attorney General of Pakistan Irfan Qadir has also requested the apex court to stop its proceedings in the matter because the Interior Ministry had already constituted a commission to probe the circumstances of Faisal's death. On the other hand, a two-member bench of the court, headed by Justice Jawwad S Khawaja, has raised questions over the notification regarding the formation of the commission and asked the AGP to submit the original notification on February 1. The bench has also appointed Anwar Kamal as amicus curiae in the case.
Full report at:
http://www.dailytimes.com.pk/default.asp?page=2013\01\29\story_29-1-2013_pg7_4
-----------
Army, judiciary in support of democracy, says Pak PM
January 29, 2013
ISLAMABAD: Pakistan's military, judiciary and all political forces support a democratic system in the country, Prime Minister Raja Pervez Ashraf said on Tuesday, urging all state institutions to continue working within their boundaries.
Speaking at a function of the Gujjar Khan Bar Association in Islamabad, PM Ashraf said that, despite the naysayers and all the challenges faced, the Pakistan People's Party (PPP) led government had completed its five-year term.
The premier said that the Army and judiciary support a democratic system, and that all political forces are also in agreement that only a democracy could run in the country.
Ashraf further said that the PPP had set a history of reconciliation, and claimed they could have formed a government in both Khyber Pakhtunkhwa and Punjab if they desired. However, he said, the PPP respected the people's mandate and would continue to do so.
The premier's statement comes nearly a day after Pakistan People's Party (PPP) stalwart Raza Rabbani said 'a conspiracy' was being hatched by certain elements to delay the upcoming general election for two to three years.
The PPP senator had warned that "a sword (of Damocles)" was hanging over democracy and that "it would continue to be there till the election of prime minister after the polls."
The senator's remarks were followed by a pre-scheduled meeting of the PPP in which the party leadership had discussed possible dates for dissolution of the National Assembly and holding elections.
Also today, PPP Co-Chairman and President Asif Ali Zardari has summoned a meeting of leaders of the coalition parties for Tuesday evening to discuss the dissolution of assemblies and the caretaker setup.
http://dawn.com/2013/01/29/army-judiciary-in-support-of-democracy-pm/
------------
Blast in Peshawar outskirts kills one, injures three
January 29, 2013
PESHAWAR: At least one person was killed Tuesday when explosives planted in an open field blew up on the outskirts of Peshawar, the capital of northwestern Khyber Pakhtunkhwa province.
A police official at the local Sarband police station initially confirmed that four people were wounded by the explosion in the Achini Meira area, close to Ring Road.
The injured were shifted to the Hayatabad Medical Complex. However, one of the wounded lost his life at the hospital.
Police said the blast targeted an illegal gambling den being operated in the area.
http://dawn.com/2013/01/29/blast-in-peshawar-outskirts-kills-one-injures-three/
--------------
Democratic process should continue: CJ
January 29, 2013
ISLAMABAD: Supreme Court of Pakistan continued hearing of Balochistan law and order case Tuesday. During proceedings Chief Justice Iftikhar Muhammad Chaudhry remarked that the democratic process should continue regardless of the situation, Geo News reported.
The Chief Justice further remarked that democracy should not face any threats and should not be derailed.
He said that the federation through the president took a step according to the constitution pertaining to the crisis in Balochistan.
The lawyer of Balochistan government, Shahid Hamid was of the view that the federation's step to impose governor rule in the province has not been challenged, except the fact that the chief minister has been prevented from working.
http://www.thenews.com.pk/article-85797-Democratic-process-should-continue:-CJ
-----------
North America
My Jihad Ad Campaign Launches in Washington, D.C
JANUARY 29, 2013
Global educational initiative to 'reclaim Jihad from Muslim and anti-Muslim extremists alike'
The Chicago office of the Council on American-Islamic Relations (CAIR-Chicago) today announced its sponsorship of the #MyJihad Public Educational Campaign in Washington, D.C., launched by MyJihad inc., with ads appearing at the Shaw, Waterfront, Rockville, and Dunn Loring train stations.
In the past month, the #MyJihad campaign launched in two other major U.S. cities, Chicago and San Francisco. The campaign has also made its way to Cairo, Egypt, where it displayed messages of Muslim and Christian unity during the Christmas season.
Full report at:
-----------
Doctors at the Anniston Islam Centre give back to community 'regardless of faith'
Jan 26, 2013
Through his Anniston ophthalmologist practice, every day Dr. Abdul Kazi sees first-hand the health problems facing the uninsured. And there are a lot of uninsured residents in Calhoun County.
The county's uninsured rate is higher than average for the state of Alabama, according to the U.S. Census Bureau. It's one of the reasons Kazi said he felt that he and his fellow physicians at the Islam Centre needed to work together to bring a free clinic to the community.
The other reason, he said, was his faith.
Full report at:
http://annistonstar.com/bookmark/21506897-Doctors-at-the-Anniston-Islam-Center-give-
-----------
International Monetary Fund grants Mali $18 million emergency loan
Jan 29, 2013
WASHINGTON: The International Monetary Fund agreed to provide a $18.4 million emergency loan to Mali, a move likely to lead to other donors releasing more funds after having cut off aid following the March 2012 coup.
The IMF executive board approved the loan under the Rapid Credit Facility aiming to help the government bridge a huge budget hole as its fights off an Islamist insurgency with French help.
Full report at:
http://timesofindia.indiatimes.com/world/rest-of-world/International-Monetary-Fund-grants-Mali-18-million-emergency-loan/articleshow/18233077.cms
-----------
US backs French operation in Mali, calls for political efforts
Jan 29, 2013
WASHINGTON: Supporting the French military intervention in Mali, the US has said both security operations and political efforts need to go side-by-side to re-establish democracy in the trouble-torn West-African nation.
"The US is continuing to support international military action in Mali. We support the French goal of denying terrorists a safe haven in the region. We support the French operation," said White House Press Secretary Jay Carney.
Full report at:
http://timesofindia.indiatimes.com/world/us/US-backs-French-operation-in-Mali-calls-for-political-efforts/articleshow/18233128.cms
-----------
Eviction order places pressure on New Jersey Masjid Aqusa mosque
After more than 16 years of serving the Muslim communities in New York in New Jersey, Masjid Aqusa, a local mosque located Frederick Douglass Boulevard between 115th and 116th streets, is facing an eviction order from its landlord.
By Christian Zhang
Spectator Senior Staff Writer
January 25, 2013
On one side of Frederick Douglass between 115th and 116th streets sit the newly completed Livmor Condominiums, where a two-bedroom unit sells for $1.2 million. On the other side is the Masjid Aqsa mosque, its green awning tucked between an alleyway tire shop and a Guinean convenience store.
Full report at:
http://www.columbiaspectator.com/2013/01/25/local-housing-demand-places-pressure-masjid-aqsa-mosque
-----------
Texas Public Schools Teaching 'End Times' Theology, Creationism: Study
01/28/2013
Students in Texas' public schools are still learning that the Bible provides scientific evidence that the Earth is 6,000 years old, that astronauts have discovered "a day missing in space in elapsed time" that affirms biblical stories of the sun standing still and moving backwards, and that the United States was founded as a Christian nation based on biblical Christian principles.
Full report at:
http://www.huffingtonpost.com/2013/01/28/texas-public-schools-teac_n_2568828.html
-----------
Who's silencing Guantanamo court audio feed, judge asks
Jan 29 2013
Guantanamo Bay : The sound was abruptly cut in the Guantanamo war crimes court on Monday, prompting the angry judge to question whether someone outside the room was censoring pretrial hearings for five men accused of plotting the Sept. 11 attacks on the United States in 2001.
In all hearings for the alleged al Qaeda operatives who were previously held in secret CIA prisons, a court security officer seated near the judge controls a button that muffles the audio feed to spectators when secret information is disclosed. A red light flashes and observers hear nothing but static.
Full report at:
http://www.indianexpress.com/news/whos-silencing-guantanamo-court-audio-feed-judge-asks/1066216/
--------------
URL: https://newageislam.com/islamic-world-news/with-timbuktu-retaken,-france-signals/d/10191