New Age Islam News Bureau
12 March 2018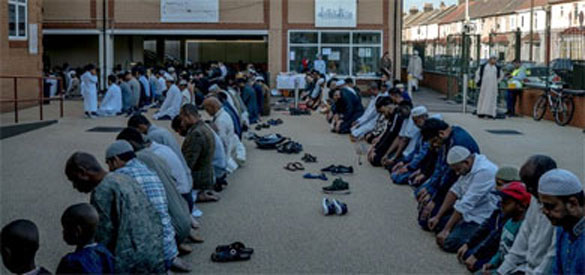 Muslims praying outside a mosque in Barking, England. Anonymous hate letters targeting Muslims have spurred fear and police investigations.
----
• Winnipeg Author Explores 'Deep Romanticism' In Islam
• 'Punish a Muslim Day' Letters Rattle U.K. Communities
• Shoes Hurled At Nawaz Sharif at Madrasa Event
• In Poll Arena, Who Will Be Affected Most By Muslim-Centric Parties?
• Rise of Violent Buddhist Rhetoric in Asia Defies Stereotypes
• Syria Army Bombs Splintered Ghouta Enclave As Bodies Pile Up
North America
• Winnipeg Author Explores 'Deep Romanticism' In Islam
• Quebec City Musicians Hold Benefit Concert For Survivor Of Mosque Shooting
• Mattis warns Syria, Russia on chemical weapons deployment
• US calls for arms embargo on South Sudan
--------
Europe
• 'Punish a Muslim Day' Letters Rattle U.K. Communities
• State Visit to Britain by Saudi Leader Fails To Sway Critics
• Centre in Clonskeagh is major symbol of Islam in Ireland
• 'Another German mosque comes under arson attack'
• Violence against Muslims in Europe requires action
--------
Pakistan
• Shoes Hurled At Nawaz Sharif at Madrasa Event
• 'University Of Jihad' Gets Public Funds Even As Pakistan Fights Extremism
• NA takes up 'discrimination against Pashtuns' issue today
• Lal Masjid administration 'reclaims' Jamia Hafsa land: report
• Two terrorists held in Operation Raddul Fasaad
• Banned ASWJ plans to contest polls under changed name: report
• Judiciary, executive should remain in limits while performing duties: Rashid Naseem
• Accountability of security personnel who patronised 'good Taliban' sought
--------
India
• In Poll Arena, Who Will Be Affected Most By Muslim-Centric Parties?
• Muslims Have Failed To Use Constitutional Rights for Education Effectively
• This Jewish Burial Is Guarded By A Muslim Family
• India, Pakistan In Diplomatic Spat After ISI Raids Indian Complex
• Three terrorists killed in Anantnag encounter
• Schools, colleges shut in Srinagar after 3 terrorists killed in J&K
--------
South Asia
• Rise of Violent Buddhist Rhetoric in Asia Defies Stereotypes
• Myanmar Monk Back To Preaching After Ban, Denies Fuelling Violence
• UN to seek $1bn for Rohingya refugee effort in Bangladesh
• Farah's Anar Dara has reportedly fallen into Taliban hands
• Key Haqqani network commanders arrested in Maidan Wardak province
--------
Arab World
• Syria Army Bombs Splintered Ghouta Enclave As Bodies Pile Up
• 16 Jihadists Killed In Egypt's Sinai Military Operation
• Hezbollah military media unit: Syrian army completely surrounds Douma
• Egypt army says 16 terrorists killed in Sinai operation
• Militant shelling kills 4 Syrian civilians, injures 11 in, around Damascus
• Nearly 20 Turkish Forces, Allied Militants Killed in Clashes with Kurds in Northern Syria
• Terrorists' Arms Depot Destroyed in Syrian Air Attack in Eastern Ghouta
• Scores of Terrorists Surrender to Syrian Army in Eastern Ghouta
• Syrian Army Frees over 50 Percent of Eastern Ghouta
• Iraqi security forces start offensive to purge areas near Kirkuk of Daesh terrorists
--------
Mideast
• Israelis Rally to Demand PM Netanyahu Step Down
• Erdoğan Slams NATO for 'Not Supporting Turkey's Afrin Operation'
• Islamic Jihad Terrorist Accidentally Blows Himself Up In Gaza
• Yemeni Forces Announce End of Battle against Al-Qaeda In Abyan
• Draft UN Security Council resolution condemns Houthi militia missiles in Yemen
• Israeli settler runs over, injures Palestinian teenage boy in occupied West Bank
• Turkish warplanes 'destroy 18 Kurdish militant targets in Iraq'
--------
Africa
• Debate Re-emerges in Libya over Fate of Qaddafi's Corpse
• Somalia: Troops Recapture Key Town from Al-Shabaab Militants
• Hundreds of refugees rescued at sea between Libya, Italy
• Violence in central Nigeria leaves at least 5 dead: police
• Suicide car bombing injures 3 in eastern Libya
• Nigerian police says 16 killed in multiple attacks
• Retrieve Arms From Boko Haram And Herdsmen, Group Tells IGP
--------
Southeast Asia
• At Least 44 Militants Killed In Clash with Philippine Troops
• Will Malaysia's Islamisation change course?
• Iran, Indonesia can join hands in fighting extremism
• 'Why isn't amendment on unilateral conversion in Parliament?'
Compiled by New Age Islam News Bureau
URL: https://www.newageislam.com/islamic-world-news/winnipeg-author-explores-deep-romanticism/d/114566
--------
Winnipeg Author Explores 'Deep Romanticism' In Islam
Mar 11, 2018
Starting in Lower Manhattan and working backwards, a Muslim academic from Winnipeg is about to release a new book to spread understanding about an often misunderstood approach to Islam.
Rory Dickson, an associate professor at the University of Winnipeg, says Sufism can also be thought of as "a mystical approach to Islam" — not a sect like Sunni or Shia, but a way of thinking about the faith that's seen in both.
"It focuses on the idea of love, which is something I think is really important, that there's actually a deep romanticism to the Islamic tradition in general and Islamic cultures more broadly that gets totally lost in the headlines," said Dickson.
Dickson co-wrote Unveiling Sufism: From Manhattan to Mecca along with another academic, Meena Sharify-Funk, an associate professor at Wilfrid Laurier University.
Dickson said the approach is famous for the art, poetry and philosophy its followers produce: you may have heard of Rumi, a famous Sufi poet (and, more recently, the namesake of one of Beyoncé's new twins).
Despite the relative popularity of poets like Rumi, Dickson said the approach is often confused in the West for a sect of Islam, or used as a way to distance Muslim artists from the faith.
"I think too often in the West we separate Sufism and Islam, and what it allows us to do is say, 'well, all these things we like in Islam are not Islam, there's something else called Sufism, and then all these other things we don't like, well, we're going to call that Islam,'" he said.
"And I think [love] is really at the heart of the Islamic tradition."
'Unconventional' structure
Dickson's book, which will be launched at McNally Robinson in Winnipeg on Thursday, is structured in an "unconventional" way, he said, starting with the most recent expressions of Sufism and working backwards.
"We wanted to unveil the tradition gradually, so to speak, so we begin with Manhattan. We begin with Sufism in New York City," he said.
"Each chapter actually moves back toward [its] origins. Normally with an introductory text you begin at the beginning and then sort of work your way up to the present, but we decided to do the opposite."
Add anti-racism lessons to curriculum: Muslim leader
Dickson himself was introduced to Sufism as a young person, he said, deeply intrigued by various religious teachings and "hungry" for a spiritual encounter. The philosophy stood out to him because of how it reconciled unity and diversity.
"In particular, having met some individuals who represent the Sufi tradition, I really found, sort of, we might say, 'spiritual juice' that I was looking for," he said.
http://www.cbc.ca/news/canada/manitoba/winnipeg-sufism-book-launch-1.4571231
--------
'Punish a Muslim Day' Letters Rattle U.K. Communities
By YONETTE JOSEPH
MARCH 11, 2018
LONDON — The anonymous letters arrived this weekend in plain white envelopes with second-class stamps, and were sent to people in at least six communities in England.
Inside was a message so hateful that it sent out ripples of alarm and prompted a national counterterrorism investigation.
The message said that April 3 would be "Punish a Muslim Day," and that points would be awarded for acts of violence: 25 points for pulling off a woman's head scarf, 500 points for murdering a Muslim and 1,000 for bombing a mosque.
Riaz Ahmed, a Liberal Democrat councillor in Bradford, in West Yorkshire County, told The Mirror on Saturday that he had received one of the letters at his business address.
"It seems strange that anyone would send something like this to an address in a predominantly Muslim area,'' Mr. Ahmed was quoted as saying. ''When I opened it and saw the content, I was horrified."
People in Birmingham, Cardiff, Leicester, London and Sheffield have also reported receiving the notes, according to the authorities, a member of Parliament and an organization that monitors anti-Muslim activity.
"Punish A Muslim Day" letters are being sent to families in East London. The letter details a point system for each action & a reward. For example pulling a Muslim women's hijab is 25 points, throwing acid is 50 points and burning or bombing a mosque is a whole 1,000 points. pic.twitter.com/6kmCrDrXt0
The Metropolitan Police of London and other officials have warned Britons to be vigilant, and counterterrorism officials are investigating.
Naz Shah, a member of Parliament from Bradford West, said on Twitter and in a Facebook post that members of her community had received the letters and that the situation had become "very distressful, not only those who have received the letter but also for the wider communities."
Ms. Shah said the North East Counter Terrorism Unit, which is coordinating the investigation, had informed her that the letters appeared to be linked and that "a thorough and professional investigation is well underway."
"I would appeal to the wider community to remain vigilant and report any suspicious activity to the police," she said.
The North East Counter Terrorism Unit said in a statement that it had received reports of "potentially malicious communications sent to individuals across the U.K.," and asked victims to contact their local police.
The significance of April 3, 2018, was not immediately clear. Some neo-Nazi groups use the number 18 to signify the letters of Hitler's first and last names in the alphabet.
Tell Mama, an organization that tracks anti-Muslim crimes, said in a Twitter post that the hate letters sent out in Britain numbered in the "double figures" and that it was working with the police to investigate the "malicious campaign."
'Punish a Muslim Day' - we continue to receive reports of letters received from across the country. Now into double figures. Please report them into us at Tell MAMA or to 101. We are working with police forces on this malicious campaign. pic.twitter.com/4bph2RVBcv
At least some letters — they also promote acid attacks and torture — appeared to have been mailed out of Sheffield, the group said.
Iman Atta, the director of Tell Mama, told the local news media: "This has caused quite a lot of fear within the community. They are asking if they are safe, if their children are safe to play outdoors. We have told them to keep calm."
Assistant Chief Constable Angela Williams of the West Yorkshire police said in a statement, "We want to reassure our communities that these communications are being taken extremely seriously."
She said, "I would urge our communities to be vigilant but not frightened,'' adding, "We are stronger when we stand together as one and will not be divided. #WeStandTogether."
Sajid Javid, a member of Parliament and secretary of state for housing, said on Twitter in response to the letters: "Disturbing reports of Islamophobic letters in the #Midlands - let me be clear, British Muslims should be able to live without fear of abuse and attack and we will do everything in our power to tackle those who spread hate."
Mr. Ahmed told The Mirror that the letter sent to him "was not addressed to anyone, just the address and postcode as if it was sent out randomly." The Yorkshire Post said at least three letters had landed in Bradford, a historic town in northern England.
The letter appeared to lash out at Britain and countries elsewhere in Europe with migrant, minority and Muslim populations.
"Are you a sheep like the vast majority of the population? Sheep follow orders and are easily led," it says. "They are allowing the white-majority nations of Europe and North America to become overrun by those who would like nothing more than to do us harm and to turn our democracies into Sharia-led police states."
The 2011 census said Muslims made up slightly more than 4.4 percent of the population in the United Kingdom — about 2.7 million people, compared with 1.55 million in 2001 — and most live in England and Wales. A 2016 perception survey by Ipsos Mori found that Britons overestimated the number of Muslims in the country.
As the Muslim population has grown, the number of hate crimes in England and Wales has risen, according to Home Office statistics. There were 80,393 offenses in 2016-2017, compared with 62,518 in 2015-16. That increase, at 29 percent, was the largest since the Home Office began recording figures in 2011-12. The episodes have included arson attacks on mosques and schools.
Last year, a British man was accused of ramming a van into a group of Muslims leaving a London mosque, killing a worshiper and injuring several others. The police said the suspect, Darren Osborne, 48, had received a Twitter message from Jayda Fransen, the deputy leader of Britain First, a far-right group that gained notoriety after President Trump recirculated unverified anti-Muslim videos it had posted online.
Ms. Fransen was arrested in December along with Paul Golding, the leader of Britain First, on hate crimes charges after they were accused of posting videos online of their harassment of Muslims in May 2017. Both were convicted this month and sentenced to prison.
https://www.nytimes.com/2018/03/11/world/europe/uk-muslims-letters.html?
--------
Shoes hurled at Nawaz Sharif at Madrasa event
Omer Farooq Khan
Mar 12, 2018
ISLAMABAD: Two men lobbed shoes at former Pakistan PM Nawaz Sharif on Sunday with one hitting him on his chest when he was about to address a gathering at a seminary in Lahore on Sunday.
The attacker then jumped on the stage chanting slogans in favour of Tehreek-e-Labaik Ya Rasul Allah, which had carried out a protest against the government in Islamabad last year for amending a law related to the finality of Prophet Muhammad. On Saturday, foreign minister Khawaja Asif's face were blackened with ink.
https://timesofindia.indiatimes.com/world/pakistan/shoes-hurled-at-nawaz-sharif-at-Madrasa-event/articleshow/63262412.cms
--------
In Poll Arena, Who Will Be Affected Most By Muslim-Centric Parties?
MARCH 11, 2018
There is a feeling that smaller parties may shave votes off the Congress
The entry of Muslim-centric parties into the poll arena in Karnataka has raised curiosity about if and how they could divide the community's votes.
With parties such as the Social Democratic Party of India (SDPI) and All-India Majlis-e-Ittehad ul Muslimeen (AIMIM), besides the All-India Mahila Empowerment Party, launching their election campaigns, calculations have begun on the extent to which their candidates could play the role of spoilers for secular parties.
Karnataka Muslim Muttahida Mahaz, an apex body of 28 non-political Muslim organisations, including influential groups such as Tableeghi Jamaat, Ahle Hadith, Shia organisations, and Jamaath e-Islami Hind, has begun an awareness campaign aiming to defeat "communal forces" in the elections.
Concerned about the possibility of a split in the Muslim vote, which is considered to be substantial enough in many constituencies to swing the outcome, the Mahaz is planning to carry out a study to identify "secular" candidates with the best chance of defeating the "communal" ones. It will follow this up by issuing an advisory to Muslims and all "peace-loving" voters in each constituency.
Mahaz executive committee member Syed Tanveer Ahmed, who is also the editor of Karnataka Muslims , a fortnightly magazine published from Bengaluru, told The Hindu that the group is concerned about a repeat of the Uttar Pradesh elections in Karnataka, where the Muslim vote was divided. "It suits the BJP to patronise these Muslim-centric parties," he added.
No relenting
But leaders of the SDPI and the AIMIM beg to differ. "They can't scare us away from the political arena by saying that communal forces will win if we don't withdraw," said SDPI general secretary Abdul Majeed, who is preparing to contest from Narasimharaja Assembly constituency in Mysuru. He lost to the Congress' Tanveer Sait by around 8,000 votes in the last elections.
The SDPI is keen to have its representatives in the Assembly as elected representatives of secular parties will be controlled by the party's policies, not the community's interests, Mr. Majeed said.
The AIMIM, which is headed by the Lok Sabha member Asaduddin Owaisi, is eying Muslim-dominated constituencies in the Hyderabad Karnataka and Bombay Karnataka regions.
The party's State unit head, Usman Ghani, held the Congress responsible for the propaganda on division of Muslim votes with the AIMIM's entry into the poll fray. "The Congress wants the community to remain subservient to them, stay out of the contest and vote only them," he said.
The number of constituencies the AIMIM will contest will depend on the outcome of the efforts to tie-up with the JD(S). "Talks are under way between mediators. Mr. Owaisi will speak to the JD(S) leadership in the final stages."
http://www.thehindu.com/todays-paper/tp-national/tp-karnataka/in-poll-arena-who-will-be-affected-most-by-muslim-centric-parties/article23037970.ece
--------
Rise of violent Buddhist rhetoric in Asia defies stereotypes
Mar 12, 2018
HONG KONG: Buddhism may be touted in the West as an inherently peaceful philosophy, but a surge in violent rhetoric from small but increasingly influential groups of hardline monks in parts of Asia is upending the religion's tolerant image.
Buddhist mobs in Sri Lanka last week led anti-Muslim riots that left at least three dead and more than 200 Muslim-owned establishments in ruins, just the latest bout of communal violence there stoked by Buddhist nationalists.
In Myanmar, ultra-nationalist monks led by firebrand preacher Wirathu have poured vitriol on the country's small Muslim population, cheering a military crackdown forcing nearly 700,000 Rohingya into Bangladesh.
And in neighbouring Thailand, a prominent monk found himself in hot water for calling on followers to burn down mosques.
What has prompted this surge in aggressive rhetoric from followers of a faith that is so often equated, rightly or wrongly, with non-violence?
For many in the West, schooled in Buddhism via the beatniks, Hollywood, meditation classes, tropical holidays and inspirational Dalai Lama quotes, the visceral response of these monks can be a shock.
But Michael Jerryson, an expert on religion at Youngstown State University who has just completed a book exploring Buddhism and violence, says throughout history some Buddhists — like any faith — have used religion to justify violence.
"There's a common mindset, whether it's Sri Lanka, Myanmar, Thailand... that Buddhism is somehow under threat," he said, describing the latest incarnation of violent Buddhist rhetoric.
"Each area has its own history, its own causes and instigators, but these instigators are also interlinked."
In many recent cases around Asia, this aggression has been targeted toward Muslims.
After the Taliban's destruction of the Bamiyan Buddha statues in Afghanistan and the "war on terror" rhetoric, Jerryson says, warped historical grievances have "collided with recent Islamophobia".
Despite centuries of largely peaceful co-existence and trading, Buddhist fundamentalist groups portray Islam as invasive, toppling ancient Buddhist empires in Malaysia and Indonesia and now threatening the same for modern Buddhist nations through jihad or high birth rates.
Myanmar's Wirathu has built a following railing against Muslims in incendiary sermons both in person and on Facebook — which closed down his page in January.
While Muslims make up less than four percent of Myanmar's population, Wirathu paints a millenarian portrait of an Islamic plot to eradicate Buddhism.
His Ma Ba Tha group was instrumental in pushing laws to restrict interfaith marriages and changing religion.
In Sri Lanka, Buddhist militancy has gone mainstream, with clergy seen clashing with riot police and leading anti-government protests.
During the brutal 26-year civil war, the ire of ultra-nationalists among the mainly Buddhist Sinhalese majority was focused on the island's Tamil Hindus.
But after the Tamil Tigers were beaten in 2009, hardliners turned on Muslims, who make up some 10 percent of the population.
Monk Galagodaatte Gnanasara, the movement's most prominent leader, is on bail facing hate speech charges and insulting the Koran.
"The Koran should be banned in the country," he said recently. "If you don't, we will go from house to house and campaign till it is banned."
His movement BBS — Buddhist Force — hosted Wirathu and his followers in September 2014.
In Thailand, anti-Muslim hardliners have had less success.
Thai columnist Sanitsuda Ekachai says years of corruption scandals have undermined faith in the clergy.
"Subsequently, local monks' ethnic prejudices carry far less weight with the public and state authorities than their counterparts in Myanmar and Sri Lanka," she told AFP.
But there have been flashes of tension such as in the country's Malay Muslim-majority south, where a brutal insurgency has killed more than 6,500 civilians in the last decade.
Most of the dead are Muslim civilians, but Buddhist monks have also been targeted by militants, fuelling animosity towards Islam.
Maha Apichat, a young and influential ex-monk, used Facebook to call on followers to burn down a mosque for every monk. He was later defrocked.
Experts say Buddhist clergy can trigger violence without directly participating.
"With a couple of very rare exceptions Buddhist monastic groups don't carry out the violence themselves," explains Iselin Frydenlund, from the Norwegian School of Theology, who has written extensively about what she dubs "Buddhist protectionist" movements in Myanmar and Sri Lanka.
"But what they will do is provide the justification for the use of violence carried out by others, be they vigilante groups, civilians, police or soldiers."
It is not just global Islamophobia fuelling these groups, she adds — colonial history, globalisation and the advance of secularism play their part.
"People feel they are losing their traditions."
Puangthong Pawakapan, a politics expert at Bangkok's Chulalongkorn University, points to an earlier threat to monks from the recent past — communism.
During the height of the Cold War in the 1970s, one of Thailand's most prominent right-wing monks — Kittiwuttho — famously told followers it was "no sin to kill communists".
Jerryson says he fears the recent religious communalism could spread to vulnerable minorities, such as Buddhists in Bangladesh's Chittagong Hill Tracts.
"By labelling Muslims as adversaries to Buddhism, which historically has not been true, it solidifies the perception that the relationship is adversarial," he warns.
"The damage is being done, there is a breakdown of trust, a building of fears."
https://timesofindia.indiatimes.com/world/rest-of-world/rise-of-violent-buddhist-rhetoric-in-asia-defies-stereotypes/articleshow/63263720.cms
--------
Syria army bombs splintered Ghouta enclave as bodies pile up
March 12, 2018
HAMMURIYEH/ ISTANBUL - New air strikes and barrel bombs pounded Syria 's Eastern Ghouta on Sunday as government forces pressed a three-week advance that splintered the rebel enclave and trapped dozens under collapsed buildings.
Defying global calls for a ceasefire, Syria 's government has pursued a ferocious Russian-backed air campaign and ground offensive to capture the region, the last rebel bastion on the capital's doorstep.
In three weeks of fighting, it has overrun more than half the area and split the remainder into three pockets, isolating the urban hub of Douma from the rest of the enclave.
On Sunday, government troops battered the edges of each pocket with air raids, barrel bombs , and rockets, said the Britain-based Syrian Observatory for Human Rights. After fighting all morning, they captured the town of Medeira, which lies at the heart of the three zones, Observatory head Rami Abdel Rahman said.
State news agency SANA had reported troops were focusing on the town in order to cut rebel access routes in Ghouta.
Bombing runs across several towns in Ghouta killed a dozen civilians on Sunday, bringing the total toll from the offensive to at least 1,111 civilians, the Observatory said. They include dozens of decomposing bodies still trapped under pulverised residential blocks in the towns of Hammuriyeh, Saqba, and Misraba.
In Hammuriyeh, AFP's correspondent saw a young man scrambling frantically over the rubble of a collapsed building in search of his loved ones.
His father, mother, and three siblings were killed in an air raid, but rescue workers have been unable to pull them out.
Hassaan, a 30-year-old rescue worker, said there were around 20 more families under the rubble.
"We need heavy machinery to get them out, but we can't bring the machines out into the streets because the regime may bomb them," he said.
In the main town of Douma, bodies piled up in the morgue as bombardment prevented families from reaching the cemetery, AFP's correspondent there said. Families grew desperate for news of loved ones who had fled to other areas that were now inaccessible. SANA reported on Sunday that troops transported "dozens of civilians, including women and children," from Misraba to temporary shelters in government-held zones. The Observatory told AFP that Misraba was left abandoned after 75 to 100 people were moved out of the town by regime forces.
On Sunday, four people were killed and six wounded in rebel rocket fire on a government-controlled district in eastern Damascus, state television reported.
It broadcast live footage from the battered skyline of Medeira, saying Sunday's gains linked Syrian soldiers advancing from the east with troops based on the western edges of Ghouta.
On Sunday, US Defence Secretary Jim Mattis warned it would be "very unwise" for Assad to use weaponised gas against civilians, but delined to say whether doing so would trigger a US military response.
Meanwhile, Turkish President Recep Tayyip Erdogan on Sunday angrily lashed out at NATO, accusing the Western military alliance of failing to back Turkey's campaign against Kurdish militia in Syria .
Erdogan's latest comments were among the toughest he has directed in recent times against NATO, which Turkey joined in 1952 as the US sought to make sure it did not fall under Soviet sway after World War II.
Turkey launched its operation on January 20 seeking to oust the Kurdish People's Protection Units (YPG) from the Afrin region of northern Syria with its forces now just a few kilometres away from Afrin town.
But the YPG has been a key American ally in the fight against jihadists in Syria and the operation has raised tensions with Washington and European NATO powers, notably France. "Hey NATO! With what has been going on in Syria , when are you going to come and be alongside us?" Erdogan said in remarks to supporters in Bolu, a city east of Istanbul.
"We are constantly harassed by terror groups on our borders," he said. "Unfortunately until now, there has not been a positive word or voice."
After the start of the campaign, NATO Secretary General Jens Stoltenberg said Turkey had a right to defend itself but emphasised it must be done "in a proportionate and measured way."
Erdogan slammed Washington for arming the YPG, saying the group had received 5,000 trucks and 2,000 cargo planes of weapons.
"Is this friendship? Is this NATO unity?" he asked in a later speech, noting how Turkey had backed the alliance by participating in its operations in Afghanistan and elsewhere. "Are we not a NATO member?"
He also said Turkish troops and allied Syrian rebels were now just four to five kilometres (about three miles) from Afrin which they were poised to take.
https://nation.com.pk/12-Mar-2018/syria-army-bombs-splintered-ghouta-enclave-as-bodies-pile-up
--------
North America
Quebec City musicians hold benefit concert for survivor of mosque shooting
Mar 11, 2018
Beatrice Madeline Cadrin said she doesn't know how many people would been willing to sacrifice themselves to save others, the way Aymen Derbali did more than a year ago.
That's why Cadrin decided she wanted to do something to show the community's support for the 41-year-old by organizing a benefit concert in his honour.
Derbali is one of the survivors of the shooting at the Sainte-Foy mosque on Jan. 29, 2017. When he entered the prayer room that night, a shooter was already aiming his gun at the worshippers.
"[Derbali] even had time to analyze the situation and judge that if the shooter was shooting toward him, he wouldn't be putting anyone else in danger," said Cadrin.
Derbali was hit by seven bullets and is still living in a rehabilitation centre, away from his wife and their three children.
A fundraising campaign organized last year by the Muslim charity Dawanet, based in Toronto, has already raised $400,000 to allow Derbali to buy a wheelchair-adapted home.
Cadrin said she wanted to do something locally, to give citizens the opportunity to show their support.
"Once the home is bought there are still fees and costs that have to be taken into consideration," she said.
Derbali to attend concert
Derbali said he was very touched by the gesture, and plans to attend the concert with his family.
He said the support he's seen pour in from across the country has helped the Muslim community get through a very difficult year.
"These citizens who have supported us through this tragedy, it has shown us that good will triumph over evil," Derbali told Radio-Canada this week.
The concert is scheduled to take place at 3 p.m., at the Cathedral of the Holy Trinity, in Old Quebec. The event is free, but donations will be collected at the door.
It will feature performances by students from local music schools, Beethoven's Symphony No.3, as well as the Cathedral's choir.
The concert will open with an original composition from singer Zakia Zoukri.
http://www.cbc.ca/news/canada/montreal/benefit-concert-quebec-aymen-derbali-1.4571102
--------
Mattis warns Syria, Russia on chemical weapons deployment
Mar 12, 2018
US Defense Secretary James Mattis has warned the Syrian government against using chemical weapons implying it would prompt military consequences, as it did last year when US President Donald Trump ordered a strike on a Syrian air base.
"I just want to reiterate it would be very unwise for them to use weaponized gas," Mattis told reporters while en route to Oman. "And I think President Trump made that very clear early in his administration."
Speaking to reporters travelling with him on a trip to Oman, Mattis admitted he has no evidence to back up his statements. The Pentagon chief said there are many reports about Chlorine use or symptoms that could be a result of the gas.
United Nations experts are investigating reports of chlorine gas being used against civilians.
The US has been unable to verify the reports, but Mattis claimed they appeared to be credible and warranted concern. "We have made it very clear that it would be very unwise to use gas against people, civilians, on any battlefield," he said on a military jet heading for Oman on Sunday.
"The president has full political maneuver room to take the decision that he believes appropriate."
Syria's deputy foreign minister has denied charges that Syrian government forces used toxic arms in their operation against terrorist groups in Damascus' countryside. Faisal Mekdad says terrorists in eastern Ghouta are preparing to fabricate more such attacks to blame the Syrian army.
Claims of Syria's use of chemicals against civilians in Eastern Ghouta came last Wednesday when videos surfaced online allegedly showing planes dropping what was claimed to be phosphorus bombs. The videos triggered calls for a probe from Western governments. However, Russia, which has been backing Damascus in the terror fight, swiftly denied the allegations.
Full report at:
http://www.presstv.com/Detail/2018/03/12/555144/James-Mattis-Russia-Syria-chemical-weapons
--------
US calls for arms embargo on South Sudan
10 March 2018
The United States has proposed an arms embargo against South Sudan in a bid to stop the ongoing conflict in the country, said U.S. Secretary of State Rex Tillerson on Friday.
"The U.S. believes that the arms embargo should be enforced and that is our position, let's be very clear on that," Tillerson, who is currently on a 3-day trip to Kenya, told a news conference in the Kenyan capital Nairobi.
The secretary of state said his visit to Africa is centered on the U.S. continued support for the democratic process in Kenya, refugee issues -- especially those from Somalia and South Sudan -- and press freedom.
He commended Kenyan President Uhuru Kenyatta and opposition leader Raila Odinga for agreeing to a truce and ending their rivalry, which led to the killing of more than 100.
The truce came just hours before Tillerson landed in Kenya on Friday.
For his part, Kenyatta told the U.S. secretary of state that his country needed help in fighting al-Shabaab militants in Somalia.
"Kenya calls on the U.S. to strongly consider the proposal, which was made almost three years ago, to have a surge operation in Jubba Valley region in order to root out al-Shabaab," Kenyatta said.
Speaking about South Sudan, Kenyatta said his country has remained fully engaged in finding a lasting solution and rejected claims that Kenya was supplying arms to South Sudan.
Full report at:
http://www.worldbulletin.net/america-canada/199615/us-calls-for-arms-embargo-on-south-sudan
--------
Europe
State visit to Britain by Saudi leader fails to sway critics
Mar 12, 2018
The first overseas tour undertaken by Saudi crown prince Mohammed bin Salman was intended as a "charm offensive" but has sparked controversy in the two capitals he visited and deepened divisions within the Middle East.
In Cairo he met Egyptian president Abdel Fattah al-Sisi, an ally who has jailed opponents, stripped every vestige of democracy from Egypt's post-Arab Spring politics and is running for re-election in a virtually uncontested poll at the end of this month.
The crown prince was the first Saudi royal to call on Coptic Pope Tawadros II. While the pope welcomed the prince and praised the reforms he has made in Saudi Arabia, the location of the encounter, St Mark's Cathedral, took place at the site of an Islamic State bombing that killed 25 Coptic Christians in December 2016.
Wahhabi ideology
Egypt's 10 per cent Christian minority is under constant threat and frequent attack from Muslim fundamentalist Salafis and Islamic State affiliates who have embraced anti-Christian tenets of Saudi Arabia's deeply conservative Wahhabi ideology promulgated by Saudi missionaries across the Muslim world.
While meeting Egyptian newspaper editors, the prince spoke of a regional "triangle of evil" consisting of Iran, Turkey and radical groups such as al-Qaeda, Islamic State, also known as Isis, and the Muslim Brotherhood.
While Sunni Saudis have long regarded Shia Iran a rival in the region and the Muslim world, the inclusion of Sunni Turkey in this "triangle" was meant to restructure regional relations by isolating Iran and Turkey as well as boosting campaigns against radicals.
Although Saudi Arabia has long been at odds with the brotherhood, this move pleased Mr Sisi who has been battling the brotherhood and extremists since 2013. He has also castigated Turkey for hosting exiled members and promoting their cause.
The Saudis see Turkish president Recep Tayyip Erdogan as a rival. His ruling AK Party is modelled on the brotherhood and he aspires to become a regional and Muslim leader, reviving the influence of the Ottoman empire in spite of Arab rejection.
By including radicals in the triangle, the Saudis seek to escape responsibility for the rise of extremism among Muslims. Finally, the prince said Qatar would continue to be ostracised by Saudi Arabia and its Gulf allies, dividing the Gulf Co-operation Council as well as the region.
Kingdom's crackdown
Prince Mohammed's visit to London took place despite opposition from those in Britain angered by the kingdom's crackdown on domestic critics and devastating and deadly war in Yemen. More than 10,000 civilians have been killed in the war which has impoverished 75 per cent of the population.
While a public relations firm lauding his visit was unable to drown out critical voices, he lunched with Queen Elizabeth II, dined with princes Charles and William, and held talks with prime minister Theresa May with the aim of promoting £65 billion in trade and investment in coming years.
Although only 6 per cent of Britons favour arms sales to Saudi Arabia, since the prince launched his war on Yemen three years ago Britain has concluded weapons deals of £4.6 billion (€5.2 billion), an increase of 500 per cent over previous years.
The crown prince's reforms are hailed as progressive in the ultra-conservative kingdom. But changes he has made have been largely cosmetic: allowing women to drive and attend sports matches, opening cinemas and permitting concerts.
Women are still required to wear concealing clothing while male "guardians" dictate whether they can travel, marry or divorce, receive medical treatment and education, and open bank accounts. Regime opponents are jailed, billions of dollars extracted from leading figures accused of corruption, and criminals convicted of capital offences are decapitated in public on Fridays after communal prayers.
https://www.irishtimes.com/news/world/middle-east/state-visit-to-britain-by-saudi-leader-fails-to-sway-critics-1.3423270
--------
Centre in Clonskeagh is major symbol of Islam in Ireland
Mar 12, 2018
The Islamic Cultural Centre (ICCI) at Clonskeagh in south Co Dublin has tended to be the major symbol of Islam in Ireland. Belonging to the majority Sunni Muslim tradition, it is there to which official Ireland turns when it wishes to acknowledge and/or welcome the State's growing Muslim community.
It was there Leo Varadkar went last June, shortly after his election as Taoiseach, to mark the end of Ramadan, the Islamic month of fasting.
President Michael D Higgins, on his second visit there in November 2016 to mark the centre's 20th anniversary, thanked the Muslim community "for the important role you have played throughout those two decades in enabling Ireland's Islamic community to become fully engaged, and active members of their wider social and national community".
Also at 20th anniversary events there, Mirza Al-Sayeg, vice-president of the Al Maktoum Foundation which built and funds the ICCI, recalled warmly a visit by former president Mary McAleese. In attendance with him and representing Sheikh Hamdan Bin Rashid Al Maktoum, Crown Prince of Dubai in the United Arab Emirates, was Alsayed Ali Al-Hashim.
Then too Minister of State for Integration David Stanton praised the centre for exploring "new ways to embed a culture of respect for diversity" in Ireland.
Others there then included Minister of State for Housing Damien English, Fianna Fáil leader Micheál Martin, Green Party leader Eamon Ryan, Catholic Archbishop of Dublin Diarmuid Martin, and the then assistant Garda commissioner Jack Nolan.
Attracted coverage
The centre itself was opened in November 1996 by former president Mary Robinson, an event which attracted particular coverage because Yussuf Islam, formerly known as singer Cat Stevens, also attended.
For good reason then Al-Sayegh cast his mind back two decades with obvious satisfaction. He recalled how the genesis of the centre came about in 1990, eight years after Sheikh Hamdan bin Rashid Al Maktoum of the United Arab Emirates had established his family's first stud farm at Maynooth.
"We [and others] sat together to talk about establishing such a place. Authorities in Dublin and Maynooth were so co-operative and so helpful, leaving no stone unturned in making this place a reality," he said.
Back then in 1990 Ireland's Muslim population was small. The 1991 census put it at just 3,875. By the census of April 2016, it was 63,400.
Funded by the al-Maktoums, the 5,000sq m centre, one of the largest in Europe, cost IR£5 million to build in 1996 and contains a main mosque that holds more than 1,700 people as well as two smaller prayer halls.
In addition, it has a Muslim national school, a sports hall, a library, an exhibition hall, an information centre, offices, a women's education and social centre, a shop, a restaurant, eight apartments and a mortuary.
Designed by architects Michael Collins & Associates, it won a Royal Institute of the Architects of Ireland award in 1997. Set on 3.5 acres, it was Ireland's second purpose-built mosque, after one built in Ballyhaunis, Co Mayo in 1987.
The ICCI at Clonskeagh is the busiest Islamic centre in Ireland, with a staff of about 20. Each day, about 1,200 people come there for prayers; 850 children attend its Quranic school and there are 250 in its primary school.
Its Imam is Sheikh Hussein Halawa (61) who came to Ireland from Egypt in 1995. He studied theology at Cairo's Al-Azhar University and gained his doctorate in Islamic studies at the International Islamic University in Pakistan's Islamabad. His son Ibrahim was released from jail in Egypt last October after being held there, untried, for more than four years
Imam Halawa is chairman of the Irish Council of Imams, which was set up in 2006 to represent the Muslim voice in Ireland, frequently meeting with politicians and other church leaders.
He is also the Muslim leader most invited to take part in State occasions whether it be the inauguration of presidents, national days of commemoration or other State gatherings.
He is secretary general of a theological body of Muslim scholars, the Dublin-based European Council for Fatwa and Research.
Denial
Its president, Egyptian-born but Qatar-based Yusuf al-Qaradawi (91) is, it is claimed, a member of the Muslim Brotherhood. He has denied this.
A controversial theologian and scholar firmly traditional in his beliefs, Sheikh al-Qaradawi was banned from the US in 1999, the UK and Ireland in 2008, and France in 2012.
This centred on a belief that he condoned Palestinian suicide bombings against Israelis; that he was anti-Semitic and homophobic. However, he also condemned the 9/11 attacks on New York and supported Muslim integration in Western societies.
He visited Ireland many times but was banned in 2008. It was suggested by US officials, in correspondence dating from 2006 released by WikiLeaks, that Imam Halawa himself was a member of the Muslim Brotherhood. This has also been denied.
His daughter Somaia Halawa has said there were no overt links between her family and the Muslim Brotherhood but that she had friends who were members. Her family was "not political in that way", she said.
However, Soha Gendi, Egyptian ambassador to Ireland, has been adamant in the past that "the whole family is part of the Muslim Brotherhood, whether they deny it or not".
Founded in Egypt in 1928, the Muslim Brotherhood is a Sunni Muslim organisation set up with the aim of establishing the Koran as sole reference point for ordering life in the family, community and State.
It was outlawed in Egypt until the so-called Arab Spring of 2011 and the removal of then prime minister Hosni Mubarak. It was outlawed again by the current Egyptian regime in September 2013.
Full report at:
https://www.irishtimes.com/news/social-affairs/religion-and-beliefs/centre-in-clonskeagh-is-major-symbol-of-islam-in-ireland-1.3423079
--------
'Another German mosque comes under arson attack'
Mar 11, 2018
A mosque has reportedly been attacked in the German capital city of Berlin as authorities start a probe into a similar incident in Stuttgart.
The German website Local reported that the fire department had been called in to put out a fire caused by a suspected arson attack at the Koca Sinan Camii Mosque shortly after 2 am (0100 GMT) on Sunday morning.
The blaze reportedly came under control after an hour.
The incident follows a similar suspected arson attack on a mosque in the administrative region of Stuttgart.
Police have launched an investigation into an arson attack against Muslims at a mosque near the German town Lauffen. Stuttgart prosecutors and local police said on Saturday that they were handling the investigation as a possible racist or anti-Islamic attack.
Five people, who allegedly threw Molotov cocktails into the place of worship, were being prosecuted for attempted murder, according to the German law enforcement agency and judiciary.
The attack on the mosque, which took place on Thursday night, caused material damage but no deaths or injuries.
The congregational prayers leader, known as imam, managed to extinguish the fire at the site.
According to sources in the German Interior Ministry, there were 950 registered attacks on Muslim individuals and properties in 2017 alone. Dozens of people were injured in those attacks.
Meanwhile, Amnesty International has sounded the alarm about right-wing parties in Europe advocating anti-immigration and anti-Islam policies
Germany is home to some three to four million Muslim Turks.
Full report at:
http://www.presstv.com/Detail/2018/03/11/555068/Germany-Berlin-mosque-arson-attack
--------
Violence against Muslims in Europe requires action
12 March 2018
Euro-Med: Organized violence against Muslims in Europe requires a decisive position
Geneva- The widespread practices of organized violence against Muslims in Europe are deeply distressful and alarming, says the Euro-Mediterranean Human Rights Monitor, especially that random attacks against Muslims have turned into organized crime, with populist groups and bodies stroking up hatred and promising rewards for crimes directed against the Muslim minority.
If European governments do not take an immediate decisive and unified position regarding these crimes, catastrophic results are likely to impact societal peace across the continent, Euro-Med Monitor warned in a press statement on Sunday.
Following reports of hate letters titled "Punish a Muslim Day," received across the UK, which incites Islamophobic acts of violence against Muslims, the human rights nonprofit group warned of possible hate crimes, stressing that such letters will only further harm Muslims residing in the country and elsewhere.
The letter has been circulated in mosques, outside institutions and public places, and randomly emailed to hundreds of people, calling for hostilities against Muslims everywhere, with 3 April as the day for carrying out these attacks.
Those who wrote the letter proposed a points-based system for acts of violence against Muslims, for each point scored a certain reward was promised. Taking a woman's hijab off accounts for 25 points, the letter said, 50 points for acid attacks, and 1000 points for burning or blowing up a mosque.
The Metropolitan Police and Bradford Police reported that they had received several communications from persons receiving messages of incitement and violence against Muslims. Euro-Med Monitor calls on the British police to act firmly regarding these letters, especially that it is highly possible to obtain an address for the anonymous sender/senders.
Reportedly, hate crimes against Muslims have escalated in recent years in the UK and Europe in general. London City recorded a remarkable increase in the number of crimes during 2017 by 40%, while the German Interior Ministry announced that the number of assaults against Muslims and mosques during the same year amounted to about 950.
A member of an Italian right-wing racist party fired six bullets at a 54-year-old Senegalese salesman and instantly killed him in Florence a few days ago. A month earlier, a young man of the same right-wing party fired live ammunition killing six foreigners of African descent in Macerata City.
The situation of Muslim in Europe is taking a more alarming turn, while Muslims only make up about 5% of the total population. They are under constant Islamophobic threats, stated the Geneva-based organization, which will only instill fear and hatred of Islam and Muslims, with such practices instigating an endless cycle of violence.
Full report at:
http://www.scoop.co.nz/stories/WO1803/S00065/violence-against-muslims-in-europe-requires-action.htm
--------
Pakistan
'University Of Jihad' Gets Public Funds Even As Pakistan Fights Extremism
March 11, 2018
Pakistan's so-called university of jihad is led by a man who proclaims himself "the father of the Taliban," and counts some of the world's most notorious terrorists among its alumni.
It also receives millions of dollars in aid from the government of the restive Khyber Pakhtunkhwa Province along the Pakistan-Afghan border, even as Islamabad carries out a national program to tackle extremism.
The Darul Uloom Haqqania religious seminary, located in Akora Khattak in northwest Pakistan, is known for preaching a fundamentalist brand of Islam and schooling a generation of fighters for both the Afghan Taliban and the Tehrik-e Taliban Pakistan (TTP), also known as the Pakistani Taliban.
Around 3,000 young men with beards and white skullcaps study at Haqqania's sprawling campus -- located about 50 kilometers east of Khyber Pakhtunkhwa's capital, Peshawar, and 90 kilometres west of the national capital, Islamabad -- making it one of the largest Islamic teaching centers in the world.
As could be expected from an Islamic institution of learning, students memorize the Koran and study Islamic law and the teachings of the Prophet Mohammad. But the seminary's teachings rooted in the Sunni Deobandi movement, which developed in India in the late 19th century in opposition to British colonialism, encourages its adherents to conduct violent jihad, earning the seminary a sordid reputation.
"Faculty, students, and alumni of the seminary are intimately linked to several militant groups," said Michael Semple, an expert on Afghanistan and Pakistan at Queen's University, Belfast.
"The Afghan Taliban perhaps have the best-developed links, and they systematically recruit young graduates," he added. "This is not even a particularly secret activity. The recruitment works rather like the way blue-chip companies would approach a graduate recruitment fair."
History Of Violence
Among the seminary's more infamous graduates are the Afghan Taliban's longtime leader Mullah Mohammad Omar, who died in 2015 in Pakistan, and Jalaluddin Haqqani, the leader of the Pakistan-based Haqqani network that is allied with the Afghan Taliban.
Asim Umar, the head of Al-Qaeda's South Asia wing, is also believed to have studied at Darul Uloom Haqqania. Pakistan's Dawn newspaper also reported that the two suspects in the 2007 assassination of Pakistani Prime Minister Benazir Bhutto attended the seminary. Haqqania rejected the claims.
The head of the seminary, Sami-ul Haq, who this week fell short in his bid to be elected to Pakistan's Senate, does not shy from Darul Uloom Haqqania's links to the Afghan Taliban. The 80-year-old cleric proudly embraces the title "Father of the Taliban" and said in an interview in 2009 that his students should fight against U.S. forces in Afghanistan. He has been quoted as describing Mullah Omar as an "angel" and one of his star pupils.
The seminary -- which was founded by Haq's father in 1947, the same year Pakistan gained its independence from the British Raj -- has published a two-volume collection of documents boasting of its role in the "Afghan jihad." During the Afghan-Soviet War from 1979-80 the seminary received millions in funding and provided thousands of fighters to the war effort. It was during that time that the seminary became fertile recruiting ground for Islamist groups.
"Many students of this madrasah [religious school] have fought in Afghanistan and in Pakistan and joined the ranks of both the Afghan and Pakistani Taliban," says Pakistani journalist and Taliban expert Rahimullah Yusufzai. "Not all the students go and fight, but the more radical join these militant groups and become even top leaders of these groups."
Yusufzai said that, while Darul Uloom Haqqania is not a terrorist training camp, its alumni provide a powerful precedent for current students to follow. He says the seminary also promotes a narrative that resonates among many in Pakistan -- that Islam is under attack from the West.
Millions In Public Funds
For years, Pakistan has promised to clamp down on religious schools that preach violence and have been recruiting grounds for domestic and foreign Islamist militant groups.
Yet radical seminaries like Darul Uloom Haqqania continue to operate freely and even receive government funds.
In February, the provincial government of Khyber Pakhtunkhwa Province gave the seminary $2.5 million in a push to "mainstream" the controversial institution. Opposition politician Imran Khan's Pakistan Tehrik-e Insaf (PTI) also gave $2.7 million in public funds to Darul Uloom Haqqania in 2017.
Analysts say the funds have been used to expand and renovate the seminary's vast campus, not to modernize or diversify its teachings.
Pakistani politicians have attacked the decision by the conservative PTI, which has close ties to hard-line Islamic political parties and figures.
Bilawal Bhutto Zardari, chairman of the Pakistan Peoples Party, said it was a "shame," while Syed Alam Mehsud, president of nationalist party Wolesi Tehrik, said the move "proved" that the government was "supporting extremist elements."
A 'Tall Order'
Pakistan launched a National Action Plan to tackle extremism shortly after a December 2014 assault on an army-run school in which Pakistani Taliban militants killed more than 150 people, most of them children. It included a plan to register all religious schools and reform their curriculum by introducing modern and secular subjects.
"Bringing reforms seems to be a tall order," says Yusufzai. "These schools and their ideology have become entrenched over a long period and now there are millions of students who have graduated from them. I think the focus of attention that is required from the authorities is lacking."
Semple said the seminaries and their leaders have become increasingly powerful in society and politics in Pakistan.
He said that would explain the PTI's decision to fund Darul Uloom Haqqania and its leader Haq, the leader of the Jamiat Ulema-e Islam political party, which will participate in general elections this year.
"The seminary and its head, Sami-ul Haq, have a vast network of alumni across the country," he said. "It's important to appreciate that Sami-ul Haq and his network's political influence were probably key in the PTI's decision."
https://www.rferl.org/a/pakistan-jihad-university-haqqania-government-funding-haq-taliban-omar/29092748.html
--------
NA takes up 'discrimination against Pashtuns' issue today
March 12, 2018
ISLAMABAD - The National Assembly will take up the issue of the alleged discrimination against and humiliation of Pashtuns at the hands of the law enforcement agencies on Monday (today).
The calling-attention notice has been submitted by lawmakers, Shehryar Khan Afridi, Usman Khan Tarakzai, Imran Khattak, Asad Umar and Ali Muhammad Khan advocate.
In their plea, the MNAs had said that they wanted to invite attention of the minister for interior to a matter of urgent public importance regarding continued humiliation of Pashtuns of Pakistan at the hands of the law enforcement agencies on one pretext or the other.
It further said that a perception had been built and the Pashtuns had been treated as hardcore criminals in simple civil litigations and disputes.
The matter is causing grave concern among the public, the calling-attention notice said.
Pashtun leaders have been claiming that a negative image of the Pashtuns has been developed in the country, which has escalated the victimisation of the community.
This profiling has turned Pashtuns into an easy target for the military, paramilitary and every other law enforcement agency who pick them up without thinking about repercussions, they have asserted.
The Pashtun leaders have stated that Pashtuns have been portrayed as terrorists.
The PTI leader Asad Umar has stated that the profiling of Pashtuns is a serious issue.
He said the complaints were increasing and it was his observation too, that the profiling of Pashtuns as terrorists was increasing in the country.
Recently, I went to the Nadra for the renewal of national Identity cards for two of my voters, the Punjabi voter got the card instantly but the Pashtun was sent for unnecessary verifications and procedures, despite the fact that he provided residency and nationality proofs and was in possession of a card earlier, Umar said.
He said likewise, to show a terrorist, media always show a Pathan.
The PTI MNA said that the media too was perpetuating negative stereotypes about Pashtuns . He said that when a terrorist was shown in media, a Pashtun would be shown.
Full report at:
https://nation.com.pk/12-Mar-2018/na-takes-up-discrimination-against-pashtuns-issue-today
--------
Lal Masjid administration 'reclaims' Jamia Hafsa land: report
Mar 12, 2018
ISLAMABAD: The administration of Lal Masjid has 'reclaimed' the ownership of land that once housed children's library and Jamia Hafsa, reported a local English newspaper.
The administration has put up a signboard on the plot, next to the mosque, claiming it their property, while Capital Development Authority (CDA) has not issued any statement yet.
The buildings of Jamia Hafsa and library were demolished by the government after the military operation in 2007.
https://www.pakistantoday.com.pk/2018/03/12/lal-masjid-administration-reclaims-jamia-hafsa-land-report/
--------
Two terrorists held in Operation Raddul Fasaad
March 12, 2018
ISLAMABAD - Security forces conducted intelligence-based operations (IBOs) on terrorists suspected hideouts in Mastung, Pashin, Khad Kacha and Sibi. According to Inter Services Public Relations press release (ISPR) issued here on Sunday, a total of two terrorists were apprehended. Cache of arms and ammunition including prepared improvised explosive devices (IEDs), explosives, rockets and ammunition of different caliber recovered.
https://nation.com.pk/12-Mar-2018/two-terrorists-held-in-operation-raddul-fasaad
--------
Banned ASWJ plans to contest polls under changed name: report
Mar 12, 2018
ISLAMABAD: The banned party Ahle Sunnat Wal Jamaat (ASWJ) is likely to contest the upcoming general election under a new name, as reported by a local English daily.
According to the publication, some leaders in the party were of the view that ASWJ might form a coalition with Jamiat Ulema-i-Islam-Fazl or JUI-Sami but it proved to be otherwise.
ASWJ-backed independent candidate Maulana Masroor Nawaz Jhangvi, the son of murdered Sipah-i-Sahaba founder Haq Nawaz Jhangvi, had defeated the rival PML-N candidate in the Punjab Assembly by-polls held in the constituency PP-78 in December 2016.
Full report at:
https://www.pakistantoday.com.pk/2018/03/12/banned-aswj-plans-to-contest-polls-under-changed-name-report/
--------
Judiciary, executive should remain in limits while performing duties: Rashid Naseem
Mar 12, 2018
LAHORE: Jamaat-e-Islami (JI) Deputy Chief, Rashid Naseem has said that both the judiciary and the executive should remain within their limits while performing duties and there should not be any impression of partiality in this respect.
Addressing participants of the JI central workshop at Mansoora on Sunday, Rashid said that an impression of the judiciary's partiality was benefiting the rulers and doubts were surfacing regarding the corruption allegations against them.
He said that the masses want a logical end to rulers' corruption scandals. However, he said that if the impression of judiciary's partiality went on, the rulers involved in plundering billions would go scot free.
Rashid further said that prate about the judiciary becoming a party was an attempt to harm and escape the accountability process. He urged the judiciary to dispose cases within minimum time, maintaining its impartiality.
He also said that the masses wanted the plundered wealth recovered from the corruption mafia, as this could help solve their many problems, including basic life amenities that all governments had completely failed to solve.
Full report at:
https://www.pakistantoday.com.pk/2018/03/11/judiciary-executive-should-remain-in-limits-while-performing-duties-rashid-naseem/
--------
Accountability of security personnel who patronised 'good Taliban' sought
MARCH 12, 2018
Lahore: As a handful of Balochistan lawmakers whose electoral mandates remain questionable at best emerged as key brokers for Senate chairman's election over the weekend, the provincial capital on Sunday hosted a historic jalsa of the most inspiring grassroots movement to have emerged in the country over the last two decades.
As expected of the mainstream media, it gave non-stop coverage to deals involving the group led by Abdul Quddus Bizenjo that culminated in Sajid Sanjrani's name emerging as the top contender for Senate chairmanship. However, the Pashtun Spring was conspicuous by its absence on TV screens as well as web feeds of major newspapers.
While the mainstream ignored them, the young Pashtun organisers of the jalsa took to the social media platforms to convey their message to the Pakistani public.
Manzoor Pashteen, 25-year-old leader of the Pashtun Tahafuz Movement, was quoted in the PTM's tweeter feed as demanding accountability of all those security personnel involved in supporting militants over the last four decades. The PSM feed extended solidarity to the Baloch and the Hazara communities, saying that those trying to create a rift between the two communities and Pashtuns would remain unsuccessful.
The #PTMQuettaJalsa was also addressed by young women activists. Addressing the gathering, Wranga Luni stressed the important role of women in the PTM. "No movement can be successful without the participation of women," she said.
Other speakers quoted on Twitter lashed out at elements within the security forces whose policies led to the menace of terrorism in the Tribal region, ruining the lives of thousands of Pashtun families.
They said their movement had just begun, and vowed to continue public gatherings until the federal government had fully complied with their demands, including safe return of all those made victims of enforced disappearances, an end to extrajudicial killings of Pashtuns and other Pakistani citizens, as well as measures to end profiling of Pashtuns in Pakistani cities.
Full report at:
https://dailytimes.com.pk/213765/accountability-of-security-personnel-who-patronised-good-taliban-sought/
--------
India
Muslims Have Failed To Use Constitutional Rights for Education Effectively
March 11, 2018
Education has the ability to transform an individual, communities, societies and the nation at large. Yet, more than seven decades down the line, we are still a developing country.
Is it so because the purpose of education has not been realized in the true sense? If education has the potential to transform societies thus nations, then why was education not explored to the fullest extent possible?
Have we not explored education as an instrument of change for one and all? If it was attempted then why there is so much visible disparity in the educational figures from states to states, from caste to caste, one religion to the other and within country's minorities? The concept of minority evolved in different phases and in due course of time was thus simplified in the later years from religious minorities to national minorities. Isn't it an alarming scene?
According to Hilal Ahmed, associate professor, Centre for the Study of Developing Societies (CSDS), the term minority was constitutionally never defined. The official status of the concept called minority only changed in 1992 while National Commission for Minorities was being established. The task of this Commission was to look at the religious minorities. In the later years and by early 2000, another declaration was made with regard to identifying 'the national minorities'. But before that, minorities were always considered as an impermanent category with regard to state population. That changed in 2000.
On the question of challenges, Ahmed said, "The challenges for each group of the minority are different and it is varied from one another as well. For instance, poverty is the biggest challenge before the Muslims if we talk of minority education in India and poverty is also linked to unemployment and basic facilities, therefore, it has to be looked into such broader contexts."
The country has debated minority education from time to time since Independence for one or the other reason. During this process, various governments announced schemes, formed committees, commissions, established the ministry of minority affairs and even declared Prime Minister's 15 point program. Has it really served the purpose? Not in the desired manner. The figures speak volumes about the real position of minorities on the educational parameter. According to 2011 census, the literacy rate of Muslims stands at 68.53 percent, which is lowest among all minority communities and also less than the national average of 72.98 percent.
The Sachar Committee Report had clearly mentioned that Muslims were on the bottom of the social indicators, including education, and even worse than the Dalits in some spheres. However, the National Policy on Education 1986, which was further updated in 1992, was also aimed at paying greater attention towards the educationally backward minorities for the sake of equity and justice.
Despite the best Constitutional provisions guaranteed to minorities for the educational purpose, the outcome has not been satisfactory. Who is to be blamed for that is a big question today? Can we simply put the entire blame on the governments? Are we not responsible in any way?
Zafarul-Islam Khan, chairman of Delhi Minorities Commission and former president of All India Muslim Majlis-e-Mushawrat, said, "Although as a minority, Muslims in India enjoy special rights to establish and run educational institutions from KG to university levels, they have not effectively used this right. Even the institutions established by our forefathers' decades ago, even before Independence, are in the bad shape, physically and educationally. The story is same all over north India. Muslims in the south India are much better in this respect."
"People talk of establishing universities while the real need is to establish good schools. Universities are aplenty, including the government-run ones but good schools are few and far between and our children don't get admission in the good schools. Once children get a good education, they will not find it difficult to enroll in the best universities at home and abroad," he added.
"One more problem is related to madrasas that remain hell-bent not to introduce any modernisation. They reject to introduce modern subjects. The result is that madrasa graduates are unfit to lead Muslims let alone lead the country and the world. We must develop madrasas which offer both religious and modern education to offer their graduates degrees accepted by the world," he said.
Raising similar concerns on the present status of Muslims in education, former AMU vice chancellor, Lt Gen Zameer Uddin Shah, said, "The present position of the Muslims of India is the same as during the time of Sir Syed. They remain marginalized, underemployed and impoverished, primarily because of a weak educational foundation. The youth cannot qualify in open competitive examinations for admissions into prestigious educational institutions like IITs, IIMs, and NDA etc. The lucky few, of affluent families, who have the advantage of good schooling, can hold their own against the very best in the country."
Muslim children are deprived of good schooling because their parents cannot afford the same. In many cases, youngsters are put to work to supplement the family income. The daughters are married off early. The saving grace has been the madrasa education. Had it not been for these seminaries a large number of Muslims children would have been bereft of any education at all? The madrasas are a huge educational network but have now to reorientate their syllabi to make it broader based according to the needs of the time, Shah said.
But according to Jawed Alam Khan, who is an adviser to Institute of Policy Studies and Advocacy, New Delhi, "One of the main reasons of educational backwardness among the large sections of Muslim population in India has been due to their extreme poverty, perceiving low rate of economic return from education and less focus on attaining modern education both in the pre and post-Independence period."
At the same juncture, the partition of the sub-continent led to many problems relating to the issues of identity and security which Muslim community in India faced in the form of communal riots in the recent past and also discrimination in almost every sphere of life.
On the present issues and possible way outs, Jawed suggests that the issues of identity, security and stigmatization of Muslims in pre and post-Independence have emerged as a major hindrance for addressing the equity-related issues including education. Further, there has been continuous neglect on the part of the Union and State Governments in addressing educational deficit among the Muslims since Independence. In general, there have been overall gaps in policies, scheme designs, budgets, and poor implementation of education-related programmes. To improve the educational status of Muslims, there is a need for community action to run educational institutions along with trying to improve the level of access to the facilities available in the public education intuitions.
As we move from here onwards, researchers should now find out in what manner poverty, minority syndrome, retroactive approach, ghettoisation or lack of required educational leadership, or any kind of atmosphere builds up after the riots may have hampered the educational growth of Muslims in particular and other minorities in general.
https://www.news18.com/news/india/opinion-muslims-have-failed-to-use-constitutional-rights-for-education-effectively-1685783.html
--------
This Jewish burial is guarded by a Muslim family
11th March 2018
BENGALURU: While many have seen a Muslim burial ground just across the Mysore flyover, several do not know that there is also a one-and-a-half acre of land just beside it that belongs to the last and only Jewish family in the city- the Moses family.
Twenty six years ago, Sheikh Rafiq and his wife had visited the Moses family in search of a job. Rafiq's cousin was the family's driver. He was offered to be the caretaker of the very few Jewish cemeteries left in the country, Rafiq happily and willingly took up the job. Since then, the family of five, with two daughters and a son, shifted into a home that was built in the corner of the cemetery.
Recalling his first sight of the land, Rafiq remembers it being covered with weeds and thorns, he says, "We had no issues in moving in and my son was only four-years-old then. So this is where he grew up and this is now our home." Rafiq had a stroke two years ago, struggles to walk and yet manages to ensure that the property is well-maintained.
Although there is no huge signboard hinting the ancestry of the land, the family says they get visitors at least three or four times a month, including historians such as Mansoor Ali, who had been studying the Jewish history in the city.
Overseeing the Jewish cemetery is the Muslim cemetery which has a mere wall dividing the land. Although a century has passed, there seems to be a sense of peace within the communities. Sidney Moses, who is also the third generation of the family in charge of the cemetery, says that India is a 'very tolerant nation', and that the Jews were never persecuted in the country.
The Jewish burial tradition known as the 'Minyan', needs ten men to conduct a full prayer. Moses explains that the city has around 30 Israeli families and these families have a Rabbi to help them with the ceremonies. Rafiq says that his family never felt troubled by the Muslim community or by the background of the cemetery.
Full report at:
http://www.newindianexpress.com/cities/bengaluru/2018/mar/11/this-jewish-burial-is-guarded-by-a-muslim-family-1785580.html
--------
India, Pakistan in diplomatic spat after ISI raids Indian complex
Sachin Parashar
Mar 12, 2018
NEW DELHI: India and Pakistan are in the middle of a major diplomatic spat with both sides accusing each other of harassing, even intimidating, diplomats. While Pakistan has now issued a demarche to India saying it was becoming difficult for its diplomats to function in Delhi, sources here said the present round of hostility was initiated by an ISI raid on a residential complex under construction for Indian diplomats in Islamabad.
A group of 7-8 men raided the residential complex last month and disconnected the electricity and water supply to the property which is owned by India. Indian high commissioner Ajay Bisaria met the Pakistan foreign secretary on February 16 to strongly protest such "multiple acts of hooliganism" against Indian staff and property.
Despite the protest by Bisaria, the power supply wasn't restored for over two weeks. Bisaria himself had his car intercepted recently in the middle of the road as he was prevented from attending an event, sources here said.
Official sources here didn't confirm a report in Pakistani media that Islamabad had threatened to pull out family members of their diplomats but said India will investigate the allegations. They said that Indian diplomats and their family members were regularly harassed in the recent past by Pakistani authorities. Indian diplomats have repeatedly complained about having to deal with unauthorised entry into their premises and also random interception of their cars. In one case, unidentified men are said to have broken into an Indian official's home and stole his laptop.
The government, as a source said, has also not taken kindly to the fact that Islamabad Club has sought to deny membership, which is open to all diplomats, to Indian high commissioner Ajay Bisaria and other Indian diplomats.
Pakistan's interior ministry is yet to issue the no-objection certificate required for the membership given to Indian diplomats. "Harassment is the new normal for Indian high commission personnel in Islamabad," said a source here.
In its demarche, according to a Pakistani media report, Islamabad said the children of its deputy high commissioner were harassed by Indian authorities while they were on their way to school. Another diplomat is said to have had his car intercepted and searched while on his way home.
Late last year, India pulled out two junior officials from its high commission after the ISI honeytrapped them and later tried to blackmail them. These developments threaten to undermine an attempt by both governments to move on by first addressing humanitarian issues like release of prisoners who have served their jail terms. The two countries, only last week, agreed to the release and repatriation of prisoners over 70 years of age and also women prisoners.
Sources said that in view of such an atmosphere of intimidation, most families of Indian officials had returned to India and children had been withdrawn from schools. "Aggressive surveillance, violation of physical space and tailing of officers in close and dangerous proximity is a perennial issue. Agency personnel keep shooting videos of the officers thrusting phones on their faces. Obscene phone calls and messages are constantly received on phones," said a source.
On the issue of India's residential project in Islamabad, sources said Pakistan had denied visas to Indian companies involved in the construction. The main contractor, who is responsible for maintenance of the chancery, is said to have been threatened by Pakistani officials. He was told to leave the complex and also warned of action against him if he continued to do business with the Indian mission. India believes that Pakistan diplomats here are operating in a much better environment than their Indian counterparts in Islamabad.
Full report at:
https://timesofindia.indiatimes.com/india/india-pakistan-in-diplomatic-spat-after-isi-raids-indian-complex/articleshow/63260273.cms
--------
Three terrorists killed in Anantnag encounter
Mar 12, 2018
SRINAGAR: Three unidentified terrorists were today killed in an encounter with security forces in Anantnag district of Jammu and Kashmir, the Army said.
An anti-militancy operation was launched in Hakura area of Anantnag district late last night following information about the presence of terrorists in the area, an Army official said.
He said three terrorists were killed in the pre-dawn encounter with security forces.
The identity and group affiliation of the slain terrorists was not immediately known.
https://timesofindia.indiatimes.com/india/three-terrorists-killed-in-anantnag-encounter/articleshow/63262775.cms
--------
Schools, colleges shut in Srinagar after 3 terrorists killed in J&K
Mar 12, 2018
SRINAGAR: Following the killing of three terrorists earlier on the day, restrictions were imposed in parts of Srinagar on Monday to maintain law and order, police said.
The militants including one from Srinagar were killed in a gunbattle with the security forces in Anantnag district.
Expecting protests, the authorities imposed restrictions in areas under the jurisdictions of Soura and four other police station areas, the police said.
All schools and colleges will also remain shut as a precautionary message. Exams scheduled for Monday by the Kashmir University were postponed.
The militants were identified as Eesa Fazli of Srinagar, Syed Owais and Sabzar Ahmad Sofi, both from Anantnag district, according to agency reports.
Full report at:
https://timesofindia.indiatimes.com/india/schools-colleges-shut-in-srinagar-after-3-terrorists-killed-in-jk/articleshow/63263819.cms
--------
South Asia
Myanmar Monk Back To Preaching After Ban, Denies Fuelling Violence
March 12, 2018
YANGON (Reuters) — Myanmar Buddhist monk Wirathu said Saturday his anti-Muslim rhetoric had nothing to do with violence in the western state of Rakhine, as he emerged from a one-year preaching ban.
Wirathu is the most prominent of Myanmar's hard-line nationalist monks, who have emerged as a political force since the country's transition from full military rule began in 2011.
Violence has hit Muslim communities across the Buddhist-majority country, but the nationalists' sharpest vitriol is reserved for the Rohingya Muslim minority in Rakhine, who many see as illegal immigrants from Bangladesh, or "Bengalis."
Nearly 700,000 Rohingya have fled to Bangladesh since insurgents attacked police and army posts on Aug. 25, sparking a furious military-led response the United Nations has said constituted ethnic cleansing and possibly genocide.
Rakhine was experiencing "terrorism of Bengalis," Wirathu said Saturday, dismissing claims he had "created" conflict there. He cited the relative peace of his hometown, Mandalay.
"If Wirathu creates conflict, Mandalay would become ash. The world doesn't know this truth," the monk said, referring to himself at a ceremony in Myanmar's largest city, Yangon, to celebrate his return to preaching.
The central Myanmar city of Mandalay was hit by communal riots that killed two people in 2014 after news spread of what turned out to be a false claim that Muslims had raped a Buddhist woman.
Wirathu traveled at least twice in the past year to the violence-hit northern part of Rakhine, despite Myanmar's highest religious authority imposing a one-year preaching ban in March 2017.
The state-linked body's move was seen as an attempt by the government of Nobel laureate Aung San Suu Kyi to stifle nationalists who threaten to undermine the young administration. Another nationalist monk, Parmaukkha, was released from prison on Friday after serving three months for a 2016 protest against the U.S. government's use of the word "Rohingya."
Wirathu reacted to his silencing by posting online photographs of himself with his mouth taped over, and by continuing to post videos and comments online. But his Facebook account has not been accessible in recent months.
Facebook suspends and sometimes removes anyone that "consistently shares content promoting hate," a spokesperson said in response to a question about Wirathu's account.
"Our community standards prohibit organizations and people dedicated to promoting hatred and violence against others based on their protected characteristics," the spokesperson said by email.
http://www.the-japan-news.com/news/article/0004296936
--------
UN to seek $1bn for Rohingya refugee effort in Bangladesh
March 11, 2018
In October, nations pledged $345 million in response to the Rohingya crisis, but the UN had said at the time it needed $434 million to care for the refugees until February
UN officials said on Sunday that nearly $1 billion will be needed this year to feed and care for the roughly one million Rohingya refugees living in overcrowded camps in south-eastern Bangladesh.
The $950 million for this year's aid effort was "a very legitimate and valid" request given the magnitude of the crisis, the UN resident coordinator in Bangladesh said.
"It's a new and evolving crisis. The needs are huge. These people came with nothing. We hope the support will continue," Mia Seppo told AFP.
The funding request could be raised this week at a UN conference in Geneva.
In October, nations pledged $345 million in response to the Rohingya crisis. The UN said at the time it needed $434 million to care for the displaced Muslims until February.
Food, shelter and healthcare remain pressing needs for the Rohingya, who fled a Myanmar army crackdown in Rakhine state en masse over the past six months.
But there are other urgent considerations. As the monsoon season nears, aid groups need to relocate an estimated 100,000 refugees living in areas prone to landslides and floods, Seppo said.
The UN-backed Inter Sector Coordination Group has also factored into the relief budget the cost of mass vaccination drives against diseases like cholera, diphtheria and measles, the group's head Sumbul Rizvi said.
Bangladesh and Myanmar agreed in November to begin repatriating Rohingya who volunteered to return to Rakhine where the persecuted Muslim minority have lived for generations.
But the process has stalled and it is not clear when it will begin, said Bangladesh's refugee commissioner Mohammad Abul Kalam.
A quarter of the proposed $950 million funding for the remainder of the year would go to Bangladeshis living in Cox's Bazar whose lives have been upended by the massive refugee influx.
Nearly 700,000 Rohingya Muslims have crossed the border since August, clearing forests and camping on hillsides already crowded with more than 300,000 refugees from previous waves of migration.
Prices for local goods have skyrocketed and competition for jobs and resources intensified in the largely-rural border district, said Kalam.
"We will try to compensate these farmers," he said.
Separately, police in Cox's Bazar briefly detained 39 foreign aid workers on Sunday for questioning over alleged visa violations.
Full report at:
https://www.dhakatribune.com/world/south-asia/2018/03/11/un-seek-1b-rohingya-refugee-effort-bangladesh/
--------
Farah's Anar Dara has reportedly fallen into Taliban hands
Mar 12 2018
The control of the Anar Dara district in western Farah province has reportedly fallen into the hands of the Taliban militants.
The head of the provincial council Farid Bakhtawar confirms that the Taliban militants took control of the district late on Sunday night.
The local security officials however have not commented regarding the fall of the district so far.
In the meantime, the local government sources are saying that the Taliban insurgents launched a coordinated attack on the district and as a result a number of the security personnel have also lost their lives.
Taliban's spokesman Zabiullah Mujahid claims that the militants of the group have fully taken control of the district and heavy casualties have been inflicted on security personnel during the clash.
This comes as the anti-government armed militants have increased their insurgency activities and attacks in a number of the remote and restive districts of Farah province during the recent days.
Full report at:
https://www.khaama.com/farahs-anar-dara-has-reportedly-fallen-into-taliban-hands-04626/
--------
Key Haqqani network commanders arrested in Maidan Wardak province
Mar 11 2018
At least five members of the notorious Haqqani terrorist network have been arrested during an operation of the Afghan national defense and security forces in central Maidan Wardak province.
The Ministry of Interior (MoI) said at least two key commanders and another key member of the network who was involved in making roadside mines are also among those arrested.
"Five Haqqani Terrorist Network Group members were arrested including two key commanders of the group during overnight special operation conducted by the General Command of Police Special Units (GCPSU) in Tangi Wardak region, Sayed Abad district of Maidan Wardak province," MoI said in a statement.
The statement further added that Two key commanders of the group identified as Obaidullah and Abdul Haq are also among those arrested.
"During the operation, a Haqqani Terrorist Network Group member who was expert of Improvised explosive Device (IED) making also killed," the statement said, adding that no GCPSU member and civilian were harmed.
The anti-government armed militant and terrorist groups including Taliban and Haqqani network have not commented regarding the report so far.
Maidan Wardak is among the relatively volatile provinces in central parts of the country, located close to capital Kabul.
Full report at:
https://www.khaama.com/key-haqqani-network-commanders-arrested-in-maidan-wardak-province-04623/
--------
Arab World
16 Jihadists killed in Egypt's Sinai military operation
Mar 12, 2018
Egypt's military on Sunday disclosed 16 jihadists, an officer and a soldier were killed in the past four days during a major military operation against Islamic State group jihadists in Sinai.
The army launched a sweeping campaign after Egyptian President Abdel Fattah al-Sisi, who is standing in elections for his second term this month, gave them a three-month deadline to crush IS in Sinai.
He issued his ultimatum in November after suspected IS gunmen massacred more than 300 worshippers in a Sinai mosque associated with Sufi Muslim mystics.
Since the military, then led by Sisi, ousted Islamist president Mohamed Morsi in 2013, security forces have sought to quell attacks by the Egypt branch of IS.
The jihadists have killed hundreds of soldiers, policemen and civilians, mainly in North Sinai but also elsewhere in Egypt.
They have also killed scores of Christians in church bombings and shootings, as well as bombing a Russian airliner carrying tourists from an Egyptian resort in 2015, killing all 224 people on board.
The military says it has evidence IS has sought to move members to Sinai following its defeats in Iraq and Syria.
http://www.africanews.com/2018/03/11/16-jihadists-killed-in-egypt-s-sinai-military-operation/
--------
Hezbollah military media unit: Syrian army completely surrounds Douma
11 March 2018
The Syrian army has completely surrounded the major town of Douma in the eastern Ghouta region after advancing from Mesraba to Mudeira, two other towns in the area, a military media unit run by the government's ally Hezbollah said on Sunday.
That army advance met up with another from the area around the town of Harasta, cutting the remaining rebel area in eastern Ghouta in two, it said.
https://english.alarabiya.net/en/News/middle-east/2018/03/11/Hezbollah-military-media-unit-Syrian-army-completely-surrounds-Douma.html
--------
Egypt army says 16 terrorists killed in Sinai operation
11 March 2018
Egypt's military said Sunday 16 extremists, an officer and a soldier were killed in the past four days during a major military operation against ISIS terrorists in Sinai.
The army launched a sweeping campaign after Egyptian President Abdel Fattah al-Sisi, who is standing in elections for his second term this month, gave them a three-month deadline to crush ISIS in Sinai.
He issued his ultimatum in November after suspected ISIS gunmen massacred more than 300 worshippers in a Sinai mosque associated with Sufi Muslim mystics.
Since the military, then led by Sisi, ousted Islamist president Mohamed Morsi in 2013, security forces have sought to quell attacks by the Egypt branch of ISIS.
The terrorists have killed hundreds of soldiers, policemen and civilians, mainly in North Sinai but also elsewhere in Egypt.
They have also killed scores of Christians in church bombings and shootings, as well as bombing a Russian airliner carrying tourists from an Egyptian resort in 2015, killing all 224 people on board.
Full report at:
https://english.alarabiya.net/en/News/middle-east/2018/03/11/Egypt-army-says-16-terrorists-killed-in-Sinai-operation-.html
--------
Militant shelling kills 4 Syrian civilians, injures 11 in, around Damascus
Mar 11, 2018
At least four Syrian civilians have been killed and 11 others injured when members of the Jabhat Fateh al-Sham Takfiri terrorist group, formerly known as al-Nusra Front, positioned in the besieged Eastern Ghouta region launched mortar attacks against residential neighborhoods in and around the capital, Damascus.
An unnamed source at Damascus Countryside Police Command told Syria's official news agency SANA that four civilians lost their lives and another six sustained injures on Sunday when a projectile fell onto a minibus in Jaramana city, located 3 kilometers southeast of Damascus.
Takfiri militants also targeted al-Assad residential area in Harasta city northeast of the capital, causing material damage to a number of buildings there. There were no immediate reports of casualties.
Meanwhile, Jabhat Fateh al-Sham terrorists fired two shells into al-Qemariah neighborhood, injuring three civilians.
Two women also sustained injuries when a mortar shell slammed into Barzeh neighborhood.
Meanwhile, Press TV's correspondent, who was reporting from Ghouta narrowly escaped a terrorists attack on the network's crew.
Syrian army retakes most of Jisreen town in militant-held Eastern Ghouta
Meanwhile, Syrian government forces have established full control over most of the areas in Jisreen town, inflicting heavy losses upon foreign-sponsored Takfiri militants.
Syrian army soldiers are now making advances in the town of Aftris, which lies in the besieged Eastern Ghouta region and on the outskirts of Damascus, amid multiple collapses within militant ranks.
Dozens of civilians evacuated from Eastern Ghouta
Separately, the Russian peace and reconciliation center in Syria said more than 50 civilians have evacuated from the militant-held enclave.
"Today, 52 civilians were withdrawn from Eastern Ghouta. Twenty-six of them were children. They are now in Adra settlement and on the territory of a former driving school. They will be provided with all the necessary commodities within the next two days," the center's spokesman Major General Vladimir Zolotukhin pointed out.
Eastern Ghouta, a besieged area on the outskirts of Damascus with a population of some 400,000 people, has witnessed deadly violence over the past few weeks, with Takfiri terrorists launching mortar attacks on the Syrian capital in the face of an imminent humiliating defeat.
Full report at:
http://www.presstv.com/Detail/2018/03/11/555108/Militant-shelling-kills-4-Syrian-civilians-injures-11-in-around-Damascus
--------
Nearly 20 Turkish Forces, Allied Militants Killed in Clashes with Kurds in Northern Syria
Mar 11, 2018
The Kurdish-language Hawar news reported that a sum of 18 Turkish soldiers and allied militants were killed and several more were wounded in fresh clashes with the Kurdish gunmen in the village of Khalta in Afrin region.
Hawar news further said that a military vehicle of the Ankara forces also was destroyed in the clashes.
Local sources said that the army units and allied militants have captured a number of regions near the town of Afrin and are preparing to enter the Kurdish-held town.
In a relevant development on Saturday the Turkish forces and allied militants captured the villages of Ma'arastah, Shavaraqa al-Joz, Kafr Maz and Malekiyeh in Sheran region that is considered as that Eastern gate to the town of Afrin.
Local sources said that the Ankara-backed militants pushed the Kurds back from the village of Shoura'eil in Bolbol region and from the villages of Mariman and Anab and their Western mountain.
In the meantime, the Turkish troops and their allied militants managed to capture the village of Halobi Kabir and Dam 17th April near the town of Sheran, the sources said, reminding that the dam supplies water to Afrin.
Full report at:
http://en.farsnews.com/newstext.aspx?nn=13961220000903
--------
Terrorists' Arms Depot Destroyed in Syrian Air Attack in Eastern Ghouta
Mar 11, 2018
The army aircraft pounded the Al-Nusra positions in the town of Jisrin, destroying several positions of the terrorists, including a depot of arms and munitions.
In the meantime, the army men, backed up by artillery and missile units, engaged in fresh clashes with terrorists in the Southern part of Eastern Ghouta, taking control over several points in al-Aftaris farms and Jesrin region in the early hours of Sunday.
Military sources said earlier today that army troops have liberated more than 50 percent of Eastern Ghouta after their advances against terrorists on Saturday night and Sunday morning.
The sources said that the army men stormed terrorists' stronghold after hours of a daily ceasefire ended in Eastern Ghouta and captured more lands, tightening the siege on the militants.
They went on to say that a sum of 52 percent of land in Eastern Ghouta has been liberated after the army advanced in Mesraba region and laid siege on Harasta.
In the meantime, the army's artillery and missile units have been pounding terrorists' positions in Harasta region.
Full report at:
http://en.farsnews.com/newstext.aspx?nn=13961220001215
--------
Scores of Terrorists Surrender to Syrian Army in Eastern Ghouta
Mar 11, 2018
A group of terrorists handed over their weapons and ammunition to the army men and applied for government amnesty after the army managed to advance in Harasta region.
Harasta has come under the army siege after the pro-government forces' advances on Friday and Saturday nights.
Military sources said earlier today that army troops have liberated more than 50 percent of Eastern Ghouta after their advances against terrorists on Saturday night and Sunday morning.
The sources said that the army men stormed terrorists' stronghold after hours of a daily ceasefire ended in Eastern Ghouta and captured more lands, tightening the siege on the militants.
They went on to say that a sum of 52 percent of land in Eastern Ghouta has been liberated after the army advanced in Mesraba region and laid siege on Harasta.
In the meantime, the army's artillery and missile units have been pounding terrorists' positions in Harasta region.
Full report at:
http://en.farsnews.com/newstext.aspx?nn=13961220001154
--------
Syrian Army Frees over 50 Percent of Eastern Ghouta
Mar 11, 2018
The sources said that the army men stormed terrorists' stronghold after hours of a daily ceasefire ended in Eastern Ghouta and captured more lands, tightening the siege on the militants.
They went on to say that a sum of 52 percent of land in Eastern Ghouta has been liberated after the army advanced in Mesraba region and laid siege on Harasta.
In the meantime, the army's artillery and missile units have been pounding terrorists' positions in Harasta region.
The army men are planning to continue to advance in Harasta and Mesraba to pave the ground for dividing terrorist-held regions in Eastern Ghouta into the two Northern and Southern parts.
In a relevant development on Saturday the army forces captured more lands in Eastern Ghouta and managed to lay siege on the terrorists in the strategic town of Harasta.
The army men stormed terrorists' strongholds along the Douma-Harasta highway and pushed the militants back from their positions in Kilani Petrol Station and laid siege on the terrorists in the town of Harasta.
Full report at:
http://en.farsnews.com/newstext.aspx?nn=13961220000628
--------
Iraqi security forces start offensive to purge areas near Kirkuk of Daesh terrorists
Mar 11, 2018
Iraqi security forces, supported by pro-government fighters from Popular Mobilization Units, have started an operation to clear remnants of the Daesh Takfiri terrorist group from villages near the country's oil-rich northern city of Kirkuk.
The Iraq's Joint Operations Command, in a statement released on Sunday, announced that the counter-terrorism offensive was mounted "upon accurate intelligence reports to purge villages in the Riyadh district, southwest of Kirkuk, from Daesh militants."
The statement added that members of the federal police, backed by Iraqi Air Force fighter jets and fighters from the 2nd, 11th, 16th and 41st brigades of volunteer forces, better known by the Arabic name Hashd al-Sha'abi, are taking part in the operation. "Intelligence reports indicate that many Daesh militants are hiding in villages in the Riyadh district, and they are planning to carry out terrorist attacks there," the statement pointed out.
Kirkuk officials have frequently demanded reinforcements in the southern and western parts of the province, where Daesh remnants have taken refuge following the liberation of Hawija district, located 45 kilometers west of Kirkuk.
On December 9, 2017, Iraq's Prime Minister Haider al-Abadi declared the end of military operations against the Daesh terrorist group in the Arab country.
On July 10, Abadi formally declared victory over Daesh extremists in Mosul, which served as the terrorists' main urban stronghold in the conflict-ridden Arab country.
In the run-up to Mosul's liberation, Iraqi army soldiers and volunteer Hashd al-Sha'abi fighters had made sweeping gains against Daesh.
The Iraqi forces took control of eastern Mosul in January 2017 after 100 days of fighting, and launched the battle in the west on February 19 last year.
Full report at:
http://www.presstv.com/Detail/2018/03/11/555092/Iraqi-security-forces-start-offensive-to-purge-areas-near-Kirkuk-of-Daesh-terrorists
--------
Mideast
Israelis rally to demand PM Netanyahu step down
Mar 11, 2018
Hundreds of Israelis have held rallies again in Tel Aviv, protesting corruption and demanding that Prime Minister Benjamin Netanyahu resign.
The demonstrations took place in the central part of the city on Saturday, with protesters holding up placards and chanting anti-regime slogans.
They have been rallying on a weekly basis for months, sometimes in front of Attorney General Avichai Mandelblit's house in the city of Petah Tikva.
Mandelblit is to decide whether to indict the premier for fraud, breach of trust, and bribery in two corruption cases.
The police recommended his indictment last month in the legal proceedings which are known as Case 1000 and 2000.
In Case 1000, Netanyahu is suspected of having received gifts from businessmen overseas. In Case 2000, he is accused of helping Yediot Aharonot newspaper against its competitor Yisrael Hayom, in return for favorable coverage for the prime minister.
"I believe we will manage to change things because many people are out on the street," one of the protesters, Shalit Chuli, said.
"The prosecution witnesses are the people that were very close to Bibi (Netanyahu) and are criminals themselves, otherwise they would not be taken as prosecution witnesses," he said.
The indictment recommendation has prompted calls among Israeli opposition leaders for Netanyahu to leave office. The head of Labor Party Avi Gabbay and Yair Lapid who chairs the opposition Yesh Atid party have urged the premier's coalition partners to leave his ranks.
The groundswell of support for Netanyahu's resignation has raised the specter of early elections.
As the election stands most likely to reinstate him, some critics accuse Netanyahu of intentionally letting the political crisis come to a head to trigger the vote so that he can stay in power even if indicted.
Netanyahu's office said on Saturday that he held crunch talks with his coalition partners amid the crisis. Ha'aretz said the premier was expected to tell his fellow politicians to "stick with" him even in case of indictment.
http://www.presstv.com/Detail/2018/03/11/555058/Israel-Netanyahu-resignation-corruption-indictment
--------
Erdoğan slams NATO for 'not supporting Turkey's Afrin operation'
March 11 2018
President Recep Tayyip Erdoğan accused NATO of "not supporting" Turkey in its ongoing military operation in the northwestern Syrian district of Afrin, criticizing "double standards" in the alliance.
"We have a 911-kilometer border [with Syria] and terrorist organizations are harassing us constantly from this border. The Syrian regime is also taking the same measures. When will you show up?" Erdoğan said on March 11 in the northwestern province of Bolu, referring to NATO.
Turkey launched "Operation Olive Branch" on Jan. 20 aiming to clear Afrin of the People's Protection Units (YPG), which Ankara regards as an offshoot of the outlawed Kurdistan Workers' Party (PKK) and a threat to Turkey's security.
Erdoğan said NATO member Turkey sent troops to conflict zones when requested – giving the examples of Somalia, Afghanistan and the Balkan region - but did not receive necessary support for its Afrin mission in return.
"We were present all these places … But NATO when will you stand behind us?" he said on March 11, saying Turkey's borders are "under constant threat."
"Should I keep saying all these things? We haven't received any positive response yet," Erdoğan added.
"We now define the forces that we said were our allies and friends according to the actions they take in the field, not by the words they say to us," he said.
In mid-February, Turkey marked 66 years of NATO membership, and according to the NATO charter an attack on one of the alliance's members is an attack on them all.
Meanwhile, Erdoğan also vowed that the ongoing operation is not to "occupy" Afrin but to "liberate it from terrorists" before "handing it over to the people living there."
"In the Afrin region, the real owners of the lands have started to come back," he said.
Afrin center
The president also said that an area of over "900 square kilometers" has been brought under control by the Free Syrian Army (FSA) and the Turkish Armed Forces, as they press on to take the center of Afrin city.
"Since the beginning of the Afrin operation 3,300 terrorists have been neutralized," he added.
State-run Anadolu Agency reported that the joint forces took 13 more villages in the region including the strategic airport Bablite, located between Jinderes and Afrin.
It reported that Turkish troops and the FSA have seized control of the villages of Qeretepe and Qastel Kisk in Sheran, northeast of the city of Afrin, as well as the villages of Khalidiah and Jalbul near the region's center, and the village of Ka'n Kurk in the southwestern Jindires area.
Later on March 11, eight more villages – Khujamanli, Savan Kabir and Chencheylan in the northwestern Rajo area, Tallaf and Qujaman in Jinderes, Sulqli and Alibey in the northern Bulbul area, and Kawkabah near Afrin's center – were also reportedly captured.
Full report at:
http://www.hurriyetdailynews.com/erdogan-slams-nato-for-not-supporting-turkeys-afrin-operation-128589
--------
Islamic Jihad Terrorist Accidentally Blows Himself Up In Gaza
By Adam Rasgon
MARCH 11, 2018
A member of Saraya al-Quds, Islamic Jihad's armed wing, died in an "accidental explosion" in the northern Gaza Strip, said Ashraf al-Qidra, a spokesman for the Hamas-run Health Ministry in the coastal enclave, on Saturday night, according to the Hamas-linked Palestinian Information Center.
Qidra identified the deceased member of Saraya al-Quds as 27-year-old Ibrahim Frahat.
Saraya al-Quds said in a statement that Frahat died "while preparing for battle," making no mention of an "accidental explosion."
Maj.-Gen. Yoav Mordechai, the Defense Ministry official responsible for liaising with Palestinians, said that Frahat died while "manufacturing weapons and ammunitions for Islamic Jihad in a house in the Sheikh Zayed neighborhood in Beit Lahiya."
"It is no surprise that a person who plays with fire ultimately harms himself," Mordechai said in a Facebook post.
members of Hamas and Islamic Jihad's armed wings have died in various "accidents" since the 2014 Gaza War, according to Qidra.
Islamic Jihad is said to have thousands of members in its armed wing's ranks, who wield many weapons including rockets, mortars and guns.
http://www.jpost.com/Arab-Israeli-Conflict/Islamic-Jihadi-dies-in-accidental-explosion-while-manufacturing-weapons-544773
--------
Yemeni forces announce end of battle against al-Qaeda in Abyan
12 March 2018
Yemen forces backed by Arab coalition forces concluded Operation Sweeping Torrent to purge Abyan of al-Qaeda remnants and accomplished major victories in record time.
The UAE's news agency said Al Mahfad District, Abyan's largest districts, and Wadi Hamra were completely purged of al-Qaeda.
Operation Sweeping Torrent is one of the most significant military operations in Yemen as it succeeded in eliminating al-Qaeda's presence in Abyan and Shabwa. Wadi Al Masini in Hadhramaut was also purged of al-Qaeda during Operation Decisive Sword.
Warehouses containing large amounts of missiles, ammunition and explosives were seized during the operation against the group and several al-Qaeda members, including commanders, were killed and detained.
https://english.alarabiya.net/en/News/gulf/2018/03/12/Yemeni-forces-announce-end-of-battle-against-al-Qaeda-in-Abyan-.html
--------
Draft UN Security Council resolution condemns Houthi militia missiles in Yemen
10 March 2018
The United Nations Security Council is expected to release a draft resolution which stresses the need to ensure humanitarian aid workers' security in Yemen.
It also condemns Houthi militia ballistic missiles.
According to Asharq Al-Awsat newspaper, diplomatic sources said that UN Security Council members are negotiating a resolution which welcomes humanitarian aid efforts in Yemen established by the Arab-led coalition.
The draft resolution urges ending child-soldiers' recruitment. It also calls on all member states to fully implement the international arms embargo.
UN aid workers abused
In addition, the resolution emphasized that nearly 22 million individuals are in desperate need of help. This call comes amidst rising cases of cholera, diphtheria, critical malnutrition and risks of famine.
Meanwhile, UN workers have asked for protection from the Houthi militias' activities in Yemen.
Full report at:
https://english.alarabiya.net/en/News/gulf/2018/03/10/Draft-UN-Security-Council-resolution-condemns-Houthi-militia-missiles-in-Yemen.html
--------
Israeli settler runs over, injures Palestinian teenage boy in occupied West Bank
Mar 11, 2018
A Palestinian teenage has reportedly sustained injuries after an Israeli settler ran him over in the southern part of the occupied West Bank.
Local sources, requesting anonymity, told Arabic-language Ma'an news agency that the 16-year-old victim, identified as Rushdi Yasser al-Khatib, was struck on the road linking the towns of Hizma and 'Anata northeast of the occupied Old City of Jerusalem al-Quds on Sunday afternoon.
The sources added that the settler fled the scene after the incident.
The Palestinian Health Ministry later announced that Khatib had been transferred to the Palestine Medical Complex in the central West Bank city of Ramallah, describing his injuries as serious.
Palestinian medics said the teenager has suffered a fractured skull and bruises all over his body.
There have been scores of "hit and run" incidents targeting Palestinians in different parts of the occupied West Bank, with most of them largely going uninvestigated by Israeli authorities. Some of such events have resulted in fatalities.
A 21-year-old Palestinian woman, identified as Tamara Thawabta, was run over near the entrance to Palestine Technical University – Kadoorie in al-Arroub town, located 15 kilometers south of Bethlehem, on September 26, 2017.
Asil Tariq Abu Aoun was run over by an Israeli settler near Hamra checkpoint in Furush Beit Dajan village, located 10 kilometers east of Nablus, on August 26. The 8-year-old Palestinian girl later succumbed to her serious injuries.
On August 10, an Israeli settler ran over four Palestinian children in the predominantly Palestinian neighborhood of Silwan on the outskirts of the Old City of Jerusalem al-Quds.
Full report at:
http://www.presstv.com/Detail/2018/03/11/555119/Israeli-settler-runs-over-injures-Palestinian-teenage-boy-in-occupied-West-Bank
--------
Turkish warplanes 'destroy 18 Kurdish militant targets in Iraq'
12 March 2018
ISTANBUL: Turkish warplanes destroyed at least 18 targets belonging to the outlawed Kurdistan Workers Party (PKK) in northern Iraq over the weekend, the state-run Anadolu news agency said on Sunday.
The strikes, carried out on Saturday and Sunday, targeted the Hakurk, Zap, Metina, Gara and Avasin-Basyan regions of northern Iraq, Anadolu said, citing the Turkish military.
Turkey regularly carries out airstrikes against PKK targets in northern Iraq, where the group is based in the Qandil mountains.
The PKK, considered a terrorist organization by the US, the EU and Turkey, has waged a three-decade insurgency in Turkey's largely Kurdish southeast that has killed some 40,000 people.
Turkey in January launched a separate military operation in northern Syria's Afrin region to sweep Syrian Kurdish YPG fighters from its southern border. Turkey considers the YPG an extension of the PKK.
US support for the YPG in the fight against Daesh in Syria has strained ties between Ankara and Washington, both members of the NATO military alliance.
On Thursday, Turkey's Foreign Minister Mevlut Cavusoglu was quoted as saying that Turkey and Iraq's central government in Baghdad will carry out a joint operation against Kurdish militants in Iraq.
Full report at:
http://www.arabnews.com/node/1264286/middle-east
--------
Africa
Debate Re-emerges in Libya over Fate of Qaddafi's Corpse
10 March 2018
Debate erupted once again in Libya over the fate of the corpse of late leader Muammar al-Qaddafi.
Former Libyan Ambassador to Saudi Arabia Mohammed Saeed al-Qashat told Russia's Sputnik news agency that the location of his grave is not known.
His corpse was handed over to the Misrata brigades after his death in 2011 and placed inside a mortuary freezer for a week. It was then washed and prayers were performed. Afterwards, nothing is known of its fate, he said.
Despite demands made by some of his relatives and Libyan tribal leaders, the Misrata brigades did not disclose the location of the burial and no Libyan side has been able to obtain information on the matter, he continued.
After his death, Libyan authorities planned to bury Qaddafi in an undisclosed location. His Gaddafa tribe demanded the national transition council, which was ruling the country at the time, to hand over the corpse to it.
The graves of the Qaddafi family in Sirte have been vandalized in the past.
An elder of the Qaddafi tribe expressed to Asharq Al-Awsat the family's anger at bringing up the fate of Qaddafi's corpse once again.
He said, on condition of anonymity, that at the time of his death, Qaddafi's relatives demanded from head of the national transition council, Mustafa Abduljalil, that his corpse be handed over to them.
He was however powerless and could not fulfill their demand, he added.
https://english.alarabiya.net/en/News/north-africa/2018/03/10/Debate-reemerges-in-Libya-on-fate-of-Muammar-al-Qaddafi-s-corpse.html
--------
Somalia: Troops Recapture Key Town From Al-Shabaab Militants
10 MARCH 2018
Somali Federal Government forces have retaken control of a strategic town in Middle Shabelle region on Saturday from Al Shabaab militants, authorities said.
A regional official said the US-trained Bancroft took Gambale, about 45Km east of Jowhar early in the morning without encountering a resistance from the Al-Qaeda-linked militants.
Al Shabaab fighters withdrew from the town, allowing Somali troops to take it peacefully.
The town's residents reported heavy operation in the area as the Somali government forces are making searches for explosives left by Al Shabaab before its withdrawal.
The reason for the Al Shabaab's withdrawal from the town was not clear.
For a decade, the weak U.N.-backed government has been fighting alongside African Union troops against al Shabaab, which pledged allegiance to Al Qaeda in 2012.
https://allafrica.com/stories/201803100053.html
--------
Hundreds of refugees rescued at sea between Libya, Italy
Mar 11, 2018
Rescue efforts have saved several hundred asylum seekers who had risked possible death by trying to make the perilous journey from Africa to Europe across the Mediterranean Sea in unseaworthy vessels.
The Libyan navy announced on Saturday that it had rescued 252 Europe-bound asylum seekers off the country's western coast.
"We were alerted... to the position of a migrant boat" around 30 kilometers off Zawiya, west of Tripoli, Navy Captain Rami al-Hadi Ghomed said.
He said the 140 asylum seekers on board that boat, including 14 women and four children, were brought back to Tripoli's naval base before being transferred to a detention center for refugees.
A second boat was turned back off Garabulli, east of Tripoli.
There were 112 refugees, including 30 women and three children, "aboard an inflatable boat," said navy spokesman Ayoub Kacem.
The refugees, from African countries "were given medical care before being transferred to the Tajoura detention center" in Tripoli, Kacem said.
A third boat with 98 asylum seekers on board was intercepted off Abu Kamash, near Libya's border with Tunisia.
In a separate operation, more than 100 asylum seekers were saved by charity groups.
Reports said the Aquarius rescue ship, which is jointly run by SOS Méditerranée and Doctors without Borders, was preparing to transfer the asylum seekers to an Italian port.
Rescuers on board the Aquarius said the asylum seekers' boat had been on the verge of completely sinking when they reached it. More than half of its passengers were Nigerians, others were from sub-Saharan African countries as well as Palestine.
"All but one of the five balloons holding the boat up was either completely deflated or deflating and there were still about 120 people inside the boat, so [it was] a very, very precarious condition," said one of the rescuers, Max Avis.
Libya is the main departure point for asylum seekers attempting to reach Europe by sea. Many refugees have crossed the central Mediterranean to Italy over the past four years as human traffickers took advantage of a security vacuum in Libya after the toppling of its long-time ruler.
Thousands of other asylum seekers have perished at sea.
Full report at:
http://www.presstv.com/Detail/2018/03/11/555047/Libya-Italy-refugees-rescue-operations
--------
Violence in central Nigeria leaves at least 5 dead: police
Mar 10, 2018
At least five people have been killed in central Nigeria by gunmen suspected to be herdsmen, police say, in the latest flare-up linked to tensions over grazing rights.
The violence took place in Nigeria's Plateau state on Thursday, as President Muhammadu Buhari was visiting Plateau and four other flashpoint states.
"The gunmen were believed to be herdsmen. They attacked some communities in Miango district and killed five people," state police spokesman Terna Tyopev said on Saturday.
Tyopev said dozens of people were injured while many houses and properties were destroyed in the mayhem.
Apart from the incident in Miango, six people were also killed at Ganda village in Bokkos local government area of the state, according to local media.
The police could not immediately confirm the attack.
Central Nigeria has become the scene of almost daily clashes between settled farmers and the largely nomadic herders in a battle for land and resources.
The herders are Muslim and the farmers are largely Christian, which adds an ethnic and religious dimension to the tensions.
Buhari has been under pressure to end the violence.
Plateau state lies in Nigeria's so-called Middle Belt that separates the predominantly Muslim north from the largely Christian south.
It has long been a hotbed of ethnic, sectarian and religious tensions between indigenous farming communities, who are mainly Christian, and the nomadic Hausa/Fulani cattle herders, who are Muslim.
Tensions have boiled over access to land and resources, escalating into a rift that has deepened along nominally religious lines.
Full report at:
http://www.presstv.com/Detail/2018/03/10/554988/Nigeria-violence-police-Plateau-tensions-Muhammadu-Buhari
--------
Suicide car bombing injures 3 in eastern Libya
11 March 2018
Three people were injured Friday by a car-bomb attack on a checkpoint near Libya's eastern city of Ajdabiya, a stronghold for forces loyal to military commander Khalifa Haftar, according to a local security source.
Libya has remained dogged by turmoil since 2011, when a bloody uprising ended with the ouster and death of President Muammar Gaddafi after more than four decades in power.
Since then, the country's stark political divisions have yielded two rival seats of power -- a legislative assembly in the eastern city of Tobruk (to which Haftar is loyal) and a government based in capital Tripoli -- along with a host of heavily-armed militia groups.
http://www.worldbulletin.net/africa/199632/suicide-car-bombing-injures-3-in-eastern-libya
--------
Nigerian police says 16 killed in multiple attacks
2018-03-12
LAGOS, March 11 (Xinhua) -- Local authorities confirmed on Sunday that 16 people were killed and several others injured in attacks on several villages in north-central Nigeria's Plateau State.
State police spokesperson Terna Tyopev told reporters in Jos, the state capital, that a herdsman was arrested with an AK-47 assault rifle.
The attacks took place between Wednesday, March 7, and Friday, March 9, Tyopev said.
He said the herdsman, Muhammadu Musa Bimini, was arrested by mobile policemen on March 8.
Meanwhile, leaders of the affected communities have said that as many as 25 people were killed in the attacks.
The community leaders, who also briefed the media on Sunday in Jos, said many others are still missing.
The attacks occurred barely 24 hours after Nigerian leader Muhammadu Buhari left Jos, the state capital, after a one-day visit.
Plateau State is situated in Nigeria's middle belt where the Muslim-dominated north and the Christian-majority south meet.
On March 7, 2010, members of local Muslim and Christian communities fought each other in revenge for previous killings.
Full report at:
http://www.xinhuanet.com/english/2018-03/12/c_137032230.htm
--------
Retrieve Arms From Boko Haram And Herdsmen, Group Tells IGP
MAR 10, 2018
Vigilance groups in Rivers State have called on the Inspector General of Police, Mr. Ibrahim Idris, to retrieve all arms used by Boko Haram members and herdsmen to terrorise and kill innocent Nigerians.
The vigilant groups were reacting to an order from the State Police Command that they (vigilance groups) should surrender all the weapons in their possession within 21 days or risk arrest and prosecution.
But the vigilance groups maintained that rather than ask them to surrender their arms, the police IGP should work towards retrieving arms from Boko Haram members and herdsmen.
Speaking on behalf of the vigilante groups, the leader of Diobu Vigilante Group, Mr. Victor Ohaji, stated that some communities facing cult-related issues would be adversely affected due to the IGP's directive.
Describing the directive as anti-security, Ohaji pointed out that the vigilante groups were assisting the police and other security agencies to fight insecurity within the communities.
"It is not good for the vigilance groups to submit arms when we know that criminals in the state are armed with sophisticated weapons. It will affect security because we cannot go after criminals who have guns with sticks.
"They that are giving this order have guns and security. It (surrendering of guns) will affect common people who do not have money to provide security for themselves. They should also retrieve arms from herdsmen, Boko Haram and other criminal elements for us to have a crime-free nation."
State Police Command had earlier in a statement ordered that vigilance groups in the state should submit their weapons within 21 days.
The statement signed by the State PPRO, Nnamdi Omoni, read: "Any person or group of persons bearing prohibited firearm or any locally fabricated firearm, pump action, double/single-barrelled guns or any modified weapon fashioned to kill or cause harm, panic or breach of the peace or threat to law and order in the state, should as a matter of urgency surrender same to the Task Force set up by the Commissioner of Police within the next 21days, which started running from 22nd February 2018."
"Members of the public, individuals or groups such as vigilantes, neighbourhood watch group, watch night men, hunters or any group or association under any capacity or guise other than statutory security agencies recognised and gazetted by the Federal Government of Nigeria to bear firearms of specified category, who are currently possessing and having prohibited/illegal firearm such as pump action and the likes for whatever purpose, are hereby warned to surrender same to the Task Force before the expiration of the 21 days notice."
"This operation among others is aimed at the full enforcement of the Firearms Act, mopping up and recovery of all prohibited firearms and illegally acquired weapons and to enable the police to deal decisively with herders and farmers clashes, kidnapping, armed robbery, cattle rustling, militancy, and terrorism."
Full report at:
http://saharareporters.com/2018/03/10/retrieve-arms-boko-haram-and-herdsmen-group-tells-igp
--------
Southeast Asia
At least 44 militants killed in clash with Philippine troops
March 11, 2018
At least 44 pro-Islamic State militants were killed and 26 more were wounded when Philippine soldiers shelled positions held by the rebels in southern Maguindanao province, the army said on Sunday.
The fighting, initially with about 50 members of the Bangsamoro Islamic Freedom Fighters (BIFF), broke out in a remote village in Datu Saudi Ampatuan town from Thursday morning and lasted the following day, said Lt. Col. Gerry Besana.
A soldier was slightly wounded, the army said in a separate statement.
The number of BIFF members killed and wounded was based on intelligence information, Besana said. The military did not recover any enemy bodies, he said.
Besana said the military launched artillery attacks with air support as the number of BIFF fighters had risen to about one hundred during the fighting.
The military classifies the BIFF, which it said has about 300 members, as a terrorist organization, along with the Abu Sayyaf and Maute groups.
"Seventy were killed and injured (on the BIFF side), we are still pursuing about 200 more," Besana said, adding that the clash had displaced about 500 families.
The militants in southern Philippines were regrouping, retraining and recruiting new members for another attack elsewhere after occupying the southern city of Marawi for five months last year, according to the army .
https://nation.com.pk/11-Mar-2018/at-least-44-militants-killed-in-clash-with-philippine-troops
--------
Will Malaysia's Islamisation change course?
By: WONG CHIN-HUAT
March 12, 2018
Pundits are betting that Prime Minister Najib Razak will win Malaysia's upcoming election. To end the Islamist one-upmanship in which the country has been mired in recent years, the opposition – now allied with Najib's predecessor and former mentor Mahathir Mohamad – must win one-third of the seats in parliament.
PENANG – Malaysia is just a few months or even weeks away from its most contentious election in decades. Mahathir Mohamad – Malaysia's longest-serving prime minister, whose rule ended in 2003 – is, at 92, working with opposition figures he once repressed to prevent his former protégé, the controversial Prime Minister Najib Razak, from securing another term. But breaking the 61-year winning streak of Mahathir's former party, the United Malays National Organization (UMNO), will not be easy.
In fact, the pundits are still betting on Najib, with one pollster predicting that the incumbent could regain a two-thirds parliamentary majority, enabling him to amend the constitution. Mahathir has just a few months to change the political dynamic, by leading the opposition coalition, Pakatan Harapan (PH), and replacing the Pan-Malaysia Islamic Party (PAS) with his new party, the Malaysia United Indigenous Party (PPBM), as the primary alternative to UMNO.
While the PAS has only about 15% electoral support, it has managed to push the UMNO to implement elements of its nationalist-religious agenda. A strong enough showing by PH in the next election, however, would expose the PAS as politically dispensable, potentially freeing Malaysia from a toxic game of Islamist one-upmanship.
The impact of that game should not be underestimated. In recent years, religious intolerance has been on the rise in once-secular Malaysia. For example, the Arabic word for God, Allah, widely used by Arab and Indonesian Christians, is now reserved for Muslim use only. More alarming, the Home Ministry has banned a wide range of books, from the Indonesian translation of Charles Darwin's On the Origin of Species to the writings of the Islam-friendly Western scholars John Esposito and Karen Armstrong.
The rise of a strict and exclusivist Islam in Malaysia reflects international trends and domestic dynamics. Ethnic-majority Malays – who were marginalized during colonial times, but now enjoy constitutionally guaranteed preferential treatment in the economy and education – must, by definition, be Muslim. The persistence of their favored status hinges on the UMNO's political dominance, or so UMNO claims.
While early UMNO leaders were anti-clerical, the party's success in eliminating its leftist and liberal rivals left PAS as the face of the Malay opposition. When the modernist Mahathir came to power in 1981, Islamism became the PAS's most effective ideological weapon against the UMNO.
And, indeed, the PAS leader, Hadi Awang, then a young and charismatic cleric, advocated a radical stance, labeling any Muslim who supported the UMNO an "infidel," because the UMNO government had supposedly "perpetuated the colonial constitution, infidel laws, and pre-Islamic rules." Hadi's message helped to create a deep divide between the two "kinds" of Muslims, to the extent that villages would have two mosques, two cemeteries, and two clerics to lead prayers and officiate at ceremonies.
But where Hadi did the most damage was in undermining the legitimacy of Malaysia's post-colonial state and social structures. When Malaysia was under British rule, it faced mass immigration of ethnic Chinese and Indians, and the emergence of a Christian native minority on the island of Borneo.
From a Muslim nationalist's perspective, pluralism – together with secularism and democracy – were colonial impositions. Full decolonization would demand restoration of the dominance of Islam and Muslims. According to this narrative, the Ottoman Empire offers a model of segregated, unequal, but peaceful co-existence of multiple ethno-religious communities. Minorities lived autonomously in their "millets," not as equal citizens, but as "dhimmis" (protected minorities).
Having once championed the establishment of a full-fledged Islamic state, the PAS now demands at least expanding Sharia law and elevating the status of the Syariah court system, which now has limited jurisdiction over Muslims' personal and family matters, to that of the civil courts. As the PAS's brand of Muslim religious nationalism has increasingly overridden the UMNO's Malay ethno-nationalism, these goals have gained the support of a growing number of Muslims.
While not known to be religious, Mahathir shrewdly co-opted Hadi's more charismatic and visionary contemporary, Anwar Ibrahim, in 1982 to spearhead the UMNO's own Islamization projects. From Islamic higher education to Islamic banking to religious bureaucracy, Mahathir and Anwar stole the PAS's religious thunder – that is, until the UMNO split. In 1998, Mahathir imprisoned Anwar, who had tried to replace him. After that, the PAS absorbed many of Anwar's followers, expanding its influence from its stronghold in the north to the entire country.
Since the 2013 election, when Najib lost the popular vote but clung to power, thanks to electoral gerrymandering, he has worked to bring Hadi on side, for example, by facilitating the potential introduction of harsh hudud punishments (mandated by God under Islamic law) for crimes like adultery, drinking, and apostasy. It was a Machiavellian masterstroke that not only drew the PAS out of the opposition coalition, but also led Hadi to defend the scandal-plagued Najib.
The PAS has announced plans to contest about 60% of parliamentary constituencies. This may siphon Malay votes from PH, giving the UMNO many narrow victories. If the turnout among Malays is low, PH will suffer more than Najib, who could end up winning more seats with even fewer votes than in 2013.
As for the PAS, its continued political relevance hinges on eliminating the threat posed by Mahathir and its own splinter party, Amanah, formed by pro-Anwar moderates. If Mahathir cannot secure one-third of the seats in parliament, the PAS can claim that it is indispensable, even if it loses every constituency. In such a scenario, no Malay opposition leader would dare denounce the PAS's Muslim nationalism. The UMNO, despite its electoral victory, would have even less of the moral courage needed to block the PAS agenda.
If Mahathir does secure one-third of the parliament, Malaysian politics will undergo significant changes, even if the UMNO remains technically in charge. If Amanah can supplant the PAS as the main Islamic party, the trend toward religious extremism would likely be reversed. And if the PPBM is established as a rival defender of Malays' favored status, the UMNO would lose its monopoly on the issue, making Malay politics more competitive.
Full report at:
http://www.newtimes.co.rw/section/read/229900/
--------
Iran, Indonesia can join hands in fighting extremism
Mar 12, 2018
An Iranian delegation led by Mahmoud Sadeghi met with the Deputy Speaker of the Indonesian People's Representative Council Fadli Zon in Jakarta, Indonesia on Saturday, during which Sadeghi pointed to the friendly and positive relations between the two countries in various fields, saying "the Iranian-Indonesian Parliamentary Friendship Group seeks to expand political, economic and cultural relations between the two countries, and welcomes and supports any action in this regard."
Referring to extremism as one of the problems of the Islamic world, the Head of Iran-Indonesia Parliamentary Friendship Group stated "the Islamic Republic of Iran and Indonesia, as the two major countries in the Muslim world, can help resolve the problems of extremism and the terrorist groups in Islamic countries."
Pointing to the positive sphere that is available after the implementation of the nuclear deal to enhance the level of economic and commercial cooperation, Sadeghi noted "removing banking barriers can encourage businessmen and further economic development pf the two countries."
Sadeghi also emphasized the expansion of the tourism relation and scientific cooperation between Iranian and Indonesian universities.
Fadli Zon, for his part, referred to the scientific and industrial progress of the Islamic Republic of Iran during the imposed sanctions and said "resistance of the people of Iran in the years following the victory of the Islamic Revolution deserves respect and appreciation."
The deputy speaker of the Indonesian People's Representative Council also said "developing parliamentary relations between the two countries can help governments reach the desired level of relations."
Full report at:
https://en.mehrnews.com/news/132735/Iran-Indonesia-can-join-hands-in-fighting-extremism
--------
'Why isn't amendment on unilateral conversion in Parliament?'
Minderjeet Kaur
March 12, 2018
PETALING JAYA: Opposition MP M Kulasegaran has taken the government to task for not tabling the amendment on unilateral conversion under the Law Reform (Marriage and Divorce) (Amendment) Act 2016 in the current Dewan Rakyat sitting.
Speaking to FMT, he said if PAS president Abdul Hadi Awang's private member's bill could be listed as number three in the motion paper, he did not see why the marriage reform bill could not be included.
"They could also be tabling the redelineation proposal to change voting boundaries at this sitting," he said.
"Why isn't the government prioritising the marriage reform bill on unilateral conversion?"
The Ipoh Barat MP also asked if Hadi's private member's bill and the redelineation proposal were being tabled to increase voters for Barisan Nasional (BN).
He said the boundary changes meant that the majority of rural votes would be in BN's hands.
Hadi's proposed amendments to the Syariah Courts (Criminal Jurisdiction) Act, or Act 355, seeks to raise the maximum punishment on shariah offenders from the current three years' jail to 30 years, and to impose a fine of up to RM100,000 and 100 strokes of the cane.
Kulasegaran said there was no reason to delay tabling the amendment on unilateral conversion as it would only take about 30 minutes of the Dewan Rakyat's time.
In February, the Federal Court set aside the unilateral conversion of M Indira Gandhi's three children to Islam after ruling that any conversion of non-Muslim children must get the consent of both parents.
The bench ruled that a spouse who converts to Islam has no authority to convert his or her minor children without the consent of the non-converting partner from a civil marriage.
In August last year, the government withdrew the Law Reform (Marriage and Divorce) (Amendment) Act 2016, which aimed to resolve conflicts arising from interfaith custody battles between Muslim and non-Muslim parents.
The amendments included a new provision regarding the religion of the child, with Section 88A(1) stating that if a parent converts to Islam, the religion of the children will remain the same unless both parents agree to their conversion.
The Dewan Rakyat subsequently passed the Law Reform (Marriage and Divorce) (Amendment) Bill 2017 which is aimed at amending the Law Reform (Marriage and Divorce) Act 1976 (Act 164).
Minister in the Prime Minister's Department Azalina Othman Said said the amendment was to provide room for a non-Muslim couple, where one spouse had converted to Islam, to file a petition for the dissolution of the marriage in the civil courts, either separately or together.
She said this was to prevent any action by either the husband or wife who did not want to terminate the marriage but did not want to bear any responsibility towards the spouse, their children or property.
However, Section 88A(1) was not included in the bill.
Kulasegaran, who is a lawyer, said it would be easier for Parliament to table the bill as the unilateral conversion case had been clearly defined in the Federal Court.
Full report at:
http://www.freemalaysiatoday.com/category/nation/2018/03/12/kula-why-isnt-amendment-on-unilateral-conversion-in-parliament/
--------
URL: https://www.newageislam.com/islamic-world-news/winnipeg-author-explores-deep-romanticism/d/114566
New Age Islam, Islam Online, Islamic Website, African Muslim News, Arab World News, South Asia News, Indian Muslim News, World Muslim News, Women in Islam, Islamic Feminism, Arab Women, Women In Arab, Islamophobia in America, Muslim Women in West, Islam Women and Feminism