Age Islam News Bureau
17 Nov 2018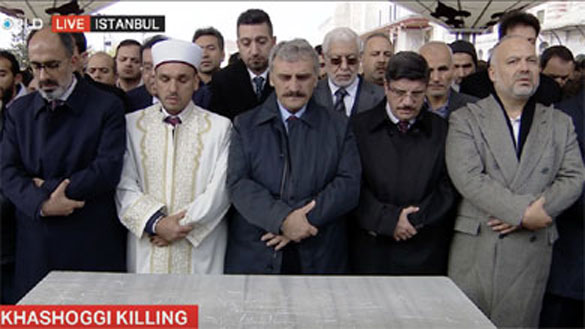 Prayer held in Istanbul, day after a Saudi prosecutor admitted the writer's body was dismembered by Saudi agents in the kingdom's Istanbul consulate. Similar prayers held in Makkah and Madinah
-----
• Will Pakistan Be Run Through Street Power? SC Asks
• Saudi Arabia's Influence In Southeast Asia – Too Embedded To Be Disrupted?
• Prayers Performed For Jamal Khashoggi in Makkah and Madinah
• Minorities Panel Will Talk To All Stakeholders to Explore Out-Of-Court Truce to Ayodhya
• President Al-Bashir: Sudan Provides Moderate Model of Islam
Pakistan
• Will Pakistan Be Run Through Street Power? SC Asks
• 30 Religious Parties Join Hands to Protect 'Islamic Identity Of Pakistan'
• Taking U-turns Is Sign of Leadership: Pakistan PM
• At least 2 dead, 8 injured in explosion near Quaidabad flyover in Karachi
• JIT put unreasonable terms for Qatari prince's statement: Nawaz
• US spent $113m in Pakistan during 2018: report
• PM Imran Khan proved himself as Hitler, says Khursheed Shah
--------
Southeast Asia
• Saudi Arabia's Influence In Southeast Asia – Too Embedded To Be Disrupted?
• Malaysia: Why Even Bother With Religious Dialogue?
• Muslim Care Slams Israel over 'Massacre' Of Palestinians
• Malaysian police detain eight terror suspects
• Anwar: Postpone ratifying ICERD until more dialogues with Malay groups held
• Christian school rumour leads to closure of vocational academy in Batam
--------
Arab World
• Prayers Performed For Jamal Khashoggi in Makkah and Madinah
• Prince Khalid bin Salman: I never told Khashoggi to travel to Turkey
• Iran Pushes To Influence Syria's New Generation Through 'Educational Invasion'
• Has Qatar Groomed A Terrorist To Be A Somali District's President?
• Mauritania welcomes Saudi Public Prosecution statement on Khashoggi case
• Russia: It's not acceptable to politicize Khashoggi's case
• Despite declared halt to offensive, Saudi warplanes hit Hudaydah
• Bipartisan Senate bill to suspend US arms exports to Saudi Arabia
• Pause in Saudi raids on Hudaydah aimed at buying time: Houthi
• Extremists kill 22 Syria regime fighters near Idlib: monitor
--------
India
• Minorities Panel Will Talk To All Stakeholders to Explore Out-Of-Court Truce to Ayodhya
• India, UK Vow To Strengthen Cooperation to Deal with Counter-Terror Challenges
• India, Morocco sign pacts to combat global terror including ISIS
• Terrorists kill Kashmiri youth; video of shooting surfaces
• 'Muslims of India Believe That It's Time Ram Temple Should be constructed': Muslim Rashtriya Manch
--------
Africa
• President Al-Bashir: Sudan Provides Moderate Model of Islam
• Black Tunisians Enjoy Historic Law but Still Push for Equality
• Jordan: Saudi announcement on Khashoggi case a step towards justice
• Italy's Libya talks lay bare deep divisions
• Three Nigerian soldiers killed in Boko Haram attack on military base
--------
North America
• Slap at Local Muslim Violates Spirit of America, Its Founders
• In First, US Votes Against UN Censure of Israel over Golan
• US sanctions at odds with Europe sovereignty, credibility: Iran diplomat
• US has leverage on Saudis to reveal Khashoggi case: NYT
--------
South Asia
• Known Jamaat Affiliates Seek Nominations from BNP-Led Alliance, As Independents
• Myanmar Arrests 106 Rohingya Muslims Heading For Malaysia
• US Rights Activists Concerned About Violations in Bangladesh
• Bangladesh: Ruling party infighting leaves 4 dead
• NSC orders Afghan forces to increase raids against Taliban
• NDS Special Forces conduct raids on 5 ISIS-K compounds in Nangarhar
• President Ghani met with Jamiat Islami leaders to discuss peace efforts
--------
Mideast
• Netanyahu Becomes Israel Military Affairs Minister after Lieberman's Resignation
• 40 Palestinians Injured In Clashes with Israeli Forces At Gaza Border
• Houthi militias target number of facilities in Hodeidah, breach truce
• Yemen welcomes public prosecution's statement on Khashoggi case
• Turkish police arrest 13 in probe of rights activist over 2013 protests
• Iran blasts using human rights mechanisms as tool
• Six convicted for 2016 Istanbul airport attack that killed 45
--------
Europe
• UN passes resolution condemning Iran's human rights record
• UN calls for new negotiations on Yemen in Sweden
• Saudi Sponsorship of Swedish Schools Prompts Islamist Scare
• EU to support Iraq in US sanctions on Iran
• Hundreds offer funeral prayer for Khashoggi in London
• Many questions in Khashoggi case remain open: Germany
• EU calls for justice in Khashoggi murder case
• France's first jailed jihadist: From radicalisation to reformation
Compiled by New Age Islam News Bureau
URL: https://www.newageislam.com/islamic-world-news/will-pakistan-be-run-street/d/116908
--------
Will Pakistan Be Run Through Street Power? SC Asks
Nov 17, 2018
ISLAMABAD: The Supreme Court (SC) on Friday questioned the government's seriousness in pursuing the Faizabad sit-in case, as it rejected reports submitted by the Inter-Services Intelligence (ISI), Pakistan Electronic Media Regulatory Authority (PEMRA) and the Election Commission of Pakistan (ECP) pertaining to the 2017 protests by religio-political parties.
A two-member bench of the apex court comprising Justice Mushir Alam and Justice Qazi Faiz Isa began hearing the matter on Friday.
During the hearing, Justice Isa questioned whether the country will be run under the constitution or through street power. "Peaceful protest is right of every citizen but violence will not be allowed," he noted.
The judge said the protest sit-in had caused losses of billions and that the court wanted to know whether the persons "who can bring thousands of people" to the sit-in pay taxes.
"Can the ISI not even find out about the bank account of a person?" the judge wondered. He said the agency had said in response to the court's query that it could not provide income tax details of the protest leaders and that it could be provided by the Federal Board of Revenue (FBR).
Justice Isa said if these things did not fall in the purview of the agency "then when [in the future] ISI interferes in other matters, we will ask: 'is this ISI's job?'"
The bench then wondered if it should summon the director general of the ISI or the defence secretary for an explanation.
Brigadier Falak Naz, the director of Ministry of Defence's law branch, said the ISI could be asked to obtain the requisite details if the court so orders. "ISI looks after the national security [of the country]," he added.
"Is the sit-in not a matter of national security?" Justice Isa retorted, observing that the ISI was subservient to the country's law and constitution.
After highlighting discrepancies, the top court directed all departments to submit fresh reports in the case.
The apex court also expressed its displeasure over the absence of attorney general of Pakistan from Friday's hearing after Deputy Attorney General Sohail Mehmood made an adjournment request citing his absence.
Irked by the request, Justice Isa remarked that the case was not a non-serious affair. "The entire country was at a standstill during the sit-in," he said. "The hearing date had been fixed upon the attorney general's wishes. What urgent case did he have in Lahore?"
"The AGP is in Lahore. The chief justice had directed him to go to Lahore in connection to some cases," Mehmood answered.
In response, Justice Isa remarked that "the court, not the chief justice issues directives. We are also part of the court and fixed this date on the wishes of the attorney general".
"This is not a joke. Who pays the attorney general?" Justice Isa inquired. "The AGP is paid from the money received from citizens' taxes," answered the deputy attorney general.
"If his salary comes from tax deposits then he is answerable," Justice Isa observed.
"If the government does not want to pursue this case then it should inform the court and bury it."
"We should be told whether you [government] want to make Pakistan a working state and whether you want to run it as per the law or through street power," he remarked.
Emphasising on the gravity of street politics, the judge asked whether Pakistan Tehreek-e-Insaf had tendered an apology for the 2014 sit-in at Constitution Avenue – keeping in view the party failed to prove rigging allegations before the commission probing General Elections 2013.
Recalling the May 12 carnage in Karachi, Justice Isa observed that the matter was seldom spoken about "because a general was ruling the country at the time".
On Thursday, The Election Commission of Pakistan (ECP) told the apex court that Tehreek-e-Labbaik Pakistan (TLP) has not yet submitted the financial details of its election campaign during the 2018 general elections.
The protests and sit-in at Faizabad Interchange by TLP workers lasted for three weeks until an agreement was reached with the government on November 27, 2017.
In the same month, a suo motu notice of the sit-in was taken by the country's top court in.
Earlier this month, the TLP held countrywide protests against the acquittal of Aasia Bibi — a Christian woman acquitted after eight years on death row for blasphemy — condemning the judges on the bench hearing Aasia's case, the prime minister and the army chief.
https://www.pakistantoday.com.pk/2018/11/16/sc-questions-govts-seriousness-to-pursue-faizabad-sit-in-case/
--------
Saudi Arabia's influence in Southeast Asia – too embedded to be disrupted?
November 16, 2018
Asmiati Malik and Scott Edwards
The revelation of Jamal Khashoggi's murder inside the Saudi Arabia embassy in Turkey is harming Saudi Arabia's international relations, including with Muslim majority Southeast Asian countries Malaysia and Indonesia.
Malaysian Prime Minister Mahathir Muhammad closed the Saudi-backed King Salman Centre for International Peace (KSCIP). Malaysia is also withdrawing troops from Saudi Arabia.
In Indonesia, in addition to uneasiness about Khashoggi's fate, people are protesting against the Saudi execution of Indonesian domestic worker Tuti Tursilawati without warning Indonesian authorities.
But, despite signs of change, the influence of Saudi money and ideology may be too big to dismantle in these countries.
Saudi influence in Southeast Asia
Islam in Malaysia and Indonesia shares similar values and was constructed and merged with ancient Melayu's culture in 625c. Initially spread through arts such as music and wayang (theatre), it emphasises not only moderation and compassion, but also respect for local customs.
After increasing influence from Saudi scholars throughout the past two decades, however, there has been a change in how both countries interpret Islamic studies.
Saudi influence gained massive publicity due to the extravagant donation of US$680 million to Mahathir's predecessor, Najib Razak, despite the fact it is increasingly evident it did not come from the kingdom's royal family as claimed, but instead from corruption surrounding the 1MDB development fund.
In Malaysia, Saudi Arabia also donates to schools and universities to spread their conservative views. Scholarships are given to male scholars to study at Saudi universities such as the Islamic University of Madinah, famous for Salafism ideology.
The Islamic Science University of Malaysia (USIM) receives generous funding from the Saudis. Similarly, in the Philippines, Saudi money has been traceable to the Moro Islamic Liberation Front (MILF), which allegedly had strong ties with al Qaeda.
The Saudis recently have been on a charm offensive in Malaysia. Their foreign minister visited in October, discussing matters such as Haj pilgrimage quotas. The Saudies have also tried to reassure the new government that their support for Najib was not malevolent.
When Saudi King Salman bin Abdl Aziz visited Jakarta in 2017, he allocated a $13 billion budget for business, education and religion in Indonesia.
In Indonesia, Saudi money is traceable back to the 1980s. They made contributions to the Institute for the Study of Islam and Arabic (LIPIA). The institution, founded on Saudi money, is famously known for ultra-orthodox Islamic views.
For instance, male students are urged to grow their beard and wear ankle-length linen pants. Women are encouraged to wear a burqa. The students study philosophical thoughts of Imam Muhammad bin Abdul Wahhab, a founding father of Saudi Wahhabism.
LIPIA has strong links to Imam Muhammad ibn Saud Islamic University in Riyadh. It's strictly monitored by the Saudi embassy, essentially making it a branch of Saud Islamic University in Indonesia.
Khalid bin Muhammad Al-Deham, a Saudi national, leads the LIPIA management. There have been 11,535 alumni from 1982-2013. The number of graduates increases each year. In 2017 750 graduated.
The alumni include Liberal Islam Network (JIL) coordinator Ulil Abshar Abdalla, former house of representatives deputy speaker and Prosperous Justice Party (PKS) leader Anis Matta and former governor of West Java Ahmad Heryawan. Other notable alumni include Islamic Defenders Front (FPI) leader Rizieq Syihab, Aman Abdurrahman, the ideologue behind the 2016 Jakarta bombing that killed seven victims, and Jafar Umar Thalib, a founder of the militant and radical Islamic organisation Laskar Jihad.
Saudi Arabia also funds scholars from Indonesia to pursue Islamic studies at the Islamic University of Madinah. Among them are PKS politician Hidayat Nur Wahid, chair of the National Movement to Safeguard the Fatwas of the Indonesian Ulemas Council (GNPF-MUI) Bahtiar Nasir, and Syafiq Riza Basalamah, a famous Islamic preacher on YouTube. Syafiq is also head of the Islamic University of Imam Syafi'i in Jember, which adapts its curriculum from the Islamic University of Medinah.
Spread of Saudi ideology
There is a clear line between LIPIA in Jakarta, USIM in Malaysia, King Saud University in Riyadh and Islamic University of Madinah, which assists in the spread of Saudi ideology funded by Saudi money.
Not all their graduates support extreme views, of course. But there is a rise in extreme Islamic views triggering polarisation and conflict. Some are concerned that an increasing "Arabisation" of Malaysia and Indonesia has led to growing intolerance and division, even between Islamic adherents – creating a dichotomy of liberal and orthodox views.
This has a stronger impact when Saudi Arabia not only exports its Wahabism view, but then encourages people to enter politics. In Malaysia, proselytisation via Saudi-funded mosques has been followed by a growing role of Saudi-trained Islamic scholars being recruited into the governmental bureaucracy.
Wahabi and Salafi politicians are gaining stronger influence in Indonesian and Malaysian politics. This not only furthers the spread of Wahabism, but also embeds Saudi influence into these very structures.
The generosity of Saudi money in Southeast Asia allows the embedding of this influence, as well as their ideology. Economic linkages such as funding and oil deals with Indonesia and Malaysia increase the support of the Saudi Kingdom. As such, while there are current disruptions and attempts to transform the relationship with Saudi Arabia, their ideological and economic influences make this extremely difficult.
http://www.thejakartapost.com/academia/2018/11/16/saudi-arabias-influence-in-southeast-asia-too-embedded-to-be-disrupted.html
--------
Prayers performed for Jamal Khashoggi in Makkah and Madinah
November 16, 2018
JEDDAH: Funeral prayers were performed for murdered Saudi journalist Jamal Khashoggi in the Grand Mosque in Makkah and the Prophet's Mosque in Madinah Friday.
The congregation prayed the absentee funeral prayers for Khashoggi at the Grand Mosque in Makkah after Friday prayers, and another service was held for him at the Prophet's Mosque in Madinah after the dawn prayer earlier in the day.
The prayers came a day after Saudi Arabia's public prosecutor said it was seeking the death penalty for death five out of 11 suspects charged in the murder of Khashoggi.
Khashoggi was killed in Saudi Arabia's Istanbul consulate on Oct. 2 by a lethal injection after a struggle, and his body was dismembered and taken out of the building, Shalaan Al-Shalaan, deputy public prosecutor and spokesman, told reporters in Riyadh on Thursday.
The investigation into Khashoggi's death will continue and Foreign Minister Adel Al-Jubeir said Thursday that the Kingdom is committed to holding those involved in the murder accountable through the judiciary.
http://www.arabnews.com/node/1405896/saudi-arabia
--------
Minorities Panel Will Talk To All Stakeholders to Explore Out-Of-Court Truce to Ayodhya
Nov 16, 2018
NEW DELHI: Even as it appealed to all "parties in the case" to keep patience and wait for the Supreme Court decision, the National Commission for Minorities has said that it was also planning to reach out to all stakeholders in the Ram Mandir-Babri Masjid dispute in a bid to explore the possibility of building consensus on the issue towards an out of-court settlement.
NCM chairperson Ghayorul Hasan Rizvi said he will be reaching out to the All India Muslim Personal Law Board, Sunni Waqf Board, Vishwa Hindu Parishad and Rashtriya Swayamsewak Sangh seeking meetings to discuss the matter. The NCM chief along with all five members of the commission on Tuesday passed a resolution calling for swift decision on the Ayodhya dispute.
"After due deliberations, the NCM is of the view that since the matter is sub-judice the NCM desires that all parties should await the decision of the Supreme Court," the NCM stated in a resolution passed at its monthly meeting of the full commission which included the NCM chief and five members. The commission further resolved that "all the three pillars of the constitution namely the legislature, the executive and the judiciary should endeavour for early disposal of the matter, amicably and peacefully". The commission took up the matter for discussion as it had received a representation from an organisation working for the development of the minority community.
TOI had reported last week that the NCM chief came out strongly to favour the construction of Ram Mandir at the contested site in Ayodhya. Citing the "current atmosphere of growing tension" between the Hindu majority and Muslim minority community as a matter of grave concern, the NCM chief had made a strong pitch for a swift resolution of the Ayodhya temple issue. On Tuesday after the NCM meeting, he reiterated the same saying this was his personal view on the matter.
Responding to the recent statements and reactions by NCM and others on the issue, AIMPLB's Babri Masjid Committee joint convener S Q R Ilyas said that efforts towards negotiations have happened in the past too but now the time for negotiations is over. The solution can come only from the court. "As far as we are concerned we have set all our hopes on the SC decision and we will accept what the court decides. Over the last year the SC has been repeatedly emphasising that this is a land dispute and we hope when the hearing starts the matter will revolve around the legal aspects alone like the land and revenue records," Ilyas added. The AIMPLB working committee will be meeting in Lucknow in mid December where the issue will be discussed and the board's stand in court and the way forward will be chalked out.
https://timesofindia.indiatimes.com/india/minorities-panel-will-talk-to-all-stakeholders-to-explore-out-of-court-truce-to-ayodhya-dispute/articleshow/66655169.cms
--------
President Al-Bashir: Sudan Provides Moderate Model of Islam
20 NOVEMBER 2018
Khartoum — President of the Republic and Chairman of the higher Leadership Council of the Sudanese Islamic Movement, Field Marshal Omer Al-Bashir, affirmed that Sudan is offering a moderate model of Islam for all the world, and does not infringe upon the rights of others and does not deprive them of their ideas or aspirations or their associations, stressing that Sudan seeks balanced relations with all countries, near and far, for the interest of humanity.
Addressing Thursday the opening sitting of the Ninth Conference of the Sudanese Islamic Movement at the Exhibitions Zone in Burri, President Al-Bashir stressed that Sudan will not retreat from the covenant and charter of the Islamic Movement and will honor its pledge to the martyrs.
He said that Sudan, despite the intrigues woven against it, has become a haven for those who seek safety, peace and tranquility, and resort to it all those who have lost security and safety in their country and treating them as brothers at home.
He pointed out that Sudan is leading efforts to achieve peace in the region - in the Central African Republic after it has succeeded in achieving peace in the Republic of South Sudan, despite the problems and wars caused by the colonizers.
President Al-Bashir indicated that many circles envy Sudan in its efforts to achieve peace in the region and aim to disrupt its efforts to realize peace in the Central African Republic, although all the warring groups there are convinced that Sudan can realize peace in their country.
He called for the unity of rank in light of the challenges facing the country and the unification of all the Muslims in Sudan and to achieve unanimous opinion and agreement, because the external targeting against the homeland targets everyone and does not exclude anyone of the people of Sudan.
https://allafrica.com/stories/201811160230.html
--------
Pakistan
30 religious parties join hands to protect 'Islamic identity of Pakistan'
Iftikhar Alam
November 15, 2018
LAHORE - More than 30 religious parties have announced launch of a movement to protect, what they called, Islamic identity of Pakistan.
For the purpose, the parties will take out a rally in Lahore today (Thursday) while the next demo would be staged in Sukkar on November 25.
The announcement was made during the Tahafuz-e-Namoos-e-Risalat Conference hosted by the Jamaat-e-Islami at Mansoora Wednesday.
JUI-F chief Maulana Fazlur Rehman was the chief guest at the event that lasted for more than two hours. A steering committee will be formed to draw next line of action 'to fight off the PTI's plan to accept the status of Israel and amend the blasphemy laws'.
Through a joint resolution, the conference condemned 'the PTI government's acts against the basics of Islamic teachings and agenda of the western powers'.
The resolution condemned the acquittal of Aasia Bibi in blasphemy case by the Supreme Court.
It demanded the government file a review petition against the verdict and full court hear the case and the name of Aasia be placed on the ECL till the final verdict.
The resolution also demanded the SC "hear the opinion of Islamic Ideology Council and religious scholars while hearing the case".
It also condemned the killing of JUI-S chief Maulana Samiul Haq. The meeting said any efforts to amend law declaring Ahmadis as kafir will be resisted with full force. It also demanded the government include Islamic laws in LLB and different courses of the higher judiciary.
Earlier, Fazl said he had no doubt government was 'trying to endorse the agenda of Israel and Jewish lobby in Pakistan'. He said, "All acts of the government were undemocratic, dictatorial and it was proved it was puppet government backed by western lobbies."
He said all opposition parties including PPP and PML-N should join hand against the PTI government.
Asadullah Bhutto, Hafiz Ibtisam Elahi, Maulana Abdul Ghafoor Haidri, Hafiz Kazim Raza, Khawaja Moeenuddin Koreja, Rana Shafique Pasrori, Maulana Amir Hamza and others also spoke on occasion.
The MMA planned a rally on The Mall on Thursday. The religious leaders claimed that thousands of people will participate in the rally.
https://nation.com.pk/15-Nov-2018/30-religious-parties-join-hands-to-protect-islamic-identity-of-pakistan?show=blocks
--------
Taking U-turns Is Sign of Leadership: Pakistan PM
Syed Irfan Raza
November 17, 2018
ISLAMABAD: Prime Min­is­ter Imran Khan has said the real leader of a nation always makes U-turns and changes his or her strategy according to the situation and the need of the hour.
He was talking to journalists who met him in the Prime Minister Office (PMO). "The leader who does not do timely U-turns is not a real leader," the prime minister was quoted as saying by a participant.
Mr Khan gave the example of the 'failure of German leader Adolf Hitler and French military leader Napoleon Bonaparte in the wars in Russia' and said: "Both Hitler and Napoleon faced defeat as they did not change their strategies according to the situation and (as a result) their armies were marooned in Russia."
"Leaders should always be ready to take U-turns according to the requirement of their duties and best interests of the nation," the prime minister added.
Interestingly, the opposition always blames Mr Khan for making U-turns in politics and backing out from what he promises to the nation. In fact, quite often he is dubbed as "master of U-turns".
Reacting to the prime minister's remarks, senior leader of the Pakistan Peo­ples Party Syed Khursheed Shah said that Mr Khan had "called himself Hitler" in his "U-turn remarks".
Mr Shah said Hitler was a dictator and by giving his example Mr Khan had proved that he too was a dictator.
Talking about the performance of the National Accountability Bureau (NAB), the prime minister said the anti-graft watchdog should first take up cases of bigwigs and then go for petty suspects.
"NAB is an independent institution and I hope that the bureau will take it into account how many cases it can take to logical conclusion on the basis of its capabilities and human resources," the prime minister added.
100-day plan
The prime minister said the government would soon present a comprehensive plan for elimination of poverty, better education and health facilities and some other reforms. "The first 100 days of any government determine its direction and policies," he added.
Unfortunately, he said, it had never been tried to bring in what he called "real" democracy in the country, adding that instead of democracy, kleptocracy had so far ruled the country, where rulers (mis)used their powers for their own interests.
The prime minister deplored that despite obtaining huge foreign loans in the past, Pakistan was still among Third World countries.
"We do not know the amount of resources our country has," he maintained.
Only in oil and gas sectors six per cent of the resources had so far been tapped, he said. "Unfortunately none of the governments in the past paid attention to exploring other natural resources."
Stressing the need for merit and fair play, Mr Khan said (previous) rulers had intentionally weakened state institutions so that they [institutions] could not make them [rulers] accountable for their deeds. "We are not at war against democrats but those who destroyed the country and plundered its wealth," he said.
Lauding the performance of his party in the July 25 elections, Mr Khan said the Pakistan Tehreek-i-Insaf (PTI) had lost about 55 seats, 14 of the National Assembly and the rest of provincial legislatures, with the margin of 3,000 to 4,000 votes. "We have offered to the opposition to open any of the constituencies but its objective is only to malign the government by levelling false allegations of rigging," he added.
"Maulana Fazlur Rehman (chief of the Jamiat Ulema-i-Islam-F) and other opposition leaders are making a hue and cry because they have been wiped out from Khyber Pakhtunkhwa in the polls," he said.
Full report at:
https://www.dawn.com/news/1446168/taking-u-turns-is-sign-of-leadership-pm
--------
At least 2 dead, 8 injured in explosion near Quaidabad flyover in Karachi
Imtiaz Ali
November 16, 2018
Two teenagers were killed while eight others injured in an explosion in Quaidabad area of the metropolis on Friday night, according to police and hospital officials.
Following the blast, police and rescue teams rushed to the site and shifted the injured to Jinnah Postgraduate Medical Centre (JPMC) for treatment.
JPMC Executive Director Dr Seemi Jamali confirmed the death of two persons, saying they succumbed to injuries on their way to the hospital. She said the hospital received eight injured, of which three are in critical condition.
Both deceased were teenagers, one of them was identified as Papu Mushtaq, 16, while the identity of other deceased aged 18 years remained unknown.
The injured men were identified as Rasheed, 18, Mushtaq, 22, Haq Nawaz, 55, Siddiq 55, Araslan, 35, Allah Ditta, 25, Qamar Abbas, 28, and Shahab, 26.
Karachi police chief Ameer Sheikh said some vendors at a makeshift market were selling fruit and other items of daily use near the Quaidabad flyover when the bomb went off nearby.
The senior officer said that the exact nature of the explosion was being determined. The law enforcement officials cordoned off the area soon after the attack and collected evidence for an investigation into the incident and to ascertain the nature of the blast.
Shah Latif Town police said that some unidentified thing present under the fruit cart exploded near Aman Hospital adjacent to the deputy commissioner's office.
DSP Malir City Ali Hassan also said that a cart belonging to a fruit vendor present near the DC office "had some unknown things present under it which exploded".
He too could not confirm the cause of the blast but said that a Bomb Disposal Unit (BDU) had been called to the site which was busy assessing another explosive device recovered from the site of the blast, said to be planted within a "tiffin box", DawnNewsTV reported.
The surrounding area experienced a breakdown of electricity following the blast, which is yet to be restored, according to DawnNewsTV.
Meanwhile, Sindh Chief Minister Murad Ali Shah was quick to take notice of the incident and sought a report from the Additional IG Karachi and directed that all possible assistance be given for the treatment of the injured persons.
Full report at:
https://www.dawn.com/news/1445991/at-least-2-dead-8-injured-in-explosion-near-quaidabad-flyover-in-karachi
--------
JIT put unreasonable terms for Qatari prince's statement: Nawaz
Malik Asad
November 17, 2018
ISLAMABAD: Former prime minister Nawaz Sharif on Friday told the accountability court seized with the Al-Azizia reference that the joint investigation team (JIT) constituted in the Panama Papers case "imposed extremely strict, unreasonable conditions" for recording the statement of Qatari Prince Sheikh Hamad bin Jasim bin Jaber Al-Thani.
The Qatari prince was the "missing link" in the money trail of the Sharif family for their London properties and businesses in the UK and Saudi Arabia.
A day earlier, the former premier had testified that he was not a participant in the transactions between the Qatari royal family and the Sharifs. And on Friday, he said the prince was a key witness regarding his family's money trail but the JIT deliberately ignored him during the course of its investigations.
Continuing with his testimony, he said: "I have no personal knowledge of the correspondence between Wajid Zia and his Excellency Mr Sheikh Hamad bin Jasim bin Jaber Al-Thani, nor am I the subject matter of any of the letters in the said correspondence."
He claimed the Qatari prince, at every stage of the investigations, confirmed the money trail and also offered to verify the contents of the transactions between the two families.
In response to the suggestion that the Qatari prince was unwilling to accept the jurisdiction of the Pakistani criminal justice system, Mr Sharif replied: "This is incorrect. Prince Hamad bin Jasim bin Jaber Al-Thani never denied the jurisdiction of the Pakistani courts, or to be part of any inquiry or investigation by the JIT for purposes of confirmation of the contents of the letters [that confirmed money trail]... and [he] even asked the JIT to provide him a questionnaire in advance prior to the arrival of JIT in Doha... on the contrary [JIT] imposed extremely strict, unreasonable conditions for recording of his statement."
According to Mr Sharif, the Qatari prince "repeatedly offered to verify the contents of his aforementioned letters; he had also repeatedly invited the JIT members to visit Doha so as to facilitate them to verify in person the contents of his letters".
He further testified that he never relied upon these letters but his co-accused [Hussain Nawaz] produced the letters in his defence to establish the money trail before the Supreme Court during the hearing of the Panama Papers case.
During that case the Sharif family had taken the stance before the top court that they had acquired properties in London and established businesses in the UK and Saudi Arabia with the sale proceeds of the Gulf Steel Mills, which was set up by his father Mian Mohammad Sharif during the 1970s.
In response to a question about remittances sent to him by Hussain Nawaz from the account of the Hill Metal Establishment, Mr Sharif admitted that his son remitted the amount to his accounts and that more than 70 per cent of the remitted amount was transferred to the account of his daughter Maryam Nawaz.
He said the amount was remitted to his accounts as a gift and this was properly declared in his tax returns as well.
The former prime minister said that an amount of Rs100 million was donated to the Pakistan Muslim League-Nawaz in 2013.
On Friday Mr Sharif responded to a total of 30 questions. During his testimony, being recorded under Section 342 of the criminal procedure code, he has so far answered 120 questions out of a total of 151.
Full report at:
https://www.dawn.com/news/1446165/jit-put-unreasonable-terms-for-qatari-princes-statement-nawaz
--------
US spent $113m in Pakistan during 2018: report
Anwar Iqbal
November 17, 2018
WASHINGTON: The United States spent $113.3 million on key programmes and activities in Pakistan during 2018, says a US State Department report released on Friday.
The financial report for the fiscal year 2018 shows that between Oct 1, 2017 and Sept 30, 2018 the department spent $8.7 billion on its principal activities.
Within the total, $5bn supported ongoing programme operations and $3.7bn went towards the Worldwide Security Protection programme to strengthen security for diplomatic personnel and facilities.
Major elements of this funding included $958m to support operations of the US Mission in Iraq; $858.3m for activities in Afghanistan; $113.3m for key programmes and activities in Pakistan; and $1.1bn for supporting operations in other areas of unrest, including high threat, high risk posts.
The report notes that the department also appropriated $6.1bn for Foreign Military Funding (FMF), the majority of which is allocated to Israel, Egypt, Jordan, Pakistan and Iraq.
The department does not specify how much of it actually went to Pakistan but it does say that the US Defence Security Cooperation Agency supports Counter­insurgency Capability and Peacekeeping Operations programmes in the country.
The report also says that the department is comfortable with the Trump administration's decision to reintegrate office of the Special Representative for Afghanistan and Pakistan into the bureau for South and Central Asian affairs and, therefore, has not set aside separate funds for it.
Full report at:
https://www.dawn.com/news/1446151/us-spent-113m-in-pakistan-during-2018-report
--------
PM Imran Khan proved himself as Hitler, says Khursheed Shah
NOVEMBER 16, 2018
SUKKUR: Pakistan Peoples Party's (PPP) leader Khursheed Shah said that Prime Minister Imran Khan has made it clear that he is Hitler and is taking U-turns to avoid losses.
Khursheed Shah is a press conference said that Prime Minister made it clear that he is Hitler.
The PPP leader said that, Imran Khan is sending a message that Hitler had failed as he did not take the U-turns.
"No Hitler, who was also a dictator, has ever been successful in history," Shah quoted.
Earlier, Prime Minister Imran Khan said that that a leader who does not take "U-turns" according to the situation is not a real leader.
Full report at:
https://dailytimes.com.pk/322852/pm-imran-khan-proved-himself-as-hitler-says-khursheed-shah/
--------
Southeast Asia
Malaysia: Why Even Bother With Religious Dialogue?
S THAYAPARAN
Nov 17, 2018
An irate Malaysiakini subscriber emailed me about Abdul Hadi Awang's call for Christian priests and Christians to have a dialogue with Muslim preachers like Zakir Naik to find the "truth" instead of distributing Christian literature.
I have no idea what having a dialogue has to do with proselytisation, which is illegal to do to Muslims in Malaysia anyway.
It is easy to caricature someone like Hadi – I have done it a couple of times. But what Hadi said is calling for an SOP (standard operating procedure) for the Islamists in this country. I am also talking about the Islamists within Pakatan Harapan and political operatives (including non-Muslims) who profit from sustaining a particular narrative of Islam in this country.
What Hadi said is exactly the kind of rhetoric coming out from New Malaysia politicians. Every time when a question of religious policy or trespass crops up, the federal government makes a big show and dance about how they will consult with religious scholars to determine the best Muslim outcome available.
Never mind that religious policy should be set forward by the political body and enforced by the religious bureaucracy. To argue that nominal heads of religion set religious policy is disingenuous considering the way how the legislative body has set the religious agenda in this country.
This normally means caving into the "group think" that purports to be the sole Islamic narrative in this country. This also means that the so-called moderate, liberal or whatever else kind of Muslim in this country is left out in the cold. I have often argued that the Harapan government is not setting the Islamic agenda in this country but instead allowing the Umno-PAS combo to define the narrative.
To understand the kind of flip-flopping that goes on in the establishment when it comes to Islam in this country, consider the brouhaha that erupted when Islamic Affairs Minister Mujahid Yusof Rawa was offended by headline in The Star that (gasp!) implied that the Harapan regime was, by implication, a moderate Islamic entity because it would cease intruding into the private sphere of Muslims.
I said this earlier: "The prime minister backing up Mujahid's stance that the federal government will not intrude into the private sphere of Muslims in this country is a good first step. Reading the old maverick's rather forceful defence of Mujahid policy intent and the kind of Islam Harapan wants to promote is a positive indication that (perhaps) this was really a new-ish Malaysia."
The above is important for various reasons but the most important of which is that the prime minister was actually attempting to change the narrative – even though there is ample evidence when he was prime minister the first time around, he played footsie with Islamists – and this opportunity was lost when a supposed moderate Muslim (with federal power) decided it was better singing an Umno-PAS tune instead of coming up with another one...
https://www.malaysiakini.com/columns/452263
--------
Muslim Care slams Israel over 'massacre' of Palestinians
November 16, 2018
KUALA LUMPUR: The Muslim Care Malaysia Society (Muslim Care) has condemned Israel for massacring defenceless Palestinian victims.
Muslim Care president Zulkifli Wahijan said the intentional targeting of residential buildings and properties had created a state of fear, intimidation and death.
"Humanitarian law and international conventions are being flouted with impunity by the Zionists, especially in the Gaza Strip
"The United Nations (UN) turning a blind eye to the heinous violation of the human rights of the Palestinians has encouraged the supremacist Zionist colonialists to continue with their criminal attacks."
Zulkifl urged the government to call for an emergency meeting at the UN General Assembly to bring justice to the oppressed.
He also urged the international community to put a stop to the 12-year siege of Gaza and end the Israeli occupation of Palestinian land.
Full report at:
https://www.nst.com.my/news/nation/2018/11/431884/muslim-care-slams-israel-over-massacre-palestinians
--------
Malaysian police detain eight terror suspects
Nov 17, 2018
The Malaysian police have detained eight suspected militants, including a Filipino from the Abu Sayyaf terror group who was in charge of recruiting children for use as human shields in battles against the authorities.
The suspects - seven Filipinos and one Malaysian - were arrested in Putrajaya and Sabah from Oct 30 to Nov 12, according to a police statement released yesterday.
The Filipino also played a part in the beheading of several hostages held by the Abu Sayyaf group (ASG), said Malaysia's national police chief, Tan Sri Mohamad Fuzi Harun. "The children... were to be used as human shields during battles against the Filipino army in Basilan, southern Philippines," Mr Fuzi, who is the Inspector-General of Police, said in the statement.
The Filipino, a 35-year-old technician, was arrested in Ranau, Sabah, on Nov 8 with another countryman. Both were planning to flee to the southern Philippines to avoid arrest by the Malaysian authorities when they were nabbed.
Earlier, on Nov 3, the police detained in Tenom, Sabah, three Filipino members of the ASG - a group notorious for its kidnapping-for-ransom activities in the southern Philippines and Sabah. The men, aged between 27 and 51, had worked as labourers.
"One of them, a 34-year-old, has the expertise of producing fire-arms to be used by the ASG," said Mr Fuzi.
Another Filipino, a 30-year-old blacksmith, was nabbed in Kinarut, Sabah, on Nov 10. He is the right-hand man of senior ASG leader Furuji Indama, said Mr Fuzi.
Two days later, a 60-year-old Filipino was arrested in Tenom, Sabah, for allegedly sheltering a suspect hunted by the police.
The Malaysian suspect, a 38-year-old who worked as an agent selling gold bars, was detained in Putrajaya on Oct 30 for alleged involvement in terror activities.
"He was involved in channelling funds to Akel Zainal, a Malaysian who joined Daesh, in 2017 for the purpose of financing terrorism activities," said Mr Fuzi, using another name for the Islamic State in Iraq and Syria (ISIS).
Akel Zainal, the drummer of the now-defunct 1990s rock band The Ukays, has been part of ISIS since 2014.
Malaysia has arrested nearly 400 people since 2013 for suspected links to terrorism.
The Muslim-majority nation faces threats from self-radicalised ISIS sympathisers at home and regional militant groups seeking funding and refuge in South-east Asia.
Full report at:
https://www.straitstimes.com/asia/se-asia/malaysian-police-detain-eight-terror-suspects
--------
Anwar: Postpone ratifying ICERD until more dialogues with Malay groups held
17 November 2018
KUALA LUMPUR, Nov 17 ― Port Dickson MP Datuk Seri Anwar Ibrahim believes the ratification of the International Convention on the Elimination of All Forms of Racial Discrimination (ICERD) must be postponed until more dialogue can be conducted at the grassroot level.
In an interview with Astro Awani, the incoming PKR president said implementing the demands of ICERD might trigger ethnic tensions despite the document's good intentions.
"We are trying to resolve the problems under the old system with Tun Dr Mahathir (Mohamad)'s new administration. It needs strong leadership from Pakatan Harapan and the public to support all issues.
"So, in my opinion at this level it is wiser for us to postpone (ICERD) so discussion and dialogues can be held at grassroot level," he said.
Anwar pointed out that many among the Malay grassroots are concerned over the ratification as they are worried the impact it will make on the special privileges reserved for the Malays and Bumiputera as enshrined in the Federal Constitution.
The United Nations (UN) document requires a timeframe to eliminate even positive discrimination as it upholds equality and fairness for all.
"The people are worried on the status of Islam, the Malays, Bumiputera and language (Bahasa Melayu)," he said.
Full report at:
https://www.malaymail.com/s/1694364/anwar-postpone-ratifying-icerd-until-more-dialogues-with-malay-groups-held
--------
Christian school rumour leads to closure of vocational academy in Batam
November 17, 2018
Dozens of residents of a housing complex in Batam, Riau Islands, and members of the Islam Defenders Front (FPI) attacked on Friday a vocational school building, forcing the school's closure.
Suryadi, a community unit (RW) head in the Merlion complex in Batu Aji district, said the residents claimed the vocational school, recently opened by the Suluh Mulia Pioner Foundation, was built on an area designated for social and public facilities.
"We want [the local administration] to build a state elementary school here, not the [vocational] school," he said.
The residents also reportedly complained that it was a Christian school.
Clashes occurred when a mob attempted to enter the school after it was discovered that Batam city administration had not sealed the school following earlier protests. They attempted to enter the building while another group of people inside the school, some believed to be carrying weapons, prepared to meet them. The residents smashed the school's signboard before dozens of police personnel on duty at the school stopped them.
Batam One-Stop Integrated Licenses Service Agency head Gustian Riau said the agency decided to revoke the school building's construction permit (IMB) following the incident, but he was at a loss as to why the residents were only now expressing opposition. "We have revoked the IMB, but during the building's licensing process, no one objected," he said.
Nixon Sihombing, a lawyer who represents the foundation, said the protest was a result of incitement by outsiders. He said there had been no opposition to the school construction because it was planned as a regular vocational school.
Full report at:
http://www.thejakartapost.com/news/2018/11/17/christian-school-rumor-leads-to-closure-of-vocational-academy-in-batam.html
--------
Arab World
Prince Khalid bin Salman: I never told Khashoggi to travel to Turkey
November 17, 2018
JEDDAH: Saudi Arabia's ambassador to the US Prince Khalid bin Salman, has said he did not tell Saudi journalist Jamal Khashoggi to go to Turkey, and has requested the US government release information related to the claim, which was made by a US newspaper.
The Washington Post published an article citing anonymous sources, who it says are close to the CIA which suggests the Saudi Crown Prince Mohammad bin Salman ordered the killing of Khashoggi.
The article goes on to suggest also that Prince Khaled told Khashoggi to go to Turkey, which the Saudi ambassador denies.
"I never talked to him by phone and certainly never suggested he go to Turkey for any reason. I ask the US government to release any information regarding this claim," Prince Khaled said in a tweet early Saturday morning.
"As we told the Washington Post the last contact I had with Mr. Khashoggi was via text on Oct 26 2017."
Prince Khalid said that it was unfortunate that the Washington Post failed to publish the full Saudi response. "This is a serious accusation and should not be left to anonymous sources," said the envoy, and provided a copy of the statement.
http://www.arabnews.com/node/1406096/saudi-arabia
--------
Iran pushes to influence Syria's new generation through 'educational invasion'
16 November 2018
Tehran announced on Wednesday that it will open a new university in Syria, the Iran-based Tarbiat Modares University, as an addition to the several branches of universities and secondary schools they already established across the country.
In what many considered as a strategy by Tehran to promote their ideological and political agendas as well as gain heavy military involvement within the country, Iran has set up multiple educational facilities in Syria.
Strategically influencing new generations
According to the Islamic Republic News Agency, Tarbiat Modares will be the fifth Iran-based university to be established in Syria, including the Islamic Azad University and the College of Islamic Schools.
The Assad-backed news agency SANA did not elaborate on the agreement between the Bashar al-Assad regime and Tehran to open more Iranian universities in Syria.
However, SANA reported that the Chairman of Iran-Syria Parliamentary Friendship Group Hussein Ragheb al-Hussein proposed the establishment of a "center of studies" that combined the Syrian Ministry of Education and the Iranian Ministry of Science and Technology.
Experts note that Iran has strategically set up universities and schools across Syria as a means to spread its ideology onto the new generations through different curricula.
Full report at:
https://english.alarabiya.net/en/News/middle-east/2018/11/16/Iran-establishes-fifth-university-in-Syria-.html
--------
Has Qatar Groomed A Terrorist To Be A Somali District's President?
16 November 2018
Abu Mansoor Mukhtar Robow, a deputy leader and former spokesman of the Somali militant group Al-Shabaab, became the first official candidate for the presidential elections in Somalia's Baidoa, that are set to take place Nov. 17.
Al-Shabaab, a political Islamist group in Somalia with ideological ties to al-Qaeda, is classified internationally as a terrorist group by countries including the United States.
The group carried out multiple suicide bombings that targeted diplomatic headquarters of foreign countries and left dozens of civilians dead.
In 2012, the US administration allocated $5 million to any informant who discloses information that could help lead to Robow's arrest. However, in July 2017, the State Department issued a decision to cancel the reward after they confirmed that he was secretly negotiating with the Somali government.
According to local Somali news reports, the committee overseeing the presidential elections confirmed that Robow was the first candidate to announce he was running for a presidential campaign in southwestern Somalia.
In august 2017, the Somali army formally declared Robow had left Al-Shabaab and had joined the ranks of the government.
A picture of Robow with the British Ambassador to Somalia David Concar circulated on social media that showed the ambassador with a suspicious look on his face as he talked to the former terrorist.
Observers are warning that Robow might be a ploy by the Qatari government after Somali rival groups published a document confirming the role Doha has played in his new face. Observers said that he has ties to the country especially after Qatar's media helped him attempt to clear his name.
Robow's history with extremism
In 2009, Robow appeared on a television show for the Al-Jazeera channel, where he said "We do not want to attack anyone, we want to fix our country. Islam is not forced on anyone."
Robow's history with extremism began in the mid-19990s when he went to Afghanistan, where he joined al-Qaeda training camps, and returned to Somalia in 2000. He then served as the vice president of the Islamic Courts Union.
Ahead of the September 11 attacks, Robow met with al-Qaeda leader Osama bin Laden in Afghanistan, and only left the country after the US attacks on the Taliban.
Full report at:
https://english.alarabiya.net/en/News/middle-east/2018/11/16/Is-Qatar-grooming-Somalia-s-next-president-.html
--------
Mauritania welcomes Saudi Public Prosecution statement on Khashoggi case
16 November 2018
Mauritanian Islamic Republic welcomed statement issued by the Saudi Public Prosecution office regarding the killing of the Saudi national Jamal Khashoggi.
A statement issued by the Mauritanian Foreign Ministry praised the strong and sincere will of the Custodian of the Two Holy Mosques King Salman bin Abdulaziz Al Saud and HRH Crown Prince to ensure full and necessary transparency, in seeking truth and applying justice, in this respect.
Full report at:
https://english.alarabiya.net/en/News/gulf/2018/11/16/Mauritania-welcomes-Saudi-Public-Prosecution-statement-on-Khashoggi-case.html
--------
Russia: It's not acceptable to politicize Khashoggi's case
16 November 2018
The Russian foreign ministry said on Friday that Moscow does not find it reasonable to doubt the ability of Saudi authorities in dealing with the case of Khashoggi's murder.
On the matter, the Kremlin said that politicizing the case of the Saudi journalist's killing is unacceptable.
The statement comes after the Saudi Public Prosecution announced the results of the investigation on Jamal Khashoggi's murder on Thursday.
https://english.alarabiya.net/en/News/gulf/2018/11/16/Russia-It-s-not-acceptable-to-politicize-Khashoggi-s-case.html
--------
Despite declared halt to offensive, Saudi warplanes hit Hudaydah
Nov 16, 2018
At least nine people have been killed in western Yemen, despite a declared halt to the Saudi-led offensive that was meant to seize control of the strategic port city of Hudaydah.
According to Yemen's al-Masirah television network, Saudi warplanes bombed a residential building in the district of Hali in the Red Sea city on Friday, killing three women and wounding three others.
The aerial attacks came hours after four Saudi airstrikes hit a village near the city, killing six people and injuring several others.
Meanwhile, the Saudi-backed militants launched artillery attacks on the residential buildings in the district of 7 Yulio (July) in the city, causing severe damage to houses and private property.
On Wednesday, Saudi-backed militiamen loyal to Yemen's former President Abd Rabbuh Mansur Hadi halted their offensive under international pressure for a ceasefire.
A spokesman for Yemen's Houthi Ansarullah movement said on Thursday that the pause in the Saudi airstrikes against Hudaydah was not submission to international pressure but a bid to buy time and reinforce the military strength for a fresh offensive.
Saudi Arabia and the United Arab Emirates have deployed about 10,000 new troops to Yemen's west coast after repeated campaigns to seize Hudaydah, which is seen as the main entry point for food imports and aid relief needed by millions in the war-torn country, were thwarted by Houthis and their allies in the Yemeni army.
The invaders have hit a stiff wall of resistance put up by the city's protectors who have pushed back the militants and mercenaries.
The Hudaydah offensive has sparked concerns over its impact on the civilian population as well as on humanitarian aid operations.
Saudi Arabia and a number of its regional allies launched the devastating campaign against Yemen in March 2015, with the aim of bringing the government of Yemen's former President Abd Rabbuh Mansur Hadi back to power and crushing the Houthis.
Full report at:
https://www.presstv.com/Detail/2018/11/16/580224/Yemen-Hudaydah
--------
Bipartisan Senate bill to suspend US arms exports to Saudi Arabia
Nov 16, 2018
A bipartisan group of senators has introduced a bill that would halt US arms exports to Saudi Arabia as a response to the "barbaric" murder of Jamal Khashoggi, continued detention of activists and "indiscriminate" bombing campaign in Yemen.
The "Saudi Arabia Accountability and Yemen Act of 2018" bill was introduced on Thursday by Bob Menendez and Todd Young along with Jack Reed, Lindsey Graham, Jeanne Shaheen, and Susan Collins.
The senators referred to the US Treasury Department's Thursday decision to impose economic sanctions on 17 Saudis involved in the murder of Khashoggi, as well as an earlier announcement of an end to US refueling of Saudi aircraft bombing Yemen, and said the measures were not enough.
"Saudi Arabia must be held accountable for its increasingly brazen behavior," Senator Reed, a ranking member of the Senate Armed Services Committee, said.
"Ending aerial refueling support of the Saudi-led coalition in Yemen and imposing sanctions on some Saudi officials who participated in the murder of US resident Jamal Khashoggi are welcome, but not sufficient."
Menendez also said the decision to suspend aerial refueling for the Saudi coalition absent an actual strategy for ending this conflict is an empty action.
"That is why this bill makes clear that Congress demands an immediate cessation of hostilities, urgently calls on all parties to prioritize protection of Yemeni civilians, and makes certain that only a political settlement will end this war," he noted.
Senator Shaheen said Saudi Arabia's "barbaric murder of Jamal Khashoggi, continued detention of activists and indiscriminate bombing campaign in Yemen merit a strong, bipartisan response," and the bill can deliver such a response.
The bill would require sanctions within 30 days on anyone involved in Khashoggi's death, including "any official of the government of Saudi Arabia or member of the royal family" determined to be involved.
It would also require a report within 30 days on the kingdom's human rights record.
Although the Thursday sanctions imposed by the US Treasury were unusual for Washington, which rarely imposes sanctions on Saudi nationals, they did not target the Riyadh government or affect America's lucrative arms sales to Saudi Arabia.
Turkey has more evidence on Khashoggi murder
The Turkish newspaper Hurriyet reported on Friday that a second voice recording – said to be 15 minutes – clearly reveals that the murder of the Washington Post columnist had been premeditated.
That would contradict the statement of the Saudi prosecutor who said on Thursday that five Saudi officials faced the death penalty on charges of killing Khashoggi but exonerated the country's Crown Prince Mohammed bin Salman of involvement in the murder.
Abdulkadir Selvi, pro-government columnist in the Hurriyet daily, said key findings in the Saudi prosecutor's statement did not overlap with the evidence in the hands of Turkey including two voice recordings.
He said the first 7-minute voice recording proves that Khashoggi was strangled but the second tape recorded shortly before the journalist stepped into the consulate clearly shows the murder was planned in advance.
The second tape proves the 15-member "killer team" seated inside the consulate before Khashoggi's arrival was discussing how to carry out the murder, he said.
Turkey has also evidence that the team made international calls after the murder, he added.
Khashoggi, 59, a critic of the crown prince, was killed and dismembered at the Saudi consulate in Istanbul on October 2.
Turkey has said the murder was carried out by a team of Saudis who traveled to Istanbul for that purpose.
Full report at:
https://www.presstv.com/Detail/2018/11/16/580190/US-arms-exports-Saudi-senate-Yemen-Khashoggi
--------
Pause in Saudi raids on Hudaydah aimed at buying time: Houthi
Nov 16, 2018
A Houthi spokesman says a pause in Saudi airstrikes against Hudaydah is not a submission to international pressure but a bid to buy time and reinforce the military strength for a fresh offensive.
"In every round of aggression against Yemen, the escalation begins and then dies down, mostly without declaring a truce," Houthi spokesman Mohammed Abdulsalam wrote in a tweet on Thursday night.
"Given the recent developments in the battle on the ground, the aggressive coalition is trying to pretend that it has halted its attacks [on Hudaydah] in response to global pressure or to allow the dispatch of humanitarian aid, but that's a big lie," he said.
Saudi Arabia and the United Arab Emirates have deployed about 10,000 new troops to Yemen's west coast after repeated campaigns to seize Hudaydah were thwarted by Houthis and their allies in the Yemeni army.
The invaders have hit a stiff wall of resistance put up by the city's protectors who have pushed back the militants and mercenaries.
The truth, Abdulsalam said, "is that the coalition is preparing for a new round of aggression, which needs additional time."
"We have not yet seen any serious effort by the aggressors to find a real political solution or a real ceasefire, and these are just media propaganda and agreements between the states of aggression or the so-called quartet – Saudi Arabia, the United Arab Emirates, Britain and America," he said in another tweet.
Abdulsalam said the quartet is the very countries that, by their own admission, have directly waged the war against Yemen, especially its western coast which includes the port city of Hudaydah.
"Although the position of our people, the Army and popular committees is an essentially defensive one to confront an unjustified aggression they have begun, we welcome any credible cessation of aggression, if they remain committed, away from political gains," he noted.
Abdulsalam also called for a comprehensive, fair and equitable political solution that does not exclude anyone or target any component that preserves the sovereignty and identity of Yemen.
Saudi Arabia and the UAE on Wednesday paused their offensive aimed at taking the strategic port city of Hudaydah from the Houthi fighters.
Sources said that Saudi-backed mercenaries had been "ordered" to halt the offensive until further notice. They said they would resume operations if they came under attack.
The cessation of attacks came a day after Mark Lowcock, the United Nations Under-Secretary-General for Humanitarian Affairs and Emergency Relief Coordinator, urged a ceasefire around Hudaydah.
The Houthis on Thursday denied reports that a ceasefire had been reached with the coalition over Hudaydah.
Houthi government spokesman Dhaif-Allah al-Shami said Saudi Arabia has been trying to ease the international humanitarian pressure by spreading rumors about a truce.
"The reports of Hudaydah truce is baseless and aimed at misleading the world public opinion," he added.
"What has been going on in Hudaydah was that the coalition forces are preparing for a further military escalation," al-Shami noted.
The Hudaydah offensive, which first began earlier this year and was re-launched last month after a pause of several months, could deprive millions of people already on the verge of starvation from access to food or medicine, the UN has warned.
Full report at:
https://www.presstv.com/Detail/2018/11/16/580168/Saudi-aggression-Hudaydah-Yemen-Houthi
--------
Extremists kill 22 Syria regime fighters near Idlib: monitor
November 16, 2018
BEIRUT: Extremists on Friday killed 22 Syrian regime fighters near a planned buffer zone around the country's last major rebel bastion, a monitor said.
A September deal between government ally Russia and opposition backer Turkey aimed to set up a de-militarised zone around the northwestern region of Idlib to protect it from a regime assault.
But its implementation has been stalled since extremists who hold around 70 percent of the planned buffer area failed to withdraw by mid-October, and sporadic clashes have rocked the area since.
Early Friday, extremist groups attacked government forces in the northwest of Hama province near the planned buffer zone, the Britain-based Syrian Observatory for Human Rights said.
"Nine regime fighters and five assailants were killed" in the attack, causing government forces to respond with artillery fire, Observatory head Rami Abdel Rahman said.
The attackers included the Al-Qaeda-linked Hurras Al-Deen group, which has publicly rejected the Russian-Turkish deal, he said.
The lion's share of Idlib is held by Hayat Tahrir Al-Sham, an alliance led by Al-Qaeda's former Syrian affiliate.
Under the September 17 deal, all fighters in the zone were supposed to withdraw their heavy weapons and militants including HTS and Hurras Al-Deen were supposed to leave.
On Thursday, Russian spokeswoman Maria Zakharova criticized "sporadic clashes," as well as "provocations" by HTS in northwestern Syria.
Late last month, Syria's Foreign Minister Walid Muallem expressed dissatisfaction with the implementation of the Idlib deal, and criticized Turkey for shortcomings.
He said heavy weapons had not been withdrawn and accused Turkey of not wanting to "respect its obligations."
Full report at:
http://www.arabnews.com/node/1405856/middle-east
--------
India
India, UK vow to strengthen cooperation to deal with counter-terror challenges
Nov 16, 2018
NEW DELHI: India and the UK on Friday agreed to strengthen cooperation to deal with terrorism-related challenges such as countering radicalisation and terror financing as well as preventing the use of internet for terrorist purposes.
At the 12th meeting of the India-UK joint working group on counterterrorism here, the two sides also shared assessment on the prevailing terror threats globally and in their region, including cross-border terrorism in the Afghanistan-Pakistan region, the Ministry of External Affairs said.
Both sides condemned terrorism in all its forms and manifestations at the meeting in which the Indian delegation was led by Mahaveer Singhvi, Joint Secretary (Counter-Terrorism), MEA, while the UK delegation was headed by Jane Marriot, Director of the Joint International Counter-Terrorism Unit.
"They exchanged views on current counter-terrorism challenges, including countering radicalisation and violent extremism, combating financing of terrorism and preventing use of internet for terrorist purposes. They agreed to strengthen cooperation in dealing with these challenges," the MEA said in a statement.
The two sides also deliberated on measures to deepen counter-Terrorism cooperation through regular exchange of information, mutual capacity building efforts, sharing of best practices, and mutual legal assistance.
Cooperation in multilateral fora such as the United Nations and Financial Action Task Force was also discussed.
The next India-UK Joint working Group Meeting on Counter-Terrorism will take place in London in 2019 on a mutually convenient date.
https://timesofindia.indiatimes.com/india/india-uk-vow-to-strengthen-cooperation-to-deal-with-counter-terror-challenges/articleshow/66658167.cms
--------
India, Morocco sign pacts to combat global terror including ISIS
NOV 16, 2018
NEW DELHI: India and Morocco, Africa's second biggest economy, have concluded extradition and mutual legal assistance treaties and also affirmed that they will jointly fight threats from ISIS under their counter-terror partnership.
The agreements were inked this week during Moroccan Justice Minister Mohamed Auajjar's visit to Delhi.
"Morocco has a well-established school of counter-terrorism, which is globally recognised.
We have counter-terror cooperation including bilateral legal arrangements with major countries to fight terror. Given the expansion in ties with India and mutual interest, we decided to sign these treaties with Delhi, taking our counter-terror partnership to the next level," Auajjar told ET here. "These instruments will enable the two states to share best practices to combat terrorism globally."
The Indo-Moroccan Extradition Agreement will provide a strong legal base for the extradition of persons accused of economic offences, terrorism and other serious crimes in one contracting state and found in another contracting state.
The Agreement on Mutual Legal Assistance in Civil and Commercial Matters will enhance cooperation in the service of summons, judicial documents, letters of request, and the execution of judgments, decrees and arbitral awards.
"India believes in the necessity of enhancing the domain of mutual cooperation with Morocco and realising the importance of broadening the aspects of cooperation between both the countries in civil and commercial matters," the Indian government said in a statement.
"Islam is against terrorism and this is a message that Morocco led by its King is trying to propagate. There is a wrong interpretation of jihad that is being propagated, instead of a jihad against poverty. Islam forbids killing of human beings. In Morocco, we have been practicing right values of Islam, which encompass compassion and kindness," the minister said, adding, "Morocco's deradicalisation initiatives have been lauded by the international community. We pursue a multidimensional counter-terror strategy that has three distinct stands – intelligence gathering; socio-economic reforms; and reform of religious schools."
India's ties with African countries date back to the pre-independence period. With Morocco, India has enjoyed cordial and friendly relations, and over the years bilateral relations have witnessed significant growth. Both nations are part of the Non-Aligned Movement.
In the United Nations, India supported the decolonisation of Morocco and the Moroccan freedom movement. India recognised Morocco on June 20, 1956 and established relations in 1957.
Morocco has emerged as a key pillar in India's Africa strategy and Delhi had played a key role in Morocco's re-entry into the African Union in 2017. In Asia, India is the recipient of Morocco's biggest investment.
Full report at:
https://economictimes.indiatimes.com/news/defence/india-morocco-sign-pacts-to-combat-global-terror-including-isis/articleshow/66655266.cms
--------
Terrorists kill Kashmiri youth; video of shooting surfaces
Nov 17, 2018
SRINAGAR: An 18-year-old youth, Nadeem Manzoor Dar, was abducted and shot dead by Hizbul Mujahideen terrorists in Niklora area of south Kashmir's Pulwama district late Thursday evening. On Friday, a video that went viral across the Kashmir valley purportedly showed the youth being gunned down by Hizb terrorists wielding automatic weapons.
Reports said the Hizb terrorists had abducted Nadeem from his home in Safanagri village, Shopian, and killed him later in Pulwama.
The video of the killing of the youth also showed the terrorists accusing the teenager of having been a police informer. A top police officer said police were ascertaining the authenticity of the video. Nadeem's body was found in Niklora village in neighbouring Pulwama district, the reports said.
Confirming the incident, SSP Pulwama Chandan Kohli said the bullet-riddled corpse of Manzoor was recovered and taken to a nearby hospital for medico-legal formalities. Further investigation is on, he added.
Soon after the incident, government forces launched massive searches in the area to apprehend the suspected militants, he said.
Full report at:
https://timesofindia.indiatimes.com/india/terrorists-kill-kashmiri-youth-video-of-shooting-surfaces/articleshow/66661201.cms
--------
'Muslims of India Believe That It's Time Ram Temple Should be constructed': Muslim Rashtriya Manch
November 16, 2018
New Delhi: Muslim Rashtriya Manch leader Yasir Jilani on Friday raked up the issue of Ram Temple and said the community believes that it's time the temple should be constructed in Ayodhya. Talking to news agency ANI, Jilani said, "We are trying to gather Muslims from all over the country in December. We are calling 25,000 people to Ramlila Maidan (Delhi). We will send a message that the Muslims of India believe that it's time the RamTemple is constructed in Ayodhya."
On October 29, the Supreme Court adjourned the Ayodhya title suit till next year to fix a date for the hearing. The court was hearing the matter which challenged the 2010 ruling of the Allahabad High Court which divided the disputed land into three parts. Meanwhile, Karnataka minister BZ Zameer Ahmed Khan had also said that they have no objection over the construction of the temple in Ayodhya but demanded that mosque should also be built there. Talking to reporters, he had said, "Not only the Muslims in Karnataka but Muslims across the country are not against Ram Mandir. Build Ram Mandir but our mosque which was martyred should also be made. We are not against Ram Mandir, we are just demanding our right."
On Diwali eve, Uttar Pradesh Chief Minister Yogi Adityanath had asserted that the construction work for Ram Mandir in Ayodhya will start very soon. He had earlier also called for an early resolution to the Ayodhya dispute.
Recently, Congress including other parties had tried to corner the ruling party on the Ram temple issue. The Congress had been accusing the BJP of raising the temple issue only when elections are around the corner.
The Babri Masjid, built by Mughal emperor Babur in Ayodhya in 1528, was, on December 6, 1992, razed to the ground allegedly by Hindu activists, claiming that the mosque was constructed after demolishing a Ram temple that originally stood there.
Earlier, a three-judge bench, by a 2:1 majority, refused to refer to a five-judge constitution bench the issue of reconsideration of the observations in its 1994 judgment that a mosque was not integral to Islam. The matter had arisen during the hearing of the Ayodhya land dispute.
An apex court bench headed by then Chief Justice Dipak Misra said the civil suit has to be decided on the basis of evidence, adding that the previous verdict has no relevance to this issue.
Full report at:
https://www.india.com/news/india/ayodhya-dispute-muslims-of-india-believe-that-its-time-ram-temple-should-be-constructed-says-muslim-rashtriya-manch-leader-yasir-jilani-3431807/
--------
Africa
Black Tunisians enjoy historic law but still push for equality
16 November 2018
Tunisian Nadia Borji says she wants to be considered as equal but fears she will end up buried in her town's so-called "slaves" cemetery -- because she is black.
Black Tunisians, including some descended from slaves, make up a minority that is barely visible in the north African country.
Many hope for greater equality after a law was passed last month criminalising all forms of racism.
"This term 'slave' disturbs me enormously. It shouldn't still exist!" protested Borji, who came to her mother's grave to read a prayer.
Black residents still bury their dead in a poorly maintained piece of land, full of earthen tombs covered with parched plants near Houmt Souk, on the island of Djerba.
Two other cemeteries lie a stone's throw away -- reserved for people with light skin.
"We are accustomed to knowing that it is abnormal to suffer such discrimination," said 46-year-old Borji.
Her cousin Dorra Douiri directed her anger towards a "racist and very painful" societal schism.
"The worst thing is, it's a cemetery next to a mosque where the imams call for equality and respect," Douiri said.
The head of a municipal district in Houmt Souk acknowledged that cemeteries should not be separated.
"Cemeteries for slaves and cemeteries for free people -- it is a phenomenon that exists and must be addressed," said Mourad Missaoui.
Unlike the major cities of Tunis and Sfax, Djerba residents bury their dead without requiring permission from the council.
This means their burial place can still be decided by social status and even their skin colour, he told AFP.
Historic law
Slavery was formally abolished in Tunis and in part of what forms modern day Tunisia in 1846.
On October 9, Tunisia's parliament adopted a landmark law penalising the use of racist words, the incitement of hatred and discrimination.
These crimes are now punishable by three years in prison and a 5,000 euro (5,600 dollar fine).
Racism remains "well anchored in the minds of many Tunisians", said Saadia Mosbah, president of M'nemty, an association that defends minorities.
Last month's law is an acknowledgement by the state that racism persists -- but the law must now be applied, he added.
"The real work starts now," he said. But there could be a long battle ahead.
"There is no harmony between legal texts and what happens" in reality, said municipal leader Missaoui.
Town halls on Djerba even use a designation widely perceived as being highly racist on slave descendants' birth certificates.
The word in question is "atig" - a prefix followed by the name of the master who granted freedom to the ancestors of the certificate holder.
In the absence of popular pressure to withdraw the designation -- or a directive from the government -- the word and "its racist connotations" will continue to be applied by town halls, said Missaoui.
'Second class Tunisians'
In the city of Medenine and the large village of Gosba, around 80 kilometres (50 miles) from Djerba, most people are black and many of them complain of racism.
"Our village is extremely marginalised, because of the colour of our skin," decried 27-year-old Mohamed, as he played cards on the floor of shop.
"We have no cafes, no cultural houses, no proper buildings -- absolutely nothing," he complained. "There is only contempt".
"It is not this law that will protect the region. It requires above all investment... for residents, who are considered second class Tunisians," he said.
In Gosba, marriage between a black and white Tunisian is socially rejected.
"You can be the most handsome and rich man, (but) you'll always be black and they will never accept you marrying a white woman," said 61-year-old grocer Ali Koudi.
https://english.alarabiya.net/en/News/north-africa/2018/11/16/-WATCH-Black-Tunisians-enjoy-historic-law-but-still-push-for-equality.html
--------
Jordan: Saudi announcement on Khashoggi case a step towards justice
17 November 2018
The Jordanian government stressed the importance of the Saudi Public Prosecution's announcement to charge a number of detainees in the case of the killing of the journalist Jamal Khashoggi.
The government of Jordan stressed, in an official statement, that this announcement is an important step towards achieving justice through the investigations' results announced by the Kingdom of Saudi Arabia in order to clarify the full truth into the circumstances of this case, achieve justice and hold those involved accountable.
https://english.alarabiya.net/en/News/gulf/2018/11/17/Jordan-Khashoggi-case-Saudi-announcement-a-step-towards-justice.html
--------
Italy's Libya talks lay bare deep divisions
November 16, 2018
TRIPOLI: Italy's Libya talks this week laid bare deep divisions between the key power brokers, threatening attempts to resolve the country's ongoing crisis, analysts say.
Two days of meetings in the Sicilian capital Palermo saw some delegates refuse to sit side by side, while a meeting held on the sidelines sparked a diplomatic spat.
"The dynamics between the four Libyan delegations attending the Palermo conference regrettably show that the rifts are still very deep," said Claudia Gazzini, a Libya analyst at International Crisis Group.
Libyan strongman Khalifa Haftar showed up, only to snub the main conference and organize separate talks with international leaders.
Such a move was "a slap in the face to the Libyan politicians at the conference," said Gazzini.
Haftar, whose self-styled Libyan National Army (LNA) holds much of eastern Libya, held a meeting with representatives of Algeria, Egypt, Tunisia, France and Russia.
One of his main rivals, UN-backed Prime Minister Fayez Al-Sarraj, also attended the "informal talks," but Qatar and Turkey were not invited.
Their exclusion prompted Ankara to pull out of the main conference in protest.
LNA spokesman Ahmed Al-Mesmari later accused Turkey and Qatar of traveling to Palermo "to protect the interests of the terrorist groups which they are supporting in Libya."
Fragility
Khaled Saleh El-Kuafi, a professor at the University of Benghazi, said the outcome "illustrated the extent of the crisis, the divisions in Libya and the fragility of the situation."
Haftar "succeeded in being the star of the conference" by refusing to meet some of his rivals and sidelining Turkey and Qatar," he added.
The Palermo talks followed a Paris meeting at which Libyan leaders agreed to prepare for elections this December. Such a timeline was widely viewed as unrealistic, however, and preparations for polls have now been pushed back to 2019.
For Khaled Al-Montasser, a professor at the University of Tripoli, international meetings cannot succeed "while the international parties are putting the Libyans under pressure and while they put forward solutions to the crisis which suit themselves and them alone."
It should be up to the Libyans, he said, to "agree on the subjects that they must discuss."
But, as Montasser noted, the Libyan leaders themselves are "not ready to accept each other and to tolerate differences of opinion."
Just as in May, the top Libyan invitees to Palermo were Haftar, Al-Sarraj, who heads the Government of National Accord in Tripoli, the eastern parliament's speaker Aguila Salah and Khaled Al-Mechri, speaker of a Tripoli-based upper chamber.
But the Italy talks were not really focused on improving relations between the rivals, according to Libyan analyst Emad Badi.
It was instead "an attempt by Italy to both react to the French initiative and to reposition itself as a power broker," he said.
Despite the conference being viewed as a failure by numerous analysts, some have underlined the importance of meetings organized by the UN a few hours before the formal talks opened.
Those discussions focused on economic and security issues in Libya, where residents have seen their currency's value plummet and endured years of violence.
Weeks of clashes in September between rival militias in the capital Tripoli killed at least 117 people and wounded more than 400, prompting Al-Sarraj's government to introduce reforms.
The UN's Libya envoy, Ghassan Salame, this week welcomed the participants' backing for the new measures and their "unanimous support" for a national conference early next year.
Full report at:
http://www.arabnews.com/node/1405956/middle-east
--------
Three Nigerian soldiers killed in Boko Haram attack on military base
2018-11-16
At least three soldiers were killed and several missing after a Boko Haram attack on a military base in Nigeria's northeastern Borno state, military and militia sources told AFP on Thursday.
Boko Haram fighters believed to be from the IS-affiliated Islamic State West Africa Province (ISWAP) late Wednesday attacked the base in the town of Kareto, 150km north of the state capital Maiduguri.
The militants temporarily dislodged troops from the base before being repelled with aerial support, the sources said.
"We lost three soldiers in the fight and several others are still missing," a military officer in Maiduguri told AFP.
"The terrorists were smoked out of the base by a fighter jet which deployed to the scene," said the officer who asked not to be named because he was not authorised to speak on the incident.
Troop reinforcements were sent to the base, the officer said. It was not clear if the jihadists took away weapons.
A civilian militia fighting Boko Haram in the area said troops withdrew to the town of Gubio, 60 km away, while Kareto residents fled across the border into Niger.
Second attack
"The bodies of three soldiers were recovered after the attack," said the militia who preferred not to be identified.
"More troops have arrived in Kareto but most residents have not returned," he said.
It was the second attack on the military base in two years.
In April 2016, a Boko Haram raid left 24 soldiers wounded, according to military authorities.
Boko Haram jihadists late Wednesday also attacked Mammanti village, just outside Maiduguri, killing one person and burning the entire village before stealing hundreds of cattle, the local chief of the village and residents said.
"The insurgents came around 23:00 and opened indiscriminate fire," Muhammad Mammanti, a resident, said.
"They killed one person and burnt the whole village and stole our cattle," Mammanti said.
Earlier in the day a group of jihadists abducted seven women while working on a farm near the town of Bama, 70km from Maiduguri, after killing their male escort, militia sources said.
Boko Haram has stepped up attacks on farmers and loggers in recent years, accusing them of passing information on the group to the military.
Despite the government's insistence that the group is near defeat, Boko Haram has recently carried out major attacks on military and civilian targets, killing scores.
Full report at:
https://www.news24.com/Africa/News/three-nigerian-soldiers-killed-in-boko-haram-attack-on-military-base-20181115
--------
North America
Slap at local Muslim violates spirit of America, its founders
BY MICHAEL A. WOOD
November 16, 2018
Recently, elements of the Tarrant County GOP have campaigned to remove Shahid Shafi from his leadership position in the local Republican Party, simply because of his religion.
This is outrageous, and should be opposed strenuously by every Republican who claims to revere the principles upon which America was founded.
America is a creedal nation: this land that we love is made up of not just mountains and plains and baseball and blues music. Conservatives in the United States differ from those in other parts of the world, because we do not stand to defend tradition for tradition's sake, and we do not seek to preserve a certain bloodline or soil from pollution by outsiders or modernity.
No, ours is a country founded upon certain ideas about the nature of man and the role of government. We seek to conserve the republican form of government and the mores of a free society that have made America a beacon to the rest of the world.
Americans look first and foremost to the Declaration of Independence to define these ideas: "We hold these truths to be self-evident: that all men are created equal; that they are endowed by their Creator with certain unalienable rights; that among these are life, liberty, and the pursuit of happiness." Beyond this, we also look to speeches like the Gettysburg Address or Lincoln's Second Inaugural to give shape and meaning to our national creed.
I also look to one of the most beautiful and moving documents in American history: Washington's letter to the Jewish Congregation at Newport.
In this letter, the father of our country writes that "the citizens of the United States of America have a right to applaud themselves for having given to mankind examples of a large and liberal policy … all possess alike liberty of conscience and immunities of citizenship." Washington goes on to say that "the Government of the United States, which gives to bigotry no sanction, to persecution no assistance, requires only that they who live under its protection should demean themselves as good citizens in giving it on all occasions their effectual support."
It is easy 230 years later to fail to appreciate the radicalism of Washington's sentiments. Throughout history, the Jewish people had been harassed, persecuted and prohibited from taking full part in the societies in which they lived. America, however, would be different. America, the founders understood, would be a land of religious liberty even to minority religious groups unpopular with society at large.
Often we think of the American experiment only in terms of the democratic aspect represented in the popular vote, but what makes this land so special is so much more than that, and chief among the reasons is that we hold as sacred the principle of religious liberty.
You do not have to subscribe to a certain religious dogma to be a full American. You do not have to pass a religious test in order to hold public office in America. America does not have a state church. America does not fight religious wars. America does not judge people based on their religious convictions, but only requires that they who live here "should demean themselves as good citizens" in Washington's words.
If you only believe that this applies to those faith traditions you like, then you might as well say that you support freedom of speech as long as the speaker agrees with what you were going to say anyways.
But what about Sharia Law? Elements of the Fort Worth GOP ask, "can you be a good Muslim and not support Sharia Law?" To them I say: calm down; the same things were said about Catholics 100 years ago, and Catholics dominate the modern Republican Party without anyone thinking twice about it.
Religion is incredibly complex, and the faith tradition you are suddenly an expert about has 1 billion adherents around the world and is no different. Surely there are Muslims who see their faith as absolutely incompatible with republican government, but Shafi — by all accounts a patriotic, loyal, proud American — should not even be spoken of in the same breath as them.
Islam has many, many shades — from the Sunni, incredibly fundamentalist 8th-century version, to the much more liberal, esoteric and spiritual version practiced in large parts of Asia.
If a member of ISIS is appointed to the GOP leadership, the discussion of Sharia will be appropriate. In the case of Shafi, it is at best ignorant, and at worst an example of the worst kind of bigotry that George Washington would be ashamed of.
https://www.star-telegram.com/opinion/opn-columns-blogs/other-voices/article221618625.html
--------
In first, US votes against UN censure of Israel over Golan
16 November 2018
For the first time, the United States voted Friday against an annual UN resolution condemning Israel's occupation of the Golan Heights, dropping its practice of abstaining in the vote.
The non-binding resolution was adopted in a General Assembly committee by a vote of 151 to 2, with the United States and Israel the only two countries opposing the measure. Fourteen countries abstained.
US Ambassador Nikki Haley called the resolution "useless" and "plainly biased against Israel," citing concerns about Iran's military role in Syria to oppose the measure.
"Further, the atrocities the Syrian regime continues to commit prove its lack of fitness to govern anyone. The destructive influence of the Iranian regime inside Syria presents major threats to international security," she said in a statement on the eve of the vote.
Israel seized control of much of the Golan Heights from Syria in a 1967 war and later annexed it, in moves never recognized by the international community.
The resolution declares that the Israeli decision to occupy and annex the Golan was "null and void," and calls on Israel to rescind that decision.
Israeli Ambassador Danny Danon applauded the US shift, which he said was "another testament to the strong cooperation between the two countries."
The administration of President Donald Trump has taken a strong pro-Israeli stance, defying UN resolutions by moving the US embassy to Jerusalem and cutting aid to the UN agency for Palestinian refugees.
US ambassador to Israel David Friedman told an Israeli newspaper in September that he expected the annexed Golan Heights to remain under Israeli control "forever," and mentioned the possibility of US official recognition of the Golan as Israeli territory. During a visit to Israel in August, US National Security Advisor John Bolton said there were no discussions on such recognition.
Israel and Syria, which has been embroiled in conflict since 2011, are still technically at war.
Ahead of the vote, US diplomat Samantha Sutton said the US position on the status of the Golan Heights had not changed, but added that the resolution was out of touch with the situation on the ground.
"This resolution does nothing to address the increasing militarization of the Golan and the serious threats that confront Israel from Iran and Hezbollah's presence in the area," said Sutton.
Full report at:
https://english.alarabiya.net/en/News/middle-east/2018/11/16/US-to-oppose-UN-Golan-resolution-wins-Israeli-praise.html
--------
US sanctions at odds with Europe sovereignty, credibility: Iran diplomat
Nov 16, 2018
A senior Iranian diplomat says sanctions imposed by the United States on Tehran primarily violate Europe's sovereignty, security and credibility rather than target Iran's economy.
"We are waiting to see how Europe will defend its sovereignty against Washington's pressure," Iranian Deputy Foreign Minister for Political Affairs Abbas Araqchi, who is in Madrid for talks with senior Spanish officials, said on Friday.
Earlier this month, the administration of US President Donald Trump announced the re-imposition of the "toughest" sanctions ever against Iran's banking and energy sectors with the aim of cutting off the country's oil sales and crucial exports. The announcement came after it withdrew in May from the landmark Iran nuclear agreement, officially known as the Joint Comprehensive Plan of Action (JCPOA), and decided to re-impose unilateral sanctions against Tehran.
Under the deal, reached between Iran and the P5+1 group of countries -- the United States, Britain, France, Germany, Russia and China -- in 2015, Iran undertook to put limits on its nuclear program in exchange for the removal of nuclear-related sanctions. A first round of American sanctions took effect in August, targeting Iran's access to the US dollar, metals trading, coal, industrial software, and auto sector.
Araqchi further said the international community, except one or two countries, has condemned the US move to re-impose "unlawful" sanctions against Iran in violation of the United Nations Security Council Resolution 2231, which endorses the JCPOA.
However, the US is using its economic power and the dollar to impose its own demands on other countries, he added, noting that European companies seem to be taking US orders more seriously than those of their own governments.
The senior Iranian diplomat pointed to the latest report by the International Atomic Energy Agency (IAEA) that confirmed for the 13th times the Islamic Republic's adherence to its commitments under the JCPOA and said the "unreasonable and illogical" US exit from the JCPOA would lead to countries' lack of trust in dialogue, diplomacy and the Security Council's strategies.
The IAEA said on Monday that Iran has continued to implement all its commitments under the 2015 nuclear deal even as the United States re-imposed fresh sanctions against Tehran.
According to an IAEA's report, Iran has been complying with the restrictions to its nuclear program laid down in the JCPOA as of early November.
Araqchi warned that the possible collapse of the nuclear accord would lead to more crises in the Middle East and pose challenges to the ongoing situation in the region, Europe's security and the international system.
"We still hope that Europe will be able to manage the current situation" despite the US pressure, he said.
In a meeting with Director General for Political Affairs at the Dutch Ministry of Foreign Affairs Andre Haspels in Tehran on Tuesday, Araqchi warned that the possible collapse of the historic nuclear agreement would certainly add to political complications in the Middle East.
"If the JCPOA collapses, it means the defeat of diplomacy and the dominance of bullying in the international arena and this issue will absolutely add to the political complications in the Middle East region," the senior Iranian diplomat added.
Despite Washington's withdrawal, Iran has not left the deal yet, but stressed that the remaining signatories to the agreement have to work to offset the negative impacts of the US pullout for Iran if they wanted Tehran to remain in it.
Full report at:
https://www.presstv.com/Detail/2018/11/16/580213/Araqchi-Iran-Spain-Madrid-Europe-US-Sanctions-JCPOA
--------
US has leverage on Saudis to reveal Khashoggi case: NYT
16.11.2018
By Umar Farooq
WASHINGTON
A month and a half after the Jamal Khashoggi's killing, punishments were handed to some individuals responsible, but Crown Prince Mohammed bin Salman has walked away unscathed, The New York Times said Friday.
In an opinion piece, The Times wrote that with the Saudi public prosecutor seeking the death penalty against five of the suspects involved in the crime, and the U.S. imposing sanctions on the 17 suspects involved, Washington seems to be ready to buy the latest narrative provided by the Saudis.
Khashoggi, a Saudi journalist and columnist for The Washington Post, went missing after entering the Saudi Consulate in Istanbul on Oct. 2.
With the world watching, after initially saying he had left the consulate alive, weeks later the Saudi administration admitted he was killed there.
Investigation of the incident suggests a special hit squad came to the consulate, scouted out Istanbul's Belgrad Forest, and tried to cover up evidence at the consulate building.
The international community refused to accept the Saudis' claim that the incident was not a premeditated murder.
"Whether the latest version will put the Khashoggi issue to rest remains to be seen," The Times said.
Turkey does not seem to buy the latest narrative provided by the Saudis, and has been putting pressure on the kingdom.
"I want to say that I find some explanations [of the prosecutor's office] unsatisfying," Turkish Foreign Minister Mevlut Cavusoglu said at a conference. "We find the steps taken positive but inadequate."
The newspaper noted that while the U.S. has supported many despotic regimes in the past, bin Salman's rule in Saudi Arabia has pushed too far on a number of issues, including the war in Yemen, blockading Qatar, and detaining Lebanese Prime Minister Saad Hariri.
"Through most of his misrule, Prince Mohammed continued to enjoy the favor of President Trump and his son-in-law, Jared Kushner," The Times said. "They saw the young prince as an ally, along with Israel, against Iran, and as a buyer of limitless American arms."
The newspaper argued that the U.S. now has leverage over the Saudis, and they must use this leverage to reveal the truth about how Khashoggi died, end the war in Yemen, repair its relations with Qatar, stabilize oil prices and possibly "replace the crown prince with a less impulsive and dangerous heir."
Full report at:
https://www.aa.com.tr/en/americas/us-has-leverage-on-saudis-to-reveal-khashoggi-case-nyt/1313525
--------
South Asia
Known Jamaat affiliates seek nominations from BNP-led alliance, as independents
November 16th, 2018
Jamaat leaders are hopeful their efforts to uphold the 20-party alliance during the Awami League regime will clinch them nominations for all three Bogra constituencies
Men with Bangladesh Jamaat-e-Islami ties have collected nomination papers from BNP to contest the upcoming general election in two northern districts, after the Election Commission said anyone, even men or women from unregistered parties, can run for office with another party's ticket or as independent candidates.
Last week, the commission's Secretary Helaluddin Ahmed said persons affiliated with the political party Jamaat-e-Islami, which has lost its registration, can contest in the upcoming election as independent candidates or with another party's nomination.
"Even they can run with the symbol of any registered party, provided that they get the nomination from that party. A registered party can give anyone their nomination," he said.
"So if a registered party wants, they can give their nomination to the members of an unregistered party as well," Helaluddin added.
Bogra
Quoting Jamaat sources, our correspondent in Bogra reported that the party is fully prepared to field candidates in at least three constituencies of the district.
If BNP wants to field its own candidates in those constituencies, Jamaat will still a launch full-scale election campaign in at least two constituencies with independent candidates, the sources added.
Former MP of Bogra 2 constituency (Shibganj) and former ameer of Shibganj upazila unit Jamaat Mawlana Shahadatuzzaman collected his nomination form for Bogra 2 constituency, Kahalu upazila Chairman and former nayeb-e-ameer of Bogra district Jamaat Mawlana Tayeb Ali for Bogra 4 constituency (Kahalu-Nandigram), and Sherpur upazila Chairman and former Secretary of upazila Jamaat Mawlana Dabibur Rahman collected his nomination paper for Bogra 5 constituency (Sherpur-Dhunot).
Since 1991, Jamaat has been contesting the parliamentary polls under the BNP-led alliance. However, as the Election Commission had canceled the party's registration, candidates from the party may run independently, according to Jamaat sources.
Even if they do not get nominations from the alliance for the constituencies, the candidates for Bogra 4 and 5 seats will stand independently, the sources said.
However, Jamaat leaders are hopeful their efforts to uphold the alliance during the Awami League regime will clinch them nominations for all three Bogra constituencies.
Former MP of Bogra 2 Mawlana Shahadatuzzaman hoped to get the nomination from the 20-party alliance, however, when asked what steps he would take if he cannot secure a nomination, Shahadutazzaman said: "There is no last word in politics. I will inform of my decision later."
Mawlana Tayeb Ali, standing in Bogra 4, has collected his form as an independent candidate, so that he can still contest the polls and a win a seat for Jamaat even if he does not get the ticket from the alliance.
Meanwhile, candidate for Bogra 5, Mawlana Dabibur Rahman said he will inform of his decision regarding contesting the polls within a few days. However, his supporters said he will stand independently even if the 20-party alliance does nominate him.
Sirajganj
Two Jamaat leaders have collected their nominations forms as independent candidates from Sirajganj on Thursday.
Central Jamaat leader Rafiqul Islam Khan will contest Sirajganj 4 constituency (Ullahpara), while Nayeb-e-Ameer of Sirajganj Jamaat Prof Ali Alam will contest Sirajganj 5 constituency (Belkuchi-Chauhali).
https://www.dhakatribune.com/bangladesh/election/2018/11/16/known-jamaat-affiliates-seek-nominations-from-bnp-led-alliance-as-independents
--------
Myanmar arrests 106 Rohingya Muslims heading for Malaysia
Nov 16, 2018
Myanmar's immigration authorities have arrested 106 Rohingya Muslims who were heading to Malaysia.
Authorities stopped a boat on Friday morning about 30 kilometers (20 miles) south of Yangon, Kyaw Htay, an immigration officer from Kyauktan township, told Reuters.
The boat was transporting people from internal displacement camps outside Sittwe, the capital of Rakhine state, the officer added. The city of Sittwe became a flash point last year.
"Their destination was Malaysia. The boat was stopped after the engine failed," he added.
Tens of thousands of Rohingya have been languishing in internal displacement camps since a previous wave of violence in 2012.
Since last year, over 700,000 Rohingya have fled to Bangladesh. Back then, Myanmar's armed forces, backed by Buddhist extremist mobs, intensified a crackdown that had already been underway against the Muslim community in Rakhine.
For years, the persecuted Rohingya in Myanmar and Bangladesh have embarked on dangerous journeys aboard rickety vessels to Thailand and Malaysia, looking for better conditions. Most of the voyages have taken place in the dry months between November and March, when the sea is calm.
Last week, officials and aid workers told Reuters that scores of Rohingya on both sides of the border had boarded boats to try to reach Malaysia after the end of the monsoon rains in early October.
The Rohingya Muslims, who have lived in Myanmar for generations, are denied citizenship and are branded illegal emigrants from Bangladesh, which likewise denies them citizenship.
The Bangladeshi government begun preparations to repatriate an initial batch of 2,200 Rohingya to Myanmar on Thursday but by late afternoon no refugees had been moved back across the border.
Government officials from Bangladesh and Myanmar announced last month that they had struck a "very concrete" repatriation deal for the return of the Rohingya refugees who fled the military crackdown in August 2017. The repatriation was to begin by "mid-November." UN officials and aid agencies condemned the plan, saying conditions in Myanmar were not safe.
Full report at:
https://www.presstv.com/Detail/2018/11/16/580205/Myanmar-Rohingya-Malaysia
--------
US rights activists concerned about violations in Bangladesh
2018-11-17
Two members of the US House of Representatives also expressed their concern in a statement pm the issue though they were not present in the discussion organised by the 'Tom Lantos Human Rights Commission' on Thursday.
The lawmakers are co-chairmen of the commission.
They did, however, praise the Bangladesh government for providing shelter to more than 700,000 Rohingya refugees.
Former US ambassador to Bangladesh Marcia Bernicat, and British lawyer Toby Cadman, who has represented Jamaat-e-Islami leaders, attended the discussion titled 'Election and Human Rights in Bangladesh'. Mohammad Ziauddin, the Bangladesh envoy to Washington, DC, Bangladesh Deputy High-Commissioner Mahbub Hassan Saleh and a few leaders from the US branch of the Awami League also attended the discussion.
Human Rights Watch Advocacy Director in Asia John Sifton criticised the Bangladesh government.
"The government is harassing the opposition with politically motivated cases. Extra-judicial killings are taking place by law enforcement agents. The opposition party members are unable to run their election campaign. They are all scared of the special forces," he said.
He raised the issue of extra-judicial killings by RAB and called for an end to them.
"The fear has spread to the media too. Therefore journalists are unable to work properly. It seems Bangladesh is heading towards single-party rule," he said.
Sifton also mentioned the arrest of photographer Shahidul Islam. He urged the US Congress to play a role in alleviating the situation in Bangladesh with the election looming.
The HRW official tacitly raised a demand to ban Bangladeshis from the UN peacekeeping work.
"Those who are connected with the everyday violation of human rights should not take part in global peacekeeping," he said.
Another discussant Waris Husain, policy analyst at the US Commission on International Religious Freedom highly praised the Bangladesh government for providing shelter to the Rohingyas.
"It is praiseworthy that Bangladesh has provided shelter to the Rohingyas when other neighbouring countries did not. The benevolence shown by a small country with a huge population of 160 million through providing shelter to more than a million Rohingyas definitely deserve applause," he said.
Full report at:
https://bdnews24.com/bangladesh/2018/11/17/us-rights-activists-concerned-about-violations-in-bangladesh
--------
Bangladesh: Ruling party infighting leaves 4 dead
16.11.2018
At least four people were killed and another 50 injured in a clash between two factions of Bangladesh's ruling Awami League party on Friday, local media reported.
The deadly clash took place in central Narsingdi district, 50 kilometers (30 miles) northeast of Dhaka, over political supremacy in the region, the daily Samakal said in a report, citing a senior police official.
An old dispute between the followers of late Awami League leader Shiral Islam and slain leader Shahed Sarkar gained momentum following the announcement of general election schedule.
Belal Hossain, assistant police superintendent in the area, told media an additional contingent of police personnel has been deployed to bring the situation under control.
Full report at:
https://www.aa.com.tr/en/asia-pacific/bangladesh-ruling-party-infighting-leaves-4-dead/1313602
--------
NSC orders Afghan forces to increase raids against Taliban
Nov 16 2018
The Office of the National Security Council of Afghanistan (NSC) has ordered the Afghan National Defense and Security Forces (ANDSF) to increase raids against the Taliban militants.
According to a statement released by NSC, the enemies of the country have sustained heavy casualties in face to face fight and due to the sacrifices of the National Defense and Security Forces due to which the enemies have changed their fighting strategy by killing innocent civilians, a move which demonstrate their (enemies) weakness.
The statement further added that the Taliban group continues to wage an imposed war as the Afghan nation struggles with the drought and cold weather which has added in the difficulties of the people besides inflicting losses on them.
The Office of the National Security Council also added that the National Defense and Security Forces have been instructed to increase raids against the Taliban across the country in a bid to ensure the safety of the people and reduce the casualties of the security forces.
Full report at:
https://www.khaama.com/nsc-orders-afghan-forces-to-increase-raids-against-taliban-02752/
--------
NDS Special Forces conduct raids on 5 ISIS-K compounds in Nangarhar
Nov 17 2018
The Special Forces of the Afghan Intelligence, National Directorate of Security (NDS), conducted raids on five compounds of the Islamic State of Iraq and Syria Khurasan (ISIS-k) in eastern Nangarhar province of Afghanistan.
The provincial government media office in a statement said the raids were conducted in Achin district late on Thursday night.
The statement further added at least 20 ISIS militants were killed during the raids and all five compounds of the terror group were destroyed.
According to Nangarhar governor's office, a commander of the terror group and orchestrator of ISIS attacks was also among those killed.
The militants were involved in planning and coordinating attacks in Jalalabad city and other parts of Nangarhar province using the five compounds which were destroyed during the operation.
Full report at:
https://www.khaama.com/nds-special-forces-conduct-raids-on-5-isis-k-compounds-in-nangarhar-02755/
--------
President Ghani met with Jamiat Islami leaders to discuss peace efforts
Nov 17 2018
President Mohammad Ashraf Ghani on Friday met with the leaders of Jamiat Islami party to discuss ongoing efforts regarding Afghan-led peace process.
The Office of the President, ARG Palace, in a statement said President Ghani met with Jamiat Islami Chief Salahuddin Rabbani, Jamiat Islami Chief Executive Ata Mohammad Noor, and Ismail Khan on Friday afternoon.
The statement further added that the meeting focused on establishment of consultative board for peace.
President Ghani thanked the Jamiat Islami leaders for their views and said a national consensus is needed to reach to a peace deal.
He also added that consultative meetings would continue with the representatives of various communities and national segments and the results would be shared soon.
Full report at:
https://www.khaama.com/president-ghani-met-with-jamiat-islami-leaders-to-discuss-peace-efforts-02754/
--------
Mideast
Netanyahu becomes Israel military affairs minister after Lieberman's resignation
Nov 16, 2018
Israeli Prime Minister Benjamin Netanyahu has become his own minister of military affairs, failing to fill the position with anyone else after Avigdor Lieberman's resignation, according to a Likud Party spokesman.
The decision was announced on Friday after Netanyahu's meeting with a key far-right coalition partner, Jewish Home Party leader Naftali Bennett, failed to determine Israel's next military affairs minister.
Bennett, who is currently Israel's Education Minister, had sought to replace Lieberman. The Education Minister had called for Israel to "start winning again", expressing frustration at Netanyahu's compliance with an Egypt-brokered ceasefire with the Gaza Strip.
Israel was quick to accept a truce after a botched Israeli operation in Gaza was met with a strong reaction from the Palestinian resistance in Gaza, killing an Israeli special operations officer and firing a record number of nearly 500 rockets into Israel in a single day.
Lieberman, which leads the secular-nationalist Yisrael Beiteinu party, resigned less than a day after the ceasefire, describing the truce as "a capitulation to terror" and withdrawing his party from Israel's ruling coalition in the 120-member parliament.
The loss of Lieberman's five parliamentary seats has destabilized Netanyahu's majority coalition, fueling speculation of an early election before the scheduled date next November.
Netanyahu, who is also currently his cabinet's own foreign minister and health minister, has been under further pressure for two alleged corruption cases since February.
The investigations revolve around a case of illicit valuable presents received by Netanyahu and his family from billionaire benefactors, and another case of a suspected quid pro quo deal between the premier and Israel's Yedioth Ahronoth newspaper.
The corruption cases have triggered numerous anti-Netanyahu protests in Tel Aviv and other cities in the occupied territories, with the participants calling on the scandal-hit prime minister to step down.
https://www.presstv.com/Detail/2018/11/16/580228/Netanyahu-becomes-Israels-war-minister
--------
40 Palestinians Injured In Clashes with Israeli Forces At Gaza Border
Nov 16, 2018
At least 40 Palestinians have sustained injuries at an anti-occupation protest along the border between the besieged Gaza Strip and Israeli-occupied territories, as a fresh round of protest rallies drew several thousand Palestinian demonstrators to the flashpoint frontier.
Violent clashes erupted on Friday evening after 8000 of protesters gathered in the eastern Gaza Strip to challenge the years-long Israeli siege on the coastal enclave.
The Tel Aviv regime's troops used live ammunition and fired teargas canisters to disperse the protesters. Palestinians evacuated injured protesters and threw stones using slingshots during protest across the area.
Gaza Health Ministry confirmed that at least 40 Palestinians were injured, including some eight by Israeli live fire.
Of those injured, three are considered to be in serious condition.
Dozens more suffered from tear gas inhalation.
The Palestinian Red Crescent said its staff was looking for injured people.
This week's protest was staged under the slogan "Normalization is treason" and the organizers called on the protesters to continue these demonstrations until the Gaza "siege" was lifted
Hamas spokesman Abdel Latif Qanou said the Arab countries that are working for normalizing their relations with Israel are "sticking a knife in the back of the Palestinian people and harming their national rights."
The protests on Friday were intended to continue the "popular" and nonviolent struggle to "break the blockade on Gaza completely," he added.
On Sunday night, seven Palestinians, including a senior Hamas commander, were killed when Israeli military forces staged an incursion into the southern Gaza Strip.
Later on Tuesday, Hamas and other resistance factions agreed to an Egypt-brokered cease-fire with Israel in Gaza Strip as the recent wave of Israeli aggression against the enclave was threatening to descend into full-blown war.
The Palestinian resistance groups announced the ceasefire in a joint statement, saying they would abide by the ceasefire as long as Israel did the same.
The Gaza Strip has been under a crippling Israeli siege since 2007, which has prevented some two million Palestinians from having free access to the remainder of Palestine and the outside world. The blockade has also undermined living conditions in the coastal enclave and fragmented its economic and social fabric.
The Tel Aviv regime carries out regular attacks on Gaza inhabitants under the pretext of hitting positions belonging to the Hamas resistance movement, which governs the territory.
The coastal sliver has also witnessed a fresh wave of deadly tensions since March 30, which marked the start of a series of protests demanding the right to return for the Palestinians driven out of their homeland.
More than 230 Palestinians have so far been killed and over 23,000 others wounded in the renewed Gaza clashes.
The Gaza Strip and the occupied territories have been the scene of new tensions ever since US President Donald Trump on December 6, 2017 declared Washington's recognition of Jerusalem al-Quds as Israel's "capital" and promised that the US would move its diplomatic mission to the city.
In early July 2014, Israel waged a war on the Gaza Strip. The 50-day military aggression, which ended on August 26, 2014, killed nearly 2,200 Palestinians, including 577 children. Over 11,100 others – including 3,374 children, 2,088 women and 410 elderly people – were also wounded in the war.
Clashes erupt in West Bank
Separately, a series of clashes broke out during a weekly march against the expanding of Israeli settlements in the northern occupied West Bank district of Qalqiliya, Palestinian Ma'an news agency reported.
Local sources said that Israeli forces fired rubber-coated steel bullets and tear-gas canisters to disperse protesters. At least two protesters were injured, and many others suffered tear-gas suffocation.
At least one protester also suffered a face injury after Israeli forces clashed with Palestinians activists protesting near the Ras Karkar village west of Ramallah in the occupied central West Bank. They were holding rally against an Israeli confiscation plan to hundreds of acres of land in the area.
About 600,000 Israelis live in over 230 illegal settlements built since the 1967 Israeli occupation of the Palestinian territories of the West Bank and East Jerusalem al-Quds.
Full report at:
https://www.presstv.com/Detail/2018/11/16/580221/Palestine-Gaza-Israel-West-Bank-Trump
--------
Houthi militias target number of facilities in Hodeidah, breach truce
17 November 2018
Houthi militias targeted a number of facilities in Yemen's Hodeidah on Friday night in the first breach of the truce.
Earlier today, a special security council session was held focusing on ending the conflict in Yemen, inwhich the UN envoy to Yemen, Martin Griffiths, said that he intends to convene peace talks "shortly" in Sweden in a bid to end the war.
The Yemeni legitimate government and the Houthis have shown a "renewed commitment" to work on a political solution and have given "firm assurances" that they will attend the talks, Martin Griffiths told the council.
The UN's Under-Secretary-General for Humanitarian Affairs and Emergency Relief Coordinator, Mark Lowcock, said in the security council that the UN has witnessed a truce in Hodeidah and that they welcome it and call for its continuity.
A few hours seperated the UN's appreciation of a truce in Hodeidah and the first breach by Houthi militias.
https://english.alarabiya.net/en/News/gulf/2018/11/17/Houthi-militias-target-number-of-facilities-in-Hodeidah-breach-truce.html
--------
Yemen welcomes public prosecution's statement on Khashoggi case
16 November 2018
The Government of Yemen welcomed today the statement issued by Saudi Arabia's Public Prosecution into the killing of journalist Jamal Khashoggi, and consider it a reflection of the kingdom's principles of justice, according to Saudi Press Agency.
In a press statement, the Yemeni Government stressed that Saudi Arabia's commitment to hold the suspects accountable for the murder of Khashoggi should end all attempts to politicize the case and undermine the security and stability of the country.
Yemen reiterated its support for the leadership, government, and people of Saudi Arabia and their total rejection of the political exploitation of the crime and their strong condemnation of the malicious campaigns against the Kingdom of Saudi Arabia.
https://english.alarabiya.net/en/News/gulf/2018/11/16/Yemen-welcomes-public-prosecution-s-statement-on-Khashoggi-s-case-.html
--------
Turkish police arrest 13 in probe of rights activist over 2013 protests
17 November 2018
Turkish police detained 13 people including two prominent academics on Friday under an investigation into jailed rights activist Osman Kavala, accusing them of following him in a bid to unseat the government through mass protests in 2013.
Kavala, a well-known civil society leader, was jailed a year ago pending trial for trying to overthrow the government, a process which authorities say started with those demonstrations and culminated with an attempted coup in July 2016.
Police said those arrested on Friday were accused of working with Kavala to foment the May 2013 unrest, which began as demonstrations against urban development plans at Istanbul's Gezi Park and turned into nationwide anti-government protests.
At least 10 people died and thousands were injured in a government crackdown on the demonstrations, which at the time were the biggest ever staged against the government of Tayyip Erdogan, now president, then entering his second decade as prime minister.
Kavala was accused of attempting to use force to remove the government or prevent it from fulfilling its duties, the police said. Prosecutors ordered the arrest of 20 people in total accused of acting with him. The charge carries a life sentence.
"The individual aimed to spread the Gezi Park incidents across Turkey and create an atmosphere of chaos and disorder in the country generally," Istanbul police said in a statement.
Human rights groups and European Parliament members have repeatedly called on NATO member Turkey to release Kavala. An indictment against him has not yet been issued.
On Friday, the European Union called for the immediate release of "all those detained without due process".
"Repeated detentions of critical voices and the continued widespread pressure on civil society representatives run counter to the Turkish government's declared commitment to human rights," the EU's foreign policy service said.
The US State Department said it was "very concerned" about the detentions and urged Turkey to respect "human rights and fundamental freedoms, and to release those held arbitrarily".
A lawyer for one of the suspects named the two academics detained on Friday as Turgut Tarhanli, dean of Istanbul Bilgi University's law faculty, and Bogazici University's Betul Tanbay, who was elected this year as vice president of the European Mathematical Society.
Among the detainees were also staff of Kavala's Anadolu Kultur organisation, which is involved in promoting culture and rights, including board members Yigit Ekmekci and Hakan Altinay.
Turkish Bar Association Chairman Metin Feyzioglu said he was monitoring developments with concern.
"The violation of basic rights and freedoms by the hand of the judiciary must not be allowed," he said in a statement. "All illegal practices which will harm Turkey in the international community must be brought to an end."
"Professional protesters"
Police said the suspects had brought in professional protesters from abroad to fuel the Gezi Park protests and had lobbied in Europe to halt the import of tear gas used by police.
Since the attempted putsch in July 2016, Turkey has jailed 77,000 people as they face trial, as well as suspending or dismissing 150,000 civil servants and military personnel and shutting down dozens of media outlets.
Police still frequently carry out operations targeting the network of US-based cleric Fethullah Gulen, accused by Ankara of orchestrating the July 2016 failed putsch.
Full report at:
https://english.alarabiya.net/en/News/world/2018/11/17/Pence-says-US-to-partner-in-Papua-New-Guinea-military-base-.html
--------
Iran blasts using human rights mechanisms as tool
Nov 16, 2018
Iran strongly condemns using human rights resolutions and mechanisms as a tool after a UN panel adopts one such resolution targeting the Islamic Republic.
Iranian Foreign Ministry Spokesman Bahram Qassemi blamed "certain Western countries, the occupying and infanticidal Zionist regime [of Israel], and some reactionary regional regimes," for application of the human rights capacities in such a way, the Ministry reported on its website on Friday.
He said the resolution had been adopted by some governments, whom themselves were "the biggest violators of human rights in their own country and other countries."
The resolution, the official said, had been adopted while "ignoring the realities inside Iran and based on a selective, discriminatory, ill-intentioned, and politically-charged attitude."
Such a trend would compromise the international community's trust in international mechanisms and their efficacy, he added.
In contrast with such measures, the country lends credit to the UN Human Rights Council's Universal Periodic Review (UPR), which would assess all countries without discrimination, Qassemi said.
Tehran's constructive and active participation in the process reflected the Islamic Republic's seriousness in enhancing human rights and acting on its international commitments in the area, he concluded.
Full report at:
https://www.presstv.com/Detail/2018/11/16/580191/Iran-condemns-United-Nations-Human-Rights-Committee-Resolution-Foreign-Ministry-Bahram-Qassemi
--------
Six convicted for 2016 Istanbul airport attack that killed 45
November 16, 2018
ISTANBUL: A court in Istanbul convicted six people and sentenced them to life in prison for involvement in an extremist attack at Istanbul's main airport that killed 45 people and was blamed on Daesh, Turkey's state-run news agency reported Friday.
The six were convicted of premediated homicide and contravening the Turkish Constitution in the 2016 attack that also injured 163, the Anadolu Agency said. Twenty-six other defendants were acquitted of all charges.
On June 28, 2016, three suspected militants armed with automatic weapons stormed Ataturk International Airport and opened fire. They eventually detonated suicide vests that killed them as well as more airport visitors. The attack was one of several in Turkey blamed on Daesh extremists.
The attackers were identified as Vadim Osmanav and Rakhim Bulgarov, while the third man's name remains unknown.
A total of 46 defendants were on trial for the attack, including Russian, Algerian, Tunisian, Egyptian, Syrian and Turkish citizens. Six were sentenced to prison terms ranging from six to 12 years for membership in a terror group, Anadolu said.
Full report at:
http://www.arabnews.com/node/1405911/middle-east
--------
Europe
UN passes resolution condemning Iran's human rights record
16 November 2018
The Third Committee of the UN General Assembly overwhelmingly approved a resolution on Thursday, condemning Iran's human rights record, with 83 votes against 30 while 68 countries abstained.
The resolution is due to be voted next December at the UN General Assembly.
The resolution relied on the reports on the human rights situation in Iran presented by both the UN Special Rapporteur on the human rights situation in Iran, Javid Rehman, and Antonio Guterres, UN Secretary-General."
"The reports of the UN Secretary-General and his Special Rapporteur on Human Rights in Iran indicate that the human rights situation in Iran has worsened since last year and the systematic repression of demonstrators, journalists and users of social networks has increased," it said.
The resolution also pointed out that the Iranian government does not comply with international standards and norms, where reports indicate that "torture of prisoners, arbitrary arrests, unfair trials, threats of human rights activists and restrictions on freedom of expression continue."
Canadian Foreign Minister Christa Freeland, whose country adopted the draft resolution said: "The ratification of this resolution by the various countries of the world sends a strong message to the Iranian government, which must respect human rights."
The UN Special Rapporteur on the human rights situation in Iran, Javid Rehman, had presented his report to the Third Committee in New York on October 24.
Rehman said in a speech during the presentation of the report that Iran has witnessed a wave of protests and strikes due to the deterioration of economic and living conditions and that these protests were suppressed by the authorities.
Rehman requested the Iranian government to allow him to visit the country to conduct an assessment of the human rights situation through interviews with citizens and to provide information, particularly with regard to international human rights organizations' reports on violations, pertaining to executions, torture, suppression of freedom of assembly, opinion and expression, violations of the rights of women and girls and denying religious and ethnic minorities their basic rights.
https://english.alarabiya.net/en/News/middle-east/2018/11/16/UN-passes-resolution-condemning-Iran-s-human-rights-record.html
--------
UN calls for new negotiations on Yemen in Sweden
17 November 2018
The UN envoy for Yemen told the Security Council on Friday that he intends to convene peace talks "shortly" in Sweden in a bid to end the war, during a special security council session focusing on ending the conflict in Yemen.
The Yemeni legitimate government and the Houthis have shown a "renewed commitment" to work on a political solution and have given "firm assurances" that they will attend the talks, Martin Griffiths told the council.
"I am grateful to the (Arab) coalition for agreeing our proposed logistical arrangements, and to the coalition and Oman for their agreement to facilitate the medical evacuation of some injured Yemenis out of Sanaa," he told the 15-member Security Council. Under-Secretary-General for Humanitarian Affairs and Emergency Relief Coordinator, Mark Lowcock, said that international organizations are providing the largest humanitarian assistance in the world in Yemen.
He added that the UN has witnessed a truce in Hodeidah and that they welcome it and call for its continuity.
Famine in Yemen
UN food chief David Beasley expressed his concern about the deteriorating food situation in Yemen, saying that around 18 million Yemenis are suffering from food shortage.
The food aid crossing into Yemen is through the Saudi border with the war-torn country, Beasley said.
Human rights in Houthi controlled areas
The Yemeni civil society representative, Rasha Jarhum, also spoke at the session, and called for aid in all aspects.
Full report at:
https://english.alarabiya.net/en/News/gulf/2018/11/17/yemen.html
--------
Saudi Sponsorship of Swedish Schools Prompts Islamist Scare
16.11.2018
A Swedish Total Defence Research Institute pundit described Saudi Arabia as "playing a central role in spreading an extreme interpretation of Islam in Sweden."
Reports of Örebro-based al-Salam School receiving money from the Saudi royal family have triggered concerns about state-sponsored Islamic indoctrination in Sweden. Meanwhile, the foundation running the school brushed the concerns aside as "excessive", stressing that it distances itself from "all forms of extremism and terrorism."
According to the daily newspaper Svenska Dagbladet, the Muslim elementary school al-Salam School received a total of SEK 1.8 million ($200,000) from Saudi Arabia.
Al-Salam School has attracted the scrutiny of the School Inspectorate for several years and has prompted several rebukes. It's criticized for its gender-segregated classes, which violate the Swedish government's policy of ensuring sexual equality.
Additionally, the newspaper reported that the stated goal of the Scandinavian foundation al-Risalah, which runs al-Salam school among others, is to "maintain Muslims' Islamic identity." Three of the foundation's board members are from Saudi Arabia, including Sheikh Abdulrahman Al-Akeel, who was quoted as saying that Saudi donations help "convey the true image of Islam and its greatness and promote its positive role" among Muslims.
According to Svenska Dagbladet, oil-rich Saudi Arabia has for a long time spread its ultra-conservative interpretation of Islam, called wahhabism or salafism, to the outside world, including Sweden.
According to the Swedish Defense College, there are 18 registered foundations in Sweden which have stated that promoting the construction of mosques is one of their goals. Eleven of these foundations are not transparent about their income. Normark described this as a "blind spot."
Hussein Aldaoudi, chairman of the al-Risalah foundation, confirmed that the school has been sponsored by Saudi Arabia, but stressed that the money went to build additional premises. He stressed that concerns about Saudi influence in Sweden are "excessive" and emphasized that the foundation disregards "all forms of extremism and terrorism." He also stressed that Saudi Arabia supported similar projects across Europe and regards it as a duty to support minorities.
Sweden and Saudi Arabia previously had a falling out when Sweden's feminist Foreign Minister Margot Wallström castigated the Middle East country's human rights record, calling it a "medieval dictatorship." Ultimately, fences were mended due to the meddling of King Carl XVI Gustaf.
Full report at:
https://sputniknews.com/europe/201811161069859555-sweden-saudi-arabia-sponsorship/
--------
EU to support Iraq in US sanctions on Iran
17.11.2018
The European Union will support Iraq on consequences of U.S. sanctions on Iran, EU foreign policy chief said Friday.
Frederica Mogherini told Iraq's Prime Minister Adil Abdul-Mahdi during a telephone call that the EU would help Baghdad "to deal with the consequences" of U.S. sanctions on Iran, according to a statement by Iraq's prime minister's office.
Stating the EU supports Abdul-Mahdi and his government, Mogherini said the EU is ready to support Iraq in politics, finance and security, the statement added.
The U.S. has issued Iraq a 45-day waiver from U.S. sanctions on Iran for natural gas and electricity imports, the U.S. Embassy in Baghdad announced Nov. 9.
Iraq, which is struggling with electricity outages and insufficient power generation, is reliant on its neighbor for natural gas imports for its power stations.
The second wave of renewed U.S. sanctions on OPEC's third largest exporter officially started Nov. 5, targeting Iran's energy, shipbuilding, shipping and financial sectors.
Full report at:
https://www.aa.com.tr/en/europe/eu-to-support-iraq-in-us-sanctions-on-iran/1313760
--------
Hundreds offer funeral prayer for Khashoggi in London
16.11.2018
By Ahmet Gurhan Kartal
LONDON
Hundreds of Muslims filled a north London mosque to attend a funeral prayer in absentia for slain journalist Jamal Khashoggi on Friday.
The funeral prayer, organized by the Muslim Association of Britain (MAB), was offered following the Friday prayer at the call from Khashoggi's fiancee Hatice Cengiz.
"Jamal Khashoggi's heinous and beastly murder was nothing less than a state-sponsored elimination of opposition and dissent, and the entire free world should unite in calling this out," the MAB said in a statement.
Saeed Naser Al-Ghamidi, a Saudi academic and friend of Khashoggi who led the prayer, told the congregation that the killers of Khashoggi have committed multiple crimes including murder, treachery, mutilation and lying.
Anas Altikriti, the president of MAB, told Anadolu Agency they decided to respond to the call from Khashoggi's fiancee and that is why they invited Muslims to Finsbury Park mosque.
Altikriti said the U.K. government and all major governments around the world should really look at themselves in terms of "their dealings with Saudi Arabia and all regimes that are oppressive."
"We can't continue to supply these regimes with arms, weapons, technology in order to continue suppress and subjugate their dissidents," he added.
He said Khashoggi "stood for freedom of the word, ideas, thoughts, democracy and change and for that he gave his life."
Osama Gaweesh, a journalist and activist, said people who were concerned about Khashoggi's death filled the mosques today not only in London but also in Medina and Istanbul.
Khashoggi, a frequent contributor to The Washington Post, was killed Oct. 2 inside the Saudi Consulate in Istanbul.
After weeks of denying any involvement in the crime, Saudi Arabia later admitted that Khashoggi had been killed inside the consulate but claimed the Saudi royal family had no prior knowledge of any plot to murder the journalist.
Full report at:
https://www.aa.com.tr/en/europe/hundreds-offer-funeral-prayer-for-khashoggi-in-london/1313490
--------
Many questions in Khashoggi case remain open: Germany
16.11.2018
By Ayhan Simsek
BERLIN
Despite the first indictments in Saudi probe, many questions remain unanswered in the murder of journalist Jamal Khashoggi, Germany's Foreign Ministry said on Friday.
Speaking at a news conference in Berlin, Christofer Burger, deputy spokesman for Foreign Ministry, said Germany was still waiting for a full disclosure and accountability from Saudi Arabia.
"There has been some developments yesterday. That was a first step. However, many questions remain open, as it has been before," he said.
The Saudi public prosecutor's office announced on Thursday that 11 suspects had been indicted for murdering Khashoggi inside Saudi Arabia's Istanbul Consulate. It called for death penalty against five suspects.
The prosecutors absolved Saudi Crown Prince Mohammed bin Salman of any blame for the murder.
Burger underlined that Germany expected a full and transparent investigation in line with the international standards.
"The murder of Khashoggi must be completely and thoroughly investigated. We expect that those responsible for the killing would be held accountable," he added.
Khashoggi, a Saudi national and columnist for The Washington Post, was killed on Oct. 2 inside the Saudi Consulate in Istanbul.
After weeks of denying involvement, the kingdom admitted that Khashoggi had been killed at the consulate but claimed that the Saudi royal family had no prior knowledge of a plot to murder him.
Full report at:
https://www.aa.com.tr/en/europe/many-questions-in-khashoggi-case-remain-open-germany/1313454
--------
EU calls for justice in Khashoggi murder case
16.11.2018
By Serife Cetin
BRUSSELS
The European Union on Friday called for justice in the murder case of the Saudi journalist Jamal Khashoggi.
"For all those responsible for this killing, due process will of course be an important element to ensure justice in this case which is something that family, friends, and the international community have been asking for weeks now," the European Commission spokeswoman Maja Kocijancic said.
When asked if the EU plans to take a similar step as the U.S. decided to sanction 17 people tied to the murder of Khashoggi, Kocijancic said that the bloc has "been very vocal on the Khashoggi case from the very beginning."
"Together with the international partners we will also continue to stress the fact that the measures need to be put in place in order to ensure that such crimes do not happen again," she added.
On Thursday, the U.S. imposed sanctions on 17 people, including the Saudi Consul General in Istanbul Mohammad al-Otaibi.
Khashoggi was killed at the Saudi diplomatic facility shortly after he entered the consulate Oct. 2.
Saudi Arabia had offered shifting explanations for Khashoggi's disappearance before suggesting he was killed during a botched rendition operation by rogue agents.
Full report at:
https://www.aa.com.tr/en/europe/eu-calls-for-justice-in-khashoggi-murder-case/1313443
--------
France's first jailed jihadist: From radicalisation to reformation
13/11/2018
He calls it "brain matching". The instant connection David Vallat felt when he was introduced to Khaled Kelkal by a local imam. Vallat was enamoured of Kelkal even before they met, after reading an interview with him in Le Monde about the integration of young French people of North African origin.
"The interviewer asked him, are you French or are you Muslim? He replied: 'I am solely Muslim.' That's when I knew we had reached the same level – where there is only ideology left," Vallat said of Kelkal − once France's most wanted men, a ringleader in the Armed Islamic Group (GIA) and mastermind behind its series of deadly terror attacks in Paris and Lyon in 1995.
On the third anniversary of the 2015 Paris attacks, in which 130 people were killed and 413 injured, France continues to grapple with homegrown terrorism. The country currently classifies more than 17,000 individuals as terrorist threats, according to this senate report. A total of 512 people are currently serving time for terrorism offences in France and another 1,139 prisoners have been flagged as having been radicalised. To combat further conversions in prison, the French government announced a plan earlier this year to create 1,500 new spaces in its prisons to isolate radicalised inmates.
Vallat – who described himself as a "first-generation jihadist" – says that what draws young people to extremism hasn't changed, more than 20 years after his own involvement and subsequent imprisonment.
Now, he's on a mission to speak up about his experience in hopes of preventing more young people from becoming martyrs through his organisation, Analyses des Islams politiques et des radicalisms (AIPER). From his home near Lyon, Vallat told Euronews about his journey from radicalisation to reformation.
In the beginning
Vallat, 47, describes his younger self as a misfit. Born in France, he grew up in the suburbs of Lyon as the eldest of four children, raised by a single mother in a secular family. At 16, he dropped out of school and turned to a life of petty crime, but quickly realised it would get him nowhere. He yearned to go to back to school and, at 19, converted to Islam to fill that void. Religion was a way for him to distance himself from drugs and alcohol, and gave him some semblance of a social circle.
At his local mosque, VHS footage began circulating of Bosnian Muslims being brutally executed in Yugoslavia. Incensed by what he saw, Vallat decided to join the fight. Having watched the Alain Resnais documentary about Nazi concentration camps, Night and Fog, at the age of 15, Vallat promised himself he would not stand idle if faced with a genocide.
He was paralysed by fear by what he saw in battle in Bosnia. "I thought I would change the situation on the field, but the field changed me," he said.
He decided he needed an ideology, something that would allow him to fight without fear. When he met fighters from Saudi Arabia, Yemen and Qatar who practised Salafism, an ultra-conservative, fundamentalist form of Islam, he found it.
"They explained to me, if I died, I'd go to paradise. I'd be compensated in my afterlife because I'm Muslim," Vallat said. He was no longer afraid to die.
Afghanistan
When he returned to France in 1994, he began to read the Koran. Kelkal advised him that if he wanted to be a martyr, he would need training. He travelled to an al-Qaeda camp in Khalden, Afghanistan, where he stayed for ten months, with a daily routine of prayer, fitness, artillery training, political discussions and studying of the doctrine.
Prison
Upon his return from Afghanistan, Vallat planned to go back to Bosnia – but he didn't make it. In September 1995, after a string of attacks by the GIA – including bombs being detonated on the Paris train network and at the Arc de Triomphe – Kelkal was killed in a live, televised shoot-out by the French police after his fingerprints were found on an undetonated bomb found on train tracks near Lyon. When police found his address book, his associates were quickly rounded up – including Vallat.
Vallat claims he had split from the group weeks before his arrest, saying the group had strayed from its mission to support terrorist networks in Algeria. He says Kelkal did not tell him what they were plotting, but he knew he didn't want to take part in it.
Vallat's desertion from the GIA earned him enemies among his former "brothers", who placed a fatwa on his head. As such, prison became an unlikely sanctuary – and ultimately a saviour. "In prison I could finally think," he said. "The people who I thought were my enemies were treating me well and those who were my brothers wanted to execute me. It started to change my attitude."
By the time he was released, he claims he was "deradicalised" and had even developed a newfound appreciation for the French state.
Re-integration
Vallat says that leaving prison was one of the hardest things he has been through. He no longer had enemies, but nor did he have anything to do. He had received a diploma in prison that allowed him to enroll in university, in Bordeaux, where he studied history. But still, he struggled to move on.
"For six months, I had a lot of nightmares and couldn't sleep. I wasn't connected to my social circle anymore. I worked, had an apartment, a car and friends but no ties to reality."
Then Vallat met an imam who asked him to look after a student from Uzbekistan who had just arrived in France, seeking asylum. The student introduced him to a woman from Azerbaijan and her two children. She invited Vallat to her house and introduced him to her daughter.
"She was radiant," he recalls. "She smiled at me, and I thought there might be more to life."
The pair married and Vallat credits his now former wife with saving his life.
"She accepted me as I was. I didn't have to hide that part of my life. The moment that really marked my return to normal life was the birth of our daughter Sarah, in 2005. I could finally see a future, because I was responsible for her."
AIPER
No one else in his life knew of Vallat's jihadist past – until the 2015 Charlie Hebdo attacks prompted him to step out of the shadows and speak up. Vallat teamed up with sociologist Dr. Amelie Myriam Chelly to form AIPER, with the aim of using his experiences to prevent other young people from following the path he now regrets taking.
Last year, the French government shuttered its only deradicalisation centre. The centre had capacity for 25, but only nine people participated in its ten-month programme, and none of them completed it. Vallat thinks its failure was, in part, due to its voluntary basis. He wants to see awareness programmes in schools as well as screening for extremist literature, which he says are easy to find in Islamic book shops.
Full report at:
https://www.euronews.com/2018/11/13/france-s-first-jailed-jihadist-from-radicalisation-to-reformation
--------
URL: https://www.newageislam.com/islamic-world-news/will-pakistan-be-run-street/d/116908
New Age Islam, Islam Online, Islamic Website, African Muslim News, Arab World News, South Asia News, Indian Muslim News, World Muslim News, Women in Islam, Islamic Feminism, Arab Women, Women In Arab, Islamophobia in America, Muslim Women in West, Islam Women and Feminism