New Age Islam News Bureau
7 Jun 2018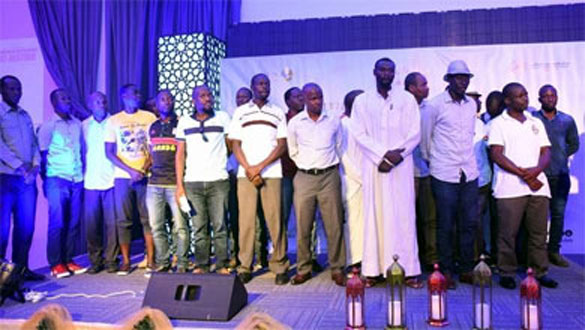 New converts ready to take the Shahada at the event. - KT photo by Shihab
-----
• Why the Muslim Personal Law Board Will Not Agree To Allow Adoption in Islam
• Indonesian Mosques Launch Ramadan Anti-Plastic Drive
• Trump's White House Hosts First Dinner for Muslim Holiday of Ramadan
• 40 Expats Embrace Islam during Mass Iftar in Dubai
• JuD Criticises Pakistani Politicians for Seeking Aid from West
India
• Why the Muslim Personal Law Board Will Not Agree To Allow Adoption In Islam
• J&K Violence: Killing Against Spirit of Ramzan, Say Muslim Scholars
• No Iftar Party at Rashtrapati Bhavan This Year
• Sunni Clerics Say Darul Uloom Fatwa against Iftar at Shia Houses 'Fake, a Conspiracy'
• Hurriyat hardliner Geelani rules out meeting with Kashmir interlocutor Dineshwar Sharma
--------
Southeast Asia
• Indonesian Mosques Launch Ramadan Anti-Plastic Drive
• Officials Warn Against Radicalism Infiltrating Jakarta Mosques
• We'll Continue Defending Malays, Islam, Says Defiant Utusan Editor
• Dr M: PH to govern fairly based on Islamic teachings
• PAS offers to join Jakim review committee
--------
North America
• Trump's White House Hosts First Dinner for Muslim Holiday of Ramadan
• Muslim Groups Will Be Absent As Donald Trump Hosts Iftar Dinner
• Muslim Artist in Halifax Using Pottery to Fight Islamaphobia
• Attacking Muslim Americans may drive them to seek out ISIS, study says
• US committed grievous war crimes in Syria: American writer
• US defence secretary comments on Syria's Manbij talks
--------
Arab World
• 40 Expats Embrace Islam during Mass Iftar in Dubai
• At Least 18 Dead, 90 Wounded In Baghdad Car Explosion
• Kurdish Political Delegations Voice Readiness for Unconditional Talks with Damascus
• Aleppo: US Setting Up Military Base in Manbij City
• Syrian Army Destroys Tahrir al-Sham's Key Base in Idlib Countryside
• ISIL Sustains Heavy Defeat in Deir Ezzur
• Jihadist Civil War Restarts After Militants Attack One Another In Rural Idlib
• 250,000 Suhoor Meals for Pilgrims at Mecca's Grand Mosque
• Egypt's Sisi: Our relationship with Saudi Arabia is strategic, special
• US-backed SDF ready for dialog with Syrian government: Officials
• 150 Iraqi Daesh terrorists moved to Baghdad to face execution: Police official
--------
Pakistan
• JuD Criticises Pakistani Politicians for Seeking Aid from West
• Captured US Weapons Used By Taliban for Attacks: Report
• Musharraf all set to return after Eid-ul-Fitr: APML secretary general
• Jemima lashes out at Reham, threatens to sue her
• 'Ashamed of what we did to Jemima', says PML-N leader
• Policeman martyred as security vehicle comes under gun attack in Quetta
• Zardari welcomed Osama bin Laden's killing by US: Book
--------
South Asia
• President Ghani Announces Ceasefire in Response to Clerics Fatwa
• Gunmen Kill 4 Praying At Mosque in Eastern Afghanistan
• Blast kills two at Afghan voter registration centre
• Safety and 'identity' key for Rohingya returnees: U.N. chief in Myanmar
• Pompeo and Pak army chief discuss Afghan peace, fight against terror
• Taliban's district military commission chief killed in Faryab province
--------
Mideast
• Court Orders Turkey Students Freed In 'Terror Propaganda' Trial
• Houthi Militias Set Conditions during UN Talks Over Hodeidah Handover
• Israel army shoots dead Palestinian
• Iran Nuclear Deal 'Best' Way Forward, May Tells Netanyahu
• Iranian military advisors in Syria at request of Damascus government: Berri
• Gaza families pushed deeper into poverty as aid dries up
--------
Africa
• Ethiopia: Out of Prison, Muslim Activist Demand Reforms
• South Africa: Government Should Enact the Muslim Marriages Bill As Soon As Possible
• Buhari: Muslim group reveals mastermind of impeachment threat
• Ethiopians In Turkish Capital Break Fast Together
• Two Somali lawmakers killed in al-Shabaab ambush
• Senate probes Amnesty International report accusing soldiers of raping, starving Boko Haram victims
--------
Europe
• Tory Muslim Chief Accuses Party of Failing to Tackle Islamophobia
• France, Germany, Britain Request Exemptions from US Iran Sanctions
• France backs Iran nuclear deal during Israeli PM visit
• Dozens of Jihadists Are Due For Release From French Prisons Before The End of 2019
Compiled by New Age Islam News Bureau
URL: https://www.newageislam.com/islamic-world-news/muslim-personal-law-board-agree/d/115478
--------
Why the Muslim Personal Law Board Will Not Agree To Allow Adoption in Islam
SANYA DHINGRA
4 June, 2018
The AIMPLB is set to tell the Law Commission that adoption cannot be allowed due to fear of sexual relations between adopted child and mother.
New Delhi: Adoption is prohibited in Islam since there is a possibility of sexual relations between an adopted son and mother or an adopted son with a biological daughter, the All India Muslim Personal Law Board (AIMPLB) is set to tell the Law Commission. In a meeting held between the Law Commission and the AIMPLB on 21 May — the first ever between the two — the commission had asked the AIMPLB to explain Islam's position on a range of issues including adoption, inheritance, and child marriage, among others.
The meeting, which was held as a brainstorming exercise before the commission submits its final report on the uniform civil code to the Centre in a few months, was meant to make the commission understand the nature of certain personal laws in Islam.
Officials in the Law Commission have indicated to ThePrint that the panel could recommend tweaking personal laws, instead of recommending the implementation of a uniform civil code in its report to the Centre.
"We could consider some reasonable changes to our personal laws suggested by the Commission, as long as they are not in conflict with Islam," AIMPLB member Kamal Faruqui, who was in the meeting, told ThePrint. However, if any changes suggested are antithetical to the fundamental tenets of Islam, like allowing adoption, they wouldn't be acceptable to the board, he said.
Why Islam prohibits adoption
While Islam allows, and even encourages, providing for an orphan, they cannot stay with you as a family unit after they hit puberty, explained Faruqui. "In Islam, all relations are ordained by Allah. Physical intimacy with a person with whom nikah and sexual relations are possible, is not permissible. So an adopted son cannot live in the same house as the mother or a biological daughter," he said. "What if a 60-year-old man has a young wife and they adopt a son, who soon grows up? What will his relationship with the mother be?" he asked.
However, to look at every human relationship through the prism of sex is incorrect and symptomatic of the antediluvian thinking of the board, argues Zakia Soman, founder of the Bharatiya Muslim Mahila Aandolan (BMMA). "If a couple does not have a child, of course they are entitled to adoption," she said. "Religion has to be approached in an evolving manner."
In India, although adoption is allowed under a secular Juvenile Justice Act (Care and Protection of Children), Islam is said to prohibit inheritance rights or giving one's name to an 'adopted' child. However, in 2014, the apex court ruled that the Islamic personal law prohibition against adoption cannot bar a Muslim from adopting a child under the Juvenile Justice Act.
The issue of inheritance
Among the other issues on which the board's opinion was sought included inheritance rights of girls. According to Islam, a daughter is entitled to half the property share of her brother — a provision of the Muslim personal law that is being challenged in the Delhi high court.
While the Law Commission has acknowledged that Islam is one of the only religions to give property rights to women from the beginning, it has sought to know from the board why girls are entitled to only half the share of their male counterparts.
"In Islam, we do not have the concept of a kanyadan…The daughter continues to be the responsibility of her father even after marriage, so she gets a share in the property," Faruqui explained. "However, her primary responsibility rests with her husband, so all her needs are looked after by him," he added.
Besides, as per Islam, even if a woman earns more than her husband, the responsibility of domestic expenditure rests with the husband, and not her, Faruqui also said.
On the issue of child marriage — which is currently not prohibited in Islam — the board may be receptive to some changes suggested by the commission. However, a blanket ban on child marriage may not be a good idea since it should be allowed under some 'extreme conditions' if the child has attained puberty, Faruqui said.
https://theprint.in/governance/why-the-muslim-personal-law-board-will-not-agree-to-allow-adoption-in-islam/65757/
--------
Indonesian mosques launch Ramadan anti-plastic drive
June 6, 2018
A leading environmental organization is using the Islamic holy month of Ramadan as a platform in a campaign against the use of plastic in Indonesian mosques.
Greenpeace Indonesia, and the Indonesian Ulema Council, launched the campaign this week to mark World Environment Day, on June 5, at Pondok Indah Grand Mosque in South Jakarta.
"Plastic waste is a major issue in Indonesia. In 2015, Indonesia ranked second highest in the amount of waste produced," Muharram Atha Rasyadi, a Greenpeace campaigner, told ucanews.com.
He was referring to a study published in the journal Science in February that year saying Indonesia's, 250 million people, produced 3.2 million tons of plastic waste in 2010, some 1.29 million of which ended up in the ocean.
The figures placed the country second to China that contributed 8.8 million tons of waste, 27 percent of the world total.
"People tend to consume more during Ramadan. Fast-breaking meals in plastic containers are held at mosques. This adds to the amount of plastic waste," Rasyadi said.
Fatah, who manages Pondok Indah Grand Mosque, said the mosque produces a lot of plastic waste during Ramadan.
"A lot is produced and removed every day during Ramadan," said Fatah, who like many Indonesians only goes by one name, adding that the mosque usually gets rid of garbage every four days.
Rasyadi said the campaign, encouraging Muslims to use glass or China tableware for religious events and raising awareness among Muslims about environmental protection, would focus on Jakarta and Bandung to begin with.
Last year, Jakarta produced 7,000 tons of waste each day. Fifteen percent, or 1,050 tons, of that figure was plastic waste.
In the same year, Bandung produced 1,500 tons of waste, with a similar percentage of plastic waste.
"People are 'trapped' in a single-use habit. They use single-use plastic such as bottles, bags, straws and containers without thinking of the consequences on nature," Rasyadi said, adding that plastic waste is choking the country's seas and ruining fish stocks.
In 2017, the government committed to reducing marine plastic debris by 70 percent by the end of 2025.
The year previously, it launched its "Indonesia Free Waste 2020" campaign and began a trial policy to reduce plastic waste by instructing retailers to charge customers 200 rupiah (less than 1 US cent) for each plastic bag used.
"We want the government to issue such policies targeting retailers. We need to reduce plastic waste at source," Rasyadi said.
Hayu S. Prabowo, chairman of the Ulema Council's Environment and Natural Resources Preservation Desk, said Islam does teach the need to care for nature.
"Muslims are not only told to maintain a good relationship with God and others but also with nature so that it brings benefits to them," he said.
"A simple way they can do is not to use single-use plastic," he said.
"We want to work together with Greenpeace Indonesia to maintain the campaign," Fatah the mosque manager said.
Jesuit Father Alexius Andang Listya Binawan, episcopal vicar of Jakarta Archdiocese, which introduced an anti-plastic campaign in 2013, said there should be no let up in raising awareness about how harmful plastic is to the environment.
"A reduction in single-use plastic must be put into practice immediately," he said.
https://www.ucanews.com/news/indonesian-mosques-launch-ramadan-anti-plastic-drive/82491
--------
Trump's White House Hosts First Dinner for Muslim Holiday of Ramadan
Jun 6, 2018
WASHINGTON — President Donald Trump on Wednesday will host his first White House dinner for Islam's holy month of Ramadan, an overture that has surprised many people in the Muslim community after he skipped hosting such a meal last year.
The dinner comes as the Supreme Court considers legal challenges to Trump's travel ban, which critics say unfairly targets some Muslim-majority countries. A ruling is expected as early as this month.
The White House was expected to release a list of attendees ahead of the iftar dinner, which breaks a daylong fast. Press secretary Sarah Huckabee Sanders said she expected about 30-40 people to attend.
Several Muslim civil rights groups pushed back, organizing a "NOT Trump's Iftar" protest to be held Wednesday evening at a park across from the White House. The groups say Trump's heated rhetoric has contributed to an increase in bullying and discrimination against Muslim Americans.
During his presidential campaign, Trump called for a "complete and total shutdown" of Muslims entering the United States. Last year, he drew international criticism for retweeting anti-Muslim videos posted by a far-right group in Britain. And his decision to recognize Jerusalem as Israel's capital was seen by many critics as an unnecessary provocation in the Muslim world.
The White House has defended Trump's policies as necessary for national security.
Iftar dinners have been held regularly at the White House since the Clinton administration as a form of outreach to the Muslim world. Shortly after the 9/11 terrorist attacks, President George Bush hosted ambassadors and diplomats in celebration of Ramadan, declaring "evil has no holy days." President Barack Obama took up the tradition, saying that discriminating against Muslim Americans "feeds the lie" that the West is at war with their religion.
Last year, Trump broke tradition. Instead of hosting a dinner, the White House issued a statement on the Islamic holiday that focused heavily on the threat of terrorism, noting that recent attacks "steel our resolve to defeat the terrorists and their perverted ideology."
The White House struck a considerably warmer tone last month, when it released a statement from the president declaring "Ramadan Mubarak," a common greeting in Islam for a blessed holiday. The statement praised the Constitution for ensuring Muslims can observe the holiday "unimpeded by government" and did not mention terrorism.
"Ramadan reminds us of the richness Muslims add to the religious tapestry of American life," the statement said.
The current version of Trump's travel ban applies to travelers from five countries with overwhelmingly Muslim populations — Iran, Libya, Somalia, Syria and Yemen. It also affects two non-Muslim countries, blocking travelers from North Korea and some Venezuelan government officials and their families.
https://www.pbs.org/newshour/politics/trumps-white-house-hosts-first-dinner-for-muslim-holiday-of-ramadan
--------
40 expats embrace Islam during mass Iftar in Dubai
June 7, 2018
The event sought to bridge gaps between Muslims and non-Muslims in the country.
This Ramadan became a turning point in the lives of around 40 non-Muslims who took Shahada (embraced Islam) at a recent Iftar gathering organised by the Islamic Information Center (IIC) of Dubai.
Over 300 people, of which more than 100 were non-Muslims, attended the event which sought to bridge gaps between Muslims and non-Muslims in the country, by inviting the latter and converts to speak on their firsthand experience of fasting.
The event saw a number of converts, some of whom have now become Islamic scholars and preachers, take to the stage to talk about different aspects of Islam and of fasting that drew them to the religion. While Filipino convert and preacher Yahya John spoke on how fasting has been prescribed in various other scriptures; British scholar Tim Humble spoke on the real essence of fasting and on the common grounds between Islam and Christianity. Another scholar spoke on the various health benefits of fasting.
Renowned Emirati social media influencer Khalid Al Ameri hosted the event, held at the Dar Al Ber Society auditorium on Sheikh Zayed road.
Filipino expat Leylin, who took her Shahada at the event, said: "I was a Christian in search of truth. I would always find contradictions in what I read. There was not much clarity, especially on Jesus, and this is what got me to Islam. I didn't know Muslims also believe and love Jesus so much. Islam gave me so much clarity on this topic and especially today, when scholar Humble spoke on Jesus and Islam, I couldn't help but turn to Allah and take Shahada."
For many converts, having firsthand experience of Islam changed their perception about the religion. "This sort of gathering brings people of different nationalities, backgrounds and religions on a single platform where you can interact and exchange ideas. They get to experience the hospitality of Islam; they also get to experience what fasting is like and here was an opportunity for them to come and find from the knowledgeable speakers, the reasons for fasting, " said Abdullah Shetty, who embraced Islam a few years ago and now works with the IIC, Dubai.
Sharing their inspiring stories were new converts Colombian Luis Carreno and British national Darren Streete, both Dubai residents, who conveyed the same message that it is your belief in God, focus, and commitment that helps with fasting.
A lot of prizes, including 10 Samsung tabs, were given away to non-Muslims through a raffle draw and also through a quiz on Islam and about the UAE.
Kavita Bhatia, a non-Muslim who attended the event, said she has been living in the UAE for 22 years but never got a chance to attend such an event.
Another non-Muslim, Gwen, who said she was here straight from church and quite fascinated by the Shahadas people took. " This is something I have never witnessed before and the best part is, it's so easy and hassle-free to embrace Islam. I am someone who loves to explore different cultures and today was yet another beautiful experience, as I heard the speakers enlighten us on the various aspects of Arab culture and Islam."
Apart from a sumptuous Emirati Iftar and dinner buffet, the event also had dedicated corners for free health checkups as well as photobooths where one can dress up in traditional Emirati clothing and take snaps, a raffle draw and a Virtual Reality (VR) experience of Makkah and Madinah.
Rashid Al Junaibi, IIC director, said: "The event was well received by the non-Muslim community in the UAE and served as a platform to interact and clear misconceptions about Islam, as well as have a firsthand experience in knowing about more about Islam. Seeing the response, we have decided to do it on an yearly basis every Ramadan, InshaAllah."
https://www.khaleejtimes.com/nation/40-non-Muslim-expats-embrace-Islam-during-mass-Iftar-
--------
JuD criticises Pakistani politicians for seeking aid from West
June 6, 2018
The Jamaat-ud-Dawa has criticized the politicians while calling them as 'beggars' during a Friday sermon in Rawalpindi city.
JuD's Amir, Maulana Abdul Rahman, called Pakistani politicians as a threat to Islam as they go to foreign countries seeking aid.
He said, "Those (rulers) which go to foreign countries for seeking aid are not welcomed in Islam".
JuD is a religious wing of Lashkar-e-Taiba terror outfit headed by Hafiz Mohammed Saeed. It has recently formed Milli Muslim League, an Islamist political party to fight elections in the country this year.
The JuD Amir criticised Pakistani rulers begging before America and bowing their heads in front of infidels. He said, "The Muslims have only one God and no Muslim can go and seek help from any other person particularly President Trump. Pakistanis cannot be a slave to others".
"Our rulers followed policies formulated in the West to end laws like Blasphemy and 'Khatm-e-Nabuwat' in order to declare Pakistan a secular state by amending pro-Islam articles of the constitution", said Maulana Abdul Rahman while adding that these confidential conspiracies could not succeed.
He seeks the donation from the public to run an organization. "Pakistan is under severe threat. The enemies of 'Allah' have surrounded the country. The JuD needs money to get ready to face any unforeseen circumstances".
Opposing any bilateral ties of Pakistan with the West and India, the JuD Amir said, "Rulers are busy praying Americans and leaders in Tal Aviv and New Delhi. They are very friendly with them and pray those, who pray millions of Gods. They have forgotten 'Towheed' (Oneness of Allah) and so are being punished like rolling stones.
https://www.business-standard.com/article/news-ani/jud-criticises-pakistani-politicians-for-seeking-aid-from-west-118060601028_1.html
--------
India
J&K violence: Killing against spirit of Ramzan, say Muslim scholars
Siraj Qureshi
June 6, 2018
Following the repeated attacks on Indian soldiers by terrorists and Kashmiri youth across the state of Jammu and Kashmir despite the unilateral declaration of ceasefire by the Indian government during the month of Ramzan, several social and cultural organisations have condemned the violence, calling it against the spirit of Ramzan.
In a meeting organised by the Hindustani Biradari in Agra, several Muslim scholars expressed their disappointment when it came to the turmoil in Jammu and Kashmir.
The scholars said that Ramzan was a month of working in the mode of goodness and refraining from sinful behaviour. They added that the violence Indian soldiers experience was totally against what the Prophet ordained.
RAMZAN AND PROPHETS'S PATH
Addressing the meeting, Ziauddin, secretary of Hindustani Biradari said that it has been ordained that Muslims must suspend violence, bloodbath, hostilities, and armed expeditions during Ramzan. The Indian government had ceased its anti-terrorist operations in accordance with the Islamic beliefs but the Kashmiri Muslims who were supposed to be the followers of the Prophet's path were attacking the soldiers.
Ziauddin appealed that the government should respond with force against these non-believers as they are not being true Muslims and have no right to call themselves 'rozedars'.
ABSTINENCE FROM SINFUL BEHAVIOUR
Ziauddin said that the roza is an annual reminder of the importance of food and water in our lives.
More importantly, the roza is a period of abstinence from sinful behaviour, which includes violence against others or self.
Vishal Sharma, vice-chairman of Hindustani Biradari, said that the roza is a way for any believing Muslim towards self-empowerment and introspection, which is the key to success and peace in the world.
What was happening in Kashmir to the soldiers was against the spirit of Ramzan and needed to be stopped immediately before the country loses any more soldiers to this senseless violence.
He said that every year, the government upholds its promise to go easy on the militants and anti-national elements in Kashmir during the month of Ramzan but these pro-Pakistani forces use this hiatus as a way to strengthen themselves and build up caches of arms and ammunition, targeting soldiers when they have been rendered toothless by the government through the one-month moratorium on anti-terror operations.
Sharma said that if the Kashmiri militants are not upholding their end of the bargain, then the government had no reason to go easy on them and should bring down the hammer hard on them.
https://www.indiatoday.in/india/story/ramzan-roza-jammu-kashmir-muslims-ceasefire-hindustan-biradari-1252451-2018-06-06
--------
No Iftar party at Rashtrapati Bhavan this year
June 6, 2018
President Ram Nath Kovind will not host an Iftar party at the Rashtrapati Bhavan this year, said an official on Wednesday. "After the Ram Nath Kovind took office, he decided there would be no religious celebrations or observances in a public building such as Rashtrapati Bhavan on taxpayer's expense. This is in keeping with the principles of a secular state and applies to all religious occasions, irrespective of religion," Ashok Malik, Press Secretary to the president was quoted as saying by PTI.
This is happening after almost a decade that there will be no Iftar party at the President's house. Iftar parties have been traditionally hosted at the Rashtrapati Bhavan except during the tenure of A P J Abdul Kalam, who was the president from 2002-2007, officials said.
Iftar is the breaking of the 'roza' (fast) that is observed by the Muslims during the month of Ramzan.
Full report at:
http://indianexpress.com/article/india/iftar-party-rashtrapati-bhavan-ram-nath-kovind-this-year-5206930/
--------
Sunni Clerics Say Darul Uloom Fatwa Against Iftar at Shia Houses 'Fake, a Conspiracy'
June 6, 2018
Lucknow: A top Sunni cleric has dismissed media reports that claim Darul Uloom Deoband issued a fatwa for Sunni Muslims, asking them to refrain from having Iftar at Shia Muslim houses.
Maulana Khalid Rasheed Farangi Mahali claimed the reports were part of a 'mischief', while Shia clerics said such fatwas could be part of a conspiracy to hamper brotherhood between both communities.
Speaking to News18, Maulana Rasheed said, "Deoband never issues such fatwas. It seems to be a case of mischief to disturb the communal harmony among Shias and Sunnis. Both communities can have Iftar together, there is absolutely no doubt about that. Deoband is closed during the holy month of Ramzan, so this raises more doubts about this fatwa. The matter should be probed thoroughly. Muslims should not pay any heed to such fatwas."
Noted Shia Cleric Maulana Yasoob Abbas also spoke to News18 and said, "Such things hamper brotherhood. It seems this was done as a part of a conspiracy to disturb peace between the two communities. Darul Uloom should probe the matter and punish the guilty."
Sikandar Ali, the man who claims to have asked Darul Uloom the question on Iftar at Shia Muslim houses, says he received the fatwa as a response at the institution. "The reply I received was that Sunni's should not attend Iftar's hosted by Shia Muslims. I submitted my question at the gate on day one and received a reply the next day. I was asked to collect the envelope containing my answer from the gate," he said.
Full report at:
https://www.news18.com/news/india/sunni-clerics-say-darul-uloom-fatwa-against-iftar-at-shia-houses-fake-a-conspiracy-1770809.html
--------
Hurriyat hardliner Geelani rules out meeting with Kashmir interlocutor Dineshwar Sharma
Jun 06, 2018
Hurriyat hardliner Syed Ali Shah Geelani has ruled out a meeting with the Centre's Jammu and Kashmir (J&K) interlocutor Dineshwar Sharma, saying assigning the task of laying groundwork for a dialogue with separatists to a former Intelligence Bureau chief indicated the government was considering Kashmir merely an "administrative problem".
Hurriyat insiders say Geelani's stance suggests that he favours a political engagement between the separatists and the government. When asked to clarify whether the octogenarian separatist was hinting that he is open to a meeting with a political person appointed by the Centre, his spokesman GA Gulzar said: "You are free to interpret his statement. He will not say more on this."
In a written reply on a question, Geelani said: "The job assigned to Mr Dineshwar Sharma was to have some groundwork for a bilateral dialogue as if Kashmir is an administrative problem. We believe, beyond any doubt, that the people of Kashmir (J&K) demand the right to self-determination..."
When further asked whether the ongoing halt on security operations should be extended, the separatist, who forms the troika of the Hurriyat's leadership with Mirwaiz Umar Farooq and Yasin Malik, termed the "ceasefire" as a "cruel joke".
Full report at:
https://www.hindustantimes.com/india-news/hurriyat-hardliner-geelani-rules-out-meeting-with-kashmir-interlocutor-dineshwar-sharma/story-QWfxo4kvhGFNtpUQIY07EO.html
--------
Southeast Asia
Officials warn against radicalism infiltrating Jakarta mosques
June 6, 2018
The Jakarta administration has urged the Mosque Welfare Council (DKM) in the city to be selective in inviting preachers to deliver sermons amid fear of radicalism being taught at houses of worship.
"We urge the DKM to present preachers that promote peace and are able to maintain a conducive environment," Bureau of Mental and Spiritual Education (Dikmental) head, Hendra Hidayat, said at City Hall on Wednesday.
The concern was expressed following a report that radicalism had infiltrated at least 40 mosques in the capital.
Deputy Governor Sandiaga Uno said on Tuesday that he had obtained the names of the 40 mosques in question. He said the administration would take steps to prevent radicalism from growing by empowering their economy.
"One of the problems that leads to radicalism is injustice and [the lack of] understanding, which the younger generation are continuously being indoctrinated with, causing them to take a shortcut. There is no other way than education and giving them an opportunity to become successful entrepreneurs through the OK OCE program," he said on Tuesday as quoted by kompas.com. He was referring to an entrepreneurial program he introduced during the election campaign.
During the election, political observers believed that mosques had been utilized to discourage voters from supporting then-governor Basuki "Ahok" Tjahaja Purnama, who was seeking reelection.
Some mosques reportedly erected banners stating that they would refuse to be used as a place to perform rites for supporters of a blasphemer, referring to Ahok, who was accused of committing blasphemy against Islam. (fac)
http://www.thejakartapost.com/news/2018/06/06/officials-warn-against-radicalism-infiltrating-jakarta-mosques.html
--------
We'll continue defending Malays, Islam, says defiant Utusan editor
7 Jun 2018
UMNO-owned newspaper Utusan Malaysia has denied accusations that its recent reports attacking newly appointed Attorney-General Tommy Thomas were racist, and said it will not back down from defending the rights of Malays and Islam.
Utusan editor Zulkiflee Bakar said the change in government on May 9 should not mean that media outlets with differing opinions from the government had to be silenced.
"Is this not the era of media freedom, where all opinions can be published as long as they are based on facts and reason?
"Why is it that just because we are in the era of a new Malaysia, the question of the importance of Islam and the Malays is no longer relevant to be discussed?" he wrote in a column published in the paper yesterday.
Yesterday, former Utusan group chief editors Johan Jaaffar and Zainuddin Maidin released an open letter slamming Utusan Malaysia for publishing racist articles regarding the appointment of Thomas as the new attorney-general.
The two veteran journalists said that Utusan's articles were in danger of provoking racial and religious sentiments in Thomas' appointment.
They said that Utusan was still caught up in its old mentality, while Malaysia had now moved on to a new era following Pakatan Harapan's defeat of Barisan Nasional in the 14th general election.
In response, Zulkiflee said Utusan would not abandon its struggle to defend the rights of the Malays and Islam simply because there had been a change in the government, adding that the paper would continue to air critical views of the administration.
"Another thing that needs to be understood is that changing a government doesn't mean that the rights of a media outlet need to be abandoned.
"Newspapers like Utusan Malaysia will not do so, and while reports about the government are widespread, critical views need to be published for the sake of the people and country."
Utusan Malaysia has been criticised in the past for its ultra-conservative views on Malay rights.
Zulkiflee said the newspaper had always been true to its cause, and was merely exercising its rights to freedom of speech and the media.
"Stepping into this much-hyped new era does not mean that Utusan needs to back down from its fight in defending the Malays and Islam, along with respecting the rights of other races," he wrote.
Full report at:
https://www.themalaysianinsight.com/s/53092
--------
Dr M: PH to govern fairly based on Islamic teachings
Minderjeet Kaur
June 4, 2018
PUTRAJAYA: Prime Minister Dr Mahathir Mohamad has given an assurance that Pakatan Harapan (PH) will govern Malaysia according to the teachings of Islam.
He said the government will not discriminate against anyone as Islam was based on justice which was emphasised repeatedly in the Quran.
"There are some people who are of the opinion that the government will not protect Islam which is the official religion of the country. But that is not accurate," the PPBM president said at a buka puasa event with some 2,000 party members here today.
Also present were PPBM president Muhyiddin Yassin and deputy president Mukhriz Mahathir.
Mahathir, 92, said the government was responsible for the well-being of the country without going against the teachings of Islam.
In a thinly veiled reference to PAS, he said many people claimed to be protectors of the religion and wanted to set up an Islamic government but "we find that they are actually against the teachings of Islam".
He said the PH administration would not waver in governing according to Islamic principles.
"We are gathered here today not only to celebrate our victory but to tell the world and the people that we will set up a government that holds true to the rule of law and the constitution," he said, adding that it was in no way contradictory to Islam.
Mahathir, who turns 93 in July, said this was acceptable by other religions in Malaysia.
Earlier today, Mahathir had met with PAS president Abdul Hadi Awang who visited him at his office in Putrajaya. Accompanying Hadi were PAS veteran Mustafa Ali and Terengganu Menteri Besar Dr Ahmad Samsuri Mokhtar.
Mahathir had said that he was honoured to have had the visit from the PAS leaders and posted pictures of their meeting on social media.
Full report at:
http://www.freemalaysiatoday.com/category/nation/2018/06/04/dr-m-ph-to-govern-fairly-based-on-islamic-teachings/
--------
PAS offers to join Jakim review committee
06 June 2018
KUALA LUMPUR, June 6 — Islamist party PAS said it is ready to offer its help to the committee reviewing the Malaysian Islamic Development Department's (Jakim) role, if it were invited to the table.
Deputy president Datuk Tuan Ibrahim Tuan Man also urged Putrajaya to ignore alleged demands by so-called "liberals" to abolish the federal agency to cut cost since it is funded by all taxpayers regardless of faith.
"The government must act to reinforce Jakim's role and try to enhance it, in line with the decision made recently to appoint a group made of religious scholars," he told party paper Harakah in an interview.
"PAS is ready to help if we are invited to be part of the committee that is being formed," he was quoted as saying.
The Kubang Kerian MP also urged the Pakatan Harapan (PH) government to play a better role than the previous administration in defending what he deemed as "Islam's rights".
"The liberals have loudly urged for transgenders to not be arrested, and those who commit vices privately to not be disturbed, and other issues that challenge Islam's authority," he claimed.
"These groups were together with PH and they will fight for rights that are clearly against Islam. There is a need for demands from Muslims so such demands can be curbed, and PAS is also ready to meet the government to discuss this matter."
Jakim is currently parked under the Prime Minister's Department, and was allocated RM810.89 million for its operating budget for 2018.
Last week, several PAS leaders questioned the need for a review of Jakim by a committee that will include religious scholars and non-religious experts.
Full report at:
https://www.malaymail.com/s/1639049/pas-offers-to-join-jakim-review-committee
--------
North America
Muslim Groups Will Be Absent As Donald Trump Hosts Iftar Dinner
6 Jun 2018
As Donald Trump hosts his inaugural Iftar dinner as president on Wednesday to mark the holy month of Ramadan, Muslims in the nation's capital will hold a counter event just steps away from the White House.
The lack of enthusiasm among American Muslims over Trump's unexpected decision to hold a White House Iftar underscores the community's contentious relationship with the US president.
Leading Muslim groups in Washington who attended the event under previous administrations said Trump's continued targeting of Islam and its followers made engagement with his administration a futile, if not impossible task, given the president's history of incendiary comments about Muslims.
"I wouldn't anticipate that any credible mainstream American Muslim organizations or leaders would be invited or agree to attend, given the administration's Islamophobic and white supremacist positions and policies," said Ibrahim Hooper, the spokesman for the Council on American Islamic Relations.
"There's always this argument that it's better to be at the table … but it's getting increasingly difficult to make."
Last year, Trump broke with decades of precedent by forgoing the annual Iftar dinner – a bipartisan tradition that formally began with Bill Clinton in the 1990s but has conceptual roots tracing as far back as under Thomas Jefferson in 1805.
When the White House confirmed earlier this week that Trump would, in fact, throw the event this year, most Muslim civic organizations were caught off guard. The White House declined to provide a list of attendees when reached by the Guardian, although the press secretary, Sarah Sanders, said roughly 30 to 40 guests were expected.
Muslim leaders and advocates who had typically been on the guest list in years past said they were not invited and only learned of Trump's plans to hold the dinner through press reports.
"There has been no real engagement, no real effort to even invite members of our faith communities, to have conversations with the White House or administration," said Hoda Hawa, the director of policy and advocacy at the Muslim Public Affairs Council (MPAC).
MPAC, which works to promote pro-Muslim policies in government and elevate Muslim voices across various industries, was not invited by Trump's White House despite having representatives at the Iftar under previous administrations. Irrespective of the snub, Hawa said she could not foresee a scenario in which the group would have found it appropriate to attend under the current president.
"His politics have shown us, not just as Muslims but as Americans, that he is a president and a person who does not appreciate the contributions of Muslims to America," she said.
Islamic Relief USA, the largest Muslim faith-based humanitarian organization in the country, also did not receive an invite. The group, which works to alleviate poverty, hunger and homelessness in more than 40 countries, attended at least three Iftar dinners during the Obama years.
For Muslims across America, the wounds of Trump's hostile rhetoric toward Muslims both as a candidate and since taking office remain raw.
Few are willing to forget Trump's vow during the 2016 campaign to ban all Muslims from entering the US, nor his flirtation with the idea of a Muslim registry. Then-candidate Trump infamously declared "Islam hates us", falsely claimed Muslims celebrating on the rooftops of New Jersey after the September 11 terrorist attacks, and criticized Barack Obama for visiting a mosque.
The weight of the presidency has done little to rein in Trump's antagonistic posture toward Muslims.
In one of his first acts from the Oval Office, Trump imposed a travel ban on several Muslim-majority countries and indefinitely suspended the US refugee program. Several iterations of the policy have since been mired by legal challenges, with its ultimate fate facing an imminent ruling by the supreme court.
In November, Trump drew widespread condemnation for retweeting a series of anti-Muslim videos from the ultra­nationalist far-right group Britain First. He has also appointed a number of officials within his administration who have a known record of making derogatory statements about Muslims or Islam.
Last week, John Bolton, Trump's national security adviser, drew scrutiny for bringing on board a new chief of staff who previously worked for a thinktank that promoted anti-Muslim propaganda.
"This is not an administration to engage, this is an administration to survive under and work toward the future," said Linda Sarsour, a prominent Muslim American activist and founder of MPower Change, a Muslim-led social and racial justice organization.
The impact of Trump's rhetoric about communities of color spilled into view with another event set to take place at the White House this week: a celebration of the Philadelphia Eagles, the 2018 Super Bowl championship team.
The president's attacks on predominantly black athletes who kneel during the national anthem, as part of an effort to draw attention to police brutality and criminal justice, have led many players to boycott events at the White House. When it became clear that several members of the Eagles planned to do the same, Trump abruptly disinvited the entire team.
The White House Iftar has not been without its controversy in the past. A contingent of Muslims advocated boycotting the event during some of the Obama years, citing his administration's expansion of drone strikes, domestic spying and support for Israel during the 2014 crisis on the Gaza Strip.
While Muslim groups maintain even today such concerns were valid, comparing it to where the community stands today is like night and day.
"Yes, we disagreed with Obama on many policies, but there was an opportunity to engage," said Sarsour.
"This time around, from my vantage point as someone who has very deep ties to the mainstream Muslim community, there aren't two sides. No one should be attending an Iftar with this administration."
https://www.theguardian.com/us-news/2018/jun/06/muslim-groups-will-be-absent-as-donald-trump-hosts-iftar-dinner
--------
Muslim artist in Halifax using pottery to fight Islamaphobia
Jun 06, 2018
A Muslim artist living in Halifax is turning his own experience of Islamophobia into pieces of art that express how Muslims are adapting in the current socio-political climate.
Kaashif Ghanie is a first-generation Muslim Guyanese-Canadian whose ceramic work is being showcased at his third solo exhibition called "Adaptation."
"I hope to make people more aware about Islamophobia and realize that brothers and sisters do get scarred," said Ghanie, who graduated from NSCAD University with a bachelor of fine arts in 2015.
A symbol of survival
Ghanie is adapting the surfaces with mutations, that look like wounds, to embody the discrimination Muslims face in Canada.
"I was thinking about the idea of mutation and how mutations can adapt, so by representing the human body as vessel, I showed how human beings can survive in hard times," said Ghanie, who creates his works in the Centre for Craft Nova Scotia.
In the Islamic tradition, making ceramic pottery is considered a sacred art and a way of expressing the soul. Traditionally, the pots are decorated with sacred names or natural scenes, but Ghanie is giving this old tradition a new face.
Experiencing Islamaphobia
At the exhibition, there are five vessels, with the largest being more than a metre tall. One of the pots is called That One and is decorated with holes that cast shadows inside.
"More than once I have been referred to as "that one," a phrase reducing me to the object and the other," said Ghanie, who has these words written next to the piece.
"The lattice holes in this albarello shows the inability to contain hurtful comments," he added. "Eventually those memories slowly stream out, exposing the internal struggle of someone marked by the words of others."
The other four vessels are called Man Up, Armour, Ointment and All Eyes on Me. They are about how hard it is to be raised Muslim after the attacks of Sept. 11. 2001 in New York.
Finding inspiration and meaning
The style of the pots has been inspired by Middle Eastern and Andalusian vessels and the stories behind them, which Ghanie has been studying for nearly five years.
"At the time of the Prophet, the pots were meant to hold women's tears and the women would keep these special tears until their husbands would come back from war and that's very interesting to me," he said.
Ghanie said that Islamic pots are traditionally small in size, but he chose to make his very large to "command presence" in the room.
"I don't want these pieces to go overlooked," he said.
Full report at:
http://www.cbc.ca/news/canada/nova-scotia/muslim-artist-islamic-pottery-islamaphobia-discrimination-exhibition-1.4694158
--------
Attacking Muslim Americans may drive them to seek out ISIS, study says
Jun.06.2018
Counterterrorism policies aiming to make America safe from homegrown Islamic radicalism may in fact do the exact opposite — sending some Muslim Americans to seek out ISIS, researchers reported Wednesday.
They found that in communities where people express strong anti-Muslim sentiment, someone — it's not clear who — is also making internet searches about how to join the Islamic State in Iraq and Syria.
The findings support arguments that cracking down on Muslim communities can backfire, stoking a vicious cycle of hatred, the team at Duke University and the University of California, Berkeley, argued.
"Although elected officials routinely promote counterterrorism policies that target Muslims more than other groups, our findings indicate that these policies may make communities more vulnerable to radicalization if they are interpreted as discriminatory or unfair," sociologist Christopher Bail and colleagues wrote in their report published in Science Advances.
They used an unusual approach — combing through internet search terms to assess what people are thinking about. That's because just asking people if they are planning to become terrorists doesn't work, Bail's team pointed out.
"Would-be extremists are unlikely to identify as such within public opinion surveys," they wrote. And people with strong prejudices may not always admit to them.
They used publicly available data that Google provides as part of its AdWords service, as well as other search engine data. They cross-checked this with U.S. Census and other information on community makeup.
"For each county in the United States, we queried Google's keyword planner for the average monthly search range of the following pro-ISIS phrases: 'How to join ISIS,' 'How to join the Islamic State,' 'How to support ISIS,' and 'How to support the Islamic State'," they wrote.
They also looked for anti-Muslim sentiments with search terms such as: "Muslims are terrorists," "Muslims are bad," "Muslims are dangerous," and "Muslims are evil."
In communities where anti-Muslim searches were common, searches about joining or supporting ISIS also went up, they found.
"We find that anti-Muslim searches are strongly associated with pro-ISIS searches — particularly in communities with high levels of poverty and ethnic homogeneity," they wrote. Usually, in the U.S., this means communities where whites dominate and where ethnic minorities stand out, Bail said.
"These are places where a member of a minority group might be more likely to be visible and perhaps more likely to experience discrimination because of their isolation," Bail told NBC News.
Bail wrote a book about radicalization — "Terrified: How Anti-Muslim Fringe Organizations Became Mainstream" — in which he documents the rise of anti-Muslim groups and their influence on public opinion.
"We can agree to disagree about whether Muslims present an imminent threat to America," Bail said.
"But if our goal is to prevent further radicalization and if there is evidence that discrimination against Muslims might be driving radicalization, then I hope we can at least agree that very public attacks on Muslims should be carefully thought out," he added.
"There may be very little benefit and there could be substantial cost."
When he was running for office, Donald Trump called for barring all Muslims from entering the U.S., and as president, he has limited travel and immigration from Muslim-majority nations.
Bail and his team deliberately do not name the communities where they saw the greatest number of anti-Muslim and pro-ISIS searches.
"We have concerns the Muslim communities, particularly those in which there are very few Muslim families, could experience negative reactions to this work and could perhaps be targeted for discrimination or worse," Bail said.
There's much evidence that better assimilation does work to keep the U.S. safe, he added.
"Historically, Muslim Americans have been very well integrated into American society, occupying upper-middle-class demographics, highly educated and, generally speaking, not clustered into communities," he said.
Parts of Europe have much more segregation, he noted, and also higher rates of radical attacks.
"Ethnic diversity is, to some degree, protective against radicalization because people are less likely to think of the world in binary terms such as 'us' versus 'them,'" he said.
Bail agrees with groups such as the Council on American-Islamic Relations, as well as some law enforcement officials, who say Muslim Americans are becoming reluctant to cooperate with the federal government and may stop providing crucial tips about potential terrorists.
"As recently as 2010, the Muslim community was the second-leading source of tips in counterterrorism investigations," Bail said.
Full report at:
https://www.nbcnews.com/health/health-news/attacking-muslim-americans-may-drive-them-seek-out-isis-study-n880591
--------
US committed grievous war crimes in Syria: American writer
Jun 6, 2018
The United States is destroying Syria where it has committed grievous war crimes, says Stephen Lendman, an American journalist, writer and political analyst based in Chicago.
In an interview with Press TV on Tuesday, Lendman also said that the Takfiri group Daesh is the US creation and American terror bombing in Syria and Iraq is defiantly a war crime.
Amnesty International said on Tuesday that US-led bombing against Daesh terrorists in Syria's Raqqah last year broke international law by endangering the lives of civilians.
The US did not take sufficient account of civilians or take the precautions measures to minimize casualties while attacking Raqqah in 2017, according to Amnesty.
Amnesty interviewed 112 civilian residents of Raqqah during field research there in February, while investigating the sites of 42 air, artillery and mortar strikes.
"Amnesty International really understated the gravity of what went on in Raqqah" last year, Lendman told Press TV.
"I wrote a lot about Raqqah. They are late to the game. They should've read my articles, and I would have saved them the trouble of writing the report," he stated.
"America's rape and destruction of Raqqah, as I put it many times in my writings, has nothing, nothing whatsoever to do with fighting ISIS, or Daesh. It has everything to do with destroying Syria -- piece of infrastructure by piece of infrastructure, massacring civilians," the analyst said.
"Amnesty I believe made the comments that America's actions in Raqqah may have amounted to war crimes. There is not 'may' about it. These were grievous war crimes. There's simply no doubt about that," he noted.
"The city was absolutely raped and destroyed. The same thing was done to Mosul in Iraq. Countless thousands, maybe tens of thousands civilians in these two cities were massacred by US-led what I call terror bombing. This is exactly what it is. It's continuing. It went on grievously in Raqqah, but it goes on almost every day in Syria," the activist said.
"And at the moment I am not sure what exactly America is doing in Iraq, probably will stoke up trouble there as well. But ISIS is a US creation. America supports ISIS. Britain supports ISIS. Israel supports ISIS. France supports ISIS. I don't think Amnesty International said anything about that. Again they should read my articles and then know what's going on," he observed.
"They go so far that they don't go too far, because they might harm their funding," the veteran commentator said.
Full report at:
http://www.presstv.com/Detail/2018/06/06/564086/US-committed-grievous-war-crimes-in-Syria-American-writer
--------
US defence secretary comments on Syria's Manbij talks
07 June 2018
The U.S. defense secretary said Turkey was a front-line state for NATO and its legitimate interests needed to be addressed, referring to recent talks between both countries regarding Syria's northern Manbij.
Speaking to reporters during his flight to Brussels, Jim Mattis said talks had taken place between U.S. secretary of state and the Turkish minister of foreign affairs in Washington D.C.
The Manbij roadmap was announced after a meeting in Washington on Monday between Turkish Foreign Minister Mevlut Cavusoglu and U.S. Secretary of State Mike Pompeo.
The deal focuses on the withdrawal of the PKK-affiliated YPG terror group from the northern Syrian city and on stability in the region.
"We are working out, how do we take -- again, Turkey, a NATO ally -- how do we take Turkey's legitimate security interests and enhance their security? They are the only NATO nation with an active insurgency inside its borders," said Mattis, according to a transcript made available by the Department of Defense.
"They're the front-line state for NATO [...] -- on the front line of this disaster that [Bashar al-]Assad has visited upon his people in Syria, with the Iranians' help, the Russians' help. And we have got to find a way to work Turkey's legitimate interests," he stressed.
Mattis said the SDF were the only organization at the time able to thwart and defeat ISIL in "very, very tough fighting".
Full report at:
http://www.worldbulletin.net/america-canada/202863/us-defense-secretary-comments-on-syrias-manbij-talks
--------
Arab World
At least 18 dead, 90 wounded in Baghdad car explosion
6 June 2018
At least 18 people were killed and over 90 wounded in an explosion in Baghdad's Sadr City district on Wednesday, an Iraqi police source said.
Photos from the scene showed a destroyed car and building as well as weeping relatives of victims.
An interior ministry spokesman said in a brief statement the blast was the result of the detonation of an ammunitions cache and that security forces had opened an investigation.
The ammunition had been stored in a mosque and the explosion happened during its transfer into a car parked nearby, the police source said.
Earlier, state television cited a ministry spokesman describing the explosion as "a terrorist aggression on civilians," which had caused "martyrs and wounded".
Authorities did not offer an explanation of the discrepancies between the two statements, neither of which gave casualty figures.
Sadr City is a stronghold of nationalist cleric Moqtada al-Sadr, whose political bloc won a May 12 parliamentary election. Parliament ordered a national recount of votes on Wednesday.
In May, two homemade bombs targeted the headquarters of the Iraqi Communist Party, which is part of Sadr's bloc.
https://english.alarabiya.net/en/News/middle-east/2018/06/06/Blast-heard-in-Iraqi-capital-Baghdad.html
--------
Kurdish Political Delegations Voice Readiness for Unconditional Talks with Damascus
Jun 06, 2018
Head of Syria's Joint Democratic Council Elham Ahmad has declared the council's preparedness for unconditional talks with Damascus government, the Arabic-language al-Mayadeen television channel reported.
The presiding board of Syria's Democratic Council has reached the conclusion that "Syria-Syria Talks" are only solution to non-interference of foreigners, Ruda news quoted Syria Democratic Front's official spokesman as saying.
The US and Turkey have already reached an agreement on a roadmap for the Syrian city of Manbij.
Turkish Foreign Minister Mevlut Cavusoglu has said Washington and Ankara have reached an agreement on Syria's Manbij issue.
The top diplomat stated that details of the roadmap regarding the withdrawal of Kurdish fighters from Manbij will be made public during the meeting with US Secretary of State Mike Pompeo.
Meantime, the US state department announced on Tuesday that the US doesn't have any agreements yet with Turkey on Manbij, northern Syria.
"We don't have any agreements yet with the government of Turkey. We announced previously that the United States and the Turkish working group met...in Ankara on Friday of last week," State Department Spokesperson Heather Nauert said during a daily press briefing.
Full report at:
http://en.farsnews.com/newstext.aspx?nn=13970316000477
--------
Aleppo: US Setting UP Military Base in Manbij City
Jun 06, 2018
The US forces have sent massive amount of military equipment to Manbij city over the past three years, the sources disclosed.
They pointed to the deployment of military equipment in areas near al-Matahen water mill near the Southern entrance of the city, and said that the US troops are intending to build a new military base in this region.
They also said that the US forces have started construction of a wall around the military base.
Meantime, it was reported last Sunday that a US military convoy comprising tens of armored vehicles, armed personnel carrier and large amount of weaponry has been sent to Aoun al-Dadat in the Northern parts of Manbij city.
The establishment of the new US military base is taking place after the US and Turkey said they have reached an agreement on a roadmap for the Syrian city.
In a relevant development in late May, the militants supported by the Turkish army and the US-backed Kurdish Syrian Democratic Forces (SDF) fighters engaged in clashes in Northern Manbij in Northern Syria on Thursday.
The Kurdish-language Hawar news quoted Manbij military council as reporting that the offensive launched by militants backed by Ankara against the Kurdish positions was repelled after clashes between the two sides.
It added that the Turkey-backed militants attacked the village of al-Mahsanli in Northwestern Manbij with mortar fire, killing and wounding several civilians.
Full report at:
http://en.farsnews.com/newstext.aspx?nn=13970316000398
--------
Syrian Army Destroys Tahrir al-Sham's Key Base in Idlib Countryside
Jun 06, 2018
The Syrian army troops carried out a military operation against a major command center of Tahrir al-Sham near Tal-e Sultan (Sultan Hill) Northwest of the military airport in Southern Idlib, battlefield sources said.
The sources noted that Tahrir al-Sham's arm and ammunition depot was fully destroyed and a number of terrorists were killed and wounded in the Syrian army's military operation.
Meantime, other army units also engaged in heavy clashes with the members of Tahrir al-Sham and Turkistani Islamic Part and Haras al-Din who were trying to penetrate into the Syrian army's positions in Tal-e (Hill) al-Masitaf South of Tal al-Sultan Southeast of Idlib, inflicting heavy losses on the terrorists.
Meantime, the Syrian army's artillery units targeted Tahrir al-Sham's military positions in near al-Tamaneh and al-Zuka in Northern Hama, killing a number of terrorists.
In a relevant development on Sunday, the Syrian Army's artillery and missile units launched a heavy shelling attack on the strongholds of Tahrir al-Sham Hay'at in Northern Hama, inflicting major losses on the terrorists.
The artillery and missile units pounded the positions and movements of Tahrir al-Sham in al-Zakat, al-Latamina, Morek, Kafr Zita, Latmin and al-Araba'een in Northern Hama, destroying several positons and military vehicles and killing or wounding a number of militants.
In the meantime, other units of the army continued mop-up operations Southwest of the town of al-Salamiyah and found a large volume of terrorists' arms and ammunition, including mortar shells, rockets and rocket launchers in a tunnel in the farms near the village of al-Dalak.
In a relevant development on Friday, the Russian Air Force carried out a fresh round of airstrikes on terrorists' positions and movements in Northern Hama and Southern Idlib, destroying several bases and depots on Thursday night.
The fighter jets repeatedly struck the terrorists' positions in the towns of Khan Sheikhoun, Kafr Zita, al-Latamina, Zakat and al-Salihiyah.
The airstrikes continued all night, despite the large presence of the Turkish troops in Northern Hama and Southern Idlib.
Full report at:
http://en.farsnews.com/newstext.aspx?nn=13970316000318
--------
ISIL Sustains Heavy Defeat in Deir Ezzur
Jun 06, 2018
The Syrian army troops engaged in heavy clashes with the ISIL terrorists who moved to penetrate into the government forces' positions in the surrounding areas of Humiemeh Northeast of Palmyra, forcing the terrorists to escape the region after leaving behind rather heavy casualties.
Meantime, the Syrian air force heavily pounded the terrorists' positions and movements in near al-Moayzileh dam, Station 3, Humiemeh and in the areas near the borders of Deir Ezzur province and Eastern Badiyeh (desert), destroying several targets as well as killing and injuring tens of terrorists.
"The Syrian army fortified its positions and restored full security to areas around the towns of al-Jala, al-Hasarat and al-Sayyal in Southeastern Deir Ezzur after fending off the ISIL's attacks in the last two days and pushing back the terrorists," field sources reported.
The Syrian army killed tens of terrorists and destroyed their vehicles and military equipment in clashes with ISIL terrorists in Southeastern Deir Ezzur.
In a relevant development on Tuesday, the Syrian Army troops engaged in fierce clashes with the remaining pockets of the ISIL terrorists in Southeastern Deir Ezzur and fended off their attack.
The army men battled with ISIL after the terrorist group stormed the small towns of Salehiyeh and al-Dowayer in Southeastern Deir Ezzur.
The army forces warded off the attack, killing a large number of terrorists and destroying their military hardware.
In a similar development on Monday, the army men engaged in fierce clashes with ISIL after the terrorists attacked the towns of al-Hasarat and al-Sha'afa on the Western bank of the Euphrates River and in Southeastern Deir Ezzur.
Also, the army's artillery and missile units opened heavy fire at the positions and movements of the terrorists in the region.
Full report at:
http://en.farsnews.com/newstext.aspx?nn=13970316000256
--------
Jihadist civil war restarts after militants attack one another in rural Idlib
By Leith Aboufadel
2018-06-06
BEIRUT, LEBANON (11:00 P.M.) – The jihadist ceasefire in northern Syria was short-lived as the militant group in northern Idlib exchanged hostilities near the Turkish border on Wednesday.
According to pro-opposition activists in Idlib, a fierce battle broke-out between Hay'at Tahrir Al-Sham and Jaysh Al-Ahrar (FSA faction) inside the town of Zardana this afternoon.
The heavy clashes broke-out after Jaysh Al-Ahrar attempted to setup two checkpoints inside Zardana; this prompted HTS to launch a powerful attack in order to deter them from trying to expand their presence.
Not long after the clashes broke-out in Zardana, Hay'at Tahrir Al-Sham was able to seize the entire town and all of Jaysh Al-Ahrar's weapons, forcing the latter to retreat to safety.
Full report at:
https://www.almasdarnews.com/article/trouble-in-paradise-jihadist-civil-war-restarts-after-militants-attack-one-another-in-rural-idlib/
--------
250,000 Suhoor meals for pilgrims at Mecca's Grand Mosque
6 June 2018
Over 250,000 Suhoor meals are to be distributed to Umrah pilgrims at the Grand Mosque in Mecca during each of the last days of Ramadan, the Saudi Press Agency said.
The Siqaya and Rifada Committee in Mecca, along with efforts by 57 charities and individuals, will begin distributing the meals every day to visitors of the Grand Mosque, and the areas surrounding it, and at bus stations.
The pre-dawn meal, essential for fasting during Ramadan, will be handed right after Qiyam prayers until Fajr prayer, so that worshippers don't miss their chance to eat during the short time interval between both prayers.
The committee is tasked with providing free meals at the Grand Mosque of Mecca and its suburbs throughout the Umrah season in Ramadan.
Full report at:
https://english.alarabiya.net/en/features/2018/06/06/250-Thousand-Suhoor-meals-for-Mecca-s-Grand-Mosque-pilgrims-.html
--------
Egypt's Sisi: Our relationship with Saudi Arabia is strategic, special
6 June 2018
Egypt's president Abdel Fattah al-Sisi received on Wednesday Ahmed al-Qattan, Saudi state minister for African affair,s in the presence of the Egyptian foreign minister Sameh Shukri, and Abbas Kamel acting head of general intelligence service.
During the meeting, president Sisi stressed Egypt's keenness to strengthen various bilateral cooperation frameworks, and to continue consultations and coordination with the Saudi Kingdom on various regional issues and on ways to address the challenges facing the Arab and Islamic nations to achieve the interests of their peoples.
Ambassador Bassam Radi, the Egyptian presidency spokesperson, said that the Saudi minister conveyed to Sisi greetings from Saudi King Salman bin Abdul Aziz and Crown Prince Mohamed bin Salman, pointing to the strong historical relations between the two brotherly nations.
For his part, Sisi welcomed the Saudi minister asking him to convey his greetings to King Salman and the Crown Prince, stressing the special relations between the two countries and its strategic nature, according to Radi.
Full report at:
https://english.alarabiya.net/en/News/middle-east/2018/06/06/Sisi-Our-relations-with-Saudi-is-strategic-and-special.html
--------
US-backed SDF ready for dialog with Syrian government: Officials
Jun 7, 2018
The so-called Syrian Democratic Forces (SDF), a US-backed coalition of mainly Kurdish militants that maintains a grip on northeastern Syria, is reportedly prepared to hold talks with Damascus over the future of the territory under its control.
Ilham Ahmed, the co-chair of the Syrian Democratic Council, the SDF's political wing, suggested on Wednesday that time may be ripe for negotiations with the Syrian government.
She also noted that a Damascus-based political group had visited the Kurdish-led administration to "start a dialog."
"We are seeking … a vision that ends the war," she said. "We want to secure our (self-administration) project and the Americans care for that too."
Additionally, Aldar Khalil, the co-chair of the Movement for a Democratic Society, a coalition of mainly Syrian Kurdish parties, said talks with Damascus were meant "to develop a Syrian-Syrian solution and close the door on conflicts and wars."
He further expressed his party's readiness to send a delegation to "test the waters" and see whether the Syrian government is ready to accept an autonomous Kurdish area in the country's northeast.
The remarks came less than a week after Syria's President Bashar al-Assad said his government had two options in dealing with the SDF issue: first, negotiations and second using force against the Washington-backed militants.
"We don't have any other option. So, this is our land, it's our right, and it's our duty to liberate it, and the Americans should leave, somehow they're going to leave," he said.
The SDF's backbone, the People's Protection Units (YPG), has also been a source of tensions between Turkey and the US, which both are military active in Syria despite the Damascus government's calls for them to leave Syrian soil.
Turkey regards the YPG as a terrorist group and an affiliate of the outlawed Kurdistan Workers Party (PKK), but the US considers the Kurdish group an ally in Syria.
The US angered Turkey by announcing a plan for the formation of a Kurdish militant force in Syria near the Turkish border, prompting Ankara in January to launch a military operation against the US-backed militants.
In March, Turkey seized the Syrian city of Afrin and threatened to expand its offensive to Manbij.
Full report at:
http://www.presstv.com/Detail/2018/06/07/564189/Syria-SDF-Kurd
--------
150 Iraqi Daesh terrorists moved to Baghdad to face execution: Police official
Jun 6, 2018
More than a hundred members of the Daesh Takfiri terrorist group captured during the liberation of the strategic northern Iraqi city of Mosul have been moved to Baghdad to face execution.
An unnamed source from Nineveh provincial police department said 150 Daesh extremists, who had been condemned with death sentences, were transferred under the tight protection of security forces from Mosul, located some 400 kilometers (250 miles) north of Baghdad, to the capital.
The source added that the militants have "admitted to intimidating civilians, joining Daesh terrorist group, killing and looting over the past few years."
"Court rulings passed against the convicts, who are all of Iraqi nationality, will soon be carried out," he pointed out.
On Sunday, a court in Iraq sentenced French citizen Melina Boughedir to life in prison for her membership in the Daesh terrorist group.
Boughedir, a mother of four, told the judge in French that she was "innocent" and that her husband, who is now believed to have been killed in anti-terror operations, first "duped" her and then "threatened" her to take away the children from her unless she followed him to the Arab country, where he joined Daesh.
"I am opposed to the ideology" of Daesh and "condemn the actions of my husband," the 27-year-old French citizen said in defense while she wore a black dress and a black headscarf.
Boughedir arrived in the courtroom as she was carrying her youngest daughter in her arms. Her three other children are now in France.
On May 3, the Central Criminal Court of Iraq, which is the country's flagship criminal justice institution, handed down life terms to eight foreign women over Daesh membership and involvement in acts of terror across the war-ravaged Arab country.
Abdul Sattar al-Biraqdar, spokesman for Iraq's Supreme Judicial Council, said in a statement that the court issued the verdicts against three Turkish women, three Azerbaijanis, one Uzbek national and a Syrian citizen.
Iraq's Central Criminal Court found 19 female Russian citizens guilty of "joining and supporting Daesh" on April 29.
The court passed life sentences on the women as they were accompanied by small children during the hearing.
On April 17, the Supreme Judicial Council of Iraq announced in a statement that the Central Criminal Court had sentenced three Azerbaijani women and a female Kyrgyz citizen to death over affiliation to Daesh.
The court also handed life sentences to two Russian nationals and one woman from France.
On December 9, 2017, Iraq's Prime Minister Haider al-Abadi declared the end of military operations against Daesh in the Arab country.
Seven months later, Abadi formally declared victory over Daesh extremists in Mosul, which served as the terrorists' main urban stronghold in the conflict-ridden Arab country.
In the run-up to Mosul's liberation, Iraqi army soldiers and volunteer Hashd al-Sha'abi fighters had made sweeping gains against Daesh.
The Iraqi forces took control of eastern Mosul in January 2017 after 100 days of fighting, and launched the battle in the west on February 19 last year.
Full report at:
http://www.presstv.com/Detail/2018/06/06/564138/150-Iraqi-Daesh-terrorists-
--------
Pakistan
Captured US weapons used by Taliban for attacks: report
Jun 07, 2018
WASHINGTON: Weapons captured by the United States have been regularly used by the Taliban in Afghanistan to attack government outposts, the US media reported on Wednesday.
According to USA Today, American warplanes destroyed about 40 US-supplied Humvees that the Taliban had captured from Afghanistan's military over the past several years.
The newspaper further claimed that the report about this "recurring problem" was based on official statistics collected by the US and Nato forces in Afghanistan.
According to these statistics, Taliban fighters frequently capture US-supplied equipment and then disappear into the countryside. "The Humvees struck by American aircraft may only represent a fraction of the equipment now in Taliban hands," the paper claimed.
While accounting for the US-supplied equipment, American investigators found that the militants not only capture the weapons they use but also buy these from the Afghan military.
The US [ircjased 95, 000 vehicles for the Afghan security forces, according to a recent report by the Pentagon inspector general. However, the coalition command responsible for equipping the country's army and police couldn't account for all of them.
Unarmoured Humvees that were often captured and sold to the Taliban cost the government about $70,000 each.
If the equipment can't be recaptured with a ground attack it is destroyed from the air. The 40 Humvees were destroyed in US airstrikes since January 2015, shortly after US combat forces left Afghanistan and Afghan government troops took the lead in fighting the Taliban.
The newspaper noted that the captured American equipment "not only gives militants increased firepower or the protection but is often used by the Taliban to disguise themselves as American or allied Afghan forces in an effort to slip past guards".
Last month, militants used a captured Humvee to launch an attack on Afghanistan's interior ministry.
Since 2002, the United States has spent nearly $80 billion on building Afghanistan's security forces, which consist of about 300,000 soldiers and police.
https://www.pakistantoday.com.pk/2018/06/07/captured-us-weapons-used-by-taliban-for-attacks-report/
--------
Musharraf all set to return after Eid-ul-Fitr: APML secretary general
JUNE 7, 2018
ISLAMABAD: Former President Pervez Musharraf will be returning to Pakistan after Eid-ul-Fitr.
During a press conference prior to an Iftar dinner, All Pakistan Muslim League (APML) secretary general Dr Mohammad Amjad announced that the former president has decided to return to Pakistan after Eid.
However, the final date of Musharraf's return will be announced after Supreme Court's (SC) verdict pertaining to the disqualification appeal.
Amjad informed the media that APML President will be contesting elections from four constituencies in the upcoming elections. He added that even f the SC's verdict does not come in Musharraf's favor, he will still return to Pakistan and lead the party's election campaign.
The secretary general added that APML will be participating in the elections through alliance with other parties for seat adjustment, while adding that the party's final candidates' names will be announced in a few days.
Amjad informed the media that earlier on June 1, APML President Pervez Musharraf had presided party's core committee session, during which it was established that the party will be contesting elections from all over Pakistan.
Full report at:
https://dailytimes.com.pk/250326/musharraf-all-set-to-return-after-eid-ul-fitr-apml-secretary-general/
--------
Jemima lashes out at Reham, threatens to sue her
JUNE 7, 2018
Jemima Goldsmith, former wife of Pakistan Tehreek-e-Insaf (PTI) Chairman Imran Khan, Wednesday warned of filing a defamation suit against Reham Khan if her "libellous" book was published in the United Kingdom (UK).
In a tweet, Jemima said that though she had been "assured" that Reham's book was too "libellous" to be published in the UK, she would sue on behalf of her son for defamation and breach of privacy if it did see the light of day.
"I will be suing for defamation and breach of privacy on behalf of my (then) 16-year-old son and in relation to the moronic, re-hashed Zionist conspiracy theories," Jemima added.
Prior to its publication, Reham's autobiography became a source of controversy last week after actor Hamza Ali Abbasi claimed to have read a manuscript of the book and accused her of being on a "PML-N agenda". The accusation was followed by a Twitter spat between Reham and Hamza, in which the former alleged that the latter had been threatening her since last year.
It has caused a furore among the PTI ranks, with Abbasi releasing screenshots of emails and issuing a statement last week to claim it has "documentary evidence" that the author was in contact with PML-N leader Ahsan Iqbal and the book was being published to damage the PTI.
In response to the allegation, Iqbal described the emails as "fabricated and distorted" and termed the act "shameful". He also denied meeting Reham after her marriage with PTI chief.
PTI spokesperson Fawad Chaudhry, in a presser on Tuesday, claimed that the contents of Reham's upcoming book were "pornographic" and against "family values". He also questioned the timing of its release.
Full report at:
https://dailytimes.com.pk/250158/jemima-lashes-out-at-reham-threatens-to-sue-her/
--------
'Ashamed of what we did to Jemima', says PML-N leader
Jun 07, 2018
LAHORE: Pakistan Muslim League-Nawaz (PML-N) leader Barrister Zafarullah Khan on Tuesday stated that the way Jemima Khan was criticised by the nation was a shameful move on its part.
Talking in a program on a private news channel, the PML-N leader said this nation is indebted of Jemima. "I am ashamed of what we did with Imran Khan's former wife Jemima Khan."
"Although I have political differences with PTI, our people did wrong by Jemima and I am ashamed of it," he said, adding that people mocked her a being Jewish, even though Prophet (PBUH) has allowed marriage with a Jewish woman.
"Secondly, if she said that she is Muslim, we are no one to dismiss that," Khan said. The barrister further said that he considers Jemima Khan an honourable lady for two main reasons.
"Even after her divorce with Imran Khan, she handed over the affidavit of Bani Gala residence to PTI chief stating that she bought this property and after their separation, she cannot keep it," PML-N leader said, adding that this shows her grace.
Explaining the second reason, he said the daughter Seeta White — who is allegedly the illegitimate daughter of Imran Khan is being brought up by Jemima. "Because her father and Seeta White's father are close friends," he said, adding if anyone has done anything wrong to her, it should not have been done.
Full report at:
https://www.pakistantoday.com.pk/2018/06/06/ashamed-of-what-we-did-to-jemima-pml-n-leader-zafarullah-khan/
--------
Policeman martyred as security vehicle comes under gun attack in Quetta
Syed Ali Shah
June 06, 2018
A policeman was martyred and another sustained injuries when a police vehicle came under attack in Quetta's Arbab Karam Khan road area on Wednesday, police sources said.
According to officials, unidentified miscreants opened fire on the police van while it was on routine patrol. The attackers managed to flee the scene unhurt.
As a result, a policeman identified as Saeed Ahmed Langove was martyred and one of his colleagues was injured.
Police and personnel of other law enforcement agencies reached the site as an investigation into the incident went underway. There was no immediate claim of responsibility for the attack.
Balochistan has faced a number of security challenges in recent months, with security personnel in the province often being targeted in roadside explosions and suicide and gun attacks.
In April this year, six policemen were martyred and seven others were injured when a suicide bomber targeted a police van on Airport Road in the provincial capital.
In March, two policemen lost their lives in a gun attack, apparently targeting a senior official who escaped unhurt.
Five policemen were among the seven people killed on Quetta's Zarghoon Road when a suicide bomber rammed into a parked police truck in January.
Full report at:
https://www.dawn.com/news/1412415/policeman-martyred-as-security-vehicle-comes-under-gun-attack-in-quetta
--------
Zardari welcomed Osama bin Laden's killing by US: Book
Jun 7, 2018
WASHINGTON: When the then US President Barack Obama called his Pakistani counterpart Asif Ali Zardari to inform him about the killing of Osama bin Laden by the US forces in a raid in Abbottabad, the latter, according to a book, told him that this was a "good news".
"Whatever the fallout, he (Zardari) told Obama, it's very good news. It's been a long time. God be with you and the people of America," Ben Rhodes, who was Obama's close aide at the White House writes in his latest book, referring to the response of Zardari when the US president called him to inform him about the American raid in on May 2, 2011.
Zardari was thrust into a leading role in Pakistani politics after his wife and prominent politician Benazir Bhutto was assassinated by extremists on 27 December, 2007
"Zardari was sure to face a backlash at home over America's violation of Pakistani sovereignty," writes Rhodes in his book 'The World as It Is: A Memoir of the Obama White House', which hit the book stores this week.
"But he wasn't upset," says Rhodes, giving his impression of the conversation between the two presidents, which happened before Obama went to address the nation informing his fellow Americans about the killing of Osama bin Laden.
According to Rhodes, who was Obama's close aid during his eight years of presidency, said that even from his election campaign days, he had insisted that he would cross the border if the US had actionable intelligence against Osama bin Laden.
When his national security team were debating about crossing into the Pakistani territory to kill bin Laden, it was vice president Joe Biden who was reluctant to do so.
"It was obvious to me that Obama was going to do this. He had a way of looking straight ahead when he was listening at the same time that his mind was elsewhere. I could tell that he had turned the intelligence over and over in his mind ("this is a fifty-fifty call"), that he understood the risks with Pakistan," writes Rhodes.
"When he asked me what I thought, I simply said, 'You always said you were going to do this'. Because I'd lived through the debate on the campaign, I knew he had meant what he said about going into Pakistan," the former White House official said.
Obama asked him to prepare for four scenarios: (1) bin Laden is at the compound and it's a success; (2) bin Laden is at the compound and it's messy -- people killed, Pakistani security services, instability; (3) bin Laden's not there but we get in and out cleanly; (4) bin Laden's not there and it's a mess.
"At the end of the meeting, Obama didn't tip his hand, he just said he'd make his decision overnight. As people filed out of the room, Biden pulled Denis and me into a smaller, adjacent room and closed the door. He looked genuinely pained. 'You fellas really think he should do this?' 'I do,' Denis said," Rhodes writes.
"I agreed, and repeated my point about Obama's always having said he would go into Pakistan to get bin Laden. 'Well', Biden said, 'I'm just trying to give him a little space'. I believed that -- Biden sometimes took strident positions in meetings to widen the spectrum of views and options available to Obama. He also worked hard to understand Obama's mind," he writes.
"You've always got his back," the then Chief of Staff Denis McDonough said to him, according to the book.
Full report at:
https://timesofindia.indiatimes.com/world/pakistan/zardari-welcomed-osama-bin-ladens-killing-by-us-book/articleshow/64487431.cms
--------
South Asia
President Ghani announces ceasefire in response to clerics Fatwa
Jun 07 2018
President Mohammad Ashraf Ghani announced a ceasefire in response to a joint declaration issued by hundreds of religious scholars, Ulemas, during a large gathering on Monday.
The Government of the Islamic Republic of Afghanistan announces ceasefire from the 27th of Ramadan until the fifth day of Eid-ul-Fitr following the historic ruling [Fatwa] of the Afghan Ulema, President Ghani said in a statement.
He said the Fatwa declared that violence and suicide attacks are not only against Islam but also strictly forbidden in our religion. We also welcome the unprecedented fatwa that only the state can declare jihad thereby rendering violent campaign by any group anything but a holy war.
President Ghani further added that the Afghan national defense and security forces will only stop offensive maneuvers against Afghan armed Taliban and will continue to target Daesh and other foreign backed terrorist organizations and their affiliates.
He also added that this ceasefire is an opportunity for Taliban to introspect that their violent campaign is not wining them hearts and minds but further alienating the Afghan people from their cause.
This comes as the religious scholars on Monday called on Taliban group to respond positively to government's peace offer as they declared the ongoing war and conflict as illegitimate and against Islam.
https://www.khaama.com/president-ghani-announces-ceasefire-in-response-to-clerics-fatwa-05325/
--------
Gunmen kill 4 praying at mosque in eastern Afghanistan
June 07, 2018
KABUL: Officials say four people praying at a mosque have been shot to death in Afghanistan's eastern Khost province.
Talib Mangal, spokesman for the provincial governor, said the attackers opened fire from a car Wednesday afternoon while more than 15 people were praying in the mosque.
Provincial chief police spokesman Basir Beina said Thursday that three people were wounded, in addition to those killed.
The attack took place in Khost's Mando Zayi district.
Beina said police are still investigating and have not yet made arrests. More than one attacker was involved, but how many was not clear.
The motive was not known, and Mangal said it was not clear if any officials were praying at the mosque.
Full report at:
http://www.arabnews.com/node/1317236/world
--------
Blast kills two at Afghan voter registration centre
June 07, 2018
KUNDUZ - A bomb blast at a voter registration centre in northern Afghanistan killed at least two people and wounded two others, officials said Wednesday, the latest attack on a process already marred by violence.
The bomb was placed in a school used as a voter registration centre in Pul-e-Khomri, the capital of northern Baghlan province, provincial spokesman Mahmood Haqmal told AFP. "One police and one employee of the election commission were killed and two police have been wounded," he said. Baghlan police spokesman Zabiullah Shuja confirmed the incident, saying that police had launched an investigation. No one claimed responsibility for the attack but the Taliban and the Islamic State group in Afghanistan have vowed to disrupt the parliamentary and district council elections scheduled for October 20.
Wednesday's attack is the latest assault on a voter registration centre aimed at deterring people from signing up for the long-delayed polls. On April 22 a suicide bomber blew himself up outside a centre in Kabul, killing 60 people and wounding more than 100.
Full report at:
https://nation.com.pk/07-Jun-2018/blast-kills-two-at-afghan-voter-registration-centre
--------
Safety and 'identity' key for Rohingya returnees: U.N. chief in Myanmar
JUNE 6, 2018
YANGON (Reuters) - Safety and "identity" need to be in place for Rohingya Muslim refugees who return to Myanmar, the head of the United Nations in the country said on Wednesday, as Myanmar and U.N. agencies signed an outline deal on returns.
The signing of a memorandum of understanding between the government and U.N. development and refugee agencies - the UNDP and the UNHCR - marks a warming of ties which hit a low point last year after the government suggested some agencies provided food to Rohingya militants.
The head of the United Nations in Myanmar, Knut Ostby, said he hoped U.N. staff would be able to travel to the violence-ravaged north of Rakhine State "almost immediately" to assess the situation and - over time - to help the refugees in Bangladesh make an informed decision about potential returns.
Since August, about 700,000 Rohingya have fled an army crackdown in Myanmar, many reporting killings, rape and arson on a large scale. The United Nations has called the campaign a textbook example of "ethnic cleansing" - a charge Myanmar denies.
U.N. officials have said for months the conditions in Myanmar were "not conducive" to returns which would be safe, voluntary and dignified and view Wednesday's deal as a first step toward meeting those objectives.
"There are two really crucial things that need to be in place - one is to have an identity for the people who come back, so that they can live as normal members of society both in terms of an identity and in terms of being able to have the freedom of movement," Ostby told Reuters by phone.
"And the other issue is that they need to be able to live in safety. They should not have to risk further violence," said Ostby, who serves as the U.N. resident and humanitarian coordinator in Myanmar.
Access to basic services, livelihoods and infrastructure would also have to be addressed, he said.
Rohingya are widely called "Bengali" in Buddhist-majority Myanmar - which they see as a derogatory term implying they are illegal immigrants from Bangladesh. They have been denied citizenship despite many tracing their roots in the country back generations.
'PATH TO CITIZENSHIP'
Nobel laureate Aung San Suu Kyi's government has pressed the Rohingya to accept National Verification Cards - documents that are a part of government effort to register Rohingya, but which falls short of offering them citizenship.
Rohingya community leaders have widely rejected the card, saying it treats life-long residents like new immigrants.
Ostby, asked how the Wednesday agreement might help to resolve the issue of citizenship, said: "We have been talking for a long time about making a clear and predictable path to citizenship for those who are eligible."
But the granting of citizenship was the government's prerogative, he said.
"What we can do is to facilitate and we call for commitment to international principles," said Ostby in his first detailed remarks on the text of the agreement, which has not been made public.
Myanmar and Bangladesh agreed in January to complete the voluntary repatriation of the refugees within two years but differences between them persist, impeding implementation of the plan.
The Myanmar government said in a statement after the signing it hoped the repatriation process would "hasten" with U.N. involvement.
Full report at:
https://www.reuters.com/article/us-myanmar-rohingya-un/safety-and-identity-key-for-rohingya-returnees-un-chief-in-myanmar-idUSKCN1J21G1
--------
Pompeo and Pak army chief discuss Afghan peace, fight against terror
Jun 07 2018
The US Secretary of State Mike Pompeo and the Chief of Army Staff of Pakistan General Qamar Javed Bajwa held talks regarding the Afghan peace and fight against terrorism.
The Department of State spokesperson Heather Nauert said the Secretary of State Mike Pompeo spoke with the Pakistan Chief of Army Staff General Qamar Bajwa.
She said they discussed advancing US-Pakistan relations, the need for political reconciliation in Afghanistan, and the importance of targeting all militant and terrorist groups in South Asia without distinction.
This comes as the relations between Washington and Islamabad remain strained after the announcement of the South Asia policy by President Donald Trump.
The US and Afghan officials are saying that the Taliban and Haqqani terrorist network are still having safe havens in Pakistan but Islamabad has rejected the allegations.
On the other hand, the Pakistani military officials admit that some residuals of the notorious Haqqani terrorist network still remain in Pakistan as the Afghan and US officials emphasize that the terror group's leadership councils are based in the key cities of Pakistan, including Quetta city.
Addressing accusations of harbouring the Haqqani network on the Pakistan side, the Pakistani Military spokesman Maj Gen Asif Ghafoor conceded on Monday that some residual strength may still remain in Pakistan, according to Dawn News.
Full report at:
https://www.khaama.com/pompeo-and-pak-army-chief-discuss-afghan-peace-fight-against-terror-05324/
--------
Taliban's district military commission chief killed in Faryab province
Jun 07 2018
A senior Taliban leader in charge of the military commission of the group in Dawlatabad district was killed during an operation in northern Faryab province.
The 209th Shaheen Corps of the Afghan Military in the North said the senior Taliban leader was killed in Ferozi village during an operation of the Special Forces.
The source further added that another comrade of the Taliban leader was killed during the operation and at least six others sustained injuries.
The anti-government armed militant groups including Taliban militants have not commented regarding the report so far.
Faryab is among the relatively volatile provinces in North of Afghanistan where the anti-government armed militants including Taliban are actively operating in some of its remote districts and often carry out insurgency and terrorist related activities.
This comes as counter-terrorism operations are underway in certain restive provinces of the country in the North.
Full report at:
https://www.khaama.com/talibans-district-military-commission-chief-killed-in-faryab-province-05323/
--------
Mideast
Court orders Turkey students freed in 'terror propaganda' trial
June 07, 2018
ISTANBUL - An Istanbul court on Wednesday ordered the release of all the suspects in a hugely controversial trial of 22 students from a prestigious Istanbul university who protested on campus against President Recep Tayyip Erdogan's military campaign in Syria.
Fourteen of the students had been held in jail on charges of disseminating "terror propaganda" after their initial detention in March when police stormed dormitories at Bogazici University.
But after an emotionally-charged first trial hearing, the judge ordered that the 10 young men and four young women be released.
The order sparked scenes of jubilation in the packed courthouse, with families crying in jubilation and relief, an AFP correspondent said.
The other eight defendants had been free - but still charged - ahead of the trial Wednesday.
All 22 now remain charged and under judicial supervision, which means they are subject to certain restrictions and should report to the authorities.
The judge set the next hearing in the case for October 3. They were due to walk free later Wednesday.
The accused face jail terms of up to five years if convicted on charges of propaganda for the outlawed Kurdistan Workers Party (PKK).
Turkey earlier this year successfully carried out a major incursion into the Afrin region of northern Syria with allied Syrian rebels. The offensive ousted the Kurdish People's Protection Units (YPG) militia, which Ankara brands a terror group and branch of the PKK.
A day after Afrin was taken, a group of students opened a stand on the campus handing out sweets they dubbed "Afrin delight" in memory of the Turkish soldiers killed in the operation.
But another group unfurled a banner with the words "There's nothing sweet about occupation and massacre," in a show of protest. Erdogan then slammed the anti-war students as "terrorists".
Turkish prosecutors accuse the students of seeking to discredit the army and the state by portraying them as an "occupier" and as an "illegitimate force that uses violence."
The case was condemned by rights activists, who saw the prosecution as the punishment of sometimes teenage suspects who had only expressed their political views.
Giving testimony in court, the students rejected the charges and argued shouting slogans against the government or in favour of promoting peace had nothing to do with the PKK.
"I didn't praise violence or make terror propaganda," accused student Sukran Yaren Tuncer told the judge.
"I shouted slogans like 'Shoulder to shoulder against fascism' and 'No war, peace now'. They are universal slogans and chanted in every demo."
Another defendant, Sevde Ozturk, added: "Some slogans were shouted but they can only be seen as political criticism."
"I reject being stigmatised as a terrorist just because I chanted peace slogans," she told the court.
Some of the students also accused police of beating them in detention.
Authorities detained hundreds of people during the Afrin operation on terror propaganda charges for criticising the operation, raising new concerns about freedom of speech in Turkey.
Founded in the 19th century as Robert College, Bogazici University is considered a bastion of secular and Western-orientated education in Turkey.
Parents of the students attending the trial said that their children were innocent and their education was being unfairly disrupted.
Tevfik Tulay, father of arrested third-year engineering student Uzay, told AFP his son was "now deprived of all his rights to education".
"There is no evidence, he was curious what was going and stayed there merely as a spectator."
Ozgur, whose 18-year-old student Yaren has been held since March 25, said: "I am here to take her home."
"She is innocent. She was taken just because she stood on the right or on the left of a banner," the mother said.
https://nation.com.pk/07-Jun-2018/court-orders-turkey-students-freed-in-terror-propaganda-trial
--------
Houthi militias set conditions during UN talks over Hodeidah handover
Jun 07, 2018
6 June 2018
Despite their losses, Houthi militias have led talks by the United Nations to hand over control of Hodeidah port to the international body to fail due to unreasonable terms.
The United Nations Yemen mediator arrived in the Houthi-held capital Sanaa on Saturday for talks with the Houthis. Martin Griffiths's proposal demands Houthis to handover the Hodeidah port to place under UN supervision, in an attempt to avert a possible assault on the city by a Saudi-led coalition.
Mark Lowcock, UN emergency relief coordinator, said on Monday that the United Nations was in touch with several U.N. member states about Hodeidah.
He said Griffiths was due to brief the Security Council on June 18. "And obviously the situation in Hodeidah is one of the things that he's looking at," he added.
Griffiths met several Houthi officials, including Mahdi al-Mashat, who holds the post of president in the Houthi-backed political body which controls most of north Yemen.
As government forces advance on Hodaidah, and despite the recent Houthi losses, the militia has set a list of terms for the United Nations in order to withdraw from Hodaidah, sources quoted by Al Arabiya have said.
The terms include paying the salaries to military and civilian personnel in areas controlled by the Houthis, the reopening of Sanaa Airport, permitting commercial air traffic, the cessation of air raids by the alliance and lifting the blockade on Yemeni ports.
They also added that they seek an apology for the killing of Saleh Ali al-Sammad, the dos senior Houthi official killed by the coalition during the three-year war.
Full report at:
https://english.alarabiya.net/en/News/gulf/2018/06/06/Houthi-militias-set-conditions-during-UN-talks-over-Hodaidah-handover-.html
--------
Israel army shoots dead Palestinian
June 07, 2018
JERUSALEM - A Palestinian who threw a rock at Israeli troops in the occupied West Bank on Wednesday was shot dead by a soldier, the Israeli army said in a statement. It said the troops were on a search and arrest operation in the village of Nabi Saleh, northwest of Ramallah, when they were attacked by at least 10 stone-throwing Palestinians who hit one soldier on the head. The soldier hit by the rock then fired at the Palestinian who threw it, who was given medical treatment but later died, the statement added. Last month a soldier from the Duvdevan special forces unit was fatally struck on the head by a granite slab thrown from an upstairs window during an arrest raid in the Amari Refugee Camp in Ramallah.
https://nation.com.pk/07-Jun-2018/israel-army-shoots-dead-palestinian
--------
Iran nuclear deal 'best' way forward, May tells Netanyahu
Jun 7, 2018
British Prime Minister Theresa May has reiterated her country's support for the Iran nuclear deal in talks with her Israeli counterpart, Benjamin Netanyahu, saying London would remain committed to its obligations under the multilateral accord as long as Tehran is.
In a meeting with Netanyahu on Wednesday, the UK premier said the UN-backed nuclear deal, officially called the Joint Comprehensive Plan of Action (JCPOA), remains "the best route" to what she called "preventing Iran from getting a nuclear weapon."
The UK premier conceded "differences of opinion" with Netanyahu regarding the 2015 Iran nuclear deal and said, "We will remain committed to it as long as Iran meets its obligations."
She, however, said there were other issues, including Tehran's ballistic missile activities and its regional role, that need to be addressed.
Netanyahu pressed May to recognize that the Iranian nuclear deal is on the point of collapse and that a fresh plan is needed to stop Iran from restarting its uranium enrichment program.
He told May that he was focused on making sure Iran did not get a "nuclear weapon," and on "how to roll back Iran's aggression in the region," where Tehran is helping its neighbors fight terror.
London was the third and last destination in Netanyahu's European tour, which had earlier taken him to France and Germany.
The regime in Israel has stepped up its lobbying attempts against the Iran deal since the US's withdrawal from the landmark accord in defiance of stern international warnings from the other signatories.
Contrary to the US and Israel, Europe insists the 2015 agreement works and Iran has respected it as repeatedly confirmed by the International Atomic Energy Agency (IAEA).
The European signatories are now trying to come up with a package to ring-fence trade with Iran against renewed US financial sanctions to dissuade Tehran from quitting the accord.
The finance ministers and foreign secretaries of the UK, Germany and France have jointly written to the US, seeking assurances that Washington will not impose secondary sanctions on EU firms operating in Iran.
Their letter says that JCPOA is "the best means through which we can prevent a nuclear armed Iran."
Washington has already re-introduced its nuclear-related sanctions against Tehran.
The White House was also quick to slap a series of bans on a number of Iranian individuals and entities, including CBI Governor Valiollah Seif.
Iran says the Europeans need to take practical measures to ensure its interests will still be protected after the US withdrawal.
In the first step to save the deal, the European Union activated last month its Blocking Statute, a law that makes it illegal for any European Union company to comply with US sanctions.
Meanwhile, sources said that US officials are touring the globe to pressure countries to shun trade with Iran following Washington's withdrawal from the JCPOA.
Reuters reported Wednesday that US State and Treasury Department officials had traveled to Japan and this week US diplomats were in eastern Europe.
"The Americans are on a roadshow and going everywhere. They are dogmatic," said a senior European diplomat. "We were clear and told them: if you are coming to tell to us how to apply American laws here then you're not welcome," the diplomat said.
Full report at:
http://www.presstv.com/Detail/2018/06/07/564182/Iran-deal-British-PM-May-Israeli-PM-Netanyahu
--------
Iranian military advisors in Syria at request of Damascus government: Berri
Jun 6, 2018
Lebanese Parliament Speaker Nabih Berri says the Islamic Republic of Iran has been offering military advisory support to Syria at the request of the Damascus government.
Speaking in an exclusive interview with the Arabic service of the Russian Sputnik news agency on Wednesday, Berri pointed out that Iranian military advisors are in Syria, just like Russian servicemen, to help government forces speed up their gains on various fronts against foreign-sponsored Takfiri terror groups.
He then slammed calls for the withdrawal of Iranian advisors and fighters from the Lebanese Hezbollah resistance movement from Syria, stressing that they will pull out of the conflict-plagued Arab country once the entire Syrian soil is liberated and its territorial integrity is restored.
The top Lebanese official also noted that Daesh terrorists would have been roaming across Lebanon in case Hezbollah had not confronted them in neighboring Syria.
"There are currently some 1.5 million Syrians in Lebanon. We do not consider them as strangers. Lebanon and Syria have been and still are like twins. Therefore, whatever happens in Syria will affect Lebanon. Any division of Syria is a re-mapping of the (Middle East) region," Berri pointed out.
Last week, Syrian Foreign Minister Walid al-Muallem said Iran has no military presence or bases in his country but Iranian military advisors are there to help Damascus fight terrorist groups.
"[There is] no Iranian military presence on the Syrian territories; rather there are advisors who work by the side of the Syrian Arab Army," Muallem said during a press briefing in the Syrian capital, Damascus, on June 2.
Muallem said the presence of Iranian military advisors in Syria was legitimate and based on an invitation by the Syrian government and they coordinated their activities with Damascus.
The Syrian foreign minister further thanked Iran for helping Syria in the ongoing war against foreign-backed militant groups.
"Since the beginning of the crisis, Iran has supported Syria in the war against terrorism backed and financed regionally and internationally," he said.
The top Syrian diplomat further rejected Israeli claims that Iran had military bases in the Arab country, saying that the Tel Aviv regime made such propaganda in an effort to try and pressure Iran.
Full report at:
http://www.presstv.com/Detail/2018/06/06/564123/Iranian-military-advisors-Syria-Berri
--------
Gaza families pushed deeper into poverty as aid dries up
June 07, 2018
GAZA CITY, Gaza Strip: Samia Hassan used to have enough money to feed her two dozen children and grandchildren. Now she spends much of her time worrying about food, scouring Gaza's vegetable markets for end-of-day discounts or walking miles for a pot of free gruel from a soup kitchen.
Large numbers of Gaza families have been pushed deeper into poverty in recent months by Palestinian political infighting and the freezing of US aid. Life is tougher than ever for most of the 2 million Palestinians locked into tiny, blockaded Gaza, where electricity is off most hours of the day, unemployment approaches 50 percent and the Islamic militant group Hamas rules with a tight grip.
"It's a perfect storm," said Hilary DuBose of the Catholic Relief Services, which has had to forego emergency food distributions because the Trump administration is withholding funds. "At the same time that the humanitarian situation in Gaza is worsening, humanitarian aid is disappearing."
Growing despair in Gaza has helped drive recent Hamas-led protests against the border blockade by Israel and Egypt. The closure was imposed after Hamas, branded a terrorist group by Israel and the West, seized Gaza in 2007, driving out forces loyal to Palestinian President Mahmoud Abbas.
The escalating crisis also spotlights the lack of a coherent Gaza policy by the external players trying to shape its future. Israel and Egypt say they need the blockade to contain Hamas, but have not offered a viable plan for Gaza. The international community wants the blockade lifted, but hasn't said how it would deal with Hamas, which refuses to disarm or renounce violence.
Hassan — who shares her unfinished cinderblock home with seven of her 12 adult children, three daughters-in-law and 16 grandchildren — said she joined the border protests repeatedly, intentionally getting close to the fence in hopes of getting shot and killed by Israeli troops.
"Death is better than this life," she said to her sons' astonishment as the family gathered for the meal breaking the dawn-to-dusk fast of the Muslim holy month of Ramadan.
Hassan said she only pulled back because she realized she could end up crippled rather than dead and become a burden. In the past two months, more than 115 Palestinians have been killed and close to 3,800 wounded by Israeli fire in near-weekly border protests, with some facing lifelong disabilities.
Hassan, who wears the black robe and full-face veil of ultra-conservative Muslim women, is angry at Hamas, which has fought three cross-border wars with Israel.
"It's because of them," she said of her family's hard times.
In the last war in 2014, the family taxi, an important source of income, was destroyed in an Israeli airstrike on a neighbor's house. After the war's devastation, her sons only found work sporadically and one — a father of six — is now in jail for being unable to pay his debts.
The family suffered a new blow after Abbas ordered his West Bank autonomy government to curtail its regular support payments to Gaza, in hopes of pressing Hamas to hand over authority.
The Hassans used to get $500 every three months from Abbas' Palestinian Authority, but haven't been paid since the beginning of the year, along with tens of thousands of Gaza welfare recipients, said Social Affairs Ministry official Khaled Barghouti.
Meanwhile, some 60,000 former civil servants, paid by Abbas since 2007 to ensure their loyalty, have received only a fraction of their salaries since March.
With barely any money coming in, the Hassans increasingly rely on charity.
During Ramadan, Samia Hassan often walks five kilometers (three miles) to another Gaza City neighborhood to line up for wheat gruel cooked in a large cauldron over an open fire.
Hassan said her sons won't make the trip, embarrassed to be seen asking for handouts, but that she doesn't mind because her face is veiled.
On a recent afternoon, dozens of people jostled, pushing their aluminum or plastic food containers to be filled. The huge pot was empty within 10 minutes.
"The situation is difficult for everyone," said Walid Hattab, 50, who owns a small coffee-and-spice store and cooks the free meals as Ramadan charity. Demand is up from last year, he said, noting that merchants have stopped selling on credit.
Along with the Palestinian Authority, the UN has been instrumental in propping up Gaza's fragile economy. About two-thirds of Gaza's residents are eligible for health, education or welfare services from UNRWA, the agency that aids descendants of Palestinian refugees from the 1948 war over Israel's creation.
Need has grown exponentially, with some 1 million people in Gaza now receiving UN food aid, compared to 80,000 two decades ago, said agency spokesman Chris Gunness.
At the same time, the Trump administration has blown a $305 million hole into the agency's annual $1.2 billion budget — the result of a decision earlier this year to suspend most aid to the Palestinians until further notice. Washington has said it's linking future funding to UNRWA reforms.
UNRWA has raised more than $200 million from other donors, but is still struggling. Money for Gaza food distributions could run out in a couple of months, Gunness said.
With the exception of the funds already spent this year, all US assistance to the Palestinians is under review. This includes projects funded by USAID and the State Department, including health, education, good governance and security cooperation programs.
There is no indication the review will be completed any time soon, if ever, and it appears to be driven in part by Abbas' decision to boycott Washington's Mideast peace efforts as well as Palestinian moves to assert themselves at the United Nations.
Charities such as Catholic Relief Services rely heavily on US support. In Gaza, its operations have been underwritten by a five-year, $50 million USAID grant. This year, the charity should have received about $10 million, but hasn't gotten any money so far, said DuBose.
As a result, 20,000 Gaza families aren't receiving food vouchers and about 2,200 people eligible for job-creation programs are staying home, she said.
Muslim countries such as Qatar, Iran, Turkey and the United Arab Emirates have stepped up aid during Ramadan. Qatar is distributing 1 million meals for the month and Iran 11,000 per day.
But it's not clear if such aid will be sustained after the holy month.
On a recent evening, Samia Hassan and two dozen family members sat on the straw mat-covered floor of their home. Salad and leftover gruel from the day before had been laid out. Just before iftar, volunteers from a nearby mosque sent over a tray of rice with one chicken.
Full report at:
http://www.arabnews.com/node/1317266/middle-east
--------
Africa
Ethiopia: Out of prison, Muslim activist demand reforms
07 June 2018
Moving clouds, wet winds, and the sound of the rain had darkened the Ethiopian capital Addis Ababa.
It was 6 o'clock.
The road leading to the Betel neighborhood where Abubakr Ahmed, a high-profile Muslim rights activist preacher lives, looks like a scene of staged confusion.
Street lights go and off seemingly at random. Anxious drivers stuck in a long traffic jam honk their horns in vain.
Many shopkeepers begin closing their shops. Street vendors are also collecting their wares. Pedestrians from all walks of life rush to get home. The street is filled with loud confused noises of human beings, vehicles, and the murmuring sky.
"It's business as usual," said a visibly fatigued taxi driver. "It's also Ramadan, and the day's iftar time is approaching," he added, referring to the meal Muslims use to break their fast at sundown.
http://www.worldbulletin.net/africa/202856/ethiopia-out-of-prison-muslim-activist-demand-reforms
--------
South Africa: Government Should Enact the Muslim Marriages Bill As Soon As Possible
6 JUNE 2018
By Waheeda Amien
When the Muslim Judicial Council hosted President Cyril Ramaphosa, he indicated the government's commitment to ensuring Muslim marriages are afforded recognition. I indicated that the composition of an advisory committee needs to be inclusive and ensure experts in the different religious marriage laws are represented. There is a broader context within which the above suggestion was made, which I would like to elaborate upon.
To date, religious marriages including Muslim marriages, Hindu marriages and Jewish marriages in South Africa have not been afforded legal recognition.
On 30 May 2018, the Muslim Judicial Council (MJC) in Cape Town hosted President Cyril Ramaphosa at a community iftar (Muslim breaking of the fast). On this occasion, the President indicated the government's commitment to ensuring that Muslim marriages are afforded recognition.
Full report at:
http://allafrica.com/stories/201806060182.html
--------
Buhari: Muslim group reveals mastermind of impeachment threat
June 6, 2018
By Wale Odunsi
The Muslim Rights Concern (MURIC) has condemned the National Assembly's threat to impeach President Muammadu Buhari.
It also fingered Senate President, Bukola Saraki as the one who instigated his colleagues.
Prof Ishaq Akintola, in a statement on Wednesday, said the group was irked by the constant propensity of Nigerian lawmakers to armtwist the executive.
"We condemn acts of legislative brigandage and parliamentary subjugation of the executive. It is a rape on the democratic principle of separation of powers", MURIC noted.
"We are inclined to believe that the latest threat of impeachment is not unconnected with the current travails of the Senate President, Bukola Saraki.
"This attempt to turn the heat on Buhari particularly at this material time is nothing short of armtwisting, blackmail and parliamentary terrorism. Senate should remain neutral in a criminal case and allow the law to take its due course.
"The rule of law necessitates equality before the law. This means no Nigerian citizen is above the law. Even those who have immunity today may have to answer for any misdemeanor after leaving office. Nigerian lawmakers have a duty to respect the rule of law if indeed they are conscious of their status and committed to their parliamentary duties.
"The NASS will further ridicule the hallowed chambers if it should go ahead with this ignoble idea of impeaching the Nigerian president. Already, the whole world knows the true story particularly as it relates to the war against corruption.
"MURIC alerts Nigerians to brace up for the last struggle to liberate the masses from the clutches of capitalist compradore bourgeoisie in the NASS who are bent on frustrating the efforts of the current administration to make life more abundant for the common man. The Nigerian people must tighten their seat belts. We cannot afford to watch in silence while identified oppressors seek to eliminate our liberator.
"While MURIC will not play politics with the Saraki-police saga, we must stand up for the truth. Neither must we be afraid to say it as it is. Though not as graphic, we may have a similitude of the S. T. Oredein tragedy in the Bacita robbery of 1971 in the days of Kam Salem as the Inspector General of Police. Is history repeating itself this time around as a farce or as a tragedy? Time will tell.
"We contend that participation in crime cannot be limited to activities at the scene of crime. Neither can we extenuate or totally write off the offence of those who facilitate the empowerment of criminals to the extent that the latter is able to use the proceeds of empowerment to commit a crime.
Full report at:
http://dailypost.ng/2018/06/06/buhari-muslim-group-reveals-mastermind-impeachment-threat/
--------
Ethiopians in Turkish capital break fast together
06 June 2018
Ethiopian students and families in capital Ankara got an opportunity to break their fast together on Tuesday.
From high school students to Ph.D. candidates, everyone got a taste of home during iftar time with delicious snacks such as the Sambusa, spring rolls, and oat soup followed by Ethiopian traditional meal called Enjera (spongy bread) with traditional sausages.
The social gathering had been organized by volunteer students in Ankara.
Abdurahman Mohammed Molu -- former president of Association of Ethiopian students in Turkey (AEST) and a Ph.D. student, said: "We Ethiopians live in extended families, there is always a number of people around us at Iftar time but in here almost all of us have nuclear families so we wanted to bring the good feeling and memories of back home by breaking our fast together as citizens of one country, as a family.
"The other reason we tend to have multiple Iftar gatherings is, people are really busy here and Ramadan Iftar time gives them a break to revive their social lives, we wanted to use that opportunity. Some of our brothers and sisters also live in dormitories where they can't prepare our traditional foods, so this Iftar event will remind them our local tastes and make them happy."
Yasin Mohammed Ali, another Ph.D, student, said: "The thing I liked most here is that in this month people don't have to worry about what to eat and drink after such long hours of fasting since there are many governmental and nongovernmental organizations which serve Iftar for free."
About challenges of having Ramadan in Turkey, Ali said: "Fasting for long hours is unusual for people who come from Africa.
"The Taraawih [special prayers held in Ramadan] in most mosques here is a little bit fast...compared to my Ethiopian experience where Taraawih prayers are the most attractive part of Ramadan since it will give people a chance to listen to the Holy Quran with a mesmerizing recitation."
There are more than 350 Ethiopian students in Turkey.
During the month of Ramadan, Muslims fast from dawn to sunset. It is a time of self-examination and increased religious devotion.
Full report at:
http://www.worldbulletin.net/africa/202829/tunisian-premier-sacks-interior-minister
--------
Two Somali lawmakers killed in al-Shabaab ambush
06 June 2018
Two lawmakers from Somalia's semi-autonomous Hirshabelle state were killed on Tuesday along with several of their bodyguards in an ambush near the Somali capital Mogadishu claimed by militant Islamist group al Shabaab.
Major Abdullahi Abdirahman, a Somali army officer, said the lawmakers had been riding in a small car escorted by 10 soldiers in a military pickup truck when the ambush took place in the village of Elka Gelow some 45 km (28 miles) north of Mogadishu.
"The lawmakers, Sheikh Dahir and Ismail Mumin, died in the fighting. Several of their bodyguards were also killed. Some bodyguards escaped into the jungle and are still missing," Abdirahman told Reuters.
However, a local resident said no one riding in the two vehicles had survived the ambush.
"Al Shabaab hit the two cars with rocket-propelled grenades and the two lawmakers and their 10 bodyguards were all killed," the resident, Ali Ibrahim, said.
Al Qaeda-affiliated al Shabaab is trying to topple Somalia's Western-backed government and establish its own rule based on a strict interpretation of Islamic Sharia law.
The group also aims to drive the Africa Union-mandated peace keeping force AMISOM from Somalia.
Full report at:
http://www.defenceweb.co.za/index.php?option=com_content&view=article&id=51961:two-somali-lawmakers-killed-in-al-shabaab-ambush&catid=3:Civil%20Security&Itemid=113
--------
Senate probes Amnesty International report accusing soldiers of raping, starving Boko Haram victims
June 6, 2018
The Nigerian Senate on Wednesday resolved to look into a report by the international human rights organisation, Amnesty International, accusing Nigerian security forces of rape and domestic violence against women in the Internally Displaced Persons (IDPs) camps in Borno.
The lawmakers agreed to set up an ad-hoc committee to investigate the allegations.
The resolution follows a motion by Shehu Sani (Kaduna-APC). Mr Sani, dissatisfied with the reaction of the Nigerian government to the report, asked the senate re-open the issue for probe.
"Scores of women described how soldiers and Civilian JTF members have used force and threats to rape women in satellite camps, including by taking advantage of hunger to coerce women to become their 'girlfriends', which involved being available for sex on an ongoing basis," the report released in May reads.
In reaction, the presidency and Civilian Joint Task Force (CJTF), said the report is short on credibility because it does not contain factual leads that could have laid the foundation for investigative actions.
Mr Sani in his motion disagreed. He asked his colleagues to look into the grave allegations against Nigerian security forces.
"This report is not only a thesis by AI, it contains names identity, photograph, instances and personal confessions of victims of rape, starvation and torture.
"The response that followed this report is simply a dismissal by the presidency and Nigeria security forces but I think as a parliament, we have a duty to address this issue," he said.
He added that Nigeria has a constitutional obligation to look into the report as such are usually taken serious by global leaders.
"As a democracy, we have a twin obligation to prosecute the war on terror and in every possible way protect and defend the fundamental rights of Nigerians
"It is a concern that this report infringes on the image of not only the security forces of Nigeria but Nigeria as a country."
In his contribution, Deputy Senate Leader, Bala Na'Allah, cautioned his colleagues in their probe because of the intricate nature of the war.
"The nature and character of what we have in the country makes it almost practically impossible not to have the kind of report that the AI is reporting about Nigeria. We must understand that we are not fighting with a defined enemy," he said.
Full report at:
https://www.premiumtimesng.com/news/headlines/271324-breaking-senate-probes-amnesty-international-report-accusing-soldiers-of-raping-starving-boko-haram-victims.html
--------
Europe
Tory Muslim chief accuses party of failing to tackle Islamophobia
June 6 2018
The Conservative Party has failed to tackle Islamophobia in its ranks out of fear for the political consequences, the head of an affiliated Muslim group has claimed.
Mohammed Amin, chairman of the Conservative Muslim Forum, claimed that the party was hoping that the issue would "magically go away" so that it could avoid a bruising inquiry into anti-Muslim prejudice.
The intervention by a Muslim group with formal links to the party will increase pressure on Theresa May to launch an independent investigation. The demand was first made last week by the Muslim Council of Britain (MCB), an umbrella body of mosques and other groups which said that it was receiving reports of Islamophobic incidents involving Tory figures at least once a week.
https://www.thetimes.co.uk/article/tory-muslims-accuse-party-of-islamophobia-vp8nnrtj0
--------
France, Germany, Britain request exemptions from US Iran sanctions
June 06, 2018
PARIS: France, Britain, Germany and the EU on Wednesday sent the United States a joint official request for their companies to be exempt from punitive measures resulting from fresh US sanctions on Iran.
"As allies, we expect that the United States will refrain from taking action to harm Europe's security interests," said the letter to US Treasury Secretary Steven Mnuchin and Secretary of State Mike Pompeo.
French Economy Minister Bruno Le Maire said the three countries and the EU were asking the US "to exempt European businesses doing legitimate trade in Iran from all extraterritorial American sanctions".
"Those businesses must be able to pursue their activities," he wrote on Twitter.
The plea comes as European leaders scramble to save the hard-fought deal signed between Iran and world powers in 2015 under which Tehran agreed to limits on its nuclear capacities in exchange for relief from crippling economic sanctions.
US President Donald Trump announced he was abandoning the deal last month, which will mean new sanctions on the Islamic republic and punitive measures for those who trade with it.
Analysts say European firms which have rushed to invest in Iran after the lifting of sanctions over the past three years have the most to lose from the renewed sanctions.
Several major companies including France's Total and the Netherlands' Maersk have already said it will be impossible to stay in Iran once the sanctions are fully reimposed over the next six months unless they receive explicit exemptions from Washington.
Full report at:
https://nation.com.pk/06-Jun-2018/france-germany-britain-request-exemptions-from-us-iran-sanctions
--------
France backs Iran nuclear deal during Israeli PM visit
06 June 2018
The Iranian nuclear deal should be preserved to maintain regional peace, President Emmanuel Macron said on Tuesday following his meeting with Israeli Premier Benjamin Netanyahu in Paris.
"My colleagues in Europe and I think that there is a need to preserve the nuclear agreement, but we are concerned about Iran's activities in the Middle East," Macron said at a joint news conference after the meeting.
The nuclear deal, also known as Joint Comprehensive Plan of Action (JCPOA) was signed between Tehran and world's major powers China, Russia, France, the U.K., and U.S., plus Germany.
U.S. President Donald Trump last month pulled the U.S. out of the nuclear agreement with Iran, claiming that Iran was running a secret program to build nuclear weapons.
France wants to achieve "in the long term, a complete package where we would have the 2015 nuclear agreement supplemented by three agreements" on ballistic activities and the role of Iran in the region, he said.
Macron told Netanyahu the Joint Comprehensive Plan of Action agreement should "be preserved", even if it is "not enough or fully satisfactory".
"We want to bring stability to the Middle East, and the nuclear agreement is part of that, but it should be extended by an additional 10 years, and we should consider Iran's aggression in the region and its ballistic missile program," he said.
The French president warned all parties against an "escalation" that could lead to conflict after Iran announced an increase in its uranium enrichment capacity.
"I invite everyone to stabilize the situation and not give in to this escalation because it would only lead to one thing, the conflict," he said.
In his statement, Netanyahu said he was not seeking French withdrawal from the 2015 Iran deal since he believes economic pressure will dismantle it.
Full report at:
http://www.worldbulletin.net/europe/202831/putin-demands-more-from-russia-ahead-of-world-cup
--------
Dozens of Jihadists Are Due For Release From French Prisons Before The End of 2019
June 6, 2018
Paris (CNSNews.com) – The news that around 40 Islamic jihadists will complete their prison sentences and be released into society between now and the end of next year has set off alarm bells in France, where some fear they may return to violence.
The numbers were mentioned in a recent television interview by the Paris prosecutor in charge of terrorism, François Molins, who said, "There is a major risk in seeing people who are not at all repentant or have become harder or even more radicalized, out of jails."
Lawmaker Eric Ciotti, a member of Les Républicains' party, has called for strong measures to keep a close watch on released radicals. He said in a radio interview that some the former prisoners "remain extremely dangerous" and were akin to "time bombs."
Nicolas Dupont-Aignan, former presidential candidate and leader of the right wing France Arise movement, suggested France needs to build a Guantanamo-type prison, but even National Front leader Marine Le Pen, who is close to Dupont-Aignan, rejected the idea.
Le Pen said, however, that the government is to blame for the troubling situation because it is not sufficiently tough on Islamist fundamentalism.
Justice Minister Nicole Belloubet has tried to allay the fears, saying in an interview the released radicals will be monitored.
"We have put in place a series of operational means that allow us to think that we are able to follow these people who come out of detention," she said.
Belloubet also pointed out that the radicals were evaluated by doctors, psychologists, educators and others when they arrive in prison, to assess the level of risk they pose.
Currently, according to ministry of justice figures, more than 500 people are serving prison terms for terrorism, while more than 1,200 inmates are regarded as "radicalized."
Jean-Charles Brisard, chairman of the Paris-based Center for the Analysis of Terrorism (CAT), said that according to the center's calculations, 115 jihadists will be released from prison by 2020.
"There is a plan of action implemented by intelligence services to monitor them and to reassess their dangerousness once they are out of jail," he said.
Brisard said it was well known "that the risk of extreme radicalization or of a second offense is high among those people."
Under new terrorism legislation, adopted last year, intelligence and police forces are permitted to monitor such people closely, listen to their phone calls, read their Internet communications, and carry out house searches.
The law also provided for stiffened sentences for terror offenses. Prior to the new law coming in, "returnees" from Iraq or Syria received sentences of six years' imprisonment on average.
Today, any person who is arrested for preparing or carrying out a terrorist act can be sentenced to 30 years in jail, compared to a 20-year maximum before. The law also says that jailed terrorists may not have their sentences reduced, as can happen with those convicted of other crimes.
Full report at:
https://www.cnsnews.com/news/article/fay-al-benhassain/dozens-jihadists-are-due-release-french-prisons-end-2019
--------
URL: https://www.newageislam.com/islamic-world-news/muslim-personal-law-board-agree/d/115478
New Age Islam, Islam Online, Islamic Website, African Muslim News, Arab World News, South Asia News, Indian Muslim News, World Muslim News, Women in Islam, Islamic Feminism, Arab Women, Women In Arab, Islamophobia in America, Muslim Women in West, Islam Women and Feminism