New Age Islam News Bureau
5 May 2015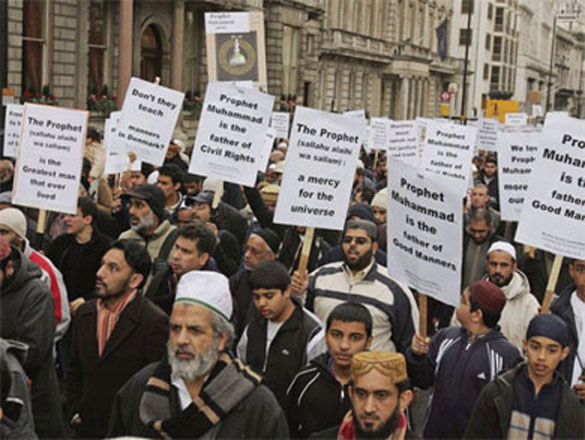 Why Muslims Are Offended By Images of Prophet Muhammad (pbuh), PHOTO: VOX
----------
North America
• Why Muslims Are Offended By Images of Prophet Muhammad (pbuh)
• ISIS Claims Responsibility for Texas Cartoon Attack
• Gunman in Texas cartoon attack attended high school in Pakistan: report
• Cannot confirm al Qaeda's claim of killing blogger in Bangladesh: US
• At Texas mosque, no sympathy for both shooters and cartoon contest organisers
• Obama says black men feel disadvantaged
Arab World
• Iraqi Air Strikes Kill over 40 ISIL Terrorists in Salahuddin
• Several Rebels Killed in Syrian Army's Operations in Al-Quneitra Battlefields
• Afghan Talks in Qatar Agree On Reopening Taliban Political Office
• 'Crimes against Humanity' Cited in Syria's Aleppo
• 161 Gunmen Turn Themselves in to Authorities in Syria
• ISIL Terrorists Retreat from Many Battlefronts in Syria's Homs Province
• Five foreigners beheaded in Saudi Arabia
• King: Citizens, expatriates liable to protect country
Africa
• Troops Kill 28 Suspected Militants in Central Nigeria: Military
• Senegal to Send 2,100 Troops to Join Saudi-Led Alliance
• Tests, counselling for traumatized former Boko Haram hostages
South Asia
• China Orders Muslim Shopkeepers to Sell Alcohol, Cigarettes, To "Weaken" Islam
• 17 Militants Killed In Fresh Airstrike in Nangarhar
• 8 Soldiers Martyred, 27 Militants Killed In Military Operations
• Taliban kills 13 Afghan police despite peace talks
• Suranjit: International terrorism has spread to Bangladesh
• Nasheed calls on prosecutor general to appeal terror charges
• Bangladesh: Death or life term for killing after rape
Mideast
• Fertilizer, Also Suited for Bombs, Flows to ISIS Territory from Turkey
• Faced With ISIS Successes across Mideast, Al Qaeda Grows Stronger
• Saudi Choppers Drop Arms to Al-Qaeda Terrorists, Pro-Hadi Militias in Ma'rib
• Xenophobia is Europe's biggest problem, claims Turkish PM
• Turkish President attacks both CHP, HDP over religion
• Zionist savagery in Gaza revealed by Israeli veterans
• Iran bans 'devil worshipping' haircuts
India
• Government to Commemorate Muslim and Christian National Icons
• Ram Janamabhoomi Is In Pakistan, Says AIMPLB Member
• Kin of ISIS-Held Men Seek Information from Govt
Europe
• NUS Accused Of Backing Jihadi John Apologists Cage
• Danish bus ads on Israeli settlements brought to a halt
• U.N. envoy invites Syria opposition fighters to Geneva talks
Southeast Asia
• Indonesia to Stop Sending Domestic Workers to Middle East: Reports
• Indonesian Prisons Chief Resigns after Drug Scheme Unveiled
• Police told me criticising GST is seditious, Rafizi says
Pakistan
• Man Sentenced For 25 Years in Prison over Desecrating Sacred Scriptures
• Govt committed to rooting out terrorism: Nisar
• Can parliament alter Constitution's structure, asks SC
• Police arrest LeJ militant in Lasbela
Compiled by New Age Islam News Bureau
URL: https://www.newageislam.com/islamic-world-news/new-age-islam-news-bureau/why-muslims-are-offended-by-images-of-prophet-muhammad-(pbuh)/d/102822
----------
North America
Why Muslims Are Offended By Images of Prophet Muhammad (Pbuh)
May 5, 2015
A fundamental principle of Islam is accepting Allah as the only one worthy of our worship. It is probably the simplest explanation as to why idolising Prophet Muhammad (pbuh) has been forbidden in Islam since it is counterproductive to that very notion.
"It's all rooted in the notion of idol worship," Akbar Ahmed, who chairs the Islamic Studies department at American University, told CNN. "In Islam, the notion of God versus any depiction of God or any sacred figure is very strong."
Akbar Ahmed told the CNN that Muslim artist have depicted the Prophet Muhammad(pbuh) in the 15th and 16th centuries but took care to avoid drawing his face.
"In the context of Europe, where in many countries Muslims feel like they are besieged, these images are not seen as criticism but as bullying. Violence as a response is clearly wrong and disproportionate. However, it is not so much about religious anger as it is about vengeance," he added.
Mohamed Magid, an imam and former head of Islamic Society of North America, told CNN that the Muslim prohibition on depicting prophets extends to Jesus and Moses, whom Islam treats as prophets. Some Muslim countries banned the films"Noah" and"Exodus" this year because their leading characters were Hebrew prophets.
Prophet (pbuh) on depictions of himself
It is also noteworthy that Muhammad (pbuh) did not approve of cartoons and images of himself.
"The prophet himself was aware that if people saw his face portrayed by people, they would soon start worshiping him," Ahmed told CNN. "So he himself spoke against such images, saying 'I'm just a man.' "
In a bitter irony, the sometimes violent attacks against portrayals of the Prophet (pbuh) are kind of reverse idol-worship, revering — and killing for — the absence of an image, said Hussein Rashid, a professor of Islamic studies at Hofstra University in New York.
Dalia Mogahed, the Director of Research at the Institute for Social Policy and Understanding, explained that Muhammad is a beloved figure to Muslims, and "it is a human impulse to want to protect what's sacred to you."
Mogahed drew a comparison by referring to the issue of flag-burning in the US. She said majority of the Americans support a constitutional amendment to ban flag burning for similar reasons; the flag is a symbol of national identity and that most Americans see flag-burning as an attack on that identity. This is not about fundamentalism or lack of wisdom but about protecting what you hold dear.
A clash of identities lies at the root of the impacts such cartoons have."Holding religious symbols as sacred is in and of itself seen as backward, superstitious, and pre-modern." explains Mogahed.
Scholar and author Dr Reza Aslan confirmed the findings of Mogahed and said that he receives severe reaction if he criticizes American foreign policy as he does if he comments on religious figures.
"For some Americans, their national identity is sacred in the way that for some religious people, their religious identity is sacred," he said. "And to criticize America is to insult America."
Aslan elaborates that part of the offense comes from the fact that the cartoons appear specifically designed to incite a severe response.
"I've had extensive conversations, for instance, with the editor of Jyllands Posten, who published the famous Muhammad (pbuh) cartoons," Aslan recounted. "And he says, without apology, that those cartoons were a deliberate attempt to poke a stick in the eye of Denmark's Muslim community. To rouse them, to essentially prove that 'unless you can put up with this, you don't belong in Denmark."
http://tribune.com.pk/story/880708/why-muslims-are-offended-by-images-of-prophet-muhammad-pbuh/
----------
ISIS claims responsibility for Texas cartoon attack
May 5, 2015
Islamic State is claiming responsibility for an attack at a center near Dallas, Texas, exhibiting cartoon depictions of the Prophet Muhammad.
An audio statement on Tuesday on the extremist group's Al Bayan radio station says that "two soldiers of the caliphate" carried out Sunday's attack. It did not provide details and it was unclear whether the group was opportunistically claiming the attack as its own.
Two suspects in Sunday's attack in the Dallas suburb of Garland were shot dead after opening fire outside the center.
Islamic State's statement says: "We tell America that what is coming is more bitter and harder and you will see from the soldiers of the Caliphate what harms you."
http://www.haaretz.com/news/middle-east/1.655045
----------
Gunman in Texas cartoon attack attended high school in Pakistan: report
May 5, 2015
One of the two gunmen, who were shot dead after opening fire with assault rifles at a heavily guarded Texas exhibit of caricatures of the Prophet Muhammad (pbuh), attended high school in Islamabad, the New York Times reported.
A Facebook page that appears to be of the identified attacker Nadir Hamid Soofi says he graduated from the International School of Islamabad, in Pakistan, in 1998. However, a first cousin of his said he was born in the United States. The page also says he attended the University of Utah.
"We're all devastated," the cousin, who did not want to be identified, said of Soofi's relatives. "We just barely found out just now on CNN."
Soofi, 34, along with Elton Simpson, 30, had opened fire at the event before a police officer managed to take them down.
Simpson was known to the FBI, and had been convicted of lying to federal officers in 2011. He denied charges of planning to go travel to Somalia for jihad. He had subsequently been sentenced to three years of probation since the prosecution had failed to back their claim with conclusive evidence.
The two men had driven up to the place of the event at around 6:50pm, Sunday, which was attended by far-right Dutch politician Geert Wilders. The men managed to fire multiple bullets from assault rifles before a police officer took them down. A security guard was wounded in the attack.
Islamic Community Centre of Pheonix president Usama Shami said that Soofi owned a pizza shop. Shami said that Soofi used to visit the mosque along with Simpson since it was located just two miles from where they lived.
The motive of the event is still unclear, however the nature of the event, is considered to be the most rational reason. Drawing pictures of Prophet Muhammad (pbuh) is considered blasphemous in many Islamic schools of thoughts. It was one of the reasons cited for the attack on French magazine Charlie Hebdo which left 12 people dead. Wilders too has been listed as a target by Islamic extremists.
Officer Harn, one of the police officers on duty at the event, said that, "Two men exited the dark colour sedan, both of them had assault rifles and came around the back of the car and started shooting at the police car."
The SITE private intelligence group said that at the time of the attack, a tweet with the hashtag '#texasattack' was posted on a twitter account with the name "Shariah is Light". The profile picture of the account was of Anwar al Awlaki, a Yemeni-American militant leader who was killed in a 2011 CIA drone strike in Yemen – the first known drone attack on a US citizen.
http://tribune.com.pk/story/881094/one-of-the-texas-attackers-was-a-pakistani-report/
----------
Cannot confirm al Qaeda's claim of killing blogger in Bangladesh: US
May 5, 2015
WASHINGTON: The United States said that it has not been able to confirm a claim by al Qaeda in the Indian Subcontinent (AQIS) that the group killed a blogger who was also a US citizen in Bangladesh in February, a US official said on Monday.
The SITE Intelligence Group had reported on Sunday that AQIS leader Asim Umar had claimed responsibility for the killing of Avijit Roy, a US citizen of Bangladeshi origin, in a video listing several people killed in Bangladesh and Pakistan.
"We are aware of the May 2 claim of responsibility for the murder of the American-Bangladeshi blogger Avijit Roy by AQIS," an official of the US State Department said. "However we cannot independently confirm who is responsible for this despicable act of terrorist violence."
On Sunday, Bangladeshi police stood by their assessment that Avijit's murder was the work of a local militant group called the Ansarullah Bangla Team, which had claimed responsibility shortly after the attack.
The official said that the US would now have to investigate whether the group was working as a branch of al Qaeda.
The United States has provided support to Bangladeshi authorities during the initial stages of investigation into Avijit's murder.
Avijit, who wrote a blog that highlighted humanist and rationalist ideas and condemned religious extremism, was hacked to death by machete-wielding assailants in Dhaka on February 26. His family said radical militants were to blame.
SITE, which monitors Internet messages posted by militant groups, said AQIS leader Asim Umar made his claim in a nine-minute video, listing several people killed in Bangladesh and Pakistan over 'blasphemy'.
http://tribune.com.pk/story/880947/cannot-confirm-al-qaedas-claim-of-killing-blogger-in-bangladesh-us/
----------
At Texas mosque, no sympathy for both shooters and cartoon contest organisers
May 5, 2015
TEXAS: At a small mosque in Texas near the site where two gunmen were shot dead after trying to storm an exhibit of caricatures of the Prophet Muhammad (pbuh), there was little sympathy for the assailants or the organizers of the event.
"It is frustrating because freedom of speech is a very good thing. But you don't use it to make a mockery out of the person. You don't do it to be disrespectful," said Muhammad Jetpuri, a retired North Texas resident who was one of about 10 men who came for prayers at Makkah Masjid, in Garland, the same melting-pot Dallas suburb of nearly a quarter million people where the shooting occurred.
The well-worn mosque, located in a community center, is about 4 miles from where the shooting took place.
Muslims in the area knew well about the exhibit by the American Freedom Defense Initiative, a free-speech organization that the Southern Poverty Law Center has described as a hate group, and which paid $10,000 for extra security.
For the most part, area Muslims stayed away, waiting for it to be over.
"It was not even worth protesting," said Siddiq Moon, a North Texas business owner.
The shooters did not represent the teachings of Islam and got what was coming to them, many at the mosque said.
"I don't feel bad for them. I am sorry for their parents," Moon said.
Two government sources who asked not to be named said the shooters were roommates Elton Simpson and Nadir Soofi, of Phoenix. Court documents show that Simpson had been under surveillance since 2006 and convicted of lying to FBI agents over his desire to join violent jihad in Somalia.
"We reiterate the American Muslim community's support for freedom of speech – even bigoted speech – and its repudiation of terrorism in any form," said the Dallas-Fort Worth branch of the Council on American-Islamic Relations, the nation's largest Muslim civil rights and advocacy organization.
Anti-Islam sentiment has been growing in parts of the United States, including Texas, where many see the religion as an enemy.
At a Sam's Club next to the center where the shootings took place, Jimmy Hanks, 42, a disabled veteran who served with the US Army in Bosnia, said Islam posed a danger to the country.
"This is the next thing that is going to be happening here a lot. We are going to be seeing more of these attacks by militants on our soil," Hanks said.
http://tribune.com.pk/story/881210/at-texas-mosque-no-sympathy-for-both-shooters-and-cartoon-contest-organisers/
----------
Obama says black men feel disadvantaged
May 5, 2015
Following a week of racially charged protests in Baltimore, U.S. President Barack Obama on Monday said that the residual effects of racism have built up over time and created inequality.
Speaking on one of the final episodes of the Late Show with David Letterman, Mr. Obama said the effects of slavery, Jim Crowe laws and discrimination in American history have left minority communities at a disadvantage.
"We don't have to accuse everybody of racism today to acknowledge that as part of our past. And if we want to get past that, everybody has to make a little bit of extra effort," Mr. Obama said.
Earlier in the day, Mr. Obama spoke at Lehman College in the Bronx where he announced the launch of My Brother's Keeper Alliance, a non-profit organisation that is a spinoff of a White House initiative to increase opportunities for young minority men.
Mr. Obama said black and Latino men feel disadvantaged, and he credited their sense of frustration about their lives and opportunities for the intensity of recent protests around the country.
"That sense of unfairness, powerlessness, people not hearing their voices, that's helped fuel some of the protests that we've seen in places like Baltimore, Ferguson and right here in New York," Mr. Obama said, referring to demonstrations that followed the deaths of unarmed black men after interactions with police.
Mr. Obama said he would continue to work on the issue after his presidency, a possible foreshadowing of his future involvement with My Brother's Keeper Alliance.
The non-profit, to be headed by Joe Echevarria, former chief executive of consult firm Deloitte, will develop guidance for companies to increase access to jobs for racial minorities.
http://www.thehindu.com/news/international/obama-says-black-men-feel-disadvantaged/article7172933.ece
----------
Arab World
Iraqi Air Strikes Kill over 40 ISIL Terrorists in Salahuddin
May 5, 2015
Some 45 terrorists of the Islamic State of Iraq and the Levant (ISIL) group were killed in Iraqi air strikes in Northern Salahuddin province.
The Iraqi Interior Ministry said in a statement on Monday that the Iraqi air force conducted air strikes against ISIL in the Northern districts of Salahuddin.
The statement further said the airstrikes killed 45 ISIL fighters in the district of al-Sharqat and the areas of Makfoul, al-Mallaha, and al-Ba'aji in the district of Baiji.
The ISIL Takfiri terrorists currently control shrinking swathes of Syria and Iraq. They have threatened all communities, including Shiites, Sunnis, Kurds, Christians, Ezadi Kurds and others, as they continue their atrocities in Iraq.
Senior Iraqi officials have blamed Saudi Arabia, Qatar, and some Persian Gulf Arab states for the growing terrorism in their country.
ISIL has links with Saudi intelligence and is believed to be indirectly supported by the Israeli regime.
http://english.farsnews.com/newstext.aspx?nn=13940215000650
----------
Several Rebels Killed in Syrian Army's Operations in Al-Quneitra Battlefields
May 5, 2015
Military sources in the Southwestern province of al-Quneitra said that the rebel groups have left their dead and wounded comrades on the ground and fled the battlefield after sustaining a heavy defeat in a Syrian Army massive offensive on their positions.
The sources said that one of the battlefronts was al-Ajraf town which witnessed heavy clashes between the Syrian army men and the militant groups.
The source further added that the rebels preferred to retreat from the fighting areas due to their heavy death toll in the battle.
Meantime, the militants' concentration center in the Northern parts of Nabe'a al-Sakhr village were shelled by the army artillery which resulted in the killing and wounding of a large group of the fighters.
Full report at:
http://english.farsnews.com/newstext.aspx?nn=13940215000625
----------
Afghan talks in Qatar agree on reopening Taliban political office
May 5, 2015
Representatives at preliminary talks aiming to end Afghanistan's long war have agreed that Taliban insurgents should open a political office for negotiations, but disagreement over foreign troops is still hampering prospects for a ceasefire.
A statement issued on Monday outlined the agreements reached by at least 40 delegates to a "non-official meeting" bringing together Taliban representatives, Afghan government figures and U.N. representatives at a two-day meeting held in Qatar.
The dialogue was a step toward a peace process that has proved elusive during a war that has killed tens of thousands of Afghans since the Taliban were driven from power by a 2001 U.S.-led military operation.
Full report at:
http://english.ahram.org.eg/NewsContent/2/9/129383/World/International/Afghan-talks-in-Qatar-agree-on-reopening-Taliban-p.aspx
----------
161 Gunmen Turn Themselves in to Authorities in Syria
May 5, 2015
A total of 161 wanted people from Damascus and its countryside turned themselves in to the Syrian authorities, official sources in the province said.
Informed sources told FNA that all the gunmen handed over their guns to the relevant authorities and asked for governmental pardon.
The sources added that ex-gunmen could be released as soon as their legal status settled.
Syrian army has recently gained upper hand in so many battlefields across the county that has caused militants to flock military bases and asked for government's pardon.
Insurgency started in Syria nearly four years ago when too many terrorists from around the world left for the country to fights against the legal government of President Bashar al-Assad.
http://english.farsnews.com/newstext.aspx?nn=13940215000776
----------
ISIL Terrorists Retreat from Many Battlefronts in Syria's Homs Province
May 5, 2015
Informed sources said that a large number of the ISIL terrorists have been killed in the Syrian Army's offensives in the Central Homs province during recent days, adding that the ISIL has just started to evacuate its forces from combat zones to find more secure strongholds.
The sources told FNA that a number of the ISIL terrorists were killed and injured in the army troops' attacks in the village of Rahoum, which meantime has prevented the terrorists to access the near by oil and gas fields in the Badiye desert.
The ISIL terrorists also suffered heavy losses in the villages of Mas'ada, Rajm al-Aali, Salam Sharqi, Salam Gharbi, and Oum Suhairij after the army men stormed their concentration centers in the abovementioned villages.
Full report at:
http://english.farsnews.com/newstext.aspx?nn=13940215000700
----------
Five foreigners beheaded in Saudi Arabia
May 5, 2015
Saudi Arabia beheaded five foreigners for murder and robbery, an unusually high number that adds to what Amnesty International has called a "macabre spike" in the kingdom's executions.
Two Yemenis, a Chadian, an Eritrean and a Sudanese were put to death in the Red Sea city of Jeddah, the interior ministry said in a statement carried by the Saudi Press Agency.
It identified them as Yemenis Khaled Fetini and Ibrahim Nasser, Hassan Omar from Chad, Eritrean Salem Idriss and Abdel Wahhab Abdel Maeen from Sudan.
They were all convicted of killing the Indian guard at a business and stealing money from the safe.
Full report at:
http://english.ahram.org.eg/NewsContent/2/8/129353/World/Region/Five-foreigners-beheaded-in-Saudi-Arabia.aspx
----------
'Crimes against Humanity' Cited in Syria's Aleppo
5 May 2015
Syrian government forces are committing "crimes against humanity" by indiscriminately bombing Aleppo, Amnesty International said on Tuesday, as it also criticized rebels for abuses including "war crimes".
In a new report, the rights watchdog said "relentless" government aerial bombardment of Syria's former economic powerhouse had forced many residents to "eke out an existence underground".
It slammed the "horrendous war crimes and other abuses in the city by government forces and armed opposition groups on a daily basis".
"Some of the government's actions in Aleppo amount to crimes against humanity," Amnesty said.
Full report at:
http://english.alarabiya.net/en/News/middle-east/2015/05/05/-Crimes-against-humanity-cited-in-Syria-s-Aleppo-.html
----------
King: Citizens, expatriates liable to protect country
May 5, 2015
Custodian of the Two Holy Mosques King Salman, during the weekly Cabinet meeting on Monday, thanked the Interior Ministry for its efforts in "detecting and thwarting a number of terrorist plots" aimed at the country's youth and other targets across the country.
Such plots are set up by terrorist organizations abroad to undermine the Kingdom and its policies, which are based on the Holy Qur'an and Sunnah of the Prophet (peace be upon him), said Adel Al-Toraifi, minister of culture and information, after the meeting.
He said King Salman has stressed that citizens and expatriates are responsible for protecting the country, and should report any attempts threatening its security.
He said the ministers also thanked the king for supporting the Yemeni people, including his directive for the Interior Ministry to help the country's workers correct their status in the Kingdom.
Full report at:
http://www.arabnews.com/saudi-arabia/news/742446
-------
Africa
Troops kill 28 suspected militants in central Nigeria: Military
May 5, 2015
Troops killed 28 suspected militants during a weekend operation in central Nigeria launched in response to an attack last month which saw six soldiers gruesomely murdered, the military said.
The violence occurred on the border between Plateau and Taraba states, an area plagued by waves of sectarian violence seen as separate from Boko Haram, although the Islamist insurgents have claimed past attacks in the region.
"In our effort to rid the border communities... of incessant killings and brigandage, there was an exchange of fire between troops and militiamen in which lives were lost," military spokesman Ikedichi Iweha told AFP, referring to Saturday's unrest.
"Twenty-eight members of the militia group lost their lives, one soldier was injured while another is still missing following the battle," he added.
Iweha said the offensive in the districts of Wase and Langtang was launched in response to an April 28 attack by militants on troops operating in the area.
Full report at:
http://english.ahram.org.eg/NewsContent/2/9/129376/World/International/Troops-kill--suspected-militants-in-central-Nigeri.aspx
----------
Senegal to send 2,100 troops to join Saudi-led alliance
May 5, 2015
Senegal will send 2,100 troops to Saudi Arabia as part of an international coalition combating Houthi rebels in neighbouring Yemen, the West African nation's foreign minister said on Monday.
Senegalese President Macky Sall said, after returning from a visit to Saudi Arabia last month, he was considering a request to deploy troops in the Saudi-led coalition battling the Houthi, a Shi'ite Muslim group allied to Iran.
Saudi Arabia - the world's top oil exporter and the Sunni Muslim regional rival of Iran - said Houthi forces posed a threat to its security after they captured Yemen's capital and began advancing across the country in September.
Full report at:
http://english.ahram.org.eg/NewsContent/2/8/129385/World/Region/Senegal-to-send-,-troops-to-join-Saudiled-alliance.aspx
--------
Tests, counselling for traumatized former Boko Haram hostages
May 5, 2015
Many of the women and girls rescued from Boko Haram are traumatized and showing signs of depression, with psychological counselling urgently needed as they recover in camps in northeast Nigeria, relief officials said Monday.
"For some of them, who are really showing signs of trauma, we need to make them realize that this is not the end of life," said Sa'ad Bello, the National Emergency Management Agency (NEMA) camp coordinator in Adamawa state.
"They need trauma counselling and psycho-social support... to develop coping mechanisms," he told AFP, adding that many of the female hostages appeared to be suffering from serious depression, likely after enduring sustained abuse by their Islamists captors.
A total of 275 women and children were brought to a camp in Adamawa's capital Yola, at the weekend, following a military operation to free them in Boko Haram's Sambisa Forest stronghold.
Full report at:
http://english.alarabiya.net/en/News/africa/2015/05/04/Tests-counselling-for-traumatized-former-Boko-Haram-hostages.html
----------
South Asia
China orders Muslim shopkeepers to sell alcohol, cigarettes, to "weaken" Islam
May 05 2015
Chinese authorities have ordered Muslim shopkeepers and restaurant owners in a village in its troubled Xinjiang region to sell alcohol and cigarettes, and promote them in "eye-catching displays," in an attempt to undermine Islam's hold on local residents, Radio Free Asia (RFA) reported. Establishments that failed to comply were threatened with closure and their owners with prosecution.
Facing widespread discontent over its repressive rule in the mainly Muslim province of Xinjiang, and mounting violence in the past two years, China has launched a series of "strike hard" campaigns to weaken the hold of Islam in the western region. Government employees and children have been barred from attending mosques or observing the Muslim fasting month of Ramadan. In many places, women have been barred from wearing face-covering veils, and men discouraged from growing long beards.
In the village of Aktash in southern Xinjiang, Communist Party official Adil Sulayman, told RFA that many local shopkeepers had stopped selling alcohol and cigarettes from 2012 "because they fear public scorn," while many locals had decided to abstain from drinking and smoking.
The Koran calls the use of "intoxicants" sinful, while some Muslim religious leaders have also forbidden smoking.
Full report at:
http://www.washingtonpost.com/blogs/worldviews/wp/2015/05/05/china-orders-muslim-shopkeepers-to-sell-alcohol-cigarettes-to-weaken-islam/
----------
17 militants killed in fresh airstrike in Nangarhar
May 05 2015
17 militants have been killed in a fresh airstrike in eastern Nangarhar province.
Colonel Hazrat Hussain Mashriqiwal, press officer at the police headquarters of Nangarhar province says in a statement issued this morning that the airstrike was carried out in Dabili locality of Landi Basawal area of Mohamand Dara District yesterday afternoon.
Mashriqiwal adds that Dawoud who was leading the group was among the 17 killed in the airstrike.
According to the statement the group planned to carry out terrorist attacks in the jurisdiction of Mohmand Dara District and on Jalalabad-Torkham highway but targeted in the airstrike before reaching to their goal.
12 terrorists were killed in an airstrike in the same district on Sunday.
No militant group has yet commented on the reports.
Nangarhar province is located in the eastern part of the country which shares a long with Pakistan. Militants occasionally crossed the border from Pakistan form terrorist activities in Nangarhar. This past Friday security forces seized 28 bags of explosive materials coming from Pakistan on mules but the militants run away taking the advantage of night.
http://www.khaama.com/17-militants-killed-in-fresh-airstrike-in-nangarhar-3281
----------
8 soldiers martyred, 27 militants killed in military operations
May 05 2015
Eight soldiers embraced martyrdom while 27 militants killed during separate military operations across the country in past 24 hours, statements issued this morning by the ministries of defense and interior state.
According to the Ministry of Defense statement the eight soldiers embraced martyrdom due to a landmine explosion and militant fire. There is no mention of exact location of the terrorist actions.
Another statement issued by the Ministry of Interior states that 27 militants were killed and 10 wounded during separate military operations in eight provinces in past 24 hours.
The statement adds that the operations were jointly conducted by Afghan National Police, Afghan National Army and personnel from the National Directorate of Security in Uruzgan, Nangarhar, Helmand, Badghis, Paktiya, Farah, Zabul and Kandahar province.
National security forces also defused several Improvised Explosive Devices (IEDs) during the operation in Arghistan District of Kandahar province, the statement adds.
http://www.khaama.com/8-soldiers-embraced-martyrdom-27-militants-killed-in-military-operations-3282
----------
Taliban kills 13 Afghan police despite peace talks
May 5, 2015
Taliban militants killed at least 13 policemen after storming security outposts in Afghanistan's remote mountainous northeast, officials said Tuesday, despite peace talks between insurgent representatives and an Afghan delegation.
The pre-dawn raid in Badakhshan province on Monday came just weeks after a similar Taliban raid on army checkpoints in the province in which 18 soldiers were killed – including some who were beheaded.
"Enemies of peace and stability of Afghanistan attacked police posts in Warduj district of Badakhshan," the interior ministry said in a statement.
"Thirteen of our policemen were martyred and 17 were wounded," it said, adding that 10 policemen who went missing had returned to their posts.
Full report at:
http://www.themalaysianinsider.com/world/article/taliban-kills-13-afghan-police-despite-peace-talks
----------
Suranjit: International terrorism has spread to Bangladesh
May 5, 2015
Awami League Advisory Council member Suranjit Sengupta yesterday said al-Qaeda claiming responsibility for killing bloggers including Avijit Roy was proof that international terrorism has spread in Bangladesh.
"International terrorist outfit Al-Qaeda took responsibility of the killing of bloggers including Avijit. The communal political forces have forged alliance with all sorts of terrorism. So, all the secular democratic forces should be united in the mission for containing terrorism," he said.
Full report at:
http://www.dhakatribune.com/politics/2015/may/05/suranjit-international-terrorism-has-spread-bangladesh#sthash.BbBSQ7jA.dpuf
----------
Nasheed calls on prosecutor general to appeal terror charges
May 5, 2015
Former president Mohamed Nasheed has called on the prosecutor general to appeal his terrorism conviction and 13 year jail term amid growing international criticism of the flawed trial.
Nasheed's lawyers say they were unable to lodge an appeal at the high court within the shortened ten day period due to the criminal court's failure to provide a full report of case proceedings, but say the PG can lodge an appeal at any time, "without discussions, without permission."
Lawyer Hassan Latheef said PG Muhthaz Muhsin has an important role in "bringing an end to the distresses of the international community on his own initiative."
The PG can uphold the constitution and "save the Maldives from the storm that is about to come from international pressure," he added.
Full report at:
http://minivannews.com/politics/nasheed-calls-on-prosecutor-general-to-appeal-terror-charges-97637#sthash.aWW5ZrYy.dpuf
----------
Bangladesh: Death or life term for killing after rape
May 5, 2015
A rapist could be awarded capital punishment or life term for killing any child or woman after rape, according to a Supreme Court judgement.
Previously, the only punishment for the offence was death under the section 6 (2) of the Women and Children Repression Prevention (Special) Act 1995.
A four-member bench of Appellate Division led by Chief Justice Surendra Kumar Sinha passed the judgement on Tuesday morning.
Through the judgement, the apex court upheld a High Court verdict that declared the section 6 (2) of the Women and Children Repression Prevention (Special) Act 1995 unconstitutional and illegal.
Full report at:
http://www.dhakatribune.com/bangladesh/2015/may/05/sc-death-life-can-be-awarded-killing-after-rape#sthash.X5YXgQzC.dpuf
----------
Mideast
Fertilizer, Also Suited for Bombs, Flows to ISIS Territory From Turkey
May 5, 2015
AKCAKALE, Turkey — The laborers work all day, piling bags of fertilizer onto carts and wheeling them through the crossing that connects this southern border town to Syria.
The Syrian town next door is firmly controlled by the extremists of the Islamic State, as is clear from the black flag flying over downtown. And while the fertilizer, ammonium nitrate, is widely used for agriculture, it has also been used by terrorists around the world — including the Islamic State — to build powerful explosives.
Few here think the fertilizer is meant to help Syrian farmers.
"It is not for farming. It is for bombs," said Mehmet Ayhan, an opposition politician from Akcakale who is running for Parliament. But he did not oppose the deliveries, saying they created jobs in his impoverished town.
"As long as the Turkish people benefit from this — regardless of where it goes on the other side — it is a good thing," Mr. Ayhan said.
Full report at:
http://www.nytimes.com/2015/05/05/world/europe/fertilizer-also-suited-for-bombs-flows-to-isis-territory-from-turkey.html?_r=0
----------
Faced with ISIS successes across Mideast, Al Qaeda grows stronger
May 5, 2015
CAIRO – When Al Qaeda overran the Yemeni port city of Mukalla last month, the group's commanders immediately struck a deal to share power with the area's tribesmen. No jihadi banners were raised. Al Qaeda even issued a statement denying rumors that it had banned music at parties or men wearing shorts.
A local tribal council now administers the city.
The approach was a stark contrast to Al Qaeda's rival, the Islamic State group, notorious for its savagery. And that was precisely the point.
In a competition with the Islamic State group for recruits and prestige across the Middle East, Al Qaeda has sought to distinguish itself from its rival's bloodthirstiness, taking an approach that in jihadi circles would be considered pragmatic. It is building alliances with local players, even old enemies, to seize new territory. Its leader, Ayman al-Zawahri, has told his followers to avoid IS-style brutalities against civilians in order to build support among local populations.
The strategy has paid off, winning new gains for Al Qaeda. In Yemen, it even stands to emerge as the real winner as Saudi Arabia leads an Arab air campaign targeting the terror network's rival, the Iranian-backed Shiite rebels known as Houthis who have taken over much of the country.
Full report at:
http://www.foxnews.com/world/2015/05/04/across-mideast-islamic-state-group-challenges-al-qaida-but-veteran-terror/
----------
Xenophobia is Europe's biggest problem, claims Turkish PM
May 5, 2015
The Turkish prime minister said that xenophobia and exclusion on the basis of sectarian, religious and ethnic differences are the biggest threat facing Europe today. Ahmet Davutoglu made his comments at the opening of a new building at the Turkish Consulate General in Dusseldorf.
"The basic value that we should sustain strongly for the future of our continent is to protect human dignity and ensure a cultural environment in which everyone can practice his or her religion, faith and beliefs freely," he added. The prime minister expressed concern about the attacks against mosques carried out Islamophobic groups which have appeared across Europe in recent months.
Asked about historic German-Turkish economic relations, Davutoglu said that the presence of Turkish citizens in Germany made it top of the countries that are a priority for Turkey. He described the relationship between the two states as an example for the rest of the world to follow, noting that the Turkish community enriches Germany and the rest of Europe at the social and cultural levels. "Bilateral relations will develop strongly," he insisted.
https://www.middleeastmonitor.com/news/europe/18424-xenophobia-is-europes-biggest-problem-claims-turkish-pm
----------
Turkish President attacks both CHP, HDP over religion
May 5, 2015
President Recep Tayyip Erdoğan has accused both the main opposition Republican People's Party (CHP) and the Peoples' Democratic Party (HDP) of "religious indifference," while also praising Turkey's Directorate of Religious Affairs (Diyanet) for preventing the presence of fundamentalist groups such as Boko Haram and the Islamic State of Iraq and the Levant (ISIL).
"The person who heads the main opposition party yesterday used a phrase about me while in Kayseri. He is not worth responding to, but all of my citizens from Siirt to Kayseri know their president very well," Erdoğan said on May 4, delivering a speech in Siirt on the occasion of a collective inauguration of public facilities.
Erdoğan recalled that CHP leader Kemal Kılıçdaroğlu suggested he was "exploiting the Quran like Evren did," referring to Kenan Evren, the leader of the military coup d'état in 1980 and a former president.
Full report at:
http://www.hurriyetdailynews.com/turkish-president-attacks-both-chp-hdp-over-religion.aspx?PageID=238&NID=81938&NewsCatID=338
----------
Zionist savagery in Gaza revealed by Israeli veterans
May 5, 2015
JERUSALEM: Israel inflicted "massive and unprecedented harm" to Palestinian civilians in the 2014 Gaza war with indiscriminate fire and lax rules of engagement, a report said on Monday, citing testimony given anonymously by dozens of troops.
The 237-page report by the Israeli advocacy group Breaking the Silence described how Israel Defense Forces (IDF) left swathes of devastation after they invaded Gaza last July with the stated aim of halting Hamas rocket fire out of the enclave.
"We were firing purposelessly all day long. Hamas was nowhere to be seen," one tank sergeant was quoted as saying.
Full report at:
http://www.arabnews.com/middle-east/news/742136
----------
Iran bans 'devil worshipping' haircuts
May 5, 2015
TEHRAN: Hairstyles of a spiky and unorthodox nature have reportedly been banned in Iran because they imply devil-worship, while tattoos and other male bodily adornments are also being outlawed.
Jagged haircuts have become fashionable among all strata of Iran's youthful population in recent years, but have divided opinion and been deemed by the authorities as western and un-Islamic.
"Devil worshipping hairstyles are now forbidden," said Mostafa Govahi, the head of Iran's Barbers Union, cited by the ISNA news agency.
"Any shop that cuts hair in the devil worshipping style will be harshly dealt with and their license revoked," he said, noting that if a business cut hair in such a style this will "violate the Islamic system's regulations."
Full report at:
http://www.arabnews.com/offbeat/news/742126
----------
Saudi Choppers Drop Arms to Al-Qaeda Terrorists, Pro-Hadi Militias in Ma'rib
May 5, 2015
Saudi helicopters airdropped a large consignment of weapons to al-Qaeda terrorists and pro-Hadi militias operating in the Yemeni province of Ma'rib.
According to FNA dispatches, the arms cargo was parachuted to the militants by two Saudi choppers in the Western district of Wadi in Ma'rib flashpoint city on Monday.
The move by the Saudi monarchy came after the al-Qaeda terrorists and pro-Hadi militias suffered major military setbacks in the areas of Wadi Nakhla and Wadi al-Meel after the popular Ansarullah forces along with Yemeni troops intensified their offensive on them.
Reports coming out of Yemen on Tuesday said that heavy fighting is still underway between the Yemeni popular forces and the Saudi-backed militias in Western Ma'rib.
The Ansarullah fighters and army troops have made major advances in their fight against the al-Qaeda terrorists and forces loyal to fugitive President Mansour Hadi across Yemen in recent weeks.
Full report at:
http://english.farsnews.com/newstext.aspx?nn=13940215001013
----------
India
Government to Commemorate Muslim and Christian National Icons
May 5, 2015
NEW DELHI: In an effort to burnish its secular credentials, the government has compiled a list of national icons from the Muslim and Christian communities whose deeds will be commemorated. The government plans to name schemes targeted at minorities after these individuals, which include eminent names from the freedom struggle as well as historical figures from the Mughal era.
The list includes revolutionary Ashfaqulla Khan, leader of Salt Satyagraha Abbas Tyabji, Quit India movement leader from Kerala Vakkom Abdul Khadir and political activist and freedom fighter Ubaidullah Sindhi.
Muslim women such as Bi Amma (Abadi Begum) and Begum Hazrat Mahal, who rebelled against British rule, are also part of the list, along with Mughal prince Dara Shikoh, seen as a proponent of Hindu-Muslim unity. Others include poet Iqbal, who penned the song 'Saare jahan se achha', and scholar of Indian Unani medicine system Hakim Ajmal Khan.
Minister of State for Minority Affairs Mukhtar Abbas Naqvi told ET that schemes named after these personalities will soon be rolled out. Their deeds will also be propagated through commemorative events. The attempt is to "build confidence in Muslims by celebrating people of the community who believed in Indian nationalism and fought for it", he said.
"During Congress rule, there has been ignoring of Muslim nationalists as all schemes were centred around one family. It is sad that because of this, people tend to associate Indian Muslims with gangsters or crime. The Modi government wants to break that stereotype and wants everyone to know that minority communities have played a significant role in the national struggle," he added.
Full report at:
http://economictimes.indiatimes.com/articleshow/47155287.cms?utm_source=contentofinterest&utm_medium=text&utm_campaign=cppst
------
Ram Janamabhoomi Is In Pakistan, Says AIMPLB Member
TNN | May 5, 2015
HYDERABAD: Stoking controversy, All India Muslim Personal Law Board (AIMPLB) member Abdul Raheem Qureshi said the Ram Janamabhoomi is in Pakistan and not Ayodhya.
He was speaking during the release of his book on the contentious issue called "Ayodhya Ka Tanaazah" (The Ayodhya Dispute) late on Sunday night at Urdu Maskan in the Old City. Releasing the book, Majlis-e-Ittehad ul Muslimeen (MIM) president Asaduddin Owaisi remarked that given that the BJP is in power at the Centre, chances of justice being delivered with respect to the Babri Masjid demolition seemed bleak.
"In the book, I have reproduced the published research paper of archaeologist Jassu Ram in which he says that Ayodhya is not the birthplace of Ram. It was in a place previously called Ramderi in Pakistan. After the partition, the name of this place was changed to Rahmanderi," Qureshi told TOI on Monday. The "real" Ram Janamabhoomi is likely to be in Harappa, now in Pakistan, Qureshi claimed. "There were three excavations conducted at Ayodhya in UP and none threw light on the inhabitants there. But there is no evidence that there was any civilisation in the present Ayodhya, several centuries before Christ," he maintained.
Meanwhile, Owaisi questioned the rationale behind awarding the Bharat Ratna to former Prime Minister Atal Behari Vajpayee and the Padma Vibhushan to L K Advani. While he claimed that Vajpayee had made inflammatory speeches on December 5 in 1992, a day before the demolition of the mosque, the BJP's Rath Yatra led by Advani, before the ill-fated day, was responsible for creating communal hatred.
Owaisi later said that he would call a meeting in Delhi with all Muslim parliamentarians to discuss the Babri Masjid issue. He termed those willing to resolve the matter by means of talks as "traitors". He said that the MIM would support the AIMPLB with financial assistance to fight the case in the Supreme Court. "We want the SC to hear the case and arrive at a judgment as quickly as possible," he said.
http://timesofindia.indiatimes.com/india/Ram-Janmabhoomi-is-in-Pakistan-says-AIMPLB-member/articleshow/47156484.cms
----------
Kin of ISIS-held men seek information from govt
Avijit Ghosh,TNN | May 5, 2015
NEW DELHI: The Jantar Mantar is the last port of refuge for lost causes. Here since last week, stricken by anxiety and grief, relatives of 39 Indian workers abducted by Islamic State (IS) in north Iraq in June 2014 are staging a dharna seeking definite answers from the government on the whereabouts of the captives.
Last November, foreign minister Sushma Swaraj had told Parliament that "six different sources have informed the government that they have not been killed." But several relatives who have met Swaraj and other top MEA officials on a number of occasions say that 11 months after the incident they want "proper proof" and more detailed information.
"We also want Harjit Masih to be presented before us. If that is not possible, the government should at least issue a statement on him," says Sunita Rani. Her nephew, Gurdeep Singh of Jaitpur village in Hoshiarpur district, is among those kidnapped from Mosul town. Masih was the lone Indian among the kidnapped to have escaped the clutches of IS and is reportedly in government's custody in Iraq since then.
Full report at:
http://timesofindia.indiatimes.com/india/Kin-of-ISIS-held-men-seek-information-from-govt/articleshow/47156417.cms
----------
Europe
NUS Accused Of Backing Jihadi John Apologists Cage
May 5, 2015
The National Union of Students has been accused of backing 'terrorist apologists' after endorsing the controversial Islamist civil rights group who called Jihadi John a 'beautiful young man'.
The NUS has agreed to oppose the Government's counter-terrorism bill with the help of Cage, the group who supported Mohammed Emwazi in the years before he joined Islamic State.
At its 2015 conference delegates passed the motion, apparently without discussion, so they could save time - a decision that has raised fears of radicalisation at British universities.
Last week NUS committed itself to 'publicly oppose the Counter Terrorism and Security Act, for the NUS President to issue a public statement condemning the PREVENT Strategy and the Government's Counter-Terrorism and Security Act, and alongside civil liberties groups including CAGE, lobby the government to repeal it immediately'.
Full report at:
http://www.dailymail.co.uk/news/article-3066934/Fears-raised-Islamic-radicalisation-British-universities-students-vote-Jihadi-John-apologists-anti-terror-bill.html#ixzz3ZG1M3lGv
--------
Danish bus ads on Israeli settlements brought to a halt
May 5, 2015
A Danish group vowed to expand an advertising campaign urging people to boycott products from Israeli settlements after the ads were dropped from Copenhagen buses.
"It's a clear attempt to deny us our freedom of speech," Fathi El-Abed, chairman of the Danish Palestinian Friendship Association, told AFP after bus operator Movia last week pulled the campaign.
"There is nothing whatsoever about this campaign that is harmful, discriminatory or hateful in any way," he added.
The advertisements on 35 buses in the Copenhagen area pictured two women beside the quote: "Our conscience is clean! We neither buy products from the Israeli settlements nor invest in the settlement industry."
Full report at:
http://english.alarabiya.net/en/News/world/2015/05/04/Danish-bus-ads-on-Israeli-settlements-brought-to-a-halt.html
----------
U.N. envoy invites Syria opposition fighters to Geneva talks
5 May 2015
U.N. Syria envoy Staffan de Mistura has invited the leaders of opposition armed factions to consultations that he launched in Geneva on Tuesday, he told a news conference.
"A category of commanders has been invited, and I will not go beyond that," he said.
He also said the rise of ISIS had changed the facts on the ground since the signing of the Geneva Communiqué at an international conference three years ago, and suggested the communique be reviewed to reflect that.
U.N. Syria envoy Staffan de Mistura has invited the leaders of opposition armed factions to consultations that he launched in Geneva on Tuesday, he told a news conference.
"A category of commanders has been invited, and I will not go beyond that," he said.
He also said the rise of ISIS had changed the facts on the ground since the signing of the Geneva Communiqué at an international conference three years ago, and suggested the communique be reviewed to reflect that.
http://english.alarabiya.net/en/News/middle-east/2015/05/05/U-N-envoy-invites-Syria-opposition-fighters-to-Geneva-talks.html
----------
Southeast Asia
Indonesia to stop sending domestic workers to Middle East: reports
May 5, 2015
Indonesia will stop sending new domestic workers to 21 Middle Eastern countries, reports said on Tuesday, after the recent execution of two Indonesian women in Saudi Arabia angered Jakarta.
The ban affects countries including Saudi Arabia -- a major destination for Indonesian maids -- United Arab Emirates, Qatar, Bahrain and Egypt, and will come into effect in three months' time, Manpower Minister Hanif Dhakiri was cited as saying in local media.
Jakarta, which has long complained about the treatment of Indonesian maids in the Middle East, had already placed a moratorium on sending new helpers to Saudi Arabia in 2011 following the beheading of a worker.
The new move is meant to be permanent. Maids already working in the affected countries will be allowed to stay and continue in their positions.
Indonesia's anger at the executions of its citizens abroad comes despite the fact that Jakarta last week executed seven foreign drug convicts, drawing a storm of international protest.
"According to the law, the government has the right to stop the placement of migrant workers in particular countries if it is believed that their employment degrades human values and the dignity of the nation," Dhakiri was quoted as saying by state-run news agency Antara.
He said there were "many problems" with Indonesians working abroad related to "labour norms and human rights violations".
Full report at:
http://www.yourmiddleeast.com/news/indonesia-to-stop-sending-domestic-workers-to-middle-east-reports_31892
----------
Indonesian Prisons Chief Resigns After Drug Scheme Unveiled
May 5, 2015
Jakarta. The Indonesian government's top official in charge of prisons handed in his resignation on Monday following the discovery last month that a drug kingpin on death row was continuing to run his empire from behind bars with the help of officials.
Handoyo Sudrajat, the Justice Ministry's director general of corrections, said he had been unable to "impose enough supervision" and "impose tough reforms" in prisons across the country.
"I wasn't successful in managing the prisons. This [resignation] is what I can do to show my responsibility," Handoyo said on Monday.
Handoyo, previously a state auditor and later the head of graft prevention at the Corruption Eradication Commission (KPK), said he planned to retire.
His withdrawal comes just weeks after police arrested Freddy Budiman, a drug convict at the ostensibly high-security prison island of Nusakambangan, off the south coast of Central Java.
The arrest stemmed from the capture in March of one of Freddy's alleged pushers, who told police that he was still taking orders from the death-row inmate.
Freddy has since been transferred to a detention facility at the National Police's detectives' unit, where he is under constant surveillance.
Two guards at the prison island have also been arrested for helping him run his drug ring in exchange for promises of cash, cars and houses.
The National Police's internal affairs unit has arrested an anti-narcotics officer on suspicion of taking bribes from Freddy, a police source said on Monday. The officer was previously involved in Freddy's initial case.
http://thejakartaglobe.beritasatu.com/news/indonesian-prisons-chief-resigns-drug-scheme-unveiled/
----------
Police told me criticising GST is seditious, Rafizi says
May 5, 2015
Police told PKR's Rafizi Ramli that criticising the goods and services tax (GST) was seditious, the party secretary-general said last night when he told a ceramah crowd in Permatang Pauh of his arrest after the May 1 Workers Day rally.
Rafizi, who was detained for his involvement in the rally against the GST in Kuala Lumpur, said he was told that what he had said in his speech at the rally was seditious.
"The police told me I was investigated under the Sedition Act, as my speech had criticised the GST. Now I know that according to the government of Malaysia, it is seditious to criticise the GST," Rafizi said.
The consumption tax has been the focus of PKR's campaign in the Permatang Pauh by-election. The opposition party is banking on public unhappiness with the tax to ensure it retains the seat, which its president Datuk Seri Dr Wan Azizah Wan Ismail is contesting.
As part of her campaign, Dr Wan Azizah went shopping at a supermarket followed by the media to show how much more people had to spend because of the tax when buying basic necessities. PKR also held a lobster party, dishing out grilled lobsters to passers-by in the constituency to poke fun at the implementation of the tax, which is not imposed on lobsters, considered a luxury food item.
Full report at:
http://www.themalaysianinsider.com/malaysia/article/police-told-me-criticising-gst-is-seditious-rafizi-says#sthash.PtKrxHH3.dpuf
--------
Pakistan
Man Sentenced For 25 Years in Prison over Desecrating Sacred Scriptures
May 5, 2015
LAHORE: A sessions court here on Tuesday sentenced a man to 25 years rigorous punishment after he was found guilty of desecrating sacred scriptures.
Police presented Zulfiqar during today's hearing of the case which was presided by Additional District and Sessions judge Shazib Saeed.
The court heard statements from witnesses and lawyers' claims and found the prisoner guilty of disrespecting sacred scriptures.
The court charged Zulfiqar with blasphemy under section 295(b) and awarded 25 years rigorous imprisonment to the convicted prisoner.
The court also imposed a fine of Rs100, 000 on Zulfiqar and ordered to seize all his movable and immovable assets.
Case 310/2006 had been registered against him by Race Course station police in 2006.
http://www.dawn.com/news/1180115/man-sentenced-for-25-years-in-prison-over-desecrating-sacred-scriptures
----------
Govt committed to rooting out terrorism: Nisar
May 5, 2015
ISLAMABAD: Interior Minster Chaudhry Nisar Ali Khan on Monday assured the Upper House that the government is fully committed to rooting out terrorism from the country and pursuing the National Action Plan constituted against terrorism.
Terming the National Action Plan (NAP) as the most effective strategy to combat terrorism, the minister said the country has made great sacrifices in the war on terror.
Winding up a debate over a commenced resolution moved by Awami National Party (ANP) Senator Sitara Ayaz in Senate to take effective measures for implementation of NAP to get rid of terrorism, he said the credit for "what we have achieved through the NAP so far goes to the leadership of all parties", both civilian and military.
Full report at:
http://www.dailytimes.com.pk/national/05-May-2015/govt-committed-to-rooting-out-terrorism-nisar
----------
Can parliament alter Constitution's structure, asks SC
May 5, 2015
ISLAMABAD: Can parliament make fundamental changes in the basic characteristics of the Constitution like replacing Islam being a state religion as stated in Article 2 with secularism. This was the centre of Monday's hearing on challenges to the 18th Amendment on which the Supreme Court ventured around to find answers.
"What will be the mode if a popular demand but not a revolution asks for changing the basic structure of the Constitution to secularism from Islam," Chief Justice Nasir-ul-Mulk wondered and asked could it be done by the present parliament or a constituent assembly would be needed.
A 17-judge full court headed by the chief justice had taken up a set of petitions challenging the procedure for appointment of superior court judges under the 18th Amendment and establishment of military courts under the 21st Amendment to try hardened terrorists.
"Can a political party with unequivocal support in its manifesto to secularism, if given vast majority by the people, still be entitled to change the Constitution," asked Justice Main Saqib Nisar, one of the members of the bench.
Full report at:
http://www.dawn.com/news/1179967/can-parliament-alter-constitutions-structure-asks-sc
----------
Police arrest LeJ militant in Lasbela
May 5, 2015
QUETTA: Lasbela Police arrested on Tuesday a militant belonging to the banned Lashkar-e-Jhangvi near Lasbela University.
"Acting on a tip-off, the police raided a room at Lasbela University and arrested Alam Zaib — he was a student there," District Police Officer Bashir Ahmed Brohi told The Express Tribune.
"The militant belong to a banned organisation Lashker-e-Jangvi and was involved in the killing of eight police personnel and bomb blasts," Brohi said.
The DSP added that the militant had a Rs3 million bounty on his head.
On February 15, a key commander of the banned LeJ and his companion were killed in a raid by security forces in Saryab area of Quetta on Sunday, a senior official of Balochistan told The Express Tribune.
Usman Saifullah Kurd had been convicted by an anti-terror court in 2003 for masterminding two sectarian attacks in Quetta. He had escaped from the high security Quetta cantonment jail in 2008, following which the government imposed a Rs2.5 million bounty on him..
http://tribune.com.pk/story/881277/police-arrest-lej-militant-in-lasbela/
----------
URL: https://www.newageislam.com/islamic-world-news/new-age-islam-news-bureau/why-muslims-are-offended-by-images-of-prophet-muhammad-(pbuh)/d/102822