New Age Islam News Bureau
1 Nov 2019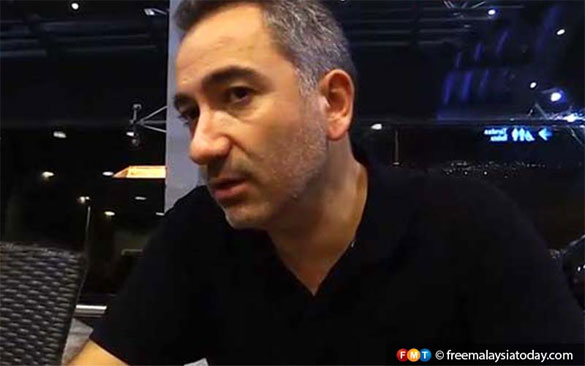 Mustafa Akyol says even caliphs at the height of the Islamic empire had no authority on matters of religion.
-----
• Tipu Sultan History Lessons Can't Be Erased, Says Textbook Committee Chairman
• Kartarpur Pilgrims Won't Need Passports, Two-Day Waiver of $20 Fee, Says Pakistan PM Imran Khan
• Iran Suspends 'Aryan' Style Marriage Ceremonies, Calling it 'Un-Islamic'
• Who Is Abu Ibrahim Al-Quraishi, the New Head Of Islamic State
• ISIS Remains Potent, Deadly despite Baghdadi's Death, Top Spy Says
• Sweden Expels Imams and Associates, Citing Radicalisation Concerns
• Nearly 400 Rohingya Voluntarily Return from Bangladesh, Says Myanmar's Embassy in Dhaka
Southeast Asia
• Who Gave the Malaysian Government, Or Any Government the Right to Define Islam: Mustafa Akyol, a Prominent US-Based Turkish Academic
• China Firmly Opposed India's Formation of Jammu And Kashmir and Ladakh Union Territories as Illegal, Invalid and Ineffective
• Indonesia religious body staffer falls foul of own laws
• Religious Affairs Minister Opposes Wearing of Full-Face Veil
• ISIS fading in Mid East, thriving in the Philippines
• After Anwar Moots Zakat Reforms, Penang Mufti Says Muslims Must Get Priority
• Anwar: Policies should be based on ethics and values, not race
--------
India
• Tipu Sultan History Lessons Can't Be Erased, Says Textbook Committee Chairman
• Kashmir never been on UN's 'Right of Peoples to Self-determination' agenda: India
• Give up plans to hoist national flags of India, Pakistan on either side of Kartarpur corridor, says former Punjab assembly speaker
• Parties with a Definite Muslim Base in Uttar Pradesh Are Looking For Fresh Options to Revive Themselves
• Pak violated its obligations under Vienna Convention in Jadhav's case: ICJ President
• India, Saudi Arabia naval drill in 2020
• Pak invitees from India for Kartarpur Corridor inauguration to require clearance: MEA
• Aramco to start work on Maharashtra refinery after getting land: Saudi minister
• Pak denial of visas to Punjab delegates to Nankana Sahib unfortunate: Amarinder
• Jamia Hamdard to confer Honorary Doctorate to Dr. Frank F. Islam
--------
Pakistan
• Kartarpur Pilgrims Won't Need Passports, Two-Day Waiver of $20 Fee, Says Pakistan PM Imran Khan
• 70 dead after gas cylinder explosion sparks fire on Pakistan train
• 1,100 Indian Sikhs arrive in Pakistan for Guru Nanak's 550th birth anniversary
• IHC accepts Awan's unconditional apology for scandalising judiciary; issues her another contempt notice
• 'Azadi march' betrays lack of coordination among parties
• IHC issues notice to govt over plea seeking Indian prisoners' release
• JUI-F leader Mufti Kifayatullah released on bail
• PML-N throws spanner in Fazl's 'Azadi' plans
--------
Mideast
• Iran Suspends 'Aryan' Style Marriage Ceremonies, Calling it 'Un-Islamic'
• What Did Turkey Know about Baghdadi's Hideout?
• US, Gulf allies sanction Hezbollah-Iran network
• US imposes sanctions on Iran's construction sector
• Turkish court rules to free ex-opposition lawmaker from jail
• Israel approves more than 2,300 settler homes: NGO
• Death toll in Saudi war on Yemen hits 100,000: Report
• Israel re-arrests prominent Palestinian legislator Khalida Jarrar
--------
Arab World
• Who Is Abu Ibrahim Al-Quraishi, the New Head Of Islamic State
• After Baghdadi Death, Nobel Laureate Nadia Murad Asks: What About The Rest?
• Another al-Baghdadi-style raid on ISIS militants could soon become mission impossible
• Iraq Prime Minister Pressed to Quit as Protests Clog Streets
• Hezbollah's road to power in Lebanon just got harder
• Kuwait lists 21 entities, 4 individuals as terrorist elements
• 'Is Kuwait the old Saudi?' Clerics issue fatwa against IPOs
• US withholding $105 mln in security aid for Lebanon: Sources
• Syria's Assad says he does not want Turkey as an 'enemy'
• Qassem Soleimani tells PMU, officials to back Iraqi PM during Baghdad meeting
• Lebanon president says ministers in new cabinet should be picked on skills
• Iraqi president says Iraq's PM will only resign if a replacement is found
• Gulf Ministers of Finance say reforms are reshaping regional economies
• Car bomb blast kills 9, injures dozens in Syria's Afrin
• Representatives of top Shiite cleric Al-Sistani urge followers to join protests in Iraq
--------
North America
• ISIS Remains Potent, Deadly despite Baghdadi's Death, Top Spy Says
• 'Change Always Wins,' Mosque Founder Tells Quebec Muslims In Face Of Rejections
• U.S., Gulf Nations Sanction Iranian Financial Network in Joint Action
• Controversial Muslim voting guide not sanctioned by feds
• Trump administration considers adding more countries to travel ban list
• CIA-trained Afghan forces accused of atrocities
• US congresswoman Omar criticized for refusing to back Armenian Genocide bill
--------
Europe
• Sweden Expels Imams and Associates, Citing Radicalisation Concerns
• Violations, Violence and Repression Remain Rampant in Indian-Administered Kashmir: UN
• UN chief appeals to India, Pakistan to deal with Kashmir issue through dialogue
• Hundreds to attend conference at Wheaton College to advance evangelical-Muslim dialogue
• Syrian Constitutional Committee concludes 2nd day
• Turkey in talks with Russia to hand over 18 regime elements
• British Home Office mentions Iraq in 'copy and paste' refusal letter to Jamaican man
--------
South Asia
• Nearly 400 Rohingya Voluntarily Return from Bangladesh, Says Myanmar's Embassy in Dhaka
• 31 Taliban militants, civilians killed, wounded as explosives-laden vehicle goes off in Jawzjan
• Taliban Attacks Getting More Effective, SIGAR Says
• Afghan air raids kill 6 insurgents in N. Afghanistan
• Blasts claim 14 lives; wound 22 in Afghanistan within 24 hours
• Bangladesh SC Upholds Death Sentence Of Jamaat Leader
• Airstrike kill 13 Taliban militants in provincial capital of Baghlan
• Special Forces kill, detain 4 ISIS and Taliban militants; destroy IED making material
• Special Forces kill, detain 38 Taliban militants in Daykundi and Wardak provinces
--------
Africa
• Twelve Niger soldiers killed in probable Boko Haram attack: ministry
• Two terror suspects killed as al-Shabab raid Kenyan police camp
• 200 irregular migrants rescued off Libyan coast
• Nigeria: 2 international aid groups can resume work
Compiled by New Age Islam News Bureau
URL: https://www.newageislam.com/islamic-world-news/gave-malaysian-government-any-government/d/120149
--------
Who Gave the Malaysian Government, Or Any Government the Right to Define Islam: Mustafa Akyol, a Prominent US-Based Turkish Academic
Abdar Rahman Koya
November 1, 2019
KUALA LUMPUR: The Pakatan Harapan (PH) government continues to draw flak from Muslim experts abroad over its recent refusal to do away with restrictions on foreign speakers on Islamic topics.
Mustafa Akyol, a prominent US-based Turkish academic whose lecture in 2017 was forced to be cancelled by Islamic authorities in Kuala Lumpur before he was detained for speaking without "religious credentials", said the excuse by the government that it wants to contain "deviant" teachings showed that not much had changed under the new Malaysian leadership.
"The Malaysian authorities still assume that they have a right to define 'right Islam' versus 'deviant Islam'.
"But then we must ask who gave the Malaysian government, or any government, the authority to define Islam?" Akyol, a strong advocate of free speech in Muslim countries who has frequently criticised both the Islamists and secularists in his home country, told FMT.
On Wednesday, minister in charge of Islamic affairs Mujahid Yusof Rawa defended the home ministry's move to vet all foreign missionaries including Muslim speakers, saying the authorities wanted to make sure their belief systems were "in line with the Malaysian context".
Home Minister Muhyiddin Yassin earlier said that foreign Muslim and non-Muslim speakers would be monitored to ensure they were "free from deviant teachings".
"Whoever comes here, regardless of the form of talks, will be monitored," Muhyiddin had said.
The statement drew strong response from US-based Muslim academic, Nader Hashemi, who has frequently addressed Malaysian audiences on Islamic topics.
"The vetting of speakers who come to Malaysia to discuss issues of religion suggests that authoritarianism is alive and well in Malaysia and that freedom and full democracy remain an ongoing struggle and aspiration," Hashemi, who heads the Center for Middle East Studies at the University of Denver, told FMT.
Akyol, whose book "Islam Without Extremes: A Muslim Case for Liberty" is banned in Malaysia, said no government had the right to define what is "true Islam" as this would mean reducing religion to the "interests and whims of political powers".
"With that logic, Iran can ban Sunni Islam as 'deviant', as Saudis can similarly ban Shia Islam and even non-Wahhabi Sunnism. Or India can ban all Islam saying that, according to its Hindu beliefs, all Islam is 'deviant'," Akyol said.
He said even at the height of the Muslim empire, political leaders had no authority over religion.
"Even caliphs did not have that authority. Islam, rather, was defined by diverse communities of scholars, believers, and evolving traditions," he said.
"The truth that we must accept is that Islam is not owned by any government because it comes from an authority that is higher than all governments.
"The rightful duty of these governments is to know their limits, protect the rights and freedoms of their citizens, and allow their societies to freely practise their religious persuasions and have intellectual discussions about them," Akyol said.
In 2017, Akyol's Malaysian lecture tour organised by the Islamic Renaissance Front drew protests from conservative Muslim groups and Islamic authorities.
He was arrested at KLIA as he was preparing to board a flight to Rome, hours after the Federal Territory Islamic Affairs Department forced his lecture on the topic of apostasy to be called off.
https://www.freemalaysiatoday.com/category/nation/2019/11/01/who-gave-you-the-right-to-define-islam-prominent-turkish-author-asks-putrajaya/
--------
Tipu Sultan History Lessons Can't Be Erased, Says Textbook Committee Chairman
Nov 1, 2019
BENGALURU: Barely 24 hours after chief minister BS Yediyurappa said the government will remove lessons in school textbooks that glorify 18th century Mysuru ruler Tipu Sultan, the textbook committee, which has been tasked with drawing up a report on the proposal, categorically said the lessons cannot be erased.
"I am yet to see the letter Madikeri MLA Appachu Ranjan had sent to the government and which was forwarded to the committee," Baragur Ramachandrappa, head of the textbook committee said. "But I can say in my personal capacity that Tipu cannot be erased from history textbooks."
The Kannada littérateur, who was appointed chairperson of the textbook committee by the Congress government in 2017, said the entire controversy surrounding Tipu in textbooks is unwarranted.
"Textbooks provided to students between classes I to X are supposed to only be informative. There may be a lot of opinions for and against Tipu. But this must be reserved for students when they reach PUC level and above," Ramachandrappa said.
Ranjan, who raked up the controversy, said he is not against Tipu in textbooks, but only against lessons that glorify him as a freedom fighter. "Tipu ruled between 1750 and 1799," Ranjan said. "History records show our first freedom struggle in 1857 with the sepoy mutiny. How can Tipu be a freedom fighter?" Rajan asked.
The legislator said if the lessons cannot be erased, then at least a couple of lines about the negative side of the ruler should be incorporated in school lessons.
However, Ramachandrappa said nowhere is it mentioned in the textbook that Tipu was a "freedom fighter".
"As far as I recall, our history textbooks do not refer to Tipu Sultan as a freedom fighter. Perhaps, it may have highlighted only his positive side and called him a patriot but never a freedom fighter. Those who claim otherwise must read the textbook carefully," said Ramachandrappa.
Historian and Kannada researcher, M Chidananda Murthy sided with Ranajn, saying if Tipu is not highlighted as a tyrant in the textbooks then it was best to just keep mum on him and not praise the former ruler.
"We do not want him to be erased completely from the annals of history," Murthy said. "But then, his tyrannical reign, which saw forcible conversions and murders should be highlighted. These are substantiated by letters to his chieftains where he orders the murder of Hindus. If we cannot portray his negative ways, we should desist from highlighting his positive side."
Agreeing that Tipu cannot be erased from textbooks, BJP MLC Arun Shahpur said, "Tipu was not a freedom fighter. He collaborated with the Portuguese and the French to save his own Kingdom. He fought with the British not for the country, but to save his empire. Had the British not become eventual colonizers of India, Tipu would have been a vassal to the French or the Portuguese."
https://timesofindia.indiatimes.com/india/tipu-sultan-history-lessons-cant-be-erased-says-textbook-committee-chairman/articleshow/71846102.cms
--------
Kartarpur pilgrims won't need passports, two-day waiver of $20 fee, says Pakistan PM Imran Khan
Nov 01, 2019
Pakistan Prime Minister Imran Khan on Friday announced several concessions for Indian pilgrims going to Darbar Sahib gurdwara at Kartarpur in Pakistan's Punjab where Guru Nanak, the founder of Sikhism, spent the last years of his life.
"For Sikhs coming for pilgrimage to Kartarpur from India, I've waived off 2 requirements: they won't need a passport-just a valid ID; ii)they no longer have to register 10 days in advance. Also,no fee to be charged on day of inauguration & on Guruji's 550th birthday." Khan tweeted.
India has been seeking a complete waiver of pilgrims' fee but Khan announced just two-day relief -- on the opening of the Kartarpur Corridor on November 9 and on Guru Nanak's 550th birth anniversary on November 12.-- in the $20 charge that has been a sticking point in the talks on operationalising the Kartarpur corridor. The border corridor connects Darbar Sahib with Dera Baba Nanak shrine in Gurdaspur district of Punjab.
This year marks the 550th birth anniversary of Guru Nanak and on this occasion India and Pakistan have signed an agreement to construct the Kartarpur corridor. It is meant to facilitate visa-free movement of Indian pilgrims, who will only have to obtain a permit to visit Kartarpur Sahib, which was established in 1522 by the founder of the Sikh faith.
Both countries have agreed that Pakistan would allow 5,000 Sikh visitors per day into the country through the corridor, which will also be the first visa-free corridor between the two neighbours since their independence in 1947. Pakistan is building the corridor from the Indian border to the Gurdwara Darbar Sahib, the final resting place of Guru Nanak, while the other part from Dera Baba Nanak up to the border will be constructed by India.
India is constructing a bridge at the zero point and has urged Pakistan to build a similar bridge on its side that will provide safe and secure movement of pilgrims and address concerns regarding flooding. The bridge is over a creek of which the majority part falls in Pakistan.
The corridor is set to be inaugurated on November 9 when a 575-member Jatha will cross the corridor to to Gurudwara Kartarpur Sahib. Frmer Prime Minister Manmohan Singh, Punjab CM Amarinder Singh, Union Ministers Hardeep Puri and Harsimrat Kaur Badal are among the first batch of pilgrims. Cricketer-turned-politician Navjot Singn Sidhu has also accepted the invitation of the Pakistan prime minister and will be present on the occasion.
https://www.hindustantimes.com/india-news/no-passport-no-fee-pakistan-pm-imran-khan-waives-2-requirements-for-kartarpur-pilgrims/story-WOtdCAm9KbZN19zRNmHsMJ.html
--------
Iran Suspends 'Aryan' Style Marriage Ceremonies, Calling It 'Un-Islamic'
October 30, 2019
The official institutions and bureaus that register marriage contracts based on ancient Aryan ceremonies and rites have been suspended, and sealed-off in Iran, the head of the Islamic Republic's Union of Marriage and Divorce registration bureaus announced on Wednesday.
The suspended bureaus amount to 34, and mainly located in the provinces of Tehran and Alborz, the state-run Young Journalists Club (YJC) cited marriage registration official Ali Mozaffari, as saying.
Many couples in recent years in Iran have replaced Islamic marriage contracts and ceremonies with the Aryan version.
The Iranian people believe they are the descendants of an ancient Aryan population group, with some of its members having moved to Europe thousands of years ago, while the forefathers of Iranians migrated south to the Iranian plateau.
Furthermore, the term Aryan, as an ethnic label for Iraninas is also mentioned in the pre-Islamic Avesta scriptures and many insist the word forms the etymological source of the country's name, Iran.
During the Aryan marriage ceremony, a verse from the Zoroastrian holy book is read to the couple, "These words I speak to you, maidens and newlywed husbands, and hope you will bear them in your minds carefully. Understand them deep within your souls and always live full of love with a pure mind. Try to surpass each other in truth and righteousness. Thus, each one of you shall, indeed, reap the reward of joy and happiness."
However, the majority of Iranians marry based on the so-called Islamic tradition with Arabic phrases that they do not understand a word of it.
According to Mozaffari, Aryan marriage contracts and ceremonies related to it is "against the law" of the land.
Nevertheless, Mozaffari asserted the charge against 21 marriage bureaus that were sealed off is using "fake titles."
Proponents of the Aryan marriage argue that no written law bans them to marry each other in ancient Iranian style.
Moreover, they also argue, as Zoroastrianism is recognized by the Islamic Republic's Constitution, they should be free to marry on the basis of Aryan traditions.
Nonetheless, the authorities are vehemently against whatever they find to be "un-Islamic," and try to suppress it with full force.
Meanwhile, temporary marriages based on Iran's Shiite Muslim tradition, called Sigha, has boomed in the past four decades after the downfall of Iran's pro-West monarch Shah Mohammad Reza Pahlavi in 1979.
In Iran today, couples can specify the length of their marriage, from a few minutes to 99 years. It is a way for single men and women, divorced Iranians and precocious teens to date, and have sex, in a way that is acceptable in Shi'ite Islam. Under the Islamic penal code in Iran, unmarried couples who have sex or even date and hold hands can be arrested, fined, or also flogged. Moreover, a woman having sex outside marriage could be sentenced to death by stoning.
Many sociologists believe that many Iranian youth have turned to Aryan marriage as a tool to preserve their national identity against the Islamic identity that the establishment has been trying to force on them.
https://en.radiofarda.com/a/iran-suspends-aryan-style-marriage-ceremonies-calling-it-un-islamic-/30244799.html
--------
Who is Abu Ibrahim al-Quraishi, the new head of Islamic State
Nov 1, 2019
NEW DELHI: The Islamic State jihadist group confirmed the death of its leader Abu Bakr al-Baghdadi and named his replacement as Abu Ibrahim al-Hashimi al-Quraishi, said a statement released Thursday.
The new spokesman of the Islamic State, named Abu Hamza al-Qurayshi, urged followers to pledge allegiance to the new "caliph" and addressed the Americans, saying: "Don't rejoice."
"Do not rejoice America," he warned, "the new chosen one will make you forget the horror you have beholden... and make the achievements of the Baghdadi days taste sweet".
"The Shura Council met immediately after confirming the martyrdom of Sheik Abu Bakr al-Baghdadi. The leaders of the Mujahedeen agreed after consultation with their brethren and acting according to the will (of al-Baghdadi) they pledged allegiance to Abu Ibrahim al-Hashimi al-Qurayshi as the new leader of the Believers," the spokesman added.
The new IS leader is identified as a scholar, a well-known warrior and "emir of war" who has battled American forces and knows "its wars."
Little is known about Hashimi, whose name was seldom mentioned as a possible successor the multiple times that Baghdadi was reported killed in recent years.
"We don't know much about him except that he is the leading judge of IS and he heads the Sharia (Islamic law) committee," said Hisham al-Hashemi, an Iraqi expert on IS.
Aymenn al-Tamimi, a researcher at Swansea University focusing on Islamic State, said the name was unknown but could refer to a leading figure in Islamic State called Hajj Abdullah, whom the US State Department had identified as a possible successor.
A former senior figure in the rival Islamist group al Qaeda in Iraq, he is also known as Mohamed Said Abdelrahman al-Mawla.
Analysts have also named the Saudi Abu Abdullah al-Jizrawi and Abdullah Qaradash, an Iraqi and one of Baghdadi's right-hand men, as potential successors along with the Tunisian Abu Othman al-Tunisi.
HA Hellyer, a senior associate fellow at the Carnegie Endowment for International Peace, said the group, also known as ISIS or Daesh, would have picked the name Quraishi for Baghdadi's successor to suggest descent from the Prophet Mohammad's tribe.
Baghdadi's "caliph" name also ended in Quraishi.
"ISIS is trying to show its followers it respects that tradition, but Muslims more widely aren't likely to care very much, considering the wide violations of the Islamic law that ISIS has clearly engaged with," Hellyer added.
https://timesofindia.indiatimes.com/world/middle-east/who-is-abu-ibrahim-al-quraishi-the-new-head-of-islamic-state/articleshow/71846734.cms
--------
ISIS Remains Potent, Deadly Despite Baghdadi's Death, Top Spy Says
Oct. 30, 2019
KILLING THE ISLAMIC State group's founder and leader Abu Bakr al-Baghdadi will have little effect on preventing the terrorist network from conducting future attacks, the top U.S. official for counterterror operations said Wednesday.
"There's no question that the losses over the weekend were significant to ISIS," Russell Travers, acting director of the National Counterterrorism Center, told a congressional panel, using an alternative name for the Islamic State group. "At the same time, it's a deep bench."
Despite a consistent U.S.-led campaign to defeat the Islamic State group in Iraq and Syria that effectively dismantled its so-called caliphate, the number of fighters in those countries aligned with the group has grown in the last five years from a low point of roughly 1,000 fighters, Travers told the House Homeland Security Committee. As many as 14,000 extremists remain there now, with roughly 2,000 in Syria from foreign countries.
The Islamic State group maintains a network of roughly 20 affiliates around the globe, ranging in strength with some as few as hundreds of fighters. The affiliate in Afghanistan and Pakistan, known as ISIS-Khorasan, has thousands, Travers said.
"The insurgency has a lot of options," he added.
President Donald Trump announced Sunday morning that a U.S. commando raid into northern Syria the day before successfully tracked down and killed Baghdadi, along with close advisers who were there with him. Army Gen. Mark Milley, the chairman of the Joint Chiefs of Staff, said Monday that the raiders detained two other men at the site but declined to offer further specifics about them. Trump revealed on Tuesday that one of Baghdadi's potential successors, Abu Hasan al-Muhajir, had also been killed by U.S. forces.
Baghdadi did not have a clear successor in place, according to U.S. officials.
Travers on Wednesday said the coming days and weeks will be marked by publicly released eulogies by other Islamic State group leaders. Top officials within al-Qaida will also likely use the situation to make public pronouncements, despite the two groups' formally separating themselves from one another over concerns of the Islamic State group's heavy-handedness toward fellow Muslims and the timing of its attempts to create a territorial caliphate.
The eulogies will call for attacks against Western interests and for pledges of allegiance to the Islamic State group, Travers said.
The future of Islamic State group detainees in Iraq and Syria will also become clearer in the coming weeks and will define the terror network's potency in the near future.
Trump's sudden and reportedly impulsive decision earlier this month to withdraw U.S. forces from supporting their Kurdish allies in northern Syria as they faced a Turkish onslaught undermined these troops' ability to maintain Islamic State group prisons. Trump claimed amid the heavy backlash he received – including from some allies – that reports of Islamic State group fighters' escape as a result of the U.S. withdrawal were actually due to the Kurdish troops, known as the Syrian Democratic Forces, purposefully releasing them to build political support.
Travers disputed the claim on Wednesday, saying the Kurdish forces have been "incredibly professional" in maintaining the Islamic State group prisons.
But amid the U.S. withdrawal from the region, the subsequent security arrangement brokered by Turkey and Russia, which rushed to fill the vacuum, will determine whether the fighters remain in detention at their current locations.
Weeks before his death, the National Counterterrorism Center tracked radio messages from Baghdadi saying he wished to target the prisons and other camps for internally displaced Syrians and Iraqis, where Islamic State group support reportedly thrives.
"Those prisons are vulnerable," Travers told the committee.
https://www.usnews.com/news/world-report/articles/2019-10-30/isis-remains-potent-deadly-despite-baghdadis-death-top-spy-says
--------
Sweden expels imams and associates, citing radicalisation concerns
Jack Dutton
Oct 31, 2019
Sweden has decided to expel six detained Muslim extremists from the Scandinavian country who "contribute to Islamist radicalisation and pose threats to the security of the kingdom".
The six men, who are described by the government as central figures in the radical Islamist environment, were taken into custody during the Security Police offensive last spring.
They include Gävle mosque's imam Abo Raad and his 34-year-old son Raad Al-Duhan, as well as four others with connection to the imam have been detained for six months. Both are Iraqi and immigrated to Sweden 1997 and 1998 respectively.
They also include an Iraqi Imam in the eastern city of Umeå, who immigrated to Sweden in 1998 and a Russian resident of Gävle, who according to his own information, was former imam in his home country before he immigrated to Sweden in 2011.
Among the expelled included an Imam in Västerås city, who is stateless amd immigrated to Sweden in 2001 and a school leader in Western Sweden, an Egyptian citizen who immigrated to the country in 1998.
"We hope he can come back in his role as an imam," says Nizam Hindi, Gävle mosque's spokesperson, to Swedish radio show P4 Gävleborg.
Säpo, the Swedish Security Service, will reportedly still keep six men under surveillance. Säpo declined to comment more on the details of the case when contacted by The National.
The authority, supported by the Special Aliens Control Act, requested the men to be expelled, but the decision had been appealed to the government.
The government made its decision for five of the men on Thursday and the school leader two weeks ago, according to Swedish media reports.
"After reviewing the Security Police's documentation and what the parties have stated, the government has decided to expel six people who constitute qualified security threats," Interior Minister Mikael Damberg said.
But it is uncertain if any of the men will be able to be deported because they risk persecution in their home country.
The Migration Tribunal has found that there are currently obstacles to enforcing the deportation decisions, the TT news agency reported. But the Swedish government said it was actively working to remove the obstacles.
The school leader has already been released and the other five are due to be released too, the news agency said.
According to Fredrik Åkerblom, lawyer for Raad Al-Duhan, said his client will be released today, adding that he thought the decision to expel him was "completely wrong".
Over the past few years, the extremist movements in Sweden have seen a significant growth and the number of individuals affiliated with violence-promoting extremism has risen from a few hundred to several thousand.
https://www.thenational.ae/world/europe/sweden-expels-imams-and-associates-citing-radicalisation-concerns-1.931574
--------
Nearly 400 Rohingya Voluntarily Return from Bangladesh, Says Myanmar's Embassy in Dhaka
October 31, 2019
Dhaka: Around 400 Rohingya refugees have voluntarily returned to Myanmar from Bangladesh, Myanmar's embassy there said Thursday, but with previous repatriation attempts having failed Dhaka was yet verify the claim.
Bangladesh is home to nearly a million Rohingya including 740,000 who fled a military crackdown in Rakhine state in August 2017 that the UN has called ethnic cleansing.
Myanmar's embassy posted photos on Facebook that purported to show "46 more voluntary returnees" being "warmly received" in Myanmar, taking the total number going back to 397 in an unspecified timeframe.
There was no immediate comment on the embassy statement from the Bangladeshi refugee commissioner and Foreign Minister AK Abdul Momen said Dhaka would verify the claims.
But in a statement on Wednesday, Bangladesh's foreign ministry said the return of a "handful" of refugees did "not testify (to) any improvement of the ground reality in Rakhine".
Rohingya leaders have refused to return without guaranteed security and citizenship — which they are currently denied in Myanmar — and previous attempts to repatriate the Muslim minority fell flat when no-one turned up.
Since then however, Bangladesh has imposed an internet blackout on the vast, squalid camps in the country's south-east that house the refugees, and has announced plans to surround them with barbed-wire fences.
Authorities also want to move thousands of the refugees to an island in the Bay of Bengal beginning next month despite concerns for their safety from rights groups.
https://www.news18.com/news/world/nearly-400-rohingya-voluntarily-return-from-bangladesh-says-myanmars-embassy-in-dhaka-2369277.html
--------
Southeast Asia
China Firmly Opposed India's Formation of Jammu And Kashmir and Ladakh Union Territories as Illegal, Invalid And Ineffective
Nov 01, 2019
ISLAMABAD: China on Thursday deplored and firmly opposed India's formation of Jammu and Kashmir and Ladakh union territories as illegal, invalid and ineffective and said this move would not change the facts.
"India unilaterally changed its domestic laws and administrative divisions challenging China's sovereignty. This is unlawful and void and this is not effective in any way and will not change the fact that the area is under Chinese actual control." Chinese Foreign Ministry's Spokesperson Geng Shuang said during his regular media briefing.
He said that the Indian government officially announced the establishment of so-called Jammu and Kashmir and Ladakh union territories which included some of China's territory into its administrative jurisdiction. "China deplores and firmly opposes that," he added.
The spokesperson urged India to earnestly respect the Chinese territorial sovereignty, abide by bilateral treaties and uphold peace and tranquility in the border areas and create favourable conditions for the proper settlement of boundary questions.
On his government's stance on Kashmir, he said, "China's position on the Kashmir issue is consistent and clear. This is a dispute left from history and it should be properly and peacefully resolved based on the United Nations (UN) charter, the relevant United Nations Security Council (UNSC) resolutions and other bilateral treaties.
He said that the relevant side should resolve the dispute through dialogue and consultations and uphold regional peace and stability.
To a question pertaining to China's opposition to blacklisting Pakistan, he said that the Financial Action Task Force (FATF) was an important platform for anti-money laundering and fighting terrorist financing activities.
Geng Shuang said that the aim of FATF is to better help all countries fight the illegal activities of money laundering and terrorist financing or the abuse of international financial system, adding that its aim is not to sanction or punish any country.
China, he said, supported Pakistan improving its domestic anti-terrorist financing system, adding that it will work with all parties of FATF to provide constructive support and assistance to Pakistan.
While commenting on President Xi Jinping's recent visit to India, he said that regarding President Xi and Indian Prime Minister Modi's meeting in Chennai, the two sides had released statements and press releases.
Both sides exchanged views on the global, regional, long term and strategy issues in a friendly atmosphere and agreed to develop closer partnerships. They also discussed cooperation in various areas in the next stage, he said, adding that this includes cooperation in people-to-people exchanges.
He said that cooperation between China and India grew fast in the past years and both countries had a mechanism for people-to-people exchange.
About the all-weather strategic cooperative partnership between Pakistan and China, he said, "China and Pakistan are all weather strategic partners and our cooperation is very close."
https://www.pakistantoday.com.pk/2019/10/31/china-says-division-of-iok-into-union-territories-illegal-ineffective/
--------
Indonesia religious body staffer falls foul of own laws
31 Oct 2019
BANDA ACEH: An Indonesian man working for an organisation which helped draft strict religious laws ordering adulterers to be flogged was himself publicly whipped Thursday (Oct 31) after he was caught having an affair with a married woman.
Flogging is a common punishment for a range of offences in the deeply conservative Aceh region on Sumatra island, including adultery, drinking alcohol, and having gay or pre-marital sex.
Aceh is the only region in the world's biggest Muslim-majority nation that imposes Islamic law, part of a 2005 autonomy deal with the central government that ended a decades-long separatist insurgency.
On Thursday, a masked religious officer rained down 28 lashes on the back of Aceh Ulema Council (MPU) member Mukhlis after he was caught canoodling with a married woman last month.
Mukhlis, who like many Indonesians goes by one name, grimaced and flinched during the punishment in the provincial capital Banda Aceh, before his married companion was flogged with a rattan cane some 23 times.
The organisation that Mukhlis works for advised the local government and legislature on drafting and implementing Aceh's religious law, including public flogging.
It was not immediately clear what he did for the agency.
The council made headlines this summer when it hit out at plans to form a national women's football league because Aceh did not have a special stadium where only women players, match officials and spectators would be present.
In June, it issued a fatwa, or religious edict, against online game PlayerUnknown's Battlegrounds (PUBG), saying it insulted Islam and made addicted players violent.
Flogging a council member underlined the commitment to enforcing Islamic law, said Aceh Besar deputy regent Husaini Wahab.
"No matter who you are ... if you violate (Islamic) law you will be whipped," he told reporters after the punishment.
Mukhlis would likely be sacked under his employer's moral code, Wahab added.
Also Thursday, a female university student was flogged a dozen times after she was caught spending the night in a boarding house with a man, who escaped punishment because he was underage.
Dozens of onlookers watched the floggings, with some recording them on their mobile phones.
"I was just curious to see how it was carried out," said spectator Robbi.
In July, three people were flogged 100 times each for having premarital sex, while last year two men caught having sex with underaged girls were also whipped 100 times.
Full report at:
https://www.channelnewsasia.com/news/asia/indonesia-religious-body-staffer-flogged-caught-having-affair-12052108
--------
Religious Affairs Minister Opposes Wearing of Full-Face Veil
BY BERITASATU
NOVEMBER 01, 2019
Jakarta. Religious Affairs Minister Fachrul Razi said although it was not illegal to wear the niqab, or full-face veil, in Indonesia, the world's most populous Muslim nation, he would not accept it personally.
He said the Koran also does not require Muslim women to wear the niqab, nor does the Hadith, the guidance based on the Prophet Muhammad's daily practice.
"The full-face veil has no roots in the Koran or in the Hadith, in my view," Fachrul said after a meeting at the offices of the Coordinating Ministry of Human Development and Culture in Central Jakarta on Thursday.
"Wearing a full-face veil doesn't necessarily mean a greater degree of faith or a closer relationship with God," he added.
The Ministry of Religious Affairs would never ban Muslim women from wearing it, but security procedures should be followed, Fachrul said, referring to rules that oblige motorcyclists to remove their helmets and motorists to open their car windows when entering public buildings.
"So if someone wants to meet me with a covered face, I would certainly decline, 'please leave,'" he said, adding that all ministry staff held a similar view.
"Everyone shares a similar stance: There is no law on wearing the full-face veil, and it's not a measure of someone's faith," he said.
The retired Army general was given a special task when President Joko "Jokowi" Widodo appointed him as religious affairs minister on Oct. 23.
"We want the religious affairs ministry to take concrete action in dealing with radicalism and intolerance," Jokowi said.
Despite the controversy surrounding his military background, Fachrul is not the first retired general to be appointed religious affairs minister.
Full report at:
https://jakartaglobe.id/news/religious-affairs-minister-opposes-wearing-of-fullface-veil
--------
ISIS fading in Mid East, thriving in the Philippines
ByBONG S SARMIENTO, MARAWI
OCTOBER 30, 2019
While Islamic State's (ISIS) fate hangs in the balance after the recent assassination of its leader in Syria, the terrorist group is still alive and well in the Philippines.
Two years after Philippine President Rodrigo Duterte declared the liberation of Marawi City from ISIS-aligned militants, the group is now recruiting a new generation of fighters from the ruined city's dislocated and disenfranchised victims.
Regional security experts are concerned that recent convulsions in Syria are driving a new wave of ISIS fighters into Southeast Asia, particularly into the southern Philippines, where dozens of local extremist outfits have declared fealty to the group.
As during a previous exodus of ISIS fighters from the Middle East to Southeast Asia, where militants crossed into the Philippines lightly patrolled southern reaches on the island of Mindanao, analysts believe Marawi is reemerging as an extremist epicenter.
"Marawi City has become a fertile ground for extremist recruitment," said Rommel Banlaoi, chairman of the Manila-based Philippine Institute for Peace, Violence and Terrorism Research, a think tank.
"The Islamic State in the Philippines is continuously recruiting and is taking advantage of the frustrations of affected (Marawi-based) families and individuals."
He said ISIS is drawing on a large pool of potential recruits in Marawi, namely the more than 100,000 residents still residing either in squalid temporary shelters or with their relatives who have not been allowed to return to rebuild or repair their homes and businesses.
ISIS recruitment is now in full swing over social media, school campuses and among remote Muslim communities, with recruiters said to be offering cash, guns and monthly allowances to lure mostly young men to their radical cause, according to various sources.
Banlaoi claims Mindanao has become a well-known safe haven for ISIS fighters fleeing the Middle East, with many recently being absorbed into local extremist groups that continue to hit Philippine security forces in hit-and-run attacks.
The five-month siege of the largely Catholic nation's only Muslim majority city displaced over 350,000 civilians, a third of whom have yet to return to Ground Zero, or the former urban battleground encompassing 24 of the city's 96 villages.
For the residents of Marawi, known as Meranaos, Ground Zero is the heart and soul of a religiously significant city that Duterte's government first vowed in October 2017 but has so far failed to sufficiently rebuild and rehabilitate.
Authorities have estimated the damage at 62 billion pesos, or US$1.2 billion at the current exchange rate. Much of that destruction was caused by the government's aerial bombardment of rebel-held areas, assaults some saw as excessive in relation to the threat.
Two years after Duterte's liberation and restoration rhetoric, millions of tons of debris have not been cleared from the city's center, while demolition and search for unexploded ordinance is ongoing.
Eduardo del Rosario, chairperson of the multi-government agency Task Force Bangon Marawi which is tasked to rebuild the war-torn city, pointed to the unfinished search for unexploded bombs and ongoing demolition works as the main reasons why residents have not been allowed to return to Ground Zero.
He claimed the task force is "on track with its work plan" that includes finding all the unexploded bombs by October 31 and finishing debris clearing on November 30 to pave the way for the start of reconstruction. The government has claimed that rebuilding will be completed by June 2022, coinciding with the end of Duterte's term.
The Marawi siege, staged by the combined Islamic State-aligned Maute and Abu Sayyaf groups beginning on May 23, 2017, prompted Duterte to declare the rights-curbing martial law that remains in effect until the end of this year, with the potential for an extension on security grounds.
Some 1,100 were killed, mostly ISIS-aligned militants, in the fierce urban warfare that tested the mettle of Filipino troops long used to fighting insurgents in jungles or not cities and also put the Philippines more firmly on the global terrorism map.
ISIS militants temporarily seized Marawi in a bid to establish a wilayah, or self-governed province, in Southeast Asia. As ISIS is routed in the Middle East, the group is believed to have set even stronger sights on establishing a wilayah in the Philippines.
Abdul Hamidullah Atar, the Sultan of Marawi, has said that war victims are angry, frustrated and miserable about the government's sluggish and ineffective rehabilitation and relocation efforts.
"There is no reason to celebrate the second anniversary of Marawi's 'liberation' because there is no real liberation of Marawi," the traditional leader said.
Drieza Lininding, chairperson of the Marawi-based Moro Consensus Group, a civil society organization, blasted the Duterte administration's Presidential Communications Operation Office for recently organizing a "Marawi tour" for media for the second anniversary celebrations for the liberation of the city from Islamic militants.
"There is nothing to commemorate, only pains and our sufferings that continue till today. We don't feel liberated at all," Lininding said.
As part of the second anniversary commemoration, the government organized a "run for peace" around the city's depopulated Ground Zero, while a wreath-laying ceremony for fallen troops was held at the city's military camp.
Security analyst Banlaoi says the plight of Marawi's war victims has the potential to explode on the government if it does not take more concrete and fewer ceremonial actions.
"Two years after Marawi's liberation, ISIS Philippines is down but not defeated. They are smaller in number but can still mount big attacks," he told Asia Times by email.
There are currently several ISIS-aligned groups actively operating in Mindanao, and there are violent indications they are concertedly ramping up attacks in preparation for another Marawi-like big bang assault.
They include the Abu Sayyaf Group, which operates in the island provinces of Sulu and Basilan and was instrumental in the 2017 Marawi siege.
The ISIS-aligned Bangsamoro Islamic Freedom Fighters (BIFF), a breakaway from the ceasefire Moro Islamic Liberation Front (MILF) based in mainland Maguindanao province, is also a formidable force with a deep military arsenal and explosive-making expertise.
In January, a powerful explosion perpetrated by Abu Sayyaf killed about two dozen people and injured more than 100 others at a Catholic church in Jolo, the capital of Sulu province. An Indonesian jihadist couple orchestrated the suicide attack.
In August 2018, a foreigner with links to the Abu Sayyaf detonated a van full of explosives at a military checkpoint in Basilan that left 11 people dead, including the suspect. ISIS claimed responsibility for both the lethal blasts.
Full report at:
https://www.asiatimes.com/2019/10/article/isis-fading-in-mid-east-thriving-in-the-philippines/
--------
After Anwar moots zakat reforms, Penang mufti says Muslims must get priority
01 Nov 2019
BY OPALYN MOK
GEORGE TOWN, Nov 1 ― Muslim recipients should be prioritised when distributing Islamic tithes or zakat, said Penang Mufti Datuk Seri Wan Salim Mohd Noor amid calls for reforms.
He said said this was because the contributions come solely from Muslims who pay the tithe as a religious obligation.
"Non-Muslims who are poverty stricken can obtain assistance from other governmental resources such as the Welfare Department," he said in response to Datuk Seri Anwar Ibrahim's suggestion that such funds also be extended to non-Muslim recipients.
Wan Salim said distributions should only go to non-Muslims if collections exceed what was needed for Muslim recipients.
He said according to the al-Quran, zakat could be extended to non-Muslims with the purpose of making them to favour Islam, to encourage them to help Muslims against the latter's enemies, or for them to sympathise with Muslims.
He said zakat funds were meant to use the Muslim poor using the contributions of fellow Muslims who were better off.
"The needs of Muslims should be considered first even though on principle, whether zakat should be extended to non-Muslims or not is solely up to the government to decide based on public needs," he said.
At a recent international conference on zakat, Port Dickson MP Anwar called for reforms of the zakat institution.
He also suggested the distribution of zakat to non-Muslims, citing an opinion by prominent Muslim jurist Yusuf al-Qaradawi.
Full report at:
https://www.malaymail.com/news/malaysia/2019/11/01/after-anwar-moots-zakat-reforms-penang-mufti-says-muslims-must-get-priority/1805829
--------
Anwar: Policies should be based on ethics and values, not race
26 Oct 2019
BY SOO WERN JUN
BANGI, Oct 26 — The central issue in Malaysia remains the need to forge a new vision for governance that is based on ethics and values, said PKR president Datuk Anwar Ibrahim.
He said that both were lacking in the country, which led to the current state of affairs.
"While ethics and values are important, they have become somewhat irrelevant to the country's governance.
"We have been brought down because of endemic corruption and abuse of power, which is due to a lack of ethical considerations.
"We can talk and harp about religion, or the Islam faith, or Malay civilisation, but without ethics, we cannot succeed as a nation," said Anwar during his opening speech at the Nation Building seminar organised by Muslim groups Wadah, Abim and PKIM here today.
He pointed out that for Malaysia to evolve into a great country, it must have economic success.
"We must remain focused on our priorities — on the economy, on justice — to show concern for problems faced by the poor, the gross inequality in our society," he said.
He added there was a need to accept that the country was not making progress in all areas.
"(This is) stagnation in real terms. Our economy in the last 10 to 15 years has somewhat stagnated.
"That is an established fact. We need to do something. All Malaysians must focus on economic fundamentals. Only then can we solve bread-and-butter issues," he added.
When met later by reporters, Anwar said ethics and values must be the focus to combat corruption.
"Some academics are constantly talking about defending the Malays, but when it comes to corruption, which has resulted in the Malays being in this state (losing out in the economy and growing poverty) they are quiet.
"We need to uplift all races and stay away from racial lines," he said.
When asked about an alleged disrespect for the Federal Constitution, Anwar said there must be clear discourse on language, special rights, Islam faith and rulers.
"It has to start with the Malay leadership itself. To master other languages is important, but during official events, we must show that we are serious (about using Bahasa Melayu as the formal language)," he said.
Anwar's remarks today were in contrast to the demands made at the Malay Dignity Congress, such as for key government positions to be held only by Malay Muslims.
Secretariat chief Datuk Zainal Kling reportedly opened the congress in Shah Alam by reminding Malaysia's ethnic minorities of a so-called "social contract" with the Malays that enabled them to gain citizenship, claiming it could be taken back if the agreement was breached.
Full report at:
https://www.malaymail.com/news/malaysia/2019/10/26/anwar-policies-should-be-based-on-ethics-and-values-not-race/1803997
--------
India
Kashmir never been on UN's 'Right of Peoples to Self-determination' agenda: India
Nov 1, 2019
UNITED NATIONS: Jammu and Kashmir has never been on the UN agenda of 'Right of Peoples to Self-determination' and Pakistan has been making "frantic attempts" to gain credibility for its "territorial greed", India said in a strong response to Islamabad at a General Assembly committee after it raked up the Kashmir issue.
Pakistan's outgoing UN envoy Maleeha Lodhi raked up the Kashmir issue at a General Assembly committee, which deals with social, humanitarian affairs and human rights issues, saying Kashmiris have been waiting for their inalienable right to self-determination as promised by 11 Security Council resolutions.
"The agenda of the right of peoples to self-determination, however, has been sought to be misused once again by one delegation, by conflating it with another situation that does not pertain to the decolonisation or foreign domination context."
"This delegation has been making frantic attempts to gain credibility for its territorial greed and has demonstrated no hesitation in sabotaging this important agenda by callously referring to Jammu and Kashmir, which is an integral part of India," first secretary in India's Permanent Mission to the UN Paulomi Tripathi said Wednesday during the General Assembly's Third Committee discussion on 'Right of peoples to self-determination.'
Tripathi retorted, saying the "truth is that the issue of Jammu and Kashmir has never been on the United Nations 'Right of peoples to self-determination' agenda."
"A cursory reading of the document contained in A/74/309 makes it clear that the agenda for self-determination, as envisaged by the UN, does not include Jammu and Kashmir," she said, making a reference to the Report of the Secretary-General on the universal realisation of the right of peoples to self-determination.
Tripathi asserted that even the UN Security Council resolutions that "this delegation" has a penchant for invoking have never framed Jammu and Kashmir as a self-determination issue in the UN parlance.
"This Committee, therefore, has been cautious against such attempts of letting this forum being misused for propaganda," she said.
In her remarks, Tripathi also noted that India, as a former colony, has always been in the forefront at the United Nations in supporting the right of peoples to self-determination. "Self-determination in the UN context refers to the rights of people that have been colonised or continue to be under foreign domination. It clearly refers to the peoples of non self-governing territories or trust territories," she said.
Further, she said the UN has established that the principle of self-determination is a vehicle for decolonisation, not a justification for secession or undermining territorial integrity of any Member State. While substantial progress has been achieved in implementing this agenda, some situations continue to be unresolved.
"In this context, India strongly supports to the right of self-determination of Palestinian people," she said.
Tripathi voiced concern that in an interconnected world, social media has emerged a platform for amplifying racial hatred and discriminatory ideas what were otherwise fringe opinions.
"This trend, if unchecked, can challenge social cohesion. States must intensify efforts to prevent and combat racial hatred and discrimination, taking into consideration the balance between safeguarding freedom of expression and advocacy of hatred leading to racial discrimination and violence," she said, adding that partnerships with private sector and civil society are critical in this context.
https://timesofindia.indiatimes.com/india/kashmir-never-been-on-uns-right-of-peoples-to-self-determination-agenda-india/articleshow/71847818.cms
--------
Give up plans to hoist national flags of India, Pakistan on either side of Kartarpur corridor, says former Punjab assembly speaker
Oct 31, 2019
Former Punjab Assembly speaker Bir Devinder Singh has written to Prime Minister Narendra Modi and Pakistan PM Imran Khan to give up the plans to install hundreds of feet tall flagposts and hoisting the national flags of the respective countries on either side of the Kartarpur Sahib Corridor stating that these would hardly fit into a paradigm of religiosity, spirituality and universal brotherhood that the Sikh Gurus sought to imbue this land with.
He has urged both the PMs that the step (to give up the plans of having flag posts) would be in keeping with the grandeur of Guru Nanak's philosophy and preachings.
Praising both the PMs for their bold initiative and expressing gratitude to them for their initiative despite bitterness between the two countries, while releasing his letters to the two PM to the media here on Thursday, Bir Devinder Singh, who also writes on issues of Sikh history quite often, urged them to "develop the Kartarpur Sahib Corridor, a mere 4.7 km long stretch, as an 'equatorial line of interfaith understanding' in South Asia, an essential frontier exemplifying the humankind's capacity to dream big to achieve mutual love and peace".
He has urged PM Modi to take the initiative and abandon the idea of raising flagposts and hoisting a giant tricolor at Sri Kartarpur Sahib. "Burdened with the onerous responsibility of leading the people in observing the 550th Birth anniversary of Guru Nanak Dev Ji, you would no doubt be keen that nothing should happen, not even inadvertently, that is fundamentally contrary to the spirit of the teachings of Guru Nanak. It is in this context that I must point out that the plans to install hundreds of feet tall flagposts and hoist the Tricolor on the Indian side of the Kartarpur Sahib Corridor hardly fit into a paradigm of religiosity, spirituality and universal brotherhood that the Sikh Gurus sought to imbue this land with," the letter argues.
At the same time in his letter to PM Khan Bir Devinder has argued, "The two of you can sit together and convince each other that Sri Kartarpur Sahib needs no national flags. It is a place to spread the message of Guru Nanak, of peace and love and of universal brotherhood of humankind". "Please convince my prime minister and allow him to convince you that both India and Pakistan will do well not to start hoisting national flags and instead let the Sri Kartarpur Sahib Corridor emerge as an 'Equatorial Line of Interfaith Understanding' in South Asia," the letter to PM Khan pleads.
He also pointed out in his letter to Modi that a large number of Indians tread the difficult terrain to pay obeisance as part of the Kailash Mansarovar Yatra, and pilgrims actually enter the Chinese territory as part of the yatra. "But never has any Indian leader proposed raising a huge hundreds of feet tall Tricolor on the border — and rightly so, since such a pilgrimage is hardly an occasion to stress territorial sovereignty," he has argued while also making a similar argument to PM Khan on this that both nidia and China avoided any competitive display of nationalism on the route.
Full report at:
https://timesofindia.indiatimes.com/india/give-up-plans-to-hoist-national-flags-of-india-pakistan-on-either-side-of-kartarpur-corridor-says-former-punjab-assembly-speaker/articleshow/71843403.cms
--------
Parties with a Definite Muslim Base in Uttar Pradesh Are Looking For Fresh Options to Revive Themselves
01 November 2019
Lucknow, Nov 1 (IANS) Parties with a definite Muslim base in Uttar Pradesh are looking for fresh options to revive themselves before the next Assembly elections, due in 2022.
Uttar Pradesh has a Muslim population of over 19 per cent. The urban areas have 32 per cent Muslim population, while the rural areas have only 16 per cent.
Over the years, a number of political parties - claiming to cater to Muslim interests - have emerged and vanished without making any impact.
After the 1992 Babri mosque demolition, Muslims supported the Samajwadi Party (SP) in a big way. However when the Samajwadi Party joined hands with former chief minister Kalyan Singh, ahead of the 2009 Lok Sabha elections, Muslims shifted loyalty to the Bahujan Samaj Party (BSP).
In between, parties like the Peace Party, Ulema Council, Qaumi Ekta Dal emerged on the political horizon but after one of the two elections, these parties drifted into oblivion.
The victory of All India Majlis-e-Ittehad-ul-Muslimeen (AIMIM) in Bihar by-elections has ignited a new hope among Muslim voters, who have been looking for a party that can fight for their cause and won''t just use them as a tool to gain political power.
The AIMIM got 14 per cent votes and its victory has caused considerable discomfort in the SP and the BSP because the AIMIM is now preparing to ''invade'' Uttar Pradesh.
Muslim League state president Mateen Khan said Uttar Pradesh had been in the grip of casteism and governments had promoted their own caste groups.
"There has been no choice for Muslims and they are forced by circumstances to support either the SP or the BSP. Muslim leadership has also not emerged in these years. The SP and the BSP, as a rule, try to break up smaller parties so that they do not threaten them. But one day, very soon, Muslims will have their own leadership, their own party and will fight for their own community," he said.
Full report at:
https://www.outlookindia.com/newsscroll/muslim-parties-seek-fresh-ground-in-uttar-pradesh/1652816
--------
Pak violated its obligations under Vienna Convention in Jadhav's case: ICJ President
Nov 01, 2019
The International Court of Justice (ICJ) concluded that a bilateral consular access agreement between India and Pakistan did not exclude the applicability of the Vienna Convention in the case of Kulbhushan Jadhav, ICJ president Abdulqawi Ahmed Yusuf has said.
Addressing the UN General Assembly on Wednesday while presenting ICJ's annual report for 2018-19, Yusuf described the matter of Jadhav – currently on death row in Pakistan after being convicted of alleged involvement in espionage – as one of five contentious cases heard by the court during the period.
ICJ ruled in July that Pakistan had violated Jadhav's rights under the Vienna Convention on Consular Relations and upheld its earlier decision that his death sentence should be held in abeyance till his trial and conviction by a military court was reviewed. Pakistan granted India consular access to the former Indian Navy officer in August.
"The Court had to address several issues regarding the interpretation and application of the Vienna Convention in the specific circumstances of the case. One of the issues that the Court had to examine was the question of whether the rights relating to consular access, set out in Article 36 of the Vienna Convention, were in any manner to be excluded in a situation where the individual concerned was suspected of carrying out acts of espionage," Yusuf said.
ICJ noted there is no provision in the Vienna Convention containing a reference to cases of espionage, and it didn't exclude from its scope certain categories of persons, such as those suspected of espionage.
"Another interesting legal question that the Court had to address was whether a bilateral agreement on consular access concluded between the two Parties in 2008 could be read as excluding the applicability of the Vienna Convention. The Court considered that this was not the case," he added.
Having examined the 2008 agreement, ICJ came to the conclusion that it could not be read as denying consular access in the case of an arrest or sentence made on political or security grounds, and that it did not displace obligations under the Vienna Convention.
Full report at:
https://www.hindustantimes.com/india-news/pak-violated-its-obligations-under-vienna-convention-in-jadhav-s-case-icj-president/story-lTmy03Ie0KNMl8jHHivFKN.html
--------
India, Saudi Arabia naval drill in 2020
Rezaul H Laskar
Nov 01, 2019
The first bilateral naval exercise in 2020 and collaboration in research and acquisition of military hardware will help broaden defence cooperation between India and Saudi Arabia, people familiar with developments said on Thursday.
The two sides held a meeting in Riyadh this month and are expected to hold another in India in December to decide the contours of the naval drill that will be held in the first half of March next year. The scale of the exercise is yet to be decided though both sides are expected to field several warships for it.
The exercise is expected to strengthen the position of the Indian Navy, whose stated position is that its area of interest spans from the Strait of Hormuz to the Strait of Malacca.
A joint statement issued after Prime Minister Narendra Modi's visit to Riyadh on Tuesday said the two sides had agreed on the "importance of bilateral engagement to promote ways to ensure the security and safety of waterways in the Indian Ocean region and the Gulf region from the threat and dangers that may affect the interests of the two countries".
The Indian Navy has been conducting anti-piracy operations in the Gulf of Aden since 2008 and briefly deployed warships in the Persian Gulf to escort Indian merchant vessels when tensions soared between Iran and the US earlier this year.
Though the location for the drill is yet to be finalised, a drill off the Saudi coast will bolster the Indian Navy's efforts aimed at force projection and building interoperability with the navies of countries in West Asia, experts said.
The people cited above said the move to step up research and acquisition of military equipment as a new area of cooperation that had been suggested by the Saudi side. Work done over the past six months had led to the signing of a memorandum of understanding (MoU) between Saudi Arabia's General Authority of Military Industries (GAMI) and the department of defence production under India's defence ministry during Modi's visit.
The MoU covers collaboration in military acquisition, industries, research, development and technology. In August, a delegation from GAMI travelled to India and visited companies engaged in making military equipment, including Ashok Leyland, Bharat Forge and Larsen & Toubro.
"There is traction between what Indian defence industries are making and what the Saudis need," said a person who declined to be identified so that he could speak freely on the issue.
One area in which the Saudi side had shown interest is military vehicles. "In the first stage, they are looking at procurement and, later, there could be things like joint production," the person cited above said.
In an interview with Arab News ahead of his visit, Modi described security and defence cooperation as "robust and deep" and said the two sides had identified a number of areas of mutual interest and cooperation in this field.
Full report at:
https://www.hindustantimes.com/india-news/india-saudi-arabia-naval-drill-in-2020/story-q2Yg9ByBe4zMyn1dfGTRFO.html
--------
Pak invitees from India for Kartarpur Corridor inauguration to require clearance: MEA
Nov 01, 2019
The ministry of external affairs said on Thursday that those invited by Pakistan to the inaugural ceremony of the Kartarpur Corridor will have to get a "political clearance". The ministry was responding to questions on whether Congress leader Navjot Singh Sindhu, who has been invited by Pakistan Prime Minister Imran Khan, will be allowed.
"I think the political personalities or invitees who think they need to get a political clearance, and those not included in the list will know about it. There won't be surprises," the Ministry of External Affairs spokesperson Raveesh Kumar told mediapersons.
"My understanding is that the normal rules for seeking political clearance for such visits will apply," he added.
India's jatha, whose list the country has shared with Pakistan, includes personalities from different sides of the political spectrum, including Union ministers and those from the Punjab government," he said.
Sidhu is not included in the Congress delegation, which will be visiting the gurudwara on November 9.
The delegation includes former prime minister Manmohan Singh, Punjab chief minister Captain Amarinder Singh, Jyoraditya Scindia, RPN Singh, Asha Kumari, party's chief spokesperson Randeep Singh Surjewala, Deepender Singh Hooda, and Jitin Prasad.
As per the normal procedure, a political visit needs clearance from the government.
Earlier in the day, Pakistan media reported that the country has invited Sidhu to attend the inaugural ceremony of the Kartarpur Corridor.
Full report at:
https://www.hindustantimes.com/india-news/pak-invitees-from-india-to-require-clearance-mea/story-o5oUt3AnslKi18CAit6CfN.html
--------
Aramco to start work on Maharashtra refinery after getting land: Saudi minister
Rezaul H Laskar
Oct 31, 2019
Saudi Arabia's state-run Aramco will begin work on a $60-billion oil refinery in Maharashtra once the Indian government allocates land for the project, Saudi commerce minister Majid bin Abdullah Al Qasabi said on Thursday.
The issue of the refinery, to be built by Saudi Aramco, Adnoc of the United Arab Emirates (UAE), Indian Oil Corporation, Hindustan Petroleum Corporation and Bharat Petroleum Corporation, figured in talks between Prime Minister Narendra Modi and the top Saudi leadership on Tuesday.
The project was originally to be located at Ratnagiri in Maharashtra but was held up because of opposition from the region's mango farmers, who refused to part with their land. Subsequently, Raigarh was chosen as the new site for the project, which will be the world's largest greenfield refinery.
"Aramco has taken a decision to build a refinery and that's a huge investment. The commitment is there, it is announced," Al Qasabi said.
"We're waiting for the government of India to choose the land…and the Prime Minister (Narendra Modi) said the new regional government (of Maharashtra) has been chosen, and so we expect that in a very short time, the land will be decided. So the ball is now in their (India's) court," Qasabi added.
Aramco's investment in the project will be $35 billion, he said.
Under the new Strategic Partnership Council agreement signed with India, Saudi Arabia is looking to cooperation in several areas, including technology, agriculture, pharmaceuticals, tourism and education.
Qasabi said the two sides had talked about establishing an Indian academy of technology in Saudi Arabia.
India is also the largest source of manpower for the kingdom, providing 22% of the workforce.
"We value the Indian people, we appreciate the efforts that they have been making all through the last 60 years. Indian friends and brothers have been a forklift to the Saudi economy," Al Qasabi said.
"Seventy percent of the Saudi population is below 40…and hi-tech savvy. We can leverage the advantage India has in innovation, technology and financial technology, entrepreneurship and small and medium enterprises," he added.
Al Qasabi said there are a lot of synergies, similarities and alignment between the two countries but investments are "always a reaction based on opportunities, feasibilities, return on the investment and stability".
Full report at:
https://www.hindustantimes.com/india-news/aramco-to-start-work-on-maharashtra-refinery-after-getting-land-saudi-minister/story-BtEIncuGBMbE63q9XPa8kO.html
--------
Pak denial of visas to Punjab delegates to Nankana Sahib unfortunate: Amarinder
by Anju Agnihotri Chaba
November 1, 2019
Punjab Chief Minister Captain Amarinder Singh Thursday termed as "extremely unfortunate" the denial of visa to a delegation of Punjab ministers, MPs and MLAs to visit Sri Nankana Sahib in Pakistan. He also denied the Centre's role in it as alleged by his Cabinet minister Charanjit Singh Channi. He said that Centre had sent the names to Pakistan, but the neighbouring country did not grant them visas. "Not granting visas (to the Punjab delegation) was a petty thing on part of the Pakistan government," he said.
Channi on Wednesday had said a majority of names in the state government delegation, which was proposed to visit Nankana Sahib, were not approved by the Centre. Channi too was part of the delegation.
On Congress Rajya Sabha member Pratap Singh Bajwa's statement that he would not be part of the inaugural jatha if it was led by Amarinder, the Punjab CM said, "He can go with the Akalis then".
He also said that Punjab government did not have any confirmation about the visits of President or Vice President visiting Sultanpur Lodhi.
He also accused the Shiromani Akali Dal (SAD) and Union Minister Harsimrat Kaur Badal of politicising the auspicious 550th Prakash Purb by obstructing joint celebration of the historic event.
"The occasion was one of pride which my government wanted to celebrate collectively, rising above petty political considerations. However, the SAD scuttled all attempts of the state government to ensure joint celebrations…it is sheer pettiness on the part of the Akalis, particularly Union Minister Harsimrat Kaur Badal," Amarinder said.
Pointing out that his government had spent Rs 550 crore to ensure a befitting celebration of the historic event, Amarinder said the entire occasion had been transformed into a political drama by the Akalis, backed by their allies, the BJP.
Politics should have been kept aside on this religious occasion, he added, while reiterating his protest against Islamabad's refusal to withdraw the USD 20 fee on pilgrims visiting Kartarpur Gurdwara via the corridor. He urged the Imran Khan-led government to be large-hearted, keeping in view Sikh sentiment and tradition.
Asked if the state government was ready to pay the said amount on behalf of the pilgrims, Singh said he was, in principle, against giving anything to Pakistan on this count.
On Pakistan's invitation to Navjot Singh Sidhu to attend the Kartarpur Corridor inauguration, the chief minister asked media persons to ask his former cabinet colleague about it.
In response to a question, Singh rejected the SAD's claims on the central government funding the majority of the development projects to commemorate the 550th Prakash Purb.
The Centre gave money for only two projects, and one of them was only partially funded by them, he said, adding that the state government had already spent Rs 550 crore and would be spending more on infrastructure development and various events.
The chief minister, who reviewed the progress of work of the Kartarpur Corridor, which will be opening for devotees on November 9, 2019 at Zero Line (India-Pakistan International Border, Dera Baba Nanak), said all work undertaken by the state government was complete.
Full report at:
https://indianexpress.com/article/india/amarinder-says-denial-of-permission-to-punjab-delegates-to-visit-nankana-sahib-unfortunate-6096491/
--------
Jamia Hamdard to confer Honorary Doctorate to Dr. Frank F. Islam
October 12, 2019
Jamia Hamdard, an institute of higher education announced that it will confer Honorary Doctorate to Dr. Frank F. Islam. Islam will be formally conferred Doctor of Science (Honoris Causa) by Jamia Hamdard University in a Special Convocation on October 15, 2019, the registrar of the institute, S S Akhtar said in a statement.
Who is Islam?
Dr. Frank F. Islam is an information technology entrepreneur, investor, philanthropist, civic leader, and writer who heads the FI Investment Group.
He was the founder and CEO of the QSS Group and has served on numerous boards and advisory councils including the Board of Trustees of the John F. Kennedy Center for the Performing Arts, Board of Directors, Strathmore Center for the Arts, Ford's Theater Society Board of Trustees and Kennedy Center International Committee on the Arts.
He serves on various boards and councils at more than half-dozen universities including Johns Hopkins, University, American University, and George Mason University.
Other legendary figures honoured by Jamia Hamdard
Islam joins the list of other distinguished recipients who have been honoured by Jamia Hamdard which includes:
NR Narayana Murthy (Co-Founder of Infosys)
Bharat Ratna CNR Rao
Sheila Dikshit (Former Delhi CM).
Jamia Hamdard gaining importance
Full report at:
https://www.indiatoday.in/education-today/news/story/jamia-hamdard-to-honorary-doctorate-to-dr-frank-f-islam-1608555-2019-10-12
--------
Pakistan
70 dead after gas cylinder explosion sparks fire on Pakistan train
By Julia Hollingsworth and Adeel Raja
October 31, 2019
(CNN)At least 70 people were killed and 30 more injured in a fire that engulfed a train in Pakistan on Thursday morning, after a gas canister that passengers were using to prepare breakfast exploded.
The train was passing through the town of Rahim Yar Khan, in the south of Punjab province, when a stove blew up, causing a fire which spread through the train, according to local police officer Amir Taimoor.
Nadeem Zia, the medical supervisor of District Headquarters Hospital in Liaquatpur, a city in Rahim Yar Khan district, confirmed the death toll.
Footage broadcast on CNN affiliate Geo TV showed a blaze ripping through the carriages, with flames licking out of the windows and sending black smoke billowing into the sky.
Crowds gathered around the dramatic scene, as firefighters, paramedics, and soldiers responded.
An army helicopter was flown to the site from the city Multan to evacuate those who were critically injured, according to the ISPR, a media wing of the Pakistan Armed Forces.
Pakistan's Prime Minister Imran Khan and President Arif Alvi have both shared their condolences for the victims' families on social media.
Khan said that he had ordered the launch of an immediate inquiry to be "completed on an urgent basis."
President Alvi "expressed profound grief on the loss of precious lives in the tragic blast caused by gas cylinder," in a statement released on his official Twitter account.
"This is a terrible accident and we mourn those who have died," said Sheikh Rasheed, the country's railways minister, adding that the families of the dead and injured would receive compensation from the ministry.
Although gas cylinders are banned on trains, passengers were using gas-powered cookers to prepare breakfast inside the train carriage when the explosion occurred, Taimoor added.
He added that many of the people on board the train were heading to a protest in the Pakistani capital of Islamabad, about 800 kilometers (500 miles) from Rahim Yar Khan.
The train was running on the Tezgam line, a daily service that goes from the coastal city of Karachi to the northern city of Rawalpindi.
https://edition.cnn.com/2019/10/31/asia/train-blast-pakistan-intl-hnk/index.html
--------
1,100 Indian Sikhs arrive in Pakistan for Guru Nanak's 550th birth anniversary
Oct 31, 2019
LAHORE: The first batch of 1,100 Sikhs from India arrived here in Pakistan on Thursday for the 550th birth anniversary celebrations of Guru Nanak.
The visiting Sikhs will also be the part of the historic opening of the Kartarpur Corridor on November 9, Evacuee Trust Property Board (ETPB) spokesperson Amir Hashmi told PTI.
"The first batch of 1,100 Sikhs crossed over here from Wagah Border to attend celebrations of 550 birth anniversary of Baba Guru Nanak in Nankana Sahib," he said.
Hashmi said the visiting Sikhs brought "Golden Palki" along with them.
The 'Nagar Kirtan' (procession) was received here by Punjab governor Chaudhry Sarwar, ETPB chairman Aamer Ahmed and Pakistan Gurdwara Sikh Parbhandik Committee president Satwant Singh at Wagah Border.
The ETPB said a special exemption of tax has been sought from the Federal Board of Revenue (FBR) for the 'Golden Palki'.
It said special arrangements have been made for the pilgrims including catering, medical camp and transportation.
"Upon their arrival the Sikhs left for Nankana Sahib. During their stay they will visit other gurdwaras as well in Punjab and take part in the inauguration of the Kartarpur Corridor on November 9," it said, adding that the 'Golden Palki' will be installed at the Gurdwara Darbar Sahib Kartapur.
Pakistan Prime Minister Imran Khan will open the Kartarpur Corridor ahead of the 550th birth anniversary of Guru Nanak on November 12.
India and Pakistan last week signed the agreement on the Kartarpur Corridor that will allow Indian pilgrims to undertake visa-free visit to Gurdwara Darbar Sahib, the shrine of the Sikh religion's founder Guru Nanak Dev in Pakistan, notwithstanding a chill in bilateral ties over Kashmir.
The agreement will allow 5,000 Indian pilgrims daily to visit Gurdwara Darbar Sahib where Guru Nanak spent last 18 years of his life.
The corridor will connect the Dera Baba Nanak shrine in India's Punjab with Darbar Sahib at Kartarpur, just 4 kilometres from the International Border, located at Narowal district of Pakistan's Punjab province.
Full report at:
https://timesofindia.indiatimes.com/world/pakistan/1100-indian-sikhs-arrive-in-pakistan-for-guru-nanaks-550th-birth-anniversary/articleshow/71842499.cms
--------
IHC accepts Awan's unconditional apology for scandalising judiciary; issues her another contempt notice
Malik Asad | Tahir Naseer
November 01, 2019
The Islamabad High Court (IHC) on Friday accepted the apology of Dr Firdous Ashiq Awan, special assistant to the prime minister on information and broadcasting, for scandalising the judiciary and issued her a fresh contempt of court notice for making a statement regarding a pending criminal proceeding.
During the hearing of the contempt of court notice, presided over by IHC Chief Justice Justice Athar Minallah earlier today, the premier's special assistant had tendered an unconditional apology for "scandalising the judiciary", which the high court later accepted.
Justice Minallah told Awan that she had committed contempt of court on two counts — one for ridiculing the court for entertaining the case as a "special dispensation" and one for trying to influence a pending proceeding of the court related to the bail petition for Nawaz.
Awan assured the court that she would be extremely careful in the future and placed herself at the mercy of the court.
The IHC chief justice remarked that Prime Minister Imran Khan had fought for the rule of law, adding that he was sure that the premier had never instructed her to use such language against the court.
While accepting her apology for scandalising the judiciary, the court issued Awan a fresh contempt notice and directed her to satisfy the court that her press conference was not intended to influence a pending court proceeding.
"[We] cannot overlook matters when the principles of a fair trial are opposed," remarked Justice Minallah.
The IHC sought her reply by Monday. Additionally, the court directed her to appear before the court on November 5. Awan requested that the proceedings be adjourned till after Tuesday due to a cabinet meeting; however, the court rejected the request and said that as it is a criminal proceeding, her appearance is mandatory.
Following the proceedings, Awan arrived at and inspected a district court, as per the IHC's orders.
Contempt of court notice
On Wednesday, a show-cause notice was issued to Awan under Section 3 of the Contempt of Court Ordinance 2003. It said that Awan had maligned the IHC while saying that the hearing of a petition on the release of former prime minister Nawaz Sharif was "a special dispensation".
The court had directed Awan to appear in person on today to explain as to why she should not be proceeded against under contempt laws.
On October 26, PML-N president Shehbaz Sharif had filed a petition in IHC, requesting the court to hear the bail plea for Nawaz sooner than October 29 owing to the former premier's "extremely critical condition". After the hearing, which went into the evening, the court had granted Nawaz bail on medical grounds until Oct 29 in the Al-Azizia reference.
Awan, while holding a presser following the bail, had said the government would want to see such speedy trials for all under-trial prisoners and in all cases. "We hope this new trend will be applicable to all cases," she had said.
The special assistant had also remarked that there was no precedent in the past that the executive was asked to take responsibility for the health of a prisoner, referring to the judges' questions during Saturday's hearing. "We are not responsible for his old ailments, including blood pressure and cardiac issues," Awan had said.
Full report at:
https://www.dawn.com/news/1514202/ihc-accepts-awans-unconditional-apology-for-scandalising-judiciary-issues-her-another-contempt-notice
--------
'Azadi march' betrays lack of coordination among parties
Amir Wasim
November 01, 2019
ISLAMABAD: Opposition parties' Azad march spearheaded by the Jamiat Ulema-i-Islam-Fazl finally entered Islamabad on Thursday, but not before exposing lack of coordination among them.
The decision of JUI-F to keep its actual plan secret till the last moment not only kept the government and local administration of the capital perplexed, but also came under criticism from key political allies.
The main opposition Pakistan Muslim League-Nawaz (PML-N) added to the confusion by unilaterally announcing "postponement" of the public meeting at the planned venue in Islamabad till Friday due to the train tragedy.
The announcement made by PML-N secretary general Ahsan Iqbal at a time when marchers were about to begin their journey from Gujar Khan was criticised by JUI-F chief Maulana Fazlur Rehman, who immediately issued a statement, saying that they would reach the Azadi March venue on Thursday night at all cost to address the public meeting.
Interestingly, later the JUI-F officially announced that the public meeting would now be held on Friday after Friday prayers.
A spokesman for the JUI-F claimed that the decision to hold the public meeting had been made after "consultation" with the opposition's Rehbar Committee.
He said the march was going ahead as planned and cautioned the people against falling victim to rumour mills.
On the other hand, Awami National Party (ANP) president Asfandyar Wali Khan, who arrived in Islamabad from Charsadda leading a party's rally on Thursday, complained about the lack of coordination and even questioned where had the Rehbar Committee gone.
Pointing towards senior party leader and a member of the Rehbar Committee, Mian Iftikhar Hussain, the ANP chief said that his nominee in the committee was sitting beside him and he had not been contacted by the committee's convener Akram Durrani or other members.
Mr Khan said he had reached Islamabad as per plan as they had been told that the public meeting would be held on Oct 31.
Similarly, a spokesman for Pakistan Peoples Party (PPP) Chairman Bilawal Bhutto Zardari, Senator Mustafa Nawaz Khokhar said there was total confusion as they did not know about the actual plan of JUI-F leaders.
Mr Khokhar said the PPP chairman had cancelled all his activities for the day as he was scheduled to address the public meeting after the arrival of the participants of the Azadi march.
Talking to Dawn, he said that the PPP chairman was scheduled to address a public meeting at Rahim Yar Khan on Friday and now it had become extremely difficult for him to address the Azadi march since the JUI-F had now announced that it would be held after Friday prayers.
He said the announcement was "ambiguous" as no exact time had been announced. However, he said, the PPP chairman would make every effort to address the Azadi march participants before his departure to south Punjab, where he would be staying till Nov 9.
Earlier, the PML-N's thin participation in the JUI-F Azadi march in Lahore on Wednesday night was noticed by everyone. Even the PPP workers outnumbered the PML-N's in the JUI-F's show and its (PPP) Punjab president Qamar Zaman Kaira shared the stage with Maulana Fazlur Rehman.
Many JUI-F supporters at Minar-i-Pakistan complained that the PML-N workers did not join the march despite tall claims of their leaders.
PML-N president Shahbaz Sharif was present in Lahore but his meeting with Maulana Fazl could not be arranged.
Maulana Fazl also couldn't meet former prime minister Nawaz Sharif at the Services Hospital after doctors told him that Mr Sharif could not see visitors.
Earlier, the PML-N had claimed that the party would "fully" participate in the march on the direction of Nawaz Sharif. The consensus emerged after initial dilly-dallying amid reports that Mr Shahbaz was not in favour of joining the march.
At its last meeting a few days ago in Model Town regarding preparations for the march, the PML-N said it had mobilised its workers who would join the JUI-F march and give Maulana Fazl a rousing welcome here.
The PML-N, however, has already announced that Mr Shahbaz Sharif would address the public meeting in Islamabad.
Political experts and some opposition leaders believe that JUI-F leadership's decision to have a stopover at Gujar Khan, which is merely 50 kilometres away from the capital, was not a good move. They believe that the decision had badly affected the momentum of the rally which started from Karachi on October 27.
Full report at:
https://www.dawn.com/news/1514147/azadi-march-betrays-lack-of-coordination-among-parties
--------
IHC issues notice to govt over plea seeking Indian prisoners' release
November 01, 2019
ISLAMABAD: Taking action on a petition filed by the Indian High Commission for the release of four Indian nationals, the Islamabad High Court on Thursday issued notices to the federal government for a reply.
The four were convicted by military courts for spying and the Indian High Commission moved the court after they have completed their sentences.
Justice Mohsin Akhtar Kayani heard the petition.
The prisoners were identified as Jaspal alias Yashpal, who is imprisoned in Gujranwala jail; Shamsuddin alias Alam and Mohammad Ismail alias Sama, who are kept in Malir jail; and Anil Chimaar alias Anil Kumar, who is detained in Lahore jail.
According to the petition, the spies were arrested by the military authorities and were charged under Section 59 of the Pakistan Army Act and Official Secrets Act.
The petition said that the convicts had served out their respective sentences awarded by the Field General Court Martial.
The petition said that Jaspal completed his term on Aug 4, 2016, Shamsuddin on Oct 14, 2017, Ismail on Oct 31, 2016, and Chimaar on Feb 8, 2017.
The petition further said that all the prisoners had completed their respective sentences and the Constitution of Pakistan mandated in unequivocal terms that no person shall be deprived of life or liberty same in accordance with the law.
The petition argued that after the completion of the sentence, keeping condemned prisoners in jails was illegal, and requested the court to direct the federal government to release them for making arrangements of their travel to their homeland accordingly.
Full report at:
https://www.dawn.com/news/1514136/ihc-issues-notice-to-govt-over-plea-seeking-indian-prisoners-release
--------
JUI-F leader Mufti Kifayatullah released on bail
Nov 01, 2019
PESHAWAR: The Peshawar High Court (PHC) on Thursday ordered the release of Mufti Kifayat­ullah, a central leader of Jamiat Ulema-e-Islam-Fazl (JUI-F), on bail.
Kifayat­ullah was arrested by the Islamabad police on Sunday on charges of inciting people for participation in the October 31 anti-government 'Azadi March' and collection of donation for the protest.
A two-member bench of the high court based in Abbottabad comprising Justice Ijaz Anwar and Justice Shakeel Ahmad heard the bail petition which had been filed by the JUI-F.
Kifayatullah will be released once the court orders reach Haripur Central Jail, where he is imprisoned. Once free, he will join the caravan heading to Islamabad to partake in the JUI-F protest.
Full report at:
https://www.pakistantoday.com.pk/2019/10/31/jui-f-leader-mufti-kifayatullah-released-on-bail/
--------
PML-N throws spanner in Fazl's 'Azadi' plans
Nov 01, 2019
RAWALPINDI: The Azadi March led by the Jamiat Ulema-e-Islam-Fazl (JUI-F) entered Islamabad on Thursday, where it will be likely to culminate in a sit-in at H-9 venue that would be attended by the opposition parties, including the Pakistan Muslim League-Nawaz (PML-N), Pakistan People's Party (PPP) and Awami National Party.
The opposition, however, is divided on the date of the sit-in, especially after a 'unilateral' announcement made by the PML-N, wherein it announced a one-day delay in the jalsa owing to a train accident in Rahim Yar Khan which claimed 73 lives.
In a statement to the media, PML-N Spokesperson Marriyum Aurangzeb said the rally will now take place after prayers on Friday.
The statement initially opposed by Maulana Fazl was later agreed upon when the JUI-F chief's spokesperson and Rehbar Committee head Akram Khan Durrani confirmed the postponement of the rally till Friday.
Sources said that Faz agreed to the PML-N's suggestion for delaying the jalsa after PML-N supreme leader Nawaz Sharif spoke to him on the telephone.
According to reports, PML-N President Shehbaz Sharif will address the Azadi March participants on Friday.
A JUI-F leader, on the condition of anonymity, told Pakistan Today that the "party leadership felt being backstabbed due to what he called a last-minute betrayal by the PML-N and PPP".
Though, the agreement to the PML-N's 'demand' seemingly bridged the difference between the two parties, Fazl's Azadi March found itself mired in yet another problem after the PPP and ANP refused to budge from the 'scheduled' Thursday sit-in.
PPP chief Bilawal Bhutto-Zardari, whose participation in the sit-in was confirmed by spokesperson Mustafa Nawaz Khokhar earlier in the day, has refused to attend the rally on Friday due to his prior engagements.
"On return from Rahim Yar Khan tomorrow, Bilawal will try to join the opposition's jalsa but nothing is confirmed yet," said Khokhar, adding that his party was 'concerned' about the "prevailing confusion" regarding the sit-in. "Bilawal would skip Friday's rally if the confusion persisted," he added.
At midnight, PPP chief Bilawal reached the venue at midnight.
During the address, he slammed the ruling PTI for its inability to solve problems faced by masses and blamed the "incompetent" Prime Minister Imran Khan for pushing Pakistan towards economic disaster.
He said he was there to represent his party and paid tribute to the Azadi marchers, saying the protest was a "clear message to the government to go home".
He said the people of the country were against the 'puppet' government, as they favoured democracy and freedom of expression rather than living under a 'selected' regime. He said the incumbent government was an attack on the democratic system.
He said slain prime minister Benazir Bhutto gave her life rather than giving to a dictator and the PPP was carrying on her tradition of resistance.
Meanwhile, ANP President Asfandyar Wali said that his party's caravan had arrived at the venue per agreed plan and they would also leave the rally the same night after addressing the participants.
Shahzad Shafi
@shahzadShafi007
Good To See that #ANP is fighting back !
More Power to Democratic Forces 💪💪
Embedded video
213
15:20 - 31 Oct 2019
Twitter Ads information and privacy
60 people are talking about this
"We have arrived here at H-9. We will address the rally participants and leave tonight irrespective of the fact who arrives or not," he said while addressing the media persons.
In a question pertaining to an apparent rift between the opposition parties, Wali said: "There is no rift among the opposition parties about attending the march. Today was the date for the rally… even if anyone reaches here or not, the ANP is here. We will address here and leave."
"In any jalsa, someone comes first and others later. But it doesn't make any difference," he added.
In an interview with senior journalist Asma Sherazi, JUI-F chief Fazlur Rehman said there would be "chaos" in the country if Prime Minister Imran Khan failed to resign.
"We have to finally get the resignation from them (the government). And we will fight for it," he said, refusing to back down.
"The JUI-F wants to give the government a time period of 2-3 days while sitting in Islamabad," said Fazl, adding the next strategy for the sit-in would be decided by the people.
Aaj News Urdu
✔
@aaj_urdu
کیا مولانا دھرنا دیں گے؟؟ مولانا حکومت کو مزید وقت دینے کو تیار نہیں#AajNews #FaislaAapKaWithMaulanaFazalurRehman @asmashirazi
Embedded video
618
20:46 - 31 Oct 2019
Twitter Ads information and privacy
237 people are talking about this
The chance of JUI-F giving time to the PTI-led government has ended, said Fazl, doubling down on his anti-government rhetoric.
The JUI-F, which kicked-off its much-trumpeted anti-government rally on Sunday from Karachi's Sohrab Goth area, reached Lahore on Wednesday morning where it gathered a large crowd at the Greater Iqbal Park, the same venue where, in 2011, the incumbent premier had held one of the biggest political rallies in the history of Pakistan.
Addressing a charged crowd of his supporters he had brought along, Fazl had said, "Pakistanis, from Karachi to Islamabad, are in agreement that Prime Minister Imran Khan should resign."
Full report at:
https://www.pakistantoday.com.pk/2019/10/31/azadi-marchers-to-move-to-rawalpindi-en-route-to-islamabad/
--------
Mideast
What Did Turkey Know About Baghdadi's Hideout?
By JEFFERSON MORLEY
October 30, 2019
The death of Abu Bakr al-Baghdadi last weekend set spy services to public bragging: CIA officials told The New York Times that the discovery of the ISIS leader's location came after the arrest and interrogation of one of his wives and a courier this summer. Kurdish leaders, who said back in April that Baghdadi was in Idlib, told The Washington Post they had provided intelligence for the operation. Iraq's national intelligence service also boasted of giving Baghdadi's location to the Americans after "constant monitoring and the formation of a specialised task force over an entire year."
But the Turkish National Intelligence Office (MIT)—the country's closest equivalent to the CIA—isn't among those taking credit for tracking down Baghdadi, who was killed Saturday in a U.S. Special Forces raid in northern Syria. This, despite the fact that Baghdadi was living just three and a half miles from the Turkish border, in an area controlled by the Turkish-backed Free Syrian Army. Baghdadi's death thus exposes an enduring and under-appreciated reality of geopolitics in the Middle East: The Islamic State has always had a peculiar—which is to say, not exclusively hostile—relationship with Turkey.
The MIT was not always so reticent: In the aftermath of the murder of journalist Jamal Khashoggi in Saudi Arabia's Istanbul embassy last year, MIT chief Hakan Fidan shared audio intelligence of the killing with Turkish press and foreign intelligence services. But after Baghdadi's death, Turkish President Recep Tayyip Erdogan instead drew the same moral equivalence he's been offering for years, equating ISIS with the Kurdish forces who had partnered with the U.S. against ISIS until Trump's sudden pullout. On Turkey's role in the Baghdadi operation, Erdogan's spokesman would only say that "the night when the operation was conducted ... there was intense diplomacy between our military authorities" and the incoming American forces. Turkey's Defense Ministry gave the U.S. operation faint praise, calling it "within the spirit of alliance and strategic partnership" in the fight against terror.
The spirit of that alliance is mutual suspicion: The U.S. military, fearful that info on its move against Baghdadi would leak, only told Turkish officials that an operation was planned in Turkish-held territory, but did not identify the target, one American official told Foreign Policy. "Turkey did not provide any assistance in this operation, and he was located right next to their border," the official said. "That shows you how little they do on countering ISIS."
Baghdadi's location "surprised his American pursuers," the Times reported, "because it was deep inside a part of northwestern Syria controlled by archrival Qaeda groups." Like Osama bin Laden, who took refuge in Abbottabad, Pakistan, in the mid-2000s, Baghdadi was living under the nose of his ostensible enemies. Just as reporting once connected bin Laden's hideout and the ISI, the Pakistani intelligence service, suspicions are running strong that Baghdadi enjoyed some tacit Turkish protection.
A year ago, the Turkish justice minister reported that the government was holding 1,150 suspected ISIS fighters. But that was a small figure compared with the 9,731 people jailed for alleged links to the PKK, the Kurdish Workers Party, which Turkey regards as a terrorist organization—or the 31,442 people in prison for allegedly following the dissident movement of U.S.-based Muslim scholar Fethullah Gülen.
Outside experts say those numbers reflect Erdogan's priorities. Last year, intelligence authorities in the Netherlands issued a public report stating that the Islamic State uses Turkey as "a strategic base" to reorganize, threatening the security of Europe. "From here, ISIS can recover, reorganize and further shape the underground struggle in the region," the report said. Turkey has taken some action against ISIS and Al Qaeda, the report stated, but Erdogan's primary focus on fighting Kurdish groups has afforded the Islamist groups "sufficient breathing space and freedom of movement." "The fact that Turkish interests do not always correspond with European priorities in the field of combating terrorism is problematic," the report concluded.
That intelligence assessment and Baghdadi's ultimate location raise questions about whether Ankara tolerates, or coordinates, with elements of ISIS—and "if Turkey's MIT and ISIS did have a relationship in the past, do they continue to collaborate," David Phillips, director of the Program on Peace-building and Rights at Columbia University's Institute for the Study of Human Rights, told me in an interview. Turkey "has some explaining to do," Brett McGurk, the former U.S. envoy for the global anti-ISIS coalition, wrote in a Washington Post column Sunday. "It is telling that the U.S. military reportedly chose to launch this operation from hundreds of miles away in Iraq, as opposed to facilities in Turkey, a NATO ally, just across the border."
Since 2013, when Ankara officials declared ISIS a terrorist organization, Islamic State attacks have killed 315 people and injured hundreds more in Turkey, according to the country's largest English-language newspaper. Yet Ahmet Yayala, a former Turkish counterterrorism police officer, said in an interview that Erdogan and the MIT have "consistently helped ISIS, directly or indirectly."
As ISIS gained global prominence in summer 2014, Yayala says, Turkey supported the group in a bid to destabilize Syria and hasten the overthrow of its president, Bashar al-Assad. That October, Vice President Joe Biden told a Harvard University audience in 2014 that Turkey's president had claimed a share of responsibility for the ISIS's growth. "Erdogan told me—he's an old friend—said, 'You were right. We let too many people [including foreign fighters] through,'" Biden said. "Now they are trying to seal their border." (Erdogan denied saying it, and Biden subsequently apologized "for any implication that Turkey or other Allies and partners in the region had intentionally supplied or facilitated the growth of ISIL.")
Yayala says he saw the MIT-ISIS relationship up close. During his time with Turkish National Police, Yayala worked closely with MIT officers on the Syrian border. In 2014, he learned that Fidan, the MIT chief, had created a special unit just to deal with ISIS supporters, unbeknownst to the police. "I would ask the MIT guys, 'What are you doing with these guys?' They would say, 'Nothing,'" Yayala told me. "But we had all the investigative tools, and we followed them to meetings. We saw the terrorists meeting with our own service. It was extremely upsetting.
"Now, there are thousands of ISIS supporters hiding in Turkey among the Syria refugees," Yayala said. "They are not a priority for Erdogan."
The death of Baghdadi was undoubtedly a blow to ISIS, but probably not a fatal one. The group is resilient, not least because of its ability to operate within Turkey, enabled by Erdogan, the MIT, and—no doubt inadvertently—Trump. With or without Baghdadi, Turkey and ISIS remain the prime beneficiaries of the president's chaotic U.S. withdrawal. Turkey is now freely doing what it could not with American troops on the ground: driving the Kurds out of their stronghold in northern Syria. That, in turn, gives ISIS sympathizers relief from the most effective fighting forces in the area. Erdogan's forces are in rapid motion, but not against the terrorists that have held the U.S. and Europe in thrall for half a decade. Said Yayala: "I do not foresee any Turkish movement against ISIS."
https://newrepublic.com/article/155504/turkey-know-baghdadis-hideout
--------
US, Gulf allies sanction Hezbollah-Iran network
30/10/2019
The United States and six Gulf allies announced sanctions Wednesday on 25 entities associated with Iran's Islamic Revolutionary Guard Corps and Lebanon's Hezbollah, in a move to tighten controls on both group's finances.
The sanctions were set by Riyadh-based Terrorist Financing Targeting Center, a two-year-old group that includes Saudi Arabia, Bahrain, Kuwait, Oman, Qatar and the United Arab Emirates in addition to the United States.
They targeted companies supporting the Basij Resistance Force, a subordinate group of the Revolutionary Guard, that the Treasury said are used "to oppress domestic opposition with brutal displays of violence" and supply fighters to regional conflicts.
Among the 25 was Iranian Bank Mellat and mining, manufacturing and investment firms that allegedly support the Basij.
Four of those listed were individuals running Hezbollah's operations in Iraq, the Treasury said.
All 25 have previously been named in US Treasury sanctions announced in 2018.
"The TFTC's coordinated disruption of the financial networks used by the Iranian regime to fund terrorism is a powerful demonstration of Gulf unity," said US Treasury Secretary Steven Mnuchin in a statement.
Full report at:
https://www.france24.com/en/20191030-us-gulf-allies-sanction-hezbollah-iran-network
--------
US imposes sanctions on Iran's construction sector
1 November 2019
The United States said on Thursday it had imposed sanctions on the Iranian construction sector and trade in four materials used in its military or nuclear programs, even as it waived sanctions to let foreign firms continue non-proliferation work in Iran.
The decisions announced by the US State Department reflect an effort to increase economic pressure on Iran by putting wider swathes of its economy under sanctions, while also leaving a door open to diplomacy by allowing work to proceed at Iranian nuclear facilities that make it harder for Iran to develop a nuclear weapon.
Secretary of State Mike Pompeo had determined Iran's construction sector was controlled directly or indirectly by Iran's Islamic Revolutionary Guard Corps (IRGC), which the United States has branded a foreign terrorist organization.
In a second determination, he identified four "strategic materials" as being used in connection with nuclear, military, or ballistic missile programs, making trade in them subject to sanctions.
Full report at:
https://english.alarabiya.net/en/News/middle-east/2019/11/01/US-imposes-sanctions-on-Iran-s-construction-sector.html
--------
Turkish court rules to free ex-opposition lawmaker from jail
31 October 2019
Turkey's official news agency says a former opposition lawmaker and newspaper editor convicted of aiding a terror group will be freed from prison.
Anadolu news agency said Thursday an appeals court ruled for the release of Republican People's Party ex-legislator Eren Erdem.
Erdem was sentenced to more than four years in prison in March, accused of supporting US-based Muslim cleric Fethullah Gulen. The Turkish government says Gulen orchestrated a failed July 2016 coup, which he denies.
Erdem was accused of aiding Gulen's movement while editor of Karsi newspaper, which published recordings in 2013 that suggested government corruption - allegations the government rejects. Erdem denies the accusations.
Full report at:
https://english.alarabiya.net/en/News/middle-east/2019/10/31/Turkish-court-rules-to-free-ex-opposition-lawmaker-from-jail.html
--------
Israel approves more than 2,300 settler homes: NGO
31 October 2019
Israel has approved the construction of 2,342 settler homes in the occupied West Bank, settlement watchdog Peace Now said on Thursday.
It said the decision was taken on October 10 and that 59 percent of the new homes will be erected in "settlements that Israel likely may evacuate under a peace agreement" with the Palestinians.
According to Peace Now, which closely monitors Israeli settlement building, plans for 8,337 housing units in the settlements have been approved since the beginning of the year.
It said this represented an increase of close to 50 percent compared with 2018 when plans for 5,618 housing units were approved.
All settlements are considered illegal under international law and are built on land that the Palestinians see as part of their future state, but Israel distinguishes between those it has approved and those it has not.
Peace Now said that settlement construction has increased under Israeli Prime Minister Benjamin Netanyahu, who is fighting for his political survival after failing to form a coalition government following September elections.
Included in the 2,342 new housing units are 182 that are due to be built in Mevoot Yericho, a former outpost near Jericho which the Netanyahu government legalized before the September polls, Peace Now said.
Ramping up the construction of settlement homes "is yet another dangerous step for both Israel and the Palestinians, led by a transitional prime minister whom the public did not trust in his policies.
"The next government must put a freeze on the development of settlements and to strive for immediate resumption of negotiations with the Palestinians without preconditions and to end the bloody conflict based on the principle of two states for two peoples," Peace Now added.
Israeli President Reuven Rivlin has tasked ex-military chief Benny Gantz to form a government after Netanyahu failed to set up a coalition for the second time this year.
Full report at:
https://english.alarabiya.net/en/News/middle-east/2019/10/31/Israel-approves-more-than-2-300-settler-homes-NGO-.html
--------
Death toll in Saudi war on Yemen hits 100,000: Report
Oct 31, 2019
The Saudi-led war on Yemen has killed more than 100,000 people since 2015, a US-based database project that tracks violence has said.
The Armed Conflict Location and Event Data Project (ACLED) made the announcement in a report published on Thursday, saying that the figure included 12,000 civilian deaths in directly targeted attacks.
The report said 20,000 people had been killed this year, making it the second deadliest year of the war behind 2018.
The non-governmental organization also said April was the most lethal month so far this year, with over 2,500 reported killed, compared to approximately 1,700 in September.
"The third quarter of 2019 had the lowest number of reported fatalities since the end of 2017, but the number of civilian casualties rose from the previous quarter," ACLED said.
The most violent provinces were Ta'izz, Hudaydah and Jawf, with more than 10,000 people reported killed in each of the regions since 2015.
ACLED said direct targeting by the Saudi-led coalition and its allies had been responsible for more than 8,000 civilian deaths over the past four and a half years.
The data covers everything from airstrikes, shelling and ground battles between various forces to bombings and violence at protests. However, their numbers do not include those who have died in the humanitarian disasters caused by the war, particularly starvation.
Saudi Arabia and a number of its regional allies launched a devastating campaign against Yemen in March 2015, with the goal of bringing the government of former president Abd Rabbuh Mansur Hadi back to power and crushing the Ansarullah movement.
In the relentless campaign, Saudi-led airstrikes have hit schools, hospitals and wedding parties and killed thousands of Yemeni civilians.
The war has also taken a heavy toll on the country's infrastructure, destroying hospitals, schools, and factories. The UN says over 24 million Yemenis are in dire need of humanitarian aid, including 10 million suffering from extreme levels of hunger.
Full report at:
https://www.presstv.com/Detail/2019/10/31/610063/Yemen-death-toll-Saudiled-war-ACLED
--------
Israel re-arrests prominent Palestinian legislator Khalida Jarrar
Oct 31, 2019
Israeli forces have re-arrested a prominent Palestinian legislator and senior member of the Popular Front for the Liberation of Palestine (PFLP) in an overnight raid into her home.
Khalida Jarrar, a 56-year-old member of the Palestinian Legislative Council, was arrested at 3 am local time (00:00 GMT) at her home in the central occupied West Bank city of Ramallah, located 10 kilometers north of Jerusalem al-Quds, and taken to an unknown area, local media reported on Thursday.
Her daughter Yara Jarrar said in a post on Twitter that the house was surrounded by more than 70 Israeli soldiers who arrived in 12 military vehicles.
"Mom and sister were asleep when they approached," Yara said.
The Palestinian lawmaker has been jailed multiple times. She was released last February after spending 20 months in "administrative detention" -- an illegal practice under which an individual is held without a trail.
Jarrar, a staunch advocate of Palestinian prisoners' rights, said after her release that she would continue to campaign for the release of all Palestinian prisoners held in Israeli prisons and detention centers.
According to Samidoun, a Palestinian prisoner solidarity network, she played a leading role in supporting the education of the minor girls held there, organizing classes on human rights and in review for mandatory high school examinations when the prison authority denied the girls a teacher.
Jarrar was last arrested in July 2017, when a large number of Israeli troopers raided her home. Her husband, Ghassan, said Israeli forces also seized her computers during the raid.
Israel's internal spy agency, Shin Bet, later announced in a statement that Jarrar was arrested along with a Palestinian activist for "promoting terror activities," without providing any further information.
Jarrar is one of the most outspoken critics of the Israeli occupation and has repeatedly slammed the Tel Aviv regime's atrocities against Palestinians.
The Israeli regime has been denying the lawmaker the right to travel outside the occupied Palestinian territories since 1988. She campaigned for months in 2010 before receiving the permission to travel to Jordan for medical treatment.
In August 2014, Jarrar received a "special supervision order" from the Israeli military, which ordered her to leave Ramallah to live in the West Bank city of Ariha, also known as Jericho.
However, Jarrar set up a protest tent outside the Palestinian Legislative Council in Ramallah, where she lived and worked, until the controversial order was overturned later in September that year.
According to reports, a total of 13 Palestinian lawmakers are currently held in Israeli detention facilities without any trial under the so-called administrative detention, which is a policy according to which Palestinian inmates are kept in Israeli detention facilities without trial or charge.
Some Palestinian prisoners have been held in administrative detention for up to 11 years.
Full report at:
https://www.presstv.com/Detail/2019/10/31/610029/Palestine-Israel-raid-Ramallah-lawmaker
--------
Arab World
After Baghdadi death, Nobel laureate Nadia Murad asks: What about the rest?
Michelle Nichols
OCTOBER 31, 2019
UNITED NATIONS (Reuters) - The fight for justice for victims of Islamic State militants does not end with the death of leader Abu Bakr al-Baghdadi, Nobel laureate Nadia Murad said on Wednesday, asking: "How about those that raped us?"
Murad, who won the 2018 Nobel Peace Prize for her efforts to end the use of sexual violence as a weapon of war, is an Iraqi Yazidi woman who was enslaved and raped by Islamic State (ISIS)fighters in Mosul, Iraq, in 2014. Several of her brothers were killed by Islamic State and their wives also held captive.
Since 2010, Baghdadi led the jihadist group. U.S. President Donald Trump announced on Sunday that Baghdadi killed himself by detonating a suicide vest after fleeing into a dead-end tunnel during a raid by U.S. special forces in northwest Syria.
"At first I talked to my sisters-in-law," Murad told reporters at the United Nations. "Everyone was saying: 'OK, but this is just Baghdadi, how about all these ISIS?'"
"How about those that raped us? They sold us, they still have our girls, they still have our children - about 300,000 Yazidis still missing, we don't know anything about them," she said.
U.N. experts warned in June 2016 that Islamic State was committing genocide against the Yazidis in Syria and Iraq to destroy the minority religious community through killings, sexual slavery and other crimes.
Islamic State militants consider the Yazidis to be devil-worshippers. The Yazidi faith has elements of Christianity, Zoroastrianism and Islam.
"There is thousands of ISIS, they joined al Baghdadi and they continue to do what he did," Murad said. "So it wasn't only Baghdadi, we have to know there is thousands of ISIS like Baghdadi ... and they are not giving up."
"We want to see them in justice," she said.
A U.N. investigative team, created by the U.N. Security Council, is collecting and preserving evidence of acts by Islamic State in Iraq that may be war crimes, crimes against humanity or genocide. Murad and human rights lawyer Amal Clooney had long pushed Iraq to allow U.N. investigators to help.
"Those captured alive need to be brought to justice in an open court for the world to see. Justice is the only acceptable course of action," Murad wrote on Twitter on Sunday.
"We must unite and hold #ISIS terrorists accountable in the same way the world tried the Nazis in an open court at the Nuremberg Trials."
https://www.reuters.com/article/us-mideast-crisis-baghdadi-murad/after-baghdadi-death-nobel-laureate-nadia-murad-asks-what-about-the-rest-idUSKBN1X92CO
--------
Another al-Baghdadi-style raid on ISIS militants could soon become mission impossible
Oct. 30, 2019
The U.S. special operations raid that killed the Islamic State militant group's top terrorist Abu Bakr al-Baghdadi on Saturday was almost perfect. The military, the intelligence agencies, the American allies and Trump administration officials all deserve credit for this success, as well as the drone strike Monday that killed ISIS spokesman Abu Hassan al-Muhajir. But the Trump administration's recent actions could make the al-Baghdadi raid one of the last of its kind for many years.
For more than a decade, until June 2019, I represented the Department of Homeland Security in interagency discussions that led to numerous successes — and some failures — against ISIS, al Qaeda and other terrorists at home and overseas. Over those years, we learned what it takes to defeat groups such as ISIS, and our success is based on two crucial factors that President Donald Trump's recent decisions put at risk.
First, we are running out of territory on which our military can carry out lethal ground operations. ISIS still has an underground presence in the area of northeast Syria from which Trump abruptly withdrew U.S. forces Oct. 6. Previously, U.S. aircraft used to fly freely over this region and our troops had the freedom to work alongside the Syrian Kurds to collect intelligence. But since the withdrawal, they no longer have that access.
Both Syrian regime and Russian troops have already moved in, with Iranians likely not far behind. All three are working to make it harder for the United States to fly over most Syrian territory. Even Saturday's al-Baghdadi operation had to be rushed before the U.S. lost access to Syrian Kurdish territory and the ability to overfly northern Syria.
In Iraq, where other ISIS fighters have gone underground, Trump's tough Iran policy and his loose talk in February 2018 that U.S. forces were in Iraq to look "a little bit at Iran" have reduced American troops' access on the ground: The Iraqi government has tried to steer a neutral course between its American and Iranian "friends," so these comments pushed Iraq into a corner. Iraq responded by imposing stricter limits on the numbers and missions of U.S. troops. Last week, Iraq denied an American request to relocate forces leaving Syria to Iraqi territory.
U.S. military drone strikes against terrorists will continue because, unlike raids, they don't risk the lives of U.S. soldiers. However, it is harder to carry out drone strikes in places like Afghanistan, where troop reductions, also ordered by Trump, reduce the military's ability to cover territory and find out what terrorists are doing. Elsewhere, the success of U.S. counterterrorism efforts in Libya, Afghanistan, Somalia and Yemen is driving terrorist groups to rethink how and where they hide. ISIS and other terrorist groups adapt quickly, and will start looking for safe havens that are impossible for U.S. special operations teams and drones to access.
Turkey is another location where terrorists know U.S. raids or drone strikes are not possible. Either would rupture already frayed U.S. ties with its NATO ally, risk U.S. access to Turkey's Incirlik Air Base and jeopardize what's left of U.S.-Turkish counterterrorism cooperation, which is still valuable to the U.S. This is a very serious problem because al-Baghdadi was hiding in Idlib province, a few miles from Turkish territory. While Turkey's counterterrorism capabilities have improved in recent years, ISIS terrorists can still hide in Turkey or transit through it to join ISIS cells in Europe and elsewhere.
Second, drone strikes and ground raids rely on similar networks of allies and information collection capabilities. The Syrian Kurds provided access to a key intelligence source on al-Baghdadi, for instance, and they gave other assistance that helped the U.S. military plan raids and drone strikes against ISIS fighters over the past three years.
Trump's surprise Syria withdrawal opened the way for a Turkish attack on our Syrian Kurdish allies. That betrayal will make it harder for the U.S. to get any foreign entity's help the next time we need it, especially when we ask them to take risks.
Today, U.S. military counterterrorism capabilities are the best in the world and operate at a level of sophistication no other country can come close to matching. But this took decades to develop. The Obama administration, for instance, spent years building up the defense relationships, intelligence networks and special operations forces that led U.S. military commandos to Osama bin Laden in 2011 —and, this week, to al-Baghdadi. The Trump administration largely continued this plan in 2017-2018, earning kudos in its early years for removing some of the bureaucracy that slowed down operations unnecessarily.
But now, we're at risk of losing the capabilities that led to Saturday's success, and of failing to develop the new ones we'll need for the future. We will still need the option to do raids, but counterterrorism officials agree that the U.S. needs to use more than just military means to prevent terrorism. I've been in policy meetings with dozens of special operations generals — the kind the president says he admires — warning that we will not be able to kill our way to victory indefinitely.
Instead, we need to increase nonmilitary ways to find, arrest, prosecute and incarcerate terrorists, and to prevent them from boarding planes or crossing borders. Both the Obama and Trump administrations' counterterrorism strategies have called for helping other countries improve civilian counterterrorism capabilities in this regard.
Yet if this approach is going to be successful, particularly if we limit our military options, it requires greater funding than it's received. In particular, the U.S. needs to invest more in helping our allies build up their civilian counterterrorism, aviation security, border security, terrorism prevention and law enforcement capabilities. The Atlantic Council has been trying to find ways the U.S. and key counterterrorism partners can do this more effectively. Some of our allies can pay their own way, and just need a partner to share each other's "best practices." Other allies will need more direct assistance. That is, if these countries are willing to continue working with us.
Full report at:
https://www.nbcnews.com/think/opinion/another-al-baghdadi-style-raid-isis-militants-could-soon-become-ncna1073681
--------
Iraq Prime Minister Pressed to Quit as Protests Clog Streets
By Alissa J. Rubin
Oct. 30, 2019
BAGHDAD — Under pressure from a growing number of protesters, Iraq's prime minister appeared likely Wednesday to step down in the coming days, although exactly when is the subject of negotiations between two powerful Shiite Muslim leaders.
In a letter to one of the men, the cleric Moktada al-Sadr, Prime Minister Adel Abdul Mahdi said he would be willing to resign and call early elections. But Mr. Mahdi insisted that it be done according to the procedures in the Constitution.
"It is not enough for the prime minister to go to Parliament to announce early elections," Mr. Mahdi wrote on Tuesday, saying that there were constitutional requirements "that the prime minister must abide by."
The prime minister did suggest another path, saying, "If the goal of the elections is to change the government, there is a shorter way to do it." He encouraged Mr. al-Sadr, who controls the largest bloc in Parliament, to work out an agreement with the man who controls the second-largest bloc, Hadi al-Amiri.
Mr. al-Amiri, a Shiite leader like Mr. al-Sadr, accepts the idea that there may need to be a change in the leadership, members of Parliament said. But for now, he would like to see Mr. Mahdi remain as reforms are being put in place. Mr. al-Amiri and those close to him have said little publicly, but unlike Mr. al-Sadr, have refrained from demanding the prime minister's departure or early elections.
How events unfold in the coming days and the decisions that are made may prove critical for Iraq, which is at risk of sinking into factional fighting and chaos.
In the day since Mr. Mahdi sent his letter to Mr. al-Sadr, it has become clear that many protesters have set their sights on more than demanding that the prime minister steps down. They want to change the country's entire system of governance.
Asked what their goal is, they now often respond "thawra" — the Arabic world for revolution. For many here, this has become a struggle between ordinary people and the elites, the poor and the rich, the pure versus the corrupt.
"The problem is not just with Adel Mahdi," said Mohamed Fadhil, 35, a painter who had taken it upon himself to pick up trash strewn on a side street by the protesters gathering daily. "It's with the Constitution. It's with the system in our country."
He went on, saying: "This constitution was written in 2005 — we were children. Now we want a presidential system, and we should vote directly for the president of Iraq and get rid of all the political parties."
There is no precedent for the resignation of a prime minister and there has been almost no public discussions around the challenges in making the kind of wholesale changes in Iraq's government that are being demanded by the protesters.
The push for Mr. Mahdi's resignation came after his mishandling of nationwide protests that began on Oct. 1, which his government first sought to repress with violence.
Only belatedly did the government try to quell them by meeting some of the protesters' demands — and by then, more than 150 people were dead and thousands wounded. That made almost any government gesture seem too little, too late.
Now, amid the leadership negotiations, it is not clear whether anyone really has control of the most important element in the mix: the Iraqi street.
"The people in the protests will not accept anything less than complete change in governance," said Raid Fahmi, who resigned from Parliament this week saying he was disappointed by lawmakers' failure to respond to the needs of their constituents. "This is a new element in the equation: the tens, hundreds of thousands in the street," he said.
Mr. Fahmi noted that while protesters initially sought better services from the government like water and electricity, as well as jobs, as the demonstrations have gone on, the demands have become more far-reaching.
"Now, they do not just want Adel Abdul Mahdi to leave," he said. "They want a change in the way the government is constituted, a change in the way people are chosen for posts."
There was no official count of how many people took to the streets on Wednesday, but it was certainly many thousands who flowed into Tahrir Square, blocking traffic more than a mile from the Jumhuriya Bridge, which leads to the Green Zone. That is where many Iraqi government offices are located, including the prime minister's offices and the Parliament.
Corruption is a big issue for most of the demonstrators, who are angry at those few who can buy their way into high-ranking jobs and then demand payments from those beneath them. Many have also pointed to Iran. For the first time, Iraqis are demanding that Tehran stop trying to influence Iraqi politics and stop using the country for its economic benefit.
While a majority of the crowds come from the Shiite strongholds in eastern Baghdad that are predominantly loyal to Mr. al-Sadr, the cleric, many protesters were from different sects and were of different ethnicities. That suggests that the movement has both breadth and depth.
Mr. al-Sadr has demanded Prime Minister Mahdi's resignation repeatedly since the protests began, and again in the last three days. He is seeking early elections that would be supervised by the United Nations and that might lead to an overhaul in the Iraqi system of government.
Full report at:
https://www.nytimes.com/2019/10/30/world/middleeast/iraq-protests-prime-minister.html
--------
Hezbollah's road to power in Lebanon just got harder
By NABIH BULOSSTAFF WRITER
OCT. 30, 2019
BEIRUT — The resignation of Lebanese Prime Minister Saad Hariri was a victory for anti-government protesters flooding the country's streets by the millions. It also was a wake-up call for Hezbollah, the Shiite Muslim organization that wields substantial power in the region and is regarded as a terrorist organization by the United States.
The group, which is aligned with Iran and is considered a dangerous foe by Israel, cemented its political clout in elections last year. It has wielded that power in a coalition government to maintain the arsenal of weapons it says it needs to fight Israel and protect its people.
Yet the protests that drove out Hariri on Tuesday present a challenge to Hezbollah.
On the one hand, it would seem to have common cause with the demonstrators, who are demanding an end to government corruption. Decaying infrastructure, intermittent electricity and water, little work and high prices all contributed to some of the largest demonstrations Lebanon has ever seen. Hezbollah also has railed against corruption, and has a reputation in Lebanon for being relatively untainted by it.
At the same time, the organization has become a pillar and protector of the political establishment, the target of the protesters' ire. That anger could wind up being redirected at Hezbollah.
The protests spread far beyond the Lebanese capital, Beirut, including south Lebanon, which is dominated by the country's Shiite Muslims and where Hezbollah expects to have total support.
Across the south, in cities such as Sour, Nabatiyeh and Kfar Roummane, hundreds of demonstrators gathered in public squares. Like their counterparts in Beirut and elsewhere, they repeated "All of them means all of them," a signature slogan that demands all politicians leave.
For Hezbollah, which maintains what it portrays as a benevolent, almost paternalistic control of the south, the dissent was a surprise.
And the protests persisted, even after Hezbollah's leader Hassan Nasrallah said the government should stay. The uprisings, he said, had been co-opted by foreign powers antagonistic to Hezbollah. He instructed his supporters to leave the streets; others, he said, could remain and protest if they wanted to, but the roads would have to be reopened to allow the resumption of daily life.. He insisted he didn't fear for "the resistance," the catch-all term referring to Hezbollah and its supporters, but for the whole country.
But his arguments left many unconvinced.
"The resistance cannot be victorious if people are starving," said Farah Qubaisi, a 32-year-old academic and feminist activist protesting in Nabatiyeh. "Hezbollah says it wants to help people, then it should stand with them."
Hezbollah is considered less corrupt than its counterparts, and often more effective than the state, with cadres better equipped than the Lebanese army, and an impressive social works component it marshals to give better services to its constituents.
But Hezbollah's problem is its allies in government, including two deeply unpopular figures, Nabih Berri and Gebran Bassil.
Berri, the octogenarian parliament speaker and head of the Shiite party Amal, is widely viewed as an exemplar of the country's venal political class.
Bassil, Lebanese President Michel Aoun's son-in-law as well as the country's foreign minister, heads a party that is Hezbollah's top partner in the coalition government. So visceral is the hatred of Bassil that demonstrators took up a chant repeatedly mentioning his mother's reproductive organs, albeit in far cruder fashion.
Yet those alliances have been expedient for Hezbollah, said Heiko Wimmen, a Lebanon expert with the International Crisis Group. They've allowed it to maintain a political order in which it keeps its weapons from being taken away while protecting the interests of its base. A change in the status quo, ailing as it is, could threaten all that.
"They're in the most comfortable domestic setup they've ever been," Wimmen said in a phone interview on Wednesday. "They could have formed their own majority government, but they're in a government legitimized by having other parties, which shields them from the U.S. and its sanctions."
In the days after Nasrallah's speech, and as protesters continued to block roads, grumblings began to percolate among pro-Hezbollah commentators, warning that road closures were bringing people to economic ruin and that the Lebanese army, by not forcibly removing them, was failing to protect people.
Tuesday brought the harbinger of what a sectarian-tinged schism could bring. That afternoon, party thugs said to be supporters of Amal and Hezbollah descended on Beirut's downtown district. They skirmished with protesters to destroy the makeshift barriers they had placed on a main highway before going on a rampage through their encampments.
Video of the clashes released on social media showed hordes of the young men ripping signs, tearing down tents and setting fire to what equipment they could find. Protesters who stood in their way were beaten down or chased away by a hail of bottles and rocks. Security forces did little to stop the attack.
Protesters soon came back to clean up the damage. Hours later, people were again swarming the protest camp; many said the attack had actually shaken away the fatigue that had begun to set in after weeks of demonstrations.
But the violence undoubtedly had a dampening effect. On Wednesday, protesters acquiesced to roadblocks being removed and allowed traffic to resume in downtown Beirut and elsewhere. It was perhaps a win for Nasrallah but one that brought criticism even from his own base.
Full report at:
https://www.latimes.com/world-nation/story/2019-10-30/as-lebanon-looks-to-form-a-new-government-all-eyes-turn-to-hezbollah
--------
Kuwait lists 21 entities, 4 individuals as terrorist elements
2019-10-31
KUWAIT CITY, Oct. 30 (Xinhua) -- The Kuwaiti authorities listed 21 entities and four individuals as terrorist elements, the Kuwait News Agency (KUNA) reported Wednesday.
The decision was made by an anti-terrorism committee of the Kuwaiti Ministry of Foreign Affairs, KUNA said.
The listing came as part of Kuwait's efforts to combat terrorism and dry up its resources, according to a ministry statement.
Full report at:
http://www.xinhuanet.com/english/2019-10/31/c_138516173.htm
--------
'Is Kuwait the old Saudi?' Clerics issue fatwa against IPOs
October 31, 2019
KUWAIT: This year's list of IPO debacles could grow longer if Kuwait's clerics have their way.
A religious ruling in Kuwait against two initial public offerings launched this month is stirring fears that the Gulf state is clamming up at a time its bigger neighbour Saudi Arabia is doing just the opposite, courting investors in anticipation of Saudi Aramco's IPO.
The offering of half of Kuwait's stock exchange to citizens and a long-awaited public subscription to Shamal Al-Zour, the company that owns and operates a major power station, began Oct 1.
Nearly three weeks later, Kuwait's highest religious authority said they breached Islamic law's prohibition on interest and branded them "haram," or forbidden.
The non-binding fatwa issued by the Ministry of Awqaf and Islamic Affairs said Boursa Kuwait trades in stocks of companies including those that don't comply with Islamic principals, and makes "illegal revenues" from brokering transactions in these stocks. --------
It also states Kuwait Stock Exchange company's earns returns on deposits at banks aren't Shariah compliant.
"Is Kuwait the old Saudi?" said Fawaz Mohammad, a 41-year-old Kuwaiti businessman.
"The mere existence of this fatwa catapults Kuwait into the Middle Ages at a time when Saudi is fast tracking openness and diversity, two values that were and continue to be core to the Kuwaiti identity."
While a conservative country, Kuwait allows women to drive and doesn't force them to wear veils, freedoms that are just starting to take root in Saudi Arabia.
In Kuwait, all laws are drafted, openly debated and issued through the Gulf Cooperation Council's only freely elected legislature. Islam is the official state religion and Shariah a main source of legislation.
Both public offerings are mandated by laws issued by parliament, which doesn't require companies to be Shariah-compliant.
Kuwait's benchmark index declined 0.3% on Thursday, trimming this year's gain to 18%. That compares with an 8.2% increase for the MSCI Emerging Markets index.
Playing politics
With elections looming next year, lawmakers are now more likely to put the spotlight on populist issues as they go into parliament's last session.
Opposition to the share sales is building in parliament.
Mohammed Al-Hayef, a hardline Islamist lawmaker who is spearheading the campaign against the Kuwaiti IPOs, has requested to quiz Finance Minister Nayef Al-Hajraf over issues that include the offerings.
He also alleges that transactions overseen by Al-Hajraf aren't Shariah compliant, even though Kuwait's constitution or current laws don't require them to be.
The issue of observance of Islamic finance principles for companies looking to sell shares has come up before, when Saudi Arabia's National Commercial Bank was preparing its 2014 IPO. It eventually won approval from scholars after committing to become fully Shariah-compliant.
Shariah compliance
"Don't those who issued these fatwas know that their salaries and the salaries of their sons come from state investments inside and outside Kuwait and from interest on stocks, bonds and deposits in companies and banks?" columnist Ahmad Al-Sarraf wrote in Al-Qabas.
Both companies under subscription have foreign investors.
A sale of shares in Shamal Al-Zour would be the first IPO resulting from a public-private partnership. It's 40% owned by an international consortium that includes Japan's Sumitomo Corp. and France's Engie SA.
The two companies referred all questions to the Kuwaiti ministries of finance and commerce. The Commerce Ministry declined to comment while Finance Ministry officials couldn't be reached for comment.
'Strange Ruling'
Some Kuwaitis are bewildered, some consider it good news since fewer subscribers could mean bigger allocations.
Others are willing to fall in line. A group of lawmakers have issued a statement calling on the government to halt the IPOs. This seems unlikely since the bourse subscription ends Dec 1 and Al-Zour on Nov 29.
Full report at:
https://www.freemalaysiatoday.com/category/business/2019/10/31/is-kuwait-the-old-saudi-clerics-issue-fatwa-against-ipos/
--------
US withholding $105 mln in security aid for Lebanon: Sources
1 November 2019
US President Donald Trump's administration is withholding $105 million in security aid for Lebanon, two US officials said on Thursday, two days after the resignation of Lebanese Prime Minister Saad Hariri.
The State Department told Congress on Thursday that the White House budget office and National Security Council had decided to withhold the foreign military assistance, the two officials said, speaking on condition of anonymity.
The officials did not say why the aid was blocked. One of the sources said the State Department did not give Congress a reason for the decision.
The State Department declined to comment.
The administration had sought approval for the assistance starting in May, arguing that it was crucial for Lebanon, an important US partner in the volatile Middle East, to be able to protect its borders. The aid included night vision goggles and weapons used in border security.
But Washington has also repeatedly expressed concern over the growing role in the Beirut government of Hezbollah, the armed Shia group backed by Iran and listed as a terrorist organization by the United States.
Following Hariri's resignation on Tuesday amid huge protests against the ruling elite, US Secretary of State Mike Pompeo urged Lebanon's political leaders to help form a new government responsive to the needs of its people and called for an end to endemic corruption.
One US official told Reuters he believed the security assistance was necessary for Lebanon, as it struggles with instability not just within its own government but in a turbulent region and houses thousands of refugees from war in neighboring Syria.
The official said it was especially important to strengthen Lebanon's military, which he deemed one of the most capable institutions in the country now, largely because of support from Washington.
The official said drawing aid away from Lebanon could pave the way for Russia to move in.
Russia has expanded its influence in Syria since Trump announced he was withdrawing US forces from the northeastern part of the country.
Full report at:
https://english.alarabiya.net/en/News/middle-east/2019/11/01/US-withholding-105-mln-in-security-aid-for-Lebanon-Sources.html
--------
Syria's Assad says he does not want Turkey as an 'enemy'
1 November 2019
Syrian President Bashar al-Assad Thursday said he did not want to make an "enemy" of neighboring Turkey, despite the latter's invasion having led to a confrontation between their forces.
Assad said that Turkish President Recep Recep Tayyip Erdogan himself was an "enemy" due to policies hostile to Syria and opposed by most of his country's political elite.
But "we must ensure that we don't turn Turkey into an enemy and here comes the role of friends," such as Russia and Iran, the president said in a pre-recorded interview on state television.
Turkey supports Syrian rebel forces who have battled Assad's government during the eight-year-long war that has killed more than 370,000 people.
This month Ankara launched an operation on Syria's northern border against Kurdish forces.
The Kurds spearheaded a US-backed military campaign against ISIS that deprived the terror group of their final slither of Syrian territory in March this year, but Ankara views the Kurdish forces as "terrorists".
Abandoned by their ally Washington – which early this month pulled its own troops back from the border area, effectively allowing Turkey to attack – the Kurds turned to the Syrian regime, which swiftly deployed and reclaimed swathes of territory it lost years ago.
Turkey last week struck a deal with Russia to halt the weeks-long invasion.
The agreement calls for the withdrawal of Syrian Kurdish fighters from areas along Turkey's border with Syria, with a view to setting up a "safe zone" where Ankara plans to repatriate some of the 3.6 million Syrian refugees it currently hosts.
Full report at:
https://english.alarabiya.net/en/News/middle-east/2019/11/01/Syria-s-Assad-says-he-does-not-want-Turkey-as-an-enemy-.html
--------
Qassem Soleimani tells PMU, officials to back Iraqi PM during Baghdad meeting
1 November 2019
Iranian General Qassem Soleimani, the commander of the Islamic Revolutionary Guard Corps - Quds Force, instructed commanders of the Popular Mobilization Unit militias to support Iraqi Prime Minister Adil Abdul Mahdi during a secret meeting in Baghdad on Wednesday, five sources familiar with the meeting told Reuters.
Sources close to two of the most influential figures in Iraq also told Reuters that Iran had intervened to prevent the overthrow of Abdul Mahdi amid demonstrations which erupted weeks ago to protest the government's performance.
The populist Shiite cleric Moqtada al-Sadr demanded this week that Abdul Mahdi calls for early elections to calm the largest popular protests.
Sadr urged his main political rival, Hadi al-Amiri, the head of an alliance of Iran-backed Shia militia leaders, to assist in the overthrow of Abdul Mahdi.
An Iranian security official confirmed Soleimani was present at a meeting in Baghdad on Wednesday and that he was there to "advise".
Full report at:
https://english.alarabiya.net/en/News/middle-east/2019/11/01/Qassem-Soleimani-tells-PMU-officials-to-back-Iraqi-PM-during-Baghdad-meeting.html
--------
Lebanon president says ministers in new cabinet should be picked on skills
31 October 2019
Lebanese President Michel Aoun vowed to form a new government of technocrat ministers based on skills rather than political affiliations, after the resignation of Prime Minister Saad al-Hariri following weeks of nationwide protests.
"Lebanon is at a critical juncture, especially from an economic aspect, and is in dire need of a harmonious government capable of production that is not hampered by political conflicts and rivalries and is supported by its people," Aoun said in a televised speech on the third anniversary of his presidency.
Aoun also said that the proposed economic plan is still awaiting an approval amid mass protests that have gripped the country for nearly two weeks.
He further called on demonstrators to pressure the country's parliament to pass a draft law to return money looted from the state.
His address came after Prime Minster Saad Hariri submitted the resignation of his cabinet on Tuesday.
Full report at:
https://english.alarabiya.net/en/News/middle-east/2019/10/31/Lebanese-President-Michel-Aoun-gives-televised-address.html
--------
Iraqi president says Iraq's PM will only resign if a replacement is found
31 October 2019
Iraqi President Barham Salih said on Thursday that Prime Minister Adil Abdul Mahdi would only resign in response to mass protests if parliamentary blocs agree on his replacement to avoid a constitutional vacuum.
Salih said in a live address that new elections could only take place under a new electoral law.
Full report at:
https://english.alarabiya.net/en/News/middle-east/2019/10/31/Iraqi-president-says-Iraq-s-PM-will-only-resign-if-a-replacement-is-found.html
--------
Gulf Ministers of Finance say reforms are reshaping regional economies
31 October 2019
Saudi Arabia's Minister of Finance Mohammed al-Jadaan said that wide-ranging reforms have reshaped Saudi Arabia and the Gulf region into an international investment powerhouse. The minister was speaking on Thursday at the third annual Future Investment Initiative (FII) in Riyadh.
"That reform is designed to respond to challenges we face in our economy, not only the challenges we face locally but internationally," said al-Jadaan.
The minister added that incoming foreign direct investments are a result of the ongoing economic reforms, particularly in the Kingdom of Saudi Arabia.
"Actual FDI is growing 10 percent. Also, local investment is coming in Saudi Arabia, as private investment has grown around 3 percent," he added.
Al-Jadaan made the comments on a panel alongside his Kuwaiti and Bahraini counterparts, Naif Falah al-Hajraf and Sheikh Salman bin Khalifa Al Khalifa, respectively. The ministers discussed key factors that have made the region attractive for investment, and what was required to move forward.
"I think the reality is that decisions are being made every year to enhance the economic integration," al-Jadaan added.
Most recently, Saudi Arabia jumped 30 places in the World Bank's Ease of Doing Business 2020 Index, taking the 62nd position, making the Kingdom the world's top improver. The results indicate that widespread social and economic reforms carried out by the country are bearing fruit.
However, this improvement comes amid a global economic slowdown. The International Monetary Fund (IMF) in its October 2019 World Economic Outlook cut its global growth forecast to 3 percent for 2019, its lowest level since 2008-2009. Geopolitical and trade tensions have also curbed growth prospects, hitting business confidence, investment activity, and global trade.
"When we talk about the process of reform that has been taking place … it is important to note that is not enough to create a portal, create a one-stop shop in front of a 30 year-old process; it is critical to take every step of the approval process and reengineer it," said Bahrain's finance minister Shaikh Salman bin Khalifa Al Khalifa.
During the same panel, Kuwaiti Minister of Finance al-Hajraf pointed out that oil indicators in the region are a "distorting factor", and that there are other economic indicators to monitor.
"Oil is always a distorting factor in our economy - you can't look at total revenues, you can't look at total GDP. You have to look at the policy-driven part of your economy which is the non-oil portion, and that is what you should continue to grow. We have focused all of our policy on it," he said.
Saudi Arabia's oil GDP fell 3 percent this year, al-Jadaan said in the panel on Thrusday, while adding that non-oil GDP growth was flat at 2.9 percent.
The pace of reforms
Under the umbrella of Vision 2030, Saudi Arabia has been developing the National Transformation Program (NTP) over the last four years. The NTP is dedicated to engaging stakeholders in identifying challenges and creating solutions for the reforms program's initiatives.
"I think the country [Saudi Arabia] is doing the right things: the bankruptcy law, the commercial pledge law, the procurement law and the private sector law are all big pieces in the jigsaw," James Reeve, Group Chief Economist of Riyadh-based Samba Financial Group told Al Arabiya English.
Reeve, however, said that additional transparency and regulatory reforms are needed in order to encourage more foreign investments in the region overall.
"It is vital that foreign investors feel that they have a level playing field with domestic firms, and that there is a transparent and predictable regulatory environment in place. The lack of such an environment is the main reason why the MENA region has historically found it difficult to attract FDI outside of energy and related sectors," he added.
Earlier this year, Kuwait announced that its oil sector grew at 1.3 percent for Q1 2019 and non-oil sector expanded at 4.1 percent.
The International Monetary Fund (IMF) announced in March that it expects Bahrain's economy to grow around 1.8 percent in 2019.
Al-Hajraf stressed that private firms must also play their role in transforming how the region does business.
"The time has come for the government to zoom from the operation and leave the room for the private sectors to lead the economy and this is what we are emphasizing on," he said.
Al-Hajraf later added that the economic agenda of the Gulf Cooperation Council (GCC) should not be impacted by political differences.
"What has been achieved under the GCC umbrella is too good to let go," he said, adding: "We have our differences, we have to address the differences and work it out in a very functional way."
More reforms needed
The main topics discussed at FII in Riyadh this year were climate change, technology, entertainment, and emerging economies. Since the launch of Vision 2030 in 2016, Saudi Arabia's social reforms have opened up untapped sectors for the Kingdom, such as entertainment and tourism.
However, analysts told Al Arabiya English that the policymakers in Saudi Arabia and the region should continue to push ahead with additional economic diversification reforms in order to attract investments – particularly to support small and medium enterprises (SMEs).
"The need to invest and set up a functional SME sector is still not fully understood. In the global economy, SMEs are main driver for a sustainable economy and provider of jobs," said Cyril Widdershoven, MENA analyst and director of Netherlands-based consultancy Verocy.
"Currently, the main risk is that there is still an approach to address and invest only in flashy high-profile projects or high-tech," Widdershoven, who was also a participant at FII 2019, told Al Arabiya English.
He added that there needs to be an emphasis on sectors other than technology or entertainment in Saudi Arabia and the Arabian Gulf, such as ports, airports, mining, and education.
The ministers were speaking on the third and final day of FII 2019. Previous speakers included US Energy Secretary Rick Perry, Brazilian President Jair Bolsonaro, and the head of Saudi Arabia's Public Investment Fund Yassir al-Rumayyan.
Full report at:
https://english.alarabiya.net/en/business/economy/2019/10/31/Saudi-Minister-of-Finance-al-Jadaan-says-region-is-investment-powerhouse.html
--------
Car bomb blast kills 9, injures dozens in Syria's Afrin
Oct 31, 2019
A car bomb has exploded in Syria's northwest city of Afrin, leaving at least nine people dead and 30 others injured.
According to witnesses and a rescuer, the explosion took place at a busy market in Afrin, a mainly Kurdish city near the Turkish border controlled by Ankara-backed militant groups, on Thursday.
The Kurdish Hawar News Agency (ANHA) reported that the bombing had killed at least nine people and wounded 30 others.
Videos posted on social media showed extensive damage to the Afrin market with fires burning.
Some reports said two children were among those killed.
Full report at:
https://www.presstv.com/Detail/2019/10/31/610022/Syria-Afrin-bomb
--------
Representatives of top Shiite cleric Al-Sistani urge followers to join protests in Iraq
SUADAD AL-SALHY
November 01, 2019
BAGHDAD: The supreme religious authority in the city of Najaf has indirectly encouraged his followers to join the demonstrations in Baghdad to support and protect protesters. It comes amid claims that Iraqi Prime Minister Adel Abdul-Mahdi is once again planning an attempt to end the protests by force, security officials and senior representatives of the supreme religious authority in Najaf told Arab News on Thursday.
The protests, which began at the start of October, continued on Thursday, despite attempts by President Barham Saleh to calm the unrest with a speech that included promises to meet many of the demands of the protesters, including the resignation of Abdul-Mahdi and changes to election law, and to address the mistakes that have been made by politicians. He has also been leading weeks of intensive talks with the leaders of political factions in an attempt to find solutions that are satisfactory to all parties.
However, Saleh's speech was greeted with cynicism by most Iraqis and he faced accusations that he was simply trying to distance himself from the politicians the demonstrators want rid of.
Attempts by Abdul-Mahdi to appease angry Iraqis by providing hundreds of thousands of new jobs, granting monthly payments to poor families, and to fight corruption have failed to ease the tensions as hundreds of thousands of Iraqis continue to gather daily on the streets of Baghdad and southern provinces.
Protesters have occupied Tahrir Square in central Baghdad and the buildings overlooking it, preventing security forces from reaching the area since Friday. The demonstrators have set up large tents to provide food, first aid and places where people can sleep, taking turns to protect each other.
The 11-story Turkish restaurant building is the most strategically important of the occupied buildings surrounding the square. It is located at the beginning of Al-Jumhoriya Bridge, which leads to the Green Zone where most government buildings and diplomatic missions are located, and overlooks the entire area, providing a vantage point from which protesters can monitor the movements of security forces.
Several security leaders said that during the most recent meeting of the "Crisis Unit" on Tuesday, Abdul-Mahdi ordered the defense minister to carry out an airstrike to regain control of the Turkish restaurant building, Tahrir Square and the surrounding areas. The minister refused.
"Abdul-Mahdi proposed to end the demonstrators' control of the Turkish restaurant at any cost," said one of the participants in the meeting. "There are hundreds of demonstrators inside the building and thousands more outside it. Can you imagine how big the losses will be if we used force against them? It would be a very bloody scene."
Iraqi leaders and security officials said that Abdul-Mahdi enlisted the help of Maj. Gen. Qasim Soleimani, the commander of the Quds Force of the Islamic Revolutionary Guard Corps, and his Iraqi allies to crack down on the protests at the start of October, resulting in "an unprecedented" number of casualties. They said he plans to do the same again now in response to a call on Wednesday by Iran's Supreme Leader Ayatollah Ali Khamenei to end the protests in Iraq and Lebanon.
"Soleimani arrived in Iraq on Wednesday evening," said a senior military commander who is familiar with the procedures of the Crisis Unit. "No doubt he will oversee the management of the (response to the demonstrations) as he did before. He will guide his (allies) about what they have to do and then leave."
As the representatives of Grand Ayatollah Ali Al-Sistani, the leader of the world's Shiites and the most influential man in Iraq, and employees of his affiliated institutions began to disseminate the instructions received by them among their followers, political forces and Iranian-backed armed factions distributed a brief statement to the media saying that "in response to the call of marjiya (Al-Sistani)" and in coordination with the representatives of marjiya and logistical support institutions of the Popular Mobilization Commission (PMC), the government umbrella that includes most Iranian-backed armed factions, "the supporters of marjiya" will take part in a mass demonstration on Friday in Baghdad. Dozens of SUVs and pickups carrying images of Al-Sistani and flags bearing the slogan of the PMC began circling the streets of Baghdad hours later.
Before the end of the day, Al-Sistani's office issued a statement saying that he supports the demands of the demonstrators calling for reform and supports their right to peaceful demonstration, but does not allow any political forces to use the images of Al-Sistani or speak on his behalf.
Sources close to Al-Sistani told Arab News that clergymen in Najaf have decided to intervene indirectly because they are upset by Khamenei's recent statements about the demonstrations, and because they had received information suggesting Abdul-Mahdi intends to use deadly force against the protesters.
"It is unreasonable for our youth to remain fuel for Tehran," one of the sources said. "These demonstrations must continue because they are the only way to remove this corrupt political class. The demonstrations are strangling them so they want to end them in any way they can. We will not allow him (Abdul-Mahdi) and the Iranians to go too far."
The demonstrations in Baghdad and seven southern, Shiite-dominated provinces began in early October in protest against corruption, high unemployment and a lack of basic day-to-day services. Abdul-Mahdi and his allies ordered a brutal crackdown on the protesters, killing at least 147 and injuring more than 7,000. This succeeded in halting the demonstrations for two weeks.
However, the protesters returned to the streets a week ago in even greater numbers after domestic and international pressure led to a pledge from security forces that they would not use live ammunition against demonstrators. Even so, at least a further 100 people have been killed and more than 5,500 injured in the past week by tear-gas canisters and gunfire during clashes at the offices of political parties and armed factions, during which the buildings were attacked and set on fire, according to security and medical sources.
Full report at:
https://www.arabnews.com/node/1577411/middle-east
--------
North America
'Change always wins,' mosque founder tells Quebec Muslims in face of rejections
BY GIUSEPPE VALIANTE THE CANADIAN PRESS
October 31, 2019
When residents north of Montreal learned of a plan to transform a local church into a mosque and Islamic cultural centre, the reaction was so strong that parish leaders invoked the 2017 mass shooting of Muslims in Quebec City to justify putting the project on hold.
Members of the diocese of Trois-Rivières, Que., located along the St. Lawrence River between Montreal and Quebec City, sent a litany of angry and threatening emails to the parish. Others spoke out during public consultations held earlier in October.
René Beaudoin, a parish member leading a committee on the future of the region's churches, said the outcry made diocesan Bishop Luc Bouchard think of the six Muslim men shot dead in a Quebec City mosque in 2017. The Bishop decided to stop the sale.
"He absolutely didn't want something like that happening in Trois-Rivières," Beaudoin said in a recent interview. While no one threatened outright violence, he said, the parish wanted to be prudent.
"We got emails saying: 'The sale is not going to happen' and other things like that," Beaudoin said. "So the Bishop stopped the sale. He said he wanted to put out the fire."
The saga highlights the simmering tension in Quebec as the province confronts social and demographic upheaval.
Quebec's aging population and the fiercely secular identity among the francophone majority are driving churches across the province into bankruptcy. At the same time, ongoing immigration brings waves of newcomers whose diverse beliefs and perspectives assert an increasing influence over the province's identity.
In Trois-Rivières, the underused St-Jean-de-Brebeuf church and the burgeoning Islamic cultural centre face each other from opposite sides of a main boulevard.
One is an imposing greystone structure with a grand entrance and a towering silver-coloured steeple; the other is a small, two-storey, semi-detached building with a modest, Islamic-style wooden arch that extends from the front door.
Beaudoin said the Muslim community was already using the church's basement for activities. When mosque leaders learned of that the church was struggling financially, they started negotiating with the parish to buy the building.
Both sides settled on a $500,000 price tag, Beaudoin said. But when the sale process moved to the public consultation stage, about 100 residents showed up on Oct. 8, according to local media.
"In a few years it will become a 'no-go zone' — a place where Catholics will not be able to go," one man was quoted as saying, using a term commonly heard in right-wing media to describe Muslim-majority neighbourhoods in European cities.
"That's what you want for your children?" he said, according to Le Nouvelliste newspaper.
Mosque leaders in Trois-Rivières did not return numerous requests for comment. But Boufeldja Benabdallah, president and co-founder of Quebec City's main mosque, said he understood what the community was going through.
Six worshippers were murdered by a gunman in Benabdallah's mosque in 2017. In a referendum about six months later, residents of a Quebec City suburb rejected a proposal to build the region's first Islamic cemetery — a project Benabdallah and others had been working on for two decades.
"They acted very allergically to our proposal," Benabdallah said in an interview Wednesday. But Quebec City's mayor stepped in and began the process of selling a piece of city-owned land to the community for an eventual cemetery.
Benabdallah, who moved to Quebec from Algeria more than 50 years ago, said Muslims in the province "need to be patient."
"Let's accept the principle that people will react badly. We were disappointed but we continued to talk. That is essential."
Beaudoin said Islamophobia was a major reason driving opposition to the sale of the Trois-Rivières church, but he also noted many Quebecers refuse to recognize the precarious situation of the province's Christian churches.
The committee he has been leading for a year is scheduled to release its report on the future of the region's Catholic churches. He wouldn't give details but suggested its conclusions aren't pretty.
But Benabdallah said time is on the side of the province's Muslim communities — just as it was for the Italian, Jewish and Haitian immigrants who were once treated with hostility but eventually became part of the fabric of Quebec society.
"We are in a painful situation now but change always wins," he said. "Now it's the turn of the Muslims and tomorrow it will another group's turn."
As for the cemetery project, Benabdallah said bureaucracy is another reason to be patient. It's been two years since Quebec City Mayor Régis Labeaume promised the land for the cemetery, and the Muslim community is finally "weeks away" from completing the deal, he said.
https://globalnews.ca/news/6107080/quebec-muslims-islamic-cultural-centres/
--------
U.S., Gulf Nations Sanction Iranian Financial Network in Joint Action
By Ian Talley
October 30, 2019
RIYADH, Saudi Arabia—Saudi Arabia, Qatar and four other Gulf nations joined the U.S. in imposing sanctions on a financing network controlled by Iran's military and several men linked to the Tehran-backed Lebanese group Hezbollah.
Top U.S. Treasury Department officials said the action is the largest ever by the Riyadh-based Terrorist Financing Targeting Center, whose membership also includes the United Arab Emirates, Oman, Bahrain and Kuwait.
https://www.wsj.com/articles/u-s-gulf-nations-sanction-iranian-financial-network-in-joint-action-11572444411
--------
Controversial Muslim voting guide not sanctioned by feds
October 31, 2019
A Wilfrid Laurier professor who created a controversial guide for Muslim voters using federal funds did so without the knowledge of her funder, a spokesman for the federal agency says.
Andrea Matyas told the Toronto Sun that the Social Sciences and Humanities Research Council of Canada (SSHRC) — the federal research funding agency that promotes and supports postsecondary-based research — had no prior knowledge of the Canadian Muslim Voters Guide being created and was "not consulted" in the development of the document.
Matyas said SSHRC provided Zine a $24,923 Partnership Engagement grant for a "Mapping the Canadian Islamophobia Industry" project, not for the Voter's Guide.
"SSHRC takes the concerns raised seriously and is looking into the situation," she said, noting that the SSHRC is an arm's-length agency and the government plays no role in influencing the selection of grants.
The Toronto Sun revealed a week ago that the guide — released three days before the Oct. 21 election — was put together by Jasmine Zine — a professor of sociology and Muslim studies — and graduate students Patima Chakroun and Shifa Abbas.
The guide's cover stated at the time that it was supported by a SSHRC grant — the $24,923 Partnership Engagement grant she got last September.
Zine, who also received an $80,339 SSHRC grant in 2009 to research Canadian Muslim youth post 9/11, gave Conservative Leader Andrew Scheer a series of failing grades in her 34-page guide for allegedly associating with far-right Islamophobic figures, for opposing the M-103 motion and the anti-Israel Boycott, Divestment and Sanctions (BDS) movement and for proposing immigration policies that "compromise asylum seekers."
Her guide claims that re-elected Prime Minister Justin Trudeau has been subject to "Islamophobic hate campaigns" and suggests his blackface antics are OK because of his public stance against Islamophobia.
Zine, who has not responded to Toronto Sun requests for comment, issued an Oct. 18 press release noting that they examined the party leaders' stances based on public statements and voting records to help Canadian Muslims decide how to vote in the Oct. 21 federal election.
The guide is still online; however the government logos have been removed.
Jonathan Newman, vice-president of research at Wilfred Laurier University, told the Sun Thursday the SSHRC logo was removed following discussions between the research council and the university. He added that Zine assented to the removal.
Although the university appreciates the range of views on this matter, he said faculty members at Canadian universities are "protected by academic freedom" — meaning they can freely communicate the results of research.
Full report at:
https://torontosun.com/news/local-news/controversial-muslim-voting-guide-not-sanctioned-by-feds
--------
Trump administration considers adding more countries to travel ban list
By Priscilla Alvarez and Pamela Brown
October 31, 2019
Washington (CNN)Trump administration officials are discussing adding more countries to the travel ban list, two sources tell CNN, potentially expanding the controversial ban that has been criticized as discriminating against Muslims.
An inter-agency discussion about imposing travel restrictions on countries that are not compliant with electronic documents and information sharing -- a key focus of the administration -- is underway, according to a senior administration official. Fewer than five countries are under consideration, the official said.
The goal, the official said, is to "bring governments into compliance by using the power of access to the United States." The travel restrictions would be tailored to the countries, if they're added, and not impose a ban on them altogether, the official noted.
The administration has argued that the travel ban is vital to national security and ensures countries are in compliance with security measures. But critics say the restrictions imposed by President Donald Trump's executive order are an attempt to ban Muslims from entering the United States. It's unclear which countries are currently under consideration and if they are majority Muslim.
In 2018, the Supreme Court upheld the third version of the travel ban after previous bans ricocheted through the courts. The ban restricts entry from seven countries to varying degrees: Iran, Libya, Somalia, Syria and Yemen, along with Venezuela and North Korea. Chad was removed from the list last April, after the White House said the country improved security measures.
The third iteration of the travel ban directs the Department of Homeland Security, in consultation with other federal agencies, to assess the list of countries on an ongoing basis and provide a report to the President.
CNN has reached out to the Department of Homeland Security for comment.
As of mid-September, more than 31,000 people have been denied entry to the United States due to Trump's travel ban, a State Department official testified.
The State Department has also issued more than 7,600 waivers, said Edward Ramotowski, deputy assistant secretary for visa services in the Bureau of Consular Affairs
Democratic lawmakers have continued to denounce the ban and pushed back against the administration's argument that the ban was for national security purposes.
"The Muslim ban has not made us safer," Rep. Jerry Nadler, a New York Democrat, said a House hearing on the ban in September. "It has weakened our standing in the world and runs contrary to our country's moral and philosophical foundation. The United States has always been, and must continue to be, a place that welcomes and embraces people of all religions and nationalities."
Full report at:
https://edition.cnn.com/2019/10/31/politics/travel-ban-more-countries/index.html
--------
CIA-trained Afghan forces accused of atrocities
Anwar Iqbal
November 01, 2019
WASHINGTON: A US advocacy group, Human Rights Watch (HRW), accused CIA-backed Afghan paramilitaries on Thursday of committing extrajudicial executioner, orchestrating enforced disappearances and attacking medical facilities.
The hard-hitting report also details changes in the US targeting rules which, HRW says, have led to indiscriminate airstrikes being called in by these forces and causing disproportionate harm to civilians.
The report — They've Shot Many Like This: Abusive Night Raids by CIA-Backed Afghan Strike Forces — has also documented individual cases of abuses by CIA-backed Afghan paramilitary forces. It claims that the abuses follow set patterns,which are repeated and widespread in every province where such units operate.
Human Rights Watch claims that the 14 case studies documented in this report are "illustrative of a larger pattern of serious laws-of-war violations—some amounting to war crimes".
The report covers the period from late 2017 to mid-2019. The report also delves into the command and control of these "strike forces", including the role of the CIA, the US military and the lack of oversight by the Afghan government.
Author of the report Patricia Gossman claims that such actions do not only affect immediate families but have also "consigned entire communities to the terror of abusive night raids and indiscriminate airstrikes".
The report argues that in the absence of a larger political settlement, any agreement between the US and Taliban would not end the armed conflict between the Afghan government and the Taliban, nor resolve a range of conflicts that have fuelled fighting among various Afghan factions for over four decades.
Even if there is a political settlement, "the kind of Afghan government that emerges, the structure of the country's defence forces, and the extent to which existing militia and insurgent forces demobilise and disarm will all be critically important", the report adds.
'Glaring omission'
The report notes that "one glaring omission" in the peace negotiations so far has been discussion of the future of clandestine Afghan forces operating as part of the covert operations of the Central Intelligence Agency (CIA) in Afghanistan.
Such units get ground support from US special forces seconded to the CIA and air support from the US military, including intelligence and surveillance in the identification of targets.
Several US military officials have sought to retain these Afghan paramilitary forces in Afghanistan as a bulwark against Al Qaeda and the Islamic State. These troops include "Afghan strike forces who have been responsible for extrajudicial executions and enforced disappearances, indiscriminate airstrikes, attacks on medical facilities, and other violations of international humanitarian law, or the laws of war," the report claims.
Cases documented by HRW
Afghan paramilitary forces raid the home of a staff member of an Afghan NGO in March 2018. The forces arrived late at night at the family compound and separated the women from the men.
They singled out the staff member's brother and took him to another part of the house. They shot him, leaving the body, and left with another male family member, whom the government later denied holding.
In October 2018, an Afghan paramilitary force unit raided a home in the Rodat district of Nangarhar province, shooting dead five civilian members of one family, including an elderly woman and child.
In December 2018, the Khost Protection Force fatally shot six civilians during a night search operation in Paktia province. They shot Naim Faruqi, a 60-year-old tribal elder and provincial peace council member, in the eye, and his nephew, a student in his 20s, in the mouth.
Full report at:
https://www.dawn.com/news/1514184/cia-trained-afghan-forces-accused-of-atrocities
--------
US congresswoman Omar criticized for refusing to back Armenian Genocide bill
31 October 2019
Democratic congresswoman Ilhan Omar has been criticized for refusing to vote in favor of a bill recognizing the mass killings of Armenians at the hands of Ottoman Turks more than a century ago as a genocide.
The US House of Representatives passed the House Resolution 296 on Tuesday in a vote of 405-11, featuring strong bipartisan support. Omar voted "present," the equivalent of abstaining on the vote.
The resolution recognizing the 1915-1923 massacre of an estimated 1.5 million Armenians as a genocide is seen as a strong rebuke against the government of Turkey – the Ottoman Empire's successor state – and its president, Recep Tayyip Erdogan, who has long lobbied against such moves.
Omar defended her decision by releasing a statement saying that recognition of genocide should not be used "as cudgel in a political fight," and that the United States had to also recognize the mass slaughters of Native Americans and slaves first.
"It should be done based on academic consensus outside the push and pull of geopolitics. A true acknowledgment of historical crimes against humanity must include both the heinous genocides of the 20th century, along with earlier mass slaughters like the transatlantic slave trade and Native American genocide," she said in a statement.
The congresswoman then went on Twitter to say that she did recognize the Armenian Genocide, but took issue with the timing and context of the bill being introduced.
Receiving criticism
Sophia Armen, an activist who tweets on the Armenian Genocide, responded to Omar by asking: "When would have been good timing for you Ilhan?"
Armen then went on to applaud several congresswomen who supported the bill, including those representatives from religious and ethnic minorities.
"Women of color advocates fiercely came out to stand with those who have experienced cultural erasure, genocide, and settler colonialism today. They stood with Armenians who are descendants of the dead and remain displaced as the living," Armen tweeted.
Rashida Tlaib – the first of two Muslim women in Congress (the other being Omar) and seen as one of Omar's closest allies in Congress – was one of the co-sponsors of the bill.
According to a Reuters report, the nature and scale of the killings remain highly contentious nearly a century after they took place. Turkey accepts that many Armenians died in partisan fighting beginning in 1915, but denies that up to 1.5 million were killed and that this constituted an act of genocide – a term used by many Western historians and parliaments.
Omar has also refused to answer reporters' questions on her decision, telling Buzzfeed's Miriam Elder that she should not ask her about the vote or the statement.
The freshman representative from Minnesota is also being criticized for being the only Democrat in the House to vote against another bill – which passed overwhelmingly on Tuesday – calling on US President Donald Trump to impose sanctions and other restrictions on Turkey and Turkish officials over its offensive in northern Syria.
Her decision on both bills has brought into question her inconsistency on US foreign policy regarding the use of sanctions, especially given her role as a member of the House Foreign Affairs Committee.
Full report at:
https://english.alarabiya.net/en/features/2019/10/31/US-congresswoman-Omar-criticized-for-refusing-to-back-Armenian-Genocide-bill.html
--------
Europe
Violations, Violence and Repression Remain Rampant in Indian-Administered Kashmir: UN
By Lisa Schlein
October 31, 2019
GENEVA - The U.N. human rights office has denounced what it calls the ongoing repression in Indian-administered Kashmir and is urging the government to restore the rights stripped from the region's millions of Muslim inhabitants in August.
India's only Muslim-majority state of Jammu and Kashmir has officially ceased to exist. On August 5, the Indian government revoked constitutional provisions that granted partial autonomy to the area. As a result, the region was divided into two federally administered states - one being Jammu and Kashmir, which will include the restive Muslim-majority Kashmir Valley and the Hindu-majority Jammu. The second territory will include the high-altitude Buddhist enclave of Ladakh.
This move, which came into effect on Thursday, ends seven decades of self-rule for the region.
The office of the U.N. high commissioner for human rights says it deplores the restrictive measures and what it calls the wide range of rights abuses that have continued unabated since August. In large parts of the Kashmir Valley, it reports an undeclared curfew is preventing the free movement of people and restricting their rights to health, education and freedom of religion and belief.
Human rights office spokesman Rupert Colville says the agency has heard about allegations of excessive use of force by security forces during sporadic protests. He says at least six people reportedly have been killed and scores seriously injured in separate incidents since the area was split into two.
"We have also received reports of armed groups operating in Indian-administered Kashmir threatening residents trying to carry out their normal business or attend school, as well as several allegations of violence against people who have not complied with the armed groups' demands…Hundreds of political and civil society leaders, including three former chief ministers of Jammu and Kashmir, have been detained on a preventative basis," Colville said.
Colville says his office also has received allegations of torture and ill-treatment of people held in detention. He notes torture is banned under international law and says these allegations must be independently and impartially investigated.
Colville says restrictions on landline telephones have been lifted, but all internet services remain blocked in the Kashmir valley. At the same time, he says media outlets face restrictions and several journalists allegedly have been arrested in the past three months.
He says the people of Kashmir remain bound to the whims and will of the government. He says major political decisions about the future status of Jammu and Kashmir are taken without their consent. He notes the region's leaders are being detained and their right to freedom of expression and political participation undermined.
Indian Prime Minister Narendra Modi has defended the split, saying the special status had impeded the region's progress, given rise to terrorism and was used as a weapon by rival Pakistan to "instigate some people."
India has long accused Pakistan of supporting and training militants to foment a separatist insurgency in Kashmir, charges Islamabad denies.
https://www.voanews.com/south-central-asia/violations-violence-and-repression-remain-rampant-indian-administered-kashmir-un
--------
UN chief appeals to India, Pakistan to deal with Kashmir issue through dialogue
Nov 1, 2019
UNITED NATIONS: As Jammu and Kashmir transitioned from a state into two union territories, UN Secretary General Antonio Guterres reiterated his appeal that India and Pakistan deal with the Kashmir issue through dialogue and ensure full respect for human rights.
Jammu and Kashmir on Thursday transitioned from a state into union territories of Jammu and Kashmir, and Ladakh, nearly three months after the NDA government abrogated the state's special status.
Asked about the Secretary General's comment as Jammu and Kashmir ceased to be a state, the UN chief's Deputy Spokesman Farhan Haq during a media briefing on Thursday said, "Well, just to reiterate our basic concerns that the Secretary General has previously expressed his concerns about the situation in Kashmir. As you know, he has met with representatives of India and Pakistan at their request to discuss the situation."
Haq said the UN chief has appealed to both India and Pakistan "to deal with the issue through dialogue, and, as we've made clear and, particularly, as the High Commissioner for Human Rights has made clear, the situation in Kashmir can only be solved with full respect for human rights."
Tension between India and Pakistan has escalated after the revocation of Jammu and Kashmir's special status.
Islamabad has downgraded diplomatic ties with New Delhi and expelled the Indian High Commissioner.
Pakistan has been trying to internationalise the Kashmir issue but India has asserted that the abrogation of Article 370 was its "internal matter".
The two UTs came into existence on the day of the birth anniversary of the country's first Home Minister Sardar Vallabhbhai Patel, who is credited for merger of over 560 states into the Union of India.
Full report at:
https://timesofindia.indiatimes.com/india/un-chief-appeals-to-india-pakistan-to-deal-with-kashmir-issue-through-dialogue/articleshow/71848076.cms
--------
Hundreds to attend conference at Wheaton College to advance evangelical-Muslim dialogue
OCTOBER 31, 2019
Hundreds of students are expected to attend a conference at Wheaton College aimed at helping evangelicals and Muslims to more effectively communicate and understand each other.
The Neighborly Faith Conference will be held at Wheaton on Friday and Saturday, but is not being hosted or sponsored by the college. It will feature both evangelical and Muslim speakers.
Kevin Singer, co-director of Neighborly Faith, told The Christian Post that while the organization has hosted smaller interfaith events, this will be their first larger scale conference, with 350 students and staff expected to attend.
Singer provided The Christian Post with a press release about the conference which notes: "Christians are called to love all of their neighbors, yet 91% of evangelicals say their current friends are 'mostly similar' to them when it comes to religious beliefs. Perhaps this is why 62% of evangelicals recently reported anti-Muslim sentiment in their own communities. According to the Foundation for Ethnic Understanding, 'Evangelical Christian and Muslim relations is the greatest interreligious challenge in America today.'"
Scheduled speakers for the conference include: Luke Goodrich of the Becket Fund; Kristen Deede Johnson of Western Theology Seminary; Matthew Soerens of World Relief; Jennifer McNutt of Wheaton College; and Daniel Darling of the Southern Baptist Convention's Ethics & Religious Liberty Commission.
One of the evangelical keynote speakers will be Matthew Kaemingk, assistant professor of Christian Ethics at Fuller Seminary in Houston, Texas, and author of the book Christian Hospitality and Muslim Immigration in an Age of Fear.
"Neighborly Faith has been helping the evangelical community answer this question: Will we treat our new Muslim neighbors as a problem to be solved, a threat to be neutralized, or a profound and historic opportunity to relearn the hospitality that Christ taught us?" Kaemingk asked. "Now they are developing young leaders on college campuses who are eager to welcome Muslims as Christ welcomes them. I'm excited to contribute my expertise to the conference."
The conference will also feature Muslim speakers, including: Anwar Khan of Islamic Relief USA; Petra Alsoofy of the Institute for Social Policy and Understanding; and Shadi Hamid of the Brookings Institution.
"Neighborly Faith's approach is unique in the otherwise staid world of 'interfaith' dialogue — it doesn't try to dilute its theological commitment to Christ, nor should it. Muslims, likewise, come to the table with their own deep convictions," Hamid said in a statement.
Full report at:
https://www.christianpost.com/news/hundreds-to-attend-conference-wheaton-college-advance-evangelical-muslim-dialogue.html
--------
Syrian Constitutional Committee concludes 2nd day
Peter Kenny
31.10.2019
GENEVA
The Syrian Constitutional Committee -- made up of members from the opposition, civil society and regime -- concluded the second day of talks on finding a constitutional roadmap for ending the lingering crisis in Syria.
The 150-member committee is mandated, within the context of a UN-facilitated Geneva process, to prepare and draft constitutional reforms paving the way for a political settlement in Syria.
They will gather for a third day of talks on Friday.
One opposition member who did not want to be named expressed "cautious optimism" about Thursday's meeting saying 50 people addressed the proceedings.
"At least the atmosphere is not a collision or something unexpected, the views are not close to each other, but hopefully there will be an intention to accomplish something," he said.
"The relative optimism stems from a determination to accomplish something," he added.
Special UN Envoy for Syria Geir Pedersen together with Constitutional Committee co-chairs Ahmad Kuzbari from the Syrian regime and Hadi Albahra from the opposition presided the meeting.
While saying their meeting is a "sign of hope", Pedersen said the committee was "duty bound to strive to take on board the views of all your fellow citizens".
"Before Monday the group has to agree to a 45-strong body -- 15 from each of the Syrian regime, the opposition and the civil society blocs -- to start work on the new constitution aiming for UN-supervised elections," he added.
The goal is for consensus decisions where possible, and otherwise with a majority of 75%.
Syria has been locked in a vicious civil war since early 2011, when the Bashar al-Assad regime cracked down on pro-democracy protests with unexpected ferocity.
Full report at:
https://www.aa.com.tr/en/europe/syrian-constitutional-committee-concludes-2nd-day/1632403
--------
Turkey in talks with Russia to hand over 18 regime elements
Sarp Ozer
31.10.2019
SANLIURFA, Turkey
Turkey is in talks with Russia on handing over 18 Syrian regime army members who were captured during search activities southeast of Ras Al-Ayn, Syria, in the area of Turkey's Operation Peace Spring, Turkey's defense minister said on Thursday.
"There are talks with Russians on the handover of 18 people, who were learned to be regime army members, to Russians," Hulusi Akar said during the inspection of border troops in Turkey's Sanliurfa province, near the border with Syria.
"We presented the developments about the issue to our President [Recep Tayyip Erdogan] and received instructions," Akar said.
On Tuesday, Turkey's National Defense Ministry said on Twitter that during a search southeast of Ras al-Ayn, 18 persons claimed to be elements of the Syrian regime were taken into custody.
The area comes under Turkey's anti-terror Operation Peace Spring, which was launched on Oct. 9 to eliminate terrorists from northern Syria east of the Euphrates River in order to secure Turkey's borders, aid in the safe return of Syrian refugees, and ensure Syria's territorial integrity.
On Oct. 22, Turkey and Russia reached a deal under which YPG/PKK terrorists would pull back 30 kilometers (18.6 miles) south of Turkey's border with northern Syria within 150 hours, and security forces from Turkey and Russia would conduct joint patrols there.
In its more than 30-year terror campaign against Turkey, the PKK -- listed as a terrorist organization by Turkey, the U.S. and the European Union -- has been responsible for the deaths of 40,000 people, including women, children and infants. The YPG is the Syrian offshoot of the PKK.
On Turkey's procurement of the Russian S-400 missile systems, Akar said: "Efforts to make these air defense systems work full capacity will continue until spring 2020."
Full report at:
https://www.aa.com.tr/en/europe/turkey-in-talks-with-russia-to-hand-over-18-regime-elements/1632059
--------
British Home Office mentions Iraq in 'copy and paste' refusal letter to Jamaican man
Oct 31, 2019
A Jamaican man caring for his terminally ill partner in Britain was told by the country's Home Office that he "failed to demonstrate that him and his wife would be at risk in Iraq", in what appeared to be a "copy and paste" letter where his identity was confused with someone else's.
O'Neil Wallfall, 49, lives with his British partner, Karen McQueen, 49, who is diagnosed with terminal cancer and is awaiting a kidney transplant.
Mr Wallfall, who's never been to Iraq, has been in the UK since 2002 and has been in a relationship with Ms McQueen for three years, The Guardian reported. The couple said that she is dependent on him for support with her serious health conditions.
In the letter however, the Home Office said that it didn't believe the couple's relationship was genuine because Mr Wallfall's name is not with MS McQueen's on their tenancy agreement.
The Jamaican national was upset and angry that the Home Office decided that his relationship with Ms McQueen wasn't genuine.
Mr Wallfall's lawyer said that the letter sent to him by the Home Office shows clear evidence of "copies and pastes" and disregards individual submissions when reaching its conclusions, which said: "You have claimed that you will be unlawfully killed on return to Iraq … you have not demonstrated … that death is virtually certain."
Mr Wallfall told The Guardian: "The Home Office should not have made the mistake of saying I'm from Iraq. How could they have considered my case properly if they wrote things like that in the refusal letter?"
He added that his life would be at risk from gang violence if he's sent back to Jamaica.
"My case should have been considered properly without cut-and-paste information about Iraq in it. The Home Office has treated me so unfairly. They locked me up in detention for many months. My mum died while I was locked up and I was taken to her funeral by immigration officers," he added.
"O'Neil is a good man and he could contribute so much to our society if he was allowed to," Ms McQueen said. "I can't believe the Home Office refused his case because they said he couldn't prove he would be in danger in Iraq.
Full report at:
https://www.thenational.ae/world/europe/british-home-office-mentions-iraq-in-copy-and-paste-refusal-letter-to-jamaican-man-1.931591
--------
South Asia
31 Taliban militants, civilians killed, wounded as explosives-laden vehicle goes off in Jawzjan
31 Oct 2019
An explosion in northern Jawzjan province killed or wounded at least 31 people including many Taliban militants and ordinary civilians.
The 209th Shaheen Corps in a statement said the incident took place at around 3:00 pm on Wednesday in Bazarak Jangal Aregh Village of Mardian district.
The statement further added that the Taliban militants were transporting roadside bombs and explosive materials and were their way from Chahar Bolak district of Balkh province to Mardian district.
However, the explosives went off prematurely killing 15 Taliban militants and 2 civilians, the 209th Shaheen Corps added.
The explosion also wounded 14 other people including Taliban militants and ordinary civilians.
The Taliban group has not commented regarding the incident so far.
https://www.khaama.com/31-taliban-militants-civilians-killed-wounded-as-explosives-laden-vehicle-goes-off-in-jawzjan-04299/
--------
Taliban Attacks Getting More Effective, SIGAR Says
By Ayesha Tanzeem
October 31, 2019
ISLAMABAD - Attacks carried out by Taliban and other insurgent groups in Afghanistan were twice as effective in the third quarter of 2019 than they were earlier in the year, according to a leading oversight authority on Afghanistan that reports to the United States Congress.
"Roughly half of the 3,495 EIA (enemy initiated attacks) this quarter (49% from June 1 to August 31) were considered "effective" enemy-initiated attacks (EEIA) that resulted in ANDSF, Coalition, or civilian casualties. Enemy attacks have been more effective this quarter than they were during the preceding months of this year (42% effective from January-May 2019)," according to the latest quarterly report presented to the Congress Thursday by the U.S. Special Inspector General on Afghanistan Reconstruction (SIGAR).
In addition, the report said, the number of attacks on Afghan government or coalition forces also increased compared to last summer.
"RS (Resolute Support, the NATO mission) reported 7,183 EIA (enemy initiated attacks) this quarter (June 1-August 31, 2019), with most attacks occurring in the south, west and northwest of the country," the SIGAR report said.
More bombs dropped
On the other hand, Afghan security forces increased their ground operations and air strikes, and the U.S. and coalition forces dropped more bombs in September this year, 948 according to U.S. Air Force Central Command, than at any time since October 2010. "According to NATO Special Operations Component Command-Afghanistan (NSOCC-A), the 2,531 ground operations conducted by ASSF (Afghan Special Security Forces) from January-September 2019 have already outpaced the total for all of 2018 (2,365)," the report added.
The heightened intensity in fighting is responsible for raising the level of civilian casualties in Afghanistan in recent months.
The Unites Nations Assistance Mission in Afghanistan (UNAMA) recorded what it called an "unprecedented number of civilian casualties" in the third quarter of 2019.
Record civilian deaths
"Civilian casualties at record-high levels clearly show the need for all parties concerned to pay much more attention to protecting the civilian population, including through a review of conduct during combat operations," said Tadamichi Yamamoto, the Secretary-General's Special Representative for Afghanistan.
A special BBC investigation revealed "an average of 74 men, women and children were killed every day in Afghanistan throughout the month of August." However, BBC clarified that only a fifth of those were civilians and the rest were combatants "including more Taliban than expected."
Following the collapse of peace talks between the U.S. and Taliban in early September, both sides ramped up attacks. According to a report on the website of the Bureau of Investigative Journalism, "Almost 40 strikes hit Afghanistan every day in September."
The report called the jump from previous months "dramatic," 1,113 in September compared to 810 in August and 537 the previous month.
In addition, the Taliban ramped up attacks on activities related to Afghan presidential elections that were held September 28, resulting in a historic low voter turnout.
Full report at:
https://www.voanews.com/south-central-asia/taliban-attacks-getting-more-effective-sigar-says
--------
Afghan air raids kill 6 insurgents in N. Afghanistan
2019-10-31
TALUQAN, Afghanistan, Oct. 31 (Xinhua) -- At least six militants were killed as fighting aircrafts pounded a Taliban hideout in Darqad district of Afghanistan's northern Takhar province on Wednesday, provincial governor's Spokesman Mohammad Jawad Hajari said Thursday.
Five more militants sustained injuries due to the airstrikes, the official said.
No security personnel or civilians had been hurt during the raids, the official added.
Taliban militants who have lost grounds in parts of the relatively Takhar province with Taluqan as its capital 245 km north of Kabul have not made comments on the reports yet.
http://www.xinhuanet.com/english/2019-10/31/c_138518100.htm
--------
Blasts claim 14 lives; wound 22 in Afghanistan within 24 hours
2019-10-30
KABUL, Oct. 30 (Xinhua) -- At least 14 people including four civilians have been killed and 22 civilians wounded in bomb blasts in the insurgency-battered Afghanistan over the past 24 hours, officials said on Wednesday.
In the latest explosion, a motorbike went off in Spin Boldak district of the southern Kandahar province on Wednesday afternoon, wounding seven civilians, provincial police spokesman Jamal Barikzai said.
According to the spokesman, anti-government militants placed an explosive device in a motorbike and detonated it in front of a hotel in the bazaar of Spin Boldak district at 1:11 p.m. local time, wounding seven civilians, some in critical condition.
Similarly, an explosive-laden car drove by a militant in Mardyan district of the northern Jawzjan province on Tuesday evening exploded prematurely, killing 11 people including 10 militants and a civilian and wounding 12 civilians, provincial police chief Abdul Wahid Wajdan said Wednesday.
A mine planted by militants on a road in Mizan district of the southern Zabul province struck a car, killing three civilians and wounding three others on Tuesday evening, a statement of provincial police said Wednesday.
Afghan civilians mostly bear the brunt of war as 2,563 civilians had been killed and 5,676 others injured in the first nine months of the current year, according to a report of the UN Assistance Mission in Afghanistan (UNAMA) released recently.
http://www.xinhuanet.com/english/2019-10/30/c_138515672.htm
Bangladesh upholds death sentence of Islamist chief Azharul Islam
Bangladesh's highest court on Thursday upheld a death sentence against a top Islamist leader for war crimes in a move that lawyers said meant he would almost certainly be executed in the coming months.
A T M Azharul Islam, a stalwart of opposition party Jamaat-e-Islami, was sentenced to death in 2014 for rape, murder and genocide during the country's 1971 independence war.
He would become the sixth Islamist leader to be hanged for their role in the war, which saw Bangladesh break away from Pakistan after a nine-month conflict.
The Supreme Court led by Chief Justice Syed Mahmud Hossain rejected an appeal by the 67-year-old in a majority verdict, defence lawyer Khandker Mahbub Hossain told reporters.
"We will file a review petition against the verdict," he said, adding Islam was an 18-year-old student during the war and did not have a leading role helping the Pakistani military.
But it is rare in Bangladeshi judicial history for a verdict to be overturned on review. All previous death sentences arising out of the 1971 war cases have been upheld.
A prosecutor told AFP news agency that Islam could be hanged within months if the review backs the verdict.
Islam was assistant secretary general of Jamaat, the nation's largest Islamist party, which sided with Pakistan during the conflict. He is the last of its prominent leaders to face war crimes accusations.
In recent years, the controversial International Crimes Tribunal, set up by the government in 2010, has sentenced dozens of people to death including five Jamaat leaders on war crimes charges.
A former minister of the main opposition Bangladesh Nationalist Party was also sentenced to death by the tribunal and later hanged.
Prosecutors said that as regional head of a pro-Pakistani armed group and student wing leader of Jamaat, Islam was involved in the murder of 1,200 people in the northern district of Rangpur during the war.
Defence lawyers said the charges were fabricated.
Jamaat, which is banned from contesting elections, said the war crime trials were only aimed at eliminating Bangladesh's top Islamist leaders.
Jamaat's supreme leader was executed in 2016. The sentences against Islamist leaders sparked unrest in 2013-14 that left hundreds dead.
Rights groups have said the trials fell short of international standards.
Full report at:
https://www.aljazeera.com/news/2019/10/bangladesh-upholds-death-sentence-islamist-chief-azharul-islam-191031065534312.html
--------
Bangladesh SC upholds death sentence of Jamaat leader
November 01, 2019
DHAKA: Bangladesh's highest court on Thursday upheld a death sentence against a top Islamist leader for war crimes in a move that lawyers said meant he would almost certainly be executed in the coming months.
A.T.M. Azharul Islam, a stalwart of the opposition Jamaat-i-Islami, was sentenced to death in 2014 for rape, murder and genocide during the 1971 operation by Pakistan Army.
He would become the sixth Islamist leader to be hanged for their role in the war.
The Supreme Court led by Chief Justice Syed Mahmud Hossain rejected an appeal by the 67-year-old in a majority verdict, defence lawyer Khandker Mahbub Hossain told reporters.
"We will file a review petition against the verdict," he said, adding Islam was an 18-year-old student in 1971.
But it is rare in Bangladeshi judicial history for a verdict to be overturned on review. All previous death sentences arising out of the 1971 war cases have been upheld.
A prosecutor said that Islam could be hanged within months if the review backs the verdict. Islam was assistant secretary general of Jamaat, the nation's largest Islamist party, which sided with Pakistan during the conflict. He is the last of its prominent leaders to face war crimes accusations.
In recent years, the controversial International Crimes Tribunal, set up by the government in 2010, has sentenced dozens of people to death including five Jamaat leaders on war crimes charges.
A former minister of the main opposition Bangladesh Nationalist Party was also sentenced to death by the tribunal and later hanged.
Prosecutors said that as regional head of a pro-Pakistani militia and student wing leader of Jamaat, Islam was involved in the murder of 1,200 people in the northern district of Rangpur during the war. Defence lawyers said the charges were fabricated.
Jamaat, which is banned from contesting elections, said the war crime trials were only aimed at eliminating Bangladesh's top Islamist leaders.
Jamaat's supreme leader was executed in 2016. The sentences against Islamist leaders sparked unrest in 2013-14 that left hundreds dead.
Rights groups have said the trials fell short of international standards.
Full report at:
https://www.dawn.com/news/1514181/bangladesh-sc-upholds-death-sentence-of-jamaat-leader
--------
Airstrike kill 13 Taliban militants in provincial capital of Baghlan
01 Nov 2019
An airstrike killed at least 13 Taliban militants in Pul-e Khumri, the provincial capital of Baghlan province.
The military officials said Friday the security forces conducted the airstrike in the past 24 hours as part of the ongoing offensive to suppress the anti-government armed militants.
The security situation in Baghlan province has deteriorated during the recent years.
Taliban militants are active in some districts of the province and often conduct terrorist related activities.
Meanwhile, the Afghan forces routinely conduct counter-terrorism operations against the anti-government armed groups in this province.
Full report at:
https://www.khaama.com/airstrike-kill-13-taliban-militants-in-provincial-capital-of-baghlan-04302/
--------
Special Forces kill, detain 4 ISIS and Taliban militants; destroy IED making material
01 Nov 2019
The Afghan Special Forces killed 3 militants of ISIS Khurasan group and arrested a Taliban militant during the operations in Nangarhar and Parwan provinces.
The military officials said Friday the Special Forces killed the 3 ISIS Khurasan militants during a patrol in Achin district of Nangarhar.
The officials further added that the Special Forces arrested the Taliban militant in Bagram district of Parwan province.
The Special Forces also destroyed IED making material during a separate operation in Chaparhar district of Parwan, the officials added.
Full report at:
https://www.khaama.com/special-forces-kill-detain-4-isis-and-taliban-militants-destroy-ied-making-material-04300/
--------
Special Forces kill, detain 38 Taliban militants in Daykundi and Wardak provinces
31 Oct 2019
The Afghan Special Forces killed 33 Taliban militants and arrested 5 others during the operations in Daykundi and Wardak provinces.
The military officials said Thursday the Special Forces also destroyed two caches of weapons during the same operations.
The officials further added that the Special Forces killed 30 of the militants during a raid in Gizab district of Daykundi province.
The Special Forces also arrested one militant an destroyed a cache of weapons during the same raid, the officials added.
Full report at:
https://www.khaama.com/special-forces-kill-detain-38-taliban-militants-in-daykundi-and-wardak-provinces-04298/
--------
Africa
Twelve Niger soldiers killed in probable Boko Haram attack: ministry
OCTOBER 31, 2019
NIAMEY (Reuters) - Twelve soldiers in southeastern Niger were killed and eight wounded in an overnight attack by gunmen likely belonging to Islamist insurgent group Boko Haram, the defense ministry said on Wednesday.
Boko Haram has been fighting for a decade to carve an Islamist caliphate out of northeast Nigeria, and has carried out regular raids over loosely guarded borders into neighboring Chad, Niger and Cameroon.
On the night of Oct. 29-30, an army position in Diffa region was "attacked by unidentified armed persons very probably belonging to the terrorist group Boko Haram," the ministry said in a radio statement.
https://www.reuters.com/article/us-niger-security/twelve-niger-soldiers-killed-in-probable-boko-haram-attack-ministry-idUSKBN1X92J2
--------
Two terror suspects killed as al-Shabab raid Kenyan police camp
2019-10-30
WAJIR, Kenya, Oct. 30 (Xinhua) -- Al-Shabab militants killed two of their accomplices who had been detained by Kenyan security officers when they raided a police camp in Wajir County near the border with Somalia on Tuesday evening.
Northeastern regional police commander Paul Soi confirmed the incident on Wednesday, saying three police officers were injured during the gunfight with the extremist group suspected to have crossed from Somalia.
Soi said there were plans to transfer the suspects to another station before the militants stormed the Dadajabula police station.
The police and witnesses said it was raining heavily at the time of the raid, forcing the police officers on duty to take cover, giving way for the attackers to raid the station at around 8 pm.
"It seems they were high-value suspects. They were pulled from the cells and killed," said a local official who did not want to be named. He said the raid was about rescuing two al-Shabab suspects the police detained at the station.
The station is about 13 kilometers from the Kenya-Somalia border. The border is porous that could allow in terrorists freely.
Local police said the attackers used rocket-propelled grenades in the attack scaring officers on duty.
The officers called reinforcement from the military but by the time the backup team had arrived, the militants had accessed the police cells and killed two men who were held there over terror-related incidents.
Police believe the attackers were on a rescue mission after the arrest and detention of the two men who were later slain. The suspects had been detained at the station hours earlier over terror-related issues, police said.
A female civilian was also injured in the attack alongside two police officers and a police reservist. The station was burnt in the attack. One of the police officers was shot in the hip, with the bullet exiting, while the other has a bullet lodged in his stomach.
The incident comes days after Somalia authorities handed over to Kenya two men believed to be members of al-Shabab terror group.
The county and other parts of northern Kenya have been subjected to successive explosive attacks by al-Shabab operatives in the country following the onslaught by Kenyan soldiers on the al-Shabab in southern Somalia.
Full report at:
http://www.xinhuanet.com/english/2019-10/30/c_138515718.htm
--------
200 irregular migrants rescued off Libyan coast
Walid Abdullah
31.10.2019
TRIPOLI
Some 200 migrants have been rescued off Libya's coast in operations conducted by the navy of the country's UN-recognized Government of National Accord (GNA), according to a statement on Thursday.
The GNA said in a statement that 200 migrants including seven women and three children were rescued in two operations held on the northwestern coast of Tripoli.
The rescued migrants were from Egypt, Morocco and Tunisia, the statement added.
Every year, thousands of irregular migrants use Libya as a gateway to cross the Mediterranean to Europe in overcrowded boats, often dying in the process.
Their numbers have declined since mid-2017 after Italy introduced a policy to return migrants to Libya if found at sea.
The policy has drawn condemnation from human rights activists as Libya has remained beset by turmoil since long-serving leader Muammar Gaddafi was ousted and killed in a bloody NATO-backed uprising in 2011.
Full report at:
https://www.aa.com.tr/en/africa/200-irregular-migrants-rescued-off-libyan-coast/1631884
--------
Nigeria: 2 international aid groups can resume work
Olarewaju Kola
31.10.2019
MAIDUGURI, Nigeria
Two aid groups suspended in Nigeria last month due to alleged aid to terrorists are now free to resume operations, said officials on late Wednesday.
"The suspension of the two international humanitarian organisations --Mercy Corps and Action Against Hunger -- is temporarily lifted," announced Sadiya Umar Farouk, minister for humanitarian affairs and disaster management.
She said the government lifted the suspension on the recommendation of a government board of inquiry that looked into their activities.
She said the board recommended regular scrutiny of the activities of most international groups.
Edward Kallon, the UN humanitarian coordinator in Nigeria, praised the development, saying: "I am confident this effort will strengthen our relationship and partnership with the Nigerian government and military."
The two aid groups were banned and their offices in many northern states closed in September over allegations of providing logistics, foods, and medication to the terror group Boko Haram in the country's northeast. Both groups have denied the allegation.
Full report at:
https://www.aa.com.tr/en/africa/nigeria-2-international-aid-groups-can-resume-work/1631424
--------
URL: https://www.newageislam.com/islamic-world-news/gave-malaysian-government-any-government/d/120149
New Age Islam, Islam Online, Islamic Website, African Muslim News, Arab World News, South Asia News, Indian Muslim News, World Muslim News, Women in Islam, Islamic Feminism, Arab Women, Women In Arab, Islamophobia in America, Muslim Women in West, Islam Women and Feminism