New Age Islam News Bureau
13 Sept 2017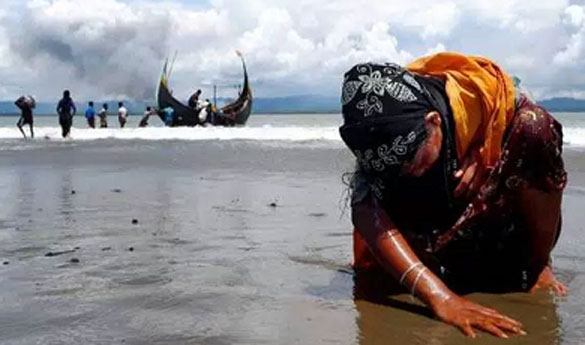 Photo: An exhausted Rohingya refugee woman touches the shore after crossing the Bangladesh-Myanmar border by boat through the Bay of Bengal, in Shah Porir Dwip, Bangladesh on September 11, 2017. (Reuters)
------------
• Myanmar's Suu Kyi to skip UN General Assembly session amid Rohingya crisis
• India hits back at UN criticism over Rohingya human rights issue
• Malaysia warns Rohingya crisis could lead to Isil attacks in Burma
--------
North America
• White House condemns violence against Rohingya Muslims in Myanmar
• Fingerprints on bomb central to terror trial of US citizen
• Muslim scholar Jihad Turk makes educating America on Islam his full-time job
• US Supreme Court allows Donald Trump administration ban on most refugees
• Trump to weigh more aggressive U.S. strategy on Iran - sources
• An Islamic terrorism talk earns criticism, promotion
--------
South Asia
• Myanmar's Suu Kyi to skip UN General Assembly session amid Rohingya crisis
• BD plans to move reluctant Rohingya to remote island
• Terror groups may take advantage of Myanmar's Rohingya crisis
• Bangladesh sees nearly 400,000 Rohingya refugees fleeing violence in Myanmar
• Kabul police arrest 12 on charges of aerial firing during the week of martyrs
• Power-mongers on the verge of losing influence, claims Hekmatyar
• US forces have failed in Afghanistan, Pakistan's FM claims
• Taliban loses foreign fighters in Nangarhar drone strike
--------
India
• India hits back at UN criticism over Rohingya human rights issue
• AIMPLB won't question instant talaq order
• Rohingyas threat to national security: Rajnath
• J&K unrest result of cross-border terrorism from Pakistan: India at UN
• Indian priest abducted by ISIS in Yemen rescued: Sushma Swaraj
• Modi opened up space for terrorists in Kashmir: Rahul Gandhi
• Radical Muslims are getting Siddarmaiah government's support: BJP
--------
Southeast Asia
• Malaysia warns Rohingya crisis could lead to Isil attacks in Burma
• The Latest: Indonesia sends 34 tons of aid for Rohingya
• Man imprisoned in China for two years for preaching Islam online
• Trump welcomes Malaysian prime minister
• Sarawak CM says no to Rohingya refugees
• Najib: Positive and friendly meeting at White House with Trump
• Muslim and non-Muslim divide must end, says Islamic scholar
• Why are more Indonesians favoring Shariah?
• China Facing Intensified Threat of Religious Infiltration, Extremism: Official
--------
Pakistan
• Jihadist Support For Rohingya Puts Pakistan And China On The Spot
• Lawmakers for strict action against killers of Christian student
• Al-Qaeda-Inspired Group Launches as Islamic State Alternative in Pakistan
• Hindus of NA-120 to support JuD backed candidate
• Pakistan open to joint Afghan border patrols, says PM
• Supreme Court, Islamabad High Court jurisdiction extended to Fata
• Strike observed in Quetta over cleric's kidnapping
• Discontent among Rohingya in Pakistan runs deep
• Pakistan, Turkey to work for Afghan peace
--------
Mideast
• Spokesman: Iran to Use All Diplomatic Capacities to Prevent Continued Massacre of Muslims in Myanmar
• Hamas to axe key body to promote Palestinian unity'
• Turkey signs landmark Russian weapons deal
• Yemeni Army Blows Up Saudi-Backed Militants' Arms Cache
• Rights group blasts Israeli banks for settlement expansion
• Netanyahu says Israel endorses independence for Kurds
• Yemen VP: Houthis getting ready to eliminate Saleh
• JIAT task force on Yemen releases report on recent Hudaydah strikes
• Houthi militias forcibly recruiting children in Yemen's Al Mahwit
• Iran signs deals to repair Syrian power grid
• Independence vote divides Kurdish groups: Iran official
• UN censures Tel Aviv regime for 'de-development' of Palestine
--------
Arab World
• Report: Over 1,000 Civilians Killed in US, SDF Attacks on Raqqa in 3 Months
• Syria has liberated 85% of its territory from terrorists: Russian military
• IUMS urges Saudi Arabia to free Muslim scholars
• S Arabia arrests four over alleged IS bomb plot
• Iraq MPs vote against Kurdish referendum
• Large Group of Fleeing ISIL Members Held Captive by Army in Central Syria
• Syrian Army Deploying Advanced Armored Vehicles Against Terrorists
• Russian, US-led strikes kill 35 civilians in Syria's Deir Ezzor
• Report: Resumption of Infighting in Eastern Ghouta Likely
• Abdullah Al-Muhaysini Leaving Tahrir Al-Sham
• Senior Commanders Defect Terrorist Groups, Join Syrian Army
• Barzani: Kurdish independence referendum on schedule
• Egypt says controversial cleric al-Qaradawi still under Interpol's red list
• Syrian president, Russian defense minister discuss anti-terror operations
• Iraqi premier says Kurdish referendum on independence 'unconstitutional'
--------
Africa
• Nigeria urges end to 'ethnic cleansing' in Myanmar
• What makes young African Muslims join jihadi groups?
• Hon. Okello Addresses First Summit of the Organisation of Islamic Cooperation On Science and Technology
• Somalia: Al-Shabaab Claims Killing 30 Soldiers in Balad Hawo Attack
--------
Europe
• Minister: 12 terror attacks foiled in France this year
• Moroccan involved in Barcelona attack escapes with fleeing civilians
• London conference to highlight Qatar's funding of terror groups, rights abuses
• Merkel: No blanket ban on arms exports to Turkey
• Islamic State flags not flying in Bosnia: PM
• New French security law violates rights - Human Rights Watch
Compiled by New Age Islam News Bureau
URL: https://www.newageislam.com/islamic-world-news/white-house-condemns-violence-rohingya/d/112512
--------
White House condemns violence against Rohingya Muslims in Myanmar
September 12, 2017
The White House has condemned the violence in Myanmar and called on the security authorities to respect the rule of law and end the massive displacement of people, including large numbers of the ethnic Rohingya community. An estimated 300,000 Rohingya Muslim refugees have fled across the border into Bangladesh after a crackdown by Myanmar security forces in response to an attack on a military outpost by Rohingya militants on August 25.
White House Press Secretary Sarah Sanders said the massive displacement and victimisation of people, including large numbers of the ethnic Rohingya community and other minorities, shows that Myanmar security forces are not protecting civilians. "The United States is deeply troubled by the ongoing crisis in northern Rakhine State in Burma, where at least 300,000 people have fled their homes in the wake of attacks on Burmese security posts on August 25. We reiterate our condemnation of those attacks and ensuing violence," Sanders told reporters at a daily news conference.
Sanders said the US is alarmed by the allegations of human rights abuses, including extrajudicial killings, burning of villages, massacres, and rape, by security forces and by civilians acting with these forces' consent. "We call on Burmese security authorities to respect the rule of law, stop the violence, and end the displacement of civilians from all communities," Sanders said urging Burmese security forces to work with the elected government in implementing the Rakhine Commission's recommendations.
Welcoming the Burmese government's commitment to ensure that humanitarian assistance reaches victims as quickly as possible, Sanders urged the government to allow media access to the afflicted areas as soon as possible. "Most of those displaced by the violence have fled into neighbouring Bangladesh and we greatly appreciate the significant efforts of the government of Bangladesh to facilitate humanitarian assistance," Sanders said.
According to a senior State Department official, so far in FY 2017, the US has provided nearly USD 63 million in humanitarian assistance for vulnerable communities displaced in Myanmar and from Myanmar in the region, including Bangladesh. "The US Government is working with the diplomatic community, the UN, and other international organisations to urge Burmese authorities to provide unfettered humanitarian access and ensure humanitarian assistance reaches all communities in need," a State Department spokesperson said.
In a separate statement, the US Commission on International Religious Freedom (USCIRF) strongly condemned attacks on civilians and security forces in Rakhine State. Burma's security forces have razed entire villages, slaughtered families, and even placed landmines in the path of fleeing refugees, creating "a staggering humanitarian disaster," according to USCIRF's Chairman Daniel Mark.
"Burma's security forces must end their attacks on civilians in Rakhine State," said Mark. "We call upon Burma's de facto leader Aung San Suu Kyi to unequivocally condemn the atrocities committed against Rohingya Muslims in the Rakhine State. Burma's government and military must uphold their international humanitarian and human rights commitments," he said.
The US has been seeking closer relations with the democratically-elected government of Burma, also known as Myanmar.
indianexpress.com/article/world/white-house-condemns-violence-against-rohingya-muslims-in-myanmar-4840016/
--------
Myanmar's Suu Kyi to skip UN General Assembly session amid Rohingya crisis
Sep 13, 2017
Myanmar's national leader Aung San Suu Kyi, facing outrage over ethnic violence that has forced about 370,000 Rohingya Muslims to flee to Bangladesh, will not attend the upcoming UN General Assembly session in New York, a party spokesman said on Wednesday.
The crisis over the security forces' fierce response to a series of Rohingya militant attacks is the biggest problem Suu Kyi has faced since becoming Myanmar's leader last year. Critics have called for Suu Kyi to be stripped of her Nobel peace prize for failing to do more to halt the strife.
In her first address to the UN General Assembly as national leader in September last year, Suu Kyi defended her government's efforts to resolve the crisis over treatment of the Muslim minority.
This year, her party spokesman said she would not be attending, although he said he was unsure why.
"She's never afraid of facing criticism or confronting problems. Perhaps she's got more pressing matters here to deal with," Aung Shin, the spokesman, told Reuters.
International pressure has been growing on Myanmar to end the violence in the western state of Rakhine that began on Aug. 25 when Rohingya militants attacked about 30 police posts and an army camp.
The attacks triggered a sweeping military counter-offensive that refugees say is aimed at pushing Rohingya out of Myanmar.
Reports from refugees and rights groups paint a picture of widespread attacks on Rohingya villages in the north of Rakhine by the security forces and ethnic Rakhine Buddhists, who have put numerous Muslim villages to the torch.
But Myanmar authorities have denied that the security forces, or Buddhist civilians, have been setting the fires, instead blaming the insurgents. Nearly 30,000 Buddhist villagers have also been displaced, they say.
The Trump administration has called for protection of civilians, and Bangladesh says all of the refugees will have to go home and it has called for safe zones to be created in Myanmar to enable them to do so.
But China, which competes with the United States for influence in the Southeast Asian nation, said on Tuesday it backed Myanmar's efforts to safeguard "development and stability".
The military, which ruled with an iron fist for almost 50 years until it began a transition to democracy in 2011, retains important political powers and is in full control of security. Suu Kyi has no say over those matters.
The UN Security Council is to meet on Wednesday behind closed doors for the second time since the latest crisis erupted. British UN Ambassador Matthew Rycroft said he hoped there would be a public statement agreed by the council.
However, rights groups denounced the 15-member council for not holding a public meeting. Diplomats have said China and Russia would likely object to such a move and protect Myanmar if there was any push for council action to try and end the crisis.
hindustantimes.com/world-news/myanmar-s-suu-kyi-to-skip-un-general-assembly-session-amid-rohingya-crisis/story-5mNlRrNUx2d7gz9579niJN.html
--------
India hits back at UN criticism over Rohingya human rights issue
Sep 12, 2017
GENEVA: India on Tuesday strongly rejected the criticism by the UN human rights chief over its handling of Rohingya Muslim refugees, human rights situations in Jammu and Kashmir and observation relating to the killing of journalist Gauri Lankesh, saying it was "perplexed" at the remarks.
UN human rights chief Zeid Ra'ad al-Hussein, in his comments at the 36th Session of the UN Human Rights Council yesterday, had criticised India on the issue of deportation of Rohingyas+ as well as on religious intolerance and threat to rights activists.
In a strong reaction, India said it was surprised that individual incidents are being "extrapolated" to suggest a broader societal situation.
"We are perplexed at some of the observations made by the High Commissioner in his oral update. There appears to be inadequate appreciation of the freedoms and rights that are guaranteed and practised daily in a vibrant democracy that has been built under challenging conditions," Ambassador Rajiv K Chander said.
Chander, India's Permanent Representative to the UN, Geneva, made the statement in response to Hussein's comments.
Rejecting the observations by Hussein, Chander said, "Tendentious judgements made on the basis of selective and even inaccurate reports do not further the understanding of human rights in any society."
Like many other nations, India is concerned about illegal migrants+ , in particular, with the possibility that they could pose security challenges, he said, adding that enforcing the laws should not be mistaken for lack of compassion.
Some 40,000 Rohingyas have settled in India, and 16,000 of them have received refugee documentation, the UN estimates.
India's Minister of State for Home Affairs, Kiren Rijiju, on September 5 had said Rohingyas were illegal immigrants+ and stand to be deported.
"It is also surprising that individual incidents are being extrapolated to suggest a broader societal situation. India is proud of its independent judiciary, freedom of press, vibrant civil society and respect for rule of law and human rights," Chander said.
He said a more informed view would have not only recognised this aspect but also noted that Prime Minister Narendra Modi himself publicly condemned violence in the name of cow protection.
"India does not condone any actions in violation of law and imputations to the contrary are not justified," he said.
On observation relating to the issue of human rights situations in Jammu and Kashmir, he said, "It is a matter of regret that the central role of terrorism is once again being overlooked."
The Indian envoy said assessments of human rights should not be a matter of political convenience.
"India believes that achieving human rights goals calls for objective consideration, balanced judgements and verification of facts.
"Our Government's motto of 'Sabka Saath, Sabka Vikas' that is All Together and Development for All, is a true reflection of our commitment to achieve inclusive development in the spirit of leaving none of our citizens behind," Chander added.
timesofindia.indiatimes.com/india/india-hits-back-at-un-criticism-over-rohingya-human-rights-issue/articleshow/60479559.cms
--------
Malaysia warns Rohingya crisis could lead to Isil attacks in Burma
Nicola Smith
12 SEPTEMBER 2017
Southeast Asia could "pay the price" of Islamic State supporters seeking to exploit the persecution of the Rohingya Muslim minority, Malaysia's defence minister has warned.
Minister Datuk Seri Hishammuddin cautioned that Isil, who have been seeking to establish a bigger foothold in the region, could use the current crisis to recruit members of the Rohingya community who were left "vulnerable and without a choice."
"We cannot leave them (the Rohingya) desperate and wanting, because if they are and they turn to these groups, countries in this region would have to pay the price," he said, according to the New Straits Times.
The warning comes as Rohingya refugees continue to flee a brutal crackdown by the Burmese army, which human rights groups have accused of burning down villages and killing thousands of civilians since the end of August.
Over the past two weeks an estimated 370,000 refugees have poured across the Bangladeshi border to take shelter in squalid refugee camps.
At the request of Britain and Sweden, the United Nations Security Council will hold an emergency meeting on Wednesday after the organisation's human rights chief said that "ethnic cleansing" is taking place.
Muslim-majority Malaysia, which already hosts over 100,000 Rohingya refugees from previous crises, and this week offered to take in even more, has been warning for months about the risk that Islamists could turn the plight of Rohingya terrorists into a jihadi rallying cry.
Malaysia is already on edge after hundreds of Isil-affiliated miilitants invaded the southern city of Marawi in the Philippines, a regional neighbour. The two countries have pledged with nearby Indonesia to step up sea patrols to search for extremists.
According to Malaysian think-tank Iman Research, Malaysian militants had already been recruiting Rohingya affected by the last mass exodus of the minority in October, and dispatching them to the Philippines for training.
In January, Malaysian Prime Minister Najib Razak told the Organisation of Islamic Cooperation that violence against the Rohingya had fuelled an outflow of refugees that could destabilise the region, warning that Isil would infiltrate the group if the violence did not stop.
His top counter-terrorism official, Ayob Khan Mydin, later warned that extremists had already set their sights on Burma, reporting that the authorities had detained an Indonesian man who had planned to travel there to carry out a revenge terrorist attack. On Tuesday, with no solution in sight for the unfolding humanitarian crisis, Bangladesh's Prime Minister Sheikh Hasina toured refugee camps and urged Burma to take back hundreds of thousands of Rohingya Muslims.
"My personal message is very clear, that they should consider this situation with the eyes of humanity," she told the BBC.
"Because these people, innocent people, the children, women, they are suffering. So these people, they belong to Myanmar. Hundreds of years they are staying there. How can they deny that they are not their citizens," she said.
Officials in Buddhist-majority Burma claim its security forces are fighting Rohingya combatants.
"The government of Myanmar fully shares the concern of the international community regarding the displacement and suffering of all communities affected by the latest escalation of violence ignited by the acts of terrorism," said a foreign ministry spokesman on Tuesday.
telegraph.co.uk/news/2017/09/12/malaysia-warns-rohingya-crisis-could-lead-isil-attacks-burma/
--------
North America
Fingerprints on bomb central to terror trial of US citizen
Sep 13, 2017
A U.S. citizen accused of abandoning his birth nation to fight for al-Qaida was to be put on trial Tuesday, a day after the 16th anniversary of the Sept. 11 terror attacks, in a case that hinges partly on fingerprints found on an unexploded bomb.
Muhanad Mahmoud Al Farekh, who was born in Houston and raised in Dubai, was captured by security forces in Pakistan in 2014. His case has drawn extra attention because of reports American officials had debated whether to try to kill him in a drone strike, a step almost never taken against U.S. citizens. The administration of President Barack Obama ultimately decided to try for a capture and civilian prosecution instead.
Farehk, 31, has pleaded not guilty to conspiracy to murder U.S. nationals, conspiracy to use weapons of mass destruction and other crimes. There was no response to a request for comment from his defense team.
Most the charges against Farehk stem from an attack at Forward Operating Base Chapman in Khost City, Afghanistan, on Jan. 19, 2009, involving two vehicles rigged with explosives and driven by suicide bombers. An initial blast injured several Afghans, including a pregnant woman, but a much larger bomb failed to go off, sparing the lives of American soldiers.
Forensic technicians in Afghanistan recovered 18 of Farehks' fingerprints on adhesive packing tape used to bind the explosives on the unexploded bomb, prosecutors said in a court filing.
A jury was to hear about the evidence at opening statements Tuesday in federal court in Brooklyn.
Before Farekh's capture in Pakistan, the Pentagon nominated him for a kill list for terrorism suspects, with CIA officials also lobbying the White House to authorize his killing, according to a report in The New York Times. But the Department of Justice pushed back, questioning whether he was a big enough player in the terror network to take the extraordinary step of killing an American overseas without a trial.
President Donald Trump's administration has taken steps to give the CIA and the military more latitude to target and kill al-Qaida and Islamic State group militants without presidential sign-off in places including Yemen, Somalia, Iraq, Syria, Libya and Afghanistan.
Attorney General Jeff Sessions has argued Guantanamo Bay, a U.S. military base in Cuba, is the best place to try terror suspects, saying civilian courts give legal protections to which they are not entitled.
During the presidential campaign, Trump, a Republican, said he wanted to keep the detention center in Cuba open after Obama, a Democrat, had long fought to close it. Trump promised to "load it up with some bad dudes."
nation.com.pk/international/12-Sep-2017/fingerprints-on-bomb-central-to-terror-trial-of-us-citizen
--------
Muslim scholar Jihad Turk makes educating America on Islam his full-time job
By AMNA NAWAZ
Sep 12, 2017
Growing up in Arizona in the 1970s, Jihad Turk, now a Muslim scholar, doesn't remember many other kids who shared his Palestinian-American identity.
"There wasn't a lot of diversity. You were either Black, white or Mexican," said Turk. "So people just assumed I was Mexican."
Jihad, a traditional Muslim name, was always shortened to "Jay" while he was growing up. It was even printed that way in his youth soccer league program -- until the day Turk's father attended a game. His father saw the roster and corrected it -- passing out the amended version to parents at the next game.
An embarrassed Turk protested.
"He goes, 'No, your name has a great meaning and I chose it for a reason,'" Turk remembered his father replying. "[He said], 'It means the struggle to do the right thing. And it might be unusual or unfamiliar for people, but it's worth that extra effort.'"
Decades later, Turk has devoted himself to educating people on his faith. He spent years studying Islam, first independently at home in America, and later in Saudi Arabia and Iran. The lack of centers for higher study of Islam in the U.S. forced him overseas.
"There wasn't really any institution. There wasn't really any pathway to really growing my faith," Turk recalled. "And so people who wanted to do that had to go to Syria, had to go to Egypt, had to go to Islamic University in Medina [Saudi Arabia] or Malaysia or Pakistan or somewhere else."
But he found a disconnect between the narrow version of the religion as it was often taught in other countries, and the way in which he had been raised. The faith, he found, was always presented in the context of its culture -- a practice Turk found not only foreign, but contradictory to the roots of his religion.
"Islam came, quite frankly, as a feminist movement, empowering women in ways that was uncomfortable for the people of their time," Turk said. "In fact, culture trumps religion. And even though they nominally adopted Islam, as a culture, they disregard Islam when it comes to important cultural practices.
"Whatever is just traditionally done, or historically done, they just kind of lump it all under religion."
Today, Turk is working to fix that in America. He has established and now runs Bayan Claremont -- the first graduate school for Islamic study in the United States. The goal is to educate the next generation of Muslim scholars and religious leaders, who can serve their communities in the same spirit of cultural pluralism in which they were raised, rather than with an imported, foreign education.
"I have four kids, my oldest is 16," said Turk. "It's an important part of what I'm doing as a Muslim parent, my wife and I. You know, how to have a well-adjusted American-Muslim identity, and what role community plays."
Muslim-Americans comprise less than 1 percent of the U.S. population. And the communities, like Christian and Jewish communities, are diverse. There are disagreements over interpretation, tradition and the rights of women. Turk believes the faith will grow to fit the community it serves.
Full report at:
abcnews.go.com/Politics/muslim-scholar-jihad-turk-makes-educating-america-islam/story?id=49778811
--------
US Supreme Court allows Donald Trump administration ban on most refugees
September 13, 2017
The Supreme Court has allowed the Donald Trump administration to maintain its restrictive policy on refugees. In essence, the apex court justices agreed to Trump administration's request to block a lower court ruling that aimed at easing the refugee ban, allowing up to 24,000 refugees to come into the country before the end of October. The order, however, was not the apex court's last word on the travel ban that President Donald Trump first put in place in January earlier this year. The justices are scheduled to hear arguments on October 10 on the legality of the travel ban from six Muslim-majority countries and refugees anywhere in the world.
The court's order notwithstanding, it's unclear at this point what will be left for the court to decide. The 90-day travel ban lapses end of September and the 120-day refugee ban will expire at least a month later.
On Tuesday, White House spokeswoman Sarah Huckabee Sanders said told the Associated Press: "We are pleased that the Supreme Court has allowed key components of the order to remain in effect. We will continue to vigorously defend the order leading up to next month's oral argument in the Supreme Court." Also Read: US court deals blow to Trump travel ban, says some refugees must be allowed in the country
The Donald Trump administration has yet to spell out clearly whether it will seek to renew the travel bans, make them permanent or expand it to other countries. Lower courts in the United States of America have ruled that the travel restrictions violate the Constitution and federal immigration law. The high court has agreed to review those rulings.
Full report at:
indianexpress.com/article/world/donald-trump-united-states-of-america-supreme-court-travel-ban-muslim-countries/
--------
Trump to weigh more aggressive U.S. strategy on Iran - sources
Sep 13, 2017
President Donald Trump is weighing a strategy that could allow more aggressive U.S. responses to Iran's forces, its Shi'ite Muslim proxies in Iraq and Syria, and its support for militant groups, according to six current and former U.S. officials.
The proposal was prepared by Defense Secretary Jim Mattis, Secretary of State Rex Tillerson, national security adviser H.R. McMaster and other top officials, and presented to Trump at a National Security Council meeting on Friday, the sources said.
It could be agreed and made public before the end of September, two of the sources said. All of the sources are familiar with the draft and requested anonymity because Trump has yet to act on it.
In contrast to detailed instructions handed down by President Barack Obama and some of his predecessors, Trump is expected to set broad strategic objectives and goals for U.S. policy but leave it to U.S. military commanders, diplomats and other U.S. officials to implement the plan, said a senior administration official.
"Whatever we end up with, we want to implement with allies to the greatest extent possible," the official added.
The White House declined to comment.
The plan is intended to increase the pressure on Tehran to curb its ballistic missile programs and support for militants, several sources said.
"I would call it a broad strategy for the range of Iranian malign activities: financial materials, support for terror, destabilization in the region, especially Syria and Iraq and Yemen," said another senior administration official.
The proposal also targets cyber espionage and other activity and potentially nuclear proliferation, the official said.
The administration is still debating a new stance on a 2015 agreement, sealed by Obama, to curb Iran's nuclear weapons program. The draft urges consideration of tougher economic sanctions if Iran violates the 2015 agreement.
The proposal includes more aggressive U.S. interceptions of Iranian arms shipments such as those to Houthi rebels in Yemen and Palestinian groups in Gaza and Egypt's Sinai, a current official and a knowledgeable former U.S. official said.
The plan also recommends the United States react more aggressively in Bahrain, whose Sunni Muslim monarchy has been suppressing majority Shi'ites, who are demanding reforms, the sources said.
In addition, U.S. naval forces could react more forcefully when harassed by armed speed boats operated by the Islamic Revolutionary Guard Corps, Iran's paramilitary and espionage contingent, three of the sources said.
U.S. ships have fired flares and warning shots to drive off IRGC boats that made what were viewed as threatening approaches after refusing to heed radio warnings in the passageway for 35 percent of the world's seaborne petroleum exports.
U.S. commanders now are permitted to open fire only when they think their vessels and the lives of their crews are endangered. The sources offered no details of the proposed changes in the rules, which are classified.
ISLAMIC STATE FIRST
The plan does not include an escalation of U.S. military activity in Syria and Iraq. Trump's national security aides argued that a more muscular military response to Iranian proxies in Syria and Iraq would complicate the U.S.-led fight against Islamic State, which they argued should remain the top priority, four of the sources said.
Mattis and McMaster, as well as the heads of the U.S. Central Command and U.S. Special Forces Command, have opposed allowing U.S. commanders in Syria and Iraq to react more forcefully to provocations by the IRGC, Hezbollah and other Iranian-backed Shi'ite militias, the four sources said.
The advisers are concerned that more permissive rules of engagement would divert U.S. forces from defeating the remnants of Islamic State, they said.
Moreover, looser rules could embroil the United States in a conflict with Iran while U.S. forces remain overstretched, and Trump has authorized a small troop increase for Afghanistan, said one senior administration official.
A former U.S. official said Hezbollah and Iranian-backed Shi'ite militias in Iraq have been "very helpful" in recapturing vast swaths of the caliphate that Islamic State declared in Syria and Iran in 2014.
U.S. troops supporting Kurdish and Sunni Arab fighters battling Islamic State in Syria have been wrestling with how to respond to hostile actions by Iranian-backed forces.
In some of the most notable cases, U.S. aircraft shot down two Iranian-made drones in June. Both were justified as defensive acts narrowly tailored to halt an imminent threat on the ground.
Trump's opposition to the 2015 Iran nuclear deal, known as the Joint Comprehensive Plan of Action (JCPOA), poses a dilemma for policymakers.
Most of his national security aides favor remaining in the pact, as do U.S. allies Israel and Saudi Arabia despite their reservations about Iran's adherence to the agreement, said U.S. officials involved in the discussions.
Full report at:
nation.com.pk/international/12-Sep-2017/trump-to-weigh-more-aggressive-us-strategy-on-iran-sources
--------
An Islamic terrorism talk earns criticism, promotion
Sep 12, 2017
A presentation on Islamic terrorism that's been promoted by the Pottawattamie County Republican Party chairman is drawing criticism, including from the Iowa chapter of an Islamic civil rights organization.
The event, titled "Understanding the Threat — the Muslim Brotherhood's Secret Strategies for the USA," will feature a presentation by former FBI agent and current law enforcement trainer John Guandalo and Chris Gaubatz, author of "The Muslim Mafia: Inside the Secret Underworld That's Conspiring to Islamize America."
The event — which is scheduled to run from 6:30 to 8:30 p.m. Thursday at the Oakland Community Center, 614 Dr. Van Zee Road in Oakland — is being hosted by the Omaha-based Global Faith Institute and 88 Tactical Elite Training Organization. The partners are also hosting an event with the speakers in Omaha tonight.
The Iowa chapter of the Council on American-Islamic Relations has issued a statement calling Guandalo an "anti-Muslim conspiracy theorist." The organization aims to be "a leading advocate for justice and mutual understanding," according to its website.
Additionally, the Southern Poverty Law Center has issued a statement saying Guandalo has a history of making anti-Muslim statements. The nonprofit center "is dedicated to fighting hate and bigotry," according to its website.
Jeff Jorgensen, chairman of the Pottawattamie County Republican Party, isn't convinced.
"There are a lot of allegations about this guy. The question is, 'Are these allegations fact?' There's always two sides to a story," he said. "We want to hear his side of the story and make up our own mind. We need to become better informed; we're promoting people attend."
In past interviews on "The Jim Bakker Show" and "The Alex Nitzberg Show" about his area of expertise, Guandalo has said that the majority of roughly 3,000 Islamic centers in the U.S. are controlled by the Muslim Brotherhood.
Guandalo said that the Islamic terrorist movement in the U.S. works directly with Black Lives Matter and other groups. He also mentioned the amount of Muslims that work in convenience stores, hotels and as taxi drivers as a sign of the Muslim Brotherhood's infiltration in the U.S.
"The way you know an Islamic leader is lying is when he's talking to you, when his mouth is moving," he told Nitzberg in a podcast episode.
Guandalo has also alleged that CAIR is connected to terrorist organization Hamas. CAIR has also been a lightning rod for Republican lawmakers in years past.
Jorgensen said the Pottawattamie County GOP is not a sponsor of the event. He said the event will discuss attempts by the Muslim Brotherhood and other outside actors to influence American politics.
"We want to know more," Jorgensen said. "We've been hearing, whether it's rumor or not, there are Muslim international front businesses."
He said that the American Muslim Alliance is moving from Washington, D.C., to Des Moines.
"Why would the AMA move to Des Moines?" he said, adding that he wants to know if internationally-backed organizations are trying to influence the Iowa caucuses.
"I think this is a legitimate concern we have. What is going on with these outside, international organizations that are looking to influence Iowa elections?" he said.
KCCI in Des Moines reported in June that the American Muslim Alliance is now headed by Iowa State Rep. Ako Abdul-Samad of Des Moines, who's moved its offices to his hometown.
Asked for evidence or where he had heard about international Muslim organizations working to influence Iowa politics, Jorgensen said: "I'm not at liberty to say."
Jorgensen questioned CAIR's backlash to the Oakland event.
"Why would there be so much interest in a little event in Oakland, Iowa? This is beyond the pale, in my opinion," he said.
Miriam Amer, executive director of CAIR's Iowa chapter, said the organization is speaking out because "every hate crime starts with a drop. A single seed."
"We're really upset that this is happening. These people are being pushed as experts on Islam and neither of them are. These guys are liars," Amer said. "I'm all for freedom of speech. But there are consequences when that speech is lies. This isn't something these men should be getting paid for. They're getting rich doing it. They're getting rich out of fear. Unfortunately, Islamophobia is lucrative for many people."
Islamophobia is the irrational fear of or discrimination against Islam and its practitioners.
"If you want to know about Islam, talk to a Muslim," Amer said. "Mosques are open. We are not hiding anything."
She said she is working to prevent hate crimes against Muslims in the state.
"People that have been beat up, treated terribly. Why? Because people like these two guys are spreading lies," Amer said. "That's my job — to make sure their work does not influence anyone."
Jorgensen, Naomi Leinen and Jan Tatum, all members of the Pottawattamie County GOP Executive Committee, confirmed to The Nonpareil that both the five-member executive committee and 70-member Central Committee had voted against having the party host, sponsor and pay for an event with Guandalo and Gaubatz. Jorgensen was the lone vote on the Executive Committee in favor of the party hosting the event.
"The County Central Committee and Executive Committee voted this down when Jeff brought it up," Leinen said. "Our mission statement is to get Republicans elected and support the Republican party platform for Iowa. We thought the event wasn't doing anything to get Republicans elected."
Leinen and Tatum said that Jorgensen does not speak on behalf of the party in his promotion of the event. The party also issued a statement on the matter, which is posted to its social media accounts: "The Pottawattamie County GOP is not sponsoring, hosting, or otherwise participating in the event in Oakland on September 14."
Amer commended the GOP for not supporting the event.
At least two protests are planned on Thursday night at the Oakland Community Center.
Indivisible Iowa will host a "Hate Has No Home Here" event, with the Facebook page noting, "Our intention is not to disrupt, but to remind people who we are as Iowans." At a national level, Indivisible states that local groups are organized "to resist the Trump agenda."
Glenn Hurst, who's declared he'll run in the 2018 Pottawattamie County Supervisors race, has organized a "Religious Tolerance Gathering and Sit-in" at the event.
"They are playing on the fears of good Iowans as we face real problems, like an impending farm crisis and economic uncertainty," Hurst said in a press release.
Jorgensen said Indivisible Iowa is upset with the election of President Donald Trump.
"They are opposing everything Trump. They're just an opposition," Jorgensen said, stating that the groups are trying to stifle free speech and that liberal opposition is too often referring to Republicans "as racist Islamophobes."
"I went to college with Muslim students," he said. "I had Muslim professors. I don't have a problem with Muslims. What I do have a problem with is Muslim organizations that want to influence the election."
On Wednesday, Hurst said "we'll be in the event, but we will not be participating."
"We'll occupy seats (at the community center) and we'll hold up our newspapers and read our papers for two hours and demonstrate this person's speech is not being heard," he said.
On the allegation of suppressing free speech, Hurst said: "This isn't protected speech; this isn't free speech. We're not free to yell 'fire' in a theater. We don't stand around and debate what we think of the fire."
He continued: "This event is hate speech. It incites violence. It is not protected."
In general, however, hate speech in the United States is still protected by the First Amendment in most cases. Yelling "fire" falls under an exception for speech that could cause "imminent danger," according to the 1969 U.S. Supreme Court ruling in Brandenburg v. Ohio.
The Supreme Court recently reaffirmed the hate speech protection in June in the case of Matal v. Tam.
Full report at:
nonpareilonline.com/news/local/an-islamic-terrorism-talk-earns-criticism-promotion/article_16eff9f2-9822-11e7-86cc-331cc3e40fc7.html
--------
South Asia
BD plans to move reluctant Rohingya to remote island
Sep 13, 2017
Shafiqul ALAM - Thousands of Rohingya Muslim refugees who fled violence in Myanmar in search of refuge could be forced to make their new homes on a barren Bangladeshi island that floods every year.
The Bangladesh government has appealed for international support to move the Rohingya to the island as the impoverished country confronts a growing crisis over where to house an influx that has mounted following a military crackdown in Buddhist-dominated Myanmar's Rakhine state.
More than 300,000 Rohingya have poured into Bangladesh since the latest flare-up in violence on August 25, adding to around 300,000 refugees already living in overflowing UN-run camps in Cox's Bazar district, close to the border with Myanmar.
The surge has overwhelmed the Bangladesh authorities, who are scrambling to find land to build more camps, including on the inhospitable and uninhabited Thengar Char island - recently renamed Bhashan Char - despite reluctance on the part of Rohingya leaders and UN officials.
Bhashan Char, located in the estuary of the Meghna river, is a one-hour boat ride from Sandwip, the nearest inhabited island, and two hours from Hatiya, one of Bangladesh's largest islands. The authorities first proposed settling Rohingya refugees there in 2015, as the camps in Cox's Bazar became overstretched with new arrivals.
But the plan was apparently shelved last year amid reports that the silt island, which only emerged from the sea in 2006, was unhabitable due to regular tidal flooding.
The government is trying to find more space for the Rohingya, including establishing a new 2,000-acre (800-hectare) camp near Cox's Bazar, close to the Myanmar border, which will house around 250,000 Rohingya.
Prime Minister Sheikh Hasina was to visit the construction site on Tuesday. As the exodus swells however, there are fears that may not be enough to accommodate all those in need of shelter.
As a result, the Bangladesh government is speeding up work at Bhashan Char with a view to building a 10,000-acre facility that can house hundreds of thousands of Rohingya. But they face huge challenges.
'Complex and controversial'
A police official in the region told AFP that the island, which is used sporadically by fishermen and farmers seeking to graze their animals, was susceptible to tidal flooding once or twice a year.
"I think the island needs... massive infrastructure before it gets habitable," the official said.
The presence of the Bangladesh Navy, which is involved in developing the island, has deterred pirates who used to operate in the seas around Bhashan Char.
"The Navy has... already set up two helipads and are now building roads and a shed for their use", said Mahbub Alam Talkukder, a government administrator based in the region.
Bangladesh Foreign Minister A.H Mahmood Ali on Sunday appealed for international assistance to help transport the Rohingya to Bhashan Char during a meeting with diplomats and UN officials. But Rohingya leaders remain opposed to the move, while a UN agency official warned that any attempt at a forced relocation would be "very complex and controversial".
The Rohingya, a stateless Muslim minority, have faced decades of persecution in Myanmar where they are regarded as illegal immigrants, despite having lived there for generations.
Exhausted refugees in Cox's Bazar told AFP they did not want to move yet again. "I fled my village in Rakhine to escape murder at the hands of the Burmese," said Ayubur Rahman, a 26-year-old who fled Rakhine before the latest violence erupted. "I don't want to go to the island," he told AFP. "I would rather stay here."
nation.com.pk/international/13-Sep-2017/bd-plans-to-move-reluctant-rohingya-to-remote-island
--------
Terror groups may take advantage of Myanmar's Rohingya crisis
Sep 13, 2017
The issue of Muslim marginalization in Myanmar has captivated the attention of Islamic State-inspired extremists, sparking fears the country could become fertile ground for transnational terror groups.
For years, Buddhist-majority Myanmar has clashed with the Rohingya — an ethnic minority that is predominately Muslim. The conflict has recently escalated, with increased reports of violent attacks on Rohingya villages in the state of Rakhine by security forces and Buddhist civilians, leading to a daily average of 35,000 Rohingya Muslim refugees fleeing to neighboring Bangladesh over the last week, according to United Nations figures.
Last month, insurgents from the Arakan Rohingya Salvation Army launched coordinated attacks on 30 government targets in Rakhine, resulting in a military crackdown. But international critics say Yangon's response has been too heavy-handed, with the UN Human Rights Commission recently calling the state's treatment of Rohingya a "textbook example of ethnic cleansing."
The crisis could destabilize Myanmar's status as one of Asia's hottest frontier markets. During the first four months of the 2017-2018 fiscal year, the country attracted more than $3 billion in foreign direct investment, while the World Bank expects economic growth to average 7.1 percent per year.
On top of existing troubles, there may be new problems brewing: As the situation worsens, the plight of the Rohingya may be exploited by terror networks across Southeast Asia and beyond.
"The repression visited upon the Rohingya by a powerful government largely consisting of leaders from another religion present a potential, transnational flash-point for jihadi-Salafi organizations," analysts at the Center for Strategic and International Studies said in a recent note, referring to an ultraconservative sect of Islam.
"With parallels to the ethno-religio-nationalist insurgencies of southern Thailand and the southern Philippines, there is legitimate concern that the violence will attract outside forces," the analysts continued.
Foreign fighters have previously flocked to Southeast Asia's domestic struggles. In May this year, a battle between terror group Abu Sayyaf and Philippine armed forces attracted more than 80 foreign fighters, the analysts pointed out. Moreover, ISIS-affiliated soldiers are seeking new missions beyond Syria and Iraq, so opportunities to defend Muslims are inevitably appealing, they added.
In 2014, Rakhine was declared a key region for jihad by Islamic State leader Abu Bakr al-Baghdadi.
Living in an environment of systemic discrimination, Rohingya Muslims are also targets for religious radicalization. Yangon regards the group, which is nearly one million strong, as illegal migrants and denies them citizenship in addition to restricting marriage, family planning, employment, education and movement.
"The conditions in Rakhine are ripe for the influence of extremist stimuli, including the infiltration of Islamic State ideology, which may worsen the situation in Myanmar," researchers at Singapore-based Nanyang Technological University said in a report. It's an ideal situation for ISIS and affiliates to collaborate with regional groups, they added.
De-facto leader, Nobel Peace Prize recipient Aung San Suu Kyi, is now under a barrage of international criticism for her failure to end alleged military crimes against the Rohingya.
The Rakhine conflict has also become a rallying call for radical Muslims in Southeast Asia.
Hardliners in Indonesia, home to the world's largest Muslim population, are currently using Myanmar's crisis to play into domestic religious tensions, Peter Mumford, Southeast Asia head at political consultancy Eurasia Group, explained in a recent note.
Full report at:
cnbc.com/2017/09/13/myanmar-rohingya-crisis-islamic-terror-groups-may-take-advantage.html
--------
Bangladesh sees nearly 400,000 Rohingya refugees fleeing violence in Myanmar
Sep 12, 2017 7
UKHIYA, Bangladesh -- The U.N. International Organization for Migration said Tuesday that the number of Rohingya refugees who have fled violence in Myanmar to Bangladesh has risen to 370,000 since August 25, the Reuters news agency reported. It was previously estimated that 310,000 members of the Muslim minority group had fled restive Rakhine state.
The Bangladeshi prime minister on Tuesday visited a struggling refugee camp that has absorbed some of the hundreds of thousands of Rohingya. Prime Minister Sheikh Hasina demanded that Myanmar "take steps to take their nationals back," and assured temporary aid until that happened.
"We will not tolerate injustice," she said at a rally at the Kutupalong refugee camp, near the border town of Ukhiya in Cox's Bazar district.
On Monday night, she lambasted Buddhist-majority Myanmar for "atrocities" that she said had reached a level beyond description, telling lawmakers she had "no words to condemn Myanmar" and noting that Bangladesh had long been protesting the persecution of Rohingya Muslims.
At least 313,000 Rohingya have flooded into Bangladesh since Aug. 25, when Rohingya insurgents attacked police posts, prompting Myanmar's military to retaliate with what it called "clearance operations" to root out the rebels.
The crisis has drawn sharp criticism from around the world. The U.N. human rights chief said the violence and injustice faced by the ethnic Rohingya minority in Myanmar - where U.N. rights investigators have been barred from entry - "seems a textbook example of ethnic cleansing."
"The Myanmar government should stop pretending that the Rohingya are setting fire to their own homes and laying waste to their own villages," Zeid Ra'ad al-Hussein said Monday in Geneva, calling it a "complete denial of reality."
Meanwhile, a Rohingya villager in Myanmar said security forces had arrived Monday in the village of Pa Din, firing guns, setting new fires to homes and driving hundreds of Rohingya to flee.
"People were scared and running out of the village," the villager said, speaking on condition of anonymity out of fear for his safety.
Myanmar police disputed that, saying the houses were burned by terrorists they called Bengalis. That term is used derisively by many in Myanmar to describe the Rohingya, who they say migrated illegally from neighboring Bangladesh, though many Rohingya families have lived in Myanmar for generations.
Bangladesh has said it would free 2,000 acres of land for a new camp in Cox's Bazar district, to help shelter newly arrived Rohingya. The government was also fingerprinting and registering new arrivals.
Kutupalong and another pre-existing Rohingya camps were already beyond capacity. Other new arrivals were staying in schools, or huddling in makeshift settlements with no toilets along roadsides and in open fields.
Basic resources were scarce, including food, clean water and medical aid.
Aid agencies have been overwhelmed by the influx of Rohingya, many of whom are arriving hungry and traumatized after walking days through jungles or being packed into rickety wooden boats in search of safety in Bangladesh.
Many tell similar stories - of Myanmar soldiers firing indiscriminately on their villages, burning their homes and warning them to leave or to die. Some say they were attacked by Buddhist mobs.
In the last two weeks, the government hospital in Cox's Bazar has been overwhelmed by Rohingya patients, with 80 arriving in the last two weeks suffering gunshot wounds as well as bad infections.
At least three Rohingya have been wounded in land mine blasts, and dozens have drowned when boats capsized during sea crossings.
One 15-year-old boys lost both legs after stepping on a landmine, BBC News reported. His wounds were so grave, and resources so stretched as the small hospital treating him, that he was not expected to survive.
Myanmar's authorities said more than a week ago that some 400 Rohingya - mostly insurgents - had died in clashes with troops, but it has offered no updated death toll since.
Rohingya have faced decades of discrimination and persecution in Myanmar and are denied citizenship despite centuries-olds roots in the Rakhine region.
Full report at:
cbsnews.com/news/bangladesh-leader-visits-myanmar-rohingya-refugees-pledges-help/
--------
Kabul police arrest 12 on charges of aerial firing during the week of martyrs
Sep 13 2017
The Kabul police officials informed regarding the arrest of at least twelve people on charges of creating disturbances to the city residents by aerial firings during the week of martyrs.
The Criminal Investigation Department (CID) officials the Ministry of Interior informed regarding the arrest of the individuals on Tuesday.
The officials further added that the detained suspects were involved in aerial firings that sparked fear and disturbance among the city residents.
At least six weapons were also recovered from the detained individuals, the official said, adding that the suspects have been over to the relevant authorities for further steps to be taken against them.
According to the security officials, at least thirteen people sustained injuries from the stray bullets fired by the individuals to mark the week of martyrs.
This comes as the Kabul residents have long been complaining regarding the aerial firings by irresponsible armed individuals on various occasions including the supporters of Ahmad Shah Massoud who celebrate the week of martyrs and often carry out aerial firings.
Full report at:
khaama.com/kabul-police-arrest-12-on-charges-of-aerial-firing-during-the-week-of-martyrs-03426
--------
Power-mongers on the verge of losing influence, claims Hekmatyar
Sep 13 2017
The leader of Hezb-e-Islami Gulbuddin Hekmatyar once again harshly criticized certain political influential figures, those figures he believes have gained the power with the support of the outsiders.
Speaking to tribal elders from Chahar Asiab district of Kabul, Hekmatyar said "Certain people who supported Soviets and now supporting NATO are calling themselves Mujahideen and misuse the word of Jihad to compromise with the rights of the oppressed people."
He did not specify any of the individuals in power but the latest remarks by Hekmatyar came as tensions are on the rise among his party and other influential political parties and figures, specifically the Jamiat-e-Islami led by Ata Mohamad Noor.
In the meantime, Hekmatyar said an end to occupation, ethnic divisions, and grabbing will help to end the ongoing violence and conflict in the country.
The leader of Hezb-e-Islami further added that those who have gained power with the outside support, their influence is on the verge of being wiped out, claiming that the nation has identified them and will no more support them.
Full report at:
khaama.com/power-mongers-on-the-verge-of-losing-influence-claims-hekmatyar-03425
--------
US forces have failed in Afghanistan, Pakistan's FM claims
Sep 12 2017
The foreign minister of Pakistan Khwajah Asif has claimed that the US forces have failed in Afghanistan as he arrived in Tehran on Monday to seek regional and international support in the aftermath of the US strategy declaration by President Donald Trump last month.
"Foreign Minister Khawaja Muhammad Asif, during his day long visit to Tehran on 11 September 2017, called on Iranian President Dr. Hassan Rouhani. They discussed strengthening of brotherly relations between the two countries rooted in common history, culture and people to people ties and reaffirmed the mutual desire to strengthen bilateral cooperation," the Foreign Ministry of Pakistan said in a statement.
The statement further added "Earlier, soon after his arrival in Tehran, Foreign Minister held detailed talks with Iranian Foreign Minister Dr. Javad Zarif on bilateral relations and the prevailing regional situation, including efforts for peace and stability in Afghanistan."
"The two Foreign Ministers also exchanged views about efforts for peace and stability in Afghanistan, particularly in the context of latest developments in Afghanistan," the statement said, adding that "They agreed that there was no military solution to the conflict in Afghanistan and a politically negotiated settlement was imperative for lasting peace in Afghanistan. They underscored that the regional countries have vital stakes in stability in Afghanistan should play a more proactive role in the peace efforts."
This comes as the Pakistani officials earlier said that Islamabad intends to seek regional and international support after the US President Donald Trump's policy declaration for South Asia in which he harshly criticized Pakistan for allowing the terrorist groups to use its soil despite receiving billions of dollars in aid from Washington in the name of the fight against terrorism.
President Trump said "For its part, Pakistan often gives safe haven to agents of chaos, violence, and terror. The threat is worse because Pakistan and India are two nuclear-armed states whose tense relations threaten to spiral into conflict. And that could happen."
Full report at:
khaama.com/us-forces-have-failed-in-afghanistan-pakistans-fm-claims-03424
--------
Taliban loses foreign fighters in Nangarhar drone strike
Sep 12 2017
The Taliban insurgents have lost foreign fighters fighting in their ranks during an airstrike in eastern Nangarhar province of Afghanistan.
According to the local officials, the militants were killed during an airstrike conducted by the foreign forces on Monday.
The officials further added that the US unmanned aerial vehicles targeted the militants in the vicinity of Lalpur district.
The provincial government media office in a statement also confirmed that three foreign insurgents fighting in the Taliban ranks were killed in Lalpur on Monday.
The statement further added that the militants killed in the airstrike have been identified as Shalman, Mahaz, and Waqas.
The militants were involved in various terrorist related incidents in Lalpur and other districts of the province, the statement added.
The anti-government armed militant groups have not commented regarding the report so far.
Nangarhar is among the relatively calm provinces in eastern Afghanistan but the anti-government armed militant groups have recently increased their insurgency activities in some parts of the province during the recent years.
Full report at:
khaama.com/taliban-loses-foreign-fighters-in-nangarhar-drone-strike-03422
--------
India
AIMPLB won't question instant talaq order
Sep 13, 2017
NEW DELHI: Even as it prepares for a nation-wide campaign to inform the Muslim community about the provisions of the Sharia, All India Muslim Personal Law Board (AIMPLB) has made it clear that the Board has no plans to challenge or seek review of the recent Supreme Court judgement on 'talaq-e-biddat' (triple talaq).
The Board members are of the firm opinion that while they respect the SC judgement as the law of the land, the body has to uphold the Sharia in the context of the validity of triple talaq under the Muslim personal law. However, the Board clarified that under the Muslim personal law, instant talaq is regarded as nothing short of a sin and there is need for social boycott of those who resort to this.
The Board's assertions reflect that it is in no mood to go for a review and sees the SC judgement as a "legal position" as of today. At the same time, it does not want any interference in the Muslim personal law from the government.
One of AIMPLB founders and executive committee member Kamal Faruqui, who has been at the forefront of articulating the Board's stand on instant triple talaq and Muslim personal law, rejected the perception that the body was trying to undermine the SC judgement. "The Board is clear that it will follow the SC judgement declaring instant triple talaq as invalid as the law of the land but at the same time it wants to inform and tell Muslim men and women about the Sharia and what it says on the matter. The Sharia recognises the validity of the instant triple talaq but at the same time it is cited to be a sin and hence the Board is encouraging boycott of those who resort to instant talaq," Faruqui explained.
On the Board's resolution for a nation-wide campaign to build awareness on Muslim personal law, Faruqui said it is the need of the hour to tell the people that they must boycott those resorting to instant talaq. On the Board's decision to set up a committee to study the SC judgement, Faruqui said, "The purpose of the Committee is to look into the nuances of the verdict and ensure that when the Board reaches out to create awareness, it is able to explain the legal position as stated by the SC and what the Sharia says."
The AIMPLB in its Executive Committee meeting on Sunday in Bhopal recorded their respect for the SC judgement, but the resolution stated that "Board's position as per Sharia applicable to four Sunni schools of thought has been that Talaq-e-Biddat is sinful but valid".
The Board also expressed its commitment to carry forward "community reforms on a large scale including advising Qazis, Imams, Maulvis that they should advise the bridegroom that in case of differences leading to talaq, the man shall not pronounce divorce in one sitting".
timesofindia.indiatimes.com/india/aimplb-wont-question-instant-talaq-order/articleshow/60487488.cms
--------
Rohingyas threat to national security: Rajnath
Sanjay Khajuria
Sep 12, 2017
JAMMU: Terming Rohingya refugees as a threat to national security, Union home minister Rajnath Singh said on Tuesday that the issue will be dealt with a firm hand.
"The illegal foreign immigrants will be strongly dealt with," Rajnath said in reply to a question about Rohingya Muslim refugees living in different parts of the country, including Jammu.
In August, the Centre had declared that the Rohingyas pose serious security challenges as they may be recruited by terror groups, and asked the state governments to identify and deport them.
A communication issued by the Union ministry of home affairs said the infiltration of these refugees from the Rakhine state of Myanmar to several parts of the country infringes on the rights of Indian citizens, besides burdening the limited resources of the country.
Last month, Union MoS for home Kiren Rijiju had said that over 40,000 Rohingyas staying illegally in India were largely located in Jammu, Hyderabad, Haryana, Uttar Pradesh, Delhi-NCR and Rajasthan.
Singh's comment at a press conference in Jammu - illegally inhabited by over 6,000 Rohingyas - on the last day of his four-day visit to the Valley, reflected deliberation and review of the Centre's policy so far in dealing with the refugee crisis.
In light of the repeated ceasefire violations by Pakistan along the Line of Control (LoC) and International Border (IB), Singh said it seems that Pakistan doesn't want to normalise relations with India. Breaching the truce has become a routine affair for Pakistan, with over 400 ceasefire violations reported every year since 2014, he added.
To ensure the safety of civilians inhabiting the border areas, the Centre has decided to construct bunkers. "80 bunkers have already been built and more are coming up," Singh assured, adding that the security situation in the Valley has significantly improved as compared to 2016.
Singh said the Centre will provide an ex gratia of Rs 5 lakh to the next of kin cross-border firing victims, or those suffering 50% disability. An expert group will be constituted to assess the security situation in the state, as well as address the grievances of the civilians. "The group will also report on the utilisation of funds sanctioned for various projects under the Border Area Development," he added.
Regarding the abrogation of Article 35A, which empowers the Jammu and Kashmir's state legislature to define "permanent residents" of the state, and grant special rights and privileges to them, the home minister said, "The matter is sub-judice. Some NGOs have filed writ petitions challenging Article 35A. The Centre will take into account the aspirations of the people of Jammu, Kashmir and Ladakh before deciding on anything."
On Monday, however, Singh had said in Srinagar, "Some elements with vested interests are creating a hype about the issue. The central government hasn't done anything in this regard. We'll never do anything against the sentiments of the people of Jammu and Kashmir."
BOX: Civilian injured as Pak breaches truce in J&K's Rajouri dist
Jammu: In yet another ceasefire violation by Pakistan, a 40-year-old woman was injured in Nowshera sector of Rajouri district on early Tuesday. Rahmat Bi, a resident of Pukherni Laam, was hit by a bullet in her left leg and hospitalised, said sources.
Full report at:
timesofindia.indiatimes.com/india/rohingyas-threat-to-national-security-rajnath/articleshow/60483294.cms
--------
J&K unrest result of cross-border terrorism from Pakistan: India at UN
Sep 12, 2017
NEW DELHI: India on Tuesday launched a scathing attack on Pakistan at the United Nations (UN) and held it responsible for disrupting peace in the Asian subcontinent by providing succor to terrorism on its soil.
Dr Sumit Seth, first secretary at the Permanent Mission of India to UN, said the Islamic nation's actions had affected not just India but all the countries in its vicinity. Nevertheless, India was willing to assist Pakistan in removing the scourge of terrorism from the region.
"The world watches with concern as the consequences of Pakistan's actions have spread beyond its immediate neighbour. All of us stand prepared to help if only Pakistan, creator of this malignant monster, wakes up to dangers of what it has done to itself," Seth said while exercising the Right to Reply in response to a statement by Pakistan.
Raising the issue of Kashmir once again at the 36th session of the UNHRC on Monday, Pakistan had blamed India for human rights violations in the restive state and denying the right of self-determination to Kashmiris. India rejected these claims and sharply reminded Pakistan of its own track record in Balochistan.
"J&K is an integral and inseparable part of India and will always remain so. We reject attempts by Pakistan to denigrate the democratic choice that has been regularly exercised by the people of Jammu and Kashmir. Pakistan is a country that has systemically abused and violated human rights of its own citizens, including in Balochistan as well as the people of PoK," Seth charged.
Calling out Pakistan on its "doublespeak and hypocrisy", he accused it of fomenting the current unrest in the Kashmir Valley. Seth added that the security forces had borne heavy losses by exercising restraint while dealing with terrorists and other dissident forces in J&K.
"Present situation in Indian state of J&K is a direct result of sustained cross border terrorism emanating from Pakistan. High no. of casualties sustained by Indian security forces is reflection of tremendous restraint displayed in difficult circumstances," he said.
Seth went on to say that Pakistan has consistently denied that it sponsors terror outfits, despite harbouring JeM founder Masood Azhar and LeT leader Hafiz Muhammad Saeed, both of whom have been recognised as global terrorists.
Full report at:
timesofindia.indiatimes.com/india/jk-unrest-result-of-cross-border-terrorism-from-pakistan-india-at-un/articleshow/60483569.cms
--------
Indian priest abducted by ISIS in Yemen rescued: Sushma Swaraj
Sep 12, 2017
NEW DELHI: Kerala priest Father Tom Uzhunnalil, who was abducted allegedly by ISIS+ militants in Yemen last year, has been rescued, external affairs minister Sushma Swaraj said on Tuesday.
The release of the Indian Christian priest was reportedly secured by Oman, AFP news agency said.
Referring to the priest, a report by Oman Observer said: He has been transferred to Muscat from where he will return to his home in Kerala."
A statement quoting the state-run Oman News Agency, which published in the Oman Observer, said Father Tom "expressed thanks to God Almighty" following his release.
"In compliance with the His Majesty Sultan Qaboos bin Said, Oman in coordination with the Yemeni parties have managed find a Vatican priest. He has been transferred to Muscat from where he will return to his home in Kerala. Tom Uzhunnalil, a Vatican priest, expressed thanks to God Almighty and appreciation to His Majesty Sultan Qaboos. He also thanked his brothers and sisters and all relatives and friends who called on God for safety and release," said the state-run news agency's statement.
Father Tom, who hails from Ramapuram in Kottayam+ , was abducted allegedly by terror group ISIS on March 4 last year, during an attack on an old-age home run by Missionaries of Charity in the Yemeni city of Aden.
The Indian priest had been sent to Yemen in 2010. When his five-year term in the country ended, the church "asked him to stay back till another person assumed the charges," said the treasurer of Uzhunnalil Kudumbayogam.
Father Tom appealed to the Pope via video after he was kidnapped. The veracity of the video uploaded on Facebook and YouTube couldn't be independently verified, but his relatives said it was indeed Tom in the video.
Full report at:
timesofindia.indiatimes.com/india/abducted-father-toms-release-secured-by-oman/articleshow/60478243.cms
--------
Modi opened up space for terrorists in Kashmir: Rahul Gandhi
Sep 12, 2017
WASHINGTON: Congress vice president Rahul Gandhi on Tuesday accused Prime Minister Narendra Modi of "massively opening up" space for terrorists in Jammu and Kashmir, leading to an increase in violence.
Addressing students at the University of California in Berkeley, Gandhi said the decision by Modi to have a political tie-up with the Peoples Democratic Party (PDP) was a "strategic mistake".
"The PDP was the instrument that brought Kashmiri youngsters into the political process. And the day Mr Narendra Modi made an alliance between the PDP and the BJP, it destroyed the PDP as an instrument that could bring youngsters into the political system.
"And the day he did that, he massively opened up space for terrorists in Kashmir and they came in. And you saw a massive increase in violence," Gandhi said.
Gandhi said the intelligence personnel in Jammu and Kashmir told him that a large number of members of the PDP have suddenly gone towards the militants.
"When you take these strategic decisions to take a little bit of political advantage, you do tremendous damage to the country. Today the space in Jammu and Kashmir has been opened up, not only for the Pakistanis, but for other players in the region. And it is going to impose a massive, massive strategic cost on India," said Gandhi.
Gandhi claimed that for nine years, he had worked behind the scene with the Prime Minister Manmohan Singh to improve the situation in Kashmir.
"The results were there for all to see as militancy was at an all-time low and tourism flourished in Kashmir," he said.
Full report at:
timesofindia.indiatimes.com/india/modi-opened-up-space-for-terrorists-in-kashmir-rahul-gandhi/articleshow/60477994.cms
--------
Radical Muslims are getting Siddarmaiah government's support: BJP
13th September 2017
BENGALURU: The political fight between the oppositon BJP and the ruling Congress in the state has taken a communal colour ahead of the Assembly election in the state with the former accusing the Siddarmaiah government of going soft on radical elements in the Muslim community. "Congress and the Siddaramaiah government are supporting narrow, sectarian and fanatical elements in the Muslim community as part of their vote bank politics. The state government's soft approach has led to the recruitment of youths from the state to international jihadi war," BJP national general secretary in charge of party affairs in Karnataka, Muralidhara Rao said here on Tuesday.
Rao alleged that Siddaramaiah government's reckless support for radical elements in the Muslim community had created a security threat for the country. He said the BJP will fight against this brand of "divisive politics," adding that the party had been a victim of such radicalisation.
Referring to the killing of journalist Gauri Lankesh, Rao said BJP had always condemned such killings including the murders of Narendra Dabholkar and M M Kalburgi. Such killings have become the order of the day in Karnataka and the state government has not taken any steps to bring the culprits to justice, he said. BJP too has been a victim of this, he added. The controversy comes in the wake of BJP state unit president B S Yeddyurappa terming Chief Minister Siddaramaiah anti-Hindu on Monday.
'Rahul maligning us'
Full report at:
newindianexpress.com/states/karnataka/2017/sep/13/radical-muslims-are-getting-siddarmaiah-governments-support-bjp-1656414.html
--------
Southeast Asia
The Latest: Indonesia sends 34 tons of aid for Rohingya
Sep 12, 2017
The Latest on violence in Myanmar's Rakhine state and the flood of ethnic Rohingya refugees into Bangladesh (all times local):
9:30 a.m.
Four Hercules planes carrying 34 tons of aid for Rohinyga refugees have departed for Bangladesh from an air force base in the Indonesian capital.
Indonesia's President Joko "Jokowi" Widodo has called for an immediate end to violence in Myanmar's Rakhine state and promised significant humanitarian aid. He and other officials including his foreign minister and military chief inspected the relief operation before its departure from Halim Air Base.
Presidential spokesman Johan Budi says the planes are carrying rice, instant meals, family kits, tents, water tanks and blankets.
He says it's the first batch of aid from Indonesia following discussions with Myanmar and Bangladesh.
At least 370,000 Rohingya have flooded into Bangladesh since Aug. 25, when Myanmar's military responded to an insurgent attack with what it called "clearance operations" to root out the rebels. Many of the fleeing Rohingya have said Myanmar soldiers shot indiscriminately, burned their homes and warned them to leave or die. Others said they were attacked by Buddhist mobs.
———
5:30 a.m.
The world's largest Muslim body is urging Myanmar to allow in U.N. monitors so they can investigate what it alleges is systematic brutality against the Rohingya ethnic minority.
At least 370,000 Rohingya have flooded into Bangladesh since Aug. 25, when Myanmar's military responded to an insurgent attack with what it called "clearance operations" to root out the rebels. Many of the fleeing Rohingya have said Myanmar soldiers shot indiscriminately, burned their homes and warned them to leave or die. Others said they were attacked by Buddhist mobs.
The U.N. Human Rights Council approved an investigative mission earlier this year, but Myanmar in June refused to allow it to enter. An envoy's visit in July was met with protests.
The Organization of Islamic Cooperation issued its statement Tuesday after an emergency meeting on the sidelines of a technology conference in Astana, Kazakhstan.
———
1:15 a.m.
Two human rights groups are accusing the U.N. Security Council of ignoring the "ethnic cleansing" taking place on a large scale against Rohingya Muslims in Myanmar who are fleeing across the border to Bangladesh.
Human Rights Watch and Amnesty International representatives said at a joint press conference at U.N. headquarters Tuesday that the U.N.'s most powerful body has failed to speak out and immediately demand an end to the violence.
It comes ahead of closed council discussions Wednesday on the crisis.
The U.N. said Tuesday that 370,000 Rohingyas have fled to Bangladesh since Aug. 25 and thousands are arriving every day.
Louis Charbonneau, the U.N. director for Human Rights Watch, said, "This is an international peace and security crisis" and there is no excuse for the Security Council "sitting on its hands."
———
1:05 a.m.
The United Nations says two flights have landed in Bangladesh with supplies to help 25,000 Rohingya Muslim refugees fleeing violence in Myanmar.
U.N. spokesman Stephane Dujarric said one flight chartered by the U.N. refugee agency carried shelter materials, sleeping mats and other emergency supplies for a refugee camp in Cox's Bazar district in the country's southeast. He said a second flight, donated by the United Arab Emirates, carried nearly 2,000 family tents.
Further flights are planned to enable a total of 120,000 refugees to be reached.
Dujarric says the U.N. World Food Program is providing food to some 70,000 people as they arrive in Cox's Bazar and to nearly 60,000 people living in camps and makeshift settlements.
In Myanmar, Dujarric said most aid activities in northern Rakhine state remain either suspended or severely interrupted, although the government is delivering some aid through the Red Cross.
———
5 p.m.
Myanmar's military says Rohingya Muslim villagers helped them arrest six suspected Rohingya insurgents armed with swords and slingshots in the country's conflict-torn northern Rakhine state.
The government says the six are suspected of being members of the Arakan Rohingya Salvation Army, which attacked police posts Aug. 25. Violence since then has sent hundreds of thousands of Rohingya fleeing, burned 60 villages and left hundreds dead. The government and Rohingya blame each other.
The military commander in chief's office said Tuesday on its Facebook page that six alleged insurgents were detained Monday by fellow Rohingya as they entered Ka Nyin Tan village in Maungdaw township.
Authorities in Buddhist-majority Myanmar refer to Rohingya as Bengalis, contending that they immigrated illegally from nearby Bangladesh, though many Rohingya families have lived in Myanmar for generations.
4:15 p.m.
The U.N. refugee agency says the number of Rohingya refugees that have fled recent violence in Myanmar has spiked to about 370,000.
That new estimate given Tuesday in a statement by UNHCR is more than 50,000 higher than Monday's estimate — a result of aid agencies reaching "more villages, hamlet and pockets where refugees have gathered."
Thousands of ethnic Rohingya Muslims have been arriving daily by foot across the swampy border as well as by rickety wooden boats traveling on wild seas since violence erupted on Aug. 25 in Myanmar.
The influx has left Bangladesh refugee camps reeling. The UNHCR said it was flying in two shipments of aid materials including jerry cans, blankets, sleeping mats and shelter materials.
It said the goods would help some 25,000 refugees at jam-packed refugee camps in Bangladesh's border district of Cox's Bazar. More airlifts were planned in coming days.
———
11:45 a.m.
Iran's Supreme Leader has strongly condemned the killing of Muslims in Myanmar by the government.
Ayatollah Ali Khamenei said the killing of Rohingya Muslims is a political disaster for Myanmar because it is being carried out by a government led by Nobel Peace Prize winner Aung San Suu Kyi, whom he called a "brutal woman."
He urged Muslim countries to take practical steps to stop the violence and said they should "increase political, economic and commercial pressures on the government of Myanmar."
At least 313,000 Rohingya have fled to Bangladesh since Aug. 25, when Rohingya insurgents attacked police posts, prompting Myanmar's military to retaliate with what it called "clearance operations" to root out the rebels.
Myanmar authorities said more than a week ago that some 400 Rohingya, mostly insurgents, had died in clashes with troops, but it has offered no update. It has also blamed Rohingya for burning their own homes even though new fires were occurring after Rohingya fled.
———
11:30 a.m.
The Bangladeshi prime minister is visiting a struggling refugee camp that has absorbed some of the hundreds of thousands who fled recent violence in Myanmar.
Prime Minister Sheikh Hasina told a rally during Tuesday's visit to the Kutupalong refugee camp, near the border town of Ukhiya, that she wished for peace for the Rohingya and would not "tolerate injustice" against them.
She pledged that Bangladesh would do its best to help the Rohingya, but said Myanmar should take steps soon to "take their nationals back."
On Monday night, she lambasted Myanmar for "atrocities" that she said had reached a level beyond description.
———
9 a.m.
The Bangladeshi leader has lambasted Myanmar for the "atrocities" that have driven hundreds of thousands of Rohingya Muslims into Bangladesh in recent weeks.
Prime Minister Sheikh Hasina urged Buddhist-majority Myanmar to bring the Rohingya back, while parliament passed a motion Monday night urging the U.N. and other countries to pressure Myanmar for their safety and citizenship.
"Myanmar must take back every Rohingya who has entered Bangladesh and who are coming in now," she told lawmakers late Monday. "We can cooperate to rehabilitate them in their country."
Hasina criticized Myanmar's authorities for the recent violence against the Rohingya, which she said had reached a level beyond description.
———
3 a.m.
The United States says it is "deeply troubled" by the Myanmar crisis, which hundreds of thousands of Muslims have fled to escape violence.
White House spokeswoman Sarah Huckabee Sanders says the administration continues to condemn the violence between Rohingya Muslims and Myanmar security forces.
The United Nations reported Monday that 313,000 Rohingya Muslims have fled to Bangladesh to escape violence in Myanmar's western state of Rakhine — the biggest flight of the minority Rohingya in a generation.
The violence began Aug. 25, when an ethnic Rohingya insurgent group attacked police posts in Myanmar and security forces retaliated.
Villages were burned and hundreds of people died, mainly Rohingya Muslims, who are denied citizenship and regarded by Myanmar's majority Buddhists as illegal immigrants.
abcnews.go.com/International/wireStory/latest-irans-supreme-leader-condemns-myanmar-violence-49785622
--------
Man imprisoned in China for two years for preaching Islam online
Sep 13, 2017
A Chinese man, Huang Shike, who happens to be a member of a Muslim minority group has been sentenced to two years in prison for preaching Islam online.
He was arrested in 2016 from the Xinjiang province because he moderated a discussion group about Islam on a messaging app called "WeChat".
Huang is a member of the Hui minority and even taught the Holy Quran on another group. Each one had over 100 members. According the China Judgements Online, these discussion groups disturbed religious activity and violated internet laws.
Control over Xinjiang has been tightened by Chinese authorities because of radical Islamic thought infiltrating the region.
pakistantoday.com.pk/2017/09/12/man-imprisoned-in-china-for-two-years-for-preaching-islam-online/
--------
Trump welcomes Malaysian prime minister
Sep 13, 2017
WASHINGTON — President Donald Trump praised Malaysian Prime Minister Najib Razak for his country's financial investments in U.S. companies during a meeting Tuesday at the White House and thanked him for helping to fight Islamic State militants.
Left unsaid by either leader: anything about the massive corruption scandal swirling around Najib's multibillion-dollar state fund.
Malaysia's government has said it found no criminal wrongdoing at the fund, called 1MDB and founded by Najib. But it has been at the center of investigations in the U.S. and several countries amid allegations of a global embezzlement and money-laundering scheme.
The U.S. Justice Department says people close to Najib stole billions of dollars, and the federal government is working to seize $1.7 billion it says was taken from the fund to buy assets in the U.S.
At their meeting, Trump and Najib instead focused on areas of agreement, such as economic development and counterterrorism measures when they spoke during a public appearance in the Cabinet room of the White House.
"Mr. Prime Minister, it's a great honor to have you in the United States and in the White House," Trump said.
Flanked by Secretary of State Rex Tillerson and Vice President Mike Pence, the president crossed his arms and listened raptly as Najib described Malaysia's purchase of billions of dollars' worth of aircraft from Chicago-based Boeing. Trump said the deal is worth $10 billion to $20 billion.
Trump also pointed out that Malaysia is a "massive investor in the United States in terms of stocks and bonds."
"They have to be very happy because we are hitting new highs on almost a weekly basis," Trump said. "We're very proud of our stock market, what's happened since I became president."
On fighting ISIS, Najib said his country would do its part to "keep our part of the world safe." And he encouraged Trump to continue building partnerships in the region.
"The key is to support moderate and progressive Muslim regimes and governments around the world because that is the true face of Islam," Najib said.
Najib has resisted calls to resign, has clamped down on critics and continues to enjoy the unwavering support of most ruling-party members, but his real test will come in general elections due by mid-2018.
Senior opposition lawmaker Lim Kit Siang said many Malaysians viewed Najib's White House visit as a "national humiliation and shame," as he is tainted by the 1MDB financial saga.
Analysts said Najib hoped to dispel the corruption scandal and secure political legitimacy with the White House visit.
"He can tell Malaysians that the 1MDB is a non-issue and that the opposition's message that he is unwelcome by world leaders is not true. He will also try to convey the impression that the U.S. investigation on 1MDB has nothing to do with him," said James Chin, who heads the Asia Institute in Australia's University of Tasmania.
Chin said Najib will also aim to burnish his Islamic credentials by seeking U.S. help to end the violence against ethnic Rohingya Muslims in Myanmar. Malaysia is host to 56,000 Rohingyas.
Full report at:
mercurynews.com/2017/09/12/trump-welcomes-malaysian-prime-minister/
--------
Sarawak CM says no to Rohingya refugees
BY SULOK TAWIE
September 13, 2017
KUCHING, Sept 13 — Sarawak Chief Minister Datuk Abang Johari Openg today put to rest any speculation that the state would provide temporary sojourn for Rohingya refugees fleeing Myanmar.
"No, there is no such thing," he responded, when asked whether the state government would allow the Rohingya into Sarawak.
"I am puzzled as to who started it (speculations in the social media). We don't want to get involved in this issue," he told reporters after opening an International Conference on Science, Technology, Engineering and Mathematics (STEM) organised by Universiti Malaysia Sarawak (Unimas) here today.
Last week, state Education, Science and Technological Research Minister Datuk Seri Michael Manyin said that he would oppose any attempts to bring the Rohingya minority to Sarawak, especially in the Serian and Bau districts.
Manyin was asked to respond to a posting on unnamed social media that a certain number of Rohingya would be housed in his hometown of Serian.
He had said that Sarawak would never welcome the Rohingya to its shores.
Since then, there has been much debate on social media whether to temporarily allow the refugees in Sarawak while they await countries willing to take them or repatriation to Myanmar that does not recognise the Muslim minority as Burmese citizens.
Among those who would like to see the Rohingya receive temporary refuge in Sarawak is Muara Tuang state assemblyman Datuk Idris Buang, a supreme council member of Parti Pesaka Bumiputera Bersatu (PBB).
Idris opined that they should be welcomed to Sarawak based on humanitarian grounds.
Thousands of Rohingya, who hail from the northern Rakhine state in Myanmar, have fled their homes over the past few weeks following a crackdown by Burmese authorities against militant groups.
Full report at:
themalaymailonline.com/malaysia/article/sarawak-cm-says-no-to-rohingya-refugees#wPJrcJEeVhpouhYE.97
--------
Najib: Positive and friendly meeting at White House with Trump
September 13, 2017
WASHINGTON, Sept 13 ― Prime Minister Datuk Seri Najib Razak has described his discussions with President Donald Trump at the White House yesterday afternoon as a "positive and friendly meeting".
Both leaders were jovial and seen shaking hands several times, while grabbing each other's forearms as they were walking in and out of the West Wing meeting room.
"The last time we met (was), some years ago, we teamed up to play golf. That was a successful meeting for us as our team won.
"And our discussions this afternoon were very much about how our two great nations can continue winning by working closely together," Najib said at a dinner hosted by the US-Asean Business Council and US Chamber of Commerce at the St Regis hotel here.
Najib arrived at the White House at 11.45am and was greeted by President Trump at the entrance of the West Wing building.
Najib and Trump held bilateral talks with their respective senior top ministers and advisers before both leaders had a four-eyed meeting at the Oval Office.
Najib's visit to the White House, which lasted over an hour, was at the invitation of President Trump.
An official who was at the White House said, after the meeting, Trump accompanied Najib to the door to send him off, instead of them departing at the main floor where the president would normally send-off visiting leaders.
"Trump was reminded by one of his officers of this, but he (president) told him that he will accompany PM Najib downstairs to depart. Trump said 'he (PM) is my friend'," according to the official.
At the dinner, the Prime Minister said last year's trade between Malaysia and the US amounted to nearly US$33 billion (RM138 billion).
"We need to regain that level of interaction as there are huge opportunities for our two countries to explore, and great benefits to come from closer trade and investment ties," he said.
Najib said that last year alone, American companies brought in RM5 billion, or more than US$1 billion, of foreign direct investment (FDI) into Malaysia.
The US is the fifth largest foreign investor in Malaysia, with a total of RM36 billion, or US$8.5 billion, worth of FDI stock.
Full report at:
themalaymailonline.com/malaysia/article/najib-positive-and-friendly-meeting-at-white-house-with-trump#U5K6m3VU1yDpYDz1.97
--------
Muslim and non-Muslim divide must end, says Islamic scholar
Sheith Khidhir Bin Abu Bakar
September 13, 2017
SHAH ALAM: A veteran Islamic scholar has called on Muslims in the country to stop looking at Malaysians as Muslim and non-Muslim, saying such a dichotomy was a throwback to the 8th century when the Muslim world was at war.
Siddiq Fadzil, a former president of the Malaysian Islamic Youth Movement who now heads Selangor's Institut Darul Ehsan (IDE), said it was time for Muslims to move beyond terms such as "kafir harbi" (non-Muslims at war with Muslims) and "kafir dhimmi" (non-Muslims who are under Islamic rule).
He said Muslims should also look at terms such as ummah (community) and ukhuwah (brotherhood) in a broader sense, adding that it could lead to a perception that Islam is an obstacle to nation-building.
"(It is said) that Bangsa Malaysia cannot be realised because of Islam while in truth, Islam already provides solutions to multi-religious and multi-ethnic relations," he said, referring to a concept promoted by former prime minister Mahathir Mohamad as a solution to blurring racial lines among Malaysians.
Siddiq was speaking at a seminar themed "Unity in the framework of diversity" organised by IDE today. The institute's Community Unity Research Centre, of which Siddiq is an adviser, was also launched at the event.
Siddiq said it was unfortunate that long after independence, the Bangsa Malaysia concept has yet to be realised.
"We are tolerant of one another. That's as far as we've gone but we haven't reached the level where Malaysians are passionate about the fact that we are each other's brothers in a larger Bangsa Malaysia."
He said Muslims should be at the forefront of the struggle to achieve Bangsa Malaysia.
"We need a new political approach which is more open, more positive, more accommodative, and more realistic.
"Diversity is a gift that if used well, will lead to strength," he said.
Siddiq went on to give an example of how some Malaysian Muslims were not comfortable in accepting their non-Muslim friends.
"Batu MP Tian Chua likes to say 'Assalamualaikum' to his Muslim friends, and I see that his Muslim friends are confused as to what they should say.
"This is such a simple matter: just say Waalikumsalam," he said.
Meanwhile, lecturer Maszlee Malik listed several conditions before the new narrative could exist.
They are unconditional love and mercy, humanity, a feeling of brotherliness with one another, mutual respect, responsibility, and equal opportunity.
Full report at:
freemalaysiatoday.com/category/nation/2017/09/13/muslim-and-non-muslim-divide-must-end-says-islamic-scholar/
--------
Why are more Indonesians favoring Shariah?
Sep 13, 2017
A significant proportion of the Indonesian population supports the implementation of Islamic law, Shariah, in the Muslim-majority Southeast Asian nation, a nationwide study recently found. The survey commissioned by the ISEAS-Yusof Ishak Institute in Singapore found that 82 percent of the 1,620 respondents also considered the wearing of the hijab or Islamic headscarf an important outward sign of Islamic religiosity for women.
The survey results come amid growing concerns about the role of religion and rightwing Islamic political activism in Indonesia, which is home to the world's largest Muslim population numbering over 200 million.
"Indonesians are part of the global Islamic revival, which is a trend toward increasing religiosity and social identification with Islam," said Jeremy Menchik, an Assistant Professor at Boston University focusing on comparative politics, religion and politics in Southeast Asia and the Middle East.
"The Islamic revival originates in part to popular frustration with the moral vacuity of secular liberalism and capitalism. In search of more meaningful connections, many Indonesians have looked toward Islam," he told DW.
Pressure to conform
Zachary Abuza, a Southeast Asia security expert and professor at the Washington-based National War College, agrees that religiosity and displays of piety are clearly growing in Indonesian society.
He explains that the growth in religiosity is part of a several-decade process that began in the 1980s when the then Indonesian dictator Suharto started to lose legitimacy and began to play up the role of Islam and Islamic institutions in a bid to enhance his declining popularity.
"Now politicians pander to the Islamists and don't challenge their creeping 'Shariaization' through public policy," Abuza told DW, pointing out that the blasphemy law and Islamist vigilante groups have abused free speech rights and intimidated and silenced opponents in recent years. Also, once secular institutions such as the military or police are less so today.
Part of the reason for this increased Islamization of society and public institutions can be attributed to a steady stream of money and personnel flowing from Saudi Arabia into Islamist educational institutions in the Southeast Asian nation, Abuza stressed.
Rachel Rinaldo, a cultural sociologist focused on Muslim societies at the University of Colorado Boulder, says it's very important to be cautious about some of the findings in the recent survey. She believes it's actually difficult to say if there has really been an increase in religiosity in Indonesia.
"The data on religious values and practices in Indonesia doesn't go back very far in time so we don't have a very good basis for comparison. It also depends a lot on how we define religiosity. If we define it as believing in a god, Indonesians have probably been quite religious for a long time," Rinaldo told DW.
The expert, who has conducted fieldwork in Indonesia since 2002, reckons that what has changed in Indonesia over the past few decades are different ideas about what it means to be religious and how to be a Muslim.
"In recent years, there is certainly more pressure to conform to religious practices considered Islamic, such as wearing the hijab, or performing the five prayers at the recommended times, attending Quranic study classes," said Rinaldo. "Indonesian Muslims are now much more likely to do those kinds of things than in the past, but whether that really means that they are more religious is an open question."
The hijab question
The ISEAS-Yusof Ishak report said that almost 80 percent of Indonesian Muslim women surveyed wear the hijab. Interestingly, it revealed that wearing the Islamic headscarf is becoming more common in women with higher education and income.
"Not only does it seem that wearing the hijab has become an accepted outward sign of Islamic religiosity for women in Indonesia, it may have also come to be associated with social status for Muslim women," the study noted.
Indonesian Muslim women wear the headscarf for many different reasons including fashion, modesty, social pressure and individual choice. There is no single reason for wearing a headscarf. "Certainly, Indonesia has gone through much change with respect to women's clothing, though I would argue that the major changes occurred in the early 2000s," said Rinaldo.
It has indeed become very widespread for Muslim women to adopt some form of modest dress, very often including the hijab, she underlined. "There is certainly social pressure, including from other women, to wear the hijab, and in some regions of the country there are regulations requiring it."
But experts point out that it's also important to recognize that Islamic dress has become very fashionable over the past decade.
It was evident last week in New York when up-and-coming Indonesian designers showcased stylish hijab and abaya designs at a fashion week. "We're not oppressed and we just want to show the world that we still can be beautiful, stylish with our hijab on," 26-year-old designer Dian Pelangi was quoted by AFP news agency as saying.
Many Indonesian women want to wear it because it is stylish and modern, and there are different styles of Islamic dress, so women can choose among them, observers point out.
"In some cases, the main difference between Islamic dress and Western dress is simply that the woman covers her hair, and doesn't show bare skin on her arms or legs - but much else remains the same," said Rinaldo. "So, in Islamic fashion, we often see the same clothing styles that are current in other parts of the world, but just made more modest."
Support for Shariah
Indonesia is widely regarded as a country where most of its people practice a moderate form of Islam. While Muslims account for around 85 percent of the nation's populace, there are substantial Hindu, Buddhist, Christian and other religious minorities. It's a diverse society composed of a number of ethnic groups with different cultures, languages and lifestyles.
But, in recent years, there are worries about growing intolerance as radical Muslims who have been trying to turn Indonesia into a strict Islamic state have gradually gained influence.
In the ISEAS survey, a significant number of Muslim respondents said they thought there would be various benefits if Shariah was implemented in their country. According to them, the most important benefit would be safeguarding moral values in society.
"Survey questions about religion and morality are notoriously tricky because they tend to elicit what people think they are supposed to say," said Rinaldo. Certainly the survey does seem to find a fair amount of support (39 percent) for imposing Shariah. But it's hard to know what people mean by Shariah, as there are very different interpretations of it, including within Indonesia itself, the expert noted.
Furthermore, Indonesian Muslims don't overwhelmingly vote for Islamic political parties in elections, which suggest that Shariah is not necessarily their primary concern. The authors of the survey suggested that Shariah seems to be viewed as a way to safeguard moral values.
In societies undergoing rapid social change, there is often a concern about safeguarding tradition and customs, so it's not too surprising to see this in Indonesia, which is less than 20 years into its democratization, Rinaldo explained.
"There is a sense that Shariah is tied to morality," said Abuza. But Islamist parties also benefitted from rampant corruption of secular parties, and weak political institutions that could not stem the corruption. "Of course, once in positions of power, Islamist parties proved not to be immune from corruption. Nonetheless, the public still tend to view them as being cleaner."
While Indonesian Islamist parties have only had limited success at the national level, they do govern at the local level, and they are gradually implementing their social agenda. Since 1998, over 440 local laws have come into effect, imposing elements of Shariah, such as mandating women to wear headscarves or restricting alcohol sales.
Full report at:
dw.com/en/why-are-more-indonesians-favoring-shariah/a-40471411
--------
China Facing Intensified Threat of Religious Infiltration, Extremism: Official
Sep 13, 2017
Beijing. China is facing heightened threats from foreign infiltration via religion and from the spread of extremism, a top official for religious affairs said on Tuesday (12/09), after strict new rules were passed to manage religious practice in the country.
President Xi Jinping has emphasized the need to guard against foreign infiltration through religion and to prevent the spread of "extremist" ideology, while also being tolerant of traditional faiths that he sees as a salve to social ills.
China's parliament last week passed updated rules to regulate religion so as to bolster national security, fight extremism and restrict faith practiced outside state approved organizations. The new rules take effect in February.
Wang Zuoan, the head of China's religious affairs bureau, said the revision was urgently needed because "the foreign use of religion to infiltrate [China] intensifies by the day and religious extremist thought is spreading in some areas."
"Issues with religion on the internet are starting to break out ... and illegal religious gatherings in some places continue despite bans," he added, writing in the official paper of the ruling Communist Party, the People's Daily.
Wang said that freedom of religious faith is protected by the new rules.
"At the same time, freedom of religious faith is not equal to religious activities taking place without legal restrictions," he added.
Religion within China needed to be "sinicized," a term officials use to describe the adjusting of religion to fit Chinese culture as interpreted by the party.
"These rules will help maintain the sinicization of religion in our country ... and keep to the correct path of adapting religion to a socialist society," he said.
China's five officially sanctioned religions – Buddhism, Taoism, Islam, Catholicism and Christianity – vowed to fight "desinicization" at a forum on the topic held in Beijing last week, according state media.
China has seen a revival of religious practice in recent decades after faith was effectively banned during the Cultural Revolution in the 1960s.
Official estimates put the number of believers at around 100 million, but scholars argue that the real number could be many times higher, due to many believers being unregistered with authorities.
Full report at:
jakartaglobe.id/international/china-facing-intensified-threat-religious-infiltration-extremism-official/
--------
Pakistan
Jihadist Support For Rohingya Puts Pakistan And China On The Spot
James M. Dorsey
09/12/2017
A call for action to help Rohingya Muslims by prominent US Treasury-designated Pakistani militant Masood Azhar puts both Pakistan and China on the spot and raises the spectre of the plight of Myanmar's beleaguered Muslim community energizing jihadists in South and Southeast Asia.
Saadi, widely believed to be a pen name for Mr. Azhar, the leader of Jaish-e-Mohammed (JeM), a jihadist group also proscribed by the United Nations and Pakistan, positioned the Rohingya as a new wake-up call in his most recent weekly column in Al-Qalam, the organization's magazine.
"It is because of the sacrifices of the Myanmar Muslims that the ummah is waking up and we are seeing this new awakening among the Muslims of the world. All Muslims of the world must unite for this cause. We have to do something. And do it urgently. Myanmar's soil is earnestly waiting for the thumping sound of the footsteps of the conquerors," Mr. Azhar wrote.
A brutal crackdown on Myanmar's Rohingya minority that in recent weeks has sent some 300,000 people fleeing the violence into neighbouring Bangladesh, has already stirred deep-seated emotions across the Muslim world. Pakistan has officially protested against the violence while thousands of demonstrators have taken to the streets of Pakistani and other predominantly Muslim cities. Pakistan has for decades been home to some 55,000 Rohingya with no hope of obtaining Pakistani citizenship.
By adding his voice to the protests, Mr. Azhar, a former fighter in the anti-Soviet jihad in Afghanistan who is believed to have been responsible for an attack last year on India's Pathankot Air Force Station, has complicated things for Pakistan and China. Adding fuel to the fire, Mr. Azhar coupled his defence of the Rohingya with praise for Osama bin Laden.
Launching a tirade against Myanmar Buddhist extreme nationalist leader Ashin Wirathu, Mr. Azhar argued that it was wrong to designate him as 'Buddhism's Bin Laden.'
"Bin Laden was a lion who came out to help the helpless, while Wirathu is just a dog who is barking while sitting in the comforts of his home. Bin Laden was a brave and fearless man who challenged global imperialism on its face, while Wirathu is a lowly coward who is attacking unarmed civilians," Mr. Azhar wrote.
The problem for Pakistan and China is not simply that Mr. Azhar is a wanted fugitive who is able to write in a magazine that is published by a group that although banned continues to publicly raise funds and recruit fighters. The problem is also not just that the article indicates jihadist exploitation of the Rohingya issue at a time that the Islamic State (IS) responds to setbacks in Syria and Iraq by expanding operations beyond the Middle East.
The problem is that the article puts Pakistan and China in a position of shielding the leader of a group that has been designated as terrorist and who has no compunction about his support for jihadist figures like Mr. Bin Laden. China has repeatedly vetoed Mr. Azhar's designation by the United Nations Security Council, allegedly at Pakistan's behest. The council is scheduled to again discuss designating Mr. Azhar in early 2018.
China's position is even more on the line after President Xi Jingping this month joined the leaders of Russia, India, Brazil and South Africa for the first time in identifying Pakistan-backed militant groups as a regional security threat.
Mr. Azhar's article followed a call by Indonesia's militant Islamic ­Defenders Front (FPI) for volunteers to wage jihad in defence of the Rohingya, raising the spectre of foreign fighters making their way to the country. A militant insurgency in Rakhine state would open a second front against jihadists in Southeast Asia where Filipino forces have been battling since May the IS-affiliated Maute group in the southern city of Marawi.
Shaykh Abu Ibrahim al-Hanif, the leader of an IS offshoot in Bangladesh vowed in an interview with Dabiq, an IS magazine, to "begin launching operations within Burma once we've reached the capability to do so." For now, Mr. Al-Hanif's threat seems little more than an empty word. He said IS would only have the capacity once it had toppled the government of Bangladesh much like it has postponed targeting Israel until it had overthrown the leaders of Egypt and Syria.
The FPI's call is supported by fatwas or religious opinions issued by Islamic scholars in the last year in Saudi Arabia, the United Arab Emirates, Bangladesh and India as well as Mufti Ziabur Rahman, a Rakhine-based Saudi Rohingya cleric. The scholars argued that resistance to forces opposing Islam was legitimate.
Quoting Indian intelligence, The Indian Express reported that JeM had trained Rohingya in camps in Bangladesh. It said that Khalid Mohammed, a member of the Rohingya Solidarity Organisation (RSO), admitted to Indian police that he had received explosives training. Two other RSO members were detained in 2013 in Indonesia on charges of planning to attack the Myanmar embassy in Jakarta.
The Indian paper said that Lashkar-e-Taibe, another banned Pakistani group whose leader Hafez Saeed was put under house arrest in Lahore earlier this year had organized in 2012 a conference in solidarity with the Rohingya and sent operatives to Bangladesh and Thailand to contact refugees from Myanmar.
Whipping up emotions, Mr. Azhar asserted that "had whatever Ashin Wirathu and his supporters are doing been done by a Muslim country to its non-Muslim minorities, there would have been an uproar. The United Nations Security Council would have passed a resolution against it, there would have been economic sanctions against Muslims and finally, their country would have been bombarded by western forces."
Turkish and Indonesian efforts to aid the Rohingya coupled with a request by Britain and Sweden for a meeting of the UN Security Council are in part designed to take the wind out of jihadist sails and pre-empt an escalation in Myanmar and radicalization among the Rohingya. Those are first steps. Without a structural solution and a more universal crackdown on jihadist groups that see mileage in the Rohingya's suffering, Myanmar's Bengali Muslims are just as likely to become yet another festering wound that feeds extremist narratives.
Dr. James M. Dorsey is a senior fellow at the S. Rajaratnam School of International Studies, co-director of the University of Würzburg's Institute for Fan Culture, and the author of The Turbulent World of Middle East Soccer blog, a book with the same title, Comparative Political Transitions between Southeast Asia and the Middle East and North Africa, co-authored with Dr. Teresita Cruz-Del Rosario and four forthcoming books, Shifting Sands, Essays on Sports and Politics in the Middle East and North Africa as well as The Gulf Crisis: Small States Battle It Out, Creating Frankenstein: The Saudi Export of Ultra-conservatism and China and the Middle East: Venturing into the Maelstrom
huffingtonpost.com/entry/jihadist-support-for-rohingya-puts-pakistan-and-china_us_59b78f73e4b08f6632c076d4
--------
Lawmakers for strict action against killers of Christian student
September 12, 2017
ISLAMABAD: Lawmakers on Tuesday strongly condemned killing of teenager Sheron Masih in MC Model Boys Government School Burewala and demanded immediate action against the culprits involved in the incident.
Khalil George on a point of order in the National Assembly said that Sheron Masih lost his life because he allegdly drank water in the same glass used by other fellows, adding that it was a matter of concern for the whole nation.
"Our school curricula need to be revised to promote interfaith harmony" he said adding that the school should be named after Sheron Masih.
While expressing grief on Sheron Masih's death, Shazia Marri condemned the incident and asked the government to take strict action against the culprits as soon as possible.
She said the Constitution of Pakistan guaranteed all rights to minorities living in the country. "No one will be allowed to take law in their hands. Our religion Islam protects rights of minorities." she added.
Asad Omar from Pakistan Tehreek-e-Insaf while condemning the incident said Islam does not allow anyone to take lives of innocent people.
"It is our responsibility to take care of non-Muslims living in the country ," he said adding, "The real danger is the mindset that promotes violence in the society."
He underlined the need to bring to justice those elements using the name of Islam and maligning Pakistan by carrying out such activities.
Umar demanded strict action against the elements fanning violence in the society.
"Muslims are the worst victims of violence being minority in different countries across the world," he added.
Mahmood Khan Achakzai from Pakhtunkhwa Milli Awami Party asked the house to bring a resolution to condemn the incident.
Full report at:
samaa.tv/pakistan/2017/09/lawmakers-strict-action-killers-christian-student/
--------
Al-Qaeda-Inspired Group Launches as Islamic State Alternative in Pakistan
12 Sep 2017
Former al-Qaeda fighters have launched a new group in terrorist safe haven Pakistan for jihadists who have severed ties with the Islamic State (ISIS/ISIL) branch in the region.
Although the new group claims it has no official links to al-Qaeda or any other foreign terrorist group, it concedes that Osama bin Laden, the former al-Qaeda leader who was killed by the U.S. military, inspired its ideology, reports Voice of America (VOA).
ISIS and al-Qaeda are considered to be enemies.
Two former al-Qaeda members who had grown disgruntled with the terrorist group this year reportedly assembled the new jihadist group, dubbed Ansar al-Sharia Pakistan.
"The group was allegedly created to operate as a platform for militants who have parted ways with IS [Islamic State] in the country, it said in an online statement. It claimed to be active in several parts of the country," notes VOA.
In an announcement disseminated through a Twitter account, Ansar al-Sharia Pakistan declared, "We give glad tidings to Muslim Ummah [community] that a large number of Mujahideen [jihadists] from Karachi, Punjab, and tribal areas are leaving ranks of IS and announce disassociation with [it]."
ISIS has "spread differences" and "secession instead of unity," said the new terrorist group, which has vowed to continue its struggle through "jihad" against "infidel and apostates."
VOA concedes that it was unable to independently verify the authenticity of the Twitter account linked to the newly formed jihadist organization.
However, the counterterrorism department of the Karachi police has acknowledged the new group's existence, revealing that it maintains a presence in the Pakistani territory between Sindh and Baluchistan provinces.
Pakistani authorities believe the newly-emerged group primarily operates out of Pakistan's largest city Karachi, which is also considered to house a significant presence of terrorists affiliated with the South Asia-based al-Qaeda in the Indian Subcontinent (AQIS) branch.
Maj. Gen. Mohammad Saeed, the head of the Rangers paramilitary security force in Karachi, told local reporters that among the members of the new group are individuals with masters degrees in applied physics.
As it expanded its foothold in Pakistan, the local Islamic State branch known as the Khorasan Province (ISIS-K) reportedly recruited from a pool of individuals with sophisticated skills at universities across the country, including students, doctors, lawyers, journalists, and businessmen, and also used women for its fundraising operations.
Maj. Saeed revealed that Ansar al-Sharia Pakistan also has female members.
Terrorist groups in the region, namely the Pakistani Taliban or Tehrik-e-Taliban Pakistan (TTP), have been engaged in efforts to recruit female jihadists, taking a page from ISIS's playbook.
The U.S. military has linked TTP with the Islamic State, noting that the majority of ISIS-K members are former Pakistani Taliban jihadists.
Afghan and Pakistani Taliban members considered themselves to belong to two distinct groups with separate goals and led by different people.
The formation of the new jihadist group is a testament to the ongoing presence of al-Qaeda in the Afghanistan-Pakistan region, nearly 16 years after the U.S. military was deployed to defeat the terrorist organization in response to the September 11, 2001, attacks on the American homeland.
Despite the trillions of American taxpayer dollars invested in defeating the Afghan Taliban and its ally al-Qaeda in Iraq and Afghanistan, and the thousands of U.S. military service members killed and injured trying to carry out that mission, the two groups are believed to have grown stronger in recent years.
In its latest assessment of the U.S. war in Afghanistan, which began in October 2001, the Pentagon notes:
The Afghanistan-Pakistan border region remains a sanctuary for various groups, including al Qaeda, al Qaeda in the Indian Subcontinent (AQIS), the Haqqani Network, Lashkar-e- Tayyiba, Tehrik-e-Taliban Pakistan (TTP), ISIS-K, and the Islamic Movement of Uzbekistan. Sanctuary on the Pakistan side and presence on the Afghan side remain a security challenge for both countries and pose a threat to regional security and stability.
Echoing Indian and Afghan officials, the Pentagon has long accused Pakistan of harboring terrorist groups, particularly the Afghan Taliban, al-Qaeda, and their ally the Haqqani Network, considered one of the top threats facing U.S. troops in Afghanistan.
Islamabad denies the allegations.
Ansar al-Sharia Pakistan, the newly formed terrorist group, has already been linked to several terrorist attacks in Pakistan's southern port city of Karachi, notes VOA, citing counterterrorism authorities in Islamabad.
The name "Ansar al-Sharia" has been used by jihadists groups in various countries affiliated with al-Qaeda.
In particular, the allegedly dissolved al-Qaeda affiliate in Libya that the U.S. believes was behind the Benghazi attack that killed four Americans called itself Ansar al-Sharia in Libya (ASL).
Full report at:
breitbart.com/national-security/2017/09/12/al-qaeda-inspired-group-launches-isis-alternative-pakistan/
--------
Hindus of NA-120 to support JuD backed candidate
Sep 13, 2017
LAHORE: The Hindu community of Lahore has announced to put their weight behind independent candidate Sheikh Yaqoob, backed by Jammat-ud-Dawa (JuD) political wing—Milli Muslim League, for the upcoming by-polls of NA 120.
The decision of supporting Yaqoob was made during the meeting of Falah-e-Insaniat Foundation (FIF) Chairman Hafiz Abdul Rauf with Pandit Lal Bhagat in Balmeek Hindu Mandir, situated in Anarkali, Lahore.
Apparantely, an unusual move of taking support of Hindu community was done by the candidate of a religiously backed group—having identity of hard liners and its views regarding the India.
It is a common perception in Pakistan that JuD possesses a rigid ideology which has been under criticism in different circles in Pakistan. Particularly, it has been criticised by the government and Hindus of India for its alleged involvement in cross border terrorist activities.
On other hand, there was also a perception that Hindus harbour feelings of animosity against Muslims, especially after the demolition of Jain Mandir in Lahore, after the Babari Masjid incident in India. However, both perceptions seem to have vanished after the joining of hands of Hindus with a 'rigid' political party man.
We never talked against any religion nor have hate for any person globally, said the Jud leader and FIF Chairman Hafiz Abdul Rauf. Talking to Pakistan Today, he said that FIF was aiming to work for humanity regardless of religion or colour. "Our track record is witness that we have provided our welfare services to every Pakistano without seeking any interest," he said, adding that during drought in Tharparkar, FIF made efforts to rescue the people; it also dug hundreds of water wells, among them at least 500 being just for the Hindus, he said.
Rauf said that Hindus of Sindh were treated in the same manner like the Muslims during the historic flood, while FIF also built localities for Hindus and Christians during earthquake of 2005 and IDPs from FATA during 2009. "Hindus and other minorities living in Pakistan are equal citizens and have equal rights. When Islam has given them all rights then how can we think to deprive of them?" he said.
Rauf further informed that their candidate not only had meetings with Hindus but also Christians of the constituency have given assurance for their full support for Yaqoob.
A question regarding the move to build soft image before international community, Rauf replied: "We always condemn terrorism around the world and in Pakistan there is not a single complain against us," he said.
The Hindus of the NA-120 also expressed their soft views for Muslims and Sheikh Yaqoob in particular.
An administrator in Balmeek Temple belonging to Hindu community, Faryad Khokhar said that they never considered themselves a separate entity. "We always used our right of taking part in the political activities of Pakistan. We never thought of ourselves as second citizens nor have any concept of depravedness because our issues are common with Muslims," he said, adding that Pakistan was their beloved country and our lives and deaths belong to it. "We have been living with Muslims for centuries and never felt any discrimination on the basis religion," he added.
Full report at:
pakistantoday.com.pk/2017/09/12/hindus-of-na-120-to-support-jud-backed-candidate/
--------
Pakistan open to joint Afghan border patrols, says PM
September 13, 2017
ISLAMABAD: Prime Minister Shahid Khaqan Abbasi said on Tuesday that his country was willing to set up joint patrols with Afghanistan to combat militants along their porous border.
His remarks came weeks after President Donald Trump called on Pakistan to do more to eliminate militant sanctuaries, a long-standing US demand.
"We are open for joint patrolling, we are open for joint posts" along the border with Afghanistan, Mr Abbasi told reporters in Islamabad.
"We will put up a fence there; the Afghans are welcome to put up another fence on their side," he said.
The prime minister denied Pakistan was harbouring militants, insisting it was "fighting agents of chaos". "All the criminal elements we are fighting are based in Afghanistan," Mr Abbasi said.
Mr Trump called on Pakistan to eliminate militant sanctuaries in a speech laying out a new strategy to try and win the 16-year-old war in Afghanistan.
Mr Abbasi said his government had yet to receive any specific demands from the Trump administration, adding that Pakistan would act on any information shared by US authorities.
He denied the accusations that Pakistan supported militant groups as he batted away suggestions that Mr Trump's comments would upend relations between the Cold War allies.
"We don't think the Pakistani-US relationship will be defined by Afghanistan," the prime minister said.
"This relationship (is) 70 years old (and) cannot be redefined by one issue or it should not be redefined by one issue."
Following Mr Trump's remarks, Secretary of State Rex Tillerson cautioned that Pakistan could lose its status as a major American ally and see its US military aid suspended.
Mr Abbasi however said he was unaware of any looming 'punishments', adding Washington had not issued demands to Pakistan on the matter.
"We have not received any list of measures," he said. "We are open (with the US). We are transparent. We have nothing to hide."
"We intend to work and cooperate with the US against terrorism and if both countries have any concern it should be addressed," the prime minister said. "We respect others' sovereignty and expect the same from others."
He said Pakistan had suffered massively due to instability in Afghanistan and believed that the solution should be Afghan-led and Afghan-owned.
He said that Pakistan had lost more than $120 billion in the war against terrorism.
He said that Pakistan had defeated the menace of terrorism, asking the Pakistan-based foreign correspondents to visit Miramshah and see for themselves how Pakistan's military had cleared the area by offering sacrifices.
About the recent BRICS declaration, the prime minister said the statement was not specific to Pakistan. There was no difference in the policy of the Pakistani and Chinese governments, he added.
In response to a question about Pakistan's mediation with Gulf countries, he said: "We look upon it as a family issue that needs to be resolved between two brothers."
Full report at:
dawn.com/news/1357349/pakistan-open-to-joint-afghan-border-patrols-says-pm
--------
Supreme Court, Islamabad High Court jurisdiction extended to Fata
September 13, 2017
ISLAMABAD: The federal cabinet on Tues­day approved extension of the jurisdiction of the Supreme Court and the Islamabad High Court (IHC) to the Federally Administered Tribal Areas (Fata) as a first step towards implementation of the long overdue reforms in the country's restive tribal areas.
In the initial draft that had been prepared in the light of suggestions of a six-member special committee that had proposed merger of the tribal areas with Khyber Pakhtunkhwa, the jurisdiction of the Peshawar High Court (PHC) was to be extended to the tribal areas.
The cabinet which met under Prime Minister Shahid Khaqan Abbasi approved that a bill seeking extension of the jurisdiction of the superior courts would soon be placed before parliament after which the controversial Frontier Crimes Regulation (FCR) would be abolished. The cabinet also agreed that normal laws of the country would be enforced in Fata in a phased manner.
"This will be reinforced by a massive development effort which will be financed through allocation of additional resources from the divisible pool after concurrence of all stakeholders," said an official announcement issued by the Prime Minister Office after the cabinet meeting.
The cabinet was informed that a National Implementation Committee under Prime Minister Abbasi had already been constituted which would oversee the political, legal, administrative and developmental mainstreaming of Fata.
The committee in its first meeting last week had decided to install a transitional mechanism and to create a position of chief operating officer for the period of transition.
Besides members of the committee who had initially drafted the Fata reforms earlier this year, the prime minister, chief of the army staff, KP chief minister and commander of 11 Corps had also been included in the newly-constituted National Implementation Committee.
The prime minister had already directed the minister for law and justice to fast-track legislative and administrative measures for the mainstreaming of Fata so that the people of Fata could have access to the fundamental rights on a par with the people in the rest of Pakistan. The committee had also approved the fast-track recruitment of police and redeployment of some of the Frontier Constabulary, after training, to perform police functions.
In March, the federal cabinet under former prime minister Nawaz Sharif had approved a set of steps to be taken for the proposed merger of Fata with KP and a 10-year reform package to bring the tribal region on a par with other developing areas of the country. Over Rs110 billion development package, proposed by the Fata reforms committee, had also been approved for the seven agencies of the tribal region.
Later in May, the government convened a special session of the National Assembly for presentation of three bills, including a constitution amendment bill that had been drafted in the light of the recommendations of the Fata reforms committee.
Minister for States and Frontier Regions retired Lt Gen Abdul Qadir Baloch, however, tabled the amendment bill required for declaring Fata a part of KP and the Tribal Areas Rewaj Bill, 2017, but he did not move the bill seeking extension of the jurisdiction of the Peshawar High Court and the Supreme Court to Fata without any explanation.
The Rewaj bill is being introduced "to provide for a system of administration of justice, maintenance of peace and good governance in Fata and protected or administered areas", says its brief introduction.
However, the government had to face embarrassment in the parliament when two of its allies – Mehmood Khan Achakzai of the Pakhtunkhwa Milli Awami Party and Maulana Fazlur Rehman of the Jamiat Ulema-i-Islam – forcefully opposed the move to merge Fata into KP.
Later, the reforms were hit a snag when the then prime minister, Nawaz Sharif, who was in China at that time, directed the government to hold back the legislation. Mr Sharif had reportedly issued the directive after receiving a telephone call from Maulana Fazlur Rehman.
Ten per cent 'ad hoc relief' raise
Meanwhile, sources said that the federal cabinet had also approved a 10 per cent raise as "ad hoc relief" in the salaries of the National Assembly speaker and the deputy speaker, chairman and deputy chairman of the Senate, ministers and the members of parliament.
In the federal budget, the government had announced a 10 per cent increase in the salaries of the employees as ad hoc relief. On demand of the members during the budget debate, Finance Minister Ishaq Dar in his winding up speech had committed that they would also get this increase.
The federal government had approved a staggering increase of up to 146pc in the salary of members of parliament in November last year.
The salary of a member of the National Assembly and the Senate is Rs150,000 at present. The salary of the speaker and the Senate chairman is Rs205,000 whereas the salary of their deputies is Rs185,000.
The present salary of federal ministers is Rs200,000 and the salary of state ministers is Rs180,000.
Besides, the cabinet also accorded approval to the Finance Division for laying the annual report of the Securities and Exchange Commission of Pakistan for the year 2015-16 and that of the Competition Commission of Pakistan for the year 2013-14 in the parliament after publication in the Gazette of Pakistan.
The National Electric Power Regulatory Authority's Annual Report for the year 2015-16 and State of Industry Report for 2016 was also presented before the cabinet.
The prime minister directed the ministry concerned for a comprehensive presentation to the cabinet on power generation, distribution and transmission, liabilities and recoveries and load management in the country.
Full report at:
dawn.com/news/1357347/supreme-court-islamabad-high-court-jurisdiction-extended-to-fata
--------
Strike observed in Quetta over cleric's kidnapping
Saleem Shahid
September 13, 2017
QUETTA: A strike was observed here and in the surroundings areas on Tuesday in protest against the kidnapping of provincial chief of Jamiat Ahle Hadees Maulana Ali Muhammad Turab, his son and two associates on gunpoint.
Maulana Turab was kidnapped, along with his son, secretary and guard, in the Airport Road area a few days ago. Police said the cleric's vehicle was found abandoned in the Sheikh Manda area, near the same road.
Representatives of political parties, religious groups and traders' organisations issued a call for the strike at a press conference held on Saturday. They also called for early recovery of the religious scholar and member of the Council of Islamic Ideology along with his son and associates.
All bazaars, shopping plazas, business centres and trade organisations remained closed throughout the day.
"We closed our business in protest against the abduction of the religious scholar and political leader," said Shokat Ali, owner of a shop in the Jinnah Road market.
Even medical stores remained closed till afternoon, but hotels and tandoors were allowed to continue their business.
Shopkeepers and traders on the outskirts of the provincial capital also observed the strike.
Vehicular traffic remained thin in Quetta as people preferred to stay indoors.
The administration had made security arrangements by deploying heavy contingents of police, Levies and Frontier Corps at major points in the city in order to keep law and order situation under control.
Full report at:
dawn.com/news/1357358/strike-observed-in-quetta-over-clerics-kidnapping
--------
Discontent among Rohingya in Pakistan runs deep
September 13, 2017
KARACHI - The stateless hundreds of Rohingya Muslims living in the city face an uncertain future considering Pakistan does not recognise them as refugees. The UNHCR has not issued them refugee cards like the Afghans. They cannot move freely in the city and often face harassment at the hands of law enforcement agencies.
Every day when they hear news about the genocide in Myanmar they are disturbed and worried about their fate. President of Burmese Muslim Welfare Organization Noor Hussain Arkani said tears come into his eyes when he hears the stories of genocide from his relatives and friends who have reached Balamkhali, Kotpalang Camp in the last two weeks. He was talking to The Nation in Ibrahim Haideri area. "I am in regular contact with my close relatives and friends who have left Myanmar for good. My first cousin 61-year-old Noor Ahmed, and his son and my sister's son Mahmudullah, my brother's son Abdul Hussain all are in constant touch with me. They need our help to end the misery they are facing. The camps have no basic facilities."
Arakani said his organization is registered and its audit is done every year. "We help the Rohingya people in Bangladesh and Myanmar as much as we can. On last Eidul Azha, we sacrificed 35 cows, six goats in the camps in Bangladesh.
"There are about 300,000 Rohingya people living in Karachi. Of them more than 100,000 have become Pakistani nationals. The rest don't have national identity cards due to which they can't freely move in the city.
"The only resource of our income is fishing but the dilemma today is we are not even allowed to do it. Police arrest us and we have to bribe them from Rs10,000 to Rs 15,000 when caught in the act. Migration of Bengalis and Burmese started in 1970's which continued till 1998. I came in Karachi in the era of President Ayub Khan, who had served in Burma and had soft corner for us. At that time hundreds of Rohingya settled in Karachi. Our elders were provided national identity cards at that time but now Nadra refuses to help us."
"We are deprived of basic facilities such as safe drinking water, education, health, proper sewerage and jobs. A girl can't even give birth to a child because she can't be admitted to hospital. My request to the government is that Rohingya people are also a part of Pakistan so they should be provided basic rights as others have. Our youngsters are forced to become criminals when they don't have any other choice," he said.
PML-N MPA from Ibrahim Hyderi, Shafi Muhammad Jamote, said that non-issuance of the CNICs was one of the main issues Burmese are facing. He said he devised a mechanism with the help of federal government to ensure validation and extension of identity cards.
"Verification from a grade 18 or above or an MPA is needed now for extension in validity of NIC. I have verified the forms of several of their community members," he said.
Shafi said that the situation of sanitation was worse in the area due to encroachments from certain people having support from ruling provincial party leader on the main sewerage line of the area.
"Since I am in opposition, therefore, the government is not giving any funds for improving infrastructure in the area but I have submitted proposals for construction of a main road leading to the area and RO plant and sewerage line," the MPA said adding that the projects are likely to be part of Rs25 billion package from the federal government for Karachi.
He said the other basic issue for the community in the area is burial of their loved ones in the graveyard as they are charged up to Rs15,000 for burial.
"We have asked the provincial government to provide a space for the purpose but there has been no response," Shafi said.
The MPA said that they are in contact with the authorities to overcome inclination of youth of the area towards crime and work on it to improve the situation.
Most of residents claim that they are not able to open bank accounts, enroll children in schools, use public hospitals and get permission to catch fish.
Principal of Isra School at Arkanabad, Maulana Kareemullah, 39, said he decided to launch a school for his community in 2008.
"There are nine teachers in the school imparting education to students up to Matriculation. There is a Bengali organization that used to provide us funds which has now stopped doing so. The organization now claims that they are investing to build a mosque. We are facing problem in running the school."
"The community people are more inclined towards religion and prefer to send their children to Madaris (seminaries). My relatives in Rakhine (Arakan) province were killed a few months ago. The video of the whole family was also uploaded on Internet. It is my humble request to the government to make a policy for our community and do not let our young generation go astray," he said.
Fisherman Abdul Shakoor, 30, said his source of income is fishing. "I work for a company and pack more than 5,000 fish per day for them which is later sent to foreign countries. My people are not allowed to do fishing; we are living in extremely difficult circumstances. If we try to fish we are thrown into jail," Shakoor said.
Another fisherman Zubair, 19, said, "Sindhi people living in Ibrahim Hyderi are harsh. They don't let us work freely. When I used to fish in sea my income was good and family was happy. Now I work under Sindhi people who rule on us and treat us like slaves in our own community," Zubair said.
Meanwhile, speaking on condition of anonymity, a police official having expertise in countering terrorism, said that youth from the area was also found involved in terrorist activities and had association with terrorist organizations like Al-Qaeda and Daesh.
"We have nabbed several suspects from the area involved in such activity," he said.
Full report at:
nation.com.pk/national/13-Sep-2017/discontent-among-rohingya-in-pakistan-runs-deep
--------
Pakistan, Turkey to work for Afghan peace
September 13, 2017
ISLAMABAD - Emphasising that lasting peace in Afghanistan was important for stability in the region, Turkish President Recip Tayyep Erdogan and Foreign Minister Khwaja Muhammad Asif Tuesday agreed that Pakistan and Turkey would continue to work together for peace and stability in Afghanistan.
According to Foreign Office, the foreign minister during a day-long visit to Ankara, held talks with the Turkish president, Prime Minister Benali Yildirim and Foreign Minister Mevlvut Cavusoglu on further strengthening of relations between Pakistan and Turkey and deepening mutual coordination on regional peace, security and connectivity.
During his call on the Turkish President, Khwaja Asif reaffirmed Pakistan's strong desire for further strengthening strategic partnership between the two countries through increased cooperation in political, economic, defence and people to people ties.
President Erdogan reiterated Turkey's unflinching commitment to broaden and expand brotherly relations between the two countries. They agreed on maintaining regular high level exchanges between the two countries and continue to work together for peace and stability in Afghanistan.
Earlier, Foreign Minister Khwaja Asif also called on Turkish Prime Minister Benali Yildrim. Discussing bilateral relations, the two leaders expressed satisfaction at the remarkable progress being made in deepening the strategic partnership. In this regard, recalling the important work done under the High Level Strategic Cooperation Council (HLSCC) under the leadership of the two prime ministers, they resolved to take measures to impart further impetus to this bilateral strategic forum.
Later in the day, the foreign ministers of the two countries held bilateral talks covering all areas of mutual cooperation and coordination on peace and security in the region with particular focus on Afghanistan in the light of recent developments.
They agreed that there was no military solution to the conflict in Afghanistan and reiterated that Afghanistan's neighbours and regional countries needed to work together for facilitating a politically negotiated settlement under an Afghan-led and Afghan-owned peace process.
During the meetings, the two sides shared concern over human rights violations in Indian-occupied Kashmir. Khawaja Asif thanked Turkey for its principled support to the just struggle of the Kashmiri people for their right to self-determination.
Full report at:
nation.com.pk/national/13-Sep-2017/pakistan-turkey-to-work-for-afghan-peace
--------
Mideast
Spokesman: Iran to Use All Diplomatic Capacities to Prevent Continued Massacre of Muslims in Myanmar
Sep 12, 2017
"The Islamic Republic of Iran has always shown that it defends the world's innocent and suppressed people, and the president (Hassan Rouhani) tried during his visit to Kazakhstan (for the Organization of Islamic Cooperation summit) to make other countries sensitive in this regard," Nobakht told reporters in Tehran on Tuesday.
"We will use all our diplomatic capacities in this regard," he added.
Nobakht also lambasted the international bodies for not showing a proper reaction to the human catastrophe in Myanmar.
His remarks came after Supreme Leader of the Islamic Revolution Ayatollah Seyed Ali Khamenei strongly blasted the international bodies and those who claim to be advocates of human rights for silence on the plights and pains of Muslims in Myanmar, and called on the Islamic countries to adopt practical measures against the Myanmar government.
"Of course, religious prejudice may play a role in this incident but it is a political issue because it is executed by the Myanmar government which is headed by a cruel woman who has won the Nobel prize, and actually the Nobel Peace Prize died with such incidents," Ayatollah Khamenei said on Tuesday.
He lashed out at the UN secretary-general who has only sufficed to the condemnation of the crimes in Myanmar, and said, "Those who claim to be advocates of human rights and start hues and cries sometimes for punishment of a guilty person in Iran, don't show any reaction to the massacre and displacement of tens of thousands of people in Myanmar."
Ayatollah Khamenei underlined the need for the Islamic governments' action and practical measures, and said, "Of course, practical action doesn't mean deployment of military forces but they should increase political, economic and trade pressures on Myanmar government and shout against such crimes in the international circles."
The Rohingya Muslims in Myanmar have long been subjected to discrimination in Buddhist-majority country, which denies them citizenship.
Myanmar's government regards them as illegal migrants from Bangladesh, even if they have lived in the country for generations.
Refugee camps near Bangladesh's border with Myanmar already had about 300,000 Rohingya before the upsurge in violence last month and are now overwhelmed.
Tens of thousands of new arrivals have nowhere to shelter from monsoon rains.
Those flocking into Bangladesh have given harrowing accounts of killings, rape and arson by Myanmar's army. Myanmar authorities deny any wrongdoing.
Most have walked for days and the UN says many are sick, exhausted and in desperate need of shelter.
en.farsnews.com/newstext.aspx?nn=13960621001586
--------
Hamas to axe key body to promote Palestinian unity'
Sep 13, 2017
GAZA CITY - Hamas chief Ismail Haniya has told Egyptian officials that he would dissolve a key body causing tension with rival Palestinian faction Fatah, an official with the Islamist movement said Tuesday.
In March, Hamas announced the formation of a new "administrative committee" seen as a rival government to the internationally recognised administration led by president Mahmud Abbas.
Hamas has denied the committee was a rival government. Since the committee was formed, Abbas has sought to squeeze Hamas, reducing electricity payments for the Gaza Strip which the movement controls, among other measures.
The Hamas official, speaking on condition of anonymity, said Haniya told the head of Egyptian intelligence Khaled Fawzy and other officials in Cairo on Monday that they would dissolve the council without preconditions to make way for a unity government with Fatah.
Hamas, he said, wanted Egypt to "succeed in achieving Palestinian reconciliation, and I think there are no arguments now for Fatah to disrupt Egypt's efforts".
Hamas has run Gaza for a decade since seizing control of the territory from Abbas's secular Fatah party, which leads the government in the West Bank.
Multiple attempts at reconciliation between the two movements have failed.
A Hamas statement published late Monday said that during talks in Egypt the Hamas delegation had "emphasised its readiness to hold negotiations with Fatah in Cairo immediately to conclude a (unity) agreement".
Full report at:
nation.com.pk/international/13-Sep-2017/hamas-to-axe-key-body-to-promote-palestinian-unity
--------
Turkey signs landmark Russian weapons deal
Sep 13, 2017
ISTANBUL - Turkey has signed a deal with Russia to buy S-400 missile defence systems, its first major weapons purchase from Moscow, in an accord that could trouble Ankara's NATO allies.
The purchase of the surface-to-air missile defence batteries, Ankara's most significant deal with a non-NATO supplier, comes with Turkey in the throes of a crisis in relations with several Western states.
"Signatures have been made for the purchase of S-400s from Russia. A deposit has also been paid as far as I know," Turkish President Recep Tayyip Erdogan said in comments published in several newspapers on Tuesday.
"Mr Putin (President Vladimir Putin) and myself are determined on this issue," he told Turkish journalists aboard his presidential jet returning from a trip to Kazakhstan.
Moscow also confirmed the accord, with Vladimir Kozhin, Putin's adviser for military and technical cooperation, saying: "The contract has been signed and is being prepared for implementation."
The purchase of the missile systems from a non-NATO supplier is likely to raise concerns in the West over their technical compatibility with the alliance's equipment.
The Pentagon has already sounded the alarm, saying bluntly that "generally it's a good idea" for NATO allies to buy inter-operable equipment. But Erdogan said Turkey - which has the second largest standing army in NATO after the United States - was free to make military acquisitions based on its defence needs.
"Nobody has the right to discuss the Turkish republic's independence principles or independent decisions about its defence industry," he said. "We make the decisions about our own independence ourselves, we are obliged to take safety and security measures in order to defend our country."
He said Moscow would extend a credit to Turkey for the purchase of the weapons.
Quoted by Russian state-owned TASS news agency, Kozhin said the deal was fully in line with Moscow's strategic interests.
"For this reason we fully understand the reactions of several Western countries which are trying to put pressure on Turkey".
However signing the deal does not mean that delivery is imminent, with Russia facing a high demand for the S-400s from its own armed forces and key clients like China and India.
Some analysts have suggested the message sent to the West by the military cooperation between Moscow and Ankara is as important as the delivery itself.
In 2015, Turkey scrapped a $3.4 billion deal with China to build its first anti-missile system.
Russia's relations with NATO have been in crisis over its annexation of Crimea from Ukraine and for backing pro-Moscow separatists in eastern Ukraine.
Turkey, a NATO member since 1952, has currently troubled ties with the United States over a number of issues including Washington's support for the People's Protection Units (YPG) Syrian Kurd militia which Ankara considers a terror group.
The Turkish-Russian contract is a new sign of better relations between Ankara and Moscow since a reconciliation deal was signed last year following the 2015 shooting down by the Turkish military of a Russian plane over the Syrian border.
Ankara was also heartened by Moscow's response to the 2016 failed coup in Turkey and the two sides have been working together in search of a solution to the Syria conflict.
But the two nations - whose rivalry in the Black Sea and Caucasus regions dates back centuries - are still at odds on a host of political issues.
Turkey, which vehemently opposed the 2014 annexation of Ukraine's Crimea peninsula by Moscow, condemned Tuesday the jailing of a Tatar leader for eight years by Russia over a rally against Moscow's seizure of the region.
Akhtem Chiygoz, a former deputy head of the Tatars' traditional decision-making assembly, was arrested in 2015 over clashes at a rally that left two people dead.
Full report at:
nation.com.pk/international/13-Sep-2017/turkey-signs-landmark-russian-weapons-deal
--------
Yemeni Army Blows Up Saudi-Backed Militants' Arms Cache
Sep 12, 2017
The Yemeni sources said that the offensive was launched against a weapons cache near al-Safineh military base in Lahij which caused a major blast.
The Yemeni army and popular committees also thwarted the Saudi forces' attempts to enter the Eastern parts of Kahboub region in Lahij province.
Saudi Arabia has been striking Yemen since March 2015 to restore power to fugitive president Mansour Hadi, a close ally of Riyadh. The Saudi-led aggression has so far killed at least 14,300 Yemenis, including hundreds of women and children.
Despite Riyadh's claims that it is bombing the positions of the Ansarullah fighters, Saudi bombers are flattening residential areas and civilian infrastructures.
According to several reports, the Saudi-led air campaign against Yemen has driven the impoverished country towards humanitarian disaster, as Saudi Arabia's deadly campaign prevented the patients from travelling abroad for treatment and blocked the entry of medicine into the war-torn country.
The cholera outbreak in Yemen which began in April, has also claimed 2,000 lives and has infected 500,000, as the nation has been suffering from what the World Health Organization (WHO) describes as the "largest epidemic in the world" amid a non-stop bombing campaign led by Saudi Arabia. Also Riyadh's deadly campaign prevented the patients from traveling abroad for treatment and blocked the entry of medicine into the war-torn country.
Full report at:
en.farsnews.com/newstext.aspx?nn=13960621001101
--------
Rights group blasts Israeli banks for settlement expansion
13 September 2017
Israeli banks are contributing to the proliferation of West Bank settlements by providing loans and mortgages for construction there, violating their human rights obligations, Human Rights Watch said in a report Wednesday.
The report said that Israeli law does not require banks to provide such services to the settlements, and urged them to distance themselves from such activities. It also urged the banks' shareholders to "ensure that their business relationships do not contribute to or benefit from" human rights violations.
Human Rights Watch says the banks have helped the expansion of the West Bank settlements, which are now home to some 400,000 Israelis.
Sari Bashi, the group's Israel and Palestine advocacy director, said the banks should abide by the UN guiding principles on business and human rights, a set of non-binding guidelines meant to address and remedy abuses committed in business activity, or else face action by shareholders.
"There are many, many steps banks can and should take to at the very least reduce their involvement in settlements, if not stop it entirely," she said. "If they choose not to take steps, institutional investors who care about their own human rights activity should take action."
Israel captured the West Bank, along with the Gaza Strip and east Jerusalem, in the 1967 Mideast war. Israel has since annexed east Jerusalem in a move that is not recognized internationally, and it withdrew from Gaza in 2005.
Most of the international community considers settlements illegal and an obstacle to creating a Palestinian state. Israel disputes this, saying the fate of the settlements must be resolved through negotiations with the Palestinians. Israel's banks lend money to homebuyers, settlement councils or to companies carrying out construction in the West Bank. Most also have branches in settlements.
Israeli law requires banks to accept settlers as customers, meaning they cannot refuse to open accounts for them. But a legal analysis by Human Rights Watch of Israeli banking laws concluded that banks are not obligated to provide financial backing for construction in the West Bank.
While an anti-discrimination law prohibits refusal of service based on place of residence, the report said banks could cite other reasons for declining to provide loans, such as the construction's implications for Palestinians' human rights. The law also allows companies to decline to serve certain areas so long as they provide advance notice to customers.
"It is Human Rights Watch's assessment that banks can, under domestic law, avoid providing many services that support settlements and settlement activity, and that doing so is necessary to fulfill their human rights responsibilities," the report said.
The relevant laws have yet to be challenged in court, meaning the report offers only one interpretation of how they may be read.
But the group presents a warning to Israel's banking sector: Operating in the settlements risks inviting divestment from ethically-minded shareholders. Bashi cited a 2016 move by the pension fund for the United Methodist Church that blocked five Israeli banks from its investment portfolio, saying they profit from rights abuses.
The Association of Banks in Israel, an umbrella group, declined to comment on the report's claims. Spokespeople for Israel's major banks either declined comment or referred queries to the banking association. Israel's central bank had no immediate comment.
Human Rights Watch said the five largest banks in Israel did not respond to questions about whether they adhere to the UN guiding principles. Four of the country's biggest banks are members of the UN Global Compact, a group of companies that calls on its members to "make sure that they are not complicit in human rights abuses." Eugene Kontorovich, an international law expert at the Kohelet Policy Forum, a conservative think tank, disputed the report's claim.
He said that private companies are not obliged under international law to restrict where they work even if others believe the settlements are illegal. He said companies are not necessarily violating human rights if they conduct business in an area where violations are said to occur. "Granting a mortgage is not a human rights violation," he said.
Full report at:
english.alarabiya.net/en/News/middle-east/2017/09/13/Rights-group-blasts-Israeli-banks-for-settlement-expansion.html
--------
Netanyahu says Israel endorses independence for Kurds
13 September 2017
Israel's leader says the country supports Kurdish independence ahead of a key referendum on the matter.
In an announcement early Wednesday, Prime Minister Benjamin Netanyahu's office says Israel rejects the Kurdistan Workers' Party, or PKK, and considers it a terrorist organization.
However, the statement says Israel "supports the legitimate efforts of the Kurdish people to attain a state of its own."
Iraq's Kurds plan to hold the referendum on Sept. 25 in three governorates that make up their self-ruled region as well as disputed areas that are controlled by Kurdish forces but claimed by Baghdad, including the oil-rich province of Kirkuk.
Full report at:
english.alarabiya.net/en/News/middle-east/2017/09/13/Netanyahu-says-Israel-endorses-independence-for-Kurds.html
--------
Yemen VP: Houthis getting ready to eliminate Saleh
13 September 2017
Yemeni Vice President Ali Mohsen al-Ahmar said on Tuesday that the Houthis, whom ousted President Ali Abdullah Saleh helped stage their coup, are getting ready to pay him back by eliminating him.
"The Houthis are now preparing to pay back those who helped them by eliminating them and excluding them and by voicing ingratitude, just like they've always done," Ahmad said in reference to Saleh.
Also read: Houthi militias forcibly recruiting children in Yemen's Al Mahwit
During an address to local officials in Marib, Ahmar added that the Houthis would not have come so far if it had not been for contradictory political work as it's thanks to these contradictions that the Houthis infiltrated Sanaa. He also said that Houthis always violate vows and pledges, adding that this has become one of their characteristics.
Full report at:
english.alarabiya.net/en/News/gulf/2017/09/13/Yemen-VP-Houthis-ready-to-eliminate-Saleh.html
--------
JIAT task force on Yemen releases report on recent Hudaydah strikes
12 September 2017
The Joint Incidents Assessment Team (JIAT) on Yemen provided a detailed report on Tuesday on recent coalition airstrikes in the cities of Hudaydah and Aden.
Spokesperson for JIAT, Mansour al-Mansour, confirmed that a recent August 27 airstrike that hit an education complex in the port city of Hudaydah was only approved after coalition forces ensured no presence of civilians on the site.
"The particular site called the Shaima education complex that was surgically hit in late August had no civilian presence. The site itself was being used as a military facility by armed Houthi militias after capturing the space," Mansour told reporters during a press conference on Tuesday.
english.alarabiya.net/en/News/gulf/2017/09/12/JIAT-taskforce-on-Yemen-releases-report-on-recent-Hudaydah-strikes.html
--------
Houthi militias forcibly recruiting children in Yemen's Al Mahwit
12 September 2017
Houthi militias embarked, this Monday, on a forced recruitment campaign targeting the children in the northern Yemeni province of al Mahwit, an area under their control.
Parents are afraid for the lives of their children who would be forced to fight in their ranks on their lost battle.
Local sources confirmed that the leadership of the coup militia in the province of Al-Mahwit asked the Directorate of Jebel al-Mahwit and several directorates to support their fronts with 170 fighters as compulsory conscription.
The Houthi militia had forced the local authority leaders in the departments to collect the requested number of fighters by force.
Al-Mahwit Media Center said that the militias held a meeting on Monday to approve the formation of a committee to carry out the effort to impose recruitment on citizens.
The committee involves the director of the al Jabal directorate Ali al-Tayari, the secretary-general of the local council Yahya Khadeef, the Houthi leader, Abdul Jalil al-Asiri and Ali Bahr.
The Center quoted the residents of the Jabal al-Mahwit district as saying that militia members were deployed in the Directorate, with statements calling for enlisting.
When they were met with rejection and refusal from the residents, they threatened the citizens, who fear forced drafting in Mahwit and the areas controlled by the militia.
Full report at:
english.alarabiya.net/en/features/2017/09/12/Yemen-The-Houthi-militias-recruit-children-of-Al-Mahwit-by-force.html
--------
Iran signs deals to repair Syrian power grid
Sep 13, 2017
Tehran has signed deals worth "several hundred million euros" with Damascus to repair Syria's power grid in the Aleppo city and the provinces of Latakia and Dayr al-Zawr.
Syrian Electricity Minister Mohammad Zuhair Kharboutli traveled to Tehran as his country is looking to friendly states to help rebuild the country after more than six years of war with foreign-backed terrorists.
Syria's civilian infrastructure has been battered under the ferocious conflict but Kharboutli said Tuesday the government is working relentlessly to restore the power system and that Iranian companies will have a role in rebuilding Syria.
The reconstruction of the country comes amid the Syrian army making steady advances in recent months and taking back cities and towns from terrorists.
"We are glad that good news is coming out about the situation in Syria theses days, and the terrorists are facing defeat and complete elimination," Sattar Mahmoudi, Iran's caretaker energy minister, said during the signing ceremony.
The contracts include building a power plant in the coastal province of Latakia with a capacity of 540 megawatts and restoring the main control center for Syria's electricity grid in the capital Damascus.
Iranian companies will also rehabilitate a 90-megawatt power station in Dayr al-Zawr province, where the Syrian army has made swift advances against Daesh terrorists in recent days, and another in the Homs province.
Two contracts were signed, including for Iran to supply power to Aleppo city, which the Syrian military and its allies fully regained last year in a major blow to terrorists.
The memorandum further involves the establishment of five gas turbines, each with a capacity of 125 megawatts in in Baniyas, SANA news agency reported.
Tehran has already assured Syria to expand its cooperation to construct water and sewerage facilities in the Arab country.
Mahmoudi said the capacities of Iranian companies in production, distribution and transmission of power and power plant equipment are unique in the region and many Iranian products are able to compete with the world's leading brands.
"The message of Iran's Ministry of Energy is to restore light to the houses of the Syrian people, while the terrorists and their supporters have had no message other than darkness and terror for the Syrian people in the past few years," he said.
In May 2013, Iran agreed to provide Syria with a $3.6 billion credit line for imports of goods and commodities and implementing civilian projects.
Iranian firms are already involved in a series of electricity generation projects worth $660 million in Syria, according to Energy Ministry officials.
A plan has been mooted for exports of Iranian electricity to Syria which would hook up Iran's national grid with those of Iraq and Lebanon, creating the biggest power network in the Islamic world.
Damascus was a major ally of Tehran during eight years of the former Iraqi dictator Saddam Hussein's war on the Islamic Republic in the 1980s and Iran now feels obliged to return the favor.
"During these years, the Iranian nation and the government have stood with the Syrian people in the worst conditions, and we certainly will not leave the Syrians alone in the difficult conditions of reconstruction," Mahmoudi said.
In January, the two countries signed several agreements during a visit by Syrian Prime Minister Imad Khamis to Tehran, under which the Islamic Republic would build a mobile service operator in the Arab country.
Under the deals, Syria would grant a license to Iran to operate the Arab country's third mobile service provider and allow the Islamic Republic to set up a petrol terminal on 5,000 hectares of land.
Syria would also give Iran 5,000 hectares of farmland and commission the operation of phosphate mines in Sharqiya and a port in the Arab country to Iranian companies, IRNA reported then.
Full report at:
presstv.ir/Detail/2017/09/13/534983/Iran-Syria-power-system-rebuilding-Aleppo
--------
Independence vote divides Kurdish groups: Iran official
Sep 12, 2017
Secretary of Iran's Supreme National Security Council (SNSC) Ali Shamkhani has warned that a referendum on the independence of Iraq's semi-autonomous Kurdistan region will divide Kurdish groups and political parties.
"Holding a referendum in the [Iraqi] Kurdistan region can exacerbate the existing divisions among Kurdish parties and groups," Shamkhani told reporters on Tuesday.
He added that the independence referendum would result in the loss of numerous and effective opportunities and potentialities of the Kurds in Iraq.
With regard to the negative impacts of the independence vote on Iraq's security, Shamkhani said at a time when Iraq is getting close to the final phase of its fight against Takfiri terrorists, certain "injudicious measures can increase the risk of the emergence of new conflicts and regenerate insecurity."
Six Iraqi unions are set to take legal action against the government of the semi-autonomous Kurdistan region over the independence referendum due this month.
The Lawyers' Union, Engineering Union, Union of Journalists, Doctors' Union, Teacher's Union and Workers' Union, in a joint statement released on Tuesday, announced that they would file a lawsuit against the Kurdistan Regional Government (KRG) over plans to hold the referendum.
They underlined that the forthcoming vote "lacks any legal or constitutional basis."
The Iraqi parliament voted on Tuesday to reject a Kurdish independence referendum, requiring Prime Minister Haider al-Abadi and the central government in Baghdad to "take all steps to protect the unity of Iraq and open a serious dialogue" with Kurdish leaders.
The decision prompted a walkout by Kurdish lawmakers.
Full report at:
presstv.ir/Detail/2017/09/12/534936/Iran-Iraq-Kurdistan-Ali-Shamkhani-referendum-ndependence
--------
UN censures Tel Aviv regime for 'de-development' of Palestine
Sep 12, 2017
The UN has condemned Israel for the "de-development" and "deteriorating humanitarian conditions" of the Palestinian territories of East Jerusalem al-Quds, the West Bank and the Gaza Strip during its 50-year occupation.
On Tuesday, the United Nations Conference on Trade and Development (UNCTAD) released a report in which it stressed that performance of the Palestinian economy is "far below potential."
The Gaza Strip has been under an Israeli siege since June 2007. The blockade has caused a decline in living standards as well as unprecedented unemployment and poverty there.
Some two million Palestinians in the Gaza strip get only three or four hours of electricity a day amid a crippling Israeli blockade.
The power scarcity has, in turn, taken its toll on the water supply routine and the health system in the coastal sliver.
"2017 marks the fiftieth anniversary of the Israeli occupation of the Gaza Strip and the West Bank, including East Jerusalem; the longest occupation in recent history. For the Palestinian people, these were five decades of de-development, suppressed human potential and denial of the basic human right to development, with no end in sight," the report added.
"Instead of the hoped-for two-State solution envisaged by the United Nations and the international community, occupation is currently even more entrenched, while its complex socioeconomic toll has worsened over time," it added.
It goes on to note that the main causes for the economic depression are "continuing loss of land and natural resources to settlements and the annexation of land in the West Bank."
About 600,000 Israelis live in over 230 illegal settlements built since the 1967 Israeli occupation of the Palestinian territories of the West Bank and East Jerusalem al-Quds.
Full report at:
presstv.ir/Detail/2017/09/12/534961/un-palestine-israel-conditions
--------
Arab World
Report: Over 1,000 Civilians Killed in US, SDF Attacks on Raqqa in 3 Months
Sep 12, 2017
At least 1,000 civilians have lost their lives in the US-led and SDF attacks in three months, SOHR said.
It noted that the death toll is related to the US-led and SDF raids during June 5-September 11, 2017.
A sum of 166 women and 236 children are among 1007 civilians killed in Raqqa.
In a relevant development in early July, a monitoring group reported that the total number of the civilians killed or wounded in the US-led Coalition airstrikes in Raqqa city in Northeastern Syria is much higher than the figures declared by the US Army officials.
Airwars, a UK-based group that monitors airstrikes and civilian casualties in Iraq, Libya and Syria, reported it has tracked 119 alleged civilian casualty events at Raqqa, claiming up to 770 deaths, between June 6-29.
The United Nations Commissioner for Human Rights warned at least 173 civilians have been killed by air and ground strikes in Raqqa since June 1, saying this is "likely a conservative estimate and the real death toll may be much higher."
In June, the UN's chair of the Independent International Commission of Inquiry on Syria, Paulo Pinheiro, warned the UN Human Rights Council that the fight in Raqqa shouldn't be "at the expense of civilians," saying it is "gravely concerned with the mounting number of civilians who perish during airstrikes."
Pinheiro said the airstrikes had resulted in a "staggering loss of life."
en.farsnews.com/newstext.aspx?nn=13960621000910
--------
Syria has liberated 85% of its territory from terrorists: Russian military
Sep 12, 2017
The Russian military says the Syrian government has managed to liberate 85 percent of the country from the grips of terrorist groups, some two years after Moscow began a counterterrorism campaign in Syria at the official request of Damascus.
Lieutenant General Aleksandr Lapin, the Russian chief of staff in Syria, announced the news in a press conference held at Hmeymim Air Base in Syria's western province of Latakia on Tuesday. He added that Syrian forces must now clear the remaining 15 percent of the country, which amounts to 27,000 square kilometers, of terrorists.
Lapin said Syrian troops continued the operation to free the eastern city of Dayr al-Zawr from Daesh Takfiri terrorist group, after they managed to break an almost three-year siege on the embattled city earlier this month.
"Currently the operation to free the city is ongoing. The Syrian military will soon finish off" Daesh terrorists, who "used to occupy the city's neighborhoods," he added.
Lapin stated that Kalibr cruise missiles, launched from the Black Sea escort vessel, Admiral Essen, had destroyed Daesh's command posts and communication networks; an effective move that disrupted control of the terror group's units in Dayr al-Zawr province.
"Over 450 terrorists, five tanks and 42 pickups, with heavy machine guns, were liquidated during the operation," he said.
In a bid to aid the war-torn Arab nation in its war against foreign-sponsored terrorism, in September 2015, Russia started a campaign in Syria at an official request made by Syrian President Bashar al-Assad.
Russian warplanes, based in Hmeymim, have so far significantly aided the government troops in ridding Syria of the widespread militancy. One of the biggest breakthroughs in anti-terror offensives was made in December last year, when Syrian troops, backed by Russian air force, managed to gain full control of the city of Aleppo.
Moscow has also played a major role in co-sponsoring peace negotiations between the so-called armed opposition groups and Damascus to pave the way for implementing local ceasefires in the country and setting up de-escalation zones across Syria in an attempt to reduce fighting across the country.
The sixth round of the intra-Syrian talks is scheduled to be held in the Kazakh capital city, Astana, to facilitate the creation of the fourth de-escalation zone in Syria's western province of Idlib, where significant numbers of Takfiri terrorists, most notably from al-Nusra Front, are operating. The five previous rounds of such talks were also held in Astana, with Russia, Iran and Turkey serving as guarantor states.
The United States and its allies have been bombarding what they call Daesh positions inside Syria since September 2014 without any authorization from the Damascus government or a United Nations mandate. The Syrian government has time and against expressed its strong opposition to the so-called military campaign.
In early August, Damascus wrote similar letters to UN Secretary General Antonio Guterres and the chairman of the UN Security Council, calling for the dissolution of the US-led coalition.
According to a report by the so-called Syrian Observatory for Human Rights in August, 42,234 documented airstrikes in the country had resulted in a minimum estimate of some 7,000 civilians killed by the US-led coalition between 2014 and 2017.
The UK-based group also reported on Tuesday that the so-called "coalition airstrikes killed 12 members of a single family, among them five children, in a village on the eastern banks of the Euphrates River," in the village of al-Shahabat in Dayr al-Zawr province.
Full report at:
presstv.ir/Detail/2017/09/12/534920/Syria-Russia-Daesh-85-Hemeimeem-Dayr-alZawr-Idlib
--------
IUMS urges Saudi Arabia to free Muslim scholars
Sep 13, 2017
The International Union of Muslim Scholars, a Doha-based body, has condemned the reported arrest of Muslim preachers and scholars in Saudi Arabia, urging Saudi King Salman bin Abdulaziz to order their release.
Salman al-Audah, a prominent Muslim preacher and member of the IUMS's board of trustees, and more than 20 others were arrested on Sunday, according to social media postings.
The IUMS said in a statement on Monday that the scholars "should not be used as pawns in political disputes", referring to the crisis between Qatar and four other Arab states - Saudi Arabia, the United Arab Emirates, Bahrain and Egypt.
"In regards to the crisis [with] the Gulf Cooperation Council (GCC) member states, Audah has done nothing but call for unity between these brotherly countries," the statement read, noting that his last tweet urged GCC members to "come together for the sake of their people".
The IUMS is an organisation of Islamic theologians headed by chairman Yusuf al-Qaradawi and headquartered in Qatar.
About 90,000 Muslim scholars are connected through the union, which claims to bring together Sunni and Shia Muslims.
Ali Qara Daghi, IUMS secretary-general, was quoted in the document as saying that Auda was known for his "moderate positions".
Saudi Arabia is yet to issue any official statement regarding the reported arrests.
Sunday's arrests came to light on Twitter after Khalid bin Fahd al-Audah said on Twitter on Sunday that the Saudi authorities had arrested his brother Salman.
He did not elaborate on the time of the arrest or the possible reasons behind it.
On Monday, activists reported on social media that the Saudi authorities had detained more than 20 Muslim preachers and scholars for unspecified reasons.
Alongside Auda, those reportedly detained include prominent Saudi preachers Aaidh al-Qarni and Ali al-Omari.
Activists on Tuesday said Saudi Arabia had detained more preachers and scholars as part of the security sweep.
The activists, who are dedicated to monitoring and documenting what they describe as "prisoners of conscience", reported on social media that at least eight prominent figures, including religious scholars, academics, television anchors and a poet, had been "confirmed" detained since Monday.
"[Salman] Al-Awdah, [Awad] al-Qarni, Farhan al-Malki and Mostafa Hassan [are confirmed]," said Yahya al-Assiri, ALQST head, referring to four of those reported to have been arrested.
"The rest are also correct, but I don't have any specific information."
Qatar-Gulf crisis
Saudi officials could not be reached for comment on the recent arrests.
A Saudi security source told Reuters news agency the suspects were accused of "espionage activities and having contacts with external entities including the Muslim Brotherhood", which Saudi Arabia has classified as a "terrorist" organisation.
The Gulf crisis that the arrests are linked to broke out on June 5 when Saudi Arabia, the UAE, Bahrain and Egypt cut diplomatic and economic ties with Qatar, accusing it of supporting "extremists".
Qatar has strongly denied the accusation.
Full report at:
aljazeera.com/news/2017/09/iums-urges-saudi-arabia-free-muslim-scholars-170912134235564.html
--------
S Arabia arrests four over alleged IS bomb plot
Sep 13, 2017
RIYADH - Saudi security forces foiled an alleged suicide bomb plot by the Islamic State group targeting the defence ministry and arrested four suspects, authorities said Tuesday.
Two of the suspects are alleged Yemeni members of IS while the others are Saudis accused of links to them, the official news agency SPA reported.
They were allegedly preparing to attack two defence ministry headquarters in Riyadh, it reported, without saying when the arrests were made.
"The two Saudis are suspected of involvement with two Yemeni suicide bombers, who were planning attacks against (defence ministry) buildings," SPA said. The Yemeni men were arrested "before they reached their intended target," the agency quoted an unnamed official as saying.
Photos published by SPA showed a safe house - a small, one-storey building in an enclosed courtyard - where the Yemeni men had allegedly sheltered and trained to use suicide belts.
Other photos showed the prepared belts and homemade grenades found inside the house in a northern district of Riyadh.
Full report at:
nation.com.pk/international/13-Sep-2017/s-arabia-arrests-four-over-alleged-is-bomb-plot
--------
Iraq MPs vote against Kurdish referendum
Sep 13, 2017
BAGHDAD - The Iraqi parliament voted on Tuesday to oppose an independence referendum planned by Iraqi Kurdish leaders for later this month prompting a walkout by Kurdish lawmakers.
Speaker Salim al-Juburi, an Arab, said the vote required the government to "take all steps to protect the unity of Iraq and open a serious dialogue" with Iraqi Kurdish leaders.
Prime Minister Haider al-Abadi and other top officials have said repeatedly that the referendum planned for September 25 would violate Iraq's constitution.
Kurdish leaders plan to hold the plebiscite not only in the three northern provinces where they have long enjoyed autonomy but also in other historically Kurdish-majority areas of Iraq that Kurdish forces captured during the battle against the Islamic State group.
Tuesday's vote in the federal parliament was held after 80 lawmakers asked for the issue to be added to the day's agenda.
The planned referendum is non-binding but has been criticised by Iraq's Western allies as a distraction from the war against IS.
Full report at:
nation.com.pk/international/13-Sep-2017/iraq-mps-vote-against-kurdish-referendum
--------
Russian, US-led strikes kill 35 civilians in Syria's Deir Ezzor
Sep 13, 2017
BEIRUT - Separate Russian and US-led coalition air strikes on Tuesday killed 35 civilians in Syria's eastern Deir Ezzor province, where parallel offensives against the Islamic State group are under way, a monitor said.
The province lies along Syria's border with Iraq and is seen as a strategic prize by both the Russian-backed Syrian regime and an alliance of Kurdish and Arab forces supported by the US-led coalition fighting IS.
The Syrian Observatory for Human Rights, a Britain-based monitor, had earlier reported a toll of 28 dead in Russian and US-led strikes, but raised the figure after new Russian raids on the village of Hawayej Thiab in the west of the province.
Earlier, the monitor reported Russian air strikes hit a cluster of tents on the western banks of the Euphrates river, killing "16 civilians including five children," according to the Observatory's director Rami Abdel Rahman.
He said civilians had set up the camp on the edge of the Zaghir Shamiyah village after fleeing their homes in fear of clashes.
Syrian government troops are fighting to the west of the Euphrates River that slices diagonally across Deir Ezzor province, in an assault backed by Moscow.
Separately, the Syrian Democratic Forces, a Kurdish-Arab alliance backed by the US-led coalition, is battling IS east of the river.
The Observatory said deadly US-led coalition raids in support of that operation hit the village of Al-Shahabat earlier Tuesday, killing 12 members of a single family including five children.
IS-held Al-Shahabat lies on the eastern side of the Euphrates, around seven kilometres (four miles) from the river.
Full report at:
nation.com.pk/international/13-Sep-2017/russian-us-led-strikes-kill-35-civilians-in-syria-s-deir-ezzor
--------
Abdullah Al-Muhaysini Leaving Tahrir Al-Sham
Sep 12, 2017
Al-Muyaysini together with another mufti of Tahrir al-Sham named Mosleh al-Aliyani in a statement released on social networks on Monday declared their separation from the terrorist alliance, the Arabic-language media reported.
Al-Muhaysini and al-Aliyani mentioned the reason behind their separation as to be recent clashes between Tahrir al-Sham and Ahrar al-Sham in Idlib province and also leakage of the audio files and disrespecting the religious leaders (muftis).
In a relevant development on Monday, media reports said that the audio files leaked in recent days indicate widening rifts among the commanders of the Al-Nusra Front terrorist group.
The commanders and religious muftis of Al-Nusra Front are at odds over a recent request by an Al-Nusra commander in Idlib who asked Chief Commander of Al-Nusra Front Abu Muhammad Julani for permission to arrest Abdullah Muhammad al-Muhaysini, the commander and Mufti (religious leader) of Tahrir al-Sham Hay'at during an upcoming visit to Al-Nusra bases, the Arabic-language al-Hadas news website reported.
Al-Julani, however, rejected the request by Al-Nusra commander in Idlib Abu Hamzeh Banesh, and told him that he would prevent further visits to Al-Nusra military bases by al-Muhaysini.
In a relevant development in late July, Tahrir al-Sham ultimately pushed Ahrar al-Sham back from Idlib city after weeks of bloody clashes in Northwestern Syria.
The Arabic-language al-Mayadeen news network quoted informed sources affiliated to the terrorist groups as saying that Tahrir al-Sham has gained full control over Idlib city and has driven the entire members of Ahrar al-Sham out of the city.
The network added that regardless of the ceasefire, fierce clashes between Tahrir al-Sham and Ahrar al-Sham are underway to take control of passageways and command centers.
Full report at:
en.farsnews.com/newstext.aspx?nn=13960621000643
--------
Senior Commanders Defect Terrorist Groups, Join Syrian Army
Sep 12, 2017
The Russian Defense Ministry in a statement said ten commanders of illegal armed formations had come over to the side of the Syrian government forces.
According to the Russian ministry's statement, the defections were arbitrated and ultimately guaranteed via the Russian Centre for the Reconciliation of Opposing Sides in the Syrian Arab Republic.
Information on the specific groups to which the ten defecting commanders belong, the names of the battlefield leaders themselves and the time period of which the claimed event has occurred was not clarified.
In a relevant development in late July, militants in seven more villages and towns in Homs province handed over their weapons to the Syrian Army and joined peace agreement with Damascus government, the Russian Defense Ministry announced.
The Russian Defense Ministry said that gunmen in seven villages and towns in Homs province surrendered to the army and joined the nationwide reconciliation plan, adding, "The total number of regions, towns, settlements and villages that have thus far ended fight with the Syrian army stands at 2,032."
The ministry added that talks between the army and representatives of the militants are underway in the provinces of Aleppo, Idlib, Damascus, Hama, Homs and Quneitra.
The Russian Defense Ministry announced last week that militants in 2,000 towns, villages and regions ended battle against the Syrian Army and joined nationwide reconciliation plan.
Full report at:
en.farsnews.com/newstext.aspx?nn=13960621000787
--------
Barzani: Kurdish independence referendum on schedule
13 September 2017
The head of the Iraqi Kurdistan region Massoud Barzani pledged to press ahead with a referendum on the independence of the region on September 25, despite a nay-vote by the Iraqi parliament.
Barzani said that Erbil considered the decision of the Iraqi parliament as non-binding.
On Tuesday Kurdish deputies withdrew from the Iraqi parliament after it rejected the referendum vote.
Iraqi parliament speaker, Salim Juburi, said that the decision reflects the keenness of the House of Representatives on the unity of Iraq and the people of Iraq.
He stressed that the parliament is "obliging the Prime Minister to take all measures that preserve the unity of Iraq and start a serious dialogue to address outstanding issues between Baghdad and the region."
On June 7 Kurdish parties announced that the independence referendum will be conducted on September 25. The decision, however, was rejected by the Iraqi government and a number of countries, notably the United States of America, Turkey and Britain.
Full report at:
english.alarabiya.net/en/News/middle-east/2017/09/13/Barzani-Kurdish-independence-referendum-on-schedule.html
--------
Egypt says controversial cleric al-Qaradawi still under Interpol's red list
12 September 2017
The Egyptian Ministry of Interior has denied that controversial Qatar-based preacher Yousef al-Qaradawi's name was removed from the Interpol wanted lists, confirming that his name is still listed in the international red alert issued to prosecute the convicts.
A security source in charge of the public security sector in the ministry said that based on coordination with the Interpol, the database listed is still in force and had not been canceled.
The list includes the names of al-Qaradawi and other Muslim Brotherhood leaders sentenced in cases involving violence, killings and terrorism.
The source said that he held a closed meeting at the headquarters of the Organization in France to discuss the case of the convicted Youssef Al-Qaradawi, in the light of what was raised via some media outlets.
The meeting concluded that the international bulletin issued by the Interpol in Cairo is still in force and ignoring his calls to the Human Rights Committees to cancel the list.
Iraq also pursues al-Qaradawi
The source pointed out that there is another international communiqué issued to pursue al-Qaradawi at the request of Iraq's Interpol, accusing him of inciting the killing of former Prime Minister of Iraq Nuri Maliki, confirming that his listing is still in force.
The Egyptian authorities have made an urgent request to Interpol to clarify the truth about the removal of the name of al-Qaradawi who is sentenced to death in the case of storming prisons.
Full report at:
english.alarabiya.net/en/News/middle-east/2017/09/12/Egypt-Al-Qaradawi-is-still-wanted-Iraq-also-in-pursuit.html
--------
Syrian president, Russian defense minister discuss anti-terror operations
Sep 13, 2017
Syrian President Bashar al-Assad and Russian Defense Minister Sergei Shoigu have met to discuss bilateral defense ties and an upcoming Damascus offensive to fully liberate the eastern city of Dayr al-Zawr from Daesh terrorists.
During the Tuesday meeting in Damascus, Shoigu submitted a letter from Russian President Vladimir Putin to Assad, "congratulating him on lifting the siege" imposed by Daesh on Dayr al-Zawr, the Syrian presidency said in a statement.
The two sides underlined their resolve to continue counter-terrorism efforts across Syria until terrorism is defeated completely, noting that the fate of the war in Syria will determine the future map of the region.
"During the meeting, the issues of military and military-technical cooperation were discussed in the context of the successful actions of the Syrian government troops with the support of the Russian Aerospace Forces" aimed at the complete destruction of Daesh, the Russian Foreign Ministry said in a statement.
Last week, Syrian government forces, backed up by Russia airstrikes, reached Dayr al-Zawr on the Euphrates River, breaking a three-year terrorist siege on the city and a nearby air base.
Syrian soldiers are now preparing for a fresh offensive to cleanse Day al-Zawr of Takfiri Daesh militants. Reports said Monday that huge military reinforcements, including equipment, vehicles and troops, had been deployed to the city ahead of the new army push.
According to the Russian chief of staff in Syria, the Syrian government has managed to liberate 85 percent of the country from the grip of terrorist groups.
In a bid to aid the Arab nation in its war against foreign-sponsored terrorism, Russia started a campaign in Syria in 2015 at the Damascus government's request.
Russian warplanes, based in Hmeymim, have so far significantly aided government troops in ridding Syria of the widespread militancy.
Assad and Shoigu further pointed to the upcoming Syrian peace talks in the Kazakh capital Astana on Thursday and Friday, and discussed ways to strengthen deescalation zones in Syria in an attempt to pave the ground for a lasting ceasefire.
The Astana peace process began in January, a month after the Syrian army and its allied forces dealt a fatal blow against the Takfiri militants in Aleppo.
The process, which is being mediated by Russia, Iran and Turkey, is aimed at facilitating local ceasefires in Syria and setting up deescalation zones amid negotiations between the warring parties.
'Syria anti-terror war almost over'
On Tuesday, Lebanese daily al-Akhbar cited Hezbollah Secretary General Seyyed Hassan Nasrallah as saying that the Syrian government has won the war in the country
"We have won in the war (in Syria)...and what remains are scattered battles," said Nasrallah.
Over the past six years, Hezbollah has been assisting Syria's government in the fight against terrorists in a bid to prevent a spillover of violence into Lebanon.
The group launched an operation last month to recapture areas from other terror groups in Lebanese regions near the Syrian border.
The Lebanese army launched a long-anticipated battle on August 18 to clear its border regions from Daesh. Hezbollah and the Syrian army also contributed to the battle on the other side of the border in Syria.
Full report at:
presstv.ir/Detail/2017/09/13/534981/Syria-Russia-Daesh
--------
Iraqi premier says Kurdish referendum on independence 'unconstitutional'
Sep 12, 2017
Iraqi Prime Minister Haider al-Abadi says the planned Kurdish referendum on independence from the Arab country is "unconstitutional," warning that the Kurds are "illegally" exporting Iraq's oil.
"I call upon the Kurdish leadership to come to Baghdad and conclude a dialogue," Abadi said in a press conference in the Iraqi capital, Baghdad, on Tuesday, a few hours after the country's parliament overwhelmingly voted against the plebiscite, which has been planned by the Kurdistan Regional Government.
Parliament Speaker Salim al-Jabouri said the vote made it incumbent on the government to "take all steps to protect the unity of Iraq and open a serious dialog" with Kurdish officials. The vote prompted Kurdish lawmakers to quit the parliament floor.
Abadi also stated that Kurdish authorities were illegally extracting crude oil from the oil-rich territories in the northern province of Kirkuk and continued exporting the invaluable national resource. He did not give further details.
The Kurdish referendum is scheduled for September 25, but the central government in Baghdad is strongly opposed to the vote. Iran, Turkey and Syria also oppose the idea of an independent Kurdistan. In June, Tehran expressed opposition to the "unilateral" scheme for independence of the Iraqi Kurdistan, underlining the importance of maintaining the integrity and stability of Iraq and insisting that the Kurdistan region was part of the majority Arab country.
Turkey has also censured efforts to establish an independent Kurdistan as "a grave mistake." Ankara says potential creation of an independent Kurdish state in its backyard would further embolden Turkey's homegrown Kurdistan Workers' Party (PKK) militants toward an even stiffer confrontation with the government.
Full report at:
presstv.ir/Detail/2017/09/12/534945/Iraq-Abadi-Kurds-referendum
--------
Africa
Nigeria urges end to 'ethnic cleansing' in Myanmar
12.09.2017
Nigeria has condemned the "ethnic cleansing" in Myanmar, calling on the UN to invoke the principle of "responsibility to protect" to rein in the security operations that have led to the forced displacement of Rohingya Muslims.
"The Federal Government condemns the horrendous human suffering caused by what is now confirmed by the United Nations High Commissioner for Human Rights in his statement to be a 'textbook example of ethnic cleansing' of the Rohingya people," the Nigerian government said in a statement on Tuesday.
The government said the situation in Myanmar was a "reminiscence" of what happened in Rwanda and Bosnia -- where acts of genocide were committed, respectively in 1994 and 1995.
Nigeria urged UN member countries to condemn the bloodshed in Myanmar and join efforts to end the violence and create conditions conducive for peaceful and safe return of the hundreds of thousands of Rohingya refugees.
An estimated 370,000 Rohingya Muslims have fled Myanmar since Aug. 25, according to the UN.
The refugees are fleeing a fresh security operation in which they have said security forces and Buddhist mobs have killed men, women and children, looted homes and torched Rohingya villages.
According to Bangladesh, around 3,000 Rohingya have been killed in the crackdown.
Nigeria addresses issue for 1st time
Turkey has been at the fore of providing aid to Rohingya refugees and President Recep Tayyip Erdogan has said he will raise the issue at the UN.
Nigeria, which is considered a Muslim majority country with an estimated 100 million people -- slightly more than half of the country's estimated 180 million, the largest population on the African continent -- addressed the issue for the first time on Tuesday since the security crackdown began late August.
Rohingya, described by the UN as the world's most persecuted people, have faced heightened fears of attack since dozens were killed in communal violence in 2012.
Last October, following attacks on border posts in Rakhine's Maungdaw district, security forces launched a five-month crackdown in which, according to Rohingya groups, around 400 people were killed.
The UN documented mass gang rapes, killings -- including infants and young children -- brutal beatings and disappearances committed by security personnel.
In a report, UN investigators said the human rights violations may have constituted crimes against humanity.
Over the weekend, the country's apex Muslim umbrella body, the Supreme Council for Islamic Affairs, also called the development in Myanmar "crimes against humanity".
aa.com.tr/en/africa/nigeria-urges-end-to-ethnic-cleansing-in-myanmar/908228
--------
What makes young African Muslims join jihadi groups?
12.09.2017
For years, Khadijah Hawaja Gambo has been struggling with an uncomfortable question: What exactly drives young African Muslims to Islamism and eventually into the clutches of jihadi organizations like Boko Haram? "Many young Nigerians are so frustrated that they are desperately looking for an escape," said the Nigerian human rights activist in an interview with DW. "Yet most don't find that escape and just become more angry, frustrated and aggressive toward society." From there, she explained, it is just a small step towards radicalization.
Gambo is a Muslim herself, and comes from the central Nigerian city of Jos, which last year became the site of bloody attacks carried out by the Islamist terror organization Boko Haram. Since 2011, she has been forced to look on as more than 17,000 Nigerians became victims of jihadi terror. Some 2.8 million people, especially in northern Nigeria, have been forced to flee their homes as a result. Gambo is appalled by the many suicide attacks often carried out by underage youths in the name of the radical interpretation of Islam that Boko Haram preaches.
UN study: Not motivated by religion
Nigeria is just one of many African countries having to deal with radical Islamic terrorist groups: Besides Boko Haram, which operates in northeastern Nigeria as well as adjacent territories, the militant group al-Shabab has been fighting for years to gain control of Somalia. A branch of al Qaeda, among others, is active in Mali. According to the United Nations, between 2011 and 2016 some 33,000 people in Africa were the victims of extremist violence. A UN report also found that young Muslims in Africa were less likely to be radicalized by religious motivation than by poverty and lack of opportunity. For its study "Journey to Extremism in Africa," the UN Development Program (UNDP) spent two years interviewing some 500 former members of radical groups across the continent.
Khadijah Hawaja Gambo read the 128-page study and agrees with the authors' findings. She believes those who truly understand Islam know that the radical interpretations of groups such as Boko Haram are deeply un-Islamic. "The less a person knows about Islam, the more susceptible they are to the ideology of terrorist organizations," Gambo said. "People who don't know about Islam believe in anything that such groups sell them as Islam." The UNDP's study seems to back Gambo's theory: It found that 57 percent of those questioned knew little or nothing about Islamic religious texts. According to the study's findings, six years or more of religious education reduced the likelihood of radicalization by some 32 percent.
Youth susceptible to extremist rhetoric
The most typical recruit for such organizations is not a religious fanatic seeking the foundations of his beliefs but rather a "frustrated person that has been marginalized and feels left behind," summarize the report's authors. They also found that extremist rhetoric fell upon fertile ground when it came to young people lacking opportunity in Africa's poorest and most remote regions. One example thereof is al-Shabab, which has been recruiting fighters for Somalia's civil war since 2006, not only in its home country but also in neighboring states. The group's stated goal is to establish an Islamic theocracy on the Horn of Africa and to take part in a global "holy war."
"Young people are promised work and money, they think they will be better off if they join these groups, and that they will be able to support their families," said Salma Himid of the Mombasa-based human rights organization HAKI Africa. She, too, sees economic rather than religious or ideological motivation as the main thing driving young people to join jihadi groups. She supports the opinion of the UNDP's Africa director, Abdoulaye Mar Dieye, who described the study's findings as a wake-up call for African governments.
Himid, who has studied the topic of youth movements and Islamism for years, says that "paths to economic advancement for young Africans" are necessary if extremists are to be denied future recruits. She gives the following advice to young Africans: "Don't fall for the traps set by these Pied Pipers! It is the wrong path!" Himid is also calling for the creation of information centers across Africa in order to allow young people to get out of Islamist organizations or, better still, keep them from joining in the first place.
Radical Islamism: 'A very sensitive topic'
Full report at:
dw.com/en/what-makes-young-african-muslims-join-jihadi-groups/a-40477088
--------
Hon. Okello Addresses First Summit of the Organisation of Islamic Cooperation On Science and Technology
12 SEPTEMBER 2017
Hon. Okello who is leading a 9-person delegation is attending the First Summit of the OIC on Science and Technology which runs from 9-11th September 2017 in Astana, Kazakhstan
KAMPALA, Uganda, September 12, 2017,-/African Media Agency (AMA)/-Minister of State for Foreign Affairs in charge of International Affairs, Hon. Henry OryemOkello, has called upon the OIC Summit on Science and Technology to increase funding in Science and Technology Research and Development in Universities and Institutions funded by the Organization of Islamic Cooperation (OIC), including Islamic University in Uganda.
Hon. Okello who is leading a 9-person delegation is attending the First Summit of the OIC on Science and Technology which runs from 9-11th September 2017 in Astana, Kazakhstan. He made the remarks on September 10th, during the inaugural and first working session during which heads of high-level foreign delegations and international organizations delivered their statements.
The Astana Summit has been described by various quarters as a historic event for the entire Islamic world and, which will help to establish a framework to hold Science and Technology Summits on the regular basis. The Astana Summit is meant to ensure a clear understanding of the necessity to completely reduce scientific and technological gaps between Muslim Ummah and developed countries and it will also contribute to the earliest implementation of the UN Sustainable Development Goals (SDGs) and promote the principles of cooperation and solidarity among all OIC Member States.
It is envisioned that it will mark beginning of a new process aimed at rethinking the historical role of the Muslim Ummah in the area of scientific and technology modernization of the world community and, as a practical step. The outcome of the Summit is expected to be the adoption of an OIC Science, Technology and Innovation Agenda 2026 and the Astana Declaration.
Hon. Okello who was accompanied by Hon. EliodaTumwesigye, Minister of Science and Technology and officials from the Ministries of Science, Technology and Innovation and Foreign Affairs expressed concern to the Summit that there was a need to reduce scientific and technological gaps in the Members States. He informed the Summit that Uganda's challenge, which was not much different from others in the developing world, was in the current education system, which emphasizes theoretical academic work with little depth on applied science, engineering and technical skills which are central to technological innovations.
He emphasized that the Government of Uganda had given high priority support to the Science, Technology and Innovation sector in its overall development strategy by establishing the Uganda National Council for Science and Technology (UNCST) as the overall sector coordination agency. He said that the UNCST has developed and reviewed that National Science, Technology and Innovation Policy which the Government formally adopted. To implement this policy the Government later created a fully-fledged Ministry of Science and Technology.
The second and final day of the Summit, (September 11), will be devoted solely to searching new methods and tools to develop science and cross-sector international cooperation, in order to strengthen the technological capacity of the OIC Member States.
The Astana Declaration is a political document, the adoption of which will be a clear sign of determination of the OIC Member States to support science and technology as a priority, including in the framework of the OIC 2025: Programme of Action and the Outcome Document of the Astana Summit. The Declaration will reflect the importance of developing and implementing initiatives and programs, as well as inferential research in the field of education, professional skills, basic and applied sciences, primarily aimed at resolving urgent social problems.
Full report at:
allafrica.com/stories/201709121008.html
--------
Somalia: Al-Shabaab Claims Killing 30 Soldiers in Balad Hawo Attack
11 SEPTEMBER 2017
Somali government forces have regained control of a town on the border with Kenya after al Shabaab militants stormed an army base there on Monday, causing heavy clashes in which at least 17 people died, the military said.
Islamist insurgents attacked the base at Balad Hawo early in the morning with a car suicide bombing before entering the compound, both sides said.
"We were awoken by a suicide car bomb this morning and then fierce battle followed," Major Mohamed Abdullahi told Reuters from the town.
"We chased al Shabaab out of the town," he said.
Al Shabaab spokesman Abdiasis Abu Musab said the group's fighters left the town after releasing 35 prisoners from the local jail. At least 30 soldiers were killed, he said.
According to the military official, at least 10 soldiers and seven al Shabaab militants were killed, though the death toll on both sides could still rise.
Formed in 2006, Al Shabaab wants to topple the Western-backed government and impose its strict interpretation of Islam. Somalia has been at war since 1991 when clan-based warlords overthrew dictator Siad Barre and then turned on each other.
Al Shabaab carry out frequent attacks on security and government targets, but also on civilians. They also target African Union peacekeeping troops.
Residents confirmed fighting had ended and that the militants had left the town.
"Now Balad Hawo is calm and government forces fully control it," Ahmed Hassan, a resident of the town told Reuters.
Full report at:
allafrica.com/stories/201709120211.html
--------
Europe
Minister: 12 terror attacks foiled in France this year
13 September 2017
Twelve terror plots have been thwarted in France since the start of the year, Interior Minister Gerard Collomb said Tuesday, warning that the threat remains "strong".
Among the previously unpublicized cases was a planned attack, foiled in May, on an air force training school in the southern town of Salon-de-Provence, the minister said, without giving details.
Another plot targeting "a barracks, a police station or a supermarket with hostage-taking," was averted in January.
"The threat remains strong," Collomb told a parliamentary committee considering government proposals for new anti-terror laws.
"We see that we are moving from an outside threat to an internal threat, and we have to be able to adapt to the evolution of this threat," he added.
In the most recent foiled plot, homemade explosives ready for use were found in an unoccupied flat near Paris last week.
The parliamentary deputies are considering the controversial terrorist law plans which are designed to replace, on November 1, the state of emergency which France has been under since ISIS militants struck in Paris in November 2015, killing 130 people.
The new laws -- a campaign pledge of President Emmanuel Macron -- will give authorities the power to place people under house arrest, order house searches and ban public gatherings without the prior approval of a judge.
english.alarabiya.net/en/News/world/2017/09/13/Minister-12-terror-attacks-foiled-in-France-this-year.html
--------
Moroccan involved in Barcelona attack escapes with fleeing civilians
13 September 2017
A video has surfaced showing scared civilians escaping a mall in Barcelona following terror attack on August 17. The woman who filmed the video can be heard frequently asking those running away what had happened.
In the attack, a Moroccan man ploughed a van into dozens of people in Las Ramblas, Barcelona, killing 14 and leaving over 100 injured.
What was rather shocking in the video – aired Tuesday on Spanish channel Atena 3 and later by Al Arabiya.net – was a man seen at the 42-second mark, leaving the La Boqueria mall, adjacent to the attack's location.
The woman asked him the same question when she passed by him: "Do you know what's happening?", but he responded saying: "I don't know what happened," then left without a trace.
The van's driver
The young man is said to be Younes Abu Yakoub, who was actually the van's driver. Yakoub fled the scene immediately after the attack, which ISIS had claimed responsibly for.
However, police in Subirats, located 50 kilometers away from Barcelona, surrounded him in a vineyard after receiving a call from a woman who claimed that one of the attack's suspects was in the city.
Yakoub was found wearing what was later discovered to be a fake explosive belt. The two sides exchanged fire until the 22-year-old attacker was shot dead.
Master plan
Yakoub had initially worn a shirt over the polo we see in the video, but later took it off after leaving the van. He walked 250 meters into the market to disappear in the crowd and soon enough escaped the city.
Full report at:
english.alarabiya.net/en/News/north-africa/2017/09/13/WATCH-Moroccan-involved-in-Barcelona-attack-escapes-with-fleeing-civilians.html
--------
London conference to highlight Qatar's funding of terror groups, rights abuses
13 September 2017
Organizers of the Qatar Global Security & Stability Conference, which is scheduled to be held in London on Thursday, have announced that the conference will address several issues including:
• Qatar's sponsorship of banned terror groups to extend its influence in the region;
• Human rights abuses and the denial of democratic rights within Qatar;
• The role of Al Jazeera network along with other soft power tools to promote its aims.
According to a statement released by the organizers, the conference, which is the first of its kind, will bring together hundreds of world-renowned political figures, policy makers, academics, commentators to discuss democracy, human rights, press freedom and counter-terrorism in Qatar.
The conference is being held despite Doha's attempts to put pressure on western political personalities to boycott the event.
It is being organized by Qatari businessman and reformist, Khalid al-Hail, along with a number of exiled Qataris, who are seeking a resolution to the regional crisis and a more stable future for Qatar.
The statement added that the conference schedule has been worked out in great secrecy, because of concerns related to the response from the Qatari regime.
True facts
"The aim of this conference is to highlight the true facts about Qatar that are not being voiced because of the power wielded by the current regime in Qatar," said Khalid al-Hail, spokesman for the Qatari opposition.
The conference will be divided into five panels:
1. Qatar: Political Islam and terrorist support
Addressing the contradictory positions taken by Qatar while opposing other Gulf states in its support of political Islam and terrorist groups
2. Qatar and Iran's Foreign Policy: A Source for Regional Instability
Focusing on how Qatar and Iran's foreign policy has contributed to the general instability and insecurity that now characterizes the regions of the Middle East and North Africa. It will look at the extent to which Qatar and Iran, in pursuit of their own self-interest, have had a detrimental effect on stability in the region.
3. A forbidden debate: Qatar's aspirations for global prestige, democracy and human rights
This panel will discuss Qatar's abuses of human rights in the context of the 2022 Football World Cup as well as examine its violation of international human rights laws.
4. Al Jazeera: Free Press vs. Voice of terror?
In the early days of Al Jazeera it was considered a beacon of free press and a challenge to authoritarian Middle East regimes. However, its recent coverage shows a more biased approach in sync with Qatar's foreign policy. Using a number of exclusive sources, this panel will examine the spectrum of thought about Al Jazeera.
5. A Vicious Circle: Economy, Geopolitics and Global Energy Security
Full report at:
english.alarabiya.net/en/News/gulf/2017/09/13/London-conference-to-highlight-Qatar-s-funding-of-terror-groups-rights-abuses.html
--------
Merkel: No blanket ban on arms exports to Turkey
13 September 2017
German Chancellor Angela Merkel on Tuesday came out against a blanket ban on arms exports to NATO ally Turkey, amid political tensions between Berlin and Ankara.
Speaking to German public radio NDR, Merkel rejected calls by opposition parties for a total ban on arms sales to Turkey, calls that emerged during campaigning for the Sept. 24 general elections.
Merkel said that her conservative-left coalition government already took a more restrictive policy on such exports, with permits issued on a case-by-case basis, if Germany's Federal Security Council decides in their favor.
"Turkey is together with us in NATO," Merkel stressed, mentioning Germany's responsibilities as a member of the pact.
"We are alliance partners. We are also dependent on cooperation with Turkey on security issues. Also in terms of information exchanges regarding terrorist activities," she added.
Full report at:
worldbulletin.net/europe/193919/merkel-no-blanket-ban-on-arms-exports-to-turkey
--------
Islamic State flags not flying in Bosnia: PM
SARAJEVO: Islamic State flags are not flying in Bosnia, Prime Minister Denis Zvizdic said on Tuesday, dismissing allegations by some European leaders that radical Bosnian Muslims in the Balkan country were posing a terrorist threat for Europe.
Bosnian Muslims generally practise a moderate form of Islam but some have adopted radical Salafi Islam from foreign fighters who came to the country during its 1992-95 war to fight alongside Muslims against Orthodox Serbs and Catholic Croats.
Some joined Islamic State in Syria and Iraq but police said departures had stopped completely in the past 18 months and more than half of those who returned have been jailed under a law prohibiting people to fight in foreign countries.
Czech President Milos Zeman has said there was a risk Islamic State may form its European base in Bosnia, where "ISIS (Islamic State) black flags are already flying in several towns", according to reports.
Croatian President Kolinda Grabar-Kitarovic has warned of "thousands of fighters returning to Bosnia from Syria and Iraq", while Croatian magazine Globus last week put the number of radicalised Bosnian Muslims at 5,000-10,000.
Zvizdic said such allegations were unfounded and politically motivated and could damage Bosnia as an investment and tourism destination.
"ISIS flags are not flying in Bosnia," Zvizdic told reporters after meeting the security minister and the heads of five security and intelligence agencies.
"There have been no departures to foreign war zones, we have not had any incident that could be characterised as an act of terrorism and we work to prevent the possibility of any such incident," Zvizdic said, referring to the last two years during which several terrorist attacks took place across Europe.
Bosnia's security agencies say a total of 240 Bosnian citizens have departed to fight for Islamic State since 2012, and 116 remained there. Out of 44 who had returned to Bosnia, 23 were jailed.
Security Minister Dragan Mektic said terrorism threats in Bosnia were mainly external and its agencies last month prevented a person with possible links to terrorists from entering the country.
Full report at:
channelnewsasia.com/news/world/islamic-state-flags-not-flying-in-bosnia-pm-9210196
--------
New French security law violates rights - Human Rights Watch
Sep 12, 2017
PARIS, Sept 12 (KUNA) -- Prominent NGO, Human Rights Watch (HRW), on Tuesday warned in a statement that the new French domestic security law that is currently being tabled in Parliament does not have adequate safeguards and violates a number of basic rights.
President Emmanuel Macron called on the government to modify the current, temporary State of Emergency powers into a permanent law, which would give sweeping, quasi-permanent powers to police, intelligence and other security services.
Since November 15, when France was subjected to a massive spate of terrorist attacks in Paris, which killed 130 people and wounded hundreds, the government has regularly renewed a State of Emergency, expanding police powers of arbitrary arrest, searches without warrant and detention under house arrest.
In addition, intelligence services were given extensive rights to monitor and intrude on internet and telephone communications and limits were put on mobility of individuals suspected of sympathies or links with radical groups, namely so-called Islamic State.
Some of the police powers have been modified and loosened under the new draft bill, notably house arrest has been transformed to strict monitoring in a confined locality and the imposition of tracker bracelets on people with "S" security-risk designations. Those individuals would have to clock in at the local police station once a day, according to the draft law.
But the numerous "State of Emergency" periods had a limited legal validity and had to be renewed by Parliament every six months. The new law would institutionalise many of the State of Emergency powers and they would become the norm for several years.
"France's new counterterrorism bill grants the executive far-reaching powers to clamp down on the ability of ordinary people in France to worship, assemble, move freely, express themselves, and enjoy their privacy," HRW said in its statement.
The government says that the legal powers are necessary to fight terrorist threats and curtail the growth of networks that support terrorism in France.
Under pressure for parliamentarians, particularly in the French Senate, the new law would expire in 2021 instead of becoming fully permanent.
France's Muslim community, which numbers around five million, appears particularly vulnerable to the new law and Muslims complain they have already been victims of police targeting because of the attacks here claimed by so-called Islamic State.
Interior Minister Gerard Collomb said in Parliament on Tuesday that 17 Mosques have been closed here since the spate of terror attacks because of their links or for preaching of radicalism.
"The bill would grant increased powers to prefects, the interior minister's local representatives, to designate public spaces as security zones, limiting who could enter and leave them; to limit the movement of people considered a national security threat; to close places of worship; and to search private property," Human Rights Watch said.
The NGO complained that judges and the judiciary in general are being left out of key areas of responsibility in applying the law and the local government administrators, or Prefects, would assume these powers.
France's Civil Rights Czar, former conservative Minister Jacques Toubon, who has the title of "Defender of Rights," has called the new law "a poison bill" and said it does not give satisfactory guarantees on rights.
He warned in a recent statement that the expanded powers of security forces target "only a certain category of the population ... people who in one manner or another are practicing the Muslim religion." Indeed, Human Rights Watch noted that "given the lack of any legal powers to address discrimination in the use of these powers, these new powers risk exacerbating ethnic profiling against a background of longstanding concerns about discrimination in identity checks." The new law is certain to be adopted in the coming days, given the strong pro- Macron majority in Parliament, but the Constitutional Council, which must approve it, could reject certain articles or send the whole bill back to the legislative body.
Full report at:
jk.bs kuna.net.kw/ArticleDetails.aspx?id=2635840&Language=en
--------
URL: https://www.newageislam.com/islamic-world-news/white-house-condemns-violence-rohingya/d/112512
New Age Islam, Islam Online, Islamic Website, African Muslim News, Arab World News, South Asia News, Indian Muslim News, World Muslim News, Women in Islam, Islamic Feminism, Arab Women, Women In Arab, Islamophobia in America, Muslim Women in West, Islam Women and Feminism