New Age Islam News Bureau
4 Apr 2017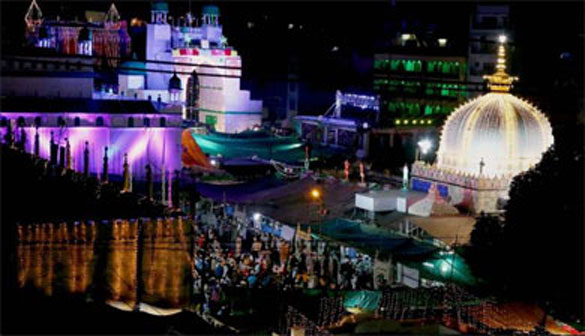 Ajmer shrine. PTI File Photo
------
• Where Is ISIS Leader Baghdadi? The US Isn't Quite Sure
• After His Release: What Future Awaits Libya's Saif Al-Islam Gaddafi?
• It's Time for All Faiths to Publicly Support Muslim Canadians: Farber
• Ajmer Dargah Head Asks Muslims to Give Up Beef
• Democratic Terrorists More Dangerous Than Militants: Jamaat-e-Islami
Arab World
• Where Is ISIS Leader Baghdadi? The US Isn't Quite Sure
• Infighting Renews Among Various Terrorist Factions in Idlib
• Russia Using Laser-Guided Bombs in Syria Airstrikes
• Gen Raheel's role in Saudi-led military alliance concerns Iran
• SDF Vows Tough Battle against Turkish Army in Al-Bab
• Syria: Army Takes Back Most Militant-Held Regions in Northern Hama
• Al-Nusra Fails in Desparate Attack on Army in Northern Homs
• Syrian Army Destroys Al-Nusra Front's Command Center in Dara'a
• Syrian Army Intensifies Attacks on ISIL's Positions near Deir Ezzur City
• Damascus: Syrian Army Blasts All Terrorists' Tunnels between Barzeh, Qaboun Regions
• Terrorists' Centres in Aleppo Province Receive Severe Blow in Syrian Armed Forces' Attacks
--------
Africa
• After His Release: What Future Awaits Libya's Saif Al-Islam Gaddafi?
• Burkina Faso's New War against Militant Islamists
• Tunisian nightclub shut down over Muslim call to prayer remix
• African diplomats slam India over racist attacks
--------
North America
• It's Time for All Faiths to Publicly Support Muslim Canadians: Farber
• Donald Trump Tells Abdel Fattah El-Sisi, US and Egypt Will Fight Islamic Militants Together
• Bahai Refugee's Home Trashed With Anti-Muslim Graffiti in US
• Muslim-American leaders support Australian imam's rejection of radical Islam
• NATO Ally Turkey Working with U.S. Muslim Brotherhood
--------
India
• Ajmer Dargah Head Asks Muslims to Give Up Beef
• NIA Issues Fresh Summons To Zakir Naik, Asks Him to Appear On April 17
• Centre to identify, arrest and deport Rohingya Muslims
• Uttar Pradesh: Five Muslim Families Who Fled Hapur After Clash Return After Assurance From Cops
--------
Pakistan
• Democratic Terrorists More Dangerous Than Militants: Jamaat-e-Islami
• Pakistan Keeps Mum over Iran Envoy's Remarks
• Saiful Malook Reprinted After 150 Years
• Hindu Boy Immolates Himself in Nagarparkar to Achieve 'Mukti'
• Pakistan stresses need for political settlement of Afghan conflict
• Afghan refugees' voluntary repatriation resumes
--------
Southeast Asia
• Ahok Trial: Muslims Protesting Against Governor Misled By Conservatives, Key Islamic Organisation Says
• Controversial Islamic Scholar Not A Threat To Malaysia: Zahid
• Siti Kasim told by Perak mufti to understand Islam
• Hadi seeks special committee to review Bill banning child conversions
--------
Mideast
• Iran against General Raheel Sharif Heading Islamic Military Alliance: Envoy
• Erdogan Says Turks in Europe Should Defy 'Grandchildren of Nazism'
• Houthi leader reveals mass exodus of militants near Lahij
• Iran deal devised based on mistrust of US: Zarif
• Iran, US, UN decry deadly St. Petersburg attack
• Turkey coup staged with government knowledge: Opposition leader
• 262 Turkish diplomats, soldiers seeking asylum in Germany
--------
Europe
• French Paper Highlights Morocco's Tolerant Islam as Bulwark against Extremism
• British Military Trainers Will Fight ISIS in Jordan
• Russia metro attack staged by Kyrgyz suicide bomber
--------
South Asia
• Suicide Attacks Intensify Bangladesh's Rising Radicalism
• Ex-Taliban Commander Threatens Action If Conditions Deteriorate In Afghanistan
• Civilians suffer casualties in Afghan Special Forces operation in Helmand
• Paktika deputy intelligence chief killed in Taliban militants attack
• 30 thousand kg of C4 explosives seized by Afghan forces in Bagram
Compiled by New Age Islam News Bureau
URL: https://www.newageislam.com/islamic-world-news/where-isis-leader-baghdadi-isnt/d/110644
--------
Where Is ISIS Leader Baghdadi? The US Isn't Quite Sure
4 April 2017
The United States has "tons" of intelligence on ISIS chief Abu Bakr al-Baghdadi, but so far, it's "nothing credible," a counterterrorism official told ABC News in a report published on Monday.
Believing that they were once close to tracking down the elusive leader, that feeling has now faded with the belief that the world's most wanted terrorist is on the move from Mosul – Iraq's second-largest city that Iraqi forces are currently fighting to liberate from ISIS.
"There was a sort of 'spidey sense' at that time [the week Donald Trump was sworn in as president last January] that they were close, but that has gone away," a senior counterterrorism official briefed on the hunt to find Baghdadi told ABC News.
"We don't think he's in Mosul anymore," another counterterrorism official involved in the campaign to fight ISIS told the news network. "He's on the move."
'Under a pile of rubble?'
"We have tons of intelligence reporting on al-Bagdhadi but nothing credible," the counterterrorism official said. "If he is still in Mosul, he's under a pile of rubble. But we're not sure where he is."
Baghdadi, an Iraqi whose real name is Ibrahim al-Samarrai, declared himself the caliph of a huge swath of Iraq and Syria two years ago.
His exact location is not clear. Reports have said he may be in Mosul, or in ISIS-held territory to the west of the city, close to the border with Syria.
Last December, Kurdish officials told Reuters news agency that growing pressure resulting from a coalition military assault on Mosul is causing Baghdadi and his top lieutenants to move around and try to hide themselves.
The US has more than doubled its previous reward for information on Baghdadi, offering $25 million for information that would help locate, arrest or convict the head of the militant group.
https://english.alarabiya.net/en/features/2017/04/04/Where-is-ISIS-leader-Baghdadi-The-US-s-isn-t-quite-sure.html
--------
After His Release: What Future Awaits Libya's Saif Al-Islam Gaddafi?
3 April 2017
Libya - After more than five years in prison, Saif al-Islam Gaddafi resurfaced as a free man - his name back in the limelight, especially among supporters of his father, Muammar Gaddafi, who began mobilization efforts to bring the heir to the political scene. Can Saif al-Islam be a strong rival in the future race for power or will his return provoke a crisis?
At the moment, no one can predict Saif al-Islam Gaddafi's plans following his release from prison and whether he will return to the political scene by virtue of his supporters, or if he would prefer to remain in the shadows.
If we look at the Libyan arena and diagnose the political trends, we would find that the second son of Muammar Gaddafi, despite his absence for years, remains popular and admired by a group of Libyans, especially tribes loyal to his father's regime which began to arrange for his return by forming the Popular Front for the Liberation of Libya and nominated him for leadership.
Political experience and social relations
Ashraf Abdel Fattah, member of the Supreme Council of Libyan Tribes and Cities, one of the most important gatherings still loyal to the former regime and supporting the return of Saif al-Islam Gaddafi to power, considered that "most Libyans believe that he is the one capable to bring the country together and ensure its security, given his political experience and social relations with all regions of Libya which qualify him to be the key link between all these groups".
n an interview with Al Arabiya, Ashraf Abdel Fattah disclosed: "The great popularity of Saif al-Islam will qualify him to have a political future in leading the country as he is the one who can solve all these complex problems, foremost of which is peace and social reconciliation among all the tribes. He is appreciated and respected among the tribes. In questionnaires carried out by several Libyan and foreign media, Saif al Islam Gadhafi top the charts with a large margin."
Politically finished
However, another section of Libyan society rules out his return and consider him finished politically, with the fall of his father's regime - with no way back, considering that his return to the political arena will complicate matters even further.
The political analyst Fawzi Al-Haddad ruled out in an interview with Al Arabiya that "Saif al Islam would have any role now". Adding that "the Libyan problem will not be solved by the return of the former regime".
He added that "the frustration is the reason why some Libyans believe that Saif al Islam Gaddafi will have the answers to the country's problems, but in fact all the influential ruling powers are focused on the future of the country not the past, his return means a waste of the sacrifices made by so many to get rid of him and the regime of his father.
The Libyan journalist Faraj Mohammed Ali al-Maliki also agrees that: "The return of Saif al-Islam to the scene now will only complicate things for at least a few more years. Furthermore, he has no real supporter's base."
https://english.alarabiya.net/en/News/north-africa/2017/04/03/After-his-release-What-future-awaits-Libya-s-Saif-al-Islam-Gaddafi-.html
--------
It's time for all faiths to publicly support Muslim Canadians: Farber
By BERNIE M. FARBER
April 3, 2017
We believe ourselves as Canadians to be different, better than our American cousins. Today, even more so, given the racist and xenophobic machinations erupting from the White House and beyond.
After all, wasn't it Canada that warmly embraced 30,000 Syrian refugees when others were looking for ways to deny them entry to their countries? Wasn't it Canadian political leadership that spoke out strongly against all forms of racial and religious discrimination at a time when the United States talked of building walls to keep out Mexicans and proposing policy to virtually ban Muslim refugees and immigrants? And wasn't it Canadian Mounties who appeared to rescue and welcome fearful Muslim refugees fleeing from of all places the USA?
However, let's not be too smug. Canada and some loud, bigoted and hateful Canadians have engaged in some of the most vituperative, hateful and disgusting forms of Islamophobia over the last six months that has rocked me to my very core.
It was only eight short weeks ago, that an Islamophobe sauntered into a mosque in Quebec City and with both casualness and purpose shot to death six Muslim Canadians at prayer while injuring 19 others, five of them critically. In the aftermath of the terror much comfort was said and done but today this horrible massacre may as well have occurred decades ago.
It was only two weeks after the Quebec City shootings that hundreds rallied under the banner of "Rebel Media" Canada's offensive Breitbart North at an evangelical church to ostensibly decry the rise of Islam in Canada. Referred to as a "Freedom Rally" seemingly objecting to Motion 103 (a parliamentary motion condemning Islamophobia and all forms of racial and religious discrimination now passed in House of Commons) as an attack on free speech.
With large pickets proclaiming "Say No to Islam" and poisonous rhetoric exclaiming "Islam is Evil" and "Mohammed was a pedophile," it was more a vile Islamophobic mob rant.
Weeks later, Torontonians were witness to a number of anti-Muslim rallies targeting downtown mosques that strangely brought together fringes of the Jewish community, specifically the Jewish Defence League with white nationalists in the guise of the Soldiers of Oden. They, along with others, loudly and provocatively instigated hate and have created a climate of fear in the Muslim community.
And only a couple weeks ago, we saw the spectre of a small phalanx of parents whose children attend the Peel Region School Board loudly condemning the Board's very correct decision to allow space for Muslim students to pray once per day.
During the meeting, shameful epithets were shouted against Canadian Muslims. The meeting ended with a frenetic individual loudly shouting his hateful bile while publicly ripping to shreds the Qu'ran, Islam's holy book.
All this from a Canada many refuse to see or acknowledge. Yes, school board trustees stood gallantly against hatred, local politicians harshly criticized the haters, but is that enough?
While Motion 103 passed Parliament, the schism it produced has hurt us all. How is it possible that according to Angus-Reid polling fully 47 per cent of Canadians opposed support for the motion, including the leadership of my own Jewish community?
How is it possible that this same leadership — which advocated only two years earlier for a similar motion opposing anti-Semitism, who understand what it means to be hated, because of their faith — would deny the very same protections they rightly demanded for themselves?
And most importantly, why the silence and cowardice in the face of hatred toward our fellow Canadians?
It is time that more than just a few activists, journalists and politicians speak out.
We must break the silence of immorality. It is time that all the leaders of Canada's great faith communities, from the Roman Catholic Archdiocese to the Anglican church of Canada from the United Church to the Board of Rabbis from Canadian Hindu Temples to Buddhist and Mormon leaders and so many more, it is time they all speak out, forcefully and in unison. They must speak out with courage and conviction in defence of the vulnerable Canadian Muslim community.
The great philosopher and Nobel Laureate Elie Wiesel once said, "We must always take sides. Neutrality helps the oppressor, never the victim. Silence encourages the tormentor, never the tormented."
It is time for us to take sides.
Bernie M. Farber is executive director of the Mosaic Institute.
https://www.thestar.com/opinion/commentary/2017/04/03/its-time-for-all-faiths-to-publicly-support-muslim-canadians-farber.html
--------
Ajmer Dargah Head Asks Muslims to Give Up Beef
Apr 03, 2017
Spiritual head of the Ajmer Sharif dargah on Monday called upon Muslims to give up beef eating and said triple talaq is against Sharia.
The dargah is considered to be among the holiest Muslim shrines in India.
"On the occasion of the 805th Urs (death anniversary) of Khwaja Moinuddin Hasan Chisty, who all through his life strived for peaceful coexistence of Hindus and Muslims, we (Muslims) should give up eating beef to honour the religious sentiments of our Hindu brethren," said Zainul Abedin Khan, the diwan of the shrine.
He also took a vow on the occasion not to eat beef. "My family and I have taken a pledge on this day that we will never have beef for the rest of our lives," he said, in a statement.
Khan is the direct descendant in the 22nd generation of Khwaja Moinuddin Chishti, the Sufi saint.
His appeal comes amid the ragging controversy over cow slaughter with many Indian states coming up with stringent laws to prevent killing of cows and eating its meat. The bovine is considered sacred by many Hindus.
Khan supported the Gujarat government's recent legislation announcing life sentence for those found guilty of killing cows. The Gujarat assembly had last week passed a bill enhancing the punishment for cow slaughter from seven years to life imprisonment.
"This (Gujarat legislation) would be a great deterrent for those involved in killing cows for meat and other products", he said and called upon Prime Minister Narendra Modi to declare cow as national animal.
The diwan condemned the practice of triple talaq, saying the Quran and Sharia do not permit it.
"As it is inhuman, anti-Islamic and against the gender equality, it should be shunned without any further delay", he said.
Triple talaq, as it is commonly called, is a controversial Islamic practice where a man divorces a woman by saying the word talaq, the Arabic word for divorce, three times.
Narendra Modi-led government at the Centre is advocating for a ban on the practice, though many Muslim organisations are against such move.
"Why some people in the community are reluctant to give up the practice which Quran and Prophet Mohammed never approved, is beyond the comprehension of a reasonable section of Muslim", he said.
"Time has come to eschew the practice that victimises our sisters and daughters", Khan added.
A five-judge constitution bench of the Supreme Court will start hearing from May 11 petitions against the Islamic divorce practice that is said to be biased against women.
http://www.hindustantimes.com/india-news/ajmer-dargah-head-to-muslims-stop-eating-beef-anti-sharia-practice-of-triple-talaq/story-0tVAbhJ4twASHAmTmMIerL.html
--------
Democratic Terrorists More Dangerous Than Militants: Jamaat-e-Islami
April 04, 2017
SAKHAKOT (Dargai) - Ameer Jamaat-e-Islami, Pakistan, Senator Sirajul Haq has said that the financial and democratic terrorists sitting in the corridors of power were far more dangerous than the militants hiding in the mountains.
He was speaking at the annual prize distribution and the Khatm-e-Bukhari ceremony at the Darul Uloom Talimul Quran, Sakhakot, on Monday.
Sirajul Haq said that the corrupt ruling elite had placed the country's survival at stake by converting the homeland into a colony of the foreign agencies.
JI provincial chief Mushtaq Ahmed Khan and other JI leaders were also present on the occasion.
The JI chief said that the enemy was more afraid of the beards of the Muslim young men, the slogans of Jehad and the veil of the Muslim girls than the atom bombs and tanks.
He said that in spite of persistent failure in its conspiracies against the Islamic culture, the enemy was continuing its efforts in that direction.
The enemy was hell bent on dividing the Muslims on sectarian and regional grounds and pitting them against each other, he said. The enemy was thrusting tyrants over the Muslim States through its agents, he added.
Sirajul Haq said that the Jamaat-e-Islami was in the field to expose the enemy designs and to unite the Muslim Ummah. The JI was struggling for the enforcement of the Shariah and real democratic system, he added.
He questioned that if the rulers had secured power by inheritance.
He said that Islamabad was not the Jagir of the corrupt elite, it belonged to the people. He was confident that soon, the poor people would be occupying power in Islamabad.
He said that the country's judicial and electoral system and institutions did not enjoy the confidence of the masses.
He said that in a country where the pet horses and dogs of the elite were fed by jams while the honour of young girls was put to auction for two time meals, it would be hypocrisy not to revolt against the system. The JI, he said, was demanding electoral reform as fresh elections sans reforms would be joke.
In the prevailing system, he said, the elite indulged in the sale and purchase of votes due to the weaknesses of the electoral system, thus exploiting the poor.
He said that in the next year polls, the masses would have to choose between the slaves of Holy Prophet Muhammad (PBUH) or the worshippers of the US.
http://nation.com.pk/national/04-Apr-2017/democratic-terrorists-more-dangerous-than-militants-ji
--------
Arab World
Infighting Renews Among Various Terrorist Factions in Idlib
Apr 03, 2017
Websites close to the terrorist groups in Syria reported that Tahrir al-Sham Hay'at (the Levant Liberation Board) terrorists raided the residence of Ahrar Al-Sham regional commander Abu Mos'ab in Maar Dibsah village South-East of Idlib province after midnight, exchanging massive fire with tens of Ahar militants deployed in the region.
"Following the clashes, Ahrar Al-Sham has dispatched tens of gunmen to South-Eastern Idlib and erected a large number of checkpoints in the region," the reports said.
The reports also mentioned "scores of casualties on both sides", but did not reveal any further detail about the fate of Abu Mos'ab and his family.
Late in January, al-Nusra Front and several militant groups declared forming a new coalition under the name of Tahrir al-Sham Hay'at (the Levant Liberation Board) to narrow down widening rifts amongst their commanders and members.
The al-Nusra Front, Nouralddeen al-Zinki Movement, Jeish al-Sonah, Jabhat Ansaraldeen and Liwa al-Haq announced that they would act under a united coalition named the Tahrir al-Sham Hay'at.
The five merged terrorist groups act under the command of Abu Jaber Hashem al-Sheikh, who was one of the commanders of Ahrar al-Sham. The new coalition led by al-Sheikh is now fighting against Ahrar al-Sham, a rival terrorist group operating mainly in Northwestern Syria.
Al-Sheikh resigned from his post in Ahrar al-Sham after he was appointed as the commander of Tahrir al-Sham Hay'at.
A number of Ahrar al-Sham commanders, including the group's Spokesman Abu Yusuf al-Mohajer, Hesam Salameh and Abu al-Fatah al-Farqali Mesri also joined the new coalition.
Terrorist groups' websites claimed that Al-Nusra Commander Abu Mohammad al-Joulani would be the top commander of Tahrir al-Sham Hay'at.
Ahrar al-Sham rejected its affiliation to the new coalition, but websites close to the terrorist groups disclosed that Ahrar al-Sham, Faylaq al-Sham, Jeish al-Izzah, Turkistani party and Liwa al-Tamkin started a new front called Tahrir al-Syria Front.
Nusra terrorists have been attacking positions of other terrorist rivals across Northwestern Syria for the last two years.
http://en.farsnews.com/newstext.aspx?nn=13960114000896
--------
Russia Using Laser-Guided Bombs in Syria Airstrikes
Apr 03, 2017
The Arabic service of the Russian state news agency, Sputnik, reported that the country has armed its Su-34 Fullback fighters with high precision KAB-1500L laser-guided bombs for missions in Syria.
The highly sophisticated bombs are likely used for destroying underground tunnels and command bases of the terrorists, specially in Northern Hama province.
Previously the heaviest bombs Russians used in Syria were KAB-500.
The KAB-1500L - KAB-1500LG-F-E is the current production standard - is a 1,500 kg (3,000 pounds), laser-guided bomb 4.4 to 4.63 m in length and designed to hit stationary ground and surface targets when used by the latest generation of Russian-made fighters and bombers. It is the Russian counterpart to United States Paveway II/III laser-guided bombs. Once released, the pilot or a third party must aim at the target with a laser designator in order to successfully direct the KAB bomb. The KAB-1500LG-F-E features an impact fuze with three delay modes.
Russia's family of KAB-1500, KAB-500 and KAB-250 smart bombs are an equivalent to the US Paveway II/III, GBU-8/15, and GBU-31/32 JDAM families of guided bombs. Sharing common design modules with unique seeker designs, and a range of standard warhead types, this family of weapons encompasses all of the baseline capabilities in their US equivalents.
The KAB (Korrektiruyeskaya Aviatsionnaya Bomba) family of weapons were developed during the 1970s by Moscow based GNPP Region, now part of Tactical Missiles Corporation, and it is likely that warstocks of the Paveway, Walleye and HOBOS captured in South Vietnam during 1975 played an important role in the design process. The basic configuration of the 500 kg weapons is common to the GBU-8 HOBOS TV guided bomb family using tail controls and fixed canards, less the GBU-8's lift enhancing strakes. The 1,500 kg weapon is closer to a hybrid of the Paveway II and HOBOS configuration, with steerable canards and spring deployed cruciform tail.
Full report at:
http://en.farsnews.com/newstext.aspx?nn=13960114001121
--------
Gen Raheel's role in Saudi-led military alliance concerns Iran
April 04, 2017
ISLAMABAD: According to a report by IRNA, Ambassador of Iran to Pakistan has expressed reservations on issuance of No Objection Certificate (NOC) by the Pakistani government for appointing former army chief General (retd) Raheel Sharif as the head of Saudi-led military alliance.
Mehdi Honardoost talking to different media of Pakistan said that it was correct that Pakistan had contacted Iranian officials before issuing the NOC, but it did not indicate that Iran was satisfied with this decision or it had accepted the same.
He said that Tehran had informed Islamabad that Iran would not become a part of any alliance like the 'military alliance' nor such kind of offer was extended to Iran.
He strongly believed that all important Islamic countries should come together to form a coalition of peace to resolve their issues rather forming a controversial military alliance.
Earlier Pakistani defense minister Khawaja Asif confirmed that the government had issued an NOC to the former army chief to lead the military alliance.
The decision of the government is drawing a lot of criticism from analysts, former diplomats, and opposition parties because they believe that such a move could create more problems for Pakistan on diplomatic front.
Full report at:
http://nation.com.pk/international/03-Apr-2017/iran-envoy-expresses-reservations-about-gen-raheel-s-role-in-saudi-led-military-alliance
--------
SDF Vows Tough Battle against Turkish Army in Al-Bab
Apr 03, 2017
The SDF, Turkish army and the Syrian government troops have been fighting ISIL terrorists in Aleppo province.
Last month, the Turkish army managed to eventually capture the city of Al-Bab after weeks of clashes with the ISIL that inflicted heavy losses on the Turkish military troops and their allied militants.
The Turkish army first won a major part of the city, but was forced to retreat almost from all captured areas after ISIL inflicted heavy casualties on its soldiers. Yet, the Turkish troops and its allied militants could win the city back from the ISIL after the Syrian army laid a tight siege on the Southern outskirts of Al-Bab and cut off the terrorists' supply route from the strategic city of Deir Hafer in Eastern Aleppo.
The Syrian army next captured Deir Hafer to win the last major ISIL stronghold in Aleppo province and find a platform to launch an attack on Raqqa, the de facto capital of the terrorist group.
The SDF also played a complementary role in the war against ISIL in Northern and North-Eastern Aleppo as they pushed the terrorist group back from dozens of towns and villages on the Western side of the Tishrin Dam, completing the circle of enemy forces around ISIL.
Ever since the Turkish army's victory in Al-Bab, tensions have gone high between Ankara and the Kurdish-majority SDF troops. Ankara has warned to engage in war on the Kurds if they reject to evacuate all areas they have captured on the Western side of the Tishrin Dam, including the Kurdish-populated city of Manbij.
They Syrian army next drove a wedge between the Kurds and the Turks to warn Ankara that it would not allow any Turkish army attack on its population.
Now, the SDF is returning Ankara's threat with tough warnings, saying that they will soon force the Turkish army out of Al-Bab.
Full report at:
http://en.farsnews.com/newstext.aspx?nn=13960114000804
--------
Syria: Army Takes Back Most Militant-Held Regions in Northern Hama
Apr 03, 2017
"Some 80 percent of the territories lost to the terrorists in the last few weeks have now been recaptured by the army following a series of counterattacks on Al-Nusra (also known as Fatah al-Sham Front or the Levant Liberation Board) militants in the region," a ranking army officer told FNA this morning.
The source further pointed out that the army has managed to seize back a sum of 20 towns and villages, the Qatar Tayyebeh Al-Imam Station and a number of other key military positions in the region.
"In these operations, hundreds of terrorists have been killed, including Emir of the Tahrir al-Sham Hay'at (the Levant Liberation Board) training camps Abu Fahd Al-Anzi, Commander Mohammad Ahmad Joulaq, Mufti (religious leader) Abu Riyaq Turkistani and Saudi Commander of Turkistani Party Abdul-Rahman Abdullah Do'ayd," he stated.
The Syrian Army troops launched massive attacks on terrorists' defense lines in Northern Hama on Sunday.
Full report at:
http://en.farsnews.com/newstext.aspx?nn=13960114000748
--------
Al-Nusra Fails in Desparate Attack on Army in Northern Homs
Apr 03, 2017
The terrorists launched an attack on a number of military positions recently established by the Syrian army near the villages of Emir and Kafr Nan in Northern Homs, but they retreated after sustaining 23 casualties, army reports said on Monday.
Meantime, other Al-Nusra militants sought to open their way to the village of Qinyat al-Asi through the Projects Area to capture the army positions in the region, according to the same reports.
Full report at:
http://en.farsnews.com/newstext.aspx?nn=13960114000719
--------
Syrian Army Destroys Al-Nusra Front's Command Center in Dara'a
Apr 03, 2017
At least 20 Al-Nusra Front terrorists, including commanders, were killed in the Syrian army's artillery and missile attacks in Dara'a province.
The Al-Nusra Front's command center East of the old customs office was destroyed in the Syrian army attacks.
Meantime, several military positions and bases of the terrorists East of al-Kark Prison and Tariq al-Assad district were destroyed in the Syrian army offensive.
According to army reports, three military vehicles of the terrorists were destroyed in Eastern Ibt'a Town and North of al-Na'ima regions as well.
In a relevant development on Sunday, the Syrian Army troops stormed the positions and gathering centers of Tahrir al-Sham Hay'at (the Levant Liberation Board) in different neighborhoods of the Southern city of Dara'a, inflicting heavy casualties on the terrorists.
The army's missile and artillery units smashed Tahrir al-Sham's positions and command post in al-Nazeheen camp neighborhood, killing and injuring dozens of terrorists and destroying two machinegun-equipped positions.
Full report at:
http://en.farsnews.com/newstext.aspx?nn=13960114000955
--------
Syrian Army Intensifies Attacks on ISIL's Positions near Deir Ezzur City
Apr 03, 2017
The army's artillery and missile units launched heavy artillery and air assaults on ISIL's concentration centers in al-Erifi neighborhood and also on the terrorist group's movements in the areas stretching from Regiment 137 base to the key positions Southwest of the city.
Army reports said at least 10 terrorists were killed and a number of their military vehicles were destroyed in the strikes.
The Syrian army troops also pounded ISIL's concentration centers South of Deir Ezzur, destroying a number of military vehicles and bases in the surrounding areas of Tal al-Sanouf and al-Sham gas station.
In a relevant development on Friday, the Syrian Army soldiers exchanged heavy fire with ISIL near Deir Ezzur city, inflicting major casualties on the terrorists.
The Syrian Army men engaged in heavy fighting with ISIL in Tal al-Sanouf on the Taym Road, killing a number of terrorists and destroying their military vehicle.
In the meantime, intense battles erupted in and around Deir Ezzur as the Syrian Army prepares to launch a massive offensive on ISIL positions in the Western regions of Deir Ezzur.
Full report at:
http://en.farsnews.com/newstext.aspx?nn=13960114000903
--------
Damascus: Syrian Army Blasts All Terrorists' Tunnels Between Barzeh, Qaboun Regions
Apr 03, 2017
The Syrian army troops engaged in heavy clashes with Al-Nusra terrorists in Qaboun region and made advances towards al-Ba'alah region.
Meantime, the Syrian army's missile and artillery units targeted and pounded the Al-Nusra Front's military positions and bases in the region, killing several militants.
A military source also reiterated that the Syrian army has closed down all tunnels of the terrorists in areas between Barzeh and Qaboun regions.
The Syrian air force also pounded the terrorist groups' bases in Jobar and the outskirts of Erbin and Zamalka regions, and destroyed a military base. Local witnesses said all the terrorists inside the base were killed in the air raid.
In a relevant development on Saturday, the Syrian military forces discovered a lengthy tunnel of the terrorists in Eastern Ghouta and destroyed it.
The army gained control over the last major tunnel of the terrorists in al-Qaboun district North-East of Damascus province.
Local sources said that the tunnel was called by the militants as the Nafaq al-Qaboun, adding that it was used for transferring militants and weapons across al-Qaboun and Erbin region.
Full report at:
http://en.farsnews.com/newstext.aspx?nn=13960114000872
--------
Terrorists' Centres in Aleppo Province Receive Severe Blow in Syrian Armed Forces' Attacks
Apr 02, 2017
The army soldiers clashed with terrorists near the Dar al-Izzah, causing severe casualties in their ranks.
In the meantime, the army aircraft raided the positions of the militants in Khan al-Asal town.
Informed sources in the Southwestern outskirts of Aleppo city said that the army units fended off terrorist groups' attack on government forces' positions in al-Rashedeen district, killing a number of militants and forcing others to flee.
On Saturday, the Syrian Army soldiers fended off an offensive of Tahrir al-Sham Hay'at (the Levant Liberation Board) on their positions West of Aleppo city, inflicting a number of casualties on the terrorists.
The army men repelled Tahrir al-Sham's offensive West of Jam'iya al-Zahara and al-Lairamoun districts and then in a rapid counterattack pushed the terrorists back from more positions.
Full report at:
http://en.farsnews.com/newstext.aspx?nn=13960113000388
--------
Africa
Burkina Faso's new war against militant Islamists
April 04, 2017
The Sahel region already has its fair share of armed Islamist groups, with the likes of Boko Haram and al-Qaeda in the Islamic Maghreb turning, at one time or another, parts of Niger, Mali, Algeria and Nigeria into theatres of conflict. Could Burkina Faso be a new base for the jihadists? The BBC's Lamine Konkobo reports.
Despite intense military operations throughout the region to curb the activities of the radical groups, Islamist militancy continues to grow in the Sahel.
The militants have now opened a new front in northern Burkina Faso, disrupting normal life by repeatedly carrying out attacks in the region and far beyond.
1. Who are the Islamists behind this new front?
Al-Qaeda in the Islamic Maghreb (AQIM) claimed it carried out the attacks of January 2016 which killed 30 people in Burkina Faso's capital, Ouagadougou.
Although AQIM did not say it was behind the killing of the 12 soldiers in December last year, officials believe the group was.
However, a new movement, Ansarul Islam or Defenders of Islam, has recently emerged as the umbrella for all Islamist operations in northern Burkina Faso.
It is led by a radical imam named by officials as Ibrahim Malam Dicko.
Ansarul Islam claimed responsibility for attacks on two police stations in the northern Soum province on 27 February.
Dicko is a radical preacher originally from Burkina Faso's northern city of Djibo.
He is said to have fought in Mali in the ranks of the Mujao Islamist movement before he founded his group.
After a short spell in a Malian jail following his arrest by foreign forces in 2013, Dicko returned home and started Ansarul Islam.
Fighters who joined his new group came from the audience admiring his fiery preaching.
Dicko is now considered a public enemy and part of the state's official strategy to stem his influence is to kill him.
2. How big is the threat of Islamist groups to Burkina Faso?
This poor land-locked country in West Africa has long had its share of problems, but attacks carried out by Islamist militants against people and property are relatively new.
Over the last two years, it has been rocked by a series of attacks by jihadists, with a bleak picture for the prospects of security in the country.
Recent attacks include:
December 2016: 12 soldiers killed after attack by Islamist militants in the north, near Mali border
January 2016: Islamist militants attack Ouagadougou hotel popular with foreigners. Western nationals among 30 people killed in country's deadliest attack so far
March 2017: As the capital geared up for Fespaco film festival, two police posts in the north were attacked. Three people killed.
March 2017: Two people kidnapped and a school torched after jihadists threaten educational establishments. In another incident a military base was locked down after being targeted by unidentified gunmen.
There is a growing concern that Islamist militants can strike anywhere, and at any time.
3. How have Islamist militants disrupted life in Burkina Faso?
The repeated attacks have created a wave of panic across the country.
Many are concerned that the north is just a starting point for Ansarul Islam. They fear it will spread its tentacles further if it is not stopped.
"Many homes have been deserted. In Djibo's district 5, many homes are empty," a local told the BBC, asking not to be named for his safety.
"Economic activity has ground to a halt. We no longer have any night life. Westerners who are high-value targets have left."
Gunmen sporadically go on the rampage, looting shops and mugging people.
"When they come shooting in the air, people run away from their homes and only return when they have left," a resident of Inata village told the BBC.
"They don't always kill. They often loot. We are in panic. My local school has closed. All schools, including madrassas have closed in Soum province."
Locals say there are more soldiers operating in the area. However, they say Islamists have an advantage over them because they know the lay of the land.
4. What's most troubling for officials in Burkina Faso?
Ansarul Islam movement is the first home-grown Islamist group in Burkina Faso.
That alone is troubling enough for President Rock Marc Christian Kabore's government but it is not the scariest thing about the threat posed by this radical group.
Intelligence officials believe some ex-soldiers of the presidential elite regiment, the RSP, are lending them a hand.
Officials were recently quoted by a Malian newspaper as saying that they intercepted a communication between an RSP fugitive, Boubacar Sawadogo, and Ansarul Islam's leader.
The intercept confirmed what the government had long suspected - that former RSP members are taking part in attacks by jihadists both in Mali and Burkina Faso.
For more than 27 years, the RSP had been a nightmare for democrats in Burkina Faso. It was set up by former President Blaise Compaore for his personal security.
The regiment was notorious for operating outside official boundaries.
However, after the uprising which ousted Mr Compaore in 2014, it suddenly found itself without a clear purpose and felt its existence threatened.
In a bid for survival, members staged a short-lived coup against the transitional government before being forced to hand over power by neighbouring countries.
Fleeing justice afterwards, many RSP members including Boubacar Sawadogo took to a clandestine life.
Given the reported bizarre alliance with Islamist militants in the north, the RSP nightmare has now taken on a new form.
5. What is being done about the Islamist threat?
Most Burkinabes would tend to say that what the government is doing to combat Ansarul Islam is far from enough.
There is a sense of frustration on the streets of Ouagadougou and social media forums that the state's response has not been decisive.
Officials have repeatedly condemned the attacks but barely did more than saying they are taking steps. Restructuring the Defence and Security Ministries is the only concrete measure that has been taken, and critics say it is insignificant.
The government's hands are, however, tied by a lack of resources, both human and financial.
Following the attacks during Fespaco last month, officials appeared to have come up with a much clearer plan.
Burkina Faso is to withdraw its contingents currently deployed abroad as part of peacekeeping missions, such as in Sudan and Mali.
It will then reassign the returning soldiers to the fight against Ansarul Islam in the north.
http://www.bbc.com/news/world-africa-39279050
--------
Tunisian nightclub shut down over Muslim call to prayer remix
3 April 2017
Tunisian authorities have shut down a nightclub and begun an investigation after a DJ played a remix recording of the Muslim call to prayer, an official has said.
A video, widely shared online since Sunday, shows clubbers dancing to music that includes the call to prayer at the club in the north-east town of Nabeul.
The footage sparked a storm of debate on social media.
Two European DJs played at the party on Friday as part of a music festival near the popular resort of Hammamet.
"After confirming the facts, we decided to close this nightclub" until further notice, Mnaouar Ouertani, the governor of Nabeul, told Agence France-Presse.
He said an investigation had been opened and the club's manager detained "for violation against good morals and public outrage against modesty".
"We will not allow attacks against religious feelings and the sacred," Ouertani added.
Organisers of the Orbit festival apologised on Monday in a post on the event's Facebook page, but said it took no responsibility for the offensive tune.
"Dax J is English and played the track recently in Europe" and did not realise "it might offend an audience from a Muslim country like ours", they said.
Full report at:
https://www.theguardian.com/world/2017/apr/03/tunisian-nightclub-shut-over-muslim-call-to-prayer-remix-orbit-festival
--------
African diplomats slam India over racist attacks
April 04, 2017
NEW DELHI - Representatives of 44 African countries accused the Indian government on Monday of failing to do enough to stop racist attacks on their nationals following a series of brutal assaults targeting Nigerians.
Around a dozen people were injured, some seriously, when a mob angered by the death of a local teenager went on the rampage in a satellite city of New Delhi last Monday.
The violence erupted after a group of Nigerian students who were detained in connection with the teen's death were released without charge, with police saying there was no evidence against them.
The vicious assault was captured on camera and shared widely on social media, triggering concern over a rise in racist violence against Africans in India.
In a statement, the African Heads of Mission said that "no known, sufficient and visible deterring measures were taken" by New Delhi after previous such attacks.
It said the authorities had failed to "sufficiently condemn" either the latest attacks or past incidences of racist violence against Africans.
The diplomats also called for an independent investigation into the latest violence by groups including the UN's Human Rights Council, calling it "xenophobic and racial".
Thousands of people from African countries study and work in India, where many face discrimination. They are often accused of involvement in the illegal drug trade.
The issue was thrown into the spotlight last year when a Congolese teacher was bludgeoned to death allegedly by three Indian men after an argument over hiring an auto-rickshaw in Delhi.
Full report at:
http://nation.com.pk/international/04-Apr-2017/african-diplomats-slam-india-over-racist-attacks
--------
North America
Donald Trump tells Abdel Fattah el-Sisi, US and Egypt will fight Islamic militants together
Steve Holland
APRIL 4 2017
Washington: US President Donald Trump moved to reset US relations with Egyptian President Abdel Fattah el-Sisi on Monday after the prior Obama administration's strained ties, giving him firm backing and vowing to work together to fight Islamic militants.
"I just want to let everybody know in case there was any doubt that we are very much behind President Sisi. He's done a fantastic job in a very difficult situation. We are very much behind Egypt and the people of Egypt," Trump said in an Oval Office meeting with the Egyptian leader.
The trip was Sisi's first official US visit since being elected president in 2014. Trump's predecessor, Barack Obama, never extended an invitation.
Obama froze aid to Egypt for two years after Sisi, then a general, overthrew President Mohamed Mursi in mid-2013 after mass protests against Mursi's rule. Mursi, a Muslim Brotherhood member, had been elected the previous year.
The one-on-one meeting between Trump and Sisi, followed by a separate gathering with top aides, showed how intent the new US president is on rebooting the bilateral relationship and building on the strong connection the two presidents established when they first met in New York last September.
"I just want to say to you, Mr President, that you have a great friend and ally in the United States, and in me," Trump said.
Sisi said he appreciated that Trump has been "standing very strong ... to counter this evil ideology."
While Trump noted the United States and Egypt "have a few things" they do not agree on, he made no public airing of US concerns about human rights in Egypt.
Rights groups have called for the release of Aya Hijazi, an Egyptian-American who works with street children and was arrested in May 2014 on human trafficking charges.
Hijazi has been held in custody for 33 months in violation of Egyptian law, which states that the maximum period for pretrial detention is 24 months.
A senior administration official said the subject of Hijazi did not come up in the meeting with Trump, Sisi and their advisers but said the detention is an issue of concern and a case that is being watched closely by the Trump administration.
White House spokesman Sean Spicer said the two presidents had an "honest discussion focused on areas of cooperation" and that they discussed "both areas of cooperation and of concern."
At the United Nations in New York, US ambassador to the United Nations, Nikki Haley, said the Trump administration is not backing away from human rights "because they fully support me speaking about human rights in the Security Council."
Human rights groups have estimated that Sisi's government has detained at least 40,000 political prisoners.
Full report at:
http://www.smh.com.au/world/donald-trump-tells-abdel-fattah-alsisi-us-and-egypt-will-fight-islamic-militants-together-20170404-gvd2e2.html
--------
Bahai Refugee's Home Trashed With Anti-Muslim Graffiti in US
April 04, 2017
According to The Independent, A refugee who came to the US seven years ago was shocked to come home and find his door smashed with an axe, his furniture slashed and racist graffiti all over the walls.
Hasel Afshar said he had experienced racism and xenophobia before, but nothing like this.
In his home in Troutdale, Oregon, the word "terrorist" was spray-painted across the kitchen cabinets.
The word "Muslim" was painted in red, dripping letters in the bedroom, and "die" was written across the mirror. Other phrases and graffiti were slashed across the television, the fridge and the coffee table. All the doors had been taken to with an axe.
The Iranian refugee told KPTV that he found a note, weighted down with seven bullets in the shape of a cross. It read, "If I see you here next month, I will shoot and burn your house."
"The funny thing, I'm not Muslim," Mr Afshar said.
The Council on American-Islamic Relations said he is Baha'i, a religion founded in 19th century Persia which focuses on prayer, reflection and serving humanity.
"I don't want anything to happen to him, I just hope he [the vandal] grow[s] up and don't hate people."
"You can hate me, that's your problem, but we can go and sit and talk about it, why you hate me, and maybe you just change your mind," he told the news channel.
Mr Afshar said he was "really scared" but added that he would like to talk to the vandals about why they broke into and ransacked his home.
The vandal was speculated to have climbed through the bathroom window.
Multnomah County Sheriff's Office has launched an investigation of a potential bias crime, and has not released information of any suspects. It has notified the FBI.
Mr Afshar told the news outlet that he already been considering leaving the country after other people had shouted at him and allegedly pointed a gun in his face, and the recent vandalism has further convinced him to leave.
The FBI reported a 67 per cent increase in hate crimes against Muslims in 2015, and CAIR is set to release a report which shows a record number of hate crimes against the same community in 2016.
Full report at:
http://nation.com.pk/international/03-Apr-2017/bahai-refugee-s-home-trashed-with-anti-muslim-graffiti-in-us
--------
Muslim-American leaders support Australian imam's rejection of radical Islam
By Brooke Singman
April 03, 2017
American Muslims are defending an Australian imam whose public opposition to radical Islam and attempts to impose sharia law has drawn criticism from other Muslim leaders in Australia.
Imam Shaikh Mohammad Tawhidi said that other members of Australia's Muslim community were criticizing him because he has blasted radical Islam and warned of an extremist cell in Sydney, the nation's largest city.
"'They have called me a fake Muslim imam or a Shaikh only because I expose their intentions to create a caliphate within Australia," Tawhidi said. "I am considered a fake because I condemn terrorism. I am considered a fake because I oppose and expose extremism."
His comments came last week in a four-minute video in which he detailed the reasons other Muslim leaders were criticizing him.
"I am considered a fake because I would die for Australia. I am considered a fake because I live by the Australian constitution," he said. "For them, I am too Australian."
U.S. Muslim groups said Monday that they generally supported Tawhidi's position, though they had some reservations.
Ibrahim Hooper, national communications director of the Council on American-Islamic Relations, told Fox News that Tawhidi and his critics' premise is 'false'.
"The problem comes when you look at a dichotomy between being an Australian or an American and being a Muslim. We don't see a dichotomy," Hooper said. "We see that, in fact, the American-Muslim community is the prime defender of the U.S. Constitution. We see no conflict between Islamic beliefs and practices and living as a productive, contributing citizen whether it's in Australia or America."
Hooper said he would have liked Tawhidi to clarify that there is no need for Muslims to choose between being good citizens and being religiously faithful.
"Instead of stating you can be a good Australian and a good Muslim at the same time, he's somehow throwing Islam under the bus and that's where he got in trouble," Hooper said. "Muslims around the world follow sharia law every day of their lives when they pray and when they fast."
But Hooper told Fox News that the 'haters' bring up the criminal punishment factor of sharia law, which he said does not apply when there is an existing legal system in place.
"A small component of sharia law was in the criminal aspect, but that doesn't apply in the United States or Australia or anywhere," Hooper said. "There is no inherent conflict being a law abiding Australian or American and practicing Islam—that's a false premise."
Michigan-based Imam Mohommad Elahi expressed a similar sentiment to that of CAIR, and told Fox News that criminal laws in Islam, which he says are a small part of the legal system in the Muslim faith, are not even implemented in Muslim countries.
"Those laws need to be reviewed and adjusted based on the conditions of time—the spirit of law in Islam is both justice and mercy! In countries like Saudi Arabia, so called Sharia laws provide neither justice nor mercy—that is ISIS law, beheading the innocent, that is not true Islamic law," Imam Elahi told Fox News in an email. "There is no contradiction in the spirit and goals between our Islamic teachings and our Constitutional rights.
Another Muslim group in the U.S., American Islamic Forum for Democracy (AIFD) told Fox News that, while they would defend Tawhidi completely, he is not addressing the core issue.
Full report at:
http://www.foxnews.com/world/2017/04/03/muslim-american-leaders-support-australian-imams-rejection-radical-islam.html
--------
NATO Ally Turkey Working with U.S. Muslim Brotherhood
April 3, 2017
During the 2016 U.S presidential campaign, senior leadership figures of the United States Council of Muslim Organizations (USCMO) began strategic planning to ensure the advancement and protection of the group's objectives, no matter who won the White House. USCMO Secretary General Oussama Jammal and HAMAS dba Council on American Islamic Relations (CAIR) Executive Director Nihad Awad set plans in motion to defend the Muslim Brotherhood's Civilization Jihad inside the U.S. Those objectives were first exposed and described in the Center's 2015 publication, in Star Spangled Shariah: The Rise of America's First Muslim Brotherhood Party.
Joining directly in those efforts then and now is the pro-HAMAS Turkish government, under the leadership of President Recep Tayyip Erdoğan and his Justice and Development Party (AKP). The groundwork for what is now a close working relationship began well before the March 2014 announcement of the USCMO's formation, but it is known that on 15 May 2013, a visiting President Erdoğan placed a ceremonial stone on the 16-acre construction site that would become the Turkish Diyanet Center of America in Lanham, Maryland. The following year, in August 2014, a USCMO delegation led by Secretary General Oussama Jammal traveled to Ankara to meet with President Erdoğan and AK Party leaders. And then, on 29 December 2014, in a recorded video message, Dr. Mehmet Görmez, President of the Presidency of Religious Affairs (Diyanet), addressed the 13th Annual MAS-ICNA (Muslim American Society-Islamic Circle of North America) Conference in Chicago, Illinois and discussed a gift for all Muslims: the Turkish Diyanet Center of America. Of note for the future of the US Muslim Brotherhood-Turkish relationship, this conference was sponsored by the Turkish-backed American Zakat Foundation and included the first-ever attendance of a Turkish-American group at a MAS-ICNA conference.
t will be recalled that Erdoğan himself joined U.S. President Barack Obama on 2 April 2016 at the opening ceremonies for the Diyanet Center of America, located on a large 16-acre site in Lanham, Maryland. The Diyanet Center, also known as the Turkish American Cultural Center (TACC), is a wholly-owned facility of The Presidency of Religious Affairs, an official state institution of the Turkish government.
Under the Trump administration, the USCMO is especially concerned with legal issues, as calls were heard during the 2016 campaign urging that the 2008 Holy Land Foundation (HLF) HAMAS terror funding trial be re-opened to pursue possible cases against the more-than-200 unindicted co-conspirators named by the Department of Justice. Apparently concerned over possible vulnerability should the books of mosques, Islamic Centers and Muslim Brotherhood front groups come under renewed official scrutiny, CAIR and other members of the USCMO therefore engaged the services of the Muslim Legal Fund of America (MLFA), itself a founding member of the USCMO.
It should come as no surprise, then, that the first major event to be co-sponsored by the USCMO, TACC and the MLFA in the Trump era will be a 13 May 2017 Muslim Non-Profit Leadership Conference, to be held at the Diyanet Center of America. Among the program topics are Safeguarding 501(c)3 status; Board fiduciary responsibilities; record keeping and disclosure requirements; Fundraising regulations, state registrations, unrelated business income; and Banking regulations, FDIC, DOJ, Watchlists, international charitable giving.
One of the MLFA's top legal representatives, now working openly with the U.S. Muslim Brotherhood, is U.S. Navy Lieutenant Commander (ret.) Charles Swift, formerly of the Judge Advocate General's Corps. Swift, a 1984 graduate of the U.S. Naval Academy, who was recognized by the Muslim Brotherhood for his legal role advocating for client Salim Ahmed Hamdan in the U.S. Supreme Court case Hamdan v. Rumsfield 548 US 557 (2006). This role doubtless contributed to the choice of Swift as Director and Counsel for the Constitutional Law Center for Muslims in America (CLCMA), a project of the Muslim Legal Fund of America led by Executive Director Khahil Meek.
The MLFA's CLCMA project presents itself as dedicated to two primary missions:
"Challenging governmental security measures affecting Muslim communities which encroach upon the constitutional liberties guaranteed to all."
"Protecting the rights of Muslim individuals and organizations in the United States to exercise their constitutionally and statutorily protected rights to worship."
In apparent pursuance of these missions, the MLFA continues actively to seek the release from federal prison of defendants in the HLF trial, which concluded in late 2008 with a unanimous guilty verdict on all 108 counts. The MLFA also engages in lawfare, using lawsuits as an offensive means of shutting down opposition to its civilization jihad operations. For example, as noted by the Thomas More Law Center in the 2009 case of Joe KAUFMAN, Appellant, v. ISLAMIC SOCIETY OF ARLINGTON, Texas, Islamic Center of Irving, DFW Islamic Educational Center, Inc., Dar Elsalam Islamic Center, Al Hedayah Islamic Center, Islamic Association of Tarrant County, and Muslim American Society of Dallas, Appellees, No. 2-09-023-CV: "The head of that organization [MLFA], Khalil Meek, admitted on a Muslim radio show that lawsuits were being filed against Kaufman and others to set an example. Indeed, for the last several years, Muslim groups in the U.S. have engaged in the tactic of filing meritless lawsuits to silence any public discussion of Islamic terrorist threats."
Full report at:
http://www.familysecuritymatters.org/publications/detail/nato-ally-turkey-working-with-us-muslim-brotherhood?f=must_reads
--------
India
NIA issues fresh summons to Zakir Naik, asks him to appear on April 17
Neeraj Chauhan
Apr 3, 2017
NEW DELHI: As the controversial Islamic preacher Zakir Naik, being probed under terrorism charges, defied the NIA summons once again, the agency has once again issued fresh summons asking him to appear before it on April 17.
This is the third time in last one month NIA has issued notice to Naik but there is no sign of him willing to come to India and join the probe. Earlier, he was asked to join the probe on March 14 and then March 30.
Sources say that they may approach the court soon and issue a warrant against him, which will be served to him through ministry of home affairs and external affairs, if he chooses to once again not appear on April 17.
Naik is on the run and is being probed by NIA for allegedly spreading communal hatred and inciting others through his speeches to commit terror acts. His now banned NGO Islamic Research Foundation even allegedly funded few terror suspects.
He is said to be living in Saudi Arabia for past 10 months.
The agency has already questioned around 20 associates and employees of Naik in last few months about his business ventures, properties and funding from abroad.
He had recently signalled his willingness to appear via video-conferencing, an option the NIA rejected.
Officials said that legal process calls for declaring him a proclaimed offender and then approach Interpol to issue a red corner notice against him and arrest him there.
NIA has also identified 37 properties owned by him directly or indirectly. Sources said that many properties have suspicious ownership. An officer said there is enough evidence to make a strong case of illegal and unexplained flow of money to Naik's business ventures, particularly Harmony Media Pvt Ltd, in which he and his wife were directors till a few years back.
http://timesofindia.indiatimes.com/india/nia-issues-fresh-summons-to-zakir-naik-asks-him-to-appear-on-april-17/articleshow/57993582.cms
--------
Centre to identify, arrest and deport Rohingya Muslims
Apr 4, 2017
NEW DELHI: The Centre is working on identifying Rohingya Muslims who have entered the country from Myanmar over the past 5-7 years and are staying illegally in various pockets including Jammu, for likely arrest and deportation under the Foreigners Act.
According to a senior home ministry official, there are an estimated 40,000 Rohingyas who, after being disowned by Buddhist Myanmar, had fled their homes and crossed over to India to take refuge here. They follow three infiltration routes for entering India; by sea, via Bangladesh border (there are around 3 lakh Rohingyas living in Bangladesh) and via Chin area on Myanmar border.
Around 5,500-5,700 of the Rohingya immigrants are based in Jammu alone, though the home ministry fears the number may be 10,000-11,000 if a true count is taken. This, an officer of the central security establishment conceded, is an unusually high percentage of the all-India figure.
Union home secretary Rajiv Mehrishi chaired a meeting here on Monday to make an assessment of the illegal Rohingya settlers in the country and discuss a mechanism for their detection, arrest and deportation. The meeting was attended by J&K chief secretary and DGP, joint secretary (J&K) in MHA and senior BSF and intelligence officers.
Though United Nations Human Rights Commission has recognised around 14,000 Rohingya Muslims living in India as 'refugees', a government official said India does not accept the status conferred by the UN body as the 'refugees' are merely foreigners who have entered the country illegally.
Full report at:
http://timesofindia.indiatimes.com/india/centre-to-identify-arrest-and-deport-rohingya-muslims/articleshow/57999515.cms
--------
Uttar Pradesh: Five Muslim families who fled Hapur after clash return after assurance from cops
April 4, 2017
FIVE MUSLIM families, who had fled Upeda village in Hapur after Hindus and Muslims clashed last week, returned home on Sunday, following assurances from senior officials and deployment of heavy police force in the area.
An FIR was lodged over the alleged attack on the Muslim youths, following which, two persons have been arrested. According to the police complaint, Shaqib and his cousins — Sameer and Suhel — along with their uncle Sabu, were returning from a mosque after offering prayers on March 29 when four youths made objectionable comments related to their religion. Shaqib, the complainant, alleged that the youths threatened them not to wear skull caps.
He added that while they avoided an argument and returned home, four of the youths followed and attacked them. Shaqib's father Nizam said when he and his cousin Saleem Khan tried to intervene, they too were assaulted. The four assailants later left, he added.
"An FIR has been registered against the four accused — Nanu, Sandeep, Prince and a juvenile — on charges, including promoting enmity between two groups on ground of religion. Nanu and Sandeep were arrested a day after the incident and both are lodged at Dasna Jail in Ghaizabad," Babugarh police SHO Jitendra Kumar said.
Read: communal clash in Badaun: No structure to be allowed on 'illegal' land, says Hindutva leader Sadhvi Prachi to villagers
When contacted, Saleem Khan said that fearing further attacks, they decided to send their families to a safer place.
Full report at:
http://indianexpress.com/article/india/uttar-pradesh-five-muslim-families-who-fled-hapur-after-clash-return-after-assurance-from-cops-4598520/
--------
Pakistan
Pakistan keeps mum over Iran envoy's remarks
April 04, 2017
ISLAMABAD: The Foreign Office has avoided an immediate reaction to media statements by Iranian Ambassador Mehdi Honardoost who expressed reservations about Pakistan clearing former army chief Gen Raheel Sharif to lead a 39-nation military alliance put together by Saudi Arabia.
"Not now. We generally do not react to media reports. We'll, however, look at it," FO spokesman Nafees Zakaria said when contacted.
The spokesman had, however, at a briefing last Thursday dismissed the impression that Pakistan's participation in the alliance would compromise its longstanding principle of neutrality in the Middle Eastern conflicts.
"You are talking about two different things. The basic purpose of this force is counter terrorism," Mr Zakaria had said while responding to a questioner, who asked if Islamabad by joining the Saudi alliance had given up the policy of neutrality in the Middle East.
In a surprise diplomatic offensive, the Iranian envoy had, according to a report carried by Iran's state news agency IRNA, expressed reservations over the issuance of No-Objection Certificate (NOC) by the Pakistani government for appointing Gen Sharif as head of the Saudi-led military alliance.
It was always expected that Iran being a Saudi adversary would not be comfortable with Riyadh's move to set up such an alliance, though under the pretext of fighting the militant Islamic State group.
Islamabad's decision to send the former army chief to lead the alliance is therefore all set to complicate the already fraught Pak-Iran ties. Mr Honardoost, according to IRNA's dispatch, confirmed reports that the Pakistan government had shared with him in advance its intentions to allow Gen Sharif to join the Saudi-led alliance. However, the report noted that the envoy believes that a communication by the Pakistani side cannot be implied as Iran being satisfied with the decision or having accepted the same.
The ambassador said that he had informed his interlocutors that Iran would not become part of any alliance like the 'military alliance', nor such kind of offer had been extended to it.
"He (the ambassador) strongly believed that all important Islamic countries should come together to form a coalition of peace to resolve their issues rather [than] forming a controversial military alliance," IRNA said.
Published in Dawn, April 4th, 2017
https://www.dawn.com/news/1324711/pakistan-keeps-mum-over-iran-envoys-remarks
--------
Saiful Malook Reprinted After 150 Years
April 04, 2017
LAHORE (PR) - Saiful Malook is the most famous and the best piece of versified work in the Punjabi language written by well-known Sufi poet Hazrat Mian Muhammad Bakhsh (1830-1907).
'Saiful Malook' was reprinted again on 23rd March after almost one and half century by Prof Saeed Ahmad, one of the devotees of Hazrat Mian Muhammad Bakhsh & author of Great Sufi Wisdom Series of books.
Well-known Sufi poet Hazrat Mian Muhammad Bakhsh wrote 18 books, 17 in Punjabi and one in Persian. The most famous out of these books is "Saiful Maluk" (Safrul Ishq or the journey of Divine Love) is a magnum opus of the writer. Hazrat Mian Muhammad Bakhsh wrote this book in the age of 33 (according to the Hijra Calendar in 1279 (1863 AD) but it took him almost six years to bring it in its printable form. It was not easy to print books in those days as he was residing in Khari Sharif, Mirpur, (the remotest area of the Punjab). Khari Sharif was the part of Punjab in those days, later on it was annexed with Kashmir territory during the British rule. Before writing the best versified piece of literature he had already written six books in his mother tongue Punjabi. Interestingly, when he got printed Saiful Malook from Mustafai Printing Press, Kashmiri Bazar (old name of Urdu Bazar, Lahore) he had written 10 books including Saiful Malook, all in Punjabi. Whilst he was writing this book, his spiritual brilliance was unmatchable which led him to string saintly pearls of the Divine Love in the form of the book.
Full report at:
http://nation.com.pk/national/04-Apr-2017/saiful-malook-reprinted-after-150-years
--------
Hindu boy immolates himself in Nagarparkar to achieve 'mukti'
HANIF SAMOON
April 04, 2017
A Hindu boy allegedly committed suicide by setting himself on fire to achieve mukti ─ liberation after death ─ in the Nagarparkar area of Thar district on Monday.
Tejo, the boy's father, said that the boy had gathered firewood near the local temple, set the wood on alight, and then thrown himself into the inferno.
Speaking to local media and police, Tejo, a resident of the Pooranwah village, said his son was "fanatically interested" in the worship of various deities.
He said his son had an intense interest in death as a means of achieving immortality from a very young age.
The belief is an old and now almost extinct tradition in Hinduism.
Tejo added that his son used to spend his nights worshipping at the village temple and had spent most of the time there on the day he ended his life.
Dr Auragzeb Sand, who conducted the postmortem, told Dawn that the boy's body had been burnt beyond recognition.
The doctor estimated the boy's age to be between 14 and 16 years.
Noted writer Bharumal Amrani told Dawn that never before had such an incident, wherein someone had killed themselves 'under the influence of the deities', happened before in Thar. He suggested that the boy might have been facing psychological or physiological problems.
Full report at:
https://www.dawn.com/news/1324622/hindu-boy-immolates-himself-in-nagarparkar-to-achieve-mukti
--------
Pakistan stresses need for political settlement of Afghan conflict
04-Apr-17
ISLAMABAD: Adviser to the PM on Foreign Affairs Sartaj Aziz said on Monday that there was no military solution to the conflict in Afghanistan and the focus should be on a political settlement through an Afghan-owned and Afghan-led peace process.
He was talking to a 14-member Afghan media delegation currently visiting Pakistan.
Sartaj Aziz said that the relations between the two brotherly countries were rooted in common history, religion, and culture and people-to-people ties.
He added that like their past, Afghanistan and Pakistan also shared a future. "It is, therefore, important that the two countries closely work together for dealing with the common challenges and pursue the welfare and progress of the people," he said.
Aziz described terrorism as the common enemy of the two countries, urging close cooperation and meaningful engagement between the two governments in the areas of security, counter-terrorism and border management for preventing cross-border movement of terrorist groups.
Reiterating Pakistan's desire for lasting peace in Afghanistan, Sartaj Aziz said that there was no military solution to the conflict in Afghanistan and the focus should be on political settlement through an Afghan-owned and Afghan-led peace process.
"In this regard, serious efforts are being made by Pakistan for peace talks between Afghan government and Taliban. The cooperation between the two countries is important for promoting peace and reconciliation in Afghanistan," he said. The members of the Afghan media delegation held a frank and candid conversation on the efforts for peace and stability in Afghanistan and strengthening of bilateral engagements.
Afghan ambassador
Recalling the recent terrorist attacks in Pakistan carried by terrorists from the Afghan soil, Special Assistant to the Prime Minister on Foreign Affairs Syed Tariq Fatemi on Monday underlined the need for effective border management for preventing cross-border movement of terrorists. He was talking to Afghan Ambassador Hazrat Omer Zakhilwal who had called on him.
Full report at:
http://dailytimes.com.pk/islamabad/04-Apr-17/pakistan-stresses-need-for-political-settlement-of-afghan-conflict
--------
Afghan refugees' voluntary repatriation resumes
April 04, 2017
PESHAWAR - At least 128 families of registered Afghan refugees left for Afghanistan on Monday as voluntary repatriation of the refugees resumed after a gap of four months.
The voluntary repatriation process, which had been halted in November 2016 due to cold weather in Afghanistan, formally resumed from repatriation centre at Chamkani in Peshawar.
"On the very first day, a total of 128 registered Afghan families returned to Afghanistan. Of them, 122 families left from Khyber Pakhtunkhwa through Torkham border and six more families from Balochistan through Chamman border," Duniya Aslam Khan, spokesperson for the United Nations High Commission for Refugees (UNHCR) told The Nation.
The returned 128 families make a total of 571 individuals, she said and added the repatriation process had been temporarily stopped in November 2016 due to harsh weather in Afghanistan and now after about four-month, it has been resumed.
The UNHCR officials said that earlier the UNHCR paid $400 to each person of a repatriating Afghan refugee family, but the financial assistance had now been reduced to $200 per person. They said the decision to cut cash grant had been taken following reduction in financial aids from donor agencies.
Duniya said currently the repatriation process had been started from Chamkani centre on main GT Road at the outskirts of Peshawar. The Chamkani repatriation centre has the capacity of arranging return of about 500 families per day, she said, adding the centre could manage the repatriation process properly.
She, however, said if the number of Afghan refugees returning to Afghanistan increased, then a second repatriation centre in Nowshera would be opened for registering them and facilitating them accordingly.
Pakistan has allowed stay of registered Afghan refugees till December 31, 2017.
Agencies add: The government resumed the repatriation of Afghan refugees on Monday, sending nearly 1,200 people back across the heavily guarded northern Torkham border, an official at the United Nations' refugee body said.
Pakistan is home to the world's second largest refugee population, with a total of 2.5 million Afghans living there. Many have been in Pakistan since the Soviet invasion in 1979.
Human Rights Watch has accused the UN of allowing Pakistan to forcibly evict Afghan refugees in violation of international law.
Rights activists say they expect little change this year in either Pakistani policies or the inability of the Afghan government and aid groups to support the tide. Pakistan denies systematic harassment of the refugees by its authorities. It claims the country has demonstrated great generosity in hosting the Afghans despite its own economic limitations. The Afghans going home now are leaving voluntarily, it says.
However, the Afghans complain about constant harassment and a lack of citizenship rights for those who have spent decades living and working in Pakistan.
"My family moved to Pakistan in the early '80s," said Abdul Wahab, who lived in Islamabad for more than 30 years. "My father sold carpets and operated a successful shop. He made sure he always paid his taxes. But we could not have a bank account or own property."
Despite growing up in Pakistan, Wahab said, the weight of being a second-class citizen was too much to bear. In early 2016, before Pakistan began sending back Afghan refugees, Wahab packed up his carpets and moved the business back to Kabul.
The United Nations High Commissioner for Refugees (UNHCR) confirmed that voluntary returns resumed after a suspension due to winter weather.
Asked whether Pakistan's hard-handed approach toward Afghans living within its borders for nearly 40 years had spurred the exodus, UNHCR representative Samad Khan said the reasons were varied. "Some move for economic purposes or to unite with their families and others are moving due to border restrictions which have impacted their families," he said.
Full report at:
http://nation.com.pk/national/04-Apr-2017/afghan-refugees-voluntary-repatriation-resumes
--------
Southeast Asia
Ahok trial: Muslims protesting against Governor misled by conservatives, key Islamic organisation says
Indonesia's biggest Islamic organisation says Muslims protesting against Jakarta's Christian Governor are being misled by religious conservatives.
Key points:
NU senior figure says Ahok protesters are focusing on out-of-date interpretations of the Koran
Ahok is giving evidence in his blasphemy trial for the first time
Final round of Jakarta governor election in three weeks' time
The comments from one of the senior figures in Nahdlatul Ulama (NU) come as Governor "Ahok" Basuki is due to give evidence for the first time today in his blasphemy trial.
The trial has split Indonesian Muslims and seen huge crowds protesting against the Governor on the streets of Jakarta.
NU supreme council secretary-general Yahya Cholil Staquf said a crucial verse in the Koran — which states that Muslims and non-Muslims should not be allies — is being deliberately misinterpreted by Islamic Defenders Front (FPI) hard-line leader Rizieq Shihab and others.
"I don't want to see him convicted because it's just not right," Mr Yahya told the ABC.
"It's all manipulation. To my belief there is no blasphemy done by Ahok at all.
"What I believe is that Ahok is not guilty, and the case that he is charged with, it has all been a manipulative thing going on for the purpose of the election."
NU is the biggest Muslim organisation in Indonesia, with about 50 million supporters.
Mr Yahya said "orthodox Islam" teaching focused on out-of-date interpretations of the Koran.
"There are some very important elements in the teaching that really need to be contextualised to fit with modern times," he said.
Election and blasphemy trial running parallel
The final round of the election for Jakarta's governor is in three weeks' time.
Ahok is in a close race with Anies Baswedan, who is supported by conservative Muslim groups, including the FPI.
The election campaign is running parallel to the Governor's blasphemy trial. Ahok is the final witness in the case and is due to give evidence today.
Mr Yahya said those leading the charge against Ahok were part of a growing conservative movement in Indonesia.
He said the conservatives were unhappy that the Indonesian constitution gave all citizens equal rights regardless of their religion.
"This is not a new challenge to us, we've been dealing with this kind of challenge over and over in our history," he said.
"We've been winning, I would say, but this challenge against our religious view is getting more and more stronger.
"The challenge from the conservative view of Islam against our position here is getting stronger."
He said the conservative version of Islam was being pushed by Saudi Arabia and Qatar.
Indonesian police have also released more details about the five people connected with the protest movement who are being investigated for alleged treason.
Police said they were plotting to occupy the Indonesian Parliament and were planning an illegal rally on election day.
Police spokesman Argo Yuwono said the organisers wanted to crash a truck into the back gates of Parliament and enter the complex through a manhole.
They said they also want to question the son of former Indonesian president Suharto, Tommy Suharto, about his links to the anti-Ahok protests.
http://www.abc.net.au/news/2017-04-04/indonesian-muslims-protesting-ahok-misled-by-conservatives/8412596
--------
Controversial Islamic scholar not a threat to Malaysia: Zahid
APRIL 4, 2017
KUALA LUMPUR — Contentious Islamic scholar Zakir Naik is allowed to be in Malaysia because he has not been earmarked as a "terrorist entity" by the United Nations (UN), Malaysia's deputy prime minister Ahmad Zahid Hamidi said yesterday.
"The Immigration Department will only blacklist individuals who pose a threat to the country's security and peace based on information provided by relevant enforcement agencies," Mr Zahid, who is also the Home minister, said in a written parliamentary reply to opposition Democratic Action Party (DAP) lawmaker M Kula Segaran.
As such, Mr Zahid said Dr Zakir "is not listed as a terrorist entity" under the UN Security resolutions, and based on this, the immigration department has no objection to the preacher's entry to Malaysia because he has not violated any of the country's laws. He added the Immigration Department does not "blacklist" anyone from entering the country based simply on media reports, but only credible information from enforcement authorities who would determine if a foreigner poses a threat to Malaysia's security.
In his parliamentary question, Mr Kula had asked the Home ministry to explain why the government has not barred Dr Zakir from entering Malaysia, despite his inflammatory speeches. Dr Zakir has previously voiced support for Al Qaeda jihadists and Osama bin Laden and, in a 2006 lecture, he called for "every Muslim to be a terrorist".
The Salafist preacher's inflammatory speeches have caused him to be banned from at least two countries: the United Kingdom and Canada.
But the India-born televangelist has been allowed to travel in and out of Malaysia giving religious speeches. Despite being a fugitive in India, he was welcomed by some senior Islamic clerics, and even met Malaysian Prime Minister Najib Razak last year.
Dr Zakir is currently on the run from the Indian authorities, who are mulling terror charges against him reportedly based on testimonies of about 50 terror suspects and convicts recorded from various jails, with those caught citing the medical doctor as their source of inspiration.
Full report at:
http://www.todayonline.com/world/asia/controversial-islamic-scholar-not-threat-malaysia-zahid
--------
Siti Kasim told by Perak mufti to understand Islam
April 3, 2017
IPOH: Perak Mufti Harussani Zakaria has advised controversial lawyer Siti Zabedah Kasim, better known as Siti Kasim, to learn and understand Islam.
He said Siti Kasim should not have touched on tauhid (oneness of God) as it was not her field of expertise.
"The action is tantamount to committing apostasy.
"Apostates are out of Islam and when they die, they cannot even be buried in a Muslim cemetery.
"My advice is not to meddle in religious matters which we are ignorant of. So, please learn.
"Study the religion of our parents. We should defend our religion.
"Do not speak on matters we don't know about as this can be detrimental to ourselves," he told a press conference at Darul Ridzuan Islamic Complex here today.
Harussani was commenting on remarks made by Siti Kasim in an interview with online Chinese media on the existence of God, which were deemed deviationist.
Yesterday, Deputy Minister in the Prime Minister's Department Asyraf Wajdi Dusuki said the Malaysia Islamic Development Department (Jakim) would summon Siti Kasim to record her statement following her remarks.
Full report at:
http://www.freemalaysiatoday.com/category/nation/2017/04/03/siti-kasim-told-by-perak-mufti-to-understand-islam/
--------
Hadi seeks special committee to review Bill banning child conversions
April 4, 2017
KUALA LUMPUR, April 4 — PAS called today for a special committee to review a government Bill to amend the Law Reform (Marriage and Divorce) Act 1976 (LRA) that will ban unilateral conversion of minors, among others.
The Islamist party president Datuk Seri Abdul Hadi Awang argued that the Bill review is needed as it will seriously affect the freedom of Muslim to practise their religion, and prevent them from preserving their faith without external interference.
"PAS suggests for Act 164 is reviewed thoroughly, through a special committee to draft and propose a solution that is fairer, holistic and inclusive," Hadi said in a statement.
The LRA is also known as Act 164.
The Marang MP said the committee should comprise both Muslims and non-Muslims members.
It should also included representatives from the national fatwa committee, the Shariah Judiciary Department, Shariah and civil law practitioners, and NGOs.
Last month, PAS information chief Nasrudin Hassan claimed that LRA amendments will remove a Muslim child's faith, and accused the federal government of only considering the interests of religious minorities instead of mainstream Muslims.
In November last year, PAS secretary-general Datuk Takiyuddin Hassan warned that Muslims may seek to derail the LRA amendment if non-Muslims continue to oppose its Hadi's private member's Bill to upgrade Shariah courts.
Hadi is also currently seeking to allow Shariah courts mete out harsher punishments through a private motion. His Bill is listed as the 16th motion in the Parliamentary Order Paper today.
Putrajaya is expected to table the LRA Bill for a second reading in the Dewan Rakyat this sitting with the highlight being the inclusion of a new Section 88A that explicitly states that "both parties" in a civil marriage must agree for the conversion of a minor into Islam.
Specifically addressing the "Religion of a Child" in civil marriages where one spouse has converted to Islam, the amendment also said that the child will remain in the religion of the parents at the time of marriage until the child is 18 years old, when he may choose his own religion.
Full report at:
http://www.themalaymailonline.com/malaysia/article/hadi-seeks-special-committee-to-review-bill-banning-child-conversions
--------
Mideast
Iran against General Raheel Sharif heading Islamic military alliance: envoy
April 3, 2017
Iran today said it has reservations on the appointment of Pakistan's former army chief Gen Raheel Sharif as the head of the Saudi-led 39-nation Islamic military alliance, warning that it may "impact" the unity among Muslim countries.
Iran's state-run IRNA news agency quoted the country's Ambassador to Pakistan Mehdi Honardoost as saying that Tehran had conveyed its concerns to Islamabad.
"We are concerned about this issue… that it may impact the unity of Islamic countries," Honardoost said.
"But that does not indicate that Iran is satisfied with this decision or it has accepted the same," the envoy was quoted as saying by Dawn newspaper.
He also said that Pakistan had contacted Tehran before issuing the no-objection certificate (NOC) to the retired general to head the Saudi-led alliance.
He said Tehran had informed Islamabad that Iran would not become part of such a military alliance, adding that neither had Iran been extended an offer to join a coalition of this sort.
He proposed that all important Islamic countries come together to form a "coalition of peace" in order to resolve their issues "rather [than] forming a controversial military alliance".
Gen Sharif, who retired as army chief last November, is likely to assume command of the anti-terrorism alliance, being dubbed the 'Muslim Nato', this month, the newspaper reported.
The Pakistan government had issued an NOC for Sharif to join the alliance after an understanding was reached between Pakistan and Saudi Arabia on the matter, retired Maj Gen Ijaz Awan, a defence analyst and close associate of the former army chief, said.
The appointment of Gen Sharif as the leader of the military alliance sparked debate over how the move will impact Pakistan's foreign policy, and whether it was fully sanctioned by parliament, the report said.
Pakistan had initially found itself in the cross-hairs of Middle Eastern politics as Saudi Arabia named it as part of its newly formed military alliance of Muslim countries meant to combat terrorism, without first getting its consent.
However, after initial ambiguity, Islamabad had confirmed its participation in the alliance, but had said that the scope of its participation would be defined after Riyadh shared the details of the coalition it was assembling.
Raheel's appointment had been criticised by some Pakistani politicians, retired army officers, journalists, intellectuals, who had questioned the decision of the ex-army chief to join a foreign military alliance after retirement.
The coalition was envisaged to serve as a platform for security cooperation, including provision of training, equipment and troops, and involvement of religious scholars for dealing with extremism.
The Saudi government had surprised many countries by announcing that it had forged a coalition for coordinating and supporting military operations against terrorism in Iraq, Syria, Libya, Egypt and Afghanistan, the report said.
Iran, Saudi Arabia's archrival for influence in the Arab world, was absent from the states named as participants, as proxy conflicts between the two regional powers rage from Syria to Yemen, it added.
http://indianexpress.com/article/world/iran-against-general-raheel-sharif-heading-islamic-military-alliance-envoy-4598156/
--------
Erdogan says Turks in Europe should defy 'grandchildren of Nazism'
April 04, 2017
President Tayyip Erdogan on Monday called on Turkish voters in Europe to defy the "grandchildren of Nazism" and back a referendum this month on changing the constitution, comments likely to cause further ire in Europe.
Erdogan has repeatedly lashed out at European countries, including Germany, in campaigning for the referendum, accusing them of "Nazi-like" tactics for banning his ministers from speaking to rallies of Turkish voters abroad.
Germany has been incensed by the references to its wartime past. German Chancellor Angela Merkel has said that the references must stop.
Full report at:
http://nation.com.pk/international/03-Apr-2017/erdogan-says-turks-in-europe-should-defy-grandchildren-of-nazism
--------
Houthi leader reveals mass exodus of militants near Lahij
3 April 2017
A Houthi leader from to the northern province of Omran surrendered to Poplar Resistance and Yemen's army forces in the Karash front north of Lahj province and revealed that masses of militias have abandoned the fight.
Colonel Abdulhakim al-Shuaibi, head of the Karash Front, said that the Houthi leader, who is currently in custody, surrendered to the National Army after he asked for safety.
He revealed that at least 40 Houthi militias escaped and abandoned that front.
Meanwhile, Houthi leader Abdul Malik al-Houthi proposed a deal to swap prisoners with the legitimate government which.
Militias in Yemen are suffering from shortage in the number of fighters due to the heavy losses inflicted on them, and this may have pushed Houthi to make this proposal.
Full report at:
https://english.alarabiya.net/en/News/gulf/2017/04/03/Houthi-leader-reveals-mass-exodus-of-militants-near-Lahij-.html
--------
Iran deal devised based on mistrust of US: Zarif
Apr 4, 2017
Iranian Foreign Minister Mohammad Javad Zarif says a multilateral deal reached between Iran and the P5+1 countries in 2015 was devised based on the Islamic Republic's mistrust of the United States.
Speaking on Monday, Zarif reiterated concerns by Leader of the Islamic Revolution Ayatollah Seyyed Ali Khamenei about the US's non-performance of the deal, which is known as the Joint Comprehensive Plan of Action (JCPOA), and said such non-commitment had been predictable for Iran.
Thus, the Iranian foreign minister said, "the two sides proceeded based on mutual mistrust and devised numerous [contingency] mechanisms."
Iran and the P5+1 group of countries, namely the US, Russia, China, France, Britain, and Germany, reached the deal in July 2015. The agreement went into effect in January 2016, resolving a long-running dispute over the Iranian nuclear program.
Under the deal, Iran has agreed to put certain limits to its peaceful nuclear program in return for the lifting of international sanctions that had been imposed on the country over the program.
Zarif said the mechanisms worked out in the deal made it "much easier" for Iran, if necessary, to roll back the steps it had taken under the deal than for the other side to put the sanctions back on the Islamic Republic.
"If a moment comes when the Americans would not perform the JCPOA, our reversibility would be amply swift," Zarif said, explaining that, in such a scenario, Iran would take up more nuclear activities than it had before committing to the JCPOA.
He said that Iran had "enough guarantees," based on the mechanisms, to return to the pre-JCPOA era if the Iranian government determined one day that the American non-performance was at a level warranting that return.
Zarif said, however, that he believed such a scenario would be unlikely.
While Iran has been steadfastly carrying out its commitments under the JCPOA, the US has been less strictly abiding by it. Washington has offered only verbal assurance to international institutions that they would not face US punitive measures if they restored their trade ties with Tehran under the circumstances provided following the conclusion of the deal. The shortage of concrete guarantees has caused some European banks to balk at resuming the transactions.
Full report at:
http://www.presstv.ir/Detail/2017/04/04/516651/Iran-Zarif-JCPOA-mistrust-of-US
--------
Iran, US, UN decry deadly St. Petersburg attack
Apr 3, 2017
Iran has offered its condolences to the families of the victims of a deadly blast in a metro station in Russia's Saint Petersburg, stressing that killing innocent people is not a way to reach political goals.
"Causing insecurity and killing innocent people is the most humiliating path to reaching political goals," said Iranian Foreign Ministry Spokesman Bahram Qassemi on Monday.
Earlier in the day, at least 11 people were killed and dozens more were wounded as an explosion ripped through a subway train traveling between St. Petersburg's Sennaya Ploshad and Technological Institute stations. The Kremlin has stated that the incident has "all the hallmarks of an attack."
Following the blast, the city's metro system was closed down as police found and defused another explosive device in another station.
Russia's Investigative Committee has announced that it is dealing with the incident as an "act of terror" but has said that it is not ruling out other possible causes of the explosion.
Condemning the attack, Qassemi reiterated Iran's calls to form a serious international coalition for battling terrorism.
"We believe that the only way to stop these terrible atrocities is to cut them off by the roots; the only way to do this is through serious will of all international governments and organizations," he added.
Hezbollah condemns attack
Separately, the Lebanese resistance movement of Hezbollah also condemned the terrorist explosion in Saint Petersburg. In a Monday statement, Hezbollah said the attack was further reason for world countries to unite in their efforts to confront the terrorists and their financial and ideological sources.
It said the attack would not dent Russia's determination to fight terror.
United Nations slams deadly Russia blast
Meanwhile, UN Secretary General Antonio Guterres has condemned the attacks, stressing that those behind it must be held accountable.
"The secretary general condemns today's bombing in the St. Petersburg metro," said the UN chief's spokesman Stephane Dujarric.
"He extends his deepest sympathy and condolences to the families of the victims and to the government and the people of the Russian Federation…Those responsible for this appalling act must be held accountable," he added. The UN Security Council also slammed the bombing as a "barbaric and cowardly terrorist attack."
Trump calls blast a 'terrible thing'
US President Donald Trump also slammed the attack while attending an event at the White House. "Terrible. Terrible thing. Happening all over the world. Absolutely, a terrible thing, " he said.
According to the Kremlin, Trump also had a telephone conversation with Russian President Vladimir Putin to offer his condolences.
The US president also conveyed his support for the people of Russia, said a statement released by the Kremlin. It added that both leaders had voiced their joint view that "terrorism is an evil that must be fought jointly."
White House press secretary Sean Spicer also censured the attack, and offered condolences to the families of the victims.
"Attacks like these on ordinary citizens going about their lives remind us that the world must work as one to combat violence in all forms," said Spicer. "The United States is prepared to offer assistance to Russia and may require investigating this crime."
The acting US State Department spokesperson, Mark Toner, also condemned the "reprehensible attack on passengers of the St. Petersburg metro system."
Full report at:
http://www.presstv.ir/Detail/2017/04/03/516628/iran-russia-petersburg-blast-un
--------
Turkey coup staged with government knowledge: Opposition leader
Apr 3, 2017
The main Turkish opposition party has accused the ruling Justice and Development Party (AKP) of having prior knowledge of the failed July 15, 2016 putsch, saying Ankara carried out a "controlled" coup in an attempt to exploit its outcomes.
The head of the Republican People's Party (CHP), Kemal Kilicdaroglu, made the remarks on Monday, during a breakfast meeting with the editors of several Turkish television stations, adding that up to 180 people within the government of President Recep Tayyip Erdogan had been employing an encrypted messaging application, called ByLock, for plotting the coup, and that the country's secret service had a list of these people.
"These ByLock users should be revealed. If this list is going to be kept secret, then it indicates that July 15 was a controlled coup. [Meaning that] they (the authorities) had information about the coup in advance," Kilicdaroglu further said, adding that the testimonies given by the arrested members of the outlawed movement led by the US-based cleric Fethullah Gulen "also strengthen the view that it was a controlled coup."
The coup began when a faction of the Turkish military declared that it had seized control of the country and the government of President Erdogan was no more in charge. The attempt was, however, suppressed a few hours later.
Following the failed coup, Ankara launched a heavy-handed crackdown on those deemed to have played a role in the attempt, which was blamed on the Gulen movement. The Pennsylvania-based cleric has, however, categorically denied the allegation. The government has outlawed his large organization, the Gulen movement, in the country and has branded it as Fethullah Terrorist Organization (FETO).
Kilicdaroglu also said that Ankara had detained thousands of people allegedly linked to FETO, but failed to take any action against its political wing. His comments are an apparent response to Turkish Prime Minister Binali Yildirim, who, a day earlier, had denied allegations that FETO had a "political affiliation" within the AKP.
The CHP leader also stated that he had "compiled a special dossier" on the issue, but declined to elaborate on its contents.
Kilicdaroglu's remarks, however, infuriated Erdogan, who responded at a televised rally in the Black Sea region of Rize shortly afterward.
"If you have a dossier then out with it!" retorted the Turkish leader, adding, "But it's a big lie."
Full report at:
http://www.presstv.ir/Detail/2017/04/03/516596/Turkey-AKP-CHP-Kemal-Kilicdaroglu-Erdogan-coup-FETO-Gulen
--------
262 Turkish diplomats, soldiers seeking asylum in Germany
Apr 3, 2017
At least 262 Turkish diplomats and military personnel have filed for political asylum in Germany since a last year failed coup blamed on supporters of US-based cleric Fethullah Gulen.
A spokeswoman for the German Interior Ministry made the announcement on Monday, saying that 151 of the asylum applications came from Turkish nationals holding diplomatic passports while the other 111 were from people with no-fee passports, which are issued to government employees, including military personnel, civil servants and their dependents.
"Those figures are not actually statistically sound because they are based on the voluntary statements of the asylum applicants," said Annegret Korff, suggesting that the real number could be higher.
"The asylum applications will be treated on a case-by-case basis ... and decided according to the law," she added.
The spokeswoman also noted that the number of Turkish citizens seeking asylum in Germany had dramatically risen after the botched putsch despite Ankara pressuring Berlin to reject applications from soldiers and army personnel suspected of having links to Gulen.
Turkey witnessed a coup attempt on July 15, 2016 when a faction of the Turkish military declared that it had seized control of the country and the government of President Recep Tayyip Erdogan was no more in charge. The attempt was, however, suppressed a few hours later.
Full report at:
http://www.presstv.ir/Detail/2017/04/03/516579/Turkish-diplomats-political-asylum-Germany
--------
Europe
French Paper Highlights Morocco's Tolerant Islam as Bulwark against Extremism
April 3, 2017
French paper, L'Express, highlighted the role played by Mohammed VI Institute for the Training of Imams in boosting Morocco's clout in the continent and championing a moderate and tolerant Islam against the threat of extremism.
Promoting the lofty values of tolerance inherent to Islam is a praiseworthy endeavor pursued by the Institute in a bid to counter calls for extremism at the local and international level, underscores the French newspaper.
The Institute, located in Rabat, has been offering training to Imams and preachers from different African countries such as Mali, Cote d'Ivoire, Nigeria, Chad as well as European countries, including France, adds the same source, noting that 50 Frenchman out of a total of 1195 students are currently receiving training on the genuine precepts of Islam.
The reform of the religious sphere is a key part in Morocco's counter terrorism strategy. The Institute, which trains Imams, Murshideen and Murshidat (male and female preachers), is a vector of religious diplomacy aiming to counter the terrorist threat that feeds on extremist interpretations of religions with a view to destabilize the region.
The paper also highlights that Morocco is becoming a hub for spreading tolerant Islam, noting that French Foreign Minister Laurent Fabius and Minister for Endowments and Islamic Affairs Ahmed Toufiq signed an agreement in 2015 to offer training within the institute to Imams of French mosques.
Morocco also launched the Mohammed VI Foundation for African Ulemas, an academic institution based in Fez that aims at uniting the efforts of Muslim scholars to promote tolerant Islam and counter extremism and radicalization on the continent.
http://northafricapost.com/17171-french-paper-highlights-moroccos-tolerant-islam-bulwark-extremism.html
--------
British military trainers will fight ISIS in Jordan
April 04, 2017
According to The Independent, Theresa May has announced a plan to send British military trainers to Jordan to boost the nation's air force at the start of a three-day tour of the Middle East.
The programme's aim is to help the country fight Isis but comes amid controversy surrounding the Saudi-led military campaign in Yemen, which also involves Jordan.
The Prime Minister wants to focus her visit, taking in both Jordan and Saudi Arabia, on tackling the Jihadi group and deepening trade ties.
But the trip was accompanied by an embarrassing announcement from the Metropolitan Police that its war crimes unit is considering an investigation into Saudi activities in Yemen.
Ms May said: "It is clearly in the UK's security and prosperity interests to support Jordan and Saudi Arabia in tackling regional challenges to create a more stable region, and in delivering their ambitious reform programmes to ensure their own stability. "An even deeper partnership with these countries, and greater knowledge and understanding of one another, will increase our ability to address the issues that concern us, including the promotion of international standards and norms.
"To tackle the threats we face from terrorism and from geopolitical instability, we must meet them at their source."
She added: "Jordan is on the frontline of multiple regional crises and I'm clear that by working with them, we are helping keep British people safe. Likewise in Saudi Arabia, we must never forget that intelligence we have received in the past from that country has saved potentially hundreds of lives in the UK."
On Tuesday Ms May will head to Saudi, the UK's largest trading partner in the Middle East with goods and services exports totalling £6.6bn in 2015. Talks are set to focus on stronger ties following the vote for Brexit.
The Prime Minister has faced repeated calls to suspend arms sales to Riyadh amid claims of widespread human rights abuses in Yemen during the coalition bombing campaign it is leading, which includes Jordan.
The Saudis back the war-torn country's internationally recognised government against Iran-backed Houthi rebels.
Britain has continued to allow arms sales, with more than £3.3bn of exports since the bombing began in March 2015. At least 10,000 people have been killed during the war, according to the United Nations.
Foreign Secretary Boris Johnson apologised at the weekend to the Saudi government after an activist in London tried to carry out a citizen's arrest of one of the Gulf state's generals, while another protester threw an egg at the senior officer as he arrived at an event.
But further embarrassment has been caused after the Met made its announcement, in a statement: "On Thursday 30 March 2017, the Metropolitan Police Service received a referral of an allegation of war crimes, made against Saudi Arabia, committed in Yemen.
"Following receipt of the referral, the MPS war crimes team began a scoping exercise and contacted those making the allegations.
Full report at:
http://nation.com.pk/international/03-Apr-2017/british-military-trainers-will-fight-isis-in-jordan
--------
Russia metro attack staged by Kyrgyz suicide bomber
04 April 2017
A suicide bomber from Kyrgyzstan was behind the explosion that killed 11 people and injured dozens more in the Saint Petersburg metro, security services in the Central Asian country said Tuesday.
"It is probable that he acquired Russian nationality," he said.
Russia's Investigative Committee said it was probing an "act of terror" over the blast that rocked the metro in the country's second city on Monday afternoon, but added it would look into all other possible causes of the blast.
There was no immediate claim of responsibility for the explosion, which comes after the Islamic State group called for attacks on Russia in retribution for its military intervention in Syria against the jihadists.
Full report at:
http://www.worldbulletin.net/europe/187331/russia-metro-attack-staged-by-kyrgyz-suicide-bomber
--------
South Asia
Suicide attacks intensify Bangladesh's rising radicalism
APRIL 3, 2017
By SUBIR BHAUMIK
Bangladesh has been hit by a spate of suicide bombings, heralding a dangerous new phase of Islamist radicalism in one of the world's most populous Muslim nations. The attacks signal extremist groups, under intense counterterrorism pressure, have resorted to terror tactics common in Pakistan and Middle Eastern countries but hitherto unseen in Bangladesh.
In late March, one suicide bomber blew himself up near a police check post at the entrance of the Dhaka airport. The next day, another blew himself up near a base of the capital's Rapid Action Battalion (RAB), injuring two security personnel.
The following day another suicide bomber blew himself up after failing to storm a RAB check post. Meanwhile, army para-commandos who raided and killed four Islamist radicals in a hideout in the northeastern town of Sylhet confirmed all four had suicide vests strapped to their bodies.
Military spokesman Brigadier-General Fakhrul Ahsan said all four were shot and killed before they could activate their suicide vests. As the army mounted the assault on the hide-out building, leaving the police and para-military to guard the outer ring, a group of motorcycle-riding radicals lobbed grenades at their positions.
Six people — two of them policemen and one the chief of the RAB's intelligence wing — were killed in the assault. More than 40 others were injured. On March 30, police reported militants had blown themselves up with women and children in a hideout in neighboring Moulavibazar, bordering India's volatile northeast region.
Counterterrorism chief Monirul Islam said at least eight died in the incident. "When our SWAT personnel entered the hideout, we were taken aback. Hands, limbs and heads were strewn all over. Even the gender of the children killed could not be easily identified, the bodies were so badly shredded," Islam said.
Three more militants, including one woman, were found dead after police stormed into another hideout in Moulavibazar town on Saturday. Monirul Islam said they had also blown themselves up to avoid capture.
The use of suicide explosions in Bangladesh's intensifying struggle between government forces and Islamic extremists started on December 24, when a woman, reportedly the wife of a top Islamist radical, blew herself up in a Dhaka hideout.
"The suicide explosions have not caused much casualties so far because the bombers are not properly trained. But they could surely cause more harm in future," said Lieutenant General John Mukherjee, former chief of staff of India's Eastern Army.
A veteran who has fought insurgents in India's troubled Kashmir and "Seven Sisters" northeast region, Mukherjee said these bombers apparently were prepared to die for their insurgent cause. "That is the worry. Sooner or later, they will cause more damage," he told Asia Times.
One upshot so far is that the country's counterterrorism forces – comprised of police, the RAB and army – have launched proactive, integrated operations to face down the growing radical challenge.
After the attempted suicide bombings in Dhaka in March, Prime Minister Sheikh Hasina appealed to "misguided militants" to shun violence while speaking on the country's March 26 Independence Day. At the same time, she called on the army to "eliminate" Islamist militants holed up in a high-rise building on the outskirts of Sylhet.
Soldiers of the country's First Para-Commando Battalion engaged the four militants for four days before finally killing them all by sniper fire, even as they extricated 78 civilians to safety. The militants failed to take any hostages, kill a single para-commando or cause any collateral damage by exploding their suicide vests.
"It was a very successful operation by any standard," Mukherjee opined.
Home Minister Asaduzzaman Khan Kamal said the specialized police units, both from SWAT and the Counterterrorism Center, will handle much of the future operations against Islamist radicals. "But if and when needed we will call out the army again," Kamal told Asia Times.
A July 1 terror attack last year that targeted mostly foreigners in a high-end restaurant in Dhaka's affluent Gulshan neighborhood was viewed by many as a game-changer. In that assault, six Islamist radicals took scores of hostages and killed more than 20 of them, mostly foreigners and in brutal fashion, before they were slain by soldiers of the same para-commando battalion that recently killed the extremists in Sylhet.
The Gulshan cafe attack marked a peak of Islamist radical violence after a steady stream of dozens of assassinations over the last two years. Scores of secular writers, bloggers, artists, publishers and politicians have been killed in machete attacks or shootings by Islamist radicals, belonging to groups like the Jamaat ul Mujahideen Bangladesh (JMB), Ansarullah Bangla Team (ABT) and Harkatul Jihad al Islami (HUJI).
They all appear determined to eliminate Bangladesh's proud secular nationalist heritage that arose from the country's violent birth as an independent nation in 1971.
"When the Gulshan attack took place, Bangladesh seemed to be losing the battle against terror," said Bangladesh watcher Sukhoranjan Dasgupta. "But that did not happen – the police and security forces fought back with determination."
Four months after the Gulshan attack, Bangladesh's police killed at least seven top leaders of radical groups, including JMB chief Tamim Choudhury (a Bangladesh expatriate from Canada), his military wing chief former major Zahid ul Islam and his deputy Tanvir Quaderi.
More than 20 mid-ranking radicals who allegedly managed underground groups were also either arrested or killed. Dozens of lower level radicals were rounded up and their underground cells dismantled across the country, from the port city of Chittagong to Chapai Nawabganj in the north and Sylhet in the northeast.
Many weapons and explosives, including suicide vests, were reportedly recovered in the raids.
A United States counterterrorism official, speaking on condition of anonymity because he was not authorized to speak with the media, told Asia Times that Bangladesh's counterterrorism operations to date have been "relentless and unwavering" and "more successful than ours."
But just when police and security forces appeared to have crippled the radical groups' underground infrastructure, they have had to shift tactics to deal with the sudden spate of suicide bombing attempts. Officials say the limited damage caused so far can be attributed to solid police and intelligence work.
"They follow the traditional police method of hard interrogation of suspects and infiltrate the terror groups by planting moles. And they follow up every lead vigorously," the US official said. "That is working."
Retired Indian Major General K K Ganguly, a commentator on regional security affairs who fought against Tamil rebels in Sri Lanka and separatists in India's Kashmir and northeastern region, concurs with that assessment.
"There is no let-up in Bangladesh's counterterrorism offensive. They are very pro-active and never pushed on the defensive," Ganguly told local media. "The political will to fight terror is never found wanting."
Dhaka police counterterrorism chief Monirul Islam, one of the chief architects of the government's pursuit of radicals, told Asia Times that there is "no room for complacency in our war against terror. We cannot let the militants seize the initiative at any cost."
But with intelligence suggesting there could be dozens more radicals trained in suicide bombing attacks, he says Bangladesh's "war on terror" is not expected to end any time soon.
Subir Bhaumik is a former BBC East India correspondent who now works for a Bangladesh news portal
http://www.atimes.com/article/suicide-attacks-intensify-bangladeshs-rising-radicalism/
--------
Ex-Taliban commander threatens action if conditions deteriorate in Afghanistan
April 04, 2017
According to Tolo News, A former Taliban commander who recently joined the peace process, along with 200 of his men, said on Sunday he will take up arms again if social injustices continue to increase.
The commander, from the Chamtal district of Balkh province, said he has laid down his weapons and will stay at home, unless living conditions get worse.
Khan Mohammad, the commander, said he has fought against government forces under the Taliban flag for ten years and now believes that anyone who creates trouble for the people, is an enemy. He also called on Taliban members to join the peace process.
"I am tired of fighting and wish to have a peaceful life alongside my family," he said.
Khan Mohammad is 51 years old and joined the Mujahideen in remote areas of Balkh province 30 years ago.
According to him, in 1984 he arrested six soldiers from the Red Army at Alborz hillside in Herat province and then exchanged the men for more than 90 Mujahideen who had been in a Soviet Union prison.
He said he first joined Hizb-e-Islami and then moved across to the National Movement Party. During this time he spent more than two years in a Taliban prison.
In response to a question from where he received arms and equipment he said: "I was a Mujahid and I received the weapon on that time and also people provided us arm during Jihad,"
Khan Mohammad's men also said they had been deceived by Taliban propaganda and now they regret the things they did in the past.
"We welcome the joining of 200 Taliban to the peace process and it will have a positive impact on our region's security," said Mohammad Amin, resident of Chamtal district.
"We cooperate with government and urge other Taliban groups to join the peace process," said Mohammad Salim, another former Taliban insurgent.
Full report at:
http://nation.com.pk/international/03-Apr-2017/ex-taliban-commander-threatens-action-if-conditions-deteriorate-in-afghanistan
--------
Civilians suffer casualties in Afghan Special Forces operation in Helmand
Apr 03 2017
A number of the Afghan civilians have suffered casualties during an operation of the Afghan National Defense and Security Forces (ANDSF).
Local officials confirmed that the civilians were killed due to an explosion that resulted into the collapse of a house.
Provincial governor's spokesman Omar Zwak confirmed the incident but did not comment regarding the exact number of people killed in the incident.
According to the reports emerging from the province, the Afghan security forces discovered and detonated some explosives from a house which resulted into the collapse of a residential house.
The incident took place two nights ago in Lasghkargah city with the local residents saying at least nine of a family including women and children were killed.
In the meantime, Zwak said the government will conduct an investigation to ascertain circumstances surrounding the incident and the method of the operation conducted by the Afghan forces.
Full report at:
https://www.khaama.com/civilians-suffer-casualties-in-afghan-special-forces-operation-in-helmand-02499
--------
Paktika deputy intelligence chief killed in Taliban militants attack
Apr 03 2017
A top intelligence official in eastern Paktika province has been killed in ambush of the Taliban insurgents, local officials said Monday.
Provincial police chief General Khalil Zeyayi confirmed that the deputy intelligence, national directorate of security, chief General Abdul Wahab was killed during clashes with the Taliban in southeastern Ghazni province.
He said the Taliban insurgents ambushed Gen. Wahab in the vicinity of Andar district of Ghazni on Sunday.
Gen. Zeyayi further added that three security guards of Gen. Wahab were also killed during the clashes with the Taliban insurgents.
According to the local government officials, Gen. Wahab assumed charge as the deputy intelligence chief of Paktika nearly one year ago.
He was previously working as the head of the urban commandment of the Khost intelligence department.
The Taliban insurgents group claim that Gen. Wahab was killed along with his six security guards during the clashes.
Full report at:
http://www.khaama.com/paktika-deputy-intelligence-chief-killed-in-taliban-militants-attack-02498
--------
30 thousand kg of C4 explosives seized by Afghan forces in Bagram
Apr 03 2017
The Afghan National Defense and Security Forces (ANDSF) personnel have seized at least thirty thousand kilograms of potent C4 explosives from northern Parwan province.
According to the local government officials, the explosives were placed inside 200 sacks and were buried in Shaka village of Bagram district.
The district administrative chief of Bagram Abdul Shukoor Qudosi confirmed that the explosives were discovered and seized during a joint special military operation conducted by the Afghan intelligence operatives and personnel of the other security institutions.
He said a suspect who was in charge keeping the explosives has managed to flee the area and investigations are underway to ascertain for which purposes the explosives were stored in the district.
Qudosi also added that the explosives were placed inside four trucks and have been shifted to Barikab for destruction.
The local security officials are saying that the discovery of the explosives is a major achievement as C4 explosives are rarely used in major suicide attacks and devastating car bombings.
Parwan is among the relatively calm provinces in northern Afghanistan but some of its remote districts still witness instability and violence occasionally.
Full report at:
http://www.khaama.com/30-thousand-kg-of-c4-explosives-seized-by-afghan-forces-in-bagram-02497
--------
URL: https://www.newageislam.com/islamic-world-news/where-isis-leader-baghdadi-isnt/d/110644
New Age Islam, Islam Online, Islamic Website, African Muslim News, Arab World News, South Asia News, Indian Muslim News, World Muslim News, Women in Islam, Islamic Feminism, Arab Women, Women In Arab, Islamophobia in America, Muslim Women in West, Islam Women and Feminism