New Age Islam News Bureau
28 Jun 2018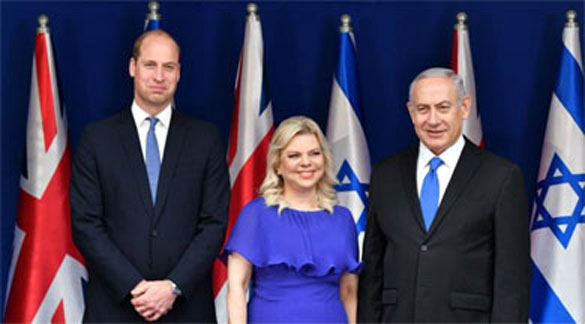 Prince William arrived in Israel from Jordan on Monday. [Getty]
An Associated Press journalist on Tuesday was prevented from covering a visit by Britain's Prince William to the prime minister's official residence after Israeli security agents questioned him about his religion and ethnic background.
-----
• Where Faith And Beauty Bloom: Inside Edmonton's New Islamic-Inspired Garden
• Israel Bars Journalist from Prince William Event Because He's Muslim
• Eleven from Two Families, Including Six Children Reported Missing In Kerala; Family Fears Role of Islamic State
• Will Social Media-Savvy Political Parties Sweep Elections In Pakistan?
• 18 Taliban Militants Join Peace Process in Response to Saudi Imams' Speech
• In Afghanistan, the Taliban's Anti-Daesh Squad Gains a Reputation for Ruthlessness
North America
• Where Faith And Beauty Bloom: Inside Edmonton's New Islamic-Inspired Garden
• 5 Of 7 Nations Hit By US Travel Ban Are Majority Muslim
• US Authorities Seek Leniency For Islamic State Co-operator
• Dissenting Judge in Trump's travel ban case verdict assail colleagues over Muslim comments
• US presses UN Security Council to sanction Iran
• US Muslim leaders happy with Turkish election results
• Mattis Underlines US Role In Eliminating Fazlullah
--------
Mideast
• Israel Bars Journalist from Prince William Event Because He's Muslim
• In West Bank, Prince William speaks of Palestinian 'country'
• Come Back To an Independent Palestine, Abbas Tells Prince William
• Turkey's Erdogan, alliance partner agree to lift state of emergency
• Saudi airstrike leaves seven civilians dead in western Yemen
• Turkey condemns 'hypocritical' EU view of accession talks
• Turkey issues arrest warrants for nearly 100 over affiliation to Gulen network
--------
India
• Eleven from Two Families, Including Six Children Reported Missing In Kerala; Family Fears Role of Islamic State
• Hizbul, JeM Used Children in Kashmir during Clashes with Forces: UNSG Report
• Lashkar terrorist among three identified for involvement in Shujaat Bukhari's killing: Police
• Surgical strikes video out, shows terror casualties, damage to bunkers
• J-K: Special Police Officer cop escapes with rifle, joins Hizbul Mujahideen
• India's 10th Grade Topper Muslim Boy Dreams of Ending Child Labour
• Ram Temple Issue Likely To Be Discussed At All India Muslim Personal Law Board Meet On 15 July in Lucknow
• NIA questions accountant of Kashmiri businessman in terror funding case
• Tech -savvy terrorists exploiting cyber space for their advantage: Army Chief Bipin Rawat
--------
Pakistan
• Will Social Media-Savvy Political Parties Sweep Elections In Pakistan?
• Jamaat-i-Islami Central Chief Promises Even-Handed Accountability
• Ban on ASWJ Lifted, Ludhianvi's Assets Unfrozen
• Pakistan Placed On FATF 'Grey List' Despite Diplomatic Efforts to Avert Decision
• Civil Hospital surgeon among four linked with TTP arrested
• Interior minister terms terrorism as biggest threat in upcoming elections
• Security forces arrest five suspected terrorists from Sibi: ISPR
• Mr & Mrs Khan offer prayers at Dargah-e-Baba Fariduddin Ganjshakar
--------
Arab World
• 18 Taliban Militants Join Peace Process in Response to Saudi Imams' Speech
• Syrian Army Declares Complete Retake of Dayr Al-Zawr Desert
• At least 10 killed in twin blasts in Syria's Afrin
• UAE Businessman Abdul Aziz Al Ghurair Launches New $27 Million Education Fund For Refugees
• Tens of Civilians, Militants Killed, Wounded in Several Blasts in Northern Syria
• US-Backed SDF Keeps Fighters on Alert after Distribution of Syrian Flags across Raqqa
• US Military Continues Equipping Kurdish Militias in Northeastern Syria
• Syrian regime bars Daraa's displaced from crossing to safety
• Iraqi forces discover bodies of security men abducted by Daesh
• Bahraini court sets date for hearing in Sheikh Salman's trial
--------
South Asia
• In Afghanistan, the Taliban's Anti-Daesh Squad Gains a Reputation for Ruthlessness
• Will An Alleged War Criminal Become President Of Myanmar?
• Taliban suffer heavy casualties in Ghazni airstrikes
• Deadly clash among Afghan forces and Taliban in Nangarhar province
• Tatmadaw 'Understands' Need To Include Foreigner on Rakhine Probe Commission
--------
Europe
• 10 Far-Right Extremists Charged In Connection to Muslim Attacks in France
• UN starts registering Rohingya refugees in Bangladesh
• Man Jailed For Threatening To 'Slit A Muslim's Throat' On Twitter after Terror Attacks
• Merkel pleads for more humanity in refugee debate
• Integration Key for Geneva University Imam Course
• Iranian MP: Syria and Russia are sacrificing Iran
• Muslim body claims UK Tories neglect party Islamophobia
--------
Southeast Asia
• Eminent Persons Discuss Jakim's Role and Malaysia's Approach to Islam
• Islamist Losses in Local Polls Ease Pressure on Indonesia's President
• PAS will be 'real power' in next decade, says academic
• Zahid reminds Sabah Umno of close ties with Usno
--------
Africa
• Somali National Army Says Al-Shabaab Supreme Leader Dead
• Boko Haram: Nigerian Troops Battle Insurgents in Borno, Kill Six, Rescue 33
• Libyan presidential council VP abducted over supporting General Haftar
• South Sudan warring parties sign peace deal
• Intense divisions among Muslim clerics in SA highlighted in wake of Malmesbury mosque attack
Compiled by New Age Islam News Bureau
URL: https://www.newageislam.com/islamic-world-news/where-faith-beauty-bloom-inside/d/115671
--------
Where Faith And Beauty Bloom: Inside Edmonton's New Islamic-Inspired Garden
JUNE 26, 2018
The world's newest and northernmost Islamic-inspired garden has been sculpted out of Alberta's rugged countryside on a tract of land 15 minutes northwest of the Edmonton airport.
The Aga Khan Garden, funded by a $25-million donation from the philanthropist and spiritual leader of the world's Shia Ismaili Muslims, opens Canada Day weekend on the grounds of the University of Alberta Botanic Garden.
The Aga Khan chose the site in 2009 when he came to Edmonton to deliver the university's convocation address. It is just the second garden of its kind in North America, and is larger than the one that opened in Toronto in 2015.
Design elements were drawn from Persian gardens established in the 16th century and Islamic architectural treasures, including the Taj Mahal, Humayun's Tomb and the Red Fort in India and Al-Azhar Park in Egypt. The 12-acre plot is not intended to be a religious space but a place for people to learn about one another with nature as a unifying feature.
"It is a huge opportunity to draw a distinction between the culture of Islam and the religion," says Lee Foote, director of the University of Alberta Botanic Garden. "It is a showcase for architecture and cultural meaning. Those with deep faith will see in it the work of their creator. In others, awe will be inspired by the architecture or the wonder of nature."
The project was planned and designed over eight years by a U.S.-based landscape architecture firm that dispatched employees to study historical sites around the globe. They saturated themselves in Islamic landscapes and consulted with scholars to understand the underlying themes. Medieval Islamic gardens are known for their use of geometric lines and terraces to tame uneven terrain. Water is a primary component and is often displayed in a variety of ways.
"We don't do projects like this all the time," says Breck Gastinger, who worked with the principal architect, Thomas Woltz. "It was remarkable in terms of the high aspirations and what the Aga Khan wanted the University of Alberta to gain. It made the whole thing challenging and pretty unique."
Eighteen months of construction ended last week. The public will be able to enter the gardens for the first time on June 29. A formal grand opening will be held in 2019.
The university sees the Aga Khan Garden as a catalyst toward better understanding and a boon to tourism. It believes it could attract 90,000 more visitors a year to its botanic site. Without it, the 240-acre parcel, which houses a research centre and alpine, Indigenous and Japanese gardens, has attracted about 70,000 visitors annually.
"This is an evolutionary moment in the [botanic] garden's history," says Kerry Mulholland, the communications and marketing co-ordinator for the University of Alberta Botanic Garden.
Edmonton's Islamic garden is the 11th financed by the Aga Khan. He has enjoyed long friendships with Canada. He was made an honorary citizen in 2010, was invited to address Parliament in 2014, and opened the Global Centre for Pluralism in Ottawa last year. He has also been awarded an honorary law degree by the University of Alberta.
Despite its harsh winter climate, he chose Edmonton as the garden site because of the city's sizable Muslim community and its historical significance: It was home to Canada's first mosque, built in 1938 by early Arab Muslim immigrants.
The history of Muslims in Canada can be traced back at least 125 years. Many landed on the East Coast at a young age and gradually migrated to Manitoba and Saskatchewan and other parts west. Once in Alberta, some forged a living as peddlers and storekeepers, while others became fur traders, cattlemen and hotel operators with business dealings that stretched into the Northwest Territories.
Fearing they would lose their culture and religion in their adopted country, the newcomers built the first mosque at a cost of $4,850 on a piece of donated land which is now about a kilometre from the downtown hockey rink that serves as the home of the NHL's Oilers. The original structure has since been moved to a living history attraction called Fort Edmonton Park.
The Aga Khan inherited the role of Imam to the world's 15 million Ismaili Muslims from his grandfather more than a half-century ago. Far more than a cleric, he is the founder of an international aid organization and oversees a network of agencies that pour vast amounts of money into charities and projects that support social development and education in oft-neglected parts of the world.
He is now 81, and announced this unremitting gift to the University of Alberta nearly a decade ago. His hope at the time was that it would be revered for its aesthetic value while at the same time be a setting for learning more about Muslim culture.
"It is Islam viewed through the medium of a garden," Arif Karmali, a commercial developer and a member of Edmonton's Ismaili community, says during a weekday walk-through. There are a little over one million Muslims in Canada, and among them are an estimated 90,000 Ismailis. "No matter where you come from, you can appreciate the beauty of nature."
Carved out of the forest, the Aga Khan Garden sits at the edge of a pond flanked by orchards where apples, apricots, cherries, pears and plums flourish. Seeds from fruit trees and plants in the wetlands will be gathered to provide stock for reclamation and remediation projects caused by mining in the oil sands.
"We are not just a pretty face," Ms. Mulholland says. "Serious work is done here."
More than 20,000 annuals and perennials, 10,000 plants, 3,000 shrubs and 500 trees were planted in the last year as part of the project. They were chosen for their colour, fragrance, texture and toughness.
"They have to be able to survive," Ms. Mulholland says. "You can't grow figs and pomegranates here."
Mr. Gastinger says the design team relied on the advice of experts when it came to deciding on the array of plant species. The botanical garden was founded as a unit within the university's faculty of agriculture in 1959 and has been the site of much research. There is a massive greenhouse on the property, a tropical showcase, herbs and sensory gardens.
"They know what works and what doesn't," Mr. Gastinger says.
Canadian stone was used as much as possible during construction. The majority of paving stones were fashioned from granite quarried in Quebec. Patterns were created by using similar stones with different finishes. The columns on an upper terrace, which offers magnificent views of the gardens below, were rendered out of Portuguese limestone, which was selected for its character and lighter complexion.
There are 20 stone columns, each 18 feet tall, topped by a colourful canvas. It is a visage that evokes an impression of a rising ancient ruin.
"There is no architecture like this anywhere in Alberta," says Paul Swanson, the assistant communications co-ordinator for the botanic garden. "I don't think there is anything near as ornate as this."
Members of the local Muslim community have been recruited as docents and will offer visitors free interpretive tours.
A garden tour starts with a walk through the woods along a meandering path beneath a canopy of trees. The sky and forest reflect off a pool of water.
There are stepped terraces intersected by irrigation channels and pathways, fountains that produce a bare trickle and one cascading waterfall. There are sunken gardens full of purple and white irises, crimson and white petunias and Asiatic lilies. Life-sized frogs, salamanders and toads cast in bronze perch around the edge of a man-made stream, and steel replicas of walleye and sturgeon rest motionless in the shallows. A sweet fragrance emanates from creamy white roses, and the smell of mulch fills the air.
Bees go about the business of pollinating, butterflies flit around like kites steered in the breeze. Dragonflies zip over the pond where orchards are planted on both sides. A sandpiper returns to a nest hidden by a cover of flowers.
There will be tulips in next spring and a two-storey pavilion adjacent to the garden's central courtyard is scheduled to open next year. There is space for music programs, lectures receptions and movie nights in an amphitheatre created from a natural earthen bowl. Mr. Karmali says local Muslims hope it can be used to lure Muslim entertainers that have previously skipped over Edmonton while travelling between gigs in Toronto and Vancouver.
The Aga Khan envisioned all of this during that visit to the botanic gardens so many years ago. He liked the site so much that he scrapped plans to build the garden elsewhere.
"Our hope is that this will help us break down barriers," Mr. Karmali says. "Islam is not just what people read about in the news. There is so much depth to it. We hope people visit and start to inquire.
"This isn't political and it isn't religious. It is just a garden. A beautiful garden."
On Sunday, a picnic was arranged at the Aga Khan Garden as a thank you to the contractors that have worked on the project. Masons and other labourers, a lunch-box crowd, basked in the beauty around them.
"It is one thing to see the place empty and another thing to see people discovering it and enjoying it," Mr. Gastinger says. "It was pretty remarkable."
https://www.theglobeandmail.com/canada/article-where-faith-and-beauty-bloom-inside-edmontons-new-islamic-inspired/
--------
Israel bars journalist from Prince William event because he's Muslim
June 27, 2018
An Associated Press journalist was prevented from covering a visit by Britain's Prince William to the Israeli prime minister's official residence after security agents questioned him about his religion and ethnic background.
Nebi Qena, the AP's chief television producer for Israel and Palestine, was held at the entrance to the residence for 45 minutes, forcing him to miss Tuesday's event, while other journalists were allowed to enter. Mr Netanyahu's office later apologised, citing "human error".
Mr Qena, an Albanian citizen, has been with the AP for 10 years, including three based in Jerusalem. He said he was repeatedly questioned by security guards about his "ethnic origin."
His colleagues were questioned about his religion and whether he was a Muslim. He had already registered for the event and been informed that he would be allowed to attend.
"The Associated Press decries this blatant ethnic and religious profiling of an AP journalist and calls on the prime minister's office to cease such biased practices immediately," said Lauren Easton, the AP's director of media relations.
The Foreign Press Association, which represents media covering Israel and Palestine, condemned the "disgraceful" incident.
"We call on the prime minister's office to apologise immediately, and urge the Duke of Cambridge's office to speak out against this offensive behaviour, which has marred a historic visit," the FPA said. "Enough is enough."
After meeting Mr Netanyahu on Tuesday, Prince William paid the first official British royal visit to Palestine on Wednesday, meeting Palestinian President Mahmoud Abbas, touring a refugee camp near the West Bank city of Ramallah and voicing his hope for peace in the Middle East.
"I'm very glad our two countries work so closely together and have had success stories with education and relief work in the past, so, long may that continue," William told President Mahmoud Abbas.
"My sentiments are the same as yours in hoping that there is a lasting peace in the region," the prince said.
https://www.thenational.ae/world/mena/israel-bars-journalist-from-prince-william-event-because-he-s-muslim-1.744873
--------
Eleven from two families, including six children reported missing in Kerala; family fears role of Islamic State
TK Devasia
Jun 27, 2018
The disappearance of 11 people, including six children and three women from Kerala's northern district of Kasargod, has raised fears that they may have joined the dreaded Islamic State (IS).
Thirteen people, who had disappeared from the district along with eight others from Palakkad district under similar circumstances in July 2016, were later found to be a part of the Islamic State front in Afghanistan. The eleven people, who have been reported missing now, had left the state last month saying they were going to Dubai.
The missing persons have been identified as members of two families: Sawad (35), his two wives Naseera (25) and Rahamath (26), and their three children Musab (6), Marjana (3) and Muhammil (11 months) from Chemnad went missing along with Ansar, his wife, and three children.
The matter came to light after Naseera's father, Abdul Hameed approached the police after he lost contact with her after 15 June. However, Sawad — who had a perfume and cell phones business in Dubai since the last couple of years — told one of his relatives in a voice message that he and his family were in Yemen.
The relative said that he had reached out to Sawad to make sure the family had not joined Islamic State after he learned about the complaint lodged by Hameed. In the voice message accessed by Firstpost, Sawad said that he had gone to Yemen with his family for educational purpose. Kasargod Police, which has registered a case on the basis of Hameed's complaint, said they would ascertain the veracity of the voice message.
Meanwhile, the relatives of Ansar have not made any complaint with the police so far. However, Kasargod police chief A Sreenivas said that they will investigate both cases together. Sreenivas told Firstpost that it was Hameed who informed the police about the disappearance of the second family.
Wealthy, educated Indians falling prey to IS recruiters
The first batch of Islamic State recruits was professionally qualified men and women from wealthy families. Among the 21 people currently in Afghanistan were a doctor couple, an engineer, and a manager of an international school where wealthy non-resident Indians send their children. Four of the men had left India with their wives, while two went along with their children as well. The batch included four couples, two kids, and three bachelors.
Salafi ideology a lure for new recruits?
BC Rehman, a social activist based in Padanna in Kasargod district, said that the target of the missing persons may not be Islamic State as the militant group has lost most of its strongholds in Syria, Iraq and even in Afghanistan. He told Firstpost that they may have gone to Yemen to join the Salafi community, which is active in some parts of the country.
Most of the first batch of missing persons were found influenced by Salafism (a puritanical form of Islam). Salafis are people who idealise the life led by early Muslims. They believe the lives of people of that time were worth emulating for going to heaven.
Police believe that the Islamic State recruiters were trying to lure the youths to the outfit through teachings of Salafism. Hence, the relatives of the 11 missing people are concerned about the fate of their kin.
The reports regarding the disappearance of the 11 people have also created panic among the Muslims in the district since the Islamic State recruiters have been active in Kasargod and another northern district, Kannur. The recruiters have been luring youths into the hardcore terror outfit through religious centres promising eternal life in heaven.
Investigation reveals IS recruiters active in Kerala
The National Investigation Agency (NIA), which is investigating the case related to the first batch of missing persons, has found that Kasargod had a separate Islamic State module to motivate and recruit youth for the terror outfit. A person identified as Abdul Rashid Abdulla was said to be the chief recruiter.
The agency named Rashid and his accomplice Yasmeen Mohammed Zahid, a native of Bihar, in its chargesheet. It said that Rashid had motivated a number of youths from the district to exit India, along with their families, to join the Islamic State.
While Rashid is believed to be in Afghanistan, Yasmeen was arrested while trying to take a flight from Delhi to Kabul. An NIA court in Kochi had sentenced the 30-year-old woman to seven years' rigorous imprisonment in March this year.
The NIA investigation further revealed that Rashid held classes at Kasargod and other places to propagate the Islamic State ideology of violent jihad and to expand the terror group's network in the state. The agency found that Rashid had motivated another set of 14 people to cross the border.
Some of the 21 people who crossed the border in July 2016 have also been trying to propagate the Islamic State ideology from the militant group's territories. Many of them tried to brainwash their relatives and friends through messaging apps.
BC Rehman, whose relative is among the first batch of 21 people who crossed the border in July 2016, said some of the youths who communicated with him have been exhorting him to discard the life among 'Murthadeengal and Musharikkukal' (Un-Islamic people and idol worshippers) and join them.
His relative Ashfaq Majeed told him in one of the messages accessed by Firstpost that they were having a wonderful life in Afghanistan. When Rehman asked Ashfaq to return to Kerala and live as a true Muslim sharing their wealth with the poor, he said that they will never return.
"We will never meet again in this world. We can meet in heaven. We are waiting for our turn. We have love for life. But we do not want the kind of life that most people lead. This life's value is not even worth the weight of a feather of a mosquito," Ashfaq said.
Around 100 Keralites recruited so far
According to information gathered by the police, about 100 people from the state have joined the Islamic State so far. Kannur DSP P Sadanandan, who is heading a special squad probing the Islamic State-related cases in the state's northern region, said investigation had revealed that about 100 Keralites were in Islamic State territories in Syria, Iraq, and Afghanistan since 2014.
Of the 100, 21 were from Kasargod and 38 from Kannur. Another 12 Keralites working in Bahrain also joined the terror outfit. Keralites, who were in other countries in the Middle East, may also have joined the Islamic State but the state police could not confirm this.
Some 16 Islamic State recruits are feared to have been killed in military operations in Afghanistan and in various countries in the Middle East, according to information collected by the squad after vetting more than 300 audio clips and messages from apps like WhatsApp and Telegram. Thirty percent of those in the Islamic State territories are women and children.
https://www.firstpost.com/india/eleven-from-two-families-including-six-children-reported-missing-in-kerala-family-fears-role-of-islamic-state-4613561.html
--------
Will Social Media-Savvy Political Parties Sweep Elections In Pakistan?
27 June 2018
It's midnight in Kot Sultan – a small town of district Layyah in Pakistan's Punjab province. The streets are empty and stars lit the skies.
Right in the heart of sleepy town, there exists a small building, the election office of Sardar Sajan Khan Tangwani a local candidate running for the Provincial Assembly.
Almost a dozen volunteers crowd into a mid-sized room of this election office. They are busy on their computers and laptops interacting with voters through social media, especially Facebook.
In Pakistan, majority of the population use internet at night. Keeping in view, Tangwani's small-sized digital media teamwork through the night to cash-in on the internet users in his constituency.
In the corner, Sardar Sahib himself is busy interacting with his followers and voters through Facebook Live.
Social media tools
It's a glimpse of how much election campaigns have changed in Pakistan.
"Social media is a powerful tool and the most efficient way to reach educated voters. Using Facebook for political campaigns have become the norm globally and we are just benefiting from it," Qasim Khan Tangwani, chief strategist of political campaign of his father told Al Arabiya English.
As Pakistan prepares to hold general elections on July 25, political parties and politicians have turned to Facebook to connect with voters and followers.
There is no denying that social media is the most efficient way to reach a broad audience. Using Facebook for political campaigns have become the norm globally as it enables the candidates to reach out to their voters.
Sensing the importance of social media, political parties in Pakistan have already established social media cells comprising energetic, youthful and enthusiastic members to reach out to citizens and convince them to vote for their respective candidates.
"There is a two-way conversation happening where people share what they care about and politicians as well as political parties get honest, real-time feedback," Omar Khan, a social media strategist said.
Impressed by the way politicians and political parties in the UK and the US use social media to defeat their opponents, big political parties and politicians in Pakistan have established social media teams to influence voters.
Background Interviews and off-the-record conversation with government officials revealed that political parties, besides advertising on traditional mediums such as television and newspapers, are investing in digital marketing in a bid to compete with their rivals.
Until January 2018 internet penetration in Pakistan stood at 22 percent, encompassing 44.6 million users. Meanwhile, number of active social media users in Pakistan stand at 35 million with a penetration of 18 percent at the end of January 2018.
Majority of internet users in Pakistan are young – including college and university going students. There are hence apprehensions that Facebook can influence general elections in Pakistan.
Fake accounts
In April this year, Facebook Inc. Chief Executive Mark Zuckerberg told US lawmakers that fake accounts can affect upcoming elections in Pakistan, India, Brazil and other countries, adding that Facebook will weed out bogus accounts seeking to interfere in elections and spread misinformation.
He said that fake profiles can influence election results and opinions by spreading false news.
Zuckerberg's statement prompted a Pakistani to move to court requesting it to direct interim federal government, Election Commission of Pakistan and Pakistan Telecommunication Authority (PTA) to regulate social media to ensure the democratic process is not harmed in the elections.
The court has served notices to the people concerned. However, experts believe that regulating social media will be an uphill task. Authorities in Pakistan fear that hundreds of thousands of fake Facebook accounts can influence elections while concerned departments lack expertise and sources to counter them.
"Sadly, fake Facebook accounts can surely affect elections and we are just unable to stop them," a senior government official told Al Arabiya English.
Pakistani government, however, welcomed an announcement by Zuckerberg that the social media portal will require all political ads on its platform to clearly mention who is paying for the message and for their identity to be verified, in a bid to curb outside election interference.
"Glad to know that Zuckerberg has realized it. Facebook must restore its integrity," Pervez Malik, a former Pakistani federal minister said.
Two main political parties in the country – the Pakistan Muslim League-N and Pakistan Tehreek Insaf – have tasked thousands of their social media activists to generate public opinion in their party's favour.
"Over a 1,000-member social media team is busy day and night making public opinion in favor of PML-N," Atif Rauf, head of social media team of former ruling party the PML-N told Al Arabiya English.
Considered to be a "social media party", the Pakistan Tehreek-i-Insaf (PTI) which is the main opposition to former ruling party the PML-N has launched its election strategy with a social media summit.
https://english.alarabiya.net/en/features/2018/06/27/Will-social-media-influence-election-results-in-Pakistan-.html
--------
18 Taliban militants join peace process in response to Saudi Imams' speech
Jun 27 2018
A group of eighteen Taliban insurgents joined peace process in response to the latest speech by the Saudi Imams and growing consensus for reconciliation on domestic and international level, the local authorities in Nangarhar said Wednesday.
The officials claim that the group led by Mohammad Hassan also famous as Zubair renounced violence and laid down their weapons after Imams of Mecca Grand Mosque and the Nabuwi Mosque declared the ongoing conflict in Afghanistan as Haram or forbidden.
Nangarhar's governor Hayatullah Hayat told reporters that a group of eighteen Taliban insurgents led by Mohammad Hassan also famous as Zubair joined peace process after they were affected with the recent Fatwas/speeches of the prayer leaders of Mecca Grand Mosque and the Nabuwi mosque.
He said the militants also handed over eighteen weapons to the Afghan intelligence directorate in Nangarhar.
According to Hayat, the group was engaged in violence and war against the government for the past five years and recent decided to renounce violence and join peace process.
Hayat also added that the government and the international community are prepared for any type of negotiation for peace and to use all means and possible ways for reconciliation.
The commander of the group Mohammad Hassan told reporters that they decided to join peace process considering the demands by the religious scholars of the country, speech of the Grand Mosque of Mecca, and after seeing the environment of love among the people during the ceasefire period.
Hassan further added that he and his comrades have taken decision to join the police ranks or any other institution to serve the people.
He also expressed remorse regarding the activities they committed in the past and urged the other militants to renounce violence and join peace process.
https://www.khaama.com/18-taliban-militants-join-peace-process-in-response-to-saudi-imams-speech-05446/
--------
In Afghanistan, the Taliban's anti-Daesh squad gains a reputation for ruthlessness
June 27, 2018
KABUL: Hunkered down in mountain trenches overlooking a vast area of desert and mud-walled houses in southern Afghanistan, the Daesh fighters opened fire on the approaching Taliban, wounding four and sending the others scrambling for cover.
It was the start of a battle neither group could afford to lose. Whoever triumphed would take a significant step toward controlling the future of one of the world's most intractable insurgencies.
Daesh wanted to turn Afghanistan into the latest outpost in its self-declared caliphate, while the Taliban feared being overrun by the fanatics who made their name sweeping all before them in Iraq and Syria.
What happened next — in the fall of 2015 — has gone down in radical circles as the moment a new Taliban rapid-response force gained a decisive advantage in the extremists' bitter civil war.
Now notorious among civilians and fellow militants, the force has gone on to play a key role in the Taliban's increasingly violent and effective campaign to retake control of Afghanistan. It is the spearhead of what the Afghan government refers to as the "Red Unit" or "Danger Unit" — an elite group of thousands of insurgent commandos equipped with US-made assault rifles, night vision apparatus, heavy machine guns and 82mm rockets.
In contrast to their rival's growing strength, Daesh has resorted to staging spectacular attacks on soft targets in Kabul, seemingly conceding that it cannot hold swathes of territory against its better organized foe.
"Before the war we were walking around jointly, not bothering each other," recalled Qazi Halim, a nom de guerre for one of the Taliban's quick-reaction force commandos. Now "this is the only unit which has defeated Daesh and of which Daesh is afraid," he said.
Halim, a Pashtun in his late 20s or early 30s, was speaking to Arab News shortly before he was killed in a US airstrike on Tuesday.
A three-day cease-fire between the Taliban and the Afghan government during Eid this month led to joyous scenes across Afghanistan, as insurgents mingled freely with soldiers and government officials. The Taliban said that the brief truce proved the fundamentalist movement was united and that "all combatants strictly follow" orders. This has not always been the case, however.
For months before the 2015 confrontation in Zabul province, a fierce struggle for the right to lead Afghanistan's insurgency had been unfolding within the Taliban.
The movement was openly divided for the first time in its history as rank-and-file members reeled from the news that its spiritual founder, Mullah Mohammed Omar, had died from natural causes in 2013, only for his closest confidants to cover up his death for more than two years. Daesh hoped to exploit the divisions and become the main insurgent faction in the region.
In response to this unprecedented challenge to its dominance, the Taliban stepped up plans to activate a special forces commando unit tasked with crushing any dissent within the movement's ranks and wiping out its rivals, Halim told Arab News.
In the summer of 2015, pictures began circulating on social media showing the Red Unit already in training, with recruits dressed in combat fatigues and black balaclavas doing push-ups, firing heavy machine guns and crawling through obstacle courses. But it was not until the Taliban began to fracture after Omar's confirmed death that the commandos sprang into action.
Arab News has learnt that the Red Unit is divided into several battalion-sized teams of 300 to 350 men, picked according to how they perform at the Taliban's training camps. Each team is given responsibility for a province. In emergencies, the teams work together to cover a zone consisting of several provinces. As well as fighting rival insurgents, they also fight Afghan government forces and US troops.
One of the first teams was sent to the province of Farah, on the Iranian border in western Afghanistan, where a Taliban splinter group under a dissident commander, Mullah Mohammed Rasool, had formed.
The Red Unit's commandos swept into the area with devastating effect, killing several of Rasool's men and forcing him to flee to Pakistan. Mullah Mansour Dadullah, an experienced fighter from a notorious insurgent family, stepped into his place.
Under Dadullah's leadership, the Taliban splinter group declared its allegiance to Daesh and moved into Zabul, an impoverished region of wadis, deserts and mountains dominated by ethnic Pashtuns. It settled in the district of Khak-e Afghan in the north of the province.
Out of the Afghan government's reach and initially welcomed by local villagers, the Daesh fighters began to expand their area of operations. They soon targeted Highway One, the main road linking Kabul and the south of Afghanistan.
After a number of pinprick ambushes in which they kidnapped civilians traveling along the highway, they abducted dozens of Hazaras, an ethnic minority of predominantly Shiite Muslims. Those taken hostage included women and children.
The abductions provoked outrage among Afghans in Kabul, who criticized the government for being unable to protect its own people. The Taliban sensed an opportunity. Eager to win more public support for its insurgency and desperate to prevent Daesh from making further inroads into its territory, the movement came up with a plan to hit back.
First the Taliban sent a delegation of muftis — Islamic legal experts — and clerics to Khak-e Afghan. The delegation and a group of Daesh scholars spent a week trying to persuade each other that only their group should be allowed to operate in the country.
When the Taliban muftis ordered their rivals to surrender, the talks broke down. Rather than wait for tensions to cool, the Taliban then sent hundreds of Red Unit commandos to the area in November 2015. They were drawn from the teams for the provinces of Zabul, Ghazni and Maidan Wardak.
Halim, from Maidan Wardak, was among them. The first name of his nom de guerre — Qazi — is an honorific denoting someone trained in Islamic law. In Arabic and Pashto, it means "judge." The second part of the nom de guerre — Halim — has been changed to protect his identity because he did not have the Taliban's permission to talk to Arab News.
Arriving in Khak-e Afghan, he found the Daesh fighters were a mixture of Afghans from across the country and militants from Uzbekistan, who had their families with them. Villagers reported seeing them traveling around the area on motorbikes decorated with Dadullah's name and the slogan "Long live Daesh."
The Red Unit tried for a final time to convince the Daesh militants to surrender, sending a squad toward their mountain headquarters with an offer of clemency. It was then that the Daesh fighters opened fire, injuring four of the Talibs and triggering the battle that would change the course of the insurgents' civil war.
A relative of Dadullah's who tried to evacuate the Daesh leader after the fighting began confirmed to Arab News that the Taliban's commandos were in Khak-e Afghan at the time. Speaking on condition of anonymity, he said: "They did the fighting and they cleared the area." He added that their only aim seemed to be "to kill Mansour Dadullah."
After the advance squad was hit, the Red Unit commandos regrouped and resumed their attack at night, this time breaking through the Daesh lines. They began heading deeper into the mountains, killing dozens of fighters as they progressed.
Over the next few days they searched local houses and found a number of the kidnapped Hazaras tied up and blindfolded. Others lay dead, "slaughtered just hours before," said Halim.
When he and his fellow commandos captured nine of the Uzbeks alive, they assembled a makeshift Islamic court to put them on trial. After ordering them to confess in front of the hostages to being members of Daesh, they hanged all nine.
The Red Unit commandos eventually tracked down Dadullah by monitoring the military radio traffic of the surviving Daesh fighters. They arrested the leader, took him to an isolated valley and shot him.
By the end of the operation, four members of the Red Unit were dead, but word of the commandos' strength had spread across Afghanistan, striking fear into Daesh and causing alarm within the Afghan government.
The Taliban leadership was so impressed by its troops' showing in Zabul that it turned them into a quick-reaction force under the leadership of its most famous commander, a Pashtun named Pir Agha.
Although much of his background remains a mystery, Agha is believed to be in his 40s and from Sangisar in the Panjwayi district of Kandahar. Afghans who have met him describe him as an uncomplicated, but persuasive, public speaker.
One businessman came face to face with Agha about a year before the Red Unit was formed, in a ramshackle bazaar in Helmand province, near Pakistan.
The businessman, who asked to remain anonymous, told Arab News that Agha gave a speech in the border town of Baramcha to a number of local traders who had assembled in a mosque there. In the speech, he denounced Daesh and asked them to donate money to the Taliban.
Agha has since stepped down from his role as head of the quick-reaction force to become the Taliban's shadow governor for Paktika province. However, his commandos continue to call their force the "Unit of Pir Agha" in homage to his leadership.
They are currently led by Mawlawi Abdullah, a Talib from Maidan Wardak who was the main field commander in the Zabul battle.
Now the pride of the Red Unit, the quick-reaction force has proved to be an elusive and formidable enemy for both Daesh and the Afghan government. Last fall it was deployed to Achin district in Nangarhar province, eastern Afghanistan. Halim claimed a number of the Daesh fighters he encountered there were in their teens.
Then, on April 2 this year, Afghan helicopter gunships attacked a religious ceremony in the northern province of Kunduz, killing at least 36 people, including 30 children, according to a UN investigation.
The government claimed its intended target was the Red Unit. Before his death this week, Halim was unconcerned about being a wanted man. With the cease-fire over and the Taliban again on the offensive, he walked the streets of Kabul in a prayer cap and shalwar kameez — waiting for a mission that would prove to be his last.
http://www.arabnews.com/node/1329441/world
--------
North America
5 of 7 nations hit by US travel ban are majority Muslim
June 28, 2018
The seven nations under the Trump administration's travel ban — upheld by the U.S. Supreme Court — include five majority Muslim countries, prompting dissenting Justice Sonia Sotomayor to assert that the entry restrictions were motivated by "animus toward the Muslim faith." The administration cites security concerns.
The list includes countries with a hostile relationship with Washington, such as North Korea, Iran and Syria. Others, such as Somalia and Yemen, are considered hotbeds of Islamic militant activity.
Most of the nations have yet to officially react to the court's decision on the ban, which has been fully in place since December, when the justices put the brakes on lower court decisions that had blocked part of it from being enforced.
___
SYRIA
The Syrian government considers itself at war with the United States and labels the presence of about 2,000 U.S. troops in the country as an occupying force. Diplomatic ties were cut in 2012, at the onset of the civil war. Syria has been listed as a state sponsoring terrorism, with economic sanctions imposed on Syrians and Syrian entities.
Some criticize Washington for restricting entry to Syrians fleeing a conflict in which the U.S. has had a role. The U.S. has led an international coalition fighting Islamic State militants in Syria and Iraq.
More than 6 million Syrians have fled their homeland, with most settling in nearby countries. In principle, the latest version of the U.S. travel ban does not affect the potential resettlement of refugees to the U.S., including from the countries targeted by the travel ban. However, previous Trump administration restrictions on entry did affect Syrian refugees, leading to a backlog of cases at a time when the U.S. lowered the cap on refugee admissions.
___
IRAN
President Hassan Rouhani indirectly condemned the travel ban Wednesday, saying the actions of a president who "oppresses the entire Muslim world" will not remain without a response. Many in Iran blame President Donald Trump's decision to pull America from the nuclear deal for their worsening economy.
Since the 1979 Islamic Revolution and U.S. Embassy takeover in Tehran, Iranians have been forced to travel to another country to apply for U.S. visas. Many come through nearby Dubai, United Arab Emirates, where the U.S. Consulate has a special listening post for Iran. Others travel to U.S. diplomatic posts in Armenia and Turkey. The travel ban has forced some Iranian students in the U.S. to stay there for fear of being unable to return. For those in Iran, they've been blocked from traveling to visit relatives in the U.S.
___
YEMEN
The Arab world's poorest nation has long been considered a haven for militants linked to the al-Qaida terrorist network. Since 2015, a Saudi-led coalition backing Yemen's internationally recognized government has waged an all-out campaign against Iranian-backed Houthi rebels, trying to dislodge them from the northern region. Two million people have been displaced, more than 10,000 have been killed and Yemen has been pushed to the brink of famine.
About 44,000 Yemeni-Americans live in the U.S., according to the U.S.-based Center for Constitutional Rights. When the U.S. Embassy in the capital of Sanaa closed after the outbreak of war, Yemenis had to go to other countries to apply for U.S. visas.
___
LIBYA
Libya fell into chaos following the 2011 uprising that toppled and later killed strongman Moammar Gadhafi, who had ruled for more than four decades.
Since then, the North African country has emerged as a major transit point to Europe for those fleeing poverty and civil war in Africa. Libyan authorities have recently increased efforts to stem the flow of migrants, with European assistance.
___
SOMALIA
Another al-Qaida-linked group, al-Shabab, has been staging attacks in Somalia for years. A suicide bombing in the capital of Mogadishu in October killed more than 500 people.
Between 140,000 and 170,000 Somalis — U.S. citizens and refugees — live in the United States, according to Somali officials. Many in the Horn of Africa nation would like to join their relatives in the U.S. to escape the violence and chaos.
Maryan Abdullahi said she felt devastated after the Supreme Court ruling, her hopes dashed that she could join her husband in Virginia. She said she and her sons, ages 6 and 8, had planned to go to neighboring Ethiopia where their U.S. travel plans were to have been processed. Now, Abdullahi said, "all our future plans are doomed to failure."
___
NORTH KOREA
North Korea is still basking in the glow of leader Kim Jong Un's historic meeting with Trump earlier this month.
The Singapore summit was front-page news in the North's government-controlled newspapers. The North has toned down its anti-U.S. rhetoric recently as it worked to ease tensions with Washington and neighboring South Korea.
The U.S. travel ban had little impact on North Koreans. More painful was a U.S. executive order last year that barred all Americans from nonessential travel in the other direction. That cut off a small but lucrative flow of American tourists to the North. ___
VENEZUELA
President Nicolas Maduro has been feuding with Washington for years, and last month expelled the top U.S. diplomat for allegedly conspiring with his opponents to oust him. Dozens of Venezuelan officials already had been barred from entering the U.S. under several rounds of targeted sanctions.
It's unclear how disruptive the new restrictions might be. In theory, they apply only to a narrow category of government officials and their relatives who are deemed responsible for failing to cooperate in vetting citizens considered a national security threat.
However, the travel ban also calls for more scrutiny of all Venezuelans applying for U.S. visas, prompting concerns about a stigmatization of the country at a time when hundreds of thousands are fleeing widespread shortages and hyperinflation.
https://www.washingtonpost.com/national/religion/5-of-7-nations-hit-by-us-travel-ban-are-majority-muslim/2018/06/28/f8eff244-7a94-11e8-ac4e-421ef7165923_story.html
--------
US Authorities Seek Leniency For Islamic State Co-operator
June 28, 2018
New York, Jun 28 (AP) US authorities are taking the unusual step of seeking leniency for a Bangladeshi immigrant who admitted going to Syria to support the Islamic State group, saying he deserves credit for having a change of heart and giving the FBI timely intelligence about terror threats.
The New York City man, identified only as "John Doe" out of fears of retribution, wept on Wednesday at a sentencing in federal court where he called himself "an idiot" for supporting the militant group he says quickly disillusioned him.
"I made the greatest mistake of my life," the 29-year-old man told U.S. District Judge Jack Weinstein. "I was stupid and lost, and found myself in deep danger." The judge put off until Thursday a decision whether to throw him in prison or put him under supervised release.
Federal prosecutors in Brooklyn have sought lengthy sentences in several cases involving radicalized, would-be Islamic State recruits who were thwarted before they could either fight for the group overseas or plot an attack on US soil. The man's case differs because he succeeded in joining IS for several months in 2014 and gaining access to inside information as the group was trying to establish a self-styled "caliphate" that posed a threat to the US at home and abroad.
He began talking "within hours" of sneaking away from an IS camp in Syria, making him "uniquely situated to inform the government of (the group's) strategies, tactics, techniques, procedures, personnel and logistical operations," prosecutors said. Once back in the US, he secretly pleaded guilty to providing material support to a terrorist organization as part of a cooperation agreement.
Details of the man's odyssey had been officially kept under wraps until this week, when prosecutors unsealed court papers in advance of the sentencing.
The papers say the man had an uneventful upbringing in a Muslim household but grew despondent when his pregnant sister died from a sudden illness. He eventually became immersed in Islam and dropped out of college.
"I guess it was his way of mourning," his sister said in court without disclosing his name. "He was withdrawn. . We stopped speaking." His online consumption of IS propaganda was flagged by the FBI, which warned him not to pursue a relationship with extremists, the papers say. Instead, he travelled to Turkey and, using social media for guidance, made his way into IS-controlled territory.
"He disappeared one morning and we had no idea where he went," the sister said.
Soon he was "confronted with the brutality of the organization and its dubious religious pronouncements, which were not consistent with the defendant's understanding of his faith," court papers say.
The man avoided battle duty by convincing his recruiters he had technical skills that "he had only seen in movies," the papers say. So he instead was given logistical and support roles until he secretly sent a message to the FBI offering his help, then risked crossing the Syrian border with IS documents.
"If he had been discovered, he would have been summarily executed," his attorney, Gary Villanueva said in court.
Along with his cooperation, authorities have credited the man with participating in a private intervention "with a young man who was being led astray" by IS propaganda. He also helped in the development of a community terrorism prevention program, they say.
On Wednesday, he told the judge he had earned a finance degree from a public university while under protective custody. At the same time he's "keeping a low profile for the safety of myself and my family," he said.
Full report at:
http://www.india.com/news/agencies/us-authorities-seek-leniency-for-islamic-state-cooperator-3136167/
--------
Dissenting Judge in Trump's travel ban case verdict assail colleagues over Muslim comments
June 27, 2018
US Supreme Court Judge, Sonia Sotomayor, who was on the panel of judges that upheld President Trump's so-called Muslim travel ban , on Tuesday criticized her follow colleagues for setting aside comments against Muslims made by the then candidate Trump while deciding the case.
In a 5-4 ruling, the Supreme Court bench handed over President Trump one of his biggest victories since taking charge of the White House in January last year, by upholding his executive order that sought ban on travelling from five Muslim-majority countries from entering the United States.
The Supreme Court Chief Justice John Roberts, writing in the court's opinion stated that the President had the authority to suspend the entry of people into the United States to protect the national interest.
But, in her scathing dissent, Judge Sotomayor said that the court's majority accepted the government's invitation to set aside comments by President Trump he made against the Muslims, a news report said.
Referring to his statement of calling for a total and complete shutdown of Muslims entering the United States, she said that "…this new window dressing cannot conceal an unassailable fact: the words of the President and his advisers create the strong perception that the Proclamation is contaminated by impermissible discriminatory animus against Islam and its followers."
She explained that how President Trump pledged during his election campaign to ban Muslims, which the then enforced through an executive order following his assumption of office after a stunning victory against rival Democrat and former First Lady Hillary Clinton. Judge Sotomayor said that President Trump has never disavowed any of his prior statements about Islam.
His executive orders on the subject were challenged by the state of Hawaii and other states which said that the Trump's anti-Muslim comments showed that his policy was rooted in an animus toward Muslim people.
Under the ban, nationals from five majority Muslim countries, Iran, Libya, Syria, Somalia and Yemen, cannot travel to the United States. Chad was among the original list of countries but was dropped in April.
In a statement issued after the verdict, President Trump declared the Supreme Court judgement a "profound vindication" and said he would continue to defend the "sovereignty, safety and security of the American people and fight for an immigration system that serves the national interest of the United States and its citizens".
Full report at:
https://nation.com.pk/27-Jun-2018/dissenting-judge-in-trump-s-travel-ban-case-verdict-assail-colleagues-over-muslim-comments
--------
US presses UN Security Council to sanction Iran
28 June 2018
The United States urged fellow UN Security Council members on Wednesday to punish Iran for "malign behavior" in the Middle East, at a meeting on implementation of the 2015 nuclear deal with Tehran.
"When confronted with a country that continually violates this council's resolutions, it is imperative that we pursue meaningful consequences," said Jonathan Cohen, the US deputy ambassador to the United Nations.
"That is why we urge members of this Council to join us in the imposition of sanctions that target Iran's malign behavior in the region," he stressed.
It was the first meeting of the Security Council since US President Donald Trump announced on May 8 that the United States was withdrawing from the nuclear agreement with Tehran.
On May 24, the International Atomic Energy Agency (IAEA) concluded for the eleventh time Tehran had met its commitments.
Iran supplying missiles to Houthi militias
In his remarks, Cohen once again accused Iran of supplying missiles to the Houthi militias in Yemen in violation of an international arms embargo.
Full report at:
https://english.alarabiya.net/en/News/world/2018/06/28/US-presses-UN-Security-Council-to-sanction-Iran-.html
--------
US Muslim leaders happy with Turkish election results
June 28, 2018
A group of Muslim American opinion leaders visiting Turkey expressed satisfaction at the results of Sunday's presidential and parliamentarian elections.
Under the auspices of Turkey's Directorate of Religious Affairs, a group of Muslim American opinion leaders and reverends paid a week-long visit to Turkey, starting on Sunday.
President Recep Tayyip Erdogan won an absolute majority in the presidential election with 52.5 percent of the vote, while his closest rival lagged behind at 30.6 percent.
"I believe that him [Erdogan] and his party coming to the power again will bring a better future for Turkey," Naiim Baig, director of Dar Al-Hijrah Islamic Center in Virginia, said.
Naig praised Erdogan's "courage" for adopting a leading stance on Muslim issues.
"There are, unfortunately, not many Muslim leaders who have the courage to take a stand for global Muslims and their issues," he added.
Horsed Noah from Ohio state said he danced and even shed tears of joy when the results were announced.
"The election was so important for us because Turkish government is the voice of the voiceless," Noah said, praising Turkey's humanitarian support for the Muslim world.
Full report at:
http://www.worldbulletin.net/america-canada/203476/us-accuses-iran-of-violating-un-resolutions
--------
Mattis underlines US role in eliminating Fazlullah
Anwar Iqbal
June 28, 2018
WASHINGTON: US Def­ence Secretary James Mattis has underlined the role that American forces played in removing Pakistan's most wanted terrorist, as Wash­ington sends a senior envoy to Islamabad for peace talks.
"The forces engaged against the terrorists basically killed Fazlullah, the head of the Pakistan Taliban (TTP)," said Mr Mattis while talking to Pentagon journalists in Alaska.
This is a rare confirmation of a terrorist's elimination by a senior US official and comes amid renewed efforts for restoring peace in Afghan­istan where the United States has been engaged in an apparently unending military campaign since 2001.
Usually, US officials do not talk about targeted attacks, particularly when it involves a drone, as it was a US drone that killed Fazlullah. While the US continues to use drones to eliminate terrorists, it prefers not to confirm or deny such attacks. Senior US officials are particularly careful because it's often difficult to confirm the kill.
Secretary Mattis, however, not only confirmed Fazlul­lah's elimination but also explained why it was important to do so. Diplomatic observers in Washington see this as a reminder to Pakistan that the US did them a favour by removing their most wanted terrorist. Now, they need to return the favour by cooperating with the United States in its efforts to jumpstart the Afghan peace talks.
The Trump administration is sending a senior envoy — Principal Deputy Assistant Secretary of State Alice G. Wells — to Islamabad next week to explore the possibility of a permanent peace in Afghanistan.
A transcript released by his office on Wednesday shows Mr Mattis identifying Fazlullah as a terrorist leader "well known" for ordering the 2014 Peshawar School Massacre.
On Dec 16, 2014, six TTP gunmen attacked the Army Public School in Peshawar and killed 149 people, including 132 schoolchildren. It was the world's fourth deadliest school massacre.
Secretary Mattis noted that Fazlullah's men killed the "school-going children and teachers" and unleashed a reign of terror in Swat.
"I've been to Swat … one of the most stunningly beautiful places you'll ever go on earth, I'll tell you.
"If you've — for those of you who ever get there, for a good trekking opportunity," said the US defence secretary while explaining how Fazlullah turned a heaven into a hell.
"There, his reign was known until the Pakistan military threw him out, for the beheadings he was able to carry out there to impose his will, which didn't last long but was certainly murderous while he was there."
Full report at:
https://www.dawn.com/news/1416537/mattis-underlines-us-role-in-eliminating-fazlullah
--------
Mideast
In West Bank, Prince William speaks of Palestinian 'country'
June 28, 2018
RAMALLAH - Britain's Prince William found himself on diplomatic thin ice during a visit to the Israeli-occupied West Bank on Wednesday when he called the Palestinian territories a "country".
Meeting with Palestinian president Mahmud Abbas in Ramallah, the prince appeared to fall foul of the complex language surrounding the Middle East conflict.
"Thank you for welcoming me, and I am very glad that our two countries work so closely together and have had success stories with education and relief work in the past," he told Abbas, speaking without notes. Western countries typically refrain from referring to the Palestinian territories as a country or state, instead supporting the Palestinian demand for sovereignty in the future - the so-called two-state solution.
And while Palestine has observer status at the United Nations, it is not a fully recognised member state.
The Likud party of Israeli Prime Minister Benjamin Netanyahu, who the prince met in Jerusalem on Tuesday, rejects Palestinian statehood and supports Jewish settlement in the Israeli-occupied West Bank , where Abbas's Palestinian Authority is based. Israel's coalition government, considered the most right-wing in the country's history, includes ministers who have voiced support for annexing the West Bank .
In a statement, the British foreign office did not comment directly on the Prince's words but said "the UK government supports the creation of a sovereign, independent and viable Palestinian state - living in peace and security, side by side with Israel." "The UK will recognise a Palestinian state at a time when it can best help to bring about peace."
Later in Jerusalem the prince gave a speech in which he called for peace and told the Palestinians they had "not been forgotten".
William said during the visit to Jalazone refugee camp near Ramallah he had seen "the tremendous hardships faced by refugees and I can only imagine the difficulties of life lived under these conditions, the limited resources and the lack of opportunity."
"My message tonight is that you have not been forgotten."
The prince said he had been "struck by how many people in the region want a just and lasting peace. This is only too evident among the young people I have met who long for a new chapter to be written in the history of this region."
While in Ramallah the Prince met with refugees and attended a cultural event in which he watched traditional Palestinian dancing.
He drank coffee and sampled some traditional Palestinian food before watching and briefly joining in football with Palestinian children.
Wearing a light jacket, jeans and blue shirt, he took four shots against a young goalkeeper, who saved the first three but let in the fourth, an AFP correspondent said.
The mayor of Ramallah Mousa Hadeel told AFP he wanted to help the prince learn about the history of the Palestinians.
"Our message is also one of love to Prince William and to the whole world and that this country needs peace so that this people can live," he said.
The trip, the first by a senior British royal to both Israel and the Palestinian territories, comes at a particularly sensitive time after US President Donald Trump recognised Jerusalem as capital of Israel.
The US move outraged Palestinians and sparked deadly clashes on the border with Gaza.
On Thursday, the prince is to complete his stay by visiting historical and religious sites in east Jerusalem.
https://nation.com.pk/28-Jun-2018/in-west-bank-prince-william-speaks-of-palestinian-country
--------
Come back to an independent Palestine, Abbas tells Prince William
June 27, 2018
AMMAN: Palestinian President Mahmoud Abbas welcomed Britain's Prince William to Palestine and affirmed his full commitment to achieving a just and lasting peace with Israel.
The Duke of Cambridge visited a refugee camp, inaugurated a musical fountain, and enjoyed music and Palestinian cuisine.
Abbas told the visiting prince that Palestinians are serious about making peace with Israel. "We want to reach peace through negotiations. This is our position which has not changed in a long time," he told the Duke of Cambridge, who is on his first official visit to Palestine, during their meeting at the presidential headquarters in Ramallah.
"I hope that your next visit will be in the state of Palestine when we have our full independence," Abbas added.
He said the prince's visit will deepen and strengthen the friendly ties between the Palestinian and British people.
"We are always in need of the support of the British people for our just Palestinian cause," he said.
Abbas also mentioned the recent financial aid provided by the British government to support the UN Relief and Works Agency for Palestine Refugees (UNRWA), saying it was an important gesture.
Scott Anderson, director of UNRWA field operations in the West Bank, told Arab News that he was happy to take the British prince to the Jalazoun refugee camp outside Ramallah. "He visited a health center and a girls school, and he interacted with mothers and children."
Anderson called it a "positive visit" and said that the prince was engaged throughout, asking many of the teenagers "what they wanted to do when they grow up."
Ahmad Abu Laban, the Ramallah city manager, said that the prince met with city's mayor and council and other Palestinian leaders.
"We were proud to host the prince after his meeting with President Abbas," the added.
Prince William took part in a ceremony to open Ramallah's first musical fountain. Abu Laban said that after the official meetings, speeches and musical presentation, the British royal enjoyed Palestinian cuisine.
"He walked around our food fair enjoying falafel and kenafeh sweets, and engaging with the local community. He seemed excited and happy with the visit."
The Duke of Cambridge visited the local Friends school and met Jibril Rajoub, head of the Palestinian Football Association, and members of the Palestinian national team as well as young footballers.
"It was the first time since 1800 for such a royal British visit," Abu Laban said.
"Even though the royal palace doesn't deal with politics, we are happy he referred to our future capital as the occupied city of Jerusalem."
While the British prince steered away from politics, David Stansbury, from the British Consulate General in Jerusalem, told a Palestinian radio station that the UK supports the two-state solution on the 1967 borders, with Jerusalem as capital to both countries.
Stansbury was adamant that the UK had no plans to move its embassy from Tel Aviv to Jerusalem.
Full report at:
http://www.arabnews.com/node/1329121/middle-east
--------
Turkey's Erdogan, alliance partner agree to lift state of emergency
28 June 2018
Turkish President Tayyip Erdogan and his government alliance partner have agreed not to extend emergency rule when the current three-month period expires in July, the pro-government Sabah newspaper said on Thursday.
The state of emergency has been in place since after an attempted coup in July 2016 and has been extended every three months since then. Erdogan said this month it would be lifted if he won the June 24 elections.
Erdogan won 53 percent of the vote in Sunday's presidential vote, extending his rule until at least 2023 - but now with the sweeping executive powers that Turks narrowly backed in a referendum last year.
Erdogan and his alliance partner, the national MHP leader Devlet Bahceli, held a meeting on Wednesday afternoon. Sources have said Erdogan could give the MHP cabinet posts, rewarding their support for his AK Party in parliament.
"In the talks, agreement was reached not to extend the state of emergency," the Sabah newspaper said without providing details. It did not specify the source of its report.
Full report at:
https://english.alarabiya.net/en/News/world/2018/06/28/Turkey-s-Erdogan-alliance-partner-agree-to-lift-state-of-emergency.html
--------
Saudi airstrike leaves seven civilians dead in western Yemen
Jun 27, 2018
At least seven civilians have been killed when Saudi military aircraft carried out an airstrike against a residential area in Yemen's western coastal province of Hudaydah as the Riyadh regime presses ahead with its atrocious bombardment campaign against its southern neighbor.
Saudi fighter jets conducted the aerial assault against al-Rabasah area in the al-Hawak district of the province, located 150 kilometers southwest of the capital Sana'a, on Wednesday evening, leaving seven people dead and four others injured, unnamed local sources told Yemen's Arabic-language al-Masirah television network.
Later in the day, Yemeni army forces, supported by allied fighters from Popular Committees, fired a domestically-designed and -manufactured Qaher M-2 (Subduer M-2) ballistic missile at a position of Saudi-sponsored militiamen loyal to Yemen's former president Abd Rabbuh Mansur Hadi in Hudaydah, killing and injuring scores of the Saudi mercenaries.
Separately, Saudi warplanes targeted an area in the Kitaf wa al-Boqe'e district of the northwestern mountainous province of Sa'ada, though there were no immediate reports of casualties.
Saudi military aircraft also launched three airstrikes in the al-Buga district of the same Yemeni province, with no reports of fatalities and extent of damage caused available.
Additionally, many residential buildings suffered heavy damage when a salvo of projectiles fired by Saudi artillery units rained downed on an area in the Monabbih district of Sa'ada province.
The Yemeni Ministry of Human Rights announced in a statement on March 25 that the Saudi-led war had left 600,000 civilians dead and injured since March 2015.
The United Nations says a record 22.2 million Yemenis are in need of food aid, including 8.4 million threatened by severe hunger.
A high-ranking UN aid official recently warned against the "catastrophic" living conditions in Yemen, stating that there was a growing risk of famine and cholera there.
Full report at:
http://www.presstv.com/Detail/2018/06/27/566296/Saudi-airstrike-leaves-seven-civilians-dead-in-western-Yemen
--------
Turkey condemns 'hypocritical' EU view of accession talks
Jun 27, 2018
Turkey on Wednesday slammed the European Union as "hypocritical" and "prejudiced" after the bloc said Ankara was moving further away from Europe, just days after President Recep Tayyip Erdogan won a new term.
EU ministers on Tuesday said Turkey's long-stalled accession negotiations -- which began officially in 2005 -- had "effectively come to a standstill."
The EU European affairs ministers meeting in Luxembourg added that Turkey was "moving further away from the European Union."
"Once again it is shown how the EU does not treat Turkey fairly or sincerely," the Turkish foreign ministry responded in a statement, describing the ministers' conclusions as "hypocritical and incoherent."
It added that the ministers' statement also reflected the "prejudiced and unjust attitude" against Turkey.
Turkish EU Affairs Minister Omer Celik said on Twitter the conclusions showed that the EU was "confused," with statements that "lacked vision" and were "full of contradictions."
Relations between Turkey and the EU have been strained for several years but especially so since the July 2016 attempted coup, with Ankara accusing Brussels of being unsupportive of the multiple terror threats Turkey faces.
The EU has also often criticized the crackdown and the attacks on freedom of speech which followed the failed putsch, in which tens of thousands of people have been arrested including journalists.
The EU and Turkey had agreed a deal in March 2016 worth billions of euros in which Turkey would take back migrants in exchange for visa liberalization, which has yet to be introduced for Turks.
Celik said that the EU's latest comments amounted to saying "that it will not honor its commitments of the 18 March statement."
Taking aim in particular at Austria's conservative government, Celik said it was "tragi-comic" that the EU made such comments when it was "held captive by members where the far-right is ruling."
The EU has reacted coolly to Erdogan's decisive victory in Sunday's parliamentary and presidential elections, which will give him sweeping new powers.
Full report at:
http://www.presstv.com/Detail/2018/06/27/566263/Turkey-EU-Accession
--------
Turkey issues arrest warrants for nearly 100 over affiliation to Gulen network
Jun 27, 2018
Turkish prosecutors have issued arrest warrants for nearly 100 people on suspicion of affiliation to a movement led by US-based opposition cleric Fethullah Gulen, whom the Ankara government accuses of having masterminded the July 2016 coup attempt against President Recep Tayyip Erdogan.
The Chief Prosecutor's Office in the capital Ankara issued the warrants for 99 people, including an air commodore and 30 former pilots from the Turkish Air Force Command, on Wednesday.
Separately, Turkish police forces have launched simultaneous operations across 13 provinces to arrest 22 Gulen suspects.
During the botched putsch, a faction of the Turkish military declared that it had seized control of the country and the government of Erdogan was no more in charge. The attempt was, however, suppressed a few hours later.
Ankara has since accused Gulen of having orchestrated the coup. The opposition figure is also accused of being behind a long-running campaign to topple the government via infiltrating the country's institutions, particularly the army, police and the judiciary.
Gulen has denounced the "despicable putsch" and reiterated that he had no role in it.
"Accusations against me related to the coup attempt are baseless and politically-motivated slanders," he said in a statement.
The 77-year-old cleric has also called on Ankara to end its "witch hunt" of his followers, a move he says is aimed at "weeding out anyone it deems disloyal to President Erdogan and his regime."
Turkish officials have frequently called on their US counterparts to extradite Gulen, but their demands have not been taken heed of.
Turkey, which remains in a state of emergency since the coup, has been engaged in suppressing the media and opposition groups suspected to have played a role in the failed coup.
Tens of thousands of people have been arrested in Turkey on suspicion of having links to Gulen and the failed coup. More than 110,000 others, including military staff, civil servants and journalists, have been sacked or suspended from work over the same accusations.
Full report at:
http://www.presstv.com/Detail/2018/06/27/566253/Turkey-issues-arrest-warrants-for-nearly-100-over-affiliation-to-Gulen-network
--------
India
Hizbul, JeM used children in Kashmir during clashes with forces: UNSG report
June 28, 2018
Pakistan-based banned terror outfits Jaish-e-Mohammed and Hizbul Mujahideen recruited and used children in Jammu and Kashmir during clashes with security forces last year, according to a UN report released on Thursday.
The annual report of the UN Secretary General on Children and Armed Conflict, covering the January-December 2017 period, said globally, over 10,000 children were killed or maimed in conflict last year while more than 8,000 were recruited or used as combatants.
The report covers 20 countries, including war-torn Syria, Afghanistan, and Yemen and also the situation in India, the Philippines and Nigeria.
On the situation in India, the report of UNSG Antonio Guterres said children continued to be affected by incidents of violence between armed groups and the government forces, particularly in Chhattisgarh, Jharkhand and during tensions in Jammu and Kashmir.
Noting "grave violations", it said three incidents of recruitment and use of children by the two terror outfits were reported in Jammu and Kashmir during clashes with the security forces.
"One case was attributed to Jaish-e-Mohammed and two to Hizbul Mujahideen," the report said, adding that "unverified" reports also indicate the use of children as informants and spies by the security forces.
The UN said it continued to receive reports of recruitment and use of children, including by the Naxalites, particularly in Chhattisgarh and Jharkhand. "Naxalites reportedly resorted to the use of a lottery system to conscript children in Jharkhand," it said, adding children continued to be killed and injured during operations of security forces against armed groups.
Citing government data, the report said 188 civilians were killed in Naxal-affected regions, but no disaggregated data on children were available.
In March this year, a 15-year-old boy was killed during clash between the security forces and Lashkar-e-Taiba terrorists in Padgampora village of Pulwama district.
Guterres asked the Indian government to put in place measures to hold perpetrators of child recruitment and use to account and engage with the UN to end and prevent violations against children.
In Jharkhand, the report said, suspected Naxalites attacked a school in Khunti district, partially destroying it. With regard to military use, the occupation of over 20 schools was documented by the Central Reserve Police Force in Srinagar, Kashmir, in April.
"Increased tensions in Jammu and Kashmir reportedly also led to closure of school for varying periods, including in Rajouri (65) and Poonch (76) districts," it said.
https://indianexpress.com/article/india/hizbul-jem-used-children-in-kashmir-during-clashes-with-forces-unsg-report-5236728/
--------
Lashkar terrorist among three identified for involvement in Shujaat Bukhari's killing: Police
Jun 27, 2018
NEW DELHI: J&K Police on Wednesday identified three terrorists responsible for the killing of journalist Shujaat Bukhari who was shot dead by terrorists outside his office in Srinagar earlier this month. Two of the terrorists are locals, while the third is a Pakistani national, the police said.
The Pakistani national was identified as Lashkar-e-Taiba commander Naveed Jatt who managed to escape from police custody earlier this year from the Shri Maharaja Hari Singh (SMHS) hospital in Srinagar.
The two locals are believed to be from one of the villages in south Kashmir. Police were trying to corroborate the evidence from the ground, they said.
The details about the plans to kill Bukhari surfaced during an investigation in one of the recent encounters at Kulgam during which police officials got evidence to suggest that Jatt was in the middle of the motorcycle on which three terrorists were seen on the CCTV footage minutes before gunning down the journalist on June 14, they said.
They said a Pakistan-based blogger, a resident of Srinagar and now settled there, has also been identified. The blogger had started a hate campaign against Bukhari after he had attended Dubai conference last year.
While police has accused Lashker-e-Taiba for killing Bukhari, the terror outfit has denied it.
Veteran journalist and Rising Kashmir editor Bukhari and his PSOs were shot dead by unidentified gunmen outside the newspaper's office in the heart of this Jammu and Kashmir summer capital on June 14.
Police earlier arrested a local who had escaped with a pistol belonging to one of Bukhari's guards and two mobile phones belonging to the journalist.
"He appears to be a drug addict. He is still in our custody but he does not appear to be part of the terror conspiracy to assassinate Bukhari," the source said.
Police have also identified a blogger who uploaded malicious posts against Bukhari.
Full report at:
https://timesofindia.indiatimes.com/india/lashkar-terrorist-among-three-identified-for-involvement-in-shujaat-bukharis-killing-police/articleshow/64764063.cms
--------
Surgical strikes video out, shows terror casualties, damage to bunkers
June 28, 2018
For the first time since India announced that it had conducted surgical strikes against terror launch pads in Pakistan-occupied Kashmir (PoK) in September 2016, video clips of these operations were broadcast on several television news channels on Wednesday night.
These clips showed some terrorists being killed, besides destruction of bunkers and other military constructions. TV channels claimed these videos, which they had accessed from official sources, were taken by Unmanned Aerial Vehicles (UAVs) and Thermal Imaging (TI) cameras used by the Army to monitor the operation.
"The videos are real. I can confirm that," Lt General D S Hooda (retd), former Northern Army Commander who was directly in-charge of the surgical strikes told The Indian Express. The feed of these videos was reportedly being broadcast live during the surgical strikes to the operations room of his headquarters in Udhampur.
"When the surgical strikes happened, my view was that the videos should have been released as proof. It is good that they have come out now," Lt General Hooda added.
On the intervening night of September 28-29, 2016, the Army had carried out surgical strikes on seven terror launch pads across the Line of Control (LoC) in PoK. The then DGMO, Lt General Ranbir Singh, had announced on September 29, 2016 that India had conducted surgical strikes on terror pads along the LoC using ground forces, inflicting "significant casualties" on terrorists.
The officers and men of the Army's 4 and 9 Special Forces battalions, who had taken part in the surgical strikes, were later awarded gallantry medals by the government. The operation also featured in a documentary broadcast on History18 channel, which also featured NSA Ajit Doval.
On October 7, 2016, The Indian Express had reported graphic accounts provided by eyewitnesses living across the LoC of the surgical strikes, describing how bodies of those killed before dawn on September 29 were loaded onto trucks for secret burials. The eyewitnesses also described brief but intense fire engagements that destroyed makeshift buildings that housed terrorists, before they left for the last stage of their journeys across the LoC.
Full report at:
https://indianexpress.com/article/india/surgical-strikes-video-out-shows-terror-casualties-damage-to-bunkers-pakistan-border-indian-army-5236452/
--------
J-K: Special Police Officer cop escapes with rifle, joins Hizbul Mujahideen
by Bashaarat Masood
June 28, 2018
A Special Police Officer in Pampore escaped with his service rifle and joined militants ranks on Wednesday. Hizbul Mujahideen has confirmed that the policeman has joined the outfit, asking other police personnel to follow his example.
Irfan Ahmad Dar was the Personal Security Officer (PSO) of the Pampore Station House Officer.
Immediately after his escape, Hizbul Mujahideen confirmed that Dar has joined them. "SPO Irfan Ahmad Dar who fled with rifle has joined Hizbul Mujahideen," Hizb spokesman Burhan-ud-din said in a statement to a local news agency in Srinagar. "We appeal to all the Jammu and Kashmir police cadres to give up their job and join Hizbul Mujahideen to give a push to the resistance struggle."
Dar was a resident of Nehama area of Kakapora block in south Kashmir's Pulwama district.
Several police personnel have deserted their units and joined militant ranks over the last two years. In 2016, Naseer Ahmad Pandit was the first policeman to join Hizbul Mujahideen. He was the PSO of then Roads and Buildings Minister Altaf Bukhari and escaped with two rifles from his Srinagar residence.
Syed Naveed from Shopian escaped from Budgam last year and has risen to the top ranks of the Hizbul Mujahideen. Ishfaq Ahmad Dar from Shopian joined the Lashkar-e-Toiba last year.
Two Army men have also joined militant ranks.
Full report at:
https://indianexpress.com/article/india/j-k-special-police-officer-cop-escapes-with-rifle-joins-hizbul-mujahideen-5236406/
--------
India's 10th Grade Topper Muslim Boy Dreams of Ending Child Labour
27 June 2018
"Though India's education sector is growing at a good pace but access to quality education still remains a distant dream for rural India which is deprived of good primary education. I would like to work in this direction when my dream of becoming an IAS officer is realized," beamed Mohammad Kaif Mulla.
Kaif was among the three toppers in SSLC examinations (Xth grade) who scored 100 percent marks – notching 625 out of 625.
Kaif, who just got enrolled at the KLE Society's Raja Lakhamagouda Science Institute, Belagavi (Karnataka) in pre-university science stream, emphasizes the need to make sustainable development, poverty-free society and improve the standards of life to abolish child labor. He intends to go for medicine and then pursue civil services.
After scoring full marks in all subjects in the SSLC examinations, except science, Kaif, who studied in St Xavier High School, Belagavi, applied for revaluation. He was extremely convinced that the one mark, which he missed out was his. Kaif was hundred percent sure of getting full marks.
"I met my teachers and checked my answers with notebooks and I was convinced that I had all the science questions answered perfectly. And so, I applied for revaluation," Kaif said.
100 percent marks
The Karnataka Secondary Education Examination Board (KSEEB) then declared that Kaif had scored 100 percent marks in all subjects including sciences. The KSEEB conducted the Karnataka Class 10 examination 2018 from March 23 to April 8 2018 the results of which were declared last month.
Making it to the top competing with a massive 850,000 students is not a mean achievement for this boy whose parents were both teachers when he was in grade 10th.
His mother is now an officer at the Block Education Office in Belagavi city while his father, Haroon Rasheed Mulla, continues to teach Hindi at a government high school in Kittur. This topper did not let textbooks rule his lives. He gave extracurricular activities the required importance.
Though Kaif was regular in studies but that did not deter him from partaking in sports and extra-curricular activities. Singing is his passion while he enjoys sports like short put, discus throw and javelin throw.
No social media
Kaif has also been a commander of his school's NCC unit. His proud father said that keeping away from social media also helped him to concentrate on his academics. A clear message to the students these days. Kaif said that his parents and teachers always motivated him to work hard and perform well.
Kaif's extra-ordinary accomplishment has made him famous instantly with NGOs and others felicitating him but his simplicity and a vision to help promote education to end child labor have won him further accolades.
When asked what is his advice to students to emulate his success, Kaif avers: "Everyone can score well if they follow four values in life – courage, determination, inspiration and desire. Then success will be at their feet."
Full report at:
https://english.alarabiya.net/en/features/2018/06/27/India-s-10th-grade-topper-Muslim-boy-dreams-of-ending-child-labor.html
--------
Ram temple issue likely to be discussed at All India Muslim Personal Law Board meet on 15 July in Lucknow
Jun 28, 2018
Lucknow: The Ayodhya issue may come up for discussion at the executive meeting of the All India Muslim Personal Law Board (AIMPLB) in Lucknow on 15 July.
The meeting comes against the backdrop of statements by some leaders favouring construction of the Ram Temple in Ayodhya.
"One-day executive meeting of 41 members of the board will be held in the Islamic seminary Nadwa in Lucknow on 15 July. After recent statements on the sensitive Ayodhya dispute, it might be discussed in the meeting," board member Maulana Khalid Rashid Farangi Mahali told PTI.
"Statements on the Ayodhya issue are coming. Some are saying the decision will come in a particular month and it will be in favour of a particular side. Such statements are an attempt to belittle the highest court. This should be taken into consideration. It might be discussed in the meeting," he said.
He said the Board has already said it would accept the decision of the Supreme Court on the issue.
Recently at a programme in Ayodhya, Ram Janmbhoomi Trust member Ram Vilas Vedanti had said in the presence of Chief Minister Yogi Adityanath that "If the Supreme Court decision on the matter comes before 2019 its okay otherwise construction of Ram Temple will be started in Ayodhya."
The Vishwa Hindu Parishad has also indicated that it may restart its movement for Ram Temple in Ayodhya, saying the organisation will consult saints on the "future course of action" if the Supreme Court does not give its verdict on the issue in next three to four months.
Former Vishva Hindu Parishad (VHP) leader Praveen Togadia also said that if construction of the temple did not start within four months, he would march towards Ayodhya from Lucknow in October.
At the Board meeting, the matter of apprising lawyers about Sharia laws will also be discussed. "This will help in matter related to Muslim personal law in courts," Mahali said.
Full report at:
https://www.firstpost.com/india/ram-temple-issue-likely-to-be-discussed-at-all-india-muslim-personal-law-board-meet-on-15-july-in-lucknow-4616631.html
--------
NIA questions accountant of Kashmiri businessman in terror funding case
Bharti Jain
Jun 28, 2018
NEW DELHI: Moving further in its investigation into J&K terror funding case involving Hurriyat leaders, the National Investigation Agency (NIA) on Tuesday questioned Gurgaon-based accountant of arrested Kashmiri businessman Zahoor Ahmad Shah Watali regarding illegal funds brought by the latter from Dubai supposedly for his construction business in India but channelled for terrorist and separatist activities in Kashmir.
Mushtaq Ahmed Mir, cost accountant and proprietor of M/s Wiz Kid Consultancy and Financial Services Pvt Ltd with offices at Srinagar and Gurgaon, was questioned at NIA headquarters here on the operation of Watali's business, particularly illegal receipt of money from abroad, its distribution to various actors in terror finance machinery and laundering of illegally received money. NIA is working on establishing the terror funding trail to some senior Hurriyat leaders and may summon them for questioning in the coming days.
Earlier, during searches at various premises of Mushtaq, NIA seized financial documents including balance sheets and audit reports of Watali's firms.
Watali, named as an accused in the chargesheet filed by NIA this January, worked as a hawala conduit across West Asian countries. NIA sources said the businessman was part of a cleverly organised financial conspiracy which enabled him to bring unaccounted funds to the tune of Rs 10-12 crore raised from unknown sources in Dubai between 2012 and 2016. The modus operandi was to enter into 'paper agreements' with associates claiming that the 'investments' were meant for his businesses in India, receipt of funds by hawala route or NRE account and their diversion to finance terror activities in J&K.
NIA sources said terror funds were disbursed through cash withdrawals from nearly 48-50 bank accounts belonging to Watali, his kith and kin, firms and associates. Earlier, when Watali was questioned by NIA sleuths regarding these suspicious financial transactions and diversion of funds involving his firms, he could not come up with satisfactory explanation and told them to speak to his accountant and auditors instead.
Since Mushtaq and his company were involved in maintaining financial accounting of all of firms of Watali and his associates, NIA summoned him to explain the suspicious transactions. NIA has found a number of financial irregularities in the Watali's firms, including a large number of cash transactions. The investigators suspect most firms are only a front for laundering funds meant for terror activities and a probe into this aspect will also involve Enforcement Directorate.
Full report at:
https://timesofindia.indiatimes.com/india/nia-questions-accountant-of-kashmiri-businessman-in-terror-funding-case/articleshow/64770863.cms
--------
Tech -savvy terrorists exploiting cyber space for their advantage: Army Chief Bipin Rawat
Jun 27, 2018
NEW DELHI: Army chief General Bipin Rawat on Wednesday stressed on exploiting cyber space for advantage of defence forces, saying the "tech-savvy" terrorists operating from across the borders are using it for their benefit and if the armed forces don't stay ahead of them, they may never be able overcome terrorism.
Addressing a conference on cyber security here, the Army Chief said the cyber space is important not only in conventional warfare, but is equally relevant in the sub-conventional warfare or proxy war.
"We must also develop niche capabilities to disable the adversaries' system. Today, the terrorists operating against us from across the borders are very tech-savvy. They are exploiting cyber space for their advantage. If we don't stay ahead of them, we will never be able to get over the phenomena of terrorism," Rawat said.
He also noted that China is ramping up its capabilities in the cyber warfare.
Addressing the conference, Lt Gen Satish Dua, who is the Chief of Integrated Defence Staff to the Chairman, Chiefs of Staff Committee (CISC), said there was a need to tweak the defence strategy and factor in cyber threat.
"Radicalisation is the most potent by-product of cyber warfare. Terrorist organisations have moved their propaganda online," Dua said.
Citing an example of Burhan Wani, whose killing in an encounter with the security forces in July 2016 led to an unrest in the Kashmir Valley, Dua said the Hizbul Mujahideen terrorist, was a creation of social media.
The 22-year-old Wani was a poster boy for militancy in the Valley.
"To overcome other inadequacies, they used this system (cyber space) very nicely. Social media was used to build a Robinhood kind of image of Burhan Wani and eventually when he was eliminated, we saw the kind of unrest in Kashmir, in the Valley.... (it) was unprecedented a couple of years ago. And all started with this creation of social media," Dua said.
Full report at:
https://timesofindia.indiatimes.com/india/tech-savvy-terrorists-exploiting-cyber-space-for-their-advantage-army-chief-bipin-rawat/articleshow/64767237.cms
--------
Pakistan
Jamaat-i-Islami Central Chief Promises Even-Handed Accountability
June 28, 2018
NOWSHERA: Jamaat-i-Islami central chief and vice-president of Muttahida Majlis-i-Amal Sirajul Haq has said the MMA would start even-handed accountability across the country after coming to power.
Talking to media persons here on Wednesday, he said no political party had really worked for development and progress of country. He claimed that in the previous MMA tenure they had struggled for implementation of Sharia in the country but the federal government did not support their cause.
Mr Haq said MMA would resolve the electricity loadshedding and unemployment problems. He said during the PTI-led government, the JI had no powers.
He said as Kalabagh Dam issue had become controversial other water reservoirs should be built on a war-footing to meet water and energy needs of the country.
Meanwhile, three persons, including two police officials, were arrested on Wednesday in harassment case of a woman in Nowshera Cantonment. "The police officials involved in the crime would be penalised as per the law," DIG Mardan Akhtar Hayat Gandapur told mediapersons.
A woman, who is resident of Karachi, had reported to Nowshera Cantt police that she was brought to a building in the cantonment by a man on pretext of providing her a job. She alleged that she was forcibly stayed there for night where two police officials and another man molested her.
Sources said police took immediate action and arrested constables Shahswar and Yasir Nadeemalong with Zahoor, a resident of Khat Kaly, who was selling fruit in Nowshera Cantt, in the case.
https://www.dawn.com/news/1416534/siraj-promises-even-handed-accountability
--------
Ban on ASWJ lifted, Ludhianvi's assets unfrozen
June 28, 2018
The government on Wednesday ordered to unfreeze the assets of Maulana Ahmed Ludhianvi and removed the ban placed on his movement – Ahle Sunnat Wal Jamaat (ASWJ), reported a private media outlet.
According to reports, National Counter-Terrorism Authority (NACTA) on Wednesday issued a notification in this regard following the recommendations of Punjab's home department.
Ludhianvi is the chief of ASWJ – a proscribed sectarian extremist group, formerly known as Sipah-e-Sahaba – and he became the head of ASWJ after the death of Ali Sher Haidri in a 2009 ambush.
The ASWJ chief, who is also the joint secretary of the Difa-e-Pakistan Council (DPC), is now allowed to operate his bank accounts which were frozen on the recommendation of the same department earlier.
In a rather shocking development, Ludhianvi is also free to travel abroad following the notification, and he has also been allowed to purchase and carry arms after securing a licence from the competent authority.
His CNIC has been unblocked as well.
According to the media outlet, a high-powered review committee of the Punjab home department occasionally reviews cases of people on the Fourth Schedule and recommends lifting of the ban if it finds the conduct of a person satisfactory.
Interestingly, the decision was made the same day Pakistan had committed to an ambitious 26-point action plan spanning a period of 15 months to avoid being blacklisted by the Financial Action Task Force.
Full report at:
https://www.pakistantoday.com.pk/2018/06/28/ban-on-aswj-lifted-ludhianvis-assets-unfrozen/
--------
Pakistan placed on FATF 'grey list' despite diplomatic efforts to avert decision
June 28, 2018
The Financial Action Task Force (FATF) on Wednesday officially placed Pakistan on its grey list after a plenary meeting in Paris.
The announcement was made late on Wednesday night. Despite Pakistan's diplomatic efforts to avert the decision, the financial watchdog, in its meeting, argued that Pakistan had failed to curb terror financing on its soil.
Earlier in the day, caretaker Finance Minister Dr Shamshad Akhtar had urged the FATF to remove Pakistan from its grey list. As the FATF plenary began its proceedings, the Pakistani delegation apprised the watchdog of steps Islamabad had taken to weed out money laundering and terror financing.
Take a look: SECP issues anti-money laundering regulations in compliance with FATF recommendations
Earlier, reports from Paris had indicated that Pakistan may get more time to take measures to implement the FATF's anti-money laundering and terrorist-financing regulations.
The Foreign Office (FO) had confirmed in February that Pakistan would be placed on FATF's grey list in June if it did not take measures to curb terror financing.
However, FO spokesperson Mohammad Faisal had assured that an action plan to eradicate terrorist financing was being prepared and would accordingly be shared with the international body.
"Pakistan will be assigned to the 'grey list' in June, once an action plan has been mutually negotiated," the spokesman had said, adding that Pakistan will cooperate with FATF in every possible way.
Explore: Alone at FATF
A 37-nation FATF plenary held its first meeting on Pakistan in February where China, Turkey and Saudi Arabia opposed the United States-led move to place Pakistan on the watchlist. But the US pushed for an unprecedented second discussion on Pakistan, held on February 22.
By then, Washington had convinced Riyadh to give up its support to Pakistan in return for a full FATF membership. This left only two – China and Turkey – in the Pakistan camp, one less than the required number of three members to stall a move.
Full report at:
https://www.dawn.com/news/1416630/pakistan-placed-on-fatf-grey-list-despite-diplomatic-efforts-to-avert-decision
--------
Civil Hospital surgeon among four linked with TTP arrested
Imtiaz Ali
June 28, 2018
KARACHI: The Counter-Terrorism Department on Wednesday claimed to have arrested four suspects, including a government doctor, for their alleged involvement in helping and treating militants linked with the banned Tehreek-i-Taliban Pakistan (TTP).
CTD SSP Junaid Ahmed Shaikh said that the police arrested Dr Abdul Rehman, an orthopaedic surgeon at the Ruth Pfau Civil Hospital Karachi, and Mufti Malik Rizwan in Gulshan-i-Iqbal when they were collecting donations in a mosque.
"The held suspects were generating funds for the banned TTP," he claimed. "They had got militancy training from Afghanistan."
He said Rehman was a qualified doctor and an "active" TTP worker. He had completed his MBBS from a medical university in Bahawalpur and later he specialised in orthopaedics.
"He has remained involved in secretly treating wounded terrorists and was arrested after constant monitoring," the SSP added.
Path to militancy
Dr Rehman originally hailed from Ghotki, where his father worked in a bank.
He studied up to intermediate in his home town and later got admission in the Quaid-i-Azam Medical College Bahawalpur where he completed his MBBS in 2001. He specialised in orthopaedic surgery in 2015 from the College of Physicians and Surgeons of Pakistan.
He told interrogators that he developed friendship with a college student, Shah Faisal, who was Jamaatud Dawa's chief in his college. He started attending religious programmes at the medical college and after completing his degree he got "militancy training" on the insistence of Mr Faisal, claimed the SSP.
He told the CTD that his parents were not aware of his activities. He did house job at the Victoria Hospital in Bahawalpur. Subsequently, he passed the Sindh Public Service Commission exam and was appointed as government doctor in Khanpur in 2007.
After specialisation, he was posted at the orthopaedic ward of the Dr Ruth Pfau Civil Hospital Karachi.
He disclosed that he used to "officially" visit the Karachi Central Prison after a gap of two months for treatment of prisoners where in 2014 he met a TTP inmate, Amin Shirin, who was suffering from backache.
He developed friendship with him and "facilitated and provided logistics to militants in the prison", claimed SSP Junaid.
He added that the police informed the hospital administration and the Sindh health department about his activities before his arrest.
Regarding suspect Mufti Rizwan, the CTD SSP said that he originally belonged to Mansehra and studied up to intermediate in Karachi. Later he studied at a famous seminary and memorised Quran. He also completed courses for religious scholar and mufti from the seminary in Karachi and started teaching.
He told the interrogators that he developed friendship with a seminary student who had links with the TTP in Orakzai Agency. He went there in 2009 and met with the TTP leadership. He said he did not inform his family about the real purpose of his visit.
In 2011, he went to South Waziristan for getting militancy training.
He told the interrogators that his elder brother, Zafar Iqbal, was also associated with the TTP and with his help he visited Afghanistan.
Mufti Rizwan informed the investigators that he remained the prayer leader at different mosques in the city's posh areas, including Defence and Karsaz.
Separately, the CTD arrested two suspects — Hameedullah and Inam Dad — in Machhar Colony and recovered two pistols from them.
"They belong to the TTP's Wali Mohammed group," the CTD SSP said, adding that they were planning an attack when they were arrested on spy information.
'MQM-H man' held
In another action, the CTD arrested suspect Shafiquddin alias Kala, said to be associated with the Mohajir Qaumi Movement-Haqiqi.
Full report at:
https://www.dawn.com/news/1416482/civil-hospital-surgeon-among-four-linked-with-ttp-arrested
--------
Interior minister terms terrorism as biggest threat in upcoming elections
June 28, 2018
Caretaker Interior Minister Azam Khan said on Wednesday that terrorism is the biggest challenge in the upcoming General Elections 2018.
The caretaker interior minister said that the possibility of terrorism cannot be ruled out.
He said that the decision to summon Pakistan Army to ensure security during the elections was made by the Election Commission of Pakistan (ECP).
ECP should have consulted the interior ministry on the decision, said the caretaker interior minister.
He further said that ECP is doing transfers on its own and the caretaker setup is not aware of that.
"Came to know about secretary interior minister's transfer through newspaper today," said Azam Khan.
While on the subject of ensuring security during the elections, Khan said that the priority is to protect rallies of political parties and leaders.
Sources informed on Tuesday, the National Counter Terrorism Authority (NACTA) summoned a high-level meeting of the in-charges of the security institutions and political parties, keeping in view possible terrorist threats ahead of General Election 2018.
Full report at:
https://www.pakistantoday.com.pk/2018/06/27/interior-minister-terms-terrorism-as-biggest-threat-in-upcoming-elections/
--------
Security forces arrest five suspected terrorists from Sibi: ISPR
JUNE 28, 2018
SIBI: Security forces on Thursday conducted an intelligence-based operation in Balochistan's city Sibi and according to Inter-Services Public Relations (ISPR) five suspected terrorists have been arrested.
Weapons and communication devices were recovered from the terrorists.
Earlier, on June 19, an operation was conducted by Counter Terrorism Department (CTD), with the help of intelligence agencies, which claimed the death of four terrorists in Tera Meel area of Dasht, Balochistan.
https://dailytimes.com.pk/259326/security-forces-arrest-five-suspected-terrorists-from-sibi-ispr/
--------
Mr & Mrs Khan offer prayers at Dargah-e-Baba Fariduddin Ganjshakar
JUNE 28, 2018
PAKPATTAN: Pakistan Tehreek-e-Insaf (PTI) chief Imran Khan on Wednesday night paid visit to Dargah-e-Baba Fariduddin Ganjshakar to pay his respects.
Khan along with his wife, Bushra Maneka offered prayers and placed the ritual "Chaadhar" over Baba Fariduddin's shrine.
PTI chief was warmly received by by Dewan Azmat Said Mohammad Chisti, PTI candidate for PP-192 constituency.
Chishti, custodian of the shrine performed the traditional activities for his chief guest and his wife during the visit.
Full report at:
https://dailytimes.com.pk/259327/mr-mrs-khan-offer-prayers-at-dargah-e-baba-fariduddin-ganjshakar/
--------
Arab World
Syrian army declares complete retake of Dayr al-Zawr desert
Jun 27, 2018
Syria's military has announced that it cleared the desert region of the country's eastern province of Dayr al-Zawr close to the border with Iraq of the last elements of the Daesh Takfiri terrorist group.
The General Command of the Syrian Army announced in a statement on Wednesday that government troops, supported by military aircraft from the Syrian Air Forces, had managed to expel the foreign-sponsored extremists from the area, and establish control over an area of 5800 square kilometers after a series of fierce battles fought by spirited and courageous army troopers, Syria's official news agency SANA reported.
The statement added that the counter-terrorism operations inflicted heavy losses on terrorist ranks and dealt severe blows to their military hardware.
"Reaching the Iraqi border and crushing Daesh terrorist group in the desert region attest to the great efficiency of the Syrian Army and the strong determination of the General Command of the Army to pursue the remnants of terrorist groups until security, stability and peace prevail, and the entire Syrian soil is liberated from the menace of Takfiri terrorism," it further noted.
Syria has been gripped by foreign-backed militancy since March 2011. The Syrian government says the Israeli regime and its Western and regional allies are aiding Takfiri terrorist groups that are wreaking havoc in the country.
Russia has been helping Syrian forces in an ongoing battle in the province of Dayr al-Zawr as the Daesh terrorist group struggles to keep its last positions in eastern Syria.
The Russian military assistance, which began in September 2015 at the official request of the Syrian government, has proved effective as the Syrians continue to recapture key areas from Daesh and other terrorist groups across the country with the backing of Russian air cover.
On May 21, the General Command of the Syrian Army and Armed Forces announced in a statement that complete security was restored to Damascus and its countryside after al-Hajar al-Aswad district and al-Yarmouk camp had been totally purged of Daesh terrorists.
The development was preceded by flushing the Takfiris out of the towns of Yalda, Babbila and Beit Sahem on the southern outskirts of Damascus.
http://www.presstv.com/Detail/2018/06/27/566277/Syrian-army-declares-complete-retake-of-Dayr-alZawr-desert
--------
At least 10 killed in twin blasts in Syria's Afrin
Jun 27, 2018
At least 10 people have been killed in double bombings that hit Syria's northwestern region of Afrin amid clashes between militant groups in the area.
The so-called Syrian Observatory for Human Rights said one of the explosions struck near Dowar Kawa al-Hadad in Afrin city center, while the other was reported near a headquarters for Turkish forces on a road leading to a hospital.
In March, the Turkish army and the so-called Free Syrian Army units, which are backed by Ankara, established full control over Afrin after more than two months of battles with the US-backed militants controlling Syria's northern border regions.
Turkey began the so-called Operation Olive Branch against Afrin on January 20 to cleanse the northern Syrian border of the US-backed Kurdish militants of the People's Protection Units (YPG), whom it associates with the homegrown Kurdistan Workers' Party (PKK) fighting for autonomy on Turkish soil.
The observatory said at least four militants were among those killed in Wednesday's bombings, adding that several people were seriously injured.
The Britain-based monitoring group reported that militant groups based in Afrin had earlier engaged in clashes after a dispute at a checkpoint.
Meanwhile, RT Arabic quoted local sources as saying that militants from the so-called Free Syrian Army factions of al-Mu'tasim Brigade and the Levant Front clashed early on Wednesday on the distribution of booty stolen from Afrin industrial area.
Operation Olive Branch in Afrin region is Turkey's second major military intervention in Syria since 2011.
In August 2016, Turkey began a unilateral military intervention in northern Syria, code-named Operation Euphrates Shield, sending tanks and warplanes across the border. Ankara claimed that its campaign was aimed at pushing the Daesh Takfiri terrorist group from Turkey's border with Syria and stopping the advance of Kurdish forces, who were themselves fighting Daesh.
Full report at:
http://www.presstv.com/Detail/2018/06/27/566267/Syria-Afrin-twin-blasts
--------
UAE Businessman Abdul Aziz Al Ghurair Launches New $27 Million Education Fund For Refugees
June 28, 2018
UAE-based businessman and philanthropist Abdul Aziz Al Ghurair has launched an education fund worth $27 million to help finance the education of refugee children in the Middle East.
The fund, announced on the World Refugee Day, will benefit a minimum of 5,000 refugee children living in the UAE and it will run for three years. The new fund comes after the UAE revealed that it will provide a one-year visa to refugees from other Arab countries.
The Abdul Aziz Al Ghurair Refugee Education Fund will reportedly support high impact education programs at the secondary, tertiary and vocational levels for refugee youth in Jordan and Lebanon.
The grants will be provided through organizations working with refugee children through a competitive selection process and not directly to individuals though. The first round of grants to partner organizations in Jordan, Lebanon and the UAE will be announced before the start of the new school year while the call for the next proposals will be in 2019.
A civil war and ensuing violence have seen millions flee the troubled areas of Syria and Iraq over the last few years. Conflict has led about 5.6 million people to flee from Syria alone while many more are displaced internally.
Education has taken a severe hit amidst the conflict with close to 2 million children out of school, according to UNICEF.
Al Ghurair's effort comes as many Arab billionaires have pledged their wealth to educate and support Arab youth. In 2015, Abdullah Al Ghurair pledged to donate one third of his wealth to provide quality education to over 15,000 Arab youth. Well-known Saudi businessman Alwaleed bin Talal had also pledged to donate over $32 billion to charity.
Full report at:
https://themuslimtimes.info/2018/06/21/uae-businessman-abdul-aziz-al-ghurair-launches-new-27-million-education-fund-for-refugees/
--------
Tens of Civilians, Militants Killed, Wounded in Several Blasts in Northern Syria
Jun 27, 2018
Two bomb-laden motorcycles went off at a base of the al-Shamiyeh Front near Qawa square in Afrin.
In the meantime, heavy infighting was reported between al-Shamiyeh Front and Liwa al-Mo'atasem in a large area from Qawa square to the industrial zone and al-Hall Bazaar.
Another blast hit Deir Sam Hospital. The hospital had halted operation after it came under threat and was forced to shut down by the Turkish troops.
The Turkey-backed militants have gone on alert immediately after the blasts.
Preliminary reports said that at least 30 militants and civilians have been killed or wounded in the explosions.
Local sources said on Sunday that the Ankara forces started closing off all the streets across the town of Jandaris in Northeastern Aleppo.
The sources pointed to anguish felt by the Turkish soldiers and their allied militants over the Kurdish militias' surprise attack, adding that the Ankara forces prefer not to wear military uniforms to avoid becoming the target of Kurdish attacks.
The sources further said that the Kurdish militias launched eight heavy offensives against Turkish troops and their allied militants in the region in the past week.
In the meantime, local sources in Rajou in Afrin reported that the Ankara forces have plundered three power generators and telecommunication masts.
Full report at:
http://en.farsnews.com/newstext.aspx?nn=13970406001058
--------
US-Backed SDF Keeps Fighters on Alert after Distribution of Syrian Flags across Raqqa
Jun 27, 2018
The sources in the village of Ya'arab in Western Raqqa reported that SDF stormed the village to take down and tear apart a large number of Syrian government flags and images of President Bashar al-Assad at power towers.
The SDF leadership in the region put fighters on alert and ordered to clean the streets from flags and president's images.
In the meantime, the wives of a number of gunmen of Liwa al-Thowar Raqqa who have been captured by the SDF demonstrated in al-Romeileh neighborhood in Raqqa city, and called on the SDF to release the detainees.
In a relevant development on Tuesday, the SDF stormed bases and positions of Liwa al-Thowar al-Raqqa in the Raqqa city and its outskirts and captured a sum of 200 gunmen.
In the meantime, the SDF arrested tens of villagers in the villages of al-Adnaniyeh, al-Rafeqa and al-Ansar, accusing them of supporting the Damascus government.
Full report at:
http://en.farsnews.com/newstext.aspx?nn=13970406000840
--------
US Military Continues Equipping Kurdish Militias in Northeastern Syria
Jun 27, 2018
The Arabic-language al-Watan daily quoted local sources as saying that the US-led coalition forwarded several personnel carriers and armored vehicles from Iraq to the Kurdish units stationed in Northeastern Hasaka via the Simalka border-crossing.
Analysts say the US intends to disintegrate Syria by means of the Kurdish militias deployed in the Northern and Northeastern parts of the country.
In a similar development last month, a new convoy of US arms and ammunition entered Syria via Simalka passageway at the border with Iraq.
Also, field sources said that several US military trucks, carrying arms and equipment, arrived in Syria, adding that a part of the convoy was sent to Southern Hasaka.
The Kurdish militias said that they would start large-scale operation against ISIL in Southeastern Hasaka and Eastern Deir Ezzur.
Full report at:
http://en.farsnews.com/newstext.aspx?nn=13970406000485
--------
Syrian regime bars Daraa's displaced from crossing to safety
27 June 2018
With the Syrian regime's continuous bombardments and airstrikes on southwestern Daraa, thousands of displaced civilians are trying to escape to safety away from the military operations and near the Jordanian border and the areas close to the occupied Golan Heights.
Some of the displaced civilians sought shelter at thehomes of family and friends, while others took shelter in schools. Even then, a large number of the displaced were left stranded in the bushes without any shelter.
The United Nations estimated the number of those displaced near the Jordanian border at 45,000, while the number of the displaced from all areas in Daraa is far more than the UN figure.
According to local sources, some of the displaced took shelter in areas close to the occupied Golan Heights as the Syrian regime avoided shelling this area which is close to Israel.
Full report at:
https://english.alarabiya.net/en/News/middle-east/2018/06/27/Syrian-regime-bans-Daraa-s-displaced-from-crossing-to-safety.html
--------
Iraqi forces discover bodies of security men abducted by Daesh
Jun 27, 2018
Iraqi security forces have discovered the bodies of eight security men who were kidnapped by remnants of the Daesh Takfiri terrorist group last week.
A local commander said the bodies were found on Wednesday, two days after a three-day deadline set by the abductors ended.
On June 23, Daesh terrorists kidnapped six Iraqi security forces on the highway linking the capital Baghdad to Iraq's north. The highway is the main road that has witnessed a surge in attacks by members of the terror outfit in recent weeks.
Shortly after abducting the security personnel, Daesh released a video purportedly showing six men identifying themselves as either members of the police or the Popular Mobilization Forces, better known by the Arabic name Hashd al-Sha'abi, which is mainly composed of Shia Muslim paramilitary troops.
Terrorists threatened in the video that they would decapitate the abductees in three days unless the government released female Daesh inmates.
Lieutenant General Muzher al-Azawi, commander of Diyala Operations, said the bodies were found mutilated and rigged with explosives.
According to security and medical sources, the bodies were transferred to a hospital in the northern town of Tuz Khurmato, south of Kirkuk, where they were being prepared for burial.
Full report at:
http://www.presstv.com/Detail/2018/06/27/566288/Iraq-bodies-security-men--Daesh
--------
Bahraini court sets date for hearing in Sheikh Salman's trial
Jun 27, 2018
Prominent Bahraini Shia and opposition leader Sheikh Ali Salman is to stand trial later this year as the ruling Al Khalifah dynasty does not shy away from its heavy-handed clampdown on political dissidents and pro-democracy campaigners in the tiny Persian Gulf kingdom.
Bahrain's Attorney General Osama al-Awfi said the 52-year-old secretary general of the dissolved al-Wefaq National Islamic Society will go on trial on September 5 after the Public Prosecutor's Office appealed a Supreme Criminal Court judgment on June 21, acquitting the opposition leader and two of his colleagues, Hassan Sultan and Ali al-Aswad, of spying for Qatar.
On November 1, 2017, the three opposition figures were charged with "spying on behalf of a foreign country... with the aim of carrying out subversive acts against Bahrain and harming its national interests."
Sheikh Salman was also charged with "revealing defense secrets to a foreign country and disseminating information that would harm Bahrain's status and reputation."
The senior Bahraini Shia cleric has been in jail on a nine-year prison sentence since late 2014 for what the Manama regime has called "insulting" government officials, "inciting" unrest through his speeches targeting the authorities during the 2011 uprising, attempting to overthrow the regime and collaborating with foreign powers.
Sheikh Salman denies all the charges, saying he has merely been seeking reforms in the country through peaceful means.
Amnesty International and other human rights groups have already censured his arrest and called for his release.
Thousands of anti-regime protesters have held demonstrations in Bahrain on an almost daily basis ever since a popular uprising began in the country in mid-February 2011.
They are demanding that the Al Khalifah dynasty relinquish power and allow a just system representing all Bahrainis to be established.
Manama has gone to great lengths to clamp down on any sign of dissent. On March 14, 2011, troops from Saudi Arabia and the United Arab Emirates were deployed to assist Bahrain in its crackdown.
Scores of people have lost their lives and hundreds of others sustained injuries or got arrested as a result of the Al Khalifah regime's crackdown.
On March 5, 2017, Bahrain's parliament approved the trial of civilians at military tribunals in a measure blasted by human rights campaigners as being tantamount to imposition of an undeclared martial law countrywide.
Full report at:
http://www.presstv.com/Detail/2018/06/27/566259/Bahraini-court-sets-date-for-hearing-in-Sheikh-Salmans-trial
--------
South Asia
Will an alleged war criminal become president of Myanmar?
JUNE 28, 2018
Will Senior General Min Aung Hlaing be brought before the International Criminal Court (ICC) in The Hague on charges of crimes against humanity, or instead be popularly elected on a nationalistic wave as Myanmar's next president?
All bets are on for what the future holds for the commander-in-chief of the country's highly criticized but politically powerful armed forces.
On one hand, rights groups believe the senior general is responsible for systematic human rights abuses, primarily in Myanmar's western Rakhine State, where an estimated 800,000 Rohingya Muslims were forced by military "clearance operations" into neighboring Bangladesh beginning in late August last year.
The refugees brought with them horror stories of rape, murder and arson committed against them by Min Aung Hlaing's Tatmadaw, as the military is known locally.
On the other hand, some political observers sense the nation's top soldier has political ambitions, although he has not publicly announced any plans to run for office. Given de facto national leader Aung San Suu Kyi's National League for Democracy's (NLD) poor performance since forming an elected government in March 2016, bringing decades of abusive military or military-backed rule to an end, Myanmar's people may already be looking for a fresh alternative.
The military's campaign against the Rohingya was not unwelcome among many in Myanmar, who see the Muslim minority group as illegal immigrants from Bangladesh. What the United Nations and international rights groups saw as "ethnic cleansing" and even "genocide" appears locally to have bolstered Min Aung Hlaing's image and popularity.
Neither scenario – referral to the ICC on charges of crimes against humanity or a rise to the presidency through elections – is necessarily on the cards. But international pressure is building for some sort of accountability for the Rohingya situation.
Amnesty International, a rights group, said in a June 27 report that it had gathered "extensive" and "credible" evidence to implicate Min Aung Hlaing and 12 other officials in "crimes against humanity" related to the military's campaign against the Rohingya. The report, which claims the violence was "not the action of rogue soldiers or units" but rather a "highly orchestrated, systematic attack" calls for the situation to be referred to the ICC.
"Top military commanders, including Senior General Min Aung Hlaing, actually traveled to northern Rakhine State directly before or during the ethnic cleansing campaign, to oversee parts of the operation," the Amnesty report says. "Senior military officials knew – or should have known – that crimes against humanity were being committed, yet failed to use their command authority to prevent, stop or punish those crimes, and even attempted to whitewash the overwhelming majority of them in the aftermath."
On June 22, ICC judges asked Myanmar to reply by July 27 to a prosecution request that the court should exercise jurisdiction over the alleged crimes. Myanmar is not a signatory to the Rome Statute that established the ICC in 1998 and therefore appears to be outside its jurisdiction. The government has said it will not formally respond to the request.
One possible way around this for ICC prosecutors relates to an application filed by representatives of victims now before the ICC, which asserts "as an essential legal element of the crime – crossing an international border – occurred in the territory of a State which is a party to the Rome Statute."
Bangladesh ratified the Rome Statue in March 2010. If the application is accepted, the ICC could use Bangladesh as jurisdiction. But even if the case was brought before the ICC, it is unrealistic to believe that Min Aung Hlaing would appear in The Hague to answer the charges. If a guilty verdict were handed down in absentia, the only likely impact would be that the military commander would find it difficult to travel to certain ICC signatory countries.
At the same time, an ICC verdict and possibly even referral against Min Aung Hlaing and other top-ranking officers would likely revert Myanmar to the pariah status it had in the West before certain moves towards more openness were introduced in 2011 and 2012.
The European Union has already imposed sanctions on seven military security officers for their roles in the campaign against the Rohingya. Two have since been dismissed from the army, though the move was widely seen as scapegoating as it's not possible they acted of their own accord.
If Min Aung Hlaing is still unlikely to be prosecuted at the ICC, then would he consider a run for the presidency? That's not immediately clear considering he is much more powerful as commander-in-chief, and even as a retired high-ranking military officer, than he would be as president or state counselor, the new position equivalent to prime minister that was created for Suu Kyi after the NLD's historic election victory in November 2015 to get around a constitutional provision barring her from becoming president.
Zoltan Barany, an American academic and expert on civil-military relations in Asia, stated in an article for the January issue of Journal for Democracy that "there has been no significant transfer of power [in Myanmar] from the generals to elected civilians, and there will be no such transfer unless and until the Tatmadaw wants it to happen."
It's not clear that it does. The army now appoints a quarter of the members of the Upper and Lower Houses of parliament, a bloc that consistently protects the military's autonomous interests. Because more than three-quarters of all MPs are needed to amend the military-devised constitution, which was adopted after what most observers consider a fraudulent referendum in 2008, the military can block any motion to change the charter.
According to the constitution, the military can legally take over the government in the event of a "national crisis." The military also appoints the heads of the country's three most important ministries: defense, home and border affairs.
The home affairs ministry controls the police and its Special Branch, which is assuming the role of the former dreaded secret Directorate of the Defense Services Intelligence (DDSI), in effect what was a secret police force rather than an intelligence service. With the Special Branch's rise, the military has assumed more direct control over the country's domestic security apparatus.
With all that political, administrative and security power vested in military hands, there is no clear reason why Min Aung Hlaing would want to relinquish his top-ranking position to become president, a prestigious title which would make him a powerless figurehead based in the virtually empty capital of Naypyitaw.
As many observers believe that the government is in the driver's seat, Suu Kyi has been criticized for the Rohingya crisis despite the fact she has no power over the military. That has simultaneously given the military insulation from taking sole blame for the atrocities. Suu Kyi may be accused of not speaking out against atrocities committed by the Tatmadaw, but that hardly makes her "complicit" in war crimes, as suggested by some activists who would like to see her referred to the ICC.
Min Aung Hlaing is without doubt the most powerful person in the country and is likely to remain so for the foreseeable future. Born in Dawei in the Thanintharyi Region in 1956, he studied law at university level from 1972 to 1973 and was admitted at his third attempt to the elite Defense Services Academy in 1974.
Upon graduation in 1977, he was commissioned as second lieutenant and joined the regular army, from where he was rapidly promoted. In 2001, he became commander of the 44th Light Infantry Division and later head of the Western Command, with responsibility for the borders with India and Bangladesh. From 2005 to 2008, he served as commander of the Triangle Regional Command in eastern Shan state.
He rose to prominence and power when as chief of the Bureau of Special Operations (2) in 2009 he led an offensive against the insurgent Myanmar National Democratic Alliance Army in Kokang, a district in northeastern Shan state dominated by ethnic Chinese. He has been commander-in-chief since March 2011, replacing the old junta chief, Senior General Than Shwe.
As the military's top soldier, he has deftly outmaneuvered potential rivals within the Tatmadaw by having them either sacked for corruption or for promoting officers lower in the hierarchy than those immediately beneath him. In that way, he has created an officer corps that is immensely loyal to him.
Min Aung Haling's outlook on the region is harder to ascertain. He represented the Tatmadaw at negotiations to strengthen ties with China in November 2011, when he reportedly signed a bilateral defense agreement for closer cooperation in security matters along their common border. He also met with Chinese President Xi Jinping on that occasion.
But it was not forgotten, at least not in Beijing, that his first foreign trip after becoming military chief was to China's traditional enemy Vietnam. Myanmar and Vietnam share the same fear of their common, powerful northern neighbor, so it is reasonable to assume that Min Aung Hlaing had a lot to discuss with his Vietnamese hosts.
In fact, Naypyitaw insiders assert that Min Aung Hlaing and his fellow officers think that Suu Kyi is too close to the Chinese and easily manipulated by them.
It is too early to predict what will happen at the next election in 2020. There is no doubt that the NLD has lost much of its former popularity, especially in ethnic areas where people feel let down by Suu Kyi's inability to understand their grievances, but also among urban intellectuals and veteran pro-democracy activists who have seen the high hopes they embraced in 2015 dashed by the NLD's poor performance.
Political analysts believe that there is little to no chance that the military-backed Union Solidarity and Development Party (USDP), which formed a government after a widely criticized and allegedly rigged election in November 2010 and held office until the NLD took over in 2016, will win. But the USDP, and therefore the military, may aim to split the NLD's 2015 voting base by making alliances with regional ethnic parties and promoting splinter parties in the Myanmar heartland, where the NLD still has a significant following.
What is more certain is that the military, which has ruled the country in different guises since 1962, will remain for the foreseeable future Myanmar's most powerful institution. Min Aung Hlaing, who will turn 62 in July, may or may not retire before then. But given the past history of Myanmar military strongmen accused of rights and other abuses, he is unlikely to fade from the scene any time soon.
http://www.atimes.com/article/will-an-alleged-war-criminal-become-president-of-myanmar/
--------
Taliban suffer heavy casualties in Ghazni airstrikes
Jun 28 2018
The Taliban militants suffered heavy casualties during the airstrikes conducted by the Afghan Air Force in southeastern Ghazni province of Afghanistan.
The 203rd Thunder Corps of the Afghan Military in the Southeast said the Afghan Air Forces carried out a series of airstrikes on Taliban positions in Andar district, leaving at least sixteen militants dead or wounded.
A statement by Thunder Corps stated that the airstrikes were carried out in Kajir, Jamal Qala, and Muradi areas of the district.
The statement further added that the airstrikes left at least seven militants dead while at least nine others were wounded during the airstrikes.
In the meantime, the Thunder Corps said the Afghan forces have reopened the high connecting Maidan Wardak, Ghazni, and Bamyan provinces.
According to Thunder Corps, the highway was closed by the Taliban insurgents, forcing the Afghan armed forces to launch an operation.
The operation was led by the commander of the 203rd Thunder Corps Gen. Shohur Gul, the statement said, adding that a culvert destroyed by the militants was also rehabilitated.
Full report at:
https://www.khaama.com/taliban-suffer-heavy-casualties-in-ghazni-airstrikes-05449/
--------
Deadly clash among Afghan forces and Taliban in Nangarhar province
Jun 28 2018
The Taliban militants suffered heavy casualties during a deadly clash with the Afghan security forces in eastern Nangarhar province of Afghanistan.
The provincial government media office in a statement said the clash between the Afghan forces the Taliban militants took place late on Wednesday night.
The statement further added at least sixteen Taliban militants were killed or wounded during the clash sparked by a coordinated Taliban attack.
According to the provincial government, the Taliban militants attacked the security posts in Mamli Bagh area in Khogyani district, sparking heavy clash with the security forces.
At least seven Taliban militants were killed and at least nine others were wounded after the Afghan forces responded to the attack, the provincial government said.
The statement also added that one Afghan police belonging to the public order police forces lost his life and another was wounded during the clash.
The provincial government said the wounded soldier receives treatment and his health condition has been reported as satisfactory.
Full report at:
https://www.khaama.com/deadly-clash-among-afghan-forces-and-taliban-in-nangarhar-province-05448/
--------
Tatmadaw 'understands' need to include foreigner on Rakhine probe commission
28 JUN 2018
Tatmadaw Senior General Min Aung Hlaing "understands" why the government has to include an international figure on a three-member commission to look into alleged violations of human rights and related issues in northern Rakhine State, U Zaw Htay, spokesman of the president's office said on Wednesday.
He also denied a news report that the Tatmadaw chief threatened to stage a coup d'etat over the issue.
A recent Bangkok Post story claimed that the Tatmadaw chief warned of a coup if the government did not perform its duties well and objected to including a foreigner on the independent commission.
The warnings were allegedly made during a high-level meeting on Rakhine affairs at the Presidential Palace in Nay Pyi Taw on June 8 that was attended by civilian and military leaders, including Daw Aung San Suu Kyi and Senior General Min Aung Hlaing.
At the meeting, the government told the Tatmadaw leaders details of the formation of the investigating body and its inclusion of a foreigner, U Zaw Htay said.
"After hearing this, both the Defence Services commander-in-chief and deputy commander-in-chief said they understood the matter. There was no more harsh talk. They just gave advice and discussed it," he said.
However, U Zaw Htay didn't say whether the Tatmadaw is amenable to the plan or not.
He said the information in the Bangkok Post article made a lot of people worried, especially citizens living abroad.
Others at the meeting were parliamentary Speakers, military chiefs and the ministers of Home Affairs, Defence, Border Affairs, the State Counsellor's Office, International Cooperation and the attorney general.
The plan to establish a three-member commission to investigate the alleged abuses in northern Rakhine was announced last month by the government.
When it was discussed in parliament, military representatives objected to the plan in a rare display of division on a matter between MPs of the ruling NLD and military legislators. The latter insisted that the inclusion of a foreigner on the panel would interfere with Myanmar's sovereignty.
The United Nations estimates that over 700,000 Muslim residents of northern Rakhine fled to Bangladesh in the aftermath of attacks launched by Arakan Rohingya Salvation Army fighters against government security outposts on August 25 last year and a brutal military counterinsurgency campaign.
Full report at:
https://www.mmtimes.com/news/tatmadaw-understands-need-include-foreigner-rakhine-probe-commission.html
--------
Europe
10 Far-Right Extremists Charged In Connection To Muslim Attacks In France
June 28, 2018
PARIS: French authorities have charged 10 suspected far-right extremists in connection with an alleged plot to attack Muslims, a judicial source said Thursday.
The nine men and one woman aged 32 to 69 were arrested in raids across France on Saturday.
https://www.ndtv.com/world-news/10-far-right-extremists-charged-in-connection-to-muslim-attacks-1874511
--------
UN starts registering Rohingya refugees in Bangladesh
June 28, 2018
NAYAPARA REFUGEE CAMP, Bangladesh: The United Nations and the Bangladesh government have started formally registering hundreds of thousands of Rohingya refugees who have fled a military crackdown in Myanmar, a move that officials say would help their eventual return.
More than 700,000 mostly Muslim Rohingya have escaped Buddhist-majority Myanmar since last August, when attacks by Muslim insurgents triggered a military offensive that the United Nations has likened to ethnic cleansing. Myanmar denies the accusations and has said it waged a legitimate counter-insurgency operation.
The registration programme started jointly by the United Nations High Commissioner for Refugees (UNHCR) and the Bangladesh government this week is aimed at creating a reliable database of refugees living in camps on Bangladesh's southern coast, said Caroline Gluck, a UNHCR representative.
That data, expected to be ready by November, will have family and birth details of refugees, and will be shared with Myanmar, said Abul Kalam, Bangladesh's refugee relief and repatriation commissioner.
"This will aid the repatriation process," Kalam said, stressing that any returns would be safe and voluntary.
Dozens of refugees queued up at a UNHCR office at the Nayapara camp, which overlooks the Myanmar border, providing fingerprints, iris scans and other information to officials.
The white registration cards refugees are being given have the logo of both the UNHCR and the Bangladesh government, and state: "This person should be protected from forcible return to a country where he/she would face threats to his/her life or freedom." They list the refugees' origin country as Myanmar.
Many refugees have reported killings, arson and rape by Myanmar security forces and Buddhist vigilantes, and say they will not return unless they are granted citizenship in Myanmar. The UNHCR said last month conditions were not yet safe for Rohingya to return.
A senior Myanmar official has told Western diplomats that a proposal to review a citizenship law that effectively renders most Rohingya Muslims stateless could not be implemented, five people present at a meeting in Denmark in early June told Reuters.
"I asked them – are you doing this to send us back to Myanmar?" Shamsul Alam, a refugee, said he asked UN officials who took down his details. He said he was told that, while the information would be shared with Myanmar, the programme was not aimed at repatriation, but would help him get food and other assistance.
"This is important for the refugees to get access to basic services," UNHCR's Gluck said. "Aid agencies need to know how many people are in the population and require assistance."
Refugees have many questions about the programme, some officials on the ground said. Nur Hashim, another refugee, wondered why the cards did not list his identity as Rohingya. "They told me UNHCR refugee registration cards don't mention ethnicity anywhere in the world," he said.
Myanmar and Bangladesh struck a deal in November under which Myanmar would take back Rohingya refugees after verifying their family details. But in March, Myanmar said it had been able to verify details of only 374 refugees from a list of more 8,000 names handed over by Bangladesh, because the information was incomplete.
Full report at:
http://www.theborneopost.com/2018/06/28/un-starts-registering-rohingya-refugees-in-bangladesh/
--------
Man jailed for threatening to 'slit a Muslim's throat' on Twitter after terror attacks
June 28, 2018
A man who said he wanted to "slit a Muslim's throat" in a string of violent tweets has been jailed for inciting racial hatred.
Rhodenne Chand was reported to police by Twitter users who feared his followers could carry out his threats.
The 31-year-old told officers he was disgusted with himself and had merely been "venting" in the wake of Isis-inspired terror attacks that killed dozens of victims in Manchester and London Bridge.
A man who said he wanted to "slit a Muslim's throat" in a string of violent tweets has been jailed for inciting racial hatred.
Rhodenne Chand was reported to police by Twitter users who feared his followers could carry out his threats.
The 31-year-old told officers he was disgusted with himself and had merely been "venting" in the wake of Isis-inspired terror attacks that killed dozens of victims in Manchester and London Bridge.
A specialist prosecutor assessed the case and determined the posts showed intent to stir up racial and religious hatred and that such "violent rhetoric can cause considerable harm once it is in the public domain".
Chand admitted publishing threatening, abusive or insulting material intended to stir up racial hatred and was jailed for 20 months at Birmingham Crown Court on Monday.
West Midlands Police warned that anyone who posts inflammatory messages on social media risks arrest for committing hate crimes.
Superintendent Mat Shaer, the force's lead on hate crime, said: "This case saw the sustained release of offensive, threatening material aimed at Muslim and Pakistani communities − it left people fearing some of the threats could be carried out by him or his Twitter followers.
"The law is careful to try and not penalise expression of opinion, even in strong and possibly offensive terms. But Chand's tweets were a much baser expression of animosity towards a section of society and were totally unacceptable.
"We take hate crime very seriously and anyone found to be stirring up hatred on the grounds of race, religion, sexuality, or disability could find themselves in court and facing a criminal conviction.
"Court outcomes like this are important in order to reassure communities of our willingness to make progress in the way we tackle hate crime matches how proud we are to police such a diverse region."
The result was praised by Islamophobia reporting project Tell Mama, which said: "Think you can tweet this stuff? Think again."
There have been several recent convictions for inciting racial hatred, including members of the banned neo-Nazi terrorist group National Action who performed Hitler salutes and spread stickers calling for a "white zone" around a university campus.
Police and community groups documented surges in Islamophobic hate crime in the wake of the terror attacks that struck Britain last year.
In September, a man who posted a Facebook message calling for "every Muslim in the country to be killed" in the immediate aftermath of the Manchester attack was jailed for a year.
Keegan Jakovlevs, of Wrexham, pleaded guilty to publishing material with the intention of stirring up religious hatred.
Full report at:
https://www.independent.co.uk/news/uk/crime/jailed-for-tweets-hate-speech-muslim-throat-slit-terror-rhodenne-chand-a8419636.html
--------
Merkel pleads for more humanity in refugee debate
June 28, 2018
During a speech in Berlin on Wednesday evening, Chancellor Angela Merkel appealed to Germans to put themselves into the shoes of people fleeing war and persecution.
"People's personal stories show us that fleeing from home isn't something abstract – it is about human lives," Merkel said during a speech at a memorial ceremony for refugees from the Second World War.
"The vast majority of those fleeing are victims," she added.
Merkel went on to say that anyone who has not personally experienced being expelled from their homes can barely understand the suffering involved "but we can attempt to understand it."
"We can listen and learn so that no new suffering comes about because we live in denial, or ignore what is going on."
The Chancellor is currently embroiled in a bitter dispute with her Interior Minister Horst Seehofer, who wants Germany to pursue a much tougher approach to asylum seekers.
Seehofer has already ensured that Germany caps the number of refugees who arrive in the country at 200,000 per year. He is now also trying to push through a new border policy which would allow Germany to turn back refugees at the border.
Merkel, in an apparent jibe at Seehofer, on Wednesday evening described migration as "a European challenge".
Full report at:
https://themuslimtimes.info/2018/06/22/merkel-pleads-for-more-humanity-in-refugee-debate/
--------
Integration key for Geneva University imam course
June 28, 2018
A training course for imams at Geneva University, introducing them to Swiss law and values, is yielding results. (SRF/swissinfo.ch)
The course organisers say Muslim communities are pleased that their representatives are being sent for training. As part of the "integration" course funded by the canton, nine imams are studying at the university.
The Geneva course is not the only one of its kind in Switzerland. In bilingual Fribourg (French and German-speaking), the conservative right Swiss People's Party tried to stop the opening of the Centre for Islam and Society (SZIG)external link, which provides courses for imams on Swiss culture and society. Experts agreed that such a ban was discriminatory because it was directed against the members of a single religion in breach of the Swiss constitution.
The director of the SZIG, Hansjörg Schmid, says about half of the 200 imams thought to be practicing in Switzerland participated in the first 26 workshops. "With these workshops, we have made a contribution to social co-existence," he added.
Chaplaincy training
Full report at:
https://themuslimtimes.info/2018/05/09/integration-integration-key-for-geneva-university-imam-course/
--------
Iranian MP: Syria and Russia are sacrificing Iran
28 June 2018
Iranian MP Behrooz Bonyadi warned of the consequences of Syrian-Russian rapprochement at Iran's expense, and said Syria and Russia are "sacrificing" Iran.
"Today, we see Assad increasing his harmony with Putin (in such) a rude way," Bonyadi who represents Kashmar, Bardaskan and Khalilabad said at the Islamic Consultative Assembly's public session.
Bonyadi added that Assad does not only underestimate the significance of the "martyrs of the shrines" in Syria, but also denies it.
"Martyrs of the shrine" is the term used by Iran to refer to its members killed in Syria and to the killed members of militias in support of it.
The Iranian Revolutionary Guards' Quds Force has trained and armed thousands of sectarian militiamen from Afghanistan, Pakistan, Iraq and Lebanon to fight in Syria.
"It's not unlikely that these two political pawns sacrifice us at the Netanyahu-Trump altar," he said in reference to Assad and Putin.
Iran's economic crisis
Bonyadi commented on the currency crisis in Iran saying trade between China and Russia was the reason behind it.
"The large number of imports and the exit of the currency are imposed on us by powers (like) China and Russia. The final outcome is gain (for them) and loss (for Iran). Poverty and lack of trust has thus increased," he said, adding that addressing matters in Iran must not be within the military context but within the economic-political context in order to achieve a winning formula on the level of foreign policy.
"At the beginning of the revolution, it did not occur to people's and officials' minds that they will witness embezzlement, administrative corruption, poverty, favoritism, prostitution, hypocrisy, child molestation, wife beating, rape in schools and Quran classes, sale of kidneys and other shameful acts," he added.
Bonyadi, a medical specialist and a reformist MP, warned the Iranian regime and called for "unity and for listening to the voices of the oppressed people who grave officials a chance of 40 years and tolerated (all these) problems."
His statements are a first at the Iranian parliament and they come at a time when Iran is facing wide-range protests due to the collapse of the Iranian currency against foreign currency.
Protests have reached several Iranian cities as well as the Bazaar, the heart of Iran's commercial economy, which played a significant role in the fall of the Shah's regime in 1979.
He criticized the "security atmosphere, dealing with protestors outside the context of law and not tolerating those who voice opposition" and said this was all tantamount "to the first bell rung on the path to decadence."
Full report at:
https://english.alarabiya.net/en/News/world/2018/06/28/Iranian-MP-Syria-and-Russia-are-sacrificing-Iran.html
--------
Muslim body claims UK Tories neglect party Islamophobia
27.06.2018
By Muhammad Mussa
LONDON
The Muslim Council of Britain has written a second open letter to the Conservative Party criticizing it for not responding to calls for an inquiry into, and neglecting, the issue of Islamophobia in the party.
"Three weeks ago we wrote to you requesting an inquiry into Islamophobia within the Conservative party, sadly we have neither received an acknowledgement nor a reply," began the letter, written by Harun Khan, the group's head.
"This lack of response is deeply disappointing given that we write as the largest umbrella body of Muslim organizations in the UK with over 1,000 mosques and Muslim institutions either affiliates or members of affiliates," the letter added.
The letter argued that it seems "the extent of Islamophobia in the Conservatives is wider and deeper than originally set out".
Backing its argument, the letter cited newfound evidence such as "claims that Cabinet Minister Michael Gove had 'extreme' views about Muslims" and that an ethnic slur had been used to refer Baroness Sayeeda Warsi, a House of Lords member, at Tory meetings, as well as many Conservative party candidates such as Shazia Awan and Kushan Devani quitting the party due to its extreme turn to the right.
"Since we last wrote to you, other individuals have shared with us their stories of experiencing Islamophobia," the letter said. "They are worried about taking their concerns to your party because it would be 'political suicide' or might endanger their relationship with their local MP."
"This is a sad state of affairs for our democracy and we hope they can be taken up in an independent inquiry," the letter said.
In a letter to the Tories last month, the council called for an independent inquiry into Islamophobia within the party. The letter documented "weekly occurrences of Islamophobia in the party" and urged the Conservative leadership to take action against members who were explicitly Islamophobic.
The letter received strong backing and support from a plethora of groups, societies, and individuals in the U.K. who furthered the calls for an inquiry, including editorials in The Times of London and The Observer newspapers.
Full report at:
https://www.aa.com.tr/en/europe/muslim-body-claims-uk-tories-neglect-party-islamophobia/1188816
--------
Southeast Asia
Eminent persons discuss Jakim's role and Malaysia's approach to Islam
27 Jun 2018
THE Council of Eminent Persons today heard from Islamic experts on issues related to the religion, including the role of the Islamic Development Department (Jakim) and the different mazhab or schools of thought under Islam.
Perlis mufti Mohd Asri Zainul Abidin, who was among those who met the council today, told reporters they had a lengthy discussion about Jakim.
"Jakim's role was discussed comprehensively and it was a very long discussion," he said when met outside Ilham Tower in Kuala Lumpur.
Asri said the council asked him for his views on how Islam could be administered more fairly but declined to elaborate further.
Jakim has come under criticism in recent times for various reasons, such as the behaviour and approach used by its officers in handling issues, and for its overlapping jurisdiction with the administration of Islam under the respective state governments.
States in Malaysia have their own Islamic administration with the state's sultan or ruler as the head of the religion.
Jakim had also received a large allocation for its yearly budget from the government and has wide powers, leading critics to accuse it of moral policing.
Meanwhile, Penang mufti Wan Salim Wan Mohd Noor, who also met the council today, said he was asked for his views on the application of teachings from different mazhab in Malaysia.
He said he told the council that Malaysian Muslims were too rigid in following one mazhab (Shafie) to resolve issues, when the other schools of thought under Sunni Islam also had valuable teachings that should not be rejected.
"We have to be brave to look across all the different schools of thought. We cannot be limited to one mazhab only. It is about applying Islam according to the context of the times.
"We cannot rely on old views that may have been more applicable to issues in older times," he said. – June 27, 2018.
https://www.themalaysianinsight.com/s/57289'
--------
Islamist Losses in Local Polls Ease Pressure on Indonesia's President
June 27, 2018
JAKARTA, Indonesia—Voters in the world's largest Muslim-majority nation handed allies of President Joko Widodo victories in regional elections, easing pressure on the moderate leader from increasingly assertive hard-line Muslims ahead of his bid for re-election next year.
Tens of millions of Indonesians turned out on Wednesday across this sprawling archipelago nation for a six-hour peaceful vote for governors, mayors and other leaders in areas home to more than 150 million voters, about three-quarters of the electorate.
https://www.wsj.com/articles/islamist-losses-in-local-polls-ease-pressure-on-indonesia-s-president-1530103220
--------
PAS will be 'real power' in next decade, says academic
28 June 2018
KUALA LUMPUR, June 28 ― Islamist party PAS should not be underestimated as it will likely be influential in at least the next two general elections after winning two states in the polls, an academic has suggested today.
Universiti Kebangsaan Malaysia's (UKM) Datuk Denison Jayasooria said Malaysians should be wary of PAS' push for a Shariah-based governance where non-Muslims's place is under an Islamic society and order.
"They won two states, and almost influenced two other state governments," Denison said in a post-GE14 analysis by the International Islamic University Malaysia Electoral Studies Unit at the university here.
In the polls, PAS had defended Kelantan and taken over Terengganu from Barisan Nasional. It also almost became "kingmakers" in Kedah and Perak, where the majority of state seats won by the Pakatan Harapan government was slim.
"Don't underestimate PAS, I see them as a real power in next two general elections," added the principal research fellow at UKM's Institute of Ethnic Studies.
He had compared the rising wave of Islamism to India's Hindutva party Indian People's Party (BJP), led by Narendra Modi, which won its 2014 general elections.
Denison pointed out that PAS managed to capture 18 per cent of the popular vote, demonstrating there are still many Malaysians who wish for their version of a better Malaysia, one based on Shariah principles.
In addition, he said PAS also fielded ethnic Chinese and Indian candidates in the election, although most not only lost the contest but also their deposits.
This will be further compounded by the lack of any representation of Kelantan and Terengganu in the Cabinet, and the absence of a ministry in charge of racial unity and integration, he warned.
Denison said it remains to be seen what variant of Shariah will be sought, its implications, the extent to which Putrajaya is being pressured to implement these, and whether Malaysians will support such a push.
"Post-general election, there is this contestation of religion, race, and inter-religious harmony, which has become more central," he said.
Full report at:
https://sg.news.yahoo.com/pas-apos-real-power-apos-021152259.html
--------
Zahid reminds Sabah Umno of close ties with Usno
Tracy Patrick
June 27, 2018
KOTA KINABALU: Umno acting president Ahmad Zahid Hamidi urged Sabah Umno members to remember their roots and the reason why Umno spread its wings to Sabah with the help of the now-defunct United Sabah National Organisation (Usno).
Speaking to about 1,000 Sabah Umno delegates here today, Zahid implied that Umno is a continuation of the people's beloved Usno party and came into Sabah with the blessings of Usno founder, the late Datu Mustapha Datu Harun.
"Usno was not always the government. They were in the opposition before and then became the government before losing to become the opposition again.
"After merging with Umno, we fought together and eventually we became the government again.
"And now, we have lost the election but believe me, we will rise again. The point is, we must not think that because we have lost this election, we are dead and buried," he said.
Zahid's attempt to boost the spirits of the Sabah Umno members using their historical ties with Usno was a clear U-turn from previous statements by Umno leaders with regards to Usno.
Previously, several local Umno leaders were dismissive of Usno and its influence on the Muslim voters in the state. Some members viewed this as an affront to the memory of Mustapha, whom they regarded as the most important Muslim leader in Sabah.
On the other hand, Parti Warisan Sabah president Shafie Apdal took the opposite approach by successfully positioning himself as the heir of Mustapha, winning the hearts and minds of the Muslim voters in the state.
There were attempts by former Sabah Umno chief Musa Aman to try and emulate Shafie's strategy but, at the time, the boat had already sailed and Shafie was by then seen as the "next Mustapha" by his supporters.
An Umno delegate from Sipitang, who preferred to remain anonymous, told FMT that many party supporters already sensed the winds of change blowing once Shafie was accepted as the "new Tun Mustapha".
"We thought we could stem the tide by talking about what Umno has done for the people. But in the end, it is still the sentiment that wins the day," he said.
Asked whether the attempt by Zahid — and Khairy Jamaluddin, who also talked about the importance of Usno during his visit to Sabah yesterday — to rebrand Sabah Umno as Usno of the old will succeed, he shook his head in disagreement.
"Maybe it will work to a point but eventually we need a leader who can rival Shafie. The ones we have now are either too weak, too green or not even a Bajau or Suluk," he said.
Mustapha and former chief minister Harris Salleh were responsible for inviting Umno to Sabah in 1990, with Mustapha chosen as the first liaison chief.
However, by 1994, Mustapha's relationship with then prime minister Dr Mahathir Mohamad had soured, leading to Mustapha's decision to work together with then chief minister Joseph Pairin Kitingan in the state election that year.
Pairin's Parti Bersatu Sabah (PBS) won the election by a simple majority but lost it following defections by its assemblymen to Barisan Nasional (BN).
Full report at:
http://www.freemalaysiatoday.com/category/nation/2018/06/27/zahid-reminds-sabah-umno-of-close-ties-with-usno/
--------
Africa
Somali National Army says Al-Shabaab supreme leader dead
JUNE 27 2018
The Somali National Army (SNA) Radio has reported the death of the supreme leader of the Al-Shabaab jihadists Ahmed Dirie Abu Ubeyda.
The broadcaster run by the military, reported that Abu Ubeyda died in Jilib District in Middle Shabelle, about 410km south of Mogadishu.
The report could not be independently confirmed, but the local media outlets have been reporting about the ill-health of Abu Ubeyda and the infighting within the jihadist group over his succession..
Credible information
A southern Somalia military officer, Mr Ismael Sheikh Isaq, reportedly told the SNA Radio that the army received credible information that the Al-Shabaab leader died of kidney failure.
He gave no date for of the death.
Abu Ubeyda assumed the leadership of the Al-Shabaab in December 2014, three months after his predecessor Ahmed Abdi Godane alias Sheikh Mukhtar Abu Zubayr, was killed in a US drone attack.
The jihadist group has neither confirmed nor denied the alleged death of its supreme leader.
Enemies of Islam
The US is known to have placed $6 million bounty on the head of the Al-Shabaab leader.
The Al-Qaeda-linked Al-Shabaab emerged as the armed wing of the Islamic Courts Union (ICU), which later splintered into several factions after its defeat in 2006 by the Somali Transitional Federal Government (TFG) and the Ethiopian military.
The group describes itself as waging jihad against "enemies of Islam", and is fighting against the Federal Government and the African Union Mission to Somalia (Amisom).
http://www.theeastafrican.co.ke/news/africa/Army-radio-says-Shabaab-supreme-leader-dead/4552902-4634154-j9qi4k/index.html
--------
Boko Haram: Nigerian troops battle insurgents in Borno, kill six, rescue 33
June 28, 2018
By Ameh Comrade Godwin
Troops of 242 Battalion deployed in operation LAFIYA DOLE have killed four Boko Haram terrorists at Bulabulin and Falamari villages in Damboa Local Government Area of Borno State during an exchange of fire.
They also recovered dangerous weapons such as, four AK 47 rifles, four magazines, 52 rounds of 7.62 mm (special) ammunition, one 36 Hand Grenade, three locally made Improvised Explosive Devices.
Texas Chukwu, Director Army Public Relations in a statement said troops of 151 Battalion while on patrol along Myanti-Darel Jamel road in Bama Local Government Area of Borno State encountered some Boko Haram terrorists and neutralized one of the insurgents.
He said items such as one AK 47 rifle, one magazine, 22 rounds of 7.62 mm (special) ammunition were recovered.
"Similarly, troops of 21 Brigade while on clearance operation at Yerimari Gana, and Darel Salam villages in the outskirts of Bama Local Government Area of Borno state, neutralised one Boko Haram terrorists, items also recovered include, one AK 47 rifle, one magazine, 26 rounds of 7.62 mm (special) ammunition, three improvised rounds of ammunition, three pairs of military uniform, one solar panel.
"33 persons comprising eight men, 12 women and 13 children were rescued by the troops during the operation.
Full report at:
http://dailypost.ng/2018/06/28/boko-haram-nigerian-troops-battle-insurgents-borno-kill-six-rescue-33/
--------
Libyan presidential council VP abducted over supporting General Haftar
27 June 2018
An armed group kidnapped Fathi Al-Majbari, the vice president of the presidential council of Libya's National Accord Government, from outside his home in Tripoli, a day after he announced his support of Field Marshall Khalifa Haftar's decision to hand over oil ports to a Libyan oil institution affiliated with East Libya authorities.
The interim government in East Libya led by Abdullah al-Thani condemned the abduction of Majbari and said in a statement it was a reaction to his support of handing over the oil ports.
It said it was following up on reports of the kidnapping of Majbari and his bodyguard and on the situation of his other bodyguards who were shot by unidentified gunmen, adding that this incident, which is a "reckless act," confirms that "Tripoli still suffers (due) to extremist terrorist and armed criminal groups."
The interim government said the UN mission and the head of the presidential council hold the legal and criminal responsibility if the kidnapped are harmed.
On Monday, Majbari said in a statement that he supports Haftar's decision to hand over oil ports and fields to a national oil corporation in East Libya. He cited the continuation of the culture of elimination and marginalization, injustice in the distribution of the country's resources and the damage to production and export zones as a result for his support of the move.
Full report at:
https://english.alarabiya.net/en/News/middle-east/2018/06/27/Libyan-presidential-council-VP-abducted-over-supporting-Haftar.html
--------
South Sudan warring parties sign peace deal
Jun 27, 2018
South Sudan's president signed a peace agreement with rebels on Wednesday including a ceasefire to start in 72 hours, Sudan's foreign minister said, but rebels rejected other parts of the deal.
The agreement made in the Sudanese capital Khartoum aims to end a war in which tens of thousands of people have been killed. Previous peace deals have broken down.
"The parties will continue talks in Khartoum to discuss the arrangements for implementing the ceasefire, and after it comes into place the issue of power-sharing will be discussed," Sudanese Foreign Minister Al-Dirdiri Mohamed Ahmed told Reuters.
The framework agreement comes ahead of a final settlement and would allow access for humanitarian aid, prisoners to be freed and a transitional unity government to be formed after four months, Ahmed said.
It comes after two days of talks between President Salva Kiir and rebel leader Riek Machar, a former vice president. The country's civil war began in 2013, less than two years after it gained independence from Sudan.
The war has uprooted a quarter of South Sudan's population of 12 million, ruined the country's agriculture and battered its economy.
"This agreement signed today and the ceasefire will end the war in South Sudan and opens a (new) page," Machar told reporters after the signing ceremony, hailing what he said would be a building of trust with South Sudan's northern neighbor.
The agreement signed with other opposition leaders provides for the new unity government to rule for three years, followed by a general election, Ahmed said.
Kiir said he would "commit respectfully" to the deal.
One of the proposed points of the agreement was to have three different capitals for South Sudan to distribute power but a spokesman for Machar rejected this.
"We will sign the framework today, with some amendments. Most notably, we reject the three capitals - South Sudan is one country - and we reject foreign forces coming into our land," the spokesman, Mabior Garang Mabior, said, apparently referring to proposed monitoring of the ceasefire by regional African group Intergovernmental Authority on Development (IGAD) and African Union forces.
"We also reject the resumption of oil production prior to a comprehensive negotiated settlement," Mabior said.
Full report at:
http://www.presstv.com/Detail/2018/06/27/566283/South-Sudan-Peace-
--------
Intense divisions among Muslim clerics in SA highlighted in wake of Malmesbury mosque attack
2018-06-14
The deadly attack on a mosque in Malmesbury on Thursday has highlighted intense divisions among Muslim clerics around the country, that apparently stems from an accord signed in Cape Town earlier this month, which was meant to foster peace.
Early on Thursday, two worshippers were killed and others wounded in the attack on the mosque in the small Western Cape town.
The attacker was shot dead by police.
At this stage, however, there is no established proof that the attack is related to the Cape Accord.
This attack comes five weeks after another one at a Shia mosque in Verulam, KwaZulu-Natal.
Earlier this month, the Cape Accord - a document meant to encourage peace and unity - was signed in Cape Town by several Islamic leaders.
An online invitation to sign the accord outlined what it was about.
'Promote unity'
"With the current climate of intra-faith hostility and increasing attacks on foremost figures within our faith community, it befits leading institutions and organisations in our societies to synergistically ally with one another to proactively engage each other in promoting understanding, tolerance, harmony and fraternal union," it read.
However, the Cape Accord has not been welcomed by all, and differing opinions about it have caused divisions.
President Cyril Ramaphosa referenced the Cape Accord on May 30 during a speech in Cape Town. He was speaking as a guest of the Muslim community for the Ramadan iftar programme, headed by Muslim Judicial Council president Shaykh Irfaan Abrahams.
In his speech, he said South Africa did not merely tolerate Muslims, but embraced their religion.
"We will never be a country that allows discrimination of any sort. In this regard, I commend the speedy response from both the Muslim Judicial Council and the Cape Accord in condemning any possible sectarian motives that may have been behind the gruesome attack at the Verulam Shia Mosque, just as we were welcoming this holy month of Ramadan," an excerpt of his speech, tweeted on Ramaphosa's official account, said.
But more extreme views of the Cape Accord have been shared.
Last week, a voice note did the rounds of a man, believed to be a well-known Muslim cleric, saying: "Anybody who signs the Cape Accord is a Kafir (unbeliever)."
On Wednesday, the Muslim Judicial Council of South Africa issued a statement on its Facebook page headed: "A call for tolerance and unity in our dialogue."
It said the month of Ramadan had been extremely difficult for Muslims in the country.
'Defamation, slander and disrespect'
"It was plagued by much controversy, discord and disunity, from defamation and slander, to blatant disrespect and takfirism (excommunication).
"This discord had a direct impact on our reputation as a tolerant and dignified community, who pride ourselves on our Din (religion) in our beautiful land," it said.
"Whilst the Muslim Judicial Council (SA) has NOT endorsed the Cape Accord, we reject the declaration of Kufr (disbelieve) on our Úlama, individuals, and organisations associated with the Accord."
'They don't deserve the vitriol'
The statement referenced two organisations, saying these did "not deserve the vitriol that has been levelled at them – which is unbecoming of Muslims".
The South African National Zakáh Fund (Sanzaf) - a faith-based organisation, and one of those referenced by the Muslim Judicial Council - initially appeared to support the Cape Accord.
However, the publication The Majlis ran an article on June 9 criticising this move.
"Sanzaf, by joining the haraam 'Cape Accord', has displayed its true colours which it has hitherto concealed from Muslim contributors. Now that it has clambered aboard the Shiah 'Cape Accord' wagon, it has denuded itself from the cover under which it has for decades concealed its religion. But people of intelligence had not been befooled by this modernist entity," this article said.
On Tuesday, Sanzaf then issued a statement saying it had withdrawn from the Cape Accord.
It said in offering support to the Cape Accord, it had wanted to uphold the dignity of people, as well as project a positive image of Islam.
Dissenting views
"Whilst these factors are instrumental to social cohesion and are aligned to the organisation's values, the Cape Accord itself, was met with dissenting views from various communities and Ulama fraternities," the press release said.
It quoted Sanzaf national chairperson Shauket Fakie as saying: "After a wider consultation and, due to consideration, we are withdrawing our support of the Cape Accord.
"We are doing so for the very principles that we supported and the document initially - to promote peace, harmony, tolerance, mutual respect and compassion."
The Jamiatul Ulama KwaZulu-Natal also issued a statement on the Cape Accord on Tuesday, saying it was committed to educating its constituency about the "dangers of the Shia religion", but doing this within legal parameters and without inciting violence.
It said these commitments had existed before the Cape Accord.
Accord vs discord
"Even if we had to sign the Accord, it would not approve or enhance the above two commitments in the least. Our non-signing of the Accord and distancing ourselves from it will not diminish these two commitments even by an iota...
"This is apart from the fact [that] the Accord is already achieving one of its major and ominous objectives of splitting the Muslim Ummah. It has earned itself the title of 'Cape Discord'."
On Monday, the United Ulama Council of South Africa (UUCSA) issued a statement headed "Has the Cape Accord led to greater discord?", which argued that it had "achieved exactly the opposite of its intended purpose".
Full report at:
https://www.news24.com/SouthAfrica/News/intense-divisions-among-muslim-clerics-in-sa-highlighted-in-wake-of-malmesbury-mosque-attack-20180614
--------
URL: https://www.newageislam.com/islamic-world-news/where-faith-beauty-bloom-inside/d/115671
New Age Islam, Islam Online, Islamic Website, African Muslim News, Arab World News, South Asia News, Indian Muslim News, World Muslim News, Women in Islam, Islamic Feminism, Arab Women, Women In Arab, Islamophobia in America, Muslim Women in West, Islam Women and Feminism