New Age Islam News Bureau
8 Jul 2019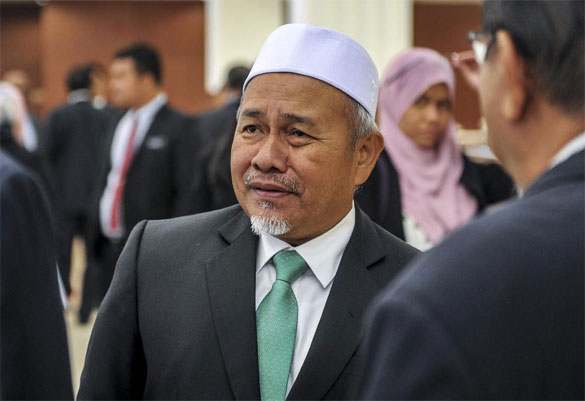 Tuan Ibrahim claimed in Parliament yesterday that Islam forbade a declaration of wealth. ― Picture by Firdaus Latif
--------
• Where Did Prophet Muhammad Say That? PAS Man Chided For Abusing 'Hadith' To Avoid Declaring Assets
• With Funding from Palm Oil and Schools, Indonesia's Terror Group Jemaah Islamiah Set For Resurgence in Malaysia, Singapore
• Pakistan Arrests Regional Head Of International NGO for Funding Al-Qaeda
• Samjhauta Express Blast: 12 Years after Carnage, Pakistan Police Register Case On Survivor's Complaint
• Chawri Bazar Kept the Centuries-Old Values Alive That Respect All Cultures and Religions
• Union Budget Exposes Modi Govt's Apathy towards Minorities Welfare
• Senior Activist Warns of New Round of Saudi Detention of Palestinians
• SDF Continues Forced Recruitment of Child Soldiers at Secret Bases in Eastern Syria
• US Jewish Federation Donates Nearly $1m to Victims Of Christchurch Mosque Attacks
• Removing Extremists from Social Media Sites Effective In Limiting Influence, Report Says
Southeast Asia
• Where Did Prophet Muhammad Say That? PAS Man Chided For Abusing 'Hadith' To Avoid Declaring Assets
• With Funding from Palm Oil and Schools, Indonesia's Terror Group Jemaah Islamiah Set For Resurgence in Malaysia, Singapore
• China Denies Muslim Separation Campaign in Xinjiang
• Dr Wan Azizah to Enhance Bilateral Ties with Visit to China
• Kelantan assures security at Zakir Naik's tour programme
--------
Pakistan
• Pakistan Arrests Regional Head Of International NGO for Funding Al-Qaeda
• Samjhauta Express Blast: 12 Years after Carnage, Pakistan Police Register Case On Survivor's Complaint
• Judge rejects opposition blackmail claims over Nawaz verdict
• Pakistan's top anti-graft body summons Shehbaz Sharif on July 12 in corruption case
• Pakistan court judge forced to convict father Nawaz Sharif, claims Maryam Nawaz; releases video
• Rallies planned to mark Wani's 3rd martyrdom anniversary
--------
India
• Chawri Bazar Kept the Centuries-Old Values Alive That Respect All Cultures and Religions
• Union Budget Exposes Modi Govt's Apathy towards Minorities Welfare
• Unlawful Activities (Prevention) Tribunal constituted to adjudicate ban on Jamaat-e-Islami
• J&K: Security tightened in Valley ahead of Burhan Wani's death anniversary
--------
Arab World
• Senior Activist Warns of New Round of Saudi Detention of Palestinians
• SDF Continues Forced Recruitment of Child Soldiers at Secret Bases in Eastern Syria
• Iraqi army launches offensive against ISIS near border with Syria
• Russian-led assault in Syria leaves over 500 civilians' dead: Rights groups
• Omani Foreign Minister meets al-Assad in rare Syria visit
• Syrians, facing orders to demolish homes, fear fate in Lebanon
• Iraq reiterates 'principled' opposition to Israel
• Syrians return to their home city by Lebanese border in state-organized trip
--------
North America
• US Jewish Federation Donates Nearly $1m to Victims Of Christchurch Mosque Attacks
• Trump Tells Iran 'Be Careful' After Tehran Vows to Boost Uranium Enrichment
• Iran to face more 'isolation, sanctions': Pompeo
• US, not Iran, threatens world's energy security: Minister
• Gabbard: War with Iran 'far more devastating' than Iraq war
• US call for Syria troops divides German coalition
--------
Europe
• Removing Extremists from Social Media Sites Effective In Limiting Influence, Report Says
• US calls on Germany to send ground troops to Syria
• Britain says Iran must stop and reverse its nuclear activities
• Is Britain trying to undermine the EU at America's behest?
--------
Africa
• Libya: GNA Militia Used Bombed Migrant Detention Centre for Weapons, Sex Traffic
• Al-Shabaab publicly executes 10 in Somalia
• Sudan Army Ruler Vows to 'Implement' Deal with Protesters
• Nigerian authorities seek to murder Sheikh Zakzaky, toxic elements found in his blood: Son
• Senegal president honours Muslim World League chief for efforts to spread moderation
• Jordanian PM: Economic plan no substitute for Palestinian-Israeli peace agreement
• Sudan deal first step to transition but challenges lie ahead
• Boko Haram Kills Five Soldiers in Northeast Nigeria: Sources
• Boko Haram: UN calls for more support to tackle worsening humanitarian crisis
--------
South Asia
• Sri Lanka on Alert as Buddhist Hardliners Hold First Meeting After Easter Attacks
• Taliban Car Bomb Kills At Least 12 In Attack On Afghan Security Compound
• Afghan Special Forces arrest top ISIS leader in Kunduz province
• Taliban's shadow district chief and his 6 security guards killed in Wardak
• ISIS recruitment ring busted in Kabul city, Kabul University lecturer among 3 arrested
• 11 militants killed, wounded in Afghan forces operations in Uruzgan, Zabul: Atal Corps
--------
Mideast
• Iran Will Only Discuss Issues in Current Nuclear Deal, Not Take Part in New Deal
• Houthi radio station raises $132,000 for Hezbollah
• Israeli army says five soldiers wounded after suspected car-ramming attack
• Netanyahu calls Iran's enrichment move a 'very, very dangerous step'
• Israeli minister says Iran's enrichment ramp moderate but a 'march' towards bomb
• Turkey 'neutralizes' high-ranking PKK militant in northern Iraq
• Houthis killed in northwest Yemen clashes
• Government-backed report turns journalists in Turkey into public targets
Compiled by New Age Islam News Bureau
URL: https://www.newageislam.com/islamic-world-news/where-prophet-muhammad-say-that/d/119119
--------
Where Did Prophet Muhammad Say That? PAS Man Chided For Abusing 'Hadith' To Avoid Declaring Assets
02 July 2019
BY JERRY CHOONG
PETALING JAYA, July 2 — Islamic scholars have criticised PAS deputy president Datuk Tuan Ibrahim Tuan Man for citing a purported hadith, or sayings of Prophet Muhammad, to justify Opposition lawmakers' refusal to declare their assets.
When contacted to verify whether such a hadith exists, Perlis Mufti Datuk Mohd Asri Zainul Abidin explained that the Prophet never expressed the sentiment that one must not declare their wealth to the public if granted so by God.
"This was an abuse of the Prophet's name. During the rule of Umar, the caliph even made it mandatory for his governors to report their assets to prevent abuse of public funds.
"PAS misunderstood the hadith. The Prophet never said 'don't declare your assets'. PAS misused religion for their political purposes," he told Malay Mail.
Umar al-Khattab was one of Muhammad's companions, and succeeded the Prophet as the second leader of the Caliphate following the latter's death.
Tuan Ibrahim claimed in Parliament yesterday that Islam forbade a declaration of wealth, but did not specify the hadith to which he was referring.
He further argued Opposition lawmakers also do not have the power to award contracts like their counterparts in the ruling coalition, which he said negated the need for them to declare their assets.
Popular preacher Wan Ji Wan Hussin went as far as suggesting that Tuan Ibrahim had cited a false hadith that was not recognised by many scholars of the scriptures.
"It is clear that the 'decree' of the PAS deputy president was based on false argument," the PKR preacher said in a Facebook post.
"What more, by leaning onto Islam it could invite negative perception from the non-Muslim society towards Islam — as if that Islam is a religion that is not keen on integrity."
"Islam is a faith that upholds integrity. In this matter, PAS' attitude does not reflect the religion whatsoever," he added.
Another Islamic scholar, Dr Ahmad Farouk Musa, also slammed Tuan Ibrahim for using hadith to propagate a political agenda.
"To use a hadith to propagate a hidden agenda rather than being honest and transparent was an unethical attitude what more when it came from a religious person," said the founder of progressive group Islamic Renaissance Front.
In Dr Farouk's view, although hadiths should and must be verified in matters of worship since the Prophet Muhammad was sent to teach humankind how to worship God, this did not apply to non-religious fields including medicine, architecture, or engineering. Dr Farouk noted declaring one's assets serves as a tool to detect and prevent illicit enrichment and conflicts of interest among public officials, including MPs.
"Studies have shown that asset declaration regimes do not pose a significant risk to the independence and security of even judges, what more public officials or parliamentarians.
"On the contrary, anti-corruption benefits provide strong reasons to require public officials to file asset declarations in order to prevent corruption," he said.
The Dewan Rakyat yesterday unanimously approved the motion compelling MPs from both sides of the political divide, as well as their wives and children, to declare their assets — despite the heavy resistance from the Opposition during the debate.
https://www.malaymail.com/news/malaysia/2019/07/02/where-did-prophet-muhammad-say-that-pas-man-chided-for-abusing-hadith-to-av/1767398
--------
With funding from palm oil and schools, Indonesia's terror group Jemaah Islamiah set for resurgence in Malaysia, Singapore
08 July 2019
BY YISWAREE PALANSAMY
KUALA LUMPUR, July 8 — Jemaah Islamiah (JI), the South-east Asian terror network once associated with al-Qaeda that was behind the 2002 Bali bombings, is back and poses a renewed threat in the region.
With members steeped in extremist doctrine and regarded as better trained than the al-Qaeda, the group has found new financial stability with steady income generated from the palm oil industry and a score of private religious schools to revive its militant activities that will likely include reviving its cells in Malaysia and Singapore, the South China Morning Post (SCMP) reported yesterday.
Bukit Aman's Special Branch Counter Terrorism Division principal assistant director Datuk Ayob Khan Mydin Pitchay said there has not been any signal to date that the JI is planning attacks against Malaysia.
"We have destroyed JI activities since the end of 2001. However, JI is expected to become active again especially if Abu Bakar Bashir is released from prison," he told the Hong Kong daily, referring to the network's former leader and hardline Indonesian cleric Abu Bakar Bashir.
"For now, there is no indication to show that JI is planning any attacks in Malaysia or that JI Indonesia is recruiting Malaysians," Ayob was quoted saying.
Noor Huda Ismail, a visiting fellow at Nanyang Technological University, told SCMP that while JI is similarly a defunct organisation in Singapore, its ideology still has supporters there.
He too warned that a resurgent JI in Indonesia could revive cells in Singapore.
"And I am not being an alarmist here."
Retired Indonesian police inspector-general Benny Mamoto who had investigated JI for over 10 years told SCMP that the current brains in JI and the person responsible for the terror outfit's financial success is Para Wijayanto, 54, who was a fugitive since 2003.
SCMP reported Indonesian police disclosing the discovery of JI-owned palm oil plantations, which generate a hefty income, enabling the terror organisation to pay its "officers" a monthly wage of between 10 and 15 million rupiah following the arrest of Para, his wife and three associates last Monday.
"With large funds, the threat from JI will increase as this means it will be able to carry out all kinds of activities," Mamoto, now the vice-director of Strategic and Global Studies at the University of Indonesia, was quoted saying.
In the past, JI relied on donations and armed robberies to raise funds for amassing weapons, explosives and logistics for their terror attacks.
Citing the Indonesia based research outfit; the Institute for Policy Analysis of Conflict, SCMP reported that at the height of its notoriety back in 2005, JI was so poor, that it was unable to support the families of its militant members who were caught and jailed.
Sofyan Tsauri, a former al-Qaeda member, told SCMP that JI's capital raising efforts has been a long time in the making. He claimed the group invested in various projects, including a profitable cattle farm located in Sukabumi, West Java, which was started by Dulmatin, a senior JI leader who played a key role in the 2002 Bali bombings but was killed by Indonesian police in Jakarta nine years ago.
Tsauri told SCMP that JI also draws on revenue generated through the fees charges at the more than 60 religious boarding schools, kindergartens, primary, secondary and high schools it opened in Indonesia.
The schools which is reportedly attended by rich and working class Indonesians also serves as a pool for JI to scout out students "with potential", according to the SCMP report.
At its height in the early 2000s, JI's network covered Indonesia, Malaysia, Singapore, the Philippines and Australia.
The five countries were all grouped under regional divisions called Mantiqi or regional division, SCMP reported, with the Malaysian cell seen as the hub for JI's international connections.
https://www.malaymail.com/news/malaysia/2019/07/08/with-funding-from-palm-oil-and-schools-indonesias-terror-group-jemaah-islam/1769302
--------
Pakistan arrests regional head of international NGO for funding Al-Qaeda
Jul 7, 2019
PESHAWAR: Pakistan's counter-terrorism forces have arrested the regional head of an international non-governmental organisation who is accused of receiving huge sums in the name of charity and diverting them to Al-Qaeda terrorists.
The Counter-Terrorism Department (CTD) arrested Ali Nawaz, the regional head of Human Concern International, on the terror financing charge under the Anti-Terrorism Act, Dawn reported, quoting a senior CTD official.
He has been accused of diverting the funds collected in the name of charity to Al Qaeda, the official added.
On Saturday, Nawaz was presented before an anti-terrorism court, which handed him over to the CTD for three days for further interrogation.
According to the FIR, there were intelligence reports that Nawaz, Mohammad Farooq Awan, Shah Rum and Mohammad Naeem were providing funds to terrorists.
It said that the CTD received a communique from the Federal Investigation Agency against them, alleging that they were receiving huge sums in the name of charity, which were being diverted to Al Qaeda to be used for terrorism.
It said that millions of rupees had been transacted from 11 bank accounts of the charity and Nawaz was unable to provide satisfactory answers regarding these funds. The suspect was then booked under Section 11-N of the ATA, 1997, the paper reported.
Representatives of the international non-governmental organisation were unavailable for comments when approached, the paper said.
The move comes as the US, the UK, France and some other prominent countries voiced concern over Pakistan's failure to do enough to contain terror funding on its soil.
The Financial Action Task Force (FATF), which placed Pakistan on the grey list in June last year of countries whose domestic laws are considered weak to tackle the challenges of money laundering and terrorism financing, asked Islamabad to complete its action plan against terror funding by October or face action.
The Paris-based global body, working to curb terrorism financing and money laundering, has asked Pakistan to reassess the operation of banned terrorist outfits in the country.
https://timesofindia.indiatimes.com/world/pakistan/pakistan-arrests-regional-head-of-international-ngo-for-funding-al-qaeda/articleshow/70114682.cms
--------
Samjhauta Express Blast: 12 Years After Carnage, Pakistan Police Register Case On Survivor's Complaint
Mohammad Saleem
July 08, 2019
FAISALABAD: On the complaint of one of the survivors of the Express blast that occurred in India in 2007, who had lost his five children in the incident, the D-Type Colony police have registered a case against the perpetrators of the terrorist act.
The complainant, Shaukat Ali, had appealed to the police to arrest those involved in the act of terrorism with the help of Interpol.
Submitting an application with the D Type Colony police, Ali said that he had visited Delhi, India, along with his wife and six children in January, 2007 to meet his relatives.
"On Feb 18, we were combing back to Pakistan from Delhi to Lahore through Express when a bomb blast took place in the train, killing five of my children -- Ayesha, Bilal, Hamza, Asma and Rehman-- on the spot. Besides, my wife Rukhsana and my one-year-old daughter Aqsa sustained injuries in the blast," he stated in the application.
Ali said he had also suffered multiple injuries in the incident.
He said after the blast he returned to Pakistan and a case was got registered against the terrorists by the Pakistan High Commission, Delhi.
The Al-Jazeera reported on March 20 last that a special court in India had acquitted four men accused of bombing a train linking India and Pakistan 12 years ago, in an attack that had killed 68 people, including 43 Pakistani citizens.
The ruling cited the lack of evidence for the acquittal of Swami Aseemanand, Kamal Chauhan, Rajinder Chaudhary and Lokesh Sharma, who were charged by the India's National Investigation Agency (NIA).
According to the NIA which probed the case, the attack was carried out by a Hindu far-right group to avenge similar attacks allegedly carried out by Muslim militant groups with the aim of threatening the "unity and integrity" of India.
Swami Aseemanand, alias Naba Kumar Das, a former member of the Hindu nationalist group Rashtriya Swayamsevak Sangh (RSS), had been described as the alleged mastermind of the conspiracy.
The NIA's charge sheet said the men met at different locations across India to plot bombings targeting the Muslims, Al-Jazeera reported.
The Indian court concluded the case 12 years after the incident and exonerated the terrorists--Sawami, Lokesh, Rajinder and Kamal Chohan--who had confessed their crime in front of the media, Ali said.
"As many as 68 people were killed in the blast, but the Indian court did not bother to summon us as me, my wife and daughter survived the blast in the bogey No 4 and 5. The court had wrapped up the case without meeting the fundamentals of justice," he stated. He said the decision of the Indian court has added salt to his wounds.
Ali requested the police authorities that the criminals be arrested through the Interpol and must be tried for the sake of justice.
Acting on the complaint , the police on Saturday registered a case under sections 34, 302 and 324 of the Pakistan Penal Code and 3 and 4 of the Explosive Substances Act 1908 against the suspects.
https://www.dawn.com/news/1492790/-express-blast-12-years-after-carnage-police-register-case-on-survivors-complaint
--------
Chawri Bazar Kept The Centuries-Old Values Alive That Respect All Cultures And Religions
04 Jul 2019
A small incident in old Delhi was being used to spark communal tension in the area, but the multicultural values of Indian society seem to have defeated the attempt. This attempt to turn a spat about parking space into communal disharmony failed, and the residents of Chawri Bazar took out a peace march instead. They have kept the centuries-old values alive that respect all cultures and religions.
https://www.newsclick.in/chawri-bazar-incident-multicultural-values-trump-communalism
--------
Union Budget Exposes Modi Govt's Apathy Towards Minorities Welfare
July 6, 2019
NEW DELHI — Prominent minority groups and leaders sharply reacted to the 2019-20 Union Budget presented on Friday which did not increase a single penny in the outlay for the welfare of minorities and unfortunately it has reduced the allocations for scholarship scheme contradicting the Minority Affairs Minister Mukhtar Abbas Naqvi's claim that the Modi government will provide 50 million scholarships to minority students in the next five years.
The Minority Affairs Ministry has been allocated Rs 4,700 crores, the same as the previous fiscal. Former Minority Affairs Minister K Rehman Khan said it has again proved the hollowness of Modi government's tall claims made for the empowerment of minorities just after its re-election.
The budget presented by the new Finance Minister Nirmala Sitharaman allocated Rs 4,700 crore to minority affairs ministry and in the 2018-19 budget also the same amount was allocated to the ministry. In the year 2017-18, Rs 4,195 crore was allocated to the ministry, while in 2016-17, Rs 3,800 crore was allocated.
Generally, every ministry's budget get enhanced by 10 per cent taking into account inflation and other factors but in the present budget nothing such happened. Even the Finance Minister Sitharaman in her marathon budget speech skipped mentioning of minorities and SCs and STs. Taking exception to this, former Finance Minister and senior Congress leader, P Chidambaram said it was shocking that for the first time, the new Finance Minister departed from the usual practice of mentioning vulnerable sections like SC, ST, minorities, women, etc. in the speech.
Naqvi, however, defended the government for not hiking the budget by justifying that unlike other ministries, minority ministry's budget was not cut which has remained unchanged.
However, his immediate predecessor and senior Congress leader Rehman Khan said no justification can be made for this act as the ministry cannot achieve its targets.
"This government wants to win the confidence of the minority people as the Prime Minister had said in his first speech after his re-election in Parliament but it does just opposite," he added while speaking to Caravan Daily.
Khan alleged this government has been misleading the general public and minorities on many counts. They (BJP) made a tall promise of providing five crores scholarships but in actuality, the number of Pre and post-matric scholarships have been reduced to just 55 lakh in 2017-18 from 86 lakh achieved in 2013-14 by the then UPA government, he said.
"They (BJP government) did not offer any provision in the current budget for alleviating the educational and economic backwardness of the minorities and their all claims are empty and misleading."
Flaying the budget, All India Muslim Majlis-e-Mushawarat, an umbrella group of leading Muslim organisations, said the Modi government's promises to the minorities were mere rhetoric. Mushawarat, president, Navaid Hamid pointed out that the present government which wants to win the confidence of minorities, particularly Muslims, was even averse using term minority. Like Gujarat budget, the Union finance minister also did not utter minority word even once in her long speech in parliament that shows this government's 'commitment' for the minority welfare, he said. Mr. Naqvi was flaunting that the Modi government will give five crores scholarships to minority students but the outlay shows the funds allocated for educational empowerment of the community has been reduced, he said while speaking to Caravan Daily.
In the new budget, the allocation for scholarships has also been reduced to Rs 2,362 crores from Rs 2,451 crores last year. The grants for pre-matric and post-matric scholarships have been reduced from Rs 1,296 crores last year to Rs 1,220 crores this year, and from Rs 500 crore to Rs 496 crore this year, respectively.
Maulana Azad Foundation budget was also reduced to Rs 90 crores from 123 crores and also Maulana Azad Fellowship budget was marginally cut down to 153 crores from 155 crores.
Hamid also pointed out that the government has not paid a single penny as it had promised after the Haj subsidy was abruptly withdrawn some two years back.
It is to recall that when the government announced abolition of the Haj subsidy, Naqvi had said it would use these funds to educate the Muslim community.
Noted academic Dr Sultan Ahmad told Caravan Daily that this government has been doing more lip service than the actual service. He also raised a very pertinent point that there are six recognized religious minorities i.e., Muslims, Christians, Sikhs, Buddhists, Jains and Parsis but except Muslims none of the minorities have shown any interest in the minority budget or they are least bothered about it while they avail their due shares in all the schemes run by the ministry.
The government has made cut in the educational empowerment funds and marginally increased allocation for minority community candidates appearing in civil services examinations from Rs 8 crore to Rs 20 crore.
Since the scheme 'Support for students clearing prelims conducted by UPSC, SSC, State Public Service Commissions, etc' was launched only three candidates cracked the examinations while the government is trying to take the credit of civil services coaching centers run by the Muslim community.
Defending the cut, a ministry official said these schemes (scholarships) have been operational for some time and do not need more money while the government is focusing on persuading more Muslims to prepare for the UPSC.
https://caravandaily.com/union-budget-exposes-modi-govts-apathy-towards-minorities-welfare/
--------
Senior Activist Warns of New Round of Saudi Detention of Palestinians
Jul 07, 2019
"New measures are underway for the detention of more Palestinians in Saudi Arabia," Saeed bin Nasser al-Qamedi wrote on his twitter page on Sunday.
"The accusations against them are the same as those leveled against the other 60 Palestinians detained so far," he added.
An independent human rights group announced last month that the Saudi authorities had arrested and tortured scores of Palestinian expatriates living in the conservative kingdom over their involvement in charitable activities and sending money back home.
Prisoners of Conscience, which is an independent non-governmental organization seeking to promote human rights in Saudi Arabia, announced in a series of posts on its official Twitter page that more than 150 Palestinians were currently languishing in Saudi detention centers. Some 40 Palestinians were arrested in the Red Sea port city of Jeddah alone.
The rights group added that Saudi intelligence agents have committed rights abuses against Palestinians during and after their arrest.
https://en.farsnews.com/newstext.aspx?nn=13980416001016
--------
SDF Continues Forced Recruitment of Child Soldiers at Secret Bases in Eastern Syria
Jul 07, 2019
The Arabic-language al-Watan newspaper quoted dissident sources as saying that despite SDF's agreement with the UN not to forcefully recruit child soldiers in Eastern Syria, it still continues to arrest and transfer the detained children to SDF's secret military bases in Eastern Deir Ezzur.
The source noted that the SDF is arresting boys and girls aged under 18 years in areas under its control in Deir Ezzur and Raqqa and transfers them to its secret military bases, and said, "The SDF has recently arrested a 14-year-old child in the town of Ahras in Eastern Aleppo, and forced the kid to join the its ranks."
The Syrian Observatory for Human Rights (SOHR) also pointed to the SDF's forced recruitment of 130 teachers in the town of al-Darbasieh in Hasaka province, and said that the SDF's behavior has resulted in a wave of anger by civilians there.
The United Nations reported last Monday that it has reached an agreement with the SDF not to engage in forced soldier recruitment.
In a relevant development on Friday, the SDF continued brutal suppression of popular protests against the SDF in Hasaka province as clashes between civilians and the Kurdish fighters had intensified.
A large number of residents of the towns of al-Salehiyeh, Tal Balal and Mokhtaleh in Western Ra'as al-Ain in Hasaka held protest rallies in front of SDF's al-Mosmakeh, Baladi news website reported.
It noted that the rallies were held in protest at SDF's torching their agricultural lands West of Ra'as al-Ain, and said the Kurdish fighters started to disperse the protesters by opening live fire on them.
Meantime, an SDF military convoy comprising 25 military vehicles attacked the towns of al-Azbeh and Azman in Eastern Deir Ezzur, arresting at least 30 civilians.
https://en.farsnews.com/newstext.aspx?nn=13980416000634
--------
US Jewish federation donates nearly $1m to victims of Christchurch mosque attacks
Jul 01 2019
Close to $1 million has been donated to the victims of the Christchurch mosque attacks by a Jewish community in the United States.
The Jewish Federation of Greater Pittsburgh has raised $966,000, Trib Live reported. It has given the money to the Our People, Our City fund, administered by the Christchurch Foundation.
Federation chief development officer Brian Eglash said the emergency relief fund was opened in solidarity with the Christchurch and local Muslim communities after the Pittsburgh Muslim community was so helpful and supportive after an attack on its own religious institutions last year.
In October 2018 an attack at the Tree of Life synagogue in Squirrel Hill killed 11 worshippers.
"We feel compelled to come to the aid of those communities, just as our Jewish community was so compassionately supported only a few short months ago by people around the world of many faiths," the group said at the time on its GoFundMe page.
"We recall with love the immediate, overwhelming support Tree of Life received from our Muslim brothers and sisters in Pittsburgh."
Pittsburgh's Jewish Federation president, Jeff Finkelstein, told RNZ that media coverage helped spread the word about the fund-raising campaign, drawing donations from across the US and internationally.
Of the $966,000, more than $60,000 was raised by the Tree of Life congregation.
About $10m has now been donated to the Our People, Our City fund, which was set up almost immediately after the March 15 terror attack to help raise money to support victims' families and Muslim communities.
https://www.stuff.co.nz/the-press/news/113888912/a-us-jewish-federation-donates-close-to-1m-to-victims-of-christchurch-mosque-shootings?fbclid=IwAR31ikQXMt1DQw3s-I4Vk15iZXJqKbPuj0lPhesfzr3Yn7qS9RD1QDzyTKI
--------
Removing extremists from social media sites effective in limiting influence, report says
Nicky Harley
July 8, 2019
Removing extremist groups from social media is an effective way of destroying their fan bases, a new report has revealed.
A study by the Global Research Network on Terrorism and Technology found radical groups do not necessarily thrive on alternative platforms once they have been removed from the mainstream.
When Facebook removed far-right group Britain First, it had 1.8 million followers on the site and was the second most-liked Facebook page in the politics and society category in the UK, after the Royal Family.
The group reformed on Gab, which is a popular alternative site for far-right groups, and now only has 11,181 followers.
"This represents an enormous loss of followers and reach for the group," the report said.
"As well as a collapse in online engagement, the ban from major social media platforms has left Britain First without a gateway to a larger pool of potential recruits, or the ability to signpost users to sites such as Gab."
Facebook banned the group for breach of terms of service after its leaders, Paul Golding and Jayda Fransen, were convicted of hate crime.
Britain First was banned from Twitter in December 2017.
The paper, called Following the Whack-A-Mole: Britain First's Visual Strategy from Facebook to Gab, was written by researchers at Swansea University.
It says mainstream social media companies should continue to remove extremist groups that breach their terms of service.
The report says banning groups from major platforms is effective because it reduces the ability of groups to point followers to more extreme content and limits their pools of potential recruits.
The report calls on the UK and US governments to work towards better relationships with newer, smaller and fringe platforms so content can be regulated on these sites.
In April, the British government launched its long-awaited white paper on online harm, which sought to make the directors of social media companies personally accountable for the behaviour of users.
It followed the Christchurch massacre in New Zealand in which the terrorist streamed live footage of the mosque shootings on Facebook for 17 minutes.
Under the UK government's proposals, companies would be sanctioned if they failed to stop child abuse, or prevented users from viewing or sharing extremist content.
After the Christchurch attack, Facebook launched a major crackdown on extremist groups and in April removed other groups and people for breaching its policies.
Facebook's Community Standards state that it "does not allow organisations or individuals that engage in 'terrorist activity' or 'organised hate', and that any content that expresses support or praise for either will result in removal".
Gab, which has a smaller platform of 850,000 users, has now become a forum for the radical right.
It was used to post hate comments by Pittsburgh gunman Robert Bowers before he shot 17 people, killing 11, in the US city last year.
The report authors have revealed that since moving to Gab, Britain First's imagery has become more extreme.
It recommends that future research investigates how this social media strategy progresses.
The paper is the latest published by the network, which aims to understand terrorist exploitation of technology and the digital space.
It is led by the Royal United Services Institute, a group of leading global think tanks and academic institutions.
It is supported by the Global Internet Forum to Counter Terrorism, an industry-led initiative that includes Facebook, Google, Microsoft and Twitter.
https://www.thenational.ae/world/europe/removing-extremists-from-social-media-sites-effective-in-limiting-influence-report-says-1.883772
--------
Southeast Asia
China denies Muslim separation campaign in Xinjiang
7 July 2019
China's ambassador to the UK has denied that Muslim children in western Xinjiang are being systematically separated from their parents.
A BBC report found that hundreds of children from the Uighur minority ethnic group had had both parents detained, either in camps or in prison.
At the same time, China has launched a large-scale campaign to build boarding schools for Uighur children.
Critics say it is an effort to isolate children from their Muslim communities.
However, Chinese ambassador Liu Xiaoming dismissed this.
"There's no separation of children from their parents. Not at all," the ambassador told the BBC's Andrew Marr Show on Sunday.
"If you have people who have lost their children, give me names and we'll try to locate them", he added.
Evidence gathered by the BBC showed that in one Xinjiang township alone more than 400 children had lost both of their parents to some form of internment.
Chinese authorities claim the Uighurs are being educated in "vocational training centres" designed to combat extremism.
But evidence suggests that many are being detained for simply expressing their faith - praying or wearing a veil - or for having overseas connections to places like Turkey.
More than a million people are thought to be held within the system.
After parents are detained, formal assessments are then carried out to determine whether the children need "centralised care".
One local official told the BBC that children whose parents had been detained in camps were sent to boarding schools.
"We provide accommodation, food and clothes… and we've been told by the senior level that we must look after them well," she said.
But Dr Adrian Zenz, who carried out the research commissioned by the BBC, said boarding schools "provide the ideal context for a sustained cultural re-engineering of minority societies."
"I think the evidence for systematically keeping parents and children apart is a clear indication that Xinjiang's government is attempting to raise a new generation cut off from original roots, religious beliefs and their own language," he said.
Dozens of Uighur parents living in Turkey spoke to the BBC about their desire to be united with their missing children.
"I don't know who is looking after them... there is no contact at all," one mother said.
Thousands of Uighurs have moved to Turkey to do business, to visit family, or to escape China's birth control limits and what they call religious repression.
Many stayed after China began detaining hundreds of thousands of Uighurs over the past three years.
Mr Liu, however, described the parents who spoke to the BBC as "anti-government people".
"You cannot expect a good word [from them] about the government," he said. "If they want to be with their children they can come back."
https://www.bbc.com/news/world-asia-china-48899475
--------
Dr Wan Azizah to enhance bilateral ties with visit to China
07 July 2019
BEIJING, July 7 — Deputy Prime Minister Datuk Seri Dr Wan Azizah Wan Ismail will be embarking on a four-day official visit to China from tomorrow to further bolster the bilateral relations between Malaysia and China.
The Malaysian Embassy in China charge d'affaires ad interim Nuryante Mohd Yazid said the visit of Dr Wan Azizah to China will be her first since taking the deputy prime minister post.
"The four-day visit (July 8 to 11) is at the invitation of her counterpart, Vice-Premier Sun Chunlan," she said at a media conference with Bernama and RTM here today.
Nuryante said the deputy prime minister who is expected to arrive tomorrow (3pm), will start her official visit by attending a dinner with about 130 Malaysians living in China.
On the second day of the visit, she said Dr Wan Azizah would have a tight schedule with meetings with four senior leaders of China.
"In the morning, Dr Wan Azizah will pay a courtesy call on China's Deputy President Wang Qishan at Zhongnanhai," she said.
She said among the subjects to be discussed are efforts to reinforce bilateral relations, the 45th anniversary of diplomatic relations between Malaysia and China as well as cooperation in the Belt and Road Initiative.
After that, she said Dr Wan Azizah who is also the Women, Family and Community Development Minister is scheduled to hold a bilateral meeting with Vice Premier Sun Chunlan who is charge of the National Working Committee on Children and Women under State Council.
Nuryante said the meeting would be followed by lunch hosted by Sun.
She said both leaders are expected to discuss continuous efforts to strengthen the Malaysia-China relations apart from following up on the status of decisions reached during the visit of Prime Minister Tun Dr Mahathir Mohamed in August 2018 and April 2019.
Apart from that, bilateral cooperation in education, agro-commodity, agriculture, women development as well as tourism and culture would also be discussed in the meeting.
In the evening, she said Dr Wan Azizah is scheduled to visit the 660-year-old Dongsi Mosque built during the Yuan Dynasty and will meet Muslim community representatives in China and the mosque leadership.
She said Dr Wan Azizah who is also Pakatan Harapan president will end her second day visit with a meeting with the Communist Party of China (CPC) International Liaison Department director Song Tao, followed by a dinner hosted by him.
"Both parties will discuss future programmes to boost relations between Pakatan Harapan and CPC," she said.
On the third day of visit, Dr Wan Azizah will be visiting the Disaster Management Centre of China and will be briefed on the best practice and latest technology used by Chinese authorities in a disaster.
Later, Nuryante said the deputy prime minister will hold a luncheon with Malaysian businessmen in China.
"Discussions will centre on the status of investments by Malaysian companies as well as the efforts of the government to improve demand for Malaysian products and services in international market especially in China," she said.
Following that, Nuryante said Dr Wan Azizah will be visiting Huawei Research Centre to obtain information on the latest technology produced by the largest telecommunications equipment manufacturer in the world.
"The deputy prime minister will hold a meeting with Huawei top leadership to discuss mutual cooperation between Malaysia and the company," she said.
At her next stop, she said the deputy prime minister will hold a round table meeting with leading entrepreneurs and investors in Beijing to attract more foreign investments to Malaysia.
"She will also update more than 30 Chinese companies on the latest policies and incentives offered by the government to make Malaysia as a leading investment destination in the region," she said.
On the last day of her official visit, Nuryante said the deputy prime minister would be visiting a Children Speech and Hearing Rehabilitation and Research Centre followed by a press conference with Malaysian media before departing home.
Full report at:
https://www.malaymail.com/news/malaysia/2019/07/07/dr-wan-azizah-to-enhance-bilateral-ties-with-visit-to-china/1769158
--------
Kelantan assures security at Zakir Naik's tour programme
07 July 2019
KOTA BARU, July 7 — The Kelantan government will ensure the safety of visitors at the Dr Zakir Naik's Kelantan Missionary Tour Programme to be held on August 7 to 10.
State Human Resource Development, Education and Higher Learning, Science and Technology Committee chairman Datuk Mohamed Fadzli Hassan said that the state government had held discussions with the Kelantan police chief Datuk Hasanuddin Hassan on the organisation of the event prior to this.
''We take cognisance that the preacher we invite is a famous person. Surely, we will prioritise the safety aspect of all quarters including visitors.
''The police have given their agreement to ensure the safety aspect of all quarters will be prioritised and we hope this programme will proceed smoothly as planned,'' he told a press conference which was also attended by the project director, Datuk Che Abdullah Mat Nawi here today.
Among the programmes which would be held include Young People Talk, Executive Talk, Friday Sermon, Muslimah Talk, Appreciation of Wukuf Day, and the peak programme, Unity of Muslims, Premier Oratory.
Mohamed Fadzli said that about 100,000 visitors were expected to be present at the peak programme which would take place on August 9 at the Sultan Muhammad IV Stadium here, which would start at 5pm until 11.45pm.
''We invite Zakir to Kelantan with one spirit that his preaching shows the distinctiveness, beauty, harmony and tolerance of true Islam and it is in line with Kelantan which is state which develops along with Islam,'' he said.
Full report at:
https://www.malaymail.com/news/malaysia/2019/07/07/kelantan-assures-security-at-zakir-naiks-tour-programme/1769157
--------
Pakistan
Judge rejects opposition blackmail claims over Nawaz verdict
Jul 8, 2019
LAHORE: A senior Pakistani judge on Sunday denied being blackmailed into convicting former prime minister Nawaz Sharif for graft last year after the main opposition party showed secretly taped video that appeared to show him saying he was threatened over the case.
Sharif's PML-N party presented the video at a news conference on Saturday, saying it proved that Sharif, currently serving a seven-year sentence for corruption, had been wrongfully convicted.
In the secretly shot video, judge Arshad Malik, a senior judge on the accountability court, is seen telling a man described by PML-N officials as a party sympathiser that unidentified individuals had confronted him with compromising video footage to pressure him into convicting.
On Sunday, Malik said his comments in the video were pieced together and presented out of context. "I want to make it clear that I was neither directly or indirectly intimidated, nor was I influenced by greed," he said, adding that he had faced pressure from the ex-PM's allies not to convict. "I was repeatedly offered bribes and also given threats".
A PML-N spokeswoman said Malik did not deny the conversation recorded had taken place and asked why, if he had faced pressure from Sharif's camp, he had not reported it previously.
https://timesofindia.indiatimes.com/world/pakistan/judge-rejects-opposition-blackmail-claims-over-nawaz-verdict/articleshow/70121006.cms
--------
Pakistan's top anti-graft body summons Shehbaz Sharif on July 12 in corruption case
Jul 7, 2019
LAHORE: Pakistan's top anti-graft body has summoned opposition Pakistan Muslim League-Nawaz (PML-N) chief Shehbaz Sharif in the Lahore Waste Management Company corruption case on July 12.
The National Accountability Bureau (NAB) has issued summons along with a questionnaire to Shehbaz based on seven questions, the Express Tribune reported on Sunday.
Shehbaz, 67, served as the chief minister of the politically crucial Punjab province from 2013 to 2018. He became PML-N president after his elder brother and three-time prime minister Nawaz Sharif was disqualified as the party president following a Supreme Court verdict in 2017.
On April 9, Shehbaz skipped an appearance before the NAB and asked that the date be rescheduled.
In the questionnaire, Shehbaz has been asked as to why the summary of the formation of the Lahore Waste Management Company was approved without the advice of the finance and law department, the paper said.
He has been questioned that when one department was working then why the formation of the company was deemed important.
Another question is that were all the legal requirements completed for the formation of the company. Another question is that why ISTEK was awarded the contract without bidding.
He was already facing corruption cases against him in the 56 companies' case, Ashiana-e-Iqbal Housing Society scam, Ramzan Sugar Mills case and others.
In the Ashiyana housing scam, Shehbaz is accused of ordering the cancellation of a contract given to a successful bidder for the low-cost housing scheme, resulting in a loss of Rs 193 million to the national exchequer.
He has been indicted along with nine others in the Ashiana Housing scheme case. He was arrested by the NAB in the probe on October 5, 2018 and released on bail on February 14.
In the Ramzan Sugar Mills corruption case, Sharif and his son Hamza are accused of "fraudulently and dishonestly" causing a Rs 213 million loss to the national exchequer.
Full report at:
https://timesofindia.indiatimes.com/world/pakistan/pakistans-top-anti-graft-body-summons-shehbaz-sharif-on-july-12-in-corruption-case/articleshow/70113045.cms
--------
Pakistan court judge forced to convict father Nawaz Sharif, claims Maryam Nawaz; releases video
July 7, 2019
Pakistan Muslim League-Nawaz leader Maryam Nawaz has released a video clip purportedly showing an accountability court judge allegedly confessing that he was "blackmailed and forced" to convict former premier Nawaz Sharif in a corruption case.
Addressing a press conference in Lahore on Saturday alongside the top leadership of the PML-N, Maryam, the daughter of 69-year-old Sharif, said that her father's entire judicial process was severely compromised.
Sharif has been serving a seven-year prison term at the Kot Lakhpat Jail in Lahore since December 24, 2018 when the accountability court convicted him in the Al-Azizia Steel Mills case - one of the three corruption cases filed in the wake of the apex court's July 28, 2017 order in Panama Papers case.
Sharif and his family have denied any wrongdoing and allege that the corruption cases against them were politically motivated.
Maryam claimed Accountability Court Islamabad Judge Arshad Malik, who sentenced Sharif to a seven-year imprisonment in the Al-Azizia corruption case, confessed in his conversation with PML-N supporter Nasir Butt that he was "blackmailed and forced (by hidden forces)" to give verdict against the former premier.
The video purportedly shows the judge speaking to Butt and claiming that he was coerced to hand down the prison sentence against Sharif despite there being no proof of corruption against him.
The Imran Khan government termed the leaked video "doctored" and demanded its forensic audit, saying that "it is an attack on the judiciary."
Maryam said this was a "divine help" as her father failed to get justice in cases against him.
She said Judge Malik had categorically declared that there was no evidence of money laundering, commission or any other wrong financial transaction against Sharif but he had "orders to send him jail for which I am repenting."
The judge was "blackmailed" into handing down the sentence against Sharif after some people threatened that they would release a private video of his, she alleged. She said the judge did not write the sentence but "was made to write" the prison sentence for Sharif.
She claimed the judge was under immense pressure to send the former prime minister to jail, and that he had contemplated committing suicide several times since.
Full report at:
https://www.indiatoday.in/world/story/pakistan-court-judge-forced-to-convict-father-nawaz-sharif-claims-maryam-nawaz-releases-video-1563890-2019-07-07
--------
Rallies planned to mark Wani's 3rd martyrdom anniversary
Tariq Naqash
July 08, 2019
MUZAFFARABAD: Rallies and meetings will be held across Azad Jammu and Kashmir (AJK) on Monday to renew allegiance to the ongoing freedom struggle in India-held Kashmir (IHK) on the occasion of third martyrdom anniversary of Burhan Muzaffar Wani, an iconic young mujahid commander.
Mr Wani, who was chief of operations in Hizbul Mujahideen, the largest and mainly indigenous fighter group in IHK, was martyred by the Indian army along with two other colleagues during an alleged encounter in Bamdoora village of southern Kashmir's Kokernag area on July 8, 2016.
Footprints: After the killing of Burhan Wani
The son of a school headmaster, Mr Wani had become the iconic face of armed struggle in IHK since 2011. Dressed in military fatigues and holding assault guns, he would regularly post video messages on social media sites and invite young men to join anti-India struggle.
In the wake of his martyrdom, the held territory underwent the longest ever curfew of more than 100 days during which scores of people were mercilessly killed and injured by the occupation forces while trying in vain to suppress massive anti-India protest demonstrations.
Contrary to New Delhi's assumptions, Mr Wani's elimination was believed to have revitalised the popular anti-India movement with the inclusion of hundreds of educated youngsters.
To mark his martyrdom ­anniversary on Monday, ­Jamaat-i-Islami AJK would hold a big public meeting on an open space along the bustling Bank Road here, with Liaqat Baloch, deputy chief of JI Pakistan, as the key speaker.
"The meeting is not just aimed at paying tributes to Mr Wani and other martyrs, in fact it will focus on the ill-treatment of the Kashmiris' unprecedented struggle by the present PTI-led government in Pakistan," said JI AJK leader Shaikh Aqeelur Rehman, while inviting media persons on Sunday for coverage.
"We want to remind the Pakistani rulers that Kashmiris are fighting your war… They need solid support at this do-or-die stage of their heroic struggle against a tyrant country; empty rhetoric and wordiness is of no use to them," he said.
The JI leader alleged that Pakistan had not only shut offices of pro-freedom organisations, including that of the indigenous Hizbul Mujahideen, it was also arresting people associated with this movement.
"If you are unable to support them, let it be known to them explicitly."
Earlier in the day, activists of Pasban-i-Hurriyat Jammu Kashmir (PHJK), an organisation of post-1990 migrants from IHK, would march from a roundabout near press club to Bank Road.
"We will mark his martyrdom anniversary as a resistance day," said PHJK chief Uzair Ahmed Ghazali.
Separately, the AJK government would also hold a function at the press club to mark the anniversary.
AJK Prime Minister Raja Farooq Haider was scheduled to address the officially sponsored function in Muzaffarabad, but his press secretary Raja Wasim Khan told reporters that he would now be addressing a function in this regard in Islamabad under the aegis of the All Parties Hurriyat Conference.
In a message on the eve of the anniversary, Mr Haider said Mr Wani was a valorous young leader whose martyrdom had given fresh impetus to the liberation struggle of his nation.
The AJK premier also paid tributes to IHK-based pro-freedom leaders Syed Ali Geelani, Mirwaiz Umar Farooq, Yasin Malik, Shabbir Ahmed Shah, Asiya Andrabi, Zafar Akbar Bhat and others, with an assurance that they were not alone in this just struggle; their brethren in AJK were with them.
"Not just we in Azad Kashmir but the people in Gilgit-Baltistan along with the entire Pakistani nation stand by you in this crucial phase of our common cause."
Full report at:
https://www.dawn.com/news/1492755/rallies-planned-to-mark-wanis-3rd-martyrdom-anniversary
--------
India
Unlawful Activities (Prevention) Tribunal constituted to adjudicate ban on Jamaat-e-Islami
July 7, 2019
The Unlawful Activities (Prevention) Tribunal will hold its sitting at Jammu on July 13 to decide if there existed sufficient cause to declare Jammu and Kashmir Jamaat-e-Islami an unlawful association.
Pointing out that the Tribunal presided over by a Delhi high court judge, Justice Chander Shekhar, will hold sitting at the office of Divisional Commissioner, Jammu, from 10.30 am onwards, an official statement here read: "accordingly, all those who are interested in giving evidence may file their affidavit (in duplicate) with Registrar Unlawful Actitivies (Presidention) Tribunal, Delhi High Court Buiilding, Sher Shah Road, New Delhiand shall remain present in person on the aforementioned date for cross examination, if any, before the Tribunal''.
The Central Government had on February 28 last declared JeI an unlawful association for a period of five years. After the declaration of ban, the state police had in a crackdown arrested a large number of its members across the state.
The ban order was challenged in the State High Court with petitioner stating that the organization has been existing for past more than 60 years working for the socio-religious well being of the society and it had even contested assembly and Lok Sabha elections under a registered election symbol. He had assailed the order saying that it was imposed without giving organisation a chance to represent its case.
https://indianexpress.com/article/india/unlawful-activities-prevention-tribunal-constituted-to-adjudicate-ban-on-jamaat-e-islami-5819687/
--------
J&K: Security tightened in Valley ahead of Burhan Wani's death anniversary
July 7, 2019
Security has been beefed up in the Valley ahead of the third death anniversary of former Hizbul Mujahideen commander Burhan Wani on Monday, officials said, as separatists called for a shutdown to mark the day.
Wani, once a poster boy of militancy in the Valley, was killed in an encounter with security forces on 8 July, 2016, in Kokernag area of south Kashmir's Anantnag district.
His killing triggered massive protests and a prolonged period of curfews and shutdowns across the valley. Over a period of more than four months, 85 people were killed and thousand others injured in clashes between security forces and protestors.
Officials said mobile internet services have been snapped in the four districts — Anantnag, Kulgam, Pulwama and Shopian – of south Kashmir as a precautionary measure.
Director General of Police Dilbag Singh said every step has been taken to ensure the day passes off peacefully. He said there will be no restrictions on the movement of the Amarnath Yatra pilgrims. "The yatra will continue. There is no problem."
Said the DGP, "Whatever is needed to maintain security, all such steps have been taken and arrangements made for tomorrow (Monday). People are cooperating and there are no reports of any untoward incident. We are sure the day will pass off peacefully."
He said no decision has been taken to impose generalised restrictions on the movement of people in the valley.
"We have not yet decided on imposing restrictions in the valley, but the deputy commissioners and district superintendents of police will take decisions at the local level wherever intervention is needed. But, we do not have any plan for generalised restrictions," he said.
Full report at:
https://indianexpress.com/article/india/jk-security-tightened-in-valley-ahead-of-burhan-wanis-death-anniversary-5819736/
--------
Arab World
Iraqi army launches offensive against ISIS near border with Syria
7 July 2019
The Iraqi army launched the first phase of an operation against ISIS on Sunday morning near the country's border with Syria, they said in a statement.
The statement said that the Will of Victory Operation is taking place in the areas between the governorates of Saladin, Nineveh and al-Anbar.
They added that the operation is led by several Iraqi paramilitary forces, including the Iraqi Air Force and the international coalition.
Although Iraq declared victory against ISIS in July 2017, the extremists have turned into an insurgency and have carried out deadly attacks in the country.
https://english.alarabiya.net/en/News/middle-east/2019/07/07/Iraqi-army-launches-offensive-against-ISIS-near-border-with-Syria.html
--------
Russian-led assault in Syria leaves over 500 civilians' dead: Rights groups
7 July 2019
At least 544 civilians have been killed and over 2,000 people injured since a Russian-led assault on the last rebel bastion in northwestern Syria began two months ago, rights groups and rescuers said on Saturday.
Russian jets joined the Syrian army on April 26 in the biggest offensive against parts of rebel-held Idlib province and adjoining northern Hama provinces in the biggest escalation in the war between Syrian President Bashar al Assad and his enemies since last summer.
The Syrian Network for Human Rights (SNHR), which monitors casualties and briefs various UN agencies, said the 544 civilians killed in the hundreds of attacks carried out by Russian jets and the Syrian army include 130 children. Another 2,117 people have been injured.
"The Russian military and its Syrian ally are deliberately targeting civilians with a record number of medical facilities bombed," Fadel Abdul Ghany, chairman of SNHR, told Reuters.
Russia and its Syrian army ally deny their jets hit indiscriminately civilian areas with cluster munitions and incendiary weapons, which residents in opposition areas say are meant to paralyze every-day life.
Moscow says its forces and the Syrian army are fending off terror attacks by al Qaeda militants whom they say hit populated, government-held areas, and it accuses rebels of wrecking a ceasefire deal agreed last year between Turkey and Russia.
Last month US-based Human Rights Watch said the Russian-Syrian joint military operation had used cluster munitions and incendiary weapons in the attacks along with large air-dropped explosive weapons with wide-area effects in populated civilian areas, based on reports by first responders and witnesses.
Residents and rescuers say the two-month-old campaign has left dozens of villages and towns in ruins. According to the United Nations, at least 300,000 people have been forced to leave their homes for the safety of areas closer to the border with Turkey.
"Whole villages and towns have been emptied," said Idlib-based Civil Defence spokesman Ahmad al Sheikho, saying it was the most destructive campaign against Idlib province since it completely fell to the opposition in the middle of 2015.
On Friday, 15 people, including children, were killed in the village of Mhambil in western Idlib province after Syrian army helicopters dropped barrel bombs on a civilian quarter, the civil defense group and witnesses said.
The heads of 11 major global humanitarian organizations warned at the end of last month that Idlib stood at the brink of disaster, with 3 million civilian lives at risk, including 1 million children.
"Too many have died already" and "even wars have laws" they declared, in the face of multiple attacks by government forces and their allies on hospitals, schools and markets," the U.N.-endorsed statement said.
Last Thursday an aerial strike on Kafr Nabl hospital made it the 30th facility to be bombed durng the campaign, leaving hundreds of thousands with no medical access, according to aid groups.
Full report at:
https://english.alarabiya.net/en/News/middle-east/2019/07/07/Russian-led-assault-in-Syria-leaves-over-500-civilians-dead-Rights-groups.html
--------
Omani Foreign Minister meets al-Assad in rare Syria visit
7 July 2019
Omani Foreign Minister Yusuf bin Alawi met on Sunday with Syrian President Bashar al-Assad in Damascus, Muscat said, in the Gulf official's second visit to the war-wracked country since conflict broke out in 2011.
Al-Assad met with bin Alawi to discuss bilateral relations and regional security, the sultanate's foreign ministry said in a statement.
It added that bin Alawi also met with his Syrian counterpart, Walid Muallem.
Oman is one of the few Arab states to have maintained ties with Damascus over the past eight years.
Syria was suspended from the Arab League in 2011 for its deadly crackdown on an uprising against al-Assad's rule, and fellow Arab countries, including Gulf powerhouse Saudi Arabia, have supported the opposition.
Bin Alawi visited Damascus in 2015, Syria's official SANA news agency reported at the time, to discuss ways to "resolve the crisis in Syria."
During a visit to Oman last year, Syria's Muallem praised Muscat for taking "supportive positions towards Syria at various Arab and international forums", the state-run Oman News Agency reported.
Syria's once rocky ties with the region are on the rebound.
The United Arab Emirates reopened its embassy in Damascus late last year after years of closure, and Syria's relations with Bahrain and Jordan have also improved.
Full report at:
https://english.alarabiya.net/en/News/gulf/2019/07/07/Top-Oman-Diplomat-meets-Assad-in-rare-Syria-visit-.html
--------
Syrians, facing orders to demolish homes, fear fate in Lebanon
7 July 2019
Dima al-Kanj's house is now a pile of rubble and twisted metal.
It was just a concrete hut near the Lebanese border, but she had spent five years trying to make it cozy for her children after fleeing the war in Syria.
Then, under army orders, she had to smash it.
"Every year, we fixed up one thing after another so that we could live in what you'd call a home," she said, standing in the room levelled to the ground in the remote Lebanese town of Arsal. "Now, there's nothing left."
Kanj is among thousands of Syrian refugees who will be left stranded by a government decision to dismantle "semi-permanent structures" in eastern Lebanon, aid agencies say.
At least 15,000 children could become homeless.
Lebanon is toughening enforcement of work and housing rules - some of which were ignored for years - on its more than 1 million Syrian refugees. Lebanese politicians have also ramped up their calls for the Syrians to leave.
The army demolished at least 20 refugee homes on Monday, seven global aid agencies said.
In the makeshift Arsal camp where Kanj lives, home to 450 people, refugees said the army arrived at dawn with a small bulldozer taking down a few shelters.
Soldiers came again two days later as a reminder that people must remove their concrete walls and metal roofs.
Kanj, 30, has since paid men from a nearby camp to knock down her hut with jackhammers. She preferred to do it herself than face a forcible demolition.
She and her four small children are now crammed into their neighbor's hut across the dirt road with a dozen people.
"We're all sitting inside the same room on top of each other with our stuff," she said. "We can't rent a place or leave or do anything at all."
People at the camp said they would follow the rules but have found it hard to meet deadlines and find money for equipment.
They must also get rid of the rubble.
ALSO READ: Struggling to survive, Syrian refugees in Lebanon fall deeper into debt
Some worry they will not manage to cobble together the permitted tents from wood and plastic sheeting, which would barely shield them from Arsal's harsh winter.
The military first told them of the order some two months ago and has since allowed grace periods. The army has not commented on the demolitions, but a military source said the forces were executing a legal regulation.
"Of course, we're scared of the future," Kanj said. "God knows what more decisions (authorities) will come up with next."
'Start from scratch'
Human Rights Watch described the shelter order as "one of many recent actions to crank up pressure on Syrian refugees to go back." These include more arrests, deportations, shop closures, curfews, evictions and other measures in the past months, it said on Friday.
Some Lebanese officials have called the mainly Sunni refugees a threat to Lebanon, warning the concrete huts would lead to their lasting settlement.
It is a thorny topic in a country with a fragile sectarian political system where informal settlements of Palestinians have expanded after they came decades ago.
Foreign Minister Gebran Bassil, the president's son-in-law, has pushed hard for Syrians to go home, insisting they should not wait for an elusive peace deal to end the war.
Last month, he said town councils could get refugees to leave by "implementing the law and protecting public order."
But activists accuse his party and other politicians of fueling hostility towards refugees and blaming them for Lebanon's long-existing problems.
Abou Firas, a Syrian refugee who oversees the same Arsal camp, said they would leave if they could.
As fighting died down and Damascus reclaimed much of Syria, tens of thousands of refugees have returned, Lebanese authorities say. Still, aid agencies say many have fears about going home, including reprisals, military conscription, loss of property, or fresh waves of violence.
"There's a lot of uncertainty about our fate," said Abou Firas, who must demolish his family's hut too. "We don't intend on permanently settling here."
Full report at:
https://english.alarabiya.net/en/features/2019/07/07/Syrians-facing-orders-to-demolish-homes-fear-fate-in-Lebanon.html
--------
Iraq reiterates 'principled' opposition to Israel
Jul 7, 2019
Iraq has reiterated its firm opposition to Israel's occupation of Palestine as well as Baghdad's refusal to establish ties with the regime.
In a statement issued on Saturday, Foreign Ministry spokesman Ahmad al-Sahaf said, "We reaffirm that Iraq's position on the Palestinian issue is the same as our principled and historical position of rejecting the Israeli occupation of the Arab land."
The statement added that Iraq stands firm in its "rejection of all forms of normalization with this entity," adding that the Arab state remains "committed to the principle of boycott" of the regime.
The clarification came after Fareed Yasseen, the Iraqi ambassador to the United States, was quoted in media reports as hinting that there was potential for relations between Baghdad and Tel Aviv.
The reports surfaced after a video clip was released on social media earlier this week, showing him speaking with state-run Al-Iraqiya TV.
The envoy said in the video, "There are objective reasons that call for the establishment of relations between Iraq and Israel, including the presence of a significant Iraqi community in Israel," he said in the video released this week.
He, however, said the objective factors are not enough to establish ties with the Israeli regime because there are "moral and legal reasons which Iraqis comply with."
In response to the reports, the Iraqi Parliament's Foreign Relations Committee called on the Foreign Ministry to "ensure the statements of its employees and representatives in the Iraqi diplomatic missions are in line with the foreign policy of the government."
The Foreign Ministry statement criticized certain media outlets — which he did not name — for "inappropriately" quoting Yasseen.
The statement further said, "Countries and media give special importance to the Palestine issue, which is a key focus of conferences and meetings attended by our representatives and delegations abroad," but certain statements of the officials appear out of context in reports.
Iraq's position on the Palestinian cause has been outspokenly outlined by officials of various standing across the country's political spectrum.
Over the past years, many key Arab states have dropped their traditional positions as supporters of the Palestinian cause, giving Israeli officials entrée into their countries or even allowing their own officials to travel to the Israeli-occupied territories.
Saudi Arabia and the United Arab Emirates and Bahrain, Riyadh's arch-allies in the Persian Gulf region, are among the Arab countries giving rise to most rumors and reports about Arab rapprochement with Tel Aviv.
Riyadh and Abu Dhabi are also among the states, which have reportedly given the green light to a United States-devised controversial plan for the Israeli Palestinian conflict.
Bahrain even recently hosted a summit aimed at unveiling the economic aspect of the scheme, which Washington has hailed as "the deal of the century."
Full report at:
https://www.presstv.com/Detail/2019/07/07/600344/Iraq-Israel-opposition-Palestine
--------
Syrians return to their home city by Lebanese border in state-organized trip
July 07, 2019
QUSAYR, Syria/AMMAN: Qusayr, a once bustling commercial hub in western Syria, has not seen any fighting since government troops, with the help of Lebanon's powerful Iran-backed Hezbollah group, drove out rebels six years ago.
Large sections of the city lie in ruin and of the thousands who fled the violence, most have not returned. Only about 10,000 people — a tenth of its pre-war population — have come back.
According to former residents living abroad, this is partly because Qusayr, around 10 kilometers (6 miles) from the Lebanese border, is now a security zone where only those with special permission can enter.
The Syrian government appears to want to signal that this is changing: On Sunday, the army escorted around 1,000 people — former residents who fled to other parts of Syria — to the city, where they thronged the streets in celebration.
Several carried the yellow and green flags of the Hezbollah group, an ally of Syrian President Bashar Assad which played a crucial role in the defeat of the rebels in Qusayr and other parts of western Syria.
Western intelligence sources say the area remains part of a belt of territory in Syria where Hezbollah maintains a strong presence, including by way of tight control on the movement of people.
Although some former Qusayr residents who took part in Sunday's trip said they had come back for good, others told Reuters their homes were too damaged to live in.
Jamal Hub Al Deen, 45, said his home in the city had been "razed to the ground" but that he wanted to see with his own eyes what needed to be done to try to come back soon.
"We call on the state to help us financially to build our home," he told Reuters. When Hub Al Deen left Qusayr due to the fighting, he fled to Homs city, the provincial capital. His journey on Sunday took him along the same route as that of his escape, he said.
STATE-ORGANISED TRIP
The crowd had gathered in Qusayr's eastern sector where shops were open on Sunday. The neighborhood sustained the least damage in the fighting, but some buildings had visible damage, with some partially destroyed or riddled with bullet holes.
It was to this district that government offices were moved once the fighting ended in mid-2013. Most of those who already returned are state employees and their families.
Some other state-organized initiatives for the return of Syria's internally displaced — who total 6.2 million — to former rebel bastions have been made public, but the uptake has been modest. Many of these areas remain under heavy security, while in others there are no basic services.
Homs governor Talal Al-Barazi told Syrian state media that the government had organized the trip as part of its drive to eventually return Qusayr's displaced residents.
But Bazari said at least 30% percent of the city had been destroyed and reconstruction would not be completed quickly.
"(Qusayr's reconstruction) needs time," Barazi told state owned Ikhbariyah television.
Qusayr and its surroundings have long been a route for smugglers. Rebels made use of it before their defeat and it is now a main supply route for Hezbollah into Syria.
This has made the area a target for Israel, which regularly carries out air strikes inside Syria against Iranian backed forces.
Full report at:
http://www.arabnews.com/node/1522116/middle-east
--------
North America
Trump tells Iran 'be careful' after Tehran vows to boost uranium enrichment
8 July 2019
US President Donald Trump on Sunday said Iran "better be careful," hours after Tehran announced it would shortly boost its uranium enrichment above a cap set by a landmark 2015 nuclear deal.
Speaking to reporters as he departed Morristown, New Jersey, Trump warned Tehran. "Iran better be careful. If you enrich for one reason and I won't tell you what that reason is but it's no good. They'd better be careful," he said.
Iran is "doing a lot of bad things," Trump said but did not elaborate. "The way they want it, they would have automatic rights to have nuclear weapons. Iran will never have a nuclear weapon," he added.
Trump's top diplomat, Secretary of State Mike Pompeo, earlier on Sunday said Iran will face further sanctions in response to the expected breach of the cap set by an endangered nuclear deal reached with international powers but from which the United States withdrew last year.
The 3.67 percent enrichment limit set in the agreement is far below the more than 90 percent level required for a nuclear warhead.
https://english.alarabiya.net/en/News/middle-east/2019/07/08/Trump-tells-Iran-be-careful-after-Tehran-vows-to-boost-uranium-enrichment.html
--------
Iran to face more 'isolation, sanctions': Pompeo
7 July 2019
Iran will face further sanctions in response to its expected breach Sunday of a uranium enrichment cap, US Secretary of State Mike Pompeo said.
"Iran's latest expansion of its nuclear program will lead to further isolation and sanctions," the top US diplomat said on Twitter.
Full report at:
https://english.alarabiya.net/en/News/middle-east/2019/07/07/Iran-to-face-more-isolation-sanctions-Pompeo.html
--------
US, not Iran, threatens world's energy security: Minister
Jul 8, 2019
Iran's oil minister says the world's energy supply is threatened by the United States, not Iran which is a major guarantor of energy stability and peace in the region.
Bijan Namdar Zanganeh made the remarks in reaction to an earlier claim by Saudi Oil Minister Khalid Al-Falih, who told CNN Iran is posing "threats to global energy security."
"Mr. Falih is a respected technocrat, and we won't hear such political words from him so often. He may have been asked to make such political remarks," Zanganeh said in a televised interview on Sunday night.
"He could have made the remarks while both of us were in Vienna, so that I could immediately respond. Why has he made such remarks while I was 3,000 kilometers away?"
Zanganeh said unlike his Saudi counterpart's claim, Iran is not a threat to the world's energy security, but is the biggest guarantor of stability and energy security in the region.
The Saudi accusation comes as Iran itself is also harmed if the region's energy security is threatened, he said.
Earlier on Tuesday, Al-Falih had told CNN Business that he's "concerned though about the security of oil supplies from threats from state and non-state actors that we've seen."
He cited recent attacks on oil tankers and pipelines as well as drone attacks on Saudi facilities, and blamed Iran for such developments.
"That's putting the global energy supply at risk," said Al-Falih.
Elsewhere in his remarks, the Iranian minister said the US is currently the biggest threat to the world's energy security and stability.
"The US uses oil as a weapon. But they must determine whether it is a weapon or not. ... If it is, everyone has the right to use it. The US cannot use it itself, and tell others not to do so," he added.
The US has turned from a major oil consumer into a major producer, Zanganeh said, describing it as one of the reasons for the US sanctions against Iran and Venezuela.
The US has increased its oil output by 3.6 million barrels per day, and that had not been anticipated in OPEC's calculations, and no one in the market predicted the US would increase its output with such a pace, he noted.
"The US needed to give a shock to the market so as to find a place for itself. Part of the sanctions is aimed at letting the US continue its shale oil production and development," Zanganeh added.
Faced with increased shale output in the US and a weakening global economy, the 14-member OPEC renewed a pact earlier this week to extend supply cuts of 1.2 million bpd until March 2020. The agreement also covers OPEC+, a 24-member grouping led by Russia which is seeking prices up to $70 per barrel. Iran, Venezuela and Libya are exempt from the share of cuts in OPEC which is about 800,000 bpd.
Trump imposed sanctions on Iran in November last year and tightened them this month. The bans came after he unilaterally withdrew from a major international deal on Iran's nuclear program in May 2018.
Full report at:
https://www.presstv.com/Detail/2019/07/08/600408/Iran-oil-Bijan-Zanganeh-Saudi-Arabia-Falih-sanctions
--------
Gabbard: War with Iran 'far more devastating' than Iraq war
Jul 7, 2019
US congresswoman and 2020 Democratic presidential candidate Tulsi Gabbard has warned that a war with Iran would be "far more devastating" for America than the Iraq War ever was, warning that President Donald Trump is "pushing us closer and closer to war" with the Islamic Republic.
In an interview with the CBS News on Saturday, Gabbard blasted US President Donald Trump for withdrawing the country from the 2015 Iran nuclear deal.
The 38-year-old member of the House of Representatives from Hawaii said that although she believed a "stronger" deal was needed to replace the landmark accord negotiated by the administration of former President Barack Obama, she thought it was still better than no deal.
"I think there are some flaws right now with it. But ultimately, when it came down to it, that nuclear agreement prevented war. And that's the danger of what the Trump administration is doing right now, pushing us closer and closer to war with Iran by ripping up that deal," Gabbard said.
He slammed Trump decision to send troops backed up by an aircraft carrier and strategic bombers and fighter jets to the Persian Gulf region in an attempt to intimidate Tehran.
By expanding US military presence in the region, "they basically set the dynamite fuse and lit it, for another war that will be far more devastating [than what] we saw throughout Iraq, the war that I served in," she added.
Gabbard served in combat zones in Iraq as a member of the Hawaii National Guard between 2004 and 2005.
Tensions between Washington and Tehran escalated after Trump unilaterally pulled his country out of the Iran nuclear deal with world powers, also known as the Joint Comprehensive Plan of Action (JCPOA), in May last year and re-imposed harsh sanctions against the Islamic Republic in defiance of global criticisms.
The tensions saw a sharp rise on the first anniversary of Washington's exit from the deal as the US moved to ratchet up pressure on Iran by tightening its oil sanctions and sending military reinforcements, including an aircraft carrier strike group, a squadron of B-52 bombers, and a battery of patriot missiles, to the Persian Gulf region.
The IRGC Aerospace Forces downed last month a US Navy RQ-4 Global Hawk over the territorial waters off the coastal province of Hormozgan after it violated Iran's airspace.
The Trump administration imposed new sanctions against Iran at the end of June, and the Department of Defense sent an aircraft carrier, thousands of troops and F-22 bombers to the region.
Concerning the state of the JCPOA, Iran announced in May that the country had partly suspended its obligations under the nuclear deal and given the deal's European signatories -- Britain, France and Germany -- 60 days until July 7 to save the accord and stand up to US pressure.
Full report at:
https://www.presstv.com/Detail/2019/07/07/600382/US-Tulsi-Gabbard-Iran-war-devastating
--------
US call for Syria troops divides German coalition
July 07, 2019
BERLIN: Discord broke out in German Chancellor Angela Merkel's ruling coalition Sunday, after the United States urged the country to send ground troops to Syria as Washington looks to withdraw from the region.
"We want ground troops from Germany to partly replace our soldiers" in the area as part of the anti-Daesh coalition, US special representative on Syria James Jeffrey had told German media including Die Welt newspaper.
Jeffrey, who was visiting Berlin for Syria talks, added that he expects an answer this month.
Last year US President Donald Trump declared victory against Daesh and ordered the withdrawal of all 2,000 American troops from Syria.
A small number have remained in northeastern Syria, an area not controlled by the regime of President Bashar Assad, and Washington is pushing for increased military support from other members of the international coalition against Daesh.
"We are looking for volunteers who want to take part here and among other coalition partners," Jeffrey said.
A clear rejection of the American request came from Merkel's junior coalition partners, the Social Democrats (SPD).
"There will be no German ground troops in Syria with us," tweeted a member of the interim SPD leadership, Thorsten Schaefer-Guembel.
"I don't see people wanting that among our coalition partners" in Merkel's center-right CDU, he added.
But deputy conservative parliamentary leader Johann Wadephul told news agency DPA that Germany should "not reflexively reject" the US call for troops.
"Our security, not the Americans', is being decided in this region," added Wadephul, seen as a candidate to succeed Ursula von der Leyen as defense minister if she is confirmed as European Commission chief.
Syria's war has killed more than 370,000 people and displaced millions since it started in 2011 with a brutal crackdown on anti-government protests.
Washington has two goals in northeastern Syria: to support the US-backed Kurdish forces that expelled Daesh from northern Syria as they are increasingly threatened by Turkey, and to prevent a potential Daesh resurgence in the war-torn country.
The US is hoping Europe will help, pressuring Britain, France and now Germany, which has so far deployed surveillance aircraft and other non-combat military support in Syria.
However Germany's history makes military spending and foreign adventures controversial.
Berlin sent soldiers to fight abroad for the first time since World War II in 1994, and much of the political spectrum and the public remains suspicious of such deployments.
As well as the SPD, the ecologist Greens, liberal Free Democrats and Left party all urged Merkel to reject the US request for troops.
The US appeal comes after Trump has repeatedly urged Berlin to increase its defense spending, last month calling Germany "delinquent" over its contributions to NATO's budget.
But such criticisms have more often hardened resistance to forking out more on the military rather than loosening the country's purse strings.
Former Chancellor Gerhard Schroeder told business newspaper Handelsblatt on Saturday that Trump wanted "vassals" rather than allies.
Full report at:
http://www.arabnews.com/node/1522091/world
--------
Europe
US calls on Germany to send ground troops to Syria
7 July 2019
The United States on Sunday called for Germany to send ground troops to northern Syria, pushing Berlin to ramp up its military involvement in the fight against ISIS as Washington looks to withdraw from the region.
"We want ground troops from Germany to partly replace our soldiers" in the area as part of the anti-ISIS coalition, US special representative on Syria James Jeffrey told German media including the Die Welt newspaper.
Jeffrey, who was visiting Berlin for Syria talks, added that he expects an answer this month.
Last year US President Donald Trump declared victory against IS and ordered the withdrawal of all 2,000 American troops from Syria.
But a small number have remained in northeastern Syria, an area not controlled by the regime of President Bashar al-Assad, and Washington is pushing for increased military support from other members of the international coalition against ISIS.
"We are looking for volunteers who want to take part here and among other coalition partners," Jeffrey said.
Washington has two goals in the region: to support the US-backed Kurdish forces that expelled ISIS from northern Syria as they are increasingly threatened by Turkey, and to prevent a potential ISIS resurgence in the war-torn country.
The US is hoping Europe will help, pressuring Britain, France and now Germany, which has so far deployed surveillance aircraft and other non-combat military support in Syria.
However Germany's history makes military spending controversial, so the prospect of sending ground troops may provoke division in Chancellor Angela Merkel's fragile coalition government.
The Social Democrats -- the junior partner of Merkel's governing coalition -- are likely to oppose any suggestion of sending soldiers to Syria.
The US request comes after Trump has repeatedly urged Berlin to increase its defense spending, last month calling Germany "delinquent" over its contributions to NATO's budget.
https://english.alarabiya.net/en/News/middle-east/2019/07/07/US-calls-on-Germany-to-send-ground-troops-to-Syria.html
--------
Britain says Iran must stop and reverse its nuclear activities
7 July 2019
Iran has broken the terms of its 2015 nuclear deal and must immediately stop and reverse its activities, a spokesman for Britain's Foreign Office said on Sunday.
Iran said on Sunday it will boost its uranium enrichment in a few hours above a cap set by the nuclear deal, a move that could eventually culminate in the return of all international sanctions on Tehran.
"Iran has broken the terms of the JCPOA," the Foreign Office spokesman said, referring to the deal's formal name, the Joint Comprehensive Plan of Action (JCPOA).
Full report at:
https://english.alarabiya.net/en/News/world/2019/07/07/Britain-says-Iran-must-stop-and-reverse-its-nuclear-activities.html
--------
Is Britain trying to undermine the EU at America's behest?
Jul 7, 2019
Britain's illegal seizure of an Iranian oil tanker off the Spanish coast has elicited wide-ranging international condemnation, notably from Spanish and Russian quarters.
The Russian foreign ministry has already condemned the seizure in the strongest terms saying it was "deliberately" aimed to "aggravate" the situation around Iran and Syria.
Most analysts believe the UK is pursuing several goals by its illegal seizure and continuing detention of the Iranian super-tanker Grace 1. These aims include deliberately inflaming tensions between Iran and the US by taking aim at the nuclear deal known as the JCPOA.
Another British goal might be to sabotage the career prospects of the Spanish foreign minister Josep Borrell. In the immediate aftermath of the commando-style seizure of the Grace 1, Mr. Borrell condemned the act on the grounds that the tanker had been seized in Spanish territorial waters without Madrid's permission.
A progressive socialist, Mr. Borrell is set to succeed Federica Mogherini as the High Representative of the European Union for Foreign Affairs and Security Policy.
The prospect of Mr. Borrell succeeding Ms. Mogherini as the EU's foreign policy chief has rattled the US and Israel. In its July 3rd edition, a leading newspaper of the Zionist regime, The Times of Israel, described Mr. Borrell as "tough on Israel, fond of Iran" and admitted that the Zionist entity is "wary" of the incoming EU foreign policy chief.
Analysts are wondering if the UK was setting a trap for Mr. Borrell by placing him between a rock and a hard place. As the seizure of the Grace 1 took place in Spanish territorial waters, Mr. Borrell was duty-bound to condemn it. But the condemnation carries a good deal of risk as the UK and US can accuse him of being soft on sanctions enforcement.
By the same token, had Mr. Borrell failed to condemn the illegal seizure of the Grace 1, he would have appeared weak in the face of a significant violation of Spanish sovereignty.
Either way, Britain, which appears to be fully co-ordinated with the US on this issue, gains by undermining Mr. Borrell's leadership prospects.
Full report at:
https://www.presstv.com/Detail/2019/07/07/600373/UK-Spain-Oil-tanker
--------
Africa
Al-Shabaab publicly executes 10 in Somalia
Jul 08, 2019
Mogadishu [Somalia (/search?query=Somalia)], July 8 (ANI): At least 10 people were reportedly executed (/search?query=executed) in public places over the past week by terrorists belonging to the al-Shabaab group in southern Somalia (/search?query=Somalia).
Five of them were executed (/search?query=executed) on July 3 after they were suspected of spying for Kenyan, Somali, and US intelligence. The executions were carried out publicly as means of intimidating local residents, reported Radio France International Afrique, as cited by Sputnik news agency.
Al-Shabaab (/search?query=Al-Shabaab) is a jihadist fundamentalist group based in East Africa. The group is affiliated to the al-Qaeda terrorist organisation and has been fighting the Somalia (/search?query=Somalia)n government since 2007.
The outfit is responsible for a string of attacks in Somalia (/search? query=Somalia) which have claimed the lives of scores of people and was responsible for the horrific truck bombing in Mogadishu in October 2017 that killed more than 500 people. (ANI)
https://www.aninews.in/news/world/others/al-shabaab-publicly-executes-10-in-somalia20190708121020/
--------
Sudan Army Ruler Vows to 'Implement' Deal with Protesters
7 July 2019
Sudan's army ruler General Abdel Fattah al-Burhan vowed Saturday to protect and implement the power-sharing deal agreed with protesters that aims to end the country's months-long political crisis.
"We, as the military council, promise to protect what has been agreed upon and ensure that it is implemented," Burhan said in a statement broadcast live on state television.
The Alliance for Freedom and Change and the ruling military council agreed on Friday to form a joint ruling body, which in turn is to install a transitional civilian administration – the protesters' main demand.
Prominent protest leaders Ahmed al-Rabie and Khalid Omar confirmed to AFP that the civil disobedience campaign had been canceled.
"It is to give room for the agreement" to be implemented, Rabie said.
Full report at:
https://english.alarabiya.net/en/News/middle-east/2019/07/07/Sudan-army-ruler-vows-to-implement-deal-with-protesters.html
--------
Nigerian authorities seek to murder Sheikh Zakzaky, toxic elements found in his blood: Son
Jul 7, 2019
The son of Nigeria's Muslim leader Sheikh Ibrahim al-Zakzaky has warned about the deteriorating health of the 66-year-old cleric, who has been held in detention along with his wife for more than three years.
Zakzaky, the leader of the Islamic Movement in Nigeria, has been in detention since December 2015 after his residence in the city of Zaria was raided by Nigeria's forces, during which he was beaten and lost his left eye.
During the brutal crackdown, three of his sons lost their lives, his wife sustained serious wounds and more than 300 of his followers were killed.
Zakzaky was charged in April 2018 with murder, culpable homicide, unlawful assembly, disruption of public peace and other accusations. He has pleaded not guilty, vehemently rejecting all accusations brought up against him by his country's authorities.
On Saturday, his son, Mohammad, said that he was shocked by his father's worsening medical condition after visiting him, stressing that he needed to be immediately hospitalized as "large and dangerous quantities of lead and cadmium have been found in his blood."
Mohammad said the Nigerian authorities had not taken any action so far, and that they intend to murder his father.
On Friday, the UK-based Islamic Human Rights Commission (IHRC) announced that it had received reports about Zakzaky's health condition that it had further worsened.
The IHRC — which had sent a medical team to Nigeria in April to examine the health condition of Sheikh Zakzaky and his wife — has already said the specialist treatment they require can only be fully accessed outside the African country.
Separately, members of the Islamic Movement in Nigeria (IMN) had also said last week that the cleric had been poisoned in prison and required urgent medical care abroad.
On Thursday, the IMN also said in a statement that the group's leaders would hold Nigerian President Buhari Muhammadu responsible "if anything should happen to Zakzaky or his wife in detention."
"Their health status is of paramount significance to us all and Buhari must be held responsible should anything untoward happen to either the Sheikh or his wife," the IMN said.
"We are once again calling for the immediate release of our leader and his wife, whose health situations appear to be deteriorating very fast, especially in view of the reported poisoning they were subjected to in detention," the statement further read.
Full report at:
https://www.presstv.com/Detail/2019/07/07/600392/Nigeria-Sheikh-Zakzaky-poison-detention-health-IHRC-IMN
--------
Senegal president honours Muslim World League chief for efforts to spread moderation
July 07, 2019
DAKAR: Senegalese President Macky Sall honored the secretary-general of the Muslim World League (MWL), Dr. Mohammed bin Abdul Karim Al-Issa, in the capital Dakar on Sunday for his international efforts to spread moderation and boost religious and intercultural cooperation, in addition to other initiatives and programs around the world.
He expressed his appreciation for Al-Issa's visit, which included the holding of the MWL's international conference in the city, and that his government valued the MWL's efforts and programs in Africa.
Al-Issa thanked the president for the warm welcome and for honoring him, expressing his happiness visiting Senegal and holding talks with its political and religious leaders.
Full report at:
http://www.arabnews.com/node/1522156/world
--------
Jordanian PM: Economic plan no substitute for Palestinian-Israeli peace agreement
July 07, 2019
AMMAN: Jordan's prime minister said Sunday that an economic deal cannot be a substitute for a peace agreement between Israel and the Palestinians, echoing concerns by critics of the US peace summit in Bahrain last month.
Prime Minister Omar Razzaz said the "road to peace is clear" and must be based upon the creation of an independent Palestinian state with east Jerusalem as its capital.
He said that "there is no compromise or project or deal that will divert us from these priorities."
His remarks came during a meeting with his Palestinian counterpart, Mohammad Shtayyeh.
Full report at:
http://www.arabnews.com/node/1522111/middle-east
--------
Sudan deal first step to transition but challenges lie ahead
July 08, 2019
KHARTOUM: After months of political uncertainty, Sudan has taken its first step toward a democratic transition, but getting the ruling generals to deliver on a power-sharing accord with protesters remains a challenge.
"The only path forward is a negotiated deal between the two sides," said Alan Boswell, senior analyst at the International Crisis Group think tank.
Sudan's ruling military council and protest leaders reached the tentative deal in the early hours of Friday, agreeing to form a joint civilian-military governing body.
That body is to oversee the formation of a transitional civilian administration that will govern for three years — the main demand of demonstrators.
The two agreed the ruling body would have a rotating presidency, a breakthrough following months of political impasse after the army in April ousted longtime ruler Omar Al-Bashir on the back of a popular uprising.
Tensions climaxed on June 3 when armed men in military fatigues stormed a longstanding protest camp in Khartoum, shooting and beating crowds of demonstrators in a predawn raid.
Dozens were killed, triggering international outrage, although the generals insisted they did not order the violent dispersal of protesters.
The power-sharing deal comes after intense mediation by Ethiopia and African Union diplomats.
"Any agreement is a positive step. The challenge will be actually getting the military council to do as it promised," Boswell told AFP.
On Saturday, the head of that council Gen. Abdel Fattah Al-Burhan vowed to "implement" the deal and to work "in close cooperation" with the protest leaders.
The governing body will have a total of six civilians and five military representatives. The six civilians will include five from the umbrella protest movement, the Alliance for Freedom and Change.
A general will head the ruling body during the first 21 months of the transition, followed by a civilian for the remaining 18 months, according to the framework agreement.
Against the backdrop of the June 3 raid, experts doubt whether the military will keep its part of the deal.
"The key question is whether the military or the security sector more widely will cooperate fully with civilian members of the board or is cooperation mere window dressing," said Andreas Krieg, assistant professor at King's College London.
"It is the security sector's intent to accept civilian control that will determine whether Sudan can move to a fully civilian rule in the future."
Bashir, who came to power in a coup in 1989, ruled Sudan with an iron fist thanks to the security apparatus, especially the feared National Intelligence and Security Service (NISS) — accused by rights groups of trampling human rights and freedoms.
Experts say the power-sharing accord is far from a long-term solution to the country's overall political crisis.
One potential dispute is over the eventual formation of a transitional Parliament.
Friday's agreement postponed the creation of a 300-seat transitional legislature — 67 percent of which would be lawmakers from the protest movement — that had already been agreed in previous talks.
"Failing to agree yet on the legislative body is a giant red flag. This risks becoming the new impasse," said Boswell.
"Even in a best case scenario, Sudan will be navigating a very challenging transition for years to come."
Boswell said the protest movement "will almost certainly need to continue mobilizing its street power to pressure the military council to uphold its commitments."
Prominent protest leader Babikir Faisal said that while the deal may not be a cure-all, an agreement with the generals was needed.
"Given the overall tension, agreeing on a sovereign council and a government is a step forward," he told AFP.
"The other choice would have been to take the path of confrontation."
The protest alliance says it is now in charge of appointing the new prime minister and a transitional government of technocrats.
Faisal said the first priority of the new administration will be to offer a "relief program" aimed at tackling Sudan's economic crisis.
"The economic situation is very difficult," he said.
"This is one of the major challenges. This revolution was also triggered by the crisis of bread."
Protests first broke out after the government tripled the price of bread, but they swiftly escalated into nationwide rallies against Bashir's rule, culminating in his ouster on April 11.
And while addressing economic concerns will be key, it will be just one of many challenges facing the protest leaders in their new role, said Khalid Tijani, editor of Sudan's economic weekly Elaf.
"The government will be formed by the alliance, which means revolutionaries," Tijani said.
Full report at:
http://www.arabnews.com/node/1522311/middle-east
--------
Boko Haram Kills Five Soldiers in Northeast Nigeria: Sources
July 7, 2019
Maiduguri (Nigeria): Islamist insurgent group Boko Haram ambushed Nigerian soldiers in the northeast of the country, killing at least five and injuring more than a dozen, sources told Reuters on Sunday.
The sources said the death toll could increase as a number of soldiers were still missing after the attack on Thursday in Damboa, in Borno state in northeastern Nigeria. The soldiers had gone to the area to clear a Boko Haram camp, but were ambushed, the sources said.
Boko Haram militants have killed thousands and displaced millions in Nigeria during the group's decade-long insurgency against the government. The general commanding officer, Brigadier General Bulama Biu, confirmed a confrontation between troops and Boko Haram, but said there was "no casualty on the part of troops."
Full report at:
https://www.news18.com/news/world/boko-haram-kills-at-least-five-soldiers-in-northeast-nigeria-sources-2221097.html
--------
Boko Haram: UN calls for more support to tackle worsening humanitarian crisis
July 7, 2019
The United Nations (UN) has renewed its call for more interventions to address the nagging humanitarian crisis caused by the Boko Haram insurgency in the North-east.
The call was contained in a statement issued in Maiduguri on Sunday by the UN Office for Coordination of Humanitarian Affairs (UN-OCHA).
The UN said a team of senior officials had conducted a five-day assessment tour of Borno state and visited Internally Displaced Person (IDP) camps in Damboa, Dikwa, Maiduguri and Rann.
It said the team observed that the humanitarian crisis in Borno, Adamawa and Yobe needed renewed support to face the recent upsurge in violence and growing humanitarian needs.
The UN quoted Vincent Houver of the International Organization for Migration (IMO) as saying that "the crisis in the Lake Chad Region is far from over. The humanitarian community cannot spare any effort at this time.
"This week, we met women, children and men who were forced to flee multiple times and urgently need protection and assistance to survive and rebuild their lives. We cannot let them down."
According to the UN agency, more than 134,000 persons had been displaced since January due to an upsurge in violence and military counter-operations in the sub-region.
It revealed that about 7.1 million people needed lifesaving assistance, including food, nutrition and healthcare interventions, while about three million others, including one million children, were vulnerable to food insecurity and malnutrition.
Edward Kallon, the UN Humanitarian Coordinator in Nigeria, disclosed that aid agencies had scaled up humanitarian response to address the situation.
"Aid agencies have significantly scaled up and reached some two million people with aid this year.
"However; much more supports are urgently needed. We are worried about the tens of thousands of people who have recently fled due to rising violence and are still sleeping outside in the open.
"With the rainy season progressing, they will face increased risk of diseases and will need immediate protection," Kallon said.
The UN also quoted Christian Gad of the Danish Refugee Council as adding that "some of the people we met have been living in IDP camps for several years.
"All actors, including government and the private sector in Nigeria, need to join forces to help those affected by the crisis to recover in dignity and restart their lives."
It explained that the UN and its partners have appealed for 848 million dollars to enable it to provide urgent life-saving assistance to 6.2 million people in 2019, adding that the response plan was so far 32.6 per cent funded.
It stressed that more funding was urgently needed to sustain the humanitarian response.
During the visit, the team met with the officials of Borno Ministry of Budget and National Planning, the Borno Governor Babagana Zulum, a wide range of UN agencies and humanitarian organisations.
The News Agency of Nigeria (NAN) reports that members of the team included Reena Ghelani, Director, Operations and Advocacy Division (UN-OCHA) and Ms Sheila Grudem, Deputy Director, Emergency Preparedness and Response Support Division, World Food Programme (WFP).
Others were Christian Gad, Head, Emergencies, Danish Refugee Council, Vincent Houver, Deputy Director, Department of Operations and Emergencies, IMO and José Barahona, Director, Emergency Response, Norwegian Refugee Council (NRC).
Full report at:
https://www.premiumtimesng.com/news/339421-boko-haram-un-calls-for-more-support-to-tackle-worsening-humanitarian-crisis.html
--------
South Asia
Sri Lanka on alert as Buddhist hardliners hold first meeting after Easter attacks
JULY 8, 2019
Police lined the streets of the Sri Lankan highland town of Kandy on Sunday and the army was on standby as hardline Buddhist monks gathered for their first big assembly since Easter attacks by Islamist militants on churches and luxury hotels.
Galagoda Aththe Gnanasara, the influential head of the Buddhist nationalist group Bodu Bala Sena (BBS), has called for as many as 10,000 clergymen from across the country to attend the meet.
The group said the gathering will decide who to back in the presidential elections later this year in the Indian Ocean island nation where Buddhists make up about 70% of the population. The rest include ethnic Tamils, who are mostly Hindus, and Muslims.
Dressed in orange, Gnanasara visited one of Buddhism's most sacred temples in Kandy on Sunday where a relic believed to be the Buddha's tooth is kept. Later in the day, the hardliner, who has faced allegations of inciting violence against Muslims, will address the gathering.
https://dailytimes.com.pk/425952/sri-lanka-on-alert-as-buddhist-hardliners-hold-first-meeting-after-easter-attacks/
--------
Taliban car bomb kills at least 12 in attack on Afghan security compound
JULY 7, 2019
Taliban Islamist fighters killed at least eight Afghan security force members and four civilians, as well as wounding more than 50 civilians, by blowing up a car bomb in central Ghazni province on Sunday, government officials and the Taliban said.
The Taliban claimed responsibility for detonating the bomb near the National Directorate of Security (NDS) compound in Ghazni city during Sunday morning's rush hour. "Dozens of NDS officers were killed or wounded," Taliban spokesman Zabihullah Mujahid said in a statement.
Arif Noori, a provincial government spokesman in Ghazni, confirmed eight members of the NDS and four civilians died in the blast, with more than 50 civilians injured. "Many injured people were being rushed to the hospital," he said.
It wasn't immediately clear whether the attack was carried out by a suicide bomber.
Full report at:
https://dailytimes.com.pk/425599/taliban-car-bomb-kills-at-least-12-in-attack-on-afghan-security-compound/
--------
Afghan Special Forces arrest top ISIS leader in Kunduz province
07 Jul 2019
The Afghan Special Forces arrested a top leader of ISIS terrorist group in Kunduz province.
The Ministry of Interior (MoI) in a statement said Sunday the Special Forces conducted an operation in Imam Sahib district.
The statement further added that the Special Forces conducted the operation based on a tip off to arrest a top ISIS leader.
The interior ministry also added that the Special Forces conducted the raid late on Saturday night.
Meanwhile, the interior ministry said the Special Forces arrested a top ISIS leader, Amin alias Agha.
According to interior ministry, Amin was in charge of recruitment activities of the terror group in Kunduz.
Full report at:
https://www.khaama.com/afghan-special-forces-arrest-top-isis-leader-in-kunduz-province-03850/
--------
Taliban's shadow district chief and his 6 security guards killed in Wardak
07 Jul 2019
The security forces killed the shadow district chief of Taliban and his six security guards in Wardak province.
The Ministry of Interior (MoI) in a statement said the Special Forces conducted an operation in Nerkh district of Wardak late on Saturday night.
The statement further added that the Special Forces killed Aminullah, the shadow district chief of Taliban for Nerkh district.
Furthermore, the Special Forces killed six security guards of Aminullah during the same operation.
Full report at:
https://www.khaama.com/talibans-shadow-district-chief-and-his-6-security-guards-killed-in-wardak-03849/
--------
ISIS recruitment ring busted in Kabul city, Kabul University lecturer among 3 arrested
07 Jul 2019
The Afghan forces busted a recruitment ring of ISIS terrorist group and arrested three people including a university lecturer during a special operation in Kabul city.
The Afghan Intelligence, National Directorate of Security (NDS) said in a statement the Special Forces of the directorate busted the recruitment ring of the terror group during an operation in Kabul city.
The statement further added that the NDS Special Forces arrested three individuals during the operation including a university lecturer.
Furthermore, the National Directorate of Security said the group was led by Mubasher Muslimyar, one of the lecturers of Kabul University.
The National Directorate of Security also added that the NDS Special Forces also arrested Ahmad Tariq Janat Gul and Ahmad Farooq son of Janat who were also busy recruiting militants into ISIS ranks.
Meanwhile, the National Directorate of Security said two of detained individuals have confessed that they were recruited into ISIS ranks by Zahir Dayi, Mohammad Maroof Rasukh, Mubarshir Muslimyar and Obaidullah Mutawakil.
They also added that the ISIS recruitment leaders were initially inviting the recruits to Salafism and then into ISIS ranks.
Full report at:
https://www.khaama.com/isis-recruitment-ring-busted-in-kabul-city-kabul-university-lecturer-among-3-arrested-03852/
--------
11 militants killed, wounded in Afghan forces operations in Uruzgan, Zabul: Atal Corps
08 Jul 2019
The Afghan forces killed 7 Taliban militants during the operations conducted in southern Zabul and Uruzgan provinces.
The 205th Atal Corps in a statement said the security forces killed 5 Taliban militants during a raid in Khas Uruzgan district of Uruzgan province.
The statement further added that the security forces also wounded 2 Taliban militants during the same operation.
Furthermore, the 205th Atal Corps said the security forces destroyed a compound, two hideouts, 2 PKM machine guns, 2 Ak-47 rifles, a rocket launcher, a sniper rifle, ammunition, explosives and IEDs during the raid.
Meanwhile, the 205th Atal Corps said the soldiers of the 2nd Brigade killed 2 Taliban militants during a raid in Arghandab district of Zabul.
Full report at:
https://www.khaama.com/11-militants-killed-wounded-in-afghan-forces-operations-in-uruzgan-zabul-atal-corps-03853/
--------
Mideast
Iran will only discuss issues in current nuclear deal, not take part in new deal
8 July 2019
Iran will only discuss issues included in current nuclear deal and not take part in negotiations for a new deal, an Iranian foreign ministry spokesman said, adding that the next steps that Iran will take to reduce commitments under the nuclear deal within 60 days will be within the framework of the deal.
The spokesman also said that Iran will take additional steps to reduce commitments under the nuclear deal if remaining signatories do not follow up on their promises.
https://english.alarabiya.net/en/News/middle-east/2019/07/08/Iran-will-only-discuss-issues-in-current-nuclear-deal-not-take-part-in-new-deal.html
--------
Houthi radio station raises $132,000 for Hezbollah
7 July 2019
Lebanese militant group Hezbollah raised 73.5 million Yemeni rials ($132,000) from a fundraiser held by the Houthi-affiliated radio station Sam FM 99.1, according to reports from Bloomberg.
The campaign ran from May 25 to July 5, reported the Houthi-controlled Saba news agency.
It raised more than $100,000 despite Yemen being the poorest Arab nation, with the UN reporting that 85 percent of Yemen's population is in urgent need of humanitarian aid.
Hezbollah is designated as a terrorist group by countries and organizations including the US, UK and the Arab League.
This was the third fundraiser held by the Sam FM radio station, but the first for Hezbollah, which relies on Iran for financial assistance.
With US sanctions hurting Iran's economy, Hezbollah's leader Hassan Nasrallah has been forced to look to public donations for financial support. The group has faced financial challenges after President Trump introduced new restrictions on trade with Iran last year.
Hezbollah openly supports the Houthi militia, Nasrallah telling the Houthis on June 30: "I wish I could be one of your fighters and fight under the guidance of your brave and dear leaders."
The radio station, Sam FM 99.1, had said that the donations from supporters had been accepted through the radio station's "official account in all Yemeni post offices."
The Sam FM radio campaign said: "Support the masters of the mujahedeen in this world, the purest people, Hezbollah."
Hamoud Mohammad Sharaf, a broadcaster at Sam FM, said these donations would work toward "strengthening the Axis of Resistance," referring to both Hezbollah and Hamas, two Iranian allies.
Full report at:
https://english.alarabiya.net/en/News/middle-east/2019/07/07/Houthi-radio-station-raises-132-000-for-Hezbollah.html
--------
Israeli army says five soldiers wounded after suspected car-ramming attack
7 July 2019
A suspected Palestinian car-ramming attack in the occupied West Bank has wounded five Israeli soldiers and the alleged assailant has been arrested, the Israeli army said on Sunday.
The troops were stationed on a roadside near the Palestinian town of Hizma as part of "operational activity" on Saturday night when the driver of a car rammed his vehicle into them, the army said.
Three soldiers were moderately injured and two hurt lightly in the incident near the town, which is located close to a checkpoint dividing the West Bank from Jerusalem, it said in a statement.
Soldiers later arrested the driver and his father at a checkpoint, it added.
It said an initial inquiry "suggests that the incident was a car-ramming attack" and not an accident.
Full report at:
https://english.alarabiya.net/en/News/middle-east/2019/07/07/Israeli-army-says-a-suspected-car-ramming-attack-wounds-five-soldiers.html
--------
Netanyahu calls Iran's enrichment move a 'very, very dangerous step'
7 July 2019
Israeli Prime Minister Benjamin Netanyahu said on Sunday an announced increase of uranium enrichment by Iran was an extremely dangerous move and he again called on Europe to impose punitive sanctions on Tehran.
Netanyahu made the remarks after Iran said it is fully prepared to enrich uranium at any level and with any amount, in further defiance of US efforts to squeeze it with sanctions and force it to renegotiate a 2015 nuclear deal with world powers.
In a news conference broadcast live, senior Iranian officials said Tehran, which has denied seeking nuclear arms, would keep reducing its commitments every 60 days unless signatories of the pact moved to protect it from US sanctions.
"This is a very, very dangerous step," Netanyahu said in public remarks to his cabinet.
"Iran has violated its solemn promise under the UN Security Council not to enrich uranium beyond a certain level," he said.
"I call on my friends, the heads of France, Britain and Germany - you signed this deal and you said that as soon as they take this step, severe sanctions will be imposed - that was the Security Council resolution. Where are you?" Netanyahu said.
If any one of the three European parties to the accord believe Iran has violated the agreement, they can trigger a dispute resolution process that could, within as few as 65 days, end at the UN Security Council with a reimposition of UN sanctions on Tehran.
The other remaining signatories, Russia and China, are allies of Iran and unlikely to make such a move.
Full report at:
https://english.alarabiya.net/en/News/middle-east/2019/07/07/Netanyahu-calls-Iran-s-enrichment-move-a-very-very-dangerous-step-.html
--------
Israeli minister says Iran's enrichment ramp moderate but a 'march' towards bomb
7 July 2019
Israel's energy minister described as moderate on Sunday an announced increase of Iranian uranium enrichment but accused Tehran of breaking out of internationally agreed limitations on its nuclear projects and moving towards a potential bomb.
"Iran has begun - while it is a moderate rise right now - but it has begun to raise, to break out of the uranium enrichment curbs that were imposed on it," Yuval Steinitz, a member of Prime Minister Benjamin Netanyahu's security cabinet, told Israel's Ynet TV.
"It means ... that it is brushing off the red lines that were agreed (and) that it has begun its march, a march that is not simple, toward nuclear weaponry."
https://english.alarabiya.net/en/News/middle-east/2019/07/07/Israeli-minister-says-Iran-s-enrichment-ramp-moderate-but-a-march-towards-bomb.html
--------
Turkey 'neutralizes' high-ranking PKK militant in northern Iraq
Jul 7, 2019
Turkish military forces have killed a high-ranking member of the Kurdistan Workers' Party (PKK) militant group during a counter-terrorism operation in Iraq's northern semi-autonomous Kurdistan region.
Turkish sources, speaking on condition of anonymity, said on Sunday that Diyar Garip Muhammed, better known by the nom de guerre Halmat Diyar, was "neutralized" during an offensive on June 27 in the Qandil Mountains.
The sources added that Muhammed was a member of the so-called executive council of the PKK, and its umbrella group, the Kurdish Communities Union (KCK).
The Turkish military generally uses the term "neutralize" to signify that the militants were killed, captured or they surrendered.
PKK militants regularly clash with Turkish forces in the Kurdish-dominated southeast of Turkey attached to northern Iraq.
Turkey, along with the European Union and the United States, has declared the PKK a terrorist group and banned it. The militant group has been seeking an autonomous Kurdish region since 1984.
A shaky ceasefire between the PKK and the Turkish government collapsed in July 2015. Attacks on Turkish security forces have soared ever since.
Over the past few months, Turkish ground and air forces have been carrying out operations against PKK positions in the country as well as in northern Iraq and neighboring Syria.
Full report at:
https://www.presstv.com/Detail/2019/07/07/600364/Turkey-neutralizes-highranking-PKK-terrorist-in-northern-Iraq
--------
Houthis killed in northwest Yemen clashes
July 08, 2019
DUBAI: The Arab Coalition killed five Houthi militants and injured several others in clashes on Sunday, Saudi state news agency SPA reported.
The fighting broke out as the Coalition forces caught the militia trying to infiltrate areas that were previously held by them in Razih directorate, west of Saada province.
The engineering team in the directorate was able to defuse and remove more than 75 mines and explosives planted by the militia.
Full report at:
http://www.arabnews.com/node/1522411/middle-east
--------
Government-backed report turns journalists in Turkey into public targets
July 07, 2019
ANKARA: Turkey's pro-government think-tank SETA targeted many Turkish and foreign journalists working for foreign media outlets, including myself — I have been working for Arab News in Turkey for years — in an controversial 200-page report.
The reporters, whose biographies and social media accounts have been profiled in the report, were effectively put on a target list.
Social media interactions, retweets, likes on Twitter and the media outlets where they were employed were analyzed in the report.
Journalists were evaluated for coverage of critical events in recent Turkish history: the Gezi park protests in 2013, curfews in southeastern Anatolia between 2015-2016 and the failed coup attempt in 2016.
In the "suggestions" section of the report, the public was encouraged to contact the authorities about foreign media outlets mentioned in the report whenever they are thought to be producing reports critical of Turkish government.
The report hasn't been published in English yet.
The report, entitled International Media Outlets' Extensions in Turkey, has been strongly criticized for overtly targeting and profiling reporters who are working in Turkey for the international press.
The report's structure resembles an indictment, criminalizing journalists who work for foreign media outlets, including Arab News, BBC, Deutsche Welle, Voice of America, Euronews Turkish, CRI Turkish and Sputnik.
Several journalists in Turkey who were dismissed from their jobs in the mainstream media, have turned to working for foreign media outlets in recent years.
Some syndicates strongly criticized the report and said those who published it would be responsible for any harm that occured to the journalists profiled in the report.
"This is arrogance, mixed with incompetence, and finished with a sprinkle of malice on top," Selim Sazak, a political analyst from Brown University, told Arab News.
"SETA was always Erdogan government's policy shop, pretending to be a think-tank. It seems like they've finally reached the point where they're not even pretending anymore," he added.
Some experts see the report as a sign of increasing pressure on the media in Turkey.
Dr. Sarphan Uzunoglu, assistant professor of multimedia journalism at the Lebanese American University, said the main problem about this report is its agenda.
"Many national and international think-tanks publish reports on media industry. However even the most biased NGO or think-tank reports are based on more rational proofs or datasets," he told Arab News.
"Lacking academic perspective and political objectiveness, the report is also intellectually very limited in terms of its approach to the media outlets it covers. It never goes beyond being a conspiracy-based report," Uzunoglu added.
For Uzunoglu, the report tends to normalize a series of human rights violations.
"This report also demonstrates how pro-government intellectuals operate and how institutions like SETA turned into ideological tools for the government," he added.
Reporters without Borders, the international group which advocates freedom of the press, criticized the report: "We firmly condemn this new intimidation attempt and we stand with our targeted colleagues!"
Full report at:
http://www.arabnews.com/node/1522141/media
--------
URL: https://www.newageislam.com/islamic-world-news/where-prophet-muhammad-say-that/d/119119
New Age Islam, Islam Online, Islamic Website, African Muslim News, Arab World News, South Asia News, Indian Muslim News, World Muslim News, Women in Islam, Islamic Feminism, Arab Women, Women In Arab, Islamophobia in America, Muslim Women in West, Islam Women and Feminism