New Age Islam News Bureau
17 May 2013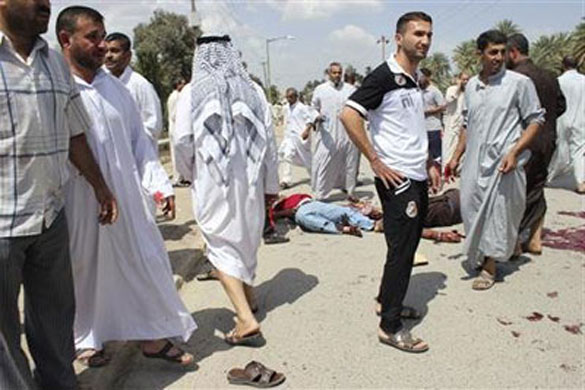 Photo: People gather at the site of a bomb attack in Baquba, about 50 km (30 miles) northeast of Baghdad, May 17, 2013. REUTERS/Stringer
----------
Arab world
• Two Blasts at Iraqi Sunni Mosque Kill 43
• Syria's Nusra Front Eclipsed by Iraq-Based Al Qaeda
• Sermons at Two Holy Mosques in Makkah and Madinah in English too
• Kuwait bars expats from morning visits to hospitals
• Syrian jihadists executed regime supporters: video
• Lebanon Army Prohibits Nakba Demonstration in Maroun al-Ras
• 1,000 artworks showcase Madinah as Islamic Cultural Capital 2013
• Syria's civil war is deja vu of regime change in Libya
• Illegal workers use grace period to make money
• Soldier Gets Life without Parole in Iraq Killings
• Egypt Police Close Gaza Border to Protest Kidnap
India
• Jamiat Ulema-e-Hind, West Bengal seeks support for Jamaat-e-Islami of Bangladesh
• Ajmer Dargah Diwan urges followers to fight against terrorism
• Suspected Hizb ul militant Liyaqat Shah gets bail
• Afghanistan seeks enhanced military help from India
• With Ajmer Urs, UP's please-all holiday list gets longer
• Consultant inspects site for AMU study centre at Kishanganj
• Pakistan frees 51 Indian fishermen as goodwill gesture
Pakistan
• Bombs at mosques in northwest Pakistan kill 10
• Blasts in Malakand kill 15
• Five soldiers killed in attack on convoy in Mattani
• Peace process with India likely to gain pace, says Foreign Office
• Foreign Office non-committal on MQM chief's anti-Pakistan statements
• Twins born during elections named Nawaz and Shahbaz Sharif
• 3 arrested for selling explosives to militants
• Anti-terrorism slogan main reason behind ANP defeat: Asfandyar
• 3rd World countries must collaborate for peace, progress: PML-Q leader
• Balochistan election: PPPP pleads for re-election in Baloch belt
• Pakistan police arrest leader of gang that kidnapped Gilani's son
Southeast Asia
• 'Haram' to protest through 'illegitimate channels', Muslims told in the official Friday sermons
• Renowned Jesuit priest protests award for Indonesian President
• Mob Attacks Ahmadiya Mosque in East Java
• Malaysian Muslims should forget ideological differences
• Indonesia Critical of United Nations Syrian Resolution Elements
Africa
• Nigeria Military Shells Camps, Kills 21
• Rebuilding of Mali Faces Daunting Obstacles, Despite Outside Aid
• Young Libyans find escape in Tripoli's 'secret' cinema
• Mass grave found near Libyan town of Tawergha
South Asia
• South Asian Muslims blame racism for attacks by Buddhists
• Regime change won't affect ties: China to Pakistan
• Death penalty sought for Jamaat-e-Islami Secretary
• MDP willing to discuss interim government with PPM: Nasheed
• Lawmakers urge Bangladesh PM to ensure workers safety and rights
Mideast
• The Extent and Limits of Qatar-Hamas Ties
• Ultra-Orthodox Jews in mass protest against Israel army draft
Europe
• International Islamist Movement Spreads to the North Caucasus
• Russia says Iran must take part in proposed Syria talks
• Russia Sends More Advanced Missiles to Aid Assad in Syria
• U.N. for political transition in Syria
• Polish exports of meat for Jews, Muslims in limbo
• Number of Syrian refugees tops 1.5 million: UNHCR
North America
• When You Attack One Muslim, You Attack All Muslims: Boston Bombing Suspect
• New issue of Qaida magazine out, but hacked
• U.S. designates Syrian rebel commander a terrorist
• US military options remain open in Syria crisis, Obama says
• NC House bill forbidding Islamic Sharia law passes
• Liberal groups attack state anti-Sharia statutes
• 'Jihadist Who Planned to Kill Non-Muslims' Arrested in NC
• Up to leaders of India and Pakistan to work on their ties: US
• US-led 41 navies press Gulf manoeuvres amid Iran tensions
Compiled by New Age Islam News Bureau
URL: https://newageislam.com/islamic-world-news/new-age-islam-news-bureau/when-you-attack-one-muslim,-you-attack-all-muslims--boston-bombing-suspect/d/11619
-----------
When You Attack One Muslim, You Attack All Muslims: Boston Bombing Suspect
AFP | May 17, 2013
NEW YORK: Boston bombing suspect Dzhokhar Tsarnaev wrote a note before his capture in which he called the victims "collateral damage" for US action in Afghanistan and Iraq, local media reported on Thursday.
"When you attack one Muslim, you attack all Muslims," Tsarnaev also scribbled on the inside wall of the boat where he hid from police during a massive manhunt in the days after the April 15 blasts, according to CBS News.
The twin explosions near the finish line of the Boston Marathon killed three people and wounded more than 260.
Citing unnamed sources, CBS News said the note claimed the bombings were payback for US military action in Afghanistan and Iraq and referred to the victims as "collateral damage."
Dzhokhar also said he did not mourn the death of his older brother Tamerlan, killed in a shootout with police, saying he was a martyr, the broadcaster said.
Federal prosecutors have charged Dzhokhar with using and conspiring to use a weapon of mass destruction, as well as the malicious destruction of property by means of deadly explosives.
He faces the death penalty if found guilty.
The case also allegedly involves three young students — two Kazakhs and an Ethiopian-American.
The Kazakhs — Dias Kadyrbayev and Azamat Tazhayakov — are being held on charges of covering up for the suspected Boston marathon bombers
According to prosecutors, the two went to Dzhokhar's dorm room at the University of Massachusetts — where they were all studying — and took his backpack and laptop and threw them away.
A third friend of the younger Tsarnaev, Robel Phillipos, was accused of lying to investigators after the blasts. He was ordered free on $100,000 bail May 6 as he awaits trial.
A lawyer for Tazhayakov said his client denies the charges against him.
"As far as where the case is going, the government alleges that my client gave consent for another defendant, Kadyrbayev, to enter the dorm room, which somehow created a conspiracy," Arkady Bukh said.
"We are trying to get more evidence in order to intelligently assess the case. At this time, my client is denying any involvement in the crime."
A hearing scheduled for the two Kazakhs was canceled on Tuesday to give the parties more time to prepare.
http://timesofindia.indiatimes.com/world/us/When-you-attack-one-Muslim-you-attack-all-Muslims-Boston-bombing-suspect/articleshow/20095371.cms
-----------
Arab world
Two Blasts at Iraqi Sunni Mosque Kill 43
May 17, 2013
BAQUBA, Iraq — Two bombs exploded outside a Sunni Muslim mosque the Iraqi city of Baquba as worshippers left after Friday prayers, killing at least 43 people in one of the deadliest attacks in a month-long surge in sectarian violence.
Attacks on Sunni and Shi'ite mosques, security forces and Sunni tribal leaders have spread since troops raided a Sunni protest camp near Kirkuk a month ago, and fears are intensifying of a return to all-out Shi'ite-Sunni conflict.
Increasingly sectarian civil war in neighbouring Syria is emboldening Iraqi Sunni insurgents and straining relations between the two Muslim groups in Iraq, where tensions are at their worst since U.S. troops pulled out at the end of 2011.
On Friday, one blast exploded outside the mosque in Baquba, about 50 km (30 miles) northeast of the capital of Baghdad, and a second explosion tore into crowds of people rushing to help victims of the first attack, police said.
Local television showed images of bodies on the ground outside the mosque, pools of blood and scattered shoes of the victims. Police vehicles rushed wounded away from the scene.
"I was about 30 metres (yards) from the first explosion. When the first exploded, I ran to help them, and the second one went off. I saw bodies flying and I had shrapnel in my neck," said Hashim Munjiz, a college student, at the site.
No group claimed responsibility for the attack, but Sunni Islamist insurgents and al Qaeda's local wing, Islamic State of Iraq, have stepped up attacks since the start of the year to try to provoke a wide-scale sectarian confrontation like the slaughter that killed tens of thousands of Iraqis in 2006-2007.
Shi'ite Islamist militias, which fought U.S. troops for years after the 2003 invasion, have said they are prepared in case they need to return to war. But Sunni insurgents sometimes hit Sunni targets to provoke conflict, including tribal leaders and politicians who oppose their extremist agenda.
On Thursday, a suicide bomber set off his explosives in a Shi'ite Muslim mosque in the ethnically mixed city of Kirkuk, killing at least eight among mourners gathered to pay respects to people killed in a bombing a day earlier.
The same day, three car bombs exploded in busy markets in eastern and northeastern Shi'ite districts of Baghdad, killing at least 14 people.
After U.S. troops left in 2011, insurgents were carrying out at least one big attack a month, but since the start of 2013, al Qaeda and other armed Sunni Islamist groups have increased attacks including a string of high-profile suicide blasts.
According to the United Nations, April was Iraq's bloodiest month for almost five years, with 712 people killed.
Also since the American withdrawal, Iraq's coalition government has been caught up in a power struggle between majority Shi'ites, minority Sunnis and ethnic Kurds who split cabinet posts among them. Rivals accuse Shi'ite Prime Minister Nuri al-Maliki of sidelining them to shore up Shi'ite power.
Sunnis, who lost their dominance when the U.S.-led invasion toppled Saddam Hussein, have been protesting for months against Maliki, demanding reforms to tough anti-terrorism laws they say are used to unfairly target their sect.
Iraqi Sunni insurgents, some linked to al Qaeda, have intensified attacks this year, claiming an alliance with the al-Nusra Front Islamist group fighting against Syrian President Bashar al-Assad.
(Reporting by Raheem Salman in Baghdad and a Reuters reporter in Baquba; Writing by Patrick Markey; Editing by Louise Ireland)
http://www.nytimes.com/reuters/2013/05/17/world/middleeast/17reuters-iraq-blast.html?ref=world&gwh=8716847A75460546A5ADE64BD59D2DD4&pagewanted=print
----------
Syria's Nusra Front Eclipsed by Iraq-Based Al Qaeda
May 17, 2013
BEIRUT — The most feared and effective rebel group battling President Bashar al-Assad, the Islamist Nusra Front, is being eclipsed by a more radical jihadi force whose aims go far beyond overthrowing the Syrian leader.
Al Qaeda's Iraq-based wing, which nurtured Nusra in the early stages of the rebellion against Assad, has moved in and sidelined the organization, Nusra sources and other rebels say.
Al Qaeda in Iraq includes thousands of foreign fighters whose ultimate goal is not toppling Assad but the anti-Western jihad of al Qaeda leader Ayman al-Zawahri - a shift which could extend Syria's conflict well beyond any political accord between Assad and his foes. The fighting has already cost 90,000 lives.
The break-up of an important part of Syria's opposition, already splintered into hundreds of armed groups, worsens the dilemma faced by the West as it debates whether intervention to support the rebels will result in arms being placed in the hands of hostile Islamist militants. And the if the West were to intervene, it may now be under pressure to attack al Qaeda opposition forces rather than Assad
"Nusra is now two Nusras. One that is pursuing al Qaeda's agenda of a greater Islamic nation, and another that is Syrian with a national agenda to help us fight Assad," said a senior rebel commander in Syria who has close ties to the Nusra Front.
"It is disintegrating from within."
Others said that Nusra's Syrian contingent has already effectively collapsed, with its leader Abu Mohammad al-Golani keeping a low profile and his fighters drifting off to join other rebel groups.
Nusra fighters have claimed responsibility for the deadliest bombings of the two-year-old Syrian conflict and their brigades have led some of the most successful rebel offensives against Assad's forces.
The group was formally designated a terrorist organization by the United States six months ago, a step which Washington said was vindicated by a declaration in April that Nusra was merging with al Qaeda's Islamic State of Iraq.
But the U.S. move drew criticism from Syrian rebels and opposition leaders alike, reflecting the fact that Nusra was able to win grudging support beyond its core Islamist base because of its fighters' discipline and battlefield successes.
Many Syrians turned a blind eye to the growing presence of foreign and Arab jihadi fighters in its ranks because Nusra fighters cooperated with other rebel brigades, worked to curb looting and provided help for displaced Syrians.
By contrast the head of the Islamic State of Iraq, Abu Bakr al-Baghdadi, who has moved into northern Syria to take tighter control over al Qaeda operations in the country, has few admirers among Syrian fighters.
They see him as a brutal figure with little time for the intricacies of Syria's struggle, focused less on toppling Assad and more on imposing a radical Islamist rule including religious courts and public executions. Many accuse him privately of hijacking their revolution.
"We reject his presence here on the ground. He should take his fighters and go back to Iraq," said a Nusra source who is close to Nusra leader Abu Mohammad al-Golani. "We are not happy with the way he operates nor with his methods."
BAGHDADI STEPS IN
Baghdadi's announcement in early April that his Islamic State of Iraq was formally merging with Nusra to form the Islamic State of Iraq and the Levant clearly took the Syrian Nusra rebels by surprise.
Golani said he had not been consulted and, while swearing allegiance to al Qaeda's Zawahri, insisted his fighters would continue to operate under their own Nusra Front banner.
"Golani pledged religious allegiance to Zawahri, but not political or military (allegiance)," said the Nusra source close to Golani. "It was an attempt by Golani to keep his distance from Baghdadi."
But the move did not help. Soon after, in a direct challenge to Golani, Baghdadi travelled from Iraq to a town in Syria's Aleppo province, where he was joined by Arab and foreign jihadis who had formerly fought for Golani's Nusra.
Rebels say the rift continued to widen and the foreign and Arab wing is now operating formally under the banner of the Islamic State of Iraq and the Levant, while many Syrian Nusra fighters have dispersed to join other Islamist brigades.
"The situation has changed a lot. Baghdadi's men are working but Nusra is not working formally anymore," said another Nusra source. "Those with Baghdadi are the fiercest fighters at all. The brothers are trying to avoid them as much as possible."
The source, and other Syrian Nusra fighters who spoke to Reuters, said they feared Baghdadi's supporters would alienate Syrians in the same way that their hardline agenda turned Iraqis against them, paving the way for U.S.-backed Sahwa militias to turn the tide against al Qaeda in western Iraq in 2007.
"A TRAP FOR GOLANI"
Nusra sources said they were waiting for Zawahri to settle the issue, hoping he would call on Baghdadi to return to Iraq.
"We have two choices now. Either Zawahri announces the separation of Syria's Nusra from Iraq's Islamic State, or he orders Baghdadi to stay (in Syria) and if this happen then its a disaster," said one Nusra source. "Baghdadi has harmed the Nusra Front. He caused great damage and broke up the front."
But the Syrian rebel commander, who is from a Western-backed rebel group, said that Baghdadi already had Zawahri's blessing when he moved in.
"They set a trap for Golani," he said. "They wanted a foot inside (Syria) and helping Golani at the start with men and arms provided that, until they became stronger so they took over."
In a telling video published this week, masked fighters from Islamic State of Iraq and Levant executed three men they said were officers from Assad's Alawite minority sect in the eastern town of Raqqa.
After the shootings there were only muted chants of support for the fighters and activists said that small protests broke out at night condemning the execution and calling on the fighters to fight Assad instead of executing people.
Several Nusra fighters said they feared that if Baghdadi's influence continued to grow, his ultra-radical agenda would see the Iraqi Sahwa phenomenon played out again in Syria.
"We as Syrians do not want a repeat of that. The Baghdadi men have declared the Nusra fighters who left him... as infidels. We still reject his state, if Zawahri does not put an end to this then the situation will get worse," one said.
The senior rebel commander said he even expected the growing clout of Baghdadi's fighters would finally end the West's reluctance to intervene militarily in Syria - not against Assad, but his hardline enemies.
"We expect soon drone attacks, like Yemen, to begin against al Qaeda members," he said.
GOLANI GOES TO GROUND
Meanwhile Golani, who was formally declared a terrorist by Washington on Thursday, is now in hiding. "He has gone to ground until the problem is solved," said a source close to Golani.
Even though few people even know what Golani looks like, and fewer still have met him, he has gained popularity among Syrians and songs have been written to celebrate his exploits.
His real name is not known even to some of his fighters and many people long suspected that he was a fictitious fighter created to give a Syrian 'front' to the Iraqi al Qaeda.
Sources say he is Syrian and in his 40s, roughly the same age as Baghdadi. He is currently in rural Damascus province, they say, accompanied by some of his remaining fighters.
Baghdadi, an Iraqi, helped fund Nusra fighters, who also had financial support from private donors in Arab Gulf countries. The Iraqi wing is financed from al Qaeda's global support network.
One Nusra fighter said he believed Baghdadi held a personal grudge against Golani because of his standing in Syria.
Golani, a radical Sunni Muslim, won popularity in Syria even among some Christians, according to the Nusra fighter. "Baghdadi did not like this," the fighter said.
"Baghdadi and the (al Qaeda) leadership consider the Muslim Brotherhood, the Free Syrian Army and other factions including Christians as infidels and when they saw Golani was on good terms with them they were not happy."
"That is why he announced the Islamic State of Iraq and Levant without any consultation with Golani, and he is in charge to operate in his old failed way."
(Editing by Dominic Evans and Giles Elgood)
http://www.nytimes.com/reuters/2013/05/17/world/middleeast/17reuters-syria-crisis-nusra.html?ref=middleeast&gwh=E26F365795B14E1643A09F80269FAD93&_r=0&pagewanted=print
--------------
Sermons at Two Holy Mosques in Makkah and Madinah in English too
17 May 2013
Sermons delivered at the Two Holy Mosques in Makkah and Madinah will soon be translated into English for the benefit of millions of non-Arabic speakers around the world.
The General Presidency of the Two Holy Mosques and the Imam Muhammad bin Saud Islamic University (IMIU) has signed an agreement to facilitate the English sermons. The university will supervise the translations of the sermons and lessons delivered at the Two Holy Mosques.
Sheikh Abdul Rahman Al-Sudais, head of the presidency, and Suleiman bin Abdullah Aba Al-Khail, IMIU's rector, signed the deal. According to the Dean of Languages and Translation at IMIU, 76 sermons totalling 1,027 pages have been compiled so far.
Al-Sudais thanked the Saudi leadership and the University for supporting the project which would spread the message of Islam across the world.
http://www.arabnews.com/news/451897
-----------
Kuwait bars expats from morning visits to hospitals
May 17, 2013
KUWAIT CITY — Kuwait is to bar foreigners from attending public hospitals in the mornings, local media reported on Thursday, in a decision activists labelled as "racist".
Health Minister Mohammad Al-Haifi, who is also a surgeon, ordered that the outpatient clinics at the public hospital in Jahra, west of Kuwait City, will only receive Kuwaiti patients in the morning from June 1.
Full report at:
http://www.saudigazette.com.sa/index.cfm?method=home.regcon&contentid=20130517166093
-----------
Syrian jihadists executed regime supporters: video
May 16, 2013
A video distributed on Thursday by the Syrian Observatory for Human Rights shows jihadists in the east of the country executing supporters of the regime of President Bashar al-Assad.
The Britain-based watchdog did not specify whether the men killed were combatants, nor did it say when the footage was shot.
The men killed by Al-Nusra Front, a jihadist organisation operating in Syria that the United States has classed as "terrorist" "are supporters of the Assad regime, but we cannot know whether they were regime troops", watchdog director Rami Abdel Rahman told AFP.
Full report at:
http://www.hindustantimes.com/world-news/restofasia/Syrian-jihadists-executed-regime-supporters-video/Article1-1061261.aspx
-----------
Lebanon Army Prohibits Nakba Demonstration in Maroun al-Ras
May 17, 2013
Yesterday [May 15] the Lebanese army refused to grant permits to about 150 Palestinian refugees living in Lebanon to travel today to the village of Maroun al-Ras on the Israeli border to demonstrate in commemoration of Nakba Day and to demand the right of return for Palestinian refugees in accordance with UN Resolution 194.
Informed sources told Al-Monitor that at the beginning of this month, Hezbollah and several Lebanon-based Palestinian factions requested that the Lebanese army allow demonstrators to go to Maroun al-Ras. The town falls within the United Nations Interim Force In Lebanon (UNIFIL)'s area of ??operations under UN Resolution 1701, which ended hostilities between Hezbollah and Israel in 2006. The request would have put the number of Palestinians to attend the demonstration at 150.
Full report at:
http://www.al-monitor.com/pulse/originals/2013/05/lebanon-army-prevents-nakba-commemoration.html
-----------
1,000 artworks showcase Madinah as Islamic Cultural Capital 2013
16 May 2013
Students in the Department of Art Education at Taibah University displayed their works at an art exhibition, on the sidelines of the university's participation in the yearlong celebrations of Madinah as Capital of Islamic Culture for the year 2013.
Director of Taibah University Adnan bin Abdullah Al-Mazroua inaugurated the exhibition on Tuesday.
Full report at:
http://www.arabnews.com/news/451773
-----------
Syria's civil war is deja vu of regime change in Libya
By John Price
May 16, 2013
The Arab Spring that prompted the ouster of authoritarian regimes in Tunisia, Egypt and Libya also led to the rise of Islamists who are bent on creating Islamic states that adhere to Shariah law — and that fate could await Syria after dictator Bashar Assad falls.
The democratically elected governments of Tunisia, Egypt and Libya are either led or beset by Islamists.
Libyan President Mohammed Magerief, leader of the General National Congress, is at risk of being overthrown by the Islamist extremists.
Tunisian President Moncef Marzouki faces a similar challenge from radical Salafists — members of a fundamentalist Islamic sect.
Full report at:
http://www.washingtontimes.com/news/2013/may/16/syrias-civil-war-is-deja-vu-of-regime-change-in-li/?page=2#ixzz2TXCxrDvY
-----------
Illegal workers use grace period to make money
17 May 2013
Illegal workers here are trying to make as much money as possible before July 3, the end of the three-month grace period, which requires them to either rectify their status or go home.
In Al-Salam district in Madinah, Arab News found dozens of illegal workers looking for work.
Ghulam Afdal, an iqama violator, said that the city needs workers because of the massive developments taking place. Afdal said that he and his friends want to make as much money as they can and then go home.
Full report at:
http://www.arabnews.com/news/451893
-----------
Soldier Gets Life Without Parole in Iraq Killings
By THE ASSOCIATED PRESS
May 17, 2013
JOINT BASE LEWIS-MCCHORD, Wash. — An Army sergeant was sentenced Thursday to life in prison without parole for the 2009 killings of five fellow service members at a combat stress clinic in Iraq.
A military judge, Army Col. David Conn, found Sgt. John Russell guilty of premeditated murder on Monday and imposed the sentence Thursday morning. The only other possible penalty for Russell would have been life in prison with the possibility of release.
Russell will be transferred within the next several days to Fort Leavenworth in Kansas, Army spokesman Lt. Col. Gary Dangerfield said late Thursday.
Full report at:
http://www.nytimes.com/aponline/2013/05/16/us/ap-us-iraq-shooting-sentence.html?ref=world&gwh=9B7C57470B23E809945FADB237AC2DD2
-----------
Egypt Police Close Gaza Border to Protest Kidnap
May 17, 2013
RAFAH, Egypt — An Egyptian security official says policemen at the country's main crossing point into the Gaza Strip have closed the border on their own initiative to protest the abduction of their colleagues.
The official said Friday that the guards will keep the border closed until four of their colleagues, who were abducted in the Sinai peninsula Thursday with three others, are freed. He spoke anonymously according to the rules.
Full report at:
http://www.nytimes.com/aponline/2013/05/17/world/middleeast/ap-ml-egypt-sinai.html?ref=middleeast&_r=0&gwh=88A3F80868D07A361904D7765C8497E5
-----------
India
Jamiat Ulema-e-Hind, West Bengal seeks support for Jamaat-e-Islami of Bangladesh
May 17 2013
Kolkata : MUSLIM leader and general secretary of Jamiat Ulema-e-Hind, West Bengal, Siddiqullah Chowdhury today stood in support of Jamaat-e-Islami of Bangladesh and said that everyone in Bengal, irrespective of party and religion, should come together to resolve the problem those people have been facing from the Sheikh Hasina government.
"Bangladesh is looking at us. Seven districts of Bengal share their border with Bangladesh. It is time we did something for them. I urge all the political parties - be it TMC, CPM or the Congress - to raise their voices against the injustice being meted out there. I appeal to Chief Minister Mamata Banerjee to put pressure on the government there to stop atrocities there. It is not fair that she asks for Muslim votes and when the time comes for showing some genuine feelings for them, she keeps mum," Chowdhury said at a civic convention put up by 15 Muslim and Human Rights' Organisations today.
Full report at:
http://www.indianexpress.com/news/sidiqullah-seeks-support-for-bangladesh-jamaat/1116971/
-----------
Ajmer Dargah dewan urges followers to fight against terrorism
May 16 2013
Ajmer : Spiritual head and Dewan of the Ajmer Dargah, Zainual Abedin Ali Khan, today passed a resolution against terrorism asserting that terrorism in any form, from scaring to killing innocents, is un-Islamic and against the humanity.
He urged followers of Sufi saints to fight the menace of terrorism and expressed that the country is reeling under frequent acts of terrorism by extremist forces, intending to create communal disharmony.
The resolution was passed in an annual meeting with spiritual heads of leading Sufi shines in the country, which was held at Khankah inside the Dargah during the ongoing 801st annual Urs of Khawaja Gharib Nawaz.
Full report at:
http://www.indianexpress.com/news/ajmer-dargah-dewan-urges-followers-to-fight-against-terrorism/1116708/
-----------
Suspected Hizb ul militant Liyaqat Shah gets bail
May 17, 2013
Suspected Hizb ul militant Liyaqat Shah has been granted bail by the special NIA court in a case of alleged conspiracy to carry out terror attacks in Delhi on Holi this year.
Shad had approached the court on Monday and sought bail claiming that no concrete evidence had been found against him during the probe.
Forty five-year-old Shah was arrested by the special cell of Delhi Police on March 20, 2013. He moved the bail application during an in-chamber hearing before district judge IS Mehta who posted it for hearing on May 15, sources said.
Full report at:
http://www.hindustantimes.com/India-news/NewDelhi/Suspected-Hizbul-militant-Liyaqat-Shah-gets-bail/Article1-1061467.aspx
-----------
Afghanistan seeks enhanced military help from India
TNN | May 17, 2013
NEW DELHI: As India prepares to host President Hamid Karzai next week, in what will be his second visit to the country in six months, Afghanistan said on Thursday it is looking at enhanced defence engagements with New Delhi, including supply of lethal military equipment.
The government has so far been reluctant to offer more military help to Afghanistan restricting itself to mostly training Afghan military staff in India only. Karzai is expected to land here on Tuesday after attending a function in Punjab where he will receive a doctorate from a local university. President Pranab Mukherjee is also expected to attend the function.
Full report at:
http://timesofindia.indiatimes.com/india/Afghanistan-seeks-enhanced-military-help-from-India/articleshow/20097945.cms
-----------
With Ajmer Urs, Akhilesh's please-all holiday list gets longer
May 17 2013
Lucknow : In the caste-ridden political scene of Uttar Pradesh, successive goverments in the state have doled out public holidays to please different communities. The latest is Chief Minister Akhilesh Yadav's announcement of a public holiday on the occasion of annual Urs at the dargah of Khwaja Moinuddin Chishti at Ajmer on May 17.
During his 13-month tenure, Akhilesh has, in fact , announced three public holidays — Nishadraj Jayanti (April 5), Ajmer Urs (May 17) and Valmiki Jayanti (October 29).
Full report at:
http://www.indianexpress.com/news/with-ajmer-urs-akhileshs-pleaseall-holiday-list-gets-longer/1116881/
-----------
Consultant inspects site for AMU study centre at Kishanganj
May 17 2013
Kishanganj : A private consultancy hired by the Aligarh Muslim University (AMU) today inspected the site of its proposed study centre in Bihar's Kishanganj district as part of preparations of the Detailed Project Report (DPR) in this regard, according to the expert consultant Kunal Mathur.
A five-member team of the private consultant - M/S India Ltd - inspected the site in order to prepare the DPR for the AMU's study centre there, Mathur told reporters.
Full report at:
http://www.indianexpress.com/news/consultant-inspects-site-for-amu-study-centre-at-kishanganj/1117081/
-----------
Pakistan frees 51 Indian fishermen as goodwill gesture
PTI | May 17, 2013
ISLAMABAD: Pakistan on Friday announced it would free 51 Indian fishermen who had completed their prison terms as a gesture of goodwill.
"Prime Minister Mir Hazar Khan Khoso has decided to release 51 Indian fishermen on humanitarian grounds as a gesture of goodwill. These prisoners have already served their sentences," said a statement from the caretaker premier's office.
Khoso expressed the hope that the Indian government would reciprocate by freeing Pakistani prisoners.
The statement did not say when the prisoners would be repatriated.
The decision to release the fishermen was made at a meeting attended by interim law minister Ahmer Bilal Soofi, caretaker Sindh chief minister Zahid Qurban Alvi and senior officials of the interior, foreign and law ministries and the Prime Minister's secretariat.
Full report at:
http://timesofindia.indiatimes.com/world/pakistan/Pakistan-frees-51-Indian-fishermen-as-goodwill-gesture/articleshow/20103696.cms
-----------
Pakistan
Bombs at mosques in northwest Pakistan kill 10
AP | May 17, 2013
PESHAWAR, Pakistan: Police say bombings at two mosques in northwest Pakistan have killed at least 10 people.
Tribal police officer Badshah Rehman says the blasts Friday in Baz Darrah village in the Malakand district of Khyber Pakhtunkhwa province also wounded over 30 people.
Rehman says the roof of one of the mosques collapsed following the explosion. The other mosque was also badly damaged. Rescue workers are trying to retrieve bodies from the rubble.
No one has claimed responsibility for the blasts, but suspicion will likely fall on the Pakistani Taliban.
http://timesofindia.indiatimes.com/world/pakistan/Bombs-at-mosques-in-northwest-Pakistan-kill-10/articleshow/20104805.cms?
-----------
Blasts in Malakand kill 15
May 17, 2013
PESHAWAR: Two bombs exploded near separate mosques after Friday prayers in Malakand Division's Bazdara area killing 15 persons and injuring at least 100 others.
Deputy Commissioner of Malakand Amjad Ali confirmed that 15 persons were killed and 100 others injured in the two blasts adding that the number of casualties was expected to increase.
An eye witness, Aalam Khan, told Dawn.com that two blasts rocked the Bar Kalley and the main Jamia Masjid of the Bazdara region after Friday prayers.
Full report at:
http://beta.dawn.com/news/1011874/blast-in-malakand-kills-four
-----------
Five soldiers killed in attack on convoy in Mattani
May 17, 2013
PESHAWAR: Five security personnel were killed and six inured in militants' attack on Engineer Battalions vehicle near Sara Khawara area in Mattani on the border of the restive Dara Adamkhel in Khyber Pakhtunkhwa province.
The militants also attacked a police Armored Personnel Carrier injuring four police officials just a few yards away from the site of the first attack.
Full report at:
http://dawn.com/2013/05/17/five-soldiers-killed-in-attack-on-convoy-in-mattani/
-----------
Peace process with India likely to gain pace, says Foreign Office
May 17, 2013
ISLAMABAD, May 16: The Foreign Office said on Thursday that it expected the peace process with India to gain pace after the installation of the new government.
"We hope that the dialogue process would pick up momentum in all areas," Foreign Office spokesman Aizaz Chaudhry said at the weekly media briefing.
The peace process has been on a virtual hold since the violations of the Line of Control in Kashmir at the start of this year. Tensions resurfaced when an Indian prisoner, Sarbjeet Singh, died after an attack by inmates in Lahore jail and a Pakistani, Sanaullah, was fatally beaten in Jammu jail. Another Pakistani, Abdul Jabbar, was injured in an attack in Tihar prison.
Full report at:
http://beta.dawn.com/news/1011752/peace-process-with-india-likely-to-gain-pace-says-fo
-----------
Foreign Office non-committal on MQM chief's anti-Pakistan statements
May 17, 2013
ISLAMABAD: Foreign Office on Thursday chose to remain non-committal over the controversial statements of MQM chief Altaf Hussain and tried to sweep the issue under the carpet.
However, upon insistence of journalists, Foreign Office spokesman Aizaz Ahmad Chaudhry told the weekly news briefing that he needs political guidance in order to comment on this issue. Separately, he said Pakistan and China would sign several memoranda of understanding (MoUs) for cooperation in various fields during the forthcoming visit of Chinese Prime Minister Li Keqiang to Pakistan. Chaudhry said that details of these MoUs are being worked out.
Full report at:
http://www.dailytimes.com.pk/default.asp?page=2013\05\17\story_17-5-2013_pg7_2
-----------
Twins born during elections named Nawaz and Shahbaz Sharif
May 17, 2013
LAHORE: A pair of twins – born in Raiwind, Lahore on the election day – were named Nawaz and Shahbaz Sharif, Express News reported on Friday.
Parents of the twins, Siraj and his wife Zahida, were all set to vote in the May 11 elections when the wife felt unwell.
Standing in the voting line, Zahida had to be then shifted to a hospital immediately.
The couple decided to name their newborn children Nawaz and Shahbaz Sharif to commemorate the historic day and Pakistan Muslim League – Nawaz's (PML-N) win.
http://tribune.com.pk/story/550656/twins-born-during-elections-named-nawaz-and-shahbaz-sharif/
-----------
3 arrested for selling explosives to militants
May 17, 2013
PISHIN: Law enforcement agencies arrested three persons who were involved in selling explosives to banned-militant organisations. According to sources, the three arrested persons carried license to sell explosives to mining companies. The sources said that instead of selling explosives to the mining companies, they were selling it to militants. The police also recovered 500 kg of explosives from their custody.
http://www.dailytimes.com.pk/default.asp?page=2013\05\17\story_17-5-2013_pg7_8
-----------
Anti-terrorism slogan main reason behind ANP defeat: Asfandyar
May 17, 2013
ISLAMABAD: Accepting defeat in the general elections 2013, Awami National Party (ANP) chief, Asfandyar Wali Khan claimed his party's anti-terrorism slogan was the main reason behind their defeat.
Addressing a press conference after the party's Central Executive Committee (CEC) meeting, Asfandyar Wali Khan said that despite their reservations over the general elections, the party accepts the results.
Party members from all the four provinces participated and deliberated over the reasons for their humiliating defeat.
Full report at:
http://www.dailytimes.com.pk/default.asp?page=2013\05\17\story_17-5-2013_pg7_14
-----------
3rd World countries must collaborate for peace, progress: PML-Q leader
May 17, 2013
ISLAMABAD: Senior PML-Q leader and Defence Production Senator Mushahid Hussain Syed said international transformation is taking place and consequently, the balance of economic, political and cultural power is shifting from West to East. He added that this is high time that we must utilize this opportunity for making 21st century an Asian century.
He expressed these views in a meeting with a group of 39 mid-carrier foreign diplomats from Asia and African region at parliament house. The foreign diplomats were given comprehensive briefing regarding the role of the parliament particularly senate by special Secretary Senate Amjad Pervaiz. He informed the participants that parliament has played significant role in strengthening democracy and its continuity as depicted by holding of recent general elections in the country and peaceful transition from one democratically elected government to another.
Full report at:
http://www.dailytimes.com.pk/default.asp?page=2013\05\17\story_17-5-2013_pg11_7
-----------
Balochistan election: PPPP pleads for re-election in Baloch belt
May 17, 2013
ISLAMABAD: Members of Pakistan Peoples Party Parliamentarians (PPPP) in Balochistan on Thursday appealed to election authorities to hold polls again in the Baloch-dominated areas of the province.
At the same time, the party rejected the results of the May 11 polls just as the Balochistan National Party-Mengal (BNP-M) had done earlier.
"We renounce the May 11 results," Senator Sardar Fateh Muhammad Hasni told the Senate Standing Committee on Interior. "Ninety per cent of the elections were not held in the province as people did not come out of their homes to vote," Hasni said.
Full report at:
http://tribune.com.pk/story/550533/balochistan-election-pppp-pleads-for-re-election-in-baloch-belt/
-----------
Pakistan police arrest leader of gang that kidnapped Gilani's son
PTI | May 17, 2013
ISLAMABAD: Pakistani police on Friday claimed they had arrested the leader of the gang that kidnapped former premier Yousuf Raza Gilani's son Ali Haider, even as security forces were continuing their search for him.
Haider was abducted on May 9 while he was campaigning in his hometown of Multan in Punjab province for the elections. The kidnappers shot and killed his secretary and a bodyguard.
Police officials told the media that they arrested the suspect ring leader, identified as Wazir Gul, in Mardan district of the northwestern Khyber-Pakhtunkhwa province.
Full report at:
http://timesofindia.indiatimes.com/world/pakistan/Pakistan-police-arrest-leader-of-gang-that-kidnapped-Gilanis-son/articleshow/20102611.cms
-----------
Southeast Asia
'Haram' to protest through 'illegitimate channels', Muslims told in the official Friday sermons
May 17, 2013
KUALA LUMPUR, May 17 — It is "Haram" to rebel and fight against the nation's leaders, including by protesting their decisions through "illegitimate channels", Muslims nationwide were told today in the official Friday sermons prepared by the federal government.
This comes as a series of rallies called "Black 505" are held nationwide by Pakatan Rakyat (PR) to protest the results of Election 2013, which have led to PKR's Nik Nazmi Nik Ahmad being charged under the Peaceful Assembly Act (PAA) 2012 today.
"Rebelling against leaders and to fight them, the verdict is haram (forbidden)," said the Friday sermon by the Malaysian Islamic Development Department (JAKIM) that was uploaded onto its official website today.
"Among those which counts as rebellion is to protest — without using a legitimate channel — the decision of leaders made based on the powers bestowed on them to administer the country."
The sermon stressed that disaster and Allah's wrath might rain down on those who continue their protests against leaders who have proven themselves in preserving Islam and peace.
JAKIM backed its argument by quoting Muslim clerics Imam Nawawi and al-Mawardi, who wrote in his tome "al-Ahkam al-Sultaniah" that obeying leaders also includes obeying appointed peacekeepers such as the nation's police force.
Full report at:
http://www.themalaysianinsider.com/malaysia/article/haram-to-protest-through-illegitimate-channels-muslims-told/
-----------
Renowned Jesuit priest protests award for Indonesian President
May 17 2013
Rev. Franz Magnis Suseno, a philosopher and renowned Jesuit priest, has sent a letter to the Appeal of Conscience Foundation (ACF), objecting to its plans to bestow the World Statesman Award to President Susilo Bambang Yudhoyono for promoting religious tolerance in Indonesia.
"During the eight-and-a-half years of his presidency, Yudhoyono has never told Indonesians to respect minority rights. He obviously does nothing to protect minority groups," Suseno said, as quoted by tempo.co.
Full report at:
http://www.thejakartapost.com/news/2013/05/17/renowned-priest-protests-award-sby.html
-----------
Mob Attacks Ahmadiyah Mosque in East Java
May 17, 2013
A mob of more than 100 people damaged an Ahmadiyah mosque in Tulungagung, East Java, on Thursday night.
Baitul Salam mosque, located in Gempolan village, Tulungagung, had its windows and entrance door destroyed after the mob, which consisted of youths from Gempolan village and neighboring areas, threw stones at it at 9:30 p.m.
"It was spontaneous, the mosque was destroyed by young people," said Sarijan, a local resident whose house is near the mosque, on Friday, as quoted by Tempo.
Full report at:
http://www.thejakartaglobe.com/news/mob-attacks-ahmadiyah-mosque-in-east-java/
-----------
Malaysian Muslims should forget ideological differences
May 17, 2013
GURUN, May 17 — Muslims in this country should forget their political ideology differences heightened during the recent 13th general election campaign and reunite now for the sake of unity of the Ummah (Muslim community), said Minister in the Prime Minister's Department Datuk Seri Jamil Khir Baharum.
He said Muslims must not drag on or prolong their differences as this could weaken the community.
"Surely during the election fever there were hot issues that we were divided about, but we should cast aside all ill feelings now in order to strengthen unity which is so crucial for the Muslim community."
Full report at:
http://www.themalaysianinsider.com/malaysia/article/jamil-muslims-should-forget-ideological-differences/
-----------
Indonesia Critical of United Nations Syrian Resolution Elements
May 17, 2013
The UN General Assembly condemned President Bashar al-Assad's "escalation" of the Syrian war on Wednesday but Indonesia, along with 58 other nations, including Brazil, South Africa and India, abstained.
After three years of civil war — and with the death toll topping 90,000 — leaders and envoys from world and regional powers are shuttling between capitals trying to drum up support for a negotiated end to the bloodshed. But the way forward is difficult, as shown by the vote of Syria's key ally Russia, a permanent Security Council member that fiercely opposed the UN resolution passed by 107 votes to 12 at the 193-member assembly.
Full report at:
http://www.thejakartaglobe.com/news/indonesia-critical-of-united-nations-syrian-resolution-elements/
-----------
Africa
Nigeria Military Shells Camps, Kills 21
May 17, 2013
MAIDUGURI, Nigeria — Soldiers in northeast Nigeria shelled suspected camps of Islamic extremists in the first military action of a new offensive against the insurgents, killing at least 21 people, a security official said Friday.
The fighting was in the Sambisa Forest Reserve, just south of Maiduguri, the capital of Borno state, which soldiers previously raided on the hunt for fighters belonging to the extremist network known as Boko Haram. Meanwhile, gunmen launched an assault on the hometown of one of Nigeria's former military rulers hundreds of miles (kilometers) away, attacking a police station and banks.
Full report at:
http://www.nytimes.com/aponline/2013/05/17/world/africa/ap-af-nigeria-violence.html?ref=world&gwh=72EF205CD110DDB02499B3424BA87B31
-----------
Rebuilding of Mali Faces Daunting Obstacles, Despite Outside Aid
By ADAM NOSSITER
May 17, 2013
DAKAR, Senegal — The outpouring of support may be more a sign of nervousness than altruism.
At an international conference in Brussels this week, donors pledged $4.2 billion for Mali on a range of fronts, including roads, energy and business development, hoping to help rebuild a nation that alarmed governments around the world when much of it collapsed and fell to Islamist militants last year.
Beyond the money, the United Nations plans to deploy 12,600 peacekeepers this summer to make sure the militants do not return, while a host of outside powers, with France and the United States in the lead, are keeping a watchful eye on preparations for elections the Malians have promised for July.
Full report at:
http://www.nytimes.com/2013/05/17/world/africa/rebuilding-of-mali-is-daunting-task-despite-aid.html?ref=global-home&gwh=0CBDD69130271D1BB71E2A51117F214C&_r=0
-----------
Young Libyans find escape in Tripoli's 'secret' cinema
Ghaith Shennib
May 17, 2013
TRIPOLI — In the basement of a villa in central Tripoli, young Libyans seeking an escape from violence and disorder watch an American movie classic screened using a simple projector and laptop.
They may feel they have plenty to relate to in James Dean's teenage character as he battles society's constraints and institutions in "Rebel Without A Cause".
Nearly two years after the revolution that toppled dictator Muammar Gaddafi, Libya's progress toward democracy has been stalled by political infighting and the growing boldness of some of the powerful rebel factions that helped end his 42-year rule.
Full report at:
http://www.saudigazette.com.sa/index.cfm?method=home.regcon&contentid=20130517166072
-----------
Mass grave found near Libyan town of Tawergha
May 17, 2013
TRIPOLI — A mass grave site with up to 25 bodies has been found in Tawergha, west of Misrata.
Misrata prosecutors were able to direct police to the location in the Subkha area of Tawergha, after questioning an officer from the Gaddafi regime.
Hamed Malki, the media manager at the Ministry of Martyrs and Missing People told the Libya Herald that there were three graves and that six bodies has so far been exhumed by the ministry's specialist researchers.
Full report at:
http://www.saudigazette.com.sa/index.cfm?method=home.regcon&contentid=20130517166091
-----------
South Asia
South Asian Muslims blame racism for attacks by Buddhists
By Richard S. Ehrlich
May 16, 2013
BANGKOK — Buddhists and Muslims are clashing with increasing ferocity in Myanmar, Thailand and Sri Lanka, where minority Islamic ethnic groups blame racism by majority Buddhists more than religious intolerance.
"It is like the KKK in America during the period of the civil rights movement," said Myo Win, a Muslim activist based in Yangon, Myanmar, comparing recent deadly attacks by Buddhists in his Southeast Asian country with the Ku Klux Klan, whose white-robed thugs terrorized blacks during the 1960s.
"We are really afraid," Myo Win told a recent Bangkok conference titled "Violence in the Name of Buddhism."
In Myanmar, also known as Burma, the powerful military and civilian government doesn't accept 800,000 minority Muslims as citizens.
Full report at:
http://www.washingtontimes.com/news/2013/may/16/south-asian-muslims-blame-racism-attacks-buddhists/
-----------
Regime change won't affect ties: China to Pakistan
Saibal Dasgupta, TNN | May 17, 2013
BEIJING: China on Thursday assured Islamabad that a change of regime in Pakistan and Beijing's recent overtures towards India will not come in the way of their "all weather friendship". A Chinese minister said Pakistan continues to serve Beijing's strategic interests without actually mentioning its role as a bulwark in India-China relations.
At the same time, vice foreign minister Song Tao said China will offer India a basket of golden eggs consisting of direct investments, industrial loans and enhanced trade. It is offering to come up with a new shopping list to bump up two-way trade over the next two years by 50%. The purpose is to reach $100 billion in line with an earlier India-China agreement, which looks highly ambitious today.
Full report at:
http://timesofindia.indiatimes.com/world/china/Regime-change-wont-affect-ties-China-to-Pakistan/articleshow/20097627.cms
-----------
Death penalty sought for Jamaat-e-Islami Secretary
May 17, 2013
Wrapping up its closing arguments in the war crimes case against Jamaat-e-Islami Secretary General Ali Ahsan Mohammad Mojaheed, the prosecution yesterday sought capital punishment for the accused.
"Nothing but the death penalty would be appropriate for such a devil [Mojaheed]," Prosecutor Tureen Afroz told the International Crimes Tribunal-2 at the end of the prosecution arguments.
The three-member tribunal led by Justice Obaidul Hassan with members Justice Md Mozibur Rahman Miah and Judge Md Shahinur Islam fixed May 22 for hearing the defence's closing arguments.
Full report at:
http://www.thedailystar.net/beta2/news/death-penalty-sought-for-mojaheed/
----------
MDP willing to discuss interim government with PPM: Nasheed
By Minivan News | May 16th, 2013
Former President Mohamed Nasheed announced the Maldivian Democratic Party's (MDP) willingness to discuss enacting an interim government with the Progressive Party of Maldives (PPM), which the party believes is essential for free and fair elections to occur.
The MDP has desired the establishment of an interim government since the controversial transfer of power of February 7, 2012 and is open to holding discussions with the PPM to establish a transitional government prior to September's Presidential elections, Nasheed stated during a press conference held at the Mookai Hotel in Male' today (May 16).
Full report at:
http://minivannews.com/politics/mdp-willing-to-discuss-interim-government-with-ppm-nasheed-58017
-----------
Lawmakers urge Bangladesh PM to ensure workers safety and rights
May 17 2013
Washington : More than two dozen Democratic lawmakers have urged Bangladesh to come out with a comprehensive plan to ensure worker safety and rights in view of the tragic death of more than 1100 workers in a Dhaka factory collapse.
"We believe there is simply no substitute for tough, comprehensive, uncompromising government support for legislation and administrative action that both empowers
workers and prevents more accidents from happening," the lawmakers wrote in a letter to the Bangladeshi Prime Minister Sheikh Hasina yesterday.
Full report at:
http://www.indianexpress.com/story-print/1117015/
-----------
Mideast
The Extent and Limits Of Qatar-Hamas Ties
The close relationship between the Muslim Brotherhood and Qatar is no hidden secret. It needs, however — in some cases, but not all — some scrutiny. It also needs some links between the divergent points so that the picture is clearer.
May 17, 2013
Hamas' relationship with Doha is part of the Muslim Brotherhood-Qatar relationship. But is the alliance — or cooperation — strategic and permanent, or is it temporary? And are there signs or indicators of a disagreement? For example, Hamas objected to the recent positions taken by Qatar, which headed the Arab League delegation to Washington that approved a limited exchange of land between Israelis and Palestinians.
Full report at:
http://www.al-monitor.com/pulse/originals/2013/05/qatari-hamas-alliance-meaning.html#ixzz2TXfc6DKV
-----------
Ultra-Orthodox Jews in mass protest against Israel army draft
May 17, 2013
Thousands of ultra-Orthodox Jews have protested in Jerusalem against plans to force members of their community to serve in the Israeli military.
Several people were arrested after bottles, stones and a smoke grenade were thrown at police. Protesters and police were hurt in the clashes.
Ultra-Orthodox Israelis are currently exempt from military service while they study in religious schools or yeshivas.
Secular Israelis object to this and plans are being made to enlist them.
Military service is compulsory for most Israelis over the age of 18, with men serving three years and women two. But many Ultra-Orthodox Israeli men spend much of their adult life in religious studies.
Full report at:
http://www.bbc.co.uk/news/world-middle-east-22565285
--------
Europe
International Islamist Movement Spreads to the North Caucasus
Mairbek Vatchagaev
May 17, 2013
The Jamestown Foundation has repeatedly reported on Hizb ut-Tahrir's (HuT) activities in Russia over the past several years. And as the investigation of the Boston bombings progresses, reports are surfacing in the West that Tamerlan Tsarnaev interacted with Magomed Kartashov, the leader of the Dagestan-based Union of the Just—essentially an offshoot of HuT (see Simon Shuster, Time.com, May 8). HuT is banned in Russia and has been driven underground, so Kartashov's Union of the Just is nothing more than an offshoot of HuT with a new label. Due to the poor level of Western understanding about this group and its activities in Russia, Jamestown felt it appropriate to provide its readers with some background information should further details emerge about the links between Tsarnaev and this HuT offshoot.
Full report at: The Jamestown Foundation
-----------
Russia says Iran must take part in proposed Syria talks
Reuters | May 17, 2013
MOSCOW: Russian foreign minister Sergei Lavrov said Iran must take part in a proposed international conference to end Syria's civil war, but that Western states wanted to limit the participants and possibly predetermine the outcome of the talks.
Conflicting comments from Russia and the West over Iran's role in the possible meeting have added to disagreements which already threaten to derail the conference proposed by Moscow and Washington last week.
Full report at:
http://timesofindia.indiatimes.com/world/middle-east/Russia-says-Iran-must-take-part-in-proposed-Syria-talks/articleshow/20097593.cms
-----------
Russia Sends More Advanced Missiles to Aid Assad in Syria
By MICHAEL R. GORDON and ERIC SCHMITT
May 17, 2013
WASHINGTON — Russia has sent advanced antiship cruise missiles to Syria, a move that illustrates the depth of its support for the Syrian government led by President Bashar al-Assad, American officials said Thursday.
Russia has previously provided a version of the missiles, called Yakhonts, to Syria. But those delivered recently are outfitted with an advanced radar that makes them more effective, according to American officials who are familiar with classified intelligence reports and would only discuss the shipment on the basis of anonymity.
Full report at:
http://www.nytimes.com/2013/05/17/world/middleeast/russia-provides-syria-with-advanced-missiles.html?ref=global-home&gwh=45D20F12295092B9FE9A9CB1E3F46310
-----------
U.N. for political transition in Syria
May 17, 2013
Fall in support for rebels compared to the one tabled in August
The General Assembly (UNGA) on Wednesday passed a non-binding resolution condemning the government of Syria and calling for political transition.
The vote passed with 107 of 193 nations in favour, 12 against and 59 abstentions, including India, representing a sharp fall in support compared to a similar resolution passed last August with 133 votes in favour, 12 against and 31 abstentions.
Full report at:
http://www.thehindu.com/news/international/world/un-for-political-transition-in-syria/article4721582.ece
-----------
Polish exports of meat for Jews, Muslims in limbo
May 17, 2013
WARSAW — For some, it was a barbaric way to treat animals. For others, it was great business.
Until January, slaughterhouses across Poland — a deeply Catholic nation — were the unlikely venues for the Islamic and Jewish slaughter of animals, which in both religions involves a swift cut to the throat of a conscious animal and death by bleeding. Millions of euros were being made exporting the halal and kosher meat to countries like Egypt, Iran and Israel, as well as to Muslim and Jewish markets inside Europe.
Full report at:
http://www.saudigazette.com.sa/index.cfm?method=home.regcon&contentid=20130517166079
-----------
Number of Syrian refugees tops 1.5 million: UNHCR
Registered Syrian refugees exceeds 1.5 million, UNHCR announces
17 May 2013
The number of Syrian refugees registered or awaiting registration has surpassed 1.5 million, the United Nations refugee agency (UNHCR) said on Friday.
"The fact that more than 1.5 million have registered or have appointments with UNHCR sadly means the actual number is much higher," UNHCR said in a statement issued in Geneva.
"Refugees tell us the increased fighting and changing of control of towns and villages, in particular in conflict areas, results in more and more civilians deciding to leave," it said.
http://english.ahram.org.eg/NewsContent/2/8/71659/World/Region/Number-of-Syrian-refugees-tops--million-UNHCR.aspx
---------
North America
New issue of Qaida magazine out, but hacked
PTI | May 17, 2013
WASHINGTON: A purported new issue of an English-language al-Qaida magazine, linked to the Boston terrorist attacks, has been posted on the web but its contents were hacked.
The 'Inspire' magazine, produced by al-Qaida's Yemeni affiliate, al-Qaida in the Arabian Peninsula, which regularly includes how-to instructions for followers to carry out terrorist attacks in the west, has received significant scrutiny in recent weeks.
Investigators believe that Boston bomber Tamerlan Tsarnaev accessed Inspire magazine, and the material had instructions on bomb-making, a law enforcement official told CNN.
Full report at:
http://timesofindia.indiatimes.com/world/us/New-issue-of-Qaida-magazine-out-but-hacked/articleshow/20106937.cms
----------
U.S. designates Syrian rebel commander a terrorist
May 17, 2013
The State Department on Thursday added the leader of an al Qaeda-linked Syrian rebel group to its global terror list, freezing any assets he might have in the U.S. and making it illegal for Americans or U.S.-based companies to do business with him.
"This will help choke their finances," a State department official told The Washington Times.
The move, the official said, is part of an effort by the United States and its European allies to try and marginalize the al-Nusra Front, the extremist militia which has been among the most successful rebel force on the ground in Syria — both militarily and in terms of the governance it offers the people who live in areas liberated from the Damascus regime of Syrian President Bashar al-Assad during the country's increasingly bloody two-year civil war.
Full report at:
http://www.washingtontimes.com/news/2013/may/16/us-designates-syrian-rebel-commander-terrorist/#ixzz2TXBh5VZc
-----------
US military options remain open in Syria crisis, Obama says
Reuters | May 16, 2013
WASHINGTON: President Barack Obama said on Thursday he reserves the right to resort to a range of both diplomatic and military options if he receives conclusive proof that the government of Syrian President Bashar al-Assad had used chemical weapons in the country's civil war.
Obama, at a joint news conference with Turkish Prime Minister Tayyip Erdogan, said there was evidence of chemical weapons use in Syria but that it is important to get "more specific information" to confirm that before deciding how to respond.
Full report at:
http://timesofindia.indiatimes.com/world/middle-east/US-military-options-remain-open-in-Syria-crisis-Obama-says/articleshow/20093348.cms
-----------
NC House bill forbidding Islamic Sharia law passes
May 17, 2013, Associated Press
A bill prohibiting the application of Islamic Sharia law in certain cases has cleared the North Carolina House.
The bill passed Thursday would prohibit judges and agencies from applying part of any foreign legal system that would lead to violations of constitutional rights in domestic and child custody cases.
Full report at:
http://www.news-record.com/news/north_carolina_ap/article_4af293c3-9862-53f1-bcf6-14622aeed73e.html
-----------
Liberal groups attack state anti-Sharia statutes
By Annie Yu
May 16, 2013
Moves by more than 30 states in recent years to curb the use of foreign law in U.S. courts has been fuelled by "anti-Muslim bigotry" and will present legal and practical problems for American courts and families, according to a new report released Thursday by a pair of leading liberal interest groups.
Legislators in at least 32 states have introduced or discussed such laws in the last two years, according the report released by the Brennan Centre for Justice and the Centre for American Progress (CAP). Oklahoma, Kansas, Louisiana, Tennessee and Arizona have already passed foreign law bans, while South Dakota has banned enforcement of any "religious code."
Full report at:
http://www.washingtontimes.com/blog/inside-politics/2013/may/16/liberal-groups-attack-state-anti-sharia-statutes/#ixzz2TXA8SgIU
-----------
'Jihadist Who Planned to Kill Non-Muslims' Arrested in NC
15 May 2013
A North Carolina man who the FBI says spoke of killing U.S. Army soldiers as part of a personal jihad has pleaded guilty to possessing a stolen firearm.
Erwin Antonio Rios, 19, admitted guilt Tuesday in U.S. District Court as part of a plea agreement with federal prosecutors. The terms of the agreement have not been made public, but the felony charge to which Rios pleaded guilty carries a maximum penalty of 10 years in prison.
Full report at:
http://www.newsmax.com/US/jihad-arrest-Fayetteville-informant/2013/05/15/id/504693
-----------
Up to leaders of India and Pakistan to work on their ties: US
PTI | May 17, 2013
WASHINGTON: As Pakistan's Prime Minister- elect Nawaz Sharif prepares to form his government, the US has said that it is up to the leaders of India and Pakistan to work on their relationship.
"In terms of the scope and how a developing relationship with Pakistan and India would take place, that would be up to those two parties to work out amongst themselves," state department spokesperson Jen Psaki told reporters.
Full report at:
http://timesofindia.indiatimes.com/india/Up-to-leaders-of-India-and-Pakistan-to-work-on-their-ties-US/articleshow/20101946.cms
-----------
US-led 41 navies press Gulf manoeuvres amid Iran tensions
17 May 2013
ABOARD USS PONCE: Divers leap from a helicopter into the Gulf's choppy waters to destroy a mine, while a US marine fires at a floating target, as forces from 41 countries gathered for naval manoeuvres facing Iran's shores.
The mine-sweeping exercise is being held close to the Strait of Hormuz, the strategic mouth of the Gulf that Iran has repeatedly threatened to block if attacked over its disputed nuclear program.
Full report at:
http://www.arabnews.com/news/451837
-----------
URL: https://newageislam.com/islamic-world-news/new-age-islam-news-bureau/when-you-attack-one-muslim,-you-attack-all-muslims--boston-bombing-suspect/d/11619