New Age Islam News Bureau
29 March 2018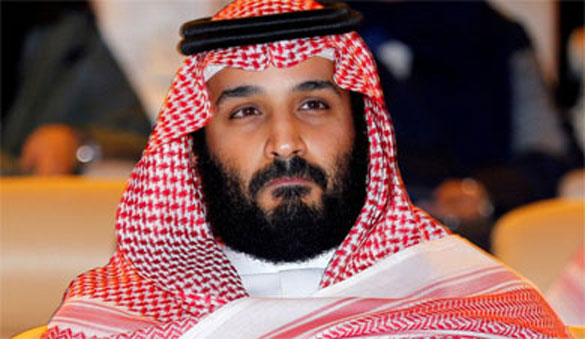 Saudi Crown Prince Mohammed bin Salman. © Hamad I Mohammed / Reuters
-----
• Western Countries Asked Us to Spread Wahhabism to Counter Soviets during Cold War, Says Saudi Crown Prince
• Saudi Cleric Al-Ghamdi: Abaya Is Not Mandatory as per Islam's Teachings
• Muslim Identity 'Flattened' In Today's India, Say Experts
• Militant Leader, Bin Laden Ally Roams Freely In Pakistan
• Cape Town Imam Calls on All Muslims, Free People to Support Jihad in 'Palestine'
• US Judge Rules against Saudi Arabia in Sept. 11 Case
• German Muslim Leader Urges Imams, Rabbis to Unite Against School Anti-Semitism
Arab World
• Western Countries Asked Us to Spread Wahhabism to Counter Soviets during Cold War, Says Saudi Crown Prince
• Saudi Cleric Al-Ghamdi: Abaya Is Not Mandatory as per Islam's Teachings
• Saudi Arabia's Crown Prince Meets with US Religious Leaders, Urges Tolerance
• Ancient Iraqi Statue Destroyed By Daesh Recreated In London
• Syria: Mass Grave of Terrorist Groups' Victims Discovered in Eastern Ghouta
• Aleppo Erupts in Protest at Turkey's Assault on Afrin, US Interference in Syria
• Jeish Al-Islam Refuses to Surrender Strongholds in Eastern Ghouta to Syrian Army
• Syrian army prepares "huge" operation in Douma as pressure mounts
• Syrian army finds Israeli-made munitions inside militant tunnel in Eastern Ghouta
• Egypt's Morsi faces premature death due to harsh jail conditions: Report
--------
India
• Muslim Identity 'Flattened' In Today's India, Say Experts
• Maldives' Engagement with China, Pakistan 'Too Secretive' For India
• Prohibitory Orders in Aurangabad, Bihar, After Violence, 150 Held
• Pakistan criticises India, G4 nations on UNSC reform
• J-K: Youth joins militant ranks, fifth in 10 days
• India increases aid to $5 million for Palestinian refugees
--------
Pakistan
• Militant Leader, Bin Laden Ally Roams Freely In Pakistan
• NACTA Launches Complaint Portal in Effort to Curb Online Extremism
• SC gives govt one month to bring back Haqqani
• US lawmakers suggest continuing ties with Pakistan: report
• JI to keep watch on developments after PM-CJP meeting: Siraj
• Afghan NSA 'optimistic' about peace talks, says Pakistan's role is central
• Pakistan urges more non-permanent seats in UNSC to ensure regional representation
--------
Africa
• Cape Town Imam Calls on All Muslims, Free People to Support Jihad in 'Palestine'
• American Drone Strike in Libya Kills Top Qaeda Recruiter
• Ghana protestors rally against US military deal
• Senegal FM visits Al-Aqsa accompanied by Israeli police
• Somalia: Ethiopia Says Will Prevent Al Shabaab Attacks
--------
North America
• US Judge Rules against Saudi Arabia in Sept. 11 Case
• Speaker Discusses Post-9/11 Impact on Muslim Youth
• Dallas Muslim community to celebrate expansion at local Allen mosque
• Trump urges Turkish help in talk with France's Macron
--------
Europe
• German Muslim Leader Urges Imams, Rabbis to Unite Against School Anti-Semitism
• May Urges UK Lawmakers to Stand Up Against Islamophobia and Anti-Semitism
• Turkish ex-mayor sought for terror links speaks at EC
--------
South Asia
• Muslim Hands Bangladesh Activities Update for Rohingya Refugees
• 4 Taliban militants killed in Afghan Air Force airstrike in Takhar
• Taliban warns Helmand youths participating in peace sit-in
• American Interfaith Leaders Laud Bangladesh for Sheltering Rohingya
• Nusrat operations underway to suppress militants in Helmand
• Myanmar Elects Aung San Suu Kyi Aide Win Myint as President
• US purchases new Scan Eagle drones for the Afghan military
--------
Mideast
• Turkey and Russia 'Form Secret Alliance' Over Syria War
• 10 UAE-Backed Troops Killed In Yemen Islamist Attack
• Saudi Prince Khalid Bin Salman: UAE 'Important Partner' In Yemen Efforts
• Turkey threatens action if Kurds do not evacuate Manbij
• Israel authorizes snipers to use live ammo against Palestinian protesters
• Turkish military building high-altitude base against PKK militants
• Israeli tanks shell two Hamas positions in besieged Gaza Strip
• Israel arrests hundreds of Palestinian workers before Jewish holidays
--------
Southeast Asia
• Indonesia's President Confident Of Winning Fight against Extremism
• Malaysia arrests seven men with Islamic State links over attacks plot
• Protests after Malaysia lawmakers vote to redraw electoral map
• Filipino extremist blamed for bombings, killings surrenders
Compiled by New Age Islam News Bureau
URL: https://www.newageislam.com/islamic-world-news/western-countries-asked-spread-wahhabism/d/114758
--------
Western Countries Asked Us to Spread Wahhabism to Counter Soviets during Cold War, Says Saudi Crown Prince
Mar 29, 2018
It was the Western countries that asked Saudi Arabia to accelerate the spread of Wahhabism, the virulent form of Islam accused of being the fountainhead of global terrorism, across the world to counter the Soviet Union during the Cold War, Crown Prince Mohammed bin Salman told the Washington Post in an interview.
Mohammed told the paper that Saudi's Western allies urged the country to bankroll the construction of mosques and madrasas in overseas to stop spread of Communism.
"Investments in mosques and madrasas overseas were rooted in the Cold War, when allies asked Saudi Arabia to use its resources to prevent inroads in Muslim countries by the Soviet Union," he told the paper in the interview that was initially off the record.
According to WaPo, the meeting, conducted in English, was held off the record. Later the Saudi Embassy allowed to use portions for the article.
"Funding now comes largely from Saudi-based "foundations," he said, rather than from the government.
India has been at the receiving end of Wahhabism, which is considered as the most stringent and often the virulent form of Islam giving rise to religious fundamentalism inside its territory and neighbouring Pakistan.
At the peak of Cold War, which coincided with the 1971 India-Pakistan war resulting in the liberation of Bangladesh, Saudi Arabia gave a loan of $20 million to Pakistan.
"Pakistan's President Zulfiqar Ali Bhutto, who took over after the surrender of his country's armed forces, went on a 'journey of ­res­istance' to Muslim countries seeking money to build an 'Islamic bomb'. The Saudis responded handsomely and later in 1974 Bhutto hosted the second ­summit of the OIC (Organisation of Islamic Cooperation). The Wah­hab­isation of Pakistan would begin soon afterwards during the rule of Zia ul-Haq. The Saudis now concentrated their ­attention on the education system by funding madrasas and universities".
Western countries, particularly the colonial Britain, is guilty of pushing Pakistan towards Wahhabism of Saudi-funded Deobandi madrasas that reduced the hold of Sufi Islam in south Punjab.
Ayesha Siddiqa in her essay 'Pakistani Madrasas' points out that "Saudi-Pakistan relations go back to the 1950s when, prodded by Britain, Pakistan drew closer to Saudi Arabia. However, religion did not play an important role then. Jinnah was seen in Saudi Arabia as an "English-speaking orientalist" with his Parsee wife. It was geopolitical interest, specifically the need to counter Soviet influence and Nasser's pan-­Arabism, that prompted Saudi Arabia to grow closer to Pakistan.
"The 1960s saw the start of large-scale Pakistani migration to the Gulf. Saudi-funded Deobandi madrasas reduced the hold of Sufi Islam in south Punjab. The Pakistan government does not have reliable statistics on the number of madrasas in the country; different agencies give different figures. Nor is there good information on the flow of money from Saudi Arabia.
However, the wake-up call came in the form of 9/11 attacks in the US that compelled the world to take note of the harm that the madrasas could do by encouraging ext­remism and violence.
Antonio Guistozzi, a Visiting Professor in the Department of War Studies in London School of Economics specialising in Afghanistan, in a piece for the book "The Islamic Connection: South Asia And The Gulf: "demonstrates that the Taliban's emirate did get money from Saudi Arabia and Qatar in 2003-04. It was Pakistan that persuaded the Gulf states to make these donations. The funds were initially routed through Pakistan, but later the two monarchies started giving money directly to the Taliban.
https://www.outlookindia.com/website/story/western-countries-asked-us-to-spread-wahabism-to-counter-soviets-during-cold-war/310157
--------
Saudi cleric al-Ghamdi: Abaya is not mandatory as per Islam's teachings
28 March 2018
Sheikh Ahmed al-Ghamdi, former head of the Committee for the Promotion of Virtue and Prevention of Vice in Mecca, said that the statement of Saudi Crown Prince Mohammed bin Salman regarding the "abaya" not being obligatory (all black cloak or dress), is consistent with the teachings of Islam.
He pointed out that the black color is not the only one permitted by Islamic law, but it happened due to the exploitation of certain fatwas by "Al Sahwa" group, and the promotion of the concept of the head cover and black color, as the main dress code (hijab) for Saudi women.
Al-Ghamdi said in an interview with Al Arabiya: "The cloak is meant for maintaining a modest look and it does not have to be black. If a woman wears clothes that serve the same purpose for her to be able to perform her duties whether to work or study, that's fine.
He added: "There is nothing wrong with the dress she wears, if it is not a black cloak, these attires may be different, yet do the necessary covering, without the need for any other dress on top.
Not based on the teachings of Islam
He explained that the color of the abaya and its design is not based on the teachings of Islam, but the main purpose is decency and concealment, "nothing is wrong with the color of the garment or its type."
He also noted that the black abaya dates back to the end of the Ottoman era, but in some hadiths and narrations it was mentioned that "the wives of the Prophet used to wear colors such as pale yellow and rose."
In other stories, he said: "There were some exaggerations obliging women to wear black, they refer to what Umm Salamah said that the women of Ansar appeared like "crows" when the verses referring to women attire were revealed, so they took on the color black as per their interpretation of the women's reaction back then, but there is nothing that states women are obliged to do so. Other narratives show that the prophet's wives wore colored clothes."
Al Sahwa group enforced it
In our present day, Al Sahwa group endorsed this understanding which has become part of people's thoughts and their subconscious that it must be worn by women, and that the cloak should cover the head, be black and loose.
However, the interpretation of the verse, " O Prophet, tell your wives and your daughters and the women of the believers to bring over themselves [part] of their outer garments," mean that women need to wear something that is not revealing whether it is abaya or any other piece of clothing without a specific distinction," he clarified.
https://english.alarabiya.net/en/features/2018/03/28/Saudi-cleric-Al-Ghamdi-Abaya-is-not-mandatory-as-per-the-teachings-Islam.html
--------
Muslim Identity 'Flattened' In Today's India, Say Experts
28th March 2018
NEW DELHI: Many organisations in the development sector that worked with Muslims did not want to acknowledge that they did so, and then there were some who did not want to work with them at all.
Activist and author Farah Naqvi said she realised the sombre truth during her research for her new book "Working with Muslims: Beyond Burqa and Triple Talaq" that was released by former vice president Hamid Ansari yesterday.
The issue of "flattening" Muslim identity in India echoed in the packed hall of the India International Centre where an eminent panel discussed the book, which investigates the reality of NGOs and their developmental work with Muslims in eight major states of India.
Written in collaboration with the Sadhbhavna Trust, the book studies 373 NGOs and their work with Muslims.
Of the 373, 79 are from Uttar Pradesh.
Ansari, who delivered the keynote address, set the ball rolling on the debate and said there was need to discard the 'virus' of considering Muslims with "apprehension, intolerance and otherness".
Discussing people's fear of working with Muslims even on something as acceptable as developmental work, Naqvi said she found during her research that a large number of organizations worked with the community but didn't want anyone to acknowledge it.
"There were also an equal number of organizations who simply did not want to work with Muslims in the first place," Naqvi said during the discussion that was attended by the likes of actor Sharmila Tagore and former Jammu and Kashmir chief minister Farooq Abdullah.
'A large number of organizations that we interviewed would ask Muslims? They would say, 'We don't know the identity map of the people we work with' we don't know if they are Hindus, Muslims Christians, Dalits. We just know that they are poor'," she told the gathering.
She quoted another respondent as telling her that this was a divisive way to look at development.
According to Naqvi, it was not just because of the present "aggressive" political environment that people want to hide the fact that they worked with Muslims.
"The secular baggage necessitates flattening of all identities beyond those of poor, even those identities that add to the layer of discrimination and impoverishment, and this at a time when Muslims in mainstream politics -- both at the level of representation and national concern -- are being invisibilized and marginalized," she said.
Social activist Harsh Mander, who was also on the panel, said after Partition this was the most difficult time for a Muslim to be in India.
"Fear has settled into the hearts and souls of Muslim people across religion, caste, class and gender and then the kind of stories I hear from my travels across the country Koi phone train mein kare toh as-salamu alaykum nahi kehna' (Don't greet in Urdu if someone calls while you are travelling in train).
Don't get into a fight. Don't get into an argument. Keep your head as low as possible."
The former IAS officer added that there are 180 million Muslims and they are central to the imagination of India, to its creation and to its future.
"BJP is the first ruling party that has no Muslim representative in the Lok Sabha and is happy about it" and the BJP can do that.
But Muslims have become castaways and political untouchables for other political parties too," said Mander.
Siddharth Varadarajan, founder-editor of the news portal The Wire, said there is an "endless cycle of poison" in the public sphere against Muslims.
"It was Culture Minister Mahesh Sharma who said that "APJ Abdul Kalam Musalman hote hue bhi itne bade desh bhakt the' (Despite being a Muslim APJ Abdul Kalam was a nationalist) and this is something he said while allegedly praising the former president," he said.
"Now, in any self-respecting democracy such a minister would not have survived his job but here we forgot about it " he has gone out to make other statements," he said.
Varadarajan also questioned the present government's "smartly coined slogan"
"Sabka Saath Sabka Vikas' and said it has a coded message it means that others were favoured until now, others have been appeased and we are stopping that appeasement under the garb of flattening out identities." He added that the term appeasement should have been 'retired hurt' in 2006 when the Rajinder Sachar Committee came out with its data, revealing the dismal social, economic and educational conditions of the Muslim community in the country.
http://www.newindianexpress.com/nation/2018/mar/28/muslim-identity-flattened-in-todays-india-say-experts-1793850.html
--------
Militant leader, bin Laden ally roams freely in Pakistan
By Kathy Gannon 
Mar 29, 2018
ISLAMABAD — He is crisscrossing Pakistan championing a fatwa, or Islamic religious decree, forbidding militant violence inside the country. But the mere fact that Fazlur Rehman Khalil, veteran leader of an organization designated as a terror group by the U.S., is free has experts questioning Pakistan's willingness to fight extremism.
Khalil, once a close friend of the late al-Qaida chief Osama bin Laden, co-founded Harakat-ul-Mujahedeen, a group accused by India of attacking its forces in the Kashmir region and by the U.S. of training militants and carrying out attacks in Afghanistan. The group has undergone several name changes over time and is now known as Ansar-ul Ummah.
But authorities have left him alone. At his home on the outskirts of the capital, Islamabad, the gates are protected by a burly, bushy bearded guard whose automatic rifle is always at his side. Khalil's madrassa, or religious school, named for Khalid bin Al-Waleed, one of the most prominent early Muslim commanders leading the conquest of Iraq and Syria in the 7th century, occupies a sprawling compound next door in the middle of a crowded market.
In an interview with The Associated Press, Khalil denied the accusations against his group and he applauded the fatwa, which he joined other Sunni and Shiite religious scholars in writing, denouncing militant violence in Pakistan as against Islam. The fatwa, issued in January, is the first such decree issued by such a broad range of scholars in Pakistan.
"Terrorism, suicide attacks, blasts, and killing of innocent people are forbidden in Pakistan, in accordance with Sharia (Islamic law)," Khalil said, dressed in a starched white traditional shalwar kameez and looking relaxed on the manicured lush green lawn of his compound.
"Religious scholars belonging to different schools of thought are unanimous on the issue and are against terrorism."
Afghanistan has criticized the fatwa because it is specific to Pakistan. Khalil said Afghan President Ashraf Ghani should call Islamic scholars in his country together to issue a fatwa of their own. He offered to go to Kabul to help craft the fatwa.
"If Ghani does this we will support his initiative. We wish he would do it. If Afghans sit with us we will support them," he said.
Since the beginning of the year Pakistan has come under relentless pressure from the United States to crack down on militants, particularly the Haqqani network, it says has found safe havens in Pakistan. While Islamabad denies organized havens, it says insurgents move around among the 1.5 million Afghan refugees still living in Pakistan.
U.S. President Donald Trump in a blistering New Year's day tweet accused Pakistan of "lies and deceit" and later suspended hundreds of millions of dollars in military aid.
The 55-year-old Khalil's stature in the militant hierarchy has waned since the late 1990s, when he signed on to bin Laden's fatwa ordering the faithful to attack U.S. interests wherever they found them.
Still, his organization's publications are used to raise money and have exhorted the faithful to fight in Afghanistan, where the Afghan National Army, backed by the U.S.-led coalition, is struggling against a resurgent Taliban.
That sort of fundraising has contributed to the likelihood that Pakistan will be placed on a so called 'gray list" of countries doing too little to stop terrorism when the Financial Action Task Force, an inter-government group trying to stem terror financing, meets in June.
The U.S. State Department in 2014 said Khalil's group still runs training camps in eastern Afghanistan. In 2016, Indian security forces said they arrested five Harakat members on its side of the disputed Kashmir region, allegedly planning attacks on Indian dignitaries.
"This is someone who had close and direct ties to Osama Bin Laden, and is very plugged in to the militant networks of South Asia," said Michael Kugelman, deputy director of the Asia Program at the U.S.-based Wilson Center. "Even if he's not making much noise, he shouldn't be taken lightly."
Khalil dismissed U.S. criticism of Pakistan for allowing militant leaders to roam free.
"Whether America likes it or doesn't like it makes no difference to me. I am Pakistani. We have courts. We are not U.S. slaves," he said.
"If Pakistan has any charges of terrorism they can summon us. I am ready to go to court. The U.S. is not interested in courts, it is pressing for extra-judicial actions," he said.
Khalil called U.S. policy confused and contradictory. He dismissed suggestions that the Haqqani network, which the U.S. has declared a terrorist group, is separate from the Taliban, which has not been declared a terrorist group to leave open the possibility of future negotiations.
"You can't separate the two. ... Taliban and Haqqanis are the same," he said. "Sirajuddin Haqqani is the Number 2 in the Taliban. How can you separate the two?"
Khalil, like many militants in south and southeast Asia, traces his career back to Afghanistan during the Soviet Union's occupation in the 1980s. Then he fought on the side of the United States, which backed the mujahedeen — or, as President Ronald Reagan called them, "freedom fighters." Today, many have joined the Afghan Taliban.
Khalil said U.S. intelligence trained him on the sophisticated U.S. Stinger anti-aircraft missiles that historians say turned the tide of the war. The Soviets withdrew in 1989.
"I have fought with the Americans in Afghanistan," he said. "But I haven't gone to Kashmir for a single day."
Analysts say Pakistan's policy of allowing militants their freedom is mostly motivated by its concerns about India, against whom it has fought three wars, two of them over Kashmir.
Pakistan also repeatedly reminds the United States and its critics that it has lost thousands of soldiers — more than the U.S. and NATO combined in Afghanistan __ fighting militants on its territory. It says U.S. criticism is unfair and an attempt to put its own failures in Afghanistan on the shoulders of Pakistan.
"Pakistan has certainly taken aggressive action against some militant groups" said Seth Jones, director of Transnational threats Project at the U.S.-based Center for Strategic and International Studies.
But its intelligence agencies "continue to use some militants as a tool of foreign policy in countries like Afghanistan and India."
https://www.washingtonpost.com
--------
Cape Town imam calls on all Muslims, free people to support jihad in 'Palestine'
Mar 29, 2018
In a Friday sermon delivered at the Masjid Al Furqaan in Cape Town, South Africa, Sheikh Riyaad Fataar said that the Al-Aqsa Mosque was "slipping from the hands of the Islamic nation… because the plans of the Jews are moving [ahead]."
Quoting Saladin and saying that Muslims "are staying in Jihad in order to get rid of the Zionist occupier," Sheikh Fataar, who is the Deputy President of the Muslim Judicial Council of South Africa and the imam of the Husami Masjid in Cravenby, a suburb of Cape Town, called upon all Muslims in the world to support them and "show your help in whatever different ways there are."
"All other free people of the world are called: If you think that holy sites are important in your religion… you should be standing with them," said Sheikh Fataar, a graduate of Al-Azhar, who serves as the lifetime president of the South African Students' Association in Egypt.
The sermon was delivered on March 16 and posted on the YouTube channel of Masjid Al Furqaan, which is part of the Islamia College in Cape Town.
https://www.jns.org/cape-town-imam-calls-on-all-muslims-free-people-worldwide-to-support-jihad-in-palestine/
--------
US judge rules against Saudi Arabia in Sept. 11 case
Mar 28, 2018
A US judge has ruled against Saudi Arabia's bid to dismiss lawsuits, asserting that the monarchy must pay billions of dollars in damages as it helped plan the September 11, 2001, attacks.
US District Judge George Daniels said in Manhattan, New York, on Wednesday that the plaintiffs' allegations "narrowly articulate a reasonable basis," Reuters reported.
Daniels has been tasked to oversee litigation against Riyadh by the families of those killed, some 25,000 people injured, and numerous businesses.
"We're delighted that Judge Daniels denied Saudi Arabia's motion to dismiss," James Kreindler, a lawyer for many of the plaintiffs, said in a phone interview. "We have been pressing to proceed with the case and conduct discovery from the Kingdom of Saudi Arabia, so that the full story can come to light, and expose the Saudi role in the 9/11 attacks."
The kingdom has denied having played any role in the deadly attacks.
Some 3,000 people died in the 9/11 attacks, after four hijacked passenger planes were crashed into the World Trade Center in New York, the Pentagon and a Pennsylvania field. Fifteen of the 19 hijackers were from Saudi Arabia.
In several cases, hundreds of victims' relatives and injured survivors, along with insurance companies and businesses say, the Saudi government assisted the attacks through a variety of activities in support of al-Qaeda over a number of years.
http://www.presstv.com/Detail/2018/03/28/556772/Saudi-must-face-US-lawsuits-over-911
--------
German Muslim Leader Urges Imams, Rabbis to Unite Against School Anti-Semitism
28 March 2018
After a public outcry over the bullying of a Jewish schoolgirl in Berlin by Muslim classmates, the head of Germany's main Muslim association has proposed sending imams and rabbis together into public schools to combat anti-Semitism.
Aiman Mazyek, head of the Central Council of Muslims in Germany, used Twitter to propose his idea, shortly after Germany's main Jewish leader remarked that Muslim organizations must do more to monitor what imams are preaching in German mosques.
Triggering the latest call to action is a case of anti-Semitic bullying at the Paul-Simmel Elementary School in Berlin. The victim's father told the Berliner Zeitung newspaper last weekend that his daughter was harassed because she "does not believe in Allah." Classmates have chanted "Jew" and threatened to beat and kill her, he said, adding that one pupil even threatened him and his wife for not teaching their child to believe in Allah. The family – in which only one parent is Jewish – has chosen to remain anonymous.
The case has inflamed an existing debate about how best to deal with the problem of anti-Semitism among Muslim youth, and is pressing lawmakers, religious leaders and police to take action.
In an interview with ZDF television on Tuesday, Josef Schuster, head of the Central Council of Jews in Germany, said that while there has been cooperation between Jewish and Muslim groups on some shared concerns, there have been few joint efforts regarding anti-Semitism.
It was shortly after the Schuster interview that Mazyek announced his plan to send ten imams – preferably together with rabbis – to visit classrooms, "promoting dialogue, enlightenment and mutual respect."
Mazyek told the AFP news agency that he hoped Jewish communities would join the project. There has as yet been no public response.
The Berlin-based Research and Information Center on Anti-Semitism registered 18 anti-Semitic incidents in Berlin schools in 2017, twice as many in the previous year. But Benjamin Steinitz, director of the center, told AFP he believes the real numbers are much higher.
Many pupils fear to report such cases, Heinz-Peter Meidinger, president of Germany's teachers' association, told AFP, adding that the problem is not limited to Berlin.
Schuster has supported the establishment of a federal register for cases of anti-Semitic bullying in schools. He also backs the German police union in their call for a nationwide study of violence in schools.
Meanwhile, the Union for Education and Science has called for more support and training for teachers in how to deal with anti-Semitic incidents.
https://www.timesofisrael.com/german-muslim-leader-urges-imams-rabbis-to-unite-against-school-anti-semitism/
--------
Arab World
Saudi Arabia's crown prince meets with US religious leaders, urges tolerance
29 March 2018
NEW YORK: Saudi Arabia's Crown Prince Mohammed bin Salman met with several US religious leaders at his residence in New York on Wednesday.
He was joined by Prince Khalid bin Salman bin Abdulaziz, Saudi ambassador to the US, Secretary General of the Muslim World League Dr. Mohammed Al-Issa and Minister of Foreign Affairs Adel Al-Jubeir.
During the meeting, the crown prince stressed the importance of respect between followers of religions and the need to promote the positive values of coexistence and tolerance.
http://www.arabnews.com/node/1275406/saudi-arabia
--------
Ancient Iraqi statue destroyed by Daesh recreated in London
29 March 2018
LONDON: A reconstruction, made from date-syrup cans, of an ancient Iraqi statue destroyed by Daesh terrorists was unveiled in London's Trafalgar Square on Wednesday.
The artwork will stand for two years on the empty fourth plinth in the British capital's central square as a monument to the destruction of Iraqi culture since the 2003 US-led invasion.
Created by US conceptual artist Michael Rakowitz, who is of Iraqi-Jewish descent, the replica is entitled "The Invisible Enemy Should Not Exist."
"I see this work as a ghost of the original and as a placeholder for those human lives that cannot be reconstructed, that are still searching for sanctuary," said Rakowitz.
It recreates a Lamassu — a winged bull and protective deity — that stood at the gates of Nineveh, northern Iraq, from about 700 BC. It was destroyed by Daesh in 2015.
The new statue is part of a wider project to recreate more than 7,000 objects looted from the Iraq Museum in 2003 or destroyed at archaeological sites in the aftermath of the Iraq War.
London Mayor Sadiq Khan said the artwork was an "act of resistance" against extremists and philistines. He claimed that 20 million people would walk past the statue during its two-year run, making it the world's most visible piece of contemporary art.
"It sends a message loud and clear: we will not be defied, scared or cowed, we will stay united," Khan said. "Your past defines the future. The idea that you can blow up statues and somehow rewrite history, I find appalling."
Full report at:
http://www.arabnews.com/node/1275386/middle-east
--------
Syria: Mass Grave of Terrorist Groups' Victims Discovered in Eastern Ghouta
Mar 28, 2018
The sources said that the exact number of the bodies is not yet known, but the found bodies belong to the Syrian Army servicemen killed by terrorists in the battleground in Harasta region during the few past years.
The Syrian army deployed in the strategic town of Harasta in Eastern Ghouta on Saturday after 7 years.
A sum of 3,034 Ahrar al-Sham terrorists and their family members, including 1,072 militants, left Harasta for Idlib on 59 buses on Friday.
A total number of 4,386 people, including 1,413 terrorists and 111 commanders, left Harasta in the past two days.
Reports also said that the terrorists engaged in infighting while leaving the region which led to the death of 16 of them.
Full report at:
http://en.farsnews.com/newstext.aspx?nn=13970108000461
--------
Aleppo Erupts in Protest at Turkey's Assault on Afrin, US Interference in Syria
Mar 28, 2018
The protesters called on Turkey to immediately withdraw from Afrin and return all occupied lands, while also demanding the US halt their interference in Syrian affairs, the AMN reported on Wednesday.
The mass protest took place inside Aleppo city's Sa'adallah Al-Jabiri Square, where several pro-government demonstrations took place during the onset of the Syrian war.
http://en.farsnews.com/newstext.aspx?nn=13970108000533
--------
Jeish Al-Islam Refuses to Surrender Strongholds in Eastern Ghouta to Syrian Army
Mar 28, 2018
The sources said that currently, the Russian Reconciliation Center is attempting to convince Jeish Al-Islam to surrender Douma; however, the group continues to maintain that they will not give up the town to the government.
In response to Jeish Al-Islam's refusal to surrender the town, the Syrian army's High Command has threatened to kick off their military operations to capture Douma, the sources said.
They added that with thousands of troops surrounding Douma, the army has finalized its preparations to storm the town.
The sources said that Tiger Forces are expected to lead the way for the government troops in Douma operation.
The Syrian army gave a last opportunity to Jeish al-Islam terrorists to withdraw from Douma on Sunday.
Military sources said the army was preparing to launch an offensive on the city if the terrorists continue denying the proposal.
Meantime, Jeish al-Islam Commander Osam Bawizani sadi that the group would not retreat from Eastern Ghouta, and asked other terrorist groups to help Jeish al-Islam by launching massive operations against the army.
Full report at:
http://en.farsnews.com/newstext.aspx?nn=13970108000240
--------
Syrian army prepares "huge" operation in Douma as pressure mounts
29 March 2018
The Syrian army is preparing to launch a "huge" operation against the last rebel-held town in eastern Ghouta unless the Jaish al-Islam insurgent group agrees to hand over the area, a pro-Syrian government newspaper reported on Wednesday.
The group has been negotiating about the town of Douma with the government's main ally Russia. But a commander in the regional alliance fighting in support of President Bashar al-Assad said late on Wednesday that the talks had stopped.
"The negotiations stopped. Most of the militants have set out big conditions, and the Russians and the Syrians have refused them," the commander said.
A war monitor, the Syrian Observatory for Human Rights, said the Syrian military had resumed artillery bombardment of Douma, where blasts were heard.
Routed by the Russian-backed Syrian army, rebels in other parts of eastern Ghouta are leaving in convoys to insurgent-held areas in the northwest under withdrawal deals that are restoring Assad's control.
Douma's fall would seal the rebels' heaviest defeat since 2016, driving them from their last big stronghold near the capital, and would also carry potent symbolism. The town was the main center of street protests in the Damascus suburbs against Assad's rule that ignited the conflict seven years ago.
Backed by Russia and Iran, the government has repeatedly forced rebels to surrender areas and withdraw to Idlib, where the United Nations describes the conditions faced by hundreds of thousands of displaced opposition supporters as "catastrophic".
The Jaish al-Islam group says it is determined to stay in Douma, where tens of thousands of civilians are surrounded by government forces. The government says it will crush any rebels who do not agree to leave or to live under state rule.
"The forces deployed in Ghouta are preparing a huge military operation in Douma if the Jaish al-Islam terrorists do not agree to hand over the city and depart," al-Watan newspaper said.
Two decisive days
A Syrian official, speaking on condition of anonymity, said the situation was in a critical phase: "These two days will be decisive," the official told Reuters, without giving further details.
The area had been quieter in recent days as Jaish al-Islam had negotiated with Russian forces. The rebel group said on Tuesday that Russia had yet to give an answer to its proposals. It accused Damascus and Moscow of seeking to impose demographic change by forcing residents to leave.
A witness in Douma reached by telephone said dozens of residents took to the streets of the city on Wednesday calling on rebels and opposition-led authorities negotiating with the Russians to reveal more information about the talks.
Although Jaish al-Islam denies planning to leave, two rebel sources said the fighters are weighing options including leaving for rebel-held areas further northeast in Qalamoun, or in southern Syria, despite some opposition by rival rebels there.
Full report at:
https://english.alarabiya.net/en/News/middle-east/2018/03/29/Syrian-army-prepares-huge-operation-in-Douma-as-pressure-mounts.html
--------
Syrian army finds Israeli-made munitions inside militant tunnel in Eastern Ghouta
Mar 28, 2018
Syrian government forces have discovered a considerable amount of Israeli-made landmines and grenades left behind by Takfiri terrorist groups inside a secret underground tunnel in Eastern Ghouta region on the outskirts of the capital Damascus.
Syria's state-run television network reported on Wednesday that army troopers made the discovery in the town of Harasta, located 10 kilometers (6.2 miles) from the center of Damascus, as they were combing the areas of hidden ordnance and unexploded devices.
This is not the first time that Syrian government forces have made such findings from terrorists' hideouts across the war-ravaged Arab country.
Syria's official news agency SANA published video footage on February 27, showing a cache of Israeli-built rockets, mortars, tank shells and other ammunition that Daesh terrorists had left behind in the eastern border city of Abu Kamal as well as Mayadin town, situated about 44 kilometers southeast of Dayr al-Zawr.
Syrian army prepares "huge" operation in last militant bastion
Meanwhile, Syrian army troops and allied fighters from popular defense groups are gearing up for a wide-scale operation against members of the so-called Jaish al-Islam terror group in Douma city, located about 10 kilometers northeast of the center of Damascus, unless the extremists agree to hand over the area.
SANA also reported that a total of 6,432 people, including 1,521 militants, evacuated from Eastern Ghouta area late on Tuesday.
The latest evacuation took place in the towns of Arbin, Jobar, Zamalka and Ein Tarma. All of the towns were largely controlled by the Faylaq al-Rahman militants, who agreed last Friday to negotiate their withdrawal under a deal with the Syrian military.
Faylaq al-Rahman militants have demanded to be allowed to leave the central areas in Eastern Ghouta after members of the Ahrar al-Sham militant outfit did the same earlier this month in the town of Harasta.
Syrian government forces and their allies have captured 90 percent of Eastern Ghouta since a massive assault there late last month.
Eastern Ghouta, a besieged area on the outskirts of Damascus which is home to some 400,000 people, has witnessed deadly violence over the past few months, with foreign-sponsored terrorists launching mortar attacks on the Syrian capital in the face of an imminent humiliating defeat. The Syrian army has already controlled over 80 percent of the militant-controlled territory.
Full report at:
http://www.presstv.com/Detail/2018/03/28/556738/Syria-Israeli-munitions-Eastern-Ghouta
--------
Egypt's Morsi faces premature death due to harsh jail conditions: Report
Mar 29, 2018
Former Egyptian president Mohamed Morsi is likely to face "premature death" in prison, where he is being held in low-standard conditions and is subjected to "cruel" and "inhuman" treatment, a panel of UK legislators and attorneys says.
Morsi is "receiving inadequate medical care, particularly inadequate management of his diabetes, and inadequate management of his liver disease," the Detention Review Panel (DRP), commissioned by Morsi's family, said in a report released on Wednesday.
The treatment of Morsi has been "cruel, inhuman and degrading," said the report. "The consequence of this inadequate care is likely to be rapid deterioration of his long-term conditions, which is likely to lead to premature death," it added.
The panel warned that, based on the standards defined by both the Egyptian and international law, Morsi's detention conditions verge on torture, adding that President Abdel Fattah el-Sisi "could, in principle, be responsible for the crime of torture."
The information about Morsi's detention has been obtained from several sources, including testimony from his son as well as medical professionals informed of the situation, the DRP said.
The panel said it had initially requested to visit Morsi to assess his detention conditions, but the Egyptian government did not respond to the request.
According to the DRP report, the former Egyptian leader has been held in solitary confinement for about three years at the infamous Tora Prison, also known as Scorpion Prison.
Morsi, 67, was Egypt's first democratically-elected president after the 2011 revolution, but he was deposed following a military coup led by Sisi in July 2013. Moreover, the Muslim Brotherhood organization, which Morsi belonged to, has since been outlawed.
He has been serving a 20-year prison term on charges of ordering the arrest and torture of protesters, a 25-year jail term on charges of passing intelligence to Qatar and a three-year term for insulting the judiciary.
Sisi on way to victory again
The report comes as Egypt on Wednesday wrapped up a highly-contentious presidential election, with incumbent Sisi almost certain to glide to victory after his military-backed administration either jailed or scared off all serious contenders.
Preliminary results showed on Thursday that Sisi is leading the presidential race with 21.5 million votes, state-owned newspaper Akhbarelyoum reported.
The final results of the Monday vote are expected to be released on April 2.
Sisi's sole challenger in the vote was Moussa Mostafa Moussa, a vocal supporter of the army-chief-turned-president.
Many observers view Moussa as a "puppet" whose bid is merely meant to lend color to the "show," and prevent the presidential election from becoming a one-man race or a referendum on Sisi's rule.
Sisi's first term saw a heavy-handed crackdown on opposition members and supporters of Morsi and the Muslim Brotherhood movement.
Full report at:
http://www.presstv.com/Detail/2018/03/29/556789/Egypt-morsi-jail
--------
India
Maldives' engagement with China, Pakistan 'too secretive' for India
Sachin Parashar
Mar 29, 2018
NEW DELHI: While the Abdulla Yameen government has lifted Emergency in the Maldives, India remains upset with Male for the opaque manner in which it is carrying out not just its China policy but also its overtures to Pakistan. The latest issue niggling India is Male's decision to discuss with Islamabad a visit by Pakistan army chief Qamar Javed Bajwa without first bringing it to the notice of South Block.
Despite its stated India First policy, the Yameen government has not bothered, unlike all other previous governments in Male, to take India into confidence on major issues in the spirit of mutual trust whether it's the Chinese investments in the Maldives or the ocean observatory Beijing wants to build right under India's nose.
"As usual, the current Maldivian regime remains secretive about the dealings with the Chinese and Pakistanis unlike previous governments which took us into confidence in advance on such issues,'' said a top Indian official on condition of anonymity when asked about Bajwa's visit to Pakistan. He added that India was closely following reports that Bajwa was going to visit Male on March 31.
As TOI had first reported on February 26, China is looking to build what the Maldives officially describes as a Joint Ocean Observation Station on the westernmost atoll of Makunudhoo in northern Maldives, not far from Lakshadweep. Even as it seeks to convince India that the observatory will have no military application, it has refused to share a copy of the agreement for the observatory with the Indian government.
Official sources here said that former foreign secretary S Jaishankar had sought a clarification from the Maldivian ambassador, Ahmed Mohamed, over the issue. Mohamed is learnt to have told Jaishankar that China was only looking to build a meteorological ocean observation centre in the Maldives.
A senior official of the Maldivian government told TOI too that the agreement signed was for meteorological purposes but refused to share a copy saying it was not a public document.
While the President's official website calls the agreement The Protocol on Establishment of Joint Ocean Observation Station between the Maldives and China, the Maldivian official claimed that the website probably "forgot" to add the word meteorological to it.
A marine observatory, as strategic affairs expert Brahma Chellaney says, is an important tool to gather information on ocean state, phenomena and processes in order to have a better understanding of ocean dynamics and grasp regional characteristics and vulnerabilities.
"A Chinese-built marine observatory in the Maldives will yield a variety of physical, chemical and biological data to better understand the specific characteristics of that part of the Indian Ocean and Arabian Sea so as to optimally deploy nuclear-powered attack submarines (SSNs) and nuclear-powered ballistic missile submarines (SSBNs) in India's maritime backyard. This will complete India's strategic encirclement,'' he says.
As Vice Admiral (Rtd) Jagjit Singh Bedi had tweeted, in response to the TOI story on the proposed observatory, China needed accurate and reliable hydrological data for sub surface operations. "Precursor to prolonged deployment of SSBN/ SSN operations in the Arabian Sea. To be read in conjunction with surveys conducted off Gwadar (the Pakistan port which China has built and controls) to analyse tectonic activity,'' tweeted Bedi
https://timesofindia.indiatimes.com/india/maldivess-engagement-with-china-pakistan-too-secretive-for-india/articleshow/63523883.cms
--------
Prohibitory Orders in Aurangabad, Bihar, After Violence, 150 Held
March 29, 2018
Three FIRs have been lodged and 150 people arrested in connection with violence in Aurangabad during Ram Navami celebrations on March 25 and 26.
Bihar Police has set up two special investigation teams to probe the violence, in which half a dozen people were injured and around 35 shops gutted.
Trouble began after a motorcycle procession passed through areas with a sizeable minority population, the police said. "Provocative slogans" caused stone-pelting between two sides, injuring six people.
Director General, Bihar Military Police, Gupteshwar Pandey told reporters in Aurangabad: "Two special teams have been formed to investigate. They will ensure that the guilty are not spared, and innocent people from either side are not harassed." He added that prohibitory orders were in force in Aurangabad town since the incident, and internet services had been suspended.
A heavy contingent of police and paramilitary forces has been deployed, and top police officers, including a DG-rank official, have been camping in the town.
A senior police officer said the FIRs named people from both sides. "Most of them are youths without criminal antecedents. Some are leaders at ward level. A DSP each will be assigned to head SIT teams to probe the possible conspirators and provocateurs," he said.
The RJD, meanwhile, demanded arrest of BJP's Aurangabad MP Sushil Kumar Singh for saying on March 26 that "there is reaction to an action". The BJP MP had attended the 'shobha yatra' on March 26.
The MP told The Indian Express: "I said it in the context of stone-pelting triggering torching of shops. I am being quoted out of context. I have explained my position to Deputy CM Sushil Kumar Modi."
Asked if he had knowledge of the people arrested, he said: "They are mainly ward members and ward councillors from either side."
Munger and Samastipur also reported tension. In Munger, a group of Muslims objected to loudspeakers during a Durga immersion procession around 10 pm on Tuesday, the police said. This triggered stone-pelting.
Munger DM Uday Kumar Singh said: "We have lodged a case, and are trying to identify people who circulated objectionable messages on social media."
Full report at:
http://indianexpress.com/article/india/prohibitory-orders-in-aurangabad-after-violence-150-held-5115200/
--------
Pakistan criticises India, G4 nations on UNSC reform
Mar 29, 2018
UNITED NATIONS: Pakistan on Thursday criticised India and other G-4 nations for seeking expansion of the UN Security Council's permanent membership, saying proposals that promote "national aspirations" of some member states cannot enhance representative nature of the powerful organ of the world body.
Pakistan's Ambassador to the UN Maleeha Lodhi opposed the G-4 nations' - India, Brazil, Germany and Japan - position on Security Council reform during Intergovernmental Negotiations here.
The G-4 grouping has been seeking expansion of the permanent and non-permanent seats of the Security Council to make the powerful UN body more representative and reflective of the changing global order.
The four nations support each other's bids for permanent seats on an expanded Security Council.
Lodhi criticised the G-4 nations position, saying "without prejudice to the Common African Position for representation on behalf of an entire region, we are at a loss to understand how proposals that seek to promote the national aspirations of some member states, can enhance the representative nature of the Security Council, when the region in question, has neither bestowed that privilege on them, nor does it enjoy the right to hold them to account".
A press release issued by Pakistan's Permanent Mission to the UN said that the G-4 nations "have shown no flexibility" in their campaign for expanding the Security Council by 10 seats, with 6 additional permanent and four non-permanent members.
It said the Italy/Pakistan-led Uniting for Consensus (UfC) group opposed any additional permanent members.
"As a compromise, UfC has proposed a new category of members -- not permanent members -- with longer duration in terms and a possibility to get re-elected once," the statement said.
Noting that representativeness and accountability were two sides of the same coin, Lodhi said the greater the accountability, the better the representativeness and that one cannot co-exist without the other.
"Applied in the context of the Security Council, it is evident that these conditions cannot be met by an expansion in the permanent category," she said.
"This is acknowledged by UN charter itself, wherein permanent members are identified by name without creating any pretence of regional or equitable distribution," she said.
Lodhi said that it was in the non-permanent category where the elements of equitable representation were embedded, adding that the reform process itself has to be a membership-driven one.
Earlier, India's Permanent Representative to the UN Ambassador Syed Akbaruddin, speaking on behalf of the G-4 at the informal meeting on Intergovernmental Negotiations, had called for transparency in negotiations on Security Council reforms, underlining that countries and groups making proposals, specifically on veto and regional representation, should necessarily be named in the documents framed for the discussions.
Full report at:
https://timesofindia.indiatimes.com/india/pakistan-criticses-india-g4-nations-on-unsc-reform/articleshow/63527590.cms
--------
J-K: Youth joins militant ranks, fifth in 10 days
by Mir Ehsan
March 29, 2018
After a slain Hizbul Mujahideen militant's son Bilal Ahmad Shah, another youth Fahad Mushtaq Waza from Srinagar's Khanyar old city area has joint militant ranks. A picture of Waza, carrying an AK-47 rifle, appeared on the social networking sites on Tuesday, police said. According to the state police, at least five youths have joined militant ranks in the Valley in the past 10 days sending alarm bells within the security agencies, while local sources claim at least 25 youths have taken up arms since January.
Last year, around 126 local youths had joined militant ranks in Kashmir, many of whom were killed in different encounters with security forces. A day after Waza's picture holding an AK-47 rifle went viral on the social media, his family members appealed to him to return home. Waza is the second from the city to join a militant group this year. Police sources say, at least three youths from the city were already active.
The trend of local boys picking up guns began after Hizbul Mujahideen Commander Burhan Wani was killed in an alleged encounter in 2016 at Kokernag in south Kashmir. "This is a worrying trend…Though some boys have returned to their families after joining militancy, still this is a matter of concern and efforts are on to stop it," a senior police officer told The Indian Express.
Last week, the youngest son of Mohammad Ashraf Sehrai, chairman of the Tehreek-e-Hurriyat who replaced Syed Ali Shah Geelani, also joined militant ranks. Junaid Ashraf Khan, a 28-year-old management graduate, joined the Hizbul Mujahideen in south Kashmir. On March 17, a picture of Bilal Ahmad Shah (25), who had been missing since first week of March, appeared on the social media holding an AK-47 rifle. Shah's father, a former Hizbul Mujahideen militant who was killed in an encounter in early 90's, is believed to have also joined the militant outfit.
Earlier in January, a research scholar from Kupwara, Manan Wani's photograph arrpeared on the social media holding an under-barrel grenade launcher, with a message claiming that he has joined the militancy.
Full report at:
http://indianexpress.com/article/india/j-k-youth-joins-militant-ranks-fifth-in-10-days-5115287/
--------
India increases aid to $5 million for Palestinian refugees
Mar 28, 2018
India has increased its annual contribution to the United Nations Relief and Works Agency for Palestine Refugees in the Near East (UNRWA) from $1.5 million to $5 million from 2018-19 for a period of three years, the External Affairs Ministry said on Wednesday.
According to a ministry statement India made the announcement of this substantive increase in annual contribution at the extraordinary ministerial conference held in Rome on March 15 following a flash appeal made by the UNRWA, which is faced with a major funds crunch.
"This enhancement was made in the backdrop of the unprecedented financial crisis being faced by UNRWA, which has been delivering valuable public services to Palestine refugees around the world," the statement said.
It also said that the four-fold increase in India's contribution is based on External Affairs Minister Sushma Swaraj's commitment to enhance support to the UNRWA at the Non-Aligned Movement (NAM) ministerial meeting on Palestine on September 19 last year. It stated that this is also part of India's enhanced engagement with Palestine, particularly in the wake of Prime Minister Narendra Modi's historic visit to Palestine on February 10, the first ever by an Indian Prime Minister to the West Asian nation.
The UNRWA's present predicament came about after US President Donald Trump last month withheld more than half of the US-pledged aid to the agency.
The White House informed the UNRWA of the dramatic funding cut, meaning it will receive approximately $60 million in US aid. The US has been UNRWA's single largest donor for decades.
Trump last year unilaterally announced that the US recognised Jerusalem as the capital of Israel and that his country's embassy will be shifted to that city.
However, a majority of countries, including India, voted against Trump's decision in the UN General Assembly in December last year.
Full report at:
https://www.hindustantimes.com/india-news/india-increases-aid-to-5-million-for-palestinian-refugees/story-Z0lKsoKEFcxXS6hpPUW3JM.html
--------
Pakistan
NACTA launches complaint portal in effort to curb online extremism
Mar 29, 2018
ISLAMABAD: The National Counter Terrorism Authority (NACTA) has developed an online reporting portal, aimed at countering online extremism, abuse of internet and social media.
Surf safe is an online reporting portal for Pakistanis to report extremist online-content freely, securely and anonymously. The other purpose of the web portal is to create eyes and ears in cyber-sphere to counter radical and extremist ideology in the online realm.
The implementation status (NACTA Review – December 2017) of National Action Plan (NAP) has revealed that the mission of Surfsafe is to counter online extremism, map and eliminate extremist content, help victims of extremism by regaining space for values of moderation, love and fraternity in cyber-sphere through community participation and ultimately make internet a safer place for everyone.
It said in order to filter social media sites and enable vigilance against cyber-crimes, 'Prevention of Electronic Crime' Act-2016 was passed by the parliament and constant vigilance of internet traffic has resulted in the blocking of 1447 URLs which hosted extremist content.
NACTA and Federal Investigation Agency (FIA) are continuously coordinating on this issue.
The Review further revealed that a mobile application has been developed and is available at Google Play Store and Apple Store.
NACTA's Android and iOS applications are mobile-based user-friendly systems which enable a common citizen to report any incidence of hate speech or extremist content in the form of video, audio, photo and URL/text visible to them online.
https://www.pakistantoday.com.pk/2018/03/28/nacta-launches-complaint-portal-in-effort-to-curb-extremism-online/
--------
SC gives govt one month to bring back Haqqani
Masood Rehman
MARCH 29, 2018
ISLAMABAD: The Supreme Court on Wednesday gave the federal government one month's time to bring back country's former ambassador to the United States, Hussain Haqqani, who is the accused in the Memogate scandal.
While hearing the case on Wednesday, Chief Justice Mian Saqib Nisar remarked they would not tolerate any further delay in Haqqani's repatriation. He said no positive development had taken place on the matter so far. To this, the interior secretary told the court that documents from the United States had arrived just a day earlier. The additional attorney general requested the court to grant a chance on the issue.
The chief justice also questioned the director general of the Federal Investigation Agency (FIA) on Haqqani's return, to which the latter said they would contact Interpol for the red warrant once a permanent one is issued. The DG FIA said he would personally go to the United States to pursue the case.
The chief justice observed that media should not entertain any commentary on the scandal as it was a sub judice matter. He remarked that discussions regarding the case on television channels alleged that the courts intended to open old wounds by conducting hearings on the scandal. Actually, the courts are only following the law, the chief justice added.
The chief justice remarked that he was considering banning on-air discussions over the issue and summoning all those in the court who want to give statements regarding the case.
The scandal erupted in 2011 when Pakistani-American businessman Mansoor Ijaz claimed to have received an 'anti-army' memo from Hussain Haqqani, the then-Pakistan envoy in Washington DC, for US joint chiefs of staff chairman Admiral Mike Mullen. The memo sent in 2011 allegedly mentioned a possible army coup in Pakistan following the US raid in Abbottabad to kill Osama bin Laden and sought assistance from the US for the then-PPP government for 'reigning in' the military and the intelligence agencies.
Full report at:
https://dailytimes.com.pk/221100/sc-gives-govt-one-month-to-bring-back-haqqani/
--------
US lawmakers suggest continuing ties with Pakistan: report
Mar 29, 2018
WASHINGTON: Despite the increasing hostility against Pakistan in the United States, there are still lawmakers who suggest continuing ties with Pakistan to encourage it to cooperate with the US in the war against terrorism, reported a local English newspaper.
Congressman Brad Sherman, who met Premier Shahid Khaqan Abbasi in Washington earlier this month, states that as a member the House Foreign Affairs Committee, he knows the importance of US-Pakistan ties and significance of the friendship between the countries.
Sherman is among 35 US lawmakers who sent messages of support on the Pakistan Day.
https://www.pakistantoday.com.pk/2018/03/29/us-lawmakers-suggest-continuing-ties-with-pakistan-report/
--------
JI to keep watch on developments after PM-CJP meeting: Siraj
Mar 29, 2018
LAHORE: Jamaat-e-Islami (JI) chief Siraj-ul-Haq said on Wednesday that the meeting between Prime Minister Shahid Khaqan Abbasi and Chief Justice of Pakistan (CJP) Mian Saqib Nisar could not be without any purpose, adding that his party would keep a watch on its outcome.
Talking to media after a meeting of the JI members from Okara on Wednesday, senator Siraj said that more steps were required to put the country's politics in order. He said it was essential to free politics from those who consider politics as their housemaid and to carry it to those living in the huts. JI Punjab head Mian Maqsood Ahmed and Information Secretary Qaisar Sharif were also present on the occasion.
He said that the slaves of the international establishment had done no service to the nation and the country as they had always been busy in pursuing their selfish ends. He said that the present rulers were also upset because they had failed to deliver and had lost the confidence of the people.
Siraj termed the revival of MMA a divine blessing for the nation. He said that all the sects and schools of Islamic thought had united under the banner. He expressed the hope that the masses would also rise above petty differences and join hands with the MMA to build Pakistan as an Islamic welfare state and reject the slaves of Europe and the US through their vote.
He said the goal of MMA was the enforcement of Nizam-e-Mustafa which was the solution to all the problems faced by the people.
Stressing the need for an across the board accountability, the JI chief said that if the accountability process was left in the middle, the nation would be disappointed. He, however, added that the accountability should not disturb the election schedule. He further said that all those facing cases before the NAB should not be allowed to contest the election.
He urged the CJP to seek an oath from the newly elected senators that they would not indulge in the sale and purchase of the vote in the Senate election.
Full report at:
https://www.pakistantoday.com.pk/2018/03/28/ji-to-keep-watch-on-developments-after-pm-cjp-meeting-siraj/
--------
Afghan NSA 'optimistic' about peace talks, says Pakistan's role is central
Muna Habib
MARCH 29, 2018
Hanif Atmar, the National Security Adviser to Afghan President Ashraf Ghani,has said that his country is optimistic about reaching peace with the Taliban,including the faction operating from Pakistan, although the Taliban have yet to formally respond to Afghan president's offer for unconditional peace talks.
He was speaking recently at an event organised by the United States Institute of Peace.
"I am optimistic about talks because they [Taliban] proposed talks. The proposed for peace talks came from those within the Taliban, who have not spoken out publicly for fear of reprisals for their and their families," he said.
Atmar said, "we already see a reduction in violence from 120 districts down to 80-plus districts."He said there had been "a significant degradation of the insurgents' capabilities,"including "a significant increase in the operation of the special forces of Afghanistan," adding, "Unfortunately, there has been a growth of foreign fighters, hundreds of them coming from the Middle East through Pakistan and other regional routes."
Atmar explained further that members of the East Turkestan Islamic Movement travelled from western China to Afghanistan via Pakistan.
In 2014, following the Obama administration's drawdown of US troops including the ending of the combat mission,the presence of Taliban across the country has increased. In 2015, ISIS declared a new faction of fighters in Afghanistan called ISIS-Khorasan.
According to Stars and Strips, a US military run newspaper, the top US general in Afghanistan, Gen. John Nicholson, said in a recent statement "About one in 10 Islamic State fighters
In Afghanistan are foreign fighters. The foreign IS-K fighters are primarily Pakistani Pashtun."
An increase of foreign fighters is likely to not sit well with the Trump Administration, which is already careful not to draw down too soon.
On regional security, the Afghan government has reached out to Iran, Russia, China, India, Turkey and other 'key Middle Eastern actors'. Responding to questions about the success of counter-terrorism and peaceful reconciliation, Atmar said,"the success of the two strategies is dependent on the role of regional actors."
The invitation extended to Iran and Russia to support the strategy may prove contentious and complicate the US-Afghanistan relationship,given Trump administration's focus on isolating Iran and ending the nuclear deal and recent expulsion of 60 Russian diplomats.
Responding to a question, Atmar told Daily Times that he believed the Taliban needed to make their own decision without feeling "coerced", referring to the increased international pressure for coming to the negotiating table. He said, "at the same time, it has to be an environment where they cannot engage with conflict."
"Afghanistan believes that Pakistan should provide the Taliban with disincentives. It should crack down on Taliban fighters seeking a safe haven in the country," he said further, adding, "the role of Pakistan is central to the peace process and counter-terrorism. We are engaging with them on different levels to offer concrete measures on what they can do together with the Afghan government to support the peace process."
His comments came ahead of a two-day Tashkent conference, in Uzbekistan where senior diplomats from the US, India, China and Pakistan will gathered to talk about peace in Afghanistan. The Taliban will be notably absent.
Despite the recent increase in violence in war-torn Kabul, the incentives that are being offered have been strengthened by the Trump Administration's South Asia strategy, Atmar said.
Full report at:
https://dailytimes.com.pk/221051/afghan-nsa-optimistic-about-peace-talks-says-pakistans-role-is-central/
--------
Pakistan urges more non-permanent seats in UNSC to ensure regional representation
MARCH 29, 2018
Pakistan, which opposes additional permanent members on the UN Security Council, has called for equitable representation on the 15-member body by adding more elected seats to it.
Speaking in the long-running intergovernmental negotiations on Security Council reform, Pakistan's Permanent Representative to the United Nations Maleeha Lodhi said equitable representation has been the primary impulse behind all Security Council reform efforts and its importance cannot be overstated.
"In 1945, the Security Council represented 20 percent of the membership of the UN; today, it represents 8 percent of the membership," she said, also pointing out that nearly a third of the membership has never served on the Council.
Full-scale negotiations to restructure the Security Council began in the General Assembly in February 2009 on five key areas: categories of membership, the question of veto, regional representation, size of an enlarged Council, and working methods of the body and its relationship with the 193-member Assembly.
Despite a general agreement on expanding the Council as part of the UN reform process, member states remain divided over the details.
Known as the Group of Four, India, Brazil, Germany and Japan have shown no flexibility in their campaign for expanding the Security Council by 10 seats, with six additional permanent and four non-permanent members.
On the other hand, Italy/Pakistan-led Uniting for Consensus (UfC) group maintains that additional permanent members will not make the Security Council more effective.
As a compromise, UfC has proposed a new category of members – not permanent – with longer duration of terms and a possibility to get re-elected once.
Ambassador Maleeha Lodhi said representativeness and accountability were two sides of the same coin and one cannot co-exist without the other.
"Applied in the context of the Security Council, it is evident that these conditions cannot be met by an expansion in the permanent category," the envoy stressed. "This is acknowledged by UN charter itself, wherein permanent members are identified by name without creating any pretence of regional or equitable distribution."
Criticising the Group of Four position, Lodhi said, "Without prejudice to the Common African Position for representation on behalf of an entire region, we are at a loss to understand how proposals that seek to promote the national aspirations of some member states, can enhance the representative nature of the Security Council, when the region in question has neither bestowed that privilege on them, nor does it enjoy the right to hold them to account."
She said it was the non-permanent category where the elements of equitable representation are embedded; elections and geographical distribution in article 23 of the UN Charter, and a specific term with rotation in article 23. Separate these two articles and the concept of representation goes out of the window, she said.
Full report at:
https://dailytimes.com.pk/221057/pakistan-urges-more-non-permanent-seats-in-unsc-to-ensure-regional-representation/
--------
Africa
American Drone Strike in Libya Kills Top Qaeda Recruiter
By ERIC SCHMITT
MARCH 28, 2018
An American military drone strike over the weekend in southern Libya killed a top recruiter and logistics specialist for Al Qaeda's branch in northwest Africa, the Pentagon said on Wednesday, and a senior military official warned of more attacks on extremists there.
The military's Africa Command said in a statement that the attack killed two militants, one of whom was identified as Musa Abu Dawud, a high-ranking official in Al Qaeda in the Islamic Maghreb, known as AQIM.
Mr. Dawud trained Qaeda recruits in Libya for strike operations in the region, and provided logistics, money and weapons that enabled the group to threaten and attack American and Western interests, the military statement said.
Until now, the Pentagon had focused its counterterrorism strikes in Libya — eight since President Trump took office — almost exclusively on Islamic State fighters and operatives farther north. Over several months in 2016, the military conducted nearly 500 airstrikes in the coastal city of Surt to destroy the Islamic State's stronghold there.
The missile fired by the American drone on Saturday was the first in southern Libya. It struck a house in Ubari, 435 miles south of Tripoli, in the country's southwest, a notorious haven for a deadly mix of Al Qaeda and other extremist groups that also operate in the Sahel region of Niger, Chad, Mali and Algeria.
The area is also close to major oil fields that were crippled by violent ethnic feuding in 2015.
"I wouldn't say this is the beginning of a wider campaign," Col. Mark Cheadle, the Africa Command's chief spokesman, said in an email. But, he added, "If we find targets we can strike, and it is appropriate to do so, I think we would certainly consider the option."
Colonel Cheadle said that Mr. Dawud was "a significant 'fixer' for Al Qaeda." Other American military officials said that Mr. Dawud had been under surveillance for a significant period of time but gave no details about how he was tracked to a house and killed with another Qaeda fighter. The command said that no civilians were believed to have been killed in the attack.
The State Department said in 2016 that Mr. Dawud was a "specially designated global terrorist." He began engaging in terrorist activity as early as 1992, the State Department said at the time.
Pictures in Libyan news outlets showed a mutilated corpse lying in the rubble of a house and a pair of shrapnel-ridden vehicles nearby. Residents were quoted as saying that the house had been frequented by foreigners.
The strike came as the Trump administration has been reassessing the American military commitment in North and West Africa after an ambush in Niger in October that killed four American soldiers. The Pentagon has been preparing to fly armed drone missions from Niger's capital, Niamey, a step that diplomats and analysts say could further widen the Pentagon's shadow war in that part of the continent.
The American military is also building a $100 million drone base in Agadez, north of Niamey, that is set to begin operations this year.
In a sign of how the Pentagon has sought to obscure its operations in Libya and other parts of northwestern Africa, the Africa Command initially did not announce the strike. It responded to questions from The New York Times late Saturday with a terse statement after news reports about the strike circulated in Libya.
The command on Wednesday identified Mr. Dawud as the target of the attack and confirmed his death after "operational reporting" and an analysis of the strike's damage was complete.
Questions about whether the American military, under the Trump administration, is blurring the scope of operations in Africa were raised this month when it was revealed that the U.S. had carried out four airstrikes in Libya from September to January that the Africa Command did not disclose at the time.
The command's statement, coupled with Colonel Cheadle's comments, left little doubt that American airstrikes could soon expand in southern Libya.
"Al Qaeda and other terrorist groups, such as ISIS, have taken advantage of undergoverned spaces in Libya to establish sanctuaries for plotting, inspiring and directing terror attacks," the statement said. "Left unaddressed, these organizations could continue to inflict casualties on the civilian populations and security forces, and plot attacks against U.S. citizens and allied interests in the region."
https://www.nytimes.com/2018/03/28/world/africa/us-drone-strike-libya-qaeda.html?mtrref=www.google.co.in&gwh=6E2ABF8B365A3F90B8A307546AE96366&gwt=pay
--------
Ghana protestors rally against US military deal
Mar 28, 2018
Hundreds of people took to the streets of Accra, Ghana's capital, on Wednesday to protest against a controversial military deal with Washington which was passed by parliament last week.
The agreement was approved by President Nana Akufo-Addo's government on Friday but has come under heavy criticism from the opposition who say it undermines the country's sovereignty.
Ghana and the United States are working to forge closer ties between their armed forces but both have denied rumors that Washington is planning to set up military bases in the West African nation.
"This is an insensitive government," said protester Yaa Yaa Abban. "We'll resist this deal with the US because it does not favor us."
Protesters wearing the black and red of the opposition National Democratic Congress (NDC) carried signs reading "Akufo-Addo must not sell Ghana," and "Incompetent government, incompetent agreement".
In a tweet supporting the protest, former president John Mahama said, "I join in declaring #GhanaFirst as my compatriots and other democratic forces converge to demonstrate their opposition to the Ghana/US military agreement."
On Tuesday a high-ranking NDC member, Koku Anyidoho, was reportedly called in for questioning by police after a radio interview on Monday in which he said there would be a "civilian coup d'etat" over the deal.
Such remarks are "treasonable", Information Minister Mustapha Abdul-Hamid said in a statement on Tuesday.
Last week, the US Embassy in Accra said Washington had "not requested, nor does it plan to establish a military base or bases in Ghana."
It added that "this year, the United States of America is investing over $20 million (16.3 million euros) in training and equipment for the Ghanaian armed forces."
Joint exercises were planned for this year "which require access to Ghanaian bases by US participants and those from other nations when included," it added.
In the past decade, the United States has expanded its military presence in Africa.
Full report at:
http://www.presstv.com/Detail/2018/03/28/556770/Ghana-protestors-rally-against-US-military-deal
--------
Senegal FM visits Al-Aqsa accompanied by Israeli police
28 March 2018
Senegalese Foreign Minister Sidiki Kaba on Wednesday visited East Jerusalem's flashpoint Al-Aqsa Mosque compound under Israeli police protection.
Jerusalem's Religious Endowments Authority (Awqaf) and Higher Islamic Council, for their part, slammed the fact that Kaba's visit had been organized without any coordination with the Palestinian side.
"The Senegalese FM visited the Al-Aqsa this morning accompanied by Israeli police and in the absence any coordination with Jerusalem's Awqaf authorities," Al-Aqsa Mosque Director Omar Kiswani told Anadolu Agency.
"We did not formally greet him, as his visit was arranged through the Israeli occupation authorities and not through us," he said.
Al-Kiswani went to assert that anyone who entered the religious site accompanied by Israeli police would be viewed as an illicit trespasser.
"And that's exactly what the Senegalese foreign minister did today," he said.
For Muslims, the Al-Aqsa represents the world's third holiest site. Jews, for their part, refer to the area as the "Temple Mount", claiming it was the site of two Jewish temples in ancient times.
Full report at:
http://www.worldbulletin.net/africa/200407/six-people-killed-in-ethnic-attackin-kenya
--------
Somalia: Ethiopia Says Will Prevent Al Shabaab Attacks
28 MARCH 2018
The Ethiopian Tourism Organization said protecting peace and tourism should be a priority agenda to all citizens and stakeholders engaged in the sector.
A three days training targeting stakeholders, like hotels and tour operators, was launched here yesterday.
Briefing journalists Assistant Professor Yechale Mihiret, Deputy Director at the Organization said the training is aimed at upgrading the awareness of these groups on how to protect tourism destination from terrorist attacks.
He also stressed that the integrated effort of stakeholders would play a crucial role in sustaining peace and preserving tourism.
Assistant Commissioner of the Federal Police Commission Muluwork Gebre, who offered the training, told the trainees that terrorism has been targeting infrastructure during early trends.
Full report at:
http://allafrica.com/stories/201803290114.html
--------
North America
Speaker discusses post-9/11 impact on Muslim youth
March 28, 2018
Moustafa Bayoumi, associate professor of English at Brooklyn College and author of "How Does It Feel to Be a Problem? Being Young and Arab in America," highlighted the present–day implications of 9/11 on Arab youth during his presentation at Ithaca College on March 27.
The presentation was part of the college's annual Symposium on Inclusion, Cultural Fluency and Global Citizenship and drew an audience of approximately 50 people. The symposium was co-sponsored by the minor in Muslim cultures, the Center for Faculty Excellence, the Office of the Associate Provost for Diversity, Inclusion and Engagement and the Office of International Programs and Extended Studies.
Published in 2009, "How Does It Feel to Be a Problem? Being Young and Arab in America" illustrates the experiences of several Arab-American youths in Brooklyn as they navigate life amongst discrimination in post–9/11 American society. The novel was awarded a 2008 American Book Award and the 2009 Arab American Book Award for Non-Fiction.
Jason Freitag, associate professor in the Department of History, said the novel highlights values the symposium aims to address.
"Inclusion, fluency, citizenship, connection — these are words that ring for us in this text as he makes the experiences of these people so accessible to us as readers," he said. "The humanity in these stories awakens a sense of shared responsibility and hope."
During the presentation, Bayoumi emphasized how negative perceptions of Muslim and Arab individuals throughout the United States have escalated since the terrorist attack in 2001. Bayoumi said that in the last two decades, the country has adopted discriminatory attitudes that are detrimental to members of Islam and Arab communities.
"People now have opinions on Arabs and Muslims when they never had opinions on Arabs and Muslims before — especially in this way they are holding them now," he said. "The idea of Islam in America has been replaced. Now, it is the idea of a dangerous immigrant."
Bayoumi also discussed the modern relevance of his novel given the current political environment. He said while he believes the results of the 2016 presidential election encouraged the vocalization of anti-Muslim sentiments, negative attitudes toward the religion have been increasing throughout the last few decades.
"There was Islamophobic practice already happening in the country that unfairly stigmatized the Muslim community with a brush of suspicion," he said. "What Trump did during the election was that he spoke out loud the Islamophobia that was already in practice — and it got him votes."
Bayoumi said that to combat these harmful stigmas and stereotypes, everyone must work within their own communities to inspire empathy and change.
"We're heading backwards," he said. "I don't have faith that the government can do the right thing for us as a nation — I have more faith that maybe we could do it together."
Bayoumi said the lack of existing efforts to combat this damaging stereotype sparked his initial desire to publish a novel focusing on the lives of Arab-Americans.
"I was looking around me and seeing what was happening — the kinds of suspicions, the kinds of horrors and terrors that were really present in the community," he said. "I wanted to find a way of countering this growing hostility, this progressive dehumanization that I was seeing all around me. I thought, 'You know what the best way to do that would be? To tell stories.'"
Bayoumi said he decided to focus on the stories of young Arab-Muslim Americans specifically because he wanted to illustrate the effects of 9/11 on developing identities. A few of the narratives highlighted within the novel include the efforts of a high schooler to sue her school on the basis of religious discrimination, and a family who spent three months in a detention facility because of unreasonable suspicions of terrorism.
Junior Laura Waxman said the event opened her eyes to the reality of discrimination against Arab-Muslim individuals.
"I actually have the book and just haven't gotten a chance to read it yet, but I loved this event," she said. "I learned a lot about the Arab-American experience, and I can't wait to read more about it."
https://theithacan.org/news/speaker-discusses-post-9-11-impact-on-muslim-youth/
--------
Dallas Muslim community to celebrate expansion at local Allen mosque
Mar 29, 2018
The Ahmadiyya Muslim Community's Dallas chapter will host a ceremony for the expansion of Bait-ul-Ikram Mosque at 4 p.m. Saturday at the mosque at 1850 Hedgcoxe Road in Allen.
The chapter invites all neighbors to join in this celebration. Mirza Maghfoor Ahmad, national president of the Ahmadiyya Muslim Community USA, will preside over the ceremony. Imam Azhar Haneef, missionary-in-charge of the Ahmadiyya Muslim Community USA, will deliver the keynote address.
Allen dignitaries including Mayor Stephen Terrell, Police Chief Brian Harvey and Assistant Fire Chief David Cannady will be present.
The Ahmadiyya Muslim Community USA established America's oldest mosque in 1921 and currently has over 70 mosques nationwide. Each maintains an open door policy for all Americans, regardless of faith or background. Bait-ul-Ikram Mosque will continue this century long tradition.
Refreshments will be served. RSVP to rsvp@islamindallas.org.
About Ahmadiyya Muslim Community
The Ahmadiyya Muslim Community is a dynamic, reformist and fast-growing international movement within Islam. Founded in 1889, the Community spans over 210 nations with membership exceeding tens of millions. Ahmadiyya Muslim Community USA, established in 1920, is among the oldest American-Muslim organizations. The Ahmadiyya Muslim Community is the only Islamic organization to believe that the long- awaited messiah has come in the person of Mirza Ghulam Ahmad (1835-1908) of Qadian, India. Ahmad claimed to be the metaphorical second coming of Jesus of Nazareth and the divine guide, whose advent was foretold by the Prophet of Islam, Muhammad. The Community believes that God sent Ahmad, like Jesus, to end religious wars, condemn bloodshed and reinstitute morality, justice and peace. Ahmad's advent has brought about an unprecedented era of Islamic revival and moderation. He divested Muslims of fanatical beliefs and practices by vigorously championing Islam's true and essential teachings.
http://starlocalmedia.com/allenamerican/news/dallas-muslim-community-to-celebrate-expansion-at-local-allen-mosque/article_d279fe1a-32bf-11e8-bb21-e73f41375736.html
--------
Trump urges Turkish help in talk with France's Macron
28 March 2018
President Donald Trump emphasized the need to boost cooperation with Turkey regarding "shared strategic challenges in Syria" during a telephone call with French President Emmanuel Macron on Tuesday.
"President Trump stressed the need to intensify cooperation with Turkey with respect to shared strategic challenges in Syria," the White House said in its readout of the call.
The leaders also discussed recent diplomatic measures taken against Russia in retaliation for chemical attacks blamed on Moscow, as well as trade practices between the U.S. and E.U., the White House said.
The telephone call comes four days after Turkish President Recep Tayyip Erdogan discussed his country's operation in Afrin during a telephone conversation with Macron.
Erdogan expressed his discomfort about baseless statements on the counter-terror operation during the conversation, according to a Turkish presidential source.
In February, Macron said the a 30-day UN cease-fire adopted in Syria also applied to Turkey's Afrin operation. The French leader had also warned Turkey against using the operation as an "excuse to invade Syria".
Full report at:
http://www.worldbulletin.net/america-canada/200400/canada-mosque-killer-changes-plea-to-guilty
--------
Europe
May Urges UK Lawmakers to Stand Up Against Islamophobia and Anti-Semitism
March 29th, 2018
Prime Minister Theresa May on Wednesday urged British lawmakers to stand up against Islamophobia and anti-Semitism in the U.K.
Speaking at the House of Commons in a final weekly question session before the Easter recess, May said hate crime should not be a part of British society.
"I think there should be a very clear message from all of us in this House [of Commons], that there is no place for racial hatred, for hate crime in our society," May said, responding to a question by Conservative MP Peter Bottomley.
"They should not be a part of our society, whether it is Islamophobia or anti-Semitism," she added.
"This is something we should all stand up against and do our best to eradicate from our society," she said.
May's response came amidst anti-Semitism allegations directed at the Labour Party and in the run-up to a so-called 'Punish a Muslim Day', advertised in anonymous letters sent to British Muslims across the country.
A group of around 500 people held a protest in front of the British parliament Monday, accusing Labour Party leader Jeremy Corbyn of "siding with antisemites".
The Labour leader had issued an apology on Sunday night, saying, "I recognise that anti-Semitism has surfaced within the Labour Party, and has too often been dismissed as simply a matter of a few bad apples."
British counter-terrorism police have in the meantime launched a probe into a hate letter calling for acts of violence against Muslims earlier this month.
The letter, announcing a so-called "Punish a Muslim Day" on April 3, calls on people to attack Muslims in the form of verbal abuse or physical assault, such as by removing a woman's hijab or headscarf, or by throwing acid on them.
The counter-terrorism police said it had received reports of "potentially malicious communications sent to individuals across the U.K.".
The letter shows a scale of "points" based on the action taken against Muslims.
"There will be rewards based on action taken," the letter says.
The hate letter urges terrorist acts to "butcher a Muslim using a gun, knife, vehicle or otherwise," and "burn or bomb a mosque."
Tell MAMA, a group tracking anti-Muslim hate crime in the U.K., said the letter "has caused quite a lot of fear within the community".
Also in March, four high-profile Muslim MPs received suspicious packages that contained a noxious substance, according to police.
One staff member was also hospitalized after coming into contact with the substance and the MPs' offices were later cordoned off by police.
May previously condemned the targeting of Muslim lawmakers who were sent noxious packages and copies of an Islamophobic "Punish a Muslim Day" letter.
https://www.albawaba.com/news/may-urges-uk-lawmakers-stand-against-islamophobia-and-anti-semitism-1109608
--------
Turkish ex-mayor sought for terror links speaks at EC
29 March 2018
A former mayor in Turkey being sought for terror links was allowed to give a speech Wednesday at a session of the European Council.
Leyla Imret, a former mayor of Cizre district in Sirnak province who has a warrant out for her arrest for producing terrorist propaganda, delivered a speech in the French city of Strasbourg at a session of the European Council titled "Mayors Under Pressure".
Turkish mayors who attended the session said Imret's delivery of a speech was "unacceptable" and "scandalous."
Izmit city Mayor Nevzat Dogan said Imret delivering a speech is "neglecting the superiority of law and values of the European Council."
"Her speaking here is a clear violation of European Council standards," Dogan added.
Imret has been an active supporter of the PYD/PKK terrorist group and has been attending its protests and meetings.
Full report at:
http://www.worldbulletin.net/europe/200437/turkish-ex-mayor-sought-for-terror-links-speaks-at-ec
--------
South Asia
Muslim Hands Bangladesh activities update for Rohingya Refugees
28 Mar 2018
Muslim Hands International, Bangladesh is a NGO registered with the Bureau of NGO Affairs since 1995. The donor Muslim Hands is an international relief and development NGO, established in 1993 in UK with partners in nearly forty countries, carrying out short and long-term projects in emergency relief, educational and vocational training, orphan sponsorship, medical care and safe water.
The influx of Rohingya since 25th August, 2017 resulted a humanitarian emergency. They are victim of violence and witness of killings, rape and arson by Myanmar militaries. Nurbanu, a forty-four years old lady took her grandson in a medical camp for treatment which set up by Muslim Hands International (MHI) at Balukhali, Cox's Bazar. After receiving free medicine and doctor consultation from the camp she told her story. She shared that "armies threw bombs from Helicopter at my village. Many people died in front of my eyes. When I was trying to run away with my family, majority of us caught by the army persons. Before my eyes they slaughtered my 11 family member who are my son, daughter, husband, brother and sister. I had to take another place to run for saving other members of my family."
Muslim Hands International has completed a number of projects to help Rohingya refugees in Cox's Bazar, Bangladesh. A Deep Tubewell with 5000 Litre water tank has constructed in the Balukhali-1 refugee camp. One of the biggest wells Muslim Hands have ever built, it has twenty (20) taps and the capacity to provide clean, safe water to over 5,000 people every day and also allows people performing prayers at the local mosque to perform ablution before their daily prayers. A medical camp has established in Balukhali where MBBS doctor, Paramedics, nurse and volunteers served around 5000 patients for one month along with free medicine. 15000 blanket, 15000 woman shawl, 30000 kids sweater and 30000 jeans pant has distributed in a number of Rohingya camps. Also Muslim Hands Bangladesh has distributed Hygiene kit, food item, non-food item, children cloth, impermanent tent etc. among the refugees in the camp. At initial stage 10 Shallow tube wells were setup in different location of the camps.
Muslim Hands has planned to setup more medical camp to access free medical help among Rohingya refugees and also more deep tube well with a depth of 1000 feet. Women friendly bathing center and child friendly space is planning to setup in Rohingya zones. For coming Monsoon season, Muslim Hands will adopt Shelter strengthening material distribution projects in vulnerable zones. Also Hygiene kits, food items and necessary no-food items has planned to distribute among Rohingya refugees.
The needs are high for both Rohingya people and host communities. Muslim Hands International, Bangladesh is devoted to work for both Rohingya and host communities in Cox's Bazar. To meet their need urgent support is required. Donate now to the Rohingya Emergency Appeal and help the Rohingya refugees.
https://reliefweb.int/report/bangladesh/muslim-hands-bangladesh-activities-update-rohingya-refugees
--------
4 Taliban militants killed in Afghan Air Force airstrike in Takhar
Mar 29 2018
At least four militants of the Taliban group were killed in an airstrike conducted by the Afghan Air Force in northeastern Takhar province of Afghanistan.
The 209th Shaheen Corps of the Afghan Military in the North said the airstrike was carried out in the vicinity of Gor Tapa area of Khwajah Ghar district.
The source further added that three Taliban militants were also wounded during the airstrike and one of their hideouts was destroyed.
The anti-government armed militant groups including Taliban insurgents have not commented regarding the report so far.
Takhar is located in the Northeastern parts of the country bordering some of the relatively volatile provinces in the North.
The anti-government armed militants are actively operating in some of its and often attempt to carry out insurgency activities as the counter-terrorism operations are underway by the Afghan National Defense and Security Forces to suppress the activities of the militant groups.
This comes as the anti-government armed militants carried out a large scale attack in Khwajah Ghar district earlier this month.
Full report at:
https://www.khaama.com/4-taliban-militants-killed-in-afghan-air-force-airstrike-in-takhar-04743/
--------
Taliban warns Helmand youths participating in peace sit-in
Mar 28 2018
The Taliban group in Afghanistan issued a warning the participants of the peace sit-in in southern Helmand province of Afghanistan, mainly comprising of the local youths, who have been advocating for peace, for the past five days.
Taliban group spokesman Qari yousuf Ahmadi in a statement said the participants of the sit-in in Helmand must organize demonstrations near the foreign forces base against, rather than organizing protests in the areas under the control of Taliban.
Qari Ahmadi went on to claim that the group has been forced to wage war due to the presence of the foreign forces in Afghanistan.
He also warned that the intelligence circles are attempting to use the sit-in in their favor, emphasizing that the sit-in participants would be responsible for any possible incident.
This comes as hundreds of youths in Helmand, including men and women, started a sit-in, in support of the peace process in Helmand.
The sit-in has been ongoing for the past five days as the participants call on the Taliban and government to end the violence by declaring a cease fire and participating in reconciliation process
The leaders of the sit-in are saying that they will march towards Musa Qala district which is considered as the stronghold of the Taliban in a bid to advocate in favor of the reconciliation process.
Full report at:
https://www.khaama.com/taliban-warns-helmand-youths-participating-in-peace-sit-in-04742/
--------
American Interfaith leaders laud Bangladesh for sheltering Rohingya
March 28, 2018
They emphasized the need to set up a safe zone in the Rakhine state for the Rohingya
American interfaith leaders have praised Bangladesh and its citizens for standing by the forcibly displaced Rohingya minority. Members of a delegation of interfaith leaders currently in Dhaka, they dubbed the Myanmar army's massacre of Rohingyas genocide and emphasized the importance of setting up a safe zone for them in Rakhine state.
The delegation thanked Prime Minister Sheikh Hasina for her personal attention to the plight of the Rohingyas, mentioning that they are a community that has been the target of state-sanctioned discrimination for decades.
"It is a textbook case of genocide," Beth Lilach, senior director at the Holocaust Memorial Center on Long Island, told the media in Dhaka. "The persecution of Muslim Rohingya evolved in stages similar to the progression of Nazism suffered first by German Jews and then by all of European Jewry."
International Interfaith Peace Corps Chairman Imam Mohamed Magid said the Rohingya had repeatedly been forced to flee to Bangladesh. "It makes the need for a safe zone in the Rakhine state very clear," he added.
"With a safe zone, protected by international peacekeepers, we are more likely to be able to keep the peace and allow safe and just repatriation," added Magid, also executive Imam of All Dulles Area Muslim Society in Sterling, Virginia.
Rabbi David Saperstein, former US ambassador at large for International Religious Freedom, said that since the 2012 riots in Rakhine state, mosques had been attacked, Quran and other religious books burned, schools offering religious education closed and Muslim scholars assaulted.
"These occurrences were part of the reason that for a number of years, the US government has designated Myanmar as a 'country of particular concern', that is, a country that engages in egregious systemic violations of religious freedom," he added.
'Only Solution'
Nearly 700,000 Rohingya men, women and children fled to Bangladesh since late last August after the Myanmar security forces launched a brutal offensive targeting the predominantly-Muslim minority following militant attack on 30 police posts and an army base.
Bangladesh was already hosting several hundred thousand Rohingya who had crossed the border at various times in the past to escape persecution in Myanmar.
The 'Interfaith Coalition to stop genocide in Burma' organized the 14-member delegation that includes two Buddhist leaders, two Jewish leaders, two Imams, and several Christian leaders.
Interfaith Coalition's spokesperson Nicolee Ambrose said the delegation was comprised of leaders and adherents of the world's major religions, "who are united in our efforts to address the suffering of the Rohingya people."
The delegation visited Rohingya camps in Cox's Bazar on March 26 and 27. They returned to the US on Wednesday.
Ambrose said the purpose of their visit was to personally observe and witness the atrocities the Rohingya are experiencing, and to meet those who were most affected by the crisis.
"The US House of Representatives is the first elected body in the world to pass legislation in support of Rohingya security and citizenship. The Congress is considering additional measures," she said.
Ambrose said the president, secretary of state, and UN ambassador had made powerful statements recognizing the plight of the Rohingya.
Full report at:
https://www.dhakatribune.com/bangladesh/dhaka/2018/03/28/american-interfaith-leaders-laud-bangladesh-sheltering-rohingya/
--------
Nusrat operations underway to suppress militants in Helmand
Mar 28 2018
The counter-terrorism clearance operations (Nusrat Operations) are underway in southern Helmand province to suppress the militants in this province.
The provincial government media office said Nusrat Operations were launched in new Solar Year 1397 with the support of the Air and Ground forces of the Maiwand Corps of the Afghan military.
According to an official statement, the operations are currently being conducted in Greshk district and so far 4 militants have been killed and 3 others have sustained injuries.
The statement further added that the Afghan forces have also destroyed 27 hideouts of the militants so far and have discovered and defused 12 improvised explosive devices.
The provincial government says at least three suspects have also been rounded up during the operations and three motorcycles, two vehicles, and a pistol have also been confiscated.
The Afghan forces have also started operations in Sangin district as part of the Nusrat operations and are being conducted successfully.
The anti-government armed militant groups have not commented regarding the report so far.
Full report at:
https://www.khaama.com/nusrat-operations-underway-to-suppress-militants-in-helmand-04740/
--------
Myanmar elects Aung San Suu Kyi aide Win Myint as president
Mar 29, 2018
Myanmar's parliament has elected a close aide of de-facto leader Aung San Suu Kyi as president.
The loyalist beat a military-backed candidate, while Ms Suu Kyi retained executive authority over the government.
It came as the country's civilian government struggled to implement peace, with Myanmar's powerful army under heavy international criticism for its brutal counterinsurgency campaign against the nation's Rohingya Muslims.
Win Myint, 66, replaces another Ms Suu Kyi loyalist, Htin Kyaw, who retired last week due to ill health. Mr Win Myint is a long-serving member of her National League for Democracy – an affiliation that led to his becoming a political prisoner under the previous military government.
Myanmar's army ruled the country for half a century, during which it was accused of widespread abuses. The armed forces relinquished some of its power to the civilian government in 2016, but it remains in charge of security matters.
The army is responsible for mass village-burnings and the widespread rape and murder of the country's Rohingya Muslim population in Myanmar's western Rakhine state, which has seen nearly 700,000 Muslim Rohingya flee to Bangladesh since August. The United States and UN have described the operation as ethnic cleansing, which Myanmar denies.
When Ms Suu Kyi's government was installed in 2016 and she was made state counsellor, she said she would be "above the president", a position largely supported by her party and the public.
The state counsellor role was created especially for Ms Suu Kyi because she is constitutionally banned from the presidency. A clause in the 2008 military-drafted constitution bars anyone with a foreign spouse or child from holding the job. Ms Suu Kyi's two sons are British, as was her late husband.
Myanmar's president is elected by a joint sitting of the two houses of parliament from among the country's three vice presidents, representing the lower house, the upper house and the military.
Mr Win Myint, the vice president backed by Ms Suu Kyi's ruling party and selected by the lower house, received 403 votes from the combined houses. Meanwhile, Myint Swe, the vice president supported by the military, had 211 votes and Henry Van Tio, the vice president selected by the upper house, had 18.
The National League for Democracy's (NLD) landslide election victory in late 2015 gave it large majorities in both houses.
But under the constitution, the military holds special privileges in the country's administration, including a 25 per cent share of parliamentary seats and the three security portfolios in the cabinet.
Having been both a member of the NLD's Central Executive Committee and speaker of the lower house for two years shows Mr Win Myint holds the skills to be president, said Win Zaw, a party representative sitting in the lower house
"We hope that he will do great work as the president, and I am sure he will use his power to do the best he can for the country," he said.
Mr Win Myint was a successful parliamentary candidate in the 1990 general election, but the military invalidated the poll and he was denied a seat. He was elected in 2012 and again in 2015.
Born in the Irrawaddy Delta in 1951, Mr Win Myint won his degree in geology in Yangon, only to become a lawyer in the 1980s. He became involved with the NLD in the party's infancy, during the failed anti-military uprising of 1988, which led to his brief stint in prison. In 2010, he became a member of the Central Executive Committee of Suu Kyi's party.
"Win Myint was educated as a lawyer and has been loyal to the party as well," said Aung Shin, a close friend and colleague. "More importantly, he has always worked together with Aung San Suu Kyi and they have mutual trust. I see him as a very reliable person who will be a great president for the country, and people are very optimistic about him."
Khin Zaw Win, director of the Tampadipa Institute, a policy advocacy group, questioned whether Mr Win Myint's loyalty to Ms Suu Kyi was an asset.
Full report at:
https://www.independent.co.uk/news/world/asia/myanmar-new-president-aung-san-suu-kyi-win-myint-rohingya-military-a8277231.html
--------
US purchases new Scan Eagle drones for the Afghan military
Mar 29 2018
The United States has approved a new contract for the delivery of the ScanEagle unmanned aerial systems, drones, to the Afghan military.
The Department of Defense, Pentagon, said the Washington-based Insitu Inc. has been awarded a contract worth $47 million for the delivery of the drones.
"Insitu Inc., Bingen, Washington, is being awarded a $47,037,076 firm-fixed-price delivery order (N6833518F0050) to a previously issued basic ordering agreement (N68335-16-G-0046). This order provides for the procurement of eight ScanEagle unmanned aircraft systems (UAS), spares, support equipment, one logistician field service representative (FSR); 16 FSR operators to provide ScanEagle UAS technical services; two site surveys and site activation teams; and program management to sustain and operate the ScanEagle UAS in support of the government of the Islamic Republic of Afghanistan under a Building Partnership Capacity case," according to a statement by Pentagon.
The source further adds that the work will be performed in Afghanistan (95 percent); and Bingen, Washington (5 percent), and is expected to be completed in March 2019.
This comes as the Afghan government and the international allies of Afghanistan including US and NATO have stepped up efforts to boost the capabilities of the Afghan national defense and security forces.
Full report at:
https://www.khaama.com/us-purchases-new-scaneagle-drones-for-the-afghan-military-04744/
--------
Mideast
Turkey and Russia 'form secret alliance' over Syria war
29 March 2018
ANKARA: Turkish troops are making sweeping territorial gains in northern Syria, fuelling speculation that Ankara and Moscow are secretly working together to establish greater control over the war.
Sections of the Turkish media reported that the center of Tel Rifaat city in northern Syria was encircled on Tuesday after up to 100 Russian police officers mysteriously pulled out of the area, allowing the soldiers and members of the Free Syrian Army (FSA) to enter.
Although Ankara has yet to confirm this, Arab News sources said that Tel Rifaat's collapse is imminent, with negotiations still continuing.
These latest developments have caused military analysts to suggest that Moscow is deliberately ceding control of the area, betraying Kurdish fighters it once protected, in a bid to stop Turkey from edging closer to the US.
They told Arab News it may be the clearest sign yet that the countries are secretly working together in a double game, swapping territory and selling out guerrilla factions that they had previously supported, in an attempt to improve their strategic footholds in the country.
Magdalena Kirchner, of the Istanbul Policy Center, told Arab News that while there was no definitive proof of a quid pro quo, the fact that Russian forces left Tel Rifaat "just hours before the operation started points to fairly close coordination and ongoing negotiations".
Relations between Turkey and Russia have fluctuated wildly since Moscow intervened in the Syrian civil war in September 2015 to support the regime of President Bashar Assad, which Ankara had vowed to help topple. In November that year, Turkey shot down a Russian fighter plane near its border with Syria, causing Russia to respond with sanctions.
In June 2016 Turkish President Recep Tayyip Erdogan apologized for downing the plane and relations began to thaw. Since early 2017 the two countries, together with Iran, have been cooperating in what they say is an attempt to bring about a political end to the conflict by establishing "de-escalation zones" throughout Syria. But Tel Rifaat's targeting by Turkish forces this week may be a sign that both sides are more interested in furthering their geopolitical interests than keeping the peace, analysts told Arab News.
Kerim Has, a lecturer in Turkish-Russian relations at Moscow State University, said that there have been indications elsewhere in Syria that an unofficial, mutually beneficial arrangement, has been reached between the two countries.
This may have caused Turkey to smooth the UN-backed evacuation of fundamentalist insurgents from Eastern Ghouta, near Damascus, to Idlib, southwest of Aleppo, he said. The evacuation, which remains ongoing, seems almost certain to allow the Syrian regime to claim a key victory in the war, following a ferocious siege that has killed hundreds of civilians in recent weeks.
Meanwhile, Moscow has quietly allowed Turkish forces to press ahead largely unchallenged with a major military offensive in the north of the country. Operation Olive Branch began on Jan. 20 with the aim of seizing territory from Kurdish separatists in the region.
The Syrian city of Afrin fell to Turkish forces on March 18, with the UN estimating that 50,000 children in the surrounding area now need humanitarian aid.
Turkey has promoted Operation Olive Branch as an offensive against Kurdish rebels belonging to the People's Protection Units (YPG) and the Kurdistan Workers' Party (PKK). It claims to have killed more than 3,500 Kurdish fighters.
Has told Arab News: "Russia's green light for Operation Olive Branch and Turkey's apparent silence on Eastern Ghouta shows some of the parameters in the bargaining process."
Tel Rifaat, which lies 13 miles southeast of Afrin, has been an important logistical hub for Kurdish fighters. It was one of the last areas under the YPG's control and included a Russian airbase.
While officials have yet to confirm the city's fall, the Turkish army recently used its Twitter account to claim that people wanted it "to be cleared of terrorist organizations."
Omer Ozkizilcik, an analyst at the Middle East Foundation in Ankara, told Arab News that Russia had made significant efforts to involve the YPG in a political solution to the war.
He said Moscow gave up on this approach when it emerged that the US is training 30,000 personnel, including elements of the YPG, to secure the Syrian border, a move that has infuriated Ankara. The US denies that the YPG and PKK are closely linked.
On Tuesday Russian President Vladimir Putin and Erdogan discussed plans for a Syria summit they are due to hold in Ankara next week. Iran will also attend the meeting.
Unlike much of the international community, Turkey has said it has no plans to expel Russian diplomats following the poisoning of a Russian double agent in Britain earlier this month.
http://www.arabnews.com/node/1275441/middle-east
--------
10 UAE-backed troops killed in Yemen Islamist attack
29 March 2018
Ten Yemeni soldiers trained and backed by the United Arab Emirates were killed Wednesday in an attack by armed Islamist extremists in southwest Yemen, military and medical sources said.
Five gunmen were also killed in the attack on a military post in the Hajr district of the port city Mukalla, a high-ranking military source said on condition of anonymity.
A source at the Ibn Sina military hospital in Mukalla confirmed that 10 soldiers had been pronounced dead after the attack.
Mukalla, located on the Gulf of Aden, has been controlled by the Saudi-backed government of President Abedrabbo Mansour Hadi since 2016, when al-Qaeda's branch in Yemen withdrew from the city.
The UAE is a key member of a military coalition, led by Saudi Arabia, which has fought alongside the Yemeni government against Yemen's Houthi rebels as well as Islamist groups.
The UAE trains and supports elite forces in southeast and southwest Yemen, including brigades stationed in Mukalla known as "Quwat al-Nokhba".
The troops were key in driving al-Qaeda in the Arabian Peninsula out of Mukalla in April 2016, one year after they overran the coastal city in the midst of Yemen's civil war.
Islamist networks, including AQAP and the Islamic State group, have exploited the Yemen war to expand their presence in pockets across southern Yemen.
Full report at:
https://english.alarabiya.net/en/News/gulf/2018/03/29/10-UAE-backed-troops-killed-in-Yemen-Islamist-attack-.html
--------
Saudi Prince Khalid bin Salman: UAE 'important partner' in Yemen efforts
29 March 2018
Saudi Arabia's Ambassador to the US Prince Khalid bin Salman took to Twitter on Thursday to thank the UAE for standing with the kingdom to support Yemen.
"Thank you to our brothers in the United Arab Emirates for standing with the Kingdom in supporting the Yemeni people," the prince said.
He added that the UAE is playing a vital role along with Saudi Arabia in implementing the UN's humanitarian efforts to support the Yemeni people.
The UN launched a comprehensive humanitarian response plan for Yemen in early January with almost $3 billion in order to reach and assist millions of Yemeni people.
$930 million in aid to Yemen
The UAE had pledged $500 million on Wednesday to support the United Nations' humanitarian response plan in Yemen, the state news agency WAM reported.
Combined, Saudi Arabia and the United Arab Emirates have given $930 million to UN humanitarian efforts in Yemen.
Mohammed bin Salman presented the previously pledged donation Tuesday to UN Secretary-General Antonio Guterres.
Full report at:
https://english.alarabiya.net/en/News/gulf/2018/03/29/Saudi-Prince-Khalid-bin-Salman-says-UAE-important-partner-in-Yemen-humanitarian-efforts.html
--------
Turkey threatens action if Kurds do not evacuate Manbij
Mar 29, 2018
Turkey has announced that it will not hesitate to take action if Kurdish forces do not leave the Syrian town of Manbij.
"It has been stated that terrorists in Manbij should leave the region immediately, otherwise Turkey will not hesitate to take the initiative there as it did in other regions," said the country's National Security Council (MGK) in a statement released late on Wednesday.
The council, headed by Turkish President Recep Tayyip Erdogan, added that the same approach would also be extended to all other militant groups operating to the east of the Euphrates.
It also noted that Turkey expected Iraq's government to prevent the Kurdistan Workers' Party (PKK) from operating in the country, especially in towns of Sinjar and Qandil.
"Turkey expects Iraq to prevent operations by the separatist terrorist organization in its territory and if it is not possible, Turkey will prevent them by itself," added the statement.
The Turkish military said on March 24 that it had established full control over Syria's Afrin after more than two months of battles with US-backed militants controlling Syria's northern border regions.
Full report at:
http://www.presstv.com/Detail/2018/03/29/556773/turkey-manbij-mgk-kurds
--------
Israel authorizes snipers to use live ammo against Palestinian protesters
Mar 28, 2018
The Israeli military has deployed 100 snipers with the authority to use live rounds on the Gaza border as part of its crackdown on planned Palestinian demonstrations.
"We have deployed more than 100 sharpshooters who were called up from all of the military's units, primarily from the special forces," said the Israeli army's chief of staff, Lieutenant-General Gadi Eizenkot, in an interview published on Wednesday in the Yedioth Ahronoth daily.
He added that the snipers and other troops deployed in the region are authorized to use "a lot of force" and live ammunition to keep the protesters away from the fence along the besieged Gaza Strip.
Palestinians will commence a massive rally on the occasion of the Land Day and the 70th anniversary of the expulsion of Palestinians from their land on Friday.
Tens of thousands of Gazans are expected to take part in the peaceful "March of Return."
Full report at:
http://www.presstv.com/Detail/2018/03/28/556768/palestine-israel-snipers-live-ammunition
--------
Turkish military building high-altitude base against PKK militants
Mar 28, 2018
The Turkish military is constructing a new military base in the mountainous area of the country's southeastern province of Hakkari in order to better monitor the movements of the Kurdistan Workers' Party (PKK) militants, and prevent any possible act of terror.
Turkish security sources, speaking on condition of anonymity, said the base is being built at an altitude of 2,400 meters in Mount Balkaya and lies close to the border with Iraq's semi-autonomous Kurdistan region.
PKK militants regularly clash with Turkish forces in the Kurdish-dominated southeast of Turkey attached to northern Iraq.
Turkey, along with the European Union and the United States, has declared the PKK a terrorist group and has banned it. The militant group has been seeking an autonomous Kurdish region since 1984.
A shaky ceasefire between the PKK and the Turkish government collapsed in July 2015. Attacks on Turkish security forces have soared ever since.
Over the past few months, Turkish ground and air forces have been carrying out operations against the PKK positions in the country as well as in northern Iraq and neighboring Syria.
More than 40,000 people have been killed during the three-decade conflict between Turkey and the autonomy-seeking militant group.
German man detained trying to join YPG in Syria
Meanwhile, Turkish security forces have arrested a German national in the southeastern province of Sirnak as he was trying to cross into Syria.
Security officials said 28-year-old Patrick Kraicker was detained on March 14 in the Silopi district of the province, situated some 1,000 kilometers (621 miles) east of the capital Ankara.
Kraicker said during his questioning that he wanted to cross into Syria to join the Kurdish People's Protection Units (YPG) militants, against whom the Ankara government is currently carrying out a cross-border military offensive in Syria's northwestern region of Afrin.
Ankara views the YPG as the Syrian branch of the PKK militant group that has been fighting for an autonomous region inside Turkey since 1984.
Erdogan has repeatedly said that Afrin should be cleared of "terrorists," and demanded the deployment of Turkish troops there during a speech back in November 2016.
This is while US officials regard the YPG as the most effective fighting force against the Daesh Takfiri terrorist group in northern Syria, and have substantially increased their weaponry and technology support to the group.
The controversy over a possible Syria border force first started on January 14 when a report emerged on Reuters saying that the military coalition led by the United States in Syria was planning to set up a large border force of up to 30,000 personnel with the aid of its militia allies.
Full report at:
http://www.presstv.com/Detail/2018/03/28/556753/Turkey-military-base-PKK
--------
Israeli tanks shell two Hamas positions in besieged Gaza Strip
Mar 28, 2018
Israeli battle tanks targeted the southern part of the Gaza Strip as the Tel Aviv regime goes ahead with its acts of aggression against the besieged Palestinian coastal sliver.
Arabic-language Palestine al-Yawm news agency reported that four rounds of shell struck two observation posts belonging to the Palestinian Hamas resistance movement in the eastern Zeitoun neighborhood of Gaza City on Wednesday.
There were no immediate reports of casualties and the extent of damage caused.
The Israeli military said in a statement that the shelling came after two young Palestinian men approached the border fence between the Gaza Strip and the occupied Palestinian territories near the Karni Crossing, and set fire to a tunnel detection device. The statement added that the two Palestinians did not manage to cross the fence.
The development came only three days after Israeli forces pounded the Palestinian town of Beit Lahia after dozens of rocket sirens sounded in southern Israel.
Israeli media outlets reported that Iron Dome anti-missile systems were activated several times late on Sunday as a result of artillery fire from a drill carried out by the Ezzedine al-Qassam Brigades, the military wing of Hamas.
On Saturday, Israeli fighter jets struck Hamas positions in the border city of Rafah, located 30 kilometers (19 miles) south of Gaza City.
The Israeli military claimed that the attack was in response to an incident earlier that day in which four Palestinians illegally crossed the border fence into Israel.
The Israeli military frequently bombs the Gaza Strip, with civilians being the main target of such attacks.
Israel has also launched several wars on the Palestinian coastal sliver, the last of which began in early July 2014. The military aggression, which ended on August 26, 2014, killed nearly 2,200 Palestinians. Over 11,100 others were also wounded in the war.
The Gaza Strip has been under an Israeli siege since June 2007. The blockade has caused a decline in the standards of living as well as unprecedented levels of unemployment and unrelenting poverty.
Full report at:
http://www.presstv.com/Detail/2018/03/28/556728/Israeli-tanks-shell-two-Hamas-positions-in-besieged-Gaza-Strip
--------
Israel arrests hundreds of Palestinian workers before Jewish holidays
Mar 28, 2018
Tel Aviv's forces have arrested hundreds of undocumented Palestinian laborers working in Israel ahead of Jewish holidays during a massive operation denounced by rights activists as "racist."
In the operation dubbed "Biur Chametz," meaning cleaning a house from non-Kosher food, nearly 2,300 officers and "volunteers," assisted by Israel's air force, have raided dozens of locations in Israel since Saturday.
Out of the 569 arrested, 468 were Palestinian laborers working in Israel without permit, 17 were accused of harboring laborers, 24 were suspected of transporting and eight were suspected of employing.
"These operations will continue as long as necessary in different areas, as part of security in order to prevent incidents from taking place," Micky Rosenfeld, an Israeli police spokesman said.
Rights activists have slammed the operation for both its crackdown on undocumented workers and the insulting connotation of its name.
Racist name of operation
Biur Chametz refers to a religious Jewish tradition of removing all traces of non-kosher food from a home either by cleaning all surfaces, burning leftovers, or giving them to non-Jews.
"Israeli police's terminology towards people, like food that must be cleaned and removed, attests to the racist character of the police activity," Adalah, an NGO dedicated to Palestinian legal rights in Israel, said in a statement on Tuesday. "Indeed, this is an ethnic cleansing."
"These Palestinians do not have any intention to harm anyone yet the police treat them like criminals who must be arrested, for no fault of their own," Adalah pointed out.
Israeli forces typically intensify crackdown on Palestinians before and during Jewish holidays, including massive arrests and closure of crossings into the occupied territories.
As of Thursday, a day before the Jewish holiday Passover, Israeli forces will close crossings from the West Bank and Gaza Strip for eight days, Palestinian news agency Wafa reported.
According to the Israeli army's Coordinator of Government Activities in the Territories (COGAT), 70,000 Palestinian workers with permits crossed daily into Israel in 2017.
Israeli police regularly carry out raids targeting undocumented workers, as well as the Israeli citizens suspected of employing them and housing them.
Full report at:
http://www.presstv.com/Detail/2018/03/28/556704/Palestine-Israel-worker
--------
Southeast Asia
Indonesia's president confident of winning fight against extremism
March 29, 2018
JAKARTA -- It is hard to remember after entering the surroundings of lndonesia's Bogor presidential palace that the youthful looking, understated man tooling around the sprawling property in a golf buggy is head of the world's most populous Muslim-majority country and the third-largest democracy.
President Joko Widodo, or "Jokowi" as he is widely known, has the air of both a statesman and what some describe as a "boy from the kampong [village]." A well-documented fan of heavy metal music, he's also known for his frequent visits to communities around the country. Today on his buggy ride through the public gardens adjoining the palace he stops frequently to take selfies and chat with eager crowds who mob the open vehicle. "This is the only vehicle I'm allowed to drive," he said with a characteristic smile. "I try to [get out] most weekends."
It's this common touch that helped to propel Jokowi to office. Born in a slum in Solo, Central Java, he became a businessman running a provincial furniture factory before serving as the governor of Jakarta. Then in 2014 he ran for president, winning a bitterly contested national election -- a historic victory for an outsider with no ties to the military or political establishment.
The fallout from that poll still reverberates in the combative political atmosphere of Indonesia today with daily headlines about the latest moves by opponents and long-running tensions between the president's office and the unruly parliament. Even with polls putting Jokowi's approval rating at 76%, there was intense political jockeying before his party, the Indonesian Democratic Party of Struggle (PDI-P), formally endorsed him as its presidential candidate for the 2019 national election.
It is a measure of Indonesia's Byzantine politics that a popular leader would have no guarantee of being re-anointed by his party to contest a second term. On the contrary, even a year ago, there were rumors of military coups to unseat Jokowi after hundreds of thousands of people took to the streets to demonstrate against his former close ally, Jakarta Gov. Basuki "Ahok" Tjahaja Purnama.
Slamming the governor's Chinese-Christian background, Islamist groups stirred up anger, accusing him of blasphemy for "insulting" the Quran -- a charge for which Ahok was subsequently tried, convicted and is currently serving a jail sentence.
The upheaval brought Jokowi into confrontation with the country's increasingly hard-line Islamist groups. He came out swinging. In July 2017, the government used special regulations to disband the Muslim group Hizbut Tahrir Indonesia, citing its support for a caliphate. Though about 87% of Indonesia's population of 261 million is Muslim, the country is officially a secular state -- a fact that Jokowi often emphasizes. Following the ban of HTI, he tightened up regulations on mass movements to make it easier to outlaw groups that contravened the country's constitutionally enshrined principles.
Asked today about the challenge of balancing the country's more extremist elements, and whether Indonesia is still as consciously secular as it was, he chooses his words carefully. "Pluralism is in Indonesia's DNA. Islam in Indonesia has always been peaceful and tolerant. Nothing will change this. No group will be allowed to threaten Indonesia's peace and harmony," he said. "We constantly work with religious leaders and community groups to fight extremism."
It is a statement that suggests there will be more struggles ahead, not least over the latest broadside from ultra-conservative Islamist lawmakers and lobbyists who have supported proposals before parliament to criminalize gay and premarital sex. The proposed laws have triggered international condemnation from rights groups and once again highlighted the growing influence of conservative Islamists in the country -- and Jokowi's fragile position between competing interest groups.
Again, the president plays the diplomat. "Indonesia has cultural norms that must be respected," he said of the controversial proposals. "However, our constitution does not allow anyone to be the subject of violence or discrimination because of who or what they are -- and that is the point."
Does Jokowi worry that such a stance could escalate tensions with Islamist groups? "I think I can handle this," he replied in a firm tone.
Whether or not he can, that calm confidence will be essential during what's shaping up to be an intense final year of his first term. Local elections, which take place in late June, with simultaneous polls for governors and mayors in 171 regions, are sure to be heated. Then there's the general election in April 2019. Jokowi won't comment on his prospects of winning next year, saying only, "Right now, my priority is delivering on the mandate I received from the people when I first got elected. Of course I hope my fellow citizens will allow me to see [this term] through to the end. And I will keep working even as the campaign kicks off."
Despite the political and religious tensions in the country, the president has a strong track record. "Compared to the global economy, our economy is doing well. In 2017, Indonesia grew by 5.1%. Indonesia can realistically grow by at least 5.3% to 5.4% in 2018, although I have much higher aspirations," he said. "But what is more important than economic growth is the quality of growth. People need to feel their lives are getting better."
And do they? "Yes," he says emphatically. "In the past few years, we have cut the poverty rate to the lowest level in the last 16 years, to 10.1% in September 2017. For me, having a low poverty and unemployment rate is more meaningful than having higher economic growth."
That said, Jokowi has made his $350 billion to $400 billion infrastructure push a defining initiative of his presidency so far. He brushes aside concerns that funding the vast program, despite heavy investment from Japan, China and other countries as well as private investors, has put pressure on Indonesia's budget.
"We are focusing on infrastructure: toll roads, seaports, airports and then power plants," he said. "But in terms of funding, we don't have a problem with this. We used to always rely on the national budget to build infrastructure. When we came into office in 2014, I told my ministers, 'You must find partners, you must give opportunities in infrastructure to the private sector.' So we have opened up more sectors to foreign investment."
In early February he told a gathering of his diplomats that he wanted Indonesia to become a net aid donor rather than a net aid recipient, and instructed them to seek out partnerships and step up "economic diplomacy." While the president might be somewhat reticent in discussing tensions at home, he is loquacious on the topic of opportunities from abroad.
"According to the World Bank's Ease of Doing Business Index, Indonesia has jumped from 120th in 2014 to 72nd in 2018," he said, evidently pleased with the ranking. "This is a boost in the trust and confidence of the investor community, making it easier for us to realize actual investments from foreign investors." He now wants to focus on spurring the creative economy, including the film, fashion, arts, food and design industries. "We realize the sector has a big impact on job creation and services and we believe it will just get bigger."
In his promotion of Indonesia's profile, perhaps Jokowi's greatest coup has been landing two major international events this year -- the Asian Games in August and the IMF-World Bank annual meeting in October, to be held for the first time in Indonesia. The events will draw tens of thousands of visitors, not only putting Indonesia into the international spotlight but boosting the country's already strong tourism industry -- an area in which Jokowi sees room for growth.
"You know, we have some 17,500 islands," he says. "Over the next three years we will be focusing on developing what we call the '10 New Balis,' meaning beautiful but lesser known destinations. Last year, the focus was on boosting the infrastructure of these locations. We hope these new Balis will attract investors to Belitung, Labuan Bajo and Borobudur."
Jokowi has also been intent on safeguarding against regional tensions. He has made deals with Russia, South Korea, Turkey and China for procurement on submarines, fighter jets, tanks and drones. The move is in line with his pledge to triple defense spending to 1.5% of gross domestic product over his term. "We must be prudent but effective with our defense spending, particularly in modernizing our primary weaponry defense systems," explains Jokowi. "Turkey's advancement in this has been impressive, which makes it a naturally good choice [as a source of supply and technology transfer]. We do several projects together in developing tanks and fighter aircraft."
His affinity with Turkey highlights the evolution of Indonesia's foreign policy, as Jokowi moves from a hands-off approach and attempts to carve a more active role on the broader international stage and in the Islamic world in particular. A recent tour saw the president visit Afghanistan, Sri Lanka, India, Pakistan and Bangladesh, where he spent time at a Rohingya refugee camp. "As the country with the world's largest Muslim population, it is natural that we would seek to engage other Muslim countries," he said.
Some argue that Jokowi should get to grips with tensions at home before touching on conflicts elsewhere. But the president maintains that his challenges are unique. "In Afghanistan, they have seven ethnic groups," he said. "In Indonesia, we have 704."
Whether or not Indonesians give Jokowi another term, it's clear that the "boy from the kampong" views urgent issues, internecine rivalries and political jousting with a calm resolve. Political and economic dissonance seems to give him the same "energy and inspiration" he gets from heavy metal. But will his energy inspire the country? Jokowi smiles. "I must leave it up to the people once again."
https://asia.nikkei.com/Politics-Economy/Policy-Politics/Indonesia-s-president-confident-of-winning-fight-against-extremism
--------
Malaysia arrests seven men with Islamic State links over attacks plot
24/03/2018
KUALA LUMPUR (Reuters) – Malaysian police have arrested seven men with links to the Islamic State militant group who were planning attacks on non-Muslim places of worship and other targets, authorities said on Saturday.
The Muslim-majority country has been on high alert since gunmen allied with Islamic State (IS) carried out a series of attacks in Jakarta, the capital of neighbouring Indonesia, in January 2016.
Six Malaysians were arrested in Johor state, north of Singapore, while a seventh, a Filipino member of the IS-linked Abu Sayyaf group, was detained in the eastern state of Sabah, in multiple operations between Feb. 27 and Mar. 15, Inspector-General of Police Mohamad Fuzi Harun said in a statement.
He said the six detained in Johor were members of an IS cell and included a 37-year-old technician who recruited new militants and was believed to be the mastermind of planned attacks on non-Muslim places of worship in the state's capital.
A second suspect was a security guard who served as the cell's advisor and ensured members kept their activities secret. A third man was tasked with buying firearms from a neighbouring country and identifying targets for attacks, he said.
"All of them planned to escape to a neighbouring country and seek shelter from members of a militant group there after successfully carrying out the plan," Muhamad Fuzi said, without naming the country.
Authorities arrested three other members of the same cell in follow-up operations, including a 25-year-old restaurant worker who had been ordered to kidnap and kill police personnel.
Police also detained a 31-year-old Philippine national in Sabah, on Borneo island, who was said to be a trusted lieutenant to Abu Sayyaf group leader Furuji Indama and has links to Malaysian militant Mahmud Ahmad, Mohamad Fuzi said.
The man, wanted by the Philippines for his involvement in a a kidnap-for-ransom syndicate, was also an expert in making improvised explosive devices.
Mohamad Fuzi said the suspect had planned to carry out several attacks in Sabah and was responsible for making the state a safe haven for terror groups from the Philippines.
Malaysia has arrested hundreds of people over the past few years for suspected links to militant groups.
Full report at:
http://www.euronews.com/2018/03/24/malaysia-arrests-seven-men-with-islamic-state-links-over-attacks-plot
--------
Protests after Malaysia lawmakers vote to redraw electoral map
Mar 29, 2018
Malaysian lawmakers voted to redraw the electoral map in what critics decried as a move to rig an upcoming election, sparking angry protests outside parliament and fury from the opposition inside.
The vote is expected within weeks and Prime Minister Najib Razak is battling to keep his long-ruling coalition in power, despite allegations that billions of dollars were looted from a sovereign wealth fund he founded.
Najib is also facing a tough challenge from an opposition headed by veteran ex-prime minister Mahathir Mohamad, 92, who is seeking to win over the government's traditional support base of rural Muslim voters.
Najib told parliament the changes were necessary because of significant demographic changes in the country of 32 million people since the last boundary alteration in 2003.
After a heated debate in parliament, which is dominated by Najib's ruling Barisan Nasional (BN) coalition, lawmakers voted overwhelmingly in favour of the bill to redraw constituency boundaries - despite concerns it will unfairly tilt the election in Najib's favour.
Opposition lawmakers got to their feet and jeered at the ruling coalition MPs.
Wan Azizah Wan Ismail, deputy leader of the opposition coalition Pact of Hope and wife of jailed opposition leader Anwar Ibrahim, told AFP news agency the electoral overhaul was "scandalous".
"We believe an election victory may be stolen from us," she said.
The opposition and critics say the proposed electoral boundaries would benefit BN by stuffing large number of opposition-leaning voters into fewer seats and dividing constituencies along racial lines.
The changes must now by given royal assent, but that is expected to happen quickly.
'Kleptocracy'
Lawmaker Liang Teck Meng, whose party is a member of the ruling coalition, told parliament the opposition opposed the changes as "they know they will not get the mandate of the people to rule the country".
Hundreds of protesters marched to parliament as the bill was tabled, waving banners that read "stealing an election is not winning an election", and were joined by Mahathir who denounced the changes as "kleptocracy".
''These coming elections will most certainly not be clean," he told the rally.
Activists and opposition leaders were blocked from entering parliament by riot police. "This is the biggest cheating to ever happen," said activist Maria Chin Abdullah.
Bridget Welsh, a Southeast Asia expert at John Cabot University in Rome, said the move to redraw electoral lines could affect at least one-third of the 222 parliamentary seats and six of the 13 state assemblies.
It could potentially help Najib's coalition, which now holds 132 parliamentary seats, win back a two-thirds majority, said Welsh.
Full report at:
https://www.aljazeera.com/news/2018/03/protests-malaysia-lawmakers-vote-redraw-electoral-map-180328200443252.html
--------
Filipino extremist blamed for bombings, killings surrenders
29 March 2018
ZAMBOANGA, Philippines:The Philippine defense chief says a senior commander of the Abu Sayyaf extremist group involved in bombings and kidnappings has surrendered and hopes this may bring the "eventual collapse" of the militants' southern stronghold.
Military officials say Nurhassan Jamiri surrendered with 13 of his men to army forces in southern Basilan province Wednesday. He also handed over 10 assault rifles and a large cache of ammunition.
Defense Secretary Delfin Lorenzana says Jamiri's surrender, which came after negotiations with authorities, "will hopefully bring the eventual collapse of the Abu Sayyaf group in Basilan," the birthplace of the small but violent group.
Full report at:
http://www.arabnews.com/node/1275511/world
--------
URL: https://www.newageislam.com/islamic-world-news/western-countries-asked-spread-wahhabism/d/114758
New Age Islam, Islam Online, Islamic Website, African Muslim News, Arab World News, South Asia News, Indian Muslim News, World Muslim News, Women in Islam, Islamic Feminism, Arab Women, Women In Arab, Islamophobia in America, Muslim Women in West, Islam Women and Feminism