New Age Islam News Bureau
8 Jul 2018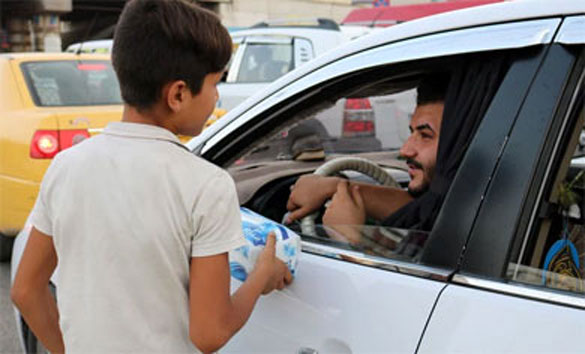 An Iraqi child peddlar sells tissue paper to cars driving down a street in the northern Iraqi city of Mosul on July 7, 2018. (AFP)
-----
• 'West Not Plotting Against Islam,' Says Muslim World League
• In Protecting Zakir Naik, Malaysia Has Fallen Trap to Radical Islam
• Islamic Administration: Malaysian Govt to Get Feedback from Ulema, Scholars
• Sectarian Discourse Returns with Tehrik-e-Labbaik and Tehrik-e-Insaf Chiefs' Latest Outbursts
• Coalition: 341 Houthi Militias Killed Within 72 Hours
Arab World
• 'West Not Plotting Against Islam,' Says Muslim World League
• Child Beggars Fill Mosul Streets A Year On From Daesh
• Over a dozen killed as car bomb hits Dayr al-Zawr in eastern Syria
• Popular Resistance against 'US Occupiers' on Rise in Eastern Syria
• Syrian Army Reinvigorating Positions in Northern Lattakia
• Hama: Terrorists in Fear over Syrian Army Advances in Southern Provinces
• Almost 95 Percent of Eastern Dara'a under Syrian Army's Control
• Syrian Army Frees Strategic Nasib Passageway at Border with Jordan
• Syrian troops celebrate recapture of border crossing
--------
India
• In Protecting Zakir Naik, Malaysia Has Fallen Trap to Radical Islam
• Muslims Who Keep Beard without Moustache Are Extremists, Look Scary: Shia Board Chief
• Jamaat-e-Islaami Hind Calls Citizenship (Amendment) Bill Discriminatory, Condemns Increasing Lynchings in Country
• 'Always Cross-Check Information with Others': Zakir Naik Slams Indian Media For Spreading 'Fake' News
• UP Questions Muslims' 'Belated Concern' On 1994 SC Judgment on Namaz
• Bihar: Muslims to Host Hindu Seers To Open Temple After Donating Land, Money
• While The Masajid Have Central Position In Islam, Their Imams Get Paltry Income
• Kerala Police Launch Crackdown on PFI, Raid Offices, 'Religious Centres'
• Muslim Groups Reject Uttar Pradesh Govt's Accusation They Delayed Ramjanmabhoomi Verdict
--------
Southeast Asia
• Islamic Administration: Malaysian Govt to Get Feedback from Ulema, Scholars
• 'Being Muslim' Lifestyle Sweeps Indonesia
• Penang mufti welcomes court ruling in favour of Ahmadi Muslims
• Hot weather challenge awaits Malaysian pilgrims performing Haj
--------
Pakistan
• Sectarian Discourse Returns with Tehrik-e-Labbaik and Tehrik-e-Insaf Chiefs' Latest Outbursts
• Transparency Asks UK Not To Provide 'Safe Haven' To Nawaz
• Pakistan: Unprecedented rise of terror proxies in election fray
• Pakistani envoy urges Muslims to dispel xenophobia in Canada
• Avenfield verdict can make polls controversial, says Fazl
• ECP takes notice of stoppage of Bilawal's cavalcade at Uch
• Pakistan remains committed to regional peace and prosperity: Naval chief
• Envoy urges Muslims for enhanced interactions to dispel xenophobia in Canada
--------
Mideast
• Coalition: 341 Houthi Militias Killed Within 72 Hours
• Israeli Restrictions On Aqsa Similar To Nazi Inquisition: Palestinians Minister
• Saudi coalition acting on behalf of Zionists in Yemen: Houthi
• Arab coalition reiterates commitment to humanitarian work in Yemen
• Israel plans crackdown on Turkey's activities in occupied Palestinian lands: Report
• Turkish court sentences 4 journalists to jail on terror charges
• Turkey sacks more than 18,500 state employees in new decree
• Iran's Khamenei orders Rouhani to 'explain lack of financial transparency'
• Yemeni minister in the unrecognized Houthi govt flees Sanaa
• Palestinians hold funeral for youth killed by Israeli forces in Gaza
--------
South Asia
• Zakir Naik Will Never Get Access to Bangladesh: Hasina Aide
• Sampriti Bangladesh Launches Effort to Promote Secularism to Overcome Divides
• Roadside bomb kills district governor in Afghanistan
• US soldier killed in Afghan 'insider attack'
• Mine blast kills 3 children in Afghanistan
• US forces conduct airstrike on a hideout of ISIS-K in Nangarhar province
• Special Forces commander among 10 policemen dead, wounded in Ghazni ambush
--------
Europe
• Germany: Muslim Patients Targeted In Islamophobic Knife Attack
• Pope Francis Decries 'Murderous Indifference' In Mideast
• Trump faces 'carnival of protest' on trip to Britain
--------
North America
• Trump Administration Plotting To Use MKO Terrorists against Iran: Ex-MKO Member
• There's No Other Way to Say This: The Supreme Court Got Trump's Muslim Ban Wrong
• How Trump's anti-Muslim rhetoric has tainted even well-intentioned efforts to address extremist violence
• US soldier killed, two injured by Afghan soldier in southern Afghanistan
• Pentagon vows to 'protect' PG as Iran threatens closure if US halts its oil exports
--------
Africa
• Nine Killed In Attack on Somalia's Interior Ministry
• Libya and Italy Agree To Reactivate Friendship Treaty to Quell Migration
• Two Libyans killed in attack on water project plant
• Nigerian protesters demand release of IMN leader Zakzaky
Compiled by New Age Islam News Bureau
URL: https://www.newageislam.com/islamic-world-news/west-plotting-islam-says-muslim/d/115765
--------
'West Not Plotting Against Islam,' Says Muslim World League
July 08, 2018
JEDDAH: It does not take long to realize that there is little of the conventional about Sheikh Mohammed bin Abdul Karim Al-Issa — and not just because his words and deeds have raised eyebrows around the world since his appointment in August 2016 as secretary-general of the Muslim World League (MWL).
Many Muslim clerics, for example, prohibit photography, and other forms of art. But within minutes of our meeting last week at an MWL relief center in Jeddah, Arab News photographer Ziyad Alarfaj and I were treated to a sermon on how best to take photos and edit them. Al-Issa, it turns out, is not only a practicing calligrapher but also an avid photographer.
He is a controversial figure, selected to preside over one of the most controversial Islamic organizations. The MWL has had its share of criticism since it was founded in 1962, but the past two years have brought an altogether different kind of controversy. If extremists' words and deeds in the name of religion are a disease that must be treated, then Al-Issa's words and deeds in response are a form of "shock therapy."
Yet while the MWL's new direction continues to anger hard-liners, Al-Issa continues to be received in high places such as the Vatican and the White House. He has also opened previously closed doors with the extreme right, sitting and talking with, for example, the former French presidential candidate Marine Le Pen (and for a keen photographer, that was a picture truly worth a thousand words).
Al-Issa's appointment has clearly coincided with the implementation of Saudi Arabia's reform program, Vision 2030, by Crown Prince Mohammed bin Salman. At a global forum in Riyadh last year, the crown prince said he sought to destroy extremists "now and immediately," and spoke of returning Saudi Arabia to "moderate Islam." His words coincided with remarkable decisions, such as limiting the powers of the Committee for the Promotion of Virtue and the Prevention of Vice, ending the de facto ban on women driving, and reopening cinemas.
Because Al-Issa's tolerant and modern approach — a world away from the image of Islam that in many minds is linked to exclusion, militancy and extremism — is very much in line with the vision and statements of the crown prince, some portrayed the sheikh as merely a man to be utilized during this phase of reform.
"Not at all," he responds. "What I said in my past, say now and will say in the future reflects my convictions ... deep convictions, because they represent the true Islam that I believe in, and not the result of any phase."
The crown prince's approach is making a genuine difference in confronting extremism and empowering moderate scholars to create a moderate discourse, Al-Issa believes. "The difference happening now is in the existence of initiatives and practical programs to implement this discourse."
Critics of the programs carried out by MWL centers around the world would say they were not noted for the promotion of moderation, but they preceded Al-Issa's appointment as secretary-general. "It is not my right and my agenda to talk about the past," he says. "The past belongs to its owners ... I talk only about myself and my future." Current programs in MWL centers worldwide focus on moderation and "the explicit call to promote national integration of these communities in their homelands."
In another indication that he is unconventional in his work, Al-Issa is not convinced of the effectiveness of these centers in the modern age, and believes the message of moderation can be more effectively delivered on social media platforms.
"My policy is not to open new centers, because ... now is the time for social media," he said. "New media plays the role of a thousand centers. The message of Islamic moderation, wisdom and humanity that we send in one tweet is doing the job of dozens of centers."
In addition to social media, what Al-Issa relies on in his work is continuous travel and public engagement. Hardly a week passes without a photo of him with a religious or political personality in one country or with Muslim communities in another, or without a speech or lecture in a think tank or conference. And because he believes that the MWL today represents moderate Islam, his frequent trips and public appearances give him a role closer to that of an Islamic "foreign minister" than a secretary-general in the bureaucratic sense.
Perhaps this is why, last week in Florence, Italy, Al-Issa was awarded the prestigious Galileo Prize in recognition of his work in promoting peace and harmony among civilizations. Such an award, he believes, shows that international institutions are fair in their work, and have no preconceived agendas.
Those who believe otherwise, Al-Issa says, are victims of the conspiracy theory all too common in our part of the word that the West is plotting against Islam.
"Many Muslims have a negative perception that there is a conspiracy against Islam and Muslims. But, my brother, the West gave up its religious state, chose secularism and fought Christianity as a way of life, so why do you think that it is targeting you?" he said.
"We went and had a dialogue with the West and the Far East, and found an appreciation of Islam, a love for Muslims and a desire to cooperate with them when they learned about the truth of Islam.
"Do not blame the extreme right if it becomes suspicious about you because of an (existing) example in front of it that it exploits in a political game. Had it not had such an excuse, it would not have used this extremist speech."
However, the problem worldwide is the absence of an impression of the Muslim moderation and tolerance that Al-Issa promotes. So why are there not more sheikhs like him, calling for the same things as he does?
View Our Photo Gallery of Sheikh Mohammed bin Abdul Karim Al-Issa
"Some do not realize the seriousness of negative perceptions against Islam, and therefore they do not interfere in correcting them," he said. "Some fear the reaction of extremism and do not want to engage in debates with extremists. And the religious knowledge of others does not reach the level of correct understanding."
Al-Issa criticizes those who speak in the name of religion based on "feelings, impressions and religious zeal devoid of any scientific thought or proposal." His own views, meanwhile, firmly rooted in Muslim theology, are anathema to hard-liners.
An example was when he said that not wearing the hijab did not make a woman an infidel.
"I think no Muslim can call a Muslim woman an infidel or question her values because she has never worn a hijab," he says. "The Muslim woman, if she does not wear hijab ... is not an infidel and does not depart from Islam."
In Belgium last year, he preached against the tide of many local community leaders when he said Muslims should respect the laws, culture and customs of the non-Muslim countries in which they live, even if they felt that to do so violated their faith. If they (Muslims) were unable to legally persuade the local authorities to respect their wishes, they should either obey local laws or leave, Al-Issa advised.
More recently, in Washington DC, Al-Issa visited the US Holocaust Memorial Museum, criticized Holocaust deniers and condemned this heinous crime — which was deemed remarkable coming from a cleric of his caliber and an organization of MWL's prominence.
However, it did not pass without drawing hate speech from extremists who saw it as an attempt to come closer to Israel at the expense of the rights of Palestinians.
Al-Issa, however, sees no contradiction between opposing the occupation of the Palestinian territories and condemning the Holocaust, which he says "shook humanity to the core."
"We call for a just peace in accordance with the Arab initiative," he says. "East Jerusalem (capital of Palestine) and West Jerusalem (capital of Israel), and there is no choice but peace."
Despite his controversial remarks, Al-Issa says he is not afraid, although he knows his words may provoke some people. "I speak with logic, and I have right and justice on my side. And he who holds right and justice, God willing, is reassured deep in his heart. But I take my necessary (security) precautions without exaggeration."
Al-Issa says the logic of his views has changed people's minds about Islam. He knows this because of the dozens of private messages he has received from scholars and senior preachers, both inside and outside the Kingdom, whose names he keeps with him. And he says that, despite the critics, he enjoys wide support in the Muslim world because of his openness to everyone, the strength of his views rooted in Islamic theology, and the fact that the MWL speaks from its headquarters in the holiest place for all Muslims: Makkah.
http://www.arabnews.com/node/1335126/saudi-arabia
--------
In Protecting Zakir Naik, Malaysia Has Fallen Trap to Radical Islam
July 8, 2018
New Delhi, July 8: Malaysia last week made it clear that it had no intentions of deporting controversial Islamic preacher, Zakir Naik to India, where he is wanted for several crimes. Close on the heels of this announcement came a statement from the PAS in Malaysia hailing the government's decision to protect Naik.
PAS, deputy president Datuk Tuan Ibrahim Tuan Man said, "PAS would like to congratulate the move by Prime Minister Tun Dr Mahathir Mohamad to allow Zakir Naik to remain in Malaysia as a permanent resident, from being sent back to India to face accusations created by the Indian government. Defending Zakir was the right move, in line with the Islamic policy of protecting its people from becoming victims of oppression and tyranny. Officials in India tell OneIndia that these developments are upsetting, but all hope is not lost. The investigations and trials in the cases against Naik continue and we will continue to press for his extradition, the official said while pointing to the extradition treaty with Malaysia. The decision to defend Naik falls well within the lines of the Islamic police that Malaysia follows. The statement from PAS makes it clear that Malaysia was only protecting an Islamic preacher from becoming a victim of oppression and tyranny. When Malaysian Prime Minister, Mahathir Mohammad came to power, India's hopes had been raised as he spoke about curbing Islamic terror with an iron fist. India believed that he would instantly deport Naik and with an extradition treaty on hand, it would have been a mere formality. However it appears now that the radical Islamic bug has hit Mahathir as well. Observers suggest that he may be under immense pressure from both the radical Islamic lobby in his country who had helped Naik enter Malaysia and even get a Permanent Residency status. The Saudi interference in this matter is also not ruled out as the country backs Naik's Wahhabi styled Islam. Mahathir while denying the extradition said that he would continue to remain in Malaysia as long as he does not pose a threat. However the problem with Naik is that through his speeches he can influence millions of Muslims across the world to take up arms as was seen in the terror incident at Bangladesh where one of the terrorists said he was inspired by Naik. An officer with the National Investigation Agency tells OneIndia that during the various probes they have conducted, the Zakir Naik stamp on radicals is immense. Be it the Islamic State case or the recent one relating to the PFI, they thrive on his literature to further their agenda. In November 2016, the NIA had found that an ISIS recruit, Abu Anas had received an amount of Rs 1.5 lakh towards scholarship. During the first round of the investigation, the NIA had found that an amount of Rs 80,000 had been given by the Dr Zakir Naik run, Islamic Research Foundation to Anas. However, while probing deeper another transaction of Rs 70,000 to Anas had been found. Investigators say that the total amount given to Anas in two transactions amounted to Rs 1,50,000. The case of Anas is interesting. Radicalised and determined he decided to give up his job as an engineer to take the ISIS path. The NIA says that it may not be a mere coincidence. The two incidents could well be related. It is a well known fact that several terrorists have confessed they were inspired by Zakir Naik's speeches. By taking a scholarship a person become indebted to an organisation. This could have been a turning point for Anas. A case as recent as June 2018 suggested that a Hindu Munani spokesperson Sasi Kumar was killed by members of the PFI who were high on Naik literature. During investigation, NIA conducted searches at the houses of 4 accused persons and recovered PFI donation receipts, PFI literature, PFI Unity March CDs, mobile phones, Compact Disks and pen drives, DVD of Zakir Naik of Islamic Research Foundation and other incriminating documents relating to PFI. In its response to the Interpol, India had made it clear that Naik was not being targeted because of his religion, but for terror. Further India also said that Naik's NGO Islamic Research Foundation had been banned by the Government and the same was upheld by the tribunal. He had funded a few terror suspects through his NGO and hence he needs to be questioned in that connection, the NIA also told the Interpol. Officials say that Malaysia needs to tread carefully on this issue. Naik will continue to speak in his own subtle way while inciting several radical Muslims across the world. With a proximity to Indonesia and Southern Thailand, which are hotbeds of Islamic terrorism, the presence of Naik in Malaysia could only make matters worse. Indian officials say that Naik's presence could increase attempts at indoctrination and this could make matters worse in Malaysia.
https://www.oneindia.com/india/in-protecting-zakir-naik-malaysia-has-fallen-trap-to-radical-islam-2730439.html
--------
Islamic Administration: Malaysian Govt to Get Feedback from Ulema, Scholars
July 7, 2018
PARIT BUNTAR: The government is set to hold discussions with local Ulema and Muslim scholars soon to get feedback on Islamic administration in the country.
Minister in the Prime Minister's Department Mujahid Yusof Rawa said government Islamic institutions such as the Department of Islamic Development (Jakim) would also be discussed.
"I would like to assure the people that the topic of Islamic administration will be given good input through an independent body so that it is not seen to have political interests.
"The Malay rulers and the palace will support this good cause because they are the protectors of Islam.
"Even the Conference of Rulers wants to see better Islamic administration under the Pakatan Harapan government," he told reporters after a Hari Raya event at Dataran Kerian Permai here today.
The Parit Buntar MP also gave his assurance that Jakim would not be shut down, saying instead its role would be revised and improved.
http://www.freemalaysiatoday.com/category/nation/2018/07/07/islamic-administration-govt-to-get-feedback-from-Ulema-scholars/
--------
Sectarian discourse returns with Tehrik-e-Labbaik and Tehrik-e-Insaf chiefs' latest outbursts
Aimen Nawaz Shah
JULY 8, 2018
In yet another instance of far-right and farcist forces providing fodder for one another, Tehrik-e-Labbaik's Khadim Rizvi took up reports of a cartoon contest in Netherland during one of his press conferences in Karachi. He riveted hatred against the Netherlands in the hearts of his followers, and reminded them of his aggressive statement about nuking the country if he possessed an atomic bomb. Subsequently, TLP supporters have been using the #StopBlasphemousCartoons hashtag to show resistance against the anti-Islamic Dutch president, Geert Wilders. It appears, through tweets by Rizvi's supporters, that the issue of blasphemy will continue to figure prominently in the TLP's campaign for #GE2018.
And it is not just the far-right fringe, but the mainstream centre-right parties like the Pakistan Tehrik-e-Insaf, too, who are playing the blasphemy card in their campaigns. In a recent jalsa in Kohat, PTI chairman Imran Khan brought up the issue of changes to the Finality of Prophethood clauses in the Election Act 2017 to score a point against his rival PML-N quaid Nawaz Sharif.
Several social media users noted the dangers in the use of such rhetoric in campaign rallies. Al-Jazeera English-Web Correspondent Asad Hashim (@asadhashim) posted on Twitter, "PTI chief Imran Khan drags "blasphemy" into election, says: "In order to make the international lobby happy, [the PML-N] changed an oath on the finality of Prophethood, in secret." Daily Times editor Raza Rumi (@Razarumi) tweeted in agreement with Hashmi, saying, "Brand new Pakistan. Lesson from history- stoking sectarian passions also burns you."
What made the matter more complicated were a few controversial headlines posted by a local newspaper titled 'Ummat'. Journalist Abid Hussain posted a picture of the front page of the newspaper with two controversial headlines in relation to the conviction of the Sharifs. In a classic case of yellow journalism pandering to the religious right-wing, the Ummat headlines referred to the Sharifs' conviction and said that it was nature's revenge for Mumtaz Qadri's death. @AbidHussayn wrote, "And here it is, the Ummat front page. Headline is just what I expected them to come up with…" @AsadHashmi completed Hussain's statement by posting a follow-up tweet, "..in which the daily Ummat, widely read across Pakistan, headlines the Nawaz verdict as the universe extracting vengeance for hanging Mumtaz Qadri."
Also in the Twitter feed, Mohsin Dawar (@mjdawar), a leader of the Pashtoon-Tahafuz-Movement (PTM) who is also contesting the upcoming election as an independent candidate from North Waziristan, posted updates regarding the abduction of a social media activist, Hayat Preghal. He stated, "PTM social media activist @HayatPreghal is still in the illegal detention of the security agencies. PTM will record a massive protest against d extra judicial act of d security agencies at Haq Nawaz Park Tomorrow at 3 Pm, all the supporters of PTM are requested to join d protest." In other tweets, Dawar has reported hindrances caused to his election campaign by security personnel. On July 5, he tweeted, "Pak Army is opposing our election campaign wd thr full might, I was denied a phone connection for my office and the Army is now stoping every passenger vehicle with my posters from entering civil colony and other government buildings but it won't change public opinion. #Sharamnak"
In another tweet posted on July 4, he complained about structural hindrances for women to cast their votes in North Waziristan. He tweeted, "The polling scheme of North Waziristan NA-48 seems to b a deliberate effort to stop female voters from voting. The polling stations allocated to female voters in most of the cases r 7 to 8 km away from their homes and a wait for a thorough security checks will also come in d way." A twitter user retweeted this post, calling for ECP to arrange proper polling stations for female voters across Pakistan. "Depriving women from casting vote is no election and it is rigging.." He asserted.
In the #GE2018 hashtag, most tweets were about the PTI's announcement that it would release the party manifesto on Monday.
https://dailytimes.com.pk/264335/sectarian-discourse-returns-with-tehrik-e-labbaik-and-tehrik-e-insaf-chiefs-latest-outbursts/
--------
Coalition: 341 Houthi militias killed within 72 hours
8 July 2018
The Arab coalition backing the legitimate government in Yemen has said that at least 341 Houthi militias have been killed after heavy fighting between the two sides during the past 72 hours.
This came after coalition air strikes on Saturday reportedly destroyed a Houthi military communication constellation which included advanced technological equipment operated with the help of foreign experts.
The coalition stressed that it would not allow an extremist organization to own such high quality and advanced equipment, clarifying the "camouflage operations and military counter weapons" prove that the targeted site was militarized by the Houthis.
https://english.alarabiya.net/en/News/gulf/2018/07/08/Coalition-341-Houthi-militias-killed-within-72-hours.html
--------
Arab World
Child beggars fill Mosul streets a year on from Daesh
July 08, 2018
MOSUL, Iraq: Every day little Mohammed Salem roams the streets of Mosul, left with no choice but to hawk tissues after his father was killed by Daesh who overran Iraq's second city.
A year on from Iraqi forces announcing the "liberation" of Mosul from the Daesh group, the scars of the bloody nine-month offensive to oust the militants are still visible in the city.
After losing parents either in the battle or during Daesh's brutal three year occupation of Mosul, dozens of children have turned to street peddling or begging to survive.
"I sell tissues... I go out every day from seven in the morning to 10 at night," 12-year-old Salem tells AFP, wiping sweat from his face as the sun beats down on the Nabi Younis junction in eastern Mosul.
His mother's only child, Salem hopes to scratch out a living for the two of them. His father was killed by Daesh before the push to retake Mosul began, leaving the family without a breadwinner.
According to the group Orphan's Joy in Nineveh, encompassing Mosul and the wider province, there is no official data on the number of children who have lost their parents.
But the group's research has pointed to the "presence of 6,200 orphans in Nineveh, of which 3,283 whose parents were killed in the latest events in Mosul," the organization's head, Kedar Mohammed, told AFP.
Mosul's two orphanages — one for boys and one for girls — have seen large numbers of children aged six to 18 seeking shelter, according to administrators.
Each day, dozens of children spread out across Mosul's intersections and traffic signals to ask for money.
Thin and dressed in tattered clothes, they trail pedestrians and extend hands to passing cars. Some wash windows or sell tissues and water.
"My family was killed and our house was destroyed in the bombardment of the Old City," 10-year-old Ali Bunyan told AFP, unable to hold back his tears.
Fighting destroyed nearly 90 percent of western Mosul's Old City, which now lies in ruins and is devoid of any major reconstruction projects.
"I have no relatives now. I have to beg to support myself... I've been unable to find work because I'm young," said Bunyan, who like many of the other children refused to speak about his current place of residence.
Nineveh provincial council member Khalaf Al-Hadidi said that "until now, there is no real project or study either from the federal or local government to deal with this phenomenon."
Finding a solution was becoming increasingly important, he said, "especially as the street children are exposed to various kinds of exploitation."
Residents say gangs are turning the street children into organized groups, or forcing them to pay a fee to beg in public places.
"One day, as I was waiting for my appointment at a medical clinic, I watched an employee at the reception kick out a small girl that was begging," said 35-year-old Mosul resident Abu Hamid.
"As she left, she told me she had been kicked out for refusing to increase the weekly agreed-upon fee," he said.
According to social researcher Fatima Khalaf, "conditions in Mosul have left children vulnerable to numerous violations in the street."
"If they are left out in the streets... they will become useless members of society, and perhaps some of them will become criminals," she said.
Ghaleb Ahmed, a 20-year-old Mosul municipal employee, thinks it would be better to target the top of the "gangs and systems that manage the begging and exploit the children."
"This phenomenon counts as a criminal project and terrorism, and it creates a corrupt and psychologically damaged generation," he said.
http://www.arabnews.com/node/1335201/middle-east
--------
Over a dozen killed as car bomb hits Dayr al-Zawr in eastern Syria
Jul 7, 2018
More than a dozen have lost their lives when a powerful explosion ripped through Syria's eastern province of Dayr al-Zawr near the border with Iraq, a monitor group says.
The so-called Syrian Observatory for Human Rights, which is based in the UK, reported that a car rigged with explosives went off at a water station in the town of Bsaira in the northern countryside of the province, located 450 kilometers northeast of the capital Damascus, leaving at least 18 people dead.
The Observatory added that half of the casualties were militants from the so-called Syrian Democratic Forces (SDF), which are backed by the US.
Syrian President Bashar al-Assad has called US-backed SDF militants "traitors" to the Syrian nation, but left the door open for negotiations with them as he announced "two options" in dealing with the issue during an interview in May.
"The first one: we started now opening doors for negotiations, because the majority of them are Syrians, supposedly they like their country, they don't like to be puppets to any foreigners. If not, we're going to resort ... to liberating those areas by force," Assad said.
The Syrian leader said the US "is losing its cards" as the militant groups it supports have lost significant ground following the liberation of Aleppo, Dayr al-Zawr, Homs, and Damascus suburbs.
"The main card was al-Nusra that was called 'moderate.' But when the scandal started leaking, that they are not moderate, they are al-Qaeda ..., they (the Americans) looked for another card. This card is the SDF now," Assad said.
Syria has been gripped by foreign-backed militancy since March 2011. The Syrian government says the Israeli regime and its Western and regional allies are aiding Takfiri terrorist groups that are wreaking havoc in the country.
Russia has been helping Syrian forces in an ongoing battle in the province of Dayr al-Zawr as Daesh struggles to keep its last positions in eastern Syria.
The Russian military assistance, which began in September 2015 at the official request of the Syrian government, has proved effective as the Syrians continue to recapture key areas from Daesh and other terrorist groups across the country with the backing of Russia's air cover.
On May 21, the General Command of the Syrian Army and Armed Forces announced in a statement that complete security was restored to Damascus and its countryside after al-Hajar al-Aswad district and al-Yarmouk camp had been totally purged of Daesh terrorists.
Full report at:
https://www.presstv.com/Detail/2018/07/07/567351/Over-dozen-killed-as-car-bomb-hits-Dayr-alZawr-in-eastern-Syria
--------
Popular Resistance against 'US Occupiers' on Rise in Eastern Syria
Jul 07, 2018
The Arabic-language website of Russia's state news agency, Sputnik, quoted Sheikh Mohammad Daham, one of the most well-known tribal leaders in Eastern Syrian, as saying that the US forces and their allied Kurdish militias have launched a fresh wave of arrests against villagers on the banks of Khabour River.
The report further said that the US forces and the Kurdish militias are aware of the strong tribal support for the Damascus government, adding that the US forces and their allies are trying to disarm the villagers in areas stretching from South of al-Shadadi region in Hasaka province to Deir Ezzur in Eastern Syria in order to deflate popular resistance and uprising that once occurred in Iraq.
It went on to say that the coalition has demanded Commander of Deir Ezzur fighters Abu Khouleh al-Khabil to invite tribal leaders and elites of Sour region in Deir Ezzur, but none attended the meeting.
Daham further told Sputnik that the tribal fighters have detonated an arms and ammunition depot of the US-backed Syrian Democratic Forces in al-Sina'ah region along the highway to Hasaka in Northern Deir Ezzur, adding that the tribal fighters have threatened to carry out more attacks against the coalition.
The Arabic-language al-Manar news channel reported on Thursday that several US soldiers and SDF forces were killed and wounded after a number of roadside bombs were detonated by the ISIL in regions near the village of al-Namliyeh South of the town of al-Sour in Northeastern Deir Ezzur.
Meantime, other media sources quoted locals in Northern Deir Ezzur as saying that the Kurdish forces had launched massive arrests against people who support the Syrian government in the village of al-Jaye'eh.
Full report at:
http://en.farsnews.com/newstext.aspx?nn=13970416000962
--------
Syrian Army Reinvigorating Positions in Northern Lattakia
Jul 07, 2018
The army dispatched a large number of forces and military hardware to Jabal al-Akrad and Jabal al-Turkmen regions in Northern Lattakia to reinvigorate the government forces' defense and combat capabilities.
In the meantime, local sources said that the army has gathered a large number of forces in Kinisba region to face a possible heavy attack by Tahrir al-Sham terrorists.
Field sources had previously said that Tahrir al-Sham would possibly attack the army strongholds in Jabal al-Akrad and Jabal al-Turkmen.
In the meantime, the army opened heavy fire at terrorists' movements in Bdama township West of the town of Jisr al-Shughour, inflicting major losses on the militants.
Military sources reported on Thursday that the Syrian army put on alert a large number of its forces in Northern Lattakia and strengthened its positions in the region.
They added that the moves made by Jeish al-Nokhbah terrorists, the special forces of Tahrir al-Sham, in Jabal al-Akrad and Jabal al-Turkmen in Lattakia were monitored by the army, noting that the militants sought to start a heavy attack on army positions in Northern Lattakia.
Full report at:
http://en.farsnews.com/newstext.aspx?nn=13970416000810
--------
Hama: Terrorists in Fear over Syrian Army Advances in Southern Provinces
Jul 07, 2018
The Arabic-language website of Sputnik quoted the sources as reporting that Tahrir al-Sham has urged residents of several villages and townships in Northern Hama to leave their regions in the next 48 hours under the pretext of launching large-scale offensives against the army in region.
The news agency further said that residents of Kafr Naboudeh region engaged in harsh arguments with Tahrir fighters as the terrorists tried to turn their region into a heaven to launch attacks on safe villages and towns, adding that Tahrir gunmen try to force people to leave Kafr Naboudeh and other regions in Northern Hama to prevent their endorsement of the nationwide reconciliation plan.
A large number of regions in Southern Syria are accepting the peace agreement with the army that is advancing rapidly near the border with Jordan, the agency added.
In the meantime, the army soldiers exchanged heavy fire with Tahrir al-Sham near Zalin checkpoint in Northern Hama and repelled their attack.
The Arabic-language website of Sputnik reported on Tuesday that the Russian and Syrian warplanes staged a heavy bombing on terrorists' movements amid a heavy offensive of Tahrir al-Sham Hay'at and the terrorists of Horas al-Din against the government forces' positions in Souran township in Northern Hama.
It said that the warplanes further struck terrorists' positions in the villages and towns of Skeik, al-Tamanna, Ma'arkaba and Lahaya in Northern Hama and Southern Idlib, weakening the combat and supplying capacities of the terrorists in al-Latamina region.
The report went on to say that the army later dispatched more troops to the battlefield and gained back lost lands from terrorists in Souran region.
At least 35 terrorists were killed or wounded in the failed attack of the terrorists and in the bombardments.
Full report at:
http://en.farsnews.com/newstext.aspx?nn=13970416000687
--------
Almost 95 Percent of Eastern Dara'a under Syrian Army's Control
Jul 07, 2018
The army men managed to capture the strategic Radar and Air Defense Battalion Bases in Basar al-Harir region East of Dara'a city after they imposed control over Nasib passageway at the border with Jordan.
The army soldiers also freed several regions and townships in Eastern Dara'a, including Samad, Samaj, Arz al-Atrash, Tisiya, Khirbet Qolo, Abu Qatouneh, al-Mashafi, Abu Ra'as, al-Samaqiyat, al-Aman, Neda, Maqtala, Khirbet al-Qouta, Khirbet al-Deir and Khirbet Ma'araba.
Field sources said that the army has now seized control over almost 95 percent of Eastern Dara'a.
On Friday, al-Hariri, commander of Amoud Houran Division affiliated to the Free Syrian Army, was killed along with a number of his forces in the army's operation near al-Na'eimeh township in the Eastern countryside of Dara'a city.
In the meantime, local sources said that other units of the army engaged in fierce clashes with the terrorists and captured al-Na'eimeh, al-Sharqiyeh Farms and Air Defense Brigade 38th Base West of Seida township.
Full report at:
http://en.farsnews.com/newstext.aspx?nn=13970416000470
--------
Syrian Army Frees Strategic Nasib Passageway at Border with Jordan
Jul 07, 2018
The army men imposed control over al-Mata'eiyeh township, al-Mata'eiyeh Dam and eight checkpoints from 63rd up to 70th at borderline with Jordan and managed to drive terrorists out of Nasib border-crossing.
Local sources said that the army soldiers hoisted the country's flag over buildings in Nasib that is the Southern gate of Syria's South.
They added that the army's engineering units started to defuse bombs and landmines planted by the terrorists in Nasib and its outskirts.
In the meantime, terrorists in the townships of Ma'araba, Jamrin, Kharba, Jabib and Qasam in the Eastern countryside of Dara'a city surrendered their regions to the army, the sources said.
They went on to say that the army has restored security to a 20-km chunk of the borderline with Jordan in the last few days, adding that a fresh wave of disputes has covered the terrorist front amid the army's advances in Southern Syria.
The Arabic-language Elam al-Harbi reported on Friday that the army managed to drive terrorists out of checkpoints 71 to 79 along a 2km-long chunk of the borderline.
It added that the army further liberated the villages of Samad, Samaj, Arz al-Atrash, Taysiya, Khirbet Qolo, Abu Qatouneh, al-Mashafi, Abu Ra'as, al-Samaqiyat, al-Aman, Nada and Maqtala.
Elam al-Harbi went on to say that army men advanced further towards the village of al-Mata'iyeh and Nasib border-crossing.
Full report at:
http://en.farsnews.com/newstext.aspx?nn=13970416000199
--------
Syrian troops celebrate recapture of border crossing
7 July 2018
Syrian soldiers are celebrating the recapture of the main border crossing with Jordan, raising portraits of President Bashar Assad and tearing down rebel flags.
Troops captured the Naseeb border crossing a day earlier, after rebels announced they had reached an agreement with Russian mediators to end the violence in the southern province of Daraa and surrender the crossing.|
State-run Ikhbariya TV showed troops at the crossing on Saturday, some flashing victory signs and pumping fists in the air.
One officer told the TV that troops have taken up positions along the border with Jordan and are removing illegal crossing points.
Full report at:
https://english.alarabiya.net/en/News/middle-east/2018/07/07/Syrian-troops-celebrate-recapture-of-border-crossing.html
--------
India
Muslims Who Keep Beard without Moustache Are Extremists, Look Scary: Shia Board Chief
Jul 08, 2018
New Delhi: Uttar Pradesh Shia Central Waqf Board chairperson Waseem Rizvi has sparked a fresh debate. In his latest statement, Rizvi has stated that keeping a beard is a custom in Islam. But those Muslims who sport a beard without a moustache are extremists and have become a face of terror in the country and across the world.
In a video, which has been shared on the social media, Rizwi said, "Muslims who sport a beard without a moustache look scary. Such Muslims are extremists and Islamic fundamentalists and are known to spread terror across the world. The intention to not sport a moustache with the beard is to ignite a sense of fear among people."
Adding further, he said that such Muslim, in the name of Shariyat, interfere in the personal lives of people and issue fatwas, which has nothing to do with Islam. Talking about the recent incident in which a Kerala girl was expelled from a Madrassa for wearing a sandalwood bindi on her forehead, Rizvi said, "Women in this country use bindi or vermillion (sindoor) as part of the custom after marriage. Such sacred customs can never be 'haram'."
He urged the government to file sedition charges against clerics for issuing fatwas that give rise to enmity between different groups. "There is no right to make rules and regulations for the common people by moving aside from the Indian Constitution. Case of sedition must be filed against mullahs (clerics) who issue such fatwas."
It is to be noted that the UP Shia Waqf Board chairman Rizvi was recently accorded a Y plus security by the state government after he claimed threat to his life.
In April this year, Rizvi had urged Prime Minister Narendra Modi to increase his security after certain individuals, reportedly associated with underworld don Dawood Ibrahim, were arrested by the Delhi Police. Rizvi told the Prime Minister that he was reportedly on the target of extremists due to his stand on the Ram Mandir issue.
http://zeenews.india.com/india/muslims-who-keep-beard-without-moustache-are-extremists-look-scary-shia-board-chief-wasim-rizvi-2123056.html
--------
Jamaat-E-Islaami Hind Calls Citizenship (Amendment) Bill Discriminatory, Condemns Increasing Lynchings in Country
07th July 2018
NEW DELHI: Prominent Muslim organization Jamaat-e-Islami Hind (JIH) on Saturday appealed for reconsideration over the Citizenship (Amendment) Bill, 2016, saying, it is highly discriminatory and against the secular fabric of the nation.
The Muslim outfit also expressed concern over growing incidents of lynching in the country and criticized union minister Jayant Sinha for felicitating convicts in the Ramgarh lynching case. Terming the bill as "unconstitutional", JIH Secretary General Muhammad Salim Engineer said, "This bill against the spirit of the Constitution of India as it proposes to grant citizenship to people from Bangladesh, Pakistan and Afghanistan according to their religion. Thus Hindus from Bangladesh would be accepted but not Muslims''.
The Bill, introduced in the Lok Sabha on July 15, 2016, seeks to amend the Citizenship Act, 1955 to provide citizenship to illegal migrants, from Afghanistan, Bangladesh and Pakistan, who are of Hindu, Sikh, Buddhist, Jain, Parsi or Christian extraction. However, the Act doesn't have a provision for Muslim sects like Shias and Ahmediyas who also face persecution in Pakistan.
In a press conference on Saturday, the organization also "expressed concerns" over the accuracy of National Register of Citizens (NRC) for Assam, which is expected to be released by July 30.
"According to the Assam Accord signed in 1985, anyone who entered the state after 24 March 1971 is considered as an illegal resident. Genuine citizens who are impoverished and could not maintain proper records are at the risk of being branded as foreigners. Most are declared foreigners due to minor inaccuracies in their documents. The number of those declared as foreigners have increased dramatically after the BJP government came to power in Assam," said Salim.
Full report at:
http://www.newindianexpress.com/nation/2018/jul/07/jamaat-e-islaami-hind-calls-citizenship-amendment-bill-discriminatory-condemns-increasing-lynchin-1839840.html
--------
'Always cross-check information with others': Zakir Naik slams Indian media for spreading 'fake' news
July 7, 2018
Controversial Islamic preacher Zakir Naik, who is under the scanner of probe agencies for allegedly fuelling hatred through speeches, has slammed the Indian media for 'publishing and broadcasting false news' against him.
Naik, who is currently staying in Malaysia as a permanent resident, posted a video on Facebook on Friday in which he said, "I would like to thank television channels and newspapers for publishing false news against me. Two days ago, on July 4, 2018, most of the Indian newspapers and channels published and broadcasted that Dr Zakir Naik has been arrested in Malaysia and he is going to be deported the same day. With no doubt, it was proven to be fake news."
"…. This is how they sensationalise the issue and make the viewer believe that it is a fact. Today, it has been proved that it (the news) was totally baseless and false. This is what Indian media has been doing against me for the last two years. On July 4, it was exactly two years since they started hounding me."
While referring to a case in which a Bangladeshi local allegedly published a piece of 'fake' news against the Islamic preacher but later retracted its statements, Naik, who is the founder of the Islamic Research Foundation (IRF), said, "On July 1, 2016, there was a terrorist attack in Dhaka where more than 20 people were killed. One newspaper in Dhaka, it printed an article which said that one of the terrorists killed has been influenced by Dr Zakir Naik. The following day, all the other newspapers and channels started speaking against me. While the newspaper which first published the allegation retracted the information, the Indian media did not and kept hounding me for two years."
"Why the Indian media is after me – whether for money, TRP or vote – I have no idea. Most of the articles published against me in the last two years were fake and out of context. Very soon, it will be proved that it had no basis and was false," he added.
Citing the Quran, Naik said, "In the Quran, Allah says that whenever you get information, you pass it on for checking to another person. I request the viewers and readers to do the same."
On Friday, Malaysian Prime Minister Mahathir Mohamad said Zakir Naik will not be deported to India. Addressing a press conference, Mohamad said Naik would not be sent back as long as he was not creating any problem in the country, reported news agency AFP.
Naik left India in 2016 for Malaysia where he was granted permanent residency. He is wanted in India for allegedly conducting terror-related activities and giving hate speeches.
"As long as he is not creating any problem, we will not deport him because he has been given permanent residency status," Mahathir was quoted as saying by AFP.
Full report at:
https://indianexpress.com/article/india/zakir-naik-slams-media-facebook-india-malaysia-5249531/
--------
UP questions Muslims' 'belated concern' on 1994 SC judgment on namaz
July 7, 2018
The Uttar Pradesh government on Friday questioned the Muslim litigants in the Ramjanmabhoomi-Babri Majid title suit case for making "belated efforts" seeking a relook at the 1994 Ismail Farooqui judgment that had said that mosques were not an integral part of religious practice of offering prayers.
The bench of Chief Justice Dipak Misra, Justice Ashok Bhushan and Justice S. Abdul Nazeer was told that the Muslim parties did not question the 1994 verdict's legality till the appeal against 2010 Allahabad High Court judgment on the ownership of the disputed land was taken up for hearing by the top court.
Additional Solicitor General Tushar Mehta, appearing for the state, described as "belated efforts" to avoid the adjudications of the long-pending cross appeals against the high Court judgment on the title suit.
Ayodhya appeals were pending in the top court since 2010 and all through the legality of 1994 judgment was never questioned but why this belated effort now, he asked.
The Lucknow bench of Allahabad High Court had by its 2010 verdict had divided the disputed 2.77 acres site between the Nirmohi Akhara, the Lord Ram deity and the Sunni Waqf Board.
Muslim parties are seeking the revisiting a conclusion in the 1994 constitution bench judgment which said that the mosque was not an essential and integral part of the Muslim religious practice of offering namaz and they could offer prayers in open under the sky.
Appearing for lead petitioner M. Siddiqui represented by his legal heir, senior counsel Rajeev Dhavan told the court told the court that the paragraph in the 1994 judgment which says that mosque was not essential to the Muslim religious practices and integral to it was said without examining the tenets of Islam.
He said that there was nothing in the judgment as to show how the court arrived at such a conclusion.
"If you have to say something say it after detailed examination," Dhavan told the bench pointing to some judgments wherein the top court pronounced on some religious places after detailed examinations of the issues involved.
At this Justice Bhushan observed that nobody was questioning that mosque is essential to Islam but the question is whether offering namaz in a mosque was essential.
Dhavan will address the three judge bench on the issue on July 13 when he will advance arguments to meet the submissions made by the Hindu parties including that the issues being raised by him on mosque not being essential; part of Islamic practices have become res judicata (matter that has been adjudicated and decided) and the issues advanced by senior counsel K. Parasaran and Harish Salve in the course of their arguments.
Dhavan is seeking a relook at the 1994 judgment, contending that 2010 Allahabad High Court judgment relies on this conclusion of the top court.
He on Friday argued that a congregation at the mosque at the time of offering Namaz was essential for Muslims and "if congregation part of Islam is taken away, a large part of practice collapses".
However, lawyers representing the Hindu parties said that reference to 1994 judgment in no way impacted the 2010 High Court judgment.
Appearing for deity Ram Lalla Virajman, senior advocate K. Parasaran in the last hearing of the matter on May 17, had told the court that the birthplace cannot be shifted to another site, while a mosque with no particular religious significance to the Muslims can be shifted as that will "not affect the right to practice religion by offering 'namaz' in other mosques".
Full report at:
https://www.business-standard.com/article/current-affairs/up-questions-muslims-belated-concern-on-1994-sc-judgment-on-namaz-118070601136_1.html
--------
Bihar: Muslims to Host Hindu Seers To Open Temple After Donating Land, Money
07th July 2018
BUDHUPUR: After Mansoor Ansari donated land and Mokhtar Alam donated money to build a temple while other Muslims helped in its construction. The villagers also got together to play host to Hindu seers and devotees at inauguration of the temple here earlier this week.
Budhupur is largely a Muslim-populated village with less than a dozen Hindu families.
At a time when hate crimes are increasing, many see it as a shining example of communal harmony. Cousin brothers Mokhtar and Mansoor had come forward to help build the temple to Goddess Durga. Other Muslims joined them by contributed in different ways and also by supervising its construction.
Mansoor donated 2.5 katha land (One Katha is 750 sq ft, at least) for the temple and Mokhtar gave Rs 3.5 lakh for construction. Both are resident of Budhupur.
After helping build the temple under Ghatera panchayat in Guraru block in Gaya district, 140 km from Patna, mostly Muslim villagers welcomed Hindu seers and hundreds of devotees from neighbouring villages as guests during a "Yagna" to mark the inauguration of the first temple in the village.
"We had played hosts to Hindu seers and devotees earlier too when "Chandi Yagna" and special prayers were offered," Mokhtar told IANS here. Mokhtar recalled that his family had also donated land for a madrassa and a mosque in the village. Mansoor said they had been living together with the Hindus for for years and taking care of each other. "It is a gesture for communal harmony," he added.
The villagers used the madrassa as a guest house for the invitees and the mosque acted as a service centre.
Dozens of Muslims in this village donated foodgrains, milk, edible oil and LPG cylinders for the week-long rituals. The temple was opened for prayers and worship after installation of the idol of Goddes Durga following the "Yagna" which concluded on Thursday.
Hindu villagers have been lauding and praising the Muslim villagers for their act. "It was not possible without their help," Umesh Manjhi, a Dalit villager, said. He was particularly impressed that the youth worked as volunteers and women chipped in to help.
Kailash Yadav said earlier they would offer prayers and performed rituals on a platform under the open sky. "Contribution of Muslims is something historical for us," he added. The head of the village body, Ranvijay Das said the temple had now become a "matter of pride" for them.
Bhagwan Bhaskar, a political activist in Gaya, said the development would send a strong message of harmony and peace. "People active in public life should propagate how Muslims helped build a temple," he said.
Dr Roomi, a homoeopathic practioner, said such a cooperation should be encouraged. "If Muslims can help build a temple, Hindus should now come forward to help Muslims in their projects," he said.
This is not the first such case. Last year, a Muslim family donated its land for the upgradation of a temple in the state's Gopalganj district. Three years ago, some Muslims in Bihar's east Champaran district donated land to help build one of the largest Hindu temples with a capacity to seat 20,000 people. "Without help of Muslims, it would have been difficult to realise this dream project," Acharya Kishore Kunal, secretary of the Patna-based Mahavir Mandir Trust, that is undertaking to build the ambitious project, said.
Full report at:
http://www.newindianexpress.com/nation/2018/jul/07/bihar-muslims-to-host-hindu-seers-to-open-temple-after-donating-land-money-1839790.html
--------
While the Masajid have central position in Islam, their Imams get paltry income
July 7, 2018
During the past 10 years, salaries in all fields increased 100 pc but the salaries of Imams couldn't exceed over 25 pc. This is because the imam is dependent upon the generosity of any of his followers (muqtadi). In the paltry income they earn, they are unable to make both ends meet. In this scenario, the question arises when the Imams will be given respect due to them?
The Masajid holds a central position in the lives of Muslims hence all their affairs should be settled here only. In the times of Prophet Mohammed (pbuh) and his companions (raa), even the matters of non-Muslims were solved in the Masajid itself. But unfortunately today we leave the Masajid deserted soon after offering prayers. We need to understand the importance of Masajid and its universality. When we understand the importance of Masajid and their importance and universality, then only we can understand the importance of people serving in them.
https://www.siasat.com/news/while-Masajid-have-central-position-islam-their-imams-get-paltry-income-1378161/
--------
Kerala Police Launch Crackdown on PFI, Raid Offices, 'Religious Centres'
July 7, 2018
Kerala: Kerala Police on Saturday conducted simultaneous raids at the offices of Islamic outfit, Popular Front of India (PFI). Police have launched a crackdown on the 'spiritual' strongholds of PFI in Malappuram, including Manjeri, Perinthalmanna, Tirur and Kadampuzha.
Following the murder of SFI activist Abhimanyu in Kochi on Monday, there has been a severe clampdown on Popular Front and its political arm, the Social Democratic Party of India (SDPI).
Raids were conducted at Green Valley in Manjeri, headquarters of the erstwhile National Democratic Front, which later morphed into PFI.
This is being seen as the biggest raid on Green Valley since 2010.
The police also raided Satyasarani, which was at the centre of the Hadiya conversion case and alleged recruitment of Kerala youths to the Islamic State. The police suspect that the conspiracy behind Abhimanyu's killing was also hatched at Satyasarani.
Although five accused have been arrested in the case, the main culprits are still at large. Police say they may have left the state soon after the murder, hinting at prior planning into the murder.
Cochin City Police Commissioner MP Dinesh told News18, "We have some leads on their whereabouts but we cannot reveal them to the media. We will ensure their arrest."
Several dozen of SDPI leaders have been put under electronic surveillance.
Meanwhile, News18 has accessed an audio recording from alleged Islamic State terrorist Abdul Rashid Abdulla where he can be heard saying, "In the cause of Allah, NDF was started to propagate jihad. They wanted to carry out at least a small-scale jihad in Kerala."
Abdul Rashid, a Kasaragod native is believed to be hiding in Afghanistan now.
SDPI maintained a low-profile after activists were accused of chopping off the hand of a college professor in Muvattupuzha in 2010. However, Popular Front leaders are now reportedly worried that they might lose their cadre to more aggressive outfits. Fifteen PFI workers have allegedly joined the Islamic State.
PFI and SDPI have aggressively protested the arrest of its activists' suspected of involvement in Abhimanyu's murder.
Several Muslim organisations have reportedly started to distance themselves from PFI.
News18 learnt that as Friday prayers were held, some mosques in Kozhikode brought out a Khutbah warning the laity against extremist Islam.
The leader of the AP faction of the Samastha Kerala Jam'eyyath ul-Ulam, Kanthapuram A.P. Aboobacker Musliyar, told News18, "True Islam does not preach violence. It is unacceptable if murder is committed in the name of the Muslim community". Samastha has in fact brought out a resolution condemning the Popular Front and SDPI.
Full report at:
https://www.news18.com/news/india/kerala-police-launch-crackdown-on-pfi-raid-offices-religious-centres-1804575.html
--------
Muslim groups reject Uttar Pradesh govt's accusation they delayed Ramjanmabhoomi verdict
July 7, 2018
Muslims groups have rejected charges made by the Uttar Pradesh Government accusing them of delaying the Ramjanmabhoomi-Babri Masajid title dispute hearing in the Supreme Court.
The BJP has demanded that the matter should to be settled before the retirement of the current Chief Justice of India (CJI) Justice Dipak Misra in October this year.
UP BJP spokesperson Rakesh Tripathi said, "This is being done deliberately because the verdict is expected in favour of Ram Temple. The CJI is hearing the matter and he should be giving the verdict before his retirement in October so that the matter doesn't get delayed further. The people of the country want this dispute to be settled as soon as possible."
Responding to him and allegations of the UP government, Jafaryab Jilani convenor of Babri Masajid Action Committee said that Muslims groups have not filed any adjournment appeal in the court.
"The SC is hearing the matter and deciding dates. We have not made any arguments for delaying the matter. This is a baseless allegation. BJP is not a party so whatever their leaders are saying has nothing to do with the case," Jilani told India Today.
Iqbal Ansari, son of Hashim Ansari, the main litigant in the case questioned why was the matter of the issue's delay being raised now when the case has been pending for decades.
"Some Hindu groups in Ayodhya are also saying they will not wait for the Supreme Court's decision. The delay is being done by Vishwa Hindu Parishad (VHP) and not us," added Ansari.
Sunni cleric Sufiyan Nizami said the government wants the dispute to be settled before 2019 elections just to get political benefits and that Muslim groups were being blamed unnecessarily.
Meanwhile a priest of Ramjanmabhoomi Temple Acharya Satyendra Das said, "We have neither heard about the Imam of Babri Masajid nor of people offering prayers at the mosque. The place is Ramjanmabhoomi and Islam doesn't allow people to offer namaz at a disputed site."
During the hearing on Friday, senior advocate Rajeev Dhavan, appearing on behalf of one of the original litigants of the Ayodhya case M Siddiq, said the court had in 1994 observed that mosques were not integral to Islam without making any "inquiry" or considering Islamic texts on this issue.
It was argued by Muslim groups before a special bench comprising Chief Justice Dipak Misra and Justices Ashok Bhushan and SA Nazeer that the "sweeping" observation of the apex court in the verdict needed to be reconsidered by a five-judge bench as "it had and will have a bearing" on the land dispute case.
The UP government however questioned the Muslim litigants in this case for making "belated efforts" to have the 1994 Ismail Farooqui judgment relooked.
Additional Solicitor General Tushar Mehta, appearing for the UP government, said the issue of the observation was neither taken up by any litigant since 1994 nor in the present appeals which were filed in 2010 after the High Court's verdict.
Full report at:
https://www.indiatoday.in/india/story/muslim-groups-reject-uttar-pradesh-govt-s-accusation-they-delayed-ramjanmabhoomi-verdict-1280181-2018-07-07
--------
Southeast Asia
'Being Muslim' Lifestyle Sweeps Indonesia
July 7, 2018
Japanese electronics manufacturer Sharp is claiming a first in Indonesia — halal refrigerators — after the Indonesian Ulema Council (MUI) granted the manufacturer halal status. It's the latest indication that Islam is being commoditized in the world's most populous Muslim nation. From language to fashion, the Muslim public is striving to be visibly Muslim. Critical minds are protesting that little spirituality is involved and that people who refuse to follow the fashion trend are being terrorized by being told they are not faithful to their religion. Central to this social transformation is the concept of hijrah, a term from the earliest years of Islam when the Prophet Muhammad and his followers migrated to avoid conflict and persecution. Lailatul Fitriyah, a doctoral candidate in theology at Notre Dame University, recently told feminist online magazine Magdalene that the current pursuit of the interpretation of hijrah is potentially highly destructive.
She states that one historical interpretation of the concept is that Muslims should migrate from areas that are ruled...
https://international.la-croix.com/news/being-muslim-lifestyle-sweeps-indonesia/8003#
--------
Penang mufti welcomes court ruling in favour of Ahmadi Muslims
Predeep Nambiar
July 7, 2018
GEORGE TOWN: The mufti of Penang has welcomed the High Court's ruling yesterday allowing the followers of the Ahmadiah sect, labelled as deviant by Islamic authorities in Malaysia, to freely practise their faith amid actions against them by the Selangor Islamic Religious Department (Jais).
Wan Salim Wan Mohd Noor said the ruling was in the spirit of religious freedom as guaranteed in the Federal Constitution, adding that the Ahmadiah sect was never recognised as part of Islam.
He said the court's ruling was also in the spirit of a decision by the National Islamic Affairs Council in 1984, branding Ahmadi followers as non-Muslims.
Wan Salim said as such, members of the Ahmadiah sect can be regarded as part of religion other than Islam.
"This means they cannot be accorded rights as a Muslim and their deceased may not be given an Islamic burial," he told FMT.
In a landmark ruling by the Shah Alam High Court yesterday, judge Vazeer Alam Mydin Meera said Jais had no right to stop religious activities of the Ahmadi community in Selangor.
Thirty-nine members of the sect had challenged the department for trying to charge them with shariah offences, on the basis that Islamic authorities in Selangor do not recognise Ahmadi followers as Muslims.
The judge said a fatwa gazetted by the state in 2001 showed that the group was considered apostates, and as such Jais would have no jurisdiction over them.
Most Muslims regard the Ahmadiah sect, which is based on the teachings of Mirza Ghulam Ahmad of Qadian, India (d. 1908), as deviant, citing Ahmadiah followers' belief that Mirza Ahmad is the promised Messiah.
Mainstream Muslims believe the Messiah to be Jesus the son of Mary.
The Ahmadi community claims to have tens of millions of followers throughout the world. It currently has its headquarters in Britain.
There is also a strong presence of the Ahmadi community in Penang.
Wan Salim said among beliefs of the sect is that Mirza Ahmad was a prophet who received revelations from God
He said the Penang Fatwa Committee also does not regard Ahmadiah followers as Muslims.
But he said while religious authorities cannot prevent members of the sect to practise their faith, they could be prosecuted for preaching their faith to other Muslims.
Full report at:
http://www.freemalaysiatoday.com/category/nation/2018/07/07/penang-mufti-welcomes-court-ruling-in-favour-of-ahmadi-muslims/
--------
Hot weather challenge awaits Malaysian pilgrims performing Haj
July 7, 2018
SEPANG: Predicted weather condition in Saudi Arabia that can reach temperatures of up to 50 degrees Celsius is just one of the challenges that need to be faced by 30,200 Malaysian pilgrims during the fifth Islamic Rukun Islam.
Haj pilgrim's senior general manager, Lembaga Tabung Haji (TH), Datuk Syed Saleh Syed Abdul Rahman said haj pilgrims were advised to take care of their health while staying there as well as comply with the instructions issued by TH.
"The hot weather during this haj season is a challenge for the pilgrims. Alhamdulillah, TH has given advice and guidance to them.
"This is to ensure that Malaysian pilgrims are ready to face the hot weather and take care of their health," he told reporters at the Hajj Group's Second Group Departure to the Holy Land at TH Sepang complex here today.
He said for this year TH had already sent 600 pilgrims performing various duties along with 13 information technology (IT) personnel on July 2, followed by 141 today while the next group will go on July 11.
"The second group today comprised 62 welfare workers, 63 medical officers and 16 medical personnel," he said.
Syed Saleh said he was willing to give the best service to all Malaysian pilgrims, but the pilgrims also had to be prepared mentally, physically and spiritually.
"The pilgrims involved have been preparing to strengthen their knowledge as well as strengthen their physical endurance," he said.
Other pilgrims will depart on July 14 and Aug 15.
A total of 81 special charter flights have been arranged for them - 40 Malaysia Airlines and 41 Flynas aircraft.
Full report at:
https://www.nst.com.my/news/nation/2018/07/388367/hot-weather-challenge-awaits-malaysian-pilgrims-performing-haj
--------
Pakistan
Transparency asks UK not to provide 'safe haven' to Nawaz
Amin Ahmed
July 08, 2018
ISLAMABAD: Reacting to corruption charges related to four London properties, the UK Chapter of Transparency International has asked the British government to investigate those assets and no longer provide a safe haven to Nawaz Sharif and his family.
"If a UK investigation concludes that the properties have been bought with corrupt money, then the authorities should move to seize the assets. Transparency International also calls on the UK law enforcement to investigate any further property in the UK owned by the Sharif family," says a press release issued by the UK chapter of the corruption watchdog.
It has been reported that Nawaz Sharif is currently in London and has regularly been visiting the UK during the trial. The UK government has consistently said it aims to crack down on the laundering of corrupt funds through the UK, although recent media reports suggest that the authorities failed to properly assist Pakistani counterparts during this investigation," it said.
Head of Advocacy at Transparency International UK, Rachel Davies Teka said: "We are calling on the UK authorities to investigate the London-based assets identified in this conviction and ensure that Mr Sharif and his family are no longer able to enjoy any luxury homes that are found to have been bought with the proceeds of corruption. Furthermore, we believe the UK must look into any other potentially criminal UK-based assets owned by the Sharif family.
"This will serve as an important test as to how serious the government is on cracking down on the prevalence of corrupt money in our capital. The laundering of dirty money is not confined to Russian oligarchs and it is important that we target illicit assets wherever they originate from."
"The recent passing of legislation that will require British Overseas Territories to publicly reveal the true owners of companies is a key step towards preventing the purchase of UK property with suspicious wealth. The UK must now ensure it follows through on this legislation, so that we no longer need to rely on leaks like the Panama Papers to reveal cases such as this one."
https://www.dawn.com/news/1418721/transparency-asks-uk-not-to-provide-safe-haven-to-nawaz
--------
Pakistan: Unprecedented rise of terror proxies in election fray
08th July 2018
NEW DELHI: The sentencing of former Pakistan Prime Minister Nawaz to 10 years in prison just before the provincial and general elections slated for July 25 is a blow for the ruling Pakistan Muslim League (Nawaz), and a message from the deep state (read military) that it will brook no opposition from elected leaders. While the army-endorsed Pakistan Tehreek-e-Insaf (PTI), led by former cricketer-turned-politician Imran Khan, has already started to climb up the ratings, the number of hardline religious parties in the fray has seen a significant increase, causing concerns both within and outside Pakistan.
These include the obscure Allah-o-Akbar Tehreek backed by Hafeez Saeed, the mastermind behind the Mumbai attacks and an internationally designated global terrorist, whose son and son-in law are among the 200 party candidates contesting both provincial and National Assembly elections. Then, there's the rabid Tehreek-i-Labbaik Pakistan, which has fielded more candidates than the Muttahida Majlis-i-Amal (MMA), an alliance of religious parties led by Jamiat Ulema-i-Islam chief Maulana Fazlur Rehman.
According to security analyst General (retd) Harsha Kakar, the Pakistan Army "would aim to ensure that no single political party comes to power on its own majority and must seek the backing of those parties—religious or state-sponsored terrorist groups—who owe their survival to the deep state and are propped up by them. This will ensure that even if a political leader dreams of meandering off course, he can be easily discarded." "The impact on India would be no change in its Pakistan policy and no space for talks as India does not talk to the Pakistan army and the government is incapable of reining in the army."
A number of "electable" PML(N) candidates have left to join Khan's PTI or are contesting as independents, leading to speculation that they were either pressured or threatened by the army to do so. One of them, Chaudhry Nisar Ali Khan, who is contesting two NA and two assembly seats from Punjab as an independent, has been allotted a 'jeep' as a poll symbol. The fact that some 119 candidates across the country have been allotted the same symbol has led to speculation that they are all backed by the deep state.
"....It should be found out how people are being forcefully brought off from the lion symbol (of the PML-N) and being made to climb the jeep," tweeted Nawaz Sharif's daughter Maryam Nawaz from London, where her mother Kulsoom is being treated for lymphoma. Maryam, too, has been sentenced to seven years in jail. While sating that the elections were an internal issue of Pakistan, an Indian official privately opined that "if indeed democratic forces are being subverted by the military, it does not bode well for the future of a nation already facing immense economic pressure and international scrutiny for being an abettor and sponsor of terrorism".
Full report at:
http://www.newindianexpress.com/thesundaystandard/2018/jul/07/pakistan-unprecedented-rise-of-terror-proxies-in-election-fray-1839901.html
--------
Pakistani envoy urges Muslims to dispel xenophobia in Canada
July 07, 2018
High Commissioner of Pakistan to Canada, Tariq Azim Khan has said that the Muslims particularly those of Pakistani origin must make efforts to dispel the fear of unknown in the Canadian society.
Addressing the 20th annual Canada Day dinner hosted by Association of Progressive Muslims of Canada at Toronto, Tariq Azeem Khan said that the Muslim community need to interact with the Canadians to address xenophobia and to show them the real culture, customs and traditions etc.
He said that unlike USA or Europe, Canada was today one of the best equipped country to capitalize on the extensive intermingling of populations in the 21st century.
The Pakistani High Commissioner said that Canada's strong performance was rooted in effective immigration policies leading to multiculturalism and diversity as a source of pride and inclusion as the core national identity.
He said that the positive impact of multiculturalism was evident among Canadians of all origins and faiths, including Muslims who were proud to be Canadian and appreciated the same things about Canada that other Canadians do.
Tariq Azam Khan was awarded with the annual award 2018, by Mobeen Khaja President of the Association of Progressive Muslims, in recognition of his outstanding services as minister, senator and High Commissioner of Pakistan and on his passion to present Pakistan's rich culture and history for better understanding by the Canadians.
Full report at:
https://nation.com.pk/07-Jul-2018/pakistani-envoy-urges-muslims-to-dispel-xenophobia-in-canada
--------
Avenfield verdict can make polls controversial,says Fazl
July 8, 2018
DERA ISMAIL KHAN: Muttahida Majlis-e-Amal (MMA) president and Jamiat Ulema-e-Islam-Fazl (JUI-F) chief Maulana Fazlur Rahman on Saturday said that the verdicts like that of the accountability court against the former prime minister Nawaz Sharif could make the forthcoming general elections controversial.
"The people are comparing this judgment with the capital punishment handed down to former prime minister and Pakistan People's Party head Zulfikar Ali Bhutto. Such verdicts would create doubts about the credibility of the upcoming general elections," he told separate public meetings here.
The Maulana said that the response of Pakistan Muslim League-Nawaz (PML-N) president Shahbaz Sharif to the verdict against his elder brother was a cautious one.
He said that the verdict against Nawaz Sharif was the continuity of the decision of his disqualification as prime minister.
"But the question arises whether we can present this verdict as an example to the world or not," he questioned.
Criticising the Pakistan Tehreek-e-Insaf (PTI) chief Imran Khan, the Maulana said that it was proved that the PTI chief and party leader Shafqat Mahmood were behind the amendment in the Khatm-i-Nabuwat law.
The JUI-F chief said the previous PTI government in Khyber Pakhtunkhwa indebted the province heavily and secured Rs300 billion loans in the last five years.
He said that the JUI-F would tender an apology to PTI if the body probing the Billion Tree Tsunami project could prove that the saplings the PTI claimed to have planted were really existed on the ground.He said that the opponents of JUI-F had failed to hoodwink the supporters and people of his constituency by offering them lucrative offers.
"I salute you that you are voted for those who are working for upholding the principles of Islam and promotion of teachings of Islam," he went on to say.
The Maulana said that it was JUI-F that had completed several uplift works in Dera Ismail Khan and established an agriculture university.
He said the construction of CPEC route in Dera Ismail Khan would prove a millstone in bringing about economic revolution in the area.
Full report at:
https://www.thenews.com.pk/print/339007-avenfield-verdict-can-make-polls-controversial-says-fazl
--------
ECP takes notice of stoppage of Bilawal's cavalcade at Uch
July 08, 2018
BAHAWALPUR: Police on Saturday stopped the cavalcade of PPP chairperson Bilawal Bhutto-Zardari at Uch Sharif, about 70kms from here, when it was on its way to the shrine of Hazrat Jalaluddin Bukhari over "non-clearance of security". However, later it was allowed to go.
According to PPP local leaders, as Mr Bilawal's cavalcade was heading towards the shrine in Uch Sharif's congested area, a police team stopped it. On asking the reason, a police official said the security clearance for the cavalcade had not been given.
At this, the PPP workers protested, while their chairman had to wait in his car for the security clearance.
PPP divisional coordinator Nawazish Ali Peerzada condemned the stopping of Mr Bilawal's cavalcade.
However, the cavalcade was later allowed to go to shrine, where Mr Bilawal laid a Chaddar (sheet) and offered prayer. He mixed up with the devotees visiting the shrine.
Meanwhile, the Election Commission of Pakistan (ECP) took notice of the stopping of Mr Bilawal's cavalcade, a handout said.
ECP Secretary Babar Yaqoob contacted the Punjab chief secretary and the inspector general of police and sought a report on the incident and said all parties should be given an equal opportunity to run their election campaigns without any hindrance.
After visiting the shrine, Mr Bilawal and his cavalcade resumed their journey to the venue of the public meeting there.
District Police Officer Dr Muhammad Iqbal has said that the cavalcade of Mr Bilawal was halted for making security arrangements because the visit to the shrine was not in the schedule of the PPP leader's visit.
He explained that the shrine was located in a congested area of Uch Sharif where there were no proper arrangements for light and this might have created security issues.
He added that after the security arrangements were made, the cavalcade was allowed to visit the shrine.
Later, addressing a public rally at Uch Sharif the PPP chairperson said if his party was voted to power, he would bring a revolution in the country for the welfare of the masses.
Mr Bilawal gave highlights of his party's manifesto, saying it was a people-friendly manifesto aimed at turning Pakistan into an exploitation-free country where employment, justice and economic balances would be ensured for the common man. He said the PPP wanted to provide opportunities for progress and prosperity to all, without any discrimination.
He talked about his mother's struggle for democracy and role of his father former president Asif Ali Zardari in this regard after Benazir Bhutto's assassination.
He said Mr Zardari introduced a number of programmes aimed at people's welfare.
Paying homage to his mother, Bilawal said her struggle was against the extremists and for the rights of the oppressed people of the country. He said the PPP was the only political party which worked for the poor farmers.
Full report at:
https://www.dawn.com/news/1418673/ecp-takes-notice-of-stoppage-of-bilawals-cavalcade-at-uch
--------
Pakistan remains committed to regional peace and prosperity: Naval chief
July 08, 2018
KARACHI: During the 109th pass-out-parade of Pakistan Navy Midshipmen on Saturday, Chief of Naval Staff Admiral Zafar Mahmood Abbasi stated that Pakistan's desire for peace should not be mistaken for its weakness.
Abbasi, who was the chief guest of the ceremony, said that the country is fully capable of responding effectively to any act of aggression, and the country remains committed to peace and prosperity of the region.
"Pakistan Navy is ready to provide security to the China-Pakistan Economic Corridor (CEPC) and Gwadar seaport," the Naval Chief stated.
As many as 43 officers from Pakistan's close ally states including Bahrain, Saudi Arabia, Jordan, and Qatar were included in the pass-outs.
Commander Royal Bahrain Naval Force Commodore Mohammed Yousif Al Asam and the Chief of Bahrain Coast Guard were also in the attendance.
https://www.pakistantoday.com.pk/2018/07/07/pakistan-remains-committed-to-regional-peace-and-prosperity-naval-chief/
--------
Envoy urges Muslims for enhanced interactions to dispel xenophobia in Canada
JULY 8, 2018
ISLAMABAD: High Commissioner of Pakistan to Canada Tariq Azim Khan has said that the Muslims particularly those of Pakistani origin must make efforts to dispel the fear of unknown in the Canadian society about Muslims in general and Pakistan in particular.
Addressing the 20th Annual Canada Day dinner hosted by Association of Progressive Muslims of Canada at Toronto, Tariq Azeem Khan said to address xenophobia, the Muslim community needed to interact with the Canadians at all levels to show them the real culture, customs and traditions etc.
He said that unlike USA or Europe, Canada was today one of the best equipped country to capitalize on the extensive intermingling of populations in the 21st century. The Pakistani High Commissioner said that Canada's strong performance was rooted in effective immigration policies leading to multiculturalism and diversity as a source of pride and inclusion as the core national identity.
He said that the positive impact of multiculturalism was evident among Canadians of all origins and faiths, including Muslims who were proud to be Canadian and appreciated the same things about Canada that other Canadians do. Tariq Azam Khan was awarded with the annual award 2018, by Mobeen Khaja President of the Association of Progressive Muslims, in recognition of his outstanding services as minister, senator and High Commissioner of Pakistan and on his passion to present Pakistan's rich culture and history for better understanding by the Canadians.
Full report at:
https://dailytimes.com.pk/264098/envoy-urges-muslims-for-enhanced-interactions-to-dispel-xenophobia-in-canada/
--------
Mideast
Israeli restrictions on Aqsa similar to Nazi inquisition: Palestinians minister
Jul 7, 2018
Palestinian Minister of Religious Affairs Mahmoud al-Habbash has drawn a parallel between Israel's restrictions on the al-Aqsa Mosque compound and the Nazi inquisition, saying Tel Aviv's measures at the holy site violate human dignity.
Speaking on Palestine TV, Habbash criticized Israel for limiting Palestinians' access to the al-Aqsa Mosque, the third holiest site for Muslims after Masajid al-Haram in Mecca and Masajid al-Nabawi in Medina.
"There are roadblocks, restrictions, closure of the gates, road closures, and age restrictions…People who are under 40 years of age are not allowed to pray," he said.
"Dear God! What is this? What historical age are we living in?" he asked. "In the days of the Inquisition? Are they trying to do to others what was done to them in the ghettos, in the Inquisition courts, or in the Nazi courts?"
The Palestinian official said the "Israeli Zionist Inquisition" at the al-Aqsa Mosque compound is meant to "violate one's human dignity, and the dignity of religious belief and of human faith in God."
Jordan is the custodian of the al-Aqsa compound, which lies in the Old City of East Jerusalem al-Quds. It has repeatedly accused Israel of violating the status quo of the scared site and multiple provocations.
In the most recent round of tensions, violence erupted after a deadly shootout outside the al-Aqsa Mosque compound on July 14, 2017. Israel subsequently set up metal detectors and surveillance cameras at entrances to the complex at the time.
The restrictive measures sparked criticism worldwide, with Palestinians saying that the bans were meant to expand the regime's control over the holy site.
On July 24, 2017, Tel Aviv backed down in the face of growing protests as well as violent clashes and removed all the restrictions at al-Aqsa.
Israel lays claim to the whole Jerusalem al-Quds, but the international community views the city's eastern sector as an occupied territory and Palestinians consider it as the capital of their future state.
https://www.presstv.com/Detail/2018/07/07/567333/Israel-Palestine-Aqsa-Mosque-Nazi
--------
Saudi coalition acting on behalf of Zionists in Yemen: Houthi
Jul 7, 2018
The leader of Yemen's popular Houthi Ansarullah movement says the Saudi coalition's aim is to carry out the Zionist regime's goals in the region.
The enemy is using lies and excuses to justify its attack on our western coast, but their goal is to take over the whole country including its islands, coast and ports, said Abdul-Malik al-Houthi on Saturday.
He noted that the invading forces' agenda came to light after rejecting the UN envoys initiative on the city of Hudaydah.
While praising the role of popular forces for supporting Yemeni troops in the western coast, Houthi called on the nation to continue reinforcing the battle against the aggressors.
"The invaders thought that they could take over the western coast overnight and easily conquer the coastal region, but their failure has become known to everyone," he added.
He made the remarks after Yemen's deposed President rejected an offer by the UN envoy that would have placed Hudaydah under the UN supervision.
The regime in Riyadh and its allies have been engaged in a military operation over the past few weeks against Hudaydah to pressure the Houthis to leave their positions in Sana'a and many other parts of Yemen. However, reports suggest the Saudi-led coalition has achieved little on the ground despite days of airstrikes and assaults from the Red Sea.
The United Arab Emirates recently announced a pause in the operation. However, local Yemeni media said Saudi attacks on various regions in Hudaydah governorate had continued unabated over the past days.
Full report at:
https://www.presstv.com/Detail/2018/07/07/567398/yemen-saudi-arabia-houthi-western-coast
--------
Arab coalition reiterates commitment to humanitarian work in Yemen
7 July 2018
In a letter sent to the UN Security Council, the United Arab Emirates asserted that the Arab coalition is committed to the humanitarian and relief plan for the Yemeni people, especially in the strategic port city of Hodeidah .
The letter pointed to the emergency plan outlined and announced by the Arab coalition to secure the flow of humanitarian aid.
The United Arab Emirates also accused the Houthi militias of worsening the humanitarian situation in Hodeidah by planting land mines, obstructing the arrival of relief and aid, and using the humanitarian situation as a bargaining chip.
The letter also detailed that the Arab coalition established three major hospitals and 19 other health outlets fully supplied with the necessary equipments and medicines in Hodeidah. The Arab coalition backed by the Saudi, also equipped teams and provided logistic services to repair the damages caused by the Houthi militias in Hodeidah port.
The United Arab Emirates called upon the International Community to condemn the Houthi militias and the crimes they inflicted upon the Yemeni people, asserting the Arab coalition support for the UN Special envoy to Yemen Martin Griffiths.
It pointed that the number of Houthi ballistic missiles launched towards Saudi Arabia have reached 150, endangering civilians.
Al Arabiya news channel correspondent in New York reported earlier that the Houthis have rejected the UN proposals to withdraw from Hodeidah and its port so it can be under the UN supervision.
Full report at:
https://english.alarabiya.net/en/News/gulf/2018/07/07/Arab-coalition-Committed-to-relief-and-humanitarian-work-in-Yemen.html
--------
Israel plans crackdown on Turkey's activities in occupied Palestinian lands: Report
Jul 8, 2018
Israel is reportedly planning to limit the activities of a Turkish aid agency in occupied territories, including Jerusalem al-Quds, amid concerns over Ankara's growing influence among Palestinians.
Israel's Hadashot TV reported on Saturday that Israel's top security body had drafted possible measures against the Turkish Cooperation and Coordination Agency (TIKA) that is active in the West Bank, East Jerusalem al-Quds and the Gaza Strip.
Among the measures being considered against TIKA are imposing a general restriction on all its activities and requiring the agency to obtain individual permits for its projects, the report said.
Israeli officials, the report added, believe that TIKA hosts members of the Palestinian Islamic Jihad movement at its offices, and that several of its staff have transferred funds and information to the Gaza-based Hamas resistance movement.
Tel Aviv's decision to target the Turkish organization came after the recent uptick in Turkish President Recep Tayyip Erdogan's anti-Israel positions.
Last month, Israeli daily Haaretz reported that Saudi Arabia, Jordan and the Palestinian Authority had warned Israel about increasing Turkish activities in East Jerusalem al-Quds.
Ha'aretz said the trio had told the regime about Erdogan's attempt to "claim ownership over the Jerusalem [al-Quds] issue."
It further accused Turkish Islamic associations of sponsoring an increasing number of programs and trips for thousands of Palestinians, and encouraging protests near the al-Aqsa Mosque compound.
In June 2016, Israel and Turkey reached an agreement to normalize their relations six years after an Israeli raid on a Gaza-bound Turkish aid flotilla killed 10 Turkish activists in high seas and sent their ties spiraling into a cycle of tensions in May 2010.
Their ties sank to a fresh low in May after they expelled their envoys amid growing tensions over the Israeli killing of dozens of Palestinians in the Gaza Strip.
At the time, Erdogan defended Hamas and slammed Israel's decades-long crimes against the Palestinian people, saying Israeli Prime Minister Benjamin Netanyahu had the blood of Palestinians on his hands.
"Reminder to Netanyahu: Hamas is not a terrorist organization and Palestinians are not terrorists. It is a resistance movement that defends the Palestinian homeland against an occupying power. The world stands in solidarity with the people of Palestine against their oppressors," he tweeted.
Full report at:
https://www.presstv.com/Detail/2018/07/08/567420/Israel-Palestine-Turkey-Jerusalem
--------
Turkish court sentences 4 journalists to jail on terror charges
Jul 7, 2018
A court in Turkey has handed down jail terms ranging from eight to ten years to four former columnists of defunct Zaman daily newspaper on charges of affiliation to a movement led by the US-based opposition cleric Fethullah Gulen, whom the Ankara government accuses of having masterminded the July 2016 coup attempt against President Recep Tayyip Erdogan.
The 13th Heavy Penal Court in Istanbul sentenced Ali Bulac and Sahin Alpay to eight years in prison, while Mumtazer Turkone and former Ankara bureau chief Mustafa Unal were each given a ten-year prison term.
Five other defendants were acquitted of terror charges.
The verdicts came as prosecutors had initially asked for aggravated life sentences for the suspects, who were detained in 2016 following the coup attempt.
During the botched putsch, a faction of the Turkish military declared that it had seized control of the country and the government of Erdogan was no more in charge. The attempt was, however, suppressed a few hours later.
Ankara has since accused Gulen of having orchestrated the coup. The opposition figure is also accused of being behind a long-running campaign to topple the government via infiltrating the country's institutions, particularly the army, police and the judiciary.
Gulen has denounced the "despicable putsch" and reiterated that he had no role in it.
"Accusations against me related to the coup attempt are baseless and politically-motivated slanders," he said in a statement.
The 77-year-old cleric has also called on Ankara to end its "witch hunt" of his followers, a move he says is aimed at "weeding out anyone it deems disloyal to President Erdogan and his regime."
Turkish officials have frequently called on their US counterparts to extradite Gulen, but their demands have not been taken heed of.
Turkey, which remains in a state of emergency since the coup, has been engaged in suppressing the media and opposition groups suspected to have played a role in the failed coup.
Tens of thousands of people have been arrested in Turkey on suspicion of having links to Gulen and the failed coup. More than 110,000 others, including military staff, civil servants and journalists, have been sacked or suspended from work over the same accusations.
Full report at:
https://www.presstv.com/Detail/2018/07/07/567362/Turkish-court-sentences-4-journalists-to-prison-on-terror-charges
--------
Turkey sacks more than 18,500 state employees in new decree
8 July 2018
Turkish authorities ordered the dismissal of more than 18,500 state employees including police officers, soldiers and academics, in a decree published on Sunday.
The Official Gazette said 18,632 people had been sacked including 8,998 police officers in the emergency decree over suspected links to terror organizations and groups that "act against national security".
Some 3,077 army soldiers were also dismissed as well as 1,949 air force personnel and 1,126 from the naval forces.
Another 1,052 civil servants from the justice ministry and linked institutions have been fired as well as 649 from the gendarmerie and 192 from the coast guard.
Authorities also sacked 199 academics, according to the new decree, while 148 state employees from the military and ministries were reinstated.
Turkey has been under a state of emergency since the July 2016 attempted overthrow of President Recep Tayyip Erdogan.
Turkish media dubbed the decree as the "last" with officials indicating the state of emergency could end as early as Monday.
The emergency has been renewed seven times and the latest period is officially due to end on July 19.
Over 110,000 public sector employees have been removed previously from their jobs via emergency decrees since July 2016 while tens of thousands more have been suspended in a crackdown criticized by Ankara's Western allies.
Turkey accuses US-based Muslim preacher Fethullah Gulen of orchestrating the attempted coup. The majority of those fired under the emergency are accused of links to Gulen.
The government refers to the movement as the "Fethullah Terrorist Organization". Gulen strongly denies any coup links and insists his movement is a peaceful organization.
Sunday's decree shut down 12 associations across the country as well as three newspapers and a television channel.
Human rights defenders including Amnesty International have lambasted the purges as arbitrary but Turkey says they are necessary to remove the Gulen movement's infiltration of state bodies.
Full report at:
https://english.alarabiya.net/en/News/middle-east/2018/07/08/Turkey-sacks-18-500-state-employees-in-new-decree-including-police.html
--------
Iran's Khamenei orders Rouhani to 'explain lack of financial transparency'
7 July 2018
Iran's Supreme Leader Ayatollah Ali Khamenei ordered the country's President Hassan Rouhani to present new reports that "clearly explain the government's recent allocation of foreign currency and gold coins to companies and individuals.
According to the Iranian source Radio Farda, Khamenei said he was concerned about the ambiguities of the country's resources.
The Iranian markets have recently been unstable. Recently, Rouhani allocated foreign currency to a number of companies subsidized at a lower rate of 42,000 rials per US dollar when the market rate was 90,000 rials.
Full report at:
https://english.alarabiya.net/en/News/middle-east/2018/07/07/Iran-s-president-ordered-to-explain-lack-of-transparency-in-gold-and-forex-.html
--------
Yemeni minister in the unrecognized Houthi govt flees Sanaa
7 July 2018
A minister serving in the unrecognized Houthi-led coup government, and who is part of the late former Yemeni president Ali Abdullah Saleh's General People's Congress (GPC) party, is said to have fled and escaped from Sanaa for his hometown in Lahij.
Mohsen al-Naqib, who is the minister for technical education and vocational training, is said to have fled from the capital for his hometown of Yafea in the governorate of Lahij, after sources said Houthi militias imposed a siege and house arrests on members of the GPC party.
Full report at:
https://english.alarabiya.net/en/News/gulf/2018/07/07/Yemeni-minister-serving-in-the-unrecognized-Houthi-government-flees-Sanaa.html
--------
Palestinians hold funeral for youth killed by Israeli forces in Gaza
Jul 7, 2018
Palestinians have held a funeral procession for a 22-year-old man who was killed by Israeli troops during protests in the area that separates the besieged Gaza Strip from the occupied territories.
The funeral for Mohamad Jamal Abu Halima was held on Saturday a day after he was shot in the chest by Israeli forces during "Great March of Return" protests.
The Gaza Health Ministry said 396 Palestinians, including medics and journalists, were either injured by live bullets or suffered from suffocation due to inhaling tear gas fired by Israeli forces.
Protests along the Gaza fence since March 30 have led to clashes with Israeli forces, where at least 135 Palestinians, including 14 children, have been killed. Palestinian protesters demand their right to return to their homeland. Over 15,000 Palestinians have also sustained injuries.
On May 14, Israeli troops opened fire on Palestinians who had gathered near the fence in protest against the inauguration of the US embassy in Jerusalem al-Quds. Over 60 Palestinians were shot dead and more than 2,700 wounded by Israeli snipers who had been positioned along the fence.
Every year on May 15, Palestinians all over the world hold demonstrations to commemorate the day, which marks the anniversary of the forcible Israeli eviction of hundreds of thousands of Palestinians from their homeland in 1948.
The United Nations Children's Fund (UNICEF) has said children in the Gaza Strip are the main victims of the Israeli atrocities, where some 1.8 million people are living under a crippling blockade.
Gaza has been under the Israeli siege since June 2007, causing a decline in living standards as well as unprecedented unemployment and poverty.
Full report at:
https://www.presstv.com/Detail/2018/07/07/567355/Gaza-funeral-israel
--------
South Asia
Zakir Naik will never get access to Bangladesh: Hasina aide
Jul 8, 2018
Promising full cooperation in India's quest to bring controversial Islamic preacher Zakir Naik back to the country, a close aide of Bangladeshi Prime Minister Sheikh Hasina said today that Bangladesh will never allow its territory to be used by elements hostile to New Delhi.
After delivering a talk in New Delhi on "Indo-Bangladesh: Historical and contemporary perspective", Hossain Toufique Imam, political advisor to Hasina, answered a question from a reporter on Naik. He said Naik would never get access to Bangladesh and his country would cooperate with India on the matter.
"We will fully cooperate with India. Our government is committed to its declared policy of zero-tolerance policy towards terrorism. The soil of Bangladesh will never be allowed to be used by elements who are hostile to our neighbours," Imam said.
Naik found himself in the eye of a storm after news reports surfaced that at least two of the terrorists behind the attack on Holey Artisan Bakery cafe in Dhaka in July 2016 were "inspired by his preaching about Islam." Rohan Imtiaz, one of the suspected attackers, is said to have posted a message on Facebook quoting Naik prior to the attack.
Naik is being probed under terror and money laundering charges by the National Investigation Agency. He left India in July 2016 after the Dhaka terrorist attack.
The NIA first registered a case against Naik under anti-terror laws in 2016 for allegedly promoting enmity between different religious groups.
The NIA and the Mumbai Police, subsequently, carried out searches at 10 places in Mumbai, including the residential premises of some of the office-bearers of the foundation run by Naik. The foundation was earlier put on restricted list by the Home Ministry for receiving funds from abroad.
There were media reports this week about the 52-year-old Naik's deportation to India by the government of Malaysia, where Naik has managed to get the permanent residency status.Following the reports, Naik in a statement said he would not return to India till he felt "safe from unfair prosecution".
Yesterday, Malaysian Prime Minister Mahathir Mohamad ruled out deporting the controversial Islamic preacher to India if he does not create problems in his country.In January, India made a formal request to Malaysia to deport Naik. India has an extradition treaty with Malaysia.
http://www.dnaindia.com/india/report-zakir-naik-will-never-get-access-to-bangladesh-hasina-aide-2634565
--------
Sampriti Bangladesh launches effort to promote secularism to overcome divides
2018-07-07
Sampriti Bangladesh, a new platform for prominent citizens, has launched an effort to overcome divides in society by promoting secular ideals.
The organisation began its journey on Saturday with an inaugural event at the National Museum, attended by people of all classes, creeds and walks of life.
The event was the culmination of a long-standing vision to bring together representatives from various religious backgrounds and eminent members of civil society under one banner.
"We want to return to the Liberation War ideal of secularism," said cultural personality Pijush Bandyopadhyay, who is serving as the organisation's convener.
"By returning to that ideal, we will be able to build a secular Bangladesh—one where everyone is equal and where no-one faces persecution."
"We may have to face many setbacks. We must be prepared. We know that most of the people of our country are against communalism and are in favour of equality. Now we must stand united. If you stand with us, we will be victorious."
There are plans to form committees at the district and upazila levels, and a central committee will direct the organisation's overall actions, he said.
"We want people to build close connections through their secular ideals," Bandyopadhyay told bdnews24.com. "Today we have inaugurated our organisation. We will now organise various programmes, including a rally, until December."
In his speech via video conference, prominent academic Prof Anisuzzaman said: "Bangladesh is a nation of communal harmony. People of various ethnicities and religions have lived in peace for thousands of years. Our country is on a path to prosperity."
"There are divisions. There is conflict. Communal harmony has deteriorated. Despite this we must move ahead towards a future where we have harmony."
Prof Anisuzzaman highlighted the basic principle of secularism as a part of the 1971 independence movement and its place in the 1972 constitution.
The assassination of Bangabandhu Sheikh Mujibur Rahman led to a period when these ideals diminished, but the people were eventually able to restore communal harmony, he said.
"So I request everyone gathered here today to hold on to those ideals we have from our history, those ideals from 1971, those ideals of our constitution, as we move along the path to progress."
Former DUCSU President Mahfuza Khanam said: "People of all religions have the same rights. Despite our differences of faith, or perhaps our lack of faith, we will come together and build Bangladesh into a prosperous and civilised nation.
No democratic country can move forward without secularism and there must not be any relations between religion and the state in a democracy, Prof Serajul Islam Choudhury said.
The capitalist structure of the society has moved Bangladesh far from these features of democracy, he said.
"We are living in a sick society now. Murders and rapes, even of children, are happening regularly," Prof Choudhury said.
Prof Syed Anwar Hossain also pitched for secularism.
A state religion and secularism cannot stay together in the constitution, he said. "Bangladesh lost its way from where it was after independence."
"Bangabandhu had not spoken about state religion," he said.
Three things are dividing the people now—religion, politics and self-interest. "We must take effective steps to remove this division. We must bring the country back into its orbit by deeds, not words."
Islamic Foundation Director General Shameem Mohammad Afzal said the constitution made in 1972 reflected the Charter of Madinah.
"The rights of people from all religions were reserved in it," he said adding Jamaat-e-Islami founder Syed Abul A'la Maududi, the Muslim Brotherhood of Egypt, and Zakir Naik misinterpreted Islam.
Prof AK Azad Chowdhury, UGC Chairman Prof Abdul Mannan, former Dhaka University Vice Chancellor AAMS Arefin Siddique, writer and Shahjalal University of Science and Technology Prof Muhammed Zafar Iqbal, Liberation War Museum trustee Sarwar Ali, journalist Abed Khan, National Press Club President Shafiqur Rahman and the organisation's Secretary Mamun Al Mahtab also spoke at the event.
Full report at:
https://bdnews24.com/bangladesh/2018/07/07/sampriti-bangladesh-launches-effort-to-promote-secularism-to-overcome-divides
--------
Roadside bomb kills district governor in Afghanistan
July 08, 2018
FIROZ KOAH - A district governor was killed after his vehicle ran over a mine in Afghanistan's western Ghor province Saturday, provincial police spokesman Mohammad Iqbal Nizami said.
"A mine planted by militants on a road in Charsada district struck the vehicle of district governor Mohammad Ibrahim today morning killing him on the spot," Nizami told Xinhua from provincial capital Firoz Koah. The incident took place when the district governor was on the way to his office, the official said.
Clashes leave 3 policemen,
6 militants dead
At least three policemen and six Taliban militants were killed and several others from both sides injured as clashes erupted in parts of Ghazni province, east of Afghanistan on Friday night, a local official said. "Taliban militants attacked several security checkpoints in Jighatu, Waghaz and Zanakhan districts of eastern Ghazni province on Friday night and security forces returned fire which lasted for several hours," Arif Nuri, spokesman for provincial governor, told Xinhua.
Full report at:
https://nation.com.pk/08-Jul-2018/roadside-bomb-kills-district-governor-in-afghanistan
--------
US soldier killed in Afghan 'insider attack'
July 08, 2018
Kabul - A US soldier was killed and two others wounded in an "apparent insider attack" in southern Afghanistan on Saturday, NATO said.
The so-called "green-on-blue" attack is the latest in a line of incidents where Afghan soldiers have turned their weapons on international forces they are working with.
"The wounded service members, who are in stable condition, are currently being treated," NATO's Resolute Support mission in Afghanistan said in a statement. "The incident is under investigation."
NATO did not release the identity of the American soldier killed or provide further details about the incident. The shooting happened at the airport in Tarinkot, the capital of Uruzgan province, a local police officer told AFP. The Taliban said on Twitter that "a patriot Afghan soldier opened fire on Americans in Uruzgan airport killing and wounding at least four American invaders".
Currently, there are about 14,000 US troops in Afghanistan, providing the main component of the NATO mission there to support and train local forces.
Full report at:
https://nation.com.pk/08-Jul-2018/us-soldier-killed-in-afghan-insider-attack
--------
Mine blast kills 3 children in Afghanistan
July 08, 2018
GHAZNI:- Three children were killed and seven other civilians sustained injuries in a blast that rocked the eastern Ghazni province, provincial government spokesman Aref Nuri said Saturday. A mine planted by militants on a road in Shinkai village of Gilan district, struck a rickshaw on Friday afternoon, killing three children and injuring seven others. All the victims are civilians, Nuri added. Usually in Afghan villages, villagers use rickshaw to travel from one point to another. The official blamed Taliban militants for planting the mine on the road, but the armed outfit has yet to make a comment.–Xinhua
https://nation.com.pk/08-Jul-2018/mine-blast-kills-3-children-in-afghanistan
--------
US forces conduct airstrike on a hideout of ISIS-K in Nangarhar province
Jul 08 2018
The US forces based in Afghanistan have carried out an airstrike on a hideout of ISIS Khurasan in eastern Nangarhar province of Afghanistan, leaving at least four dead.
The provincial government media office in a statement said the airstrike was carried out late on Saturday night in the vicinity of Achin district.
The statement further added that the hideout of the terror group was targeted in Bandar area and as a result at least four ISIS Khurasan militants have been killed.
Several weapons and munitions belonging to ISIS Khurasan militants were also destroyed during the airstrike, the statement added.
In the meantime, the provincial government said at least three Taliban insurgents were killed during an operation of the Special Forces of the Afghan intelligence in Khogyani district.
According to the governor's office in Nangarhar, the three Taliban militants killed during the operation were the explosives experts and a large quantity of explosives was also destroyed during the operation.
At least two suspects were also arrested during the same operation, the provincial government said, adding that the local residents and security personnel have not suffered any casualty during the airstrike and the operation in Khogyani.
Full report at:
https://www.khaama.com/us-forces-conduct-airstrike-on-a-hideout-of-isis-k-in-nangarhar-province-05532/
--------
Special Forces commander among 10 policemen dead, wounded in Ghazni ambush
Jul 07 2018
At least ten Afghan policemen were killed or wounded in an ambush by the Taliban militants in southeastern Ghazni province of Afghanistan.
The local officials are saying that the incident took place earlier today in the vicinity of Waghez district.
A spokesman for the provincial government Arif Noori said a group of armed insurgents ambushed the police forces in Waghez district earlier today, sparking clashes between the two sides.
He said at least four policemen, including a commander of the Police Special Forces, were killed and at least six others were wounded during the clashes.
Noori further added that the six Taliban militants were also killed and at least seven others sustained injuries after the Afghan forces responded to the ambush of the Taliban militants.
The anti-government armed militant groups including Taliban militants have not commented regarding the incident so far.
Ghazni is among the relatively volatile provinces in southeastern parts of the country but the security situation of the province has deteriorated sharply during the recent months.
Full report at:
https://www.khaama.com/special-forces-commander-among-10-policemen-dead-wounded-in-ghazni-ambush-05528/
--------
Europe
Germany: Muslim patients targeted in Islamophobic knife attack
7th Jul 2018
By Ayhan Simsek
BERLIN (AA): A man threatened Muslim patients with a kitchen knife and injured one person after a standoff at a small clinic in northwestern Germany, local media reported on Friday.
The man, said to be in his fifties, shouted Islamopohobic slurs as several headscarved Muslim women were in the waiting room of a clinic owned by a Turkish doctor in the northwestern city of Moenschengladbach, Rheinische Post reported.
He threatened medical assistants and patients with the knife, but was overpowered by three patients in the waiting room. One of the patients was slightly injured in the incident.
The police said the suspect suffered from mental health problems and the incident was not a politically motivated attack.
A local court on Friday ordered him committed to the psychiatric hospital for treatment.
Germany has witnessed growing Islamophobia in recent years fueled by propaganda from far-right parties, which have exploited fears over the refugee crisis and terrorism.
http://muslimnews.co.uk/news/islamophobia/germany-muslim-patients-targeted-islamophobic-knife-attack/
--------
Pope Francis decries 'murderous indifference' in Mideast
7 July 2018
Pope Francis led a summit of religious leaders demanding peace in the Middle East on Saturday, condemning a "murderous indifference" he said is fanning violence and sparking an exodus of Christians.
Francis convened the summit in the southern Italian city of Bari that for centuries has been a gateway to the Middle East and home to the relics of St. Nicholas, a figure venerated in both the Western and Eastern branches of Christianity.
In what was billed as an "admonition" opening a joint prayer service, Francis spoke of "dark clouds of war, violence and destruction, instances of occupation and varieties of fundamentalism, forced migration and neglect".
He said: "All this has taken place amid the complicit silence of many."
While the pope did not name any specific place or protagonist in any conflict, looming large in the background was the Syrian war, which has killed hundreds of thousands of people and uprooted around 11 million others, including 6 million abroad as refugees.
St. Nicholas, who lived about 1,700 years ago in what is today Turkey, is venerated among Orthodox Christians, including those in Russia, which is Syria's ally in the civil war. The Russian Orthodox Church sent its number two to the Bari meeting.
"Indifference kills, and we desire to lift up our voices in opposition to this murderous indifference. We want to give a voice to those who have none, to those who can only wipe away their tears," Francis said.
"For the Middle East today is weeping, suffering and silent as others trample upon those lands in search of power or riches," he said, speaking from a podium on the waterfront with about 20 other Christian leaders, most of them from Orthodox Churches.
In a gesture to show their equality, the pope and key participants including black-robed Orthodox leaders were driven together in a tourist-style open-top bus from the 12th century Romanesque style Basilica of St. Nicholas to the prayer service on the waterfront facing east.
"Let us pray as one, begging the Lord of heaven for that peace which the powerful of our world have not yet been able to find," the pope said.
Prayers for peace in the Middle East were read in Italian, English, Greek, Arabic, Armenian and Assyrian.
A special mention was made of the need for peace in Jerusalem, which the pope called "the holy city beloved of God and wounded by men".
The status of the holy city is at the heart of a bitter conflict. Israel says it is the country's united and eternal capital while Palestinians want East Jerusalem as the capital of any future state.
One of the topics at private meetings later was expected to be the dwindling number of Christians in the Middle East, as many flee conflicts and dire economic conditions.
Francis said their disappearance would lead to the "disfiguring the very face of the region. For a Middle East without Christians would not be the Middle East".
Walls, occupation, fundamentalism block Mideast peace
Pope Francis further said that building walls, occupying territories and religious fanaticism would never bring peace to the Middle East.
Speaking at the end of a summit of Christian religious leaders, Francis also repeated his view that the "status quo" of the contested city of Jerusalem should be respected, and backed a two-state solution to resolve the Israeli-Palestinian conflict.
"Truces maintained by walls and displays of power will not lead to peace, but only the concrete desire to listen and to engage in dialogue will," he said.
"Let there be an end to the few profiting from the sufferings of many. No more occupying territories and thus tearing people apart," he said.
Francis said many conflicts had been stoked by "forms of fundamentalism and fanaticism that, under the guise of religion, have profaned God's name - which is peace - and persecuted age-old neighbors".
Full report at:
https://english.alarabiya.net/en/News/middle-east/2018/07/07/At-a-religious-summit-Pope-Francis-decries-murderous-indifference-in-Mideast-.html
--------
Trump faces 'carnival of protest' on trip to Britain
July 8, 2018
EDINBURGH / LONDON: A barrage of nationwide protests will greet US President Donald Trump's four-day trip to Britain from Thursday, with organisers hoping to stage one of the country's biggest demonstrations in decades following a series of diplomatic spats.
The divisive American leader, arriving after a NATO summit in Brussels, will be largely away from London during a tour expected to bring at least tens of thousands of people onto British streets. "We are confident that there will be huge demonstrations against Trump wherever he visits," said Chris Nineham, of the Stop the War Coalition, which is helping to stage the so-called "carnival of protest".
"The protest against Trump will be a real celebration of the diversity that we love in the UK — and will give a strong signal that his message of hate and division is not welcome in this country." The US president appears unpopular in Britain, where his brash style and hardline "America First" policies have caused consternation across the political spectrum and society.
He was severely criticised last November, including by Prime Minister Theresa May, after sharing three inflammatory anti-Muslim videos posted by far-right group Britain First. Opposition lawmakers, backed by an online petition signed by nearly 1.9 million people, called on May to cancel the state visit offered when she met Trump in Washington after his inauguration in January last year.
Following the incident and several other diplomatic spats, his first trip to Britain since taking power was repeatedly delayed and scaled back, with speculation it has now been designed to avoid the demonstrations. The US ambassador in London told reporters Friday that Trump was "aware" of the planned protests but "is not avoiding anything".
"The president is simply trying to get as impactful a trip as he can get in a 24-hour period," Woody Johnson said. The centrepiece of the organised opposition will be a march through central London ending in a rally on Trafalgar Square. Organisers are laying on buses from more than a dozen British cities to the protest, urging attendees to "bring banners, loudhailers, sound systems and everything you need to kickstart the revolution".
A giant inflatable "Baby Trump" balloon will be flown near the Houses of Parliament ahead of the protest. The blimp will then be used at a protest planned in Scotland, his mother's homeland, when Trump goes there for the weekend.
London Mayor Sadiq Khan, who has sparred with Trump online over combating terrorism, has permitted the floating blimp for two hours Friday morning. Firebrand politician and Trump ally Nigel Farage labelled the move "the biggest insult to a sitting US President ever" but others have welcomed the playful rebuke.
"For a US president who retweets far-right Britain First propaganda, insults Londoners at times of tragedy, and refuses to condemn white supremacist marches at home, this insult is well deserved" said Labour MP David Lammy. The "Stop Trump Coalition", a network of grassroots campaigns, unions, NGOs and politicians, said in a statement on Facebook that Friday "could be a march of millions".
It pointed to polling last year showing up to two million people could take part in anti-Trump actions. Mass protests in 2003 against the Iraq War saw an estimated record 750,000 to two million turn out in London. Trump will be holding talks at that time with May at Chequers, the 16th-century manor house outside London that serves as her official country retreat.
The coalition has pledged multiple demonstrations along every step of his planned itinerary, which will include meeting Queen Elizabeth II at Windsor Castle on Friday. It has vowed to gather near the US ambassador's residence in London, where Trump and First Lady Melania Trump will stay Thursday night, and outside Blenheim Palace, wartime leader Winston Churchill's birthplace, which hosts the pair for dinner prior.
In Scotland, a major demonstration is planned in Glasgow, its biggest city, on Friday ahead of a march through the streets of Edinburgh, the capital, on Saturday. Protestors will be on standby to race to one of Trump's two golf resorts in Scotland in case he visits.
Richard Leonard, leader of the Scottish Labour Party, has been a key figure in mobilising against the president. "Trump's political values represent everything that we are not," he told AFP.
Full report at:
https://tribune.com.pk/story/1752599/3-trump-faces-carnival-protest-trip-britain/
--------
North America
Trump administration plotting to use MKO terrorists against Iran: Ex-MKO member
Jul 7, 2018
The administration of United States President Donald Trump is plotting to use a terrorist outfit called the Mujahedin-e-Khalq Organization (MEK or MKO) to promote regime-change in Iran, according to a former long-time MKO member.
MKO, which was listed as a terrorist organization in the US and Europe, had collaborated with the former Iraqi dictator Saddam Hussein during his imposed war on Iran in the 1980s in addition to killing as many as 12,000 Iranians in a violent campaign of terrorist bombings and assassination across the Islamic Republic and Iraq, is strongly despised by the Iranian nation.
The collaboration between the Trump administration and MKO leadership to overthrow the government in Iran is based on false pretenses and will be a futile attempt, former MKO member Ebrahim Khodabandeh told Press TV on Saturday.
Recently, President Donald Trump's personal lawyer Rudy Giuliani and 33 senior US officials and military brass recently took part in an event organized by the notorious outfit in the French capital city, Paris.
Khodabandeh said the anti-Iran members of the Trump administration aim to use MKO as a mouthpiece or speaker for the dissidents to promote anti-Iran sanctions and regime-change in the country.
The Trump administration pretends that Iranian dissidents want regime-change in Iran which is not true, Khodabandeh said. The Trump administration's show of support for the MKO terrorist organization, which has as well Iranian and Iraqi blood American blood on their hands, is based on the terrorist outfit's anti-Iran stance, Khodabandeh told Press TV in an exclusive interview on Saturday.
Trump's administration "cannot openly talk about imposing sanctions against the Iranian people. They do it under the cover of Iranian dissidents' gatherings," he said.
The gatherings promoting regime-change in Iran are "organized by the [MKO] terrorist organization which has claimed many lives inside Iran," he noted.
The MKO terrorist outfit "is very much hated by Iranian people. It is the only Iranian opposition group that supports sanctions against the Iranian people, "according to Khodabandeh, who was a member of the terrorist organization for 23 years.
https://www.presstv.com/Detail/2018/07/07/567388/Trump-plottingto-use-MKO-terrorists-against-Iran
--------
There's no other way to say this: The Supreme Court got Trump's Muslim ban wrong
July 7, 2018
The United States is poised to plunge into the abyss of chronic human rights violations.
We've seen this coming since President Donald Trump proudly vowed to violate a slew of human rights and promised "a total and complete shutdown of Muslims entering the United States."
Trump never really shut down all Muslims from entering the country, but he did issue an executive order to suspend immigration from seven Muslim countries, excluding those in which his companies have major foreign investments. His stated rationale was that immigrants and refugees from these countries present an exceptional danger of terrorism.
In fact, they do not, and his statements during and after his presidential campaign plainly revealed his true motivation: fear and hostility toward Muslims.
Trump's ban had nothing to do with risk
Time and again he tried to convince his followers that all Muslims are dangerous and hate the United States. In March 2016, he opined, "I think Islam hates us" and "we're having problems with the Muslims."
Predictably, Trump's policies reflect the same ignorance and bigotry he showed on the campaign trail. He issued his first executive order banning Muslims from several countries from entering the United States without consulting U.S. intelligence or national security experts.
In his most recent proclamation, he changed little but had his lawyers write an after-the-fact rationalization for the policy.
It was only a smokescreen.
The reasons given had nothing to do with actual risk of terrorism, as shown by reports from the conservative Cato Institute. There was and still is no significant terrorist activity by immigrants or refugees from the Muslim countries Trump targeted.
Invoking 'national security' makes it OK?
Unfortunately, the Supreme Court held by a 5-4 majority that Trump has a free hand to discriminate based on religion and national origin in immigration policy, as long as he invokes the talisman of national security.
It does not even have to be a credible claim. The key, according to the court's majority, is that the proclamation itself did not explicitly call for a "Muslim ban."
In other words, the court held that it would not enforce the constitutional prohibition against discrimination, as long as the president takes minimal steps to hide the true reasons for the policy. Every statement proving he was motivated by religious chauvinism, the majority held, could be safely ignored.
Caution in substituting the court's own judgment for the president's on a question of national security might normally reflect wise self-restraint. But there is a difference between self-restraint and willful blindness to discrimination.
History will condemn this ruling, too
The case, Donald J. Trump v. Hawaii, is strongly reminiscent of other cases in which the Supreme Court abdicated its role as guarantor of civil rights to justify immoral policies.
For instance:
Plessy v. Ferguson (1896), in which the court upheld state racial segregation laws as nondiscriminatory, as long as the laws formally treated black and white facilities. As in Trump v. Hawaii, the majority cheerfully ignored the discriminatory purpose of the state laws and pervasive real world discrimination suffered by the victims.
Korematsu v. United States (1944), in which the court approved the racist policy of imprisoning all families of Japanese descent in the United States on the assumption that they would favor the Japanese monarch over their U.S. loyalties. There, too, the government invoked national security with no evidence of the measure's necessity. Justice Sotomayor, in dissent in Trump v. Hawaii, rightly pointed out the unsettling parallels between Korematsu and the case before the court.
Plessy and Korematsu are today universally condemned by jurists for their bias and unsound reasoning. With Trump v. Hawaii, the court now adds a third case to the list.
The court majority has once again ignored concrete facts and endorsed a bigoted policy by invoking vague principles.
How Trump violates human rights law
Aside from the domestic legal problems, the Trump v. Hawaii majority decision endorses a serious violation of international human rights law.
Discrimination of this kind violates treaties to which the United States has long been a party. Although people generally have no human right to enter the United States, other than refugees, our country has human rights obligations.
Human rights law is not just about individual entitlements. It's also about preventing governments from pursuing policies repugnant to human dignity.
And every immigration policy that makes arbitrary distinctions based on race, ethnicity, national origin or religion insults human dignity. In Trump v. Hawaii, the Supreme Court did not even mention human rights laws, despite the fact that they are binding under the court's own precedents.
If the Muslim ban were an isolated incident, we might dismiss it as a regrettable aberration.
Unfortunately, over the last two years, the United States has been trudging down the dark path of the human rights pariah.
Trump's violations of the rights of asylum seekers and the separation of migrant children from their families, among other policies, have been condemned worldwide. Critics include the United Nations and the Inter-American Commission on Human Rights.
The international stature of the United States as a leader in human rights is, quite simply, vanishing.
Full report at:
https://www.azcentral.com/story/opinion/op-ed/2018/07/07/supreme-court-got-trump-muslim-ban-wrong-human-rights-violation/756953002/
--------
How Trump's anti-Muslim rhetoric has tainted even well-intentioned efforts to address extremist violence
JUL 07, 2018
It's hard to imagine the city of Los Angeles turning down nearly half a million dollars for worthwhile social service programs such as mental health counseling, leadership training and refugee assistance. Yet the City Council has been debating for six months whether to accept a $425,000 grant from the U.S. Department of Homeland Security to fund such services, amid concerns that the efforts will stigmatize and target Muslims.
Mayor Eric Garcetti's Office of Public Safety was awarded the competitive grant by DHS's Countering Violent Extremism program last year. The mayor's office developed a reasonable plan to divvy up the money among local community groups to provide counseling, workshops and education to address the conditions that can lead to violence.
The goal, the mayor's office said, is to provide social services that combat hate and bias in all forms, including white supremacy, bullying and Islamophobia along with Islamic extremism, without the involvement of law enforcement agencies.
In ordinary times, these investments probably wouldn't be controversial. The grant, for example, would provide $45,000 to the Tiyya Foundation, an Orange County-based refugee and immigrant assistance group, to provide integration services. It would also provide $30,000 to the group Not in Our Town to help communities develop strategies to counter white supremacist activity. And $75,000 would go the Cross Cultural Expressions Community Counseling Center, which provides culturally appropriate counseling and mental health treatment in a range of languages.
But the council has yet to approve the grant. Civil liberties and Muslim-American groups are vehemently opposed, saying L.A. should not accept money from or partner with DHS in light of President Trump's policies and rhetoric targeting Muslims.
The grant is part of a strategy adopted not by Trump, but by the Obama administration in 2011 to develop community-oriented approaches to prevent the recruitment and radicalization of potential terrorists. The theory, which has found some support from researchers around the world, is that families, friends, religious leaders and community members can help recognize the early signs of radicalization and intervene before a crime or violence is committed.
But the Countering Violent Extremism program has been controversial from the beginning. At first, the program was narrowly focused on preventing radicalization and recruitment to jihadi violence, though it was later broadened to include violent groups of differing ideologies, including white supremacists and far-right extremists. Much of the early funding went to law enforcement agencies, sowing concerns that the program was conducting surveillance of Muslim-Americans under the veneer of community partnerships.
Those concerns have only been heightened by President Trump's demonization of Muslims, from his retweeting of anti-Muslim videos to his bigoted campaign proposal to impose a "total and complete shutdown of Muslims entering the United States." Last year his administration floated the idea of revamping the Countering Violent Extremism program to focus exclusively on Islamic extremism and leave out the right-wing groups. The DHS later rescinded a $400,000 grant that had been awarded to Life After Hate, a group that works to combat white supremacist and far-right violence — an especially galling step after the deadly violence at a white nationalist rally in Charlottesville.
So, yes, there are reasons to be wary of the administration's intentions in awarding these funds.
Enter the Fray: First takes on the news of the minute from L.A. Times Opinion »
Nevertheless, Los Angeles shouldn't reject the grant out of hand — not when the money presents an opportunity to do valuable community work. Despite our serious misgivings about this president, we have said that the city and the state should work with the Trump administration when it's mutually beneficial and doesn't reduce protections for human and civil rights or equality.
With this grant, Los Angeles is presented with the opportunity to use federal dollars to address the root causes that can drive individuals to violence, including alienation, hopelessness and mental health problems. The need for social services in general often outstrips the supply, and few resources may be available for families or friends of those who are being pulled toward violent extremist groups. This community-based, proactive approach to preventing radicalization contrasts sharply with policies increasing favored by the Trump administration that promote a reactive, law enforcement approach.
Full report at:
http://www.latimes.com/opinion/editorials/la-ed-extremism-grant-20180707-story.html
--------
US soldier killed, two injured by Afghan soldier in southern Afghanistan
Jul 8, 2018
An American military officer has been killed and two others wounded in southern Afghanistan in a suspected case of insider attack, the US-led Resolute Support Mission (RSM) has announced.
The apparent so-called green-on-blue or insider attack was carried out Saturday in Uruzgan province by a member of the Afghan security force that reportedly acted alone, according to an RSM statement and local news outlets.
The injured soldiers are reported to the be in stable condition by the NATO military training mission led by US Commander Gen. John Nicholson Jr. However, the fate of the assailant was not immediately clear.
The identity of the victims were withheld pending the notification of their relatives, according to RSM, which is purportedly an "advice and assist mission" consisting of more than 13,000 troops, mostly from the US and NATO countries.
A Taliban spokesman, Qari Yosuf Ahmadi, also confirmed the incident in a media statement, saying that the group "appreciated" the attack.
US military authorities further stated that the deadly incident is now under investigation and that the name of the dead soldier would be released 24 hours after family notification has taken place in keeping with Defense Department policy.
According to the US-based military.com, Saturday's casualty was the fourth so far this year of American troops being killed in hostile incidents in Afghanistan.
To date, the report added, 49 American troops have been killed in Afghanistan since Jan. 1 2015, when operations in the country officially transitioned from combat operations to a mission of support and advisory assistance to the Afghan National Security Forces (ANSF).
The insider attacks, in which a member of the ANSF attacks US service members, have taken place every year since 2008. The Afghan province that has seen the highest number of attacks is Helmand, south of the country and a major Taliban stronghold.
According to the report, a small contingent of US Marines known as Task Force Southwest is currently deployed to Helmand in what the Pentagon describes as a bid to support the Afghan security forces.
Full report at:
https://www.presstv.com/Detail/2018/07/08/567410/US-military-Resolute-Support-Mission-Afghanistan-Afghan-security-forces-Uruzgan-province-insider-attack
--------
Pentagon vows to 'protect' PG as Iran threatens closure if US halts its oil exports
Jul 8, 2018
A US military official has claimed American readiness to keep a key crude-oil transit waterway near the Iranian Persian Gulf coastline open following a stern warning by Tehran to block it in response to Trump administration's vow to prevent any export of Iran's oil as part of its hostile sanctions against the nation.
"Together, we stand ready to ensure the freedom of navigation and the free flow of commerce wherever international law allows," said US Central Command spokesman Captain Bill Urban in a statement as quoted in a Friday report by Military.com. He, however, did not elaborate on the general pledge.
The development came after Iran's Islamic Revolution Guards Corps (IRGC) declared on Thursday that it stood ready to implement President Hassan Rouhani's latest policy statement that if Tehran were not allowed to export its crude oil through the Strait of Hormuz – at the mouth of the Persian Gulf -- no other country would be permitted to do so.
The Strait of Hormuz is a shipping lane between Iran and Oman through which more than 30 percent of all seaborne-traded crude oil and other liquids are transported every year.
The firm warning by the Iranian president during his recent European tour came in reaction to Washington's threat to block Iran's oil exports in the light of its illegal withdrawal in May from the multi-nation nuclear deal signed with Tehran in 2015.
Speaking at a Tuesday press conference with his Swiss counterpart Alain Berset in Bern, Rouhani insisted that the US would never be able to carry out such a threat, saying: it was "incorrect and unwise" to think that "one day all oil producing countries would export their surplus oil and Iran would be the only country that cannot export its oil."
Rouhani's remarks followed a Tuesday warning by State Department Director of Policy Planning Brian Hook that any plans to continue doing business with Iran would be in violation of US sanctions against Tehran.
"Our goal is to increase pressure on the Iranian regime by reducing to zero its revenue from crude oil sales," said Hook, who has led Trump administration discussions with European allies on the anti-Iran sanctions.
Meanwhile, the report further cited a US Navy news release as saying that thousands of American troops are currently deployed in the Persian Gulf region, including nearly 2,200 Marines and sailors with the 26th Marine Expeditionary Unit aboard the amphibious assault warship Iwo Jima.
Their mission, it said, includes "preserving the free flow of commerce," noting that the Iwo Jima and guided-missile destroyer Laboon passed through the Strait of Hormuz "weeks ago."
Top Iranian authorities have repeatedly warned that the nation's military will potentially target all US military installations and warships in the region in case of any military action against the country by the US or its regional allies.
The current American hostilities against Iran were initiated in May, when US President Donald Trump announced that Washington was abandoning the 2015 multilateral nuclear deal, under which sanctions against Iran -- particularly its energy sector -- were lifted.
Since then, Washington has persistently sought to obstruct efforts by the remaining parties to the deal to save the landmark agreement, which has been endorsed by UN Security Council Resolution 2231.
Full report at:
https://www.presstv.com/Detail/2018/07/08/567405/US-military-Iran-Persian-Gulf-waterway-oil-transport-Strait-of-Hormuz-Captain-Bill-Urban
--------
Africa
Nine killed in attack on Somalia's interior ministry
July 08, 2018
MOGADISHU - A least nine people were killed in an attack on Somalia's interior ministry and security forces killed all three attackers after a two-hour gun battle inside, police said Saturday, as the al-Shabab extremist group claimed responsibility.
A number of people, mostly government workers, were trapped in the ministry on what had been a normal business day. Witnesses said some staffers died or were injured while leaping from windows or walls in an effort to escape. At least 13 people were wounded, paramedic Mohamed Adam said. The death toll could rise, Col. Ahmed Mohamed said. The morning attack began when a suicide car bomber detonated at the gates of the interior ministry compound, which is close to the presidential palace and parliament headquarters and also holds the security ministry, police Capt. Mohamed Hussein told The Associated Press. Dozens of people eventually were rescued in the operation, Hussein said, as ambulance sirens echoed and soldiers opened fire to disperse bystanders and motorists.
The Somalia-based al-Shabab, an arm of al-Qaida, often targets high-profile areas of the capital, Mogadishu. The group was blamed for the October truck bombing that killed more than 500 people in the deadliest attack in the country's history.
The ongoing threat from what has become the deadliest Islamic extremist group in sub-Saharan Africa has hurt efforts to strengthen Somalia's fragile government and stabilize the long-chaotic Horn of Africa nation.
The United States under the Trump administration has stepped up military efforts in Somalia, including dozens of drone strikes, against al-Shabab and a small presence of fighters linked to the Islamic State group.
At least two US military personnel have been killed. The US military and others in the international community have expressed concern about the plan for Somalia's security forces to take over the country's security from a multinational African Union force over the next few years, saying the local troops are not yet ready.
https://nation.com.pk/08-Jul-2018/nine-killed-in-attack-on-somalias-interior-ministry
--------
Libya and Italy Agree To Reactivate Friendship Treaty to Quell Migration
7 July 2018
Italy and Libya on Saturday agreed to reactivate a friendship treaty signed a decade ago that allows migrants to be returned to Libyan territory.
"We agreed to reactivate the 2008 Italian-Libyan friendship treaty," said Libya's foreign minister Mohamad Siala in a joint press conference in Tripoli with Italian counterpart Enzo Moavero Milanesi.
Milanesi hailed the agreement reached during his first visit to Tripoli as "significant and promising".
The original treaty was signed by former Libyan dictator Muammar Qaddafi and Italy's then prime minister Silvio Berlusconi, as they sought to turn a page on 40 years of stormy relations between the North African country and its former colonizer.
But the deal was suspended in February 2011, after the start of the uprising that saw Qaddafi forced from power and killed.
The original treaty envisaged unlocking US$5 billion (S$6.8 billion) of Italian investment in Libya as compensation for colonization by Rome.
In exchange, Libya would work to stop illegal migrants embarking from its shores - and receive those sent back to the north African country, a clause lambasted by human rights activists.
The two ministers did not say if the text of the reactivated treaty had been amended.
The agreement means "all the conditions are in place to work hand in hand to support stabilization... (of) Libya's security and unity", Milanesi said.
Libya "shares with the European Union the responsibility and the duty to deal with migrants", he added.
"Co-operation between Libya, Italy and the EU is essential to resolve the immigration question and avoid human tragedies", said Milanesi.
During Qaddafi's rule, thousands of migrants crossed Libya's nearly 5,000km of land borders in attempts to reach the Mediterranean and cross to Europe.
Full report at:
https://english.alarabiya.net/en/News/north-africa/2018/07/07/Libya-and-Italy-agree-to-reactivate-friendship-treaty-to-quell-migration.html
--------
Two Libyans killed in attack on water project plant
7 July 2018
Unidentified assailants killed two Libyan workers and kidnapped two others on Saturday in an attack on a water project site, the second in less than 48 hours, their employer said.
The staff had been working on a huge venture to channel water from the desert when "terrorist groups" attacked, the Libya Man-made River Project said in a statement.
Assailants were "pillaging, killing and terrorizing families, children and the workers who are ensuring the supply of water" from the Tazerbo plant, around 1,500 km, south-east of the capital Tripoli, it said.
An engineer and a security guard were killed in the attack, while two other guards were abducted.
The water scheme, which was the pride of former dictator Moamer Kadhafi, channels groundwater from the desert through a vast network of pipes towards coastal towns.
Another site involved in the venture, 1,000 km south of Tripoli, was attacked on Friday. Three Filipino engineers and a South Korean were kidnapped.
The two attacks have not been claimed by any group.
The violence comes less than two weeks since three Turks were released, after being kidnapped in November while working on the construction of a power plant in south-western Libya.
Full report at:
https://english.alarabiya.net/en/News/north-africa/2018/07/07/Two-Libyans-killed-in-attack-on-water-project-plant.html
--------
Nigerian protesters demand release of IMN leader Zakzaky
Jul 7, 2018
Hundreds of supporters and members of the Islamic Movement in Nigeria (IMN) have staged a peaceful rally in the country's capital of Abuja and called for the release of their leader, Sheikh Ibrahim Zakzaky.
The participants in the Friday protest chanted slogans against Nigerian President Muhammadu Buhari and demanded justice for the prominent Muslim cleric.
Despite the ruling of a Federal High Court, which ordered his unconditional release in 2016, the Nigerian government has refused to set him free.
The top cleric lost his left eyesight in a raid which was carried out by the Nigerian army on his residence in the northern town of Zaria in December 2015.
During the raid, Zakzaky's wife sustained serious wounds too and more than 300 of his followers and three of his sons were killed. Zakzaky, his wife, and a large number of the cleric's followers have since been in custody.
Full report at:
https://www.presstv.com/Detail/2018/07/07/567335/Nigeria-Sheikh-Ibrahim-Zakzaky-Abuja-Muhammadu-Buhari
--------
URL: https://www.newageislam.com/islamic-world-news/west-plotting-islam-says-muslim/d/115765
New Age Islam, Islam Online, Islamic Website, African Muslim News, Arab World News, South Asia News, Indian Muslim News, World Muslim News, Women in Islam, Islamic Feminism, Arab Women, Women In Arab, Islamophobia in America, Muslim Women in West, Islam Women and Feminism