New Age Islam News Bureau
28 Sept 2012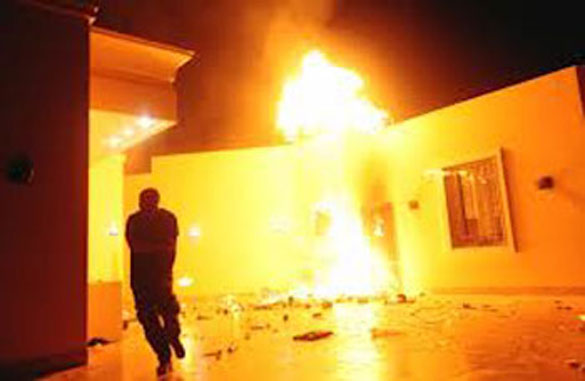 Africa
• West Africa's northern Mali emerges as an al-Qaida hub
• Tunisian president vows crackdown on Muslim extremists after US embassy attack
• Fresh talks with Kurdish rebels possible: Erdogan
Australia
• 'Sufi-style' response to growing worldwide anti-Muslim sentiment
• After riot, Muslims in Australia feel under siege
India
• Youth of cities like Mumbai give me hope: Obama
• A Muslim news portal Twocircles.net among banned websites in India
• New India-Pakistan visa regime may come into force next month
• Missing youths vulnerable to terrorist recruitment, police say
• Sohrab encounter case: HC denies bail to IPS officer
• Abu Jundal motivated IM members: police
Mideast Asia
• Palestinians to submit new UN bid this year
• Why Would the Muslim Brotherhood Want to Ally With Shiite Iran?
• Palestinian President seeks super observer status for Palestinians in UN speech
• Iran claims right to retaliate, after Israel UN speech
• World powers open to more nuclear talks with Iran
Pakistan
• Karachi too resonates to 'Bappa Morya'
• Pakistani community in USA to project message of tolerance through Ashiq-e-Rasool Conferences
• Anti-Islam film: Pakistan court orders to lodge case against PTA, Google and You Tube
• Blast kills Pakistan bomb disposal expert
• International community urged to block conspiracy of Pakistan to globalize blasphemy law
• NA panel suggests law on forced conversions
• The upcoming Pakistan elections intriguing and uncertain
• U.S. perceives tacit consent from Pakistan on drone strikes
• Pakistan backs drones' aim, not method: Foreign Minister
• US, Pakistan called off military talks due to protests: US
• Munter for new approach to sustainable Pak-US ties
• Fear and suspicion in Pakistan hamper global polio fight
• Putin's decision not to visit Pakistan has disappointed Islamabad
• World Council of Churches event at UNHRC highlights rights of religious minorities in Pakistan
• Importance of Pakistan-Central: Asia relations highlighted
• mmense trade potential exists between Pakistan, Indonesia: Pak PM
• 'Exposition Pakistan' next month: Japanese brands to explore more market
• Rabies continues to haunt population in Pakistan
• Pakistan needs to bring back money stashed abroad: Daily
Arab World
• Egypt: Christians flee town after militant threats
• Egypt's Morsi will embrace non-Muslims, women in secular state
• Iraq militants attack Tikrit prison, freeing 90 inmates
• World powers urge Syria opposition to unite
• Clashes in Aleppo after rebels launch 'decisive' battle
• Protests over anti-Islam film scare tourists away from Egypt once again
• 12 policemen killed in Iraq prison clashes: Officials
South Asia
• Maldives court slaps travel ban on ousted president Nasheed
Europe
• Row breaks out over Cardiff sex shop's 'offensive' window displays as it could be offensive to Muslims
• Islam is part of Germany: Angela Merkel
• California man behind anti-Islam video detained
• French minister pledges zero tolerance for Islamists
North America
• US temporarily reduces staff at Tripoli embassy
Compiled by New Age Islam News Bureau
Photo: West Africa's Northern Mali Emerges as an Al-Qaida Hub
URL: https://www.newageislam.com/islamic-world-news/new-age-islam-news-bureau/west-africa's-northern-mali-emerges-as-an-al-qaida-hub/d/8816
---------
Africa
West Africa's northern Mali emerges as an al-Qaida hub
By Jonathan Manthorpe, Vancouver Sun September 27, 2012
Northern Mali, captured by Muslim fundamentalists earlier this year, is rapidly becoming a new haven and headquarters for the al-Qaida terrorist network.
Al-Qaida's growing presence in the Sahel region stretching across West Africa from the Atlantic to the Red Sea comes as it is under increasing pressure in its other base areas.
In Pakistan its hideouts near the Afghanistan border are under constant attack from missiles fired by United States drone aircraft.
The same is true in Yemen, the homeland of assassinated al-Qaida leader Osama bin Laden.
In Somalia the territory controlled by al-Qaida allies al-Shabab is shrinking rapidly as regional forces recapture the country on behalf of a transitional government.
But as Central Intelligence Agency director and former U.S. military commander in Afghanistan David Petraeus told a British journalist, al-Qaida is adept at shifting its bases and focus of operations when it comes under sustained attack.
Full Report at:
http://www.vancouversun.com/news/MANTHORPE+West+Africa+northern+Mali+emerges+Qaida/7309413/story.html
-------
Tunisian president vows crackdown on Muslim extremists after US embassy attack
By Associated Press, September 28,
NEW YORK — The newly-elected Tunisian president vowed Thursday to crack down on Islamist extremists after they encouraged crowds to attack the U.S. embassy in the capital Tunis.
President Moncef Marzouki, in an interview with The Associated Press during the annual United Nations General Assembly gathering of world leaders, also called for the Arab League to send a force to Syria.
Marzouki's promised crackdown on hard-line Muslims in Tunisia follows months of struggles by his Islamist-dominated governing coalition to stem a small but aggressive minority of extremists emboldened since the fall of the North African nation's secular dictator in last year's revolution, which kicked off the Arab Spring. Salafi extremists have pressured bars to shutter and bullied university campuses to become more conservative, threatening Tunisia's secular traditions.
"The more we wait, the worse it will become," Marzouki said. "We have no choice, a crackdown will happen."
"The Salafis are not just a danger to our democracy, and ... our image abroad," Marzouki added, but also to "relations with our friends, the Americans."
Full Report at:
http://www.washingtonpost.com/national/tunisian-president-vows-crackdown-on-muslim-extremists-after-us-embassy-attack/2012/09/27/6a35ce52-08d5-11e2-9eea-333857f6a7bd_story.html
--------
Fresh talks with Kurdish rebels possible: Erdogan
ISTANBUL, Sept 28, 2012, Turkish Prime Minister Tayyip Erdogan has signalled that new talks with Kurdish militants might be possible as his government contends with an upsurge in separatist violence in the country's southeast.
The conflict has cost Turkey dearly since the militants took up arms in 1984, both in human and economic terms, and as the death toll climbs there is growing public pressure on Erdogan to bring an end to the bloodshed.
Turkish intelligence officials have had contact with senior figures from the Kurdistan Workers Party (PKK) in the past few years to try to end a conflict that has claimed more than 40,000 lives, but discussions have broken down.
"Regarding Imrali, there could be more talks," Erdogan said in a televised interview with broadcaster Kanal 7 late on Wednesday, referring to the small island where PKK leader Abdullah Ocalan is serving a life sentence.
"There is a military dimension to this, a security dimension which is separate and will continue. But beside this there is a diplomatic, socio-economic and psychological dimension."
Erdogan spoke after Turkey's main pro-Kurdish party called for the resumption of talks between the state and the PKK to prevent a further escalation of violence.
Full Report at:
http://www.omantribune.com/index.php?page=news&id=128507&heading=Top%20News
------
Australia
'Sufi-style' response to growing worldwide anti-Muslim sentiment
28 SEP 2012,
(Patrick Abboud, SBS)
More than two weeks on from riots in Sydney's CBD, Muslim community leaders and authorities are still working to prevent any repeat of incidents.
But this week sees a counter response from an Islamic group calling its action an "alternative peaceful protest".
Hundreds of people took to the streets of western Sydney 'Sufi-style' responding to what they feel is a growing worldwide anti-Muslim sentiment, in part fuelled by a recent anti-Islamic film.
"Our way of practicing Islam is showing God and the Prophet how much we love them," says Dr Nadir Obeid – a Sudanese Sufi community leader and one of the organisers of the event.
"This is the best way of answering the heightened response of something that has offended Muslims around the world". Sufism is a branch of Islam that is often overlooked because of its more esoteric approach.
"We're not doing anything offensive. This is Australia and here it is a very good way of telling people if we are going to protest – let's protest this way," says Dr Obeid.
The Sufi events are taking place in major thoroughfares of Auburn and Parramatta. In a display of ritualistic chanting the group congregates at the centre of these two western Sydney suburbs.
At the first event last night, several members of the local Auburn community joined the "protest".
Some shopkeepers also closed their businesses to join the demonstration.
The event culminated in a traditional Sufi performance at the main public square of Auburn as part of the Sydney Sacred Music Festival.
DEMYSTIFYING SUFISM
Sufism is generally defined as the inner or more mystical dimension of Islam.
The spread of Sufism has been considered as a definitive factor in the spread of Islam globally.
There are estimated to be about 5,000 Sufis practicing in Australia from diverse cultural backgrounds.
The Australian Centre for Sufism and Irfanic Studies describes Sufism as an effective tool for inter-religious dialogue and a practice that fosters inter-cultural understanding.
Members of the two main sects of Islam - Sunni and Shi'a -may adopt elements of Sufism within their faith but there are some Salafi or Wahhabi Muslims that dismiss Sufism as a legitimate branch of the religion.
Professor Julia Day Howell from the Religion and Society Research Centre at the University Of Western Sydney has been studying Sufi groups for the past 20 years.
"All through the history of Islam some of the greatest Islamic scholars have been Sufis and this is something that urban sophisticates in the Muslim world are now recognising - that Sufism is an integral part of the proper tradition of Islam," she says.
"Members of the Sufi orders in Australia will say that Sharia is important but they see deeper values behind the law and perhaps not be so black and white in its implementation".
In a bid to demystify Sufism, Dr Obeid has been running workshops and talks across western Sydney within Muslim and non-Muslim communities for the past six months as part of a project titled Tariqua which means 'towards respect' in Arabic - the language of Islam.
Paula Abood is one of Australia's leading community cultural development practitioners and the project manger of Tariqua.
Describing the 'alternative protest' events this week, she said "this is an opportunity for different communities to come together in a meaningful way and exchange dialogue and understanding".
"Tonight there were people from all over Sydney who came, residents came out of their apartments in Auburn, shoppers stopped shopping and came and participated. There was a real energy and that's the western Sydney way - embracing difference in positive ways," she added.
Joumana El Matrah from the Australian Muslim Women's Centre for Human Rights says there are also a growing number of Australians converting to Sufism. Robina Diamond is one example.
She participated in the Tariqua project and was at the demonstration in Auburn.
"I've been taught about the principles of Islam, love, the love of Allah and the Prophet".
There will be another 'Sufi-style' protest in Parramatta this evening.
http://www.sbs.com.au/news/article/1696959/Sufism:-The-invisible-branch-of-Islam
-------
After riot, Muslims in Australia feel under siege
By Kathy Marks, Sep 28, 2012
On a spring day a stream of men exits Sydney's Lakemba Mosque after prayers. A few offer their views on the violent protests that shocked Saturday shoppers in the city centre a fortnight ago.
"Hotheads", says one worshipper, referring to the young men who turned a demonstration against an anti-Islamic video into a riot.
Eleven arrests were made, 23 people, including six police officers, were injured.
Lakemba, in southwest Sydney where about half the country's 476,300 Muslims live, is home to a large, well-established Lebanese community as well as newer migrants from Africa and the Indian sub-continent. With its cafes, pastry shops and halal butchers it's a colourful area that draws plenty of outsiders at weekends.
But locals are feeling under siege. Following the September 15 protests, which prompted front-page headlines such as "Is This Sydney?", Australian Muslims struggle to repair their damaged reputation.
Although most community leaders condemned the violence, stressing those involved didn't represent mainstream Islamic society, the riot is stirring debate and the backlash shows no signs of abating.
Full Report at:
http://www.nzherald.co.nz/world/news/article.cfm?c_id=2&objectid=10836966
--------
India
Youth of cities like Mumbai give me hope: Obama
PTI | Sep 26, 2012,
UNITED NATIONS: US President Barack Obama on Tuesday said young people in cities like Mumbai, Seoul and Jakarta, who are eager to use their knowledge for the benefit of mankind, have given him "hope" about the world.
"What gives me the most hope is not the actions of leaders - it is the people I've seen. The American troops who have risked their lives and sacrificed their limbs for strangers half a world away.
The students in Jakarta and Seoul who are eager to use their knowledge to benefit humankind... The young people in the favelas of Rio and the schools of Mumbai whose eyes shine with promise," he said.
http://timesofindia.indiatimes.com/world/us/Youth-of-cities-like-Mumbai-give-me-hope-Obama/articleshow/16553485.cms
-------
A Muslim news portal Twocircles.net among banned websites in India
By M Ghazali Khan, 28 September 2012
Some pages of the Indian Muslim portal Twocircles.net have been banned by the Indian Government without any reason being given and notice being issued. "It has been decided to immediately block the access to the following URLs" a directive issued by the Ministry of Communication & IT of Government of India said.
Apparently the directive was issued in the wake of rumours and the circulation of SMS messages threatening that the deaths of Bengali-speaking-Muslims in the North Eastern Indian state of Assam would be avenged in rest of India. The rumours created panic among Assamese working or studying in other states forcing them to flee back to Assam.
More than 85 Muslims have been killed in the anti-Bengali-speaking-Muslim verses Bodo tribe riots that broke out in July. Hundreds have been made homeless living in most wretched conditions in refugee camps.
Interestingly Twocircles had not published any objectionable article or doctored photos of Assam or Myanmar violence and more bizarre is the fact that the banned pages have nothing to do with Assam or Myanmar, against which demonstrations had been organised in some cities.
The banned pages are few months' old special reports on the harassment and implication of Muslim youths in terror cases in Madhya Pradesh and an anti-Muslim riot in Uttar Pradesh.
According to Twocircles Executive Editor, Kashif-ul-Huda, "...there may be some webpages elsewhere that may be spreading misinformation but you can challenge rumour by providing more information and not by trying to block websites. Without going to the root of problem, trying to control the violence in Assam or providing protection to people going back home, India is using this opportunity to censor legitimate voices and issues. How else one explains blocking of spoof twitter handles and TCN stories that have nothing to do with Assam violence.
"Also, the Government doesn't understand how easy it is to copy the information to a new webpage or to create a new twitter account. They cannot go on banning the whole internet. E.g. though the series page was banned in India, individual stories from the series can still be accessed. So go on read what Government doesn't want you to know."
http://www.muslimnews.co.uk/paper/index.php?article=5977
-------
New India-Pakistan visa regime may come into force next month
TNN | Sep 28, 2012,
NEW DELHI: The recently-signed liberalized visa agreement between India and Pakistan is likely to be operationalised sometime next month. Modalities are being worked out to bring the new visa regime into effect simultaneously in both the countries in such a way that it can be formalized jointly by home minister Sushil Kumar Shinde and his Pakistani counterpart Rehman Malik.
One of the options is to issue 'group' visa to citizens of both countries at the same time and have the first batch of visitors from India and Pakistan welcomed by Shinde and Malik jointly in a function at Wagah border post.
The new visa agreement — introducing for the first time group tourist and pilgrim visas and separate visas for businessmen — was signed early this month during the visit foreign minister SM Krishna to Islamabad.
Sources said India had earlier planned to operationalise at least the group visa component of the agreement by notifying the rules on October 1 with other parts of the pact being taken up in a staggered manner over the month. Pakistan also had, more or less, a similar plan, they added.
But now, officials are working to notify the rules for all components of the new visa agreement in one go and make it operational in both the countries simultaneously.
Full Report at:
http://timesofindia.indiatimes.com/india/New-India-Pakistan-visa-regime-may-come-into-force-next-month/articleshow/16583085.cms
--------
Missing youths vulnerable to terrorist recruitment, police say
The Indian state of Maharashtra is starting to keep a database on young men and boys who have gone missing and may be in danger of falling prey to extremist groups.
By Udayan Namboodiri for Khabar South Asia in New Delhi, September 28, 2012
Efforts to track recruitment of vulnerable youths by terrorist outfits have received a boost in Maharashtra, thanks to a new database being put together by state authorities. It gathers information on young men who have gone missing since 2007.
Because such disappearances often turn out to be a prelude to later terrorist activity, authorities hope the project will help combat possible threats.
"We found from experience that young men of the age group 18 to 30 leave their homes without notice a few years ahead of their names cropping up in connection with terrorism hits," Gopal Waslekar, a spokesperson of the Anti-Terrorism Squad (ATS) of Mumbai Police, told Khabar South Asia. "So it was decided to compile a list of youths from the Pune and Marathwada regions who have left their homes in recent years."
Boys from impoverished or lower-middle class backgrounds are the most vulnerable to being drawn by fundamentalists into terrorist networks, authorities say, with Indian Mujahideen harvesting the largest number.
Full Report at:
http://khabarsouthasia.com/en_GB/articles/apwi/articles/features/2012/09/28/feature-01
-------
Sohrab encounter case: HC denies bail to IPS officer
Saeed Khan, TNN
AHMEDABAD: Sep 28, 2012, The Gujarat high court on Friday rejected the bail plea filed by suspended IPS officer Abhay Chudasama, who was arrested in April 2010 in connection with the Sohrabuddin Sheikh fake encounter case.
Chudasama's bail application came to be rejected a day after the Supreme Court ordered to shift trial in this sensational case outside Gujarat.
The suspended cop did not get bail despite all kinds of assurances and claims of innocence he gave to the court. None of the cops, except three who have now been named as witnesses by the Central Bureau of Investigation (CBI), have been granted bail in this case.
After the CBI arrested Chudasama on charges of hatching conspiracy and influencing witnesses, he moved a bail plea last year. However, three high court judges - Z K Saiyed, M D Shah and Bankim Mehta recused themselves from hearing this bail application. Finally, Justice Abhilasha Kumari heard his petition at length.
Full Report at:
http://timesofindia.indiatimes.com/india/Sohrab-encounter-case-HC-denies-bail-to-IPS-officer/articleshow/16588116.cms
-------
Abu Jundal motivated IM members: police
NEW DELHI, India, September 28, 2012, Details from the charge sheet compiled by police indicate that the 26/11 Mumbai terror attack handler Abu Jundal, aka Abu Hamza, motivated Indian Mujahideen (IM) members for jihad, local media reported Thursday (September 27th).
He was also accused of being involved in terror activities across India to avenge atrocities against Muslims, particularly those committed during the 2002 riots in Gujarat.
"Jundal [Hamza] disclosed that he is a member of the LeT (Lashkar-e-Taiba) and knew all leaders of the Indian Mujahideen and motivated some members for jihad," the charge sheet filed in a Delhi court said, according to IANS.
Hamza, along with LeT member Zaki-ur-Rehman alias Lakhvi, Abu Alkama, Abu Kahafa, Khalid, Zarar and Shahid, was present in the "control room" in Malir, near Karachi, monitoring the Mumbai attacks that killed 166 people.
IANS reported the "control room" was set up in the office of an associate, called Yaqoob, and the handlers were watching developments relating to the attack on Indian TV news channels between November 26th and the 28th. Of the ten terrorists, only one survived and has been sentenced to death.
http://khabarsouthasia.com/en_GB/articles/apwi/articles/newsbriefs/2012/09/28/newsbrief-01
-------
Mideast Asia
Palestinians to submit new UN bid this year
(AFP) / 28 September 2012
A resolution seeking enhanced UN observer status for the Palestinians will be submitted later this year after the US presidential election, a Palestinian official said on Friday.
"We have begun consultations on the format of the text that will be presented to the General Assembly to upgrade the Palestinian status to an observer state status," Hanan Ashrawi, a member of the Palestine Liberation Organisation's executive committee, told reporters.
"Most people are looking at the completion of consultations before the end of the year. There are others who have suggested that we target the 29th of November because it's the International Day of Solidarity with the Palestinian People."
"The president said openly that he is not going to present it before the American elections," on November 6, she added.
Palestinian president Mahmud Abbas on Thursday formally announced that the Palestinians would ask the General Assembly to grant them "super observer" status that could give them access to UN institutions and agencies.
The announcement, made in his address to the General Assembly, came a year after Abbas asked the Security Council to grant the Palestinians full member status, a request that has been stuck in the council ever since.
"We lost the momentum of last year, very clearly, at the Security Council bid," Ashrawi said.
"We have reached a critical point. Israel has been allowed to undermine the two-state solution to the point where this is a last-ditch effort to try to rescue the chances of peace and the two-state solution by the Palestinians."
Direct peace talks have been on hold since late September 2010, with the Palestinians insisting on an Israeli settlement freeze before resuming negotiations and the Israelis calling for talks without preconditions.
http://www.newageislam.com/a/islamic-world-news
--------
Why Would the Muslim Brotherhood Want to Ally With Shiite Iran?
September 27, 2012
How Egypt is acting as a liaison between Shiite Iran and a constellation of radical, Sunni powers spread across North Africa.
BY ANDREW MIILLER
The startling transformation of Egypt into an Islamist state this past summer has left news journalist scrambling to make sense of what is happening in the Middle East.
The fact that the Sunni Muslim Brotherhood is now calling for imminent regime change in Shiite-dominated Syria is prompting many journalists—such as BBC Iran correspondent James Reynolds—to predict that Egypt is emerging as a Sunni counterweight to Iranian hegemony in the region.
Journalist Fouad Ajami—writing for the online Tablet website—went so far as to predict that the Muslim Brotherhood would follow the example of Hosni Mubarak and bury its differences with Saudi Arabia in order to fight the Iranian Shiite enemy.
The plain truth, however, is that any analysis of Middle Eastern politics that puts all the Sunnis on one side of the fence and all the Shiites on the other is over-simplifying the matter.
While it is true that many Sunni sects—such as the Salafist movement and the Wahhabi movement—are fiercely opposed to Iran, the Muslim Brotherhood and its affiliates are actually more aligned with Shiite Iran than they are to most Sunni Arab regimes.
The reasons of the affinity between the Muslim Brotherhood and Iran are three-fold:
Reason #1: The Muslim Brotherhood and Iran Share a Common Passion for Political Islamism
Full Report at:
http://www.thetrumpet.com/article/9928.18.0.0/religion/islam/why-would-the-muslim-brotherhood-want-to-ally-with-shiite-iran
--------
Palestinian President seeks super observer status for Palestinians in UN speech
September 28, 2012
UNITED NATIONS Palestinian President Mahmoud Abbas sought a new super observer UN status for Palestinians on Thursday as he condemned Israel's "catastrophic" settlements in the occupied territories and, speaking later, Israeli Prime Minister Benjamin Netanyahu accused Abbas of slandering his country.
One year after making an emotional bid for full membership of the United Nations, Abbas returned to the UN General Assembly to warn that Israel's tactics were a sign that it "rejects the two-state solution."
Abbas called on the United Nations Security Council to pass a binding resolution setting out a path to end the two-year deadlock in talks between the Middle East rivals.
The Palestinians' bid for full membership of the United Nations has been blocked at the Security Council by the veto-wielding United States. This week, Abbas came back to New York with more modest ambitions.
Abbas said he would now seek to bolster the Palestinians existing observer status. He said he would seek a vote at the UN General Assembly in the coming months to approve Palestine as a "non-member state of the United Nations."
As a permanent UN Security Council member, the United States can veto any resolution backing full membership for the Palestinians.
But no country can veto a resolution in the General Assembly, where an overwhelming majority of the 193 members' states would back Abbas.
"We are confident that the vast majority of the countries of the world support our endeavour, aimed at salvaging the chances for a just peace," Abbas said, speaking just ahead of Netanyahu.
"Developments over the past year have confirmed what we have persistently drawn attention to and warned of: the catastrophic danger of the racist Israeli settlement of our country, Palestine," Abbas said.
Abbas called on the Security Council to "urgently adopt a resolution comprising the basis and foundations for a solution to the Palestinian-Israeli conflict that would serve as a binding reference and guide for all."
http://www.omantribune.com/index.php?page=news&id=128506&heading=Top%20News
-------
Iran claims right to retaliate, after Israel UN speech
28 September 2012
Iran has warned it is ready to retaliate against attack after Israel's prime minister urged a red line to be drawn to stop its nuclear programme.
Benjamin Netanyahu told the UN time was running out to stop Iran having enough enriched uranium for a nuclear bomb.
In response, Iran's deputy UN ambassador said his country was strong enough to defend itself.
Israel and Western countries suspect Iran is seeking nuclear weapons capability, a charge Iran denies.
Tehran says its nuclear programme is for purely peaceful purposes, such as energy and producing medical isotopes.
Iranian deputy UN ambassador Eshagh al-Habib said his country was: "strong enough to defend itself and reserves its full right to retaliate with full force against any attack".
He accused Mr Netanyahu of making "baseless allegations" in his address to the UN General Assembly in New York.
Full Report at:
http://www.bbc.co.uk/news/world-middle-east-19753800
--------
World powers open to more nuclear talks with Iran
AP
WASHINGTON: Sep 28, 2012, World powers decided to lay the groundwork for another round of negotiations with Iran over its disputed nuclear program, a senior US official said, but they want a significantly improved offer from the Islamic republic.
Neither the US nor any of its international partners was ready to abandon diplomacy in favor of military or other actions, as Israeli President Benjamin Netanyahu has advocated.
The new hope for a negotiated end to Iran's decade-long nuclear standoff came Thursday after Secretary of State Hillary Rodham Clinton met with the foreign ministers of Britain, China, France, Germany and Russia - powers that have sought, over several rounds of talks, to persuade Iran to halt its production of material that could be used in nuclear weapons. All such efforts have failed so far.
The latest stab at a diplomatic compromise collapsed this summer after Iran proposed to stop producing higher-enriched uranium in exchange for a suspension in international sanctions, which Clinton has termed a "nonstarter." The US official said Iran would have to bring a much better offer to the table this time, but stressed that nations were seeing some signs for optimism and that diplomacy remained "far and away the preferred way to deal with this issue."
Full Report at:
http://timesofindia.indiatimes.com/world/middle-east/World-powers-open-to-more-nuclear-talks-with-Iran/articleshow/16586025.cms
-------
Pakistan
Karachi too resonates to 'Bappa Morya'
Bharati Dubey, TNN Sep 28, 2012,
MUMBAI: Away from the odiousness and mercuriality of international politics, Jaikumar Trivedi last week installed a Ganesh idol in the heart of Swaminarayan Mandir on Ganesh Chaturthi. The next day, Ganpati Bappa was taken around the temple premises in a rath yatra. Bhajans resonated, dandiya raas followed, and then a bhandara. Finally, the elephant-headed god was taken in a simple procession to a jetty in Karachi and immersed in the sea.
In India, Bal Gangadhar Tilak transformed the annual Ganeshotsav festival into a large, well-organized public event. In Pakistan though, it survives as a communal, domestic event. Its scale is small, the pandals missing from roadsides, the modaks replaced with motichoor ladoos. But the fervour of the devotees undeniably is as strong.
In Karachi alone, at least 1,000 people take part, says Maharaj Parshuram, a priest.
Maharaj Parshuram, a priest in Karachi, says, "The tradition of celebrating Ganesh Chaturthi has been continuing here since pre-Independence." Indeed, as Pakistani film distributor Satish Anand points out, the festival is second only to Holi in popularity. It is observed wherever Hindus live in considerable numbers.
As in India, the preparations for the festival are finished in advance and the celebrations begin on Ganesh Chaturthi. But unlike here, no pandals are set up on the roads; people install idols in temples or their homes. And the immersion invariably takes place a day and a half later. Women lead the procession, carrying coconuts on their heads and sprinkling gulal along the route as the idol follows in a cart or a vehicle. The idol ends its journey in the sea.
"It is different from what happens in India. Instead of modak, we have motichoor ladoos and sheera as prasad. We don't have anything any roadside pandals; we do it inside temples. The immersion is in the sea," says Deep Chand Acharya, a resident of Chachro in Sindh province.
Trivedi, the priest at Swaminarayan Mandir, says at least 25 to 30 idols are taken to homes and temples in and around Karachi. Most of the idol makers live in Karachi. "We don't have a holiday here, so people work around their schedules and come together to celebrate in the evenings," says Trivedi. That does not imply the government does not provide support.
Rana Hammir Singh from Umerkot in Sindh says, "We celebrate all Hindu temples with fervour."
Indian filmmaker Mahesh Bhatt concludes, "During Kara Film Festival in 2004, I heard temple bells ring out in pre-dawn light from Shri Swaminarayan Mandir in Karachi. It proves that by simply having a different currency or government, or by drawing a few lines on a map, one cannot erase thousands of years of cultural memory, which is embedded in this subcontinent's DNA."
http://timesofindia.indiatimes.com/india/Karachi-too-resonates-to-Bappa-Morya/articleshow/16580811.cms?
-------
Pakistani community in USA to project message of tolerance through Ashiq-e-Rasool Conferences
NEW YORK, Sep. 27 (APP): Pakistani community living in United States will project the message of tolerance, peace and brotherhood of Islam through holding Ashiq-e-Rasool conferences in different cities of USA with a view to highlight the true message of Islam. This was stated by Minister of State for Information and Broadcasting Syed Sumsam Ali Bokhari while speaking to a large gathering at Ashiq-e-Rasool Conference on Thursday here after meeting President Asif Ali Zardari, who is here to attend 67th session of the General Assembly of the United Nations.
President Zardari, appreciating the efforts of Minister of State for Information and Broadcasting Sumsam Bokhari for projecting the message of peace and friendship through holding such conferences said that misperception about religion should be dispelled.
Sumsam Bokhari said he told President Zardari that initially, the Pakistani community living in USA arranged 'Sofi Conferences', but keeping in the view the incident of making of sacrilegious film on The Holy Prophet, (Peace Be Upon Him), the Pakistan government decided to observe Ashiq-e-Rasool Day, and the name of the Sofi Conference has been changed to Ashiq-e-Rasool Conference.
He said the President while endorsing the decision to rename the Sofi Conference to Ashiq-e-Rasool Conference said such conferences would provide a platform to project the real image of Islam that aimed at promoting peace, respect and tolerance for every one and give due respect to all religions.
Sumsam Bokhari said by organizing such conferences in different cities of United States, the Pakistani community would be able to project the real message of peace and highlight that everyone should give due respect to all the religions and should not disrespect to anyone belonging to any religion.
Full Report at:
http://app.com.pk/en_/index.php?option=com_content&task=view&id=209819&Itemid=1
--------
Anti-Islam film: Pakistan court orders to lodge case against PTA, Google and You Tube
Lahore Sept. 28 09 12: A court in Lahore on Thursday ordered police to register a criminal case against the chairman of the Pakistan Telecommunication Authority and the heads of Google and YouTube over the anti-Islam film 'Innocence of Muslims'.
Additional District and Sessions Judge Abdus Sattar Langa further directed officials of Islampura police station in Lahore to book the producer, director and actors of the film.
The judge directed the police station chief to report within 10 days after registering the case.
The judge issued the order in response to a petition filed by Khatam-e-Nabuwat Lawyers Forum president Ghulam Mustafa Chaudhry.
Chaudhry asked the court to direct police to take action against the PTA, Google and YouTube as the movie was available on the internet.
He also sought action against those involved in making the anti-Islam film. He said the feelings of all Muslims had been hurt by the film.
Full Report at:
http://ibnlive.in.com/news/antiislam-film-pak-court-orders-to-lodge-case-against-pta/295866-56.html
---------
Blast kills Pakistan bomb disposal expert
Agence France-Presse, September 28, 2012 17:27 IST
Peshawar: A senior bomb disposal officer was killed on Friday as he attempted to defuse a device in Pakistan's troubled north-western city of Peshawar, police said.
Bomb squad veteran Hukam Khan, aged in his late 50s, successfully defused one device but was killed when a second one exploded as he tried to make it safe. Three police officers were wounded in the blast.
"The bomb planted at the roadside exploded when Hukam Khan was trying to defuse it," Khurshid Khan, a senior police officer in Peshawar, the main town of the country's militant-plagued Khyber Pakhtunkhwa province told AFP.
An intelligence official said Khan defused the first improvised explosive device (IED) but was killed while attempting to defuse the second.
Pakistan's President Asif Ali Zardari on Tuesday told the UN General Assembly that the country has lost more than 7,000 Pakistani soldiers and policemen, and 37,000 civilians as a result of terrorism in the country since the 9/11 attacks on the United States.
http://www.ndtv.com/article/world/blast-kills-pakistan-bomb-disposal-expert-273368
-------
International community urged to block conspiracy of Pakistan to globalize blasphemy law
Philadelphia: September 26, 2012. (PCP) Dr. Nazir s Bhatti, President of Pakistan Christian Congress PCC has said that blasphemy laws in Pakistan encourage Islamic terrorism against religious communities and we demand repeal in it that society may be a tolerant enjoying social justice.
Commenting on President of Pakistan Asif Ali Zardari speech in general assembly of United Nations in New York, PCC Chief said that it is need of time that Pakistan may legislate against hate crimes which are committed by Muslim clerics every day in mosques of Pakistan where they term followers of other religions as infidels and call for killing of infidels.
Full Report at:
http://www.pakistanchristianpost.com/headlinenewsd.php?hnewsid=3801
---------
NA panel suggests law on forced conversions
By Zahid Gishkori,
ISLAMABAD: September 28, 2012, A parliamentary panel constituted to probe the alleged 'exodus' of Hindus from Pakistan to India has recommended legislating on forced religious conversions to address the concerns of the minority communities.
The committee was constituted by President Asif Ali Zardari after reports surfaced that over 200 Pakistani Hindus were planning to migrate to India. Pakistani officials had also stopped dozens of pilgrims from leaving for India on August 10 this year amid reports that they planned to migrate.
Presenting a gloomy picture of the Hindu community in the country, a 13-page report by the committee stated that it is the responsibility of the federal government to legislate on the issue and pass two acts of parliament.
The three-member committee was headed by Parliamentary Affairs Minister Maula Bux Chandio.
Full Report at:
http://tribune.com.pk/story/443767/protecting-minorities-na-panel-suggests-law-on-forced-conversions/
------
The upcoming Pakistan elections intriguing and uncertain
Rana Banerji | Sep 28, 2012
With Pakistani law minister Farooq Naik presenting a draft letter - meant for Swiss authorities - on President Asif Ali Zardari's corruption cases to the five-member Supreme Court bench on September 25, the confrontation between the judiciary and the executive in Pakistan has eased. However, political discourse seems to be drifting inevitably towards elections.
The term of the present National Assembly (NA) extends till March 18, 2013. Fresh elections are required to be held within 60 days. The 20th amendment to the Constitution postulates the setting up of neutral caretaker administrations at the Centre and in the provinces, discussions for which have begun.
Article 224A of the Constitution now provides that both the ruling and main opposition party will nominate two names each for the caretaker set-up, which will be scrutinised by an eight-member parliamentary committee. If no agreement is reached, as is possible in the present political environment, the matter will have to be resolved by Pakistan's election commission.
Under the latest revision of electoral rolls, 84.36 million voters will go to the polls out of a total estimated population of about 170 million. The 342-member NA has 272 constituencies elected according to the first-past-the-post principle, while 60 women and 10 minority members are elected by proportional representation.
Full Report at:
http://timesofindia.indiatimes.com/home/opinion/edit-page/The-upcoming-Pakistan-elections-are-shaping-up-to-be-as-intriguing-as-they-are-uncertain/articleshow/16579595.cms
---------
U.S. perceives tacit consent from Pakistan on drone strikes
By Jennifer Rowland September 27, 2012
Perception and permission
Although Pakistani officials publicly denounce the U.S. drone campaign in the tribal regions as a violation of national sovereignty, the U.S. government interprets the Pakistani intelligence agency's lack of response to a monthly memo informing them of the general locations of planned drone strikes as tacit consent for the program (WSJ). And while the Obama administration appears to be comfortable with this rationale, many legal experts within the government remain concerned about the permissibility of the strikes, and the precedent they are setting for other countries' use of drones in the future.
Pakistani Islamist leader Hafiz Mohammad Saeed, information about whom the United States is offering a $10 million reward, accused President Barack Obama on Wednesday of starting a religious and cultural war against Muslims by refusing to take action against the maker of the anti-Islam film that recently sparked protests in countries around the world (Reuters). Meanwhile, the Pakistani Taliban said Wednesday that they would give "amnesty" to the Minister of Railways Ghulam Ahmad Bilour, because he placed a $100,000 bounty on the head of the film's producer Nakoula Basseley Nakoula (AP).
http://afpak.foreignpolicy.com/posts/2012/09/27/us_perceives_tacit_consent_from_pakistan_on_drone_strikes
--------
Pakistan backs drones' aim, not method: Foreign Minister
(AFP) – 10 hours ago
NEW YORK — Pakistani Foreign Minister Hina Rabbani Khar said Thursday that her country supports US aims in its secretive drone war over Pakistani territory, but not the methods, which she said are backfiring.
The CIA program of using the remotely controlled aircraft to watch the Afghan-Pakistani border and to fire missiles at militants on Pakistan's side is bitterly opposed by most Pakistanis.
Khar, speaking at the Asia Society in New York, said she accepted the US government's reasons for the onslaught, but called the strategy short-sighted.
"What the drones are trying to achieve, we may not disagree. We do not disagree. If they're going for terrorists -- we do not disagree," she said. "But we have to find ways which are lawful, which are legal."
"The use of unilateral strikes on Pakistan territory is illegal," she said. "It is illegal and it is unlawful."
Asked during her address to the Asia Society why polls find that anti-American sentiment in Pakistan is among the world's highest, Khar answered with one word: "Drones."
According to Khar, Pakistan's government needs to build popular support for its own efforts to crush armed militant groups, but this is impossible as long as the war is viewed as US interference.
"As the drones fly over the territory of Pakistan, it becomes an American war and the whole logic of this being our fight, in our own interest, is immediately put aside and again it is a war imposed on us," she said.
Full Report at:
http://www.google.com/hostednews/afp/article/ALeqM5gcCnbP1HvZj49Dp-UUzHhJhp87EA?docId=CNG.dbc892dd707cd35467a975f24949b937.1d1
--------
US, Pakistan called off military talks due to protests: US
AFP, Sept 28 09 12
WASHINGTON: A planned meeting between US and Pakistani military chiefs was postponed this week due to a wave of violent anti-American protests, the top-ranking US officer, General Martin Dempsey, said on Thursday.
Dempsey revealed at a news conference that he had scheduled a discreet trip to Pakistan to meet chief of the army staff, General Ashfaq Kayani, but the two agreed to call off the talks amid unrest on the streets of Pakistani cities.
"I was originally planned to go to Pakistan to meet with General Kayani, and because of some of the issues related to that film, he and I discussed postponing that visit — mostly so that I would give him the time to deal with the issues he was dealing with internally," said Dempsey, chairman of the US Joint Chiefs of Staff.
Pakistan has been rocked by days of violent protests in its major cities as demonstrations have swept Muslim countries in the Middle East, North Africa and South Asia over an anti-Islam film, a crude production by American amateurs.
Instead, Dempsey said he extended an unannounced visit to Afghanistan, visiting the southern provinces of Kandahar and Helmand.
The general did not take reporters with him and his office made no public announcement about his Afghan trip.
Dempsey has adopted a lower profile than his media-friendly predecessor, Admiral Mike Mullen, who at times publicly diverged from the White House's stance on some issues.
Unlike the previous chairman, Dempsey has taken a number of overseas trips without any press documenting his visits, including a meeting of Nato officers in Romania last week.
The general denied that he had kept the trip under wraps because of any doubts about the war effort in Afghanistan, where a rise in insider attacks by Afghan forces has caused concern at the Pentagon.
http://dawn.com/2012/09/28/us-pakistan-called-off-military-talks-due-to-protests-us/
--------
Munter for new approach to sustainable Pak-US ties
By: INP |September 28, 2012
WASHINGTON - American policymakers face continuing challenges in creating a constructive and sustainable relationship with Pakistan, and it may be time to consider a new approach, said former US ambassador to Pakistan Cameron Munter.
In his first public event since his return from Islamabad, the ex-envoy spoke about the obstacles and opportunities ahead in Pakistan at the Carnegie endowment for international peace.
Pakistanis, he argued, tend to believe that Americans aim to use Pakistan to achieve American goals, and then abandon the relationship when it no longer serves Washington's ends. He believed that Americans, on the other hand, view the Pakistani government as duplicitous and manipulative, accepting US aid and assistance even as it sometimes works to undermine American interests in the region.
Full Report at:
http://www.nation.com.pk/pakistan-news-newspaper-daily-english-online/international/28-Sep-2012/munter-for-new-approach-to-sustainable-pak-us-ties
--------
Fear and suspicion in Pakistan hamper global polio fight
By Kate Kelland and Jibran Ahmad
LONDON/PESHAWAR, Sep 27, 2012 (Reuters) - When Bill Gates hears about children like Fahad Usman, a two-year-old Pakistani boy crippled by polio before he learned to walk, the billionaire philanthropist sounds frustrated and fired up.
Fear and suspicion have prevented thousands of children like Fahad from being protected against the infectious and incurable disease. Now more than ever, it's time that stopped, Gates says.
Rumours that polio immunisation campaigns are "Western plots to sterilise Muslims" or that the vaccine is "George Bush's urine" underline the need to take politics out of the fight to eradicate polio, he says.
If Gates, the most influential of global health advocates, gets his wish - and in an interview he's pretty sure he will - the world won't stop at the 99 percent reduction in cases so far, but will rid itself of polio completely by 2018.
Yet evidence from Pakistan and Afghanistan, two of only three countries where polio is still endemic, suggests a battle lies ahead to overcome Taliban opposition, vaccine refusals, security and funding gaps to beat out that last one percent.
"We are working hard to depoliticise the whole thing," said Gates, whose $35 billion Gates Foundation is spearheading international efforts to eradicate the disease.
Full Report at:
http://in.reuters.com/article/2012/09/27/polio-eradication-idINDEE88Q0FV20120927
--------
Putin's decision not to visit Pakistan has disappointed Islamabad
VLADIMIR RADYUHIN
Putin's decision not to visit Pakistan has disappointed Islamabad but does not take away from the importance Russia attaches to rapprochement with a former foe
What was billed as a ground-breaking first ever visit by a Russian President to Islamabad next week has ended in disappointment for Pakistan with Vladimir Putin's decision not to go.
President Putin was to attend a summit of the quadrilateral forum of Afghanistan, Pakistan, Russia and Tajikistan that Islamabad was scheduled to host on October 3. Pakistani officials were expecting the Russian leader to arrive a day earlier for an official bilateral visit.
For weeks Pakistani media were agog over the anticipated Putin's visit describing it as "historic" and "landmark", even claiming that Pakistan "would be on top of the list of countries Putin would be visiting this year."
However, a few days before his expected arrival in Islamabad, Mr. Putin sent a letter to Pakistan President Asif Ali Zardari informing him that he would not be coming. This has compelled Islamabad to "reschedule" the quadrilateral summit.
Russian diplomats say that Mr. Putin's visit was indeed discussed but insist it was not been cancelled simply because it was never confirmed in the first place.
"Russia agreed to take part in the quadripartite meeting, but we never said Mr. Putin will lead the Russian delegation," said Mr. Zamir Kabulov, head of the 2nd Asia Department in the Russian Foreign Ministry, which looks after South Asia and Iran.
Full Report at:
http://www.thehindu.com/opinion/op-ed/still-waiting-for-the-bear-hug/article3942782.ece
--------
World Council of Churches event at UNHRC highlights rights of religious minorities in Pakistan
World Council of Churches (WCC)
19/9/2012
"No state should take away the right of its citizens to debate a law that affects them gravely. Therefore, there is a growing need of dialogue on the blasphemy law and its negative impacts on religious minorities in Pakistan," said I.A. Rehman, veteran human rights activist and director of the Human Rights Commission of Pakistan in a side event at the United Nation's Human Rights Council in Geneva, Switzerland.
"If we are not able to discuss the blasphemy law and its impact on people, especially the non-Muslims, I would call it a big disadvantage of our society," added Rehman.
The event was organized by the Commission of the Churches on International Affairs (CCIA) of the World Council of Churches (WCC) on 18 September, as part of its public hearing on the "Blasphemy law and the rights of minorities in Pakistan".
The CCIA meeting is currently taking place in conjunction with the 21st Session of the United Nations Human Rights Council in Geneva.
"When the state and constitution make preference on the basis of religion, they end up violating the rights of their citizens. The blasphemy law is one among other laws that form a whole system of discrimination against religious minorities in Pakistan," said Peter Jacob, director of the Justice and Peace Commission of the Roman Catholic Church in Pakistan.
Full Report at:
http://www.portalecumenico.net/en/noticias-detalhe.asp?cod=1148
--------
Importance of Pakistan-Central: Asia relations highlighted
September 28, 2012
Higher education co-operation between Pakistan and Central Asian Republics (CARs) was the focus of video conferencing seminar held here at The Higher Education Commission (HEC) on Thursday. The seminar was organised in connection with 20th Anniversary of diplomatic relations between Pakistan and 6 Central Asian Republics (Azerbaijan, Uzbekistan, Kazakhstan, Kyrgyzstan, Tajikistan, and Turkmenistan) under the auspices of Inter University Consortium for Promotion of Social Sciences, Arts and Humanities Pakistan IUCPSS, HEC and the Diplomatic Insight.
The aim of the seminar was to exchange ideas and build bridges for evolving new relationships in making headways for developing deep rooted connection in sectors like government to government contacts, science & technology, culture, trade and economy with special focus on exploring educational linkages among universities.
Full Report at:
http://www.brecorder.com/general-news/172/1242749/
--------
Immense trade potential exists between Pakistan, Indonesia: Pak PM
ISLAMABAD, Set 28, 2012: Prime Minister Raja Pervez Ashraf Thursday said that Pakistan accorded high priority to its relations with Indonesia and was keen to further strengthen them in all spheres.
The Prime Minister expressed these views while talking to Ishak Latuconsina outgoing Ambassador of Indonesia to Pakistan, who paid a farewell call on him at the Prime Minister House.
The Prime Minister said that Indonesia was an important member of ASEAN and is playing a positive role in furthering the objectives of the organization. He hoped that Indonesia would continue to support Pakistan's efforts to attain Full Dialogue Partnership with ASEAN.
The Prime Minister said that the total trade between Pakistan and Indonesia was not commensurate with the close brotherly relations that existed between the two countries.
He said that after signing of Preferential Trade Agreement (PTA) in February, 2012 it was expected that the volume of bilateral trade would increase substantially. He said that both countries should now work for FTA, which would give a boost to bilateral trade.
Full Report at:
http://www.dailytimes.com.pk/default.asp?page=2012%5C09%5C28%5Cstory_28-9-2012_pg5_7
---------
'Exposition Pakistan' next month: Japanese brands to explore more market
September 28, 2012
Japanese brands and companies will be further exploring the Pakistani market through participation and promotion at the seventh Expo Pakistan Exhibition in October 2012. An exclusive pavilion is being set-up at the Expo Centre in Karachi, inspired by the "Japan External Trade Organisation" (Jetro), which enjoys the co-operation of numerous prominent Japanese companies operating across various industrial and commercial sectors of Pakistan.
Prominent sectors that have attracted Japanese investments and entrepreneurs include; automobiles, engineering, consumer items, etc. The key participants from Japan this year will be Toyota, Honda, Suzuki and Hino, displaying the latest models of their most popular cars, coaster and trucks in Pakistan. These Japanese automobile manufacturers in Pakistan also expect regulatory support from the Government of Pakistan, on matters relating to a comprehensive and stable regulatory policy for import of used cars into Pakistan.
They seek a new-entrant policy in this industry to create a level playing field for all players. They also desire strictly enforced controls over smuggled auto-parts and a policy to discourage under-invoicing of spare-parts and grey-channel imports.
http://www.brecorder.com/business-a-economy/189/1242783/
-------
Rabies continues to haunt population in Pakistan
Muhammad Qasim
Rawalpindi, September 28, 2012, Like every year, World Rabies Day is being observed around the globe, including Pakistan, today (Friday). However, prevention and control of rabies has never been given due attention by the concerned authorities in Pakistan.
Rabies is one of the oldest and deadliest diseases known to mankind. It is said to be the mother of all infectious diseases. It is believed that nothing can be more painful and horrific than rabies. Known as the poor man's disease, rabies continues to haunt people across Pakistan by claiming an estimated 2,000 to 5,000 lives annually, according to the data prepared on the basis of reported cases only.
There are safe and effective vaccines available for people who have been bitten by animals who might have the disease, but their use in developing countries like Pakistan is much low mainly because of the high cost, misconceptions and taboos.
Full Report at:
http://www.thenews.com.pk/Todays-News-6-134455-Rabies-continues-to-haunt-population-in-Pakistan
------
Pakistan needs to bring back money stashed abroad: Daily
Sep 28 2012
Pakistan must have a "very large stick" in the form of a whistle-blowing law that would allow any citizen to expose a tax evader and persuade those with wealth in offshore accounts to bring it back to the country, a daily said Friday.
An editorial in the News International said that "tax havens are one thing but tax heaven entirely another, and it appears that the government is determined to pander to those who frequent the former in the hope of persuading them into the latter - courtesy of tax amnesty schemes".
There is unease among the very wealthy who have offshore accounts because of notices they are said to have received from their respective banks advising them to close their accounts by Oct 30.
"The government is keen to get its hands on the unpaid taxes of those banking offshore. Depending on which estimate you believe, there is between $250 and $500 billion in foreign banks awaiting the attention of Pakistan's tax authorities," said the daily.
It added that "astute investors park their money there because of a lack of trust in the government and the declining value of the rupee".
Why put your money where it will wither rather than grow? the daily wondered.
"Persuading those with wealth elsewhere to bring it back to Pakistan is going to require considerable incentives, one of those being a very large stick in the form of a 'whistle-blowing' law that would allow any citizen to expose a tax evader," the editorial said.
"The information, if proven correct, will add 30 percent of the tax recovered to the informer's coffers - a measure sure to ignite countless family feuds across the country."
http://www.prokerala.com/news/articles/a330674.html
------
Arab World
Egypt: Christians flee town after militant threats
By MAGGIE MICHAEL, Associated Press
CAIRO (AP), September 27, 2012, Coptic Christian families have fled their homes in a town in Egypt's Sinai Peninsula, fearing for their lives after receiving death threats from suspected Islamic militants, a local priest said Thursday.
Father Youssef Sobhi said that Islamic militants dropped leaflets on the doorsteps of shops owned by Copts in the city of Rafah near the border with Gaza and Israel, ordering them to leave town within 48 hours and making an implicit warning of violence if they failed to do so. Two days later, masked militants on a motorcycle opened fire on one of the shops before speeding off, Sobhi said. No one was hurt in the shooting.
When Christians met Tuesday with the province's top government official, who was recently appointed by Egypt's new Islamist president, Mohammed Morsi, the governor promised to facilitate the Copts' move to the nearby city of el-Arish but did not offer to protect the community to ensure that it stayed in Rafah, according to the priest.
"I was shocked at the governor's response," Sobhi said. "This is simply displacement by the government's consent."
An Egyptian intelligence official confirmed that a number of Coptic families had fled Rafah because of a militant threat. Another security official denied the reports and said that no Christians were forced to leave. Both officials spoke on condition of anonymity because they are not authorized to brief the media.
Full Report at:
http://www.usnews.com/news/world/articles/2012/09/27/egypt-christians-flee-town-after-militant-threats
---------
Egypt's Morsi will embrace non-Muslims, women in secular state
CAIRO: 27 September 2012, The rights of non-Muslims and women are safe in Egypt, Prime Minister Mohammed Morsi said, repeatedly telling a United States (US) audience that the newly democratic country will remain a secular state.
"All Egyptians represent the majority, all Egyptians - men, women, Muslims, and Christians... regardless of their beliefs, their gender, their colour," Morsi said at the Clinton Global Initiative forum in New York.Morsi, a member of the Muslim Brotherhood movement who was elected following Egypt's revolution against US-backed strongman Hosni Mubarak, told the forum led by former president Bill Clinton that Egypt will remain pluralistic and secular.
"We have really a new democratic state and a new real civilian state in Egypt: non-theocratic, not military," he said.Morsi dismissed worries by some outside Egypt that civil and religious rights, including for the Coptic Christian minority, are likely to decline with the rise of the Muslim Brotherhood. He said the real problem in Egypt was Mubarak-era corruption.
"We don't have a real problem in terms of the rights of women," he said. "However, the corruption is something everybody suffered from."Morsi also said freedom of expression must be used responsibly, hinting at looming tensions in the newly-democratic nation.
He called for limits on free speech, without providing details, saying the violent protests over an anti-Islam video required "some reflection". The protests have killed dozens of people, including the US ambassador to Libya, since they began last week.
"We must acknowledge the importance of freedom of expression," he said. "We must also recognise that such freedom comes with responsibilities, especially when it comes with serious implications for international peace and stability."
Morsi called for a shakeup of global organisations like the UN, saying they had to be more democratic - a frequent cry of regional powers who resent the Security Council's permanent five members: the US, Russia, China, France and the UK.He appeared to single out Syria's backers - Russia and China - and Israel for criticism.
"I can't simply watch the blood that is being shed in Syria, or the children starving in Gaza, and claim that our model of global governance works," Morsi said Israel maintains a blockade on the impoverished Gaza Strip, which is ruled by the militant Hamas organization.
Morsi acknowledged the vast challenges his country faces - high unemployment, a crippled infrastructure, sputtering economy and unchecked violence - but said he remains patriotic and faithful."As an Egyptian, I know there is no limit to what humans can accomplish when people come together for a peaceful purpose," he said. "As a Muslim, I know God helps."
http://www.mmegi.bw/index.php?sid=11&aid=1528&dir=2012/September/Thursday27
------
Iraq militants attack Tikrit prison, freeing 90 inmates
28 September 2012
Armed militants have attacked a prison in the Iraqi city of Tikrit, killing at least 12 guards and freeing about 90 inmates, officials have told the BBC.
They say a suicide bomber detonated a car bomb at the gates of Tasfirat prison and clashes between militants and security guards followed.
Some of the escaped inmates were reportedly al-Qaeda members.
The prison was later retaken from the gunmen by security forces, reports say. A curfew is now in place in the area.
The security forces are trying to re-capture the prisoners.
Tasfirat holds several hundred inmates, some of them condemned to death.
'Files destroyed'
The unidentified gunmen stormed the prison on Thursday night.
The attack lasted into the early hours of Friday, and at one stage the militants controlled all the gates of the Tasfirat prison, about 160km (100 miles) north-west of Baghdad.
But a source in the police command of Salaheddin province later said the security forces "took control of the prison", according to the AFP news agency.
Iraqi lawmaker Hakim al-Zamily was quoted in local media as saying that "hardcore" al-Qaeda militants were among those who managed to escape.
Mr Zamily, who is a member of the parliamentary security committee, said that the escapees seized documents identifying people who had provided information about them to the authorities.
The personal files on the inmates were also destroyed, he said, making it "impossible" to track them down.
In addition, the attackers reportedly took with them a police car and weapons seized from the guards.
The raid appeared to be well co-ordinated between the gunmen and some of the inmates, the BBC's Rami Ruhayem in Baghdad reports.
The prison has previously seen disturbances among the inmates. In April, police said they had uncovered a plan by some prisoners to escape.
Militants have previously targeted Iraqi prisons in similar operations.
http://www.bbc.co.uk/news/world-middle-east-19750039
-------
World powers urge Syria opposition to unite
(AP) / 28 September 2012
Western nations and allies in the Middle East meet on Friday to urge Syria's fractured opposition to unite, seeking a new path for ending the country's conflict amid deadlock between major powers on the UN Security Council.
Secretary of State Hillary Clinton was hosting talks among the Friends of Syria — a coalition which includes the United States, the European Union and the Arab League — on the sidelines of the UN General Assembly, seeking to encourage better cooperation among groups which oppose Syrian President Bashar Assad.
The talks, which activists say has led to more than 30,000 deaths.
Russia and China have vetoed three Western-backed resolutions aimed at pressuring Assad to end the violence and enter negotiations on a political transition, paralyzing the UN's most powerful body and denting chances of any progress during the General Assembly.
Clinton has decried Assad's "murdering of his own people," while Russia's Foreign Minister Sergey Lavrov — who will address the General Assembly on Friday — has accused the US and other countries of encouraging terrorism in their stance on Syria.
French Foreign Minister Laurent Fabius has said it is "shocking" that the Security Council had been unable to act, while British Prime Minister David Cameron denounced the deaths of Syrian children as "a stain on those who have failed to stand up to these atrocities," a reference to Russia and China.
Full Report at:
http://www.khaleejtimes.com/kt-article-display-1.asp?xfile=data/middleeast/2012/September/middleeast_September316.xml&section=middleeast
--------
Clashes in Aleppo after rebels launch 'decisive' battle
28 September 2012
Fierce fighting has been reported in Syria's second city of Aleppo, a day after the rebel Free Syrian Army (FSA) said a "decisive" battle had begun.
Both residents and activists described the clashes as "unprecedented", and said rebel fighters were attacking government positions on several fronts.
The fighting had spread to previously peaceful districts, they added.
On Thursday, the UN said the number of Syrians fleeing to other states could exceed 700,000 by the end of the year.
More than half a million are believed to have already crossed into Turkey, Jordan, Lebanon and Iraq, but only 294,000 have registered with the UN.
UN agencies and other humanitarian groups have issued a funding appeal for $488m (£300m) to help them meet the needs of the refugees.
http://www.bbc.co.uk/news/world-middle-east-19755140
-------
Protests over anti-Islam film scare tourists away from Egypt once again
By: Christopher Torchia, The Associated Press
CAIRO Sept 27, 2012, One of the world's largest cruise ships, its foreign passengers primed for onshore spending, was supposed to dock in Egypt this month. The port call, however, was scrapped because of security concerns surrounding Mideast protests against a film made in the U.S. that denounces Islam's holiest figure.
Once again, Egyptian tourism, an engine of the national economy and a flagship of the regional industry, has taken a hit. It was another setback for a business that had plummeted in parts of the Middle East and North Africa last year during the uprisings known as the Arab Spring, then moved toward recovery this year.
"Small things become like mountains," Essam Zeid, an Egyptian tour guide, said of the fallout from unrest in Egypt since authoritarian President Hosni Mubarak was ousted in February 2011. But he also offered a (somewhat) positive metaphor: "We always say that Egypt gets sick but never dies. Recovery is always an option."
Egypt and other Arab nations undergoing turmoil rely heavily on the labour-intensive trade and see it as key to economic growth and social stability.
Tourism directly contributes a big chunk of gross domestic product to some of the countries that suffered economic fallout from last year's tumult, which came not long after the global financial crisis. Egypt, for example, generates 6.7 per cent of GDP from travel and tourism and Tunisia is around the same level with 6.6 per cent, with benefits to related businesses pushing the figures even higher, according to the London-based World Tourism and Travel Council. It is among industry groups that will assess the impact from the latest upheaval, though it is too early for a comprehensive estimate of losses.
Full Report at:
http://www.winnipegfreepress.com/arts-and-life/life/faith/protests-over-anti-islam-film-scare-tourists-away-from-egypt-once-again-171689211.html
---------
12 policemen killed in Iraq prison clashes: Officials
AFP
TIKRIT, Iraq: Sep 28, 2012, At least 12 policemen were killed in clashes at a prison in the Iraqi city of Tikrit that was seized by militants but has since been retaken by security forces, officials said on Friday.
Salaheddin provincial deputy governor Ahmed Abdul Jabbar told AFP by telephone that 12 policemen were killed in fighting at the prison in Tikrit, 160 kilometres (100 miles) north of Baghdad.
Abdul Jabbar said that the prison had been retaken from militants who seized it on Thursday night, but that 83 prisoners escaped.
A source in the Salaheddin police command said that 15 policemen and seven prisoners were killed in the violence, and put the number of escaped prisoners at around 100.
"We took control of the prison, and the gunmen handed over their weapons," the source said.
The violence in Tikrit comes after al-Qaida's front group the Islamic State of Iraq said in July that it was launching a "new military campaign aimed at recovering territory."
An earlier message posted on jihadist forums said the ISI would begin targeting judges and prosecutors, and try to help its prisoners break out of jails.
http://timesofindia.indiatimes.com/world/middle-east/12-policemen-killed-in-Iraq-prison-clashes-Officials/articleshow/16587053.cms
--------
South Asia
Maldives court slaps travel ban on ousted president Nasheed
MALE, Maldives, September 27, 2012, A court in the Maldives has imposed a travel ban on ousted president Mohamed Nasheed, pending a hearing over allegations of abuse of power during his tenure, AFP reported Wednesday (September 26th).
The order preventing Nasheed from leaving the capital, Male, was served late Tuesday soon after he returned from Britain, said Shauna Aminath, a spokeswoman for his Maldivian Democratic Party (MDP).
"The order prevents him from leaving Male as well as the country," Aminath said by phone. "He has already written to the court asking them to expedite the case against him."
In July, the same court refused to prosecute Nasheed, saying it lacked jurisdiction. But a higher court ruled it could hear allegations that he ordered the illegal arrest of a judge in January.
Nasheed ordered Abdullah Mohamed's arrest amid corruption allegations in a move that triggered weeks of protests, capped by a police mutiny that saw him ousted as leader February 7th.
http://khabarsouthasia.com/en_GB/articles/apwi/articles/newsbriefs/2012/09/27/newsbrief-02
------
Europe
Row breaks out over Cardiff sex shop's 'offensive' window displays as it could be offensive to Muslims
Peter LawSep 27 2012
Sex shop windows could be blacked out after complaints that one Cardiff store's display "denigrates women" and could be offensive to Muslims.
Lovecraft, on the corner of Wyndham Crescent and Cowbridge Road East, in Canton, has been selling lingerie, adult books, DVDs and toys since 2001.
But ward councillors and the head teacher of a primary school are among 29 local residents who have objected to the window display.
In a letter to Cardiff council, Severn Primary School head teacher Julie Morris said it featured four scantily female mannequins, "one of whom is on her knees in a submissive pose".
"I find this display offensive in that it portrays women as sex objects only," Mrs Morris wrote.
"Many of the children at the school walk past the shop regularly and I am unhappy about them seeing such a negative portrayal of women on a daily basis.
"We have over 500 children at our school with many of our children coming from Muslim families. I feel the lack of clothing on the models would offend the many Muslim families in the area."
In her letter of objection, Riverside's Labour councillor Iona Gordon said that as a woman she found the display "denigrates women".
"But I also object because I represent members of many ethnic minority communities, many of whom observe the Muslim faith. I know both Muslim men and women find the window display offensive on religious grounds," she wrote.
Canton's Labour councillor Richard Cook said the shop was in breach of the Sex Establishment Licensing Policy which states: "No window shall contain any sign, advertising material, goods or display likely to cause an offence to persons passing the window."
The objections call for the window display to be blacked-out and this suggestion will go before the council's Public Protection Committee on Tuesday when Lovecraft's licence is considered for renewal.
If approved by councillors, the ban would impact all five of Cardiff's sex shops.
But Lovecraft's owner Simon Sternchuss said he was being discriminated against, claiming his displays were no different to that of adult shop Ann Summers or lingerie chain La Senza.
"If I had displays or pictures of naked men or women that would be considered offensive, but a dummy in a kneeling position is not offensive to anyone, unless you are a narrow-minded individual," he said.
"If they had of come to me and said there was an issue I would have listened to them and considered it, but nobody did. This is discrimination and I will fight it."
Mr Sternchuss said a display ban would hurt his business as 75% of his customers were couples or women who were less likely to visit a "seedy looking" adult book shop.
http://www.walesonline.co.uk/cardiffonline/cardiff-news/2012/09/27/row-breaks-out-over-cardiff-sex-shop-s-offensive-window-displays-91466-31920991/
-------
Islam is part of Germany: Angela Merkel
Berlin: September 27, 2012, German Chancellor Angela Merkel has said Islam has become a part of Germany and urged fellow citizens to show tolerance towards Muslims.
Merkel told members of her conservative Christian Democratic Party that the great majority of Muslims in Germany had distanced themselves from the recent violence during protests against an anti-Islam video that ridiculed the Prophet Muhammad.
She said Germans "should be open about it (Islam) and say, "Yes, it's part of us'."
According to express.co.uk, she added that Christians should perhaps start thinking and talking more about their own religion again, 'rather than having fear of Islam'.
Merkel's comment came after former president Christian Wulff's remarks, who surprised many in 2010 by saying that 'Islam now also belongs to Germany'.
http://zeenews.india.com/news/world/islam-is-part-of-germany-angela-merkel_802295.html
--------
California man behind anti-Islam video detained
The Associated Press Posted: Sep 27, 2012
A judge ordered the California man behind a crudely produced anti-Islamic video posted to YouTube that has inflamed the Muslim world to be detained Thursday, and deemed a flight risk.
U.S. Central District Chief Magistrate Judge Suzanne Segal said Nakoula Basseley Nakoula, 55, should be held after officials said he violated his probation term for a 2010 check fraud conviction.
Nakoula was convicted in 2010 and sentenced to 21 months in prison. Under terms of his probation, he was not allowed to use computers or the Internet for five years without approval from his probation officer.
Nakoula was arrested after federal probation officials determined he violated the terms of his supervised release, said Thomas Mrozek U.S. Attorney's spokesman in Los Angeles.
In court Thursday, Assistant U.S. Attorney Robert Dugdale said Nakoula was flight risk based on a "lengthy pattern of deception."
"He has every incentive to disappear," Dugdale said.
Nakoula, 55, was handcuffed and shackled in court.
Protests have erupted around the Middle East over a 14-minute trailer for the film. Though the trailer was posted to YouTube in July, the violence didn't break out until Sept. 11 and has spread since, killing dozens.
Nakoula, a Christian originally from Egypt, went into hiding after he was identified as the man behind the trailer.
Full story not known
The full story about Nakoula and the video still isn't known.
The movie was made last year by a man who called himself Sam Bacile. After the violence erupted, a man who identified himself as Bacile called media outlets including The Associated Press, took credit for the film and said it was meant to portray the truth about Muhammad and Islam, which he called a cancer.
The next day, the AP determined there was no Bacile and linked the identity to Nakoula, a former gas station owner with a drug conviction and a history of using aliases. Federal authorities later confirmed there was no Bacile and that Nakoula was behind the movie.
Before going into hiding, Nakoula acknowledged to the AP he was involved with the film, but said he only worked on logistics and management.
A film permit listed Media for Christ, a Los Angeles-area charity run by other Egyptian Christians, as the production company. Most of the film was made at the charity's headquarters. Steve Klein, an insurance agent in Hemet and outspoken Muslim critic, has said he was a consultant and promoter for the film.
Film remains online
The trailer still can be found on YouTube. The Obama administration asked Google, YouTube's parent, to take down the video but the company has refused, saying it did not violate its content standards.
Meantime, a number of actors and workers on the film have come forward to say they were duped. They say they were hired for a film titled Desert Warrior and there was no mention of Islam or Muhammad in the script. Those references were dubbed in after filming was completed.
Actress Cindy Lee Garcia has sued to get the trailer taken down, saying she was duped.
http://www.cbc.ca/news/world/story/2012/09/27/nakoula-anti-islam-video-arrested.html
------
French minister pledges zero tolerance for Islamists
STRASBOURG, France |Sep 27, 2012, (Reuters) - French Interior Minister Manuel Valls warned Islamists on Thursday that preaching hatred in France would not be tolerated, telling hardliners as he inaugurated a mosque that they would be expelled if they challenged the Republic's principles.
Valls' message underscored the tough line that President Francois Hollande's government has taken towards Islamists who were furious over the publication of cartoons mocking the Prophet Mohammad in a French magazine last week.
While Socialist officials criticised Charlie Hebdo magazine over the cartoons, calling them a provocation, they banned protests against the images, denying requests by Muslim groups to hold marches in the name of free speech.
"I will not accept Salafist behaviour or any other group that defies the Republic," Valls told religious leaders in an inauguration ceremony for a mosque in Strasbourg.
"The Republic will be intransigent with anyone who seeks to challenge it and I won't hesitate to expel those who invoke the name of Islam and represent a threat to public order and who, as foreigners in our country, don't respect our laws and values."
Speaking in front of mosaic-patterned walls at the newly completed Grand Mosque of Strasbourg, Valls distinguished between two types of Islam: one that seeks to belong to France, and one that seeks to supersede its way of life.
http://uk.reuters.com/article/2012/09/27/uk-france-islam-idUKBRE88Q1PA20120927
--------
North America
US temporarily reduces staff at Tripoli embassy
27 September 2012
The United States is temporarily removing further staff from its embassy in the Libyan capital, the state department has said.
It said staffs were being withdrawn from Tripoli for security reasons.
The US ambassador to Libya was killed in what the US defence secretary has said was a "terrorist" attack in Benghazi on 11 September.
The attack followed protests triggered by an amateur film made in the US which mocks Islam.
Protests against the film, frequently held on Fridays, have spread across the Muslim world.
A statement on the website of the US embassy in Tripoli warned that demonstrations were possible in both the capital and Benghazi on Friday.
"This is a temporary further drawdown of staff for security reasons," a state department official said in New York.
"We will review our posture again early next week with the goal of restoring staff as soon as conditions allow."
It was not revealed how many staff was being withdrawn from Tripoli.
Investigation
Christopher Stevens and three other Americans were killed during the Benghazi attack, which targeted the US consulate in the city on 11 September.
Stevens died of smoke inhalation when he was trapped alone inside the burning consulate after it was set upon by militants.
Another diplomat, Sean Smith, and two US security men were also killed.
"It was a terrorist attack," Defence Secretary Leon Panetta said on Thursday.
"As we determined the details of what took place there and how that attack took place, [...] it became clear that there were terrorists who had planned that attack, and that's when I came to that conclusion," he explained.
His comments came a day after Secretary of State Hillary Clinton seemed to link the Benghazi attack to militants with ties to al-Qaeda in the Islamic Maghreb.
However, Mr Panetta said investigations into which group was behind the attack were still continuing.
Libyan Prime Minister-elect Mustafa Abushagur has said that an investigation is under way but officials do not yet have a definite idea of which group was responsible for the deaths.
http://www.bbc.co.uk/news/world-middle-east-19753798
--------
URL: https://www.newageislam.com/islamic-world-news/new-age-islam-news-bureau/west-africa's-northern-mali-emerges-as-an-al-qaida-hub/d/8816