New Age Islam News Bureau
24 Jul 2018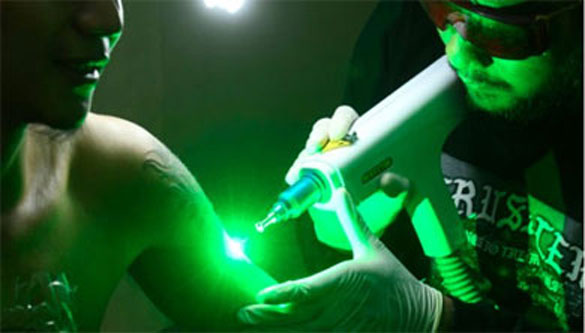 Widodo set out to start a tattoo removal shop with a crowd-funding campaign that raised about US$6,500 – enough for a pair of laser removal machines. (AFP pic)
-----
• We'll Protect All Religions, Not Only Islam, Against Insults: Malaysian Minister
• Rare Secular Candidate in Pakistan Hounded By Angry Mobs
• Syrian Army Forces Find Israeli-Made Medicine in Militant Field Hospital in Quneitra
• Lynchings Will Stop If People Don't Eat Beef, Says RSS Leader Indresh Kumar
• Myanmar Security Forces, Buddhists Killed Thousands: PHR
Southeast Asia
• We'll Protect All Religions, Not Only Islam, Against Insults: Malaysian Minister
• Indonesia's Tattoo Removers Zap Sin from Your Skin
• Malaysia: Religious and Racial Hatred Act in the pipeline
• Indonesia passes anti-terrorism law after suicide attacks on churches
• TGB resigns from Democrats in follow-up to announcing support for Jokowi
• Why Malaysia's Mahathir poured cold water on India's Zakir Naik deportation plea
--------
Pakistan
• Rare Secular Candidate in Pakistan Hounded By Angry Mobs
• Religious Parties Ready to Gain Popular 'Mainstream' Support: Report
• Voters mull options as curtain falls on election campaign
• MMA pledges to restore peace in Balochistan
• Pakistan doubles down on cooperation with Afghanistan
• PPP wary of voting oversight at female polling stations in Sindh
• Sectarianism Continues to Plague Jhang's Electoral Politics
--------
Arab World
• Syrian Army Forces Find Israeli-Made Medicine in Militant Field Hospital in Quneitra
• Daesh Makes Comeback in Iraq with Switch to Guerrilla Tactics
• Three killed as gunmen storm govt. building in Erbil
• Damascus: Any Meeting on White Helmets' Claims about Chemical Weapons Invalid
• Terrorists Fail to Prevail over Syrian Army Positions in Homs Province
• Syrian Army Regains Control of Several Towns at Border with Occupied Golan
• Organization of Islamic Cooperation chief meets Griffiths to discuss Yemen
--------
India
• Lynchings Will Stop If People Don't Eat Beef, Says RSS Leader Indresh Kumar
• Muslim Community Should Abstain From Touching Cows, Provoking Hindus: BJP Leader Vinay Katiyar
• Course On Islamic Terrorism: DMC Issues Notice To Delhi University
• New Valley Video Has 25 Militants, Police Say both Hizbul And Lashkar
• SP Leader's Shocker: Triple Talaq Prevents Muslim Men From Murdering Their Wives!
--------
South Asia
• Myanmar Security Forces, Buddhists Killed Thousands: PHR
• Reuters Reporter Says Myanmar Police Planted 'Secret' Papers
• 14 militants killed during the ongoing operations in Kapisa: Silab Corps
• Group of Taliban militants involved in major attacks arrested in Kandahar
• Briton detained over Bangladesh terror attack is cleared by police
--------
Africa
• DSS, Army, Police Storm Law School In Lagos Over Blasphemy
• Eight Killed As Boko Haram Bomber Detonates Explosives at Mosque In NE Nigeria
• Somalia: Al-Shabaab Launches Massive Attack On Somali Military Base
• Shabab claims killing 27 soldiers in southern Somalia
--------
North America
• 'Canada Is Beautiful': Muslim Family Touched By Saskatoon Response to Attack
• 9/11 Orchestrators Pushing Trump to Attack Iran: Scholar
• Is Trump trying to 'change the subject' from Helsinki fiasco to Iran?
• No F-35s sales to Turkey, limited support for Saudi war on Yemen: US defence bill
--------
Mideast
• Young Yemenis Recount Forced Recruitment, Life Under Houthis
• Turkey Intensifies Counterterrorism Ops in Northern Iraq
• Western Wall stone crashes down in Jerusalem
• UN rights chief calls out Israel over detained Palestinian children
• UN rights chief blasts Israel for 'shocking' Gaza killings
• After military failure, Saudi, allies resort to diplomacy on Yemen's Hudaydah
• Turkey Detains 43 Suspected Islamic State Militants: Police
--------
Europe
• Pope Francis Appeals for the Security and Dignity of Migrants
• Ozil Quits German National Side Citing Racism over Turkish Heritage
• British PM opposes possible execution of two British Daesh suspects
• Far-right exploits upheaval as attacks on Muslims rise
• Forget the 'Beatles': here's what happens to most British jihadi suspects
Compiled by New Age Islam News Bureau
URL: https://www.newageislam.com/islamic-world-news/well-protect-all-religions-only/d/115924
--------
We'll Protect All Religions, Not Only Islam, Against Insults: Malaysian Minister
Minderjeet Kaur
July 24, 2018
KUALA LUMPUR: The government will protect all religions from insults and not only Islam, said the minister in charge of Islamic affairs.
Minister in the Prime Minister's Department Mujahid Yusof Rawa said towards that end, Putrajaya was planning to introduce a law to stop racial and religious insults.
Responding to a question from Ismail Mohamed Said (BN-Kuala Kurau) who asked on measures the authorities planned to take against those who insult Islam on social media; Mujahid said the new law would protect not only Islam, but also other religions, from insults.
He said he also would meet religious scholars this month on the matter, but did not give further details.
The previous government had drafted a National Harmony and Reconciliation Bill, but it never took off.
It was among three new laws proposed under the national unity blueprint by the National Unity Consultative Council (NUCC), of which Mujahid was a member.
http://www.freemalaysiatoday.com/category/nation/2018/07/24/well-protect-all-religions-not-only-islam-against-insults-says-mujahid/
--------
Rare secular candidate in Pakistan hounded by angry mobs
July 23, 2018
ISLAMABAD: It began with a audience members asking Pakistani parliamentary candidate Jibran Nasir to declare his religion at a public forum, a request he politely refused on the grounds it is irrelevant.
Later, the mobs started showed up. In the past week, three of Nasir's public meetings in Karachi, Pakistan's largest city, have been disrupted by religious hardliners shouting out and shoving his supporters.
Nasir, a human rights lawyer, is a rare breed in Pakistan: an avowedly secular, progressive candidate in the overwhelmingly Muslim country of 208 million, where most parties appeal to an Islamic vote bank.
His independent candidacy is in stark contrast to the prevailing mood of Pakistan's campaign, which has seen the rise of new ultra-right Islamist parties campaigning on protecting draconian blasphemy laws and denouncing the persecuted Ahmadi sect.
Liberal and secular-minded Pakistanis say the sheer number of religious party candidates, combined with their ultra-conservative rhetoric, has already shifted the agenda in their direction.
Nasir aims to challenge the prevalent extremist discourse.
"Our campaign is bigger than just my win… What it is symbolising for the people is a change in narrative," he told Reuters.
"That challenging extremists is possible … not using religion to get votes is possible."
Since launching his campaign, a number of clerics in Karachi have branded Nasir a blasphemer from the pulpit, a dangerous accusation in Pakistan that can lead to the death penalty, and labeled him an Ahmadi, a sect they consider heretics.
On Saturday, a mob of people chanting slogans associated with the new ultra-Islamist Tehreek-e-Labaik Pakistan party, which campaigns under the "death to blasphemers" rallying cry, descended on his public meeting, crowding around Nasir and intimidating his supporters.
"I believe it's being done in a very organised manner," Nasir said. "Our politics should be free from compromise, fear, and discrimination."
Labaik spokesman Ejaz Ashrafi said his party "did not send anyone to do this", adding that people running in elections should declare their faith.
Nasir gained nationwide prominence in 2014 after staging protests against the Red Mosque, the Islamabad center of a militant network with links to Pakistani Taliban strongholds in the northwest and in neighboring Afghanistan.
The mosque was the site of a military standoff in 2007, but within two years its chief cleric was freed from detention and was once again calling for strict Islamic rule across Pakistan.
The mosque campaign earned Nasir a phone call and death threats from a high-ranking Taliban commander.
"We are doing it for the millions of Pakistanis … who right now are forced to choose amongst the lesser of evils, who are willing to embrace different political leaders with all their biases and religious bigotry," he said.
"Every day I am carrying on with my mission, they are making a fool of themselves."
http://www.freemalaysiatoday.com/category/world/2018/07/23/rare-secular-candidate-in-pakistan-hounded-by-angry-mobs/
--------
Syrian army forces find Israeli-made medicine in militant field hospital in Quneitra
Jul 23, 2018
Syrian government forces have uncovered a considerable amount of Israeli-made medicine and medical supplies in a field hospital belonging to foreign-sponsored Takfiri militants in the country's strategic southwestern province of Quneitra.
Local sources, speaking on condition of anonymity, told Syria's official news agency, SANA, that army soldiers made the discovery in the town of Naba al-Sakher on Monday as they were conducting a clean-up operation in the area to beef up security and stability and prepare repatriation of local residents.
The sources added that the field hospital had several operating rooms, laboratory equipment and medical supplies in addition to a warehouse, where large quantities of Israeli- and Jordanian-made medicine were being kept.
Takfiri militants in Naba al-Sakher had turned one of the town's schools into a field hospital to treat their wounded comrades.
The development came only a few days after Syrian government forces and fighters from popular defense groups liberated nearly two dozen towns and villages in Quneitra Province.
Syria has been gripped by foreign-backed militancy since March 2011. The Syrian government says the Israeli regime and its Western and regional allies are aiding Takfiri terrorist groups wreaking havoc in the country.
On May 21, the General Command of the Syrian Army and Armed Forces announced in a statement that complete security was restored to Damascus and its countryside after al-Hajar al-Aswad district and al-Yarmouk camp were totally purged of Daesh terrorists.
The development was preceded by flushing the Takfiris out of the towns of Yalda, Babbila and Beit Sahem on the southern outskirts of Damascus.
https://www.presstv.com/Detail/2018/07/23/569019/Syrian-army-forces-find-Israelimade-medicine-at-militant-field-hospital-in-Quneitra
--------
Lynchings Will Stop If People Don't Eat Beef, Says RSS Leader Indresh Kumar
July 24, 2018
RSS leader Indresh Kumar on Monday said crimes like mob lynching could stop if people stopped eating beef. He also emphasised on the role of 'Sanskar' (values) for dealing with such problems.
"Mob lynching can't be welcomed…if the practice of eating cow meat is stopped, many such crimes of the 'Satan' could be stopped," he said. His comments came days after a man was lynched on suspicion of cow smuggling in Rajasthan's Alwar district.
"…it is true that not a single religion in the world approves killing of cows. Be it Christianity, which talks of 'Holy Cow', because Jesus was born in a cowshed; or Islam, where killing cows is banned in Mecca and Madina (cities in western Saudi Arabia); or any other religion, killing a cow is not approved anywhere," he said.
"Law has to be there and the government must act, but society also needs the right 'Sanskar' to deal with this problem," he said.
Addressing a press meet in a hotel after inauguration of the office of the Jharkhand unit of Hindu Jagran Manch in Ranchi, Kumar told the media that many Muslim parties associated with the Ram Janmabhoomi-Babri Masjid case, have already agreed to give up the demand for a mosque at Ayodhya, which was "Ram Janmasthan (birthplace of Lord Ram)".
He also claimed that calling Hindus communal is fraught with the risk of labelling all religions in the world as communal.
https://indianexpress.com/article/india/lynchings-will-stop-if-people-dont-eat-beef-says-rss-leader-indresh-kumar-5272422/
--------
Myanmar Security Forces, Buddhists Killed Thousands: PHR
July 24, 2018
Myanmar security forces and Rakhine Buddhist civilians have killed thousands of Rohingyas since August last year, according to a report released by Physicians for Human Rights (PHR), a US-based organisation that uses medicine and science to document and call attention to mass atrocities and severe human rights violations. The PHR made the report after conducting three visits to Bangladesh since October 2017 to interview and carry out forensic medical examinations of Rohingya survivors of these attacks.
"On August 27, 2017, Myanmar security forces and Rakhine Buddhist civilians attacked the village of Chut Pyin in northern Rakhine state, massacring its Rohingya Muslim residents and burning their homes to the ground," said the report published on July 19. "The attackers perpetrated a vast array of human rights violations on the Rohingya villagers, including killings, disappearances, beatings, stabbings, rape, and forcible displacement. It is estimated that some 400 Chut Pyin villagers, including 99 children, were killed that day or are missing – including a group of 50 men who were taken away and never seen again," it said.
"Similar attacks have killed thousands of Rohingya and pushed at least 720,000 refugees into neighbouring Bangladesh since August 2017," it added.
As part of a broad effort to secure forensic evidence of atrocities against the Rohingya, the PHR interviewed and conducted forensic examinations of 22 survivors – men, women, and children – of the Chut Pyin massacre. The injuries PHR doctors documented, including gunshot wounds, blunt-force trauma, lacerations, and more, serve as clear medical evidence to corroborate the survivors' accounts of shooting attacks, beatings,
stabbings, and other forms of violence which occurred on that day.
Based on the forensic examinations and the consistent and detailed testimony, as well as corroborating information from additional credible sources, PHR believes that the savagery inflicted on the people of Chut Pyin is a typical example of the widespread and systematic campaign that Myanmar authorities have waged against the Rohingya – acts that should be investigated as crimes against humanity.
This report focused on the events that occurred in the village of Chut Pyin as an example of what happened in dozens of villages in Rakhine state: the Rohingya villagers faced a host of human rights violations, including killings; detentions and disappearances; physical assault involving beatings, stabbings, and mutilations; rape and other forms of sexual violence; and forced displacement in the form of looting and burning of homes.
Several survivors interviewed by PHR, many of them women and children, faced multiple violations. Most survivors did not have access to adequate emergency medical care. They then endured a 150-kilometre journey, often walking for up to 10-12 days, to seek refuge in the Cox's Bazar area of Bangladesh.
PHR has published the report based on testimonies and forensic evaluations of Chut Pyin individual cases to contribute to documentation and investigation efforts, so that those who perpetrated these crimes can be held accountable and survivors may be given redress.
The report draws exclusively on testimonies that demonstrated a high degree of consistency between described events and forensic examination findings, and with overall information reported by other credible sources.
http://www.theindependentbd.com/post/159198
--------
Southeast Asia
Indonesia's Tattoo Removers Zap Sin from Your Skin
July 24, 2018
JAKARTA: Indonesian tattoo remover Sandi Widodo does a brisk business zapping sin from skin – at bargain-basement prices.
But there's a catch for pious Muslims keen to shed body art at his Jakarta shop: they've got to recite 50 Quranic verses from memory and repent for their tattooed past.
That's a small price to pay for Riki Irawan, who hopes that getting rid of three tribal-style tattoos will bring him closer to God.
But he has another reason for ditching the ink – his fiancee's devout parents won't let him marry their daughter unless he is tattoo-free.
"The joy of having a tattoo is temporary," the 31-year-old said.
"It only lasts for a few weeks and after that your life is ruined."
Irawan is not alone his regret judging by the volume of business at Widodo's clinic, which has a waiting list of over 1,000 people.
The stigma over tattoos has long faded in the West, with everyone from college kids to celebrities and athletes happy to display their body art in public.
But in some Asian countries, tattoos are often associated with crime and loose morals.
Tattoos are also frowned upon in Islam, making it especially tough for wearers in the world's largest Muslim majority country.
"It was uncomfortable to go into a mosque," said Widodo, who still has a fading tattoo on the side of his face.
"I tried to act normal but people were looking at me."
Remove tattoo & repent
Widodo's current profession is a long way from his former life as a successful tattoo artist in the Hindu-dominated resort island Bali, where local men frequently sport body art and there are few hang-ups about the practice.
His tattoo-seeking clients asked for everything from relatives' names to elaborate, centuries-old designs still worn by the Southeast Asian archipelago's indigenous people.
A traditional practice known as hand-tapping – artists gently tap a stick mounted with a needle on a subject's skin – has even enjoyed a revival in recent years.
But for Widodo, finding religion marked a turning point and he turned his back on the business.
"Tattoos are associated with negative stuff like drugs and partying," he said.
"So I decided to quit and sold my equipment."
Indonesia's Muslim clerics say the choice is clear.
"Tattoos are not allowed in Islam because you're not only hurting yourself, but it is altering God's creation," said Huzaemah Tahido, an official at top religious body the Indonesian Ulema Council.
"If possible, remove your tattoo and repent. If you can't remove your tattoo because it's too painful, then leave it but you must still repent."
Renny Rengganis, a practising Muslim, has no plans to repent or ditch her tattoos.
In fact, she wants to enlarge a design depicting a mother and son that covers three-quarters of her back, despite the objections of her devoutly religious relatives.
"I didn't get tattoos to rebel against anything or to express my right to do what I want with my own body," said the 35-year-old public relations professional.
"I simply like tattoos that have meaning and wanted (them) inscribed on my body forever."
Drop your sins
For those who do regret their body art, plenty of Indonesian clinics offer tattoo removal services.
But most charge several thousand dollars for the repeated treatments necessary to clear colour pigmentation – putting them out of reach for many ordinary Indonesians.
In response, cheaper tattoo removal shops have opened in recent years including a service in Indonesia's second-biggest city Surabaya that also requires clients to recite Quranic verses.
Islamic lender Bank Muamalat has sponsored a mobile tattoo removal van on the country's main island Java.
Years ago, cheaper options weren't available for regretful tattoo enthusiasts like Widodo.
So he set out to start a tattoo removal shop with a crowd-funding campaign that raised about US$6,500 – enough for a pair of laser removal machines.
His shop – which has a sign that reads "Drop your sins, clasp the hand of a Muslim brother" – opened its doors last summer.
Widodo has since removed tattoos from a few hundred customers and many more are eager to tap his US$11 (150,000 rupiah) service.
One of them, Maulidul Irfan, was so desperate to remove his tattoos – which he chalks up to teenage rebellion – that he tried everything from cashew sap and breast milk to harsh chemicals that scarred his skin, all without success.
"I'm studying to be an Islamic study teacher so it would be embarrassing to have tattoos," the 23-year-old said at the clinic.
"People don't always judge us on who we are now, but rather what we did in the past."
http://www.freemalaysiatoday.com/category/leisure/2018/07/24/indonesias-tattoo-removers-zap-sin-from-your-skin/
--------
Malaysia: Religious and Racial Hatred Act in the pipeline
24 July, 2018
The government will enact a Religious and Racial Hatred Act to protect Islam and other religions in the country against slurs and insults.
Minister in the Prime Minister's Department in charge of religious affair Datuk Dr Mujahid Yusof Rawa said that the bill would safeguard religious and ethnic harmony among the people in the country.
"The government intends to put forward a bill on the Religious and Racial Hatred Act, not just to deal with incidences when Islam is insulted but also when non-Muslim faiths are insulted.
"This will ensure that insults and any acts of disparaging any religion is forbidden,"he said during the Ministers' Question Time in the Dewan Rakyat today.
He was answering an additional question from Datuk Seri Ismail Mohamed Said (BN-Kuala Krau) over what steps the government would take to combat attacks against Islam on Facebook and other social media.
Full report at:
https://www.salaamgateway.com/en/story/malaysia_religious_and_racial_hatred_act_in_the_pipeline-SALAAM24072018043333/
--------
Indonesia passes anti-terrorism law after suicide attacks on churches
July 23, 2018
JAKARTA, Indonesia (RNS) — Weeks after a radicalized Muslim family committed suicide attacks on churches in the city of Surabaya, Indonesia, the country passed an anti-terror law meant to prevent more attacks and foster the majority-Muslim country's tolerant culture.
The May 13 attack, which killed 13 churchgoers and a security officer and took place days before the start of Ramadan, was the deadliest terrorist attack in Indonesia since a 2002 bombing in Bali. Then, the target was foreign tourists. This time it was Indonesian Christians, a minority who make up about 10 percent of the population, according to the 2010 census. Many feared that the attacks were a sign that the country's religious diversity is under threat.
"Indonesia prides itself on its tradition of moderation, but intolerance is growing in a way that is making some fear for their hard-won democracy," said Sidney Jones, director of the Institute for Policy Analysis of Conflict, based in Jakarta.
President Joko "Jokowi" Widodo — a moderate Muslim who campaigned for the presidency with an image of a clean, populist politician — responded swiftly to the attacks, vowing a tough crackdown on terrorists. Key to that was his strong call for the passing of an anti-terror law.
"President Widodo promoted the importance of a stronger state capacity to respond to radicalism," said Rafiqa Qurrata A'yun, a lecturer in the department of criminal law at the University of Indonesia. "One of his statement(s) in the media indicated the attacks were a result of the weak coercive power and preventive measures in countering terrorism."
The anti-terror law expands the power of Indonesia's military and police to take further actions against potential terrorists and those spreading radical ideology. Under the law, the Indonesian National Police can conduct pre-emptive arrests and detain people for being members of a group declared a terrorist organization. The law makes it an official offense to join a militant group overseas, such as the so-called Islamic State. It also expands the role of the Indonesian armed forces into domestic security.
In the weeks following Surabaya, government forces used their expanded power under the new bill to arrest dozens of suspected terrorists across the country. On June 22, Aman Abdurrahman, an Indonesian recruiter for the Islamic State, was sentenced to death for his role in inspiring the Surabaya bombers. The country last conducted a terror-related execution a decade ago. Days later, the police said they foiled two planned terrorist attacks, killing three suspects.
So far, Jokowi's crackdown seems to be working politically. In regional elections on June 26, after both the attacks and the passing of the bill, Jokowi's coalition defeated Islamist candidates in four of the country's five most populous provinces, putting him in a strong position ahead of presidential elections in April 2019. Jokowi enjoys strong support from many of Indonesia's religious minorities, some of whom told Religion News Service that things are back to normal and that they feel safe attending church.
Jokowi has worked tirelessly to brandish his Islamic credentials while also tackling the rise of right-wing Islamism, which he has called anti-Indonesian. Last July, he issued a government regulation that expands the power of the Ministry of Law and Human Rights to disband groups that have ideologies deemed threats to national security and unity. The regulation was used to disband Hizbut Tahrir Indonesia, an organization with ties to the Islamic State.
The anti-terror bill was introduced in Parliament more than two years ago, after an attack in a Jakarta shopping area, but it stalled for various reasons, including concerns by human rights watchers that the bill could be used to suppress peaceful activists. Some human rights groups do not support the new law.
"It is obviously an overreaction to the Surabaya attacks," said Andreas Harsono, Indonesia researcher for Human Rights Watch. "The quick deliberation … allowed a definition of terrorism that could be used to target peaceful political activities of indigenous groups, environmental advocates and religious or political organizations."
The concerns are ones Indonesia knows only too well. It was just 20 years ago that the country became a democracy, after the strongman rule of Suharto, a general who was in power for more than three decades. Empowering the military and having a loose definition of terror could put too much power in the hands of those who perpetuated atrocities in the not-so-distant past, said Harsono.
"Indonesia has many areas with deep roots of violence and impunity," said Harsono. "We still have not sought the truth of the 1965-66 massacres (nor what happened in) Aceh, Papua and East Timor."
Others believe that the new law mostly addresses the concerns of human rights groups, but worry about its focus on security.
"The passed law seems to be more receptive to human rights principles compared to the first draft bill," said Abdil Mughis Mudhoffir, a Ph.D. candidate in politics at the University of Melbourne's Asia Institute. "Unfortunately, this new law still promotes the security approach that will not be effective and even counterproductive in addressing religious radicalism."
For Jones, the key to reducing terrorist attacks in Indonesia and stemming rising intolerance will be the efficacy of deradicalization efforts, which need to be reformed due to the fact that women and children participated in the most recent attacks — something unprecedented in Indonesian history.
Full report at:
https://religionnews.com/2018/07/23/indonesia-passes-anti-terrorism-law-after-suicide-attacks-on-churches/
--------
TGB resigns from Democrats in follow-up to announcing support for Jokowi
July 24, 2018
West Nusa Tenggara (NTB) Governor Muhammad Zainul Majdi, also known as Tuan Guru Bajang (TGB), has resigned from the Democratic Party a few weeks after declaring his support for President Joko "Jokowi" Widodo.
"It's true, I resigned a few days ago," TGB confirmed on Monday as quoted by kompas.com.
He said he submitted his resignation letter to Democrat high council secretary Amir Syamsuddin, but declined to provide the reasons for his resignation, saying only that they were "personal".
Meanwhile, Democrat deputy secretary-general Rachland Nashidik released a separate statement on Monday, wishing TGB well in his future endeavors.
TGB will end his term as NTB governor in September and has been widely touted as a potential running mate for Jokowi.
"We pray that his new status as a nonpartisan Muslim cleric will lead him on a path to a better political career as one of Pak Jokowi's [potential] vice presidential candidates," Rachland said.
The defection is seen as a coup for Jokowi, with analysts saying that TGB's reputation as a respected Muslim scholar could help boost Jokowi's electability among conservative Muslim voters.
TGB supported Gerindra chairman Prabowo Subianto in the 2014 presidential election. His support for Jokowi came as a surprise, especially as it was at odds with the Democrats' policy.
Full report at:
http://www.thejakartapost.com/news/2018/07/24/tgb-resigns-from-democrats-in-follow-up-to-announcing-support-for-jokowi.html
--------
Why Malaysia's Mahathir poured cold water on India's Zakir Naik deportation plea
23 July 2018
Malaysia's blunt refusal to deport Indian Islamic preacher Zakir Naik is a rap on the knuckles of Prime Minister Narendra Modi's government for feeding legally untenable, cooked-up information to foreign countries to shore up the right-wing Bharatiya Janata Party's (BJP) divisive domestic agenda.
Prime Minister Mahathir Mohamad's snub has cut India to the quick this month. Articulating New Delhi's anguish, Pinak Ranjan Chakravarti, retired diplomat-turned-scholar at Observer Research Foundation (ORF), remarked that "while it is Malaysia's sovereign right to host Naik", Mohamad's "meeting with the fugitive proves that he is not particularly concerned about India's sensitivities".
Modi's government desperately wanted to get the controversial evangelist – accused of fomenting terror activities and money-laundering by Indian agencies – deported to consolidate the BJP's vote bank by demonstrating that Modi's writ runs beyond India's borders and even Muslim countries like Malaysia have no option but to fall in line.
Modi stopped over in Kuala Lumpur to meet and greet the newly-elected Mohamad after visiting Indonesia. And in his address at the Shangri La Dialogue in Singapore last month, Modi praised the 93-year-old Mohamad to the skies but the flattery paid no dividends whatsoever.
Without evidence
Naik has been on the run after Bangladesh – India's closest strategic ally – claimed without a shred of evidence that his sermons had brainwashed the men who attacked the café in Dhaka killing 22, mainly foreigners, in 2016.
The Indian government banned the ideologue's Islamic Research Foundation (IRF) and National Investigation Agency (NIA) accused Naik of fanning hatred between religious groups, inciting Muslims youths to commit terrorist acts and money laundering.
Naik proclaimed his innocence and took refuge in Malaysia where he enjoys Permanent Residency status. Since January, New Delhi had been trying to convince the Malaysian government to deport Naik as he is wanted in India. Deportation is an executive action, unlike extradition, which is dictated by the judiciary.
After Mohamad's resounding no, India has changed tack and is trying the extradition route. But that too is likely to fail as the Interpol has already rejected New Delhi's request to issue a Red Corner Notice (RCN) against Naik after he informed the Interpol that he was being targeted as part of religious persecution against minorities in India.
Money laundering charge
The Indian government suffered another setback when a Prevention of Money Laundering Act (PMLA) tribunal restrained the Enforcement Directorate from attaching immoveable assets belonging to Naik's banned IRF exposing glaring loopholes in the prosecution's case.
Highly-placed sources told Al Arabiya English that Malaysia has deported wanted men whenever India has presented a fool-proof case unlike the bid to get Naik deported for the BJP's political gain.
Malaysia's Special Task Force for Counter Terrorism Operations rounded up six Sikh terrorists and handed them over to Indian authorities. But they were deported only after Kuala Lumpur was convinced that they were criminals masquerading as businessmen after a thorough investigation.
Naik's case is the not the first instance of Malaysia not giving in to Indian demands which fail the test of legal scrutiny. In 2003-2004, Kuala Lumpur refused to extradite Ottavio Quattrocchi, the Italian prime suspect in the Bofors case, which shook India.
Full report at:
https://english.alarabiya.net/en/features/2018/07/23/Why-Malaysia-s-Mahathir-poured-cold-water-on-India-s-Zakir-Naik-deportation-plea.html
--------
Pakistan
Religious parties ready to gain popular 'mainstream' support: report
July 24, 2018
ISLAMABAD: Religious parties become the topic of discussion around election time and in today's scenario 'the existing right-wing parties feel threatened from the extreme right wing, which has fielded a massive number of contenders for various seats at both the provincial and national level', a local media house reported.
It all began with the emergence of Muttahida Majlis-e-Amal (MMA) in 2002 elections when they managed to bag a good number of seats in both the national and provincial assemblies of Khyber Pakhtunkhwa (KP) and Balochistan.
The conglomerate comprised Jamaat-e-Islami led by Qazi Hussain Ahmed, Jamiat Ulema-e-Islam-Fazl headed by Maulana Fazlur Rehman, Jamiat Ulema-e-Pakistan (JUP) led by Maulana Shah Ahmad Noorani and Tehreek-e-Jafaria led by Allama Sajid Naqvi. Having said that, the parties and leaders were involved in politics from the pre-partition era, the local media house reported.
However, in the aftermath of 9/11 religious parties banded together to form an alliance and rearranging the political landscape.
In 2008, the unity among these religious parties had deteriorated when JI decided to boycott the elections and JUI-F participated in the polls. With futile attempts to revive the alliance, it failed. However, most of the 'original members' united into an integrated MMA.
"Besides others, a major reason for this merger is the entry of sectarian actors into the political theatre," the local media report stated.
Even now, the new candidates managed to form shadow parties like the Pakistan Rah-e-Haq Party (PRHP) emerged from Sipa-e-Sahaba party and Allah-o-Akbar-Tehreek came to the fore as a shadow party of the Hafiz Saeed-led Jamatud Dawa, and Maulvi Khadim Rizvi's Tehreek-e-Labaik Pakistan (TLP). They have planted more candidates than the MMA combined.
"MMA has nominated a total of 192 candidates for the 272 directly elected constituencies of the National Assembly while TLP alone has fielded 178 contenders for the same."
MMA focuses more on the KP and Balochistan areas, whereas, TLP eyes seats from Punjab where it has nominated 141 contestants with another 32 from Sindh, 16 from KP and six from Balochistan.
"The history of religious parties dates back to before the creation of Pakistan. The two leading religious scholars of the pre-partition time, Maulana Maududi and Maulana Azad were among religious figures who opposed the idea of the creation of Pakistan. After the creation of Pakistan, religious parties relied on religiously motivated slogans; used the religious card to mobilise people on the street and soon became pressure groups," the report said.
The rise of sectarianism and sectarian organisations was one of the corollaries of the Afghan war. The Sipahs and Lashkars came into being and in areas which had been epicentres of dogmatic movements; sectarian outfits became stronger, sidelining conventional religious parties. These new entries exploited sectarian divide to gain popular support.
Looking back towards the culmination of the PML-N government, sectarian organisations were seen exerting pressure on the government, raising issues like sensitive blasphemy laws through street mobilisation and sit-ins. Organisations like TLP are now cashing in on the same factional appeal they gained during these protests to materialise it as an electoral success.
The report also stated that the rise of sectarian groups can be for three main reasons, "divide the vote bank of mainstream parties, create space for these outfits and later use them as pressure groups".
https://www.pakistantoday.com.pk/2018/07/23/religious-parties-ready-to-gain-popular-mainstream-support-report/
--------
Voters mull options as curtain falls on election campaign
Nasir Jamal
July 24, 2018
LAHORE: As election campaigns came to a close on Monday night, Pakistan Muslim League-Nawaz (PML-N) and Pakistan Tehreek-i-Insaf (PTI) leadership rounded off their campaigns by predicting victory for themselves in the July 25 elections whereas Pakistan Peoples Party chairman promised a progressive Pakistan with a commitment to democracy.
On the last day of canvassing, PTI chief Imran Khan addressed four meetings in Lahore, PML-N president Shahbaz Sharif concluded his party's election campaign by holding a public meeting in Dera Ghazi Khan, while PPP chairman Bilawal Bhutto-Zardari addressed people in Shahdatkot, Garhi Khairi, Jacobabad, Shikarpur and Garhi Yasin before going to the graves of former prime ministers Benazir Bhutto and Zulfikar Ali Bhutto.
The election campaigns had picked up late this time but political leaders continued with their campaigns and remained undeterred despite multiple terror attacks targeting election candidates and activities and a threat warning issued by the National Counter Terrorism Authority to 65 political leaders.
Elections will take place on July 25 (tomorrow) and polling will continue from 8am to 6pm.
In Lahore, all the parties came out on the streets for a last splurge before the election under a cloudy sky. Rain in various parts of the city forced change of venue for many rallies and cancellation of some others. Mr Khan's rallies in various constituencies represented the last PTI attempt to show that it was capable of toppling the PML-N. The participants in the PTI rallies matched the enthusiastic PML-N followers who attended Hamza Shahbaz's public meeting, as well as the rallies taken out by other PML-N candidates all over Punjab.
As PTI chief Imran Khan addressed four meetings In Lahore, PML-N president Shahbaz Sharif concluded his party's canvassing drive with a public meeting in Dera Ghazi Khan. The PML-N gave the job of concluding its election campaign in Lahore — the party's stronghold where it has traditionally organized large rallies to round off its election campaigns in the past — to Hamza Shahbaz who spoke to a large crowd at the historic Mochi Gate, which falls within his constituency NA-124. His father and PML-N president Shahbaz Sharif was scheduled to end his party's campaign in Rawalpindi, which the PML-N had apparently chosen over Lahore as the venue for its final meeting due to the great significance attached to the electoral contest in the garrison town. However, he was still in D.G. Khan till the filing of this report an hour and a half before midnight.
Addressing the crowd in D.G. Khan, Mr Sharif spoke about the achievements of the PML-N government, urging the people to vote for his party to "free Nawaz Sharif and Maryam Nawaz from jail".
"Despite all odds PML-N is winning the July 25 polls. We will form the government at the Centre and in Punjab as our victory is certain," he told the gathering in the southern district of the province.
Both PML-N dissident Chaudhry Nisar Ali and Awami Muslim League chief Sheikh Rasheed are in the run for national seats from Rawalpindi with Imran Khan and senior PTI leader Asad Umar vying for the honours from the adjoining Islamabad. The PML-N itself has some of its top-notch leaders such as former prime minister Shahid Khaqan Abbasi and Tariq Fazal Chaudhry contesting from the same area.
The Pakistan Peoples Party (PPP) candidates in some areas also strived for last-minute appeals to the people for vote as did nominees of other parties including those belonging to Labaik Tehreek Pakistan of Khadim Hussain Rizvi and Allah-o-Akbar Tehreek of Hafiz Saeed. To the surprise of many, the processions taken out by the religio-political parties were quite long, especially considering that some of these groups are taking part in the general election for the first time in most areas of the province. Even in Lahore, these groups appeared to have a bigger presence in the city on the eve of election than many old political parties like the PPP.
Mr Khan addressed rallies at strategic points in the city to prop up his party's chances for July 25. One of his rallies was organized in the constituency from where he himself is a contestant, facing a big challenge from tough-talking PML-N's Khawaja Saad Rafique. He not only predicted victory for himself but also forecast a clean sweep of all 14 national and 30 provincial assembly seats in Lahore by his party.
Addressing his supporters, Mr Khan said the PTI was on the verge of bringing the change that he had been promising to the people. "This is the time to change your destiny. You must come out to vote on July 25. You must bring others out to vote on the day," he concluded.
PPP chairman Bilawal Bhutto-Zardari ended his election campaign in Larkana on Monday night by offering fateha at the Bhutto mausoleum after visiting Shahadkot, Garhi Khairi, Jacobabad, Shikarpur and Garhi Yasin.
At the public meetings, the PPP chairman reiterated his party's commitment to democracy. "During my entire campaign, I have taken PPP's Manifesto everywhere with me. The reason is simple: I want to let the people of Pakistan know what the PPP stands for. We believe in freedom, democratic principles and we want the best for our nation," said the PPP chairman.
He spoke about how other parties indulged in point-scoring and calling each other names while the PPP leadership actually raised issues related to the well-being of the people of Pakistan. "We have never resorted to name-calling. Such tactics are only used by those who don't have anything substantial to say. I am here to serve my nation; nothing else matters. Fulfilling Shaheed Mohtarma Benazir Bhutto's mission is my ultimate goal."
Full report at:
https://www.dawn.com/news/1422143/voters-mull-options-as-curtain-falls-on-election-campaign
--------
MMA pledges to restore peace in Balochistan
July 24, 2018
QUETTA: Muttahida Majlis-i-Amal (MMA) deputy secretary general Maulana Abdul Ghafoor Haideri has said that the JUI-F and MMA would strive for a system in Balochistan which can guarantee rights of all ethnicities living in the province.
"The MMA, in its election manifesto, pledges to restore peace to Balochistan and education will be priority of our government. We have vowed to bring a system where both rich and poor children will get equal educational opportunities," Maulana Haideri said while speaking at an election gathering on Monday. He is contesting from the PB-32 (Quetta) constituency.
Referring to important issues of the city, the JUI-F secretary general said that they had better plans to develop the provincial capital and fix sewage lines.
Full report at:
https://www.dawn.com/news/1422110/mma-pledges-to-restore-peace-in-balochistan
--------
Pakistan doubles down on cooperation with Afghanistan
Tahir Khan
JULY 24, 2018
ISLAMABAD: Pakistani military, intelligence officials, diplomats and representatives of key ministries have reached an understanding to be "more proactive in enhancing coordination with their counterparts in Afghanistan," officials said on Monday.
A senior official privy to Pak-Afghan discussions in Kabul on July 22 said: "It is an achievement as we were able to break the inertia in our ministries and departments to engage more closely with Afghanistan."
Pakistan pushed Afghanistan to host the inaugural meetings of the five working groups (WGs) under the Afghanistan and Pakistan Action Plan for Peace and Solidarity (APAPPS) that provided the needed thrust to address all issues of mutual concern bilaterally by enhancing regular institutional cooperation.
The official said Pakistan sent a 29-member delegation, the largest from Pakistani side that visited Kabul in years, which "shows the resolve of various ministries to enhance good cooperation with Afghanistan in all important and potential areas."
The official said both sides, while reviewing the existing security situation, agreed to take additional security measures and to closely coordinate their military ground operations in the border region to more effectively fight terrorist groups that pose security threats to the two countries.
The two sides were also of the opinion that terrorism is common enemy that has to be defeated through better coordination of ground operations and joint efforts to weaken the extremist narratives in the region.
Both sides reiterated their commitment to work through mechanisms of APAPPS to meet all challenges and crises that might threaten to destabilise bilateral relations and to jointly explore possibilities to undertake connectivity and energy projects initiatives like CPEC, TAPI, CASA 1000, Kabul-Peshawar Motorway and Chaman-Kandahar-Herat railway lines.
He said the issues blocking promotion of bilateral trade and facilitation for traders from both sides were also discussed.
Deliberations were also held on a workable plan for early and dignified return of all Afghan refugees, whom the people of Pakistan had selflessly hosted for four decades as guests in the spirit of Islamic brotherhood and sacrifice. Detailed discussions on these matters would continue during the next round of various working groups in Islamabad, the official added.
The APAPPS was conceived during President Ashraf Ghani meeting with Pakistan's Army Chief General Qamar Javed Bajwa on October 1, 2017. After several rounds of negotiations, both sides finalised the APAPPS in Islamabad on May 14, 2018.
Afghan Deputy Foreign Minister Hekmat Khalil Karzai and Foreign Secretary of Pakistan lead their respective sides in the politico-diplomatic working groups, besides co-chairing a Joint Review Committee to periodically oversee progress made under the APAPPS.
In the inaugural joint meeting of the WGs, the Afghan and Pakistani side reiterated their resolve to cooperate in the spirit of APAPPS aimed at expanding practical cooperation among respective institutions steering each WG.
They also appreciated the efficacy of the APAPPS forum that covers all areas of mutual interest, including counterterrorism and security, peace and reconciliation, bilateral trade and transit, connectivity, Afghan refugees' repatriation and promoting people-to-people contact by enhancing facilitation at the crossing points between the two countries.
Pakistan also welcomed President Ashraf Ghani's offer of peace talks to Taliban, as well as the successful ceasefire on Eidul Fitr that was followed by a three-day truce by the Taliban, the office said. Pakistani delegates noted that these two measures underlined the strong desire in the Afghan nation for peace and stability in the country.
It was also conveyed that Pakistan had suffered considerably as a neighbour due to decades-old conflict in Afghanistan. They told Afghan side that Pakistan having great stakes in restoration of peace and tranquillity in Afghanistan stood with Afghan brothers and sisters in wholeheartedly supporting all efforts in this regard.
Full report at:
https://dailytimes.com.pk/272238/pakistan-doubles-down-on-cooperation-with-afghanistan/
--------
PPP wary of voting oversight at female polling stations in Sindh
JULY 24, 2018
Pakistan People's Party (PPP) Secretary General Senator Farhatullah Babar has expressed serious concern over the order that only female polling agents will be allowed at the female polling stations in the rural areas of Sindh. "The latest order is an inexplicable departure from the past practice and is aimed at leaving female polling stations entirely at the mercy of official polling staff without necessary oversight by the representatives of political parties", he said in a statement today..
Previously, male polling agents used to oversight the voting process at female polling stations due to lack of female election workers after mutual agreement of the contesting candidates, he said.
Why this abrupt restriction was imposed just two days before elections, he asked?
"If at all it was necessary, the Election Commission of Pakistan should have issued directives several months ago to enable candidates and parties train female political workers on how to keep an eye on various facets of polling on the polling day," he said.
"The abrupt order at this stage amounts to leaving the polling stations at the mercy of polling staff to manipulate at will the activities on the polling day without oversight of candidates and parties through polling agents," he added.
He continued: "Army personnel to be posted at the polling stations are complete strangers to the female voters of the area. If strangers can be posted at female polling stations why not male polling agents belonging to the same locality be posted with the consent of the candidates and parties?" he asked.
Full report at:
https://dailytimes.com.pk/272262/ppp-wary-of-voting-oversight-at-female-polling-stations-in-sindh/
--------
Sectarianism continues to plague Jhang's electoral politics
By Ali Sheharyar Khan
July 24, 2018
JHANG: Sectarianism continues to play a key role in the electoral politics of Jhang and is depriving the people of the opportunity to elect representatives who could work for the development of the historical city.
In NA-115 Jhang II, Maulana Ahmed Ludhianvi, Syeda Sughra Imam and Sheikh Waqas Akram are contesting as independent candidates whereas Ghulam Bibi Bharwana is contesting on Pakistan Tehreek-e-Insaf's (PTI) ticket.
A fierce competition is expected between Maulana Ahmed Ludhianvi and Syeda Sughra Imam this year. With the Shia population supporting Syeda Sughra Imam and the Sunni population supporting Maulana Ahmed Ludhianvi, the competition is set to be influenced by sectarian preferences.
The trend of supporting candidates on sectarian lines is not new to Jhang's electoral politics. For decades, the people of Jhang have voted for candidates from the same sect as theirs instead of those genuinely had the ability to work for the development of the city.
Previously, the Syeds and the Sials of Jhang had political dominance over the city. They used to field Shia candidates in the elections in order to attract Shia voters. Later, in the aftermath of the Iranian Revolution, two groups emerged in order to break the dominance of the Syeds and the Sials. Each group claimed to represent either the Shias or the Sunnis. Each time those groups were banned by the state, they contested elections under different names. Sectarianism was understood to be one element that could break the political stronghold of the two feudal families.
It was because of this fueled sense of sectarianism that Sheikh Waqas Akram was able to win from Jhang in the past. He would get votes from the Shias because of his relatively neutral stance whereas the other major candidate would be a hardliner Sunni.
Full report at:
https://www.pakistantoday.com.pk/2018/07/24/sectarianism-continues-to-plague-jhangs-electoral-politics/
--------
Arab World
Daesh makes comeback in Iraq with switch to guerrilla tactics
July 24, 2018
BAQUBA, Iraq: Months after Iraq declared victory over Daesh, its fighters are making a comeback with a scatter-gun campaign of kidnap and killing.
With its dream of a Caliphate in the Middle East now dead, Daesh has switched to hit-and-run attacks aimed at undermining the government in Baghdad, according to military, intelligence and government officials interviewed by Reuters.
Daesh was reinventing itself months before Baghdad announced in December that it had defeated the group, according to intelligence officials who said it would adopt guerrilla tactics when it could no longer hold territory.
Iraq has now seen an increase in kidnappings and killings, mainly in the provinces of Kirkuk, Diyala, and Salahuddin, since it held an election in May, indicating the government will come under renewed pressure from a group that once occupied a third of the country during a three-year reign of terror.
Last month saw at least 83 cases of kidnap, murder or both in the three provinces. Most occurred on a highway connecting Baghdad to Kirkuk province. In May, the number of such incidents in that area was 30, while in March it was seven, according to Hisham Al-Hashimi, an expert on Daesh who advises the Iraqi government.
In one incident on June 17, three Shiite men were kidnapped by Daesh militants disguised as policemen at a checkpoint on the highway. Ten days later their mutilated corpses were discovered, rigged with explosives to kill anyone who found them.
Speaking in the Shiite holy city of Kerbala surrounded by children wearing photos of their slain fathers around their necks, Bassem Khudair, a relative of the men, said security forces were uncooperative.
He had implored the soldiers who found the men's bullet-ridden car to pursue the kidnappers but was refused.
"We went alone, bearing personal responsibility, as three of our own had been taken and we couldn't just watch," he said. "Six of us, all civilians, walked for about 10 or 12 kilometers. We found their documents scattered on the ground as we walked."
The next day, he received a phone call from his brother. The men were alive but held by Daesh. One of the kidnappers had said they would be executed if the government did not release all female Sunni prisoners.
The kidnapper then called Khudair daily. Khudair informed the government but none of Iraq's intelligence agencies offered to trace the caller's location, he said.
Ten days later, the kidnapper told Khudair the men were dead. Military commanders in the provinces of Diyala and Salahuddin ducked responsibility for retrieving the bodies.
Diyala Provincial Council Chairman Ali Al-Dani said the advantage currently lay with Daesh. "The terrorists now are moving in small groups that are hard to track. Intelligence work is needed," he said.
"The situation is confusing, and the reason is the chaos within the security forces. There isn't one command leading security in the province. This strengthens Daesh," said Salahuddin Provincial Council Chairman Ahmed Al-Kareem.
That kind of disarray among the security forces has allowed Daesh to stage a comeback, according to military, police, intelligence, and local elected officials.
They said poor coordination, meagre support from the central government, and a culture of avoiding responsibility are hindering efforts to contain the group, which continues to stage a steady stream of lower-level attacks in addition to the spike in kidnap and murder.
A military spokesman did not respond to phone calls and written requests for comment. The US-led coalition fighting Daesh said in a statement that it "has no safe haven in Iraq."
Hit and run
The militants have regrouped in the Hemrin mountain range in the northeast, which extends from Diyala, on the border with Iran, crossing northern Salahuddin and southern Kirkuk, and overlooks Iraq's main highway. Officials describe the area as a "triangle of death."
Military and intelligence officials gave varying estimates of how many Daesh fighters remain active in Iraq.
Hashimi puts the number at more than 1,000, with around 500 in desert areas and the rest in the mountains.
Al Qaeda once held sway over most of Iraq's Sunni areas until it was beaten by US and Iraqi troops and their tribal allies during the "surge" campaign of 2006-2007.
Its remnants hid in the desert between Syria and Iraq and later turned into Daesh. Some officials fear an even more radical group could emerge if there are gaps in security.
"Filth wandering the desert for a loaf of bread is what they are," said an intelligence official in Tikrit, the Salahuddin provincial capital. Fighters are resorting to Al Qaeda's tactics: quick attacks then retreating into the desert.
Even though they possess machine guns, anti-tank weapons and mines, the militants cannot penetrate cities because they no longer enjoy support among those Sunnis who once sympathized with them, said Eid Khalaf, Salahuddin's deputy chief of police.
"They can't get food or weapons from citizens," he said. "Their operations are primitive; they can't send a car bomb into a city."
Each Daesh cell contains between three and five fighters, said Diyala Operations Commander Lt. Gen. Muzher Al-Azawi. He said there were no more than 75 fighters in the province.
"They hide in the mountains, making it hard to find them. They plant explosives, use hit-and-run tactics, and snipers. They set up fake checkpoints for kidnappings," he said.
'Cities will fall'
Numerous attempts to track down and kill Daesh leader Abu Bakr Al-Baghdadi have failed, and his fighters are still active in other Arab states.
In Syria, Daesh still holds some territory but has suffered militarily. In Egypt, it is concentrated in the sparsely populated northern Sinai desert. It holds no territory but conducts hit-and-run attacks.
Daesh has tried to rebuild in Libya through mobile units in the desert and sleeper cells in northern cities.
The group has exploited the ethnic and sectarian divide in Iraq. Iraqi and Kurdish forces fought together against Daesh. Now ties are strained over a Kurdish bid for independence last year which Baghdad stifled.
Lack of coordination has caused a security vacuum in disputed territories, from which Iraqi forces dislodged the Kurds, creating opportunities for Daesh.
"Are we expected to go into Diyala and help them clear the area then withdraw again? We are not being attacked in those areas, Iraqi forces are. We are not there, they expelled us," said a Kurdish security official.
Sunni tribesmen helped US and Iraqi forces turn the tide in the war against Al-Qaeda. Local tribes now say they need help as Daesh claws its way back.
"We know these areas better than the security forces and at least 280 of us have been kidnapped or killed," said Shammar tribal chief Ali Nawaf.
Last month, militants drove into a village inhabited by Shammar tribesmen and kidnapped 30 men, he said. The next day, eight bodies were found tied up and blindfolded. Nawaf says he has 1,400 men ready to fight but they need help from the government in Baghdad.
"Either the government sends more forces, or we raise Daesh flags. If we don't plug this hole now, entire cities will fall," Nawaf said.
http://www.arabnews.com/node/1344381/middle-east
--------
Three killed as gunmen storm govt. building in Erbil
Jul 23, 2018
Kurdish security forces have killed three gunmen who stormed the governorate building in the city of Erbil in Iraq's semi-autonomous region of Kurdistan and took hostages.
The attackers entered the building in the commercial sector of Erbil, the seat of the Kurdistan Regional Government (KRG), in northern Iraq on Monday and fired from windows at security forces.
Several people were taken hostage inside the building, where the gunmen took over the third floor, Kurdish security officials said.
"At around 7:45 am two gunmen approached the entrance of the governorate and opened fire at the guards. They managed to enter and now they are on the third floor," Tahir Abdullah, a deputy governor of the city, said.
Some of the attackers blew themselves up as they came under sniper fire. Kurdish security forces announced the end of operation after they killed the remaining gunman who was holed up in the building.
Reports said that two policemen were wounded. One of the rescued hostages was also seriously injured, security officials said.
No group has so far claimed responsibility for the attack, but a Kurdish security official said the gunmen were believed to be members of the Daesh terror group because of the tactics they used in breaking into the building from the main gate.
Full report at:
https://www.presstv.com/Detail/2018/07/23/569002/Iraq-Erbil-governorate-gunmen
--------
Damascus: Any Meeting on White Helmets' Claims about Chemical Weapons Invalid
Jul 23, 2018
The Syrian official underlined on Monday that Israel and its allies' move to evacuate the White Helmets, whose threats against Syria's security and stability had several times been warned by Damascus, displayed their real face.
"While Israel claims that it has no relations with the war in Syria, its evacuation of hundreds of White Helmet terrorists and other commanders of terrorist organizations in collaboration with the US, Britain, Jordan, Germany and Canada displays its support for the terrorist groups in Syria," the official said.
He added that words cannot describe the Syrian nation's wrath at the West, Israel and Jordan's support for the White Helmets, the ISIL, al-Nusra Front (Tahrir al-Sham Hay'at or the Levant Liberation Board) and other terrorist groups which deviated Syria from the path of progress.
The official stressed that any meeting or negotiations at the OPCW and other international bodies to study the White Helmet's lies about alleged use of chemical weapons in Syria is not valid, calling on them to correct their positions by disclosing the realities about White Helmets.
A media outlet disclosed on Monday that Israel has evacuated a sum of 2,200 foreign intelligence officers and spies along with 800 members of the pro-militant White Helmets Organization from Southern Syria.
The Arabic-language al-Mayadeen tv network quoted well-informed sources as disclosing that Israel has evacuated a sum of 2,200 Saudi, Qatari and Emirati intelligence officers and spies from Southern Syria via occupied Palestinian territories.
It further said that the total number of the spies and White Helmets who have been transferred from Southern Syria to the member states of the North Atlantic Treaty Organization via Jordan and via the occupied Palestinian territories stands at 3,000.
Al-Mayadeen went on to say that the evacuation operation has been carried out at Washington's order to Al-Mouk Operation Room in Jordan, adding that 800 of the evacuated people will be relocated to the US, Canada and Europe.
German tabloid Bild reported, citing its own correspondents in the Israeli-occupied Golan Heights, on Sunday that tens of the self-described aid workers, who operate exclusively in militant-held areas, crossed into Israel from Southwestern Syria overnight on Sunday.
The White Helmets' passage was facilitated by Israel, according to Bild, which reported they were transferred through an Israeli military base.
The evacuation kicked off at 9:30 pm local time on Saturday and was expected to continue into the night. Several roads were put on lockdown by the army and police as part of preparations for the exodus.
The Israeli army claimed that the move was carried out in line with humanitarian objectives on the request of the US and the European nations.
In the meantime, Spokesman for the Jordanian Foreign Ministry Mohammad al-Qayed was quoted by the Arabic-language website of the RT as saying that Amman has agreed the UN demand for temporary passage of 800 members of the White Helmets from Syria to settle them later in the Western nations.
Full report at:
http://en.farsnews.com/newstext.aspx?nn=13970501000954
--------
Terrorists Fail to Prevail over Syrian Army Positions in Homs Province
Jul 23, 2018
The army men engaged in a tough battle with ISIL that tried to infiltrate into regions near Oweraz Dam in Eastern Badiyeh and repelled terrorists' attacks, inflicting major losses on them.
In the meantime, the artillery and missile units pounded ISIL's movements in Eastern Badiyeh heavily, destroying several military vehicles and killing a number of gunmen.
Meanwhile, other army men engaged in heavy fighting with terrorists near T2 Oil Pumping Station in Southwestern Deir Ezzur, inflicting a number of casualties on the militants.
Also, the army aircraft bombed heavily ISIL's positions and movements in Eastern Badiyeh, specially near Oweraz Dam and near the administrative border between Homs and Deir Ezzur provinces, inflicting major losses on the terrorists.
The head of the Russian Reconciliation Center for Syria said on Saturday that militant groups increased combat activity in Syria's Idlib, Homs and Lattakia provinces, using aerial drones and suicide bombers to attack positions of Syrian government forces. "Of particular concern is the situation in Idlib province where illegal armed groups that joined the ranks of Al-Nusra Front terrorist organization have increased combat activity," Maj. Gen. Alexei Tsygankov said at a daily briefing, Sputnik reported.
"There have been attempts by extremists to break through the Syrian army defenses in the Northern part of Homs province with the use of suicide bombers, as well as attacks on the positions of government troops in Lattakia province," Tsygankov said.
"Launches of attack aerial drones are being carried out from the territory occupied by militants," the general added.
Full report at:
http://en.farsnews.com/newstext.aspx?nn=13970501000812
--------
Syrian Army Regains Control of Several Towns at Border with Occupied Golan
Jul 23, 2018
The army men entered the village of Naba'a al-Sakhar in Quneitra province and hoisted Damascus flag in the region following withdrawal of militants.
Other units of the army retook control of the small towns of al-Karam, al-Roweihina and Rahina in Western Quneitra.
Local sources, meantime, said that the army men have deployed at a borderline agreed in 1974 to buffer forces following recapture of the villages of Koudneh, al-Asba'a and al-Ashah.
The sources further said that the army is planning to recapture the remaining border points in Quneitra as soon as militants retreat from the region.
On Sunday, four notorious field commanders of the terrorist groups fled the battlefield in the Southwestern province of Quneitra towards the Palestinian occupied territories as the Syrian Army sped up the momentum of its advances in Dara'a and Quneitra.
Ma'az Nasar, the commander of Liwa Farsan al-Joulan, Ahmad al-Nahas, the commander of Alawiya Seif al-Sham, Ala al-Halqi, the commander of Jeish al-Ababil and Abu Ratib Nasar, another commander of Liwa Farsan al-Joulan escaped in Quneitra towards positions of the Israeli army.
The Syrian Army soldiers arrived at the border with the Israeli-occupied Golan after seven years and after government troops imposed control over tens of villages and towns in Quneitra.
Full report at:
http://en.farsnews.com/newstext.aspx?nn=13970501000538
--------
Organization of Islamic Cooperation chief meets Griffiths to discuss Yemen
July 23, 2018
JEDDAH: The secretary-general of the Organization of Islamic Cooperation (OIC), Dr. Yousef bin Ahmed Al-Othaimeen, on Monday met with Martin Griffiths, the special envoy of UN secretary-general to Yemen.
During the meeting, they discussed the latest political, security and humanitarian developments in Yemen as well as the efforts of the UN envoy to reach a political solution to end the conflict in Yemen according to the GCC initiative, the outcomes of the National Dialogue Conference in Yemen, and Security Council Resolution No. 2216.
The Iranian-backed Houthis are reportedly sabotaging all efforts to restore peace in the country. They are even targeting humanitarian aid meant for the internally displaced Yemenis. The Yemen Scholars Association on Saturday blamed the Houthis for the deterioration of the humanitarian situation in Yemen.
It accused the Houthis of looting humanitarian aid.
Full report at:
http://www.arabnews.com/node/1344201/saudi-arabia
--------
India
Muslim Community Should Abstain From Touching Cows, Provoking Hindus: BJP Leader Vinay Katiyar
Nelanshu Shukla
Lucknow
July 23, 2018
In a major embarrassment for the Bharatiya Janta Party (BJP), senior leader Vinay Katiyar has stoked a massive controversy by blaming Muslims for the Alwar lynching incident.
Speaking to India Today, Katiyar said, "The incident of mob lynching in Alwar is highly condemnable but people from the Muslim community should abstain from touching cows and provoke aggressive Hindus. There are lot of Muslims who are sheltering cows but are also killing them. Cow meat is also being consumed by them."
Katiyar added that no separate law is required to curb the rising incidents of lynching and opposition parties have got a new issue to disrupt the ongoing Parliament session.
Replying to Congress President Rahul Gandhi who has questioned the manhandling by cops in the case, Katiyar said "Gandhi has become mentally unstable and we all have seen his behaviour in the Parliament. We cannot trust what the Congress chief is saying. He is desperate to sit on the Prime Minister's chair which is not going to happen in the near future."
Hitting out at the BJP leader over his controversial remark, UP Congress spokesperson Zeeshan Haider said, "The way this incident has happened clearly shows that the lynchers have got support from the government. Leaders like Vinay Katiyar are spreading hatred in the society. This is highly condemnable and this incident has once again exposed the communal face of the BJP."
Abdul Hafiz Gandhi, spokesperson of Samajwadi Party said, "BJP believes in the politics of hatred. This is not good for society. The inclusiveness and social harmony are the first causalities of such politics of hate. Instead of condemning the incidents of mob lynching, BJP leaders felicitate and encourage the perpetrators of such horrendous acts of mob violence."
Rakbar Khan,29, was lynched by a mob of cow vigilantes on July 21 in Rajasthan's Alwar.
According to various reports, Rakbar was allegedly beaten up by the cops before taking to the hospital. Some reports also claim that the police took three hours to take him to the hospital.
https://www.indiatoday.in/india/story/muslim-community-should-abstain-from-touching-cows-provoking-hindus-bjp-leader-on-alwar-lynching-1294041-2018-07-23
--------
Course on Islamic terrorism: DMC issues notice to Delhi University
July 23, 2018
New Delhi: Taking note of the reports published in various newspapers that Delhi University is going to start a course on "Islam and international relations" under which "Islam and transnational terrorism" will be taught, Delhi Minorities Commission has issued a notice to the Registrar of Delhi University. The DMC asked the university that individuals and groups belonging to many religions have indulged in terrorism across the world in recent times, then why a course only on "Islamic terrorism" is being started. The Commission said that it will send a wrong message to society, increase communal tension and help hate politics.
Besides seeking a reply to the above-mentioned question, DMC has asked the Registrar to send all information about this course, including the list of the books which will be used to teach this course and whether persons and groups belonging to other religions also will be studied under this course.
Full report at:
https://www.siasat.com/news/course-islamic-terrorism-now-its-delhi-universitys-turn-get-dmc-notice-1383969/
--------
New Valley video has 25 militants, police say both Hizbul and Lashkar
by Bashaarat Masood
July 24, 2018
Triggering concern among security forces in the Valley, militants have posted a new video on social networking sites, which shows at least 25 of them, all carrying guns, posing for the camera in an orchard somewhere in South Kashmir.
While the group is led by Hizbul Mujahideen commander Zeenat-ul-Islam, police sources said one of the militants could be Hizbul Mujahideen's scholar-turned-militant Manan Wani. The camera zooms in on each face, one by one. Some of the militants in the group are yet to be identified.
Police sources said the video seemed to have been shot in the apple orchards of Shopian, in South Kashmir, and included both Hizbul Mujahideen and Lashkar-e-Toiba militants. The video is suspected to have been shot recently, as small apples can be seen hanging from the trees.
"It is definitely a matter of concern for us," said a senior police officer. "If such a huge number of militants can assemble at one place and shoot a video, we must be concerned about how they managed to do this despite the presence of security forces and increased vigil, especially in South Kashmir," he said.
"It seems this is one more attempt to attract young boys (towards militancy)," said another police officer. "They (militants) are making effective use of social media."
Recently, militants posted a group photograph which showed 14 of them, all carrying guns,
"The recruitment of local youths into militancy was already high in South Kashmir," said a police officer posted there. "It seems militants want to further increase the numbers. We are aware of their plans and we will not let that to happen."
The militants first took to social media to recruit youths about three years ago. Slain Hizbul Mujahideen commander Burhan Wani and his associates posed for photographs and posted them on social media, instead of choosing to remain anonymous.
Full report at:
https://indianexpress.com/article/india/new-valley-video-has-25-militants-police-say-both-hizbul-and-lashkar-5272341/
--------
SP Leader's Shocker: Triple Talaq Prevents Muslim Men From Murdering Their Wives!
Jul 23, 2018
Samajwadi Party (SP) leader Riyaz Ahmed on Monday said that while Shariat laws say that Talaq should be given in three stages, the instant Triple Talaq was meant to save the lives of cheating women.
Speaking to ANI, Ahmed said that in case a man ever finds his wife having an extra-marital affair, he does not have to kill her and can get rid of her via triple Talaq, thus sparing her life.
'Shariat says Talaq should be given in three stages. Whereas, triple Talaq has been kept as an option for times like if, for example, you find your wife in a compromising situation with another man, what will you do? You will either kill her or give triple Talaq to get rid of her. So to save a life, this was introduced,' Ahmed said.
'If they actually care about the downtrodden Muslim women, then they should reserve eight per cent seats for Muslim women in the upcoming Women Reservation Bill,' Ahmed said.
Triple Talaq, or verbal divorce, is practiced by some in the Muslim community to instantly divorce their wives by uttering Talaq three times.
As per the directions of the Supreme Court, Prime Minister Narendra Modi led National Democratic Alliance (NDA) government tabled The Muslim Women (Protection of Rights on Marriage) Bill, 2017 (Triple Talaq Bill) in the Lok Sabha, which passed it on December 28, 2017.
Full report at:
http://www.dnaindia.com/india/report-sp-leader-s-shocker-triple-talaq-prevents-muslim-men-from-murdering-their-wives-2640853
--------
South Asia
Reuters reporter says Myanmar police planted 'secret' papers
JULY 23, 2018
YANGON (Reuters) - A jailed Reuters reporter told a court in Myanmar on Monday that documents he is accused of breaking state secrets laws to obtain were planted by a police officer, who handed him papers he had not sought in order to entrap him. The officer had then lied to the court about what happened, he said.
Wa Lone, 32, who began giving evidence last week at the court in northern Yangon, also said under questioning by prosecutors that he had followed journalistic ethics in his reporting of a massacre of Rohingya Muslims last year.
Wa Lone and Reuters colleague Kyaw Soe Oo, 28, are on trial on charges brought under the colonial-era Official Secrets Act, in a case seen as a test of press freedom in Myanmar. Both have pleaded not guilty. If convicted, they face up to 14 years in prison.
As his hours-long cross-examination continued on Monday, Wa Lone repeatedly stated that the reporters were framed by police who handed them papers "without asking" minutes before they were arrested on Dec. 12.
Lead prosecutor Kyaw Min Aung questioned Wa Lone about the documents, asking whether the reporter believed their contents could be damaging to the state if given to insurgents, and why he was arrested with the documents.
Wa Lone said he had not reviewed the documents properly before he was arrested, so could not speak about their contents. He repeatedly said he had not violated Myanmar media law.
"The documents found in my hands were given by Police Lance Corporal Naing Lin to set us up and arrest us," Wa Lone told the court.
Naing Lin testified during pre-trial hearings that he met the reporters at a restaurant on Dec. 12, but said that he did not hand them anything. Wa Lone told the court on Monday that Naing Lin had given false testimony.
Prosecutor Kyaw Min Aung declined to comment at the end of the day's proceedings.
Myanmar government spokesman Zaw Htay has declined to answer questions on the proceedings, saying Myanmar's courts are independent and the case would be conducted according to the law. He did not answer calls seeking comment on Monday.
Kyaw Soe Oo began testifying on Monday afternoon shortly before Judge Ye Lwin adjourned proceedings for the day. The trial continues on Tuesday.
"DUTIFUL REPORTERS"
At the time of their arrest, Wa Lone and Kyaw Soe Oo had been working on an investigation into the killing of 10 Rohingya Muslim men and boys in the village of Inn Din in western Myanmar's Rakhine State.
The killings took place during a military crackdown that United Nations officials have said constituted ethnic cleansing. More than 700,000 Rohingya fleeing to neighboring Bangladesh last year, according to UN agencies.
Wa Lone testified last week that police deprived him of sleep and transported him hooded to an interrogation site after his arrest. Police questioning centered on the reporting of the massacre, not on the allegedly secret state documents, he said.
After Monday's hearing Wa Lone told reporters that he felt duty-bound to report the killings and other violations by security forces that he and Kyaw Soe Oo had uncovered in Inn Din.
"We wouldn't be dutiful as reporters if we ignored these violations of the law. We covered the Rakhine issue, and because of that we have been facing trial for months and facing these troubles," he said.
Prosecutor Kyaw Min Aung also questioned Wa Lone on Monday about his ties to Police Captain Moe Yan Naing, who in April testified that a senior police officer had ordered subordinates, including Lance Corporal Naing Lin, to trap Wa Lone. The reporter said he had only come to know the police captain in the course of his reporting on Inn Din, where Moe Yan Naing served in a position of responsibility.
Diplomats from several Western countries attended Monday's hearing, alongside friends and family of the accused, including Wa Lone's pregnant wife, Pan Ei Mon, and Kyaw Soe Oo's daughter Moe Thin Wai Zan, who turned three on Sunday. As her father was being bundled into a police truck after the hearing, Moe Thin Wai Zan cried "papa, papa!"
The embassy of Denmark called for the two reporters to be released immediately. "Wa Lone and Kyaw Soe Oo are brave men who deserve praise and admiration for their brave work," the embassy said in a statement.
https://www.reuters.com/article/us-myanmar-journalists/reuters-reporter-says-myanmar-police-planted-secret-papers-idUSKBN1KD1O3
--------
14 militants killed during the ongoing operations in Kapisa: Silab Corps
Jul 24 2018
The Silab Corps of the Afghan Military in the East said at least fourteen militants including two senior leaders of the Taliban group have been killed during the ongoing operations in Northeastern Kapisa province.
The 201st Silab Corps in a statement said the Afghan National Army, Commando Forces, Afghan National Police, Afghan Local Police, Afghan Intelligence (National Directorate of Security) operatives, launched a coordinated operation in Badrab area of Tagab district for the betterment of security, good governance, and to pave the way for the parliamentary and districts councils elections.
The statement further added that the operations are being conducted with the support of air power and artillery forces and at least 14 militants have been killed since the start of the operations two days ago, 4 militants have sustained critical wounds, and two others have been arrested
According to Silab Corps, Taliban's shadow governor for Kapisa Mawlavi Nasim also famous as Mushfaq and the group's shadow district chief for Tagab Qari Ehsanullah are among those killed along with a member of the group's commission Mawlavi Dil Agha.
Several villages, including Muradi Khel, Esa Khel, Gabri, Shah Zaman Chinar, Broitan, Lar Ali Khel, and Bar Ali Khel have been cleared from the presence of the militants, Silab Corps said, adding that 1 Ak-47 rifle, 2 communication devices have been seized and two improvised explosive devices were defused.
Full report at:
https://www.khaama.com/14-militants-killed-during-the-ongoing-operations-in-kapisa-silab-corps-05657/
--------
Group of Taliban militants involved in major attacks arrested in Kandahar
Jul 23 2018
A group of four Taliban militants involved in major terrorist related activities has been held by during an operation of the operatives of the Afghan Intelligence, National Directorate of Security (NDS), in Kandahar province.
The provincial government media office in a statement said the militants arrested during the operation have been identified as Aminullah son of Esmatullah, Rahmatullah son of Shahabuddin, Abdul Malik son of Feroz Khan, and Noor Ali famous as Khan Mohammad.
The statement further added that the militants were involved in major destructive and terrorist related activities in Kandahar city, Khakrez district, and Maiwand district.
According to the provincial government, the militants were planting improvised explosive devices on the roadsides to target the government vehicles and were also carrying out coordinated attacks on the security posts.
The militants were arrested during an operation conducted based on a tip off, the provincial government said, adding that the detained militants have confessed to their crimes.
Full report at:
https://www.khaama.com/group-of-taliban-militants-involved-in-major-attacks-arrested-in-kandahar-05651/
--------
Briton detained over Bangladesh terror attack is cleared by police
24 Jul 2018
A British man detained in Bangladesh for more than two years over the terrorist attack on a cafe that killed 22 people has been cleared by police.
Hasnat Karim was in the Holey Artisan Bakery cafe with his family celebrating his daughter's 13th birthday when five militants armed with rifles and machetes stormed in, taking 22 hostages, mostly foreigners, who were killed over 12 hours.
Karim, a university teacher in his late 40s, became a suspect after he agreed to act as a human shield during the ordeal, witnesses said at the time.
He always denied any involvement and rights group Amnesty International campaigned for his release.
On Monday Bangladesh police said an investigation found Karim was not involved and was dropped from the charge sheet.
"During our two-year long investigation, we did not find any involvement (of Karim) in this attack directly or indirectly, so he was acquitted from this case, Monirul Islam, the head of the police's counter terrorism and transnational crime unit, said.
Eight people have been charged with the attack, Islam said, although two have absconded. They all belonged to Jama'atul Mujahideen Bangladesh, a home grown militant group, he said.
Rohan Imtiaz, 19, led the attack. Imtiaz had completed his A-levels at Scholastica, a school for the children of wealthy families in Dhaka.
"Their aim was to destabilise the country and turn the country into a militant state," Islam said.
They face a maximum sentence of death by hanging under anti-terrorism laws.
Islamic State had claimed responsibility for the cafe attack, though Bangladesh has denied the group's involvement.
Full report at:
https://www.theguardian.com/world/2018/jul/24/briton-detained-over-bangladesh-holey-bakery-attack-cleared-by-police
--------
Africa
DSS, Army, Police storm Law School in Lagos over blasphemy
July 23, 2018
By Wale Odunsi
Operatives of the Department of State Security Service (DSS), troops of the Nigerian Army and the Nigeria Police on Sunday took positions in and around the Nigerian Law School in Lagos.
The deployment was to avert break down of law and order over alleged blasphemy.
On Sunday, tension heightened as Christian students, Madu Vitrus Sunday, reportedly sent blasphemous posts to WhatsApp groups within the campus.
In reaction, some of the Muslim students vow to lynch him if the school does not take immediate action.
"What he posted is the ugliest form of blasphemy against our Holy Prophet Muhammad, Peace Be Upon Him", a student told Daily Nigerian.
"Even some of us the moderate ones can not tolerate that kind of insult against the Prophet.
"It is a serious case because some students damn the consequences and vow to lynch him on sight."
CSP Chike Oti, spokesman of the Lagos State Police Command said he is yet to get detailed information.
"I will have to get back to you on this matter", he told DAILY POST on Monday.
The phone number of Tijjani Nasiru, Deputy Director-General of the Nigerian Law School (Lagos) was off as at press time.
Meanwhile, the Muslim Students Society of Nigeria (MSSN) Nigerian Law School chapter, has written a petition to the school authority for "spreading callous and blasphemous statements agains the Holy Prophet of Islam – Muhammad, PBUH, without any regards to the sensibilities of the Muslim students."
The Muslim students wanted action to be taken in accordance with Rule 3(5) of the Code of Conduct for Students of the Nigerian Law School.
http://dailypost.ng/2018/07/23/dss-army-police-storm-law-school-lagos-blasphemy/
--------
Eight killed as Boko Haram bomber detonates explosives at mosque in NE Nigeria
Jul 23, 2018
At least eight Nigerian civilians have been killed after a bomber from the Boko Haram Takfiri terrorist group detonated his explosives at a mosque in the country's troubled northeast, a local militia and residents say.
Ibrahim Liman, from a civilian militia force assisting the military in the fight against Boko Haram, told AFP on Monday that the blast happened in the Mainari area of Konduga in Borno state. He added that the latest attack appears to have been carried out by a man in his early 20s.
"The male bomber walked into the mosque at about 5:15 a.m. (0415 GMT) while prayers were on and exploded, killing eight worshippers and injuring five others," Liman said, adding, "Seven of the victims died in the mosque while another died on the way to (the Borno state capital) Maiduguri."
Umar Goni, a Konduga resident, also said he was on his way to the mosque when the explosion occurred and he helped rescue victims.
"We pulled out seven dead bodies and six injured worshippers. One of the six injured died on the way to hospital," he said.
The bomber was disguised as a worshipper, Goni said, adding, "There was no way anybody could have known his mission."
Bombings against "soft" civilian targets such as mosques, markets and bus stations are the hallmark of Boko Haram. Many of the bombers used by the group are young women and girls.
In recent days, there have also been a number of attacks on military convoys and bases in Borno and neighboring Yobe state, with undisclosed casualties.
Last week, at least six traders lost their lives when a convoy of lorries under military escort were ambushed in Borno state near the border with Cameroon.
Earlier this month, Boko Haram Takfiri terrorists also overran a military base following a ferocious gun fight with Nigerian troops in Yobe state.
Since 2009, Boko Haram militancy has left at least 20,000 dead and made over 2.6 million others homeless.
Nigerian President Muhammadu Buhari, a former general, came to power in 2015 on a platform of stamping out Boko Haram.
Full report at:
https://www.presstv.com/Detail/2018/07/23/569018/Nigeria-Yobe-Borno-Boko-Haram-Ibrahim-Liman-Konduga
--------
Somalia: Al-Shabaab Launches Massive Attack On Somali Military Base
23 JULY 2018
Somalia's al Shabaab group said on Monday its fighters had attacked a military base in the south of the country, killing 27 soldiers.
"We first attacked the base with a suicide car bomb and then stormed. We killed 27 soldiers and took the base. Some soldiers fled into the jungles," Abdiasis Abu Musab, al Shabaab's military operation spokesman said.
The base is some 50 km (31 miles) away from the port city of Kismayu. There was no immediate comment from a government official on the attack.
Al Shabaab fights to topple Somalia's central government and impose its a rule based on its own strict interpretation of Islam's Sharia law.
Full report at:
https://allafrica.com/stories/201807230600.html
--------
Shabab claims killing 27 soldiers in southern Somalia
Jul 23, 2018
Al-Qaeda-linked al-Shabab militants have launched a deadly attack on a military base in southern Somalia, claiming to have killed at least 27 soldiers there.
Abdiasis Abu Musab, al-Shabab's military operations spokesman, said the fatalities took place on Monday after the militant group carried out a car bomb attack and raided the base in Baar Sanguni village, located some 50 kilometers away from the southern port city of Kismayo.
"We first attacked the base with a suicide car bomb and then stormed. We killed 27 soldiers and took the base. Some soldiers fled into the jungles," he said.
Somali military forces in Kismayo confirmed the attack and said reinforcements had been sent to the base following the explosion and heavy fighting.
There has been no immediate comment from the Somali government on the attack.
Somali government forces have been battling al-Shabab militants since 2006.
The Takfiri militant group controlled Mogadishu between 2007 and 2011. In 2011, it was driven out of the capital with help from African Union troops. A period of relative calm started in Mogadishu afterward.
Al-Shabab militants, however, still retain a significant presence, reportedly roaming freely and posing a threat in regions outside the capital where the central government has little control.
Full report at:
https://www.presstv.com/Detail/2018/07/23/569051/Somalia-Shabab-militants-military-base-Kismayo
--------
North America
'Canada is beautiful': Muslim family touched by Saskatoon response to attack
Jul 23, 2018
An attack against her father had her reeling from shock and upset, but Aisha Sheikh said she's been really encouraged by the outpouring of support for her father and the family.
"It's reminded us that really the promise of Canada and the hope of Canada and the duty of Canada will help us get beyond this, because Canada has always represented hope," she said.
"And Canada is beautiful when we all work together to improve society."
Her father, 66-year-old Abu Sheikh, was walking to his Saskatoon home from the mosque when a white half-ton truck swerved and drove directly at him, forcing him to dive into a bush. Once he got into his house, two bricks smashed through his front window, an event that left him shaken.
City police say they are actively investigating what happened and plan to use the incident to help raise public awareness. Supt. Dave Haye met with the family Friday.
"We want to share the story because we wanted to ensure that people knew that no matter where you are, these incidents could happen," said his daughter.
However, as news of the incident spread, people began reaching out to the family, with people offering to pay to repair their window, while previously unknown neighbours brought them flowers and cards.
Paul Chavady was among the people that responded to a Reddit thread about the attack, seeking out the family to offer his help to repair their window.
"I was heartbroken to hear of that happening in Saskatoon," he said.
He'd moved to Canada from India at the age of 12 or 13, and said as an immigrant himself, he'd only ever had positive reactions from people. It leads him to feeling that this type of attack is "unusual" in a smaller centre like Saskatoon.
"As things like this happen, especially as it becomes more common, which I'm afraid of, we need to make sure it's not normalized."
Sheikh said her family was inspired by the reaction of people like Chavady to host a one-day event, called Neighbours without Borders.
The event, tentatively scheduled for Aug. 11, may include a walk from a mosque and a tea ceremony. She's inviting artists and other partners interested in helping out to join them.
"We want to be able to have people with any beliefs to come together and also hold space for differences and celebrate being Canadian — because we represent love and we're not going anywhere."
https://www.cbc.ca/news/canada/saskatchewan/muslim-man-saskatoon-truck-attack-community-support-1.4757206
--------
9/11 orchestrators pushing Trump to attack Iran: Scholar
Jul 23, 2018
President Donald Trump's hawkish National Security Adviser John Bolton and Secretary of State Mike Pompeo were put in power by the Zionists to further the neocon agenda with "regime change" in Iran, says an American scholar.
"They were of course put in power by the international Zionist crime syndicate that attacked the United States on September 11, 2001 with the express purpose of launching a war that as General [Wesley Kanne] Clark revealed would destroy seven countries in five years," Dr. Kevin Barrett said on Monday.
"Iran was the seventh and the most important country on that neocon hit-list," the author added.
"So they murdered 3,000 Americans in a false-flag attack designed to essentially inflame the American people against Islam and Muslims so they could take out these seven countries that were threatening to Israel," he noted.
"And of course Iran is definitely the most important geopolitical opponent that Israel has," Barrett pointed out.
Trump late on Sunday threatened Iran with hardship "the likes of which few throughout history have ever suffered before." The US president's all-caps threat on Twitter came after Iranian President Hassan Rouhani warned him not to "play with the lion's tail."
Addressing a group of Iranian diplomats in Tehran Sunday, Rouhani said, "America must understand well that peace with Iran is the mother of all peace, and war with Iran is the mother of all wars."
Even before Trump's tweet, his administration had already intensified the rhetoric against the Islamic Republic.
Pompeo said in a speech on Sunday that the Trump administration had launched a "maximum pressure campaign" targeting Iran and its economy. Pompeo described Iran's leaders as a "mafia" and promised unspecified support for Iranians unhappy with their government.
Barrett said that the Trump administration's threats against Iran are largely empty rhetoric as the president's "fire and fury" threat against North Korea "did not amount to very much."
"Trump and the US government have now essentially recognized North Korea as a de facto nuclear weapon state," he said. "So that threat was utterly and completely empty."
Full report at:
https://www.presstv.com/Detail/2018/07/23/569034/911-orchestrators-pushing-Trump-to-attack-Iran
--------
Is Trump trying to 'change the subject' from Helsinki fiasco to Iran?
Jul 23, 2018
US press secretary Sarah Huckabee Sanders repeats her boss's threats against Iran as the administration is still busy handling repercussions of the Helsinki fiasco.
Sanders' Monday comments outside the White House followed an all-caps threat by Trump on Twitter against Iran.
One of the questions the White House spokeswoman faced was if Trump is trying to change the American nation's focus from his highly poor performance alongside Russian President Vladimir Putin in the Finnish capital.
"I think the president has the ability, unlike a lot of those in the media, to actually focus on more than one issue at a time," Sanders quipped. "And certainly we know the media's obsessed with speaking about all Russia, all the time, but the president's focused on a lot of things that are taking place across the globe, and Iran is one of them and it's been something we've talked about since we first came into this administration."
Trump's denial of the conclusion reached by the entire US intelligence community led to a hailstorm of harsh criticism from US politicians, both Republican and Democrats.
Some 24 hours later after bowing to Putin, Trump had to withdraw his comment by resorting to a "double negative."
Sanders was also sent to defend the president and tell the nation that the president actually believes in the intelligence community's assessment that Russia meddled in the 2016 presidential election, which yielded President Trump.
The harsh criticism against Trump was heightened as it was revealed that he has invited the Russian leader to Washington.
Trump's disastrous performance has boosted speculations that Moscow might be in possession of some damaging information about the US president, a controversy known as the "pee tape."
Moscow, however, has denied such information as well as meddling in the 2016 vote.
Trump has tried to distract the people's attention even if it means taking a tough stance on NFL players' kneeling during the national anthem.
The White House press secretary, however, suggested that his threats against Tehran are real.
"The president's responding to Iran and he's not going to allow them to continue to make threats against America. If anybody is inciting anything, look no further than to Iran," said Sanders (pictured above).
Known for his anti-Iran sentiments from the campaign days, the New York billionaire ultimately pulled the US out of the Iran nuclear deal, backed by its allies as well as Russia and China.
Full report at:
https://www.presstv.com/Detail/2018/07/23/569058/Is-Trump-is-trying-to-change-the-subject-from-Russia-to-Iran
--------
No F-35s sales to Turkey, limited support for Saudi war on Yemen: US defence bill
Jul 24, 2018
US Congress is aiming to block sales of F-35 joint strike fighters to Turkey and limit Washington's support for Saudi war on Yemen in the final version of the fiscal 2019 defense bill.
According to House Armed Services Committee senior aides, the Pentagon must first submit a report to the lawmakers about the "overall strategic relationship with Turkey," all foreign weapons sales to Ankara and its decision to buy the Russian-made S-400 long-range air-defense system, The Hill reported Monday.
The move was made in spite of Defense Secretary James Mattis's request.
Ninety days after the passing of the National Defense Authorization Act (NDAA), the report would be due.
The Pentagon chief had asked lawmakers not to block the sale of the Lockheed Martin-made jets, arguing that it could start a "supply chain disruption" push their price higher.
"At this time, I oppose removal of Turkey from the F-35 program," Mattis wrote in a July 7 letter. "If the Turkish supply chain was disrupted today, it would result in an aircraft production break, delaying delivery of 50-75 F-35s, and would take approximately 18-24 months to re-source parts and recover."
The final defense bill also shows that the US is limiting refueling of Saudi Arabian and Emirati planes bombing impoverished Yemen.
According to a senior staffer, "Yemen remains an area of intense interest and concern for our members, and we have aggressive oversight in the conference report."
A provision included in the Senate-passed NDAA requires the secretary of state to certify to Congress that Riyadh is engaged in efforts to end the war.
The administration of US President Donald Trump said last month that it "strongly objects" to the provision.
"The administration shares the concern of the Congress regarding the humanitarian situation in Yemen," the statement of administration policy said. "Section 1266 inaccurately implies, however, that the Saudi-led coalition is the only party to the conflict whose actions have resulted in the dire humanitarian situation in Yemen."
The White House also tried to implicate Iran for the ongoing human crisis in Yemen in the wake of Saudi invasion.
"The provision fails to address material support the Government of Iran has provided to the Houthis in order to foment the conflict in Yemen in opposition to the Yemeni government," it claimed.
The Saudi-led war has killed and injured over 600,000 civilians, according to the latest figures released by the Yemeni Ministry of Human Rights.
The United Nations World Food Program (WFP) also announced that four in every 10 children under the age of five were now acutely malnourished.
Full report at:
https://www.presstv.com/Detail/2018/07/24/569068/No-F35s-sales-to-Turkey-limited-support-for-Saudi-war-on-Yemen-US-defense-bill
--------
Mideast
Young Yemenis recount forced recruitment, life under Houthis
23 July 2018
Houthi militias have continued to recruit children and young people for the battlefields, with a large number of them having been forcibly taken away from their families.
In some cases, elder tribesmen were forced to agree to give away children to appease the Houthi militias.
Most of them were abducted around the age of 14 and were forced to serve the militias' domestic and external agendas, including in battleground fights against the Yemeni Army.
Once coerced into joining the militias, these children were left to fend for themselves in the battlefields without access to food or water.
Additionally, some were not given any form of income or compensation even though their lives were put at risk.
Hundreds of young recruits are now under the protection of Yemeni and coalition army and are shared their stories of captivity under the Houthi militias with Al Arabiya English.
https://english.alarabiya.net/en/News/gulf/2018/07/23/WATCH-Young-Yemenis-tell-tales-of-forced-recruitment-life-under-the-Houthi-militia-.html
--------
Turkey intensifies counterterrorism ops in northern Iraq
July 24, 2018
Turkish forces have killed 11 terrorists in a number of operations in eastern Turkey and northern Iraq, military sources confirmed yesterday.
The Turkish General Staff on its official Twitter account said that its fighter jets hit multiple PKK terrorist positions in eastern Turkey's Hakkari, Erzincan and in northern Iraq's Avaşin-Basyan region during the weekend.
Turkey has regularly targeted the PKK in northern Iraq since July 2015, when the PKK resumed its decades-long armed campaign.
The PKK is listed as a terrorist organization by Turkey, the U.S. and the European Union. Its decades-long terrorist campaign against Turkey has killed 40,000 people including women and children.
Full report at:
https://www.dailysabah.com/war-on-terror/2018/07/24/turkey-intensifies-counterterrorism-ops-in-northern-iraq
--------
Western Wall stone crashes down in Jerusalem
23 July 2018
Jerusalem authorities restricted access to one of Judaism's holiest sites on Monday after a massive stone block from the Western Wall fell to the ground below, narrowly missing a worshipper.
"The stone, weighing 100 kilogrammes (220 pounds), fell close to a woman who was praying... without hitting her," Mayor Nir Barkat said in a statement.
He said the fact that nobody was harmed in the incident was "a great miracle".
Barkat visited the scene with Jerusalem's city engineer and safety officials, who declared the spot dangerous and closed it to the public pending further inspection.
Western Wall Rabbi Shmuel Rabinowitz said he could not explain the incident but the fact it happened a day after a major gathering at the Western Wall called for "soul-searching".
On Sunday, tens of thousands of Jewish worshippers thronged the main, gender-segregated Western Wall esplanade for annual prayers mourning the razing of the Jews' biblical-era temples.
Monday's incident struck a less-visited part of the wall, where men and women are permitted to pray together contrary to Orthodox Jewish practice.
Rabinowitz noted that the stones above the main prayer section of the Western Wall are examined by professionals twice a year.
The Western Wall, in Israeli-annexed east Jerusalem, is the holiest place at which Jews are allowed to pray.
They believe it is what remains of a supporting wall of their biblical second temple, destroyed by the Romans in 70 AD.
Immediately above it is the flashpoint shrine known to Jews as the Temple Mount, the holiest in Judaism, revered as the spot where the two biblical Jewish temples once stood.
Full report at:
https://english.alarabiya.net/en/News/middle-east/2018/07/23/Western-Wall-stone-crashes-down-in-Jerusalem.html
--------
UN rights chief calls out Israel over detained Palestinian children
24 July 2018
The United Nations rights chief on Monday demanded that Israel either give more than 400 detained Palestinian children their day in court or release them, decrying "assaults" on Palestinians' rights.
UN High Commissioner for Human Rights Zeid Ra'ad Al Hussein criticized the "administrative detention" system under which Israel is currently holding an estimated 440 children.
"Israel should immediately charge, or release, all of them," the Geneva-based Zeid said via videolink, calling Israel's system a "fundamental human rights violation."
"It should be absolutely clear that international law requires detention only be used for children as a last resort," he said.
"And whether for children or for adults, detention without trial, on evidence that is often kept secret, under often indefinitely renewable administrative detention orders, contravenes Israel's obligations under international law, and must come to an end."
The meeting focused on recent violence in the Gaza Strip, which is to the UN Security Council is set to take up Tuesday during a regular monthly session on the Middle East.
Zeid also criticized what he called Israel's arbitrary detention and arrest of rights activists.
The Gaza Strip, controlled by Islamist movement Hamas, has been under an Israeli blockade for more than 10 years.
Full report at:
https://english.alarabiya.net/en/News/middle-east/2018/07/24/UN-rights-chief-calls-out-Israel-over-detained-Palestinian-kids.html
--------
UN rights chief blasts Israel for 'shocking' Gaza killings
Jul 24, 2018
The UN human rights chief has lashed out at Israel over recent "shocking" killings of the Palestinian people in the blockaded Gaza Strip, underlining the need for an independent investigation into the carnage.
In a video address to the UN Committee on the Exercise of the Inalienable Rights of the Palestinian People on Monday, Zeid Ra'ad al-Hussein voiced concerns about tensions in Gaza over the past few months, which have seen Israeli forces kill almost 140 Palestinians and injure 16,100 others.
Zeid, who heads the Office of the United Nations High Commissioner for Human Rights, also warned that the Gaza escalation has "the potential to generate threats to peace across a far broader region."
He further called on all parties to the conflict to cooperate with the independent, international commission of inquiry into the Gaza events that his office is helping to establish.
"It is essential that the authorities cooperate with the future Commission to advance accountability for these killings, as well as all alleged violations and abuses of international humanitarian law," he said, adding that "although Israel has put in place a number of accountability mechanisms, there are serious concerns that these are not in compliance with the international standards of independence, impartiality, and effectiveness."
Tensions have been running high along the fence separating Gaza from the Israeli-occupied territories since March 30, which marked the start of a series of protests, dubbed "The Great March of Return," demanding the right to return for those driven out of their homeland.
The Gaza clashes reached their peak on May 14, the eve of the 70th anniversary of the Nakba Day (the Day of Catastrophe), which coincided this year with the US embassy relocation from Tel Aviv to occupied Jerusalem al-Quds.
Elsewhere in his briefing, Zeid said that it would be "vital to address the root causes of the recent demonstrations," namely the "grossly inadequate living conditions" caused by Israel's 11-year siege on Gaza.
The coastal sliver has also witnessed three Israeli wars since 2008.
Back in January, the administration of US President Donald Trump said that it would withhold $65 million of a $125 million aid installment to the United Nations Relief and Works Agency for Palestine Refugees (UNRWA).
Zeid warned that the situation in Gaza may be "severely aggravated" in the coming months by the financial crisis facing UNRWA due to the US aid cut.
Additionally, he denounced the Israeli parliament's recent approval of a controversial law that declares Israel exclusively "the nation-state of the Jewish people."
Zeid blasts 'Israel for Jews' law, settlements
Zeid said the legislation "anchors inherent discrimination against non-Jewish communities, most notably the Arab citizens of Israel and residents of occupied East Jerusalem [al-Quds]" and that it "could also further inflame tensions."
The UN official further criticized Israel's settlement construction activities in the occupied Palestinian lands and condemned the regime's detention of hundreds of Palestinian children under the so-called administrative detention as a "fundamental human rights violation."
"It should be absolutely clear that international law requires detention only be used for children as a last resort," he said, stressing that whether for kids or adults, detention without trial "contravenes Israel's obligations under international law."
"An estimated 440 Palestinians are being held in 'administrative detention,' according to the latest figures," Zeid noted. "Israel should immediately charge, or release, all of them."
Full report at:
https://www.presstv.com/Detail/2018/07/24/569077/UN-Israel-Palestine-Gaza
--------
After military failure, Saudi, allies resort to diplomacy on Yemen's Hudaydah
Jul 23, 2018
By Jafar Razi Khan
Political experts believe that after Saudi Arabia and its regional and international allies failed to conquer Yemen's Hudaydah port through military force, they are currently turning to diplomatic means in order to reach a settlement with the Houthi Ansarullah fighters, thus attesting to ability of the country's popular forces to head off aggression against the Yemeni people.
Saudi Arabia and some 20 of its allies, including the United Arab Emirates, Morocco and Sudan, launched a brutal war, code-named Operation Decisive Storm, against Yemen in March 2015 in an attempt to reinstall Abd Rabbuh Mansur Hadi, a staunch ally of Riyadh, and crush the popular Ansarullah movement.
The imposed war initially consisted of a bombing campaign, but was later coupled with a naval blockade and the deployment of ground forces to Yemen.
The aggression reached its peak last month when the Western-backed Saudi-led alliance launched an all-out assault on Hudaydah port city aiming to bring the Houthi resistance to its knees at the risk of worsening the world's biggest humanitarian crisis.
Saudi warplanes and warships pounded Houthi fortifications for several weeks to support ground operations by foreign and Yemeni militants gathered south of the port in the so-called Operation Golden Victory.
This reckless assault to capture Yemen's main port threatened the lives of hundreds of thousands of civilians.
The US, Israel, Britain and France reportedly took part in the assault along with Saudi and Emirati forces. The US has assisted Saudi Arabia and the UAE in "conducting aerial bombings in Yemen" and provided "midair refueling services" to their warplanes.
In a report on June 16, French newspaper Le Figaro reported that French special forces were present on the ground in Yemen with forces from the United Arab Emirates.
The newspaper gave no further details about their activities, but a French parliamentary source recently told Reuters that French special forces were in Yemen.
On June 15, the French Defense Ministry said France was studying the possibility of carrying out a mine-sweeping operation to provide access to Hudaydah port once the Saudi-led coalition had wrapped up its military operations.
Despite US support for the Saudi war, Mohammed Abdul-Salam, the spokesman for Yemen's Houthi Ansarullah movement, on Sunday confirmed that the Saudi-led military alliance had dismally failed in its bid to overrun the strategic western Yemeni port city of Hudaydah.
"The enemies' scenario to march into Hudaydah has resulted in failure, because they heavily relied on psychological warfare and media propaganda, concealing the real facts on the ground," Yemen's Arabic-language al-Masirah television network quoted Abdul-Salam as saying.
Abdul-Salam also added that Saudi Arabia and its allies have not allowed any peace negotiations to bear fruit ever since the Yemeni conflict broke out.
Under these circumstances, the US-led Western countries have stepped up their efforts to seek a negotiated settlement of the conflict.
Diplomatic sources said on July 18 that France's envoy for Yemen had met the leaders of the Houthis in the Yemeni capital as part of Paris's efforts to help alleviate the humanitarian crisis in the country.
"The objective of the envoy's (Christian Testot) visit was humanitarian, to update the Houthis on the results of the June 27 experts meeting and to see what concrete results can be achieved on the ground," a French diplomatic source said, confirming a report by Le Figaro newspaper.
Analysts, however, argue that the meeting between the French envoy and the Houthi officials was a clear sign that after a long effort by the West to ignore Yemen's popular forces, the Western countries have come to realize that no solution to the country's conflict would be possible if Houthis were not part of it.
This came a day after the UN humanitarian coordinator, Lise Grande, said that talks were at an advanced stage for the world body to take over the administration of the vital port of Hudaydah under siege by the Saudi-led coalition.
The Red Sea port is the main distribution point for commercial and humanitarian supplies into Yemen
The UN special envoy to Yemen, Martin Griffiths, is trying to broker a deal for the port to be administered independently by the UN.
The United Nations says the Houthis have offered to hand over the management of the port to the world body as part of an overall ceasefire in Hudaydah Province.
US aiding Saudi 'war crimes' in Yemen
In early May this year, The New York Times, citing US and European officials, reported that the US had expanded its role in Riyadh's bloody war on Yemen well beyond mere arms sales and logistical support by secretly deploying a team of elite commandos to the Yemeni border to help the Saudi military in battles against the Ansarullah movement.
Washington's weapon sales to Saudi Arabia include a $110-billion deal signed last May when US President Donald Trump visited the kingdom in his maiden foreign visit. Along with the United States and Britain, France also sells weapons to Saudi Arabia and the UAE.
In November last year, US Congressman Ro Khanna in an exclusive interview with al-Jazeera said the US was helping Saudi Arabia commit "war crimes" in Yemen. Khanna, a Democratic congressman from California, said the US made a mistake in supporting the Saudi-led coalition's bombing campaign of Yemen.
"Today, I believe that we are aiding Saudi Arabia and Saudi Arabia's committing war crimes," Khanna said.
The Saudi-led war on Yemen has killed and injured over 600,000 civilians, according to the latest figures released by the Yemeni Ministry of Human Rights.
Full report at:
https://www.presstv.com/Detail/2018/07/23/569045/Yemen-Saudis-Hudaydah-port-UAE-Trump-US-UK-France
--------
Turkey Detains 43 Suspected Islamic State Militants: Police
July 23, 2018
ISTANBUL (REUTERS) - Turkish police said on Monday they had detained 43 people on suspicion of being foreign members of the Islamic State militant group in a series of operations across Istanbul.
Istanbul counter-terrorism police units captured the suspected militants on Friday in simultaneous raids on 15 homes, a police statement said.
It was believed that they were members of social media groups linked to Islamic State and that they had been in contact with people in conflict zones, it said.
The militant group has carried out numerous attacks across Turkey in recent years, including on a nightclub in Istanbul on Jan. 1, 2017 in which 39 people were killed, and a bombing in the city's historic heart that killed 12 in 2016.
Full report at:
https://www.usnews.com/news/world/articles/2018-07-23/turkey-detains-43-suspected-islamic-state-militants-police
--------
Europe
Pope Francis appeals for the security and dignity of migrants
July 24, 2018
After reciting the Angelus at noon on Sunday with thousands of the faithful gathered in St Peter's Square, Pope Francis made an appeal regarding "the shipwreck of boats laden with migrants in the waters of the Mediterranean" which have been reported in the news in the past few weeks.
"I express my pain before this tragedy," he said. He then assured his thoughts and prayers both for the migrants involved, and for their families.
He concluded directing a strong appeal to the international community asking them to "act decisively and immediately so that similar tragedies might be avoided and to guarantee the safety, respect for human rights, and the dignity" of all those involved.
https://www.vaticannews.va/en/pope/news/2018-07/pope-angelus-22-july-2018appeal-migrants-shipwreck-mediterranean.html
--------
Ozil Quits German National Side Citing Racism Over Turkish Heritage
July 23, 2018
Berlin. German football star Mesut Ozil said on Sunday (22/07) he would no longer play for the national team because he faced "racism and disrespect" because of his Turkish roots.
His impassioned statement is one of the strongest issued by a player in recent years on the subject of racism and met with mixed reactions.
It comes amid a political debate in Germany about an influx of 1.6 million migrants since mid-2014 that has seen a rise of the far right at the expense of traditional parties.
Ozil, 29, was a key member of Germany's World Cup-winning side in 2014 and has been voted by fans as the team's player of the year five times since 2011.
But the creative midfielder faced a barrage of criticism at home for having his photograph taken with Turkish President Tayyip Erdogan in May.
He and Ilkay Gundogan, a teammate also of Turkish descent who posed with Erdogan as well, were jeered by German fans in warm-up games before the World Cup in Russia.
Germany failed to qualify from the group stage, making their earliest exit from the tournament in 80 years and Ozil was one of the scapegoats for their unsuccessful title defense.
Ozil, who plays for English club Arsenal, said German Football Association (DFB) President Reinhard Grindel had blamed him for Germany's poor performance.
"In the eyes of Grindel and his supporters I am German when we win, but I am an immigrant when we lose," Ozil wrote in a lengthy statement in English posted on his Twitter account.
He added he did not feel accepted in German society despite paying taxes there, making donations to German schools and being part of the team that won the World Cup.
"It is with a heavy heart and after much consideration that because of recent events, I will no longer be playing for Germany at international level whilst I have this feeling of racism and disrespect," he said.
"I used to wear the German shirt with such pride and excitement, but now I don't," he said. "I feel unwanted and think that what I have achieved since my international debut in 2009 has been forgotten."
Dual Heritage
Many European footballers who play for national teams have a heritage in a different country but it is extremely rare for such players to cite racism resulting from those roots as a reason to abandon their national side.
There is also a debate about whether enough is done to stamp out racism in the sport, which many black players have faced over the decades often in the form of chants by opposing fans.
Ozil questioned whether there were criteria for being German that he did not meet and asked why he should be referred to as German-Turkish when fellow German football players Lukas Podolski and Miroslav Klose were not referred to as German-Polish.
"Is it because it is Turkey? Is it because I'm a Muslim? I think here lays an important issue," he said.
Germany's Social Democrat Justice Minister Katarina Barley said on Twitter: "It's alarming if a great German football player like Mesut Ozil no longer feels wanted in his country and doesn't feel represented by the DFB due to racism."
Veteran Greens lawmaker Cem Ozdemir, who has Turkish roots, said Ozil's photo was wrong and his explanation unconvincing but added: "The way the DFB leadership acted is at least as disastrous - Grindel is hacking our history of integration to pieces. Do they want young German-Turks to start playing for Erdogan soon? The DFB needs a fresh start."
But others criticized Ozil, with Thomas Bareiss, a senior member of Chancellor Angela Merkel's conservatives, saying Ozil's accusations of racism and a lack of respect were "out of place."
Mass-selling newspaper Bild said: "Ozil is reveling in the victim role that has nothing to do with reality."
Ozil has 92 caps for Germany and has scored 23 goals.
Earlier on Sunday Ozil defended the photograph in which he was pictured beaming with Erdogan, who was campaigning for re-election at the time.
"For me having a picture with President Erdogan wasn't about politics or elections, it was about me respecting the highest office of my family's country," he said.
'Two Hearts, One German, One Turkish'
Relations between Germany and Turkey have soured amid a crackdown by Erdogan's government on suspected supporters of a failed military coup in July, 2016. Germany is home to some 3 million people with Turkish roots.
Germany and Turkey are both bidding to host the Euro 2024 tournament and UEFA will hold a meeting on Sept. 27 to choose between them.
Ozil said his mother had always told him to be respectful and remember his ancestry, heritage and family traditions, adding: "I have two hearts, one German and one Turkish."
Full report at:
http://jakartaglobe.id/sports/ozil-quits-german-national-side-citing-racism-turkish-heritage/
--------
British PM opposes possible execution of two British Daesh suspects
Jul 23, 2018
The office of British Prime Minister Theresa May has rejected reports in the media that London would not object to possible death penalty sentences in the United States for two Daesh suspects of British nationality who had been arrested in Syria in January.
"It's a long-standing position of the government to oppose the death penalty ... as a matter of principle," the spokeswoman told reporters on Monday.
The comments came in an apparent response to reports earlier in the day indicating that Britain's interior minister, Sajid Javid, had dropped London's blanket opposition to the death penalty to allow Alexanda Kotey and El Shafee Elsheikh, two British members of the Dasesh Takfiri terrorist group who have been accused of complicity in killing a series of high-profile Western captives, be sent to the US for prosecution.
May's spokeswoman said that the government would do its best to find the most appropriate country for the prosecution of the two suspects.
"We are continuing to engage with the US government on this issue and our priority is to make sure that these men face criminal prosecution," said the official, adding, "We want to make sure they face justice in the most appropriate jurisdiction which maximizes the chances of a successful prosecution."
Kotey and Elsheikh have been accused of membership in a faction of Daesh called "Beatles" which was known for its brutal kidnappings, torture and murder of Western hostages in Syria, including US journalists James Foley and Steven Sotloff.
A leaked letter published the Daily Telegraph on Monday showed that Javid had nothing against the execution of the two terrorists despite Britain's stance as a supporter of the global abolition of the death penalty.
"I am of the view that there are strong reasons for not requiring a death penalty assurance in this specific case, so no such assurances will be sought," said the letter addressed to US Attorney General Jeff Sessions.
Other documents leaked to the newspaper suggested that Britain had approved of plans to send the two suspects to the notorious Guantanamo Bay prison.
Full report at:
https://www.presstv.com/Detail/2018/07/23/569010/Britain-Daesh-suspects-death-penalty
--------
Far-right exploits upheaval as attacks on Muslims rise
July 23, 2018
Far-right extremists in the UK are exploiting Islamophobia as a lucrative platform to build support amid a sharp increase in anti-Muslim abuse and violence, according to a hate crime report published on Monday
As the UK lurches towards exiting the European Union, the resurgent far-right has taken advantage of the political instability to win new supporters with hardline anti-Islam messages to boost their coffers from donations, said crime monitoring group Tell Mama.
"Manufacturing anti-Muslim hate has become a lucrative business for some, is sadly here to stay and will continue to have real-world impacts in our country," said Iman Atta, the director of Tell Mama.
Russian online 'troll' farms are sowing further division using disinformation campaigns on social media networks to promote hate messages that are having a profound impact on Britain's estimated 2.7 million Muslim population, said the group. It cited the case of one user who appeared to condone the torching of a mosque but was later identified in The Times newspaper as a suspected Russian-based account.
The group said that Twitter had failed to act against material that glorified anti-Muslim hatred and showed a "wanton lack of desire" to understand and deal with the nature of hate crime on its platform. Twitter said the group's claim was inaccurate.
Accounts reported to Twitter and "found to be in violation of our rules, will face ... range of enforcement actions," it said in a statement.
The Tell Mama report pointed to an increase in more aggressive, street-based attacks in 2017, mostly carried out by teenagers. It said it was a sign that anti-Muslim hate "may be bleeding out into wider society" from a hard-core of white supremacists.
The attacks have increased over the last six years with 1,201 verified cases in 2017. The figures included a rise in vandalism triggered by a series of terrorist attacks in Britain.
It saw a 700 per cent increase in the anti-Muslim incidents following a suicide bomb attack on a concert venue in Manchester in May 22, which left 22 people dead. The charity reported that a surgeon travelling to a hospital to treat victims of the attack, and a Muslim man going to donate blood were both called terrorists.
The charity received one report that a London bus driver insisted on checking a Muslim family's pushchair for "explosives" when they got on the bus. "This country is on a high alert for terrorism," the bus driver reportedly told them. "Your people are killing children in our country."
In another case, a nurse refused to let a Muslim family visit a sick relative. "I don't know who you are, you might plant a bomb or something here," the nurse reportedly said.
The release of the Tell Mama report followed a weekend poll that suggested a new far-right party in the UK running on an explicit anti-migration, anti-Muslim platform would secure significant support amid growing disenchantment with mainstream politics.
The far-right, emboldened by backing from the US alt-right movement, has become increasingly vocal and confident after backing the winning side in the 2016 referendum to leave the European Union.
One prominent extremist on the far-right, Tommy Robinson, has received strong backing from the US including former Donald Trump strategist Steve Bannon who has called for his release from prison where he is serving more than a year for interfering in a criminal court case. Mr Bannon has reportedly met with senior Brexit leaders in the UK to plot a new far-right movement.
Full report at:
https://www.thenational.ae/world/europe/far-right-exploits-upheaval-as-attacks-on-muslims-rise-1.753257
--------
Forget the 'Beatles': here's what happens to most British jihadi suspects
Isabel Hardman
23 July 2018
What happens to Brits who've returned from fighting for Islamic State in Syria and Iraq? Most would expect that they'd immediately fall into the criminal justice system, and wouldn't then emerge for a very long time. Today it emerged that Home Secretary Sajid Javid had dropped Britain's blanket opposition to the death penalty so that two Isis fighters from the group dubbed the 'Beatles' could be sent to the US. But in most cases, the question isn't where someone will face justice, but whether they can face justice at all.
We know that there are hundreds of people who have returned from fighting for Islamic State. But what is less well-known is what happens when these individuals get back to Britain. A common assumption is that they go from Turkish detention centre to British jail, where they can regret their terrorist trip at Her Majesty's Pleasure. But this assumption is wrong.
There are those who have clear evidence of wrongdoing against them, such as those 'Beatles' fighters. But then there are those who only have a suspicion of wrongdoing that is not backed up by any evidence.
I saw one such case when I visited three Brits detained in Turkey on suspicion of terrorism last year. I arrived at the detention centre in Izmir expecting to meet three angry young men, only to be told that I would in fact be interviewing a mother and her very young children.
These weren't stereotypical jihadis caught on the border between Turkey and Syria, and awaiting the full might of the criminal justice system when they finally arrived back in Britain. In fact, when Nasra, as I'll call her, and her children got back to London, they went home, rather than to a custody suite. This little family is far less unusual than you might think: in fact, very few suspected jihadis are convicted of any offence after they return to the UK from Syria or Iraq. Many of them are left to get on with their lives as before.
Nasra is British and was arrested by the Turkish authorities as she came back over the border from Syria with her dual Turkish-British national husband and children. They detained her on suspicion of terrorism and endangering national security, and spent a year trying to deport her. The husband, Oktay, was cleared in a Turkish court, but Nasra hasn't been through the Turkish justice system at all. Initially, she refused to talk to officials, but once she discovered that even after she left the detention centre, she would still have to sign in every day, she grew more enthusiastic about deportation. It took months, though, for a DNA test to prove that her youngest child, who she held throughout our interview, was hers so that the Home Office would permit her to return. When we met, she had been there just short of a year, and was nearly on her way back to London.
You might think that being photographed, as Nasra was, on the Syrian border would be enough for the British courts to convict her of joining Islamic State. But British law does not currently consider travelling to Syria to be a criminal offence in itself, and there is no other evidence against this family. Nasra and her husband claim that they were actually set up: their story is that they were stopped while driving in Kilis, which is close to the border and has been witness to a number of arrests of returning jihadis. The police discovered that Nasra's visa was out of date, and arrested them both.
Then, she told me, they were driven to the border by soldiers. 'They rounded up everybody, took us to – with guns and everything – the border and then they took a picture of us'. 'They took us to a big field,' claimed Oktay in a separate conversation. 'And they told us to get onto our knees in a form of being captured.'
Turkey hardly has the best record on human rights at the moment, so it's difficult to know who is telling the truth. Nasra's account was confused and taking her back through key moments turned up slightly different versions each time. Initially she claimed that me asking about the Syrian border was the first she'd even heard that she was suspected of terrorism, though she later contradicted that, as did her husband.
Even if there were stronger evidence that Nasra had definitely been in Syria, which she denied vehemently, such as mobile phone records showing she was in Raqqa, this would not be enough to convict her. She was detained as part of a larger group who returned quickly to Britain as its members did not try to fight the deportation order. The Home Office is tight-lipped about what happened to these alleged associates, but recently Security Minister Ben Wallace told the House of Commons that only 40 of those 400 who had come back had been successfully prosecuted for 'direct action they've carried out in Syria'.
So what happens to the rest of them? The British intelligence services do not have the resources to monitor all 400 people who've come back from Syria. They do, however, assess that a significant number of these people no longer pose a security risk. For those that do, there are Temporary Exclusion Orders, which might involve someone's passport being taken away, or their re-entry to the UK being conditional on complying with the Prevent de-radicalisation programme. But that's it. If there isn't enough evidence to convict someone, then they have a right to a free life.
Full report at:
https://blogs.spectator.co.uk/2018/07/forget-the-beatles-heres-what-happens-to-most-british-jihadi-suspects/
--------
URL: https://www.newageislam.com/islamic-world-news/well-protect-all-religions-only/d/115924
New Age Islam, Islam Online, Islamic Website, African Muslim News, Arab World News, South Asia News, Indian Muslim News, World Muslim News, Women in Islam, Islamic Feminism, Arab Women, Women In Arab, Islamophobia in America, Muslim Women in West, Islam Women and Feminism