New Age Islam News Bureau
29 June 2022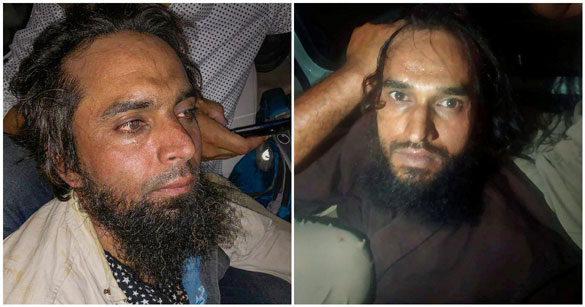 The accused, Ghouse Mohammed and Mohammed Riyaz Attari, have been arrested. | PTI
-----
• Udaipur Murder Meant To Spread Terror, Both Accused Booked Under UAPA; One Of Duo Who Killed Tailor Has Links With Pak-Based Dawat-e-Islami: DGP
• Afghan TV Anchor Forced to Sell Street Food after Taliban Takeover
• Nearly 307,000 Civilians Killed In Syrian War from 2011 to 2021: UN
• US, Israel Enemies of Islam, Humanity: IRGC Commander in a Meeting with Pakistan General
India
• Hate against Muslims in Karnataka: Class 6 Muslim Boy Beaten Up While Returning From Madrasa
• Pakistan links emerge from savage Udaipur murder
• On Udaipur killing, Kangana Ranaut 'numb'; Taslima Nasreen says Hindus not safe
• After Prophet Row, PM meets UAE President, both underline ties
• Harassment of human rights defenders now alarmingly commonplace in India: Amnesty International, India on Zubair's arrest
• Amid Row over Meeting Pope, Naveen Patnaik Visits Sheikh Zayed Mosque in Abu Dhabi
• Editors Guild of India condemns Mohammed Zubair's arrest
• Muslim Organization Condemns Zubair's Arrest, Demands 'Fair Action' In the Matter
• J&K twin blasts case solved, Lashkar duo arrested
• Home Ministry directs NIA to take over probe into Udaipur tailor Kanhaiya Lal's murder
--------
South Asia
• Taliban: ​​​​​​​Iran first country to help Afghanistan's earthquake victims
• Rohingya Repatriation to Be On Agenda during Bangladesh PM's India Visit
• Taliban Senior Official Denies the Claims of "Attacks against Civilians" in North Afghanistan
• Two Batches of the Chinese Relief Aid Arrive in Afghanistan
--------
Arab World
• Over 100 murders in Syria's al-Hol camp since Jan 2021: UN
• Dubai sends humanitarian aid to Afghanistan after deadly earthquake
• Syria warns of dire situation in northern areas, says Turkey after ethnic cleansing there
--------
Mideast
• Iran court upholds eight-year prison sentence for Frenchman convicted of spying
• IRGC Navy Commander Slams Foreign Forces' Presence in Region after Collapse of Ba'ath Regime
• Supreme Leader Asks Judiciary to Prioritize Anti-Corruption Fight
• 'Martyr Soleimani' Helicopter-Carrier Warship to Join IRGC Navy
• Palestinian killed by Israel army in West Bank town of Jenin
• Israeli parliament approves bill to dissolve, hold new elections
• Iran applies to join BRICS group
--------
North America
• NGO Places 251 Pairs of Shoes in Times Square To Honour Victims of Türkiye's July 15 Defeated Coup
• US Pledges $55 Million in Aid for the Victims of the Deadly Earthquake in Afghanistan
• UN Requests for $110 Million to Aid the Quake-Hit in Afghanistan
• American who joined Daesh gets prison term reduced
• Turkey's Erdogan to meet Biden for talks on Russia's invasion of Ukraine
• Biden congratulates Türkiye, Sweden, Finland on NATO memorandum
--------
Pakistan
• Pakistan Countering 'West-Backed' Indian Military Build-Up: National Command Authority Aide
• Imran Warns Punjab Police, Bureaucrats Not To Follow 'Illegal' Govt Orders
• China provides $2.5 billion loan to Pakistan to boost its forex reserves
• UAE offers bailout deal to cash-starved Pakistan: Report
• Visa regime relaxed to promote Pak-Afghan trade
• Opposition parties stage protests outside ECP offices in Sindh towns
-------
Southeast Asia
• Malaysian Govt Seeks To Halt 'Dubious' Online Divorce Urges Citizens to Report
• Hamas Issues Warning On Al-Quds Occupation Anniversary; China Urges Action
• Former anti-crime activist wins suit against govt for unlawful detention, assault
• 'Vocal' Joniston stands out against 'senior' Joachim for PBS No 2 post
--------
Africa
• US Envoy Says Libya Elections Could Proceed Without Single Government
• Talks Begin at UN on Breaking Elections Stalemate in War-Torn Libya
• War: Our missile only destroyed Western weapons – Russia reacts to Kremenchuk attack
• Sudan army shells disputed border with Ethiopia
• Libya suspends oil shipments from key port amid political crisis
• Jordan prime minister promises inquiry into deadly blast at Red Sea port
--------
Europe
• Turkey Agrees To Support Finland, Sweden Joining NATO after 'Getting What It Wanted'
• Teenager Arrested Trying To Board Flight in UK; He Is Accused Of "Collecting Information • • Useful To a Person Committing or Preparing an Act of Terrorism"
• Türkiye's president to have bilateral talks with world leaders during NATO summit
• Bosnian court rules major decisions made by Republika Srpska lawmakers null and void
• UN committee urges probe into migrant deaths at Morocco-Spain border
• Germany shocked by deaths of migrants at Morocco-Spain land border
• UK's Prince Charles under fire for accepting $3.2mn from former Qatar PM
• Western Energy Crisis: Saudi Arabia, UAE Unable To Increase Oil Production, Says Macron
Compiled by New Age Islam News Bureau
URL: https://newageislam.com/islamic-world-news/talibanisation-society-muslim-killing-udaipur/d/127356
--------
We Won't Allow 'Talibanisation' Of Society: Muslim Groups Criticise Killing of Tailor in Udaipur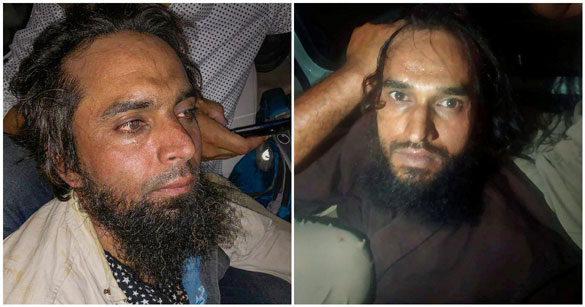 The accused, Ghouse Mohammed and Mohammed Riyaz Attari, have been arrested. | PTI
-----
Jun 29, 2022
The All India Muslim Personal Law Board said on Tuesday that the murder of a man in Udaipur for having shared a social media post in support of suspended Bharatiya Janata Party spokesperson Nupur Sharma was against Islam. Sharma had made disparaging remarks about Prophet Muhammad during a debate on Times Now television channel last month.
The man, a tailor named Kanhaiya Lal, was beheaded on Tuesday and his killing was filmed by his assailants.
A purported video of the killing surfaced on social media. Another clip of two men purportedly claiming responsibility for the killing was also shared online. In the video, the men identified themselves as Mohammed Riyaz Attari and Ghouse Mohammed, brandished swords and claimed that they would also kill Prime Minister Narendra Modi. Both the men have been arrested.
The All India Muslim Personal Law Board said that taking the law into one's own hands was "highly condemnable, regrettable and un-Islamic". It also called on the government to enact a law against blasphemy with respect to religious personalities of all faiths.
The AIMPLB was among several Muslim organisations and political leaders that criticised the killing and called for strict punishment to the guilty.
The chief of the Ajmer shrine in Rajasthan, Zainul Abedin Ali Khan, said that Indian Muslims would not allow a "mind-set of Talibanisation" to surface in the country, according to PTI. "No religion promotes violence against humanity," he said. "Especially, in the religion of Islam, all the teachings act as sources of peace."
Islamic organisation Jamaat-e-Islami Hind described the murder as barbaric and uncivilised, adding that Islam does not justify violence. "The culprits should be dealt with according to the law of the land," the organisation said. "In any case, peace should not be disturbed. Nobody should try to take the advantage of this ugly crime."
All India Majlis-e-Ittehadul Muslimeen Chief Asaduddin Owaisi criticised the murder and said that his party's consistent stand was to oppose such violence. "No one can take law in their own hands," he said. "We demand that the state govt takes strictest possible action. Rule of law must be upheld."
PM should address the nation, says Rajasthan CM
Meanwhile, Rajasthan Chief Minister Ashok Gehlot urged Prime Minister Narendra Modi and Union Home Minister Amit Shah to address the nation, saying that there is a "tense atmosphere" across the country.
The chief minister said that he was extremely saddened by the murder in Udaipur and added that no amount of condemnation was enough for it. "I have repeatedly urged Modi ji and Amit Shah ji to address the whole country," he said. "...Wherever a community is in a minority in an area, that community is worried. Such is the level of tension that has developed."
Gehlot said that Modi should state that his government "will not tolerate violence at any cost" and should urge citizens to live together with mutual love and brotherhood.
Gulab Chand Kataria, the leader of Opposition in Rajasthan, said that the murder could not have possibly been committed by just one man. "It is horrendous and failure of administration," he added.
Former Rajasthan Chief Minister Vasundhara Raje said the government's appeasement policy had paved the way for communal frenzy and violence.
Political leaders from outside Rajasthan also expressed shock at the killing and called for stringent punishment to the culprits.
Congress leader Rahul Gandhi said that barbarity in the name of religion could not be tolerated.
"We all have to come together to defeat hate," he said. "I appeal to everyone to maintain peace and brotherhood."
Congress MP Shashi Tharoor said the accused men should get strict punishment as bigotry and violence have no place in our society. He also urged social media firms to take down the video of the killing to avoid inflaming passions.
Congress spokesperson Pawan Khera said that Kanhaiya Lal, like other victims of mob lynching Mohammed Akhlaq and Pehlu Khan, fell prey to hate.
"Who is creating an atmosphere of extremism in the country?" he asked. "Who is creating disputes in society? Who is gaining political benefit by spreading hatred. Everyone knows who he is. Everyone is seeing that he is silent."
Aam Aadmi Party chief Arvind Kejriwal termed the killing a "dastardly act" and said that such incidents have no place in civilised society. "We criticise the incident in strong terms," he said. "The criminals who indulged in this act should be severely punished."
Kerala Chief Minister Pinarayi Vijayan said "such heinous acts would only serve to upset our harmonious living" and urged everyone to maintain peace and calm.
Samajwadi Party chief Akhilesh Yadav said that persons who commit such crimes should be given stringent punishment in a time-bound manner so that "enemies of peace" do not take advantage of such incidents.
"Today, every person in society must come forward and prevent the country's brotherhood from being sacrificed at the altar of hate," he added.
Bahujan Samaj Party chief Mayawati urged citizens to maintain restraint and peace. "The Rajasthan government should ensure ensure strict punishment for the guilty, and also take all steps necessary to ensure that the situation remains normal," she said.
Source: Scroll
Please click the following URL to read the text of the original story:
https://scroll.in/latest/1027173/we-wont-allow-talibanisation-of-society-muslim-groups-criticise-killing-of-tailor-in-udaipur
--------
Udaipur Murder Meant To Spread Terror, Both Accused Booked Under UAPA; One Of Duo Who Killed Tailor Has Links With Pak-Based Dawat-e-Islami: DGP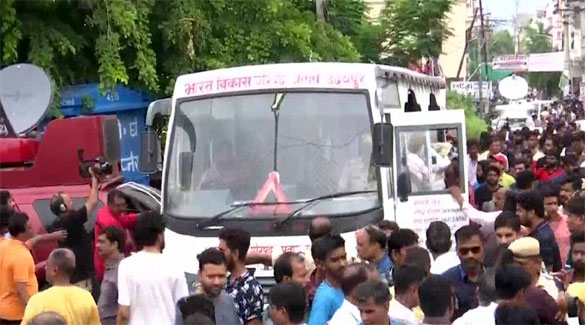 Hundreds of people joined tailor Kanhaiya Lal's funeral procession on Wednesday. (ANI)
----
By: Express Web Desk | Jaipur
June 29, 2022
Udaipur tailor murder live updates: The murder of Kanhaiya Lal, a tailor, in Udaipur was meant to spread terror, said Rajasthan Chief Minister Ashok Gehlot on Wednesday, adding that he had received information that the two killers had links abroad. Lal was on Tuesday murdered by two men who had posted videos online that said they were avenging an insult to Islam.
A day after his brutal murder, the Union Ministry of Home Affairs Wednesday directed the National Investigation Agency (NIA) to take over the probe. Lal's body was brought back to his house today, following a post-mortem. His mortal remains will be cremated later in the day. Heavy security was deployed outside his residence, where over 100 people had gathered on Wednesday morning.
Nearly three weeks before he was killed in his tailoring shop in Udaipur, the victim, identified as Kanhaiya Lal, was arrested for allegedly hurting religious sentiments. Soon after he was released on bail, Lal had sought police protection citing death threats, a top police official told The Indian Express.
Udaipur murder case Live: MHA directs NIA to take over probe; Kanhaiya Lal's post mortem completed; cremation to take place later today; Rajasthan suspends internet services for 24 hrs; Section 144 imposed for a month. Follow for the latest news and updates on the case; Expelled BJP leader Naveen Jindal gets death threats after Udaipur murder
16:53 (IST)
29 JUN 2022
One of duo who killed tailor has links with Pak-based Dawat-e-Islami, visited Karachi in 2014: DGP
One of duo who killed tailor has links with Pak-based Dawat-e-Islami, visited Karachi in 2014: DGP Jaipur, Jun 29 (PTI) Preliminary investigation into the gruesome killing of a tailor in Udaipur revealed that one of the two prime accused had links with the Pakistan-based Dawat-e-Islami organisation and had visited Karachi in 2014, the Rajasthan Police chief said on Wednesday.
The police have detained three more people in connection with the killing so far, Director General of Police (DGP) M L Lather said at a press conference here.
Two men, identified as Riaz Akhtari and Ghouse Mohammad, hacked Kanhaiya Lal to death with a cleaver at his shop in Udaipur on Tuesday and posted videos online saying they are avenging an insult to Islam.
The duo were taken into custody on Tuesday and booked under the Unlawful Activities (Prevention) Act and the IPC, the police chief said.(PTI)
16:26 (IST)
29 JUN 2022
On Jun 15, Udaipur tailor had told cops some people were conducting recce of his shop
Days before he was killed by two persons for allegedly insulting Islam, Udaipur tailor Kanhaiya Lal had told police in a written complaint he faced a threat to life by some people who were conducting a "recce" of his shop, officials said Monday.
On June 11, Kanhaiya Lal's neighbour Nazim had filed a case against him over a controversial social media post and he was arrested.
After he was released on bail, he told the police in a written complaint on June 15 he was receiving threat calls from Nazim and others and sought police protection.
However, the officials said, the police mediated between Nazim and Kanhaiya and the matter was settled with Kanhaiya giving in writing that he does not want any further action.(PTI)
16:18 (IST)
29 JUN 2022
Udaipur murder: Rajasthan CM Ashok Gehlot has called an all party meeting this evening
Rajasthan CM has called an all-party meet over Udaipur killing
16:03 (IST)
29 JUN 2022
Udaipur killing: BJP leader cancels protest at Jantar Mantar in Delhi
BJP leader Kapil Mishra on Wednesday said the protest, which was scheduled to take place at Jantar Mantar here against the brutal murder of a tailor by two men in Rajasthan's Udaipur, has been cancelled.
Mishra took to Twitter and posted a communication by Delhi Police denying permission to hold the protest.
"Today's programme at Jantar Mantar is being cancelled on the basis of the conversation and letter received from the Delhi Police. We do not want to create any challenges for the law and order situation.
"Our priority is to help Kanhaiya family. Nationwide public programme against terror will be announced tomorrow," Mishra tweeted in Hindi.
Source: Indian Express
Please click the following URL to read the text of the original story:
https://indianexpress.com/article/cities/jaipur/tailor-hacked-to-death-in-rajasthans-udaipur-top-developments-live-updates-7996918/
--------
Afghan TV Anchor Forced to Sell Street Food after Taliban Takeover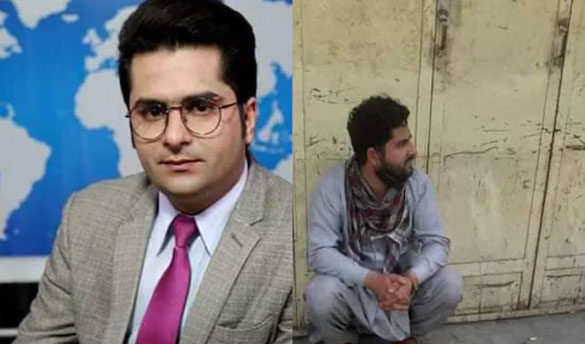 The plight of an Aghani journalist has come to light, painting a grim picture of the current economic situation of the country. (Credits: Twitter)
------
JUNE 28, 2022
Since the Taliban seized power in Afghanistan last year, the conflict-stricken country has been grappling with a severe humanitarian crisis and food shortage. The change in regime and political turmoil caused massive unemployment, pushing nearly half a million people in the country out of their jobs, as per UN International Labour Organization (ILO). Recently, the plight of an Aghani journalist has come to light, painting a grim picture of the current economic situation of the country. A former journalist named Musa Mohammadi, who has worked as a TV presenter, lost his job in the crisis and is now compelled to sell street food.
The pictures of Mohammadi went viral on social media after they were shared on Twitter by Kabir Haqmal, who earlier worked with the Hamid Karzai government. "Journalists' life in Afghanistan under the Taliban," wrote Haqmal.
Haqmal shared that Mohammadi had been a part of the media industry for years and has worked on many TV channels as an anchor and reporter. However, as Afghanistan plunged into an economic crisis, Mohammadi struggled to stay afloat and ended up selling street food to make the ends meet.
Kabir also shared few pictures of Mohammadi where he is seen sitting on the ground and selling street food. Another photo shows the journalist in a TV studio dressed up in a suit.
As Mohammadi's story did rounds on the internet, it managed to catch the attention of Ahmadullah Wasiq, the Director-General of National Radio and Television. Sharing Mohammadi's viral pictures, Wasiq assured to help him in a tweet. According to the English translation of his Tweet, Wasiq highlighted that Mohammadi had worked for a private television station but was now unemployed.
He further assured that Mohammadi will be appointed at the National Radio and Television. "We need all Afghan professionals," the tweet read.
According to the United Nations, Afghanistan has witnessed a huge unemployment rate since the Taliban takeover, with women workers affected the most. The economy of the country was left paralysed after its foreign exchange reserves got frozen and the value of its currency plummeted to record low.
Source: News18
Please click the following URL to read the text of the original story:
https://www.news18.com/news/buzz/afghan-tv-anchor-forced-to-sell-street-food-after-taliban-takeover-pics-go-viral-5391781.html
--------
Nearly 307,000 Civilians Killed In Syrian War from 2011 to 2021: UN
© UNICEF/Amer Al-Mohibany A child rides a toy car as people celebrate Eid al-Fitr, in east Ghouta, Syria.
-----
Peter Kenny
28.06.2022
GENEVA
Nearly 307,000 civilians were killed between March 1, 2011, and March 31, 2021, the highest estimate of conflict-related civilian deaths in Syria, the UN Human Rights Office said Tuesday in a new report.
The Human Rights Office said its report followed rigorous assessment and statistical analysis of available data on civilian casualties and estimated that 306,887 civilians were killed in the 10-year period.
"The conflict-related casualty figures in this report are not simply a set of body_abstract numbers, but represent individual human beings," UN High Commissioner for Human Rights Michelle Bachelet said.
"The impact of the killing of each of these 306,887 civilians would have had a profound, reverberating impact on the family and community to which they belonged."
The analysis from the report will also give a clearer sense of the severity and scale of the conflict, said the UN rights chief, and does not include deaths of combatants.
The report was mandated by the UN Human Rights Council and referred to 143,350 civilian deaths that various sources with detailed information have individually documented.
These include at least their full name, date, and location of death using statistical estimation techniques of imputation and multiple systems estimation to connect the dots where there were missing information elements.
Using new techniques, a further 163,537 civilian deaths were estimated to have occurred, bringing the total estimated civilian death toll to 306,887, said the UN report.
"This does not include the many, many more civilians who died due to the loss of access to healthcare, to food, to clean water, and other essential human rights, which remain to be assessed," said Bachelet
The estimate of 306,887 means that, on average, every day, for the past 10 years, 83 civilians suffered violent deaths due to the conflict, said the report.
The report notes that "the extent of civilian casualties in the last 10 years represents a staggering 1.5% of the total population" of Syria at the beginning of the conflict.
- Failure of parties
It raises "serious concerns as to the failure of the parties to the conflict to respect international humanitarian law norms on the protection of civilians," said the report.
This statistical work builds on previous efforts to assess direct conflict-related deaths.
In 2013 and 2014, the UN Human Rights Office commissioned three statistical analyses of documented killings in Syria, but it was discontinued as the situation in the country grew more dangerous.
In 2019, the Human Rights Office resumed information gathering and analysis on casualties in Syria in its global reporting on the UN Sustainable Development Goals indicator on conflict-related deaths.
"Where civil society actors undertake casualty recording, efforts…can put the recorders themselves at risk. They also face multiple challenges in their documentation efforts, including the collapse of their usual networks of information," said the report.
- Lack of access
This is because people are on the move, displaced, or in areas where there is a general information shut-down; the limited, or lack of, access to mobile data, internet, and electricity to collect and transmit information; limitations on their movements; and surveillance, said the report.
To produce the report, the office used eight sources of information relating to different periods across the 10 years covered.
These include the Damascus Center for Human Rights Studies, the Center for Statistics and Research–Syria, the Syrian Network for Human Rights, the Syrian Observatory for Human Rights, the Violations Documentation Center, Syria Shuhada records, government records, and records of the UN Human Rights Office itself.
"Unless and until the conflict ends, there is a continued risk of civilian deaths," says the report.
"It is therefore critical that all states, the United Nations, and civil society use all available means to end the conflict and support a transition to peace."
Source: Anadolu Agency
Please click the following URL to read the text of the original story:
https://www.aa.com.tr/en/middle-east/nearly-307-000-civilians-killed-in-syrian-war-from-2011-to-2021-un/2624481
--------
US, Israel Enemies of Islam, Humanity: IRGC Commander in a Meeting with Pakistan General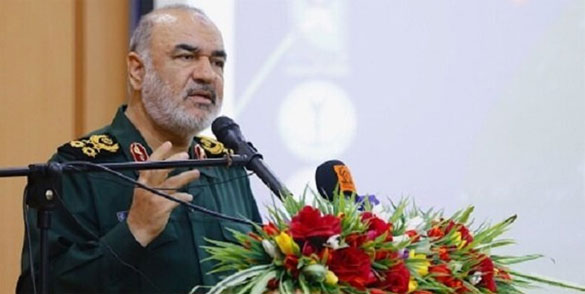 Commander of the Islamic Revolution Guards Corps (IRGC) Major General Hossein Salami
-----
2022-June-28
Israel and its main ally, the US, are "enemies of Islam and humanity", General Salami said in a meeting with visiting Chairman of the Joint Chiefs of Staff Committee of Pakistan General Nadeem Raza in Tehran on Tuesday.
He criticized the policy adopted by certain Islamic countries to rely on Israel for economic and security purposes while "the occupying regime is incapable of even defending itself".
The Iranian commander warned certain Arab states of the "bitter consequences" of normalization of ties with Israel.
"The US presence in the Islamic world brings about major divisions, long civil wars, destruction of homes, displacement of people, deprivation of Muslim nations of their own wealth, and insecurity, poverty, and backwardness," General Salami.
As a case in point, he highlighted the "irreversible damage" in Afghanistan after the chaotic withdrawal of US-led forces from the country last year following two decades of occupation.
The Iranian and Pakistani commanders also discussed the cordial relations and historical bonds between the two Muslim nations, and stressed developing intelligence and military cooperation to boost border security.
In relevant remarks on Sunday, Iranian President Seyed Ebrahim Rayeesi said that normalization of relations with some Arab countries will never provide security for Israel, but will further add to the regional problems.
"The efforts made by the Zionist regime to normalize relations with regional countries will by no means bring security to this regime," Rayeesi said in a joint press conference with the visiting Iraqi Prime Minister Mustafa al-Kadhimi in Tehran.
"We and Iraq believe that peace and tranquility in the region depends on all regional officials doing their parts, and normalization [of relations] with the [Zionist] regime and the presence of foreigners in the region will solve none of the regional people's problems," he added.
Source: Fars News Agency
Please click the following URL to read the text of the original story:
https://www.farsnews.ir/en/news/14010407000967/IRGC-Cmmander-US-Israel-Enemies-f-Islam-Hmaniy
--------
India
Hate against Muslims in Karnataka: Class 6 Muslim Boy Beaten Up While Returning From Madrasa
29th June 2022
In yet another incident of hate against Muslims in Karnataka on June 27, a minor Madrasa student was allegedly attacked by unidentified people.
The incident occurred in the Krishnapura area of Mangalore district. The victim was identified as Shayan. The two suspects ran away as the boy raised an alarm for help.
A social media post regarding the incident read, "#Muslim boy Shayan Studying Class 6th was attacked while returning from #Madrasa by Miscreants today around 9:15 PM in Krishnapura 6th block of Mangalore, Karnataka. As the boy screamed for help they ran away.
Source: Siasat Daily
Please click the following URL to read the full text of the original story:
https://www.siasat.com/karnataka-muslim-boy-beaten-up-while-returning-from-madrasa-2359600/
--------
Pakistan links emerge from savage Udaipur murder
Jun 29, 2022
Investigation into the savage Udaipur murder has revealed links of the two self-radicalized murderers with Karachi-based Sunni Islamist organization Dawat-e-Islami, which has links with Barelvi pan-Islamic Tehreek-e-Labbaik extremist organization in Pakistan, according to people familiar with the investigation.
On Tuesday, 38-year-old Bhilwara resident Riyaz Attari and 39-year-old Udaipur resident Ghous Mohammed beheaded tailor Kanhaiya Lal with knives for supporting former BJP leader Nupur Sharma's remarks on Prophet Mohammed. Attari is a welder who had crafted the knives, much before the Prophet's remarks controversy, for butchery.
The two accused were arrested by the Rajasthan Police at Rajsamand, while on their way to shoot another video at the Ajmer Sharif shrine after hacking the tailor to death in Udaipur for supporting alleged blasphemy. The two Islamists had already distributed the murder video within their WhatsApp group, which became viral in a matter of minutes after the dastardly crime. In the murder video, the two highly radicalized Islamists even threatened Prime Minister Narendra Modi.
Interrogation of the two accused revealed that the two belonged to Sufi-Barelvi sect of Sunni Islam and had close links with Dawat-e-Islami in Karachi. While the two were self-radicalized, efforts are being made to find out whether they had any links with other extremist Sunni organizations in India including those with links with Muslim Brotherhood, according to counter-terror officials. The two have been booked under the UAPA and the case is now being handed over to National Investigation Agency (NIA).
Karachi-based Dawat-e-Islami's aim is to spread the teachings of the Quran and Sunnah with the objective of advocating Shariah globally. It has a huge following in Pakistan and is committed to supporting the blasphemy law in the Islamic Republic.
The savage Udaipur murder has sent alarm bells within the internal security establishment as rising Islamic radicalization in India is evident from the crime with neighborhood countries like Pakistan, Afghanistan, Sri Lanka, and Bangladesh not being able to control the rise of political Islam in the Indian sub-continent.
Source: Hindustan Times
Please click the following URL to read the full text of the original story:
https://www.hindustantimes.com/india-news/pakistan-links-emerge-from-savage-udaipur-murder-101656475234292.html
--------
On Udaipur killing, Kangana Ranaut 'numb'; Taslima Nasreen says Hindus not safe
Jun 29, 2022
Bollywood actor Kangana Ranaut on Tuesday took to Twitter and reacted to the grisly murder of a tailor in Udaipur for reported sharing a social media post in support of Nupur Sharma, the former BJP spokesperson who had made controversial statements on Prophet Mohammad. "I am numb..," Kangana wrote on her Instagram story. Also Read | Udaipur murder: NIA team sent, internet snapped in Rajasthan, Section 144 imposed
The beheading incident sparked widespread outrage with all political parties, and religious groups condemning the brutal killing. The killers released a video clip claiming responsibility for the incident. The tailor Kanhaiya Lal, who was beheaded, was recently arrested by the police because of the same post. At 8pm, curfew was declared in seven police stations in Udaipur city.
'In the name of God…': Kangana Ranaut has reacted to the Udaipur killing
"This man was beheaded in Udaipur today for supporting Nupur Sharma and jihadis made a video of the beheading. They forcefully entered his shop and chanted slogans of sar tan je juda...all this in the name of God! They beheaded Kanhaiya in Udaipur in the name of God...and then posed like this. Also made several videos I don't have courage or see those videos, I am numb..." Kangana Ranaut posted.
Bangladeshi author Taslima Nasreen said, "Fanatics are so dangerous that even Hindus are not safe in India." "Riaz & Gias brutally killed Kanhaiya Lal, a tailor, in Udaipur and then uploaded the video of the killing on social media & happily declared that they killed & they can do anything for their prophet," the author tweeted.
Filmmaker Vivek Agnihotri, director of the Kashmir Files, said it's time for Qatar to "officially apologise" to all Hindus -- the context being the Muslim nations raising the issue of Nupur Sharma's statement with India. "It's becoming impossible to be a Truthful Hindu and survive in Hindu-sthan. To survive either become an Urban Naxal or become anonymous. Or be dead. Raliv, Galiv, Chaliv," Vivek Agnihotri tweeted. The author drew a parallel between the Udaipur incident with a recent incident in a Bangladesh college. Hindu college principal Swapan Kumar Biswas was reportedly garlanded with shoes around the neck "for defending a student who supported Nupur Sharma on social media".
Actor Anupam Kher reacted to the beheading and tweeted, "Horrified...sad...ANGRY".
Bollywood actor Swara Bhasker said the incident is "despicable and utterly condemnable". "The perpetrators should be dealt with promptly and strictly, as per law! Heinous crime.. Unjustifiable! As one often says.. if you want to kill in the name of your God, start with yourself! Sick sick monsters!" Swara tweeted.
Source: Hindustan Times
Please click the following URL to read the full text of the original story:
https://www.hindustantimes.com/india-news/on-udaipur-killing-kangana-ranaut-numb-taslima-nasreen-says-hindus-not-safe-vivek-agnihotri-swara-bhasker-anupam-kher-101656462340782.html
--------
After Prophet row, PM meets UAE President, both underline ties
by Shubhajit Roy
June 29, 2022
Weeks after the United Arab Emirates (UAE), counted among India's closest partners, joined criticism from the Islamic world against remarks on the Prophet by the now suspended and expelled BJP leaders, Prime Minister Narendra Modi on Tuesday met UAE President and Ruler of Abu Dhabi, Sheikh Mohamed bin Zayed Al Nahyan, popularly known as MBZ, and conveyed condolences on the death of the former president of the Gulf nation, Sheikh Khalifa bin Zayed Al Nahyan. The two leaders also reviewed bilateral ties.
In a special gesture, Mohamed bin Zayed, accompanied by senior members of the Royal family, received Modi at the Abu Dhabi presidential airport. "I am touched by the special gesture of my brother, His Highness Sheikh Mohamed bin Zayed Al Nahyan, of coming to welcome me at Abu Dhabi airport. My gratitude to him," Modi tweeted in Arabic and English languages.
This is their first interaction after Mohamed bin Zayed's election as the new President last month. During their meeting, Modi conveyed his condolences on the death of Sheikh Khalifa, who died on May 13, at the age of 73, after a long illness. He also congratulated Mohamed bin Zayed on his election as President.
"Both leaders reviewed various aspects of India-UAE Comprehensive Strategic Partnership which they have carefully nurtured over the past few years," said a statement by the Ministry of External Affairs (MEA).
"During their virtual summit on February 18, both countries signed the Comprehensive Economic Partnership Agreement, which has since entered into force on May 1. CEPA is expected to further boost trade and investment between both countries," said the statement.
Bilateral trade in FY 2021-22 was about US$ 72 billion. UAE is India's third largest trade partner and second largest export destination. UAE's FDI in India has increased over the past few years and currently stands at over $12 billion.
During the virtual summit, the MEA said, both countries had also released a vision statement which laid the roadmap for bilateral cooperation in diverse areas including trade, investment, energy, food security, health, defence, skills, education, culture and people-to-people ties.
"Both leaders expressed satisfaction that India and UAE continue to forge closer partnership in these areas, building on their close and friendly relations and historical people-to-people connect. India-UAE have a strong energy partnership which is now acquiring new focus on renewable energy," it said.
Modi thanked Mohamed bin Zayed for "taking great care of the 3.5 million Indian community in UAE, especially during the Covid-19 pandemic," the MEA said. He also invited him to visit India at an early date, it said.
Earlier this month, UAE had joined criticism from the Islamic world against remarks on the Prophet by the now suspended and expelled BJP leaders Nupur Sharma and Naveen Kumar Jindal.
Expressing its "denunciation and rejection of insults of the Prophet", the UAE Ministry of Foreign Affairs and International Cooperation (MoFAIC), had "affirmed the UAE's firm rejection of all practices and behaviors that contradict moral and human values and principles" and "underscored the need to respect religious symbols and not violate them, as well as confront hate speech and violence."
Source: Indian Express
Please click the following URL to read the full text of the original story:
https://indianexpress.com/article/india/pm-modi-uae-president-sheikh-mohamed-abu-dhabi-7996962/
--------
Harassment of human rights defenders now alarmingly commonplace in India: Amnesty International, India on Zubair's arrest
June 28, 2022
Amnesty International, India on Tuesday said that Harassment and arbitrary arrests of human rights defenders for tirelessly seeking truth and justice have become alarmingly commonplace in India. The organisation demanded for an immediate unconditional release of fact-checking website Alt News co-founder Mohammed Zubair.
Zubair was arrested by the Delhi Police on Monday night for allegedly hurting religious sentiments and promoting enmity on Twitter.
Chair of board for Amnesty International India, Aakar Patel, said the Indian authorities are targeting Zubair for his crucial work to combat the rise in fake news and disinformation and call out discrimination against minorities.
"The arrest of Mohammed Zubair shows the danger facing human rights defenders in India has reached a crisis point." "The fact that he was not provided a copy of the First Information Report (FIR) and was detained incommunicado during the initial hours following his arrest shows just how brazen the Indian authorities have become," Patel said in a statement.
Calling on the Delhi Police to immediately and unconditionally release Zubair and end its "relentless harassment" of journalists, human rights defenders and activists, Patel said the Alt News co-founder's arrest is a clear violation of the right to freedom of expression, abuse of power by the authorities and sends a message that dissent is not tolerated in the country.
Alt News' Co-founder, Pratik Sinha alleged that the police did not give any prior notice to the arrested, even though it is mandatory for the sections under which he has been arrested.
Source: Indian Express
Please click the following URL to read the full text of the original story:
https://indianexpress.com/article/india/harassment-of-human-rights-defenders-now-alarmingly-commonplace-in-india-amnesty-india-on-zubairs-arrest-7996409/
--------
Amid row over meeting Pope, Naveen Patnaik visits Sheikh Zayed mosque in Abu Dhabi
28th June 2022
BHUBANESWAR: Amid criticism by opposition BJP over meeting Pope Francis at Vatican City last week, Odisha Chief Minister Naveen Patnaik has visited Sheikh Zayed Mosque in Abu Dhabi ahead of meeting potential investors in Dubai in the United Arab Emirates.
Patnaik, who is on an 11-day foreign tour, had met Pope Francis on June 22, with the saffron party questioning his intention of meeting the Catholic Church head.
"The marble dome of Sheikh Zayed Mosque, Abu Dhabi is an epitome of magnificence with intricate inlay work inspired by Moghul architecture. I am told, the artisans and the marbles also came from Makrana village of Rajasthan. A bit of India, everywhere," Patnaik tweeted along with a video of his visit to the mosque on Monday.
Patnaik, who will return to Odisha on June 30, is scheduled to visit Puri to witness Lord Jagannath's annual Ratha Jatra on July 1.
To underline his secular credentials, Patnaik is making visits to religious places of different faiths, a BJD insider said.
Senior BJP lawmaker Jaynarayan Mishra, who is among those considered for the post of the Leader of Opposition in Odisha assembly, has questioned Patnaik's Vatican City visit.
"By spending public money, why did CM go there and what did he achieve in return? What was the need to meet the Pope by standing in a queue? We have never seen him meet Shankaracharya in Puri," Mishra has said.
The BJP, however, has not yet reacted on Patnaik's visit to the mosque.
Reacting to the BJP's objection, BJD legislator S B Behera said, "What is wrong in meeting the Pope? If this meeting creates a positive image of Odisha in the world, the CM has taken the right decision."
Source: New Indian Express
Please click the following URL to read the full text of the original story:
https://www.newindianexpress.com/states/odisha/2022/jun/28/amid-row-over-meeting-pope-naveen-patnaik-visits-sheikh-zayed-mosque-in-abu-dhabi-2470673.html
--------
Editors Guild of India condemns Mohammed Zubair's arrest
29.06.22
The Editors Guild of India on Tuesday condemned the arrest of Mohammed Zubair, co-founder of fact-checking website AltNews, saying the organisation's "alert vigilance was resented by those who use disinformation as a tool to polarise the society and rake nationalist sentiments".
In a statement, the guild said: "In a bizarre turn of events, Zubair was called in for questioning by the special cell of Delhi police in a case from 2020, for which he already had protection against arrest from Delhi High Court. However, when Zubair responded to the summons, he was arrested in relation to a criminal investigation initiated earlier this month, after an anonymous Twitter handle alleged that Zubair's 2018 post was hurting religious sentiments."
It noted that AltNews had done exemplary work over the past few years in identifying fake news and countering disinformation campaigns and demanded Zubair's immediate release.
"This is necessary to buttress the commitment made by Prime Minister Narendra Modi in the G7 meet in Germany to ensure a resilient democracy by protecting online and offline content," the guild said.
The Press Club of India also decried Zubair's arrest, asserting that freedom of expression is an essential "ingredient of democracy".
Demanding his release, the PCI said "the coercive action defies both the law and the common sense", considering the action was initiated against him for a Twitter post after years without giving any notice.
AltNews was merely fulfilling its role by cracking down on and correcting disinformation that was being spread through "fake news" with an aim to create fissures in the society, it said.
"It is saddening to know that Mohammed Zubair had to pay the price for vigilance by his uncalled for arrest for a post made in 2018," the PCI added.
The PCI also highlighted how India on Monday signed the "2022 Resilient Democracies statement" at the G7 summit in Germany, which reiterated the commitment to guard the freedom, independence and diversity of civil society actors and protect the freedom of expression and opinion online and offline.
"It is disturbing that Delhi police arrested AltNews co-founder around the same time when the PM was associating himself with the noble declaration along with world leaders. Are the Union home ministry and Delhi police not on the same page with the Prime Minister on the commitment to freedom of expression," it said in a statement.
The PCI said Zubair's arrest "showed the blatant violation of the country's commitment on the global platform given by none other than the Prime Minister himself".
Amnesty International India on Tuesday said Zubair's arrest was a violation of the right to freedom of expression and an abuse of power by the authorities.
"The arrest of Mohammed Zubair, co-founder of AltNews — an independent fact checking website — for a 2018 satirical tweet shows the danger facing human rights defenders has reached a crisis point in India," it said in a statement.
Source: Telegraph India
Please click the following URL to read the full text of the original story:
https://www.telegraphindia.com/india/editors-guild-of-india-condemns-mohammed-zubairs-arrest/cid/1872260
--------
Muslim Organization Condemns Zubair's Arrest, Demands 'Fair Action' In The Matter
28 JUN 2022
Prominent Muslim organization Jamiat Ulema-e-Hind on Tuesday termed as "discriminatory" the arrest of Alt News co-founder Mohammed Zubair and demanded that the government take "fair action" in the matter respecting the country's reputation at the international level. Jamiat president Maulana Mahmood Madani also wrote to Home Minister Amit Shah saying "the discriminatory nature" of the functioning of law enforcement agencies is condemnable.
"On one hand, people who openly deliver hate speeches and make genocide calls are roaming free, while on the other hand journalists who are tirelessly working in exposing such hate-mongers are being systematically harassed and intimidated," Madani said. In the case against Zubair, he alleged "discrimination and religious persecution".
"There is no doubt that the people accused of hurting religious sentiments of other people's faith, their holy saints, and holy books with the intention to cause communal disturbance must be dealt with firmly as per the provision of the law. However, there must not be any discrimination in dealing with such people on the basis of their particular faith," the Jamiat chief said.
"We solemnly appeal to you as the guardian of the law enforcement to kindly make sure that absolute equality and impartiality is exercised by the law enforcement agencies in dealing with the hate mongers irrespective of their faith... We demand that the government take fair action respecting the country's reputation at the international level," Madani said in his letter.
The fact-checking website's co-founder was arrested by the Special Cell of the Delhi Police on Monday on charges of promoting enmity between different groups on grounds of religion and deliberate acts to outrage religious feelings of the Indian Penal Code.
Source: Outlook India
Please click the following URL to read the full text of the original story:
https://www.outlookindia.com/national/muslim-organization-condemns-zubair-s-arrest-demands-fair-action-in-the-matter-news-205374
--------
J&K twin blasts case solved, Lashkar duo arrested
Jun 29, 2022
JAMMU: Police on Tuesday claimed to have cracked the Kotranka and Budhal blast cases after the arrest of two Lashkar-e-Taiba terrorists with IEDs and other materials. Following the duo's disclosure, a search was launched to arrest their commander who was the mastermind of the twin blasts — in Rajouri district (March 26) and Shahpur (April 24) in which two people each were injured.
"Joint teams of the Army and police raided multiple locations in Rajouri's Larkoti, Targain, Jaglanoo and Draaj areas and arrested the two terrorists, identified as Mohammad Shabir and Mohammad Shadiq, both from Draaj," ADGP (Jammu zone) Mukesh Singh said.
During the investigation, police learnt that another accused, Talib Shah, had plotted the explosions and headed the group being handled from Pakistan. The module had collected three consignments of arms, ammunition and explosives from the Lamberi-Kalakote area in January, March and April this year, the ADGP said. "Talib is the mastermind of all terrorist activities in Pir Panjal area and was also involved in radicalising many youths to carry out terror activities in Rajouri," he added.
Source: Times Of India
Please click the following URL to read the full text of the original story:
https://timesofindia.indiatimes.com/india/jk-twin-blasts-case-solved-lashkar-duo-arrested/articleshow/92528915.cms
--------
Home Ministry directs NIA to take over probe into Udaipur tailor Kanhaiya Lal's murder
June 29, 2022
The Ministry of Home Affairs (MHA) Wednesday directed the National Investigation Agency (NIA) to take over the investigation into the murder of Kanhaiya Lal Teli, a tailor who was hacked to death by two men in Rajasthan's Udaipur a day earlier.
In a statement, the Home Minister's Office said, "The involvement of any organisation and international links will be thoroughly investigated."
MHA has directed the National Investigation Agency (NIA) to take over the investigation of the brutal murder of Shri Kanhaiya Lal Teli committed at Udaipur, Rajasthan yesterday.
The involvement of any organisation and international links will be thoroughly investigated.
Source: Indian Express
Please click the following URL to read the full text of the original story:
https://indianexpress.com/article/india/udaipur-tailor-murder-nia-probe-7997792/
--------
South Asia
Taliban: Iran first country to help Afghanistan's earthquake victims
June 29, 2022
Acting minister of disaster management and humanitarian affairs of Afghanistan's Taliban-led caretaker government said that after the earthquake in Afghanistan, the Taliban contacted neighboring countries and the international community to send immediate aid to the quake-hit areas.
Ghulam Ghaws Naseri told reporters: "Among the neighboring countries, Iran was the first country to send the necessary aid to the earthquake victims in Afghanistan."
A magnitude 5.9 earthquake shook Paktika and Khost provinces in southeastern Afghanistan last Wednesday, killing and injuring thousands of Afghans.
Naseri added that the depth of the disaster is very wide in the quake-hit areas. The basic needs have reached the people of Afghanistan and what is important now is the construction of houses and the world community has a responsibility for that.
The Taliban official clarified that with the onset of the cold season in the next few months, the Afghan people in the quake-hit areas could not live in tents, and in such circumstances, humanitarian aid should not be politicized; however, the West has already done so.
"The West should help Afghans if it claims to be a supporter of human rights, and if it does not, it should at least release blocked Afghan assets worth $9 billion," he added.
Peyman Namdar, Vice President of Iran Red Crescent Society (IRCS) for Health, Treatment, and Rehabilitation, also said that Afghan earthquake victims were in a difficult situation.
Speaking to the reporters in Kabul on Tuesday Namdar said that more aid was needed to meet the needs of earthquake victims and to develop water, electricity, and housing infrastructure.
Source: ABNA24
Please click the following URL to read the full text of the original story:
https://en.abna24.com/news//taliban-%e2%80%8b%e2%80%8b%e2%80%8b%e2%80%8b%e2%80%8b%e2%80%8b%e2%80%8biran-first-country-to-help-afghanistans-earthquake-victims_1270797.html
--------
Rohingya Repatriation To Be On Agenda During Bangladesh PM's India Visit
June 29, 2022
Dhaka: Repatriation of Rohingyas are likely to figure on the agenda of Bangladesh Prime Minister Sheikh Hasina during her upcoming visit to India, scheduled in September this year.
Bangladesh Foreign Secretary, Masud Bin Momen in an exclusive interview with ANI said that PM Hasina, who will arrive in India on a bilateral visit on the invitation of PM Narendra Modi, will raise the issue of problems arising from the illegal migration of Rohingyas to Bangladesh from Myanmar, like the growth of radicalization, drug trafficking, as well as, human trafficking of women and children.
"To us, the only feasible solution is the repatriation of (Rohingyas) to their Rakhine state (Myanmar). I am sure that when PM Sheikh Hasina will meet PM Narendra Modi then she will also raise the issue that how India can help us in this repatriation effort," said Bangladesh foreign secretary Momen said.
Since August 25, 2017, more than 1 million Rohingya refugees from Myanmar have fled to Bangladesh. This Rohingya refugee crisis is among the largest, fastest movements of people in recent history.
"Well we have been asking the international community to assist us not only in terms of humanitarian efforts that are required to maintain this huge population of over one million Rohingyas but at the same time we have to look towards some sustainable solutions for this problem, to us the only feasible solution is the repatriation of Rohingyas to Rakhine state from where they came (Myanmar)," said Momen.
The complex Rohingya refugee crisis erupted in August 2017, following attacks on remote police outposts in western Myanmar by armed groups alleged to be from within the community.
These were followed by systematic counterattacks against the minority, mainly Muslim Rohingya, which human rights groups, including senior UN officials, have said amounted to ethnic cleansing.
Speaking about the important role India can play in the repatriation efforts, the Bangladesh foreign secretary said: "We are talking to the Myanmar authorities, but I think other countries can be of some help or assistance if it is agreeable to Myanmar. Since India is a common neighbour to both Myanmar and Bangladesh, we have also requested in the past and will continue to request India to play a more active role in terms of repatriation especially when these Rohingyas go back to Rakhine state in Myanmar."
"If they can find the right conducive atmosphere that could be held for in terms of accommodation of their betterment healthcare and sustainable livelihood some initial help would be required and that was provided by country like India and if Myanmar agreeable on that, will be a game-changer for Bangladesh," Momen said.
The Bangladesh diplomat also said that he had highlighted the repatriation issue with his former Indian counterpart Harsh Vardhan Shringla last year. Momen also informed that the issue was recently discussed by External Affairs Minister, S Jaishankar.
"I am sure PM Sheikh Hasina when she meets with PM Modi, will also raise how India can help us in this repatriation of Rohingyas," said Momen.
Over the past five years, refugees from the Rakhine state have been flooding into Cox's Bazar district in Bangladesh, to join the over 2,00,000 Rohingyas living there who had fled years before the crisis in 2017.
Today, it is estimated that over a million stateless Rohingya refugees live in the world's largest and most densely populated refugee camp, Kutupalong in Bangladesh. About half of the refugees are women and children.
"It is a very congested place in Cox's Bazar, we are trying to decongest it by moving a part of a population through Bhasan Char island, but then that is also a temporary solution," said Momen.
Bangladesh is worried about Rohingyas and their illegal activities in the country. Several Rohingyas have been booked in drug smuggling and child trafficking cases and there are fears about radicalization of the Rohingyas by third parties in the region.
"...More than 60 per cent of the Rohingya (refugees) are very young... there are fears that they could be some radicalisation (of them)...and obviously that can turn out to be a headache...not only for Bangladesh but beyond its (surrounding) region. ... Drugs and human trafficking including women and children en-route to Malaysia Indonesia and Thailand and also near the Andaman Sea (India) we have also found some activities," Bangladesh foreign secretary told ANI.
Bangladesh has recorded a sharp increase in the crime rate due to the migration of Rohingyas into the country and it's a matter of concern. As per police data in Dhaka, when the mass exodus happened in 2017 from Rakhine state in Myanmar to Cox's Bazaar in Bangladesh.
"The Rohingya are engaged in 12 types of crime including murders, drug and human trafficking, arms and gold trafficking, rape, robbery, abduction, ransom and attacking law enforcement agencies. By October 2021, 71 murders, 762 drug trafficking, 87 arms cases, 28 human traffickings, 65 rape incident, 10 robberies, 34 abduction and ransom incidents and 89 miscellaneous crimes were filed in the local police station," Cox Bazaar District Police said.
Source: ND TV
Please click the following URL to read the full text of the original story:
https://www.ndtv.com/india-news/rohingya-repatriation-to-be-on-agenda-during-bangladesh-pms-india-visit-3110443
--------
Taliban Senior Official Denies the Claims of "Attacks Against Civilians" in North Afghanistan
By Saqalain Eqbal
28 Jun 2022
Zabihullah Mujahid, the spokesman for the Taliban's de facto government in Afghanistan, denied the claims of extrajudicial killings and attacks against civilians in the northern Sar-e-Pol province's Balkhab district, calling the Amnesty International report "baseless".
"We have no civilian casualties in Balkhab Sar-e-Pol," he wrote on his twitter handle on June 27, labeling the report of the Amnesty International on the matter "unfounded" and "baseless".
"Such misleading reports severely damage the reputation of such prestigious international organizations," he wrote.
In an effort to put an end to an armed insurgency in the north of the country, Taliban authorities in Afghanistan are accused of engaging in extrajudicial killings and other violations of human rights.
On Monday, claims of abuses in the chaotic Balkhab district in Sar-e Pol province's north were deemed alarming by the United Nations and rights watchdogs, who called the Islamist party in power to hold those who are accountable.
The claims were a result of recent Taliban military operations against Mawlawi Mahdi Mujahid, aka Mawlawi Mujahid, a "disgruntled" Taliban commander in Balkhab.
Following days of army patrols in the Balkhab district in an effort to capture or kill Mawlawi Mujahid, the Taliban launched an offensive on the area last Thursday, using thousands of fighters—including suicide bombers—hundreds of US-made military vehicles, and air forces.
Source: Khaama Press
Please click the following URL to read the full text of the original story:
https://www.khaama.com/taliban-senior-official-denies-the-claims-of-attacks-against-civilians-in-north-afghanistan-47382/
--------
Two Batches of the Chinese Relief Aid Arrive in Afghanistan
By Saqalain Eqbal
28 Jun 2022
Two cargo planes delivering relief items from China, including tents, towel blankets, folding beds, and other necessities for the Afghan people in the wake of the terrible earthquake, landed at Kabul Airport in Afghanistan on Tuesday morning, according to the Chinese media.
Zabihullah Mujahid, the spokesperson for the Islamic Emirate of Afghanistan, announced on his twitter handle that the two batches of the Chinese aid, which is approximately $8 million worth of supplies, has landed in Kabul.
The Taliban senior official, in addition to the announcement, extended his gratitude to the government of China for the generous gesture.
According to the Chinese Embassy in Afghanistan on Tuesday, six additional Chinese cargo planes will transport humanitarian aid goods over the course of the next three days after the initial batch of goods delivered by China on Monday landed at Kabul Airport.
In a phone call with the acting minister of foreign affairs of the Taliban's interim government, Amir Khan Muttaqi, on Monday, Chinese State Councilor and Foreign Minister Wang Yi once again extended deepest sympathies to the Afghan people over the devastating earthquake.
Source: Khaama Press
Please click the following URL to read the full text of the original story:
https://www.khaama.com/two-batches-of-the-chinese-relief-aid-arrive-in-afghanistan-67458/
--------
Arab World
Over 100 murders in Syria's al-Hol camp since Jan 2021: UN
28 June, 2022
More than one hundred people, including many women, have been murdered in a Syrian detention camp in just 18 months, the UN said Tuesday, demanding countries repatriate their citizens.
The al-Hol camp is becoming increasingly unsafe and the child detainees are being condemned to a life with no future, said Imran Riza, the UN resident coordinator in Syria.
Al-Hol, in the Kurdish-controlled northeast, was meant as a temporary detention facility.
However, it still holds about 56,000 people, mostly Syrians and Iraqis, some of whom maintain links with the ISIS terrorist group, which seized swathes of Iraq and Syria in 2014.
The rest are citizens of other countries, including children and other relatives of ISIS fighters.
Some 94 percent of the detainees are women and children, Riza, who has visited al-Hol a handful of times, told reporters in Geneva.
"It's a very harsh place and it's become an increasingly unsafe place," he said.
There have been "around 106 murders since January last year in the camp" and "many" of the victims were women, he added.
"There's a great deal of gender-based violence... There's a lot of no-go areas."
The UK-based Syrian Observatory for Human Rights said violence was spiking in the camp, with another murder Tuesday – the seventh since June 11.
Out of 24 people murdered inside the camp this year, 16 were women, the Observatory added.
Riza said there were around 27,000 Iraqi detainees, 18-19,000 Syrians and around 12,000 third-country citizens.
While there have been some repatriations to Iraq, many other countries were refusing to take back their citizens.
Source: Al Arabiya
Please click the following URL to read the full text of the original story:
https://english.alarabiya.net/News/middle-east/2022/06/28/Over-100-murders-in-Syria-s-al-Hol-camp-since-Jan-2021-UN-
--------
Dubai sends humanitarian aid to Afghanistan after deadly earthquake
29 June, 2022
Dubai's ruler Sheikh Mohammed bin Rashid Al Maktoum has sent emergency aid flights to transport life-saving humanitarian assistance to Kabul to help hundreds of thousands of people in areas of Afghanistan ravaged by last week's deadly earthquake.
The 5.9-magnitude quake last Wednesday hit hardest in impoverished Paktika province in the east, killing more than 1,000 people and leaving tens of thousands homeless.
On Tuesday, a cargo flight departed from Dubai to Kabul, carrying 24.5 metric tonnes of essential medicines, medical items, and cholera kits supplied by the WHO from its warehouses in the International Humanitarian City (IHC) in Dubai, state news agency WAM reported on Wednesday.
The facilitation and transport of aid come in response to the immediate humanitarian needs of the landlocked Southern Asian country following the earthquake, amid fears of a cholera outbreak besides the country's already dire humanitarian situation.
Giuseppe Saba, CEO of IHC, said, "Reports indicate that this is the deadliest earthquake in two decades, further compounding the alarming humanitarian situation in Afghanistan. The IHC, under the directives of His Highness Sheikh Mohammed bin Rashid Al Maktoum, is accelerating the rapid response of the international humanitarian community as it rallies to come to the aid of those impacted by the disaster."
"Many organisations that we host in IHC are working around the clock to mobilise resources, and we are coordinating with them to provide all the required support to transport relief from our warehouses into Afghanistan. Time is of the essence, and Dubai and the UAE's leadership consider a swift response a humanitarian duty to save lives," he added.
Dr. Dapeng Luo, WHO Representative in Afghanistan, said: "The trauma and emergency surgery kits that are arriving on this flight from WHO's logistics hub in Dubai's International Humanitarian City are absolutely critical to maintain our ongoing support to the people of Afghanistan as these supplies will cover the needs of at least 340,000 people. We are grateful for the vital logistics assistance provided by the UAE in support of WHO's global logistics hub in Dubai."
Source: Al Arabiya
Please click the following URL to read the full text of the original story:
https://english.alarabiya.net/News/gulf/2022/06/29/Dubai-sends-humanitarian-aid-to-Afghanistan-after-deadly-earthquake
--------
Syria warns of dire situation in northern areas, says Turkey after ethnic cleansing there
28 June 2022
Syrian Foreign Minister Faisal Mikdad has deplored the situation in the occupied northern flank of the war-ravaged country, stating that the situation is "on the verge of a catastrophe" in the region.
In an exclusive interview with the Arabic service of Russia's Sputnik news agency on Monday, Mikdad said that Turkey is set to make a demographic change there and construct illegal settlements.
"Turkish practices in Syria are a blatant example of disregard for the minimum civilized and moral values, international law, and the Charter of the United Nations," he said.
He warned that "The situation in northern Syria is on the verge of a disaster if [Turkish President Recep Tayyip] Erdogan insists on the ongoing offensive there. What he really plans is to cleanse the ethnic population and build new settlements in northern Syria."
"The Satanic dreams of the Turkish regime will never come true as the Syrian nation is united to confront the threats uttered by Erdogan," he asserted.
Mikdad further said "anyone who seeks justification for Turkish and Western attacks on Syria should refer to their conscience and feelings. They will then find it essential to support Damascus and push for the expulsion of occupying Turkish forces in order to secure a political solution to the Syrian conflict."
"The occupation of Syria's territory by Turkey and the United States is a violation of Syrian sovereignty and is in contravention of international law and Security Council resolutions," he concluded.
The remarks came after Erdogan said the Turkish army will start a new operation in Syria as soon as the preparations are finalized.
"We will begin a new military operation in Syria as soon as our preparations are completed," he told reporters earlier on Monday after a cabinet meeting.
The new incursion aims to link the broken security corridor that the Turkish military has established along the Turkish-Syrian borderline, he asserted.
"I would like to underline that the efforts to distract us from our goals are futile. Our cross-border operations are like our balanced and consistent attitude towards crises. We will start new operations," Erdogan said.
Turkey has been conducting several incursions against neighboring Syria's northern parts since 2016 to fight back against Kurdish militants known as the People's Protection Units (YPG).
Source: Press TV
Please click the following URL to read the full text of the original story:
https://www.presstv.ir/Detail/2022/06/28/684673/Situation-occupied-northern-areas-verge-catastrophe-Syrian-FM
--------
Mideast
Iran court upholds eight-year prison sentence for Frenchman convicted of spying
28 June, 2022
An Iranian appeals court has upheld an eight-year prison sentence against a Frenchman convicted on spying charges, his Paris-based lawyer said Tuesday.
Benjamin Briere was arrested in May 2020 after taking pictures in a national park with a recreational drone. His lawyers and family have accused Iran of holding him as a "hostage."
The lawyer, Philippe Valent, said Briere's case was being "instrumentalized" by the Iranian authorities.
"It's shocking and dramatic," he told AFP, adding that the verdict coincided with the resumption of negotiations between Tehran and western powers on Iran's nuclear program.
Briere, 36, who was convicted in January for spying and propaganda against Iran's Islamic system, had appealed the sentence.
Source: Al Arabiya
Please click the following URL to read the full text of the original story:
https://english.alarabiya.net/News/middle-east/2022/06/28/Iran-court-upholds-eight-year-prison-sentence-for-Frenchman-convicted-of-spying
--------
IRGC Navy Commander Slams Foreign Forces' Presence in Region after Collapse of Ba'ath Regime
2022-June-28
"Iran's enemies are in the waters of neighboring countries, and support for foreigners in the region means insecurity. If something happens, they will leave the region, so their deployment in the region after the fall of the Ba'ath party is a mistake," Rear Admiral Tangsiri said on Monday.
He added that the Iranian forces are closely monitoring the entire region.
Rear Admiral Tangsiri said that following the confiscation of an Iranian oil tanker by Greece at the order of the US, Iranian naval forces seized two Greek ships.
He added that very strong winds were blowing when the Iranian forces landed on the Greek tankers, but that did not deter the Iranian naval troops from fulfilling their mission.
Rear Admiral Tangsiri said the IRGC's Navy seized the two ships simultaneously while they were in two different locations.
He also said that at present, the trans-regional forces are not actively present in the Persian Gulf and they are actually in the Southern parts of the waterway and not the Iranian waters.
Last month, Rear Admiral Tangsiri underlined his forces' vigilance and swift reaction against any aggressive move by enemies.
Today, the IRGC Navy fully observes the moves of the enemies and foreigners, Rear Admiral Tangsiri said.
He added that enemies of the country are not present in the areas under the control of the Islamic Republic of Iran.
Whenever the enemies move toward Iran's sea borders, they are forced to retreat by the timely action of the IRGC Navy forces, Rear Admiral Tangsiri noted.
He underlined that there is complete security on Iran's sea border and no danger threatens this security.
Source: Fars News Agency
Please click the following URL to read the full text of the original story:
https://www.farsnews.ir/en/news/14010407000350/IRGC-Navy-Cmmander-Slams-Freign-Frces%E2%80%99-Presence-in-Regin-afer-Cllapse
--------
Supreme Leader Asks Judiciary to Prioritize Anti-Corruption Fight
2022-June-28
Ayatollah Khamenei made the remarks on Tuesday, addressing a group of judiciary officials, personnel and staff in Tehran.
Elsewhere, he hailed the Iranian people's resistance against the enemies' pressures, and said over the past four decades, the enemies have been hoping that certain weaknesses and shortfalls would eventually result in the collapse of the Islamic Republic, but the Iranian people have dashed their hopes time and again.
Ayatollah Khamenei said the Iranian people's resilience, their endeavors and a refusal to be intimidated are what make them victorious vis-a-vis the enemies.
After being appointed last July, Iran's Judiciary Chief Gholam Hossein Mohseni Eje'i underlined implementation of the Transformation Document in the judicial system, saying that fighting corruption will be pursued more seriously under his leadership at the country's judicial system.
"The axis of the judiciary is the implementation of the Transformation Document and this period is the period of transformation and excellence and we should have long and leaps and bounds with the unity and integrity of all officials, cooperation of the three branches of the government, military and law enforcement forces," Mohseni Eje'i said.
He appreciated the Leader for trusting and electing him as the chief of the Judiciary, expressing readiness to pursue this serious responsibility with "strength and power in order to serve the system and the people and values".
"Promotion of justice in all areas, more decisive and non-discriminatory fight against corruption in all areas, development of technology to serve people better and cheaper and in some cases even free of charge for them, maximum use of the popular capacity for the prevention of crime, the reduction of judicial cases and violations in the judiciary branches, peace, and reconciliation, and the establishment of a mechanism for the expansion of legitimate freedoms is the most targets of the Judiciary Branch," Mohseni Eje'i said.
Also, last November, Iranian President Seyed Ebrahim Rayeesi vowed that he has no redline in fighting corruption, even in dealing with his colleagues and ministers.
"I do not have any redlines; neither my chief of staff, nor my deputies and ministers. None of them is a redline for me," Rayeesi said, addressing a cabinet meeting in Tehran.
He added that fighting corruption was a stipulation implied by the people voting for him in the June presidential election in Iran.
Source: Fars News Agency
Please click the following URL to read the full text of the original story:
https://www.farsnews.ir/en/news/14010407000819/Spreme-Leader-Asks-Jdiciary-Pririize-Ani-Crrpin-Figh
--------
'Martyr Soleimani' Helicopter-Carrier Warship to Join IRGC Navy
2022-June-28
"We now manufacture our own frigates. Shahid (Martyr) Soleimani helicopter carrier is also expected to join the IRGC naval fleet in the near future. We indigenously build various types of high-speed boats that cruise at speeds of 70 to 90 nautical knots," Rear Admiral Alireza Tangsiri said at a ceremony in Tehran on Monday.
Elsewhere, he described the knowledge-based maritime economy as an element of the IRGC's might and power.
Rear Admiral Tangsiri also said that the IRGC is responsible for establishment of security in the Strait of Hormuz in the Persian Gulf.
Tehran launched an arms development program during the 1980-88 Iraqi imposed war on Iran to compensate for a US weapons embargo. Since 1992, Iran has produced its own warships, tanks, armored personnel carriers, missiles, fighter planes and vessels.
Head of the Marine Industries Organization of Iran Rear Admiral Amir Rastegari announced in April 2020 that the country will build a 6,000-ton destroyer, and said it has the ability to produce nuclear-powered submarines.
"The destroyer will be a trimaran ship – a vessel consisting of multiple hulls – equipped with very special capabilities," Rear Admiral Rastegari said.
He noted that the destroyer will extend the capabilities of the Iranian Navy for longer operations in the seas with very special defensive and offensive capabilities.
Source: Fars News Agency
Please click the following URL to read the full text of the original story:
https://www.farsnews.ir/en/news/14010407000618/%E2%80%98Maryr-Sleimani%E2%80%99-Helicper-Carrier-Warship-Jin-IRGC-Navy
--------
Palestinian killed by Israel army in West Bank town of Jenin
29 June, 2022
Israeli troops shot dead a Palestinian early on Wednesday during clashes in the hotspot town of Jenin in the occupied West Bank, Palestinian sources said.
Mohammad Marei, 25, died from a bullet wound to the chest, the Palestinian health ministry said.
Source: Al Arabiya
Please click the following URL to read the full text of the original story:
https://english.alarabiya.net/News/middle-east/2022/06/29/Palestinian-killed-by-Israel-army-in-West-Bank-town-of-Jenin
--------
Israeli parliament approves bill to dissolve, hold new elections
28 June, 2022
The Israeli parliament unanimously approved early Tuesday a draft bill to dissolve parliament, a key legislative step that pushes the country closer toward its fifth election in less than four years.
Members of Prime Minister Naftali Bennett's outgoing coalition and the opposition led by ex-premier Benjamin Netanyahu have been sparring in Israel's parliament, the Knesset, since last week over a dissolution bill.
The coalition said it wanted quick approval of the law after Bennett announced last week that his year-old, ideologically divided eight-party alliance was no longer tenable.
But Netanyahu and his allies have been holding talks seeking to form a new Netanyahu-led government within the current parliament, which would avert new elections.
The sides have traded legislative jabs but finally agreed late Monday to advance a bill that would be finalized as law by the end of Wednesday.
The opposition's readiness to dissolve parliament suggested that Netanyahu's efforts to form a new government had stalled.
Early Tuesday, the Knesset House committee approved the bill. It was then brought to the plenum for its first reading, which it passed 53-0.
According to the bill, parliament would dissolve, with new elections to be held on October 25 or November 1, with the date to be set after further negotiations.
The bill must then be approved in two further full Knesset votes.
At midnight after the bill's secures final approval, Bennett will hand power to Foreign Minister Yair Lapid, in accordance with the power-sharing deal they agreed following inconclusive elections last year.
The Bennett coalition was imperiled by its ideological divides from its outset.
The final straw, according to the premier, was a failure to renew a measure that ensures Jewish settlers in the occupied West Bank live under Israeli law.
Bennett, the former head of a settler lobby group, said the measure's expiration on June 30 would have brought security risks and "constitutional chaos."
Source: Al Arabiya
Please click the following URL to read the full text of the original story:
https://english.alarabiya.net/News/middle-east/2022/06/28/Israeli-parliament-approves-bill-to-dissolve-hold-new-elections
--------
Iran applies to join BRICS group
28 June, 2022
Iran, which holds the world's second largest gas reserves, has applied to join the BRICS group of Brazil, Russia, India, China and South Africa that Beijing and Moscow cast as a powerful emerging market alternative to the West.
The term BRIC was coined by Goldman Sachs economist Jim O'Neill in 2001 to describe the startling rise of Brazil, Russia, India, China. The BRIC powers had their first summit in 2009 in Russia. South Africa joined in 2010.
Iran's membership in the BRICS group would result in added values for both sides," Iran's Foreign Ministry spokesperson said.
Russia said Argentina had also applied to join.
Russia cast the applications as evidence that the West, led by the United States, was failing to isolate Moscow after the invasion of Ukraine.
"While the White House was thinking about what else to turn off in the world, ban or spoil, Argentina and Iran applied to join the BRICS," Russian Foreign Ministry spokeswoman Maria Zakharova said.
Argentine officials could not be reached for immediate comment but President Alberto Fernandez, currently in Europe, has in recent days reiterated his desire for Argentina to join BRICS.
China has by far the largest economy in the BRICS grouping, accounting for more than 70 percent of the group's collective $27.5 trillion economic might. India accounts for about 13 percent, with Russia and Brazil each accounting for about 7 percent, according to IMF data.
BRICS account for more than 40 percent of the world's population and about 26 percent of the global economy.
Since the Iranian Revolution of 1979 swept US-backed Shah Mohammad Reza Pahlavi from power, Iran has been ostracized by the West and its economy crippled by a myriad of sanctions. It holds around a quarter of the Middle East's oil reserves.
Chinese power
Chinese President Xi Jinping joined Russian President Vladimir Putin and other BRICS leaders for a virtual summit last week.
Xi criticized "the abuse" of international sanctions, while Putin scolded the West for fomenting global crisis, with both leaders calling for greater BRICS cooperation.
Putin has said relations with China are the best they have ever been and touts a strategic partnership with China aimed at countering US influence.
US President Joe Biden has said the West is locked in a battle with autocratic governments such as China and Russia.
The United States and European powers blame Putin's decision to invade Ukraine as the reason relations with the West have sunk to the lowest level since the 1962 Cuban Missile Crisis - including the severest sanctions in modern history.
But Putin says the West wants to destroy Russia, that the economic sanctions are akin to a declaration of economic war and that Russia will build ties with other powers such as China, India and powers in the Middle East.
Putin, who casts the Ukraine war as a "special military operation," blames the United States for humiliating Russia in the aftermath of the 1991 fall of the Soviet Union and threatening Moscow by enlarging the NATO military alliance.
Russia sent troops into Ukraine on February 24 to degrade its southern neighbor's military capabilities, root out people it called dangerous nationalists and defend the Russian-speakers of two eastern Ukrainian regions.
Source: Al Arabiya
Please click the following URL to read the full text of the original story:
https://english.alarabiya.net/News/middle-east/2022/06/28/Iran-applies-to-join-BRICS-group
--------
North America
NGO Places 251 Pairs of Shoes in Times Square To Honour Victims of Türkiye's July 15 Defeated Coup
Servet Gunerigok
29.06.2022
WASHINGTON
The Turkish American National Steering Committee (TASC) placed 251 pairs of shoes in New York City's Times Square on Tuesday to commemorate those who were killed during the 2016 coup attempt in Türkiye.
The event, titled "The Last Walk," exhibited the empty shoes belonging to the fallen citizens of Türkiye who battled putschists on the night of the July 15 defeated coup.
The TASC offered its condolences to the families of the victims, who it said defended freedom and democracy in Türkiye.
The Fetullah Terrorist Organization (FETO) and its US-based leader Fetullah Gulen orchestrated the defeated 2016 coup, which left 251 people dead and 2,734 injured.
Ankara accuses FETO of being behind a long-running campaign to overthrow the state through the infiltration of Turkish institutions, particularly the military, police and judiciary.
Next month marks the fifth anniversary of the coup attempt.
Türkiye marks July 15 as Democracy and National Unity Day with events nationwide to commemorate those who lost their lives beating back the putschists and to remember the bravery of the nation.
Source: Anadolu Agency
Please click the following URL to read the full text of the original story:
https://www.aa.com.tr/en/americas/ngo-places-251-pairs-of-shoes-in-times-square-to-honor-victims-of-turkiye-s-july-15-defeated-coup/2625331
--------
US Pledges $55 Million in Aid for the Victims of the Deadly Earthquake in Afghanistan
By Saqalain Eqbal
28 Jun 2022
According to the United States Secretary of State Antony Blinken's announcement on Tuesday, the United States would provide Afghanistan immediate assistance amounting $55 million in response to the devastating earthquake that struck last week in a remote part of the country's southeast.
The high magnitude earthquake that hit the region close to the Afghanistan's border with Pakistan on June 22 left at least 1,000 people dead, over 3,000 more wounded, and 10,000 homes in ruins.
According to a statement from Blinken, the new US aid will be used to provide cooking equipment, water water containers, blankets, clothing, and other items, including hygienic supplies to stop an outbreak of waterborne diseases, to those affected by the calamity.
In a tweet, secretary Blinken stated on Tuesday, 28th June, "The U.S. will provide additional humanitarian assistance of nearly $55 million to Afghans affected by the June 22 earthquake. Our support to the Afghan people in working with USAID and partners is vital during this difficult time."
He stated that the earthquake "intensified the ongoing humanitarian crisis that the Afghan people have long endured."
After the UN issued an emergency plea for $110 million to support more than 360,000 Afghans devastated by last week's earthquake in the provinces of Paktika and Khost, the US announcement came merely hours later.
Source: Khaama Press
Please click the following URL to read the full text of the original story:
https://www.khaama.com/us-pledges-55-million-in-aid-for-the-victims-of-the-deadly-earthquake-in-afghanistan-57483/
--------
UN Requests for $110 Million to Aid the Quake-Hit in Afghanistan
By Saqalain Eqbal
28 Jun 2022
The United Nations announced on Tuesday that it had started an emergency appeal for $110 million to aid hundreds of thousands of people in parts of Afghanistan devastated by last week's catastrophic earthquake.
Homes were destroyed and landslides were started when a high magnitude earthquake hit villages in the mountainous Paktika and Khost provinces on June 22. The earthquake caused at least 1,150 fatalities and hundreds of injuries. Over 10,000 homes were destroyed, leaving the people homeless.
The UN agency for humanitarian affairs announced that UNOCHA and its partners have issued an appeal for $110 million to support 362,000 people urgently over the course of the following three months in the worst-affected regions of Paktika and Khost provinces.
The Central Emergency Response Fund has released $10 million to support the earthquake response as of last Friday, or June 25th, according to Martin Griffiths, the Emergency Relief Coordinator.
The UN statement notes that the earthquake not only resulted in fatalities and injuries, but it also devastated homes, hospitals, schools, and water networks, leaving thousands of people susceptible to additional suffering.
Source: Khaama Press
Please click the following URL to read the full text of the original story:
https://www.khaama.com/un-requests-for-110-million-to-aid-the-quake-hit-in-afghanistan-37292/
--------
American who joined Daesh gets prison term reduced
June 29, 2022
ALEXANDRIA, Virginia: The first American to be convicted in a US jury trial of joining the Daesh had his prison term reduced Tuesday from 20 years to 14 years after an appeals court ordered a new sentencing hearing.
Mohamad Khweis was convicted back in 2017 of providing material support to terrorists, as well as a weapons charge. He traveled to Daesh-controlled territory in Iraq and Syria in December 2015, even obtaining an official IS membership card. But he left after a few months and surrendered in northern Iraq to Kurdish forces.
In 2020, the 4th US Circuit Court of Appeals tossed out the weapons charge — many defendants had similar charges tossed out in accordance with a Supreme Court ruling — and ordered a new sentencing hearing.
Prosecutors urged Judge Liam O'Grady at Tuesday's hearing to again sentence Khweis to 20 years. They cited the need for deterrence in a high-profile terrorism case and reminded O'Grady of the significance of Khweis' conduct.
While there is no evidence that he fought for the Daesh, there was evidence at his trial that he volunteered to be a suicide bomber and that he cared for injured fighters at safe houses.
He also admitted at trial that he burned his laptop and multiple phones, and deleted contact info from another, before he fled the Daesh. He testified at trial that he was worried the laptop contained financial data like his credit score, which the judge said was implausible.
Khweis, 32, has been in custody in one form or another since March 2016, and on Tuesday again renounced his allegiance to the Daesh and apologized for his conduct.
"It's still mid-boggling to me that I made this terrible decision," said Khweis, who grew up in northern Virginia and had worked as a Metro Access bus driver for disabled passengers before departing to the Daesh.
Khweis' attorney, Jessica Carmichael, highlighted his exemplary behavior in the Bureau of Prisons after his conviction and said he's done all he can to show he's matured.
"We do want to send a message" with this sentence, she told the judge. And she said the audience paying the most attention is "the people he left behind in prison. We want to encourage others to engage in this type of rehabilitation, to not wallow in self-pity."
In a statement after Tuesday's hearing, Carmichael said, "Mohamad worked exceptionally hard for years while incarcerated to show that he was taking this seriously ... and was more than the poor decisions he made six-and-a-half years ago. I am proud of him for that, and hope that others in custody can receive an opportunity to show the same."
Still, while the reduction to 14 years is significant, it is far less than Khweis' request that he be released with time served.
Source: Arab News
Please click the following URL to read the full text of the original story:
https://www.arabnews.com/node/2112901/world
--------
Turkey's Erdogan to meet Biden for talks on Russia's invasion of Ukraine
28 June, 2022
Turkish President Recep Tayyip Erdogan said on Tuesday he would meet US President Joe Biden on the sidelines of the NATO summit in Madrid for talks on Russia's invasion of Ukraine.
Analysts believe the meeting could play a crucial role in lifting Turkey's resistance to bids by Sweden and Finland to join the Western defense alliance in response to the war.
The two leaders have had a chilly relationship since Biden's election because of US concerns about human rights under Erdogan.
"We spoke with Mr. Biden this morning and he expressed his desire to get together tonight or tomorrow. We said it was possible," Erdogan said.
He was speaking to reporters before flying to Madrid for talks that will start with his meeting with the leaders of the two Nordic countries and the NATO secretary general.
Erdogan said he wanted to see the results of preparatory talks held on Monday in Brussels before deciding whether Sweden and Finland had done enough to lift his objection to their membership of the military alliance.
Turkey is a NATO member and could veto both countries' applications at the summit.
"We are a 70-year-old member of NATO. Turkey is not a country that randomly joined NATO," Erdogan said.
"We will see what point they (Finland and Sweden) have reached," he added. "We do not want empty words. We want results."
Ankara has accused Finland and more particularly Sweden of providing a safe haven for outlawed Kurdish militants, whose decades-long insurgency against the Turkish state has resulted in the loss of tens of thousands of lives.
Source: Al Arabiya
Please click the following URL to read the full text of the original story:
https://english.alarabiya.net/News/middle-east/2022/06/28/Turkey-s-Erdogen-to-meet-Biden-for-talks-on-Russia-s-invasion-of-Ukraine
--------
Biden congratulates Türkiye, Sweden, Finland on NATO memorandum
Servet Günerigök
28.06.2022
WASHINGTON
US President Joe Biden congratulated Türkiye, Sweden and Finland on Tuesday after the three nations agreed on a memorandum that paved the way for the two Nordic nations' accession to NATO.
"Congratulations to Finland, Sweden, and Turkey on signing a trilateral memorandum – a crucial step towards a NATO invite to Finland and Sweden, which will strengthen our Alliance and bolster our collective security – and a great way to begin the Summit," Biden wrote on Twitter.
Earlier, Türkiye's President Recep Tayyip Erdogan, NATO chief Jens Stoltenberg, Finland's President Sauli Niinisto and Sweden's Prime Minister Magdalena Andersson met to discuss the Nordic nations' membership and Ankara's concerns.
It was followed by the signing of a memorandum between the three nations addressing one another's concerns in joining the alliance.
Sweden and Finland formally applied to join the alliance last month, a decision spurred by Russia's war on Ukraine. But Türkiye, a longstanding member of the alliance, voiced objections to the membership bids, criticizing the countries for tolerating and even supporting terror groups.
In line with the trilateral memorandum, Finland and Sweden will not provide support to the PKK-affiliated YPG/PYD, or FETO and Ankara extends full support to Finland and Sweden against threats to their national security.
Source: Anadolu Agency
Please click the following URL to read the full text of the original story:
https://www.aa.com.tr/en/europe/biden-congratulates-turkiye-sweden-finland-on-nato-memorandum/2625264
--------
Pakistan
Pakistan countering 'West-backed' Indian military build-up: National Command Authority aide
Jamil Nagri
June 29, 2022
GILGIT: Adviser National Command Authority retired Lt Gen Mazhar Jamil said on Tuesday that Western support to India was allowing it to build its conventional and nuclear arsenals, and that Pakistan had no choice but to take countermeasures against Indian attempts to create an imbalance in the region and launch a military misadventure.
He was speaking at a 'National Security Imperatives — A Comprehensive Framework of Traditional and Non-Traditional Security Determinants', a seminar hosted by the Center for International Strategic Studies (CISS) in collaboration with Karakoram International University.
Lt Gen Jamil said that Pakistan wants peace, internally and externally. For this, it is willing to work with India for the resolution of all outstanding disputes, including the core issue of Jammu and Kashmir, on the basis of the principle of equality.
In his keynote address, Lt Gen Jamil said that Pakistan was facing numerous security challenges, both traditional and non-traditional, which needed to be addressed comprehensively.
Retired Lt Gen Jamil says Islamabad willing to work with New Delhi for sake of peace, onus now on India
"Pakistan cannot isolate itself from global power politics and we must build our national power potential without getting consumed by the great-power competition. Economic and military security are intertwined, and without a robust traditional and non-traditional security framework, it would remain hollow," he said.
According to a statement issued after the event, he said the US-led western bloc was supporting Indian military build-up while also providing New Delhi access to advanced nuclear technologies and materials, in blatant disregard for international norms and commitments of the non-proliferation regime.
Stressing that India's Hindu nationalism and religious extremism was being implicitly supported by western patrons, Lt Gen Jamil said that this support was making India a highly irresponsible nuclear power.
It has been witnessed in the past decade and a half that any political or military support that New Delhi receives, it tends to use it against Pakistan while presenting itself as a counterweight against China, he said.
He contended that in the face of India's growing military capability and aggressive doctrines, Pakistan had no choice but to take countermeasures to contain any Indian attempt to create an imbalance in the region and launch a military adventure.
As a responsible nuclear state, Pakistan seeks strategic stability and shall maintain its full spectrum deterrence, while remaining open to exploring bilateral arms control mechanisms with India to reduce nuclear risks and prevent war. The onus of responsibility lies on India to take appropriate measures to create an enabling environment for resolution of disputes and for enduring peace and stability in the region, he concluded.
CISS Executive Director Ambassador Ali Sarwar Naqvi said, "Pakistan's success in harnessing the peaceful atom for socio-economic development has earned it the respect and recognition of the International Atomic Energy Agency (IAEA)."
"I was a personal witness to the IAEA's favourable view of Pakistan when I was ambassador to the agency in Vienna," said Ambassador Naqvi.
Zafar Iqbal of the Space and Upper Atmosphere Research Commission said that SUPARCO is emphasising the integrated use of space applications and available enabling technologies as a mainstream tool in development planning both at federal and provincial levels.
"For this purpose, a Space Applications and Research Centre is being established in Gilgit-Baltistan, which would be fully operational in spring of next year," he said.
Former Pakistan Atomic Energy Commission chairman Dr Ansar Pervez said that the commission was playing a significant role in the socioeconomic development of the country and contributing to at least 11 of the 17 United Nations Sustainable Development Goals (SDGs).
Source: Dawn
Please click the following URL to read the full text of the original story:
https://www.dawn.com/news/1697282/pakistan-countering-west-backed-indian-military-build-up-national-command-authority-aide
--------
Imran warns Punjab police, bureaucrats not to follow 'illegal' govt orders
Ikram Junaidi
June 29, 2022
ISLAMABAD: Pakistan Tehreek-i-Insaf (PTI) chairman Imran Khan on Tuesday asked the Punjab police and bureaucracy not to follow "illegal orders" of the provincial government during the upcoming local government elections, claiming the PTI has been maintaining the departments' record.
He also claimed that despite pressure from the International Monetary Fund (IMF), his government did not shift the burden of global inflation to the people. He then urged the masses to participate in an anti-inflation protest scheduled for July 2 at Islamabad's Parade Ground.
While speaking at a news conference and earlier chairing a party meeting, the former premier said it was becoming obvious that Hamza Shehbaz would not remain the Punjab chief minister for very long.
"As by-elections on 20 general seats of the Punjab Assembly are going to be held, I want to give a message to the police and bureaucracy in the province: what you are doing on the orders of the Sharif mafia and the way you treated people on May 25 [ahead of the PTI's long march on Islamabad] is being recorded. This is an era of social media and everything is on record. They [the government] will not survive, but you salaried people will pay for any step you take against us," he said, addressing the police and bureaucracy, adding they should think of their families and that he had a record of all activities of police officials.
Ex-PM says 'salaried people' will pay for any step they take against PTI
While criticising the abysmal financial situation of the country, Mr Khan said that although the circumstances were difficult during the PTI government, they did not pass on the burden of global inflation to the masses despite IMF pressure, a weak economy and the Covid-19 pandemic. He warned that the country could suffer further if it continued to be ruled by "experienced thieves".
Mr Khan urged the masses to participate in the peaceful protest he had called on July 2 as it was for their future. The party meeting discussed arrangements for the protest.
Meanwhile, PTI Central Additional Secretary General Omar Ayub Khan, while speaking at a press conference at the Khyber Pakhtunkhwa House, here, blamed the coalition government for taking the country to the verge of an economic collapse due to its allegedly flawed policies and a constant surge in petroleum product prices, consequently bringing the economic wheel to a grinding halt.
He claimed the petrol price would increase further to Rs320 per litre in the coming days, while the oil and gas regulator had approved a four-fold increase in the gas price. He alleged the "imported government" was reducing electricity voltage from grid stations due to which houses and industries were not getting sufficient power, resulting in worst outages.
Ayub remarked the government was leading the country to a disaster. Talking about the previous government's performance, he said the Economic Survey testified the PTI-led regime was performing exceptionally well, questioning what the need was for a change of government.
He further claimed Finance Minister Miftah Ismail had purportedly admitted that striking expensive power deals during the PML-N era was the main contributor to the current power crisis.
The former minister said around 70 per cent of electricity was generated through expensive imported fuel. However, he claimed there was zero loadshedding during the PTI government, crediting it to its "prudent policies".
Meanwhile, former planning and development minister Asad Umar also lashed out at the government through a series of tweets.
"A highly abnormal delay in release of current account number for the month of May by @StateBank_Pak. What is going on? Things not in control or deliberate delay?" he asked in a tweet.
Source: Dawn
Please click the following URL to read the full text of the original story:
https://www.dawn.com/news/1697269/imran-warns-punjab-police-bureaucrats-not-to-follow-illegal-govt-orders
--------
China provides $2.5 billion loan to Pakistan to boost its forex reserves
Jun 28, 2022
BEIJING: China has again rushed to bail out Pakistan by providing $2.5 billion in assistance to prop up the fast-depleting foreign exchange reserves of its cash-strapped all-weather ally, months after it rolled over a $4.5 billion loan due to be paid this year.
The announcement of the Chinese assistance came after France signed an agreement with Pakistan to suspend its loan worth $107 million under the G20 Debt Service Suspension Initiative (DSSI).
The agreement was signed by Ministry of Economic Affairs Secretary Mian Asad Hayaud Din and French Ambassador Nicolas Galey, the Economic Affairs Division of Pakistan said in a statement on Monday.
"China and Pakistan are all-weather strategic cooperative partners. China always supports Pakistan in growing its economy, improving livelihoods and upholding financial stability," Chinese Foreign Ministry spokesman Zhao Lijian told a media briefing here while replying to a question about China providing RMB 15 billion ($2.3 billion) to Pakistan to build its depleting foreign exchange reserves.
Pakistan media quoted Prime Minister Shehbaz Sharif as saying that Pakistan is hopeful of getting $2 billion from the IMF.
China's latest assistance is in addition to Beijing rolling over $4.5 billion debt due to be paid by Islamabad in March this year and $2.5 billion given in 2019 to boost the sagging foreign exchange reserves of Pakistan.
Pakistan is the second country in the sub-continent after Sri Lanka to face a serious economic crisis notwithstanding massive Chinese investments and loans.
China had skirted desperate pleas from Sri Lankan leaders before the country went bankrupt defaulting on all its foreign debt totalling $51 billion.
The new Chinese assistance to Pakistan followed the visit of Pakistan Army Chief General Qamar Javed Bajwa this month during which the two countries agreed to step up defence and anti-terrorism cooperation.
Last month Pakistan's Foreign Minister Bilawal Bhutto made his maiden visit to Beijing and held talks with Chinese counterpart Wang Yi.
Cash-starved Pakistan has faced growing economic challenges, with high inflation, sliding forex reserves, a widening current account deficit and a depreciating currency.
Chinese banks have agreed to refinance Pakistan with $2.3 billion worth of funds in a massive relief for the cash-starved country to help it bolster its depleting foreign exchange reserves, Pakistan Finance Minister Miftah Ismail said early this month.
Pakistan is facing an uncertain economic situation due to a delay in the revival of a stalled multibillion-dollar International Monetary Fund (IMF) programme.
Saudi Arabia has agreed to provide Pakistan with a "sizeable package" of around $8 billion to help the country revive its ailing economy. Saudi Arabia provided $3 billion deposits to the State Bank of Pakistan in December 2021 while the Saudi oil facility was operationalised from March 2022, providing Islamabad with $100 million to procure oil.
Source: Times Of India
Please click the following URL to read the full text of the original story:
https://timesofindia.indiatimes.com/world/pakistan/china-provides-2-5-billion-loan-to-pakistan-to-boost-its-forex-reserves/articleshow/92525169.cms
--------
UAE offers bailout deal to cash-starved Pakistan: Report
Jun 28, 2022
ISLAMABAD: In response to cash-strapped Pakistan's request for fresh loans, the UAE has offered to buy minority shares in publicly-listed government-owned companies at a negotiated price and a seat on each of the firm's boards, according to a media report on Tuesday.
The development comes amid China's decision to roll over another $2 billion Pakistani debt that matures from June 27 to July 23, providing a sigh of relief to Islamabad after transferring $2.3 billion last week.
The offer, if accepted, could give a big boost to the cash-starved government and will mark a departure from the traditional lender-borrower relationship between Islamabad and Abu Dhabi, The Express Tribune newspaper reported.
The Express Tribune quoting sources said that the UAE government has offered to acquire 10-12 per cent shares in government-owned companies that are listed on the stock market through its sovereign wealth funds.
"There is a proposal from a friendly country to purchase Pakistani companies' stocks on a buy-back basis, which means buying secured-loan-based securities," finance minister Miftah Ismail was quoted as saying in the report.
The sources said that the UAE had made a clean offer for the acquisition of stakes in the firms. But the government wanted to add a provision in any such contract where it will have a right to buy back these stakes after a certain period, they added.
The UAE has made the offer on the lines it invested $2 billion in Egypt through the purchase of stakes in a number of state-owned companies in April this year aimed at bailing out the Egyptian government.
The offer came in response to Prime Minister Shehbaz Sharif's request for a multi billion-dollar bailout package during his visit to the UAE in April. The sources said that in response to the prime minister's request, the UAE had sent a delegation to Pakistan that met with Sharif in the first week of May in Lahore.
Pakistan is also trying to revive the IMF programme and waiting for the draft Memorandum for Economic and Financial Policies (MEFP) document before reaching a staff-level deal with the fund.
The sources said that this time the UAE was not inclined to hand over another cheque of $2 billion to Islamabad, after Pakistan failed to pay back the $2 billion loan received in February 2019. In March this year, the UAE rolled over $2 billion in debt for one more year.
The sources said that UAE sovereign funds – the Abu Dhabi Investment Authority (ADIA) and Mubadala Investment Company or the Abu Dhabi National Oil Company (ADNOC)- can take exposure in Pakistan.
Their interest in Pakistan could give a big boost to the share price of about 20 listed public sector companies, including companies controlled by the military's commercial arms. The sources said that Fauji Foundation companies were also on the plate and the foundation's managing director recently participated in the meetings.
The top five Saudi sovereign funds from the UAE are the Abu Dhabi Investment Authority (ADIA), the Investment Corporation of Dubai (ICD), the Mubadala Investment Company, the Abu Dhabi Developmental Holding Company and the Emirates Investment Authority (EIA). The companies are ranked among the top 20 in the top 100 list of the sovereign wealth fund institute.
There are around one-and-a-half dozen government companies that are listed on the stock exchange and open for grabs.
Source: Times Of India
Please click the following URL to read the full text of the original story:
https://timesofindia.indiatimes.com/world/pakistan/uae-offers-bailout-deal-to-cash-starved-pakistan-report/articleshow/92520767.cms
--------
Visa regime relaxed to promote Pak-Afghan trade
Syed Irfan Raza
June 29, 2022
ISLAMABAD: The government on Tuesday decided to relax the visa policy for bilateral trade with neighbouring Afghanistan, and hoped the decision will help improve economies of the two countries.
The decision was taken in the federal cabinet meeting presided over by Prime Minister Shehbaz Sharif.
According to the Prime Minister Office, PM Sharif directed the authorities concerned to issue six-month multiple-entry visas to transporters from Afghanistan. He also approved all the proposals put forward by the Afghan Inter-Ministerial Coordination Cell. The cabinet directed the Pakistan embassies abroad to assess Afghan visa applications on the basis of current nationality and passport instead of the country of origin.
Moreover, the cabinet directed that a sub-category under the work visa category be introduced in the online visa system. It was also decided that initially, six-month multiple-entry visas would be issued, and the interior ministry would have the authority to extend the period to one year.
Documents required with the visa application would include the applicant's photograph, passport, registration as a transport company, and employment letter. The meeting exempted the condition of recommendation letters by the Securities and Exchange Commi­ssion of Pakistan and the Board of Investment for visas of drivers, transporters, helpers, etc.
The federal cabinet noted that these decisions had been taken and amendments made to the visa policy to promote bilateral trade with Afghanistan.
In a post-cabinet meeting press conference, Information Minister Marriyum Aurangzeb said the visa policy for Afghans was reviewed by the Interior Ministry's Afghan Inter-Ministerial Cell during an apex committee meeting, which also included representatives of the Foreign Office, Nadra and the Board of Investment.
Flanked by Adviser to the Prime Minister on Kashmir Affairs Qamar Zaman Kaira, Ms Aurang­zeb said under the revised policy, Pakistan's missions abroad would process the visa applications of Afghans on the basis of their existing passports and nationalities instead of their country of origin.
The cabinet also constituted a committee to ensure the continuity of ease of doing business for traders, she added.
Moreover, the technical supplementary grants approved by the Economic Coordination Committee and endorsed by the cabinet included Rs125.8 million for various requirements of 6 Aviation Squadron, Rs40m for publicity campaigns by the National Command and Operation Centre, Rs1.22 billion for payment admissible to the families of deceased/shuhada under the Prime Minister's Assistance Package, Rs39.36m for purchase of surveillance cameras with accessories for maintaining law and order situation during the upcoming protest/sit-in by a political party and others.
To a question, the information minister said the issue of pay scales and regularisation of the Associated Press of Pakistanemphasized text employees was old. "This is not only a problem of APP, but also of all corporations, which will be decided in line with the government's policy," she maintained.
Responding to a question regarding media reports that self-exiled former finance minister Ishaq Dar was returning to the country, Ms Aurangzeb claimed the court cases against Mr Dar were fake and part of the political vendetta of the previous Pakistan Tehreek-i-Insaf regime. "The former finance minister has every right to return to the country," she added.
Source: Dawn
Please click the following URL to read the full text of the original story:
https://www.dawn.com/news/1697265/visa-regime-relaxed-to-promote-pak-afghan-trade
--------
Opposition parties stage protests outside ECP offices in Sindh towns
June 29, 2022
LARKANA: Workers of Jamiat Ulema-i-Islam-Fazl, Grand Democratic Alliance, Larkana Awami Ittehad and Muttahida Qaumi Movement-Pakistan staged demonstrations and sit-ins outside election offices in Larkana and Mirpurkhas on Tuesday to record protest against massive rigging and widespread violence in the just-concluded first phase of local government election.
Dr Safdar Abbasi, general secretary GDA, Maulana Rashid Mehmood Soomro, general secretary JUI-F Sindh, GDA MPA Moazzim Abbasi and others led the protest in Larkana. The main entrances to the election office had been closed and large contingents of police had been deployed there to control the situation.
Dr Abbasi said at the protest that DROs and ROs were instrumental in rigging the election in Larkana and Mirokhan but Election Commission of Pakistan had not taken any action against them.
He congratulated the GDA, JUI-F and LAI-backed candidates who lost by a small margin of 50 or 100 votes. Maneuvering was still on to change Ghotki election result, he said.
He asked Bilawal Bhutto-Zardari to desist from stealing peoples' mandate, otherwise, they would once again take to the streets to save sanctity of vote.
He said that votes had been purchased and in one instance PPP MNA Khursheed Junejo himself had allegedly stamped ballot papers in polling stations in the absence of Rangers and most of the polling stations were seized where rigging was committed, he said. "We have fully resolved to go to courts and ECP to take back our 'stolen' mandate," he said.
Maulana Soomro said that election was massively rigged and deputy commissioners, SSPs' and revenue officials facilitated their opponents to steal their vote and mandate.
He said that over 150 party workers were injured in the violence and they were still in hospitals.
He pointed out that at least 100 to 150 votes at every polling station in all 14 districts did not carry thumb impressions. "Therefore, we reject the polls results," he said.
He said that officers who preferred to save their jobs played their part in rigging while MNAs and MPAs of the ruling party too did not lag behind.
He disclosed that ECP had issued two types of result lists and opposition was handed over 'flawed' list which had cast doubts on the transparency of the election. An SSP escorted Jamil Soomro, political secretary to Bilawal Bhutto-Zardari during election, he said.
He proposed carrying out forensic audit of results of only two union councils in each districts to find out the truth about transparency.
He criticised role of police in election and announced holding demonstrations and sit-ins outside SSPs' offices in all 14 districts in the province on June 29. The party's CEC to be convened next week would plan protest from Kashmore to Karachi, he said.
GDA MPA Moazzim Abbasi and others also spoke at the protest.
Earlier, Maulana Soomro led a similar protest in Mirpurkhas outside the district election office.
MQM-P protest rigging
Workers and office-bearers of Muttahida Qaumi Movement-Pakistan held a protest demonstration outside deputy commissioner's office in Mirpurkhas to protest against 'massive' rigging and violence in local government election.
The protesters raised slogans against 'partisan' returning officers and condemned changing results of MQM-P candidates.
They told media persons that MQM candidates had won seats at different places in the city and outskirts but presiding officers had announced their victory after vote count under pressure of PPP returning officers.
Source: Dawn
Please click the following URL to read the full text of the original story:
https://www.dawn.com/news/1697168/opposition-parties-stage-protests-outside-ecp-offices-in-sindh-towns
-------
Southeast Asia
Malaysian Govt Seeks To Halt 'Dubious' Online Divorce Urges Citizens to Report
June 28, 2022
A federal minister in Malaysia has urged citizens to report to civil or religious authorities over any case of dubious Talaq (divorce) on social media.
Datuk Idris Ahmad, minister in charge of religious affairs in the Prime Minister's Department, said the government would enable religious authorities to investigate and take action against alleged cases of online divorce.
"Don't wait because if we get to know about such cases, Insya Allah (God willing), we will take action," the minister said on June 26, according to Bernama news agency.
The minister made the call during a news conference on the side-lines of a gathering of Multaqa Murabbi Ummah (MMU), a leading Islamic clerical body, in Kedah state.
Ahmad referred to a recent case of so-called online divorce of a celebrity couple that sparked a social media storm.
DJ Wong or Noor Aziz Johari, 53, divorced his wife, DJ Sal, 43, through a Facebook live broadcast in April. The couple claimed it was the first online divorce in Malaysia and said they had discussed the issue with their family members before the pronouncement.
The live broadcast of the divorce went viral on social media and triggered a controversy, with many of their fans reacting negatively to the decision. Some netizens termed the online divorce "a scandal."
It grabbed newspaper headlines after Malaysian daily Harian Metro reported it on June 19.
DJ Sal later said that Islamic religious experts told them the divorce pronouncement on social media was "invalid." This prompted the couple to reconcile with each other, local media reported.
Minister Ahmad dismissed the allegation that the couple might have been "playing around" with Islam with their action but noted that it might have occurred due to their "ignorance" over talak in the religion.
He insisted that Muslims should not treat the talak issue lightly and said religious authorities would call the couple to seek clarification for their action.
The minister said the Religious Affairs Department and the Malaysia Syariah (Sharia) Judicial Department have recently re-established the Syariah Court Empowering Committee, which had ceased to function in 2018, to strengthen Syariah courts, Bernama reported.
"This new committee is headed by a former director-general of the Department of Islamic Development, Tan Sri Othman Mustapha, with 11 members to study and make recommendations to the government to further empower the Syariah courts in Malaysia," he said.
The minister's announcement is poised to have significant implications in Malaysia, where two parallel legal systems exist. The federal civil legal system applies to all states but states have their own Sharia courts that deal with Islamic laws.
Sharia courts handle cases related to family laws and religious observances. They can sentence offenders to up to three years in prison, fines of up 5,000 ringgit (US$1,137) and several strokes of the cane in public.
Under the Malaysian constitution, the attorney general has no jurisdiction over Sharia courts.
Media reports suggest three out of 11 states in Malaysia have partially enacted Sharia laws. In 2021, Kelantan state sparked controversy after it announced it would criminalize 24 new offenses, including attempts of conversion from Islam to other faiths. Christian and rights groups slammed it as an anti-minority move.
Malaysia's constitution declares the nation as a secular state. However, observers noted that in recent times powerful segments of the Malay Muslim-majority community have been using their political clout to assert a strong Islamic identity in the country.
Christians make up about 10 percent of an estimated 32 million Malaysian citizens. In the north of Borneo island covering the states of Sabah and Sarawak, they account for about two-thirds of the population.
Source: UCA News
Please click the following URL to read the full text of the original story:
https://www.ucanews.com/news/malaysian-govt-seeks-to-halt-dubious-online-divorce/97821
--------
Hamas issues warning on al-Quds occupation anniversary; China urges action
28 June 2022
The Palestinian resistance movement Hamas has called on the international community to take "serious action" in putting an end to crimes perpetrated by the Israeli regime against Palestinians.
In a statement issued on Monday, coinciding with the 55th anniversary of the occupation of East al-Quds, Hamas said Zionists "won't succeed in obliterating the Palestinian identity of al-Quds".
"Al-Quds City is an integral part of the historical land of Palestine," read the statement, adding that the Israeli regime "has neither sovereignty nor legitimacy" over the city or al-Aqsa Mosque, which lies in the occupied East al-Quds.
The movement urged the Arab states that have normalized ties with Israel to reconsider their decision and to "support the Palestinian people's right to liberation and self-determination".
In 2020, the United Arab Emirates and Bahrain announced normalization with Israel in agreements brokered by then-US President Donald Trump.
Morocco and Sudan later followed the suit, signing similar US-brokered deals with the Israeli regime, much to the chagrin of Palestinians.
The deals were condemned by the Palestinian leadership and people as a brazen betrayal of their cause.
In its statement on Monday, Hamas urged the international community to take responsibility for putting an end to Israeli crimes in the occupied territories, the regime's settler-colonialism policy, and the Judaization of al-Quds and its holy sites.
China slams Israeli violence
In a related development on Monday, China's permanent representative to the UN, Zhang Jun, urged the international community to take urgent and decisive action on the Palestinian issue.
Speaking at a Security Council briefing on the situation in the Middle East, he said the continued expansion of Israeli settlements "has encroached upon Palestinian land and natural resources, undermines the right of the Palestinian people to self-determination".
"We urge Israel to stop its contempt for Resolution 2334, stop all settlement activities, and stop further undermining the foundation for the two-state solution," Zhang asserted.
The envoy also denounced the escalation of violence by Israeli forces and settlers that has resulted in several Palestinian casualties, mostly children, in recent months.
Zhang said the issue of Palestine is "a litmus test of the international justice and fairness".
"What is needed for the time being is urgent and decisive actions, so as to prevent the train of Palestinian-Israeli situation from totally falling off the track."
He reiterated his country's support for peace, justice, human conscience, and fairness.
"We will firmly support the just cause of the Palestinian people to restore their legitimate national rights, and will continue to make unremitting efforts for achieving comprehensive, just, and lasting peace in the Middle East," said Zhang.
Israel occupied the West Bank and East al-Quds during the Six-Day War in 1967. It later annexed East al-Quds in a move not recognized by the international community.
Palestinians want the resolution of the conflict with Tel Aviv based on the so-called two-state solution along the pre-1967 boundaries.
However, the Israeli officials insist on maintaining the occupation of Palestinian territories.
Source: Press TV
Please click the following URL to read the full text of the original story:
https://www.presstv.ir/Detail/2022/06/28/684669/Hamas-urges-international-community-stop-Israeli-crimes-
--------
Former anti-crime activist wins suit against govt for unlawful detention, assault
V Anbalagan
June 28, 2022
KUALA LUMPUR: The High Court has decided in favour of a former anti-crime activist who sued the government for false imprisonment and assault.
Judge Ahmad Bache said R Sri Sanjeevan, the ex-Malaysian Crime Watch Task Force chairman, had proved his case on the balance of probability.
"The declaration that the plaintiff was detained for 16 days under a preventive law is unlawful and is in breach of Article 5(2) of the Federal Constitution," the judge said in an online proceeding.
Ahmad said the court found Sanjeevan, 36, had also been tortured and assaulted during his detention.
The judge, who ordered RM40,000 in costs to Sanjeevan, said damages would be assessed later.
Counsel S Preakas and V Satchi represented Sanjeevan, while senior federal counsel Norfuzani Mohd Nordin represented the government.
Sanjeevan was arrested for alleged involvement in criminal activities on July 10, 2016 and produced before a magistrate the following day.
The magistrate issued a 21-day remand order under the Prevention of Crime Act (Poca).
Before the expiry of the remand, he filed a habeas corpus application for unlawful arrest.
Another High Court judge ordered Sanjeevan's release on July 26, 2016, due to a breach of a provision in Poca.
Sanjeevan filed the suit three years ago, asking for a declaration and damages.
He named investigating officer Poonam E Keling, the inspector-general of police and the government as defendants.
Source: Free Malaysia Today
Please click the following URL to read the full text of the original story:
https://www.freemalaysiatoday.com/category/nation/2022/06/28/former-anti-crime-activist-wins-suit-against-govt-for-unlawful-detention-assault/
--------
'Vocal' Joniston stands out against 'senior' Joachim for PBS No 2 post
Willie Jude
June 28, 2022
KOTA KINABALU: Parti Bersatu Sabah's (PBS) elections, which start today, will see 164 candidates vying for various positions from the youth and women's wings to its top leadership.
With Maximus Ongkili retaining the president's post unchallenged, the focus is on who will serve as his deputy as two party heavyweights go head-to-head for the post.
PBS vice-president and Sabah deputy chief minister Joachim Gunsalam will be contesting for the No 2 post against party secretary-general Joniston Bangkuai, who is also the state assistant tourism, culture and environment minister.
Universiti Malaysia Sabah's Lee Kuok Tiung said Joachim had an edge over his counterpart since he was a more senior leader and also held the deputy chief minister's post.
However, he told FMT one cannot play down Joniston's potential.
"Joniston had contested for the same post during PBS' last elections, but pulled out at the last minute after the top leadership advised him to make way for the more senior Radin Malleh," he said.
Radin is not contesting this time around.
Lee said that, as a former journalist and Borneo bureau chief for a national newspaper, Joniston had a certain advantage over Joachim, particularly in the area of public communications.
"We can also see that Joniston stood out more in the last state election (in 2020), making use of the media to speak up on issues of public interest," he said, noting that Joniston was also the president of the Sabah journalists' association for 22 years.
Universiti Teknologi Mara's Tony Paridi Bagang said both Joachim and Joniston have their unique qualities, but believed that the determining factor would be delegates' wisdom and boldness in electing the new deputy president.
"Will they vote based on seniority or are they ready to choose a change in leadership? These questions might be the key," he told FMT.
He said Joachim was not just loyal to PBS but was also a calm and collected figure who would be willing to accept any view or suggestion that would benefit the party.
However, he noted that Joniston was more vocal on issues than Joachim, giving him an edge when it came to introducing ideas and reforms in the party.
"But are the delegates willing to shake up the party elections?" he asked.
Source: Free Malaysia Today
Please click the following URL to read the full text of the original story:
https://www.freemalaysiatoday.com/category/nation/2022/06/28/vocal-joniston-stands-out-against-senior-joachim-for-pbs-no-2-post/
--------
Africa
US envoy says Libya elections could proceed without single government
28 June, 2022
The US ambassador to Libya said on Tuesday that it could be possible to hold national elections without resolving a standoff between two rival governments and that a mechanism to oversee spending could help with governance for an interim period.
A scheduled election planned for December last year collapsed amid disputes over the rules. Although the parliament has appointed a new government, the one installed last year through a UN-backed process refuses to step down.
Libyans fear the crisis will derail efforts to get the elections back on track and could return the country to territorial partition and civil war.
The ambassador, Richard Norland, told Reuters in an interview that while he was optimistic that Geneva talks this week could resolve the impasse, there were ways to move forward without a single Libyan government.
Factions that dominated different parts of the country could separately lead those areas toward a national election.
"The reality of the Libyan political scene is that no single actor can produce an outcome. The only formula that's going to work is for the key actors to get together and negotiate a compromise," he said.
He said that if this week's Geneva talks between Libya's two legislative bodies on a constitutional basis for elections did not produce a deal, he expected further negotiations that would build on areas already agreed.
Financial disputes
The United States is pushing efforts to reduce conflict by ensuring fair, transparent spending of Libya's oil revenue until an elected government can take office.
The United States and international partners have held meetings with Libyan figures to work out agreements on spending priorities, transparency, funding allocations and oversight of how money is used, he said.
"It's essentially a committee and you want the right people and the right organizations," he said, including from state auditing bodies, the parliament, finance ministry and others.
He said there had been buy-in from eastern and western factions to the idea, and that it would require broad involvement so that "the various political strands in the country feel their interests are being addressed" he said.
Economic disputes have amplified this year as the political crisis has accelerated. Groups aligned with eastern forces have blockaded oil output as a tactic to demand the parliament-appointed government take power.
And on Tuesday the eastern branch of the central bank indicated it could start printing its own money as the process of reunifying the bank hits problems.
A mechanism to resolve financial disputes over oil revenue is key to reunifying the central banks, he said.
Source: Al Arabiya
Please click the following URL to read the full text of the original story:
https://english.alarabiya.net/News/north-africa/2022/06/28/US-envoy-says-Libya-elections-could-proceed-without-single-government
--------
Talks begin at UN on breaking elections stalemate in war-torn Libya
28 June, 2022
The UN called for a "final and courageous effort" to break the deadlock over the rules for long-awaited elections in war-torn Libya, as talks between rival administrations began in Geneva.
Parliament speaker Aguila Saleh and President of the High Council of State Khaled Al-Mishri are meeting at the UN's Palais des Nations for two days of talks to discuss the draft constitutional framework for elections.
For the latest headlines, follow our Google News channel online or via the app.
Presidential and parliamentary elections, originally set for December last year, were meant to cap a UN-led peace process following the end of the last major round of violence in 2020.
But the vote never took place due to several contentious candidacies and deep disagreements, over the polls' legal basis, between rival power centers in the east and west of the country.
"Your presence here today is an example of responsible leadership," the UN's top Libya official Stephanie Williams said as she opened the talks.
"You have now reached a critical stage of what has been a long and difficult path."
"It is now the time to make a final and courageous effort to ensure that this historic compromise takes place, for the sake of Libya, the Libyan people and the credibility of its institutions."
She said the two figureheads needed to find consensus on timelines, modalities and milestones to guarantee a clear path toward holding national elections as soon as possible.
A week of talks between the Tripoli-based High Council and Saleh's eastern-based House of Representatives (HoR), aimed at agreeing on a constitutional basis for a vote, ended last Monday without a deal.
The prospect of elections appears as distant as ever since the HoR, elected in 2014, appointed a rival government to replace that of interim prime minister Abdulhamid Dbeibah, arguing that his mandate has expired.
After failing to enter Tripoli in an armed stand-off in May, the rival administration has taken up office further east in Sirte – hometown of slain Libyan leader Muammar Gaddafi, whose overthrow in a NATO-backed revolt in 2011 plunged the country into years of often violent chaos.
HoR-backed premier Fathi Bashagha said Wednesday in a letter to UN chief Antonio Guterres that he would "now be leading all efforts to bring elections to Libya at the earliest possible opportunity."
Source: Al Arabiya
Please click the following URL to read the full text of the original story:
https://english.alarabiya.net/News/north-africa/2022/06/28/Talks-begin-at-UN-on-breaking-elections-stalemate-in-war-torn-Libya
--------
War: Our missile only destroyed Western weapons – Russia reacts to Kremenchuk attack
June 28, 2022
By John Owen Nwachukwu
The Russian Defense Ministry has reacted after its missile strike hit the Ukrainian city of Kremenchuk.
At least 18 people died while many others are still missing after the strike hit a shopping mall on Monday
The Russian ministry of defence, on its Telegram channel, said Russian "Aerospace Forces launched a strike with high-precision air-based weapons on hangars with weapons and ammunition received from the United States and European countries," hitting a plant of "road machines.
The ministry said the shopping centre being talked about is non-functional.
Russia said as a result of a high-precision strike, the weapons and ammunition supplied by the West concentrated in the storage area for further shipment to the Ukrainian group of troops in Donbas, were hit.
The ministry said the detonation of the stored ammunition for Western weapons caused a fire in the shopping centre.
Source: Daily Post Nigeria
Please click the following URL to read the full text of the original story:
https://dailypost.ng/2022/06/28/war-our-missile-only-destroyed-western-weapons-russia-reacts-to-kremenchuk-attack/
--------
Sudan army shells disputed border with Ethiopia
29 June ,2022
Sudan's armed forces fired heavy artillery during clashes in a disputed eastern region bordering Ethiopia, an Ethiopian official said, the latest salvo in a long-running feud over their shared border.
On Tuesday Sudan was able to capture Jabal Kala al-Laban, an area near the contested border, following an artillery barrage and an air strike, according to a Sudanese military source who requested anonymity as they were not authorized to talk to the press.
On Monday, Ethiopia denied Sudan's accusation that its army had captured and executed seven Sudanese soldiers and a civilian, instead blaming the killings on a local militia.
Sudanese government sources said Sudan had filed a formal complaint with the United Nations Security Council over the killings.
Sudan's army fired long-distance artillery from Monday morning until Tuesday afternoon, but nobody was injured, said Assefa Ashege, a senior security official in Ethiopia's Amhara region.
Two local residents said the Sudanese army had gained control of Jabal Kala al-Laban and had destroyed a military base there. It was unclear if the base belonged to the Ethiopian army or an allied militia.
A Sudanese military spokesperson did not respond to a request for comment. Ethiopia's government spokesperson Legesse Tulu did not immediately respond to requests for comment.
Ethiopian military officials referred Reuters to a statement issued on Monday that described a previous border clash, but did not comment on the reported shelling.
In a statement Sudan's military disputed what it said were reports of movements and the taking of prisoners.
Source: Al Arabiya
Please click the following URL to read the full text of the original story:
https://english.alarabiya.net/News/middle-east/2022/06/29/Sudan-army-shells-disputed-border-with-Ethiopia
--------
Libya suspends oil shipments from key port amid political crisis
29 June, 2022
Libya's state oil company suspended shipments from the key eastern port of Ras Lanuf, according to people familiar with the matter, amid a worsening political crisis in the OPEC member.
The National Oil Corp. informed trading and shipping firms on Tuesday of force majeure restrictions at the terminal, one of the largest in Libya, the people said.
The move came a day after the NOC said it may have to halt exports from the Gulf of Sirte, which includes Ras Lanuf and other ports such as Es Sider, Brega and Zueitina.
While it's unclear is Es Sider will also be placed under force majeure, the production of Waha Oil Co., which uses the terminal, has almost completely shut down.
The NOC, which owns Waha Oil, did not immediately respond to a request for comment.
The drop in Libya's supply is further tightening the global oil market. Crude prices have soared 50 percent this year to around $115 a barrel, largely due to the fallout of Russia's invasion of Ukraine. Many major producers are also struggling to sustain their output.
Libya's crude production has halved since mid-April to 600,000 barrels a day, according to Bloomberg estimates.
The country is grappling with protests that have forced many oil fields and ports to shut down. It's been mired in conflict since the fall of president Muammar Gaddafi in 2011.
There's now a standoff between two politicians - Abdul Hamid Dbeibah and Fathi Bashagha - who each claim to be the legitimate prime minister.
Source: Al Arabiya
Please click the following URL to read the full text of the original story:
https://english.alarabiya.net/business/energy/2022/06/29/Libya-suspends-oil-shipments-from-key-port-amid-political-crisis
--------
Jordan prime minister promises inquiry into deadly blast at Red Sea port
June 28, 2022
AQABA, Jordan: Jordan's prime minister said Tuesday that he has instructed authorities to launch an investigation into the deadly blast the previous day at the Red Sea port of Aqaba that killed at least 13 people.
A crane loading chlorine tanks onto a ship on Monday dropped one of them, causing an explosion of toxic yellow smoke. Along with those killed, some 250 were sickened, authorities said.
Prime Minister Bisher Al-Khasawneh visited the site Tuesday and, citing civil defense and environmental authorities, said the gas concentration in the area had returned to normal. He said that most movement at the port has resumed, except for the exact site of the incident which was being cleaned and inspected.
Al-Khasawneh said "other nationalities" were among the dead, without elaborating. He said many of those in hospitals were being discharged.
Video carried on state TV showed the moment the tank exploded, sending dockworkers scrambling to escape the toxic cloud. Some 200 people were hospitalized.
The Public Security Directorate, which initially described it as a gas leak, said authorities sealed off the area after evacuating the injured and sent specialists in to address the situation.
State-run Jordan TV said 13 people were killed. Al-Mamlaka TV, another official outlet, said 199 were still being treated in hospitals. The Public Security Directorate said a total of 251 people were injured.
Aqaba is on the northern tip of the Red Sea, next to the Israeli city of Eilat, which is just across the border. Both are popular beach and diving destinations.
Source: Arab News
Please click the following URL to read the full text of the original story:
https://www.arabnews.com/node/2112431/middle-east
--------
Europe
Turkey agrees to support Finland, Sweden joining NATO after 'getting what it wanted'
28 June, 2022
Finnish president Sauli Niinisto said on Tuesday that Turkey has agreed to support the NATO memberships of Finland and Sweden, and Ankara said it "got what it wanted" from the talks with the two Nordic countries.
Niinisto said the decision came after a meeting with Turkish President Recep Tayyip Erdogan and Swedish Prime Minister Magdalena Andersson, facilitated by Secretary General of NATO Jens Stoltenberg.
"As a result of that meeting, our foreign ministers signed a trilateral memorandum which confirms that Turkey will at the Madrid Summit this week support the invitation of Finland and Sweden to become members of NATO," Niinisto said in a statement.
"The concrete steps of our accession to NATO will be agreed by the NATO Allies during the next two days, but that decision is now imminent," he added.
The memorandum underscores the commitment by the three countries to "extend their full support against threats to each other's security."
Sweden and Finland sought to enhance their security through NATO membership, ending decades of military nonalignment in an historic move driven by Russia's invasion of Ukraine.
Turkey declared in May it had objections to the two countries joining NATO, accusing them of supporting Kurdish militants, namely the Kurdistan Workers Party (PKK), whom Ankara considers to be a terrorist organization, and failing to extradite dozens of suspected "terrorists," specifically the followers of Fethullah Gulen, whom Ankara accuses of orchestrating a 2016 coup attempt.
Source: Al Arabiya
Please click the following URL to read the full text of the original story:
https://english.alarabiya.net/News/world/2022/06/28/Turkey-agrees-to-support-Finland-Sweden-joining-NATO-after-getting-what-it-wanted-
--------
Teenager Arrested Trying To Board Flight in UK; He Is Accused Of "Collecting Information Useful To a Person Committing or Preparing an Act of Terrorism"
June 29, 2022
LONDON: A 16-year-old boy has been arrested in the UK on suspicion of terrorism offenses while attempting to board a flight from London Stansted Airport.
He is accused of "collecting information likely to be useful to a person committing or preparing an act of terrorism" and "disseminating terrorist publications," according to a report by the Independent newspaper on Tuesday. Police said the alleged offenses are "linked to extreme Islamist ideology."
The teenager was arrested on Monday by the Metropolitan Police's Counter Terrorism Command under Schedule 7 of the UK's Terrorism Act 2000, which gives officers the power to stop, question, search and detain suspects to determine any links with terrorism. A search was carried out at an address in east London in connection with the arrest, the report added.
Between April 2021 and March 2022, 15 percent of all terrorism-related arrests in the UK (excluding Northern Ireland) involved people under the age of 18.
On May 17 this year, a 13-year-old boy was arrested in west London on terror-related charges. He is one of the youngest people to be charged with terrorism in the UK. Last week, a 15-year-old was detained in the north of England and charged in connection with extreme right-wing terrorism. He is due to appear at the Old Bailey on July 15.
Source: Arab News
Please click the following URL to read the full text of the original story:
https://www.arabnews.com/node/2112876/world
--------
Türkiye's president to have bilateral talks with world leaders during NATO summit
Beyza Binnur Donmez
28.06.2022
MADRID
Türkiye's President Recep Tayyip Erdogan arrived in Madrid on Tuesday to attend the NATO summit.
Erdogan will have four-way talks with NATO Secretary-General Jens Stoltenberg, Finland's President Sauli Niinisto, and Sweden's Prime Minister Magdalena Andersson later in the day.
He is also expected to hold bilateral meetings with Spanish Prime Minister Pedro Sanchez, US President Joe Biden, French President Emmanuel Macron, UK Prime Minister Boris Johnson, European Council President Charles Michel, Austrian Federal Chancellor Karl Nehammer, German Chancellor Olaf Scholz, and Dutch Prime Minister Mark Rutte on the sidelines of the summit.
Source: Anadolu Agency
Please click the following URL to read the full text of the original story:
https://www.aa.com.tr/en/europe/turkiyes-president-to-have-bilateral-talks-with-world-leaders-during-nato-summit/2624720
--------
Bosnian court rules major decisions made by Republika Srpska lawmakers null and void
Mustafa Talha Öztürk
28.06.2022
BELGRADE, Serbia
The Constitutional Court of Bosnia and Herzegovina announced on Tuesday that the transfer of state powers to the entity level is invalid, ruling major decisions made by Republika Srpska (RS) lawmakers null and void.
According to an official statement, the decisions made by the National Assembly of Republika Srpska, one of Bosnia and Herzegovina's two entities, on the establishment of an army at the entity level, the exit from the taxation system, and the establishment of the High Council of Judges and Prosecutors within the entity were deemed invalid.
The ruling came after members of Bosnia and Herzegovina's Assembly filed an application with the court, stating that the RS's decisions breached the state's authority and the constitution. They said that RS adopted a separatist policy by attempting to bring national institutions to the level of the entity.
The court's decision prevents the RS National Assembly from making any decisions about state institutions.
Milorad Dodik, a Serb member of Bosnia and Herzegovina's Presidential Council, has stated that the decisions made in the RS National Assembly will be executed anyway.
"Are you sure that the constitutional court has canceled all the decisions?" Dodik asked, describing Bosnia and Herzegovina as a country where "anything can happen at any time."
He claims that the court rulings will be rendered void the day Bosnia and Herzegovina is awarded candidate country status by the European Union (EU).
"I want you to know that we will do what we aim for. We may have delayed it due to the Russia-Ukraine war, but don't be misled. We will wait for the right time to implement some decisions,'' he remarked.
Denis Zvizdic, Speaker of the House of Representatives of Bosnia and Herzegovina, on social media welcomed the decision as another victory for the state.
Source: Anadolu Agency
Please click the following URL to read the full text of the original story:
https://www.aa.com.tr/en/europe/bosnian-court-rules-major-decisions-made-by-republika-srpska-lawmakers-null-and-void/2624714
--------
UN committee urges probe into migrant deaths at Morocco-Spain border
Alyssa McMurtry
28.06.2022
OVIEDO, Spain
The UN Committee on Migrant Workers on Tuesday called on the Moroccan and Spanish governments to conduct an immediate and thorough investigation into dozens of migrant deaths at the border.
"We are appalled by the deaths of these migrants who intended to cross the border to seek a better life based on their legitimate human rights," it said in a statement.
On Friday, around 2,000 migrants stormed the militarized border fence to enter the Spanish enclave of Melilla from Morocco. NGOs allege that violent police response and a lack of medical treatment left 37 people dead.
"It is yet to be determined whether the victims died falling from the fence, in a stampede, or as a result of any actions taken by the border control officers," the UN committee said in its statement demanding an investigation.
"Based on the information we have gathered, we remind all states that migrants shall not be subjected to any cruel, inhuman or degrading treatment or punishment. States must also guarantee that all policies and practices at borders effectively respect all human rights obligations, ensuring the right to life, dignity, security and physical integrity of migrants in all circumstances," it continued.
But neither the Spanish nor Moroccan governments appear willing to launch an investigation.
Even Spain's progressive government has only applauded the effective border control and blamed the loss of life on human trafficking mafias.
Moroccan human rights group AMDH has denounced that Moroccan authorities have already dug graves for the dead migrants, accusing officials of trying to get rid of the corpses without a proper investigation.
In the statement, the UN committee pointed out that "the Moroccan government is required to preserve the bodies of the deceased, fully identify them and inform their families, and provide the necessary support for the transfer of the bodies. As for the injured, they should be given essential medical care for their prompt recovery."
Source: Anadolu Agency
Please click the following URL to read the full text of the original story:
https://www.aa.com.tr/en/europe/un-committee-urges-probe-into-migrant-deaths-at-morocco-spain-border/2624698
--------
Germany shocked by deaths of migrants at Morocco-Spain land border
Erbil Başay
28.06.2022
BERLIN, Germany
Germany on Monday described the deaths of nearly two dozen migrants who were attempting to break through a border fence between Morocco and the Spanish enclave of Melilla as "shocking."
Speaking at a press conference in Berlin, deputy government spokesman Wolfgang Buchner gave an assessment of the incident.
"It is shocking that so many people lost their lives while trying to cross the border. Over 300 are reportedly injured," said Buchner, expressing "deep sadness" over the deaths.
He pointed out that Spain announced that the incident will be clarified, noting this is important and Berlin welcomes this.
German Interior Ministry spokesman Maximilian Kall, who attended the meeting, said Interior Minister Nancy Faeser was shaken by what happened.
"We expect the relevant councils and the EU councils to clarify this," he added.
Around 2,000 migrants, many from Sudan, tried to cross the militarized border fence Friday and were met with force from both Moroccan and Spanish authorities.
Initial reports indicated five dead, but Moroccan authorities later raised the figure to 23. Helena Maleno Garzon, head of the non-governmental organization Walking Borders, said at least 37 people lost their lives.
On Sunday, the Moroccan Association for Human Rights (AMDH) published an image showing authorities from the North African country digging around 20 graves which the organization said were meant for the migrants who died in the pandemonium.
On Saturday, several non-governmental organizations released a joint statement demanding a probe into the treatment of the migrants during their attempt to cross the border. The AMDH specifically pleaded against burying the bodies without an investigation.
Source: Anadolu Agency
Please click the following URL to read the full text of the original story:
https://www.aa.com.tr/en/europe/germany-shocked-by-deaths-of-migrants-at-morocco-spain-land-border/2624118
--------
UK's Prince Charles under fire for accepting $3.2mn from former Qatar PM
28 June 2022
The United Kingdom's Prince Charles received more than $3 million in cash from a senior Qatari politician, a newspaper report has revealed.
The Times of London reported that during private meetings between 2011 and 2015, the Prince of Wales personally accepted three bundles of cash, worth about $3.2 million, from Sheikh Hamad bin Jassim al-Thani, the former prime minister of Qatar.
According to the report, the money was given on two separate occasions. Charles' aides were uncomfortable with the transfers but did little to intervene.
In a statement to Insider on Monday, Charles' office, Clarence House, rejected the allegations of receiving the money for personal interests.
"Charitable donations received from Sheikh Hamad bin Jassim were passed immediately to one of the Prince's charities who carried out the appropriate governance and have assured us that all the correct processes were followed," the statement noted.
The prince's charitable fund rejected the possibility of any illegal activity and told the newspaper that the donor was a "legitimate and verified counterparty" and their auditors had "signed off on the donation after a specific inquiry during the audit".
According to the gift guidelines and procedures outlined on the official royal website, members of the royal family "should never accept gifts of money, or money equivalent, in connection with an official engagement or duty.
"If not capable of being returned, money should be donated directly to a charity nominated by the Member of The Royal Family," it notes.
A spokesperson for the Charity Commission, a UK government regulator, confirmed that the money was received by The Prince of Wales's Charitable Foundation, and said they will "review the information to determine whether there is any role for the Commission in this matter."
The Charity Commission provides guidance for trustees to question any "suspicious characteristics" of the donation and see whether there is any public concern about the donor or their activities.
Prince Charles has long been accused of using his charity's bank account for his own personal finances and the damning report added to the speculation of a "cash-for-access culture" around the Prince.
He is already under investigation by the British police over accusations that his charity foundation offered to help a Saudi billionaire secure citizenship in return for donations.
Source: Press TV
Please click the following URL to read the full text of the original story:
https://www.presstv.ir/Detail/2022/06/28/684670/UK%E2%80%99s-Prince-Charles-receives--3-2m-from-Qatari-PM,-bringing-another-scandal-to-Royal-family
--------
Western energy crisis: Saudi Arabia, UAE unable to increase oil production, says Macron
28 June 2022
Saudi Arabia and the United Arab Emirates as the leading Organization of the Petroleum Exporting Countries (OPEC) oil producers can barely increase their oil production capacity, French President Emmanuel Macron cited the Emirati president as saying on Tuesday.
On the sidelines of the G7 summit on Tuesday, Macron told his American counterpart, Joe Biden, about his conversation with UAE leader Sheikh Mohammed bin Zayed al-Nahyan.
"He told me two things. I'm at a maximum, maximum (production capacity). This is what he claims," Macron said. "Saudis can increase by 150 (thousands barrels per day) but they don't have huge capacities before six months' time."
The UAE's energy minister Suhail bin Mohammed Al Mazrouei confirmed Macron's statement, saying the UAE is producing "near to our maximum production capacity based on its current OPEC+ production baseline."
World oil prices have seen a steady rise in recent months due to a shortage of supply and sanctions against Russia and Iran.
Western nations are facing an energy crisis with fuel prices surging across the European continent, especially after the Russian military operation in Ukraine.
As a corridor to get out of this crisis, a French presidential official has called on the international community to explore all options, including talks with producing nations like Iran and Venezuela, to alleviate the weight of the crisis.
"There are resources elsewhere that need to be explored," the unnamed French official said on the sidelines of the G7 summit when asked about how to alleviate high oil prices.
If the US sanctions against Iran are lifted, it can contribute to relieving the crisis and dampening the price of the oil with its high capacity of crude oil production.
Source: Press TV
Please click the following URL to read the full text of the original story:
https://www.presstv.ir/Detail/2022/06/28/684674/Macron--Saudi-Arabia,-UAE-unable-to-increase-oil-production
--------
URL: https://newageislam.com/islamic-world-news/talibanisation-society-muslim-killing-udaipur/d/127356
New Age Islam Islam Online, Islamic Website, African Muslim News, Arab World News, South Asia News, Indian Muslim News, World Muslim News, Women in Islam, Islamic Feminism, Arab Women, Women In Arab, Islamophobia in America, Muslim Women in West, Islam Women and Feminism