New Age Islam News Bureau
20 Jul 2018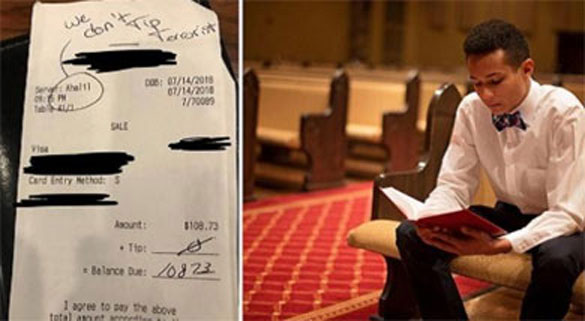 The note the unnamed customer left (L) for Khalil Cavil (R). Source: Khalil Cavil/Facebook
------
• 'We Don't Tip Terrorist': Customer Refuses To Tip Waiter with 'Muslim Name'
• AIMPLB Writes To Press Council of India for Banning Religious Debates on TV Channels
• Ahmadis Boycott Pakistan Poll over Discrimination
• What We Know About Indian Dawoodi Bohra Community and Their Egyptian Roots
• Terror Cell Founded In Wales 'Funded Islamic Extremists' Attacks in Bangladesh
Europe
• 'We Don't Tip Terrorist': Customer Refuses To Tip Waiter with 'Muslim Name'
• Muslim French Footballers Embarrass Far-Right Rhetoric: Islamophobia Observatory Department
• Terrorism not a clash between Christian West and Islam: David Cameron
• Muslim Couples Marry At Mass Religious Wedding
• Muslim community looking for answers after mosque set on fire
--------
India
• AIMPLB Writes To Press Council of India for Banning Religious Debates on TV Channels
• Assam: This Cachar Mosque Has A Library With Bibles, Vedas
• Trust Goes to HC Seeking Sanction to Give Preference to Sunni Muslim Students Lucknow
• Banning Of Islamic Channels Violates Freedom of Speech: J&K High Court Bar
• Fatwa against Triple Talaq Victim: Nobody Has Right to Dismiss Anyone from Islam, Says UP Minority Panel
--------
Pakistan
• Ahmadis Boycott Pakistan Poll over Discrimination
• 'Notorious Militant' Shafiq Mengal Aspiring To Be MNA
• Pervez Khattak, Ayaz Sadiq, Fazlur Rehman Served Notices For 'Abusive Language'
• Pakistan cannot be intimidated by terror attacks in Balochistan and Khyber Pakhtunkhwa: Dr Faisal
• 'Last Jew of Pakistan' Bemoans Israel Travel Ban
• I don't see political leaders coming together for country's betterment, says Nisar
• SC acquits three men convicted of terrorism in 2011
--------
Arab World
• What We Know About Indian Dawoodi Bohra Community and Their Egyptian Roots
• Terrorists Agree to Surrender Entire Quneitra to Syrian Army
• Tens of Bodies Killed in US Airstrikes Found in Raqqa
• Syrian Army Nearing End of Dara'a Liberation Operation
• Kurdish Forces Destroy Ankara-Backed Militants' Cache of Arms in Idlib
• Hama: Tens of Tahrir Al-Sham Terrorists Killed in Syrian Army Attacks
• Syria rebels agree to surrender frontier with Israel
• Few takers for Hezbollah offer to repatriate Syrian refugees
--------
South Asia
• Terror Cell Founded In Wales 'Funded Islamic Extremists' Attacks in Bangladesh
• Rights Group Details Lead-Up to Myanmar Attacks on Rohingya Muslims
• 24 militants killed, wounded in Kunduz operations
• Official: Taliban attacks kill 8 police in east Afghanistan
• Border police forces suffer casualties during the clashes close to Durand Line
• Russia, Tajikistan forces start drills amid growing instability in Afghanistan
--------
Southeast Asia
• Chinese 'Muslim Re-Education Camps' In Spotlight at Kazakh Trial
• Muslims Should Have Integrated Long Ago: Politician
• Malaysia Arrests Seven People over Suspected Militant Links
• Legislators Approve Law for New Philippine Muslim Region
• Preacher Assures Muslims' Support for Peace and Order in Cordillera
• Muslim child marriages declining in Malaysia, stats show
--------
Mideast
• Israeli Footprints Found in Terrorists' Bases in Dara'a
• EU, Palestinians Rap Israeli Law Recognizing Jewish Supremacy
• 'Racist' Israeli homeland law 'legalizes apartheid,' say Palestinians
• Yemeni army foil repeated attacks by Houthi militias
• Mossad admits cooperating with MKO over anti-Iran plot
• Israeli airstrike kills young Palestinian man in southern Gaza Strip
--------
Africa
• One 20-Year Term, 14 Acquittals in Senegal Jihadists' Trial
• Hundreds Flee As Al Shabaab Militants Begin Recruiting Children
• 30 killed in raids on northwest Nigeria villages
• President of South Sudan says ready to accept peace deal
• Senegal convicts 13 suspected Boko Haram fighters
• Boko Haram dwarf reveals amount he got for each suicide bomb attack
• Boko Haram: Doctors Without Borders raise alarm over 'deteriorating' conditions of IDPs
--------
North America
• Muslim Kids Summer Camp All about Balancing Religious and Canadian Identity
• Police Treating Attack on Toronto Muslim Man as Hate Crime
• US allows hundreds of Somalis to stay until at least March 2020
Compiled by New Age Islam News Bureau
URL: https://www.newageislam.com/islamic-world-news/we-dont-tip-terrorist-customer/d/115890
--------
'We Don't Tip Terrorist': Customer Refuses To Tip Waiter with 'Muslim Name'
July 20, 2018
In yet another example of how several continue to harbour stereotype-induced hatred towards Muslims, a customer at a restaurant refused to tip the waiter because of his name. Khalil Cavil, who lives in Texas, took to Facebook to share the shocking words — "We don't tip terrorist", written by a customer on the bill receipt for him. In addition to reaching out to Cavil for further updates, indianexpress.com dug a little deeper on social media and it seems that he happens to have a "Muslim name" but is a Christian, in fact. Yet, that still is no justification for the customer's illogical, strong sense of dislike towards a particular religious community.
This is what one Instagram user, commenting on the issue, wrote: "It was posted by #khalilcavil yesterday on #facebook .He lives in #Texas #USA who was accused of as a Terrorist by the customer he was serving. The irony is he is not even a #Muslim. He simply happen to have a #Muslim name. This is sheer #racisim / #xenophobic that still exist even to this day. When are we going to be more civilized?"
"Last night at work I received this note from one of my tables. At the moment I didn't know what to think nor what to say, I was sick to my stomach. I share this because I want people to understand that this racism, and this hatred still exists. Although, this is nothing new, it is still something that will test your faith. All day I've had to remind myself that Jesus died for these people too. I have decided to let this encourage me, and fuel me to change the world the only way I know how. So to all the haters out there, keep talkin, your only helping me step into my destiny!"
He later took to Facebook again to thank all those who reached out to him and spoke against racism and xenophobia.
"Once again, I want to thank everyone for all of the loving support. Most of all I want to thank my family who has stood by me during this hectic week. I want to thank everyone who has messaged me over these past few days. There has been so much support and encouraging messages that it's been hard to keep up with all of them. But to all of the people who have sent me money I want to thank you as well. I want to make it very clear that this was never about the tip nor the money. It was about shedding a light on racism and sharing the love of Jesus. It was about igniting conversations because I believe real change happens when we start talking about the issue and acknowledging its there. So thank you to everyone who has invested in me over these past few days. With much prayer, I have decided to put all of the funds I have received into missionary work through my home church. This will help other people spread the Gospel of Jesus Christ to different places around the world. Let's make the enemy pay by helping other people establish the Kingdom of God here on earth. Thank you!"
https://indianexpress.com/article/trending/this-is-serious/muslim-terrorist-wont-tip-a-waiter-5265724/
--------
AIMPLB writes to Press Council of India for banning religious debates on TV channels
Jul 19, 2018
A senior member of the All-India Muslim Personal Law Board (AIMPLB) Maulana Khaid Rashid Farangi Mahali has shot off a letter to the Press Council of India Chairman to put a ban on debates on religious issues involving Islam and Sharia on TV channels.
Maulana Rashid said that in majority of these debates, Islam and Sharia are wrongly portrayed and interpreted. "It results in hurting the religious feelings of Muslims across the country and vitiate peace and communal harmony," he said.
"The agenda of all religious debates are pre-decided and deliberate attempts are made during panel discussion to portray and interpret Islam and Sharia in wrong way. This is leading to communal disharmony and widening the gulf between the two communities," he said.
Referring to slapping incident of Mufti Aizaz Arshad Kasmi during a debate, Maulana Rashid clarified that the Muslim Board has not authorized him to participate in TV debates on its behalf. "The Board has constituted a three-member committee which will submit its report to the Chairman who will decide a qualified person to represent the Board in such debates, if needed," said Maulana Rashid, who is also Imam of Lucknow.
http://www.dnaindia.com/india/report-aimplb-writes-to-press-council-of-india-for-banning-religious-debates-on-tv-channels-2639260
--------
Ahmadis boycott Pakistan poll over discrimination
July 20, 2018
Pakistan's minority Ahmadi community are boycotting the July 25 general election over a discriminatory electoral list.
"Under the current circumstances for Ahmadis to cast a vote, they first have to distance themselves from the Holy Prophet of Islam and this is something that no Ahmadi can countenance," Ahmadi spokesman Saleem ud Din said on July 18.
"Though elections are ostensibly being held under a joint electoral system, there is, however, a separate voter list for Ahmadis. The process for the registration of votes and the preparation of voter lists is now completed. The forms issued for the registration of votes include a religion box and an oath declaration."
He said that a separate voter list prepared for Ahmadis based on religious differences is an example of discrimination
"Currently there is one voter list that includes all religious groups including Muslims, Hindus, Christians, Zoroastrians and Sikhs, whereas in the case of Ahmadis a separate voter list is being prepared bearing the titles Qadiani Men/Women," the spokesman said.
"This discriminatory treatment on the basis of religion is a deliberate attempt to disenfranchise the Ahmadis of Pakistan from the electoral process by to all intents and purposes denying them their right of vote.
"Such prejudicial behavior is an open violation of Pakistani Ahmadis as citizens of the state and goes against the vision of the founding father of the country, Muhammad Ali Jinnah, and contravenes both the constitution and the joint electoral system."
Ahmadis, who call themselves Muslims, have been declared non-Muslims under Pakistani law. The legislation has seen the community subjected to persecution.
In April, the Ahmadi community released an annual report detailing growing hostilities against the minority sect.
It said that 77 Ahmadis were booked under discriminatory religious laws in 2017 and nine were in prison on faith-related allegations. Four Ahmadis were murdered in hate crimes last year.
Five Ahmadis were shot and injured in incidents of violence in Punjab in July.
https://www.ucanews.com/news/ahmadis-boycott-pakistan-poll-over-discrimination/82869
--------
What We Know About Indian Dawoodi Bohra Community and Their Egyptian Roots
19 July 2018
Last week, Egypt's President Abdel-Fattah el-Sisi received the Indian leader of Dawoodi Bohra sect, Sultan Mufaddal Saifuddin. He was accompanied by his brothers Prince Qusay and Fathi al-Din and Prince Ja'far al-Sadiq, Prince Taha Saif al-Din and Hassan al-Buhara.
He also donated EGP 10 million to the Tahya Misr (Long Live Egypt) fund, a statement from el-Sisi's office said. According to an al-Ahram report, he had donated the same amount in 2014.
El-Sisi stressed the historic ties between Egypt and the Bohra community and hailed the sect's constant openness to all religions and sects and the firm belief in the importance of dialogue among different communities around the world.
The Dawoodi Bohra community has funded the restoration of the famous Fatimid al-Hakim Mosque, as well as the Juyushi Mosque, Aqmar Mosque and al-Lolola Mosque in Cairo.
A sect within
The Dawoodi Bohras are a sect within the Ismaili Shiite branch of Islam. While their population is concentrated in India and Pakistan, Egypt has been home to a Dawoodi Bohra community since the 1970s.
Al-Buhara is an Ismaili Shiite sect but differs from the well-known Nizari sect known as Hashashin in the identity of the Imam. It believes in the primacy of Imam Ahmad al-Musta'li Billah Al Fatimi.
Al-Buhara believes that al-Musta'li, who ruled Egypt in the name of the Fatimids for over seven years and died in 1101 AD, has greater place than his brother.
The brothers were the sons of the Caliph al-Mustansir Billah al-Fatimi and there was a dispute between the two, which led to the split of the sect into two, after the takeover of al-Mustali in Cairo.
Conversion to Islam
However, the Buhara, who were known for their trade and commercial activities since time immemorial, have spread in India, where many Hindus converted to Islam. India has become the centre of the Bora Sultans after Egypt.
The current Sultan of Bohra is Sultan Saif al-Din, the 53rd in the order of the Fatimid "absolute preachers", and there is great correlation between the family and the doctrine of the Bohra.
The current Sultan is the son of the former Sultan. The Sultans of the Buhara are the leaders of the sect and the Sultan is called the absolute da'I (Preacher), and they are below the imams in rank, but they believe in the stalemate of the imams and the deputies of the imam who are the sultans.
Al-Buhra holds some of their rites in al-Hakim mosque in Al-Mu'izz Street in Cairo. They are noted for their discipline and commitment to a specific system, and a specific dress code for both men and women.
https://english.alarabiya.net/en/features/2018/07/19/What-we-know-about-Indian-Dawoodi-Bohra-community-and-their-Egyptian-roots.html
--------
Terror Cell Founded In Wales 'Funded Islamic Extremists' Attacks in Bangladesh
16 July 2018
A terrorism network founded in Wales is suspected of a number of attacks in Bangladesh, the BBC can reveal.
The cell was started by respected south Wales businessman Siful Sujan, who had companies based in Cardiff.
The American military said he was a key figure in the so-called Islamic State, before he was killed by a US drone strike in Syria in 2015.
It is now claimed the work of his network continued, led by his brother Ataul Haque, who had lived in Wales.
Haque moved from Wales to Spain, and he was arrested in the town of Merida in September 2017.
The FBI says Sujan's Welsh company, Ibacstel Electronics, was sending money to the USA to fund plans for a bomb attack there; and it was also buying military-grade equipment which was being sent to Islamic State fighters.
The officer investigating Haque agreed to be interviewed by the BBC on condition of anonymity due to the nature of his work.
"On the face of it Ataul's business was legal, but the destination of these resources - or at least part of them - was destined to finance ISIS, technologically and financially," said the officer.
"We estimate that in December of 2015 Ataul Haque sent and co-ordinated a total of $50,000 (£37,691) to Bangladesh. The destination of that money, according to our Bangladeshi colleagues, was specifically "operational", to carry out attacks."
Bangladeshi journalist Tasneem Khalil pinpointed Siful Sujan as the man who helped set-up ISIS there.
He said the former Glamorgan University student who lived in Pontypridd, Rhondda Cynon Taff, had recruited up to 50 Jihadi fighters in Bangladesh, and helped fund terror attacks.
"Siful Sujan was the architect, or one of the key architects, of the global money moving operation of ISIS. We are actually talking about big sums of money," said Mr Khalil, who is now living in exile in Sweden.
"There were a number of operations in the second half of 2015 which Bangladeshi intelligence agencies believe were funded by Sujan's money."
It is also suspected that the network established by Sujan - and then allegedly run by his brother Ataul Haque - may have been involved in funding Bangladesh's worst terrorist attack.
In July 2016, 24 people were killed when a café in Dhaka was attacked by terrorists armed with bombs and guns.
"Even after his death, he remained very influential. There is a very high likelihood that some of Sujan's money was used in those attacks also," said the journalist.
The police in Bangladesh declined to comment on terrorist attacks in the country.
Haque is in jail in Madrid and is expected to be charged later this year. He denies any wrong-doing, or being involved in the terrorism network.
The BBC's investigation also examined the role of a Newport businessman, Abdul Samad, who worked for Sujan's company.
Samad was accused by the FBI of supporting the so-called Islamic State; facilitating payments to an ISIS supporter in the USA; and involvement in purchasing equipment for IS.
He was arrested in south Wales on the same day that his former boss was killed in Syria.
In addition to the evidence gathered by the FBI, the BBC also discovered that Samad set up a new company for Haque in Newport in September 2017 called Isynctel.
It is the same name as a Spanish company which Ataul Haque is accused of using to fund terrorism.
Samad declined to be interviewed by BBC Wales Investigates. He has denied any wrong-doing, or involvement in a terrorism network, and denied holding extremist views.
After a 15-month investigation by counter-terrorism police, Samad was told the "threshold" had not been met for him to be charged with any offences.
BBC Wales Investigates, 20:30 BST on Monday, 16 July, on BBC One Wales.
https://www.bbc.co.uk/news/uk-wales-44823666
--------
Europe
Muslim French Footballers Embarrass Far-Right Rhetoric: Islamophobia Observatory Department
Jul. 19, 2018
CAIRO – 19 July 2018: The fact that half of France's World Cup winning team is comprised of Muslims is a powerful response to the rampant Islamophobia in France, Islamophobia Observatory Department, affiliated with Egypt's Dar Al-Ifta (House of religious edicts), stated Thursday.
In a statement issued Thursday, the IOD contended that the Muslim players led the French squad to win the title of the world's most prestigious tournament. "Yet, they exposed the double standards of the far-right rhetoric that antagonizes Muslims."
The French national squad's Muslim players, who are also of African descent, are: Adil Rami, Djibril Sidibé, Benjamin Mendy, Paul Pogba, N'Golo Kanté, Nabil Fekir and Ousmane Dembélé.
The statement further read that the above-mentioned fact did not grasp the attention of the French media, which points an accusing finger at the population of 1.8 billion Muslims whenever a terrorist attack takes place.
The statement concluded with confirming that the Muslim players do not possess any kind of advantage over their mates; however, the achievement they contributed in is just a good message to the far-right discourse that conflates Muslims with evil deeds.
France managed to win the 2018 World Cup held in Russia, after the team gave a great performance throughout the stages of the tournament, to be a second well deserved World Cup for Les Bleus.
The French president attended the final game between his national team and Croatia, alongside 14 other world leaders, including Valdimir Putin and Croatia President Kolinda Kitarovic.
In 1998, a group of French players of African descent led the French national team to their first World Cup title at home.
One of the prominent stars back then was Zinedine Zidane, who was born in France in an Algerian family.
Zidane scored two of France's three goals at the 1998 World Cup final against Brazil and since then he has been considered a beacon of hope for the African/ Muslim immigrants.
https://www.egypttoday.com/Article/1/54338/Muslim-French-footballers-embarrass-far-right-rhetoric-IOD
--------
Terrorism not a clash between Christian West and Islam: David Cameron
July 20, 2018
KOLKATA: Former British Prime Minister David Cameron on Thursday said terrorism should not be seen as a battle between the Christian countries of the West and the Islamic countries in the Middle East. It is all about identifying and wiping out a small section that believes in extremism.
Criticizing US President Donald Trump's view on terrorism, he said it is more of an intellectual battle against those who believe in the "perverted view" of the Islamic religion.
"When at times I listen to President Trump, it seems he thinks of terrorism like a clash of civilizations between the Christian West and the religion of Islam, which I think is completely wrong," said Cameron, also the former Conservative Party chief.
"What"s happening now-a-days is a civil war in the Islamic states between a vast majority willing to practice their religion peacefully and a very small minority that have taken up a radicalized and perverted view of the religion and turned it into a kind of belief.
"What we have to do is recognize those who are involved in this," he pointed out while addressing the Annual General Meeting of the Indian Chamber of Commerce here.
Mr Cameron said the terrorist problems have surfaced not just in the Middle East but also in Afghanistan, Pakistan, India and Britain in recent times, which shows "we are involved in a big intellectual fight".
He said that in order to discourage the spread of radicalism among people, the success of multi ethnic nations like India and Britain should be celebrated.
"We should try to celebrate the multi cultural, multi religious, multi ethnic countries like India and Britain. We should also help those countries in wiping out the perverted practice of radicalism in the name of religion," he said.
Talking about the spread of ISIS in Iraq and Syria, he said such forces need to be fought with fire to eliminate the extremists.
"Iraq is a state that has been finding support for the Islamic State that actively sends terrorists to other countries. Sometimes people are trained in Iraq and sent to the European countries while at other times they are just radicalized through social media.
"But a large section of their people are willing to break free from the grasp of this extremist group. We have to find a strategy to wipe out the extremist forces and work with the locals," Cameron said.
Full report at:
https://www.siasat.com/news/terrorism-not-clash-between-christian-west-and-islam-david-cameron-1382821/
--------
Muslim couples marry at mass religious wedding
JULY 19, 2018
SARAJEVO (Reuters) - Sixty Bosnian Muslim couples held a religious wedding ceremony in the capital Sarajevo on Thursday in what organizers said was one of the biggest Islamic mass weddings in Europe, designed to make it easier for young people to start families.
Bosnia officially recognizes only civil weddings. The couples, who were already legally married, attended the Muslim ceremony for religious or cultural reasons.
"The wedding is a special day for everybody but getting married in this way and with so many couples around will be something we will remember for life," 31-year-old Almin Cutuk told Reuters.
A charity that helped organize the event provided tailored suits for the grooms and pale purple gowns and white headscarves for the brides. The couples were treated to a banquet and given a cash gift of 500 Bosnian marka (about $300).
Imam Resul Alic, who led the service at the Istiklal mosque, said the aim was to encourage Bosnians to start families at a time when many young people find it too expensive to celebrate a wedding on their own.
"Matrimony is the basis of humankind and any society. Our society and family in particular are nowadays facing a number of challenges and fewer people are getting married," he said.
With the economy still recovering from the 1992-95 war and unemployment in double-digits, marriage and birth rates have been steadily falling in the Balkan country, which has a population of just over 3.5 million, about half of them Muslim.
From a peak of nearly 24,000 marriages registered in 2007, the number of fell to just 14,870 last year.
Bosnia's traditional form of Islam is moderate, shaped by long co-existence with other faiths. Some Bosnians worry that more fundamentalist strains are on the rise, arriving from the Middle East and threatening the country's cosmopolitan culture.
Full report at:
https://www.reuters.com/article/us-bosnia-islam-wedding/sixty-bosnian-muslim-couples-marry-at-mass-religious-wedding-idUSKBN1K92MZ
--------
Muslim community looking for answers after mosque set on fire
July 19, 2018
HARRIS COUNTY, Texas – Members of the Muslim community in the greater Houston area are looking for answers after a mosque was set on fire early Thursday morning.
The Harris County Fire Marshal said the front doors of the Northshore Islamic Center on Brownsville Street were set on fire around 4:30 a.m. Thursday.
The suspect(s) also slashed the tires of the car belonging to the leader of the mosque.
Thursday morning, a maintenance worker heard an alarm in the building and was able to put out the fire with water.
"I feel very bad about what happened. What happened shouldn't be happening. I don't know who did it and why they did it. It's just so bad." said Mohammad Sitar, a member at the mosque.
The security cameras on the side of the building weren't working at the time which is making it more difficult for investigators who are trying to find the arsonists.
The Harris County Fire Marshal has alerted the ATF which will then refer the case to the FBI. The FBI will decide if the fire qualifies as a hate crime.
At the mosque, leaders are calling for the arsonist to come forward willingly to put an end to the questions and the fear.
Full report at:
https://www.khou.com/article/news/crime/muslim-community-looking-for-answers-after-mosque-set-on-fire/285-575635969
--------
India
Assam: This Cachar mosque has a library with Bibles, Vedas
Jul 20, 2018
SILCHAR: On the second floor of the Jame Masjid, the main mosque in Assam's Cachar district, Sabir Ahmed Chaudhury pushes open a door to reveal a room with about a dozen almirahs.
They're filled with more than 300 books in Bengali and English on Hinduism, Christianity and Islam. Reading rooms and libraries are rare in mosques but Chaudhury, the mosque's secretary, is particularly proud of this one as it's an effort to educate people about other religions and philosophies.
Alongside the Quran and books on Islam, are tomes on Christian philosophy, the Vedas and Upanishads, biographies of Ramakrishna Paramahansa and Swami Vivekananda, and novels by Rabindranath Tagore and Sarat Chandra Chattopadhyay.
"I've wanted to have a library in the mosque since it was built in 1948," said Chaudhury. Inspired by revolutionary and philosopher M N Roy, who said India is an ancient country but its different religious groups barely know one another, Chaudhury wanted to set up the reading room to help people understand one another's beliefs. "We will be happy if the library plays even a little role in this direction," he said.
"With contributions from locals, the library and reading room came up in 2012," said Chaudhury, who is also head of the department of English at MCD College, Sonai.
The library draws people of all ages, many of them worshippers at the mosque.
"The crowd is more during Ramzan and on Fridays," he said. Chaudhury said no other mosque in the Barak Valley had a library.
"We are pioneers in fostering a reading habit among people of all religions," he said.
It's no idle boast and a quote from Ramakrishna Paramahansa in the visitors' book seems to confirm what the library stands for:
'Jato mat tato path (there are as many ways as views)'.
https://timesofindia.indiatimes.com/city/guwahati/a-mosque-with-bible-vedas/articleshow/65061878.cms
--------
Trust Goes to HC Seeking Sanction to Give Preference to Sunni Muslim Students Lucknow
JULY 19, 2018
The High Court of Karnataka on Thursday reserved its verdict on a petition filed by the Kanachur Islamic Education Trust seeking a direction to the State government to allot students only from the Sunni Muslim community to the MBBS seats in Kanachur Medical College, Mangaluru.
Contending that it has been legally declared a religious minority educational institution under the law and is managed by Sunni Muslims, the petitioner claimed that it has the legal right to indicate the "choice of preference of the students" to be allotted through the common counselling.
Claiming that the institution was established for catering to members of the Sunni Muslim community, the Trust questioned the July 4, 2018 decision of the Department of Medical Education rejecting its plea on the same.
The Trust had, in May this year, written to the department to preferably allot students of Sunni Muslim community to 82 of 150 seats that fall under the institutional/management quota seats for first year MBBS course for 2018-19. It had said that it was open to admitting students of any religion or caste through the 38 government quota seats (25% of the total seats).
Apart from producing a religion certificate from the revenue authorities, the students should be made to secure a certificate from the Sunni Jam Iyyathul Ulama, Mangaluru, the Trust had requested.
According to the petition, St. John's Medical College, Bengaluru, which is a Christian minority institution, is being allowed to admit its "preferred students". The petitioner has also claimed that the Kerala government is permitting religious minority institutions to do the same.
However, the State government opposed the plea, claiming that the National Commission for Minority Educational Institution has issued a certificate to the Trust stating that it is a religious minority (Muslim institution), and hence it could not insist on allotment of students belonging to only Sunni sect.
Full report at:
https://www.thehindu.com/news/national/karnataka/trust-goes-to-hc-seeking-sanction-to-give-preference-to-sunni-muslim-students/article24465057.ece
--------
Banning Of Islamic Channels Violates Freedom Of Speech: J&K High Court Bar
Jul 20, 2018
Srinagar: J&K High Court Bar Association Srinagar, on Thursday strongly condemned the banning of 30 Islamic and other television channels in Kashmir, and describes the same a blatant violation of the freedom of speech and expression.
According to a statement, The Bar Association maintains that a District Magistrate, in terms of Section 19 of the Cable Television Network (Registration) Act, 1995, has the power to prohibit any cable operator from transmitting or re-transmitting any programme or channel, if it is necessary or expedient in public interest to do so but such an order can be passed by him, only if the programme is not in conformity with the prescribed "Programme Code" or "Advertisement Code".
"Rule 6 of the Cable Television Network Rules, 1994, describes only those programmes against "Programme Code", which offend against good taste or decency, contain criticism of friendly countries, contain attack on religious groups or promote communal attitude, contain anything obscene, defamatory, deliberate, false and suggestive innuendos and half-truths or is likely to encourage or incite violence or contains anything against maintenance of law and order, or anything amounting to contempt of court, or to denigrate women or children or injure public morality or contain visuals of words, which reflect as slandering, ironical or snobbish attitude in the portrayal of certain ethnic, linguistic and regional groups, which none of the channels banned by District Magistrate, Srinagar, have been accused of by the District Magistrate," Bar said.
"The channels which have been banned by the District Magistrate, are mostly transmitting or re-transmitting the programmes based on philosophy of Islam," they said.
Full report at:
https://kashmirreader.com/2018/07/20/banning-of-islamic-channels-violates-freedom-of-speech-bar/
--------
Fatwa against triple talaq victim: Nobody has right to dismiss anyone from Islam, says UP minority panel
Jul 19, 2018
Bareilly: A two-member committee of the UP Minority Commission which is looking into the fatwa against triple talaq victim Nida Khan has said that prima facie it appears that injustice has been done to the woman.
Rumana Siddiqui, one of the committee members, said, "Nobody has the right to dismiss anyone from Islam. Any person who reads kalima with devotion can embrace Islam. In India, we follow the Indian law and Constitution. If they want to run Sharia courts, they shouldn't only talk about property disputes and talaq, but should also talk about other crimes such as rape and murder. The fatwa issued against Nida Khan is illegal according to the Indian law."
Meanwhile, Nida has told the minority panel that she does not trust Bareilly police as they have been supporting her husband's family from the very beginning. She said that she is worried that her father and brother may have to face the consequences of her actions.
Another member of the minority panel, Kunwar Iqbal Haider, said, "We have spoken to Nida, her husband Sheeran Raza Khan, her in-laws, clerics at Dargah Aala Hazrat, police and administration. We have recorded their statements and have taken relevant documents from them. It is a fact that injustice has been done to her. We will submit our report to the chairperson of the commission in Lucknow on Friday after which a decision will be taken in the matter."
Asked if an FIR will be lodged against the cleric who issued the fatwa, Haider said, "The commission will take appropriate action and the law of the land will prevail.
On the orders of the minority panel, police have tightened the triple talaq victim's security by providing her two gunners. "I have decided to submit a written complaint with police against the fatwa on Friday. Though more security has been provided to me, I am concerned about the impact of the fatwa on my father and brother. What will happen when they go to the local mosque to offer prayers on Friday? From the very beginning, police have been biased and have supported my husband because he comes from an influential family," Nida said.
Full report at:
https://timesofindia.indiatimes.com/city/bareilly/fatwa-against-triple-talaq-victim-nobody-has-right-to-dismiss-anyone-from-islam-says-up-minority-panel/articleshow/65060821.cms
--------
Pakistan
'Notorious militant' Shafiq Mengal aspiring to be MNA
Jul 20, 2018
In spite of his close links with the notorious terror outfit, Lashkar-e-Jhangvi, Shafiq Mengal is contesting the upcoming general election on Khuzdar's National Assembly seat as an independent candidate.
Shafiq's father Naseer Mengal was a former federal minister and has been in electoral politics for over three decades.
Shafiq Mengal, who allegedly formed Difa-e-Balochistan outfit, is accused of killing and abducting the workers of Baloch nationalist parties; however, Mengal denies these accusations.
Mengal's name also came to the fore when a mass grave was found in Khuzdar's Tootak area. According to the BBC, at least 20 eyewitnesses had told a judicial probe that Mengal was responsible for the coldblooded murder of at least 17 persons, whose bodies were found in the mass grave.
The provincial government had established a judicial tribunal soon after the recovery of the mass grave in Totak area of Khuzdar in January 2014, after Balochistan's then chief minister Abdul Malik named Mengal's death squad for the killings.
The report, however, still needs to be released.
According to a Reuters' report, a would-be suicide bomber's confession helped them identify several key militants, including a suicide vest maker and the man who oversees the network – Shafiq Mengal.
"Our intelligence shows that he has 500-1,000 militants working under him and is living in the mountains," a senior police official was quoted as saying.
In 2014, he was booked for alleged involvement in the May 25 attack on Levies check post in Khuzdar district. The assault led to the deaths of eight Balochistan Levies personnel.
https://www.pakistantoday.com.pk/2018/07/19/notorious-militant-shafiq-mengal-aspiring-to-be-mna/
--------
Pervez Khattak, Ayaz Sadiq, Fazlur Rehman served notices for 'abusive language'
JULY 19, 2018
ISLAMABAD: The Election Commission of Pakistan (ECP) has issued notices to former Khyber PakhtunKhwa (KP) chief minister Pervez Khattak, former National Assembly speaker Ayaz Sadiq and Muttahida Majlis-e-Amal (MMA) leader Fazul Rehman over their use of 'abusive, insolent and derogatory language' in public speeches.
The action was taken on the basis of media reports suggesting the use of indecent language by the mentioned politicians.
"This behavior certainly constitutes a violation of a code of conduct for the political parties and candidates notified by the ECP," read the notice.
The ECP directed the politicians to appear before it, either in personal capacity or through their lawyers, on July 21 to explain their position.
Earlier, Pakistan Tehreek-e-Insaf (PTI) Chief Imran Khan's counsel Babar Awan appeared before the ECP to explain Khan's position regarding the inappropriate language he used to address PML-N workers.
Full report at:
https://dailytimes.com.pk/270076/pervez-khattak-ayaz-sadiq-fazlur-rehman-served-notices-for-foul-language/
--------
Pakistan cannot be intimidated by terror attacks in Balochistan and Khyber Pakhtunkhwa: Dr Faisal
JULY 19, 2018
ISLAMABAD: The Ministry of Foreign Affairs spokesperson Dr. Faisal today said in a weekly briefing that Pakistan will not be intimidated by terror attacks in Balochistan and Khyber Pakhtunkhwa, the democratic electoral process will continue as per schedule.
Dr. Faisal also said that human rights violation in Kashmir has increased by the Indian army and last week twenty-three Kashmiri citizens were killed.
He further condemned the censorship of media in Kashmir and also spoke against Aqib Javed's unlawful inquiry by the National Investigation Agency (NIA). He also spoke a great deal against the one month judicial custody of Asiya Andrabi.
Dr Faisal also said the the United Nations report regarding the atrocities in Kashmir by the Indian Army is an eye opener and wipes away all propaganda projected by the Indian State. He urged the international community to take notice of the findings of the aforementioned report.
Dr. Faisal also prayed for the victims of the terror attacks in Mastung and thanked Pakistan's friends in the international community for extending condolences. He said that the Mustang tragedy has left the country grief-stricken, but Pakistan's resolve has strengthened to fight for the free and transparent elections.
Full report at:
https://dailytimes.com.pk/270040/pakistan-cannot-be-intimidated-by-terror-attacks-in-balochistan-and-khyber-pakhtunkhwa-dr-faisal/
--------
'Last Jew of Pakistan' bemoans Israel travel ban
July 20, 2018
Fishel Benkhald, who regards himself as the "last Jew of Pakistan," says he wants to go to Israel on a pilgrimage despite Pakistani law prohibiting citizens from travelling to the Jewish state.
Writing in Lahore's Daily Times, Benkhald, who lives in Karachi, bemoaned "the widening divide" between Pakistan's Muslim majority and its religious minorities owing to the spread of a more militant and intolerant stream of Islamism across the violence-plagued nation.
He also expressed a desire to observe the Passover Seder next year in Jerusalem.
"I am stuck in a real-life conundrum," Benkhald, 31, wrote. "Being a practicing Jewish man, I want the freedom to perform my religious duties, a right granted to me and other minorities in the country by the constitution."
Yet despite that constitutional right, he is unable to practice his religion freely. "The reality is that my Pakistani passport states that 'this passport is valid for all countries of the world, except Israel,'" Benkhald said.
"All I simply want is to invoke my given constitutional right to perform a religious pilgrimage without having the threat of criminal persecution from the state of Pakistan hanging over my head. [There] is a flaw in the laws that govern the state of minorities in the country."
Like most predominantly Muslim nations, the Islamic Republic of Pakistan has refused to establish proper diplomatic ties with Israel out of solidarity with the Palestinians. Israel is routinely denounced by Pakistani politicians for committing human rights violations against Palestinians. The Jewish state has in turn accused Pakistan of supporting Palestinian terror groups.
Benkhald isn't the only Pakistani citizen who would like to travel to Israel. "Israel is the Holy Land. Our Lord lived and died there," a Pakistani Catholic asylum seeker in Bangkok who asked to remain anonymous told ucanews.com. "We would love to go there on a pilgrimage, but we can't go because of the political situation. In Pakistan, many people hate Jews and hate Israel."
According to official estimates by the Pakistani government, several hundred families registered as Jewish continue to live in the country, the remainders of a once 2,500-strong expatriate community that inhabited what would become Pakistan during the final years of the British Raj.
Benkhald disputes those figures, however. He argues that at most only a handful of people who identify as Jewish in some form remain in the country.
Ironically, one of his brothers has openly disputed that Benkhald himself is Jewish, telling a Pakistani newspaper that there was no evidence their late mother, who Benkhald says was Jewish, did have Jewish ancestry.
Benkhald was originally registered as a Muslim because his father was Muslim. Three years ago, however, he underwent a months-long bureaucratic struggle to reregister himself officially as a Jew. He also changed his original Muslim name, Faisal Khalid, by adopting a new name.
"[People's] attitude toward me changed completely after I got myself registered as a Jew," he told a German news agency. "Even my four brothers disowned me and declared me an apostate."
Religious minorities, including Christians and Hindus, face various forms of discrimination in Pakistan. They are regularly overlooked for better-paying jobs and hundreds have been executed or sentenced to long prison terms for violating strict blasphemy laws.
"Pakistan is one of the worst countries to live in as a member of a religious minority group due to the lack of human rights protection accorded to minority communities," noted the Oxford Human Rights Hub, a publication by the University of Oxford's faculty of law. "Recent years have seen an intensification of violent persecution of religious minorities."
Religious minorities regularly have their places of worship targeted by Islamist militants. Occasionally Christians, Hindus and other minorities are lynched by enraged mobs for allegedly insulting Islam or Muslims.
Benkhald, who is a vocal advocate for minority rights and spearheads a one-man campaign to preserve an old Jewish cemetery in Karachi, said he has experienced various forms of discrimination. "When my landlord learned about my Jewish identity, he asked me to vacate the apartment where I had been living for months," he was quoted as saying.
In 2015, he was attacked by a mob of Muslim men who took issue with some of the views he expressed on Twitter. The men began kicking and punching him before police intervened and took him away. Benkhald managed to record some of the attack on his mobile phone.
Full report at:
https://www.ucanews.com/news/last-jew-of-pakistan-bemoans-israel-travel-ban/82864
--------
I don't see political leaders coming together for country's betterment, says Nisar
July 20, 2018
TAXILA: Estranged PML-N leader Chaudhry Nisar Ali Khan urged people not to vote for PML-N candidates as that would lead to their votes going to waste.
Addressing an election campaign rally in Taxila Cantonment on Thursday, the former interior minister said: "I am saying this clearly. Nothing will come of [PML-N candidates], not before the elections and not after".
He said the political careers of PML-N candidates were over and that they should vote for the jeep instead of the lion or bat.
"We can only get through this [critical juncture] by joining hands for the betterment of the country. But I do not see that happening before or after the general elections. Every political leader has their eye on the prize of becoming the country's prime minister," he said.
Mr Nisar drew parallels with 1971 when, he said, the leaders failed in taking the nation into confidence.
"The country was also divided before the elections then, leading to the loss of East Pakistan," he said.
Chaudhry Nisar said 14 of the people who had formed PML-N had left Nawaz Sharif and that the former premier had gotten into trouble due to his mistakes.
"I have been by his side for 34 years and I advised him not to go after the judiciary and armed forces," Nisar said, adding that his counsel fell on deaf ears as certain people told Nawaz that the best step will be confrontation.
"Look where that policy has landed him now," Mr Nisar said.
He added that the party leadership had advised him to furnish an application for a party ticket but he had refused and decided to contest the elections independently.
He said his performance is well known and that he has worked tirelessly for the development of the area. He said he has always practiced politics with self-respect and with his head held high.
Full report at:
https://www.dawn.com/news/1421172/i-dont-see-political-leaders-coming-together-for-countrys-betterment-says-nisar
--------
SC acquits three men convicted of terrorism in 2011
JULY 20, 2018
The Supreme Court acquitted three men on Thursday after their conviction in a terrorism case seven years ago. Rehmatullah, Murad Ali and Abdul Rehman were sentenced for their alleged involvement in the killing of at least 12 bus passengers in Sibi in 2011.
Heading a three-member bench, Justice Asif Saeed Khosa observed that high courts have a high level and wondered how such decisions by them can be given value. Justice Khosa lamented how the high court, without examining anything, upheld the trial court's conviction. The court observed further that the investigation, trial and subsequent decisions burnt everything to ashes, adding that the prosecution had failed to establish a case against the suspects. The court then dismissed the high court order which had upheld the suspects' death sentences and life terms, noting that they are being exonerated by giving them a benefit of doubt. In April 2011, around 15 people were said to have been killed when unidentified men set fire to a parked bus on the National Highway near Sibi. Police and paramilitary forces had claimed to have arrested three suspects in raids after the incident.
https://dailytimes.com.pk/270274/sc-acquits-three-men-convicted-of-terrorism-in2011/
--------
Arab World
Terrorists Agree to Surrender Entire Quneitra to Syrian Army
Jul 19, 2018
The Arabic website of SANA news agency reported on Thursday that the terrorist groups in Quneitra have reached an agreement with the Syrian army to grant amnesty to those who surrender and allow others to leave the region for Idlib.
It added that based on the agreement, the Syrian army will be deployed in regions that it lost in 2011 once again.
Sources affiliated to the dissidents also reported that the terrorists in Quneitra have reached the agreement with the army through Russian mediation.
The Syrian army's full control over the strategic regions in Quneitra and the extensive support of residents of these regions for the army started after the terrorists' defense lines in Dara'a and parts of Quneitra collapsed completely.
In a relevant development on Tuesday, the Syrian government forces continued their advances against terrorists in Northwestern Dara'a, and were reportedly preparing for an assault to drive terrorists out of Quneitra's border region with the Israeli-occupied Golan Heights.
The army soldiers, under cover by artillery and missile fire, stormed terrorists in Northwestern Dara'a and managed to capture the town of al-Mall and its surrounding strategic hills.
Also, other units of the army engaged in fierce clashes with the terrorists and freed the village of Aqraba and Tal al-Mahis region South of the town of Namer.
Field source, meantime, said that the army has thus far liberated a large part of terrorist-held regions in the Death Triangle in Dara'a province.
They went on to say that the army soldiers are about to impose full control over the Northwestern part of Dara'a province, adding that the army is readying to push terrorists back from the borderline with the Golan Heights held by the terrorists.
http://en.farsnews.com/newstext.aspx?nn=13970428000403
--------
Tens of Bodies Killed in US Airstrikes Found in Raqqa
Jul 19, 2018
Local sources in Raqqa reported that more than 50 bodies of civilians killed in the US raids were found in one of the buildings of Harat al-Baldou in Raqqa city, adding that most of the dead are women and children.
Relevant reports quoted forces affiliated to Raqqa civil council as saying on Wednesday that at least 450 corpses were discovered in a mass grave near al-Forat stadium in Southern Raqqa.
Most of the bodies found in mass graves in Raqqa belong to the victims of the US airstrikes and the attacks launched by Washington-backed Syrian Democratic Forces (SDF) when they were attempting to occupy the region as well as those killed by the ISIL terrorist group.
Meantime, a media outlet reported on Wednesday that a sum of 1,236 bodies of the victims killed by US-led coalition air raids and Washington-backed militias were discovered from three other mass graves in Raqqa city in Northeastern Syria.
The Arabic-language al-Watan news website reported that a sum of 1,236 bodies of civilians that had been killed in the US air raids and SDF attacks were unearthed from mass graves in Panorama, al-Rashid Sports Stadium and the Zoo in Raqqa.
Full report at:
http://en.farsnews.com/newstext.aspx?nn=13970428000200
--------
Syrian Army Nearing End of Dara'a Liberation Operation
Jul 19, 2018
The army forces targeted the terrorists' remaining bases in Western Dara'a, specially in Tal al-Jabiyeh and al-Naseriyeh fronts, on Thursday.
Meantime, field sources reported that the army units could win back control of Um Houran region North of the town of Nawa, Tal al-Hosh and Kasif al-Sin as well as Brigade 112 region East of Nawa.
They also captured the village of al-Tayyerah, al-Raba'ei checkpoint, Tal Ashtarah and the village of Sheikh Sa'ad in Hoz al-Yarmouk region in Western Dara'a.
In a relevant development earlier today, the terrorist groups agreed to give control of their major stronghold in Western Dara'a to the Syrian army as the latter continued military operations in the few regions still under terrorists' control in the province.
Field sources reported on Thursday that the terrorists in the town of Nawa in Western Dara'a reached an agreement to surrender the region to the army.
Based on the agreement, the terrorists will surrender their weapons to the army in several stages and will receive amnesty from the government. Also, other terrorists who are opposed to the peace plan will leave the region for Northern Syria.
Meantime, other field sources also said that the militants will deliver control of the hills near Nawa to the army and will withdraw from the region.
The agreement was made after the Syrian army forces' heavy attacks against the terrorists in Nawa and the adjacent areas as well as their positions in Hoz al-Yarmouk.
Full report at:
http://en.farsnews.com/newstext.aspx?nn=13970428000620
--------
Kurdish Forces Destroy Ankara-Backed Militants' Cache of Arms in Idlib
Jul 19, 2018
The Kurdish-language Hawar news reported on Thursday that the Kurdish forces launched military operations on a main base of the Ankara-backed Faylaq al-Sham terrorist group in Atmeh region in Northern Idlib which was a main platform for Afrin's occupation.
It added that the Kurds could destroy a cache of weapons and ammunition and an arms manufacturing plant in the operations, killing 6 and wounding 5 Faylaq al-Sham militants.
A sum of 12 Turkish troops and Ankara-backed militants were killed in clashes with the Kurdish militias in Afrin region in Northwestern Aleppo last Tuesday, a Kurdish media outlet reported.
Hawar news quoted a source as saying that the Kurdish militias attacked the Turkish army units and meantime detonated roadside bombs on the way of Ankara-backed militants in the village of Baseleh in Shera region, destroying a military vehicle and killing eight Turkish forces, including two army officers.
Hawar news further said that a Turkish soldier and two members of Firqa al-Hamaza military group were killed and a Turkish soldier was injured after a bomb went off in their vehicle in the village off Kimara.
In the meantime, Mohammad Abu Hamid, one of the commanders of Ankara-backed Faylaq al-Sham, was killed in an ambush operation by the Kurds.
Full report at:
http://en.farsnews.com/newstext.aspx?nn=13970428000450
--------
Hama: Tens of Tahrir Al-Sham Terrorists Killed in Syrian Army Attacks
Jul 19, 2018
The Syrian army's missile and artillery units heavily targeted Tahrir al-Sham bases in Kafr Zita, al-Latamineh, Ma'arkabeh and Hasraya in Northern Hama.
Meantime, field sources reported that the terrorists who had moved from Idlib and Jabal al-Zawiyeh to Northern Hama sustained, at least, 54 casualties in the battle, adding that the army also destroyed more than a dozen vehicles as well as military equipment of the militants.
Also, the Syrian army units continued purging operations in the farms of the town of al-Aqrab in Southern Hama, discovering and seizing large volumes of different types of weapons and ammunition, including mortars, artilleries, RPGs and weapons made in Israel.
In a relevant development on Tuesday, the Syrian army soldiers continued their mop-up operation in Southern Hama, discovering a large arms and ammunition depot of terrorists, including Israeli weapons.
The army men found a large depot of terrorists' arms and ammunition in the township of Aqrab in Southern Hama.
A field source reported that a large volume of Israeli mortar shells, missiles, machineguns, sniper rifles, communication devices and bombs were in the depot.
Full report at:
http://en.farsnews.com/newstext.aspx?nn=13970428000358
--------
Syria rebels agree to surrender frontier with Israel
July 19, 2018
BEIRUT: Syrian rebels agreed to surrender their last pockets of control in southwest Quneitra province to the government, state media reported Thursday, making way for Damascus to re-establish its authority along the Israeli frontier.
The deal, confirmed in its general outlines by a monitoring group and opposition activists in Quneitra, will put the Syrian government face-to-face with Israel along most of its frontier for the first time since 2011, when an uprising against President Bashar Assad's rule swept through Syria.
A fleet of buses reached Quneitra on Thursday night to pick up fighters, activists and other residents who refuse to accept the terms of surrender, and evacuate them to rebel-held areas in northern Syria, the Syrian Observatory for Human Rights monitoring group said.
An affiliate of the Daesh group continues to hold a sliver of the frontier. The group is not party to the agreement between the government and rebels.
Syria and Israel fought two wars over their shared border, in 1967 and 1973, with Israel occupying the Golan Heights in the Quneitra province in the former confrontation.
But Israel has refrained from taking sides in Syria's seven-year-long civil war, and Prime Minister Benjamin Netanyahu has indicated he does not object to the government's return to southwest Syria — as long as Israel's archenemies Iran and the Lebanese militant group Hezbollah stay clear of the frontier.
Delegations from the government and rebels met several times over the last two days to negotiate the terms of surrender, said opposition activist and photographer Moaz Al-Assaad.
Thousands of residents — including rebel fighters, media activists, medical workers and civilians — may be heading to north Syria instead of staying behind in Quneitra, according to Al-Assaad.
The UN and human rights organizations have condemned such evacuations as forced displacement. Few who have left are expecting to be able to return to their homes in the near-term.
Earlier on Thursday, a fleet of buses helped evacuate the last remaining residents from Shiite, pro-government villages in northern Syria that endured three years of rebel siege, to government territory in the nearby Aleppo province.
Some 7,000 people were evacuated from Foua and Kfraya, according to state media.
The transfers — which have become a fixture of the war's later stages — are a conspicuous marker of the titanic shifts in Syria's demographics.
Waves of violence against civilians and unforgiving terms of surrender have resulted in the reassortment of the Syrian population. The country's majority Sunni population has been pushed out of the cities and, disproportionately, into camps and exile, while minorities have moved closer to the centers of government control.
The government was expected to release 1,500 militants and opposition activists from its jails in exchange for the Foua and Kfraya evacuations, according to Ahmed el-Shiekho, an official for the Syrian Civil Defense, a search-and-rescue group aligned with the opposition.
But it only released 200, el-Sheikho said, including many who were only picked up in the last few months for minor criminal offenses — prisoners with no connection to the ongoing political turmoil.
In southern Syria, rebels have been powerless to stop a month of government advances through southwest Syria's Daraa and Quneitra provinces, facilitated by a relentless Russian aerial campaign against towns and villages held by the opposition.
Tens of thousands of civilians have been displaced by the fighting, and the UN's children's agency, UNICEF, appealed for access to reach some 55,000 children in need of humanitarian assistance in Quneitra.
Earlier this week, dozens of Syrians marched toward the frontier, pleading for help as government forces, backed by Russia, stepped up airstrikes on Quneitra. Israel has quietly treated thousands of displaced Syrians for wounds and illnesses over the years.
Many of those trapped by the Syrian government's advances were hoping for relief from Israel, or some sort of a safe zone there, said Areej Ghabash, a local health worker in Quneitra.
"In truth, we have more faith in Israel than the (Syrian) government," she said, adding she would leave Quneitra herself rather than surrender to the authorities.
Al-Assaad said a prisoner exchange involving an Al-Qaeda-linked group fighting alongside the rebels in Quneitra was still to be negotiated before evacuations could start.
Full report at:
http://www.arabnews.com/node/1341571/middle-east
--------
Few takers for Hezbollah offer to repatriate Syrian refugees
July 20, 2018
BEIRUT: More than 11 days have passed since Hezbollah opened reception centers in Bekaa, a southern suburb of Beirut, and southern Lebanon where Syrian refugees can apply to return to their home country. However, the number of applicants so far has been rather small.
Many of the refugees had one simple question for the Hezbollah officials at the centers: "Will you take us to the Lebanese-Syrian border and dump us there or will you take us to our houses, which you helped destroy, inside Syria?"
Hezbollah opened the repatriation centers in response to the Iranian position, which was later confirmed by Hossein Jaberi Ansari, the Iranian president's special envoy to Beirut. He said: "One of our top priorities at this stage is the issue of Syrian refugees and ensuring their safe return to their homeland. We cannot discuss a final solution to the Syrian crisis unless refugees are back in their homeland, cities and villages."
On July 23, about 1,200 people will return from the Lebanese town of Arsal, near the border with Syria, to their homes West Qalamoun.
Arsal Mayor Basil Al-Hajjiri said that the return of this group, the third batch of refugees to go home, comes within the framework of a reconciliation with the Syrian authorities, and in coordination with Lebanese General Security.
He added that it had been initiated by the refugees themselves.
"Most of those refugees do not have identification papers to travel outside Arsal and they acted before Hezbollah urged them to submit applications through the party's centers, and prior to Foreign Minister Gibran Bassil's call," said Al-Hajjiri.
"They have agreed to return in light of the developments in the areas surrounding their homes. Neither Hezbollah nor minister Bassil can make them return if they were not fully convinced of their ability to go back to their homes under safe circumstances."
A source responsible for Hezbollah's refugee application center in Hermel said it had received telephone calls from Syrians in Wadi Khaled, northern Lebanon, saying it was difficult for them to get to Bekaa to register but that they want to return to their hometown of Talkalakh, having fled the fighting there.
A Hezbollah official said: "Communicating with those refugees requires certain arrangements on which we are currently working."
But what guarantees can Hezbollah offer refugees who wish to return?
The official said: "Hezbollah's mission in Syria has not yet been completed and as long as the threat of terrorists lingers there, Hezbollah will stay no matter the number of fighters."
The Hezbollah source in Hermel confirmed that they do not provide any reassurances or guarantees to refugees about what might await them upon their return to Syria.
"We take individuals' and families' names and promise to secure the transportation of all their belongings, but if their houses were destroyed, we cannot promise to rebuild them," he said. "We collect applications and submit them to the concerned committee."
Asked how Hezbollah can reassure refugees of their safety even though the party's fighters are still operating inside Syria in support the regime against the opposition, the Hezbollah official said: "People fought and reconciled throughout the history of mankind. A reconciliation must take place and I believe it is what refugees want."
He fears that if the Syrian refugees remain in Lebanon, they may cause a demographic change, pointing out that each of the families that had registered at the center included at least 10 members.
Former member of Parliament Nawar Al-Sahili, who heads the committee formed by Hezbollah to oversee the return of Syrian refugees, said the number of registered families so far does not exceed 150.
"We want to send people back to safe areas, not ones that are still undergoing security developments; repatriation does not include returning to Idlib or Deir Ezzor, for instance," he said, adding that "the applications will be handed over to the Syrian authorities to be approved."
As for what awaits refugees who return to Al-Qusayr and its countryside, given that most of them are dissidents who took part in anti-regime demonstrations, Al-Sahili said: "We must find a solution for this issue."
Arsal Mayor Al-Hajjiri said the information he has been given suggests the return of refugees to Al-Qusayr has been postponed by the Syrian authorities and Hezbollah.
"There is great destruction and people want guarantees that can only be provided by those controlling the territory," he said.
Al-Hajjiri added that a number of refugees from the town of Flita were reluctant to return after hearing of revenge incidents. He believes the return of refugees to Al-Qusayr and its countryside will require not only a reconciliation but a general amnesty.
Full report at:
http://www.arabnews.com/node/1342001/middle-east
--------
South Asia
Rights group details lead-up to Myanmar attacks on Rohingya Muslims
July 19, 2018
The Myanmar military has systematically prepared for attacks on Rohingya Muslims, confiscating knives and other sharp-edged tools, arming and training non-Muslim civilians and forcing Rohingya families to remove protective fencing from around their homes, the independent group Fortify Rights said Thursday.
The report by the Southeast Asian human rights group documented evidence that authorities prepared for a crackdown on the minority group living mostly in the country's western Rakhine state before a radical Rohingya group attacked Myanmar security force posts in late August 2017. That attack was followed by what the United Nations and U.S. officials say is an ethnic cleansing campaign by the Myanmar government that has led about 700,000 Rohingya to flee to Bangladesh under harrowing and violent conditions. The report, based on extensive interviews, said that the Myanmar army began confiscating knives and other items that could be used as weapons or for self-defence after a group of Rohingya attacked police outposts in October 2016. That prompted army-led attacks on dozens of villages that forced more than 94,000 people from their homes, it said.
The army also tore down or forced villagers to tear down fencing around their homes. It also trained and provided weapons to non-Rohingya living in Rakhine, suspended aid supplies and access by humanitarian groups to impoverished Rohingya communities, the report says. "Taken together, these measures demonstrate a level of preparation not previously documented with respect to the Myanmar army-ed `clearance operations,"' it said.
The report said the civilians who participated in attacks on the Rohingya were not vigilantes but were trained by the army, though they killed many unarmed Muslim men, women and children. "There are reasonable grounds to believe that the crimes perpetrated in all three townships of northern Rakhine state constitute genocide and crimes against humanity," it said.
The report says top military and police officials should be held responsible. The Myanmar military did not immediately comment on the report. It has denied committing atrocities and blames the violence on Rohingya insurgents.
The Rohingya face official and social discrimination in predominantly Buddhist Myanmar, which denies most of them citizenship and basic rights because they are looked on as immigrants from Bangladesh, even though many settled in Myanmar generations ago.
https://indianexpress.com/article/world/rights-group-details-lead-up-to-myanmar-attacks-on-rohingya-5265861/
--------
24 militants killed, wounded in Kunduz operations
Jul 19 2018
At least twenty four militants were killed or wounded during the operations in northern Kunduz province of Afghanistan, the Afghan military said Thursday.
The 20th Pamir Division of the Afghan Military in a statement said the operations were conducted with the help of airstrikes and artillery strikes in Imam Sahib and Dasht Archi districts.
The statement further added that two militants were killed and four others were wounded during the operations involving artillery strikes and air raids conducted in Qerghiz, Joi Begum, and Islam Qeshlaq villages of Imam Sahib District.
At least 9 militants were killed during the airstrikes conducted in Momin and Se Rahi Mohammad Alam areas as well as Pahayi village.
According to the 20th Pamir Division, at least 7 militants were also wounded and two of their hideouts were destroyed during the same operations.
The anti-government armed militant groups including Taliban militants have not commented regarding the report so far.
Full report at:
https://www.khaama.com/24-militants-killed-wounded-in-kunduz-operations-05624/
--------
Official: Taliban attacks kill 8 police in east Afghanistan
July 20, 2018
KABUL: A district governor in Afghanistan says Taliban fighters launched a wave of attacks in eastern Ghazni province, killing at least eight police and wounding seven others.
Saeeb Khan Elham said Friday that insurgents launched a wave of attacks on compounds and police security posts in the Qarabagh district late the night before.
He said government forces meant to reinforce the district were attacked in a Taliban ambush that included roadside mines and were unable to help.
Zabihullah Mujahid, spokesman for the Taliban, claimed responsibility for the attack in a telephone interview with AP. He says 16 police were killed and a government compound in the district damaged.
http://www.arabnews.com/node/1342126/world
--------
Border police forces suffer casualties during the clashes close to Durand Line
Jul 20 2018
The soldiers of the Afghan Border Forces suffered casualties during the clashes with the militants close to Durand Line in southern Kandahar province of Afghanistan.
The provincial government media office in a statement said Thursday that a group of militants launched coordinated attack on security posts of the border forces in Spin Boldak, near the Durand Line, late on Wednesday night.
The statement further added that the attack was launched on security posts in Saro Sagan area at around 10pm local time which lasted until 4am on Thursday.
According to the provincial government, the Afghan forces responded to the attack of the militants, leaving at least 7 of them dead and 9 others wounded.
At least two Afghan border police forces also lost their lives during the clashes and five others sustained injuries, the statement added.
The anti-government armed militant groups including Taliban militants have not commented regarding the report so far.
Full report at:
https://www.khaama.com/border-police-forces-suffer-casualties-during-the-clashes-close-to-durand-line-05629/
--------
Russia, Tajikistan forces start drills amid growing instability in Afghanistan
Jul 19 2018
The Russian and Tajikistan forces have launched joint military exercises close to the border with Afghanistan amid growing instability in the key northern provinces of Afghanistan.
The Ministry of Defense of Tajikistan has confirmed that the joint exercises have been launched to prepare the armed forces to respond to possible threats from the Taliban and other militants in Afghanistan.
According to reports, at least ten thousand Tajikistani forces have participated in the joint military exercises.
Around 400 Russian troops have also taken part in the military exercises with the Tajikistani officials saying at least 80 military vehicles will also be used.
This comes as the growing instability in the northern provinces of Afghanistan has sparked concerns among the officials of Central Asian countries having borders with Afghanistan.
Full report at:
https://www.khaama.com/russia-tajikistan-forces-start-drills-amid-growing-instability-in-afghanistan-05622/
--------
Southeast Asia
Chinese 'Muslim re-education camps' in spotlight at Kazakh trial
19.07.2018
Secretive "re-education camps" allegedly holding hundreds of thousands of people in a Muslim-majority region in western China are the focus of an explosive court case in Kazakhstan, testing the country's ties with Beijing.
On trial is Sayragul Sauytbay, an ethnic Kazakh Chinese national who is accused of illegally crossing the border to join her husband and two children in Kazakhstan. But it is the 41-year-old's testimony about her forced work in the camp system in the Xinjiang region that has drawn the most attention.
Beijing has stepped up a crackdown in Xinjiang against what it calls separatist elements.
At a public hearing, Sauytbay said she was granted access to classified documents that shed light on the sprawling network of re-education centres.
China's predominantly Muslim ethnic minority groups are believed to make up the majority of the camps' populations. Chinese authorities have denied the existence of such facilities despite mounting evidence from both official documents and testimonies from those who have escaped them.
Asked under oath about a so-called "camp" where she worked as an employee of the Chinese state, court spectators gasped when Sauytbay replied it held some 2,500 ethnic Kazakhs.
"In China they call it a political camp, but really it was a prison in the mountains," she said.
Sauytbay said authorities had told her she would never be allowed to enter Kazakhstan, where her family had obtained citizenship.
"That I am discussing this camp in an open court means I am already revealing state secrets," said Sauytbay, who asked Kazakhstan not to send her back to China.
Sauytbay is one of many ethnic Kazakhs separated from relatives over the border after a crackdown in Xinjiang, where authorities cite separatist and extremist threats as justification for repressive policies.
There are about 1.5 million ethnic Kazakhs in Xinjiang. They had however avoided extreme state repression suffered by Uighurs, another mostly Muslim Turkic group that forms a demographic majority in many parts of the region.
Unlike Uighurs, ethnic Kazakhs had long moved freely between China and their historic homeland. About 200,000 of them became Kazakh citizens since the Central Asian country's independence in 1991.
That freedom disappeared, however, after a Chinese official known for his aggressive surveillance and population control measures in Tibet took charge of the nominally autonomous region in 2016, overseeing mass detentions and programmes of re-education for Muslims.
In late 2016 authorities took the unprecedented step of calling in Muslim minorities' passports, forcing anyone needing to leave the country to file official requests.
Sauytbay's husband Wali Islam testified that for several months the family lost contact with her, after she was reassigned to a re-education centre from a state kindergarten. Sauytbay told the court she had been tricked into working at the camps by authorities.
The family was reunited only after she crossed the border this April. Kazakh security services arrested her on 21 May.
Sauytbay's lawyer Abzal Kuspanov said the testimony of his client – who briefly consoled her 13-year-old daughter as she was ushered into the dock by police – was a sufficient indicator as to what will await her if she returns to China.
"We are not saying that she has not committed a crime by violating state borders using false documents. We have admitted that to the court and we are prepared to accept punishment," Kuspanov told journalists. "What we are saying is – don't give her back to China. If we do send her back, this person will simply disappear," said Kuspanov.
The situation of ethnic Kazakhs in Xinjiang is embarrassing for Kazakhstan, which is China's leading economic partner in Central Asia.
While the government is hesitant to confront Beijing, it is under growing pressure to speak out against the repression. China has enlisted oil-rich Kazakhstan as a key partner in its trillion dollar Belt and Road initiative aimed at improving overland trade routes between Europe and Asia.
So far Beijing has kept silent on the allegations: two Chinese diplomats present at the hearing refused to answer questions from activists and journalists.
Under public pressure, Kazakhstan's foreign ministry has called for "an objective and fair review" of detentions of Kazakh citizens in the region. But Kazakhstan, which is seeking massive investments from China, is in a poor position to lobby for the rights of Chinese citizens like Sauytbay.
Her trial is a test "of the maturity of Kazakhstan-China relations", said Serikzhan Mambetalin, a Kazakh political activist. But if Kazakhstan hands a member of the diaspora back to China, "people will say the government cannot protect its own people," he said. (AFP)
https://en.qantara.de/content/chinese-muslim-re-education-camps-in-spotlight-at-kazakh-trial
--------
Muslims should have integrated long ago: Politician
July 20 2018
In Germany, Muslim communities have no problems integrating into society, but the involvement of foreign countries, such as Turkey, in training imam sometimes raises questions about the type of ideology they may bring to the country. Consequently, a politician with the Green Party is saying Germany should have taken care of its Muslim communities much earlier in its history.
http://www.thejakartapost.com/news/2018/07/20/muslims-should-have-integrated-long-ago-politician.html
--------
Malaysia Arrests Seven People Over Suspected Militant Links
July 20, 2018
Kuala Lumpur. Malaysia has detained seven people for suspected militant-linked activities, including a man who allegedly made death threats against the country's king and prime minister, police said on Thursday (19/07).
The Muslim-majority country has been on high alert since gunmen allied with the Islamic State militant group carried out a series of attacks in Jakarta in January 2016.
Four Malaysians and three Indonesian men were arrested in four states between July 12 and 17, Royal Malaysia Police Insp. Gen. Mohamad Fuzi Harun said in a statement.
A 34-year-old unemployed man was arrested in the Malaysian state of Johor, north of Singapore, for allegedly posting death threats on social media against Malaysia's king, Sultan Muhammad V, Prime Minister Mahathir Mohamad, and the minister in charge of religious affairs Mujahid Yusof Rawa.
Police believe the threats were made based on the belief the targets were "un-Islamic leaders, whose methods of ruling the country were not based on shariah law," Muhamad Fuzi said.
A 42-year-old technician was picked up for allegedly making threats to launch bomb attacks in Malaysia, Indonesia and the Philippines after the Idul Fitri holiday.
The other Malaysian suspects were a man and a woman in their 20s. The woman allegedly sent funds to a known Malaysian militant in Syria, while police believe the man had planned to travel to Syria to join the Islamic State, Muhammad Fuzi said.
One of the Indonesians arrested had allegedly pledged allegiance to and received military training from the Islamic State of Indonesia, a militant group in Bandung, West Java.
Police believe the 26-year-old man, married to a Malaysian woman, had also planned to take his wife and step-children to Syria to join the Islamic State, Mohamad Fuzi said.
Another Indonesian suspect was allegedly linked to a member of Jemaah Ansharut Daulah who was involved in the May 10 killing of a police officer at the Mobile Brigade (Brimob) headquarters in Depok, West Java, Muhamad Fuzi said.
A third Indonesian, who police said admitted to being a Islamic State member, was detained for saving about 190 videos and photos of the militant group's activities on his mobile phone, and uploading similar images to his Facebook account.
Malaysia has arrested hundreds of people over the past few years for suspected links to militant groups, but has never suffered a major attack.
Full report at:
http://jakartaglobe.id/international/malaysia-arrests-seven-people-suspected-militant-links/
--------
Legislators approve law for new Philippine Muslim region
July 19, 2018
A congressional body in the Philippines tasked with drafting a law that would create a new autonomous Muslim region in Mindanao approved the final version of the legislation late on July 18.
After a week of heated debate, the 28-member bicameral conference committee approved the final version of the Bangsamoro Basic Law, which it is hoped will help end decades of violence in the southern Philippines.
It provides for a bigger regional government, a parliament, fiscal autonomy, and a justice system for the proposed Muslim region.
Congress will ratify it on July 23 before President Rodrigo Duterte signs it into law later in the day.
Congresswoman Amihilda Sangcopan, from the Anak Mindanao (Children of Mindanao) Party, said Moro legislators had "fought hard for the passage of the peace bill."
"We bore the moral obligations ... to push for a peaceful and just resolution to almost half a century of struggle for self-determination," said Sangcopan.
She said the Moro people of Mindanao "will have something better than the status quo that is the Autonomous Region in Muslim Mindanao [ARMM]."
The Bangsamoro Autonomous Region in Muslim Mindanao (BARMM) will replace the ARMM, giving the region a greater say over its own affairs, and will be headed by a chief minister and a ceremonial leader called a Wali.
The new region BARMM will have a parliament of 80 members 50 percent of whom will be party representatives, 40 percent district representatives, and 10 percent sectoral representatives.
The law also guarantees two reserved seats for "non-Moro indigenous peoples and settler communities."
Under the law, a 75-25 wealth sharing or 75 percent of the national taxes will go to Bangsamoro and the remaining 25 percent will be left to the central government.
It also grants an annual block grant of a five percent share of the national internal revenue or an estimated US$1.1 billion to be given without any conditions to the Bangsamoro region.
The Bangsamoro region's police and military will still be under the control of the national government and its Sharia or Islamic law, tribal and traditional, and other relevant laws should be in consonance with the Philippine Constitution.
The new region covers the current ARMM provinces of Tawi-Tawi, Sulu, Basilan, Maguindanao, and Lanao del Sur, while regional plebiscites are still to be conducted.
These will include six municipalities in Lanao del Norte and 39 villages of North Cotabato province for inclusion provided there is a favorable majority vote.
The cities of Cotabato and Isabela are also subject to a vote for inclusion in the proposed region.
Legislators said the votes for the new Bangsamoro region will be held not earlier than 90 days and not later than 150 days after Duterte signs the new law.
Government peace advisor Jesus Dureza said the road toward achieving lasting peace in Mindanao will not be easy and needs the cooperation of everybody.
"This is a milestone," he said of the new law. "But [this is] still the beginning of more work to bring sustainable peace," he said in a text message to ucanews.com.
Full report at:
https://www.ucanews.com/news/legislators-approve-law-for-new-philippine-muslim-region/82868
--------
Preacher Assures Muslims' Support for Peace and Order in Cordillera
July 19, 2018
BAGUIO CITY -- The Muslim community in Cordillera is one with police authorities in keeping the peace and order situation in this upland region and in ensuring the safety of all locals.
This was the assurance made by Imam Bedijim Abdullah, a Muslim preacher living in Baguio City and the vice chairman of the multi-sectoral Regional Advisory Council (RAC) that helps the Police Regional Office in Cordillera (Procor), particularly in its Crime Laboratory Service.
In an interview with the Philippine News Agency (PNA) on Thursday, Abdulla said it is in the Muslim community's interest to ensure the safety of all sectors, since what threatens the city or the region also threatens them and their livelihood.
"Our businesses, our families, our children, and our people would all be affected if we do not work together," Abdulla said.
As an official helping police authorities in Cordillera, Abdulla also visits provinces in the region to check on the local situation.
The Muslim leader also gave the same assurance of Muslims' cooperation with police authorities during a press conference for the celebration of the Police Community Relations Month at Camp Bado Dangwa in Benguet province.
Abdulla said the Muslims support the Philippine National Police's campaign against criminality and ensuring Cordillerans' safety, since their brothers also reside in various parts of the region.
He said he, himself, representing the Muslims, is in close coordination with the authorities in the region to curb security threats from unscrupulous persons, including those coming from the Muslim community.
"Every time we, Muslims, are requested to appear in consultations, we always attend to prove how supportive we are, and how committed we are for the betterment of everyone," he said.
He said Muslims also join activities initiated by the police and the local governments regarding peace and order.
He added that Muslims also report crimes and the possible commission of crimes to the authorities.
He said as a Muslim teacher, he, for his part, is obliged to educate people, who do not understand the teachings of Islam.
Abdulla also serves as an Imam or preacher at the Baguio City Jail to help reform fellow Muslims, who "have lost their path".
He added that the Muslim community raises funds to help provide equipment that would help cops do their work more efficiently. This, he said, is particularly true for the equipment at the crime laboratory service, where he serves.
"I have seen their condition. They are lacking equipment and other facilities that are needed to do their jobs, so what we did was we conducted fund raising events," he related.
Full report at:
http://www.pna.gov.ph/articles/1041933
--------
Muslim child marriages declining in Malaysia, stats show
20 July 2018
KUALA LUMPUR, July 20 — Applications to Shariah courts for approval to marry underage Muslims have been decreasing in recent years with less than 1,000 applications filed last year, statistics showed.
According to the Department of Shariah Judiciary Malaysia (JKSM), Muslims made 1,144 applications for child marriage in 2015, dropping to 1,019 applications in 2016, and further falling to 877 applications last year.
Up to June 30 this year, 461 applications were made to the Shariah court for permission to wed Muslim minors, making it a total of 5,823 applications in five and a half years from 2013 to June 2018 throughout Malaysia.
In 2013, 1,192 such applications were filed, dipping to 1,130 applications in 2014.
"These statistics do not depict the total number of underage marriages because there are some cases where the court approved the applications, but the parties did not follow through with marriage," a JKSM spokesman told Malay Mail.
Malay Mail had requested JKSM for statistics on the number of child marriages between 2007 and 2017, broken down according to state and the age of husband and wife.
But JKSM merely provided figures on applications to Shariah courts for approval for underage marriage from 2013 up to June 30 2018. JKSM also did not answer queries on why child marriage applications have been dropping in recent years.
The minimum legal age for Muslims to marry according to state Islamic family laws is 18 and 16 for a male and female respectively, but children below these ages can still wed if they get the consent of a Shariah judge.
The Star reported in May 2016 then-Women, Family and Community Development deputy minister Datuk Azizah Mohd Dun as telling Parliament that 1,090 Muslim child marriages were recorded in 2013, followed by 1,032 in 2014 and 1,025 in 2015.
If child marriage applications from 2013 to 2015 are compared with the actual nuptials that took place in that period, the Shariah courts' approval rate is about 91 per cent.
According to JKSM statistics, the top three states with the highest number of Muslim underage marriage applications from 2013 up to June 2018 were Sarawak (974), Kelantan (877) and Sabah (848).
Selangor and Federal Territories saw 418 and 189 applications respectively, while Penang recorded the lowest number of Muslim child marriage applications at 91.
A parliamentary reply by then-Women, Family and Community Development Minister Datuk Seri Rohani Abdul Karim last November revealed 10,807 Muslim marriages involving minors below 18 recorded from 2007 to October 2017, compared to 4,999 non-Muslim marriages involving girls below 18 documented in that period.
Under the federal Law Reform (Marriage and Divorce) Act 1976, the legal age of marriage for non-Muslims is 18, but a girl aged 16 can be legally married if the state chief minister/ mentri besar or in the case of the federal territories, its minister, grants a license. Non-Muslims below 16 cannot get married according to the law, but there is no written minimum age of marriage for Muslims.
Child marriage has re-emerged as a hot-button issue since a Kelantanese imam recently took an 11-year-old Thai girl as his third wife without the Shariah court's permission. The 41-year-old man reportedly said he had wanted to tie the knot with the girl since she was seven years old.
Although Pakatan Harapan controls the federal government and eight states, while its ally Warisan is in power in Sabah, the new coalition has been slow to amend legislation to ban child marriage.
Full report at:
https://www.malaymail.com/s/1654107/muslim-child-marriages-declining-in-malaysia-stats-show
--------
Mideast
Israeli Footprints Found in Terrorists' Bases in Dara'a
Jul 19, 2018
Field sources in Northwestern Dara'a reported on Thursday that the Syrian army units have found Israeli-made systems and foodstuff in the town of al-Tayheh which has recently been liberated.
Meantime, the terrorists in Dara'a al-Balad surrendered 5 military vehicles, including 3 tanks, 4 heavy artilleries, 3 mortar-launchers, a large number of machine-guns, weapons and ammunition to the Syrian army under the surrender agreement between the two sides.
In a relevant development on Tuesday, the Syrian army soldiers continued their mop-up operation in Southern Hama, discovering a large arms and ammunition depot of terrorists, including Israeli weapons.
The army men found a large depot of terrorists' arms and ammunition in the township of Aqrab in Southern Hama.
A field source reported that a large volume of Israeli mortar shells, missiles, machineguns, sniper rifles, communication devices and bombs were in the depot.
In the meantime, other units of the army discovered a large volume of weapons and munitions in the terrorists' hideouts in the villages of Talaf and Khirbet al-Jameh in Southern Hama.
http://en.farsnews.com/newstext.aspx?nn=13970428000218
--------
EU, Palestinians rap Israeli law recognizing Jewish supremacy
Jul 19, 2018
Israel's adoption of yet another apartheid law -- which officially recognizes Jewish supremacy over Arabs in the occupied territories -- draws sharp criticisms from the European Union as well as senior Palestinians officials, who have blasted the measure as "dangerous" and "racist."
Following a stormy debate in the parliament (Knesset), Israeli lawmakers approved the so-called "nation-state" bill with 62 votes in favor, 55 against and two abstentions in the early hours of Thursday.
Turning a blind eye to Israel's 1.8 million Arab population, the law asserts that "the realization of the right to national self-determination in Israel is unique to the Jewish people," which number around 9 million.
The contentious law also includes clauses stating that "united" Jerusalem al-Quds is the "capital" of Israel and strips Arabic of its designation as an official language alongside Hebrew, downgrading it to a "special status."
Reacting to the law at a news briefing on Thursday, a spokeswoman for the EU's foreign affairs chief, Federica Mogherini, said, "We are concerned, we have expressed this concern and we will continue to engage with Israeli authorities in this context."
"We've been very clear when it comes to the two-state solution, we believe it is the only way forward and any step that would further complicate or prevent this solution of becoming a reality should be avoided," she said.
'Racist law par excellence'
Palestinian officials with both the Gaza-based Hamas resistance movement and the Palestinian Authority in Ramallah also joined voices to denounce the law, describing it as a "racist" and "dangerous" measure.
In Gaza, Fawzi Barhoum, a Hamas spokesman, said on Thursday that the law formally legalizes "Israeli racism" and constitutes "a dangerous attack on the Palestinian [nation] and its historic right to its land."
The Hamas official further said "regional and international silence on the occupation's crimes" has emboldened the regime in Tel Aviv to pass one "extremist" law after another.
"All these laws and resolutions are baseless and they will not come to pass or change anything on the ground. The Palestinian people will remain the sovereign of this land," he added.
Palestinian President Mahmoud Abbas also condemned the Israeli law, saying it "will not change the historical situation of Jerusalem al-Quds as the capital of the occupied State of Palestine."
"No peace or security will prevail unless the city remains as such," the Palestinian Wafa news agency quoted Abbas as saying in a statement.
The statement added that "the law will not discourage Palestinians from their legitimate struggle to defeat the occupation and establish their independent state."
In a similar stance, top Palestinian Authority negotiator, Saeb Erekat, took to Twitter on Thursday to censure the law, which he said "officially legalizes apartheid and legally defines Israel as an apartheid system."
"[It is] a dangerous and racist law par excellence. It denies the Arab citizens their right to self-determination to instead be determined by the Jewish population," he said.
Hanan Ashrawi, a senior member of the Palestine Liberation Organization's Executive Committee, also said the law breaches international regulations.
The measure "gives license to apartheid, discrimination, ethnic cleansing, and sectarianism at the expense of the Palestinian people. Such racist and prejudicial legislation is illegal by all standards of international law, democracy, humanity, justice, tolerance, and inclusion," she emphasized.
The newly-adopted measure is categorized as among Israel's so-called "Basic Laws," which underpin the regime's legal system and are more difficult to repeal than regular laws under its constitution.
Turkey: Israel trying to form "an apartheid state"
In a related development on Thursday, Turkey denounced Israel's new law accusing Tel Aviv of trying to form "an apartheid state."
Taking to Twitter, President Recep Tayyip Erdogan's spokesman called on the international community "to react to this injustice happening in front of the entire world's eyes."
Ibrahim Kalin also criticized Israel's "racist move that amounts to erasing the Palestinian people from their homeland physically and legally."
In a series of tweets, Kalin repeated Ankara's long-standing objections to the construction of Jewish settlements on occupied territory, saying, "We reject the Israeli government's efforts to form an apartheid state."
Full report at:
https://www.presstv.com/Detail/2018/07/19/568599/Israel-Apartheid-Nation-State-law
--------
'Racist' Israeli homeland law 'legalizes apartheid,' say Palestinians
July 19, 2018
AMMAN: Palestinians, Israelis and human rights activists have publicly denounced a controversial law passed by the Israeli Knesset which declares that only Jews have the right to self-determination in the country.
Palestine Liberation Organization (PLO) Secretary Saeb Erekat said that the legislation enshrines Israel as the national home of the Jewish people and "legalizes apartheid."
"The 'Jewish nation-state' (law) officially legalizes apartheid and legally defines Israel as an apartheid system," Erekat tweeted from the PLO Negotiation Affairs Department account.
"It is a dangerous and racist law. It denies Arab citizens the right to self-determination to instead be determined by the Jewish population."
International law considers apartheid a crime against humanity.
Israel's parliament, the Knesset, passed the law after hours of heated debate with 62 lawmakers voting in favor, 55 opposed and two abstaining.
The new law describes Israel as "the national home of the Jewish people" and says the right to exercise national self-determination there is "unique to the Jewish people."
The new law recognizes Jerusalem as the capital of Israel and calls for Jerusalem to remain an undivided city.
Sama Aweidah, director of the Women's Studies Center in Jerusalem, told Arab News that the racist nature of the law should be exposed.
"What is expected of all the Palestinian missions abroad is to explain to the peoples of the world and especially human rights organizations the true racist nature of Israel."
Discrimination
PLO executive committee member Dr. Hanan Ashrawi said that the law gives "license to apartheid, discrimination, ethnic cleansing and sectarianism at the expense of the Palestinian people."
She also took a swipe at the Trump administration, saying: "Undoubtedly, the US administration's blind bias in favor of Israel and its total disdain for international law have emboldened Israel to persist with such unlawful and immoral policies."
Botrus Mansour, director-general of the Baptist School in Nazareth, said that the law reflects the absence of Israeli confidence.
"If Israel needs to declare that it is 'the national homeland of the Jewish people' after 70 years of independence and tens of thousands of causalities, then that reflects a lack of confidence and belief in their own ways."
Mansour, a member of the Israeli Bar Association, said that the new bill would have little effect on the ground. "This is a declarative law created by a narrow nationalistic agenda that doesn't change anything on the ground except for the exclusive rhetoric, hate speech and feelings of marginalization and added alienations of the Arabs in the homeland that they and their ancestors have been living in for centuries."
Sharona Weiss, director of international relations and advocacy at Yesh Din: Volunteers for Human Rights, said that many Israeli and Palestinian human rights organizations are deeply concerned about the bill and are examining its legality.
"I would not be surprised if eventually a few organizations petition the High Court, once they have examined the details of the bill. However, it is always a sensitive matter petitioning against a law passed in a democratically elected parliament."
Weiss said that the law enshrined "the discriminatory and unjust practices that Israel has been acting on for years, which actually could be a good thing, in that the world can no longer ignore what's happening and can no longer call Israel 'democratic.' Israel's true colors can be seen, which could be a catalyst for real change."
Thousands of protesters marched through central Tel Aviv on Saturday night to protest against the controversial bill, calling it racist and discriminatory.
Under the banner "This is home for all of us," public figures, parliamentarians and social activists addressed the demonstration, with participants marching from Rabin Square to the Dizengoff Center.
Addressing the crowd, M.K. Ayman Odeh, chairman of the Joint List, an alliance of four Arab-dominated parties, said that what is most frightening to the right-wing Israeli government is that Jews and Arabs can live together.
"The nation-state bill won't make us disappear, but it will massively harm democracy," he said.
Gershon Baskin, an Israeli political scientist, described the passing of the law as "the darkest day" of Israel's already challenged democracy.
Full report at:
http://www.arabnews.com/node/1341456/middle-east
--------
Yemeni army foil repeated attacks by Houthi militias
19 July 2018
The Yemeni National Army with the air support provided by the Coalition for the support of legitimacy repulsed repeated attacks by Houthi militias and inflicted heavy casualties on their ranks.
There were also attempts to infiltrate by Houthi of militias into positions of the army in the center of the directorate of Hodeidah.
According to military sources, the army was able to break two attacks by the militias: the first on the Aldrihami front tried to cut off the coastline linking the cities of Mukha and Hodeidah in the Nekheila area.
The second attack was aimed at the headquarters of the directorate of Tahita, but was thwarted after a battle that lasted more than 10 hours, using various weapons along with Apache helicopter fire by coalition forces.
Eyewitnesses confirmed that the confrontations was concentrated in the areas of Suwaiq, and Bani Nahari and Al-Mughars, and the army and the resistance managed to kill, injure and capture dozens of militia elements.
Full report at:
https://english.alarabiya.net/en/News/gulf/2018/07/19/Yemeni-army-foil-repeated-attacks-by-Houthi-militias.html
--------
Mossad admits cooperating with MKO over anti-Iran plot
Jul 20, 2018
Israel's main spy agency Mossad has openly acknowledged that it cooperated with the People's Mujahedin of Iran (MKO) terror group over a plot to implicate the Islamic Republic in what it said would be a bomb attack in Paris.
Mossad said it had worked with its Belgian, French and German counterparts to uncover an alleged cell that was planning to bomb a June 30 conference in the French capital organized by the MKO, Israeli website Headshot reported on Thursday.
According to the report, the cell was led by an Iranian diplomat based in the Austrian capital of Vienna. It was also consisted of two Belgian nationals and another alleged member in Paris.
All of the suspects, including the alleged diplomat and his wife, were arrested and charged with plotting the attack.
The MKO event went ahead as planned and was attended by some of the former US, European and Saudi officials, including former Saudi spy chief, Prince Turki al-Faisal, who also delivered a speech.
The Mossad claim puts Israel next to Saudi Arabia, which Tehran says has been colluding with the MKO and providing it with financial support since the Iraqi imposed war on Iran in the 1980s.
Out of the nearly 17,000 Iranians killed in terrorist assaults since the victory of Iran's 1979 Islamic Revolution, about 12,000 have fallen victim to MKO's acts of terror.
The US State Department listed the MKO as a "terrorist organization" in 1997 only to be removed from in 2012. The European Union dropped the terrorist categorization for the group in 2008.
Mossad's alleged operation to protect the MKO occurred days ahead of a visit to Paris by Iran's Foreign Minister Mohammed Javad Zarif's for a meeting with his European counterparts concerning the 2015 nuclear accord and its future.
On May 8, US President Donald Trump pulled America out of the accord – technically named as the Joint Comprehensive Plan of Action (JCPOA). It was an agreement between Iran and the P5+1 group of nations -- the US, Britain, France, China, Russia and Germany – the envisaged the removal of sanctions against Iran in return for Tehran's moves to restrict certain aspects of its nuclear energy activities.
Trump's decision did not go down well with the other signatories but Israeli and Saudi officials have already expressed their satisfaction with the move.
In an attempt to convince Trump and his European allies (the EU3) to quit the JCPOA, Israeli Prime Minister Benjamin Netanyahu in a live televised presentation claimed that Israel had obtained access to what he described as "stolen" evidence that proved Iran's attempts to produce nuclear weapons. Iran strongly rejected Netanyahu's allegations which it said were based on "unsubstantiated" evidence.
Full report at:
https://www.presstv.com/Detail/2018/07/20/568648/Israel-Mossad-Iran-MKO-Paris-terror-plot
--------
Israeli airstrike kills young Palestinian man in southern Gaza Strip
Jul 19, 2018
At least one Palestinian man lost his life and three others sustained injuries when an Israeli fighter jet launched an airstrike against an area in the southern part of the Gaza Strip as the Tel Aviv regime continues with its acts of aggression against the impoverished coastal sliver.
The spokesman for the Gaza Ministry of Health, Ashraf al-Qidra, said in a statement that 22-year-old Abdel-Karim Radwan succumbed to his severe injuries at the European Gaza Hospital on Thursday afternoon.
Local sources, requesting anonymity, said the Israeli aircraft fired a missile at a group of young people near Sufa area, which is located southeast of the border town of Rafah. Four young Palestinian men were injured as a result and one of them later died from his injuries.
The Israeli military later confirmed it had carried out the airstrike, claiming that it targeted members of the Hamas resistance movement who were about to launch incendiary balloons over the border into occupied territories.
Nearly 145 Palestinians have been killed by Israeli forces ever since the "Great March of Return" began in the Gaza Strip on March 30.
A total of 14,811 Palestinians have also sustained injuries of whom 366 are reportedly in critical condition.
The Gaza clashes reached their peak on May 14, on the eve of the 70th anniversary of Nakba Day (Day of Catastrophe), which coincided this year with the US embassy relocation from Tel Aviv to occupied East Jerusalem al-Quds.
On June 13, the United Nations General Assembly adopted a resolution, sponsored by Turkey and Algeria, condemning Israel for Palestinian civilian deaths in the Gaza Strip.
The resolution, which had been put forward on behalf of Arab and Muslim countries, garnered a strong majority of 120 votes in the 193-member assembly, with 8 votes against and 45 abstentions.
The resolution calls on UN Secretary General Antonio Guterres to make proposals within 60 days "on ways and means for ensuring the safety, protection, and well-being of the Palestinian civilian population under Israeli occupation," including "recommendations regarding an international protection mechanism."
Full report at:
https://www.presstv.com/Detail/2018/07/19/568603/Israeli-jet-bombard-southern-Gaza-Strip-kill-Palestinian-youth
--------
Africa
One 20-Year Term, 14 Acquittals in Senegal Jihadists' Trial
July 19, 2018
Dakar, Jul 19 (AFP) The alleged leader of a jihadist cell was handed a 20-year term with forced labour today in Senegal's largest terror-related trial, which also saw 14 suspects acquitted.
A Dakar court handed the term to Makhtar Diokhane, described as the ringleader of a group that planned to wage jihadism in West Africa, while Alioune Ndao, who had been accused of acting as coordinator, received a suspended one-month sentence.
The heavily-guarded proceedings, which started on April 9, are believed to have been the first mass prosecution for alleged terror activities in Senegal.
The majority-Muslim West African state has so far escaped major terror attacks.
The 29 suspects, three of them women, were accused of criminal conspiracy related to financing a terror group, money laundering, acts of terrorism and funding terrorism.
Most were arrested in 2015 in Senegal, which prosecutors said was their planned springboard to foment terrorism in neighbouring countries as well.
Diokhane, 31, was found guilty of criminal conspiracy to commit terrorist acts while Ndao was convicted for possessing a weapon without authorisation.
Three other defendants were sentenced to 15 years in jail with forced labour; six were given 10-year terms; and three were given five-year sentences.
Fourteen defendants, including two of Diokhane's wives, were acquitted.
Charges against another defendant were dropped due to irregularities in the proceedings, according to the judge on the case, Samba Kane.
The public prosecutor had requested life sentences against 11 of the accused and a 30-year sentence against Ndao, a popular imam from the town of Kaolack in central Senegal, as well as acquittals for eight other defendants.
The group was accused of wanting to set up a jihadist base in Senegal and then extend into neighbouring countries including The Gambia, Guinea and Guinea-Bissau.
The 29 accused, some of which were said to have fought alongside Nigeria's Boko Haram, were standing in the courtroom as the verdict was announced.
When Ndao was handed a month-long suspended sentence -- after public prosecutors requested a 30-year jail term -- cries of joy were heard in the courtroom.
"We have been fighting for three years to save the dignity of Ndao, who is a role model for this country," Moussa Sarr, Ndao's lawyer, told reporters.
"Despite all the difficulties, we are proud of our justice system today," he added.
"If Ndao has been found guilty, it would only be because there are no just men in Senegal," one of his supporters told AFP.
Diokhane's lawyer said he would appeal.
"I have no intention of letting Makhtar Diokhane stay in prison for 20 years," attorney Alassane Cisse told AFP.
Senegal has so far escaped the Al-Qaeda-linked jihadist insurgency that has destabilised neighbouring Mali, and seen attacks on other west African nations including Burkina Faso and Ivory Coast.
But it has stepped up security outside hotels and publics buildings.
From early morning, long lines of onlookers formed to get into the courtroom, guarded by police checkpoints and metal detectors.
Senegalese Muslims primarily follow Sufi strands of Islam mixed with local beliefs -- considered heretic by hardline Salafists -- while moderate Islamic brotherhoods hold huge power in society.
Senegalese imam Ibrahima Seye was sentenced on appeal to two years in prison in October 2016 for glorifying terrorism, one of several people accused by the state of links to Al-Qaeda in the Islamic Maghreb (AQIM) and the Islamic State group. (AFP) SMJ SMJ https://www.indiatoday.in/pti-feed/story/one-20-year-term-14-acquittals-in-senegal-jihadists-trial-1290563-2018-07-19
--------
Hundreds flee as Al Shabaab militants begin recruiting children
July 19th 2018
Hundreds of local residents are fleeing their homes in Middle Shabelle region after Al-Shabaab accelerated its child recruitment. According to news report from Halbeeg News carried by Amisom Media Monitoring, heavily armed Al-Shabab fighters have been engaging in gun battles with locals who recently turned down the group's order to recruit their children in Adale District.
Al-Shabaab reportedly ordered elders and parents and other community members in rural areas, to provide hundreds of children for recruitment. The development sparked off clashes between Al-Shabaab militias and the locals in Gullane and Kadere villages. A local resident, who spoke on condition of anonymity, said Al-Shabaab had displaced hundreds of locals who refused to surrender their children to fight for the group. "Many people fled from their homes after Al-Shabaab started the aggressive child recruitment campaign. We call on the government to intervene ," he said adding that many parents and children have fled homes to escape forced recruitment. The move comes months after a Human Rights Watch report accused the group of targeting children in its listing of members. Know if news is factual and true. Text 'NEWS' to 22840 and always receive verified news updates. "Al-Shabaab's ruthless recruitment campaign is taking rural children from their parents so they can serve this militant armed group," Laetitia Bader, senior Africa researcher at Human Rights Watch, said in a report released in January. "To escape that cruel fate, many children have fled school or their homes," she added. Over the past decade, Al-Shabaab has recruited thousands of children, who have been indoctrinated and deployed to various battles.
https://www.standardmedia.co.ke/article/2001288664/hundreds-flee-as-al-shabaab-militants-begin-recruiting-children
--------
30 killed in raids on northwest Nigeria villages
July 20, 2018
KANO : At least 30 people were killed during raids on villages in northwest Nigeria in the latest deadly attacks by cattle rustling and kidnapping gangs in the restive region, residents told AFP.
Armed bandits on motorcycles stormed five neighbouring rural villages in the Maradun district of Zamfara state on Tuesday afternoon, firing indiscriminately and stealing livestock.
"We recovered 30 bodies from the attacks and we have so far buried 26 while four are being prepared for burial," said Jabbi Labbo, a community leader in Gyadde, one of the villages attacked.
"Seven persons were killed in Sakkida, four in Farin Zare, eight in Orawa, seven in Gyadde and four in Sabon Gari," Labbo said. Seven other people were missing and presumed to have drowned in a nearby river while trying to "escape the carnage", said Orawa resident Sule Mada, who gave a similar toll.
"They attacked the villages simultaneously and took away a lot of cattle, sheep and goats," Mada said.
The police in Zamfara confirmed the attacks but said only three people were killed.
"Some villages in Maradun local governments were attacked by bandits yesterday and three people were killed," Zamfara state police spokesman Mohammed Shehu said.
In Zamfara, cattle rustling and kidnapping for ransom have been increasing in recent years, with herding and farming communities targeted.
Full report at:
https://nation.com.pk/20-Jul-2018/30-killed-in-raids-on-northwest-nigeria-villages
--------
President of South Sudan says ready to accept peace deal
Jul 19, 2018
South Sudan's President Salva Kiir said he is ready to accept a peace deal to end a civil war and set up an inclusive new government.
The deal being negotiated in Sudan would give the country five vice presidents and also covers security and power sharing.
"The people of South Sudan are looking for peace and if that arrangement can bring about peace to the people of South Sudan, I am ready to take it," said Kiir late on Wednesday at a swearing-in ceremony for his foreign minister.
"People talk about exclusivity, nobody is to be left out of the government. I accept it," he said.
South Sudan erupted in conflict in 2013 because of a dispute between Kiir and his former vice president Riek Machar. Tens of thousands have been killed, a quarter of the population has fled their homes and the oil-dependent economy has been wrecked.
A 2015 peace deal briefly halted the fighting but it fell apart after Machar returned to the capital the following year.
The conflict has mostly been fought along ethnic lines, pitting Kiir's dominant Dinka tribe and its rival, the ethnic Nuer of Machar.
Full report at:
https://www.presstv.com/Detail/2018/07/19/568617/South-Sudans-president-Kiir-says-ready-to-accept-peace-deal
--------
Senegal convicts 13 suspected Boko Haram fighters
Jul 20, 2018
Senegal's criminal court sentenced 13 people to prison for attempting to establish a homegrown cell modelled after Boko Haram in the West African country.
One of those jailed by the Dakar court on Thursday was Makhtar Diokhane, described as the ringleader of the group. He was handed a 20-year prison term.
"The court was very heavy-handed in sentencing our client and we are going to appeal," Diokane's lawyer Alassane Cisse told Reuters news agency.
Fourteen people, including two of Diokhane's wives, were acquitted.
About 30 Senegalese were put on trial in April for their suspected involvement in the cell after some spent time in Nigeria with the armed group Boko Haram.
Attacks involving Boko Haram have displaced more than 1.8 million Nigerians in the country's predominantly agricultural northeast over the last 10 years. An estimated 20,000 people have been killed.
Moving west?
Twenty-nine other suspects, three of them women, were accused of criminal conspiracy related to financing an armed group, money-laundering, and acts of terrorism.
The public prosecutor had requested life sentences for 11 of the accused, and a 30-year prison term for Alioune Ndao - a popular imam from the town of Kaolack in central Senegal - who was accused of acting as a coordinator. He received a suspended one-month sentence.
Most were arrested in 2015 in Senegal. Prosecutors said their plan was to foment violence in neighbouring countries as well.
Senegal has so far escaped the al-Qaeda-linked rebellion that has destabilised neighbouring Mali along with attacks on other West African nations including Burkina Faso and Ivory Coast.
Full report at:
https://www.aljazeera.com/news/2018/07/senegal-convicts-13-suspected-boko-haram-fighters-180719181459309.html
--------
Boko Haram dwarf reveals amount he got for each suicide bomb attack
July 19, 2018
By Don Silas
Abubakar Kori, a dwarf, who facilitated the suicide bombing activities of Boko-Haram insurgents, said he was paid not less than N5,000 for each suicide bomb attack carried out in Maiduguri.
Kori, 25, is among the 22 people arrested by the police in Borno and Yobe for their alleged involvement in suicide bombing activities carried out by the insurgents.
"My role is to keep the Improvised Explosive Device (IEDs) for onward delivery to another person who will carry out the attack", he told NAN.
"On different occasions, two of my acquaintances gave a parcel to keep for somebody, who will come and take it.
"I normally kept the parcel in my duty post; the appointed person would come and picked it; after successful delivery, they paid me N5,000.
"We reside in the same neighborhood in Maiduguri; they always told me that the parcel was given to them by one Ba'Adam, and asked me to keep it.
"They introduced me to Ba'Adam, who is the mastermind of the attacks," he revealed.
On his part, Adam Mustapha, a.k.a Ba'Adam, admitted that he coordinated various suicide bomb attacks, which resulted in the death of hundreds of people in Maiduguri.
Ba'Adam, 20, narrated that he had coordinated several bomb attacks at Bulukuntu, Baga road, 333 Artillery gate, Customs, Post Office and Muna Garage areas of Maiduguri.
"On two occasions, I was paid N200, 000 for the successful execution of bomb attacks.
"Most of the time, I had to pester them before payment could be made to me," he said.
When asked whether he had cause at any time to regret his actions, Ba'Adam said that he was never remorseful at any given time.
Another suspect, Ibrahim Mala, 48, also admitted to aiding suicide bomb attacks in Maiduguri, sales of rustled animals and supply of logistics to the insurgents in the bush.
Mala, a butcher and resident of Dalori-Kakere village in the outskirts of Maiduguri, revealed that the insurgents were supplying sheep and provided him with N180, 000 loans, to enable him to run his business.
"They paid me N5, 000 for safe keeping of IEDs, and they also sent me on errands to buy consumable items for them.
"I bought the items at the market and kept it at my home; some persons would come at night, pick and deliver same to members of the group hiding in the forest.
"Some of the items included torch lights, matches, sandals, kola nuts, cubes and clothing materials.
"I saved money in dealing with the group and bought a plot of land worth over N420, 000.
"I know that they are Boko-Haram insurgents and my wife was not happy with my dealings with them; she asked me to stop but it is too late," he narrated.
Commenting on the arrest, Mr Abba Kyari, the DCP, Intelligence Response Team (IRT), said that the suspects were apprehended by the police in various communities in Borno and Yobe.
Full report at:
http://dailypost.ng/2018/07/19/boko-haram-dwarf-reveals-amount-got-suicide-bomb-attack/
--------
Boko Haram: Doctors Without Borders raise alarm over 'deteriorating' conditions of IDPs
July 19, 2018
By Seun Opejobi
Luis Eguiluz, the Head of mission for Médecins Sans Frontières/Doctors Without Borders, MSF, in Nigeria has lamented what he termed the "deteriorating situation" of the Internally Displaced Persons, IDPs, in the North East.
Eguiluz explained that IDPs were facing challenges while living in isolated enclaves controlled by the military in the North East of the country.
In an interview with DAILY POST, Eguiluz said, "The situation in northeast Nigeria is deteriorating after years of conflict.
"It may not have hit headlines in the same way as a few years ago, but the humanitarian situation in northeast Nigeria, where about 1.7 million people have been displaced, is deteriorating.
On the current situation of things as it concerns the ongoing war and humanitarian needs, he said, "The long-lasting conflict between non-state armed groups and the military continues to displace more and more people, who are arriving to a series of garrison towns with very limited capacity to absorb new arrivals. Security perimeters in these enclaves remain very restricted, and while assistance continues to be provided by aid organizations, it has been of low standards. This has an even greater impact when you have more people in need.
"All sectors of aid delivery have been affected, food distribution, water availability and shelter capacity. Even health provision is fragile in some locations. Some areas of the enclaves have problems with food supply, despite a wide change from general to targeted distributions.
"Actors who were key in the delivery of water have now quit and, overall, there is a lack of senior humanitarian workers in the more remote locations.
"Donor fatigue, however, does not seem to be the problem. Funding keeps coming and nearly one hundred national and international NGOs are working in Maiduguri, the capital of Borno state. The challenge for many organizations is to find implementing partners and delivering programmes outside of the city.
Full report at:
http://dailypost.ng/2018/07/19/boko-haram-doctors-without-borders-raise-alarm-deteriorating-conditions-idps/
--------
North America
Muslim Kids Summer Camp All About Balancing Religious And Canadian Identity
Jul 17, 2018
At one side of the building kids emulate their favourite World Cup stars, chasing a soccer ball around a gym. It could be any summer camp taking place across the city.
On the other side, a small group of boys sit in a circle and quietly recite passages from the Qur'an, guided by a young camp worker who talks with them about what they're reading.
The camp — run by the Muslim Association of Canada — is split between mainstream summer camp activities and more religious and cultural programming at Calgary's Al-Salam Centre.
There are themed weeks like All About Canada, where kids learn about Canadian culture and history, along with trips to Heritage Park and the Calgary Corn Maze, and guest speakers covering topics like the environment and Indigenous issues.
"That balance is important because a lot of us are children of immigrants," said Immad Nayeem, a volunteer at the Al Salam Centre. "And immigrants crave identity."
Nayeem says newcomers are keen to explore what it means to be Canadian and be a part of Canadian society while respecting their own culture and religions, and want the same for their children.
"I think it's important, not just shoving Islam down their throat, but learning how to balance the two together," said another camp volunteer, Zamzam Amin.
"We merge the two, how Islamic values and Canadian values can work together instead of it being a more conflicting thing," said Amin.
"I graduated from an Islamic school and coming here I thought it would be the same atmosphere but there's a big difference," Amin said, adding she sees a push to merge the two worlds together at the camp.
"Growing up I struggled with that. I thought Canadian identity and Muslim identity were two separate things and I never really found the balance, but going into high school I realized there is no splitting," said Amin.
Parents like that balance, too.
Attendance jumped from 40 kids last year to 70 this summer, with more and more registering an interest, according to organizers.
"All my kids are here," said Rasha Abuobayda, who says she likes the mainstream activities that other Canadian kids experience, with a focus on Islamic values.
"They don't feel they are separated from their society or communities," said Abuobayda. "They are part of the community and I want them to be part of the community, that's why they're in Canada," she said.
"This will help our kids grow in the Canadian community. It's not only 'because I'm Muslim I'm coming here,' it's 'because I'm a Canadian Muslim I'm coming here'," Abuobayda said.
The camp runs for six weeks till Aug. 10.
https://www.cbc.ca/news/canada/calgary/calgary-summer-camp-muslim-canadian-1.4749152
--------
Police treating attack on Toronto Muslim man as hate crime
Jul 18, 2018
An attack on a Muslim man in a Toronto suburb is being investigated by police as a hate-motivated crime.
Const. Danny Marttini with the Peel Regional Police said Wednesday that Mohammed Abu Marzouk was assaulted in a community-center parking lot by two men.
Janis Corhamzic, 19, and brother Adem Corhamzic, 27, were arrested at the scene Sunday and charged with one count each of aggravated assault and two of assault.
Abu Marzouk's wife Diana Attar told Canada's CBC in an interview that part of her husband's skull had to be removed by surgeons after the attack.
Peel police said earlier this year that anti-Muslim incidents rose from five in 2016 to 57 a year later.
https://www.hindustantimes.com/world-news/police-treating-attack-on-toronto-muslim-man-as-hate-crime/story-sqnzNwTwTCVW3R8C6YDgRI.html
--------
US allows hundreds of Somalis to stay until at least March 2020
19 Jul 2018
Nearly 500 Somalis who escaped terrorism and drought will be allowed to remain in the US until at least March 2020, the US homeland security department announced on Thursday.
Concerns had been raised that the administration would cancel the temporary protected status (TPS) program for Somalis because of Trump's anti-immigrant policies and the decision to end TPS status for more than 428,250 others. But the DHS granted them permission to stay temporarily, owing to the "ongoing armed conflict and extraordinary conditions" in Somalia.
This decision is a relief for TPS holders such as Yasir, who fled Somalia after being kidnapped and tortured by the al-Qaida-affiliated extremist group al-Shabaab. "I'm scared of going back to Somalia and being killed by al-Shabaab," Yasir told the Guardian.
Yasir, 29, said that in 2008, he was walking in Mogadishu when two men came up behind him and hit him. He was knocked unconscious. He woke up in a room with the two men, who he said identified themselves as members of al-Shabaab and tried to coerce him into joining their group.
"They told me if I don't work with them, they will kill me and they know where I live," Yasir said.
He went into hiding while he tried to find a way out, occasionally dressing in women's clothes and covering his face in disguise.
An aunt eventually gave him money so he could pay someone to get him out. He doesn't know how long it took him to get to the US, which he did by traveling through several countries before crossing the border in 2009.
"I was happy to be alive," Yasir said. "I was happy to be somewhere where justice means something."
He lived in the US undocumented until 2012, when Temporary Protected Status (TPS) was redesignated for Somalia. TPS protects foreign nationals already in the US when civil unrest, violence or natural disasters erupt in their home country.
TPS can either be redesignated, which allows a new group of people to apply for it; renewed, with allows people who already have it to stay longer; or terminated, which typically gives people more than a year to find a way to stay in the US or leave.
The homeland security department renewed, but did not redesignate, TPS for Somalis on Thursday. The homeland security department said in a statement it made this decision because the "ongoing armed conflict and extraordinary and temporary conditions that support Somalia's current designation for TPS continue to exist".
With TPS, instead of living in the shadows, Yasir was able to work, get a driver's license and open a bank account.
He is now married to a US citizen and has a seven-year-old American son. He said he doesn't know what has happened to his family and friends in Somalia, and whether they are dead or alive.
"I've seen countries losing TPS and I've been scared I'm going to lose mine and be deported back home," Yasir said.
The Trump administration has unleashed a torrent of measures to slow immigration and remove people from the US, including terminating TPS for six of the 10 countries covered by it when he took office.
This has left more than 428,250 people from countries including Nicaragua, El Salvador and Sudan forced to find a way to stay in the US or return to their home country as early as December of this year.
TPS has been extended for more than 8,100 people from South Sudan, Syria and Yemen.
The president insulted the largest Somali American community, in Minnesota, two days before being elected president. "Everybody's reading about the disaster taking place in Minnesota," Trump said at a rally in November 2017.
Despite the escalating conflict with al-Shabaab, and the terrorist group's targeting of people who return to the country, the US has dramatically increased deportations there since late 2016. In fiscal year 2016, 198 Somalis were deported, rising to 521 in 2017.
And in December, more than 90 Somali men and women were held shackled on an airplane for nearly 48 hours during a failed attempt to deport them from the US that went as far Dakar, Senegal, before returning to the US.
Full report at:
https://www.theguardian.com/us-news/2018/jul/19/somali-asylum-seekers-fear-deportation-trump-administration
--------
URL: https://www.newageislam.com/islamic-world-news/we-dont-tip-terrorist-customer/d/115890
New Age Islam, Islam Online, Islamic Website, African Muslim News, Arab World News, South Asia News, Indian Muslim News, World Muslim News, Women in Islam, Islamic Feminism, Arab Women, Women In Arab, Islamophobia in America, Muslim Women in West, Islam Women and Feminism