New Age Islam News Bureau
2 March 2018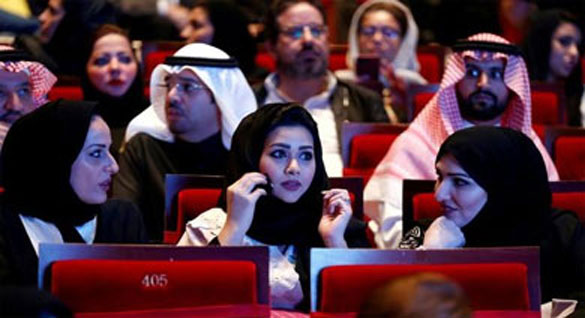 File Photo showing Saudis watch composer Yanni perform at Princess Nourah bint Abdulrahman University in Riyadh, Saudi Arabia, Dec 3, 2017. (Reuters)
------
• Want Muslims to Have Quran in One Hand and Computer in Other: PM Narendra Modi
• Blasphemy Case Registered For Forbidding To Use the Sound System For Listening An Islamic Poetic Song
• Licensing Opens for Cinema in Saudi Arabia, Says Ministry
• First Ever Muslim Festival Launched To Challenge Islamophobia in UK
• Israel Police Question Netanyahu in Telecoms Corruption Case
India
• Want Muslims to Have Quran in One Hand and Computer in Other: PM Narendra Modi
• Kerala High Court Seeks Govt's Views on Legalising Conversions to Islam
• Sri Sri Ravi Shankar meets expelled Muslim law board member Nadvi
• Wasim Rizvi has lost his mental balance: Muslim cleric Sayeed Mufti Mukarram
• NIA court reserves order on J-K photojournalist Kamran Yusuf bail application
• 'Future very bright for US-India counter-terrorism cooperation'
--------
Pakistan
• Blasphemy Case Registered For Forbidding To Use the Sound System For Listening An Islamic Poetic Song
• Council of Pakistani Scholars Condemns Iran for 'Conspiring Against Muslim Nations'
• Witnesses to record statement in Sharif family graft references today
• Tajikistan, Pakistan to strengthen anti-terror cooperation
• Pakistan can do more to combat terrorism, says Pentagon
• Marriyum felicitates Hindu community on Holi
• Defence minister offers assistance in capacity building of Iraqi Armed Forces
• Imran says Afghan govt's talks offer to Taliban vindicates his stance
• We're ready to back new Taliban shuffle all the way
--------
Arab World
• Licensing Opens for Cinema in Saudi Arabia, Says Ministry
• US, UK Instructed Terrorists to Use Chemicals near Syria Capital: Military Source
• Popular Uprising against US Occupiers Reported in Northeastern Syria
• Terrorists Continue Infighting in Northern Syria, Over 700 Tahrir al-Sham Militants Killed
Eight Turkish soldiers killed in Syria, 13 wounded
• Egyptian army kills 13 armed men on day 21 of 'Sinai 2018' operation
• Syria regime strikes rebel enclave as aid trucks wait
• MWL strongly condemns attacks on Ghouta
• OIC voices concern over attacks against Muslims in Sri Lanka
• Syrian Army Repels 3 Terrorist Attacks in Eastern Ghouta
• Turkey Dispatches ISIL Inmates to Afrin
• Syrian Army Captures Strategic Road in Eastern Ghouta
• Syrian government forces advance in east Ghouta assault
• North Korea rejects chemical links to Syria as 'mean US trick'
--------
Europe
• First Ever Muslim Festival Launched To Challenge Islamophobia in UK
• French Judge Steps up Le Pen Investigation over Islamic State Tweets
• Religion and politics clash in Russia's North Caucasus
• UN rights body to hold debate on Ghouta on Friday at Britain's request
• Speaker Tokayev: Kazakhstan taking steps to unite the Muslim world
• PKK/PYD supporters in Europe target Turks, mosques
--------
Mideast
• Israel Police Question Netanyahu in Telecoms Corruption Case
• 350 Palestinian Minors Incarcerated In Israeli Prisons: NGO
• United Nations 'an utter and abject failure' on Yemen: Rights group
• Jerusalem as Palestine's Capital Not Disputable, Erdoğan Says
• Turkish jets attack pro-government forces in Afrin, at least 17 dead
• Turkish attacks on Syria's Afrin leave nearly two dozen civilians dead
• Turkish Army Preparing to Dispatch New Convoy of Special Forces to Afrin
• Turkey orders arrest of 154 over alleged Gulen links
• Armenia scraps normalization deal with Turkey
--------
Africa
• Boko Haram Terrorists Release Video of Execution of 'Drug Dealers'
• Somalia: Al-Shabaab Militants Shoot Donkeys as Part of Economic War
• Turkey's Erdogan seeks more influence in Africa
• Uganda: Muslim Clerics Trial Stalled By Absent Witnesses
• Al Shabaab kill five police in northeast Kenya, official says
• At least 4 aid workers killed in Boko Haram attack in Nigeria: UN
--------
South Asia
• Myanmar Soldiers Fire Shots near Rohingya Camp after Bangladesh Protests Border Buildup
• 'Unconditional Peace Offer Does Not Mean End of War': Ghani
• 1 killed, 4 injured as Kabul car bomb targets foreign forces: ministry
• Suicide car bomber hits Kabul, at least four wounded
• German Taliban fighter arrested in Afghanistan
• Bangladesh Requests Myanmar Troop Withdrawal from Common Border
• Top TTP leader with Al Qaeda links killed in US airstrike in Paktika
• Suicide car bomb explosion leaves one dead in Kabul city
--------
Southeast Asia
• Don't Bring Politics into Mosques, Raja of Perlis Warns
• After Top Court Ruling, Pakatan Urges Sarawak to Amend State Laws for Clear Guide on Apostasy
• Police Arrest Core Members of 'Muslim Cyber Army'
• Neelofa, Zouk guests can be charged with insulting Islam, Sharie lawyer claims
• Indonesia police break up radical Islamic cyber network provoking extremism
• Be careful with handling religious cases, Sarawak minister tells politician lawyers
--------
North America
• Pentagon: Houthi Militia Have Attacked Saudi Arabia Several Times
• Pentagon Deploys Hundreds of US Troops In Southeastern Syria: Reports
• Rights groups decry 'anti-Muslim' bill in US
• Toronto runner set to get Canadian citizenship, trump U.S. travel ban
Compiled by New Age Islam News Bureau
URL: https://www.newageislam.com/islamic-world-news/want-muslims-quran-one-hand/d/114460
--------
Want Muslims to Have Quran in One Hand and Computer in Other: PM Narendra Modi
March 1, 2018
New Delhi: Prime Minister Narendra Modi said on Thursday that those who attacked humanity in the name of religion were in fact hurting religion itself.
"People who attack humanity in the name of religion don't understand that the biggest casualty of their attacks is the very religion that they claim to stand for," Modi said at the conference on 'Islamic Heritage: Promoting Understanding and Moderation' in the national capital on Thursday.
Jordan King Abdullah II, who landed in New Delhi on Wednesday, was also present at the conference. PM Modi also said that India had been a cradle for all religions in the world and that peace was in India's spirit.
Stressing on the need for religion and technology to come together to combat extremist forces, the Prime Minister said: "The Government of India is leaving no stone unturned in empowering the Muslim youth. We want them to have the Quran in one hand and a computer in the other."
Taking forward Modi's speech, King Abdullah II said that fight against terrorism was not a fight against Muslims or a particular religion but a fight against hate. "Ideologies of hate distort the word of God. Faith is supposed to draw humanity together," the King said.
The Jordanian ruler highlighted the importance of inclusion as a path to co-existence that the world needs and said it was every Muslim's duty to help those in need.
"We must protect strangers like we protect our own. We need to have dialogue to continue our efforts in upholding peace. We can't afford to allow young people to be left without hope when we do have the power to draft a better future," he said.
The Jordanian King's visit in India comes nearly three weeks after Modi travelled to Jordan as part of his trip to West Asia, including Palestine. The Prime Minister and the King will hold extensive talks on Thursday covering entire expanse of bilateral ties, official sources said, adding that the Palestine issue and ways to deal with terrorism, radicalisation and extremism are likely to figure in the deliberations.
https://www.news18.com/news/india/muslim-youths-in-india-have-quran-in-one-hand-and-computer-in-other-pm-narendra-modi-1675989.html
--------
Blasphemy Case Registered For Forbidding To Use The Sound System For Listening An Islamic Poetic Song
Mar 2, 2018
Faisalabad: March 1, 2018. (PCP) LEAD has confirmed that a 'blasphemy' case FIR No.338/18 has been registered on February 24, 2018 against five Christian men and one woman, one Muslim and three unknown Christians on the allegation of hurting the feelings of Muslims by forbidding to use the sound system for Islamic poetic song at Police Station Saddar in Faisalabad.
According to the contents of FIR, the complainant, Munawar Hussain, his brother, Azhar Hussain, Muhammad Rizwan and some other Muslims of the area near a Khushkhabri (Gospel) Church in his own shop at about 9 pm, they were listening an Islamic poetic song on sound system and on the wall in the front of the shop, they were making to get write an Islamic poetry praising Islamic Prophet Muhammad. And the accused 1-Fiaz, 2-Riaz, 3-Imtiaz, 4- Sarfraz, 5- Saqib alias Saqi son of Muhammad Mansha, 6-Kashif and 7-Mrs. Riaz including three unknown persons mentioned in the FIR, came and they forbade to write on the wall and to use sound system at late night due to which their religious feelings be hurt.
In this case the act of the complainant and his accomplices is illegal as well ill ethic because they were violating the law to use sound system and in front of Church among Christians community purposefully to make them disturbed. It seems as there are only Islamic people have religious feelings which are being hurt by Christians and other religious minorities in Pakistan and Islamic people think that people of other faiths have no feelings at all that's why the Islamabad High Court (IHC) has barred the National Database and Registration Authority (NADRA) from making any changes in the religion column on national identity cards of the Muslim citizens.
Sardar Mushtaq Gill, lawyer and Human Rights Defender told that the contents of the FIR No.338/18 itself shows that the complainant along with other Muslims were violating the law by using sound system at late night and without permission and if the accused mentioned in the said FIR had forbidden them to use the sound system even then it wasn't any crime and offence rather the complainant along with his accomplices had committed offence of using sound system hence they should be booked in a criminal case.
He further stated that the justice system of Pakistan was totally in hands and control of Islamic radical Groups and they had at theirs back the security and secret agencies of Pakistan which is the main hurdle to prevail justice in Pakistan. It can be witnessed through different cases of Christians that they were discriminated and persecuted by the investigators of the law enforcement persons why because in those departments too there are some Islamic Extremists who belong to those extremist Islamic groups.
Blasphemy laws are overwhelmingly being used to persecute religious minorities and to settle personal vendettas and the main vendetta is to spread Islam by the persecution of people of other faiths. Christians are the main target of Islamic religious forces that's why they are attacked as a whole community whenever any Christian was accused of blasphemy. These laws should be repealed because this is the fire which is in hands of monkeys who can burn any innocent lives.
http://www.pakistanchristianpost.com/detail.php?hnewsid=6793
--------
Licensing opens for cinema in Saudi Arabia, says ministry
1 March 2018
RIYADH: Saudi Arabia began issuing licenses Thursday to operate cinemas in the kingdom ahead of their reopening after a decades-long ban was lifted as part of a far-reaching liberalization drive.
The move is another step toward opening the Saudi market to regional and international theater chains, which have long eyed the kingdom as the Middle East's last untapped mass market.
The culture and information ministry said it had "finalized the terms of licencing to restore cinema in Saudi Arabia."
"Licencing commences immediately," the ministry added in a statement.
The news comes as Dubai-based VOX Cinemas, the leading operator in the Middle East, launches its first public screening in Saudi Arabia, which runs through Saturday and aims to raise awareness about Alzheimer's disease.
The screening in Riyadh will feature content from local producers including Myrkott Production and Telfaz Company, VOX said.
Major cinema chains are seeking to break into the market of more than 30 million people, the majority of whom are under 25.
In December, US giant AMC Entertainment signed a non-binding agreement with Saudi Arabia's vast Public Investment Fund to build and operate cinemas across the kingdom.
AMC will still face stiff competition from regional heavyweights, including VOX.
The move to reopen cinemas is part of a modernization drive by Crown Prince Mohammed bin Salman.
http://www.arabnews.com/node/1257201/saudi-arabia
--------
First Ever Muslim Festival Launched To Challenge Islamophobia in UK
March 1 2018
The UK's first ever festival dedicated to Muslim culture, literature and ideas it to take place later this year.
Billed as challenging Islamophobia through exploring diversity within Muslim cultures, the event will feature stand-up comedy, feminism within Islam and a discussion around the Grenfell Tower fire tragedy.
BBC journalist Razia Iqbal, novelist Kamila Shamsie and Labour MP Emma Dent Coad are among those names revealed as taking part in the MFest event.
Director of the festival, Tufyal Choudhury, said it would "challenge a fundamental feature of Islamophobia, which sees Islam and Muslims as a monolithic, static block".
"We are delighted to launch a festival of books and ideas that recognises the diversity, differences and dynamics of Muslim cultures and lives," he added.
Sponsored by the Aziz Foundation, MFest takes place between April 27 and April 29 2018 at the British Library.
https://www.belfasttelegraph.co.uk/entertainment/news/first-ever-muslim-festival-launched-to-challenge-islamophobia-36661076.html
--------
Israel police question Netanyahu in telecoms corruption case
2 March 2018
Israeli police questioned Prime Minister Benjamin Netanyahu on Friday for the first time in a corruption case that involves the country's largest telecommunications company Bezeq, Israel Radio said.
Along with two other corruption cases, in which Netanyahu is suspected of bribery, the probes pose a serious threat to the four-term prime minister's political survival. Netanyahu denies any wrongdoing in all the cases.
In the newest investigation, known as Case 4000, police allege that the owners of Bezeq Israel Telecom provided favorable coverage of Netanyahu and his wife on a news website they controlled in return for favors from communications regulators.
A police spokesman declined comment. A Reuters cameraman saw a vehicle carrying two police officers pull into the prime minister's official residence on Friday morning.
Israel Radio said Netanyahu's wife Sara was providing testimony at the same time, at a police station near Tel Aviv.
The controlling shareholder of Bezeq Telecom, Shaul Elovitch, is currently in police custody, along with a former Netanyahu spokesman. They deny any wrongdoing.
Shlomo Filber, a confidant of Netanyahu and former director general of the Communications Ministry, has also been arrested in connection with the case, and has agreed to turn state's witness, according to Israeli media.
Netanyahu, Israel's dominant political figure for a generation - in power since 2009 and for 12 years in total since 1996 - calls the allegations against him a "witch hunt". He has said he will seek a fifth term in a national election due in late 2019.
Police indict Netanyahu
Police recommended in February that Netanyahu be indicted in two other corruption investigations. The attorney-general must determine whether to accept the police recommendation to charge him. The final decision on both cases could take months.
In one, known as Case 1000, he is suspected of bribery over gifts, which police say were worth nearly $300,000, that he received from wealthy businessmen.
The other, Case 2000, involves an alleged plot to win positive coverage in Israel's biggest newspaper by offering to take measures to curtail the circulation of a rival daily.
So far, partners in Netanyahu's governing coalition have stood by him, saying they were awaiting the attorney-general's next moves. Political analysts say that could change if the investigations against Netanyahu intensify.
Netanyahu could also call a snap election to try to stall legal proceedings during the campaign and rally his right-wing power base behind him.
https://english.alarabiya.net/en/News/middle-east/2018/03/02/Israel-police-question-Netanyahu-in-telecoms-corruption-case.html
--------
India
Kerala High Court seeks govt's views on legalising conversions to Islam
Mahir Haneef
Mar 1, 2018
KOCHI: The Kerala High Court on Thursday asked the state government to respond to a petition seeking framing of rules to allow persons who convert to Islam to get the conversion recognised legally.
A petition (WP-C No. 6403/2018) filed by Thadevoos Abu Thalib of Muvattupuzha is being considered by the court. He was born a Christian, got married to a Hindu woman, and then converted to Islam three years ago.
As per the petition, state government has not yet framed rules for section 3 and 4 of the Muslim Personal Law (Shariat) Application Act, 1937 that provides for a declaration that a person has converted to Islam.
While he has been accepted as a Muslim in his neighbourhood and is attending various religious activities in mosques, he is unable to get his conversion legally recognised as the government has not framed rules prescribing the authority before whom he can apply and get himself be governed by Muslim personal law, the petition said.
https://timesofindia.indiatimes.com/city/kochi/kerala-high-court-seeks-govts-views-on-legalising-conversions-to-islam/articleshow/63129799.cms
--------
Sri Sri Ravi Shankar meets expelled Muslim law board member Nadvi
Mar 1, 2018
LUCKNOW: Spiritual guru Sri Sri Ravi Shankar, who has been trying for a solution to the Ayodhya dispute through mediation, met expelled AIMPLB member Salman Nadvi here on Thursday, even as a larger meeting with Muslim scholars is planned on March 28.
"Our efforts are on ... towards success and the response from all sides is very good. We will continue the efforts. We are talking of maintaining love and harmony between the two communities and for a grand Ram temple," he said after meeting Nadvi.
The 'Art of Living' founder said the effort was to bring in a consensus on the issue.
"We are meeting so many other people, that's why we are here. It is going in the right direction," Ravishankar said.
To a question on possible backlash from the Muslim community over his efforts to find out an out-of-court settlement on the vexed issue, he said, "There is a lot of goodwill and cooperation from the Muslim community."
Art of Living spokesperson, Gautam Vig, who was present at the nearly an hour-long, told PTI that a larger meeting with Muslim leaders and Ulemas will be organised in Lucknow on March 28 to hold further talks.
In February, the All India Muslim Personal Law Board (AIMPLB) had expelled cleric Syed Salman Hussain Nadvi, who had expressed his view that shifting of the mosque was permissible.
During the general body meeting of AIMPLB in Hyderabad, many of the 500 participants had demanded that Nadvi be removed from the board. The board's spokesman had termed Nadvi's statement as not acceptable and one that was made in his personal capacity.
Full report at:
https://timesofindia.indiatimes.com/india/sri-sri-ravi-shankar-meets-expelled-aimplb-member-nadvi/articleshow/63130948.cms
--------
Wasim Rizvi has lost his mental balance: Muslim cleric Sayeed Mufti Mukarram
March 1, 2018
New Delhi [India], Mar. 01 (ANI): Muslim cleric Sayeed Mufti Mukarram on Thursday lashed out at Uttar Pradesh Shia Waqf Board Chairman Wasim Rizvi for his statement on surrendering mosque built atop destroyed temples to hindus and said that only a person who has lost mental balance can make such remark.
Talking to ANI, Mukarram pitched for the unity between Hindus and Muslims and urged people to respect every religion.
"This is against the Constitution and policy of our country. Only a person who has lost his mental balance can make such remark," Mukarram told ANI.
"Nothing should be demolished; both Temple and Mosque will remain wherever they are," he added.
He further said that Humanity is above everything and such statement of the Rizvi should be just ignored.
Talking about the Ram Janmabhoomi-Babri Masjid issue and Art of Living (AoL) founder Sri Sri Ravi Shankar mediation, the Muslim cleric said that it is better to leave the matter for the Supreme Court to decide.
"Not a single leader is there, who is followed by the entire nation. So it is better to follow the guideline of the Supreme Court, which we believe will take a correct decision in the matter," he said.
Earlier on Wednesday, Rizvi proposed that the mosques built atop destroyed temples to be returned back to Hindus.
In his letter to the All-India Muslim Personal Law Board (AIMPLB) Chairman Maulana Rabe Hasan Nadvi, Rizvi urged Muslim Board to surrender nine religious disputed places to Hindus, including Ram Temple in Ayodhya.
Rizvi had stated that as per Islamic laws construction of mosques on a land grabbed by destroying other religious place is illegal.
The letter contains names of nine religious disputed religious places across the country.
Full report at:
http://www.india.com/news/agencies/wasim-rizvi-has-lost-his-mental-balance-muslim-cleric-2-2922067/
--------
NIA court reserves order on J-K photojournalist Kamran Yusuf bail application
by Abhishek Angad
March 2, 2018
An NIA court on Thursday reserved its order on the bail application of photo-journalist Kamran Yusuf for March 7.
Yusuf is in custody since September 5 last year after the NIA alleged that he was in "regular touch with anti-national elements" and that his work as a photojournalist was a front to "cover up his actual subversive activities". Yusuf and 11 others were chargesheeted by the NIA for alleged role in terror funding and stone pelting incidents.
During arguments opposing the bail on Thursday, Special Public Prosecutor Sidharth Luthra, appearing for the NIA, read out statements of some witnesses according to whom Yusuf was shouting "anti-national slogans" and seen "stone pelting".
He read this with the NIA's reply on Yusuf's bail — which the agency had submitted in December — stating that the passwords to his device were not given, and that his BSNL SIM card — the "most important evidence" which could have led to recovery of chats he had on social media with other stone-pelters — was not found in his possession. "If he was such a bonafide man, why would he not give the SIM card?" the NIA had said.
However, Yusuf had told the judge that the SIM card was given to J&K Police. "When I was called by J&K Police on September 4, I handed them the SIM card," he had informed Additional Sessions Judge Tarun Sherawat during an earlier hearing.
Defence counsel Warisha Farasat re-produced before the court a part of the chargesheet that claimed that Yusuf had spoken to several people, including journalists, who were in touch with the other accused. "There is no link of Yusuf directly speaking to any of the accused," the defence argued. "If the people who Yusuf spoke to are connected to the accused, why hasn't the NIA arrested anyone?"
ASJ Sherawat asked the NIA, "Why hasn't there been any action against them?" To this, Luthra said that some of them were made "witnesses".
The SPP reiterated that Yusuf was arrested by the NIA on September 5, not a day earlier as claimed by the defence. But Farasat informed the court, "There are contradictions in NIA's chargesheet." She reproduced two documents: the arrest memo prepared by the NIA and a fax document of South Kashmir Range Police Headquarters Anantnag.
As per the Anantnag Headquarters fax document, they gave Yusuf's custody to the NIA at 1.35 am on September 5.
Full report at:
http://indianexpress.com/article/india/nia-court-reserves-order-on-j-k-photojournalist-kamran-yusuf-bail-application-5083426/
--------
'Future very bright for US-India counter-terrorism cooperation'
March 1, 2018
India is an "incredibly valuable and close counter-terrorism partner" of the US and the future is bright for bilateral cooperation in combating the menace, the Trump administration's top anti-terror official said today. US Counterterrorism Coordinator Nathan Sales credited the meetings between Prime Minister Narendra Modi and President Donald Trump early in the latter's tenure as the reason behind a "powerful" partnership between the two nations. "India is an incredibly important, incredibly valuable and incredibly close counterterrorism partner of the US," Sales told reporters during a teleconference at the conclusion of the conference on Law Enforcement Efforts to Defeat ISIS.
"The president (Trump) and the prime minister (Narendra Modi) held a very, very productive series of meetings earlier in the administration, and in response to that set of meetings, the US government and the Indian government have forged ahead to create a really powerful partnership," he said.
During Modi's visit to the US in June last year, India and the US had vowed to strengthen cooperation against terror outfits like Jaish-e-Mohammad, Lashkar-e-Taiba and D-Company, while urging Pakistan to ensure that its soil is not used for terror strikes against other nations.
Sales said the Trump administration has announced a number of designations related to terrorist threats that India faces. During Modi's visit, the US had declared Syed Salahuddin, the chief of Kashmiri militant outfit Hizbul Mujahideen, as a "global terrorist". In 2016, the US entered into an arrangement with India to share information about known and suspected terrorists. "I think the future is very bright for US-India counterterrorism corporation," Sales said.
Sales said South Asia is one of the areas of the world where ISIS has an increasingly robust presence. "Bangladesh is a good example of this. The Holey Artisan Bakery attack in July of 2016 in Dhaka killed 22 people," he said. The US is also tracking in South Asia the ISIS Khorasan affiliates of ISIS becoming increasingly ambitious and increasingly active, he said. "We are working with our partners in the region to develop a shared understanding of the threat that these organisations pose to us in the US and pose to local governments. We are also working with those partners to develop a set of responses," said Sales.
Full report at:
http://indianexpress.com/article/india/future-very-bright-for-us-india-counter-terrorism-cooperation-5082770/
--------
Pakistan
Council of Pakistani Scholars condemns Iran for 'conspiring against Muslim nations'
1 March 2018
The Council of Pakistani Scholars condemned Iran for conspiring against Muslim nations and supporting terror groups to "shake the security and stability of Muslim countries".
In a statement issued on Wednesday at their conference named 'Call of the Nation' in Islamabad, chaired by the council's chief Tahir Ashrafi, and attended by prominent scholars and Muslim association leaders, Ashrafi voiced deep concern about granting the Iranian port of Chabahar to India.
He said that the move contradicts Pakistan's regional interests and will escalate tensions in the region.
The scholars called on the Iranian government to review this decision, and said that Iran is planning to move ISIS members to Afghanistan via Chabahar and use the port for "espionage and terror activities" against Pakistan.
They also voiced their support for sending a Pakistani army unit to Saudi Arabia for training, adding that they fully support the decisions made by the kingdom to defend its security. They also warned Muslim countries of Iran's agenda, and mentioned the country's attempts to internationalize Hajj and Umrah.
Ashrafi also condemned the attempt to place Pakistan on a terrorist financing watch list and said this was a conspiracy against Pakistan.
Commenting on developments in Syria's besieged province of Ghouta, they voiced their worry about the "massacres" committed against Muslims there and called on Russia, Iran and the US to stop foreign interferences in Syria and let the Syrian people decide their fate instead of resorting to bloodshed to save the Assad regime.
Full report at:
https://english.alarabiya.net/en/News/world/2018/03/01/Council-of-Pakistani-Scholars-condemns-Iran-for-conspiring-against-Muslim-nations-.html
--------
Witnesses to record statement in Sharif family graft references today
Mar 2, 2018
ISLAMABAD: Graft references against former prime minister Nawaz Sharif and his family are underway with three more witnesses slated to record their statements before the accountability court today.
The head of the Joint Investigation Team (JIT) that probed the Panama Papers case Wajid Zia will also appear in court today to record his statement in the Avenfield reference.
Judge Muhammad Bashir is hearing the Al-Azizia and Flagship supplementary references in the first half, whereas the Avenfield properties supplementary reference will be heard after 2 pm.
For the first two references, the court is recording the statements of three witnesses today: Abdul Hanan, Rizwan Khan and Sunil Ijaz.
Nawaz's counsel Khawaja Harris will cross-examine the witnesses once they record their statements.
Ijaz, a bank employee, recorded his statement first after which he was cross-examined. Witness Hannan is now recording his statement.
Earlier, on Thursday the appeals filed by former prime minister Nawaz Sharif, Kulsoom Nawaz and Shehbaz Sharif related to the payment of wealth tax were dismissed.
The Sharif family had challenged the valuation of wealth taxes on their various shares in several companies. They maintained in their petition that for four years, the petitioners' wealth tax was assessed disproportionately to the market value of their stocks
During the hearing, five more witnesses recorded their statements while cross-examination over their statements was also completed.
PML-N LEADERS BARRED FROM ENTERING COURTROOM
Minister of State and Special Assistant to prime minister Musadik Malik and Pakistan Muslim League- Nawaz (PML-N) leader Maiza Hameed were stopped by security officials outside the accountability court hearing graft references against the Sharif family on Friday and were not allowed to enter the courtroom.
"You're allowing some people to go inside while you're barring others from entering, even though you know I come here daily", Musadik reportedly protested, however, both the leaders were still not allowed to enter the courtroom.
THE REFERENCES:
The NAB has in total filed three references against the Sharif family and another against the former finance minister Ishaq Dar in the accountability court, in light of the Supreme Court's orders in the Panama Papers case verdict of July 28.
The references against the Sharif family pertain to the Azizia Steel Mills and Hill Metals Establishment, their London properties, and over dozen offshore companies owned by the family.
Maryam and Safdar are only nominated in the London properties reference. At an earlier hearing, the court also approved Maryam and Safdar's bail in the Avenfield properties case and ordered them to submit surety bonds worth Rs5 million each.
Full report at:
https://www.pakistantoday.com.pk/2018/03/02/witnesses-to-record-statement-in-sharif-family-graft-references-today/
--------
Tajikistan, Pakistan to strengthen anti-terror cooperation
Mar 2, 2018
BAKU: Tajik Interior Minister Ramazon Rahimzoda met with a delegation from Pakistan led by National Coordinator at the National Counter Terrorism Authority (NACTA) Ihsan Ghani and discussed cooperation to fight terrorism.
Ghani was accompanied by Pakistani senior official and Pakistani Ambassador to Tajikistan Tariq Iqbal Soomro.
Rahimzoda expressed the readiness of the Tajik side to strengthen cooperation between the two countries in the fight against terrorism, extremism, drug trafficking, other threats and challenges of the modern world.
Full report at:
https://www.pakistantoday.com.pk/2018/03/02/tajikistan-pakistan-to-strengthen-co-op-in-fight-against-terrorism/
--------
Pakistan can do more to combat terrorism, says Pentagon
Mar 2, 2018
WASHINGTON: The Pentagon on Thursday said that Pakistan can do more to combat terrorism, as reported by The Hindustan Times.
"With respect to Pakistan, we believe that Pakistan can do more to combat terrorism. This is an inflection point and this is an opportunity and Pakistan has an opportunity to do more," Chief Pentagon Spokesperson Dana White told reporters at her weekly news conference.
Pakistan, she noted, has been a victim of terrorism.
"So, we'll look forward to continuing to work with them to see where there are opportunities," she said.
The US has repeatedly said that Pakistan is not taking action against terror groups like the Haqqani network and the Taliban. Islamabad has denied those allegations.
Full report at:
https://www.pakistantoday.com.pk/2018/03/02/pakistan-can-do-more-to-combat-terrorism-says-pentagon/
--------
Marriyum felicitates Hindu community on Holi
Mar 2, 2018
ISLAMABAD: Information Minister Marriyum Aurangzeb, while felicitating the Hindu community on the festive occasion of Holi here on Thursday, said that entire Pakistan joined them in rejoicing the advent of the festival of lights, colours and spring.
She said that Islam enjoined its followers to respect the minorities, and they also had been guaranteed equal rights by the constitution.
The minister said that mutual tolerance, cultural diversity and national unity are the beautiful colours of the of Pakistan. She said that all the minorities, including Hindus, are rendering invaluable services for progress, solidarity and prosperity of Pakistan.
https://www.pakistantoday.com.pk/2018/03/01/marriyum-felicitates-hindu-community-on-holi/
--------
Defence minister offers assistance in capacity building of Iraqi Armed Forces
Mar 2, 2018
ISLAMABAD: Federal Minister for Defence Khurram Dastgir Khan on Thursday said that Pakistan had developed best training facilities and infrastructure for its armed forces and offered assistance in the development of training infrastructure and capacity building for Iraqi Armed Forces.
He was addressing a meeting with Iraqi Ambassador Ali Yassin Mohammed Karim at his office.
The federal minister welcomed the dignitary and expressed Pakistan's desire for peace and prosperity of Iraqi People.
He also proposed the establishment of an institutional framework for defence collaboration between the two countries.
The federal minister also highlighted Pakistan's role as a stabilising factor for regional security. He further said that regional cooperation was necessary for attaining sustainable peace and stability in Afghanistan.
Dastgir apprised the ambassador about the situation along the Line of Control (LoC) and highlighted excessive border violations by Indian Army in 2017. The minister pointed out that international community needed to take serious notice of the situation.
Later, the ambassador also called on the Defence Secretary Lt Gen (r) Zameerul Hassan Shah. During the meeting, matters related to mutual interest and bilateral importance were also discussed.
Full report at:
https://www.pakistantoday.com.pk/2018/03/01/defence-minister-offers-assistance-in-capacity-building-of-iraqi-armed-forces/
--------
Imran says Afghan govt's talks offer to Taliban vindicates his stance
Mar 2, 2018
ISLAMABAD: Pakistan Tehreek-e-Insaf (PTI) Chairman Imran Khan on Thursday said that Afghan President Ashraf Ghani's offer of talks to the Afghan Taliban has vindicated his stance of holding negotiations to end the war.
In a clear departure from the Afghan government's earlier stance, Ashraf Ghani proposed on Wednesday peace talks with Taliban without preconditions. However, on Thursday, the movement's chief spokesperson said Kabul Process was simply aimed at seeking the "surrender" of the Taliban.
"They called me Taliban Khan when I called for peaceful dialogue with the Taliban," Imran said during a press conference on Thursday. "We were criticised by everyone and even called pro-Taliban." Now, he added, after years of confrontation and bloodshed, they have reached the point where they want to hold talks and drop arms.
Imran reiterated that the PTI will win the forthcoming general elections and bring the "change" in the system.
Ater being elected, he added, PTI will hold direct elections of Senate to ensure absolute transparency and change the system that allows 'horsetrading.'
"We are trying that our six senators get elected," he said. "How will people put their confidence in the political leaders if the top leadership makes it to the helm of affairs after horsetrading."
"I'm proud of the system put in place by the K-P government and challenge other political parties that have been there for decades and done nothing."
Imran said that despite a heavy budget, the Punjab government couldn't do what K-P has done with meager funding.
"Schools, hospitals, police forces have been completely reformed in K-P and its visible," he added.
On the deteriorating foreign policy situation, Imran said, "Pakistan's biggest policy failure was at Financial Action Task Force (FATF), India has such a successful foreign policy of isolating Pakistan, and we will be sanctioned in June adnd we're facing a bigger crisis."
Full report at:
https://www.pakistantoday.com.pk/2018/03/01/imran-says-afghan-govts-talks-offer-to-afghan-taliban-vindicates-his-stance/
--------
We're ready to back new Taliban shuffle all the way
MARCH 2, 2018
ISLAMABAD: While extending support to Afghan President Ashraf Ghani's proposed political process in the war-torn country, Pakistan Thursday said it was ready for mediation between the Afghan government and the Taliban.
"Afghan Taliban are a political entity and Pakistan supports dialogue between Afghan government and the Taliban," Foreign Minister Khawaja Asif told journalists after an event on China-Pakistan Economic Corridor (CPEC) here.
Pakistan is also ready for one-on-one mediation with the Afghan Taliban, the minister said, adding, "Talks between Taliban and the Afghan government are actually discussions between two political forces … and Pakistan will support it."
Speaking at the second Kabul Process conference, Ghani on Wednesday had said that his government was ready to recognise the Taliban as a political group and offered unconditional talks with the group to 'save the country'.
The foreign minister said that Pakistan wanted peace and stability in Afghanistan. He stressed that there was no military solution to the Afghan conflict.
Kh Asif observed that 'some institutions' in Pakistan portray their own interests as the greater national interest, adding that the 'practice will change soon'. "The effects of the 80s and the Musharraf era still exist," he said, adding that Pakistan will not repeat the same mistakes. "We will frame our foreign policy keeping in view the national interests … and will not sacrifice our own interests for the protection of the interests of the United States," he asserted. The minister said that Pakistan was currently going through a period of uncertainty, adding "but I am completely certain that we will come out of it soon."
On CPEC, the minister said the project was a beautiful example of friendship and brotherly relations between China and Pakistan. He said President Xi Jinping's Belt and Road Initiative will benefit at least 65 countries in the region. "Chinese president's vision is not only the foundation of CPEC development but also a powerful source of regional economic cooperation," he said, adding the troubled situation in Afghanistan was, however, acting as a stumbling block in the way of regional peace, harmony and development.
The minister hoped that the ongoing electricity projects under CPEC will be completed by May this year. "Consumers who pay the bills will be provided with uninterrupted electricity supply … and those who avoid payments will not be given any electricity," he asserted.
Full report at:
https://dailytimes.com.pk/209236/ready-back-new-taliban-shuffle-way/
--------
Arab World
US, UK instructed terrorists to use chemicals near Syria capital: Military source
Mar 2, 2018
The US, the UK and other western states have given terrorist groups instructions to stage a chemical attack in the Eastern Ghouta suburb of Damascus and pin it on the government, a Syrian military source says.
Citing confidential information, the source said Eastern Ghouta-based terror organizations, including al-Nusra Front, Faylaq al-Rahman and Ahrar al-Sham, are preparing for another "spectacle on the alleged use of chemical weapons by the Syrian Arab Army," the official SANA news agency reported on Thursday.
Under instructions from the Western countries, including the US and the UK, the terrorists would deploy the chemicals "near the front lines with the Syrian army and target civilians and accuse the Syrian State and army of this act," the source added.
The sources, however, added that Syrian armed forces have "never had chemical weapons or used them and will not do."
Syria signed the Chemical Weapons Convention (CWC) in 2013 and surrendered its stockpiles of chemical weapons months later to a joint mission led by the UN and the Organization for the Prohibition of Chemical Weapons (OPCW), which oversaw the destruction of the weaponry.
It has also consistently denied using chemical weapons over the course of the foreign-backed militancy, which gripped the country in 2011.
Western governments and their allies, however, have never stopped pointing the finger at Damascus whenever an apparent chemical attack takes place.
Militants and their foreign supporters have in recent days been making fresh attempts to link an alleged gas attack to the Syrian government.
Last week, Russia, which has been helping Syrian forces in their anti-terror operations, warned that militants were planning a gas attack in Eastern Ghouta to pin it on the Syrian government.
Shortly after that warning, the so-called Syrian Observatory for Human Rights, which is sympathetic to anti-Damascus militants, claimed 14 civilians had suffered breathing difficulties after a Syrian warplane struck the village in the Eastern Ghouta region in the Syrian capital's suburbs.
Both Damascus and Moscow rejected the claim.
Meanwhile, the US and its allies are pushing for a UN probe of the alleged use of chemical weapons in Syria, according to a draft statement seen by AFP.
Russia and Syria back such a probe, but say the investigators should not be biased in favor of the Western-backed militants operate in an impartial and independent manner.
Britain and France have said they would strike Syria if such claims are proven.
In April 2017, a suspected sarin gas attack hit the town of Khan Shaykhun in the northwestern Syrian province of Idlib, taking at least 80 lives. Accusing Damascus, the US then launched several dozen Tomahawk cruise missiles at a Syrian air base, taking the lives of about 20 people including both Syrian soldiers and civilians.
http://www.presstv.com/Detail/2018/03/02/554065/Syria-United-States-UK-chemical-Damascus-Eastern-Ghouta
--------
Popular Uprising against US Occupiers Reported in Northeastern Syria
Feb 28, 2018
A large number of people in the Northeastern city of Raqqa took to the streets in opposition to the US troops' buildup in their city, accusing the US military forces and their allied militants of destroying their city and also executing large groups of civilians.
The protestors vowed not to cooperate with the US troops, and warned that they will continue to show their disagreement with the US forces' occupation and disintegration of Syria in demonstrations and strikes.
In a relevant development earlier this month, Syrian permanent representative to the United Nations Bashar al-Jaafari told the UN Security Council that the US-led Coalition's so-called campaign against the ISIL terrorist group intentionally destroyed 90 percent of Syria's town of Raqqa.
"This coalition has deliberately destroyed 90 percent of the city of Raqqa," Jaafari said, adding that this coalition has not felt to uphold its commitment to neutralize the mines left behind by the ISIL.
The statement follows the February 12 press release by the advocacy group Human Rights Watch, saying that landmines planted by the ISIL terrorist group in Raqqa killed or wounded hundreds of civilians, including more than 150 children.
The actual number of victims was surely higher, as many people died before reaching medical assistance and those deaths were not necessarily reported, the release added.
Full report at:
http://en.farsnews.com/newstext.aspx?nn=13961209001480
--------
Terrorists Continue Infighting in Northern Syria, Over 700 Tahrir al-Sham Militants Killed
Mar 01, 2018
Field sources in Southern Idlib said on Thursday that a number of Tahrir al-Sham and Syria's Tahrir Front members were killed during heavy infighting in the town of Mar'ayan and Ahsam.
Also, reports in Northern Idlib said that Tahrir al-Sham militants have gained control of the towns of Atmah and Salah as well as the villages of Aqirabat, Deir Hissan, Qah and Kafr Lousin and Kafr Lousin corridor in the region after heavy clashes with Syria's Tahrir Front.
Sources affiliated to Tahrir al-Sham reported that they have lost 783 militants during the recent clashes in Aleppo, Idlib and Hama provinces, and sustained 1,329 of injuries.
The Syrian army has also launched several military operations in the three provinces against Tahrir al-Sham and other terrorist groups.
Field sources said on Wednesday that Tahrir al-Sham Hay'at has embarked on pulling its gunmen back form more positions in Idlib and Hama provinces after fierce clashes with rival terrorists from Syria's Tahrir Front.
The sources said that Tahrir al-Sham Hay'at retreated form Shikh Mustafa, Kafr Sanjeh, al-Rakaya, Madhaya, al-Ameriyeh, Mowaqa, Kafr Ein, Heish, Tahtaya, Khan Sheikhoun, Morek, Morek passageway, Kafr Zita and al-Tamanna regions after suffering heavy defeats in tough battles with Syria's Tahrir Front in Northern Hama and Southern Idlib.
The sources further said that Syria's Tahrir Front pushed Tahrir al-Sham Hay'at back from Taftnaz airport and Kafr Lusin passageway in Northern Idlib at the border with Turkey as well as the two villages of Qah and Atmah.
Field sources also reported on Wednesday that the Al-Nusra Front has pulled its gunmen from the entire positions in Western Aleppo amid continued clashes with the newly-formed rival terrorist group of Syria's Tahrir Front in Aleppo and Idlib.
The sources said that the Al-Nusra (Tahrir al-Sham Hay'at or the Levant Liberation Board) has retreated from Sheikh Ali, Kafr Halab, Kafr Karmin, al-Tawama, al-Sahara and Kafr Naha regions after recent clashes with Syria's Tahrir Front in Western Aleppo.
Full report at:
http://en.farsnews.com/newstext.aspx?nn=13961210000792
--------
Eight Turkish soldiers killed in Syria, 13 wounded
2 March 2018
Turkey suffered heavy losses on Thursday during its offensive against a Kurdish militia in northwest Syria, with the military announcing that eight soldiers were killed and 13 more wounded.
The death toll, released by the Turkish military staff in two separate statements, makes Thursday one of the deadliest days for Ankara since launching its cross-border operation against the People's Protection Units (YPG) in Syria's Afrin region on 20 January.
"As part of the operations in Afrin, five of our heroic comrades fell as martyrs and seven were wounded" on Thursday, said the staff in a first statement.
Shortly after, it issued a second statement in which it announced that three more soldiers had been killed as well as six wounded, without giving details of the circumstances.
"May God grant peace to our martyred soldiers in Afrin, all my condolences to their loved ones," spokesman for the Turkish presidency Ibrahim Kalin said on Twitter.
The day's toll brings the number of Turkish soldiers killed since the launch of operation "Olive Branch" to at least 40.
Ankara considers the YPG a "terrorist" organisation closely linked to the Kurdistan Workers' Party (PKK), a group that has been leading a bloody guerrilla war on Turkish soil since 1984.
However, the YPG is supported by the United States and have been spearheading the international coalition fight against the Islamic State (ISIS) group in Syria.
The situation was complicated further 10 days ago following the deployment of pro-regime elements in the enclave of Afrin, with observers warning of an increased risk of collision between the forces of Ankara and Damascus.
On Monday, Turkey deployed some 600 members of the police and gendarmerie special forces in the Afrin region, indicating it was preparing for urban fighting.
The Turkish authorities have rejected a call by the United States this week to implement the humanitarian truce, called for by the UN Security Council in Syria, with Ankara saying the UN resolution did not concern its operation.
The International Committee of the Red Cross said a humanitarian aid convoy entered the Afrin region on Thursday for the first time since the start of the Turkish offensive, which has had a severe impact on civilians.
Full report at:
https://english.alarabiya.net/en/News/middle-east/2018/03/02/Eight-Turkish-soldiers-killed-in-Syria-13-wounded-.html
--------
Egyptian army kills 13 armed men on day 21 of 'Sinai 2018' operation
1 March 2018
Egypt's armed forces announced the death of 13 armed men in northern Sinai on Thursday on day 21 of operation 'Sinai 2018' aimed at eliminating terrorist factions in Sinai.
In their official statement aired on Egypt's state-run television and on their official Facebook page, the army said that Egyptian air forces targeted and destroyed a number of terrorist factions after receiving information on their whereabouts.
"Two armed vehicles that are prepared to target armed forces in areas of operation were also destroyed," they said in the statement.
They added that 100 terrorist shelters and warehouses were found and destroyed, including a number of trenches equipped with pistols, while ammunition, binoculars and military uniforms similar to those of the armed forces were found in several mountainous areas.
86 wanted terrorists were arrested following the gun battle, according to the armed forces' statement, and legal procedures are being taken against them.
Six plantations of marijuana and poppies (used to make morphine and codeine) were also seized along with more than 5650 kilograms of narcotics.
Naval forces are securing vital locations along the coasts of Sinai, cutting off supply lines and attempts to smuggle terrorists out of the peninsula, the armed forces said.
'Sinai 2018' is a major operation against militants across swathes of territory, including the volatile region which has been at the heart of a persistent ISIS group insurgency.
Full report at:
https://english.alarabiya.net/en/News/middle-east/2018/03/01/Egyptian-army-kills-13-armed-men-on-day-21-of-Sinai-2018-operation.html
--------
Syria regime strikes rebel enclave as aid trucks wait
March 02, 2018
WAFIDEEN CHECKPOINT - Syrian and Russian forces kept up military pressure on rebel-held Eastern Ghouta Thursday as their controversial unilateral truce failed to yield a humanitarian breakthrough.
More than 40 trucks loaded with aid were unable to reach the 400,000 people living in the battered enclave, prompting fresh calls for a UN ceasefire to be implemented.
A five-hour daily "pause" announced by Moscow on Monday has led to a reduction in the bombardment that killed hundreds in only a few days and sparked global outrage last month.
But the humanitarian corridor offered by Russia for civilians to flee remained ostensibly empty for a third day running, with distrust running high on both sides.
The only civilians to leave Eastern Ghouta this week were a septuagenarian Pakistani man who moved to Syria 44 years ago and his wife, according to the local Red Crescent.
Syrian aircraft carried out strikes Thursday before the 9:00 am start of the "truce", killing seven civilians, according to the Syrian Observatory for Human Rights, a Britain-based war monitor.
Ground battles were also taking place in Al-Shaifuniyah which lies in the enclave's northeastern region and has been extensively destroyed in recent days.
A spokesman for the Syrian Civil Defence volunteer rescuers, known as the "White Helmets", said access to the area had been very difficult.
"There is hardly any life there. It is completely destroyed and there are people under the rubble," Siraj Mahmud told AFP.
Air strikes have eased compared with last week when the joint Syrian and Russian aerial campaign against Eastern Ghouta killed up to 100 civilians a day.
But the death toll for the assault launched on February 18 continued to mount even after Russia's "humanitarian pause" kicked in, as rescuers found bodies they had been unable to access.
In the town of Hazeh, rescuers working with rudimentary equipment were painstakingly hoisting buckets of gravel from a basement where they feared up to 21 were buried alive by a strike on February 20.
They have only retrieved six bodies so far. "I left my daughter in the basement with her husband and his family," said 60-year-old Abu Mohamed. "I came back the next morning. I found the building collapsed and until now I haven't found my daughter nor her husband's family," he said.
According to the United Nations, three quarters of all private housing in Eastern Ghouta have been damaged and hundreds of civilian need life-saving medical evacuations.
The Russian daily "pause" falls far short of a 30-day ceasefire voted for by the United Nations Security Council on Saturday and yet to be implemented.
UN agencies and aid organisations have argued that the five-hour window was too short for aid deliveries.
"When will your resolution be implemented?" top UN relief official Mark Lowcock asked Wednesday, staring fixedly at Security Council members who listened in complete silence.
Russia and its allies in Syrian President Bashar al-Assad's regime have blamed the humanitarian deadlock on the armed groups controlling Eastern Ghouta.
Syrian state media and military sources accused anti-regime forces in Eastern Ghouta of deliberately shelling the designated safe passages to prevent civilians from leaving and keep them as human shields.
A spokesman for the Russian Centre for Reconciliation in Syria , a body supervising humanitarian efforts, was quoted by the Interfax news agency as saying that many civilians were trying to leave.
The number of Ghouta residents asking for "assistance and help in getting evacuated from territory controlled by the fighters has increased exponentially over the past 24 hours," Major General Vladimir Zolotukin said.
AFP reporters at the Wafideen checkpoint through which civilians were asked to evacuate the enclave said strictly no movement was reported however.
The only civilians believed to have fled the enclave since the "pause" took effect are an elderly Pakistani couple who had remained in Ghouta throughout the seven-year conflict but decided to leave when the violence increased.
Mohammad Fadhl Akram, 73, moved to Syria in 1974. He and his wife, who left on Wednesday and were given shelter at the Pakistani embassy in Damascus, leave two sons, three daughters and 12 grandchildren behind.
Full report at:
https://nation.com.pk/02-Mar-2018/syria-regime-strikes-rebel-enclave-as-aid-trucks-wait
--------
MWL strongly condemns attacks on Ghouta
March 01, 2018
MWL strongly condemnes in a statement deep concerns over the Syrian regime's escalating continued attacks on Ghouta
The Muslim World League expressed in a statement its deep concerns over the Syrian regime's escalating continued attacks on Eastern Ghouta , and the impact of that on civilians.
The statement emphasized on the necessity of the Syrian regime stopping violence and allowing delivery of humanitarian aid.
The Secretary General of the Muslim World League, Sheikh Dr. Muhammad bin Abdul Karim Al-Issa, Stressed in the statement that the growing violence in Eastern Ghouta made by the Syrian regime is a brutal crime against humanity.
Dr. Al-Issa also stressed on the need to intensify the efforts and international endeavors to reach a peaceful, political settlement for the Syrian crisis, called upon the international community to help reducing the escalation, securing lasting cease-fire and allowing urgent entry of humanitarian aids.
Full report at:
https://nation.com.pk/01-Mar-2018/mwl-strongly-condemns-attacks-on-ghouta
--------
OIC voices concern over attacks against Muslims in Sri Lanka
Mar 2, 2018
JEDDAH – The Organization of Islamic Cooperation (OIC) has expressed deep concern over the tense situation in Sri Lanka after a mosque, several hotels and vehicles owned by Muslims were vandalized by mobs in the town of Ampara, the Saudi Press Agency reported on Thursday.
While expressing its concern over the highly explosive situation in the island nation, the OIC stressed the need to protect the rights of the Muslim minority, foremost of which is the sanctity of places of worship. It said Muslims should be able to perform their religious duties without fear or harassment and there should not be any direct or indirect attacks.
The OIC also said Muslims should have the freedom to earn their livelihoods and conduct business under the full protection of the law.
The OIC secretary-general called on the government of Sri Lanka to proceed expeditiously with an investigation of such abuses and to ensure the safety and security of the Muslim minority while practicing their religious rights in accordance with all relevant international human rights conventions and instruments.
Meanwhile, an OIC delegation is visiting southern Thailand to assess the efforts of the Thai government to improve the plight of Muslims in the country. The visit was in line with a resolution of the OIC Council of Foreign Ministers. The delegation comprised ambassadors and representatives from Bahrain, Gambia, Indonesia, Jordan, Malaysia, Pakistan, Turkey and the OIC General Secretariat, SPA said.
The delegation visited Sai Buri district in Pattani province on Feb. 27 where the commander of the region Lt. Gen. Piyawat Nakwanich briefed it on the projects implemented by the government for Muslim communities under the "Bring People Home Project" and their impact on the people.
The OIC delegation proceeded to Yala province where it was received by the secretary-general of the Southern Border Provinces Administrative Center (SBPAC). The delegation held constructive talks with key officials regarding the educational and social programs being organized in the region.
The delegation welcomed these developments as a positive step and expressed the willingness of the OIC to contribute to the process of confidence building, dialogue and economic development in the region with the support of various OIC organs. The delegation reiterated the position of the OIC to support all peaceful initiatives that guaranteed the human rights of citizens and developed mutual understanding, coexistence and cooperation for the benefit of all communities in Thailand.
The delegation called upon the authorities to continue to take measures that would improve the lives of communities living under the emergency law in southern Thailand and ensure that security measures are not disproportionately affecting Muslims of the region.
The delegation encouraged the Thai authorities to accelerate the ongoing process of confidence building measures and to address the root causes of the communal tension through a comprehensive approach based on empowering the population of the southern provinces to assume their roles as full citizens and members of Thai society.
The delegation further welcomed the steps taken by the government of Thailand in cooperation with Malaysia for constructive dialogue with Muslim groups in the south of the country in order to prepare a road map to resolve existing problems.
Full report at:
http://www.saudigazette.com.sa/article/529535/SAUDI-ARABIA/OIC-voices-concern-over-attacks-against-Muslims-in-Sri-Lanka
--------
Syrian Army Repels 3 Terrorist Attacks in Eastern Ghouta
Mar 01, 2018
Major General Vladimir Zolotukhin, a spokesman for the Russian Center for Reconciliation in Syria, said on Thursday that the terrorists attacked the humanitarian corridor in al-Wafedin camp from the three regions of Eastern Harasta, Western al-Rayhanah and Northern al-Shoufaniyeh on the third day of ceasefire in Eastern Ghouta.
He added that the Syrian army forces have repulsed all attacks.
In a relevant development early Thursday, the Syrian army launched a nightly raid on the Al-Nusra Front (Tahrir al-Sham Hay'at or the Levant Liberation Board) in Eastern Ghouta of Damascus, capturing one of the most important and longest tunnels used by the terrorists.
Field sources reported on Thursday that the army forces killed and wounded tens of terrorists during military operations in Eastern Ghouta which led to the liberation of Hawsh al-Zawaherah and the nearby areas after the end of the daily ceasefire.
They added that the Syrian army soldiers won control of several key tunnels used by the terrorists, including a 7-km-long multi-storey tunnel from al-Rayhan farms in the North to Hazarma in the South.
Full report at:
http://en.farsnews.com/newstext.aspx?nn=13961210001070
--------
Turkey Dispatches ISIL Inmates to Afrin
Mar 01, 2018
The Kurdish-language Hawar news reported on Thursday that Turkey's intelligence service has sent the ISIL terrorists who have earlier been imprisoned in Gaziantep, Calis and Hatay jails to Afrin.
The report added that a large number of ISIL members who had been arrested by the Turkish police while fleeing from Raqqa to Turkey have now been dispatched to Afrin in the form of 10-strong groups in return for monthly salaries.
Hawar news also disclosed that nearly 400 Turkamani terrorists have been sent by Ankara to the battlegrounds in Afrin, specially in Jandaris, Rajou and Bolboleh regions.
Turkish media sources disclosed on Monday that Ankara intends to expand its military operations against the Kurdish fighters as it has dispatched special forces to Afrin in Aleppo province.
"The Turkish police's gendarmerie and special forces arrived in Afrin in Northern Syria via Heseh border crossing in Hatay province and Gol Baba in Kilis province," the Turkish media reported.
Full report at:
http://en.farsnews.com/newstext.aspx?nn=13961210000640
--------
Syrian Army Captures Strategic Road in Eastern Ghouta
Mar 01, 2018
The army soldiers won control of new areas in Harasta farms in Eastern Ghouta after clashes with al-Nusra Front (Tahrir al-Sham Hay'at or the Levant Liberation Board) during the Wednesday night operations in the region.
Meantime, Syria's Arabic-language al-Watan newspaper reported that the army units have taken back control of Harasta-Douma road in the depth of Eastern Ghouta.
This is while the terrorists continue killing the civilians to prevent them from leaving Eastern Ghouta.
The terrorist groups in Eastern Ghouta kept shooting at civilians for the second day in a row on Wednesday to prevent their exit from the embattled town during the daily truce hours.
The terrorist groups have deployed snipers near the corridors that have been specified by the Syrian government for the safe pass of civilians out of the town, shooting at anyone who intends to leave Eastern Ghouta for safer regions.
The humanitarian corridor at al-Wafedin camp was set up to be used by civilians during the five-hour-long daily ceasefire.
The Syrian Army declared that it has provided all the necessary logistical backup for the transfer of civilians via the corridor. The terrorists have also been shooting at the Syrian army convoy in charge of transferring civilians who manage to get through the safe pass.
Meantime, local sources reported that the terrorists carried out nine cases of rocket and mortar attacks on Dhahiya al-Assad region in Harasta in Eastern Damascus.
They added that areas near the al-Wafedin camp's humanitarian corridor came under terrorists' mortar attack.
Also, the Syrian state-run news agency reported on Wednesday that a civilian was killed and 5 others were injured in the terrorist groups' rocket attack on Dwela'a region in Damascus province.
SANA reported that 12 civilians were injured when terrorists positioned in some areas in Ghouta targeted a number of areas in Damascus countryside.
SANA quoted a source at Interior Ministry as saying that three civilians were injured and material damage was caused due to terrorist rocket attack on al-Wafideen Camp, surroundings of al-Assad residential Suburb in Harasta, and Ibn Sina Hospital.
Full report at:
http://en.farsnews.com/newstext.aspx?nn=13961210000565
--------
Syrian government forces advance in east Ghouta assault
2 March 2018
Syrian government forces have gained ground from rebels at the edge of the eastern Ghouta region near Damascus, the Syrian Observatory for Human Rights said on Friday, in a ground assault that has continued despite a Russian plan for daily ceasefires.
The Syrian army and rebel sources could not immediately be reached for comment.
Observatory Director Rami Abdulrahman said government forces had captured the village of Hawsh Zreika in addition to Hawsh al-Zawahra, in the Maraj area at the eastern and southeastern edge of the rebel enclave.
Full report at:
https://english.alarabiya.net/en/News/middle-east/2018/03/02/Syrian-government-forces-advance-in-east-Ghouta-assault-.html
--------
North Korea rejects chemical links to Syria as 'mean US trick'
Mar 2, 2018
North Korea has dismissed reports of its cooperation with Syria over nuclear weapons, saying such claims are mere US fabrications meant to put more pressure on Pyongyang and justify the American military intervention in Syria.
"As we have clearly said several times, our republic does not develop, produce, and stockpile chemical weapons and opposes chemical weapons themselves," the state-run television KRT cited a spokesman at the North Korean Foreign Ministry's research institute of American studies as saying Friday.
Western media outlets have recently cited a confidential United Nations report as alleging that North Korea has been shipping supplies to the Syrian government "that could be used in the production of chemical weapons."
The report claims that two North Korean shipments to a Syrian government agency have been intercepted in the past six months.
North Korea has been the target of harsh US and international sanctions over its nuclear and missile programs, which it views a a deterrent against a possible foreign aggression amid increasing US military buildup in South Korea.
The North Korean official added that Washington had "incited the United Nations Security Council Sanctions Committee to fabricate the theory of cooperation between us and Syria."
"This is only a mean trick to create an atmosphere of sanctions against our republic and enforce a full-scale sea blockade by railing at us as a state of 'possession and proliferation of chemical weapons' and to justify its military invasion into Syria," the source added.
Damascus has stiffly rejected ever using such weapons against a torrent of accusations by some Western governments and media sources.
The report comes amid a Western push to pin an alleged chemical attacks in the Damascus suburb of Eastern Ghouta on the Syrian government.
The foreign-backed militants have been using Eastern Ghouta to launch deadly attacks on the Syrian capital, prompting the Syrian army, backed by Russian air force, to step up their counter-terrorism operations in the area.
Full report at:
http://www.presstv.com/Detail/2018/03/02/554080/Syria-North-Korea-chemical-weapons
--------
Europe
French Judge Steps up Le Pen Investigation Over Islamic State Tweets
March 1, 2018
PARIS (REUTERS) - France's far-right leader Marine Le Pen was on Thursday placed under formal investigation on suspicion of disseminating violent images over tweets she posted of Islamic State executions, a judicial source said.
The investigation relates to three graphic images of Islamic State executions she posted on Twitter in December 2015, including the beheading of American journalist James Foley.
A spokesman for Le Pen did not immediately respond to calls and SMS text messages. Le Pen had denounced an earlier stage of the investigation as "political interference".
The judge's decision to step up the investigation comes a little over a week ahead of the National Front's annual congress, where she is expected to lay out how she plans to rebuild the battered party after her thumping defeat at the hands of President Emmanuel Macron in last spring's election.
It is, though, unlikely to affect her popularity with party loyalists.
Other ongoing investigations, including one into allegations her party misused European Union funds to pay parliamentary assistants and another into the financing of past election campaigns, have not dented her appeal among the National Front faithful.
Under France's legal system, being formally placed under investigation often - but not always - leads to a person being sent to trial.
https://www.usnews.com/news/world/articles/2018-03-01/french-judge-steps-up-le-pen-investigation-over-islamic-state-tweets
--------
Religion and politics clash in Russia's North Caucasus
March 2, 2018
MOSCOW: A rare conflict between religious and political leaders has broken out in Russia's North Caucasus region, with Islamic imams accusing the local government of corruption while authorities install cameras in mosques to monitor sermons.
Tensions in Ingushetia began when local imams claimed politicians were syphoning off funds from construction of a massive Islamic centre.
Such accusations are unusual in a region where strongmen leaders, such as Chechnya's Ramzan Kadyrov, rule with an iron fist and leave little if any room for dissent.
The planned project in the city of Magas includes a Muslim cultural centre and a university, as well as a mosque with a capacity of up to 8,000 worshipers, but it has been on hold for nearly two years.
Religious leaders have pledged to hold a rally in Magas at the location of the planned mosque on Saturday, irking the regional government which has banned the gathering.
"The money was diverted, the madrasas (religious schools) are deprived of funding, the imams no longer get salaries," Magomed Khachtyrov, Ingushetia's deputy mufti (religious leader), told AFP.
He said the government of the majority Muslim Russian republic was putting pressure on the religious leadership due to corruption which "has taken incredible dimensions" and has been criticised by the office of the mufti.
Sermon surveillance
General Yunus-Bek Yevkurov, who has led Ingushetia's government since 2008, has called for tighter oversight of religious sermons, installing cameras in mosques following an attack on one in Nazran in March 2016.
He explained to RBK news agency that surveillance ensures preaching is based on the Koran.
Yevkurov "tries to use new forms of pressure against us," Ingushetia's Mufti Isa Khamkhoyev said in a recent letter from religious leaders to Russian President Vladimir Putin's representative in the Caucasus, Oleg Belaventsev.
The mufti has also denounced what he calls attempts to "confiscate property" belonging to the religious leadership, the closure of its Angusht radio station, and attempting to close down Khamkhoyev's office altogether.
"The discrimination against religious leaders continues," said the mufti, who published the letter to Belaventsev on his Facebook page.
Moscow must take measures against Yevkurov, he said, accusing the regional chief of provoking "discontent" and "aggravating the situation" in Ingushetia.
'Political discourse unacceptable'
Yevkurov, who last month ordered local officials to "prevent politicisation of sermons" in the name of stability, has called repeatedly for the dismissal of Khamkhoyev.
"The mosque is a place of worship. Political discourse there is unacceptable… Imams must reinforce people's confidence in the authorities," Yevkurov's spokesman told AFP.
This concern by the authorities has intensified ahead of the Russian presidential election on March 18, but also the September local elections, which entail regional lawmakers voting for the head of the region, said Grigory Shvedov, editor in chief of internet media Caucasus Knot, which focuses on the North Caucasus.
"Ingushetia's imams represent a powerful force," he told AFP. "In the absence of independent media, in a context where criticism of the authorities is rare, the Muslims in the North Caucasus listen to sermons with a lot of attention."
Deputy mufti Khachtyrov, who was at the helm of the Angusht radio station before authorities closed it in late 2015, said imams "cannot only discuss religion in the mosques. We should also discuss what is happening in society".
Full report at:
http://www.freemalaysiatoday.com/category/world/2018/03/02/religion-and-politics-clash-in-russias-north-caucasus/
--------
UN rights body to hold debate on Ghouta on Friday at Britain's request
2 March 2018
At the request of Britain, the United Nations Human Rights Council is expected to hold an "urgent debate" on Friday on the deteriorating situation in Syria's enclave of eastern Ghouta, a spokesman said on Friday.
The bureau of the 47-member state Geneva forum agreed to the request, which must be formally approved by the membership on Friday, UN spokesman Rolando Gomez said.
Resolution adoption
Julian Braithwaite, Britain's ambassador, said in his letter to the Council, which was made public, that his country would seek adoption of a resolution whose text was to be circulated shortly.
Britain's draft resolution, seen by Reuters, strongly condemns the "sustained denial of humanitarian access, repeated attacks against medical facilities ... any indiscriminate use of heavy weapons and aerial bombardments, including cluster munitions, incendiary weapons and barrel bombs, and the use of chemical weapons by the Syrian authorities against civilians ... including against the people living in eastern Ghouta."
It backs the UN Security Council resolution adopted last Saturday demanding a ceasefire of at least 30 days to allow aid deliveries and medical evacuations, in line with international law, and demands that Syrian authorities allow unimpeded access.
The draft resolution also calls on UN war crimes investigators on Syria, led by Paulo Pinheiro, to conduct an independent inquiry into events in eastern Ghouta by June.
Full report at:
https://english.alarabiya.net/en/News/middle-east/2018/03/02/UN-rights-body-to-hold-debate-on-Ghouta-on-Friday-at-Britain-s-request.html
--------
Speaker Tokayev: Kazakhstan taking steps to unite the Muslim world
Mar 2, 2018
ASTANA. KAZINFORM Kazakhstan is taking steps to unite the Muslim world on the path of progress and development, the country's Senate Speaker Kassym-Jomart Tokayev said today at the Forum of Muslim scientists of Eurasia in Astana.
In his speech, Kassym-Jomart Tokayev stressed that by organizing and holding the international specialized exhibition EXPO-2017, in which many Muslim states took part, Kazakhstan has created a platform for the exchange of best practices in the field of breakthrough energy and environmental technologies. He told the participants that today the EXPO site is home to the Astana International Financial Center, one of the main directions of which is cooperation in the field of Islamic finance. And, in his opinion, Islamic banking and finance can help improve the global financial system and solve the problems of poverty, unaffordability of loans, etc.
Speaker Tokayev also reminded that on September 10, the Kazakh capital hosted the OIC Summit on Science & Technology devoted to the use of advanced achievements in science and technology. During this summit, President of Kazakhstan Nursultan Nazarbayev suggested creating the OIC-15 similar to G-20. OIC-15 is thought to unite the 15 leading countries members of the OIC with the aim to solve important economic issues facing the Muslim world. In his speech, Kassym-Jomart Tokayev also emphasized the importance of the 6th annual Congress of Leaders of World and Traditional Religions in Astana, stressing that this initiative of President Nazarbayev provided for new ways to promote peace, security, and justice. In conclusion, Kassym-Jomart Tokayev emphasized that today the Islamic science is facing the task of modernizing the approaches to key issues of doctrine and law, getting rid of dogmatism, radicalism and, especially, extremism in any form. He added that religious scholars, public figures, and theologists should become the leading force in reviving the great Islamic civilization.
https://www.inform.kz/en/speaker-tokayev-kazakhstan-taking-steps-to-unite-the-muslim-world_a3171326
--------
PKK/PYD supporters in Europe target Turks, mosques
02.03.2018
BRUSSELS
Supporters of PKK/PYD terrorist organization have organized attacks, mainly on the Turkish society and places of worship, in Europe amid Turkey's ongoing Operation Olive Branch in Syria's Afrin region.
The operation, launched on January 20, aims to establish security and stability along Turkish borders and the region as well as to eliminate PYD/YPG/PKK-Daesh terrorists from the Afrin region of northwest Syria and to protect Syrian people from the terrorists' oppression and cruelty.
Sympathizers of PKK/PYD terrorists have vandalized Turkish society, associations, foundations, diplomatic missions and mosques in various European cities since the beginning of Afrin operation.
The Union of the European Turkish Democrats (UETD) has prepared a report on PKK/PYD terror group supporters who since the beginning of the Operation Olive Branch have organized attacks against Turks living in Europe.
According to the report, the structures forming up the European branch of the terrorist organization, under the guise of protests against Turkey's Operation Olive Branch, spread terrorist propaganda and also carry out acts of violence.
Europe, which allows protests of the PYD/YPG/PKK supporters under the guise of "freedom of demonstration", has turned a blind eye to attacks on Turkish institutions and organizations, the report said. The sympathizers of terrorists at the protests in different cities across Europe have also openly displayed the photograph of Abdullah Ocalan, the terrorist leader of the PKK -- the parent group of the terrorist -- along with PKK rags, proving the direct ideological link between PYD/YPG/PKK.
The report also said supporters of the terror group have conducted 43 assaults against Turkish citizens, mosques, and NGOs in Europe since the beginning of the Operation Olive Branch.
Attacks on mosques
PKK terror group supporters launched an assault on Jan. 20 against Sultan Alparslan Mosque of the German Turkish Federation in Germany's Kassel city, shortly after Afrin operation began.
In Germany's Leipzig, the terrorist supporters attacked and vandalized the building of a mosque of the Turkish Islamic Union for Religious Affairs (DITIB) with paint and stone on Jan. 22.
A group of PYD/PKK sympathizers had conducted a night attack on the DITIB-run Barbaros Merkez Mosque in the northwestern town of Minden in Germany, causing material damage. There were 14 Turkish citizens living in the building at the time.
In the Dutch city of Rotterdam, windows of the Turkish Geylani Mosque, which is run by the Geylani Foundation, were broken and the walls were vandalized by PYD/PKK supporters on Jan. 22. Ali Dede Tas, head of the Geylani Foundation, said the incident had made everyone sad and he hoped such an attack would not be repeated in future.
Dr. Sadik Ahmet Mosque in Germany's western city of Offenbach, which is run by the Turkish Federation, was also targeted by supporters of the PYD/PKK terror group.
Attacks on embassies, consulates
The Consulate General of Turkey, located in the Austrian city of Salzburg, was attacked on Jan. 22. Following the attack, the Salzburg police announced that a number of attackers broke the Consulate's garden gate, destroyed surveillance cameras outside the building, as well as windows at the entrance; 3 suspects were later taken into police custody.
Supporters of the PYD/PKK terror organization also emerged on Jan. 25 in Ireland's capital Dublin. A group of around 40 individuals carrying the terrorist group's rags gathered around the Turkish Embassy building in Dublin and tried to forcibly enter its garden but were later prevented by security guards.
On Jan. 29, unknown men attempted an arson attack on a vehicle belonging to the Turkish Consulate General in Zurich. The attack is said to have been carried out by PYD/PKK supporters who are very active in Switzerland.
Attacks on airports
Also on Jan. 22, PKK supporters attacked Turkish citizens at the Turkish Airlines counter inside Frankfurt Airport after a verbal confrontation.
On the same day, sympathizers of the PYD/PKK terror organization attempted to hold an unauthorized demonstration at Germany's Hannover-Langenhagen airport and attacked Turkish passengers with sticks and banners held in their hands.
Attacks on mosques continue
The Eyup Sultan Mosque in Germany's western city of Frankfurt was targeted overnight on Jan. 24 by PYD/PKK terror group supporters, who spray-painted threats against the Turkish Muslim community on the main gate. The mosque is also run by DITIB, a Muslim organization founded by Turkish migrants in the country.
The next day, the Stade-Butzfleth Ulu Mosque, linked to DITIB, located at Germany's Hannover city was vandalized by PYD/PKK supporters. The mosque and a youth center that belongs to the mosque were attacked with slogans and threatening messages painted on the walls while all the windows were broken.
On Jan. 28, a mosque in the French city of Bordeaux belonging to the Islamic Community-National Vision (IGMG) was targeted by supporters of the PYD/PKK terrorist group, who vandalized it and spray painted threats against the Turkish Muslim community on its walls. The property was also damaged.
The terrorist group supporters again struck on Jan. 31 during morning prayers targeted a mosque in Germany's Rhine-Westphalia (KRV) northern province city of Aachen. The assailants tried to remove the nameplate of the Aachen Mosque, smashed several windows of the building and placed stickers that included anti-Turkey slogans.
The same day, in the city of Aachen, North Rhine-Westphalia, the Eyup Sultan Mosque was attacked in the early hours of the morning. As a result, doors of the mosque were broken and "Stop sending of German weapons. Afrin is not alone" message was written on its windows.
Attack on Turkish union
The PYD/PKK supporters on Jan. 28 vandalized a building of the UETD in Stockholm.
The incident at a UETD building took place ahead of an event that was to be held in support of Turkey's Operation Olive Branch in Afrin; initial police report revealed the attackers wrote "Afrin", "Apo", "PYD", ''YPG" and "PKK" on the walls of the building.
Attacks on taxi drivers
PKK terror group sympathizers attacked a Turkish taxi driver during a demonstration on Jan. 26 and tried to lynch him. They attacked the driver's vehicle with flagpoles and attempted to enter the cabin. The driver was able to save his life only after police intervened.
Sympathizers of the PYD/PKK terror organization on Jan. 27 targeted the building of the Azerbaijan-Turkish Culture Association at The Hague city in the Netherlands. Four masked men tore down the windows using stones. On the same day, the PYD/PKK terror group supporters assaulted two Turkish taxi drivers in Amsterdam and attacked a Turkish journalist.
Children not spared
On Feb. 2, the car of a Turkish citizen was violently attacked with sticks by PYD/PKK terrorist supporters in Germany. The vehicle suffered substantial damage when the driver and his children were inside; the incident took place in the Lebenstedt district of Salzgitter province.
Three days later, the PYD/PKK terrorist organization supporters, who marched in London to support the PKK/PYD activities, attacked and tried to lynch a Turkish couple holding a Turkish flag in their hands.
Arson attack
PKK supporters on Feb. 19 also carried out an arson attack on a parked vehicle of the Turkish-German Muslim association in Germany's Berlin city.
Firefighters came to the scene after a citizen passing through the area at around 2.50 p.m. local time informed the police. While the car was completely burnt, another car nearby was also damaged by the flames.
On Feb. 17, supporters of PYD/PKK terrorist organization in a southern French port city of Marseille left the area allowed for demonstrations and moved to the place populated by the Turkish community. Four victims have been injured and wounded by up to 200 supporters of the terrorist organization.
Sympathizers of PYD/PKK terrorist organization also vandalized the Selimiye Mosque on Feb. 15 in Mainz city, Germany. The mosque was destroyed and its' walls were covered with pro-PKK slogans.
Full report at:
https://aa.com.tr/en/europe/pkk-pyd-supporters-in-europe-target-turks-mosques/1077990
--------
Mideast
350 Palestinian minors incarcerated in Israeli prisons: NGO
Mar 1, 2018
A Palestinian non-governmental and civil organization says the Tel Aviv regime is keeping 350 Palestinian minors behind bars in prisons and detention facilities across the occupied territories.
The Palestinian Prisoners' Society (PPS), in a statement released on Thursday, announced that it has recorded 67 cases of child arrests during February.
It further noted that 182 minors are currently being held in Ofer Prison near the central West Bank city of Ramallah. Three of the inmates are serving administrative detention, which involves imprisonment without trial or charge.
Loai Mansi, the representative of minor detainees at Ofer Prison, said Israeli soldiers have assaulted and beaten Palestinian minors during detention.
He added that the story of a 13-year-old boy, whom prison guards could not handcuff because of his small hands, is a clear proof that he is too young to be arrested.
Mansi said a total of 117 minors have been transferred to Ofer Prison since the beginning of the current year.
He went on to say that an estimated 168 other minors are currently in Megiddo and Hasharon prisons.
More than 7,000 Palestinians are reportedly held at Israeli jails. Hundreds of the inmates have apparently been incarcerated under the practice of administrative detention.
Some Palestinian prisoners have been held in administrative detention for up to 11 years.
Palestinian inmates regularly stage hunger strikes in protest at the administrative detention policy and their harsh prison conditions in Israeli jails.
According to reports, at least 13 Palestinian lawmakers are currently imprisoned in Israeli detention facilities. Nine of them are being held without trial under administrative detention.
http://www.presstv.com/Detail/2018/03/01/554049/Palestinian-minors-Israeli-prisons-NGO
--------
United Nations 'an utter and abject failure' on Yemen: Rights group
Mar 2, 2018
A human rights group has described the United Nations as "an utter and abject failure" on the ongoing crisis in Yemen, stating that the Security Council is under the sway of some bulling powers.
"The UN is an utter and abject failure as far as Yemen and many other poor countries are concerned. It has become, more or less, dominated by the Security Council and the Security Council itself is dominated by three prominent members, who bully everybody else politically and diplomatically, and we all know that," Human Rights for Yemen Director Kim Sharif told English-language RT television news network on Thursday.
She added that the Saudi-led coalition, "aided and abetted by the US and the UK," are committing "crimes against humanity and genocide" in Yemen.
Sharif also said that Saudi Arabia and its allies have been violating "every known international rule of law" over the past three years in the military aggression against Yemen.
Her remarks came a day after at least eight Yemeni civilians were killed and several others injured by separate Saudi airstrikes in the war-torn Arab country.
Saudi Arabia has been incessantly pounding Yemen since March 2015 in an attempt to crush the popular Houthi Ansarullah movement and reinstate former president, Abd Rabbuh Mansur Hadi, who is a staunch ally of the Riyadh regime.
At least 13,600 people have been killed since the onset of Saudi Arabia's military campaign against Yemen. Much of the Arabian Peninsula country's infrastructure, including hospitals, schools and factories, has been reduced to rubble due to the war.
The United Nations says a record 22.2 million people are in need of food aid, including 8.4 million threatened by severe hunger.
A high-ranking UN aid official recently warned against the "catastrophic" living conditions in Yemen, stating that there is a growing risk of famine and cholera there.
"After three years of conflict, conditions in Yemen are catastrophic," John Ging, UN director of aid operations, told the UN Security Council on Tuesday.
He added, "People's lives have continued unraveling. Conflict has escalated since November driving an estimated 100,000 people from their homes."
Full report at:
http://www.presstv.com/Detail/2018/03/02/554054/United-Nations-Yemen-war-Saudi-Arabia-
--------
Jerusalem as Palestine's capital not disputable, Erdoğan says
Mar 2, 2018
President Recep Tayyip Erdoğan said late Wednesday that there will be no compromise on where Turkey stands on Jerusalem, adding that recognition of the historic city as the capital of Palestine is not up for debate.
"It is absolutely nonbinding for us that the U.S. announced Jerusalem as an embassy [as the capital of Israel] by itself," Erdoğan said in Mauritania's capital Nouakchott during a joint press conference with the country's president, Mohamed Ould Abdel Aziz, as part of his official five-day visit to African continent, which includes visit to Algeria, Mauritania, Senegal, and Mali.
The U.S. government controversially decided on Dec. 6 to recognize Jerusalem, a city considered holy for Muslims, Christians and Jews, as Israel's capital, instead of Tel Aviv. The U.S. State Department announced on Feb. 24 that it would move its embassy from Tel Aviv to Jerusalem on May 14 — the day the state of Israel was established and officially recognized by Washington in 1948.
After the White House announcement on Dec. 6, Turkey called on the Organisation of Islamic Cooperation (OIC), as the Muslim world body's term president, for an emergency summit in Istanbul, where members protested the U.S.' Jerusalem decision, calling it null and void and also announced the recognition of east Jerusalem as the Palestinian capital.
After the OIC summit, the issue was voted on at the United Nations Security Council, resulting in a 14-1 vote, and later a draft resolution was proposed to the U.N. General Assembly, which passed with 128 for, 35 against and 9 abstentions.
Erdoğan highlighted the U.N. vote on Jerusalem by saying the world stood against the U.S.' unilateral decision.
"The powerful are never right, but the right are powerful. This is what we saw there [at the U.N.]. We will never compromise from where we stand on Jerusalem. Jerusalem is the capital of Palestine, and we have already announced that," the Turkish president said during the joint presser with Aziz."In an era when a new world order is being constructed, we would like to move forward with Africa," Erdoğan said, while also thanking his Mauritanian counterpart for solidarity during the failed July 15 coup attempt and against the Gülenist Terror Group (FETÖ).
Aziz said it was underlined during the meetings with the Turkish delegate that a just solution within the framework of international law is needed for the Palestinian issue. He added that it is Palestinian's right to establish a legitimate Palestinian state with Jerusalem as its capital.
Israel considers Jerusalem its "eternal, indivisible" capital, and Palestinians want east Jerusalem as the capital of a future Palestinian state. Israel captured east Jerusalem in the 1967 Six-Day War and annexed it in a move that is not internationally recognized.
Full report at:
https://www.dailysabah.com/diplomacy/2018/03/02/jerusalem-as-palestines-capital-not-disputable-erdogan-says
--------
Turkish jets attack pro-government forces in Afrin, at least 17 dead
2 March 2018
Turkish warplanes attacked pro-Syrian government forces overnight, killing at least 17 people in a village in the north of the Afrin region in northwestern Syria, the British-based Syrian Observatory for Human Rights said on Friday.
The dead included three members of the Syrian Kurdish YPG force, while the rest were drawn from militias that support President Bashar al-Assad and entered Afrin last week to help repel a Turkish offensive, the Observatory said.
https://english.alarabiya.net/en/News/middle-east/2018/03/02/-Turkish-jets-attack-pro-government-forces-in-Afrin-at-least-17-dead.html
--------
Turkish attacks on Syria's Afrin leave nearly two dozen civilians dead
Mar 2, 2018
Nearly two dozen people have lost their lives when Turkish military forces launched a series of attacks against the purported positions of US-backed militants from the Kurdish People's Protection Units (YPG) in Syria's northwestern region of Afrin.
Syria's official news agency, SANA, reported on Thursday night that Turkish forces shelled the villages of Sharran, Maidanaki and Haj Khalil in the western sector of Afrin, killing 20 civilians, including a woman, and injuring and dozens more.
A number of civilian buildings were badly damaged in the attacks as well.
Meanwhile, the Turkish military said on Thursday that at least 2,222 terrorists have been killed since the launch of Operation Olive Branch.
Ankara views the YPG as the Syrian branch of the militant Kurdistan Workers' Party (PKK) that has been fighting for an autonomous region inside Turkey since 1984.
Turkish President Recep Tayyip Erdogan has repeatedly said that Afrin should be cleared of "terrorists," and demanded the deployment of Turkish troops there during a speech back in November 2016.
This is while US officials regard the YPG as the most effective fighting force against the Daesh Takfiri terrorist group in northern Syria, and have substantially increased their weaponry and technology support to the terrorist group.
The controversy over a possible Syria border force first started on January 14 when a report emerged on Reuters saying that the military coalition led by the United States in Syria was planning to set up a large border force of up to 30,000 personnel with the aid of its militia allies.
The Syrian government has already condemned the "brutal Turkish aggression" against Afrin, rejecting Ankara's claim about having informed Damascus of the operation.
Damascus "strongly condemns the brutal Turkish aggression on Afrin, which is an inseparable part of Syrian territory," SANA cited a Syrian Foreign Ministry source as saying on January 20.
Full report at:
http://www.presstv.com/Detail/2018/03/02/554057/Turkey-Syria-Afrin-attack
--------
Turkish Army Preparing to Dispatch New Convoy of Special Forces to Afrin
Mar 01, 2018
The Arabic website of Anadolu news agency reported that a new convoy of gendarmes and the Turkish police special forces has been dispatched to Hatay region, bordering Syria.
It added that the forces were sent to the borders to participate in Operation Olive Branch against the Kurds in Afrin.
Meantime, field sources affiliated to Ankara-backed militants referred to the special forces' mission in the second phase of Operation Olive Branch in Afrin, and said the operation would start soon.
Turkey had on Monday sent a number of other police troops and gendarmes to Afrin.
Also, last week, over 60 special police forces from Turkey were sent to Afrin after hundreds of Syrian popular forces were deployed in the region.
Turkey's Anadolu news agency reported that two groups of special police forces have been sent to Afrin from the two provinces of Izmir and Antalya on February 21.
Full report at:
http://en.farsnews.com/newstext.aspx?nn=13961210000962
--------
Turkey orders arrest of 154 over alleged Gulen links
Mar 2, 2018
State prosecutors in Turkey have issued arrest warrants for 154 people, including navy officers, teachers, and union members, for alleged links to a US-based Turkish figure accused of organizing a coup against Ankara in 2016.
Turkish police forces launched operations across five provinces across the country to arrest 16 naval officers — seven of them serving and nine previously expelled from the armed forces — over alleged connections with cleric Fethullah Gulen, state news agency Anadolu reported on Friday.
The Ankara chief prosecutor's office further conducted a separate investigation, ordering the detention of 66 teachers from across the country who had been previously dismissed from their jobs over links to what the government describes as Gulen's movement.
The report also added that 72 officials from a labor union confederation, which had already been shut down under a government order, were set to be taken into custody as well in a third investigation into the alleged plot across more than a dozen provinces in Turkey.
Ankara, meanwhile, has rejected concerns expressed by international rights organizations over the massive crackdown on people suspected of having links with Gulen, insisting that threats posed by his network across Turkey could only be neutralized through such wide-scale purging of government institutions allegedly infiltrated by his elements.
Gulen, a former political ally of Turkish President Recep Tayyip Erdogan, has lived in self-imposed exile in the US state of Pennsylvania since 1999 and has persistently denied accusations of involvement in the failed coup attempt in July 2016, which killed more than 240 people.
Following the coup, Ankara launched a massive crackdown that has so far led to the imprisonment of more than 50,000 people pending trial for alleged ties to the Gulen network.
Full report at:
http://www.presstv.com/Detail/2018/03/02/554090/Turkey-prosecutors-office-Fethullah-Gulen-failed-coup-attempt-alleged-links-arrest-orders
--------
Armenia scraps normalization deal with Turkey
Mar 2, 2018
Armenia has scrapped a peace agreement it signed with Turkey in 2009 in a failed attempt to normalize relations between the two countries, the Armenian president's press service said on Thursday.
Armenia and Turkey signed the landmark peace accord to restore ties and open their shared border after a century of hostility stemming from the World War One mass killing of Armenians by Ottoman forces.
The deal needed parliamentary approval in both countries, but was never ratified, and the Armenian and Turkish governments have since accused each other of trying to change the deal.
"As a result of discussions, President (Serzh) Sarksyan signed a decree and a national security council approved a procedure of annulling protocols which have been signed on October 10, 2009," the press service said in a statement.
The press service quoted Sarksyan as saying that Armenia did everything "not to leave the burden of the settlement of relations between Armenia and Turkey on the shoulders of future generations."
"But Ankara... did not even make a single step towards ratification and implementation of protocols, but also left no doubt that it was not intending to do it," Sarksyan said.
He added that Armenia was ready to cooperate with Turkey in the future, if "there would be the same willingness from the Turkish side."
There was no immediate reaction from Turkey.
Armenia suspended its ratification following Turkish demands that it first reach terms over a breakaway Nagorno-Karabakh region, a condition Turkey set to appease its ally Azerbaijan.
Azerbaijan feared it would lose leverage in negotiations to win back Nagorno-Karabakh, which it lost to Armenian-backed forces in the bloodiest of the ethnic conflicts which followed the 1991 collapse of the Soviet Union.
Armenian President Sarksyan also faced vehement opposition from nationalists at home and the powerful Armenian diaspora abroad.
Full report at:
http://www.presstv.com/Detail/2018/03/02/554062/Armenia-Turkey-normalization-deal-scrapping
--------
Africa
Boko Haram terrorists release video of execution of 'drug dealers'
March 2, 2018
By Ameh Comrade Godwin
The Abubakar Shekau-led faction of the Boko Haram sect has released a video of the execution of drug dealers.
The video showed some men bounded by the sect while being whipped mercilessly amid cheers from a local crowd.
Before their final execution, the leader read their offences and sentences before the crowd, who cheered him in excitement.
The were asked to face the earth and were shot at close range, while the crowd chorused 'Alahu Akbar' (God is Great).
http://dailypost.ng/2018/03/02/boko-haram-terrorists-release-video-execution-drug-dealers/
--------
Somalia: Al-Shabaab Militants Shoot Donkeys as Part of Economic War
2 MARCH 2018
By Harun Maruf
Al-Shabab militants in Somalia have shot and killed nine donkeys they said were transporting goods to a government-controlled area in the Bakool region. A security source told VOA Somali the militants seized the donkey carts early Wednesday near the village of Elboon, 15 kilometers west of Wajid.
The militants shot the donkeys and abducted two people who were escorting the carts, sources say. Their fate is not known. A resident in Wajid town who did not want to be named for security reasons told VOA that militants set fire to the goods and carts. The donkey carts were carrying sugar, rice and flour to Wajid, residents say.
Al-Shabab has imposed a siege on several towns controlled by Somali government and African Union forces in an effort to force residents to vacate towns as part of their economic war. Wajid was seized by AU and Somali troops in March 2014.
The only way to transport goods to Wajid and several other towns has been to use donkey-carts to smuggle items.
Full report at:
http://allafrica.com/stories/201803020226.html
--------
Turkey's Erdogan seeks more influence in Africa
01.03.2018
Africa can be said to be a favorite destination for Recep Tayyip Erdogan. At least from the look of the foreign trips the Turkish President has made in the last years. In 2015 he visited Somalia, Ethiopia and Djibouti, in 2016 it was Uganda and Kenya on the line. He stopped by six African countries in 2017.
It is less surprising that Erdogan is once again in Africa since the beginning of the week. This time, the Turkish president is visiting Algeria, Mauritania, Senegal and Mali with a large business delegation and a diplomatic entourage. On Erdogan's trips it's mainly about one thing, political and economical influence.
This was seen in his quick stop in Algiers. There he praised the good relations between Algeria and Turkey, but put pressure on the topic of investment protection. Erdogan said that with the help of a bilateral agreement that secures investments in Algeria, trade between the two countries could increase to more than double in the coming years.
Erdogan as leader of the Muslim world?
The striking thing about this year's itinerary is that in all the four host countries, 90 percent of the population is Muslim. It's not a coincidence, according to Cagri Özdemir, an editor with DW's Turkish service. "It's easier to engage if a country that Turkey is dealing with has this kind of common ground."
Erdogan has been trying for a long time to position Turkey as a protecting power for Muslims in the whole world. A good example is Turkey's strong commitment to the Rohingya Muslim minority in Myanmar.
Erdogan had also called for an emergency summit of the Organisation of Islamic Cooperation (OIC) in December to denounce the United State's recognition of Jerusalem as Israel's Capital. According to Turkey's state-owned television TRT, Erdogan wants to use his current trip to thank African leaders, who voted against the US in the UN Jerusalem vote.
Turkey's role on security
Erdogan describes his current trip as "historical," referring to his visit in Mauritania and Mali. This is because no Turkish president has ever visited the two West African countries. According to media reports, Erdogan wants to talk about security among other things. Mauritania and Mali have both had to deal with attacks and abduction from Islamic terror groups for years.
Read more: Turkey targets Gulen schools in Africa
Observers are therefore rating his trip also as a sign of Turkey's stronger security policy agreement in Africa. This is because Ankara has long been trying to cement its influence in Africa, not only through development aid and economic cooperation.
Cagri Özdemir refers to the example of Somalia. "Turkey started engaging with Somalia which is a war-torn country decades ago and started with economic cooperation, with small steps. And over time it started engaging in reconstruction efforts, like a new airport, and some hospitals. It came to a point over the past summer that Turkey opened a military base and deployed a couple of hundred soldiers to train Somali troops," Özdemir said.
Economy is still top on the list
According to Özdemir economic cooperation still takes the highest priority for Turkey. "Turkey, when it comes to raw materials, is a poor country," said the journalist. In Algeria it was mainly about stronger cooperation in the oil and liquid gas sector.
Full report at:
http://www.dw.com/en/turkeys-erdogan-seeks-more-influence-in-africa/a-42788010
--------
Uganda: Muslim Clerics Trial Stalled By Absent Witnesses
1 MARCH 2018
By Ephraim Kasozi & Jalira Namyalo
The absence of prosecution witnesses on Thursday morning stalled the trial of 19 suspects including Muslim clerics who are already serving life imprisonment on other crimes charged with plotting to overthrow the government.
Prosecution led by Ms Rachael Bikhole told the High Court in Kampala that they had failed to get in touch with the witnesses who had been summoned to testify.
"We had summoned three witnesses and confirmed their attendance in court today. But we failed to get in touch with them this morning. We regret to inform court that we have no witness today, we pray for an adjournment," said Ms Rachael Bikhole, the state attorney.
However, the suspects through their lawyers disagreed with the application for adjournment accusing the state of being unjust. They asked court to grant the last adjournment to a nearby date.
"There is no proof that the witnesses were duly served and we have time and again come ready to prosecute this matter in vain. Any adjournment affects the accused persons because they are in prison," argued Mr Robert Friday Kagoro, one of the suspects'lawyers.
The suspects include two Muslim clerics, Amir Kinene and Sheikh Murta Bukenya who were jointly convicted with former Tabliq leader Amir Umar Mohammed Yunus Kamoga for terrorism in August last year.
They were sentenced to life imprisonment upon conviction on charges of terrorism regarding the assassinations of Muslim clerics. They have since appealed against the conviction. They are facing two charges of treason and concealment of treason.
Other suspects are Hakim Kinene Muswaswa, Muzamilu Kasawuli, Arafat Serunjoji alias Bukenya, Alex Okot, Olanya Joseph alias Onekmon, Okidi Charles, Arajab Mubaje alias Magombe Sulaiman, Matanda Issa alias Charles, Haji Byamukama Abdul Ratif alias Tusiime, Ssemwogerere Asadu, Kibirige Solomon, Wadwali Safiyi alias Swafi Shafi, Yusuf Sentamu alias Kasibante, Muhamad Kolodo alias Kasibante, Ssentogo Ismail, Abonga Nick Frank alias Bongomin alias Joshua Alias Jossi and Aisha Nakasibante.
The judge, Wilson Masalu Musene, has adjourned the case to March 5 this year for further hearing of the prosecution witnesses.
"If the witnesses do not come at the next hearing date, court may be inclined to force the state to close its case," he said.
Prosecution case
Particulars of the case state that between January 2013 and June 2015 at various places in Uganda including Kampala, Wakiso, Gulu, Kitgum, Rakai and Jinja districts and other places like Dubai in United Arab Emirates, Kenya and Tanzania, the suspects and others still at large contrived a plot to overturn the government by force and expressed such plot by utterances and overt acts.
Full report at:
http://allafrica.com/stories/201803020164.html
--------
Al Shabaab kill five police in northeast Kenya, official says
MARCH 2, 2018
NAIROBI (Reuters) - Somalia's al Shabaab group killed five police officers early on Friday in northeast Kenya, in an area where the Islamist militants have in the past attacked military and civilian targets, a senior official said.
"Four police officers and a reservist have died in the attack," said Eric Oronyi, deputy commissioner for Lafey sub-county in Mandera county. He said three other officers were wounded and one was in serious condition.
"This is al Shabaab who carried out the attack because we are near the Kenya-Somalia border."
Oronyi said the attackers had destroyed a mobile phone transmission mast to disrupt communications.
Al Shabaab are fighting to topple Somalia's Western-backed central government and establish their own rule based on their strict interpretation of Islamic law.
The group also conducts frequent assaults in Kenya, mostly in the region bordering Somalia, to put pressure on the Kenyan government to withdraw its troops from Somalia.
Full report at:
https://www.reuters.com/article/us-kenya-security/al-shabaab-kill-five-police-in-northeast-kenya-official-says-idUSKCN1GE0U3
--------
At least 4 aid workers killed in Boko Haram attack in Nigeria: UN
2018-03-02
Kano - Four aid workers were killed in a Boko Haram attack in Rann, in northeast Nigeria, the UN said on Friday, in the latest violence to hit the remote town.
The attack happened "after dark" outside a camp housing some 55 000 people displaced by the conflict and appeared to target the military, said UN the UN spokesperson Samantha Newport.
A civilian militia source in Rann, which is some 175km from the Borno state capital of Maiduguri, and a senior military source gave an identical death toll.
They also said eight soldiers were killed in the attack but there was no immediate official confirmation.
Newport said: "Four aid workers were killed, one aid worker was injured and one aid worker is missing, feared abducted.
"Of the aid workers that were killed, two worked for the IOM (International Organisation for Migration) in camp management; and one was a medical doctor working as a third party consultant for Unicef," the UN children's agency, she said.
No details were immediately available for the fourth but Newport said the injured and missing were both women. All those involved were Nigerian, she added.
Boko Haram fighters killed nine people from the Rann internally displaced persons (IDP) camp in September last year, as they worked on farms just outside the town.
In January last year, a botched Nigerian air strike intended to hit jihadist fighters killed at least 112 people as aid workers distributed food.
Commanders at the time called the bombing a mistake and blamed "the fog of war".
Full report at:
https://www.news24.com/Africa/News/at-least-4-aid-workers-killed-in-boko-haram-attack-in-nigeria-un-20180302
--------
South Asia
Myanmar soldiers fire shots near Rohingya camp after Bangladesh protests border buildup
2018-03-01
Myanmar's Border Guard Police or BGP personnel fired two shots in the air on their side of the Tambru border at Naikkhyangchharhi in Bandarban around 8pm on Thursday, a Border Guard Bangladesh or BGB official said.
"We also heard a hullabaloo in the Rohingya camp on the zero line at the time. No one was injured," BGB 34 Battalion Commander Lt Col Manjurul Hasan told bdnews24.com.
He said they have informed their superiors about the incident.
Ghumdhum union council chairman Md Zahangir Aziz Chowdhury told bdnews24.com the shooting by the Myanmar soldiers has triggered fresh concerns in the area.
Mohammad Arif, a representative of the Rohingyas staying in the no man's land on Tambru border, told bdnews24.com the BGP personnel aimed their weapons at the Rohingyas in the morning and asked them to leave the area.
He alleged the Myanmar soldiers also tried to enter the Rohingya camp by crossing the barbed-wire fence.
The Myanmar troopers took away their heavy weaponry when BGB strengthened presence in the afternoon, he added.
Around 17,000 Rohingyas have been living in no man's land between the countries, including nearly 7,000 in Tambru, since Myanmar launched a military operation dubbed "ethnic cleansing" in the Rakhine State on Aug 25 last year.
Myanmar's latest move puts at risk the Rohingyas on the Tambru border.
Dhaka protests
The foreign ministry summoned the Myanmar ambassador in Dhaka in the afternoon and asked him to tell the Myanmar authorities to immediately withdrawal security forces along with military assets from the area.
It said such military buildup will create confusion in Bangladesh and escalate tensions on the border.
Acting Foreign Secretary Md Khurshed Alam told bdnews24.com he handed over a "strong protest" note to Ambassador Lwin Oo.
"It should be withdrawn...There is no need for military and artillery presence there. This can create panic among the Myanmar nationals who are living in the no man's land. They can come into Bangladesh. We strongly protested this," he said.
The stand-in secretary referenced the recent visit to the no man's land by officials of both countries to say they had demanded safety and security of the Rohingyas during the visit.
"I reminded them (Myanmar) if we cannot ensure safety and security, they will not want to go back. We need to create the condition."
He added he warned the Myanmar ambassador, saying, "If you push them back, then it will have a very negative impact."
'Against border norms'
BGB's Additional Director General (operation and training) Brig Gen Mujibur Rahman said they were on "high alert" following the Myanmar move that "goes against the border norms".
BGB Bandarban Sector Commander Col Abdul Khaleq said Myanmar had earlier deployed additional troops on the border and later withdrawn them.
But the reason behind the buildup this time is not clear to the border guards, he added.
The border force's ADG Mujibur briefed the media at the force's headquarters in Peelkhana as the news of the mounting tension on the border got out.
He said they have called a flag meeting and also sent a protest note to the BGP.
Mujibur could not confirm the number of personnel of Myanmar security forces gathered on the border, but said it was 'larger than normal'.
Officials at Bandarban district administration and BGB said the Myanmar authorities have been asking the Rohingyas to leave the no man's land in different ways since the beginning of February.
On Thursday morning, a huge number of BGP personnel took position within a few hundred metres from the border with heavy weaponry.
They asked the Rohingyas to move away from the no man's land, using loudspeaker for hours, and scaring the members of the ethnic minority, Naikkhyangchharhi Upazila Executive Officer or UNO Sarwar Kamal told bdnews24.com.
"The administration and the BGB have strengthened security along the border to tackle the situation," he said.
Dil Mohammad, a leader of the Rohingyas staying on Tumbru border, told bdnews24.com members of Myanmar's BGP and army were throwing bottles of alcoholic drink and brickbats onto their shanties for some days.
"They have brought truckloads of people this morning. We want to live. We will be killed if we return to Myanmar," he said.
Minister sees 'nothing significant'
The heavy presence of the Myanmar troops at the border has created panic among the Rohingyas staying on the border, but Home Minister Asaduzzaman Khan Kamal says the latest development is 'nothing significant'.
When asked for comments on the issue, he told reporters in Chittagong that Myanmar claimed it has deployed more troops in order to stop the Rohingyas in the no man's land from entering Bangladesh.
"We saw earlier on many occasions, in 1978, 1991, 2016 and in 2017-18, that they (Myanmar) don't do what they say. They are giving a wrong excuse now," Kamal said.
"We are watching this. The BGB is on high alert. They (Myanmar) troops will not be allowed into our area…It's impossible for someone to create disorder by entering our country," he added.
https://bdnews24.com/bangladesh/2018/03/01/bangladesh-summons-myanmar-ambassador-in-push-for-army-pullback-from-border
--------
'Unconditional peace offer does not mean end of war': Ghani
March 02, 2018
Afghanistan's President Ashraf Ghani on Thursday said that the unconditional peace offer to the Taliban does not mean the end of the war in the country, reported Tolo News.
Ghani made the remarks at a ceremony marking the National Day of Afghan Defence and Security Forces.
Referring to his new peace initiative, Ghani said that the peace roadmap is a major plan which would leverage the peace process. However, he reiterated that the Afghan government will never compromise on women's rights.
Meanwhile, former president Hamid Karzai has also called on the Taliban to enter into peace talks with government in a bid to find a political settlement to the ongoing turmoil in Afghanistan.
This comes after Afghanistan on Wednesday held an international conference on peace in a bid to map the way forward to get the Taliban to denounce violence, endorse the Afghan constitution and enter into purposeful peace negotiations with government to find a political settlement to the ongoing war .
"Peace is our desire. But war is our current situation. Therefore, we should not be negligent from our defense management even for one minute. We are determined to defend ourselves resolutely and continue our vigilance. We must be prepared all the times. One moment of negligence is not acceptable," said Ghani .
Ghani said that even though the new peace plan will bring internal peace in Afghanistan, the violence will continue.
"Internal wars will come to an end. We and you will prevent the insecurities that stem from the insurgency," said Ghani .
"Yesterday a clear message was conveyed on behalf of the people of Afghanistan. The people want peace ," said CEO Abdullah Abdullah.
In reaction, a number of political commentators have said that there is the possibility that the Taliban joins the peace process, but they warn that the issue of international mafia, battles between democratic and non-democratic systems will continue and also the terrorist groups will continue their violence in Afghanistan and in the region.
"International mafia and a number of countries who foresee their economic interests in this war will not be prepared to end this war . The war will move on for another ten years if these countries do not want to stop it," said political analyst Dawar Nadi.
"With consideration of Taliban's background, the incentives which have been given to them now will further encourage the group. Unilateral incentives will not get us to peace ," said Bashir Ahmad Tayyanj, spokesman for Junbesh-e-Milli party of Afghanistan.
"President's peace plan is a very comprehensive plan. Taliban must come and enter into talks with the government," said Nazir Ahmad Hanafi, a member of Jamiat-e-Islami party of Afghanistan.
Full report at:
https://nation.com.pk/02-Mar-2018/unconditional-peace-offer-does-not-mean-end-of-war-ghani
--------
1 killed, 4 injured as Kabul car bomb targets foreign forces: ministry
March 02, 2018
A suicide car bomb targeting a foreign forces convoy rocked eastern Kabul early Friday, killing at least one civilian and injuring four in an area where many expatriates reside, the Afghan interior ministry said.
"Unfortunately around 9:00 am, a car bombing took place in (the) Qabil Bay area of Kabul," ministry spokesman Najib Danish told AFP, giving the toll and adding that police are investigating.
Earlier, Danish had said the explosion took place "in" the vehicle, which he initially said belonged to an international contractor.
Another interior ministry spokesman, Nasrat Rahimi, said it was not clear if there were foreign casualties following the blast.
Local media showed extensive damage to the facades of nearby houses, and witnesses reported a strong explosion.
No group immediately claimed the attack, which is the latest to hit Kabul, one of the deadliest places in Afghanistan for civilians as both the Taliban and the expanding militant Islamic State group step up their assaults on the city.
The bombing also comes just days after Afghan President Ashraf Ghani unveiled a plan for peace talks with the Taliban, including a proposal to eventually recognise them as a political party, and invited Pakistan to participate in the peace process.
Ghani revealed his plans in a speech during international peace talks in Kabul this week that went better than expected, with officials in Washington daring to hold out hope that the longest war in United States history may be heading to a negotiated settlement.
But Kabul remains on high alert, fearing further violence.
Full report at:
https://www.dawn.com/news/1392717/1-killed-4-injured-as-kabul-car-bomb-targets-foreign-forces-ministry
--------
Suicide car bomber hits Kabul, at least four wounded
March 02, 2018
A police official said a suicide bomber had struck in the Afghan capital, Kabul , after a loud explosion was heard in an area close to foreign embassies on Friday.
Police sirens could be heard in the area but there was no immediate word on any casualties from the blast.
Bismillah Tabaan, the police commander of the city's ninth district where the explosion took place, said the cause of the blast was a suicide bombing but details, including the target, were not yet clear.
Interior ministry spokesman Najib Danish said the cause of the explosion was a car bomb in the Qabl Bai area of the city. At least four civilians had been wounded, he said.
The attack came two days after President Ashraf Ghani offered to start peace talks with the Taliban and just over a month after an explosives-packed ambulance was detonated in the city center, killing around 100 people.
There was no immediate claim of responsibility for the latest blast.
Full report at:
https://nation.com.pk/02-Mar-2018/suicide-car-bomber-hits-kabul-at-least-four-wounded
--------
German Taliban fighter arrested in Afghanistan
March 02, 2018
KANDAHAR - A German national has been arrested with the Taliban in Afghanistan 's insurgency-racked Helmand province, Afghan officials said, one of the only Europeans found among the militants throughout the 16-year war.
The man, who calls himself Abdul Wadood and was pictured wearing a black turban with a long, reddish beard, identified himself as a German resident of Frankfurt and spoke German , provincial officials and the Afghan army have said.
He was serving as an adviser to Maulavi Nasir, the commander of the Taliban 's elite "Red Unit" in Helmand, said Abdul Qadeer Bahadurzai, a spokesman for the 215th Army Corps - a claim that was also made by a local police chief.
The Taliban 's Red Units serve as the insurgents' special forces and have carried out many fatal attacks on the Afghan army and police.
Bahadurzai told AFP Thursday the man has no identity card or passport. There was no immediate statement from German officials in Kabul or Berlin.
Afghan commandos aided by the air force arrested the man during a raid on a Taliban mine-making centre in Gereshk district on Monday, officials said, adding that he was taken first to Camp Bastion and then on to Kandahar.
"This is the first time a European national has been arrested in Helmand," Omar Zwak, spokesman for the provincial governor, told AFP.
It is also believed to be one of the first times any European has been detained with the Taliban in Afghanistan since the US invasion in late 2001.
International forces fighting in the country have spoken in the past of hearing European accents on intercepted Taliban radio transmissions, and in 2009 NATO forces reportedly killed an unidentified insurgent with a tattoo of English football team Aston Villa.
But - unlike with international jihadist groups such as the Islamic State group or Al-Qaeda - citizens of Western nations are almost unknown among the Taliban ranks, with most foreigners hailing from Pakistan, Central Asia or Arab nations.
Perhaps the most famous Western fighter was John Walker Lindh, the so-called "American Taliban ", who was captured in Afghanistan and was sentenced to 20 years in prison in 2002.
In the photographs shared by the Afghan military the man, who appears to be in his 40s, is flanked by two members of the Afghan special forces dressed in combat gear and with night vision goggles pulled up onto their helmets.
He is dressed in a traditional Afghan long shirt and wide trousers worn under a khaki military jacket.
Bahadurzai said three suspects were detained in total during the raid. "Three Kalashnikovs, one machine gun, four walkie-talkies and dozens of landmines were confiscated from them," he added. The German man, he said, spent four years in Quetta in neighbouring Pakistan, long believed to be a refuge for Taliban militants.
The man also spent one year in Afghanistan 's Paktia province near the Pakistani border, and one year with the Red Unit in the Taliban stronghold of Helmand, Bahadurzai said.
It was not clear if the information had been confirmed by Afghan officials.
German newspaper Die Welt reported Thursday that the man was a convert to Islam called "Thomas K" from Rhineland-Palatinate, near Frankfurt. It said he had been known to authorities since 2009, and had travelled to Afghanistan in 2013 to join the Taliban , adding that German police had warned Kabul in 2014 that he could carry out a suicide attack targeting foreign interests.
The man's arrest came as Afghan President Ashraf Ghani on Wednesday unveiled a plan to open peace talks with the Taliban , including eventually recognising them as a political party, days after the militants called for direct negotiations with the US.
Full report at:
https://nation.com.pk/02-Mar-2018/german-taliban-fighter-arrested-in-afghanistan
--------
Bangladesh Requests Myanmar Troop Withdrawal from Common Border
March 01, 2018
Bangladesh has requested that neighboring Myanmar withdraw its security forces from their common border after a Myanmar troop build-up near a camp where thousands of Rohingya Muslim refugees have been living since fleeing Myanmar in August.
Bangladesh's Foreign Ministry said Thursday it summoned Myanmar's envoy to the Bangladeshi capital of Dhaka to convey concerns about Myanmar's increased military presence at the Tombru border crossing in the Khagrachhari district in south-eastern Bangladesh.
The ministry said the ambassador was told the build-up will "create confusion within Bangladesh and escalate tensions on the border."
The build-up is near a "no man's land" where 6,000 Rohingya refugees have been living in tents since Myanmar's brutal late August crackdown on the Muslim minority.
The camp is on a strip of land between the two countries, but on Myanmar's side of a creek that marks the international border.
Bangladesh's border guard director, Brigadier General Mujibur Rahman said his agency has asked to meet with Myanmar border guards to resolve their concerns.
The U.N. refugee agency has expressed concern the refugees would be forced to return to Myanmar without adequate consideration for their safety.
About 700,000 Rohingya Muslims have fled from Buddhist-dominated Myanmar to Bangladesh since the August crackdown the United Nations has said amounts to ethnic cleansing.
Myanmar bolstered its presence in the area despite a signed agreement between the two countries to repatriate the displaced Rohingya to their native Rakhine state, an isolated region in western Myanmar.
Full report at:
https://www.voanews.com/a/bangladesh-requests-myanmar-troop-withdrawal-from-common-border/4276183.html
--------
Top TTP leader with Al Qaeda links killed in US airstrike in Paktika
Mar 02 2018
A top leader of the Tehrik-e-Taliban Pakistan (TTP) having links with the Al Qaeda terrorist network was killed in a US airstrike in southeastern Paktika province of Afghanistan.
"A U.S. airstrike killed a Tehrik-e Taliban (TTP) deputy commander and Al Qaeda facilitator named Rehan in Bermal district, Paktika province, Feb. 22. Rehan is the second significant TTP deputy commander killed in Paktika this year. Sanja Meshoud was killed by a U.S. airstrike on Jan. 27 in Bermal, Paktika," according to a statement by the coalition forces.
The statement further added that "As TTP deputy commanders, Rehan and Meshoud yielded influence within Al Qaeda. Al Qaeda provides funding to the TTP. The TTP, in turn, facilitate Al Qaeda travel and operations in the region. The removal of Rehan and Meshoud degrades Al Qaeda's ability to fund and direct TTP and other violent extremists throughout Paktika and the surrounding areas."
According to the statement, U.S. and Afghan air strikes continue to demonstrate the collective will of the international community to fight terrorism in Afghanistan.
The anti-government armed militant and terrorist groups have not commented regarding the report so far.
Full report at:
https://www.khaama.com/top-ttp-leader-with-al-qaeda-links-killed-in-us-airstrike-in-paktika-04563
--------
Suicide car bomb explosion leaves one dead in Kabul city
Mar 02 2018
At least one person was killed and four others were wounded in an explosion in capital Kabul earlier today, the security officials said.
The Ministry of Interior (MoI) spokesman Najib Danish confirmed that the incident took place in the vicinity of the 9th police district of the city.
He said the target of the explosion was a private security firm which was targeted in Qabil Bai area of the city and as a result one person was killed and four others were wounded.
According to Danish, a suicide bomber detonated a vehicle packed with explosives near the convoy of the foreign force.
In the meantime, another security official says at least fourteen people were wounded in the explosion.
No individual or group has so far claimed responsibility behind the incident.
Today's explosion takes place almost a week after a suicide blast in Kabul city left one dead and six others wounded.
The blast on last Saturday took place in the vicinity of Shash Darak area of the city after a suicide bomber detonated his explosives near the security forces.
Full report at:
https://www.khaama.com/suicide-car-bomb-explosion-leaves-one-dead-in-kabul-city-04562
--------
Southeast Asia
Don't bring politics into mosques, Raja of Perlis warns
March 2, 2018
KANGAR: The Raja of Perlis Tuanku Syed Sirajuddin Putra Jamalullail has called on the people not to disrupt unity by bringing political issues into mosques and suraus, especially with the coming 14th general election.
He said the election was only once every five years but in their eagerness to gain the support of the people, politicians had forgotten the fundamentals and disgraced the institution of the mosque.
"I also urge the people not to be influenced or be carried away by politics and neglect their ties in religion," Tuanku Syed Sirajuddin said when officiating the 2018 state-level Quran Recital Assembly here last night.
He also warned against the spread of false news on social media, calling it a disease which could have implications on the people and nation.
Also present at the event were the Raja Perempuan of Perlis, Tuanku Tengku Fauziah Tengku Abdul Rashid, Raja Muda of Perlis Tuanku Syed Faizuddin Putra Jamalullail and Raja Puan Muda of Perlis Tuanku Hajah Lailatul Shahreen Akashah Khalil.
Perlis Menteri Besar Azlan Man and Minister in the Prime Minister's Department Shahidan Kassim were also present.
http://www.freemalaysiatoday.com/category/nation/2018/03/02/dont-bring-politics-into-mosques-raja-of-perlis-warns/
--------
After top court ruling, Pakatan urges Sarawak to amend state laws for clear guide on apostasy
BY SULOK TAWIE
March 2, 2018
KUCHING, March 2 — The Sarawak government should amend state laws to ensure there are very clear guidelines provided for those who wish to leave Islam, Pakatan Harapan (PH) said today.
The state Opposition pact said the standard operating procedures (SOPs) needed to be clear so would-be apostates can get the necessary Letter of Release that will allow them to be officially recognised as no longer being Muslims.
"The Standard Operating Procedures are urgently needed so that those who want to convert out of Islam are clear on what needs to be done," PH said in a joint statement read out by Sarawak Parti Amanah Negara (Amanah) chairman Fidzuan Zaidi at a news conference here.
It said the procedures must be clearly set out for those who have evidential documents to prove that they are no longer practising Muslims and for those who have the intention of leaving the Islamic faith.
"There must also be clear guidelines for lawyers who will be allowed to appear in the Shariah Court as we can foresee that many Shariah lawyers will be reluctant to take the apostasy cases for fear of being branded as memurtadkan Melayu," Fidzuan added.
The statement was signed by Fidzuan, Sarawak DAP chairman Chong Chieng Jen and Sarawak PKR chief Baru Bian.
PH said that the authorities must consider allowing non-Muslim lawyers to appear in the Shariah Courts after the Federal Court had made a decision that the Sarawak Shariah Court has the power to hear apostasy cases.
"What is needed is for the Sarawak Islamic Religious Department to come up with the very clear guidelines and requirements," PH said.
It said cases of those who want to leave Islam comprise mainly converts who embraced Islam for marriage purposes, when one of the spouses is a Muslim, adding that over time, they opted to leave the faith after they divorce or after the death of the Muslim spouses.
"It must be made clear that getting the Letter of Release is a legal issue rather that a notion of religious conflict and hatred," PH said, adding it believes in the concept of respect and that Malaysians should live in harmony, despite of their diverse religious affiliations.
PH also defended Baru, a lawyer who had represented the four persons at the Federal Court hearing earlier this week who applied to convert out of Islam.
"He was merely helping the four in his capacity as an advocate to exercise their rights to choose their own religion.
"From the facts of the cases, it is clear that he had nothing to do with their decisions to leave the Islamic faith and those who accused him of having a Christian agenda are making up lies for their own purpose," PH said, adding that it condemns those who are politicising Baru's role in these four cases.
The four persons are Malay-born Sharifah Nooraffyzza binti Wan Hosen and Muslim converts Jenny Peter alias Nur Mudzdhalifah Abdullah, Mohd Syafiq Abdullah alias Tiong Choo Ting and Selina Jau alias Selina Jau Abdullah.
Baru, who is also Ba'Kelalan state lawmaker, told reporters that he will be more careful when moving around in future after a Facebook account holder issued a shoot order threat against him.
He said this is the first time that he has received a death threat for representing his clients in court, adding that he was never threatened with death even in native customary rights land cases in courts against plantation companies.
"Issuing a death threat is a very serious matter and we don't take it lightly. So I do really hope that the authorities will take actions against the person concerned and this is a very clear cut case," he said.
Sarawak PKR secretary Nicholas Bawin, who was present at the press conference, said at least 50 police reports have been lodged over the last two days against the Facebook account holder who uses the name "Helmi bin Abdullah Mee".
He said the most of the reports were lodged by members of the Dayak community included those residing in Kuala Lumpur.
Full report at:
http://www.themalaymailonline.com/malaysia/article/after-top-court-ruling-pakatan-urges-sarawak-to-amend-state-laws-for-clear#XiHCizgMP2Ihfau6.97
--------
Police Arrest Core Members of 'Muslim Cyber Army'
March 01, 2018
Jakarta. Police have arrested six suspected members of the so-called Muslim Cyber Army, a group believed to have been behind the recent spread of fake news in the country.
Brig. Gen. Fadil Imran, head of the cybercrime directorate at the National Police's Criminal Investigation Unit (Bareskrim), said during a press conference in Jakarta on Wednesday (28/02) that some of the suspects were made to swear allegiance, or baiat, before becoming members of the group's inner circle.
The suspects were identified as Muhammad Luth, Riski Surya Darma, Ramdani Saputra, Yuspiadin, Ronny Sutrisno and Tara Arsih Wijayani. They were arrested in Tanjung Priok in North Jakarta, Pangkal Pinang in Bangka Belitung, Jembrana in Bali, Sumedang in West Java, Palu in Central Sulawesi and Yogyakarta.
They have been charged with contravening the 2016 Information and Electronic Transactions Law, which carries a penalty of up to six years' imprisonment and a fine of Rp 1 billion ($70,000).
Fadil told reporters that the group actively uploaded negative content and fake news, including defamation of individuals or groups, and material that could provoke racial, ethnic, religious or intergroup conflict, to social media.
"Their [social media] posts are either provocative, or simply false. We have been looking into this matter and finally identified the administrators and members of the group," Fadil said.
Muslim Cyber Army
Investigations by the cybercrime directorate revealed that the Muslim Cyber Army (MCA) has an extensive network consisting of several groups responsible for various tasks.
For example, MCA United, an open group with hundreds of thousands of members and reportedly run by 20 people, is tasked with stockpiling content, such as news, videos and photos, for dissemination by members.
The network also has a so-called sniper team, consisting of 177 members tasked with creating a counternarrative and reporting their opponents' social media accounts to the authorities for deactivation.
According to Fadil, the six suspects arrested this week ran the MCA Family group and the "sniper team." They were responsible for reporting social media accounts with opposing views to the authorities, and for infecting opponents' electronic devices with computer viruses.
"This is what they refer to as the 'family.' Some members [who are active] in the main group are invited to join smaller groups, before eventually being recruited to the core group," Fadli said.
He added that the suspects revealed that they were required to swear allegiance before being allowed to join the core group.
The MCA is allegedly responsible for spreading various fake news items, such as reports on the supposed rise of the Indonesian Communist Party (PKI) and about mentally disturbed individuals allegedly attacking members of the ulema.
Full report at:
http://jakartaglobe.id/news/police-arrest-core-members-of-muslim-cyber-army/
--------
Neelofa, Zouk guests can be charged with insulting Islam, Sharie lawyer claims
March 2, 2018
KUALA LUMPUR, March 2 — A Sharie lawyer asserted today that legal action under Shariah laws can be taken against celebrity entrepreneur Noor Neelofa Mohd Noor and her brand for holding the Be Lofa range launch at the Zouk club here last Monday.
According to Malaysian Syarie Lawyers Association president Musa Awang, Neelofa, the organiser and even the guests who attended the tudung and turban launch could be charged with insulting Islam for bringing disrepute to a symbol of the religion.
"They can be indicted under Section 7(a) of the Syariah Criminal Offences (Federal Territories) Act 1997, since the event involved the launch of an Islamic symbol with women dancing while wearing tudung.
"What is meant to be goodness and religious responsibility has instead been brought into a place with elements of vice," Musa was quoted by Malay daily Berita Harian as saying.
But the lawyer was also reported saying the prosecution has a heavy burden to prove exactly how Neelofa and the others had insulted Islam, given the vague and subjective wording in the Shariah law.
"In my personal opinion any prosecution towards Neelofa would further complicate matters since she and the organiser have already apologised.
"The criticism from society over the matter should be a lesson to her and others who are thinking of doing the same thing. Fortunately our society is still observant and can differentiate between right and wrong," Musa was quoted saying further.
A law lecturer with the International Islamic University of Malaysia also said there was no need to charge Neelofa under Shariah laws as the entrepreneur likely "did not intend to insult Islam" and "should not be punished as a criminal", another Malay daily Harian Metro reported.
"If today we accuse Neelofa in court, it will reflect badly on Shariah criminal laws and it is impossible society won't condemn it," Shamrahayu A. Aziz was quoted saying.
According to the constitutional law expert, such incidents could be avoided by teaching Malaysians how to distinguish between the tudung as a cover for the aurat and for fashion.
Neelofa, an actress who has made a killing selling headscarves for Muslims and has since ventured into jewellery, was hit with criticism following images posted online of her new range of tudung and turban for men at the popular nightclub in conjunction with her 29th birthday.
One of her guests, a TV programme host and blogger popularly known as Nisa Kay, similarly faced backlash from conservatives over a video of her dancing in a tudung during a lip sync competition at the launch.
Full report at:
http://www.themalaymailonline.com/malaysia/article/neelofa-zouk-guests-can-be-charged-with-insulting-islam-sharie-lawyer-claim#qiufCdXo2je3VZmO.97
--------
Indonesia police break up radical Islamic cyber network provoking extremism
MAR 1, 2018
JAKARTA (WASHINGTON POST) - Indonesian police announced on Thursday (March 1) the arrest of 14 members of a network called the "Muslim Cyber Army," which they say has been using hacking, online misinformation campaigns, and hate speech to push the world's fourth most populous country in a more conservative direction.
Mohammad Fadil Imran, director of the Indonesian national police cyber crimes unit, said that the suspects are accused of defamation, spreading false reports, racial and religious discrimination, among other crimes.
They were picked up all around Indonesia, he said, and more may be still be detained.
"The operation is ongoing, and new developments may emerge soon," Imran said on Thursday. "We were able to use common, basic technology to track them down."
Analysts believe that social network campaigns, including fake news, or "hoax" news as it is called here, have been instrumental in a slow lurch to the right in the world's largest Muslim-majority country.
According to police and expert accounts, Muslim Cyber Army is a name used by a loosely connected network of groups that mostly produce online content for open distribution on platforms like Facebook and the WhatsApp direct messaging service.
They're also accused of infiltrating other users' accounts, and publishing private information and locations of their enemies - a process known as "doxing".
Most famously, the network allegedly spread rumors that the country's Islamic clerics were under attack, or that the Indonesian Communist Party - banned since 1966, after it was decimated by the military - is being resurrected. Both claims provoked a violent response from Indonesian conservatives here.
Imran said he could not confirm earlier reports in the Indonesian media that a wanted member of the group is at large in South Korea or elsewhere around the world.
A number of groups reportedly operate in the network using different Muslim Cyber Army (MCA) names, such as The Family MCA, The United MCA, The Legend MCA, Special Force MCA, Muslim Sniper, and MCA News Legend.
Despite their provocative names - given to themselves, mostly in English - the groups began with legal, nonviolent political aims, only later expanding to illicit activities with serious consequences, according to Damar Juniarto, founder of digital rights group South-east Asia Freedom of Expression Network, who has been tracking MCA since last year.
"Their activities have led to people losing their jobs, being kidnapped or even tortured," said Juniarto. "Indonesian society was already divided, but they have provided fuel for hatred and had a significant impact on politics here."
Some of the MCA groups simply want Indonesia's traditional military elite reelected, according to Juniarto's research, while other more radical groups want a caliphate or sympathise with global Islamist groups that advocate violent jihad. But they're all united against what they perceive as excessively liberal or secular politics.
Indonesia is a democracy led by moderate President Joko "Jokowi" Widodo. But over the last year, his government has been under attacks from an insurgent religious right. Last year, former Jakarta Governor Basuki Tjahaja Purnama, a Christian of Chinese descent and Jokowi ally known as Ahok, was jailed after being accused of blaspheming Islam.
The ultimately successful movement to jail Ahok was propelled by mass protests coordinated on social media, as well as selectively edited footage of comments he made about the Koran.
Conservatives have also succeeded in inserting legislation banning gay sex and sex outside marriage into a planned revision to the criminal code, and many hard-liners hope to unseat Widodo in elections next year.
Last September, a group of self-styled anti-communists attacked a conference to discuss the 1965 massacre of 500,000 to one million suspected leftists, after false reports spread on social media that the researchers and human rights activists were actually there to bring back the Indonesian Communist Party (PKI). They surrounded the building shouting "Allahu akbar" and "Kill PKI," according to those trapped inside all night. Police are now trying to sort out which groups have spread which rumours, and who committed crimes.
Indonesia, a country of more than 260 million, is also home to millions of Christians, Buddhists, Hindus and followers of Confucianism. They are protected from blasphemy and discrimination by current Indonesian law.
Cania Irlanie, a political science student who appeared on television last year in a debate show and publicly opposed laws infringing on LGBT and individual sexual rights, says she was specifically targeted by MCA groups. They circulated images of her, accusing her of blasphemy, until she was receiving constant death threats.
"I'm not sure if they broke the law when they targeted me specifically, but they have definitely affected my life, and I worry about my future," she said.
Full report at:
http://www.straitstimes.com/asia/se-asia/indonesia-police-break-up-radical-islamic-cyber-network-provoking-extremism
--------
Be careful with handling religious cases, Sarawak minister tells politician lawyers
March 2, 2018
KUCHING, March 2 — Lawyers should be "more sensitive" when handling religious cases which has the potential to be an explosive powder keg in a multiracial, multicultural society.
"Lawyers who are politicians should be more sensitive in handling any cases including those involving religion. Regardless of whether they are Christian or Muslim they should be more sensitive, and we all should learn from past incidents," Sarawak Tourism, Art, Culture, Youth and Sport minister Datuk Abdul Karim Rahman Hamzah was reported saying by The Borneo Post on its website today.
The state minister was commenting on the ruckus after the Tuesday decision by the Federal Court here to defer to the Sarawak Shariah courts on the jurisdiction to hear conversions out of Islam.
According to Abdul Karim, a message inviting the public to go to court for the apostasy hearing had circulated on social media days before the actual hearing.
"When it virals, so many people will turn up… same goes to the native customary right case proceeding," he was quoted saying, referring to the land tussles involving the Sarawakian indigenous, the government and companies awarded rights to develop the land or fell trees there for timber.
He added that villagers travelled from Sibu, Bintulu or Baram for the NCR cases trial and felt that this should not be encouraged.
Abdul Karim insisted that there were no physical attacks during the apostasy cases and that the situation was under control.
He admitted that the government could not stop people from claiming that the Roman Catholic Archdiocese of Kuching Archbishop Simon Poh was attacked but said it is "a good lesson for all".
The Association of Churches Sarawak has since lodged a police report on the incident.
Abdul Karim also criticised a murder threat against State PKR chairman Baru Bian which was posted on Facebook.
"Whoever the individual, I hope he is not serious and don't get too emotional and threaten others. Malaysia Communication and Multimedia Commission and other relevant authority should be more alert and to ensure such similar incidents are handled well," he said.
Baru Bian represented the four individuals in the apostasy case on Tuesday.
Full report at:
http://www.themalaymailonline.com/malaysia/article/be-careful-with-handling-religious-cases-sarawak-minister-tells-politician#bWBcj76j0B9jhvml.97
--------
North America
Pentagon: Houthi militia have attacked Saudi Arabia several times
Mar 2, 2018
WASHINGTON: Houthi militia backed by Iran have attacked Saudi Arabia several times, the US Pentagon said.
Dana White, the US department of defense spoksperson, told journalists Thursday that US forces are in Yemen to fight terrorism and to support Saudi Arabia.
White also explained that the US national missile defense was never intended to threaten Russia.
The US has always maintained that the missile shield in Europe does not target Moscow, but it was built to defend US interests againsts threats posed by Iran and North Korea.
http://www.arabnews.com/node/1257286/middle-east
--------
Pentagon deploys hundreds of US troops in southeastern Syria: Reports
Mar 1, 2018
The Pentagon has reportedly deployed hundreds of American troopers in southeastern Syria on the border with Iraq as the United States is virtually occupying tens of kilometers there without the consent of the Syrian government.
Turkish-language daily Yeni Akit reported that 600 troops, including special forces soldiers, have arrived at al-Tanf garrison, which was established two years ago.
The Arabic-language Palmyra Monitor news website, which is sympathetic to foreign-sponsored Takfiri militant groups, also wrote that units of US soldiers have reached the base with armored vehicles over the past few days.
The reports come as an official from Russia's Security Council told Ria Novosti news agency that the United States has set up around 20 military bases in areas controlled by Kurdish militants it supports in northern Syria.
"The return of peace and stability to Syria is hampered by continued external interference in the Syrian crisis. For example, in the territory controlled by the people's self-defense units of Kurdistan, some 20 US military bases have been created," Alexander Venediktov said.
The official also said Washington is supplying the Kurds with the most advanced weapons.
Venediktov further noted that the United States is occupying a 55-kilometer (34-mile) zone surrounding the al-Tanf garrison without the Damascus government's consent.
"This zone includes the infamous Rukban refugee camp, where militants from illegal armed groups are freely moving near the US Armed Forces," he pointed out.
Meanwhile, Russia's Ambassador to Jordan, Boris Bolotin, told Sputnik news agency he has information that Takfiri terrorists are being trained in the al-Tanf region.
"I do not rule out that they could be militants who fled Raqqah," Bolotin said.
The US-led coalition has been conducting airstrikes against what are said to be Daesh targets inside Syria since September 2014 without any authorization from the Damascus government or a UN mandate.
Full report at:
http://www.presstv.com/Detail/2018/03/01/554044/US-troops-Syria-Tanf
--------
Rights groups decry 'anti-Muslim' bill in US
Mar 2 2018
Most recently, the Council on American-Islamic Relations (CAIR), a Washington, DC-based Muslim civil rights group, has called on Idaho's Senate to vote against a bill recently passed by the state's House of Representatives, that seeks to ban the implementation of "foreign law" in the state.
According to CAIR, the bill, known as HB-419, targets Muslims and fits into a long pattern of "unconstitutional" bills that demonise Muslims by barring Sharia, or Islamic law.
HB-419 was passed by Idaho's House of Representatives at a time when similar bills are being considered in several US states, including Montana, Oregon and Wisconsin.
In an open letter to Idaho State Senator Jeff C Siddoway, Chairman of the Senate State Affairs Committee, CAIR's Government Affairs Director, Robert McCaw, described HB-419 as "contrary to our nation's values of not elevating or marginalising one faith or community".
"Legislation designed and adopted to attack a specific religion is a clear violation of the [US Constitution's] Establishment Clause, which requires that government be secular and treat all religions equally," McCaw wrote. That bill was introduced by House Representative Eric Redman, who had introduced two similar bills in the last two years.
Full report at:
https://www.dailytrust.com.ng/rights-groups-decry-anti-muslim-bill-in-us.html
--------
Toronto runner set to get Canadian citizenship, trump U.S. travel ban
Mar 02, 2018
It appears Soroush Hatami's dream to compete in the Boston Marathon is finally about to come true.
"That's exciting news ... There's a high possibility I can get my passport right on time and I hope I can make it to Boston," Hatami said.
The 37-year-old, who emigrated from Iran to Toronto in 2013 and is a permanent resident of Canada, is set to receive his Canadian citizenship on Friday afternoon.
It would help clear a major hurdle that has barred him from entering the United States.
Last January, an executive order issued by U.S. President Donald Trump blocked citizens of several Muslim-majority nations from entering the United States — including Hatami's birth country of Iran.
Despite qualifying for the Boston Marathon back in October 2017, Hatami was banned from entering the U.S., based on his Iranian citizenship; a decision he calls "unfair" and "xenophobic".
"Targeting countries and banning everyone from those countries, doesn't help with U.S. national security," Hatami said.
But now, with the runner set to take the oath of citizenship after a months-long application process, he'll be able to apply for a Canadian passport. According to the Government of Canada's website, with express processing a new passport can be delivered in two to nine business days.
2018's Boston Marathon is set for April 16.
Beyond the race, Hatami and fellow long-distance runner Daniel Sellers say they aren't done fighting against the travel ban and hope to help those who may be caught in similar predicaments.
"That's great that we're about to realize our goal. However on the other side, the travel ban is not over and our campaign is not over."
'Bigger issues' at stake
Hatami and Sellers established the Banned on the Run fundraising effort shortly after they learned of the travel ban.
The project's goal is to raise $26,000 US — $1,000 for each mile in a marathon.
"I've necessarily had to articulate why I think [the travel ban] is not a fair or effective policy," Sellers said.
The proceeds will go toward two organizations — Muslim Advocates and the International Refugee Assistance Project, Both groups are legal advocates for clients involved in the travel ban.
Banned on the Run has raised just over $3,000 but Sellers says he is "confident" there will be more donations with more than a month to go before the race. The group has also planned a fundraising run on March 18 at High Park.
Hatami feels fortunate that his case has worked out but that there are "bigger issues" at stake with people who are caught in the the ban, including international students he personally knows who are in the U.S. studying for their PhDs.
"After the travel ban, they have not left the United States because they know if they leave, they are not able to come back and continue their studies. That's sad."
Full report at:
http://www.cbc.ca/news/canada/toronto/toronto-runner-set-to-get-canadian-citizenship-trump-u-s-travel-ban-1.4557497
--------
URL: https://www.newageislam.com/islamic-world-news/want-muslims-quran-one-hand/d/114460
New Age Islam, Islam Online, Islamic Website, African Muslim News, Arab World News, South Asia News, Indian Muslim News, World Muslim News, Women in Islam, Islamic Feminism, Arab Women, Women In Arab, Islamophobia in America, Muslim Women in West, Islam Women and Feminism