New Age Islam News Bureau
23 Oct 2015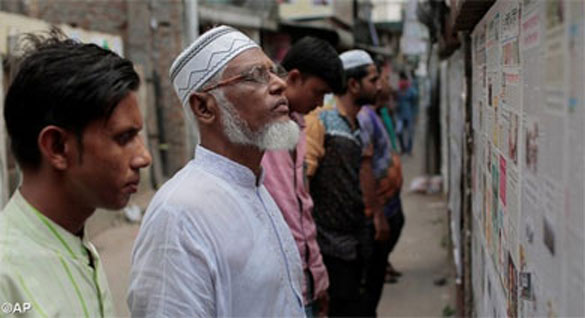 Bangladeshi people read newspapers, pasted on a wall in an alley in Dhaka, Bangladesh, Tuesday, Oct. 20, 2015 – AP
Arab World
• Wahhabism Centre in Capital Riyadh Shows Conservatism Still Central To Saudi Soul
• US-Iraqi Forces Free 70 Captives Facing IS 'Mass Execution'
• Israeli Colonel Leading ISIL Terrorists Captured in Iraq
• Forces Trained by Iran's Slain General Hamadani Free Several Areas in Homs
• Syrian Forces Capture 8 Villages in Aleppo, Kill Senior Terrorist Commander
• Syrian Forces Only 4km Away from Kuweires Military Airbase after Massive Raid
• ISIL Withdraws from Hama Province towards Raqqa, Deir Ezzur
• Lebanese Security Forces Foil ISIL Plot for Terrorist Attacks on Ashura Mourners
• Russian, Syrian Air Raids Hit Militants' Positions in Lattakia
• Syrian Forces Eradicate Terrorist Group in Hama
• Nine Russian strikes 'hit Syrian hospitals'
• Putin says Syria's Assad open to working with some rebels
• Egypt arrests senior Muslim Brotherhood figure
• Saudi authorities seeking death penalty for 16 Shias
• Top Bahraini Shia clerics censure authorities for removing Muharram flags
---------
South Asia
• Bangladesh Arrests Secularist Blogger After He Criticises Islam
• Bangladesh: Islamists Threaten Media, Urge Sacking of Female Employees
• Afghan Forces Clear Khamab as Gen. Dostum Starts His 2nd Crackdown on Taliban
• Face of Defense: Supply Airman Helps Keep Afghan C-130s Flying
• NATO SG, President Ghani discuss security and future of NATO mission
• Religion belongs to communities but festival to all: Bangladesh President
---------
Pakistan
• Suicide Blast outside Imambargah in Bolan District Kills 10
• 21 Terrorists Killed In Tirah Air Strikes: ISPR
• Nawaz-Obama meeting: Agreement to act effectively against all terrorist groups
• PPP wants Shiv Sena declared 'extremist organisation'
• Dussehra celebrated in Karachi
• PAT seeks permanent alliance with PTI
---------
Mideast
• Israel Lifts Age Limits For Aqsa Friday Prayers
• Jordan King Warns Israel against Changing Aqsa Status Quo
• Israel Accuses UNESCO of 'Fuelling Flames' With Holy Site Resolution
• Israel 'provocative rhetoric' needs to stop
• Assad spies, Daesh, Kurds behind bombing: Erdogan
• Iran, Russia ink deal to boost trade ties
• Daesh militants suffered huge losses, fleeing to Turkey: Syrian general
• Iran hands over 236 deportees to Pakistan
---------
India
• Muslim Cleric Calls for Attacks on Beef Exporters
• Wave of Violence Unacceptable: Indian Muslim Apex Body (AIMMM)
• Tension Grips Jammu Town over Alleged Desecration of Quran
• Uddhav Thackeray says India should be declared Hindu Rashtra, needs uniform civil code
---------
North America
• In Hunt for US Terror Recruits, FBI Agents Set Traps
• Another Refugees Facility Burns in Sweden
• Clinton grilled by Republican-led body on Libya embassy attack
• Obama vetoes $612 bn defence bill, aid for Ukraine, Syria
• US to supply Pakistan with F-16 jets
---------
Europe
• Scots Muslim Pupils Suffer Islamophobic Abuse
• 'Moderate Terrorists' US Play On Words: Putin
• UN slams Czech Rep. for 'degrading' refugees
• Gunmen stage new assault on refugees at sea: HRW
• Bosnia Top Scholar Raps Hungary PM
• TalkTalk hack that has left four million customers' personal data at risk 'was carried out by cyber Jihadi group based in Russia'
---------
Southeast Asia
• Indonesia Hopes Disenchanted Islamic State Fighters Can Deter Recruits
• Indonesia: Ministry to develop vocational madrasa
• Human rights groups slam tougher Islamic laws in Aceh
• No-faith move a mere gimmick, says Umno blog
• Work with other countries to tackle Islamophobia
• Religious violence flares in Indonesia as mob torches Aceh church
• Indonesia/US: Rights Should Top Jokowi-Obama Summit
---------
Africa
• Nigeria 'Hires Mercenaries' To Battle Boko Haram
• Key al-Shabaab targets arrested by Kenyan police
• Over 30,000 starving to death in S Sudan, says UN
Compiled by New Age Islam News Bureau
URL: https://www.newageislam.com/islamic-world-news/new-age-islam-news-bureau/wahhabism-centre-in-capital-riyadh-shows-conservatism-still-central-to-saudi-soul/d/105024
---------
Arab World
Wahhabism Centre in Capital Riyadh Shows Conservatism Still Central To Saudi Soul
23 October 2015
Riyadh (AFP) - Saudi Arabia's new research centre on Wahhabism, set to open on the edge of the capital Riyadh, looks fitting for a branch of Islam considered inflexible, intolerant and unchanging.
Imposing with its limestone blocks, their bulk lightened only by glass-enclosed bridges, the centre is part of a major development project shepherded by Saudi King Salman.
The building honours Sheikh Mohammed bin Abdul Wahhab, the 18th-century fundamentalist preacher who co-founded the Saudi state.
It is a clear sign that his legacy remains central to the Saudi soul despite his strict doctrine and accusations it is fuelling deadly Sunni extremism around the world, including the murderous drive of Islamic State (IS) group militants.
Featuring cafes and palm trees decorated with tiny lights, the project is set in Addiriyah, birthplace of the ruling Saud dynasty, and includes the UNESCO World Heritage Atturaif district.
"It has very high historical value for the government and for us," said Abdullah Arrakban, the urban development manager for the High Commission for the Development of Addiriyah.
Here, King Salman, monarch of the world's biggest oil exporter, has a turreted palace overlooking the crumbled mud brick homes of his ancestors now undergoing preservation.
And it was here that Abdul Wahhab's partnership with a contemporary local chief, Imam Mohammed bin Saud, laid the foundations for today's kingdom and its reliance on the sheikh's 270-year-old teachings.
Conceived in 2000, the project is targeted for completion by the end of next year.
It has begun to refurbish the district, restore its ancient Atturaif oasis community and create crucial green space in this heart of the Arabian peninsula.
Five mini-museums will depict life in the first Saudi state, which lasted from 1744 to 1818 when it fell to Turkish-Egyptian invaders.
- A crucial alliance -
"We are trying to keep the atmosphere of Addiriyah -- the nature, the colour, the original architecture," Arrakban said, fingering blue prayer beads while being interviewed in his book-filled office.
Although the heart of the 750-million-riyal ($200-million/179-million-euro) project will be Atturaif, the adjacent Abdul Wahhab Foundation is designed to honour the sheikh's role as co-founder of the state and tell "the truth" about his intellectual heritage, Arrakban said.
It will feature a library of books and documents about his teachings, available for research, as well as a multimedia "Memorial Hall" illustrating the religious movement he inspired.
"The media, they try to say 'No, he tried to kill, to make war'... I think this is not right," Arrakban said.
Abdul Wahhab preached "Tawhid" -- the oneness of God -- which meant opposition to the worship of saints and to Shiism, a prohibition on images of living beings and the implementation of Sharia law.
He saw his doctrine as a return to Islam as practised by the first generation of Muslims.
His pact with Saud in the 1740s gave legitimacy to the first head of the royal house, who in return implemented Abdul Wahhab's strict version of the Islamic faith.
The partnership continues to this day, with the ruling family maintaining its tight grip on political life and puritanical clerics preaching strict codes of conduct that make Saudi Arabia among the world's most conservative countries.
Women are forbidden from driving, there is no intermingling of the sexes, and cinemas and alcohol are banned, while the militant preaching associated with Wahhabi thought is accused of inspiring extremists from Osama bin Laden to IS.
Irfan al-Alawi, co-founder of the Mecca-based Islamic Heritage Research Foundation, said honouring Abdul Wahhab and preserving Addiriyah is "hypocrisy" at a time when "Islamic heritage is being wiped away" elsewhere in the kingdom.
"If you honour an extremist cleric why could you not honour the Prophet of Peace?" Alawi asked.
In keeping with Abdul Wahhab's teaching against idolatry, authorities have made no effort to preserve sites linked to the Prophet Mohammed in the holy cities of Mecca and Medina, said Alawi, a prominent supporter of Islamic pluralism.
Some of these sites have already disappeared in redevelopment, he said.
Alawi is among those who contend that Wahhabism has inspired militants of IS, also known by the Arabic acronym Daesh.
"You have first, Wahhabi ideology, and then you have offshoots which have become even more extreme," he said.
Yet "Saudi Arabia is not Daesh," said Stephane Lacroix of Sciences Po university in Paris, stating that Abdul Wahhab left politics to the politicians.
"The political authority puts a number of constraints on the religious authority which in a sense limits the kind of radicalism that can come out," he said.
Lacroix added that some of the country's youth "don't really feel Wahhabi at all", as Saudi society changes under modern influences.
In April Salman opened part of the development, parks and restaurants in Al-Bujeiri quarter which overlooks the Atturaif ruins.
On a recent evening, women clothed in black according to local custom sat on concrete benches as families pushed strollers across a central plaza.
Tariq al-Muaiseb, 24, one month into a banking career, said he and colleague Abdullah al-Khayyal, 23, hoped to explore the Atturaif ruins to see "how our grandfathers lived" in contrast to their own "Western lifestyle".
Leaving an outdoor cafe, they walked over to photograph the Abdul Wahhab mosque.
"He's had a large effect on this country," Muaiseb said.
http://news.yahoo.com/wahhabism-centre-shows-conservatism-still-central-saudi-soul-152832114.html
---------
US-Iraqi forces free 70 captives facing IS 'mass execution'
23 October 2015
WASHINGTON: Kurdish and US forces stormed a prison of the self-styled Islamic State (IS) in northern Iraq on Thursday, freeing some 70 captives who were facing imminent execution, the Pentagon said.
A US serviceman died of wounds sustained in the pre-dawn operation, the first to be killed in action since the US-led campaign against Daesh or the IS began in Iraq in June 2014.
Five IS militants were captured and several others killed in the raid on a compound near Hawijah, Pentagon press secretary Peter Cook said.
"This operation was deliberately planned and launched after receiving information that the hostages faced imminent mass execution," Cook said in a statement.
The Hawijah raid marked an apparent break with the normal modus operandi of US forces, which are in Iraq to support government forces but do not directly engage in combat in line with President Barack Obama's "no boots on the ground policy".
Cook pushed back against the suggestion that this signalled an expansion of the US role in Iraq.
"This is a unique situation," he said, adding that the mission was given the green light by Defense Secretary Ashton Carter, and that the White House was notified.
"We were asked for assistance" by the Kurdish government, Cook said, stressing that "the United States are not in an active combat mission in Iraq." Residents told AFP that several Chinook helicopters were involved in the raid and that several IS-run checkpoints in the area were targeted by air strikes.
Cook said US helicopters and special operations forces accompanied Kurdish peshmerga forces to the prison compound. The American who later died was wounded "acting in support of Iraqi peshmerga forces after they came under fire from IS," he said.
The mission was "authorized consistent with our counter-IS effort to train, advise, and assist Iraqi forces," using an alternate acronym for Islamic State, the militant group that has sought to carve an Islamic caliphate out of large parts of Iraq and Syria.
"Approximately 70 hostages were rescued including more than 20 members of the Iraqi security forces," Cook said, adding that the operation had also produced "important intelligence about IS." According to the office of Kurdish intelligence chief Masrour Barzani, 69 prisoners were rescued, six IS fighters detained and more than 20 killed.
Cook also said that the slain US commando was the first US combat death since 2011.
- 'Tough fight' -
General Lloyd Austin, the commander of all US forces in the Middle East, described the rescue operation as "complex and highly successful." "We commend and congratulate the brave individuals who participated in this successful operation that saved many lives, and we deeply mourn the loss of one of our own who died while supporting his Iraqi comrades engaged in a tough fight," he said.
Those freed included prisoners who were about to be executed as spies, and residents of Hawijah, a coalition official in Iraq said.
"They'd executed four the previous day. We had seen mass graves had been dug on that compound and the information we now hear... is that they'd been told they would be executed after morning prayers this morning," the official told AFP.
An intelligence official in the Kurdish-controlled city of Kirkuk, speaking on condition of anonymity because he is not authorized to talk to the press, told AFP that "high value detainees" were believed to be among those captured.
He said the captives were being held in what was formerly the house of a local judge.
A Hawijah resident said that after the raid IS leaders in Hawijah "all went missing." "The Daesh (IS) leaders in Hawijah all went missing after the raid. Their offices are closed and nobody knows where they went," the resident said, asking not to be identified by name. Daesh is an Arabic acronym for IS.
Another local resident said, "The group's top Hawijah leader was detained and another senior leader too. A number of them were killed and several of the people held in that prison were freed." Colonel Steve Warren, the coalition spokesman in Iraq, said US pressure has "begun to sow a bit of paranoia inside the organization." "We've killed 70 of their mid- and high-level leaders since May, that's an average of one every two days, so we are putting pressure on their leadership. And we've seen that this creates a level of paranoia... that causes them to interrogate their own people," he said.
- US ties to Kurds -
Kurdish peshmerga forces control Kirkuk and have long worked closely with the US-led coalition. Iraqi security and allied paramilitary forces have in recent days been closing in on Hawijah from the south and west. The city lies about 240 kilometers (150 miles) north of Baghdad.
Kurdish peshmerga forces, backed by US-led coalition air strikes, have also in recent weeks moved several kilometers closer to Hawijah, pushing down from the north and east.
http://www.dawn.com/news/1215055/us-iraqi-forces-free-70-captives-facing-is-mass-execution
---------
Israeli Colonel Leading ISIL Terrorists Captured in Iraq
Oct 22, 2015
"The security and popular forces have held captive an Israeli colonel," a commander of Iraq's popular mobilization forces said on Thursday.
"The Zionist officer is ranked colonel and had participated in the Takfiri ISIL group's terrorist operations," he added.
Noting that he was arrested along with a number of ISIL terrorists, the commander said, "The Israeli colonel's name is Yusi Oulen Shahak and is ranked colonel in Golani Brigade of the Zionist regime's army with the security and military code of Re34356578765az231434."
He said that the relevant bodies are now interrogating the Israeli colonel to understand the reasons behind his fighting alongside the ISIL forces and the presence of other Zionist officers among ISIL terrorists.
The Iraqi security forces said the captured colonel has already made shocking confessions.
Several ISIL militants arrested in the last one year had already confessed that Israeli agents from Mossad and other Israeli espionage and intelligence bodies were present in the first wave of ISIL attacks on Iraq and capture of Mosul in Summer 2014, but no ranking Israeli agent had been arrested.
Political and military experts told FNA that the capture of the Israeli colonel will leave a grave impact on Iraq's war strategy, including partnership with Israeli allies.
In a relevant development in July, Iraqi volunteer forces announced that they had shot down a drone that was spying on the Arab country's security forces in the city of Fallujah, Western Iraq.
Iraq's popular forces reported that they had brought down a hostile surveillance aircraft over the Southeastern Fallujah in Anbar Province.
They said that the wreckage of the ISIL's spy drone carried 'Israel-Made' labels.
This was not the first Israeli-made drone downed in Iraq.
In August an Israeli Hermes drone was shot down in the vicinity of Baghdad Airport.
http://english.farsnews.com/newstext.aspx?nn=13940730000210
---------
Forces Trained by Iran's Slain General Hamadani Free Several Areas in Homs
Oct 22, 2015
Imam Reza (AS) Brigade that was formed of the Syrian popular forces by Brigadier General Hamadani and trained by the Lebanese Hezbollah resistance movement could recapture a number of blocks and farms in Mukhtariya district in the Eastern part of Tir al-Ma'aleh region, Homs province, a field source told FNA on Thursday.
He added that Imam Reza (AS) forces also inflicted heavy loss and damage on the terrorists' strongholds in the region and made them flee the scene after fierce clashes.
The IRGC in a statement on October 9 announced that its war veteran commander had been killed in Northern Syria, while providing military counseling services to the Syrian forces in their fight against the Takfiri terrorists.
General Hamadani was martyred during an attack by the ISIL Takfiri terrorists in the outskirts of the city of Aleppo while fulfilling his duty as military advisor and defending the holy Shiite shrines in the country, said the statement.
General Hamadani was in Syria to render military advice to the Syrian army and popular forces in their fight against the ISIL terrorists in the Arab country.
Also in a message on October 10, Commander of the Iranian Army Ground Force General Ahmad Reza Pourdastan said the death of Brigadier General Hamadani in Syria would make Tehran more resolute to put an end the war of militancy in Syria.
"The martyrdom of Brigadier General Hamadani reinvigorates our determination to continue his path and take a harsh and strong revenge from the terrorists and their supporters," Brigadier General Pourdastan said in his message.
http://english.farsnews.com/newstext.aspx?nn=13940730000718
---------
Syrian Forces Capture 8 Villages in Aleppo, Kill Senior Terrorist Commander
Oct 22, 2015
The Syrian forces regained control of al-Safira village in the Southern countryside of Aleppo in the early hours of Thursday, killing dozens of terrorists, including their senior field commander Uwais al-Qoqazi.
Later, the army also won back the villages of Balas, Jouret al-Hajjash, Rasm al-Skeikh Qiqan, Deir Salibah, Kafer Obeid, al-Halabiah and Teir al-Ward.
On Wednesday, the Syrian Army alongside the country's National Defense Forces stormed militant-held areas near Aleppo and pushed the terrorists back from parts of al-Zahra area, military officials announced.
Full Report at:
http://english.farsnews.com/newstext.aspx?nn=13940730000417
---------
Syrian Forces Only 4km Away from Kuweires Military Airbase after Massive Raid
Oct 22, 2015
The Syrian forces on Thursday entered the strategic town of Sheikh Ahamad which is located approximately 4 km away from the Syrian Army's frontlines outside the Kuweires military airport.
Provincial officials said on Wednesday that the Syrian army and Hezbollah forces, with the Russian aerial backup, had launched a fresh series of joint operations against the militant strongholds to recapture Wadiha al Judaydah and Sheikh Ahamad areas just three kilometers far form Kuweires airbase to end the over two-year-long siege of the airbase.
On Monday, a commander of Syria's National Defense Forces said the Syrian forces backed by Hezbollah forces have started operations in the Eastern countryside of Aleppo since two years ago in a bid to break the siege of Kuweires military airbase.
Hundreds of Syrian forces have been fully besieged at the Kuweires airport as a result of the occupation of vast areas surrounding the airport by the terrorists in the past two years.
The commander said on Monday that the Syrian-Hezbollah troops were less than 6 kilometers away from the besieged airport.
Full Report at:
http://english.farsnews.com/newstext.aspx?nn=13940730000636
---------
ISIL Withdraws from Hama Province towards Raqqa, Deir Ezzur
Oct 22, 2015
The ISIL-affiliated grouplet called Jaish al-Khalafa withdrew its forces and heavy weapons from Hama province towards Raqqa and Deir Ezzur after facing the Syrian army's fierce attacks.
The withdrawal happened after heavy clashes between the Syrian army forces and the terrorists near Eastern Barri and Ismailiya villages.
The Syrian air force destroyed the terrorists' hideouts in the countryside of Hama, killing large number of the Takfiri militants on Wednesday.
The Syrian fighter jets razed the terrorists' positions in the towns of Tawal al-Dabaghin and al-Jubaysat in Hama countryside.
Tens of terrorists were killed and dozens more were injured in the Syrian air force raids on their positions.
The Syrian army repelled a terrorists' attack on a military post in Hama province, killing at least 30 militants, reports said Thursday.
The army clashed with terrorists who attacked a military post in al-Hamra village in the Northeastern countryside of Hama on Wednesday night, killing at least 30 Takfiri militants, most of them foreign militants.
The army destroyed two tanks, a 23 mm cannon, an anti-tank machinegun and 6 vehicles of the terrorists.
Meanwhile, the army destroyed a bulldozer of the terrorists near al-Latamneh town in the Northern countryside of Hama.
The Syrian army, backed by National Defense Forces, also repelled an attack by terrorists of al-Nusra Front on a strategic town in Hama province, sources said Thursday.
The Syrian forces repelled al-Nusra attack on the strategic town of al-Si'in in Hama, and pushed the Takfiri terrorists back from the region.
On Monday, the Syrian warplanes destroyed terrorists' hideouts in Qasre bin Wardan village, Rasm al-Tina and Kafre Zeita in Hama countryside.
Full Report at:
http://english.farsnews.com/newstext.aspx?nn=13940730000538
---------
Lebanese Security Forces Foil ISIL Plot for Terrorist Attacks on Ashura Mourners
Oct 22, 2015
The Lebanese forces arrested the ISIL religious leader in Ain al-Hilweh Camp who sought to practice sabotage acts in Ashura mourning ceremonies in Lebanon.
The ISIL terrorist has confessed that he had infiltrated into Lebanon through Raqqa province in Northern Syria.
Full Report at:
http://english.farsnews.com/newstext.aspx?nn=13940730000694
---------
Russian, Syrian Air Raids Hit Militants' Positions in Lattakia
Oct 22, 2015
The air raids hit the concentration centers of Takfiri terrorists in the center of Jub Al-Ahmar in Lattakia, and killed a large group of the militants.
Meanwhile, heavy clashes have erupted between the Takfiri militant groups and the Syrian forces in Salam in Lattakia, a military source said.
Provincial sources announced on Wednesday that two important gathering centers of the militant groups in the province of Lattakia were pounded by the Syrian forces, leaving scores of them dead or wounded.
Full Report at:
http://english.farsnews.com/newstext.aspx?nn=13940730000500
---------
Syrian Forces Eradicate Terrorist Group in Hama
Oct 22, 2015
The Syrian army killed the terrorists, and destroyed a vehicle and a machinegun in al-Mansoura town in Hama countryside, informed sources said.
On Wednesday, the Syrian warplanes conducted airstrikes against ISIL concentration centers in the province of Hama, leaving a group of the terrorist dead.
The airstrikes killed a number of ISIL terrorists in Qleib al-Thawr village, East of al-Salamiyeh city.
Full Report at:
http://english.farsnews.com/newstext.aspx?nn=13940730000283
---------
Nine Russian strikes 'hit Syrian hospitals'
23 October 2015
Nine Russian air strikes have hit hospitals or field clinics operating in war-torn Syria, killing civilians and medical staff, a Syrian medical organization said late Thursday.
The Syrian-American Medical Society, which operates several facilities in Syria, said a deadly strike earlier this week "adds to the previous estimated eight Russian air strikes on hospitals in Syria, as well as the 313 attacks on medical facilities since the start of the conflict."
It said several of its facilities had been hit in Russia's bombing campaign, including in the Mediterranean coastal province of Latakia and the central province of Hama on October 2 and in the northwestern province of Idlib on Tuesday.
The latest strike killed two medical personnel and at least 10 civilians, and wounded 28 civilians, it said.
Russia has strongly denied reports that its aircraft hit the hospital in the Idlib province town of Sarmin, describing them as "fake."
The society's president, Ahmad Tarakji, called for international action to stop hospitals and clinics being hit again.
Full Report at:
http://english.alarabiya.net/en/News/middle-east/2015/10/23/Israeli-police-lift-age-restriction-for-Aqsa-Friday-prayers.html
---------
Putin says Syria's Assad open to working with some rebels
22 October 2015
Russian President Vladimir Putin said on Thursday he had asked his Syrian counterpart Bashar al-Assad how he would view an armed opposition force that was genuinely ready to combat militants from the Islamic State of Iraq and Syria (ISIS).
"He answered: 'Positively'," Putin said at a conference with foreign dignitaries in southern Russia, according to Reuters news agency.
Putin also said that it is up to the Syrian people to decide whether embattled president Assad should stay or go.
He added that the Syrian leadership must establish contact with opposition forces that are ready for dialogue. He added that Assad was ready for this dialogue.
The Russian president said that his country had no plans to intervene militarily in Iraq or expand its airstrikes in the region.
Putin added that domestic political problems were also partly to blame for Syria's crisis, and not just Islamist militancy.
Earlier on Thursday, the Russian president had accused the West of playing a "double game" with terrorist groups in Syria, where a U.S.-led coalition has conducted a bombing campaign with its allies.
Full Report at:
http://english.alarabiya.net/en/News/middle-east/2015/10/22/Putin-Syrian-government-Kurdish-forces-should-be-united.html
---------
Egypt arrests senior Muslim Brotherhood figure
22 October 2015
Egyptian security forces have arrested Hassan Malik, a leader of the outlawed Muslim Brotherhood, security officials said, part of a sustained crackdown on Islamists.
"He was arrested in Cairo on charges of funding a group that promotes violence," said one of the officials.
Malik, a businessman, was one of the few prominent Brotherhood members to escape the toughest crackdown on Islamists in Egypt's modern history.
Security forces have killed hundreds of Islamists and arrested thousands of others since the army toppled President Mohammad Mursi of the Brotherhood in 2013 after mass protests against his rule.
Full Report at:
http://english.alarabiya.net/en/News/middle-east/2015/10/22/Egypt-arrests-senior-Muslim-Brotherhood-figure.html
---------
Saudi authorities seeking death penalty for 16 Shias
Oct 23, 2015
Saudi Arabian prosecutors are seeking death sentence for 16 people over alleged "terrorist" charges in the Shia-dominated Qatif region of the country's Eastern Province, reports say.
According to Thursday reports by Saudi Arabia's prominent Makkah and Okaz newspapers, the group of 16 is accused of murder and injuring of security personnel, rebellion, robbery and use of grenades.
The prosecutors are also pushing for the public display of the bodies of two of the accused on poles after their execution.
Two dozen people in all are reportedly accused in the case, including three people whose names are on a list of 23 suspects wanted after pro-democracy protest rallies that started over four years ago in eastern Saudi Arabia.
Reports by Saudi media said the "terrorist cell" was based in the restive town of Awamiya in the Qatif region.
This file photo shows Saudi people taking part in a protest in the Qatif region.
A wave of demonstrations began in the oil-rich Eastern Province in 2011, with the protesters calling for political reform and an end to widespread discrimination. Several people were killed and many others injured or arrested during the demonstrations.
Sporadic gun battles and arrests have been reported in Awamiya since Saudi authorities issued the list of suspects in January 2012.
Full Report at:
http://www.presstv.ir/Detail/2015/10/23/434596/Saudi-Arabia-Awamiya-Shias-Qatif-protests-Eastern-Province
---------
Top Bahraini Shia clerics censure authorities for removing Muharram flags
Oct 22, 2015
Senior Bahraini Shia clerics have censured the Al Khalifa regime for removing flags and other religious symbols used for commemorating the martyrdom anniversary of Imam Hussein (AS), the third Shia Imam.
"The removal of black flags in some areas is regarded as a violation of the mourning ceremonies and infringement against freedom to practice religious rituals which are guaranteed constitutionally," said a statement by the clerics published on Wednesday.
Top Shia clerics, Ayatollah Sheikh Isa Qassim, Sheikh Abdullah al-Ghuraifi and Sayed Jawad al-Wada'i were among the signatories of the statement.
The statement came after regime forces clashed with Shia villagers overnight Tuesday, pulling down Ashura (the day Imam Hussein was martyred) banners set up in what police called "undesignated areas" of villages outside the capital, Manama.
Witnesses said the regime forces attacked protesting villagers and fired buckshots to disperse them, causing casualties.
These rituals "have been practiced in this country for hundreds of years and no one had dared to stop them or to transgress or infringe on them," the statement added.
Bahrain's main opposition movement, the al-Wefaq National Islamic Society, also condemned the Al Khalifa regime's police for the excessive use of force against Shia mourners.
A Bahraini Shia Muslim girl takes part in a ceremony commemorating the martyrdom anniversary of Imam Hussein (AS), the third Shia Imam, in the village of Sanabis, west of Manama, on October 21, 2015. ©AFP
Ashura marks the day when Imam Hussein, along with 72 of his companions, was martyred in Karbala.
Full Report at:
http://www.presstv.ir/Detail/2015/10/22/434584/Bahrain-Shia-Sheikh-Isa-Qassim-Imam-Hussein-Ashura
---------
South Asia
Bangladesh arrests secularist blogger after he criticises Islam
Tom Porter By Tom Porter
October 22, 2015
Human rights and freedom of speech activists have called for the release of a Bangladeshi blogger arrested for criticising Islam. Mohon Kumar Mondal questioned the rationality of a devil-dispelling ritual at the annual Hajj pilgrimage, in which 2,110 are believed to have been killed in a stampede in September.
On 26 September, police arrested Mondal, who is also director of environmental NGO LEDARS and president of the local branch of the ruling Awami political party, in Sathkhira, south west Bangladesh. The arrest came two days after a stampede near the holy city of Mecca, in an area where pilgrims gather for a ceremony in which stones are cast at the devil.
In the Facebook posting, which he subsequently removed, Mondal criticised Saudi authorities for failing to avert the tragedy and for not respecting the bodies of the dead. He also questioned the rationality of the ritual in which stones are cast at the devil, declaring "such devils were roaming everywhere."
He is currently in jail. Mondal's brother Osheen told IBTimes UK that authorities had refused him bail, and that a court date had not been set. He added that appeals to high court authorities had proved fruitless. Mondal faces punishment under laws prohibiting the publication of material which "hurts or is likely to hurt religious sentiments".
Thomas Hughes, executive director of freedom of speech organisation Article 19, said that the arrest "violates international standards on the rights to freedom of speech and freedom of religion.
"Such prohibitions also often stifle dissent and criticism from believers, religious minorities and non-believers alike," said Hughes. "The Bangladeshi authorities must immediately drop all charges against Mohon Kumar Mondal and rectify this restriction of online expression."
Mondal's wife said that he is currently being held in Sathkhira jail. In a statement, she said the Facebook posting was not designed to cause offence, but "rather he made comments being emotional as many people died in the stampede in Mina in the Kingdom of Saudi Arabia during the symbolic stoning of the devil."
Full Report at:
http://www.ibtimes.co.uk/mohon-kumar-mondal-bangladesh-arrests-secularist-blogger-after-he-criticises-islam-1525243
---------
Bangladesh: Islamists threaten media, urge sacking of female employees
22/10/2015
Bangladesh police said Tuesday they are investigating an email sent to various media organizations reportedly by a banned Islamist group threatening to topple "towering buildings" and telling the media not to run anything that goes against what it called "jihad."
The email, sent after a series of deadly attacks targeting moderates and foreigners, contains a six-point directive that includes telling women to stay at home.
It urges businesses to fire female employees, and says that working outside of the home is a "punishable offence" according to sharia, or Islamic law. It does not elaborate on what it feels would constitute appropriate punishment.
"Since the Islamic Sharia holds the working of women outside home and their movements without the 'purdah' as punishable offence, those employing them are equally guilty," the message said, justifying the sacking of female employees.
The letter is signed by the group Ansarullah Bangla Team, which is allegedly linked with several other groups that claimed responsibility for killing four atheist bloggers this year.
It threatens to kill more atheist bloggers, naming six in Bangladesh and nine others living abroad to be targeted as soon as they returned to the South Asian country. It said the list of 15 names is not final, warning that anyone who attempts to degrade Islam would face serious consequences and anyone supporting the atheist bloggers will not "be spared."
"The highest authorities have been informed," said Muntasirul Islam, Deputy Commissioner (Media) for the Dhaka Metropolitan Police. "We are investigating to ascertain who was behind these emails and from where they were sent."
The email, received Monday by many Bangladeshi media outlets but not the AP, has renewed concerns about radical forces within Bangladesh.
In 2015 alone, fundamentalists hacked to death at least four people. The recent daylight murders of Italian aid worker Cesare Tavella and Hoshi Kunio, a Japanese national. Responsibility for the attacks was claimed by the Sunni radical group Islamic State, but the Bangladesh government rejected those claims along with any suggestion that IS was active in the country.
Full Report at:
http://en.radiovaticana.va/news/2015/10/22/bangladesh_islamists_threaten_media/1181091
---------
Afghan forces clear Khamab as Gen. Dostum starts his 2nd crackdown on Taliban
Oct 23 2015
The Afghan national security forces have taken full control of Khamab district in northern Jawzjan province around three weeks after the Taliban militants captured the district.
According to the local security officials, the district was fully cleared of the militants presence with the Afghan security forces inflicting casualties to the militants during the operations led by the Vice President Gen. Abdul Rashid Dostum.
Gen. Dostum arrived in Jawzjan province on Tuesday, a month after concluding a major operation against the Taliban militants in northern parts of the country.
He told reporters on Wednesday that the operations have kicked off to push the Taliban militants out of Khamab district.
The local security officials have said at least 20 Taliban militants were killed during the operations in Khamabad and Afghan forces will head towards Qarqeen district after clearing Khamab.
Full Report at:
http://www.khaama.com/afghan-forces-clear-khamab-as-gen-dostum-starts-his-2nd-crackdown-on-taliban-1653
---------
Face of Defense: Supply Airman Helps Keep Afghan C-130s Flying
Oct 23 2015
KABUL, Afghanistan, October 22, 2015 — The Afghan air force has four C-130 Hercules airplanes, and U.S. Air Force Tech. Sgt. Angel Gonzalez has a singular role as the C-130 maintenance supply liaison at Train, Advise, Assist Command – Air here.
The command comes under NATO's Resolute Support mission, and it orders supplies and inventory parts to keep the Afghan "Herks" flying in support of Afghan National Army's operations across Afghanistan.
Gonzalez is assigned to the 440th Air Expeditionary Advisor Squadron and is deployed from Maxwell Air Force Base, Alabama.
"I go to Bagram a couple times a week to speed-up the delivery of aircraft parts," Gonzalez said. "We've all got limited resources with equipment, tools and building space, so a quicker timeline to get the maintenance teams their tools and parts is just good customer service because that's what my job is … it's working for the customer."
Getting Aircraft Parts to Afghan Partners
He said his biggest accomplishment here has been working out a schedule and system where he can get parts in an expedient manner to support the maintenance crews.
"We don't have a [Precision Measurement Equipment Laboratory] at Kabul, so I need to get parts calibrated at Bagram, such as torque wrenches, gauges, tension wires, scales and various tools," Gonzalez said. "I also check to see if any of my parts I ordered arrived. I do this at least twice a week to make the processes go faster."
C-130 aircraft maintenance teams see this extra effort and appreciate the fast service so they can complete maintenance in a timely manner.
"He's done some miracle work here," said Air Force Master Sgt. Mark Klein, 440th AEAS metal fabrication section. "He doesn't have to fly up to Bagram to get our parts, but he does it because it cuts about 10 days off of the shipping process. So, that's been great, and we can get our work done without waiting around."
Full Report at:
http://www.khaama.com/face-of-defense-supply-airman-helps-keep-afghan-c-130s-flying-1652
---------
NATO SG, President Ghani discuss security and future of NATO mission
Oct 22 2015
The NATO Secretary General Jens Stoltenberg discussed security situation and the alliance's future mission in Afghanistan with President Mohammad Ashraf Ghani.
"I spoke today by phone with Afghan President Ashraf Ghani to discuss the security situation in Afghanistan and the future of the Resolute Support mission. Our conversation followed my recent discussions with Allied leaders regarding the future of NATO's presence in Afghanistan," Stoltenberg said in a statement.
Welcoming President Obama's announcement on troops level in Afghanistan, Stoltenberg, said "I reiterated my appreciation for President Obama's announcement that the United States will maintain its current troop levels in Afghanistan through 2016, and will retain a substantial presence beyond 2016."
Stoltenberg further added that this important decision paves the way for a sustained presence by NATO Allies and partners in Afghanistan.
He also commended the bravery of the Afghan National Security Forces who are leading security efforts across the country in a very challenging environment.
The US airstrike on Doctors Without Borders hospital in Kunduz city was also discussed during the telephone conversation.
Full Report at:
http://www.khaama.com/nato-sg-president-ghani-discuss-security-and-future-of-nato-mission-1651
---------
Religion belongs to communities but festival to all: Bangladesh President
October 23, 2015
Mentioning that sense of unity and secularism is the long-practicing characteristics of people of Bangladesh, President Abdul Hamid yesterday said religion belongs to a community but festival belongs to all.
The President was talking to media during a reception he hosted to members of the Hindu community at Bangabhaban on occasion of Durga Puja. President exchanged greetings and pleasantries during reception. Religious Affairs Minister Principal Matiur Rahman, along with Hindu religious personalities and leaders of various puja committees were also present.
"Bangladesh is a country of communal harmony.
Full Report at:
http://www.thedailystar.net/city/religion-belongs-community-festival-all-president-161425
---------
Pakistan
Suicide Blast outside Imambargah in Bolan District Kills 10
23 October 2015
QUETTA: A suicide attacker blew himself outside an Imambargah in Bolan's Goth Chalghari area on Thursday, killing at least 10 people and injuring many others, DawnNews reported.
"At least 10 people were killed and 12 others were wounded after a suicide bomber blew himself up at an Imambargah," said Balochistan Home Minister Sarfraz Bugti.
Local administration official Mohammad Waseem confirmed the attack and death toll.
Bugti said there were six children between 10 and 12 years old among the dead and that some women had also died. He added that the death toll may rise.
Waseem said the suspected suicide bomber appeared to be about 18 years old and was wearing a woman's burqa.
Rescue workers and people of the area faced difficulties in shifting the injured to any hospital.
There is reportedly only one basic health unit in the vicinity, that too without a qualified doctor and proper health facilities.
More than a dozen people were injured in the blast, which rocked the village located in interior Balochistan.
Security forces reached the blast site and cordoned off the area.
According to initial police investigation, a suicide bomber blew himself up outside an Imambargah in Goth Chalghari area of Tehsil Bhag in Bolan district.
The injured would be shifted to civil hospital Sibi for medical treatment.
Security has been beefed up in and around the locality after the blast, with contingents of FC and police patrolling different areas.
Earlier in the week, a blast in a local bus killed at least 10 people, two of them children, on Sariab road. Twenty-two people were injured, six of them seriously.
Balochistan Chief Minister Abdul Malik Baloch had condemned the blast and said, "I am personally monitoring the situation."
Preparations were made to ensure that the Muharram passes incident-free and security plans to ensure the safety of processions were finalised.
Full Report at:
http://www.dawn.com/news/1214862/suicide-blast-outside-imambargah-in-bolan-district-kills-10
---------
21 terrorists killed in Tirah air strikes: ISPR
ALI AKBAR
23 October 2015
PESHAWAR: At least 21 terrorists were killed in air strikes in the Rajgal and Kukikhel areas of Khyber Agency's Tirah Valley close to the Pak-Afghan border late Wednesday night, an Inter-Services Public Relations statement said.
Khyber Agency and North Waziristan are among Pakistan's seven semi-autonomous tribal districts near the Afghan border, rife with homegrown insurgents and foreign militants.
These areas have also been considered home to religious extremist organisations including Al Qaeda and the Tehreek-i-Taliban Pakistan (TTP).
Military operations Zarb-i-Azb and the National Action Plan were launched against insurgents following attacks on Karachi's Jinnah International Airport and Peshawar's Army Public School in 2014.
Full Report at:
http://www.dawn.com/news/1214848/21-terrorists-killed-in-tirah-air-strikes-ispr
---------
Nawaz-Obama meeting: Agreement to act effectively against all terrorist groups
ANWAR IQBAL
23 October 2015
WASHINGTON: After an unusual, two-hour long meeting between Prime Minister Nawaz Sharif and US President Barack Obama, the United States and Pakistan agreed on Thursday to take effective action against all terrorist groups, including Lashkar-e-Taiba.
According to a joint statement issued after the meeting, Pakistan also agreed to ensure that all Taliban groups, including the Haqqani Network, "are unable to operate from the soil of Pakistan."
The two leaders expressed concern over violence along the Line of Control, and noted their "support for confidence-building measures and effective mechanisms that are acceptable" to both India and Pakistan.
President Obama and Prime Minister Sharif discussed "the continuing threat of nuclear terrorism" as well, although there was no mention of a nuclear deal that media in both Pakistan and the United States speculated about.
Prime Minister Sharif reiterated Pakistan's firm resolve not to allow any ISIS/Daesh (the so-called Islamic State) footprint in Pakistan.
Pakistan to ensure that Taliban, including the Haqqani Network, are unable to operate from its soil
The leaders emphasised the importance of a sustained and resilient dialogue process between India and Pakistan, which should aim at resolving all outstanding territorial and other disputes, including Kashmir.
These disputes should be resolved "through peaceful means and working together to address mutual concerns of India and Pakistan regarding terrorism", the statement said.
Prime Minister Sharif apprised Mr Obama about Pakistan's resolve to "take effective action against UN-designated terrorist individuals and entities, including Lashkar-e-Taiba and its affiliates, as per its international commitments and obligations under UN Security Council resolutions and the Financial Action Task Force," the statement added.
President Obama and Prime Minister Sharif reaffirmed that a mutual commitment to democracy was a key pillar of the US-Pakistan partnership. "President Obama commended Prime Minister Sharif's leadership in strengthening and consolidating Pakistan's democratic institutions."
President Obama condemned the December 2014 terrorist attack by the Tehreek-i-Taliban Pakistan in which 140 school children were killed.
The leaders discussed the importance of continued cooperation against terrorists and violent extremist groups.
President Obama affirmed Pakistan's role as a key counter-terrorism partner and recognised the sacrifices that Pakistani civilians, military and law-enforcement personnel have made over the years while confronting terrorism and militant groups.
President Obama expressed particular appreciation for Pakistan's ongoing support to degrade and ultimately defeat Al Qaeda and its affiliates, noting that this partnership had helped to decimate the group's leadership and operational capacity and had disrupted plots against the US homeland.
President Obama also honoured the sacrifices of the Pakistani security forces in Operation Zarb-i-Azb and other operations, which have degraded the ability of militants to plan and execute terrorist attacks and noted further steps being taken in this regard in line with the National Action Plan.
President Obama and Prime Minister Sharif renewed their common resolve to promote peace and stability throughout the region and to counter all forms of extremism and terrorism.
Afghan reconciliation process
Both leaders expressed their commitment to advance an Afghan-owned and -led peace and reconciliation process between the Afghan government and the Afghan Taliban, and called upon Taliban leaders to enter into direct talks with Kabul and work towards a sustainable peace settlement.
President Obama commended Pakistan for hosting and facilitating the first public talks between the Afghan government and the Taliban in July 2015 and highlighted the opportunity presented by Pakistan's willingness to facilitate a reconciliation process that would help end insurgent violence in Afghanistan.
Prime Minister Sharif reaffirmed that Pakistan's territory "will not be used against any other country and noted that this is an obligation of all countries in the region".
Both leaders affirmed that regional peace and stability required the prevention of attacks across the Pakistan-Afghanistan border.
The prime minister outlined the actions that Pakistan was taking under the National Action Plan to ensure that the Taliban — including the Haqqani Network — are unable to operate from the soil of Pakistan. The leaders reaffirmed that coordinated management of the Pakistan-Afghanistan border and orderly return of Afghan refugees from Pakistan were fundamental to enhancing security.
President Obama and Prime Minister Sharif stressed that improvement in Pakistan-India relations would greatly enhance prospects for lasting peace, stability and prosperity in the region.
Acknowledging the ongoing critical counter-terrorism efforts that have driven the robust US-Pakistan security cooperation since September 11, 2001, the leaders affirmed that this security relationship had been and would continue to be integral to regional stability. Both leaders noted that the stability of South Asia depended on cooperation among all neighbours to suppress all extremist and militant groups operating in the region.
Highlighting the quickly evolving extremist landscape from the Sahel to South Asia, the president and the prime minister noted with satisfaction that the United States and Pakistan were working closely to counter emerging terrorist groups such as the self-styled Islamic State/Daesh in South Asia. The leaders also reiterated their commitment to combat the extremist ideology that propelled such groups.
President Obama raised his concern regarding the US nationals being held hostage by terrorist groups in the region. The prime minister indicated that Pakistan would assist in every way possible with the safe return of American and other hostages.
Defence cooperation
President Obama noted Pakistan's positive efforts to counter improvised explosive devices and both leaders resolved to continue working together to disrupt the threat posed by these devices.
Full Report at:
http://www.dawn.com/news/1215021/nawaz-obama-meeting-agreement-to-act-effectively-against-all-terrorist-groups
---------
PPP wants Shiv Sena declared 'extremist organisation'
AMIR WASIM
23 October 2015
ISLAMABAD: The opposition PPP has submitted a resolution to the National Assembly secretariat, urging the government to highlight anti-Pakistan activities of India's far-right political group Shiv Sena at the international level and get it declared an extremist organisation.
The resolution was submitted by five members of the PPP on Thursday --- three days after Shiv Sena activists stormed the headquarters of the Board of Control for Cricket in India (BCCI) just before Pakistan Cricket Board (PCB) chairman Shaharyar Khan was to meet BCCI chief Shashank Manohar to discuss a bilateral series in December.
The Sena activists had crashed through the gates of the BCCI office in Mumbai's Wankhede Stadium, shouted anti-Pakistan slogans and held placards that read "Shaharyar Khan go back".
Take a look: Shiv Sena activists storm BCCI HQ over Shaharyar-Manohar meeting
Shiv Sena also threatened to stop Pakistani umpire Aleem Dar from officiating in the fifth and final One-Day International between India and South Africa to be played ain Mumbai on Sunday.
According to PPP spokesman Senator Farhatullah Khan Babar, his party also plans to raise the issue in the Senate. But it has not yet moved any parliamentary instrument for the purpose.
Party submits resolution to National Assembly secretariat
The PPP resolution condemns "mistreatment" of PCB officials by Shiv Sena activists and calls upon the government to formally register its protest over the incident after summoning the Indian high commissioner to the Foreign Office.
"The house... vehemently condemns the recent chain of incidents of hostility against Pakistani nationals on diplomatic and cultural fronts," says the resolution, the text of which was released by the office of the leader of opposition in the National Assembly.
"The house appeals (to) the government to fervently take up this issue internationally and get Shiv Sena declared an extremist organisation," it reads.
The resolution carries the signatures of legislators Imran Zafar Leghari, Shazia Atta Marri, Dr Azra Fazal Pechuho, Mir Aijaz Hussain Jakhrani and Dr Nafisa Shah.
Shazia Marri said the PPP had moved the resolution because it believed that Shiv Sena's activities were aimed at sabotaging peace-building process between India and Pakistan and such actions could endanger peace in the region as well as the world.
She said that many international players had been busy in brokering peace between the two South Asian neighbours having nuclear capabilities, and urged the world to take notice of extremist activities in India.
Full Report at:
http://www.dawn.com/news/1214988/ppp-wants-shiv-sena-declared-extremist-organisation
---------
Dussehra celebrated in Karachi
SHAZIA HASAN
23 October 2015
KARACHI: Dussehra, the Hindu festival celebrated every year by setting the devil or Ravan's effigy ablaze here at the Shri Swami Narayan Mandir on M.A. Jinnah Road, was celebrated a bit differently on Thursday as the festival date was clashing with Muharram 8.
"But we were expecting this from before, when the Muharram moon was sighted actually. So we didn't even work on building the effigy for Dussehra this year," said Subhash, a resident of the area around Shri Swami Narayan Mandir.
"All of us who live here will perform simple pooja at the temple instead," he said. It was still morning and the young man surveyed his surroundings carefully before adding, "I think you also should get going now, as they would be closing almost all exit points soon."
Ravi Dhawani, general secretary of the All Pakistan Hindu Panchayat, also said that although they had not faced this kind of a situation before, they would deal with it by concentrating on other activities one of which was to be extinguishing the Akhanda Jyoti, a lamp lit for nine days and nights during the Navaratri festival at the Clifton beach. At around 10.30pm on Thursday, devotees at Shree Ratneswar Mahadev Temple in Clifton stopped their dandiya dance and settled for aarti for as Ravi Maharaj of the temple sang Jai Jagdesh Hare and other bhajans before their deities decorated in twinkling red lights.
Full Report at:
http://www.dawn.com/news/1214946/dussehra-celebrated-in-karachi
---------
PAT seeks permanent alliance with PTI
23 October 2015
LAHORE: A delegation of Pakistan Tehreek-i-Insaf on Thursday visited the Pakistan Awami Tehreek offices to seek the latter's support in the local body polls due on Oct 31.
The hosts, sources said, urged the visitors to chalk out a mechanism for forging a permanent alliance of the two parties instead of, what the PAT officials were quoted as saying "using the PAT as and when required by the PTI".
The PTI team included Punjab's former governor Chaudhry Mohammad Sarwar and Abdul Aleem Khan, who recently lost to Sardar Ayaz Sadiq in NA-122 by-polls. They were received by PAT secretary general Khurram Gandapur, Basharat Jaspal and others.
The two sides, however, could not agree on seat adjustment in the local body polls, at least for the first two phases in Punjab, as the PTI argued that such a decision at this stage could spark reaction from the already pitched candidates, the sources said.
Agreeing to explore seat-adjustment possibilities in the next general election, the two sides decided to evaluate and analyse their potential candidates and going for the "best possible choice" instead of announcing any formula based on quota for joint candidates, they said.
The two sides would give three names each for a committee to be formed for the purpose which would start working after Oct 31. The committee would meet at least once a month to remove hurdles, if any, to smooth implementation of the likely agreement.
In response to PAT apprehension whether Chaudhry Sarwar would be able to get the agreement implemented, the ex-governor was quoted as arguing if he could abandon the governor's office for being "powerless", how he could accept the responsibility of leading the PTI in Punjab without having any say in the party matters.
He, however, admitted there was a strong voice for "solo flight" within the PTI ranks and that he was working to convince both the leadership and activists that a "grand alliance" was needed to counter the ruling PML-N in the electoral contest.
Full Report at:
http://www.dawn.com/news/1214973/pat-seeks-permanent-alliance-with-pti
---------
Mideast
Israel lifts age limits for Aqsa Friday prayers
23 October 2015
Israeli police said they have lifted age restrictions for the main weekly prayers at Jerusalem's Al-Aqsa mosque compound on Friday, for the first time in weeks.
The restrictions on male worshippers have been imposed on and off since September when repeated clashes between Palestinian protesters and Israeli police erupted at the flashpoint site.
Full Report at:
http://english.alarabiya.net/en/News/middle-east/2015/10/23/Israeli-police-lift-age-restriction-for-Aqsa-Friday-prayers.html
---------
Jordan king warns Israel against changing Aqsa status quo
22 October 2015
Jordanian King Abdullah II again warned Israel Thursday against any move to change the status quo at Jerusalem's Al-Aqsa mosque compound, while reiterating calls for a two-state solution to the Israeli-Palestinian conflict.
The king, whose country has custodial rights over Muslim and Christian holy sites in Jerusalem, made his remarks in a statement after a meeting with UN chief Ban Ki-moon.
Ban has already met Israeli Prime Minister Benjamin Netanyahu and Palestinian president Mahmud Abbas in a bid to get the two sides to rein in violence that has killed 60 people in three weeks.
Angry Palestinians clashed with Israel police over several days in September, spurred by fears Israel is seeking to change the rules governing the site, sparking the latest wave of violence.
Jordan has previously denounced Israeli actions at the mosque compound, saying they amount to "aggression" against Arab and Muslim nations.
The king warned against "any attempt to change the status quo", which Netanyahu has repeatedly promised to preserve.
Full Report at:
http://english.alarabiya.net/en/News/middle-east/2015/10/22/Jordan-king-warns-Israel-against-changing-Aqsa-status-quo-.html
---------
Israel accuses UNESCO of 'fueling flames' with holy site resolution
22 October 2015
Israel on Thursday accused the U.N.'s cultural body of fanning tensions in the region by approving a resolution that criticised the Jewish state for "aggressions" against Muslims seeking access to a Jerusalem holy site.
The foreign ministry said in a statement that the UNESCO resolution "aims to transform the Israeli-Palestinian conflict into a religious confrontation" in an abuse of the U.N. agency's mandate.
"Instead of striving to reduce tensions, the authors of the resolution are working to fuel the flames in the region, using irresponsible religious rhetoric and distorting history."
UNESCO on Wednesday approved a highly critical resolution from a group of Arab states that condemned Israel for restricting access of Muslim worshippers to the flashpoint Al-Aqsa mosque, sacred in both Islam and Judaism.
The final version of the draft resolution was changed at the last minute to remove a controversial clause saying the Western Wall in Jerusalem, the holiest site at which Jews can pray, is an "integral part" of the Al-Aqsa mosque compound.
However it did reaffirm that two other religious sites, the Tomb of the Patriarchs in Hebron and Rachel's Tomb in Bethlehem, were "an integral part of Palestine".
The resolution comes as a wave of deadly unrest sweeps Israel and the Palestinian territories, with a series of knife, gun and car-ramming attacks as well as violent protests sparking fears of a new Palestinian intifada or uprising.
The spike in violence followed September clashes between Israeli police and Palestinian protesters at the Al-Aqsa compound, which Jews call the Temple Mount and revere as their holiest site. The site is the third-holiest in Islam.
Full Report at:
http://english.alarabiya.net/en/News/middle-east/2015/10/22/Israel-accuses-UNESCO-of-fueling-flames-with-holy-site-resolution-.html
---------
Israel 'provocative rhetoric' needs to stop
23 October 2015
The White House has warned Benjamin Netanyahu against "inflammatory rhetoric" on Thursday after the Israeli prime minister claimed a Palestinian religious leader provoked the Holocaust.
Netanyahu on Tuesday suggested Hitler was not planning to exterminate the Jews until he met Grand Mufti of Jerusalem Hajj Amin al-Husseini, a Palestinian nationalist, in 1941.
Responding sharply to the controversial claim, since pedaled back by the Israeli leader, White House spokesman Eric Schultz said, "I don't think there's any doubt here at the White House who is responsible for the Holocaust that killed six million Jews."
"We here continue to stress publicly and privately ... the importance of preventing inflammatory rhetoric, accusations or actions on both sides (that) can feed the violence."
"We believe that inflammatory rhetoric needs to stop."
Full Report at:
http://english.alarabiya.net/en/News/middle-east/2015/10/23/U-S-warns-Netanyahu-inflammatory-rhetoric-must-stop.html
---------
Assad spies, Daesh, Kurds behind bombing: Erdogan
23 October 2015
ISTANBUL: President Tayyip Erdogan said on Thursday Syrian intelligence and Kurdish militants, not just Daesh, were behind a double suicide bombing in Ankara which killed more than 100 people, the worst attack of its kind in Turkey's modern history.
Erdogan said Kurdistan Workers Party (PKK) militants, the Syrian "mukhabarat" secret police and the Syrian Kurdish PYD militia had worked together with Daesh in the bombing on Oct. 10.
Turkish authorities have focused their investigation on a home-grown Daesh cell, but the government has been more ambiguous about assigning blame, concerned, its critics say, about how the fallout might impact a general election on Nov. 1.
"This incident shows how terror is implemented collectively. This is a completely collective act of terror and it includes Daesh, PKK, the mukhabarat, and the terrorist group PYD from north of Syria," Erdogan said.
Full Report at:
http://www.arabnews.com/middle-east/news/824386
---------
Iran, Russia ink deal to boost trade ties
Oct 22, 2015
Iran and Russia on Thursday signed an agreement to promote trade cooperation in the area of infrastructure projects.
The agreement was signed by Mahmoud Vaezi, Iran's minister of communications and information technology, and the visiting Russian Energy Minister Alexander Novak.
It was signed at the end of Novak's two-day stay in the Iranian capital.
The agreement specifically calls for the expansion of cooperation between the two countries in areas such as transportation, the oil industry, road and urban development as well as the banking sector.
Novak, heading a 50-member delegation, arrived in Tehran on Wednesday to discuss joint economic projects.
Vaezi told reporters after meeting Novak in one of his earliest meetings in Tehran that Russia has pledged to issue a credit line of $5 billion for joint projects with Iran. He said the credit line is expected to usher in a new era in Iran-Russia economic relations.
Novak's s next key meeting was with Abbas Akhoundi, Iran's minister of roads and urban development, during which he was briefed on 121 projects in Iran that Akhondi said could be carried out at a total cost of €25 billion.
Full Report at:
http://www.presstv.ir/Detail/2015/10/22/434554/Iran-Russia-ink-deal-to-boost-trade-ties
---------
Daesh militants suffered huge losses, fleeing to Turkey: Syrian genera
Oct 23, 2015
A Syrian army general says government forces have dealt heavy blows to members of the Daesh terror group and other Takfiri outfits operating in the country, forcing the extremists to flee towards the Turkish border in search of refuge.
"Our armed forces are broadening their control in the regions of Jib al-Ahmar and Salma, and all the hills around Latakia [Province], killing more than 300 terrorists. Furthermore, they destroyed several vehicles armed with machine guns near Salma and Bradon dam," said Syrian army spokesperson Ali Muaeeb during a press briefing in the capital, Damascus, on Thursday.
He added, "The successful operations of our armed forces, and the big losses in the lines of terrorist organizations have led to the collapse of the terrorists' morale, and their escape in large numbers towards the Turkish border."
Muaeeb further said Syrian army troopers, backed by Russian air force and fighters from the Kurdish People Protection Units, have made headway in over 30 villages across Syria as they continue their battles against foreign-backed militants.
Full Report at:
http://www.presstv.ir/Detail/2015/10/23/434603/Syria-Army-Daesh-Latakia-Russian-Airstrikes-Ali-Muabeeb-
---------
Iran hands over 236 deportees to Pakistan
23 October 2015
CHAGHI: The Iranian security forces handed over 236 Pakistani nationals to Levies Force at Pak-Iran border in Taftan area of the district on Thursday.
The Levies said that Pakistani workers had been apprehended in different parts of Iran for living there without valid documents and had come to Iran to earn livelihood.
The Levies said the deportees would be handed over to FIA for interrogation.
http://www.dawn.com/news/1215026/iran-hands-over-236-deportees
---------
India
Muslim cleric calls for attacks on beef exporters
Priyangi Agarwal
Oct 23, 2015
BAREILLY: Renowned Sunni cleric and convenor of the Ittehad-e-Millat Council (IMC) Maulana Tauqeer Raza on Thursday demanded ban on sale and purchase of cow in the country . "Hindus first domesticate cows in their houses but after they stop giving milk, they sell it which leads to cow slaughtering. The seller and the person who slaughter cows are equally responsible for cow killing," said Raza, while addressing a press conference in Bareilly.
Full Report at:
http://timesofindia.indiatimes.com/india/Muslim-cleric-calls-for-attacks-on-beef-exporters/articleshow/49499780.cms
---------
Wave of violence unacceptable: Indian Muslim apex body (AIMMM)
22 October, 2015
The apex body of Indian Muslim organisations, All India Muslim Majlis-e Mushawarat (AIMMM), condemned the wave violence the country is facing since the advent of the Modi government at the Centre. National President of the AIMMM, Dr. Zafarul-Islam Khan said here in a press statement that "the latest murder of two Dalit kids and severely injuring their parents in BJP-ruled Haryana by so-called upper caste goons only reinforces our conviction that the Modi government is unable and unwilling to stop the continuous violence by people belonging to ultra Hindutva outfits. Riots, lynching, attacks on churches, mosques and houses of Muslims, Dalits, Adivasis and Christians are a norm now due to the silent support enjoyed by these hate-mongers of the Sangh Parivar who include some members of the Union cabinet and the ruling party legislators. They have created an atmosphere where violence has become acceptable. Soft verbal condemnations to befool world public opinion and payment of ex-gratia amounts are meaningless if the culprits and criminals are not brought to justice."
Dr. Khan further said, Modi government must either govern according to the Constitution and laws of the land or pack its bags.
http://www.milligazette.com/news/13213-wave-of-violence-unacceptable-india-muslim-apex-body
---------
Tension grips Jammu town over alleged desecration of Quran
Oct 23, 2015
JAMMU: Tension gripped the hilly Bhaderwah town in Jammu region on Friday over allegations that miscreants desecrated the Quran.
Shops, public transport, businesses and educational institutions remained closed in the town of Kishtwar district after Muslims alleged that during Thursday's Dussehra celebrations in the town, miscreants burnt some pages of the Quran.
On Friday, Muslim youth took to the streets, burnt tyres and blocked traffic on the roads.
Bhaderwah has nearly as many Muslims as Hindus.
Full Report at:
http://timesofindia.indiatimes.com/india/Tension-grips-Jammu-town-over-alleged-desecration-of-Quran/articleshow/49502087.cms
---------
Uddhav Thackeray says India should be declared Hindu Rashtra, needs uniform civil code
October 23, 2015
Shiv Sena Chief Uddhav Thackeray said Thursday that India should be declared a Hindu Rashtra, and demanded imposition of uniform civil code in the country.
"They are speaking about laws banning beef in the country. They should first announce that this country is a Hindu Rashtra and impose the uniform civil code," Thackeray said at the party's annual Dussehra rally at Mumbai Shivaji Park. His speech was keenly awaited in the backdrop of growing rift between the Sena and its senior alliance partner, the BJP, in the state.
He chose to target the BJP on the issue of Hindutva, projecting the Shiv Sena as the only saviour of Hindus in the country. Thackeray, however, made it clear that he was not keen on snapping ties with the BJP as yet.
The Sena president's 45-minute speech was laced with criticism of Pakistan, Muslims and secularists. He also criticised the BJP on the issue of Ram Mandir and its "soft approach" towards Pakistan.
"Mandir wahi banayenge lekin tarikh nahi batainge (We will build a temple there but won't tell when). If this is the way the issue of Ram Mandir is being handled, all slogans of the temple being made are hollow," said Thackeray. He also dared the BJP to enter Pakistan and kill terrorists on their soil. " Ïf you have the courage, you should enter Pakistan and slay terrorists there," he said.
Uddhav Thackeray, Aaditya Thackeray, Shiv Sena, Shiv Sena Dussehra Rally, Dussehra rally, Shiv Sena rally, Hindu Rashtra, beef ban, dadri lynching, mumbai news (Express Photo by Prashant Nadkar)
He also slammed the BJP on the issue of price rise. "What is happening in the country? Why are people speaking on the issue of cows? Why can't they speak on the price rise that the country is facing? I have not come here to criticise anyone. However, my responsibility is towards my people and not towards any seat of power," Thackeray said.
He criticised those questioning the Sena on why it was not quitting the government if it had serious differences with the BJP. "When something good is done, we will praise, but if something wrong is happening, we will criticise as well. People ask me when we will step out of this government. We have joined this government. Let us do some work. We know how long to stay in power," said Thackeray.
He, however, put the BJP on notice saying the Sena would pull the plug on the alliance if price rise was not controlled. "When our government was in power in 1995, prices were stable. Why can't the same happen now," asked Thackeray.
He also took on Muslims and the "policy of appeasement". He said the renaming of Aurangabad to Sambhaji Nagar would take place soon. "You have the mausoleums of Aurangzeb and Afzal Khan here on this soil. Some people still go to pay obeisance to these figures that had come to wipe out the fledgling Hindvi Swaraj. Imagine the mentality of such people," he said.
According to him, Hindus are deliberately being targeted in terror cases and that there is no one to defend Hindus in the country. "We do not have any problem with Muslims. A few years ago, there were 14 crore Muslims in the country. Their population has now gone up to 25 crore. Imagine what will happen in 25 years. Will this nation survive if Hindus are not there," he asked. Thackeray also demanded that Bharat Ratna should be conferred on Vinayak Damodar Savarkar for the sacrifices he made for the country. Surprisingly, he also chose to hit out at rabid elements of the Sangh Parivar, criticising them for asking Hindus to have 10 children, harping on the beef issue and the lynching incident at Dadri. "Ït is because of incidents like Dadri that the head of this nation hangs in shame," Thackeray said.
Full Report at:
http://indianexpress.com/article/cities/mumbai/shiv-sena-dussehra-rally-india-should-be-declared-hindu-rashtra-needs-uniform-civil-code-says-udhhav-thackeray/#sthash.upNx0Rci.dpuf
---------
North America
In hunt for US terror recruits, FBI agents set traps
22 October 2015
In April, John Booker was arrested for allegedly planning to carry out a suicide bombing at a military base in Kansas on behalf of the ISIL group.
It turns out that undercover FBI operatives had been manipulating the 20-year-old for six months -- helping him make a "martyrdom" video, providing him with a list of bomb-making materials and even building an explosive device for him, albeit an inert one.
Critics say the Federal Bureau of Investigation's growing army of undercover agents tasked with hunting down terror recruits on US soil sometimes unduly pressures young, impressionable people to plan and move forward with acts they may otherwise not have conceived on their own.
The FBI "may have created terrorists out of law-abiding citizens," Human Rights Watch has alleged.
In total, the FBI employs at least 15,000 undercover informants who are spread out over a wide span of probes, ranging from pedophilia to drugs to terror.
Often well paid and operating with immunity, an informant can sometimes go so far as to suggest targets or provide weapons to convince a suspected recruit he or she is for real.
"They need to be convinced that you are just like them," said Mubin Shaikh, a former Canadian counterterrorism operative who has worked undercover, including in an operation that saw the so-called Toronto 18 prosecuted.
"You have to play along, you have to do what they tell you to do. Otherwise your whole operation is compromised."
Full Report at:
http://www.worldbulletin.net/america-canada/165543/clinton-claims-taking-responsibility-in-benghazi-attack
---------
Another Refugees Facility Burns in Sweden
22 October 2015
CAIRO – Reflecting a growing uneasiness with asylum seekers, a temporary facility planned to host refugees has been set on fire, in the latest attack targeting temporary accommodation centers.
"Based on what has happened so far in the country and given that the window is broken, it is easy to suspect that it was planned. But it is a police matter to investigate the course of the fire," Daniel Sirensjö, who was working overnight in the control room for the region's fire and rescue service told Swedish broadcaster SVT, Local.se reported.
Teams from three fire stations in the region were sent to tackle the blaze in a former retirement home in Oderljunga.
Though the building was not housing asylum seekers, a decision to turn it to accommodate refugees fleeing Syria war was expected to be issued on Thursday.
No one was at the building at the time of the fire, which left the disused center with bad smoke and water damages.
Police said that they would carry out a technical investigation on Thursday but were already treating the incident as a suspected arson attack.
The fire in Oderljunga is not the first to target refugee accommodation centers in Sweden.
A suspicious blaze at an old school building earmarked for asylum accommodation in Onsala south of Gothenburg happened over the weekend, just days after another two hubs were burned to the ground in Ljungby and Arlöv in southern Sweden.
A further centre in UpplandsVäsby, north of Stockholm, was also damaged on Tuesday night.
Concerns
The fire, suspected as arson attack, comes amid increasing concerns about the increasing influx of refugees into the Nordic country.
According to the latest figures from Sweden's Migration Board (Migrationsverket), around 100,000 refugees have now arrived in Sweden since the start of 2015.
The government agency said on Thursday that it expected a further 40,000 to 90,000 more would show up in the country before the end of the year.
"More people than ever are seeking asylum in Europe and Sweden and the situation right now is unprecedented. In Sweden it has among other things led to us now having difficulties finding accommodation to all of those who come here," said the Migration Board's Director General Anders Danielsson in a press release.
Meanwhile Sweden's Prime Minister Stefan Löfven has this week raised concerns that "Sweden is approaching the limit of its capacity" as it continues to take in record numbers of asylum seekers.
Full Report at:
http://www.onislam.net/english/news/americas/495367-another-refugees-facility-burns-in-sweden.html
---------
Clinton grilled by Republican-led body on Libya embassy attack
23 October 2015
WASHINGTON: Hillary Rodham Clinton firmly defended her actions on Benghazi as she came face-to-face on Thursday with the Republican-led special investigation of the 2012 attacks on a US diplomatic mission in the Libyan city, hoping to put to rest the worst episode of her tenure as secretary of state and clear an obstacle to her presidential campaign.
Democrats have assailed the investigation as a ploy to derail Clinton's White House bid.
The hearing comes at a moment of political strength for Clinton, the front-runner for the Democratic nomination.
On Wednesday, a potential rival for the nomination, Vice President Joe Biden, announced he would not join the race. Clinton also is riding the momentum of a solid debate performance last week.
Clinton kicked off a long day of questioning with a plea that the United States maintain its global leadership role despite the threat posed to US diplomats. She hailed the efforts of the four Americans who died in the Sept 11, 2012, attacks, including the first ambassador in more than three decades, but told the House Benghazi Committee that the deadly events have already been exhaustively scrutinised.
"We need leadership at home to match our leadership abroad, leadership that puts national security ahead of politics and ideology" Clinton said in her opening remarks, the closest she came to directly rebuking her Republican investigators.
Republian Trey Gowdy of South Carolina started the hearing with a series of questions that he said remained unanswered: Why was the US in Libya, why were security requests denied, why was the military not ready to respond quickly on the 11th anniversary of 9/11 and why did the Obama administration change its story about the nature of the attacks in the weeks afterward? "These questions linger because previous investigations were not thorough," Gowdy said.
Full Report at:
http://www.dawn.com/news/1214952/clinton-grilled-by-republican-led-body-on-libya-embassy-attack
---------
Obama vetoes $612 bn defence bill, aid for Ukraine, Syria
23 October 2015
U.S. President Barack Obama has vetoed the $612 billion defense policy bill, citing sections impeding the closure of Guantanamo Bay prison and keeping sequestration caps on defense budget.
Obama signed the veto document inside the Oval Office on Thursday where the media was invited to observe the ceremony. This was the first time the president did such a ceremony for vetoing a bill.
In remarks made to White House pool correspondents, Obama cited three points for vetoing the "House Resolution 1735" bill passed by Congress last week as the 2016 National Defense Authorization Act.
"This legislation specifically impedes our ability to close Guantanamo in a way that I have repeatedly argued is counterproductive to our efforts to defeat terrorism around the world," he said.
The Guantanamo Bay prison, which was established in the wake of 9/11 to keep prisoners allegedly linked to Al Qaeda and other radical groups, is currently holding up to 114 prisoners.
Subtitle D of the bill prohibits the use of funding to build facilities for Guantanamo prisoners inside the U.S., their transfer to U.S. soil, or release to countries of origin or third countries until a number of conditions are met.
Full Report at:
http://www.worldbulletin.net/america-canada/165569/obama-vetoes-612-bn-defence-bill-aid-for-ukrainesyria
---------
US to supply Pakistan with F-16 jets
22 October 2015
The U.S. plans to sell eight F-16 fighter jets to Pakistan, its close ally in the so-called "war on terror", despite Washington's reservations over Islamabad's nuclear program, according to reports in the U.S. media.
If the deal goes through, the new aircraft will be added to the Pakistani air force's sizeable fleet, which already includes over 70 F-16s and dozens of French and Chinese aircraft, the New York Times reported on Thursday.
The proposed sale, however, which can still be blocked by U.S. Congress, amounts to little more than a symbolic move, say analysts, as Islamabad has been involved in an aggressive joint venture for the procurement and manufacture of Chinese aircraft, particularly the JF-17 Thunder jet fighter.
According to the New York Times, Congress was informed of the proposed sale only two days ago, while it remains unclear whether the administration of U.S. President Barak Obama would announce the deal during Pakistani Prime Minister Nawaz Sharif's current visit to Washington.
Last month, Islamabad bought four MI-17 fighter jets from Russia and hopes to strike more defense deals with Moscow -- a clear sign it is no longer dependent solely on Washington for its military needs.
In May, Washington reportedly delivered 14 combat aircraft, 59 military trainer jets and 374 armored personnel carriers -- all of which had been earlier used by U.S. forces in Afghanistan -- to Pakistan.
And one month earlier, the U.S. State Department approved Islamabad's request for billions of dollars' worth of military hardware.
According to the New York Times, it remains unclear whether the proposed F-16 sale will be approved by Congress, which is already locked in a standoff with the U.S. State Department over the proposed sale of used Navy cutter vessels to Pakistan.
- Compensation
Security analysts, meanwhile, see the proposed sale as little more than an attempt by Washington to compensate Islamabad, which remains uncomfortable over burgeoning defense ties between the U.S. and India.
Full Report at:
http://www.worldbulletin.net/america-canada/165544/clinton-claims-taking-responsibility-in-benghazi-attack
---------
Europe
Scots Muslim pupils suffer Islamophobic abuse
23 October 2015
A MAJORITY of Muslim pupils from Scottish schools have experienced Islamophobia, new research shows.
A study of pupils from different religious and ethnic backgrounds found Muslims had been routinely called "terrorists" and "Pakis".
The survey found similar abuse was directed at other groups including black refugees from Somalia and Sikhs.
Even young people from countries in Eastern Europe such as Slovakia, Romania and the Czech Republic had been called "Pakis".
The research, by academics from the universities of Newcastle, St Andrews and Edinburgh, also found school staff lacked an understanding of the religious background of pupils.
In one case, catering staff at a Catholic secondary in Glasgow asked a boy from a Catholic Indian family why he was eating during the fast of Ramadan despite the fact he regularly attended mass at the school.
Peter Hopkins, professor of social geography at Newcastle University, called for better training of school staff and more lessons on Islamophobia and other forms of racism.
He said: "A lot of the young people felt the Asian community was seen to be one community and that they were all seen as Muslims and Pakistani.
"There was a lack of understanding that the "Asian community" is quite diverse and includes Muslims, Sikhs, Hindus and Catholics as well as people who aren't religious."
Mr Hopkins said he had been surprised the racist insult "Paki" was used against all the different groups in the study, including those from eastern Europe.
He also said it was clear abuse was related to major political events such as the spread of IS in Syria and Iraq, the killing of soldier Lee Rigby in London in 2013 and the 9/11 attacks.
Some pupils said they had a clear idea of who to report incidents of racism to, such as a guidance teacher, and that their school would deal effectively with the issue.
However, others felt their schools didn't know how to handle racism - with some teachers and school staff such as canteen workers exhibiting ignorance.
Mr Hopkins said: "Some of the pupils talked about teachers assuming they were Muslim. It wasn't nasty. It was a lazy assumption.
Full Report at:
http://www.heraldscotland.com/news/13890827.Scots_Muslim_pupils_suffer_Islamophobic_abuse/
---------
'Moderate terrorists' US play on words: Putin
Oct 22, 2015
Russia's president has lashed out at the US for making a distinction between "moderate" and "non-moderate" terrorists in choosing its targets in Syria.
"There is no need to play with words and divide terrorists into moderate and non-moderate ones. I would like to know what the difference is," he said from the Russian resort city of Sochi on Thursday.
He also criticized the White House for staging "a double game" in Syria by "announcing the fight against terrorists" on the one hand and using some others "to position pawns."
The Russian head of state was respectively referring to the September 2014-present US-led air campaign in Syria, which purports to be pounding the Takfiri terrorist group of Daesh, and Washington's recruitment and equipment of militants fighting the government of Syrian President Bashar al-Assad.
He also suggested that the US had undertaken the airstrikes "without considering the legitimacy of the use of force and its consequences," referring to Washington's refusal to obtain any authorization from Damascus or the United Nations for the attacks. Putin hinted that the mission was one not "solving but only multiplying problems."
An F-22A Raptor refueling in the US Central Command area of responsibility prior to strike operations in Syria on September 26, 2014 (AFP photo).
Syria has been grappling with a deadly crisis since 2011, which has claimed the lives of more than 250,000 people so far.
Upon a request from Damascus, Russia has been conducting airstrikes of its own against Daesh and other terrorist groups in Syria since September 30. The Syrian army's fight against terrorists took a new turn after Russia started launching airstrikes against the Takfiri terrorists.
Full Report at:
http://www.presstv.ir/Detail/2015/10/22/434547/Russia-US-Syria-Iran-Putin-Daesh
---------
UN slams Czech Rep. for 'degrading' refugees
23 October 2015
The United Nations has strongly criticized the Czech government for its degrading and systematic maltreatment of refugees.
"The Czech Republic is unique in routinely subjecting migrants and refugees to detention up to 90 days in conditions which have been described as degrading," the United Nations High Commissioner for Human Rights Zeid Ra'ad Al Hussein said in a statement Thursday.
Several European countries have been employing restrictive policies over the last two months against asylum seekers who are trying to reach other European countries further north.
"According to credible reports from various sources, the violations of human rights of migrants are neither isolated nor coincidental, but systematic: they appear to be an integral part of a policy by the Czech Government designed to deter migrants and refugees from entering the country or staying there," Al Hussein said.
Expressing his concern about the conditions in the detention facilities, Al Hussein said that the Bila-Jezova detention facilities were described by Czech Justice Minister Robert Pelikan himself as "worse than in a prison".
Full Report at:
http://www.worldbulletin.net/europe/165573/spaniards-protest-against-austerity-policies
---------
Gunmen stage new assault on refugees at sea: HRW
22 October 2015
Unidentified gunmen have staged a series of new sabotage attacks on boats carrying refugees cross the Aegean Sea, Human Rights Watch said on Thursday.
Quoting witnesses, the New York-based rights group said there had been eight incidents in which gunmen "intercepted and disabled the boats carrying asylum seekers and refugees from Turkey toward the Greek islands".
The most recent incidents were on October 7 and 9.
According to a 17-year-old Afghan called Ali, a speedboat with five men armed with handguns had rammed their rubber dinghy on October 9.
"At first when they approached, we thought they had come to help us," he told HRW.
"But by the way they acted, we realised they hadn't come to help. They were so aggressive. They didn't come on board our boat, but they took our boat's engine and then sped away," he said.
He said the men attacked three other boats in quick succession before speeding off toward the Greek coast
"They spoke a language we didn't know, but it definitely was not Turkish, as we Afghans can understand a bit of Turkish," he said.
Similar allegations were made by both refugees and rights groups during the summer.
The latest attacks took place near the island of Lesbos, HRW said.
A Greek coastguard source said the claims were under investigation but despite searches, they had not been able to locate the alleged perpetrators.
In August, the coastguard arrested three men on the island of Samos suspected of preying on refugees seeking to cross over from Turkey.
They were dressed like members of the Greek coastguard and wore hoods, the coastguard said.
At the time, several refugees from Syria and Iraq on the island of Kos told AFP they had been attacked by masked gunmen at sea, with some claiming the assailants stole their fuel and even their motors.
Full Report at:
http://www.worldbulletin.net/europe/165563/spaniards-protest-against-austerity-policies
---------
Bosnia Top Scholar Raps Hungary PM
22 October 2015
SARAJEVO – Bosnia's top Muslim scholar rapped Hungarian Prime Minister over his "arbitrary and damaging" anti-Islam comments, saying they were uttered out of ignorance.
"Every [kind of] ignorance is damaging, and particularly the one advocated by senior political officials who have social power and the role to publicly influence the opinion of others," Bosnia's Efendi Husein Kavazovic said in a statement cited by Reuters on Wednesday, October 21.
Kavazovic, who leads Europe's largest community of indigenous Muslim Slavs known for their moderation and tolerance of other religions, was commenting on Prime Minister Viktor Orban latest remarks.
As hundreds of thousands of mainly Muslim migrants and refugees poured into the European Union, including Hungary, the right-wing Premier called them a threat to Europe's prosperity, security and "Christian values."
Orban was also quoted as saying that Islam "has never been part of Europe but came into Europe", and that it did not spiritually reflect Europe but rather a different way of life.
Criticizing Orban, Kavazovic said that educated people know that just as Islam had come to Europe from elsewhere, so had Christianity and Judaism.
Orban's assertions were "arbitrary and damaging" and he hoped not to hear similar claims by senior European officials in the future, he added.
Kavazovic added that Orban's comments denied the principle of democracy and betrayed the "spirit of Christianity."
Full Report at:
http://www.onislam.net/english/news/europe/495365-bosnia-top-scholar-raps-hungary-pm.html
---------
TalkTalk hack that has left four million customers' personal data at risk 'was carried out by cyber jihadi group based in Russia'
By JOSH WHITE FOR THE DAILY MAIL and RICHARD SPILLETT and MARK DUELL FOR MAILONLINE
22 October 2015 | UPDATED: 10:52 GMT, 23 October 2015
A cyber attack in which the bank details of TalkTalk's four million customers may have been stolen was carried out by jihadi hackers in Russia, it was claimed today.
TalkTalk, one of Britain's biggest communications companies, announced last night that it had suffered a 'significant and sustained cyber attack' in which the bank details and credit card information of customers may have been accessed.
An expert on computer crime today revealed that an extremist group based in the former Soviet Union has claimed responsibility.
Adrian Culley, a former detective in the Met's cyber crime unit, told BBC Radio 4's Today Programme: 'They are claiming to be from Soviet Russia and be an Islamic cyber jihadi group. They have posted [online] information that appears to be TalkTalk customer private information.'
It came after a garbled message was put online which purported to be from those behind the hack.
It stated: 'We Have adapted To The Security measures Of The Web,, We Cannot Be Stopped... We Will Teach our Children To Use The Web For Allah.. Your Hands Will Be Covered In Blood.. Judgement Day Is Soon.
'WE Are In The Soviet Russia And Near Place, Your Europe, WE control Asia, We Control AMERICA.'
After TalkTalk confirmed the attack last night, the company asked all customers to change their passwords and check for any unusual transactions from their bank accounts.
Cyber security experts are warning customers to be wary of anyone who emails or phones them purporting to be from the company and asking for bank details or passwords.
Mr du Preez said: 'These hacks are not just embarrassing to the organisations involved. They can have really serious financial and personal consequences for your users, destroying consumer trust and loyalty.'
This is the third in a spate of cyber attacks affecting TalkTalk customers - and Mr du Preez warned that hackers were always creating new ways to attack websites.
He said: 'Cyber security is a cat and mouse game. Every time better security systems are built, hackers step up their game and find new ways to beat them. Even the most secure systems can become vulnerable.'
Shares in the company fell by 4% during early trading this morning after the announcement late last night.
A TalkTalk spokesman said: 'We are continuing to work with leading cyber crime specialists and the Metropolitan Police to establish exactly what happened and the extent of any information accessed.'
The Metropolitan Police confirmed its Cyber Crime Unit was investigating an allegation of data theft which was reported yesterday, adding: 'There have been no arrests and inquiries are ongoing.'
The TalkTalk website was unavailable to customers last night and displayed the message: 'Sorry we are currently facing technical issues, our engineers are working hard to fix it. We apologise for any inconvenience this may cause.'
A TalkTalk spokesman said: 'A criminal investigation was launched by the Metropolitan Police Cyber Crime Unit following a significant and sustained cyber attack on our website yesterday.
'That investigation is ongoing, but unfortunately there is a chance that some of the following data has been compromised: names, addresses, date of birth, phone numbers, email addresses, TalkTalk account information, credit card details and/or bank details.
'We are continuing to work with leading cyber crime specialists and the Metropolitan Police to establish exactly what happened and the extent of any information accessed.'
The company's chief executive, Dido Harding, said this morning: 'There is a risk that all of our customers' personal data has been accessed and therefore we are taking that very seriously and looking to make sure that we can help our customers protect themselves if that data has been stolen.
Full Report at:
http://www.dailymail.co.uk/news/article-3285400/Four-million-TalkTalk-customers-bank-details-accessed-criminals-company-s-website-suffers-significant-cyber-attack.html#ixzz3pORnkAfE
---------
Southeast Asia
Indonesia hopes disenchanted Islamic State fighters can deter recruits
23 Oct 2015
JAKARTA: Indonesian meatball seller Ahmad Junaedi was drawn to the Islamic State (IS) group in Syria by the promise of a high salary to pay off his debts and a desire to help children living in the militants' "caliphate".
But the 32-year-old villager from Java island quickly became disillusioned - bored with his job making kebabs for Arab fighters, disappointed at the low pay and upset at tales of the group's brutal violence.
The father-of-four eventually persuaded his commanders to let him go home, joining a growing number of disenchanted people leaving the militants, a trend experts say could give governments a new weapon to deter potential recruits.
"I was deceived," Junaedi, who was also an imam at a mosque in his village, told AFP during a recent interview near Jakarta, under heavy guard by the country's counter-terror agency. "It was boring there and all the promises were lies."
"Also, I know that in Islam we say 'an eye for an eye', but what they did there was much more than that - it is a violation of what religion teaches us," he added.
Junaedi was arrested in March this year, several months after his return. He went on trial this week in Jakarta and is likely to be jailed.
SILVER LINING
Indonesia, the world's most populous Muslim-majority nation, has a long history of struggling with Islamic militancy and has suffered a string of attacks in the past 15 years, including the 2002 Bali bombings that killed 202 people, mostly foreign tourists.
While a crackdown has been largely successful and there have been no major attacks since 2009, the emergence of IS has sparked alarm. Authorities say that over 250 Indonesians have headed to the Middle East to join the group, raising fears they could revive militant networks on their return.
However the country's counter-terror chiefs see a silver lining to the handful of former IS members returning disenchanted - they are hopeful that stories of misery and disappointment can deter potential recruits.
This approach was put forward in a report last month by the International Centre for the Study of Radicalisation and Political Violence at King's College London, which found a growing number of "disillusioned" Islamic State fighters from a range of countries had defected.
Junaedi featured among 58 people listed in the report as having publicly spoken out about their defection since January 2014. Like him, some were disappointed that promises of generous financial rewards had failed to materialise, and were upset by the killing of fellow Muslims.
Full Report at:
http://www.channelnewsasia.com/news/asiapacific/indonesia-hopes/2212486.html
---------
Indonesia: Ministry to develop vocational madrasa
Fedina S. Sundaryani
October 22 2015
The Religious Affairs Ministry has said that it will start to promote vocational madrasa aliyahs (Islamic high schools) next year, as part of the government's plan to increase the number of vocational schools operating in the country and encourage 12 years of schooling.
The ministry's director of madrasa education, Nur Kholis Setiawan, said on Wednesday that the project would kick off in the 2016 academic year and would be available to begin with in five provinces.
"The vocational madrasa Aaliyah will first begin in 202 schools in five provinces," he said during a discussion at the ministry's headquarters in Central Jakarta.
Nur Kholis said that the government had prepared at least 10 hectares of land for construction of new school buildings.
No detailed information was given on what kind of training or thinking would be implanted in the curriculum in the vocational schools, but Nur Kholis said that the ministry planned to encourage private madrassa aliyahs to incorporate the teaching of vocational skills.
The Religious Affairs Ministry began planning the program after learning that many students stopped attending school after graduating from madrassa tsanawiyah, the Islamic junior high school. The ministry aims to give students more options in pursuing higher education.
"Right now, the statistics show that out of the 4.14 million students who study in basic education, only 1.1 million continue their studies in madrasas. This does not necessarily mean that they drop out, but they may go to a public school or a pesantren [Islamic boarding school] instead," he said.
Aside from setting up vocational madrasa aliyahs, Nur Kholis said that the ministry also planned to encourage Islamic high schools to focus on sciences and Islamic studies.
"We will be very selective of the students in the last category as they will become our future Muslim clerics," he said.
Full Report at:
http://www.thejakartapost.com/news/2015/10/22/ministry-develop-vocational-madrassa.html
---------
Human rights groups slam tougher Islamic laws in Aceh
October 23 2015
Human rights groups criticize the implementation of a tougher version of the Qanun Jinayat -- Aceh's Islamic Criminal Bylaw, which takes effect Friday -- and call on the central government to push for change.
Ismail Hasani, the research director at the human rights advocacy group Setara Institute, said that even though a province that holds special autonomy like Aceh has the right to have its own regulations, it must not contradict the higher law and the Constitution.
Setara sees Qanun Jinayat as a violation of people's Constitutional rights and basic human rights.
"The implementation of Qanun Jinayat in Aceh is an institutionalized form of discrimination and inhuman punishment. The central government must not allow such legal discrimination to take place," he told thejakartapost.com on Friday, criticizing the public shaming that follows punishment.
Moreover, Ismail acknowledged that political arguments that defend Aceh's special autonomy status would be used to support the new bylaws.
"It shows that politics is more important in deciding these issues than the legal arguments," he said.
Seperately, Hendra Saputra, coordinator of the Aceh office of the Commission for Missing Persons and Victims of Violence (Kontras), said that civil society would closely watch the Acehnese administration to prevent any outlandish implementations of these bylaws.
"We will monitor the implementation, because we are worried about any mishandling such as in the arrest process," he told thejakartapost.com.
Hendra said the Acehnese government should enforce laws firmly so that there would be no civilians involved in the arrest or the punishment process. Only the authorities should enforce the laws, he said.
Full Report at:
http://www.thejakartapost.com/news/2015/10/23/human-rights-groups-slam-tougher-islamic-laws-aceh.html
---------
No-faith move a mere gimmick, says Umno blog
October 23, 2015
PETALING JAYA: The Umno blog MyKMU.net has dismissed Pakatan Harapan's move to table a motion of no-confidence against the Prime Minister Najib Razak as a mere continuation of its efforts to chip away at his popularity.
"It's just a gimmick to further the long-term interest of reducing voter support for Barisan Nasional at the 14th general election," says a MyKMU editorial today.
It says Pakatan virtually admitted that the aim of the move was to attack Najib's character when Opposition Leader Wan Azizah Ismail emphasised that the motion she submitted yesterday related only to loss of confidence in Najib and not the government.
The editorial also alleges that Pakatan is under no illusion that the motion will be successful. Noting that only 77 MPs opposed the suspension of Lim Kit Siang yesterday, it questions whether the no-confidence move would even get the support of all 88 opposition MPs. It speculates that some PAS MPs would oppose it.
Full Report at:
http://www.freemalaysiatoday.com/category/nation/2015/10/23/no-faith-move-a-mere-gimmick-says-umno-blog/
---------
Work with other countries to tackle Islamophobia
October 22, 2015
KUALA LUMPUR: Malaysia today called on Islamic nations to be proactive in tackling the problem of Islamophobia faced by the world currently.
Deputy Prime Minister Ahmad Zahid Hamidi said at the same time, Islamic nations should increase cooperation with non-Islamic nations to correct the latter's misperception of Islam.
Speaking at a news conference after opening the 1st Putrajaya International Security Dialogue, here, he said non-Islamic nations had the wrong perception of Islam due to the actions of a small number of Muslims.
Full Report at:
http://www.freemalaysiatoday.com/category/nation/2015/10/22/work-with-other-countries-to-tackle-islamophobia/
---------
Religious violence flares in Indonesia as mob torches Aceh church
23 October 2015
Indonesia is struggling to live up to its national motto "unity in diversity" after a mob attack on a church left one dead and the authorities responded by demolishing more churches.
The attack took place in the conservative province of Aceh, the only region in Indonesia that has sharia law and where religious tension has been brewing for months.
A mob wielding sharp weapons torched the small Protestant church in the district of Aceh Singkil last week, saying it lacked an official permit. One Muslim vigilante was shot dead in the attack, while thousands of Christians fled to a neighbouring province.
Bishop Elson Lingga visited Aceh Singkil the day after the attack and said there was a deep sense of unease in the villages. "After the event everyone is suspicious of each other, thinking, 'Are they the ones that reported us?' They are afraid of their Muslim neighbours," he said.
Hardliners in the district have used the media to call for almost all of the 22 churches in Aceh Singkil to be torn down. In September unknown attackers burned down another church in the middle of the night.
After the latest attack the district police chief was replaced for his poor handling of the conflict. But in a move intended to ensure security, police officers took sledgehammers to four other churches this week.
"The police were ensuring security for the local authorities," said a national police spokesman, Brigadier General Agus Rianto. "To maintain order based on the agreement between those involved – the buildings did not have a permit."
Permits for houses of worship in Indonesia are granted by local religious harmony forums, or FKUB. When Muslim and Christian members of the FKUB in Aceh Singkil decided that 10 of 22 churches in the district would be torn down, it was their decision the police was enforcing.
It was not a decision that Christian priests in Aceh Singkil felt at liberty to dispute. Bishop Elson said on the day of the meeting his pastor had been escorted by police and "forced to sign".
Full Report at:
http://www.theguardian.com/world/2015/oct/23/religious-violence-flares-in-indonesia-as-mob-torches-aceh-church
---------
Indonesia/US: Rights Should Top Jokowi-Obama Summit
OCTOBER 23, 2015
(Washington, DC) – United States President Barack Obama and Indonesian President Joko Widodo should address increasing threats to women's rights and religious freedom in Indonesia when they meet in Washington, DC, on October 26, 2015, Human Rights Watch said today. Joko Widodo, better known as Jokowi, will visit the US from October 25 to 28.
"Indonesia is damaging its reputation as a tolerant Muslim society by weakening protections for women and religious minorities," said John Sifton, Asia advocacy director. "Rights-respecting governments don't require women to take bogus virginity tests to become military officers or tolerate attacks on minority houses of worship."
Human Rights Watch has documented that Indonesia's national police and armed forces require female applicants to take degrading and unscientific "virginity tests." An increasing number of local governments have enacted discriminatory laws in recent years restricting women's rights –including regulating how women sit on motorcycles and the kind of skirts and headscarves they can wear. Indonesian law contains other discriminatory regulations targeting women and girls, including allowing female genital mutilation and child marriage.
Indonesia's religious minorities, including Shia, Sufi, and Ahmadiya Muslims; Christians; Bahai; secularists; and followers of indigenous faiths, face threats and violence from Islamist militant groups. Earlier in October, Muslim vigilantes forced the closure of 10 Christian churches in Singkil, in southern Aceh province, claiming they did not have permits from the majority Muslim community.
Indonesia's official Commission on Violence against Women reported that Indonesia had a total of 279 discriminatory local regulations in 2014. One-fifth of Indonesia's 514 regencies and cities currently have rules requiring women, especially female students and civil servants, to wear the hijab. The hijab is also imposed on Christian girls in some areas, such as West Sumatra.
In Aceh, in northern Sumatra, Sharia (Islamic law) bylaws create discriminatory offenses that do not exist in the Indonesian criminal code, criminalizing alcohol drinking, consensual same-sex sexual acts, homosexuality, and all sexual relations outside of marriage. These bylaws permit, as punishment, up to 100 lashes by whip and up to 100 months in prison.
"President Jokowi isn't responsible for the flurry of regulations harming women's rights, but he is now best positioned to do something about it," Sifton said. "President Obama should stress the importance of tackling Indonesia's restrictions and discrimination against women and girls before it gets worse."
While attacks on religious minorities have decreased since Jokowi became president in October 2014, hundreds of churches that closed down or were burned under the previous administration remain sealed. These include two churches outside Jakarta that the Supreme Court ordered to be built, but local governments ignored the order. Hundreds of Ahmadi and Shia remain displaced from their respective villages in Lombok and Madura islands after violence in 2006 and 2012, respectively.
Full Report at:
https://www.hrw.org/news/2015/10/23/indonesia/us-rights-should-top-jokowi-obama-summit
---------
Africa
Nigeria 'hires mercenaries' to battle Boko Haram
22 October 2015
Nigeria has hired mercenaries to combat Boko Haram as military chiefs face a December deadline to crush the militants, according to senior military sources.
The mercenaries, estimated at around 250 personnel and hired from South Africa-based private contractor Specialized Tasks, Training, Equipment and Protection (STTEP), are being deployed along with fighter jets in Operation Fire Force, a source at Nigeria's defense headquarters said on condition of anonymity.
"The mercenaries have been reengaged and their platforms are being deployed," the source said. "By platforms, I mean fighter jets, helos [helicopters], coms [communication], surveillance, medics, etc."
STTEP includes veterans from the South African apartheid era who will work with and train a Nigerian strike force, according to the source.
Another army source confirmed the development to Anadolu Agency. "There is definitely something happening in that direction," the source said, again on condition of anonymity.
According to STTEP's official website, the company's trainers and advisers are drawn from "conventional, clandestine, and covert units of the pre-1994 South African Defense Force".
It claims to have a proven track record of success in Africa, the Middle East, the Far East and Central and South America.
Describing the use of mercenaries to fight militants as "shameful" during the March 2015 election campaign, Nigeria's President Muhammadu Buhari condemned the practice. Buhari, a retired general, said the practice represented the depth of weakness of the Nigerian army.
Asked why the Buhari administration is again deploying mercenaries, the defense HQ source said it appeared to be the most practical option if headway was to be made against militants whose guerilla tactics are new to the Nigerian military.
Nigeria claimed significant success against the militants in the run-up to the March election, with some analysts crediting the mercenaries.
- Boko Haram threat
Boko Haram has emerged as a serious threat in Nigeria. More than 1,700 people have been killed since Buhari took office on May 29, according to an Oct. 7 report from the International Society for Civil Liberties and the Rule of Law. Since then, more than 100 have died in suicide bombings in Borno and Yobe states.
According to the army HQ source, the Buhari administration initially terminated the mercenary contract because it was "opaque and without accountability". However, a new agreement was reached to boost the counterinsurgency operation.
"As it stands now, huge amounts of monies are owed to the contractors as fulfillment for the previous engagement," the HQ source added. "So they are starting a new engagement for an initial period of three months. As for their outstanding balances, investigations are being carried out to ensure everything is above board."
The Nigerian military did not respond to Anadolu Agency's request for comment.
However, presidential spokesman Garba Shehu denied the government was engaging mercenaries again.
Full Report at:
http://www.worldbulletin.net/africa/165545/key-al-shabaab-targets-arrested-by-kenyan-police
---------
Key al-Shabaab targets arrested by Kenyan police
22 October 2015
Two key al-Shabaab terror suspects were arrested by police in Mombasa on Kenya's coast on Thursday, local media reported.
Luqman Khatib and Swaleh Mubarak, who are in their 20s, are suspects in the killings of police officers and informants in the city.
Khatib is said to have stabbed a police officer while trying to escape arrest in the Makupa neighborhood, a court heard.
The Kenya Broadcasting Corporation reported they were arrested by plainclothes police officers following a tip-off from the public.
Anti-terror police told the court that Khatib was a leader of a gang responsible for knife attacks on civilians in Majengo district and were granted 10 days to complete an investigation.
Full Report at:
http://www.worldbulletin.net/africa/165562/key-al-shabaab-targets-arrested-by-kenyan-police
---------
Over 30,000 starving to death in S Sudan , says UN
Oct 22, 2015
The United Nations has voiced alarm over dire living conditions in South Sudan's war-zone regions, saying tens of thousands of people there are facing death by starvation.
The UN's Food and Agriculture Organization (FAO), the UN children's fund (UNICEF) and the World Food Program (WFP) said in a joint statement on Thursday that "at least 30,000 people are living in extreme conditions and are facing starvation and death."
Sources say those worst affected are in the northern battleground state of Unity, once the country's key oil-producing region, which has been a scene of heavy fighting between government troops and rebels.
Latest UN figure shows some 3.9 million people are in crisis -- a third of the country's population. The figure marks a massive 80-percent rise compared to the same period last year.
Meanwhile, WFP chief Joyce Luma, has said that the counties of Leer, Guit, Koch and Mayendit, are the hardest-hit areas, where aid agencies have been forced to pull out in recent months due to fierce fighting.
"People are on the edge of a catastrophe that can be prevented," Luma said.
The world body has also warned that thousands more are on the brink of famine across the conflict-torn country.
Residents receive aid food supplies distributed by the UN World Food Program in Koch County, Unity State, South Sudan, on September 25, 2015. © AFP
This comes as Integrated Food Security Phase Classification (IPC), which classifies hunger, has said in a report that "there is a concrete risk of famine occurring between October and December 2015 if urgent humanitarian access and assistance is not provided in the most affected areas."
Full Report at:
http://www.presstv.ir/Detail/2015/10/22/434553/South-Sudan-UN-Unity-State-FAO-UNICEF-
---------
URL: https://www.newageislam.com/islamic-world-news/new-age-islam-news-bureau/wahhabism-centre-in-capital-riyadh-shows-conservatism-still-central-to-saudi-soul/d/105024