New Age Islam News Bureau
1 Dec 2017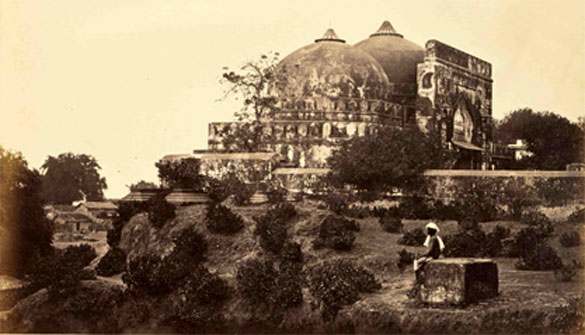 Sticking to its stand on the Babri Masjid issue, the Shia Waqf Board on Thursday asked that the Sunni Waqf Board to give up its claim on the Shia property in Ayodhya and instead play a positive role in amicably resolving the temple-mosque disputes in Kashi and Mathura. (Express Archive)
-----
• 'Wahhabisation' Greater Threat than Arabisation, Says Islamic Renaissance Front Chief
• Al-Baghdadi Attempting to Make Up for Iraq, Syria Losses in Libya
• Turkish Army Kills Over 80 PKK Militants North Of Iraq
• Sunni Waqf Board Has No Right on Ayodhya: Shia Waqf Board
• Jamaat-e-Islami to Observe 'Youm-e-Azm-e-Tahfuz Khatam-e-Nabuwat' Today
• Afghan Taliban Says IS Deputy Leader Has Joined Its Ranks
Southeast Asia
• 'Wahhabisation' Greater Threat than Arabisation, Says Islamic Renaissance Front Chief
• Zahid: Umno Last Bastion for Islam, Malays in Malaysia
• Defend sanctity of Islam, Najib urges Muslims
• Zaid: I feel sorry for Muslims in Selangor
• Asean should unify efforts to combat terrorism, says expert
--------
Arab World
• Al-Baghdadi Attempting to Make Up for Iraq, Syria Losses in Libya
• Terrorists Demand US to Establish Airbase in Damascus
• Hariri: Lebanon no longer tolerates Hezbollah's intervention in the Gulf
• Ballistic Missile Intercepted In Southern Saudi Arabia
• FSA Gains Control over ISIL Positions in Western Dara'a, Kills over 30 Militants
• British PM urges Saudi Arabia to avert Yemen 'catastrophe'
• Terrorists Plunder Civilians' Properties in Western Aleppo
• Senior Al-Nusra Commander Killed in Idlib
• US, Jordan, Britain Stop Support for Terrorists in Southern Syria
• Iraqi Commander: US Plots to Assassinate Hashd al-Shaabi Leaders
--------
Mideast
• Turkish Army Kills Over 80 PKK Militants North Of Iraq
• Muslim Holds Ancient Key to Jesus Tomb Site in Jerusalem
• Mubarak reveals Netanyahu proposed resettling Palestinians in Sinai
• Yemen rebel ballistic missile 'hits target' in Saudi Arabia
• Israel Intelligence Chief Who Plans To Succeed Netanyahu
• Houthi militias clash with Saleh loyalists for second day, three killed
• Israeli fighter jets, tanks carry out airstrikes, artillery shelling against Gaza Strip
• Yemeni army ballistic missile pounds target inside Saudi Arabia: Report
• US either ignoring facts or blindsided by Daesh's fall: Iran
--------
India
• Sunni Waqf Board Has No Right on Ayodhya: Shia Waqf Board
• Prosecute Hafiz Saeed on International Forum, Pakistan PM Asks India
• Ulema, Representing Different Schools Of Thought, Civil Society Discuss Property Rights of Half-Widows
• Prophet Muhammad's Birth Celebrations On December 2
• Hizbul chief Salahuddin's son injured in Tihar jail scuffle
• Mamata Banerjee Warns Villagers near Bangladesh Border about Terrorists, Asks Them to Keep Vigil
--------
Pakistan
• Jamaat-e-Islami to Observe 'Youm-e-Azm-e-Tahfuz Khatam-e-Nabuwat' Today
• Eleven Martyred, 30 Injured In Attack on Agriculture Directorate in Peshawar
• Factionalism hits Tehreek-i-Labbaik at the outset
• Roadside bomb kills 5 pro-govt fighters in South Waziristan
• Four killed in US drone attack on Haqqani network
• Two terrorists killed in Gujrat, 3 arrested in Multan
• Three killed, eight hurt in armed clash between religious groups
• JI wants names behind oath amendment conspiracy revealed
--------
South Asia
• Afghan Taliban Says IS Deputy Leader Has Joined Its Ranks
• Pope answers critics on Rohingya in Dhaka
• 8 foreign militants killed in US drone strike in East of Afghanistan
• Rohingya Muslim refugees in Bangladesh look to Pope Francis to get citizenship, ensure safety
• Tensions intensify among Afghan leaders, Noor and Dostum stopped to visit Kandahar
• Airstrike target Haqqani network compound in Kurram Agency of Pakistan
• Afghan govt reacts at Mohaqiq's remarks regarding Syria war breakthrough
• Sri Lanka sees emerging tensions between Buddhists and Muslims
--------
Africa
• West Africa Population Planners Battle to Woo Muslim Hearts
• Nigeria: Mawlud - Muslim Media Urges Tolerance, Moderation
• Somalia: Al-Shabaab Militants Kill 2 Police Officers in Coastal Kenya
• Niger Approves Armed U.S. Drone Flights, Expanding Pentagon's Role in Africa
• African Union urges swift relocation of refugees from overcrowded camps in Libya
• Jordan: Israel must try killer before reopening embassy
--------
Europe
• Britain PM Courts Key Arab Ally, Amid Trump Anti-Muslim Row
• UN Rights Boss Condemns 'Spreading Hatred through Tweets'
• New international report reveals Qatar ties with terrorism still deep
• Croatians must admit crimes against Bosnia Muslims: president
• EU lawmakers call for arms embargo against Saudi Arabia
• Report: Muslim Population in Europe Projected to Grow, Migration or Not
--------
North America
• The Right's Islamophobia Has Nothing to Do With National Security
• Bush and Obama told Muslims we belong in America. Trump's tweets tell us we don't.
• Trump retweeted anti-Muslim videos to 'elevate the conversation', White House claims
Compiled by New Age Islam News Bureau
URL: https://www.newageislam.com/islamic-world-news/wahhabisation-greater-threat-than-arabisation/d/113422
--------
'Wahhabisation' Greater Threat than Arabisation, Says Islamic Renaissance Front Chief
Abdar Rahman Koya
December 1, 2017
KUALA LUMPUR: Vocal activist Dr Ahmad Farouk Musa has dismissed a recent conference to promote "moderate Islam" organised by the Malaysian and Saudi Arabian governments, saying it was a "farce" and a desperate move by the Saudis to beef up their Wahhabi ideology as a "tolerant" brand of Islam.
Farouk, who chairs the Islamic Renaissance Front (IRF), said the two-day "Khayr Ummah" conference, where speakers spoke on the theme of stengthening Sunni Islam as well as moderation, was part of what he called the "Wahhabisation" agenda by the Islamic authorities.
The conference was also co-organised by Malaysian Ilmuan Association (Ilmu), a group whose members have in the past backed Saudi policies and spoken out against Shia Islam, the second largest school of thought in the Muslim world which has been a target of Wahhabi scholars.
"Just like the Wahhabi scholars in Saudi Arabia that pledged their support to their leaders, as long as they perform the prayer, the government of this country believes that this is an ideology that would save them from the wrath of the people over the massive corruption and leakages," said Farouk, who was recently appointed as a research fellow at Indonesia's Sekolah Tinggi Filsafat Islam Sadra, a university that has been attacked by conservative Islamist groups in the country for its more liberal approach to Shia Islam.
Wahhabism is a term to describe the teachings of 17th century scholar Muhammad ibn Abd Wahhab, who sought to end practices deemed "un-Islamic" and who led a campaign for a return to a more austere version of Islam.
The movement colluded with the Saud family to help set up what is today known as Saudi Arabia, and the ideology has been dominant in Saudi Islamic institutions ever since.
Wahhabi ideas have inspired restrictions in Saudi Arabia such as the ban on women driving, and the rule that women travellers are accompanied by male family members.
Recently, Mohammad bin Salman, seen as Saudi Arabia's monarch-in-waiting, called for an easing of Islamic rules in Saudi Arabia.
But Farouk said it was only political rhetoric from the Saudis, saying clerics from the peninsula had yet to change their animosity against Shia Muslims, who he said have been at the receiving end of Saudi-sponsored lobbies in many parts of the Muslim world.
Arabisation
For Farouk, Wahhabism is a bigger threat than the now-familiar complaint about Arabisation of the Malay culture.
He said the experience with Wahhabism in other Muslim-majority countries had not been positive, and would be even more damaging to a multi-religious society like Malaysia.
"Throughout history, in Bosnia, Kosovo, Chechnya, Uzbekistan and Tajikistan, there has never been a Wahhabi mosque. Now the majority or perhaps 90% of mosques are controlled by Wahhabi imams," he said.
He said many mosques in Indonesia and Malaysia have now embraced Wahhabi teachings.
"The reason is the huge financial support from the Wahhabi organisations of Saudi Arabia or even the government of Saudi itself."
He said Malaysia would stand to lose more from the rise of Wahhabism, due to its multiracial nature.
"This doctrine of the Salafists and Wahhabists has created so much disruption in a plural society like ours," said Farouk, referring to a more complimentary name for followers of Wahhabism.
He gave the example of some Islamic scholars forbidding Muslims to wish non-Muslims during their religious festivals.
"What more of celebrating with your non-Muslim friends by visiting their houses during these ceremonies. Now we see less and less Muslims visiting their non-Muslim neighbours during these occasions," said Farouk.
Even translations of the Quran were not spared in the "Wahhabi onslaught", said Farouk.
"And some Qur'anic English interpretations like the famous Abdullah Yusuf Ali translation was revised and redacted to be in-line with their interpretation."
He said while the effects of the Saudi lobby in Malaysia were already felt, the worst is yet to come in the form of a more violent response to Muslim minorities.
"But at the rate Shiites are vilified during every Friday sermon in this country, I do not think it will be very long when this will happen over here," said the medical lecturer.
Farouk was possibly referring to a line recited during Friday sermons in mosques in Selangor, in which Shia Islam is labeled as heretical.
He said the spread of Wahhabism in the Muslim world was made easier by the political and military support from Western powers for Saudi Arabia, their strongest ally in the Middle East alongside Israel.
"The West was providing arms to the Saudis and they are using these arms to kill innocent civilians in Yemen for example. To me, Western greed is one of the major contributors in spreading the Wahhabi or Salafi ideology," said Farouk.
He said Western interest in oil led to the US and some European governments ignoring the dangers of "this hateful and virulent ideology".
"The Western countries are fighting the terrorists but somehow or rather, they are supporting the ideology that creates terrorism.
"The West cannot have it both ways. In order to eliminate terrorists, you need to stop the ideology that creates terrorism," he said.
http://www.freemalaysiatoday.com/category/nation/2017/12/01/wahhabisation-greater-threat-than-arabisation-says-irf-chief/
--------
Al-Baghdadi Attempting to Make Up for Iraq, Syria Losses in Libya
Nov 30, 2017
The Arabic edition of al-Sharq al-Awsat newspaper reported on Thursday that al-Baghdadi's letters, some of them written last year and some of them in the past few weeks, indicate that the ISIL leader was after making up for his defeats in Syria and Iraq by calling on the terrorist groups' commanders and members to go to Libya.
It added that the letters written to 13 of al-Baghdadi's deputies and commanders in Libya stressed the need for them to use Southern Libya as a place for recruiting the members who have fled from the East in a bid to finally target Egypt, Tunisia and Algeria.
An Arab media outlet reported earlier this month that al-Baghdadi is still alive, adding that the terrorist group's ring leader has been sighted by eyewitnesses in one of the battlefields in Southeastern Deir Ezzur.
The Arabic-language Elam al-Harbi reported that Abu Bakr al-Baghdadi, the commander of the ISIL terrorist group, has been sighted alive in one of the battlefields near the newly-freed town of Albu Kamal at the border with Iraq.
No more details have been released about the report. Contradictory reports have surfaced the media on the fate of Al-Baghdad in the last two years, while some claim that he has been killed in attacks in Iraq or Syria, others say that he is still alive and on the move.
http://en.farsnews.com/newstext.aspx?nn=13960909000695
--------
Turkish army kills over 80 PKK militants north of Iraq
by Mohammed Ebraheem
Nov 29, 2017
Baghdad (IraqiNews.com) Over 80 Kurdistan Workers' Party (PKK) militants were killed in airstrikes by the Turkish army in northern Iraq, Turkish military said Wednesday.
Turkish Air Forces carried out airstrikes on PKK locations north of Iraq, killing over 80 militants, an official statement by the Turkish military said.
The air raids were carried out Monday in the Asos region north of Iraq, the statement read.
On Friday, the Turkish military said security forces killed 26 PKK militants during operations in Turkey and northern Iraq in one week.
Turkish air forces regularly carry out cross-border air strikes against PKK targets in Iraq.
Ankara designates PKK as a terrorist organization, so do the U.S. and the EU.
PKK has led an armed campaign against Turkey for over three-decade, during which more than 40,000 people were killed.
PKK and Turkish military encounters resumed in July 2015 for the first time since the militia announced a pullout from Turkish territory in 2013. The battles resumed after PKK accused Ankara of failure of protecting Kurds following an Islamic State attack that killed 32 Kurds at a town near the borders with Syria.
Turkey's military interventions in Iraq and Syria has partially been driven by ana anxiousness to curb the influence of Kurdish militias thought to have links with the PKK.
https://www.iraqinews.com/iraq-war/turkish-army-kills-80-pkk-militants-north-iraq/
--------
Sunni Waqf Board Has No Right on Ayodhya: Shia Waqf Board
November 30, 2017
Sticking to its stand on the Babri Masjid issue, the Shia Waqf Board on Thursday asked that the Sunni Waqf Board to give up its claim on the Shia property in Ayodhya and instead play a positive role in amicably resolving the temple-mosque disputes in Kashi and Mathura. "The Sunni Waqf Board has the right to put its views on the temple-mosque dispute in Kashi and Mathura but has no right with regard to Ayodhya…It need not interfere in the issues related to the Shia Waqf Board," Shia Waqf Board Chairman Wasim Rizvi said in a statement in Lucknow.
Rizvi asked the Sunni Waqf Board to give up its claim over the Shia property. The Shia Waqf Board has enough documents to prove that the the mosque in Ayodhya was a Shia one and has presented them to the Supreme Court, but some maulvis and mullahs are sore over this initiative, Rizvi said.
"The Shia Waqf Board wants to tell such hardliners that our initiative was taken in the national interest, is right, and the decision taken by the apex court will be binding on all in this regard," he said.
He said that if the court decision is in favour of the Shia Board, a temple should be built at the site in Ayodhya as per the faith and belief of Hindus. The Shia Board will get a 'Masjid-e-Aman' constructed in Lucknow, he added.
The Shia Waqf Board submitted a proposal in the Supreme Court on November 18 for resolving the long pending dispute, proposing construction of a mosque in Lucknow's Hussainabad area and a temple in Ayodhya.
http://indianexpress.com/article/india/sunni-waqf-board-has-no-right-on-ayodhya-shia-waqf-board-4962073/
--------
Jamaat-e-Islami to Observe 'Youm-e-Azm-e-Tahfuz Khatam-e-Nabuwat' Today
December 01, 2017
KARACHI - Jamaat-e-Islami (JI) Pakistan Amir Senator Sirajul Haq has demanded a judicial inquiry into amendment in the law about finality of the Prophethood and announced to observe 'Youm-e-Azm-e-Tahfuz Khatam-e-Nabuwat' today (on Friday), throughout the country.
He was addressing a press conference here at JI headquarters, Idara-e-Noor-e-Haq, on Thursday.
He said resignation by a minister was not enough and the nation wanted to know the names of all those behind the conspiracy. "Who were behind the minister and the conspiracy was hatched at the behest of whom?" he asked.
He further said that the United States Defence Minister was due to arrive in Pakistan on December 3 at a time when the US was already asking us to amend the blasphemy law.
He asked the government not to comply with US instructions.
Criticising the government, the JI chief said that why it did not accept the demands earlier when it had to do so after 20 days of the Faizabad sit-in.
He opined it was the responsibility of the government to take concrete measures to defuse the prevailing tense situation in the country. He was of the view that Raja Zafarul Haq report contained some big names. "That is why the report is being kept secret," he added. The senator said that army did not intervene in the sit-in on its own. "It was called by the federal government," he reminded, and added the government was responsible for letting the situation deteriorate further because it did not take the requisite steps.
Siraj also demanded the Senate committee, headed by MQM's Nasreen Jalil, to withdraw its recommendations in connection with amending the blasphemy law.
The JI chief pointed out that the country had been founded in the name of Islam, but Islam had not been implemented in the country in letter and spirit.
He invited the masses to join JI in the struggle for bringing about a peaceful Islamic revolution.
http://nation.com.pk/01-Dec-2017/ji-to-observe-youm-e-azm-e-tahfuz-khatam-e-nabuwat-today
--------
Afghan Taliban Says IS Deputy Leader Has Joined Its Ranks
November 30, 2017
Noor Zahid
The Afghan Taliban on Thursday claimed that the deputy head of the Islamic State terrorist group in Afghanistan had joined Taliban ranks.
Qari Yousef Ahmadi, a Taliban spokesperson, said in a statement sent to media that Abdulrazaq Mehdi, deputy chief of the so-called Islamic State in Khorasan province (IS-K) in Afghanistan, had parted ways with IS and joined the Taliban.
The Taliban spokesperson also shared a recording of a taped interview with Mehdi in which he denounces IS's "cruel" acts in Afghanistan and calls the group an "anti-Islam and -Muslims" organization.
VOA was unable to independently verify the authenticity of the Taliban claim or the recording.
The Taliban statement said Mehid is a resident of western Farah province, but little is known about him because IS leaders use aliases. Wahid Muzhda, a Taliban expert in Kabul, told VOA that it was unclear whether Mehdi was indeed an Afghan national.
He added that the Taliban might want to "use him as propaganda to discredit IS."
Clashes, rivalry
The Taliban statement came amid a growing rivalry between the Taliban and IS in Afghanistan.
IS and Taliban militants have frequently clashed for control of districts and villages in eastern Nangarhar and northern Jouzjan provinces, where some local militants and foreign fighters associated with the Islamic Movement of Uzbekistan (IMU) — which has previously associated with al-Qaida and the Taliban in Afghanistan — recently joined Islamic State.
Fresh fighting between the two warring parties has displaced hundreds of families in Nangarhar's Khogyani district. Several civilians who were caught in the crossfire during recent clashes have been killed.
Besides battling with Taliban militants, IS fighters have repeatedly targeted Afghan villages and civilians. The group has destroyed homes, torched markets and barred children from attending school in areas under its control.
The IS Khorasan branch has also claimed responsibility for numerous deadly attacks in major Afghan cities, including attacks on mosques in the capital, Kabul.
IS's Khorasan province was formed by Hafiz Saeed Khan, a former Pakistani Taliban commander in the southern districts of Nangarhar. Khan appeared in a video in January 2015, along with 10 militant commanders — each representing a subregion within the Afghan-Pak region — pledging allegiance to IS.
Caliphate in Afghanistan
General John Nicholson, commander of U.S. and NATO forces in Afghanistan, said Tuesday that IS's initial plan was to establish a caliphate in Afghanistan.
"Daesh has been unable to establish a caliphate in Afghanistan. This was their ambition two years ago," Nicholson told reporters at the Pentagon via teleconference from Afghanistan. He used an Arabic acronym for IS.
Nicholson said most IS fighters in Afghanistan are former members of the Pakistani Taliban group TTP, many of whom belong to the Orokzai tribe in Pakistan.
"These are primarily non-Afghans, some members of Islamic Movement Uzbekistan, and many former members of the Pakistani Tehrik-i-Taliban Pakistan," Nicholson said, adding that there has been no evidence of IS fighters making their way from Syria and Iraq to Afghanistan.
He said under the new U.S. policy for Afghanistan and South Asia, American and Afghan forces are increasingly targeting the IS terror group in the country.
"Since March, we have conducted about 1,400 ground tactical operations and strikes, removing over 1,600 Daesh from the battlefield and reducing over 600 of their structures, facilities, fighting positions, et cetera," he said.
IS ideology
The general added that the Afghan people have rejected the IS ideology and its presence.
"They [IS] are totally repugnant to the culture of Afghanistan. The majority of these fighters are non-Afghans. They are Pakistanis, they are Uzbeks, and they are others," Nicholson said. "Their brutality, their cruelty is totally against Afghan culture. They are rejected by the majority of Afghans. So we are seeing a minority of the fighters in Daesh are actually Afghans."
https://www.voanews.com/a/afghan-taliban-says-islamic-state-deputy-leader-has-/4144740.html
--------
Southeast Asia
Zahid: Umno last bastion for Islam, Malays in Malaysia
November 30, 2017
KUALA LUMPUR: Umno is definitely the last bastion of Islam and the Malays in this country although the party is always pressured and challenged by negative perception and feelings of hatred from some sections of the public, says Deputy Prime Minister Ahmad Zahid Hamidi.
He said the public, especially undergraduates, needed to be wiser and not get entangled in the court of public opinion. Instead, they should look at Umno's record of achievements and success all this while.
"Is Umno very ugly? Is Umno very dirty? Umno is being punished by the court of public opinion. When untruths and lies keep being repeated, these will become a stigma to the mind and ultimately, Umno gets soiled, regarded as dirty. The truth usually comes out later.
"Umno is the last bastion for Muslims and Malays in this country. Our record shows our achievement and success, with no intention to be conceited or boastful. We present this record to the general public for it to be evaluated."
Zahid, who is also Umno vice-president carrying out the duties of party deputy president, said this when opening the National Undergraduates Leadership Conference (Pemanas), here, today which was also attended by Umno education bureau chairman Ibrahim Abu Shah and Pahang Umno Youth chief Shahar Abdullah, who is also Pemanas director.
He also reminded undergraduates to view Prime Minister Najib Razak as the most big-hearted leader and relevant in realising the aspirations of the young.
He said this was because Umno leaders were always behind the youth of this country in implementing the national transformation agenda.
"Learn from him (Najib) and his initiatives under the National Blue Ocean Strategy and the transformation being done by him. Although he has been hit by various issues, slandered, and showered with hatred, his resilience is extraordinary.
"We should support leaders like him. This is not just a question of loyalty and we don't want blind loyalty," he added.
Zahid said his loyalty and that of other leaders to Najib's leadership was because they believed in the prime minister's philosophy and efforts in developing the country and the Malay community, while not sidelining the rights and interests of the other communities.
http://www.freemalaysiatoday.com/category/nation/2017/11/30/zahid-umno-last-bastion-for-islam-malays-in-malaysia/
--------
Defend sanctity of Islam, Najib urges Muslims
30 Nov 2017
MUSLIMS in Malaysia must defend the sanctity of Islam and preserve the harmony, understanding and tolerance between religions, which form the root of unity for all Malaysians.
Prime Minister Najib Razak said Muslims should appreciate the peace and harmony and learn from the November 24 bombing at Ar-Raudah Mosque in northern Sinai, Egypt, which killed 235 worshippers.
"We express condolences to the families of the victims and condemn the bombing and will continue to express our support for our oppressed Muslim brothers in Palestine and the Rohingya Muslims.
"Let us pray that Allah will provide them with the patience and faith to get through the pain," he said in a message in conjunction with Maulidur Rasul 1439H or Prophet Muhammad's birthday tomorrow, posted on his blog, najibrazak.com.
Commenting on the Maulidur Rasul theme, "Muslim unity, national wellbeing", he said the unity should be appreciated and practised at the family level to instil the spirit of patriotism.
Earlier, Najib urged Muslims to emulate the morals, characteristics and leadership of Prophet Muhammad in various aspects of life.
"As adherents of Prophet Muhammad, we have to be reminded of his struggle in spreading Islam. We are Muslims because of the sacrifices of our prophet and his companions."
Full report at:
https://www.themalaysianinsight.com/s/25356/
--------
Zaid: I feel sorry for Muslims in Selangor
November 27, 2017
PETALING JAYA: Former law minister Zaid Ibrahim says he feels sorry for Selangor Muslims after Shah Alam MP Khalid Samad was found guilty by the state's Shariah Court of teaching Islam without credentials.
Zaid said the outcome meant that Muslims in the state must not talk, teach or comment about Islam at all, as they ran the risk of being prosecuted under the same provision invoked on Khalid.
The former Umno MP for Kota Bharu, now with DAP, said it signalled that Muslims may only speak about Islam with written permission or "tauliah" (credentials) from the Selangor Islamic Religious Department (Jais).
Giving an example, he said if a Muslim's neighbour who had just converted to Islam asked him what verse to use for morning prayer, he would need credentials before being able to help.
"If a curious student in your school asks if there are similarities between Islam and other religions, you must not respond until you get your tauliah with respect to comparative religion.
"Don't give any advice or talk about Islam unless you are from Jakim (Malaysian Islamic Development Department), Jais or Jawi (Federal Territory Islamic Religious Department).
"Perhaps you are also not required to have a tauliah if you are an Umno or PAS leader," he said in his blog today.
"In fact, the safest thing to do is to shut your mouth. Do not talk about Islam or anything connected with the Arabic culture because you may run foul of the law.
"Talking about or discussing these Islamic matters may be construed as teaching or propagating Islam without their permission."
On Sunday, the Selangor Shariah High Court upheld Khalid's conviction, but reduced the amount of fine imposed by the lower Shariah Court in Klang, from RM2,900 to RM1,900.
Khalid had been found guilty of teaching Islam without valid credentials when delivering a talk at a surau in Taman Seri Sementa, Klang, in 2011, contravening Section 119 (1) of the Selangor Islamic Law Administration Enactment.
The Amanah communications director claimed he had been invited to the surau to speak about his trip to Palestine, not to give a religious lecture.
Zaid claimed that Jais and the Shariah Court were not interested in explaining what the term "teaching" meant in this instance.
"Unlike the discipline imposed in the training of lawyers under the common law system, where terms are exhaustively defined to give clarity, shariah institutions and the Shariah Court need not bother about such methods," he said.
"You see, since the law and the courts are labelled 'shariah', justice is done ipso facto (by the very fact) because it's a superior law."
Zaid also said it was disappointing that the issue had transpired in Selangor, which is led by PKR, a party touted to be focused on reforms.
Full report at:
http://www.freemalaysiatoday.com/category/nation/2017/11/27/zaid-i-feel-sorry-for-muslims-in-selangor/
--------
Asean should unify efforts to combat terrorism, says expert
Zam Yusa
December 1, 2017
PETALING JAYA: Asean nations should unite in combating terrorism instead of creating a regional counterterrorism coalition that could later become a bureaucratic hurdle to true cooperation, an expert says.
The Riyadh-based Islamic Military Counter-Terrorism Coalition (IMCTC), which consists of 41 Islamic countries, launched its inaugural summit last Sunday.
The latest development in counterterrorism cooperation has rekindled discussion on the creation of a similar body in the Southeast Asian region.
"Joint (intra-state) and combined (inter-state) counterterrorism begins with, and is sustained by, dialogue between agencies and partner states," a counterterrorism expert at Australia's Bond University told FMT.
"A state's national interests will always dictate actions and override regional interests. However, Asean has proven to be a unique entity in terms of inter-state cooperation in non-security related issues.
"I believe the focus should be on capacity building, training and equipping, joint/combined operations and continuous dialogue at the political and military level rather than on creating a regional counterterrorism body," said the expert, who spoke to FMT on condition of anonymity.
The analyst said cooperation starts with dialogue and the dissemination of clear intent by Asean states.
"This will be hard to achieve because each state has a domestic constituency with anti-government sentiments, as well as a section of the community which supports the Islamic State (IS) and Al-Qaeda-aligned groups," he said.
"These groups may have different agendas, and most often they do, but are united in their anti-government sentiment.
"This domestic reality is different in Malaysia, the Philippines, Indonesia, Singapore, etc, not to mention the cultural differences."
The expert said unity of effort, not necessarily an official anti-terrorism organisation, was needed to counter the menace.
"Unity of effort is required to meet a regional challenge, and that is grounded in a unified intent, commitment and the capacity to confront the threat.
"Another bureaucracy will not in and of itself generate these requirements, and indeed, it may undermine our ability to confront those who wish to destabilise the region."
Lack of a common strategy has been observed between the Philippines and its Asean neighbours in relation to the identification of foreign militant bodies found in the city of Marawi, recently retaken from IS-pledged groups.
Malaysian police have offered help by providing DNA samples to facilitate the identification of bodies believed to be of Malaysian terrorists found in the city.
They have also requested that the bodies, after they are positively identified by DNA tests, be repatriated to Malaysia.
The Philippine authorities, however, have not been reported as accepting Malaysia's offer of help.
They instead rely on visual identification by security personnel and former hostages, and have yet to respond to the request for body repatriation.
The lack of a regional agreement on the use of airtight protocol for body identification poses a security risk, as militants believed to be killed may unexpectedly reappear to launch attacks elsewhere.
"The specific issue of DNA sampling is an example of strategic and operational requirements not aligning," the expert said.
"Philippine President Rodrigo Duterte is reluctant to allow anyone to disrupt the 'victory narrative' he is using both domestically and regionally, therefore having Malaysian personnel second-guessing who was targeted is a distraction.
"Again, this is where a regional strategy will enhance the operational capacity of regional security forces as intel sharing, access to disputed territory/combat zones and developing joint-after-action reviews would all be formalised in a regional strategy."
The Australian analyst said counterterrorism was complex and multi-layered, and every tactical success needed to be achieved under a comprehensive strategy.
"Otherwise, the threat will not be overcome. It will endure or simply relocate to another area of instability within the region and create a problem for another Asean member state."
According to the expert, a regional counterterrorism body would represent a physical manifestation of the cooperation which has been developing over the past 25 years.
"Obviously, Australia has been a primary driver for greater cooperation, coordination and synchronicity across all the elements of counterterrorism, from intelligence through to joint/combined operations," he said.
"However, Asean states have also identified the need for broader cooperation. The ability to allocate resources to the problem is key to progressing in counterterrorism efforts.
"While an Asean counterterrorism-oriented institution such as the IMCTC would demonstrate a united approach, if there is no 'unity of effort' in regards to strategy, such as identifying the threat as well as agreeing on how and when to act, then an Asean counterterrorism coalition is just another bureaucracy to draw funds away from the practitioners on the ground who are already doing their best with what they have."
A regional cooperation was recently announced to counter terrorism financing.
Australian Justice Minister Michael Keenan announced the establishment of the Southeast Asia Counter-Terrorism Financing Working Group at the Counter-Terrorism Financing (CTF) Summit organised by Bank Negara Malaysia in Kuala Lumpur on Nov 22.
The new working group, made up of nations across Southeast Asia, is set to disrupt terrorist groups, their sources of funding, movement and use of funds, and their economic sustainment in the region, said Keenan, who is also minister assisting the Australian prime minister in counterterrorism.
Speaking to FMT, the expert said the working group had its limitations, and reiterated the need for a common regional strategy.
"The counterterrorism financing mechanism is a positive step, but it can't track 'hawala' or offline transactions," he said.
Full report at:
http://www.freemalaysiatoday.com/category/nation/2017/12/01/asean-should-unify-efforts-to-combat-terrorism-says-expert/
--------
Arab World
Terrorists Demand US to Establish Airbase in Damascus
Nov 30, 2017
The Russian Reconciliation Center revealed on its facebook page that at least two terrorist groups in Eastern Damascus have officially demanded the US to establish an airbase in the region.
Noting that the demand has been raised with the aim of weakening Russia's role to end the clashes in the region, the Center said that any move by the US in this regard contradicts the international laws and will delay efforts to establish peace in Syria.
In a relevant development in the same province on Wednesday, the Syrian Army stormed again the strongholds of the Al-Nusra Front (Tahrir al-Sham Hay'at or the Levant Liberation Board) in Southwestern Damascus, coming closer to the terrorists' largest bastion in the region, military sources confirmed on Wednesday.
The sources said that the army soldiers clashed fiercely with Al-Nusra terrorists close to Bardaya hill and managed to seize control over the Eastern direction of the hill covering a region from Northeast of Beit Jinn farm up to the Southwest of the village of Kafr Hoor.
A large number of Al-Nusra fighters were killed and their military equipment was destroyed in the attack, they said.
The sources went on to say that the Bardaya hill is of paramount importance and its capture by the army will enable the government forces to access Beit Jinn farm that is one of the largest bastions of Al-Nusra in Western Ghouta.
In the meantime, the Al-Nusra's missile and artillery units targeted army positions in Tal al-Sha'ar region in Eastern Quneitra to back up their comrades in Beit Jinn and slow down the army's advances in the region.
http://en.farsnews.com/newstext.aspx?nn=13960909000509
--------
Hariri: Lebanon no longer tolerates Hezbollah's intervention in the Gulf
1 December 2017
In an exclusive interview with French-language weekly news magazine Paris Match, Lebanese Prime Minister Saad Hariri spoke about his resignation, Iran, Hezbollah and rumors he was detained in Saudi Arabia.
Regarding the claims stated by Lebanese President Michel Aoun, Saad Hariri said: "Many stories have been told but if I had been detained, I would not be here in Beirut today. Before that, I was able to go to Paris, Egypt, Cyprus. I was free."
When asked about his resignation and the role he would wish to take on, Hariri said: "I wanted the world to understand that Lebanon can no longer tolerate the interferences of a party like Hezbollah in the affairs of the Gulf countries, where 300,000 Lebanese live. We must not pay for the actions of Hezbollah."
Hariri added: "In Lebanon, Hezbollah has a political role. Lebanon's interest is to ensure that its weapons are not used elsewhere. I will not accept that a Lebanese political party participates in maneuvers that serve the interests of Iran."
He commented on threats he received: "I have many enemies, extremists and the Syrian regime. The latter pronounced a death sentence against me. They accuse me of interference in their country. Frankly, do you imagine us Lebanese interfering in Syria?"
Saudi crown prince is a modernist and a challenger of corruption
Hariri stated his support of Saudi Crown Prince Mohammed Bin Salman adding that he is a modernist and an opponent of corruption, giving women the right to drive, and seeks to implement a policy that is open to the world for his country. "In the past, there were no cinemas, no concerts in Saudi Arabia," he said.
"Saudi crown prince's opposition to Iranian politics comes from the interference in Iraq, Yemen, Bahrain. There is a problem with Iran. Of course, we, the Lebanese, would like to have the best relations, economic in particular, with Iran, but they must be in the mutual interest of our two countries," he added.
Regarding Saudi crown prince's reference to the Iranian supreme leader, as "Hitler of the Middle East", Hariri said that everyone has their way of expressing themselves.
People are sick of war
Full report at:
https://english.alarabiya.net/en/News/middle-east/2017/12/01/Hariri-Lebanon-no-longer-tolerates-Hezbollah-s-intervention-in-the-Gulf-.html
--------
Ballistic missile intercepted in southern Saudi Arabia
30 November 2017
A ballistic missile from Yemen has been intercepted on Thursday by Saudi air defense forces in southern city of Khamis Mushait in the south western province of Assir.
The missile attack is the second this month since the November 4 missile intercepted near King khalid International Airport in Riyadh.
The Arab League in November 19 cited that since the beggining of conflict in Yemen 78 ballistic missiles have been fired towards Saudi Arabia from Yemen.
Militant media in Yemen said, after the leader of the group threatened Riyadh with retaliation over a blockade : "We confirm the success of our ballistic missile trial, which hit its military target inside Saudi Arabia," the Houthi-run Al-Masira television channel said.
Full report at:
https://english.alarabiya.net/en/News/gulf/2017/11/30/Ballistic-missile-intercepted-in-Southern-Saudi-Arabia.html
--------
FSA Gains Control over ISIL Positions in Western Dara'a, Kills over 30 Militants
Nov 30, 2017
News websites affiliated to the terrorist groups reported on Thursday that 32 ISIL members were killed and 3 others were wounded during clashes with the FSA militants in the town of Tasil in Northwestern Dara'a.
The FSA also won control of 4 regions earlier occupied by the ISIL terrorists.
Relevant reports said in October that a senior commander of the FSA terrorist group and 2 ISIL commanders were killed in Dara'a province in Syria.
News websites affiliated to the dissidents reported that Farouq Qazal, the commander of Brigade 15 of Special Forces affiliated to Ferqat al-Qadesiyeh of the FSA, was killed when a bomb detonated in Dara'a al-Balad region in Dara'a city, adding that another militant was also wounded.
According to the websites, Qazal was defusing a bomb which was planted in front of the house of one of Ahrar al-Sham commanders named Abu Jamal Abu Nabovat when it was detonated.
Full report at:
http://en.farsnews.com/newstext.aspx?nn=13960909000857
--------
British PM urges Saudi Arabia to avert Yemen 'catastrophe'
December 01, 2017
RIYADH - British Prime Minister Theresa May has implored Saudi leaders to ease a blockade on war-torn Yemen to "avert a humanitarian catastrophe", her office said on Thursday, echoing urgent appeals from the United Nations.
A Saudi-led coalition battling Iran-backed Huthi rebels has only partially lifted a crippling aid blockade on Yemen, which was imposed earlier this month in response to a missile fired by the Huthis that was intercepted near Riyadh airport.
May met both Saudi King Salman and powerful Crown Prince Mohammed bin Salman late on Wednesday on the second leg of her Middle East tour, with the worsening crisis in Yemen topping her agenda. "The prime minister made clear that the flow of commercial supplies on which the country (Yemen) depends must be resumed if we are to avert a humanitarian catastrophe," May's office said.
"They agreed that steps needed to be taken as a matter of urgency to address this."
Saudi Arabia is Britain's largest trading partner in the Middle East, and London has signed off on more than £3.3 billion ($4.4 billion/3.7 billion euros) worth of arms sales to Riyadh since March 2015. That was the month that Riyadh launched its intervention against the Yemeni rebels who still control the capital Sanaa and much of the north of the country.
The war has since killed around 8,600 people, while a further 2,000 have died of cholera.
The United Nations on Monday urged the Saudi-led coalition to do "much more" to ease the blockade impeding shipments of aid and fully reopen the key rebel-held Red Sea port of Hodeida. The coalition has allowed some supplies to reach rebel-held Sanaa and the Saleef Red Sea port, also in the Huthis' hands. But little aid has entered through Hodeida, the main conduit for UN-supervised deliveries of food and medicine.
UN officials say Yemen could face the world's largest famine in decades unless the crippling blockade is lifted. "The strong message I will be giving to Saudi Arabia ... is that we want to see Hodeida port opened for humanitarian and commercial access," May told the BBC before arriving in Riyadh. During her visit, May also discussed Iran, Saudi Arabia's arch foe.
"The prime minister noted that we shared Saudi Arabia's concerns about Iran's destabilising regional behaviour," her office said.
The Saudi-led coalition, which began its military intervention in Yemen in 2015, has accused Iran of supplying ballistic missiles to the rebels. Tehran denies the charge.
May arrived in Riyadh after a surprise visit to Baghdad where she met her Iraqi counterpart Haider al-Abadi and hailed recent military gains against the Islamic State group. On Thursday the British leader will be in Jordan, a close British ally and partner in the US-led coalition fighting the Islamic State group in Iraq and Syria.
She will meet with King Abdullah II and Prime Minister Hani Mulki on the final leg of her tour, which has been overshadowed by a high-profile row with US President Donald Trump over Islam.
On Tuesday, Trump drew fierce condemnation at home and abroad for retweeting three incendiary anti-Muslim videos posted by the deputy head of a British far-right group who has been convicted of a hate crime.
Full report at:
http://nation.com.pk/01-Dec-2017/british-pm-urges-saudi-arabia-to-avert-yemen-catastrophe
--------
Terrorists Plunder Civilians' Properties in Western Aleppo
Nov 30, 2017
Informed sources reported from Western Aleppo that the Nouraddin al-Zinki terrorists stationed in the region have also unprecedentedly increased taxes.
The sources added that the terrorists have identified civilians' properties, agricultural lands and buildings to give them to members and commanders.
Meantime, they are after new ways to increase their revenues in areas still controlled by militants after their international supporters considerably decreased their financial aid to the terrorist groups.
Relevant reports from the province on Wednesday said that the Turkey-backed Ahrar al-Sham and al-Shamiyeh Front terrorist groups exchanged heavy fire in Northeastern Aleppo.
Dissident-affiliated websites reported on Wednesday that Ahrar al-Sham and al-Shamiyeh Front exchanged heavy fire in Ka'abiyeh region near the town of Jarabulus in Northeastern Aleppo, inflicting casualties on each other.
The websites pointed to the intensification of infighting in the region, adding that the clashes have spread to other terrorist-held regions near the town of al-Bab in Aleppo.
Full report at:
http://en.farsnews.com/newstext.aspx?nn=13960909000831
--------
Senior Al-Nusra Commander Killed in Idlib
Nov 30, 2017
Media activists reported on Thursday that unknown assailants fired at the car carrying Abu Mahmoud al-Halabi, a senior al-Nusra commander in Idlib, killing him on the spot.
They added that al-Halabi was the Emir of al-Rouj region in Northwestern Idlib.
An Arab media outlet reported on Wednesday that a fresh wave of arrests of notorious al-Nusra Front commanders has started under the supervision of the Turkish army in Idlib province.
The Arabic-language al-Mayadeen news network reported that the Al-Nusra has intensified arrest and incarceration of its senior commanders in Idlib province.
In the meantime, local sources said that the Al-Nusra has arrested Abu Mas'ab Libiya'yee, Abu Abdul Rahman al-Maleki, the emir of Al-Nusra's Epic Soldiers and Abu Khadija Ordoni, the emir of border units and seven other commanders in training centers and 11 muftis (religious leaders) that had previously worked with Jund al-Aqsa along with tens of senior members of the group.
The sources further pointed to the differences between Al-Nusra Commander-in-Chief Abu Mohammad al-Julani and other dissident commanders that were ideologically close to Al-Qaeda and have opposed the Turkish army's plan to enter Idlib.
They added that the arrest of the dissident commanders by Al-Nusra was carried out at the order of the Turkish army to end riot in Al-Nusra's ranks.
Full report at:
http://en.farsnews.com/newstext.aspx?nn=13960909000432
--------
US, Jordan, Britain Stop Support for Terrorists in Southern Syria
Nov 30, 2017
The Arabic-language al-Watan newspaper reported that the 'Syria Media Center' affiliated to the terrorist groups in Southern Syria was closed after a decision taken by the US-British-Jordanian operations room called al-Mouk.
The Syrian daily said the Center was the mouthpiece of the terrorists in the Southern front and was directly supported by the Jordanian government and al-Mouk, "but they have withdrawn their support for the media center in the past few months".
Meantime, a source close to the Center confirmed the shutting down of the Center, adding that the al-Mouk operations room wants to fully stop support for the terrorist groups in Syria.
Also, news websites affiliated to the terrorists reported that plots to form a High Military Command Council consisting of terrorists stationed in Southern Syria, al-Qalamoun region and Eastern Ghouta in Damascus have failed.
Reports coming out of Syria suggested in May that a joint military force of US, British, and Jordanian troops, equipped with tanks and helicopters, were reportedly been deployed in the war-torn country's Southern border areas from Jordan's Northern region.
Full report at:
http://en.farsnews.com/newstext.aspx?nn=13960909000198
--------
Iraqi Commander: US Plots to Assassinate Hashd al-Shaabi Leaders
Nov 29, 2017
"Hashd al-Shaabi has changed all US plans and has changed all previous equations. Iraq will no more go under disintegration and this has angered Washington," Jabbar al-Amouri was quoted as saying by the Arabic-language al-Alam news channel on Wednesday.
"The US, supported by certain Persian Gulf littoral states financially and politically, is mulling plots to assassinate leaders of the Iraqi popular forces, though" he warned.
Amouri also warned that Iraq won't be able to restore calm and tranquility as long as the US stays in the country.
In relevant remarks in October, Spokesman of Hashd al-Shaabi Ahmad al-Assadi warned that the US enlistment of Hashd al-Shaabi deputy chief commander Abu Mahdi al-Muhandis as a terrorist is a direct threat to his life and Washington should account for it.
"We take Washington responsible for any possible aggression and attack against Abu Mahdi al-Muhandis," al-Assadi told the Arabic-language al-Mayadeen news channel.
He also called on the Iraqi foreign ministry to show reaction to the US threat against Hashd al-Shaabi's deputy chief commander.
His remarks came after US State Department Spokeswoman Heather Nauert called al-Muhandis as "a terrorist".
In response, Iraq's foreign ministry declared the Hashd al-Shaabi an "inseparable" part of the national forces, and rejected the United States' labeling its deputy commander a terrorist.
The Popular Mobilization Forces (PMF), under the deputy command of Abu Mahdi al-Muhandis, are a legal Iraqi force that has fought bravely against terrorism in Iraq, the spokesperson of the Ministry of Foreign Affairs said in a statement on Friday.
Full report at:
http://en.farsnews.com/newstext.aspx?nn=13960908001415
--------
Mideast
Muslim Holds Ancient Key to Jesus Tomb Site in Jerusalem
November 30, 2017
As dark falls, Adeeb Joudeh, a Muslim, makes his way through the stone alleyways of Jerusalem's walled Old City cradling the ancient key to one of Christianity's holiest sites.
Centuries ago, the imposing iron key to the Church of the Holy Sepulchre, built where many Christians believe Jesus was crucified and buried, was entrusted to his family, one of Jerusalem's most prominent clans, says Joudeh.
He dates the arrangement back to the time of Saladin, the Muslim conqueror who seized the holy city from the Crusaders in 1187.
"Honestly, it's a great honor for a Muslim to hold the key to the Church of the Holy Sepulchre, which is the most important church in Christendom," Joudeh, 53, said.
Another of the city's oldest Muslim families, the Nusseibehs, were entrusted with the duty of opening and closing the church doors, a task they perform to this day. It requires firm fingers: The key is 30 cm (12 inches) long and weighs 250 grams (0.5 pounds).
Historians differ on the roots of the arrangement. Some researchers say Saladin most likely bestowed the guardianship upon the two families in order to assert Muslim dominance over Christianity in the city. It also had financial implications, with a tax from visitors collected at the door.
Documentation, however, only goes back to the 16th century, Joudeh said, displaying dozens of "Fermans", or royal decrees by rulers of the Ottoman empire, bestowing the key custodianship upon his family.
Jerusalem's Old City today houses sites that are sacred to all three major monotheisms. It and other east Jerusalem areas were captured by Israel from Jordan in the 1967 Middle East war.
Israel has since declared the entire city its undivided capital. This status is not recognized internationally and is rejected by the Palestinians who want East Jerusalem as capital of a state they hope to found.
Joudeh says his key is about 800 years old. Another copy he holds broke after centuries of use.
"I started learning this when I was eight years old. It's handed down from father to son," said Joudeh. "I have been doing this for 30 years and I feel that the Church of the Holy Sepulchre is my second home."
The Greek Orthodox, Armenian and Roman Catholic denominations share custody of the church, where tensions often run high over control of its various sectors.
Christianity scholar Yisca Harani said having Muslim families in charge of the key and the doors helps somewhat in keeping the peace between the denominations.
"The church is definitely a model of co-existence," Harani said.
http://nation.com.pk/30-Nov-2017/muslim-holds-ancient-key-to-jesus-tomb-site-in-jerusalem
--------
Mubarak reveals Netanyahu proposed resettling Palestinians in Sinai
30 November 2017
A leaked audio recording of former Egyptian President Hosni Mubarak revealed that current Israeli Prime Minister Benjamin Netanyahu was behind the proposal to resettle Palestinians in Sinai to decrease the population density in the Gaza Strip.
According to the recording, which was leaked by the Facebook page entitled 'Asfeen Ya Rayes' (We're Sorry, Mr. President), he was sitting with Netanyahu when the latter proposed transferring Palestinians to an area near Gaza.
Netanyahu, who had a map with him, pointed where they would be moved to and when Mubarak realized that he meant Sinai, he clearly told him "to forget about it," adding that this move may cause a new war between them.
Mubarak noted that Netanyahu was testing the waters when he made that suggestion.
The former president issued a statement on Wednesday denying western media reports that he accepted to resettle Palestinians in Sinai.
Full report at:
https://english.alarabiya.net/en/News/middle-east/2017/11/30/Mubarak-reveals-Netanyahu-proposed-resettling-Palestinians-in-Sinai.html
--------
Yemen rebel ballistic missile 'hits target' in Saudi Arabia
December 01, 2017
DUBAI - Yemen's Iran-backed Huthi rebels said Thursday they fired a ballistic missile at Saudi Arabia and hit a military target, in the second such attack this month, after threatening to retaliate over a crippling blockade.
"We confirm the success of our ballistic missile trial, which hit its military target inside Saudi Arabia," the Huthi-run Al-Masira television channel said.
A spokesman for the Saudi-led military coalition fighting the Huthis in Yemen did not immediately respond to a request for comment.
Earlier, rebel chief Abdulmalik al-Huthi warned against "prolonging the blockade" imposed on Yemen following a November 4 Huthi missile attack that was intercepted near Riyadh international airport.
"Should the blockade continue, we know what (targets) would cause great pain and how to reach them," he said in a speech broadcast on Al-Masira television.
Yemen's war has claimed more than 8,600 lives since the Saudi-led coalition joined the government's war against the Huthi rebel alliance.
The country, long the poorest in the region, now faces the threat of famine as it struggles to get food and medicine through its ports.
Full report at:
http://nation.com.pk/01-Dec-2017/yemen-rebel-ballistic-missile-hits-target-in-saudi-arabia
--------
Israel intelligence chief who plans to succeed Netanyahu
1 December 2017
Israel's intelligence minister said Thursday he plans to succeed Prime Minister Benjamin Netanyahu who is embroiled in corruption scandals and a police investigation.
But Israel Katz said in an interview with The Associated Press he hopes Netanyahu will be able to continue as prime minister, and "that the clouds that are hanging over his head now will pass."
Israeli police have questioned Netanyahu six times over a pair of corruption scandals and one of his closest former aides has become a witness against him. Netanyahu has repeatedly denied any wrongdoing and called the accusations a witch hunt orchestrated by a hostile media.
Police say they suspect Netanyahu of being involved in bribery, fraud and breach of trust. The scandals have yet to threaten his rule but have chipped away at his public approval ratings.
"I trust the law enforcement," said Katz, an ally of Netanyahu. "Israel has a system and I hope that it will finish soon and that Netanyahu will have the possibility to continue to do the very important things that he is doing."
"I'm planning to be after him, leader of the Likud (party) and prime minister of Israel," he said. In the wide-ranging interview, Katz talked about President Donald Trump's campaign promise to move the US Embassy in Israel from Tel Aviv to Jerusalem.
Jerusalem as capital
"It's an American decision," he said, but quickly added, "it's time that United States will recognize Jerusalem, the eternal capital of the Jewish people since 3,000 years as the capital of the state of Israel ... and after that to move the embassy."
Katz said Trump has to keep his promise. "I'm optimistic. I'm optimistic this will happen," he said. US officials, however, said Thursday the president is poised to again delay a move. But they said he will likely temper the blow by declaring Jerusalem as Israel's capital.
Israel has controlled the western part of Jerusalem, home to most of Israel's government institutions, since gaining independence in 1948. Its capture of east Jerusalem from Jordan in the 1967 and annexation of the holy city is not internationally recognized, and the Palestinians want east Jerusalem as the capital of their future independent state.
Moving the embassy risks infuriating the Palestinians and could inflame regional tensions though Katz dismissed the prospect of violence if a move takes place. "What will they do? It's not against peace negotiations," he said. "It's for the historic right."
Katz came to New York from Washington where he said he met with Trump's special Mideast envoy Jason Greenblatt, who is a key player in the administration's effort to get an Israeli-Palestinian peace deal and end decades of conflict.
Katz said Israel's security is paramount in any peace agreement and he raised the issue of "terminology" - "if you call it an independent state or you call it autonomy." The Palestinians already have limited autonomy and have repeatedly said any peace deal must culminate with an independent state.
At the United Nations, Katz said, Israel is campaigning to enforce the UN resolution that ended the 2006 war between Israel and the Lebanese militant group Hezbollah. It calls for Hezbollah and all other militias operating in Lebanon to be disarmed and demobilized - something that has not happened.
Katz said Israel wants the US to enforce the resolution and "take very paralyzing sanctions on Hezbollah" to keep Iran from supplying weapons and money to the military group and to warn Iran "to stop what they are doing."
Full report at:
https://english.alarabiya.net/en/News/middle-east/2017/12/01/Israel-intelligence-chief-who-plans-to-succeed-Netanyahu.html
--------
Houthi militias clash with Saleh loyalists for second day, three killed
1 December 2017
Three fighters from forces loyal to the former Yemeni president Ali Abdullah Saleh were killed in a second day of clashes with their own allies from the Houthi militias in the capital Sanaa, Saleh's party said on Thursday.
The two groups are fighting a Saudi-led coalition that has intervened in a 2-1/2 year Yemeni civil war with a view to restoring the internationally recognized government of President Abd-Rabbu Mansour Hadi.
A statement from Saleh's General People's Congress Party said three guards were killed when Houthi forces attacked the house of Tarek Saleh, Ali Abdullah Saleh's nephew, adding that they also besieged the residence of Ibrahim Sharaf, a party member and foreign minister of the Sanaa-based government.
Truce agreement
"The Houthis violated the truce agreement and attacked the residence of colonel Tarek and killed three guards and wounded three others," the statement said.
Meanwhile, Al-Arabiya sources in Sanaa said Houthi commanders Hamza Yahya al-Mukhtar and Ali Khoreim were killed along with 10 others while they tried to raid the house of the deposed president's son.
Local sources told Reuters some residents fled areas where the fighting, which involved heavy artillery and rocket launchers, raged for several hours for a second day.
Full report at:
https://english.alarabiya.net/en/News/gulf/2017/12/01/Houthi-militias-clash-with-Saleh-loyalists-for-second-day-three-killed.html
--------
Israeli fighter jets, tanks carry out airstrikes, artillery shelling against Gaza Strip
Nov 30, 2017
Israeli battle tanks and fighter jets have targeted the northeastern part of the Gaza Strip as the Tel Aviv regime goes ahead with its acts of aggression against the besieged Palestinian coastal sliver.
The Israeli military announced in a statement on Thursday that the fire had struck four lookout positions belonging to the Palestinian Hamas resistance movement near Beit Hanoun, after at least 15 mortar rounds were allegedly fired from the Gaza Strip at Israeli forces stationed near the border between the occupied territories and the enclave.
There were no initial reports of injury in the incident.
On August 8, three Palestinians were injured after Israeli warplanes carried out raids on the Gaza Strip.
The Israeli military claimed that the attacks were launched in response to a rocket fired from the Gaza Strip, which landed in an unpopulated area in the occupied territories without causing any injuries.
It further alleged that the raids were launched against sites belonging to Hamas.
The Israeli military frequently bombs the Gaza Strip, with civilians being the main target of such attacks.
Israel has launched several wars on the Palestinian coastal sliver, the last of which began in early July 2014. The military aggression, which ended on August 26, 2014, killed nearly 2,200 Palestinians. Over 11,100 others were also wounded in the war. The Gaza Strip has been under an Israeli siege since June 2007. The blockade has caused a decline in the standards of living as well as unprecedented levels of unemployment and unrelenting poverty.
Full report at:
http://www.presstv.com/Detail/2017/11/30/544019/Israeli-fighter-jets-tanks-carry-out-airstrikes-artillery-shelling-against-Gaza-Strip
--------
Yemeni army ballistic missile pounds target inside Saudi Arabia: Report
Nov 30, 2017
The Yemeni army, backed by Houthi Ansarullah fighters, has fired a medium-range ballistic missile at a Saudi military target inside the Arab kingdom, the second such missile attack this month after Yemenis threatened to retaliate over a crippling blockade the so-called Saudi-led military coalition has imposed on the impoverished nation.
An unnamed military source told Yemen's Arabic-language al-Masirah television network on Thursday night that the "domestically-built" missile had precisely hit the target earlier in the day, without specifying the exact location of the Saudi target.
There were no immediate reports on possible casualties among the Saudi troops and the extent of damage inflicted on their military hardware.
The Saudi Press Agency, however, reported that the country's military had managed to intercept a ballistic missile from Yemen over the southern city of Khamis Mushait in Asir province.
"The missile was destroyed without any casualties," the agency quoted Turki al-Maliki, the Saudi-led coalition's spokesman, as saying late on Thursday.
On November 5, Yemeni forces launched a solid propellant and Scud-type Borkan-2 (Volcano-2) missile against King Khalid International Airport, located 35 kilometers north of the Saudi capital Riyadh, in retaliation for Saudi's devastating aerial bombardment campaign against Yemen.
The Saudi authorities, however, said at the time that the kingdom's army had managed to intercept the missile, the fragments of which landed on the airport campus without inflicting any significant damage. Riyadh further said that the long-range missile had been fired by Houthi fighters, who are on the forefront of fighting against the Saudi war machine.
Following the missile launch, Saudi Arabia imposed a tight blockade on nearly all Yemen's air, land and sea ports, exerting further pressure on Yemeni people, who receive desperately needed humanitarian assistance through the western port city of Hudaydah and an international airport in the capital Sana'a, both under the crippling siege.
Since March 2015, the Saudi regime has been heavily bombarding Yemen as part of a brutal campaign against its impoverished southern neighbor in an attempt to reinstall Abd Rabbuh Mansur Hadi, Yemen's former president and a staunch ally of Riyadh, and to crush the Houthi Ansarullah movement, which is in control of large parts of Yemen, including the capital. The Saudi campaign, however, has failed to achieve its goals.
Over the past two years, the Houthis have been running state affairs and defending Yemeni people against the Saudi aggression.
Latest figures show that the war has so far killed over 12,000 Yemenis and wounded thousands more. The Saudi aggression has also taken a heavy toll on the country's facilities and infrastructure, destroying many hospitals, schools, and factories.
Full report at:
http://www.presstv.com/Detail/2017/11/30/544062/Yemen-Saudi-Arabia-ballistic-missile-Houthis-blockade-Hadi
--------
US either ignoring facts or blindsided by Daesh's fall: Iran
Nov 30, 2017
Iran's Foreign Ministry says the United States is either deliberately turning a blind eye to the reality of Iran fighting terrorism in the region or has been caught off-guard and worried by the territorial collapse of the Daesh terrorist group in the Middle East.
Foreign Ministry Spokesman Bahram Qassemi made the remarks in a Thursday statement in reaction to recent remarks by US Vice President Mike Pence, who accused Iran of destabilizing the Middle East.
"The endless repetition of the anti-Iran allegations by US officials indicates that they have either deliberately closed their eyes to the reality of Daesh's major defeat in Iraq and Syria or are painfully blindsided and worried by the loss of the territory... [Daesh] controlled... in Iraq and Syria," Qassemi said.
On Tuesday, Pence had said that the administration of US President Donald Trump would not tolerate what he called Tehran's support for terrorism.
Qassemi pointed to Iran's support for Iraq and Syria in their fights against the Daesh terrorist group and said no one could overlook Iran's "positive and constructive role in fighting the scourge of terrorism in the region and the world."
"For five years, we have been standing responsibly by the governments and nations of Iraq and Syria with an objective to help regional stability and security so that today we can stand witness to the termination of the self-proclaimed rule of the Daesh terrorist group in these two countries," he said.
Since militancy began in Iraq and Syria, including by Daesh, Iran has been offering advisory military help to the two countries in their fight to contain terrorism and push back Daesh.
On November 17, Iraqi armed forces liberated the town of Rawa — the last remaining town under Daesh's control in Iraq near the Syrian border — and raised the Iraqi flag over its buildings.
Two days later, Syrian army soldiers, backed by allied forces, fully liberated al-Bukamal, Daesh's last stronghold in Syria, which is a strategic city in the country's eastern province of Dayr al-Zawr on the border with Iraq.
Major General Qassem Soleimani, who commands the Quds Force of Iran's Islamic Revolution Guards Corps (IRGC), traveled to Syria to personally oversee the Bukamal liberation operation.
The recapture of the two towns marked an end to Daesh's territorial rule, which had started in 2014, with the group making territorial gains in swift offensives and establishing a self-proclaimed "caliphate" straddling Iraq and Syria.
The Iranian Foreign Ministry spokesman stressed that Iran considered dialog and cooperation among regional countries as "the only option" that could ensure regional security and stability.
Full report at:
http://www.presstv.com/Detail/2017/11/30/544007/Iran-Qassemi-US-Pence-Iran-antiterror-fight-Daesh-collapse
--------
India
Prosecute Hafiz Saeed on International Forum, Pakistan PM Asks India
Dec 1, 2017
ISLAMABAD: Pakistan Prime Minister Shahid Khaqan Abbasi has asked India to prosecute Hafiz Saeed, the 26/11 Mumbai attack mastermind and Jamaat ud Dawa (JuD) chief, on an international forum if it thinks there was substance to its allegations.
In a recent interview with Bloomberg, Abbasi said that Saeed was released by the Lahore high court as there were no charges against him. "The court, a three-judge bench, has released him saying there are no charges against him, the country has a law you know," Abbasi said.
"Prosecute him internationally if there is substance to these charges — these are accusations only. No evidence has been provided by India," he remarked. India, however, has claimed a number of times that it had provided enough evidence to Pakistan against the JuD chief.
Islamabad came under criticism following a court decision to release Saeed, underscoring the difficulties faced by Abbasi's government in dealing with extremist elements in Pakistan. The US had warned Islamabad that his release may damage bilateral relations.
https://timesofindia.indiatimes.com/india/prosecute-hafiz-on-international-forum-says-pakistan-pm/articleshow/61872401.cms
--------
Ulema, Representing Different Schools Of Thought, Civil Society Discuss Property Rights of Half-Widows
Dec 1 2017
The Ulema representing different schools of thought and prominent civil society members Thursday held a consultative meeting on the property rights of half-widows.
The meeting was organised by civil society group, Ehsaas.
Former Vice Chancellor of Islamic University of Science and Technology (IUST), Sidiq Wahid presided over the first session while the second session was presided over by chairperson of Association of Parents of Disappeared Persons (APDP), Parveena Ahanger. In his introductory remarks, Ehsaas president, Bashir Ahmad Dar said the "ongoing conflict" had adversely affected the women.
He said nothing was known about the whereabouts of over "8000 men subjected to enforced disappearance."
Dar said the situation of the women left half-widowed was very bad.
The Ehsaas president said one of the issues was about their remarriage and the other about their property rights.
Dar said after talking to Ulemas from different Fiqhs on the issues of remarriage and property rights of the half-widows, the general consensus was that ideally for the property the disappeared person should be considered alive, and for the remarriage of the half-widow, he should be considered dead.
Speaking on the occasion, human rights defender and Convenor of Jammu Kashmir Coalition of Civil Society, Khurram Parvez said as per their survey done in 2006, there were around 1500 half-widows.
He said most of them do not want to remarry and that marriage should not be forced on them.
Senior journalist, Zahir-ud-Din said it was an irony that a half-widow seeking ex gratia relief had to first accept the killing of her husband in a cross-fire, and submit it in an affidavit.
He said in many cases, even their parents did not transfer to them the property that was due to them.
Muslim Khawateen Markaz (MKM) chairperson, Anjum Zamruda Habib said there was a need to share the pain of half-widows.
Civil society member, Shakeel Qalander said there was a need to think an "out-of-box solution" to help the half-widows come out of their misery.
He called for starting a pilot project where these half-widows could be helped in a dignified manner.
Mufti Azam Jamiat Ahli-Hadees, Mufti Muhammad Yaqoob Baba Al Madani said Islam laid a complete blueprint for addressing such issues but the problem existed in the society.
Mujahid Shabir Falahi said no one wins from courts as by the time the case is resolved, the victim has had to pay a lot.
Poet, writer and satirist, Zareef Ahmad Zareef said this was a human issue first than a religious issue and called upon Mohalla committees to play a role in helping the distressed.
Ahanger said there were cases of in-laws harassing the half-widows.
Speaking on the occasion, a half-widow Safiya Azad said she had been working in a factory, a book shop and a school to educate her child.
She said her husband had "sacrificed for the nation and not for self and that there is a need to help half-widows who have been left to raise three to four children on their own."
Another half-widow Shamima said she had been left to fend for her two children after her husband was subjected to enforced disappearance in year 2000.
She said she had rejected the ex gratia relief offered to her and instead sought the whereabouts of her husband that to this day she did not know.
Arifat Jan said traditionally in Kashmir, the widows used to be remarried with ease but now things had started to change and called for bringing reforms.
Full report at:
http://www.greaterkashmir.com/news/kashmir/ulema-civil-society-discuss-property-rights-of-half-widows/267633.html
--------
Prophet Muhammad's birth celebrations on December 2
Nida Sayed
Dec 1, 2017
Panaji: Muslims will observe Eid-e-Milaad-ul-Nabi, celebrating the birth of the last prophet, Muhammad, on December 2 .
The day is celebrated in the third Islamic month called Rabee-ul-aawal according to the Lunar calendar. The prophet is believed to have been born on the twelth day of the month, and Muslims celebrate 'milaad' (birthday) to commemorate this day. It was also on this date, decades later, that he is said to have passed away.
"The purpose of Eid is only to celebrate his birthday, and not to mourn his death because his death is seen as an act of uniting with god," said Mariyum-bi, a housewife from Panaji.
Prophet Muhammad, who was born in Mecca, spent 13 years trying to convince people in Mecca to adopt Islam. Due to harassment from non-believers and a chain of traumatic events he moved to Madina where he spent the last years of his life. The day he arrived at Madina, was, also the 12th day of Rabee-ul-Awwal, thus adding to the significance of the date.
People from Madina took out a procession to announce and celebrate the prophet's arrival in the city of believers. In commemoration, Muslims across Goa take a procession or 'juloos' from the Jama Masjid, Panaji to St Inez, through the streets of Panaji. Similarly, Muslims in Margao, Vasco and other places in the state do the same.
Full report at:
https://timesofindia.indiatimes.com/city/goa/prophet-muhammads-birth-celebrations-on-december-2/articleshow/61871638.cms
--------
Hizbul chief Salahuddin's son injured in Tihar jail scuffle
November 30, 2017
Hizbul Mujahideen chief Syed Salahuddin's son, who is lodged in Tihar jail in connection with terror-funding cases, was among the 18 prisoners injured in a scuffle with security guards, officials said on Thursday. All the 18 prisoners, including Syed Shahid Yusuf, were injured when the personnel of the Tamil Nadu special force intervened after one of their physically handicapped officers was assaulted by three inmates at Tihar central jail number 1 on the intervening night of November 21-22 during checking.
These facts were conveyed by Tihar jail authorities to the Union Home Ministry in a report submitted yesterday, a ministry official said.
The injured prisoners are being examined by a three-member team of doctors from the AIIMS here.
A fact-finding team, headed by a district judge rank officer, has been constituted to investigate the entire incident.
The commandant of the Tamil Nadu special force battalion deployed in Tihar jail has also been asked to conduct a separate detailed probe into the incident and take appropriate action against anyone found negligent, the official said.
Giving details of the incident, the official quoting the Tihar jail report said, three prisoners, including a Kashmiri, were found to be having unauthorised materials and when Tamil Nadu special force sub inspector Muthu Pandee tried to remove them, the inmates resisted and assaulted him.
As the officer, who is physically handicapped, was alleged beaten up by the three inmates, other policemen intervened in which the 18 prisoners, including Yusuf were injured.
After the incident, the team of Tamil Nadu special force was removed from the active jail duties.
The jail authorities have deposited the relevant evidence, including CCTV footage, to the probe teams, the official said.
All employees of the Tihar have been sensitised and asked to ensure that inherent dignity of the prisoners, while carrying out searches, are protected, the official said.
On Tuesday, Jammu and Kashmir Chief Minister Mehbooba Mufti had telephoned Union Home Secretary Rajiv Gauba to enquire about the Tihar incident.
Mehbooba spoke to Gauba about social media reports on the alleged assault of Kashmiri prisoners in Tihar jail and urged him to ensure their safety.
Full report at:
http://indianexpress.com/article/india/hizbul-chief-salahuddins-son-injured-in-tihar-jail-scuffle/
--------
Mamata Banerjee warns villagers near Bangladesh border about terrorists, asks them to keep vigil
November 30, 2017
West Bengal Chief minister Mamata Banerjee warned the villagers in areas bordering Bangladesh that terrorists can sneak in as friends and asked them to keep vigil for strangers. Her statements came in a public meeting in Gosaba, South 24 parganas.
Interestingly, Special Task Force of Kolkata police recently arrested two members of allegedly Ansarulla Bangla Team (banned terror outfit in Bangladesh responsible for murders of bloggers). The team member sneaked from Bangladesh and even made forged Aadhaar cards in the country. The duo were trying to buy arms and ammunition, apart from raw materials for explosives from a local dealer.
"They bring a lot of money with them and will try to lure you into doing all sorts of illegal activities. They will pretend to be your friends and will cause a lot of harm. This is a bordering area which is why you need to be aware and keep a vigil. Only if you stay well, your area will and in turn your district will be fine," Mamata said while addressing a public rally after an administrative meeting in the district which borders Bangladesh.
The chief minister, however, asked the villagers not to take law into their own hands and said, "Don't take law in your hands. If you find any stranger in the area, ask for his or her identity card and then if need be, inform the police. To the police officials I must ask to take prompt and necessary actions against any such complaints."
With an eye at the panchayat polls next year, Mamata Banerjee inaugurated a number of welfare projects and warned her party leaders of the area not to indulge in faction clashes. The chief minister also highlighted the social welfare schemes which the government has successfully implemented at the grass root level.
"Jayanta Naskar and Govinda Naskar (local Trinamool Congress leaders) should not fight between themselves and should sort out the differences. I don't want to hear about any such problems between the two anymore," she said.
The chief minister stated that she had also received a letter about lack of performance of the BDO. "Whenever I make a promise, I keep it and when someone doesn't work according to my instructions I have to be rough and tough," she added.
She said, "If you find your work is not being done after the deadline, drop a mail at my residence and I will take action. I assure you that I go through all the letters and try to find a solution to each as far as possible."
Firing fresh salvos at BJP and the CPI (M), Mamata said that neither the BJP at the Centre nor the CPI(M) who were in power for 34 years ahead of the TMC rule, ever bothered about the well-being of the people here in this far-flung area of the state.
Full report at:
http://indianexpress.com/article/india/mamata-banerjee-warns-villagers-near-bangladesh-border-about-terrorists-asks-them-to-keep-vigil-4961941/
--------
Pakistan
Eleven Martyred, 30 Injured In Attack on Agriculture Directorate in Peshawar
Dec 01 2017
PESHAWAR: Eleven people were martyred and around 30 injured after terrorists attacked the student hostel inside the Directorate of Agriculture Extension on University Road, Peshawar early Friday morning.
The security forces later managed to kill all the terrorists after a gunfight which lasted over an hour.
They were said to be wearing burqas in the rickshaw so as to avoid detection.
The police official said the attackers' first target was the security guard of the premises, following which they made their way inside towards the students' hostel of the Agriculture Training Institute.
"They could have wreaked havoc but the police and army successfully neutralised the threat," he said further.
Later, army spokesperson Major General Asif Ghafoor praised the police performance during the operation. Speaking to a private news channel, Maj Gen Ghafoor said the terrorists were in contact with their partners in Afghanistan throughout the attack.
He, however, put the number of deceased terrorists at three.
The police and army immediately reached the site and launched an operation to clear the area and neutralise the terrorists.
Aerial surveillance of the operation was carried out by the army aviation division whereas armoured vehicles of security forces were also on site.
Peshawar Capital City Police Officer Tahir Khan and SSP Operations Sajjad Khan were leading the operation.
Intermittent gunfire and blasts could be heard from inside the premises throughout the operation.
Later, during the combing operation, authorities recovered suicide jackets, two Klashnikovs, pistols, and explosives from the possession of deceased terrorists.
The explosives and suicide jackets were disposed of later in a controlled explosion by the bomb disposal unit.
'Fortunately, it was a weekend'
Speaking to Geo News, Khyber Pakhtunkhwa IG Salahuddin Khan Mehsud said fortunately not many students were present due to the long weekend, adding that police APCs evacuated around a dozen students from the hostel.
"Special units of the Pakistan Army were taking part in the operation [alongside police]," he said further.
A clearance and sweeping operation is now under way.
University Road, the major artery of the city, was closed down for traffic after the incident and reopened around noon.
The injured were shifted to Khyber Teaching Hospital (KTH), located next to the directorate.
An emergency was declared in the hospital. The hospital's spokesperson, Dr Saud, initially said a total of 11 injured were brought to the hospital.
He added that the injured included seven students, two military personnel, a police officer and a journalist. The wounded are said to have been injured in firing as well as hurting themselves while escaping the attack.
However, later, the casualties were said to be 11 dead and more than 30 injured, including security personnel.
'We were sleeping when it started'
An eyewitness told Geo News he and his colleagues were sleeping when the firing started, around 8:15am.
The eyewitness, a student, said he and his colleagues ran as fast as they could but two of their colleagues were injured in the firing.
"We took them out with us and admitted them to the hospital," said Ariful Haq, adding that around 120 students live in the hostel but most had gone home due to the long weekend.
He added that the students who board at the premises are undertaking their diplomas in Agriculture Sciences and Veterinary Sciences.
Moreover, the premises house offices of the Agriculture Directorate Extension, Agriculture Livestock Department, Peshawar Housing Authority and the office of the director general of agriculture.
All terrorists killed: ISPR
According to the army's media wing Inter-Services Public Relations (ISPR), all the terrorists were killed in the operation.
Eight students were evacuated from the hostel, the ISPR said in a statement.
The army said two of its injured were evacuated to the Combined Military Hospital (CMH).
Second attack in a week
Last Friday, senior police official Mohammad Ashraf Noor was martyred in a suicide attack in the Hayatabad area of the city.
Additional IG Headquarters Ashraf Noor was en route to work when a suicide bomber riding a motorcycle rammed into his vehicle near Tatara Park.
Students in the line of fire
On December 16, 2014, 147 people, including 132 schoolchildren, were massacred in one of the deadliest terrorist attacks in the country's history when terrorists stormed the Army Public School in Peshawar Cantonment and opened indiscriminate fire.
Later, on January 20, 2016, 21 students and staff members of Bacha Khan University in Charsadda were martyred after terrorists stormed the university and opened fire.
https://www.geo.tv/latest/170174-firing-near-university-of-agriculture-peshawar
-----
Factionalism hits Tehreek-i-Labbaik at the outset
Amjad Mahmood
December 01, 2017
LAHORE: The future political stakes of the Tehreek-i-Labbaik Ya Rasool Allah hang in the balance as its internal rifts are widening.
The Tehreek-i-Labbaik Pakistan (TLP), being touted as the political face of the Tehreek-i-Labbaik Ya Rasool Allah, has begun disowning the faction led by Dr Ashraf Asif Jalali. The fact came to the fore when TLP chief Khadim Hussain Rizvi, who had led the Islamabad protest, disowned the Lahore sit-in in a TV talk show on Thursday.
Pir Afzal Qadri from Gujranwala, another central character of the Faizabad sit-in, has already formed his own faction of the Tehreek-i-Labbaik.
The sit-in by the Jalali-led Tehreek-i-Labbaik outside the Punjab Assembly building on The Mall entered the sixth day on Thursday as the protesters, numbering not more than a few dozens, pegged their tents at one of the busiest intersections of the city, sending the traffic out of gear to the disadvantage of the Lahorites.
The Lahore sit-in was started by the Jalali-led Tehreek-i-Labbaik following reports of police operation against the participants of the Faizabad sit-in on Saturday (Nov 25) morning.
The protesters had blocked the main entrance to Islamabad for about three weeks, demanding that the federal law minister resign admitting responsibility for deleting a clause from the law relating to Khatm-i-Nubuwat oath taken by Muslim candidates.
The Islamabad episode culminated in an agreement brokered by the army between the federal government and the protesters led by fiery cleric Khadim Rizvi. But ironically, their colleagues in Lahore led by Dr Asif Jalali didn't accept that in the first hint of grouping within the outfit.
Apparently grieved at being ignored in the agreement with the federal government, Dr Jalali told the media that "qisas for 70 martyrs of Khatm-i-Nubuwat was not incorporated in it". He also sought the resignation of Punjab Law Minister Rana Sanaullah for allegedly speaking for the Ahmadi community's rights in a TV show.
Dr Jalali had earlier staged an eight-day sit-in close to D-Chowk in Islamabad. The protest missed media limelight and ended on Nov 3 after an assurance from the government that the Raja Zafarul Haq-led committee's report on the controversial law would be made public within 20 days. He insists on continuing the Lahore protest until Mr Sanaullah steps down.
Insiders say that besides making other offers, the PML-N government in Punjab has also promised to politically accommodate the Tehreek-i-Labbaik by conceding a certain number of seats to it in the coming general elections.
Already heading Tehreek Siraat-i-Mustaqeem, Dr Jalali claims that he had formed Tehreek-i-Labbaik the day Mumtaz Qadri — a police guard who killed former Punjab governor Salmaan Taseer — was hanged on Feb 29 last year while Khadim Rizvi headed the TLP formed in Karachi in August 2015.
The Tehreek-i-Labbaik was little known until it took part in the by-poll for National Assembly constituency NA-120 (Lahore-III) against former first lady Begum Kulsoom Nawaz. The seat had fallen vacant after former prime minister Nawaz Sharif was disqualified by the Supreme Court in the Panama Papers case.
To the astonishment of many, Tehreek candidate Sheikh Azhar Hussain Rizvi came third in the electoral race outnumbering the mainstream Pakistan Peoples Party and Jamaat-i-Islami by bagging over 7,000 votes, though there's hardly any election activity of the outfit visible to the voters. Most of its election campaign remained confined to mosques mostly addressed by Khadim Rizvi with occasional motorcycle rallies in the constituency.
Full report at:
https://www.dawn.com/news/1373982/factionalism-hits-tehreek-i-labbaik-at-the-outset
--------
Roadside bomb kills 5 pro-govt fighters in South Waziristan
November 30, 2017
A roadside bomb killed five pro-government fighters and wounded two others in South Waziristan on Thursday evening, hours after a suspected United States drone struck a militant compound near Pak-Afghan border area, killing three suspected militants, officials said.
The evening incident took place in South Waziristan's Spinkai area near the Afghan border when a group of pro-government fighters was returning from a function.
Their vehicle was attacked using a remotely detonated bomb, said intelligence officials. The officials said the group was part of a volunteers' militia helping the military in operations against terrorists. The intelligence officials spoke on condition of anonymity because they were not authorised to speak to the media.
They said the group's leader, Wali Jan, had earlier survived a suicide attack but continued to play a role in fighting Taliban militants.
The two wounded men were moved to a military hospital, they said.
Umar Arshad, an assistant administrator in South Waziristan, confirmed the intelligence officials' account.
A faction of Tehrik-i-Taliban Pakistan (TTP), known as the Sajna group, claimed responsibility for the bomb attack.
Full report at:
https://www.dawn.com/news/1373868/roadside-bomb-kills-5-pro-govt-fighters-in-south-waziristan
--------
Four killed in US drone attack on Haqqani network
DECEMBER 1, 2017
DERA ISMAIL KHAN: A suspected US drone strike on Thursday targeted an hideout of the Haqqani network along Pakistan's mountainous border with Afghanistan, killing four people, officials said.
If confirmed, it would be the fourth such US strike inside Pakistan since US President Donald Trump took office in January. Two Pakistani intelligence officials and a local government officer said an unmanned aerial vehicle dropped two missiles on a compound housing militants under the command of a senior network commander, Abdur Rasheed Haqqani. Villagers initially reported a blast in the Upper Kurram area to authorities, said one of the officials, adding, "We got it from our informant later that it was a US drone strike that targeted Haqqanis."
https://dailytimes.com.pk/150729/four-killed-us-drone-attack-haqqani-network/
--------
Two terrorists killed in Gujrat, 3 arrested in Multan
DECEMBER 1, 2017
GUJRAT/MULTAN: At least two terrorists of a banned outfit were killed in encounter with Counter-Terrorism Department (CTD) in Gujrat late on Wednesday. Three other were arrested during a separate operation in Multan.
According to CTD, the raid was carried out on an intelligence tip-off about presence of militants, affiliated with a banned organisation, planning a terror attack. The CTD spokesman informed that explosive material and arms were recovered from dead terrorists. As the CTD personnel began to encircle the hideout, the terrorists resorted to firing at them. "In subsequent exchange of gunfire, two terror suspects were killed while three others managed to flee from the spot taking advantage of darkness, said the CTD spokesperson in a statement. A huge cache of arms and ammunition, besides explosives and hand grenades were recovered during the raid, the spokesperson added. The identities of slain terrorists have not been ascertained so far. Last week, police killed four terrorists in an encounter in Faisalabad.
Full report at:
https://dailytimes.com.pk/150922/two-terrorists-killed-gujrat-3-arrested-multan/
--------
Three killed, eight hurt in armed clash between religious groups
DECEMBER 1, 2017
KHAIRPUR: At least three people were killed and eight others were critically injured as armed clash erupted between two groups near Kot Diji on Thursday.
A scheduled rally was brought out by religious organisation Labaik Ya Rasool Allah. When it reached at Ammer Shah Chowk Jani Burira near Hussainabad taluka Kotdiji, some un known gunman from a mosque near road side suburbs of village Katohar opened fires on the rally and as the result Zulfiqar Buriro, Latif Dino Buriro and Mushataq Buriro were killed while Qurban Ali, Imtiaz Kothar, Kashmir Buriro, Dodo Khan Buriro, Shaubuddin and Ghulam Shabbir Dharejo and others were critically wounded. The bodies and wounded shifted to Civil Hospital Khairpur. After postmortem bodes were shifted to native village Aftababd near Hussainabad.
Full report at:
https://dailytimes.com.pk/150902/three-killed-eight-hurt-armed-clash-religious-groups/
--------
JI wants names behind oath amendment conspiracy revealed
December 01, 2017
KARACHI: Jamaat-i-Islami Pakistan leader Senator Sirajul Haq has announced that his party will observe 12th of Rabiul Awwal as 'Yaum-i-Azm-i-Tahaffuz Khatm-i-Nubuwat' on Friday throughout the country and demanded that a judicial inquiry into the matter of amendment to the oath on Khatm-i-Nubuwat be initiated.
The JI chief, who was addressing a press conference at the JI Karachi headquarters, Idara Noor-i-Haq, on Thursday, said that the resignation of a minister was not enough as the nation wanted to know the names of all those behind the conspiracy.
He said that the United States defence secretary was due to arrive in Islamabad on Dec 3 at a time when the US was already asking the Pakistani government to amend the blasphemy laws.
Full report at:
https://www.dawn.com/news/1373877/ji-wants-names-behind-oath-amendment-conspiracy-revealed
--------
South Asia
Pope answers critics on Rohingya in Dhaka
December 1, 2017
Pope Francis has called on the international community to take "decisive measures" to resolve the causes of what he described as a "grave crisis" that resulted in the massive influx of refugees from Myanmar.
In a speech upon his arrival in Bangladesh on Nov. 30, the pontiff did not mince words when he said that it is "imperative" to resolve the political issues that caused the "mass displacement of people."
Although the church leader did not use the word Rohingya to describe the "refugees from Rakhine State," he was clear in demanding for "immediate material assistance" to respond to the crisis.
The pope, who is on the second leg of his Asian tour after leaving Myanmar, expressed his gratitude to Bangladesh for the "spirit of generosity and solidarity" by providing shelter to the refugees.
"This has been done at no little sacrifice. It has also been done before the eyes of the whole world," said Pope Francis in a speech before government leaders.
"None of us can fail to be aware of the gravity of the situation, the immense toll of human suffering involved, and the precarious living conditions of so many of our brothers and sisters," he said.
More than 600,000 Rohingya people have sought shelter in camps in Bangladesh following attacks by Myanmar's security forces, including the burning of entire villages, in recent months.
Mixed reactions to pope's statement
Several groups have criticized Pope Francis for refusing to use the word Rohingya to refer to the displaced people from Myanmar.
Nur Khan, former executive director of the Law and Arbitration Center, a human rights group in Dhaka, said he is "frustrated" by the pontiff's refusal to use the word.
"He has mentioned refugees from Rakhine State of Myanmar who fled to Bangladesh, which does not directly mean Rohingya," said Khan, a Muslim.
He said he considers Pope Francis "a great spiritual leader who vehemently promotes justice, human rights and peace, and he is capable of influencing global politics."
"The world listens to Pope Francis, so our expectation from him is always high," said Khan, adding that "the world will not turn upside down" if the pope mentions Rohingya.
But Father Tapan Camillus De Rozario, chairman of the World Religion and Culture department at the University of Dhaka, said "it does not matter" whether the pontiff mentions Rohingya.
He said people in Bangladesh should not forget that the pope has his limitations "and he cannot solve all the problems."
The priest said people should not "force upon the pope our own words or demands."
"Even if the pope didn't mention the word, [Catholic church leaders in Bangladesh] have been constantly using the term," said the priest.
"Pope Francis will always stand beside oppressed people, so do will the Catholic church," he added.
Vatican spokesman Greg Burke said the fact that Pope Francis has visited Myanmar and Bangladesh "is an incredibly positive thing."
Need for dialogue and work for peace
Although the pope is not visiting a refugee camp during his trip, a group of Rohingya refugees is scheduled to attend a meeting of religious leaders with the pontiff in Dhaka on Dec. 1.
He said he will be praying with the religious leaders for peace "and reaffirm our commitment to work for peace" as he lauded Bangladesh's "atmosphere of mutual respect."
The Catholic Church leader praised the "growing climate of interreligious dialogue" in Bangladesh that allows people "to express freely their deepest convictions."
"In a world where religion is often — scandalously — misused to foment division, such a witness to its reconciling and unifying power is all the more necessary," he said.
The pontiff later in the day paid tribute to the father of the nation Bangabandhu Sheikh Mujibur Rahman, whom the church leader lauded for his ideology and vision.
"He envisioned a modern, pluralistic and inclusive society in which every person and community could live in freedom, peace and security," said Pope Francis.
He said the late leader had better understanding of the need of global unity, adding that in today's world, "no single community, nation or state can survive and make progress in isolation."
"For only through sincere dialogue and respect for legitimate diversity can a people reconcile divisions, overcome unilateral perspectives, and recognize the validity of differing viewpoints," he added.
Pope Francis said he is visiting Bangladesh "to pray with my Catholic brothers and sisters, and to offer them a message of affection and encouragement."
He noted that Catholics in Bangladesh have sought to play a "constructive role" in the development of the country through their schools, clinics, and dispensaries.
"I am confident that, in accordance with the letter and the spirit of the national Constitution, the Catholic community will continue to enjoy the freedom to carry out these good works as an expression of its commitment to the common good," said the pontiff.
Pope Francis arrived in Dhaka past 3 p.m. and was welcomed by Bangladesh President Abdul Hamid, eight local bishops, and a number of government leaders.
https://www.ucanews.com/news/pope-answers-critics-on-rohingya-in-dhaka/80947
--------
8 foreign militants killed in US drone strike in East of Afghanistan
Nov 30 2017
At least eight foreign militants were killed in the latest drone strike in eastern Nangarhar province of Afghanistan, the military officials said Thursday.
The 201st Silab Corps officials said the airstrikes were carried out on Wednesday in the vicinity of the restive Achin district.
The officials further added that the militants were targeted in the vicinity of Mamand Margha, leaving eight dead.
According to the Silab Corps officials, the militants killed during the airstrikes were likely hailing from the Pakistan.
The anti-government armed militant groups including the Taliban and ISIS militants have not commented regarding the report so far.
In the meantime, the Silab Corps officials said the airstrikes did not incur any casualties to the local residents and security personnel based in the area.
The latest drone strike takes place amid ongoing violence among the Taliban and ISIS militants in Nangarhar province as heavy clashes continue between the two sides since the last few days.
Full report at:
http://www.khaama.com/8-foreign-militants-killed-in-us-drone-strike-in-east-of-afghanistan-03952
--------
Rohingya Muslim refugees in Bangladesh look to Pope Francis to get citizenship, ensure safety
Dec, 01 2017
Balukhali: A group of Rohingya Muslim refugees due to meet the Pope in Bangladesh on Friday have high hopes the encounter will put them on the path back home to Myanmar.
The 16, including two children and one woman, are among more than 6,00,000 who have fled an army-led crackdown in their home state of Rakhine and sought safety in the squalid refugee camps in Bangladesh.
They will have travelled nearly 300 miles overnight to reach the capital Dhaka, accompanied by armed police, and want to tell the head of the Catholic Church what has happened to their people.
"When I meet him, I will tell him that in Myanmar they have killed us and tortured us," said Mohammad Yunus, a 38-year-old father of three.
"They treat us inhumanely. We left our property, land, our houses," he said.
"They have to take us back and give us proper citizenship. I would ask him to arrange these basic rights for us."
A stream of desperate humanity has poured over the border into Bangaldesh since late August, bringing with them stories of rape, murder and arson at the hands of Myanmar's military and Buddhist mobs - a campaign the UN and US have called "ethnic cleansing".
Pope Francis, who called for "decisive" international action on the crisis as he arrived in Bangladesh on Thursday, has previously described the persecuted Rohingya as his "brothers and sisters" in an effort to ease their suffering.
But despite pressure to confront the issue head on, the pontiff is yet to actually utter the word "Rohingya" in public during his South Asia tour.
He was urged not to use the term during his visit to Buddhist-majority Myanmar - where the group are dubbed "Bengali" migrants and not entitled to full citizenship - to avoid provoking hardline Buddhists and making the country's Catholics a target.
Some of the refugees also noted it would have been "better" had he made it to the camps to see them.
Freedom to say prayers
Nevertheless, Abul Fayaz, a community leader at the vast Balukhali refugee camp in Cox's Bazar, said he looked forward to being embraced by the Argentine pontiff - a compassionate gesture he is known for.
"He is such a big leader, I'm sure that when we meet him he will be able to assuage our fears and doubts. He will caress our heads with love and comfort us," the 35-year-old said.
In Myanmar, discrimination has curtailed the Rohingya's rights to study, work, travel, marry and even to practise their religion.
Access to health services and education is limited and the group is also banned from voting and entering certain professions like medicine and law.
"I'm really, very hopeful," said Fayaz.
"We want him to help us get Rohingya citizenship, ensure our safety, help us move freely wherever we want, whenever we want and most importantly, create a way so we can say our prayers with freedom like they (Buddhists) do."
The 16 are expected to come face to face with the Pope after attending an interfaith peace meeting in the garden of the archbishop of Dhaka.
Mohammad Nurulla, an educated 37-year-old among the group, added he was "very happy" about the looming meeting.
Full report at:
http://www.firstpost.com/world/rohingya-muslim-refugees-in-bangladesh-look-to-pope-francis-to-get-citizenship-ensure-safety-4236489.html
--------
Tensions intensify among Afghan leaders, Noor and Dostum stopped to visit Kandahar
Dec 01 2017
Tensions have intensified among the Afghan leaders as the provincial governor and chief executive of Jamiat-e-Islami Ata Mohammad Noor and leader of Junbish Millie Batur Dostum were stopped to travel to Kandahar province.
Noor in an online video message harshly criticized the government for aborting their flight to southern Kandahar province.
Calling the move by the government as illegal and immoral, Noor warned that such steps will have an intense negative impact on the unity of the Afghan people.
According to Noor, a delegation led by him including Batur Dostum and other figures were due to visit Kandahar to participate in a gathering but their flight was aborted after waiting for one and half in the plane.
In the meantime, reports indicate that the government did not allow the flight to take place as there were security threats claiming that the Taliban group was looking to attack the plane.
Relations among Noor, Dostum and government remains strained since early this year with Noor harshly criticizing the government leaders for their failure, particularly in ensuring the security for the people of the country.
The leaders opposing with the government's policies also formed a coalition, coalition for the salave of Afghanistan, after a series of deadly attacks rocked Kabul city and other parts of the country earlier this year.
Full report at:
http://www.khaama.com/tensions-intensify-among-afghan-leaders-noor-and-dostum-stopped-to-visit-kandahar-03954
--------
Airstrike target Haqqani network compound in Kurram Agency of Pakistan
Nov 30 2017
An airstrike has been carried out on the compound of a commander of the notorious Haqqani terrorist network in the tribal regions of Pakistan, it has been reported.
According to the local media reports in Pakistan, the airstrike was carried out earlier today in the vicinity of Kurram Agency in Federally Administered Tribal Region of Pakistan.
The reports further add that three people were killed in the attack on commander Rashid's compound which is located in Ghauz Garhi area.
The Pakistani government officials have not formally commented regarding the airstrike so far.
The latest airstrike targeting the compound of Haqqani network commander takes place amid growing pressures on Pakistan regarding the terror safe havens, particularly the Haqqani network sanctuaries, which the officials are saying have remained intact despite the major operations launched by the military of the country.
The US President Donald Trump announced the new strategy of Washington regarding South Asia in mid-August this year and criticized Pakistan for remaining reckless to act against certain terror groups still operating in its soil.
Full report at:
http://www.khaama.com/airstrike-target-haqqani-network-compound-in-kurram-agency-of-pakistan-03951
--------
Afghan govt reacts at Mohaqiq's remarks regarding Syria war breakthrough
Nov 30 2017
The Afghan government reacted at the remarks of the deputy chief executive of the unity government Haji Mohammad Mohaqiq regarding the recent breakthrough in the Syrian war and after hailing the Afghans, Hezbollah, and Iran's revolutionary guard for supporting the current regime.
The Office of the President, ARG Palace, in a statement said the country faces the menace of terrorism posed by ISIS and other terrorist groups and the Afghan forces are in the frontline to eliminate the menace of terrorism.
The statement further added that the recent remarks of Mohammad Mohaqiq in Syria are contradiction to the foreign policy, national interests, peace and stability, and the enforced laws of the country.
The Afghan government also added that such remarks could endanger the national unity among the people, insisting that the government is committed to seriously follow and investigate such remarks that endangers the stability of the country.
According to ARG Palace, the Afghan nationals are only obliged to serve with the Afghan armed forces under the national flag and within the framework of the country, emphasizing that the government has never been and will never be involved in proxy wars, nor will allow anyone to turn the country into a prox war field.
This comes as Mohaqiq has been spotted in a gathering of the Fatemiyoun brigade operating under the Iranian Revolutionary Guard to fight in Syria, a move which has further sparked concerns among the people regarding the fate of the Afghan youths who die and those returning to the country from the Syrian conflict.
Mohaqiq has reportedly attended the gathering in Tehran to praise the youths and Fatemiyoun brigade for the turning the conflict in Syria into the favor of the regime in power led by Bashar Al-Assad.
Full report at:
https://www.khaama.com/afghan-govt-reacts-at-mohaqiqs-remarks-regarding-syria-war-breakthrough-03949
--------
Sri Lanka sees emerging tensions between Buddhists and Muslims
December 1, 2017
Across Asia, religious fundamentalism is posing a growing threat to liberal society. Even Sri Lanka, a country that has only recently emerged from a bloody civil war involving religious as well as ethnic differences, may once more be at risk.
Islamist militancy is generating the most headlines. In Bangladesh, for example, liberal commentators have been killed by alleged Islamic fundamentalists. In Malaysia, self-declared atheists have been bullied by militant Islamic organizations. In Indonesia, Muslim fundamentalists have seized the political initiative.
But a virulent strain of Buddhism has also emerged as a danger in parts of Asia, particularly in Myanmar, Thailand and Sri Lanka. The threat to liberal societies may be less dramatic but is nonetheless real.
These majority-Buddhist countries have similar experiences of a religion that is the embodiment of tolerance and pacifism giving rise to extremism and the baiting of minorities.
In the most shocking example, a brutal military campaign triggered by attacks by Muslim militants led to the exodus of more than 700,000 Rohingya Muslims from western Myanmar into neighboring Bangladesh.
In Sri Lanka, a nation of 21 million people, tensions focus on differences between the mostly-Buddhist ethnic Sinhala, who account for around 74% of the population, and an ethnic Tamil minority, composed of Hindus and Christians. A Muslim community, mostly descended from Arab and Malay traders, adds to the mix.
Sri Lanka's brand of religiously-influenced nationalism began in the years after independence (1948), as a Sinhala Buddhist coalition led by Solomon Bandaranaike sought to redress Sinhala complaints that the British colonial government had favored Tamil Christians for government jobs.
This resurgence of Buddhist nationalism was opposed by Tamils, who criticized legislation making Sinhala the official language of government administration. Protesting Tamil lawmakers were assaulted by Sinhala thugs, beginning a spiral of ethnic tensions and violence.
Tamil militancy led to civil war that cost over 100,000 lives over nearly three decades before the insurgents were finally defeated in 2009.
But many Buddhists remain uneasy and restless, with the economy in a fragile state. Extremism thrives in situations of general malaise or uncertainty, and both Islamic fundamentalism and Buddhist extremism can be traced to economic anxiety and political tumult. To complicate matters, Buddhists in Sri Lanka, along with Myanmar and Thailand, follow the Theravada tradition, that is more conservative than the alternative Mahayana tradition.
Legacy of civil war should serve as a warning of the costs of ethnic and religious conflict
In Myanmar, it is hard to tell if extremist monks such as Wirathu, who heads the Ma Ba Tha movement, are consciously leading a charge against the minority Muslim population or simply reflecting a widely held view in Myanmar that Rohingya Muslims are unwelcome foreign guests. In Sri Lanka, by contrast, there is little confusion about who is leading the extremist movement. It is radical monks such as Galagoda Aththe Gnanasara, general secretary of the Bodu Bala Sena, a group of monks and others with radical pro-Buddhist views, whose name loosely translates as Buddha's Forces. "Yes we are racists. If you touch one Sinhalese, it would be the end of all of you," the firebrand told Muslims in Dharga Town, south of Colombo, before anti-Muslim rioting began there in 2014.
Distant problems
Sri Lankan monks see themselves as the global guardians of the Theravada Buddhist tradition, which may explain why Buddhist militants in Sri Lanka are closely following events in Myanmar.
Claims that Buddhists have been attacked by Rohingya Muslims have received wide publicity. Marches were organized in Colombo in solidarity with Myanmar Buddhists and the slogans shouted suggesting that Islamic terrorists were slaughtering Buddhists in Myanmar.
Although the problems in Myanmar seemed distant to Sri Lanka, that started to change when 30 Rohingya refugees fleeing in a boat were picked up by Sri Lankan navy off the country's northern coast in June. Buddhist leader Gnanasara commented: "Rohingyas from Myanmar arrived in Sri Lanka to invade our land."
Some Buddhist monks discovered a refugee house maintained by the United Nations near Colombo and news soon spread over social media that they had exposed a Rohingya "terrorist" hideout. When the police took the refugees away for their own safety, monks harassed and abused the Rohingya men and women.
Many Sri Lankan Buddhists seemed to have been impressed by this false story. The police later arrested several monks but the detentions only enraged many Buddhists.
Fears are now growing that there could be clashes between Buddhists and Sri Lanka's own Muslims, a wealthy business-based community, which has some sympathy for the Rohingya. Long-standing economic tensions have been exacerbated by the spread locally of Islamist fundamentalism. Violence has already reared its ugly head, with the torching of Muslim shops.
The international community has expressed concern about the growing tensions, including the U.S., the European Union and Ban Ki-moon, then U.N. secretary-general, who urged the government to ensure the safety of all Sri Lankans. These interventions have further alienated many Sri Lankan Buddhists who still see their country as tolerant.
But the unfortunate truth is that Muslim-Sinhala tensions could yet deteriorate into the full-scale violence that Myanmar has experienced.
Militant Buddhist monks do not have any justification for encouraging people to assault and intimidate minorities. But they are feeding on the popular Buddhist view Muslims have abused the welcome they received when they first arrived in the 16th century, and that they now wish to turn Sri Lanka into a Muslim country with Islamic law.
Faster economic growth would benefit all communities and reduce mutual animosities, not least Buddhist envy of local Muslim wealth. But with the economy remaining sluggish, such tensions may only increase.
Also, many Buddhists are struggling to stay calm in the light of evidence of local Islamist radicalization combined with the reality of jihadi terrorism around the world.
In Sri Lanka, as in other countries, a better understanding of the way ethno-nationalism can spiral out of control could prevent the brutal violence now taking hold in Myanmar, for example, and elsewhere.
Full report at:
https://asia.nikkei.com/Viewpoints/Rajpal-Abeynayake/Sri-Lanka-sees-emerging-tensions-between-Buddhists-and-Muslims
--------
Africa
West Africa population planners battle to woo Muslim hearts
Dec 1, 2017
DAKAR/LIBORE, Niger (Reuters) - Mabingue Ngom, the head of the U.N. Population Fund in West Africa, knows that if he wants to cut birth rates he can't ignore religion.
Population experts like Ngom are worried that if West Africa's population continues to grow at its current pace - the region has the highest birth rate in the world - it will drive fiercer competition for scarce water and farmland, and fuel malnutrition, conflict and ever more economic refugees.
GRAPHIC-Family planning in West Africa: tmsnrt.rs/2zWftuY
West African governments, U.N. agencies and charities also want to cut maternal mortality rates, which are higher in West Africa than anywhere else in the world, according to U.N. Population Fund (UNFPA) figures.
But imams who follow the puritanical Wahhabist form of Islam and some traditional religious leaders across the region regularly preach against the use of contraception, saying Western nations are pushing birth control because they fear being outnumbered by Africans.
Some imams cite a passage in the Koran imploring Muslims to "go forth and multiply", and family planning is seen by many in the region as a Western plot to curb the spread of Islam.
"The West's policy is about reducing our numbers," said Hassane Seck, an imam in Dakar influenced by the Wahhabist tradition. "Because of their perverse promotion of contraception, women in Europe are no longer fertile, but ours are. There are going to be many more of us, and they're afraid.".
To counter that message, population experts are trying to co-opt moderate clerics.
Which is why, at a meeting in September with half a dozen senior Senegalese clerics, Ngom avoided the issue of overpopulation and focused on values espoused in the Koran: the need for better maternal health and the need to ensure parents have resources to feed and educate their children.
"You can come with your Powerpoint and make nice speeches and achieve nothing. People will be even more hostile," he told Reuters. "If you want to change things, you have to engage them."
After listening to Ngom speak, Bou Mouhamed Kounta, deputy head of Senegal's Islamic Supreme Council, warned that family planning in Senegal was taboo. But, he added: "We are ready to work with you, because I can see that UNFPA respects religion."
NIGER GROWTH
For planners worried about growth rates, the starkest case remains Niger, a poor country stretching into the Sahara desert. According to U.N. projections, its population will triple by 2050 to 72 million, yet because of frequent droughts it already struggles to feed its people.
The fertility rate in Niger has been the highest in the world for the past decade and has been above 7 children per mother for a quarter of a century, according to U.N. figures.
More than one in five women are married by the time they are 19 and for every 100,000 births in Niger, 553 mothers die. In neighboring Chad, the maternal mortality level is 856 per 100,000 births. It is only 12 in the developed world.
Attempts by Niger to lower its birth rate have been fiercely resisted by traditional leaders - known as marabouts - and some imams. Measuring the extent of Wahhabist influence in West Africa is hard, but they control many of the region's most strategic mosques, such as the main university houses of worship in Senegal and Niger.
On Niger's religious TV stations, preachers promise hellfire for anyone practicing family planning. At a large mosque in the southern city of Maradi, an imam denounces contraception as a "plot by the whites to reduce us", two reproductive health workers based there, who declined to be named, said.
When UNFPA and Niger's President Mahamadou Issoufou tried to introduce sex education in schools in 2015, angry mobs burned the text books outside U.N. offices. Three years earlier a bill banning girls being taken out of school for marriage provoked such a backlash it had to be axed.
Back then, Ngom wondered whether decades of telling Africans they were having too many babies was counterproductive. He decided the family planning message needed to be nuanced and has held dozens of meetings with moderate imams, always wearing a bubu, the traditional Muslim robe of his native Senegal.
"In a world of suspicion, of mistrust, how you put things is more important than the issues themselves," he told Reuters in Dakar. "You need to know your audience."
Atamo Hassane, head of Niger's family planning unit, agrees.
"To 'limit' or 'reduce' population, those are two words you just can't use," Hassane told Reuters in Niger's capital Niamey. "If you do, every marabout ... is going to be against you."
He said using family planning to space out births won't be enough to tackle population growth but hopes that once people start to use contraception they will see the benefits, use it more, and birth rates will then start to fall.
Other moderate clerics include Sheikh Ali Ben Salah, Niger's former minister of religious affairs.
"Islam is clear: you can't just have children without considering how you're going to feed, clothe and educate them," Salah told Reuters at a conference on child marriage in Dakar.
"So family planning is part of Islam. The problem only comes if you want to stop at a certain number."
UNFPA had a breakthrough in July when Chad's highest Islamic authority hosted a symposium with the U.N. agency and 1,200 regional religious leaders - unprecedented for the subject of family planning.
"I told them family planning will reduce maternal mortality by a third. Who doesn't want to do that?" Ngom said.
Cheikh Abdeldahim Abdoulaye, secretary general of Chad's Supreme Council of Islamic Affairs, told Reuters he had backed the U.N. program because the Koran permitted the spacing out births, primarily for the sake of better maternal health.
'CHILDREN GOD WANTS'
Aminatou Bakah, a Nigerien aid worker for charity Marie Stopes International, which provides contraception and family planning advice in 37 countries, said they had long struggled to shake off the idea they were a tool of Western interference.
"They called us 'Marie Stop', because we want to stop people having children," she said. "We had to explain that, no, we want to help you plan, not just get pregnant by pure chance."
At a pop-up clinic run by the charity in Libore, 20 km (13 miles) outside Niamey, mothers with young children wait for advice on contraceptive methods.
In the village of jagged acacia trees, clay houses and a mosque, all nine of the mothers interviewed by Reuters said they didn't want to have fewer children and were using contraception only as a temporary reprieve from child birth.
"I would have 15 children if that's what God wants," said Rahinatou Kadri, 24, a mother of four.
Her husband, who is an imam, has two other wives, the oldest of whom has 16 children, she said. Keen not to be outdone, when her husband said he wanted another child, Kadri dutifully came back to have her contraceptive implant removed.
"Our religion doesn't permit us to stop having children," said Mariane Hamadoun, 34, a mother of five.
Thanks partly to such views, the birth rate in some African countries has defied predictions that it would fall as the continent gets more prosperous, as has happened in Europe, Asia and the Americas.
But attitudes may be changing. Lamodi Soulye, 39, a devout Muslim and worker in a Chinese restaurant in Niamey, was one of 28 siblings from one father and three different mothers.
He remembers occasionally going hungry, and dropping out of school with only basic primary education.
"My father lacked the resources to keep us," he said. "I decided not to do the same thing to my children."
He plans to stop at three.
https://www.reuters.com/article/us-northkorea-malaysia-kim-court/kim-jong-nam-had-nerve-agent-antidote-in-bag-malaysian-court-told-idUSKBN1DV3M0
--------
Nigeria: Mawlud - Muslim Media Urges Tolerance, Moderation
29 NOVEMBER 2017
By Abbas Jimoh
The Muslim Media Practitioners of Nigeria (MMPN) has felicitates with Nigerians and Muslims worldwide on the occasion of the Mawlud Nabiyy (Birthday of Prophet Muhammad) which coincides with Friday 1st December 2017.
This is contained in a Mawlud Nabiyy message by the National President of MMPN Abdur-Rahman Balogun who also called for canvassed for tolerance, patience and moderation at all levels.
He said that in line with the teachings of Prophet Muhammad of moderation, patience and tolerance, Muslims and non-Muslims alike are implored to emulate these attributes of the Prophet as a mark of honour to him.
"We note with serious concern the drift towards anarchy in the polity and increase in domestic violence within families in Nigeria. Ahead of 2018, preparatory to 2019 general elections, we noticed tension building up in various camps of political divides occasioned by forthcoming conventions and primaries of various political parties.
"Various reports of stockpiling of arms, deprival of opposition of use of facilities like rally ground after proper booking, the creation of bottle-necks in the way of opposition programmes and clashing of convoys on major roads, among others, are danger signals capable of truncating the democratic process. MMPN charges all parties concerned to exhibit political tolerance and eschew violence and vindictiveness," Balogun said.
According to him politics is all about living and letting live and should be about good governance and provision of dividends of democracy for the people.
Full report at:
http://allafrica.com/stories/201711300601.html
--------
Somalia: Al-Shabaab Militants Kill 2 Police Officers in Coastal Kenya
29 NOVEMBER 2017
Somali militant group Al-Shabaab on Tuesday killed two police officers and injured two others in Kenya's coastal town of Lamu in its latest attack in the tourism resort region.
Coast Regional Police Commander Larry Kieng said the officers were escorting a convoy of six buses when they were ambushed along the Malindi Lamu highway.
Kieng said a group of heavily armed militants emerged from the forest and sprayed a police escort vehicle with bullets that had four occupants.
"During the shootout, two officers were killed and two others injured. The officers were evacuated to Lamu hospital with serious bullet wounds," Kieng told Xinhua by phone.
The police commander said no passenger was injured during the incident since the majority were Muslim.
"The militants demanded passengers' manifests that indicated that they were Muslims. They were spared after a Somali passenger pleaded with them to let the buses pass," Kieng said.
The militants gave the passengers Jihad leaflets/CD cards before letting all the buses to proceed their destinations.
The attack came barely three days after police destroyed six Al-Shabaab camps in the vast Boni forest. During the operation weapons and medicine were recovered.
Kieng said a combined team of military and police are combing the forest to hunt down the militants.
Full report at:
http://allafrica.com/stories/201711300151.html
--------
Niger Approves Armed U.S. Drone Flights, Expanding Pentagon's Role in Africa
By HELENE COOPER and ERIC SCHMITT
NOV. 30, 2017
The government of Niger has given the Defense Department permission to fly armed drones out of the Nigerien capital, Niamey, Pentagon officials said Thursday, in a major expansion of the American military's footprint in Africa.
Pentagon officials want to start the flights within days.
A memorandum of understanding between the United States and Niger, which was finalized this week, calls for the remotely piloted aircraft to be armed initially, by the military's Africa Command, at the Nigerien air base in Niamey where they are currently deployed without arms.
The drones, the memo says, will eventually be moved to a Nigerien air base in Agadez, where American troops will also be deployed. Pentagon officials said the new mission likely would significantly increase the number of American troops in Niger, from the 800 who are there now. About 500 of those troops now deployed in Niamey would move to the base in Agadez.
"This operation supports the long-term strategic partnership between the United States and Niger, as well as the ongoing effort to counter violent extremism throughout the region," the Defense Department said in an emailed response to a query from The New York Times.
"The government of Niger and the U.S. stand firm in working together to prevent terrorist organizations from using the region as a safe haven," said Maj. Audricia M. Harris, a Defense Department spokeswoman. She added that for "operational security reasons," she could not comment on "specific military authorities or permissions."
The Pentagon has been trying for two years to get permission from the Nigerien government to put precision-guided bombs and missiles on a fleet of Reapers to be flown out of Niamey. Pentagon officials say that the drones would expand the military's ability to go after extremists in West Africa, in an area that could stretch from Mali to Chad, and Nigeria to southern Libya.
Such an area of operations for the drones would allow the military to target fighters affiliated with Al Qaeda in the Islamic Maghreb, Boko Haram and the Islamic State, officials said.
While the United States has been able to reach Yemeni, Somali and Libyan targets from bases in Djibouti and southern Italy, its reach in West Africa has been more limited.
The Niger deployment would be only the second time that armed drones have been stationed and used in Africa. Drones now based in Djibouti are used in Yemen and Somalia, where there have been 30 strikes this year against Shabab and Islamic State targets, twice the number than in all of 2016. Drones used in Libya fly from Italy.
"This is long overdue," said Donald C. Bolduc, a retired Army brigadier general who until last June was the top American Special Operations commander in Africa. "This will allow us to be more effective against the threat there."
Mr. Bolduc, who said he had advocated armed American drones in Niger for the past four years, cautioned that drone strikes alone were not a "panacea" against militant groups, and that they needed to be combined in a broader "whole of society approach" to defeat terrorist organizations like the Islamic State or Al Qaeda.
For two years, the Defense Department had been pushing both the Nigerien government and officials at the State Department to move forward on the Pentagon proposal to arm the drones.
But officials at the State Department expressed concern about the big increase in personnel that would be required in Niger. Hundreds of additional service members would be needed to support and operate the weapons.
In addition, government officials in Niger expressed initial hesitance because it is a major step for any government to allow armed drone flights over their country. French Defense Minister Florence Parly said in September that France would seek to arm the Reaper surveillance drones it flies from Niamey to support 4,000 French troops operating in West Africa. But French officials said this week that process was still ongoing.
The American action follows a deadly ambush on Oct. 4 of an Army Special Forces team and 30 Nigerien troops, which resulted in a two-hour firefight outside the village of Tongo Tongo near the Malian border. Four Americans and four Nigeriens were killed, and two Americans and six Nigeriens were wounded.
That ambush, and the aftermath, quickly altered the political calculation, both in Niger and in Washington.
One State Department official said in an interview that in arming the drones out of Niger, the United States would run the risk of more accidental civilian casualties. Already this week, Africa Command has been pushing back against allegations from residents and government officials in Somalia that civilians were killed in a joint raid by American and Somali troops on the village of Bariire in August.
In a statement on Wednesday, Africa Command said that the military had not killed any civilians when it accompanied Somali forces on the raid, and described all of the dead as "enemy combatants."
Pentagon officials said that the people killed were members of the Shabab, an extremist Islamic group that is linked to Al Qaeda. The Shabab is the group that carried out the deadly 2013 attack on the Westgate mall in Nairobi, Kenya. Dozens were killed in the siege on the upscale shopping center.
Full report at:
https://www.nytimes.com/2017/11/30/us/politics/pentagon-niger-drones.html
--------
African Union urges swift relocation of refugees from overcrowded camps in Libya
Nov 30, 2017
African Union leaders have called on their European counterparts to help relocate thousands of refugees currently stranded in camps in violence-plagued Libya.
Moussa Faki Mahamat, the chairman of the African Union Commission, said Thursday that the number of African refugees who currently live in camps and other places in Libya in the hope of reaching Europe some day is estimated between 400,000 and 700,000 people.
Mahamat said many of those refugees were living in "inhuman conditions" and there was an urgent need for thousands, including women and children, to be removed from the camps that are either overcrowded or have other problems.
The European Union has reached an agreement with Libya aimed at stopping the flow of refugees across the central Mediterranean to the north.
The deal, criticized by human rights organizations and even governments, has managed to drastically decrease the number of arrivals in Italy although other issues have emerged, including the harsh treatment of refugees in Libya. A video recently surfaced on the internet, showing refugees being auctioned as slaves in a Libyan market, sparking huge anger at the way Europe has secured its borders from the influx of desperate refugees.
Mahamat, who was speaking at the closing of a summit of European and African leaders, said at least 3,800, most of them West African refugees, were waiting for quick relocation from a camp in the Libyan capital Tripoli. He said people in dozens of other facilities across Libya were also living in dreadful conditions.
"That's just one camp ... The Libyan government has told us there are 42," he said, hinting that those camps may even host a larger number of refugees.
Full report at:
http://www.presstv.com/Detail/2017/11/30/544039/Libya-refugee-crisis-Europe
--------
Jordan: Israel must try killer before reopening embassy
Nov 30, 2017
A Jordanian diplomatic source says the country will not permit Israel to reopen its diplomatic mission in Amman until the regime launches legal proceedings against an embassy guard who killed two Jordanian citizens.
Israel should assure Jordan that "justice has been served" in the shooting case, the unnamed source said on Thursday.
On July 23, Ziv Moyal, the Israeli embassy security officer, shot dead a bystander and a teenage workman, alleging that the latter had attempted to attack him with a screwdriver.
Israel's Foreign Ministry claimed that the guard had acted in self-defense, but Jordanian officials said the incident was a criminal case in which the two unarmed Jordanians were killed in cold blood by the Israeli man.
The Israeli mission was closed shortly after the regime repatriated the guard, along with the Israeli ambassador and the rest of the embassy staff, under diplomatic immunity.
The guard received a warm welcome from Prime Minister Benjamin Netanyahu, who praised him for what he termed acting "calmly."
Netanyahu's move angered the Jordanian people, with King Abdullah II calling on Israel to put Moyal on trial and complaining that Netanyahu's behavior had been "provocative on all fronts and enrages us, destabilizes security, and fuels extremism."
On Wednesday, an Israeli diplomatic source, who was speaking on the condition of anonymity, said that Tel Aviv had planned to appoint a new ambassador to Jordan.
"The Jordanians don't want her (Ambassador Einat Schlein) back, and this has been a big obstacle in patching things up. We're looking for a replacement," the source said.
Full report at:
http://www.presstv.com/Detail/2017/11/30/544038/Israel-Jordan-Amman
--------
Europe
Britain PM courts key Arab ally, amid Trump anti-Muslim row
By Karin Laub 
November 30, 2017
AMMAN, Jordan — Britain is making a "new, ambitious and optimistic offer" of closer security and economic ties with Arab allies, the country's prime minister said Thursday, the last day of a Mideast trip meant to bolster ties with the region before the U.K. leaves the European Union.
Theresa May pledged tens of millions of pounds in additional aid, singling out Jordan, and said Britain would negotiate a post-Brexit trade deal with the pro-Western kingdom.
In a wide-ranging foreign policy speech in Jordan's capital, May also addressed the wars in Yemen and Syria, and the long-running Israeli-Palestinian conflict.
May called on a Saudi-led coalition fighting Shiite Houthi rebels in Yemen to lift a sea and air blockade of the war-stricken country which has teetered on the brink of famine.
The coalition tightened the blockade earlier this month, in response to a rebel missile launch toward the Saudi capital.
The British leader said that in talks with Saudi Arabia's crown prince Wednesday, "we agreed that steps needed to be taken as a matter of urgency to address this."
May has faced increasing calls to stop British arms sales to Saudi Arabia. Britain has licensed over $6.1 billion worth of arms sales to the kingdom since the war began.
Turning to the Israeli-Palestinian conflict, May said that while incitement to violence and denial of Israel's right to exist must stop, "those actions of the Israeli government which create an obstacle to peace — not least illegal settlement construction — must also stop."
May's three-day trip to Saudi Arabia, Iraq and Jordan was overshadowed by a row with President Donald Trump, over his stoking of anti-Islam sentiments.
In Thursday's speech, she said Trump's retweets of inflammatory anti-Muslim videos by a "hateful" far-right British political group were "the wrong thing to do."
But May dug in her heels over mounting calls to cancel Trump's planned state visit to Britain. She said the visit was still on — though she suggested it was not imminent.
"An invitation for a state visit has been extended and has been accepted," she said. "We have yet to set a date.
May's speech came after a meeting with Jordan's King Abdullah II, seen as a leading champion of religious tolerance and a partner in the campaign against Islamic militants.
The British leader reassured Arab allies that her country would remain engaged in the region in a post-Brexit era, saying that "we are making a new, ambitious and optimistic offer of partnership."
"To those who ask if the United Kingdom is in danger of stepping back from the world, I say nothing could be further from the truth," she said.
May singled out Jordan, saying deeper security and economic ties with the kingdom were the centerpiece of her commitment.
She promised 94.5 million pounds ($128 million) to support Jordan's economy, including $80 million for investment grants and infrastructure projects.
May also said the two countries would work to "deliver an ambitious post-Brexit trade deal."
Abdullah said earlier Thursday that economic support from Britain "will be very critical."
Jordan's stability is seen as a priority by Western allies who have expressed growing concern about the kingdom's economic problems.
Economic growth has been sluggish because of the spillover from conflicts in neighboring Syria and Iraq, such as trade disruptions and the influx of hundreds of thousands of Syrian refugees. Youth unemployment has risen above 30 percent.
At the same time, Jordan is under pressure to lower its public debt, and has undertaken painful reforms, including reductions in subsidies.
Copyright 2017 The Associated Press. All rights reserved. This material may not be published, broadcast, rewritten or redistributed.
https://www.washingtonpost.com/world/europe/britains-pm-meets-key-arab-ally-amid-trump-anti-muslim-row/2017/11/30/7e314558-d5cb-11e7-9ad9-ca0619edfa05_story.html?utm_term=.20338fff93ed
--------
UN rights boss condemns 'spreading hatred through tweets'
30 November 2017
GENEVA: In a thinly veiled reference to US President Donald Trump, the top UN human rights official on Thursday condemned "populists" who spread "hatred through tweets."
Britain criticized Trump on Wednesday after he retweeted anti-Islam videos originally posted by a leader of a far-right British fringe party who was convicted this month of abusing a Muslim woman.
"There are the populists — political hooligans who through their incitement — which is the equivalent of hurling racist insults, throwing bottles onto the field, attacking the referee and, as we saw yesterday, spreading hatred through tweets — seek to scramble our order, our laws," UN High Commissioner for Human Rights Zeid Ra'ad Al Hussein said in a speech in Geneva.
Full report at:
http://www.arabnews.com/node/1201631/media
--------
New international report reveals Qatar ties with terrorism still deep
30 November 2017
Qatar's ties with terrorism are continuing, according to a report by the British think tank the Henry Jackson Society.
The group suggests a four-point plan of action to the British government in order to push to Qatar to change its behavior.
The new report examines the charges made against the Qatari government by other Gulf states and questions whether Doha is engaged in power politics and bolstering groups and individuals, many of whom are dangerous radicals, that undermine its neighbors and regional stability.
WATCH: Qatar played 'dirty game' by supporting terrorists
The think tank said that the report makes the following findings:
- Up to $200 million has been paid to jihadist militant groups Al-Nusra and Hay'at Tahrir al-Sham in the form of ransom payments, either facilitated or made directly by the Qatari government, giving credence to the accusation that the country funds terror by stealth.
- Though Qatar has for some time positioned itself as a mediator and safe-haven for dissidents, it also host of terrorist organizations.
- While Britain should avoid publicly taking sides in the broader dispute between the Gulf States, the Government should use its influence in the region to press for changes in Qatar's ransom payments policy, the appearance of extremists on state-run media and make major improvements in human rights.
Commenting on the report, Kyle Orton, author and research fellow at the Henry Jackson Society, summarized:
Full report at:
https://english.alarabiya.net/en/News/world/2017/11/30/New-international-report-reveals-Qatar-ties-with-terrorism-still-deep.html
--------
Croatians must admit crimes against Bosnia Muslims: president
Nov 30, 2017
Croatian President Kolinda Grabar-Kitarovic has called on people and authorities in the Eastern European country to admit that fellow Croats in Bosnia committed crimes against Muslims during the 1990s war.
"We Croats need to have the strength to admit that some of our fellow compatriots in Bosnia committed crimes and they have to be held responsible for them," Grabar-Kitarovic said Thursday, a day after a former Croat general took his own life in protest to a court ruling that convicted him of crimes against Bosnian Muslims.
Catholic Croats and Bosniak Muslims fought against each other for almost a year during Bosnia's 1992-1995 war.
The International Criminal Tribunal for the former Yugoslavia (ICTY) has ruled that then Croatian president Franjo Tudjman was seeking to establish a unified Croat state in the region through a "joint criminal enterprise" which was meant to ethnically cleanse Bosnian Muslims.
Six Bosnian Croat wartime leaders, who had been convicted in 2013 of assisting that criminal enterprise, had their sentences upheld in an appeal court in The Hague on Wednesday. The hearing came to a shock conclusion when one of the generals drank poison in the courtroom and later died in hospital. Slobodan Praljak, 72, rejected his 20-year sentence and said he never committed war crimes.
Grabar-Kitarovic, however, said Praljak was a "man who preferred to take his own life rather than live as a convict for acts he strongly believed he did not commit."
Full report at:
http://www.presstv.com/Detail/2017/11/30/544015/Croatia-Bosnia-war-crimes
--------
EU lawmakers call for arms embargo against Saudi Arabia
01 December 2017
The European Parliament on Thursday called for an EU arms embargo against Saudi Arabia amid the "world's largest famine" in Yemen.
In a non-binding voting, a resolution urging EU foreign policy chief Federica Mogherini to impose an arms embargo against the kingdom was adopted by 539 votes to 13, with 81 abstentions.
"Mogherini should urgently propose an integrated EU strategy for Yemen and push again for a Yemeni peace initiative," the resolution read.
The resolution also called on "all actors to act to de-escalate the conflict and to engage in a new round of UN-led peace negotiations".
The MEPs said there were "serious allegations of Saudi Arabia breaching international humanitarian law in Yemen".
Yemen has remained dogged by chaos and violence since 2014, when Houthi rebels overran much of the country.
Full report at:
http://www.worldbulletin.net/europe/196431/eu-lawmakers-call-for-arms-embargo-against-saudi-arabia
--------
Report: Muslim Population in Europe Projected to Grow, Migration or Not
November 30, 2017
Even if European countries closed their borders to migrants and refugees, the percentage of Muslims on the continent would continue to rise over the next three decades, according to a report released Wednesday by the Washington-based Pew Research Center.
According to Pew's data, Muslims made up 4.9 percent of Europe's population in 2016, with an estimated 25.8 million people across 30 countries, up from 3.8 percent, or 19.5 million people, in 2010. The number of Muslim migrants arriving in Europe surged after 2014 to almost a half-million annually, largely the result of people fleeing conflicts in Syria, Iraq and Afghanistan.
The countries covered in the study included the 28 European Union members, plus Norway and Switzerland.
Three scenarios
The report considered three scenarios: zero migration between 2016 and 2050; medium migration, in which the flow of refugees stops but people continue to migrate for other reasons; and high migration, in which the record flow of migrants between 2014 and 2016 continues indefinitely with the same religious composition.
Under the first scenario, the population would continue to grow because Muslims are, on average, 13 years younger than other Europeans and also have a higher birthrate. The study projected Muslims could make up 7.4 percent of the European population by 2050, even with zero migration.
Under the medium migration scenario, Muslims could account for 11.2 percent of Europe's population by 2050.
While under the high migration, the record flow of migrants who came to Europe between 2014 and 2016 would continue indefinitely, resulting in 75 million Muslims in Europe, or about 14 percent of the population by the middle of the century.
Still a minority religion
But even the scenario with the largest growth leaves the Muslim population considerably smaller than the populations of both Christians and people with no religion in Europe, according to the report.
Full report at:
https://www.voanews.com/a/report-muslim-population-europe/4143103.html
--------
North America
The Right's Islamophobia Has Nothing to Do With National Security
Dec 1, 2017
When asked by reporters on Wednesday about President Trump's retweets of anti-Muslim videos, White House Press Secretary Sarah Huckabee Sanders said, "what the President is talking about is the need for national security, the need for military spending."
Her talking points are out of date. The videos are not about "national security" at all. The first supposedly depicts a Muslim migrant beating up a Dutch boy on crutches. (The assailant may have been neither a migrant nor Muslim). The second supposedly shows a Muslim man destroying a statue of the Virgin Mary. It appears to have been filmed in Syria. The third apparently shows an "Islamist mob" pushing "a teenage boy off a roof." It comes from Egypt. None involves terrorism against the United States or even Europe. None could have been prevented by more "military spending."
Sanders is behind the times. Trump's tweets show that, increasingly, America's purveyors of anti-Muslim bigotry no longer need terrorism as a rationalization. Islamophobia is finding new justifications, which don't rely on ISIS or Al Qaeda detonating bombs in London or Chicago. And in that way, it's embedding itself more deeply in America's political terrain.
It's no surprise that Trump may have learned about the videos from Ann Coulter, who has been at the forefront of this Islamophobia 2.0. Her 2016 book, Adios America, which Trump called "a great read," is filled with descriptions of Muslim depravity. It declares that in Lewiston, Maine, "Somali boys roam the streets physically assaulting the locals." It includes a section on "Muslim Rape Culture." And it mocks "Muslim refugees from tribal societies" who are "thunderstruck by indoor plumbing." It's only peripherally about terrorism. For Coulter, the problem with letting Muslims enter the United States is not that they commit terrorism. Terrorism is merely a symptom of their deeper hostility to American values, a hostility that expresses itself in a wide variety of ways: from beating up white kids to raping white women to ripping off the welfare state to generally being unsanitary.
Read Breitbart and you'll find the same, generalized, anti-Muslim sentiment. Breitbart publishes loads of headlines about Muslims, white women, and rape: "Halal Chief: 'Australian Women Need Muslims to Fertilize Them'" (July 30), "Pakistani Gang's Rape of White Girls Was Not Racist, Says Sentencing Judge" (September 6), "UK: Books in Islamic Schools Teach Marital Rape and Domestic Violence" (November 28). It serves up articles about Muslims and crime: "Almost Half of Crimes in Berlin Committed by Migrants" (September 25), Muslims and drugs: "German Police: Asylum Seekers Are Taking over Illegal Drug Trade," (June 26), Muslims not assimilating: "Muslim Immigrants Must Not Assimilate, Says Progressive Ally Linda Sarsour" (July 7), Muslims threatening free speech: "Dodgy Data Islamic Group Demands Google Censor 'Anti-Muslim' Results," (November 6), Muslims hating dogs: "Dogwalker Hospitalised After Attack By Somalian Migrant Who Said 'Dogs are Unclean'" (July 18), Muslims abusing welfare: "Migrants Who 'Fled War' Use Welfare to Holiday in Homelands" (Jan 25) and Muslims discriminating against Christians: "Malaysia Opens Muslim-Only Laundromat to Ensure 'Purity' of Clothing" (October 2).
To be sure, Breitbart lavishly covers any terrorist attack involving a Muslim. But its interest in jihadist terrorism is merely a subset of its interest in Muslim depravity. When there are no terrorist attacks, it uncovers horror stories about Muslim Laundromats.
As with Trump's videos, many of these stories come from Europe. The message is clear: Europe, which once succumbed to Nazis and Communists, is now succumbing to Muslims. America must keep these new barbarians out (and if they're already here, down) because even if they don't join ISIS, they'll violate and defile us in myriad other ways.
Increasingly, the Trumpian right's anti-Muslim bigotry conforms to the templates established by anti-black racism (Muslims are violent, lazy and a threat to white women) and by previous anti-immigrant scares (Muslims are disloyal and incapable of upholding democratic norms). Coulter often conflates the threat from Muslims and Latinos, both of whom contribute to the "browning of America."
For years, liberals have argued that the American right's obsession with terrorism (as opposed to, for instance, gun violence, which kills many more Americans) fuels Islamophobia. But more and more, the causality runs the other way: The American right's Islamophobia fuels its obsession with terrorism. Thus, in terrorism's absence, pro-Trump conservatives simply demonize Muslims for other things.
In the years to come, the "war on terror" could conceivably end. But the message of Trump's retweets is that the assault on American Muslims, sadly, seems likely to go on and on.
https://www.theatlantic.com/politics/archive/2017/11/the-new-islamophobia/547130/
--------
Bush and Obama told Muslims we belong in America. Trump's tweets tell us we don't.
Nov 30, 2017
Just under two years ago, I sat in a metal folding chair inside a mosque in Baltimore and listened to the sitting president of the United States tell me and around 200 of my fellow American Muslims that I belong in America.
Standing at a lectern in his socks (he'd taken off his shoes, as is customary for anyone entering a mosque), President Barack Obama looked out at the assembled crowd and the TV cameras and said, "If you're ever wondering whether you fit in here, let me say it as clearly as I can, as president of the United States: You fit in here — right here. You're right where you belong. You're part of America, too."
"You're not Muslim or American," he added. "You're Muslim and American."
In the midst of rising anti-Muslim sentiment in the country, it was a powerful message. I had tears in my eyes.
On Wednesday, the sitting president of the United States shared another message about Muslims and their place in America that brought tears to my eyes — but for a starkly different reason.
That's because President Trump spent Wednesday morning retweeting a series of anti-Muslim propaganda videos portraying Muslims as violent and barbaric to his 43.6 million followers on Twitter.
The videos came from a woman named Jayda Fransen, the leader of a far-right British political party called Britain First that is known for its extreme anti-Muslim and anti-immigrant views. Fransen was convicted in 2016 of religiously aggravated harassment after she verbally abused a woman wearing a hijab.
This is not the first time Trump has singled out Muslims, of course. During the campaign, Trump proposed a "total and complete shutdown of Muslims entering the United States" and considered creating a database of Muslims in America.
And after becoming president, Trump attempted to impose a ban on citizens from several majority-Muslim nations from entering the country. (Various iterations of that ban have been blocked, in whole or in part, by federal judges; the government is currently blocking certain citizens from six Muslim-majority countries who don't have existing relationships with people or businesses in the US.)
But something about Trump's actions Wednesday morning hit me especially hard. The sitting president of the United States deliberately and unapologetically chose to use his international platform to promote naked bigotry and hate against Muslims.
As a Muslim American, that says to me that my president sees me and my fellow Muslims as potential security threats at best and little more than brutal savages at worst. But even worse, it says to other Americans that that's how they should see us, too. And that's incredibly dangerous.
Days after the 9/11 attacks, President George W. Bush went to a mosque in the heart of Washington, DC, and took a bold stand against anti-Muslim bigotry. In a moving speech, he declared that "Islam is peace."
Bush continued:
America counts millions of Muslims amongst our citizens, and Muslims make an incredibly valuable contribution to our country. Muslims are doctors, lawyers, law professors, members of the military, entrepreneurs, shopkeepers, moms and dads. And they need to be treated with respect. In our anger and emotion, our fellow Americans must treat each other with respect.
Trump, by openly promoting blatant anti-Muslim propaganda, is telling his fellow Americans that Muslims should not be respected, but feared. And he's telling me and my fellow Muslims that we don't belong here. That, too, is a powerful message.
Full report at:
https://www.vox.com/identities/2017/11/30/16715844/trump-tweets-anti-muslim-video-bush-obama
--------
Trump retweeted anti-Muslim videos to 'elevate the conversation', White House claims
30 November 2017
The White House has claimed that Donald Trump was trying to "elevate the conversation" by sharing anti-Muslim videos from a British far right group.
But press secretary Sarah Sanders acknowledged that she does not believe the US president was aware of the identity of Jayda Fransen, the deputy leader of Britain First who first posted the films.
Trump sparked international uproar on Wednesday when he retweeted three inflammatory videos purporting to show violence being committed by Muslims. Their authenticity has been strongly challenged.
Asked if he was aware of the risk of elevating fringe rightwing groups, Sanders told reporters: "Look, I think what he's done is elevate the conversation to talk about a real issue and a real threat, and that's extreme violence and extreme terrorism, something that we know to be very real, and something the president feels strongly about, talking about, and bringing up and making sure is an issue every single day, that we're looking at the best ways to protect Americans."
The spokeswoman was challenged over whether Trump knows who Fransen is. "No, I don't believe so," she admitted. "But again, I think he knew what the issues are, and that is that we have a real threat of extreme violence terrorism and violence, not just in this country but across the globe, particularly in Europe and that was the point he was making, and I don't really have much to add beyond that."
The descriptions of the posts by Fransen read: "VIDEO: Islamist mob pushes teenage boy off roof and beats him to death!" and "VIDEO: Muslim Destroys a Statue of Virgin Mary!" and "VIDEO: Muslim migrant beats up Dutch boy on crutches!"
Questioned over whether Trump watches many such videos, Sanders said only: "I'm not sure of every single video the president has viewed."
Sanders and other White House officials have staunchly defended the president's retweeting of the videos and suggested that their veracity is not a high priority. They declined to comment on his tweeted criticism of Theresa May after she said he was "wrong" to have done it.
The press secretary added at Thursday's press briefing: "I think the president feels that bringing up important issues of our time like extreme violence and terrorism are important to do. That's what he was doing in that process, and I think he's going to continue to do that in a number of venues, whether it's through speeches, whether it's through Twitter or other social media platforms."
The stance puts Washington directly at odds with its old ally in an extraordinary public rift that prompted an emergency debate in parliament. Politicians ranging from Labour leader Jeremy Corbyn to Nigel Farage, the former head of Ukip and a Trump cheerleader, have condemned the retweets.
Many have called for the invitation of a state visit to be formally withdrawn, and for the government to demand that Trump take down the retweets. On Thursday the White House did not respond to calls, text messages or emails asking whether such a request had been made, or whether Trump would consider it.
Kim Darroch, the British ambassador to the US, and his counterpart Woody Johnson, appointed US ambassador to the UK by Trump, said they had raised concerns about Trump's retweets with the White House.
Responding to a flood of critical responses to a callout he had started on Twitter, Johnson said: "Thank you for your questions and feedback. I have relayed your concerns to Washington. The US and UK have a long history of speaking frankly with each other, as all close friends do. Our relationship is strong, vital and enduring."
A typical response to the ambassador's hashtag was: "I'd like to #askwoody why his president is promoting fascism and hatred in my country and if he thinks this is acceptable."
Sir Christopher Meyer, the former British ambassador to the US, praised May's handling of the situation so far. "I think she's actually judged her reaction to Trump's extraordinary and horrible behaviour just the right way," he told BBC Radio 4's PM programme. "She's emphasised the importance of the relationship with the United States, as she should have done, and she has publicly rebuked the president for retweeting as he retweeted.
"I can't remember, in my entire life, let alone my entire career, ever a British prime minister publicly rebuking an American president for misbehavior."
Full report at:
https://www.theguardian.com/us-news/2017/nov/30/trump-tweet-anti-muslim-far-right-white-house
--------
URL: https://www.newageislam.com/islamic-world-news/wahhabisation-greater-threat-than-arabisation/d/113422
New Age Islam, Islam Online, Islamic Website, African Muslim News, Arab World News, South Asia News, Indian Muslim News, World Muslim News, Women in Islam, Islamic Feminism, Arab Women, Women In Arab, Islamophobia in America, Muslim Women in West, Islam Women and Feminism