New Age Islam News Bureau
29 Apr 2012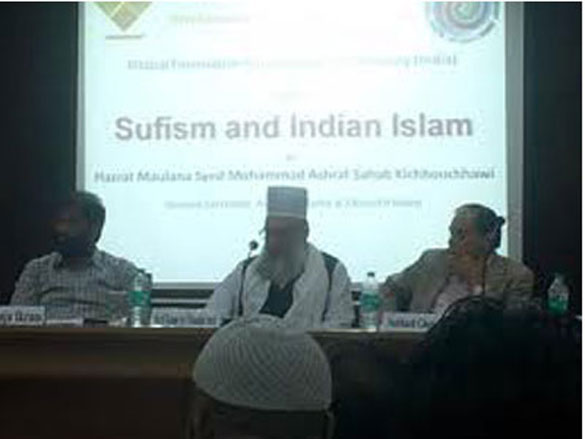 • Prince Ali of Jordan says hijab not an obstacle for women
• Indian Cabinet approves signing of new visa pact with Pakistan
• In Tunisia after Arab Spring, Islamists' new freedoms create new Muslim divide
• Sarkozy received 42million pounds from Colonel Gaddafi: Report
• In Egypt race, figure from old era is secular hope
• Sudan victim of greater Middle East project
• Muslim leaders say Breivik trial should focus on gunman's anti-Islamic ideology
• Bahrain police 'continue to torture detainees'
• British Red Cross doctor kidnapped in Pakistan found beheaded
• Saudi embassy closes in Egypt over human rights detainee
• Indian kid returns home after a year in Bangladesh jail
• Bomb leaves 10 Afghan police dead
• Malaysia police fire tear gas at protesters
• Protesters injured in Egypt clash
• Lebanon holds ship 'carrying weapons for Syria rebels'
• Deadly attack on Nigeria's Bayero University in Kano
• London Mayor admits he failed to engage with Muslims
• Jamia richly encapsulates the best of Indian Muslim tradition: Ban Ki-moon
• Endless wait for return of a 'martyr' from Pakistan
• Many in Egypt's Muslim Brotherhood wary of plunge into politics
• 'Only Afghan leadership can resolve Afghanistan issue'
• Bin Laden widows welcomed in Saudi Arabia as 'not suspicious'
• US respects sacrifices of Pakistan in war on terror: Munter
• US, Pak fail to thaw icy ties
• Pakistan info helped with bin Laden hideout: US official
• Pak Talibanization threatens Wagah, says IAF chief
• Opposition can't stop me from entering into parliament: Pak PM
• Pak PM's conviction: 'SC official dictating terms'
• Nawaz Sharif involved in laundering $32b: Malik
• 72 Indian fishermen released from the custody of Pakistan
• India Islamic Culture Center to set up regional chapters
Complied by New Age Islam News Bureau
Photo: Muslim Youth in India Dissociate from Terror
URL: https://newageislam.com/islamic-world-news/wahhabis'-theorised-monotheism-become-reservoir/d/7175
-----------
Wahhabis' theorised monotheism has become the reservoir of terrorism: Sufi Cleric Kachhochhwi
New Delhi : The realisation that Jihadis are using Islam to create an environment of terror is leading Muslim youth in India todissociate themselves from violence and radicalism, says a leading Islamic scholar and cleric.
"The followers of Islam have no link with the minions of terror," said Hazrat Maulana Syed Mohammed Ashraf Sahab Kichhouhhawi, general secretary of the All-India Ulama and Mashaik Board.
Addressing a gathering on"Sufism and Indian Islam" at theVivekananda International Foundation late Monday, he said, "The Wahabis (ultra-orthodox Muslim) were using biased literature to propagate their theorised monotheism which has currently become the reservoir of terrorism the world over."
Kichhouhhawi struck a chord with the audience with his easy mix of Urdu, Hindi and English arguments in favour of peace, love and faith in god - the core of the moderate Sufi faith.
Kichhouhhawi said "his organisation is carrying the message of peace to Muslims in the grassroots".
He said they were visiting places"to tell people that they cannot act against the country or people. Terrorists cannot disrupt Hindu-Muslim amity because they are not our people. We have told them to hand terrorists to police," the cleric said.
He said "altogether 20 lakh people in places like Moradabad, Bareilly in Uttar Pradesh and in Bhagalpur in Bihar had responded positively to this appeal for non-violence".
He said the Islamic religion was not for beliefs, worshipping andsociometry, but "is also a religion where there are laws tosolve all the problems encompassing different departments of life in Quran..."
"And after his demise, the opportunity to change the 'shariat' has absolutely ceased," the 46-year-old cleric said.
Kichhouhhawi alleged that "the current thinktanks, in order to implement their multiple interests, are eliminating the judicial powers of prophet Mohammed by engaging their 'shura' council to get them vetoed so that by posing a fictitious threat to religion they could enforce 'whenever and wherever' they desire".
He said "all schools of Islam believe that the world is a land of peace and no single Muslim was forbidden to practise his religion".
Therefore there was no need of jihad and bloodshed, he argued."Islam's soul is Sufism and only through Sufism can the message of Islam reach the world," the cleric said.
"People need to address the inadequacies in themselves and learn the joys of 'mohabbat (love)'," the cleric said at the lecture hosted by the Vivekananda International Foundation and the Global Foundation for Civilisational Harmony-India.
The cleric said a true Sufi must have "ilm" and "ishq" in their personality. "Sufism cannot be understood through literature but one has to live with the Sufimystics to understand it," the cleric added.
Islamic scholars define Sufism asthe inner mystical dimension of Islam which teaches the follower to cleanse the heart and seek god. The moderate nature of the faith has often setit against the orthodox Wahabi Islam, fomenting criticism.
Sufism played an important rolein the spread of Islam in India. The early Sufi mystics arrived in India in the 12th century and settled in northern India. One ofits famous patrons was 16th century Mughal emperor Akbar.
http://www.defence.pk/forums/world-affairs/176426-muslim-youth-india-dissociate-terror-sufi-cleric.html
---------
Prince Ali of Jordan says hijab not an obstacle for women
Agence France-Presse
Amman, Jordan, April 29, 2012: FIFA vice president for Asia Prince Ali of Jordan, who waged a campaign against a ban on the hijab, believes the traditional Islamic headscarf should not prevent Muslim women from joining the Olympics.
"I think that the hijab will not hinder the participation of Muslim women in the Olympic Games," Ali, half-brother of King Abdullah II, told AFP in an interview.
"The games will be a great opportunity for Arab and Muslim women to show their capabilities and prove themselves."
FIFA, world football's governing body, banned players from wearing the Islamic headscarf in 2007, claiming it is unsafe, but the International Football Association Board (IFAB) allowed women players last month to wear the hijab in games.
"Safety is important of course, but to date, there have been no reported injuries due the headscarf on the pitch," said the prince.
"We all have a responsibility to ensure that all women who wear a headscarf are able to participate in the game they love. Football is a sport for all."
IFAB will meet in July to ratify its decision to lift the ban on the hijab.
"We held a meeting in FIFA with designers of a safe headscarf as well as independent technical testing institutes in order to discuss the new designs," Ali said.
Full Report at:
http://sports.ndtv.com/football/news/item/189196-fifa-vice-president-of-asia-prince-ali-says-hijab-not-a-obstacle-for-women
---------
Indian Cabinet approves signing of new visa pact with Pakistan
SPECIAL CORRESPONDENT
NEW DELHI, April 27, 2012, Will pave way for easing travel restrictions
With India and Pakistan already talking of working out a deal to allow almost all commodities in the positive list to be traded through the land route on the Wagah border, the Union Cabinet has given its approval for signing a new liberal visa regime with Pakistan paving way for easing travel restrictions and increasing people-to-people exchange.
With the trade ties leading the way for political decisions on "sensitive issues", the Cabinet, at its meeting on Thursday, held under the leadership of Prime Minister Manmohan Singh, is learnt to have given its nod to ease travel restrictions for certain category of people between India and Pakistan. This nod will pave way for signing of a new visa agreement between the two nations and putting into history the 1974 agreement.
Officials said the Cabinet had given its approval to signing of the agreement that would allow common people from either country to visit at least three earmarked cities.
Multi-entry visas
The businessmen are likely to be issued multi-entry non-police reporting visas and giving access to at least five cities instead of three at present.
However, the credentials of the businessmen for qualifying for such a visa will be endorsed by the nodal chambers of commerce on both sides. From India, it will be Federation of Indian Chambers of Commerce and Industry (FICCI) and from the Pakistani side, it will be Federation of Pakistan Chambers of Commerce and Industry (FPCCI).
Exemption
Similarly, it is being proposed, under the new visa regime, that senior citizens would be exempt from police reporting on both sides.
The Cabinet nod for a new visa agreement comes ahead of the meeting of the Home Secretaries of the two countries likely to be held in the last week of May or early June. India had already asked Islamabad to propose new dates for the meeting sometime in the last week of May as the Parliament session will end on May 24. The meeting of Home Secretaries is likely to be held in Islamabad.
The two countries decided to ease visa regulations during the meeting between Prime Minister Manmohan Singh and Pakistan President Asif Ali Zardari here on April 8.
On the other hand, in a signing of further easing of trade norms, official sources said Pakistan had allowed bigger trucks and containers to carriages of goods into its territory. "Earlier, only 10 wheeler capacity trucks were allowed. Now that has been enhanced to 22-wheeler capacity trucks. It has also been decided to allow containers with the opening of the new integrated check post (ICP) facility on the Attari-Wagah border. This move, traders said, is bound to give a big boost to the trade between the two nations.
Both the neighbours are already engaged in talks to open up the land route at Wagah for allowing trading of almost all the commodities, except those in the negative list. It is learnt that an expert group is already studying the proposal and a decision in this regard is expected soon.
http://www.thehindu.com/business/article3361337.ece
---------
In Tunisia after Arab Spring, Islamists' new freedoms create new Muslim divide
By Marc Fisher
TUNIS, April 29— Upstairs, Ibrahim Amara and his friends gather around the computer to watch YouTube preachers offering a vision of Islam that rejects democracy and elections. "Democracy's freedom is absolute," Ibrahim says, "and we don't accept that. In our religion, freedom is limited to the freedom God gives you."
Downstairs, Ibrahim's father, Saleh Amara, explodes in frustration over his son's new, post-revolutionary passion. Saleh and his wife have gone along with some of their 27-year-old's new restrictions — okay, they'd stop watching soap operas and "Oprah" on TV, because there was too much sexual content — but Saleh says his son goes too far. Growing the long beard of the pious is fine, though it will probably limit his job opportunities. And if Ibrahim insists that his secular-raised, college-educated wife cover her hair and wear gloves, well, that's his business. But how can he spurn free elections, the sweetest fruit of Tunisia's revolution?
One year after the uprising that sent autocratic leader Zine el-Abidine Ben Ali packing to exile in Saudi Arabia, Tunisia stands divided between two visions of its future. Last year's street clashes in this sun-spangled city by the sea have morphed into a different kind of battle — more intimate confrontations in which many families struggle with essential questions of identity.
Secular parents, surprised to find their daughter covering her hair in public, worry they are losing their child to extremism. Moderately religious families argue over a son's decision to grow a beard and demonstrate against aspects of Tunisian life they have always taken for granted: beer and wine, bikinis on the beach, Hollywood movies on TV. In workplaces, kitchens and sidewalk tearooms, one question dominates: Can and should Tunisia's blend of Western and Islamic values and practices be maintained under the North African country's new freedom, or has that freedom unleashed a religious extremism that threatens to push this land of 10 million people toward a new kind of dictatorship?
Sixteen months after a humiliated Tunisian fruit vendor named Mohammed Bouazizi poured paint thinner on himself, lit a match, and sparked a wave of revolutions across the Arab world, the birthplace of the Arab Spring is in many ways better off than the other countries where rulers were toppled. Tourists are starting to return to Tunisia's Mediterranean beaches, there is relative peace on the streets, and fair elections were held, bringing to power a coalition of Islamist and secular parties led by Ennahda, an Islamist movement that asserts its moderation at every turn — even as many secular families don't believe a word of it.
But Tunisians are anything but flourishing. Jobs remain scarce, and the sense of hopelessness that led to the uprising is little abated. Hardly a day goes by without some new confrontation between Islamists and secular Tunisians.
In a country that is nearly 100 percent Muslim, a growing rift over religion threatens — in the view of the secular president of the new parliament — to throw Tunisia into "chaos."
http://www.washingtonpost.com/world/in-tunisia-after-arab-spring-islamists-new-freedoms-create-new-muslim-divide/2012/04/28/gIQAN9yJoT_story.html
----------
Sarkozy received 42million pounds from Colonel Gaddafi: Report
PTI
LONDON: Apr 29, 2012, French President Nicolas Sarkozy allegedly received nearly 42 million pounds from former Libyan dictator Colonel Muammar Gaddafi during his election campaign in 2007, a media report said.
French law bans candidates from receiving cash payments above 6,300 pounds, but local news website Mediapart claims that the massive donation was laundered through bank accounts in Panama and Switzerland, the 'Daily Mail' reported.
A document made public in Paris is said to show that the French leader and the former Libyan dictator made an illegal financial deal that propelled Sarkozy to power in 2007.
Written in Arabic and signed by Mussa Kussa, Gaddafi's former intelligence chief, in 2006, it refers to an "agreement in principle to support the campaign for the candidate for the presidential elections, Nicolas Sarkozy, for a sum equivalent to Euros 50 million", the report said.
A governmental briefing note among papers available to 'Mediapart' points to numerous visits to Libya by Sarkozy and his colleagues which were aimed at securing funding.
One, said to have taken place on October 6, 2005, led to "campaign finance to NS" being "all paid" -- assumed to be a reference to Sarkozy who was at the time an ambitious interior minister raising money for his presidential election campaign.
Mediapart claims that the 50 million pounds referred to in the note was laundered through accounts including a Swiss one opened in the name of the sister of Jean-Francois Cope, the leader of Sarkozy's ruling UMP party, and the President's right-hand man, the British newspaper said.
The money was then allegedly distributed through an arms dealer called Ziad Takieddine, who was acting as a middle man between Arab despots and French politicians, the report said.
But, President Sarkozy's campaign spokesperson Nathalie Kosciusko-Morizet has dismissed the report as "ridiculous" and a "clumsy diversion" orchestrated by supporters of socialist opponent Francois Hollande.
http://timesofindia.indiatimes.com/world/uk/Sarkozy-received-42million-pounds-from-Colonel-Gaddafi-Report/articleshow/12922047.cms
----------
In Egypt race, figure from old era is secular hope
Associated Press
CAIRO, April 28, 2012 – In the race to become the first president of the new Egypt, the secular candidate with the strongest chance of beating increasingly powerful Islamists has to overcome the baggage he brings from the old Egypt.
On the campaign trail ahead of next month's landmark vote, the 76-year-old Amr Moussa presents himself as an elder statesman with years of experience in politics and government, first from a decade as foreign minister under former President Hosni Mubarak, then from another decade leading the Arab League.
"I can start from minute one as president," Moussa told reporters earlier this month. "The country is in a major crisis, and a major crisis doesn't justify at all a president who will ask around, 'What should I do at this point or that point?' and gaining experience as he goes."
The same experience is Moussa's vulnerability — given his links to the Mubarak regime, which last year's uprising aimed to uproot.
To some in the Egyptian public, Moussa is one of the "feloul," the "remnants" of the old state who they believe will not reform Egypt's longtime autocratic system or challenge the military's dominance over the country's politics.
"No to feloul," proclaimed banners with Moussa's photo — crossed out with a red X — unfurled during anti-military protests held by tens of thousands of Islamists and liberals earlier this month in Cairo's Tahrir Square.
Moussa's front-runner status is testimony to how secular, liberal and leftist movements that led the anti-Mubarak uprising have been unable to put forward a prominent figure to carry the banner of the revolution. As a result, Moussa stands as the main alternative for Egyptians who fear that Islamists, who already dominate parliament, will transform the country into a religious state if they also win the presidency.
Full Report at:
http://www.foxnews.com/world/2012/04/28/in-egypt-race-figure-from-old-era-is-secular-hope/
----------
Sudan victim of greater Middle East project
29 April 2012 / AYDIN ALBAYRAK , ANKARA
The chairman of the Felicity Party (SP), Mustafa Kamalak, believes the problem Sudan is currently suffering from is no different than issues of disintegration faced throughout the Islamic world.
Sudan, which saw the separation of its southern territory in July of last year after a referendum, recently clashed with South Sudan on the border, with tension still running high. And for Kamalak, who visited Sudan with a group of party members to attempt to form a congress with the Sudanese Muslim Brotherhood on April 18-19, when the conflict was hot, one needs to look at the bigger picture to understand the problem.
Talking about the bigger picture, Kamalak told Sunday's Zaman in an interview: "Condoleezza Rice's words ring in my ears. The map of the greater Middle East swims before my eyes." He was alluding to Rice's statement in a 2003 article written while she served as US secretary of state, that maps of the 22 countries of the Middle East would change.
Noting that all of the 22 countries Rice talked about were Muslim countries, Kamalak placed Sudan within this bigger picture. "Those who used to be brothers are now busy killing each other," he commented, describing what's happening in the divided Sudan. With the division of the country last year, families have also been divided: Quite a few families have relatives living on either side of the border.
He is also concerned that the so-called Arab Spring might turn into a winter for the Islamic world, given that Iraq has, maybe not officially, but effectively broken up, and Libya and Syria are under the threat of a similar fate. For the Arab Spring not to turn into a winter of Islam, Muslims should not fall into conflict among themselves, and no authority vacuum should be allowed to exist, according to Kamalak, who stressed that the solution to the problems of the Islamic world lies in uniting together.
Sudanese Foreign Minister Ali Ahmed Karti called Turkish Foreign Minister Ahmet Davutoğlu to ask for his help in stopping border clashes while violent fighting was happening about 10 days ago. But Kamalak draws attention to the fact that one needs to be powerful if one is to act as mediator to be able to obtain a lasting result, implying that if there is no hard power behind it, such an initiative would run the risk of bearing no result.
However, Kamalak thinks Turkey could achieve much if it just turned its face to the Muslim world. He noted that the Islamic world has big expectations from Turkey, but "Turkey is not aware of its power, and it is looking in the wrong direction [towards Europe]." Kamalak criticized Turkey's efforts to join the European Union, which he claims is a crusader union.
Full Report at:
http://www.todayszaman.com/news-278897-kamalak-sudan-victim-of-greater-middle-east-project.html
-----------
Muslim leaders say Breivik trial should focus on gunman's anti-Islamic ideology
By Associated Press,
OSLO, Norway, April 28, 12 — Muslim leaders in Norway say they are concerned that the anti-Islamic ideology of Anders Behring Breivik, the far-right fanatic now on trial for killing 77 people, is being overshadowed by questions about his mental state.
The self-described anti-Muslim militant shocked Norway on July 22 with a bombing and shooting rampage targeting the government headquarters and the Labor Party's annual youth camp. Since he has admitted to the attacks, the key issue for the trial is to determine whether Breivik is sane enough to be held criminally responsible.
"I'm not a psychiatrist, but what is important is what he has done. That should be the focus, not how crazy he is," said Mehtab Afsar, head of the Islamic Council in Norway, an umbrella organization of Muslim groups in the country.
"He wants to get rid of Muslims and Islam from Europe. That is his main message. So I don't see the point of using so much energy on is he normal, is he insane?" Afsar told The Associated Press.
Breivik has told the court his victims had betrayed Norway by opening the country to immigration. He called for a "patriotic" revolution aimed at deporting Muslims from Europe.
In a 1,500-page manifesto he posted online before the attacks, Breivik frequently cited anti-Islamic bloggers who say Muslims are gradually colonizing Europe. But so far, much of the trial has focused on his mental health, rather than his ideology.
Some Muslims question the validity of pathologizing Breivik, saying the Norwegian is easily comparable to Islamic terrorists.
"Nobody questioned Osama bin Laden's sanity," said Usman Rana, a doctor and newspaper columnist, following Friday prayers at one of Oslo's largest mosques, the Sufi-inspired World Islamic Mission.
The mosque, richly decorated inside and out with blue and white tiles and Arabic calligraphy, is open to passers-by, and a reporter was allowed free access as long as shoes were removed.
Full Report at:
http://www.washingtonpost.com/world/europe/in-norway-muslim-leaders-say-breivik-trial-should-focus-on-gunmans-anti-islamic-ideology/2012/04/28/gIQAxbdMnT_story.html
--------
Saudi embassy closes in Egypt over human rights detainee
RIYADH, SAUDI ARABIA, April 29, 2012 — Saudi Arabia closed its Cairo embassy Saturday and recalled its ambassador following protests over a detained Egyptian human rights lawyer.
The unexpected Saudi diplomatic break followed days of protests to demand the release of Ahmed el-Gezawi, who flew to Jiddah on his way to Islam's holy shrines in the Saudi cities of Mecca and Medina.
His family said he had been convicted in absentia by a Saudi court and sentenced to a year in prison and 20 lashes for insulting the king. However, he was not notified of the court's ruling ahead of his Saudi trip.
El-Gezawi had earlier filed a lawsuit in Egypt against King Abdullah over the alleged arbitrary detention of hundreds of Egyptians.
Saudi authorities denied that and said he was arrested for trying to smuggle anti-anxiety drugs into the conservative kingdom.
The collapse of Hosni Mubarak's regime last year in Egypt stunned Saudi Arabia's monarchy.
Saudi officials have increasingly viewed Egypt's post-revolution trajectory — particularly the political gains by the Islamist Muslim Brotherhood — as worrisome trends.
http://www.tennessean.com/article/20120429/NEWS08/304290093/Saudi-embassy-closes-Egypt-over-human-rights-detainee
----------
Bahrain police 'continue to torture detainees'
29 April 2012
Human Rights Watch has accused Bahrain's police of continuing to beat and torture detainees, including minors.
The report comes nearly six months after an independent inquiry prompted the government to pledge reforms.
The country insists it is committed to putting the recommendations of its own report into the handling of protests in 2011 into practice.
More than 40 people died in last year's unrest and 1,600 were arrested.
According to the Human Rights Watch (HRW) report policemen regularly take young men to secluded places and beat them for up to two hours before transferring them to a police station.
Boy 'beaten'
Some said they had been threatened with rape if they did not reveal where activists were hiding the petrol bombs that are regularly hurled at police.
The report said treatment inside police stations had improved significantly in the last six months, but it also warned that unlawful police behaviour on the streets may well make young protesters even more desperate and determined to confront their government.
The campaigning group said it had interviewed 14 young males, including seven children. It said five of the beatings had happened in April alone.
"Bahrain has displaced the problem of torture and police brutality from inside police stations to the point of arrest and transfer to police stations," said Nadim Houry, deputy Middle East director at HRW.
On Sunday, there were reports that a 13-year-old was being held in custody for assaulting a police officer and taking part in a street gathering in a village south of the capital, Manama.
According to his lawyers, quoted by AFP news agency, the boy was "beaten and tortured" at a police station where he was still being held.
The HRW report comes a few weeks after Amnesty International also warned that the country's reforms had only scratched the surface.
In November, the Bahrain Independent Commission of Inquiry (BICI) report acknowledged numerous human rights abuses and systematic torture of detainees as security forces put down anti-government protests.
In response, King Hamad promised lessons would be learned and laws would be reformed to protect freedom of speech and other basic rights.
http://www.bbc.co.uk/news/world-middle-east-17887731
----------
British Red Cross doctor kidnapped in Pakistan found beheaded
By Gul Yusufzai
QUETTA, Pakistan: Apr 29, 2012, (Reuters) - The beheaded body of a kidnapped British doctor working for the International Committee of the Red Cross was found by the roadside on Sunday in the southwestern Pakistan city of Quetta, police and Red Cross officials said.
Khalil Rasjed Dale, 60, was abducted by suspected militants on Jan 5 while on his way home from work.
"The ICRC condemns in the strongest possible terms this barbaric act," ICRC Director-General Yves Daccord said in a statement. "All of us at the ICRC and at the British Red Cross share the grief and outrage of Khalil's family and friends."
British Foreign Secretary William Hague also condemned the killing.
"This was a senseless and cruel act, targeting someone whose role was to help the people of Pakistan, and causing immeasurable pain to those who knew Mr Dale," Hague said in the statement.
A senior police officer said the Pakistan Taliban had claimed responsibility for the killing, saying a ransom had not been paid.
Police discovered Dale wrapped in plastic near a western bypass road. His name was written on the white plastic bag with black marker.
"A sharp knife was used to sever his head from the body," said Safdar Hussain, the first doctor to examine the body. "He was killed about 12 hours ago."
Dale is only the third Westerner killed in such a fashion in Pakistan. The others include Wall Street Journal reporter Daniel Pearl in 2002 and Piotr Stanczak, a Polish geologist, in 2009.
Full Report at:
http://in.reuters.com/article/2012/04/29/pakistan-redcross-doctor-idINDEE83S04H20120429
-----------
Indian kid returns home after a year in Bangladesh jail
PTI
BAHARAMPUR (WB): Apr 29, 2012, Five-year-old Ariful Sheikh of Murshidabad district today arrived in India after spending a year in a Bangladesh jail with his grandparents sentenced to two months in prison for trespassing.
Ariful and his grandparents Hashimuddin Sheikh (48) and Mafroza Khatun (40) landed at Gede border checkpoint in Nadia district through western Chuadanga frontiers in Bangladesh at 11.30 am, the police said.
On setting foot on Indian soil, Hashimuddin Sheikh said, "it feels good to be returning home after such a long time".
Ariful was returning home in Murshidabad district today after spending a year at Kushtia Jail in Bangladesh with his grandparents.
Ariful had accompanied his farmer grandfather Hashimuddin Sheikh and grandmother Mafroza Khatun to the neighbouring country in April last year to visit an ailing relative there.
They were arrested while returning from Bangladesh on April 15, 2011 after they were found travelling without proper travel documents, police said.
They were sentenced to a two-month jail term and fined Taka 500. Although their jail term ended in June last, they were behind bars for almost a year.
The family hails from Gajadhar para near here.
http://timesofindia.indiatimes.com/india/Indian-kid-returns-home-after-a-year-in-Bangladesh-jail/articleshow/12923666.cms
--------
Bomb leaves 10 Afghan police dead
28 April 2012
A roadside bomb in eastern Afghanistan has killed 10 members of the country's security forces, officials say.
Wardak province officials said the dead belonged to the Afghan local police - part of a government-sponsored militia.
Taleban representatives have claimed the attack late on Friday.
Elsewhere, two suspected Taliban militants were shot dead just outside the governor's office in southern Kandahar province.
The attackers had passed through security checks but pulled out their guns as guards noticed something suspicious and stopped them, Kandahar Governor Tooryalai Wesa was reported as saying.
The men were killed in a 30-minute gun battle in which a guard was also injured, a spokesman told AP news agency.
A statement from Mr Wesa's office said it was the ninth attempt to target the governor in the past three years.
Nearly two weeks ago Taliban forces launched a major assault on the capital Kabul, attacking sites including parliament, Nato HQ and foreign embassies.
http://www.bbc.co.uk/news/world-asia-17880461
-------
Malaysia police fire tear gas at protesters
28 April 2012
Malaysian riot police have fired tear gas and used water cannon on a crowd of protesters who had converged on the centre of the capital, Kuala Lumpur.
Thousands of protesters marched on a central square in the city calling for changes to the electoral system.
They believe the current arrangements will benefit Prime Minister Najib Razak's long-ruling coalition in forthcoming elections.
The rally is one of the largest in the country in the past decade.
A police spokesman estimated there were about 25,000 demonstrators at the protest, but some Malaysian news organisations put the numbers as high as 80,000.
Police had sealed off the city's historic Merdeka (Independence) Square with barbed wire and barricades and began firing tear gas when these were breached by the demonstrators.
At least 20 people were reported to have been detained by the authorities.
The demonstration was organised by an opposition-backed reform group, Bersih. Police said the group had no right to use the symbolically important square.
Malaysia's parliament approved a series of electoral reform measures this month, but activists say these do not address the main issue of electoral fraud which they maintain has kept the ruling Barisan Nasional coalition in power since independence.
Activists have alleged that the Election Commission is biased and that voter registration lists are tainted with fraudulent voters.
"I'm here because I'm a Malaysian and I love my country," one protester, information technology manager Burrd Lim said. "There's no election that's perfect, but I want one that's fair enough."
http://www.bbc.co.uk/news/world-asia-17878603
--------
Protesters injured in Egypt clash
29th April, 2012
The protest took place outside the defence ministry in Cairo
Scores of protesters staging a sit-in to demonstrate against the barring of a presidential candidate have been injured in the Egyptian capital.
A total of 10 candidates have been barred from standing in the presidential poll in May.
Hundreds of supporters of hardline Islamist candidate Hazem Abu Ismail had been protesting outside the defence ministry.
They said they were attacked by thugs they believe were government agents.
Other reports have described the attackers as local people angry at the protest. But the BBC's Jon Leyne, in Cairo, says that the use of plain-clothed thugs is certainly a tactic that has been used by the Egyptian authorities in the past.
Our correspondent says that the demonstrators have called for reinforcements to come and protect them and there is a danger of more clashes.
A first round of elections is due in May, more than a year after former President Hosni Mubarak was forced to step down after an 18-day popular uprising.
Ultraconservative Mr Abu Ismail was banned from standing for president because his late mother had US citizenship.
Egypt is still governed by a military council, although parliamentary elections have taken place in the meantime.
http://www.bbc.co.uk/news/world-middle-east-17885470
---------
Lebanon holds ship 'carrying weapons for Syria rebels'
29 April 2012
The Lebanese navy is holding a Sierra Leone-registered ship and says it has confiscated a large consignment of arms and ammunition it was carrying.
The 11 crew members were detained after three shipping containers full of heavy and light weapons were found on the Lutfallah II.
The BBC's Jim Muir in Beirut says it is believed the consignment was destined for the rebels in Syria.
Some of the arms were labelled as Libyan, says Reuters news agency.
The ship's owner told Reuters it was due to unload in Tripoli, northern Lebanon.
Milos Strugar, a spokesman for the United Nations Interim Force in Lebanon (Unifil) which assists Lebanon in preventing illegal arms entering the country, confirmed to the BBC that it was bound for a Lebanese port.
Tripoli is a hotbed of support for the Syrian opposition, and the authorities in Damascus have frequently complained about arms being smuggled from the areas into the country, our correspondent says.
Violence has fallen in Syria since a ceasefire was put in place, but activist groups still counted some 40 deaths in fighting across the country over the weekend.
The dead included 26 civilians killed by government forces, said the UK-based Syrian Observatory for Human Rights.
Full Report at:
http://www.bbc.co.uk/news/world-middle-east-17885085
----------
Deadly attack on Nigeria's Bayero university in Kano
April 29, 2012
At least 15 people have been killed in a gun and bomb attack at a university in Nigeria's northern city of Kano, witnesses and police said.
Bodies were lying around Bayero University campus where Christian worshippers were holding a service.
A bomb squad and military units are searching for the gunmen.
No group has said it launched the attack, but the violent Islamist Boko Haram group is active in Kano. It has recently attacked churches.
Nigeria's central government has struggled to contain the militant group, which operates mainly in the predominantly Muslim north, but has also struck as far south as the capital, Abuja.
Sunday's attack took place in one of the lecture theatres used as a place of worship by Christians.
Police say small explosives inside soft drink cans were used in the attack on the university campus in Kano - trademarks of of the Islamist group of Boko Haram. There are other signs pointing to them - the use of attackers on motorbikes for instance.
The attack - on an apparent Christian service at an education establishment - would match up to threats the group has made in the past. Their name Boko Haram, translated from the local Hausa language, means "Western education is forbidden". It is a good reflection on the group.
Its purported aim is to destabilise the Nigerian state. Following the failure of talks to get the group to relinquish violence, the government in Abuja has conducted a number of crackdowns. But it appears to be unable to confront the group that is attacking Nigeria on a new front almost every week.
A witness told AFP news agency the attackers had first thrown in explosives and fired shots, "causing a stampede among worshippers".
"They now pursued them, shooting them with guns. They also attacked another service at the sporting complex."
Another witness spoke of "pandemonium", and said he had seen two men shooting indiscriminately.
Mohammed Suleiman, a history lecturer at the university, said security guards had to run for their lives when the violence broke out.
"For over 30 minutes a series of bomb explosions and gun shots took over the old campus, around the academic blocks," he told Reuters news agency.
Officials have confirmed seven deaths so far, but warn that up to 20 were killed as bodies were lying around and being taken to hospitals.
"I counted at least 15 dead bodies. I think they were being taken to the Amino Kano teaching hospital," a witness told the agency.
He added that he had seen many more people being treated for injuries. Security officials and doctors at local hospitals also say at least 15 people were killed.
Kano state police spokesman Ibrahim Idris said that by the time police arrived, the attackers had "disappeared into the neighbourhood". A manhunt is under way.
Boko Haram carried out a bombing in Kano in January that killed more than 180 people, its deadliest attack to date.
http://www.bbc.co.uk/news/world-africa-17886143
----------
London Mayor admits he failed to engage with Muslims
Murtaza Ali Shah
LONDON, April 29, 2012: Conservative candidate and incumbent London Mayor Boris Johnson admitted that he failed to engage enough with nearly half a million Muslim Londoners during his 4-years stint in the office.
The admission came from the most popular Tory politician at his meeting with representatives of more than 50 mosques at the Regents Park Mosque - Islamic Cultural Centre — here.
Boris Johnson, a columnist for many Tory-supporting daily and weekly publications, also apologised - and retracted - his article he wrote for the Spectator magazine in which he asked to change Islam to be compatible with "British values and loyalty to Britain".
Johnson said he believed Islam was a religion of peace and he should not have written that article and the decision to write that article was not "judicious". He described himself as a defender of faiths and said his own great grandfather was a Muslim who had arrived in Britain a 100 years ago fleeing persecution. He blamed his critics for misrepresenting and twisting that article to attack him.
Johnson criticised the European Court on Human Rights (ECHR) ruling on British Pakistani Babar Ahmed's extradition to the USA and called for the British Muslim's trial in a UK court.
He said the ECHR's ruling was an infringement upon the rights of British citizens who are only accused of crimes not committed in the USA, adding that British nationals should only be tried "under the judicial system in this country. They should not be sent to the US when the UK courts are capable of adjudicating the mater here".
Johnson told the participants he wanted to be re-elected to continue his agenda of creating more jobs in London, put more police on the streets to make Londoner feel safer, to regenerate and encourage more entrepreneurship. He said under him in 4 years the crime rate had gone down dramatically because his approach of increasing the number of police -including ethnic minority police officers - was the rights approach.
The former head of Muslim Council of Britain (MCB) Sir Iqbal Sacranie criticised Boris Johnson for not engaging with British Muslim organisations, sidelining the key stakeholders, while engaging more with Jewish and Hindu communities. Johnson agreed in his reply that he could have done more to engage with the Muslim communities but said that the Olympics preparations and post-riots London kept him too busy to concentrate on other matters. But he promised that he will hold regular sessions with Muslims in the future and will hear and speak more with them. He touted himself as the candidate who had the skill and power to get more funds from the central government to spend on London's development. He thought his re-election is vital to keep the crimes down and keep more police on the streets.
Chris Graylings MP, considered a long-standing friend of the Muslim community, appealed to tens of thousands of Muslim Londoners to come out on 3rd May and vote for Boris Johnson. He said that Muslim were playing a great contribution in the development of this country and their contribution must be recognised at all levels.
http://www.thenews.com.pk/Todays-News-2-105589-London-Mayor-admits-he-failed-to-engage-with-Muslims
-------
Jamia richly encapsulates the best of Indian Muslim tradition: Ban Ki-moon
27 April 2012
By TCN News,
New Delhi: Assalam Alaikum. Namaskar. May ya haan aakar bahut khush hoon! (I am so happy to be here). With these words United Nations Secretary General Ban Ki-moon began his speech at Jamia Millia Islamia here on Friday. He went on to appreciate the contribution of India in world democracy and that of Jamia Millia in the composit culture of India.
Jamia held a 'Special Convocation' on April 27, 2012 to confer the degree of 'Doctor of Letters' (Honoris Causa) on Mr. Ban Ki-moon, the eighth and current Secretary-General of the United Nations. In 2011, Mr. Ban Ki-moon ran unopposed for a second term as Secretary-General and was unanimously re-elected to the post of Secretary General by the General Assembly. He will continue to serve in his current position until 31 December 2016.
The newly appointed Chancellor of Jamia Millia Islamia Lieutenant General M.A. Zaki (Retired) presided over the special convocation and conferred the degree on Mr. Ban Ki-moon. Mr. Najeeb Jung, Vice Chancellor, presented him the citation wherein he said: "In honouring him, Jamia Millia Islamia celebrates one of the most acclaimed figures of our times, who – in his person and action – combines the strong foundations of morality and ethics with equally important principles of human rights and dignity. In recognition of his immense contribution to development and world peace, Jamia Millia Islamia confers upon him the degree of Doctor of Letters (Honoris Causa) on this 27th day of April, 2012."
In his acceptance speech, Mr Ban Ki-moon said "Thank you for this distinguished recognition. For decades, I have been a student of India. Now I finally have a degree to prove it! Today you do me and the United Nations a special honour. In that spirit, I accept this honorary doctorate on behalf of the women and men who serve the United Nations around the world."
In his speech full of phrases charming the local audience, Ban Ki-noon said: "For decades, I have been a student of India. Now I finally have a degree to prove it!"
"Because you have been so kind to recognize me – let me begin by sharing a bit of personal history. My journey in foreign service started right here. I arrived in New Delhi exactly 40 years ago, on my first diplomatic posting. It was one of the best things that happened to me. Ever since, I have drawn lessons from the proud history of India. I have learned deeply from your traditions. I have been inspired by your example."
Full Report at:
http://twocircles.net/2012apr27/jamia_richly_encapsulates_best_indian_muslim_tradition_ban_kimoon.html
---------
Endless wait for return of a 'martyr' from Pakistan
Gautam Dheer, Apr 28, 2012 :
For over three decades, 61-year old and ailing Angrez Kaur lived a life in tremulous dilemma unsure if her husband was alive or if she was a widow.
Her son Amrik Singh has only seen his father Surjit Kumar, a Border Security Force constable, in pictures hung on the walls in the house.
He was barely a month-old when Surjit went 'missing' in the 1971 war with Pakistan from Jaisalmer in Rajasthan.
He was a Prisoner of War (Pow) in Pakistan. Three years after the war, the BSF declared Singh dead, a martyr in records.
But then the unexpected happened.
Indian prisoners repatriated from Pakistan jails in 2004 revealed that Surjit Singh was still alive and languishing in a Pakistan jail. Seven years later, the family's endless wait for Surjit to return continues.
Kaur and his son Amrik have little choice but to cling on to hope of being one with Singh in this lifetime. BSF records still read him as a martyr and the Indian authorities haven't been able to make tangible headway to secure the release of a martyr".
"It has been over 40 years of pain. It's not entirely impossible to reconcile with the loss of a loved one if you are sure of it. But it's the prolonged uncertainty over your husband's life that haunts me everyday,'' Kaur said.
Full Report at:
http://www.deccanherald.com/content/245570/endless-wait-return-martyr-pakistan.html
----------
Many in Egypt's Muslim Brotherhood wary of plunge into politics
Members fear that Egypt's Muslim Brotherhood, long oppressed but also respected, will gain power but lose its soul.
By Jeffrey Fleishman, Los Angeles Times
CAIRO, April 29, 2012 — Osama Abdel Hadi was born into the Muslim Brotherhood. His father, a history professor, was respected within the Islamic movement and Hadi grew up steeped in piety and resistance to Hosni Mubarak's secular police state.
He prayed in Cairo's ancient mosques and knew the names of Brotherhood members held in Egypt's jails. The group was his spiritual and intellectual buttress, and, amid the failings of other parties and opposition ideologies, he carried the Brotherhood's precepts as he entered university to study political science.
Those bonds have now been loosened. The revolution that last year upended Mubarak heralded the Brotherhood's political ascendancy and near control of parliament. But the world's largest Islamic organization is torn by conflicts between religion and politics, and calls from its young to be more pluralistic and modernize its voice for a new Egypt.
"We need unity, not an atmosphere where you're the majority and everyone else is against you," Hadi said. "It's not good for the nation and puts enormous pressure on the Brotherhood. If the country fails, it's all on them."
The rise of the Brotherhood mirrors a pattern of Islamists coming to political prominence, most notably in Tunisia, since the uprisings of the "Arab Spring." This narrative is reshaping the Middle East, but it is revealing internal friction, political missteps and failure to put forth a vision that transcends Islamic designs and speaks to Christians, other non-Muslims and liberals.
Full Report at:
http://www.latimes.com/news/nationworld/world/la-fg-egypt-muslim-brotherhood-20120429,0,1298115.story
-----------
'Only Afghan leadership can resolve Afghanistan issue'
By Shabbir Sarwar
LAHORE: April 29, 2012, US Ambassador to Pakistan Cameron Munter on Saturday said that only Afghan leadership could resolve the Afghanistan issue and Pakistan and the United States could only give it a helping hand.
The ambassador was talking to media at the second annual dinner of the American Business Forum at Royal Palm Golf and Country Club on Saturday.
When asked why US was brining Afghan Taliban to Pakistan for talks, because if there was backlash, the Afghan Taliban might resume their contacts with the Pakistani Taliban, which would be dangerous, the ambassador said that Afghanistan issue could not be resolved keeping the Afghans out of talks.
To a question about non-implementation of promised Reconstruction Opportunity Zones (ROZs) in the Tribal Areas, the ambassador said, "I admit this is a failure." He said there was a misconception between Pakistan and the US, however, this could be overcome through negotiations, people-to-people contacts and enhancing economic ties. He said that many senior Americans were coming to Pakistan to discuss various issues, covering economic collaborations, trade relations and security concerns.
Replying to a query regarding announcement of bounty on Jamaatud Dawa chief Hafiz Saeed, Munter said that although Pakistan media was doing a wonderful job, it misreported the facts in this case. He said that actually under the Right to Justice Programme, it was announced that anyone who will provide information leading to the arrest of any person involved in terrorist activities in any country or provide information concerning to the United Nations declared terrorists, he would be provided with reward. He said that Hafiz Saeed was a probable suspect of the Mumbai terrorist attack.
About tapping the opportunities of trade between both countries, Munter said that the future of Pakistan lied in trade and the future of US lied in investment.
Earlier, addressing as chief guest of the ceremony, the ambassador said that US was committed to its partnership with Pakistan, a relationship built on a foundation of mutual interests, respect and trust. An important element of that relationship is trade, rather than aid. He said that the US-Pakistan commercial relations were already strong and the two-way trade was a robust $5.4 billion in 2010. In addition, the stock of the US foreign direct investment in Pakistan was $517 million in 2009, however, the stock of Pakistani FDI in the United States was $45 million in 2009.
He said that with a consumer base of more than 180 million people, a young and educated workforce and a culture of entrepreneurship, Pakistan offers countless trade and investment opportunities for US businesses.
A memorandum of understanding was also signed between USAID and American Business Forum (ABF).
In his welcome address, ABF President Salim Ghauri said that the members made this forum healthy strong and visible to the world.
http://www.dailytimes.com.pk/default.asp?page=2012%5C04%5C29%5Cstory_29-4-2012_pg7_11
-----------
Bin Laden widows welcomed in Saudi Arabia as 'not suspicious'
29 April 2012
Saudi officials have said they have no suspicions about Osama Bin Laden's widows and children, who arrived in the kingdom late last week.
The three women and reportedly 11 children were deported from Pakistan last week.
A spokesman said the kingdom had acted out of "humanitarian considerations" in offering shelter to the group.
The group spent a year in Pakistani custody after Bin Laden was killed by US special forces in May last year.
"Saudi Arabia acted out of humanitarian considerations... in so far as there are no reports or evidence of any implication in criminal or illegal acts," the official Saudi Press Agency quoted a spokesman as saying, AFP news agency reports.
'Country of choice'
The spokesman said the group had been welcomed by their relatives when they arrived in Jeddah on Thursday night.
The three widows and their children left Pakistan for Saudi Arabia which was, according to a Pakistani interior ministry spokesman, "the country of their choice".
Bin Laden was killed after being tracked down to a safe house in the north-west Pakistani city of Abbottabad.
His widows and other family members were detained immediately after the pre-dawn raid.
The women and two eldest children were eventually charged with staying in Pakistan illegally, and last week completed a 45-day term of imprisonment at a villa.
The widows were held at the house in the capital which was designated as a "sub-jail", and the rest of their children stayed with them. They were also sentenced to deportation.
The two oldest widows are Saudi Arabian, but the youngest - Amal Abdulfattah - is Yemeni and it is believed she will travel on to that country.
http://www.bbc.co.uk/news/world-17885477
---------
US respects sacrifices of Pakistan in war on terror: Munter
ISLAMABAD, Apr 28 (APP): United States Ambassador in Pakistan Cameron Munter on Saturday said that America respects and appreciates the sacrifices of Pakistan in the war against terrorism. Talking to a private news channel, he said the Salala incident was not a deliberated act and was just an accident.
http://app.com.pk/en_/index.php?option=com_content&task=view&id=192399&Itemid=2
---------
US, Pak fail to thaw icy ties
28 APRIL 2012
The much-touted talks to resolve the prolonged diplomatic deadlock between the US and Pakistan have ended in failure with Islamabad sticking to its demand for an apology for the NATO airstrikes last November that killed 24 Pakistani soldiers and Washington refusing to go beyond an expression of regret.
US Special Envoy Marc Grossman had specially flown to Islamabad this week in a bid to repair the ties, but he left on Friday night with no agreement in sight after two days of high-level discussions, The New York Times reported from Islamabad on Saturday.
Apart from an unconditional apology, the Pakistani Parliament, which conducted an extensive review of relations with the US, set forth several other conditions to salvage the relationship including a demand to end American drone strikes on terror hideouts within Pakistan.
Citing a senior US official, the Times reported that the White House was seriously debating whether to say "I'm sorry" to the Pakistanis' satisfaction, but that was before April 15. All of that changed on that day following synchronized massive attacks on Kabul and other Afghan cities.
US military and intelligence officials concluded the attacks came at the direction of the Pakistan-based Haqqani network, promptly ending the internal debate on whether to go beyond the expression of regret and apologize.
An apology is regarded as highly problematic for President Obama, who faces a tough re-election with growing Republican attacks on several fronts. "The politics of election year in both countries are slowing down the resolution of admittedly vexed issues in an environment of persistent mistrust," former Pakistani envoy Maleeha Lodhi was quoted as saying.
The stalemate is hurting both sides. While Pakistan has made it clear that without an apology, it will not reopen NATO supply routes to Afghanistan that remain closed since November, the US for its part is withholding between $1.18 billion and $3 billion of promised military aid to Islamabad.
The continuing deadlock does not bode well for Pakistan's attendance at a NATO meeting in Chicago in three weeks, assuming it is even invited. The administration has been eager to cast the event as a regional security summit meeting, and Pakistan's absence would be embarrassing.
Conceding that it could take more time to resolve the stalemate, State Department spokesperson Victoria Nuland told reporters: "As Ambassador Grossman said in Islamabad, this is the beginning of the reengagement conversation. We're going to have to work through these issues, and it's going to take some time." Grossman had met with President Zardari, Prime Minister Gilani and Foreign Minister Hina Rabbani Khar.
On the Afghan reconciliation issue, Nuland said the US has held bilateral discussions and also talked about in the core group meeting, Afghanistan, Pakistan. Stating that the Taliban was still to decide if it wanted to participate in the talks, Nuland said: "They're in a pause phase, so they know what they need to do if they want to move this forward."
http://www.dailypioneer.com/world/61311-us-pak-fail-to-thaw-icy-ties.html
-----------
Pakistan info helped with bin Laden hideout: US official
Agence France Presse
Washington: April 29, 2012, The Pakistani intelligence services provided the United States with information that was helpful in learning more about the compound where Osama bin Laden was killed, a US official said on Saturday.
"The Pakistanis didn't provide any tips on bin Laden, but they provided certain information that aided the United States in developing the American intelligence picture on the compound," said the official, who asked not to be identified.
"This was an American operation," the official added.
Pak demolishes Osama bin Laden's hideout in Abbottabad
The official's comment came in response to a Washington Post report on Saturday that said Pakistan's intelligence service believes it deserves credit for helping US intelligence agencies to locate bin Laden's hideout.
"The lead and the information actually came from us," an unnamed senior official with Pakistan's Inter-Services Intelligence Directorate (ISI) told The Post.
The al-Qaeda founder and 9/11 mastermind was killed on May 2 last year in a secret US Navy SEAL operation in a walled-off compound in the Pakistani garrison town of Abbottabad, north of the Pakistani capital.
Washington and Islamabad are now working to repair their relationship, which was badly damaged by the revelation that the world's most wanted man was living a stone's throw from Pakistan's elite military academy.
"Any hit on al-Qaeda anywhere in the world has happened with our help," The Post quotes one of the Pakistani intelligence officials as saying.
The other official, who said he had been intimately involved in the hunt for senior al-Qaeda operatives, including bin Laden, said the ISI provided the CIA with a cellphone number that eventually led to an al-Qaeda courier using the nom de guerre of Abu Ahmed al-Kuwaiti, the paper said.
The officials said that in November 2010, they turned over the number to the CIA, along with information that it had last been detected in Abbottabad, the report said.
The ISI said it did not know then that the number was Kuwaiti's, but that CIA analysts did, without however relaying that information back to the Pakistanis, The Post reported.
"They knew who the number belonged to," the paper quoted one official as saying. "But after that their cooperation with us ended."
"It is the story of an extreme trust deficit and betrayal," complained the other ISI official, the paper said.
However a US official disputed the ISI version, The Post said.
"The fact is, our knowledge of the number didn't come from them telling us about it," the paper quoted the US official as saying.
http://www.ndtv.com/article/world/pakistan-info-helped-with-bin-laden-hideout-us-official-203774
----------
Pak Talibanization threatens Wagah, says IAF chief
TNN
BANGALORE: Apr 29, 2012, Anticipating a rapid Talibanization of Pakistan as the coalition forces are planning to withdraw troops from Afghanistan by 2013, Chief of Air Staff Air Chief Marshal NAK Browne on Saturday said the year ahead is going to be crucial for India.
The threat of Talibanlization of Pakistan could even reach the Wagah border if the situation in both Afghanistan and Pakistan worsens, Browne said at the Air Chief Marshal LM Katre Memorial Lecture on 'IAF: Strategies and Capabilities'.
"There is a systematic Talibanization of the state of Pakistan. The focal point of terrorism now has shifted from Afghanistan to not only North West Frontier Province but also to Punjab. And it is a major worry for India," he said.
Elaborating the plan to strengthening the capacities in northern parts of the country, he said the two airfields - Nyoma and Kargil - will be made fully operational airbases soon. "We have plans to deploy a Su-30MKI fighter jet squadron along with a transport base in Nyoma airbase. The Kargil airbase will have the newly acquired C-130 and C-17 transport aircraft with heavy lift capabilities to enhance the special operations."
The number of air squadrons projected for the year 2022 is 42. While the existing squadrons of MiG-29, Jaguar and Mirage-2000 will be upgraded, a good amount of the current fleet will be replaced with Rafale jets, HAL's LCA fighter aircraft and Sukhoi MKIs. The airlift capacity (transport aircrafts) airforce will be increased three times in ten years. The helicopter fleet will also be expanded by adding the new Apache attack choppers and another fleet of either Chinook helicopters or the new variant of Mi 26s.
http://timesofindia.indiatimes.com/india/Pak-Talibanization-threatens-Wagah-says-IAF-chief/articleshow/12918344.cms
----------
Opposition can't stop me from entering into parliament: Pak PM
PTI
Lahore, April 28, 2012, Pakistan Prime Minister Yousuf Raza Gilani on Saturday said he did not need permission from the leader of opposition to enter parliament following his conviction of contempt by the Supreme Court because he is a unanimously elected premier and a lawmaker.
Gilani made the remarks two days
after his conviction while talking to a lawyers' delegation at governor's House in Lahore.
He was responding to leader of opposition Chaudhry Nisar Ali Khan's comments that the PML-N would not allow the premier to enter the National Assembly as the party believes Gilani was no longer fit to be a member of the House.
The premier said the "finality of the contempt case had yet to come" and that the matter is still sub-judice.
"We will appeal, challenging the conviction and it is well known that proceedings under appeal are considered the continuity of the original case," Gilani said.
The apex court convicted Gilani for refusing to act on its orders to revive cases of money laundering in Switzerland against President Asif Ali Zardari and gave him a symbolic sentence of less than a minute.
Legal experts are divided on whether the conviction will lead to Gilani's disqualification.
Full Report at:
http://www.hindustantimes.com/world-news/Pakistan/Opposition-can-t-stop-me-from-entering-into-parliament-Gilani/Article1-847771.aspx
------------
Pak PM's conviction: 'SC official dictating terms'
Last Updated: Sunday, April 29, 2012, 00:15 0
Tags: Pakistan government, Pakistan Supreme Court, Yousuf Raza Gilani
Islamabad: Pakistan government on Saturday accused a Supreme Court official of "dictating terms" for complying with an order on Yousuf Raza Gilani's conviction for contempt and made it clear that the National Assembly Speaker alone could decide on the Premier's disqualification.
Law Minister Farooq Naek said Assistant Registrar Nasir Iqbal of the Supreme Court had written a letter to the Speaker of the lower house of Parliament, the Cabinet Secretary and the Chief Election Commissioner for taking action on the court's order of April 26 on Gilani's conviction.
The Supreme Court official's letter called for "further necessary action" by the Speaker, Cabinet Secretary and the Chief Election Commissioner even though the court's short order contained no directions, Naek contended. The Assistant Registrar was "dictating terms for compliance" and "arrogating powers which he does not have," Naek said at a joint news conference with Information Minister Qamar Zaman Kaira.
Full Report at:
http://zeenews.india.com/news/south-asia/pak-pm-s-conviction-sc-official-dictating-terms_772290.html
-----------
Nawaz Sharif involved in laundering $32b: Malik
ISLAMABAD, April 29, 12 - Interior Minister Rehman Malik on Saturday alleged that Pakistan Muslim League-Nawaz (PML-N) chief Nawaz Sharif was involved in money laundering.
Addressing a news conference ' he said proof against Nawaz would be placed before the Supreme Court and National Accountability Bureau (NAB). Malik said a commission may be formed to investigate the alleged involvement of Nawaz in money laundering.
He further alleged that Nawaz signed an NRO with former president, late Farooq Ahmed Leghari and as a result the elected government of Benazir Bhutto's was unconstitutionally dismissed in November 1996. Malik alleged that Nawaz was a defaulter of Rs 6 billion and signed an NRO with Farooq Leghari when investigation was initiated in this regard. He asked the PML-N chief to reveal from where he had got $32 million. Malik added that Nawaz signed the second NRO with Pervez Musharraf and went abroad after signing an agreement and violated the Charter of Democracy (COD) he signed with Benazir Bhutto in year 2006. He said he would bring evidences against Nawaz in parliament as well. Malik added that the president, prime minister, JUI chief Maulana Fazlur Rehman and senior authorities of the Pakistan Army were on the hit list of terrorists. Talking to reporters after attending a high-level meeting at the Interior Ministry on law and order in Gilgit-Baltistan with the GB chief minister, he said different sort of solutions and suggestions were taken into account to curb the insurgency in GB. Curfew was removed after the clearance of intelligence.
Full Report at:
http://www.pakistantoday.com.pk/2012/04/28/news/national/sharif-brothers-involved-in-32m-fraud-malik/
----------
72 Indian fishermen released from the custody of Pakistan
PTI
AHMEDABAD: Apr 29, 2012, The Coast Guard (ICG) has secured the release of 72 Indian fishermen from the custody of Pakistan Maritime Security Agency (PMSA), which had held them in the Arabian sea off Jakhau coast since Friday.
The PMSA personnel had seized 14 Indian fishing boats off Jakhau coast, with 85 fishermen on board, on April 27, and detained them mid-sea.
"ICG Samrat, which was at the International maritime boundary line on a routine patrol, established contact with the Pakistani ship, and after persistent conferencing, 72 out of the 85 fishermen and one boat were released," an ICG statement said.
"The Indian fishing trawlers had strayed inside the Pakistani waters," it said.
Manish Lodhari, secretary, National Fish Worker Forum (NFWF), said that most of the released fishermen hailed from Una taluka in Junagadh district.
"13 fishermen and 13 boats are still to be freed," he said. Overall, more than 450 fishermen from Gujarat were languishing in the Pakistani jails, he added.
http://timesofindia.indiatimes.com/india/72-Indian-fishermen-released-from-the-custody-of-Pakistan/articleshow/12922759.cms
--------
India Islamic Culture Center to set up regional chapters
By : GHAZANFAR ALI KHAN
RIYADHApr 29, 2012, India Islamic Culture Center (IICC), an apex Islamic center with a mandate to provide a unified platform for promoting Islamic heritage and interfaith harmony, is planning to open regional chapters across India to give greater wingspan to its activities.
"A total of five chapters including one in the eastern Indian state of Bihar have been proposed," announced Sirajuddin Qureshi, IICC president, in Riyadh Thursday night.
"The IICC will work with Indian government agencies and Saudi organizations including the New Delhi-based Saudi Embassy to generate support for the IICC's expansion plan and for building its chapters in different provinces of India," said Qureshi, while speaking at a function organized by welfare organization Bihar Anjuman in the capital. Qureshi arrived here on Thursday on a private visit. Nadeem Tarin, a prominent community leader and businessman, was the chief guest at the event, while Qureshi and Dilnawaz Roomi were the guests of honor.
Indian community leaders including S. Muneer Ahmed, Murshid Kamal, Faizan Balkhi, Jabed Hussain, Ziauddin Ahmed, Seraj Akram, Naushad Alam and Kaunain Shahidi were instrumental in organizing the event. A presentation about the activities of Bihar Anjuman was made by Shakeel Ahmed, the founder.
Qureshi said the state-level chapters would be launched soon. "We have already applied for the land allotments in some states," said the IICC chief, adding that the IICC had called on the Kingdom's donor agencies and also the affluent NRIs living in Saudi Arabia and other countries to back the efforts to set up new centers.
To this end, he noted the IICC has become a hub of activities and program including seminars, symposiums and roadshows on mostly Muslim issues since its inauguration by Congress President Sonia Gandhi way back in June 2006. Late Prime Minister Indira Gandhi laid the foundation stone of the center in 1984. The IICC chief, who held a luncheon meeting with a group of affluent Indian community members to conceive the idea of IICC chapter in Patna and to formally launch a campaign to generate support for Patna center, said the New Delhi-based main IICC needs more resources to expand its facility.
Full Report at:
http://arabnews.com/saudiarabia/article620906.ece
---------
URL: https://newageislam.com/islamic-world-news/wahhabis'-theorised-monotheism-become-reservoir/d/7175