New Age Islam News Bureau
16 Nov 2017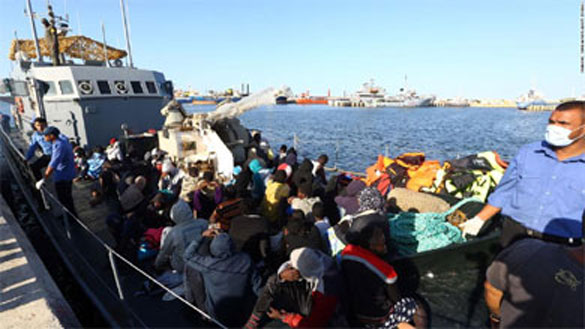 Migrants rescued from the Mediterranean arrive at a naval base in Tripoli in October.
-----
• Wahhabis' Defeat In Syria Caused 'Hysteria' In Saudi Dictatorship: UN Envoy
• Migrants Are Auctioned For Sale In Libya
• Pakistan's Long-Persecuted Ahmadi Minority Fear Becoming Election Scapegoat
• Bangladesh Tablighi Jamaat Torn Apart By Internal Dispute
• US Muslim Charity Clinic Treats Needy People of All Faiths
• Sayeeda Warsi Accuses UK Press Of Hate Speech And Islamophobia
Arab World
• Wahhabis' Defeat In Syria Caused 'Hysteria' In Saudi Dictatorship: UN Envoy
• Lebanese President Accuses Saudi Arabia Of Detaining PM
• International coalition: 300 ISIS fighters might have fled from Raqqa
• Quneitra: Infighting Erupts among Terrorists over Distribution of Israeli Aid Packages
• Notorious Terrorist Commander Killed in Roadside Blast in Southern Syria
• Syrian Army Keeps Rolling on Terrorists' Positions in Hama Province
• What lies beneath Lebanese president's verbal attack against Saudi Arabia
• Russian bombers strike Daesh-held Bukamal in eastern Syria
• Iraqi army forces, allies retake over dozen villages in Anbar
--------
Africa
• Migrants Are Auctioned For Sale In Libya
• Zimbabwe On Knife's Edge After Military Seizes Power
• Libyan forces hit ISIS camp with air strike
• Algerian foreign minister says region under threat after ISIS defeats
• EU urges 'peaceful resolution' to Zimbabwe crisis
--------
Pakistan
• Pakistan's Long-Persecuted Ahmadi Minority Fear Becoming Election Scapegoat
• Pakistan Unveils Remains Of 1,700-Year-Old Sleeping Buddha
• Global index shows drop in terror fatalities in Pakistan
• Gunmen kill 19 in Pakistan's Balochistan province
• KP Info Minister Lambastes Federal Minister For 'Declaring Ahmadis Muslims'
• Speakers call for strategies to deal with religious stereotyping
• Tehreek-E-Labaik Bulldozes State's Writ As Islamabad Withstands Siege
• Sindh apex committee decides to forward 28 terrorism-related cases to military courts
• Terrorism index places Pakistan at fifth spot
--------
South Asia
• Bangladesh Tablighi Jamaat Torn Apart By Internal Dispute
• Myanmar Tour: Pope Advised Not To Use The Term 'Rohingya'
• Deadly Airstrikes Target Taliban In Shindand, Scores Killed, Wounded
• Bangladesh PM: We are on the verge of a crisis over providing aid to Rohingyas
--------
North America
• US Muslim Charity Clinic Treats Needy People of All Faiths
• Tillerson Calls For Independent Probe Into Atrocities Against Rohingya Muslims
• US House committee passes bill to cut aid to Palestinians
• 'Fresh US drone strike kills several militants in Somalia'
--------
Europe
• Sayeeda Warsi Accuses UK Press Of Hate Speech And Islamophobia
• France Makes Diplomatic Push To Solve Lebanon Crisis
• UAE remarks on control of mosques in Europe condemned
• EU countries vow to take in 34,000 refugees
• Emmanuel Macron Blames France for the Rise of Islamic Radicalisation
• Paris school room named for Jewish boys slain in 2012 attack
--------
India
• Efforts To Resolve Dispute Welcome But Won't Surrender Claim On Ayodhya: Muslim Personal Law Board
• ED files charge sheet against Al Badr Mujahideen operatives in Kashmir
--------
Southeast Asia
• 'Allah Doesn't Care If You Are Transgender': The Indonesian School Fighting A Backlash
• Muslim Preachers Should Exercise Wisdom In Promoting Islam: Perlis Raja Muda
• 'Malaysia must sustain its momentum in the global Islamic tourism industry'
--------
Mideast
• Erdogan Vows Continued Military Support For Qatar During Doha Visit
• Turkey, Afghanistan, Ex-Soviet Trio Sign Corridor Agreement
• Iranian President Raps S. Arabia for "Blatant Meddling" in Lebanon
• Israel offers aid to arch-foe Iran after deadly earthquake
• UN resolution calls on Iranian militia fighters to exit Syrian conflict
• Yemeni hospitals will run out of fuel in three weeks: UN
• Human rights violators, terrorism sponsors behind UN rights report: Iran
• Turkey detains 60 security officials suspected ties to coup plotters –Anadolu
Compiled by New Age Islam News Bureau
URL: https://www.newageislam.com/islamic-world-news/wahhabis-defeat-syria-caused-hysteria/d/113246
--------
Wahhabis' defeat in Syria caused 'hysteria' in Saudi dictatorship: UN envoy
Nov 15, 2017
Syria's ambassador to the UN has slammed an anti-Damascus draft resolution recently proposed by Saudi Arabia and its allies, saying it reveals Saudi "hysteria" caused by the failure of its Wahhabi terror plot in the war-torn country.
Bashar Ja'afari said in a statement to the UN General Assembly that the draft resolution about the human rights situation in Syria was an "arbitrary" document put forward by the countries that themselves "support terrorism, incite sedition, destroy countries, kill nations, and occupy lands," SANA news agency reported on Wednesday.
The Riyadh regime's proposal of the resolution is "a strange paradox" and an insult to the issue of human rights as well as another scandal for the UN, which was previously subjugated to the Saudi blackmail and kept silent on the kingdom's war crimes in Yemen, Ja'afari said.
The Syrian envoy further noted that Saudi Arabia should be "the last one which has the right to talk about human rights due to his black record in the humanitarian and legal domains towards its people and the foreigners who were treated as slaves."
"But the biggest disgrace and scandal are represented in supporting the Saudi draft resolution on human rights in Syria, since everyone knows that Saudi Arabia is the greatest and most dangerous dictator on earth, as it employs money and distorts the principles of religion to suppress its people in the first place and to support terrorism in Syria and every spot and city in this world," Ja'afari said.
The draft resolution "reflects the state of hysteria and political deficiency of the Al Saud regime and its allies, backers, and sponsors after the Syrian Arab Army defeated their Wahhabi terrorist scheme in Syria," he added.
Takfirism, which is trademark of many terrorist groups operating in Syria, is largely influenced by Wahhabism, the radical ideology dominating Saudi Arabia and freely preached by Saudi clerics.
Elsewhere in his statement, the Syrian official touched on ex-Qatari prime minister Hamad bin Jassim's confession that Qatar, Saudi Arabia and Turkey had sent their weapons for militant groups in Syria via the US military forces in the region.
ased on the confession, Ja'afari said, Riyadh and Doha have spent USD 137 billion in destroying Syria.
"In addition to that, huge sums were also spent on destroying Yemen, Iraq, and Libya and others. This is what the Saudi regime is doing with the huge wealth which it possesses. It supports, funds, and promotes terrorism, and it destroys the image of the Arabs and Muslims in the world," he pointed out.
http://www.presstv.com/Detail/2017/11/15/542276/Syria-Saudi-Arabia-UN-Bashar-Jaafari
--------
Migrants are auctioned for sale in Libya
15 November 2017
CNN has reported an investigation into the slavery trade in Libya and the human suffering of migrants stranded on its shores after failing to cross into Europe.
The report relied on secret footage showing a market auctioning migrants to sell them for use as workers or farmers.
The video shows two people sold within a few minutes for a thousand and two hundred Libyan dinars, less than three hundred dollars, and this is taking place in a natural atmosphere as if the people of this region are accustomed to this terrible sight.
Tens of thousands of migrants cross the border every year from the sub-Saharan Africa to Libya, sailing on boats to the Italian coast, but the recent campaign by the Libyan Coast Guard in coordination with the European Union has blocked smugglers' operations.
While the number of boats has been reduced on average, the number of migrants has increased in the warehouses of smugglers, so that they begin to treat migrants as goods offered for buying and selling when the smugglers fail to profit from them as passengers on their "death boats."
The investigation highlighted young Victor, a 21-year-old Nigerian. Victor said he escaped corruption in Nigeria, and his mother borrowed money so that he could travel to Europe to fulfill his dream.
But as the European Union fought against illegal immigration and returned migrants to Libya, Victor found himself stranded in a detention center amid bleak humanitarian conditions.
Most of the migrants in Libya are being subjected to human trafficking, he said. The fate of these immigrants remains unknown. Either the immigrant dies at sea or dies more than once on Libyan territory.
CNN said it had handed over the evidence it had to the Libyan authorities, who on their part promised to investigate the case.
https://english.alarabiya.net/en/News/middle-east/2017/11/15/Migrants-are-auctioned-for-sale-in-Libya.html
--------
Pakistan's long-persecuted Ahmadi minority fear becoming election scapegoat
Nov 16, 2017
Crammed into buses and mini-vans, more than 10,000 Pakistanis travelled to a mosque on the outskirts of the small Punjabi town of Rabwah, for the sole purpose of denouncing followers of the minority sect based here as "infidels and enemies of the state".
For members of the long persecuted Ahmadi community, who are forbidden to call themselves Muslims and face discrimination and violence over accusations their faith insults Islam, the open vitriol on display at the Oct. 20 rally was not new.
But this year, they say, anti-Ahmadi rhetoric has also re-entered mainstream Pakistani politics, as politicians seek to shore up support among religiously conservative voters after surprise gains by two new Islamist parties.
"We are an easy community to scapegoat for political opponents to target each other," said Usman Ahmad, who moved to Pakistan from Britain to work as a community activist.
With a general election due in 2018, politicians from both the religious fringe and established parties have had the Ahmadis in their sights.
In the past six weeks, a row over proposed changes to the election law that would have eased some of the barriers on Ahmadis participating in elections has seen the group denounced on the floor of Pakistan's parliament, while one of the new Islamist parties has held street protests.
The government has since taken out ads in major newspapers reaffirming a religious oath requiring elected officials to vow that they do not follow anyone claiming to be a prophet after Mohammad and "nor do I belong to the Qadiani group", using a common derogatory term for Ahmadis.
The Ahmadis consider themselves to be Muslims, but their recognition of Mirza Ghulam Ahmad, who founded the sect in British-ruled India in 1889, as a "subordinate prophet" is viewed by many of the Sunni majority as a breach of the Islamic tenet that the Prophet Mohammad was God's last direct messenger.
A WIDENING SECTARIAN DIVIDE
The Ahmadi sect has 10-20 million followers worldwide who face discrimination in a number of Muslim-majority nations such as Indonesia and Algeria, as well as being ostracised by large parts of the Muslim community in Britain.
There are about half a million Ahmadis in Pakistan, local leaders say, though other estimates have put the number at 2-4 million.
Ahmadis are some of the most common defendants in criminal charges of blasphemy, which in Pakistan can carry the death penalty.
By law they cannot call their place of worship mosques or distribute religious literature, recite the Koran or use traditional Islamic greetings, measures that they say criminalise their daily lives.
The legal restrictions began in 1974, when the then-Prime Minister Zulfiqar Ali Bhutto passed a constitutional amendment declaring Ahmadis non-Muslim. A decade later military dictator General Zia ul Haq barred Ahmadis from identifying themselves as Muslim.
Community leaders say these moves laid the groundwork for a sectarian divide that has since seen many violent attacks on Ahmadis and birthed multiple militant organizations, including many that are now linked to Islamic State.
In the past four years, the Punjab government has also targeted Ahmadis under the country's anti-terrorism laws, filing at least eight cases against Ahmadis on charges of producing hate literature, including the sect's own holy texts.
The offices of an Ahmadi magazine in Rabwah were raided in December 2016 by police, who arrested seven people and confiscated papers and hard drives.
"They stormed the office, it felt like a group of terrorists had come in," said Amir Fahim, who worked at the magazine and was held for 65 days.
"They said the religious language you use belongs to us and the things you write offend the sensibilities of Muslims."
Community leaders say the use of anti-terrorism laws marks a new phase in the targeting of Ahmadis.
"Here, to be an Ahmadi, through state laws, is a crime," Pakistan's Ahmadi community spokesman Salimuddin said. "There are restrictions on our annual gatherings, our annual games ... If the state did not persecute us, we would not be persecuted."
Punjab government spokesman Malik Muhammad Ahmad Khan said the authorities were not using the anti-terrorism laws to target any particular minority group.
"The Punjab Government arrested thousands on charges of hate speech during the last three years," he told Reuters. "Anti-Ahmadi groups were also included in them."
POLITICAL STORM
Many Ahmadis in Pakistan say they only truly feel safe in Rabwah, a town of more than 60,000 in eastern Punjab that is 95 percent Ahmadi. Most of the town's infrastructure is maintained on contributions made by the community, including free hostels and food for visitors and a community organised garbage clean-up.
But on the edge of Rabwah lies a small settlement and a mosque run by a right-wing Islamist organisation that openly professes hatred for Ahmadis.
The organisation, Khatm-e-Nubuwwat (Finality of the Prophet), built the mosque on land the Punjab government ordered confiscated from Ahmadis in 1975 for low-income housing.
Khatm-e-Nubuwwat has been at the forefront of initiating blasphemy allegations against Ahmadis. Every year for 36 years, the group has held an anti-Ahmadi rally at the mosque.
"Qadianis are the enemies of the prophet," said Aziz ur Rehman, an organiser of the Rabwah conference, adding: "A country that was made in the name of the prophet cannot accept Qadianis."
Always volatile, political atmosphere in Pakistan has been especially tense since the Supreme Court removed former Prime Minister Nawaz Sharif from office in July over corruption allegations, which he denies.
The calculations of the mainstream parties have been complicated by the formation of two new Islamist political groups that garnered more than 10 percent in two recent by-elections and could become spoilers in a close election.
One of the new parties, Tehreek-e-Labaik, launched a political furore last month after lawmakers from Sharif's party, which still holds a parliamentary majority, approved apparently small changes to the country's election law.
The changes eliminated a requirement for Ahmadi voters to declare they are not Muslim and turned a religious oath for elected officials declaring belief in the Finality of the Prophet and affirming they are not Ahmadi into a simple declaration of belief.
Tehreek-e-Labaik quickly termed any concessions to Ahmadis to be blasphemy and threatened mass protests.
The government, still controlled by Sharif's party, quickly retreated and reversed the changes.
A week later, speaking before Pakistan's National Assembly, Sharif's son-in-law, lawmaker Muhammad Safdar Awan called for Ahmadis to be barred from employment in the government, judiciary, and military. Sharif himself later distanced himself from Safdar's statement.
The climbdown did not appease Tehreek-e-Labaik, which last week launched street protests blockading roads into Islamabad and demanding the law minister be sacked. The protests are ongoing and have paralysed traffic in the capital.
Saadia Toor, author of State of Islam said it's likely that anti-Ahmadi rhetoric will continue up to next year's elections, due by the end of August.
"Anti-Ahmedi sentiment is widely held across the Pakistani Muslim mainstream, even among moderate Sunnis," she said. "So using them as scapegoats for political purposes is easy."
http://www.hindustantimes.com/world-news/pakistan-s-long-persecuted-ahmadi-minority-fear-becoming-election-scapegoat/story-haeJYr2utzMK8JTn3rJFMP.html
--------
Bangladesh Tablighi Jamaat Torn Apart By Internal Dispute
November 15, 2017
The dispute among Tablighi leaders over establishing dominance reached a new height, after two factions of the organisation engaged in a violent clash on Kakrail Mosque premises on Tuesday
Tablighi Jamaat, an Islamic non-political organization based in Bangladesh, is being ripped apart by a long standing internal dispute among its top leaders.
The dispute over establishing dominance reached a new height after two factions of the organization engaged in a violent clash on the premises of Kakrail Mosque in Dhaka on Tuesday.
According to sources from the Tabligh, scuffles between the two factions are becoming a regular occurrence.
Seven people are leading the Bangladesh chapter of Tabligh Jamaat as Faisal (Ameer). Syed Wasif Islam is one of the Ameers and also a Majlis-e-Shura member of the organization.
A senior Tablighi leader named Professor Mushfiq Ahmed and his followers began a long-standing dispute with Syed Wasif after they accused him of misusing power. However, following Mushfiq's death in 2015, his followers became isolated inside the organization.
Sources said the Nizamuddin Markaz of Delhi is considered the international headquarters of Tablighi Jamaat, and that Maulana Saad Kandhalvi is one of the leading influential leaders there.
Maulana Saad Kandhalvi, however, is also a religious leader known for making controversial statements which have caused uproar in India on several occasions.
He received harsh criticism for speaking against taking money for religious teachings and claiming that prayers cannot be offered if the devotee carries a mobile phone with a camera.
According to sources, among the faisals of Bangladesh Tabligh Jamaat, Maulana Muhammad Jubayer, Maulana Rabiul Haque and Maulana Omar Faruq have protested against the upcoming visit of Maulana Saad Kandhalvi to the country.
Qawmi Alems of Hefazat-e-Islam have also demanded cancellation of Maulana Saad's visit.
Following the heated exchange between the top leaders, Madrasa students locked in a clash and carried out acts of vandalism which later lead to the violence in Tabligh Jamaat's Kakrail Markaz on Tuesday.
Later, police arrived at the scene and brought the situation under control.
The Shura Council members of the Tabligh held a meeting on the same day and agreed upon some terms to help resolve the ongoing dispute.
When approached, the son of Syed Wasif Islam, Maulana Osama Islam, admitted to the incident. He said future disputes will be resolved in a civil manner through council meetings.
The leaders agreed that in future meetings, every decision must be approved by receiving two-thirds of the vote from the members. Disputes will also be resolved in council meetings.
It was also decided in the meeting that no one will be allowed to carry weapons at any Tabligh programme.
On the issue of inviting a guest from abroad, the leaders agreed that they will follow a decision made in a previous meeting attended by the home minister.
The agreement was signed by Maulana Muhammad Jubayer, Syed Wasif Islam, Maulana Rabiul Haque, Khan Muhammad Shahabuddin Nasim, Maulana Omar Faruq, Mohammad Mosharraf and Mohammad Hossain.
http://www.dhakatribune.com/bangladesh/2017/11/15/tabligh-jamaat-torn-apart-internal-dispute/
--------
US Muslim Charity Clinic Treats Needy People of All Faiths
November 15, 2017
SAN BERNARDINO, CALIFORNIA —
In San Bernardino, one the poorest cities in California, a group of Muslim doctors runs a medical clinic that provides health-related services to poor residents of the city.
The Al-Shifa Clinic was founded in 2000. Al-Shifa is an Arabic word for "cure."
A majority of the patients are non-Muslims.
"We are Muslims and we want to help the community," says Dr. Talat Khan, director of Al-Shifa Clinic. "It does not have to be the Muslim community because most of the people we see are Hispanic and people of other faiths. We want to help them out. Our religion tells us that we should take care of under-served."
Most of the doctors in Al-Shifa are naturalized U.S. citizens who came to the United States as refugees or immigrants from Afghanistan, Pakistan, India and elsewhere.
To tell you the truth, doctors are trained to help people regardless of their religion or what language they speak," says Dr. Khwaja Ali Sidiqui, a physician who volunteers at the clinic. "When you visit a doctor, you are his [or] her patient. We treat our patients regardless of what faith they belong to.
The clinic has 16 examination rooms, and treatment extends to internal medicine, pediatrics, mental health, neurology, obstetrics gynecology, preventive medicine and dentistry. There's also a well-equipped lab.
The volunteer doctors help new medical graduates who work as interns at the clinic. One of these graduates is Eman Musili, a newly arrived immigrant from Syria.
"I also enjoy talking to the patients because a lot of them who come here, they are desperate for help because most of them do not have insurance," Musili says. "Actually, they have a lot of things going on and they need help. So that is a good experience for a medical physician."
For the patients who depend on the Al-Shifa, the clinic is a big help and a bit of a miracle.
"It is amazing," says patient Lynne Missi. "I don't know how they do it — except that the doctors do offer their services free. They volunteer and that is amazing. They are really, really nice people to do that. I think 'Wow! Who would do that?'"
Al-Shifa is charity-based so some patients worry about losing services if the clinic runs out of funding. Doctors say that as long as donors come forward, they will be able to sustain the facility and continue provide people with much-needed services.
https://www.voanews.com/a/us-muslim-charity-clinic-treats-needy-people-of-all-faiths/4116123.html
--------
Sayeeda Warsi accuses UK press of hate speech and Islamophobia
November 15, 2017
According to The Guardian, Sayeeda Warsi , the former Conservative cabinet minister, has accused British newspapers of Islamophobia and hate speech and called for a parliamentary investigation into the issue.
Lady Warsi , the first Muslim woman to hold a cabinet position, said hate speech in the press had become a "plague" with Muslims the "principal target".
She gave examples from the Daily Express, the Daily Mail, the Sun and the Times in her speech.
The former lawyer was giving the fifth annual Leveson lecture at an event hosted by the Hacked Off campaign, which wants greater regulation of the press. She resigned from the government in 2014 over its "morally indefensible" policy on Gaza.
Warsi said hate was a daily reality for Muslims in Britain in 2017, adding: "In sections of our press, it is relentless and deliberate. Steadily and methodically using paper inches and columns to create, feed and ratchet up suspicions and hostilities in our society, driving communities apart and creating untold – and unnecessary – fear and distress.
"Poisoning our public discourse, making it almost impossible to have sensible discussions about real challenges, crowding out tolerance, reason and understanding.
"And this drip-drip approach has created a toxic environment where hate crime is the highest it has been since records began."
She continued: "Hate speech in the press has become a plague, an epidemic. Ways of expression that I thought we had left behind with Enoch Powell in the 1960s are now the new normal.
"This is true not just of two or three notorious dailies, but also of papers some still regard as responsible and ethical. Anti-Muslim hate speech is becoming a regular feature even in the more 'respectable' parts of the press and that's why it is becoming more dangerous.
"Islamophobia is Britain latest bigotry blind spot. It's where the respectable rationalise bigotry, couch it in intellectual argument and present it as public interest or honest opinion that allows the rot of xenophobia to set in."
Warsi described a front page headline from the Sun in 2015 – "1 in 5 Brit Muslims' sympathy for jihadis" – as "shocking" and "encouraging a false and derogatory idea".
She also criticised the Times for its coverage of a foster care row in east London involving a five-year-old girl. The Rupert Murdoch-owned newspaper reported the story with the headline "Christian child forced into Muslim foster care."
Warsi said the newspaper was "wilfully sending a message to its readers that Muslims are frightening people with whom Christian children are not safe.
"It pandered to bigoted stereotypes, was extraordinarily irresponsible and most shockingly was untrue."
Warsi , who served as chair of the Conservative party during David Cameron's government, criticised his and Theresa May's administrations for not implementing the recommendations of the Leveson inquiry.
Those include the commencement of section 40 of the Crime and Courts Act, which would force a newspaper to cover the legal costs of the claimant in a libel case unless it joined the approved regulator and offered low-cost arbitration.
Warsi has written to Labour MP Yvette Cooper, the chair of the parliamentary home affairs committee, to ask her to investigate hate speech .
News UK, the publisher of the Sun and the Times, declined to comment.
http://nation.com.pk/15-Nov-2017/sayeeda-warsi-accuses-uk-press-of-hate-speech-and-islamophobia
--------
Arab World
Lebanese president accuses Saudi Arabia of detaining PM
November 15, 2017
Lebanon's president accused Saudi Arabia on Wednesday of detaining the Lebanese prime minister, an escalation in the crisis that followed Saad Hariri 's surprised resignation from the kingdom almost two weeks ago.
In comments published on the official Twitter account of the president, Michel Aoun said nothing justifies that Hariri has not returned home so far.
"We consider him detained, arrested" in violation of international laws, Aoun said.
It was the first time Aoun describes Hariri as a detainee. He had previously only questioned the "mysterious" circumstances under which Hariri resigned.
The rhetoric further deepens the crisis with Saudi Arabia , which is a backer of Hariri, a dual Saudi-Lebanese national.
Many believe Hariri's decision was dictated by the Kingdom amid its intensifying feud with Iran over influence in the region. Iran supports Hariri's main rival in Lebanon, Hezbollah, which is also a partner in Hariri's unity government.
Aoun refused to recognise Hariri's resignation and the Lebanese government is carrying on in a business-as-usual manner.
In a quick reaction to Aoun's comments, Hariri tweeted that he was fine and will return to Lebanon as promised. "You will see," Hariri said without giving a time frame for his return.
Aoun is an ally of Hezbollah but had been close to Hariri before the crisis.
The head of Future TV, affiliated with Hariri's party, says the prime minister is expected back before Sunday, when Arab foreign ministers meet in Cairo in an emergency session at Saudi Arabia 's urging.
Riyadh is expected to discuss Iran's rising influence in the region at the meeting, as well as the Lebanese crisis.
Lebanon's Foreign Minister Gibran Bassil said in Paris that Lebanon wants to resolve Hariri's "ambiguous" condition with Saudi Arabia in a "brotherly" fashion.
But Bassil, who is on a European tour seeking support for his country amid the crisis, said that Lebanon also has the option of resorting to international law, without elaborating.
It was not immediately clear if Bassil would attend the Arab League foreign ministers' meeting in Cairo.
Riyadh has asked Saudi nationals to immediately leave Lebanon, with several other Arab countries and allies of the kingdom doing the same.
Many fear punitive Saudi actions against Lebanon over Hezbollah.
France's Foreign Minister is arriving in Saudi Arabia on Wednesday to meet with Hariri and Saudi officials. French President Emmanuel Macron paid a surprise visit to the kingdom last week.
Hariri resigned 12 days ago in a shocking televised address from Riyadh that plunged his country into turmoil.
In a televised interview from the kingdom, Hariri pledged to come back but didn't give a specific date.
His appearance didn't dispel rumors that Hariri was forced to resign and is prevented from returning home.
http://nation.com.pk/15-Nov-2017/lebanese-president-accuses-saudi-arabia-of-detaining-pm
--------
International coalition: 300 ISIS fighters might have fled from Raqqa
15 November 2017
The International Coalition stated, after a month since Syria's democratic forces restored Raqqa, that dozens of foreign fighters could have been hiding among civilians and might have managed to escape elsewhere during the evacuation of 3,000 civilians from the city.
Col. Ryan Dillon, the spokesman for the coalition forces, said there were about 300 militants who had been identified as potential fighters but not all those fighters who fled Raqqa were identified.
The local council of Raqqa and the "Syrian-democratic" forces reached an agreement regarding the exit of civilians from the city. During the exit, all civilians were subjected to inspection and examination, during which the Syrian Democratic Forces identified four foreign militants who had been arrested, and about 300 others who were classified as "potential fighters of ISIS."
The Syrian Observatory for Human Rights has repeatedly stated that hundreds of ISIS fighters, including foreigners, left Raqqa with their weapons and ammunition in a large convoy on 12 October.
Russian Foreign Minister Sergei Lavrov accused the United States of seeking to change the regime in Syria by "supporting terrorists and foreign fighters and providing a cover for ISIS fighters," Moscow said.
Full report at:
https://english.alarabiya.net/en/News/middle-east/2017/11/15/International-coalition-300-ISIS-fighters-might-have-fled-from-Raqqa.html
--------
Quneitra: Infighting Erupts among Terrorists over Distribution of Israeli Aid Packages
Nov 15, 2017
The Arabic-language al-Watan daily quoted dissident-affiliated websites as saying that a number of the FSA militants started infighting over how to distribute aid as they were receiving three Israeli vehicles with a cargo of flour bags from Commander of Tajamo al-Ahrar Abu Yazan al-Jabileh and Commander of Tajamo Abu Hamza al-Na'eimi Abu Tariq al-Qadir at gates of al-Dareeyat region.
It added that the Israeli missile units shelled the road connecting the villages of al-Ma'alaqa and al-Rafid in Southern Quneitra following the escalation among the FSA terrorists.
The road was cut off due to the heavy fire of Israeli forces, al-Watan added.
Israeli forces have been providing financial, logistic, weaponry and medical supports for the terrorists in Southern Syria.
In the meantime, the Israeli hospitals have been admitting and curing a large number of Syria's injured terrorists.
Photos released on social media in August showed that the Israeli Defense Forces (IDF) medical personnel were recovering wounded terrorists from the Syrian side of the Golan Heights and then treated them in medical centers on the Israeli-occupied side of the region.
According to sources, the militants were treated by the IDF Israel's medical centers only to then be sent back into Syria were they continue to commit terrorist acts.
Despite the fact that such gunmen are labeled as "rebels" by Western and Persian Gulf media due to their apparently "moderate" stance against the Syrian government, the actual reality stands that a vast majority of the Golan-based militants which Israel provides medical and military aid to are committed militants who pursue sectarian ideals in Syria.
Full report at:
http://en.farsnews.com/newstext.aspx?nn=13960824001075
--------
Notorious Terrorist Commander Killed in Roadside Blast in Southern Syria
Nov 15, 2017
The websites said that Khalid Vajiheh al-Samadi, the commander of Ahfad Ali Brigade affiliated to Shabab al-Suna was killed along with two of his forces in a roadside bomb blast on the road that connects the regions of Samad and Samaj to each other.
Shabab al-Suna is affiliated to the FSA.
The same websites reported in October that Ehsan Awaz Hawshan, one of the commanders of the FSA-affiliated Shabab al-Shona, was killed in a bomb blast in the town of Seida in Dara'a province.
In the meantime, Nasar al-Za'abi, a commander of Jeish al-Thora, was killed by unknown attackers' gun fire in the town of al-Yadoudeh in Dara'a province.
http://en.farsnews.com/newstext.aspx?nn=13960824000632
--------
Syrian Army Keeps Rolling on Terrorists' Positions in Hama Province
Nov 15, 2017
The army men drove the Al-Nusra out of the villages of Qasa al-Shawi, al-Kikeh and al-Hazm, killing and wounding a number of militants.
Dissident-affiliated websites reported on Tuesday that Abu Othman Ashada, a notorious commander of elite forces of the Al-Nusra Front, was killed in clashes with the Syrian Army troops in Northeastern Hama.
The websites reported that the army men clashed fiercely with Al-Nusra in Northeastern Hama, killing a number of terrorists, including Abu Othman Ashada, the commander of Al-Nusra elite forces in al-Dana region.
The Al-Nusra's special forces units were formed last year after Jeish al-Nusra suffered heavy defeats in Western Aleppo.
Full report at:
http://en.farsnews.com/newstext.aspx?nn=13960824000595
--------
What lies beneath Lebanese president's verbal attack against Saudi Arabia
16 November 2017
Lebanese President Michel Aoun did what can only be described as launching a verbal attack politically on Saudi Arabia even as Maronite Patriarch Beshara Rai wrapped up his historic visit to the kingdom.
Lebanese sources said Aoun's campaign fell within the context of acting on behalf of Hezbollah, which is isolated on the Arab and international levels.
Aoun echoed accusations that Hariri was detained in Saudi Arabia and spoke of a supposed aggression on Lebanon and its independence and dignity.
Aoun and Lebanon's Foreign Minister Gebran Bassil, who is Aoun's son-in-law, used an unprecedented rhetoric against Saudi Arabia, which has been Lebanon's traditional ally and biggest donor over decades. They went as far as hinting to pursue Riyadh on the international level.
The campaign came hours after Rai said he understood the motives behind Hariri's resignation, and which are related to Hezbollah's persistence to pursue its regional role, and voiced the need for a new settlement that replaces the settlement, which brought Aoun as president.
Directed against Rai
Some observers said Aoun's statements were also directed against Rai and warned of distant ties between him and his religious reference, in exchange of complete political affiliation to Hezbollah.
This attachment increases the Lebanese people's fears of the consequences of bad relations with Saudi Arabia and Arab countries.
It was concluded that Aoun's campaign against Saudi Arabia represents a coup on the history of joint relations between the two countries. The political escalation against Riyadh thus falls within the context of disrupting Rai's historical visit to Saudi Arabia.
Full report at:
https://english.alarabiya.net/en/features/2017/11/16/What-lies-beneath-Lebanese-president-s-verbal-attack-against-Saudi-Arabia.html
--------
Russian bombers strike Daesh-held Bukamal in eastern Syria
Nov 15, 2017
Russian Tupolev Tu-22M3 long-range bombers have launched fresh airstrikes against the positions of the Daesh Takfiri terrorist group near the town of Bukamal in Syria's eastern province of Dayr al-Zawr, days after the extremists recaptured the territory from government forces, supported by allied fighters from popular defense groups.
Russia's Defense Ministry said in a statement on Wednesday that six planes took off from an air base in Russia, flew over Iran and Iraq, and bombarded fortified areas, manpower, supply depots and armored vehicles of the terrorists.
The statement added that satellite and drone surveillance had confirmed that all of the designated targets had been destroyed.
It said Sukhoi-30SM fighter jets, based at Russia-run Hmeimim air base southeast of Syria's western coastal city of Latakia, had escorted the bombers while they were in Syrian air space, and that all the bombers had safely returned to their bases.
On November 4, TU-22m3 bombers flew from Russia across Iran and Iraq, and conducted airstrikes against Daesh targets near Bukamal.
Russia's Defense Ministry said at the time that command centers and weapons depots were among the targets hit by the bombers.
Russia's Kolpino submarine launched six Kalibr cruise missiles from the Mediterranean Sea against Daesh outposts in Bukamal on November 3.
Six Tupolev Tu-22M3 bombers launched a massive aerial assault against designated terrorist targets near Bukamal on November 1, destroying fortified areas, arms and ammunition depots.
The development came only a day after the Russian Black Sea Fleet's submarine, Veliky Novgorod, carried out a major strike with three Kalibr cruise missiles on important Daesh positions near Bukamal.
The Russian Defense Ministry said in a statement that Daesh terrorists' command posts, a fortified area where militants and armored vehicles were present, as well as a large arsenal of weapons and munitions were destroyed as a result.
Since September 2015, Russia has been conducting aerial attacks against terrorist positions in Syria at a request from the Damascus government.
Full report at:
http://www.presstv.com/Detail/2017/11/15/542320/Russian-bombers-strike-Daeshheld-alBukamal-in-eastern-Syria
--------
Iraqi army forces, allies retake over dozen villages in Anbar
Nov 15, 2017
Iraqi government forces, backed by allied fighters from Popular Mobilization Units, have established control over more than a dozen villages in the country's western province of Anbar as they are trying to purge the Euphrates Valley, which straddles the Iraqi-Syrian border, from the last remnants of the Daesh Takfiri terrorist group.
The commander of the al-Jazira and Upper Euphrates liberation operation, Lieutenant General Abdul Amir Rashid Yarallah, said on Wednesday that army troops and pro-government fighters – better known by the Arabic name Hashd al-Sha'abi – had completely retaken 13 villages, including al-Jadish, al-Deir, al-Khour, al-Bawadiyah, al-Sammah, al-Baydhah, al-Hassaniyah, and al-Samsiyah over the past three days, and killed more than 38 Daesh extremists, Arabic-language al-Mawazin news agency reported.
Yarallah noted that government forces and their allies had also detonated six car bombs, killed three bombers, and destroyed eight motorcycle bombs as well as 10 vehicles carrying personnel and military hardware to Daesh terrorists.
The senior Iraqi military official further noted that the forces had defused or detonated more than 100 improvised explosive devices during the mentioned period as well.
Yarallah went on to say that military units were continuing to advance towards the town of Rawah, located about 300 kilometers northwest of the capital Baghdad.
On November 11, Iraqi army soldiers and Hashd al-Sha'abi fighters launched a major operation to retake Rawah.
The Office of the United Nations High Commissioner for Human Rights (OHCHR), in a statement released on November 8, announced that Daesh had taken about 2,500 families, equivalent to some 10,000 individuals, hostage in Rawah.
The OHCHR also appealed to the Iraqi government and security forces involved in the Rawah liberation operation to open safe exit routes for civilians to frustrate terrorist schemes aimed at using ordinary people as human shields.
Full report at:
http://www.presstv.com/Detail/2017/11/15/542310/Iraqi-army-forces-allies-retake-over-dozen-villages-in-Anbar
--------
Africa
Zimbabwe on knife's edge after military seizes power
November 16, 2017
Zimbabwe was on a knife's edge on Thursday after the military seized power in what it dubbed a targeted operation against "criminals" in the entourage of President Robert Mugabe, who has ruled the southern African nation for almost four decades.
It was not clear whether the apparent military coup would bring a formal end to the 93-year-old Mugabe's rule. The main goal of the generals appeared to be preventing Mugabe's wife Grace, 41 years his junior, from succeeding him.
Local media reported South Africa's defense and state security ministers, dispatched by President Jacob Zuma as regional envoys, arrived in Zimbabwe's capital, Harare, on Wednesday night and were expected to meet both Mugabe and the military . Their ultimate goal was not clear.
Zuma earlier called for "calm and restraint" and asked the defense forces "to ensure that peace and stability are not undermined in Zimbabwe ," South Africa's neighbor, which has lurched from crisis to crisis over the past two decades.
The South African presidency said Mugabe had told Zuma over the phone that he was confined to his home but was otherwise fine and the military said it was keeping him and his family safe.
Mugabe, still seen by many Africans as a liberation hero, is reviled in the West as a despot whose disastrous handling of the economy and willingness to resort to violence to maintain power destroyed one of Africa's most promising states.
He plunged Zimbabwe into a fresh political crisis last week by firing his vice president and presumed successor, Emmerson Mnangagwa, 75 - known as the "crocodile" - for showing "traits of disloyalty".
The generals believed that move was aimed at clearing a path for Grace Mugabe to take over and said on Monday they were prepared to "step in" if purges of their allies did not end.
Tanks blocked roads after dark and soldiers with automatic weapons kept up their patrols, but the situation appeared calm.
Whatever the final outcome, the events could signal a once-in-a-generation change for the former British colony, a regional breadbasket reduced to destitution by economic policies Mugabe's critics have long blamed on him.
http://nation.com.pk/16-Nov-2017/zimbabwe-on-knife-s-edge-after-military-seizes-power
--------
Libyan forces hit ISIS camp with air strike
16 November 2017
East Libyan forces said they launched air strikes against suspected ISIS militants on Wednesday south of the group's former stronghold of Sirte.
"The Libyan air force struck and destroyed the biggest concentration of Daesh (ISIS) south of Sirte, after monitoring the site over a period of time," said Sherif al-Awami, an air force commander with the Libyan National Army.
The site contained a large camp with military vehicles and stocks of petrol and water and had been used as a base for mounting attacks, he said.
ISIS was driven from Sirte last year and has been trying to regroup in the desert to the south, launching occasional forays into inhabited areas and attacks against local forces.
Full report at:
https://english.alarabiya.net/en/News/north-africa/2017/11/16/Libyan-forces-hit-ISIS-camp-with-air-strike.html
--------
Algerian foreign minister says region under threat after ISIS defeats
16 November 2017
Algerian Foreign Minister Abdelkader Messahel said Wednesday that North Africa is under threat from foreign fighters escaping ISIS defeats in Iraq and Syria.
Messahel spoke at a news conference in Cairo after a meeting with his Egyptian and Tunisian counterparts, Sameh Shoukry and Khemaies Jhinaoui, over Libya.
ISIS rose to prominence in the chaos of Syria's conflict, which broke out in 2011 with protests against President Bashar al-Assad.
After its explosive rise in 2014 and conquest of vast swathes of territory in Syria and Iraq, ISIS established a "caliphate" that attracted thousands of foreign fighters.
But a string of losses this year have left the jihadists clinging on to pockets of territory in Iraq and Syria.
"The region is threatened... with the return of foreign fighters," said Messahel. "The signs and reports say the return will be in our region."
The ministers also met to discuss Libya in February in Tunisia and again in June in Algeria, as the three countries push for a solution in Libya.
Full report at:
https://english.alarabiya.net/en/News/north-africa/2017/11/16/Algerian-foreign-minister-says-region-under-threat-after-ISIS-defeats.html
--------
EU urges 'peaceful resolution' to Zimbabwe crisis
Nov 15, 2017
The European Union has called for a "peaceful resolution" to the unfolding crisis in Zimbabwe, after the army put long-time President Robert Mugabe under house arrest in a move that military officials insist is not a coup.
"It is a matter of concern for the EU," European Commission spokeswoman Catherine Ray told reporters during a press briefing on Wednesday, shortly after soldiers and armored vehicles began blocking roads to the main government offices, the parliament, and the courts in central Harare.
"We call on all the relevant players to move from confrontation to dialogue with the aim to a peaceful resolution," she added, underscoring the need for respecting "the constitutional order and democratic governance."
Zimbabwe's ruling party, ZANU-PF, said in a statement earlier that the 93-year-old president's decades-long grip on power was coming to an end through a "bloodless transition."
Mugabe and his military forces, who had long helped him stay in power, have been at odds over the past few weeks.
After taking control of the country's state broadcaster, a spokesman for the military said the armed forces were not taking over the government and had only taken action to "target criminals."
A government source told Reuters later on that Finance Minister Ignatius Chombo was among those detained. He was a leading member of the so-called 'G40' faction of the ZANU-PF party, run by the president's wife, Grace Mugabe.
Mugabe and his wife have been on the EU's sanctions list along with other key figures in Zimbabwe's ruling elite, facing travel bans and asset freezes abroad.
The Zimbabwean president has called sanctions, which were first imposed by the US and the EU in 2002 over rights issues, "wrong," blaming them for his government's failure to pay its workers on time, which led to a crippling strike last year.
France watching closely
France also reacted to the situation in the African country, saying that it was closely following the events.
"We reiterate our attachment to constitutional law and respect of the legitimate aspirations of the Zimbabwean people," French Foreign Ministry spokeswoman Agnes Romatet-Espagne told reporters.
Full report at:
http://www.presstv.com/Detail/2017/11/15/542294/EU-Zimbabwe-crisis-Mugabe-coup-France
--------
Pakistan
Pakistan unveils remains of 1,700-year-old sleeping Buddha
15 November 2017
Pakistan has unveiled the remains of a 1,700-year-old sleeping Buddha as part of an initiative to encourage tourism and project religious harmony in a region roiled by Islamist militancy.
A reflection of the diverse history and culture of the south Asian country, the ancient Buddhist site in Khyber Pakhtunkhwa province was first discovered in 1929. Eighty-eight years on, excavations resumed and the 14-metre-high (48-ft-high) Kanjur stone Buddha image was unearthed. The country's opposition leader, Imran Khan, presided over Wednesday's presentation.
"This is from the 3rd century AD, making it the world's oldest sleeping Buddha remains," Abdul Samad, director of Bhamla's archaeology and museums department, told Reuters.
"We have discovered over 500 Buddha objects and this 48ft-long sleeping Buddha remains," he added.
Khan said: "It's a question of preserving these heritage sites which are an asset for our country."
The region was once the centre of Buddhist civilisation that took root under the Mauryan king Ashoka 2,300 years ago.
The presentation of the Buddha image coincided with a lockdown of main roads around the nation's capital to contain a rightist protest against a perceived slight to Islam by members of the ruling Pakistan Muslim League-Nawaz (PML-N).
Minority communities in Pakistan are often targeted by rightwing groups, and successive governments have in the past been reluctant to embrace the country's non-Muslim heritage.
But recent attempts to improve Pakistan's image have included overtures to minority communities by the PML-N. In January the then prime minister, Nawaz Sharif, inaugurated the restoration of Hindu temples at Katas Raj, in Punjab province.
Considered a conservative figure, Khan has stressed dialogue with Islamist hardliners including the Taliban, but on Wednesday he said the preservation of sites such as Bhamala could promote religious tourism.
"It's a world heritage site [and] because of it people can come for religious tourism and see these places," he said.
Khan dismissed the protest in Islamabad, seeking to project a more tolerant image of Pakistan. "It's a very small part of what is happening in Pakistan. The majority of the population wants to see such [Buddhist] sites restored."
Khan's opposition Pakistan Tehreek-e-Insaf party hopes to make big gains in elections next year as the PML-N has been increasingly embroiled in corruption investigations.
Sharif resigned as prime minister in July after the supreme court disqualified him for not declaring a source of income, and he faces trial before an anti-corruption court.
https://www.theguardian.com/world/2017/nov/15/pakistan-unveils-remains-of-1700-year-old-sleeping-buddha
--------
Global index shows drop in terror fatalities in Pakistan
NOVEMBER 16, 2017
At least 956 people were killed in 736 terror attacks in Pakistan in 2016, according to the Global Terrorism Index (GTI) released on Wednesday, a significant decline in terror fatalities as compared to 2015.
Afghanistan and Syria displayed a similar trend, as four of the five countries most impacted by terrorism saw a 33 percent decrease in terror fatalities.
Although the total number of people killed in terror attacks worldwide fell for the second successive year, more countries were victims of terror in 2016, the report produced by Australia's Institute for Economics and Peace showed.
The report found there were 25,673 deaths last year due to terror attacks ? down 22pc from a 2014 peak.
However, 77 countries experienced at least one fatal attack, more than at any time in the 17-year history of the Global Terrorism Database, on which it is based.
The GTI called the falling victim numbers the "main positive finding" and "a turning point in the fight against radical Islamist extremism".
It reported the biggest improvement in Nigeria, where terrorism deaths attributed to Boko Haram fell by 80pc last year. But deaths attributed to the militant Islamic State (IS) group increased by nearly half in 2016, with the majority of the rise – 40pc – in Iraq.
Full report at:
https://dailytimes.com.pk/140933/global-index-shows-drop-terror-fatalities-pakistan/
--------
Gunmen kill 19 in Pakistan's Balochistan province
Nov 15, 2017
Gunmen have killed 15 men and a police official and three of his family members in separate attacks in Pakistan's southwestern province of Balochistan.
Darmoon Bawani, an administrator in Turbat district, said the 15 men were killed in a mountain village and their bodies were found on Wednesday. The victims ranged in age from 18 to 30 years, and all came from the populous Punjab province.
The men were reportedly planning to cross into Iran on their way to Europe, seeking jobs as migrant laborers.
No group or individual has so far claimed responsibility for the attack. Workers from Punjab have come under attack in the past by Baloch separatists. Several militant groups are also active across the region.
Separately, armed assailants riding on motorcycles opened fire on a car transporting a deputy superintendent of police and his wife, son and daughter, killing them on the spot.
Anwarul Haq, a government spokesman, said the attack took place in the provincial capital Quetta. The attack came a week after a bomber killed Quetta's police chief and three other officers. Taliban militants claimed responsibility for that assault.
Quetta, the largest city of Balochistan, has seen several bombings and shooting attacks over the past years.
Balochistan was rocked by a series of terrorist attacks late last year, raising fears about an increasing presence of armed militants in the area, including terrorists linked to the Daesh Takfiri terrorist group.
Full report at:
http://www.presstv.com/Detail/2017/11/15/542340/Pakistan-Balochistan-Quetta-gunmen
--------
KP Info Minister Lambastes Federal Minister For 'Declaring Ahmadis Muslims'
BY MOHAMMAD SOHAIB
Nov 16, 2017
Peshawar – Khyber Pakhtunkhwa's (KP) minister of information and Pakistan Tehreek-i-Insaf (PTI) leader Shah Farman criticized the federal minister of law and justice Zahid Hamid for declaring Ahmadi community as Muslims.
Farman said this while talking at a press conference along with Jamiat Ulema-e-Islam Nazriyati (JUI-N) leaders on Wednesday. Farman criticized former prime minister Nawaz Sharif for calling Ahmadi community his brothers. "While our constitution declares them non-Muslim, our minister of law and justice is calling them Muslims," he remarked.
While answering a question he said that PTI has always been labelled as a Yahoodi lobby here in Pakistan. "When the same people go abroad, they say that PTI is fundamentalist and supports Taliban," he said.
He asserted that the state should be responsible for those Ahmadis who publicly reveal their sect. "There are certain people who announce that they are Muslims, but actually are not," he said.
This is not the first time that a PTI leader has given a public statement against the minority sect. Earlier, Abrar-ul-Haq had rallied behind the demands of the protesters protesting against the controversial amendment in the electoral reforms bill in Narowal and Islamabad. He also accused Ahsan Iqbal for putting forward the controversial bill.
"I strongly condemn the way protesters were treated while protesting in front of Ahsan Iqbal's office in Narowal," he said in a video released on social media. Awami Muslim League chief and PTI ally Sheikh Rasheed had also supported the protesters in Islamabad.
Meanwhile, protesters from the Tehrik-e-Labbaik-Ya-Rasulullah (TLYR) party are still protesting at the Faizabad interchange, choking traffic and causing severe problems for the commuters travelling between Rawalpindi and Islamabad.
One of the major demand of these protesters is a resignation from Zahid Hamid, who had already declared on oath, via a video released on social media, that he is a Muslim and had no part in the amendment put forward in the electoral reform bill.
Full report at:
https://www.pakistantoday.com.pk/2017/11/15/kp-info-minister-lambastes-zahid-hamid-for-declaring-ahmadis-as-muslims/
--------
Speakers call for strategies to deal with religious stereotyping
Nov 16, 2017
ISLAMABAD: Participants of a seminar, titled "Islamic Dawah in the West: Approaches, Methods and Effectss", said Wednesday that Muslims have to devise comprehensive strategies to deal with religious stereotyping, defamation and inappropriate representation of the facts against Islam.
The seminar was conducted by International Islamic University Islamabad (IIUI) Dawah Academy, and was attended by the IIUI Rector Dr Masoom Yasinzai and IIUI President Dr Ahmed Yousif Al-Draiweesh.
In his speech, IIUI rector stressed upon Muslims to bring a balance in their lifestyle and called for application of Islamic teachings in routine lives. Dr Masoom said that IIUI was keen to provide a platform to deal with stereotypes against Islam, adding that universities of the Muslim world could pay a pivotal role in dissemination of the true message of Islam.
He stressed upon youth to take the responsibility of spreading the true teachings of Islam. He also directed the officials concerned that a conference on this subject must be conducted by the university to find solutions to modern challenges. "We need best Muslims who should have equal knowledge of contemporary advancements and Islamic teachings and values as well," he added.
Speaking on the occasion, IIUI president said that Islam was the religion of peace and it taught about love for humanity. He stressed upon Muslim scholars to expedite efforts for dissemination of Islam's true message which he said was based on "tranquility and peace".
He stressed upon the universities that they should provide a platform to the Muslim scholars to work with the students in the fields of Islamic research.
Full report at:
https://www.pakistantoday.com.pk/2017/11/15/speakers-call-for-strategies-to-deal-with-religious-stereotyping/
--------
Tehreek-e-Labaik bulldozes state's writ as Islamabad withstands siege
BY FARID SABRI
ISLAMABAD: At least 2,000 Tehreek-e-Labaik Ya Rasool Allah (TLYR) protesters continued chanting against government policies on not disclosing and taking action against the parliamentarians who were behind the alleged conspiracy of change in electoral laws.
TLYR siege of Faizabad interchange spanning over weeks questions government's writ.
They have erected over six dozen tents to save themselves from the first rain of winter. Each tent has a capacity to entertain five to six persons for rest purposes, where the protestors are taking 7 to 8-hour rest in different shifts. After the bulk of wood imported for cooking and warming purposes got wet due to rainfall on Wednesday, they have now turned to gas-cylinders to cook their food.
The protesters were fully charged against the conspirators, and time and again warned the government to fire Federal Law Minister Zahid Hamid—a demand which is unacceptable to the government.
On the other hand, the residents of the twin cities continue suffering from heavy traffic chaos and un-availability of mobile phone services within the five-kilometre circle where the protesters have staged their sit-in.
Despite the fact that they've not been granted a no-objection certificate (NOC) and were warned by the Islamabad police and Islamabad Capital Territory (ICT) administration to face possible legal action if they tried to enter the federal capital, their siege has continued on, thereby questioning the tall claims, capability and policies of Islamabad administration.
Speculation and rumours have been rife over some hidden forces and agencies backing them, which has allowed a couple of thousand participants to block the main Faizabad Interchange on the 9th consecutive day, leaving the citizens completely paralyzed.
Asif Shahan, a resident of Khyaban-e-Sir Syed, told Pakistan Today that it took him two hours to reach sector F-7 on Wednesday. "The government is not dealing with them properly due to which the protestors have remained unconvinced last night to shift their protest to the Parade Ground," he added.
A day before yesterday, the participants injured five police officials by beating them with iron rods and sticks, even though over 4,000 law enforcement officials have been deployed to tackle any untoward situation.
"We're just waiting for the orders of high-ups to start an operation against the protestors or to disperse them. As of right now, the interior ministry has not announced their policy to tackle the protesters in order to give some relief to the citizens by opening the main arteries," said an inspector of police requesting anonymity.
Meanwhile, the firebrand clerics have continued abusing the government, politicians and provoking the participants to stand still until the resignation of Zahid Hamid.
Muhammad Huzaifah, a participant of TLYR, said that their leadership does not want to shift their protest to Redzone, Parade Ground, China Chowk or elsewhere. "It [Faizabad] is the main artery and most of the citizens do not understand the cause of the rally and what the protesters stand for? Therefore, they are not supporting us, but we're ready to lay our lives for the oath of the Finality of Prophethood," he added. The government should disclose the conspirators behind it and punish them accordingly, otherwise, the lovers of the Prophet (Peace Be Upon Him) are alive to put them to the task, he cautioned.
Putting light on the matter, a change in the wording of an oath for lawmakers that dealt with a declaration of Prophet Muhammad (Peace Be Upon Him) as God's final prophet quickly set off a furore among opposition parties, especially the religious groups. They protested that the change amounted to 'blasphemy'.
Full report at:
https://www.pakistantoday.com.pk/2017/11/15/tehreek-e-labaik-bulldozes-states-writ-as-islamabad-withstands-siege/
--------
Sindh apex committee decides to forward 28 terrorism-related cases to military courts
Nov 16, 2017
KARACHI: Members of the Sindh apex committee on Wednesday decided in principle to forward 28 terrorism-related cases to military courts.
Chaired by Sindh Chief Minister Murad Ali Shah, the apex committee meeting discussed the issues related to land grabbing and ghost employees in government departments, among others. It also underscored the importance of ending street crime at all costs.
Rangers Director General (DG) Muhammad Saeed and Sindh Inspector General of Police (IGP) AD Khawaja were also present at the meeting, besides other important officials.
Speaking on the occasion, the Rangers DG opined that street crime could only be controlled if criminals were given heavy sentences, while the chief minister told the gathering that he had asked for special courts to be established to handle cases of street crimes.
Besides discussing street crime, the meeting participants also discussed cybercrime and security around shrines. The chief minister requested Rangers to formulate a policy regarding cybercrime and assured the gathering that a policy to increase security around shrines would soon be implemented, once talks were had with the interior minister.
Full report at:
https://www.pakistantoday.com.pk/2017/11/15/sindh-apex-committee-decides-to-forward-28-terrorism-related-cases-to-military-courts/
--------
Terrorism index places Pakistan at fifth spot
Amin Ahmed
November 16, 2017
ISLAMABAD: With a noticeable decline in terrorist activities within its borders, Pakistan was placed at fifth position in the Global Terrorism Index 2017 released on Wednesday.
The report on the index, released by the Australia-based Institute for Economics and Peace, said that in Pakistan the number of people killed in terrorist attacks fell to 956 last year, a reduction of 12 per cent as compared to the previous reporting year.
This was the lowest number of deaths recorded since 2006. Since 2007 the country has been ranked at least as the fourth worst country for terrorism and on six occasions was placed at the second position.
Terrorist activities declined also in Syria, Afghanistan and Nigeria which, along with Pakistan, were four of the five countries affected the most by terrorism, said the report.
The 10 countries most affected by terrorism in 2016 were Iraq, Afghanistan, Nigeria, Syria, Pakistan, Yemen, Somalia, India, Turkey and Libya.
The decline in terrorist activities in Pakistan largely reflected the fact that during the period under review the Khorasan chapter of the militant Islamic State (IS) group and Tehreek-i-Taliban Pakistan (TTP) focused more on Afghanistan, according to the index.
The trend of reduced killings reflected the decline in activities of the TTP which has killed the most people in Pakistan.
Since 2000, the TTP has been responsible for at least 4,500 deaths, which account for over half of all deaths attributable to known militant groups.
The reduction in deaths in terrorist attacks is in part due to Operation Zarb-i-Azb that was launched by the Pakistan Army in mid-2014. The operation focussed on destroying militant safe havens in the North Waziristan Agency.
The military estimates that as a result of the operation over 3,500 TTP members were killed. It is also assumed that many more members fled to Afghanistan, which unfortunately bolstered the number of Taliban fighters in Afghanistan.
The TTP was responsible for 283 killings in 2016, which accounted for 30 per cent of the total deaths from terrorism that year. However, it should be noted that 30pc of all deaths are not claimed by any group.
Most of these deaths were caused by suicide attacks.
The largest bombing targeted Christians celebrating Easter Sunday at Gulshan-i-Iqbal Park in Lahore and killed 79 people. This was the deadliest attack in the country since the 2014 attack on the Army Public School in Peshawar which killed over 150 people, mostly students.
Other groups busy in terrorist activities included the Khorasan chapter of IS, which was responsible for 16pc of the deaths in Pakistan.
Lashkar-i-Jhangvi continued to operate and accounted for 11pc of the deaths last year. At least seven different Baloch nationalist groups undertook attacks in south-western parts of the country that resulted in 61 deaths in 60 separate attacks.
The report said that last year deaths resulting from terrorism decreased by 13pc to 25,673 in the world. Deaths have now fallen by 22pc from the peak in 2014.
There has also been an increase in the number of countries that improved their GTI scores: 79 countries improved their scores while in the case of 58 the scores decreased.
Full report at:
https://www.dawn.com/news/1370764/terrorism-index-places-pakistan-at-fifth-spot
--------
South Asia
Myanmar Tour: Pope advised not to use the term 'Rohingya'
November 16, 2017
Leading figures in the Catholic Church and international politics have advised Pope Francis not to use the term Rohingya during a trip to Myanmar due to political sensitivities but human rights groups want him to uphold international law on self-identity. Hundreds of thousands of Muslim Rohingya have fled Myanmar following a military crackdown that the United Nations has described as ethnic cleansing. Majority Buddhist Myanmar rejects the term Rohingya and does not recognise them as citizens nor as an ethnic group in its own right.
In the run-up to the his Nov 27-Dec 2 trip to Myanmar and Bangladesh, several high-profile figures including former UN Secretary General Kofi Annan and Myanmar Cardinal Charles Maung Bo have indicated he should not use the term Rohingya.
Francis, a strong defender of human rights and migrants, has spoken earlier this year of "the persecution of our Rohingya brothers and sisters" and has defended their right to "live their culture and Muslim faith".
The Vatican would not say if Francis might heed the advice and use a term like "Muslims in Rakhine State". Roman Catholics make up a tiny minority in Myanmar.
This month Annan met the pope along with three other members of "The Elders" group of veteran statesmen and women and later hinted strongly that he believed the pope should not say Rohingya.
Annan, a Nobel Peace Prize winner and author of an advisory commission report on Rakhine State given to the Yangon government in August, gave the pope a copy of his 63-page report. It does not use the term Rohingya to Rihingyas but refers them only to "Muslims in Rakhine State".
Human rights groups hope the pope does not pull his punches in Myanmar.
"The Rohingya have little left besides their group name after years of statelessness, discriminatory restrictions on movement and access to life-sustaining services, and being targeted by a military subjecting them to ethnic cleansing and atrocities," said Phil Robertson, deputy director for Human Rights Watch in Asia.
"The Pope absolutely should stand up for the Rohingya by using the name Rohingya," he said in an email.
Asked if the pope should say Rohingya, Laura Haigh, London-based Myanmar expert for Amnesty International, said: "International law recognises the right of a group to self-identify. It comes down to a principled stand."
http://www.thedailystar.net/backpage/myanmar-tour-pope-advised-not-use-the-term-rohingya-1492036
--------
Deadly airstrikes target Taliban in Shindand, scores killed, wounded
Nov 15 2017
Deadly airstrikes targeted the Taliban positions in western Herat province of Afghanistan leaving scores of militants dead or wounded.
The Ministry of Defense of Afghanistan (MoD) said the airstrikes were carried out in the past 24 hours in the vicinity of Shindand district.
The statement further added at least 50 militants were killed and 42 others were wounded in the airstrikes.
According to the ministry of defense, a local leader of the Taliban identified as Rasool was also among those killed while one militant was arrested from the site, 5 vehicles were destroyed along with some explosives.
In the other operations conducted in Shajoi district of Zabul and Tagab district of Kapisa province, at least 4 militants were killed and 3 others were wounded.
The Taliban militants also suffered heavy casualties in the operations in Bala Bolok distric to fFarah where 40 militants were killed and around 38 others were wounded, MoD said, adding that 5 militants were killed in another operation in Maiwan district of Kandahar.
Full report at:
http://www.khaama.com/deadly-airstrikes-target-taliban-in-shindand-scores-killed-wounded-03856
--------
Bangladesh PM: We are on the verge of a crisis over providing aid to Rohingyas
November 15, 2017
The Rohingya crisis in Myanmar's Rakhine state has turned complex in the last few months due to the military crackdown and violence, said the prime minister
Bangladesh is on the verge of an unprecedented crisis over providing humanitarian assistance to hundreds of thousands of Rohingya refugees staying in the country's south-east region, said Prime Minister Sheikh Hasina on Wednesday.
"The present situation is worse than any other time in the past," she said in response to a question by Moulvibazar 2 lawmaker M Abdul Matin during the prime minister's question and answer session in parliament, reported UNB.
She further said the Rohingya crisis in the Rakhine state in Myanmar had turned complex in the last few months due to the military crackdown and violence.
However, she expressed firm conviction that, despite the obstacles, her government would be able to resolve the Rohingya crisis peacefully with the help of the international community, BSS reported.
The government will also take steps for rehabilitation of the residents of Ukhiya and Teknaf upazilas in Cox's Bazar who lost their livelihood due to the latest influx of Rohingyas in their localities, the prime minister added.
She said Bangladesh had successfully gotten the support of the international community for the repatriation of the Rohingya people back to their homeland – the Rakhine state.
"The global community stands beside Bangladesh for the generosity that we have shown to the displaced people, welcoming our steps taken to provide them with shelter," she said at parliament.
Hasina said the international community was working together for repatriation of the Myanmar nationals to their country.
Replying to a supplementary question from Cox's Bazar lawmaker Abdur Rahman Bodi, the prime minister said the Rohingya influx had caused substantial damage to the environment of the region the camps are located in, as well as the livelihood of local people.
Full report at:
http://www.dhakatribune.com/bangladesh/2017/11/15/bangladesh-facing-crisis-rohingya/
--------
North America
Tillerson calls for independent probe into atrocities against Rohingya Muslims
Nov 16, 2017
NAYPYIDAW: Washington's top diplomat on Wednesday said he would not yet push for sanctions against Myanmar over the Rohingya refugee crisis, but he called for an independent investigation into "credible" allegations that soldiers were committing atrocities against the Muslim minority.
Secretary of State Rex Tillerson was speaking after a one-day stop in Naypyidaw, as global outrage builds over impunity for a military accused of waging an ethnic cleansing campaign against the Rohingya.
His comments came as de facto civilian leader Aung San Suu Kyi hit back at accusations that she has been silent over the refugee crisis, saying she has focused instead on speech that avoids inflaming sectarian tensions.
More than 600,000 Rohingya have fled the mainly Buddhist country since the military launched a counterinsurgency operation in northern Rakhine state in late August.
While Myanmar's military insists it has only targeted Rohingya rebels, refugees massing in grim Bangladeshi camps have described chilling and consistent accounts of widespread murder, rape and arson at the hands of security forces and Buddhist mobs.
Speaking after meetings with the army chief and Suu Kyi, Tillerson said that broad economic sanctions is "not something that I'd think would be advisable at this time".
"We want to see Myanmar succeed," he told reporters at a joint press briefing alongside Suu Kyi. "You can't just impose sanctions and say therefore the crisis is over."
But he said Washington was "deeply concerned by credible reports of widespread atrocities committed by Myanmar's security forces and vigilantes" and urged Myanmar to accept an independent investigation into those allegations.
"The scenes of what occurred out there are just horrific," he added.
Suu Kyi's administration has dismissed reports of atrocities and has refused to grant entry to UN investigators charged with probing those allegations.
But Washington has been careful to draw a distinction between Suu Kyi's fledgling civilian administration and the military, who controls all security policy.
While she lacks power over the army, Suu Kyi has become a punching bag for rights groups disappointed by her failure to publicly criticise the military or defend Rohingya against rising Islamaphobia.
Suu Kyi, who rarely holds press conferences, addressed those criticisms on Wednesday.
"I have not been silent… what people mean is what I say is not interesting enough," she told reporters.
"What I say is not meant to be exciting, it's meant to be accurate… not set people against each other."
The US was a major ally in the democratic transition that eventually led to Suu Kyi taking office in 2016 in a power-sharing arrangement with the army, ending five decades of brutal junta rule.
Under a junta-drafted constitution the military still controls key security ministries, including border and defence, and retains a de facto veto on any constitutional change.
Suu Kyi's defenders say she must tread lightly to avoid provoking an army that could roll back democratic gains at any time.
As anger over the plight of Rohingya mounts abroad, Myanmar's army has dug-in with its denial of abuses — while also curbing access to the conflict zone.
Ahead of Tillerson's arrival the commander-in-chief published an internal probe that exonerated soldiers of all allegations, saying there was no evidence troops had killed civilians, raped women or used "excessive force" in Rakhine.
Full report at:
https://www.pakistantoday.com.pk/2017/11/15/tillerson-calls-for-independent-probe-into-atrocities-against-rohingya-muslims/
--------
US House committee passes bill to cut aid to Palestinians
Nov 16, 2017
The US House Foreign Affairs Committee has unanimously passed legislation that would cut funding to the Palestinian Authority.
The committee approved the bill known as the Taylor Force Act on Wednesday. It stipulates a cut in funding to the Palestinian Authority unless it discontinues paying stipends to the families of Palestinians killed by Israeli forces.
Another piece of legislation, known as the Hamas Human Shields Prevention Act would slap sanctions on foreign governments, entities, and individuals for providing financial and material support Palestinian resistance group Hamas.
The measures are set to be put to a vote at the full chamber of the House of Representatives.
"Since 2003, it has been Palestinian law to reward Palestinian prisoners in Israeli jails with a monthly paycheck," Rep. Ed Royce (R-Calif.), chairman of the House Foreign Affairs Committee, said in a statement.
"Palestinian leadership also pays the families of Palestinian prisoners and suicide bombers. These policies incentivize terrorism," he claimed.
An anti- Palestinian group, the Israeli-American Coalition for Action, also hailed the approval of the bill in a statement issued on Wednesday.
"This vital piece of legislation advances prospects for peace by conditioning continued US aid to the Palestinian Authority on the PA ending its repugnant policy of financially rewarding terrorists and their families," it said.
Full report at:
http://www.presstv.com/Detail/2017/11/16/542366/US-House-committee-passes-bill-to-cut-aid-to-Palestinians
--------
'Fresh US drone strike kills several militants in Somalia'
Nov 15, 2017
The United States military says it has killed "several militants" in yet another drone strike in Somalia, bringing to 28 the total of such raids this year.
The US Africa Command (AfriCom) broke the news in a statement on Wednesday, saying the Tuesday evening attack against the al-Shabab terrorist group took place 60 miles (96 kilometers) northwest of the capital, Mogadishu, and was coordinated with Somalia's government.
"Al-Shabab has publicly committed to planning and conducting attacks against the US and our partners in the region," the force said in a statement.
Earlier this month, Washington warned its diplomatic staff in Mogadishu of an imminent threat and ordered all non-essential staff to leave the city.
The AfriCom statement did not provide further details about the exact number of the casualties. It was not clear if there were any civilian casualties either.
The US military has stepped up its airstrikes in the Horn of Africa nation after getting President Donald Trump's approval for expanded military operations there.
AfriCom said Sunday that it had carried out more drone attacks in Somalia over the weekend, hitting three al-Shabab and Daesh targets in less than 24 hours.
"US forces will continue to use all authorized and appropriate measures to protect Americans and to disable terrorist threats," said an AfriCom spokeswoman.
Al-Shabab has pledged allegiance to al-Qaeda and "has publicly committed to planning and conducting attacks against the US and our partners in the region," she added.
The Pentagon has been carrying out airstrikes and ground raids in Somalia for a decade, initially using helicopters and AC-130 gunships.
In June 2011, American forces began using drones to carry out the strikes, in a mission which has so far failed to uproot militancy in the country.
Despite being ousted from large parts of the south and central Somalia, al-Shabab continues deadly attacks across the country, which has been ravaged by decades of war and poverty.
The militant group aims to oust the western-backed government in Mogadishu and drive out African Union peacekeeping troops. It has been carrying out militancy since 2006.
Full report at:
http://www.presstv.com/Detail/2017/11/15/542315/US-Africa-Command-Somalia-drone-strike-Shabab
--------
Europe
France makes diplomatic push to solve Lebanon crisis
by Jillian Kestler-D'Amours
Nov 16, 2017
France is making a diplomatic push to solve the political crisis caused by the snap resignation of Lebanese Prime Minister Saad Hariri earlier this month, as the country's foreign minister is expected to meet Hariri in Riyadh on Thursday.
According to at least one analyst, however, Paris may have made a "risky bet" by getting involved in the ongoing diplomatic turmoil over Hariri's fate, which has pit Saudi Arabia against its regional rival, Iran, and Tehran's ally in Lebanon, Hezbollah.
"As no compromise in Lebanon will pass without an agreement between Riyadh and Tehran, Paris is looking to deal with both," said Stephane Malsagne, a historian and professor at Sciences-Po in Paris.
The highest levels of the French government are getting involved in diplomatic efforts to resolve the political turmoil gripping Lebanon, which was under French colonial rule until 1943.
France's Foreign Minister Jean-Yves Le Drian is expected to meet with Hariri in Saudi Arabia on Thursday, an aide said, according to Agence France Presse.
The meeting comes a day after Le Drian arrived in Riyadh and met with Saudi Crown Prince Mohammed bin Salman and a week after French President Emmanuel Macron also flew to Riyadh to meet the Crown Prince.
High-level French diplomacy
Macron hastily flew to Saudi Arabia on November 9 from the nearby United Arab Emirates.
Macron's stop in Riyadh came just as tensions were mounting between Saudi Arabia and Iran over the fate of the Lebanese prime minister.
Hariri, a Sunni Muslim politician and longtime ally of both Saudi Arabia and France, announced his resignation in a televised address from Riyadh on November 4.
Many, including Lebanese President Michel Aoun, have accused Saudi Arabia of forcing Hariri to step down and of holding him in detention.
The Saudis have denied the allegations and accused Hezbollah of creating a "state within a state" in Lebanon.
This week, Hariri said he planned to return to Lebanon soon, but did not specify when.
According to Malsagne, French diplomacy has so far "not succeeded in obtaining guarantees from Riyadh" on Hariri's freedom of movement and speech, nor has it clarified when Hariri may be allowed to return to Lebanon or what the Saudis' true political intentions are.
"It's therefore a risky bet for France," he told Al Jazeera.
Lebanon 'counts on making a free decision'
The French president also spoke with his Lebanese counterpart, Michel Aoun, on November 10.
Macron stressed "the importance of preserving the stability, independence and security of Lebanon and French support for the Lebanese people," according to a statement put out by the Elysee.
He also met with Lebanon's Foreign Minister, Gebran Bassil, in Paris on Tuesday.
During a press conference at the Lebanese embassy in Paris, Bassil thanked Macron for "the initiative he is undertaking for Lebanon in the face of an exceptional situation," French-language Lebanese newspaper L'Orient Le Jour reported.
Bassil said, however, that Lebanon "must decide on its internal and external politics" and "counts on making a free decision".
A day later, Macron offered Hariri and his family to come spend a few days in Paris, but specified that the invitation was not an offer of political exile.
On Thursday, Hariri accepted the invitation to visit France.
Hariri family ties to France
The Hariri family, which holds French citizenship, has longstanding ties to the French political class.
Hariri's father, former prime minister Rafik Hariri, who was assassinated in 2005, was a close friend of former French President Jacques Chirac.
When he resigned from politics in 2007, Chirac considered moving into a Paris apartment owned by the Hariri family, Reuters reported at the time.
The French government, meanwhile, has maintained close ties to Saad Hariri, explained Eric Verdeil, a professor at Sciences Po in Paris.
While France has traditionally kept a balanced approach to Lebanese internal politics - often working as a facilitator between various factions - it has been closer to the Hariri-led March 14 camp, which includes Lebanese-Christian political groups.
"It's clear that the political class [in France] and successive French governments saw in Saad Hariri a politician whom they could support and that they strongly supported him for several years," Verdeil said.
Nonetheless, the French "try to be in a position to talk to everyone," Verdeil said.
Hariri visited Macron at the Elysee in September and said during his visit that "relations between France and Lebanon are excellent".
Yet despite their close relationship to Hariri, his resignation came as a shock to French leaders.
"They were very surprised by this resignation that was unexpected and obviously they weren't consulted," Verdeil said.
Maintaining relevance
If Hariri does not eventually return to Lebanon, France will still maintain close ties to the country in order to maintain its own interests in the region, according to Malsagne.
"Franco-Lebanese relations are not confined to the men in power," he told Al Jazeera.
Since France closed its embassy in Damascus in 2012, Lebanon has served as "an observation post" for France to monitor what's happening in the Middle East, especially in Syria and Iraq, he explained.
France has a long history of mediation in Lebanese political crises, Malsagne said, and its involvement today does not come as a surprise.
Joe Macaron, a resident analyst at the Arab Center Washington DC research organisation, said that Hariri is France's major Sunni ally in Lebanon and the wider Middle East.
It is in France's interests "to make sure that Saad Hariri remains a player in Lebanon's politics," Macaron told Al Jazeera.
"They have good relations with a lot of Lebanese leaders, but if Hariri doesn't return to power, whoever replaces him won't have the same connection that the Hariri family has [had] with France over the years," Macaron said.
France may be better suited to intervene in the current situation than other countries, Macaron added.
"They are one of the few that are able to talk to everyone and be accepted by everyone. They are less controversial than other regional and international players at this point," he said.
But according to Malsagne, "the main weaknesses of French diplomacy remain its weak influence on Lebanese politics, [which is] essentially piloted today from Tehran and Riyadh".
http://www.aljazeera.com/news/2017/11/france-diplomatic-push-solve-lebanon-crisis-171115153835222.html
--------
UAE remarks on control of mosques in Europe condemned
Nov 16, 2017
A human rights group has condemned comments by a top United Arab Emirates (UAE) government official who urged Germany and other European countries to exert greater control over its mosques in order to prevent "terrorist" attacks.
"One cannot simply open a mosque and invite everyone to attend and to preach," Sheikh Nahyan bin Mubarak Al Nahyan, the UAE's minister of state for tolerance, told German news agency DPA in an interview on Tuesday.
Sheikh Nahyan said that Germany, like France, Britain and Belgium, was not exerting enough control over local mosques, according to DPA.
In response, the Arab Organisation for Human Rights in the UK (AOHR UK) flatly rejected the minister's comments, saying he has engaged in "incitement against Muslims in Europe".
"If a person who frequents a specific mosque carries out a criminal act, it does not mean that all those who worship at this mosque support this act or that the mosque incites to committing such crimes," AOHR UK said in a statement.
It added that mosques in Europe are subject to strict regulations and their officials "perform their mission in accordance with the moderate teachings of Islam".
In the interview, Sheikh Nahyan said the UAE has "always offered to train people", but no European country has responded to that offer so far.
Meanwhile, AOHR UK warned European countries against taking up Sheikh Nahyan's offer, "so as not to turn mosques in Europe into security surveillance centres for the benefit of the UAE".
Full report at:
http://www.aljazeera.com/news/2017/11/uae-royal-remarks-control-mosques-condemned-171115174848009.html
--------
EU countries vow to take in 34,000 refugees
Nov 15, 2017
The European Union member states have vowed to take in 34,000 refugees directly from North Africa and the Middle East, a day after the United Nations condemned as "inhuman" the EU's policy of helping Libyan authorities intercept Europe-bound refugees.
Sixteen countries have so far offered to admit refugees to meet the European Commission's goal unveiled in September of taking in at least 50,000 refugees over the next two years under the bloc's resettlement program, which is aimed at discouraging refugee boats from making the risky Mediterranean crossing.
EU migration commissioner Dimitris Avramopoulos said, "We are exiting crisis mode gradually and we are now managing migration in a spirit of partnership and shared responsibility, inside and outside the EU."
"With over 34,400 new resettlement pledges received so far, I welcome the strong commitment shown by member states to reduce irregular and dangerous routes and enhance safe and legal pathways, showing solidarity with host countries outside the EU."
Avramopoulos also warned of further legal action against three of the EU's eastern countries if they continue to refuse to take in refugees who managed to reach Greece and Italy under the quota system.
"I hope that Poland, Hungary and the Czech Republic will take this opportunity to, let's say, revise their position and start relocating refugees," he said. "If nothing should change, as you know the commission has the power to take things one step further."
Europe has launched a string of schemes as it has been hit by an unprecedented influx of refugees who are fleeing conflict-ridden zones in North Africa and the Middle East, particularly Syria. Many blame major European powers for the unprecedented exodus, saying their policies have led to a surge in terrorism and war in conflict-ridden regions, forcing more people to flee their homes.
Full report at:
http://www.presstv.com/Detail/2017/11/15/542346/EU-refugees-North-Africa-Middle-East
--------
Emmanuel Macron Blames France for the Rise of Islamic Radicalisation
15 Nov 2017
French President Emmanuel Macron has blamed France for the rise of Islamism and said the Republic was not good enough for "youths", as he outlined a series of social programmes for the country's migrant-dominated, low-income neighbourhoods.
"Radicalisation has taken hold because the French Republic has resigned," Macron said on Tuesday in the northern French city of Tourcoing, near Lille, as he outlined 15 social policy plans.
Focusing on the banlieues (low-income housing projects), which are home to large Muslim populations and were known for mass riots a decade ago, the French president said: "I will never confuse the few thousand radicalised and the millions of inhabitants of these neighbourhoods."
Acknowledging that "in many of these troubled territories, radicalisation has taken hold", he said that that fact should lead the nation to "question itself".
"This radicalisation happened because the Republic gave up," Macron told the crowd in Tourcoing. "And we allowed, in too many cities, too many districts, representatives of a distortion of a religion who are full of hate and disenfranchisement to provide solutions that the Republic no longer gives."
The former Socialist party member pledged to "restore" the French Republic, because, "I cannot ask a young person to believe in the Republic when it is not up to par."
Macron also unveiled his social plans whilst visiting the Paris suburb of Clichy-sous-Bois on Monday. The suburb was in the headlines earlier in the year as being one of several neighbourhoods in the high-migrant populated French department of Seine-Saint-Denis that erupted into riots after the alleged assault of a young man by police officers.
France has seen dozens of Islamist terror attacks in the past three years, with many of the jihadis coming from or having connections with "no-go zones" like Seine-Saint-Denis, including the Belgian-born mastermind of the November 2015 Paris attacks, Abdelhamid Abaaoud who was shot dead, along with two accomplices, whilst hiding in Saint-Denis.
Two years after the 2015 Paris attacks, where 130 people died and more than 350 were wounded at coordinated attacks at the national football stadium, the Bataclan concert hall, and at bars and restaurants across the city, some survivors and victims' families snubbed President Macron at the memorial on Monday.
The globalist former banker axed the ministerial office for terror victims created by his predecessor, François Hollande, which was established to help survivors. Many of them accused Macron of failing to understand their trauma.
Full report at:
http://www.breitbart.com/london/2017/11/15/emmanuel-macron-blames-france-rise-islamic-radicalisation/
--------
Paris school room named for Jewish boys slain in 2012 attack
Nov 15, 2017
A conference room at a Paris middle school has been named in honor of two Jewish boys who were shot to death by an Islamic extremist in southern France more than five years ago.
The dedication of the room in memory of Arie and Gabriel Sandler is part of an effort by the Georges Brassens school to fight racism and anti-Semitism in France, which is home to Europe's biggest Muslim and Jewish populations.
The program seeks to make French values and the country's various religions and cultures more familiar to the school's students, many of whom are Muslim with roots in France's former colonies. It includes visits to the Paris Museum of Jewish art and history and the Arab World Institute.
Samuel Sandler, whose grandsons were 3 and 5 years old when they were killed during an attack at a Jewish school in Toulouse, said the naming ceremony was a "very moving" moment.
"Because of the murderer's weapon, they weren't able to go to school anymore," he said, yet "all schoolchildren will remember them."
The program, called "Humanity," has existed for years but it has been reinforced since a series of attacks by Islamic extremists in 2015 amid a peak of both anti-Semitism and anti-Muslim acts in France.
The two teachers who lead the project, Jacqueline Courier-Briere and Nasser Dja Bouabdallah, said their method consists in answering all questions "without taboos" during respectful debates among students who range from 11 to 14 years old.
Full report at:
http://abcnews.go.com/International/wireStory/paris-school-room-named-jewish-boys-slain-2012-51177644
--------
India
Efforts to resolve dispute welcome but won't surrender claim on Ayodhya: Muslim Personal Law Board
Nov 16, 2017
New Delhi: Amid reports of meeting between Art of Living founder Sri Sri Ravi Shankar and Uttar Pradesh Chief Minister Yogi Adityanath over the Babri Masjid issue, the All-India Muslim Personal Law Board (AIMPLB) and the All-India Babri Masjid Action Committee (AIBMAC) have made that Muslims will not shelve their claims on the land belonging to the Babri mosque.
"We have not received any proposal for talks or any formula from Sri Sri Ravi Shankar. We have already made it clear to the spiritual leader that Muslims will not surrender their legal right and rightful claim over the land belonging to Babri Mosque in Ayodhya," said Jafrayab Jilani, AIBMAC Convenor and AIMPLB Secretary.
Jilani said that talks failed in the past also due to same rhetoric and rigid stand of other parties to surrender the entire disputed land. "There is no question of Muslim giving up their claim on 2.77 acres of land in Ayodhya as per the 2010 Allahabad High Court," said Jilani.
In its verdict on September 30, 2010, the Lucknow Bench of the Allabahad High court had distributed he 2.77 acres of land equally between Ram Lala Virajmaan, Nirmohi Akhara and Central Sunni Wakf Board. Later, Sunni Board had filed a case in Supreme Court which will hear the land dispute case on day to day basis from December 5.
"We welcome efforts of Sri Sri Ravi Shankar. But talks for an out of court settlement will not succeed till Muslim Personal Law Board is involved in talks," said Maulana Khalid Rashid Firangi Mahali, a member of AIMPLB.
The spiritual leader on Wednesday arrived in Lucknow and met the CM for about 40 minutes. "It was a courtesy call. "We held a discussion on various issues includin the welfare of poor and farmers," said Sri Sri Ravi Shankar.
On the question of AIMPLB and AIBMAC rejecting his formula, Sri Sri Ravishanker clarified that "when no formula or proposal was sent to them then where is the question of rejection by them," he pointed.
The Spiritual leader also held a meeting with VHP- RSS leaders, sadhus and saints involved in the land dispute in Ayodhya.
"We have told Sri Sri Ravishanker that temple of Lord Ram should be constructed at the 2.77 acres of land. We are ready to build a mosque nearby or any other place of their choice," said Amar Nath Mishra, a senior VHP leader.
Significantly, the All-India Shia Personal Law Board has too sided with the stand taken by the AIMPLB.
"They want us to surrender our claim on the land in Ayodhya but Muslims in the country is with the stand taken by the All-India Muslim Personal Board and will follow the Supreme Court verdict," said Maulana Mirza Yesoob Abbas, Spokesperson for the Shia Board.
Meanwhile, Art of Living Foundation Darshan Hathi said that Sri Sri Ravi Shankar was not carrying any formula for resolving the Ayodhya dispute.
"He is only providing a platform to representatives from both communities to hold talks and resolve the Ayodhya imbroglio out court," clarified the Spokesperson.
Sri Sri Ravishanker will go to Ayodhya on Thursday to hold with Muslim and Hindu litigants, including Mahant Nritya Gopal Das, Mahant Dharam Das, Dr Ram Vilas Vedanti, Iqbal Ansari and Haji Mehboob etc. The Art of Living Foundation founder had made a similar effort in 2003 to resolve the dispute but it had failed.
http://zeenews.india.com/india/efforts-to-resolve-dispute-welcome-but-wont-surrender-claim-on-ayodhya-muslim-personal-law-board-2057360.html
--------
ED files charge sheet against Al Badr Mujahideen operatives in Kashmir
November 15, 2017
The ED today filed a charge sheet against two suspected operatives of militant outfit Al Badr Mujahideen in connection with its money laundering probe against them. The central probe agency said it filed the charge sheet, called prosecution complaint in the Enforcement Directorate (ED) parlance, against Khurshid Ahmad Bhat and Inayatullah Shah before a special court here.
The case dates back to 2009 when Kashmir police arrested the duo and seized Rs 50,000, a Chinese grenade and some incriminating documents "related to militancy".
The agency registered a case under the Prevention of Money Laundering Act (PMLA) based on the police FIR. The ED said police recovered and seized a document on the letter head of 'Al Badr Mujahideen J&K' and a map on the information of Shah.
"The letter of the militant outfit group 'Al Badr Mujahideen J&K', recovered and seized by the police, contained the message that Rs 50,000 is being sent through Khurshid bhai who is our confident member and one grenade with khaka (map) is being sent through Inayat bhai. Both are the trusted members and will disclose information orally," the ED said.
Full report at:
http://indianexpress.com/article/india/ed-files-charge-sheet-against-al-badr-mujahideen-operatives-in-kashmir-4939002/
--------
Southeast Asia
'Allah Doesn't Care If You Are Transgender': The Indonesian School Fighting A Backlash
16 November 2017
When Shinta Ratri prays, like many devout Indonesian women she dons a mukena, a long flowing gown often embroidered with colourful and intricate designs. But she finds it hard to do so in most public mosques in this small city on the Indonesian island of Java. The reason, she says, is that she began life as a man.
According to Shinta, transgender people in Indonesia find it hard to pray at ordinary mosques, where men and women are divided and they often elicit hostile reactions from other congregants.
It was for this reason that Shinta helped found the Pondok Pesantren Waria al-Fatah, the world's only Islamic boarding school for transgender people. "In the public mosque we made people uncomfortable. We needed a safe place for trans women to pray," she says.
Since its establishment in 2008 the boarding school, or pesantren, has become a safe haven for trans people from across Indonesia, the world's largest Muslim-majority nation.
"In here you can be with a women's clothes or men's clothes, it's up to you," Shinta says. "It depends how comfortable you are."
The school sits in a warren of narrow lanes in a quiet neighbourhood of Yogyakarta, housed in a 19th-century joglo, a traditional Javanese wooden house once owned by Shinta's grandmother. Its walls are painted bright green; outside in the yard stray cats scavenge and laundry billows in the breeze.
The school has a shifting membership of around 40 mostly LGBT people. Unlike most pesantren, where students are in their teens or early 20s, the students here are generally older, and include four transwomen who live here full-time.
One of them is Yumi Sara, 50. She has lived at the boarding school since 2010, while working as an HIV/Aids advocate in Yogyakarta.
"Allah doesn't care if you are gay or transgender or anything else," she says, taking drags on a clove cigarette as the evening call to prayer echoes across the city from nearby mosques. "Transgender is a beautiful creature created by Allah."
"Making a place like this is a statement," says Mario Prajna Pratama, the chairperson of Plush, an LGBT rights organisation in Yogyakarta. "It's like, if you do not want to give us access to pray, we will create our own."
In Indonesian, trans people are referred to as waria, a combination of the Indonesian words for woman (wanita) and man (pria). Waria are nothing new in Javanese culture, but they nonetheless face persistent discrimination and are often pushed to the edges of society.
Refused jobs by many employers, who require that applicants describe themselves as either male or female, many find work in the arts, as traditional dancers and street performers, or in more dangerous and marginal fields such as sex work.
In addition to holding weekly prayers and Koranic readings, Shinta frequently visits university campuses to educate young people about LGBT issues. But the increasing visibility of the LGBT rights movement has prompted a backlash from political and religious conservatives. Homosexuality and transgenderism are not illegal in Indonesia, but the past year has seen a spike in anti-LGBT rhetoric and actions by the authorities.
Earlier this month police raided a sauna popular with gay men in the capital Jakarta, arresting 51 people. While most were released a short time after, five have been held for violations of Indonesia's loosely defined anti-pornography laws. A similar raid in May netted more than 140 arrests.
The Indonesian Psychiatric Association has claimed that transgender people have mental disorders, and the country's parliament is currently debating a law that would ban LGBT characters from national television shows.
In May two gay men were publicly caned in conservative Aceh province for violations of the region's sharia laws, which outlaw homosexuality.
As with the fundamentalist campaign that led to the jailing of Jakarta's former governor, Ahok, on blasphemy charges, Pratama says anti-LGBT politics have become a unifying issue for conservatives. "To make them unite, they need an issue. What can make them unite? One of the things is the LGBT," he says.
The Pondok Pesantren Waria al-Fatah has not been immune from the backlash. In February 2016 the school was forced to close for four months after threats of violence from conservative groups, including a local vigilante group calling itself Front Jihad Islam (FJI). After the local authorities proved unresponsive to her appeals, Shinta says she agreed to close the school temporarily.
Abdurrahman, the leader of FJI, claims the boarding school is violating Islamic precepts. "In the Qur'an it is said that men should not behave like women," he says at his home outside Yogyakarta. "It violates Sharia."
But many local residents are supportive of the pesantren and its mission. One is Arif Nuh Safri, a religious teacher, or ustadh, based at the Institute of Qur'anic Studies outside Yogyakarta, who volunteers his time to take prayer sessions and Qur'anic readings at the school.
Arif says everyone has the right to access religious truths. "When we talk about religion, we talk about humanity," he says. "If we talk about religion but don't respect humanity, it's no use."
https://www.theguardian.com/world/2017/nov/16/allah-transgender-indonesian-school-fighting-backlash
--------
Muslim Preachers Should Exercise Wisdom In Promoting Islam: Perlis Raja Muda
16 November 2017
TOKYO: The Raja Muda of Perlis, Tuanku Syed Faizuddin Putra Jamalullail said that Muslim preachers should exercise wisdom and know more about the background and culture of the people they were preaching to, in order to promote the beauty of Islam.
Tuanku Syed Faizuddin, who is also the Perlis Islamic Religious Council (MAIPs) president, said this method would attract more people to approach and recognise Islam before embracing the religion, he said.
He said this during the handing over of RM80,000 contribution for preaching activities at the Shikuku Island Mosque, as well as the website www.islamjp.com, which is an important reference for Muslims in Japan.
The mosque's imam, Sulaiman Akira Hamanaka, who is also the owner and administrator of the website, received the contribution.
The ceremony was held at the residence of the Malaysian Ambassador to Japan, Datuk Ahmad Izlan Idris during the 'Liqa' Mawaddah' programme and promotion of Perlis cuisine, attended by nearly 50 Malaysians, including students in Tokyo.
"We are very impressed by the efforts of imam Sulaiman to promote the beauty of Islam in Japan, because the website in the Japanese language which is visited by many people, can change the negative perception of non-Muslims towards Islam, especially in Japan," he added.
In his speech at the ceremony, Sulaiman said he converted to Islam at the age of 19 during a one-month vacation in Kuala Lumpur about 50 years ago, and had practised da'wah activities for almost 40 years.
"The Japanese have yet to recognise Islam. There are not too many of them, but they are open-minded towards Islam," he said, adding that there were more than 100 mosques in Japan now, compared to only two in 1990.
Full report at:
http://www.thesundaily.my/news/2017/11/16/muslim-preachers-should-exercise-wisdom-promoting-islam-perlis-raja-muda
--------
'Malaysia must sustain its momentum in the global Islamic tourism industry'
By ADIB POVERA
November 16, 2017
KUCHING: Malaysia is at the forefront of the global Islamic tourism industry, which is steadily expanding and estimated to be worth USD220 billion (RM950 billion) by 2020.
Deputy Tourism and Culture Minister Datuk Mas Ermieyati Samsudin said apart from international recognitions, Malaysia has also become the point of reference for many countries in their development of the Muslim tourism sector.
"Since 2011, Malaysia has been recognised as the top holiday destination for Muslim tourists from around the world.
"Tourism players from around the world referred to Malaysia when developing an Islamic tourism framework in their respective countries.
"With an estimated 1.6 billion Muslim population globally, many countries are trying to emulate Malaysia in their bid to capture the halal tourism market," Ermieyati told reporters after opening the ministry's National Transformation 2050 (TN50) dialogue at the Dayak Bidayuh National Association building here today.
Present were the ministry's deputy secretary-general Nor Yahati Awang Awang and Sarawak Tourism Board chief executive officer Datuk Ik Pahon Jiyok.
Earlier this year, Malaysia was named the most popular destination for Muslim travellers for the third year at the MasterCard's Global Muslim Travel Index (GMTI) 2017, which was co-published by a leading authority in halal travel and tourism, CrescentRating.
Malaysia was also named as the top destination for Muslim travellers for four consecutive years from 2011, according to an online survey also by CrescentRating of Singapore.
Several criteria were taken into consideration in the survey including the availability of halal food, access to prayer facilities, Muslim friendly services in hotels as well as the country's security and stability.
"We must not be complacent and continue to sustain this momentum.
"At the same time, we must continue to share our knowledge and expertise with other countries.
"The ministry has also established the Islamic Tourism Centre as the government is serious in developing this sector," she said.
On today's event, Ermieyati said this is the fifth TN50 dialogue organised by the ministry for the tourism and culture cluster.
Full report at:
https://www.nst.com.my/news/nation/2017/11/303965/malaysia-must-sustain-its-momentum-global-islamic-tourism-industry
--------
Mideast
Erdogan vows continued military support for Qatar during Doha visit
Nov 15, 2017
Turkish President Recep Tayyip Erdogan has vowed continued military support for Qatar amid its ongoing political crisis with a Saudi-led bloc of countries.
Erdogan gave the pledge during a trip to Doha where he also offered the "readiness" of his country's private sector to aid Qatar in its multi-billion dollar projects for the 2022 FIFA World Cup, the Qatar News Agency reported on Wednesday.
"Erdogan stressed the continued support of Turkey to the state of Qatar in various areas, especially in the industrial and military fields," said the report.
During his trip, Erdogan also met with Qatar's Emir Sheikh Tamim bin Hamad Al Thani, the report said, adding that both countries signed several financial, tourism and research agreements.
Before arriving in Doha, Erdogan was in Kuwait to discuss regional and international developments as well as bilateral relations between Turkey and the Persian Gulf countries.
Ahead of the trip, he said he would address the issue of the diplomatic crisis with officials in Kuwait.
Both Turkey and Kuwait have played a mediation role between Qatar and the Saudi-led bloc.
Turkey has a military base in Qatar, which according to Ankara houses around 3,000 troops.
Turkey took Qatar's side after Saudi Arabia, Bahrain, Egypt, and the United Arab Emirates cut their diplomatic ties and transport links with the emirate on June 5, accusing it of "terror" support. Doha rejects the claim.
The Saudi-led bloc presented Qatar with a list of demands, among them downgrading ties with Iran, and gave it an ultimatum to comply with them or face consequences. Doha, however, refused to meet the demands and said that they were meant to force the country to surrender its sovereignty.
http://www.presstv.com/Detail/2017/11/15/542348/turkey-qatar-persian-gulf-erdogan-military
--------
Turkey, Afghanistan, ex-Soviet trio sign corridor agreement
November 16, 2017
ASHGABAT - A road and rail corridor connecting war-torn Afghanistan with Turkey and Europe was signed off by officials from five countries on Wednesday in Turkmenistan's capital Ashgabat.
The so-called Lapis Lazuli corridor agreement is the product of more than five years of talks involving Afghanistan and Turkey as well as the ex-Soviet countries Azerbaijan, Georgia and Turkmenistan. The agreement is focused on integrating customs procedures and stripping away logistical barriers affecting trade between the countries.
The Lapis Lazuli route, named after the brilliant blue semi-precious stone commonly found in Afghanistan , begins in the Afghan settlements of Aqina and finishes at the gateway to Europe in Istanbul.
Freight following the route will have to cross the Caspian Sea after traversing Turkmenistan before linking up with existing road and rail infrastructure in Azerbaijan.
Speaking at a regional integration conference focused on Afghanistan in Ashgabat, Turkey 's deputy foreign minister Ahmet Yildiz said Ankara "welcomed" the trade route.
"This transport and transit corridor allows for the connection of Asia and Europe," Yildiz said. Turkmenistan's trade minister Dovran Orazmyradov said on Tuesday that trade between gas-rich Turkmenistan and Afghanistan had increased 20 percent last year, reaching $513 million annually.
A railway linking the two countries that has been operational for a year and is part of the Lapis Lazuli corridor , which should boost that figure further.
But doubts about financing and concerns over security in Afghanistan have slowed down an expansion of the railway into Tajikistan, another ex-Soviet country.
China is also keen to include Afghanistan in its Belt and Road Initiative that aims to ramp up Eurasian trade through billions of dollars in infrastructural and other investments.
Full report at:
http://nation.com.pk/16-Nov-2017/turkey-afghanistan-ex-soviet-trio-sign-corridor-agreement
--------
Iranian President Raps S. Arabia for "Blatant Meddling" in Lebanon
Nov 15, 2017
"The blatant meddling in an independent country like Lebanon and demanding a person (Hariri) to resign and introducing another person as his successor is a very rare event in history," President Rouhani said, addressing a cabinet meeting in Tehran on Wednesday.
"It is very embarrassing that a Muslim country (Saudi Arabia) in the region wants and begs the Zionist regime to bomb the Lebanese people. In history, we have never had a Muslim state which has embarked on such measures and this shows the naivety of those who have been empowered in these countries," he added.
President Rouhani underscored that Iran will remain a supporter of the oppressed people regardless of pressures and enmities.
His comments came after Lebanese President Michel Aoun said on Saturday Hariri, who announced his resignation in a broadcast from Saudi Arabia, has been "kidnapped" and must have immunity.
Aoun made the remarks in a meeting with foreign ambassadors in the capital Beirut, a senior unnamed Lebanese official said on Saturday.
Meanwhile, in a statement released by Aoun's office on Saturday, the Lebanese president expressed concern over Hariri's situation and said the premier was living in a "dubious" situation in Saudi Arabia. He added that anything Hariri has said or may say "does not reflect reality" due to the mystery of his situation.
Any stance or move by Hariri "is the result of the dubious and mysterious situation that he is living in the kingdom," Aoun added.
Aoun further called on Riyadh to clarify why Hariri hasn't returned home since announcing his resignation in the kingdom last week.
"Lebanon does not accept its prime minister being in a situation at odds with international treaties and the standard rules in relations between states," he said.
He added that a marathon planned in Beirut on Sunday in which tens of thousands are expected to participate should be "a national sports demonstration for solidarity with Prime Minister Hariri and his return to his country."
Meanwhile, the Arabic-language al-Joumhouria (The Republic) daily newspaper quoted Aoun as saying on Saturday that Beirut would refer Hariri's case to the UN Security Council within a week if his destiny remains unclear.
Hariri announced his resignation on November 4, citing several reasons, including the security situation in Lebanon, for his sudden decision. He also said that he realized a plot being hatched against his life.
Hariri also accused Iran and the Lebanese resistance movement, Hezbollah, of meddling in the Arab countries' affairs; an allegation the two have rejected.
The Lebanese prime minister announced his resignation following visits to Saudi Arabia.
The resignation also comes less than a month after he announced plans to join a coalition government with Hezbollah.
Full report at:
http://en.farsnews.com/newstext.aspx?nn=13960824001111
--------
Israel offers aid to arch-foe Iran after deadly earthquake
15 November 2017
Israeli Prime Minister Benjamin Netanyahu has offered aid to the victims of the weekend's deadly earthquake in Iran insisting enmity between the two governments does not prevent humanitarian sympathy.
The offer, made in a video conference with the Jewish Federations of North America, was largely rhetorical.
Iran does not recognize the Jewish state and Israeli media reported that the offer was swiftly turned down through the International Committee of the Red Cross.
But it comes as many of the tens of thousands left homeless by the quake have vented anger at the Islamic regime for what they say has been the slow response of the charitable foundations set up after the revolution of 1979.
"I saw these heartbreaking images of men and women and children buried under the rubble," Netanyahu told the meting in Los Angeles.
"A few hours ago, I directed that we offer the Red Cross medical assistance for the Iraqi and Iranian victims of this disaster.
"I've said many times that we have no quarrel with the people of Iran. Our quarrel is only with the tyrannical regime that holds them hostage and threatens our destruction. But our humanity is greater than their hatred."
More than 400 people were killed and tens of thousands left homeless by the quake that struck on the Iran-Iraq border late on Sunday.
Israel regards Iran and its close ally Lebanese Shiite militant group Hezbollah as its most dangerous foes.
Iran has been a staunch supporter of Palestinian militant groups Hamas and Islamic Jihad.
Full report at:
https://english.alarabiya.net/en/News/middle-east/2017/11/15/Netanyahu-offers-aid-to-arch-foe-Iran-after-deadly-earthquake-.html
--------
UN resolution calls on Iranian militia fighters to exit Syrian conflict
15 November 2017
The UN General Assembly has passed a resolution against serious human rights violations in Syria, most notably is their call on Iranian militias to leave Syria.
The UN resolution condemned systematic violations and abuses against Syrian civilians since the start of the revolution in 2011. The UN also held the regime accountable for the violence.
The resolution demanded foreign fighters in Syria to leave, mainly referring to the Quds Force, the Islamic Revolutionary Guard Corps and Iran-backed Hezbollah militia.
Meanwhile, the Third Committee of the UN General Assembly passed a resolution on Tuesday which condemns Iran for its widespread violations, increased executions and repression of nationalities and religious minorities.
Supporters of the resolution expressed their concern about the increasing number of human rights violations in Iran, including high death rates, discrimination against women, ethnic and religious minorities and arbitrary arrests of activists, journalists and critics.
The Canadian representative at the UN General assembly, whose country prepared the resolution in question, said that the international community is deeply concerned about the increasing number of executions, particularly the execution of minors and women.
Similarly, the Saudi Ambassador to the UN Abdallah al-Muallami said during resolution discussions that Saudi Arabia supports the UN resolution on the human rights situation in Iran.
Full report at:
https://english.alarabiya.net/en/News/middle-east/2017/11/15/United-Nations-calls-on-Iranian-militias-to-leave-Syria-condemns-Tehran.html
--------
Yemeni hospitals will run out of fuel in three weeks: UN
Nov 16, 2017
The UN has warned that Yemeni hospitals will run out of fuel within three weeks unless Saudi Arabia removes its blockade on the war-torn country.
On Wednesday, UN spokesman Farhan Haq stressed that fuel is critical to the hospitals for generating electricity as well as pumping and purifying water.
He added that stocks of diphtheria vaccines will become depleted within two weeks unless aid deliveries resume.
Meanwhile, the UN Office for the Coordination of Humanitarian Affairs (OCHA) has announced that prices have soared in the Yemeni capital, Sana'a, since the Saudis tightened their blockade.
On Tuesday, UN spokesman Stephane Dujarric stressed that "seven million people are already on the brink of famine, and the blockade will only bring them closer to it."
Meanwhile, Yemen's Ministry of Human Rights has released a statement slamming the UN for its inability to pressure Riyadh into ending the blockade.
It added that the UN's inaction amounts to a green light for the Saudis to continue with attacks on Yemen and violate international law.
Earlier this month, Saudi Arabia announced that it was shutting down Yemen's air, sea, and land borders, after Yemeni fighters targeted an international airport near the Saudi capital with a cruise missile.
More than 12,000 people have been killed since the onset of the campaign more than two and a half years ago. Much of the Arabian Peninsula country's infrastructure, including hospitals, schools and factories, has been reduced to rubble due to the war.
Full report at:
http://www.presstv.com/Detail/2017/11/16/542351/yemen-un-saudi-arabia-fuel
--------
Human rights violators, terrorism sponsors behind UN rights report: Iran
Nov 15, 2017
Iran has reacted to a recent rights resolution adopted by the Third Committee of the UN General Assembly censuring Tehran for alleged "human rights abuses," noting that some backers of the resolution were themselves among major and "discredited" violators of human rights and supporters of terrorism.
The Third Committee of the UN General Assembly on Tuesday adopted a Canada-drafted resolution accusing Iran of human rights violations and putting restrictions on freedom of expression.
Iranian Foreign Ministry Spokesman Bahram Qassemi on Wednesday rejected the UN resolution, saying it lacked credibility and was politically-motivated as it was backed by a number of biggest human rights violators, war criminals and sponsors of terrorism, violence and extremism.
The Islamic Republic of Iran rejects as unacceptable the resolution on the situation of human rights in the country, Qassemi said.
"The instrumental, selective and political use of human rights by Western states against the world's independent countries is condemned and is a wrong move that will have no result but to undermine the lofty status of human rights," he added.
Qassemi noted that the Islamic Republic was founded on the basis of religious democracy, stressing that the country has always been serious about promoting human rights and fulfilling its international obligations.
He also stated that Iran was ready to negotiate and cooperate with other countries based on mutual respect and within the framework of international mechanisms to contribute to the promotion of human rights worldwide.
This came after Asma Jahangir, the UN special rapporteur on the human rights situation in Iran, submitted her report to the world body last month, claiming there had been little change in the human situation in Iran over the past year.
She also alleged the harassment of journalists in Iran had been intensified, claiming that the progress on women's rights was extremely slow.
On October 30, Iranian Judiciary Chief Ayatollah Sadeq Amoli Larijani dismissed the report by the UN rights rapporteur against the Islamic Republic, saying that it reflected the views of the country's enemies.
Addressing a meeting with high-ranking Iranian judiciary officials in Tehran, Amoli Larijani added that the report contained rehashed claims and allegations against the Islamic establishment and simply quoted anti-Islamic Republic sources and the anti-Iran terrorist Mujahedin-e Khalq Organization (MKO).
The top Iranian judiciary official strongly criticized the West's double-standard approaches in dealing with the issue of human rights in Iran and said while different resolutions have been adopted against the Islamic Republic, Western countries have prevented the adoption of resolutions by world bodies against the Israeli regime or the "child-killing" Saudi regime.
Earlier in October, Iran had once again rejected the report by the UN rights rapporteur as "politically-motivated, biased and illegitimate."
Hassan Nejad, Iran's envoy to the UN Human Rights Council, slammed Jahangir's report, which he said portrayed "a flawed and distorted image" of Iran.
The report, he said, had turned a blind eye to illegal and unilateral US sanctions against the Iranians and 17,000 victims of terrorism in the country.
Full report at:
http://www.presstv.com/Detail/2017/11/15/542321/Iran-UN-resolution-rights-report-Canada
--------
Turkey detains 60 security officials suspected ties to coup plotters -Anadolu
16 November 2017
ISTANBUL: Turkey arrested 60 former security officials in a wide-scale operation on Thursday on suspicion of links to last year's attempted military coup, the state-run Anadolu news agency said.
Authorities issued warrants for the arrest of 108 former security officials in the operation, centered in the capital Ankara and spread over 30 provinces, Anadolu said.
The suspects are believed to have ties to U.S-based cleric Fetullah Gulen, whom Ankara blames for orchestrating the failed coup in July 2016. Gulen has denied involvement and denounced the coup.
More than 50,000 people, including security officials, military personnel and civil servants, have been detained in the aftermath of the July 2016 coup.
The crackdown has alarmed Turkey's Western allies and rights groups, who say President Tayyip Erdogan is using the coup as a pretext to muzzle dissent.
Full report at:
http://www.arabnews.com/node/1194286/middle-east
--------
URL: https://www.newageislam.com/islamic-world-news/wahhabis-defeat-syria-caused-hysteria/d/113246
New Age Islam, Islam Online, Islamic Website, African Muslim News, Arab World News, South Asia News, Indian Muslim News, World Muslim News, Women in Islam, Islamic Feminism, Arab Women, Women In Arab, Islamophobia in America, Muslim Women in West, Islam Women and Feminism